Whether planning your first time in Europe solo travel or looking for the perfect bucket list for your solo trip in Europe, you are in the right place.
Travel bloggers have shared their recommendations of the best destinations for Europe solo travel, including the best time to visit, why these cities are ideal and safe for solo travel in Europe, especially if you are traveling alone for the first time and helpful tips.
Grab your cuppa and get ready to know about this Europe solo travel bucket list of destinations.
First things first! I recommend you get travel insurance ALWAYS whenever you are on international or domestic travel!
Check out this insurance by Safety Wing, which offers a pretty good cover for you and your family! They even provide monthly insurance, much required for slow travelers like us! Book here!
LOOKING FOR MORE SOLO TRAVEL INSPIRATION? CHECK THESE SOLO TRAVEL GUIDES?
EPIC PLACES FOR EUROPE SOLO TRAVEL
BUDAPEST, HUNGARY
Budapest, the capital of Hungary, is undoubtedly one of the most enchanting cities in Europe and the World.
This city has a vast history, evident in its rich culture, food, traditions, and spectacular architectural buildings, making it one of the popular cities for Europe Solo travel.
If you are in a hurry, check out these Budapest Private Tours:
Budapest consists of two cities on either side of the Danube River, the heart of the city's life.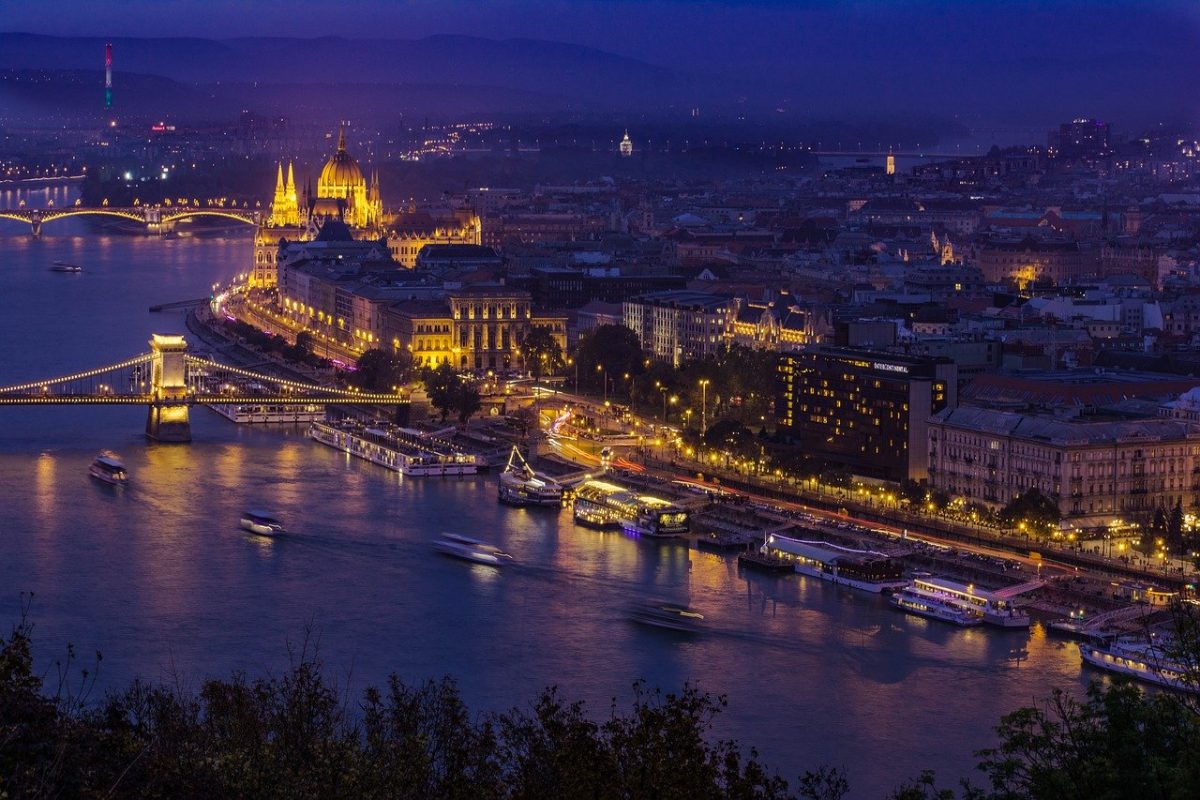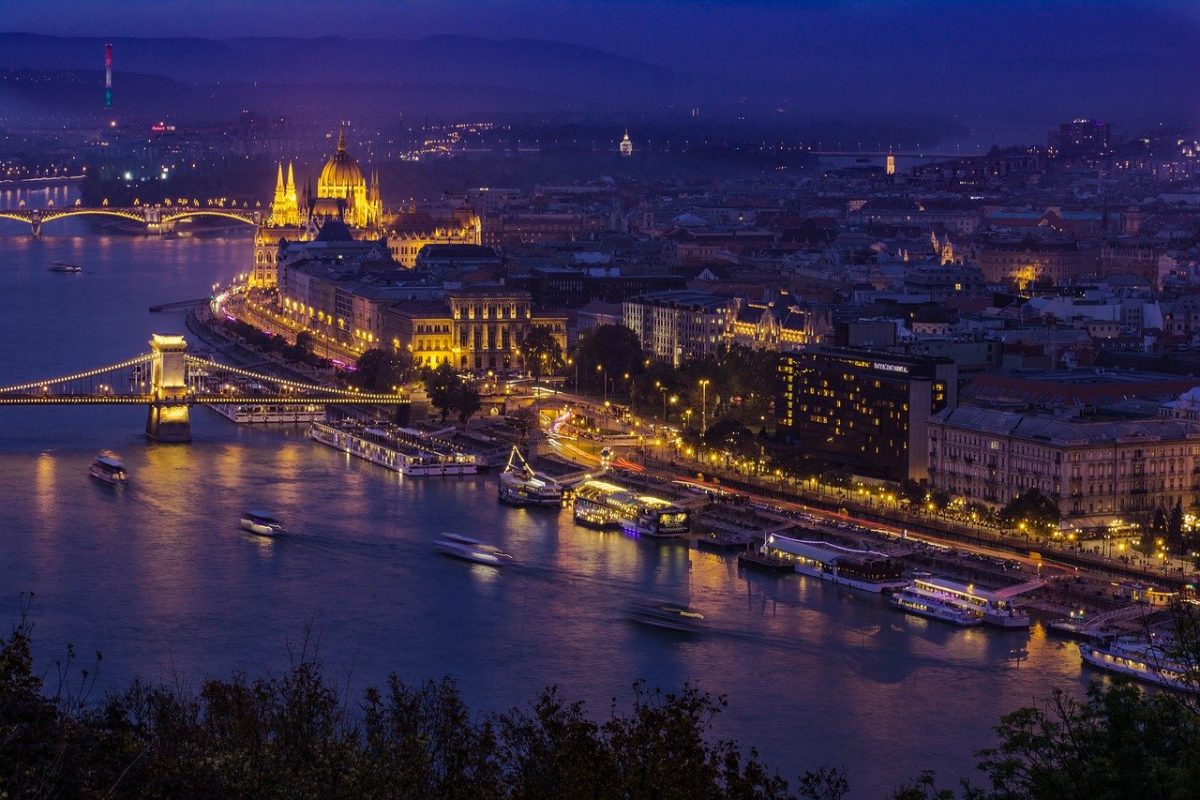 Buda, on the West, was home to the affluent, upper class and Royal families. It houses the Royal UNESCO heritage sites, including the Buda Castle.
Pest, on the East, is today's bustling city, where residents live alongside the vibrant shopping streets, ruined bars, cafes and clubs.
You can witness this on the 2-hour Danube river cruise tour.
There are a plethora of things to do in Budapest. You can take a Hop-on-hop-off, one of the fun activities and exciting ways to explore Budapest.
Purchase this Budapest Card and benefit from a range of discounts, free entries to attractions, and unlimited public transportation.
Recommended Tour: Budapest: 24, 48 and 72-Hour Hop-On Hop-Off Bus Tour
There are many other ways to explore Budapest; e-bike, segway, Floating bus tour and tuk-tuk are some of the options. Check the tours below to book any of these modes.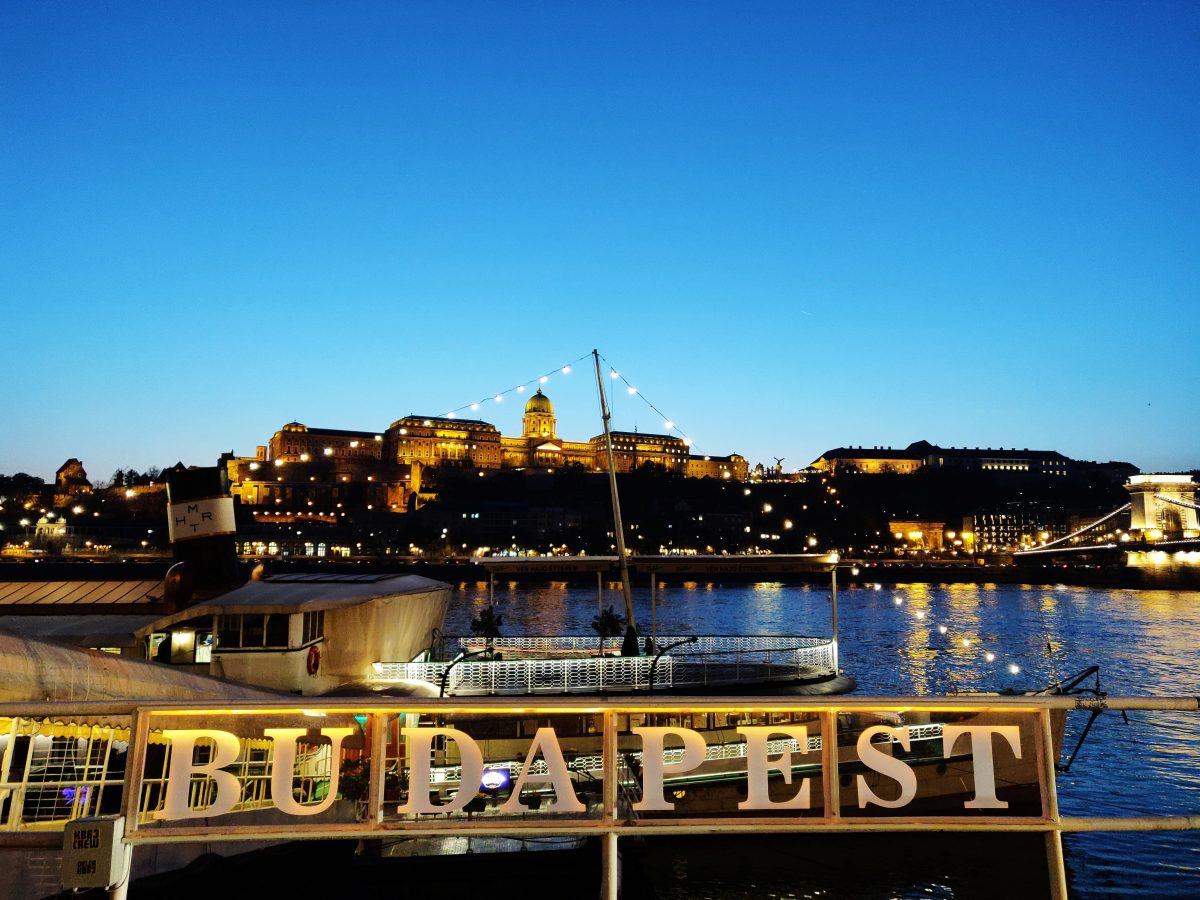 Recommended Tours:
If you are looking for Budapest private tours check out this 4-hour tour by car.
Head first to the Central Market Hall. Also called the Great Market Hall, it is the city's largest and oldest indoor market. You can take the Grand City Tour with Parliament Visit and see and see Hungary's Crown Jewels during this tour.
You can see a wide range of items sold here, from fresh fruits to vegetables to souvenirs to pickles to paprika to flowers.
Stroll along the Danube River to head to the central area of Budapest, a UNESCO world heritage.
The sites included are Buda Castle, Fisherman's Bastion, Gresham Palace, Széchenyi Chain Bridge, and Matthias Church.
Recommended Tour: Budapest: 3-Hour Grand City Tour and Castle Walk
Enjoy a 2-hour historical-ridden walking tour by night at Buda Castle. Let your Gothic-adorned narrator tell you stories of war, battles of medieval Budapest, vampires and folk stories from Hungary. Book here.
If you want adventure, go caving in the Danube-Lpoly National Park.
Recommended Tour: Budapest: Adventure Caving Tour with Guide
Climb and crawl through Budapest's longest cave system on a caving experience in the Danube-Ipoly National Park.
Discover the source of Budapest's hot springs, and marvel at the limestone rock formations left behind by geological activity. Check it out here.
Head to Zrinyi Utca Street, which houses many popular restaurants and bars for lunch.
Whether you prefer a fine-dining venue or want a quick lunch fix with burgers or fries, you can choose either with so many options.
Recommended Cruise Tours:
Art lovers must check out the Museum of Fine Arts, located on Hero's Square, which houses up to one hundred thousand collections of artworks from all over Europe, from the Egyptian period to contemporary artists.
Spend a beautiful evening at Gellert Hill to take in the stunning sunset along with the panoramic views of the city.
Recommended Tour: Budapest: Széchenyi Spa Full Day with Optional Pálinka Tour
Relax at Széchenyi, the most famous spa in Budapest, and enjoy an optional free interactive pálinka spirits-tasting tour where you will discover more of the history and culture of Hungary. Book here.
For dinner, check out Vaci Street, the heart of the centre lined with glitzy shops, bars, restaurants, and cafes.
Recommended Tour: Budapest: Wine, Cheese, and Charcuterie Tasting
This sommelier-led tasting experience features five fine Hungarian wines with some of the country's best artisan cheese and charcuterie. Book here.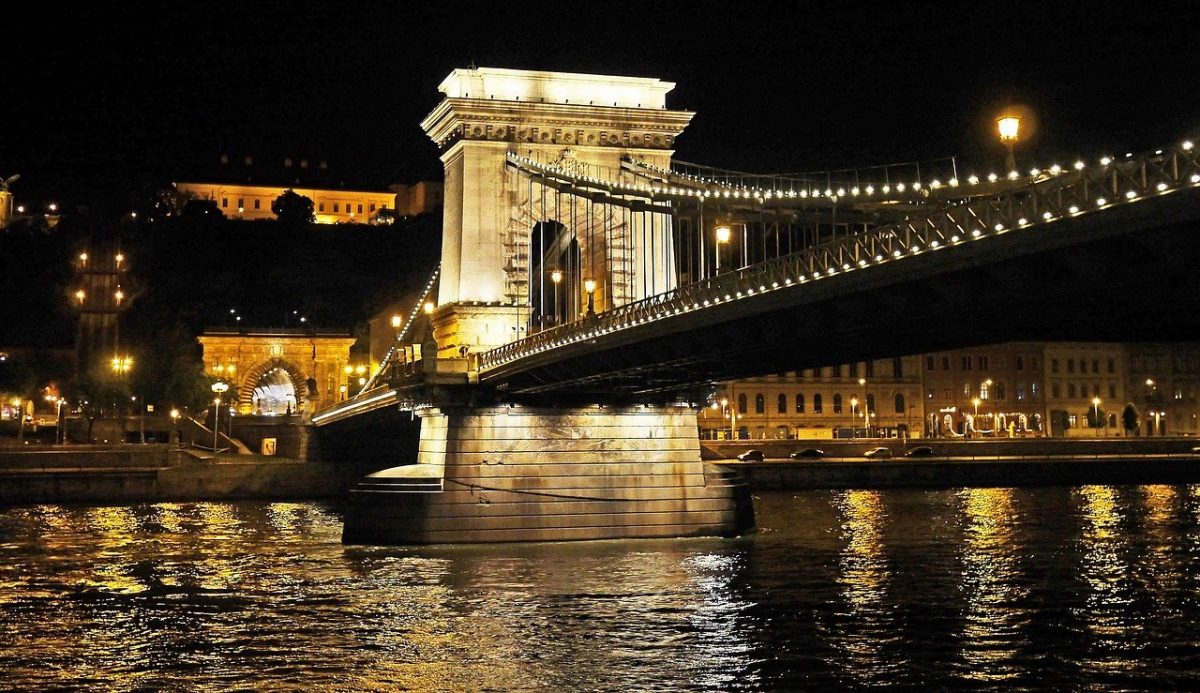 Don't miss Ruin Bars, a speciality of Budapest. Ruin bars were makeshift bars created in old, abandoned buildings, mainly from the 19th century and the later communist era.
Recommended Tours: Budapest: Tipsy Tour Fun Bar Crawl with a Local Guide
Over time, these evolved to stand out with ruin themes – comprising antique items, paintings, vintage goods and other unusual objects giving the rustic ambience.
Recommended Tour: Budapest: Evening Cruise including Drinks and Live Music
Join a night cruise and discover the lovely Hungarian capital with your favourite drinks. Starting from the centre, admire the UNESCO-listed banks of the Danube aboard the elegant Gróf Széchényi ship. Book here.
Check out my exclusive guide: Budapest 3 Days Itinerary For a Perfect Weekend Getaway.
WHERE TO STAY IN BUDAPEST?
The downtown Pest is one of the popular neighbourhoods in the city, which has plenty of hostels and hotels.
If you are staying in one of Budapest's friendly and social Hostels(I recommend Hostel One Budapest), then it is inevitable that you will end up at the original ruin bar, Szimpla, for one night.
MUNICH, GERMANY
Bavaria is one of the most stunning regions in Germany, home to many fairytale villages and towns nestling around the snow-capped Alps, glacial lakes and rolling hills.
There is much more than beer in this vast city, where traditions and modernity coexist, making it one of the most beautiful cities in Germany to visit.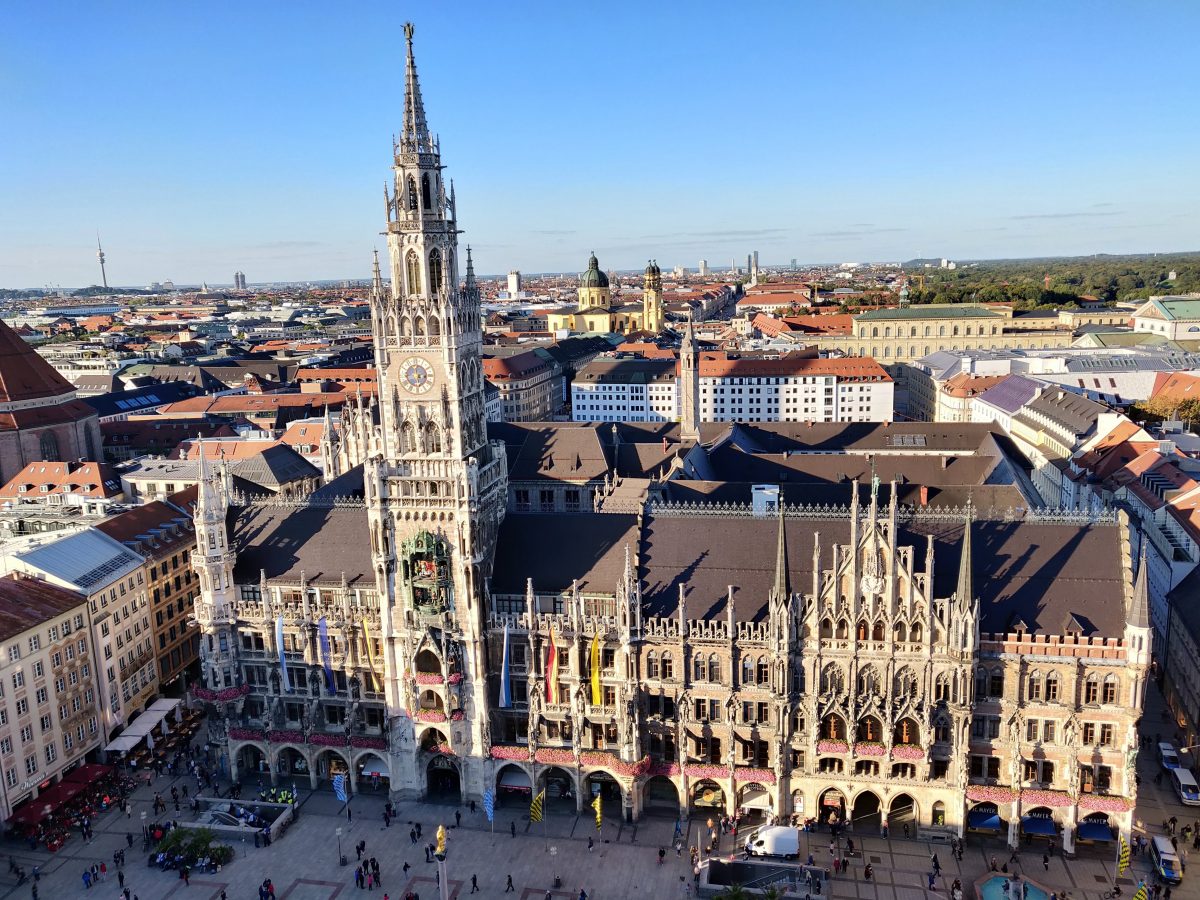 And the gateway to Bavaria is its capital Munich, the second-most populous city in the country.
Known for its historic annual affair of Oktoberfest, Munich is one of the popular choices for Europe Solo Travel.
If you are in a hurry, check out these Munich private tours:
You can explore Munich either at a segway at your own pace or a hop-on-hop-off bus tour or via various walking tours which will take you through the prominent areas of the town. Check out these tours:
For ancient beer gardens, shopping, excellent food and a series of impressive Renaissance structures with a rich history, Marienplatz or St.Mary's Square is the place you should head to.
Recommended Tour: Munich: 5 Top Churches and Old Town with Private Guide
Discover Munich's Old Town's historical and sacral highlights with a 5-Stars Private Guide! Visit St. Peter's Church and its viewing terrace, Frauenkirche (Cathedral), Asamkirche, and more. Book here.
Admire the central attraction, the Neo-Gothic Town Hall, Old town hall, Munich Cathedral and other buildings in the old town close to this square.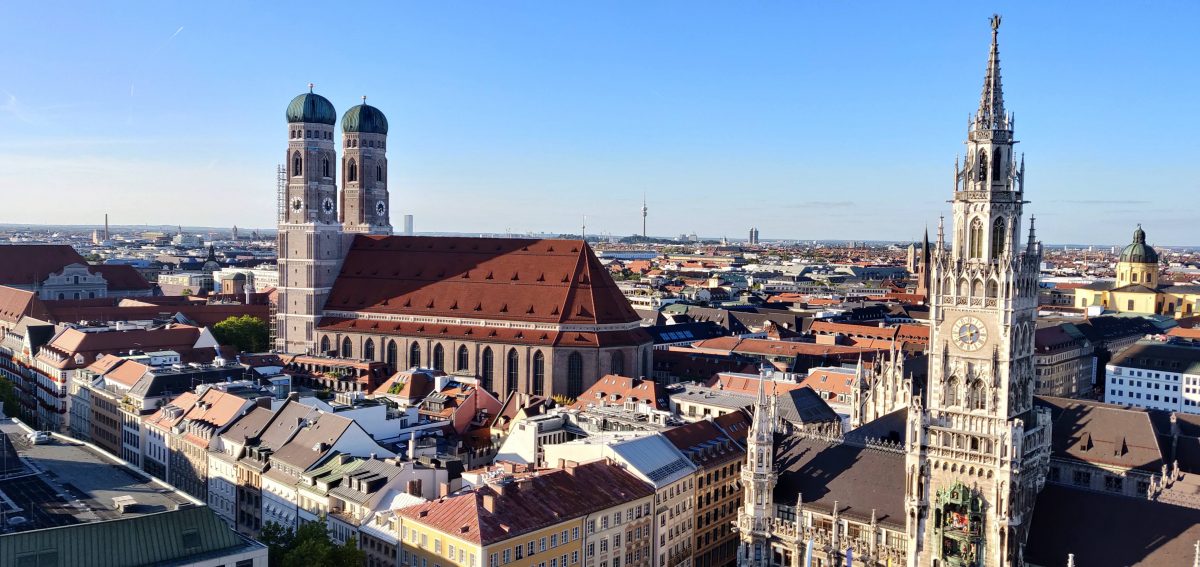 Check out Odeonsplatz to the North of the old town, home to many medieval structures, one of the most notable being Theatine Church.
Visit the Bavarian Kings – Munich Residenz royal mansion, known for its splendour.
Recommended Tour: Munich: Residenz Palace, Museum and Treasury Private Tour
Join this exclusive tour with a Licensed Guide to explore the nooks and crannies of the Residenz, the largest palace complex in Germany.
Step inside to admire the stunning interiors and learn about its former inhabitants. Book here.
If you love concerts, check out this Munich Residenz Concert.
Head to the sprawling English Garden, which is not just a garden but one of the World's largest urban public parks.
If you visit Munich in the Summer or during the fall, you will fall in love with the colours of flowers and foliage at both times.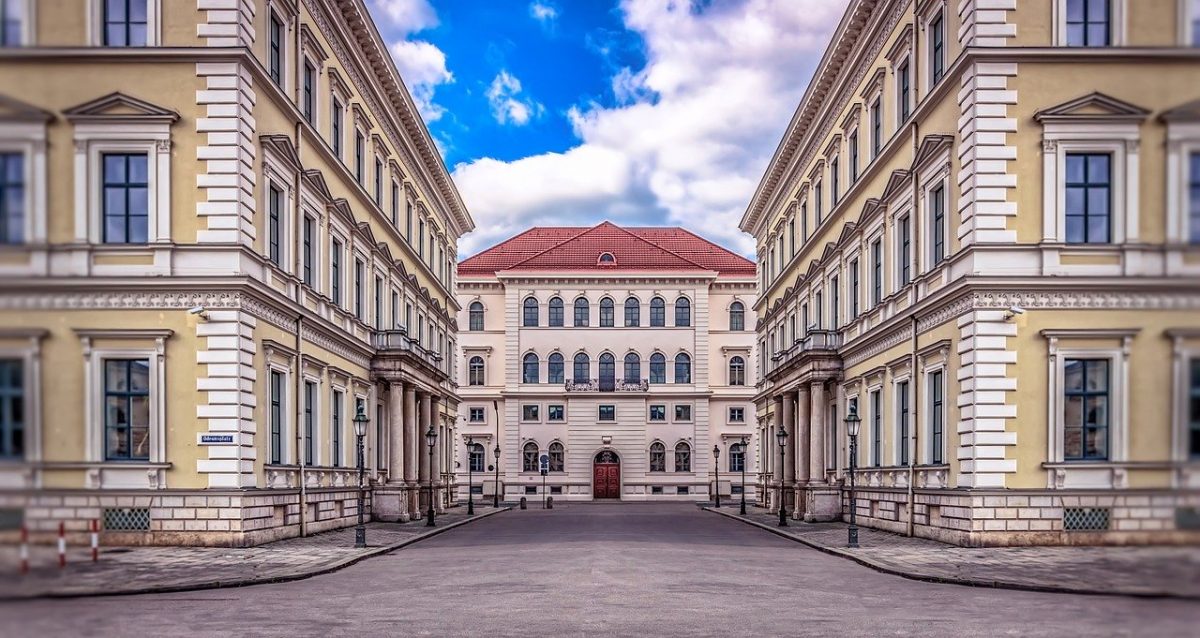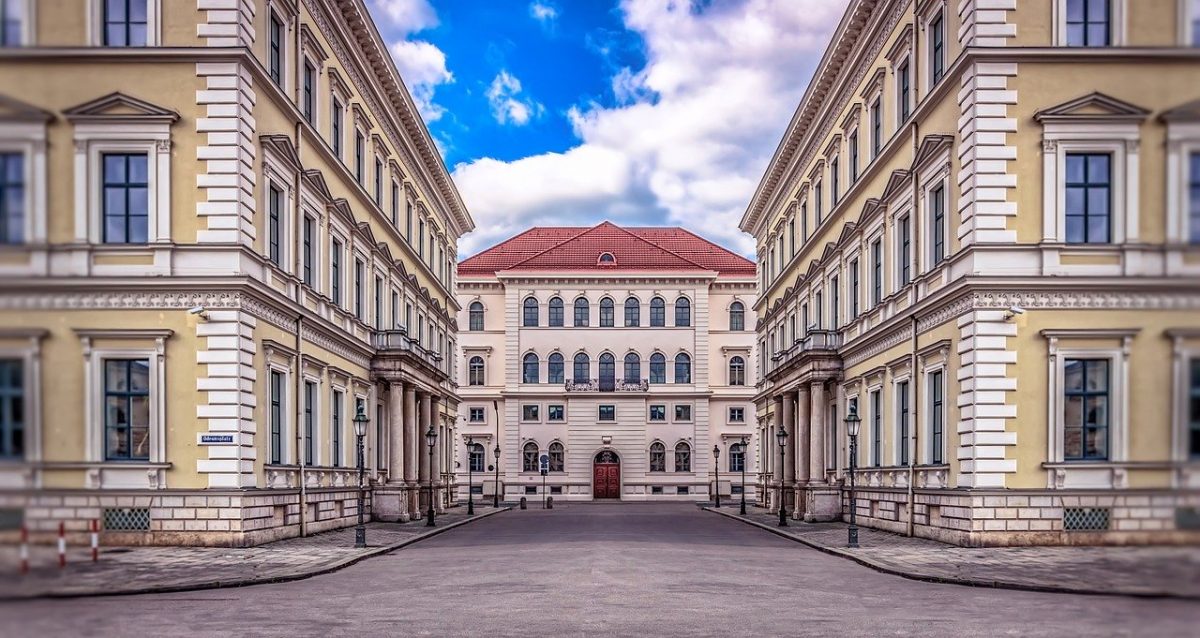 Recommended Tour: Munich City: Marienplatz and English Garden Walking Tour
Museum lovers will enjoy visiting the Technological German Museum or the Bavarian Museum of History.
Enjoy travelling back in time as you sip the best beer and Bavarian cuisines at one of the city's landmarks – Hofbrauhaus Brewery.
Other Recommended Bavarian Beer Tours:
There are plenty of day trips from Munich that you can use on your Munich Itinerary if you have more than 2 or 3 days in Munich.
From gorgeous lakes to fairytale castles to pretty towns rich in history and tradition, many destinations are easily accessible from Munich that give glimpses of Bavaria's beauty, culture, tradition and food.
Recommended: 16 Beautiful Day Trips From Munich That You Should Check Out!
Don't miss the famous Neuschwanstein Castle ( Disney Castle) on your Munich day trip itinerary, especially if you are with kids. Check out this tour:
Recommended Tour: From Munich: Neuschwanstein Castle & Linderhof Premium Tour
WHERE TO STAY IN MUNICH?
Altstadt is the most popular neighbourhood for travelers since it is close to many attractions, excellent public transport, food and a beer garden.
But the prices can be high, especially at the last moment, so I recommend booking your Munich accommodation in advance.
Check out these accommodations:
King's Hotel Center Superior, Unsöld's Factory Hotel, Hotel Metropol by Maier Privathotels
SEVILLE
Located in Andalucía, Seville is one of the most beautiful cities in Spain and one of my favourite cities in Europe that I loved exploring alone.
UNESCO sites, Splendid Moorish architecture, excellent food & wine – Tapas and Sangria, and dance performances – You got enough reasons to visit Seville which makes it one of the best places for Europe Solo travel.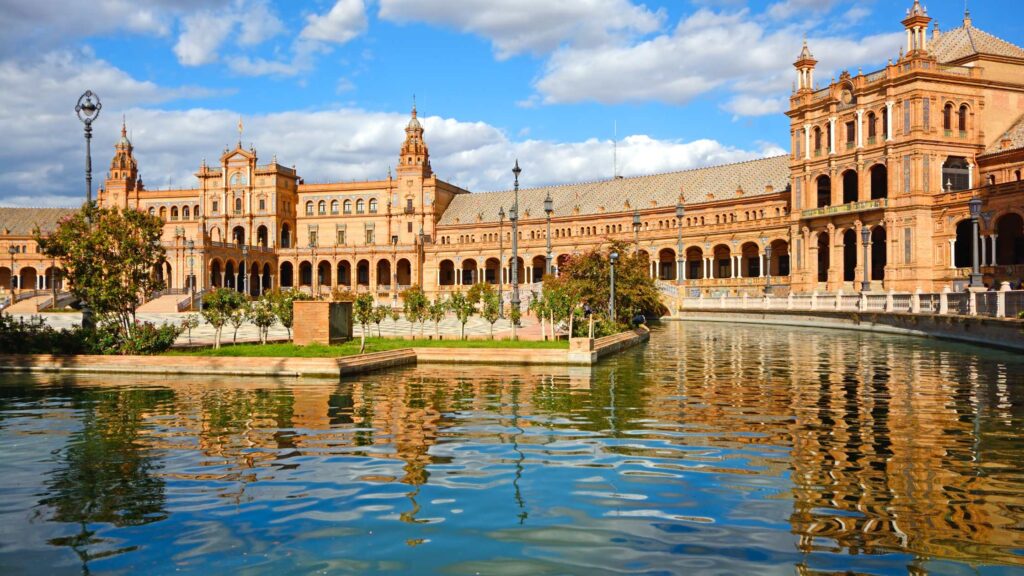 The best way to explore Seville is via renting a bike or via a segway. You can even opt for a sunset bike tour for a lovely evening. Check out the tours below:
Check out The Royal Alcazar of Seville, one of the three UNESCO World Heritage sites in Seville. The Royal Alcazar is one of the grandest palaces depicting the unique Moorish architecture.
Recommended Tour: Seville: Alcazar & Cathedral Guided Tour with Giralda Entry
On this tour, visit three of Seville's top attractions on this guided combo tour.
Explore the Alcazar, the cathedral, and the Giralda Tower. Choose from either a small-group or private guided experience. Book here.
Other Recommended Alcazar and Cathedral Tours:
If you are a Game of Thrones TV series fan, this was the royal palace of the Kingdom of Dorne in the series.
Recommended Tour: Seville: Game of Thrones and Roman Empire Italica Tour
A guided tour of Game of Thrones 7th and 8th season filming locations. You can taste Khaleesi's dragon pit as you walk through the amphitheatre arena, and discover the birthplace of Hadrian and Trajan, two famous emperors from the Roman Empire. Book here.
Visit two iconic monuments in the old town – The Cathedral of Seville – the largest Gothic church and the fourth largest cathedral in the world, and the adjoining La Giralda.
Recommended Tour: Seville: Cathedral Guided Tour with Priority Access
On this tour, discover the wonders of Seville Cathedral and learn about the history of the cathedral and admire its collection of important artworks.
At the end of the tour, climb to the top of Giralda Tower to soak up magnificent city views. Book here.
Check out Plaza de Espana, one of the most beautiful landmarks and most photographed places in Spain.
Built for an exposition, it symbolises a beautiful blend of the country's dominating types of architecture – Moorish, medieval Renaissance and the Baroque style.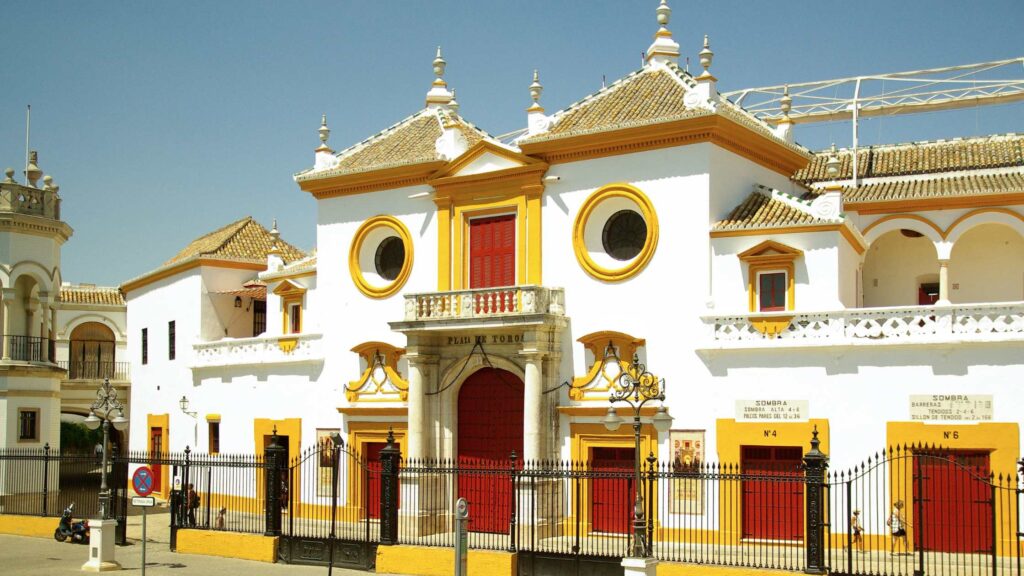 Take a river cruise, to explore this beautiful city. Check out this Seville: Private River Cruise with Dinner and Drinks.
Another recommended tour: Seville: Guadalquivir River Cruise
On this tour, you will see many of Seville's famous monuments while enjoying a pleasant boat trip.
Pass under historic bridges, admire the best panoramic views of the city, and see where gold-laden ships once docked. Book here.
Watch the famed Flamenco dance performance – a unique bohemian dance style that tells the folklore of southern Spain.
The best way to enjoy a Flamenco show is to opt for one of the tours.
Recommended Tours:
Don't miss exploring the city during Sunset or paddle boarding during sunset. It is one of the best Seville attractions. Check out this Seville: Sunset and Evening Paddle Boarding Tour.
One of the unique Seville experiences is attending the Spanish Abanico Workshop. Discover the Spanish Abanico (fan) from local artisans in their workshop.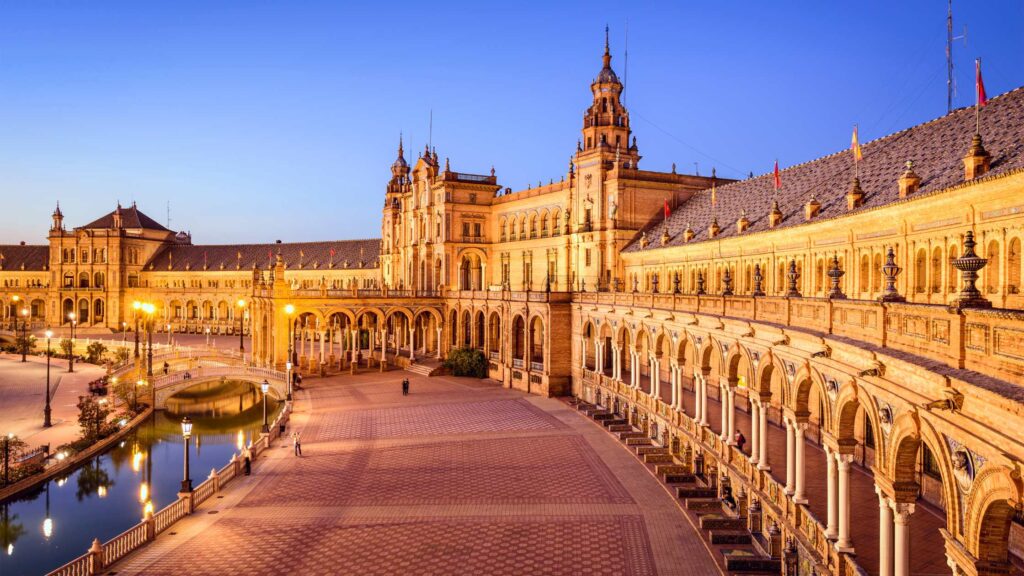 Learn how to use one, examine its quality, communicate with it, and then keep one of your choosing as a memorable souvenir. Book here.
When you are in Seville, you cannot miss the delicious cooking classes and market tours. Check out these recommended tours:
Immerse yourself in one of the most vibrant food scenes in Spain. Several tours showcase the best tapas in Seville and include a tasting of at least 10 tapas and 5 drinks. Check out some of them below:
Set base at Seville, and take day trips to the nearby cities. Check out these day trip itineraries and tours:
WHERE TO STAY IN SEVILLE?
LA SUITE DEL CONDE LUXURY SUITES, Hotel Gravina 51, Aguilas5 SevillaSuites, Casa de Triana Luxury Suites by Casa del Poeta
KRAKOW, POLAND
Krakow, the most visited destination in Poland and one of the most famous cities in Europe, receives millions of tourists every year.
Krakow is very cheap compared to all other European cities, which makes it one of the best destinations for Europe Solo travel.
There are plenty of free things to do in Krakow. If you are looking for a gorgeous medieval atmosphere, castles, pretty souvenirs, delicious local cuisine and excellent museums, you should check out Krakow.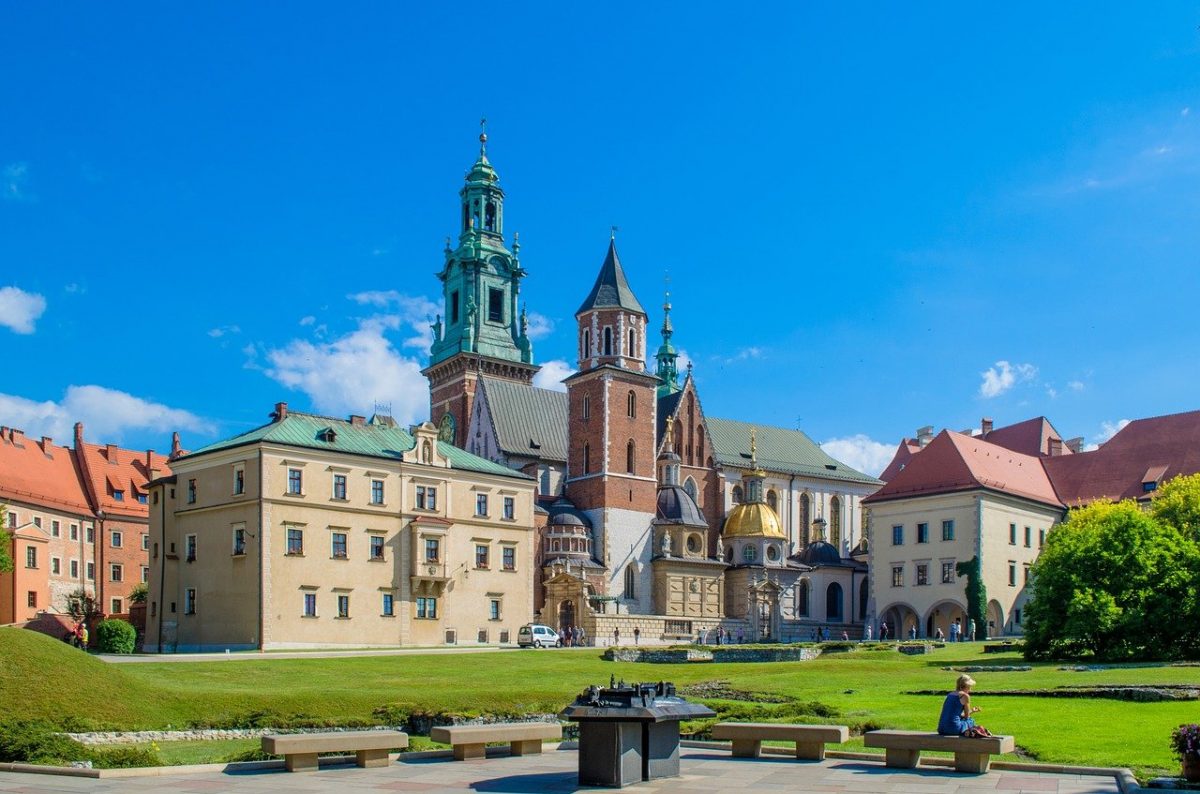 Explore the ancient Royal route, which starts from one end of Krakow's old town and goes until Wawel Hill.
As the name suggests, the Royal Route passes through various historical monuments and areas.
It used to be the route where royal processions and parades appeared.
Recommended Tour: Krakow: Old Town Walking Tour
Discover the city of Krakow with a professional guide. See the highlights of Krakow's Old Town on this guided tour. Book here.
Check out Krakow Market Square or Rynek Główny, the largest medieval market square in Europe and a UNESCO-heritage listed area that is home to Krakow's ancient monuments belonging to medieval times.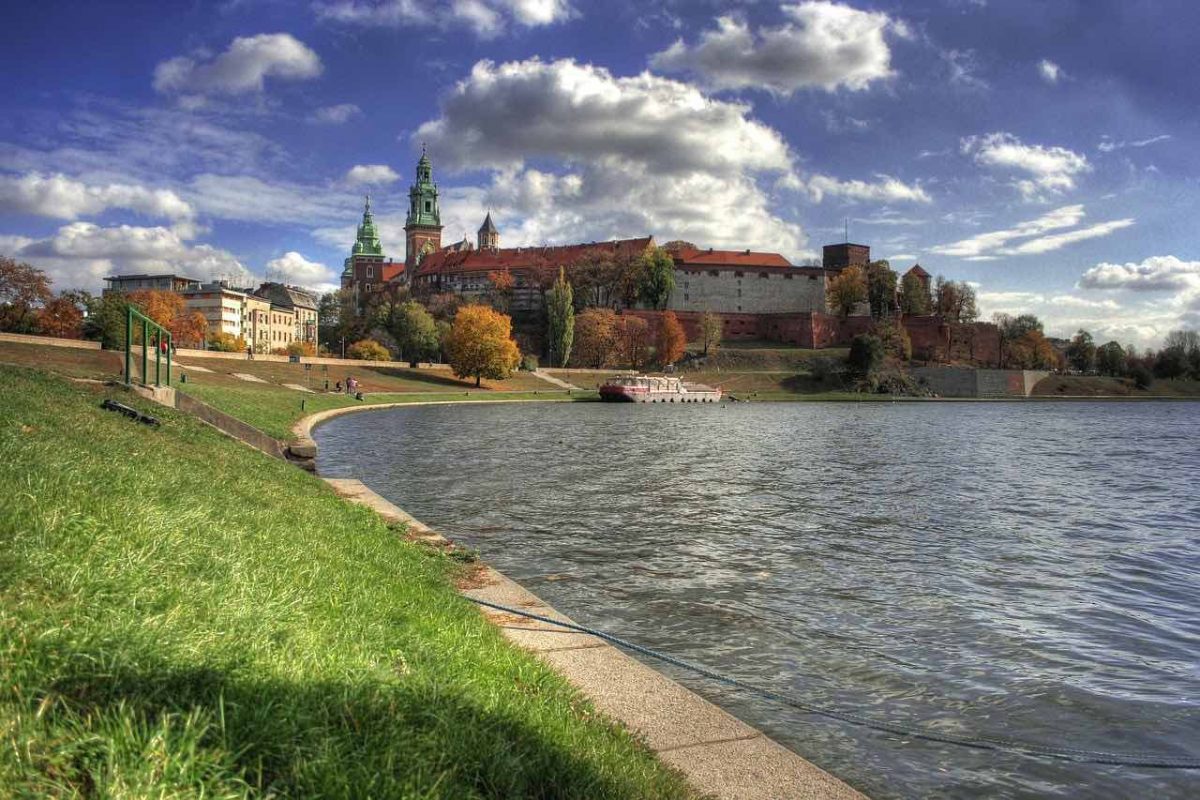 While exploring the Krakow market square, the 13th-century Cloth Hall is something that grabs your attention first.
I just loved how medieval it felt, walking inside and passing through all the souvenir shops. This was where the cloth merchants sold clothes from around Poland and outside.
Recommended Tour: Krakow: City Tour by Electric Golf Cart
Enjoy a guided city tour in a comfortable golf cart. See the most notable sights of Krakow, such as the Old Town, Wawel Castle, the Jewish Quarter, and Oskar Schindler's Factory. Book here.
Other ways to explore Krakow:
Check out Rynek Underground, which will take you back in time, with its old chambers consisting of old markets.
Visit St. Mary's Church, older than the market square and is one of the impressive structures in the medieval old town.
Climb to the top of Krakow Town Hall, another ancient structure in this old town. This place has been rebuilt many times, and the only original structure is the adjoining tower.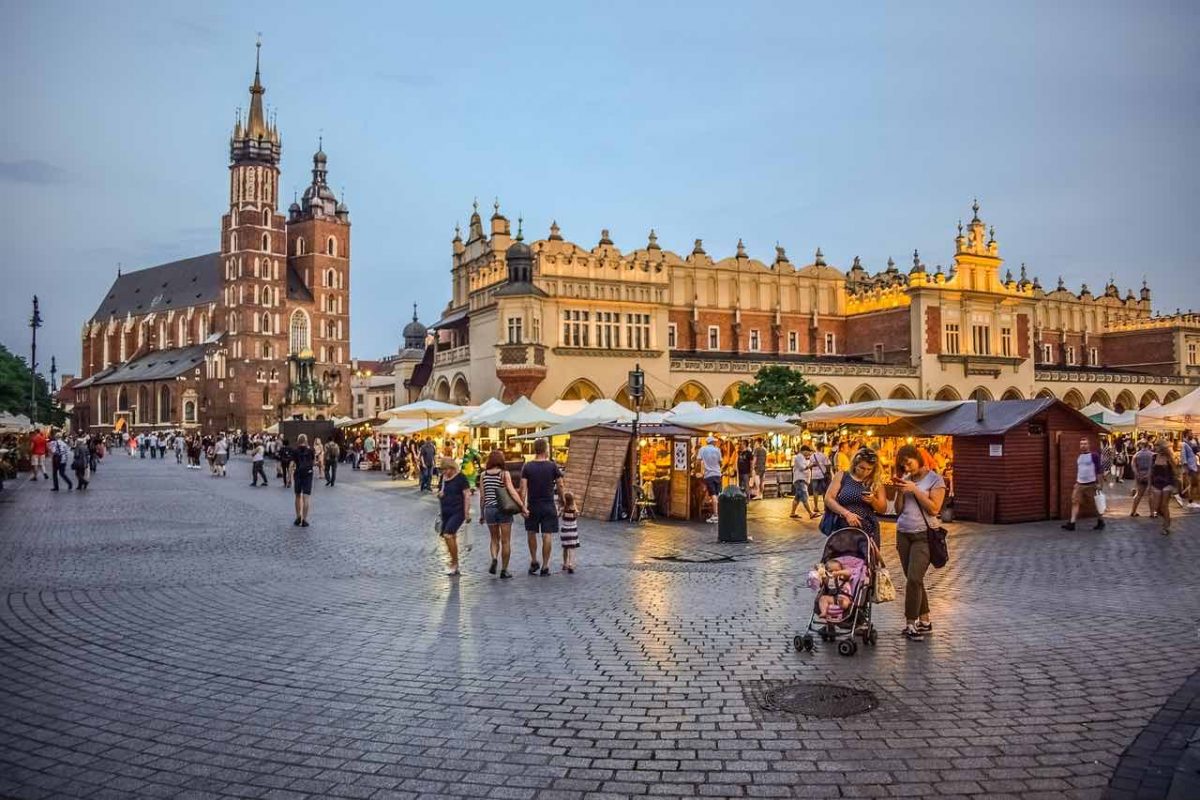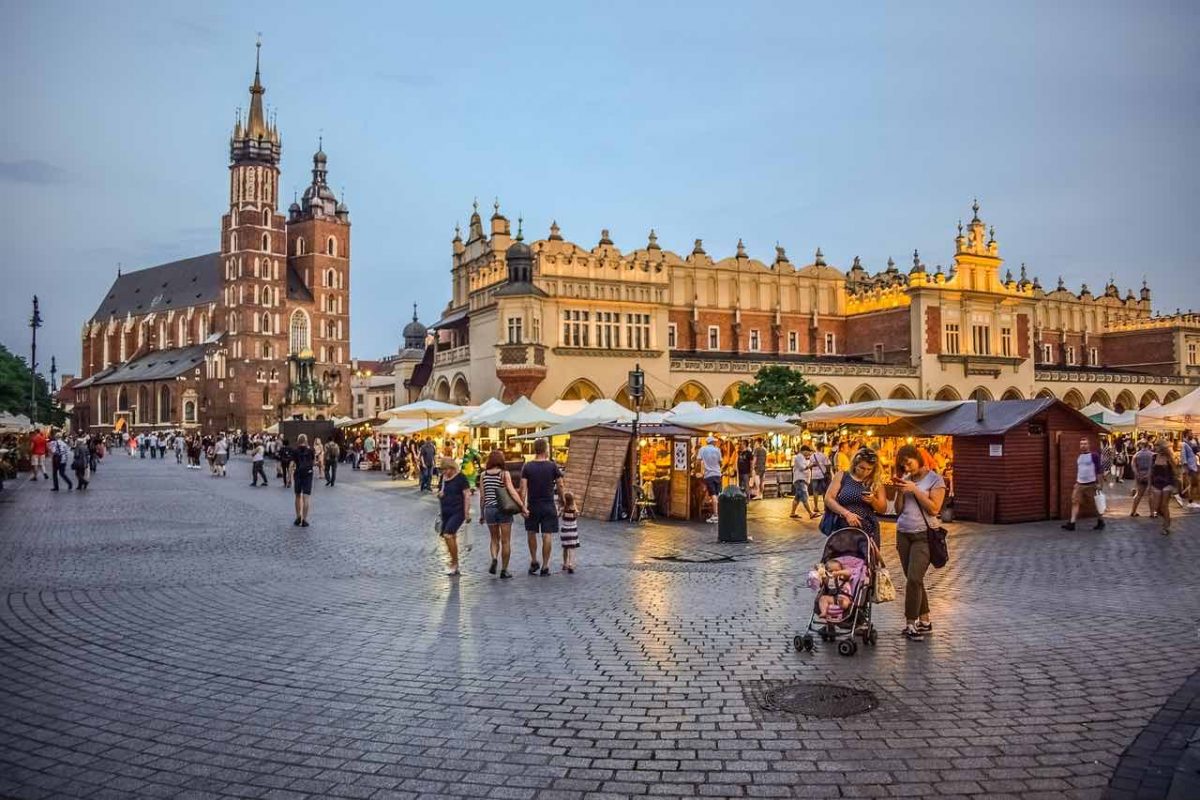 Visit Wawel Hill, which houses Wawel Castle, Wawel Cathedral and the Dragons Den.
Recommended: 45 Mind-blowing facts about Poland that you have never heard of!
Visit Kazimierz, the area in Krakow where the Jewish community thrived for hundreds of years.
There are some free walking tours in Krakow, which also include a Jewish walking tour that would take you through the past.
Recommended Tours:
You can also visit the area by yourself, which includes some UNESCO heritage sites like Szeroka Street, Nowy Square and much more.
You can enjoy Krakow's ghostly side by opting for one of the quirky walking tours – the Night Ghost Tour.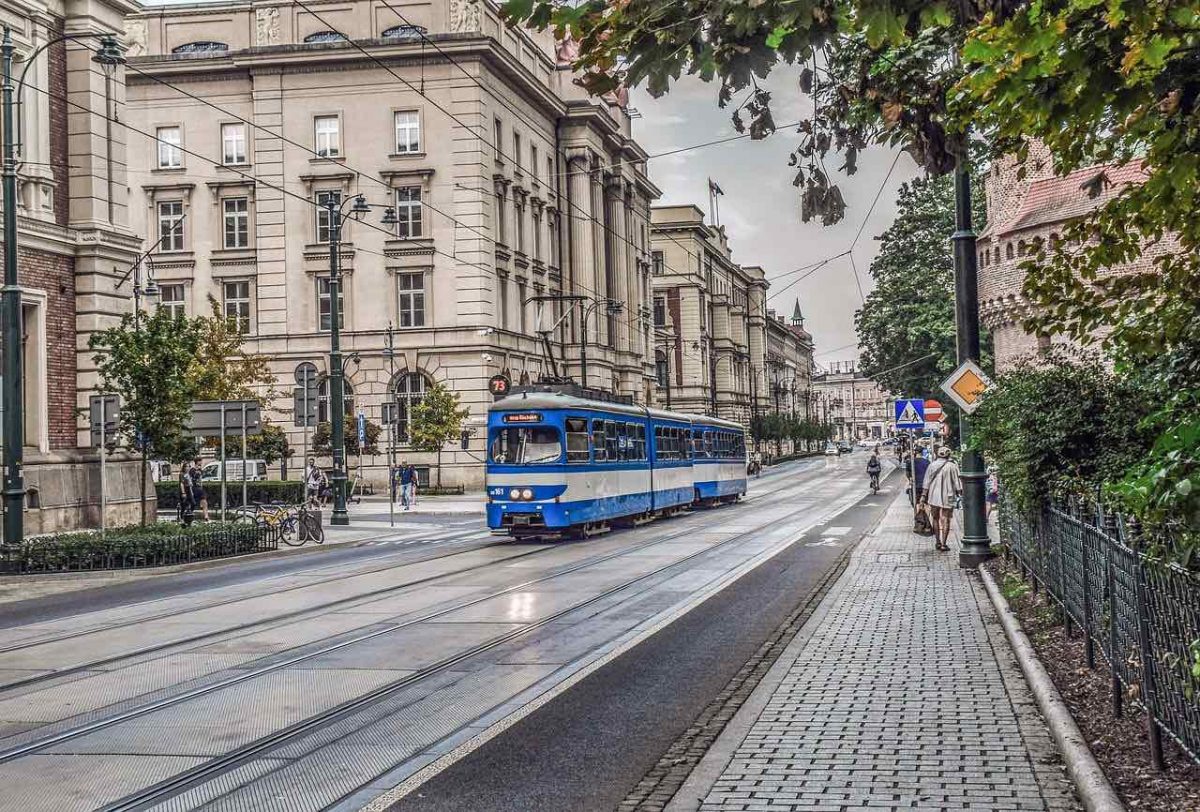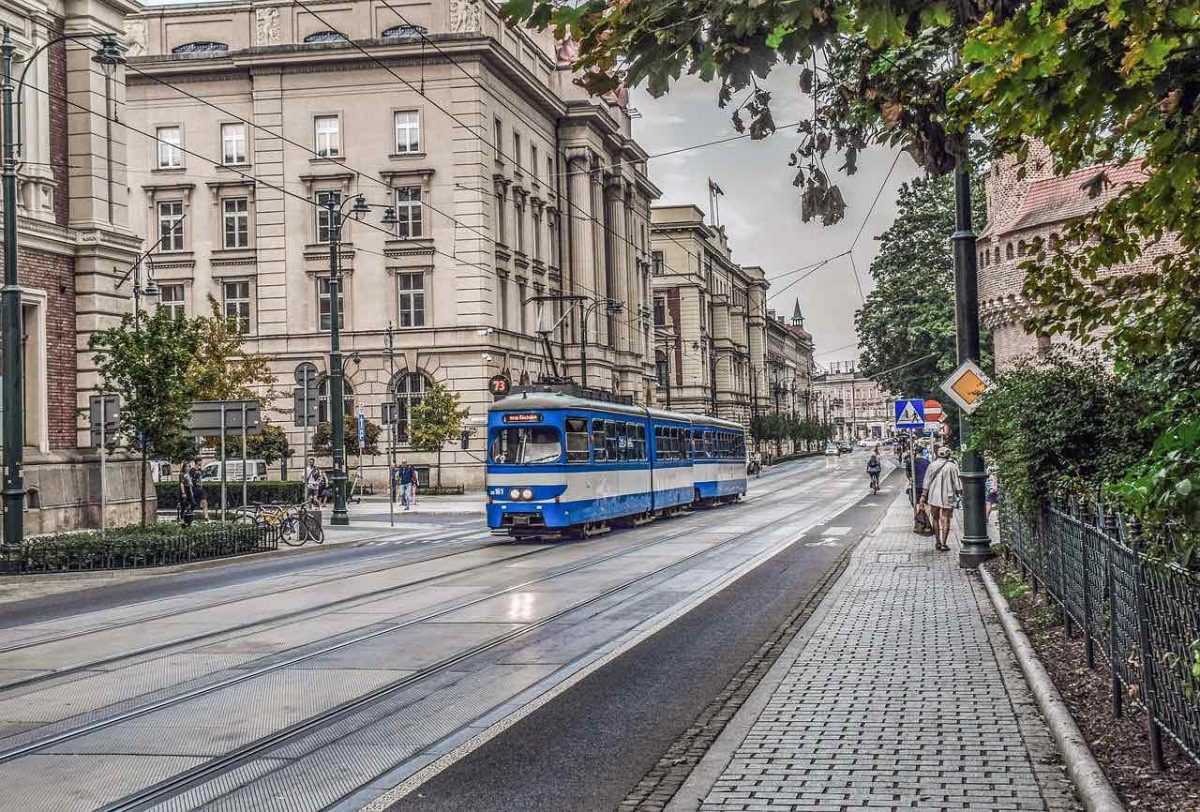 The local guides will take you through the historic sites notorious for haunted spirits and deadly ghosts.
Krakow is the place to shop for hand-made products, perfect for souvenirs. Go to Bonarka City Center or Galeria Krakowska Shopping Mall to find the best ones at affordable prices.
Other Recommended Krakow Tours:
Check out my exclusive guide for free things to do in Krakow.
WHERE TO STAY IN KRAKOW?
Wawel Castle Apartment, Dizzy Daisy Hostel, Ruumz Bed & Rest, Camera Apartments
ROTHENBURG
Nestled in the heart of Bavaria, Germany, the fairytale town of Rothenburg ob der Tauber is located at the crossroads of the Romantic Road, and Castle Road is one most beautiful cities in Germany.
Known for its well-preserved medieval architecture, charming cobblestone streets, and enchanting atmosphere, Rothenburg captures the hearts of visitors with its timeless beauty and has become a top destination for Europe Solo travel.
There are many things to do in this historical hamlet. Embark on a journey back in time as you walk atop the town walls.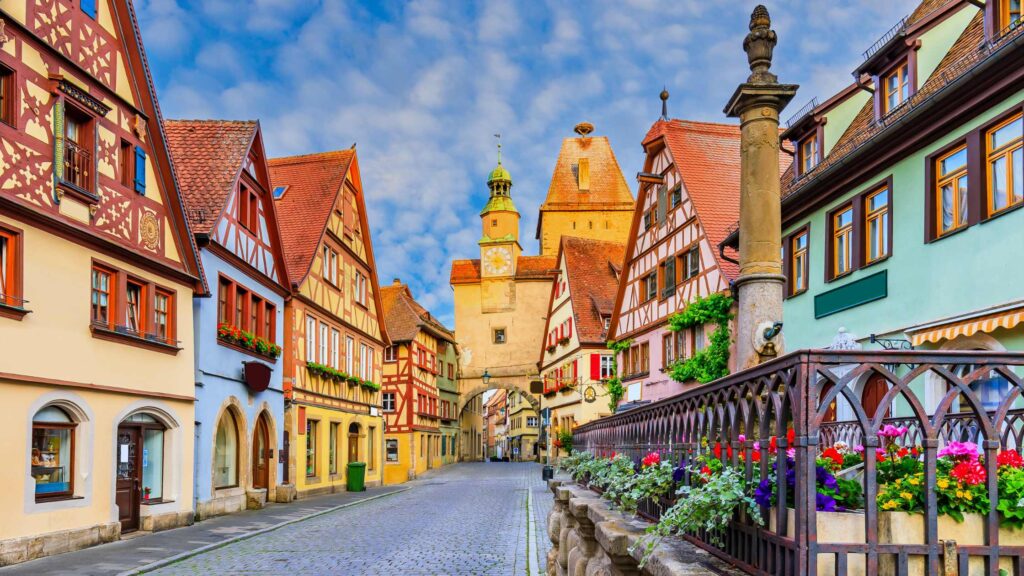 These well-preserved fortifications offer stunning panoramic views of the town's red-roofed houses, nestled within the embrace of the medieval walls.
Don't miss the opportunity to climb the Town Hall Tower for an even more spectacular vista.
Recommended Tour: Rothenburg: Old Town Private Tour
On this tour, explore Rothenburg ob der Tauber on a relaxed and customized private walking tour with a local professional guide.
See important sites and learn about the city's history, culture, and traditions. Book here.
Check out the vibrant Market Square at the heart of Rothenburg. Surrounded by colourful facades, this bustling square is home to the iconic Town Hall, adorned with intricate frescoes.
Take a moment to savour the atmosphere, browse the quaint shops, and sample delicious local delicacies.
Recommended Tour: Rothenburg: City Exploration Game and Tour
On this tour, discover the highlights of Rothenburg with an interactive smartphone app.
Explore the sights like St. Wolfgang Church, Blade Gate, Church of St. James, and more while solving puzzles. Check here.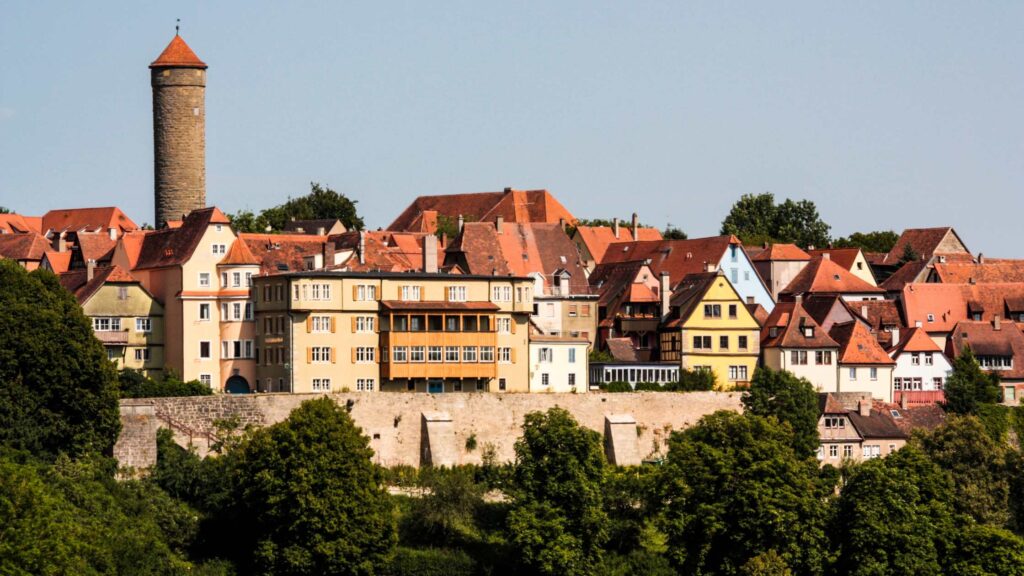 One of Rothenburg's most famous sights, the Plönlein, is a beautiful corner where two streets meet beneath the shadow of a clock tower.
This charming spot has inspired countless artists and photographers and is an absolute must-visit for capturing the essence of Rothenburg.
A visit to Rothenburg would be incomplete without stepping inside St. Jakob's Church. Admire the stunning Gothic architecture and marvel at the intricate woodcarvings and the majestic Altar of the Holy Blood.
Recommended Tour: Rothenburg: Private 1-Hour Night Watchman Tour
On this tour, follow the night watchman as you walk across quiet squares and through barely illuminated lanes.
Experience the unique mood and atmosphere of the dark city as you listen to the night watchman's entertaining and informative stories. Book here.
If you visit Rothenburg during Winter, don't miss Reiterlesmarkt, one of the prettiest German Christmas markets and one of the oldest Christmas markets in Europe.
One of the ancient Christmas traditions at Reiterlesmarkt is the appearance of the Rothenburger Reiterle (horseman), a messenger from another world who carried the souls of the dead across the skies in winter.
Today, his appearance at the market marks the official beginning of the elaborate Christmas celebrations that run for over a month.
Savour the traditional Christmas pastries, roasted chestnuts, sausages, gingerbread, pasta, dumplings, and cookies and top them with the traditional mulled wine to warm you up.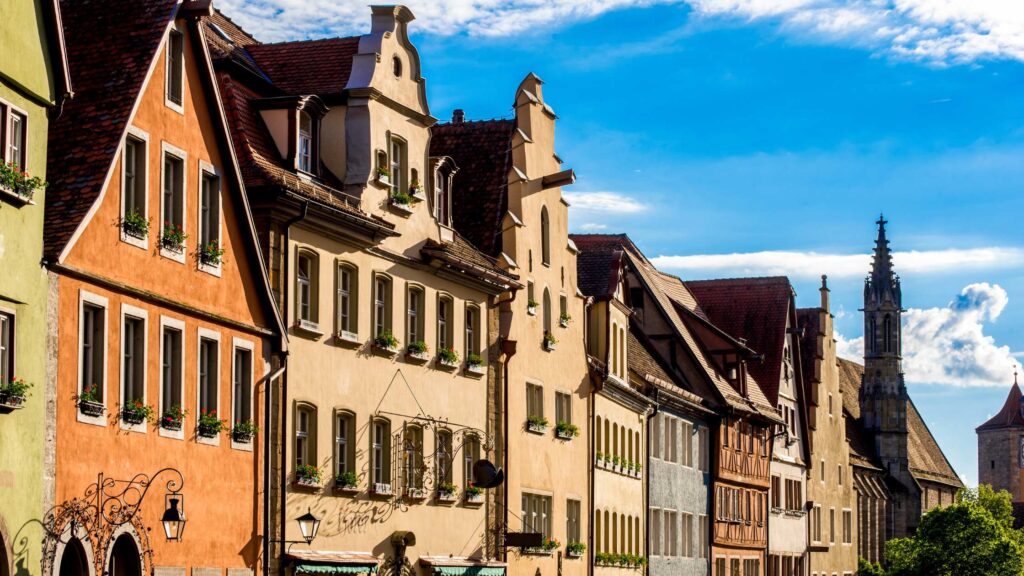 Wine lovers can check this tour: Romantic Road Ticket Würzburg – Rothenburg o.d.T. with wine.
On this tour, embark on a guided wine trip through the Tauber Valley, with three wine tastings as you go.
Explore the wine region of the Romantic Road, Rothenburg ob der Tauber, and immerse yourself in the area's traditional atmosphere.Book here.
Shop for handicrafts and other Christmas souvenirs, perfect for gifting your loved ones.
If you want fun activites in Rothenburg, go on a scavenger hunt tour. Check this Rothenburg: Scavenger Hunt and City Highlights Walking Tour
Discover Rothenburg with a scavenger hunt game and audio guide app on this tour.
Solve puzzles and see the city's top sights, like "Plönlein", "Klingen Gate Bastion", and "St. James Church". Book here.
Another Recommended Tour for Scavenger Hunt is Rothenburg: Highlights Self-Guided Scavenger Hunt & Tour
The best part of this stunning city is that you can base yourself in main cities like Munich or Frankfurt and include Rothenburg as a day trip. Check out these tours from major cities:
From Frankfurt:
From Munich:
From other cities:
Check out my complete guide if you want to know about other Christmas markets in Germany.
WHERE TO STAY IN ROTHENBURG?
Burghotel, Gästehaus Edelzimmer, Historik Hotel Gotisches Haus garni, Altfraenkische Weinstube, Romantik Hotel Markusturm, Gästehaus Liebler
WARSAW, POLAND
Warsaw, Poland's capital is one of the quirkiest cities I have visited. The city is a gateway to the country's rich history, architecture, culture, food, drinks and social life, making it of the cool places for Europe Solo travel.
I spent about 6 days in this wonderful city alone and not for once did I have to be on my toes or felt uncomfortable.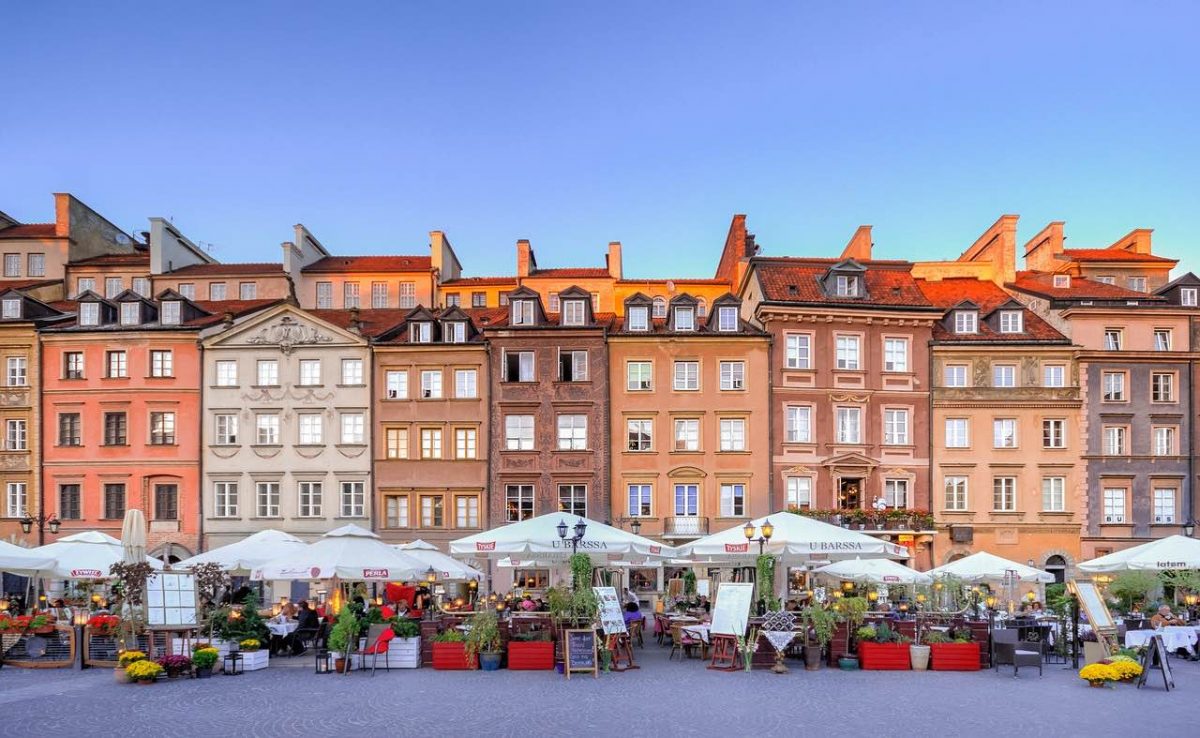 There are many unusual things to do in Warsaw. It is unlike the chic Wroclaw or has the charm of Krakow, but it will certainly captivate you with unique things you can only expect to happen in the city.
Visit Keret House, the narrowest house in the world, located centrally near the old town.
Relax at Park Skaryszewski. There is a lake, and abundant greenery with lots of vivid-coloured flora, making it a great place to unwind amidst nature.
It's also a great place to escape the city for a while. If you visit in summer, you can also Kayak in the lake or rent boats.
Check out the elegant 17th-century Presidential Palace, home to the Polish presidents and a central seat of power.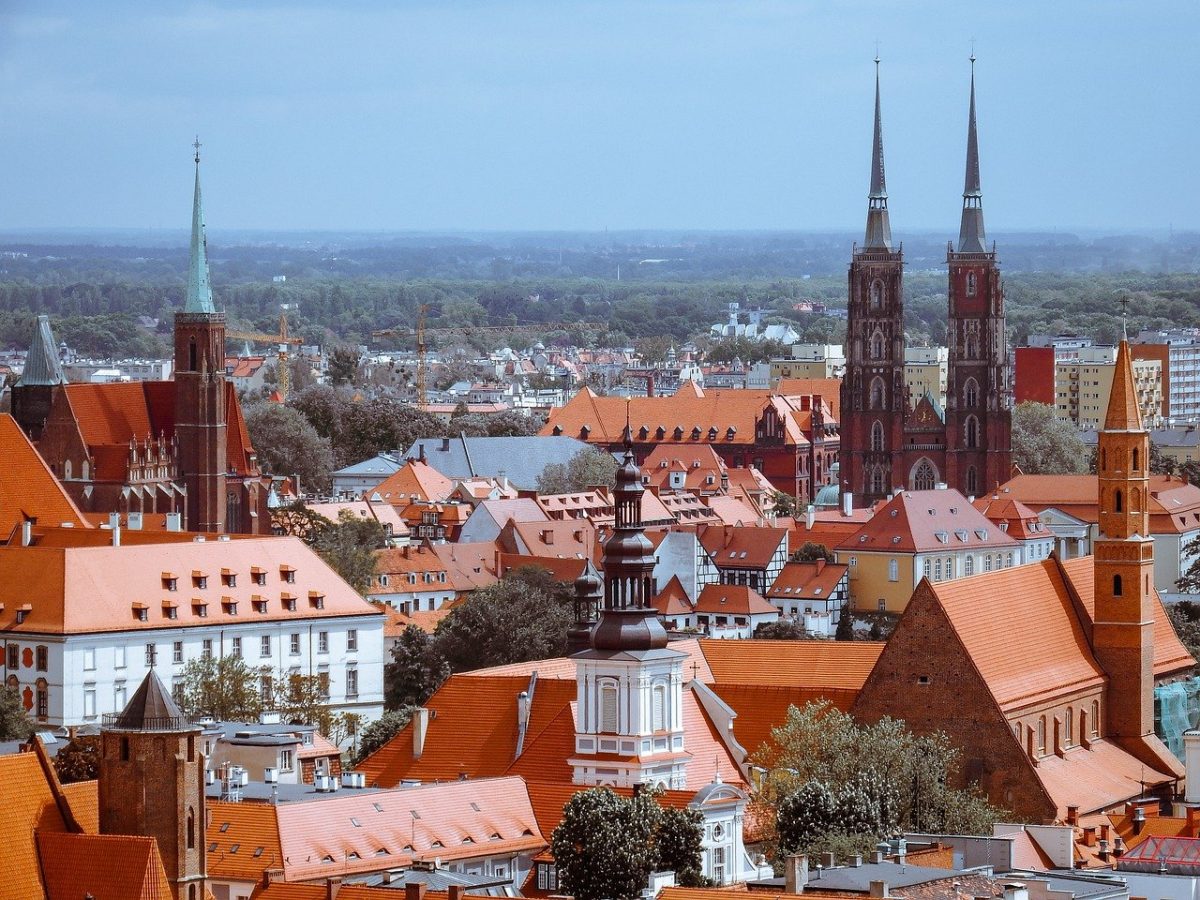 Stroll along the medieval Saxon Garden. Constructed in the 18th century, Saxon Garden was the first park in the world open to the Public.
It houses the tomb of the unknown soldier, along with many sculptures, and ponds set amidst greenery.
Check out the Neon lights at the Neon Museum, which were symbols of art, political expressions and a way of cultural life in Warsaw.
You can rent a boat or just a boat trip or even a sunset ride in the Vistula River. The views on either side are memorable.
I can't emphasize enough the delicious Polish food. When the food is cheap and irresistible, it's always a jackpot.
If you agree (or even don't), you should try some local food in Warsaw. Being a big city and the capital, there is no dearth of fancy restaurants that are not very good, so you might want to research first.
If you want to learn to make Polish dumplings, this tour is perfect. In 3 to 4 hours, you will master the way to make delectable Pierogis from the local instructor!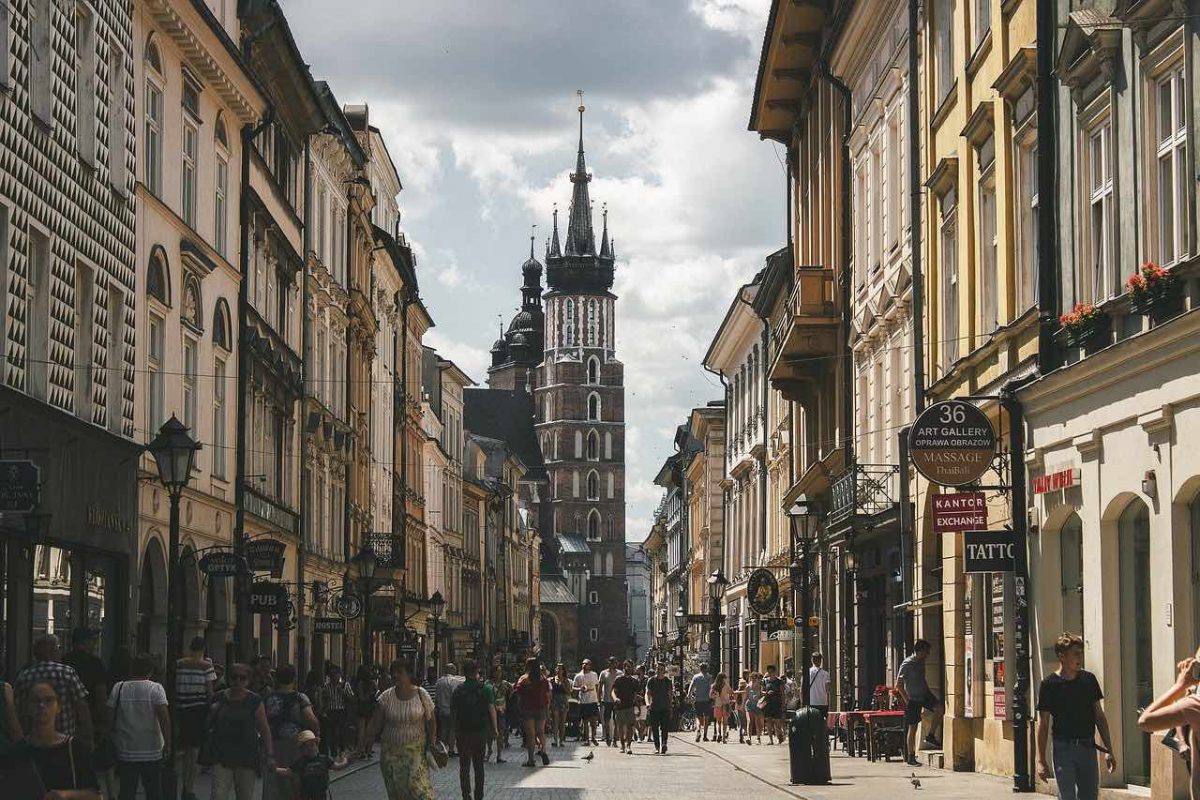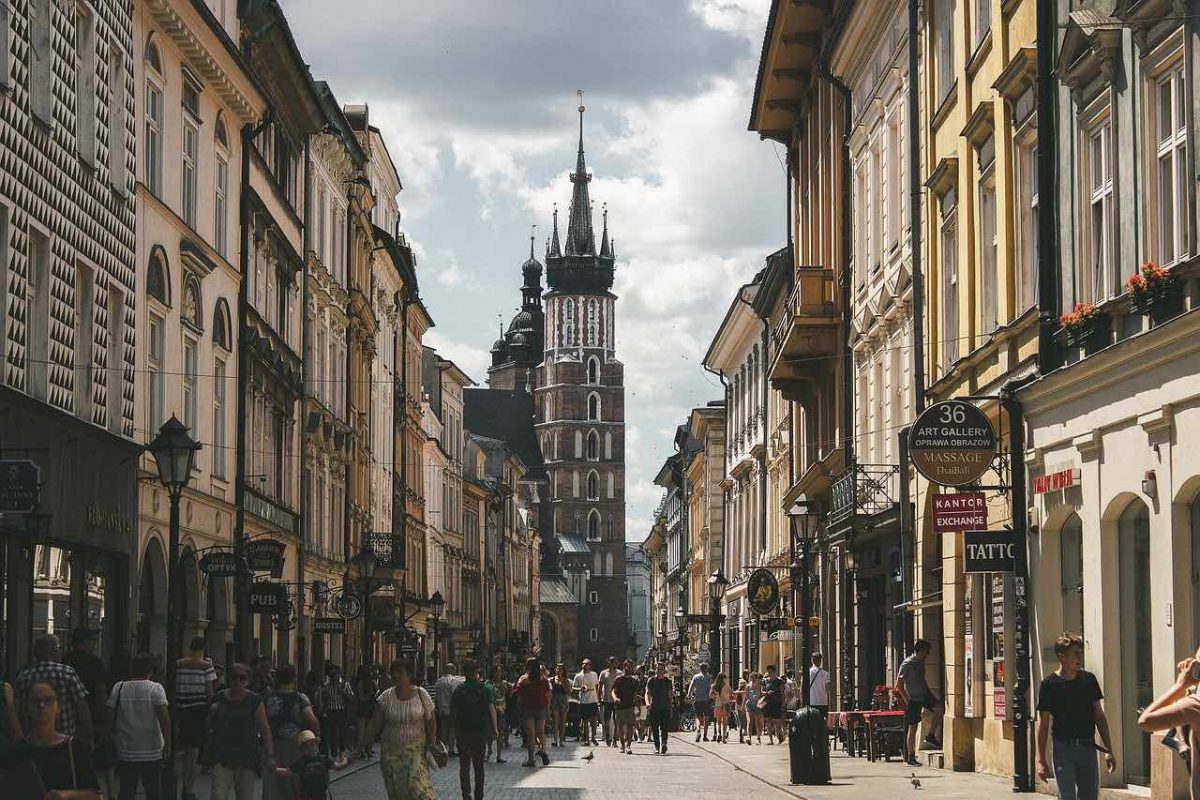 If you want a guided food tour, sign up for this fun Polish Food Tour, to know where locals eat the best Polish food.
In this 3.5-hour tour, you will get skip-the-line tickets, and visit many local eateries where you will try out amazing cuisines with your guide.
Check out my exclusive guide for unusual things to do in Warsaw.
Set base at Warsaw and plan for day trips. If you are wondering What to is near Warsaw for day trips, check out this post; 21 Day Trips From Warsaw.
If you just have 3-days and want to explore the major parts of Warsaw and looking for an itinerary, check out this guide; 3 Days In Warsaw.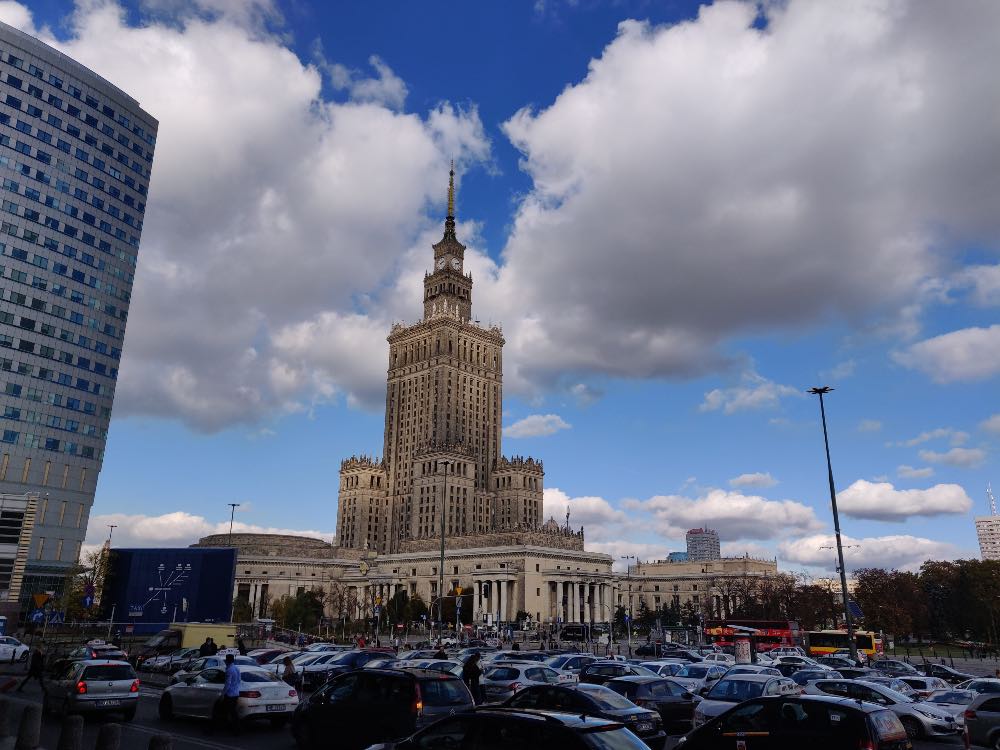 WHERE TO STAY IN WARSAW?
Check out the best hotels in Warsaw and hostels for solo female travelers below;
GLAM APARTMENTS city center, Wola Luxury Stay, Raffles Europejski Warsaw
If you want a detailed review of other best hotels and hostels in Warsaw, please go through this; Where to Stay in Warsaw.
ODENSE
Nestled on the island of Funen, Odense is a city that seamlessly blends history, culture, and modernity.
With its cobblestone streets, enchanting gardens, and captivating museums, Odense offers a delightful experience and is one of the hidden gems of Europe.
Odense, the third-largest city of Denmark and the birthplace of world-renowned fairytale writer Hans Christian Andersen is home to beautiful public gardens and enormous castles. It is one of the best choices for Europe Solo travel.
Odense has a rich historical heritage dating back to the Viking Age.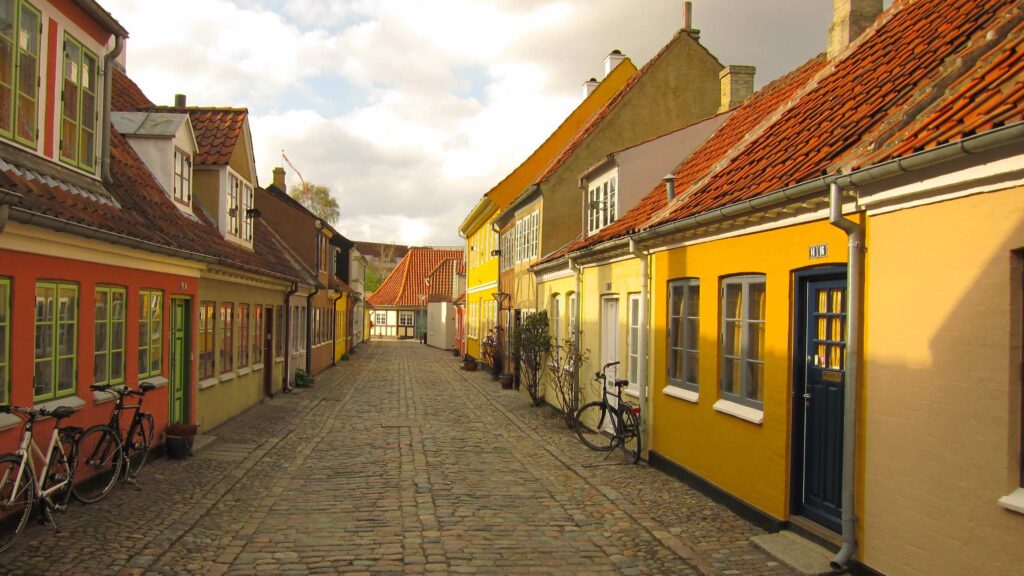 Start your exploration with a visit to the gorgeous Odense Cathedral, one of Denmark's finest examples of Gothic architecture.
Explore the medieval town encompassing narrow cobbled alleys lined with colourful, half-timbered houses that will transport you back in time.
Visit the many fabulous gardens – Munke Mose, the Fairytale flower garden on the Eventyrhaven.
Take a leisurely walk along Brandts Passage, a pedestrian street lined with boutiques, cafes, and galleries.
Recommended Tour: Inspiring Odense – Walking Tour for Couples
Plenty of attractions are dedicated to Hans Christian Andersen's life and works.
Begin at the Hans Christian Andersen Museum in the author's childhood home. Explore the exhibits that showcase Andersen's life, writings, and personal belongings.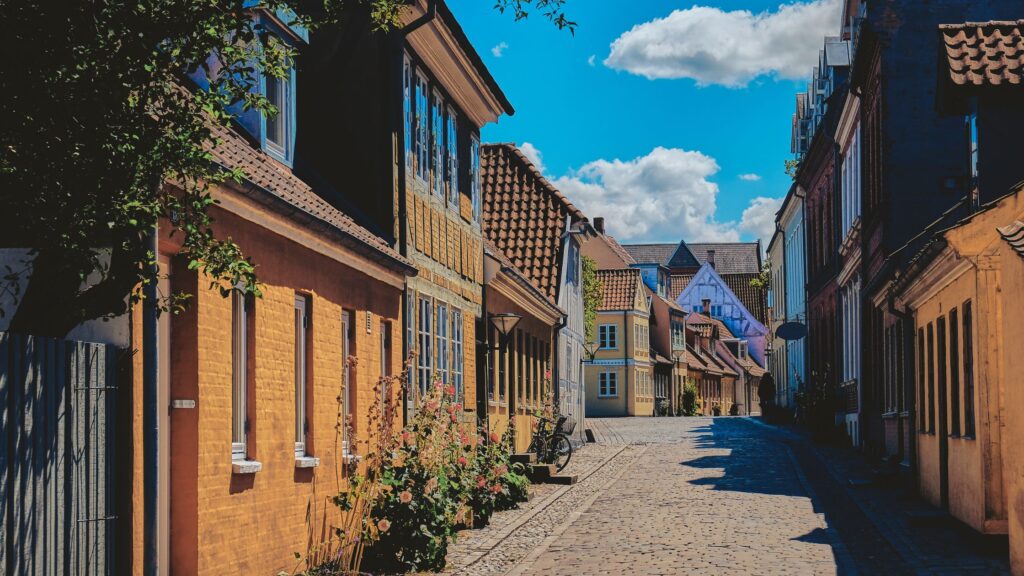 Just a short distance away, you will find the enchanting Hans Christian Andersen's Birthplace, a recreated 19th-century environment where you can step into the writer's world.
Check out the Odense Concert Hall, which hosts a variety of performances ranging from classical concerts to contemporary shows.
If you are an art enthusiast, don't miss the Funen Art Museum, which houses an extensive collection of Danish art from the 18th century to the present.
The museum's beautiful surroundings make it a perfect place to spend an afternoon immersed in artistic beauty.
The panoramic Odense River runs through the city's heart, offering pleasant waterfront walks.
Recommended Tour: Odense: River Cruise on the Odense River
Head to the enchanting Odense City Park, a sprawling green oasis to unwind, have a picnic or ride a bike.
For nature lovers, the Funen Village is a must-visit. This open-air museum showcases traditional Danish village life and features beautiful gardens, historic buildings, and farm animals.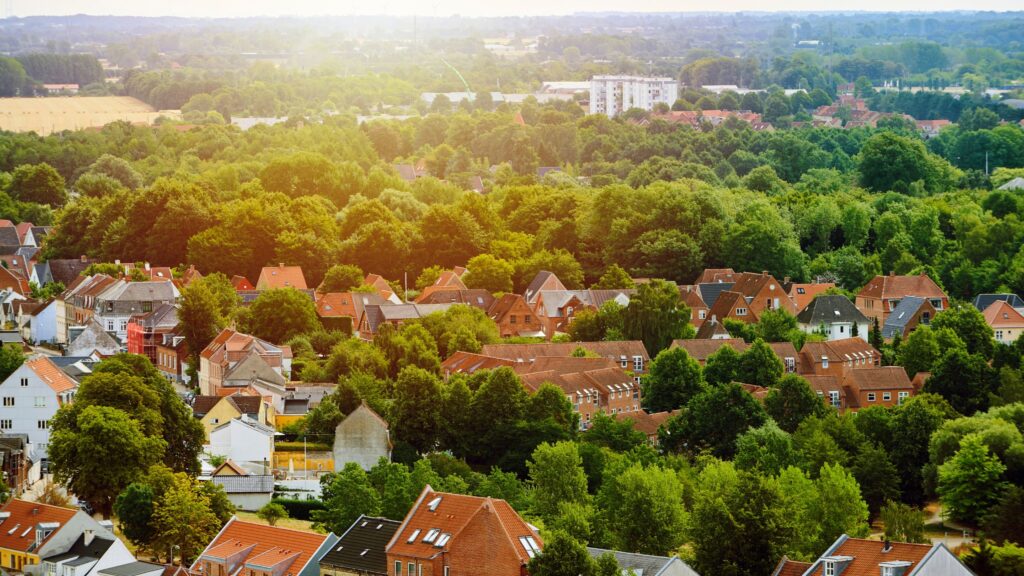 Recommended Tour: GoBoat Odense: Self-drive Boat Tour
On this tour, enjoy an outing in a self-driven boat and take in the sights of Odense Harbor from the water. Captain your boating vessel with no license or certificate required. Book here.
Sample traditional Danish cuisine at local restaurants and cafes, where dishes like smørrebrød (open-faced sandwiches) and flæskesteg (roast pork) will tantalize your taste buds.
Don't forget to try the local delicacy, Odense Marzipan, produced in the city since the 19th century.
Recommended Tour: Christmas Charms in Odense – Walking Tour
WHERE TO STAY IN ODENSE?
Odense City B&B, Cichy Zakątek 2, Hotel Odeon, Amalie Bed and Breakfast & Apartments, Cichy zakątek, Billesgade Rooms
ZAKOPANE, POLAND
Zakopane, Poland's winter capital, is one of the best destinations for Europe Solo travel.
Nestling at the foot of the majestic Tatra Mountain Range, this enchanting city is one of the best places to enjoy winter in Poland.
There are many amazing things to do in Zakopane. There is something for everyone, from hiking to funicular rides to museums to delicious Polish food.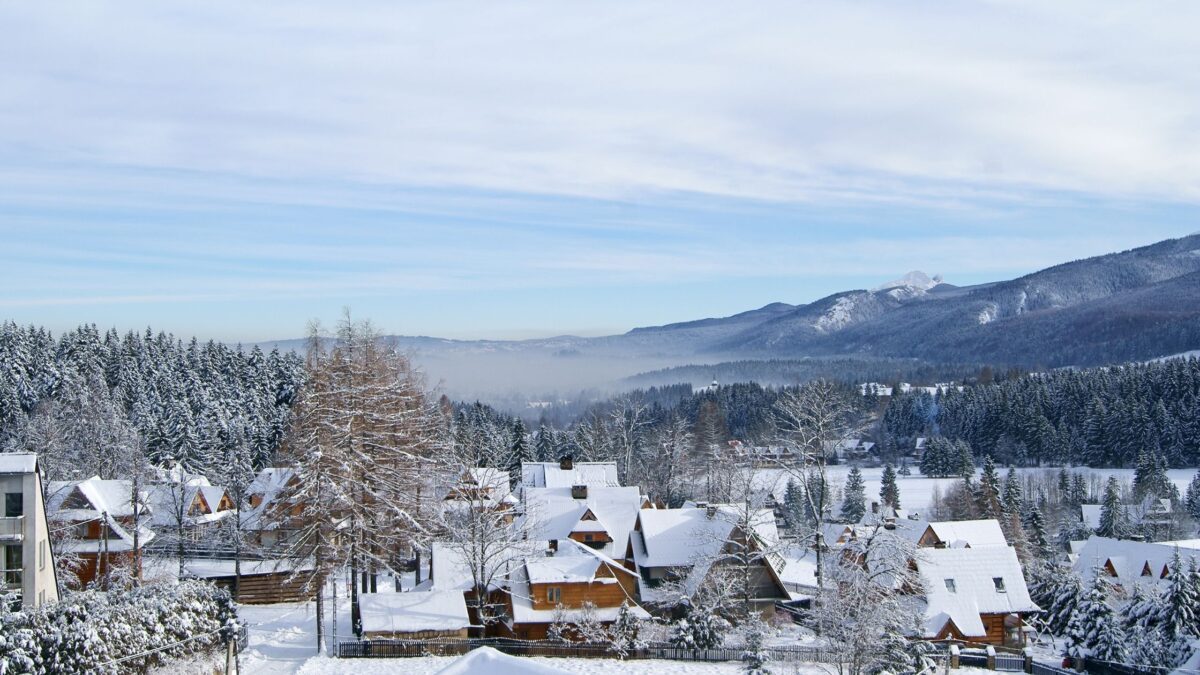 One of the unmissable things to do in Zakopane is to try the special local delicacy, Oscypek.
This gorgeous town's proud invention is this delicious salted cheese made of smoked sheep and goat milk from the mountains' highlands.
I highly recommend joining a guided local cheese-making tour. Also, try this guided food tour in Zakopane to taste other local delicacies with the experts.
Stroll on the main street of Krupowki, the heart of the town. This pedestrians-only street stretches for over a kilometre, beginning at the starting point of the Gubalowka funicular ride station.
Recommended: Krakow: Zakopane Day Trip with Hot Springs and Hotel Pickup
Zakopane is famous for its wooden houses and buildings that have tiered architecture. Check out these cute houses with patios decorated with flower pots.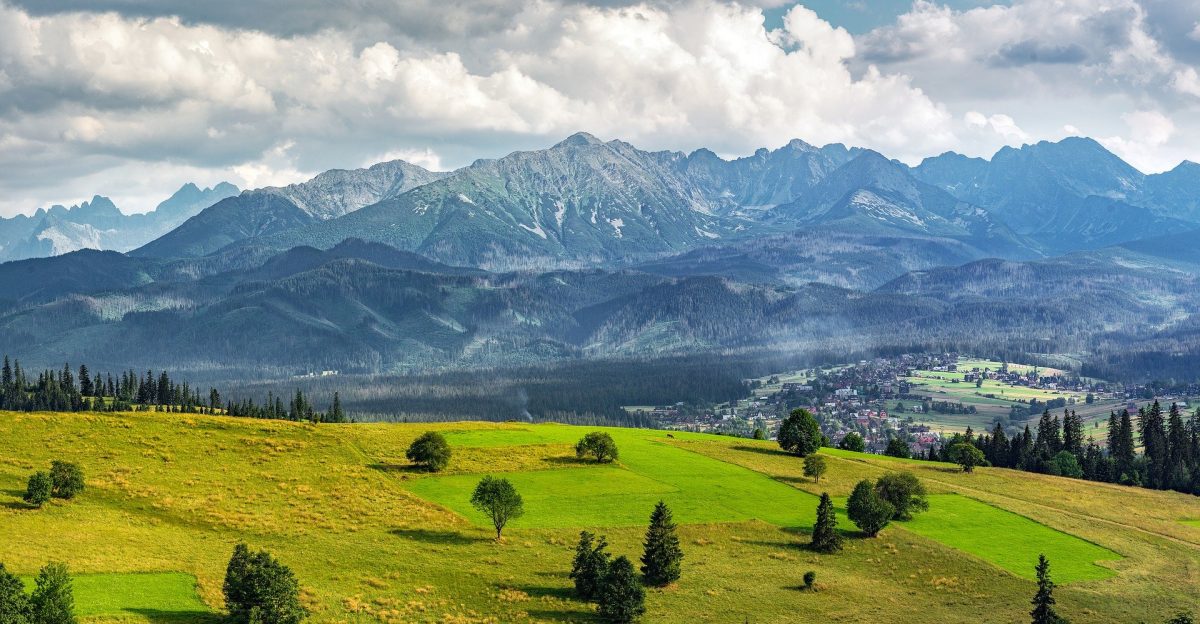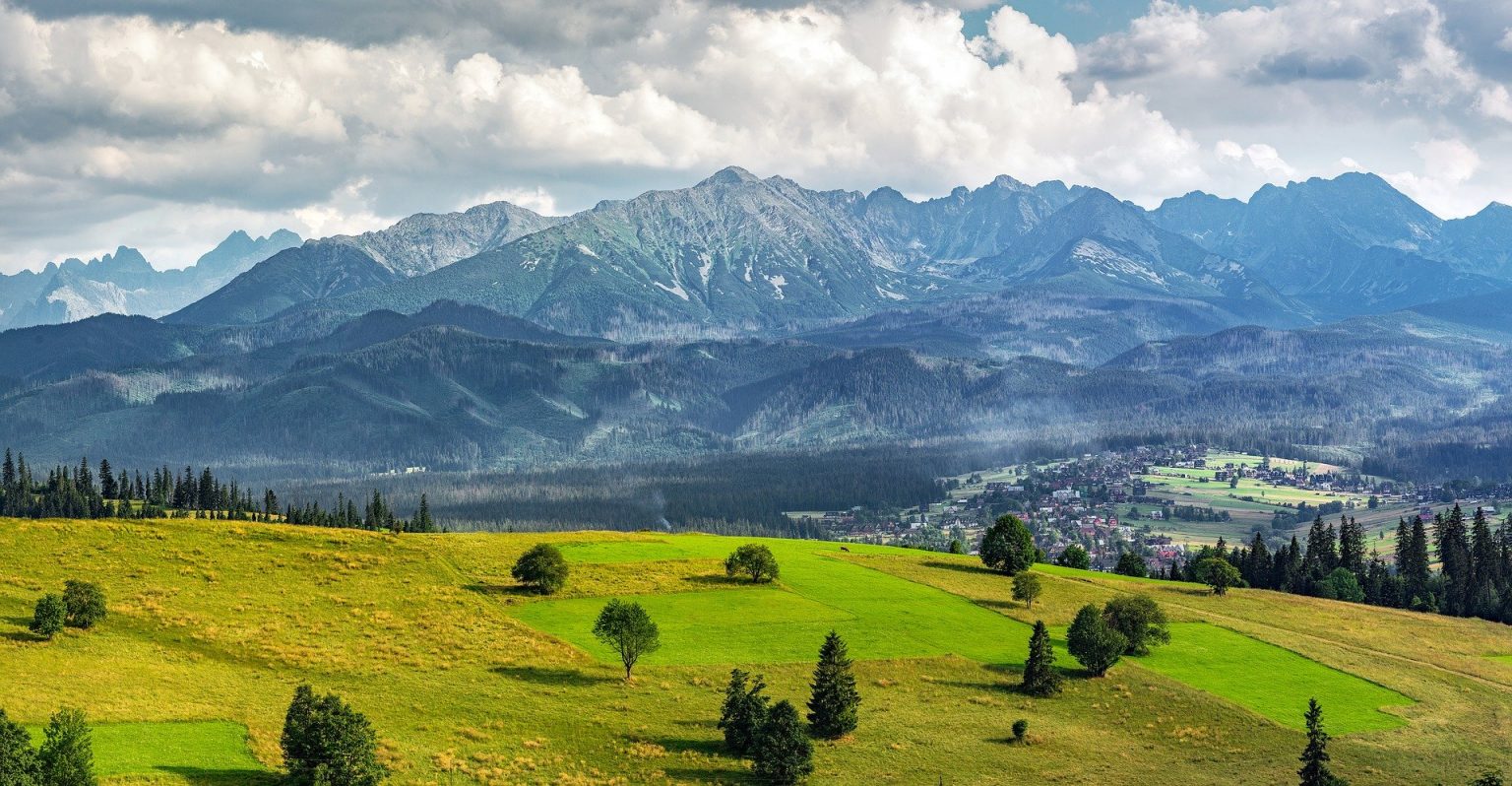 Admire the panoramic bird views of the town surrounded by the magnificent Tatra. Take a cable car ride to the top of Mount Kasprowy Wierch.
Recommended Tour: Zakopane Full-Day Trip from Krakow with Cable Car Ride
Head to the summit of Kasprowy Wierch on a cable railway. Enjoy breathtaking views on the way up and choose from several trails for a trek at the top of the mountain.
Take a guided walk through the centre of Zakopane before heading back to Krakow. Book here.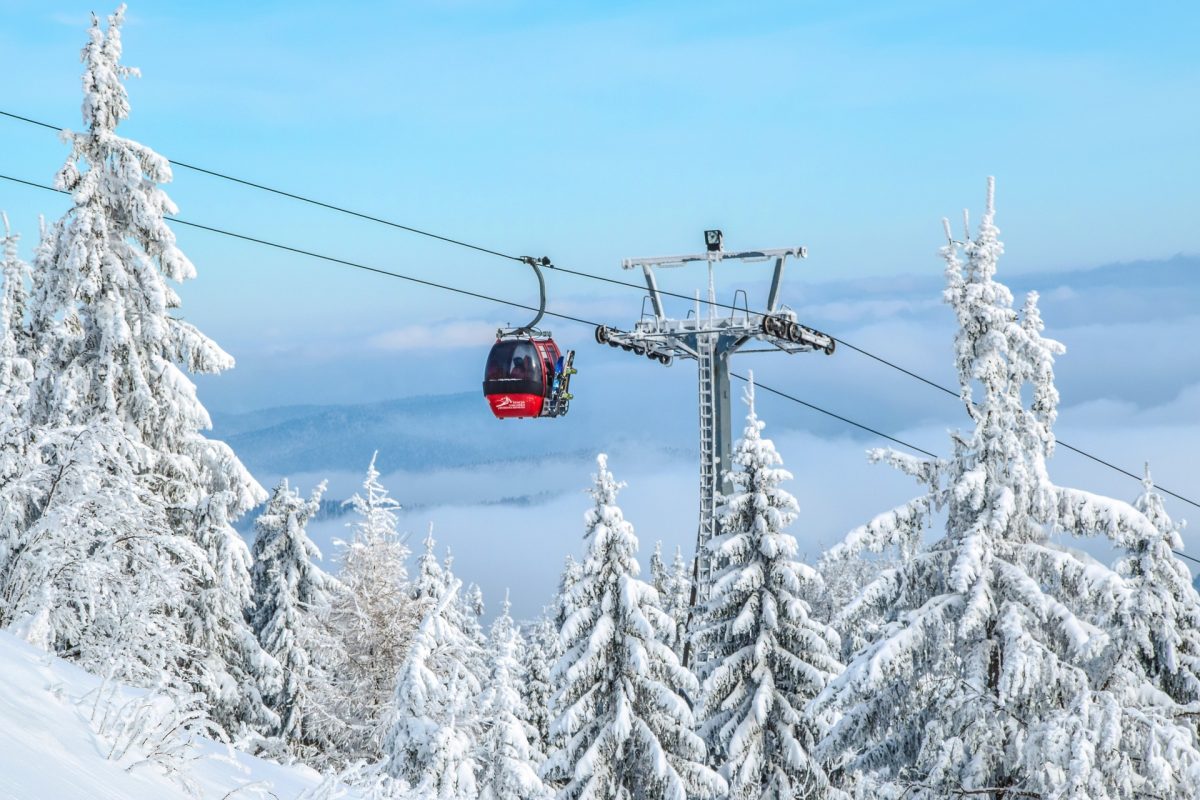 A five-minute funicular ride from the centre will take you to Gubalowka Mountain.
As much as the place, this super short ride to the top is a beautiful ascend as you see the dense forests below and the mountain peaks around on your way up to the top.
Recommended Tour: Krakow: Zakopane Tour with Hot Bath Pools and Hotel Pickup
Choose one of the most frequently booked and best-reviewed tours from Krakow. Wander the streets of charming Zakopane, discover its thermal baths, and try the local cheese and vodka. Book here.
Have a relaxing day in one of the many thermal pools in Zakopane. Thermal pools are also known for their rich mineral content, which has unique health benefits.
Recommended Tour: Krakow: Zakopane and Thermal Springs Tour with Hotel Pickup
On this tour, visit Zakopane and relax in thermal hot springs during the trip from Krakow. Admire the Polish Tatra Mountains on a cable car and taste local smoked sheep cheese and alcohol. Book here.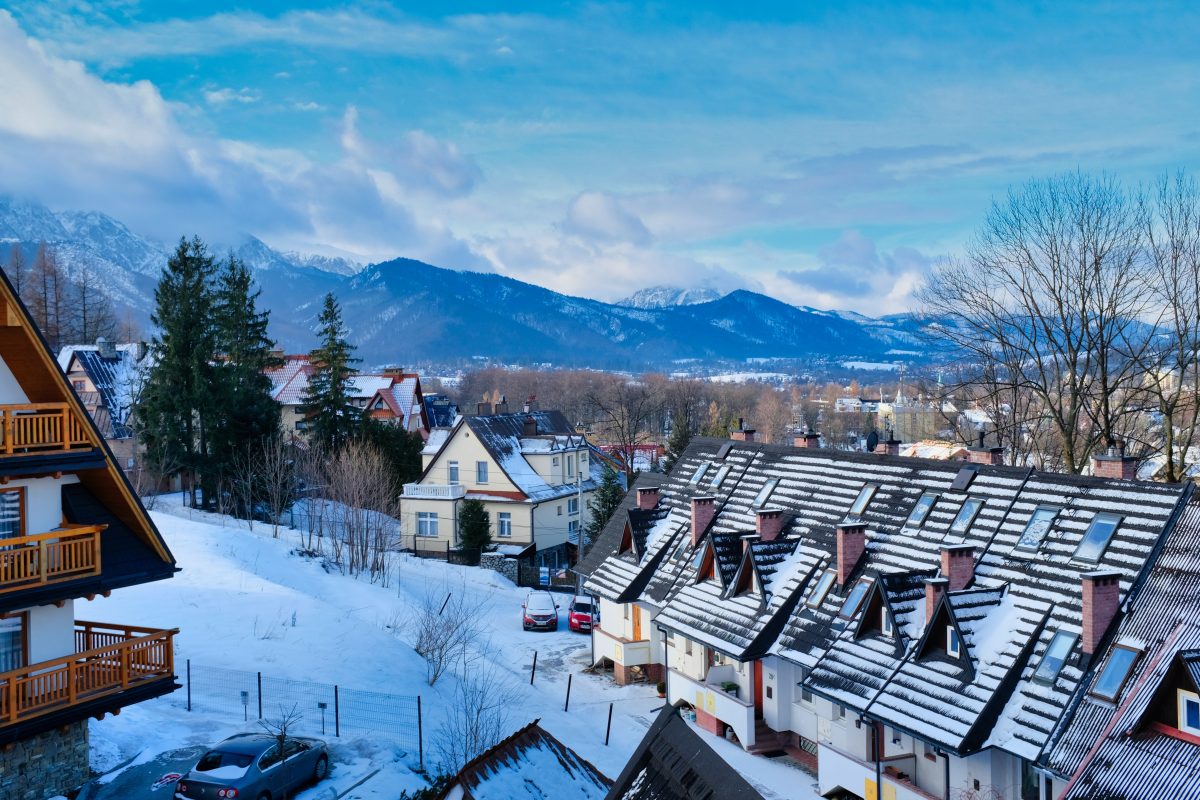 How about combining a day of skiing and thermal baths? Book this tour which gives you access to both at reasonable prices.
If you want to get glimpses of the wildlife in the mountains and the Polish villages, you should plan a drive or a trip to nearby towns in the Tatra mountains.
Among the most beautiful villages, check out Zab, known for its excellent location overlooking the majestic Gorce, Tatra and the Babia Gora Mountain Ranges.
Recommended Tour: From Krakow: Zakopane and Tatra Mountains Full-Day Tour
The Tatra Museum, right on Krupówki Street, is a must-visit if you are a museum lover – it is the best museum showcasing the history, culture and traditions of the Polish Tatra region.
Visit Villa Koliba, the first building built in the traditional wooden Zakopane style of architecture, which is a monument as well as a museum housing the artefacts related to this unique architecture.
Recommended Tour: From Krakow: Zakopane Tour with Gubalowka Funicular & Museum
Visit Fatima Sanctuary in Krzeptówki, the main church, and stop by Jaszczurówka Church.
Recommended: From Krakow: Zakopane & Tatra Mountains Tour
One of the best things to do in Zakopane winter is skiing. Many people looking for skiing in Europe lean towards the Alps of Switzerland or France or other countries which are more expensive and commercialized.
Zakopane is the top destination for skiing, and you will find many locals on holidays and weekends on these slopes.
There are many slopes for ski activities, and whether you are a beginner with no experience or a seasoned skier, there are slopes and practices for every experience level.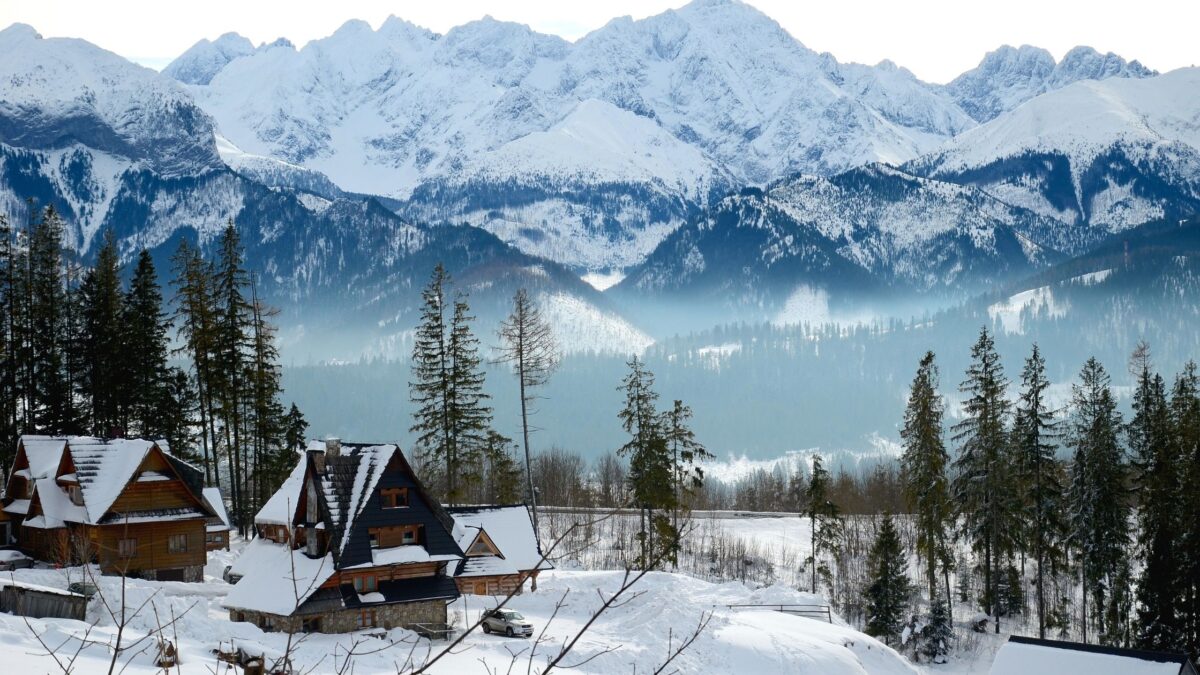 The main Zakopane ski jump is Wielka Krokiew, a famous stadium; travelers can also use the ski.
If you are an experienced ski person and love to challenge yourself, one of the top things to do in Zakopane for you will be to try skiing at Krasprowy Wierch, which has some of the longest descents you can have an adventure on.
Recommended Tour: Zakopane & Tatra Mountains Private Full-Day Tour from Krakow
Try tasty Polish delicacies and drinks at Zakopane. Unlike the other regions of Poland, the cuisine of the Tatra region is known for its copious amounts of calories and extensive fat content.
Also, try the different types of cakes, and special potato dumplings served with sour cream.
Recommended Tour: Zakopane Private Polish Beer Tasting Tour
Other Recommended Tours in Zakopane:
Check out my complete guide to things to do in Zakopane.
WHERE TO STAY IN ZAKOPANE?
Tatra Wood House, BIAŁY PUCH, Domek Góralski – Górski Hyr, Willa Cztery Strony Świata, Villa Adamo&SPA and Willa Jarosta.
LUCERNE
Lucerne, located at the foot of Mount Pilatus, is considered one of the most beautiful cities in Switzerland.
Sitting at the edge of scenic Lake Lucerne, with the stunning Alps forming a gorgeous backdrop in all directions, it is one of the popular choices for Europe Solo travel.
You will find the city irresistibly charming. You can't help being fascinated by its rugged natural beauty, picture-perfect old town with gable paintings, historic buildings, iconic bridges, traditional town squares and lovely cobbled streets.
There are plenty of things to do in Lucerne.
One of the famous and fun Lucerne activities is to explore the city on a tuk-tuk.
Recommended Tour: Lucerne: eTukTuk City Tour
Discover Lucerne in an eco-friendly, electronic tuk-tuk on this tour and enjoy a personalized city tour with a local guide.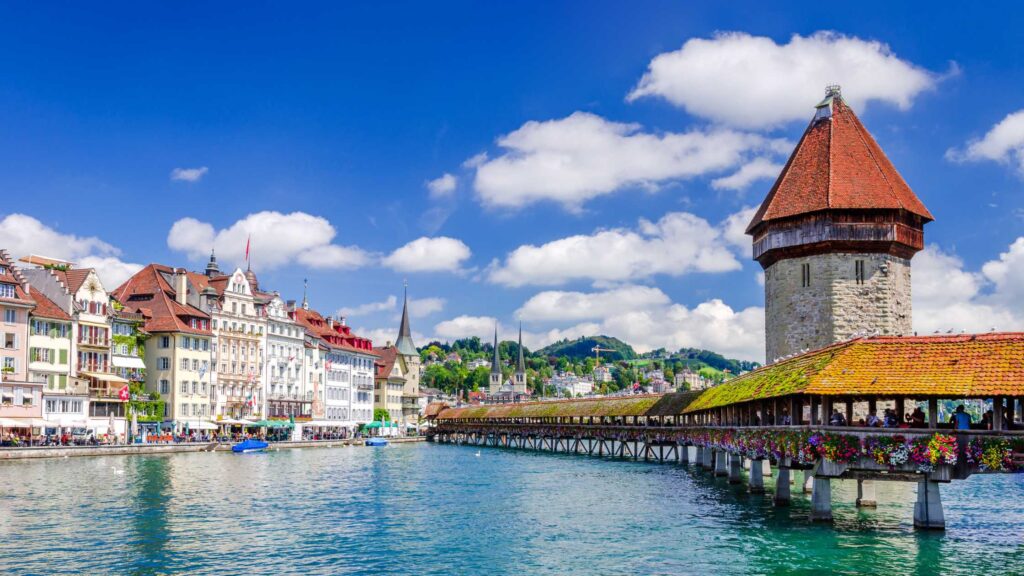 Experience the city's beautiful scenery and get unique information about the sights and their history. Book here.
Head to the magnificent 14th-century Chapel Bridge, a covered wooden bridge with ceiling beams lined with paintings. It is one of Switzerland's oldest bridges and the most photographed landmark.
Reach the other end of this bridge to come across the historic Octagonal Water Tower, another famous monument, a former medieval dungeon and a treasury vault.
Recommended Tour: Lucerne: Walking Tour to Chapel Bridge and Old Town
Take a boat trip on the river to the neighbouring idyllic small villages that are even more beautiful, sitting at the foot of the mountains.
You can also take a lake tour on one of the steamships, which is very romantic.
Recommended Lake Tours:
Visit the Swiss Museum of Transport. You can buy tickets here: Swiss Museum of Transport Full Day Pass.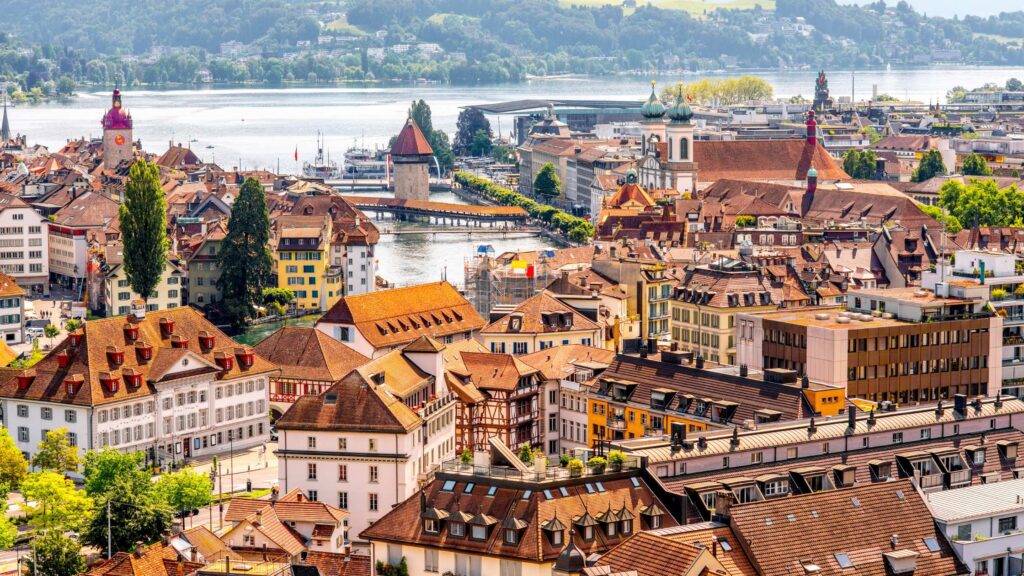 Walk amidst the old houses decorated with frescoes on the cobbled streets leading to the old town. Enjoy a walk around the stunning Lake Lucerne for incredible views, especially during the sunset.
Recommended Tour: Lucerne: 1-Hour Cruise on Panoramic Yacht
Take a ride on the double-decker tram to reach the summit of Mount Stanserhorn for glorious views of the panorama from the top. You can also hike on the trails leading to many viewpoints.
Recommended Tour: From Zurich: Full-Day Mount Stanserhorn Discovery Tour
You can plan many day trips from Lucern to enjoy the nearby mountains, the most popular being Mount Pilatus, which can be reached by cable car.
Recommended Tours:
If you are looking for outdoor attractions in Lucerne, try paragliding, and you will witness the stunning views of the Alps.
Recommended Tour: Lucerne: Tandem-Paragliding Flight
On this tour, go paragliding, and admire the spectacular views of the mountains, valleys, and lakes.
See the famous Lake Lucerne area from above on a tandem flight accompanied by an experienced pilot. Book here.
When you are in Switzerland, you cannot miss chocolates. If you have a sweet tooth, you will love this tour: Lucerne: Chocolate Tasting with Lake Trip and City Tour.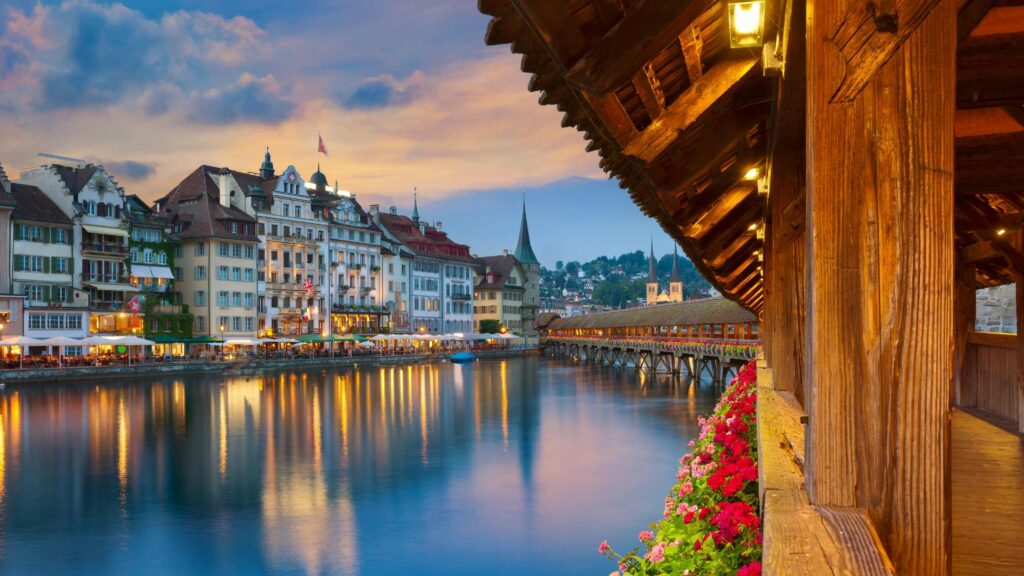 On this tour, stroll through the city, visit the most renowned chocolate boutique, and sample its delicacies.
See the most iconic landmarks from Lake Lucerne and the best panorama spots in a combined walking and boat tour. Book here.
Other Recommended Lucerne Tours:
You can also base yourself at Lucerne and go for day trips. There are many trips, and I have tried to recommend a few of them below:
WHERE TO STAY IN LUCERNE?
Gasthaus Badhof – Golfhotel, Hotel des Balances, Hotel Anker Luzern, Young Backpackers Homestay, KoBi Apartments Hirschenplatz
WROCLAW, POLAND
If Poland has a unique city, it has to be Wroclaw, which is also an ideal location for Europe Solo travel.
First of all, it's a challenge to get the city's name right. Pronounced as 'Vrots Wahf', it takes a while to pronounce the name at least close to right.
There are myriad things to see in Wroclaw.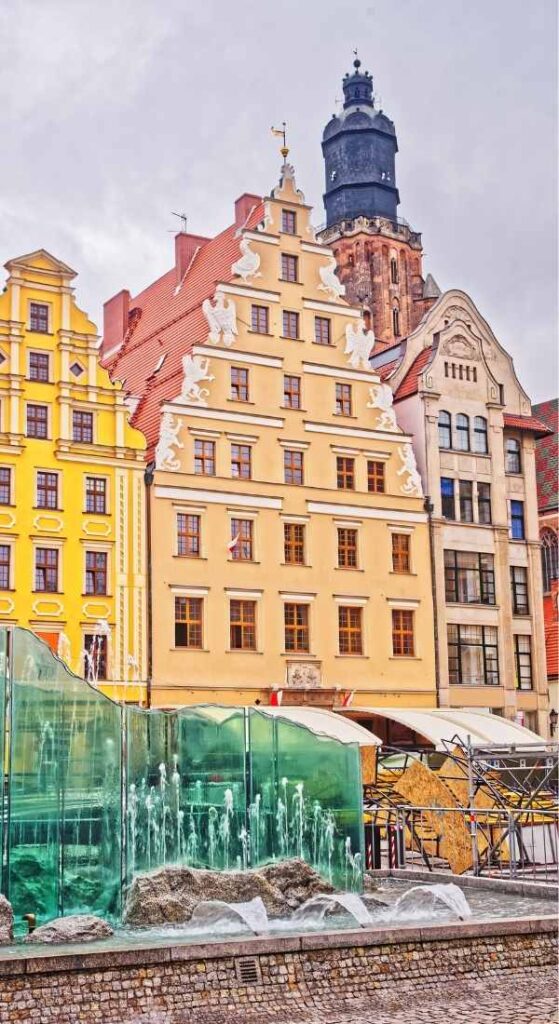 Admire the gorgeous Wroclaw Market Square, the heart of Wroclaw. Declared one of the most beautiful market squares in Europe, this is the second-largest market square in Poland after the Main Square in Krakow.
Recommended Tours:
Wroclaw is synonymous with Ostrów Tumski, the oldest part of the city with a history dating back to the 10th century.
Another thing you could only do in Wroclaw is look for the gnomes. Going dwarf hunting is one of the best Wroclaw activities I immensely enjoyed.
To give you a background, Wroclaw is home to more than 350 dwarf statues found in the most unusual places you could expect.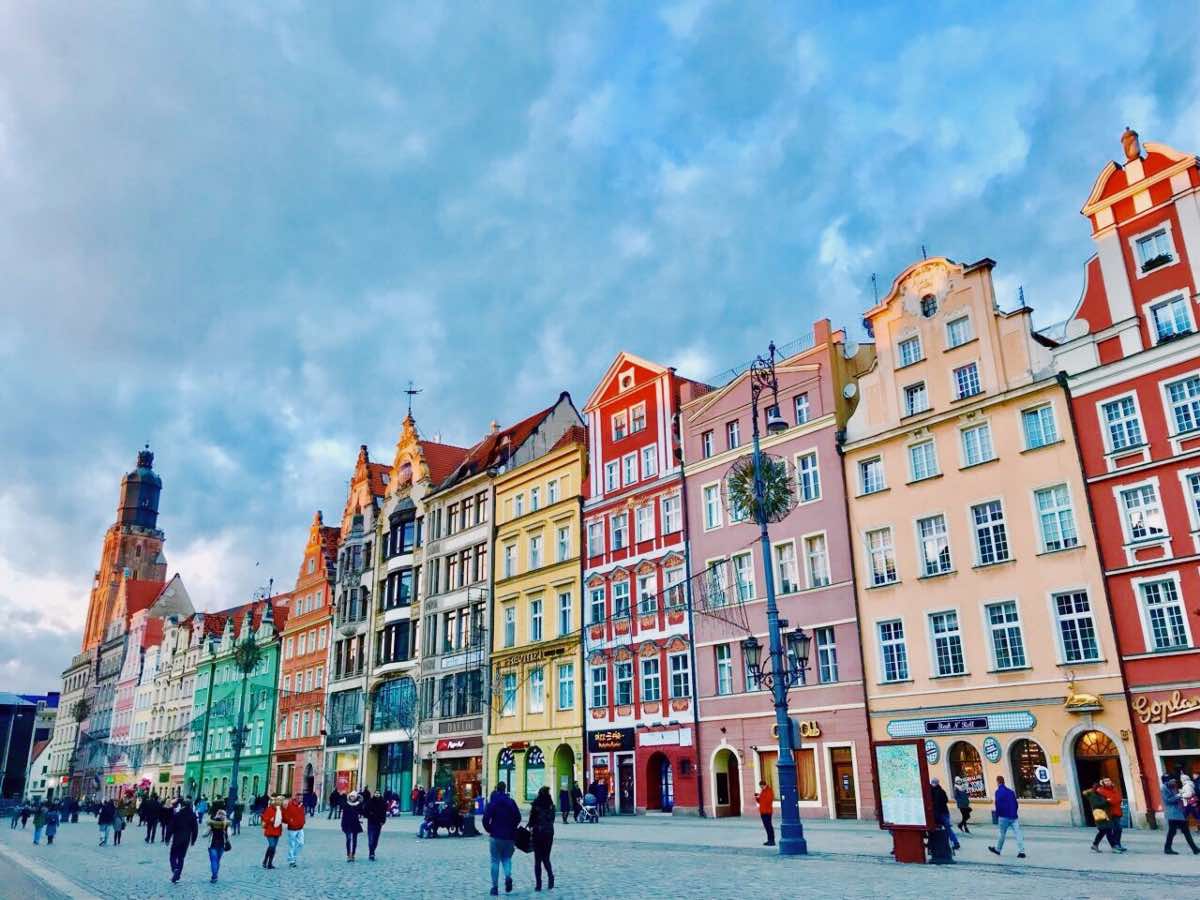 Visit Hala Stulecia or the Centennial Hall, listed as UNESCO World Heritage Site in 2006; this place is a tribute to the fascinating combination of traditional and modern architecture.
Check out the renowned Wroclaw University, constructed in the 17th century. The university boasts a rich history, and its location amidst the beautiful traditional buildings in the old town makes it further interesting.
Visit Wroclaw Zoo, one of the largest and oldest zoos in Poland. With more than 10,000 animals belonging to 1000+ species, The Zoo is also the third-largest zoo in the world.
If you are in Wroclaw during summer, don't forget to check out the Wrocław Fountain, a multimedia musical fountain and an ornamental pond.
Recommended: 17 Awesome day trips from Wroclaw that you can plan
Wroclaw is home to various cuisines, including Vegan, vegetarian, Turkish or Italian. But what you should not miss trying are all the delicious Polish dishes.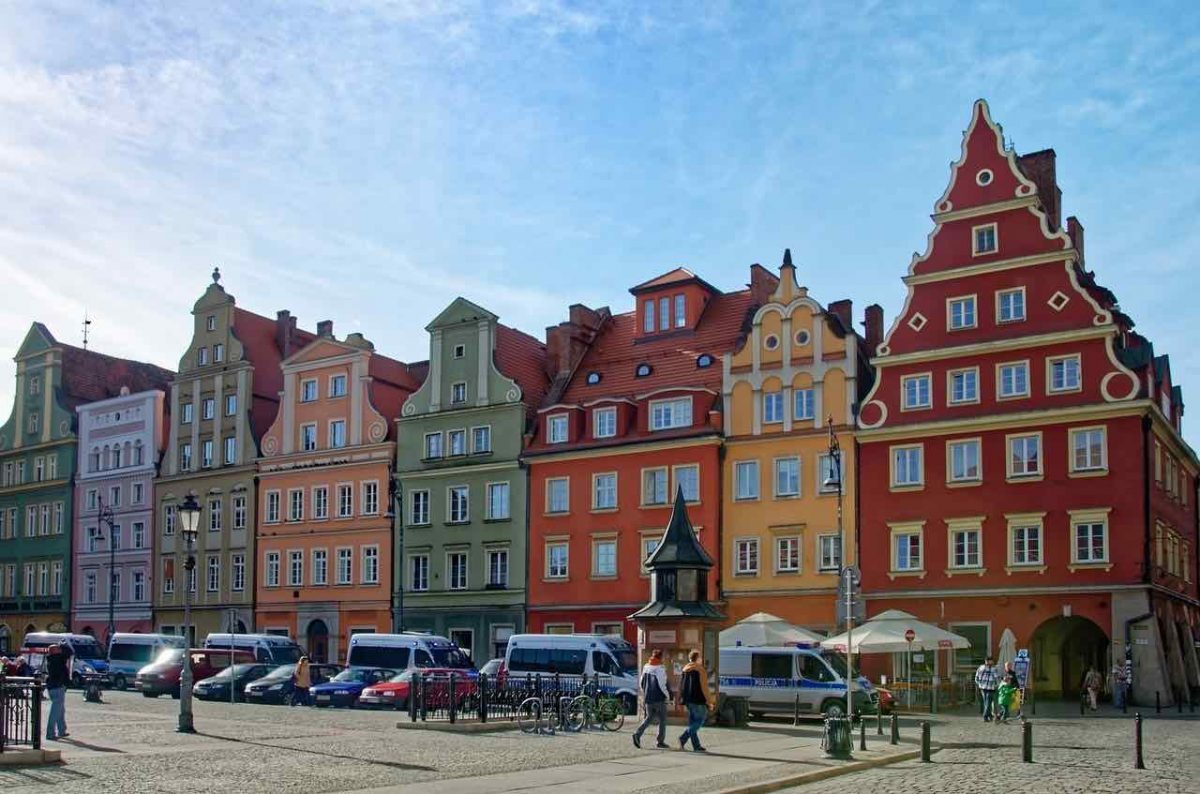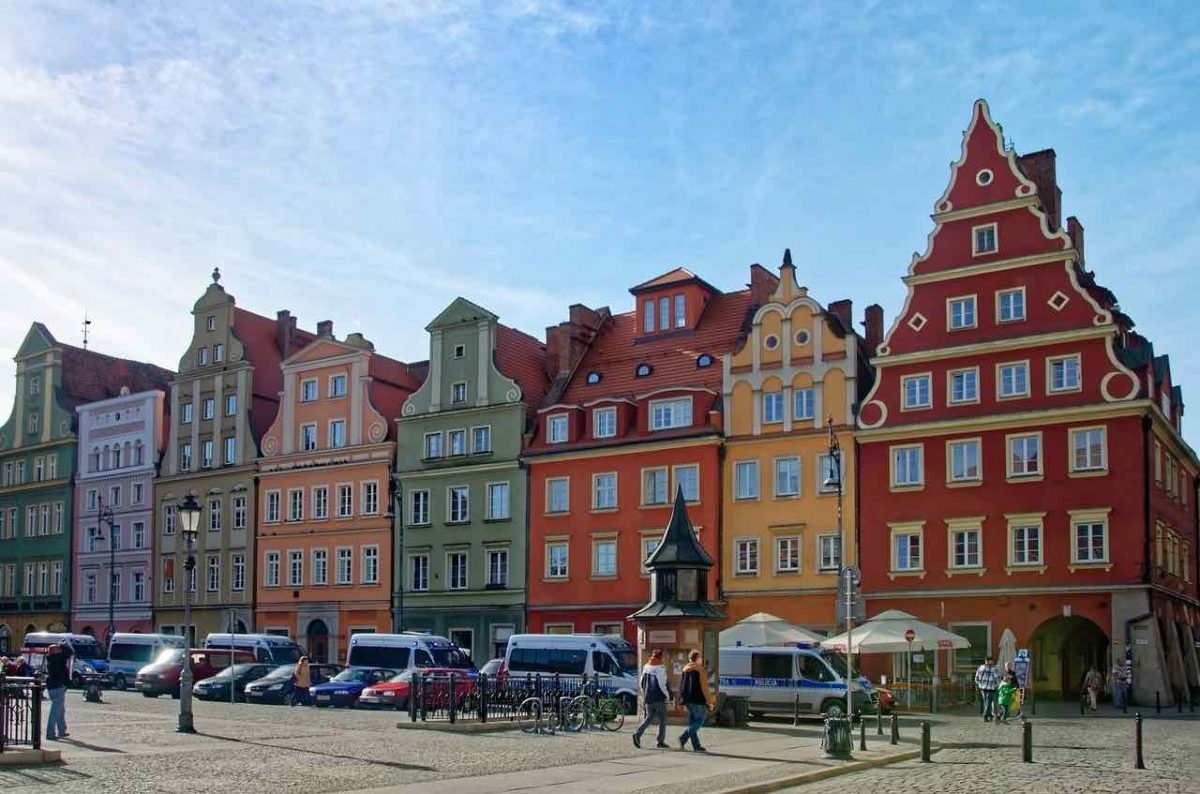 Whether you want the cheapest food at local milk bars or indulge in fine dining, Wroclaw has all types of eateries and restaurants for every budget.
If you are looking for milk bars, most of them are around the university. Whether traveling on a budget or not, you should visit a milk bar for scrumptious Polish food at least once.
You pay according to the weight of your pick and its total value for money. Some of the milkbars that I just loved are Bar Mleczny Miś, MishMash, Mewa, Krowka Bar and Bazylia.
Recommended Tour: Wroclaw: Food & Vodka Culture Tour with Local Guide
For Beer lovers: Check this Wroclaw: Guided Tour & Beer Tasting, a private city tour for 3.5 hours of the old town.
You will visit two regional breweries in the market square with a local specialist and taste the local beer.
For Hard Rock Cafe Fans: Wroclaw: Hard Rock Cafe Skip-the-Line Entry, Burger and Beer
For Vodka Lovers: Wroclaw Vodka tasting and culture tour, guided tours by locals if you want to know what's the best to drink in the city.
If you are interested in a private tour, I'd suggest this exclusive vodka-tasting tour, Wroclaw: Private Vodka Tasting Tour.
For Pub Hoppers: Check out this guided Wroclaw Pub Crawl with Free Drinks tour, where you can enjoy three free beers or shots and free beer for drinking games. And end at one of the city's top clubs.
For foodies wanting to indulge in delicious local Polish Food: My favourite tour recommendation is Wroclaw: Guided Food, Drinks, and History Tour, as it combines the best of Wroclaw in a single tour.
Among the private food tours in Wroclaw, I'd highly recommend Wroclaw: Private Traditional Polish Food Tour.
Check out my complete guide if you want a 2-days in Wroclaw itinerary.
If you are still wondering is Wroclaw worth visiting, you should check out my complete guide, which may urge you to pack your bags.
Recommended: Malbork Castle, Poland – Exploring World's Largest Castle
WHERE TO STAY IN WROCLAW?
2/3 APARTMENTS Old Town, Brossa Apartments, 24h self-check-in, Klima, AirCond
MYKONOS, GREECE
Mykonos, one of the most beautiful places in Greece and the party island, is also home to incredible beaches and Chora. Moreover, it is one of the ideal destinations for Europe solo travel.
In Mykonos, there are many opportunities and things to do as a solo traveler.
If you want to, you can easily find someone to socialize with, but if you prefer to be alone, you will find Mykonos a great place to visit.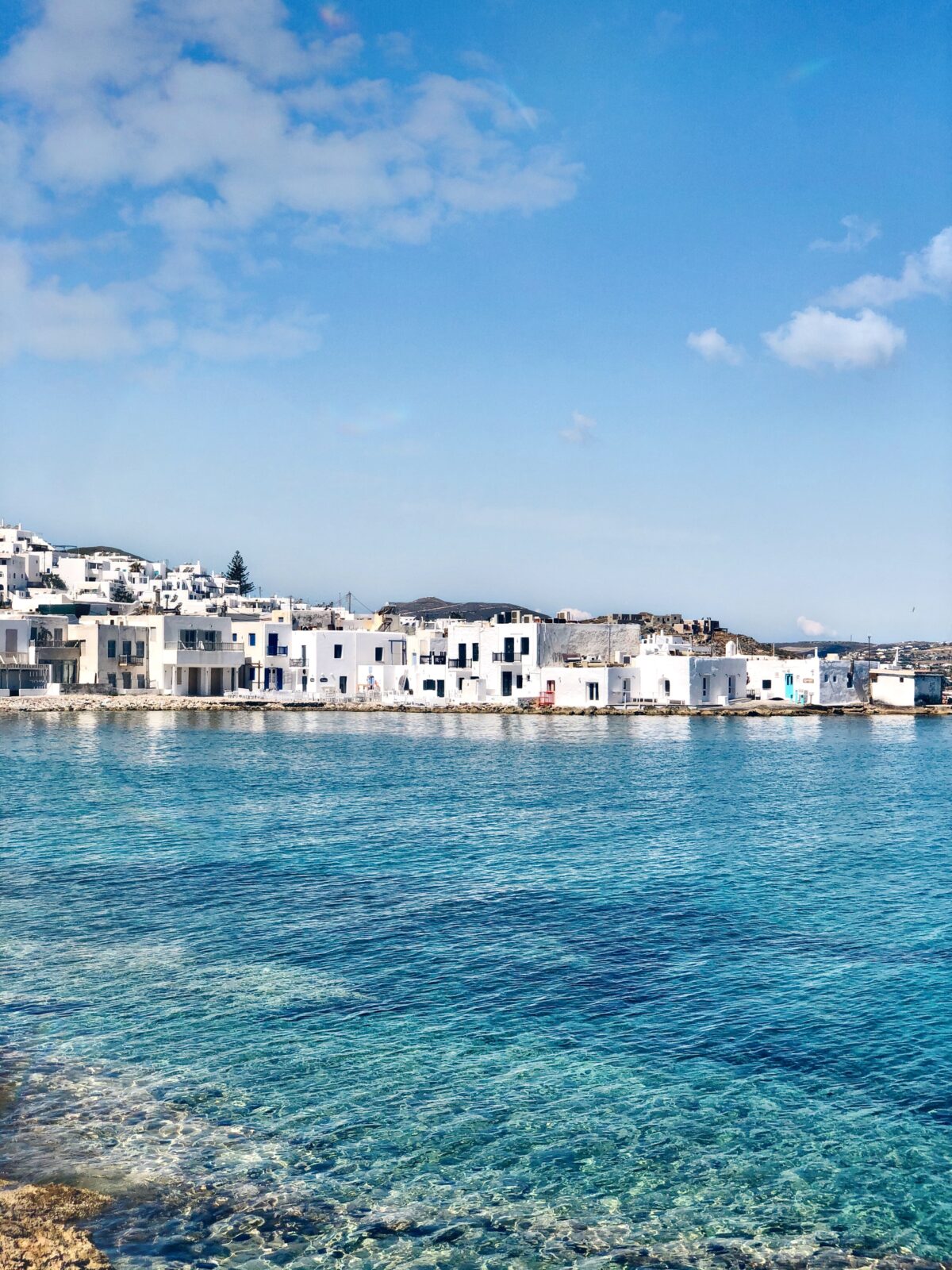 Mykonos also has an international airport, which makes getting there very easy.
The best time to visit is in June before the vast crowds come and when the weather is lovely.
The island covers an area of about 86 square kilometres, so it is relatively small and easy to explore on your own by scooter or quad.
One of the most picturesque places in the centre of Mykonos, also known as Chora.
Here you will find many cafes, restaurants and bars where it is easy to start conversing with other travelers.
Furthermore, the charming cobbled streets and narrow alleys are full of boutique shopping.
Be sure to visit Little Venice and, of course, the famous windmills of Mykonos, located on the edge of the old town.
There are beautiful beaches on the holiday island for solo travellers looking for relaxation.
These include Paradise Beach, Super Paradise Beach and Psarou Beach, perfect for sunbathing, swimming and even beach parties.
Another advantage for solo travelers is the great places to stay on Mykonos. An insider tip is the Artemulas Studios.
You will find a young crowd, nice rooms and studios, and two beautiful pools here. All this for a reasonable price!
By Martina, Places of Juma
LUBERON, FRANCE
The villages of the Luberon, in Provence, are visually iconic, clinging to cliffsides and crowded with cobblestones and ancient houses.
Seeing them close up or from within is every bit as exciting as seeing them from afar.
The Luberon has too many picturesque villages to count. The five most famous Luberon villages – Ansouis, Gordes, Lourmarin, Menerbes, and Roussillon – all belong to the "Most Beautiful Villages of France" Association.
But that doesn't make the others any less beautiful, and a drive through the region will unveil beauty after unexpected beauty.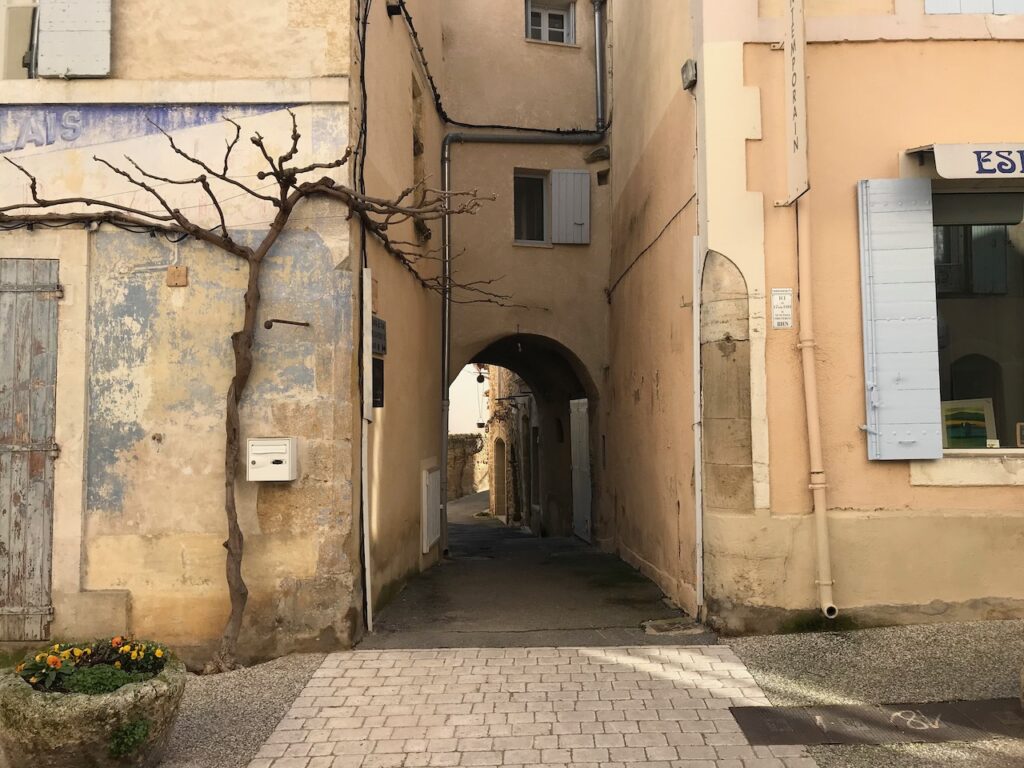 These villages are perfect places for Europe solo travel – there is so much beauty you'll want to stop every few minutes to admire your surroundings, and it's all perfectly safe. You will have to rent a car, however.
This part of France needs to be served by public transport, but then, you're better off with your vehicle because you'll want to drive up every little road and explore every little hill.
Getting to the Luberon is simple: take a train to Avignon and rent a car at the train station.
You can drive from anywhere in France, but once you're in Avignon, you're less than an hour from these fairy-tale villages.
To see the magnificent lavender fields in full bloom, you'll have to wait until June, but your window of opportunity is small.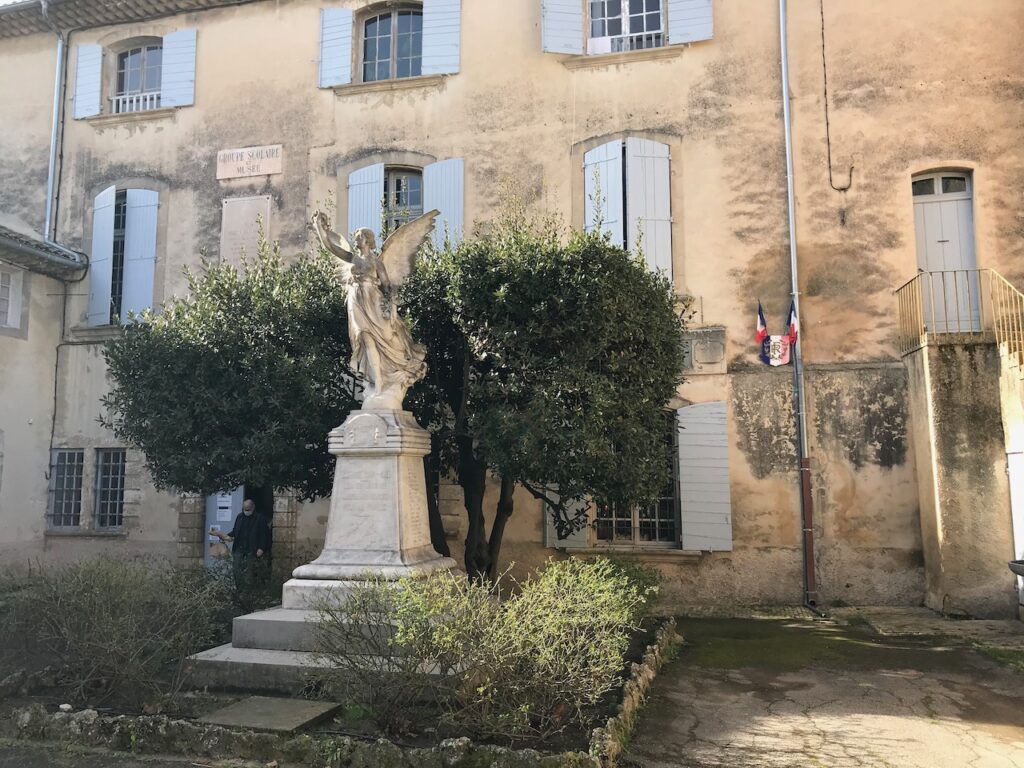 July and August are hot and crowded, so if you can manage to visit in mid-June, you'll arrive at the perfect time.
The Luberon is stunning in other seasons, especially Spring and autumn when you have much of the region to yourself, so if you can live without the lavenders, visit in Spring.
By Leyla, Offbeat France
OFFBEAT EUROPE SOLO TRAVEL DESTINATIONS
GDANSK
Nestled on the gorgeous Baltic Sea coast, Gdansk is a Polish city with a unique place in History and is one of the fantastic destinations for Europe Solo travel.
Known for its rich heritage, stunning architecture, and vibrant culture, Gdansk is a hidden gem that deserves to be discovered by travelers seeking a captivating European destination.
There are tons of things to do in Gdansk. Stroll through the historic streets of Gdansk's Old Town.
The old town area is spread between the streets, beginning at Dluga Street or Long Street and extending up to Dlugi Targ or the Long Market. You will pass through the majestic Town Hall and Arthur's Hall on the way.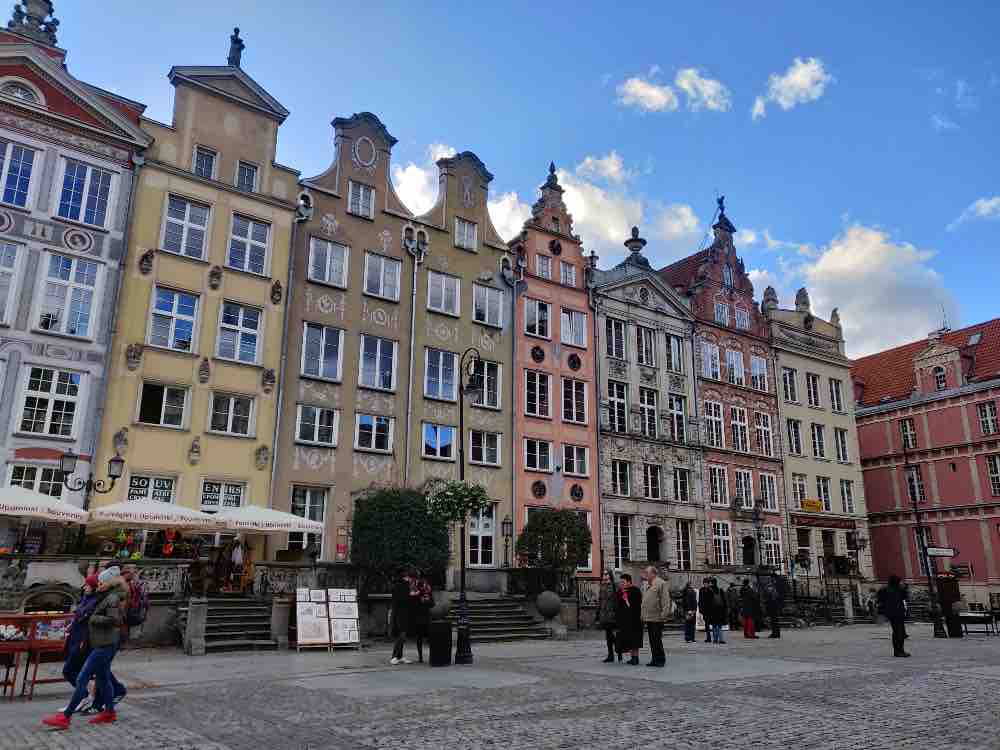 You will be transported back in time, with beautifully preserved Gothic, Renaissance, and Baroque architecture.
The iconic Crane Gate, the Gothic St. Mary's Church, and the magnificent Neptune Fountain are just a few of the architectural gems that adorn the city's skyline.
Check out these guided walking tours. There are different types of tours to explore Gdansk's old town, with some including audioguides.
Head to Stocznia Gdansk or Gdansk Shipyards.You will learn about how Gdansk was a prominent port city for more than 7 to 8 centuries.
Its legacy with shipbuilding dates back to when the city was just granted the privilege to trade. Hop on a Segway and get the essence of Gdansk Shipyard.
Recommended Tour: Gdansk: Segway Shipyard Tour 1-Hour
As you pass the shipyards, you can't help feeling like you have arrived in a Dutch city like Amsterdam.
What you can't miss amidst these elegant uniform buildings is the Crane, which sits on the Motlawa River, and it stands out today due to its antique appearance.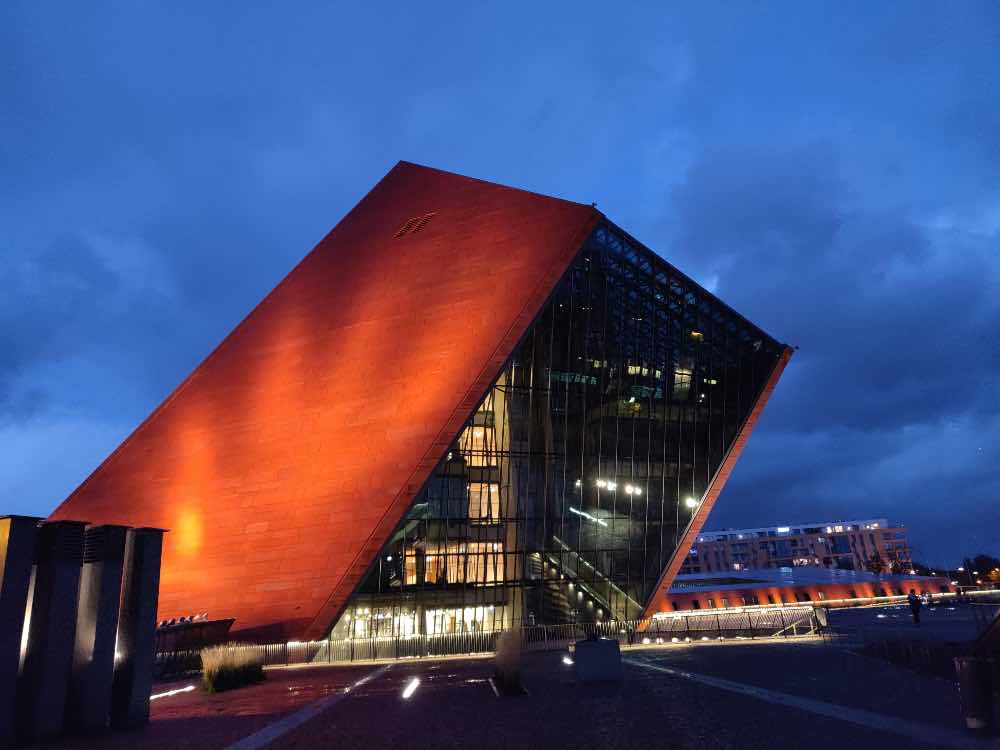 Head to Mariacka Street, famous for its charming amber galleries, to browse exquisite, handcrafted jewellery and witness the centuries-old tradition of amber craftsmanship.
Recommended Tour: Gdansk: City Cruise on Historical Polish Boat
On this tour, take a pleasant cruise around Gdansk on board a 12-person replica of a historic Polish boat. Admire the city from a different perspective, learn its historical value, and see it as it is today. Book here.
Poland is the largest exporter of Amber in the world. Much of the Amber comes from the Gdansk area, so obviously, Gdansk Amber is too famous. So, head to the Amber Museum to learn about it while you are here.
The Amber Museum showcases an extensive collection of amber artefacts, including jewellery, sculptures, and historical pieces.
Check out the old post office. Located next to the harbour area in central Gdansk, this place has a special place in History.
Officially, this is where World War II kicked off when the German troops attacked the post office in the wee hours.
Recommended Tour: City Tour Sightseeing Gdansk Hop On Hop Off
Join this live-guided tour through the City of Gdańsk on a double-decker bus. You will learn about the History and the beauty of Gdańsk from your experienced guide. Book here.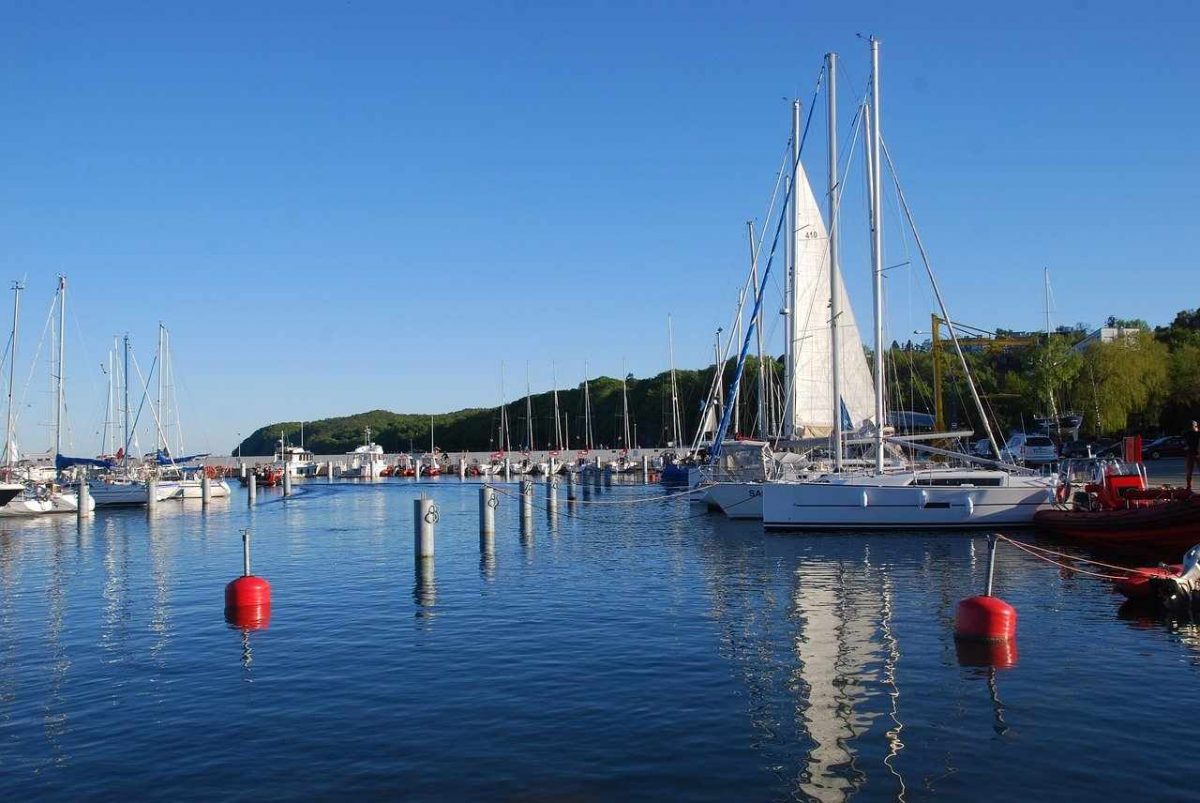 One of the popular things to do in Gdansk is to explore the city via an e-bike. You can also go on a guided golf cart tour for a unique experience. Check out these tours:
Visit the World War II museum. You will be taken through the entire war period and learn how the war shaped and rewrote History for millions of people worldwide forever.
Recommended Tour: Gdansk Private WWII Tour with Museum of the Second World War
During this tour, you will learn about the invasion of Poland by the military forces of Nazi Germany and the Soviet Union.
You can listen to how the Polish army fought, devoting their lives to the freedom of Poland. Book here.
Check out the Solidarity Museum. The people of Poland fought against communism much like their neighbours for more than two decades, and the Solidarity Centre was built to commemorate the responsible heroes.
Recommended Tour: Gdansk: Private Communism Tour with Solidarity Center Museum
On this tour, discover the History of Solidarity, the Polish trade union and the civil resistance movement. See the exhibitions at the European Solidarity Centre and the historic Sala BHP and Gdansk Shipyard. Book here.
If you are looking for outdoor activites in Gdansk, Go on a cruise and sail along the Motlawa River, or rent a Kayak and explore the uncharted river areas. Check out these tours:
I am sure that after having a good time in Poland, you will most likely develop a taste for Polish food. The best way to get into the heart of Polish food is to enrol yourself for a food tour in Gdansk. Check out these dining and wine tours:
Check out these tours if you want beer and vodka-tasting tours:
For more Gdansk attractions, check out my complete guide to things to do in Gdansk.
If you want to base yourself in Gdansk and looking for day trips, check out my post: 11 Day Trips From Gdansk.
WHERE TO STAY IN GDANSK?
Albatross Towers Joda Bed, MONTOWNIA Lofts & Experience, Maya's Flats & Resorts 24 – Hollywood, Apartament Dani-Apart, Modernico-Gdańsk Old Town, Apartment in Old Town – view of Mariacki Church
STOCKHOLM, SWEDEN
If you're looking to do some European solo travel within the Scandinavian region, an excellent choice is Stockholm!
One reason is that the Swedish capital is home to an excellent transportation network that makes it easy to get around the city safely.
For example, those flying directly into the Stockholm Arlanda Airport can ride the cheap and convenient express train into the city rather than paying for an expensive Uber.
The metro stations in Stockholm have themed artwork, making riding the metro around the city a tourist attraction in and of itself!
In addition to its reliable public transportation, Stockholm is also known for being remarkably safe and clean.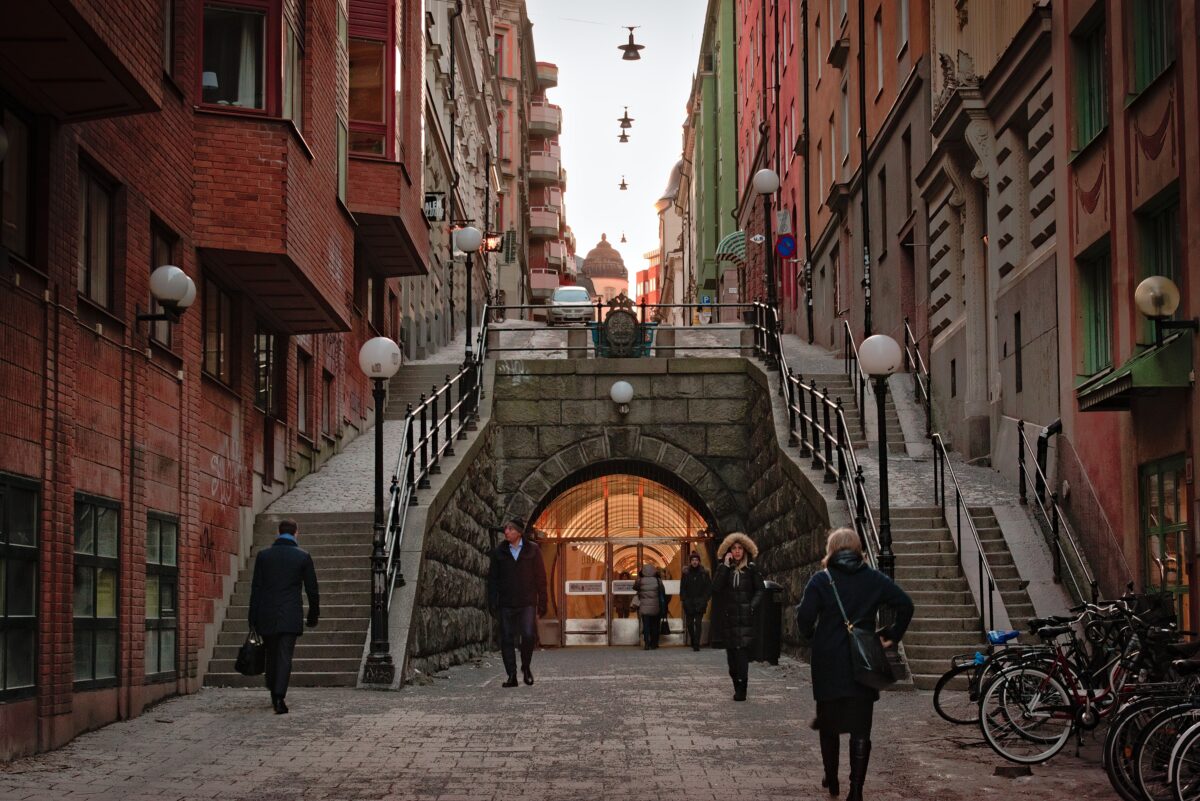 For female solo travelers especially, this makes the city one of the best places to explore without having to worry excessively.
Plus, the locals are friendly and always happy to recommend where to eat or what to do!
So if you're interested in solo traveling in Stockholm, the best time to visit is June or July, when the weather is at its best.
And for an affordable stay, check out Generator Stockholm, which is conveniently located within walking distance of the Stockholm Central Station.
By Kristin, Global Travel Escapades
COPENHAGEN, DENMARK
Copenhagen is an ideal destination for a solo trip.
Easily accessible by air, with the airport only 20 min by subway from the city centre, the capital of Denmark is also connected to the European rail network with direct connections to several major cities in Germany and Sweden.
No matter where in Europe you are traveling from, you can reach Copenhagen in just a few hours!
It is a perfect city for Europe solo travel with its vibrant history, beautiful architecture, and robust cultural scene.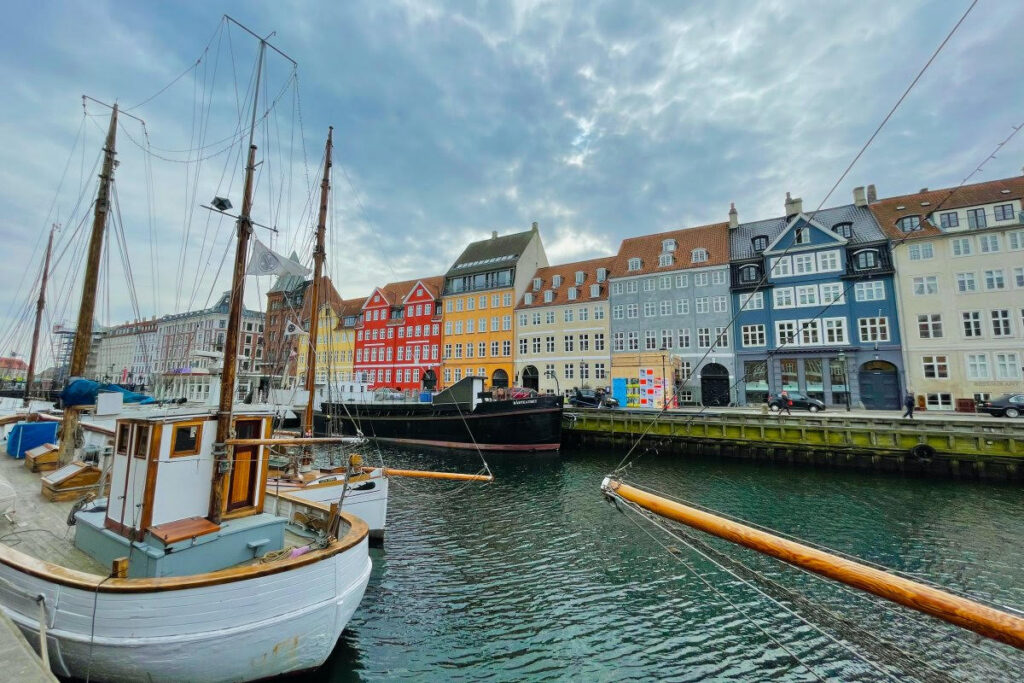 The Danish capital has become a trendy city that is well worth visiting, whether alone or accompanied.
You can discover beautiful attractions such as the Little Mermaid statue or Tivoli Gardens.
Known as a design hub, the city also offers many museums and galleries, and its seaside location provides a soothing hygge atmosphere.
If you are alone, don't worry, it's a very safe city with a low crime rate, so you can confidently explore the city at night.
Another advantage for solo travelers is that you will have no trouble communicating with the locals since they speak excellent English.
Finally, Copenhagen is very compact and human-sized, so it is easy to navigate on foot or by bike.
If you spend a few days in Copenhagen alone, you should stay in the city's heart.
While relatively expensive, finding reasonably priced accommodations with little planning is possible. Wakeup Copenhagen, located close to Rosenborg Castle and Nyhavn, is a great choice.
By Nes from Kevmrc
BARCELONA, SPAIN
Are you looking for an excellent destination for Europe solo travel? Spain's Barcelona is a fantastic choice!
Barcelona is the perfect solo destination With many museums, delicious dining options, a beach, stunning architecture, and many day trip options.
If you're considering traveling to Barcelona, September and October might be the perfect time.
While it's still hot, it's not quite as scorching as the summer months, and the city is not as crowded as it is during the peak summer season.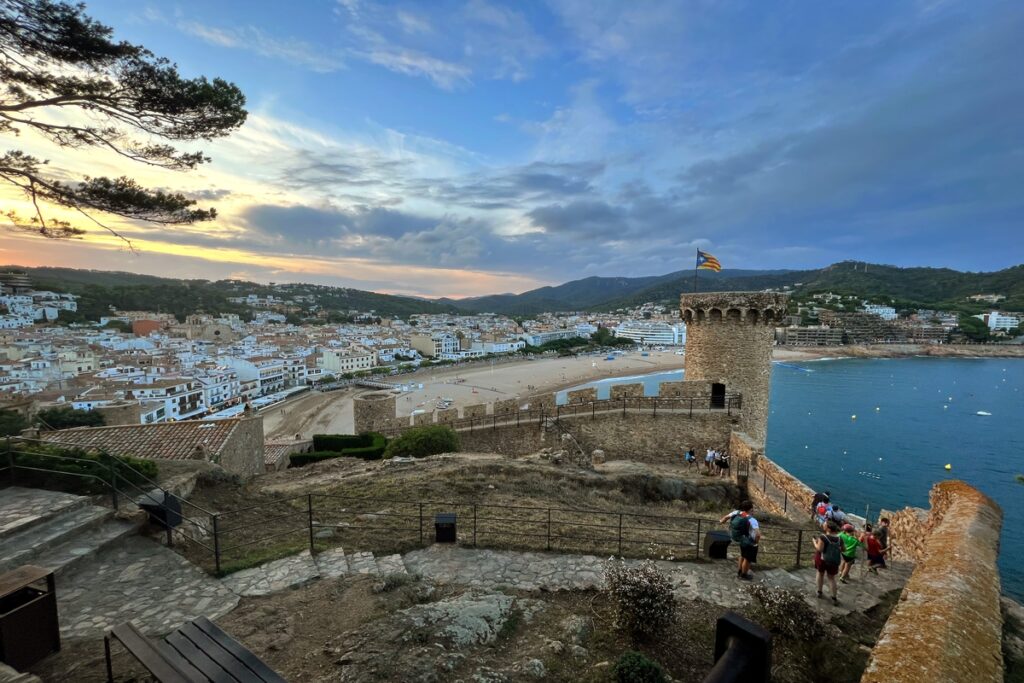 Of course, you can only visit Barcelona to check out Gaudi's architecture. It is spectacular! Some Gaudi highlights include Casa Batlló, Park Guell, and Sagrada Familia.
Whether you tour each location on your own or book a guided tour such as the Complete Gaudi Tour, a visit to any of these Gaudi locations is highly recommended.
What also makes Barcelona an excellent solo option is the ease with which travelers can leave the busy city for a relaxing day trip to the beaches of the Costa Brava.
An excellent choice for a day trip is the medieval town of Tossa de Mar.
Tossa de Mar is a hidden gem just an hour from Barcelona, with stunning beaches, hiking trails, and the historic old town.
The Rocamora Apartments are an excellent place to stay while visiting Barcelona.
The apartments are in a very safe neighbourhood on the Passeig de Gracia, and the subway and train station is right outside the front door!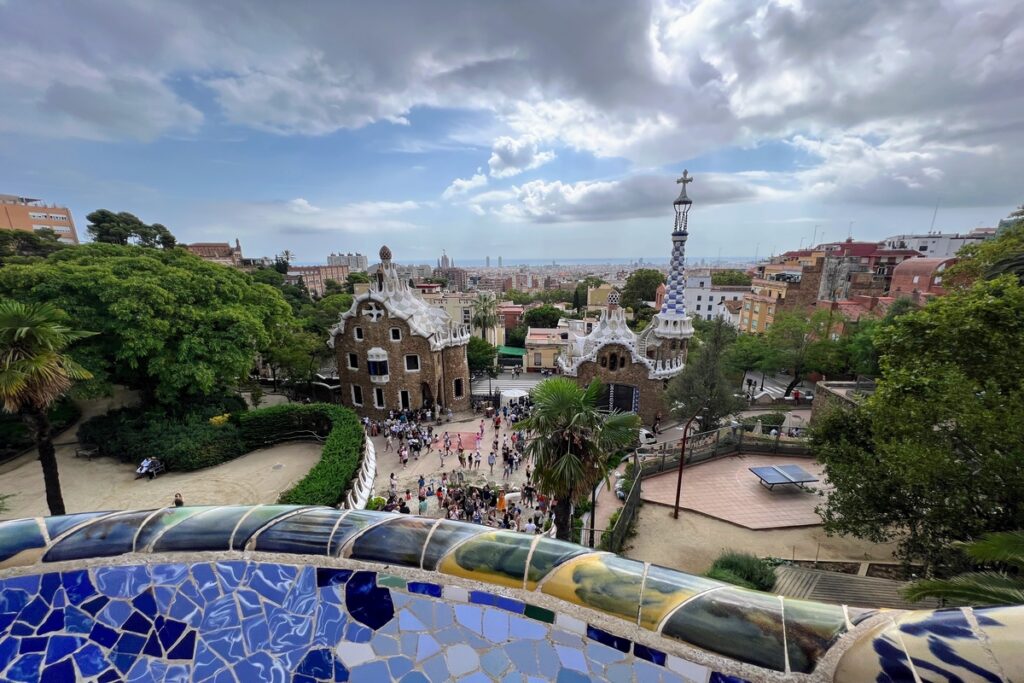 Although these apartments include two and three bedrooms, their rates are affordable enough for a solo traveler to stay, and the balcony is perfect for a relaxing drink after a long day of sightseeing.
As a solo traveler, whether you're looking for adventure or relaxation, Barcelona offers many activities for both new and returning visitors and you won't regret exploring this beautiful destination on your own.
By Julie Millan, Toronto 2 Anywhere
COLOGNE, GERMANY
Cologne is the perfect destination for solo travelers looking for a welcoming city in Germany.
If you travel from outside Germany to Cologne, arriving via airplane is a good choice.
There are several airports around, such as in Cologne itself, Dusseldorf, or even Frankfurt, which is only one hour away by train.
If you are already in Germany, the best way to get to Cologne is via train. If you arrive at the Main train station, leave the building to the front.
The stunning Cologne Dome is right in front of the train station.
The best time to visit Cologne is during the summer when the weather is warm and sunny.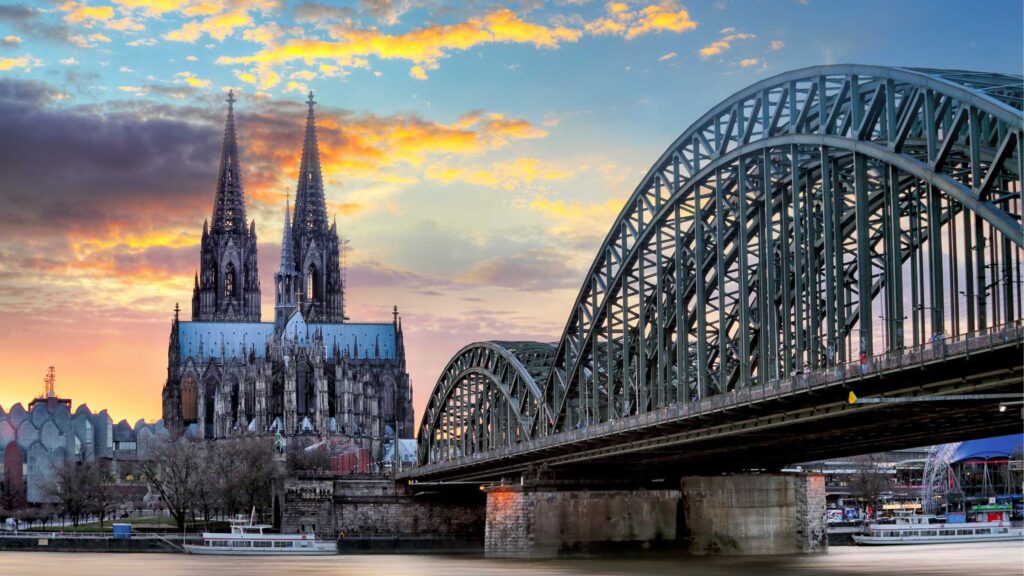 Are you looking for a unique experience? Consider visiting during carnival season!
Cologne is famous for its lively carnival, starting on the 11th of November at 11:11 AM. Carnival season spans until February or March.
During this time, the city is alive with music and parties. Make sure to dress up e. g. as your childhood superhero and enjoy the fun!
One of the best things about Cologne are the friendly and very chatty locals. It is easy to make friends and get into conversations, which is rare compared to the rather reserved mentality of GermansIf you are traveling on a budget, consider staying at the "Wohngemeinschaft" hostel in the neighborhood called "Belgisches Viertel".
This hostel offers individually decorated rooms at a great price, and its location in the trendy neighborhood makes it a great base for exploring.
By Anna and Anne, germanythingstodo.com
ROVANIEMI, FINLAND
Rovaniemi is in Finnish Lapland and is on many people's travel bucket lists, for good reason!
You can reach Rovaniemi by taking the overnight train from Helsinki or a 1-hour flight from Heliskini, making it an ideal destination for Europe Solo travel.
Visiting during the Fall and Winter seasons is easily the best time.
This is because you have a high chance of seeing the Northern Lights, one of the best things to do in Rovaniemi.
By spending three to four days in Lapland, you can fit many activities into your day and have a truly unforgettable trip.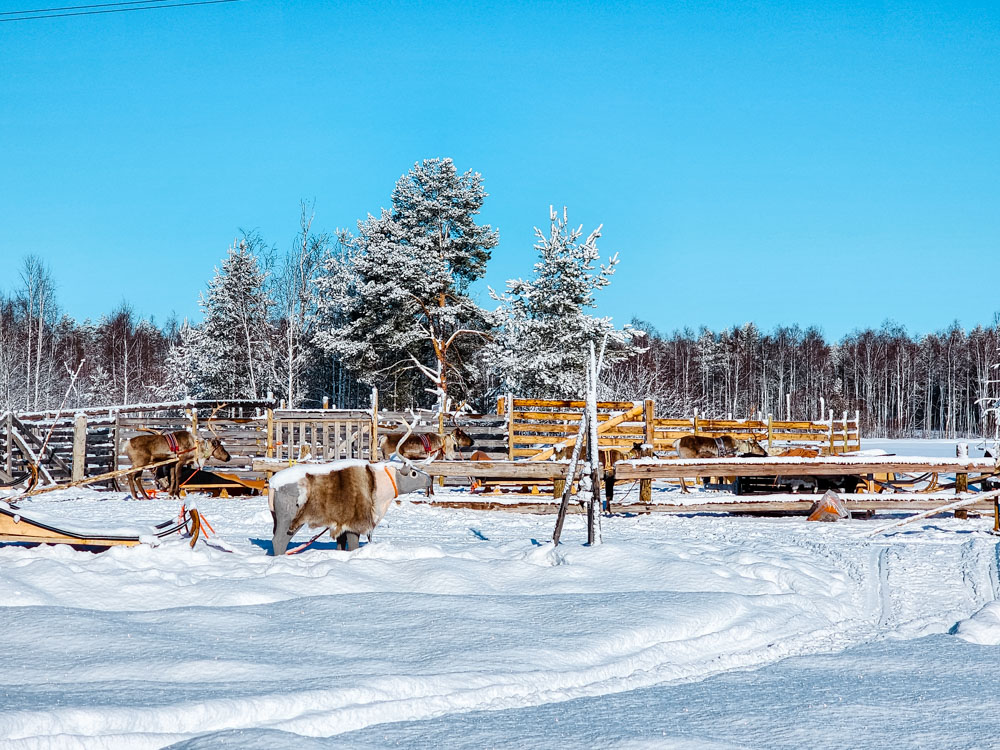 Firstly, Rovaniemi is considered a safe destination, which makes it popular among solo travelers. The hotel staff is always accommodating, and the locals are kind and friendly.
Because most activities to do in Rovaniemi are done in groups, such as going on a tour to see the northern lights, enjoying a husky ride, reindeer farms, and snowmobiling, this makes for the perfect opportunity for solo travelers to connect with other travelers while there.
It is important to book these activities in advance!
A great hotel to stay in for solo travelers is one of the cabins or rooms in Santa's Village. This way, you will be surrounded by many excursions, restaurants, and public transportation.
By Sam Opp, Find Love and Travel
EUROPE SOLO TRAVEL DESTINATIONS FOR FIRST TIMERS
VIK, ICELAND
Vik, Iceland is an excellent place for Europe solo travel. This city is located on the south coast of Iceland, 2.5 hours from Reykjavik.
Vik can be visited any time of year – in the fall, winter, and Spring, you can enjoy the Northern Lights and the ice caves, while during the summer, the temperatures are warmer, and sunlight lasts all day.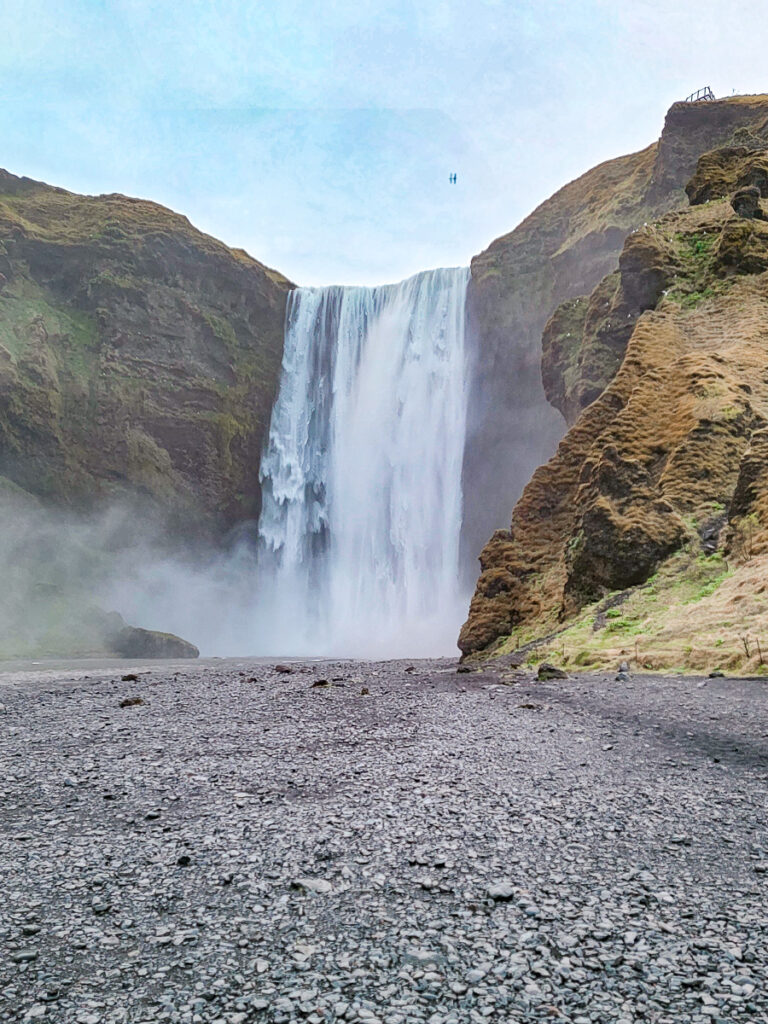 It's a great place for solo travel – Iceland is one of the world's safest countries, and roads are easy to drive on.
Vik is surrounded by black sand beaches, rendered black by the volcanic remnants in the sand.
The most famous beach is Reynisfjara, which has a wall of hexagonal basalt columns lining the beach, an otherworldly sight.
The abandoned plane on a black sand beach is also famous in Vik.
Don't miss the Reyniskirkja church, with its white walls and red roof, situated on a town hill overlooking the sea. In summer, wildflowers fill the fields around the church.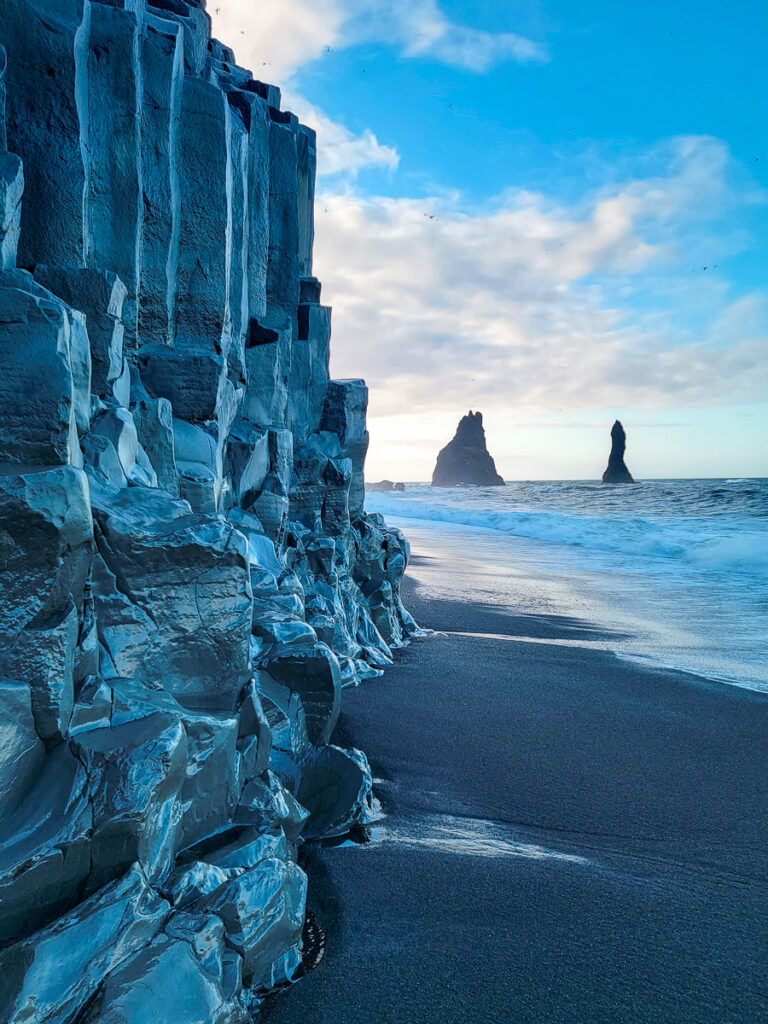 Nearby are several incredible waterfalls – Skogafoss, one of the biggest and most famous in Iceland; Seljalandfoss, where you can walk behind the falls; and Gljúfrabúi, a waterfall in a cave.
Less than two hours away are many other exciting activities, like hiking to the Reykjadalur Thermal River (where you can soak in the hot river) and hiking a glacier in Skaftafell.
Hotel Vík í Mýrdal is a friendly, modern, centrally located place to stay in Vik.
By Stephanie, The Unknown Enthusiast
REYKJAVIK, ICELAND
Reykjavik, Iceland, is the perfect place to visit for Europe solo travel. The city is walkable and very safe.
To get to Reykjavik, you'll want to rent a car or take the Flybus from Keflavik airport to the city centre.
There are plenty of things to do in Reykjavik, such as relaxing at the Sky Lagoon, exploring the sights such as the Hallgrímskirkja, or visiting the Perlan Museum.
However, the best things to do in Iceland are to explore outside the city and see incredible waterfalls, lagoons, and hiking locations.
Renting a car and driving from Reykjavik to Vik is one way to visit some of Iceland's best nearby attractions, such as the Golden Circle, the Black Sand Beach, and stunning waterfalls like Seljalandsfoss and Skogafoss.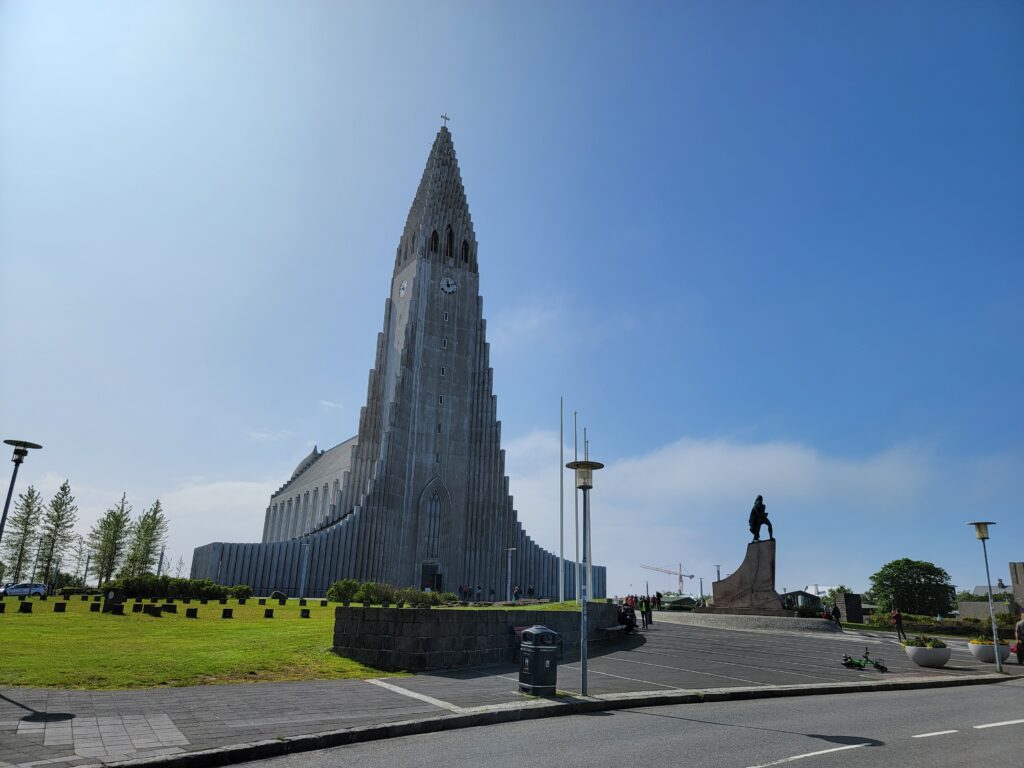 If you prefer to avoid renting a car, these places can also be visited as day trips from Reykjavik.
It's best to visit Iceland in the summer for outdoor activities such as hiking and sightseeing or for the Northern lights in the winter.
For accommodation, Kex Hostel Reykjavik is an excellent budget choice for solo travelers in the city centre.
For a hotel option, Hotel Reykjavík Saga is also a great choice.
By Amber Hunt, Get Lost In Wanderlust
PARIS, FRANCE
Paris, France, is one of the top travel destinations for Europe solo travel.
Visiting Paris by yourself means you can spend 100% of your time doing what you want to do and seeing the famous Paris attractions you want to see instead of compromising on the itinerary with your traveling companions!
Need more art and museums? Spend the day wandering through the incredible galleries of the Louvre or admiring the Impressionist art at the Musée d'Orsay.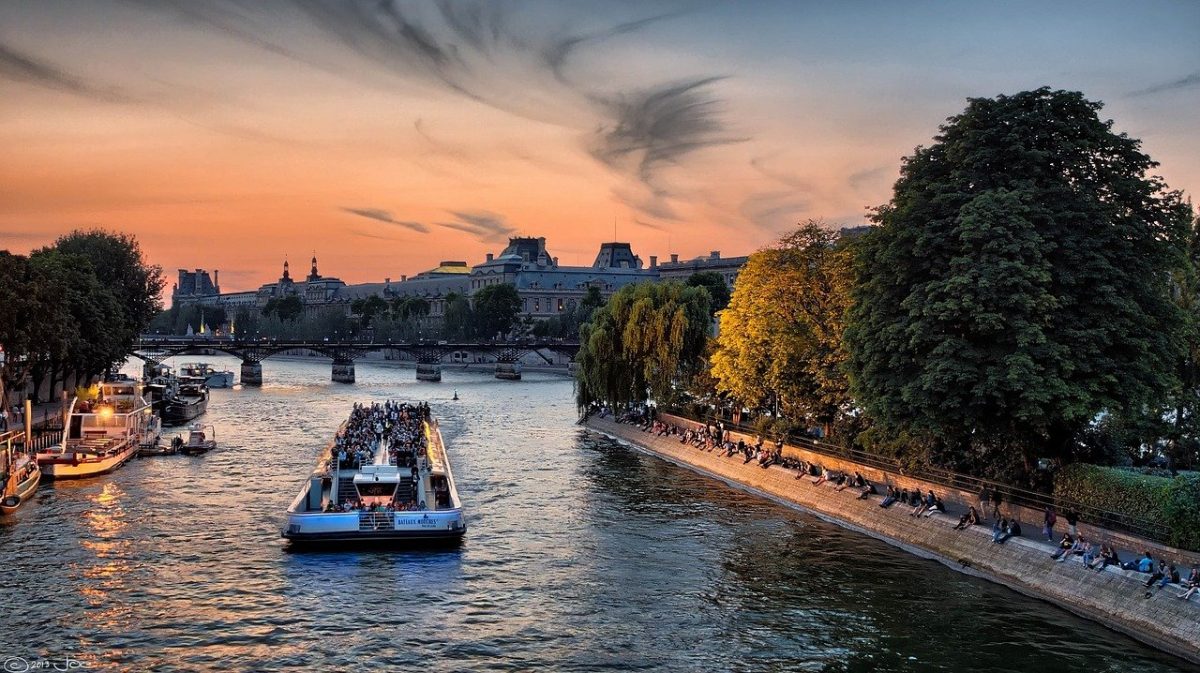 Love gardens? Stroll through the Luxembourg Gardens or take the train and explore the stunning gardens of Versailles.
Most visitors arrive in Paris through the Charles de Gaulle Airport.
It is safe and easy to take public transit from the airport to your target destination in the city, with a combination of the RER (regional express train) and Paris' extensive metro system.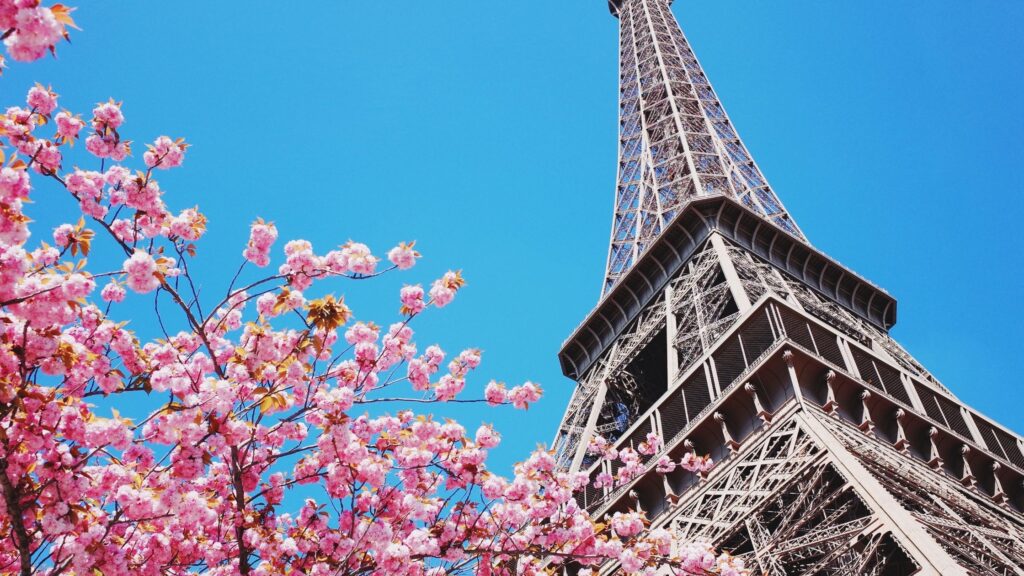 Rue Cler is the perfect area for solo travelers to stay. It's a safe, homey neighbourhood close to the Eiffel Tower.
Plus, you can visit the markets, pick up fresh produce, cheeses, and pastries, and have a picnic if you're uncomfortable dining alone.
The best time to visit Paris is in the Spring or the fall when you can avoid the crowds and enjoy the pleasant weather.
It can be hot in the summer, and the city is crowded with tourists (as the locals take their vacations away from Paris).
By Lisa Garrett, Waves and Cobblestones
LAGOS, PORTUGAL
For a solo beach trip in Europe, it's hard to beat Lagos in the Algarve region of Portugal.
Not only is Portugal one of the safest countries in Europe, but Lagos also offers plenty of things for all kinds of travelers, including quiet days alone at the beach, boat tours, and excellent nightlife downtown to get out and meet new people.
Lagos is also home to some of the most picturesque beaches in Europe, so you'll plan a visit to as many as possible.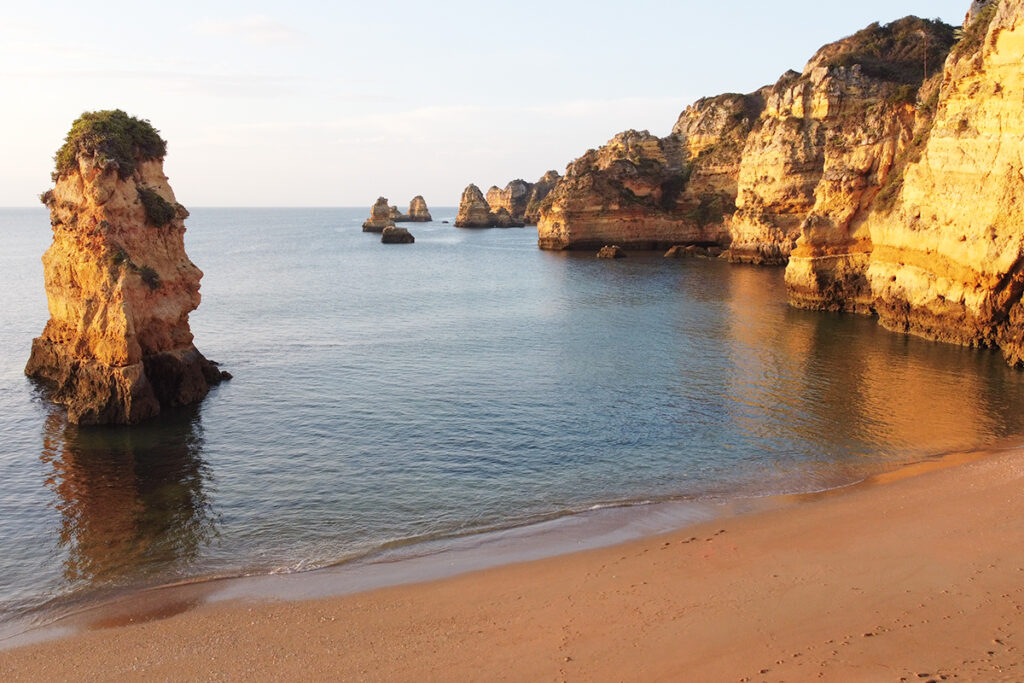 Praia do Camilo and Praia de Dona Ana are some of the best ones to see. For jaw-dropping views of the sea cliffs, you'll want to have Ponta da Piedade on your list, too!
One of the perks of choosing Lagos for your solo trip is that it's beautiful year-round.
Even in January and February, you'll experience temperatures at around 60°F.
While it may be too cold to go for a swim, you'll still be able to explore the coastal views, beautiful downtown and incredible dining (and fewer crowds!).
For warmer weather, May, June, and September are great months to visit outside the peak summer season.
July and August will offer the warmest weather but the most crowds.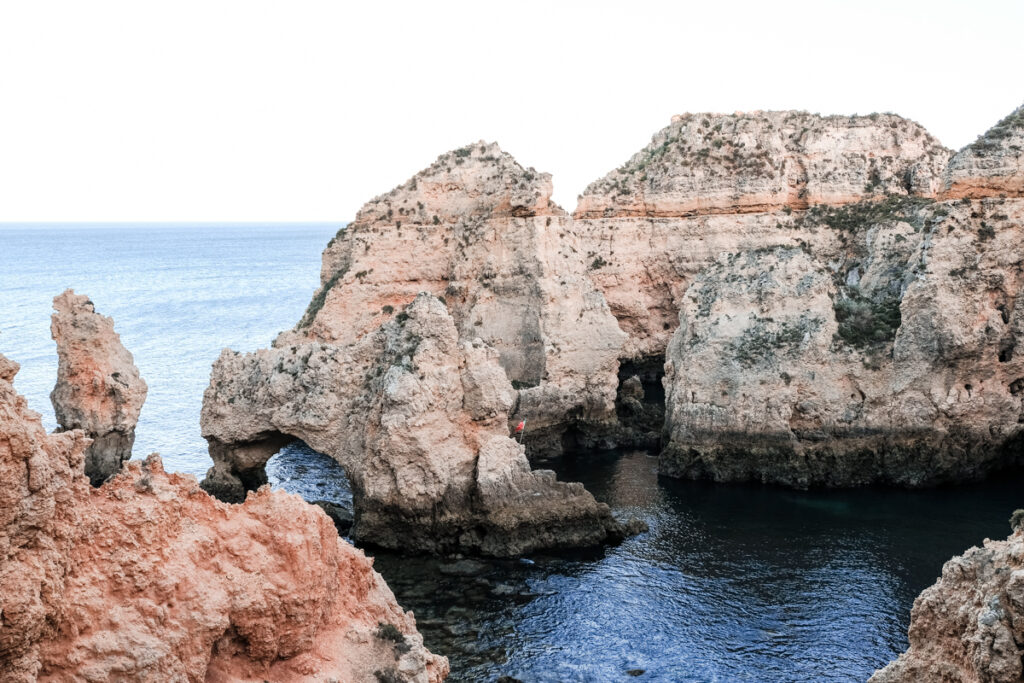 The easiest way to get to Lagos is to fly into Faro Airport, about 1 hour from Lagos, and then arrange a private transfer or take the bus.
If it's better for your plans to fly into Lisbon, you can also take the train, which is about 3.5-4 hours, and requires a stress-free transfer.
A great hotel option in Lagos is the Carvi Beach Hotel. This hotel is outside downtown but closer to the most beautiful beaches.
It's located right at Praia de Dona Ana! It's also walkable to Praia do Camilo and Ponta da Piedade and has an excellent restaurant onsite.
By Samantha Hamilton, New England Wanderlust
CHAMONIX MONT-BLANC
Chamonix Mont-Blanc is nestled in the French Alps, bordering Italy and Switzerland.
It's a proper mountain town, the adventure capital of the Alps, and one of the most beautiful destinations for Europe Solo travel.
It's best to visit in December-March and June-September, at the height of the winter and summer seasons.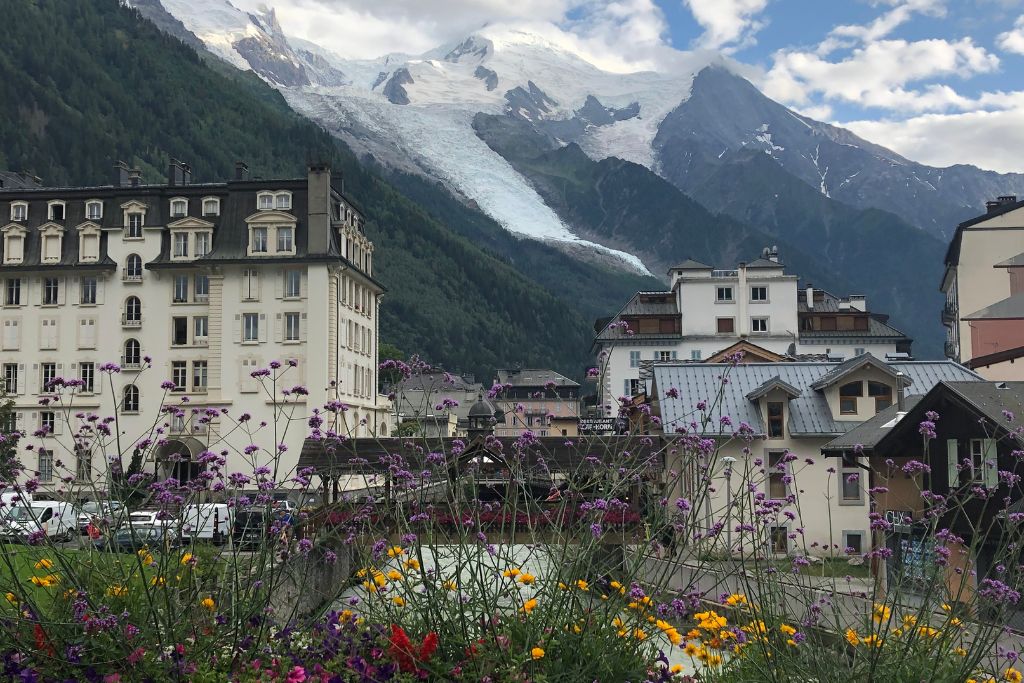 In the winter, experience thrilling backcountry terrain, glacier skiing and picturesque tree runs (as well as beginner-friendly slopes) split across five separate ski areas.
In the summer, you can tackle some of the world's best hiking, climbing and mountain biking.
And the fun doesn't stop there – Chamonix is also known for its epic après ski and nightlife, complete with live music, cold beer and dancing on tables!
Chamonix's vibrant atmosphere, countless activities, and non-stop adventure make it the ideal solo travel destination.
You will be able to meet ski and snowboard buddies, hiking companions, or people to party with.
There is a sizeable English-speaking ex-pat and seasonaire community in town and plenty of friendly locals willing to share their knowledge and stories of crazy mountain adventures.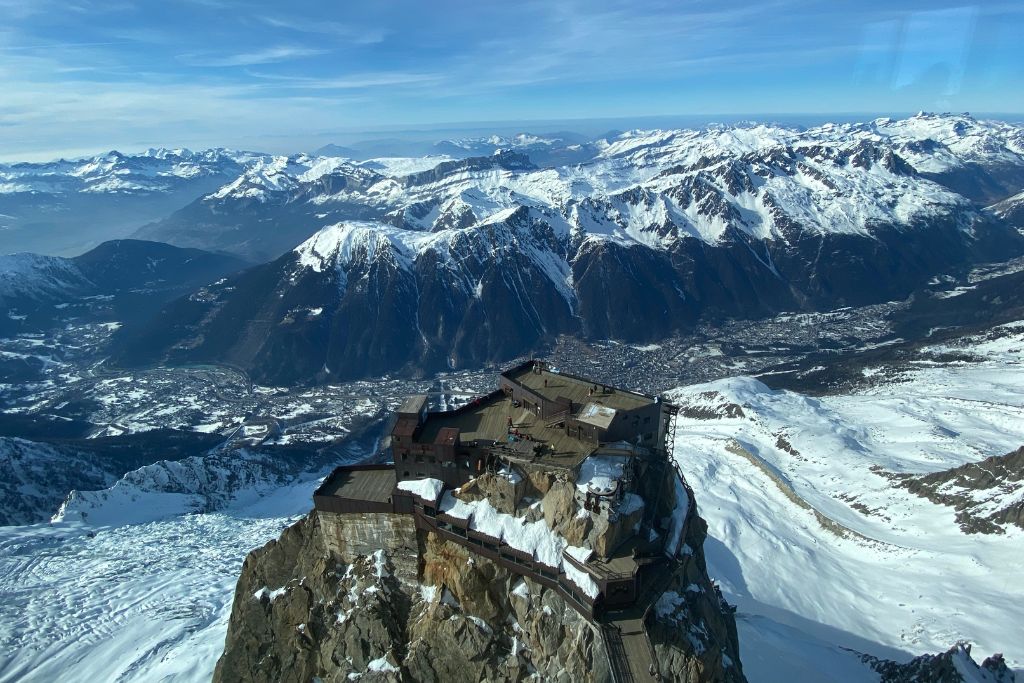 And if you're not an adrenaline junkie, don't worry. There are still plenty of things for you to do in Chamonix.
Enjoy breathtaking scenery, explore the charming pedestrian zone in town, relax at a luxury spa, and even take a cable car ride up to the summit of the Aiguille du Midi at 3842 meters for panoramic views of the valley.
Getting to Chamonix is easy, and the town is about a 1 hour and 15-minute drive from Geneva Airport, and frequent airport transfers exist.
Le Vert Lodge is one of the best places to stay in Chamonix as a solo traveller.
They have private rooms, dorm-style accommodation, and an onsite bar and restaurant, which is also very popular with the locals!
By Chanelle, Chasing Chanelle
SICILY, ITALY
Sicily is the largest island in the Mediterranean, at the tip of the famous "Italian Boot".
With its rich history, warm hospitality and many activities, Sicily is a haven for Europe solo travel, especially for adventurers seeking adventure, culture and mouthwatering street food.
The best time to visit Sicily is during the shoulder seasons of Spring (April to June) and autumn (September to October).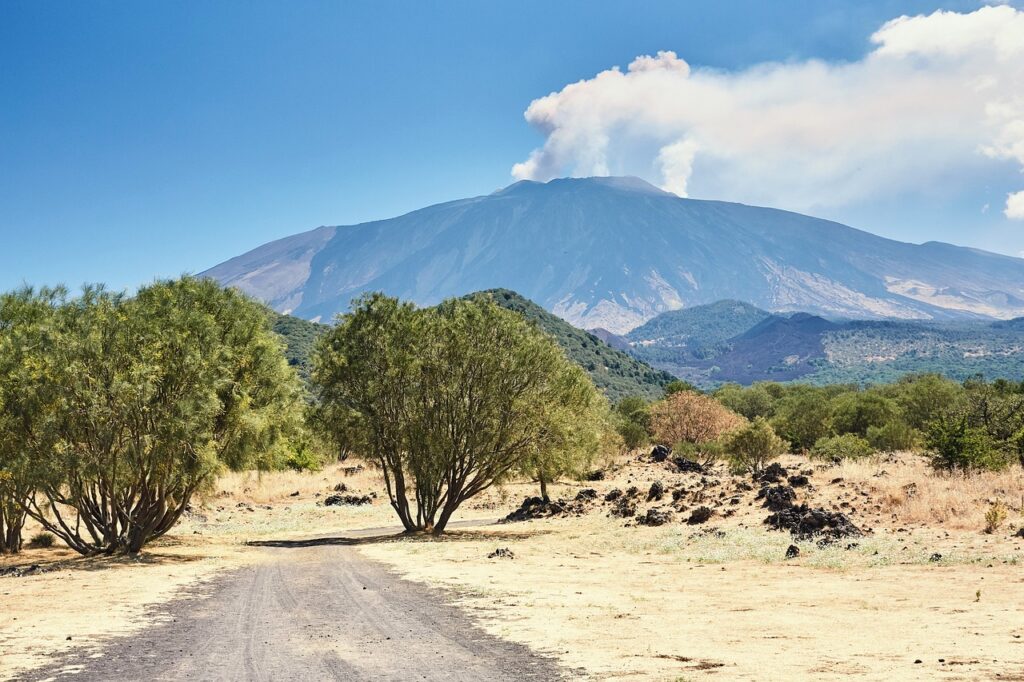 The weather is pleasant (think 30°C or 86°F), the crowds are thinner, and the prices are much more affordable.
One can swim in the sparkling waters as soon as May and well into October!
For solo travelers, the question of where to stay in Sicily is essential.
The perfect blend of bustling & tranquil can be found in the I Mori di Porta Nuova Suite & Terrace in the heart of Palermo.
The city is well connected to the island's eastern part through trains and buses.
If you are looking to explore the more rugged western coastline of Sicily or the Greek temples in southern Sicily, it will be necessary to rent a car.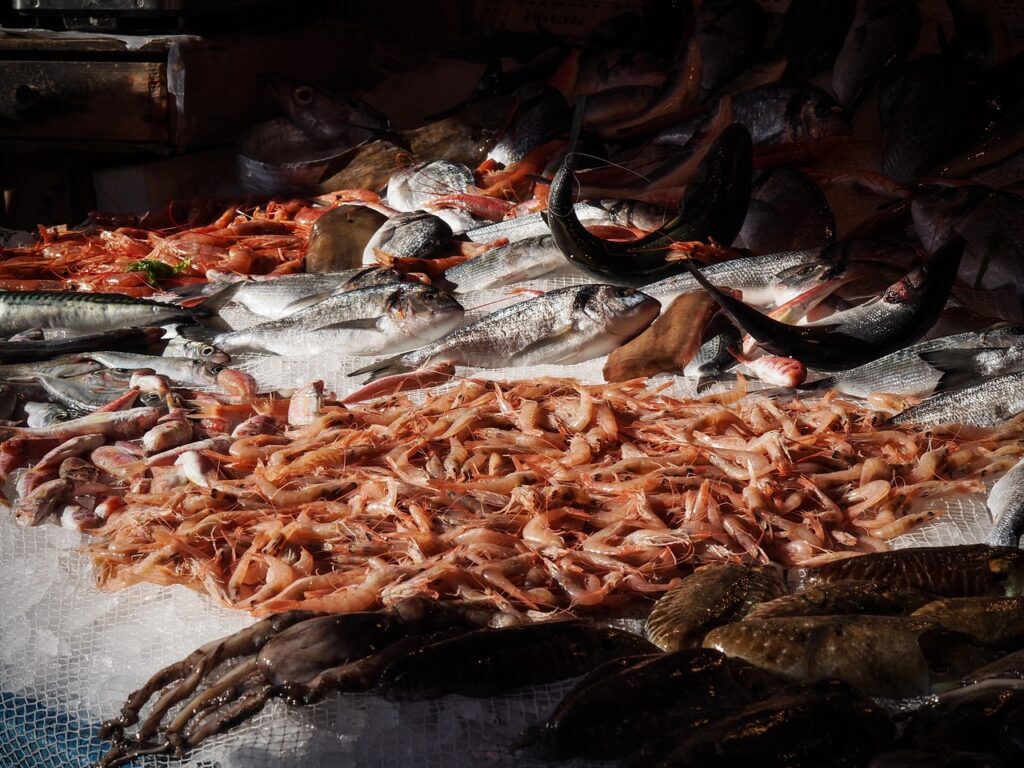 Unmissable experiences for solo travelers are delving into the vibrant markets of Palermo, mingling with the local vendors (this might require speaking Italian), unwinding on the pristine beaches near Taormina and delving into the ancient past of the island while visiting the Valley of Temples in Agrigento or the ruins of Segesta.
By Caroline, Veggie WayFarer
ISTANBUL, TURKEY
Istanbul is a beautiful city to explore and a great place to visit as a European solo traveller.
Why is that?
Well, there's so much around to keep you occupied that you can easily spend weeks in the city and never be bored.
The attractions, including the big-name ones like the Topkapi Palace, the Hagia Sophia, the Basilica Cistern and the Blue Mosque, can easily be explored on your own.
Moreover, Istanbul is an exceptionally easy place to meet other travellers.
An expansive network of hostels and socially-oriented guesthouses cater to all age groups, featuring things such as group meals and activities to meet other people.
Istanbul is one city where it's very hard to feel lonely!
September is the best time to visit Istanbul. At this time, the weather is warm and pleasant, making it excellent for exploring Istanbul's many vibrant and fascinating neighbourhoods.
And since the busy summer season has ended, there are far fewer tourists roaming about, meaning you won't have to struggle to find a seat at one of the city's great outdoor cafes.
Getting to Istanbul is super easy. You can book a flight to the brand-new Istanbul International Airport (IGA). It's a major international flight hub, so you can find a flight from almost anywhere you're thinking of.
For a great place to stay, you can't do better than the Ikiz Konak Boutique Hotel. This comfortable hotel is located in a great neighbourhood, Kadikoy, within walking distance of some of Istanbul's best cafes and restaurants.
By Dotti, Travel Oasis
EDIRNE, TURKEY
Regarding European solo travel destinations, Edirne might not be the first city that pops into your head.
It is often overshadowed by other destinations in Turkey, such as Istanbul, Cappadocia, and the towns on the Mediterranean Coast.
While those destinations definitely deserve their fair share of tourists, Edirne has plenty to offer too.
Historically, Edirne might just be one of the most important cities for the Ottoman Empire.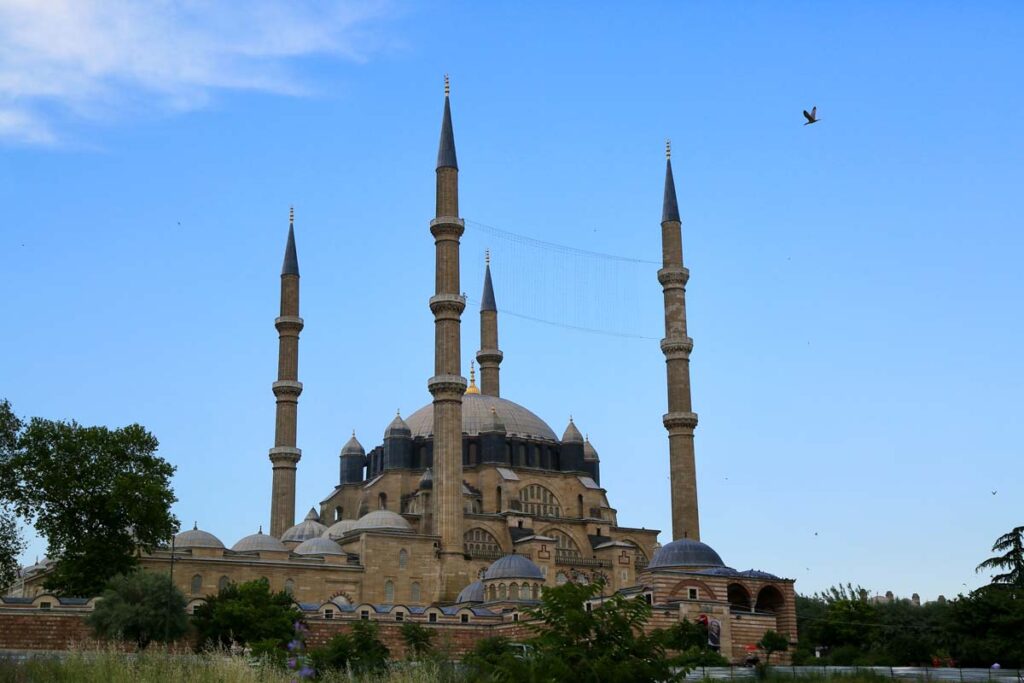 Before the conquest of Constantinople (the name of Istanbul under the Byzantine Empire), the Ottoman Empire's capital was Edirne (also known as Adrianople at that time).
This means that although Istanbul might have some spectacular towers and mosques, Edirne also has some of the best landmarks in Turkey
The most famous of which must be the Selimiye Mosque. Often considered one of the masterpieces when it comes to Ottoman architecture and Islamic architecture, this UNESCO World Heritage Site is not to be missed.
Of course, don't miss out on a visit to Kaleici, or the Old Town, where you'll find beautiful architecture that has withstood the test of time.
Getting to Edirne can be a challenging task. That is because it does not have its own airport. Travelers typically take a 4-5 hour long-distance bus from Istanbul to Edirne, but that is actually not the closest airport.
Because it is located in the western part of Turkey, airports in Bulgaria and Greece might actually be better for you.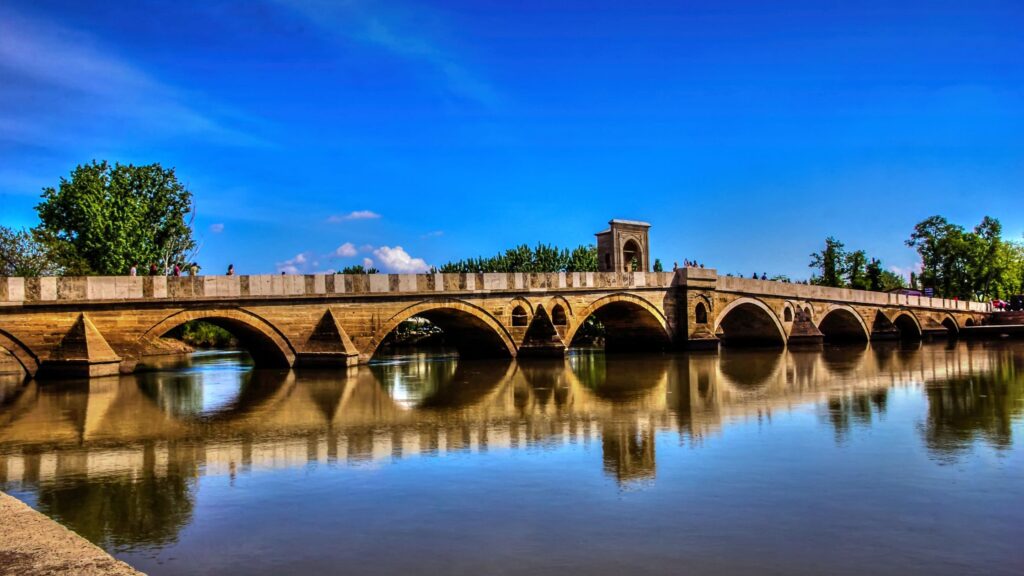 The best time to visit Edirne is during the Spring or fall when the weather is mild and the landscapes are most beautiful.
But during this time, you might want to book your accommodation ahead of time to guarantee you a spot.
One of the best hotels in Edirne is Hotel Edirne Palace, thanks to its great value for money and location in the Old Town.
If you are traveling alone, you'll find that the locals in Edirne are extra friendly since it isn't super common for them to see tourists in their beloved city!
By Sean, The Turkey Traveler
LUCCA, ITALY
Lucca, a small city in western Tuscany, is an enchanting destination for Europe solo travel, and its moderate climate makes it a great place to visit any time of year!
It is steeped in history with remarkable architectural sites and, of course, gastronomic delights.
The city's medieval walls encircle the old town centre and since they were designed for protection, they give you the feeling that you are safe.
These walls are called the "Mura di Lucca," and are one of the city's primary attractions. On the top is a wide park-like path.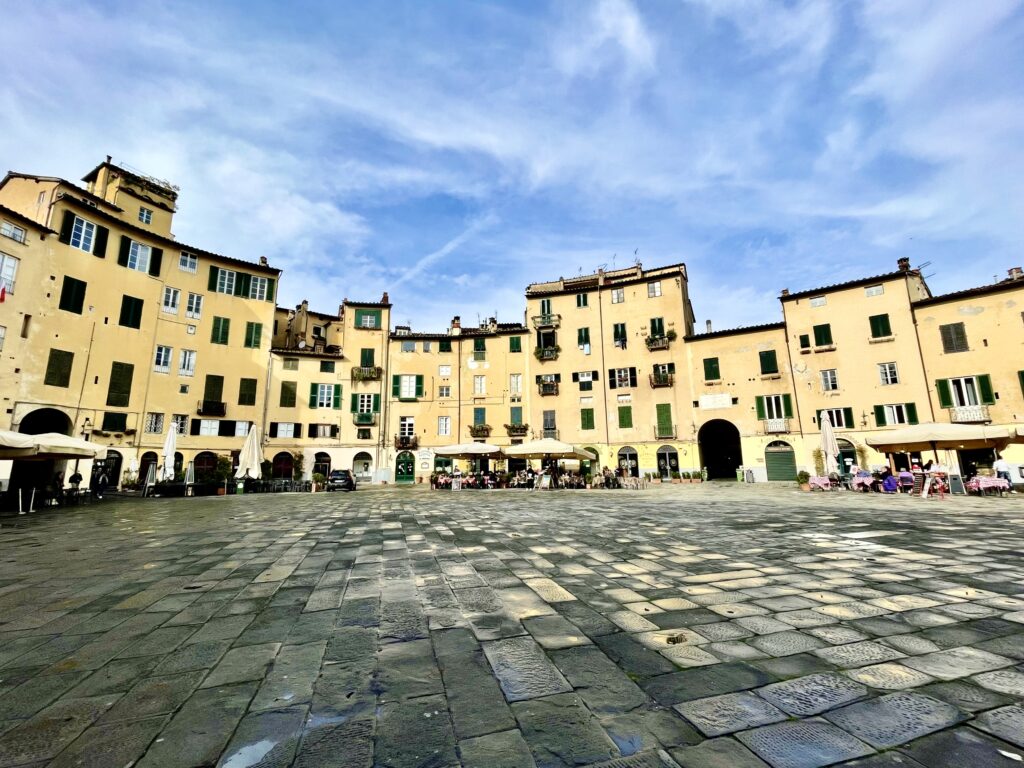 Families walking, locals exercising, and tourists admiring the views. This is a great spot to see the iconic towers and some of the many beautiful churches.
Lucca is called the "City of 100 Churches," so it will be difficult to explore them all.
After the walls, take to the cobbled streets and alleys, each more charming than the last. Don't miss the Piazza Anfiteatro.
The square retains traces of the ancient amphitheatre that once inhabited its grounds. Today some of the best restaurants in Lucca can be found here.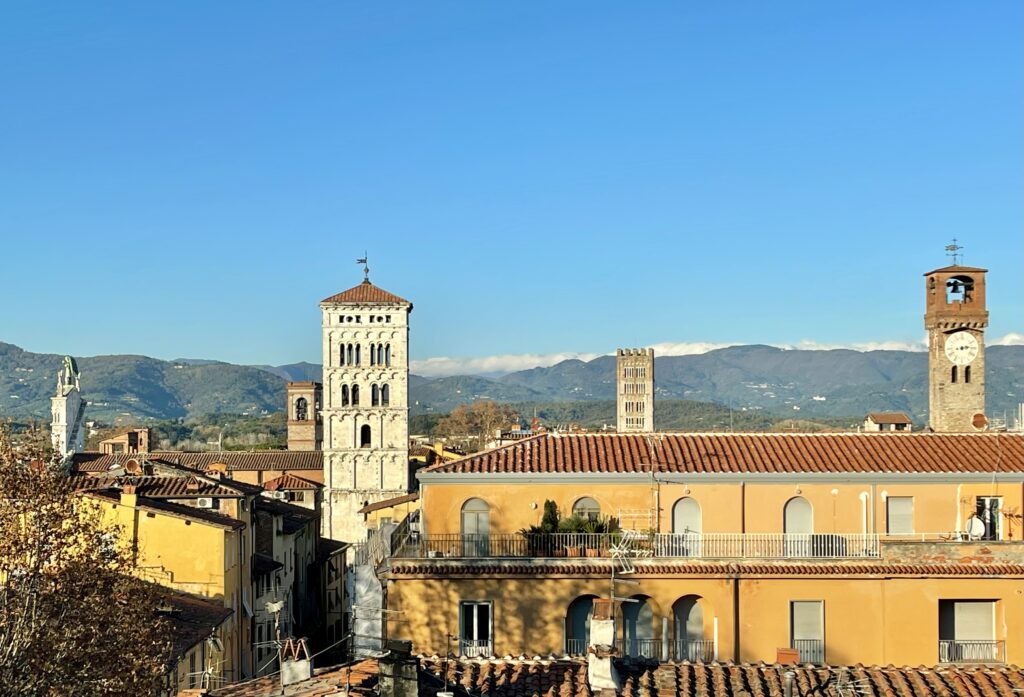 The must-try dish in this town is the signature Tordelli Lucchese, a pasta-based dish similar to a meat ravioli.
Staying within the walls is best for solo travelers, and the Grand Universe Lucca in the Piazza del Giglio will fill the bill.
The train station is just outside the city walls which makes day trips and getting to and from the airport convenient. Both Pisa and Florence airports are about an hour away.
By Denise, Chef Denise
CAMBRIDGE, UK
Cambridge is not only a beautiful city steeped in history, it is also a wonderful choice for Europe solo travel due to its compact, accessible nature.
You can see the sights on foot, making getting around easy, and the solo traveler feels safe and in control.
Travellers can also use one of the many city guides on foot, by bike, bus, or punt! Cambridge is situated only 40 minutes from London by train so easy to add to your London itinerary as well. 
Public transport is frequent and easy from the capital, as is driving.
Cambridge has so many iconic sights to see during your visit.
The cobbled streets were home to so many great minds after all including Rosalind Franklin, Charles Darwin, Isaac Newton, and Sir David Attenborough.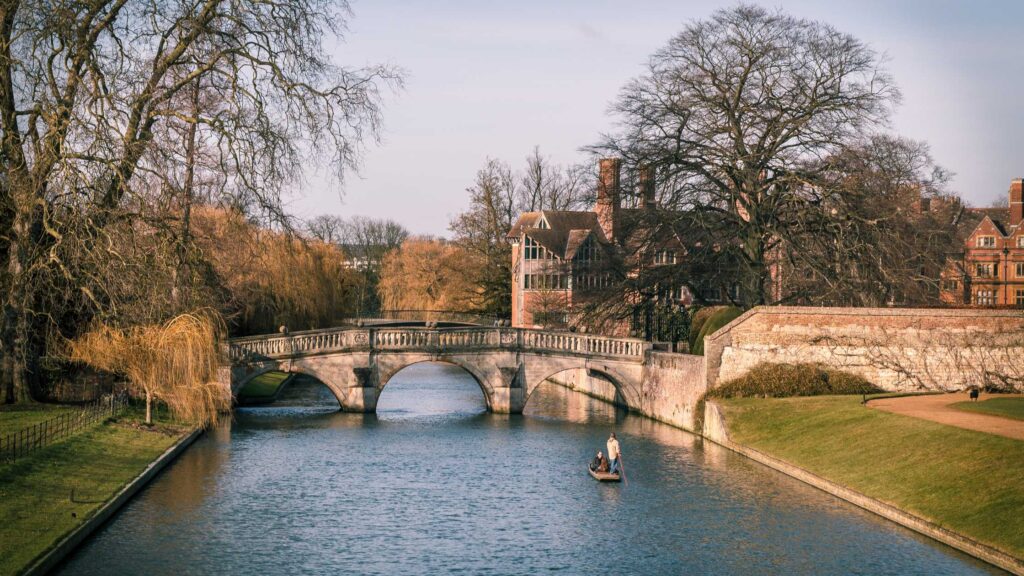 Probably the most prestigious college is Trinity College, which is also the oldest.
Be sure also to see the corpus clock, mathematical bridge, St Mary's church tower, and one or more of the excellent museums.
Cambridge can be bustling around the beginning and end of term time, and during peak UK school holiday times with tourists, so visiting within the term is a good choice for a more peaceful trip.
People in Cambridge are friendly so rest assured, you can seek help.
There are hotels for all budgets in the city. Try The Graduate, The Varsity, or for a budget option, find one of the city-based Premiere Inns.
By Melanie Varey, The Best Things to do in Cambridge
SOFIA, BULGARIA
Solo travel is exciting and getting slightly off the beaten track by exploring the Balkans is a great way to see a different side of Europe.
The good news is Bulgaria is part of the EU which means citizens of EU countries can easily visit, whilst most other countries can visit visa-free with the same rules as the Schengen Visa.
Plus, getting there is pretty easy with numerous airlines flying directly to Sofia's International Airport from all around Europe.
The best time to visit Sofia depends entirely on your interests! For most travellers, the best time to visit is during the shoulder months or Summer.
Sofia never gets too hot or too busy making any time of the year great.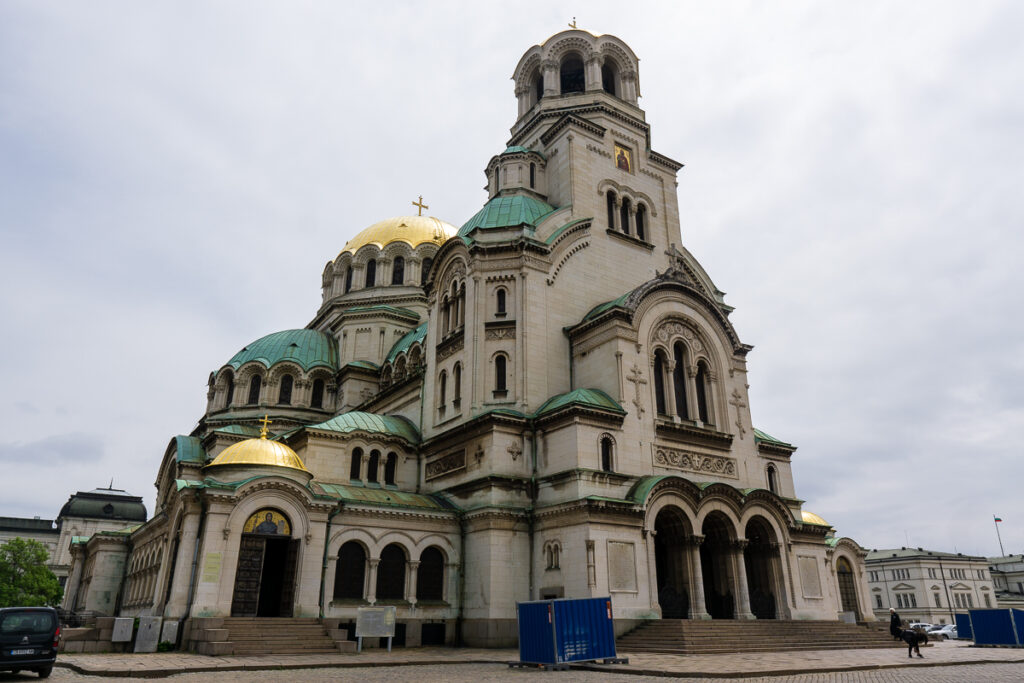 However, if you're a fan of winter sports such as skiing and snowboarding, one of the best things to do in Sofia is to head to Borovets ski resort.
For the best winter conditions, you'll want to visit Sofia during January and February.
Solo travel in the Balkans offers a few additional challenges such as public transport and language barriers, however, this is part of the thrill of travelling and the locals in Bulgaria are excessively friendly and willing to help you explore their country.
Hostel Mostel is the most popular hostel in Sofia and is the perfect place for solo travellers to stay when hoping to meet other travellers.
By Delilah, Delilah Writes
EDINBURGH, SCOTLAND
What makes Edinburgh one of the best places for Europe solo travel?
Scotland's capital city is bustling with friendly locals and travelers alike, full of accessible things to do and see and is compact, making it easily navigable for a solo traveler.
With as little as one weekend in Edinburgh, you can have an enriching solo adventure because there are so many things to do and so many of them are free, making it a budget-friendly solo destination.
There are over 50 free museums to visit, from traditional ones like the National Museum of Scotland and the Scottish National Gallery to more quirky options like Museum on the Mound, which exhibits collections related to Scotland's financial history, and The Writer's Museum.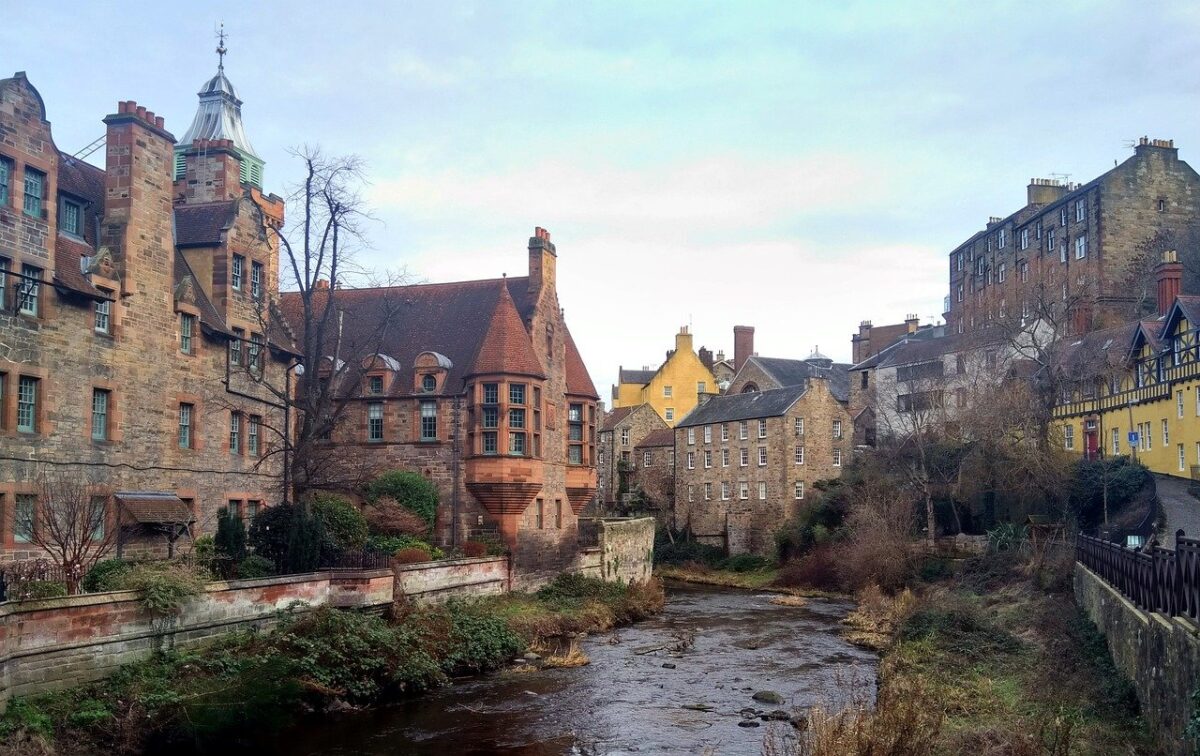 Edinburgh also boasts beautiful outdoor attractions like Calton Hill and Arthur's Seat to satisfy every kind of traveler's preferences.
Edinburgh is also a hub for other solo travelers in Europe, which you can meet by staying in a hostel like Castle Rock Hostel or Kick Ass Hostel or heading to one of the popular hangout areas like Waverley Market.
It is also a laid-back and very safe city because of how many travelers are attracted to it.
The best time to visit Edinburgh is June, right at the edge of the busy summer travel season.
At this time, you may also have the best chance for nice weather, although rainy Edinburgh potentially makes the historic Old Town even prettier – so you can't lose!
By Michela, She Goes The Distance
GHENT, BELGIUM
If you're searching for the best destination for Europe solo travel, you can't go wrong with Ghent, one of the most charming cities in Belgium.
Ghent is located just 55 kilometres from the capital Brussels, and inter-city trains make it easy for solo travellers to reach the city.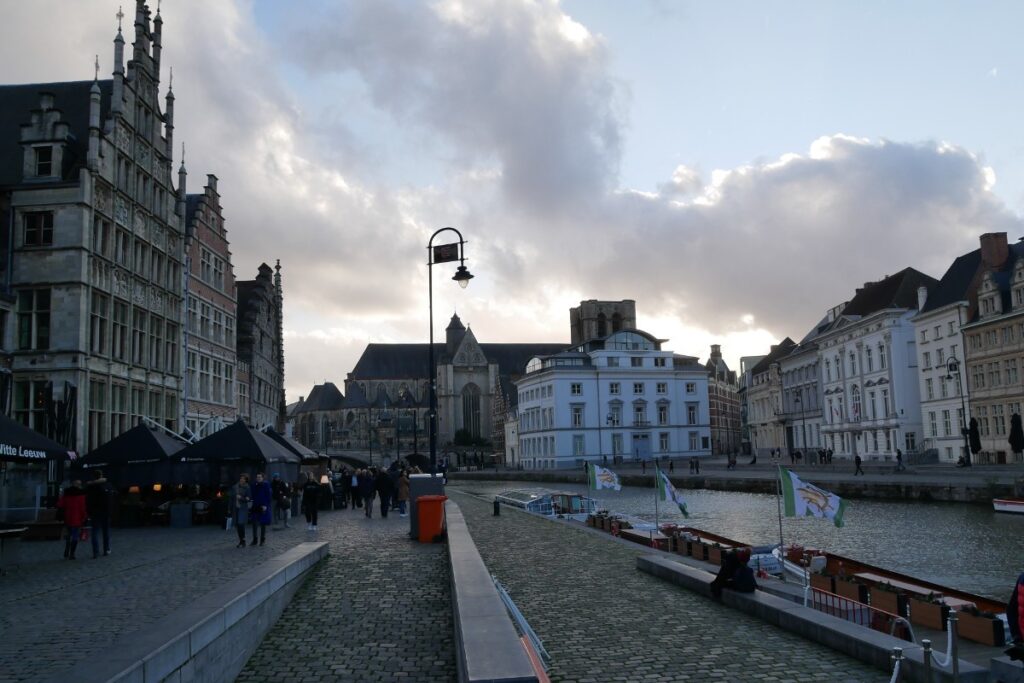 There are many things to discover in Ghent, and the historical sites, medieval structures, and stunning churches make it an ideal place to visit for a couple of days.
Solo travel in Ghent is perfect because of the fantastic activities it offers.
During your stay, you can enjoy a medieval boat tour, explore the botanical garden, and visit the iconic Gravensteen Castle, where you can learn more about medieval torture equipment – that's hard to pass on, right?
You'll spend the most time in the historical centre, where you can immerse yourself in Ghent's history and observe its architectural beauty but if you have some more time, make your way to the Blaarmeerssen or take a day trip to nearby Bruges or Antwerp.
Take advantage of the city's walkable nature and the guided tours available to ensure a worthwhile solo travel experience.
While it is a beautiful place to visit year-round, go in July for the Gentse Feesten – a 10-day culture & performance festival that the Ghentians hold very close to their hearts.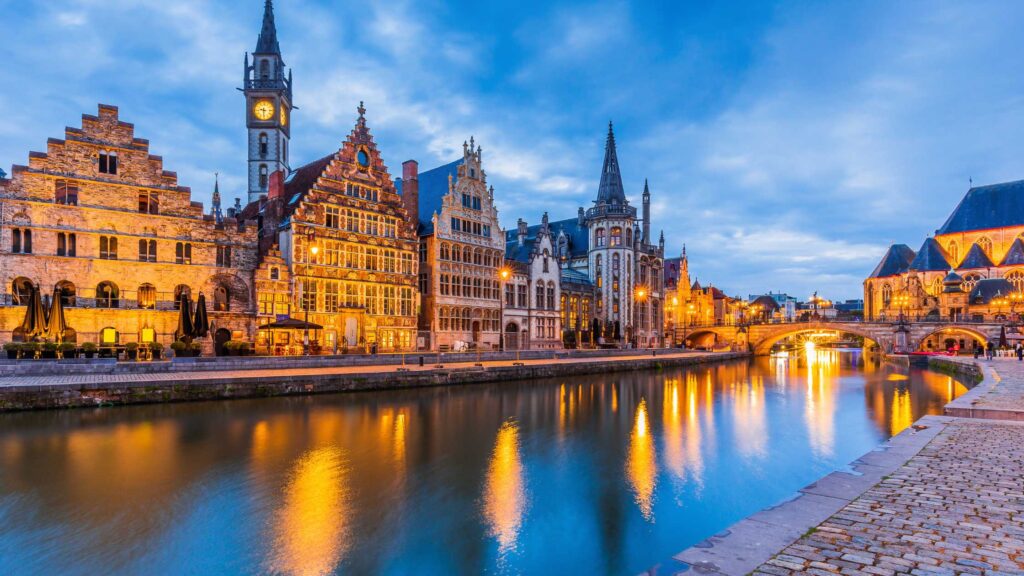 For a fun place to stay in Ghent with plenty of opportunities to make friends, pick Hostel Uppelink.
It is located in the historical centre with views of the famous Saint Michael's Bridge, making it a perfect choice for solo travellers.
By Babs, Next Stop Belgium
THE ISLE OF SKYE, SCOTLAND
The Isle of Skye is a stunningly gorgeous corner in the Inner Hebrides of northwest Scotland and one of the stunning locations for Europe solo travel.
There are plenty of attractions on the Isle of Skye to make you fall in love with this small island. Skye is famous for its outstanding landscapes, diverse wildlife and fascinating Highland history.
If you want to travel someplace offbeat, the Isle of Skye is the perfect destination to explore on your next solo adventure.
There are two ways to reach Skye. You can either drive through the Skye Bridge or catch a ferry from Mallaig to Armadale, a village on the southern fringe of Skye.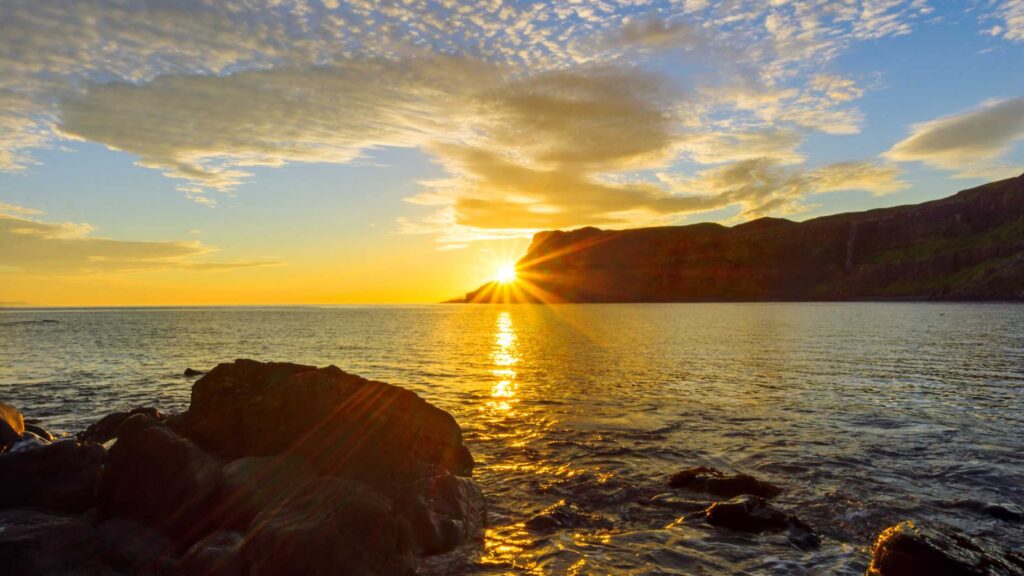 Anyone who wants to return to nature will find the Isle of Skye a hiker's paradise. There are many hiking trails for all abilities around the island.
One of the must-visit attractions in Skye is the picturesque Fairy Pools. It is a web of small waterfalls renowned for clear turquoise blue water against the backdrop of the majestic Cuillin Mountains.
Take a tour of the historic Dunvegan Castle and Gardens. The castle has been the ancestral house of the Chiefs of Clan MacLeod for hundreds of years.
Next, admire the colourful houses of Portree, the largest town on the island. Portree has many restaurants, cafes and hotels and is a great base to explore Skye.
The Rosedale Hotel & Restaurant near Portree Harbour is a great place to spend the night.
Summer is the best time to discover Skye. If you want to avoid the crowd, early autumn and late Spring are great times to visit this magical island.
By Moumita, Chasing the Long Road
CANARY ISLANDS, SPAIN
Looking for the perfect place for Europe solo travel? Imagine sunny days beside the ocean, a lazy lunch by the pool, and warm nights on a terrace sipping a tropical cocktail…even in the depths of winter.
Although part of Spain, the Canary Islands are located in the Atlantic, just off the coast of the Sahara Desert. And the weather is gorgeous throughout the year!
The Canaries are seven volcanic isles, each with a unique landscape and ambience.
Tenerife is a mix of traditional and trendy coastal resorts with the Teide peak rising from the centre.
Beaches vary from golden sands to rocky black coves, and there's the grand Lago Martiánez on Puerto de la Cruz seafront. Apart from a lively holiday vibe, there are some beautiful out-of-the-way nature trails to enjoy.
La Gomera is a natural paradise a short ferry ride from south Tenerife, a small and tranquil island.
La Palma is the next island, known for its beautiful landscapes with rainforest walks, charcoal black sands, sea pools and Starlight Reserve.
Further, out to sea, El Hierro is a lesser-known and laid-back isle which is brilliant for diving.
Gran Canaria is a bigger island where you'll never get bored, and easy to include on your Europe solo travel.
From the immense sand dune beaches of Mas Palomas, pine forests and remote villages of the mountainous interior, to the black cliffs of the western coast where the sunsets are amazing.
Lanzarote is the most fascinating island, for me at least. Fields of volcanic lava, a 'live' volcano, miles of golden sand beaches, and a wilder shore for surfing and paragliding.
Windswept Fuerteventura is more of an adventure destination, brilliant for kitesurfers and off-road excursions.
Raw scenery and sandy beaches stretch away to infinity on an island amazingly untouched by mass tourism.
The Canary Islands attract international tourism, most people understand English, and it's a relaxed and safe environment for solo travellers. Car hire is the best way to get around, otherwise, join a tour or take the bus.
Tenerife, Gran Canaria and Lanzarote have international airports. You can also fly direct from Madrid to Fuerteventura and La Palma.
El Hierro has a regional airport. Island hop by ferry, or pre-book cheap flights with Canary Fly or Binter.
Seaside Los Jameos is a beach-front, traditional-style hotel in Puerto del Carmen (Lanzarote). Enquire about offers for singles.
By Kali, KaliTravel
MALAGA, SPAIN
The often-overlooked city of Malaga is a destination that every solo traveller should consider for Europe solo travel.
It offers a bit of everything: history, culture, beautiful beaches, and vibrant nightlife, making it an enchanting city to explore alone.
Getting to Malaga is also convenient, as it has an international airport with direct flights from major European cities.
Additionally, it is well-connected by train and bus, allowing easy access to other parts of Spain and neighbouring countries and cities.
Travellers will have no problem finding affordable accommodations either. Malaga offers a wide variety of hotels for every traveller's needs.
The Room Mate Valeria is always a great choice, a boutique 4-star hotel that offers excellent views and comfortable rooms.
The best time to visit Malaga is during the "shoulder season", especially in May and October when the weather is mild and pleasant, and the city is less crowded.
During this time, solo travellers can fully enjoy the city's attractions and immerse themselves in the local culture and cuisine.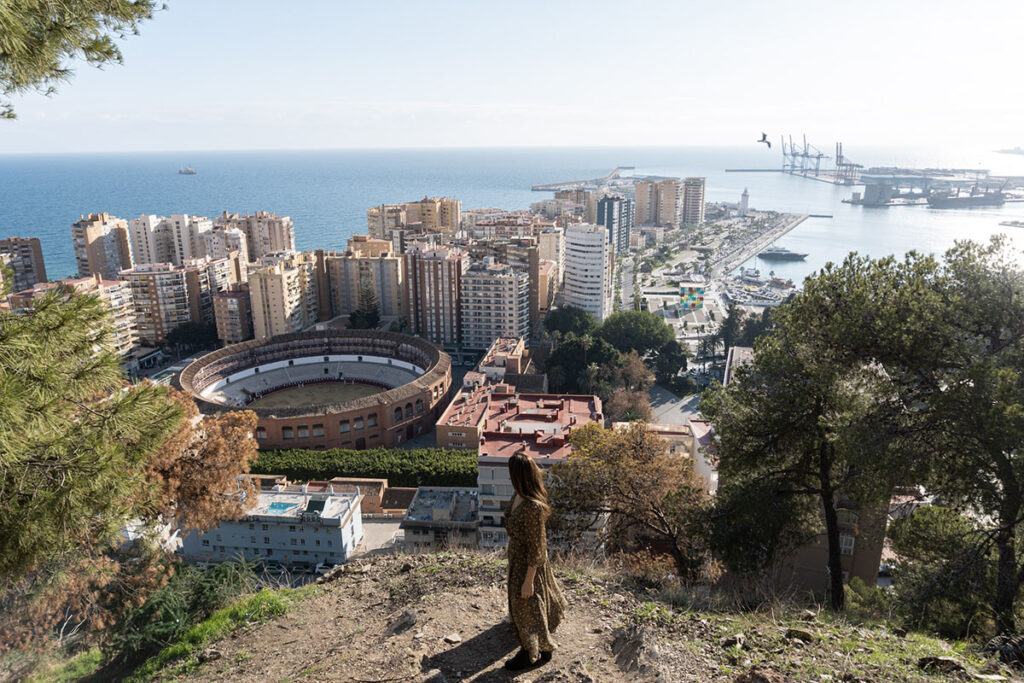 Malaga is also a great place for exploring alone due to its walkability. The city is easy to navigate on foot, with its narrow streets and historic landmarks like the Alcazaba fortress.
Solo travellers can also take comfort in knowing that public transport in Malaga is safe and reliable.
This makes it convenient for solo travellers to discover beyond the city and explore the surrounding areas, including the famous coastal towns near Malaga, such as Marbella and Nerja.
Overall, Malaga's welcoming atmosphere, rich history, and unique attractions make it an ideal destination for any solo traveller looking for a European adventure!
By Cristina, My Little World of Travelling
PORTO, PORTUGAL
Nestled along the scenic Douro River, Porto is a city that effortlessly combines history, culture and beautiful landscapes.
Known as the birthplace of port wine and famous for its charming narrow streets and colorful buildings, it's the perfect destination for Europe solo travel. In fact, there are so many amazing reasons to visit Porto.
Getting to Porto is pretty convenient as the Francisco Sá Carneiro Airport is just 20 minutes from the city center. Porto is also well connected to major cities in Portugal and Spain by both bus and train.
The best time to visit Porto is during the shoulder seasons of spring (April to June) and autumn (September to October) as the weather is perfect with mild temperatures and fewer crowds compared to the peak summer months.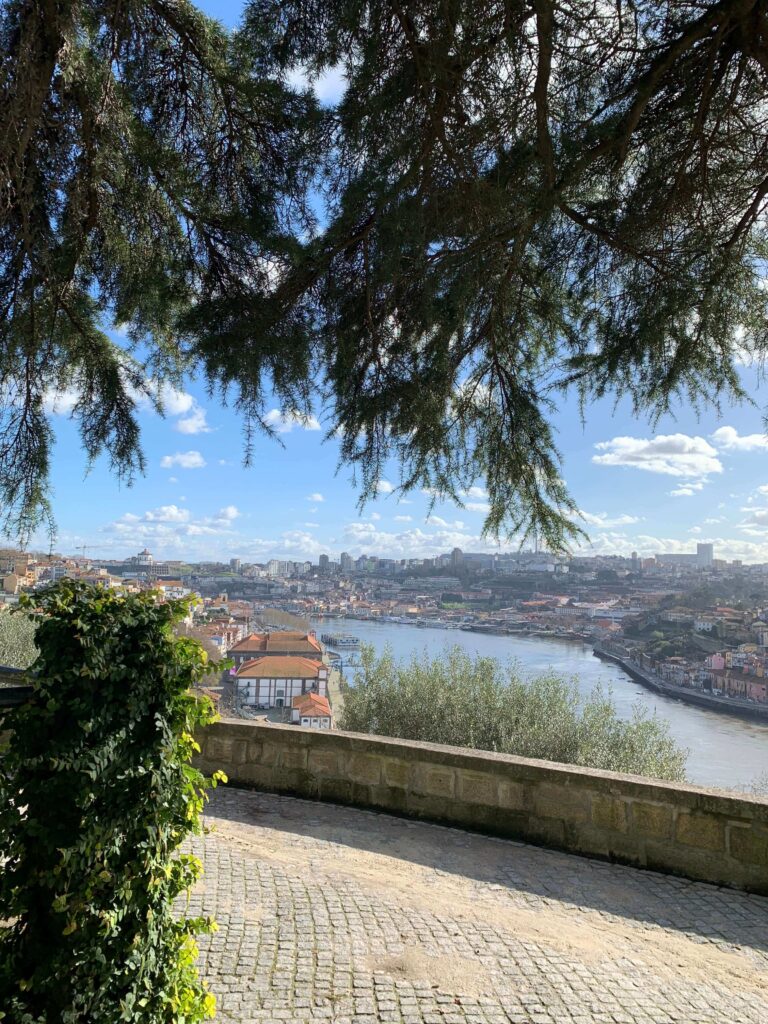 You'll be able to explore the city's most famous landmarks like the iconic Dom Luís I Bridge, the UNESCO-listed Ribeira district and the awe-inspiring Livraria Lello bookstore without battling the crowds.
Porto's compact size makes it an ideal destination for solo travelers as you can easily walk between landmarks. The locals are also super friendly and it's one of Europe's safest cities.
When it comes to accommodation, the Hotel Infante Sagres is a top recommendation. Located in the heart of the city, this luxurious boutique hotel is both elegant and modern. Its central location means that you can easily access Porto's main attractions without needing to take a taxi or bus.
By Megan, Traveller's Elixir
LAKE BLED, SLOVENIA
Lake Bled, one of the most beautiful places in Slovenia, is an excellent place to visit for Europe solo travel.
Slovenia is not as popular as some of its neighbouring countries, but it's a beautiful place and is incredibly underrated.
Lake Bled, in particular, feels like a fairytale – the picturesque Bled Church sits in the middle of the turquoise lake and is stunning from every angle.
It's a great destination to visit as a solo traveller as there are so many outdoor activities that are easily enjoyed alone. It's also a safe place for solo female travellers as it's a touristy location so you'll never feel alone.
The best time to visit is during the shoulder seasons – April/May or September/October. The temperatures are warm, however, it's less busy than the peak season of summer.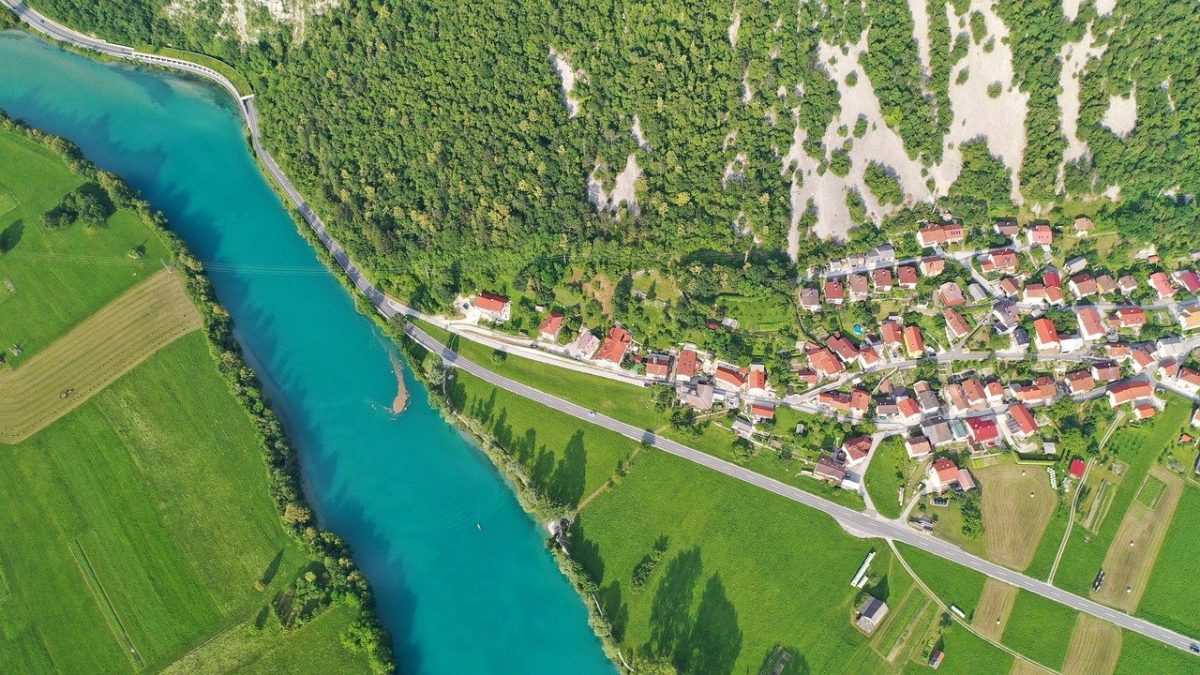 Fall is a great time to visit if you want to view the stunning lake with autumn colours, albeit it's slightly colder.
Getting to Lake Bled:
The best way to get to Lake Bled is by car or bus. A bus from Ljubljana will take around an hour and a half and costs around 10 euros.
Once you're in Lake Bled, most attractions are walkable. However, if you can rent a car, this is a great option as it provides the flexibility for exploring the surroundings of Slovenia.
Driving in Slovenia is very easy to navigate as a solo traveller.
Where to stay:
As a solo traveller, the best place to stay would be in the Bled Town Centre. Being in a central location provides easy access to facilities and is within walking distance to the attractions.
For a mid-range hotel, Hotel Kompas is a good option with recently renovated rooms.
If you want to treat yourself, the Grand Hotel Toplice has stunning lake views.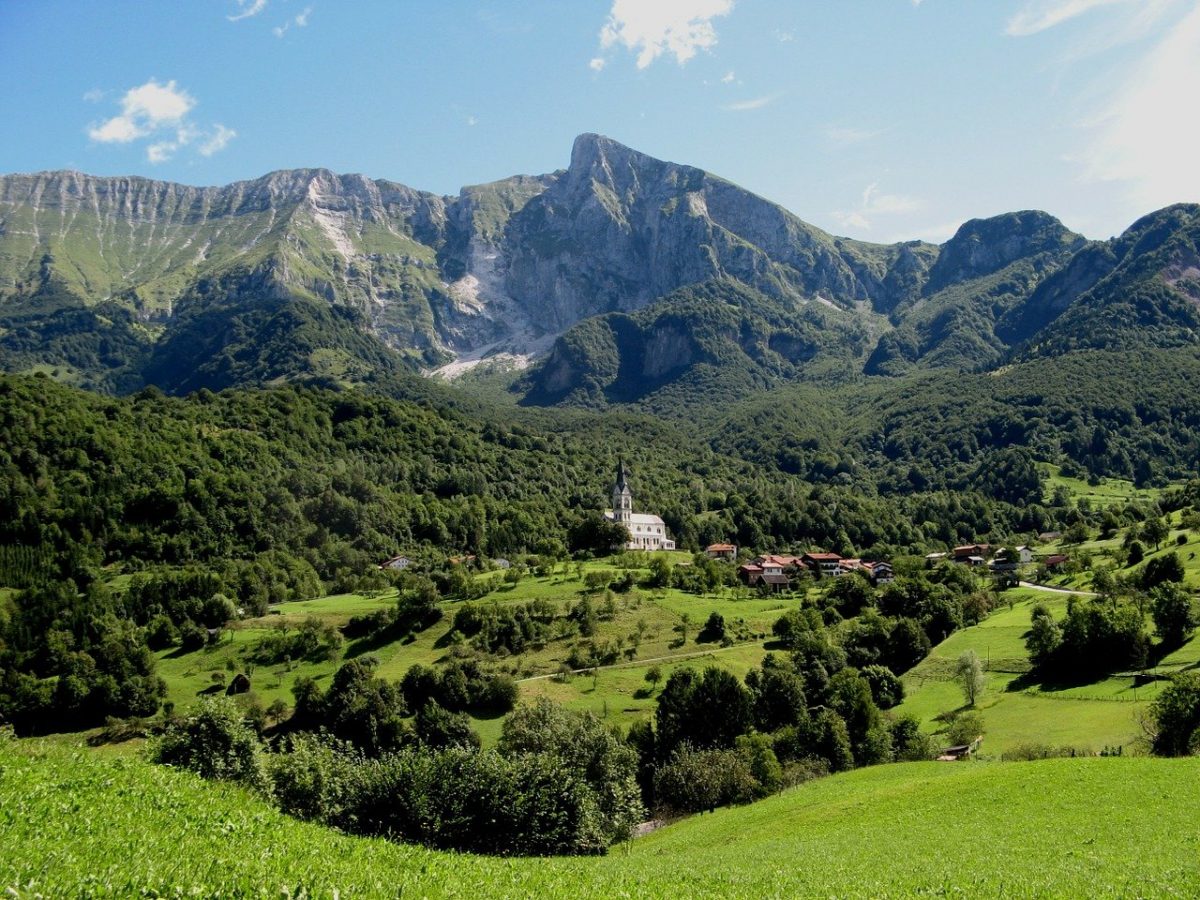 Some must-do things in Lake Bled:
Walk around the beautiful lake and enjoy the stunning scenery. Lake Bled can be a busy place so if you're looking for a peaceful walk, aim to do this in the morning.
Rent a paddle boat and explore the lake. Not just for couples – the row boats are easily navigated as a solo traveller!
Hike up to Ojstrica for amazing panoramic views of the lake and surrounding Alps.
Treat yourself to the iconic Bled cream cake. There are some lovely places along the waterfront where you can enjoy this speciality.
If you have a car, do a day trip to the nearby Bohinjsko Lake. Take a picnic and enjoy the views.
By Danni Briggs, The Solo Plan
MANCHESTER, UK
Located in North West England, Manchester is one of the best places in England for Europe solo travel.
It's very easy to get to by plane or train. Manchester airport is one of the largest in the UK, with direct flights to many destinations.
The time to visit is during the summer (higher chances of avoiding the rain) and in winter so you can enjoy the Christmas markets.
It's a very safe city to enjoy on your own, with many things to do.
Booking the free walking tour of Manchester is a great way to explore the city.
It's one of the best free things to do in Manchester and will allow you to find your marks. It starts every day at 11 AM.
You will explore the entire city centre and learn plenty about Manchester's history.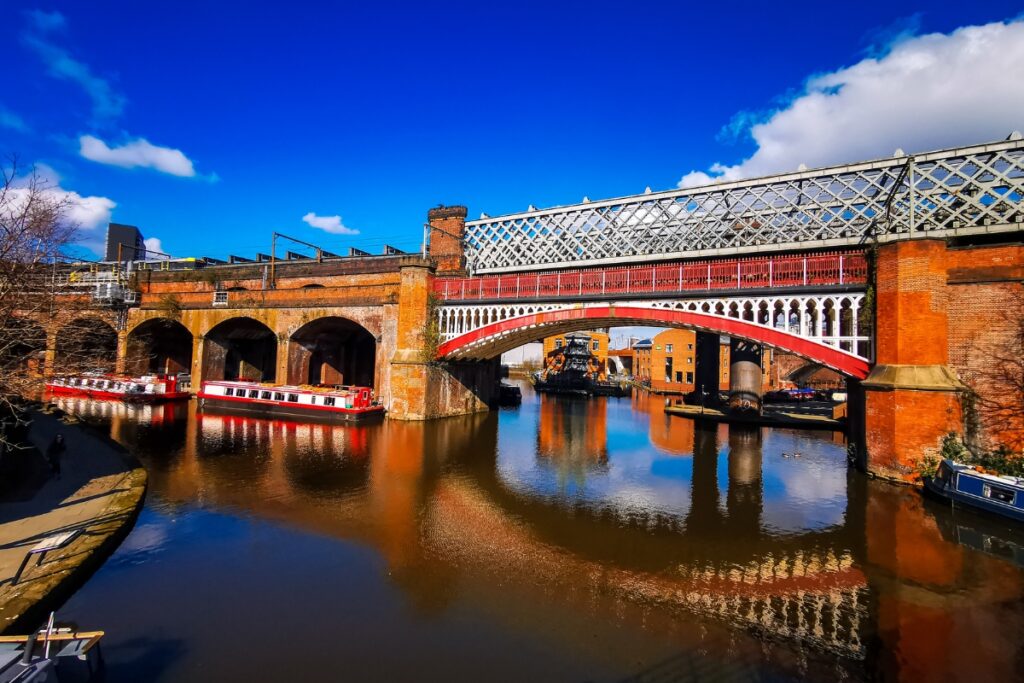 You will also find many fascinating museums such as the MOSI, the Art Gallery and Manchester Museum.
Manchester is also famous for its music, hence if you are planning Europe solo travel around music, Manchester is an excellent pick.
Many bands, including Oasis and The Smiths, were from here and you can find many places with live music in the Northern Quarter and Deansgate.
Don't hesitate to check out independent venues like Band on the Wall.
Overall, Manchester is an excellent destination for solo travellers who want to have fun while staying safe.
By Pauline, Manchester Pocket Guide
LYON, FRANCE
Lyon is one of the best places to visit in Europe for a solo trip, offering a unique combination of culture, cuisine, and adventure.
From ancient, cobbled streets filled with centuries-old buildings to breathtaking views from hilltop neighbourhoods, this vibrant French city has something for everyone. Plus, it's safe, easy to access, and affordable.
Visiting La Croix-Rousse is essential when exploring Lyon's art and culture scene. Then, for history buffs, Fourvière Hill offers some great sites.
Tour the Gallo-Roman Amphitheater or visit the Lugdunum Museum, both offer insight into the history of this ancient city.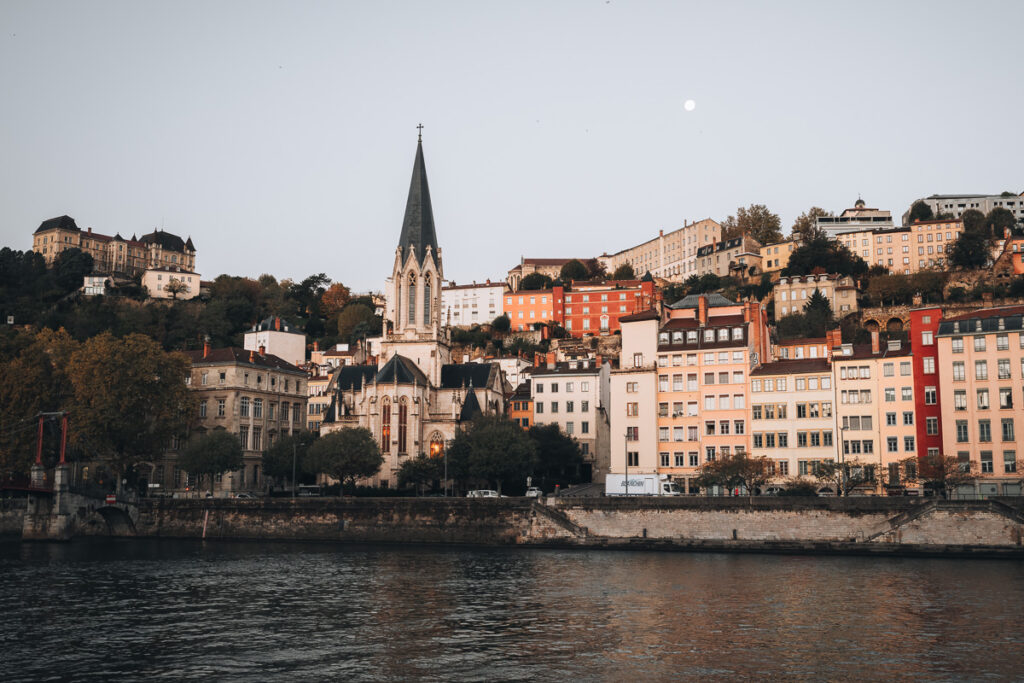 When you're done there, don't miss out on one of the city's most stunning churches – The Fourvière Basilica.
Of course, no trip is complete without exploring the oldest district in town, Vieux Lyon.
Sitting on the banks of the Saône, this area of Lyon has many things to do. Highlights include the Musée Cinéma et Miniature and the Cathédrale Saint-Jean-Baptiste.
Lyon is a year-round destination, but Spring and Fall are the best times to visit.
The weather is pleasant outside the high season so you can expect lower prices. Lyon is also very easy to access.
It has an airport, and high-speed TGV trains from Paris run regularly. Once you arrive, you'll find plenty of accommodation options.
But the best hotel for solo travelers is the Meininger Hotel. It's budget-friendly, well-located, and a great place to meet other travelers.
By Jen Ciesielski, Dabbling in Jet Lag
VENICE, ITALY
Venice is an excellent destination for solo female travellers, and is a great pick if you are doing Europe solo travel for the first time.
Firstly, Venice is a small and very safe city. Due to no cars being allowed in the city, the best way to explore Venice is by foot.
This is a great way to let yourself get lost and discover some fantastic hidden gems in Venice. One is the view from the rooftop terrace of Il Fondaco dei Tedeschi, which is free to visit.
Another great place to explore in Venice, away from the crowds, is Palazzo Contarini del Bovolo which has a very intriguing external staircase.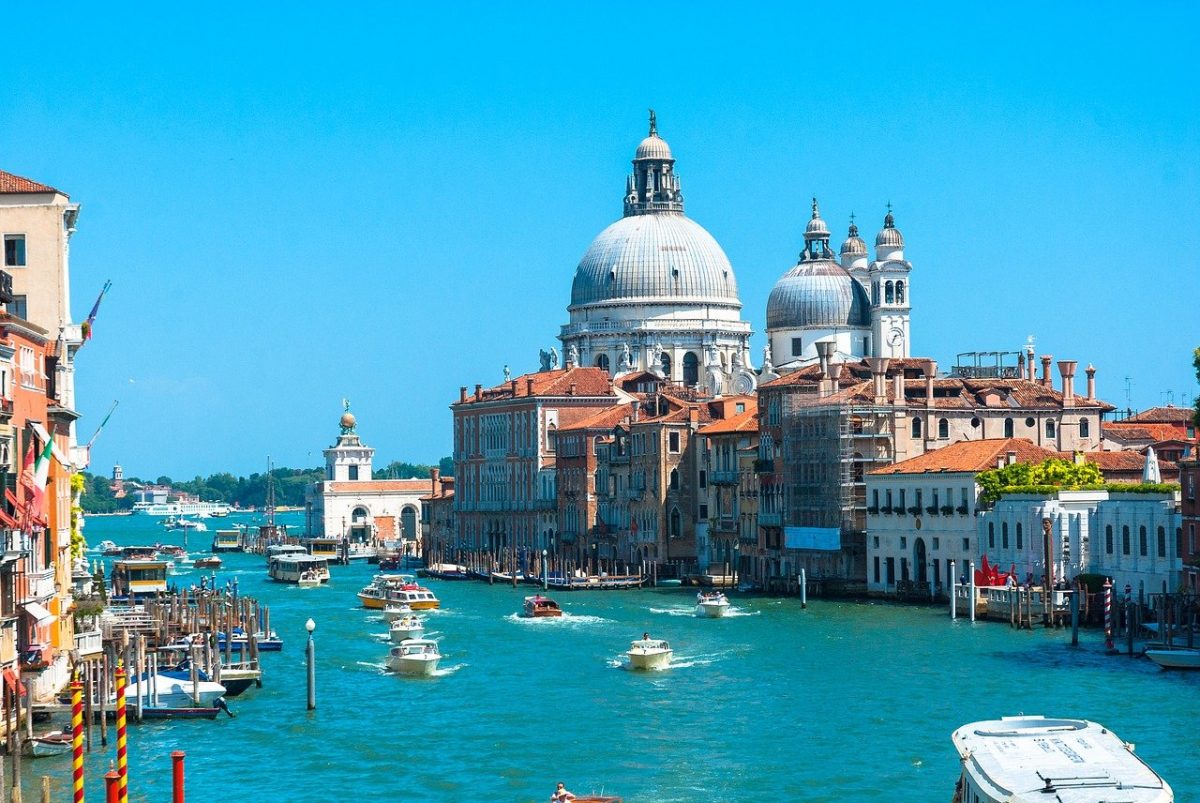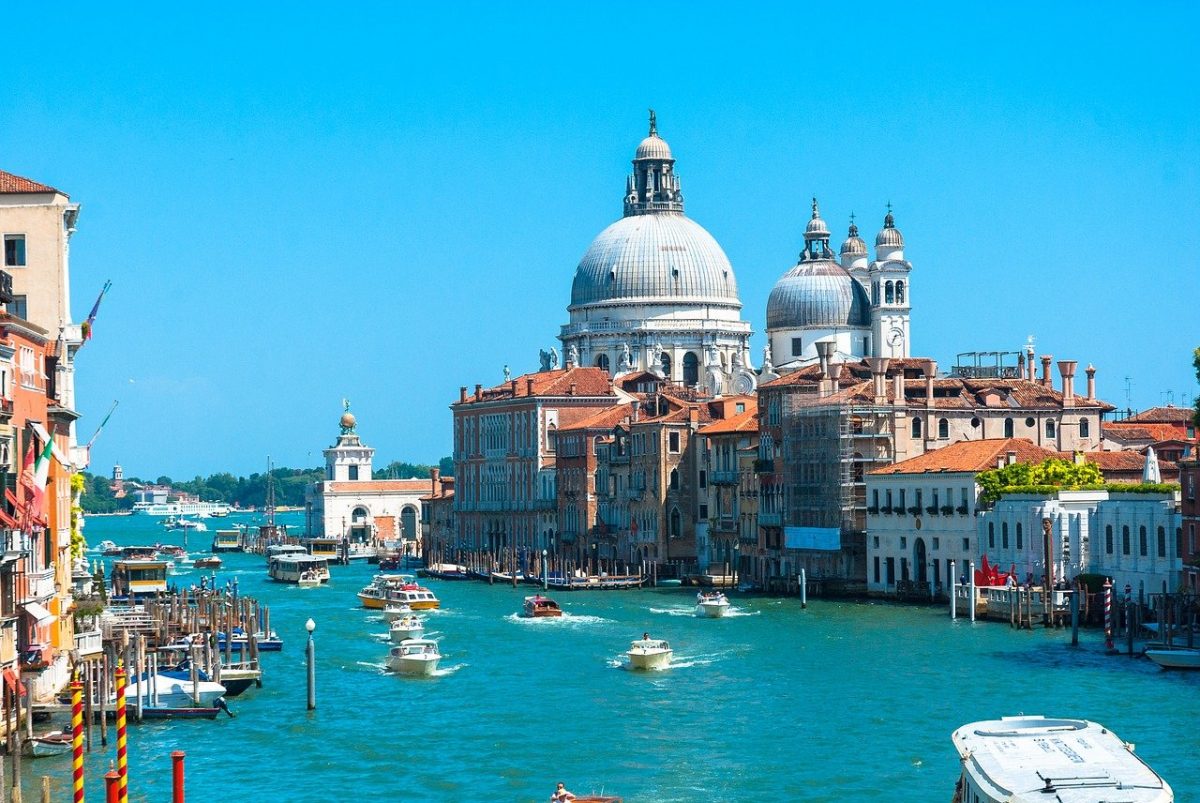 Getting to Venice is very easy, two airports serve the city. The low-cost flights land in Treviso, around one hour away by bus from Venice.
The other flights land at Marco Polo, connected by bus and boat to Venice. Booking the boat makes a great way to arrive in Venice in style.
The best time to visit Venice is in early Spring or late autumn when the crowds start to die down.
Venice is a gorgeous city, but unfortunately, it becomes so crowded during the summer that it's hard to even walk on the streets.
Whilst Venice is known as a romantic city, exploring it alone is as charming as with a partner.
It has a certain allure that will make you love it, especially if you visit outside of the tourist season.
A great small affordable hotel to stay at is Ca' San Rocco.
By Joanna, The World In My Pocket
VALETTA, MALTA
Despite its size of just 316 square kilometres, the tiny island nation, Malta, is home to an impressive blend of historical landmarks, natural wonders, and ancient cultural experiences, making it a popular destination for Europe solo travel.
Malta is so small that you can see most of the island in just a few days, but you'll want to stay longer!
At the heart of it is Valletta, Malta's capital city. Meander through the medieval architecture and charming streets of the old town to an array of attractions that make this city one of the best places to solo travel in Europe.
Stay at the AX at St John for an easy walk to the city's countless beautiful markers, from the impressive St. John's Co-Cathedral to the Grand Master's Palace.
Additionally, Valletta is a transportation hub for the rest of the island.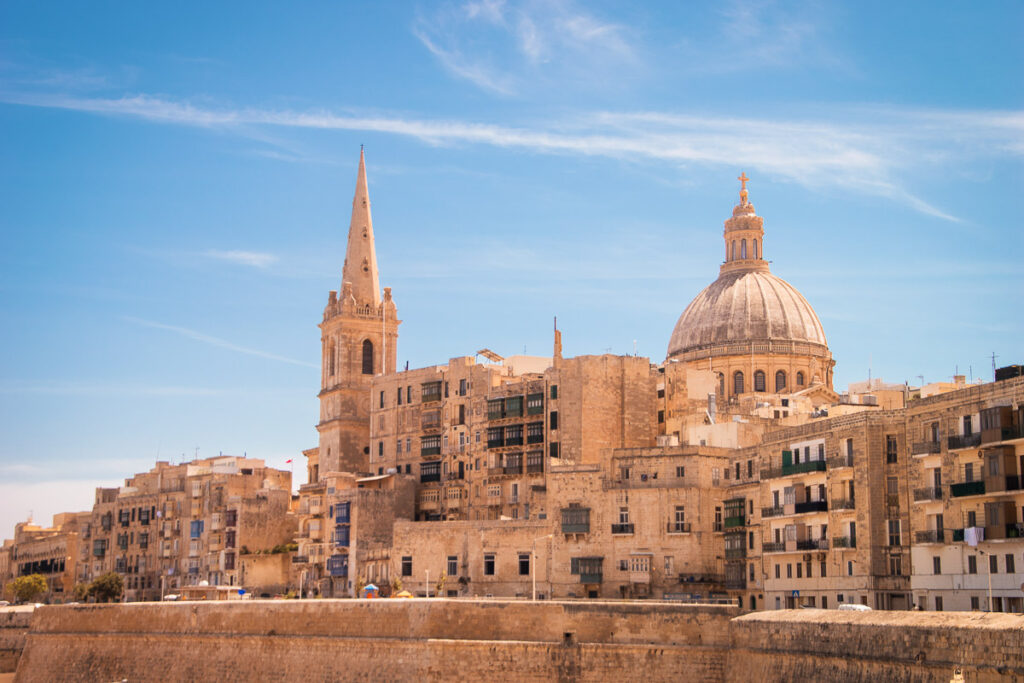 Take trips to nearby destinations like Mdina, the ancient city of the Knights, and the famous fishing village of Marsaxlokk.
One of the highlights is day-tripping to the Blue Lagoon, a dazzling turquoise lagoon on Comino Island.
To reach Valletta, the city is easily accessible via the Malta International Airport, just 8 kilometres away.
Alternatively, one can take a ferry from the nightlife areas of Sliema or St. Julian's.
As for the best time to visit, travel during the shoulder seasons in Spring or fall, when the weather is mild, and the crowds are thinner.
Malta has a low crime rate, making it a very safe country. However, driving around Malta requires confidence in navigating through heavy traffic and narrow streets with some hairpin turns.
By Catherine Xu, Nomadicated
LUGANO, SWITZERLAND
For a beautiful destination for Europe solo travel, consider your next journey to Lugano in Southern Switzerland.
This location is part of the Ticino canton, a Swiss paradise with Italian Mediterranean vibes.
Lugano is an ideal city with lots to explore, see and enjoy. You can reach the city by direct train from Milan Italy and Milan Malpensa airport as the most efficient.
Alternatively, it's easy to reach by train from other Swiss cities such as Zurich, Bern and Lucerne.
Spring until late Summer is the best time to visit for the warm sunshine, which can get warm enough to swim in the crystal clear water lake.
Everything comes alive during these seasons, with many local events like Jazz concerts, car shows and sporting activities (biking/running/yoga).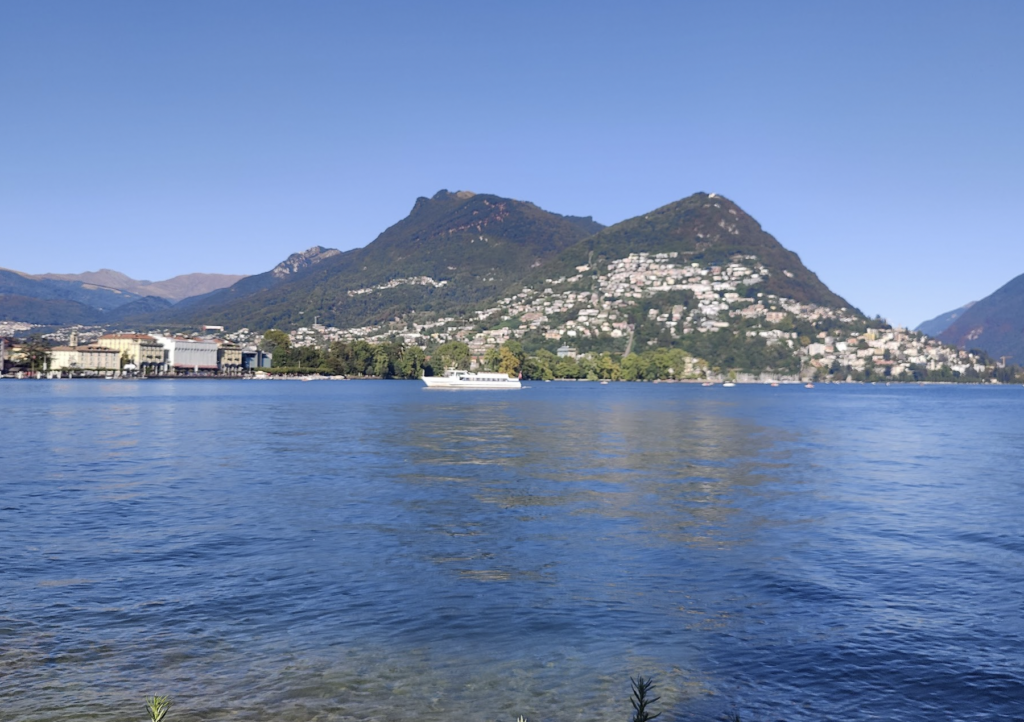 The city is excellent for those who want a bite to eat with Italian cuisine, a stroll along the lakeside promenade at Park Ciani, or some relaxation on the Lake Lugano boat (which tours the lake).
Surrounding areas include some stunning hikes, 360 viewpoints (like at Monte San Salvatore) and quaint car-free villages like Gandria.
Lugano is a very welcoming city to solo travellers, with comfortable places to eat alone, such as Agua Lugano, Tango Riforma and Grand Café Al Porto.
For a place to stay, there are some great hotels for local B&Bs in Lugano.
A personal recommendation would be at International au Lac Historic Lakeside Hotel.
It's right on the lakeside in the city centre, with peaceful rooms and although a little dated, it has quite the charm.
By Zoe, Together In Switzerland
SPLIT, CROATIA
Although Dubrovnik may take the cake for popular Croatian cities, Split is just as beautiful and a perfect destination for Europe solo travel.
Its excellent walkability, great gastro scene, and incredible attractions make it an ideal pick for solo travelers!
Remember the glorious Venetian and Roman architecture dotted over this historic port town!
You should spend a few hours walking through the maze of streets around the Old Town, but you must take an evening stroll along Riva.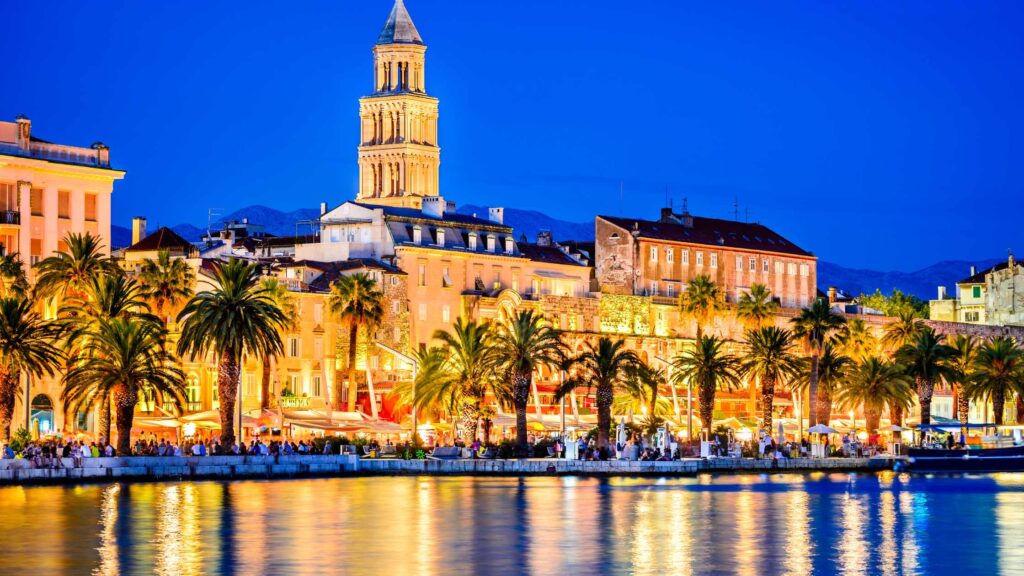 It's the famous waterfront promenade that's littered with safe bars and restaurants for eating alone.
If you want more history, head to the Gothic, Renaissance, and Baroque-inspired Diocletian's Palace.
In terms of getting here, you can either hop on a ferry boat from Dubrovnik, drive, or fly directly into Split.
Flying is by far the quickest and easiest, but the ferry boat offers truly gorgeous views.
If you're looking to avoid crowds, you should visit Split in September or October.
It's beautiful during the summer, but the crowds will make navigating the top tourist attractions trickier as a solo traveler.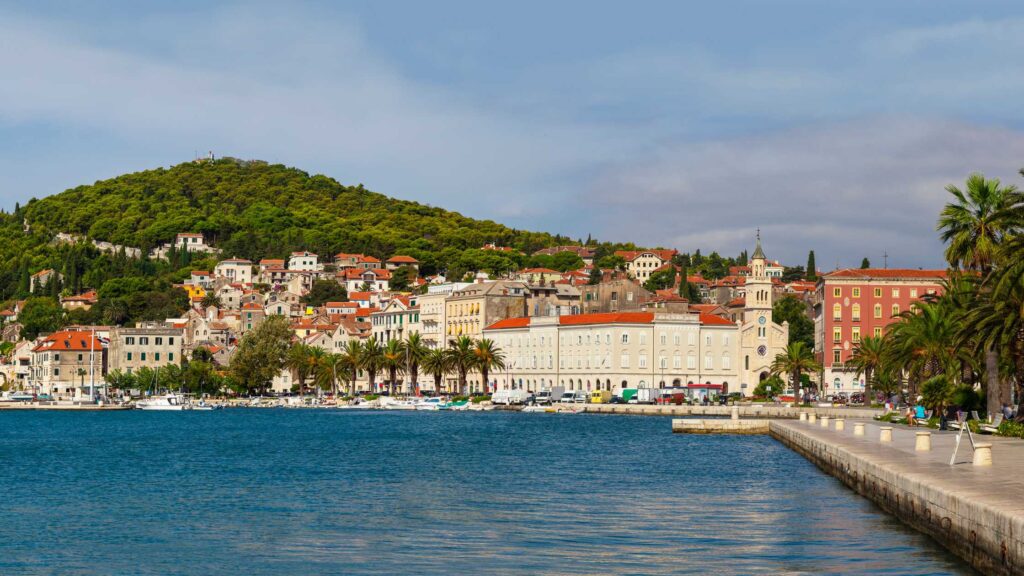 At the height of summer, you may even feel uncomfortable.
In terms of accommodation, Hostel Dvor is a well-regarded spot for female solo travelers and couples, as it's safe, comfortable, and affordable.
And hey, you can't beat the air-conditioning! If you want something more upmarket, the Hotel Vestibul Palace is tucked inside Diocletian's Palace and offers just 7 rooms. So, you're likely to avoid any trouble!
By Grace Roberts, Pixie Dust and Passports
MORE FANTASTIC DESTINATIONS FOR EUROPE SOLO TRAVEL
LUXEMBOURG, LUXEMBOURG
Luxembourg makes for one of the best places for Europe solo travel.
If you haven't heard of the country before, it's a tiny nation between Belgium, Germany and France.
You can easily cross the border from any of these countries or fly into Luxembourg's single commercial airport.
And extremely small isn't an exaggeration, at 82 kilometres long by 57 kilometres wide, it's even smaller than Rhode Island!
But the minor nature of Luxembourg is what makes it such a great place to travel solo in Europe.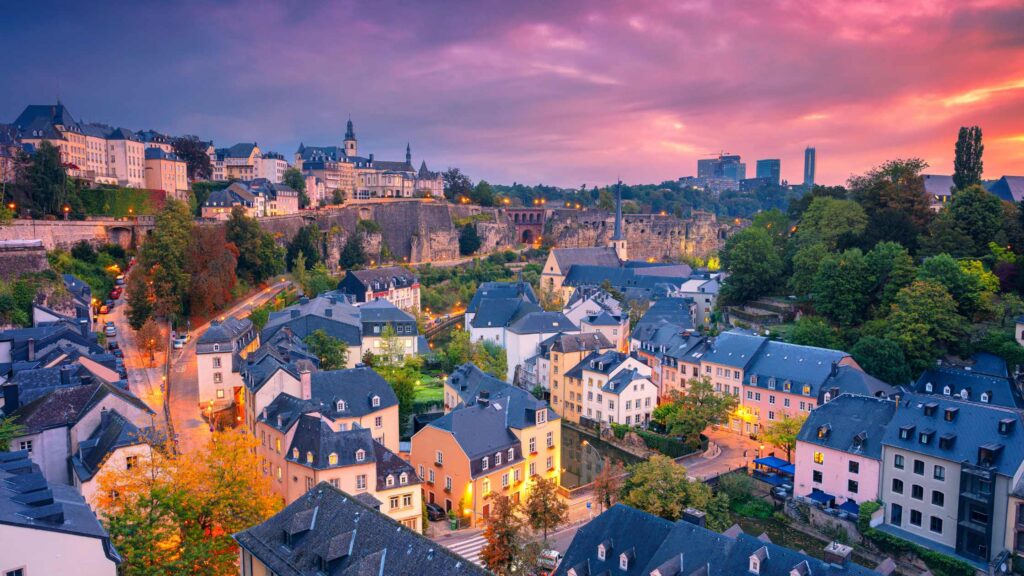 You can explore the entire country in just a few days, which is only helped by the free public transport in Luxembourg. A great bonus if you are travelling on a budget!
Luxembourg has many things to see, such as the infamous Vianden Castle, the Notre Dame Cathedral, and the Bock Casemates- a labyrinth of tunnels used from the 1600s until World War 2.
The wide variety of things to do means that Luxembourg is worth visiting at any time in the year.
Thanks to the free transport, it only matters a little where you choose to stay. But as a solo traveller, you should stick to the city.
It's got the highest chance of meeting like-minded people, and you can enjoy some walks around town.
Luxembourg is one of the safest countries in the world, reassuring for a solo-traveller.
The best hotel to stay in is the Hotel Empire which is right in the heart of the city, and offers affordable – but high-quality – single rooms for solo travellers.
By Josh Band, A Backpacker's World
PRAGUE, CZECH
Prague is one of Europe's most popular, architecturally beautiful, and budget-friendly destinations.
Prague is the best pick if you are looking for a pocket-friendly destination for Europe solo travel.
Although the summer months are the best time to visit Prague, mainly due to the presence of Beer gardens, it can get crowded.
Therefore, it "s worth considering visiting Prague in May and September.
Getting to Prague is pretty easy since it has an airport and is well-connected to the rest of Europe by train and bus.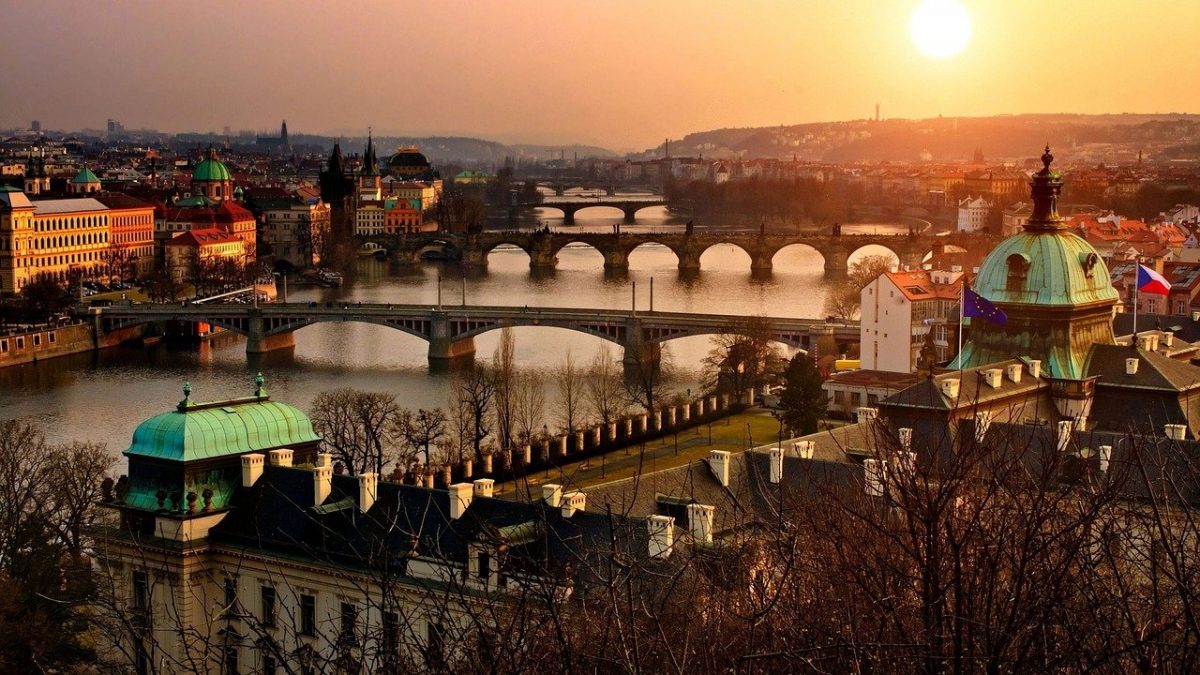 Not only does Prague have many exciting places to see in 1 or 2 days, but it is also known as a party destination with a raging pub, bar and club scene, making it a popular place among youngsters.
Besides many well-rated hostels, that makes it easier for solo travellers to socialize and meet other travellers.
Prague is a small city, so all the popular sites can be visited on foot.
The Prague castle, Letna Gardens, Charles Bridge, Lennon Wall, Old Town Square, Astronomical clock, Powder Tower, Rotating Head, National Theatre, National Museum and Dancing House are some of the unmissable places to visit in Prague in 2 days.
Of course, a pub crawl and beer spa are experiences worth having in Prague.
The MOODs Charles Bridge Hotel is a well-rated hotel, located close to the Charles Bridge, making it easy to navigate the city from a central point on foot or by tram.
By Sounjanya, The Spicy Journey
ROME, ITALY
A city that should not be missed from your Europe solo travel itinerary is Rome, the capital of Italy.
The main reason you should visit it is that Rome is safe. By walking the city streets and adopting standard common sense-guided cautions, you will always feel comfortable.
Second, there are plenty of things to do in Rome alone.
You will be spoiled for choice if you love history, architecture, and art.
While visiting the interior of the Colosseum, the many churches, the Vatican Museums, or the Borghese Gallery, it will be hard to feel lonely.
If you want to make friends, spend some time in one of the livelier neighbourhoods, such as Rione Monti or Trastevere.
You will surely meet someone to chat with while sipping a cappuccino or a glass of wine.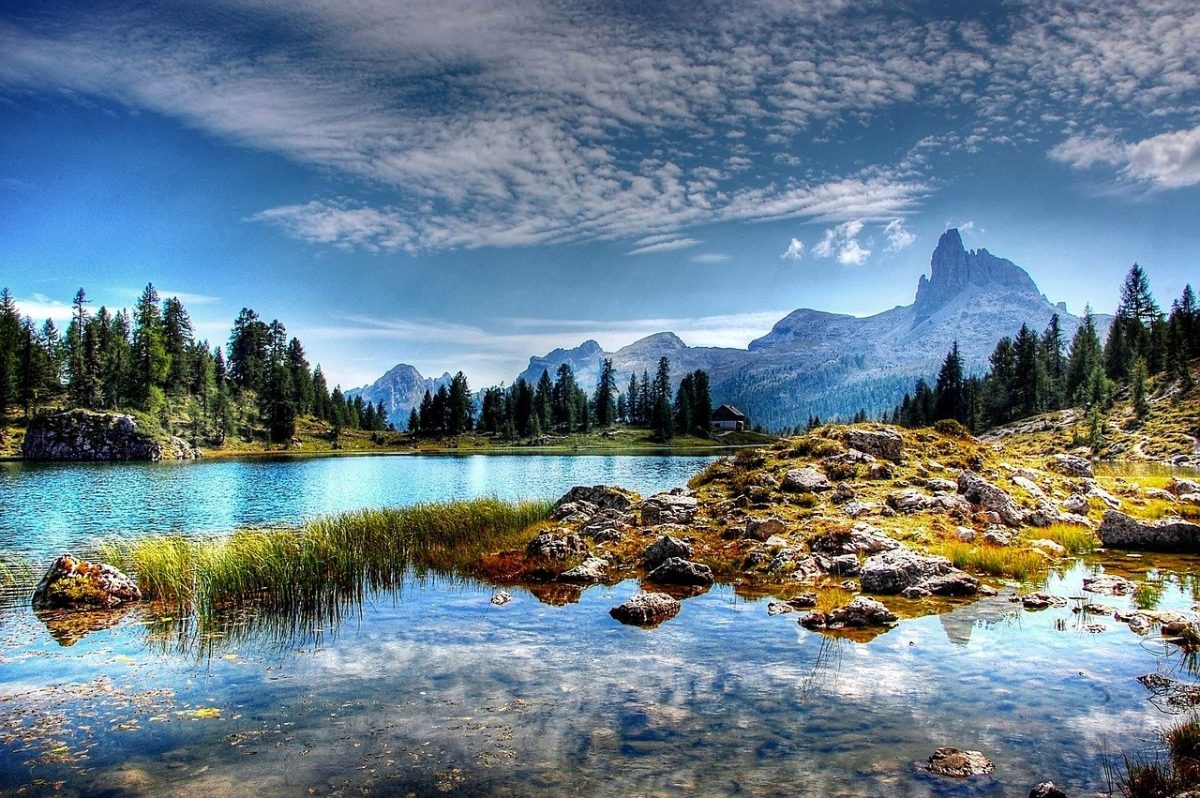 One of the most effective ways to meet other travelers is to join a guided tour, the most enjoyable being street food walking tours, which introduce you to a neighbourhood while sampling 5-7 local delicacies.
Street food suits solo travelers who do not want to sit long in a restaurant or who want to save money, and Rome has among the most mouthwatering street foods in the world.
Think gelato, which you'll find in Rome in every season, pizza by the slice, the rice and mozzarella cheese ball called "supplì," and the latest arrival, the trapizzino, a fragrant pizza "pocket" filled with typical Roman toppings.
By Lisa, Travel Connect Experience
BERLIN, GERMANY
Every trip to Berlin is complete with a visit to the Brandenburg Gate.
Make sure to also swing by the Memorial to the Murdered Jews of Europe, Reichstag Building, and East Side Gallery, which are all must-see sites in the city.
For a great place to stay during your visit, consider booking at Select Hotel The Wall Berlin. This competitively priced hotel offers clean rooms in a great location, perfect for your solo trip.
The best time to visit Berlin is between May-September but especially during the specific months of May and September.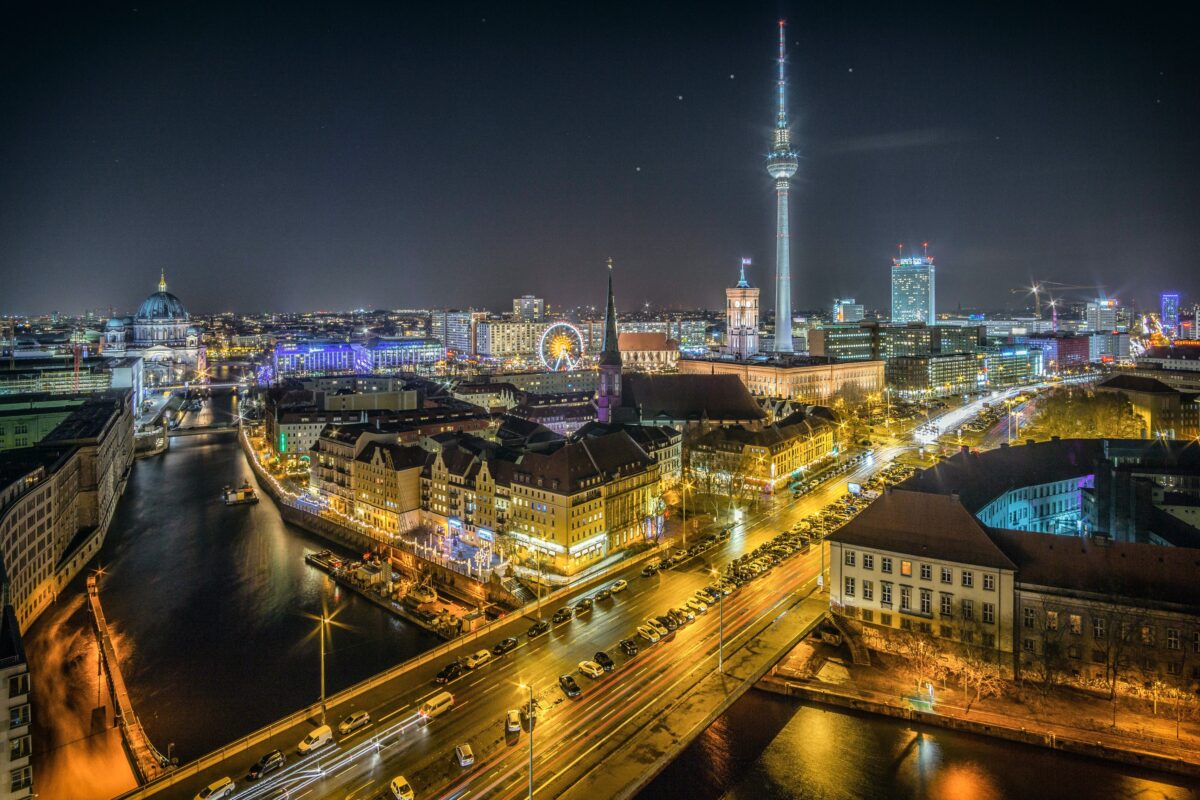 The temperatures are comfortable, and the crowds are smaller than the busier summer months. Berlin is easily accessible by plane, car, bus and train.
The nearest airport is TXL, which has domestic and international flights. One great thing about Berlin is its easy accessibility by public transportation and walking.
It's recommended to NOT rent a car as parking can be expensive and difficult to find.
The city is very safe and has numerous things to see and do, which is perfect for a solo traveler.
Enjoy your time in beautiful Berlin!
By Chelsea from Adventures of Chels.
VALENCIA, SPAIN
Visiting Valencia, Spain, is a fantastic destination for Europe solo travel, thanks to its beautiful coastal scenery, gorgeous architecture, decadent fresh seafood, and rich culture.
Since Valencia is a popular destination, depending on your goal, you may want to visit during the peak summer season for festivals like Hogueras de San Juan.
However, if you prefer nice weather but lower crowds, the end of summer to early fall is a great time to visit.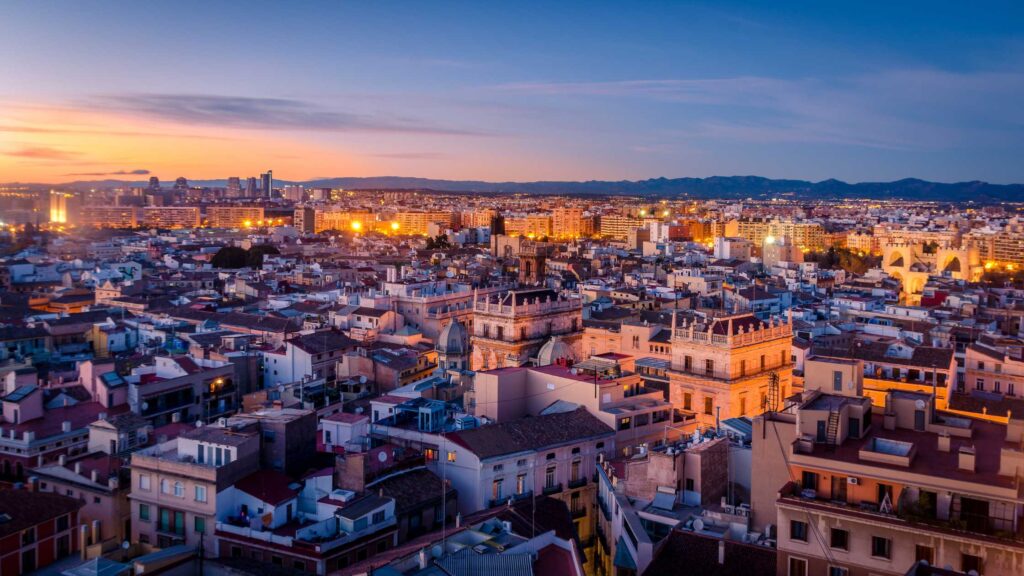 It's also regularly trafficked by tourists, and it's a relatively safe area to visit, plus the locals are friendly and willing to offer navigation tips and nearby suggestions.
There's a variety of experiences you can do solo, such as visiting the Valencia BioParc and experiencing codimension or touring Turia Gardens and then exploring the lively Mercado Central.
If you want to wind down, take a beach day at the nearby sandy shores; just remember to bring a beach towel and umbrella for shade.
Valencia is usually hot and sunny most days from Spring to early fall, so you'll want sun protection and a good SPF.
Regarding places to stay in Valencia, you'll want to choose an area with public transportation access and pay close attention to location.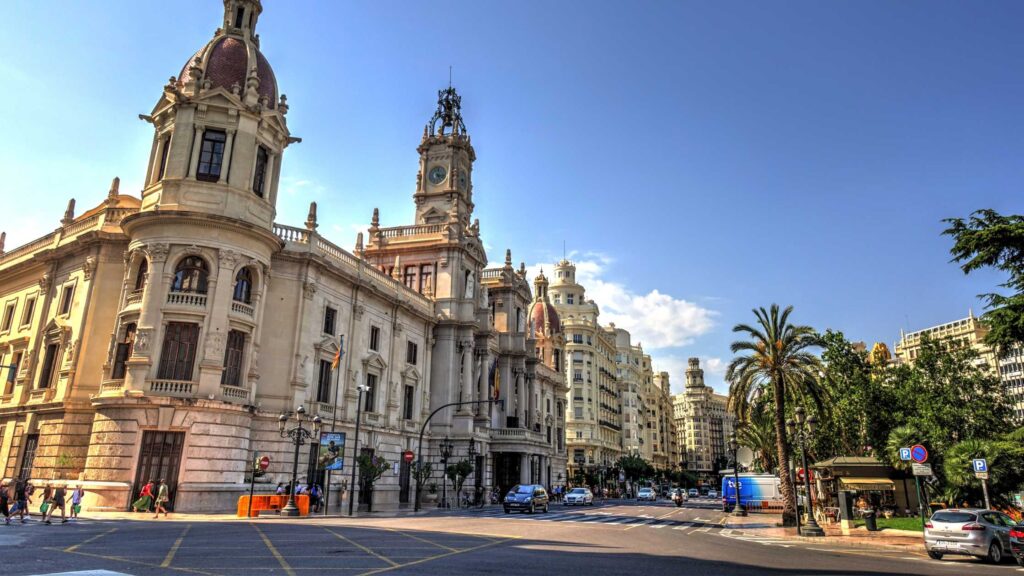 A great area is near Ciutat Vella, also known as the old town, and offers a variety of experiences for first-timer visitors within walking distance.
A great stay in the area would be the Sh Ingles Boutique Hotel, an excellent 4-star option with exceptional amenities.
Regarding getting to Valencia, you can arrive via a flight through Manises Airport or train and get off at Estació del Nord.
All in all, Valencia is a great place to visit for solo travelers, from the friendly locals, tourist-friendly experiences, and fantastic scenery and food.
By Yesenia, The Sisters Who Voyage
SARAJEVO
Sarajevo is one of the best offbeat places for Europe solo travel.
The easiest way to get there is to fly from many European cities. If you prefer taking a bus, it is around 3-5 hours from neighbouring cities like Split, Dubrovnik or Kotor.
It can take longer since buses in Eastern Europe usually take longer due to border crossings. I feel the best time to visit Sarajevo is June before the summer starts.
One of the reasons I loved visiting Sarajevo was because it was still quite offbeat and comparatively less explored than other solo European destinations.
In spite of being solo in Sarajevo, I did not feel unsafe at any point during the trip.
Only thing to keep in mind is that it is not as easy to travel here compared to Western Europe.
For e.g the day I was leaving Sarajevo, i got to the bus station to buy my ticket and they were only accepting cash and none of the ATM's at the bus station was working.
Had to roam around a bit to find a working ATM. But one of the best things that I loved about the city was how helpful the locals were.
Stay at the Old Town Hotel in the centre of the city.
By Soumya Nambiar, Travel, Books & Food
THE PROSECCO HILLS, ITALY
The Prosecco hills are located in northeast Italy and one of the most beautiful places for Europe solo travel.
Located in the Veneto region where the prestigious sparkling white wine, the Prosecco DOCG, is produced and exported worldwide, it is a convenient destination for solo travelers.
You can get there from Venice by joining a guided tour or arranging your own transportation.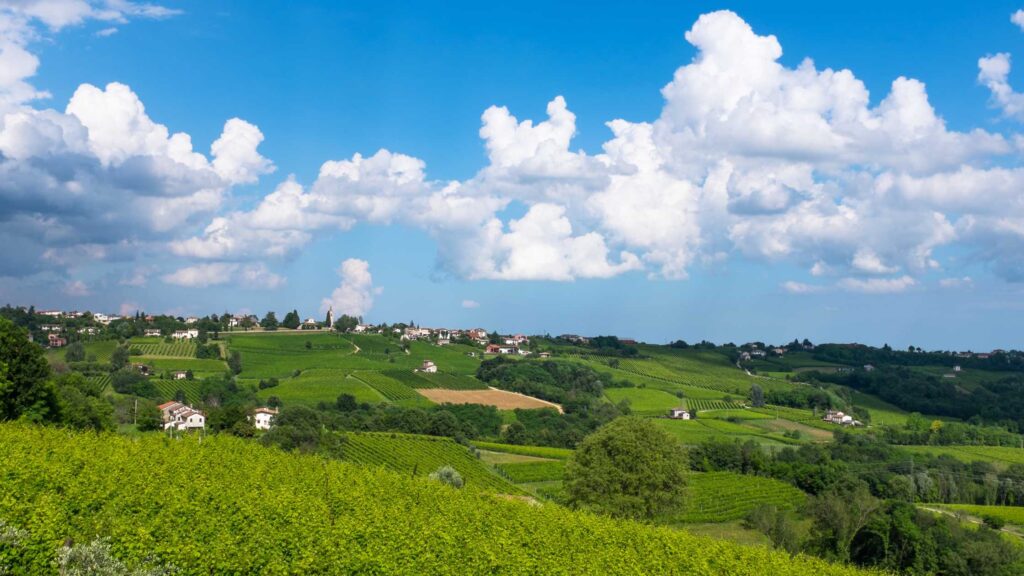 From Venice Santa Lucia station, you should first get to Conegliano and from there take a bus or hire a driver to the Prosecco hills.
If you prefer to get there by bus, you'll get to admire wonderful views of the hills dotted with vineyards as you pass by old medieval villages along the way.
The best time to visit this wine region is during summer, but even late Spring and early autumn are perfect times to enjoy pleasant temperatures whilst visiting wine cellars.
The Prosecco hills are a tranquil area to discover at a slower pace and that is the reason why it's a safe place to visit in Veneto.
If you're into wine and open to learning about regional cuisine, travelling solo will allow you to fully engage with local producers at wine cellars and learn more about the region and its wines.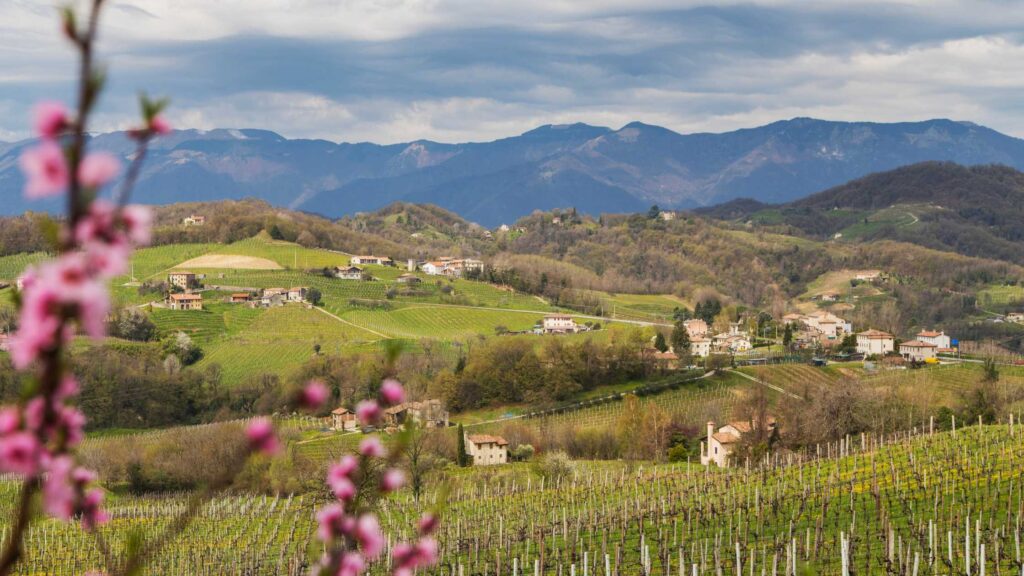 To enjoy the Prosecco hills, spend more days here, go for walks in the countryside, visit wine cellars and explore its villages.
Locanda MamaGiò is one of the best places to stay in the Prosecco hills to fully relax and make the most of what this region offers.
Plus from the hotel terraces, you can enjoy lovely views of the surrounding hills.
By Maddy, Venice Travel Tips
TUSCANY, ITALY
One of the most popular places to travel to in Europe and an easy solo adventure experience would be the region of Tuscany.
Located in the central region of Italy, the main capital of Florence stands out like a jewel in this magnificent region to explore.
Divided in half by the Arno River, Florence is the most recognized Renaissance city filled with outstanding art, sculpture, architecture and a refined lifestyle.
The Famous well-known masters like Da Vinci, Donatello and Michelangelo reigned during the Renaissance period throughout Florence.
The rest of the region comprises many medieval cities and towns that are famous in their own right including Pisa, Lucca, San Gimignano, Arezzo and the gorgeous city of Siena.
Outside of these outstanding cities that you can visit as a solo traveler, Tuscany is also well known for the famous Chianti wines in that region, Vino de Nobile from Montepulciano and Brunello from Montalcino.
There are even eight localities in the region that have been designated as World Heritage sites and over 120 nature reserves throughout the region.
The region is well connected with a system of trains, buses and highways that runs through all the major centres of this central area of Italy.
There are many amazing old-world-style hotels in Florence, and one of the most famous and beautiful to stay in is the Four Seasons Hotel Firenze.
This classic and sophisticated hotel caters to every need and expectation.
By Noel Morata, Travel Photo Discovery
BEST DESTINATIONS FOR EUROPE SOLO TRAVEL MAP