If you are thinking of solo travel in the Caribbean, be assured that you will experience one of the most fabulous trips you take. The top destinations in the Caribbean are known for their stunning white sand beaches, tropical jungles, secluded islands perfect for an idyllic getaway solo in the Caribbean, and of course, tons of water sports, excellent cuisines, and your favorite cocktails.
If you want to pamper yourself, anywhere in the Caribbean paradise should be a blast, no matter what time of the year you plan a trip or how long you will enjoy the vacation.
In this post, you will find all about the safest Caribbean islands, things to know if you plan solo female travel in the Caribbean, the best solo travel destinations in the Caribbean, and tips.
WHAT IS SPECIAL ABOUT THE CARIBBEAN?
The Caribbean consists of over 7000 islands of all sizes and shapes scattered between the two continents of America.
Comprising of the Greater Antilles and the Lesser Antilles, the destinations are not ideal for backpacking as they are not budget-friendly, but don't be disheartened.
You can still afford most of the luxuries on these islands.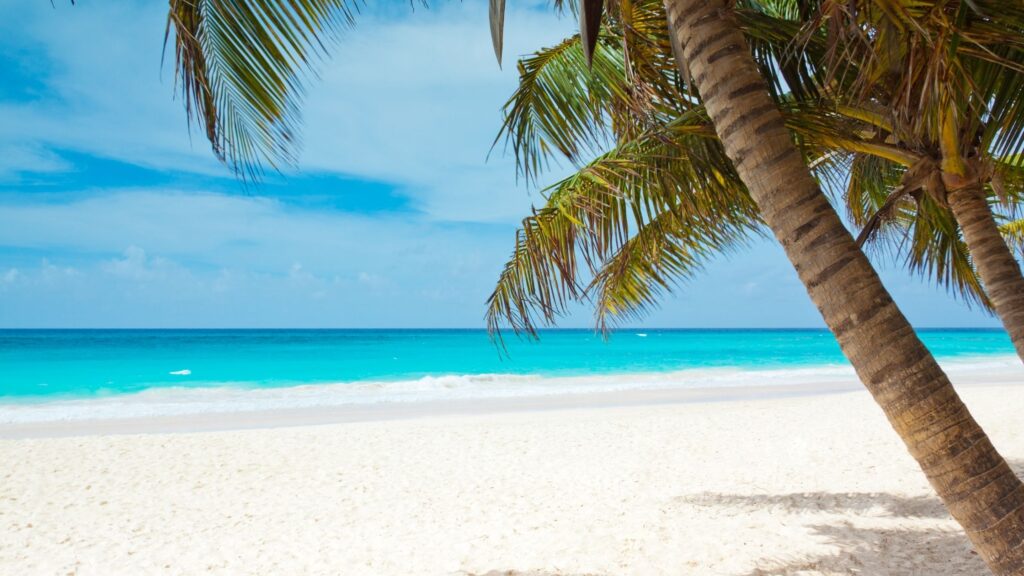 The Caribbean islands are unique because there is something for every type of traveler here.
Gorgeous beaches, wildlife, water sports, adventure, excellent weather, fantastic nightlife, safest places, delicious cuisines, outstanding choices of outdoor activities – pick what kind of experiences you choose, and you will end up having a blast for sure.
POPULAR DESTINATIONS TO TRAVEL ALONE IN THE CARIBBEAN
Let's look at all the fantastic destinations for solo travel in the Caribbean, which are well-known among people worldwide.
If you are hesitant for some reason to try Caribbean destinations for traveling alone, how about going with any of these?
Because these islands are trendy, picking any of these will give you confidence as you are sure to meet many people, have packed places, better to go around as the amenities will be more accessible.
Cayman Islands
One of the most famous holiday destinations perfect for solo travel in the Caribbean is the Cayman Islands.
Incredible marine life, fantastic opportunities for scuba diving, watching wildlife, or simply enjoying the gorgeous beaches – no matter what type of preferences you have, you can certainly plan a solo trip to the Cayman Islands for unlimited fun.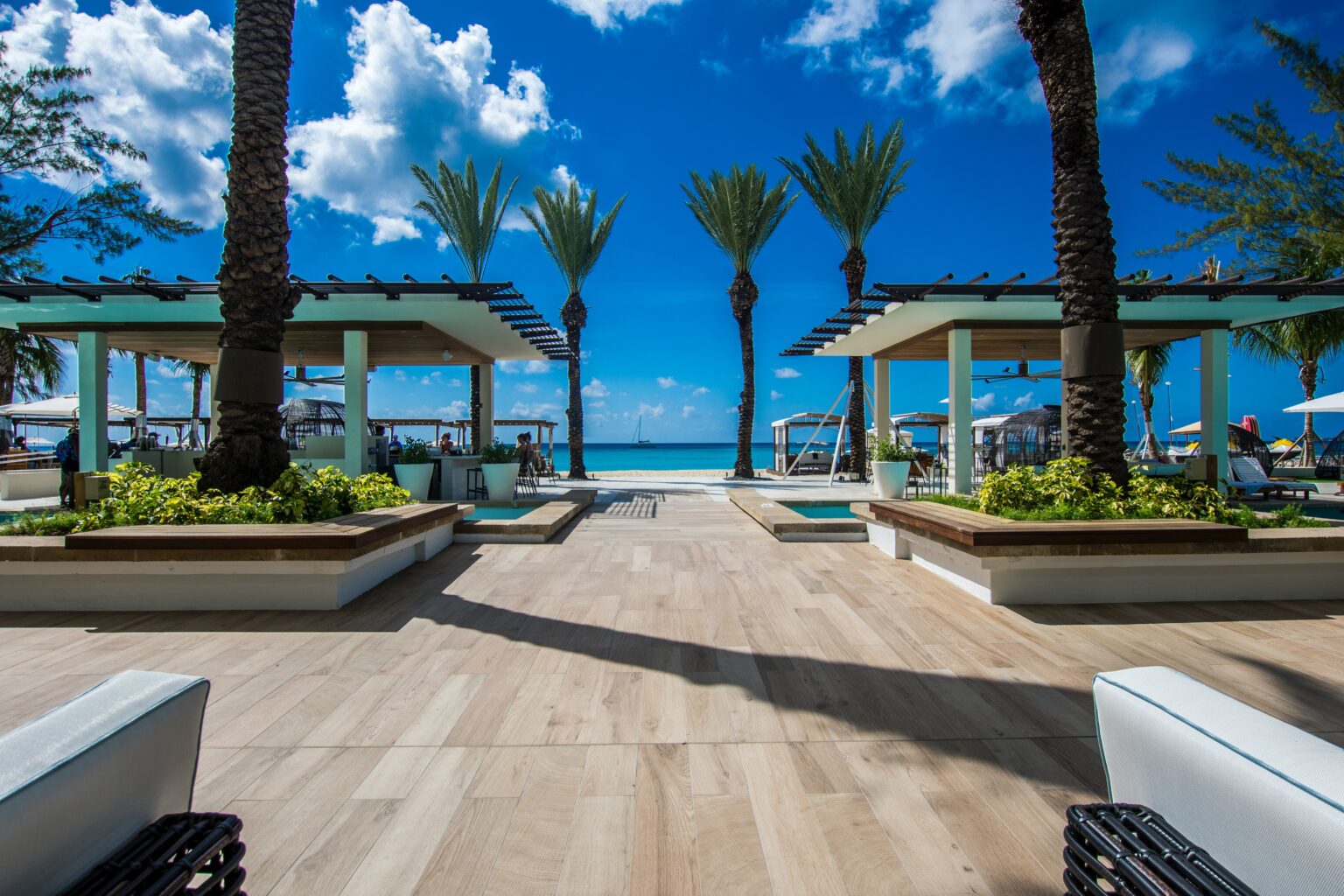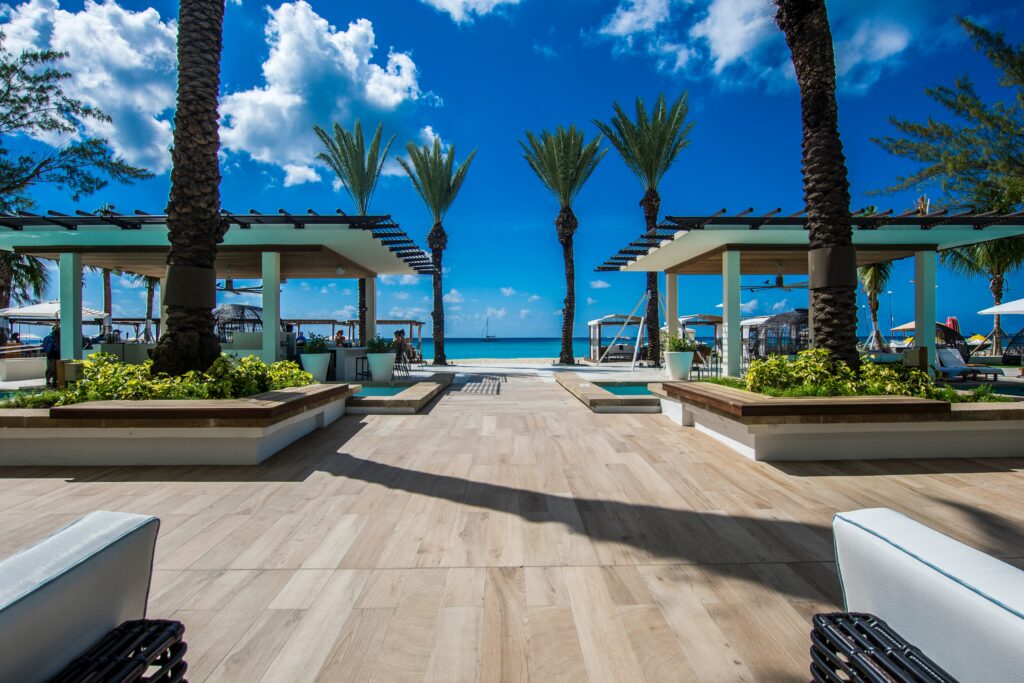 If you are into deep sea diving, explore the largest of the three – The Grand Cayman.
You can have a good time in the Grand Cayman even if you are not into water sports, as there are many beautiful beaches, including the most famous Seven Mile Beach.
Join some cooking classes, go for hikes among the mangroves, and taste the best delicacies on the islands – there are plenty of things to do on the Cayman, where you can easily spend a week or more.
Barbados
Receiving over a million tourists every year makes Barbados one of the top destinations in the Caribbean.
It is best for a solo trip if you are looking for a famous destination that's also insanely gorgeous, excellent nightlife, and tons of travelers to meet and connect.
If you want to play it safe and stick to the knowns, you should pick Barbados, and you will not be disappointed.
Of course, it will be harder for you to access anything crowd-free, but the beautiful places, food, and the many attractions and activities will compensate.
Puerto Rico
One of the most easily accessible destinations in the Caribbean is Puerto Rico, which has increasingly become a famous destination for tourists looking for a relaxing getaway to the beaches, art, food, and culture.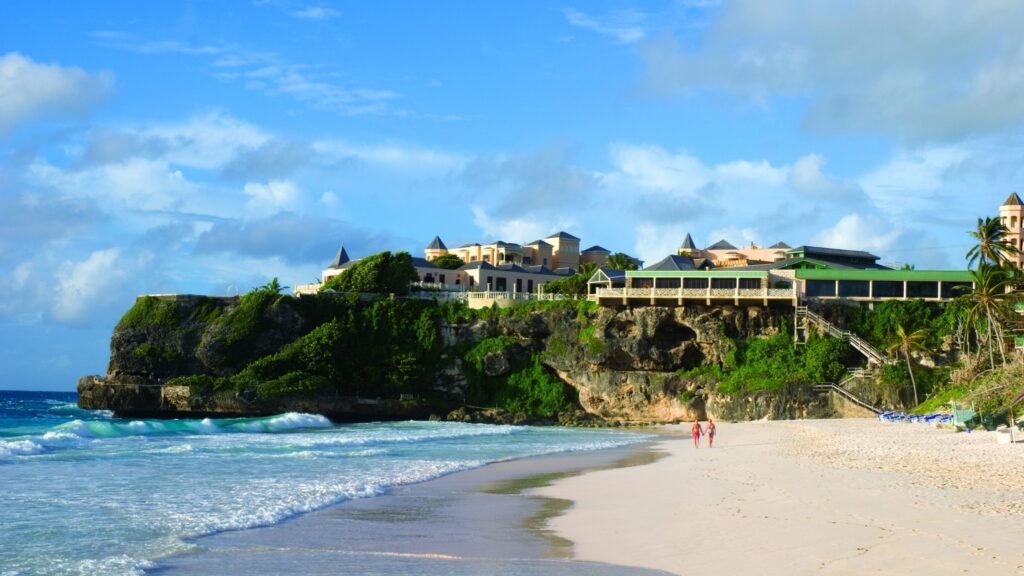 Start from the colorful capital San Juan, which has plenty of attractive all-inclusive accommodation options as well, great for basing yourself for a few days.
From enjoying the museums to checking out the museums and history, explore the capital leisurely, not forget its vibrant nightlife.
Aruba
Nicknamed happiest island, Aruba is one of the most popular destinations for a singles vacation.
Thanks to the colorful nightlife, beaches, food, and the festivals attracting large crowds, you will never be bored when you are in Aruba.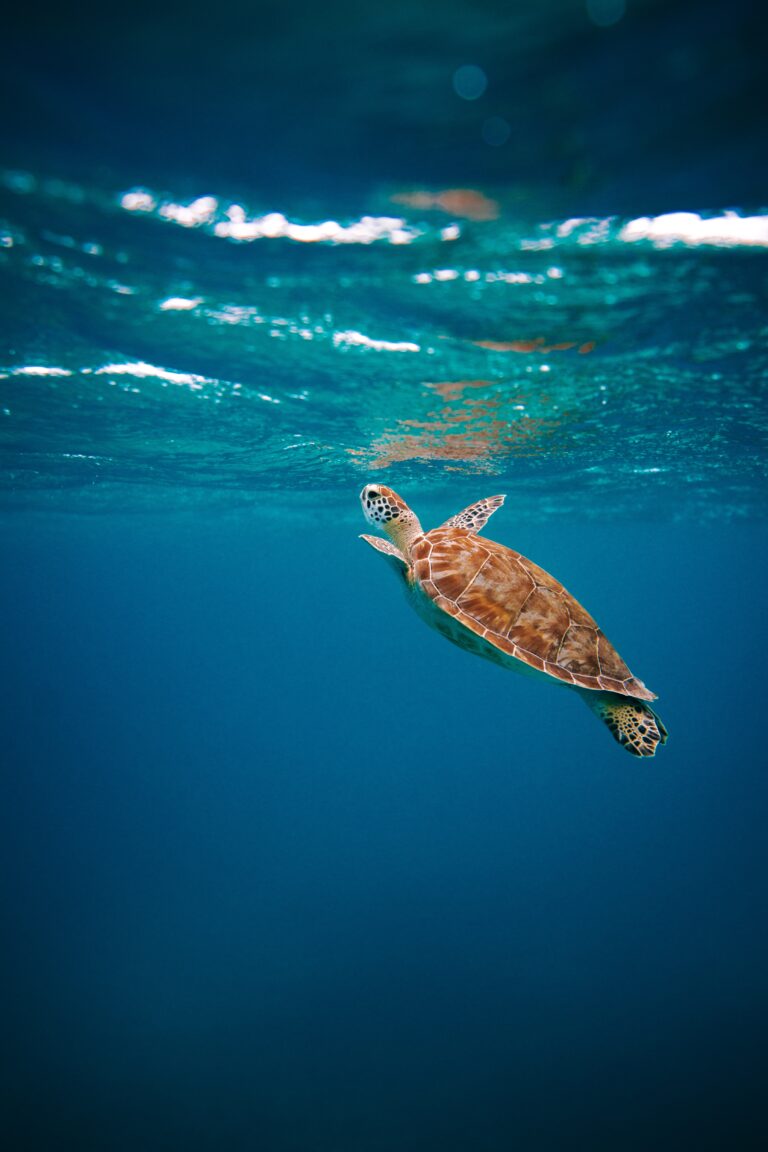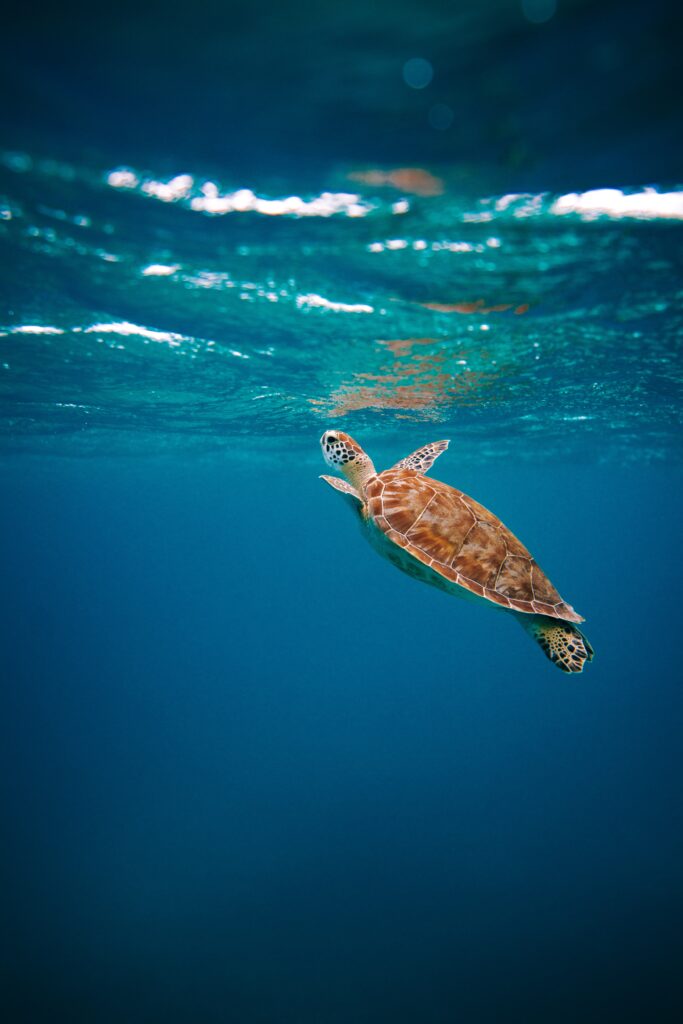 The vibrant, cheerful vibes of Aruba coupled with all the best attractions, from the national parks to beaches to exploring some of the most beautiful marine life, including the turtles and whales, will make you fall in love with Aruba.
You can easily spend at least a week enjoying snorkeling and diving, or better, booking yourself a luxurious all-inclusive holiday in Aruba to leisurely explore all the best things.
Jamaica
One of the most incredible destinations for solo travel in the Caribbean is Jamaica, known for its gorgeous waterfalls, fantastic hiking trails, and beaches offering splendid views.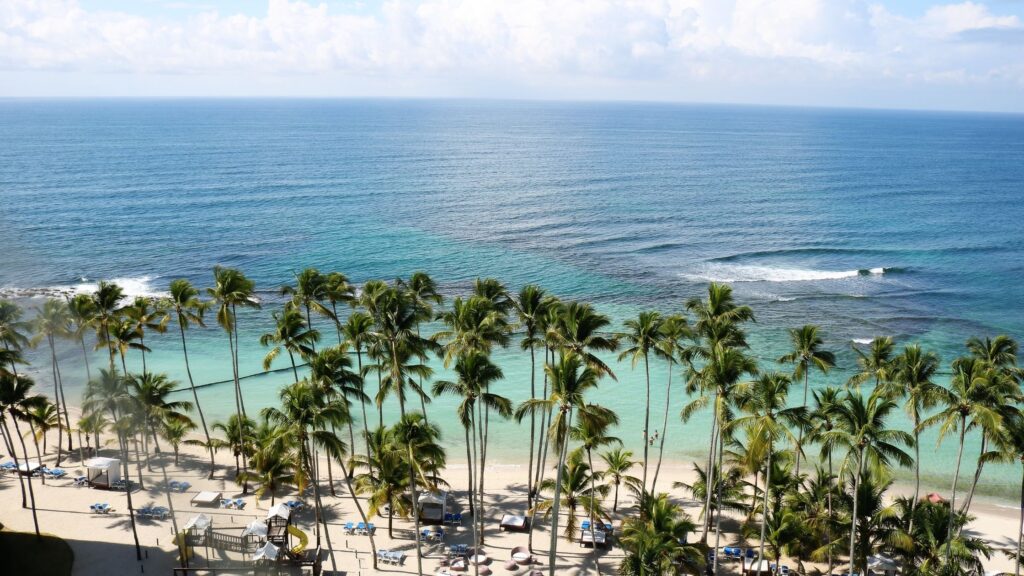 Thanks to its popularity, Jamaica caters to solo travelers well.
You have plenty of budget boutique and high-end resorts(if you are not worried about spending) that provide all-inclusive holiday packages, which will take care of all the hassles allowing you to have maximum fun. If you are looking for a relaxing vacation by the pool, then these resorts will do the job for you.
Hike or cycle in the John Crow Mountains National Park. Enjoy rafting, zipline, kayaking, and other adventures.
Jamaica is one of the hottest destinations for nightlife, so you can be assured of meeting new people and hopping pubs and bars.
SOLO TRAVEL IN THE CARIBBEAN – SAFEST ISLANDS
If you are looking for the safest Caribbean islands to visit, then these ones below are the best. Note that it doesn't mean that the others are unsafe, but in general, these are considered the safest islands in the Caribbean.
If safety is your primary concern, you should probably check this section first.
St. Barts
Home to more than a dozen gorgeous beaches occupying the coast, adventure sports of all kinds, watersports, and outdoor activities, there are many reasons why you should visit St.Barts alone.
If you are planning St. Barts as one of your destinations for solo travel in the Caribbean, you did right, because it is one of the safest destinations for exploring alone.
Amazing options to choose from all ranges of accommodation, surfing, skiing, diving, warm locals, and friendly neighborhoods will make you fall in love with the island, not to forget the delicious cuisines served in the many restaurants.
The Bahamas
Ranked consistently as one of the most romantic destinations globally, the Bahamas attract families, couples, and solo travelers, which may seem like a surprise at first.
But thanks to their easy accessibility from the US or elsewhere in North America and being home to stunning wildlife and sea life, the Bahamas remain the top destination for beach holidays, especially during the winters and the New Year Eves.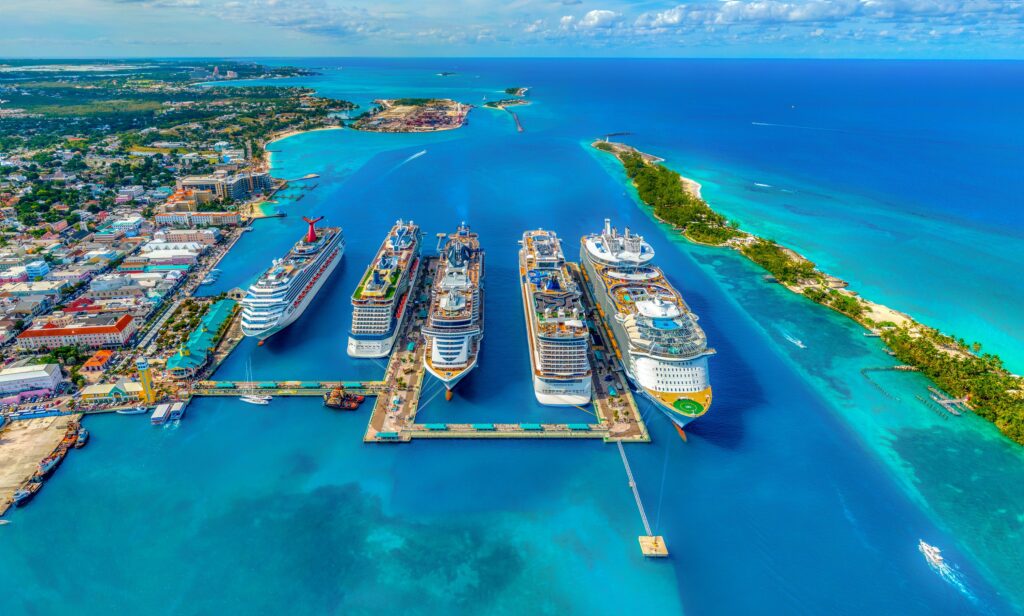 Among the best things to enjoy while in the Bahamas are the gorgeous beaches, enjoying water activities like the best shark diving and surfing, and especially, don't miss the famous flamingos and dolphins – remarkable beings in this region.
Dominican Republic
The Dominican Republic, one of the top destinations for vacation, is also home to many of the safest islands in the Caribbean.
Also, it is one of the few islands in the Caribbean that has a perfect blend of many things – from adventure sports like zipline, surfing, and diving to national parks for hiking and excellent beaches, abundant marine life, festivals, mangrove lagoons, and history – you will get glimpses of many things when you travel in the Dominican Republic.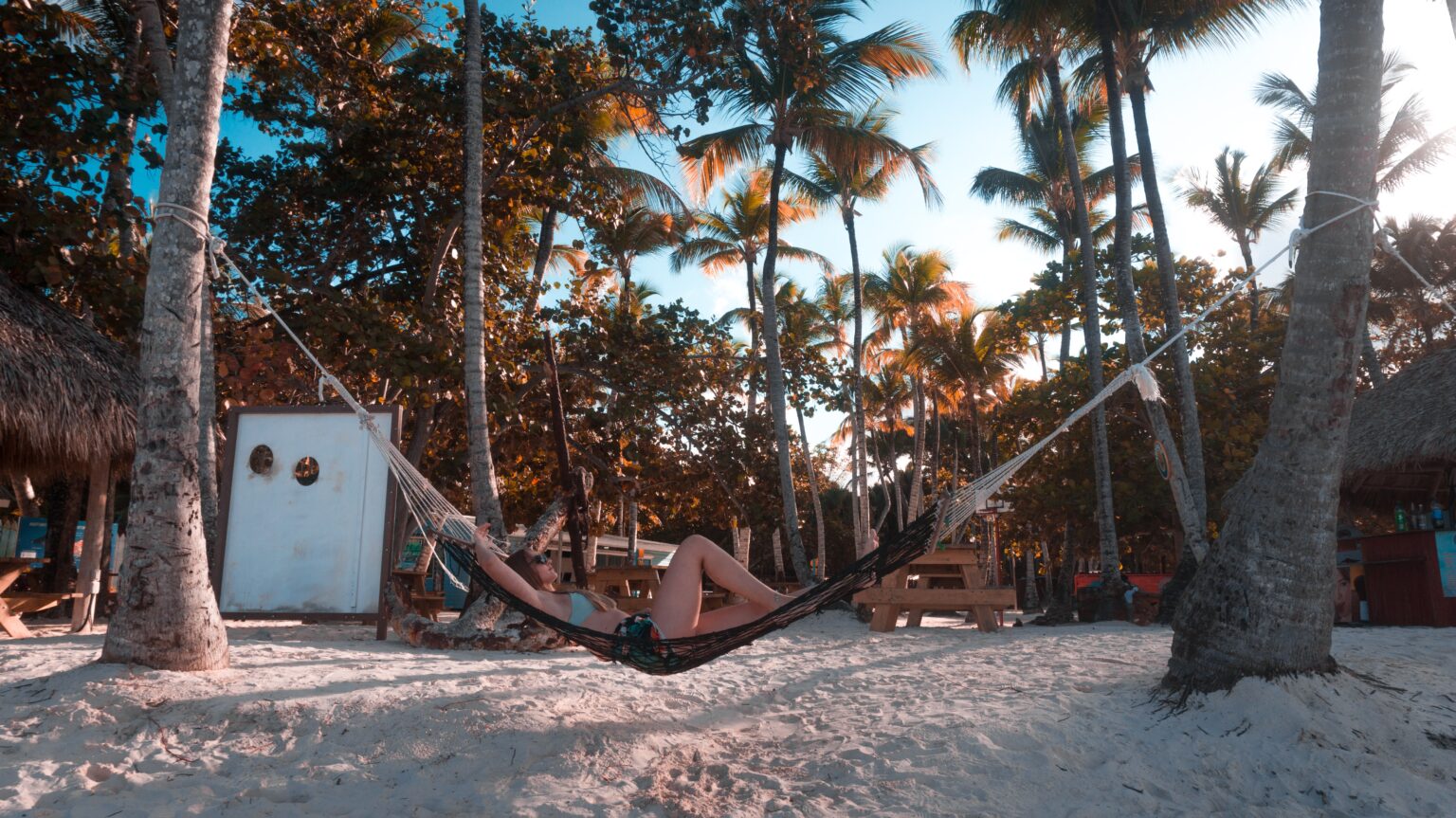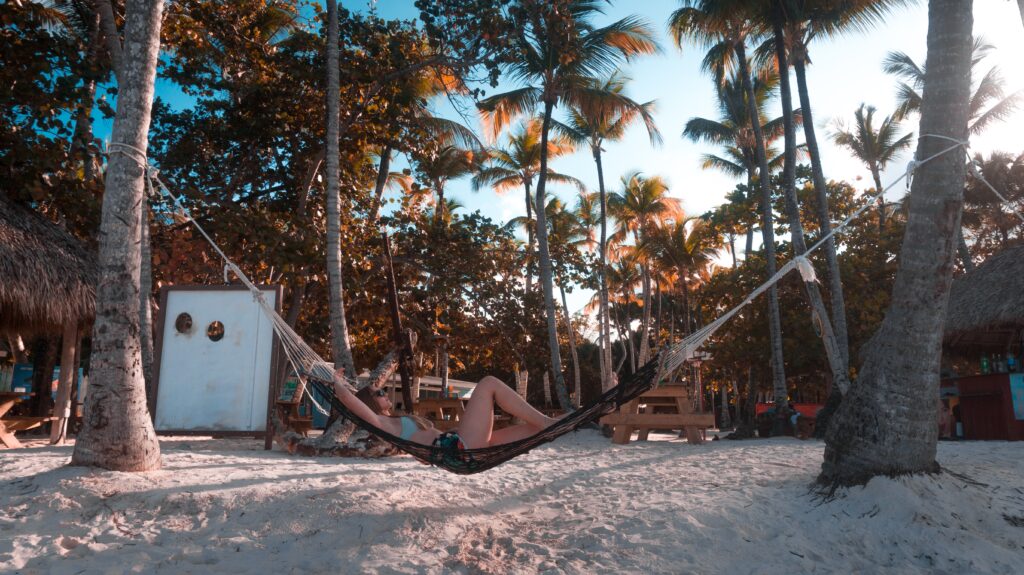 Plus, there are tons of incredible options to choose from in all budget ranges if you look for all-inclusive resorts as a solo traveler in the Caribbean.
Also, it is one of the best Caribbean party islands for solo travelers, thanks to the vibrant nightlife in the destinations of the Dominican Republic.
Spend a day or two in the beautiful Santa Domingo, the island's capital, known for stunning beaches and historical neighborhoods home to enriching cobbled streets lined.
Explore the vibrant cafes and pubs that become the center of bustling nightlife as the evening sets.
Martinique
Among the safest Caribbean islands to travel alone is Martinique, one of the islands in the Lesser Antilles region.
Known for its French culture, unique black sand beaches, history, the active volcano atop Mount Pelee, and laid-back vibes, Martinique is one of the best places for solo travel in the Caribbean islands.
Martinique is home to amazing rainforests with waterfalls and rich wildlife if you want to get away from the beaches.
Thanks to the efficient public transport, it is easier to explore the island without spending much on taxis.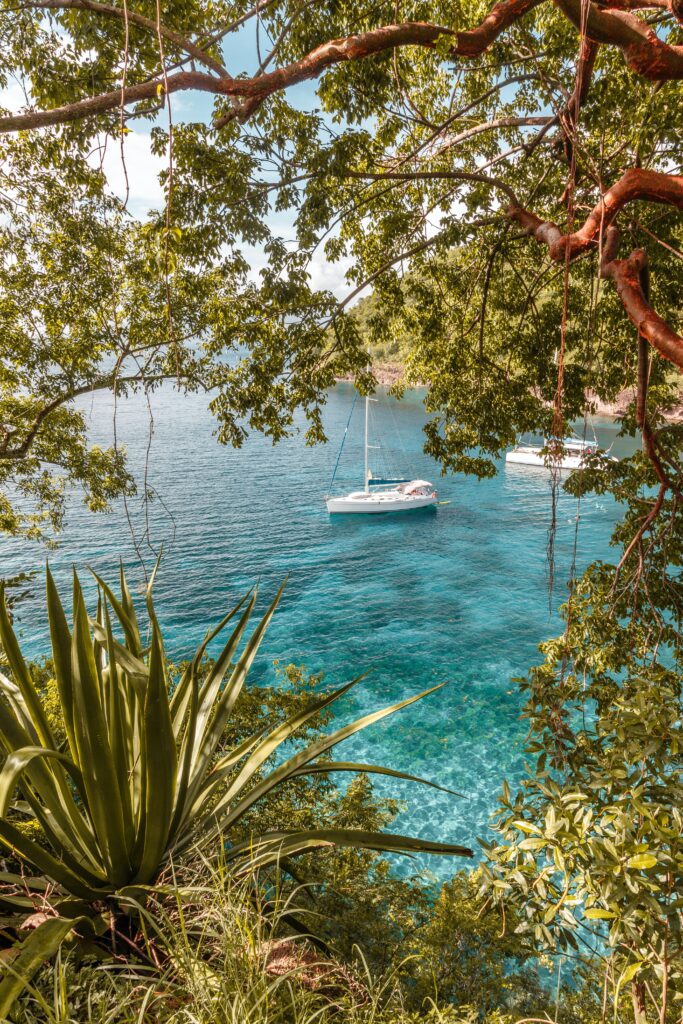 Since it is not one of the mainstream destinations, you can enjoy a blissful vacation here safely without many crowds.
Don't miss trying out the many unique blends of cuisines with a touch of French and Rum while you are in Martinique.
Virgin Islands
The Virgin Islands comprising the American and the British Virgin Islands, are a small group of islands located closely apart.
Considered to be among the safest Caribbean islands for traveling alone, you can easily plan a solo trip here.
The American virgin islands, including St. Thomas, St John, and St Croix, are the most popular destinations among these. Spectacular beaches, fantastic food, and music.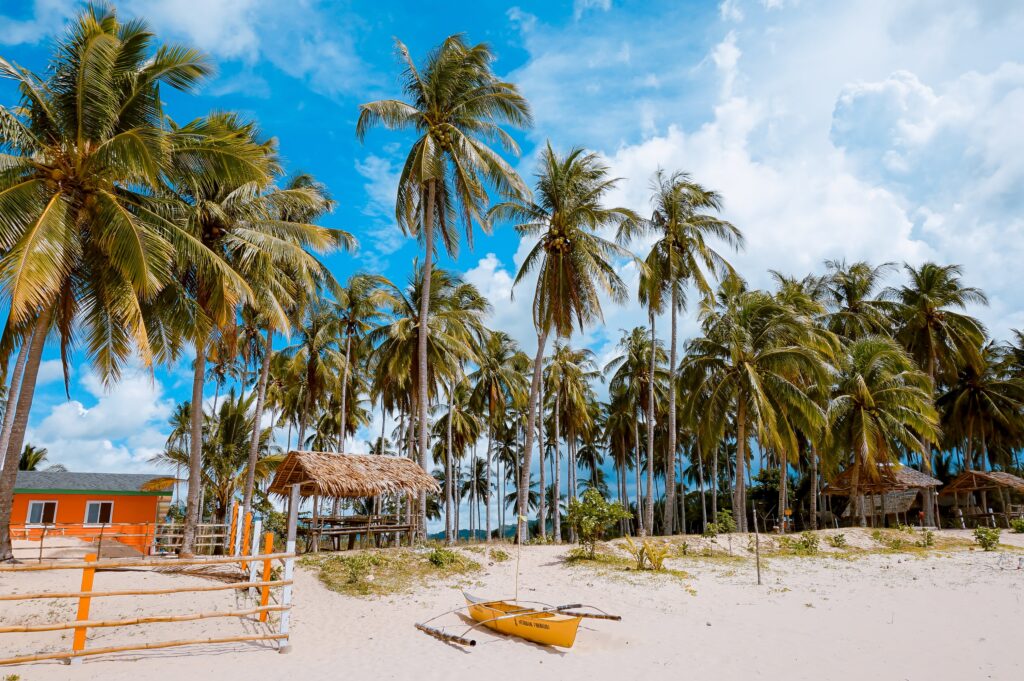 Although regarded safest Caribbean islands for tourists, a slight rise in petty crimes in recent years mean you can still plan solo travel in the Caribbean here, you need to stay alert.
Keep your eyes on your belongings when you are in the Virgin Islands.
BEST OFFBEAT SOLO TRAVEL DESTINATIONS IN THE CARIBBEAN
If you want to go off the beaten path either because you don't enjoy being in crowded places or want to check out beyond the famous destinations, you can plan the solo trip to these as your first-time solo travel destinations as well.
Home to very few people and fewer tourists means it is a great destination to feel safe without encountering tourists at every other step.
Anguilla
One of the offbeat destinations for solo travel in the Caribbean is Anguilla, which is slowly joining the list of the top destinations, not a surprise considering its stunning beaches, secluded location, and many options to enjoy a solo trip quietly.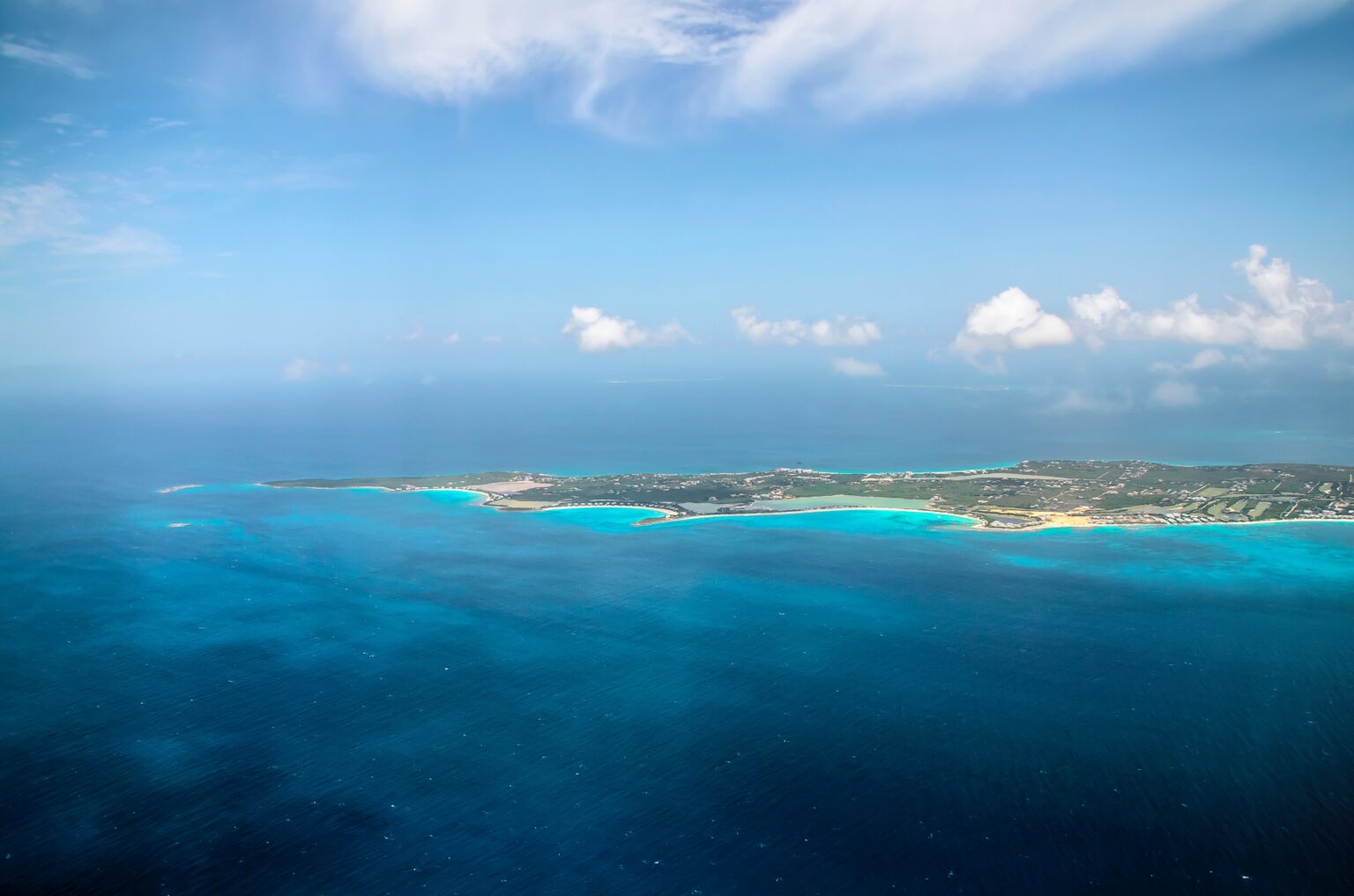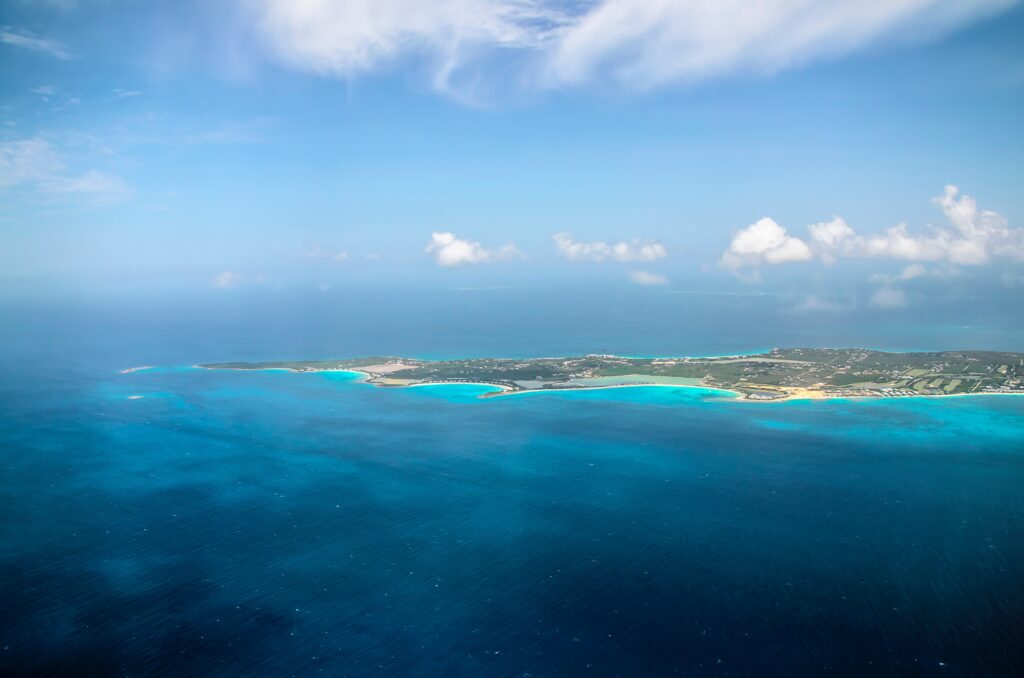 Whether you want to idle along the beaches or spend time pampering in the resort or go islet-hopping and snorkeling, you can have a blissful singles trip in the Caribbean here.
Turk and Caicos
Who doesn't love fabulous beaches? If you are a beach baby, you will love Turk and Caicos island for sure.
Home to turquoise-colored beaches with abundant white sand lining, the island boasts of some of the best in the world.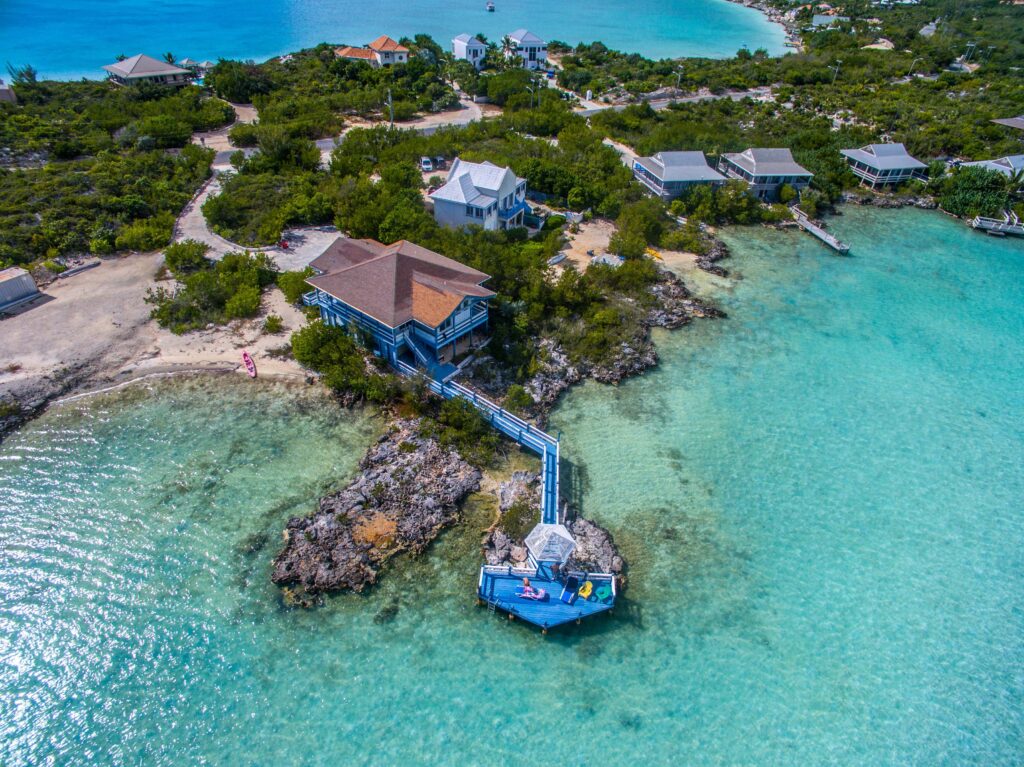 Turks and Caicos should be among the top places for solo travel in the Caribbean if you want to spend a holiday with fewer crowds. Even the most popular Grace Bay beach receives fewer tourists than you might expect.
Since the weather is excellent throughout the year almost, you can plan a trip to Turks and Caicos on a whim, too, if you feel suddenly feel like having a beach holiday. It is also a safe destination if that's your concern, despite the absence of crowds.
Saint Vincent and the Grenadines
One of the closest destinations if you intend to plan a solo trip from the USA is Saint Vincent and the Grenadines islands, one of the best Caribbean destinations for singles and young adults.
Saint Vincent and the Grenadines islands have increasingly become popular among solo travelers in the US thanks to their reputation for safety and readily available flights.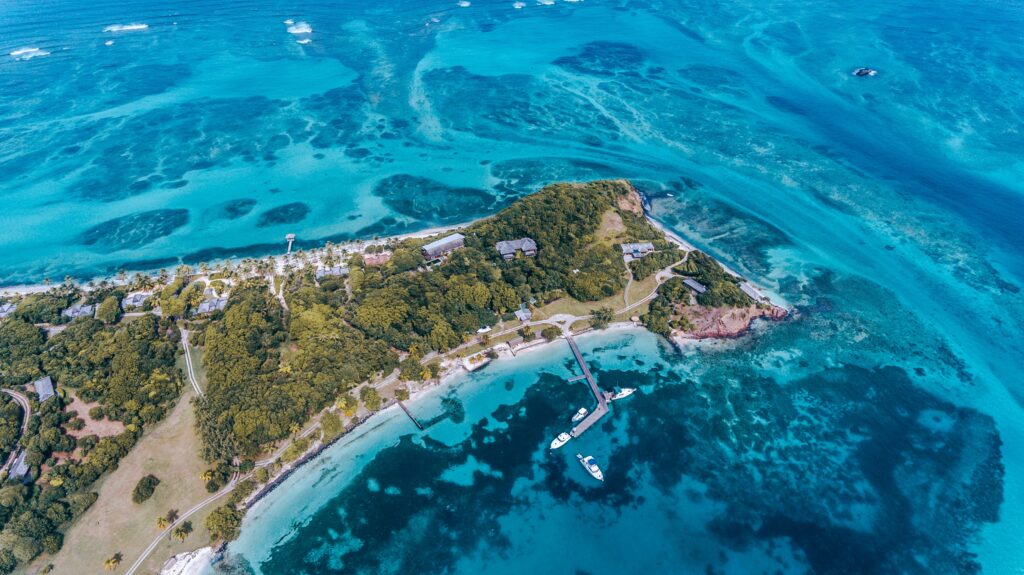 Water babies and adventure water sports enthusiasts will love these destinations as the beaches are the hotspots for diving, snorkeling, surfing, swimming with the turtles, and kiteboarding.
Home to over 30+ islets scattered means that you can enjoy multiple island-hopping boat trips if water adventure is not your thing.
Curacao
If you are into water sports but not fond of sharing the sea with swarms of tourists, then you should head to Curacao in the Lesser Antilles region.
Curacao is one of the beautiful Caribbean destinations for solo travelers wanting a bit of adventure, history, food, and stunning beaches.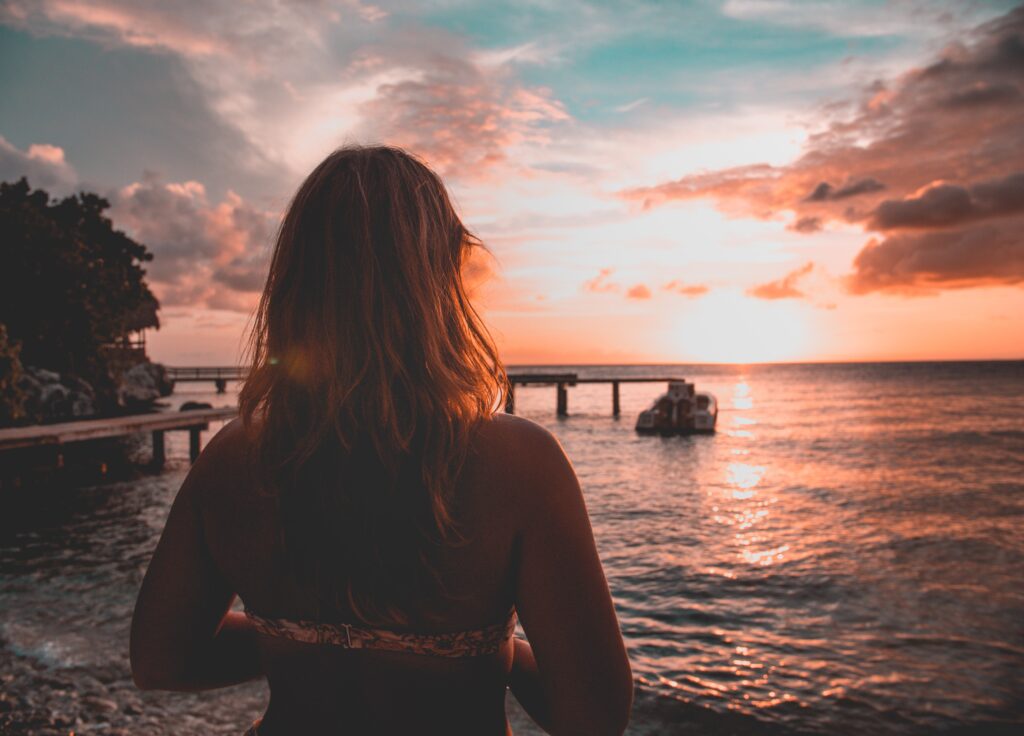 This Dutch Caribbean island is home to spectacular beaches with coves and vast coral reefs teeming with marine life.
These reasons make it the top destination in the Caribbean for diving and snorkeling, with Blue Bay being the best place for diving.
You can also explore the many forts, museums, and art galleries, especially in the capital Willemstad, which houses the colorful colonial town of Willemstad, and the beautiful floating bridge Queen Emma among the top attractions
Grenada
Called the Spice Island, Grenada is moving towards being a mainstream destination thanks to its increasing popularity in the last few years.
So you might want to visit it as soon as possible if you want a quiet paradise-like Grenada all for yourself.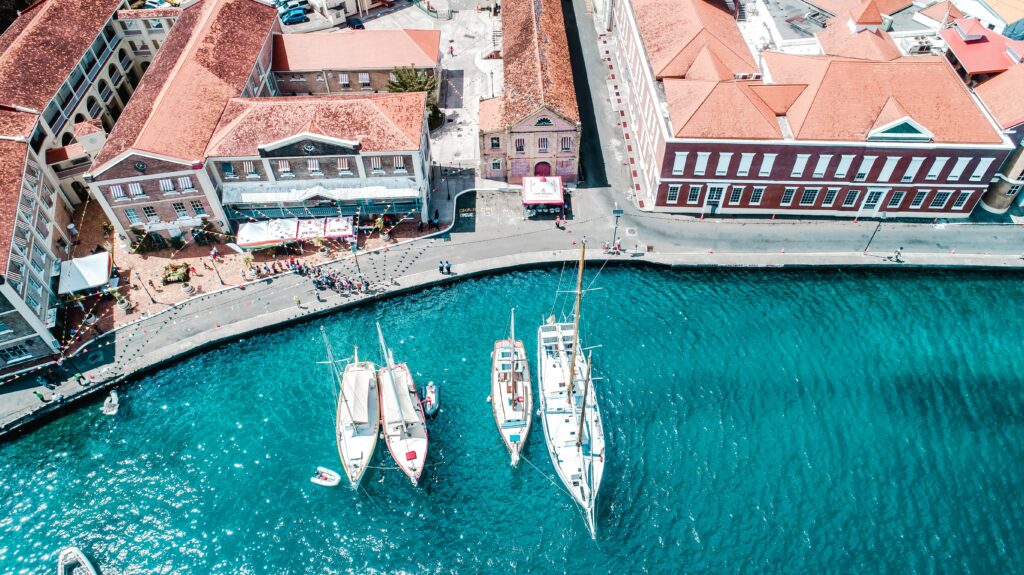 Compared to other islands, Grenada might be tiny, but don't let its size deter you as there are tons of things packed for your Caribbean solo holiday here. Stunning beaches aside, national parks, hiking trails, gorgeous waterfalls, and diving are some of the must-do things while in Grenada.
If possible, plan a trip to Grenada between May and August when the island lits up for the amazing Spicemas Grenada Carnival.
SOLO TRAVEL IN THE CARIBBEAN – OTHER FAQS
Why do Solo travel in the Caribbean?
Thanks to its proximity to the US and Canada, the islands of the Caribbean are one of the top choices when it comes to singles holidays. The islands are some of the best places to travel alone around the US.
Known for excellent nightlife, parties, liquor, and food, no wonder the Caribbean is among the popular destinations for singles vacation, especially those planning for a bachelor's getaway or bachelorette's holiday.
You can also enjoy Kayaking and snorkeling. Did you know? You can sign up for a bioluminescence tour to witness the magic on the beach at night here.
The Cayman Islands is one of the best places to travel alone for the first time.
Why go for solo travel in the Caribbean islands? Well, you have all-inclusive resorts that provide more than delicious food, amenities, and fantastic accommodation overlooking the ocean, not to mention the options to pamper yourself – whether it is a luxurious spa or more.
Here are the reasons why planning a solo trip to the Caribbean islands is a fantastic idea.
English is the primary language, so you will not have any language problems traveling alone.
Many of the Caribbean islands are popular destinations attracting tourists from all over the world, which means you have more opportunities to meet fellow travelers and make new friends.
It is geographically closer if you are from the United States or Canada, which will make you feel closer to home – a better choice for someone hesitant to go halfway around the world to destinations in South East Asia or anywhere in Asia.
What is the best time to visit the Caribbean islands?
The best time to visit the Caribbean islands is winter if you are looking weather-wise. Hence it is no surprise that December to April is the most popular months for tourists arriving at these islands.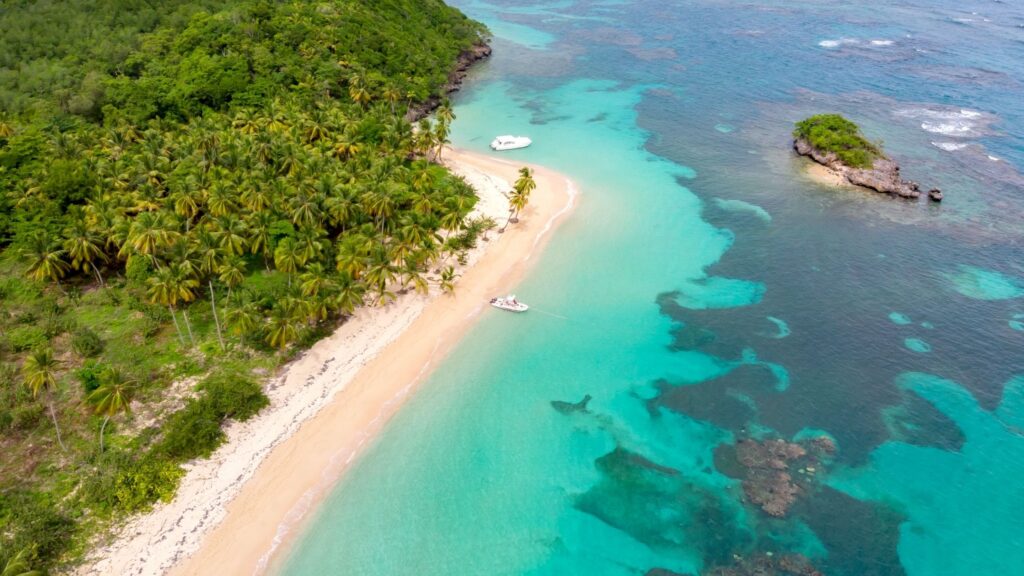 But keep in mind that visiting during these peak months may mean that you may not have spent more on accommodation, flights, and tours, especially if you keep things to the last minute.
If you want to cut on the costs but still want great weather, the shoulder months are better to plan solo travel in the Caribbean.
How to stay safe during solo travel in the Caribbean?
Solo travel in the Caribbean is similar to traveling alone anywhere else in the world. Apart from the general precautions, it would be best to check these solo travel tips that will help you prepare better – from tackling transport to sim cards to making friends.
Be aware of your surroundings, be cautious while partying but don't be scared or hyper-vigilant all the time. After all, you are there to have a fun trip, so let yourself go to experience everything.
So that's what you need to know to plan solo travel in the Caribbean. If you have been to any of these places, share your experiences in the comments below. Check out other solo travel inspiration as well.
PIN SOLO TRAVEL IN THE CARIBBEAN TO READ LATER
TOP TRAVEL TIPS & RESOURCES
Below is the list of the travel resources you can use to organize your travel – from flights to insurance and everything. These are the resources I use myself, which is why I recommend you for a hassle-free travel planning experience and fantastic trips.
Booking Flights
: To score flight deals, search on
Jet Radar
, Kiwi,
or
12go.Asia
(for Asia planning). Book and fly mid-week, taking red-eyes flights or those in the early mornings for better deals and lower prices. Avoid check-in bags on a budget airline.
Booking Trains:
The best websites for booking trains anywhere in Europe are
Rail Europe
and
TrainLine
. Both are easy to manage online and track your journeys.
Booking Cars:
For the best prices and easy handling of renting a car for road trips and day trips, I'd recommend
Discover Cars
or
Rental Cars,
available throughout the world.
Accommodations:
I typically use
HotelsCombined
or
Booking.com
to book hotels. There are special getaway deals with amazing discounts(over 50%!) for this year on Booking.com, and you can find them
here
.
I use
Hostelworld
and
Agoda
to book hostels as the deposit is low, easy change/cancellation is available and reviews are excellent on both. Depending on the destination, I love staying in
VRBOs/homestays
.
Travel Insurance:
No matter whether it is a short trip or longer trips abroad, I strongly recommend buying travel insurance for international trips. I recommend either
World Nomads
or
SafetyWing
for international travel insurance.
Tours:
Being a solo traveler, one of the best ways to optimize my time, budget, and super importantly, meet amazing people from all over the world is by joining tours, especially food tours, walking tours, day trips, culture, and history tours.
You will get a local's perspective, the best opportunities to experience places and people closely. I book using
GetYourGuide
,
Klook
,
Viator,
and
Voyagin.