Planning Greece solo travel? One of the most fantastic destinations in the world, the gorgeous beaches, stunning islands, and thrilling parties beckon millions of the young and the young at heart.
Whether you are looking for a retreat on the white sand beaches with your favourite cocktail and a book on your solo trip to Greece, or you want to do some hiking to soak in splendid views of the Mediterranean from rocky cliff tops, I have got it covered for you.
In this post, I bring you the best places, and fantastic things to add to your ultimate Greece solo travel bucket list as recommended by fellow travel bloggers.
Read on to make your pick for a fabulous experience when you travel to Greece alone.
LOOKING FOR MORE SOLO TRAVEL INSPIRATION? CHECK THESE SOLO TRAVEL GUIDES
GREECE SOLO TRAVEL BUCKET LIST
CHECK OUT THE HISTORIC OLYMPIA
The archaeological site of Olympia is located in a Greek valley in the Peloponnesus.
The site is a fantastic place to add on your Greece by yourself.
Where now most ruins are left, in the 10th century it was a site dedicated to worshipping the Greek god Zeus.
Later on in history, it became the birthplace of the Olympic Games in the years of 776 BC to 393 AD.
Nowadays you can witness stunning ruins from sculptures and big arenas in Olympia.
Visitors can take a guided tour of the ruins or explore them by themselves.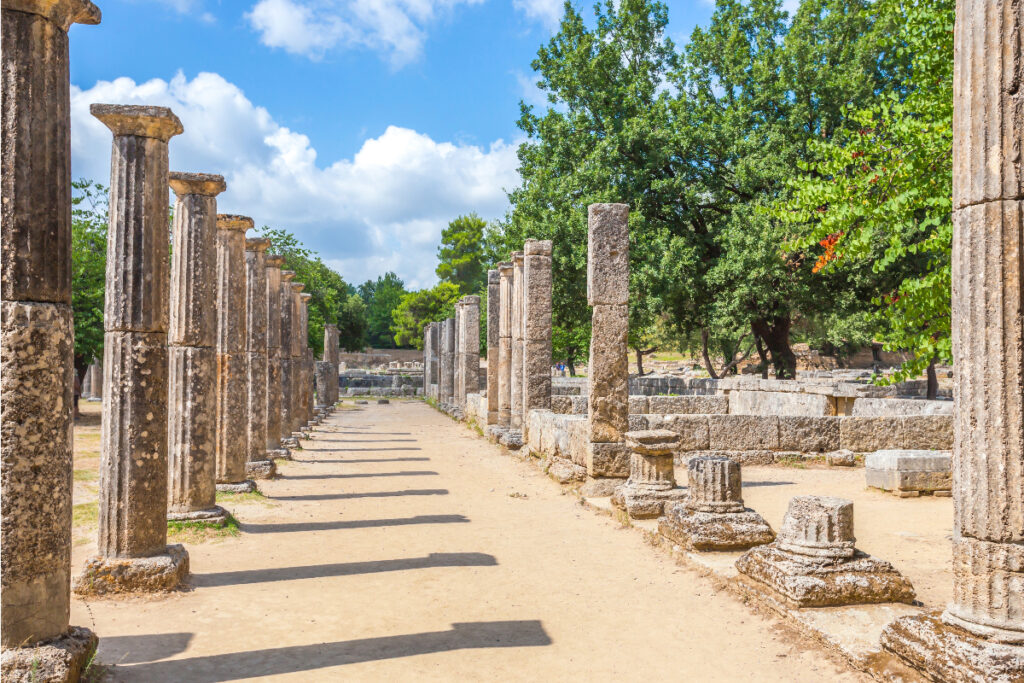 An adjacent gallery and museum will give further insight into the history of the place.
The easiest way to get to Olympia is by bus from Athens. You can also rent a car and drive there, it takes about 3.5 hours.
Olympia is frequently visited by cruise ship guests, as it is one of the most essential ports on Eastern Mediterranean Cruises.
This is a place great for exploring by yourself, it is ideal for wandering alone and getting lost in thought while trying to imagine what the ruins must have looked like once. Personally, I have enjoyed not having a company there.
If you need more guidance, you can enjoy a private tour of the museum and the archaeological site. A seasoned tour guide can tell you all about the history and culture of this spot.
Lastly, it is also possible to take a guided day trip from Athens to visit Olympia, which includes a tour of the site and the museum as well.
By Sabrina Maasdam, Shades of Summr
JOIN A CATAMARAN CRUISE IN PAROS
Sailing Greek islands is a bucket list experience, especially worth adding to your Greece solo travel bucket list.
However, you don't need to commit to several days at sea on a small boat to experience island hopping in Greece!
Each Greek island offers boat day trips you can join and cross this fun activity off your bucket list for a fraction of the price.
Those on a romantic getaway will love luxurious Santorini sunset cruises, but there are many cruises which you'll do alone too.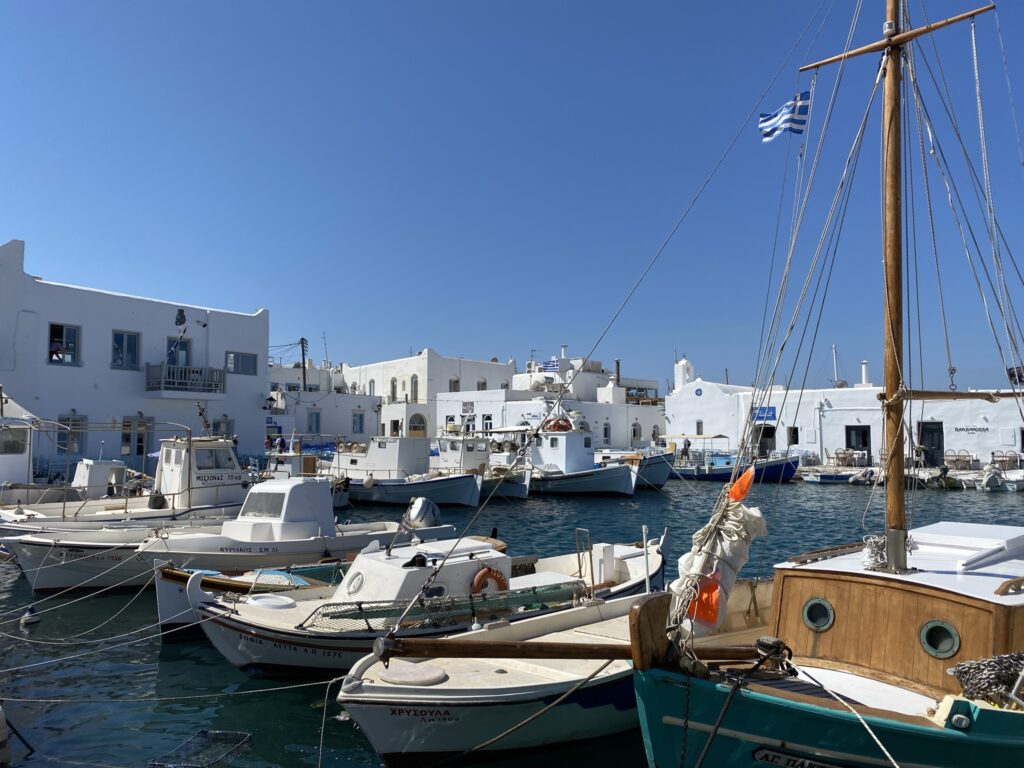 Paros is one of the best Greek islands for solo travelers. I love how the island offers something for every type of traveler.
Joining a group tour is a perfect way to enjoy this activity even if you're traveling solo!
I always find that spending a day with a group is a fantastic way to meet people and make friends.
You'll have fun if you want to spend your summer in quaint seaside villages or enjoy lively nightlife in trendy towns like Naoussa.
Also, Paros is one of the most affordable Cyclades, which makes it a fantastic place for this activity!
A sailing cruise from Paros is usually a full-day activity. You'll depart in the morning and spend the day exploring islands around Paros, swimming, snorkeling, and enjoying a delicious lunch on board.
You can pick a tour to the small island of Antiparos, the Small Cyclades archipelago, or just around Paros.
By Natali, She's abroad again
TAKE A TOUR OF SYMI ISLAND
Greece is a beautiful country to visit alone with plenty of picturesque and small islands.
If you want a day trip from Rhodes, visiting the nearby island of Symi is a great option to add to your Greece solo travel itinerary.
It is known for its colorful architecture and stunning beaches that will take your breath away.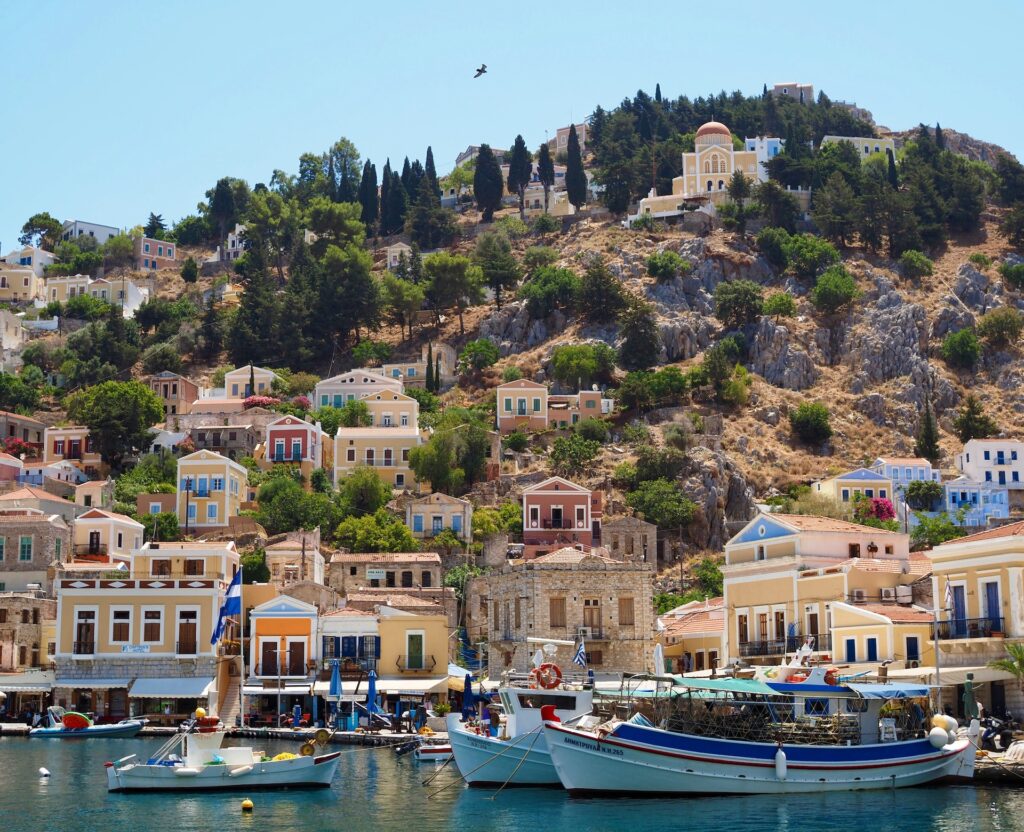 It is one of my favourite Dodecanese Islands where you can learn a bit of local history and simply fall in love with a pastel harbor.
You can take a ferry from Rhodes to Symi, which takes about two hours.
Once you arrive, explore the island's main town, which has narrow streets, quaint shops, and charming cafes.
Visit Panormitis Sponge Shop to buy some of the natural sponges the island is famous for.
You can also visit the island's historical sites such as the Monastery of the Archangel Michael.
Visiting this sacred building can be a profoundly personal and spiritual experience.
It will allow you to fully immerse yourself in the spiritual atmosphere of the place, without any distractions.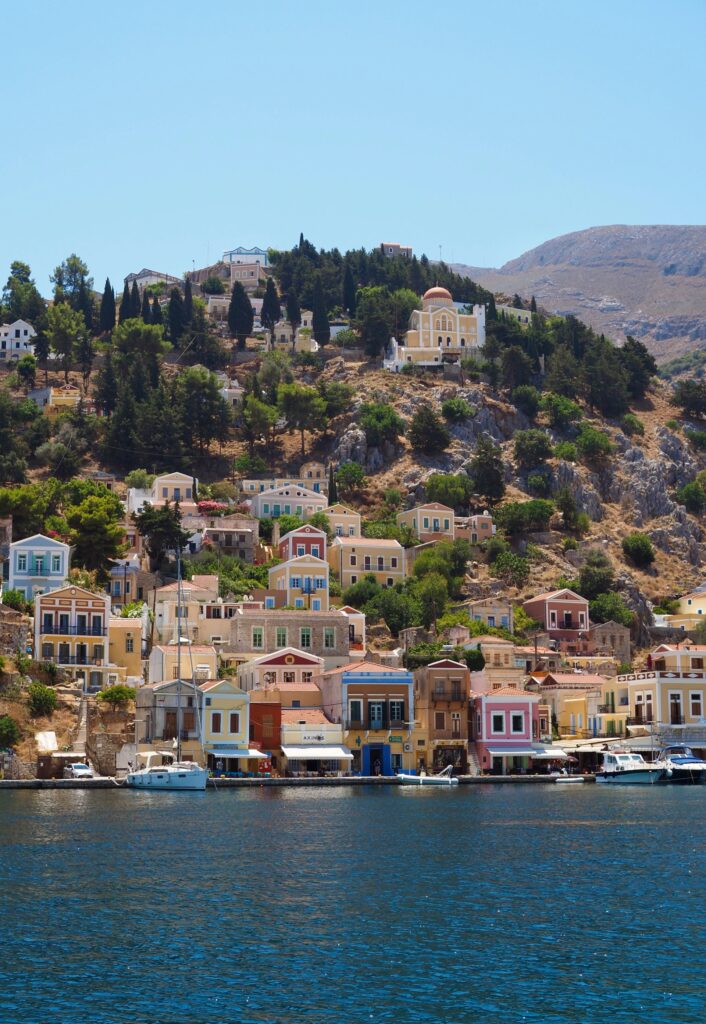 If you are a beach lover, Symi has also many beautiful beaches to choose from, such as Marathounda Beach or Nanou Beach.
One of the best ways to get them is on a boat trip.
You can cruise to Symi and Saint George's Bay from Rhodes' Mandraki Harbour and spend the day swimming, sunbathing, or simply taking in the stunning views.
By Paulina, UK Every Day
SPEND A WEEKEND IN KEFALONIA
Nestled in the Ionian Sea off the West Coast of mainland Greece lies the island of Kefalonia (Cephalonia), the perfect place to add to .
Not too touritravel itinerarysty, easily accessible by land, sea, and air, boasting movie-worthy white sand beaches, historical sights, and amazing local cuiexcellent.
During my trip, I rented a car to explore at my own pace. I covered the entire island and the main sights and activities in just 3-days.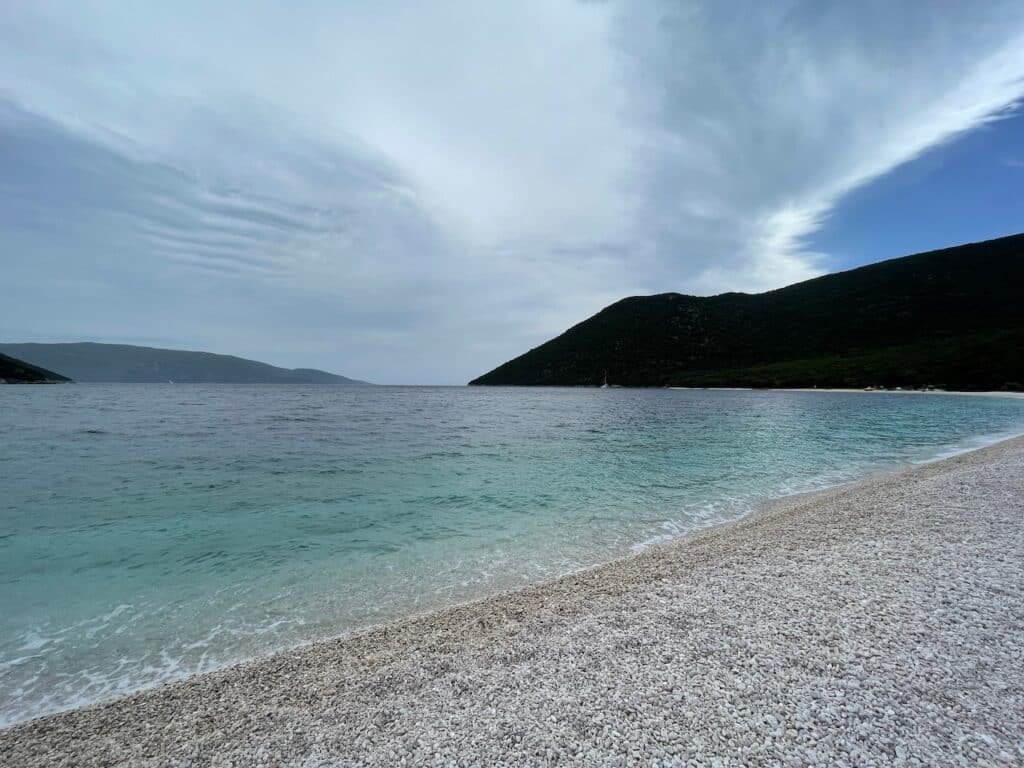 Start your journey at the iconic Myrtos Beach, with its pristine beach and azure waters framed by dramatic cliffs, from which you can take advantage of the cliffside viewpoint for that Instagram-worthy snap.
There is little in the way of refreshments here, so head to Antisamos Beach (from the movie 'Captain Corelli's Mandolin'), just a stone's throw from Sami.
You'll find enticing turquoise waters, delicious local food and drink, and free loungers for all customers, where you can unwind with a cocktail while enjoying the stunning coastal views.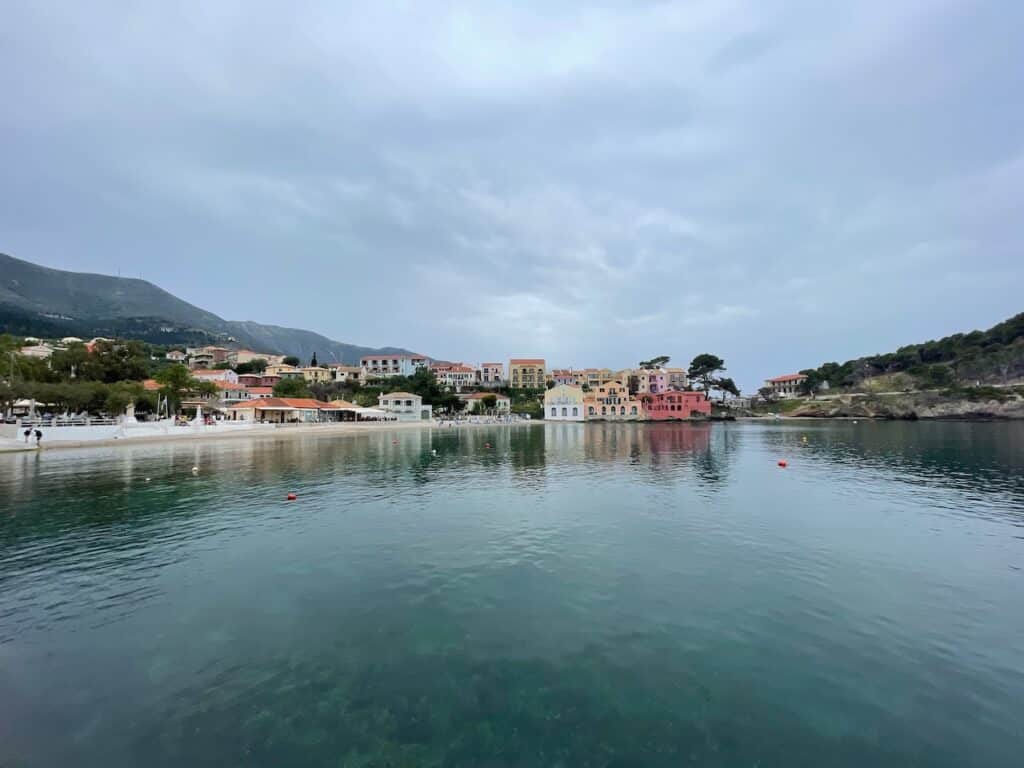 Heading North lies the village of Assos, with its Venetian Castle and fewer than 100 full-time inhabitants, this is an unspilt gem with pastel-coloured houses surrounded by lush green vegetation and turquoise waters.
Just a 35-minute journey North will take you to the pretty fishing village of Fiskardo, with its pebbled shoreline, olive tree forest, and untouched beauty making this an absolute must for anyone visiting Kefalonia.
Check out the Venetian Lighthouse of Fiskardo with its spectacular panoramic views.
One of the best tours I recommend is the Lake Melissani and Drogarati Cave tour, where you will explore the underground Lake of Melissani (look out for the eels!) and the stunning stalagmites and stalactites of the Cave of Drogarati.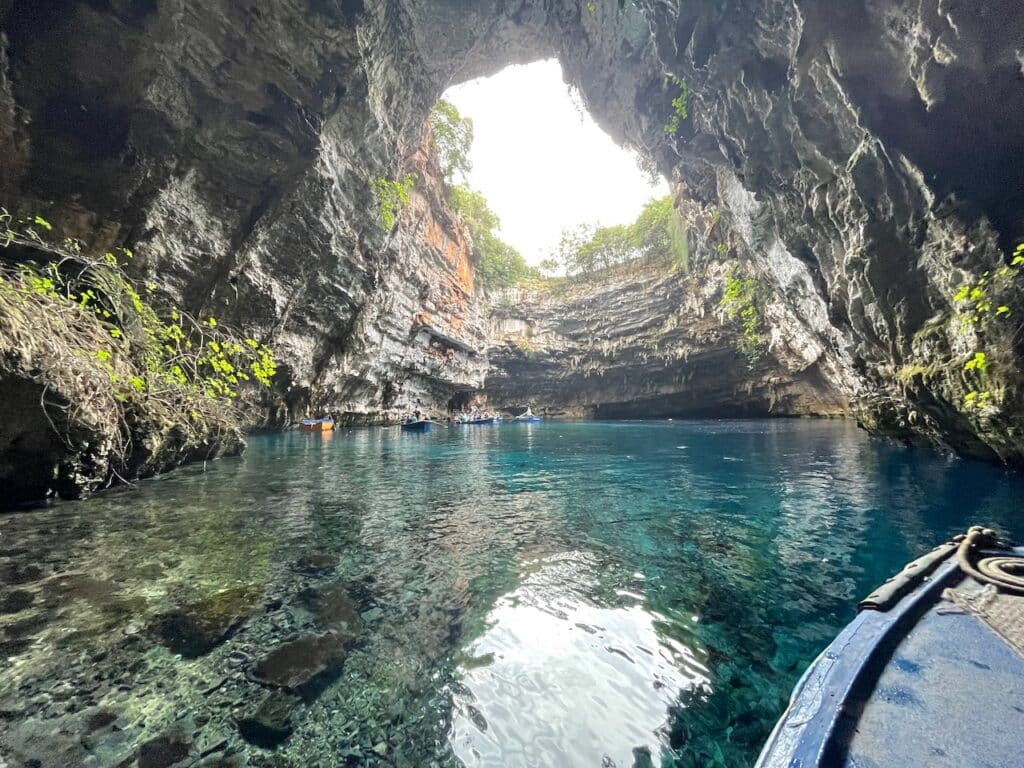 Wanting to explore a little further afield? With Zakynthos Island just a boat ride away, you can discover the famous Navagio Shipwreck Beach (which is visible from the air as you make your final approach to Kefalonia).
This picturesque cove is surrounded by towering cliffs, where azure waters meet the powdery-white sand.
By Lewis, Way To Stay
TOUR THE FANTASTIC PAPANAKOLIS CAVE
Are you looking for something unique to do on your next Greece solo trip? Look no further than the amazing Papanakolis Cave in Lefkada!
This natural wonder is the perfect spot to explore and have an unforgettable time on your Greece solo travel.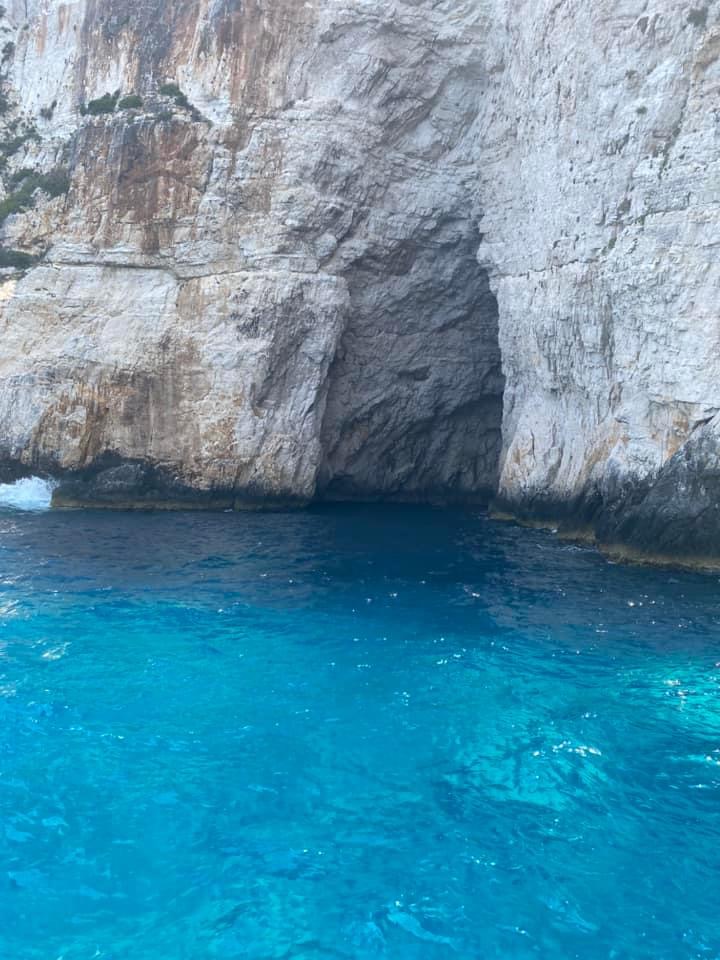 Located between Corfu and Lefkada, this vast sea cave is accessible only from the water.
Many visitors prefer to take a private boat tour from Corfu as larger boats cannot fully enter the cave.
As you explore its depths, you'll be amazed by the crystal clear blue water and beautiful beach.
Although swimming inside isn't recommended for safety reasons (since the cave is popular with boat tours), it's still possible to swim safely outside.
The Papanakolis Cave is one of the best things to do in Greece if you're travelling alone, as it offers a unique and exciting experience that can be enjoyed solo or with a group tour.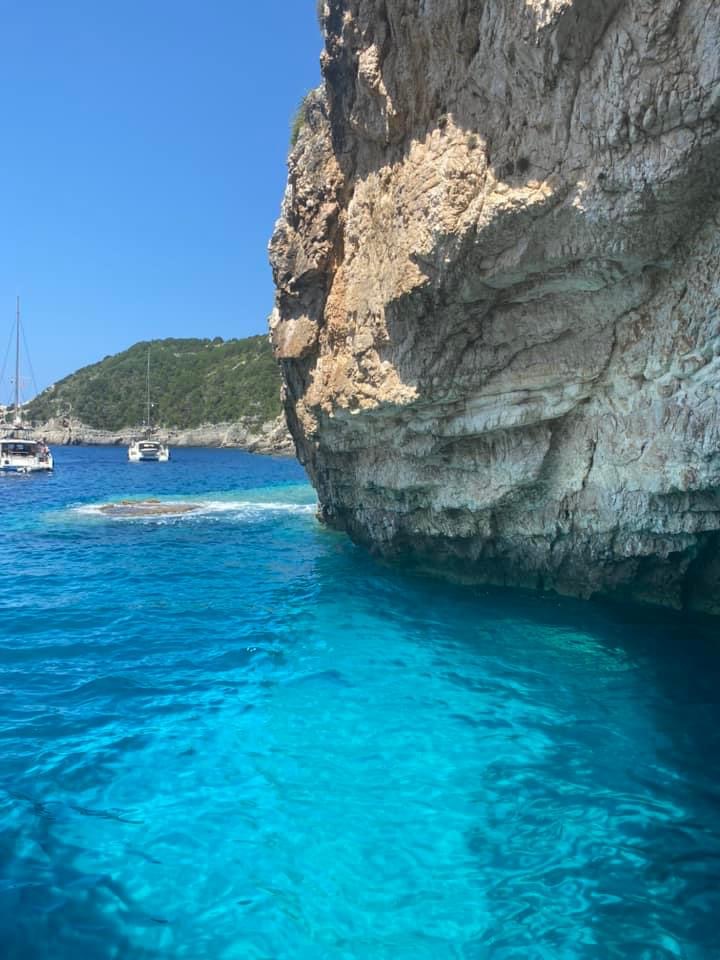 Many of the tours have amazing guides, beers ready and plenty of snacks for you to enjoy the journey.
You can even book a tour to visit more beaches and Islands on the way.
This is a famous Island hopping stop so make sure you book any tours or tickets in advance.
The beautiful views and peaceful atmosphere make it the perfect place to relax, refresh, and take some memorable photos along the way!
By Lowri Thomas, Many Other Roads
ENJOY STUNNING VIEWS FROM AREOPAGUS HILL
Areopagus Hill is one of the best destinations in Athens, if only for the breathtaking viewpoint it offers of this radiant, bustling, chaotic.
This charming city is perfect for adding to your Greece solo travel and people-watch!
It's particularly popular at sunset, where people gather to watch the evening with the most spectacular views of Athens' Acropolis in the city.
Whether you want to join in with the crowds or watch peacefully from the sidelines, you can't miss a visit here!
It's pretty easy to get to, too; take the Metro to Monastiraki, and it's a brief 6-7 minute stroll from there.
The city of Athens lies in a basin, meaning that Areopagus Hill is one of the great vantage points of the entire city, and the only part of the city that ascends above is the Acropolis itself, directly in the centre.
Consider coming to Areopagus with a guide, as they will be able to tell you all about the myths and legends in intricate detail which makes this place only more fascinating!
Areopagus, known as Aries Hill in English, is a site dedicated to the god of war Aries.
While exploring the hill, you'll have the chance to transport yourself back to ancient times, when Areopagus was the assembly point of the Supreme Council.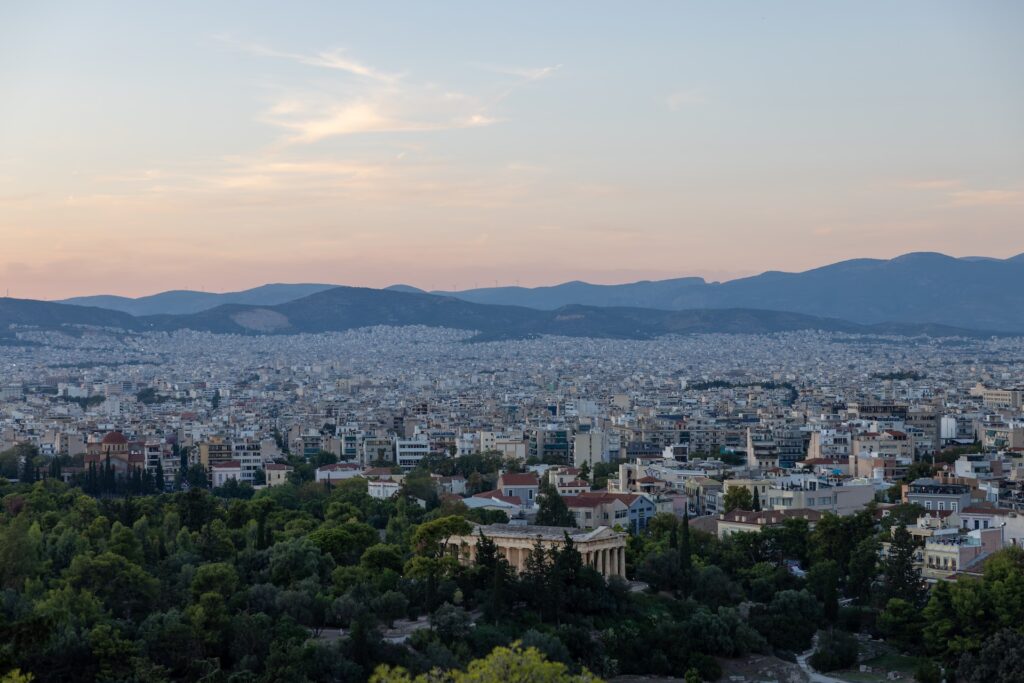 Climbing up the steps of Barren Hill is worth it; you'll be rewarded with a complete 360-degree view of Athens… see if you can spot the Agora, Acropolis, Lycabettus Hill, and the Athenian coast.
Areopagus Hill is a public space, so there are no entry fees, and there are no set opening or closing times; just remember to carry a flashlight if you linger after the sun sets, given the (potentially dangerous) descent of the ancient steps at night.
If you are looking for guided tours to hear exciting tales by local experts, I highly recommend checking these below, easy to book with excellent reviews.
Ancient Agora of Athens E-Ticket with Audio Tour
Ancient Athens, Agora, and Keramikos Segway Tour
Athens: Acropolis and Mythology Highlights Small Group Tour
By Andriana, Wanderlicious
GET TO KNOW HISTORICAL PLAKA
Plaka is a charming historic neighborhood, and it is a fantastic destination to add to your Greece solo travel plans.
One of the best things to do in Athens, Plaka has a lot to offer, with something in store for everyone.
Begin your journey at Syntagma Square, a central metro station of Athens, or Monastiraki metro station.
From here, it's a short walk to the foot of the Acropolis, where Plaka is.
You'll love the narrow, cobblestone little streets lined with pastel-coloured buildings.
In Plaka, time seems to stand still. There are several traditional tavernas offering tempting Greek meze (small dishes) and live rebetiko music.
Enjoy a refreshing glass of ouzo paired with kalamata olives or tzatziki at the traditional restaurant Scholarcheio.
Stroll among antique shops, souvenir stalls, and tiny chapels.
Plaka's pedestrian-only zones make it a great escape from Athens' traffic. The best thing to do is to wander without an agenda.
Sit at a café and people-watch, chat with locals, or discover a hidden courtyard.
I come from Athens and strolling around Plaka is one of my favorite things to do in Athens!
As you walk around Plaka, you'll stumble upon the entrance to the Ancient Greek Agora, the heartbeat of classical Athens.
Don't miss the Temple of Hephaestus, one of the best-preserved ancient temples in Greece, and the Stoa of Attalos.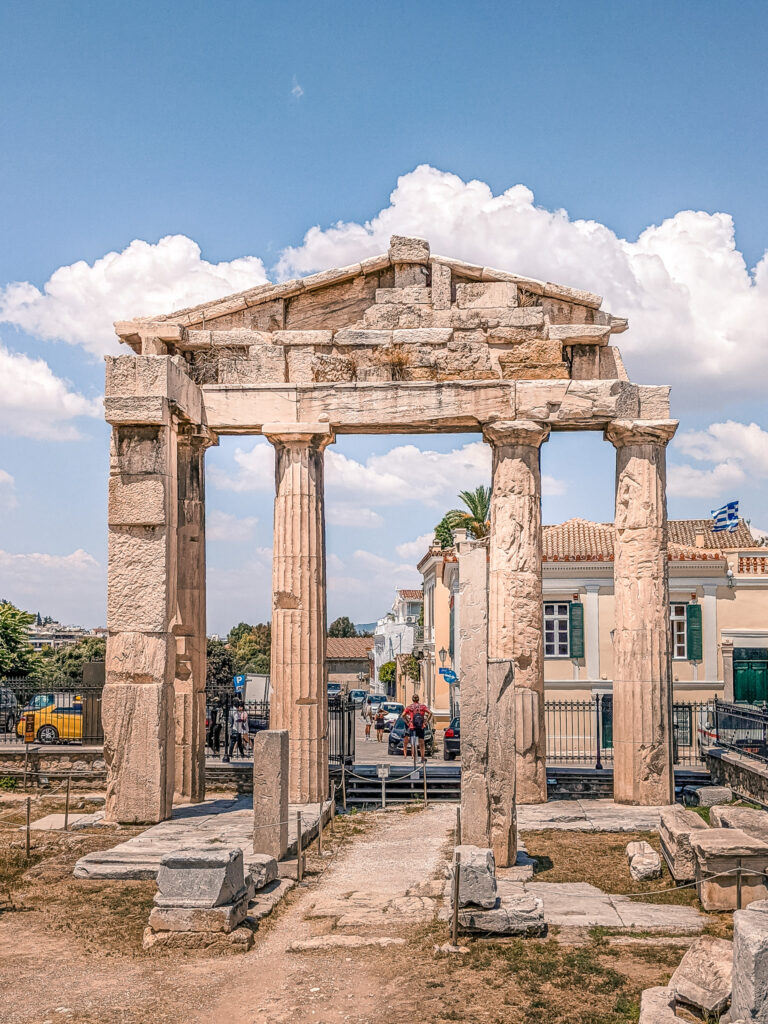 Within a short walk, you'll reach the Roman Forum. Although smaller than its Greek counterpart, it has its own charm.
The Tower of the Winds (Aerides) is a must-see, an octagonal marble clocktower that was used as a water clock, sundial, and weather vane.
One of the best ways to explore Plaka is with a guided walking tour with a local.
Wear comfortable shoes. The cobbled streets and uneven paths can be challenging in heels.
By Jo Koni, World Wild Schooling
HYDRA ISLAND
Hydra Island is an idyllic gem in the Saronic Gulf, about 2 hours away from Athens by ferry, and is an ideal destination for your Greece solo travel.
This car-free island is a quiet alternative to places like Santorini or Mykonos, and it's worth a visit, whether you take a day trip from Athens or spend a few days here.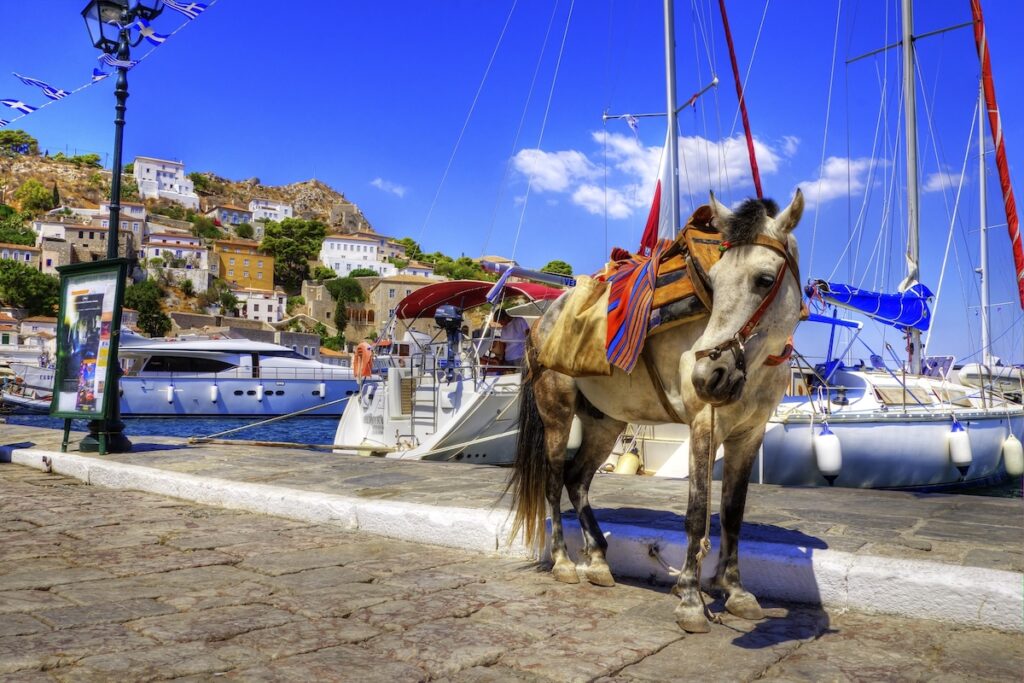 After getting to Hydra, you cannot miss the Hydra Harbor, a bustling district lined with 18th-century mansions, shops, and cafes.
And to get to your hotel, you can either walk or take a donkey, which is part of the experience when coming to Hydra.
After checking in, we recommend visiting the Monastery of the Assumption of the Virgin Mary, a stunning place where to pray and take photos, as well as Vlychos Beach, where you can work on your tan.
While it's not an island with vibrant nightlife, it's undoubtedly touristy, and you'll meet people from all around the world.
On the other hand, when joining a day trip from Athens, you'll take a boat to Hydra and stop on Poros and Aegina Islands, which is a great way to make friends when traveling solo.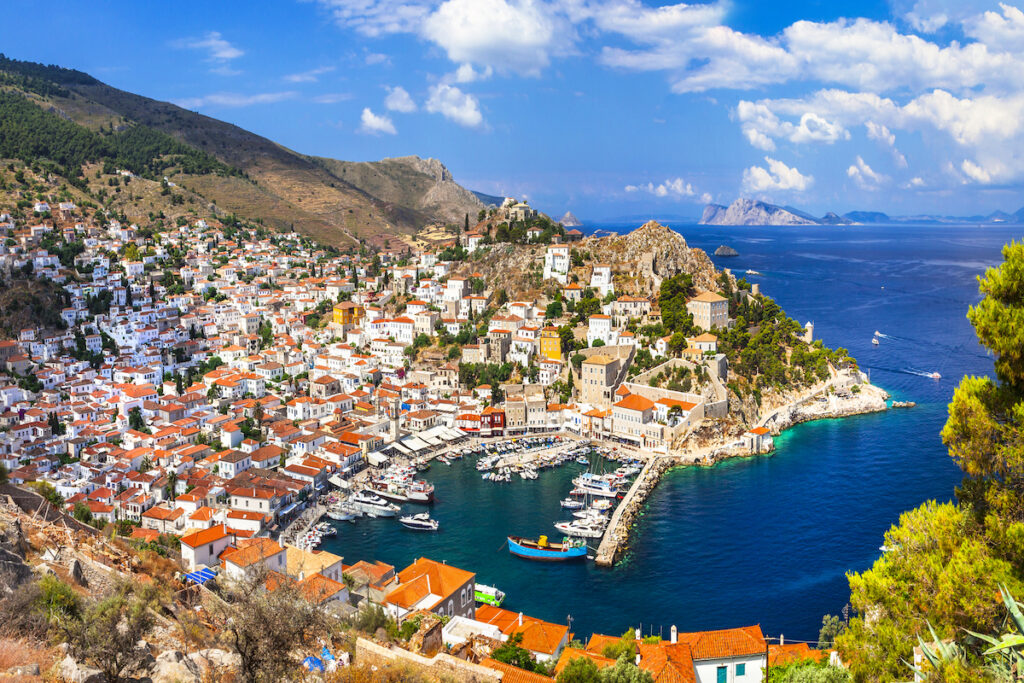 All in all no matter what you're into, Hydra is sure to please anyone, and we couldn't recommend a visit enough.
I've visited Hydra Island and spent 2 days there and I wish it were longer.
Not only was it nice walking around with no cars but the locals were very friendly and the beaches were otherworldly!
I highly recommend this guided tour to three islands for a fantastic experience.
SAVOUR THE DELICIOUS GREEK CUISINES
The food is a great reason to travel to Greece and indulge in the Mediterranean flavours of the country.
Greek food is not only delicious but also healthy, with a focus on plenty of vegetables served with grilled meats, and you should try at least some of the mouth-watering cuisines on your Greece solo trip.
I knew I was going to like Greek food before I travelled to Greece but I didn't expect to love it so much.
There is so much variety and the feta cheese is simply at a different level from what I was used to, back in England.
Different areas in Greece have other traditional dishes.
The food in Santorini for example is known for the use of local produce such as tomatoes grown in the volcanic soil.
Santorini also has a very unique wine, made from vines that grow directly on the soil, with the grapes touching the ground.
One of the most popular dishes in Greece is the souvlaki, which consists of marinated meat grilled over an open fire, served alongside fries, tzatziki and pita bread.
Another staple of Greek cuisine is the gyros, a flavoursome wrap made with pork grilled in a rotisserie, chips, tomatoes, tzatziki and onions.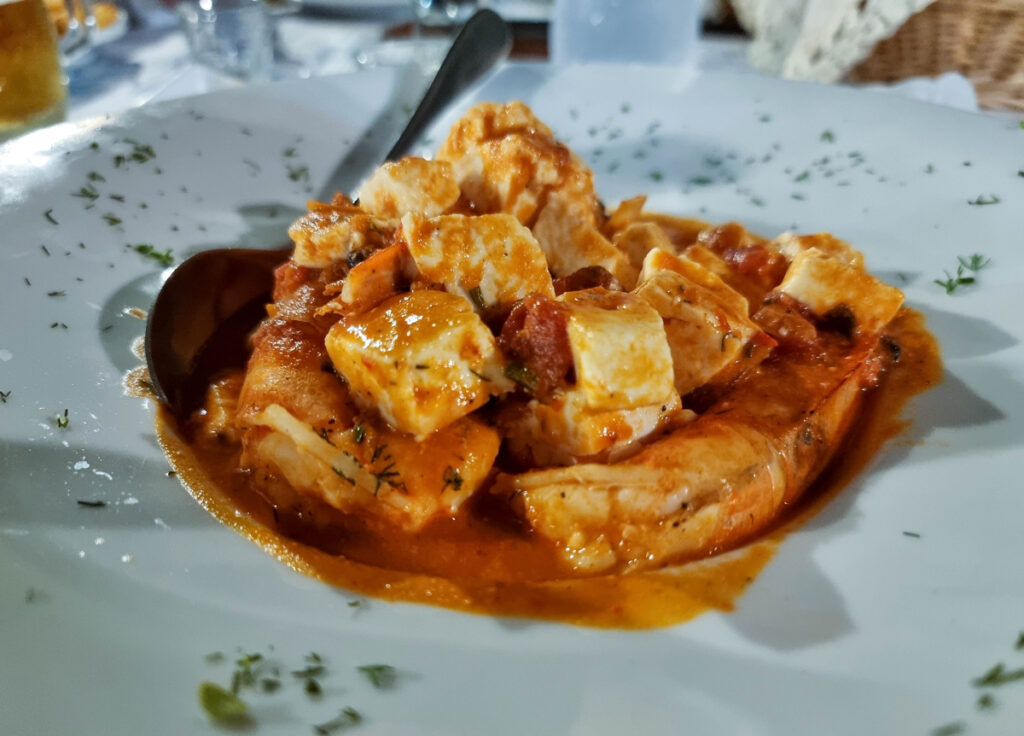 Don't miss the saganaki, a delicious stir fry made with prawns and feta cheese.
And talking about feta cheese, you can't miss the Greek salad which comes with an entire cheese on the plate.
One of the best ways to explore Greek cuisine is by taking a food tour in places such as Athens or Thessaloniki.
If you are traveling to Athens, I highly recommend checking out this food tour.
Greece also excels in fish and seafood dishes, which you should order when you visit the islands.
By Joanna, The World Is In My Pocket
MORE FANTASTIC EXPERIENCES FOR YOUR GREECE SOLO TRAVEL BUCKET LIST
GO ON A VIRGIN VOYAGES CRUISE
A unique and convenient way to get around Greece alone is on a cruise.
Among cruises, Virgin Voyages is specifically well known for being an excellent cruise to add to your Greece solo travel itinerary.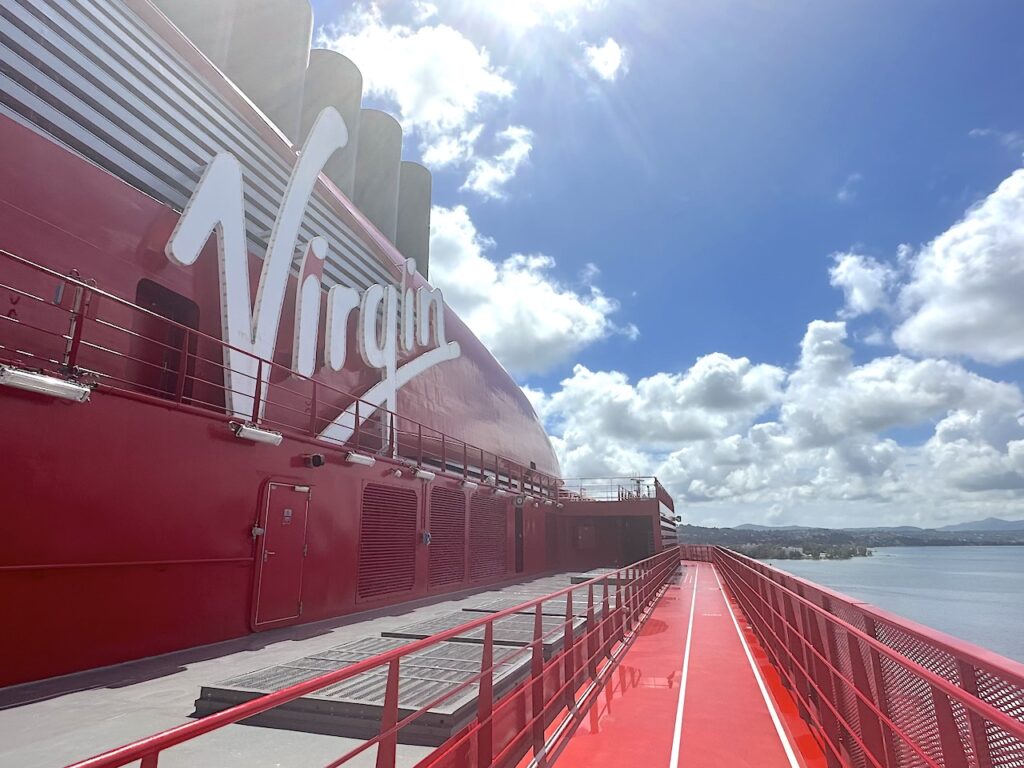 Virgin Voyages is probably the best cruise line for solo travelers.
On our recent cruise out of Athens, people were friendly and there was so much to do both in ports and on the ship.
They even have a Solo Insider cabin made for single supplements and often have deals that take away the single supplement for cabins with a sea terrace.
The Greek Island Glow Itinerary is a perfect itinerary for someone exploring Greek alone.
This 7 nights cruise will take you from Athens and top in Santorini, Rhodes, Bodrum, and overnight in Mykonos.
This allows you to see several of the most popular Greece destinations in one trip.
You can see the iconic views of the caldera and the Aegean Sea from Fira in Santorini, go party in Mykonos and see the iconic windmills, and visit the medieval Old Town of Rhodes is a UNESCO World Heritage site, with cobblestone streets, fortifications, and the Palace of the Grand Master all in one trip.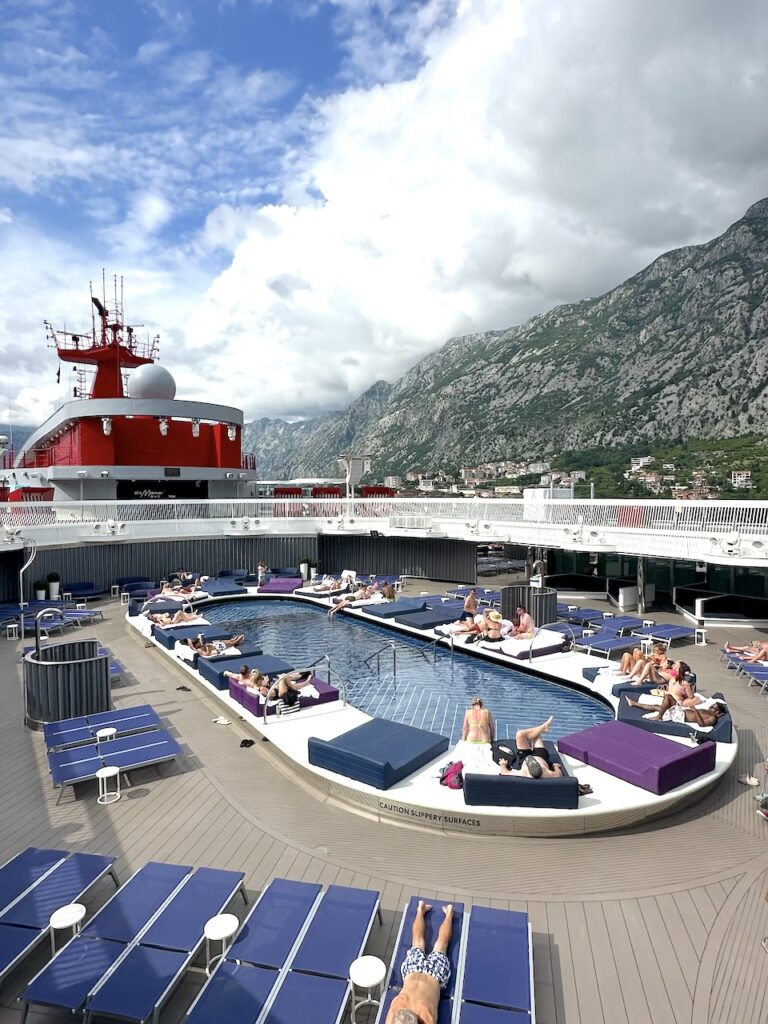 Before the cruise, there are Facebook pages where you can connect with fellow sailors.
After boarding and throughout the week there are events and meals just for single sailors.
Another possibility is that you want to spend time alone and in that case, you can spend your sailing time relaxing and spending time on your own.
You can lounge on the pool deck or enjoy the balcony of your cabin.
For the entire week, you do not need to move your things, pack or unpack, while still being able to see multiple destinations and do this with new friends, or on your own if you prefer.
By Dan Bagby, Honeymoon Always
EXPLORE PELION PENINSULA
A great place in Greece to visit alone is the Pelion peninsula on mainland Greece.
It is an area that is overlooked by foreign travelers and that is precisely what makes it so great.
Here, you can still experience traditional Greek culture away from the masses of the Greek islands, making it a fabulous addition to your Greece solo travel itinerary.
Pelion is not easy to reach and that is probably also one of the reasons not that many travelers make their way there.
You will first need to fly into Athens or Thessaloniki and either rent a car there or take the bus or train to the city of Volos from where you can take local buses into the peninsula.
However, renting a car is the best way to visit, since local transport doesn't go near many of the natural sights that make up the most exciting places in Pelion.
Pelion combines the best of both worlds regarding beautiful natural attractions.
The view of Pelion is dominated by Mount Pelion, home of the centaurs according to Greek mythology.
You can find numerous hiking trails in Pelion, the centaur walk in Portaria being the most famous one.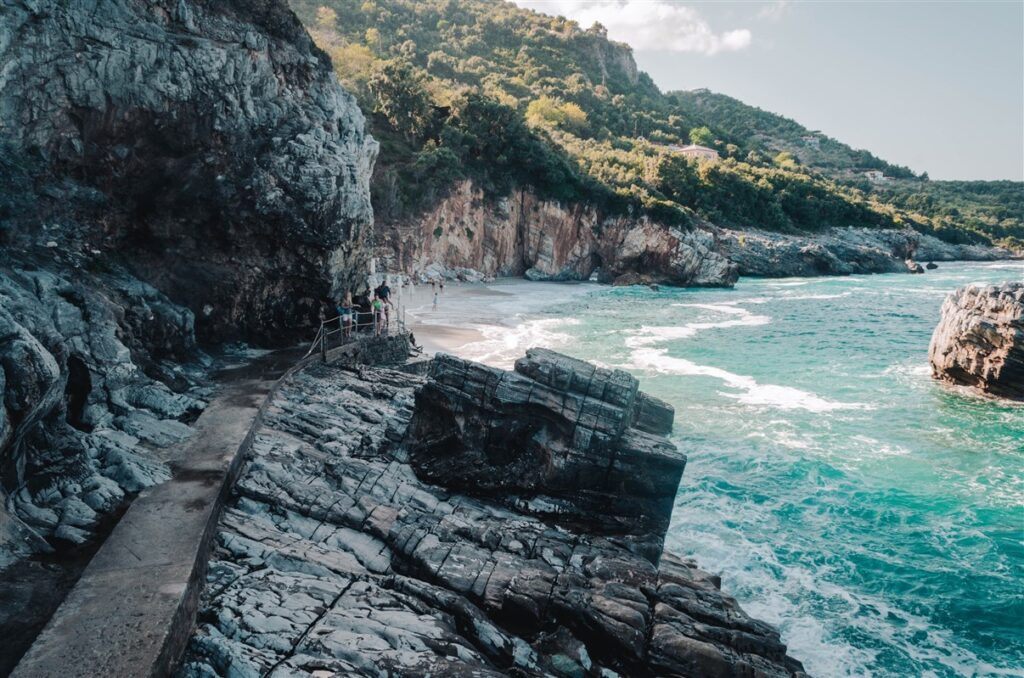 Aside from that, the east coast of the peninsula is dotted with picturesque little villages and extraordinary beaches and coves surrounded by lush greeny.
Some of the best Pelion beaches are Damouchari, Fakistra, and Mylopotamos Beach.
As for activities, check out the Greek cooking class at Karaikos farm near Portaria or enjoy a canyoning and Via Ferrata Waterland tour.
By Annelies De Gelas, Travelers And Dreamers
PLAN A WEEKEND TRIP TO THESSALONIKI
A brilliant place to visit on your Greece solo travel is the seafront city of Thessaloniki – perfect for a weekend city break.
If you're a fan of historical sights, check out the iconic White Tower, the symbol of Thessaloniki, and climb to the top for fabulous views over the city and the sea.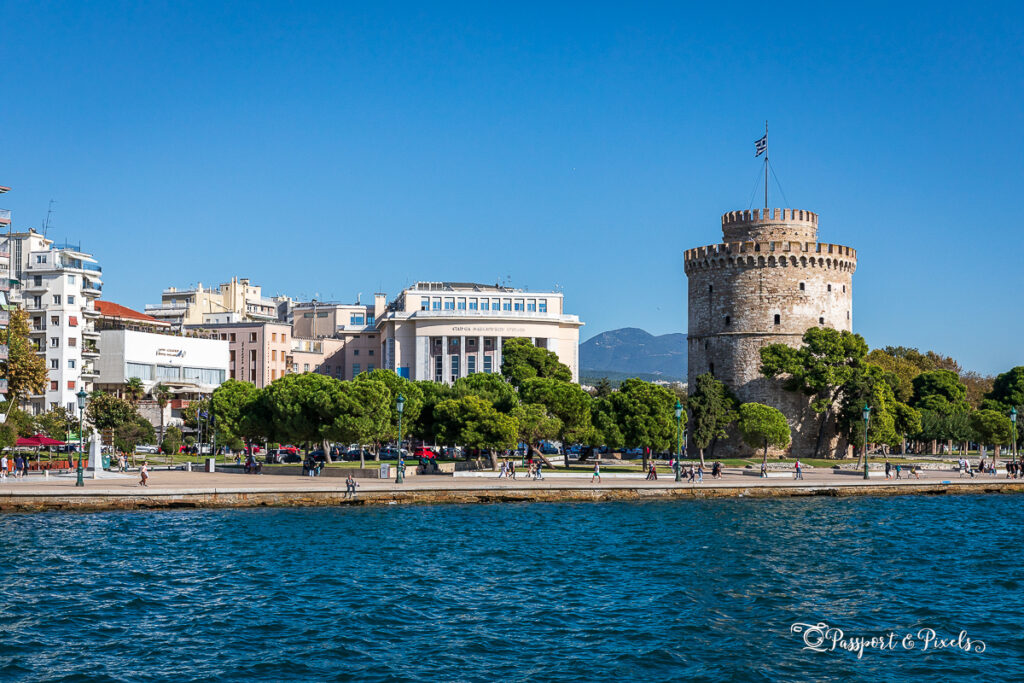 As Greece's second-largest city, it offers an excellent mix of history, foodie delights, sea views, and a vibrant atmosphere, and it's small and safe enough to be walkable and accessible to find your way around.
Or head to the Archaeological Museum for its impressive collection of artefacts from the region's past, where you can learn about the city's Hellenistic and Roman history.
Food lovers can explore Thessaloniki's buzzing and colourful markets, where you can sample some famously delicious Greek delicacies and pick up local feta, olive oil or honey to take home.
At the top of a hill overlooking the city is the historic Old Town (Ano Poli), home to pretty cobbled streets and a magnificent fortress – head here for sunset views before strolling back down the hill into the city centre for dinner.
One of my favourite things about Thessaloniki was its summery pavement café and restaurant culture, and buzzing nightlife.
The city has three universities, so it's home to a young, cool crowd and many venues to accommodate them.
I headed to the Ladadika district where I was spoiled for choice and had no trouble finding friendly locals to chat to.
I highly recommend these guided tours for a fabulous experience with experts:
Thessaloniki Hop-on Hop-off Sightseeing Bus Tour
Thessaloniki Gastronomy & Culture Walking Food Tour
By Bella, Passport And Pixels
GET GLIMPSES OF THE PAST OF DELPHI
Delphi is one of the most historically significant sites that you should add to your Greece solo travel plan.
When I visited Delphi, I was also amazed by the incredible mountain views and charming town of Delphi.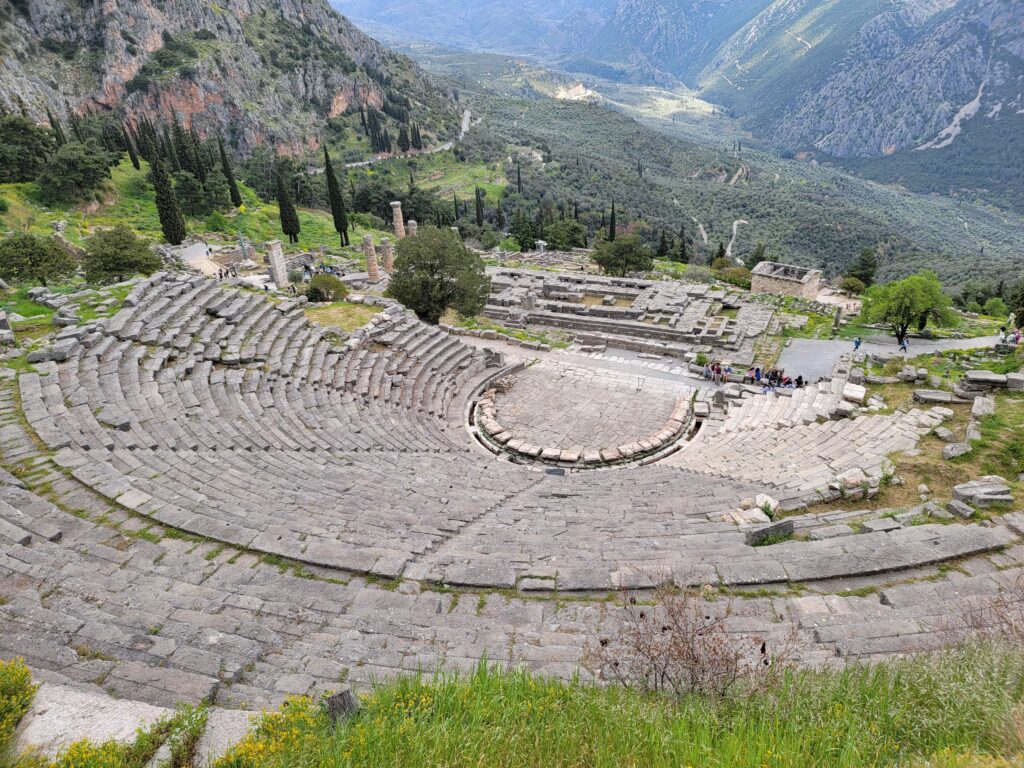 I recommend stopping by Delphi town for lunch or coffee after visiting the archeological site and museum, as there are some great small cafes with incredible views.
To visit Delphi, you can take a guided tour that includes round-trip transportation and a guide on-site.
Another option is to rent a car and go on your own, and in this case, you can buy your tickets for the archaeological site and museum here.
Delphi is the perfect destination to visit as a solo traveler, as you can wander the archaeological site in peace and take in all of the incredible histories.
Located on Mt. Parnassus, Delphi was once the site where the Delphi Oracle would proclaim her prophecies from the ancient Temple of Apollo.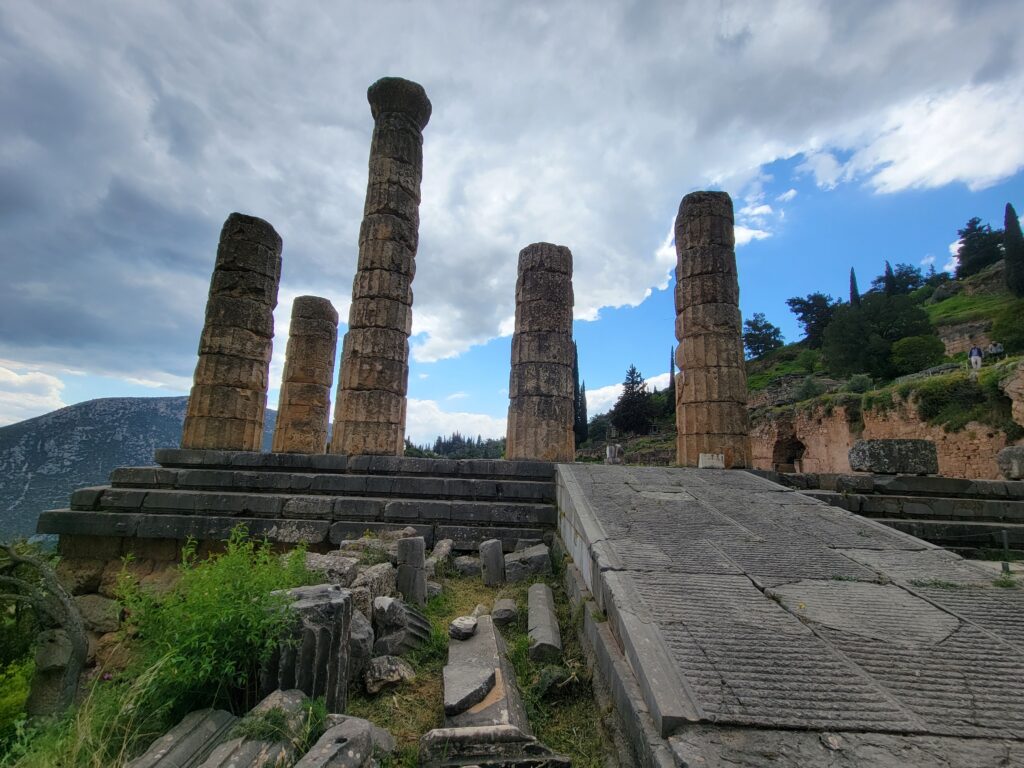 Today, you can visit many incredible ruins at Delphi including an ancient theatre, the Temple of Apollo, an old stadium that once held the Pythian Games, the Sanctuary of Athena Pronea, and more.
Delphi also has a museum which holds interesting artefacts from ancient Greece.
Visiting Delphi from Athens is a great day trip for a solo traveler to learn more about Greek history and see one of the most important archaeological sites in Greece.
By Amber Hunt, Get Lost In Wanderlust
PLAN A WEEKEND GETAWAY TO SECLUDED SIFNOS
The gorgeous island of Sifnos is quietly hidden among the Cyclades islands of Greece.
Often overlooked, Sifnos offers a serene, stunning, and affordable alternative to the famous, overpriced islands of Santorini and Mykonos and is a perfect addition to your Greece solo travel itinerary.
This picturesque island is known for its traditional Cycladic white architecture, charming Greek towns, stunning sandy beaches, and fantastic cuisine.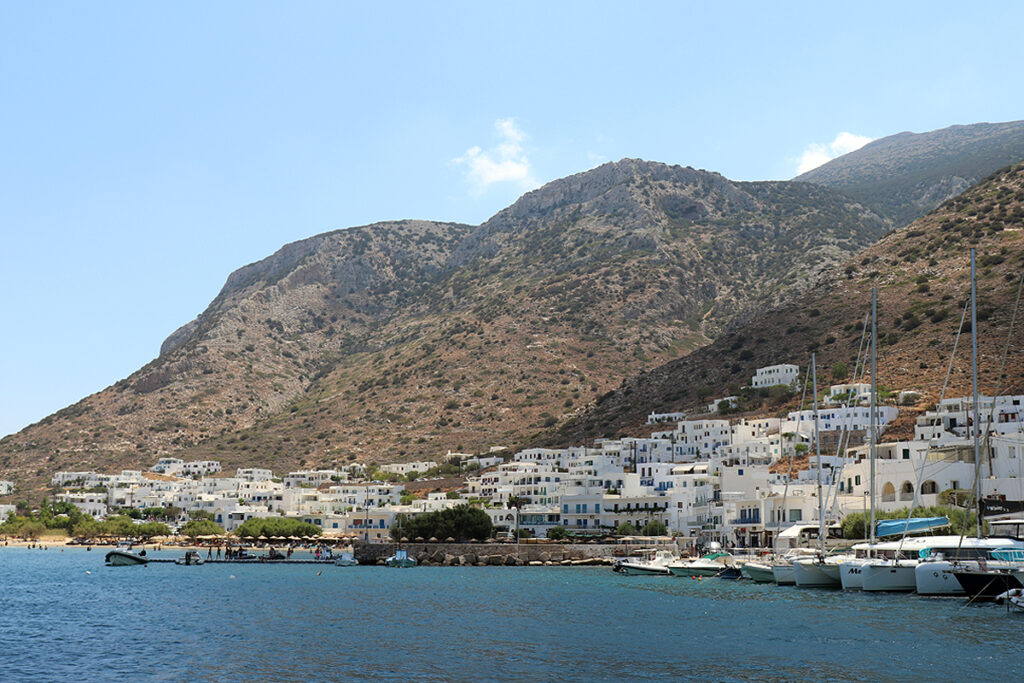 Whether you travel alone or in a group, there are many reasons to visit Sifnos.
Start with a morning hike to the Church of Panagia Chrissopigi to enjoy breathtaking coastline views.
Then, head to the adorable town of Platis Gialos for a swim in the crystal clear waters or rent a sun lounger for a relaxing afternoon at the beach.
We loved exploring the ceramic shops of Platis Gialos, before enjoying dinner at Omega-3, a restaurant known for its delicious seafood, right on the beach!
The town of Kamares also has a fantastic beach, cute cafes, taverns, and the oldest church on the island.
Kastro is a medieval village known for its historic charm and stunning views.
And if you're craving a night out, Apollonia has the best selection of restaurants, bars, and nightclubs with rooftop terraces!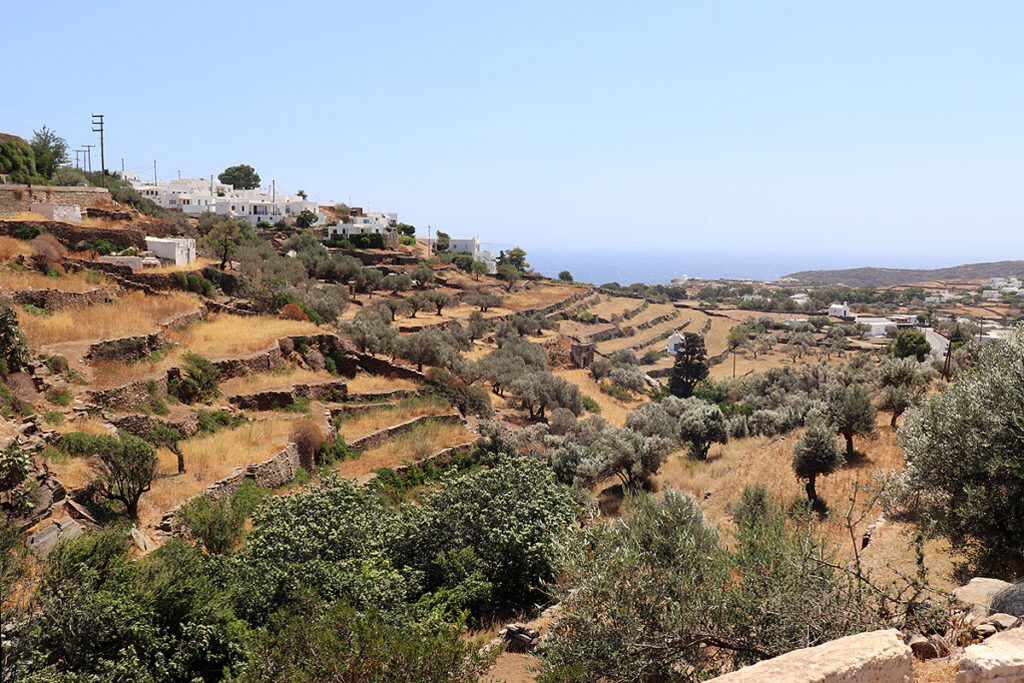 There are also local tour companies that offer trekking, pottery, walking food tours, and home cooking experiences for individuals and groups.
The best way to get to Sifnos is by ferry from Piraeus Port in Athens.
You can take a 2.5-hour speed ferry with SeaJet for €65, or the 4-hour slow ferry with Aegean Sea Lines for €43.
By Robyn, Two Empty Passports
SNORKEL AT RED BEACH
The Red Beach on the southern side of Santorini island is a must if you want to snorkel in Greece.
It is also one of the most excellent beaches on the island, perfect for adding to your Greece solo travel.
This beach was one of the highlights of Santorini Island for me!
The color of the sand is otherworldly and won't let you forget you're sitting on a volcano!
The iconic beach gets its name from the incredible red cliff backdrop which towers over the small beach due to the geological activity caused by the volcano long ago.
Red Beach can be reached by boat, car or on an easy bus ride from Fira town.
I chose to visit Red Beach by bus since I wanted an inexpensive day trip, but many people visit the beach on a stunning sunset snorkel cruise.
If you decide to stay for the day, sunbeds and umbrellas are available for rent and there is a cafe where you can have a bite to eat.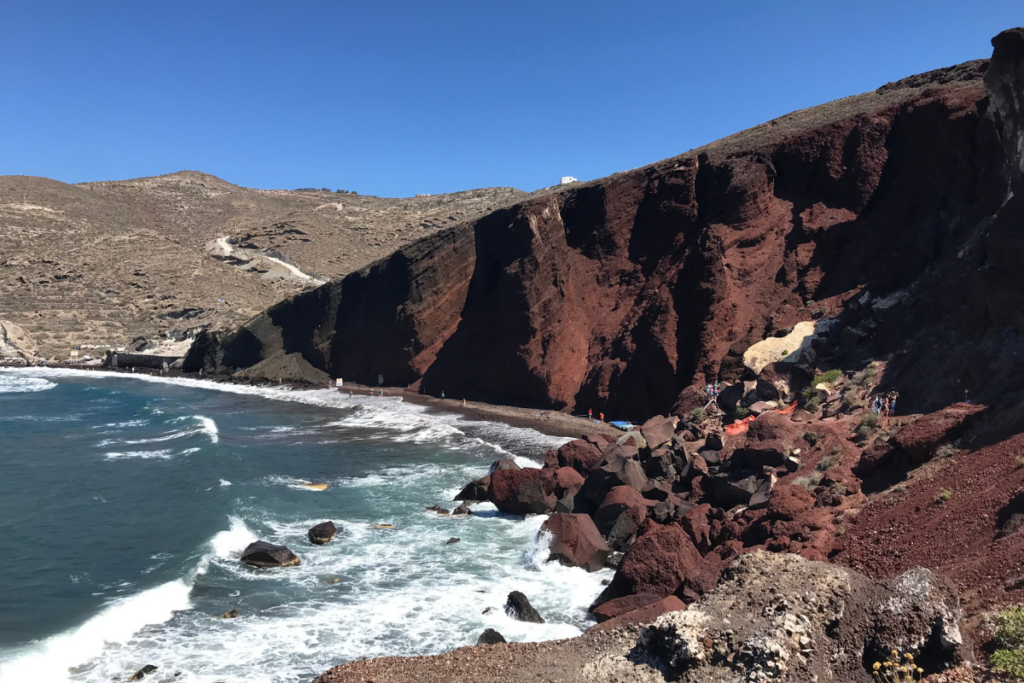 Since it is pretty tiny, I suggest going there early in the morning to get the best spot on the beach!
It is an excellent snorkeling area, even if you just wade in from the shore since there are many underwater caves to discover.
You don't need to worry about bad currents either since it's a pretty safe place to swim.
You'll also find quite a variety of sea life on Red Beach and many scuba centres dive here.
It's also the gateway to White Beach, a neighbouring beach only accessible by boat.
Here you can get a boat taxi and spend a few hours snorkeling the impressive underwater geological formations before returning later in the day.
By Nancy Michelle Cote, Defining Decade
ENJOY KITE SURFING IN PAROS
Nestled in the heart of the Cyclades, Paros Island enchants adventure seekers with its azure waters, whitewashed buildings, and vibrant culture.
Make sure to carve out time for kite surfing, one of the best things to do on your Greece solo travel.
And Paros is one of the best spots for that!
I would recommend booking a hotel at Golden Beach or even better at Pounta Beach because these are the best spots for it.
Kite surfing in Paros offers an invigorating blend of adrenaline and tranquillity as you harness the power of the wind and ride the waves.
The crystal-clear Aegean Sea has excellent conditions for this kind of sport, and the island's mild climate ensures ideal conditions for this water sport from May to September.
There are so many fantastic courses also for beginners, and especially if you are traveling solo you will meet same-minded people there.
There are rental shops and experienced instructors at the resorts, ensuring you have the necessary gear and guidance for a safe and enjoyable experience, even if you're a beginner.
But my advice is to book your kite surfing lessons or equipment rentals in advance, especially during peak tourist seasons.
Also don't hesitate to engage with locals—they often have insightful tips about hidden gems and lesser-known spots to explore on the island.
By Martina, Places of Juma
METEORA
If you're wondering what to do on your Greece solo travel, visiting the Meteora Monasteries should be on the list!
This destination that brings in over 30 million tourists a year has majestic monasteries, creating some of Greece's most unique landscaping views!
Meteora remains the most peaceful destination I visited in Greece.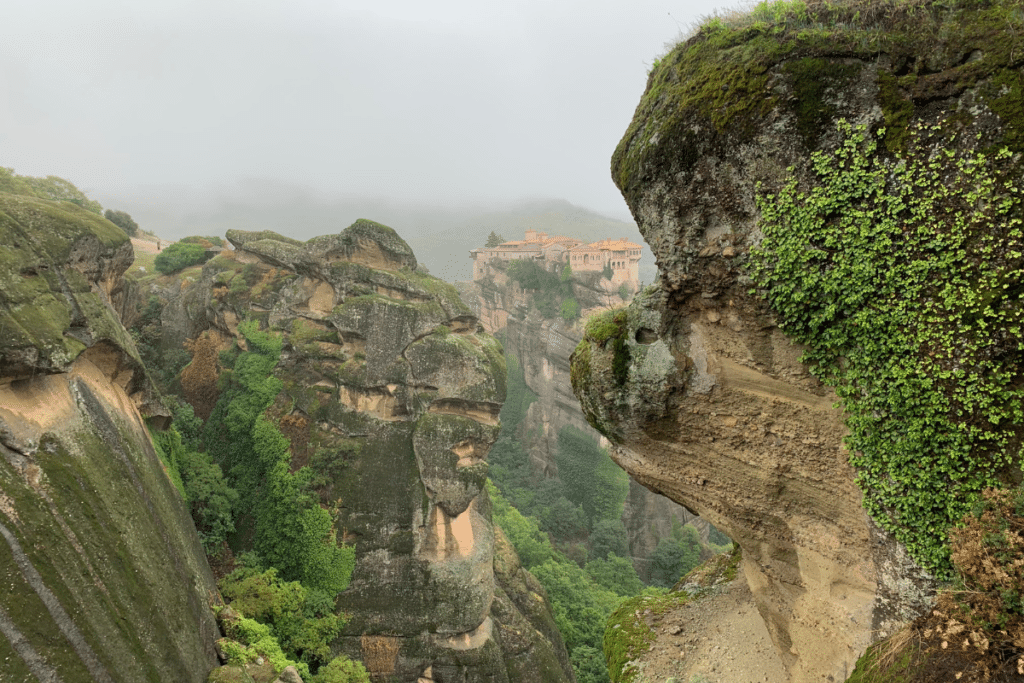 I wish I had spent more time there to appreciate the serene atmosphere.
The first activity to do while Meteora is to visit at least one of its monasteries. The monasteries sit on top of naturally formed rock formations.
This helps illustrate the definition of "Meteora," which is "suspended in the air." Monks still live in the monasteries today.
Some monasteries are more accessible than others. Some, like the Monastery of Great Meteoron, have hundreds of steps, while the Monastery of Agios Stefanos only requires a bridge!
Regardless of which monastery you visit, this is a serene and picturesque activity to experience one of Greece's wonders.
They provide the opportunity to learn about Greek history, appreciate stunning panoramic views and sunsets, and explore charming monastery grounds.
It is a comfortable experience for a solo traveler and provides a way to enjoy the destination's peaceful nature.
Ensure that you are wearing conservative clothing when visiting the monasteries.
Along with shoulders covered, women must wear skirts below the knees, while men are to wear pants below the knee.
You can be denied entry or obliged to purchase coverings if you aren't in the dress code.
You have three main options to reach Meteora from Athens: bus, train, or car rental. No matter your chosen method, it will be a 4-4.5 hour journey.
The most preferred methods are by rental car and train, as the bus does not have a direct path.
If you would like to go on a guided tour of the monasteries, there are plenty of options! This is also a great way to meet others on your trip.
Meteora Panoramic Morning Small Group Tour with Local Guide
Full-Day Meteora Tour from Athens by Train
PLAN A DAY TRIP TO SARONIC ISLANDS
The Saronic Islands are located in the Saronic Gulf, just off the coast of Attica near Athens.
It is a small island complex, consisting of seven inhabited islands.
If you want to go off-the-beaten path, add the Saronic Islands to your Greece solo travel itinerary.
Due to their proximity to the capital of Greece, they are very popular with day-trippers who want to do something relaxing while visiting Athens.
The most well-known islands in the Saronic Gulf are Aegina, Hydra, Poros and Spetses.
They all have crystal blue waters to dip in, cobbled-stone streets to stroll, small shops filled with local goodies and restaurants with tasty Greek food.
It is very easy to get to any of the Saronic Islands. Simply, make your way to the port of Piraeus (you can get there by metro, bus or taxi from central Athens; the journey lasts around 30 minutes) and then take a ferry to the island of your choice.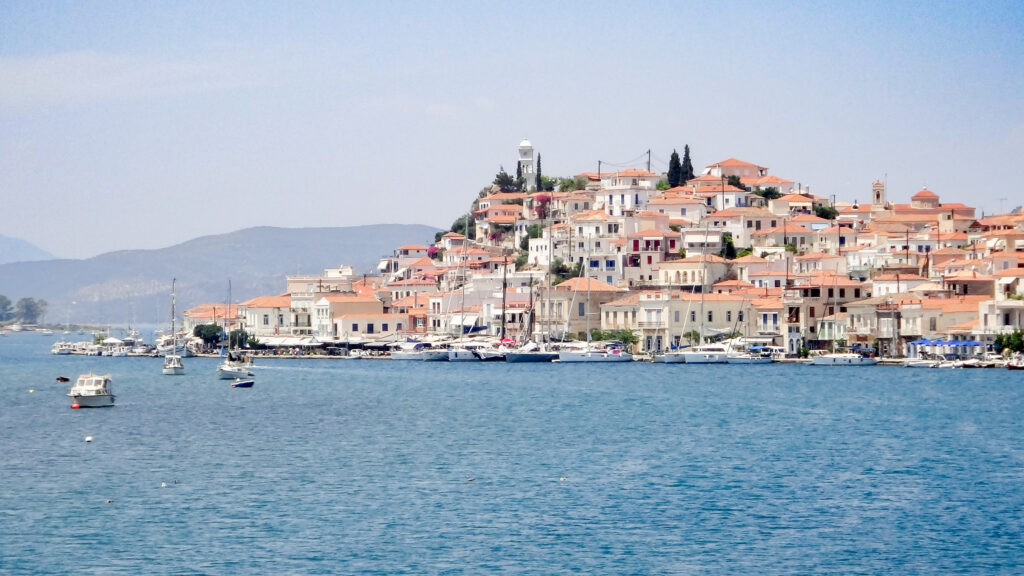 The ferry trip varies in duration depending on the type of ferry you get and the island you want to visit.
Aegina is the closest one (around 40 minutes away) and the furthest one is Spetses (around 2.5 hours away).
Hydra and Poros are both around 1.5 hours away from Piraeus.
If you want to explore more than one island in a single day, you can take one of the 1-day cruises that tour 2-3 islands daily.
This is an excellent option for solo travellers as you don't need to worry about all the logistics to get there.
Besides, you can get a glimpse of each island in a short amount of time.
Not to mention the entertaining aspect of sharing a boat with other tourists who all want to delve into Greek music and dancing.
By Elina Michaelidou, Empnefsys & Travel
HEAD TO MESMERISING MYKONOS
If you're familiar with Greece, you've probably heard of Mykonos – an island renowned for its legendary party scene.
But what makes islands like this truly special is their ability to attract a diverse crowd of international visitors and solo travelers, all ready to mingle and make new friendships.
And with your newfound companions, explore the Mykonos's famous beaches, and the narrow streets of charming Chora, or take a boat trip to Delos Island together.
To get to Mykonos, you can take a direct flight from Athens or other major cities or hop on a ferry from nearby islands.
Once you arrive, you'll find that Chora is a visual delight, with pedestrian-only streets lined with whitewashed buildings and shop fronts.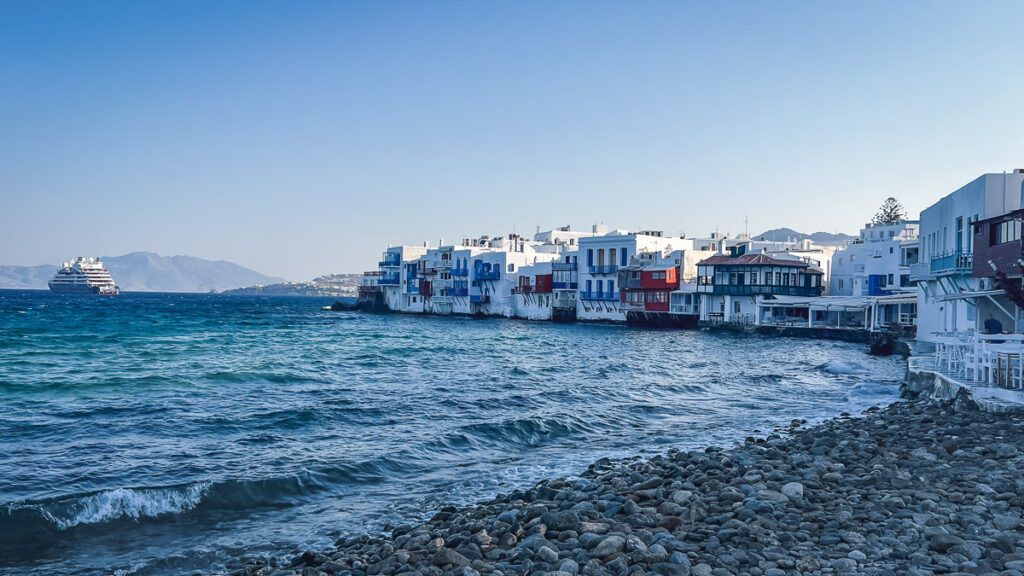 And the iconic windmills overlooking the Aegean Sea add an extra magic touch.
On the days, venture out of town with public transportation or rent an ATV to Mykonos's beaches. Ornos, Kalo Livaldi, and Paradise are popular spots featuring white sand beaches and shimmering blue waters.
At night, Mykonos comes alive with its exciting nightlife scene.
The island is renowned for its cosy cocktail bars to high-energy nightclubs, especially in the Mykonos Town area.
Party until the early morning hours and dance the night away to the beats of renowned DJs.
And if you're up for it, check out parties further out from town, like Cavo Paradiso, Scorpio's, or Super Paradise Beach Club.
Mykonos is an excellent place for travelers to socialize and make new friends.
Having gone mainly for the namesake of its epic parties, I had high expectations for Mykonos. And it did not let me down.
By Catherine Xu, Nomadicated
DO THE OIA TO IMEROVIGLI WALK IN SANTORINI
Walking the path from Imerovigli to Oia is a great way to experience the beauty of Santorini on your own.
The path is approximately 9 kilometres long and takes 2-3 hours to walk, depending on your fitness level, and is a perfect addition to your Greece solo travel.
It is a scenic path that follows the edge of the caldera (half-moon-shaped bay) between the two popular Santorini destinations. It is a safe activity for those travelling solo.
Walking along this trail can get hot during the middle of the day, especially in the high summer season with little opportunity for shade.
The best time to walk the Oia to Santorini path (or vice versa) is early morning and late afternoon.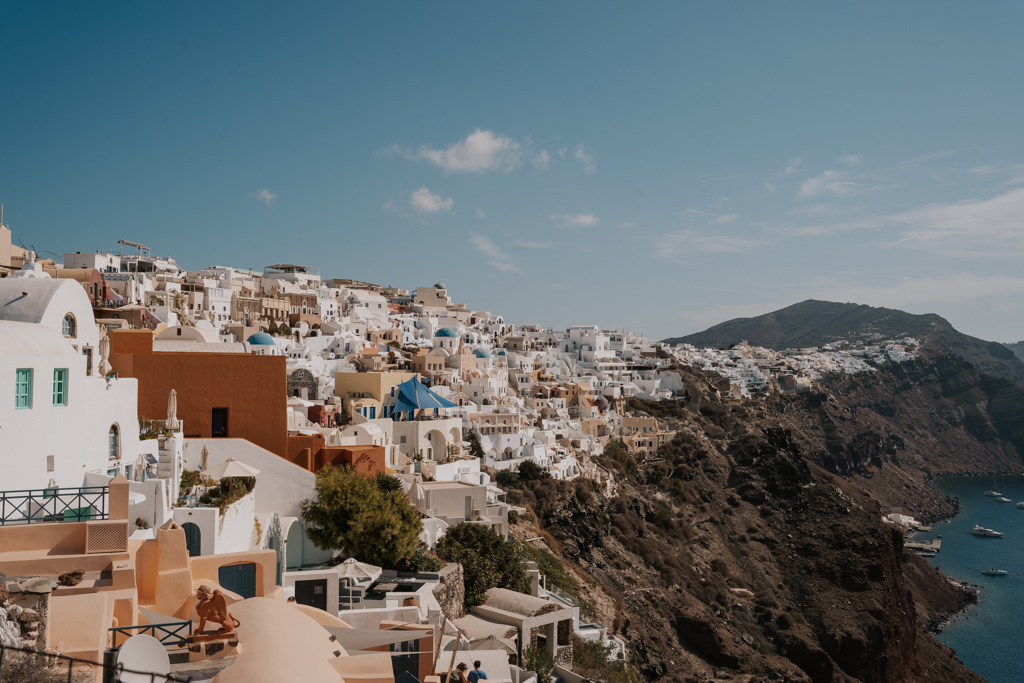 This is also the best time to avoid crowds, especially if you end your hike in Oia.
The hike was mild to moderately challenging with a combination of flat terrain and steep climbs.
Wear stable sneakers or hiking shoes, as the path can be rocky and uneven at some points.
My biggest tip for your walk is to bring a small light day bag with a water bottle and snacks. Make sure to wear a hat – that Santorini sun is hot, hot, hot.
Book yourself a Santorini hotel with a pool to soak any aches away at the end of your hike.
If you want to experience the beautiful caldera while saving the strain on your legs, you can take a popular caldera catamaran cruise instead.
By Haley, Haley Blackall Travel
GREECE SOLO TRAVEL BUCKET LIST MAP