Planning Spain solo travel? One of the most fascinating countries in Europe, Spain is among the most loved destinations, a favourite for beachgoers, history and architecture lovers, foodies, wine enthusiasts, hikers, and outdoor adventure seekers alike.
Having made many solo trips to Spain, I have plenty of amazing things to share, but in this post, fellow travel bloggers share their favourite activities, towns, events, hikes, and more that you can add to your Spain solo travel bucket list.
Whether you visit Spain for the first time alone or this is another solo trip to Spain, you will surely pick a few of these experiences to add to your Spain solo travel itinerary.
Read on to find out more!
LOOKING FOR MORE SOLO TRAVEL INSPIRATION? CHECK THESE SOLO TRAVEL GUIDES?
SPAIN SOLO TRAVEL BUCKET LIST
EXPLORE CORDOBA
One of the most beautiful destinations for Spain solo travel you can add is Cordoba, one of the most beautiful Spanish cities.
It's small enough to walk around and feel safe while visiting many attractions.
Navigation around the historic centre is straight forward, and signage is abundant, so you don't have to worry about getting lost.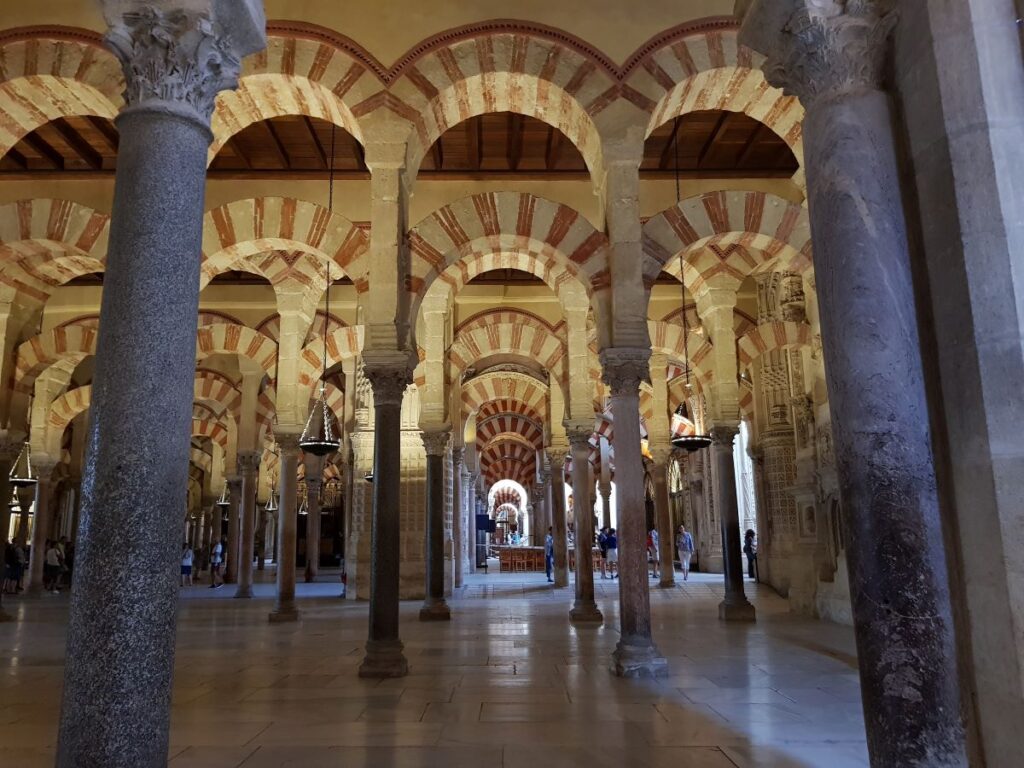 The top things to do include visiting the famous Mezquita, an unusual monument that's both a mosque and a cathedral.  Go early to avoid the crowds! Don't miss seeing the flower-filled courtyards that have become quite a feature over the years. 
If you're here in May, you can enjoy the Cordoba Patios Festival, but some courtyards remain open all year round so that you won't miss out.
We loved exploring the patios as they give a glimpse into the daily life of residents here in Cordoba. The owners were lovely and keen to share the stories behind their unique floral displays.
Cordoba is a friendly city, with plentiful restaurants and cafes for when you want a break from sightseeing.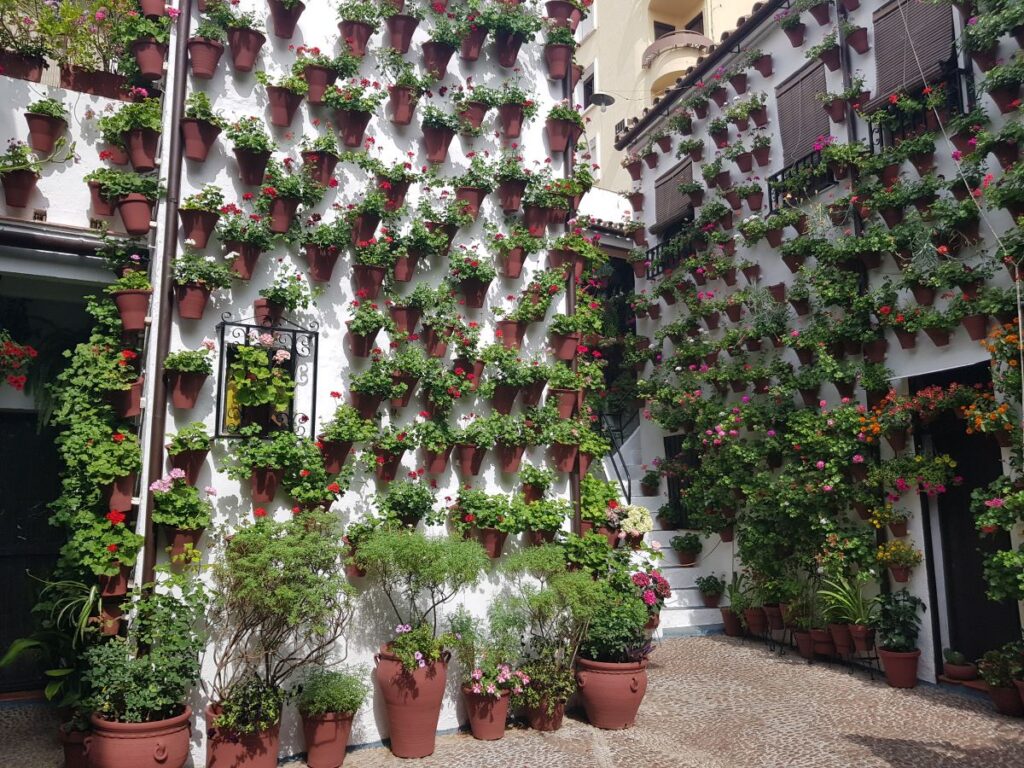 Solo visitors are made to feel welcome, and it's easy to meet new friends over tapas in the early evening.
Cordoba is less visited than other cities in Andalucía like Granada and Seville, which means prices tend to be lower – always a bonus if you travel alone.
Cordoba is well connected to other cities in the region, with the easiest way to get there being the train.
If you're flying into Malaga, you can jump on a train to Cordoba and be there in an hour.
By Heather Cole, Conversant Traveller
SPEND A DAY OR TWO IN CADIZ
One of the most appealing and underrated places to visit in Spain is the region of Andalusia at Cadiz.
This beautiful city located on the Southwestern coast was an ancient port city that boomed in the 16th century as a starting point for trade and exploration around the world.
Cadiz is also the capital city of the province of Cadiz and is one of the autonomous regions in Andalusia.
It is one of the perfect additions to your Spain solo travel itinerary if you love history and beautiful waterfronts.
Founded by the Phoenicians and eventually became the central port city that conducted trade mainly to the Americas.
The historic district of the city is filled with so much fantastic architecture and beautiful monuments and plazas that are wonderful to explore.
Recommended – The Best Spain 7 Days Itinerary Ideas You Should Check Out
Once you enter past the old city walls into the Old Town or Casco Antiguo, with its narrow streets that lead you directly into plazas with ornate buildings that include the beautiful cathedral, San Antonio Church, City Hall and the monument to the Constitution of 1812.
No worries about wondering or getting lost, but eventually you will happen upon the grand plazas of Plaza de San Francisco, Plaza San Antonio, Plaza de la Catedral, Plaza de Candelaria and Plaza de San Juan de Dios with the City Hall dominating the main square.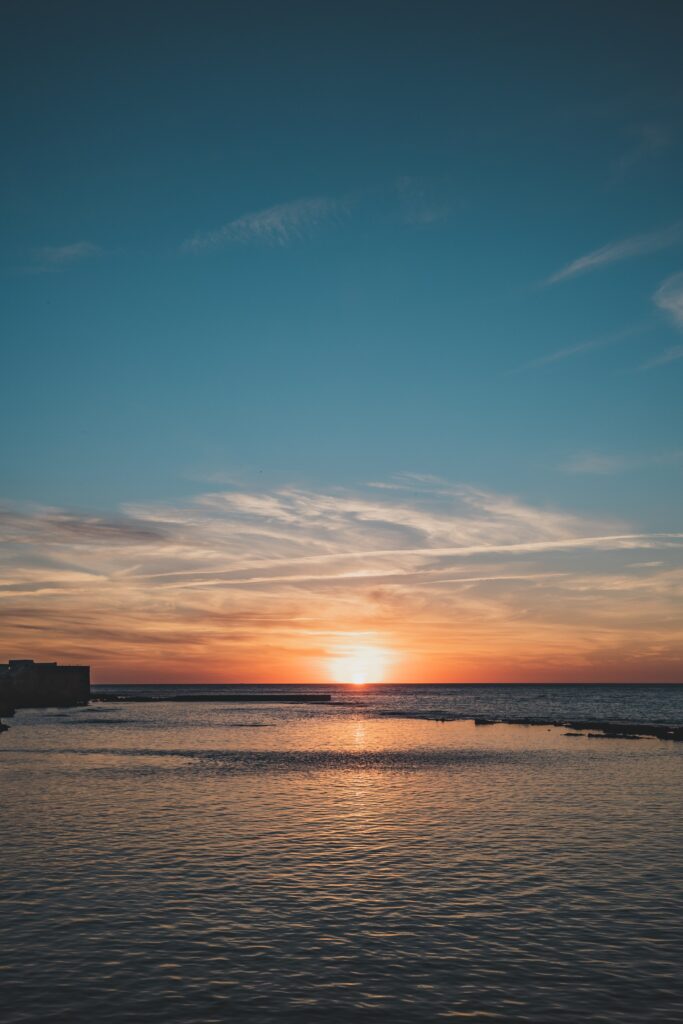 Other main attractions to also discover in the old town includes visiting the Roman Theater, Palacio de Congresos, Tavira Tower, the Old Customs House, the Admiral's House and so many other historic sites you can explore on foot with a map or an app.
Once you pass through the historic old town, you also wander around the harbour area and check out more sites or just enjoy the waterfront area or Malecon of the city.
Cadiz is located in the far western part of Andalusia and is a little isolated but definitely worth the effort to visit and enjoy this significant port city.
By Noel Morata, Travel Photo Discovery
BIKE THE VIA VERDE CYCLE PATH
If you're looking for the perfect solo adventure in Spain, biking the Via Verde cycle path should be at the top.
Nestled in the breathtaking region of Andalusia, the Via Verde de la Sierra offers an exceptional experience for independent travelers.
The Via Verde de la Sierra is one of Spain's many Via Verdes, which translates to "Green Paths".
These are old railway tracks that have been converted into walking and cycling paths.
One of the most beautiful ones is the Via Verde de la Sierra, which makes one of the best day trips from Malaga.
Unlike the steep climbs and sharp descents typically found in the mountainous landscapes of this region of Spain, the Via Verde de la Sierra is primarily flat.
Engineers created a level railway line with dozens of tunnels and viaducts, although a train has never operated here.
The entire route is 37 kilometres long, stretching between Puerto Serrano and Olvera stations, with the Stretching 37 kilometres between the Puerto Serrano and Olvera stations, with small Coripe station as a midpoint, the route offers breathtaking views of the surrounding countryside.
At the former train stations, you can rent regular or electric bicycles, park your (rental) car, and grab some food and drinks.
Apart from the stations, you won't encounter any villages or towns along the way.
The highlight of this cycling adventure is undoubtedly the series of tunnels that you'll encounter along the way.
As you pedal through these underground passages, some equipped with automatic lights, you'll be captivated by the unique atmosphere they create.
From short tunnels to the thrilling kilometre-long passage, the tunnels add an element of excitement and mystery to your journey.
Biking the Via Verde cycle path is a fantastic activity to enjoy alone in Spain.
The flat terrain, scenic views, and solitude of the route make it an ideal adventure for solo travelers.
You can fully immerse yourself in the natural beauty of Andalusia while pedalling through tunnels and over viaducts.
For the best experience, consider renting an electric bike, making the ride even more effortless.
If you're looking for the perfect solo adventure in Spain, biking the Via Verde cycle path should be at the top.
Nestled in the breathtaking region of Andalusia, the Via Verde de la Sierra offers an exceptional experience for independent travelers.
The Via Verde de la Sierra is one of Spain's many Via Verdes, which translates to "Green Paths".
These are old railway tracks that have been converted into walking and cycling paths.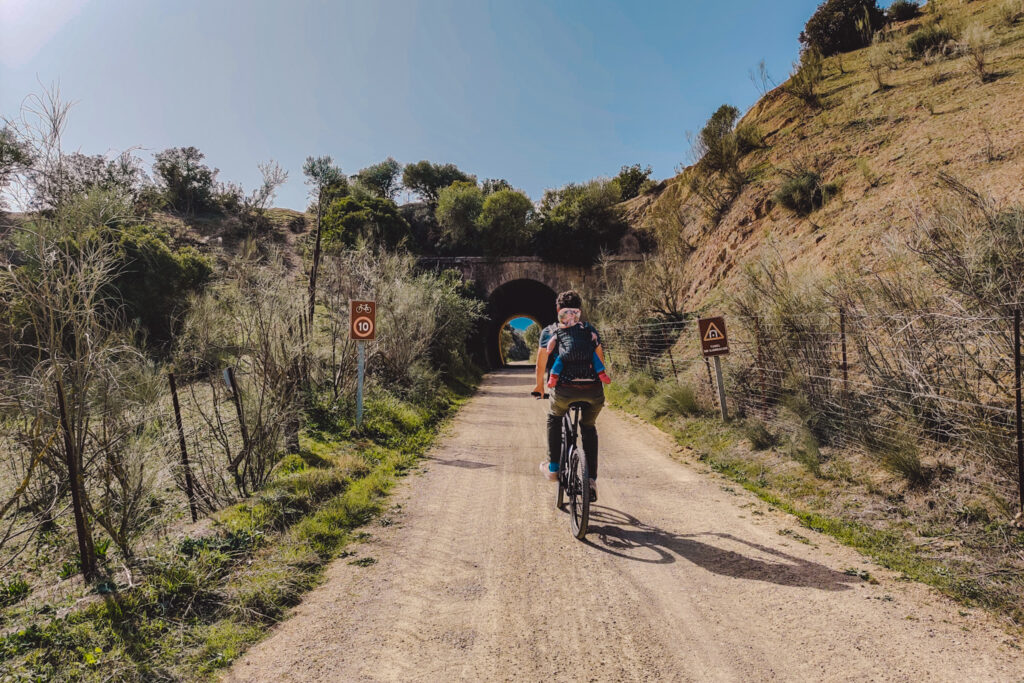 Not far from Malaga, you'll find one of the most beautiful, the Via Verde de la Sierra.
Unlike the steep climbs and sharp descents typically found in the mountainous landscapes of this region of Spain, the Via Verde de la Sierra is primarily flat.
Engineers created a level railway line with dozens of tunnels and viaducts, although a train has never operated here.
The entire route is 37 kilometres long, stretching between Puerto Serrano and Olvera stations, with 37 kilometres between the Puerto Serrano and Olvera stations, with the small Coripe station as a midpoint; the route offers breathtaking views of the surrounding countryside.
At the former train stations, you can rent regular or electric bicycles, park your (rental) car, and grab some food and drinks.
Apart from the stations, you won't encounter any villages or towns along the way.
The highlight of this cycling adventure is undoubtedly the series of tunnels you'll encounter along the way.
As you pedal through these underground passages, some equipped with automatic lights, you'll be captivated by the unique atmosphere they create.
From short tunnels to the thrilling kilometre-long passage, the tunnels add an element of excitement and mystery to your journey.
Biking the Via Verde cycle path is a fantastic activity to enjoy alone in Spain.
The flat terrain, scenic views, and solitude of the route make it an ideal adventure for solo travelers.
You can fully immerse yourself in the natural beauty of Andalusia while pedalling through tunnels and over viaducts.
For the best experience, consider renting an electric bike, which will make the ride even more effortless.
By Maartje, Sebastiaan and The Orange Backpack
PICNIC AT EL RETIRO
Madrid is the historical, political, and cultural centre of Spain – it is also the capital city of Spain.
The city is filled with grandeur and royalty, including its natural parks in its old centre.
El Retiro means "Park of the Pleasant Retreat"; the park was the property of the Spanish Monarchy until it opens to the public in the late 19th century.
Today, the park is a lush green space for all visitors. It is one of the best breaks to add to your Spain solo travel for enjoying green spaces, walking around, or people watch.
The park is located close to Madrid's Puerta de Alcalá and it is convenient to get there by metro at the station Retiro.
The park covers an area of 350 acres and its scenery changes in different seasons.
Recommended – 15 Epic Hidden Gems In Spain To Go Off The Beaten Path
For solo travelers, take a walk along the trails and expect several scenic spots in the park including the Palacio de Velazquez and Palacio de Cristal.
The Monument of Alfonso XII is the park's signature and visitors can leisurely row a boat in the pond to temporarily escape the hectic city life.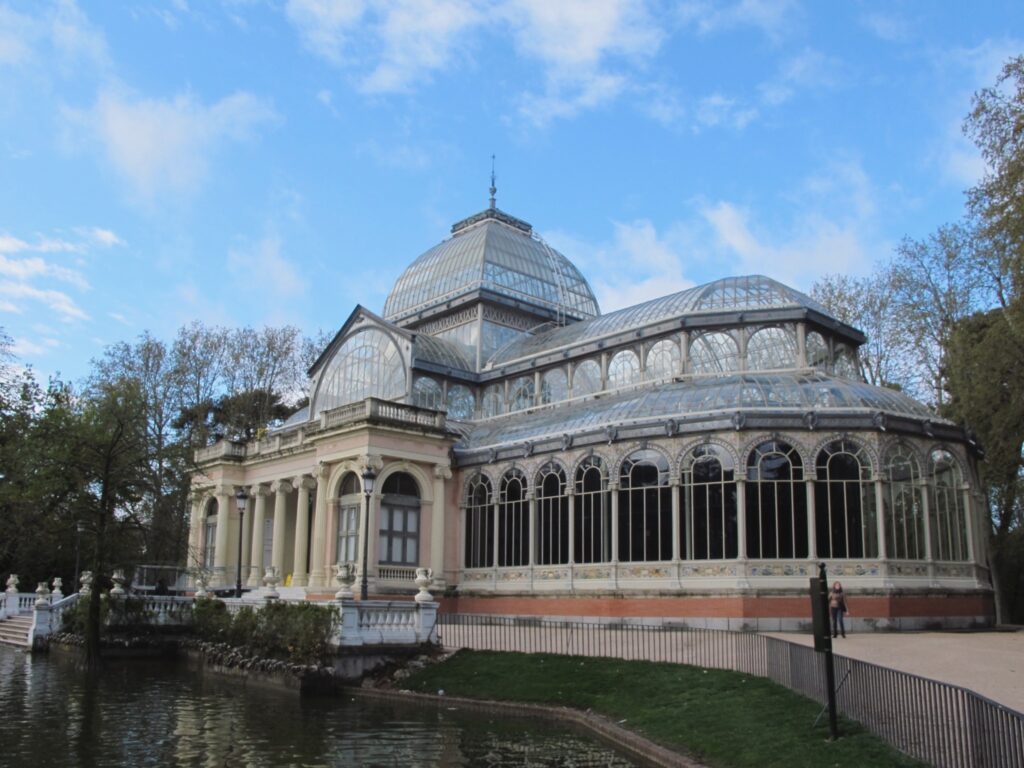 On Sundays, the atmosphere of El Retiro changed as music performers of various genres and styles came to play.
The Park is also within walking distance of Madrid's Golden Triangle of Art – where three major art institutions are gathered and solo travelers can unwind and immerse themselves in the classical and modern art world.
By Kenny, Knycx Journeying
ATTEND THE FAMOUS LA TOMATINA FESTIVAL
La Tomatina, the Tomato throwing festival of Spain, presents a bizarrely spectacular sight that everyone absolutely needs to experience at least once in a lifetime.
And what better than doing it in Spain solo travel? Not only will you meet thousands of other travelers, but you will also end up having a blast.
Picture this: hundreds of locals and tourists packed into a narrow village high street, engaging in a 1-hour tomato-throwing frenzy where tomatoes fly through the sky as if gravity has lost its hold.
This chaotic event occurred last Wednesday of August in the Valencian town of Buñol which recently celebrated its 75th anniversary.
Witnessing this incredible festival firsthand is a bucket list experience you'll never forget; it's utterly unique!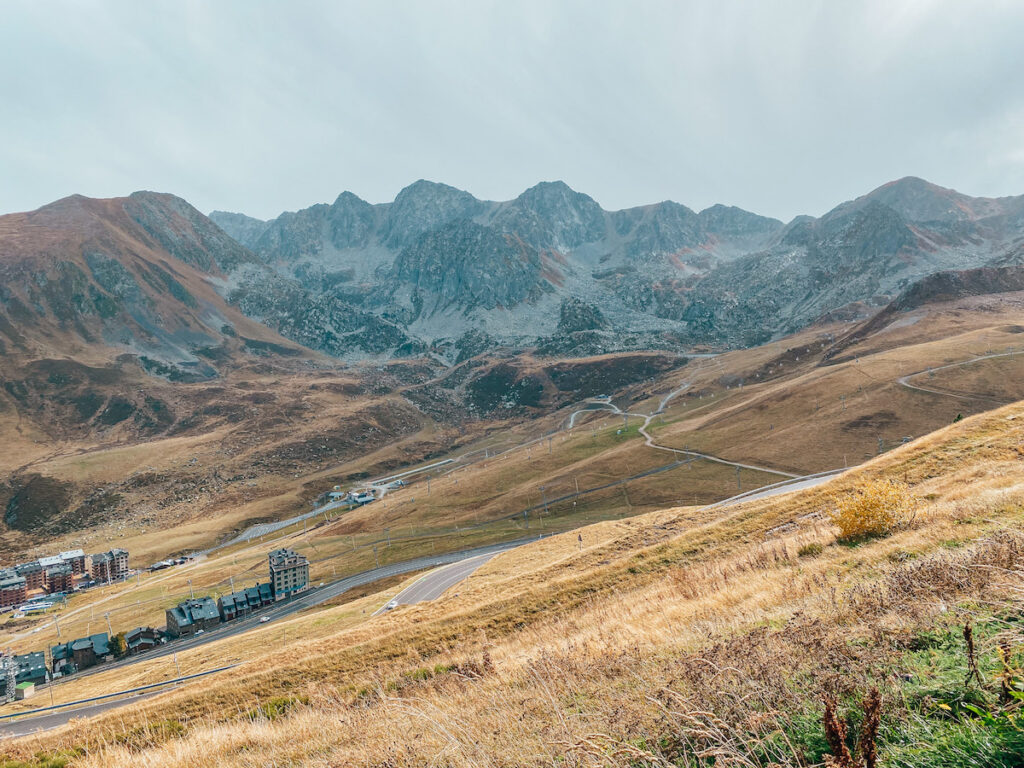 Legend has it that La Tomatina originated with a playful food fight between local children, which evolved and grew into the grand food fight it is today.
If you're concerned about the festival's potential waste of food that could be used to feed the hungry or the needy you'll find that only inedible or slightly sour tomatoes are used for the event, meaning no actual food is wasted.
Yet, the tomatoes are absolutely perfect (and fun!) for hurling at one another.
The villagers of Buñol revel in this tradition, and their enthusiasm is infectious; watch little kids throw tomatoes or drop water onto you from balconies.
Considering that La Tomatina is only 12 Euros to enter, this is an absolute bargain; get booking onto a tour now; it's a great way to make friends and meet new people!
By Adriana Neptuna, Wanderlicious
PLAN A DAY TRIP TO ANDORRA
A tour from Barcelona to Andorra is a great thing to do in Spain when you're alone. It's the easiest way to get to Andorra, and you'll meet people while on the tour.
Andorra is the sixth smallest country in Europe, and even though you can get to this tiny country by public transport, taking a tour is better since you'll get to make a few excellent stops on the way.
On a day tour to Andorra, you don't just set off in Spain and arrive in Andorra, you also get to do a stop in France.
So you can actually visit three countries in just one day! The final destination of the day trip is Andorra la Vella, the capital of Andorra.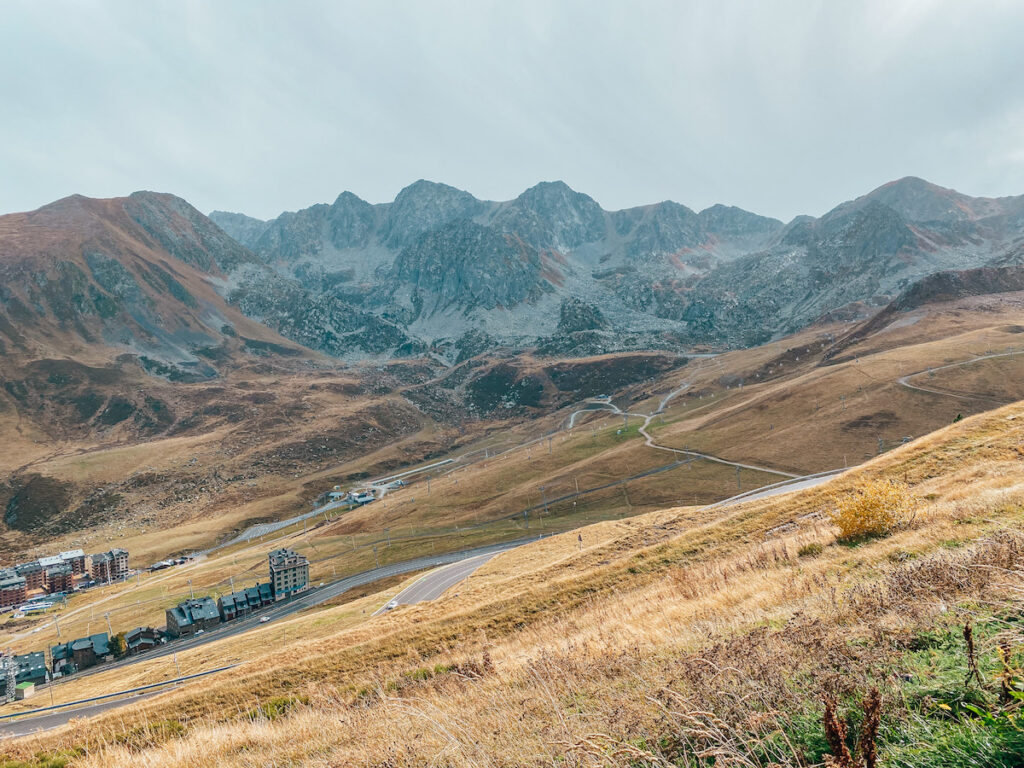 Andorra la Vella is the highest capital city in Europe, at an elevation of 1,023 meters. This city has such a unique feel to it.
It's nestled into the Pyrenees between France and Spain, and people from both neighbouring countries like to visit Andorra for skiing in winter.
People also come here to shop any time of the year, since the taxes there are very low.
I did this day tour on my own while I was staying in Barcelona. To be completely honest, there aren't a ton of things you can do in Andorra, but I still enjoyed my day out.
I met new people, visited a new tiny country and even got a new stamp on my passport!
By Tina from Veganderlust
DO THE GOLDEN TRIANGLE OF ART IN MADRID
Comprised of three of the best art museums in the world, the so-called Golden Triangle of Art is an unmissable part of any Madrid itinerary.
The Museo del Prado, the Museo Nacional Thyssen-Bornemisza and the Museo Nacional Centro de Arte Reina Sofia hide world-renowned masterpieces of Spanish and international art within their walls.
From our experience, art is the best company when travelling alone, while museums feel so cosy, as though we're visiting friends we haven't seen in a while.
In this spirit, the Golden Triangle of Art is one of the best places to visit as a solo traveller in Madrid, for a chance to spend quality time in the bosom of art.
The three museums are situated in the heart of the Spanish capital.
Therefore, it's very easy to get there on foot via the splendid Paseo del Prado or by public transport, depending on which part of the city you're staying.
The Prado Museum houses one of the most celebrated collections of Spanish art.
Among the paintings that stand out are Las Meninas by Diego Velazquez and Black Paintings by Francisco Goya.
Even though the Prado is one of the world's finest museums, the amount of paintings displayed can be overwhelming.
This is why it might be a good idea to visit the museum on a guided tour.
The Thyssen–Bornemisza Museum is an excellent collection of masterpieces from the 13th and 14th centuries to the 19th and 20th centuries, while the Reina Sofia Museum, home to Pablo Picasso's world-famous Guernica, is a tribute to modern art.
If you're spending several days in Madrid, it's best to visit the three museums on different days.
However, if you're on a tight schedule, you can join a tour that combines all three museums in a day.
By Maria, It's All Trip To Me
PLAN A DAY TRIP TO GIRONA
Located less than an hour from Barcelona, the medieval town of Girona is a fascinating city to explore while travelling in Spain alone.
With a direct train from Barcelona taking just 45 minutes, visiting Girona in a day is safe and easy. Once there, a guided walking tour.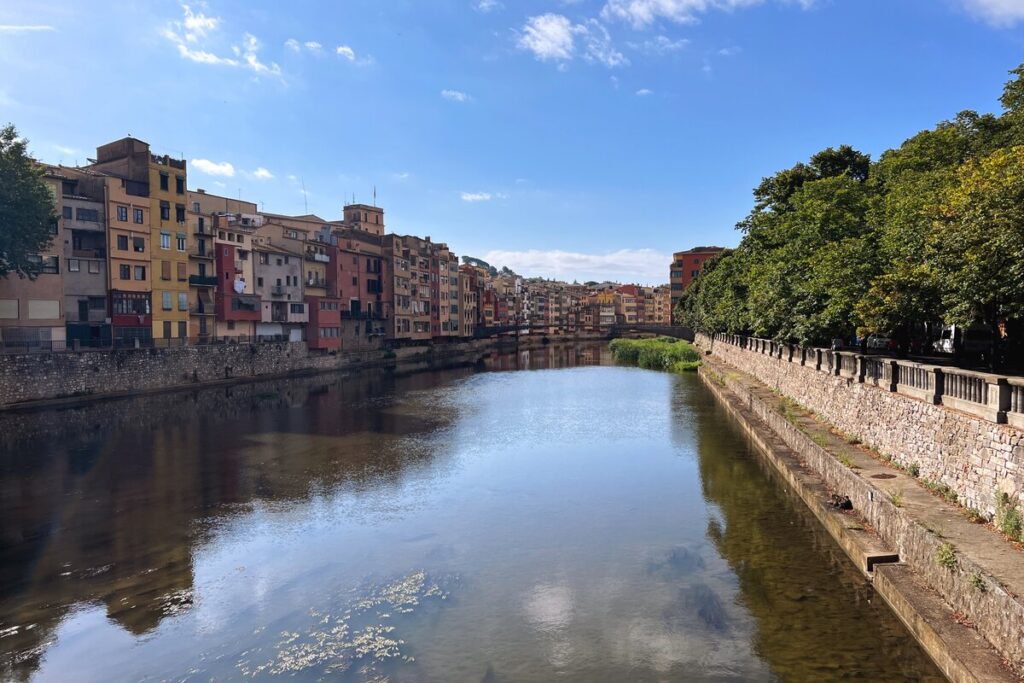 Upon arriving in Girona, I was amazed by its stunning architecture, fascinating history, and picture-perfect views.
Girona can easily be explored on foot and participating in a guided walking tour is my favourite way to explore a new place, especially when travelling alone.
While there is a lot to see in Girona, some highlights include the 3 km of Medieval walls and the ancient towers, which offer some of the most spectacular panoramic views of Girona.
The grand 90-step staircase leading to the entrance of the Girona Cathedral also leaves a lasting impression.
For a glimpse into the rich Jewish history of Spain, you must visit the Girona Jewish Quarter, also known as El Call.
At the heart of El Call, you'll find several museums, including the Jewish History Museum, where you can learn more about the exciting history of the Jews who once lived in Girona.
One of the most iconic sights in Girona is the Onyar River and the picturesque houses that line either side of the river.
The Eiffel Bridge, designed in 1876 by Gustav Eiffel, the same man responsible for the iconic Eiffel Tower in Paris, crosses over the river and is equally impressive.
With its impressive medieval history, one of the best-preserved Jewish quarters in Europe, and the Instagram-worthy Onyar River, Girona is an ideal solo destination for anyone looking for an excellent day trip option from Barcelona.
By Julie, Toronto to Anywhere
PARTICIPATE IN SAN JUAN FESTIVAL
Joining the Las Hogueras de San Juan festival in Alicante will be an excellent idea for your Spain solo travel.
I traveled solo to Alicante and was completely comfortable and safe.
Las Hogueras de San Juan in Alicante is one of the most colorful fiestas I've been to.
I couldn't help but feel swept up in the festivities and was grateful to be a part of such a joyful experience.
This festival is full of activities and spectacles so that you won't feel lonely and will even be able to meet new people.
Las Hogueras de San Juan is the main summer festival in Alicante, celebrated from June 20 to 24.
These days, locals set up phenomenal compositions of papier mache figures in the city streets.
There are also costume parades, concerts, and parties. The whole town turns into a celebration.
The streets of Alicante also turn into massive restaurants.
Neighbourhood organizations set up tables and chairs in the streets and cook food and eat right on the street.
Restaurants also set up extra tables on the streets for the holiday.
There is also a contest for the best papier mache figure and the most beautiful representative of the neighbourhood community in Alicante.
Most figures carry a satirical or socially important message that you must guess.
The dolls are then burned on the night of June 24-25. That night locals and travelers make bonfires on the beach of Alicante.
They gather with friends, have dinner, play and jump over the bonfire.
At midnight, fireworks are set off near the Santa Barbara Castle, one of the most unique places in Alicante, which can be seen from anywhere in the city.
By Alexandra, The Alternative Travel Guide
TASTE THE BEST WINES IN RIAS BAIXAS
Spain is a wine lover's paradise. The wine region of Rias Baixas in Galicia, Spain's northwestern region, is one of the country's best.
This is the home of the crisp, dry Albariño wine and many other excellent varietals.
Several features make the Rias Baixas wine region of Spain one of the best.
First, it is a scenic area with vineyards on rolling hills crisscrossed by rivers and dotted with timeless country towns where taking it easy is an art.
Next is the area's unique regional cuisine loaded with the freshest seafood and local, seasonal ingredients.
All this is accompanied by some of the finest wine in one of Europe's premier wine-growing countries.
My favorite activity in this wine region is winery hopping either solo or with a group.
The local wine producer's association puts out a wine route that wine aficionados can follow in their car with stops at many of the best wineries.
Stops include an explanation of the wine-making process, wine tastings and in many cases, a superb lunch with wine pairings. How cool is that!
Don't want to drink and drive? Book a tour of the area's wineries and leave the driving to others.
There are many lovely accommodations in the area. The Spanish government sponsors hotels in renovated and converted convents, monasteries and churches throughout the region.
These are called "parades" and are wonderful places to stay to absorb the local culture.
By Talek Nantes, Travels With Talek
SKETCH YOUR FAVOURITE PICK
Wandering slowly through art museums with a sketchbook in hand is one of my favorite ways to enjoy any country – but especially a country like Spain.
Mindfully exploring a museum through art or contemplation is a travel activity best enjoyed on solo trips.
You might be amazed at how a trip through a museum takes on a life of its own when there's no travel partner, tour group leader, or audio guide gently prodding you through the halls and galleries.
Spain's world-class art museums – which generally do not allow any photography- are prime candidates for visual recording of a different variety- sketching.
During my recent solo visit to Madrid, I spent hours exploring and sketching at the Prado Art Museum and the Reina Sofía.
Taking the time to sketch- and as a requirement of making art- to pay attention and notice my surroundings- helped me to appreciate the museums in a totally different way than the group trip I'd experienced previously.
If you are into arts, this is a must-experience on your Spain solo travel.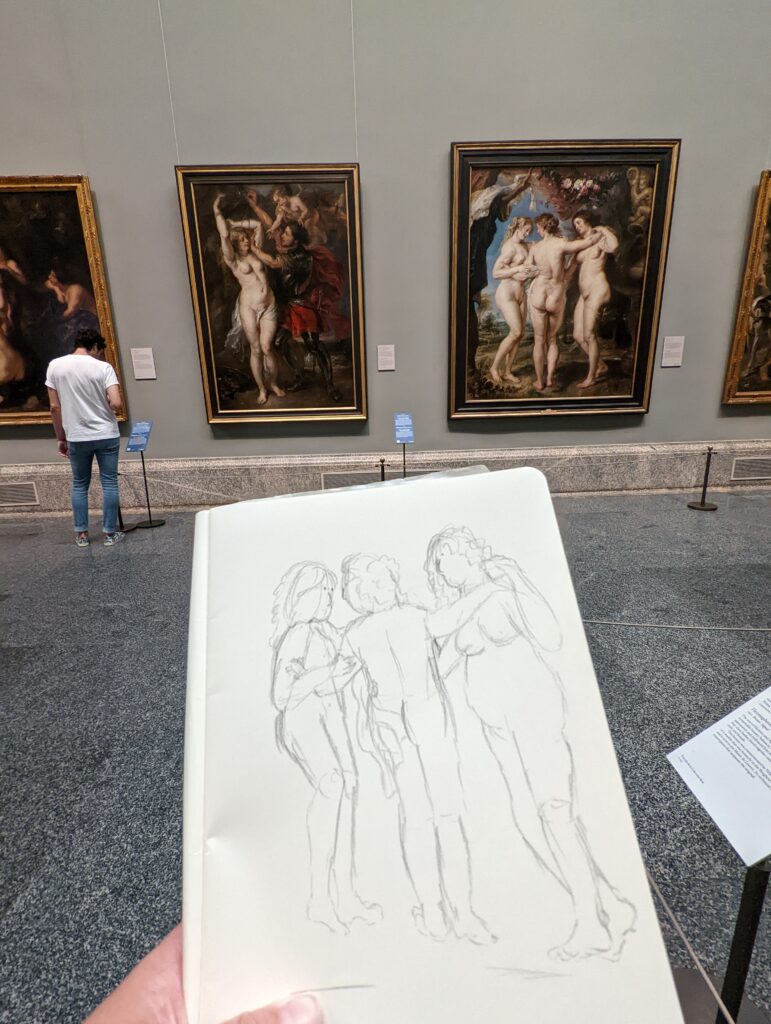 If you visit Madrid's Prado art museum, consider booking a tour to help orient yourself to the vast collection.
Once your tour concludes, revisit your favorite areas with a sketchbook and see where your creativity takes you- it's one of the best places in Europe to visit as an artist.
By Lynli Roman, Wander Big
EXPLORE THE OLD TOWN OF VALENCIA
The Old Town is the most visited part of Valencia, as it offers a delightful blend of history, culture and nightlife.
It is one of the best stops to add to your Spain solo travel itinerary.
Being situated right in the city's heart, getting here is super easy, especially as it's one of the most coveted places to stay in Valencia.
But even if your accommodation is in a different neighbourhood, taking a bus or metro here is super easy and cheap.
As you enter the Old Town, expect to feel transported back in time.
This part of Valencia is replete with cobbled alleys, picturesque squares, and historic palaces that beautifully showcase Valencia's rich past.
One of the first stops I recommend is the bustling Mercado Central, a vibrant market brimming with local delicacies and crafts.
Right across the street, the UNESCO-listed La Lonja is another fantastic attraction.
Wandering through the labyrinthine streets, you'll stumble upon iconic landmarks such as the majestic Valencia Cathedral and the stunning Plaza de la Virgen.
Take a moment to sit at a sidewalk café and enjoy the atmosphere as you watch the locals go about their daily routines.
The Old Town's compact layout makes it an ideal destination for solo exploration.
It ensures you won't feel overwhelmed and provides a sense of security, allowing you to relax and fully embrace the city.
By Laura, Valencia Revealed
SPEND A WEEKEND IN SEVILLE
If you're thinking about an incredible and vibrant city to visit during your Spain solo travel, Seville is an excellent choice for a city break.
The city is stunning and isn't too big like Madrid or Barcelona, making it convenient and easy to stroll around while taking in the many beautiful sights.
Seville is located in the south of Spain, which means that it's pretty hot in the summer but it also comes with mild winters.
It's a lovely place to visit to get some rays of sunshine outside of peak season.
Seville is known to be the birthplace of the Flamenco, a passionate art form that involves dancing, music, and singing.
The city has numerous flamenco venues to witness authentic performances and immerse yourself in this traditional Andalusian art.
Because of that, one of the best things to do while you're in town is to buy a ticket to see a flamenco show or go on a self-guided Flamenco city tour to learn about the history of this ancient dance.
Furthermore, the city has some tremendous Andalusian tapas bars, and a few great vintage shops that are absolutely worth visiting.
For tapas, try Les Rinconcillo, the oldest tapas bar in Seville.
Flamingos Vintage Kilo is a great shop to visit if you're into second-hand clothing.
Seville is very easy to get to by plane. Seville Airport handles both international and domestic flights, making it accessible from various cities around the world and within Spain itself.
By Annelies from Travelers & Dreamers
WALK THE CAMINO DE SANTIAGO TRAIL
One of the most incredible bucket list experiences for Spain solo travel is to walk the historical Camino de Santiago pilgrimage route.
There are numerous walking paths with a majority starting from France, Spain, and Portugal.
No matter where you start, all roads lead to the stunning Cathedral in Santiago de Compostela, the supposed burial site of the Apostle Saint James.
The way includes some of Spain's most historical cities, crosses over mountains, meanders through picturesque forests, and stops in picturesque small villages.
The Camino can be a spiritual, physical, or mental pilgrimage. Due to its reflective and healing nature, it is best to walk it alone.
Even if walking solo, you'll never really be alone. Thousands of pilgrims undertake this grand journey daily.
If planning to walk the Camino de Santiago the most crucial decision is to choose which route to walk.
The most popular is the Camino Frances, a spectacular way that starts in Saint-Jean-Pied-de-Port France, and typically takes a little over a month to complete.
The journey is long, so make sure to always listen to your body, follow the shell trail markers, and carry only what you need.
Then simply watch the magic of the way unfold.
To feel the power of comradery along the way, sleep in pilgrim hostels that are known as albergues.
These simple facilities oftentimes include communal meals and a kitchen where you can meet fellow pilgrims that may just turn into your "Camino family."
One thing is for sure, walking the Camino de Santiago is an internal journey that will change you somehow.
Also, check out this great tour I recommend for exploring the cathedral.
By Megan J. Anderson, Packing Up The Pieces
RELAX IN A ROOFTOP POOL
During your Spain solo travel, The Emperador Hotel Madrid's rooftop pool emerges as the ultimate haven for seeking a perfect blend of relaxation and enchantment.
Situated in the heart of Madrid, this public rooftop pool at The Emperador Hotel offers an unparalleled experience that promises to elevate your journey to new heights.
Getting to The Emperador Hotel is convenient; you can just take the metro or public bus to "Gran Via" from where the rooftop is just a few steps away.
Upon arrival, the warm ambience and friendly staff will instantly make you feel at ease, creating a welcoming atmosphere for a solo adventure.
The panoramic views of Madrid's iconic landmarks and bustling streets will leave you speechless.
The Emperador Hotel Madrid's rooftop pool is a retreat, surrounded by comfortable loungers and day beds that create a tranquil oasis amidst the vibrant city.
Whether you take a refreshing dip in the pool to beat the Spanish heat or simply bask under the sun, this rooftop sanctuary offers a peaceful escape from the hustle and bustle of the city below.
Travelling alone and finding comfort at The Emperador's rooftop pool was an experience that allowed me to connect with the city's beauty while enjoying moments of serenity amidst the vibrant energy of Madrid.
When already in the city, I recommend exploring some of Madrid's iconic sights with a guided tour, such as the "Madrid Highlights & Hidden Gems Walking Tour" or the "Flamenco Show with a Drink" tour.
By Victoria, Guide Your Travel
CLIMB THE HIGHEST PEAK IN SPAIN
Ready to touch the roof of Spain? If you are looking for an ultimate adventure to add to your Spain solo travel itinerary is Mount Teide.
Climbing Mount Teide, the highest peak in Spanish territory is an incredible adventure that makes many people book a flight to the canary island of Tenerife.
One of my favourite moments during my overnight climb to Mount Teide was during the second part of the climb.
After spending the night at the "Refugio de Altavista", I left at 5 am to reach the top before sunrise.
During that part of the climb, while it was still night, the sky was so beautiful and clear: a lot of stars were visible, as well as the milky way.
Just for that moment, it was worth all the effort.
You can reach the top of Teide's volcano at 3715 meters by foot in a one or two-day trekking route with an overnight stay at the refuge.
Ensure that 2 days with an overnight is viable as the refuge is temporarily closed.
Or you can go by Cable Car (buy your entire day trip to Mount Teide with Cable Car tickets included).
If you choose this second option, beware that the Cable Car drops you at 3555 meters in La Rambleta station.
You can undertake the last stretch walking up to the peak (filling in your details in the mandatory permit that gives you access to the summit previously).
Also, the entire area that surrounds Teide, the Teide National Park (the largest and oldest of the Canary Islands' national parks), is a beautiful Unesco World Heritage Site with plenty to explore.
You can stop in some of the 23 viewpoints to appreciate the breathtaking views or make some of the 41 hiking trails within the national park to enjoy nature.
And after some trekking, what's better than a swim in one of the pristine water beaches in the south of Tenerife where it's never cold?
Actually, the best time for this adventure would be between April and October.
Because even though Tenerife has mild weather all year round and the south of the island is sunny and clear throughout all year, in the north the weather is more unstable.
During winter it can snow on the top of Mount Teide, leading to the authorities having to close the roads to access there sometimes.
In addition, bear in mind that Mount Teide is perfect for some stargazing.
So you can so also add another adventure by enjoying the night skies with a trip to Teide's Observatory and a Teide's Sunset and Stargazing Tour.
By Inês, Random Trip
VISIT THE PILAR IN ZARAGOZA
Spain boasts a wealth of beautiful places and sights, but Zaragoza holds a dear place in my heart.
Every year I visit this classic Spanish city between Barcelona and Madrid, I must visit the impressive Pilar.
The imposing Catedral-basílica de Nuestra Señora del Pilar de Zaragoza, or simply Pilar for short, is the pride and joy of Zaragoza's locals – and not just because it is considered the most significant Baroque church in all of Spain.
Since the 12th century, this vast church, dedicated to the Virgin Mary, has adorned the centre of Zaragoza.
And when you visit the church, you can fully immerse yourself in the charm of this building, and you will forget everything around you.
Therefore, take your time to see the church's interior as well.
In addition to some contemplative works of art, you will also find the church's namesake, the pillar with a statue of the Virgin Mary on it.
To learn more about this vital sight, why not join a guided city tour?
This tour will probably also take you to the back side of the Pilar.
Because from the stone bridge, you have a fantastic view of the Pilar, allowing you to admire the enormous church.
Even though the Pilar is probably the most important sight of Zaragoza, there are also many other great things to see in Zaragoza that you should not miss.
By Vicki Franz, Vicki Viaja
HIKE THE CAMINITO DEL REY
The Caminito del Rey was once one of the world's most dangerous hikes.
But now it is a popular day trip from Malaga and a must-do for anyone who wants to walk in the stunning Andalucian scenery.
I recommend adding this to your Spain solo travel bucket list as it is not just another trail.
On this 7.7-kilometre hike, you'll walk along boardwalks pinned to cliff walls over 100 metres high and on shaded paths that meander along the gorge's floor.
If you have a fear of heights then you should consider whether this is a suitable activity for you as the boardwalks are narrow and extremely high.
However, there's only one part that I mainly found scary and that was the hanging bridge at the very end.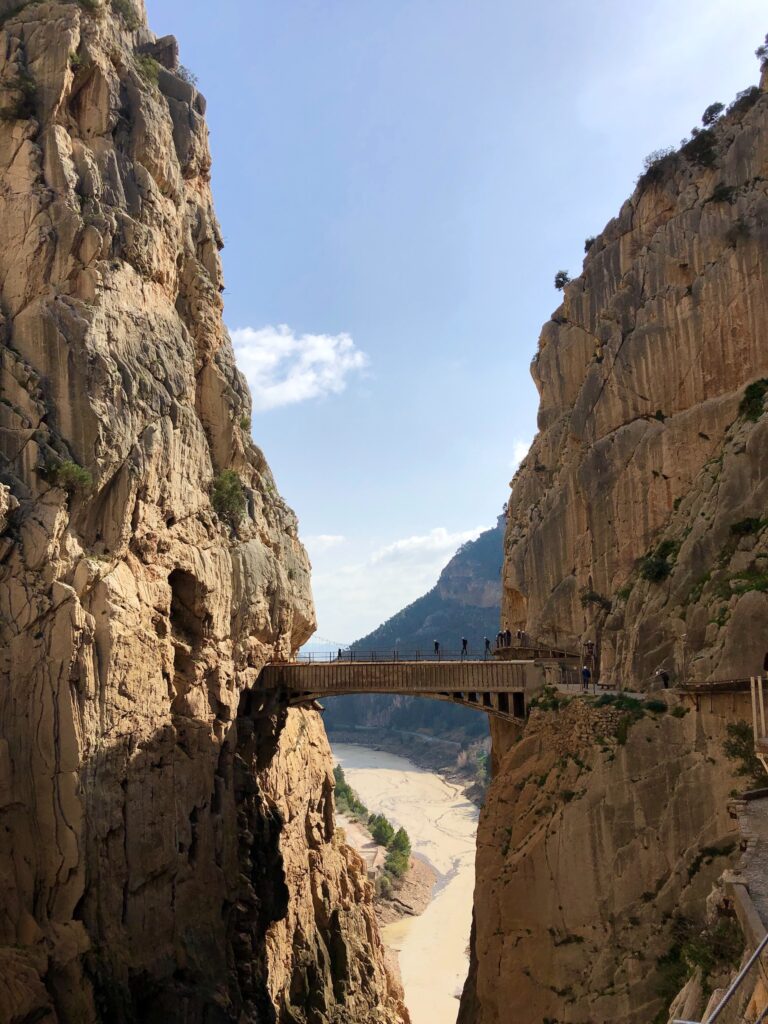 Although you can quickly drive to the start of the Caminito del Rey from Malaga, it's easy (and inexpensive) to take the train with the journey taking around 45 minutes each way and costing less than €10 return.
You must buy your ticket for the Caminito del Rey before you go but if they're sold out on the official website you can get here online.
Tickets are €10 or €18 per person, depending on whether or not you want to walk with a guide.
Personally, I recommend taking a guided tour so that you can learn about the history of the walk.
Walking the Caminito del Rey is an ideal activity for solo travellers.
It's a linear route from the start in Ardales to the finish in El Chorro so it's impossible to get lost and, for safety reasons, visitor numbers are tightly controlled and monitored with only 1,100 visitors permitted per day in allocated time slots.
In short, walking the Caminito del Rey is one of the most exciting activities you can do in Spain and should be on every traveller's bucket list.
By Alison, Alison on Foot
ADMIRE THE STUNNING VIEWS AT ROQUE DE TABORNO
The best hike in Tenerife in the Canary Islands is the stunning Roque de Taborno, one of the best destinations to add to your Spain solo travel bucket list.
If you are an adventurous hiker then this trek is fantastic to do solo.
Sensational views of carved green valleys and the wild coast highlight the Roque de Taborno hike in the Anaga Mountains.
The 4 km loop hike circles a towering volcanic pillar that can be seen for miles.
The trail starts in the charming rural hamlet of Taborno on the northeast coast of Tenerife.
It follows a well-marked route around the roque with sea views crashing against steep mountains.
The trail is exposed in places so don't hike on windy or rainy days.
The easiest way to get to the Roque de Taborno hike is by car. Or you can join this tour, which also includes food testing.
It's a wild drive along serpentine roads through the Anaga Rural Park mountains, but the scenery is incredible.
Be sure to pull over at the overlooks for views of tiny villages clinging to the hills and emerald valleys.
The exhilarating trek with the otherworldly views was, by far, the most beautiful hike I did in Tenerife. To do it solo was a consummate outdoor adventure.
By Karen, Outdoor Adventure Sampler
HIKE IN THE VOLCANIC REGION OF GARROTXA
The Volcanic Region of Garrotxa is located in Catalonia and is part of the Costa Brava province.
It is one of the most beautiful destinations worth adding to your Spain solo travel bucket list.
A fantastic place to visit year-round, it is the perfect long-distance hiking destination in the fall, when temperatures are milder and you can hit the trails.
The region is scattered with many well-marked and easy-to-follow hiking trails that connect extinct volcano craters in the Garrotxa Volcanic Park, landmarks, villages and smaller towns, so you can go from place to place stopping in lovely local communities along the way.
Hiking alone here is mostly doable as the trails are safe and you get to meet lots of other hikers along the way.
The only trail for which you are better off getting a guide is the Cami dels Gantxos, a circular route that starts a bit outside Joanetes: while the path is well marked, this is a challenging hike with some almost vertical ascents that require climbing holding on to hooks!
One thing you should not miss is a scenic hot-air balloon flight.
This experience is run by Vol de Coloms and starts right before sunrise.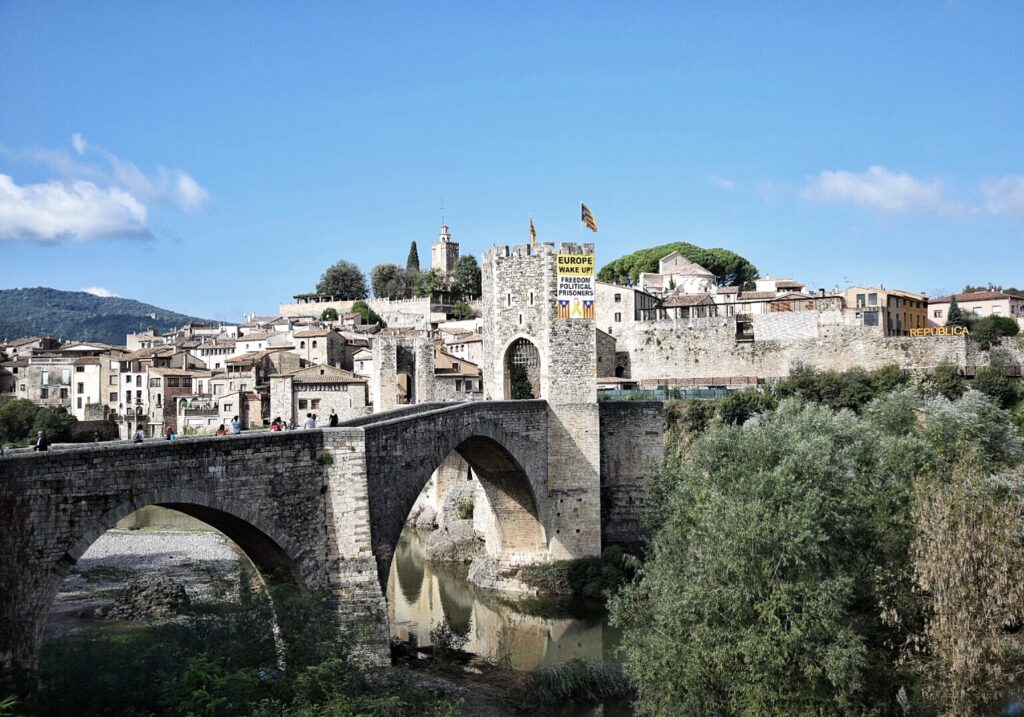 You will get a glass of cava during the flight, and once you descend a scrumptious Garrotxa-style breakfast will await.
My tip for anyone looking to hike in the Garrotxa Region is to pack smartly and lightly.
You will be carrying your backpack on most hikes (though some hikes are circular and you will be spending two or three nights in the same place) and some are actually quite strenuous.
I also recommend taking the time to appreciate the lovely villages and the delicious local food and wine – local produce is fresh and seasonal here!
The best starting point to hike in the Garrotxa region is Olot, which you can easily reach by bus from Girona, where you will find an international airport served mainly by budget airlines.
From Olot, you can hike to many other nearby smaller towns such as the scenic Besalu.
By Claudia Tavani, My Adventures Across The World
VISIT RONDA
If you find yourself in southern Spain, visit the breathtaking town of Ronda.
Located in the Malaga Province, Ronda is situated on a cliff of the El Tajo Gorge.
The town's location makes it feel like it's perched on the very edge of the world, and a dreamy destination to add to Spain solo travel bucket list.
As you might imagine, the sunsets and sunrises in this small town are dreamy.
The town is friendly and a perfect place to explore solo or easily find others to adventure with.
Ronda is well known for its bullfighting ring, iconic bridge over the gorge, great music, and well-preserved Arab archaeological sites.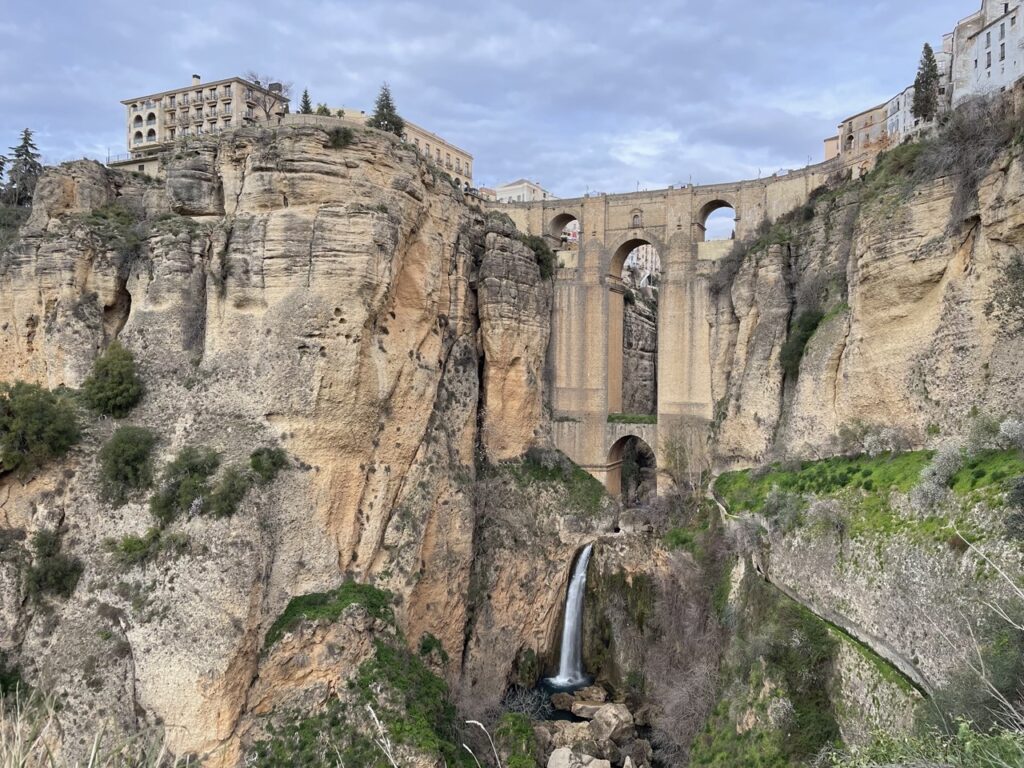 One of my favourite activities in Ronda is taking the self-paced audio walking tour of Ronda.
The information is the perfect detail and really helps the town come alive.
Plus, you can take your time with the tour. I love to stop in places as I go so the 2-hour tour can take me the whole day.
When you visit, don't skip the Arab Baths Archaeological Site.
These baths are exceptionally well preserved and offer great insights into the ingenuity found in the Moorish rule of Ronda.
In the evening, be sure to roam the streets. Live music will pop up in restaurants, creating a perfect place to relax and have fun!
Getting to Ronda is relatively easy.
Some buses and trains arrive daily from the main Southern Spain cities (Sevilla, Malaga, Granada).
The drive there is also a beautiful ride through the Spanish countryside.
If you don't have time to visit Ronda for a day or two, check out one of the day trips from Sevilla.
You can join a bus tour or a small group tour to explore the Pueblos Blancos (White Villages) and Ronda.
By Kelsea, Out of Office Mindset
EXPLORE MALLORCA
Another one of the best things to do in Spain alone is to visit the island of Mallorca.
The largest of the Balearic islands is a perfect destination for solo travelers seeking relaxation, adventure, and culture.
One of the best things about Mallorca is its beautiful beaches.
There are more than 200 beaches all around the island, each with its own special charm.
If you like meeting new people, you can visit lively beaches like Playa de Palma.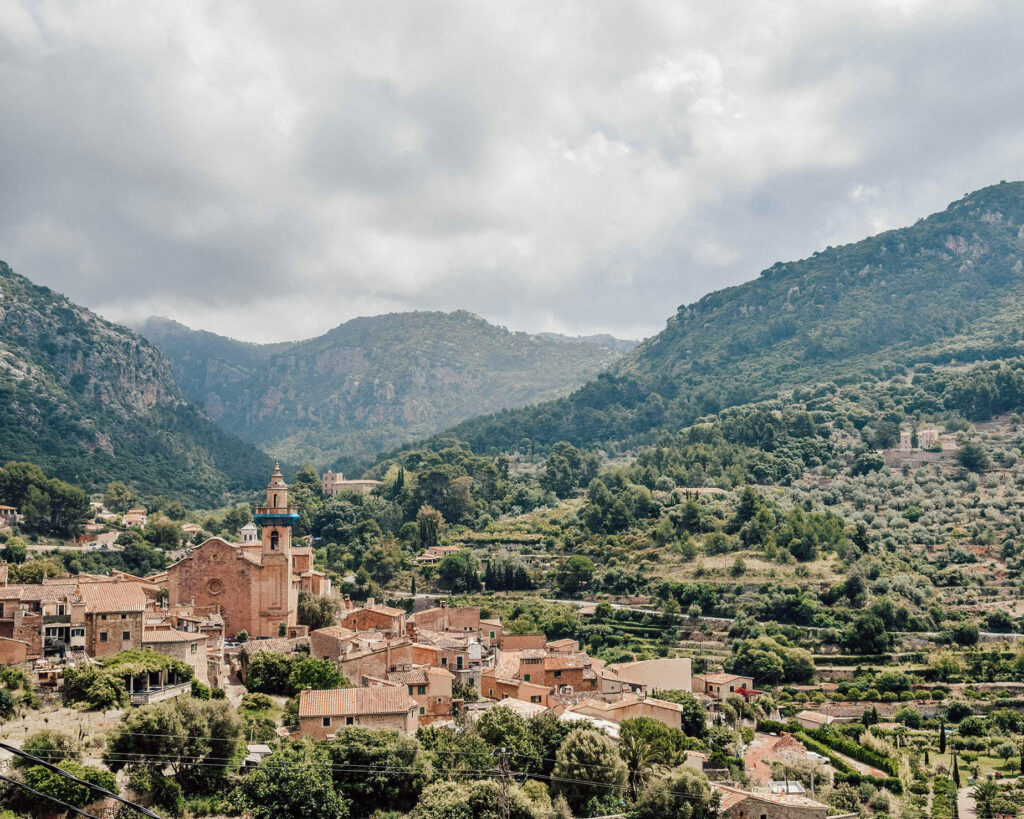 But if you prefer some peace and quiet, you can find secluded coves like Cala Varques where you can relax and enjoy the beauty of nature.
The capital city, Palma, is another highlight for solo travelers.
You can explore historic places like Palma Cathedral, one of the most famous landmarks in Spain, and the Royal Palace of La Almudaina.
Palma's old town is a charming place to walk around, with many cool shops, cafes, and restaurants.
And when the sun sets, the city comes alive with a vibrant nightlife where you can socialize and make new friends.
Last but not least, head to Valldemossa, a picturesque village surrounded by mountains. 
The village has pretty streets filled with colourful flowers, and you can visit the famous Carthusian Monastery where famous composers like Chopin once stayed.
It's a great spot to relax and enjoy the natural beauty.
By Alina, World of Lina
VISIT ALHAMBRA
Discover the magical Alhambra in Spain, a fantastic place for your Spain solo travel bucket list.
The Alhambra is definitely one of those places that transport you to a magical bygone era.
It is a great attraction to visit and spend hours here especially if you like history and architecture.
Getting there is simple: take a fast train from major cities like Madrid, Barcelona, or Seville, or fly to Granada Airport and take a taxi to Plaza Nueva, the city's centre.
Prepare to be amazed by Alhambra's stunning beauty once you arrive.
It is an old fortress that has been transformed into a beautiful palace complex with impressive architecture and lovely gardens.
You'll feel as if you've stepped back in time to the Nasrid dynasty.
As a solo traveller, you'll appreciate Alhambra's peaceful and calm atmosphere.
You can take your time exploring the Alcazaba Fortress, Nasrid Palaces, and Generalife Gardens on your own or take a guided tour.
Make sure to book tickets in advance as they tend to go fast!
It's an excellent opportunity to connect with history while enjoying peace and quiet.
Wear comfortable shoes and bring water because you'll be walking a lot. A scarf will also help!
One of the must-do spots in Granada, you can visit Alhambra at night or during a summer afternoon as it can get quite hot and the halls of Alhambra provide respite from the heat.
By Lavina Dsouza, Continent Hop
CHECK THE HISTORIC ALCAZAR
There's nowhere in Seville that captures the city's story better than the Alcazar, one of the fascinating places to visit during a solo trip to Spain.
The enormous royal palace complex presents a fascinating blend of architectural styles spanning some of the most important historical periods of southern Spain.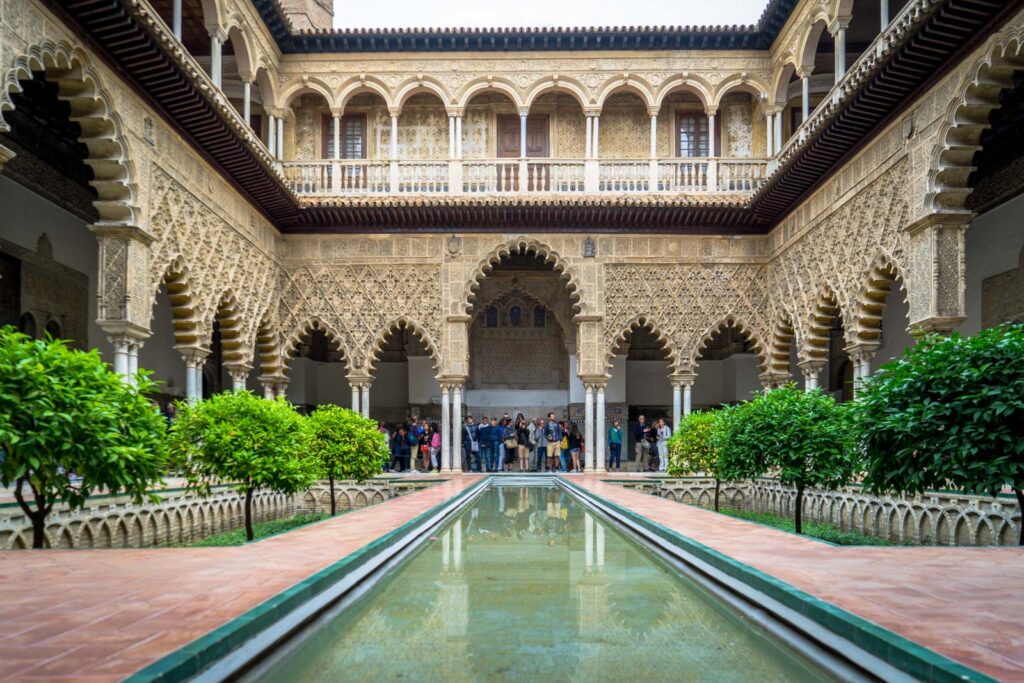 Although it was constructed for a Christian kingdom, many artists and architects were Muslims who stayed after the defeat of the Moors, and you can see the Islamic elements in the decorations.
The layout, with features like courtyards and pools, suits the hot and sunny climate of Andalusia, while the layout allows breezes to flow through.
For a solo traveller, it's easy to visit the Seville Alcazar, with enough information boards to learn about the site.
Walk through it independently, or join tours to hear the stories of royal life from a guide, such as this one focused just on the Alcazar, or this one that also includes some nearby sights.
The expansive gardens, full of palms, fountains, and orchards of fruit trees, provide a relaxing area to spend some time exploring the buildings of the complex.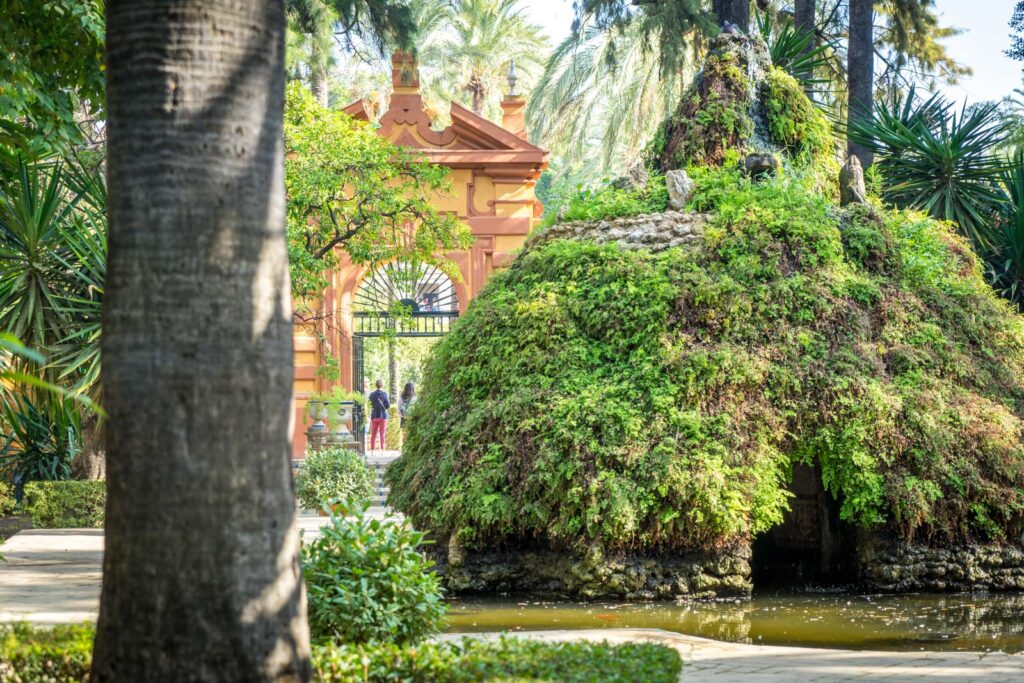 The Alcazar is in the same precinct as the Seville Cathedral, where you'll find the imposing tomb of Christopher Columbus, and the General Archive of the Indies, which contains the documents from the colonies Spain established around the world.
The three landmarks have collectively been listed as a World Heritage Site and I think they are an excellent way to understand what Spain was like during its colonial years and get a sense of how this period was viewed here at the time (which is obviously very different to how we look at it these days).
By Michael Turtle, Time Travel Turtle
HEAD TO AVILA
The Spanish city of Avila is a great destination to add to your Spain solo travel bucket list.
This historic city is famous for its medieval city walls, Romanesque churches, medieval monasteries and delicious local cuisine.
Avila received UNESCO World Heritage status in 1985.
There are loads of amazing things to do in Avila to make you fall in love with this pretty city.
You can visit Avila on a day trip from Madrid, the capital city of Spain. It takes only an hour to drive here from Madrid.
You can easily use public transportation to get here as well. Avila is a very compact and walkable city.
If you're travelling solo for the first time, this city is the perfect place to be.
The medieval city walls of Avila were built during the 11th century to protect the residents from the Moor attacks. It serves as one of the main tourist highlights of Avila.
The walls are the most complete fortifications in not just in Spain but also in the entire Europe.
You will get a breathtaking panoramic view of the Avila Cathedral, the Plaza del Mercado Grande and the surrounding Spanish countryside.
Avila is the birthplace of one of the most respected Catholic saints, Saint Teresa.
Convento de Santa Teresa de Jesús stands on the site of her birthplace and is a must-see attraction in Avila.
You will visit the beautifully ornate chapel where the saint was born.
Also, for a magnificent view over the city, don't miss the Mirador de los Cuatro Postes.
By Moumita & Sankha, Chasing the Long Road
TAKE THE ANTIQUE TRAIN FROM PALMA DE MALLORCA TO SOLLER
One of the most exciting journeys to add to your Spain solo travel itinerary is an antique train ride.
If you're on holiday in Mallorca or a city break in Palma, take the antique train from Palma to Soller.
Officially called the Tren de Soller, this is a 100-year-old wooden train that runs for 27 km between the capital, Palma, and the town of Soller on Mallorca's north coast.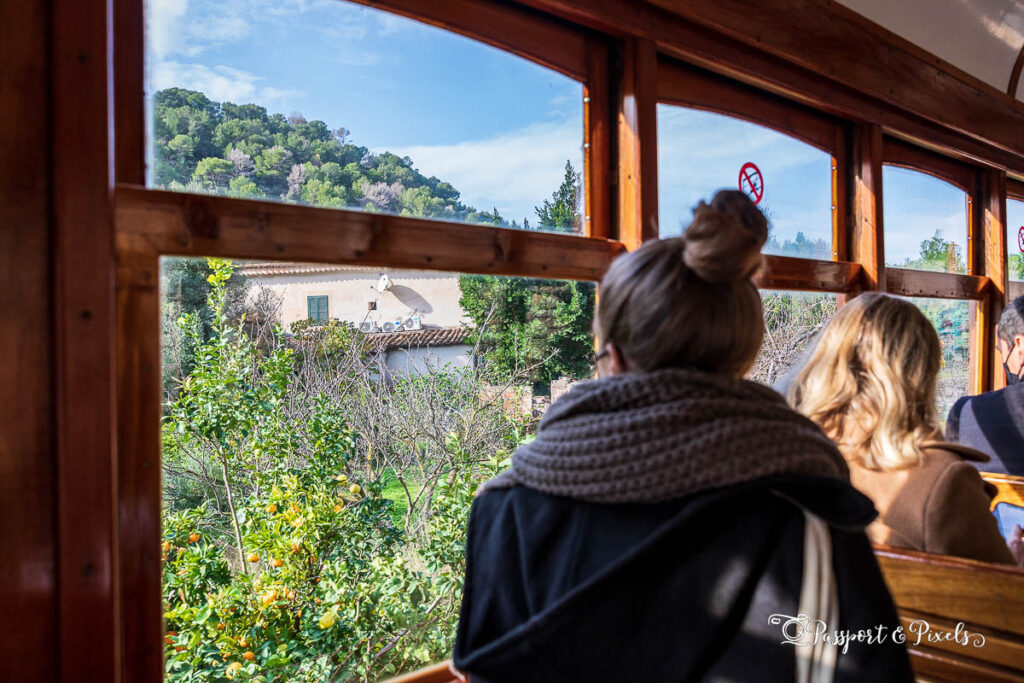 Along the way, it runs through gorgeous landscapes of orange orchards and olive groves and then passes through 13 tunnels as it makes its way up into the dramatic scenery of the Tramontana Mountains, and then down towards the coast.
Stepping onto the train is like stepping back in time.
The carriages are made of polished wood and gleaming brass, with leather bench seating and traditional wooden sash windows (which you can open for better photos).
As you relax and enjoy the view, you can imagine what it must have been like for the people who took this exact same journey over 100 years ago.
The route ends in Soller, a pretty historic town with a beautiful church and several cobbled pedestrian streets lined with shops and cafes.
From here, you can hop on another antique transport – the Soller tram – which will take you to Port de Soller, a pretty beach and harbour town with beautiful sea views.
As a solo traveller I thought it was a great day trip from Palma because it's easy to do and feels very safe.
I also found it an excellent way to meet people – almost everyone on the train is a tourist so it's really easy to chat to your fellow travellers.
Here are the recommended tours to enjoy this journey.
Mallorca: Island Trip by Train, Tramway, and Boat
Mallorca: Tramuntana Tour with Historic Railway Ride
By Bella, Passport & Pixels
PLAN A WEEKEND IN MALAGA
Malaga is a great place to explore on your solo trip to Spain.
The city has a great lively atmosphere, and it is very easy to navigate by yourself. It is also a very safe city for solo female travellers.
Malaga is the home of Picasso, where he was born and spent the first years of his life.
There are two museums in Malaga dedicated to the famous artist, where you can see one of the most extensive collections of his works, as well as the house where he was born in.
Malaga has a Moorish heritage as well, so don't miss visiting the Alcazaba and Gibralfaro Castle, from where you can enjoy a fantastic panoramic view over the city, whilst learning about its history.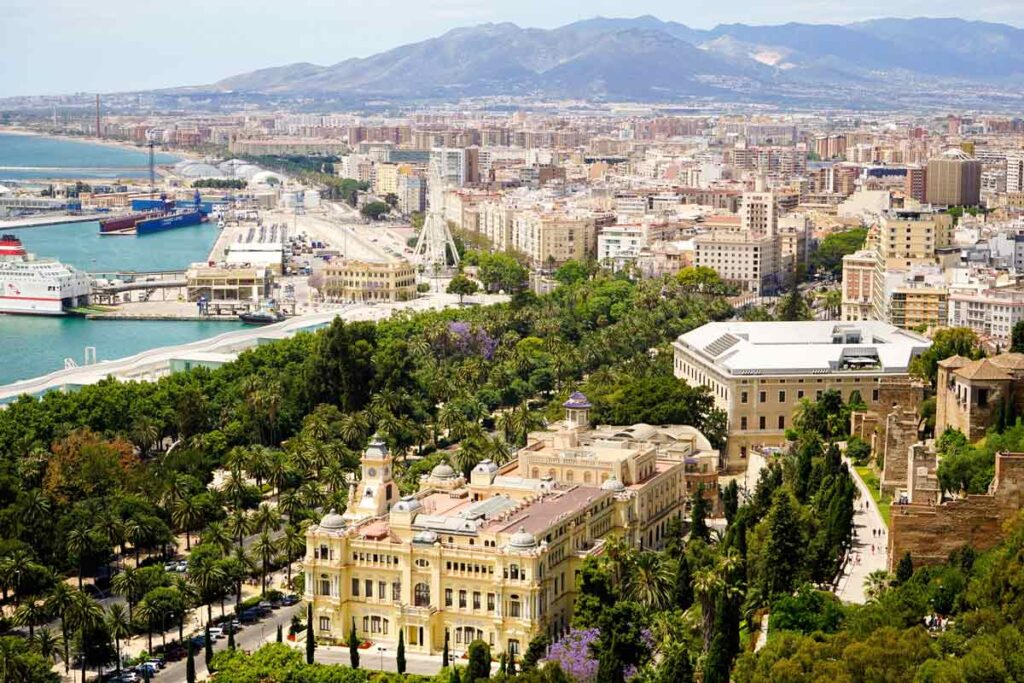 It's great to go on a walking tour to explore the best of the city.
There are plenty to choose from, and they are great for solo travellers because they allow you to meet other people travelling to Malaga alone.
Malaga also has excellent sandy beaches, which have all the facilities during the high season, including lifeguards, showers and toilets, water sports centres, and plenty of typical beach restaurants.
These are called chiringuitos and have no frills, but serve the most delicious grilled fish.
Don't miss trying out the espetos – the typical fish dish in Malaga.
As someone who lived in Malaga for two years, I can't recommend the city enough for a solo traveller.
It's one of those cities where something is always going on, and, as a tourist, you can always join a fiesta alongside the locals.
By Joanna, The World In My Pocket
SPEND TIME IN THIS NATURE PRESERVE
Albufera Natural Park is a beautiful nature reserve just south of Valencia city, worth adding to your Spain solo travel itinerary for a relaxing time amidst nature.
A unique and biodiverse ecosystem in a protected environment, the Albufera is a patchwork of traditionally worked rice fields surrounding a scenic lagoon, separated from the Mediterranean Sea by an (almost) untouched sand dune and pine forest coastal strip.
It's the perfect destination for exploring alone.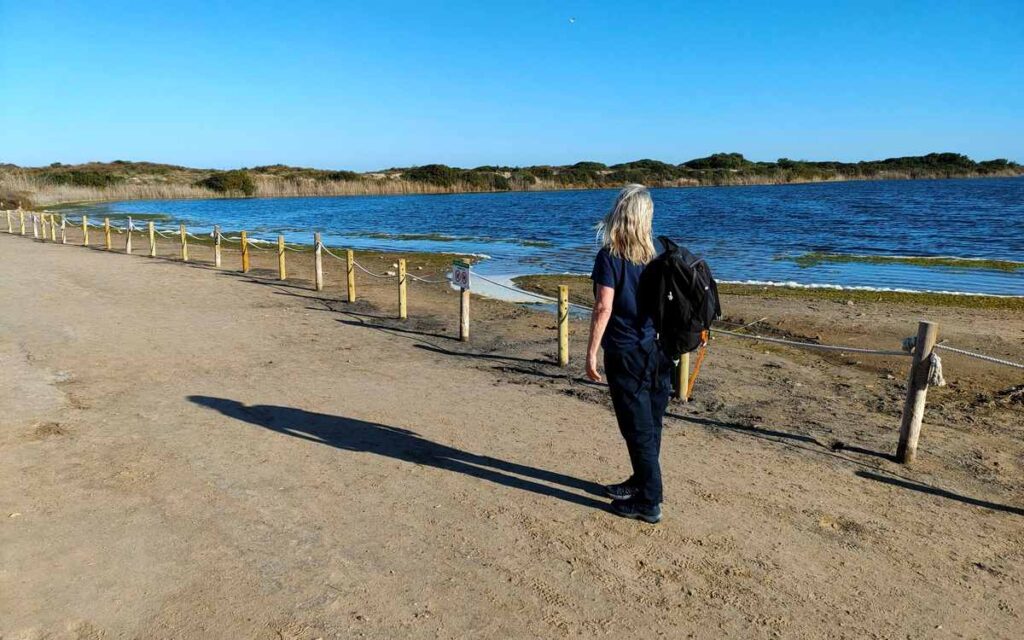 Imagine strolling along endless golden beaches, walking the trails and sandy paths past rice fields to the vast lagoon. Cycling is easy too as the area is flat.
The wetlands are totally picturesque and more so at sunset when flocks of migratory birds fly homewards across the lake, backlit by the sky's orange glow.
El Palmar is a little village surrounded by canals and flooded rice fields. Seemingly in the middle of the lake, the turn-off is on the main Albufera coast road.
It's a popular place with lots of restaurants which can be busy, particularly at weekends.
While you're here, try local cuisine such as a starter of fresh eels and spicy potato followed by a traditional Valencian Paella.
Most visitors just come for the day, driving over or getting the bus down from Valencia but actually staying in the Albufera is best – apart from the posh Parador Hotel fronting El Saler beach, there's a tiny hotel where I stayed in the small seaside town of El Perrelló (single room available!) as well as holiday apartments.
Peaceful out of season, the resort is lively in summer with a great vibe and many water sports activities.
On a personal note, L'Albufera is such a magical place, I just can't decide whether my favourite moment is watching the sunrise over the ocean or watching the sun setting over the lagoon.
From Valencia, organised tours include an open-top jeep safari to the Albufera.
This makes a fun excursion in summer when you can soak up the sun on the sand dune beaches and cool off with a swim in the sea.
After a typical tapas lunch, enjoy a trip on a traditional wooden boat across the mirror-like lagoon to end a particular day.
By Kali, KaliTravel
CHECK OUT BEAUTIFUL GRANADA
With winding, narrow streets leading up steep hillsides, one crowned by the domineering Alhambra, Granada is one of Spain's must-visit cities.
There's so much to do here – enjoy a flamenco performance, uncover Moorish history at the Alhambra or walk around the trendy Sacromonte area.
The city centre's reasonably small, with plenty of accommodation around the cathedral area, and welcoming bars serving ice-cold drinks – needed in the Alcazar heat!
With every drink you purchase in Granada, you'll get a free tapas dish – even alone!
One of the best reasons to choose Granada on your Spain solo travel is the number of tours you can join here.
A tour of the Alhambra will not only demonstrate a full background into the building's (and the city's!) history, but it'll also give you a chance to get to know some other travellers.
Or, you could join a free walking tour, a walking food tour or attend a Flamenco show.
Granada's also incredibly easy to get to. There's an international airport, or it has good rail and bus connections to other cities.
This is one of my favourite Spanish cities, but I highly recommend visiting Granada in March, as it's a lot cooler than the sweltering summer months, but you'll likely still get some sunshine.
And if you're keen on snowsports, you can even squeeze in a solo ski trip in the nearby Sierra Nevada – the ski season runs until the end of March/ early April.
By Claire, Europe in Winter
MORE EXPERIENCES FOR YOUR SPAIN SOLO TRAVEL
VISIT THE HISTORIC PAINTED CAVES
Among the most intriguing UNESCO World Heritage sites in Spain are the 16 caves spread across the northern Spanish provinces of the Basque Country, Cantabria and Asturias that contain prehistoric paintings.
Your visit to the Paleolithic-painted caves of Spain should perhaps start near the town of Santillana del Mar, about 30 km west of the Cantabrian capital of Santander.
There you can visit the National Museum and Research Center of Altamira, where you can get a valuable introduction to the art and archaeology of the caves.
The museum has meticulously recreated the Altamira cave ceilings, paintings, and other palaeolithic artefacts found in the caves, a unique attraction to visit during Spain solo travel.
The museum explains the lives of the cave painters and the efforts to preserve their art.
The museum also does a great job of explaining the history of the caves and the people who lived in this part of Spain 30,000 years ago.
Several of the painted caves of Spain allow visitors on a very limited basis.
The caves open to the public are restricted to small group visits and are always accompanied by guides.
Because the caves are managed by various national and local authorities, regulations and access, vary, and you will need to research to determine when and how you can visit.
For example, the Covalanas cave near Ramales de la Victoria in Cantabria only allows three people per visit and only does 5-7 daily tours.
Check this guided tour that covers these caves from Santander.
By Tom, Travel Past 50
PLAN A DAY TRIP TO MARBELLA
If you prefer to visit smaller cities, Marbella is a perfect destination for your Spain solo travel bucket list.
Located a 45-minute from Malaga Airport, it is easy to find flights from many European destinations.
One of the best activities to do in Marbella is to explore the historic centre. It is the second prettiest old town in Costa del Sol.
Despite being small, there are exciting things to do and see, making it my favourite place to explore in Marbella.
Marbella Castle is the most emblematic building. Although it is called a castle, you can only see part of its walls.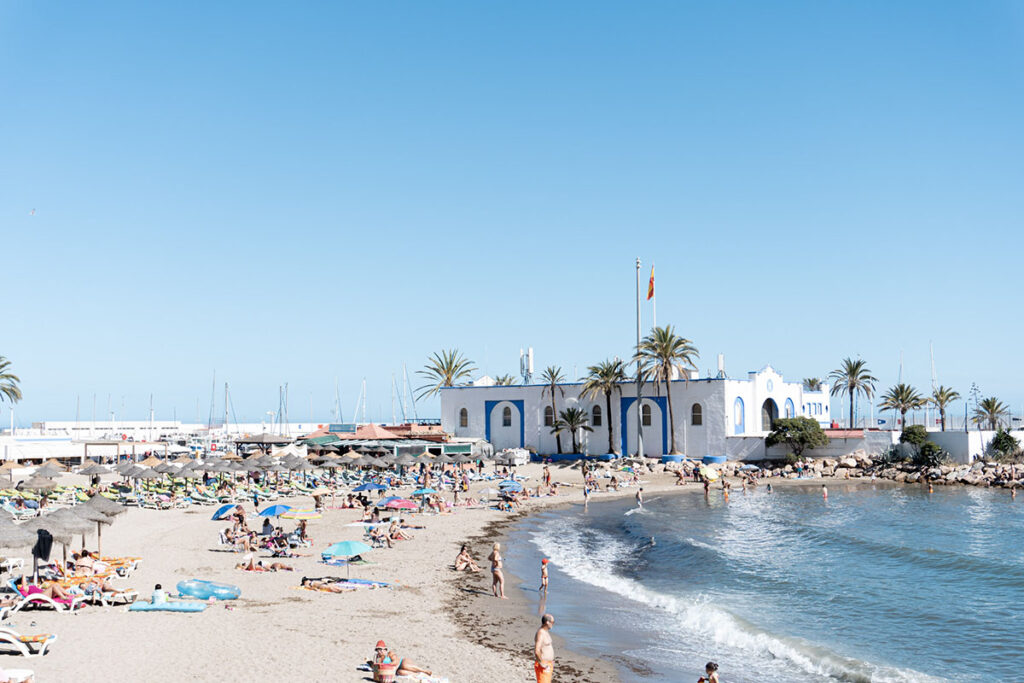 After seeing Marbella Castle, you can visit La Encarnación Church and the Spanish Engravings Museum, which has three floors with interesting Spanish graphic art and paintings from well-known artists, such as Picasso and Dalí.
There is no visit to Marbella's old town without taking photos of its picturesque white-painted streets decorated with flower pots. Carmen Street is the most photographed.
Although Plaza de los Naranjos (Orange Square) isn't the best place to eat in Marbella, it is the perfect spot for enjoying a refreshing juice from Churreria Ramon while soaking up this square's lively atmosphere and beauty.
Not far from the historic centre, there are also many great things to do, such as visiting Alameda Park, going on a sailboat cruise or walking Marbella's beach promenade at sunset.
By Cristina, My Little World of Travelling
VISIT DALT VILA
Exploring Ibiza Town, including Dalt Vila, is an incredible activity that you can do during your Spain solo travel.
I loved Dalt Vila because its beautiful cobblestone streets, viewpoints, and historic atmosphere will make you feel like you step back in time.
Ibiza Town is the capital of the island of Ibiza, and it is a place where you can see historic buildings, get amazing views of the city, and have food at local restaurants.
The town is split into two parts: Dalt Vila, the oldest part of the city, and the modern part.
Going for a walk through Dalt Vila is a great way to unwind while enjoying the beauty of cobblestone streets and quaint shops.
It is also possible to go to the top of the Castle of Ibiza and enjoy a view of the harbour of Ibiza Town when you are in Dalt Vila.
Or go to Mercat Vell to shop for fruit at a charming outdoor market.
Besides that, there are museums in Dalt Vila and Ibiza Town, such as the archaeological museum of Dalt Vila.
The city is very diverse and has a lot to offer and when you explore Ibiza Town on your own, you can be flexible in how you spend your time.
Getting to Ibiza Town from the airport of Ibiza takes about 20 minutes by bus and 10 minutes by car or taxi.
By Daniel, Northern Carolina Travel Guides
EXPLORE BEAUTIFUL LOS PICOS DE EUROPA PARK
Los Picos de Europa is a beautiful national park in the Asturias Province in Northern Spain, making it a bucket list destination to add to Spain solo travel.
The park is known for its spectacular mountainous scenery, charming villages, and various outdoor activities.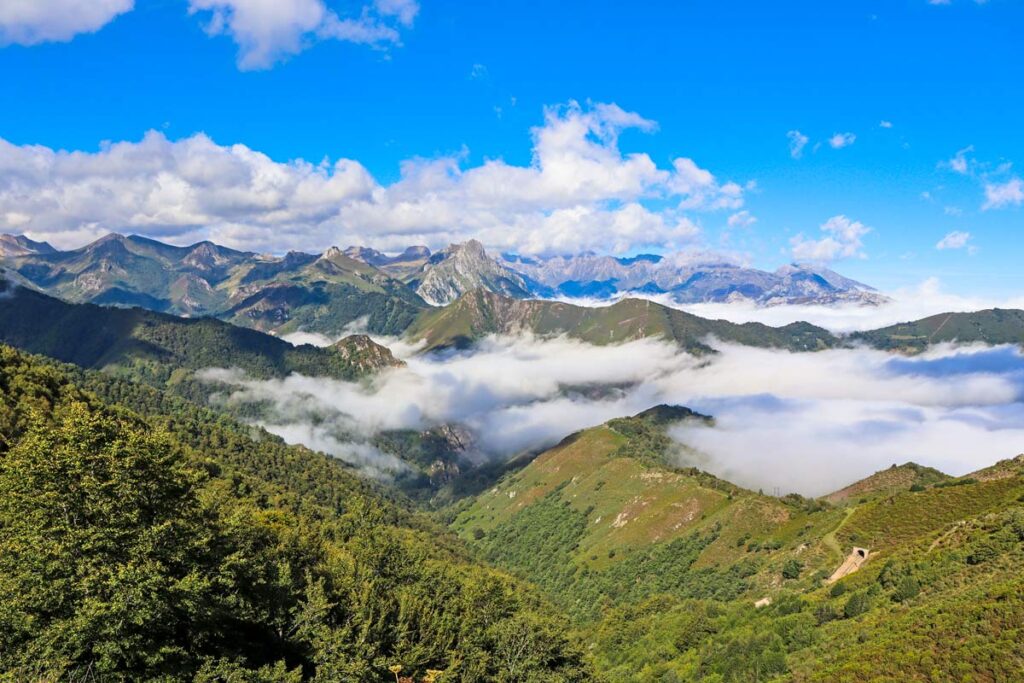 The outdoor activities in Los Picos de Europa include hiking, rock climbing, mountain biking, and fishing. Hiking is by far the most popular activity in the park.
The wide range of trails across the park includes easy day hikes and challenging multi-day routes such as the Camino Primitivo or the route of San Salvador.
The hiking trails are marked and usually start and end in villages or campsites. During the summer months, there are plenty of hikers on these trails.
It has good infrastructure but at the same time, it's still wild and untouched.
A perfect place for a solo hiker who enjoys nature and the outdoors.
Summer months between mid-May to mid-September are the best time to visit the park.
There are no ski resorts in the park, snowshoeing and cross-country skiing are the only winter activities.
Driving is the easiest way of getting to Los Picos de Europa. There are buses to the park from Oviedo, Gijon, or Aviles.
I spent a week hiking solo in Los Picos de Europa and enjoyed it. I met many other hikers and got to explore some of the most beautiful parts of Asturias.
Here are some excellent tours to meet fellow travelers.
Santander: Picos, Santo Toribio Monastery and Potes Day Tour
Asturias: Canyoning Adventure with 4 Levels to Choose From
By Alya, Stingy Nomads
TAKE A PAELLA COOKING CLASS
Spain is famous for its food, and paella is the most famous!
This wonderful dish is made with rice, saffron, vegetables and usually meat like chicken and rabbit or a variety of seafood like mussels, squid and prawns. You can also find vegetarian paella too.
Taking a paella cooking class during Spain solo travel is a great way to learn more about Spanish food and culture.
Not only that, but you'll also meet people and get to share a wonderful meal that you have cooked together.
You'll take home precious memories, and delicious recipes so you can impress your friends and family back home with your new-found cooking skills.
And it means you don't have to worry about choosing a restaurant or face dining alone!
While paella originated in Valencia, you can take paella cooking classes all over Spain.
I joined a paella cooking class in Barcelona and I loved learning how to make the perfect paella with my fellow students, and eating it of course!
Most cooking classes like this one in Barcelona include a market tour with the chef so they can show you where to buy the ingredients in a local market, before heading to the kitchen to start cooking.
Some tours will include additional food like tapas and usually something to drink like Spanish wine or sangria.
Then, of course, once you've learned how to make paella, you get to enjoy the best bit – eating it!
By Claire Sturzaker, Why Visit Barcelona
EXPLORE THE ROMAN RUINS IN MERIDA
One of the best things to do alone in Spain is to explore the Roman ruins in Merida.
There are more Roman ruins and better preserved than any other place in the country.
This means there are many things to do in Merida Spain and since the city is walkable, it is also a great place to visit solo.
The main attraction is the Roman Theater and Amphitheater which are located in the same place and can be visited on a guided tour to learn as much as possible about the sites and Roman heritage.
This is a hassle-free tour to add to your Spain solo travel itinerary.
The Roman Bridge in Merida is 790 meters long with 60 arches and is the longest yet.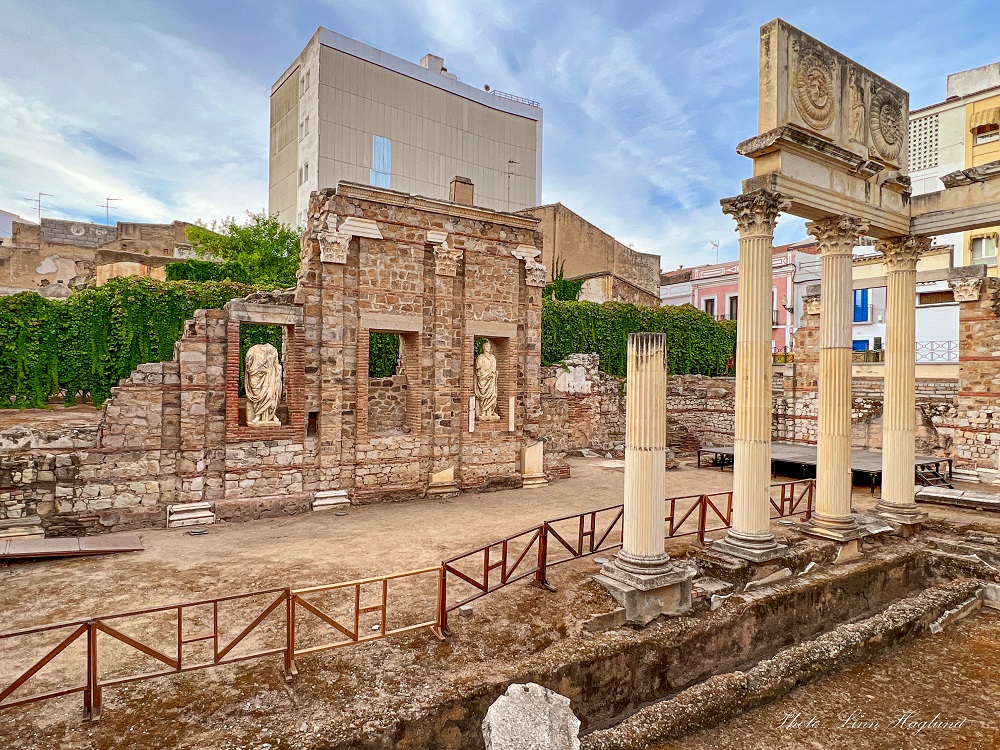 It stands next to the Moorish Alcazar of Merida which also is worth a visit. But there are still more Roman remains in the city.
The aqueduct is impressive and there are ruins like the Temple of Diana, Portico del Foro, and the Roman Public Baths.
Also, the Casa del Mitreo is a fascinating archaeological site showcasing the remains of a Roman palace.
Badajóz Airport is the closest to Merida, at half an hour's drive. But you can also fly into Seville which is a 2-hour drive away, but by bus, you can expect double time.
GO ON A VAN TRAVEL ADVENTURE IN ANDALUCIA
Traveling by van in Andalucia is a beautiful solo travel experience in Spain.
It is safe and there are dedicated campervan parking and camping grounds where you can park safely.
It is a great way to explore the whitewashed villages and the incredible natural beauty of southern Spain.
Some of the most charming villages are found in Cordoba, Iznajar with its splendid lake views, Rute with its hiking opportunities, and Priego de Cordoba with its historical heritage and numerous attractions.
In the province of Granada, there are remotely accessed hikes that are near impossible to reach by public transport, like Lavaderos de La Reina and Vereda de la Estrella.
The spectacular Barranco de La Luna and Ruta de Los Bolos are incredible river hikes for the summer months where you mainly walk in water (up to knee-deep and witness some of the most spectacular landscapes and waterfalls.
Just make sure you wear good water shoes for hiking to avoid any accidents and of course, your swimsuit.
In the provinces of Malaga and Cadiz, you can enjoy whitewashed villages overlooking the coastline, like Ojén and Gaucín, and hike in the mountains with exquisite sea views.
The best entry points to Andalucia are Malaga and Seville airports.
However, there are international airports in Almeria, Granada, and Jerez de la Frontera near Cadiz too.
The big cities are all well connected by bus and train too.
By Linn Haglund, Andalucia Hiking
GO ON A KAYAK TOUR IN NERJA
Going on a kayak tour in Nerja on Costa del Sol is an excellent activity to add to your Spain solo travel bucket list for an exciting adventure.
With crystal-clear water, you can see straight down to the bottom of the sea when kayaking near the dramatic, rugged coast of Maro-Cerro Gordo Natural Park.
The area is famous for its secluded beaches like Caleta de Maro and several other smaller beaches that are only reached by sea or by hiking.
Most famously, this area is known for the waterfall cascading into the sea.
Unfortunately, it has been dry due to drought lately, but there is a smaller waterfall not far from it that has water.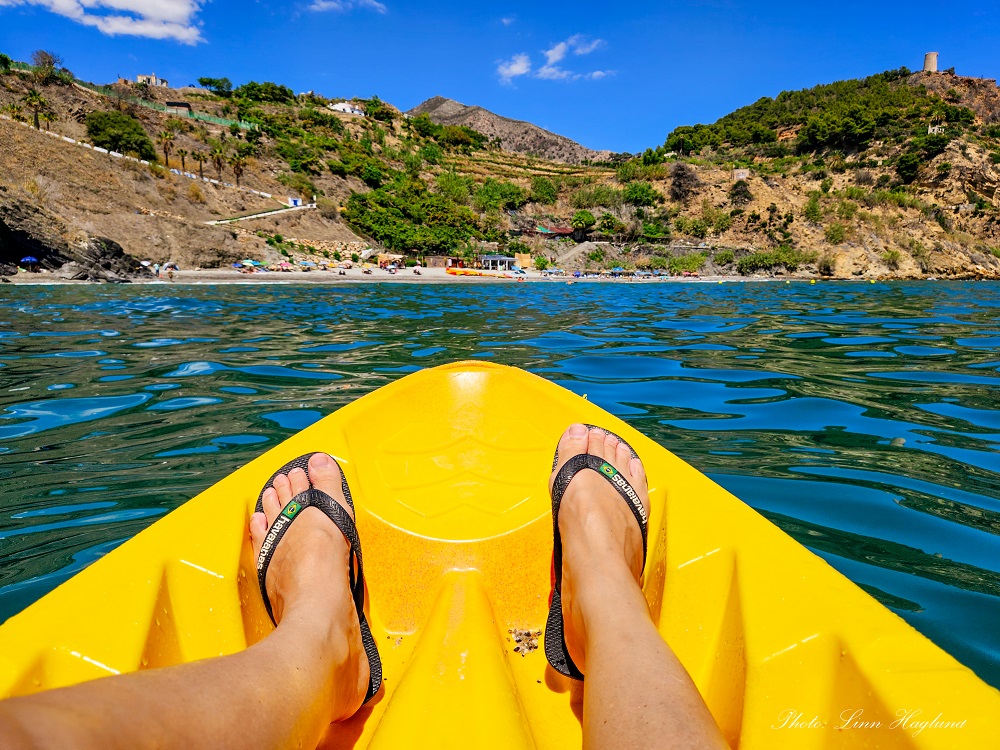 Due to many underwater caves and vivid underwater life, snorkeling is popular there too, so bring your snorkeling gear (you can purchase it by the beach if your tour doesn't offer it.)
As kayaking is one of the best things to do in Nerja, it is recommended to book in advance to secure your spot if you want to go on a guided tour.
The nearest airport is Malaga international airport and it takes about 50 minutes to drive to Nerja.
By Linn Haglund, Amused by Andalucia
TASTE DELICIOUS BASQUE CUISINE
Another fun activity on your Spain solo trip is to indulge in delicious Basque food!
For those who don't know, San Sebastian is located in the northern region of Spain and is home to some of the tastiest Spanish food! If you are a foodie, this is a must-experience on your Spain solo travel bucket list.
Visitors to the city will discover that the streets of Old Town are lined with food vendors and restaurants selling unique dishes, ranging from burnt Basque cheesecake to fresh seafood!
In addition, solo travelers can rest easy knowing San Sebastian is a city with very little crime.
And, if you need help finding a place or would like some recommendations, the locals are usually quite friendly and willing to help you.
Speaking of recommendations, there are plenty of other things to see and do.
For example, you can spend some time relaxing at the beautiful beaches, like La Concha.
Or, you can take a fun e-bike tour to discover the city effortlessly.
Ultimately, San Sebastian is a beautiful place to visit with plenty of activities that cater to solo travelers.
For those interested in visiting, you can fly directly into San Sebastian Airport or Bilbao International Airport and then take a bus into the city!
By Kristin, Global Travel Escapades
SEE THE IBERIAN LYNX
What not many travelers realize is that Spain is home to one of the world's rarest and most charismatic wild cats – the Iberian lynx.
We almost lost the Iberian lynx at the turn of the century when fewer than a hundred individuals remained in Andalusian forests.
But following two decades of intense conservation, the lynx bounced back and today, nature enthusiasts from all over the world flock to Spain for a chance to see these charismatic cats in the wild.
And the chances are high. Especially if you visit in winter during the lynx' mating season when the cats are on the move and easy to observe. If you love wildlife, you should definitely add this experience to your Spain solo travel itinerary.
The best place to see the Iberian lynx in Spain is Sierra de Andujar Natural Park which lies 100 km east of Cordoba, in the heart of Andalusia.
You can visit Sierra de Andujar independently, by renting a car for a few days in Cordoba.
It is an easy 1.5 hr drive and there are several accommodation options available near the park dedicated to lynx-watching tourism.
As with any wildlife-watching experience, there are no guarantees.
But if you visit during the lynx mating season (Dec – Feb) you'll have to be quite unlucky not to see a lynx. Alternatively, you can join a lynx-watching tour from Malaga or La Carolina.
And if you are a super keen wildlife photographer, you can book a day at a photo hide for a chance of an up-close-and-personal encounter with the lynx and other Spanish wildlife.
You can also try your luck in Donana National Park, though sightings are less frequent.
By Margarita, The Wildlife Diaries
VISIT BARCELONA ON A BUDGET ALONE
Barcelona, the vibrant capital of Catalonia, Spain, is a city that seamlessly blends rich history, modernity, gorgeous architecture, and stunning beaches.
With its vibrant culture, delicious cuisine, and lively atmosphere, Barcelona has something to offer every traveler.
Being one of the top destinations to add to your Spain solo travel itinerary, Barcelona can be thoroughly enjoyed without breaking the bank, making it an ideal destination for solo explorers seeking an unforgettable adventure.
Flying to Barcelona doesn't have to be expensive.
One of the tips for visiting Barcelona on a budget is to watch for low-cost airlines and look for deals on flights well in advance.
Another option is to consider traveling during the shoulder seasons, such as spring and autumn, when flight and accommodation prices are low.
Barcelona boasts many attractions and experiences that won't cost you a fortune.
Stroll along the bustling Las Ramblas, a lively street filled with street performers, cafes, and shops, where you can soak in the city's infectious energy.
Gaudi's influence is everywhere, and no trip to Barcelona would be complete without visiting his masterpieces, such as the iconic Sagrada Familia and Park Güell.
While some of these attractions have an entrance fee, you can still appreciate their beauty from the outside without spending a dime.
However, if you still want to visit some of the iconic museums and buildings, plan your trip based on the free entrance days of these venues.
For instance, Picasso Museum has free entrance every first Sunday of the month or Thursday late afternoons.
Barcelona is great for adding to your Spain solo travel, but I'd suggest always being more attentive to your belongings while wandering the city streets.
Many pickpocketers are in touristy areas, even very early in the morning.
By Baia Dzagnidze, Red Fedora Diary
SPAIN SOLO TRAVEL BUCKET LIST MAP