The US is one of the best destinations in the world for travelling solo. Some of the reasons being – easy to meet travellers, safety is not an issue, and the connectivity is excellent. In this post, globetrotters and travel bloggers have shared the best places to travel alone in the US – a mix of cities, each uniquely offering plenty of experiences for solo travelers.
In the United States, you will find megacities encompassing skylines adorned with multi-storeyed buildings coexisting with beautiful national parks, home to abundant wildlife, gorgeous waterfalls, alluring valleys and dense forests, making it one of the most diverse, culturally and historically rich countries in the world.
From hiking in the spectacular mountains to camping under the stars to road-tripping across the country – there is nothing that you can't enjoy in this part of America!
So go ahead and get to know more about this beautiful country to add cities to your solo travel bucket list!
LOOKING FOR MORE SOLO TRAVEL INSPIRATION? CHECK THESE SOLO TRAVEL GUIDES?
Best Places to Travel Alone in the US
Denver, Colorado
When it comes to solo travel, picking a destination where you feel safe and welcome is paramount. Luckily, many United States destinations fit the bill.
But if you are looking for one of the best places to travel alone in the US that also comes along with a healthy dash of Midwestern friendliness, then a trip to Denver, Colorado, is an option you must explore.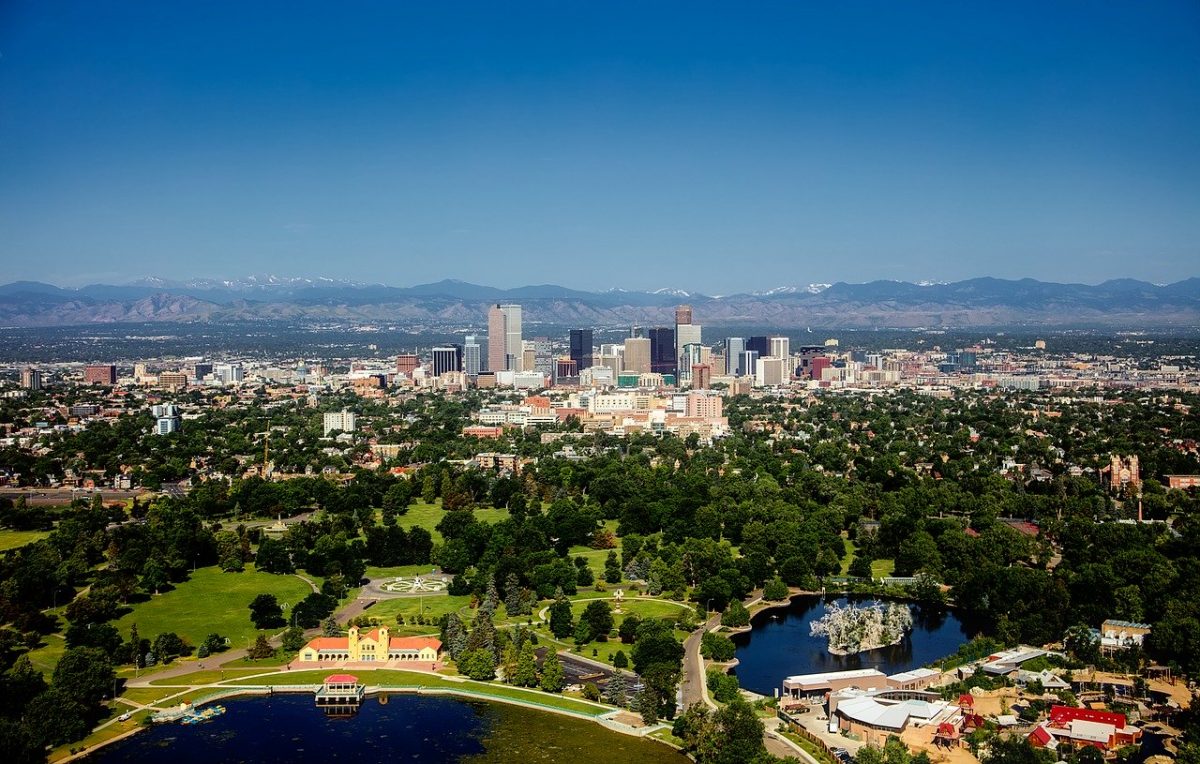 When it comes to things to do in the "Mile High City" (as Denver is known), there are tons of fantastic options.
Popular attractions in the downtown area include the new and improved Union Station, Denver's famous 16th Street Mall, and standing precisely one mile high at the Colorado Capitol Building.
Recommended tour: Rocky Mountain National Park and Estes Park Tour from Denver
Colorado is also well known for being an outdoor recreation lover's dream.
So, if that describes you, then you will love all the incredible hiking trails, mountain biking, skiing/snowboarding, or even getting a workout in at one of Denver's many city parks.
They are all fantastic activities to do solo, while still allowing you to mingle with like-minded people.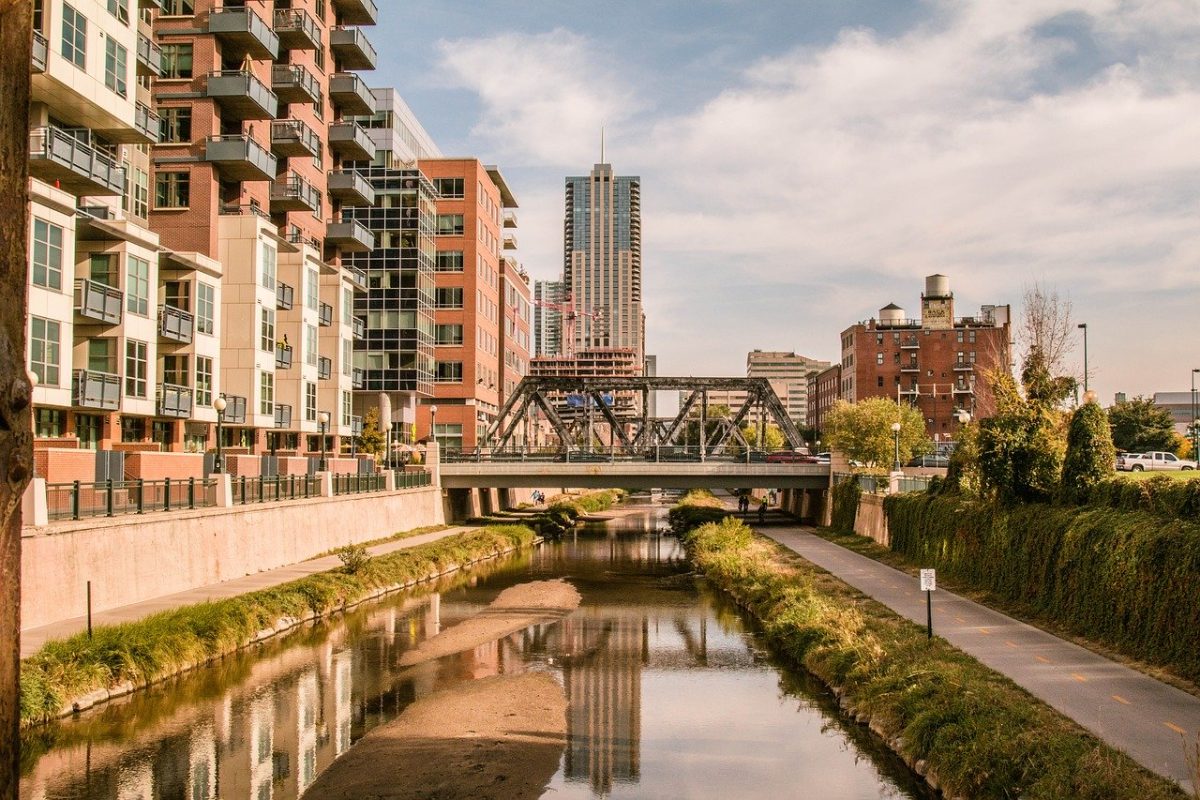 Where to stay in Denver?
As you are planning your trip, a solid hotel recommendation is The Westin Downtown Denver.
It is located smack dab in the middle of the 16th street mall, is reasonably priced, has an incredible rooftop pool, and is under the reliable Marriott brand.
Or, if you are looking for a more local option, Courtyard Downtown Denver is Denver's original boutique hotel.
–Kara Patterson, Destination Live Life
Salt Lake City, Utah
Salt Lake City is one of the best places to travel alone in the US for many reasons. At the top of the list, Utah's capital is one of the safest cities for solo travelers to wander around alone.
It's also a picturesque place that sits in a valley surrounded by mountains. The biggest city in Utah has a friendly small-town vibe, and it's a comfortable place to meet locals.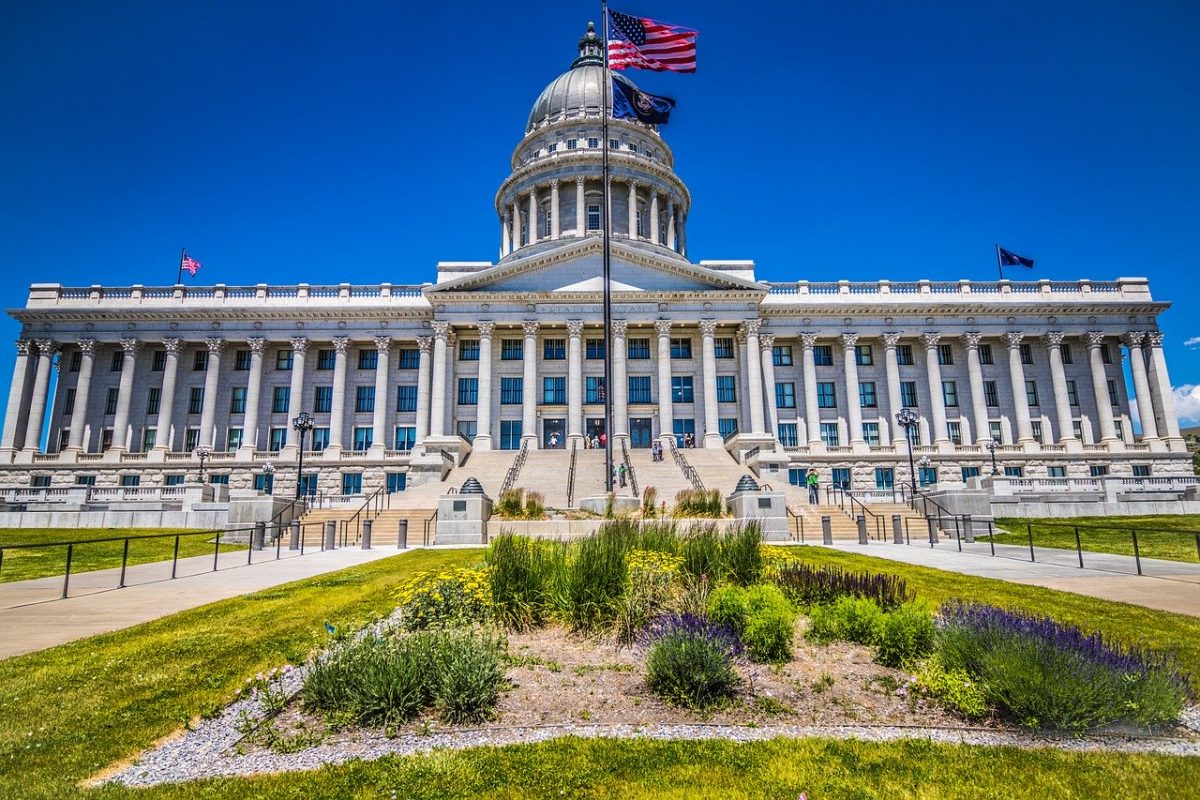 Among the things to do in Salt Lake City are visiting museums, admiring the unique architecture, and learning about its history which dates back to the first settlers who came in 1847.
If you love history, the landmarks in Salt Lake City are well preserved. Start at Temple Square, the headquarters for The Church of Jesus Christ of Latter-day Saints (Mormons), which has grand buildings and lovely grounds.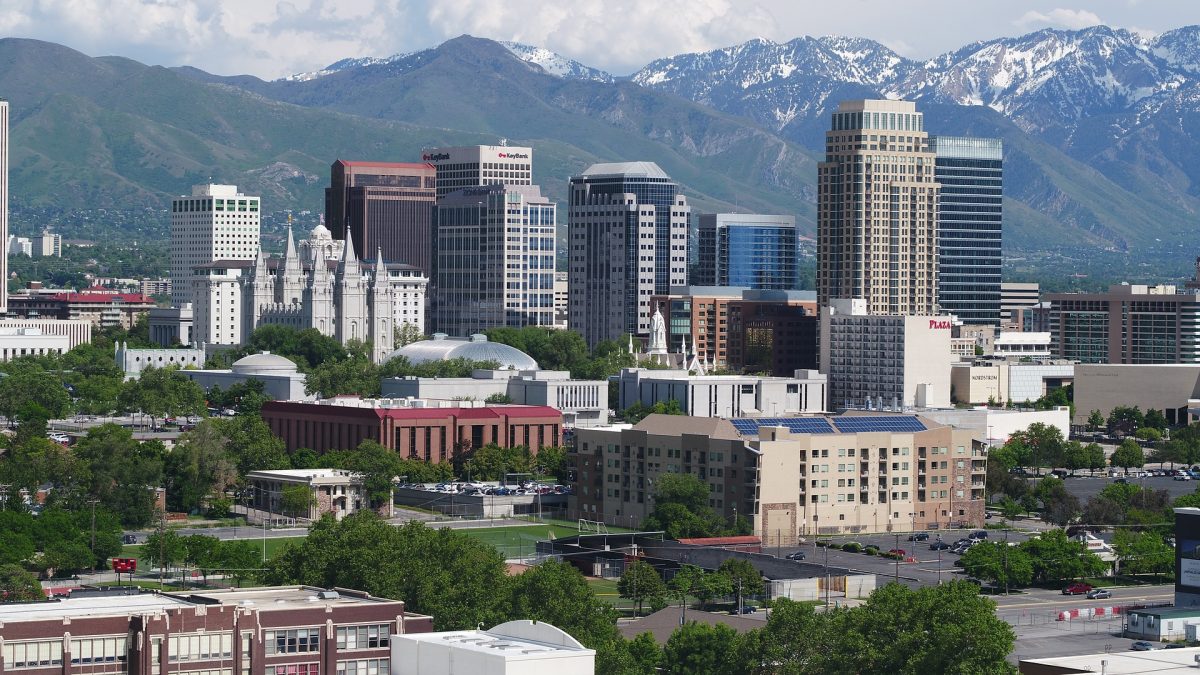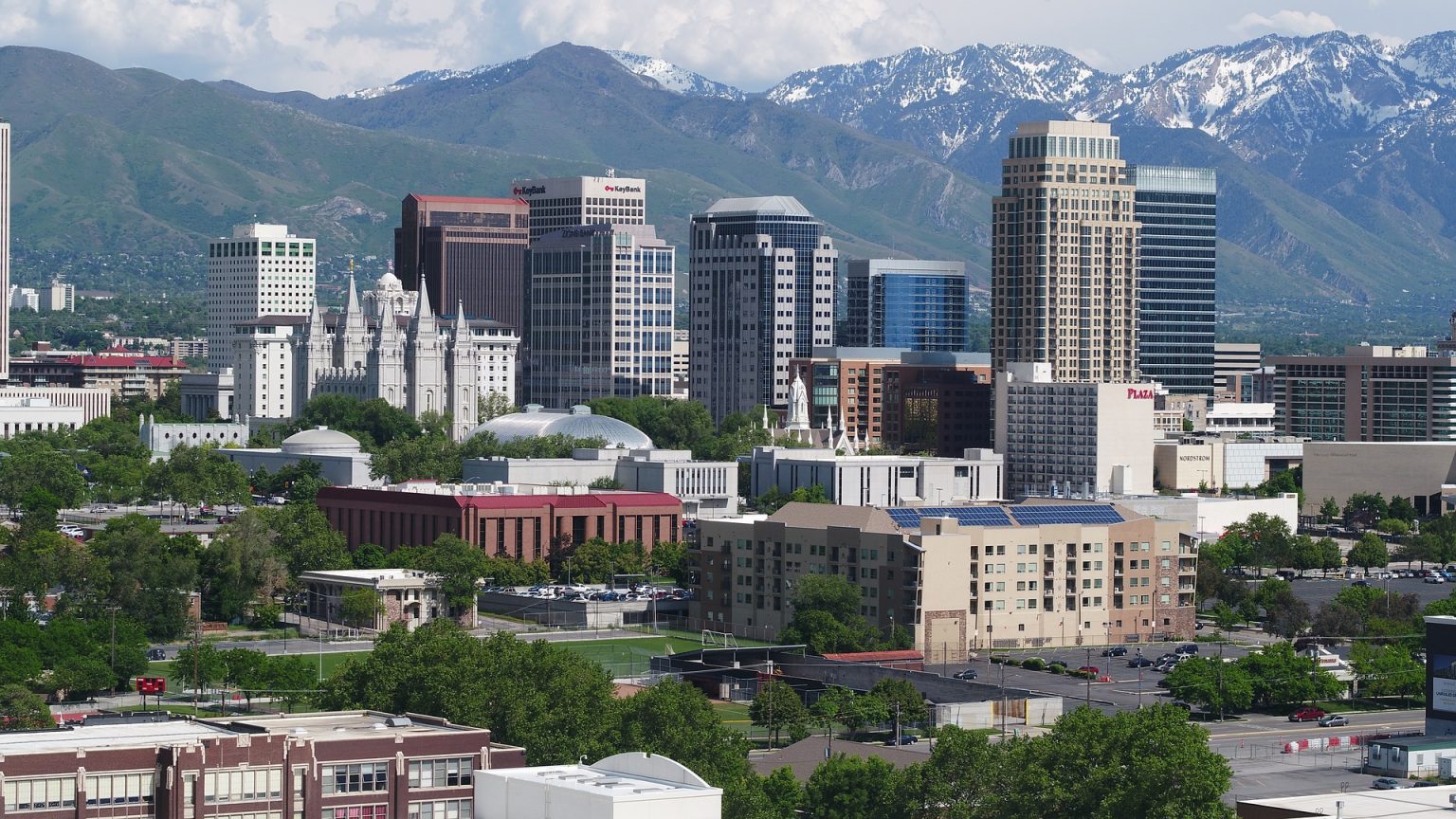 Other unusual things to do in Salt Lake City are skiing or hiking at Park City (20 minutes away), and visiting the quirky Gilgal Garden to see giant body part sculptures and biblical scriptures.
Recommended tours: Salt Lake City Big City Loop Bike Tour
Take an Instagram shot of the "Up" house, which is a replica of the Disney and Pixar movie. For the best view, hike up to Ensign Peak behind the State Capitol building.
Where to stay in Salt Lake City?
The best place to stay is in the city centre, within walking distance of many of Salt Lake City's sites. Two hotels are the Hilton Salt Lake City Center and Salt Lake City Marriott City Center.
-Christina Pfeiffer, Travel2Next
Recommended for you – 45 Gorgeous Destinations In Europe For Solo Travel
Mobile, Alabama
The Southern states of the US are famous for their hospitality, and nowhere is that more true than in the charming coastal City of Mobile, Alabama.
It is one of the best places to travel alone in the US as you won't have any trouble making friends with the locals here because it's quite common for Mobilians to say hello and even strike up a conversation with strangers they pass on the street.
Mobile is a calmer, quieter alternative to New Orleans and offers many of the same attractions, without so much raucous partying and with significantly less violent crime.
Even though it's now part of Alabama, Mobile was founded by the French and was the original capital of the French Louisiana Territory.
It means you'll see similar architecture with beautiful wrought-iron balconies and antebellum mansions built by plantation owners.
Recommended tour: Evening Food Tour of Old Mobile's Culinary History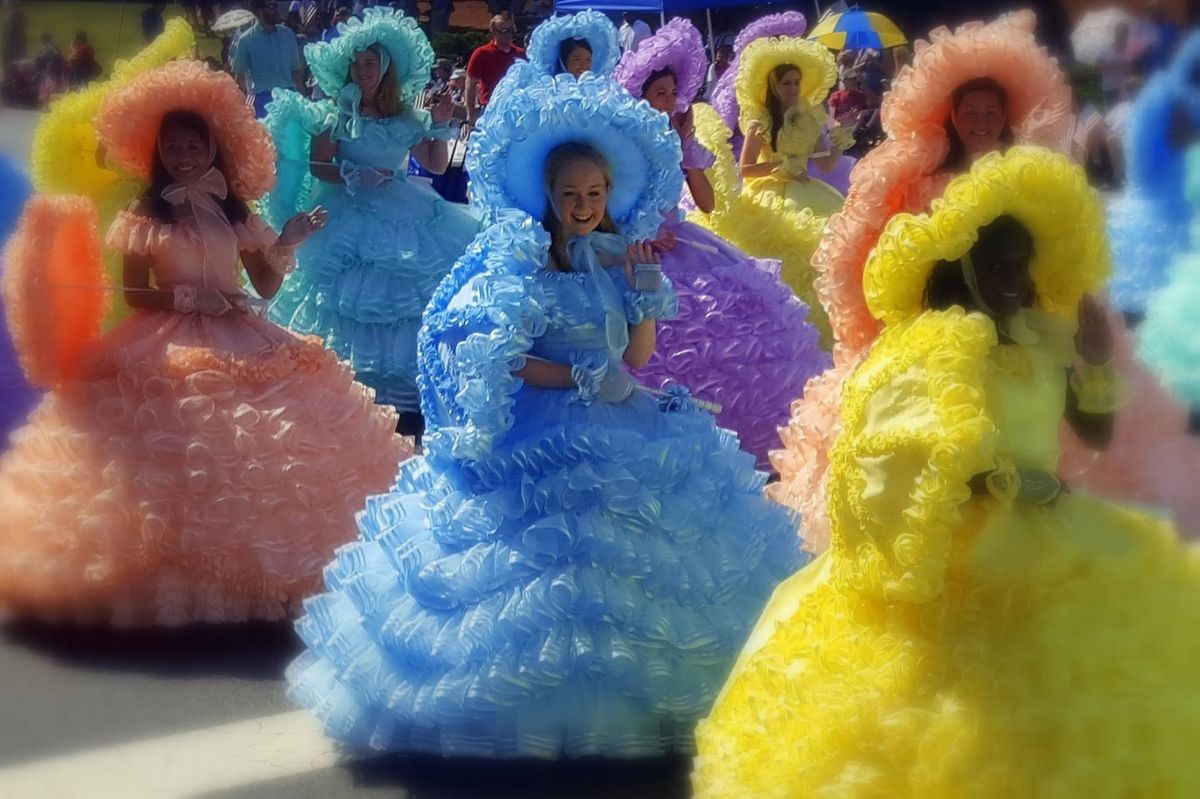 They celebrate Mardi Gras here too! Parades run day and night for about two weeks in the leadup to Fat Tuesday, usually in late February or early March. Then a bit later in March is another local celebration, the Azalea Trail Festival.
Local high school girls dress up as Southern belles and welcome visitors to the City to see the pink and white azalea blooms.
At other times of the year, you can visit the USS Alabama battleship or the historic Fort Condé. And be sure to try the local specialities in Mobile's restaurants.
Where to stay in Mobile?
As for where to stay in Mobile, The Malaga Inn is a beautiful antebellum townhouse in a great location downtown.
-Wendy Werneth, The Nomadic Vegan
Miami, Florida
Arty and cultural Miami in Florida is one of the best cities in the United States for solo travel.
Whether you like street art, food, or relaxing on the beach, there's plenty to keep you busy in this refreshing and colourful City.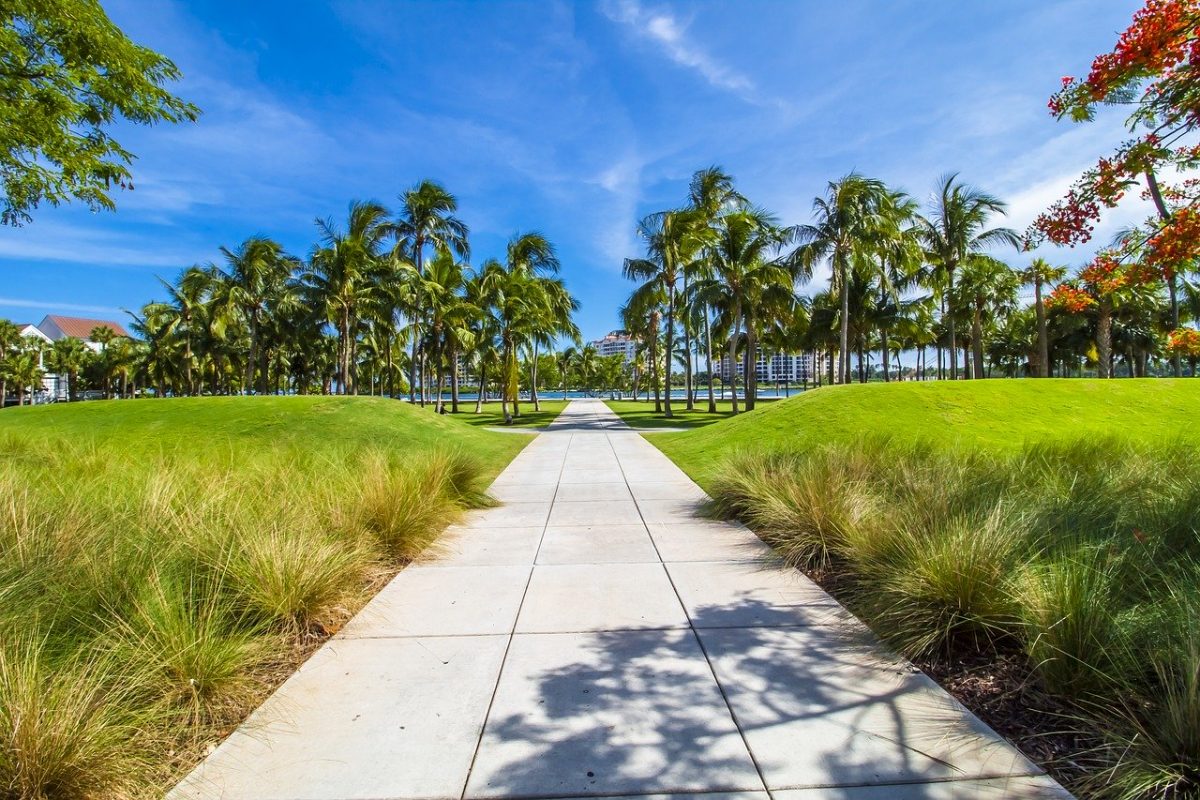 The surrounding neighbourhood of South Beach is perfect for a beach day. Even if you're alone, it's safe to leave your belongings on the sand while going for a dip.
Recommended tour: Miami Sightseeing City Tour
For a tasty but cheap eating in the area, head to Sriracha House for delicious Asian food. Afterwards, eat an indulgent rainbow doughnut at Happy Place Donuts.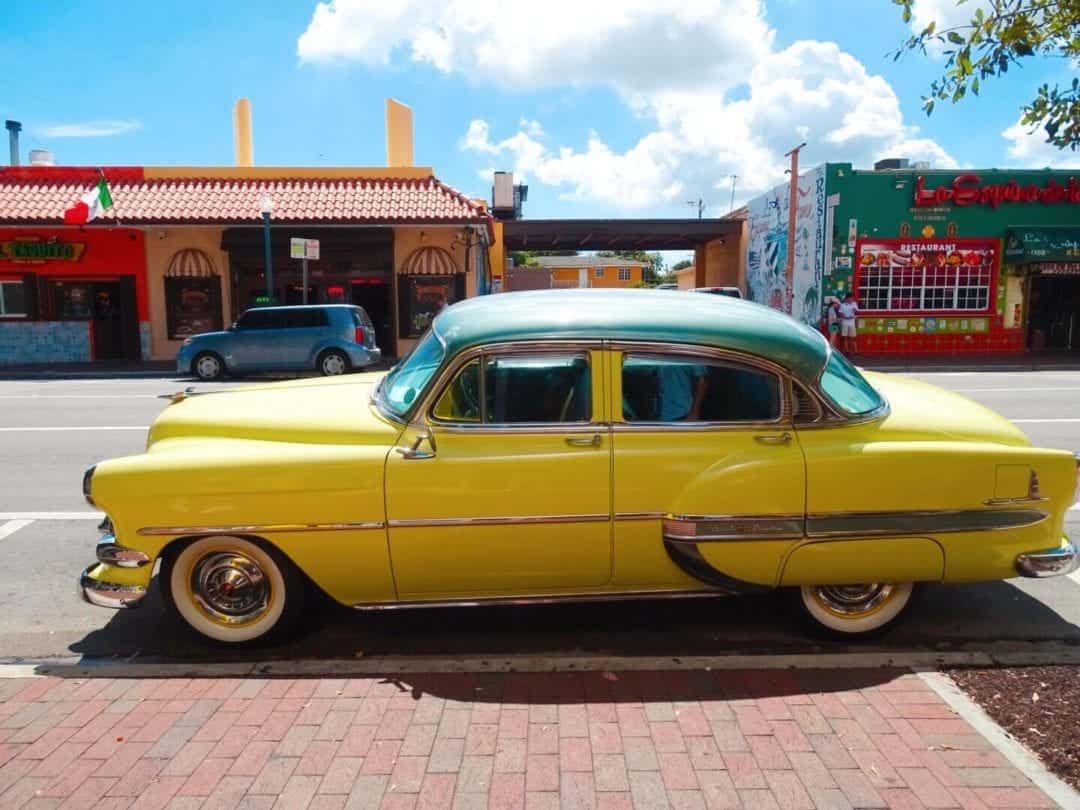 Other exciting areas in Miami include Little Havana, the most prominent Cuban neighborhood outside of Cuba.
For the best food in Little Havana, start with a Cuban sandwich at Old Havana Restaurant, then finish with gelato at Azucar Ice Cream.
The other excellent place to check out in Miami is Wynwood Walls.
This area was once run-down but is now one of the city's most colourful and vibrant parts, with static art galleries to check out and colourful murals all around the neighbourhood.
Recommended: Miami: Little Havana Walking Food Tour with Lunch
Where to stay in Miami?
The best place to stay in Miami for solo travellers is South Beach, in particular, Beds' n' Drinks Hostel which, despite the name, is a relaxed place to stay with a beautiful outdoor seating area.
With a hearty breakfast buffet that will keep you full all day, it's also a good place for meeting other travellers.
– Rose Munday, Where Goes Rose
Honolulu, Hawai
One of the best places to travel alone in the US is Hawaii. With a melting pot of different cultures and nationalities living on the islands and visitors traveling from all around the world, Hawaii is welcoming and really offers Aloha to everyone that visits, including solo travelers.
The main hub for visitors to the islands is usually Oahu and Honolulu airport – a busy metropolitan area that contains world-famous Waikiki and the lovely beach areas.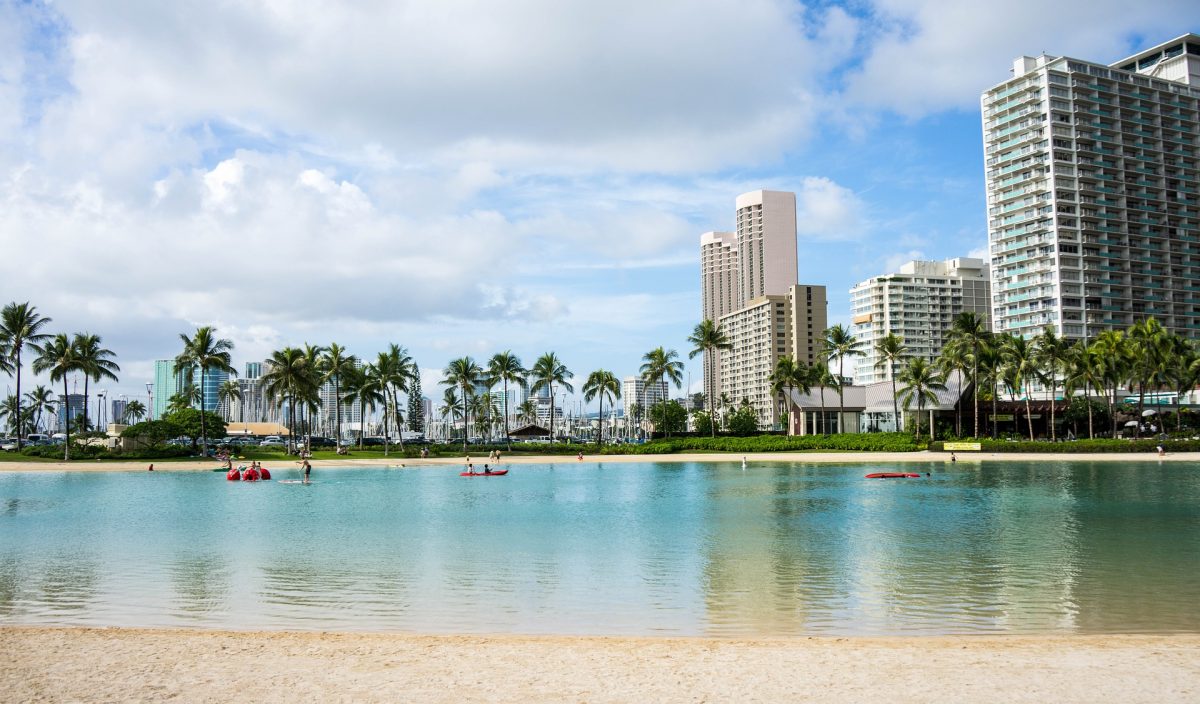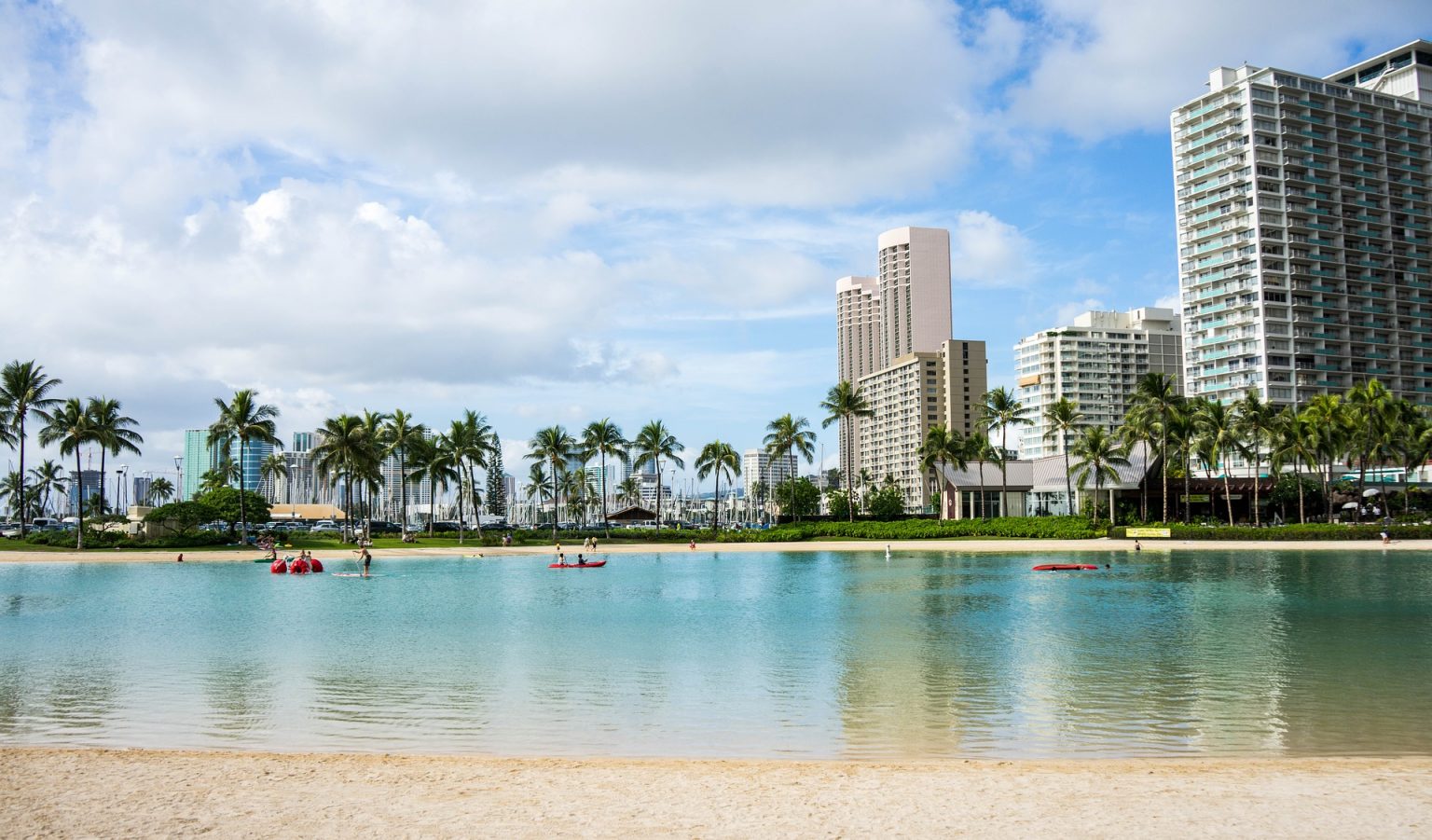 Honolulu is a vast area of the urban oasis and green tropical zones that combine city and cultural treasures, lovely nature, beautiful landscapes and stunning vista points, making it one of the best travelling cities.
There are plenty of things to do in Honolulu. The City is easily accessible and walkable too.
You can take public transportation everywhere or catch Uber rides to more outlying areas worth visiting, including Diamond Head and Pearl Harbor.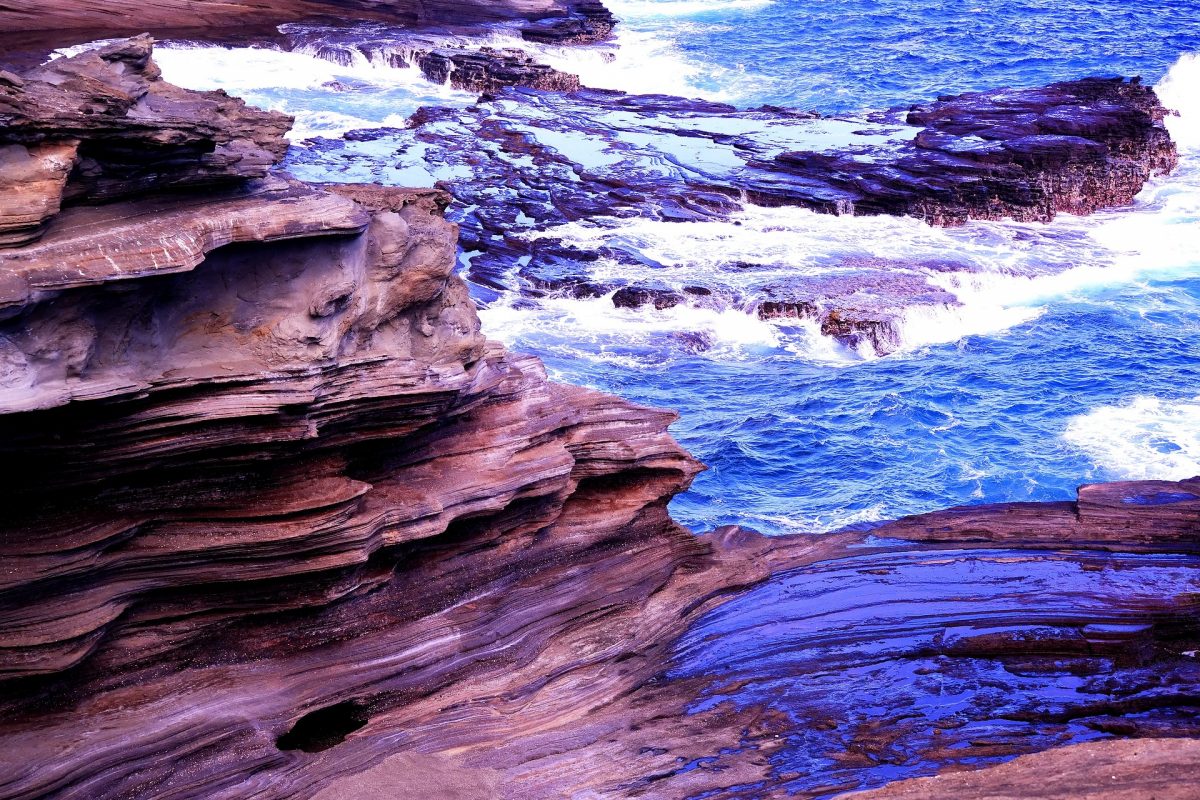 Visit the historic district in the downtown area encompassing Chinatown, museums, the Lolani Palace, the Capitol building, and other historic sites.
If you are an outdoors and adventure lover, you can have your choice of Kayaking, Snorkelling, sailing, scuba diving to on-land pursuits like hiking, biking, mountain climbing to more extreme adventure sports.
Recommended tour: Oahu Submarine Scooter Adventure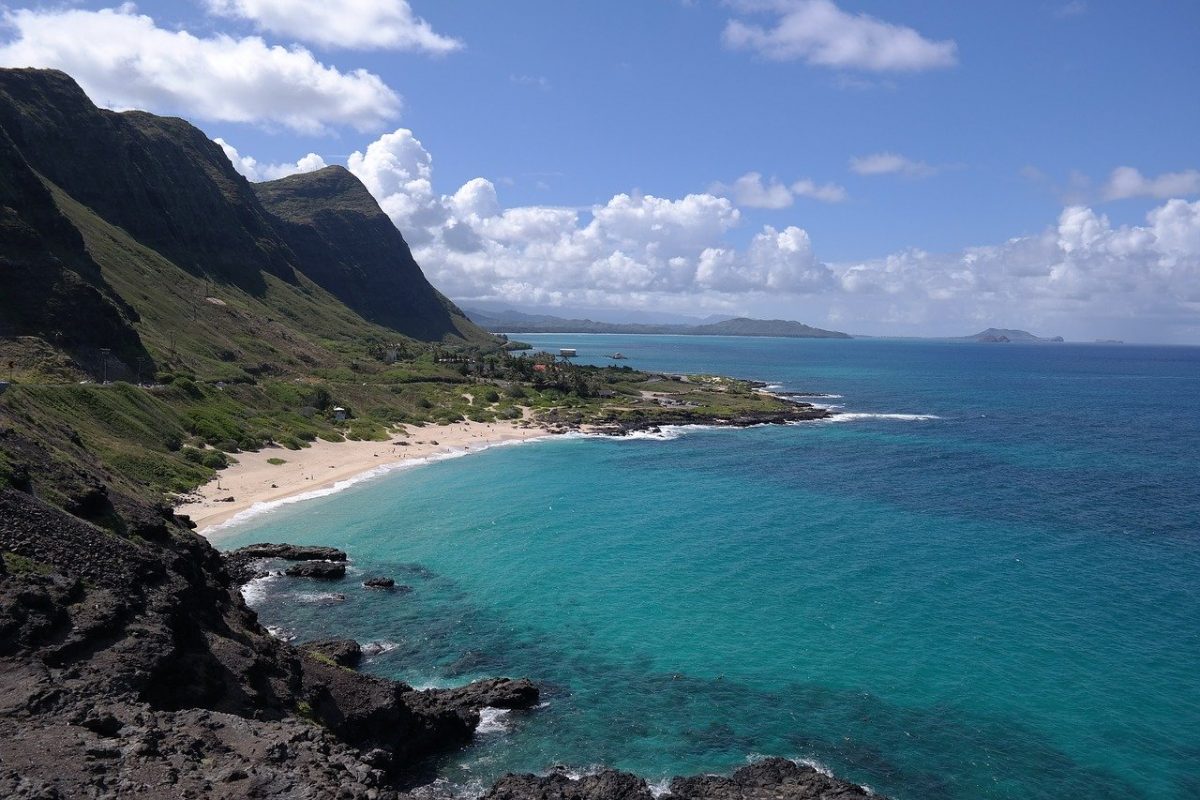 Foodie lovers can visit farmers markets, food truck venues, food courts, and even fun oceanside bars and beautiful dining venues to choose an international variety of dishes along with favourite local dishes to choose from.
If you want to see the rest of the island with visits to scenic coastlines and views, gorgeous beaches, and western towns with a tropical vibe, rent a car or take a guided circle island tour to get a flavour of the real part of Oahu and the beautiful landscape around the island.
Where to stay in Honolulu?
One of the best areas to stay in Honolulu is Waikiki, which has plenty of hotels and guesthouses in all budget ranges. I'd recommend Marine Surf Waikiki 17th Floor, close to the beach with excellent views.
-Noel Morata, This Hawaii Life
Oklahoma City, Oklahoma
Oklahoma City is a great place to dip your toes in on solo travel in the United States. The city has a vibrant downtown but it's also a big road trip destination since it's one of the major cities on Route 66.
For solo travelers who love driving alone, OKC is the perfect destination since it's one of the largest cities in the US by land.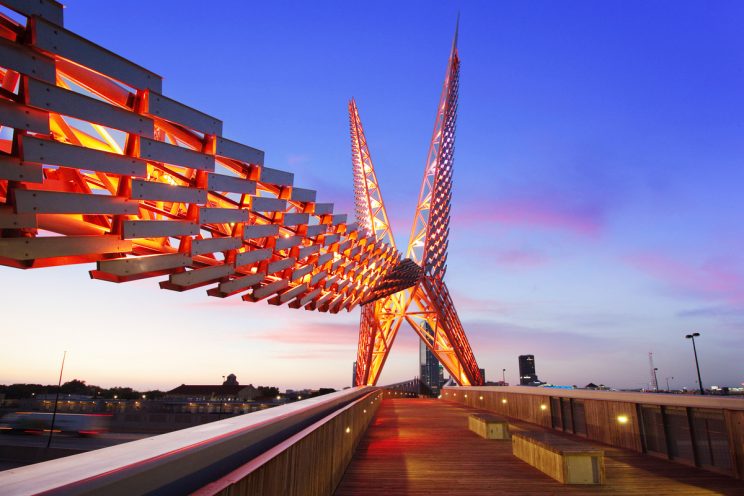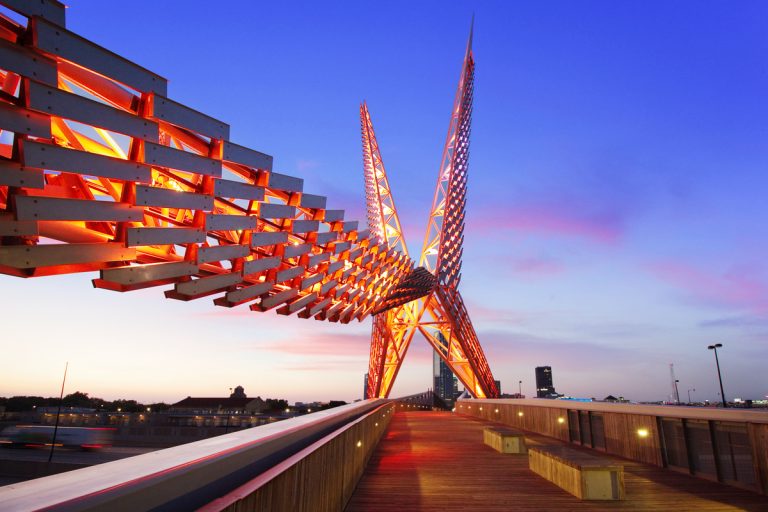 Make sure to visit the Lake Hefner Lighthouse, Bricktown, and the Wheeler Ferris Wheel.
A really popular thing to do in OKC during the season is to go to an Oklahoma City Thunder basketball game and then go out in Bricktown afterward.
Other fun but more off-beat things to do in Oklahoma City include heading down to the Paseo Arts District or Automobile Alley as well as eating at one of the city's great restaurants in the Asian District.
There are also tons of great OKC Instagram spots you can visit to get gorgeous travel photography, including lots of great views and cute cafes to explore.
If you love museums, check out the Oklahoma City Museum of Art and the National Cowboy & Western Heritage Museum.
Where to stay in Oklahoma?
Check out The Skirvin Hilton Hotel Oklahoma City, one of the best historic hotels in the city of Oklahoma.
-Stephanie Craig, Oklahoma Wonders
Recommended: 25 Incredible Destinations in South America for Solo Travellers
Phoenix, Arizona
Located in the middle of the Sonoran Desert, Phoenix, AZ is one of the coolest places to travel solo in the United States.
The City has a little bit of everything from delicious eats to picturesque hikes, beautiful architecture and cool art.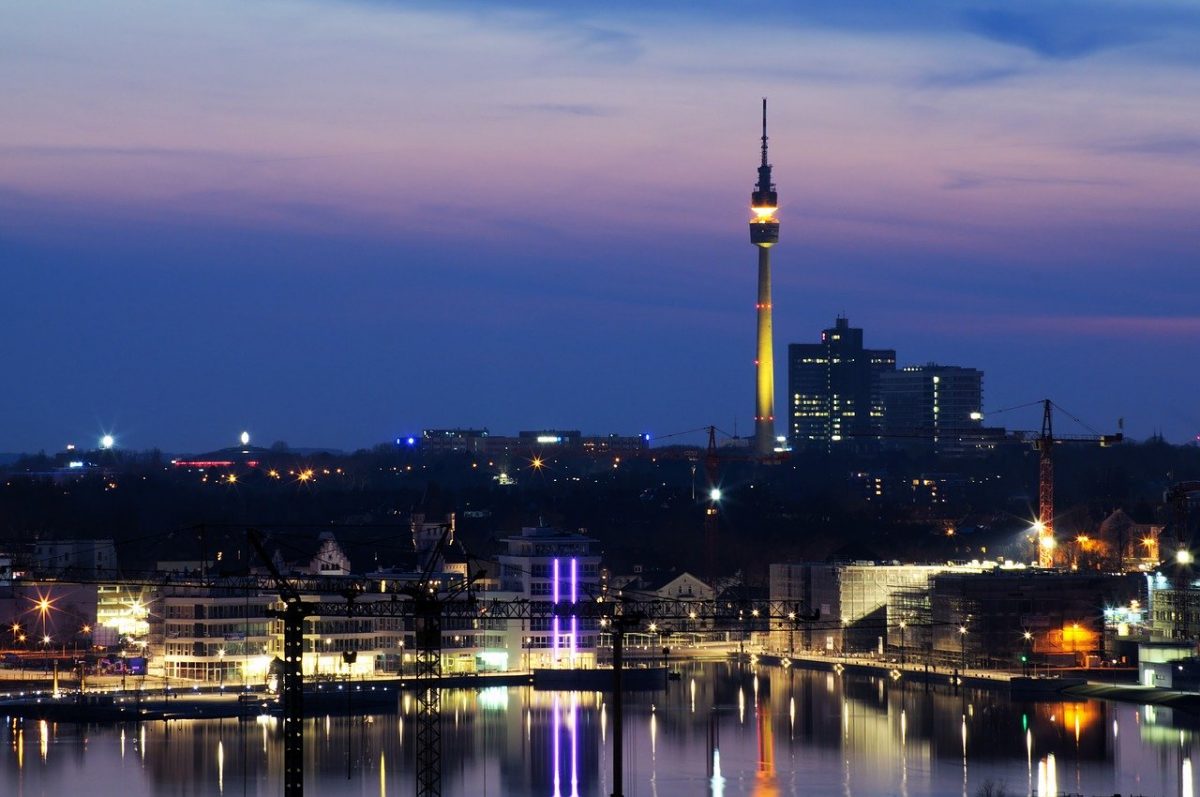 Hiking is a pastime in the Phoenix area, just remember to start early during the warmer months, and you'll love it.
Recommended – 21 WEEKEND TRIPS FROM PHOENIX FOR A FUN HOLIDAY
Papago Park is known for its Hole in the Rock hike where you can climb the rock; it's also a great place to view the sunset.
Recommended – 25 Best Beaches In Arizona For a Weekend Getaway
Plus there's even a fishing pond! If you're into more strenuous hikes, Camelback Mountain also offers a fantastic view of the Phoenix valley.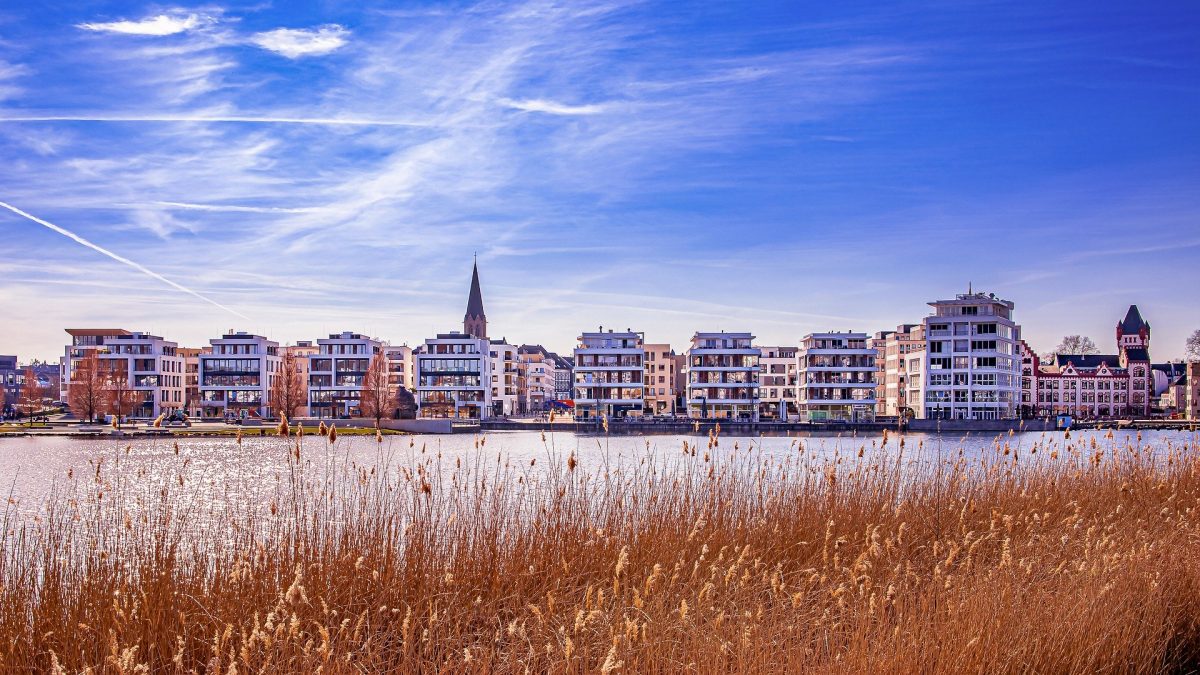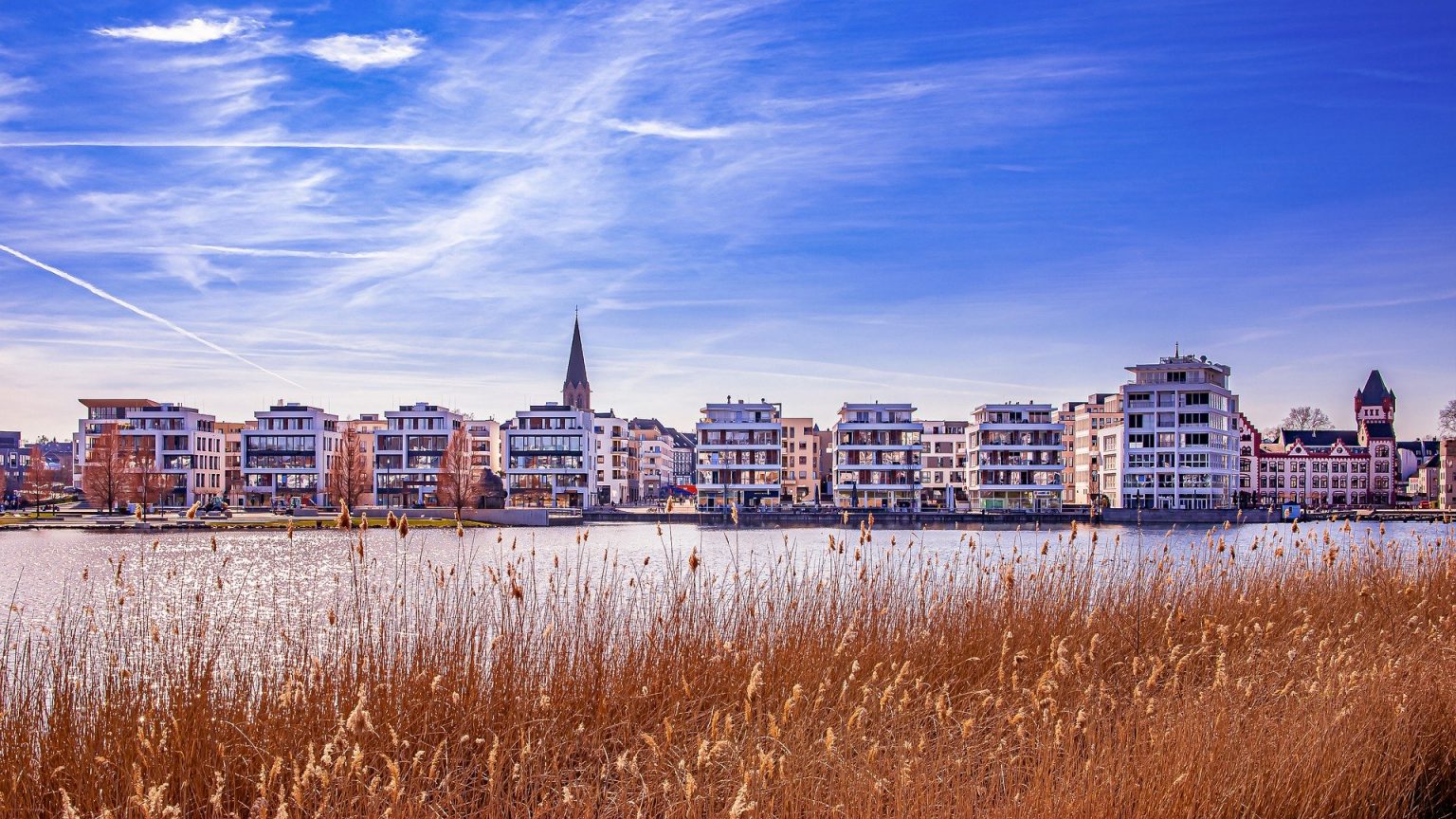 Phoenix also has a great art and architecture scene. You'll find beautifully painted murals throughout the City as well as museums and renowned architecture.
Recommended tour: Morning Hot Air Balloon Flight Over Phoenix
Visit Taliesin West, once Frank Lloyd Wright's home and architecture school, today it is still a school, but it's also a museum for architecture lovers.
You'll love spending a few days in Phoenix, and you'll want to return over and over again.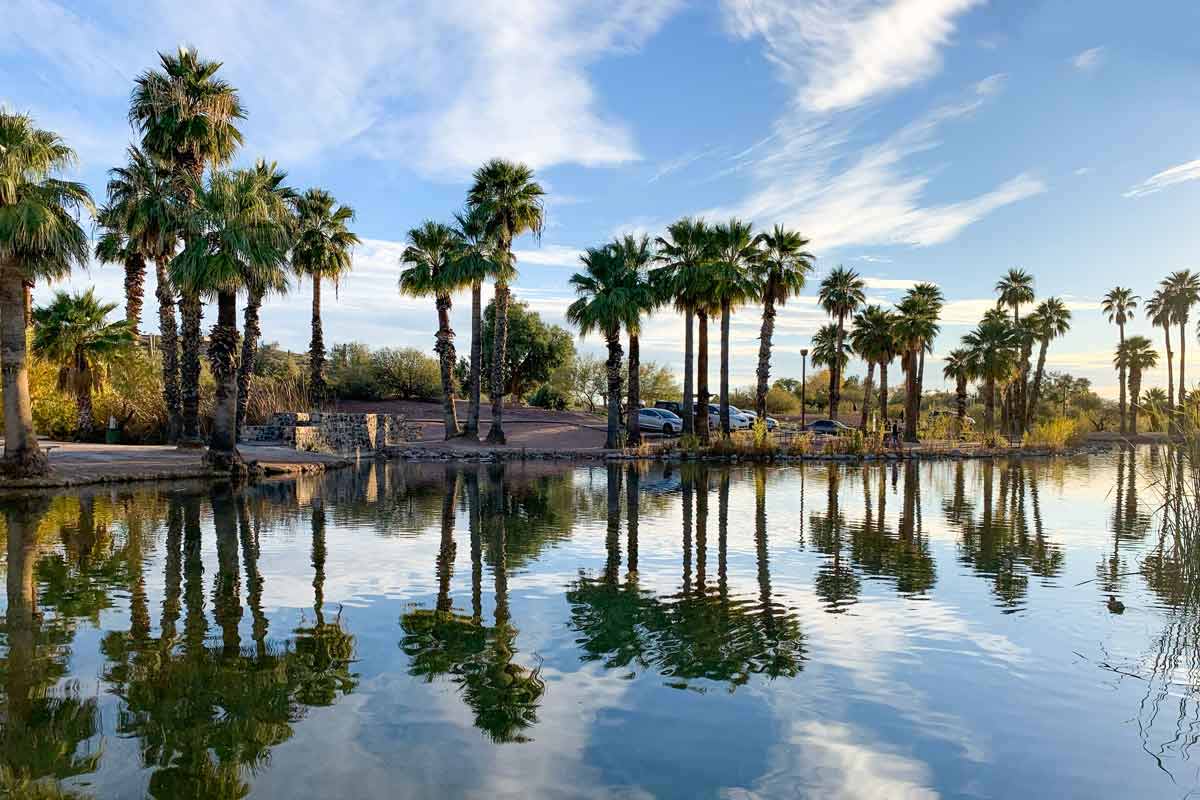 As a Southwestern state, Arizona and Phoenix specifically, are well known for their Southwestern cuisine. You'll find Mexican food everywhere, including tacos, Menudo, Sonoran hot dogs, and so much more.
Where to stay in Phoenix?
The AC Hotel Phoenix is a fantastic place to stay. The rooms are luxurious for the price. It is so close to Papago Park that you can see it from the pool area!
Constance, The Adventures of Panda Bear
San Diego, California
San Diego is one of the perfect Cities for Solo Travel in the US. Why? It is incredibly safe, and there is a ton of things to do in San Diego.
The crime rate in San Diego is extremely low, despite being such a large city. In most tourist areas, it is no problem to walk around at night and feel safe.
Recommended – 11 Top Places To Watch a Stunning San Diego Sun Rise
I have lived here for many years and here are some of the highlights that you can't miss:
Downtown/Gaslamp Quarter: Just in Downtown San Diego, there is so much to do and explore. If you want to party, go to the Gaslamp Quarters for fun bars and clubs and some of the best restaurants in San Diego.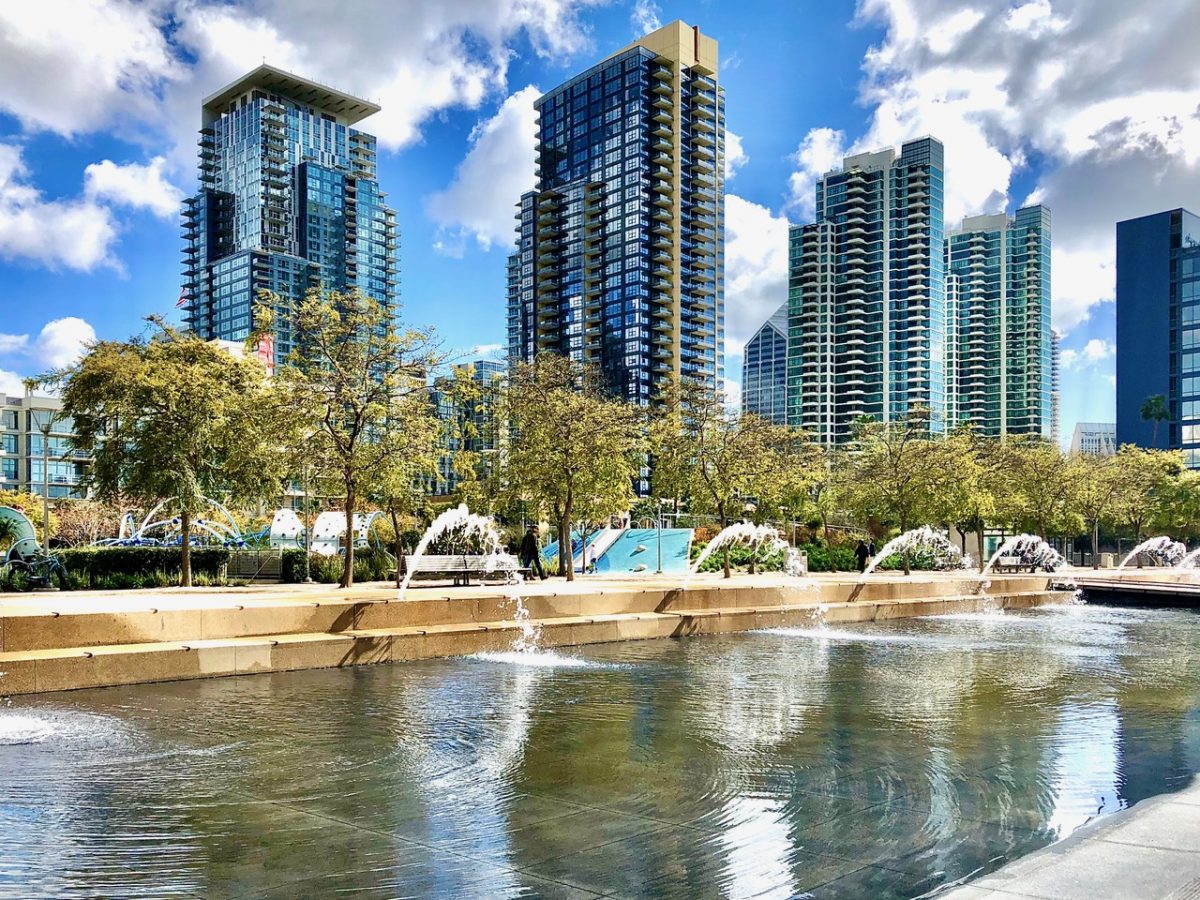 If you are interested in museums, head to the countless museums in Balboa Park or visit the USS Midway aircraft carrier. For animal lovers, you can go whale watching.
Recommended tour: San Diego Harbor Cruise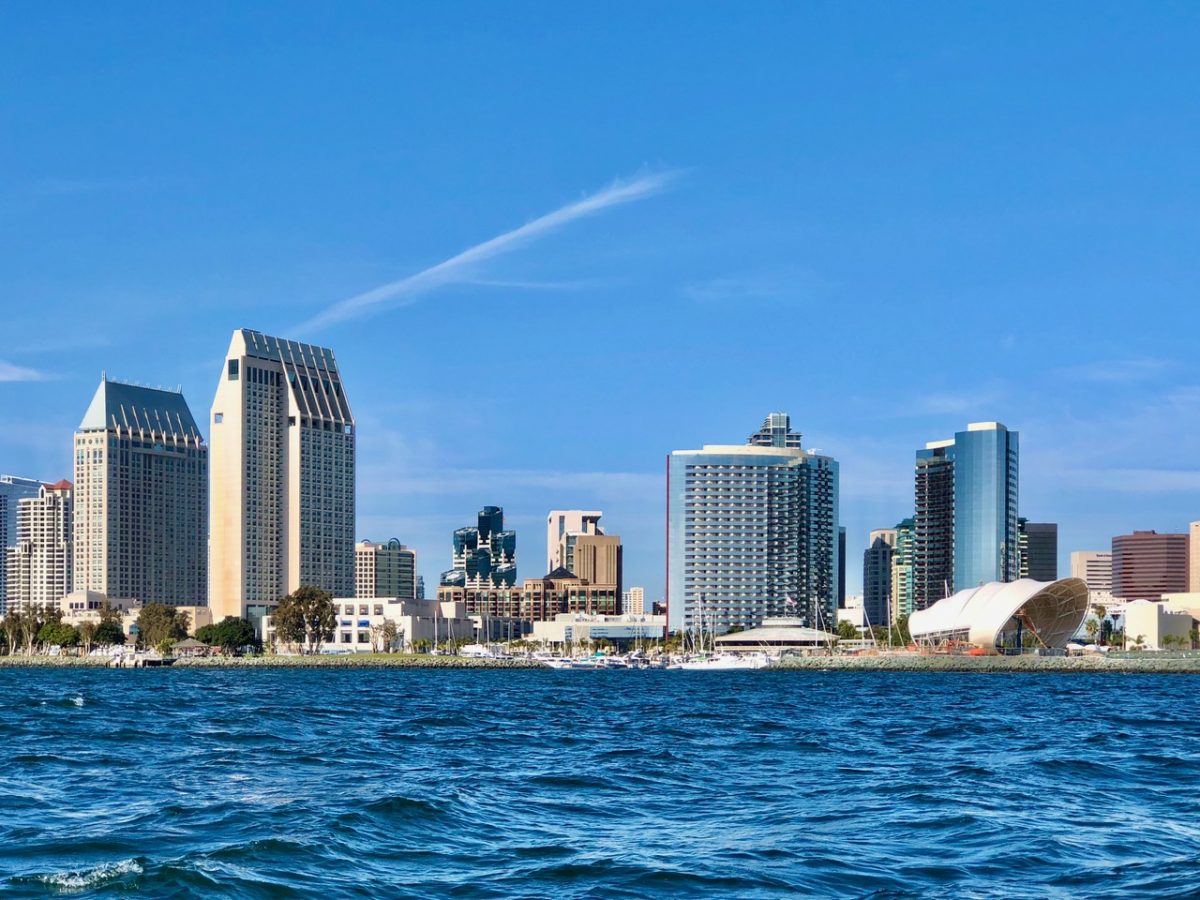 Beach towns: The beach towns in San Diego have a very laid back and casual vibe. Pacific Beach is the party beach town, Ocean beach is famous for its laid back Hippie vibe, and Mission Beach is beautiful for vacation rentals and families.
Recommended – 15 Beautiful Waterfalls in San Diego You Should Add To Your Itinerary
Where to stay in San Diego?
I would recommend staying Downtown, especially if you don't have a car. You can explore a lot on foot or use public transport. The ITH Hostel in San Diego Downtown is a great budget-friendly option in a perfect location.
If you want a hotel, but are still budget-friendly, take a look at the Urban Boutique Hotel, which is just slightly more expensive and also in a great location.
–Maria Haase, San Diego Explorer
Recommended: 25 Things to Know Before Your Solo Trip!
Seattle, Washington
Seattle is one of the best cities to travel alone in the US. The Pacific Northwest is an extraordinary region, and Seattle represents that well.
It's surrounded by mountains and water on all sides with a delicious food scene and outdoor activities in every direction.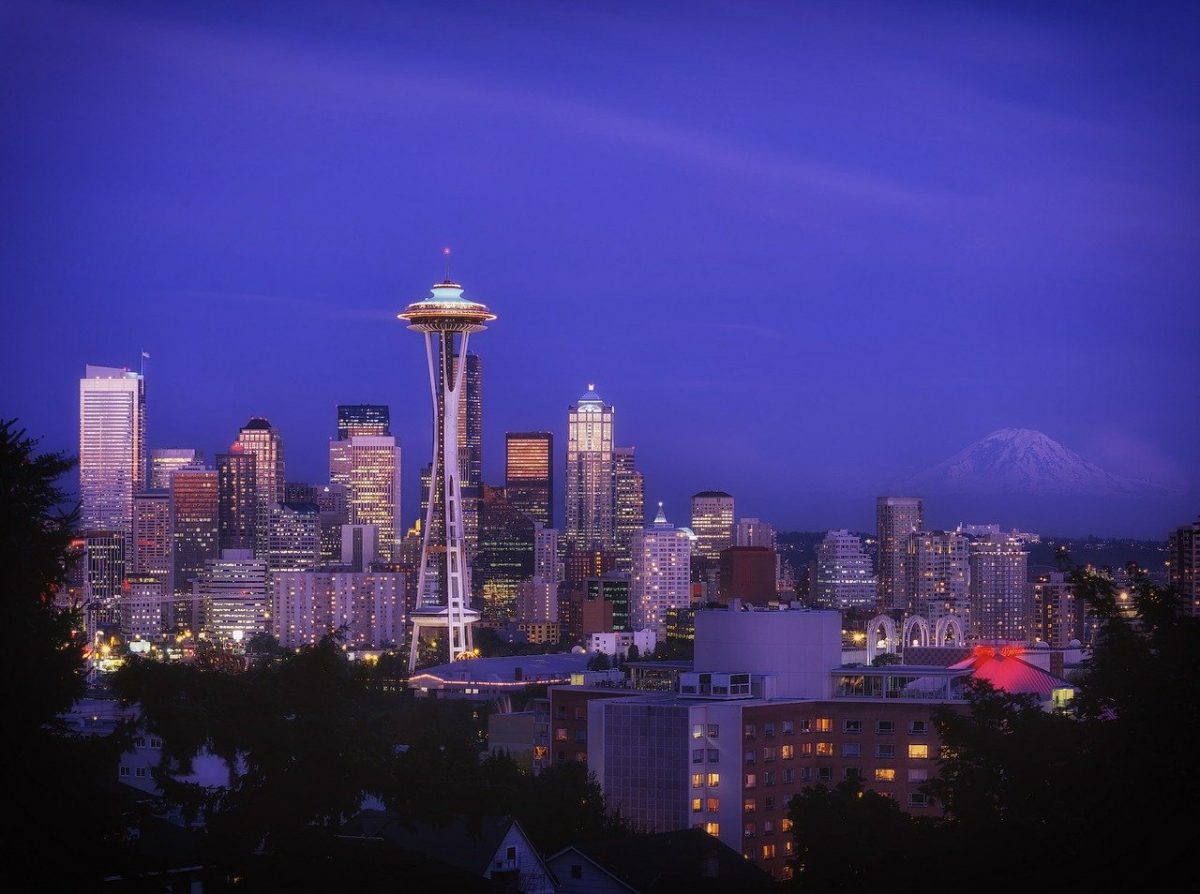 Seattle offers so much to a solo traveller. From food and drinks to outdoor activities and museums. If you're wondering what to do in Seattle besides eat and drink, there's a lot for you to discover.
Recommended – 29 BEST THINGS TO DO IN SEATTLE AT NIGHT
One must-visit attraction is Seattle's primary market – Pike Place Market. It's catered to tourists but is still a great stop with a diversity of food stalls and vendors throughout the market.
Recommended tour: Premier 3-Hour Seattle City Tour
Another excellent solo trip is heading to the Museum of Pop Culture. It's a quirky museum designed to be a tribute to all things pop culture from the past. The museum will bring back some good and cringe-worthy memories.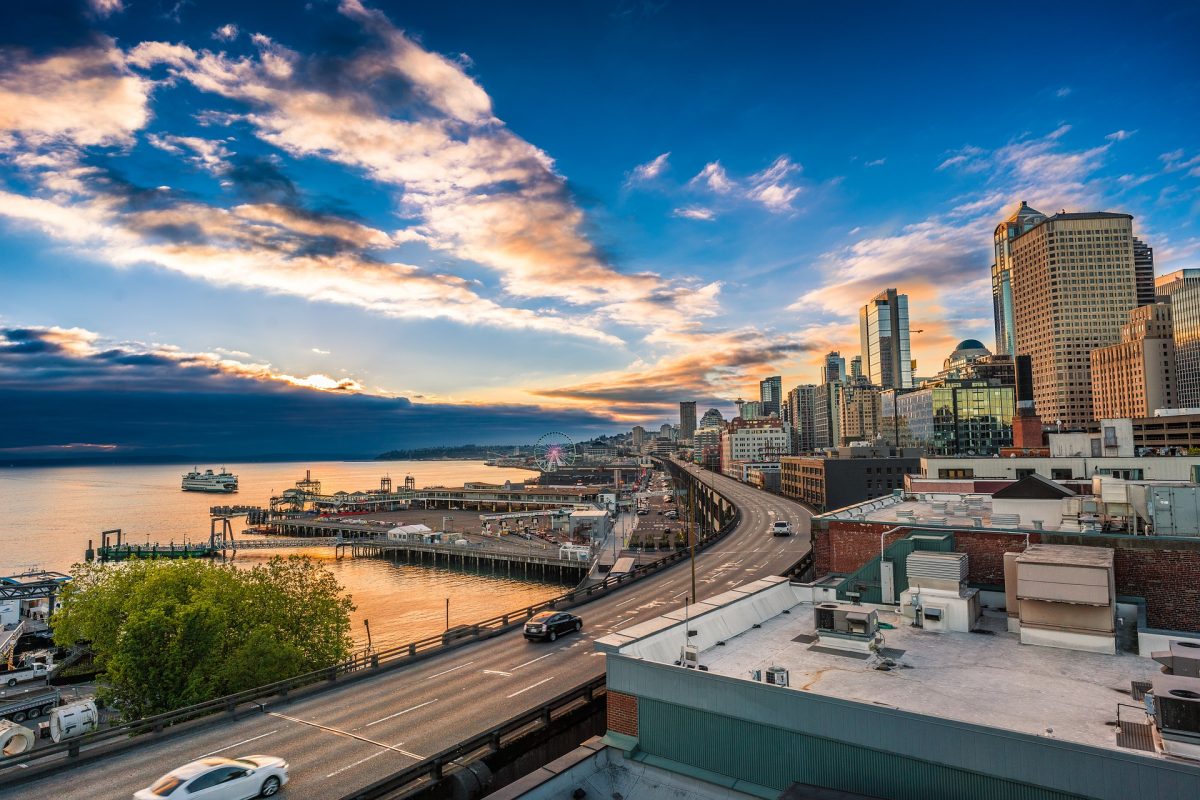 If you're more into true art, then the Chihuly Garden and Glass exhibition may be more your speed. It's a display of glass sculptures from artist Dale Chihuly.
The sculptures are all sizes and shapes and will take your breath away.
Another great idea is to book a ride through Puget Sound using the Washington State ferry or a private company.
It's easy to take the ferry to Bainbridge Island, where the natural wonder of the region is amazing to explore first-hand.
Where to stay in Seattle?
One of the most interesting neighborhoods in Seattle is Capital Hill.
It's the perfect area to stay if you want to meet other travellers because it's the center of the City's nightlife scene and full of coffee shops, boutiques, and eateries.
The Downtown is full of great hotels, but if you want to be in the middle of it all, State Hotel is close to all the action.
-Derek Hartman, Robe Trotting
San Francisco, California
If you're longing to visit America but are worried about traveling alone, San Francisco is a great place to start as the lively, vibrant city is a wonderful place that welcomes solo travelers.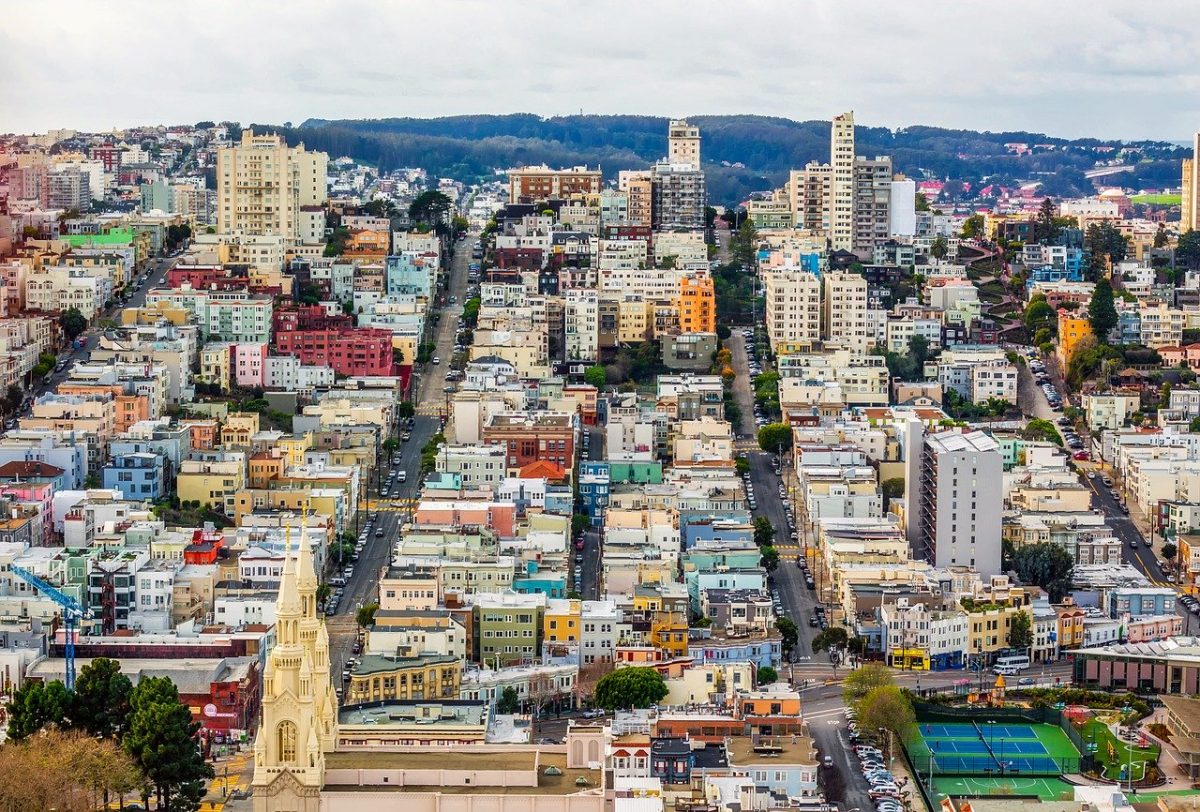 The arty, laid-back vibe of San Francisco makes it a safe place to travel, and unlike visiting LA or New York, you're much more likely to be able to strike up a conversation with someone in a coffee shop or museum!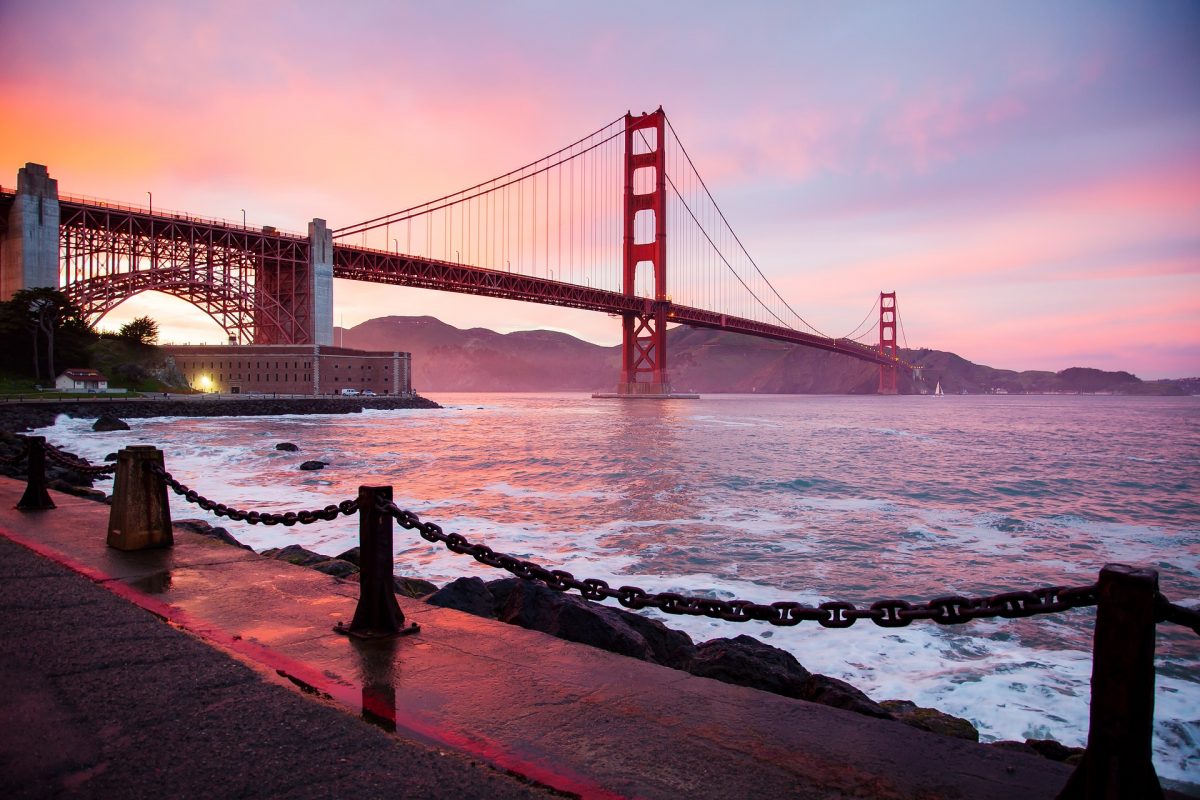 San Francisco has a whole host of epic tourist attractions which are must-sees – The Golden Gate Bridge, Fisherman's Wharf, Alcatraz Island, riding the cable car, Lombard Street, and Chinatown.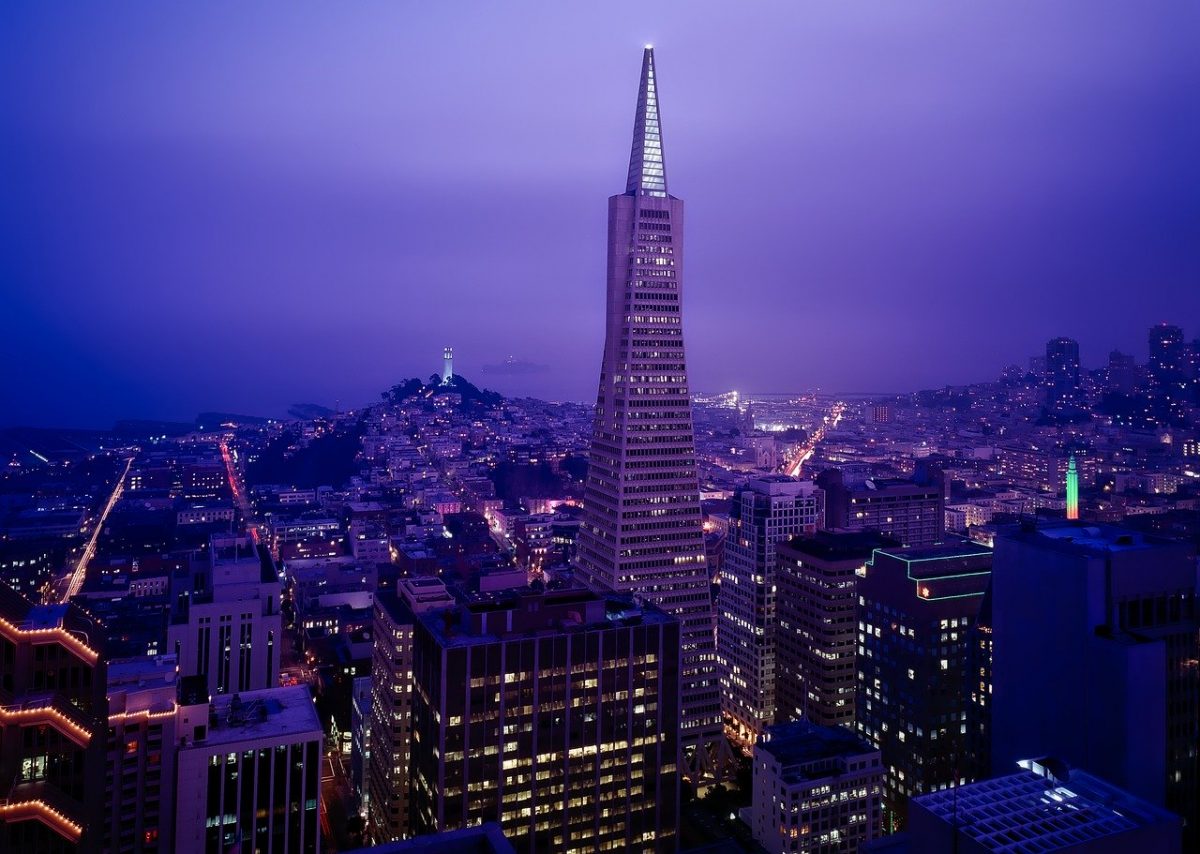 Recommended tour: San Francisco Bay Sunset Catamaran Cruise
There are also some more offbeat attractions such as unique museums and galleries, the wave organ at the Marina, poetry evenings in the City Lights Bookstore, the sculptures along the Embarcadero boulevard, and enough quirky coffee shops and restaurants to keep you entertained for years!
Where to stay in San Francisco?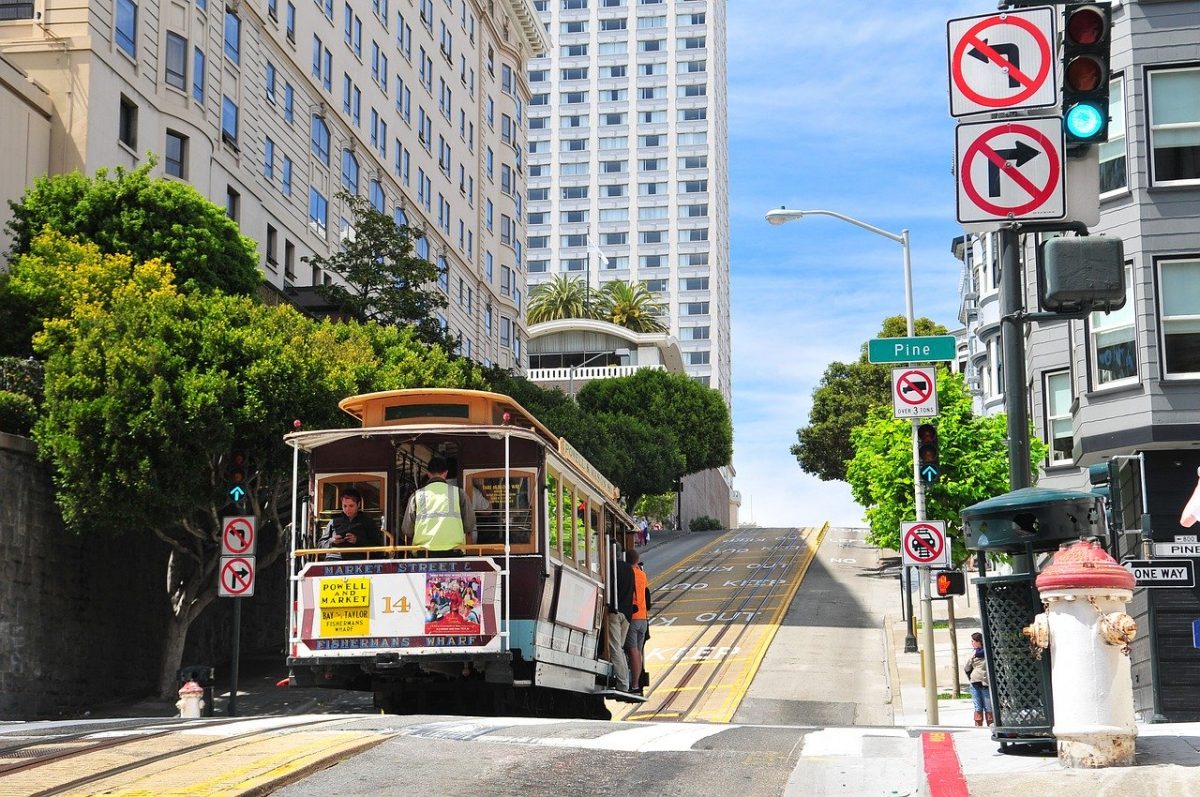 If you're traveling to San Francisco solo (and want to meet new people), I suggest staying in one of the city's cool hostels such as Hi San Francisco Fisherman's Wharf Hostel in Marina District or the more upmarket FOUND Hotel/Hostel.
They always have such a range of people (all ages and nationalities) so you're bound to find someone you connect with, and if you still want your own space then FOUND offers private Superior Queen Rooms too.
Chrysoula Manika, Travel Passionate
Boston, Massachusetts
The Oldest City in America, Boston, has many feathers on its cap. It is one of the biggest cities in the country, but it is among the most walkable cities – thanks to its large town-like ambience.
Rich in history and many things to offer, Boston is also one of the best places to travel alone in the US. 
Recommended – 40 FUN THINGS TO DO IN BOSTON AT NIGHT
You have plenty of things to do in the City – Be it just gorging on food from local markets, going on a heritage trail, sailing at the waterfront, or just lazing at the park, Boston gives you multiple options to choose.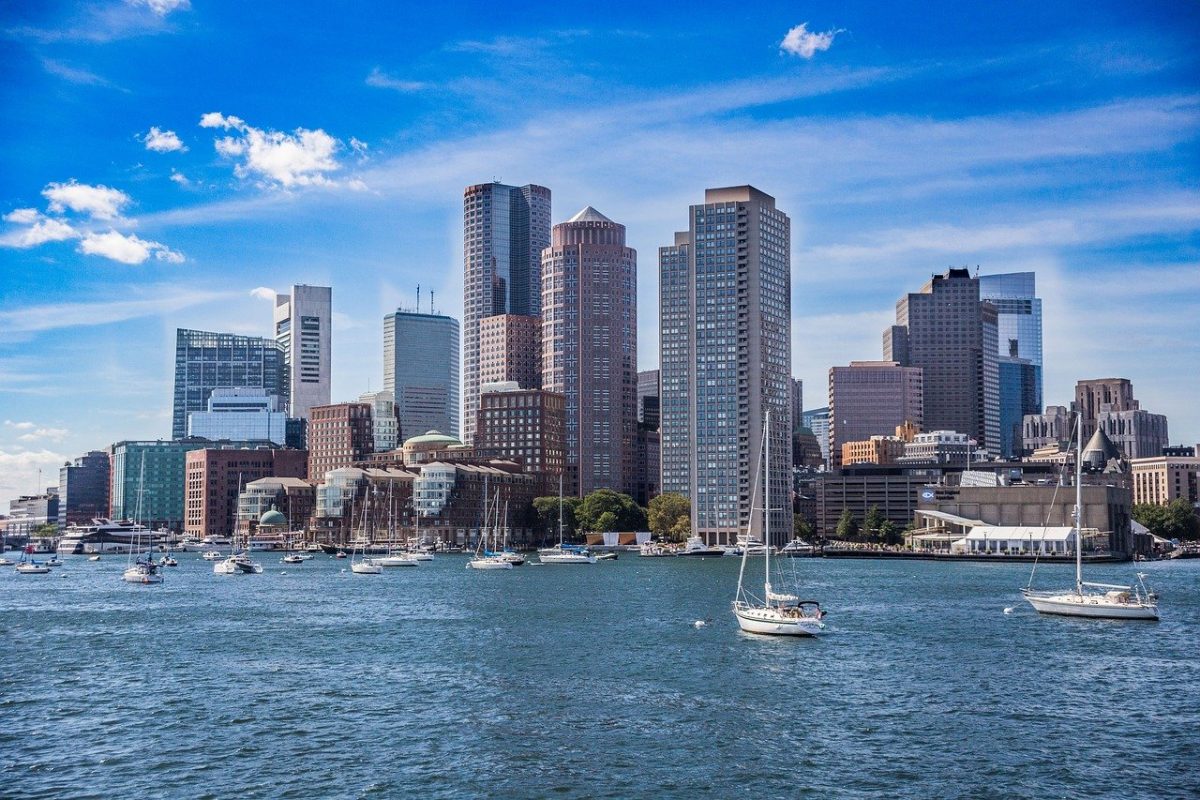 If you are a history lover, then Boston's freedom trail is for you.
The trail takes you through prominent landmarks and talks of the American Revolution that took place to throw British colonies out of their land.
Remember the Boston tea party which we studied in our history classes? So you get to see all that. It is a pleasant 3km walk, and the trail is marked by red tiles running around the City.
A little away from the trail's end lies the Prudential Tower, the top of which gives you a 360-degree view of the City. On a clear day, you get to see flights taking off the Boston airport, and other far off islands.
Recommended tour: Boston Duck Boat Sightseeing City Tour with Cruise Along Charles River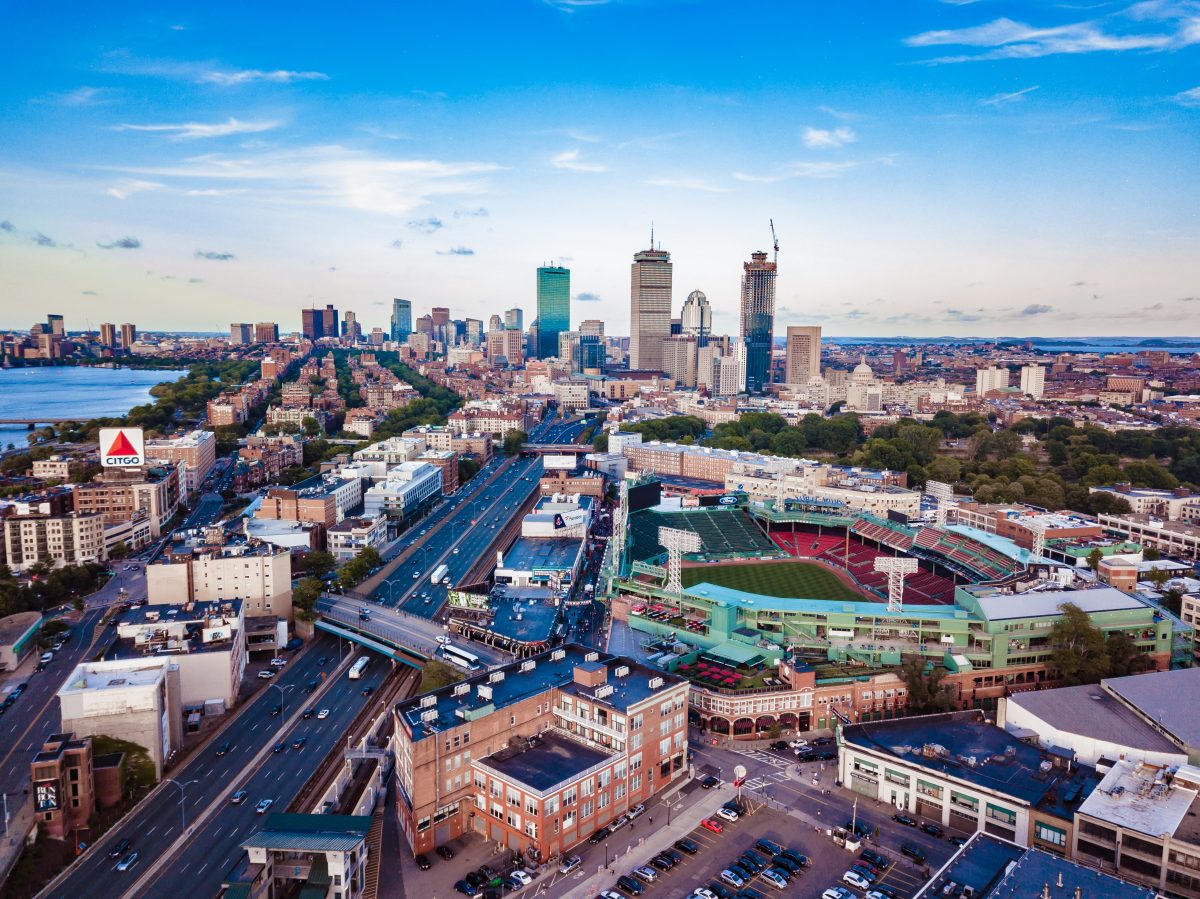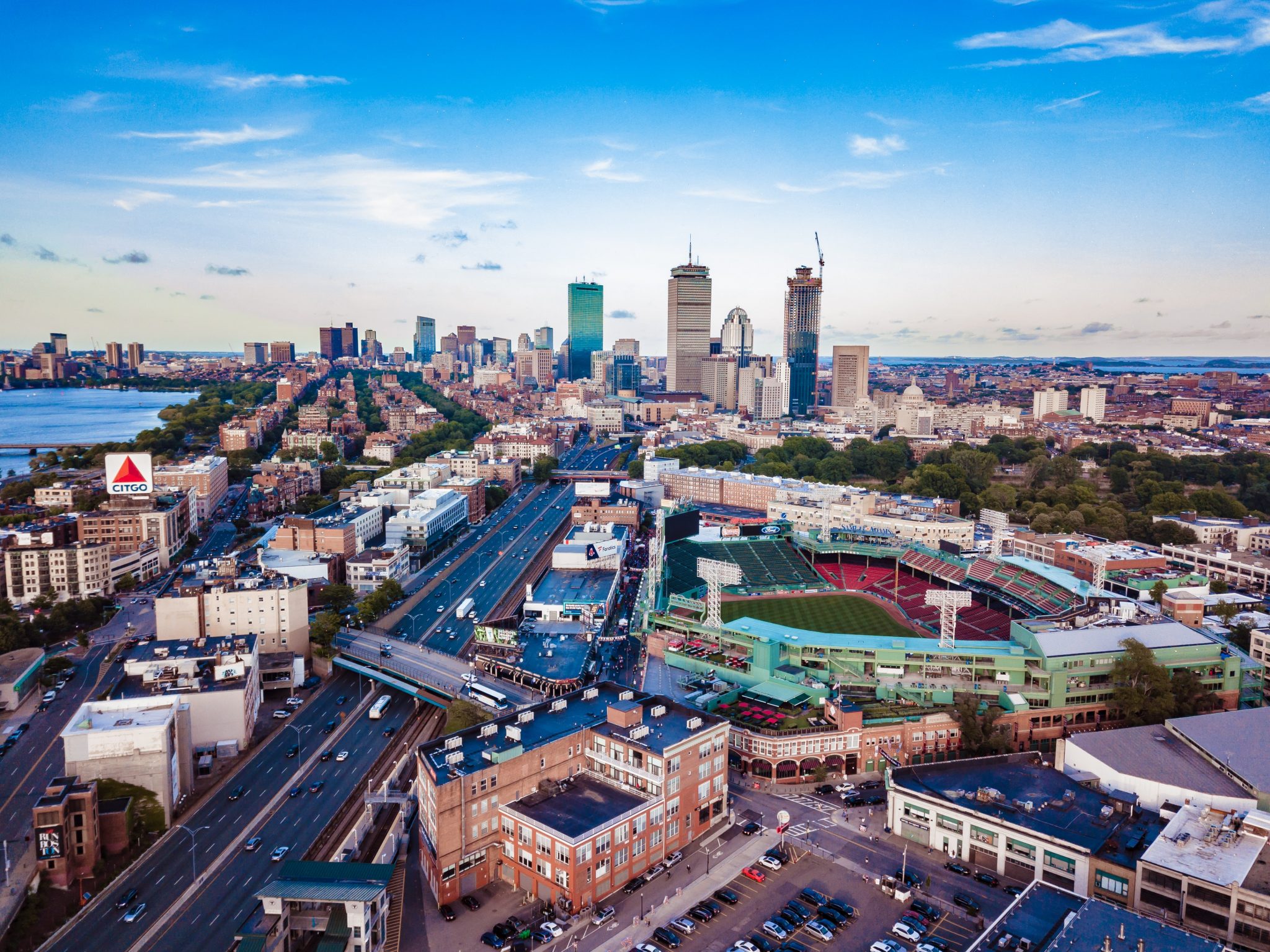 Walk into the Boston Public Market to see local producers selling fresh veggies and all kinds of groceries.
And for some good food, walk along the pier and fine dine. Or there is always Faneuil Hall Marketplace for a variety of American and Mexican food.
When in Boston, never forgot to have chunky juicy Lobster, for which Boston is known, and even just a sandwich with it is heavenly. Boston is well connected by the subway and has buses.
Where to stay in Boston?
Some of the best neighbourhoods in Boston are near Back Bay Station, The North End, The South End, Harvard Square, and Brookline, each offering a different experience. In Back Bay, the recommended hostel is Hi Boston Hostel.
If you prefer a single bedroom apartment, Cozy & Stylish Newbury Street Studio, #9 and Stylish Newbury Street Studio, #11 are excellent.
Chittra, Masala Box
Washington DC
How could you travel to the United States without discovering its famous capital? Washington, DC is so much more than just the White House.
One of the best places to travel alone in the US, the City is full of exciting culture, fascinating history, and breathtaking architecture.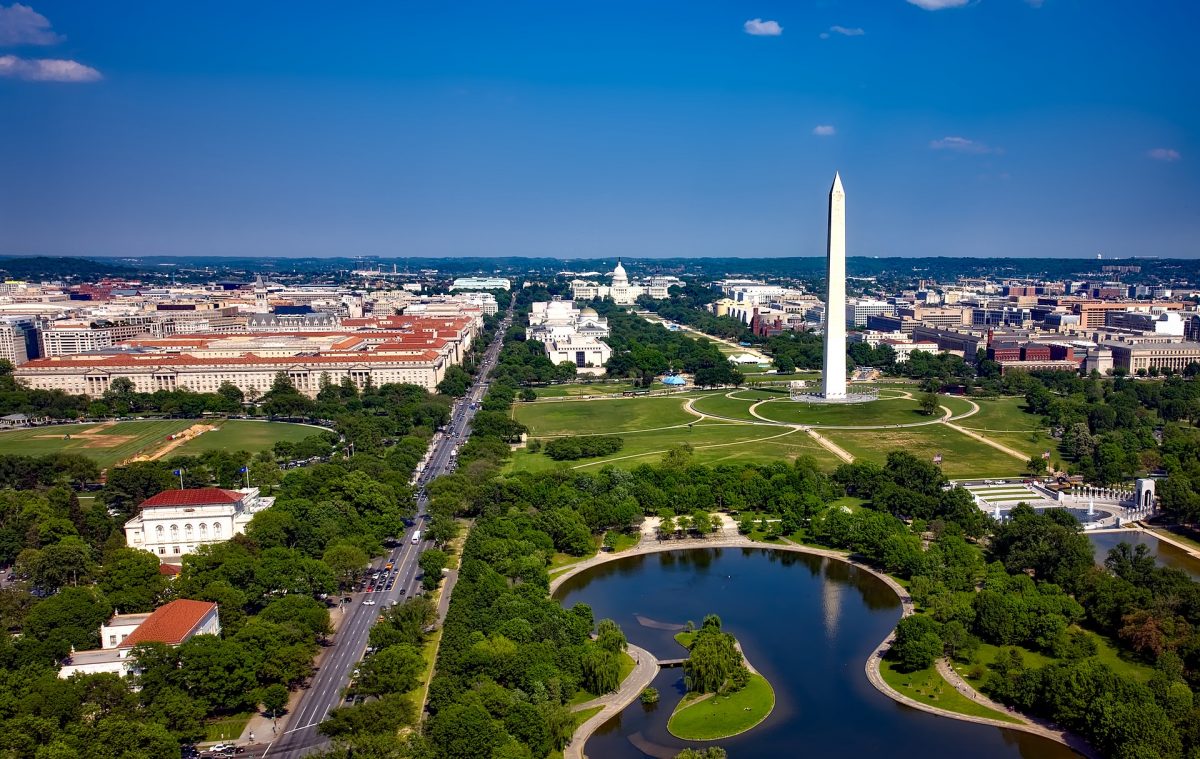 In general, Washington, DC, is a safe and easy-to-discover city and, therefore, perfect for solo travelers.
When I arrived in Washington, DC, I was surprised at how easy it is to walk to many of the City's attractions.
When visiting Washington DC, don't miss the National Mall, which is located in the centre of the City.
You can also discover the Lincoln Memorial here. Not only known from Martin Luther King's famous speech but also in the movie Forest Gump.
Recommended tour: Washington DC in One Day: Guided Sightseeing Tour
Also, there are a lot of impressive museums to discover, which cover almost every subject. Many of them are even free of admission.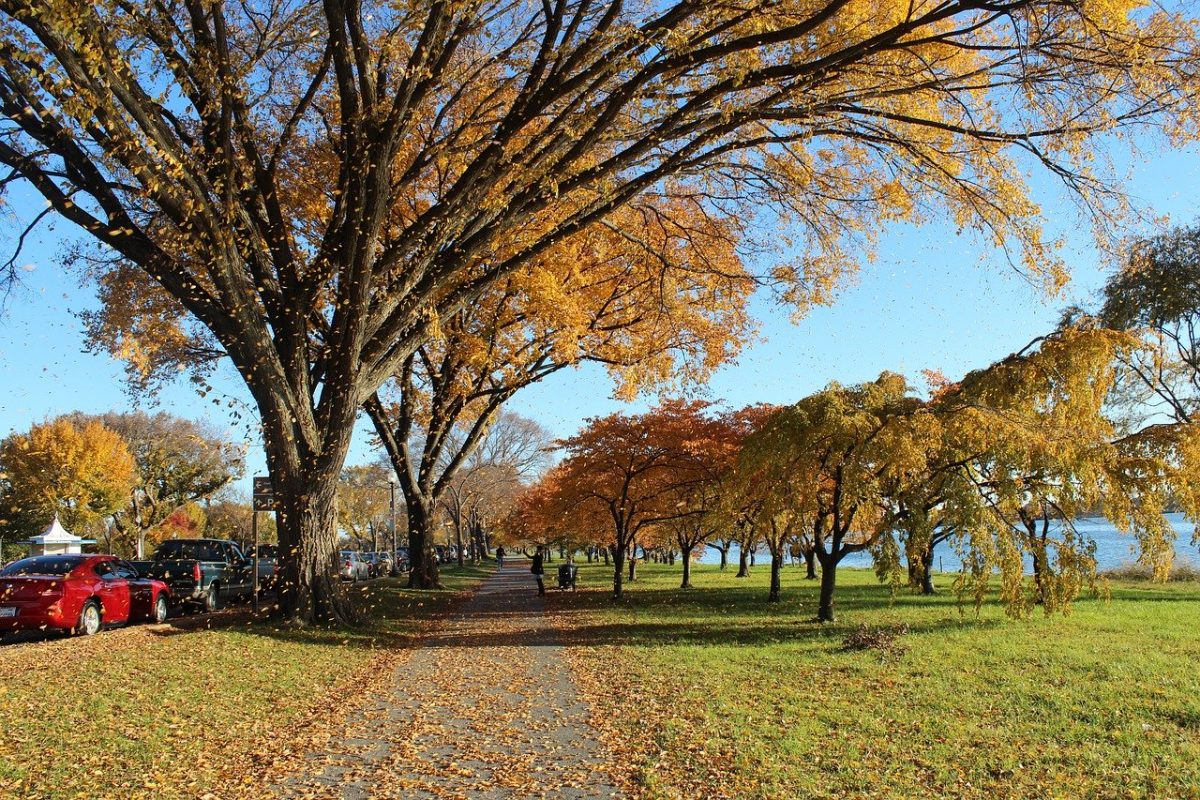 But a visit to the Georgetown district is also worthwhile. Stroll along the waterfront and enjoy the fantastic view.
You could easily forget that you are actually in the capital of one of the world's largest countries. In the popular Park Dumbarton Oaks, you will find plenty of rest.
Where to stay in Washington, DC?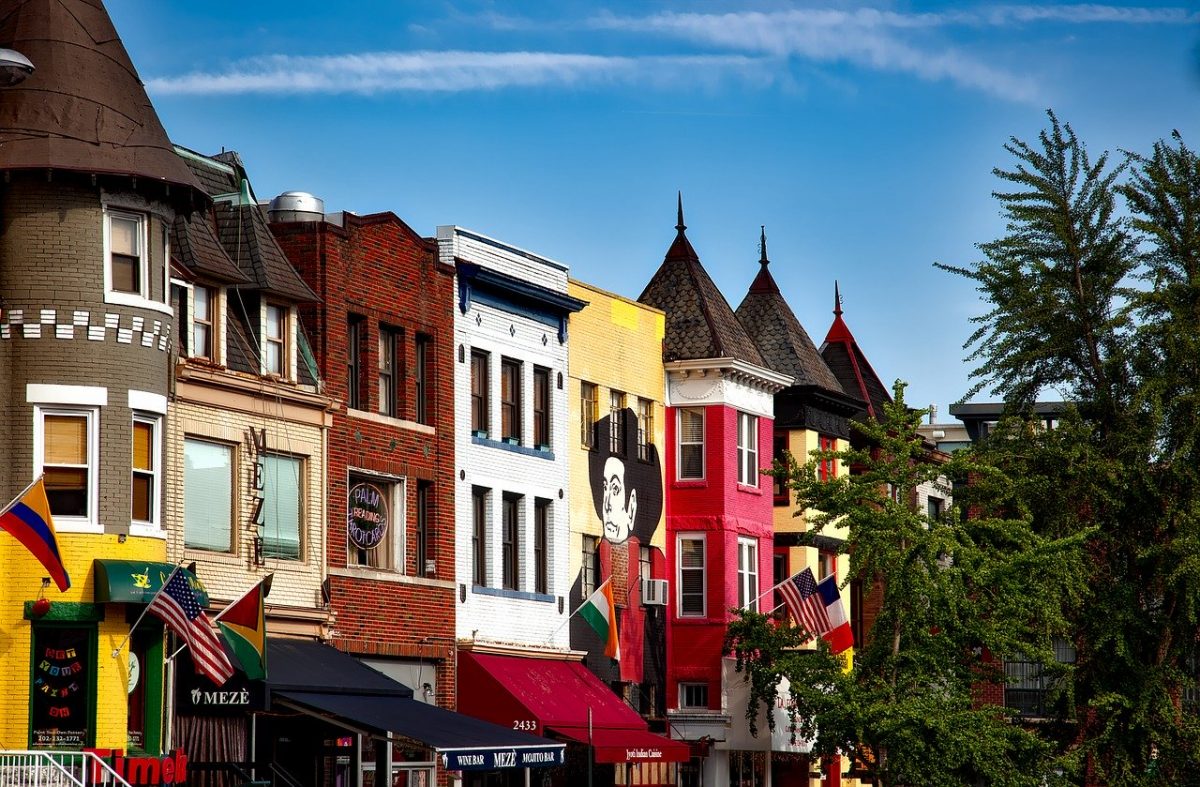 If you are traveling alone as a woman, you can book accommodation near the centre so that you don't have to rely on public transport.
One of the most popular areas for travellers is the neighbourhood around the National Mall. Some of the recommended places to stay in Washington in this area are Hotel Harrington and Luxury Rentals National Mall DC.
-Vicki Viaja, Sweet Vida Home
Best Places to travel alone in the US – Offbeat Cities
Milwaukee, Wisconsin
Milwaukee typically is not the first place people think to travel to as it's often overlooked because of its proximity to the more famous Chicago.
However, it's actually one of the excellent cities for solo travelers in the US because there are so many things to do, prices are dirt cheap for a major city, and Milwaukeeans are very friendly and welcoming.
Milwaukee is a great solo travel destination, especially if you're into summer festivals, beer, and friendly locals.
Recommended: Discover Iconic Milwaukee Tour
While traveling solo in Milwaukee, one thing you'll want to do is go brewery hopping.
Milwaukee is known for being built on beer, so check out a bunch of the local breweries. Some recommendations are Lakefront Brewery for the tour and Dead Bird for delicious vegan food and beer.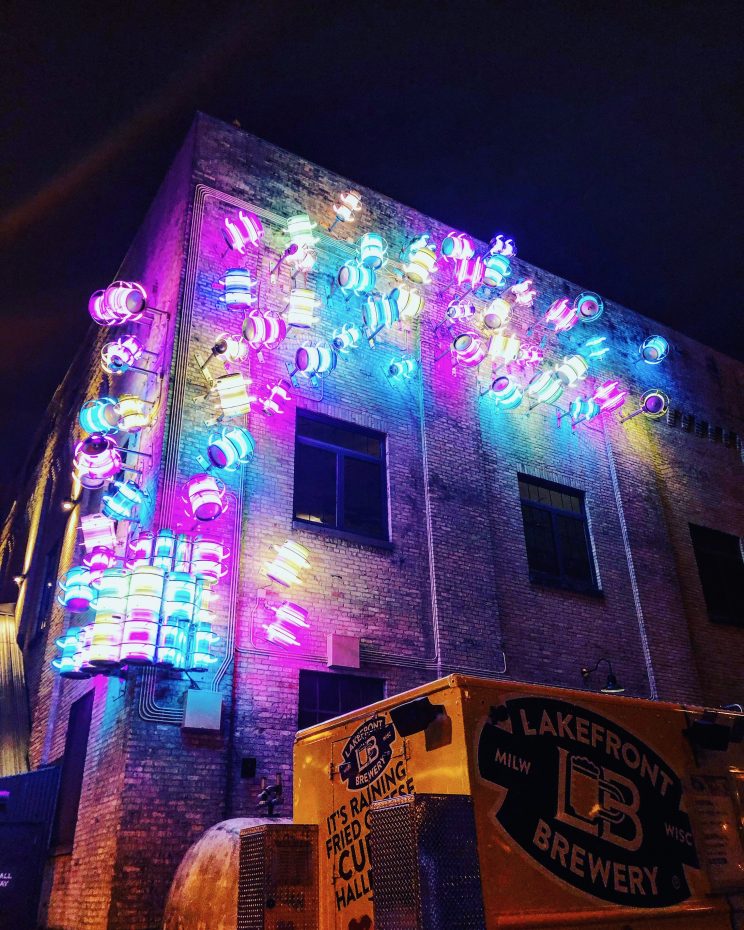 You should also check out all the festivals if you're visiting Milwaukee in summer, and go for a walk downtown around the Riverwalk.
Great day trips from Milwaukee are Lapham Peak, Madison, and Green Bay if you're looking to get out of Milwaukee for a day.
Where to stay in Milwaukee?
If you are traveling solo to Milwaukee and want to stay at a hostel, check out the newly built Cream City Hostel in the eclectic Riverwest neighborhood. It will help you visit the real Milwaukee at a confluence of different neighborhoods.
If hostels aren't your thing, go for The Iron Horse Hotel in Walker's Point, just south of downtown. Both are located in wonderful spots to see the city with plenty to do and see within walking distance.
Mike and Becca, MY Travel BF
Flagstaff, Arizona
The walkable historic Downtown makes Flagstaff in Arizona one of the best US cities for solo travel. Flagstaff's proximity to the Great Outdoors pulls those looking for solo outdoor adventure from around the world.
The surrounding Ponderosa Pine forest—the largest on Earth—can be reached via hiking and mountain biking trails that begin right inside the city limits.
Recommended – 10 PRETTIEST LAKES NEAR FLAGSTAFF FOR A PICNIC
Besides the Grand Canyon, Wupatki National Monument (NM), Sunset Crater NM, and Walnut Canyon NM are within a 30-minute drive from the bustling Downtown.
Take the Amtrak train or historic Route 66 into the town that earned its stripes in railroading and lumber. Now a lively university town with a tempting foodie scene, the City has an easy-to-navigate airport (FLG).
Recommended tour: Grand Canyon Sunset Tour from Flagstaff
Meetup with other solo travelers at chill places like Nomads Global Lounge or Macy's European Coffeehouse & Bakery.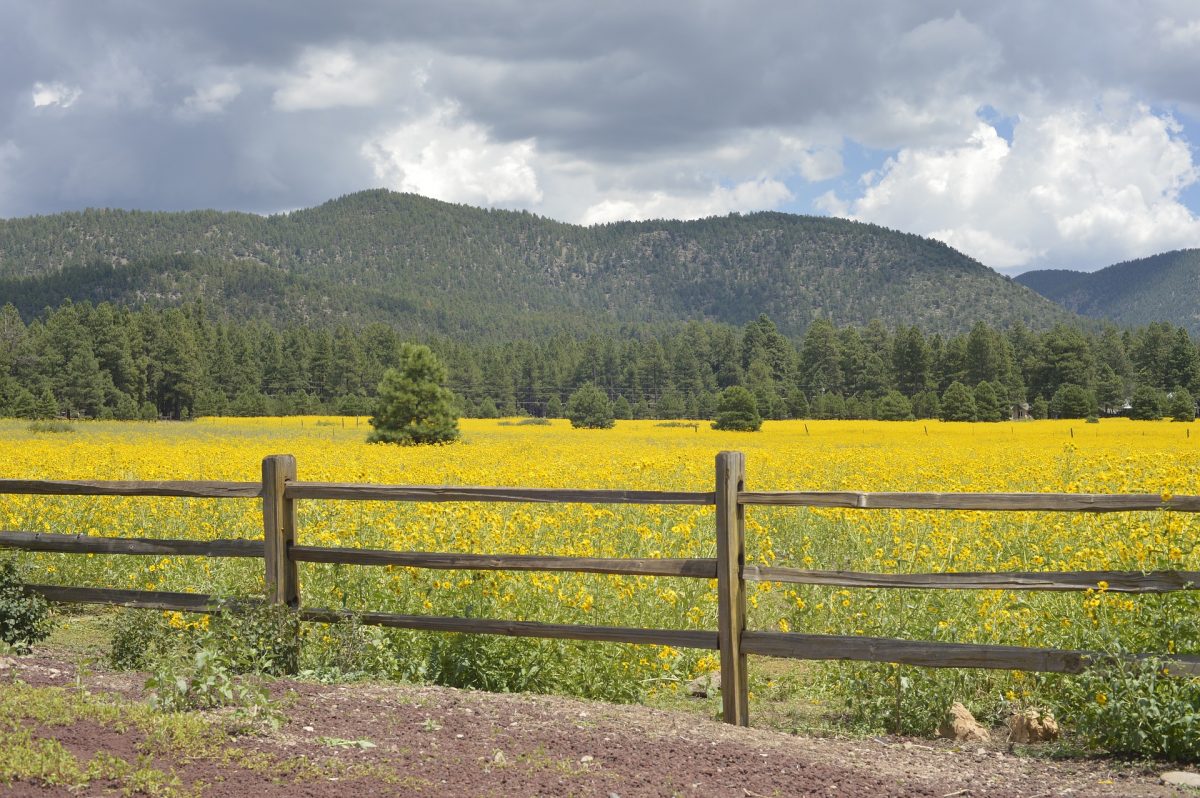 The Flagstaff Brewery Trail and mellow live music venues render this mountain town a safe place to meet other international travelers who come to experience Grand Canyon National Park.
Antelope Canyon, the Navajo Nation, and the Instagrammable Horseshoe Bend are a day trip away.
Where to stay in Flagstaff?
Stay at the new Residence Inn by Marriott right in historic Downtown, so convenient to craft breweries and the Orpheum Theatre's live concerts.
-Stacey Wittig, Unstoppable Stacey
Pittsburgh, Pennsylvania
Pittsburgh might not have a big reputation as a tourist spot, but recent changes are making 'The Steel City' one of the best places to travel alone in the US. The city has gained a reputation for being one of the most livable cities in America.
Pittsburgh can offer a lot when it comes to travel and photography. What was once purely an industrial town has now blossomed into a fun place to go and visit.
One of the more quirky activities for the solo traveller is the self-guided scavenger hunt.
Work your way through a 15 clue scavenger hunt by yourself or with a team of newly found friends while also exploring the history and sights of Pittsburgh.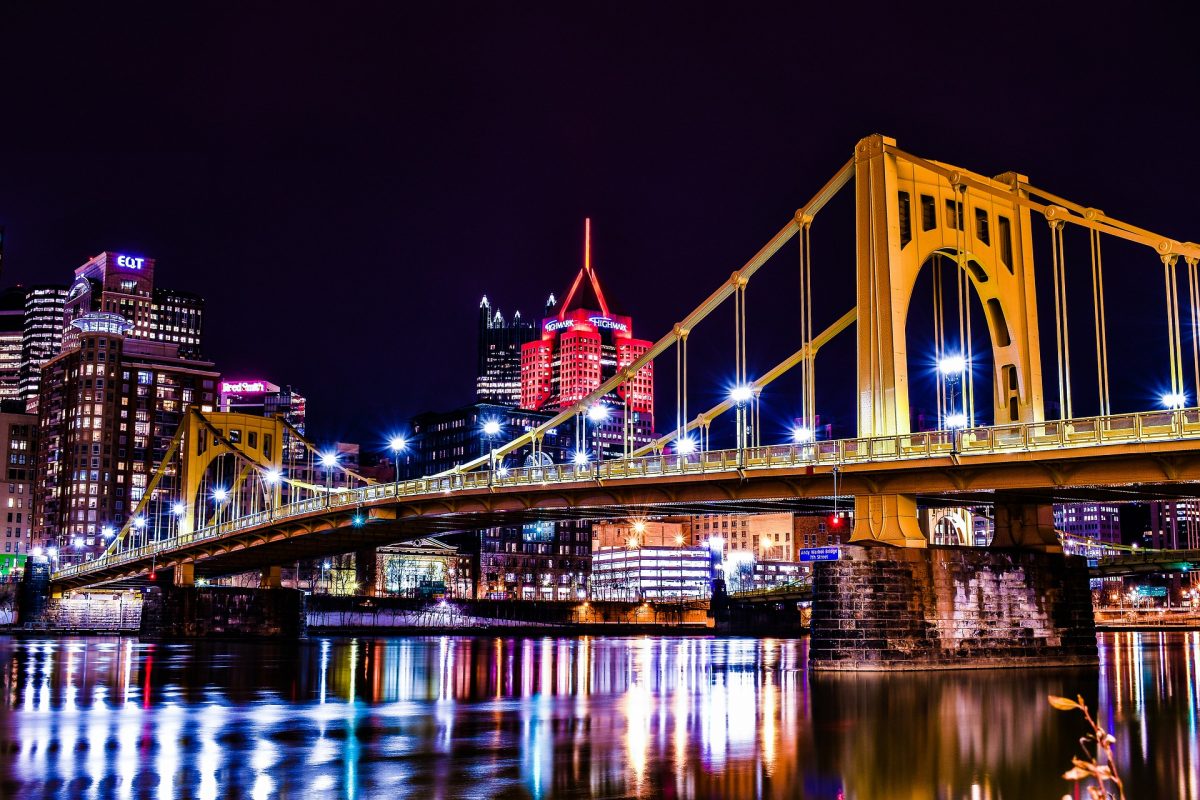 Pittsburgh is set between the Allegheny and Monongahela Rivers and where the two rivers intersect the beautiful Point State Park. The park has walking routes alongside both rivers.
Recommended tour: Essential Pittsburgh Experience – The One Tour to Take
Across the Allegheny River sits Heinz Field, home to NFL's Pittsburgh Steelers.
Almost right next to it is PNC Park home of baseball's Pittsburgh Pirates. Both are among the prettiest sports stadiums in the country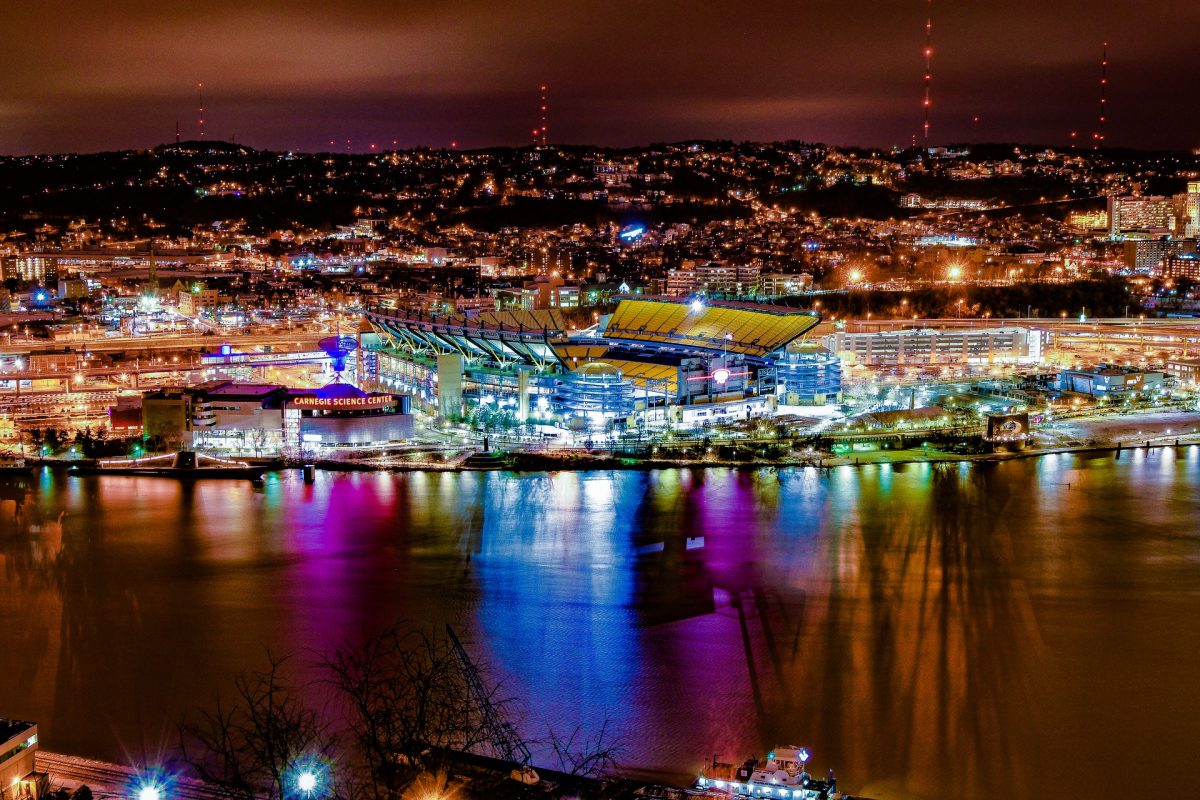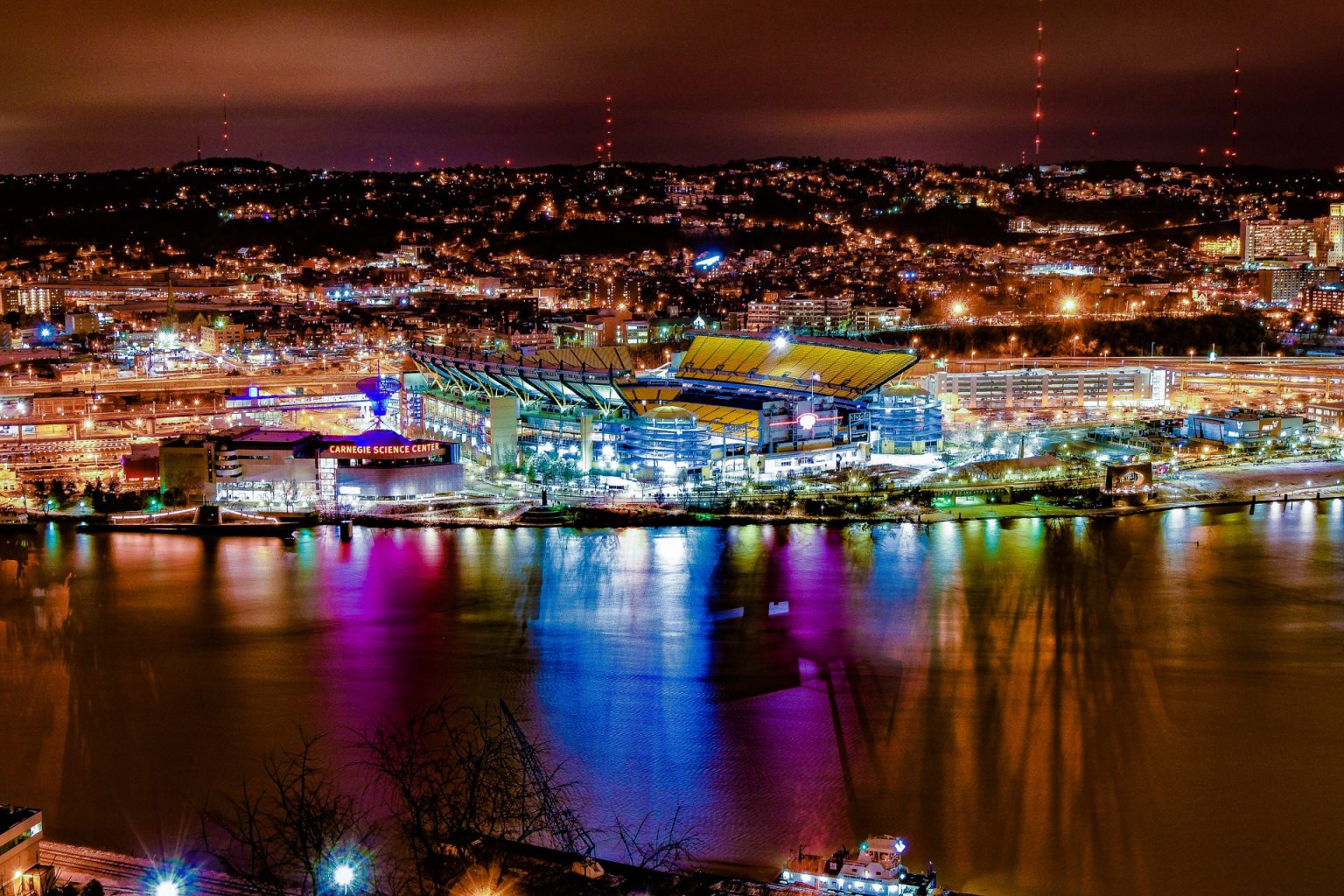 No visit to Pittsburgh would be complete without a trip to one of the cities stunning viewpoints.
The easiest one to reach is Grandview Overlook across the Monongahela River. It affords a complete panorama of the whole of the downtown skyline.
Where to stay in Pittsburgh?
While there a plenty of hotel options within Pittsburgh more affordable options can be found in the township of Moon just outside of the city.
-Rob, Roam Yonder
Scottsdale, Arizona
One of the best places to travel alone in the United States would have to be Scottsdale, Arizona.
Located just outside Phoenix, there's almost an endless list of things to do in Scottsdale, a small but growing city.
With so many museums and guided adventure activities, Scottsdale is a great, safe place to visit as a solo traveler.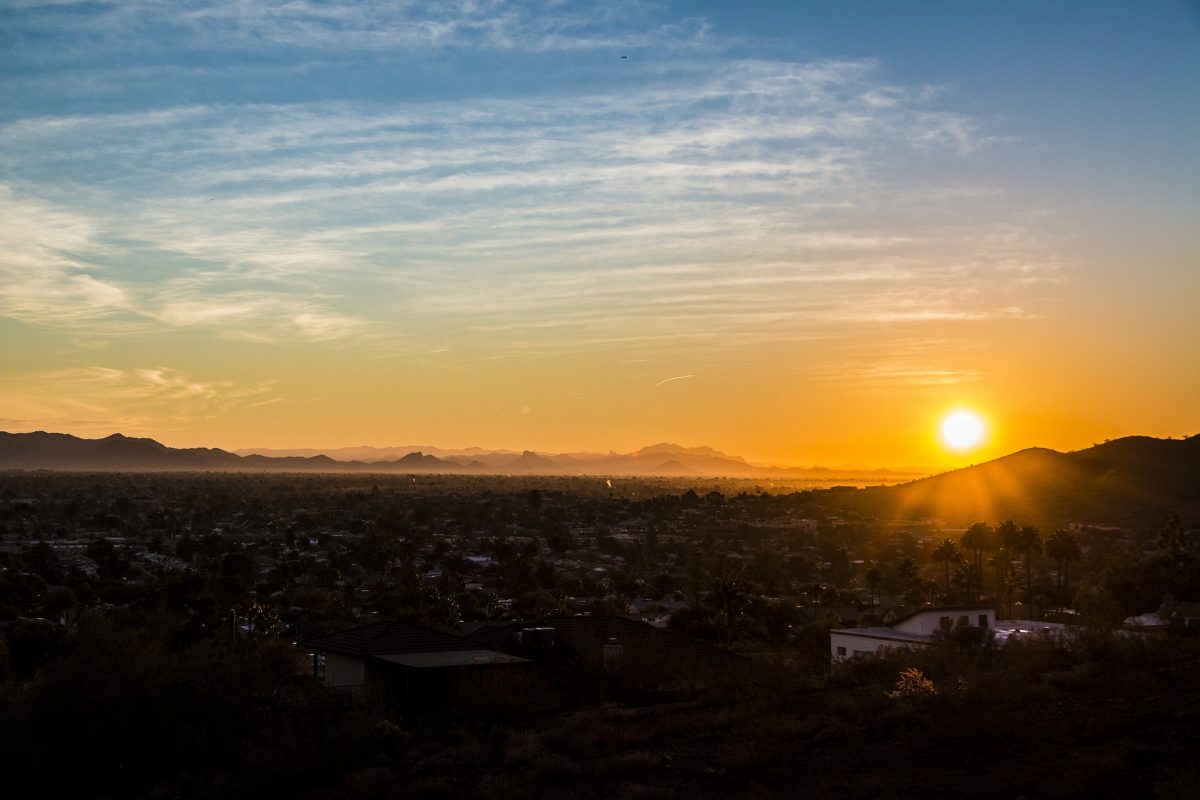 Scottsdale is a vast art-centric city with loads of public art, art museums of all types, art "experiences" like Wonderspaces and the Cosanti studio, and the UNESCO World Heritage Site architectural landmark of Frank Lloyd Wright's Taliesin West.
Recommended tour: After Dark Desert Tour and Navigating the Night Sky
Additionally, Scottsdale has an extensive network of outdoor preserves with a long list of outdoor activities that would be perfect for solo adventurers: Kayaking, light hiking trails, guided mountain biking, horseback riding excursions and so much more.
Where to stay in Scottsdale?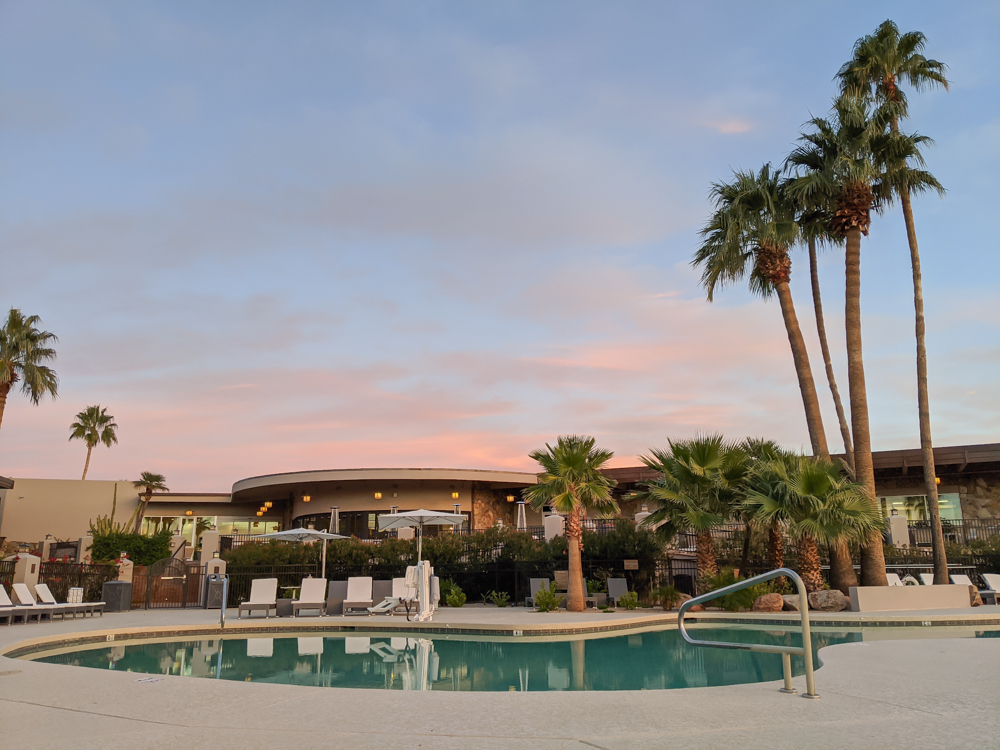 One great place for a solo traveller to stay in Scottsdale would be the Civana Wellness Resort & Spa.
Whether or not you're into spa life, Civana is excellent for solo travellers because they have an extensive menu of free activities that include guided hikes in nearby deserts, cooking demonstrations, sports and fitness classes, swimming, art classes, and so much more.  
-Ashley Smith, My Wanderlusty Life
Bozeman, Montana
Bozeman is one of the best places to travel alone in the US. Bozeman is an excellent stop on a Montana road trip or as its destination thanks to the Bozeman Yellowstone International Airport.
It is one of the best places to visit in Montana due to its city attractions, nearby nature sights, world-class skiing a short drive away, and a friendly vibe that is extended to visitors.
Within the city limits, you'll find a wide range of things to do, from tastings at craft breweries and distilleries to tasting some of Bozeman's fine farm to table cuisine to checking out one of the best dinosaur museums in the country: the Museum of the Rockies.
At night, head to Main Street in downtown Bozeman for some drinks and dancing and the chance to meet some new people or just head to your accommodation for a good night's rest before waking up early to hit the trails or slopes.
Recommended tour: Best of Yellowstone Full-Day Private Guided Tour from Bozeman
Solo travelers will find amiable locals to strike up conversations with or the chance to seclude themselves on a remote hiking trail (just bring your bear spray) or while skiing down the slopes at nearby Big Sky Resort.
Where to stay in Bozeman?
An excellent option for a place to stay for solo travelers in Bozeman is the Treasure State Hostel, which has both private and shared dorm rooms.
-Gina Tarnacki, Travel Montana Now
Detroit, Michigan
Detroit is one of the best places to travel alone in the US. The City is an unexpected addition but is a worthy destination for travelers.
Once America's 5th largest City and widely derided following decades of economic decline is starting to emerge from its dark shadows.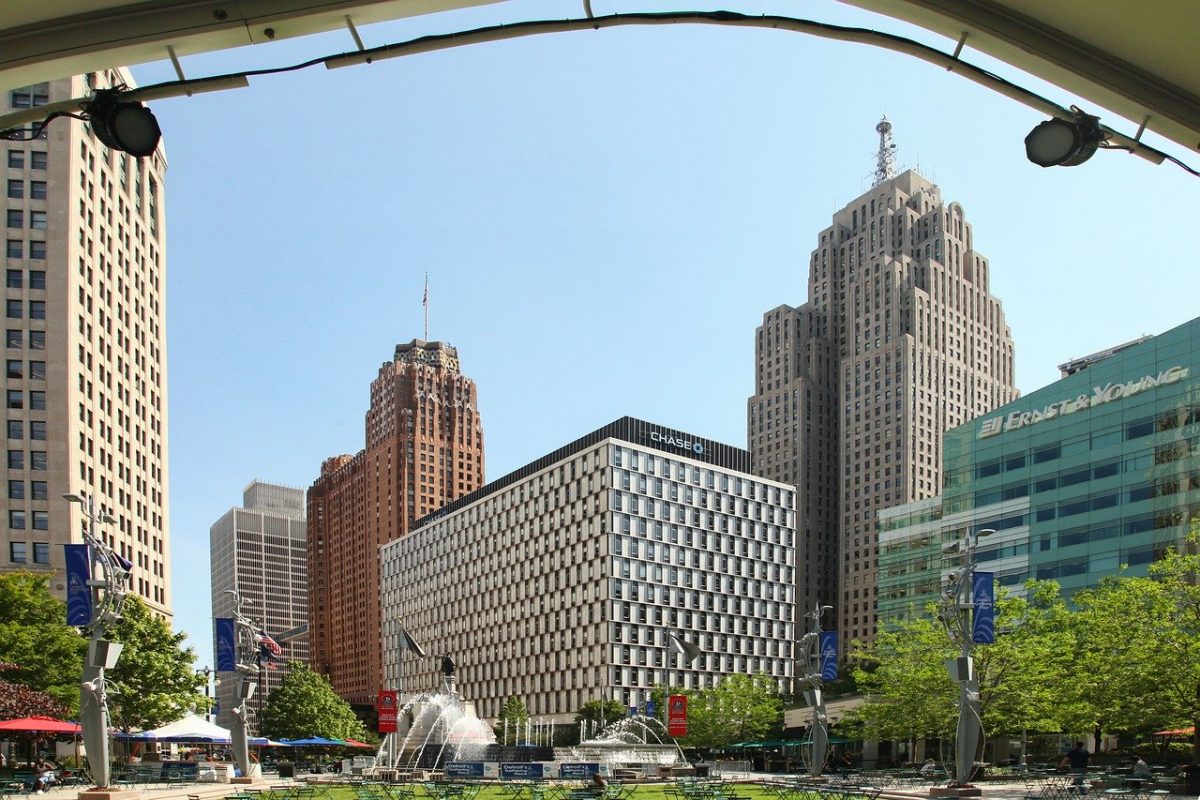 While there remains a long road of progress ahead, a period of mutual investment has seen several of the City's landmark buildings renovated. A renaissance of this great Michigan city is upon us.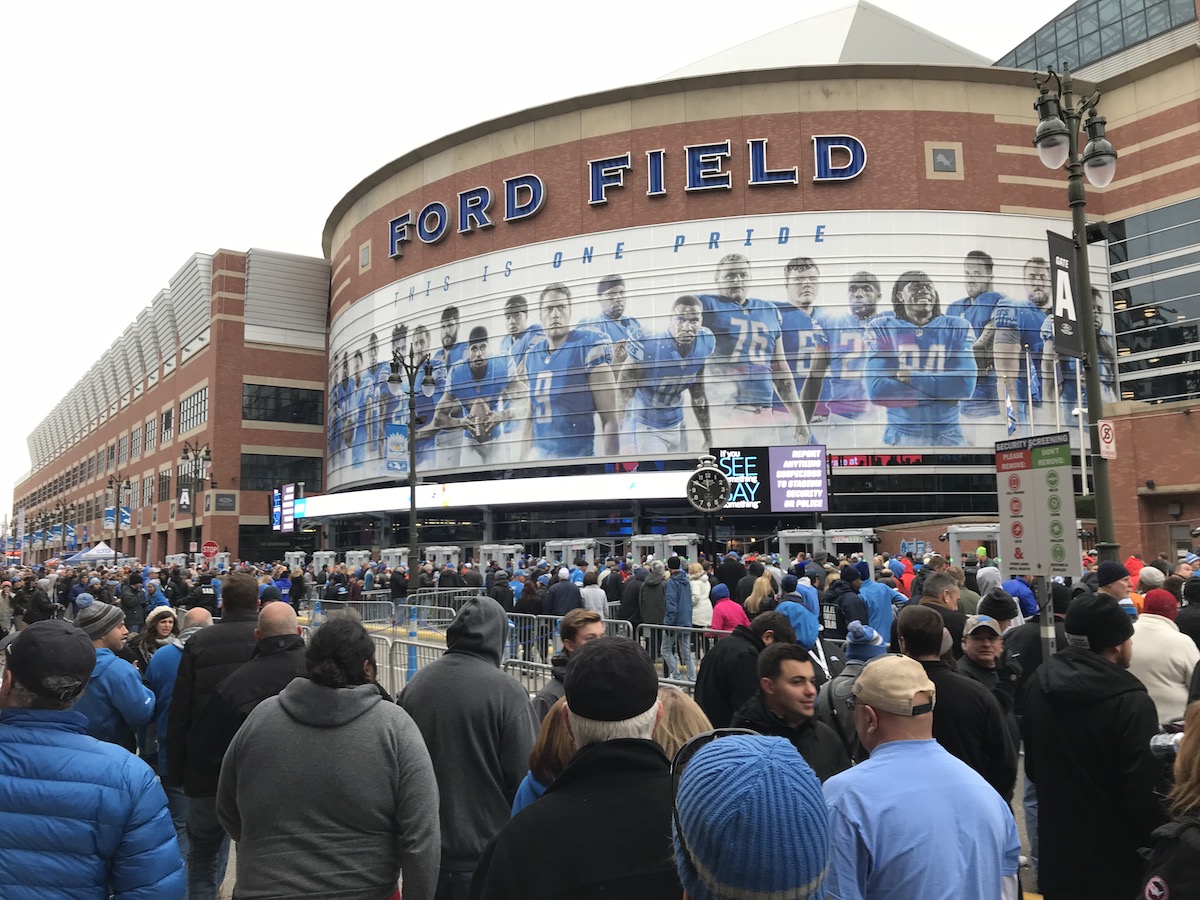 Just a short walk north lies District Detroit, the City's midtown sports and cultural hub home to all four of Detroit's major league sports teams and the ornate Detroit Opera House. Its contemporary and unpretentious bars and restaurants perfect for a refreshment or two.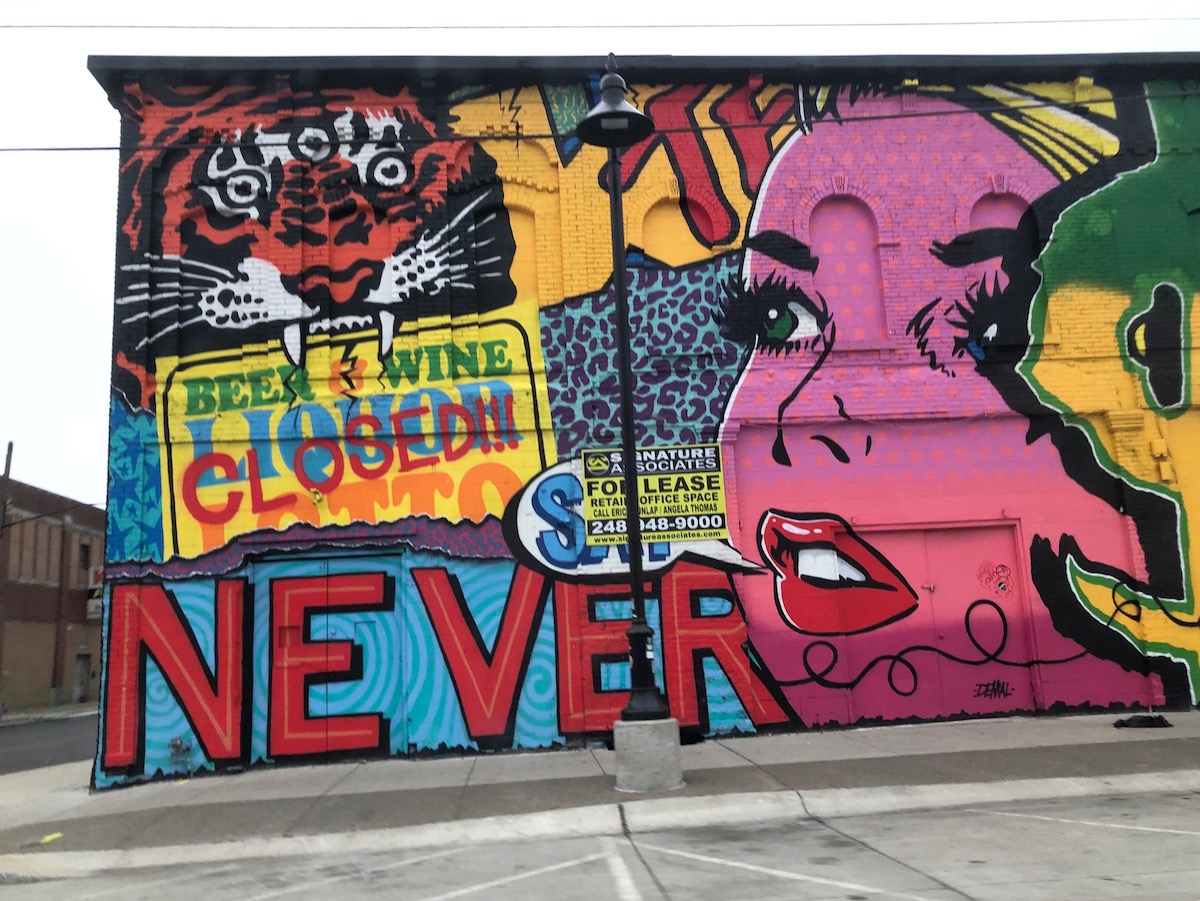 While Detroit is witness to increased investment and regeneration; it is often the ad hoc areas of street art and murals that best reflect a city's cultural heritage and experiences. Detroit is certainly no exception with colourful paintings spread across the City.
Check out the Eastern Market district or 'The Belt' in a former downtown garment district as compelling examples. These are just a fraction of Detroit's attractions.
Recommended tour: Explore undiscovered beauty of Detroit
For instance, the Motown Museum, the oldest Thanksgiving Parade in the US, its own Pizza and Hot Dog variations, and the addictive feather bowling and you have a city unlike any other.
Just ensure you book your visit before it becomes common knowledge!
Where to stay in Detroit?
Nowhere is this more exemplified than Woodward Avenue in the centre of Detroit where home town watch manufacturer and lifestyle company Shinola has recently opened its first hotel.
Demonstrating style and quality craftsmanship synonymous with their brand, this has quickly become Detroit's go-to hotel.
–Paul, The Two That Do
Portland, Oregon
If you want a weird, nature-loving, and trendy experience, Portland, Oregon is one of the best places to travel alone in the US.
Portland is one of the best cities to head to as a solopreneur, considering it's well below the national average for crime rates compared to other US cities.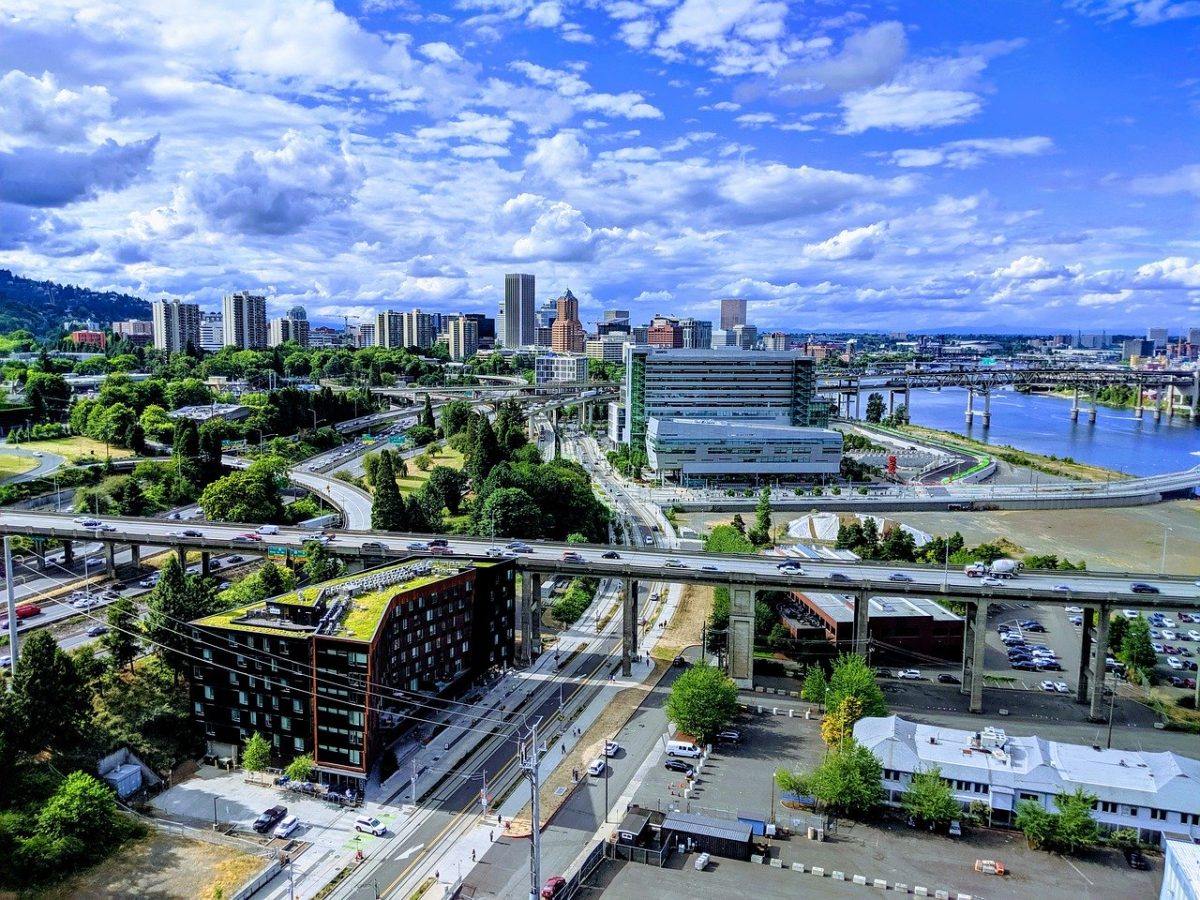 While I would personally say that Portland is less of a site-seeing city and more of a town to experience – that doesn't mean there isn't plenty to do there! This City's vibe is off the charts.
When you first arrive, head over to Forest Park – the City's most prominent. Walk around the miles of trails in beautiful evergreen woods before finishing at the Pittock Mansion for one of the best views of Portland and Mt. Hood.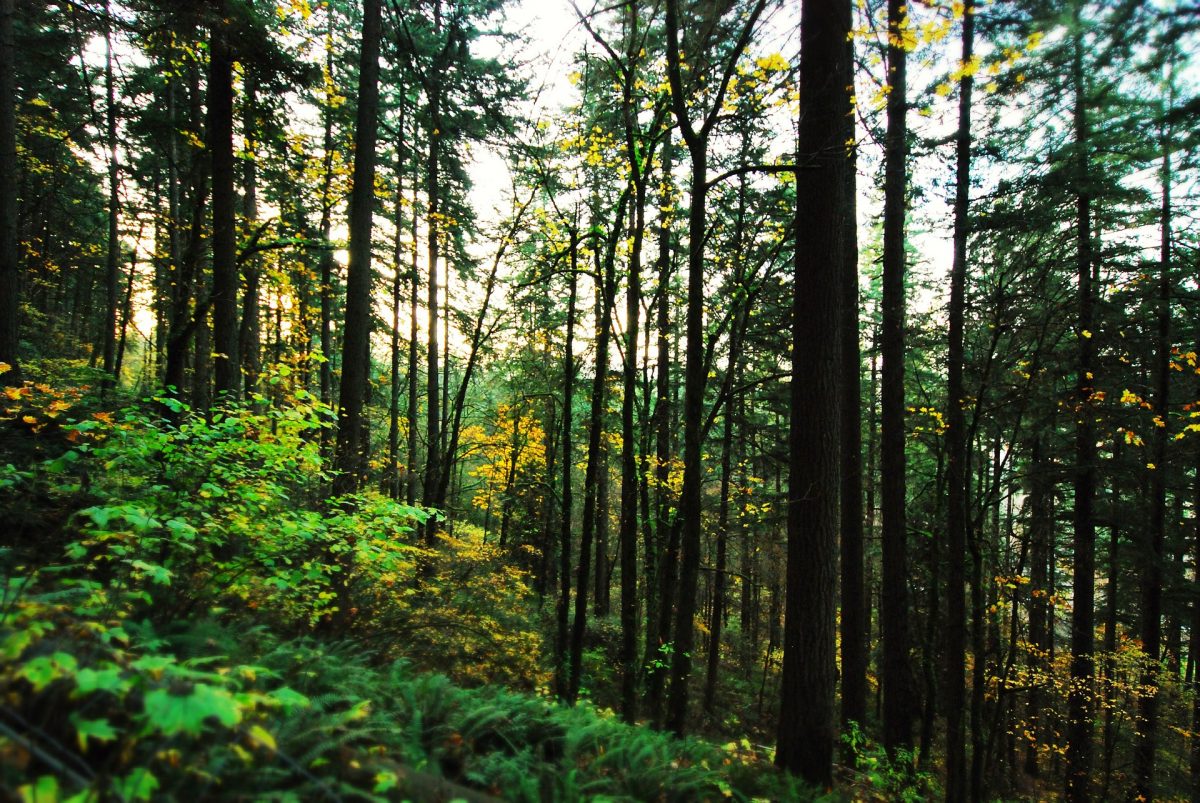 When you've walked yourself hungry, you can head to any of the great food truck pods (or take a food tour!) around Portland's trendy neighbourhoods.
The Pearl District, Mississippi, Hawthorne, and Alberta are all great areas to just walk through and appreciate the weird but awesome (and very different) vibes.
After this, you can head to the local brewpub for one of the best craft beer scenes you can come across. Also, if you come during the summer, definitely check out the local farmer's markets.
Where to stay in Portland?
There are plenty of great accommodation options, but I'd recommend staying in the Pearl District at the McMenamins Crystal Hotel. When you get up the next morning, be sure to walk the three blocks to get your classic Blue Star Doughnuts.
Ashley, Impact Winder
Bayfield, Wisconsin
A town in Northern Wisconsin that is often overseen is Bayfield, which is one of the best places to travel alone in the US.
Bayfield is the gateway to one of the most scenic National Parks in Wisconsin: the Apostle Islands National Lakeshore.
Also, home to Madeline Island and the Apostle Islands, Bayfield is known as the crown jewel of the Bayfield Peninsula. Bayfield is thus mostly a city for solo travel if you are an outdoor lover.
From here you can set out and explore the beaches of the area, discover the sea caves, rent a kayak or do one of the endless hikes. The City is entirely safe, and thus it's perfect for solo travelers.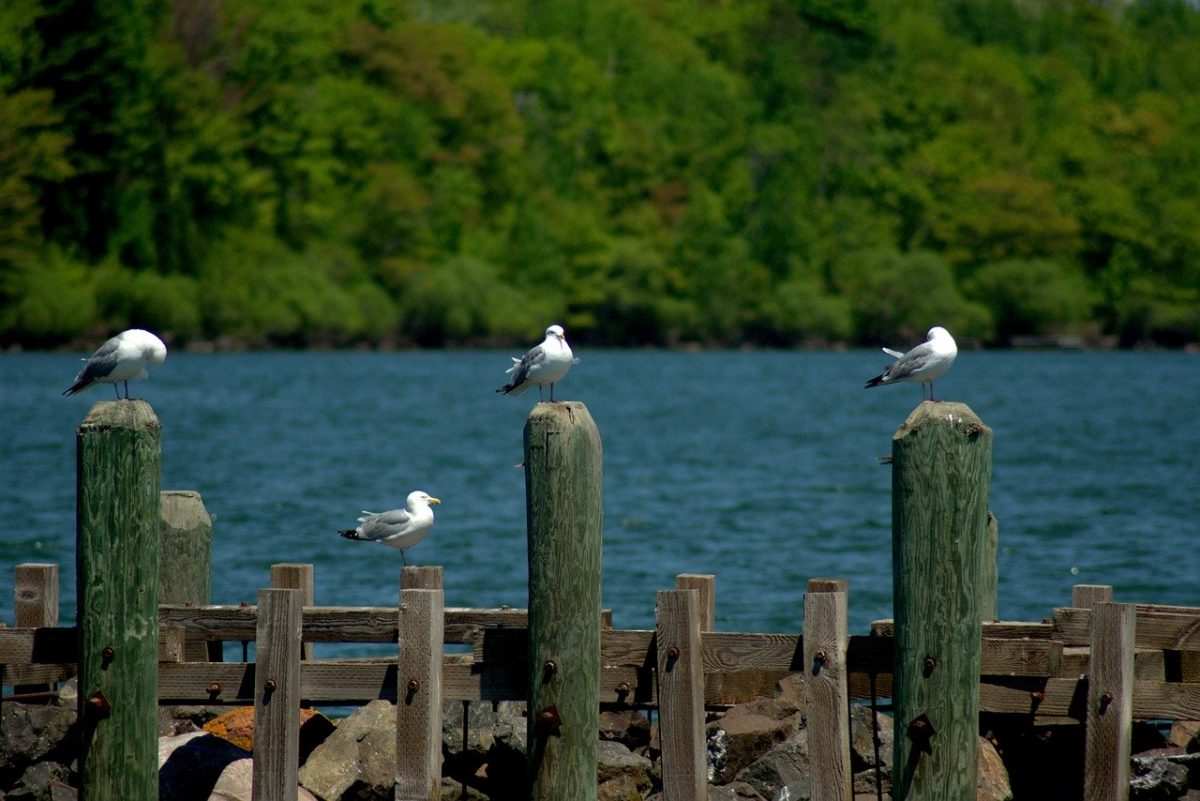 Other things to do here are camping, fishing, visiting pristine orchards and fine dining. No wonder that visiting Bayfield is often considered as one of the best things to do in Northern Wisconsin.
Don't forget to do a city walk through Bayfield and fall in love with the historic character of the town. A number are listed on the National Register of historical sites.
Where to stay in Bayfield?
There are plenty of excellent places to choose from in Bayfield. Some of the recommended options are Old Rittenhouse Inn and Pinehurst Inn Bed & Breakfast.
-Paulina, Paulina on the Road
ENJOY THE OUTDOORS IN BOULDER, COLORADO
If you love adventure, one of the best places to travel alone in the US is Boulder, located in the beautiful state of Colorado.
We discovered Boulder on our Colorado road trip, and it quickly made an impression on us as a hip mountain town with lots of things to do.
Do you know? Boulder is also the home of over 45,000 acres of designated trails, perfect for hiking or cycling. Just a short while away is the iconic Rocky Mountain National Park, perfect for Ziplining and many ski hills.
You could spend a lifetime exploring the mountainous regions around Boulder – it's truly a one-of-a-kind area.
It is one of the best places for solo travelers in the USA as they can enjoy the plethora of tours Boulder has to offer, the abundance of entertainment options, great hiking, and shopping.
Pearl Street Mall is where the centre of the action happens in Boulder. It is a hub of restaurants, shops, and street performers.
If you are visiting Boulder for the first time, I highly recommend joining this private guided tour of the highlights of Boulder, where a local expert will show you the best of the city, including Pearl Street Mall, Hotel Boulderado, and Boulder Theater.
Tours of the craft beer scene often descend on the Pearl Street Mall and are a great way for solo travelers to meet other visitors.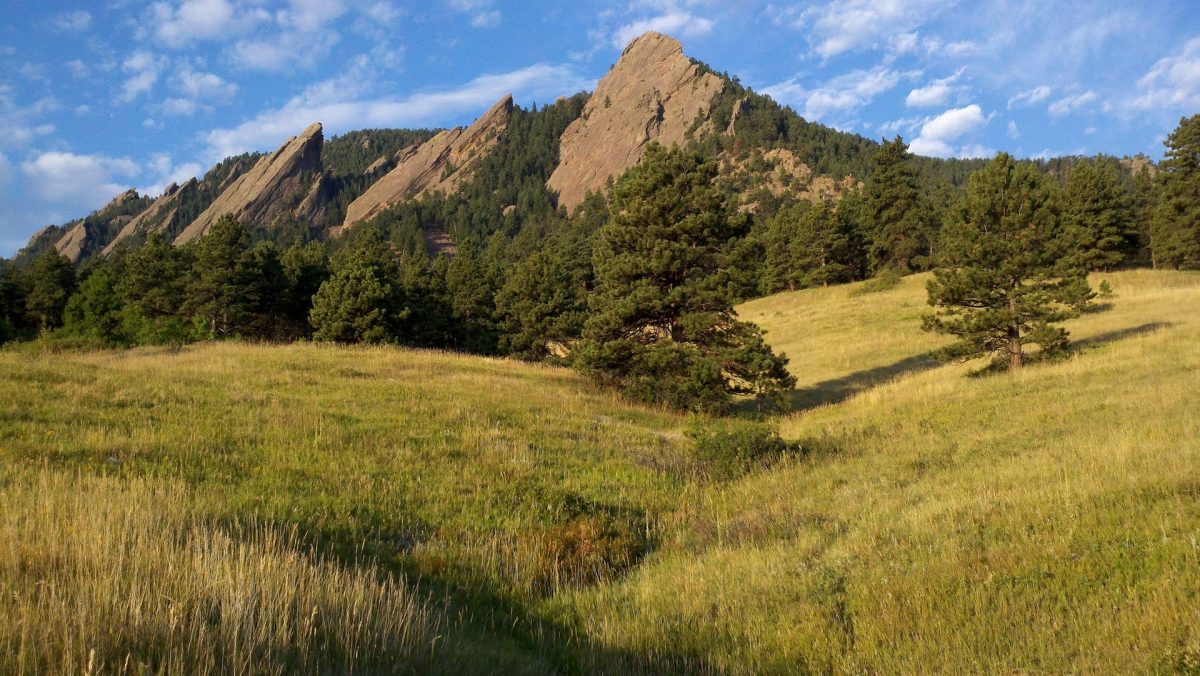 Where to stay in Boulder?
We stayed in an RV while exploring Boulder but can suggest Briar Rose Bed & Breakfast for their sustainable practices and great value if you are looking for a low-key place to stay.
Oksana & Max, Drink Tea & Travel
Asheville, North Carolina
Asheville in North Carolina is one of the best places to travel alone in the US. Downtown Asheville is busy, arty and bourgeois bohemian.
Pedestrians bump against each other along narrow sidewalks past fair-trade and organic clothing boutiques, crowded cafes, a Three Dog Bakery, and street performers including the 'World's Most Okayist' poet.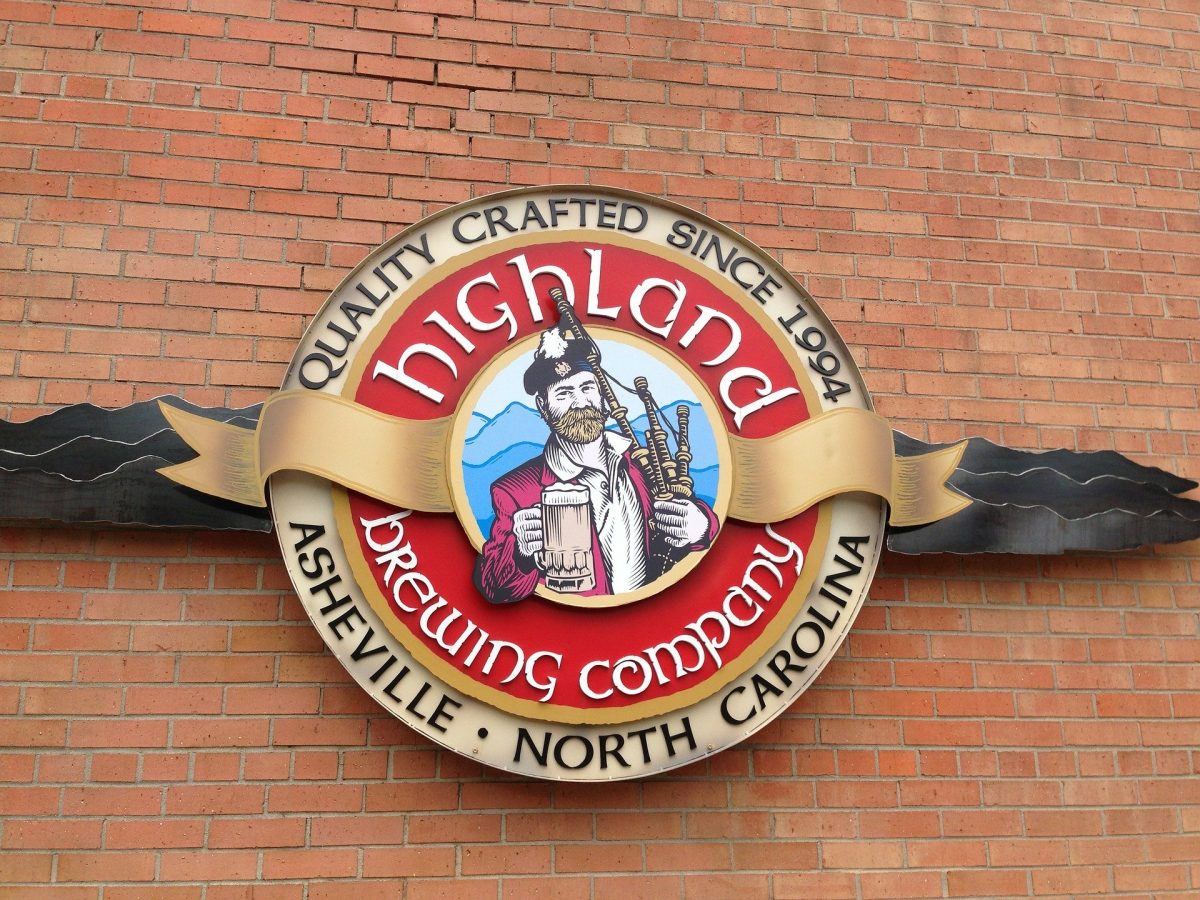 The printed page beckons at the Battery Park Book Exchange and Champagne Bar – three levels of towering stacks, a coffee counter, cheeseboards at tables among the books, and brunch on the patio.
Dog friendly too. Want to see it all without walking? Greyline Trolley Tours offers a hop-on-hop-off 75-minute round-trip tour of Asheville.
Recommended tour: Asheville Insider Guided Walking Tour
Downtown is cool, but the crowning jewel at Asheville's edge is the Biltmore Estates, a six-story castle, built in 1895 by George Vanderbilt. It took six years to construct.
With indoor plumbing, electricity, heating and 43 bathrooms (all unheard of at the time), it was the most technologically advanced house in the country.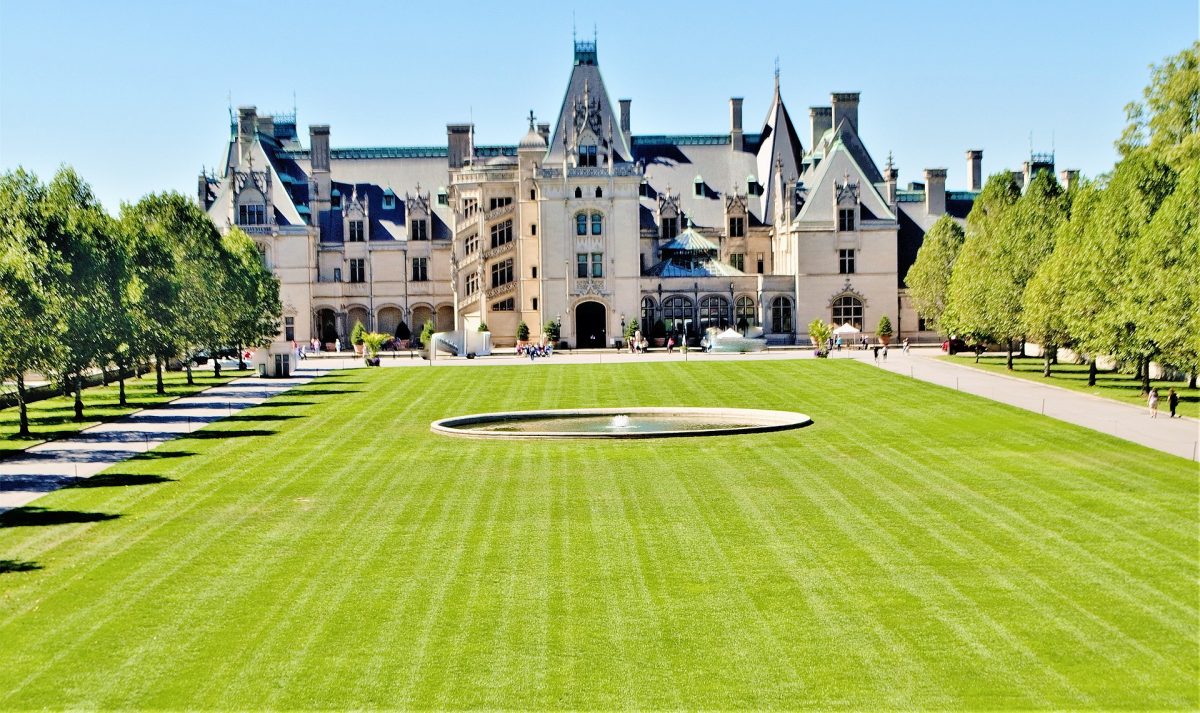 Biltmore Estates isn't only a historic house – it's a destination. Property around the house is massive: acres of gardens, riding trails (yes, horses on-site), a tourist village with shops and taverns.
Two hotels and a winery complete this entrepreneurial endeavour. In the 1930s, the Vanderbilt family opened the property to visitors (to finance the upkeep), and it's still owned by family members living somewhere onsite.
Where to stay in Asheville?
One of the best places to stay in Asheville would be Red Roof Inn Asheville West located conveniently.
Sherri Telenko, Dogtrotting
MOAB, UTAH
Moab is a city in southern Utah full of adventure and perfect for the nature lover or adrenaline junkie.
It is also one of the best places to travel alone in the US as the City is small, and even a great base to explore the nearby national parks.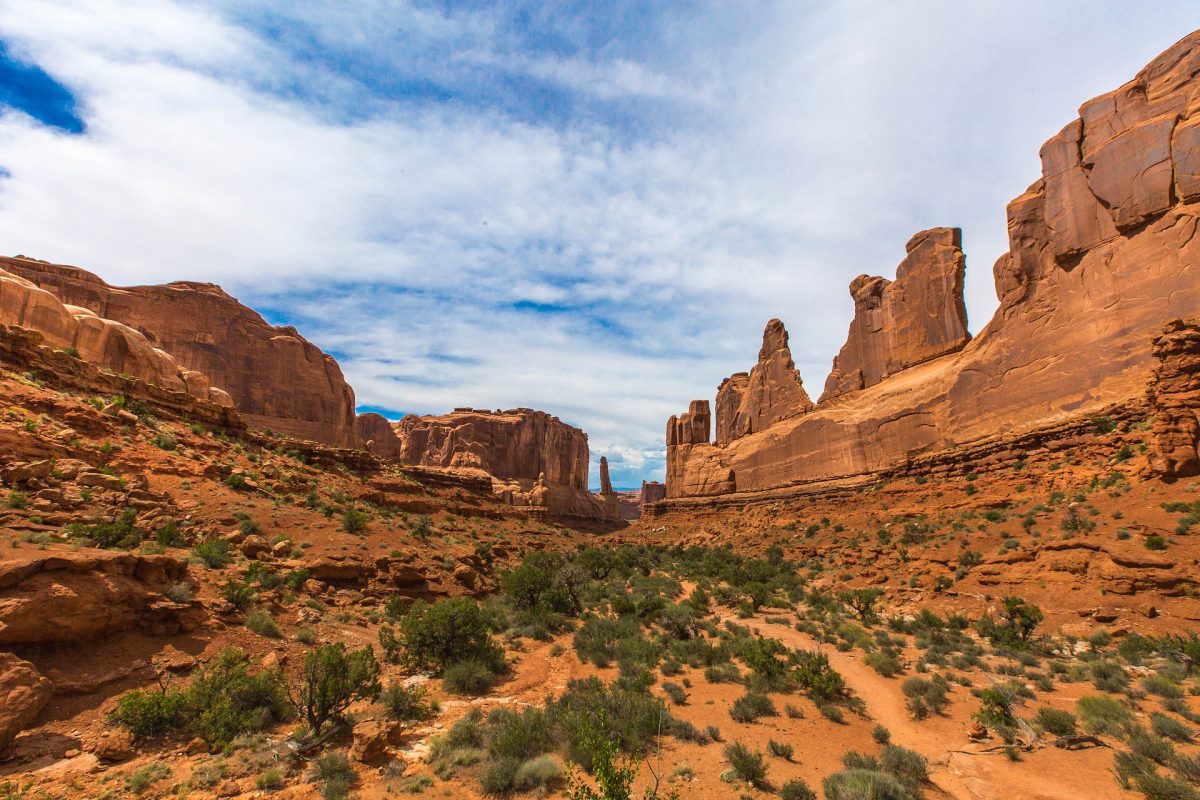 One of the best things to do around Moab is to go hiking.
There are hikes in Moab that are outside the national parks (and free) or you can go hiking in Arches National Park which is about 10 minutes away or hike in Canyonlands National Park which is about 30 minutes away.
This part of Utah has some fantastic scenery, and the best way to see it is to get outside and go for a hike.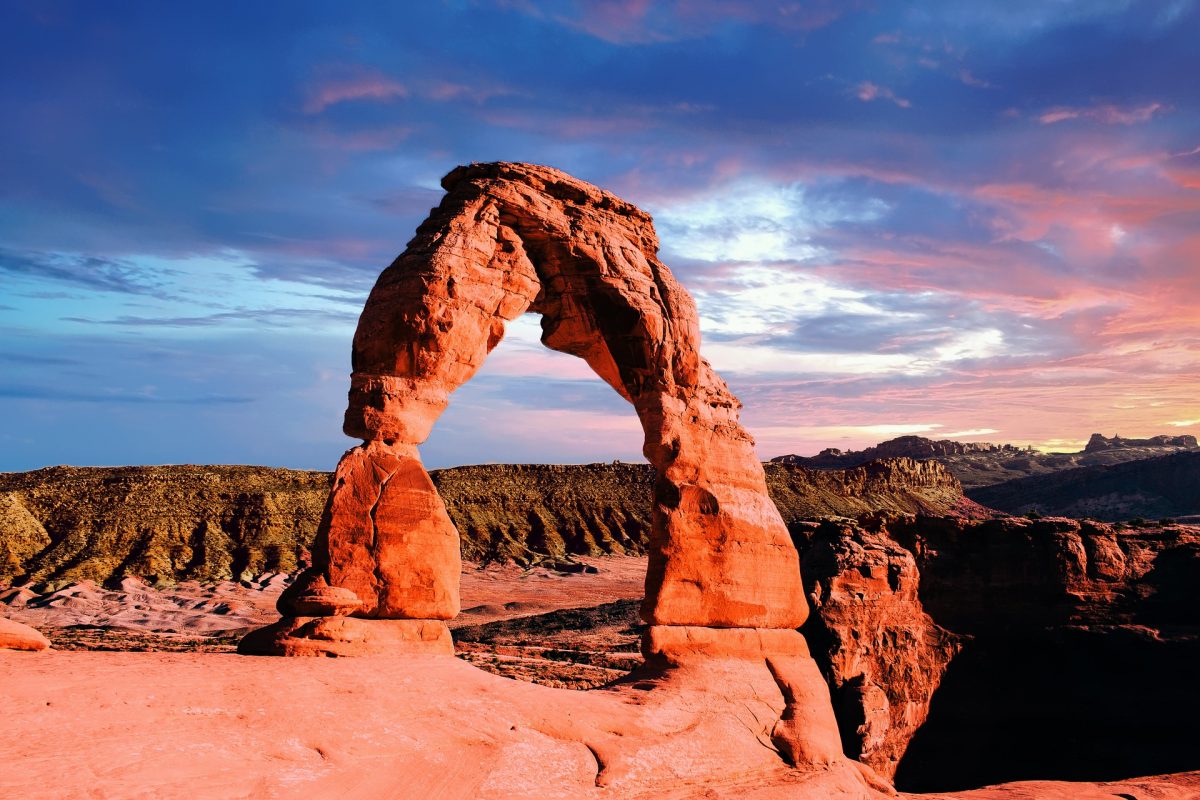 Also, visit Corona Arch, which is right outside of Arches.
This hike is a three-mile round trip hike on a trail that also visits Pinto Arch and Bowtie Arch. Corona Arch is impressive standing 105 feet tall and 140 feet wide.
Where to stay in Moab?
You'll need at least a few nights in Moab to explore which is great because there is a Moab accommodation for all budget points.
Some of the recommended options to stay are Castle Valley Inn and Comfort Suites Moab near Arches National Park.
-Nicole, American SW Obessed
Palm Springs, California
Palm Springs is one of the best places to travel alone in the U.S.
With excellent weather year-round, unique local attractions and fantastic restaurants; you'll have plenty of options to keep you entertained during your visit.
Palm Springs is known for its midcentury modern architecture which you will see on prominent display throughout the City.
From the shops and motels along Palm Canyon Drive to the apartments and houses in local neighbourhoods, you'll find the City's iconic modern architecture around every corner.
If you'd like to experience something unique, Palm Springs, sign up for one of the City's many architecture tours. You'll learn all about how Palm Springs became the mecca of modern.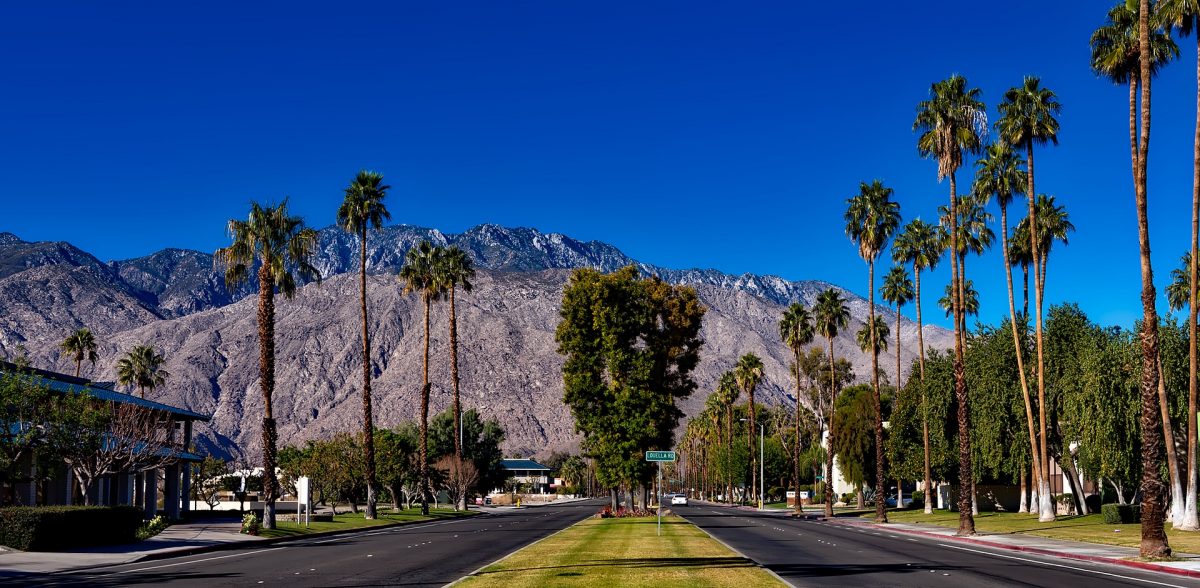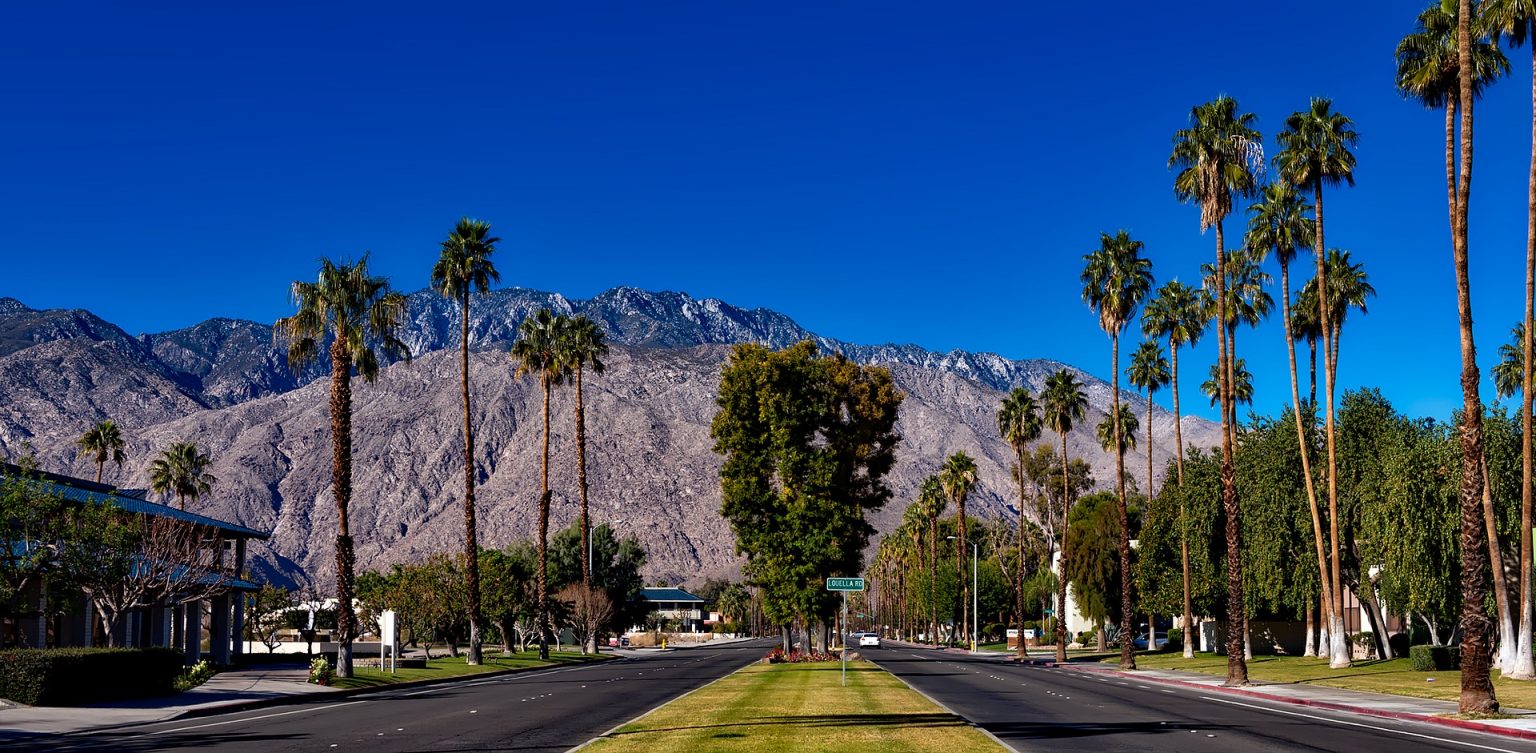 Palm Springs is also widely known as a destination for shopping.
There are both modern and vintage style boutiques all over the City. If you're looking to support local artists and designers, head to The Shops at Thirteen Forty-Five found on Palm Canyon Drive, where you'll find independent and locally owned art galleries, clothing shops, and interior design studios.
Where to stay in Palm Springs?
If you're a solo traveler in Palm Springs and looking to socialize or make friends, head down to the pool at your hotel, pool parties are a big thing in Palm Springs, especially if you stay at one of the trendier hotels.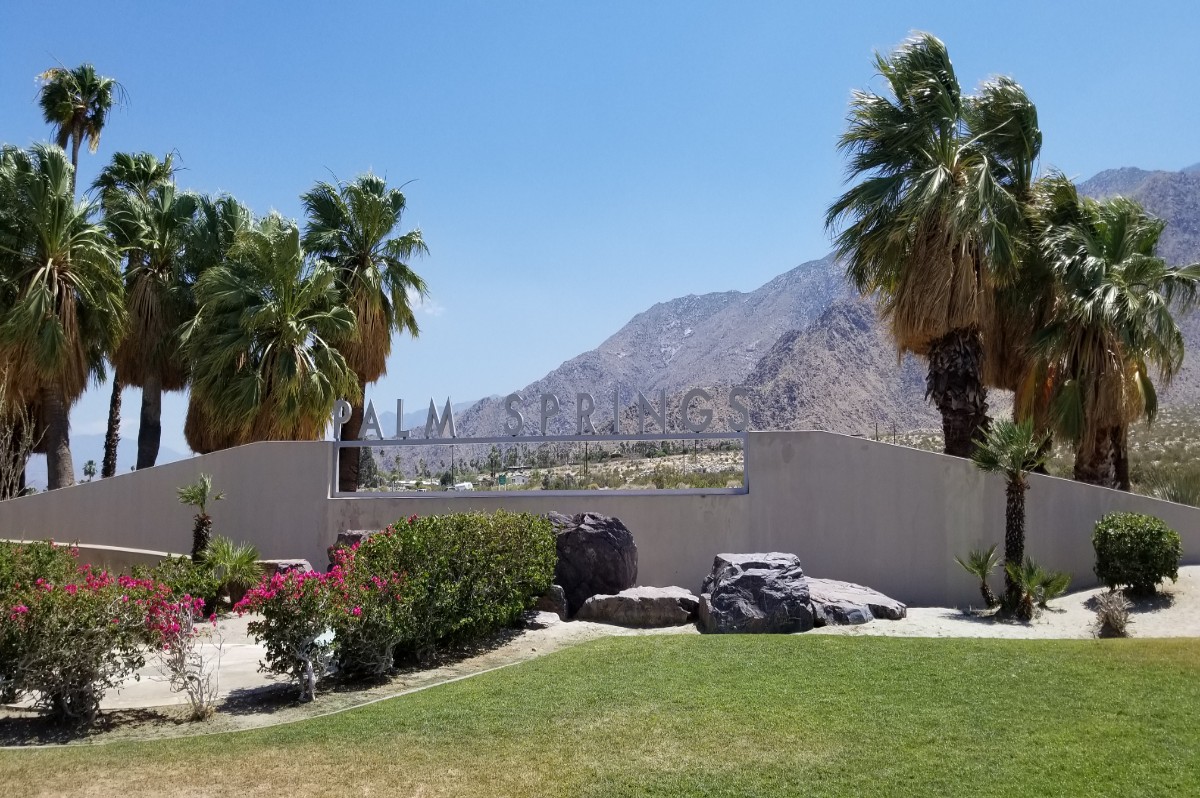 For an especially good time, consider staying at The Saguaro Palm Springs.
The hotel is beautifully decorated, but even more important; it also has a fantastic restaurant and a poolside bar.
So that's about the best places to travel alone in the US! Have you visited any of these? Do you have any more recommendations for best US cities for solo travel, or National Parks? Do let us know in the comments below!
-Eden, Rock a Little Travel
PIN BEST PLACES TO TRAVEL ALONE IN THE US TO READ LATER