Solo travel in South America is not yet a popular option, unlike in Asia or Europe, which are considered safer and comfortable destinations for traveling alone, especially if you are a solo female traveler.
Safety is a top concern while traveling alone in general, but more so when you think of countries in South America – thanks to the violence and crimes that we see on the media, and also because we probably hear less about traveling alone safely in these countries.
I asked some seasoned travelers who have explored the beautiful counties in Latin America alone, about how safe the places are, and to share their experiences. And I'm excited by what I got to know!
Because, in this blog, 25 travel bloggers from around the world have shared their preferred destinations for solo travel in South America and their experiences on the road.
Whether you are looking for hiking amidst beautiful mountains or wander in vibrant cities or looking to explore wildlife, you have a mix of all kinds of places to travel alone in South America.
Check out what these travel experts have got to say!
Best Destinations For Solo Travel in South America
1. El Chalten in Patagonia, Argentina
One of the best places for solo travel in South America is Patagonia. Spread across Argentina and Chile, Patagonia is more famous for its breathtaking landscape than for its towns – which to be fair are not interesting at all.
Small towns such as El Calafate, El Chalten and even Ushuaia, in Tierra del Fuego, are the perfect starting point for some of the best hiking in Patagonia. Of these, the tiny El Chalten is the one you should not miss.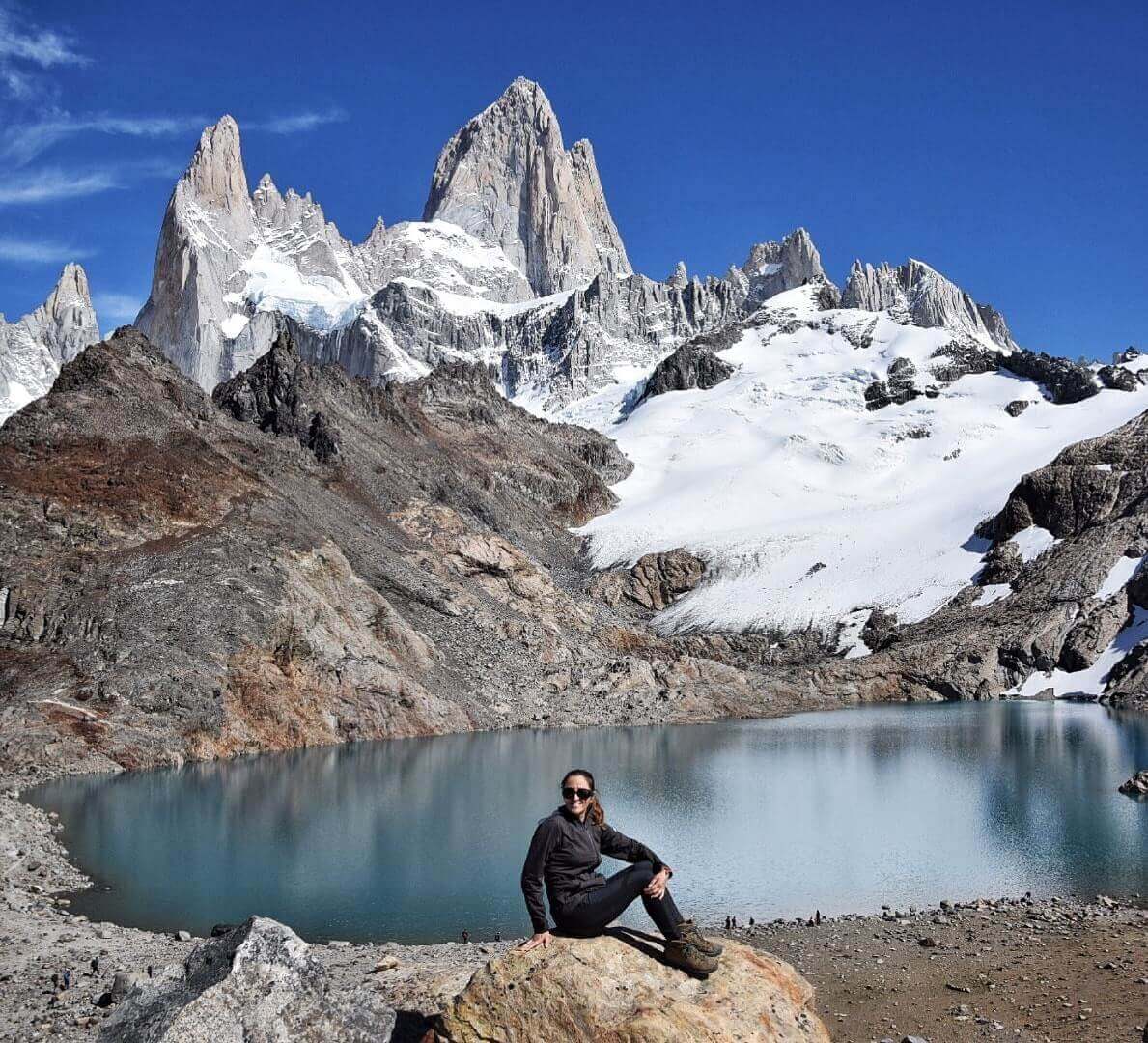 Located at the foot of Mount Fitz Roy and Mount Torre, at about 3 hours bus ride from the bigger El Calafate, the town itself is honestly nothing special. Just imagine a series of low rise buildings lines along two main streets, a few gear shops, some good restaurants, pubs and wine bars and a couple of good hotels and hostels.
No more than 1000 people live in El Chalten during the cold winter months but come spring and summer, and it comes to live with the many travelers who want to enjoy the many hikes.
Yet, El Chalten provides easy access to world-class hiking trails that can be enjoyed even independently and alone. The trails start right outside town, and they're usually are quite a few people walking them (though it never feels crowded) so that it is safe to set for a hike alone as someone will always pass by to provide help if needed.
Where to stay in El Chalten?
Keep in mind the one where I stayed is way out of town (50 mins walk, I am still baffled as to why the company put us there!!). I went by the place mentioned below several times.
Rancho Grande is the best-known hostel near the centre of El Chalten. You can get dorms as well as private rooms; there are good common areas. The best features are the in-house pub serving good, earthy comfort food (the fresh french fries are to die for) and an on-site tour company.
Contributor – Claudia, My Adventures Across the World
2. The Islands of Lake Titicaca, Peru
If you're looking for an unforgettable, cultural experience, in a one of a kind environment, look no further than the Peruvian islands of Uros, Amantani and Taquile. These three islands are located on Lake Titicaca, the highest navigable lake in the world.
It is one of the most beautiful places worth adding on your list for solo travel in South America. It sits at just over 3800 metres above sea level, and you'll be awed by the clarity of the air, the brilliant blue skies, and incredible light at this altitude.
On Amantani Island, you'll find two peaks, 4000 metres above sea level, called Pachamama and Pachatata. There are ancient Incan ruins at the top of both of these peaks, along with a mesmerizing view of Quechua farming terraces and the vastness of Lake Titicaca.
Uros is fascinating because the island is made entirely out of reeds that grow naturally in the shallower parts of Lake Titicaca. The Aymara people that inhabit Uros, cut, stack and pile up these reeds to create islands.
You'll find houses, a methodist church, a school, and even little reed islands for raising livestock.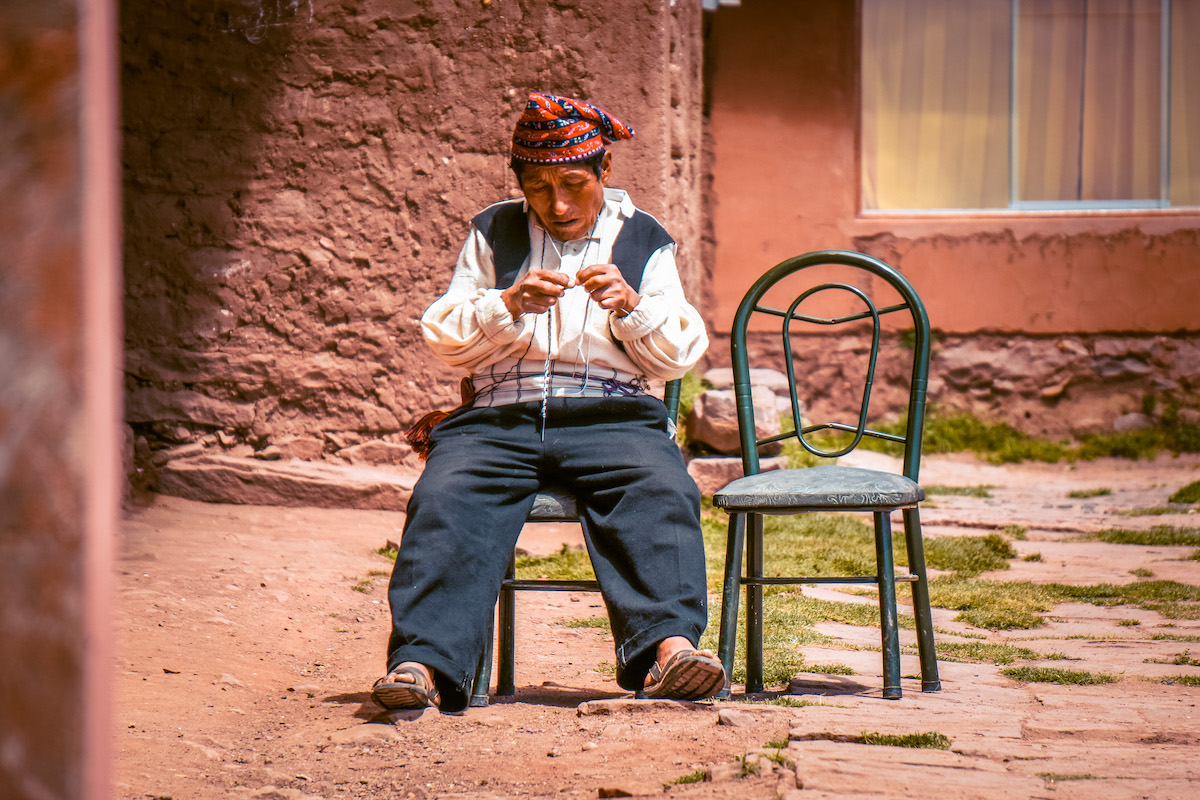 Taquile is famous for its knitting men, who have the sole job of knitting, starting at the age of 8. The handwoven textiles produced there were declared "Masterpieces of the Oral and Intangible Heritage of Humanity" by UNESCO in 2005.
Where to stay at Lake Titicaca?
It's not possible to stay overnight on Uros, or Taquile, but Amantani Island offers a unique homestay experience, where you can spend the night with a Quechua family.
Generally speaking, the accommodation and meals provided during these homestays are very simple. However, it's a much-needed contribution to the economy of Amantani, and a beautiful window into real-life atop Lake Titicaca.
Contributor – Shelley Lee, Travel-Stained
3. Medellin, Colombia
Medellin may have a reputation for being dangerous — but that reputation is outdated! Today, the "Murder Capital of the World" has reinvented itself as the "City of Eternal Spring" — and it's one of the safest and most pleasant cities for solo female travel in South America.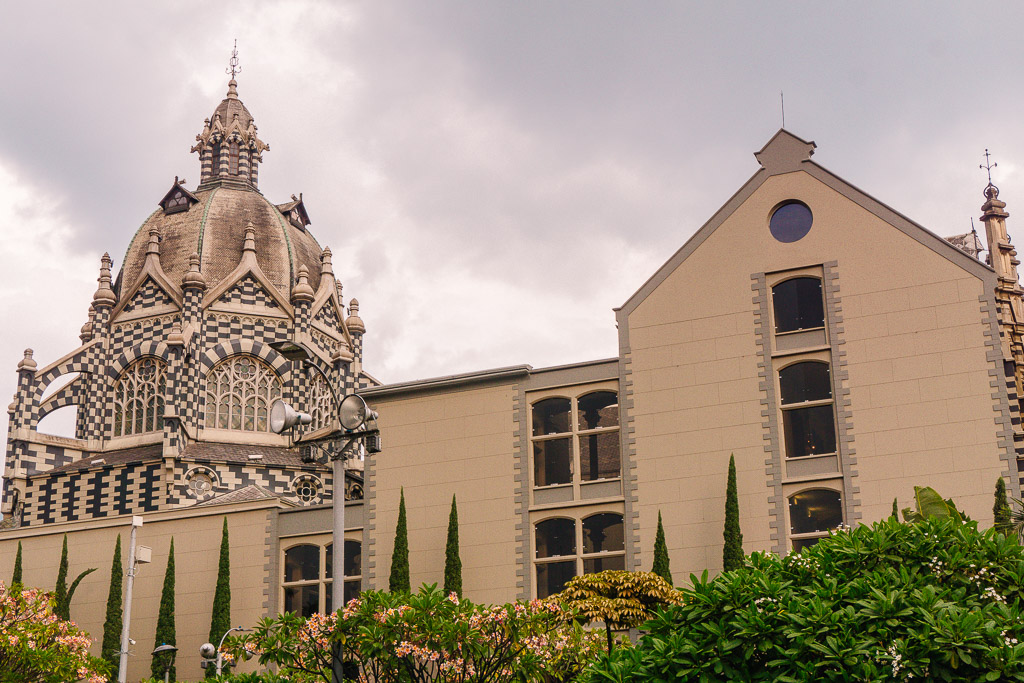 Start your visit with the Real City Tours free walking tour of the city. It's the best free walking tour I've ever done, clocking in at 4 hours with engaging guides. First, you'll learn the city's history, from colonial times to the Escobar era. Then, the second half of the tour focuses on Medellin's transformation — fueled by the incredible Metrocable system.
Speaking of which, don't miss a ride on the Metrocable. You'll get incredible views over the barrios, all for the under-$1 price of a metro ticket. You can use the Metrocable to reach Comuna 13, a neighbourhood famous for its colourful street art (best seen on tour).
Don't overload yourself with activities, though. Medellin is a city best 'experienced' rather than rushed through. Take time to wander around downtown, chat with the extraordinarily friendly locals, chill at a coffee shop, and spend a night on the town in the Poblado neighbourhood. Meanwhile, indulge in some of the continent's best vegetarian cuisine.
Where to stay in Medellin?
The best base for solo travelers in Medellin is Black Sheep Hostel. This Aussie-owned, locally operated hostel has comfortable dorms and private rooms, a pleasant garden and a roof deck. And it's in a quiet neighbourhood 5 minutes from a Metro stop and 15 minutes from the bustle of Poblado.
Contributor – Carrie Mann, Trains Planes And TukTuks
4. Asuncion, Paraguay
One of the least recommended countries for solo travel in South America is Paraguay, but it's one I highly recommend visiting. For one thing, the locals are some of the friendliest people I've met anywhere in the world, and there is so much history in the country. At the centre of it all is the capital city, Asuncion. An underrated destination with plenty to see and do.
You'll find many colonial-style buildings throughout Asuncion, as well as many museums and the cathedral. Some of the most important historical sites are Casa de la Independencia, the place where the country declared its independence, becoming the first in South America to do so, and Paraguay's war memorial Panteón Nacional de Los Héroes.
Where to stay in Asuncion?
One of the best areas in Asuncion is Barrio Loma San Jerónimo, a brightly coloured neighbourhood located around 2km from the centre. Here you will find plenty of local cultures as well as brilliantly decorated streets and houses.
For somewhere to stay in Asuncion, El Jardin Hostal is perfect for location, facilities and cost. It's in the centre of the city and within easy walking distance of all the main sights. The accommodation has a very relaxed feel with hammocks and a swimming pool, which are both great for chilling out and avoiding the heat. They even had a pair of rambunctious kittens living there during my visit.
Prices are around USD 32 for a private double room or less than USD 11 for a bed in a dorm with a substantial breakfast included.
Contributor – Stuart Fahy, Just Traveling Through
5. Uyuni, Bolivia
Uyuni was the absolute highlight of my Bolivia trip, and I can only recommend everyone not to miss this excellent travel destination. A trip to Uyuni not only includes the city of Uyuni in the south of the country but usually also a 3-day Uyuni salt desert tour.
The city of Uyuni itself doesn't have much to offer, to be honest. It is located in the middle of the desert and therefore, there are only a few shady spots.
Is Uyuni safe for solo travel?
The Uyuni salt flats and its surroundings, on the other hand, offer all the more. It is one of the most popular and recommended destinations for solo travel in South America. Group tours are the best way to explore the salt desert.
The tour takes place in groups of 6 people. So it happens that couples usually travel with other couples and solo travelers with other solo travelers. Great friendships often develop during these three days in the Bolivian highlands. The tour is entirely safe even for female solo travelers, as your local tour guide and group will always accompany you.
Editor's note: Solo travel tips – 25+ things to know before your first solo trip
On the first day of the tour, you'll see the Bolivian Salt Flat. It is particularly impressive during the rainy season, since a kind of water mirror forms on the salt that reflects the clouds – an impressive spectacle of nature.
You spend the other two days of the tour in the Bolivian Altiplano. There is a lot of breathtaking nature and fascinating lagoons. You can also see some animals, such as flamingos up close.
Where to stay in Uyuni?
Accommodation during the tour is already included in your ticket. For your time in Uyuni, I recommend the Beliz B&B.
Contributor – Vicki Franz, Vickiviaja
6. San Pedro de Atacama, Chile
The Atacama Desert in northern Chile is, hands-down, one of the best destinations for solo travel in South America! Known for being the driest place on Earth, in the Atacama, you'll find from volcanoes of over 6,000 meters of altitude to lunar landscapes, saline lagoons, clear night skies, and a cosy village -San Pedro de Atacama- full of good people, and great food!
Is San Pedro de Atacama safe for solo travel?
San Pedro de Atacama is a safe destination suited for both the expert solo traveler and the recently initiated. Alcohol and clubbing are banned in town, so in a way, this reduces the chances of things going too crazy. However, travelers keen to enjoy a drink after a day out exploring can do so in many of the authorized restaurants located on the main street!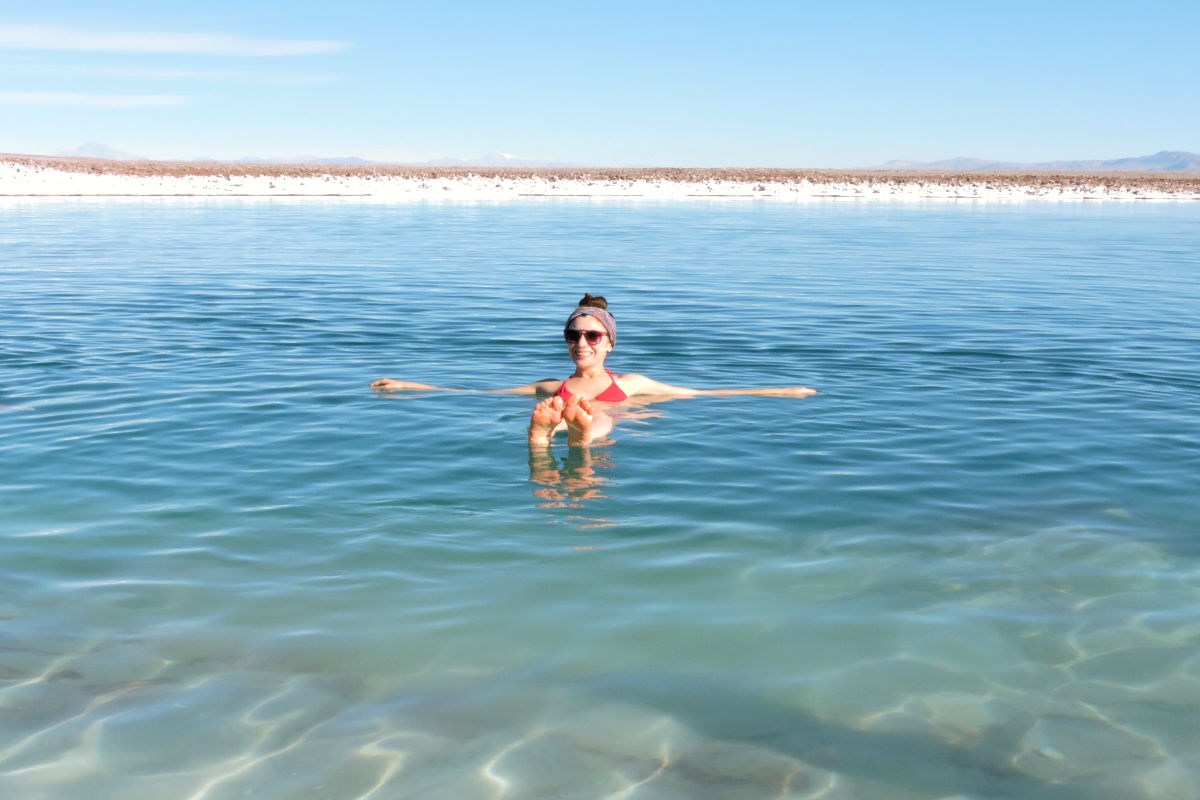 Another perk for solo travelers is that most outdoor activities are organized through travel agencies, and pretty much everyone speaks English, so it's very easy to navigate your way through all the different options -you can even get everything arranged at your accommodation.
The Atacama does get packed as it's quite a touristic destination, but if you are capable of traveling over shoulder season you'd still get to enjoy good weather and skip the crowds! That said, it's worth it, and you'll find there are not many places on Earth that look and feel just like the Atacama Desert.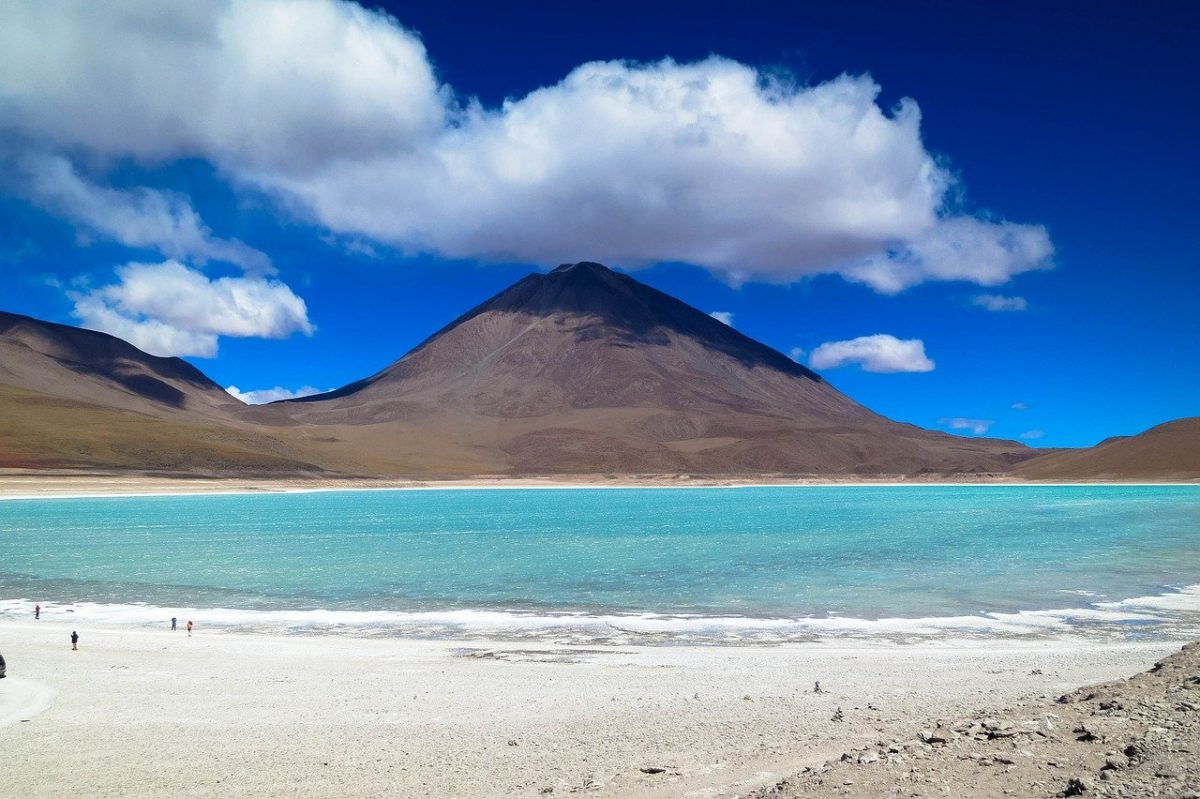 A last piece of advice, get proper clothing for this adventure as temperatures range up to 20 Cº between day and night! The soil is also arid and rocky, so make sure to pack a good pair of hiking shoes and a winter jacket!
Where to stay at the Atacama?
The Hostal La Pueblo is the right choice if you are on a tight budget! It's one of the most affordable hostels in town, and you don't need to sacrifice location as it's just a 5-minutes walk from the town centre.
Contributor – Martina Grossi, The Global Curious
7. Iguazu Falls, Argentina
Iguazu Falls on the border between Brazil and Argentina is one of the most amazing natural attractions I've ever seen. Iguazu Falls are one of the largest waterfalls in the world; it's often compared with Niagara Falls and Victoria Falls.
The waterfalls and the surrounding area are awe-inspiring, it's easy to move around the park, there are boardwalks and wooden platforms that let tourists get very close to the falls. Flora and fauna in the park are very diverse: monkeys, coatis, tropical butterflies, hummingbirds, giant ferns, massive trees, colourful flowers – all these create an impression of being in Jurassic Park.
Is it safe for solo travel?
It felt safe to walk around the town to go out for a drink. I will rate it as one of the areas that felt the safest to me in Brazil. Visiting the Iguazu Falls is not the only activity here. You can go hiking, tandem skydiving, horseback riding, visiting a bird park or Itaipu Dam and more.
The two nearest cities to the waterfalls are Puerto Iguazú in Argentina, and Foz do Iguaçu in Brazil. I visited both places as a part of my first solo travel in South America. Iguazu Falls were the second stop on my itinerary, and it completely blew me away.
I stayed in Foz do Iguaçu for two nights and made friends here that I explored the park and traveled around the area. Foz is a small touristy town and a Brazilian getaway to the Iguazu National Park.
Where to stay at Iguazu?
There are many hostels and hotels here for any budget. If you are looking for a budget Hostel, then I'd recommend Made in Brazil Hostel. Wyndham Golden Foz Suítes is an excellent option in the Mid-price range.
Contributor – Alya, Stingy Nomads
8. Machu Picchu, Peru
As the jewel in Peru's crown, few places are as famous as Machu Picchu, the revered Inca citadel that stands atop a remote mountain outside the city of Cusco. It's become the ultimate destination for most travellers to Peru, with many opting to take the four-day, three-night Inca trail hike to reach the site.
Is Machu Picchu safe for solo travel?
This iconic destination is ideal for adding to your bucket list for solo travel in South America. Not only is it impossible to hike the Inca trail alone, but you'll meet like-minded travellers as part of your tour group, meaning you'll never feel on your own.
Best of all, the hikers with whom you've shared this special moment are likely to become close friends after four days on the trail and can quickly become travel companions for the rest of your adventure around Peru!
The Inca trail itself – an old Inca stone pathway that once connected Cusco, the capital of the empire, with Machu Picchu, a favoured spiritual retreat – is a challenge, but one where the rewards are incredible.
Not only are the views spectacular as you climb up into the Andes, appreciating the ice-strewn apus or mountain tops that were considered sacred by the Inca, but there's no experience quite like arriving at Sun Gate just above Machu Picchu for breathtaking dawn over these venerated ruins.
During the trek, you stay overnight in comfortable tents erected by your porters and dine on truly impressive meals (they have been knocked up on the side of a mountain, after all!) cooked up by your chefs.
Where to stay at Machu Picchu?
After you've explored the site and returned to Cusco, you'll want some pampering, so I recommend the MOAF Cusco Boutique Hotel, where rooms are cosy and modern, and some have beautiful views across Cusco.
Contributor – Steph Dyson, Wordly Adventurer
9. Ushuaia, Argentina
Ushuaia is the most southerly city in the world and famous for being the "end of the world". While most people visit Ushuaia before departing on a cruise to Antarctica, the city is well worth a visit even if you aren't heading there, and one of the recommended destinations for solo travel in South America. With pristine hiking trails and incredible opportunities to see marine wildlife, Ushuaia has a lot to offer.
Is Ushuaia safe for solo travel?
Ushuaia is one of the best places for solo travel in South America. It is a safe city, and many people here go hiking alone. Hitchhiking to the start of the trailheads is common.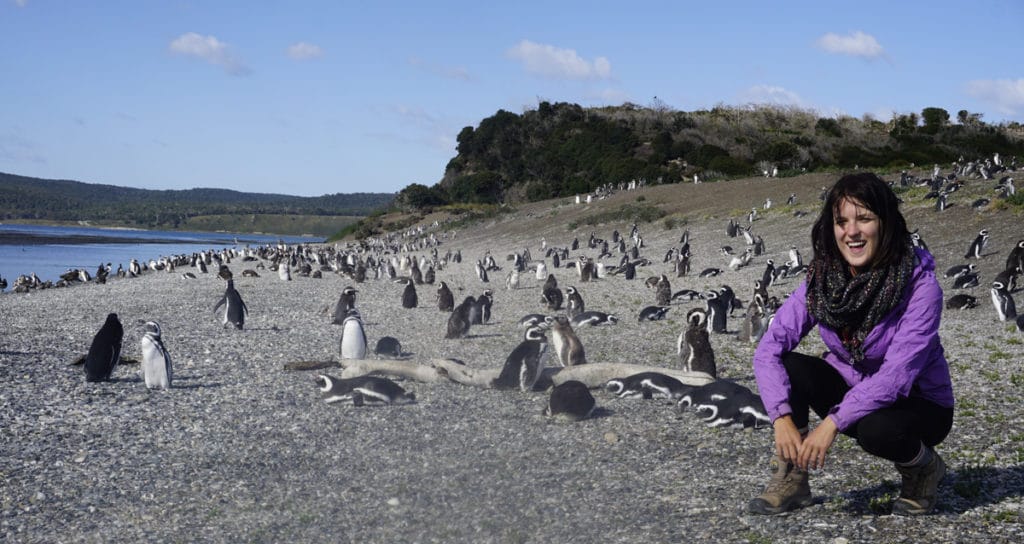 One of the best things to do in Ushuaia is to go walking with penguins. This a unique day tour that takes you to Martillo Island, where you will get to walk with three different kinds of penguin species. These tours are often in combination with a cruise down the beagle channel, where you can see more marine life including whales.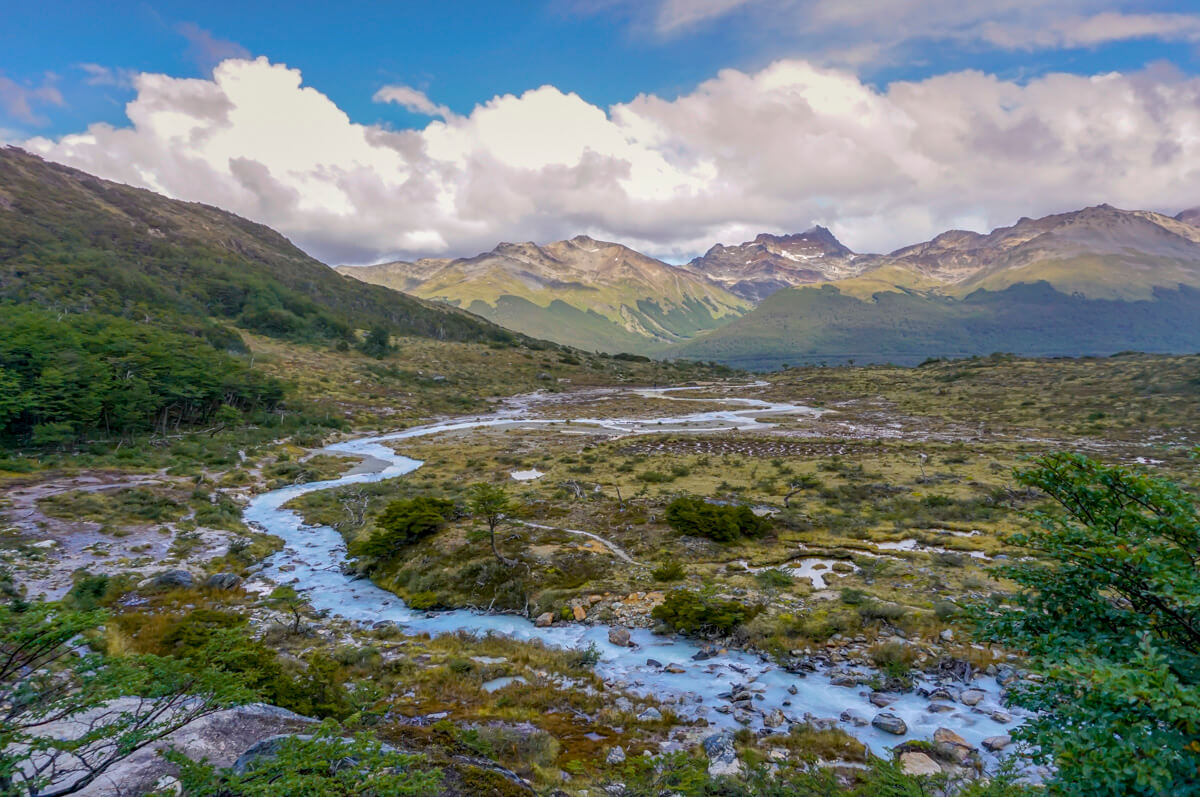 Ushuaia is also an excellent place to go hiking. Some of the best hikes are in Tierra Del Fuego National Park, which is just half an hour away from Ushuaia. There are also glaciers nearby which you visit.
Where to stay in Ushuaia?
If you're looking for a place to make hiking buddies then check out Antarctica Hostel, it is an excellent place for solo travelers to stay as it has a social atmosphere where you can comfortably meet others.
Contributor – Lora Pope, Explore With Lora
10. Quito, Ecuador
Quito in Ecuador is one of the best places for solo travel in South America. Not just a stopover to the Galapagos Islands or the Amazon, Quito is home to a colourful and vibrant historic centre full of cobblestone streets, Colonial squares, and local shops and restaurants.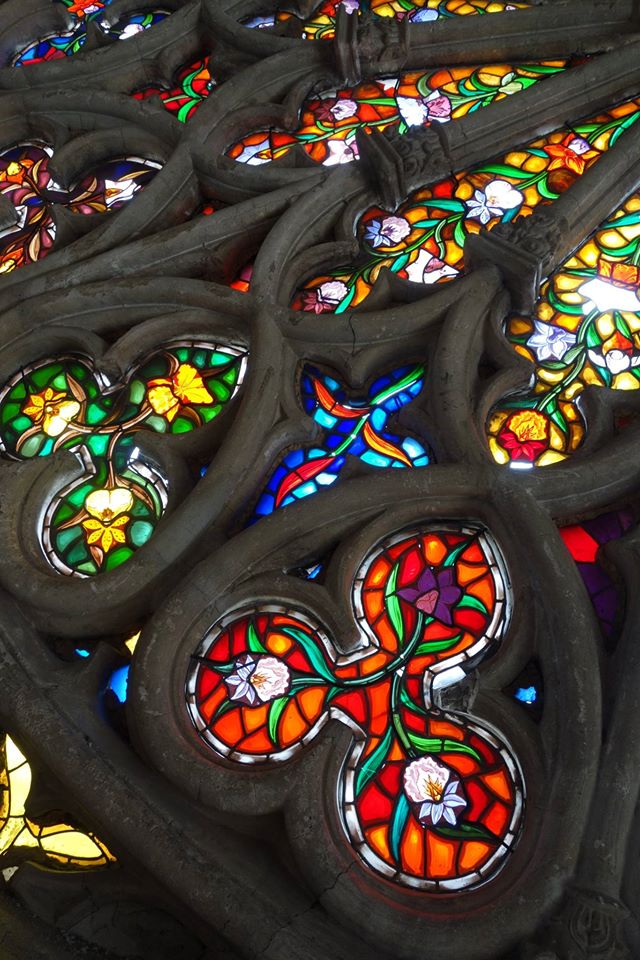 While visiting the old town, which is a UNESCO Cultural Heritage Site, spend time at the city's ornate churches. I recommend two in particular: La Compania de Jesus, which is completely covered in gold, the Basilica del Voto Nacional, for its magnificent views of the city and unusual gargoyles.
Quito is the second tallest capital city in the world (give yourself an extra day or two to acclimate to the elevation) and its hills create great panoramic views of the city. Ride the TelefériQo, or cable car, up 12,000 feet, for panoramic views of the city in all directions. Climb up El Panecillo, or the hill with the winged statue of the Virgin Mary, which overlooks the city.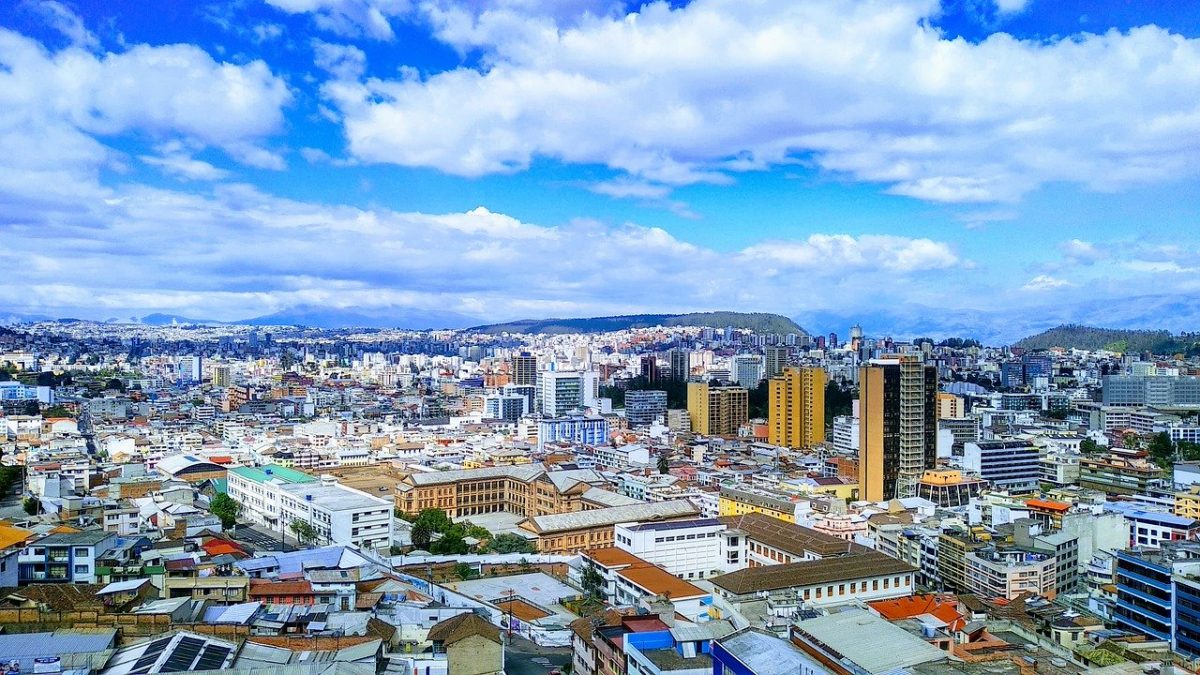 If you an extra day, head to Otavalo for their handicrafts on market day. The market is open daily, though only tourists visit on off-days. Make sure to go on the designated market day for the authentic experience.
Quito is an excellent destination for solo travel and a bit of off-the-beaten-path exploration. I highly recommend visiting this city for its history, culture, and natural beauty.
Where to stay in Quito?
My hostel, Quito terrace, also had great views of El Panecillo and highly recommended if you're looking for a nice, but affordable place to stay.
Contributor – Rosie Julin, Popcuria, a narrative travel podcast
11. Bariloche, Argentina
San Carlos de Bariloche is basically where Argentinean Patagonia starts and is one of the best destinations to your itinerary on your solo travel in South America.
The city, which is also called Bariloche, is famous for its beautiful surroundings as well as the Swiss culture. You will find a lot of chalet-style buildings, cheese fondues and delicious cakes everywhere. There are plenty of cute shops, cafes and outdoor activities.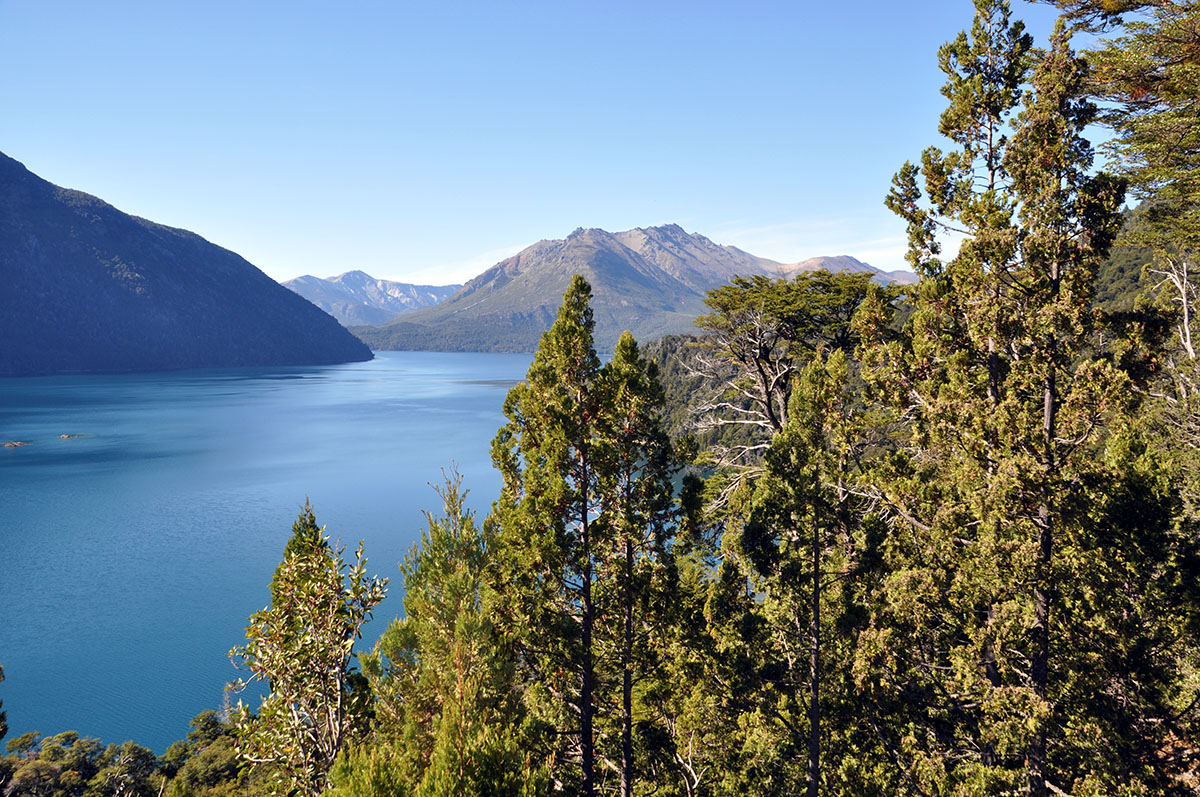 The region is best known for skiing in winter and hiking in the summer. Many trails are starting from the area around the town, but in case there's a trail a bit further away, you can quickly grab a transfer or a taxi to the trailhead.
You can hike at Cerro Catedral, near Lago Nahuel Huapi or even better: at Pampa Linda where you can trek up to Refugio Otto Meiling. This latter one requires some planning, but it's a total must if you are a hiker.
If you prefer not to hike, you can grab a tour on Circuito Chico (half-day) to the lakes surrounding the city or enjoy the Lake Crossing to Puerto Montt in Chile. You can also, for example, rent a bike and head out for a few hours on your own.
Is Bariloche safe for solo travel?
As Bariloche is quite western and modern, I felt utterly safe here both times I visited and would recommend you heading there as a solo traveller.
Where to stay in Bariloche?
There are plenty of places to stay from low budget to more expensive. During my most recent visit, I stayed at Design Suites, just outside of town but beautifully located at the lakeshore.
Contributor – Antonette Spaan, We12travel
Awesome Destinations For Solo Travel in South America
12. Chiloe Island, Chile
Located in the North of Patagonia, Chiloe island is a beautiful destination for solo travel in South America. What makes Chiloe so unique are the myths and legends that the locals are keeping alive to the day.
The stories of the Trauco, La Pincoya or El Caleuche, all mythological characters from deep inside the culture of the island, can be heard all over Chiloe. The mythology in Chiloe was born when the Spanish reached the island and their stories mixed with the ones of the indigenous people who lived here.
Besides its myths, Chiloe is also a fantastic island to discover. Among the traditional wooden houses built on stilts, in the harbours, in Chiloe, you can also see the different churches made out of timber and wood shingles, painted in vibrant colours.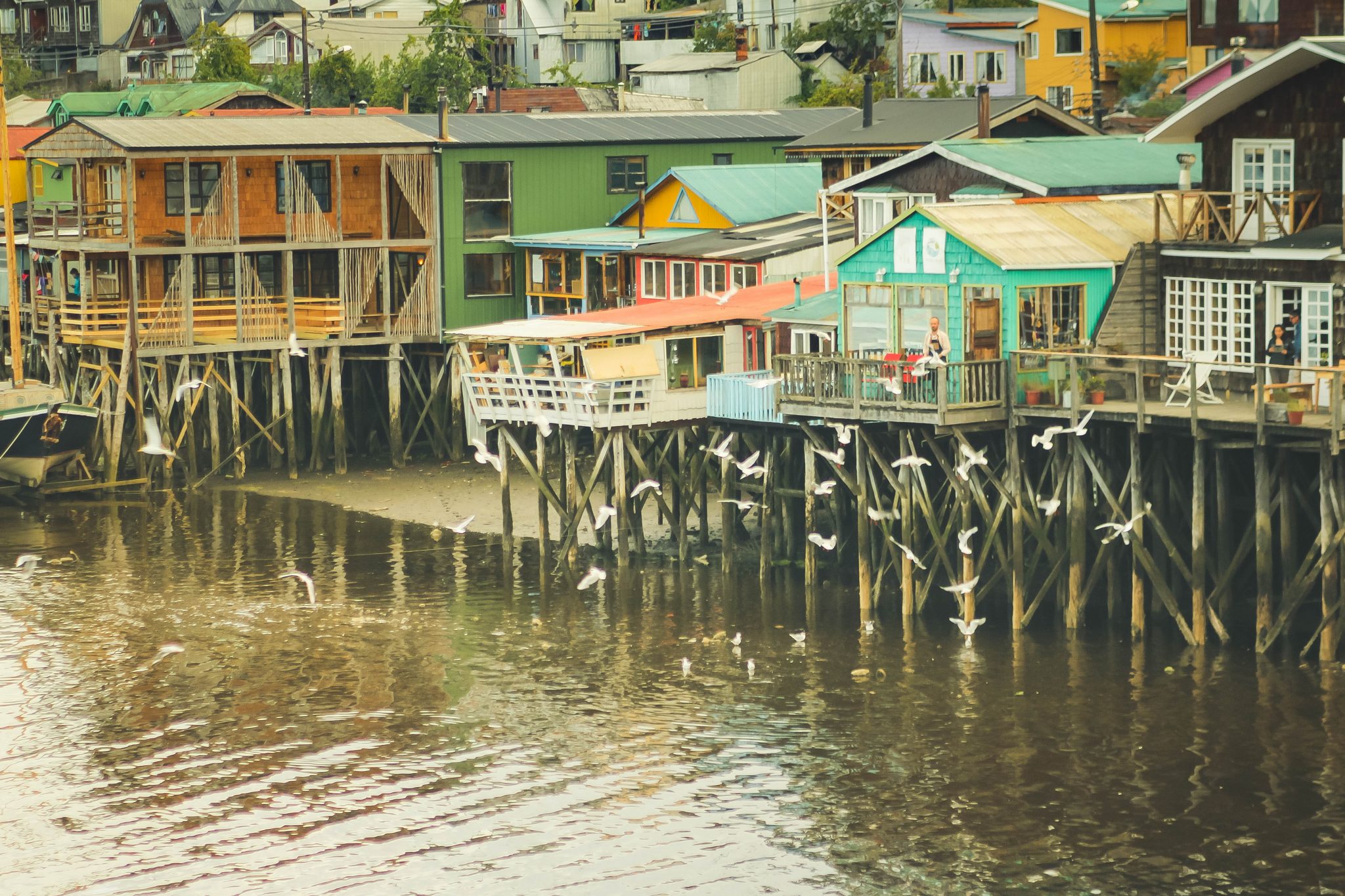 The gastronomy on Chiloe island is unique as well, with many fish and seafood dishes, but also a German imported cake, the kuchen, which became the local dessert over the years. For a unique culinary experience, you have to try the curanto on Chiloe Island, a traditionally Mapuche method of underground cooking.
For nature lovers, Chiloe Island doesn't disappoint. The Chiloe National Park located in the west part of the island is fantastic to place to explore the local flora but also observe animals such as different types of whales, including the endangered Southern right whale. In other parts of the island, you can also see Magellanic and Humbold penguins, pink flamingos, sealions or the pudu – the world's smallest deer.
Where to stay on Chiloe Island?
Traveling around the island is very easy, with buses and minibuses going from North to South all day long. I suggest setting a base either in Ancud – in the North (I recommend here the 13 Lunas Hostel), or in Castro – in the Centre of the island.
Contributor – Joanna Davis, The World In My Pocket
13. Cuenca, Ecuador
It might have been the fuss and chaos of Peru growing on me after three months. When I finally discovered Ecuador, and especially when I got to Cuenca, I immediately fell relieved, and in love.
Something is comforting about Cuenca. The 3rd largest city of Ecuador is not that large. It is a university town, which means lots of reasons to go out; but it's also full of history, street art and beautiful colonial buildings. I have a thing for colonial buildings.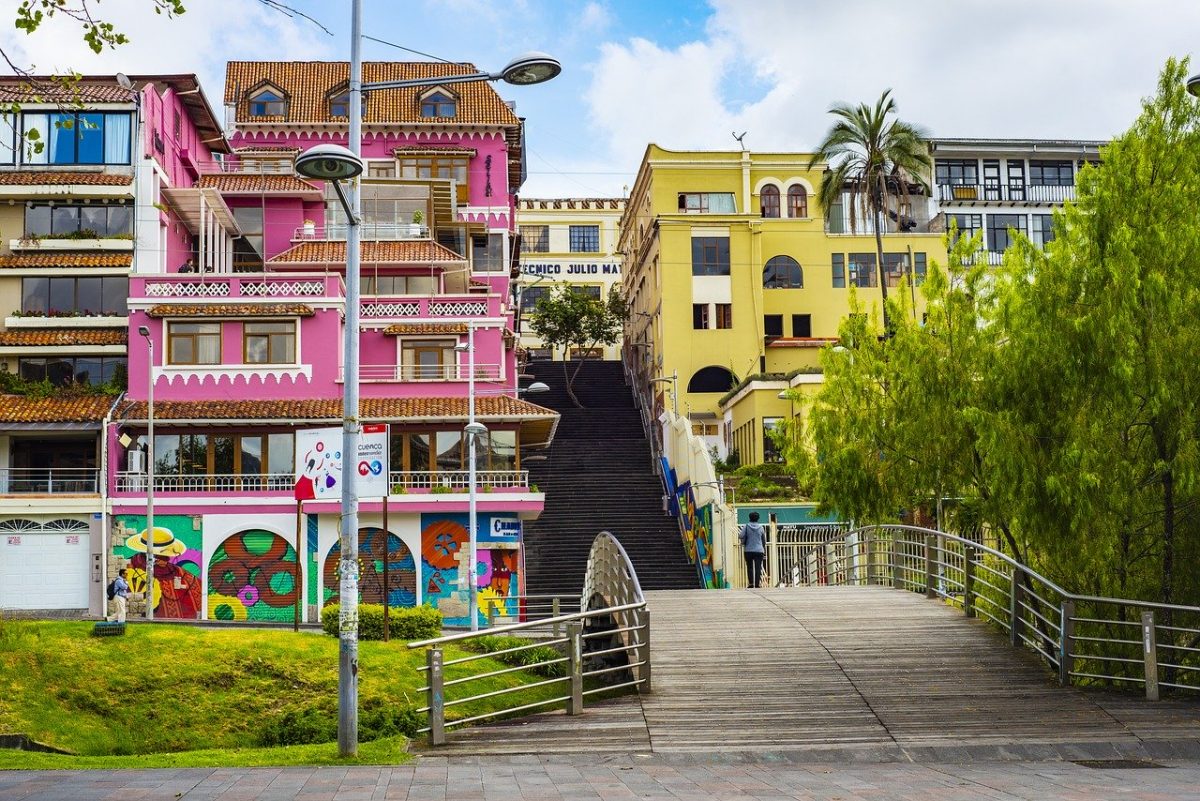 Cuenca is a city to discover on foot if you see what I mean. The attractions are close to each other, and there's a gentle atmosphere you can only breathe when you take your time.
From the main square and its majestic cathedral, you can easily reach the pretty San Blas square and its church; the 9 de Octubre market for your lunch or your bag of veggies; the river banks for a bucolic stroll, or Calle Larga for a drink or a coffee.
If you like museums, check out the free Pumapungo and the adjoining ruins for a look into the past. The cheap Museum of Native Cultures is also mightily impressive, and a free guided visit of the toquilla straw hat museum reveals the most popular product from Cuenca.
Cuenca combines fun and culture, making it one of the best cities for traveling alone in South America. It still tops to this day my favourite backpacking destinations in Ecuador. And for a day trip in the green, hop on a bus to the nearby Cajas National Park.
Where to stay in Cuenca?
There are many accommodations in the historic centre of Cuenca, the cheapest options being in the going-out district around Calle Larga. It's a very central place, only a stone's throw away from the main square and the river. One of the recommended hotels is Hotel Monaco if you are looking for a comfortable apartment or a condo.
Contributor – Anthony, Green Mochila
14. Buzios, Brazil
If you're looking for a break from the hustle and bustle of Rio de Janeiro or Sao Paulo, I highly recommend spending a few days in Buzios. This tranquil resort town is situated a 3-hour drive east from Rio de Janeiro, and one of the destinations ideal for solo travel in South America. Buses leave daily from Novo Rio bus terminal, and you can book your ticket online.
Buzios is an upmarket coastal resort town where you will feel safe as a solo traveller. It's a great place to relax in nature. You can laze on one of the stunning beaches with soft sand and turquoise water or do some scuba diving and snorkelling.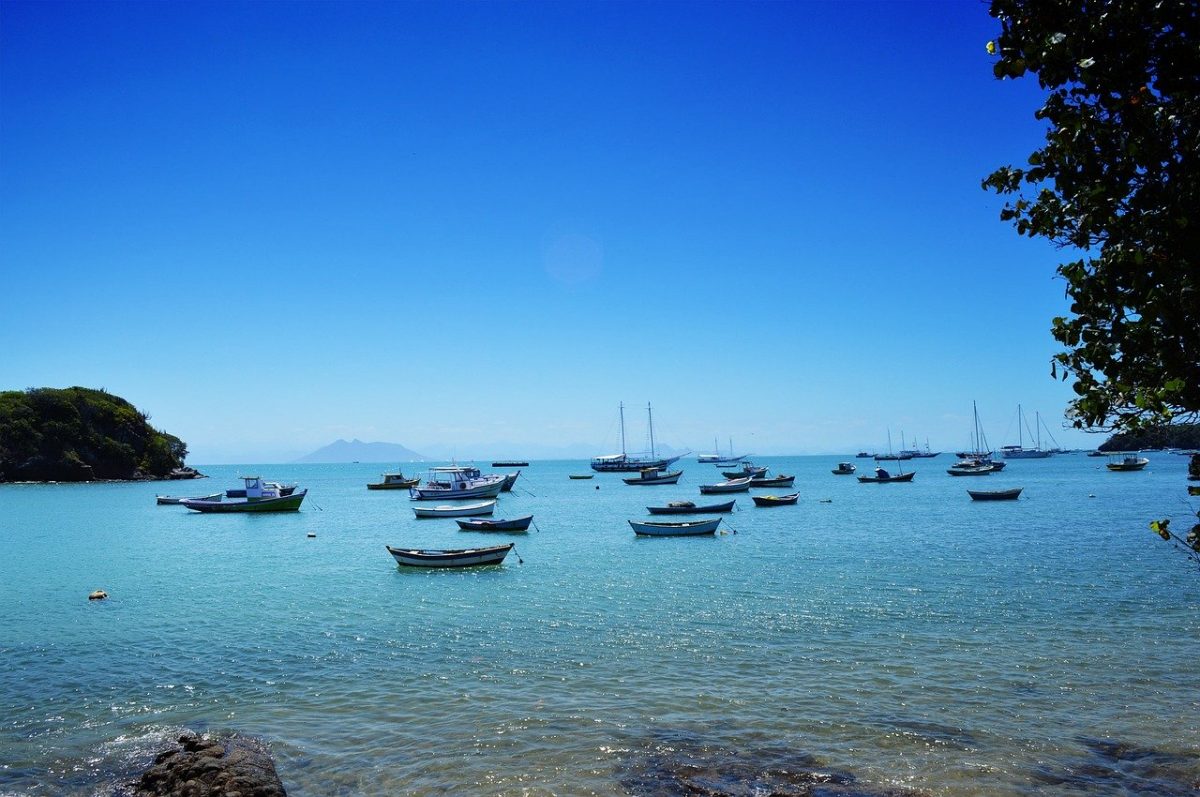 In the evening there is a big choice of restaurants on offer, including vegan and vegetarian options and chic clubs where you can dance until dawn. And don't forget to have ice cream in one of the make your Sorveterias. Acai flavour is a must!
Buzios is also a destination famous for day-trippers from the surrounding areas. If you don't have much time but still would like to experience this peaceful resort, you can book a day boat trip from Rio de Janeiro. The boat will drop you off at the Buzios jetty where you will have free time to enjoy the resort.
Where to stay in Buzios?
I recommend staying at Vila d'este Handmade Hospitality Hotel in a beachfront location. The property consists of beautifully designed bungalows situated in a well-groomed garden with two pools that are facing the bay with some epic sunset views!
Contributor – Mal Hellyer, Raw Mal Roams
15. Buenos Aires, Argentina
Buenos Aires, the capital of Argentina, is a fascinating city with a rich and diverse culture and history. Although the city is large, it is very walkable and safe and therefore one of the best places for solo travel in South America.
Culture vultures will love the fact that it has more theatres than any city apart from New York and more bookstores per capita than anywhere else. Blend the two and visit the fantastic El Ateneo Grand Splendid, a multi-storey bookstore in what used to be a theatre.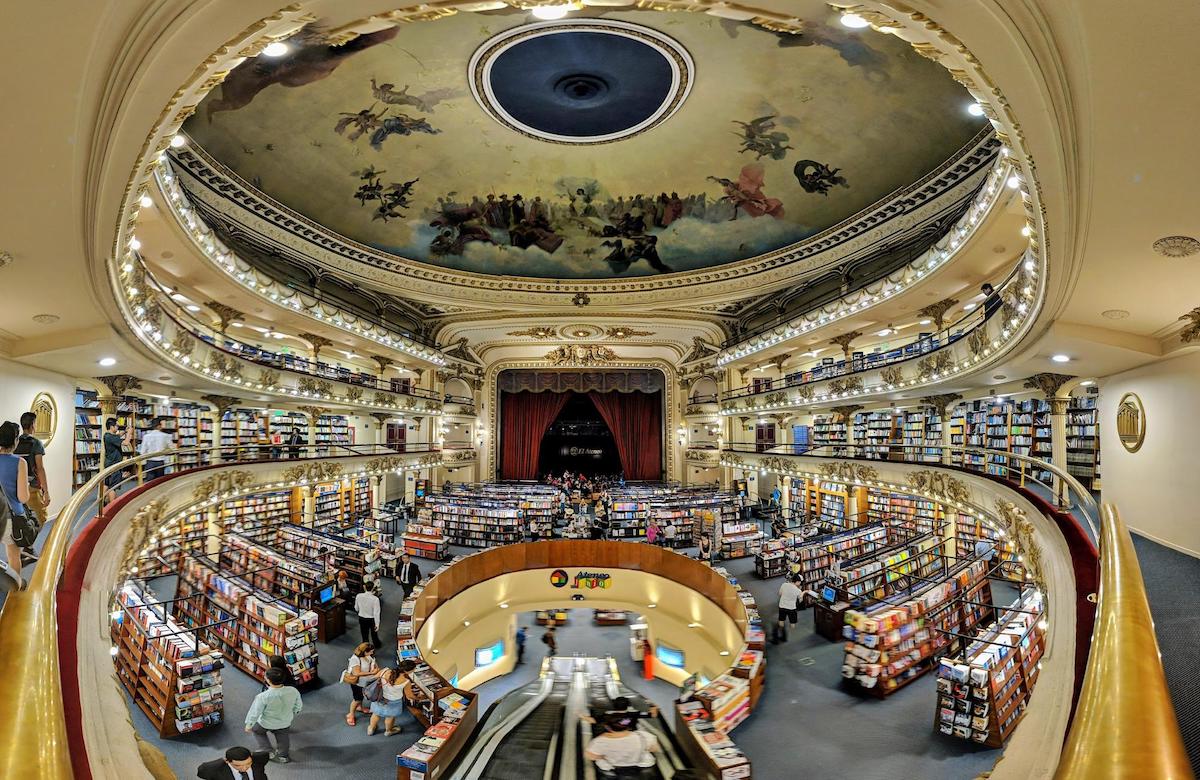 Foodlovers are also drawn to Buenos Aires for its thriving food scene, from casual bodegones to buzzing parrillas to acclaimed fine dining. While it's famous for its super-sized portions of grilled meats and bread covered pizzas, Buenos Aires is most well known for its dulce de leche, the super-addictive caramelized sweetened milk.
You can scope out the best dulce de leche at La Casa del Dulce de Leche (yes, there are various versions available). If your sweet tooth isn't satisfied, go ice cream parlour hopping at Freddo, Rapa Nui and Persicco. Or pop into Donut Therapy for a dulce de leche covered donut.
While a visit to Argentina's capital might be focused around food, there are plenty of things to do in Buenos Aires apart from eating. See sculptures like Floralis Generica, artworks at Museo Nacional de Bellas Artes, gorgeous churches like Catedral Metropolitana de Buenos Aires and of course shopping at Galerias Pacifico. Dante Alighieri fans should not miss Palacio Barolo which is a building erected as a homage to the Divine Comedy.
Where to stay in Buenos Aires?
If you want a centrally located and top-notch hotel, the Recoleta and Retiro area is your best bet with lovely choices like Palacio Duhau and Alvear Palace.
Contributor – Mar Pages, Once in a Lifetime Journey
16. Pucón, Chile
Pucón is Chile's capital of adventure. If you're into adrenaline and active holidays, then I can't think of a better place for a solo trip in South America! You'll meet tons of like-minded people ready to do the same activities you want to do, so new friends are guaranteed! After a day full of activities, the town has a great nightlife. You'll find laidback bars with local craft beer and club where you can dance the night away. Something for each taste!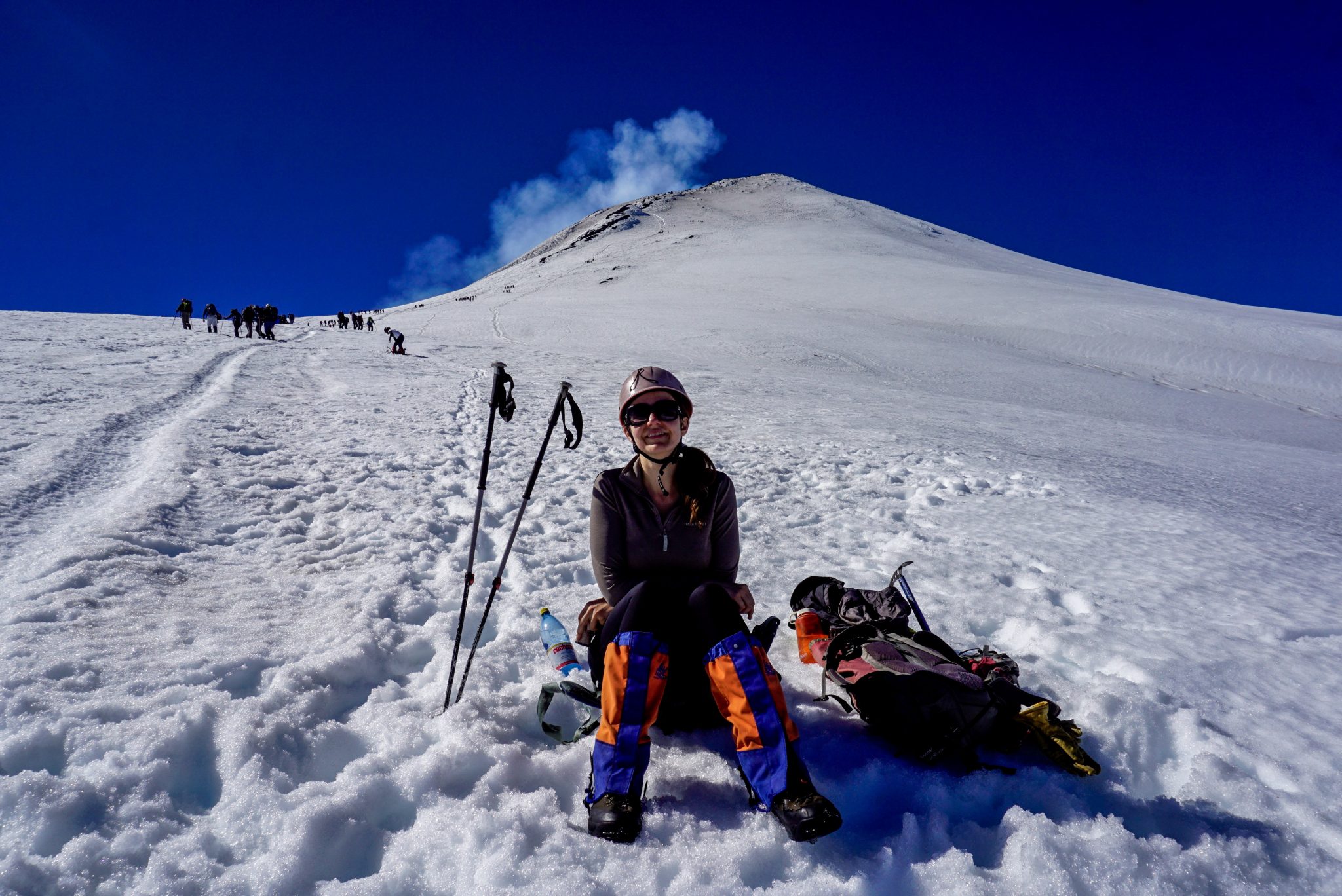 So, what can you do in Pucón to feed your adventurous soul? Well, from climbing the active Villarrica volcano (a beautiful massif of 2,840mt / 9318ft where you can see lava in the crater) to white water rafting in Trancura river's class III and IV rapids.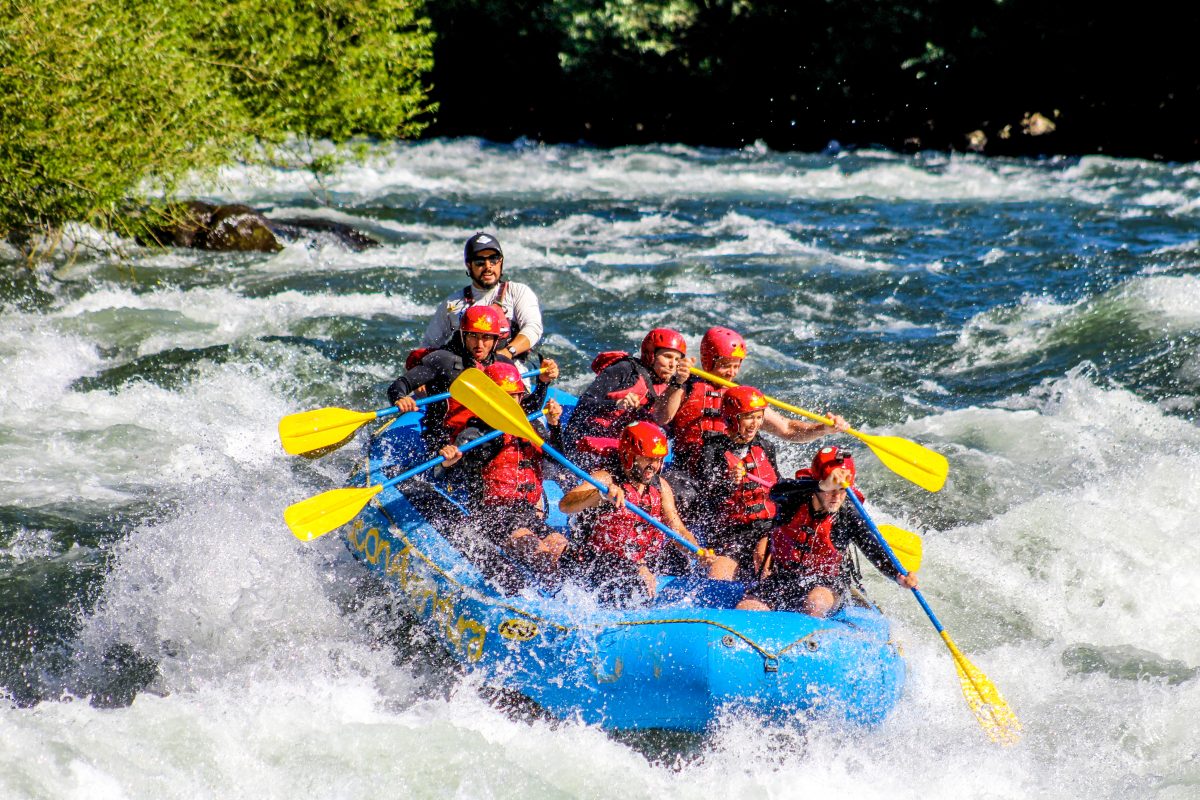 The town also offers sledging (hydrospeed), canyoning and rappelling down a waterfall, skydiving, zip-lining over a forest, exploring volcanic caves, quad riding and hiking. See why it's the country's adventure centre?
When you're done with adrenaline, choose one of the nearby natural hot springs and let your body recover with their healing properties.
Where to stay in Pucon?
If you also want to chill at your accommodation, book a room in the fancy Grand Hotel Pucón. For a more budget-friendly stay, go for Chili Kiwi Lakefront hostel.
Contributor – Constanza Fernández, Experiencing the Globe
17. Lima, Peru
Lima, the only coastal capital city in South America, is often overlooked by world travelers. Their loss is your gain, as this fair, beautiful city has lots to offer! Set along the Pacific coast, most of the things that make Lima special revolve around the water and great outdoors.
You can eat world-famous ceviche along the beach after taking a private surfing lesson, go paragliding along the water with views of the upscale district of Miraflores, bike or run through the public art found in the waterfront Parque de Amour, and even tour 13 dancing light and water features in the world's water fountain complex found in a public park.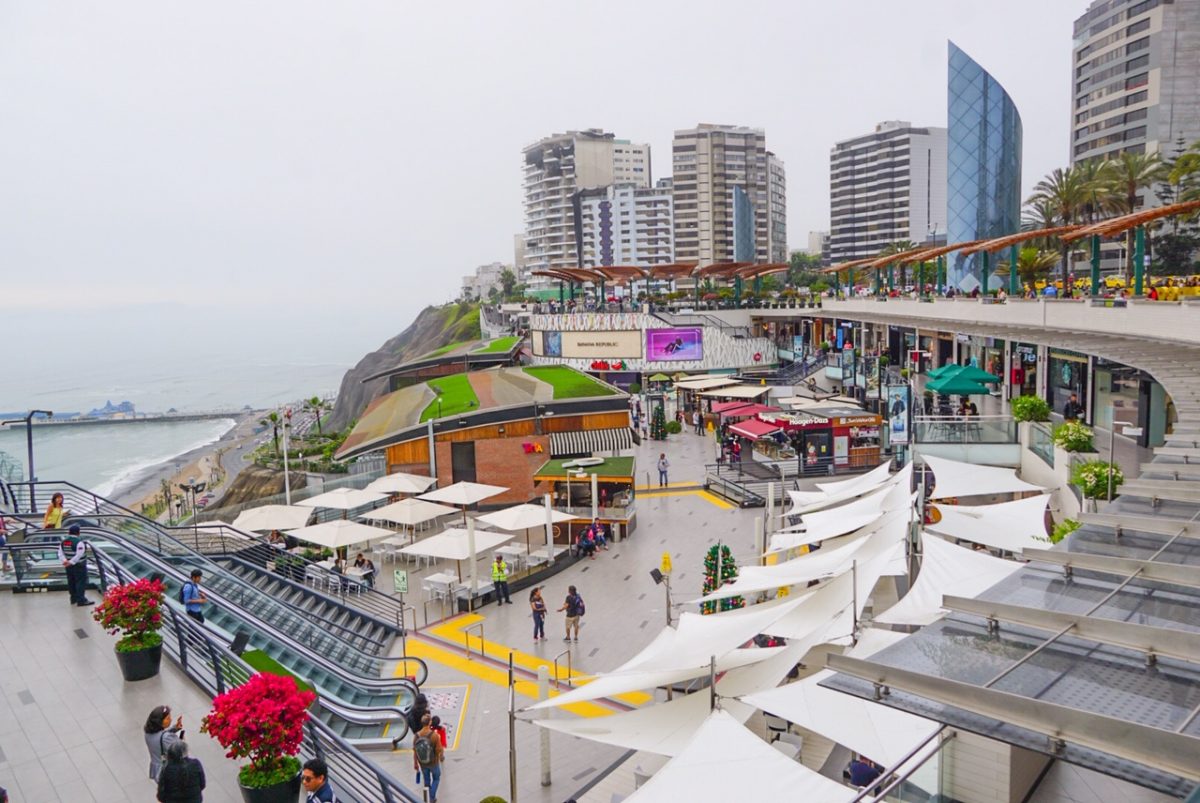 Not only is enjoying nature essential to Lima, but the city is also full of both modern and historical architecture. You can go from visiting pre-Incan ruins to the catacombs of a Catholic monastery to an incredible shopping and dining complex built into the seaside cliffs within a cheap, 15-minute cab ride!
Those interested in enjoying a combination of beautiful parks, seaside adventures, safety, and delicious restaurants should consider a hotel in the upscale (though still inexpensive) neighborhood of Miraflores (check out all the fun things to do in Miraflores). You can easily stroll the streets for great vegan fare then catch a cab to other city highlights!
Where to stay in Lima?
If you are looking for a comfortable apartment with nice views, you can go for 28 de Julio Luxury Apartment. For something cheaper, you can head to Apartamento en Miraflores Lima.
Contributor – Susannah O'Brien, The O'Briens Abroad
18. Colonia del Sacramento, Uruguay
Colonia del Sacramento, in Uruguay, is a great place to explore for solo travelers. Colonia is a charming Spanish colonial city with picturesque cobbled streets and some historical buildings. It is located on the shores of Rio de la Plata, southwest of the country, and can be reached by ferry from the city of Buenos Aires.
Although it is possible to visit Colonia on a day trip from the Argentinian capital, I recommend spending at least two nights in the city to get the most out of it.
Is Colonia safe for solo travel?
I visited Colonia during my world tour traveling solo, and I had a great time. Colonia's historical centre is listed as world heritage by UNESCO, so it is a place that sees many tourists. The city is safe to visit and walk around, much safer than its neighbour on the other side of Rio de la Plata, and it is well equipped with restaurants of all kinds, cute cafes and hotels.
It is possible to explore Colonia on your own; the main sights always have information panels with some primary historical data. Guided tours are also available, and they can be a great way to meet other travelers or just to learn more about Colonia's rich past.
Where to stay in Colonia?
Solo travelers, especially the ones traveling on a budget, also have the option to stay in hostels, and there's a good choice of hostels, well equipped with kitchen and dining spaces and with dorms of different sizes. I was staying at the Hostel Suites del Rio, and I recommend it.
Contributor – Elisa, World In Paris
19. Sao Paulo, Brazil
Sao Paulo makes a great city for solo travel in South America with so many fantastic things to do and see in this city of over 12 million people living in this large metropolitan area. With so many lovely and unique neighbourhoods, a historic downtown area even with its version of the Empire State building, impressive churches and historic buildings and so many beautiful museums to explore and visit.
You can easily cover most of the city via metro, which is easy, fast and inexpensive to travel around and safe at all times of the day and night.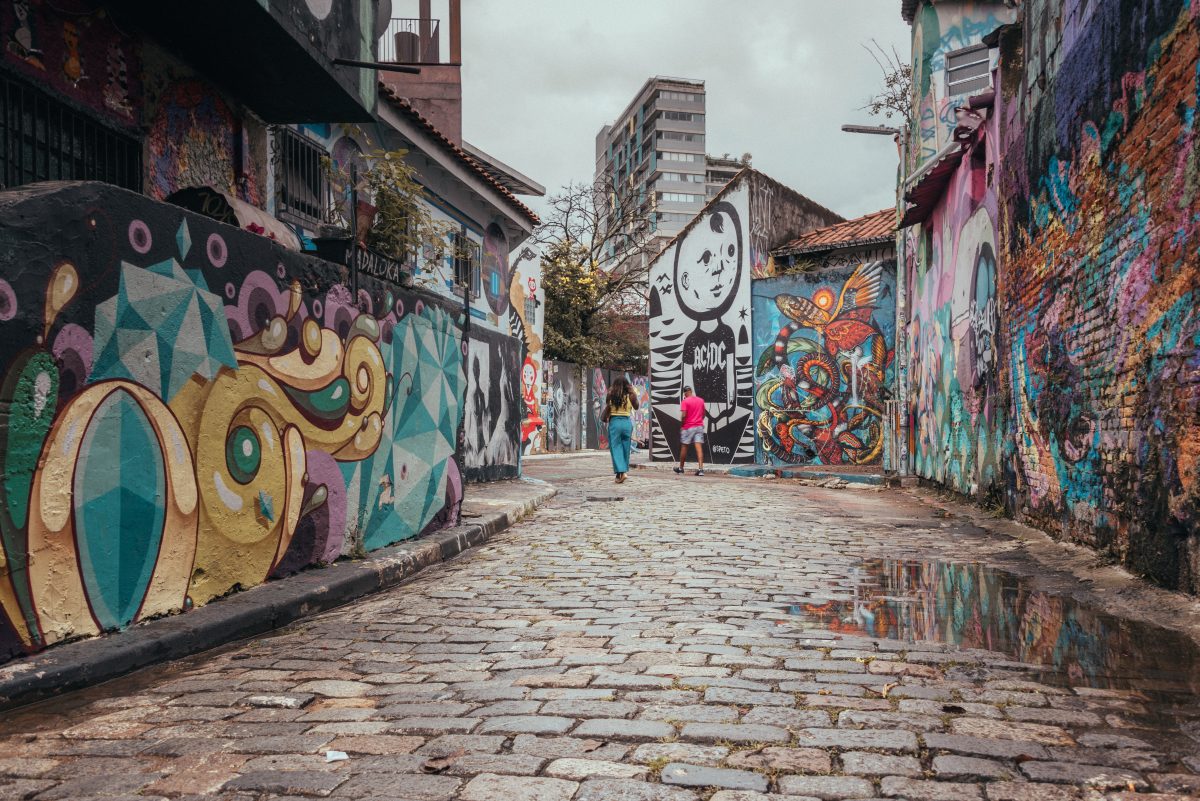 Some of the more fun and unique neighborhoods to visit include Vila Magdalena with hip galleries and shops and amazing visual street art everywhere, the busy and popular downtown Paulista area, Ibirapuera park, Japan town or Liberdade, Pinheuros or the gay district, Jardin which is where all the trendy shops, bars and cafes are, and the historic district around the Cathedral de Se.
There are so many beautiful places to visit in each neighbourhood, each with there own appeal. Still, typically you'll also find outdoor markets, instant pop-up shops, street food vendors selling delicious takeaway foods, tropical fruits and yummy ice creams.
For art lovers, there are so many beautiful museums, free galleries and corporate-sponsored cultural centres offering rotating art exhibits and shows that are mostly free for the public to enjoy. There's also a lot of beautiful outdoor places to enjoy including Ibirapuera, gardens at Pinacoteca, Instituto Butantan, Parc Villa Lobos and so many other outdoor venues.
If you are exploring more of this beautiful city solo, check out my post on free things to do in Sao Paulo here for more inspiration for fun and free experiences around the city.
Where to stay in Sao Paulo?
Sao Paulo has a lot of accommodation options in the city centre. If you are looking for a hostel on the cheaper side, I'd recommend Casa Azul. If you are looking for a comfortable mid-range hotel, then I'd suggest Your Studio at London SP Residences.
Contributor – Noel, Travel Photo Discovery
20. Cusco, Peru
If you are looking for the best place to solo travel in South America, you cannot overlook the ancient capital city of the mighty Inca Empire, Cusco. A beautiful historic city located in the Andes, it is the perfect place to learn about Peruvian culture, try delicious Peruvian cuisine, and explore the nearby natural wonders.
Is it safe for solo travel?
Typically, South America gets a reputation for being unsafe, but that is far from the case in Cusco. A popular tourist destination due to one of the nearby Seven Wonders of the World Machu Picchu, Cusco is one of the safest cities in South America for solo travelers. Unlike most cities in South America where most of the locals do not speak English, most of the locals generally do talk to English due to the tourism in Cusco.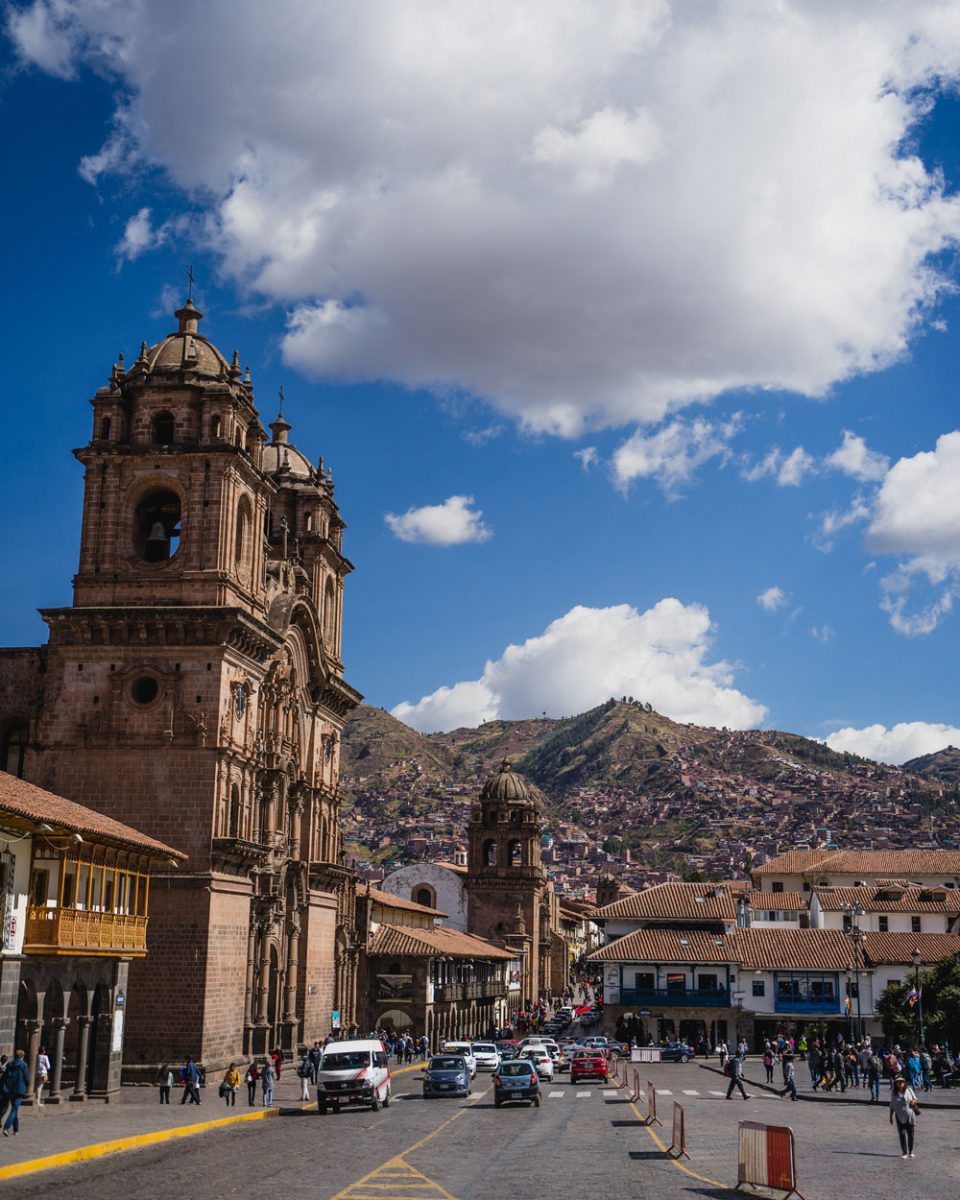 Cusco is also a great base to visit the nearby attractions that Peru offers, such as the mighty Machu Pichu, the colourful Rainbow Mountain, and the various Inca ruins in the Sacred Valley. There won't be a day without excitement when visiting Cusco.
Though one thing I do have to warn you though is the altitude. Cusco is located about 3,300 meters above sea level, a height that could cause severe altitude sickness. As a result, your accommodation in Cusco must have the proper equipment such as oxygen-enriched rooms or oxygen machines to help you just in case you need it!
Where to stay in Cusco?
If it is your first time in Cusco, I recommend you to stay in the artsy area called San Blas in the historic centre. Tariq Hotel Boutique Cusco is a hotel with breath-taking views just in case the altitude isn't doing its job!
Contributor – Sean Lau, Living Out Lau
21. Villa de Leyva, Colombia
Located three hours north of Bogota, Villa de Levya feels as though it has been captured in time. The small town is known for its white colonial buildings and cobblestone streets that have been preserved for over 400 years. But it's the friendly vibe, social hostels, and variety of things to do in Villa de Leyva that make it an excellent destination for solo travelers in South America.
After wandering the charming colonial streets, explore the many activities outside of Villa de Leyva, including a visit to Casa Terracota. Just outside of the historic city centre, this clay house is the largest piece of pottery in the world, with equally impressive artistic details inside.
History buffs will be drawn to the story of the Muisca people who inhabited this area when the Spanish arrived in the 16th century. Now an archaeological site, they created a "Solar Observatory" to track the seasons, which influenced their planting and harvesting.
And science lovers won't want to miss El Fossil Museum which was built around an enormous marine reptile fossil found by a farmer in the 1970s. Residents insisted the fossil not be moved to a museum and instead they created a museum around it.
Or spend your day hiking to one of several nearby waterfalls. If you get started early enough, there may be time for a wine tasting at Vineyard Aim Karim on the way back. Whether you're into history, hiking, shopping, or simply exploring daily life in a small town, you will undoubtedly enjoy your time in this colonial gem.
Where to stay in Villa de Leyva?
Finding a social place to stay as a solo traveler in Villa de Leyva isn't difficult. Many of the hostels collaborate together by hosting different evenings of fun. There's also a group Whatsapp that helps travelers coordinate things to do during the day. My pick is Hostel Xué where open spaces and modern art touches create a vibe more of a boutique hotel than a hostel.
Contributor – Julien Casanova, Cultures Traveled
22. Valparaiso, Chile
I'd heard about Valparaiso, Chile's street art scene before I booked my solo trip, but seeing it for myself was even better than expected! Valparaiso is a port town on the water, but you won't see much impressive art on the waterfront – the most colourful streets are nestled higher up in the Cerros (hills).
It would have taken me some time to figure that out on my own, so I decided to take a tour instead (if you go, I recommend Tours4Tips!). It was a great decision – I heard the stories behind some of the more popular murals and learned that many of them were created to protest local and national social injustices.
Is it safe to travel alone to Valparaiso?
I'd recommend the town if you are going to do solo travel in South America. I felt very safe walking around Valparaiso during the day and at night in the busy neighbourhoods (I avoided vacant areas). Tourist thefts are occasionally reported, so like any destination, it's necessary to be aware of your surroundings. I was advised by my guide which streets to avoid, and that carrying around expensive camera equipment wasn't the best idea. I heeded all his advice and never had a problem.
A couple of other things to do in Valparaiso – ride the ascension (outdoor elevators that take you up the Cerros on steep tracks) and do a harbour boat tour.
Where to stay in Valparaiso?
I highly recommend Fauna Restaurant at the top of Ascensor Reina Victoria for great food and drinks and an excellent view of the town and bay below. Bonus: they're a hotel, too!
Contributor – Mary Beth, MB Sees.
23. Cartagena, Colombia
I travelled to Cartagena a few years ago, and I was a little sceptical about how safe the city would be for a woman. Some friends that have already been there told me I have nothing to worry about but, still, I wasn't that sure.
As soon as I stepped foot in Cartagena, I knew my friends were right. The locals are more than happy to welcome tourists, and even the ones that don't speak English will try their best to understand you.
The beautiful city of Cartagena is well known for its fortifications and the Old City; both have the UNESCO World Heritage recognition. Inside the walls, built five centuries ago, you can find museums, restaurants, hotels, churches and some typical, colourful and colonial houses.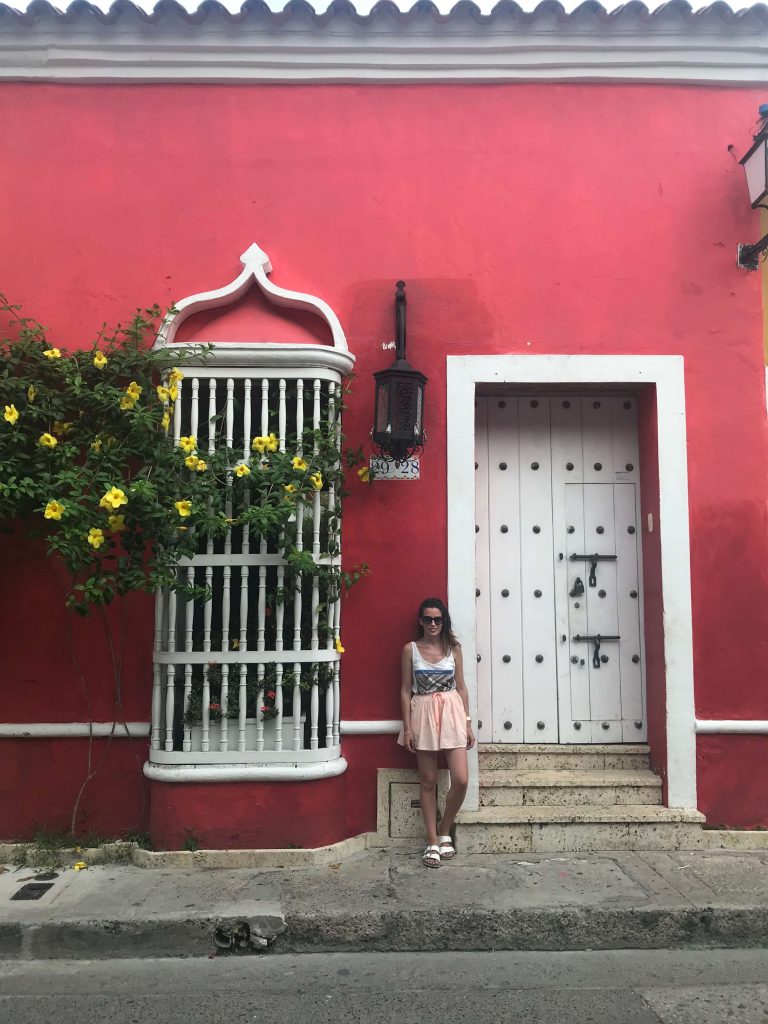 I spent five days in Cartagena, and my favourite spots of the city during my stay were the St. Catherine of Alexandria Cathedral, St. Peter Claver Church the Abaco Bookshop and Cafe del Margoo there for the sunset!-. It's a small city so you can walk around and find every tourist attraction quite close to each other.
Where to stay in Cartagena?
Regarding accommodation, I have two different recommendations. If you prefer to be surrounded by young people you should stay in Getsemaní, the Media Luna Hostel is a great idea. If you're more into chill and romantic places, then for sure I would recommend you to stay in a hotel in the Old City, the Casa India Catalina has the charm of the typical Cartagena houses and will make your stay unforgettable.
Contributor – Laura Otero, Laura No Esta
24. Galapagos, Ecuador
One of the best destinations for solo travel in South America is Galapagos. Especially if you love animals, then you can't miss this place. It's so easy to get lost in the moment, just sitting there alone watching a flamboyance of flamingos (yes, it's a flamboyance, I looked it up) for several hours. Whether it's hammerheads, finches, seals, penguins or boobies you came to see, nowhere else on earth have I seen a place so abundant in wildlife.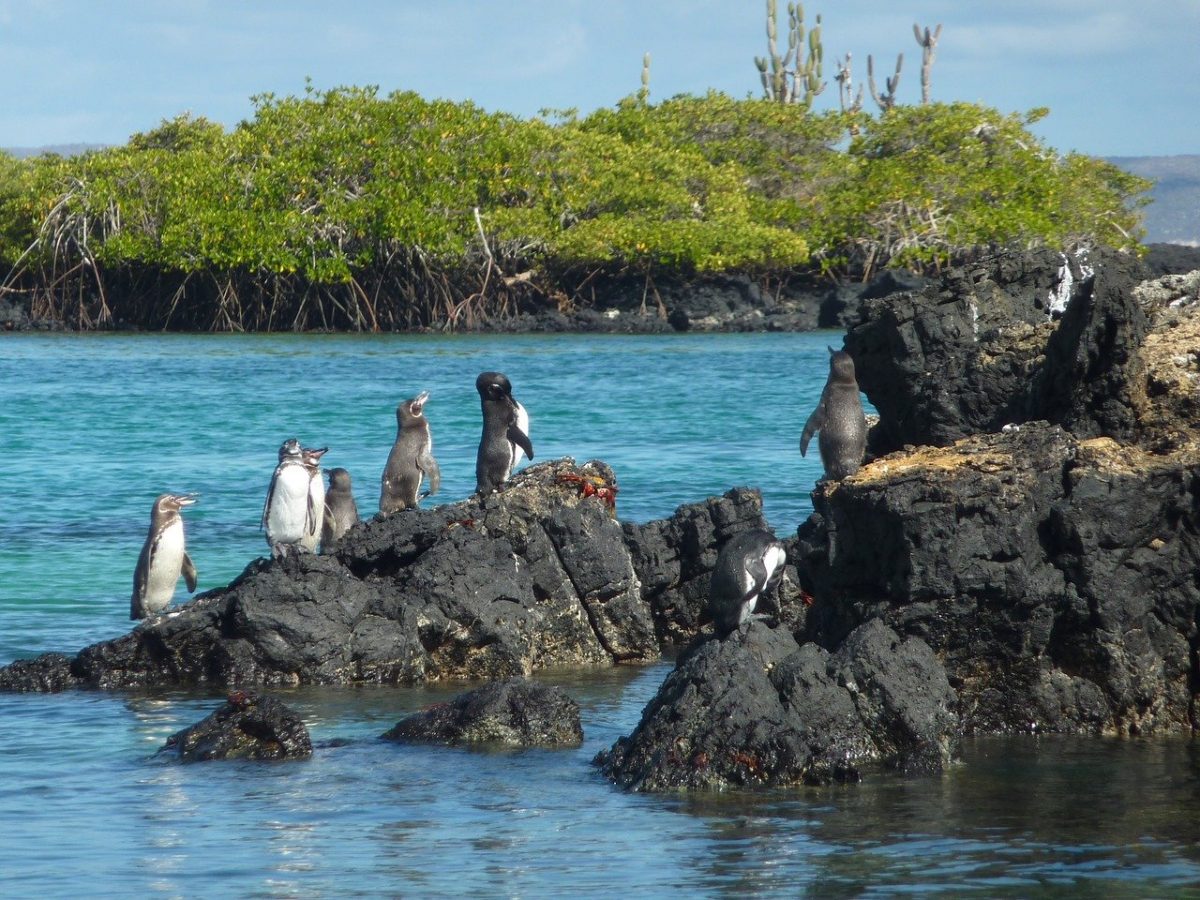 Flights are your highest cost, and there's an entry fee of USD 100. Basic accommodation is around USD 40 in the towns. Food isn't cheap, but reasonable if you shop/dine where the locals go. Interisland ferries range from USD 20 to 70.
Bicycle rental is only a few dollars. Bikes are great to cover lots of ground with plenty of freedom. There are plenty of small tour operators offering fair prices to visit remote and restricted areas.
I took a snorkelling tour to Las Tintoreras Islet. It put my Spanish to the test, but it was a great way to contribute to the local economy. If you bring your gear, you can snorkel for free; a great spot is near the jetty at Puerto Villamil. Lots of seals, penguins and turtles there!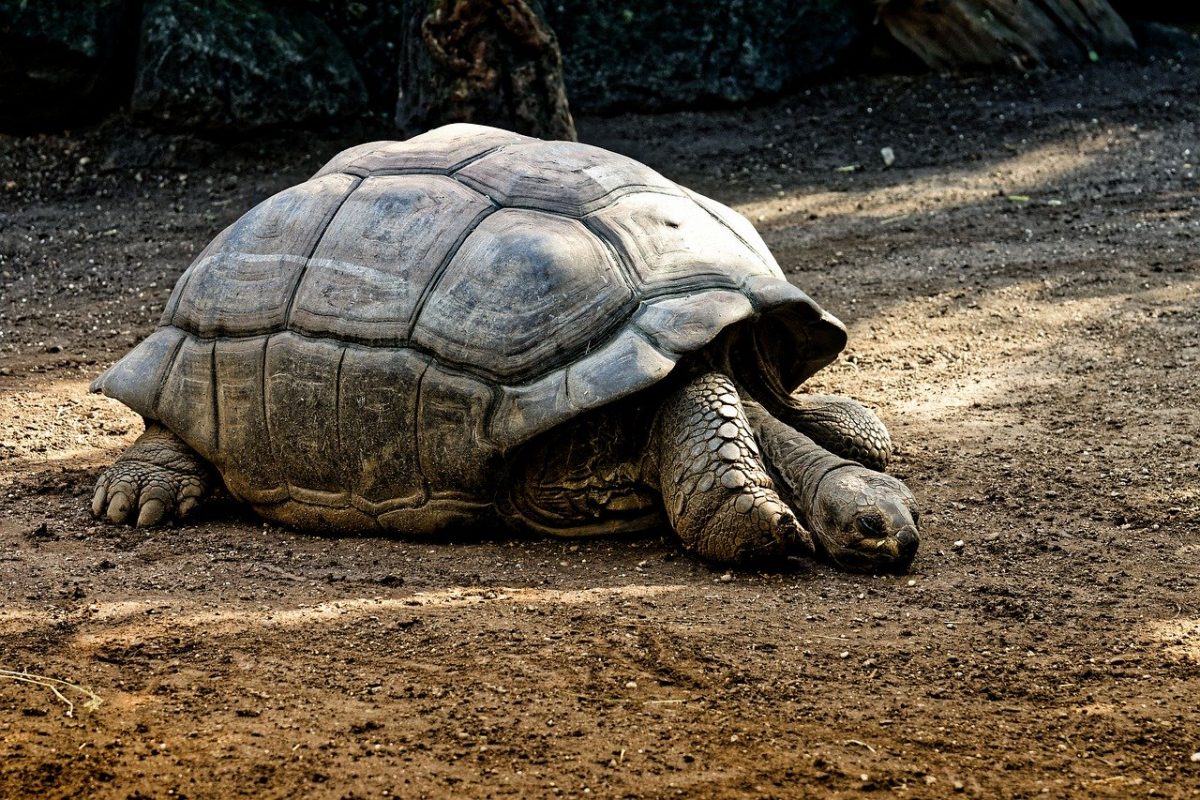 Galapagos' most famous residents are giant tortoises. These epic things weigh up to 400 kilos! Best place to see them is Santa Cruz; visit a breeding centre, or head to the mountains and see them in the wild. You can meet them wondering around the other islands too. Remember, these animals are wild. Keep a safe distance.
Where to stay in Galapagos?
If you are looking for a hostel, then Hostal Romy in San Cristóbal Island is the recommended place. For something comfortable in the mid-range budget, go for Hotel Galapagos Suites B&B in Puerto Ayora.
Contributor – Luke Wilki, Culture Shock Adventures
25. Chachapoyas, Peru
Far from the beaten tracks, Chachapoyas is a unique destination to include in your solo travel destinations in South America if you are looking to explore more unspoiled regions of Peru.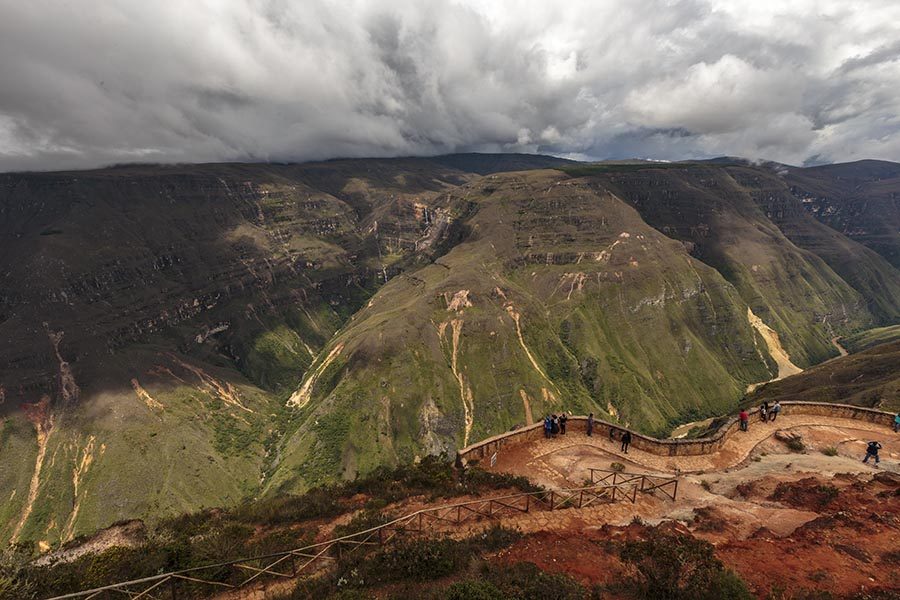 Situated right at the door of the Peruvian Amazon forest, but with a very different climate and landscapes, Chachapoya is the cradle of the pre-Inkas populations from which it inherited the name.
And, besides an unspoiled wild nature that offers spectacular walks in the jungle, waterfalls, canyons, and caves, the main attractions are the ancient sites of the Chachapoyas, such as the old city of Kuelap, the sarcophagi's of Karaja and the mausoleums of Revash.
The pretty small town is getting ready to welcome the growing number of tourists attracted by such a safe and unspoiled area with charming little cafes, local restaurants, and lovely boutique hotels.
There are so many things to do in Chachapoyas that during my trip through Peru, I stayed there for two weeks, exploring every single corner both by myself and joining local tours.
Although I am an advocate of do-it-yourself trips, I have to say that in this case, many of the tours are much worth it, for the price and the time you save. Because most of those interesting sites that I mentioned are located in very secluded parts of the region that are not frequently reached by local buses. Besides, having a knowledgeable guide giving you fascinating insights about the local culture and history is always exciting.
Where to stay in Chachapoyas?
If you are looking for a budget stay option, I would recommend Killa Wasi Hostal. For something in the mid-range, Hotel Posada Del Arriero.
Contributor – Isabella Biava, Boundless Roads
BONUS – 1 More Destination for Traveling alone in South America
26. Arraial do Cabo, Brazil
Rio de Janeiro might be a delightful city, especially with its lively districts such as Santa Teresa–which is one of the best areas to stay in Rio, by the way! Still, Arraial do Cabo, also known as the Brazilian Caribbean, is a coastal town famous for its blue water and incredible wildlife. As you can imagine, it is called the South American Caribbean for a very good reason.
Arraial do Cabo has mesmerizing white-sand beaches, such as Forno, Pontal do Atalaia, Farol, and Grande. And honestly, all of these places have the most beautiful blue water my husband and I have ever seen.
One of these beaches, Forno, is so unique and clean that the Navy controls the access to it rigorously to preserve its beauty – tourists can't enter the beach with food, drink, or cigarettes, and are only allowed to stay there up to 40 minutes. Beyond that, access to Forno is made only by boat as it is on an island just off the coast of Arraial do Cabo.
Where to stay in Arraial do Cabo?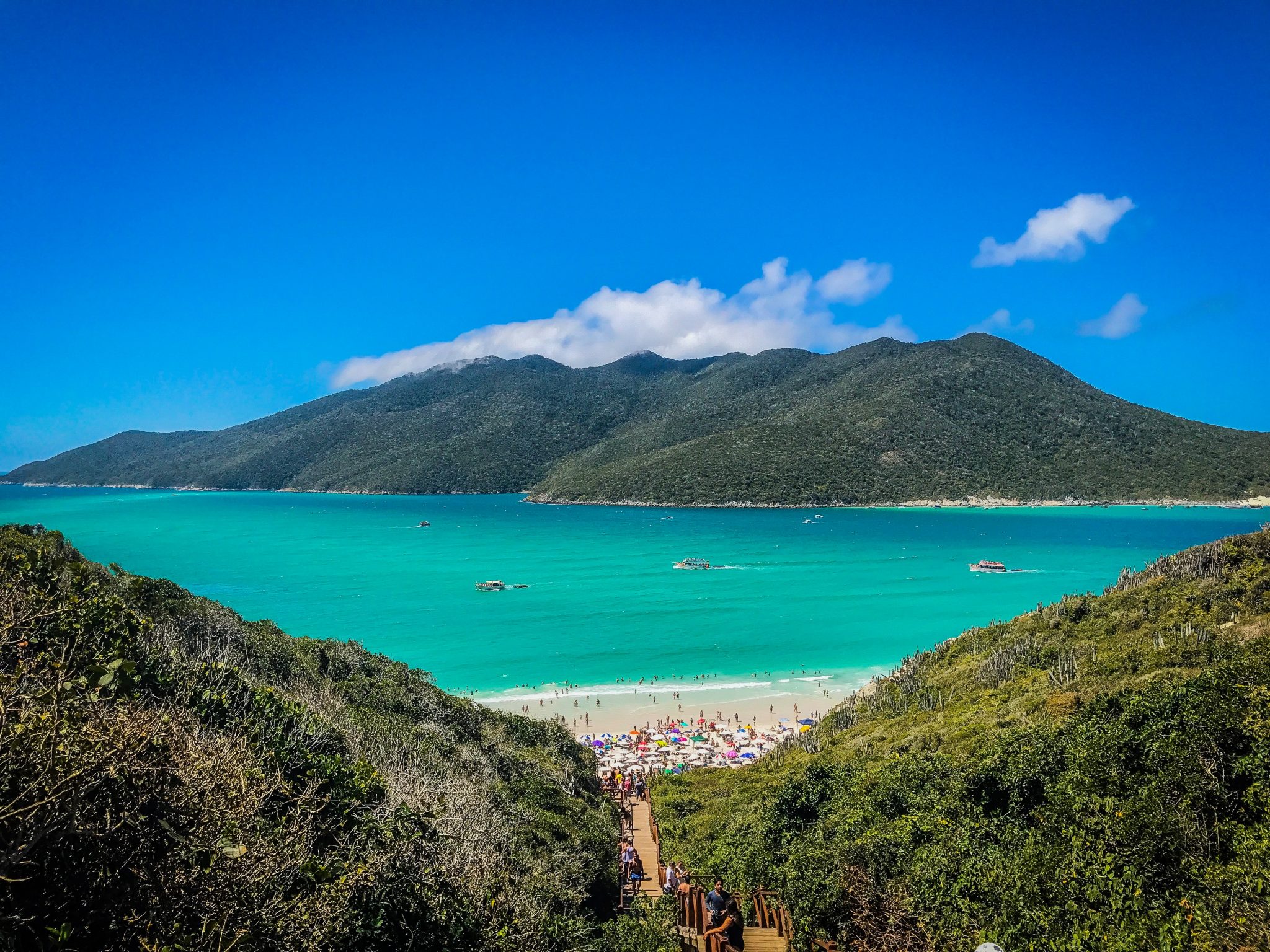 As for accommodation, the Guesthouse Canto da Canoa offers a view over the beach like no other. Although you need to go through a dirt road to get to it, the views of the blue sea are totally worth the trip.
Under those circumstances, it's not a secret that Arraial do Cabo has everything to make a solo trip among nature unforgettable. It is a unique place!
Contributor – Bruna, I Heart Brazil
Pin for later!
Connect with me on Facebook, Twitter, and Instagram for travel stories.