Watching a beautiful sunrise in San Diego is one of the top things to do when here, as there are many spots from where you can witness the magical dawn. Although waking up very early is not my thing, I do derive the inspiration from time to time when I am on the road if it has to with gorgeous sunrises.
And on my San Diego weekend trip, I learned that there are many unique places in the city where you can witness beautiful sunrises. I am so glad that I did because I watched some spectacular sunrise and a full display of colours that will remain with me for a long time.
In this post, I will share all you need to know about the best places to enjoy a beautiful sunrise in San Diego.
TOP PLACES TO WATCH THE SUNRISE IN SAN DIEGO
Although San Diego is on the west coast, making it ideal for splendid sunsets, you can also watch beautiful sunrises thanks to higher vantage points. Here are the top places to visit sunrise in San Diego.
COWLES MOUNTAIN
One of the most beautiful places to watch the sunrise in San Diego is Cowles Mountain, the highest point in San Diego.
Cowles Mountain, located at about 1,592 feet, makes for a perfect location to watch the sunrise in San Diego high above its bustling streets against the beautiful skyline.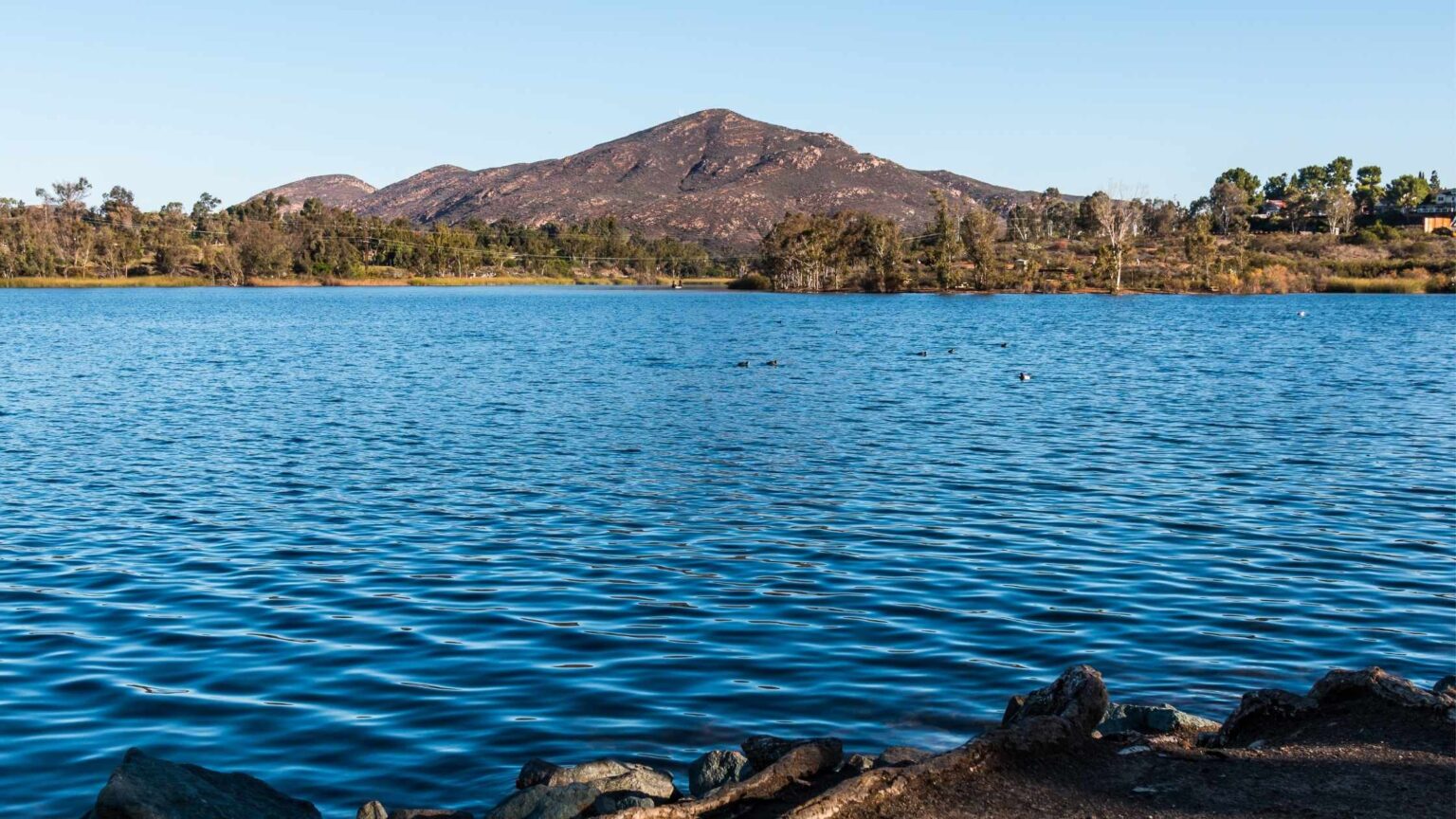 It takes an hour to hike the 3-mile trail located at Mission Trails Regional Park to get to the peak, where you can also take your dog. The track comes with a free parking lot and restrooms at the bottom of the trail.
You will be rewarded with gorgeous panoramic views of the city and the vibrant horizon that casts a magical spell of colours on San Diego.
RECOMMENDED: 10 BEST PLACES TO WATCH SUNRISE IN YOSEMITE NATIONAL PARK
Cowles Peak is undoubtedly one of the best sunrise spots in San Diego to enjoy nature and beautiful mountain views.
You will also find many locals of San Diego running and walking along the trail leading to the peak of Cowles Mountain, as it is an excellent spot for a challenging morning exercise.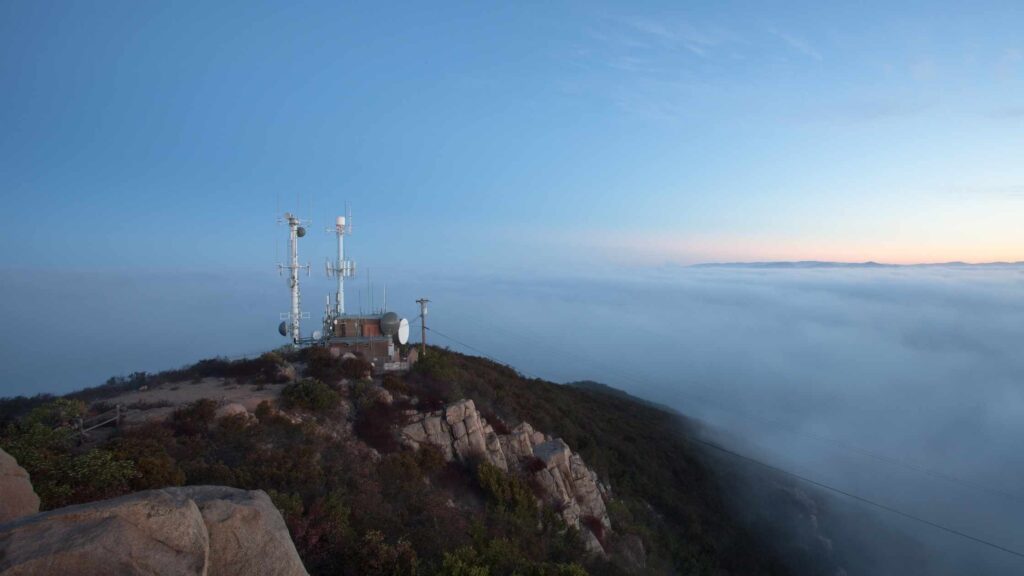 If you are planning to take lots of pictures and videos, I would highly recommend starting the hike very early to feel not rushed and leave room for watching the sunrise leisurely and capturing it on your lenses.
Make sure you finish the hike before 11 AM to be back below as the summit becomes too hot due to a steady increase in temperatures until 3 PM.
TORREY PINE STATES RESERVE
Another place in La Jolla that needs to be added to the list of the best spots for watching a beautiful sunrise in San Diego is the mammoth Torrey Pine Trees State Reserve.
A reserve dedicated to preserving the Torrey Pine trees, this stunning reserve is one of the largest in the state, spanning over 1,750-acres and is home to a rich ecosystem, indigenous wildlife, birds, and dense forests.
If you love hiking, you can go hiking on the many trails in the Torrey Pines Reserve after sunrise. There are many trails of different difficulty levels, including the famous Guy Fleming Trail, Razor Point Trail and the Beach Trail.
The reserve also provides some of the most stunning views of the sunrise in San Diego that you can witness from many viewing spots.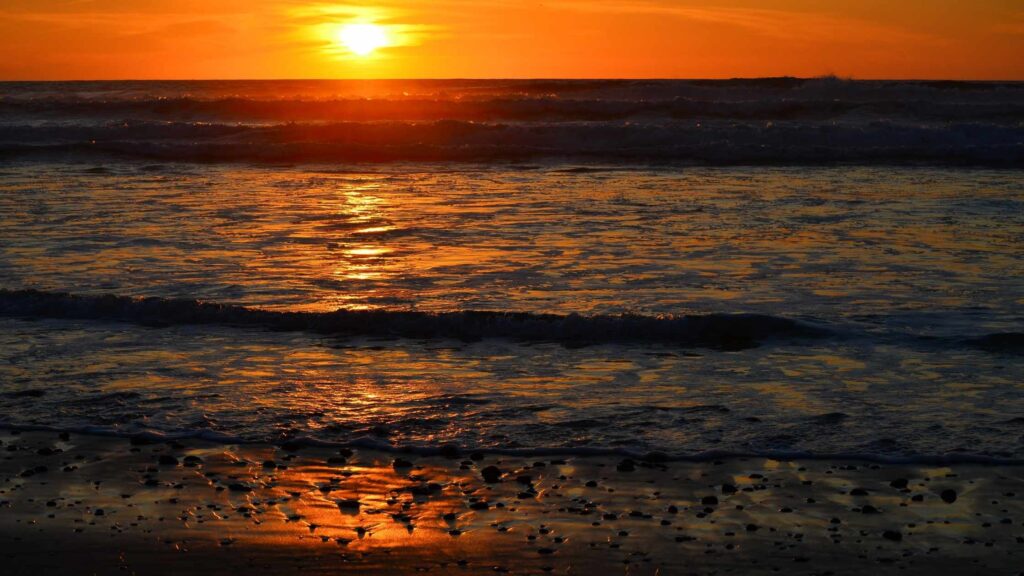 Sign up for the guided tours that leave from the Visitor Centre at 10 AM and 2 PM on weekends and holidays. That is the best way to explore many various parts of the park.
MOUNT SOLEDAD NATIONAL VETERANS MEMORIAL
While searching for the best places to watch a sunrise in San Diego, Mountain Soledad needs to go on the list as it is the highest point in La Jolla.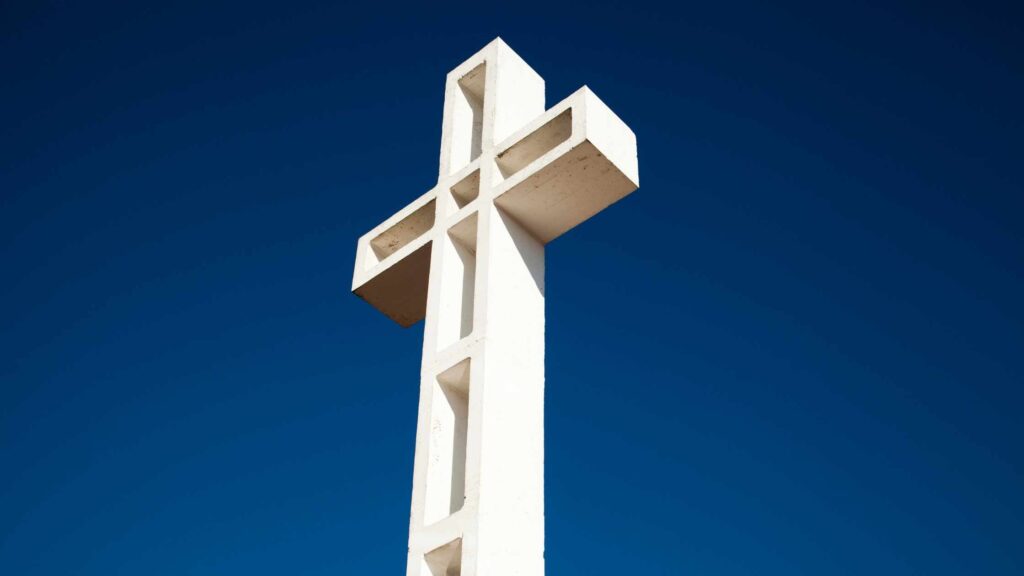 Also, unlike the other spots for watching the San Diego sunrise, you can enjoy fantastic 360-degree views of San Diego and the horizon of California comprising the forested mountains and the Pacific Ocean atop this 822-foot hill.
Mountain Soledad is home to a unique memorial, a large cross and a veterans monument dedicated to the veterans, both living and dead.
RECOMMENDED: 12 BEST SPOTS TO WATCH EPIC SUNSET IN YOSEMITE
This cross, unfortunately, became a recipe for a religious controversy plaguing the spot for over 25 years which ended when the Mt. Soledad Memorial Association ended up buying the land, making it private property.
Hence, the monument was prevented from being taken down.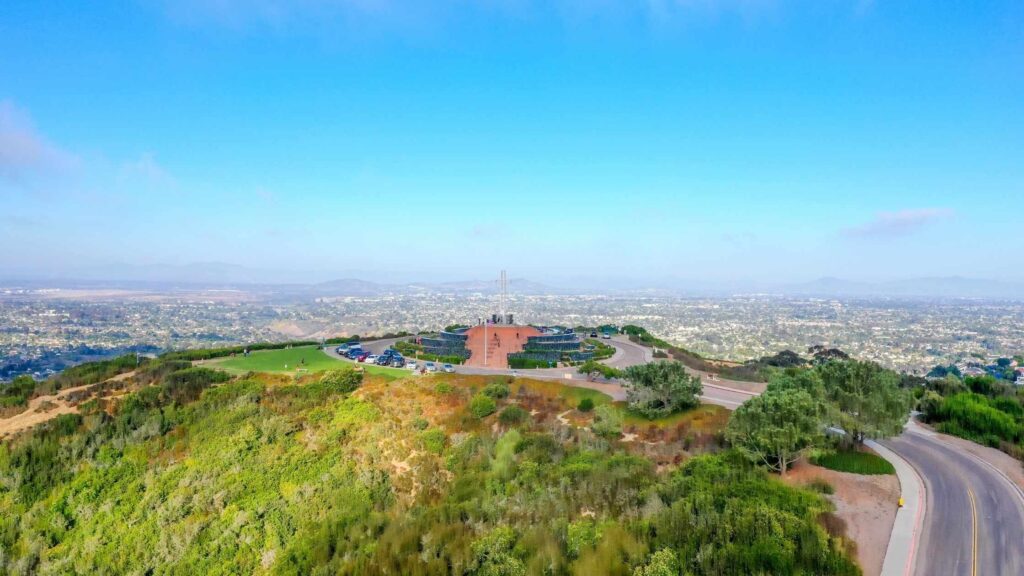 Plan your trip to watch the magnificent sunrise in San Diego from Mount Soledad between 7 AM to 10 AM, as these are the opening hours.
You can continue your trip to La Jolla after sunrise to explore its many attractions and adventure activities.
SUNSET CLIFFS NATIONAL PARK
There is no better place to enjoy the abundant beauty of nature than the forests and reserved areas, thanks to their vast expanse of untouched wilderness that offer beautiful views.
And San Diego is home to one such stunning park, Sunset Cliffs National Park, spanning over 68-acres along the Pacific Ocean.
It is one of the best spots for witnessing a gorgeous sunrise in San Diego. This national park is packed with rich natural beauty that stretches along the western shoreline of the Point Loma peninsula, comprising many wild conservation parks, jagged coastal cliffs, stunning beaches, coves, and sea caves.
Head to the park as early as possible it is open 24 hours to get to the best spots for enjoying the spectacles of the sunrise in San Diego.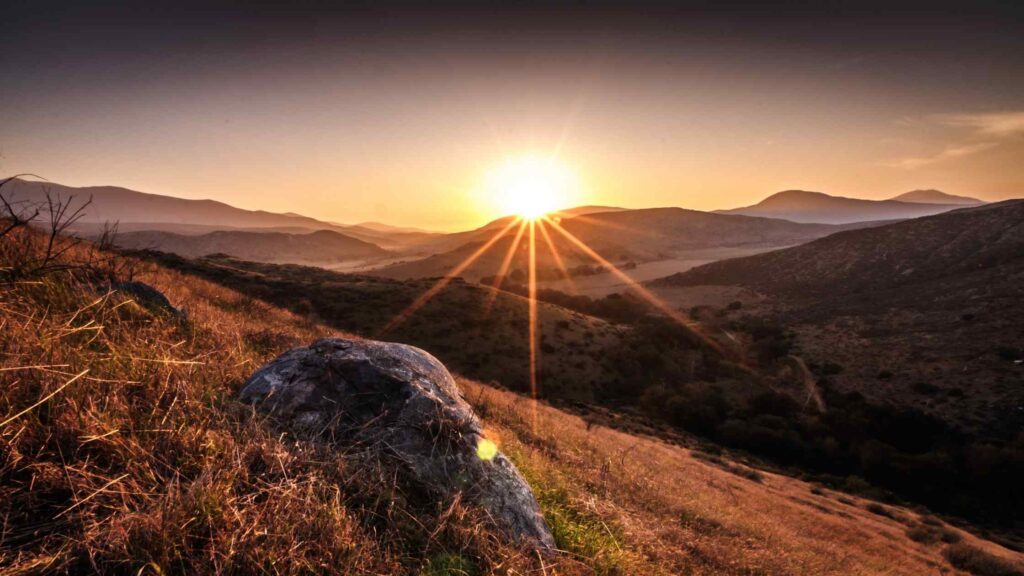 Sunset Cliffs Boulevard in the park offers fabulous views of both sunrise and sunset. You can plan a day trip to the park to enjoy all its attractions, including surfing, one of travelers' top activities.
When hiking near the cliffs, stay away from the edges and be cautious on the trails as they can be crumbly. Avoid visiting during storms, fog and rainy reasons.
SUNRISE HIGHWAY
One of the best spots for enjoying a sunrise in San Diego is Sunrise Highway, which, as the name suggests, is one of the ideal places running from the Laguna Mountains, east of San Diego, from I-8 at Laguna summit to State 79 near Cuyamaca Lake.
Compared to other places, Sunrise Highway is often overlooked and hence not as popular, but add this to your itinerary for enjoying some stunning views of sunrises and even sunsets.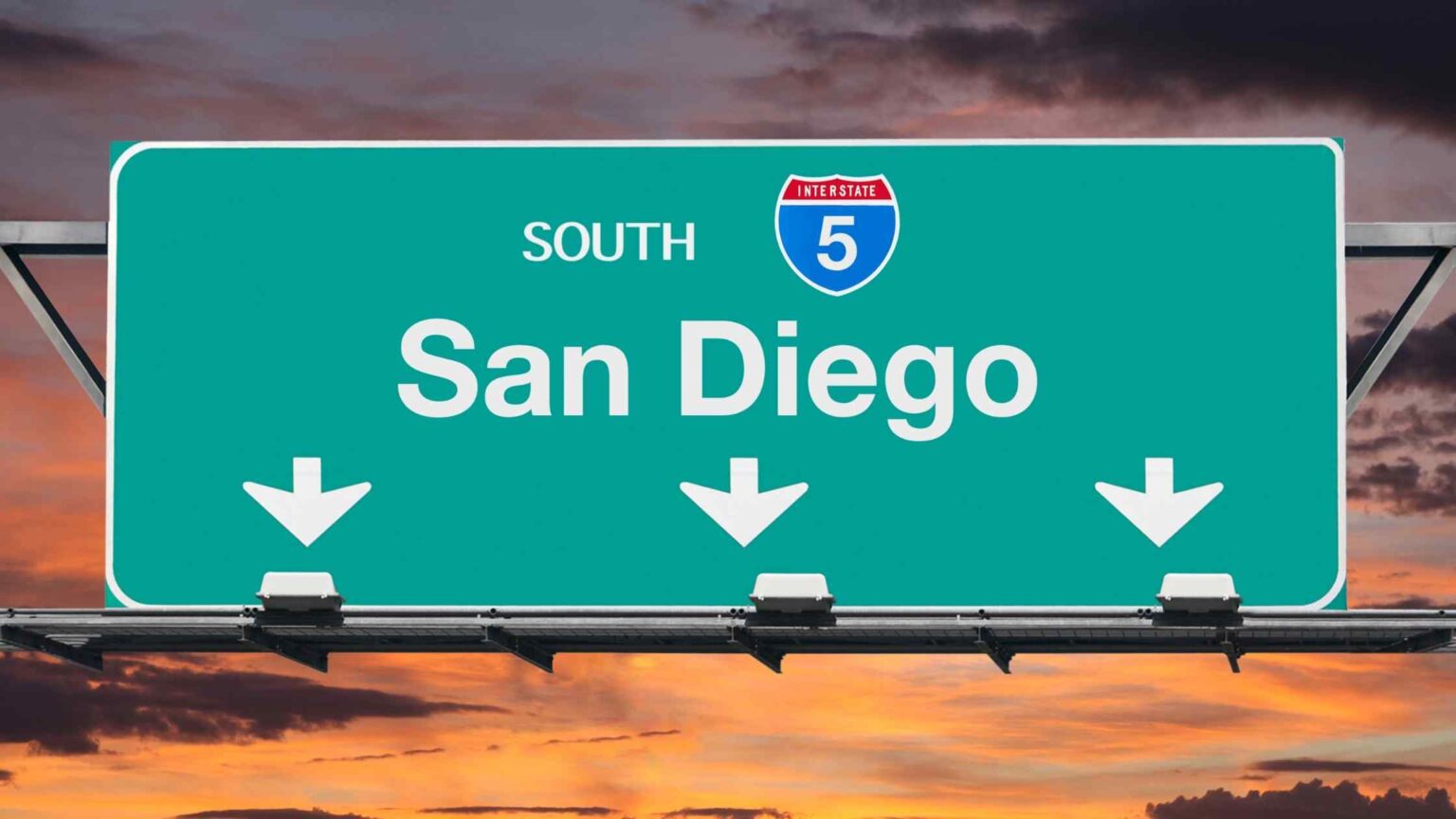 On this road, which is often a popular stop for many bikers and motorcyclists, you will witness magical views of the city skyline in many places.
Since many beautiful viewpoints are on the east of the highway, this is one of the best places to enjoy gorgeous San Diego sunrise views.
Some of these are a part of the hiking trails located in Cleveland National Forrest. You can either drive for about 45 minutes from the city to stop at viewpoints or go hiking further to enjoy the splendid sunrise views of San Diego from here, including the peak of Mount Laguna.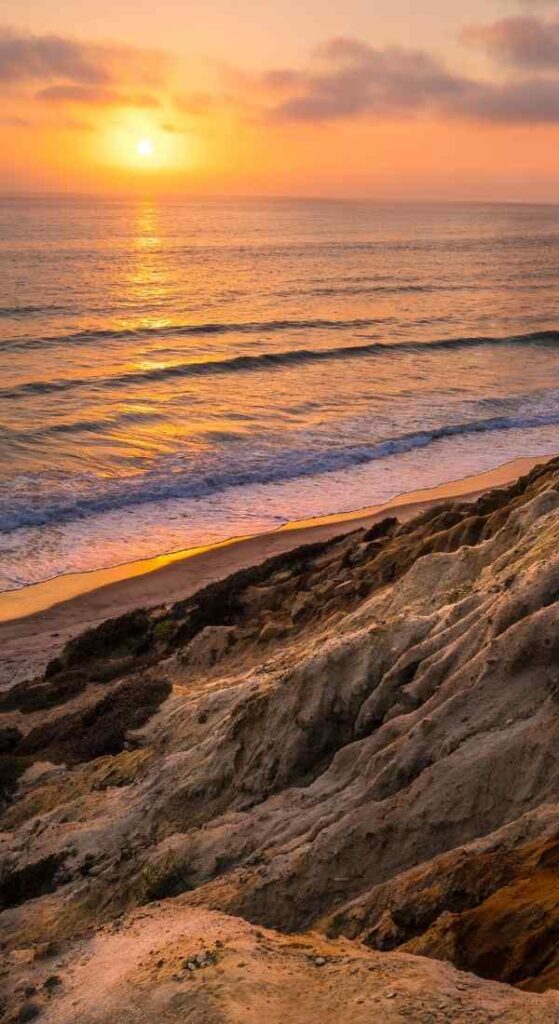 Camping overnight is also possible at Cleveland National Forrest. So if you have time, I would highly recommend you include a visit to Sunrise Highway and the national forest on your san Diego trip.
CABRILLO NATIONAL MONUMENT
Located on a high hilltop on the west side of the San Diego Bay, Cabrillo National Monument is one of the top spots for watching the beautiful sunrise in San Diego.
You can witness beautiful views of the skyline, San Diego's harbour, and even panoramic views of the Pacific Ocean and Tijuana on a clear day.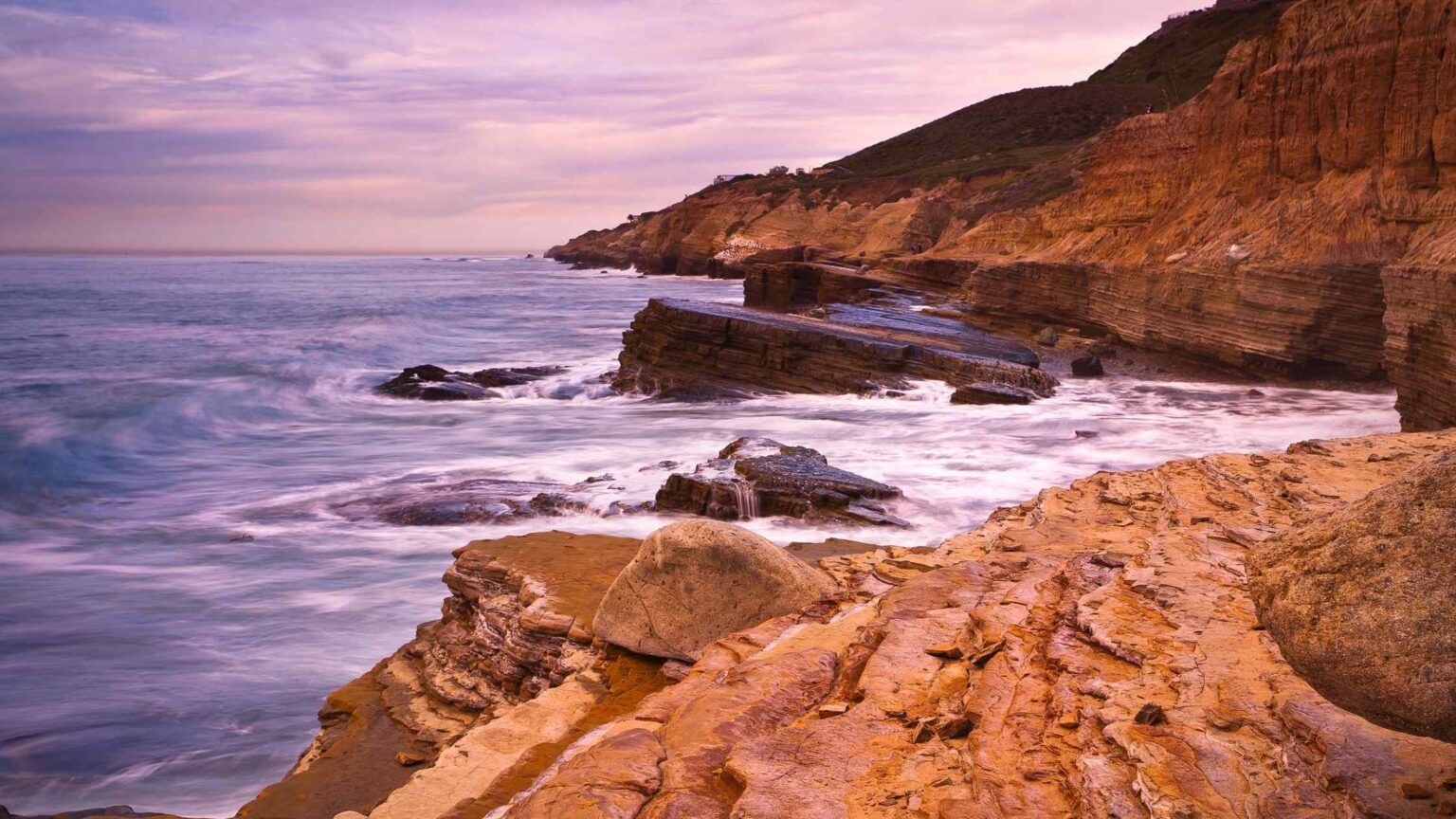 The monument, built in 1949, is famous among locals and tourists for its rich military history, hiking trails leading to many views, and tide pools.
Do not miss visiting the Old Point Loma Lighthouse, which is the park's highest point.
MOUNT HELIX
Another spot for witnessing amazing 360-degree views of the city and a splendid sunrise in San Diego is Mount Helix Park, one of the top photo spots in the city.
This vast, well-maintained park is home to a wide variety of plants and wildlife, and the lush greenery adds to the beauty of the splendid San Diego Sunrise views.
If you time it right and plan a trip during the peak seasons, you may even participate in artists' musical events, plays, and other performances. Do not miss checking out the hilltop cross and the rocks in the park.
CROWN POINT PARK
One of the best places to enjoy a beautiful sunrise in San Diego is heading to Crown Point Park, located in the centre known for its spacious, grassy grassland famous for boat launches, bonfire rings, picnic tables & grills.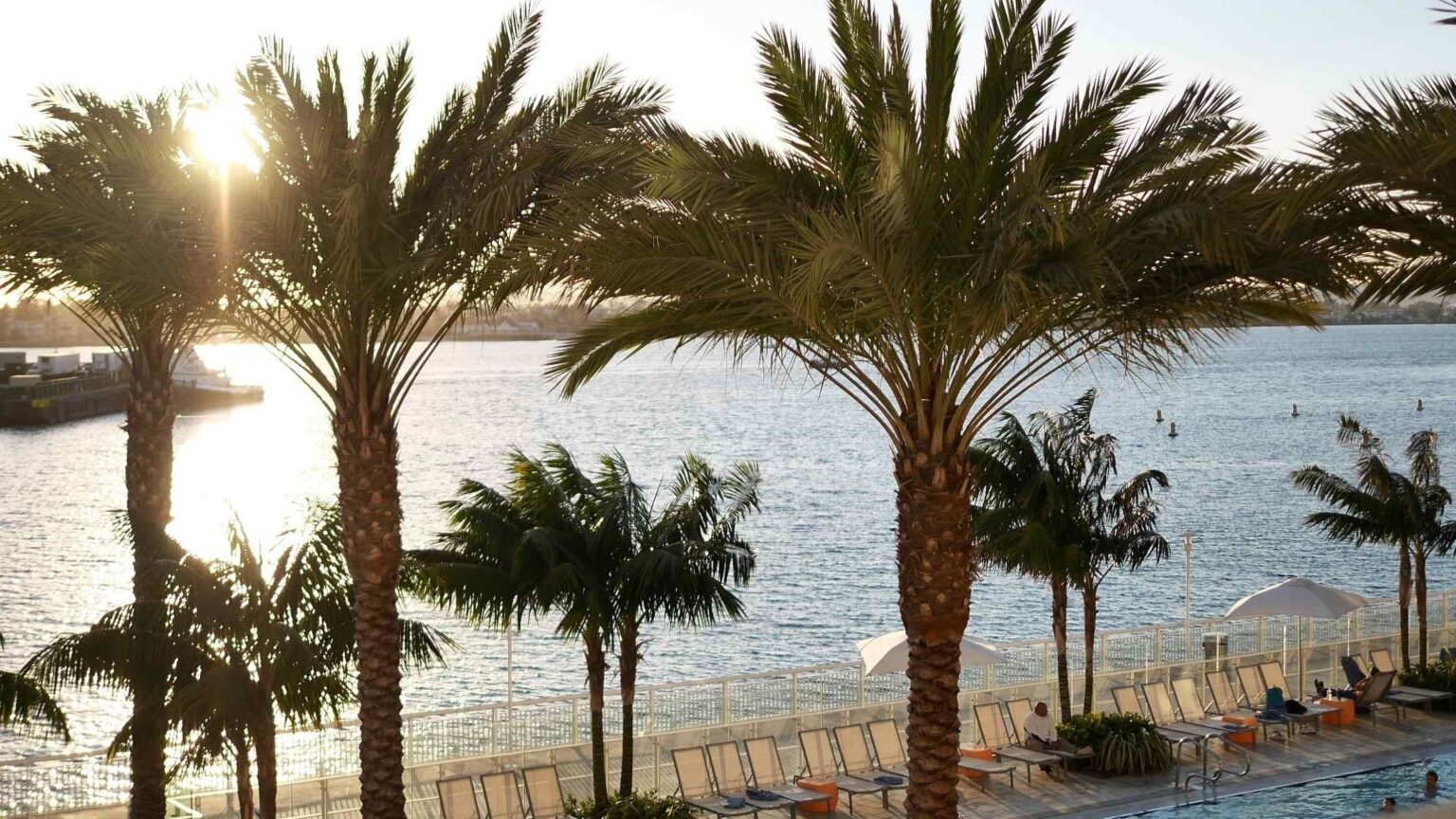 You can have a picnic day after arriving here early for the gorgeous sunrise views in San Diego.
BALBOA PARK
One of the best spots to watch the sunrise in San Diego lies right in the heart of the city.
Balboa Park is one of the top attractions in San Diego for the locals and the tourists alike, and no matter what time of the day you visit, it is one of the most beautiful places.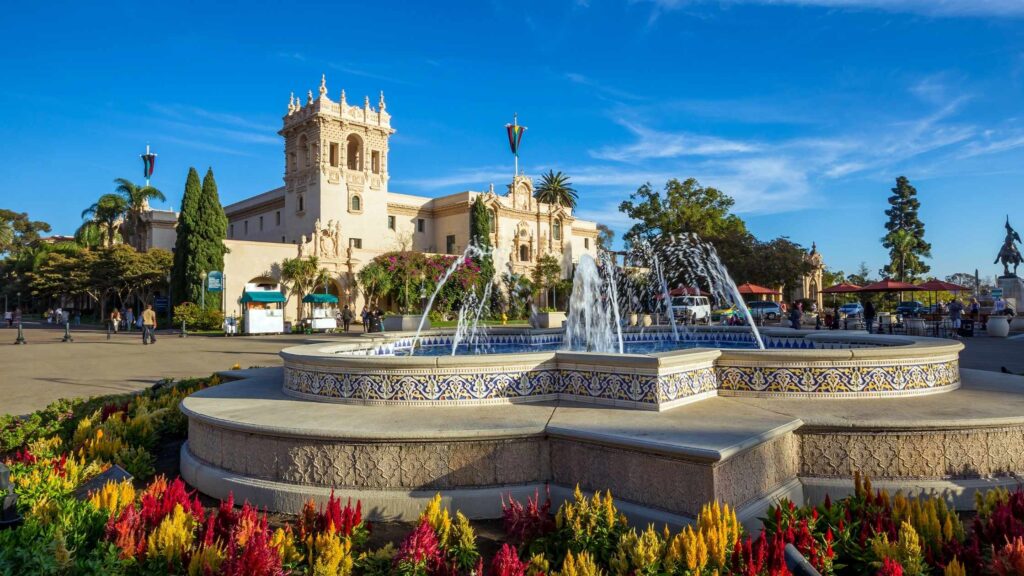 What makes it special though is that you can enjoy fantastic views of the sunrise from Balboa Park. Bea Evenson Fountain, located on the Plaza de Balboa is one of the best spots in the park and the most popular.
Also head to Plaza de Panama, where you can witness some gorgeous sunrise views against the decadent clock tower as the sun rays cast beautiful different colours.
BEST PLACES FOR A DRIVE AND SUNRISE IN SAN DIEGO
JULIAN
Suppose you are looking for places around San Diego. In that case, a one hour drive from the city lies Julian, a small and pretty town in east county San Diego in Califonia, worth visiting as a day trip and also witness one of the best sunrises in San Diego.
Located in the beautiful Cuyamaca mountains, it is one of California's famous gold rush towns.
Julian is known for its rich history, many excellent B&Bs, historic hotels, and bakeries serving delicious apple pies, picnic spots, lush parks, and hiking trails offering splendid panoramic views of sunrise and sunsets.
CUYAMACA RANCHO STATE PARK
Another short drive from San Diego to Cuyamaca Rancho state park, located 40 miles east, offers some magical views of the sunrise in San Diego and beyond.
Cuyamaca Rancho State Park is a beautiful state park in California, United States, home to the Cuyamaca and the Laguna Mountains of the Peninsular Ranges.
This mammoth park is home to lush, dense forests comprising pine, fir, oak trees, meadows and streams.
RECOMMENDED: 15 Best Waterfalls In San Diego You Should Not Miss Visiting
Hikers attempt the climb to the Cuyamaca Peak, the second-highest point in San Diego County. You can enjoy camping and also biking.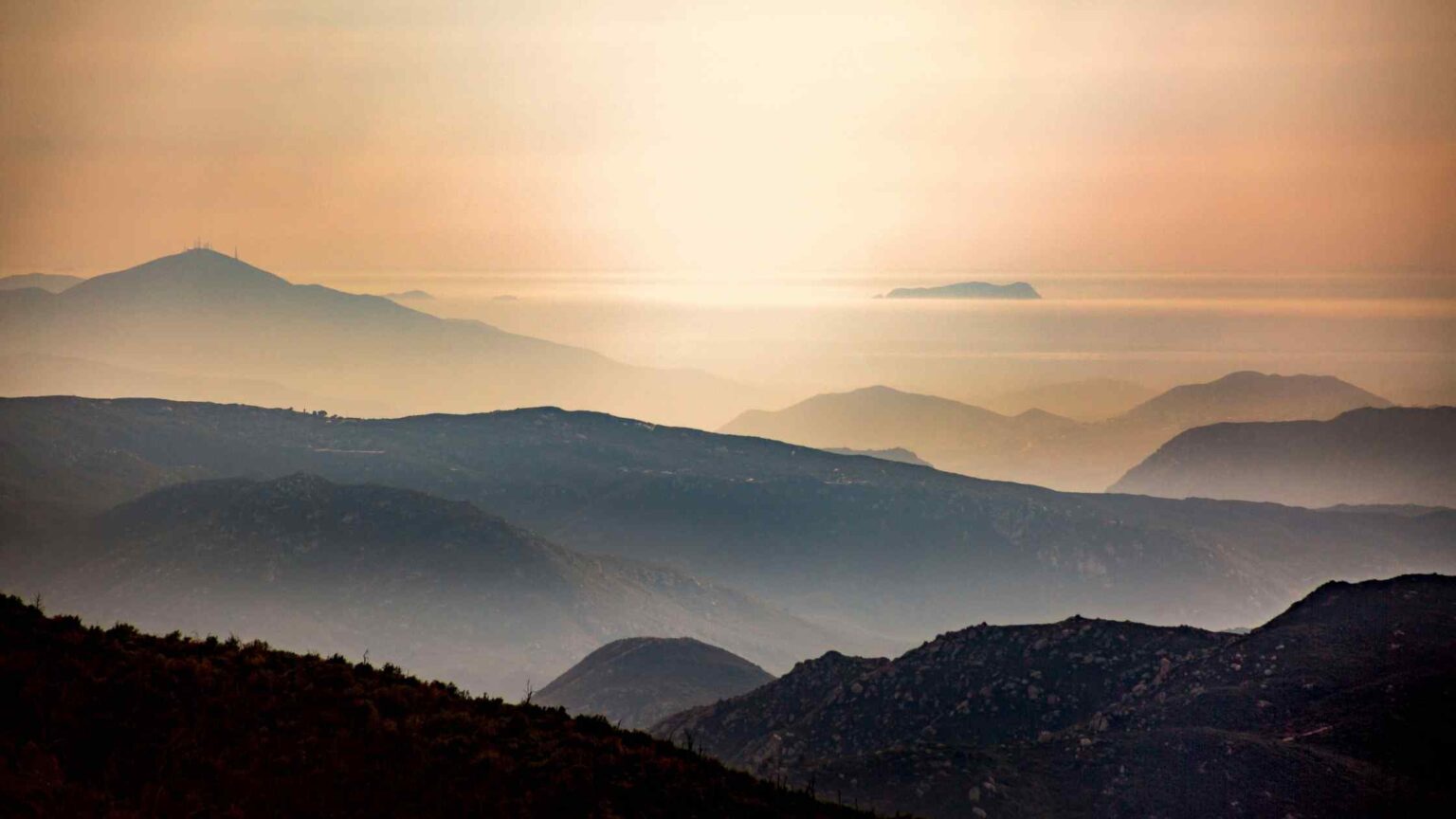 To enjoy the best sunrise views of San Diego and beyond, one of the popular hikes is the Stonewall peak hike which offers magnificent views of the valley.
You can also enjoy the views from many viewpoints driving along the park. Get the information by stopping at the visitors centre for permits, maps, details of hiking trails, and info about the best viewpoints.
KNOW BEFORE YOU GO FOR WATCHING A SUNRISE IN SAN DIEGO
Here are some things to know before planning your trip to watch the sunrise in San Diego.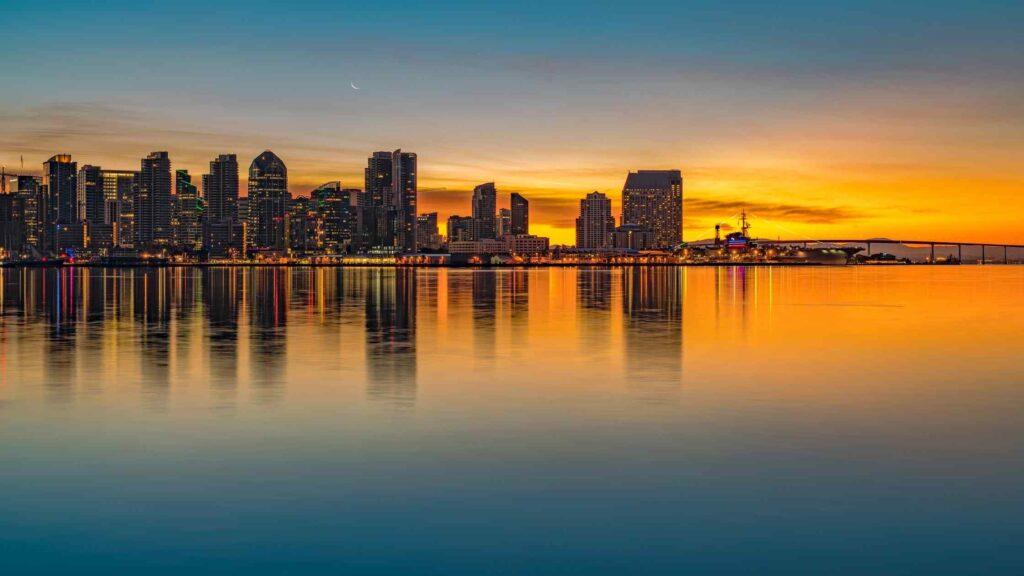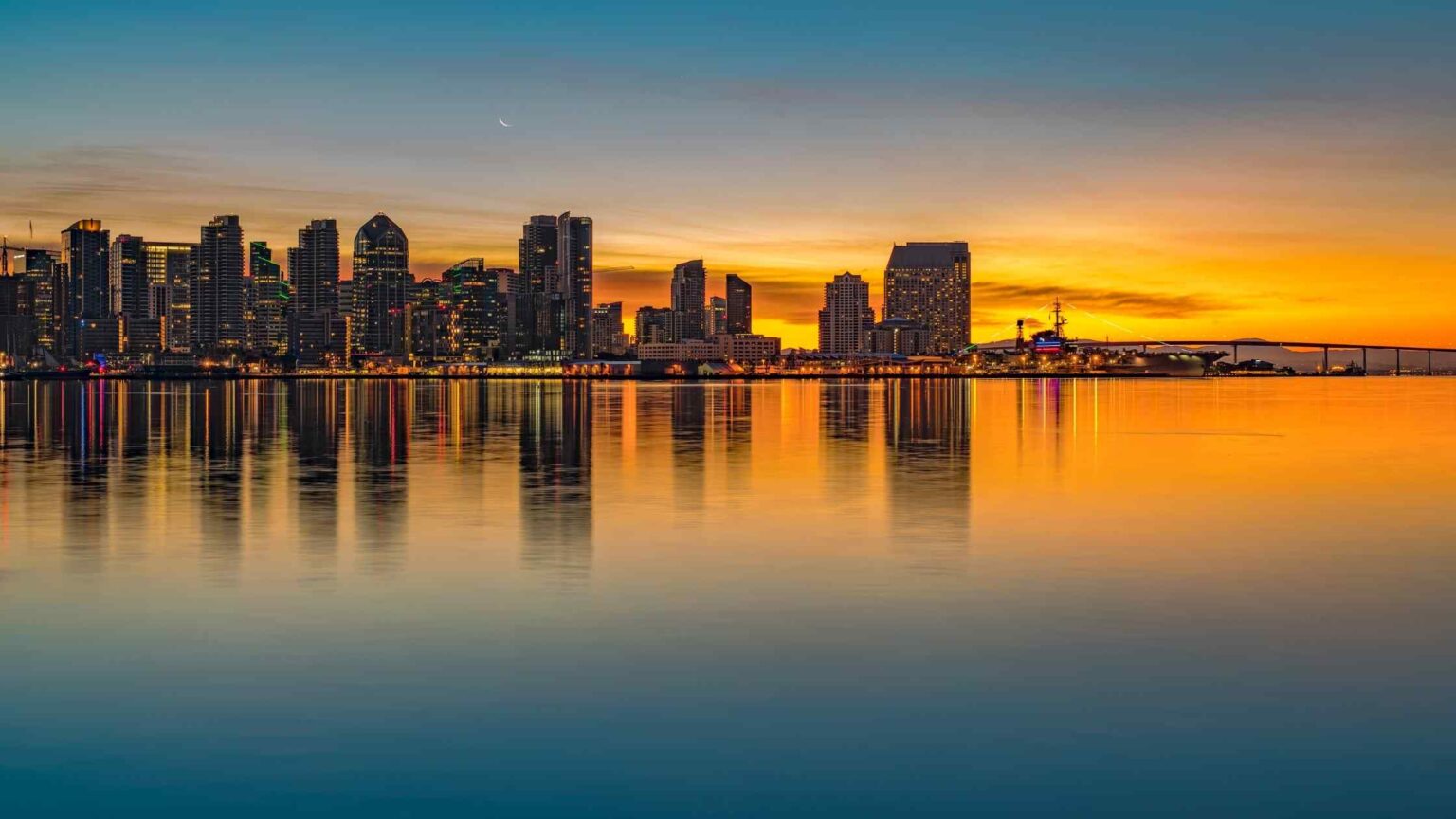 While some of these San Diego sunrise spots are easily accessible via a drive, a few involve hiking. So make sure you wear sturdy walking shoes/hiking shoes, a headlight, water, snacks, a spare portable charging bank for your electronics, sunscreen, a First Aid kit, an extra pair of socks, and a wind jacket.
Wear comfortable clothing, including hats, sunglasses, breathable shirts, shorts or pants.
Check for the exact timings of the sunrise for each location before embarking on the trip without assuming or guessing, as the timings vary.
Check the weather, trail conditions, and opening hours before beginning your hike.
Beware of wildlife and poisonous plants. Keep away from the areas marked as no entry.
If you go camping, check for permits and book your stay months in advance. Also, do not disturb the fragile ecosystem in the parks and follow the no trace policy.
If you are willing to further, you can also witness stunning sunrise views in the nearby towns of Coronado, Del Mar, and Pacific Beach.
That's it about the guide on the best places to watch the sunrise in San Diego.
No matter which place you choose, be assured that you will witness splendid views of the sunrise in San Diego. Some of these places are well-worth adding as day trips that you can plan along with your itinerary, so if you have a few extra days, I highly recommend you do so.
PIN SUNRISE IN SAN DIEGO FOR LATER