Watching a sunset in Yosemite National Park is one of the magical things to do when you are here. Whether you are planning a day trip to Yosemite or spending a weekend exploring the things to do here, witnessing Yosemite sunsets is on everyone's bucket list, and it is no surprise.
Although sunset at Yosemite is a popular time, you can still witness surreal views despite the crowds.
In this post, I will share the best places to watch sunsets in Yosemite, valuable tips, and how to make the most of your experience, including taking stunning pictures.
SUNSET IN YOSEMITE OVERVIEW
This magnificent national park in California is packed with loads of geological wonders scattered amidst the mystic, vast expanse.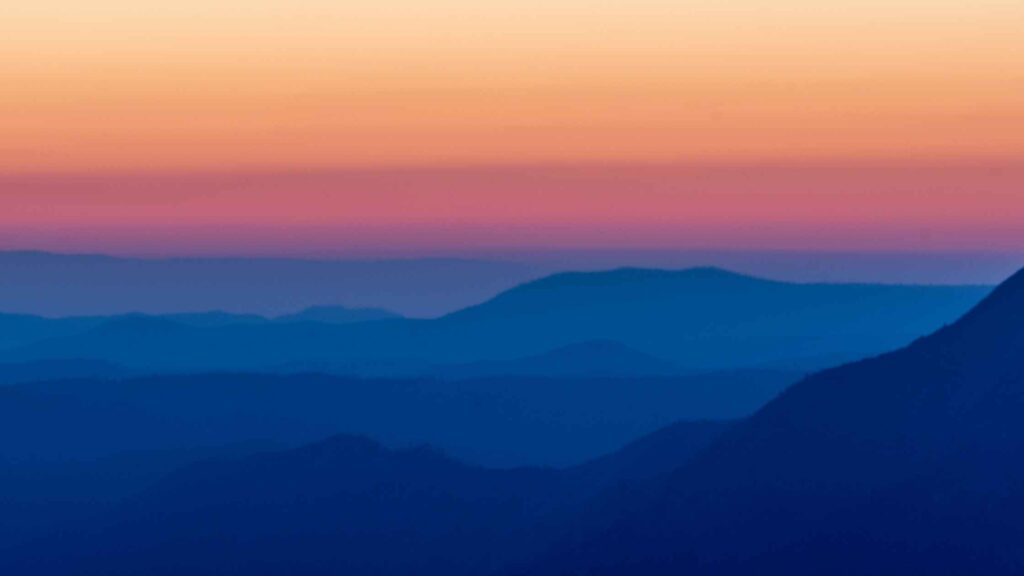 It comprises thousands of rock formations, waterfalls, streams, rivers, and mountains dotted with forests, offering plenty of beautiful scenery sunsets that you can enjoy against various horizons.
No matter where you are and no matter what time of day, Yosemite offers you tons of stunning places with fantastic views of the valleys. But, if you're looking for the best place to watch the sunset in Yosemite, I've got you covered.
Since Yosemite National Park is a bucket-list destination for many adventure seekers, hikers and nature lovers, it goes without saying that you need to add watching sunsets and sunsets here on your itinerary.
HOW TO GET TO YOSEMITE NATIONAL PARK?
Yosemite National Park is located in the Sierra Mountains range in the eastern part of California. The nearest city to Yosemite is Sacramento, about 3 hours away.
By flight – Depending on your departure destination, you can fly into the closest airports, although you will need a rental car to get to Yosemite from any of these.
You can fly into San Jose, Oakland and San Franciso airports, and from any of these, it takes about 4 hours to arrive at Yosemite.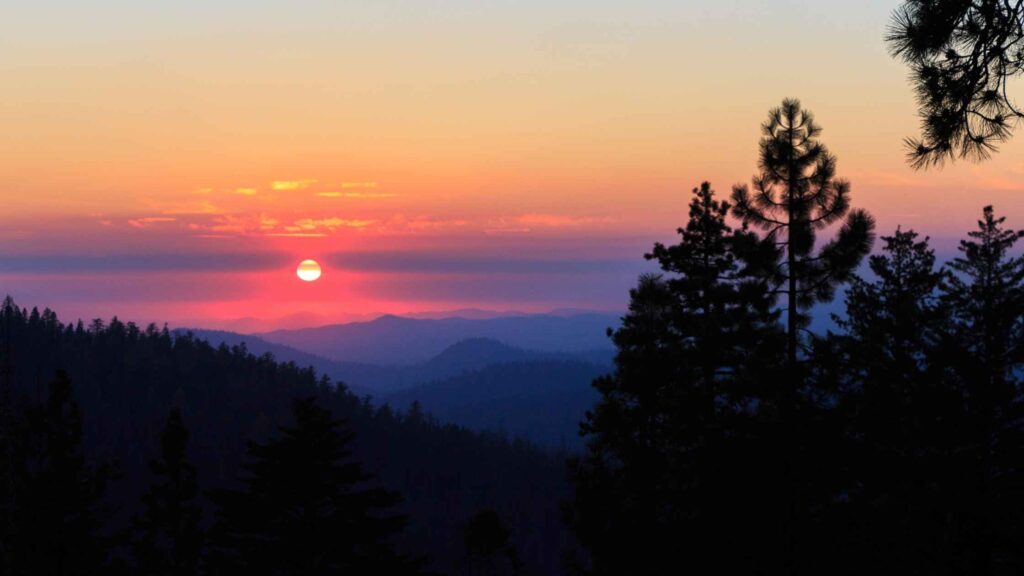 By road – Many people include a trip to Yosemite National Park as a weekend getaway or a part of many possible road trips in this part of California.
Recommended for you: The Best Big Sur Road Trip Itinerary Ideas You Should Check
Alternatively, you can plan a day trip to Yosemite, which is the best option to cover the top attractions, including witnessing a Yosemite sunset.
WHERE TO STAY IN AND NEAR YOSEMITE NATIONAL PARK?
With about five entrances and a distance of over 2.5 hours between a few of them, you can imagine the massive size of Yosemite National Park, which has loads of places to stay.
You can choose between lodges, campgrounds, and glamping sites if you plan to stay in the park.
If you are visiting Yosemite for the first time and plan to include watching a sunset or a sunrise, I would recommend staying in the Yosemite valley as it is centrally located, giving access to many of the spots for sunsets in Yosemite.
PLACES TO STAY IN THE YOSEMITE VALLEY
Since the Yosemite Valley is the most popular area, you have plenty of options to choose to stay.
My favourite pick is The Ahwahnee, a stunning luxury hotel with fine dining, gorgeous views and many amenities for a relaxing stay.
Another comfortable place to stay in the valley is Yosemite Valley Lodge in Yosemite village.
Places to stay outside the Yosemite Valley
El Portal is the nearest town to the park boundaries and is only a 20-minute drive from the Yosemite Valley. There are plenty of accommodation options in this town, which you can check here.
Click here to check for current availability and prices of places to stay near Yosemite National Park.
Rush Creek Lodge is a beautiful, luxury lodge outside the Big Oak Flat entrance, which is about 1 hour from Yosemite Valley
Tenaya Lodge – If you want an amazing stay and do not mind spending a few extra bucks, I would highly recommend Tenaya Lodge located in Fish Camp, south of Wawona. Check prices to book here.
It takes about 1 hour 20 minutes from here to reach Yosemite Valley, but this is one of my favourite stops for all the place offers, which is totally worth the money.
Campgrounds and Glamping options
There are many campgrounds spread around Yosemite National Park, and if you want to stay in the park, there is only one option.
You can choose depending on your preferred location, amenities, availability, and budget. But most are basic without amenities.
Note that as expected, the popular ones get booked quicker, like more than 6 months to a year before, so you will have to reserve your spot if camping is on your Yosemite itinerary.
Also, be aware that overnight parking is not permitted anywhere in the park without a permit. You can find out more about camping in Yosemite here.
Here is a list of some of the campgrounds that you can check out:
Yosemite Pines Cabins and Campground that comes with tent and RV sites and cabins in Groveland. It takes about 1.5 hours to arrive at the Yosemite Valley.
Housekeeping Camp Glamping – A suitable campground that comes with electricity, and comfortable canvas tents.
Tuolumne Meadows Campground is located off Tioga Pass Roa. It is open only when the Tioga Pass road is open during the summer and late spring months.
Upper Pines, Lower Pines, and North Pines Campgrounds – A huge group of campgrounds scattered around, that comes with tents, suitable for RVs as well.
BEST SPOTS TO WATCH EPIC SUNSET IN YOSEMITE NATIONAL PARK IN CALIFORNIA
Let's check out the best spots for watching the sunsets, right away.
GLACIER POINT
Location: Glacier Point Road, Yosemite Valley
Type: Drive Up Viewpoint/Hiking trail
Best Season: Late Spring, Summer, and Early Fall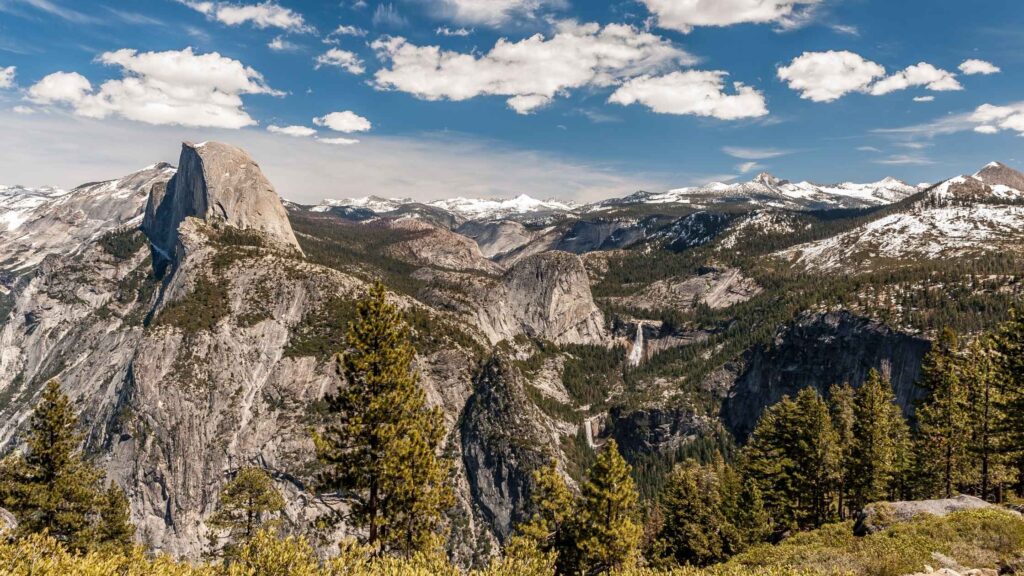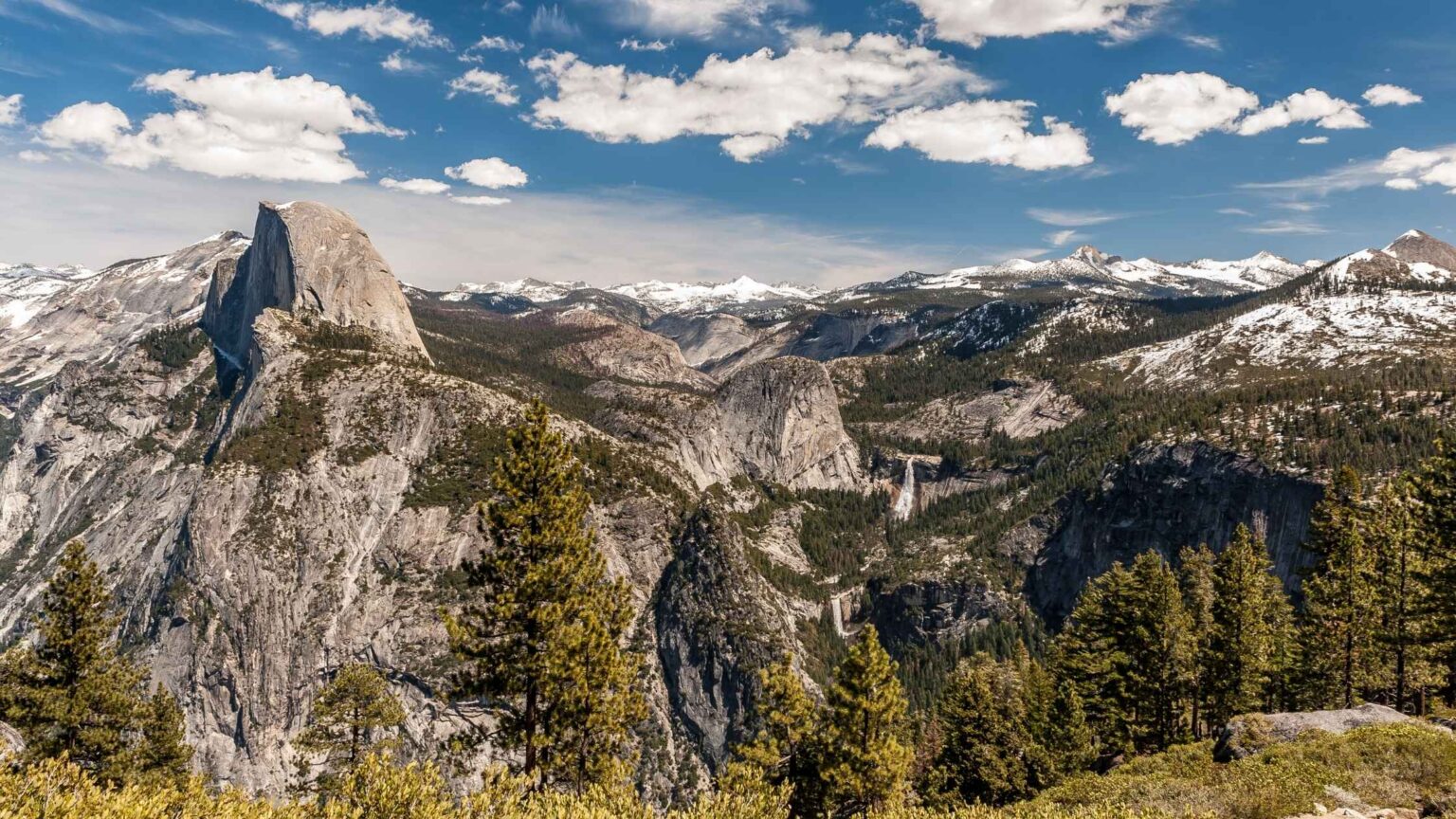 One of the top places for watching the sunset in Yosemite is Glacier Point, known for its incredible views and its excellent location overlooking some fantastic geological wonders.
You need to get on the Glacier Point road that takes you high above Yosemite Valley, leading to Glacier Point.
One of the reasons it is so famous is that you can overlook Yosemite Valley, Half Dome, and the High Sierras. On a clear day, you can spot Vernal and Nevada Falls too.
There are many spots along the way for viewing the sunset, so you can enjoy any of them when it gets crowded. The furthest place is the best to witness the Yosemite sunset without feeling rushed.
Did you know? Glacier Point is also a fantastic spot for witnessing a colourful sunrise in Yosemite, making it one of the many best spots for Yosemite sunrise with only a few visitors.
HOW TO REACH GLACIER POINT?
You can either drive or hike to Glacier Point for enjoying the stunning sunset in Yosemite Park from this spot.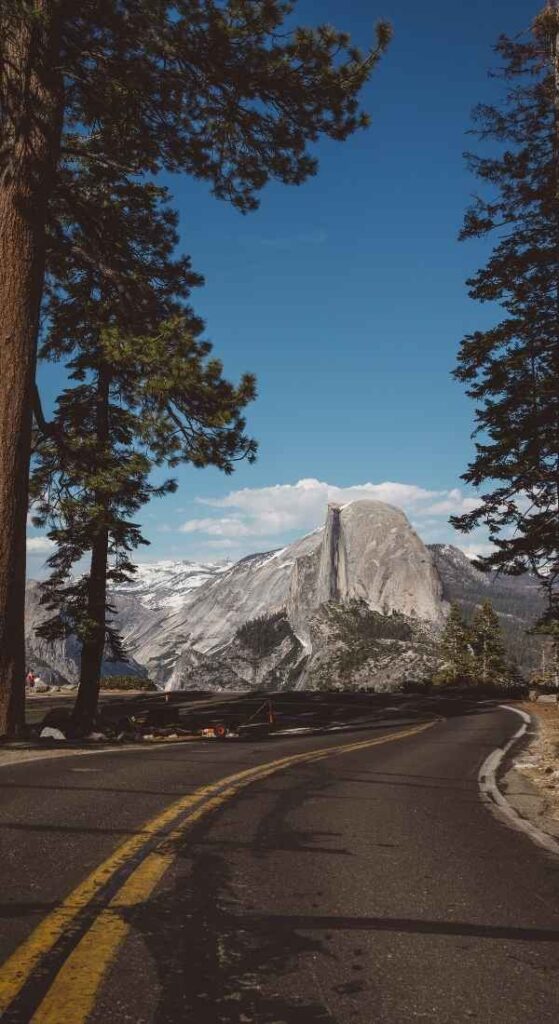 You have to take Glacier Point Road, which is open from May to early November. It is a pretty 1-hour drive along a windy road from Yosemite Valley to Glacier Point parking.
I recommend taking the driving route if you want to capture many fantastic landscapes on the way as the drive is beautiful.
Recommended: 9 Top Sunrise Spots In Yosemite National Park In California
If you are visiting Yosemite in winter, you cannot reach this road to Glacier Point as it is closed during winter and early spring due to snowfall.
You can reach glacier point by an adventurous backcountry skiing the Badger Ski area, which is a fun thing to do in Yosemite for skiers.
WHAT IS THE BEST TIME?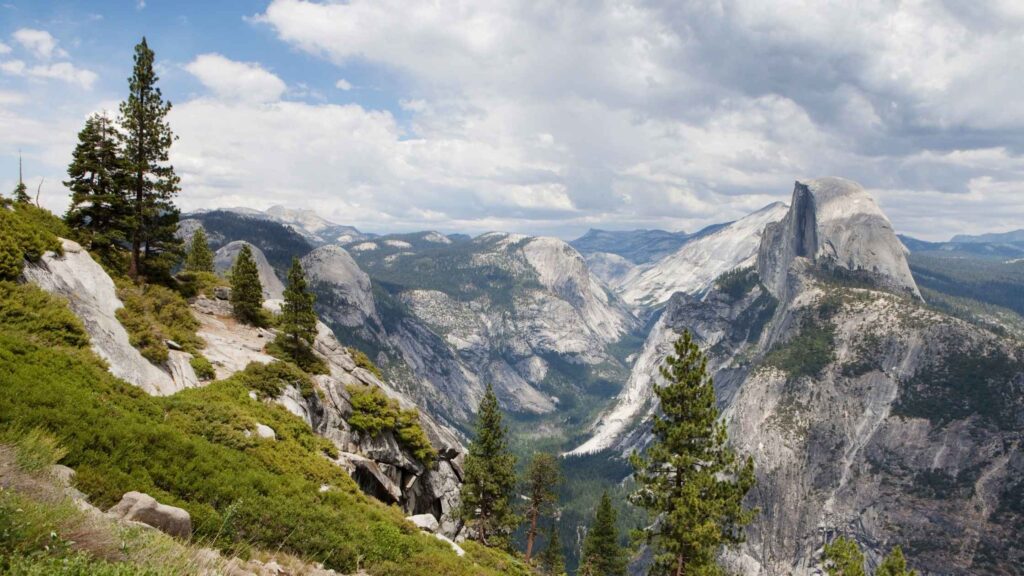 The best time to visit Glacier Point for watching a stunning sunset in Yosemite National Park is from late spring to early fall, also the months when the road is open for the drive.
You can also head on a hike along the well-laid Four Mile Trail that takes you from Yosemite Valley up to Glacier Point.
Note that this is a challenging and long hike that is about 9.6 miles round trip and along with an altitude gain of over 3,200 feet. So I would suggest hiking to Glacier point only if you are a seasoned hiker.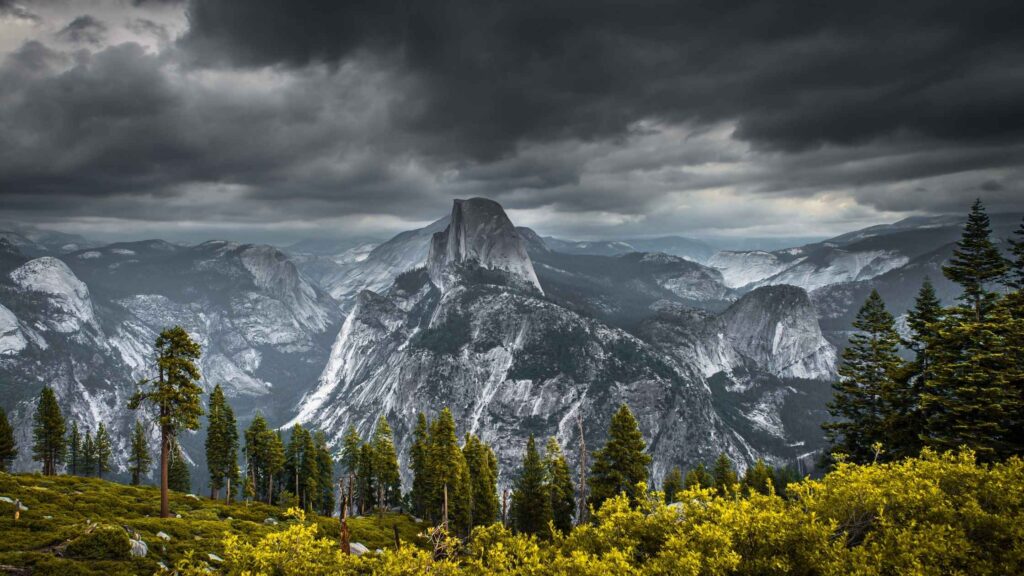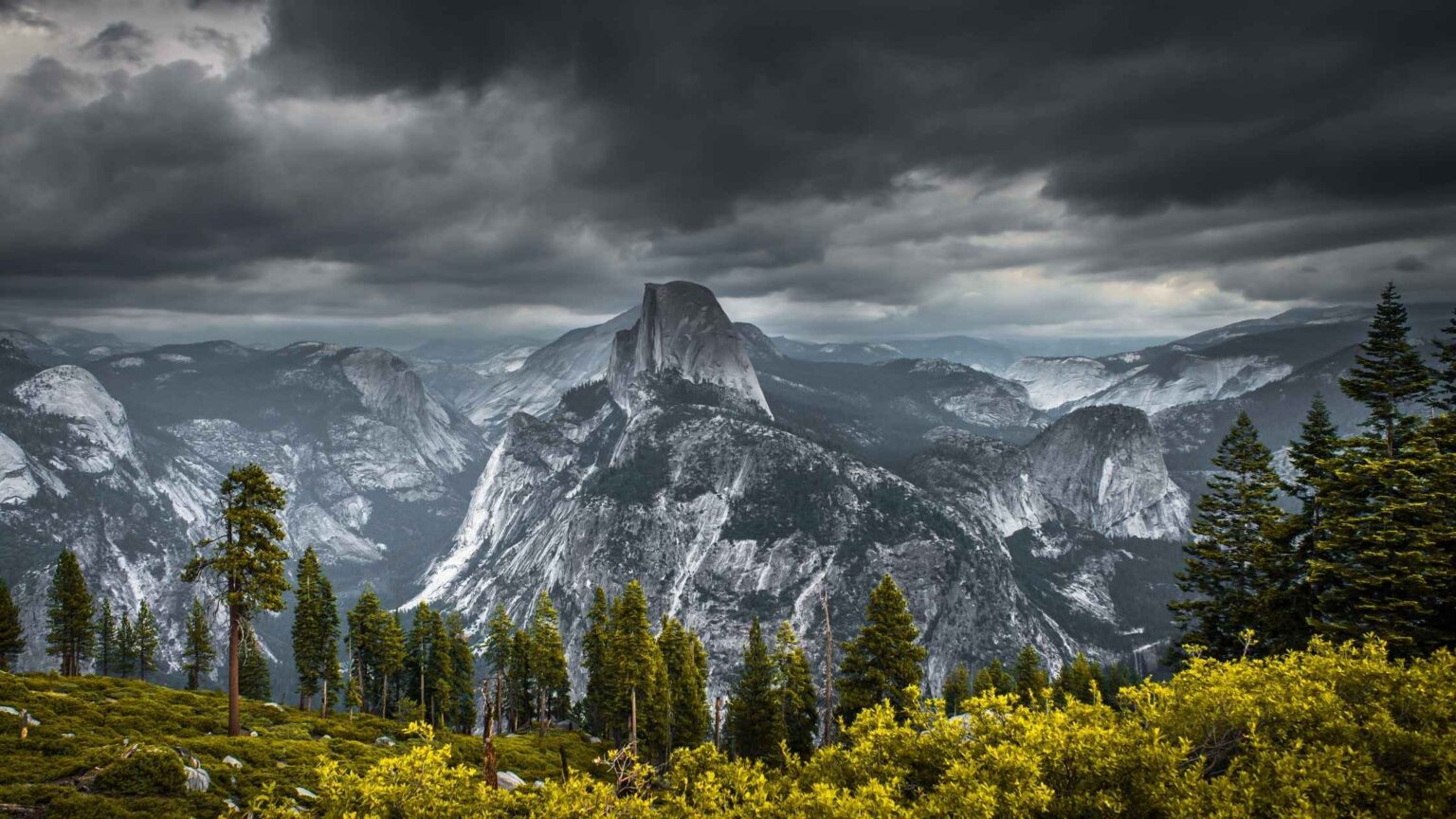 A quick tip – Since this is a very popular spot for viewing a Yosemite sunset, the medium-sized parking lot fills quickly, and you cannot park on the side of the road as you can be fined. So make sure to get there at least an hour or two before the sun actually sets.
TUNNEL VIEW
Location: Before the Wawona Tunnel, Yosemite Valley
Type: Drive Up Viewpoint
Best Season: All year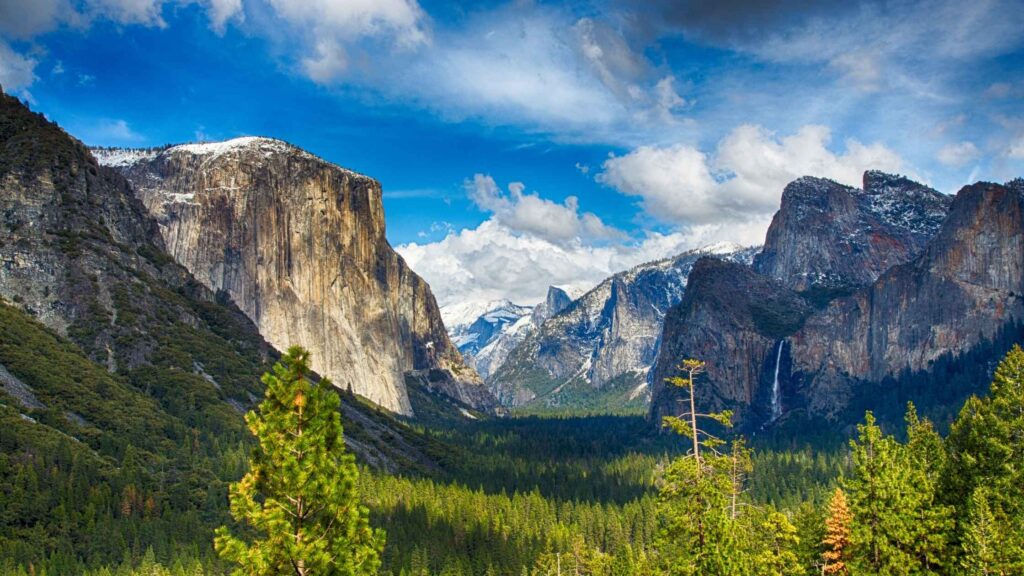 Among the top spots for sunset in Yosemite valley is Tunnel View, which offers dramatic views of the Yosemite Valley and its many stunning attractions, including the Half Dome, El Capitan, Bridal Veil Falls, and almost the entire valley on the horizon, making it the most popular viewpoint in Yosemite National Park.
You will witness the surreal shades of Yosemite Valley as the sun reflects its colourful rays against those granite peaks as the El Capitan and Half Dome shine in great light.
HOW TO REACH TUNNEL VIEW?
In Yosemite National Park, continue driving in the valley to arrive at The Tunnel View. The viewpoint is only steps away from the parking lot, just before the Wawona Tunnel.
WHAT IS THE BEST TIME?
Tunnel View is best in the evenings as it is one of the top spots for viewing the brilliant hues of the sunset in Yosemite valley devoid of the fog or the shadows that result in excellent photos and videos.
But it is also a top spot for witnessing a fantastic sunrise, which also comes with fewer crowds and better landscapes minus the fog.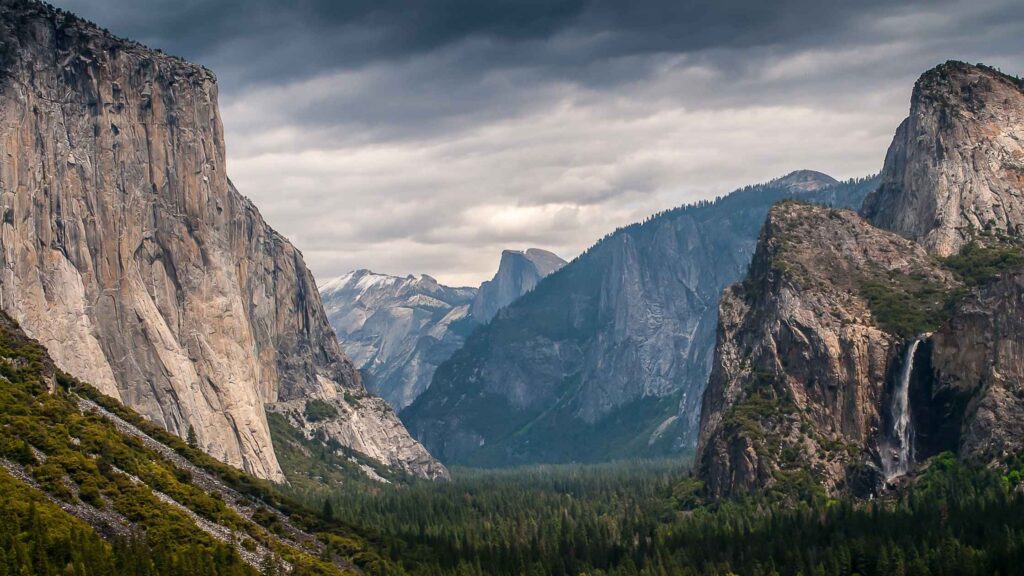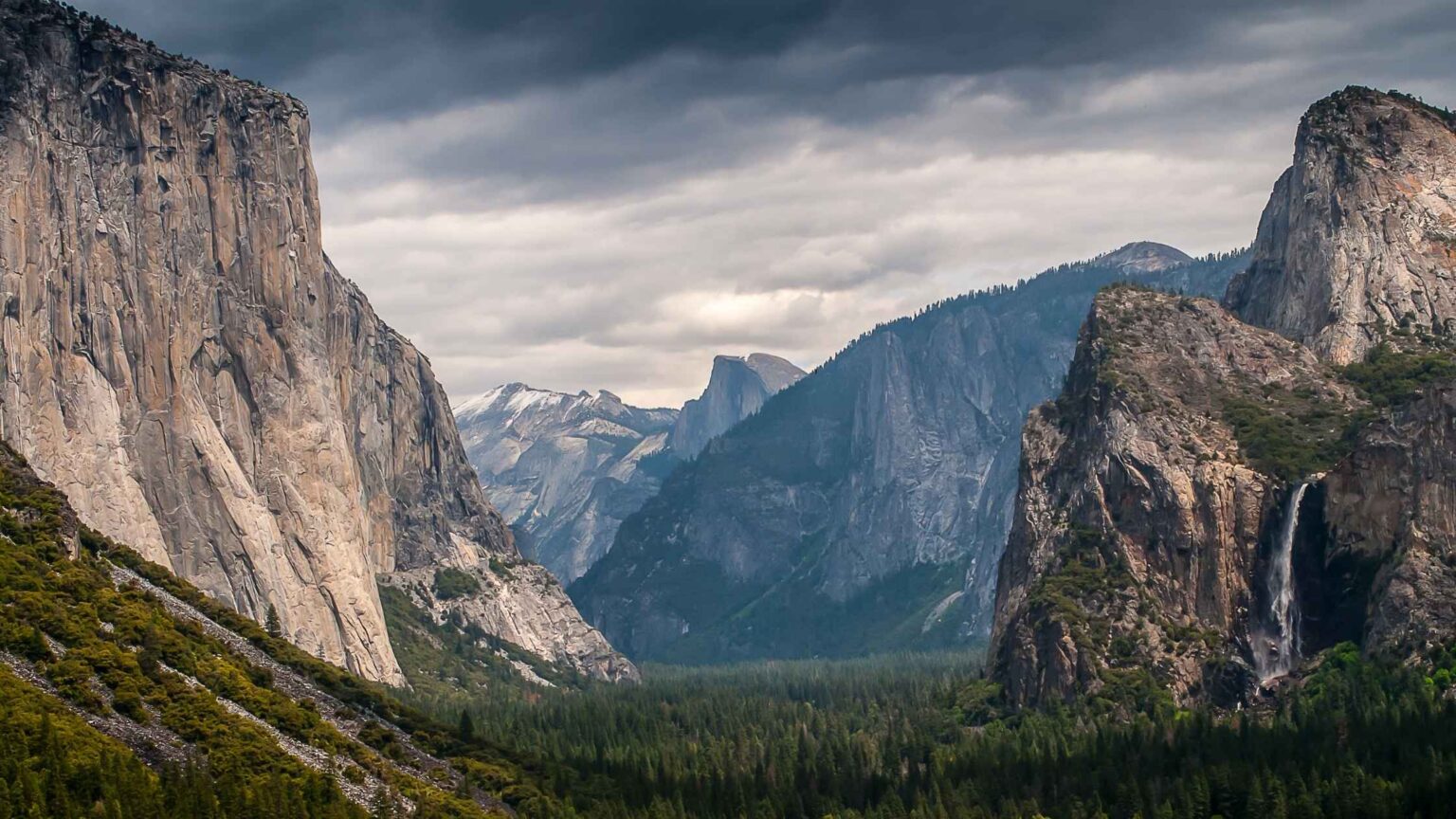 A quick tip – Since Tunnel View is so popular, parking can be difficult as expected, despite the large parking lot.
If you are into doing thorough photography or creating videos, I would highly recommend you reach there at least a few hours before setting your equipment in the best spot that other photographers occupy.
SENTINEL DOME
Location: Yosemite Valley
Type: Hiking
Best Season: All year
Many travelers consider the Sentinel Dome is the best spot for sunset in Yosemite National Park, a reason that draws hundreds of thousands of visitors every year.
What makes the sunset at Sentinel Dome the best place for sunset in Yosemite is that you can witness the spectacle in a dome, taking in surreal 360° views of the magic Yosemite.
It is no exaggeration to say that any amount of pictures can't do it justice as it's incredible with every turn offering new views.
Recommended: 33 Awesome Things To Do In Mammoth Lakes California
Unlike the other viewpoints for watching Yosemite sunsets, at the Sentinel Dome, you are rewarded with miles of unobstructed views in every direction.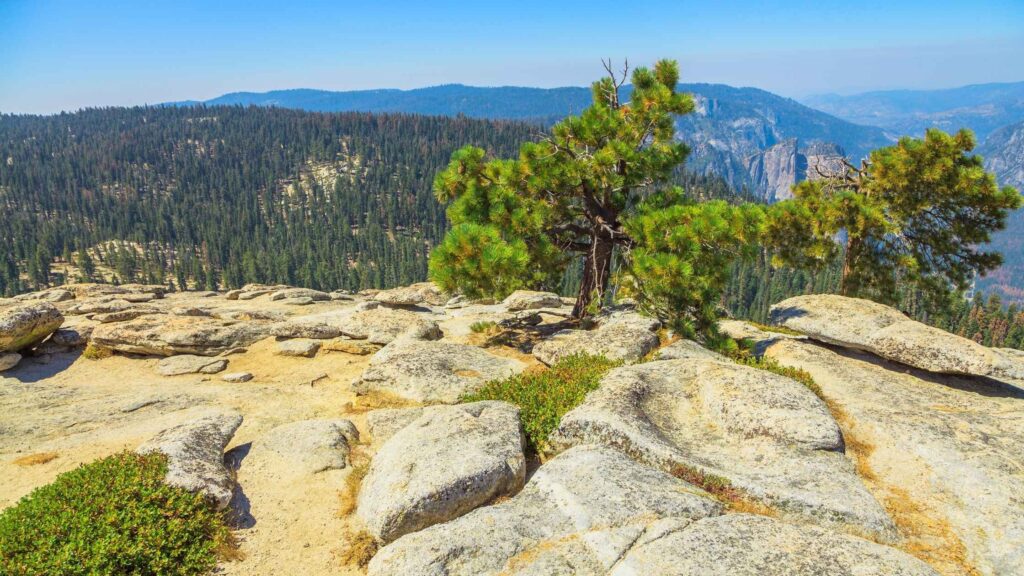 You see Half Dome and the splendid panoramas adjoining with the high country lurking close by on one side of the dome.
Most people choose to combine Sentinel Dome into a loop with Taft Point for over a 2.2-mile round trip hike. If you start a few hours before the sunset, you can make the most of your hikes.
HOW TO REACH SENTINEL DOME?
It's an easy 1-mile hike to get to the best place for sunset in Yosemite. The hike to Sentinel Dome, which begins at the same point as the trail to Taft Point, is also easy to follow except for the last stretch, where it gets slightly strenuous when you arrive at the dome's base and climb to the top.
WHAT IS THE BEST TIME TO VISIT?
Head there a few hours before the sunset to get the best spot for viewing and capturing the landscapes on your camera.
TAFT POINT
Location: Glacier Point Road, Yosemite Valley
Type: Hiking
Best Season: Late Spring to Mid Fall
If you plan to hike, one of the best spots in Yosemite for sunset would be heading to Taft Point. I would highly recommend adding Taft Point as one of the best spots to witness a sunset in Yosemite on Glacier Point Road.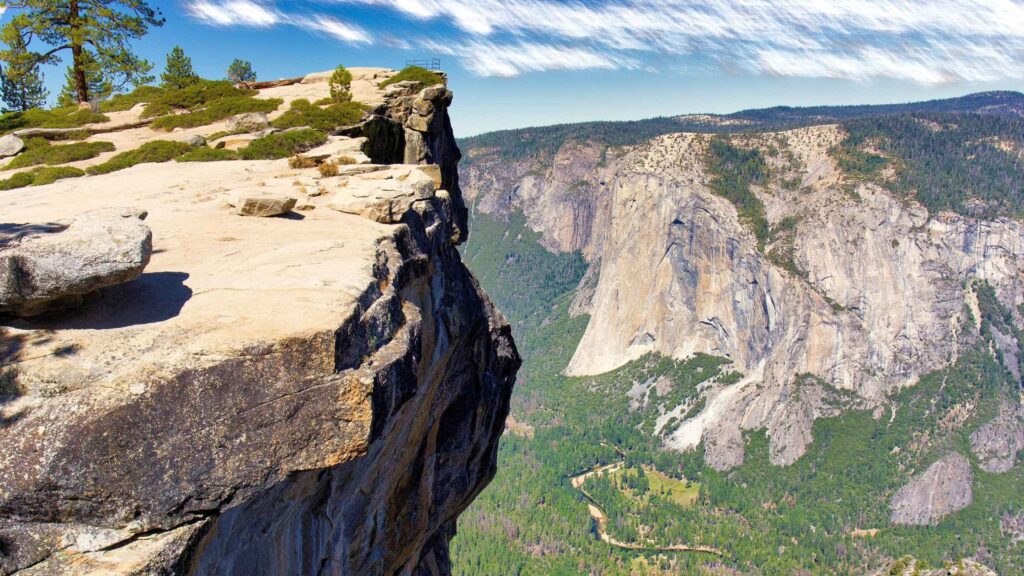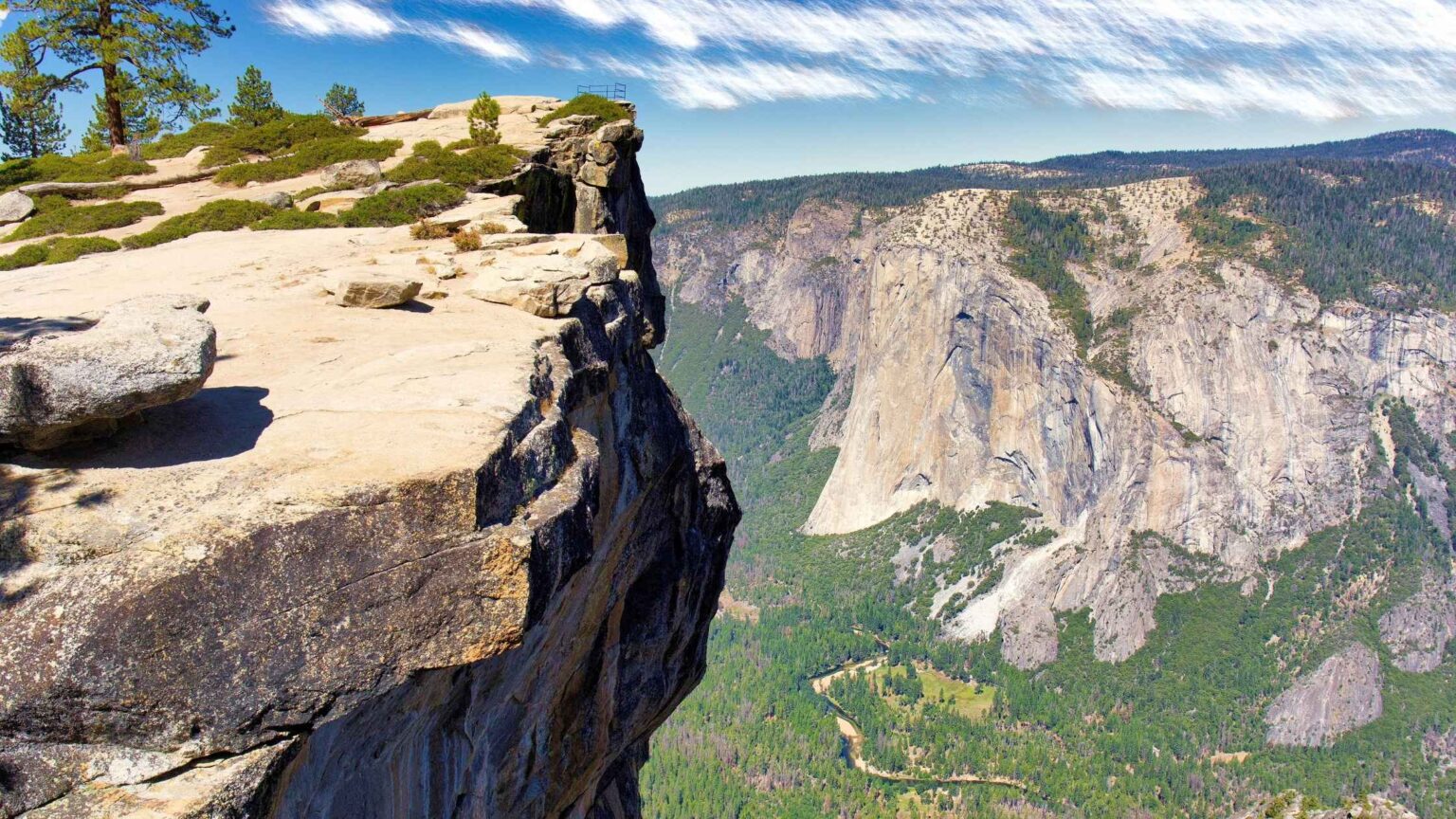 One of the best things about Taft point is that the observation point extends out over Yosemite Valley, over a 2,000-foot drop to the valley floor that gives you splendid views of the panorama.
Even if you are not here for a sunset, it is worth heading to Taft point for these fantastic bird views. The sunset is a dance of colours in the sky as the horizon is painted orange, golden, yellow, and purple.
Do not miss the beautiful views of the Merced River running along the valley floor and the fantastic views of El Capitan.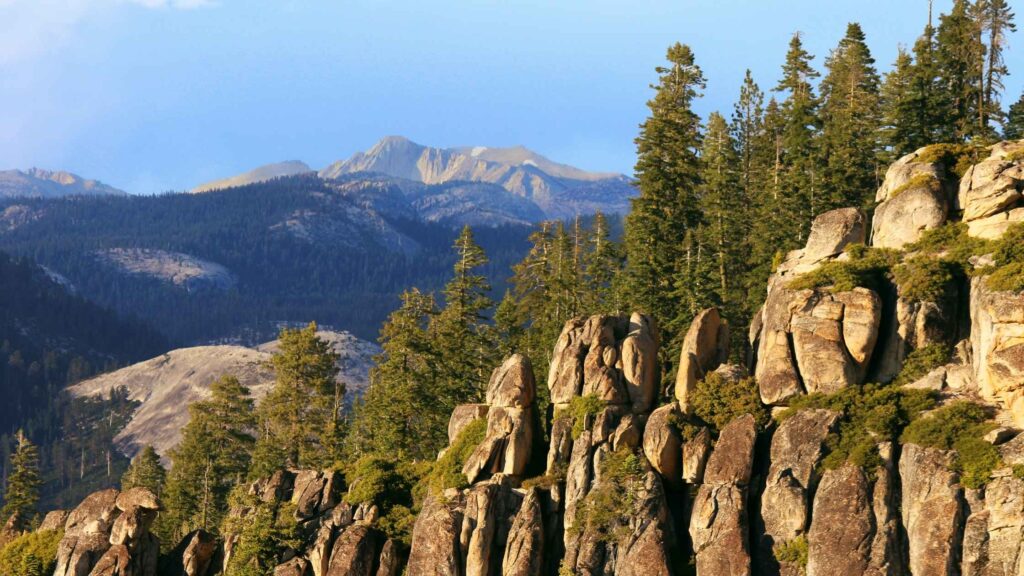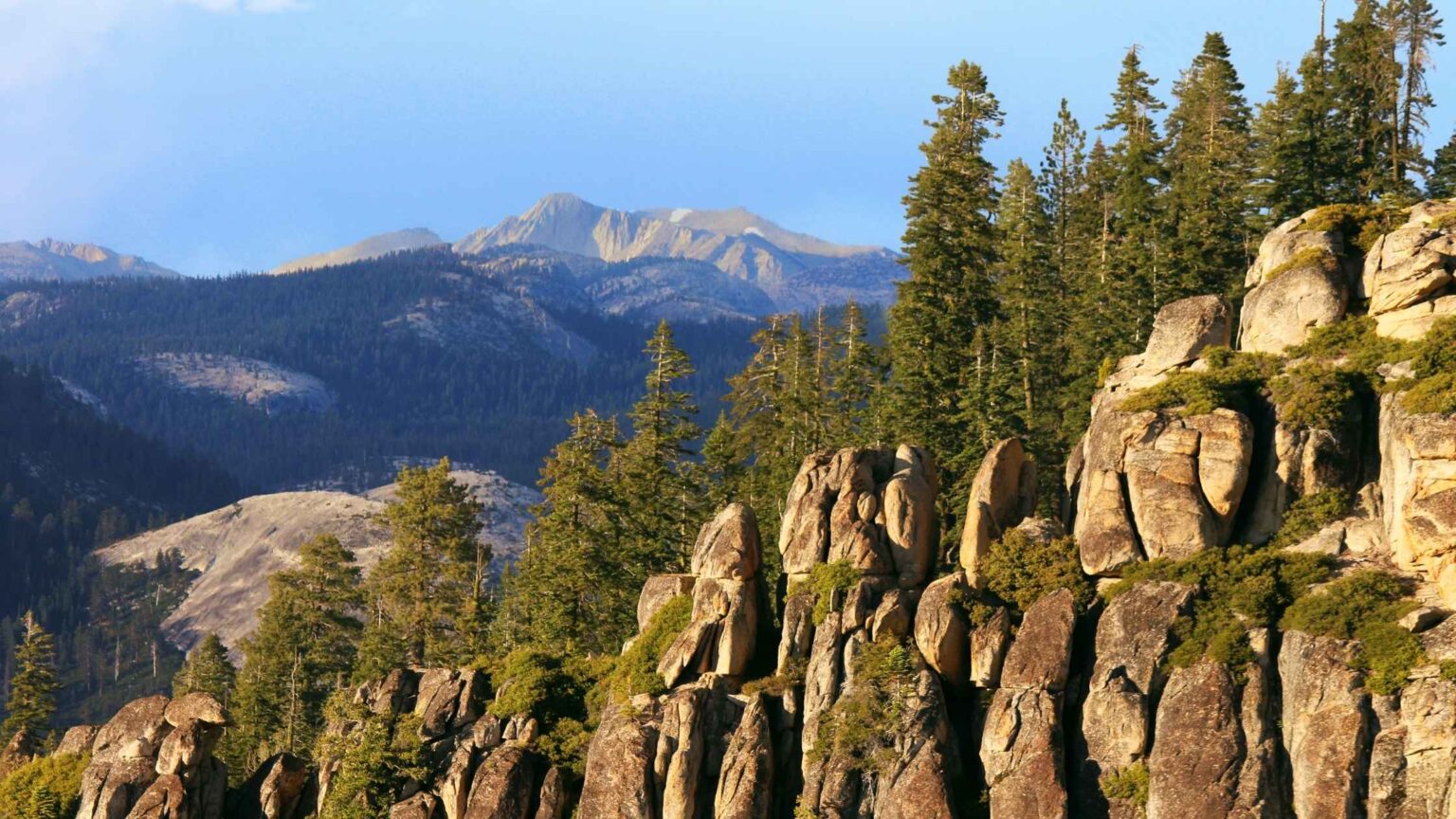 If you are afraid of heights as I am, this viewpoint will feel scary, but you can still get to enjoy the views and take photos while keeping your safe distance from the ledge.
HOW TO REACH TAFT POINT?
Drive for an hour from Yosemite Valley to the Taft Point parking area to get to Taft Point.
Since this is a very famous spot, you will not be able to find a parking spot easily most of the time, especially during the peak months.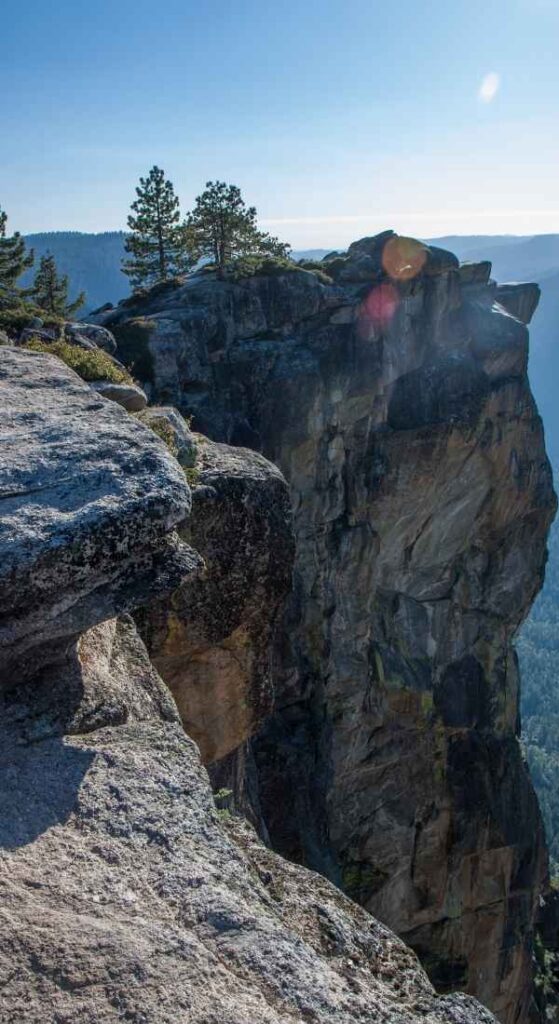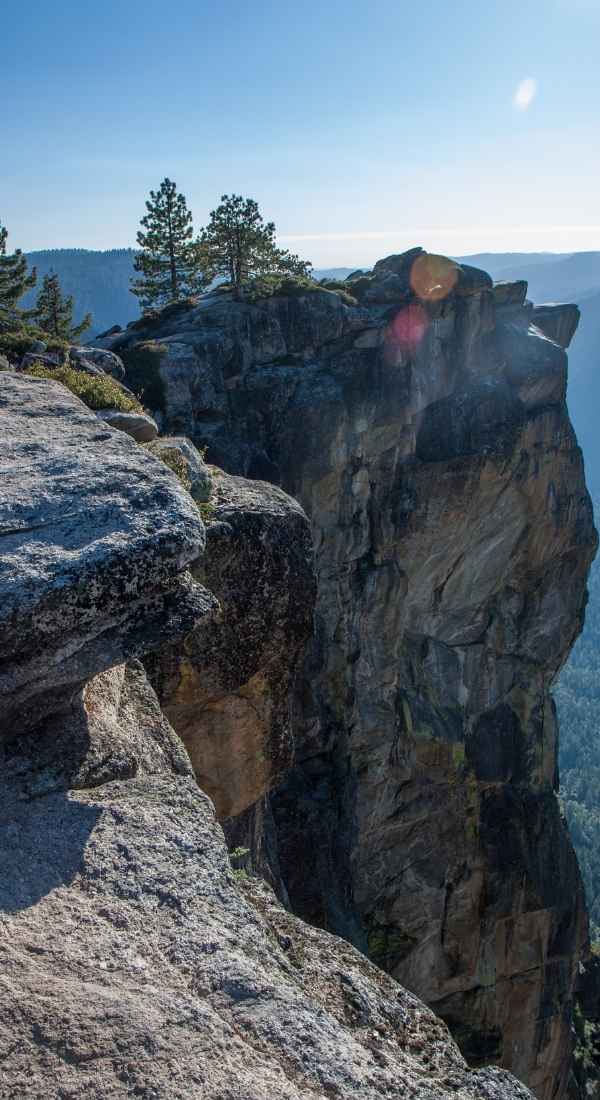 In that cases, get to any of the places close to the trailhead where you have options to park.
The easy hike to Taft Point starts along Glacier Point Road at the Sentinel Dome trailhead. Follow the 1-mile trail that leads to a stunning cliff drop-off.
Be careful not to stand too close to the edge as many have fallen the 3,500 ft. fall to their deaths.
HALF DOME
Location: Yosemite Valley Type: Drive Best Time of Day: Just before sunset
One of the best photo spots in Yosemite that has been gaining increasing popularity is Half Dome, which is also one of the best places to witness a gorgeous sunset in Yosemite National Park.
Reaching the top of the dome is also among the challenging hikes pursued by outdoor enthusiasts. Still, you can enjoy the stunning landscapes during the golden hour by quickly driving up to the viewpoint.
Although you can admire the view of Half Dome from many spots throughout the park, one of the best views that are unobstructed is from the meadows along Northside Drive, located close to the Ahwahnee Hotel.
Unlike the other places on this list, the best views of Half Dome happen just before the sun sets fully.
So make sure to drive before and spend a few minutes to capture the glazing rays forming vibrant background before heading to other spots to witness the compelete sunset in Yosemite.
You can find a spot to pull over along Northside drive anywhere to witness the iconic sunset views of Half Dome.
SENTINEL BRIDGE
Location: Yosemite Valley
Sentinel Bridge, located in the centre of Yosemite Valley, is one of the easily accessible spots for witnessing beautiful sunset in Yosemite.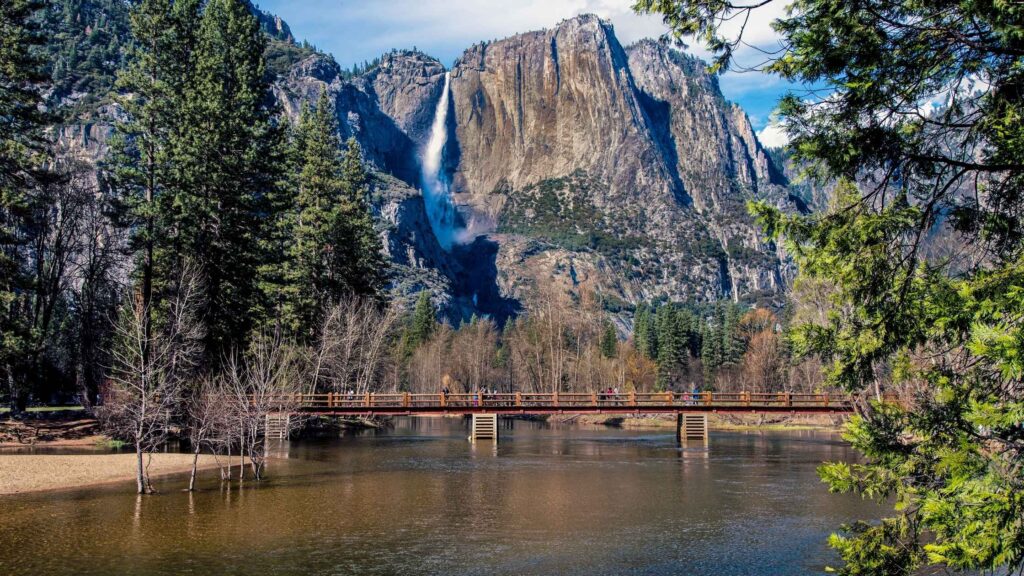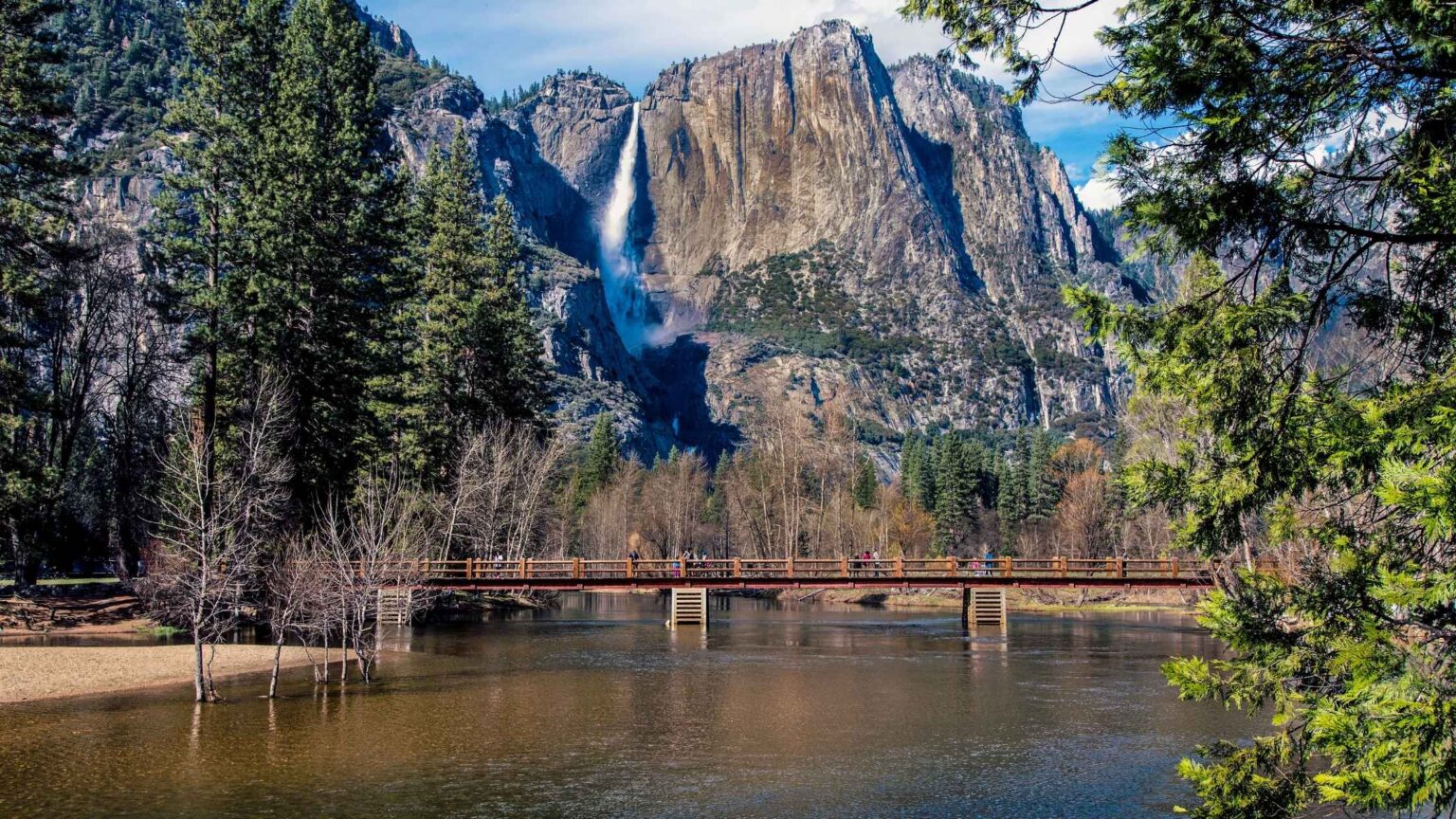 You can also see the view of Half Dome from Sentinel Bridge built across the Merced River, where you can see its reflection, which is also one of the reasons why this bridge is a popular stop.
The views around the sunset are surreal as you can witness the views of Half Dome and its reflection in the calm Merced River as the sky gets painted by shades of pink, red, and purple.
I like watching the sunset from the bridge, especially during the Fall, although it is beautiful during any time of the year.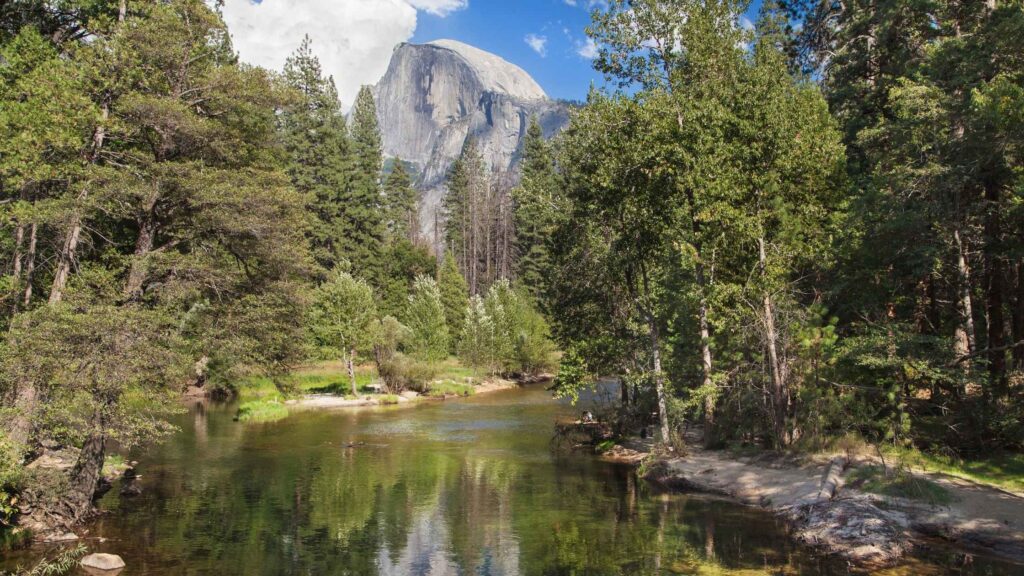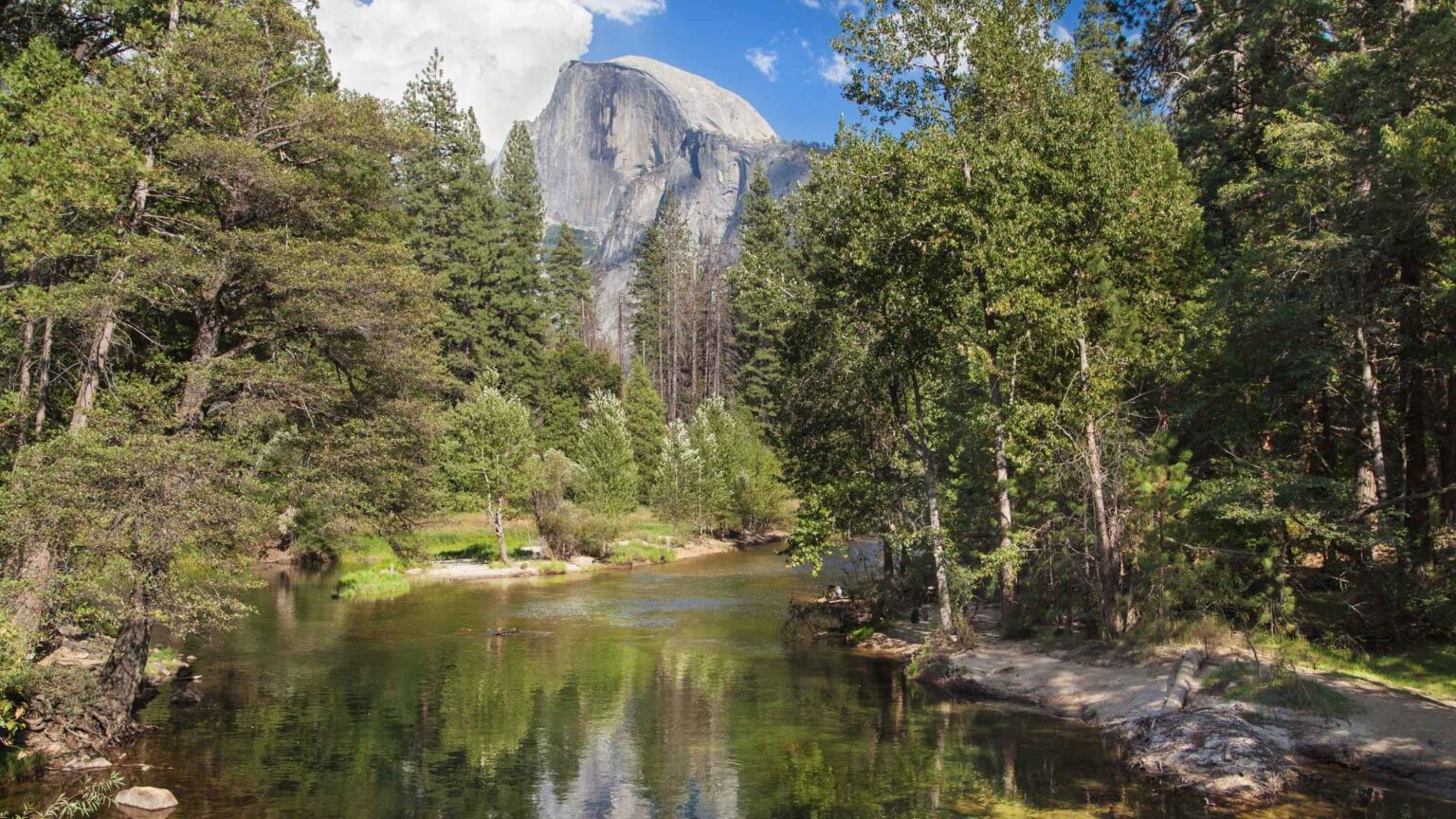 In the Fall, the foliage of the dense jungles adds to the dramatic colours creating picture-perfect postcard sunset in Yosemite, which I love admiring.
Do not be surprised to see hundreds of travelers, especially photographers, lined up with their cameras and tripods occupying the best spots. If you want a good place, it is best to be an early bird.
HOW TO REACH?
Drive to the Sentinel Bridge, or better, park your car at one of the spots and take a short walk amidst the meadows to arrive here.
You can park right beside Sentinel Bridge in the small designated parking area if you drive, but since it is a famous spot, the parking lot gets full quite early.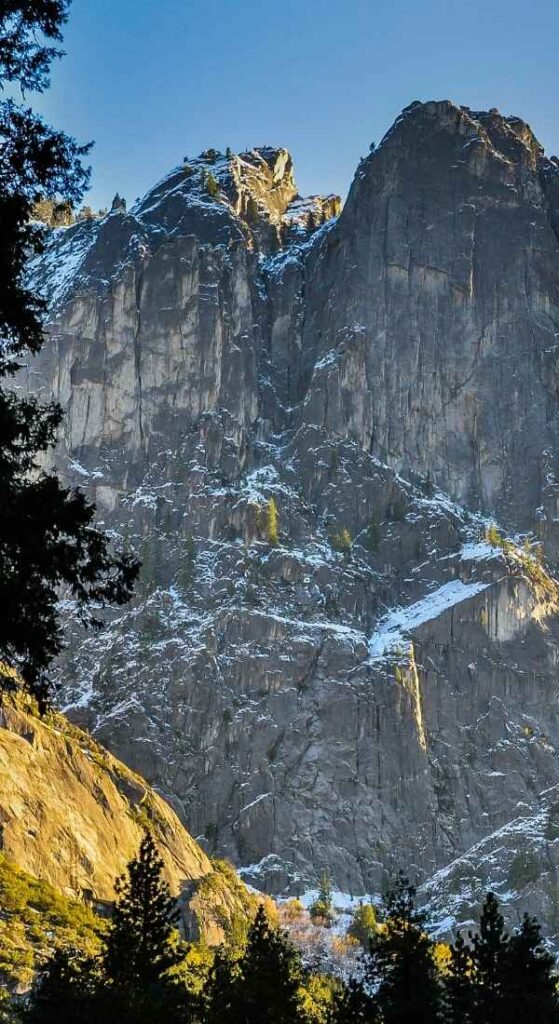 In that case, park at the visitor parking along Northside Drive by the Yosemite Village Visitor Center.
MERCED RIVER
Location: Yosemite Valley Type: Drive
How about a gorgeous sunset in Yosemite over a magnificent river without hiking or driving along a windy road? After a couple of amazing Yosemite mountain-top sunsets, head to the beautiful Merced River, located in the Yosemite Valley.
The Merced River flows through the High Sierras, down through Yosemite Valley, and out of the park for nearly 150 miles, flowing beautifully through the entire valley.
Although this allows you to catch a sunset at many places, the most popular spot for sunset in Yosemite along Merced river is along the riverbank near Cathedral Beach.
This spot is famous because from here, you can witness the views of El Capitan and the Three Brothers.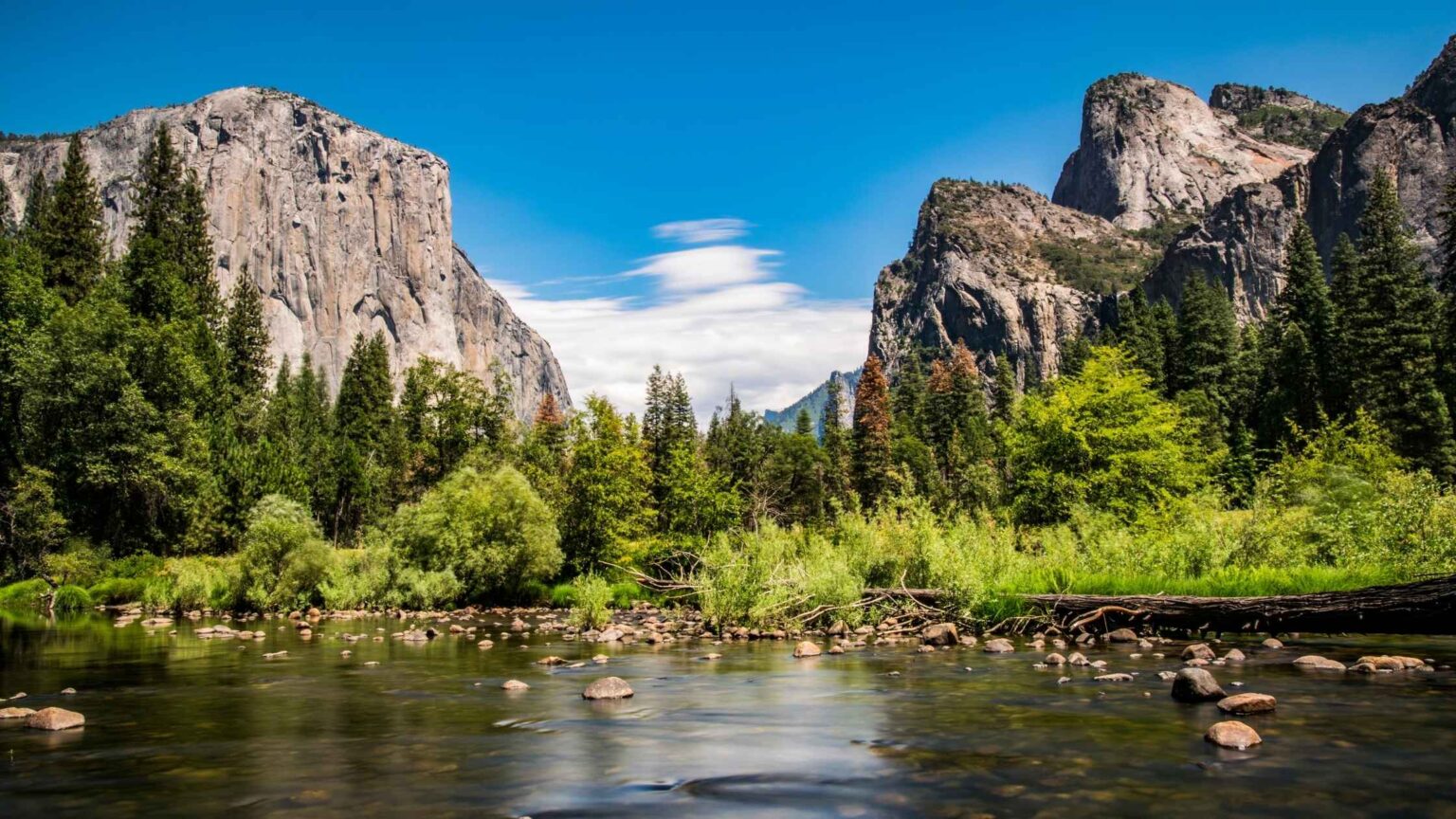 Before the setting sun casts the Alpine glow on the walls, you can see before the colour turns bright orange and red.
If you time it right and you get lucky, you can catch the reflections of El Capitan and the Three Brother in the Merced River.
HOW TO REACH?
Drive to Cathedral Beach in the Yosemite Valley, an easy drive.
LESS-CROWDED SPOTS TO WATCH THE SUNSET IN YOSEMITE
SWINGING BRIDGE (NEAR YOSEMITE FALLS)
Location: Yosemite Valley
Best Season: Spring to early Summer
Among the top attractions of the national park is Yosemite Falls, the magnificent Fall that is the highest in the park visible from almost anywhere.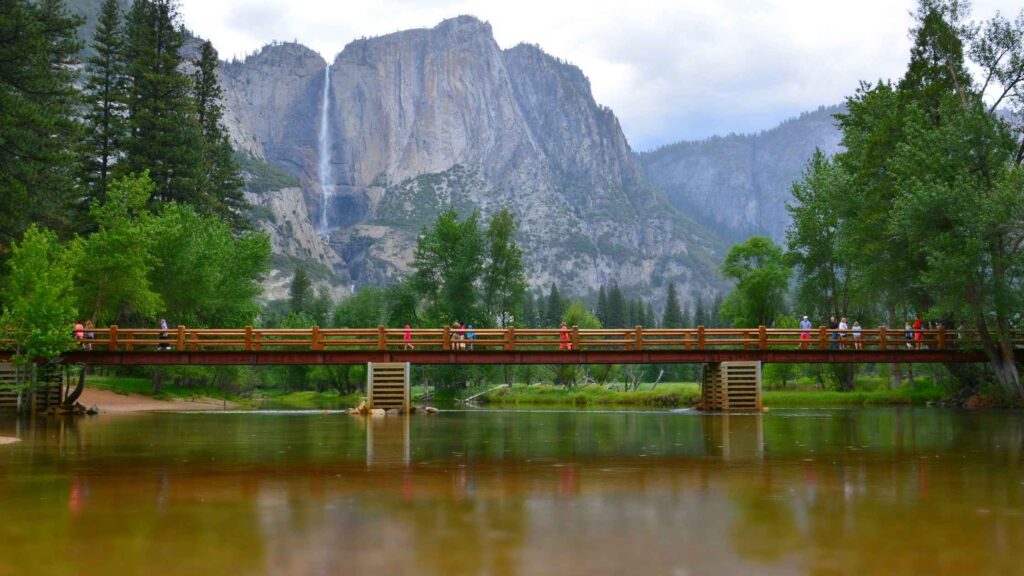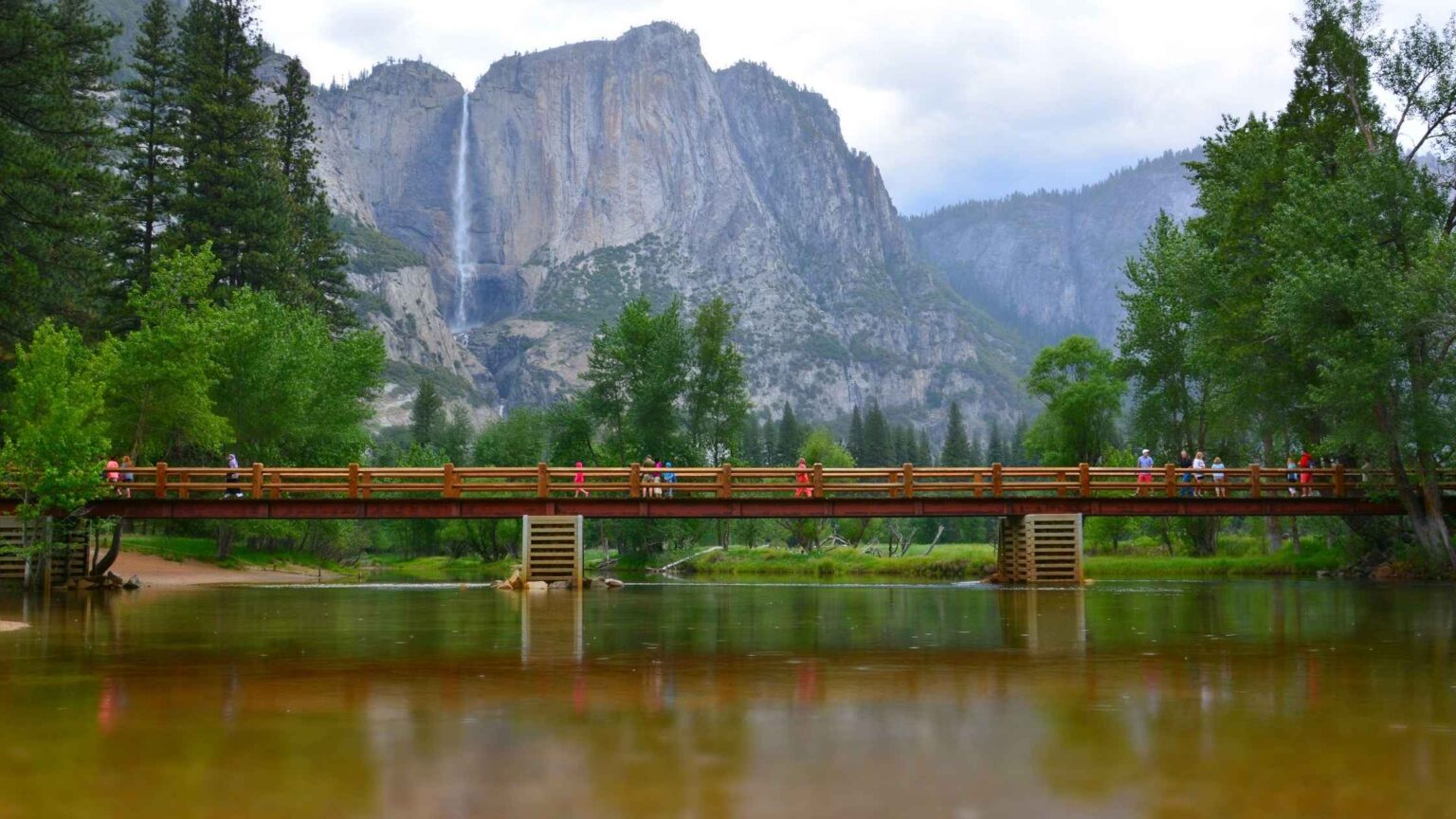 If you want to witness a sunset spectacle in Yosemite involving these huge waterfalls, head to the Swinging Bridge across the Merced River.
You will see bright orange, golden, and yellow hues around the cliffs from where Yosemite falls plunges during the sunset, creating magical sights to enjoy and capture on your lenses.
HOW TO REACH?
You'll come across Swinging Bridge as you drive into Yosemite Valley along Southside Drive, entering the loop between Yosemite Chapel and the Sentinel Beach Picnic Area.
Follow the sign on the left for the parking lot and a wooden bridge nearby. If you walk along the bridge looking to your right, you'll see one of the tallest waterfalls in North America, Yosemite Falls.
Since the parking lot here is small, it will be tough to find a spot unless you plan to arrive here at least a few hours before.
INSPIRATION POINT
Location: Tunnel View Parking Lot Type: Hike
If you want to get away from putting effort to secure a spot with the crowds, you can watch the sunset in Yosemite this way at Inspiration Point.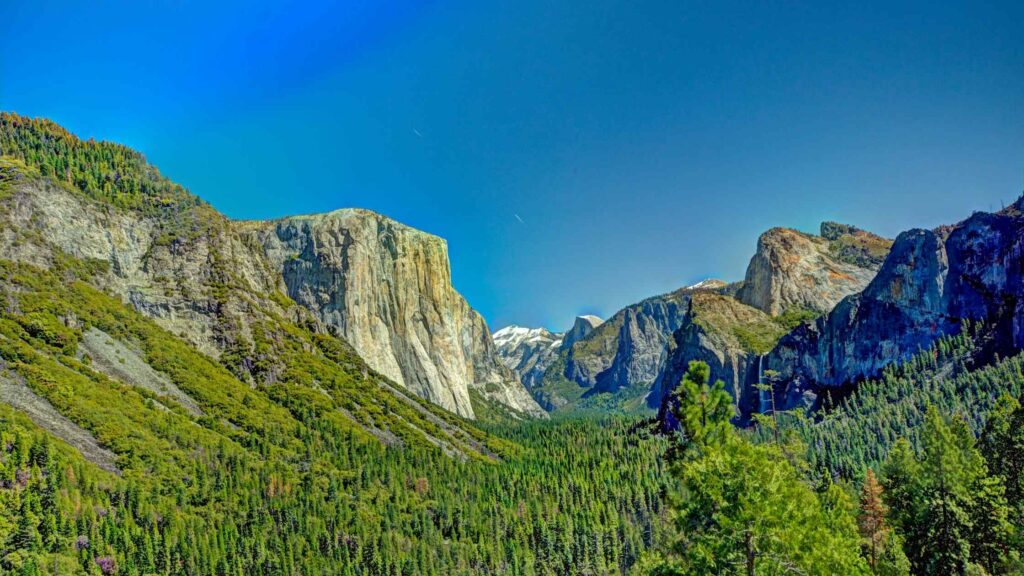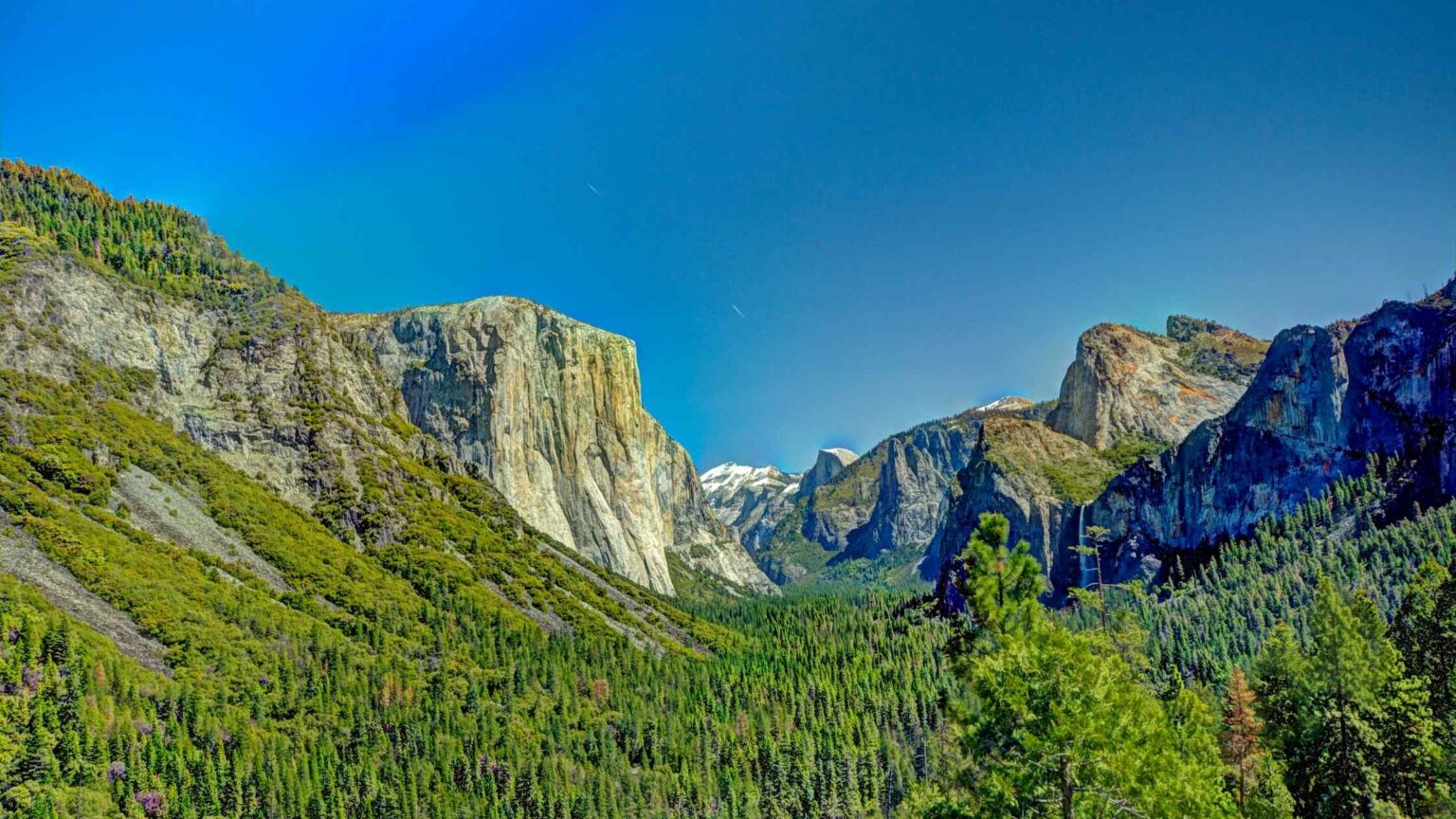 Like the other Yosemite sunset spots, you can witness beautiful views of the Yosemite valley comprising Half Dome and El Capitan, thanks to its higher elevation.
But what makes it a fantastic spot is the absence of crowds that will allow you to capture the shots without being hurried.
HOW TO REACH?
Follow the exact driving directions to arrive at Tunnel View. Here, a trailhead leads to two points, Inspiration Point and Artist Point. You will find two parking lots when you reach Tunnel view.
The trail to the points starts from the one away from the Tunnel View viewpoint.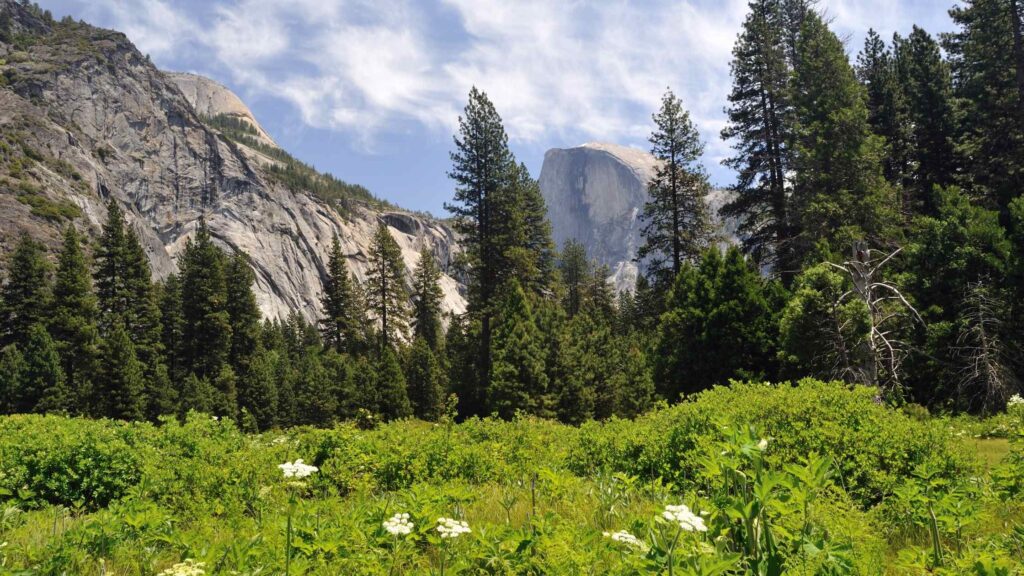 It is not an easy hike but not too challenging either. It goes uphill through the forest, but watch out as the path can be rocky and slippery at some parts.
Get a good headlamp or a torch as you will need it while coming back descending.
If you want a shorter trail, note the diversion that leads to Artist Point that appears sometime after you begin your hike.
COOK'S MEADOWS
Location: Near Half Dome Type: Walk
If you have witnessed Yosemite sunsets from all the famous spots and want some different views, head to the Cook's Meadows located in the Yosemite Valley.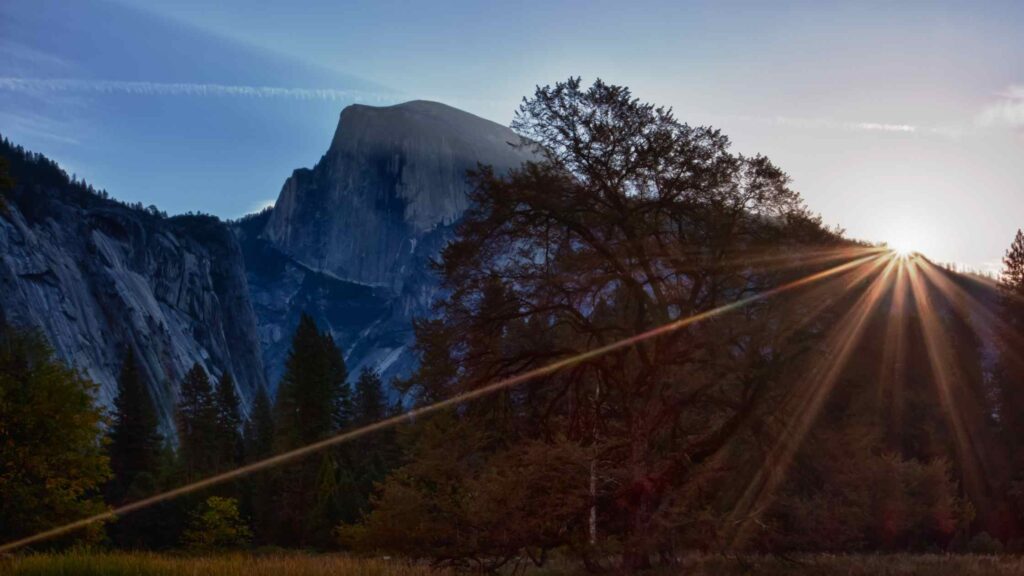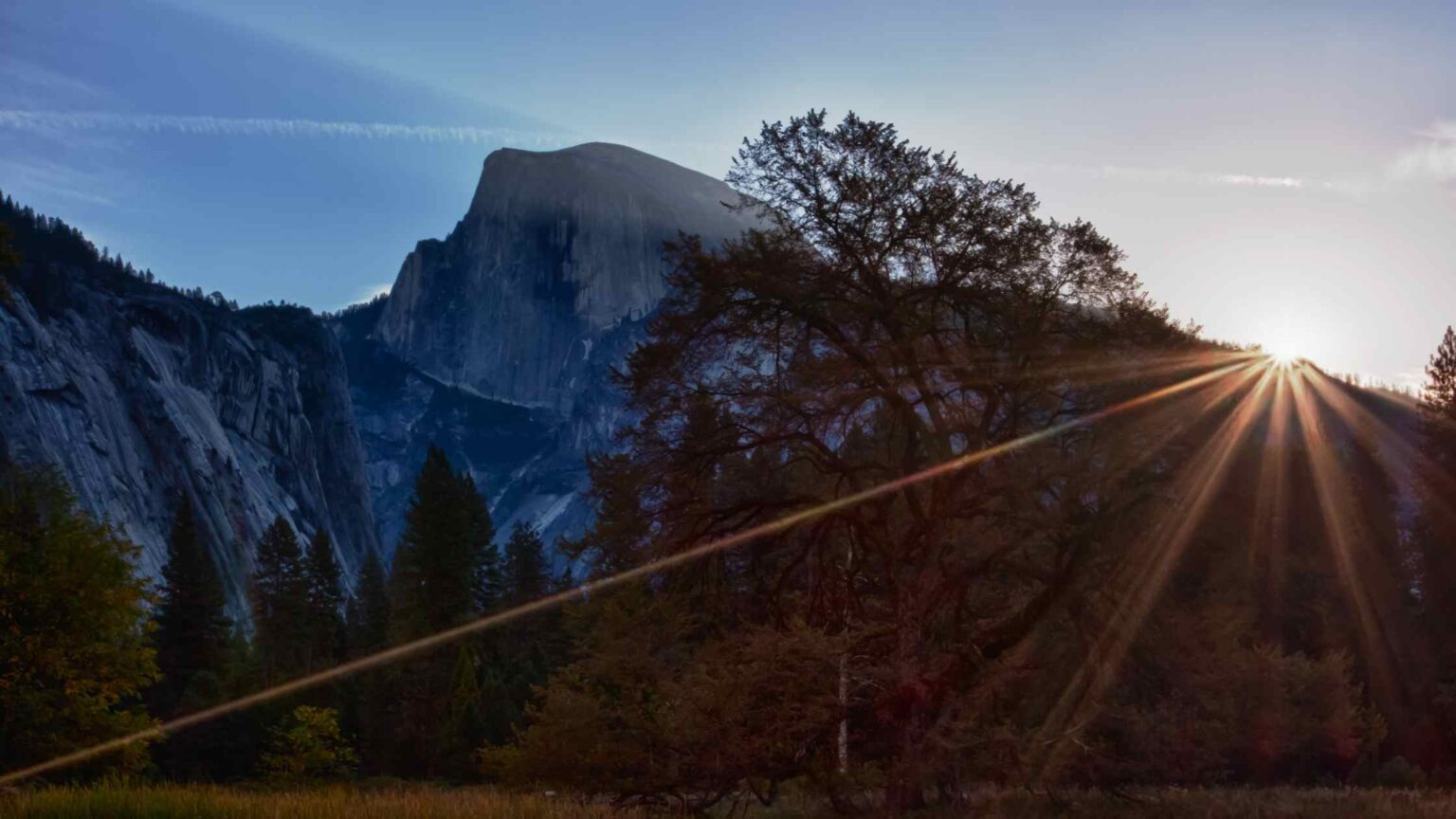 Easily accessible by a short walk, you can witness different and beautiful views of Half Dome from the Cook's Meadows. Unlike the other spots offering birdviews, you can watch the spectacles of the setting sun from the valley floor, surrounded by lush forests, without any crowds.
HOW TO REACH?
You can drive or walk to head to the start of the trail for the Lower Yosemite Falls Trail or get to the parking lot for Sentinel Bridge, both places from where it is a quick walk to Cook's Meadow in the Yosemite Valley.
TUOLUMNE MEADOWS
Location: Tioga Pass Road
One of the underrated places to witness a beautiful sunset in Yosemite is Tuolumne Meadows, located along Tioga Pass Road, north of the Yosemite valley.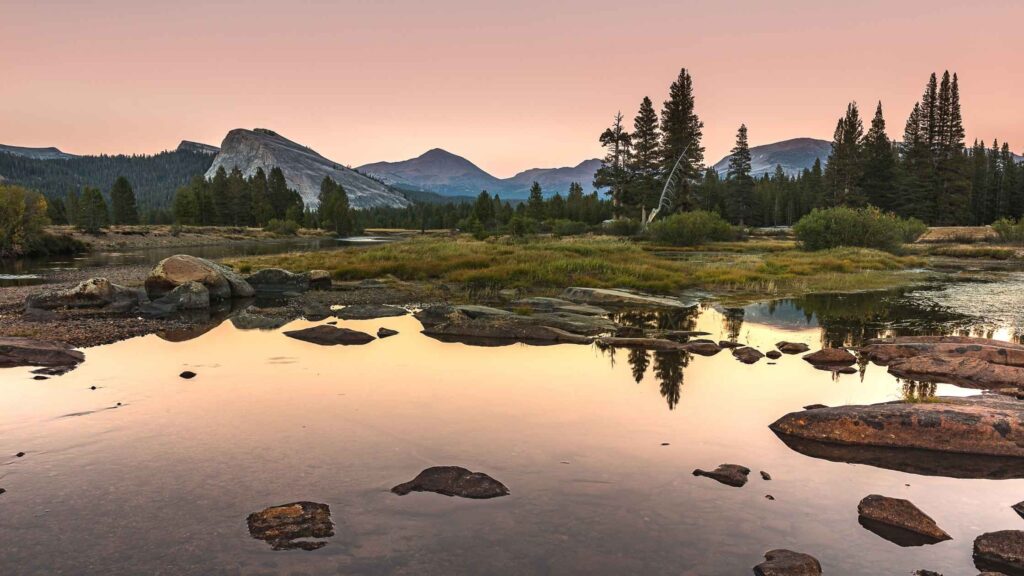 You can pick your spot to witness the golden hours as there are multiple places along this road.
One of the many reasons it is worth stopping by is that Tuolumne Meadows is one of the most extensive high-elevation meadows in the Sierra Nevada at over 8600 feet.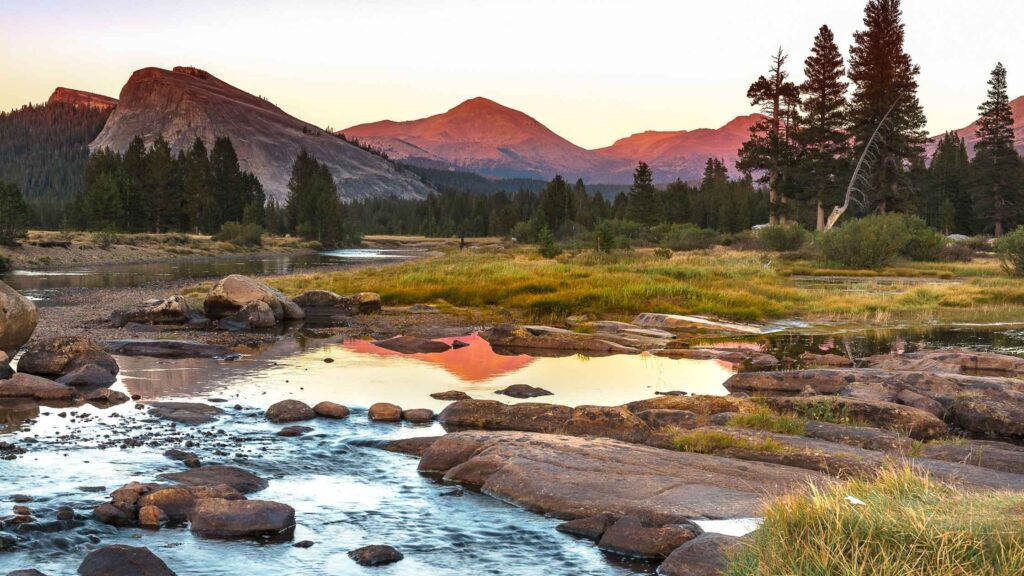 The meadows are dotted with lush fields and glacial lakes scattered around the valley. You can witness some of the fantastic 360-degree views from above along the road.
OLMSTED POINT
Location: Tioga Pass Road
Another off-the-beaten spot for watching splendid Yosemite sunsets is Olmsted Point, from where you can see the vast expanse of the Sierra Nevada Mountains, including the Half Dome and the gorgeous Tenaya Lake.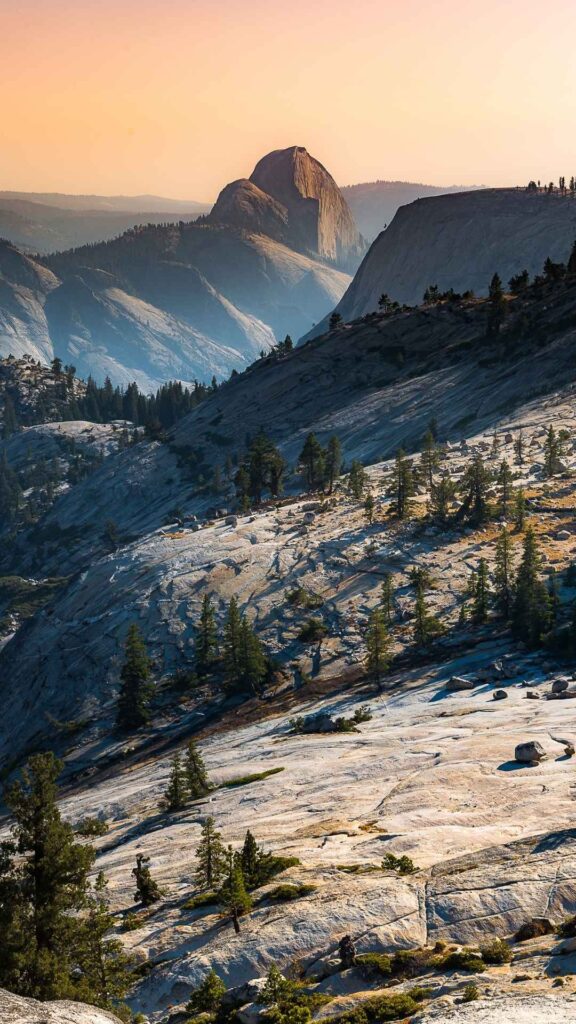 You can combine a visit to Tuolumne Meadows as Olmsted Point is also located on Tioga Pass Road.
Tioga Pass Road is only open from late spring to mid Fall as it will be blocked for the rest of the months due to snowfall, so if you plan to stop at Olmsted Point or Tuolumne Meadows, keep this in mind.
TIPS FOR WATCHING SUNSET IN YOSEMITE
Check if the trails are open when you visit – Although the park may be open to visitors, many sections and roads are closed as they are seasonal. Some routes to sunset spots in Yosemite, like the Sentinel Dome trail located on Glacier Road, is closed when the road closes due to snow or repairs. So check the park website for road closure details and the latest updates.
Check the weather – Before planning your trip and once you arrive, keep tracking for any weather changes to watch the Yosemite sunset. Haze, fog, and winds mean that it is not worth waiting for the evening.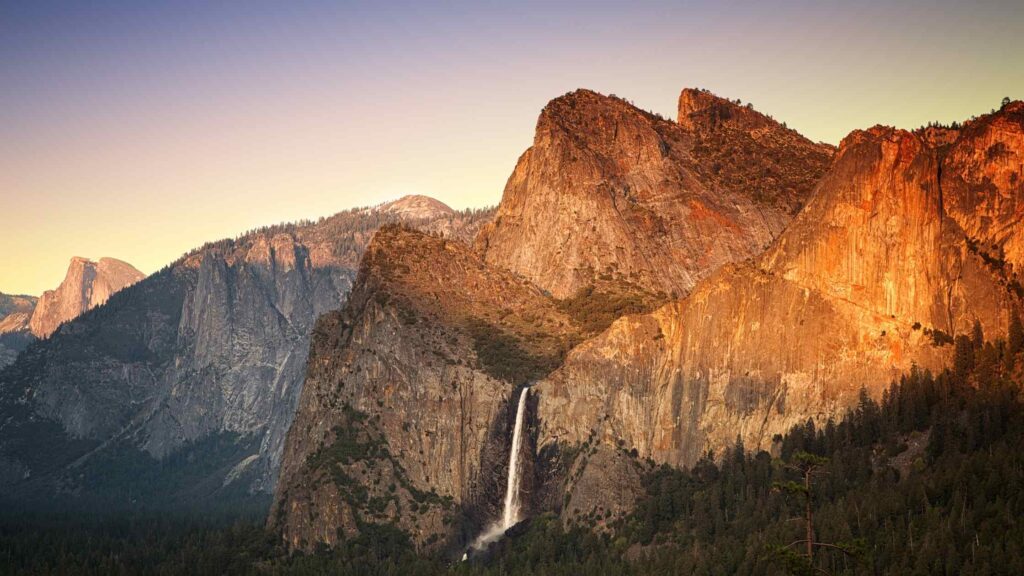 Look up sunset times before you go – To time for the best photos and shots, make sure to look up the sunset timings at the specific location you plan to be. Although these spots are in the same park, the sunset times at each are different, so look up before going to any of them.
Intermittent or no cell service – Many parts of the national park have limited or no cell service, so plan your trip accordingly.
Download all maps – Before you enter the park, download all the details you need, including all the attractions, maps to all the spots, parking lots and other things on to your phone as there is limited cell service. You can download Google maps for Yosemite, the surrounding areas, and AllTrails.
Carry a Headlamp – Bring a headlamp or flashlight as you will hike back after sunset, and it will be dark. You will need it for places like Taft Point, where the trail can be rocky apart from the dark.
Check Yosemite's website – The required permits, entry timings, the opening and closing of many hiking trails, roads, and activities keep often changing due to events like the wildfires. So keep checking the official website to see that there are no last-minute changes and surprises.
Arrive Early for Sunsets – Although I have stressed this one for each sunset spot in Yosemite, I need to state again that being late means you will look for parking and make way through the crowds, which will take away many minutes of the golden hours.
You need to be there at least 2 hours before, especially in popular locations like Glacier Point, Taft Point, and Tunnel View.
Plan to book well in advance, even in off-seasons – Whether you are going to go camping or stay in lodges, hotels or apartments, you need to book in advance while planning your Yosemite trip.
Lodge reservations are released a year before, and within a few weeks, they tend to get filled for the peak months. You need to check the timings and book at least more than six months before.
The same goes for campgrounds, for which the reservations are released six months before. You need to book your accommodation for a summer trip at the start of the year, and you can make all reservations via Recreation.Gov.
FREQUENTLY ASKED QUESTIONS ABOUT SUNSET IN YOSEMITE
Where is the best place to see the sunset in Yosemite?
There are at least over ten places from where you can witness stunning sunsets in Yosemite National Park, including the views of Half Dome, Yosemite Falls, and Sentinel Dome.
Can you enter Yosemite at night?
Since Yosemite National Park is open 24 hours a day, yes, you can enter Yosemite at night. However, note that not all entry gates are open.
If you are driving into the park between 6 am–4 pm, you will need to buy tickets and a parking fee.
How many days do you need in Yosemite?
Ideally, you will want at least 5 to 6 days to experience the most popular places inside Yosemite National Park, although the more time you have the better.
When is the best time to visit Yosemite National Park?
Summer months are the most popular since you have loads of activities that you can enjoy in Yosemite. But Spring and Fall are also fantastic months for the foliage and fewer tourists.
PIN SUNSET IN YOSEMITE FOR LATER READING