Are you looking to plan the fantastic Big Sur road trip? You are in the right place because this post covers the most beautiful areas you need to cover as a part of your Big Sur itinerary by road, a journey that is surreal for many reasons.
There is no better way than driving Big Sur to enjoy one of the best spots on the USA West Coast. Whether you want to make the Big Sur road trip part of your West Coast road trip or explore Big Sur and around, this post gives you the ideas to do so.
Along with the best stops en route to places to visit and things to do, in this post, I also share how to plan your trip, practical tips, and what to expect.
The coastline of Big Sur, running for over 95 miles between Carmel and San Simeon, is one of the highways that offer dramatic landscapes dotted with rocky cliffs overlooking splendid views of the Pacific ocean throughout your Big Sur Road Trip.
The best part is despite its immense beauty, much of the coastline remains rugged and unexplored as only the truly adventurous, outdoor-loving, nature admiring travelers venture into this part of the California coast.
You will come across many beautiful parks, gorgeous beaches, hiking trails, hidden waterfalls, dense forests, and cute towns, offering you tons of things to do on the Big Sur road trip along California State Route 1.
Get your trip plan started as we dig into the ultimate Big Sur road trip itinerary.
WHAT IS BIG SUR?
If you are not familiar, you may mistake Big Sur for a city or a town, but if you know, Big Sur is the name of the region between Carmel-by-the-Sea and San Simeon on the central coast of California, which runs for over 90 miles.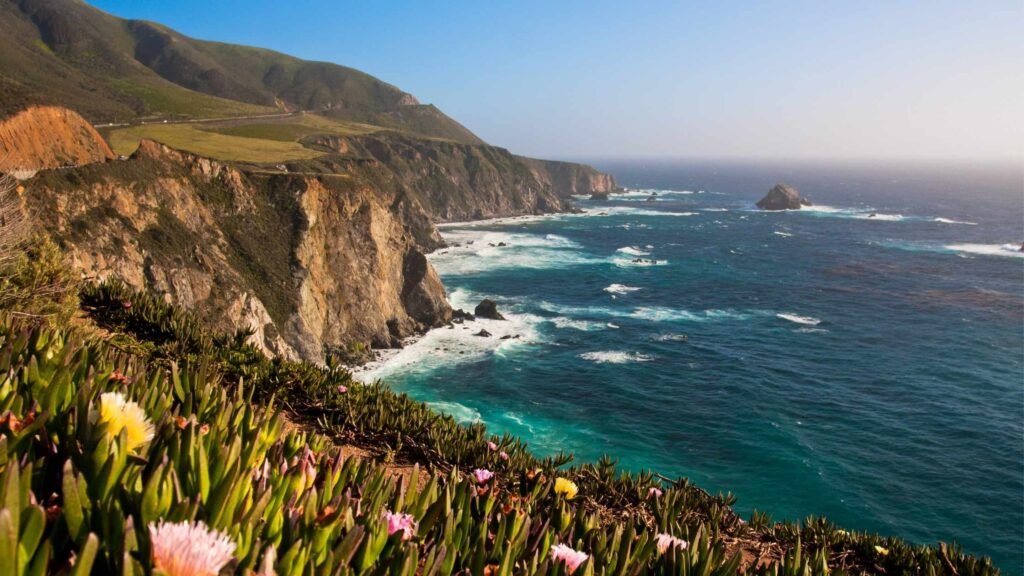 Encompassing the gorgeous Santa Lucia Mountains, the rocky Pacific Ocean coastline home to stunning beaches, this strip is considered one of the most beautiful coastal stretches in the USA.
The narrow Highway 1, also known as the Pacific Coast Highway, winds through Big Sur. The journey on the Pacific Coast Highway is gorgeous as you wind down, and you will pass through viewpoints offering surreal views, many state parks, hiking trails, towns, coastal villages and flower fields.
HISTORY OF BIG SUR
Big Sur gets its name from Spanish, 'el país grande del Sur' or El Sur Grande, which translates to the big south. It got its name due to its rugged landscapes dotted with wilderness, comprising rocky cliffs, winding highways, and beaches.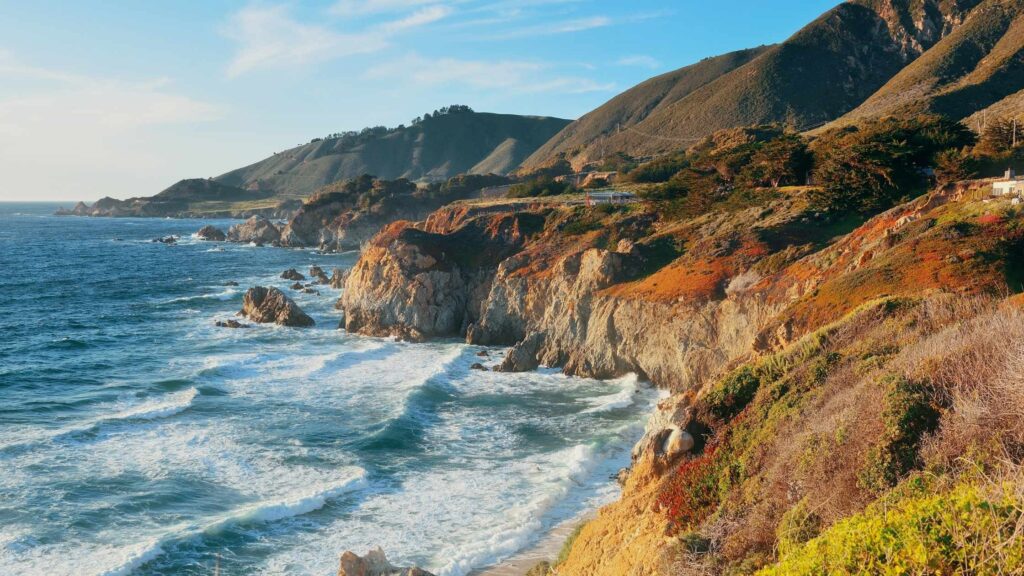 The region was initially inhabited by the Native Americans, the Esselen, Salinan, and Ohlone tribes. Later it was occupied by the Spanish explorers.
In the 1800s, several bridges were constructed to make a road through this area for commute by the homesteaders that arrived to create permanent settlements.
It was not until the 1900s that a highway was started. Highway 1 officially opened in 1937 after nearly 20 years of construction work, stretching from San Juan Capistrano in Southern California to Leggett in Mendocino County, located north of San Francisco.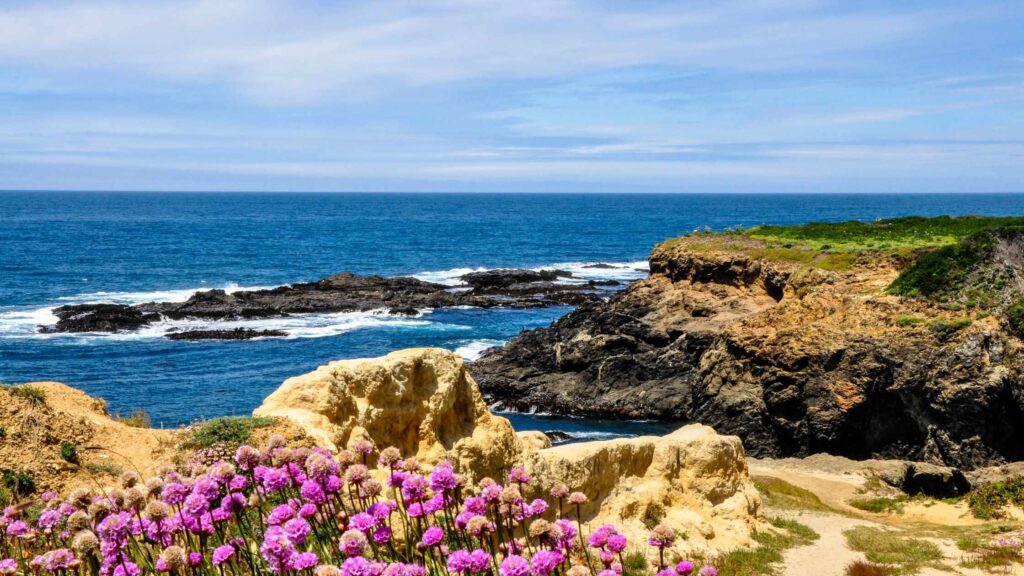 Thanks to the stunning natural beauty, Big Sur later became the favourite spot for creators, hipsters, and celebrities.
WHAT IS THE BEST TIME TO MAKE THE BIG SUR ROAD TRIP?
Like most of California, the pleasant temperate climate in Big Sur makes it an ideal destination for planning a trip any time of the year, with over 300 days of sun on average.
Below, I have shared the season-wise and months-wise breakdowns of what to expect.
What to expect each season in Big Sur
Spring is a fantastic time for hiking, spotting the spring wildflowers bloom, and enjoying the freshly-formed lush with fewer crowds.
If you want to get there without crowds and enjoy great weather, spring is ideal for planning a Big Sur road trip. My personal favourite is spring for these reasons, as well as the fall months.
Summer – If peak season is when you want to head here, summer is when the full-scale action happens. But it is not your typical sunny summer day every day as there can be fog that can last well into the afternoon, making it damp.
If you don't mind the tourist crowds, the unusual fog, and high prices, summer is the best time to be here.
Fall – The beginning of the fall months from late September through early November is often favoured by those that skip the summer madness.
The temperatures may go down a bit, but the landscapes are beautiful, without the mainstream crowds, and reduced prices entice many to plan a Big Sur road trip during fall.
The only downside of the fall months is the wildfire season in California, leading to parks' closure. So if you choose the fall months, ensure to see the forecast or check the status.
Winter – Winter in Big Sur is not colder months but rather a harsh rainy season causing frequent mudslides and massive storms that often lead to road closures.
If you are a seasoned driver willing to risk the weather, you will be rewarded with no tourists and lower prices on your Big Sur road trip.
The best months to plan the Big Sur road trip
As you have gotten a fair idea of the seasons above, the peak months you can expect crowds are from April and September when the days are sunny and perfect for enjoying the outdoors.
Plan your Big Sur road trip in October and November if you prefer a trip minus the crowds and great weather, which are also amazing months to witness the beautiful wildflowers.
The least favoured months are from November to March, when heavy rainfalls make it inconvenient and dangerous to drive through the winding roads.
HOW TO GET TO BIG SUR?
There are many ways to reach Big Sur to begin your road trip depending on your starting point.
BY FLIGHT
If you are flying into California, San Jose, San Francisco, and Los Angeles are nearby cities. The Norman Y. Mineta San Jose International Airport is the closest international airport in San Jose, about 104 miles away.
The closest domestic airport is the Monterey Regional Airport, about 30 miles away.
BY ROAD
FROM SAN FRANCISCO TO BIG SUR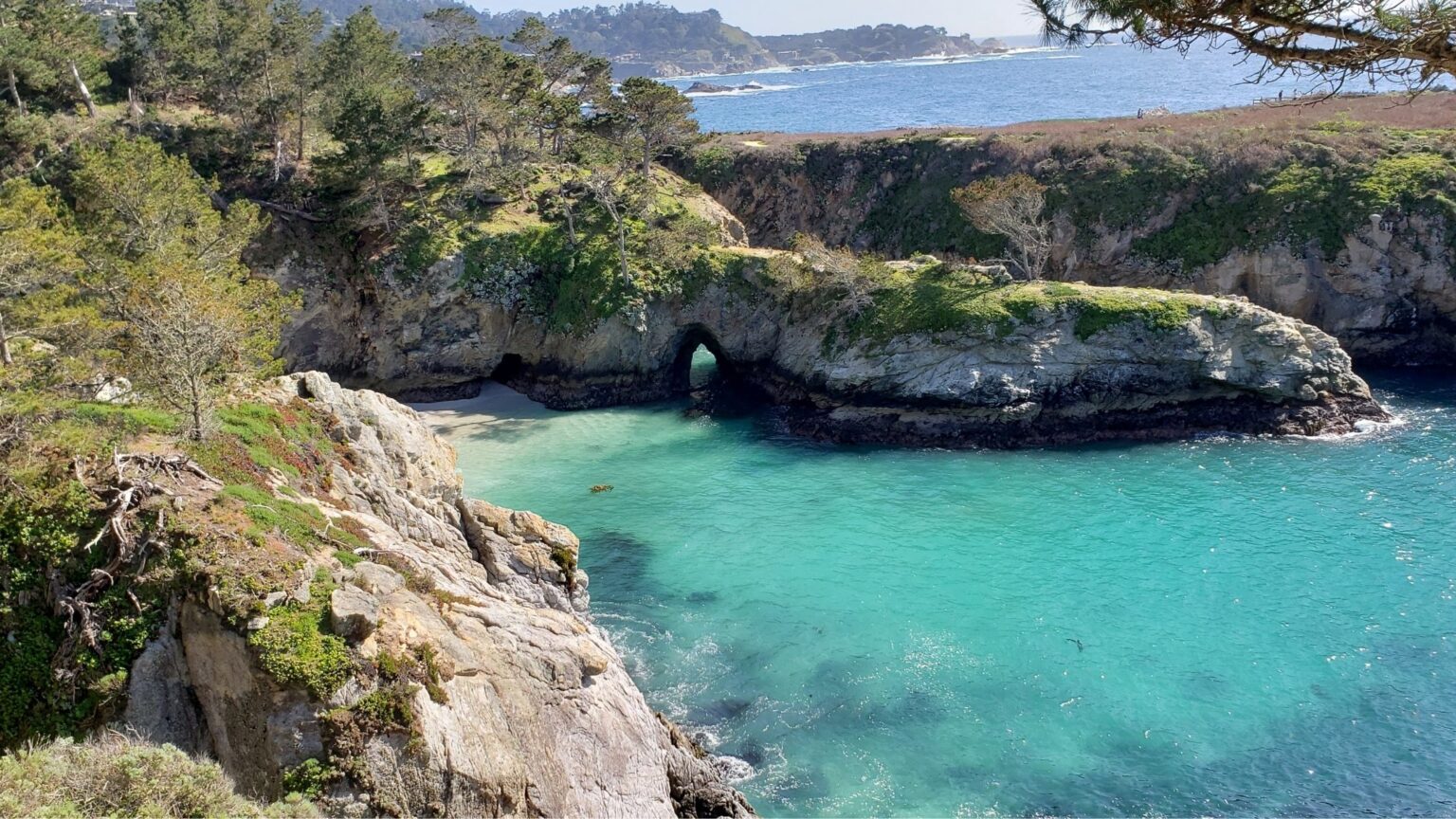 One of the easily accessible and popular destinations is San Francisco. You have the option of taking Highway 17 through Santa Cruz or Highway 101 and Highway 156 through Castroville.
Most people stay in Carmel-by-the-Sea, Monterey, or in Big Sur before the start of the trip from the north, which makes sense because each offers a lot of things ideal for spending a weekend or a day.
If you plan to stay in Carmel-by-the-Sea, Horizon Inn & Ocean View Lodge is a fantastic hotel.
FROM SAN JOSE TO BIG SUR
From San Jose, you can quickly drive to Big Sur within 2 hours, making it also another ideal base before beginning the Big Sur road trip.
FROM LOS ANGELES TO BIG SUR
Los Angeles is not a nearby city option, but you can spend a weekend in LA if you are new to this area and begin the Big Sur road trip from the south. From Los Angeles, it takes about 6 hours to arrive at Big Sur. If you want a much closer town, Cambria is a good base too.
RENTING A CAR FOR YOUR BIG SUR ROAD TRIP
If you need a car for your Big Sur road trip? If so, I highly recommend using Discover Cars not only to give the best deals, but you can compare the prices of all the companies with just a click on their site too.
Discover Cars also fantastic prices if you opt for a longer duration rental.
WHICH IS THE BEST DIRECTION TO MAKE THE BIG SUR ROAD TRIP?
You can either do the Big Sur road trip from the north, beginning at Carmel-by-the-Sea or from the south. If you start from Carmel, you can make more stops on the coast, covering many attractions mentioned below. The journey from the north also offers splendid ocean views you will love.
You can start from the south; although the reverse route is not that preferred, you will still get to witness the best on your Big Sur road trip.
If you are arriving from San Francisco, you will start from the south, in which case you will begin to from Cambria, head to Paso Robles, and do the Big Sur road trip itinerary in this post in the reverse order.
If you are covering Big Sur as a part of the more extensive Pacific Coast Highway road trip, I would suggest going from the north to the south if possible.
I would suggest starting your trip from the north as it is the best and hence the most popular route.
HOW LONG WILL IT TAKE TO COVER THE ROAD TRIP TO BIG SUR ITINERARY?
How long you will need to cover this stretch depends on your preferences. You will need at least a weekend to cover the top attractions.
Still, you can comfortably cover more, including some hiking, photography, and other activities if you base yourself en route for around three or four days.
A weekend road trip to Big Sur will introduce you to the highlights if you are short on time. I would recommend either three or four days if you can to make the most of your journey.
BIG SUR ROAD TRIP OVERVIEW
Before we get into the detailed itinerary for the Big Sur road trip, here is a brief overview of what to expect. Here, I have configured this to be done in 3 full days because it will allow you to explore all the stops without feeling rushed comfortably.
It is best to extend to four or more days to include more places or choose to explore slowly.
You can still get most of the attractions done on the weekend, but obviously, you will have to skip a few of them(check the travel tips section for two days Big Sur road trip overview.
BIG SUR ROAD TRIP DAY 1
The most popular way of making this road trip is from the north to the south, and I have followed the same below.
On this route, you will begin your journey either by arriving overnight or a few days before at Carmel-by-the-Sea, a beautiful town, home to tons of things to do.
After a few hours of early morning in Carmel, you will spend your checking out the national parks, iconic bridges, and beaches, depending on how long you plan to make this trip.
You will spend overnight in or near Pfeiffer State Park as many accommodation options.
BIG SUR ROAD TRIP DAY 2
On your second day of the trip, you will continue to drive Highway 1, and it is again a day filled with hiking trails, stunning viewpoints, parks, and beaches.
You can base yourself in any parks or arrive at Simeon and stay overnight.
BIG SUR ROAD TRIP DAY 3
If you plan a three-day Big Sur road trip, you can either slow down and explore the parks from San Simeon or nearby or continue further to Paso Robles or even Santa Barbara.
BIG SUR ROAD TRIP STOPS (FROM NORTH)
Now, let's get started with the best things to do on your Big Sur road trip with the stops that you should plan.
Depending on when you are making the trip, you will witness the sightings of many exquisite birds, marine life, the rich forests home to unique wildflowers, plants, and giant trees.
You may spot seals, otters, and whales during the spring and summer. Early April is the best time to plan your Big Sur trip for witnessing the best seasonal wildflower blooms.
EXPLORE CARMEL-BY-THE-SEA
Start your Big Sur Road Trip on California Highway 1 to arrive in the beautiful town of Carmel-by-the-Sea. This coastal town is one of the underrated destinations on the California coast despite tons of things to do. It is a compact town that is ideal for a shortstop.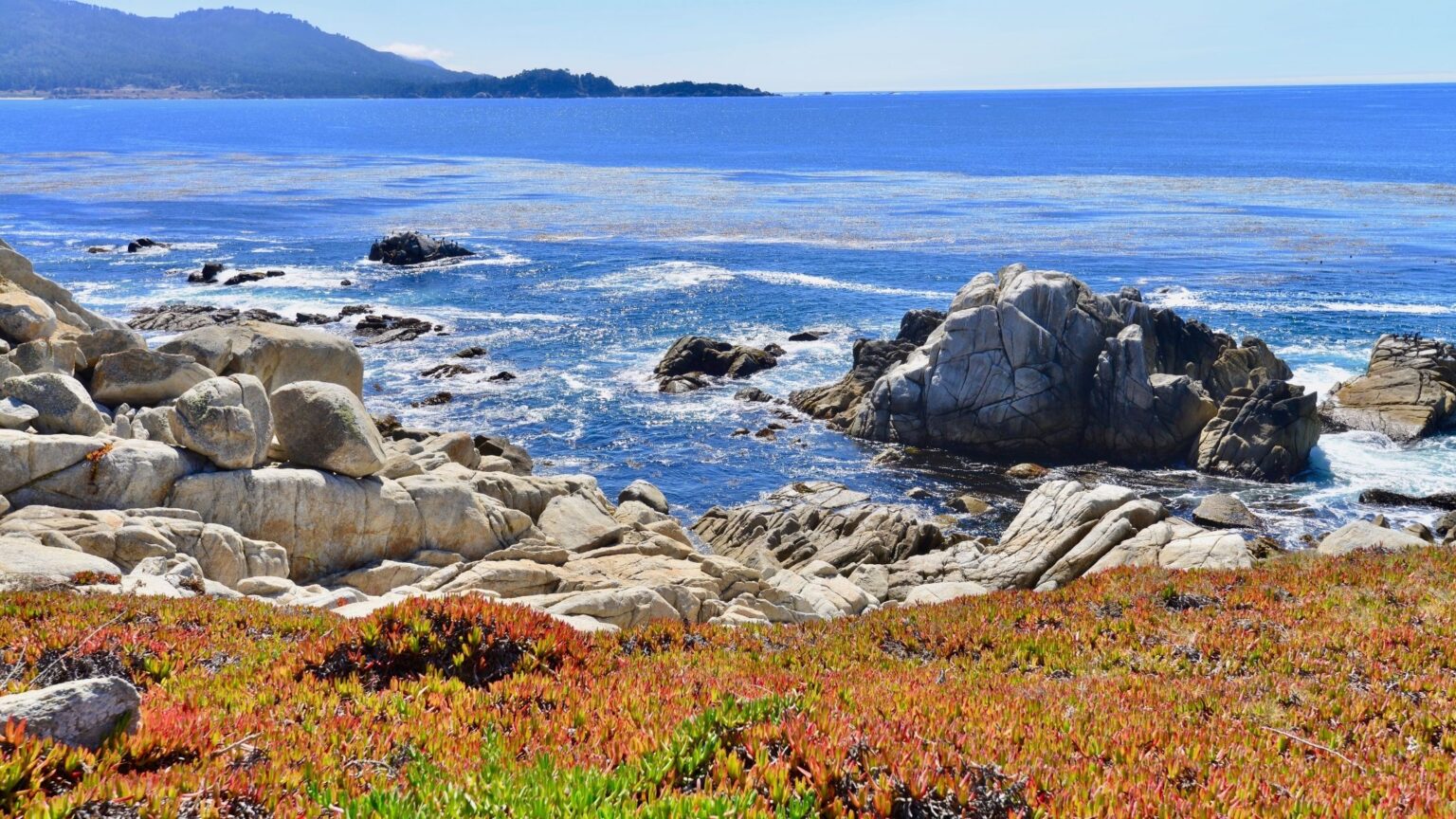 Start early by having your breakfast in one of the many fantastic breakfast places. Stroll the main street home to plenty of exCarmel'srestaurants, galleries, boutique shops, cute cafes and bars.
Check out the historic 18th-century Spanish church Mission San Carlos Borromeo de Carmelo, the many traditional Comstock cottages, the icons of Carmel's architectural past, and among the galleries, do not miss the famous Thomas Kinkade Gallery.
Spend some time at Carmel beach, where you can enjoy surfing and swimming.
VISIT POINT LOBOS STATE NATURAL RESERVE
A 15-minutes drive from the Carmel-by-the-Sea will lead you to Point Lobos State Natural Reserve, known for its fantastic hiking trails that offer splendid views of Big Sur, especially the sweeping views of the Pacific.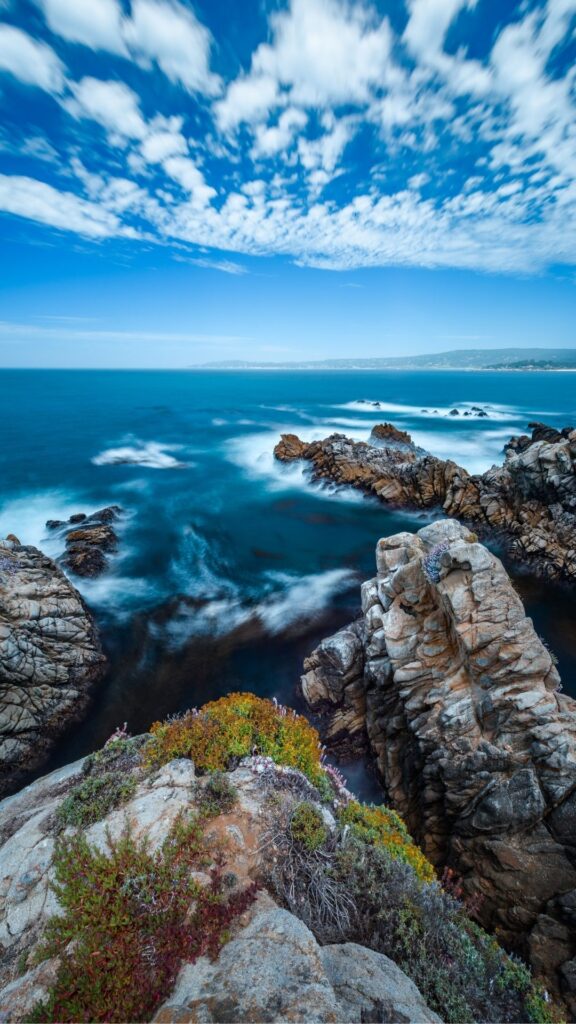 The natural reserve is home to rich marine life, and you can spot seals, sea otters, pelicans, and sea lions. There Whaler's excellent spots for surfing, swimming, scuba diving, kayaking, SUP, or enjoying the panoramic views of the Pacific.
There are many stunning coves accessible by hiking or roads, with the famous ones Lobos'shaler's Cove, Sea LDevil'se, and China Cove, known for unique colour rocks.
If you are up for hiking, check out the 6-mile trail that will take you through the ancient Monterey Cypress groves, one of Point Lobos's main attractions. Devil's Cauldron is also worth stopping by.
For the best bird-watching experience, check out Bird Island. If you are here in winter, you may also spot the migrating grey whales.
The other famous hiking trails leading to magnificent views are the Point Lobos Loop Trail, South Plateau Trail, South Shore Trail for watching the sea lions, and Lace Lichen Trail.
All these trails are very easy, and you can cover several of these within 4 to 5 hours, which will take you through most of the park attractions, including tons of photo spots.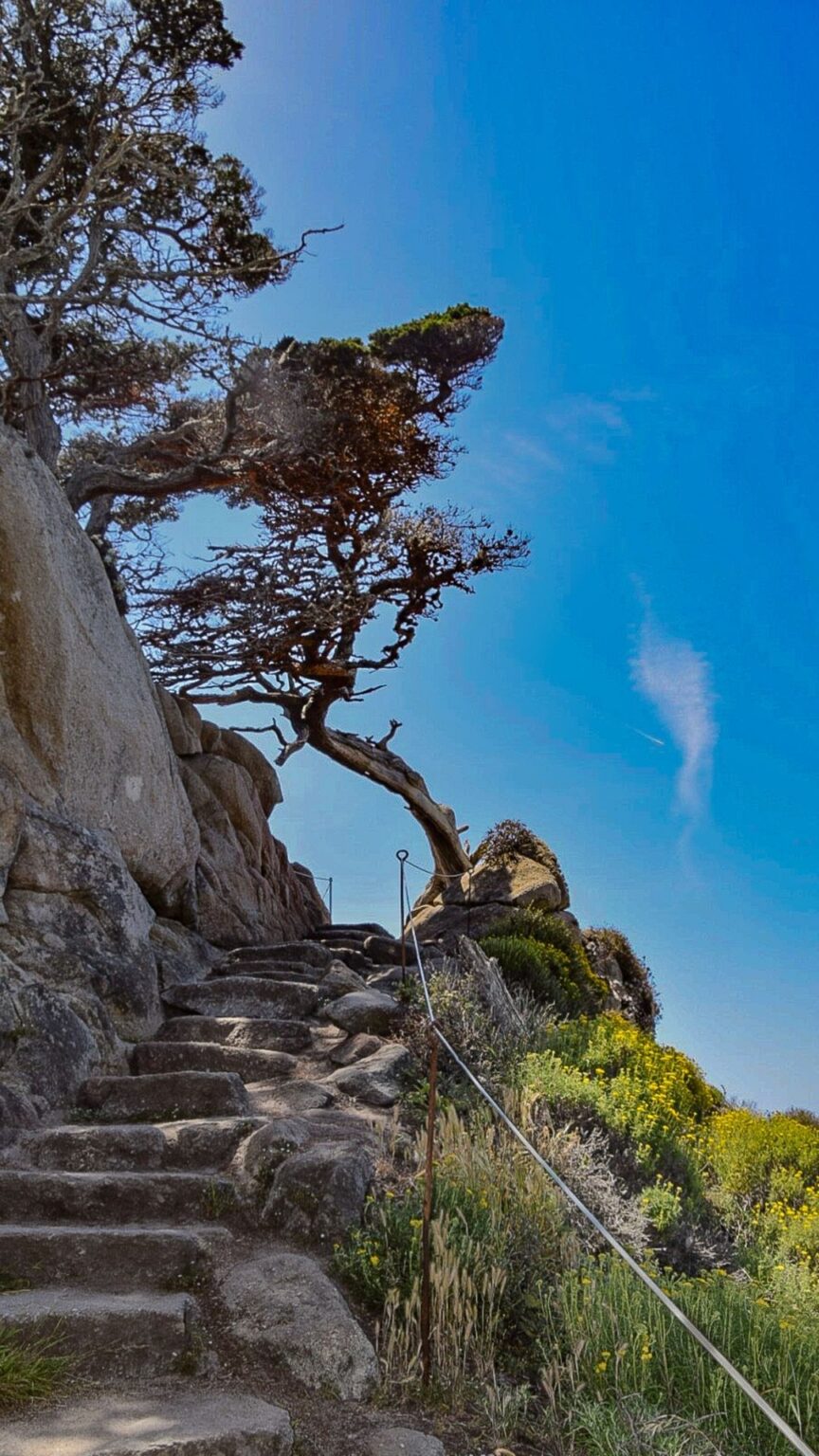 For the parking fee, getting the park pass for $10 will allow you to park in all the state parks for up to 24 hours. The reserve is open from 8 AM to 7 PM. There are also picnic tables at Point Lobos for relaxing and eating.
Note that dogs are not allowed anywhere in the park. You are not allowed to leave them in your vehicle too, so if you are planning a Big Sur road trip with your dog, you will have to skip Point Lobos Reserve.
MAKE A STOP AT GARRAPATA STATE PARK
The next stop on your Big Sur Road trip is the beautiful Garrapata State Park, which is 4 miles south of Point Lobos and 10 minutes away.
Garrapata State Park is known for its untouched wilderness excellent hiking trails offering beautiful panoramic views, including the famous Soberanes Point area of Garrapata, the most photographed spot in Big Sur, from where you can capture the surreal ocean views.
You cannot miss the unique flora that carpets the area, making for a beautiful backdrop.
You can hike to Soberanes Point on a loop trail, about a 3km path, which is highly recommended, which begins from Highway 1 down toward the coast along Soberanes Creek.
If you want a shorter trail offering the best ocean views, take the Garrapata Bluff Trail. You can access the course from markers 7 and 8.
The other trail best for spotting the sea otters, birds, beautiful redwood trees, waterfalls and seals is Soberanes Canyon Trail.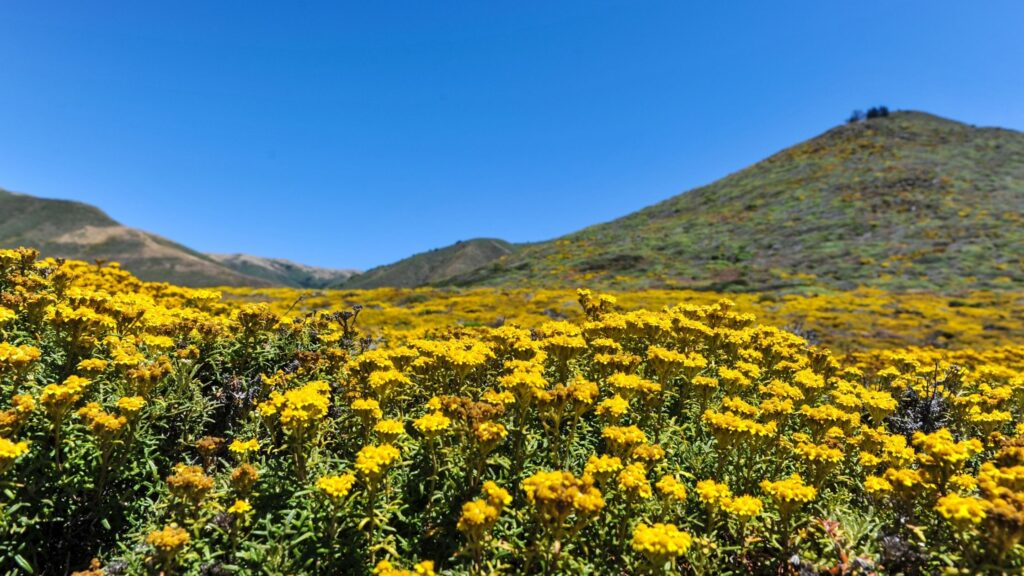 There is no entry fee for Garrapata State Park, and also you will not find any signage for the park. You can directly access the trails from the highway. The courses and all the other attractions are numbered, and you can spot the numbered markers on the road.
Dogs on leash are allowed in the park. There is no designated parking area, and hence you will have to find a spot by the highway, which is usually packed during crowded days.
WALK ALONG GARRAPATE STATE BEACH
From Garrapatte State Park, drive about 2.8 miles to reach Garrapate State Beach next.
Apart from being one of the beautiful beaches in California for families, it is also one of the few beaches in Big Sur that you can access and walk on its sandy shore as most along the Big Sur coast are cut off due to steep and rocky cliffs.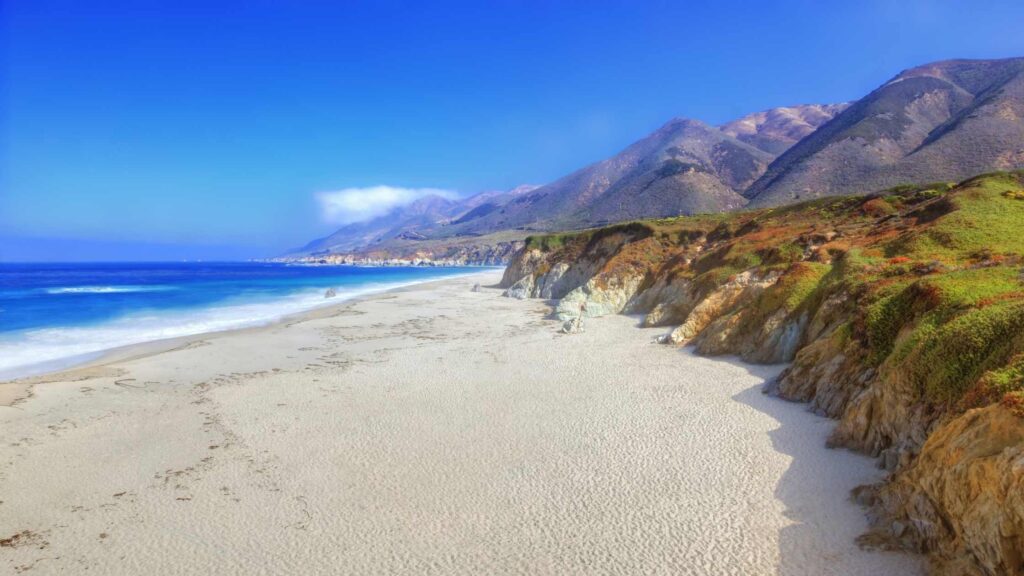 You can access Garrapata State Beach at markers 18 and 19. If you take the 19, you have the steps to climb down to reach the far south end of the beach, which is the best place to enjoy a walk and admire the views, although you can swim.
CHECK OUT THE CALLA LILLY VALLEY
A part of the broader Garrapata State Park is Calla Lily Valley, which you can stop next after visiting Garrapata Beach.
This valley lies a few miles down the coast at the north end of the beach. You can reach from marker five if you are coming from the beach.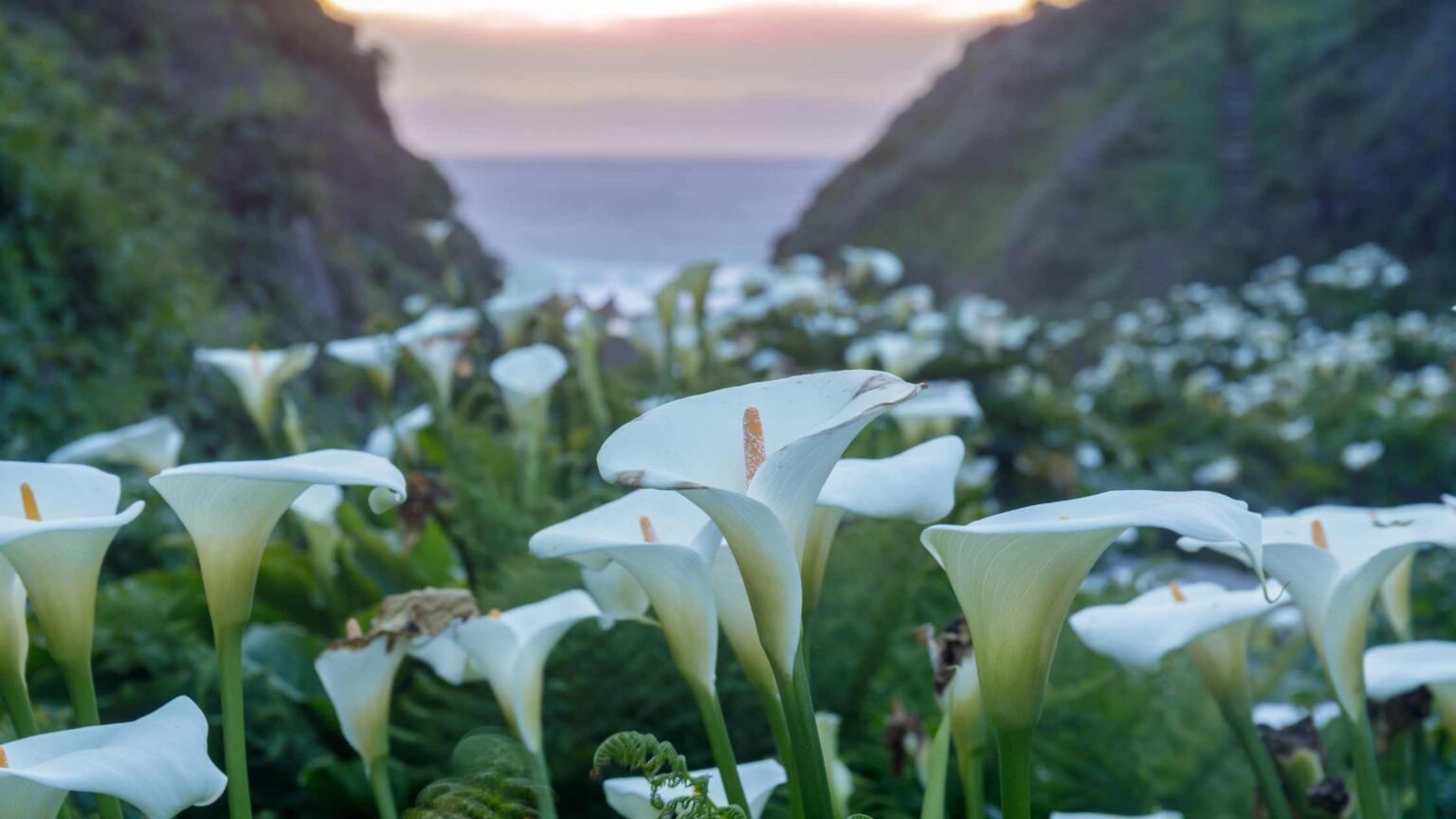 The valley comes to life in the spring months when the stunning white Calla Lilies are in full bloom along the shores of Doud Creek, making the landscapes magical. If you are here between late February and May, do not miss stopping by Calla Lily Valley.
You can also park at markers 18 and 19 if you are not arriving at the 5.
HEAD TO KASLER POINT
Around 8 minutes away from the valley is your next stop in the Big Sur road trip, Kasler Point. Kasler point, located near Garrapata creek, is one of the best photo spots known for the gorgeous panoramic views of the mountains that reach the cliffs near the ocean.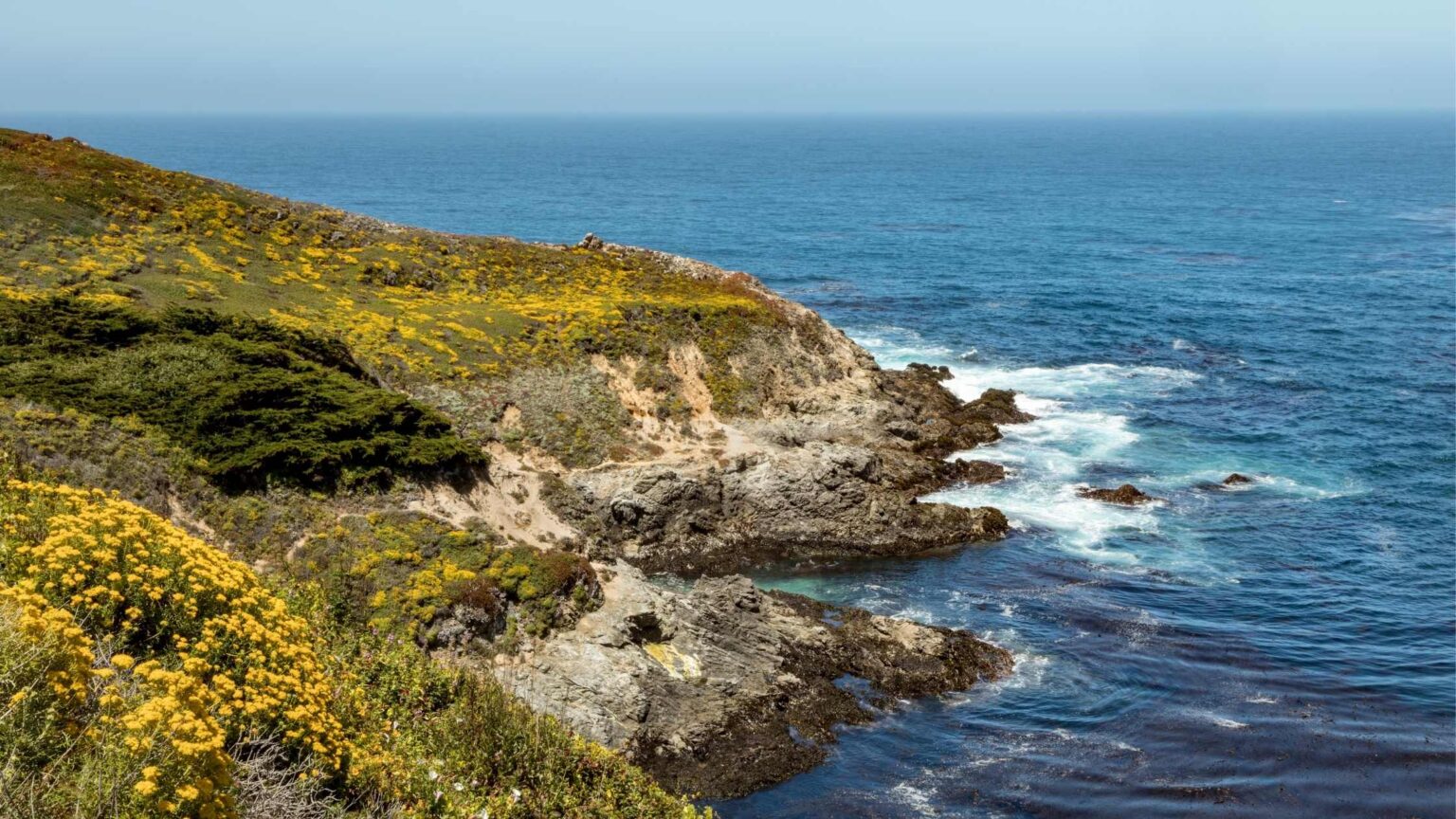 The views of the lush green mountains dotted with fresh flora and the jagged cliffs touching the crystal-clear blue waters are stunning.
Among the best viewpoints without crowds is Kasler point worth visiting for a quieter place to enjoy in the evenings.
CHECK OUT ROCKY CREEK BRIDGE
Just a 3-minute drive away from Kasler Point is the Rocky Creek Bridge, one of the photo spots offering splendid views of the coast.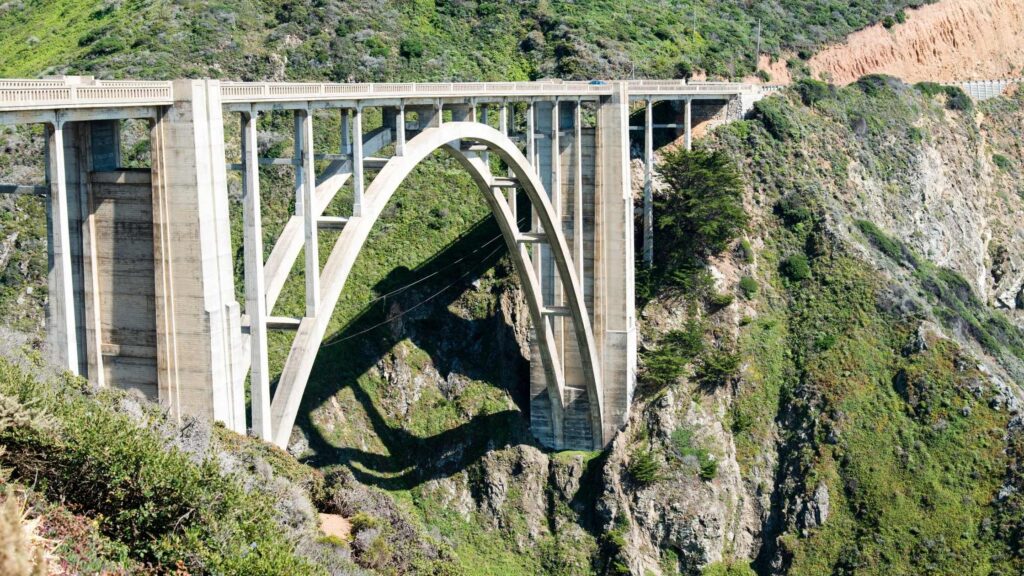 While it is smaller than the more famous Bixby Creek Bridge, which comes after the Rocky Creek Bridge, this historic bridge built in 1932 is worth a quick stop to capture amazing views of the panoramas.
ADMIRE THE VIEWS OF THE BIXBY CREEK BRIDGE
Located close to Rocky Creek Bridge is one of the most famous stops on your Big Sur road trip, the large Bixby Creek bridge.
One of the most photographed bridges in California, this open-spandrel single-arch bridge hanging over the canyon at the edge of the ocean offers stunning views.
The bridge opened in 1932 is named after Charles H. Bixby, a pioneer from New York who came to the California coast in 1852. He purchased many acres of land in Big Sur and milled lumber.
There are two viewpoints on either side of the bridge, and you can park on either side of Highway One at the north end of the bridge.
ENJOY THE VIEWS FROM MANY VIEWPOINTS
Very close to Bixby Creek bridge are many places where you can enjoy surreal views of the rocky cliffs meeting the ocean. One such famous spot is Hurricane Point View that you can find driving south of the bridge. Located atop a hill, you can witness the vast expanse of the beautiful coastline and the mighty Pacific Ocean.
If you head further south, you will come across the Sea Otter Refuge Viewpoint and the Little Sur River Viewpoint, which are both the best spots for fantastic photography.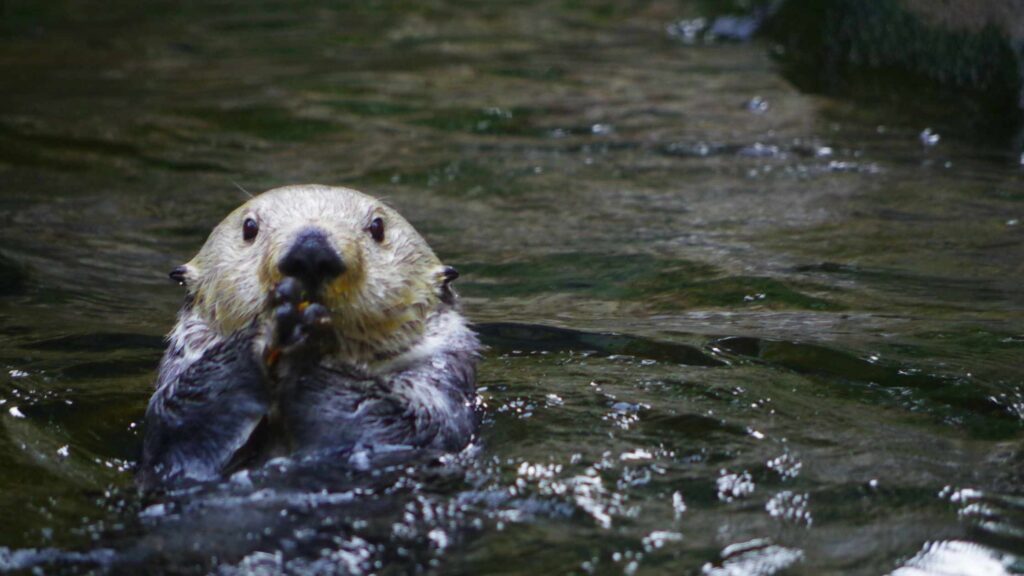 If you love lighthouses, you will love the historic Point Sur Lightstation, making for a perfect post-card picture perched on a volcanic rock against the ocean backdrop.
Did you know? You can also check out the lighthouse on a guided tour, which is a must if you love lighthouses, as I do.
HEAD TO ANDREW MOLERA STATE PARK
The next stop on your Big Sur road trip is another beautiful national park, Andrew Molera State Park, about 15-minutes away.
This massive over 500 acres of land comprises an unchartered mountainous train packed with many excellent trails parallel to the splendid ocean view.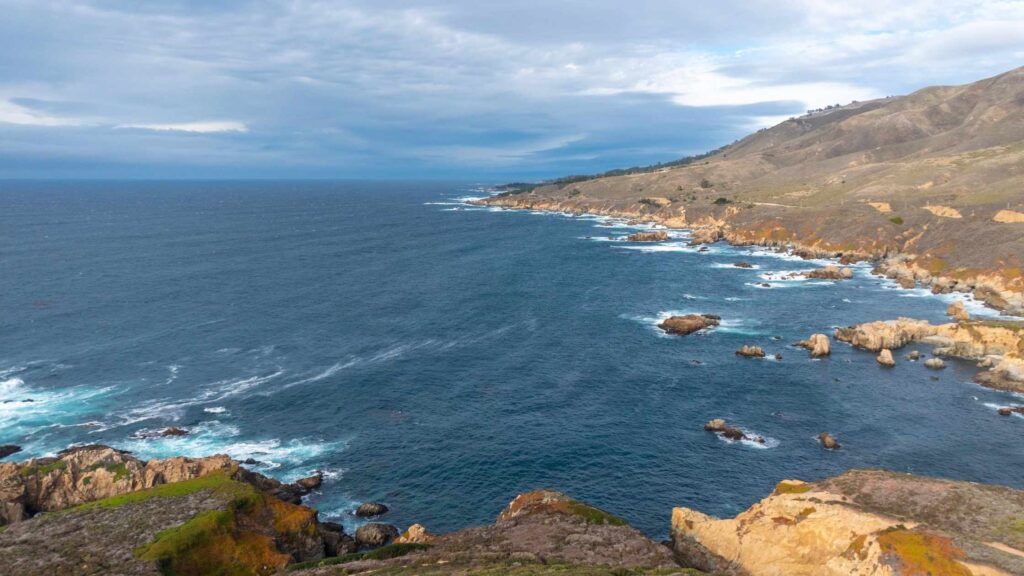 There is also a beautiful beach alongside which you can walk or choose to hike on the bluffs.
The Short Spring Trail is an easy and short hike that leads you to a pretty beach. The Ridge trail goes atop rocky cliffs offering you stunning views from above.
It is not easy, but it is worth your time if you are up for a hiking challenge as you can watch the Big Sur River meet the ocean.
Another easy and famous hike is along the Bluffs trail, which offers the best views from Andrew Molera Park. You will reach the beach 1.7 miles into the walk at the intersection of the Spring Trail.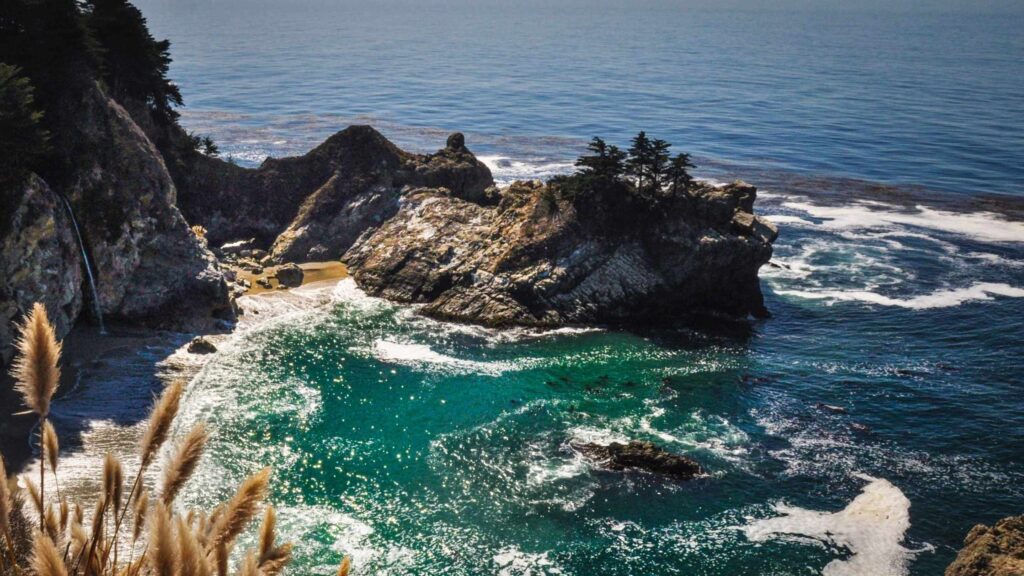 During the right season, take the hike to the pretty Highbridge Falls if you are here. The best walk for enjoying the forests and lush greenery is the Bobcat Trail and Coyote Flat Trail, which passes through giant redwood trees, oak trees, and the fantastic views of the Big Sur River.
You can also take the tents if you wish to camp in the reserve area. There are nearly 20+ tents available, and they can get booked quickly during the peak season.
Note that the beachside is not accessible during high tide. It is best to check the tide schedule before your visit, as you may get trapped by the sudden incoming waves during your hike.
Although there is a parking fee at Andrew Molera State Park, the price you pay at the beginning is valid at all the parks if traveling within 24 hours.
VISIT PFEIFFER BEACH
From Andrew Molera State Park, head to the last two destinations for the day on your road trip to Big Sur. The stunning Pfeiffer Beach is about 45 minutes away from Andrew Molera reserve, an excellent destination to watch a surreal sunset.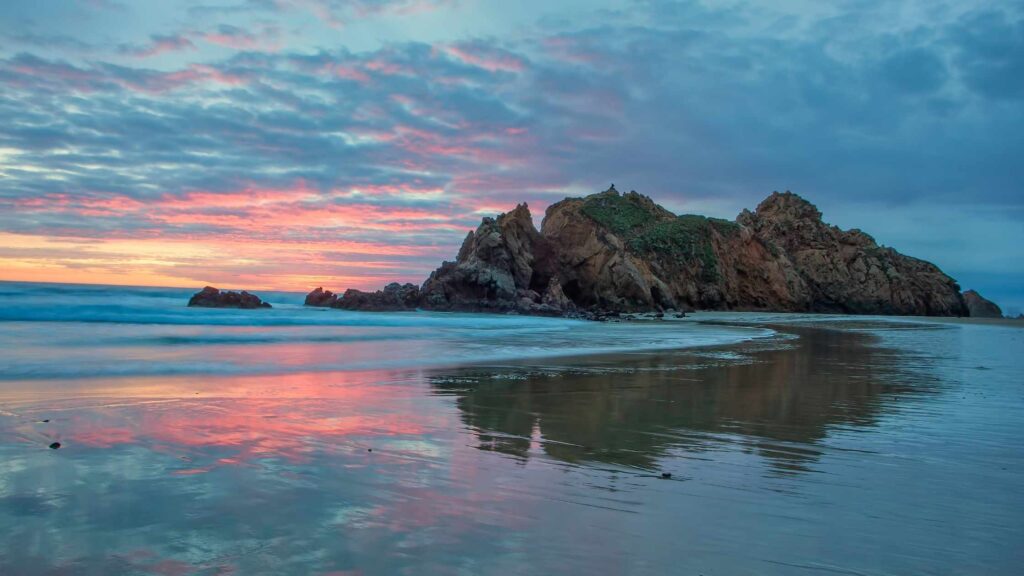 Located across Pfeiffer Big Sur State Park, this beautiful beach is famous for its deep purple soft sand, tidepools and a large rock formation with a large door-shaped keyhole.
The distinct pinkish-purple colours formed due to the nature of minerals add to the enigmatic beauty of the beach and the rocky cliffs around. The current of the waves are strong, and the tides are higher, so it is best to admire the views from the shore or walk along.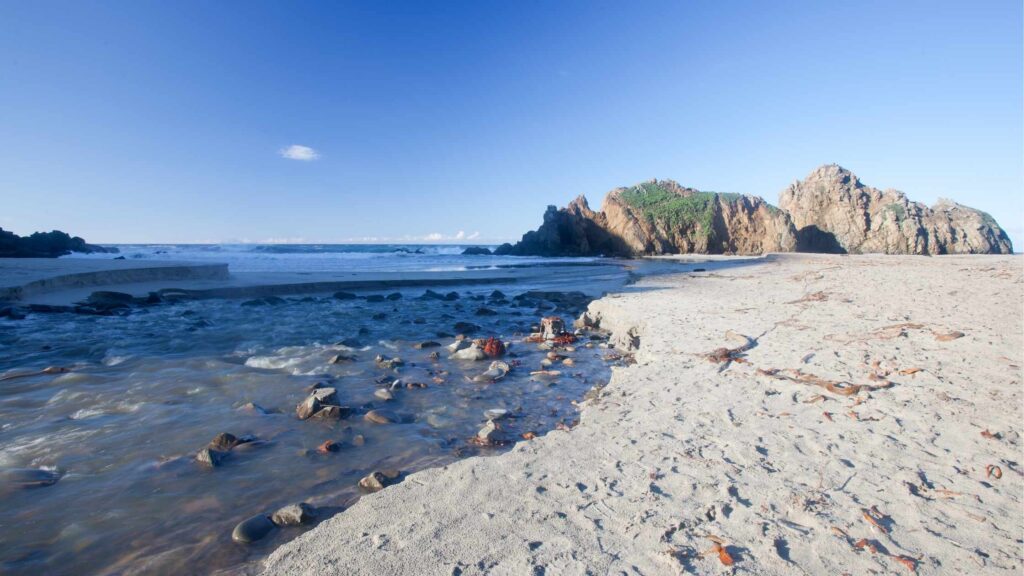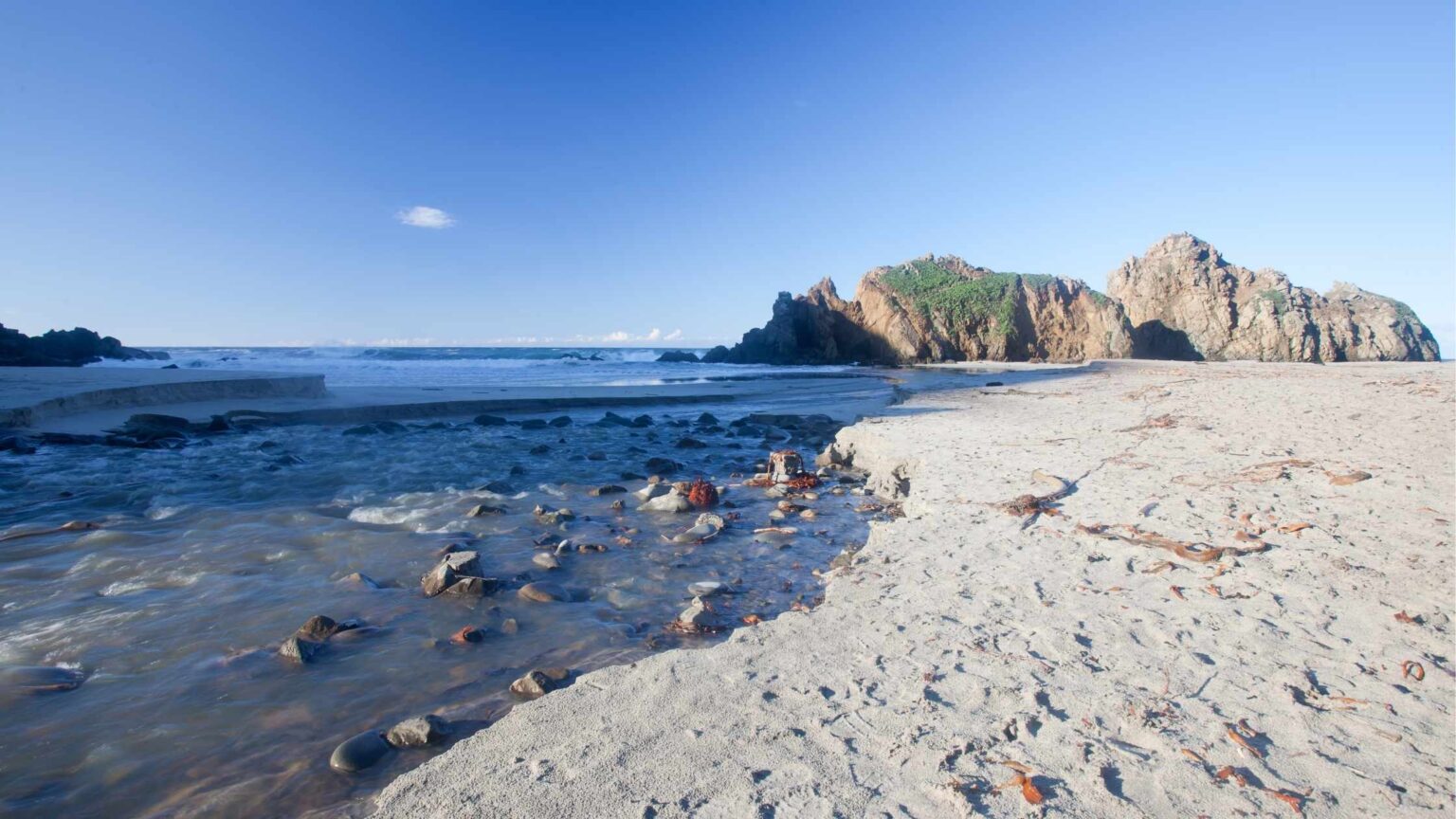 There is a $12 entry fee to Pfeiffer beach. It sometimes gets windy and cold during the evenings, so it is best to get some layers.
The beach is not signposted, and you have to keep your eyes on the road to find the way as it is easy to miss it. Before the Pfeiffer Canyon Bridge, you have to turn right onto Sycamore road.
SPEND THE NIGHT AT PFEIFFER BIG SUR STATE PARK
After enjoying your time at Pfeiffer Beach, head to the last stop of your day, Pfeiffer Big Sur State Park.
Nicknamed mini Yosemite, Pfeiffer Big Sur State Park is a stunning reserve blessed with a gorgeous coastline, dense forests, driftwood, oak trees and beaches.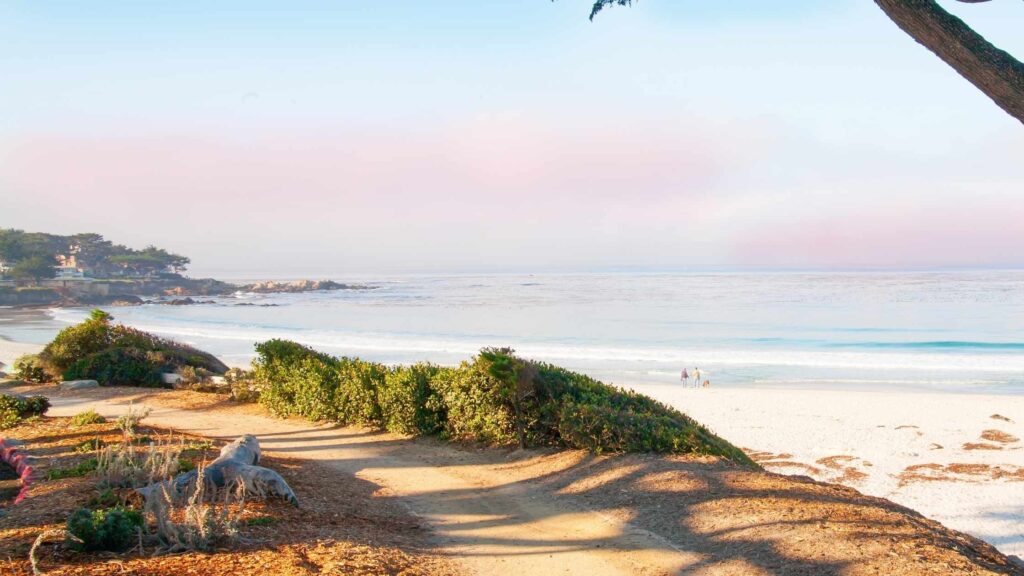 Most of the wildlife and reserve areas of Big Sur are protected by the Pfeiffer Big Sur State Park. The name Pfeiffer refers to the couple Michael and Barbara Pfeiffer, the original owners of the land in this area that practised ranching, farming and beekeeping.
It was sold to the state of California by their son, and has grown to become the hotspot in Big Sur for natural beauty, especially the dense jungles.
You can access 8 miles of trails to explore that will take you through incredible vistas, coastal lines, and rocky cliffs.
Buzzard's Roost Loop Trail is among the famous trails, running for over 2.5 miles that pass through gorgeous redwoods, views of the mountains, and finally, the rugged coastline.
Check out the shorter Pfeiffer Falls trail if you want an easy hike. Pfeiffer Big Sur State Park is an ideal place to wrap up your first day of Big Sur road trip.
There are many accommodation options around the park, including camping within the reserve and many options for food, making it a convenient destination to spend overnight.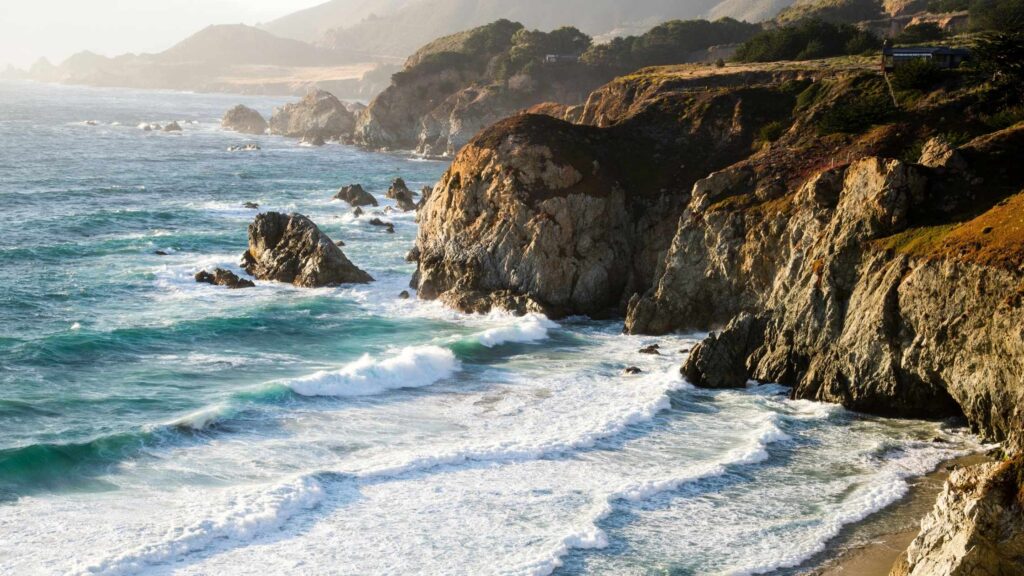 Glamping in Big Sur is a popular activity, especially during the peak months of summer when you find plenty of travelers in Pfeiffer Big Sur State Park.
Nepenthe is one of the famous restaurants near Pfeiffer Big Sur State Park, known for its excellent location and splendid coastline views.
JULIA PFEIFFER STATE PARK – MCWAY FALLS
Start your next day of the Big Sur road trip with a stop at Julia Pfeiffer State Park. This beautiful park is named after Julia Pfeiffer Burns, one of the pioneer women in this part of California who moved to Big Sur in 1869 and spent her life there as a rancher.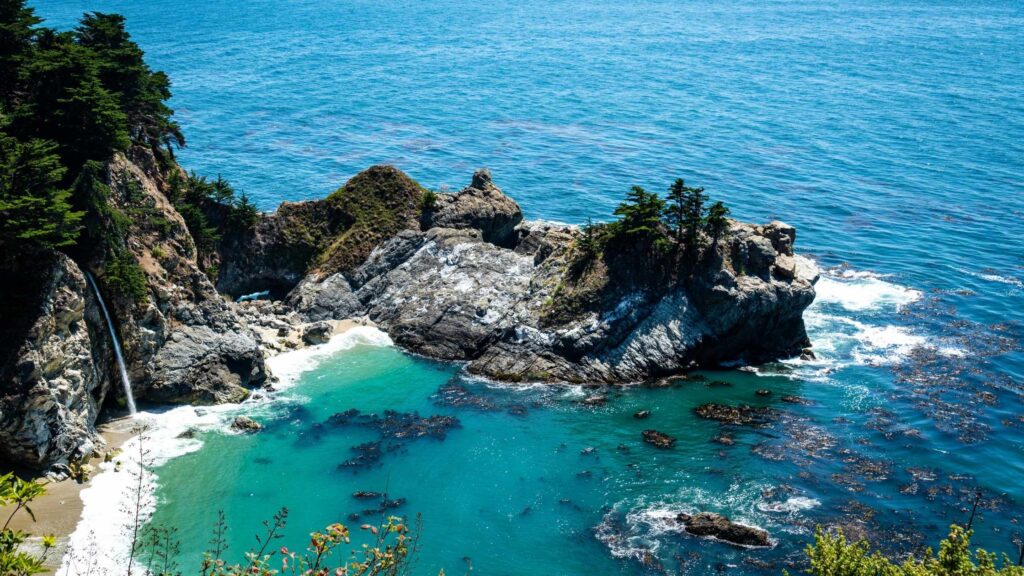 Julia Pfeiffer Burns State Park is packed with many hiking trails offering views of its rich landscapes, including redwood and oak trees, steep canyons, rocky cliffs, and beautiful flora.
The most famous attraction is the plunging McWay Falls into the Pacific Ocean, which can be witnessed on a hike along the McWay Falls Trail for 0.65 miles. You can also admire McWay Canyon, formed by the meandering McWay Creek cutting the rocks.
Take the 5.8-mile Ewoldsen loop trail to the south end of the park to pass through the stunning redwood trees in the garden.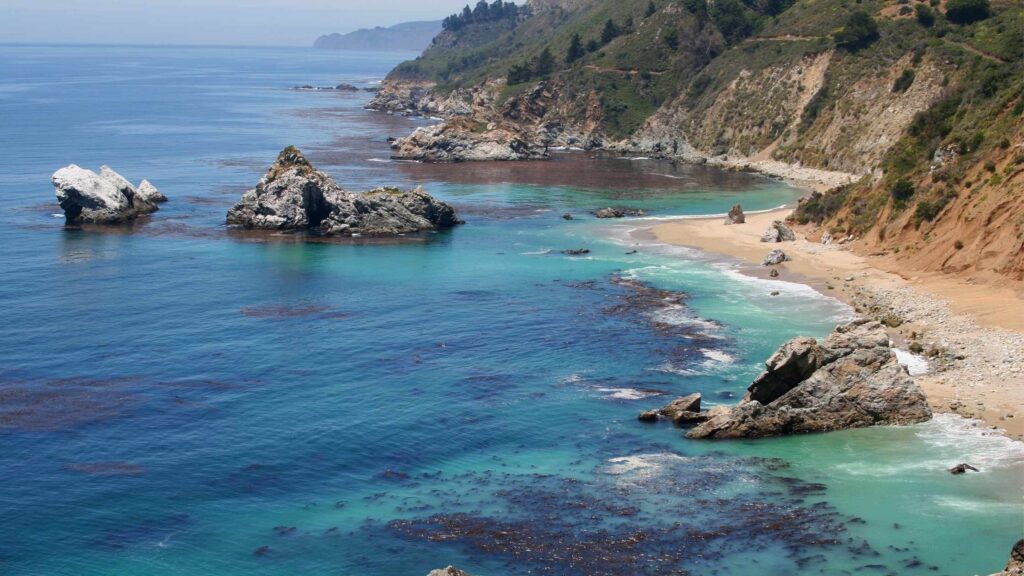 Another beautiful trail is Partington Cove Trail which is the best hike to enjoy the gorgeous views of the ocean and the rocky cliffs. Although you can climb down to the beach, swimming here is not recommended as the tides are dangerous.
You can also camp in Pfeiffer Campground, located along the Big Sur River in the park's heart. But you need to reserve your spot in advance because the camps get booked.
EXPLORE LIMEKILN STATE PARK
Another California state park on this Big Sur road trip next is Limekiln State Park, which is about 20 minutes away from McWay Falls.
The state park is named after the historic 19th-century lime kilns located in the park, where sandstone was converted to quicklime.
Limekiln spans over 700 acres offering the best views of Monterey Bay National Marine Sanctuary and the Big Sur coastline and is packed with redwood trees.
Also, the 100-foot single-drop Limekiln Falls is one of the best things to explore in Limekiln State Park, accessed via an easy hike, which also takes you through the Limekiln Canyon. There is an entry fee of $10 to visit Limekiln State Park.
STOP AT SAND DOLLAR BEACH
From Limekiln State Park, drive for about 15 minutes to arrive at Sand Dollar Beach. The beautiful Sand Dollar Beach is a part of the Los Padres National Forest and is also managed by the US Forest Service.
It is famous for being the largest unbroken stretch of sand in Big Sur, the many photographic bluffs and the rocky cliffs. But unlike the other beaches, Sand Dollar Beach is also one of the top surfing beaches in Big Sur.
You can access the 7 miles shoreline, perfect for enjoying a stroll and relaxing. You can also hike along the trails over the bluffs to lead you to beautiful panoramic views.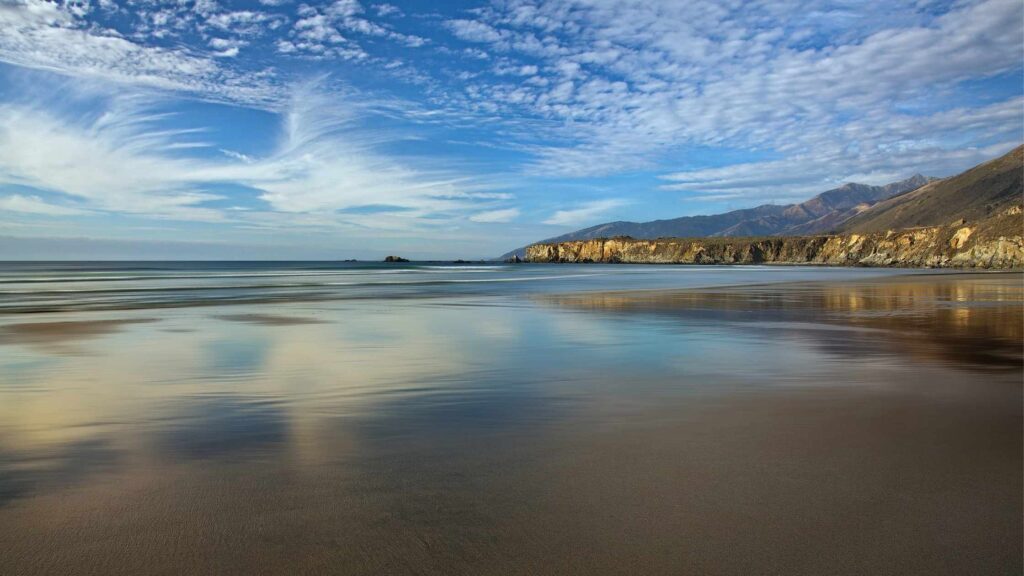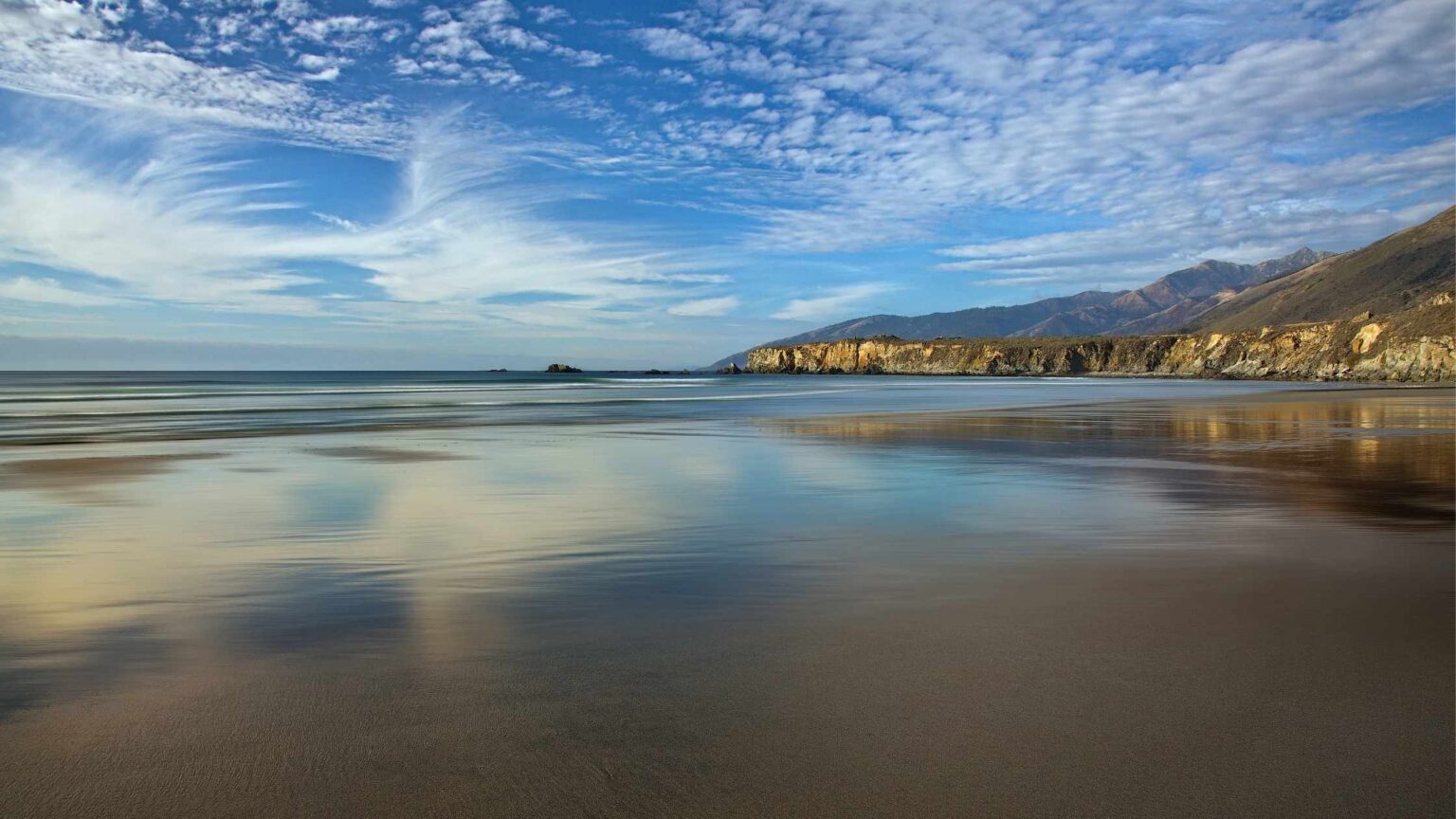 From Sand Dollar Beach, you can hike to the gorgeous Jade Cove surrounded by Jade boulders. Although the trail is unmarked, you can find it on Google maps, and it is not hard to find.
There is a fee of $10 if you use the parking lot. Also, check the tides before visiting the beach.
ENJOY THE VIEWS FROM RAGGED POINT SCENIC VIEW
Around 30 minutes away from Sand Dollar Beach is the Ragged Point Scenic view that offers surreal views of the Pacific Ocean and the jagged cliffs with the beaches at their foot.
Ragged Point Scenic View is famous for the Ragged Point Inn restaurant in an excellent location and serves delicious seafood.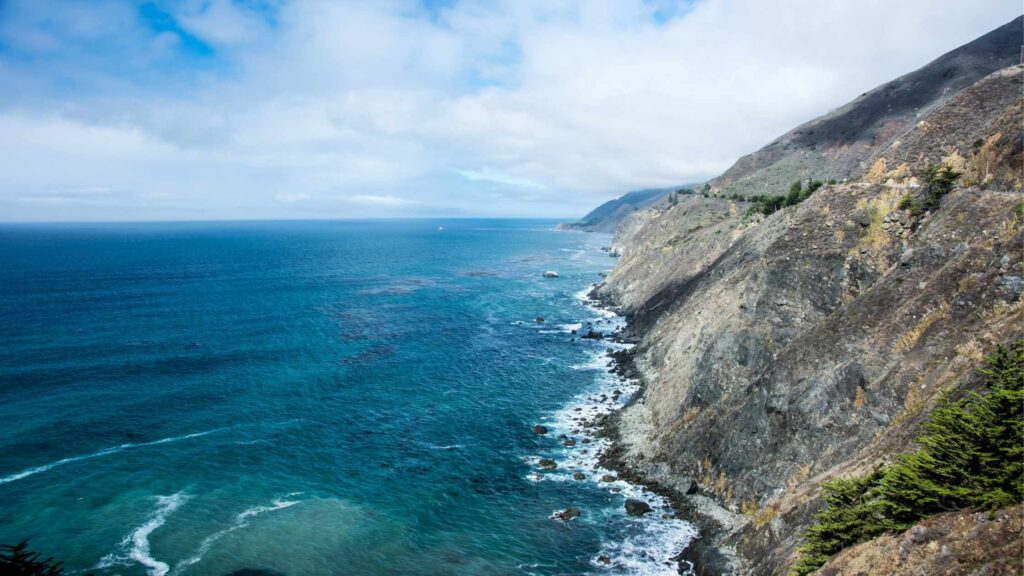 If you don't want to stop at the Inn, you can take the moderate Ragged Point Cliffside Trail, leading you to Big Sur's only black sand beach and the seasonal 300-feet high Black Swift Falls.
ENJOY THE AMAZING VIEWS FROM ELEPHANT SEAL VISTA POINT
Your next stop on the trip is driving from Ragged Point Scenic View to Elephant Seal Vista Point, which is located in the seaside village of San Simeon is where you can spot hundreds of Elephant seals in the sea.
If you are here during the mating season in April, you can watch them mating, birthing, moulting and resting. There are also migratory whales that arrive during this season here.
Once an endangered species, Elephant Seals have been conserved here, with their numbers returning very high. If you are a wildlife enthusiast, do not miss spotting these gentle giants in their natural habitat.
There is no parking fee, and it is free to enter.
TOUR THE STUNNING HEARST CASTLE
The next destination on your stop is San Simeon, a pretty town where you can spend a few hours or a day or two. One of the top attractions in San Simeon is the stunning mansion of William Randolf Hearst.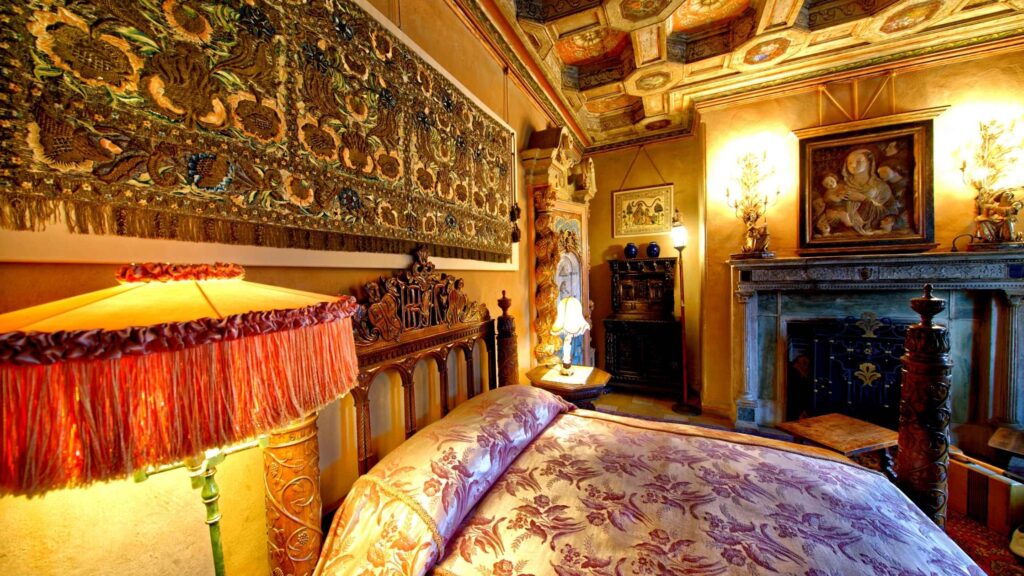 If you are driving from Elephant Seal Vista Point to Hearst Castle, it is only 8 minutes drive.
Hearst Castle is the former residence of newspaper magnate William Randolph Hearst. This opulent home atop a hill, constructed in 1919, is known for its spectacular interiors, spacious gardens, art galleries, antiques occupying over 150 rooms.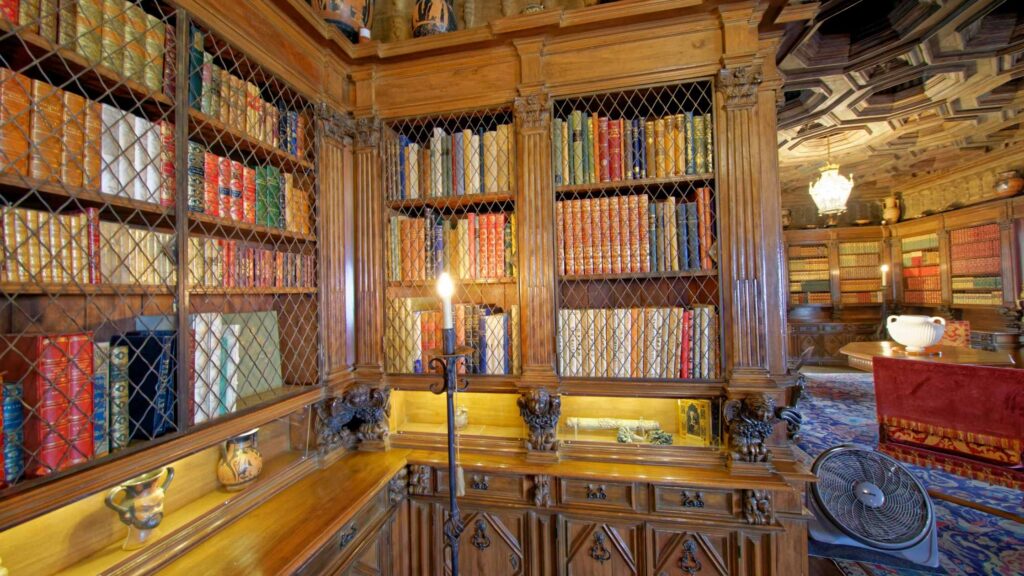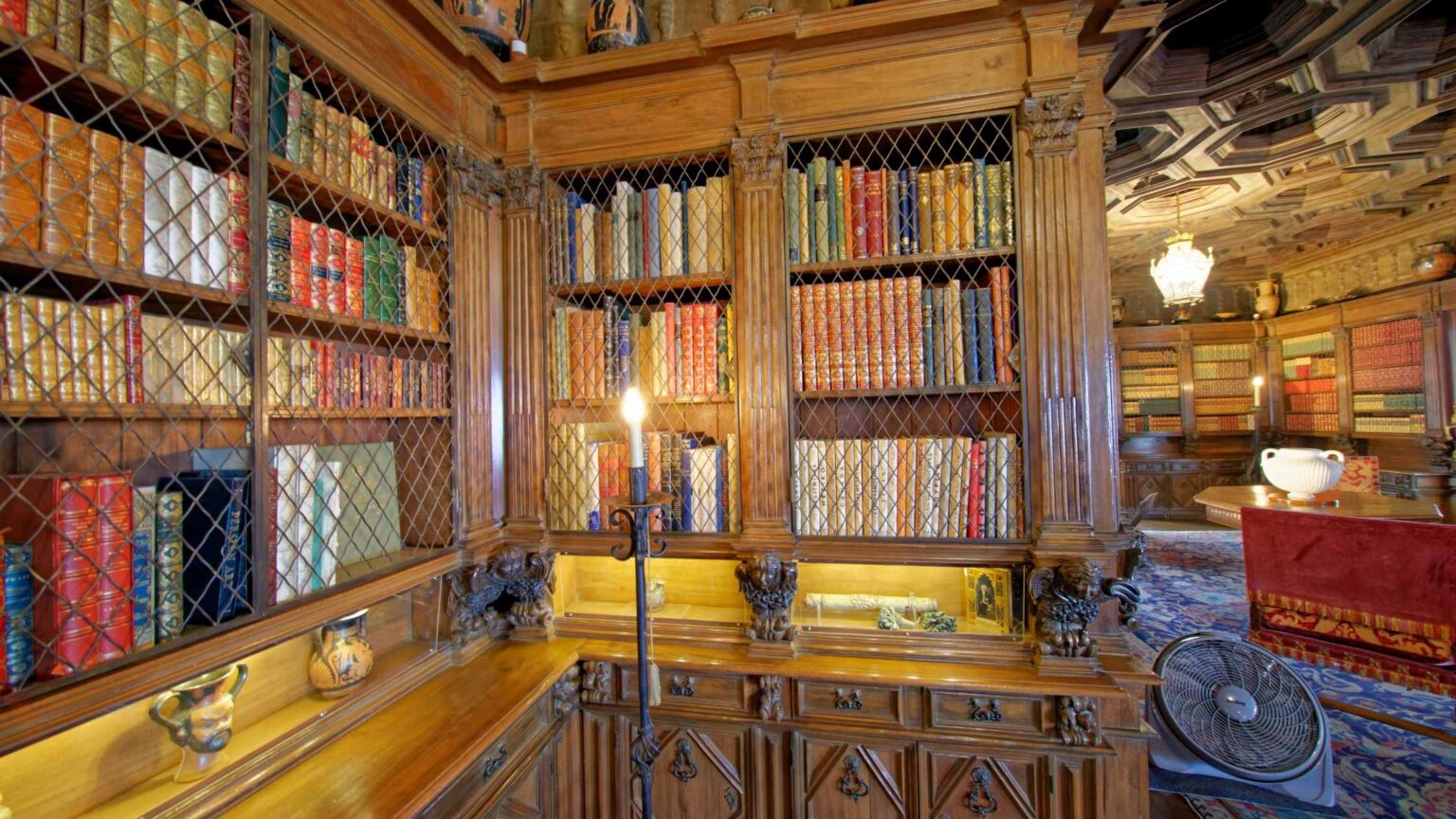 This abode of historical and architectural brilliance is definitely worth your stop. Do not forget to check on the lavish pools and bathhouses that takes you to luxurious medieval Europe. You can only check out the castle via a tour.
VISIT THE PIEDRAS LIGHTHOUSE
If you are a lover of lighthouses like me, you should not miss stopping by the Piedras Blancas Light Station, which is a few minutes drive away from the Elephant Seal vista point.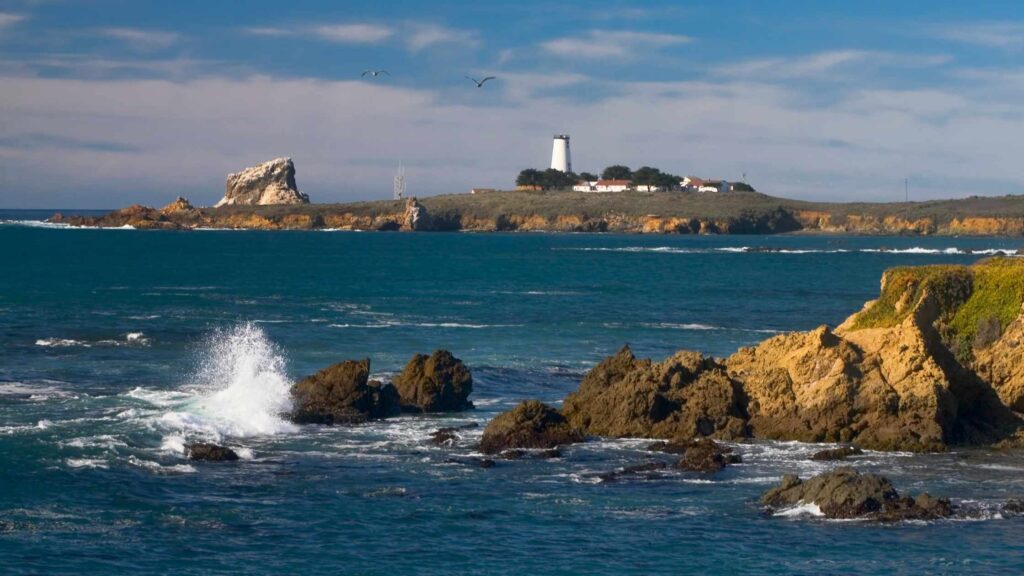 From Elephant Seal vista point, you can also hike to the lighthouse station, which is 1.9 miles away, a short and easy hike that will reward you with fantastic views of the lighthouse against the backdrop of the Pacific Ocean surrounded by the jagged cliffs.
HEAD TO PASO ROBLES
It is time to leave the Big Sur strip as you drive further south. You can end this trip or continue to head ahead to the beautiful town of Paso Robles, which is about 45 minutes to an hour away, depending on where you leave.
Paso Robles is a wine-lovers paradise, known for its many gorgeous vineyards adorning the rolling hills, with over 200 wineries on your hands to explore.
Not only vineyards, but the town is also home to stunning hot springs, excellent restaurants, downtown, souvenir shops, museums, and art galleries, all of which will quickly take a day or two to explore.
TIPS FOR THE BIG SUR ROAD TRIP
Here are some additional tips for driving Big Sur that will come in handy.
Cheaper stays – The accommodation options outside the Big Sur stretch are cheaper than along the Big Sur itself except for basic camping. If you are looking for budget-friendly hotels, pick one of the above mentioned at Carmel or Monterey.
No phone service – One of the most surprising things about the Big Sur road trip is no cell service along the entire 90-mile long coastal stretch.
Carmel-by-the-sea and San Simeon are the two places on either end where you can get the mobile network. You cannot get lost since you will be on California Highway 1 throughout your Big Sur road trip.
To conveniently navigate the parks, lakes, and beaches, download Google Maps for the complete stretch, including all the stops(even the ones you do not plan to go), as you will be relying on it to find places.
Even with the offline maps, locating where to get down or make the inroads for hiking and beaches can be tricky. So make sure to keep an eye for little signs.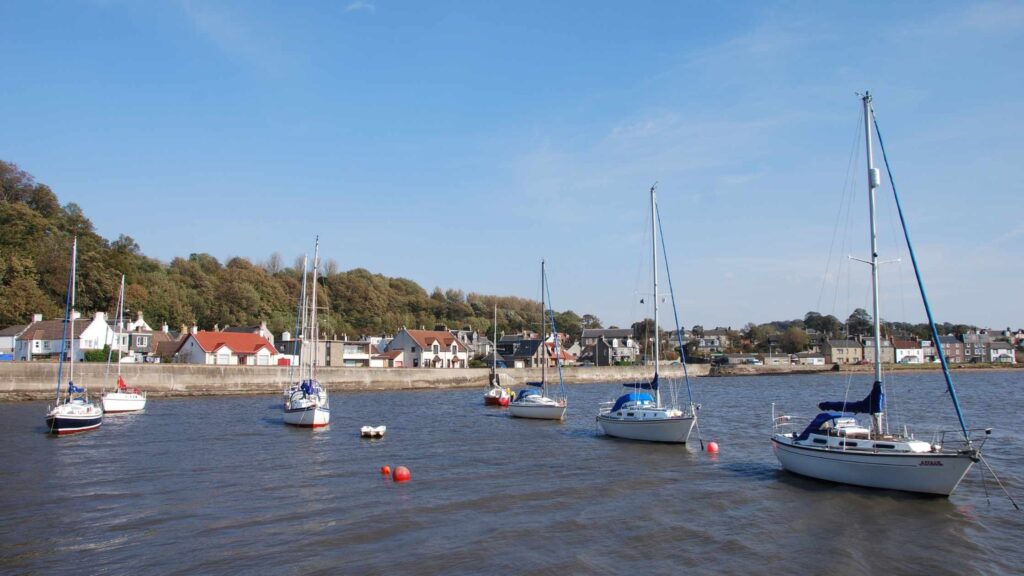 Start your days early – To avoid crowds in the attractions and for fewer vehicles on the highway, it is best to start your drive each day before to get a head start, especially if you plan a trip during the peak seasons.
Weather can be unpredictable – The Big Sur weather is mostly pleasant and thoroughly enjoyable. Still, there are days when the morning fog can get heavy and last until later afternoon or unexpected storms, and rains can make the weather breezy and even cold. So make sure to do a weather check and pack a few layers.
Check the tides and park websites for trail details – During the high tides, almost all the beaches are closed to the public. Similarly, landslides, storms, or slight weather variations mean many hike trails remain closed.
Check the parks' websites that you plan to visit to avoid unnecessary trips.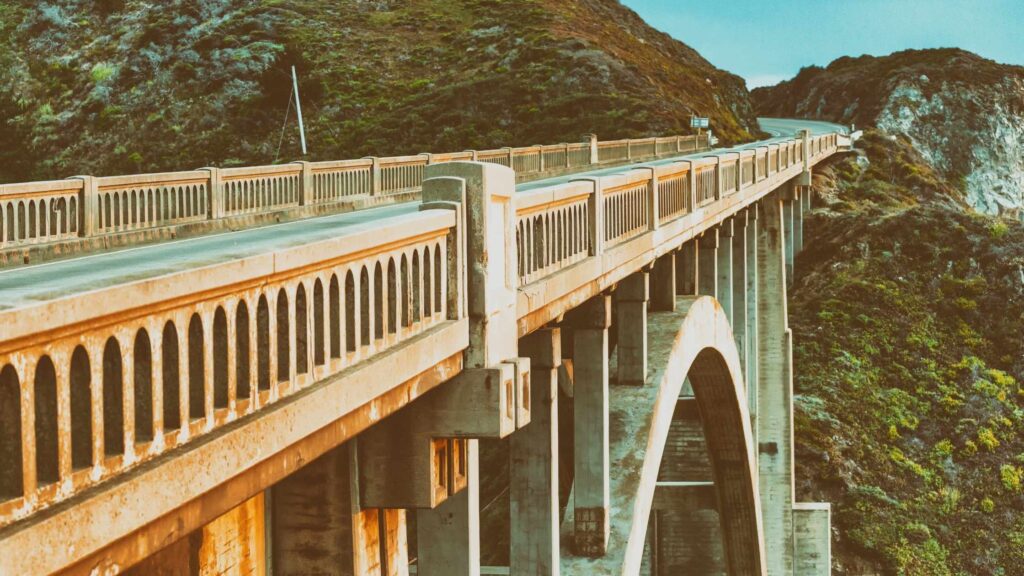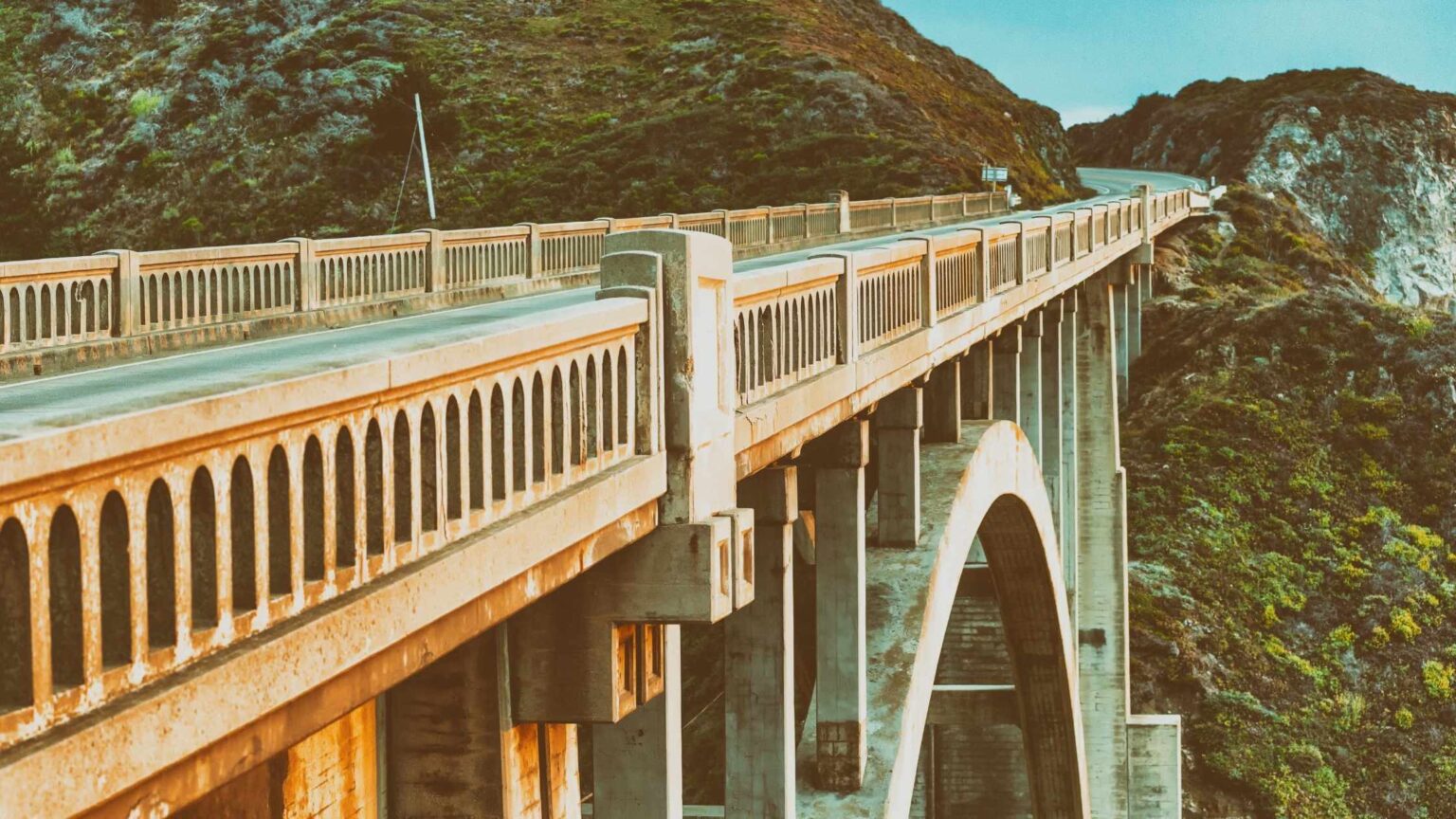 Do not miss any viewpoints – On this road trip to Big Sur, you will frequently come across stunning panoramic views along your ride. Make sure you have some time to stop, admire and take lots of photos.
Keep your phone charger – Whether it is a portable mobile charger or a power bank, keep your phone charging source handy because you will be clicking tons of photos and videos along the route, both on your camera(if you plan to take one)as well as your phone.
Try to cover all the stops – Although some of these stops on the Big Sur drive look difficult or time-consuming, most are easily accessible and can be done quickly. All of them are worth your visit as they are fantastic, so ensure to cover everything.
Drive cautiously – Although it goes without saying, Highway 1 has many short windings that may prove dangerous if you are not cautiously navigating. So do not drive fast and be watchful.
Fill your car tank well – The gas stations on the Big Sur strip are only in Monterey, Carmel and Pfeiffer Big Sur State Park, so ensure to fill your tank at either of these places as there are no other options elsewhere.
Carry sufficient cash – There are no ATMs on this highway except for the towns, so make sure you have cash ready because some shops, restaurants and businesses do not accept cards.
Bring snacks for the road – You will not find eateries and small restaurants frequently, so it is better to carry some snacks and drinks before the start of the trip.
WHAT TO PACK FOR THE BIG SUR ROAD TRIP?
Below is the list of Big Sur road trip essentials that I would recommend, including general and specific things you want to pack.
Camera – One of the must-have's on your Big Sur road trip is a good, reliable and lightweight camera that will keep your trip moments going on. You can use a mirrorless camera or go for the heavier DSLR or even your phone for the best pictures, but no matter what you choose, do not forget to have a camera on the trip.
GoPro – If you are into capturing the moments of your travel via high-quality videos and want a simple handy gadget that does the job excellently, then look no further. The latest GoPro 10 is the best pick for a waterproof camera with excellent stabilization, live streaming and comes with 5.3K60 Ultra HD Video and 23MP photos.
Hiking clothes – Get a pair or more of good hiking pants, and hiking tees that are breathable, with pockets and a great fit.
Layers for wind – The weather can get windy and foggy, and it can get cold in the evenings. So carry a wind jacket for the breeze, a rain jacket for stormy days, and a fleece jacket for the night when it can get cold.
Proper hiking shoes – You will spend a lot of time hiking, walking along the beaches, and exploring the national parks. So make sure to get appropriate waterproof hiking shoes with a good grip.
A safety kit – One of the best things that will come in handy on a road trip is a safety kit, which includes the essential tools to repair your vehicle along with a first-aid medical kit.
Get your summer essentials – Flip flops, sunglasses, umbrella, and sunscreen.
WHERE TO STAY IN BIG SUR?
Throughout the Big Sur trip, you have the option of choosing to stay from different accommodation types from camping in the parks to budget hotels to luxury resorts.
Hotels and Bnbs in Carmel-by-the-Sea
Carmel-by-the-sea is a beautiful town with amazing restaurants, bars, beautiful beaches, and boutique shops along with many attractions.
If you are starting from Carmel-by-the-Sea, you can stay there throughout your trip and come back after driving around.
There are plenty of hotels, guesthouses, and apartments in Carmel in all budget ranges.
If you love a nice hotel with a pool, Horizon Inn & Ocean View Lodge is an excellent option. The property is fabulously located centrally comes with elegant rooms and amenities. You can enjoy the views of the ocean from the room front and even reach Carmel Beach on a short walk less than 10 minutes away.
The Getaway is a fabulous hotel if you want a pretty stay close to the beach and near Monterey. The rooms are huge with large windows and patios offering beach views, apart from many comfortable amenities, worth your money.
Briarwood Inn is a 10-minute walk from the beach and is located close to downtown. It is a cute inn with distinct exteriors and well-kept interiors. They have handcrafted furniture in every room and off-street parking space. You can also choose their pet-friendly rooms if you are traveling with them.
You will love Hofsas House Hotel if you are into sustainable properties. Apart from its excellent location, the property is beautiful to enjoy a stay. You can easily walk to the city centre within 5 minutes. There are rooms with ocean views as well as a dry sauna. Free parking is available on site.
Hotels in Big Sur
You can also base yourself in Big Sur, which has some hotels and apartments. The upside of staying here is easy to access all Big Sur points of interest. The downsides are expensive prices and the lack of nightlife.
If you want to splurge on a lavish stay, you will absolutely love the grand Alila Ventana Big Sur, which is a favourite among couples. Apart from the splendid property spanning hundreds of acres, you are treated with amenities from a spacious patio, spa, pools, and more.
The Big Sur Lodge, located in Pfeiffer Big Sur State Park is a great choice.
Big Sur River Inn, known for its famous restaurant, also has fabulous rooms that come with a great ambience and views.
Hotels in Monterey
Monterey is a pretty coastal town in Northern California, which is less than 30 minutes from the start of the Big Sur. Besides Carmel, Monterey is another excellent place to base yourself at lower prices.
Also, Monterey is known for its happening nightlife, which you can enjoy after driving all day.
Monterey Bay Inn is the best choice to enjoy the stunning views of the beach and the coast from right across the room. Located on the coast of Monterey Bay, Monterey Bay Inn also houses a rooftop whirlpool and direct access to San Carlos Beach.
One of my favourite recommendations in Monterey is Merritt House Hotel for their cute and stylish interiors, along with their excellent location close to many attractions and famous restaurants.
Victorian Inn located on Foam street is worth your money as it is a lovely hotel located a stone's throw away from the beach. The architecture and the interiors is a great and elegant combination of Victorian charm with modern conveniences, something to try out on your holiday for sure.
FREQUENTLY ASKED QUESTIONS ABOUT THE BIG SUR ROAD TRIP
Is Big Sur worth the drive?
If you enjoy being outdoors, check out national parks, gorgeous views of the coastal line, hiking through redwoods lush valleys, and admire the Pacific. You will love driving Big Sur. Yes, it is worth the drive for sure.
Are Dogs Allowed in Big Sur?
Traveling with dogs on your Big Sur road trip can be tricky as they are not allowed in the state parks. You can take them to Pfeiffer Big Sur State Park, Pfeiffer Beach, Garrapata Beach, Sand Dollar Beach, and the walkways along the Piedras Blancas elephant seal rookery.
The other stops mentioned on the list do not allow dogs, so plan your trip accordingly.
Is Big Sur safe for female solo travelers?
Big Sur is one of the safest places to travel alone in the US. As a female traveler, it is one of the best places to enjoy the outdoors without having to be worried about safety. Make sure to follow the general precautions and follow the solo travel tips.
Is Highway 1 Dangerous?
Highway 1 through which you will do the amazing Big Sur road trip is a narrow 2-lane road. Although it is good enough some sections have open edges leading to the cliffs without any guardrails.
The road can get busy during the peak seasons, so it is best to drive with caution under the speed limit. Avoid planning a trip during the rainy days which are common during the winter months.
Where does the Big Sur drive begin?
Carmel-by-the-Sea is the place from where most people begin their Big Sur road trip from the north.
What should you not miss in Big Sur?
I would recommend covering all the attractions mentioned in this Big Sur road trip guide. Among the must-visit are Julia Pfeiffer Burns State Park, Creek Bridges, Sand Dollar Beach, and Pfeiffer State Park.
Can you find Redwoods in Big Sur?
California is home to many stunning redwood forests, and on your Big Sur road trip, you will spot the giants at many places. If you take up the Buzzard's Roost trail in Pfeiffer State Park, you will spot these redwood trees.
The Ewoldsen Trail in Julia Pfeiffer Burns State Park, the Coyote Flat, Panorama and East Molera trails at Andrew Molera State Park, and the Lime Kiln Creek hike in Lime Kiln State Park are all the hikes on which you can spot the beautiful California redwoods.
Can you swim at McWay Falls?
You can not swim at McWay Falls or hike down to the bottom of the falls. If you trespass, you will be fined, and you can only view the falls from a distance atop a cliff accessible via an easy hike.
How to extend the Big Sur scenic drive?
Big Sur stretch is a part of the Central California strip of the larger Pacific Coast Highway, one of California's famous road trips.
Depending on how long you have and how further you want to go, you can extend your Big Sur drive to cover beyond the 92 miles strip.
You can add the stunning towns of Monterey, San Luis Obispo, Morro Bay, Pismo Beach, and go further up to Solvang. 
There are many national parks and hundreds of vineyards around each town, which alone will keep you occupied for many days!
Can you drive an RV on the Highway?
Yes, you can make this Big Sur road trip on an RV. But ensure maintaining the right speed and notice the smaller vehicles, especially around the sharp curves.