You have come to the right place if you are looking for the best things to do in Solvang. As a regular reader, you know my love for European cities, towns, and pretty villages. I go hunting for all things European wherever I go, which drew me while I have been exploring California.
Located in the Santa Ynez Valley of Central California, close to the beaches of Santa Barbara, the city of Solvang is one of the best offbeat places in the US to visit if you are looking for European-type towns in the USA.
It is best to consider adding a day trip to Solvang if you are planning to visit Santa Barbara or Central California as Solvang is one of the most popular day trips.
Solvang, a part of Santa Barbara County, is through and through Danish at its heart. Its roots are stronger still, for the city was started by a community of Danish Americans in 1911. Since then, Solvang has been celebrating its Danish culture and history.
It is one of the beautiful hidden gems in California and among the best offbeat places to visit in the USA for families, USA solo travel, and couple travel. There is something for everyone – from museums to delicious baked food to vineyards to architecture.
This guide will share all you need to know to plan a weekend getaway in Solvang. Read this post to find all about the top things to do in Solvang, where to stay, tips, and things to know for a weekend trip to Solvang.
BEST THINGS TO DO IN SOLVANG CALIFORNIA
If you are looking for the best things to do in Solvang on a weekend getaway, below is your comprehensive list, something for everyone.
Walk around downtown Solvang
One of the top things to do in Solvang is check out the heart of the city, the historically and culturally enriching downtown area, which, although compact, is loaded with star attractions, all of which can be covered within 2 hours.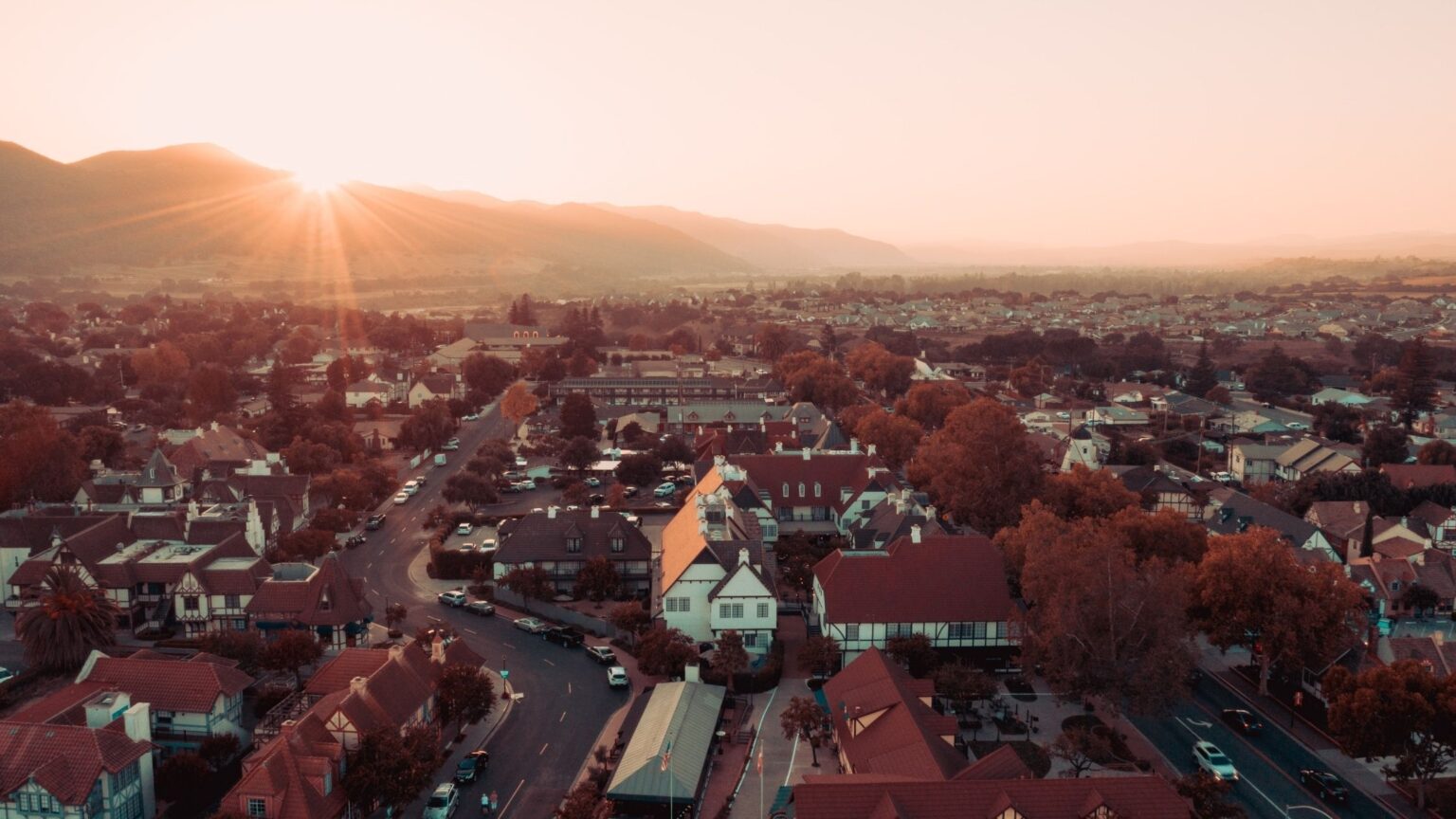 Start your Solvang itinerary here, strolling through the streets dotted with stunning half-timbered structures, thatched roofs, gift shops, bakeries, towers, windmills, and restaurants. There are also horse-driven carriages to go around the town if you are tired of walking.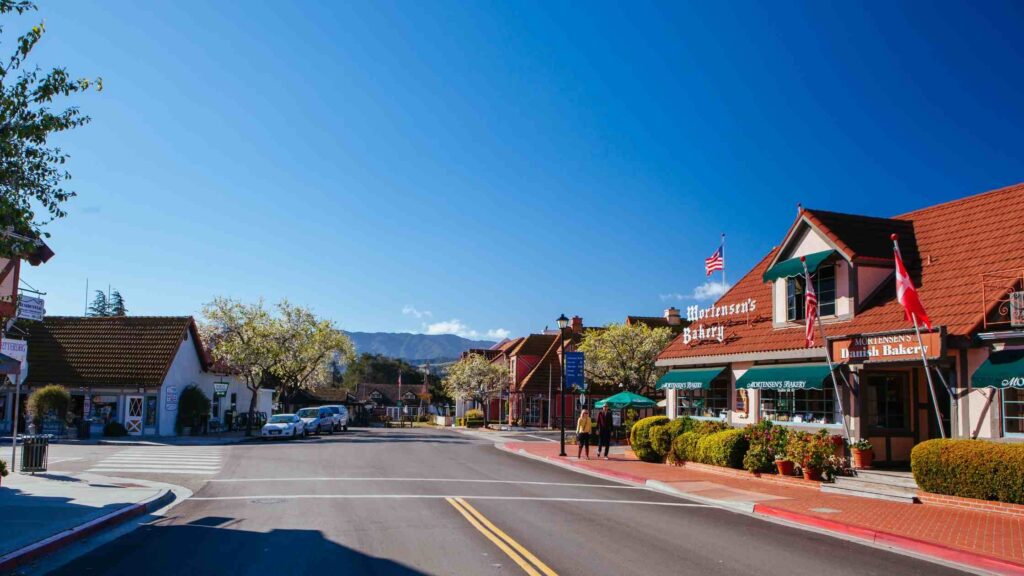 The two parallel streets Copenhagen and Park, are the center of all landmarks.
Among the most notable attractions, you should check out include Mission Drive, Copenhagen Drive, Atterdag Road, 1st Street, and Alisal Road.
Visit Mission Santa Ines
One of the best things to do in Solvang California is to check out its central cathedral, the early 19th century overlooking the Santa Ynez River valley and the Santa Ynez and San Rafael mountain highlands.
Built in 1804 by Franciscan missionaries, Old Mission Santa Inés is one of 21 historic Catholic missions in California.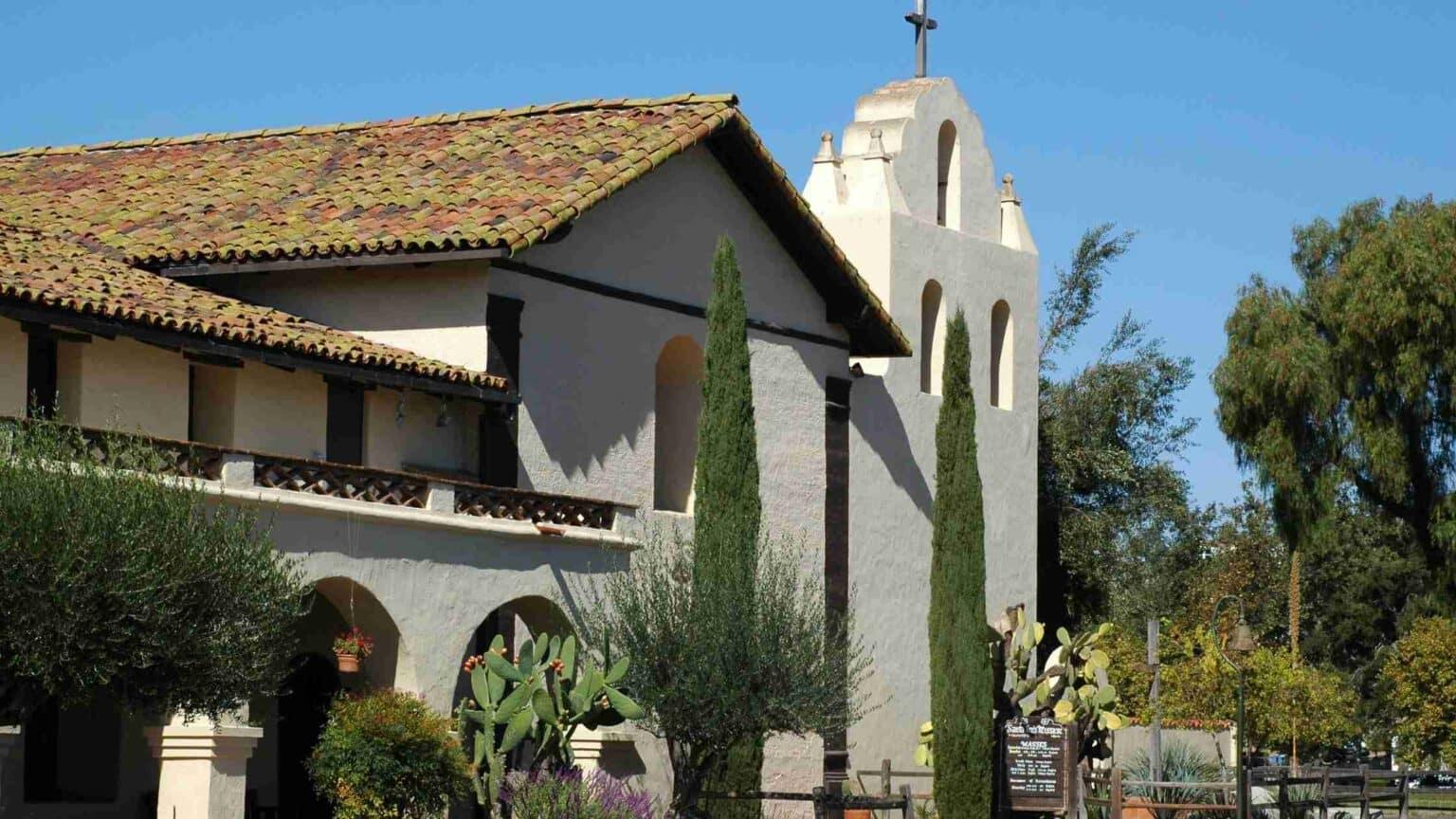 The complex houses a church, museum, and some shops. You can tour the premises, including the museum, for a small fee. The museum is well-preserved and houses extensive artwork, collections, scripts, and ancient monuments.
Do not miss checking out the gorgeous four bells, the oldest dating to 1804. Enjoy a walk in the gardens, or shop for souvenirs of Solvang. You can easily spend at least an hour or two in this beautiful landmark of Solvang.
Check out the Museums
If you enjoy museums, you will love the variety of museums that the town is home to. From history to architecture to literature, one of the top things to do in Solvang visits the beautiful museums. You can spend at least a day or more if you intend to check out all of them.
Here are the museums in Solvang I would recommend you visit on the Solvang trip.
The Hans Christian Andersen Museum – Solvang celebrates the legendary Danish author and poet Hans Christian Andersen in many ways. Located above The Book Loft, this museum has extensive collections offering insights into the author's life and works, known worldwide for his famous fairy tales that include The Ugly Duckling and The Little Mermaid.
Solvang Vintage Motorcycle Museum – If you are a motorcycle enthusiast like me, you will love this vintage museum with plenty of a fantastic collection of rare and vintage racing bikes from Europe.
It was initially a private collection of Virgil Elings, and he has opened it to the public after adding many more exciting motorcycles to the antique collection.
The Elverhoj Museum of History and Art – One of the best free things to do in Solvang is checking out Elverhoj Museum, a tribute to the Danish heritage and history.
The museum itself is housed in a beautiful 18th-century Danish-style farmhouse, where you can stop by to check out rare exhibits of photographs, videos, and artefacts.
The Solvang Amber Museum – If you have visited the famous Amber Museum in Copenhagen, it is easy to see the semblance of the Solvang Amber Museum, another Danish treasure in the town.
Located in the Copenhagen house, you can find excellent collections of Amber, its origin, history, and mining, along with rare collections of jewellery and antique exhibits worth stopping by for a quick visit when in Solvang.
The Wildling Museum of Art and Nature – This museum has a beautiful collection of nature's wonders, including many murals that depict the rich wilderness and wildlife around the town.
Mendenhall Museum – If you want to know what the ancient ways of life looked like in Solvang and the surrounding Santa Ynez Valley, check out this museum for its lovely kitchenware, home appliances, and other rare collections.
Parks Janeway Carriage House – How about getting to see some stunning antique horse carriages? Head to Park Janeway house to admire more than 50 buggies and carriages.
Stroll or Picnic in the Parks
If you want a relaxed afternoon, plan a picnic or a short trip to the lovely Hans Christian Andersen Park located on Chalk Hill Road, close to Mission Drive. It is not just a place to unwind but also where you can enjoy skating, rock climbing, and biking.
If you are with kids, take them to the music-making machine for fairytales music in the park and the playground.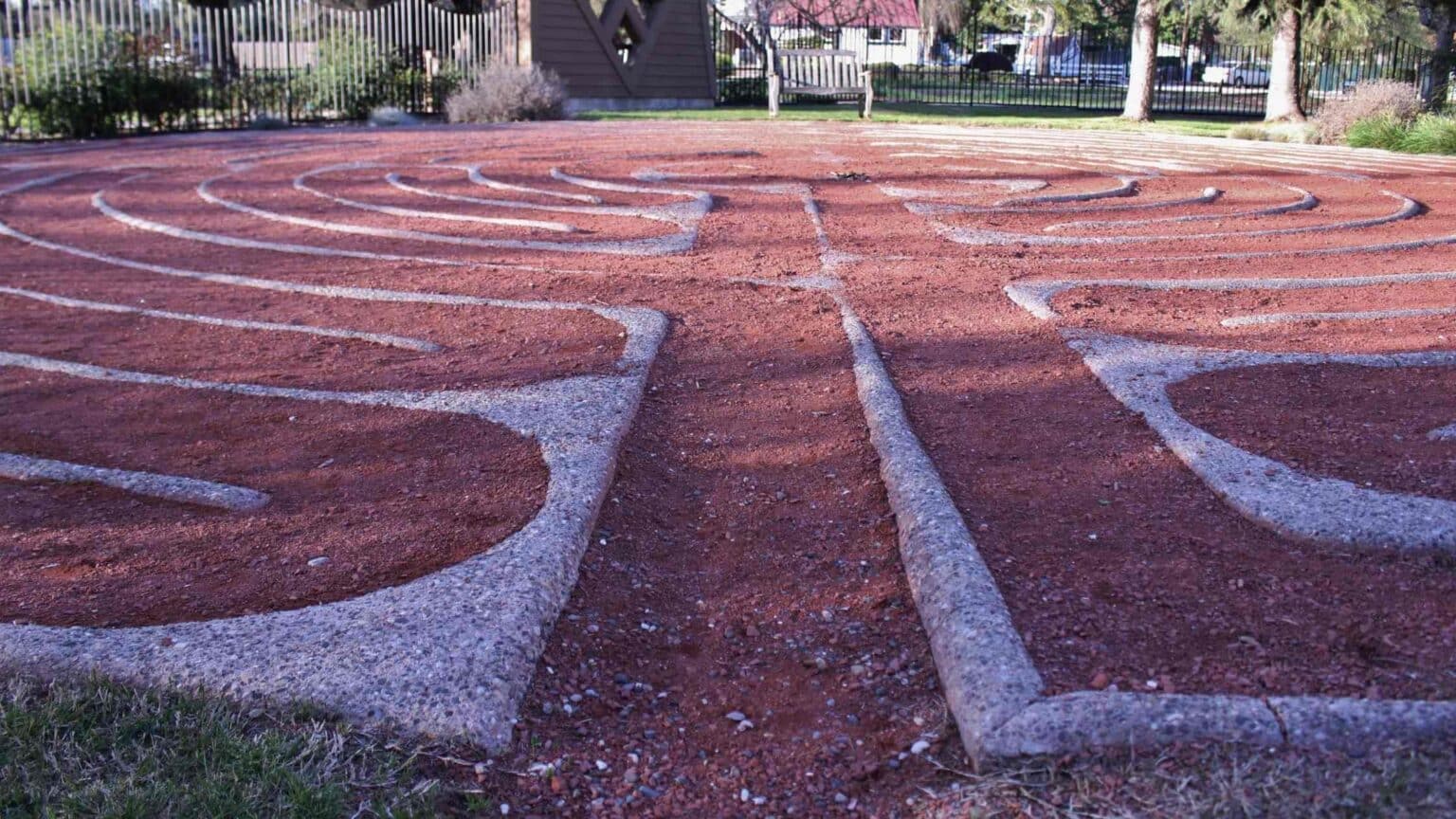 Near Mission Drive, in the heart of the village is another Solvang Park, with picnic tables and restrooms, another lovely place to picnic with the family.
Another fabulous park you should check out if visiting with kids is Sunny Fields Park, which a short ride can reach to Alamo Pintado Road, where it is located. You'll find a wooden playground in this park, which is a unique attraction in the town.
Visit the Farmer's Market
If you are in Solvang on a Wednesday, one of the top attractions you should not miss is checking out the local farmers' market, held on afternoons from 2:30 PM to 5:30 PM on First Street.
You can pick up some fresh fruits, flowers, cheese, and nuts, along with other local specialities.
Savor Local Ice Cream
This deserves a special mention because the town is known for amazingly delicious ice cream varieties, unique to the city.
Among the historic Ice cream parlors worth checking out is Solvang Trolley Ice Cream Parlor, located in Hamlet Square, serving specialities from the 1940s. 
If you have traveled to Central California, you will find familiar local brands here, including the local Doc Bernstein's Ice Cream Lab.
Attend the Annual Events in town
Did you know that Solvang celebrates a dozen of festivals of all sorts? If you are interested in immersing in local culture, what better than witnessing the annual festivals in the town?
Apart from the food, wine, and festivities, you can have enough fun on your trip. From stomping wine to witnessing antique cars and taking part in the Christmas parade, there are various events held in the town every year.
In October, the town hosts the Grape Stomp festival, where you can take part in a traditional grape stomp, enjoy wine tastings, try local foods, and play games.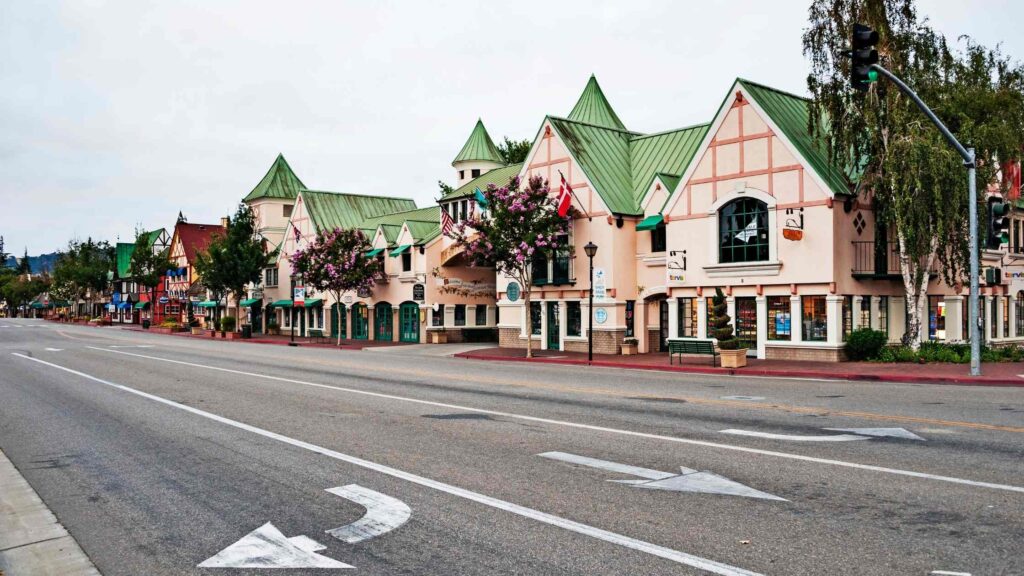 If you are here in September, plan your trip to attend Danish Days, a traditional festival that celebrates Solvang's Danish heritage. The Danish Days lasts three days.
You can enjoy having fun dressing up in Scandinavian costumes, participating in parades, savoring many delicacies, and singing and dancing to traditional and folk music.
But apart from the song and dance, there are many indoor and outdoor games for all ages. 
Julefest  – Julefest is an exciting festival in Solvang that lasts from the last week of November to the first few days of January.
During the second weekend in December, you can participate in the Solvang Christmas Parade, a beautiful event where the whole town is decorated.
During Julefest, Solvang transforms into a Christmas paradise with loads of fun activities, from laser shows, light displays, lighting up the streets, candlelit tours, touring Santa's village, and fun games like a scavenger hunt for a Danish gnome.
Join Wine Tasting Tours in Solvang
Did you know? Solvang is located in the hotbed of wineries. The mild climate with many sunny days makes magnificent Santa Ynez Valley one of Central California's most famous wine regions.
Whether you are in Solvang on a weekend trip or more, make sure you plan half a day at least to visit a few of the best wineries, known for their tasty wines, beautiful location, and excellent tours.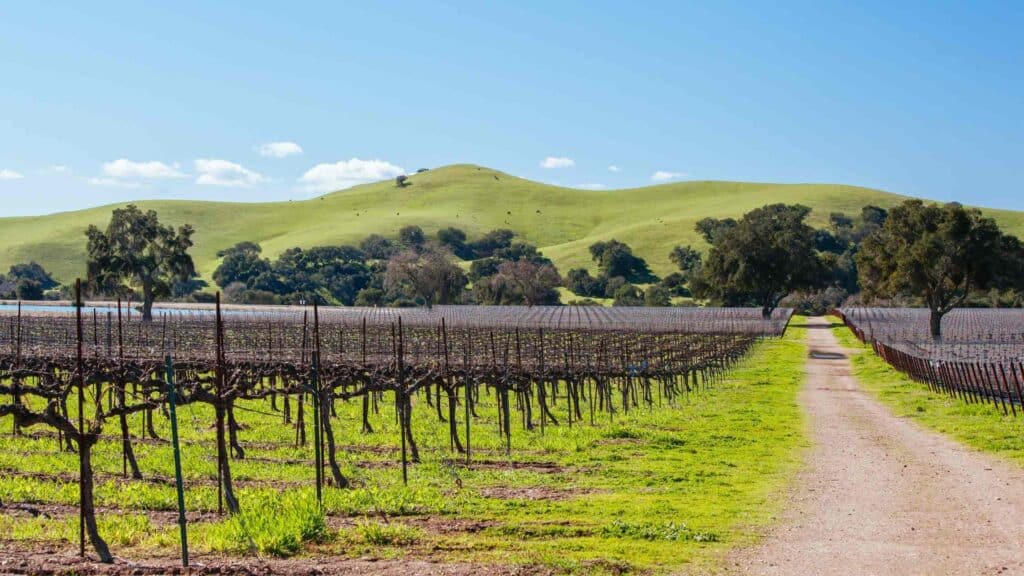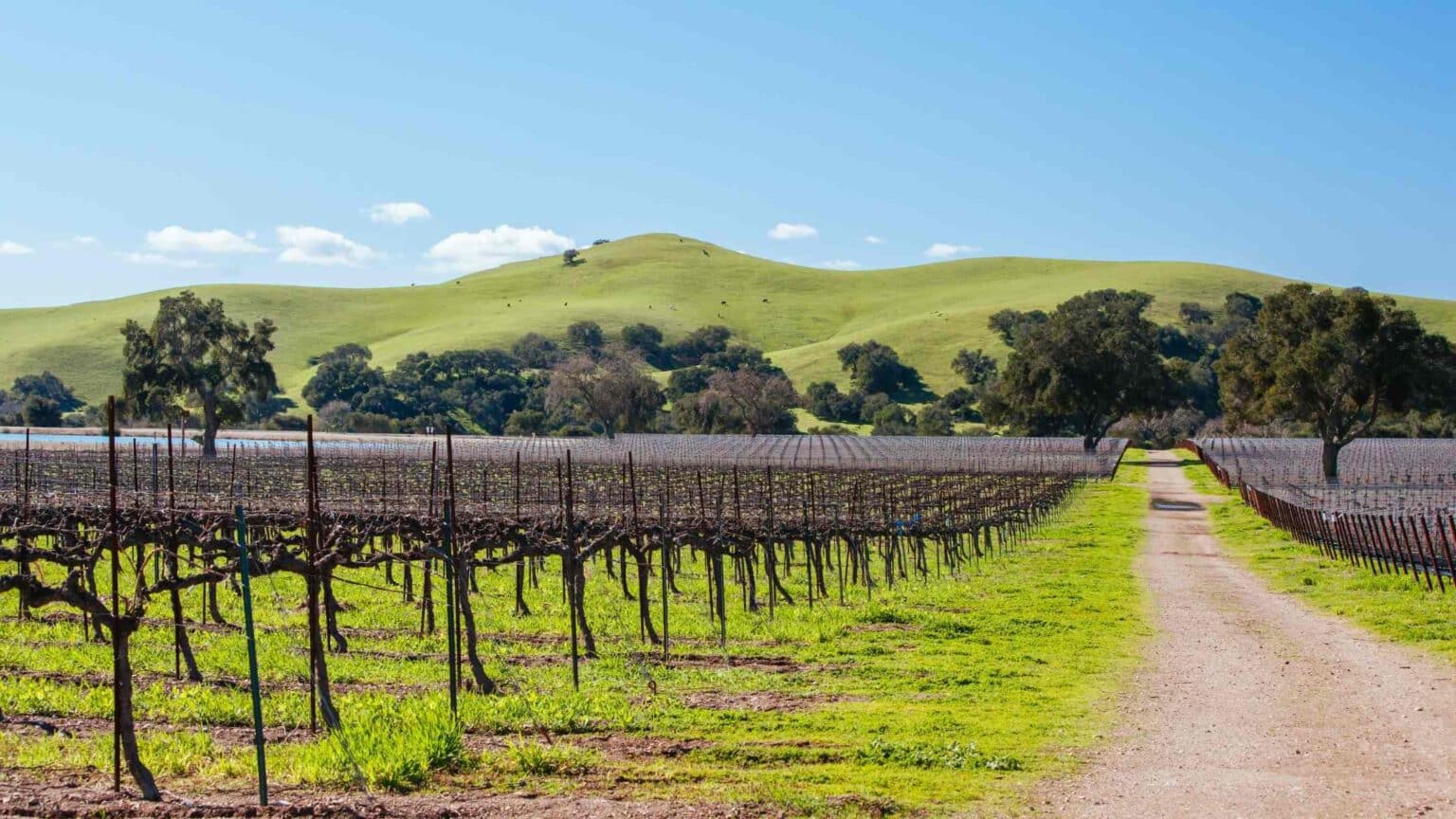 Check this complete guide to the best Solvang wineries for detailed information. Some of the recommended Santa Ynez Valley wineries that you should check out are:
Rusack Vineyards – Located just a 10-minute drive from downtown Solvang, Rucksack is one of the top spots for wine lovers visiting the town. Set amidst rolling hills, you can enjoy the tasting tour and lunch overlooking the vineyards here.
Rideau Vineyard is another nearby vineyard close to the town. It is known for its splendid location nestling amidst gardens. You can book a guided tour while here for the best wine-tasting experience.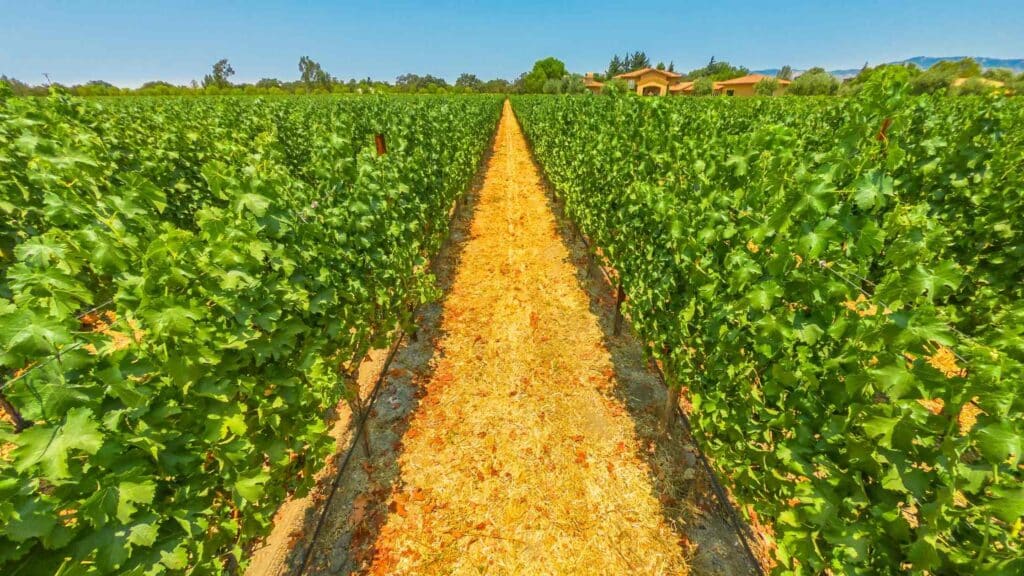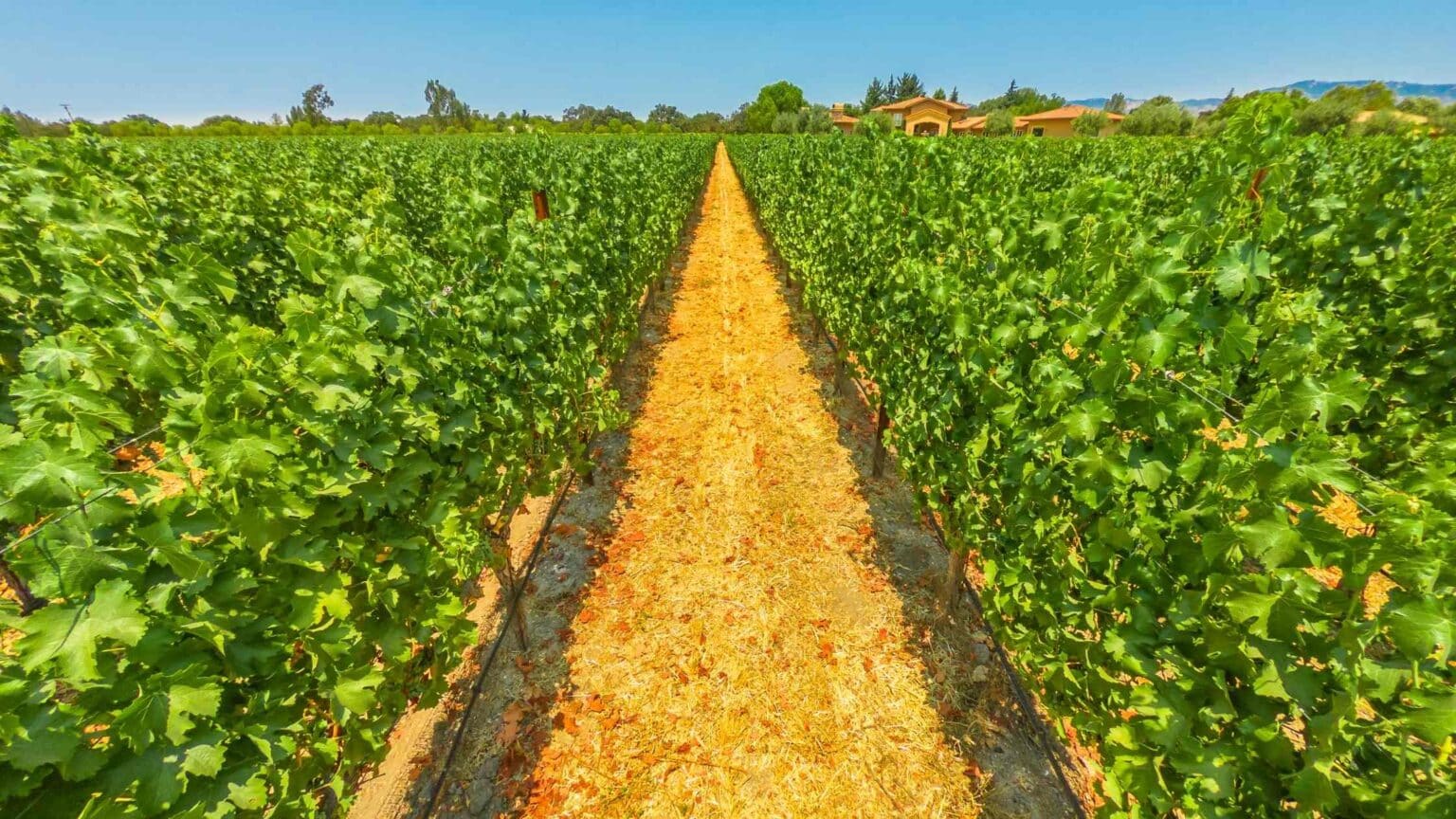 CrossHatch Winery – Fancy a winery located in a windmill? It cannot get more fun at CrossHatch Winery, where you can enjoy the best local red and white types, apart from savoring the views from the patio. I loved this mainly for its distinct location rather than the wine.
Sanger Wines Tasting Room –  If you do have not much time, head straight to Sanger, located in the village on Mission Drive, which provides you with the top red wine of Santa Ynez, Cielo Rubio.
Check out Bethania Lutheran Church
Another landmark in the town that you should visit is the early 20th-century Bethania Lutheran Church, established by the Danish-American Lutheran congregation.
If you have been to Copenhagen, you will instantly recognize the copy of the 12th-century elegant Bethania Lutheran Church located at 603 Atterdag Road, one of the first Danish-style heritage structures to be built in the Santa Ynez Valley.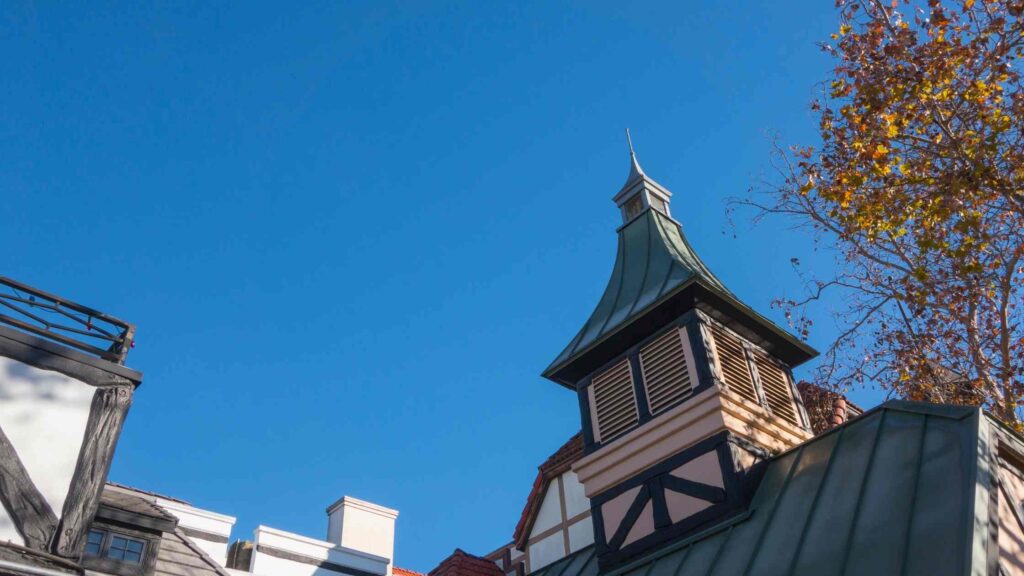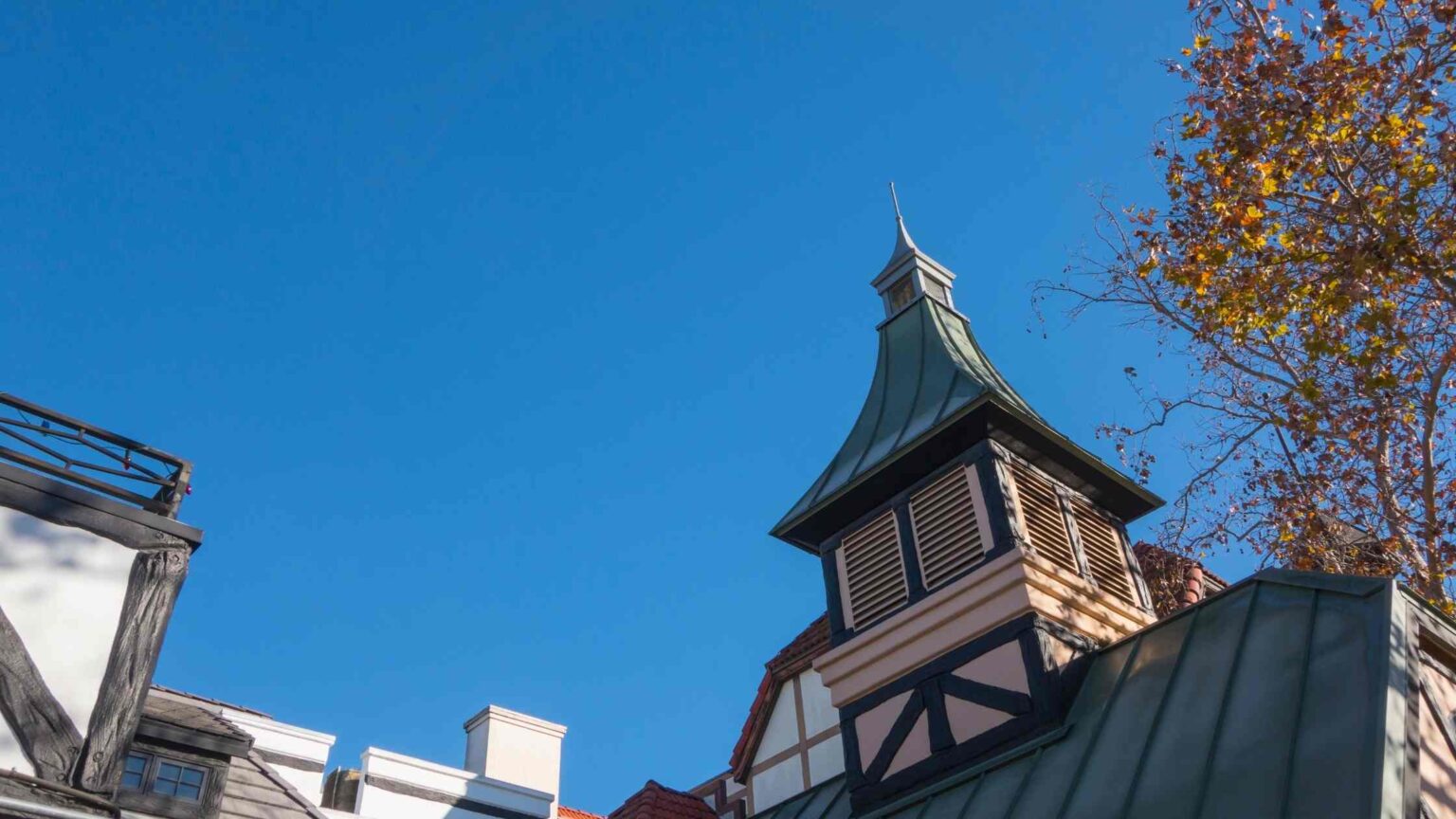 It resembles a typical Danish countryside church with amazing woodwork that you can admire in the interiors. Notice the model of a ship hanging from the ceiling in the sanctuary, a Danish symbol of the church as a haven.
Explore The Santa Ynez Valley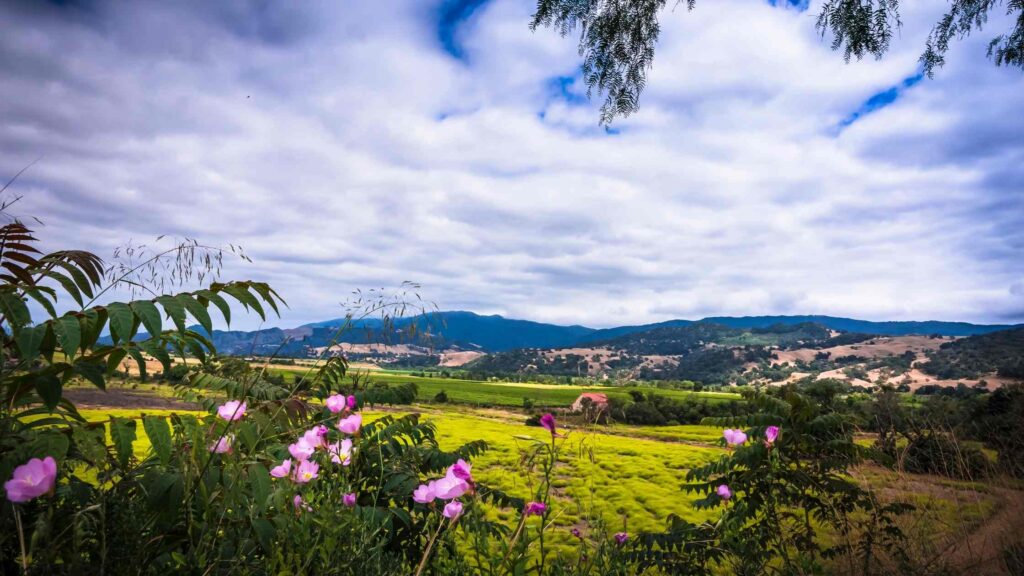 Santa Ynez Valley may be known for its famous vineyards, but it is not all that alone in the valley. Santa Ynez is known for beautiful viewpoints, stunning landscapes, ranches, and ancient churches scattered all along, which you can stop by on your way to any vineyard.
FUN THINGS TO DO IN SOLVANG CA
If you wonder what to do in Solvang, start with these top attractions that you should explore, begin with because these are the fun things to do in Solvang, no matter how long you will be here.
Check out all things Danish in Solvang
Solvang is also known as the 'Danish Capital of America', so one of the fun Solvang things to do is identifying all things Danish.
If you want to get to know the Danish roots embedded in the town of Solvang, you should take a walk on the streets around downtown, which has the most well-preserved Danish-inspired architecture and culture. 
You will find many traditional wooden storks on rooftops of the buildings, which are found in Denmark as they are symbols of happiness. Other replicas you should check out are: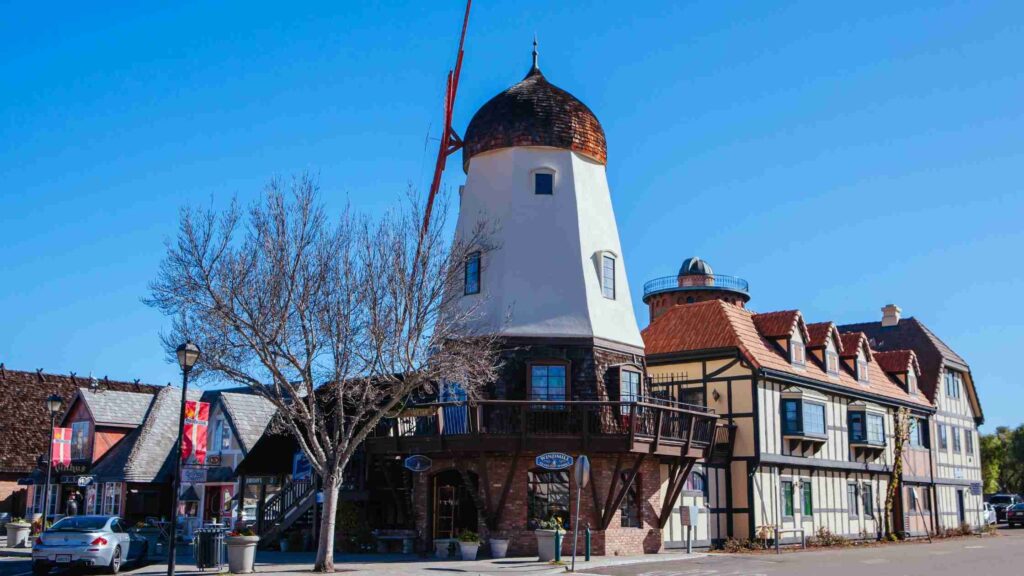 Round Tower – You can find a replica of Copenhagen's Rundetaarn or the Round Tower located on Alisal Road, alongside which you cannot miss the gorgeous windmill.
The original tower was built in the 17th century and was mainly used for astronomical observations. Today, there is an observation deck from where you can enjoy stunning views of the valleys.
Hans Christian Andersen Statue – One of Denmark's celebrities is the legendary Hans Christian Andersen, the author of the favorite Little Mermaid, the Ugly Duckling, Thumbelina, and many other popular tales even to this day.
The Danish town at heart houses a replica of the Hans Christian Andersen statue in Copenhagen to honor his legacy.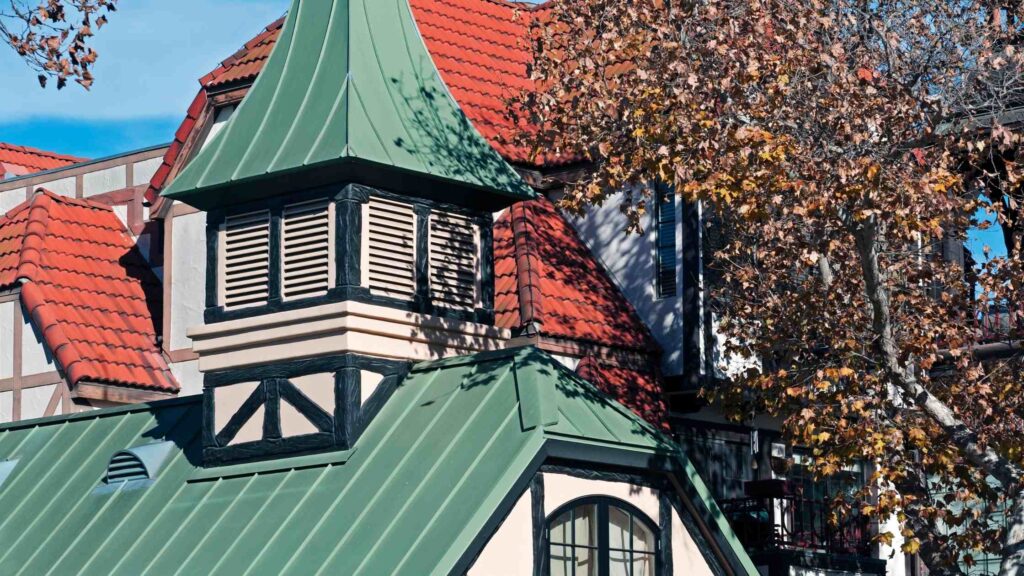 Little Mermaid Statue – Another notable icon that will remind you of Copenhagen is the replica of the Little Mermaid Statue located at one of the corners of Mission rive and Alisal Road.
Old Stock Exchange – A dominating structure that you cannot miss noticing is the replica of the Old Stock Exchange building, whose spire as the tails of four dragons welcomes you at 1st Street and Molle Way.
If you are traveling with your family, one of the fun things to do in Solvang with kids is taking the trolley tour, the horse-drawn trolley, a replica of a 1915 Danish streetcar that will take you around downtown.
Check out the traditional windmills
Solvang Windmills are iconic landmarks, and one of the top things to see in Solvang are traditional Windmills, iconic Danish Landmarks in the town.
As you are downtown checking out the Danish icons, you will come across four giant windmills at different locations within Solvang, within a walking distance from each other.
Ferdinand Sorensen built the first windmill in Solvang after his return from a trip to Denmark. These traditional windmills are one of the top Instagram phot spots among the best tourist attractions in Solvang.
They are symbolic of the significant Danish influence and the culture of Scandinavia's impact on this small town, dating back hundreds of years.
Savor the Danish Bakery Delicacies
Do not think that the influence of Denmark only pertains to architecture and history. One of the fun things to do in Solvang is checking out the many cute bakeries scattered around the town serving you delicious Danish-style baked items.
There are five of them quite popular among visitors, with their cute decor and vibrant colors attracting from far away.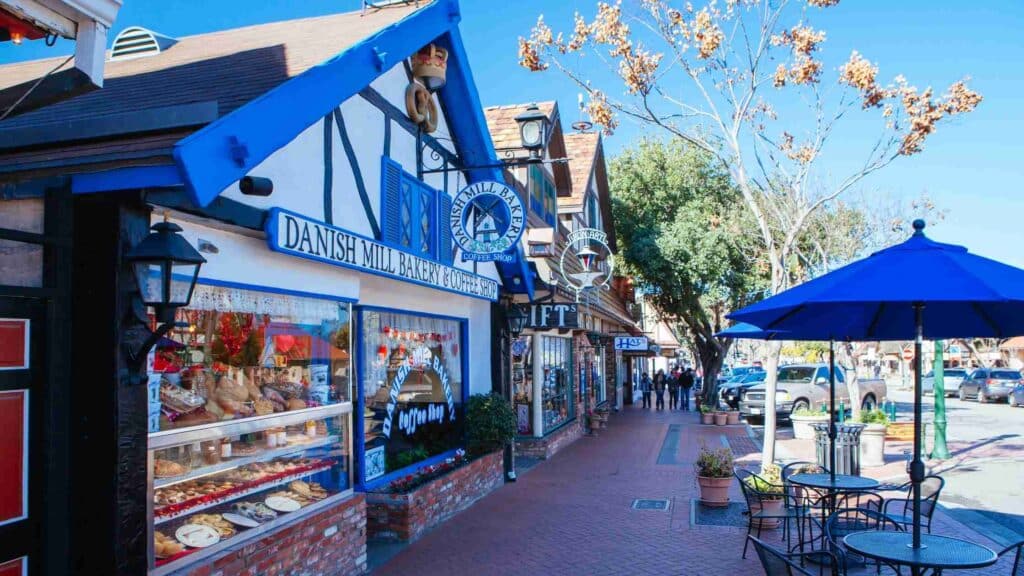 You should not miss trying Mortenson's Danish Bakery located on Mission Drive if you love waffles. I would also recommend you try their Cinnamon rolls and Raspberry Danish.
Enjoying these items during a trip to Solvang is one of the top attractions. Even I that has not sweet tooth ended up loving these on my stops at these bakeries. You can also shop for souvenirs and gifts in this bakery, both worth your bucks.
For exquisite butter cookies, various delicious pastries, and Kringle topped with dry fruits, head to Olsen's Danish Village Bakery, also located on Mission Drive. They are also famous for their ring cake, another Danish delicacy.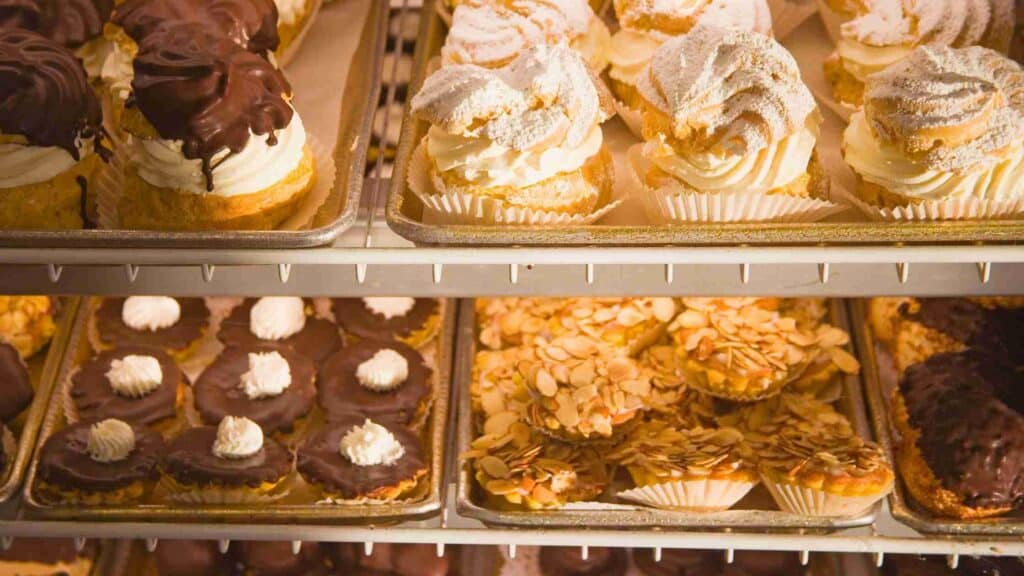 Head to Alisal Road to visit two other Danish bakeries in Solvang, Birkholm's Bakery & Cafe and The Solvang Bakery. Both serve excellent types of mouthwatering pastries.
Do not miss checking out the cute gingerbread houses in the Solvang Bakery, as well as their honey almond tarts.
Located on Copenhagen Drive is another fabulous Danish Mill Bakery, a fantastic place for cream puffs, waffles, and pastries. No matter where you go, you will love exploring these lovely shops.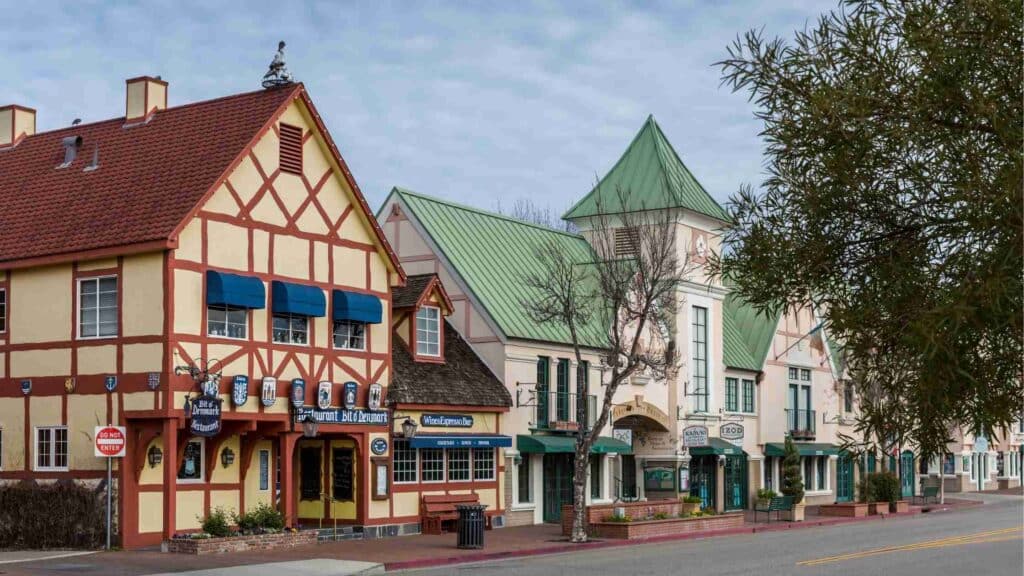 Note that you may sometimes find long lines at the bakeries, so visit early morning for the best-baked items and quick shopping.
Try out Aebleskivers
For those of you who do not know, Aebleskivers is a traditional Danish dessert generally prepared during the Christmas season. It is made of pan-fried dough, served with powdered sugar or jam similar to a doughnut.
The fun part is that although Aebleskivers in Danish means apple pieces, there is no apple in the dish.
The best place to taste Aebleskivers is at the Aebleskiver Cafe on Alisal Road, a famous restaurant among the locals and visitors. 
You can also try Aebleskiver at Solvang Restaurant, which is famous for its many traditional Danish cuisines. Here, you can also take away apart from trying in the restaurant.
If you plan to visit Solvang restaurant, do also try their sausages and meatballs. If you are feeling adventurous, buy their Aebleskivers batter mix to try at home.
Try a Smörgåsbord
Continuing with traditional Danish dishes, another item that you should not miss trying while here is Smörgåsbord, a Scandinavian buffet meal comprising many delicious delicacies usually prepared during festivities.
Although the tradition originated in Sweden, the other Nordic countries picked up the practices, which you can try here in the US town of Solvang.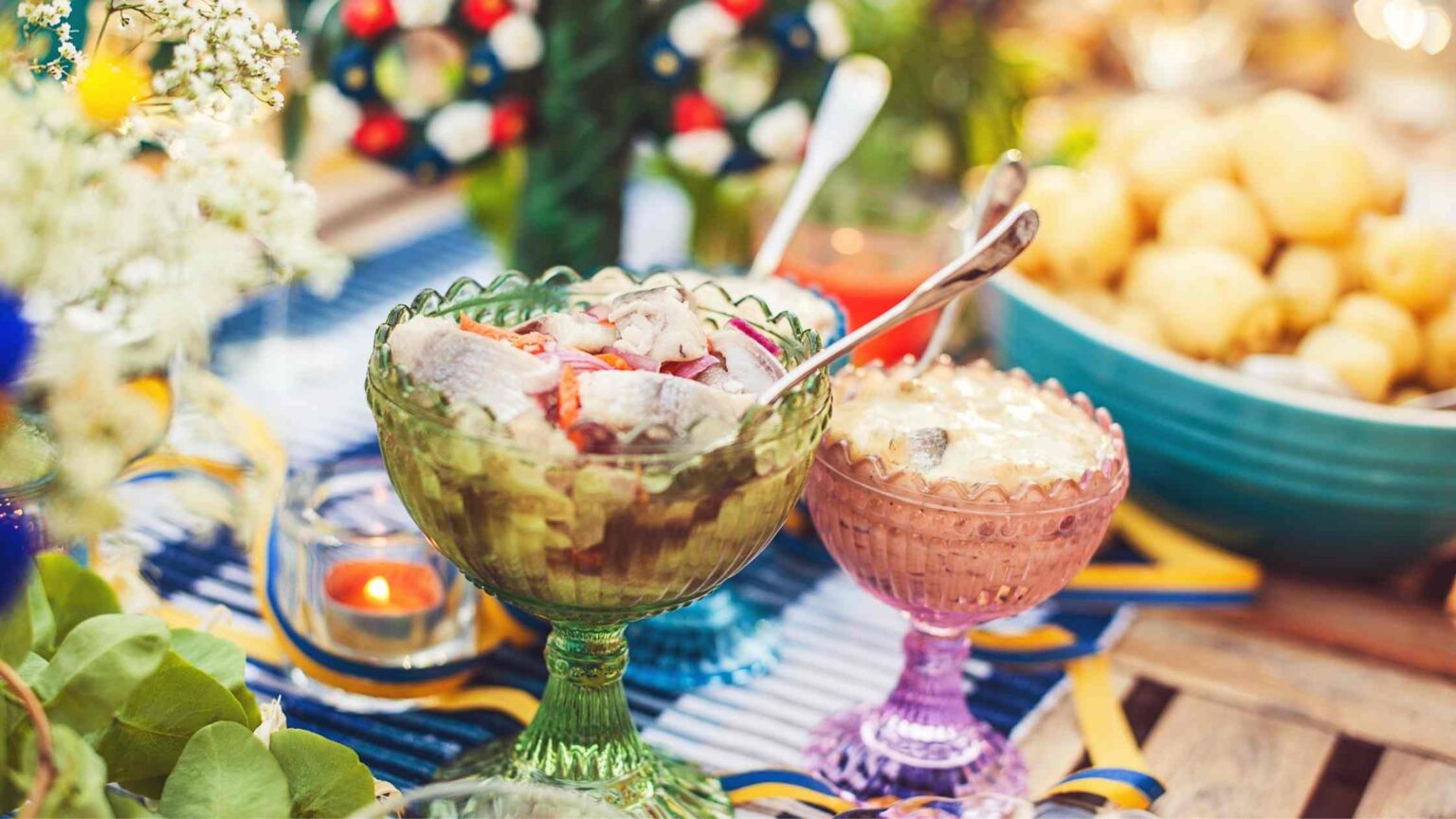 The extensive list of items on the menu of a Smörgåsbord includes some of the things like ham, cheese, mashed potatoes, Pickled Herring in Mustard and Dill Sauce, Chocolate Pudding, and Cocktail shrimp.
Visit Solvang Festival Theater
If you are into theater, music, and art, one of the best Solvang attractions is attending the Solvang Festival Theater located in the heart of the town. It is a community-based theater built in the 1970s and is a top source of entertainment for Solvang's residents.
This magnificent theater has a capacity of 700 guests, and it is the main venue for many concerts, comedy shows, jazz, and art festivals throughout the year.
They organize events at the theater, including 'Family Night at the Theater and the famous 'Sunday Jazz in the Garden' series. You should not miss having a fun evening in this lovely theater if you are here with the kids.
Enjoy Shopping in Solvang
You may not think of the town as a paradise for Shopaholics, but you will be surprised to see so many shops available to pick the best souvenirs to take home from your trip.
You will love it, especially if you are planning to buy something cool for kids or unique Danish-themed souvenir items.
There are hundreds of boutique shops in the town selling a wide range of things, including local handicrafts, children's apparel, Danish costumes, antiques, books, and jewelry.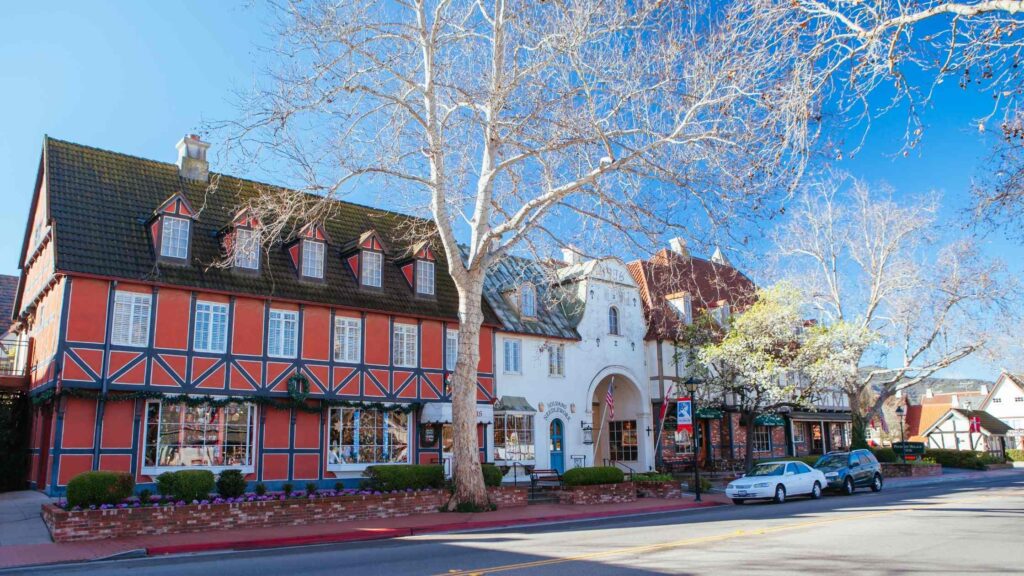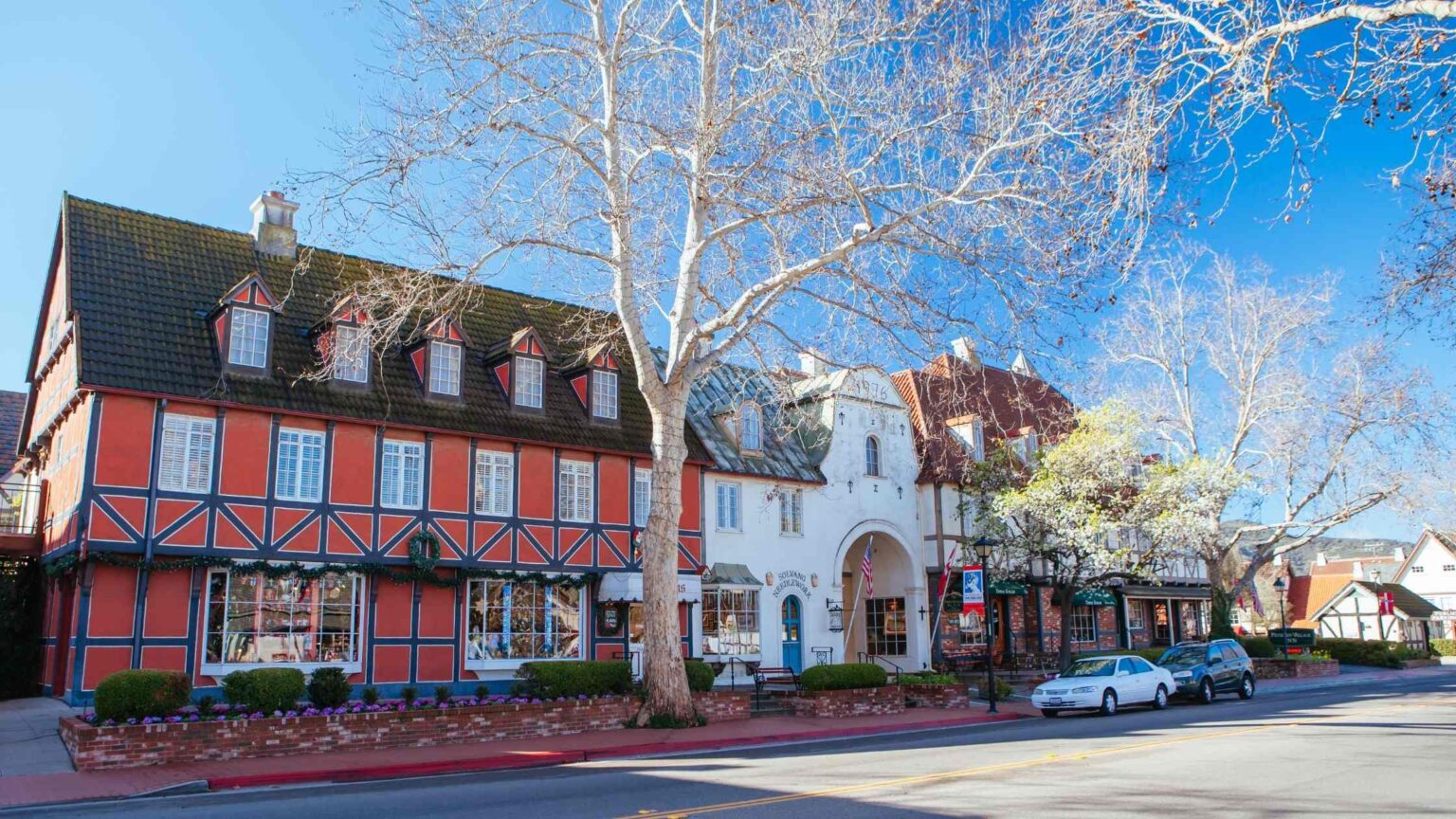 If you love books like me, you will find an excellent collection of Scandinavian and European books at The Book Loft. For shopping for kids, check out Solvang Toyland and Atterdag Kids Children's & Baby Boutique.
In the shopping village on Copenhagen Drive, check out Solvang Antiques, Santa Ynez Valley's largest antique shop, where you can find a wide variety of handmade and vintage decorative items made of porcelain, cut glass, and silver.
While here, also stop at the Solvang Antiques Fine Art Gallery, exhibiting thousands of art collections on its massive building.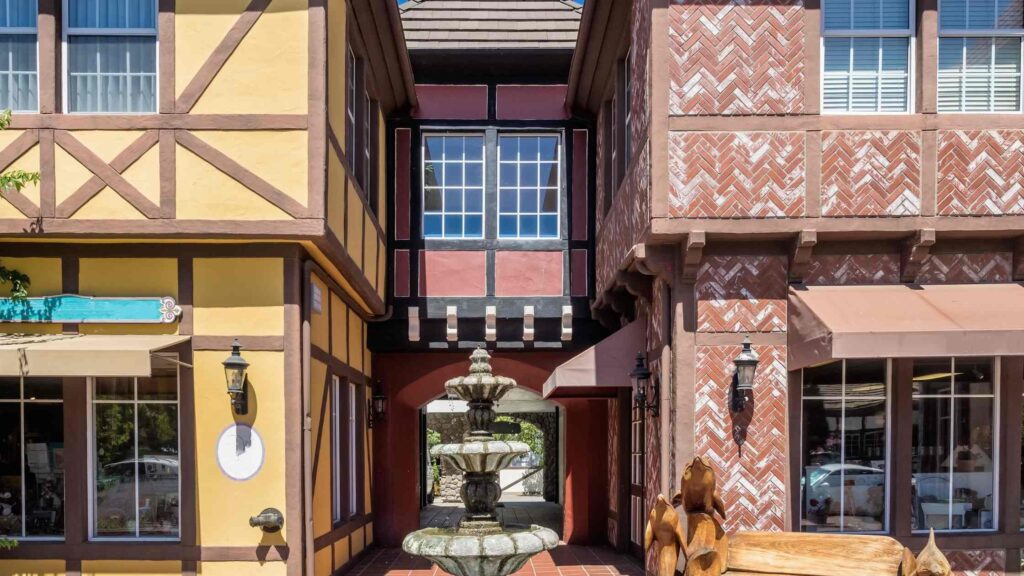 You can browse the lovely traditional hand-painted Danish clogs at The Solvang Shoe Store. For more antique clocks, watches, and ancient sculptures, head to Renaissance Antiques.
Plan a trip to Jule Hus
While there are many attractive and vibrant Danish buildings you must check in the town, one of the top things to do in Solvang is stopping at the beautiful Jule Hus.
Located in downtown Solvang, the beautiful Jule Hus building, you cannot miss noticing this grand red structure, which is not another lovely structure. This Christmas House will remind you of the festivities no matter which time of the year you visit.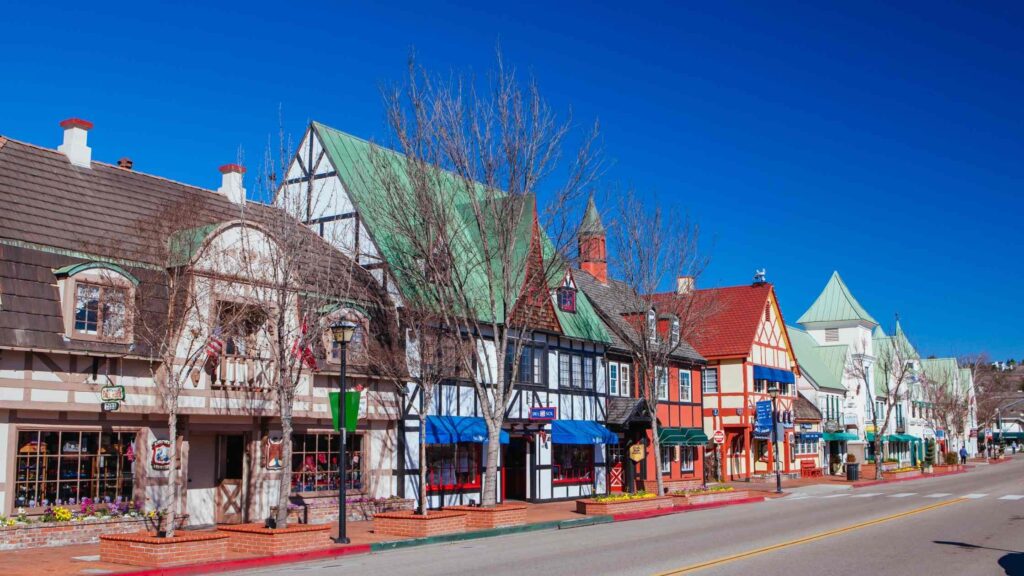 You can enjoy the beautiful twinkling lights, old European Christmas ornaments and even bring home some fantastic Scandinavia-styled decorations for Christmas back home, including wooden toys, lights, and exciting items.
Play Golf
You will love your visit to Solvang if you enjoy playing Golf. Head to the River Course on the Alisal for a splendid area including four lakes and stunning views of the Santa Ynez mountains and the Santa Ynez valley along the Santa Ynez River.
Although it is not for novice players, you will enjoy tackling Golf on a 6800-yard par 72 course amidst the beautiful landscapes.
There are also amenities and places for relaxation so your family and kids can unwind for a while before heading back to the town. You can also witness incredible views of the sunset during summer evenings on the river course.
Try Horseback Riding
If you are looking for what to do in Solvang for a bit of adventure, the Santa Ynez Valley offers an excellent place for enjoying horse rides.
You can admire the Santa Ynez Valley on a private, guided horseback ride with Vino Vaqueros, passing through the hills of Estelle Vineyards. At the end of this 1.5 hours guided horse ride, you can sample a glass of local wine.
Visit the Local Ranch
Located very close to downtown Solvang is Quicksilver Ranch in Santa Ynez Valley. It is known for its beautiful location between the rolling hills of Ballard and Solvang, surrounded by oak trees.
You can do a self-guided tour to see the cute (and their babies!) grazing in the fields.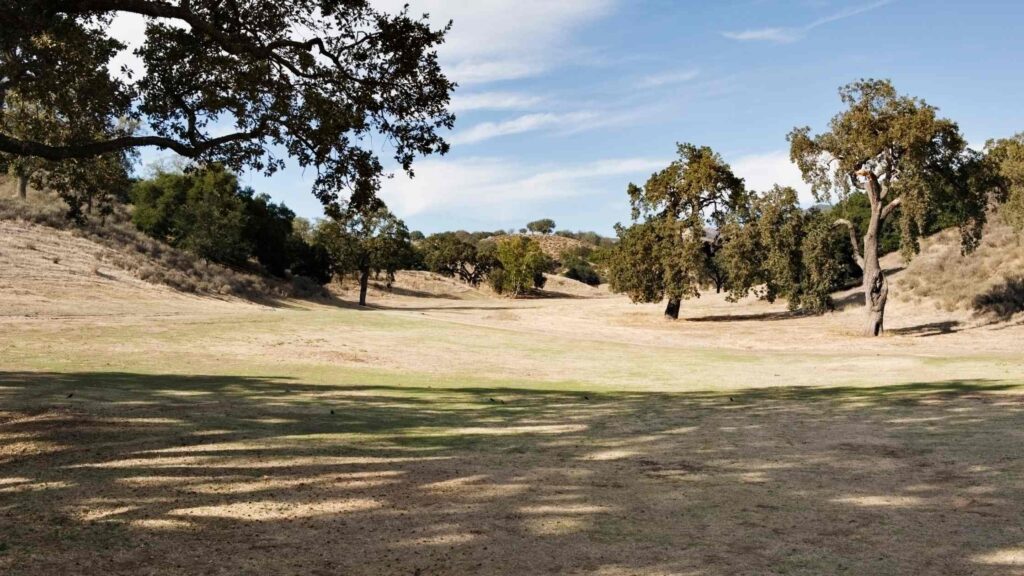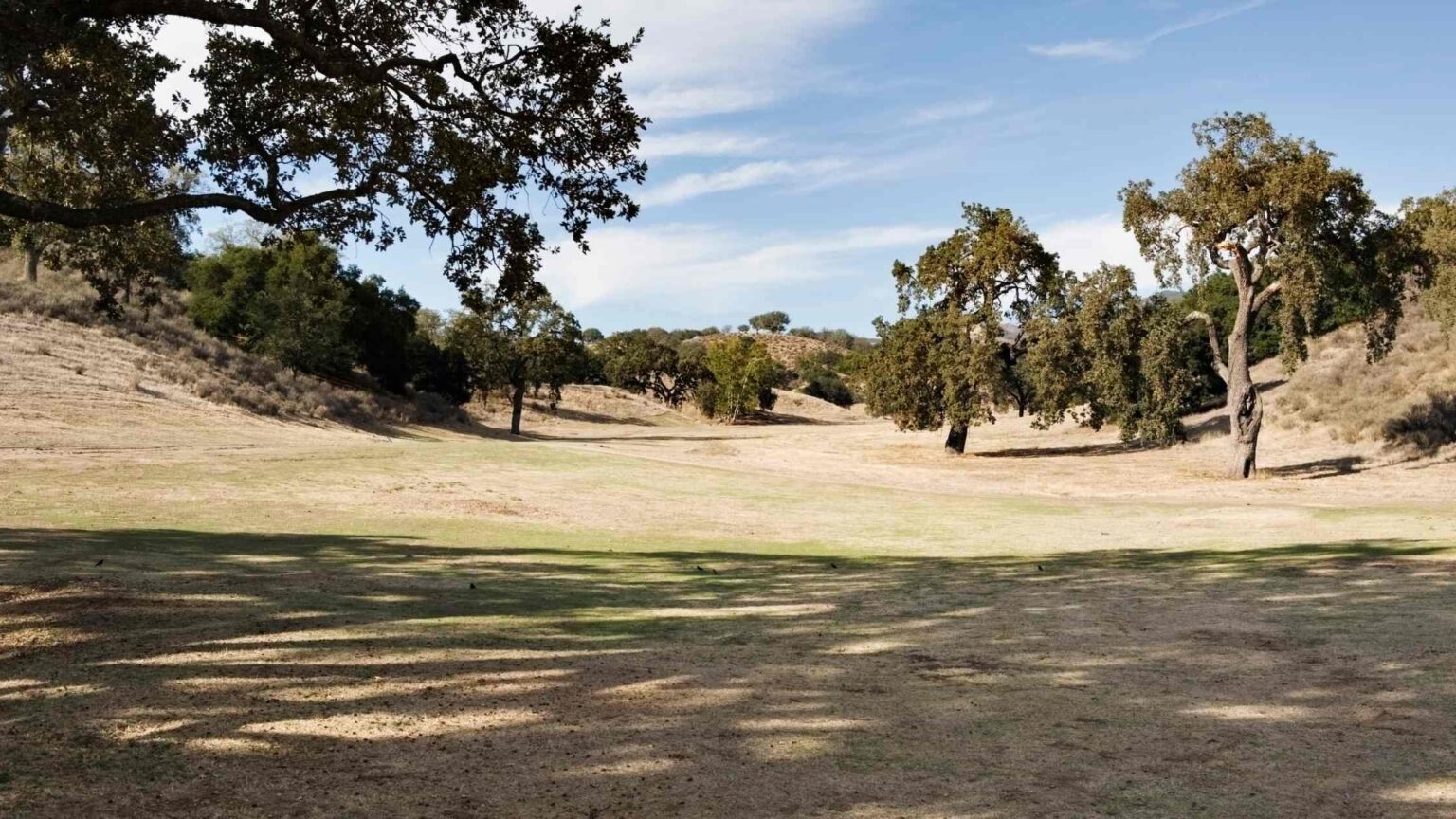 You can tour yourself, and you will love visiting the little miniature horses bred in the ranch, especially the kids.
THINGS TO DO IN SOLVANG – ON A SHORT DRIVE
If you have more time to spare, you should visit these tourist attractions around Solvang, California. These places near Solvang in California are ideal for short getaways, even as day trips.
From charming towns to museums to wineries, check out some fun places to visit near Solvang.
Plan a hike to Nojoqui Falls
If you are traveling to Solvang during the monsoon or after, you can plan a day trip or a half-day excursion to Nojoqui Falls County Park, located off Highway 101, just a short drive from the town.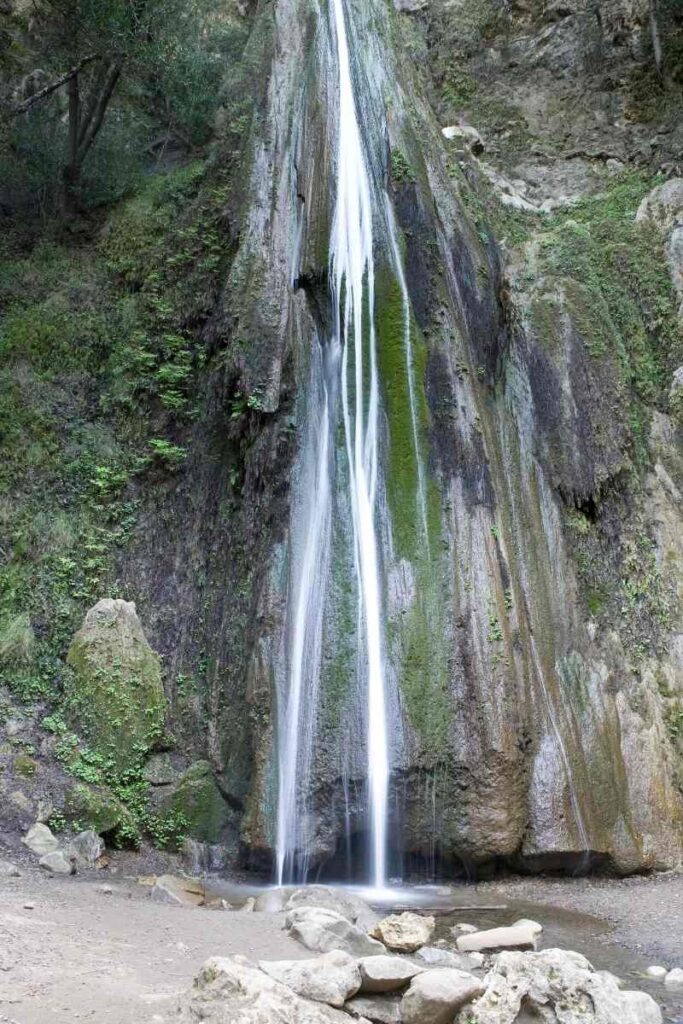 The short drive is a pretty one passing through winding rounds flanked by vibrant fields and ranches. You have to take a short hike to reach the viewing platform that will take you to view the 100+ foot Nojoqui Falls, majestically cascading to the rocky path leading to the jungle.
It takes about 30 minutes of easy walking until you reach here. It is free to enter, and there are plenty of picnic tables and lots of green areas to enjoy near the falls.
Drive to Buellton
On the way to Santa Ynez Valley from Highway 101 lies Buellton, which has become increasingly popular thanks to the winged beauties adorning the neighborhoods.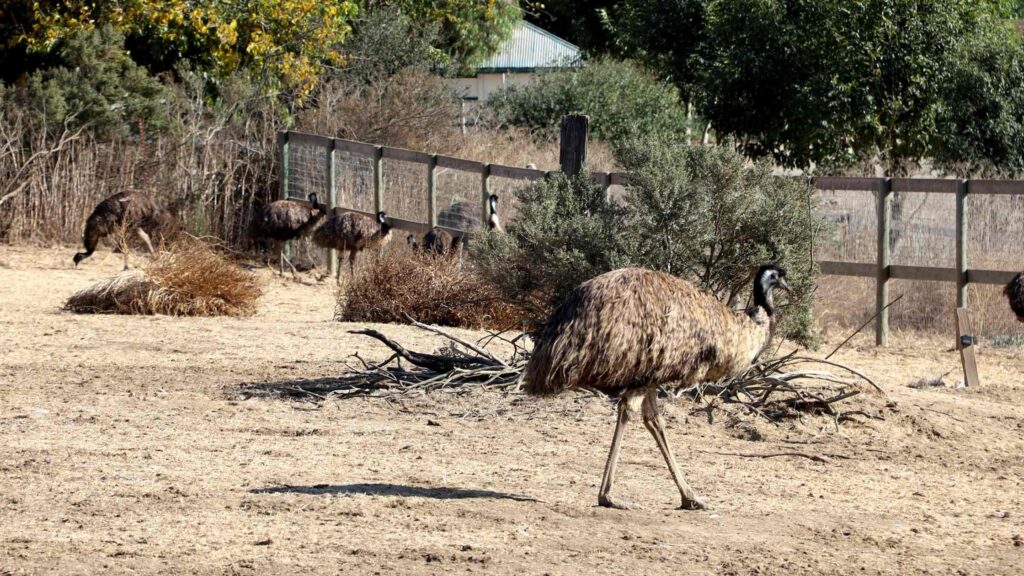 Visit the Ostrichland USA that you will love if you are going with kids to feed one of the ostriches or emus. The entry fee is $5 for adults and $2 for kids. For an additional $1, you can get a bowl of food for the ostriches.
Visit Los Olivos
Los Olivos, the compact town home to many vineyards, is a popular stop thanks to its beautiful buildings, wine gardens, antique stores, art galleries, and boutique shops among the many towns nestling in Santa Ynez Valley.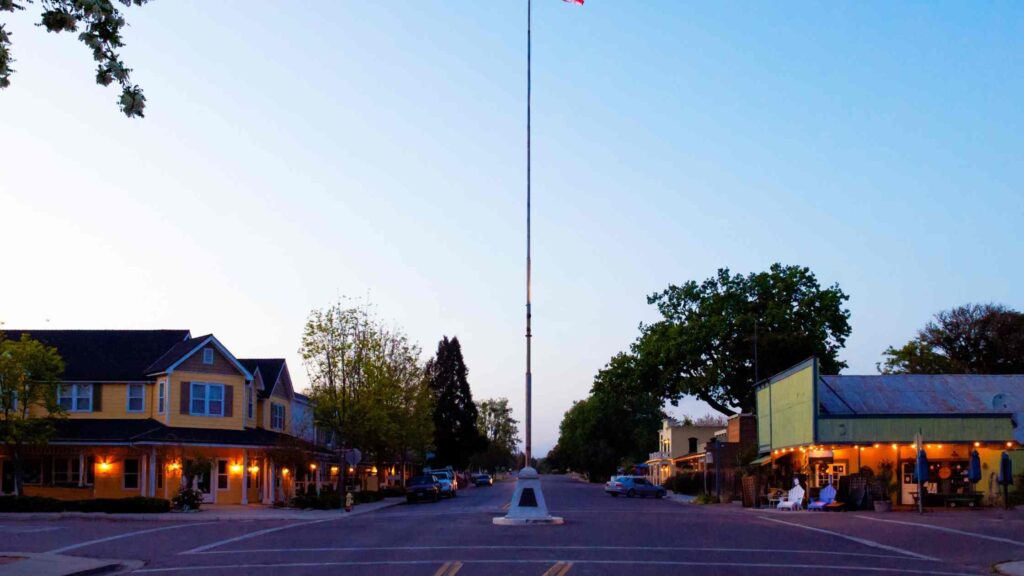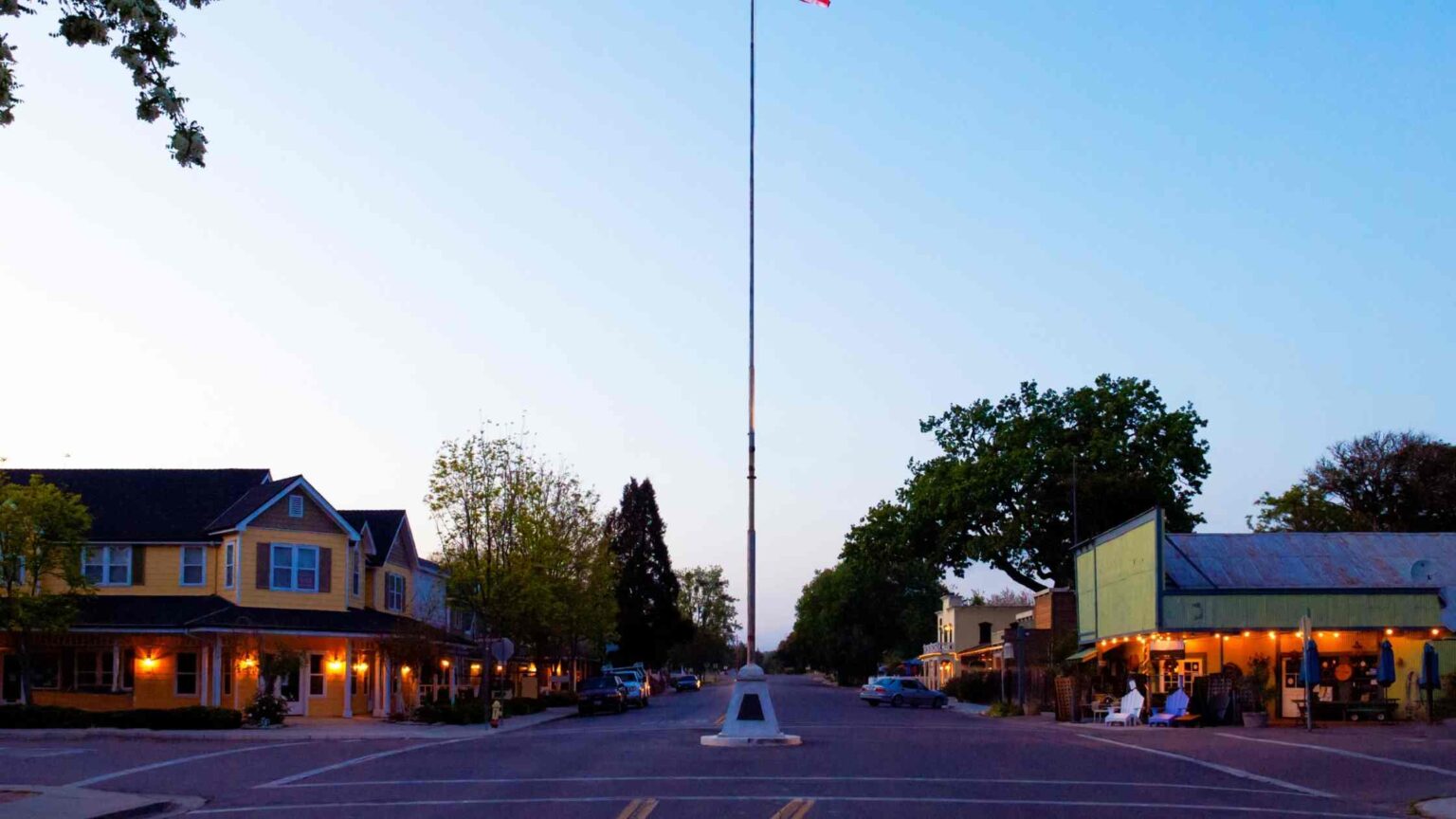 You can plan for a lunch or stroll the streets exploring Victorian-era buildings. Also, visit the nearby Bridlewood Estate Winery, known for its excellent structure and vineyards.
THE BEST TIME TO VISIT SOLVANG
Like most inland California, this southern city of California is an ideal getaway for everybody throughout the year. There is a slight variation in average temperatures, except the peak summer days, making it a fantastic weekend destination.
Winter in Solvang has mild weather, although it can suddenly get chilly during the night and early hours of the morning.
The best time to visit Solvang is spring and fall for the perfect weather and stunning landscapes in the full bloom of wildflowers and vibrant colors.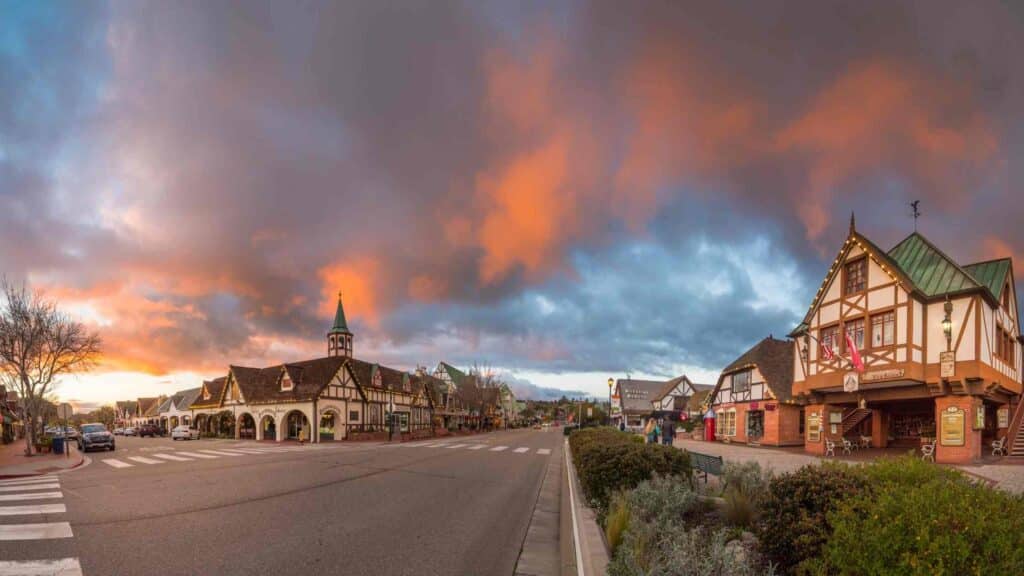 But Mid-June to late September is the crowded months, with most tourists visiting, thanks to the excellent weather and plenty of summer activities.
The summer temperature can get up to 90℉. But this means that you will have to book your Solvang accommodation ahead for the best prices and meet many travelers.
If you want fewer crowds and lower prices, I recommend visiting in the spring or fall. The Santa Ynez Valley is adorned with beautiful spring wildflowers and lush green valleys welcoming you in the countryside.
While spring is a favorite season for nature lovers, the city comes to life with many traditional harvest festivals like Danish Days and the Grape Stomp in the fall.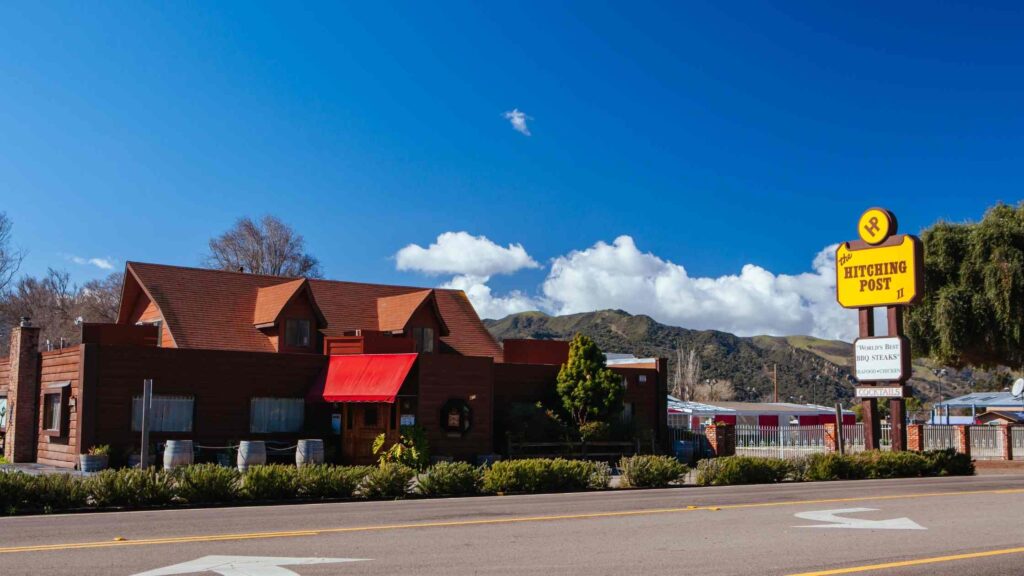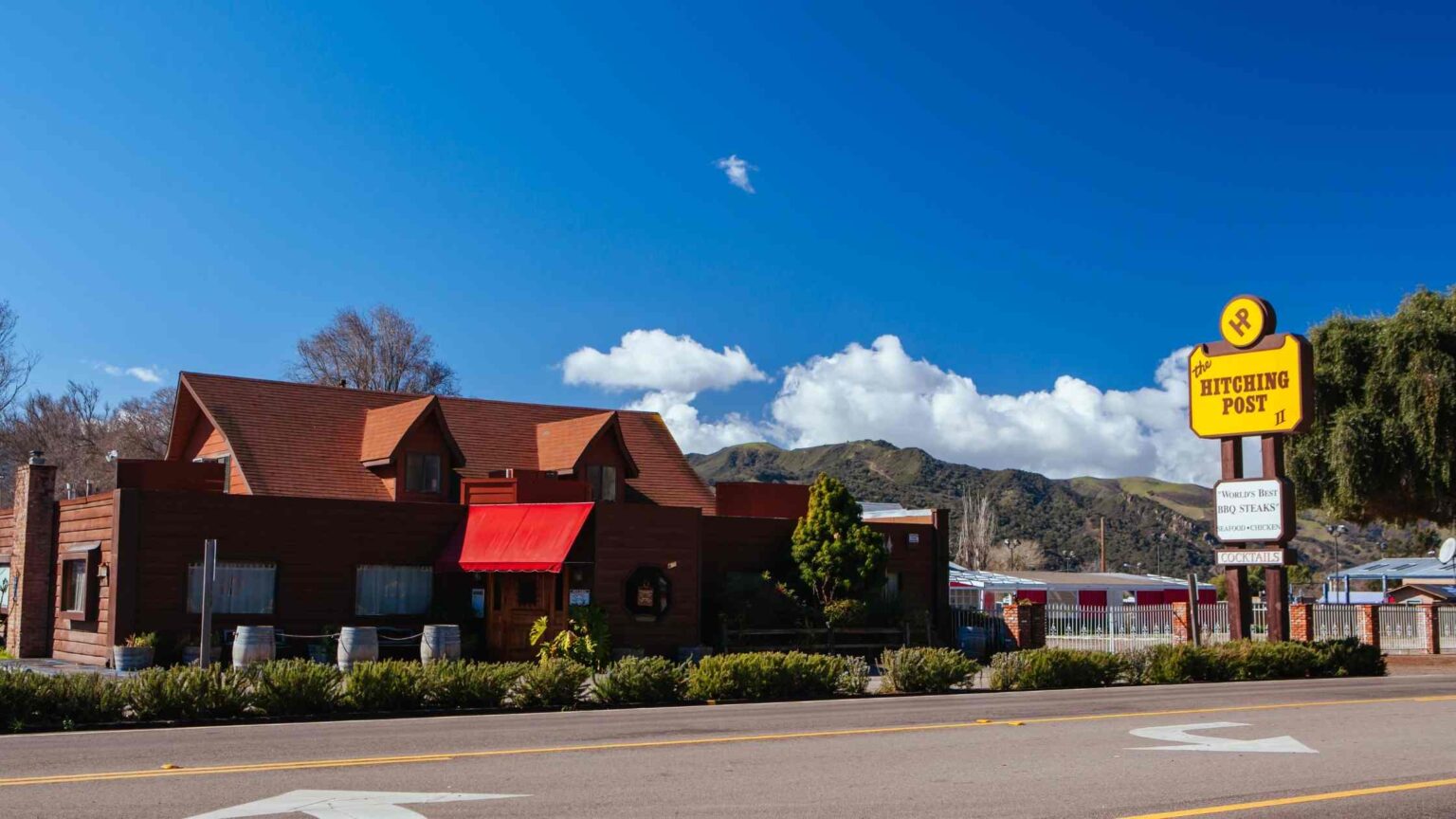 Apart from being able to experience local festivals, taste fantastic wines, you can find some great deals on flights and hotels during these two seasons.
Around Christmas, the city is gorgeously lit up, with the streets in downtown and around transforming into a magical land, resembling European Christmas charm. So if you are keen to experience Solvang's Christmas spirits, you will love the city during the holiday season.
HOW TO GET TO SOLVANG
The best way to reach Solvang is by car, allowing you to easily explore nearby attractions and plan day trips.
You can also access the many free parking spots in Solvang if you want a free parking space for your vehicle. The nearest big city close to Solvang is Santa Barbara, located 35 miles away. 
Many travelers plan a fantastic weekend road trip along California Highway 154 and end their Santa Barbara journey.
This beautiful highway offers stunning views of the Santa Ynez Mountains and the San Marcos Pass overlooking the gorgeous coastal shores all along your drive, making it one of California's favorite road trip ideas.
Depending on your preferences, you can either plan a day trip to Solvang or, better, spend at least two days with so many amazing things to do in Solvang you can explore.
From Los Angeles, Solvang is 125 miles away, taking under 3 hours, making it an excellent option for a weekend trip from LA or a day trip.
From San Diego, it takes about 4.5 hours to reach Solvang, located 250 miles away. The town is about 300 miles south of San Francisco, which takes about 4.5 hours to get via the US-101 Freeway.
WHERE TO STAY IN SOLVANG
The town is home to many hotels, apartments, vacation rentals, and cabins, all of which get booked quickly, especially during the holiday months and weekends.
So book your Solvang accommodation early, especially if you want to secure the best prices and even deals.
Cozy Inns in Solvang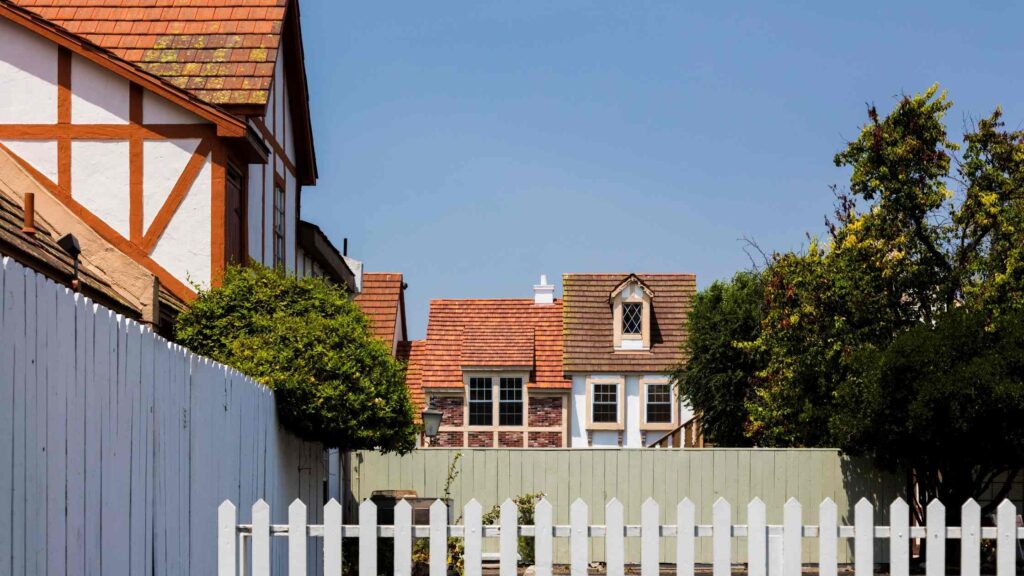 Solvang is home to two fantastic cottages. These Danish-themed Inns are perfect for a cozy holiday home.
Mirabelle Inn & Restaurant in downtown Solvang offers Spa, pool, and other comfortable amenities apart from spacious rooms and its fantastic location. Perfect for couples and families to spend a weekend.
Solvang Inn & Cottages is another Danish farm-style inn featuring a heated outdoor pool and a hot tub. You can enjoy daily continental breakfast as well. Downtown is an 8-minute walk from the property.
The best pick of Bed and Breakfast in Solvang
Victorian Mansion At Los Alamos is an excellent romantic stay option, located off Highway 101 in the heart of the Santa Ynez wine country. This 19th-century Victorian Mansion has lavish rooms equipped with many amenities, along with complimentary breakfast.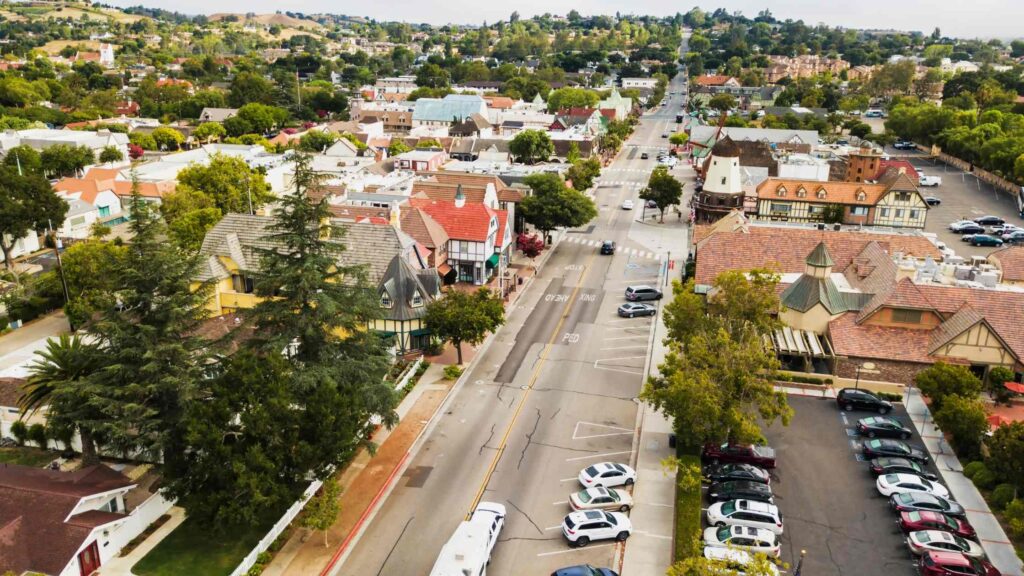 Ballard Inn & The Gathering Table is one of the famous B&B in Santa Barbara Wine Country, perfect for making a base if you plan on exploring the nearby vineyards, along with places to visit in Solvang.
ForFriends Inn Wine Country Bed and Breakfast is located in downtown Santa Ynez. This cozy place is a popular spot for families with kids and couples, thanks to the lovely garden suites and rooftop.
The best hotels in Solvang
Below are the best hotels in Solvang you should pick.
You will love Wine Valley Inn, a stunning Danish-style hotel located close to the center in downtown Solvang.
King Frederik Inn, located in downtown Solvang is a beautiful hotel and one of the top accommodation spots among the tourists. This gorgeous Danish-style building is known for its spacious rooms, fantastic amenities, and heritage value.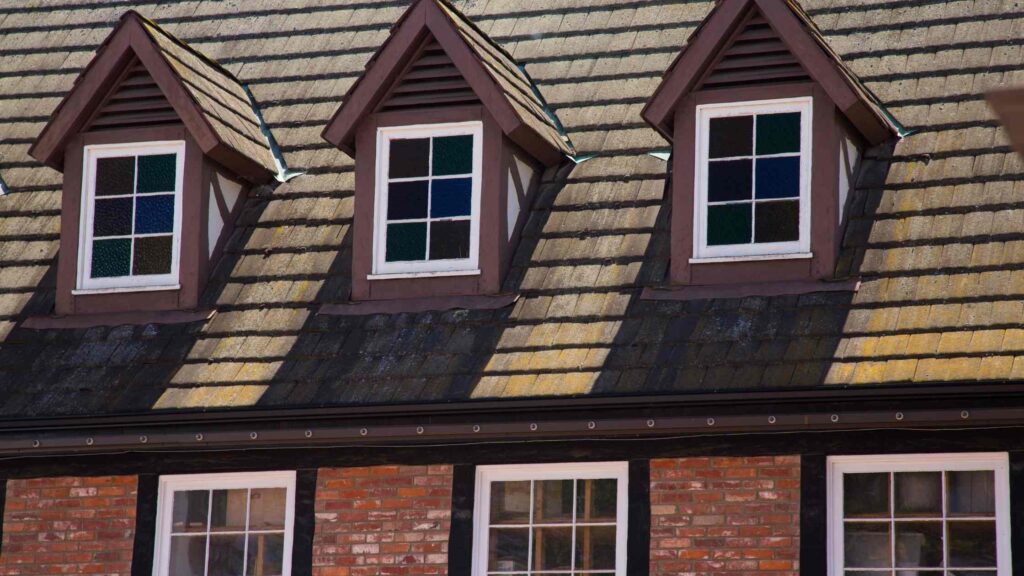 How about enjoying a luxurious stay amidst vineyards and beautiful landscapes? Check out Hotel Ynez, a splendid hotel with excellent amenities within 0.9 mi of Kalyra Winery and 1.4 mi of Sunstone Winery.
Hotel Corque is located 5 minutes' walk away from Old Mission Santa Ines. This boutique hotel, popular among couples, has spacious rooms, offers a restaurant, features an outdoor pool and hot tub.
MAP OF THE BEST THINGS TO DO IN SOLVANG
That's it about the best things to do in Solvang in California, an awesome destination for a weekend getaway. Do let us know how your trip was in the comments below.
PIN THINGS TO DO IN SOLVANG FOR LATER