Looking for the best day trips from Santa Barbara? You are in the right place. Depending on your preferences, you can spend a weekend in Santa Barbara, spend a few days more, or plan a day trip to Santa Barbara. Whatever you choose, you will end up loving this gorgeous place to bits.
Located about a hundred miles from the north of Los Angeles in Southern California, Santa Barbara, nicknamed American Riviera, this lovely Californian seaside city has so many things to offer, including its diverse California culture.
Whether you choose the mountains or the seas, you are spoilt for choices. But there are plenty of beautiful places around Santa Barbara waiting to b explored. From savoring local wines in the vineyard-filled valleys to exploring museums and downtowns, hiking to splendid mountain tops, and chasing stunning waterfalls, there is something for everyone looking for the best day trips from Santa Barbara.
Without much ado, join me to check out the fantastic things to do in Santa Barbara now.
BEST DAY TRIPS FROM SANTA BARBARA
If you want a thorough list without the need to research further, these Santa Barbara getaways ideas will do for you. Conveniently located between Los Angeles and San Francisco means you can cover most of these day trips from Santa Barbara on a long weekend trip from either of the cities after visiting this fantastic coastal city.
Tour Santa Ynez Wine Country
Santa Barbara wineries need no introduction, so you add visits to a few vineyards while thinking of the best day trips from Santa Barbara.
With more than a hundred vineyards dotting the countryside forming a lush landscape of grapevines nestling amidst oak trees and orange orchards, a trip to Santa Barbara's wine country is more than just tasting wine. It is also about soaking in the blissful views and do something apart from mountains and beaches.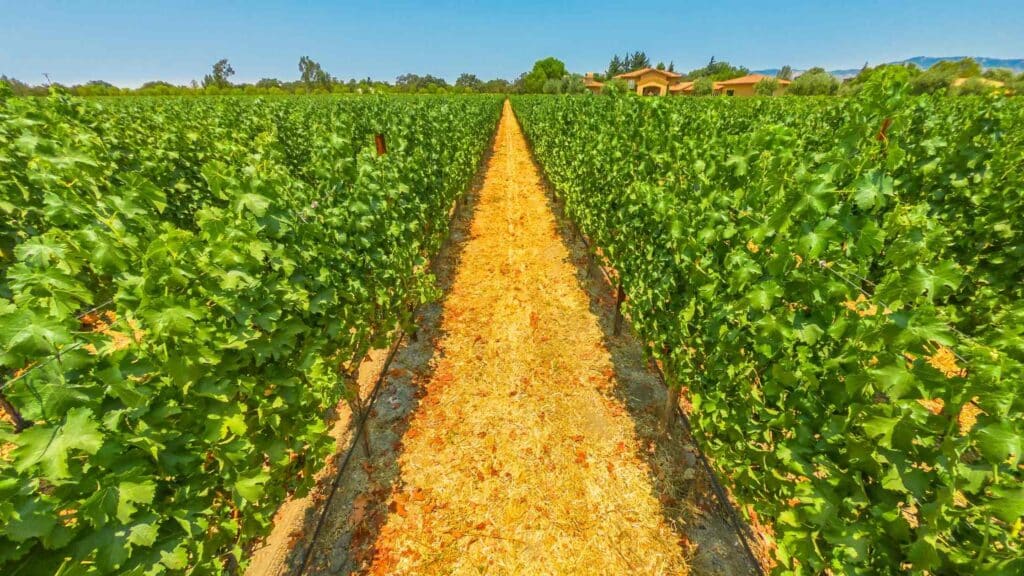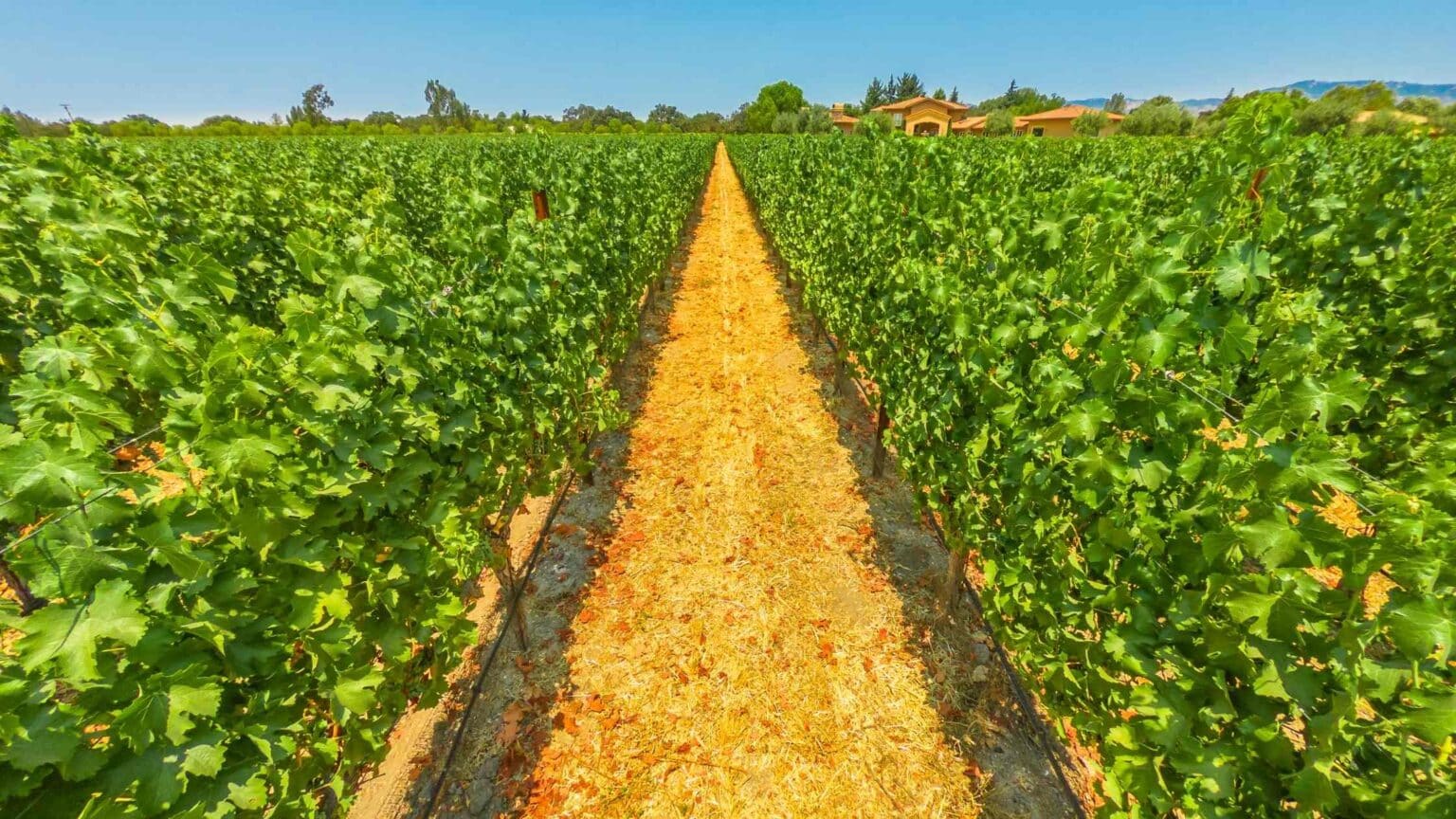 If you are seriously into wine tasting, you can even plan shorter trips to the Santa Ynez Valley's five small towns – Los Olivos, Solvang, Buellton, Santa Ynez, and Ballard. Base in any of these for a few days as they are all located within ten miles of one another.
You can either arrange self tours by walking in directly after driving amidst fantastic panoramas or sign up for guided wine tours that will allow you to drink as much as you please, rent a bike and go vineyards hopping if you are up to it.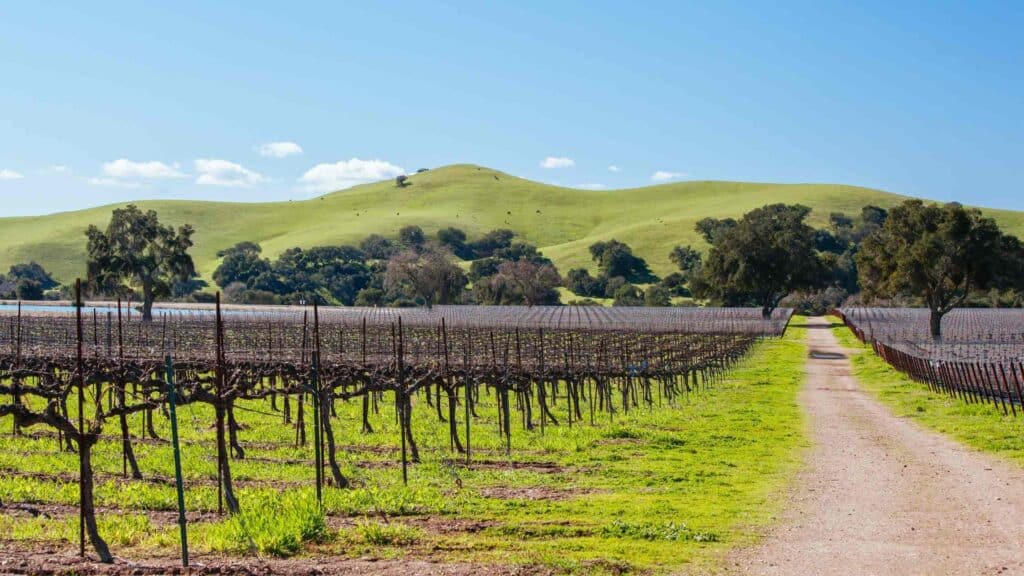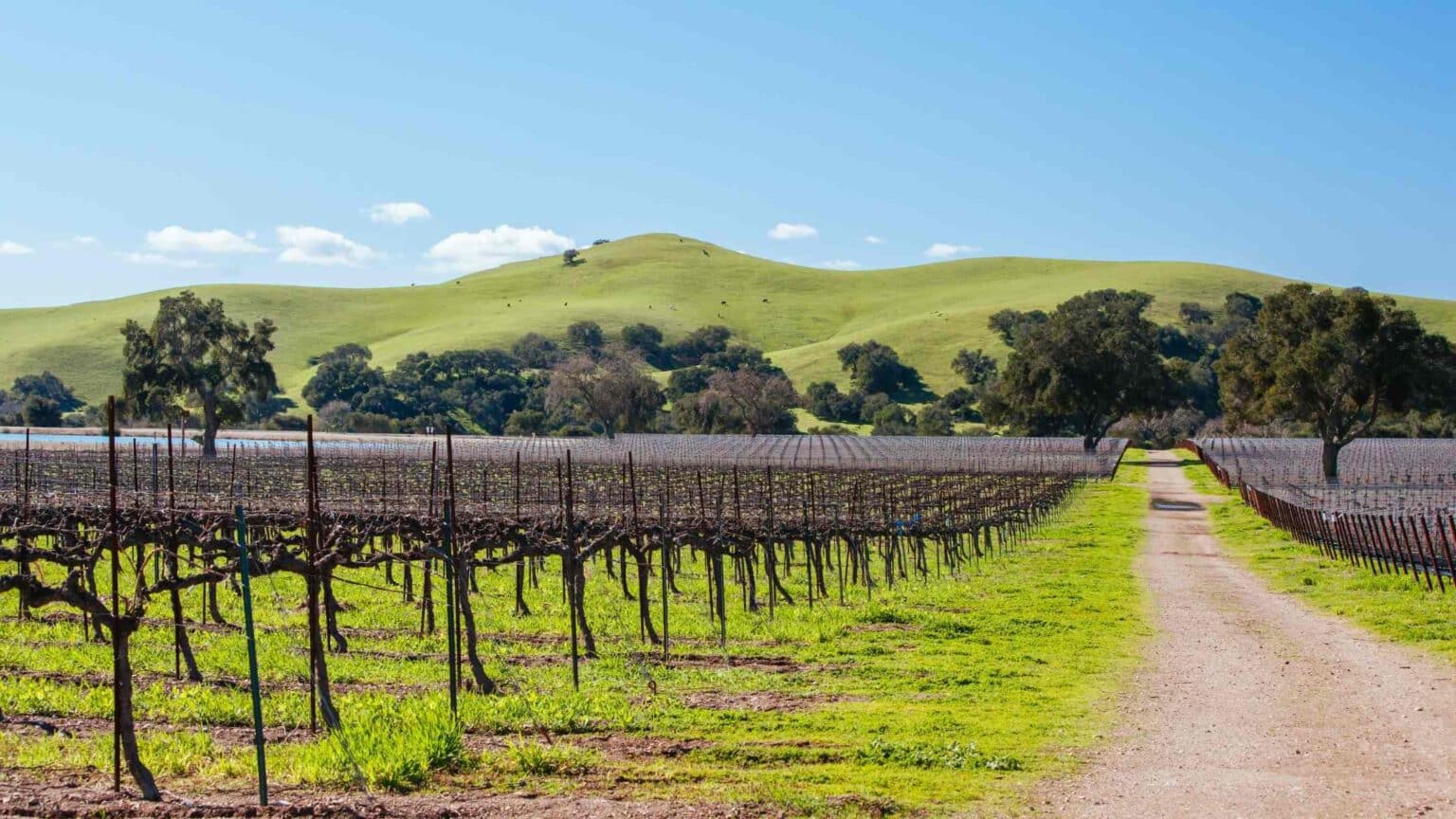 But even if you are not into wines, you should still plan a visit to the Santa Ynez Valley to explore the towns, where you can plan a few days in each of them. Museums, downtowns, restaurants serving delicious delicacies, hikes, and shopping are some of the things to do in the towns of the valley, apart from wineries.
How to get to Santa Ynez Valley From Santa Barbara
Santa Ynez Valley is located an hour's drive away from Santa Barbara. To make the most of your time and money, I suggest you book full-day wine-tasting tours online.
These tours allow easy cancellation, cover pick up, and include the best vineyards. If you opt for buses, check the local buses around Buellton, Los Olivos, Solvang, Santa Ynez, and Ballard.
Hike in Los Padres National Forest
An amazing Santa Barbara day trip that includes an incredible road trip, stunning vistas, and enough adventure is heading to the enormous Los Padres National Forest.
Encompassing over 8,000 square kilometers, Los Padres boasts of rugged forests, mountains, gorges, waterfalls, and beautiful countryside covering a huge portion of this part of California that stretches inland along the state's coastline from Los Angeles to Big Sur. You can stop by to admire Pine Mountain Ridge and Piedra Blanca mountains.
For hiking, there are two sections to choose from depending on how far you want to go. The larger begins inland from Santa Barbara and comprises forests home to tons of trails leading you to admire the best of the Ynez Mountains.
The 7 miles round trip Jesusita trail to Inspiration Point is one of the famous trails, and you can choose the best tracks on the National Forest website. You can also find many beautiful lakes, streams, and waterfalls on your way, which are great places for camping.
If you want to begin at the seafront, check out the second section along the gorgeous Big Sur coastline. Although the trails here are further away, they can be included if you plan to travel to Big Sur or drive along the coast next.
Admire the Gorgeous Hearst Castle
Regular readers know about my obsession with castles and museums, so I cannot help recommending you a chance to visit one of the beautiful castles in California. Visiting Hearst Castle has become one of the fun day trips from Santa Barbara in recent years, which is delightful because this castle is about history, architecture, an excellent collection of rare artifacts, and a fantastic location.
This historic landmark is located just two hours north of Santa Barbara along the coast is a great Santa Barbara day trips idea if you are traveling with kids. It belonged to newspaper legend William Randolph Hearst who established this grand structure in 1919.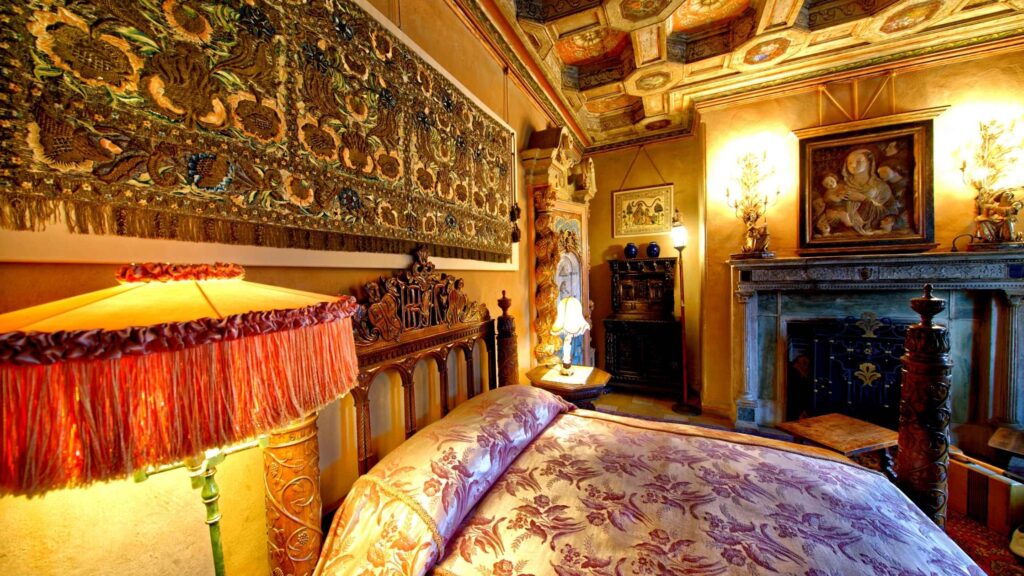 William Randolph Hearst frequently hosted the elite and international celebrities in this castle from the 1920s to the 40s until his demise. It was a luxurious holiday home for the VIPs, garnering attention for its exquisite indoor and outdoor elegance and richness.
William Randolph Hearst also had the world's largest private zoo in here back then, and all this magnificence led to the place earning the title "Enchanted Hill."
After his passing, Hearst Castle was opened to the public. It is one of California's most visited historical landmarks, as visitors throng to enthrall themselves with the grandiose of over 165 rooms, royal halls, banquets, and terraced gardens.
You can get views into the grandeur and the luxury of this massive estate nestling amidst lushly landscaped gardens, glittering pools, and fountains, antique statues from all over the world, inviting you to the majestic halls and rooms.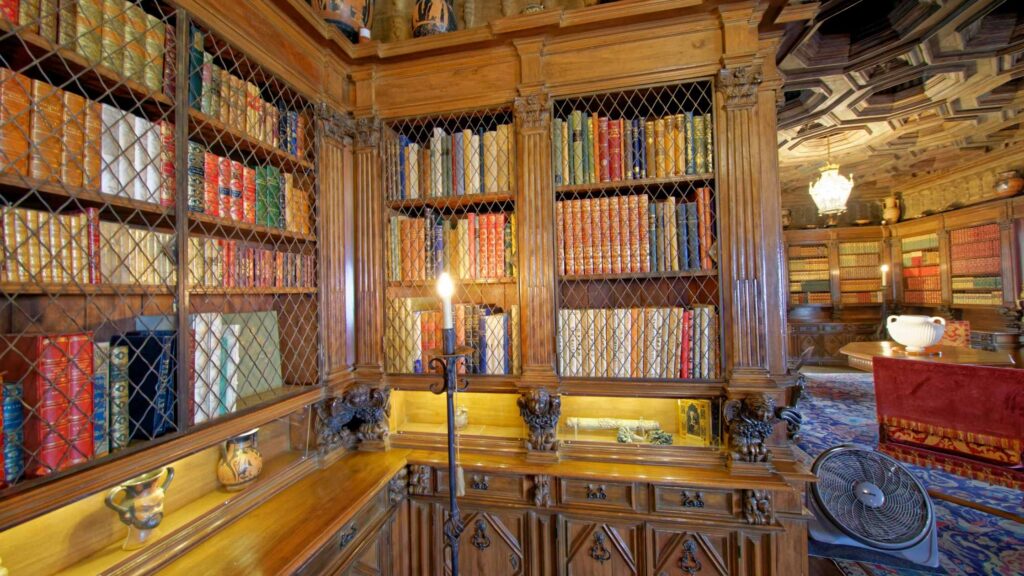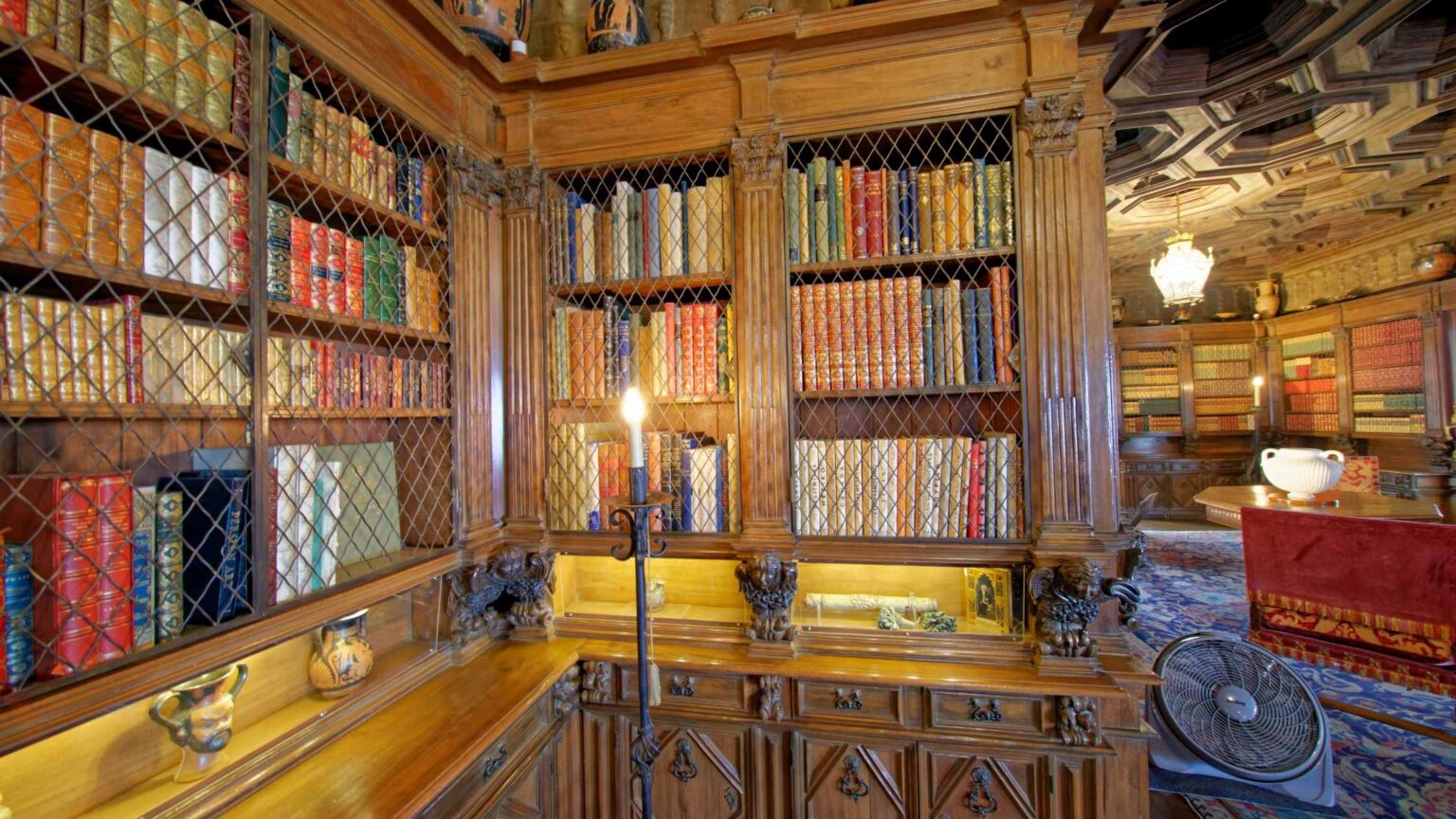 Check out the many exotic paintings, sculptures, and ancient lamp collections from prehistoric to medieval Europe.
How to get to Hearst Castle from Santa Barbara
Drive to Hearst Castle, which is located in San Simeon, about 136 miles from Santa Barbara. The drive takes about 2.5 hours. You can book guided tours of the castle for a better experience, especially if you want to know all about its history and architecture.
Go Island Hopping on the Channel Islands
One of the most popular and fun day trips from Santa Barbara is a getaway to the beautiful Channel Islands south of the city. They are a group of eight islands, with five gorgeous islands comprising a national park, easily accessible through a comfortable boat trip from the city. If you crave an adventurous entry, then book a seaplane to the islands.
The Channel Islands National Park is a perfect day trip from Santa Barbara for many reasons. It is home to some of the most exotic wildlife found in North America. The landscapes are surreal treats for the eyes for sure, but there is more. You have plenty of activities to enjoy, from kayaking to hiking, diving, surfing, or just unwinding on a slice of natural paradise.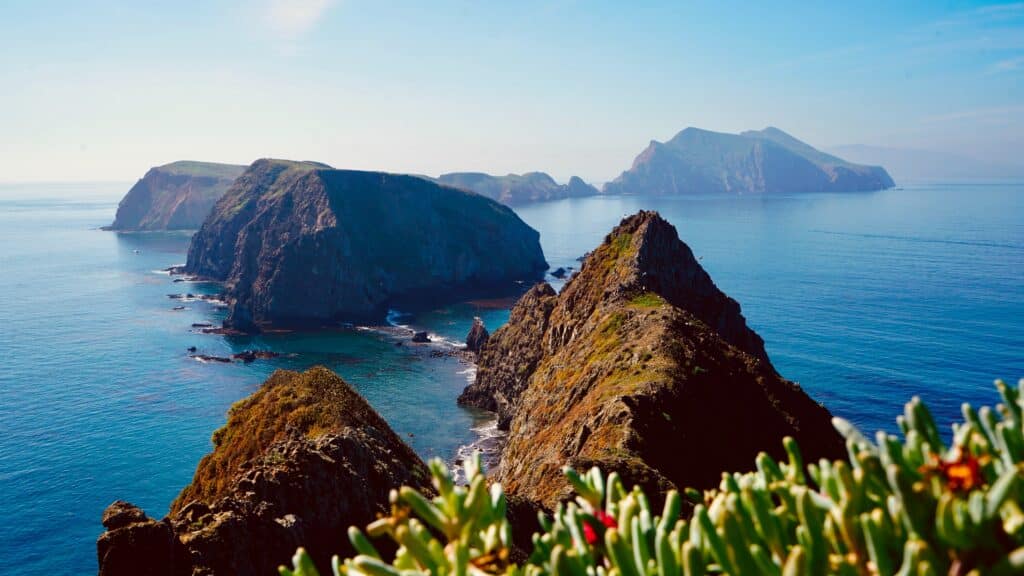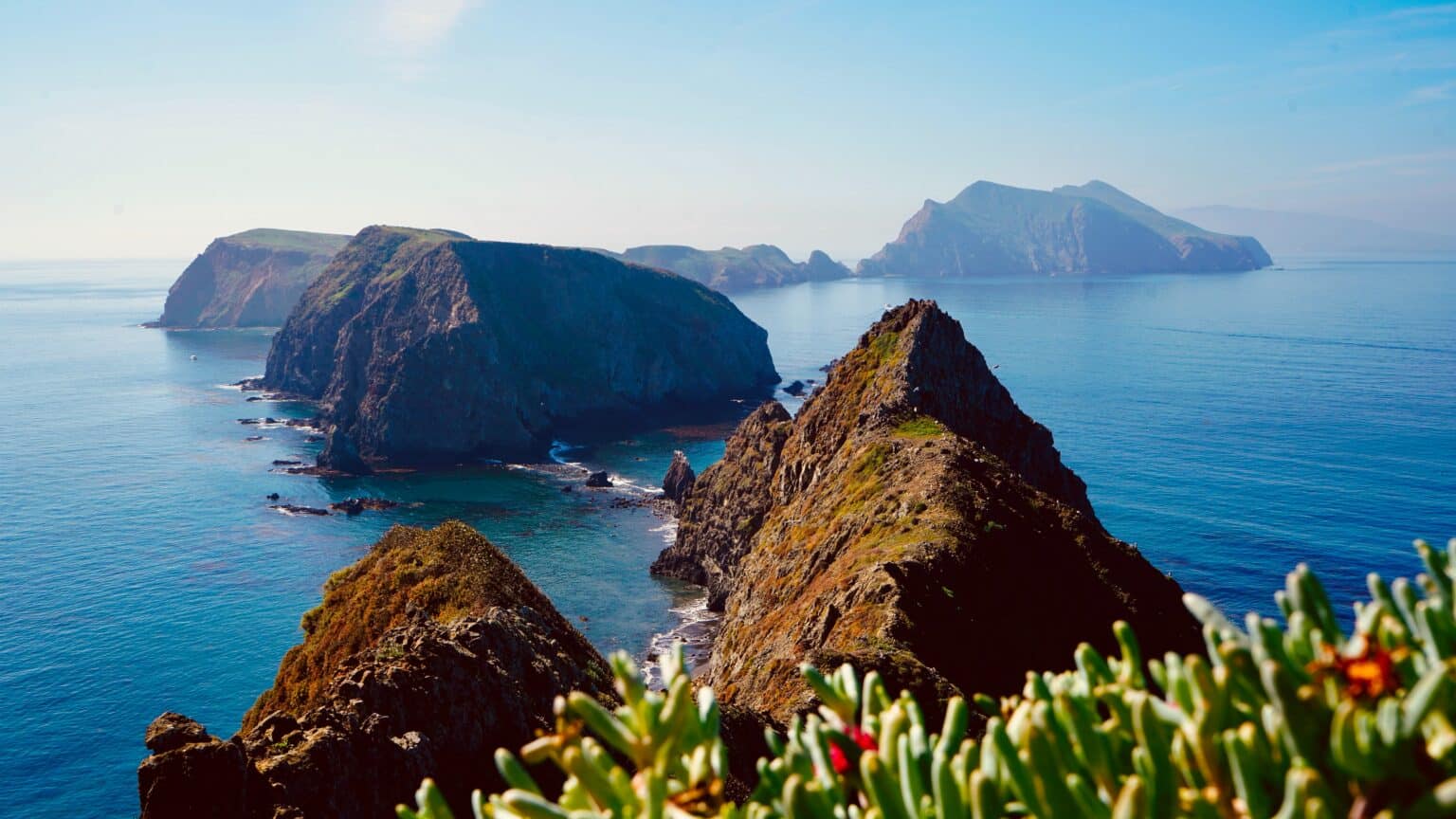 Did you know? These gorgeous islands were fertile lands home to indigenous Chumash people thousands of years ago. Today it is the land of at least three thousand species of plants and animals. If you are lucky, you could watch the giant blue whales, dolphins, and elephant seals. No wonder it is nicknamed the Galapagos of North America.
You will love Anacapa island for its stunning caves and hikes. Santa Cruz, another famous island of the group, is a must to enjoy scuba diving, camping, and whale-watching.
How to get to Channel Islands National Park from Santa Barbara
The boats to the Channel Island leave from Ventura, a town about 30 miles south of Santa Barbara. From Santa Barbara, take a train or drive to Ventura. You can reach the nearest islands Anacapa and Santa Cruz, in an hour from Ventura. The Island Packer's ferry leaves from a port in Ventura.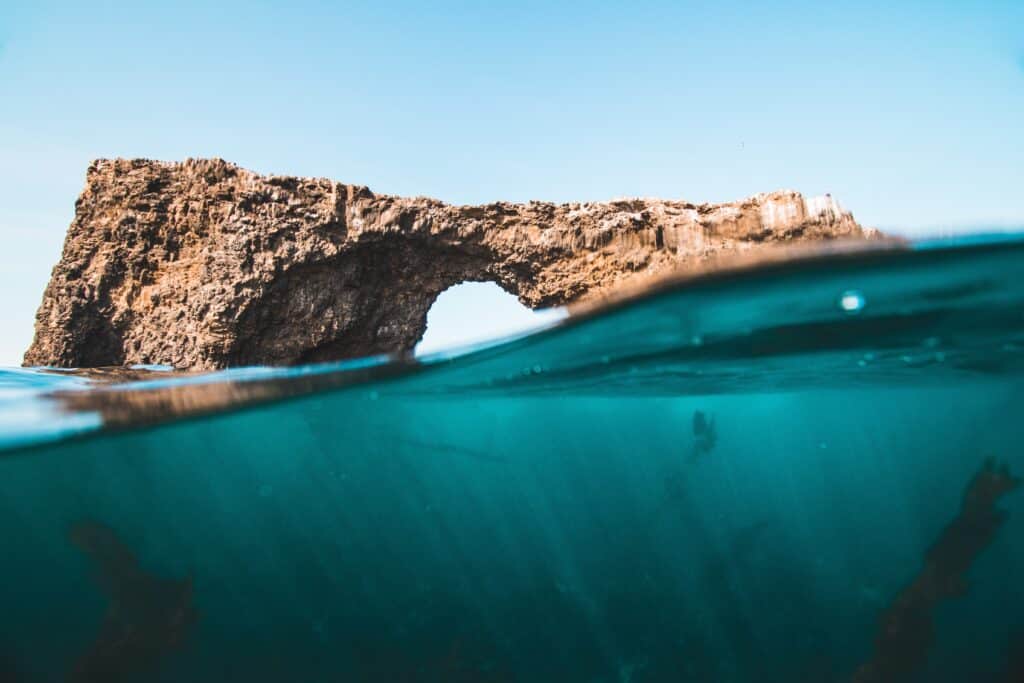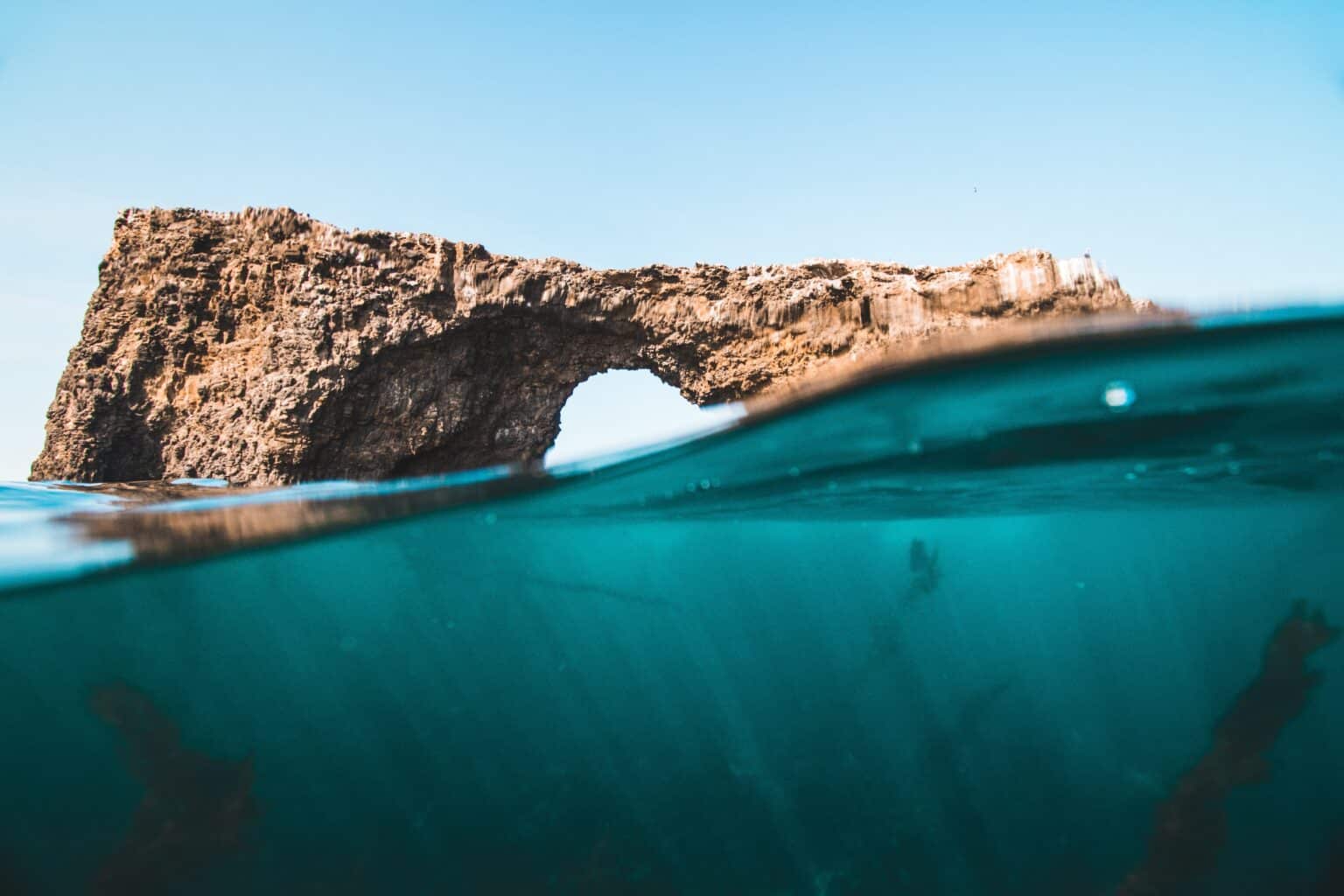 On this ferry drive, you will come across some fantastic landscapes, including the rugged mountains with their rocky cliff tops, arches, and if you time it right, you may even spot dolphins or whales.
If you want to spend the night, the nearest home base in Ventura has a few unique accommodation options. For a memorable experience, stay at Waypoint Ventura, where you will spend the night in rooms made of Airstream trailers that look fabulous and cozy too.
Go Biking in Point Mugu State Park
If you are a fan of national parks and nature reserves like me, one of the best day trips from Santa Barbara that you will love is a getaway to Point Mugu State Park, a small area of protected land south of Santa Barbara located in the Santa Monica Mountains National Recreation Area.
Do not underestimate the size of this reserve as the park is packed with gorgeous landscapes, including forests inland running outward spanning five miles of coastline, which is more beautiful. The coastline edges are the most dramatic, with intriguing cliffs, rocky hills leading to dunes, and viewpoints.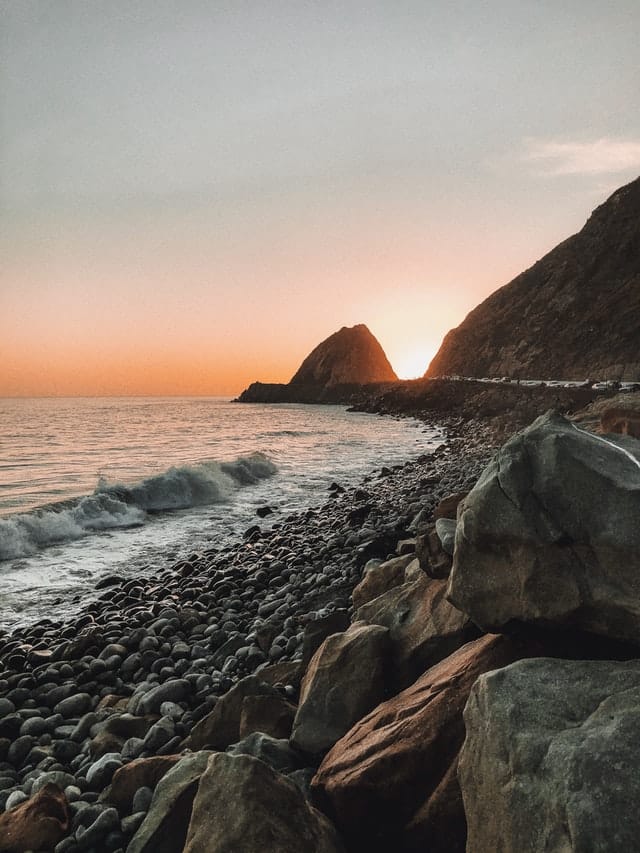 Due to the climate and the fauna, spring is the popular time to visit Point Mugu as the valleys are filled with spring wildflowers carpeting lush green hillsides that give way to flowing waterfalls. You can choose to hike any of the trails running for over 70 miles in the park that takes you through stunning landscapes, including the iconic Mugu Rock and Boney Mountain.
If you are into biking, you can pick those tracks that lead you to the beach line from inland, which is an adventurous trail for sure. Or head straight to the coast to enjoy the beaches where you can swim and surf. You will enjoy your day in this beautiful park easily accessible from Santa Barbara, no matter what you do.
How to get to Point Mugu State Park from Santa Barbara
Point Mugu is about 50 miles away from Santa Barbara. Driving is the best way to reach it as the route includes a drive on Las Posas Road that runs straight to the ocean as it meets the Pacific Coast Highway.
BEST DAY TRIPS FROM SANTA BARBARA – SMALL TOWNS
Experience a piece of Denmark in Solvang
How about getting glimpses of Danish experiences in a US town? If you are into European-type cities and villages in the USA, one of the best day trips from Solvang that you will love planning is a visit to Solvang, located in Santa Ynez Valley.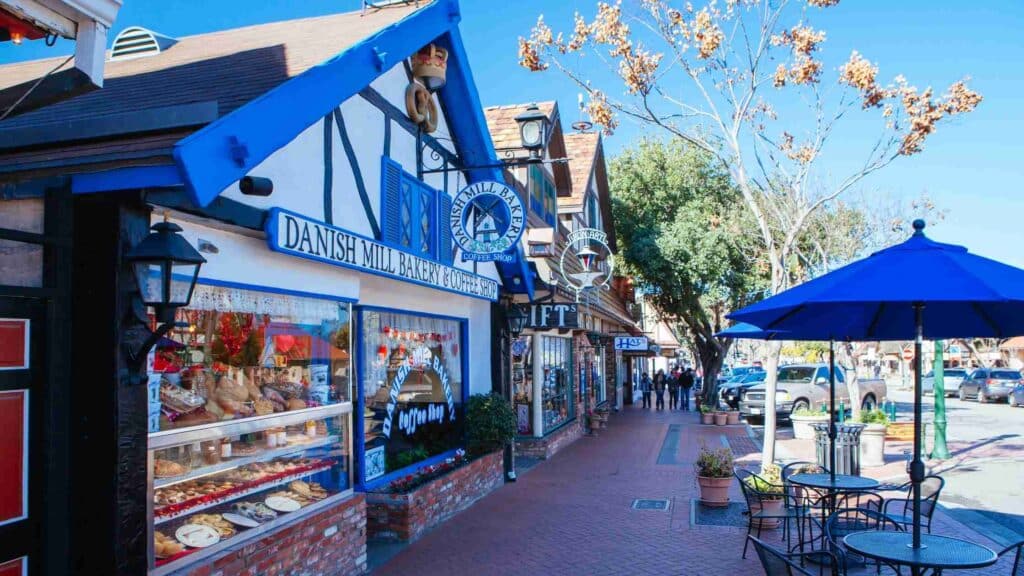 This Dutch-themed city needs at least a day or two to let the Danish influence sink in, but a day trip from Santa Barbara is enough time to sweep you off.
Stunning and colorful architecture, fantastic bakeries serving delicious baked items, museums are some things that will keep you occupied. Still, Solvang is a postcard for the natural beauty that will enchant you.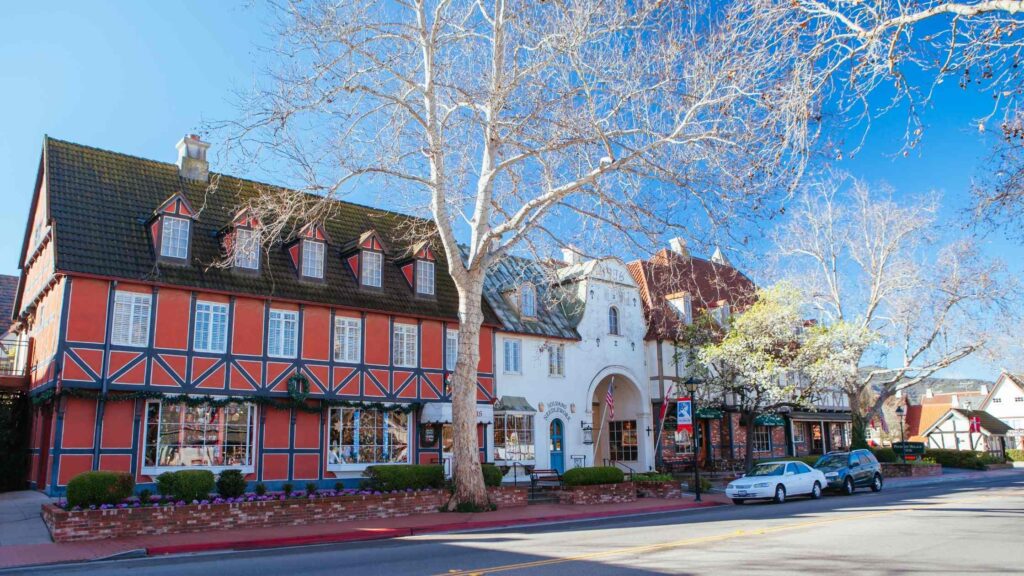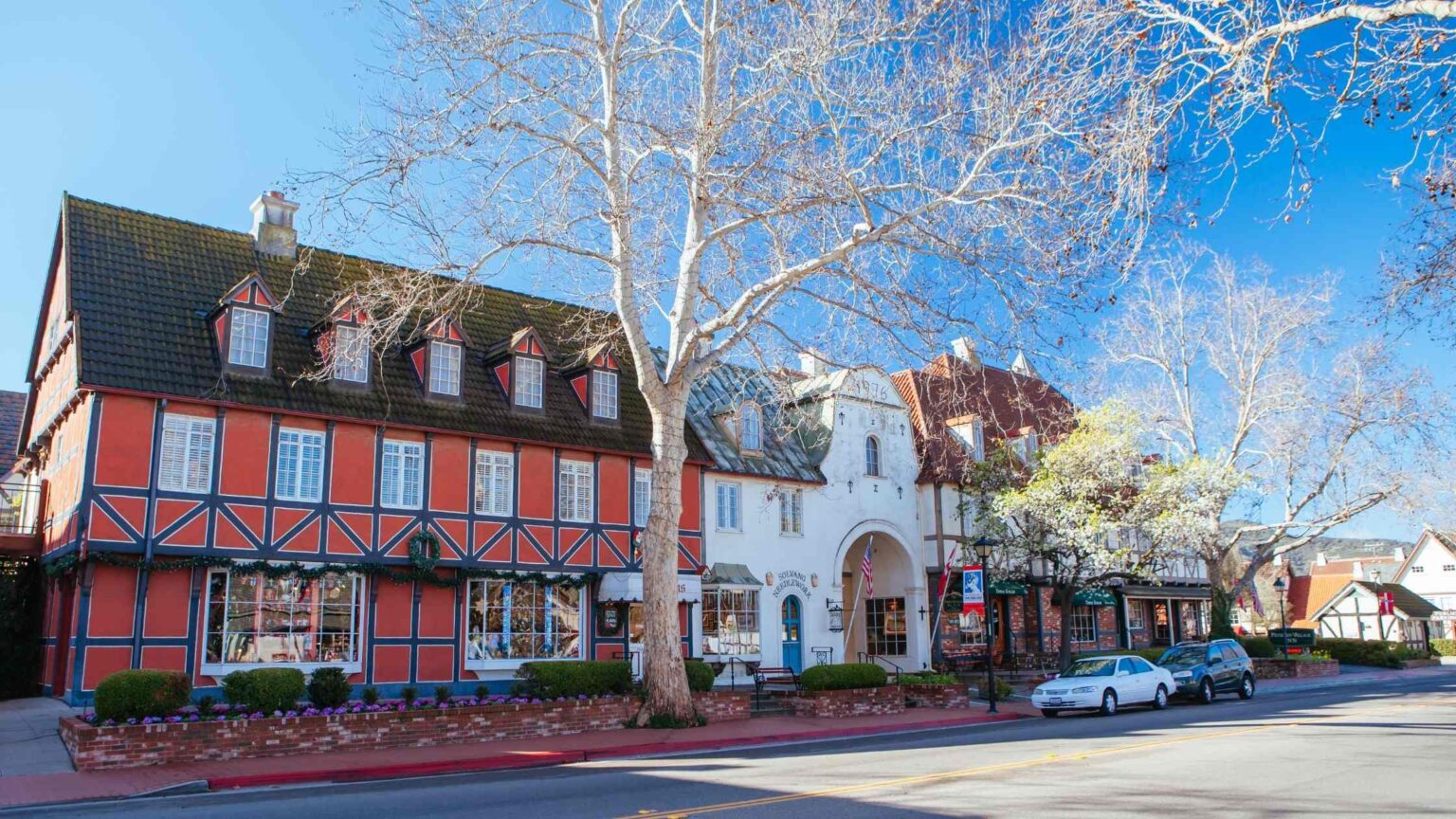 There are many amazing things to do in Solvang for everyone. You can attend the festivals, sign up for the many wine tasting tours, go bakery-hopping, and admire the beautiful buildings, including traditional windmills. But the specialty of Solvang is the Scandinavian culture that will take you back in time.
How to get to Solvang from Santa Barbara?
This small Danish Village is only about 45 minutes away from Santa Barbara, which is best reached by a drive.
Explore Los Olivos
Not many know that one of the cutest towns lies close to Solvang. Los Olivos is just 10 minutes away from the city's north, which is known for vineyards and fabulous tasting rooms.
You can base in Los Olivos if you are keen on touring one or many vineyards. You have plenty of great accommodation options available too. Book these guided tours that will also let you taste excellent wine, along with getting to visit the beautiful vineyards.
Enjoy Rejuvenating Spas at Ojai
A lovely small town that you should add to your list of Santa Barbara day trips ideas is checking out Ojai. Ojai is a small mountain village in Ventura County, nestling in the Ojai Valley surrounded by the Topatopa Mountains. It is known for its fabulous landscapes comprising mountains, museums, galleries, architecture, and plenty of architecture of excellent restaurants and luxurious spa centers offering relaxing massages.
Depending on what you want to do, you can choose to explore the rugged outdoors or indulge in dining, visiting organic farms, lavender fields, and enjoying spas. Located just an hour's drive from Santa Barbara, it is a comfortable and lovely getaway from the city you can plan.
You can combine a visit to Ojai with a visit to the nearby Los Padres National Forest for hiking and camping or include Lake Casitas(more on this next). You can visit the lavender farms, go hiking around the countryside trails or rent a bike. Check out the Ojai Valley Museum for getting to know the history, culture, and art of the Ojai Valley.
If you plan to visit vineyards on your trip, Ojai has some good organic ones thanks to its excellent weather. Many of them are located close to each other so that you can club your tours as well.
Did you know? One of the many unique things about Ojai is that the entire town has organic stores selling all types of products, so you will not find any chain stores or restaurants selling fast food. It is a perfect destination for a total detox as you can try Yoga, relax and unwind in retreats, and eat delicious organic delicacies. You cannot miss noticing the bohemian vibe on Ojai Avenue that's packed with boutique shops, art galleries, organic products, wineries, and unique souvenir shops.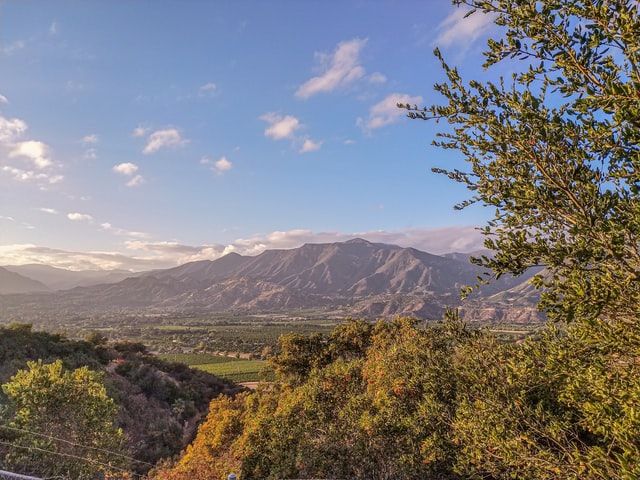 Do not miss taking a tour of the Olive organic farm Ojai Olive Oil, one of California's largest olive oil orchards, producing many types of award-winning extra-virgin oil. On a guided tour, you will get to know many things about the origin of oil. There is a shop where you can buy what you like.
How to get to Ojai from Santa Barbara?
Located about 33 miles away from Santa Barbara, Ojai is an hour-long, beautiful drive on the Pacific Coast Highway.
Spend a day in San Luis Obispo
You will love San Luis Obispo if you enjoy small towns that have fun written all around. The university town may not be the first choice when thinking of the day trips from Santa Barbara.
Still, if you are into boutique shops, wineries, unique cafes, and restaurants, beautiful hilltops offering splendid panoramic views, it is a great idea to head to San Luis Obispo.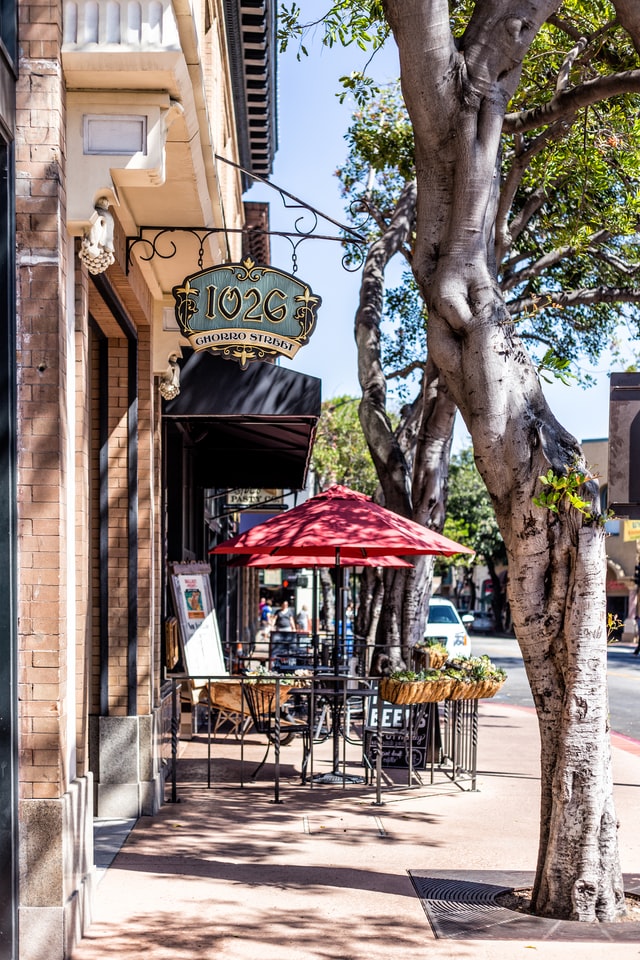 San Luis Obispo is also located midway between LA and San Francisco, so it is a popular overnight stop for road-trippers. Also, unlike the other towns near Santa Barbara focusing heavily on wine, SLO is known for its craft breweries, so beer lovers like me will have fun exploring this charming town.
Hile to Bishop peak, enjoy a stroll in colorful downtown or spend some time along the San Luis Obispo Creek. Visit Farmer's Market, or stop at the busy restaurants for tasty cuisines and to witness the bustling student crowd. Stay overnight at the classic Madonna Inn, one of the best S`an Luis Obispo attractions known for its special-themed rooms.
How to get to San Luis Obispo from Santa Barbara
San Luis Obispo from Santa Barbara is about 95 miles, which is best reached by a beautiful drive that takes about 1.5 hours.
MAP OF DAY TRIPS FROM SANTA BARBARA