Plenty of Best Christmas Markets in Europe are one of the best things about European Christmas. Christmas in Europe is magical – Ask anyone who has spent a Christmas in any European city and they will tell you why.
The chilly winters, the snow carpeting the streets and the colours transition the cities of Europe to fairytale towns, transporting you to Christmas paradise. No wonder, Christmas and winters attract hundreds of thousands of people from all over the world.
In this post, I bring to you the most beautiful Christmas markets in Europe, along with all you can enjoy and tips to plan your trip.
So what are you waiting for? Get ready to feel Christmassy!
BEST CHRISTMAS MARKETS IN EUROPE
TALLIN CHRISTMAS MARKET, ESTONIA
Tallinn Christmas Market Dates: 15 November 2020 to 5 January 2021.
The capital of Estonia Tallinn completely transforms itself as the X-Mas celebrations kick in. This lovely city is home to one of the best Christmas markets in Europe.
Unlike other cities, The Tallinn Christmas market is compact and cosy and set amidst the beautiful medieval town. The historical Tallinn Town Hall adds to the magic of the market taking you back to medieval times.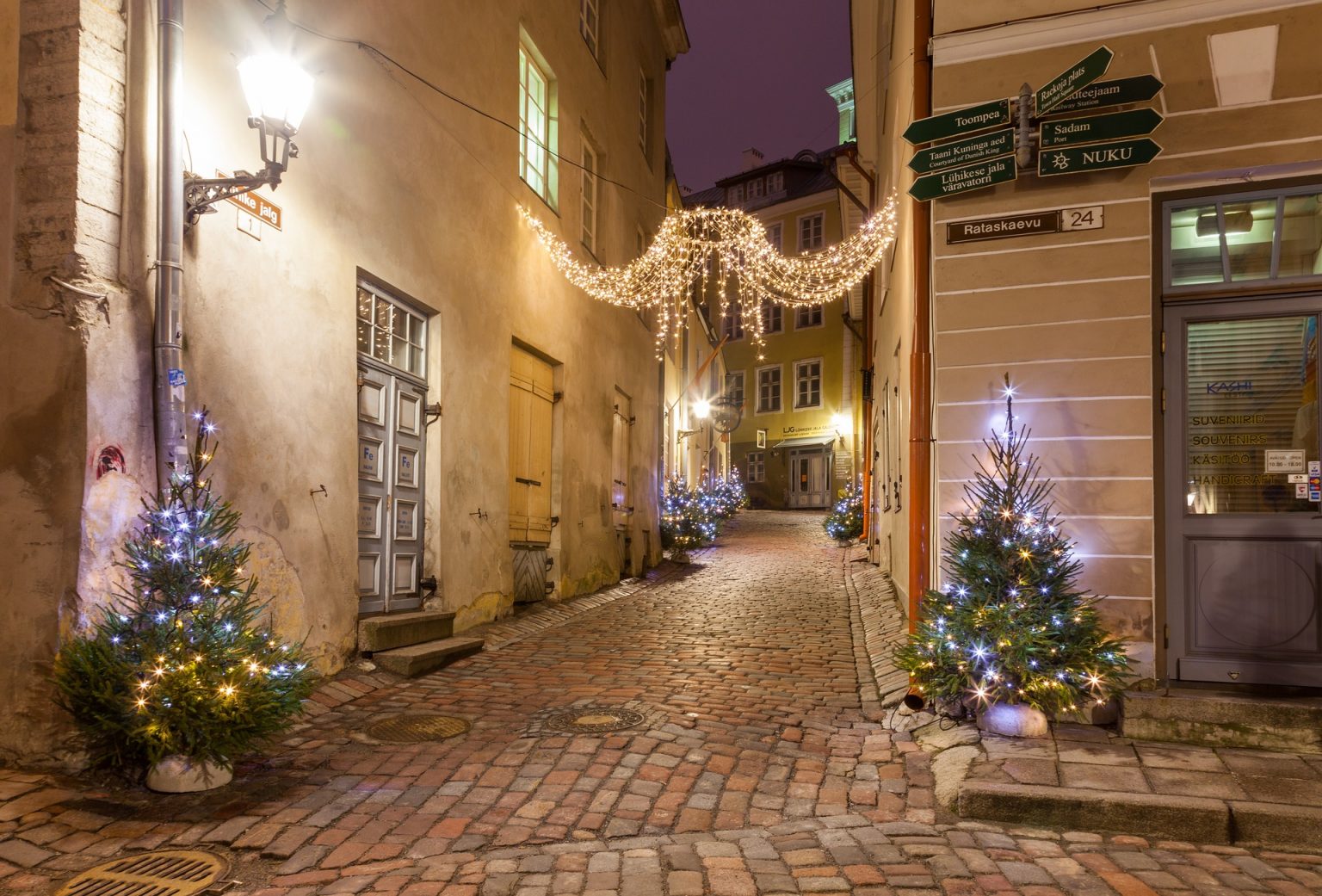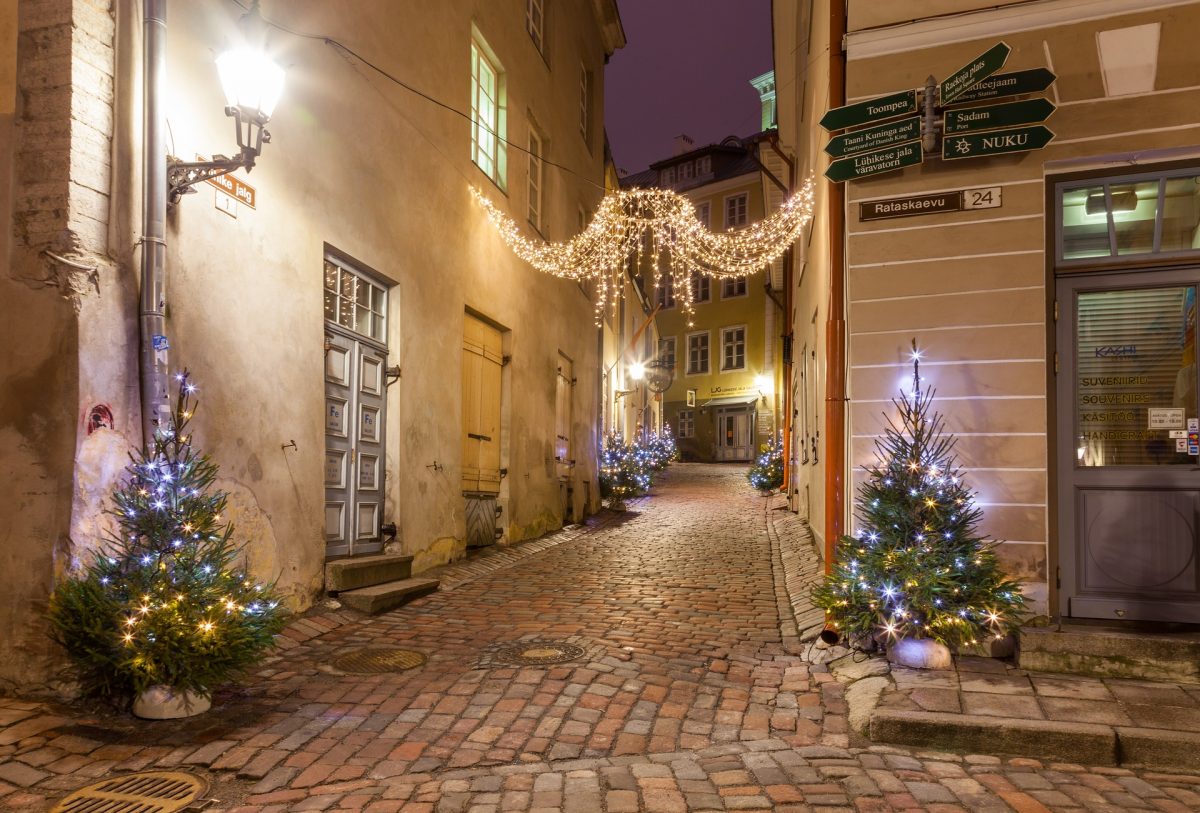 It is small and not over-crowded, making it perfect for families, couples or anyone wanting to enjoy the Christmas spirit minus the large fanfare.
Estonians state that at the first-ever public Christmas tree was erected at the Tallinn Town Hall Square in 1441 to celebrate the Old Yule. The Christmas tree was the centre of all celebrations.
One of the local traditions was dancing by the women and men(also merchants in town) around the tree, and it was burnt after the celebrations.
What to do at Tallinn Christmas market
The market is great for some winter Christmas shopping. You will find local handicrafts including cute books, clothing accessories, nick-knack, necklaces, rings, many jewels, scarves, mittens, sweaters, jackets and other winter accessories.
Perfect place for buying New Year gifts for your loved ones.
Don't miss trying Glögi – a Scandinavian spiced alcoholic drink(non-alcoholic version available too), and the national drink of Estonia – Vana Tallin, a type of cherry mulled wine.
If you love coffee, try the hot cocoa, perfect for the chilly weather.
Among the local foods that you must try are the many types of grilled sausages, pork chops, potatoes and sauerkraut, warm Gingerbread, goose, smoked salmon, waffles, roasts and other local Christmas delicacies at the many food and drinks stalls.
If you are here are on the weekends, it gets better. A special Christmas programme runs on Fridays from 5 PM to 7 PM and on Saturdays and Sundays from 12 PM to 2 PM.
On the stage near Raekoja Square, hundreds of artists from various cities give traditional singing and dance performances.
Want to spot and chat with Santa Claus? You can find him at his hut from 1 December every day from 12 PM to 6 PM.
Where to stay in Tallinn?
The neighbourhood around the old town is the perfect place to stay in Tallinn as there are plenty of hostels guesthouses, apartments and hotels in every budget.
If you are looking for a hostel, I'd recommend Sesoon Hostel, and Neotel. Book your accommodation at Sesoon Hostel here: Booking.com | HotelsCombined
Check out reviews and book your stay at Neotel here: Booking.com | HotelsCombined
A mid-range apartment is the best if you are travelling with family. I'd highly recommend Cozy Home Apartment – Tallinn City and VH Apartments Telliskivi. Both have exceptional reviews, are centrally located close to the old town
Book your accommodation at Cozy Home here: Booking.com | HotelsCombined
Book your stay at VH Apartments here: Booking.com | HotelsCombined
If the budget isn't your constraint, Metropol Spa Hotel is awesome – They are located centrally and they decorate and host various Christmas celebrations for guests. Book your stay at Metropol Spa here: Booking.com | HotelsCombined
VIENNA CHRISTMAS MARKET, AUSTRIA
Vienna Christmas Market Dates: November 14 to December 23 2020.
The capital of Austria, Vienna, is home to not one, but about twenty of the best Christmas markets in Europe. Come last week of November, and the city turns into a Christmas fairyland, drawing hundreds of thousands of visitors.
Christmas markets in Vienna has a history of over 700 years. After Germany, Austria is the destination if you are more into traditional European Christmas markets.
What to do in Vienna Christmas Markets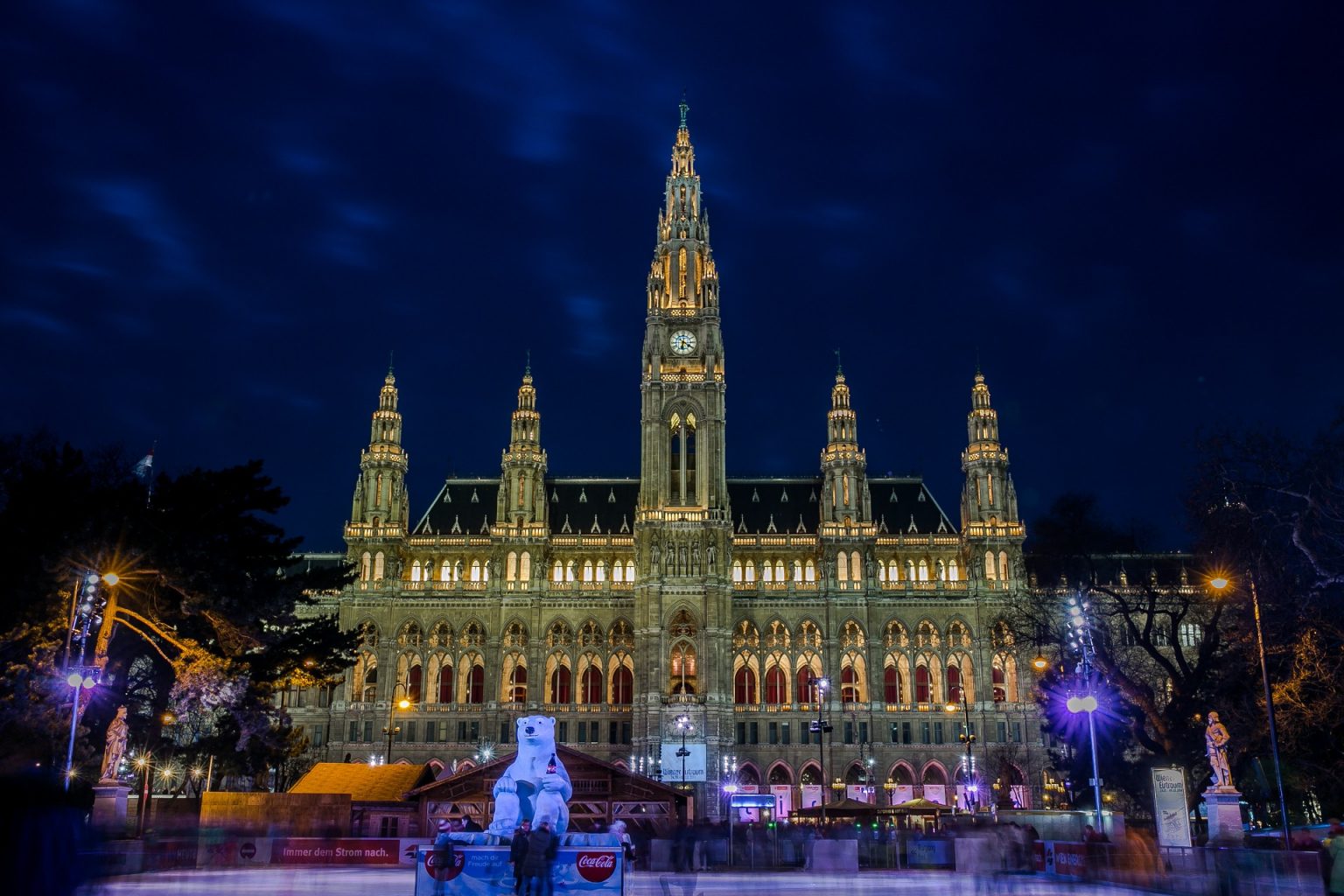 Christkindlmarkt in Rathausplatz square in front of the City Hall is the most popular among all the Christmas market in Vienna. Against the medieval buildings, the market comes alive with all the trinkets and lights.
Over 150 wooden stalls sell lovely Christmas decorations, goodies like handicrafts glass ornaments, beeswax candles and wooden toys.
If you have more time, visit the other markets in Vienna, including Weihnachtsmarkt in Spittelberg set amidst the cobbled streets.
Karlsplatz is the place to go if you are looking for something artistic. Visit Freyung Altwiener, the oldest Christmas market in Vienna. 
Karlsplatz is the place to go if you are looking for something artistic. Visit Freyung Altwiener, the oldest Christmas market in Vienna. 
The Christmas market at Schðnbrunn Palace is everything luxurious that you should stop by for witnessing its opulence.
Fill your tummy with yummy cream-filled pastries, candied fruit, Raclette Brot – a bread with melted Alps cheese and roasted chestnuts.
Try Vienna's special Christmas drink, Weihnachtspunsch – a spiced Christmas punch of wine. Go on some adventure around the 32,000-square-foot ice rink, hop on the reindeer train, take a ride on the Ferris wheel and carousel.
Also, attend one of the traditional Magic of Advent musical concerts in Vienna Christmas market.
Where to stay in Vienna
Here are some of my recommendations for Vienna hotels, close to market locations.
SALZBURG CHRISTMAS MARKET, AUSTRIA
Salzburg Christmas Market Dates: 22 November 2020 to 26 December 2020.
Christkindlmarkt in Salzburg is one of the prettiest Christmas markets in Europe that you should add to your itinerary if you are in Austria.
One of the oldest markets in Europe, the Christmas traditions in Salzburg has a history dating to the 15th century. It is a fantastic market to enjoy with your family.
What to do in Salzburg Christmas market?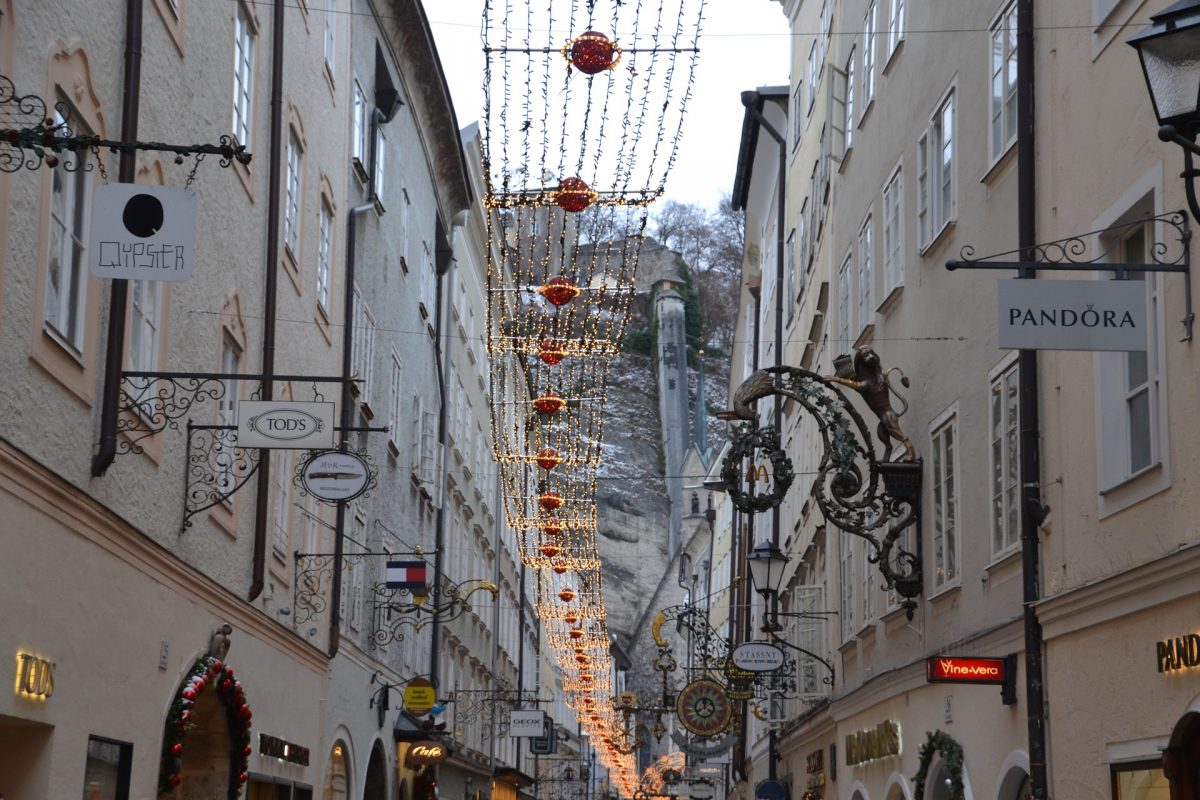 Take a walk amidst the 100+ stalls in Residenzplatz, the old town of Salzburg.
Try those delicious sausages, especially Kasekrainer – cheese-stuffed sausage, pastries, roasted chestnuts, Lebkuchen – Gingerbread, and hot Glühwein.
Shop for Christmas goods like pewter crafts, advent wreaths and wooden toys.
There are many Mozart concerts that you can attend, and also the Christmas Carol Silent Night.
Attend one of the world's largest Advent festival at the Schloss Hellbrunn, a 17th-century palace.
Where to stay in Salzburg?
Salzburg is generally expensive but can get even costlier around Christmas, and the best often get sold out. It is best to book your accommodation well in advance.
Here are some of my recommendations.
PRAGUE CHRISTMAS MARKETS, CZECH REPUBLIC
Prague Christmas Markets Dates: November 28, 2020, to January 6 2021.
The Prague Christmas Markets in the Czech Republic are among the most enchanting Christmas markets in Europe known for its perfect blend of traditions and compactness.
There are six Christmas markets open in Prague at various locations. The most prominent one is at the heart of the city in the Old Town Square, which is the most popular of them all.
Fairytale Gothic spires of Our Lady before Tyn Church, medieval houses and the Old Town Hall form the backdrops for the brightly decorated wooden huts, nativity themed zoo, and massive decorated Christmas tree.
The other main Christmas market in the centre of Prague is a five-minute walk away, a modern setting of Wenceslas Square which looks completely different from the medieval atmosphere of the Old town.
Another magical Christmas market in Prague that you should stop by is at St George's Square on Castle Hill (Hradcany).
What to do in Prague Christmas Markets?
The aroma of freshly baked Czech delicacies and the melodious Carols welcomes you at the Old town Square.
Climb up the belfry of the Old Townhall to enjoy the magnificent bird's eye view of the Market and Square.
Shop for Czech's special handicrafts like the famous bohemian crystal, wooden toys, marionettes, hand-embroidered clothes, jewellery, Medovina honey wine, Czech blown glass balls, souvenirs made of pearls or straw glass, biscuit cutters and other typical Christmas goods.
Enjoy a taste of typical mulled wine, Vánocvka – pastry coated with raisins, honeyed gingerbread cookies, especially Vosí Hnízda – cookies with nuts and rum.
Also try fresh spit-roast cake, hot roasted chestnuts, many types of Czech grilled sausages and skewered food. The Czech beer is quite tasty if you are into beers.
Where to stay in Prague?
Here are some of my recommendations for Prague hotels, close to market locations.
BUDAPEST, HUNGARY
Budapest Christmas Markets Dates: November 20, 2020, to January 1 2021.
Not many know that Budapest is one of the cities that goes all the way to celebrate Christmas in a grand fashion.
The winter is also a great time to be here, especially around Christmas and New Year eve as Hungary is one of the cheapest countries to visit in Europe given the exorbitant prices at other cities in the continent.
Budapest has two notable markets, Vörösmarty Square Christmas Market and Basilica Christmas Market.
The most popular is Vörösmarty Christmas Market, which is the oldest in the city is the most beautiful Christmas market in Europe. Basilica Christmas Market is the biggest.
What to do at Budapest Christmas markets?
Whether you are traveling with kids or not, you should go ice skating in the central rink around the Christmas tree, which is a fantastic experience. Ice rinks and Christmas go hand in hand in Europe, so why not try here?
There are special light shows held every night that you shouldn't miss because it's the biggest 3D light show in Europe
The markets are not only very magical but also among the most eco-friendly as you can see the use of environment-friendly cutlery, ban of plastic and effective recycling in the stalls. There are also concerts held where a part of the revenue goes to charity.
The Advent Feast that happens at the Basilica is the show stopper. It is one of the specialities which makes it one of the best Christmas markets in Europe.
Taste the mulled wine, Hungarian special Palinka and traditional Hungarian cuisine including burgers, fish delicacies, waffles, Flódni – the Hungaricum chimney cake, cookies, poppy strudel, and more.
After spending hours at the markets shopping and eating out, the best way to call it a day is by unwinding at one of the many fabulous Thermal Baths.
Where to stay in Budapest?
MUNICH, GERMANY
Germany is one of the best countries to spend your Christmas holidays. The entire country decks up for elaborate Christmas festivities that span for weeks all the way, including the New Year eve.
Munich is one of the favourite cities for many for a Christmas vacation which is no surprise considering it is home to one of the most beautiful Christmas markets in Europe. 
Marienplatz Christmas Market happens at St. Mary's Square or Marienplatz, with a gigantic glittering Christmas tree at the centre and the iconic New Town Hall forming the perfect background.
What to do at Munich Christmas Markets?
Hundreds of stalls surround the tree selling crafts, hand-made souvenirs, winter accessories, typical Christmas goods like wooden dolls and more.
If you are here on the Friday before the Advent, head to the square at 5:30 in the evening to watch a special carol consisting of a brass band and Alpine choir at the balcony of the beautiful Gothic Rathaus (Town Hall).
Hop on the Christmas tram through the old city where you can enjoy spiced wine and gingerbread too.
There are many small themed markets scattered around Munich, some of which are worth visiting. The Christmas market at Wittelsbacher Platz is unique for its medieval settings which takes you back in time to Bavarian Christmas traditions with the Nativity figures.
Don't miss trying the famous sausages, Potato Pancakes and Gingerbread. Of course, no visit to a Christmas Market in Europe is complete without trying the mulled wine Glühwein. 
Where to stay in Munich?
There are plenty of options to stay in Munich given that the city is huge. But at Christmas and New Year Eve, the prices are higher than usual. It is recommended that you book your accommodation at the earliest.
Here are some of the hotels and apartments I'd recommend in different budget ranges.
NUREMBERG CHRISTMAS MARKET, GERMANY
Nuremberg Christmas Market Dates: 24 November 2020 to 24 December 2020.
With records dating back to 1530, Christkindlesmarkt in the city of Nuremberg is one of the oldest Christmas holiday celebrations in Germany dating back to 1530.
Its rich history is one of the reasons that make it among the top Christmas markets in Europe. Nuremberg is also one of the biggest Christmas markets in Europe that receive over 2 million visitors for a month!
There are also plenty of things to do in Nuremberg that you can enjoy along with the Christmas market. Take the walking tour to get to know the history or a guided tour to Nuremberg Castle on the hill.
What to do at Nuremberg Christmas market?
Given the sheer size of the market and the countless number of activities and events, you have plenty of things to do and see at Christkindlesmarkt.
Witness the traditions of Advent which start on the Friday before the event itself. The golden Christmas Angel appears on the high gallery of the medieval Frauenkirche to recite the opening prologue.
Check out over 150 bright coloured stalls selling souvenirs including toys, ornaments and crafts.
The souvenir that stands out is Nuremberg's trademark toy – Nuremberg Plum People or Zwetschgenmännle – tiny puppets made of prune limbs, fig torsos, and walnut heads with painted-on faces.
There is a competition for the best Plum man or Gold Plum Man for which all the stall owners compete. A unique souvenir worth taking home.
Don't miss trying Lebkuchen – Nuremberg's traditional gingerbread, Elisenlebkuchen, a special type of gingerbread coated with almonds and spices, and top it off with the Christmas speciality Glühwein – hot mulled wine.
Where to stay in Nuremberg?
ZAGREB, CROATIA
Zagreb Christmas Markets Dates: 30 November 2020 to 7 January 2021.
Zagreb Christmas market has been voted as Europe's best Christmas market, and it is no surprise as the capital city of Croatia is known for its magical Christmas holiday. The season of Advent is unique and very extravagant turning Zagreb into a winter wonderland.
The medieval architecture of the buildings forms the perfect backdrop for the Christmas market at Zrinjevac Park, the most popular of all the markets in the city.
Walk amidst the sweet bakery aroma, the lights everywhere, noticing the Nativity scenes near Zagreb Cathedral and the beautiful decorations there. You can't miss the imposing 200+ feet Christmas tree all decked up at the centre.
Browse the rows of wooden stalls for hand-made crafts, typical wooden toys for Christmas, artisanal gifts, knit scarfs, and decoration lights.
Enjoy ice skating at King Tomislav Square ice rink or watch how the pastry is made. Take a walk along the Kaptol district famous for its many Nativity scenes. If you want a bit of adventure further, hop on the carousel in Strossmayer Square.
Start with the special Cinnamon Flavoured Mulled Wine to warm you up, followed by the traditional Croatian cuisine Krpice Sa Zeljem – fresh pasta and cabbage dish. 
Also, look out for Licitar – honey gingerbread, apple strudel, Medenjaci cookies and hot štrukle – a pastry with melted cheese.
If you love music, head to the Croatian National Theatre to watch the performances by the six-piece Ad Gloriam brass ensemble on the balcony on Sundays.
There are special film scores, Christmas songs, and polka played at prominent buildings every day at night.
Where to stay in Zagreb?
STRASBOURG, FRANCE
Strasbourg Christkindelsmärik Dates: 30 November 2020, to 30 December 2020.
Strasbourg, the capital city of the Alsace region in France is more German than it is French, thanks to its close location on the border with Germany. This influence becomes more evident during Christmas as the village transforms into a magical paradise. 
Strasbourg is one of the top Christmas markets in Europe and of course, the best market in France.
What to do at Strasbourg Christkindelsmärik?
Christkindelsmärik of Strasbourg is the oldest Christmas market in France that has been in existence since the 1570s.
So don't be surprised to feel the medieval Christmas atmosphere complete with Nativity plays, an ice rink, and more than 300+ wooden stalls located at the City Cathedral.
As you walk to the Place Kléber, Huge Stuffed white storks, an Alsatian symbol of good luck and mascot of the city, the hymn of Carol Choirs and the sweet aroma of the mulled wine, which is served in boot-shaped mugs will beckon you to go back in time.
Head to La Petite France, a lovely historic centre on the canal consisting of traditional wooden houses all lit with golden lights of Christmas. 
This well-preserved neighbourhood was home to the working class of Strasbourg village including the fishers, tanners and millers.
For more Christmas indulgence, visit the market booths scattered over Strasbourg around Gutenberg, Austerlitz, de l'Homme de Fer, de la Cathédrale and Grimmeissen.
Try traditional Alsatian food – different varieties of pretzels, and spiced bread. 
If you are craving for something hot, try Flammkuchen – a flamed cake or a thin pizza made of bacon, onions, and crème fraîche, Tarte Flambée, roasted chestnuts, and bridle cookies, all topped with the mulled wine, of course.
Where to stay in Strasbourg?
There are many options in all budget ranges for hotels in Strasbourg. It is best to stay close to one of the markets to make the most of Christmas experience. Here are some suggestions.
MOST INSTAGRAMMABLE CHRISTMAS MARKETS IN EUROPE
BRUGES CHRISTMAS MARKET, BELGIUM
Bruges Christmas markets Dates: 30 November 2020 to 5 January 2021.
Bruges is one of the most beautiful towns in Europe with perfect Instagram-worthy, post-card like atmosphere. Imagine this picture-perfect town during Christmas! Yes, Bruges gets decked up to a whole new level to become a fairytale town, with pretty market and lights.
If you are looking for the best Christmas markets in Europe with snow, head to Bruges.
The Bruges square at the heart of the old town becomes the centre for the magical Christmas festival against the stunning medieval backdrop of the town hall and the Church tower. Hundreds of Christmas lights, the medieval buildings, the snow all add to the post-card like a charm to the city. 
What to do at Bruges Christmas markets?
There are two prominent Christmas markets in Bruges(called Wintermarkt in Flemish), and the main market is this one, attracting millions of visitors every year. Despite being so popular, you never feel crowded which is the best part.
You have plenty of things to do and see at the Christmas markets including pampering yourself with Belgian delicacies and Christmas shopping.
Admire the jaw-dropping Ice Sculpture Festival where artists from all over Europe sculpt the most magical figurines taking you to the magical land.
Get to the top of the Belfry of Bruges for stunning bird views of the town and the magic of Christmas markets, which is going to be one of your most memorable moments on the trip for sure.
Stroll through the unique chalet-style stalls selling Christmas gifts, sweaters, jackets and mittens. Browse through the chocolate shops for an exceptionally packed bundle of chocolate boxes, which are perfect to gift your loved ones.
Head to Minnewater for showing off your ice-skating skills at the rink, which is also one of the most romantic spots in Bruges.
Take a slow walk around the canals to watch the traditional gingerbread Flemish houses glittering with Christmas lights, casting a blissful reflection on the water making it an awesome atmosphere.
You can sit at one of the restaurants where they have little fire spots, perfect for beating the cold and people watching as you taste your dinner.
The second Christmas market is located at Simon Stevinplein and consists of two rows of Christmas stalls back to back, a much smaller version of the main market but equally delightful.
What to eat and drink at Bruges Christmas markets?
When in Belgium, you can't travel without indulging in Belgian chocolates, Belgian Waffles and Belgian Fries with Mayonnaise. And Christmas is no exception to savour these delicacies. Try the best waffles covered in Belgian chocolate sauce, bûche de Noël near the main square. 
Couple these with the best hot chocolate in the city at the Old Chocolate House or Mulled Wine, if you want to add Christmas touch.
If you fancy something cold, go for Belgian beers Bush De Noël and Glühkriek, both Christmas special editions at the Beer Hall.
Christmas Special programs
If you are here a week before Christmas, you can watch Christmas Star procession, a local folk style re-enactment of the Christmas story.
If you are here on Christmas day, attend the Christmas singing event at the Basilica of the Holy Blood, a renowned medieval monument of Bruges.
Where to stay in Bruges?
Here are some of the places for accommodation in Bruges in all budget ranges.
Brussels, Belgium
Brussels Christmas Markets Dates: November 27, 2020, to January 3 2021.
Brussels is home to some of the most beautiful Christmas markets in Europe. In fact, Brussels is one of the top destinations for spending the Christmas holiday, which is marked by the grand Winter Wonder Christmas celebrations.
Winter Wonders is the largest in Belgium and one of the most visited events in Europe receiving over 3 million visitors every year. If you want to experience a modern European Christmas, Brussels is the answer to it.
What to do at Brussels Christmas Markets?
Running for over 2km from the Grand Place to Marché aux Poissons, over 300 stalls sprinkled welcome visitors for the event that runs for more than a month.
You can witness the magical Christmas lights, grand decorations, plenty of music and dance performances, fun and cultural activities along with tasting some of the best Belgian delicacies and drinks.
Don't miss the fantastic Sound and Light show in Grand Place every night. Also on the facade of Sainte Catherine Church, you can watch the 3D show. Almost all the churches in Brussels organize Christmas Carol concerts.
The most unique feature is the incredibly cool steampunk themed carousel for kids, which your kids will enjoy for sure.
Go skating in the ice rink or fly high in the Ferris wheel. You can enjoy a visit from Santa as you admire the huge glitzy Christmas tree in the market.
Try the Belgian beer, fondue, cheese and spit-roasted salmon sandwich. Of course, you can also try Belgian chocolate, cookies, and waffles with mulled wine.
Where to stay in Brussels?
Prices can be expensive for hotels in Brussels around the event, and it is quite difficult to secure a decent accommodation if you don't book in advance.