Planning on exploring Budapest in 2 days? Are you looking for Budapest itinerary? Well, I have put together an extensive epic guide here for you whether you are a first-timer or visiting this city for the nth time!
Budapest, the capital of Hungary, is undoubtedly one of the most enchanting cities in Europe and the world.
Budapest is the most populous country in Hungary, and it is also the 9th largest city in the EU(European Union).
It is among the ancient cities in the world, with the earliest settlements by Hungarians happening in the 9th-century.
Budapest has a rich, vast history – thanks to the invaders from different parts of the world, from Mongolians to Ottoman Turks to the Romans.
This diverse past is evident in its rich culture, food, traditions, and spectacular architectural buildings, which embody various types of architectural styles, making the city unique.
Budapest consists of two cities lying on either side of the Danube River, which is the heart of the city's life.
Buda sits on the west side of the river and was the home of affluent, upper class and the Royal families. It is home to the Royal UNESCO heritage sites including the Buda Castle.
Pest, on the east side of the Danube, is the present day's bustling city, where residents live alongside the vibrant shopping streets, ruin bars, cafes and clubs. It is home to the iconic Parliament building, Szechenyi Baths and the indoor Central Market.
One of the most beautiful things about Budapest is the views of the skyline along the Danube from either side, making the city truly special!
Budapest in 2 DAYS – A QUICK ITINERARY
Day 1 in Budapest – Central Market Hall, Fisherman's Bastion, Buda Castle, Matthias Church, St Stephen's Basilica, Chain bridge, Gilbert Hill, Vaci street & Szimpla Kert
Day 2 in Budapest – Danube River, Parliament, Andrassy-Ut, New York Palace, House of Terror/Dohany Street Synagogue, Szechenyi Baths
The above Budapest 2 days itinerary covers the top attractions – you certainly cannot add some in 48 hours, so I have included the must-visits.
However, there are a few options for modifying things based on your preferences.
If you love museums, you have a few that you can trade. If you want more leisure, you can add parks or if music is your love, you can add musical concerts and opera.
Read the last section to know more about these in detail!
TWO DAYS IN BUDAPEST – DETAILED ITINERARY
DAY 1 IN BUDAPEST
DAY 1 – Central Market Hall, Fisherman's Bastion, Buda Castle, Matthias Church, Szenchenyi Chain bridge, St Stephen's Basilica, Gilbert Hill, Vaci street & Szimpla Kert
On your first day of 2 days in Budapest, you will get to see the city's top highlights.
After breakfast, head first to the Central Market Hall. Also called the Great Market Hall, it is the largest and the oldest indoor market in the city. 
Central Market Hall (Nagyvasarcsarnok)
The Central Market opens at 6 AM itself, so you can be there early. From fresh fruits to vegetables to souvenirs to pickles to paprika to flowers, you can see a wide range of items being sold here.
There are also small cafes if you want to have your breakfast here, where you can taste Hungarian breakfast menu.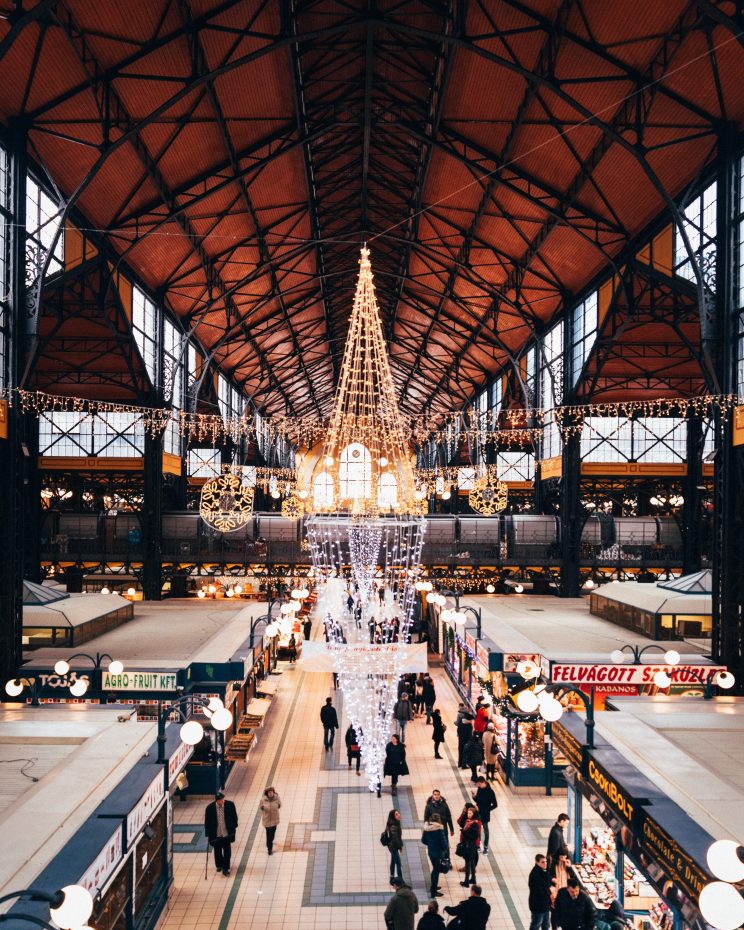 Some of the things you should try are Langos – fried flatbread, Tokaji wine, and Palinka -Hungarian fruit brandy.
Walk around the market to get a glimpse of the local life of Budapest, and of course, shop if you find something interesting on grabs.
For the best experience, I'd recommend taking a guided walking tour of the Central Market Hall, which you can book here.
Opening hours – 6 AM to 6 PM
Fisherman's Bastion (Halaszbastya)
Next, walk along the Danube river to head to the central area in Budapest, which is a UNESCO world heritage. This area covers most of the top attractions in the city on your 2 days Budapest itinerary.
The sites included are Buda Castle, Fisherman's Bastion, Gresham Palace, Széchenyi Chain Bridge, and Matthias Church.
You can use the tram to get to this side of Danube, but I recommend you take a walk as the views are stunning on the way.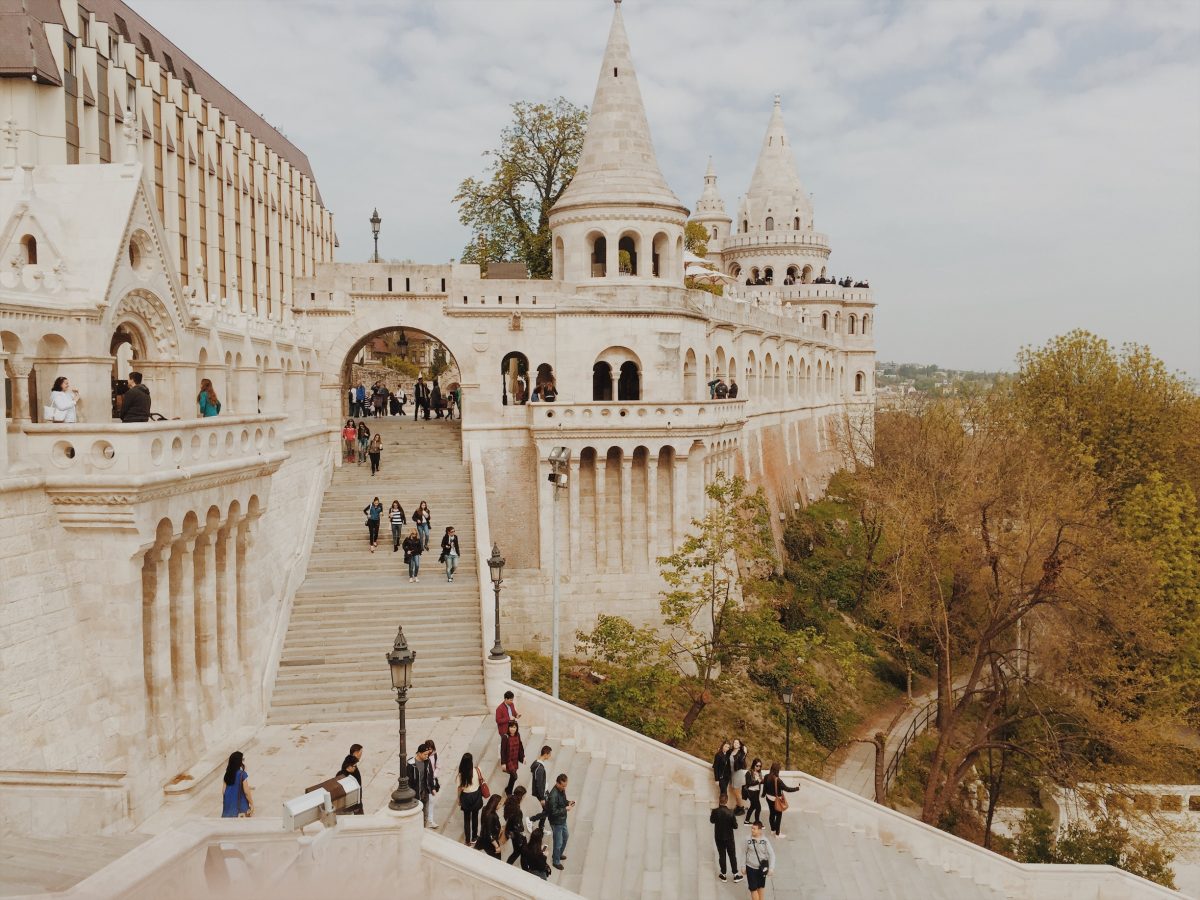 Start at Fisherman's Bastion in Buda Castle premises, which is one of the top spots in the city to get splendid views of the Danube, the parliament, Gilbert Hill, the iconic bridges and also Margaret Island.
The monument is noted for its elevated unique Neo-Romanesque terrace lookouts and seven lovely high stone towers that represent the seven Magyar chieftains of the Hungarians who founded Hungary.
Except for the few upper towers, most of these towers and the balcony areas are free to access for witnessing the magnificent views of Budapest.
You can also notice the statue of the first Hungarian King St. Stephen.
Opening hours – 9 AM to 11 PM
St Matthias Church
In front of Fisherman's Bastion is St Matthias Church, a Roman Catholic Church built in Romanesque style, which is at least 800 years old.
St Matthias is the second largest church of Buda city. It is a historically important church as two kings of the Hungarian empire were crowned here.
Opening hours – 9 AM to 5 PM; Entry fees – 1,800 HUF
Buda Castle
Your last on this hill is the beautiful Buda Castle. The magnificent Royal Palace was built in 1245 and was the centre of history for the Hungarian dynasty for many centuries.
The present structure is a combination of Baroque, Baroque revival and medieval styles, built later in the late 18th-century, and renovated further after WWII.
Sitting atop Castle Hill, this Royal monument is enriched by surrounding medieval townhouses and buildings.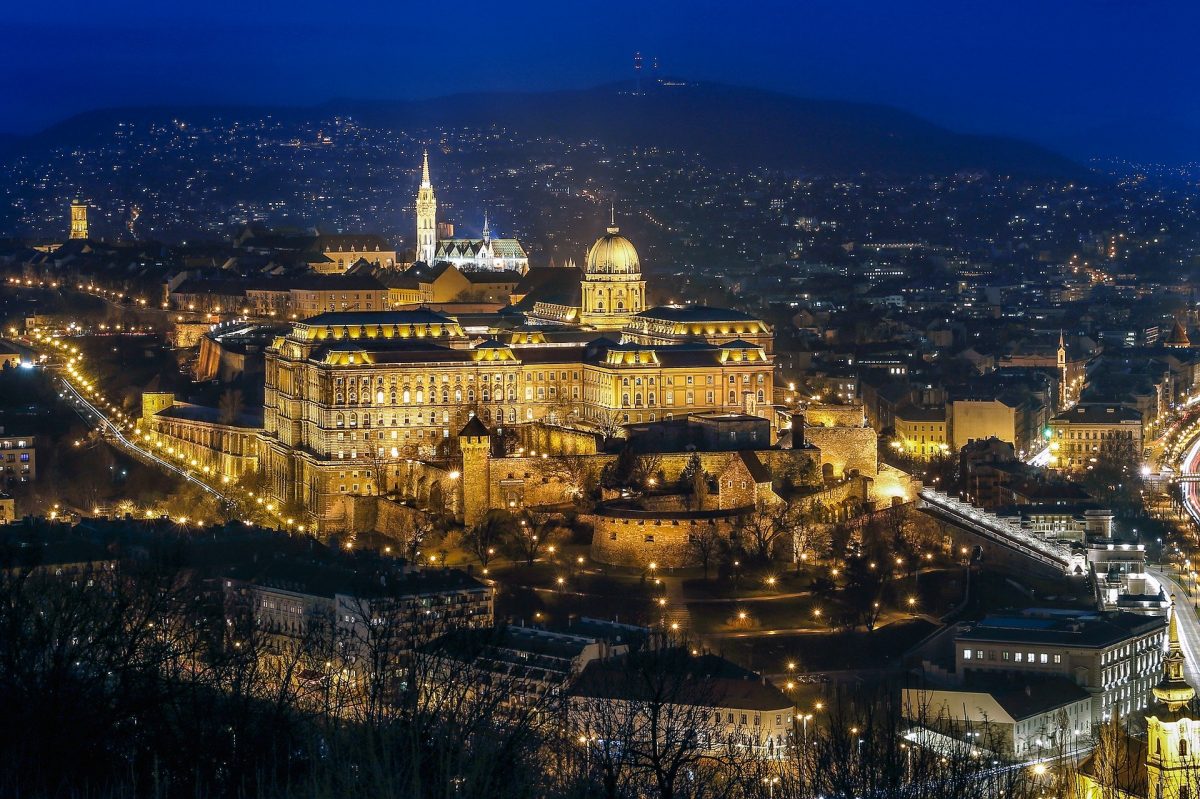 If you are walking from the Szechenyi Chain Bridge, you can get to the top of the Buda castle by the funicular (Budavari Siklo).
Today, the Buda castle is home to Hungary's two important museums – The Hungarian National Gallery and The Budapest History Museum, a museum for art, with over 3000 collections of rare art and the latter, about the history of Hungary since the Roman empire until the post-communist era.
Opening hours – 10 AM to 6 PM; The entry fees to the History Museum is 2400 HUF, while the Art Gallery costs 3200 HUF.
To understand and get to know the history and interesting stories of these group of sites, it is best to take guided walking tours. Check them here.
Szenchenyi Chain Bridge
After the tour at Castle hill, walk along the river to reach Szenchenyi Chain Bridge, one of the top landmarks of Budapest. This historic bridge was the first to connect the towns of Buda and Pest.
It is intricately decorated with lion statues, along with heavy support rendered by the casting iron.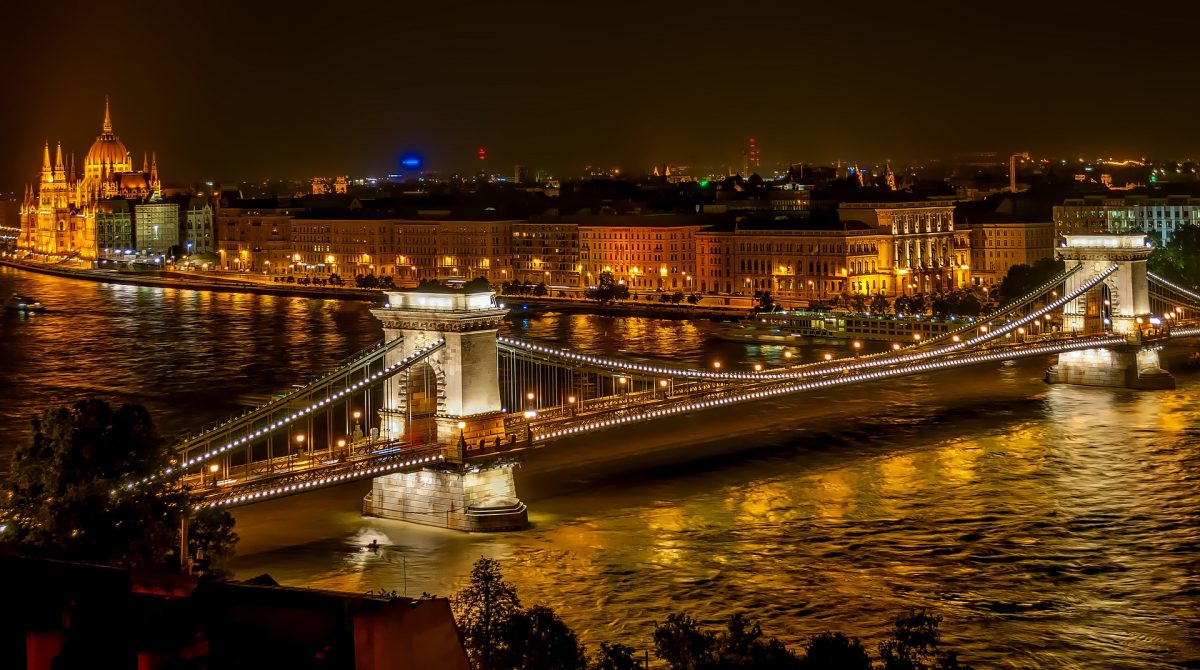 The chain bridge, as it is popularly called is a symbol of hope and progress, and is also a top spot for taking pictures.
Once you cross and reach Pest, you can also make a quick stop at Gresham's Palace, now the Four Seasons Hotel, an Art Nouveau monument of grandeur.
Lunch at Zrinyi Utca street
Head to Zrinyi Utca street, which houses many popular restaurants and bars for lunch.
Whether you prefer a fine-dining venue or want to have a quick lunch fix with burgers or fries, you can choose either with so many options.
St. Stephen's Basilica (Szent Istvan Bazilika)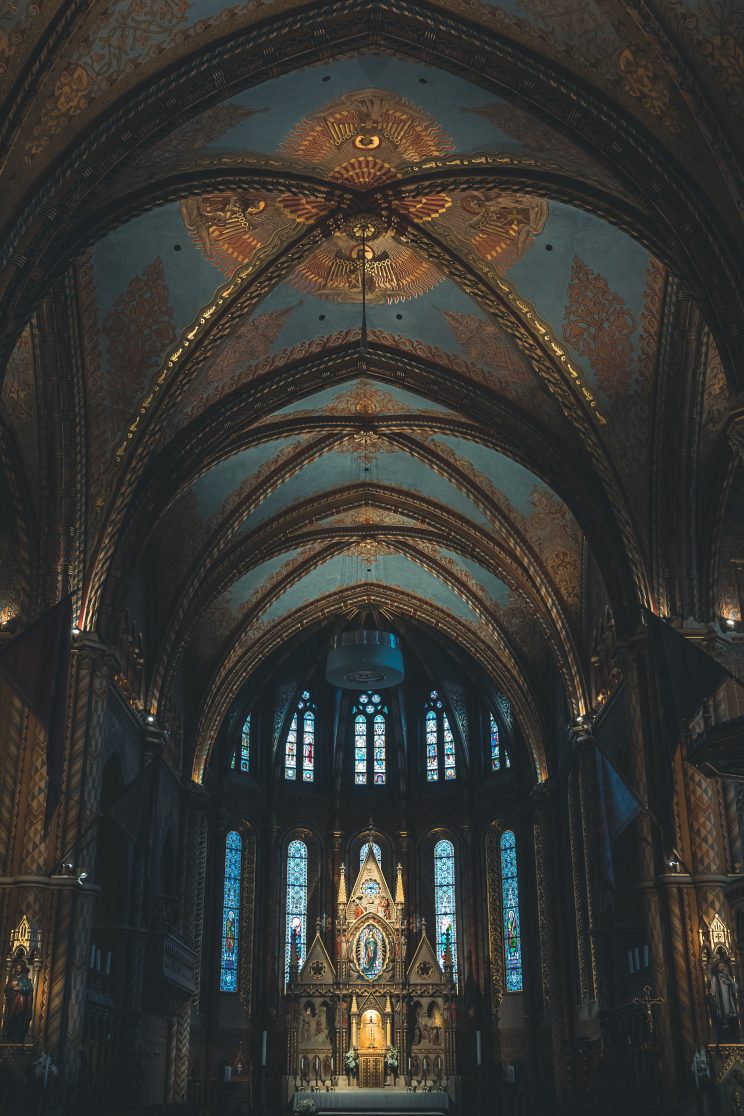 After lunch, your next stop is St. Stephen's Basilica at the end of the street, the third-largest Roman Catholic Church in Hungary and also a former theatre.
It houses the mummified right hand of Stephen, the first King of Hungary preserved visible in a jewelled case that's taken out on a parade on St.Stephen's day celebrations.
You can climb the top of the Panorama Tower to witness the amazing bird view of the city from the Pest side, climb the 364 steps to the top of t
Opening hours – 9 AM to 5 PM; Panorama Tower: 10 AM to 6:30 PM
Entry fees – 600 HUF for accessing the tower.
Watch Sunset from Gellert Hill
Now to reach Gellert Hill, you can again take a long walk or trams are available near the Liberty Bridge, which will drop you at the base of Gilbert Hill.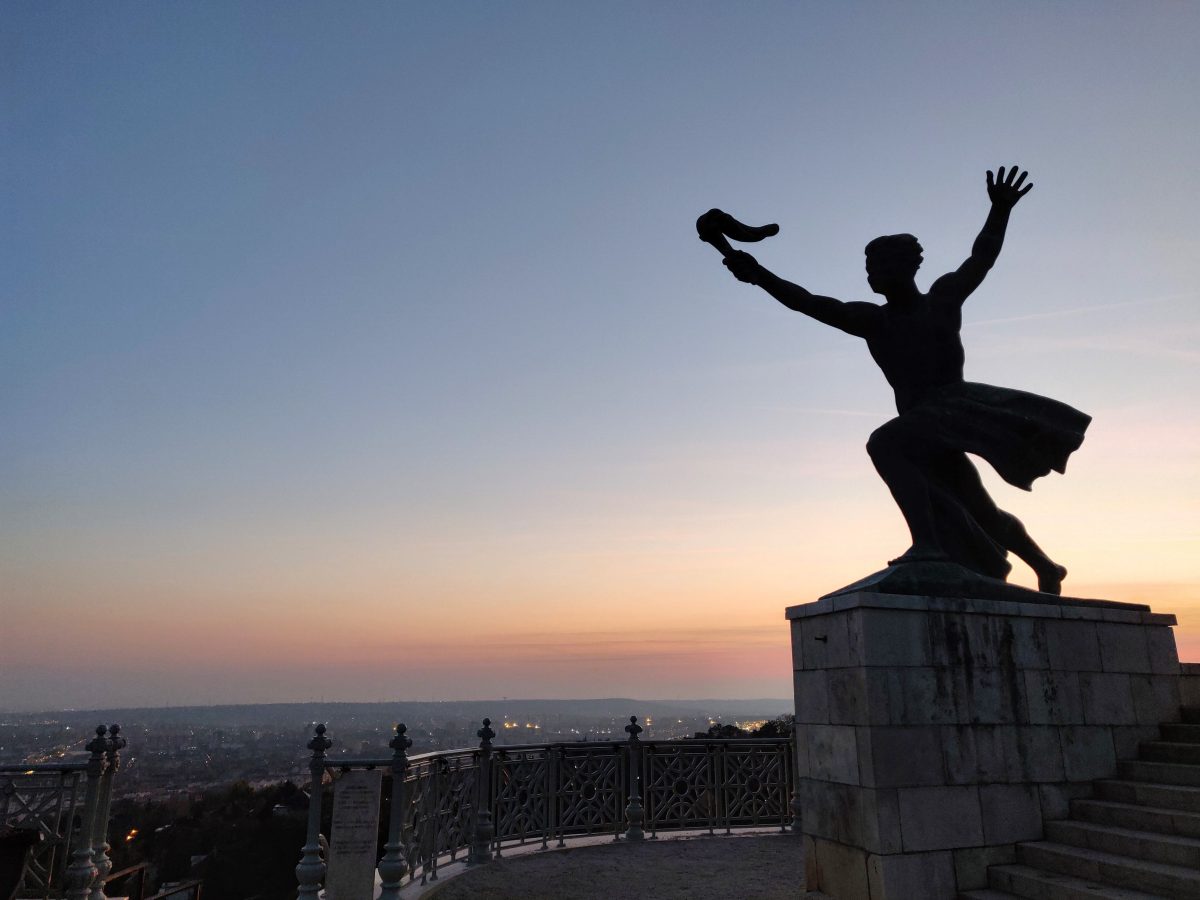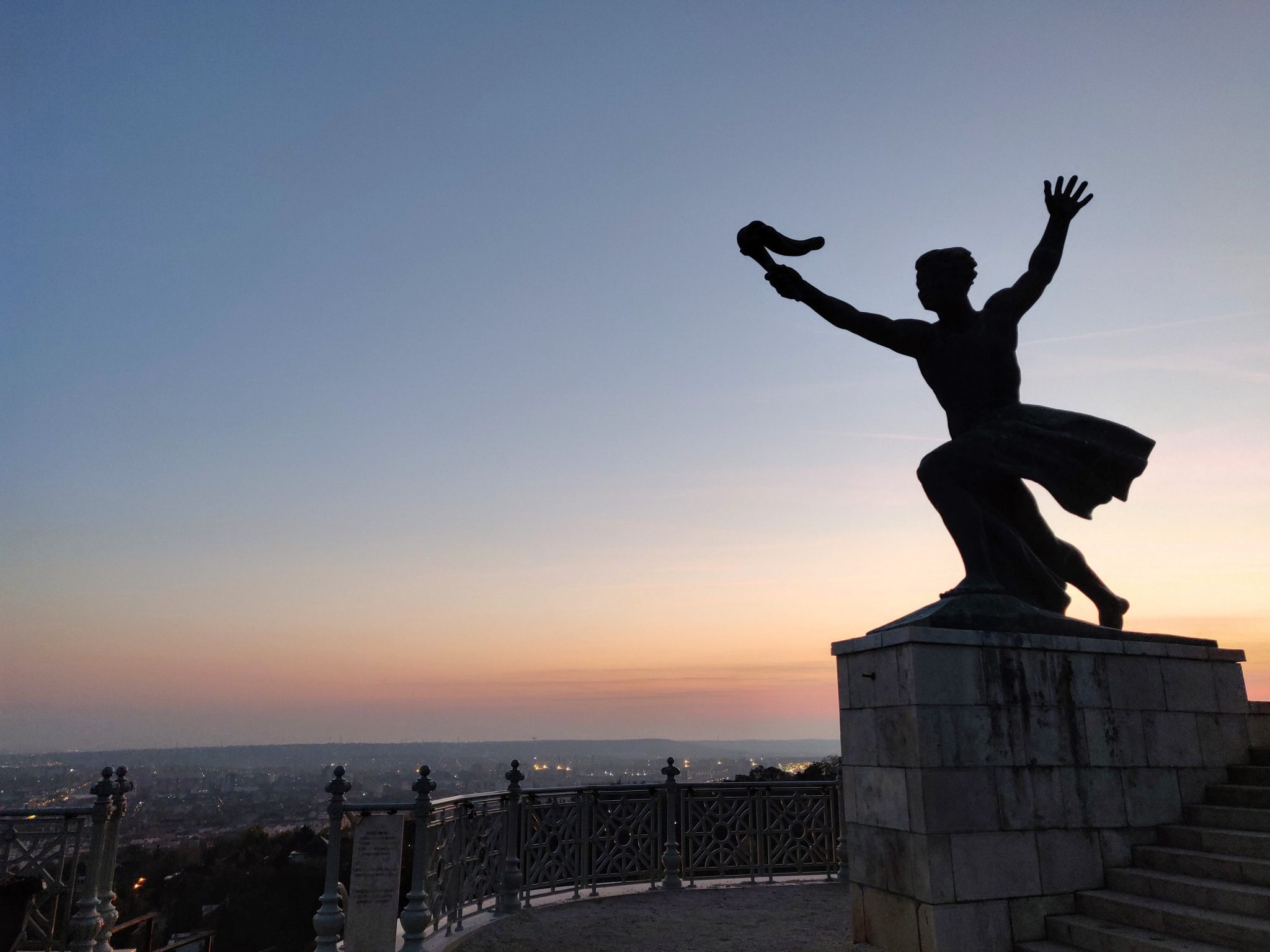 There is also Gellert Baths, one of the top thermal pools here at the base. From there, brace for a long hike to the top to reach the Citadella, the fortress.
The views from the top are worth the climb, and IMO it is the best place to get fantastic views of the city lined up, along with the lovely bridges.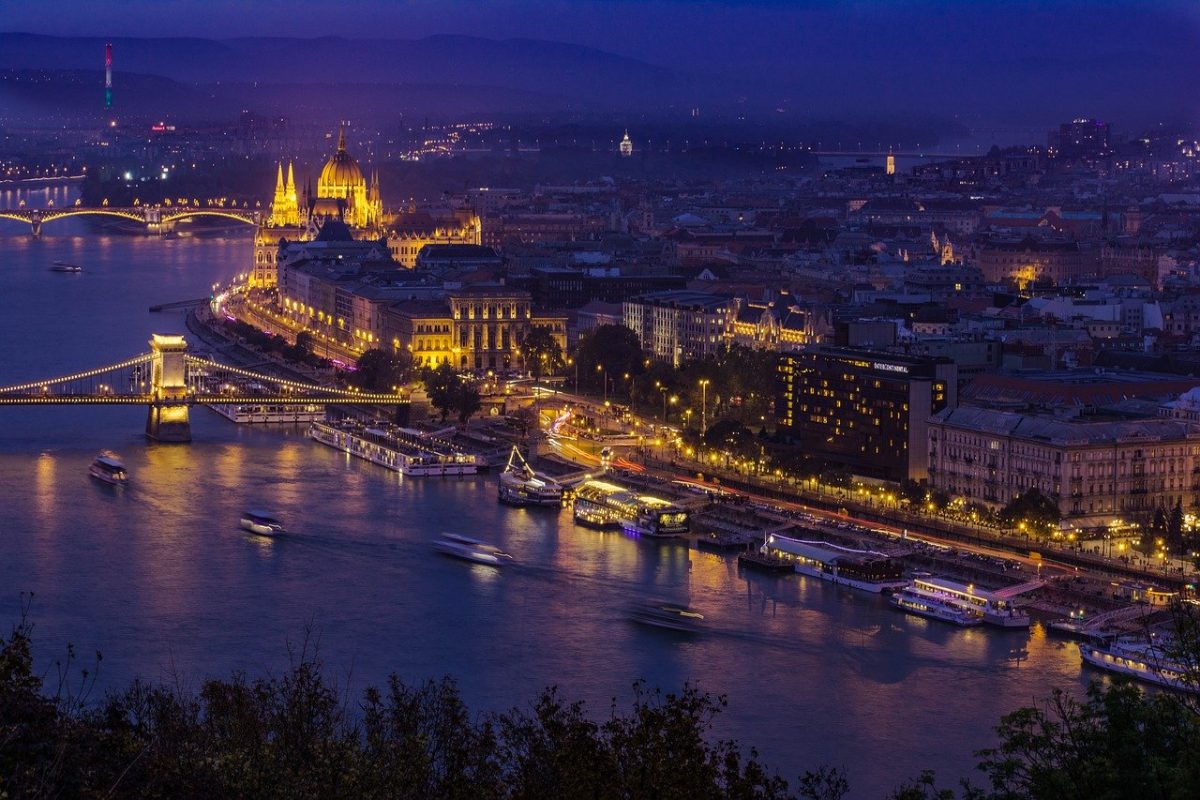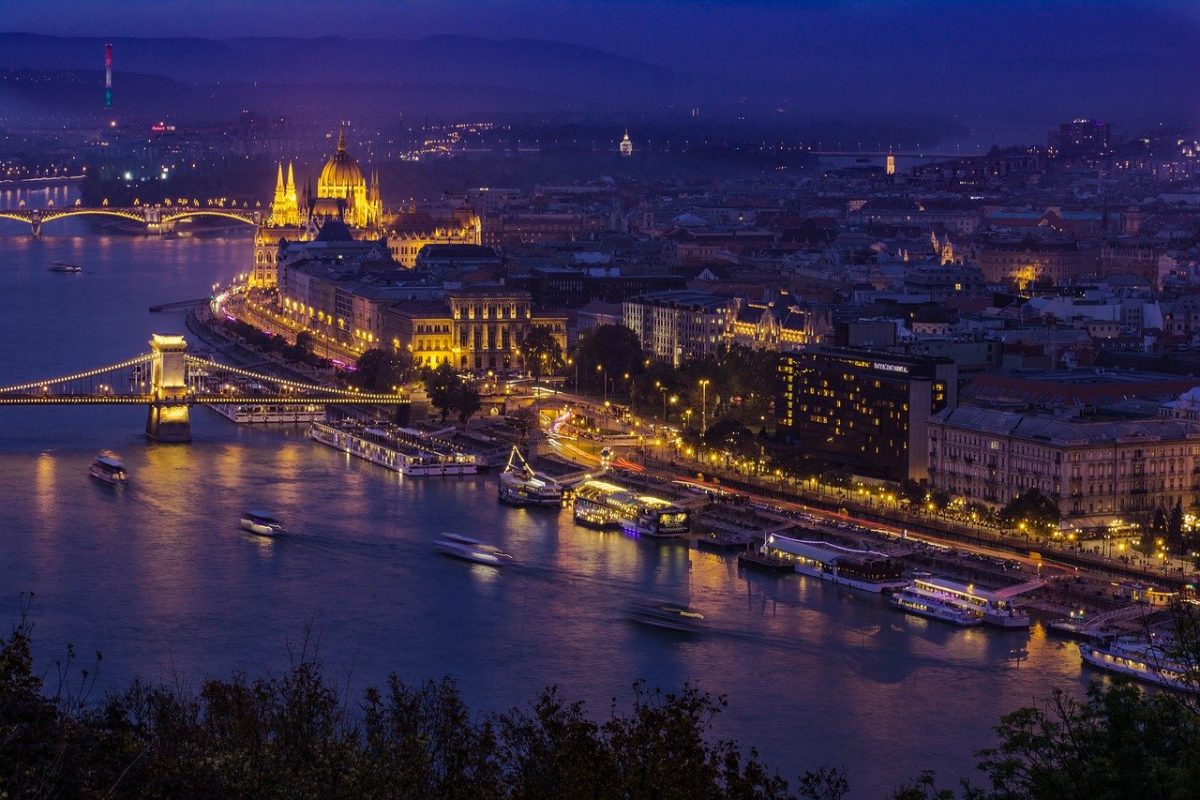 After a fabulous sunset view, head further to the top of the hill to get down at Elisabeth Bridge for more beautiful views of the Danube and the Chain bridge.
Dinner and Ruin Bars
It's time for a relaxing dinner after a day of back-to-back sightseeing! Visit Vaci street, the heart of the center lined with glitzy shops, bars, restaurants, and cafes. Again, you will be spoilt with choices to pick a place to eat!
From Italian to continental to Hungarian food, you can choose based on your mood.
Ruin Bars
After dinner, yes, the day is not over yet, because you can't end a night in Budapest without checking the unique Ruin bars – a speciality of the city.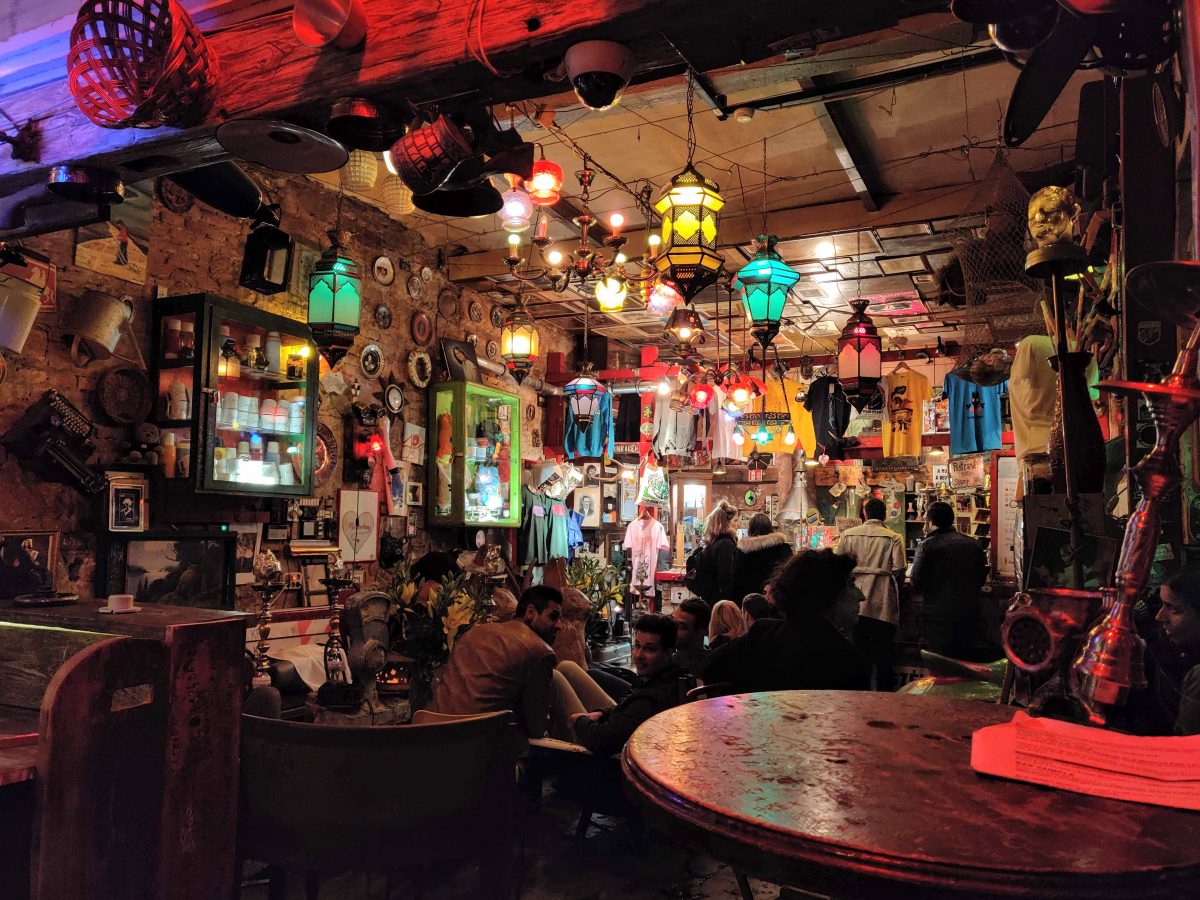 As the name indicates, Ruin bars were initially makeshift bars created in old, abandoned buildings, mostly from the 19th century and the later communism era.
Over time, these evolved to stand-out with ruin themes – comprising antique items, paintings, vintage goods and other unusual objects giving the rustic ambience.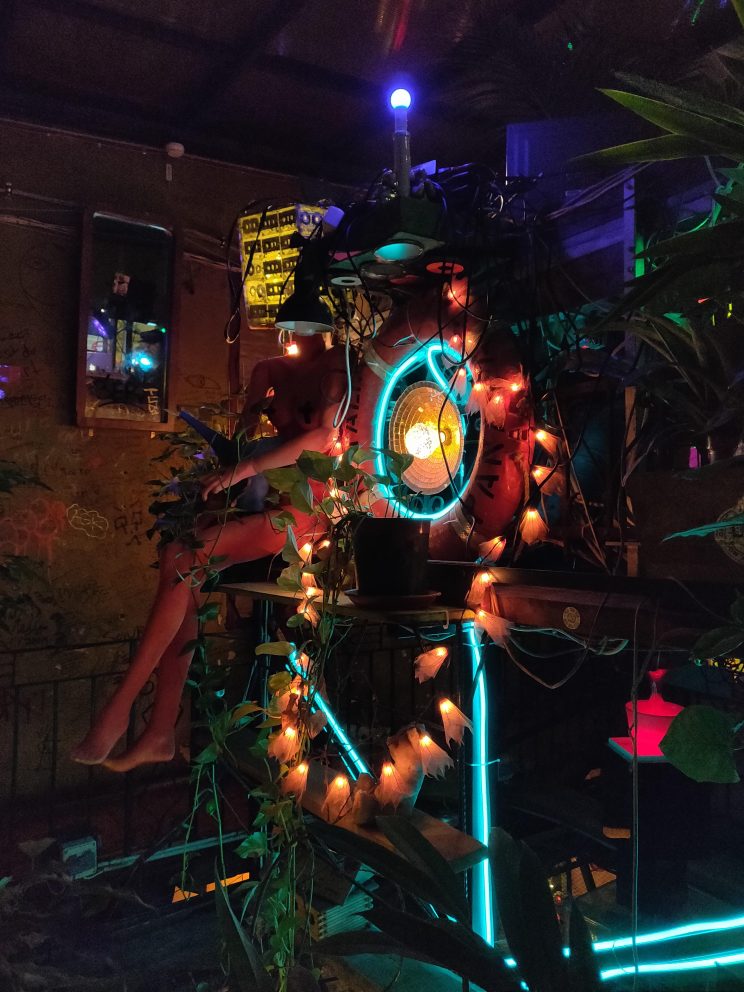 These bars are trendy among both the locals and the travelers. Especially on the weekends and holidays, you will find large groups of youth(mostly students) thronging these bars.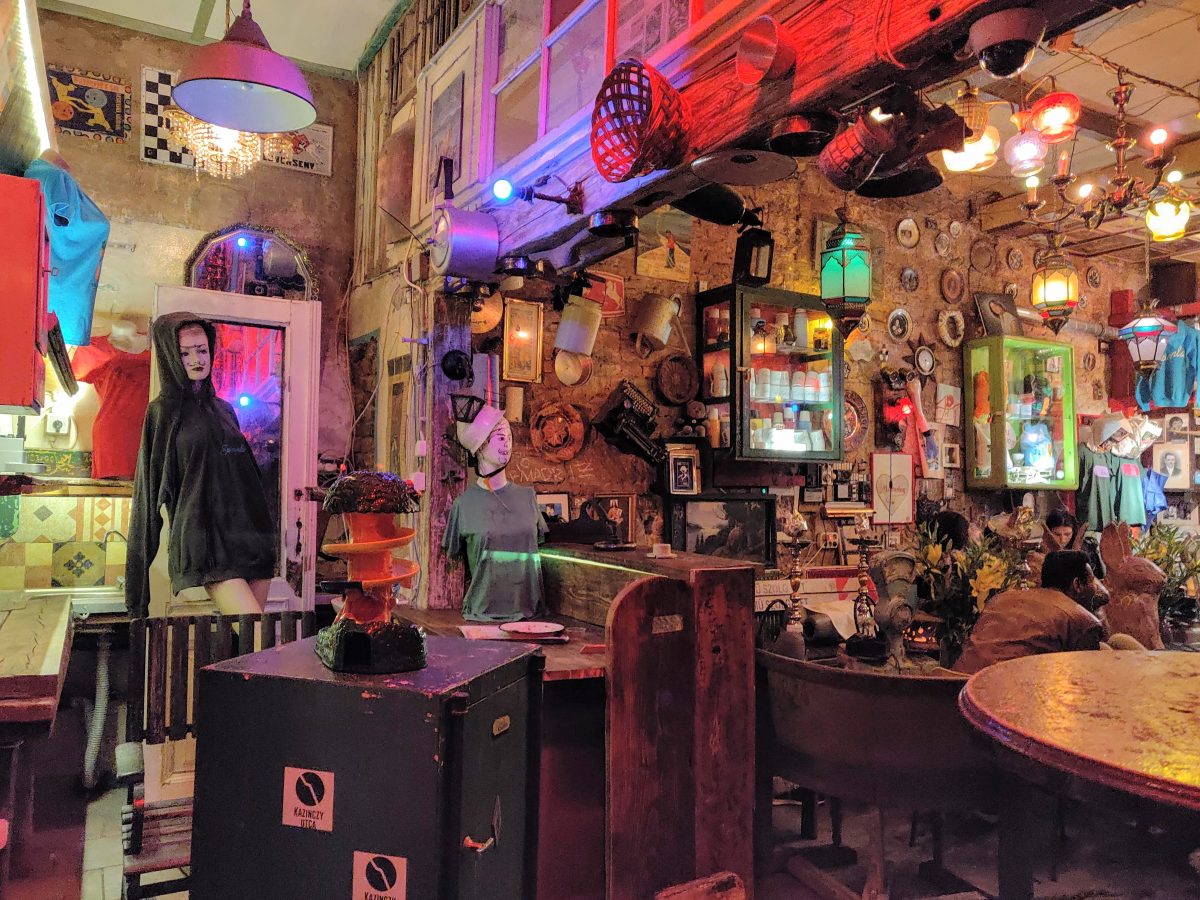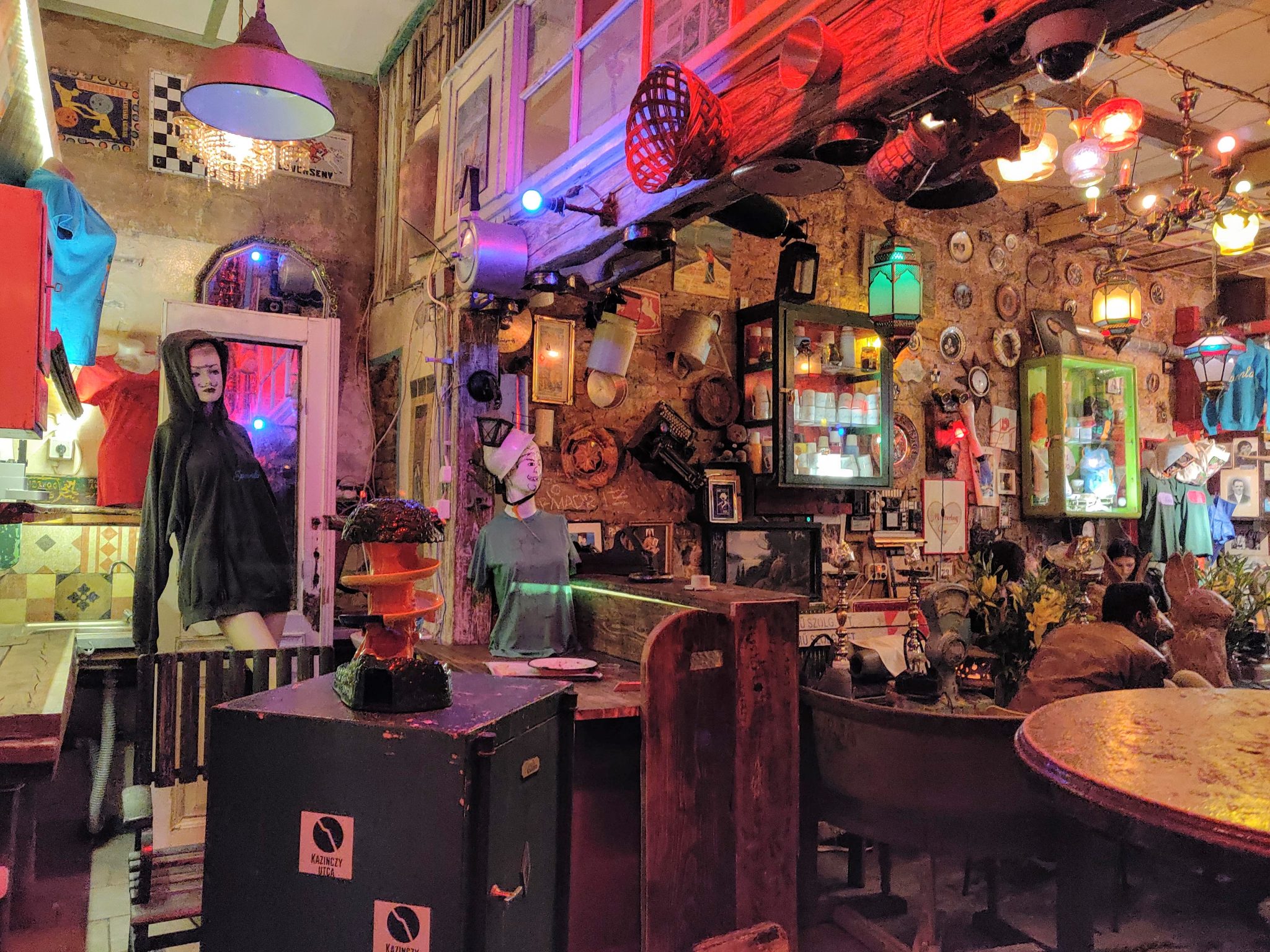 The ambience is unlike your typical bar, and if you haven't been to a ruin bar, I highly recommend you to take a look as it is free to enter them.
The most popular among the ruin bars in Budapest is Szimpla Kert, a ruin bar not too big, but very unique and lively.
These bars are open all night, so if you fancy, you can go ruin-bars-hopping!
DAY 2 IN BUDAPEST
Danube River, Parliament, Andrassy-Ut, New York Palace, House of Terror/Dohany Street Synagogue, Szechenyi Baths
On your 2nd day of Budapest itinerary for 2 days, you will further check out a few more highlights of the city.
If you wish to have some options go to the next section where I have shared a few more things to do in Budapest if you have more time in the city.
Shoes on the Danube
Have an early breakfast, and start your day around 9 AM(or earlier if possible) with a walk along the Danube promenade, and make a stop at Shoes on the Danube.
You will find shoes scattered on the banks of the river, which were those of many Jews that were murdered here during the Nazi regime.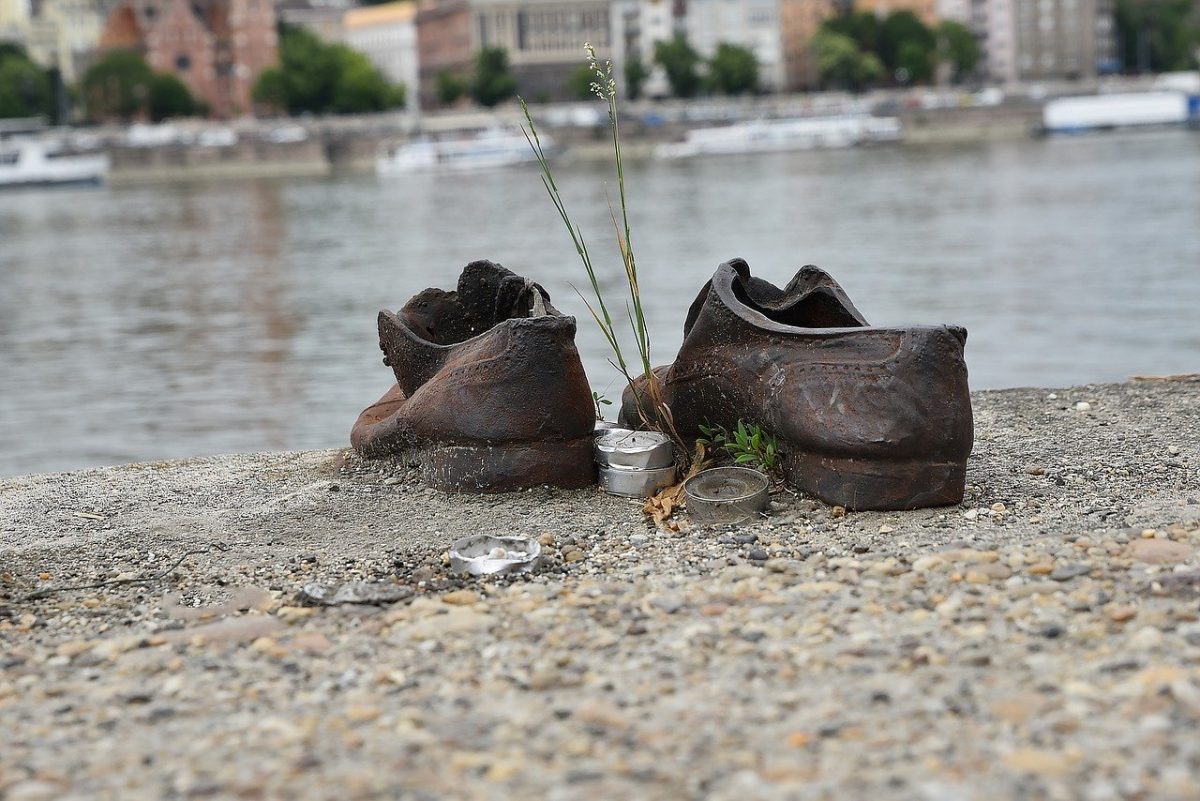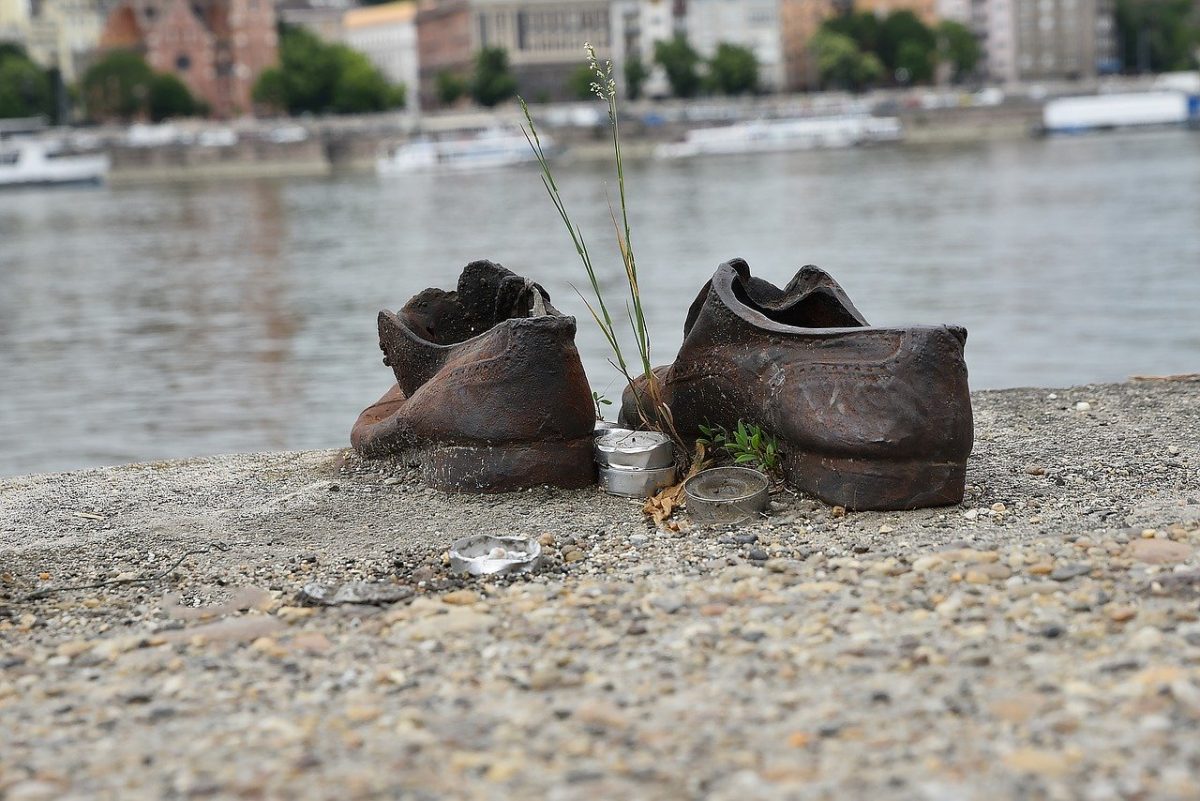 During the last two years of WWII, 1944 and 1945, thousands of Jews were killed at this spot.
These victims were asked to take off their shoes before being shot, and in next few moments, their lifeless bodies would fall into the river.
Now this place is a memorial that reminds of the horrendous crimes, which is chilling and depressing.
Budapest's Parliament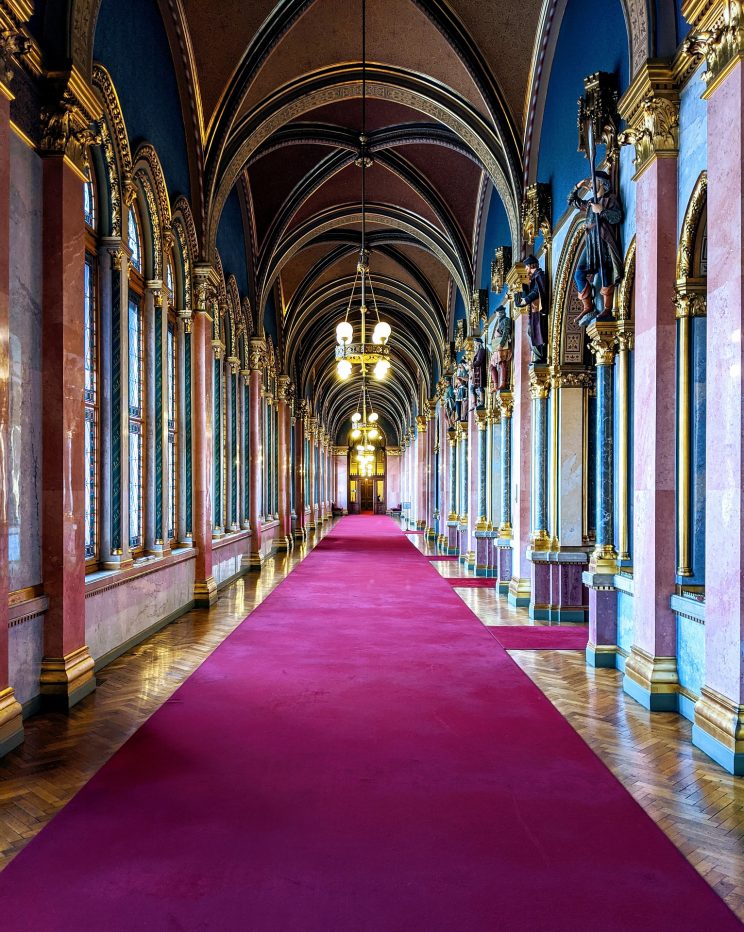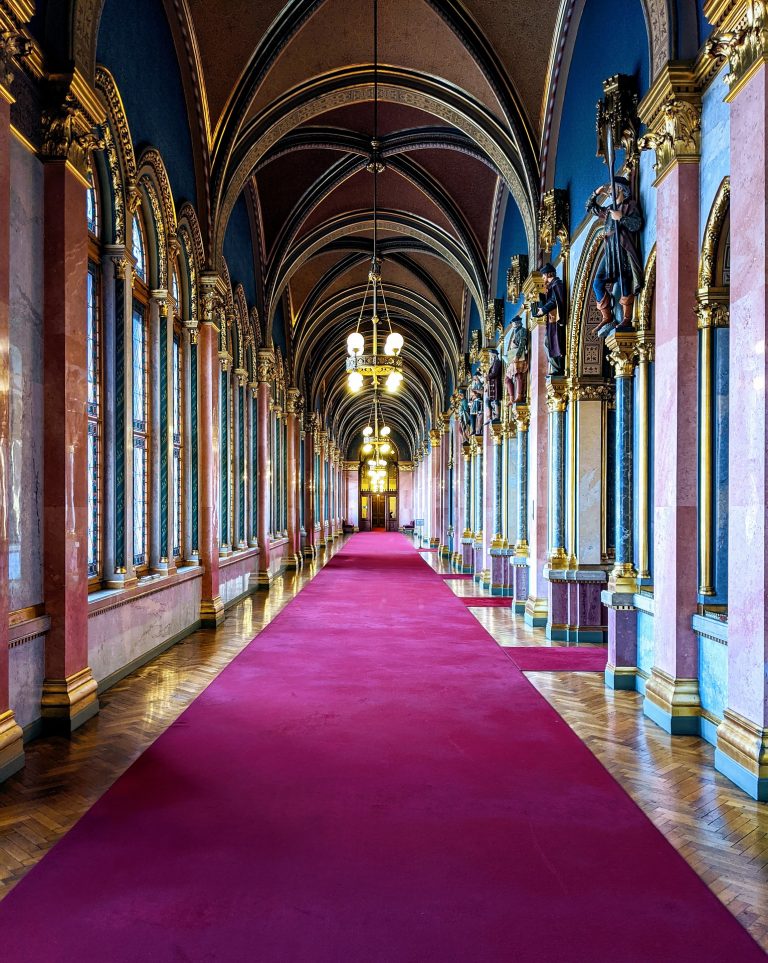 Next, walk ahead to the iconic landmark of the city, The Hungarian Parliament Building, also known as the Parliament of Budapest.
It is the largest building in the country and is renowned for its neo-Gothic, neo-renaissance architecture.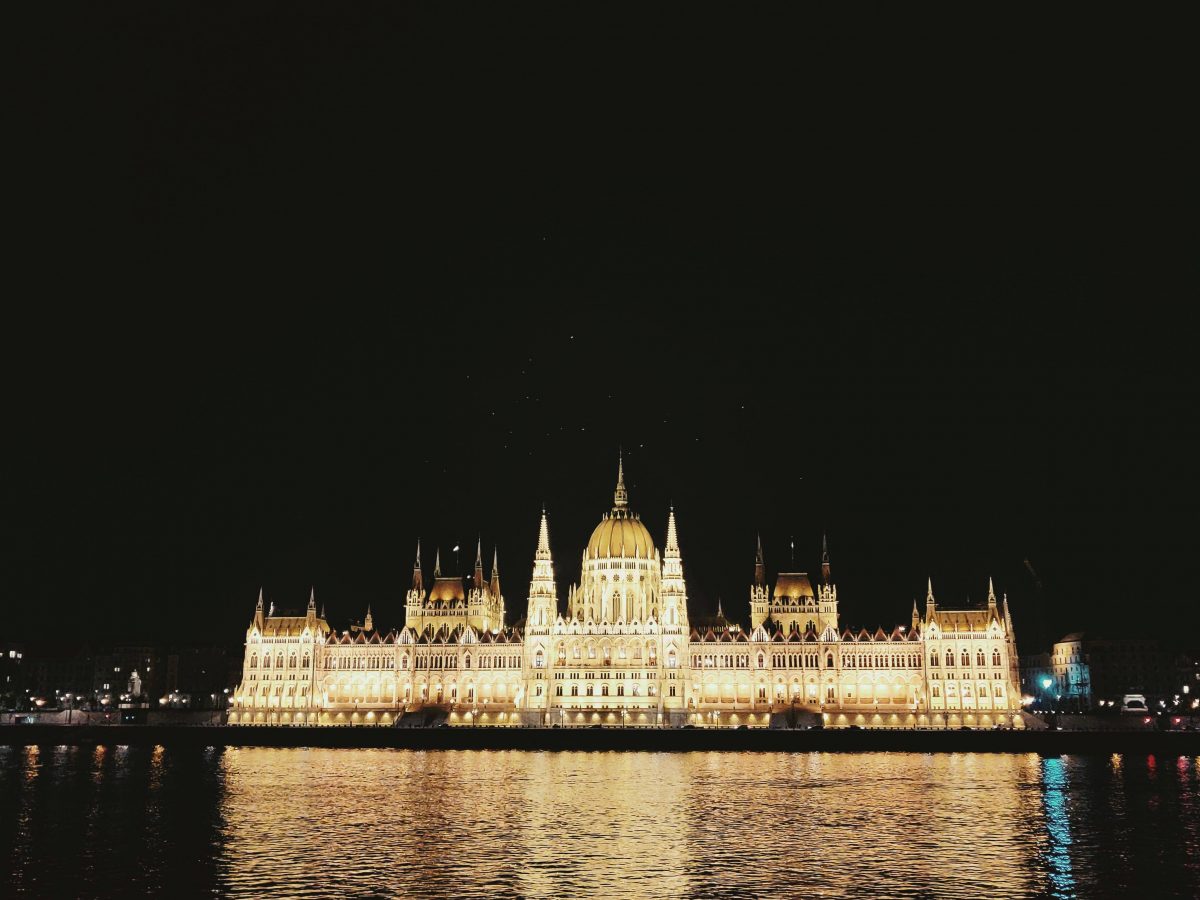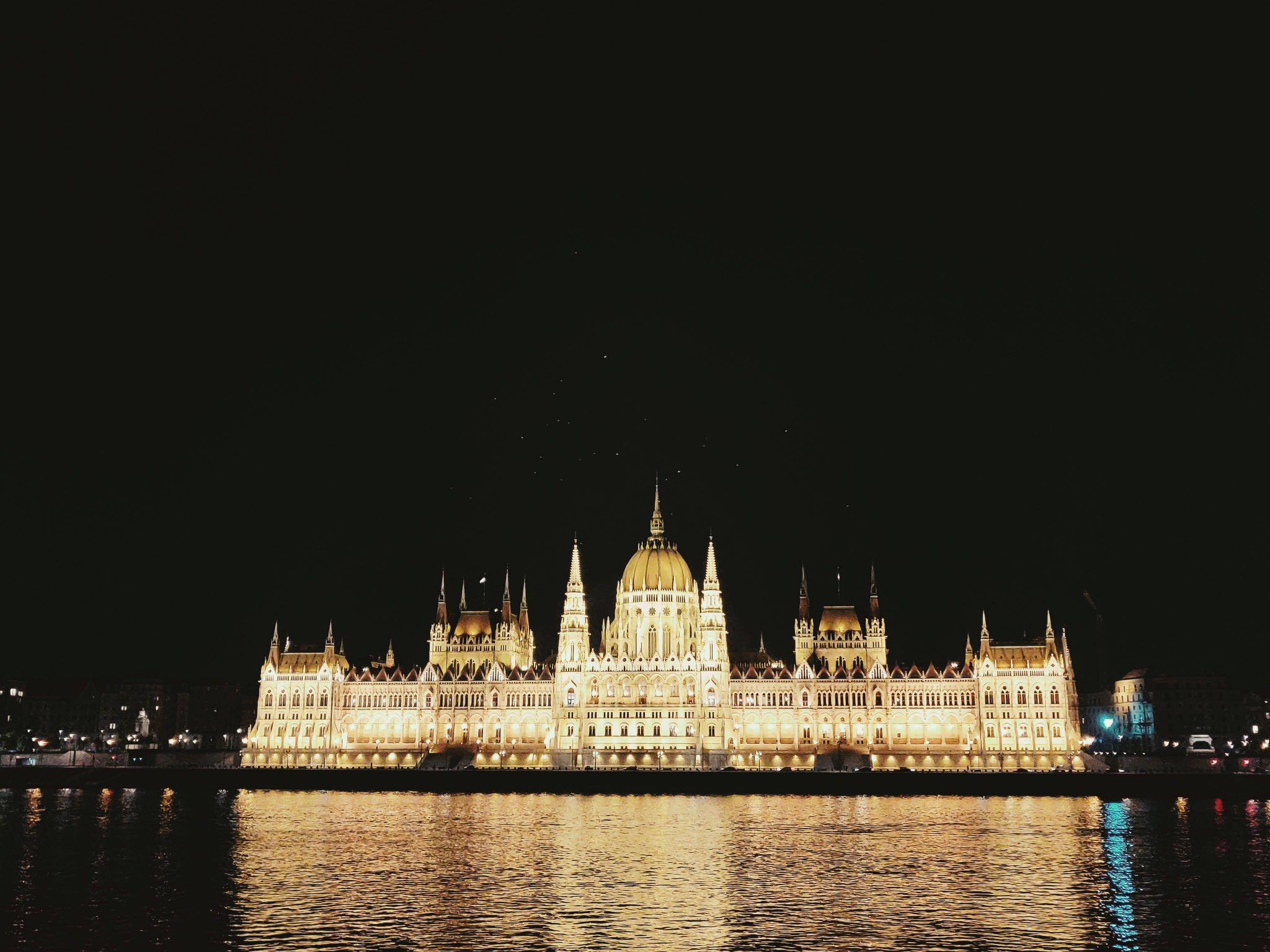 After you have admired its beautiful architecture and grandeur from the outside, you can explore the interiors, but the only way to do so is through tours which are available in multiple languages and takes about an hour.
The tours get sold in advance most of the time. If you want to book them in advance, I'd suggest this skip-the-line tickets. You will complete the tour for around 1 hour.
Andrassy-Ut
From the parliament, head next to the equivalent of Paris' Champs-Elysees of Budapest – Andrassy-Ut.
Andrassy Avenue, a UNESCO World Heritage Site, is home to some of the most beautiful neo-renaissance buildings, townhouses and mansions including the Hungarian State Opera(Magyar Allami Operahaz), the Zoltán Kodály Memorial Museum and Archives, the Hungarian University of Fine Arts and the Ferenc Hopp Museum of East Asian Arts.
With plenty of shops, cafes and restaurants this boulevard is also one of the top shopping centres in Budapest. It is fun to take a walk on this street ever-bustling and vibrant.
How to get to Andrassy-Ut – From Parliament, you have to head to Kossuth Lajos Square, from where you can take the M2 line to Deak Ferenc Ter.
If you walk for about 5 minutes, you will reach the entrance of Andrassy-Ut.
Lunch at New York Palace
Head next to have a memorable lunch at one of the most historical cafes in the world – New York Palace.
One of the most luxurious cafes in the country, This 19th-century building was one of the important venues for creative souls and leaders who met for discussions.
What makes it so special is the opulent interiors in modern renaissance style, which was renovated right after WW II.
It is recommended to make a reservation if you want to arrive during lunch hours. Lunch here is expensive though, so you might order coffee or snacks and choose some other restaurant for lunch.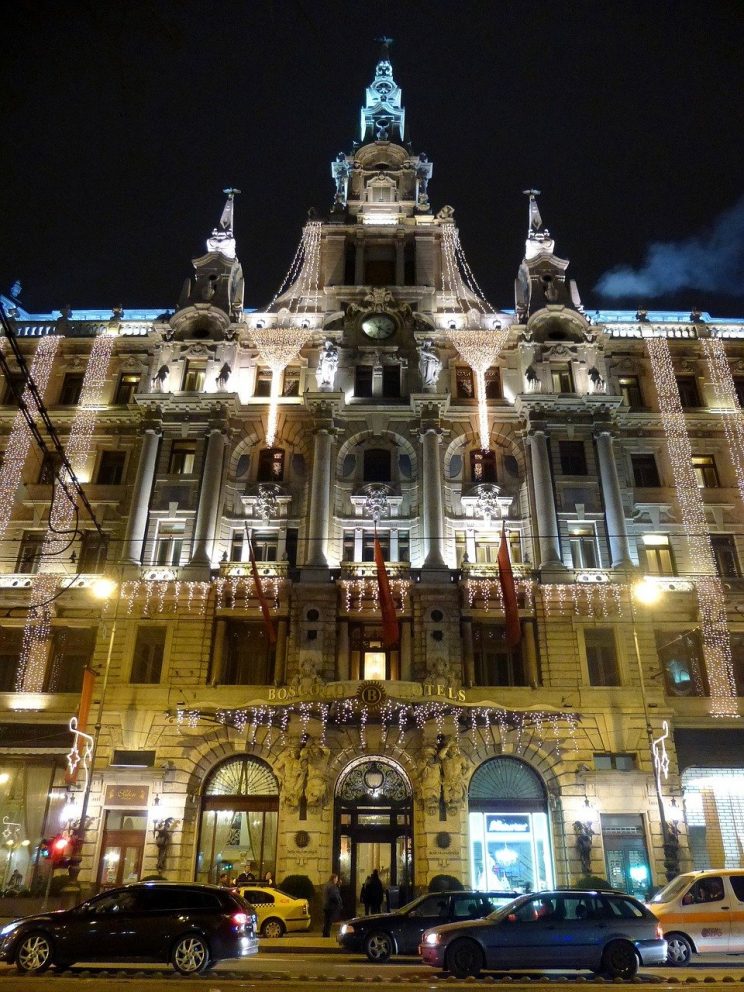 The New York Palace is worth visiting for an experience in one of the finest cafes.
How to get there – From Andrassy-Ut, you can take a tram to the New York Palace at the intersection at the Oktogon.
Dohany Street Synagogue or House of Terror
After lunch, you have the option of choosing between a museum and an ancient street. If you want to keep it light, I'd recommend visiting the Dohany street.
The Dohany is one of the historical streets in Budapest, which was located at the Border of Ghetto.
It was home to a predominantly Jewish community, and such became the venue of holocaust events during WWII.
The street is most famous today for the Great Synagogue or The Dohány Street Synagogue, a 17th-century historical building.
A centre of Neolog Judaism, it is the largest synagogue in Europe, which has seating for around 3,000 people.
Admire the beautiful blend of Moorish and medieval architectural styles evident in the rich interiors.
The huge Synagogue complex also houses the Heroes' Temple, the graveyard, the Memorial and the Jewish Museum, dedicated to the holocaust events against the Jewish in Budapest.
I'd recommend this guided walking tour of Jewish Quarter with the Synagogue, which is excellent to understand this neighbourhood.
Opening hours: 10 AM to 6 PM; Entry fees: 5000 HUF
How to get there – You can take M2 from Blaha Lujza tér and get down at Astoria. It is at a walkable distance from Astoria.
Alternatively, you can get to know about the events and history of Budapest at the House of Terror Museum. This Museum has extensive collections that give glimpses of the city's history from the medieval times to the post-communist era.
It is housed in the same building which was once the venue for torture and imprisonment of Hungarians during the communist rule.
It is definitely worth checking out this sober museum, which showcases the dark past and the immense suffering of the people during the war and communism periods. It is one of the best museums to know about Budapest's history.
I wouldn't recommend this if you are travelling with young kids. It will take you around 2 to 3 hours, and it is best to tour the museum with an audio guide.
Opening hours: 10 AM to 6 PM; Closed on Mondays
Entry fees: 3000 HUF; Buy skip-the-line tickets here.
How to get there – Walk to Blaha Lujza tér M from the New York Palace cafe, and take tram 4-6. Get down at Oktogon M, from where you have to walk for about 400 metres to reach the museum.
Szechenyi Baths
You can't explore Budapest in 2 days and not miss one of the most popular spots for tourists.
Yes, it is crowded and everything touristy, but it should be on your itinerary. After a long day of attractions, head to Szechenyi Baths before you leave Budapest.
Because there is nothing better than relaxing and taking a dip in thermal pools as your last activity for a few hours, something worth adding to your time in Budapest in 2 days.
Did you know? Budapest is home to plenty of thermal baths as the city is close to a lot of natural thermal pools. Some of these are very ancient, built by the Romand and Turks as spas.
The waters with rich minerals were considered beneficial, and that's how the culture of thermal bath grew and has survived in Budapest.
The other thermal baths are Lukacs Baths, Gellért, Király and Rudas Baths.
Szechenyi is one of the top places for thermal hot springs. Szechenyi Baths are one of the largest baths in Europe with over 15 indoor and 3 outdoor pools.
Enjoy a few hours unwinding in the thermal pool, meet fellow travelers and have fun before you head for dinner.
Opening hours: 6 AM to 10 PM; Entry fee: 7,200 HUF
What you can rent: Towels at 2000 HUF(+2000 HUF deposit), swimsuits and sandals. Hairdryers are also available at the showers.
How to get there – From the Dohany street synagogue, walk to
Deák Ferenc tér metro station and take M1 to reach Széchenyi Bath.
From the House of Terror museum, walk to Vörösmarty Utca metro and take M1, which stops at Széchenyi Bath.
Tip: Due to its immense popularity, you will have to endure long queues to get the tickets during the peak seasons, especially in summer from May to September.
I'd recommend you to buy these skip-the-line tickets online instead, which will save you a lot of time. It is only slightly expensive, but definitely worth buying given the advantages.
Head for Dinner
After feeling refreshed, it is time for a delicious dinner before calling it a day. There are many great restaurants close to the Szechenyi Baths.
If you haven't already tried the delicious Hungarian cuisines, don't forget to try some of them like the Goulash Soup made of beef, vegetables and seasoned with Paprika, Chicken paprikash or the famous Paprika Chicken and Töltött káposzta – Stuffed cabbage rolls made of sauerkraut, cream and pork.
And with this, you will fall in love spending 2 days in Budapest!
Got More than 2 days in Budapest?
If you have more time to add to your Budapest itinerary, that's awesome. If you have 3 days in Budapest or more, here are some of the things that you could add.
Vajdahunyad Castle & The City Park
Visit Vajdahunyad Castle, the opulent palace located in the City Park. It was built for the Millennial Exhibition to celebrate the 1000-years of formation of Hungary.
The lovely structure is modelled after many landmark buildings that were part of the Hungary empire, because of which you can see a mix of renaissance, gothic and Baroque styles.
Opening hours – 10 AM to 5 PM; Entry fees – 600 HUF
City Park is one of the top spots for locals to hang out, and the beautiful gardens are an excellent place to be in the evenings.
Hero's Square & Museum of Fine arts
The historic Hero's Square is one of the top squares in the country. It is home to statues of fourteen prominent leaders in the history of Hungary including the seven founders or Magyars.
You can combine your visit to Andrássy Avenue as the square is located at the end of this street and the City Park.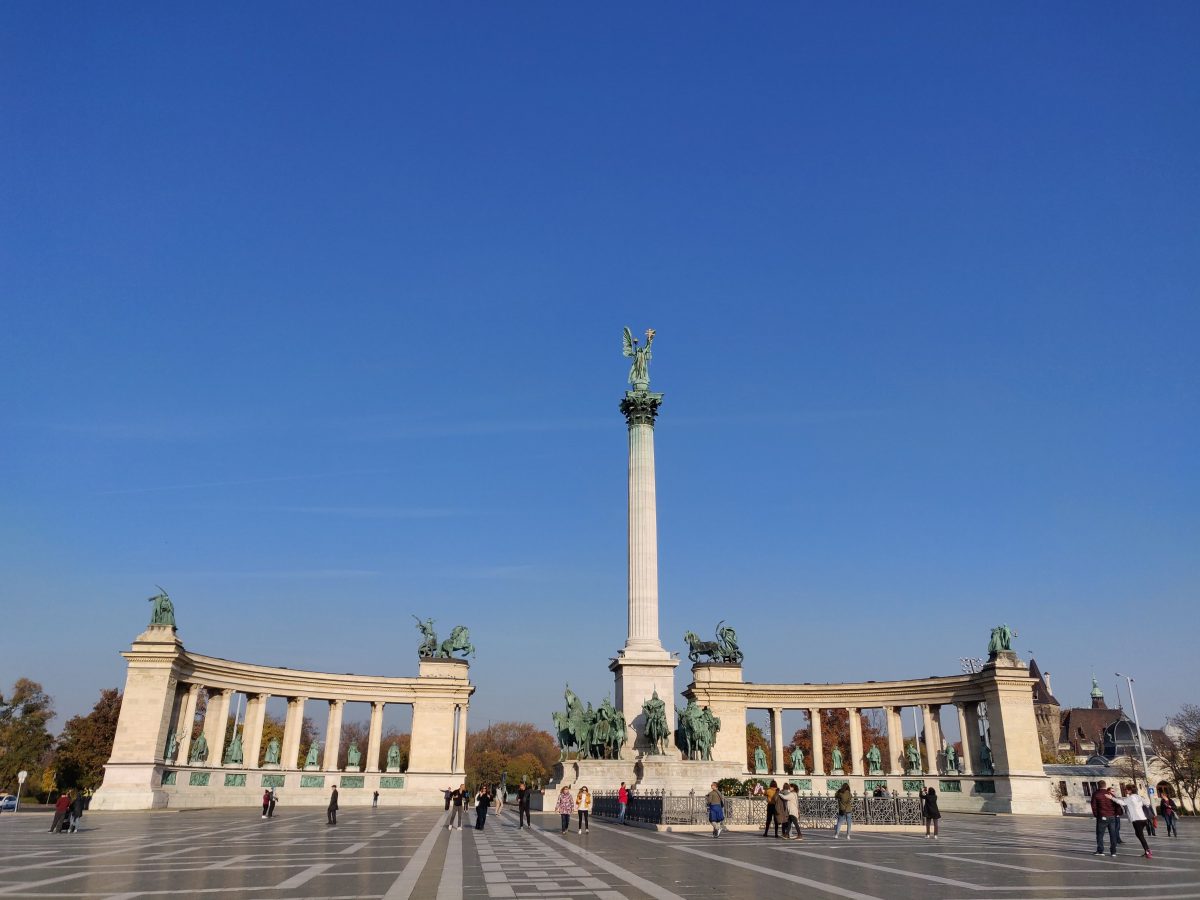 Located on Hero's square is the Museum of Fine arts, which houses up to one hundred thousand collections of artworks from all over Europe from the Egyptian period to the contemporary artists.
If you enjoy arts or visiting the Museum, it is worth heading here.
There are six sections in this colossal Museum – Egyptian, Antique, Old sculpture gallery, Old master paintings gallery, Modern collection and Graphics collection.
Opening hours – 10 AM to 6 PM; Entry fees – 3400 HUF
Watch Opera show at Hungarian State Opera
The Hungarian State Opera theatre is not only worth visiting for its splendid interiors but also for the theatre performances by renowned artists.
If you want to enjoy an evening performance, book the tickets – The price is inexpensive, and the shows are amazing. 
Go here to book the concert tickets
Take a cruise on Danube River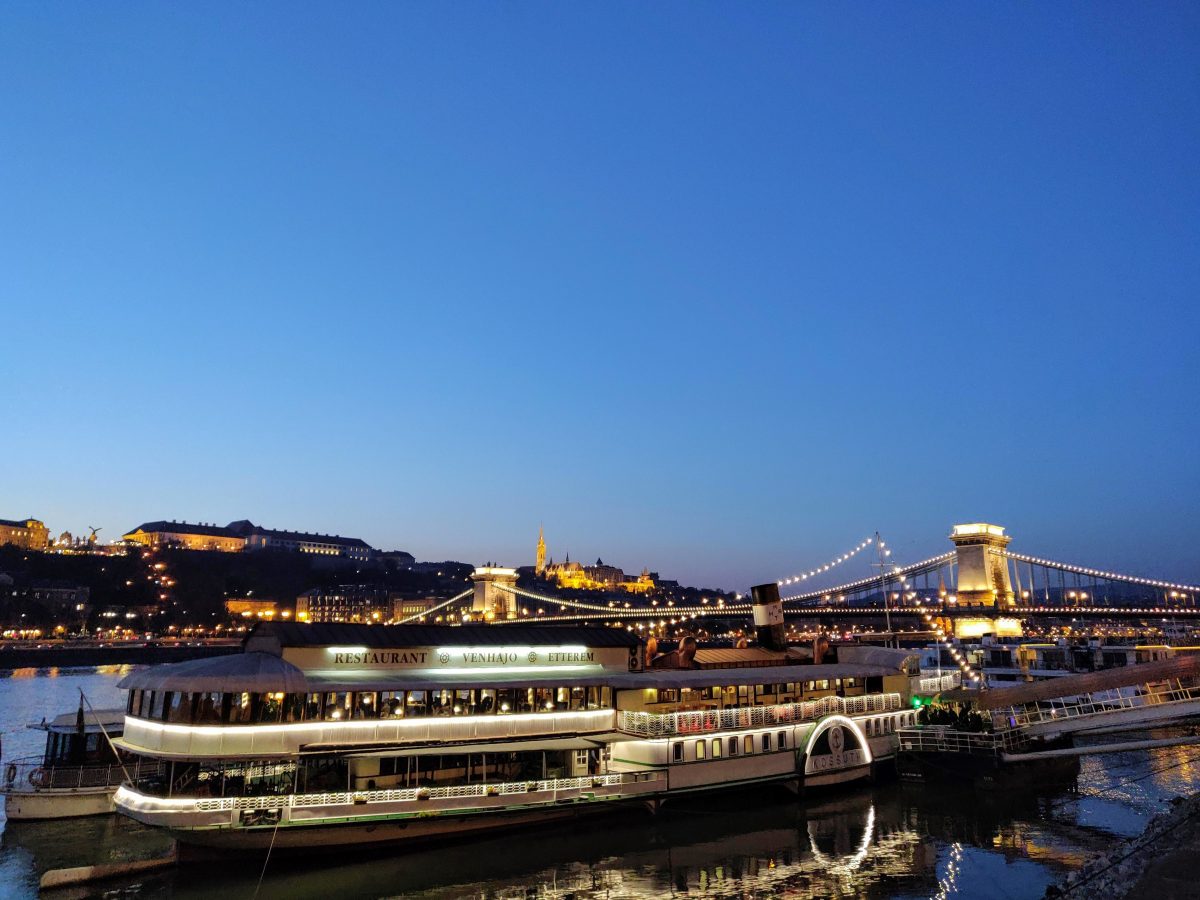 One of the best ways to enjoy a quiet evening in Budapest is to take a cruise on the Danube River, on which you get to see stunning views of the city monuments from the river.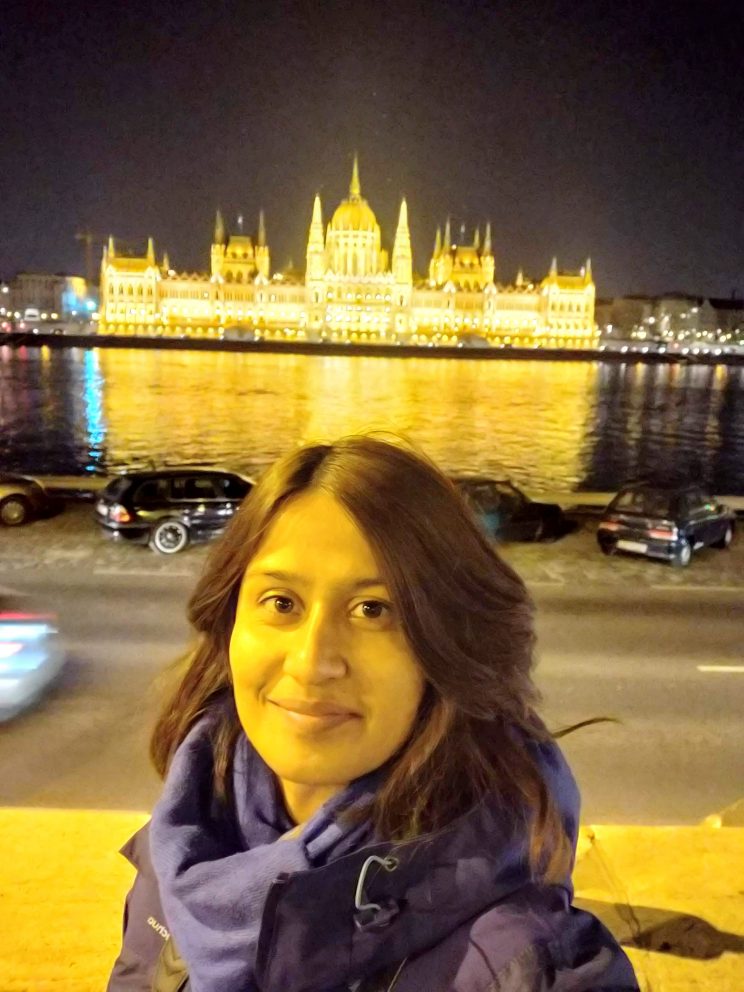 Budapest IN 2 DAYS – KNOW BEFORE YOU GO
Where to stay in Budapest?
Where to stay in Budapest depends on your preference and budget.
If you want to visit close to the bars and the nightlife, District 5 has excellent accommodation options. Called as inner city, this neighbourhood is close to many attractions. 
One of the best things about Budapest is you can enjoy luxury accommodation at not so high prices! If you want to pamper yourself, here are some of the best hotels in Budapest.
Four Seasons Hotel Gresham Palace  – Located at the heart of the city with splendid suites overlooking the Danube, Gresham Palace is the place for the ultimate luxury and service, book a room at Gresham Palace. Check prices here.
Corinthia – A luxurious hotel in a medieval building to feel royal in Budapest, this one is right in the city centre. So go for it. Check prices here to book.
Casati Budapest Hotel Superior – Another hotel to feel medieval-like, surrounded by similar grand buildings including the State Opera and the Cathedral, this stunning hotel is worth every penny. Click here to book.
Mid-range hotels in Budapest
The Hilton Budapest – One of the best value-for-money hotels in Budapest at a fantastic location in the UNESCO heritage area on Castle Hill, the hotel offers magnificent views of the Parliament.
Built in the 1970s, the Hilton was one of the first symbols of modern Budapest rising against the power of communism.
Boutique Hotel Victoria Budapest – Rated one of the best hotels in Budapest consistently, this is one of the hotels offering excellent views of the castle and the city along the Danube as it is located in the old historic town of Buda, also close to many attractions.
Hostels and Budget hotels in Budapest
Flow Hostel – Located next to the Great Market Hall, this hostel gets rave reviews for its well-equipped kitchen, common areas, staff, and cleanliness.
Wombat's Hostel – Best for solo female travelers, this women's hostel is centrally located and very popular.
How many days do you need in Budapest?
Can you cover Budapest in 2 days? Are 2 days enough?
Well, certainly not, but two days in Budapest will be sufficient to explore the highlights of the city, touching up all the major attractions.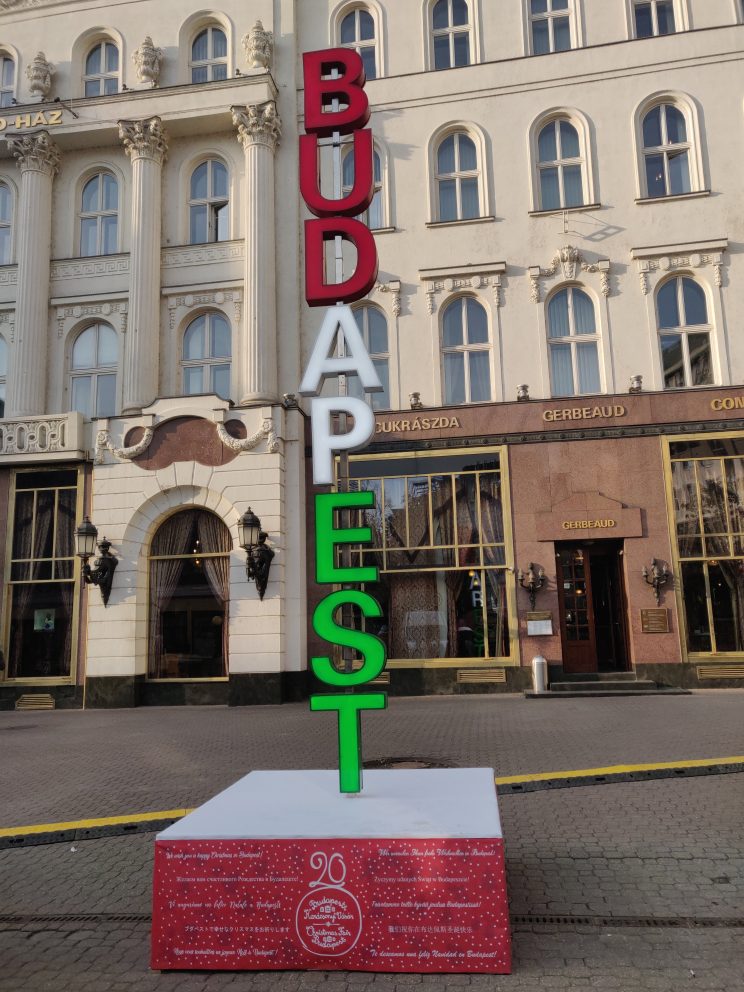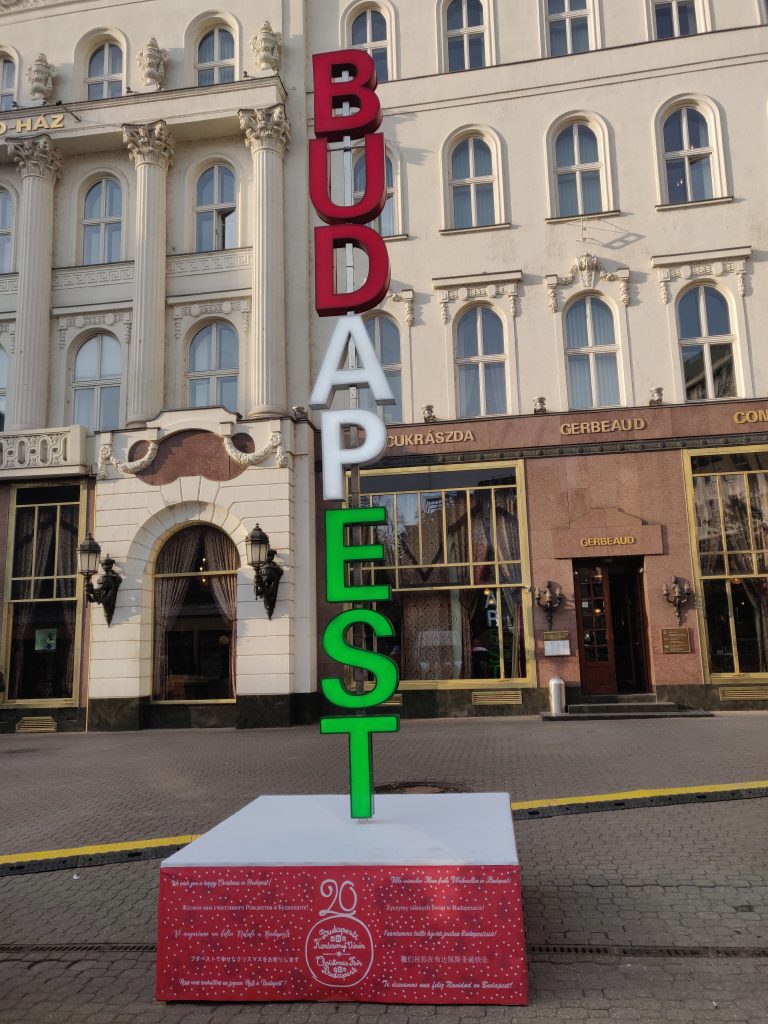 Ideally, I would recommend at least 3 to 4 days in Budapest though, because it will give you time to spread out attractions to leisurely explore or include more of them if you want to see and do more.
Also, you can add one or two day trips in your Budapest itinerary if you have more than 3, 4 or 5 days.
Prague or Budapest – Which is better?
It is hard to answer this as both are uniquely beautiful. Budapest is much larger than Prague.
Prague is compact with all attractions being close to each other, and if you enjoy bigger cities, Budapest wins.
Also, the nightlife is more happening in Budapest compared to Prague. Based on these preferences, you can make your choice!
What is the best time to visit Budapest?
Thanks to its location, you can visit Budapest throughout the year.
The most touristic time is the summer months from the end of June to August when the city gets too crowded, and things are expensive. 
Although this is the popular time, I'd recommend you to visit Budapest in spring or autumn, shoulder seasons when there are fewer tourists, especially as Budapest is one of the best places to visit in Europe in October.
The weather is charming in spring in Budapest from late February to May, and the city gets decorated with spring blossoms.
The fall season also paints the city making it prettier, and with fewer crowds and low prices, autumn months of September and October are also excellent times to visit Budapest.
Budapest in Winter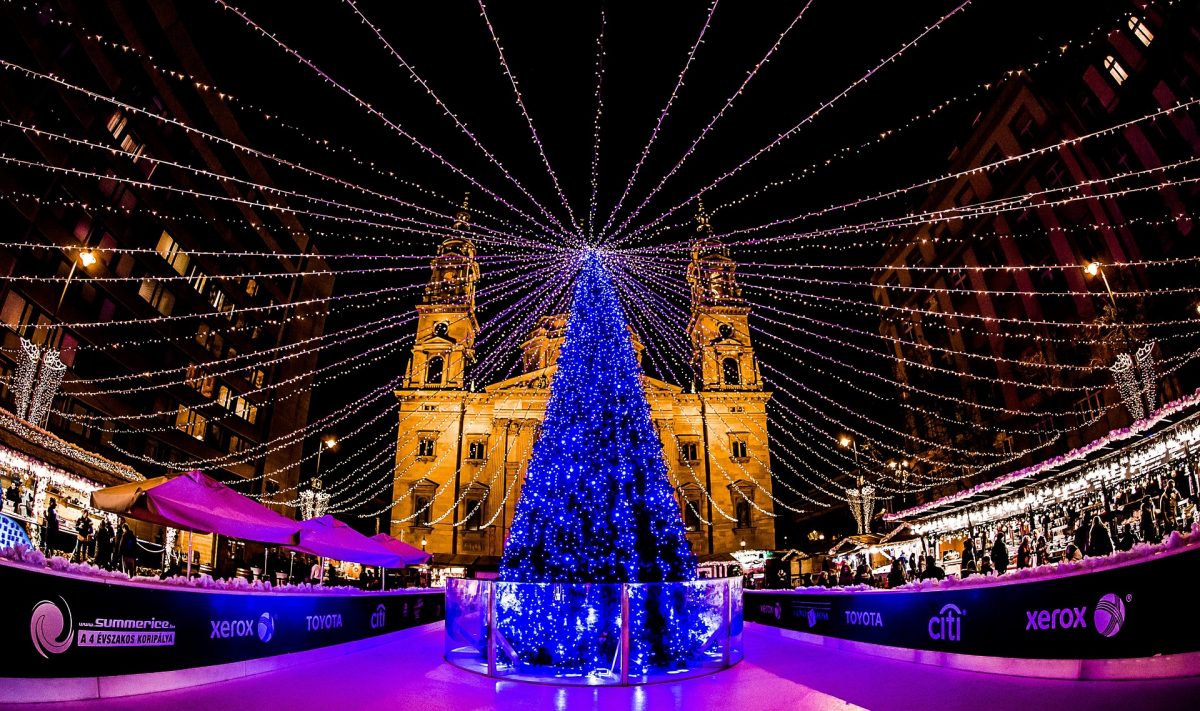 Unlike many other cities of Europe where it gets incredibly chilly with sub-zero temperatures, Budapest in Winter is less harsh, making December one of the most popular months for many tourists. Budapest is one of the most favoured winter destinations in Europe.
How to reach Budapest?
Budapest is well connected by road, rail and flights from all major cities in Europe.
Trains are recommended if you have a Euro Rail Pass, as Budapest is covered on many routes. Local trains are also available from cities of neighbouring countries.
From Vienna or Bratislava or Slovakia, you can reach Budapest within 3 hours by train.
Euro Buses and Flixbus offer multiple buses every day to Budapest, which has some of the lowest prices. You can even manage to get tickets under 5 Euros on weekdays and offseason.
How to get from Budapest airport to Budapest city centre?
Budapest international airport is about 16 km from the city centre. If you are flying to Budapest airport, these are how you can reach the city centre.
By bus – There is a direct bus from Budapest International airport to Budapest city centre – 100E, available every 20 minutes leaving from Terminal B.
The ticket costs 900 HUF, which you can buy at the ticket machine at the terminal itself. It stops at three places in the city centre – Kalvin square, Astoria and Deak Ferenc square, and the journey take about 45 minutes.
Book a minivan shuttle – You can also book a shuttle from the airport, which will directly drop you off at your hotel, which is very comfortable if you have heavy bags or travelling with young children. Book your airport transfer here.
Taxi – You can also book a cab at the airport, which usually costs around 40 to 50 Euros.
Editor's note: An epic Itinerary for exploring Spain in one Week
How to get around Budapest?
By walk – Budapest might be huge, but surprisingly, it is one of the most walkable cities in Europe. You can cover most of the popular attractions in both Buda and Pest on foot.
Walking along the Danube, check out plenty of cute cafes, lovely restaurants and shops are a great way to enjoy Budapest, which I'd highly recommend.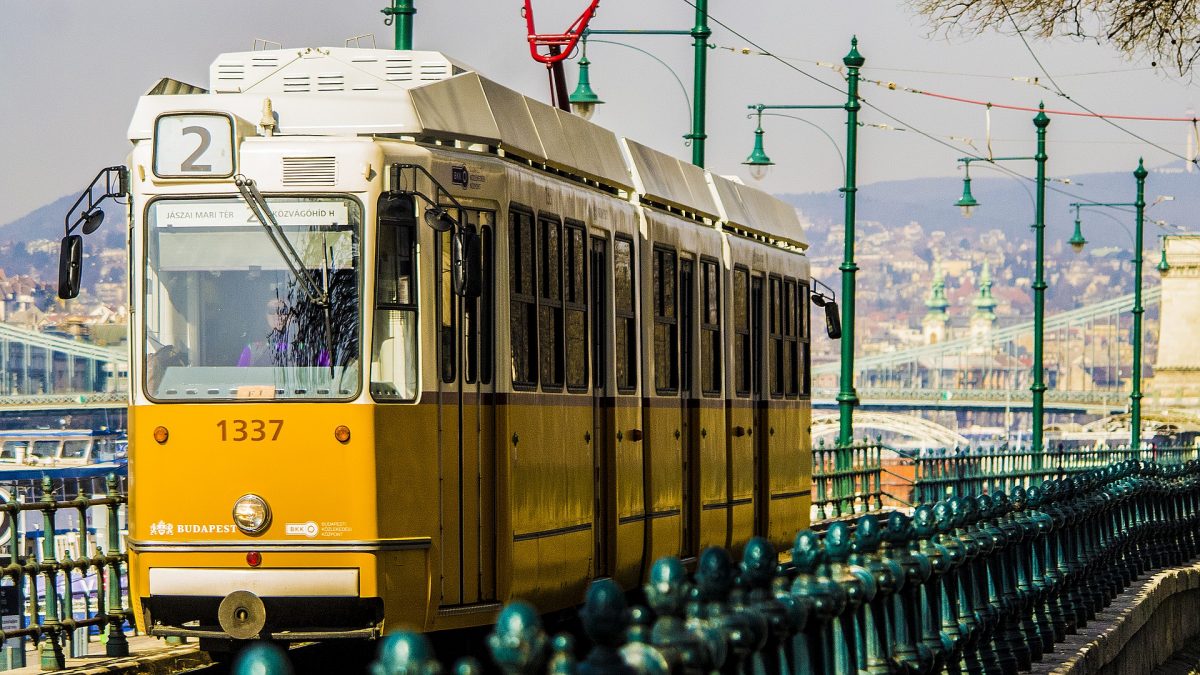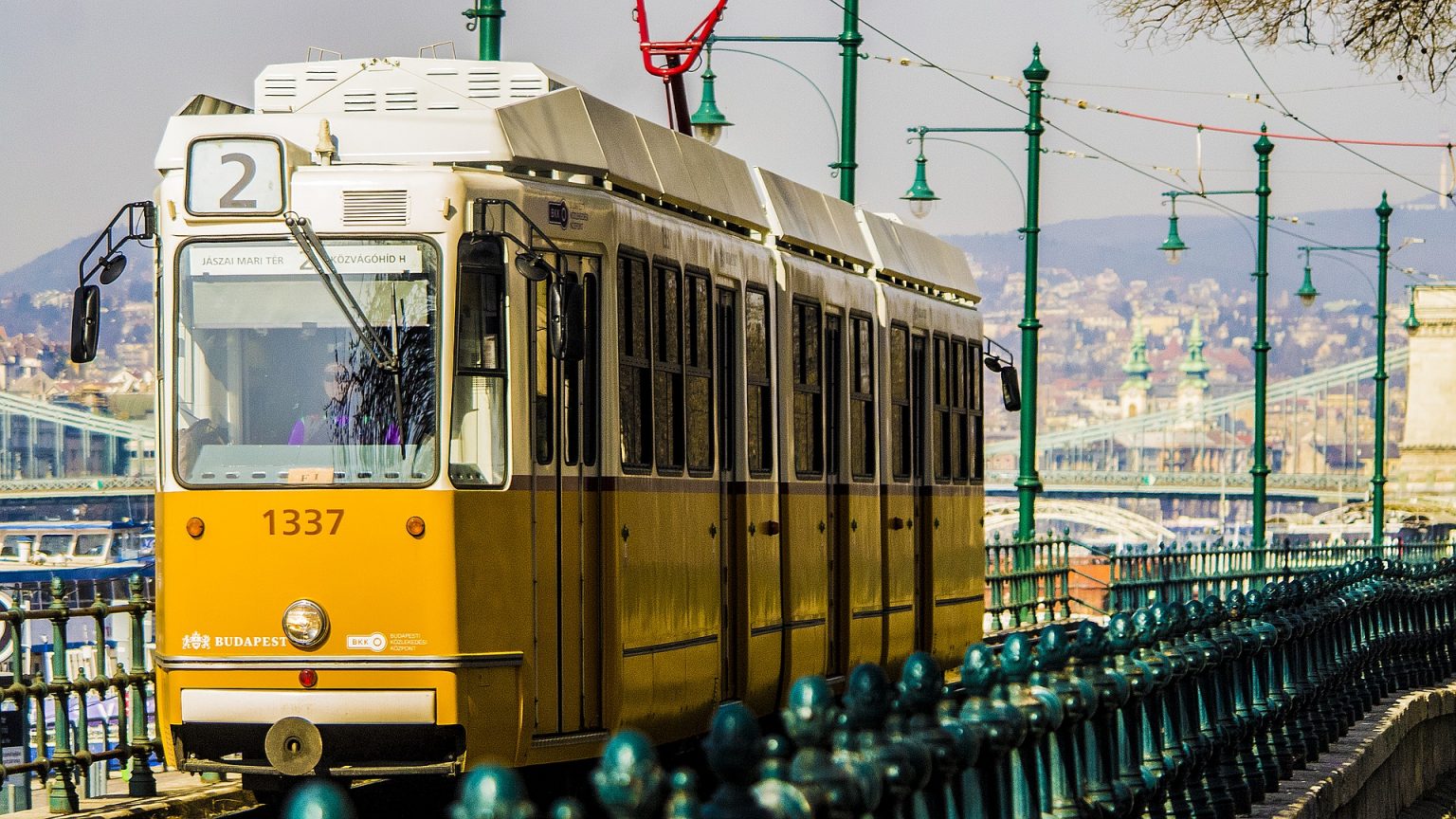 Tram – The cute yellow coloured trams are not just fantastic objects to capture on your camera, but they are incredibly cheap in getting around the city.
Tramlines connect many of the attractions, so the best way is to combine trams with walking to get around Budapest.
Subway(underground) – Similarly, the underground metro provides the connection to inner and outer parts of Budapest, which is recommended if you are venturing further out of the city centre.
Taxis – The most expensive way that I'd suggest you avoid unless it is necessary.
As always, take care to agree upon the meter rate if you do prefer to take one as you can be overcharged(especially when you are a tourist in the city).
Should you get the Budapest Card?
Budapest Card is one of the best ways to get great deals on entry to museums, some attractions, restaurants and even some cafes.
48 hours card costs about EUR 33, which provides unlimited travel on all Budapest's public transport, free entry to a few museums and discounts on the Szechenyi Baths and the House of Terror Museum.
It is ideal to buy the card if you are going to use public transport a lot.
If you want discounts on transport alone for visiting Budapest in 2 days, go for one-day travel cards which are way cheaper than Budapest card.
If you have less than 3 days in Budapest, it also makes sense as you will most likely not have much free time to explore the discounted attractions anyway.
I'd recommend travel cards over Budapest card if you are here only for a few days.
Budapest travel tips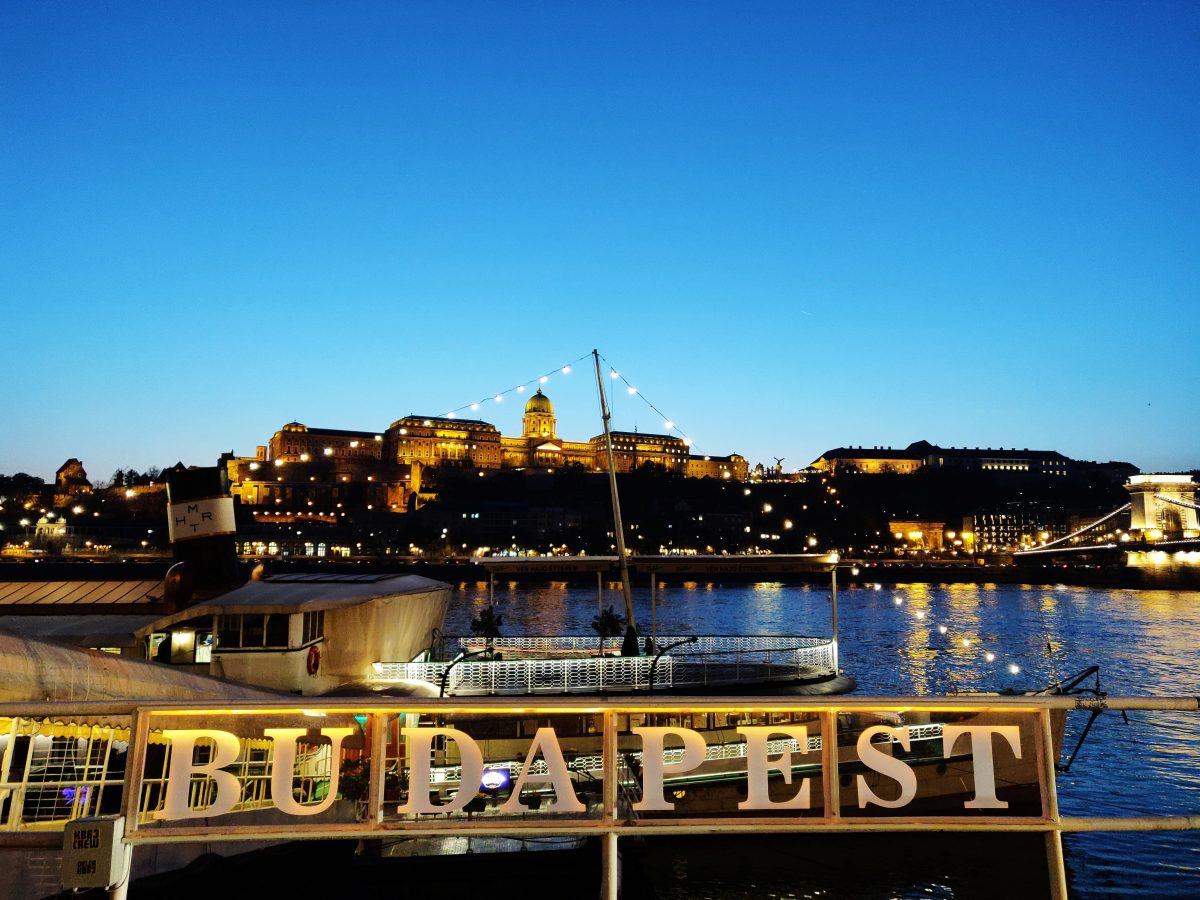 The official currency of Hungary is the Hungarian Forint (HUF). But Euros are widely accepted everywhere.
Cash is king in Budapest, and even in hotels and restaurants, cash transactions are common. So make sure to carry enough money.
Is Budapest safe? Budapest is one of the safest cities in Europe, despite being very popular. Bag thefts and pickpocketing are not frequent but occur nevertheless. If you are visiting pubs or any crowded places, take care of your belongings. Also in metro and trams, keep your bags close to yourself. Apart from petty crimes, Budapest is safe to enjoy!
Is Budapest safe for solo female travelers? – I traveled alone in Budapest for about six days and didn't feel unsafe at all. Although the nightlife is quite good, and you will see people out on the streets until the early hours of mornings, if you are out alone at night, make sure to avoid deserted streets or streets with no lights and take the main streets instead. Use your common sense and trust your instinct, and you will have fun in Budapest!
Editor's note: Planning a solo trip for the first time? Here are 25 things that you should know before you go
Travel insurance
If you are applying for Schengen Visa to travel in Europe, getting travel insurance is mandatory. Also, getting insurance has many advantages.
It covers you against delayed baggage, medical emergencies, lost baggage and trip cancellations. I recommend Nomads travel insurance, which is no wonder the most used among frequent travellers, thanks to the list of benefits! Check the prices and get yours here now.
Budapest in 2 Days ITINERARY – FINAL THOUGHTS
That's a wrap for an itinerary for Budapest in 2 days. 2 days in Budapest will give you a chance to get a peek of this lovely city, which will make you come again for more!
WHERE ARE YOU GOING NEXT?
Check out these travel resources to plan your Europe trip:
If you have any questions about this Budapest in 2 days itinerary, let me know in the comment section below.
Save Budapest in 2 days post to read later