Gdansk was one of the first cities that I came across while researching on the best things to do in Poland. Gdansk is the country's gateway to the Baltic Sea. So Gdansk is a favourite among the Polish as well as international travellers, who fly to Gdansk for a beach holiday during summer for its beaches. In this travel guide, I'll share with you the best things to do in Gdansk. This exhaustive Gdansk travel guide includes some great tips, transport, tours, and many more apart from Gdansk's attractions. Don't forget to book this post to plan your Gdansk trip!
 Wander around the old town of Gdansk
When you are in a European city, checking out the old town is obviously one of the top things to do. What's different in the case of the old town of Gdansk is that the old town is not really old. Gdansk was almost entirely wiped out in World War II. So the old town was actually reconstructed to resemble the earlier buildings, which were all built in the Dutch Renaissance style because the earlier architects were from the Netherlands.
Did you know? Most of the street names in the old town of Gdansk haven't been changed in the last 500 years or so. Also, unlike the old towns in other cities, you'll not find a square. Instead, the old town area is spread between the streets, beginning at Dluga street or Long street, and extends up to Dlugi Targ or the Long Market. On the way, you'll pass through the majestic Town Hall and Arthur's Hall.
I had joined a free walking tour of the old town, and the guide told us about the Royal route, which includes the Dluga street. Encompassing many prominent buildings, it starts at Wyznna street and passes through Dlugi Targ, which ends at Brama Zielon. I just navigated using Google maps to find the others not covered in the tour. All the places are well-marked on the maps and you should be able to find them easily.
Here are some of the guided walking tours that you can try. There are different types of tours to explore Gdansk old town, with some including audioguides.
Gdansk Old Town 2 Hour Walking tour
Gdansk Old Town Private Walking Tour
Head to Stocznia Gdansk or Gdansk Shipyards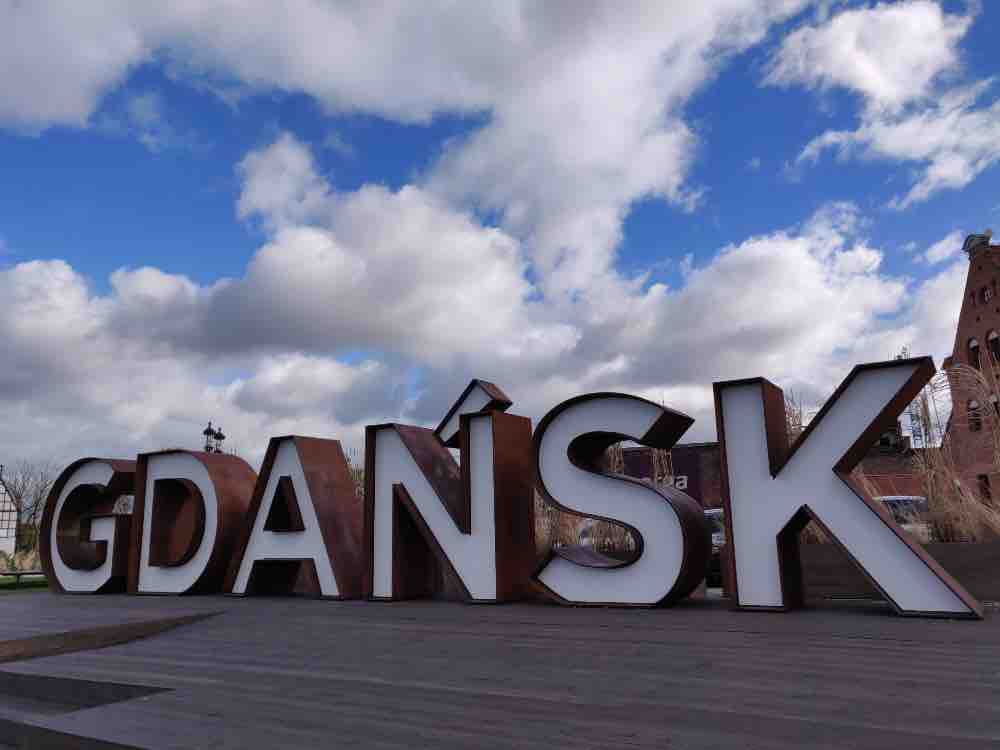 As I mentioned earlier, Gdansk was a prominent port city for more than 7 to 8 centuries. So its legacy with shipbuilding dates back to these times when the city was just granted the privilege to trade. Once home to more than 20,000 workers who built round the clock to build ships, Gdansk shipyards became a meeting point for those who led the Solidarity movement against communism in the late '70s. This is really a great place to capture through your lens.
While here, don't miss the Crane
As you pass by the shipyards, you can't help feeling as if you have arrived in a Dutch city like Amsterdam. With canals and Dutch-styled buildings, I instantly remembered my travels in Amsterdam a few weeks ago.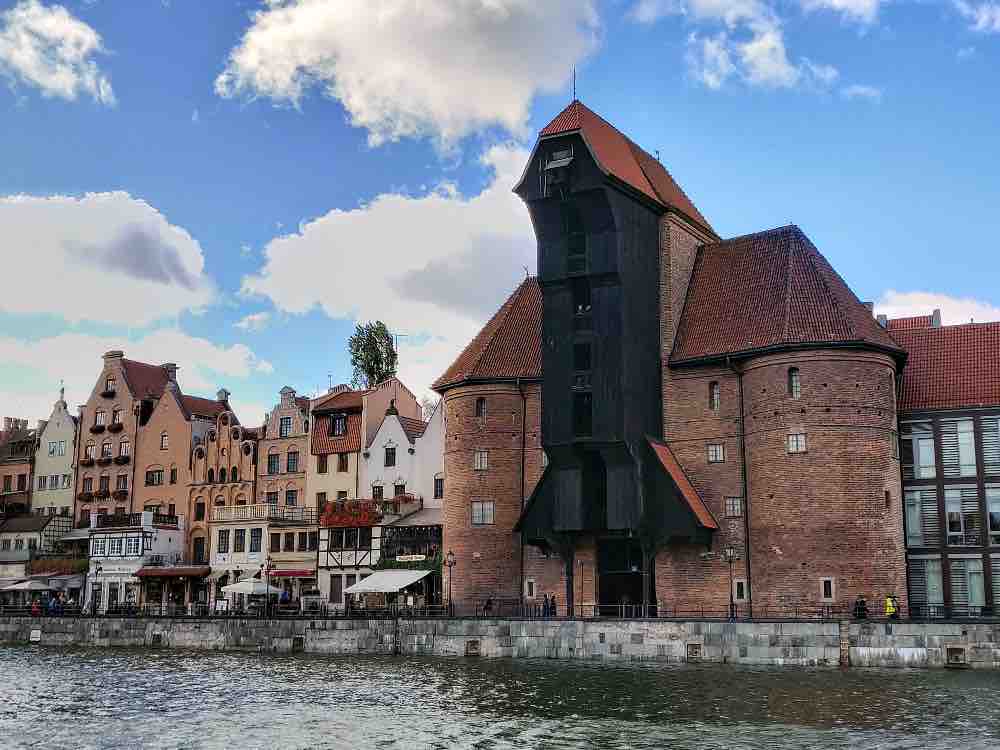 What you can't miss amidst these elegant uniform buildings is the Crane, which sits on the Motlawa River. It stands out today due to its antique appearance. The crane hoisted the masts of ships, along with loading them with goods. Our guide explained the mechanism of how it worked, and I couldn't stop being amazed by the engineering feat of medieval times.
Travel Through Time on Mariacka street
Mariacka Street is unique and special because of its layout. As soon as you enter, you notice that all the buildings on the street are above the ground level. The narrow, cobbled street consists of stairs consisting of 3 to 4 steps leading you into the buildings. This elevation is an example of how the streets in Gdansk earlier existed.
Due to its damp nature and close proximity to the waterfront, much of the streets would be submerged, and hence all the buildings would be built at an elevation. The traditional buildings stand elegantly in different bright colours, and it's just a treat to watch such cuteness. And if you are traveling with your partner, this is surely one of the romantic places to be in Gdansk.
Mariacka Street is known just for this. It is the centre for modern-day Amber shopping. You'll see shops selling amber jewellery in all shapes and sizes. The basements of these buildings today house beautiful cafes, boutique shops and places to shop for souvenirs in Gdansk. At the other end of the street is the impressive Mariacki Church.
Visit the Amber Museum
Called the Baltic's Gold, Amber is a favourite among the precious stones for many. Did you know? Poland is the largest exporter of Amber in the world. Much of the Amber comes from the Gdansk area, so obviously Gdansk Amber is too popular. So while you are here, head to the Amber Museum to know all about it.
From furniture adorned with Amber to the antique collection, this Museum is a compact place to know about Amber. Plus, you get some pretty views of the old town from its top floor.
Amber Museum timings: 9 AM to 8 PM. Closed on Mondays
Entry fee: 12 PLN
Head to St. Catherine's Church Tower for Gdansk's views
St. Catherine's church is not hard to miss while you are in the old town area. To get some fabulous views of Gdansk, climb the tower to the top. All the climb is worth it, totally.
Check out the old post office
Located next to the harbour area in central Gdansk, The old post office has a special place in History. Officially, this is where World War II kicked off when the German troops attacked the post office in the wee hours. More than 50 Polish employees fought to protect the attack.
The building also includes a museum, which showcases the events leading up during the war and also the history of the postal service. There is a square consisting of a statue commemorating the defenders of the post office.
Visit the World War II Museum
Opened in 2014, World War II Museum is one of the best Museums that I have visited. I love history and hence Museums are enchanting to me, but I must say that I loved this place impartially. You'll be taken through the entire war period, starting from the events before the war until the many decades, where you'll see how the World War II shaped and rewrote history for millions of people across many countries in the world forever.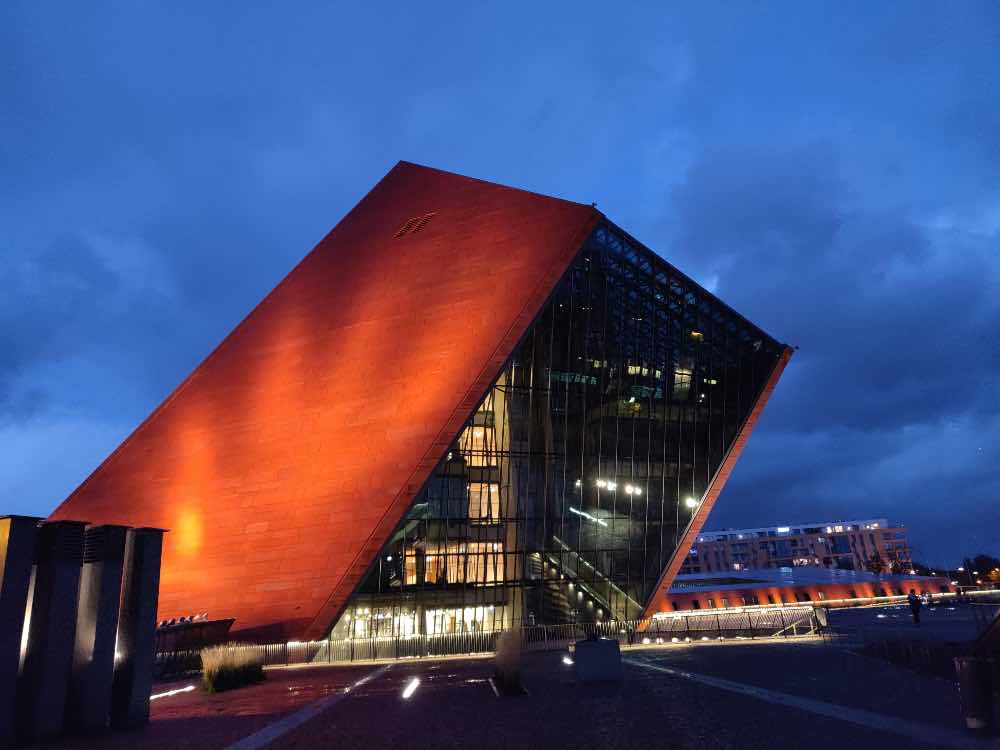 There are lockers and if you have a backpack with you, you'll need to put it in a locker. Only small handbags are allowed. 2 PLN deposit is required for a locker. You can keep your coats in the coat racks for free. The museum is closed on Mondays, and if you want to save some bucks, the Museum is free to visit on Tuesdays. So it's crowded on Tuesdays. Try to be early to collect your free pass on Tuesdays.
World War II Museum timings: Closed on Mondays. Tue-Fri: 10 AM to 7 PM; Sat-Sun: 10 AM to 8 PM.
World War II Museum entry fees: Free entry on Tuesdays. Normal ticket – 23 PLN; Reduced ticket – 16 PLN; Family ticket – 55 PLN; Temporary exhibition – 1 PLN
Check out the Solidarity Museum
The people of Poland fought against communism much like their neighbours for more than 2 decades. The Solidarity centre was built to commemorate the heroes that were responsible. The building houses a museum, statues outside, and you can easily spend half a day here.
Solidarity Museum timings: Mon–Fri – 10 AM to 7 PM; Sat-Sun – 10 AM to 8 PM
Solidarity Museum entry fees: Regular 20 PLN
 Unusual Things to do in Gdansk
If you are still wondering what to see in Gdansk, here are few more Gdansk attractions that you can explore.
Visit the Library in the Solidarity Museum
If you are a bookworm like me, you could check out the library that's present in the same building where the Solidarity Museum is located. There aren't many books in English, but if you speak any of the European languages, you could end up finding a good read.
Check out the Antique Gdansk Railway Station
If you don't have detail for an eye, you could possibly pass off Gdansk railway station. But if you take a moment, you'll notice a lot happening around this area. First of all, the railway station is an example of ancient European architecture. Opposite it stands the bus station. If you walk below crossing the bus station to the other extreme end, you'll enter a local market, where you could find some old traditional eateries and cheap places to shop in Gdansk.
I enjoyed strolling around in this area, where I managed to grab something cheap to eat as well as do some shopping in Gdansk on a budget.
A quick tip: If you are traveling during Autumn or Winter, make sure to check out this neighbourhood early as many shops close around 6 PM.
Discover the vibrant murals in Zaspa
Zaspa is home to the largest outdoor art gallery in Europe, consisting of vibrant wall murals. All of them free to see! If you want to know the legends and local stories of these murals, you can take guided tours of Zaspa neighbourhood.
Sign up for Gdansk food tour
I am sure that after spending a good time in Poland, you would most likely develop a taste for Polish food. The best way to get into the heart of Polish food is to enrol yourself for a food tour in Gdansk. On this guided licence tour, you'll get to savour Polish drinks, appetisers, main courses as well as desserts.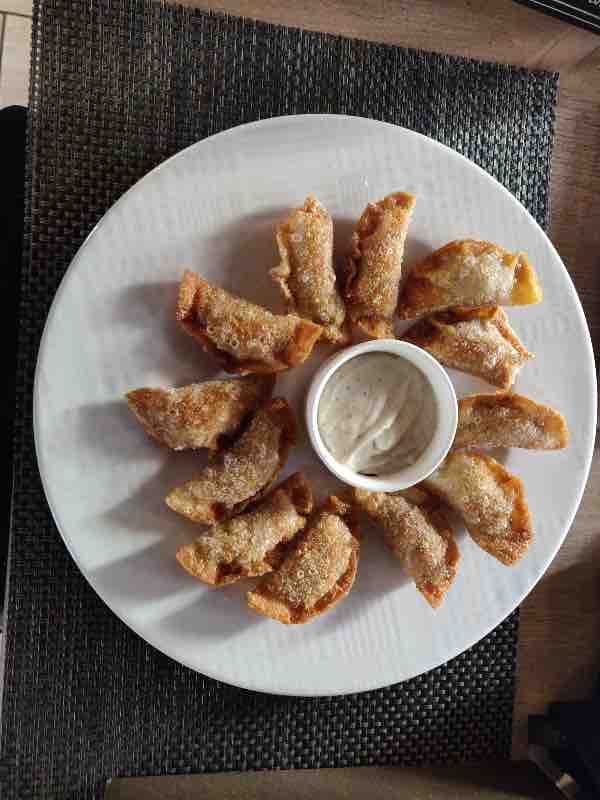 Book Gdansk Food Tour With Authentic Polish Cuisine
Eat at a Milk Bar
One of the fun things to do in Gdansk is to go Milk Bar hunting. Milk Bars are local restaurants serving delicious Polish food at very cheap prices. The portions are massive, the taste is delicious and you pay by the weight of the food. Plus, they are home-cooked. So basically for backpackers and budget traveler, it's like a jackpot! And yes, there are decent options for vegetarians.
So In Gdansk, there are many Milk Bars that are worth visiting. Some of the popular ones to try are Bar Turystyczny, Pijalnia Wódki I Piwa, Kmar Bar Mleczny, Academic Milk Bar, Syrena and Bar Mleczny Neptune. Google them to read the reviews and locate them and start your Milk Bar hunt!
Explore the Market Hall
The Market Hall is the local market of Gdansk consisting of three levels. Built in the 19th century, it looks anything but as an actual market. From meat to fresh veggies, you can have a look at what the people of Gdansk eat! Visit this market for its unique build and the charm of local markets.
Enjoy the laid back Gdansk Nightlife
Gdansk is a popular destination for stags, and this came to me as a surprise. I mean, I was expecting more happening things would lure stags, but there are quite a few things in Gdansk for stags. One of them definitely is making the most of Gdansk's nightlife. Sure, it might not be loud and out as in bigger cities, but there are plenty of beer bars, pubs and restaurants for enjoying good Polish Vodka along with excellent food. Obviously, if you are traveling alone, these places are great to find people to tag along!
Climb the Gradowa Hill
Located just outside the city walls of Gdansk, Gora Gradowa is a small hill offering different views of Gdansk. If the weather is great, climbing this hill is a perfect thing to do in Gdansk in the evening.  The Hewelianum Centre, a science centre is also close by.
Gdansk Itinerary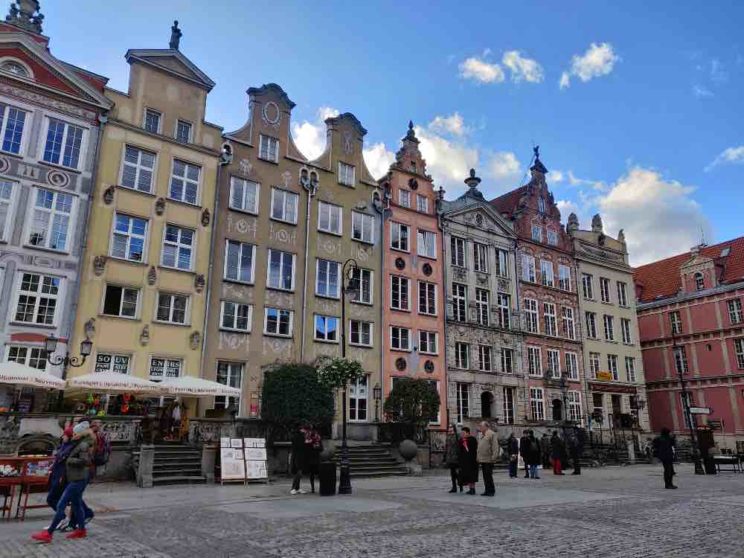 Now you got an idea about the top things to see in Gdansk, let's look at how you can plan your itineraries to help you visit Gdansk.
How many days in Gdansk should you plan?
Ideally, I would recommend spending 3 days in Gdansk itself, excluding any day trips that is. I mean with 2 days, you can cover the sights, but you'll have to rush a bit. Here's how you can plan Gdansk sightseeing on your own.
1 day in Gdansk
If you have just one day in Gdansk, you should spend the first half exploring the old town. Try to cover these streets, all part of the Royal Route. Upland Gate (Brama Wyzynna), Golden Gate (Zlota Brama), Prison Tower and Torture Chamber (Wieza Wiezienna), Gdansk Town Hall (Rathaus), Arthur's Court (Dwor Artusa), Long Street (Dluga), Long Market (Dlugi Targ), Neptune Fountain (Fontanna Neptuna), Green Gate. Then you can make your way up to the shipyard, checking the crane. End your old town tour on Mariacka street.
You could then head to the Solidarity Museum or the World War II Museum if Museums are your thing. If you prefer going to only one, I would suggest WW II Museum. Alternatively, you could go to Westerplatte, although you'll have to rush if you are pressed on time.
2 days in Gdansk
Day 1: You could check out the old town and visit either of the museums.
Day 2: Take a day trip to Malbork Castle or head to Sopot for a beach day. No matter which one you take, you'd be left with some time. You can head to the market hall or the post office in town ending your Gdansk trip.
3 days in Gdansk
Follow the above for the first 2 days. You could use the third day to do another day trip to Gdynia, Westerplatte, Malbork or head to Oliwa, or take a Gdansk cruise.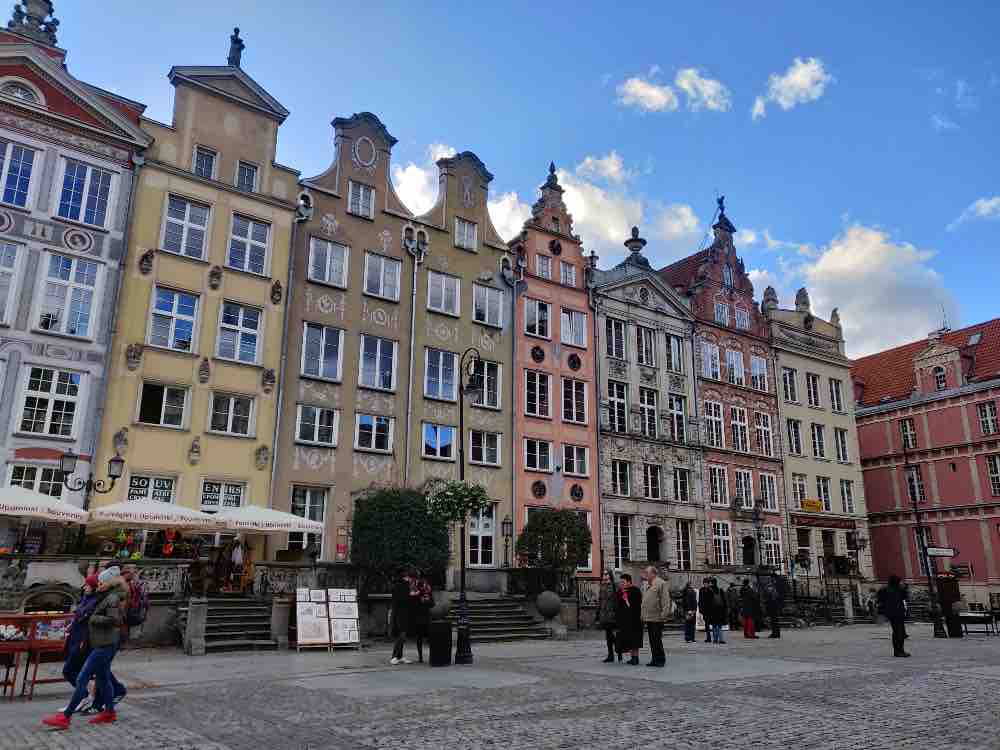 How to get to Gdansk?
Trains: The best way to travel in Poland is through trains. The country has good connectivity through different types of trains, which are also the cheapest way to travel within the country.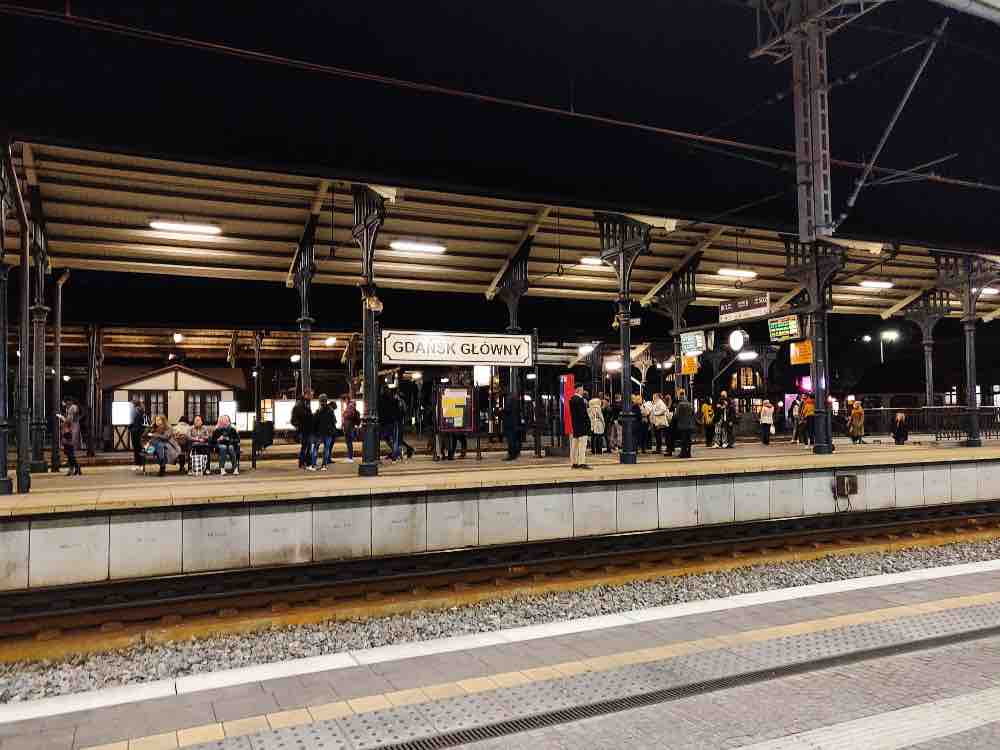 You can book the train tickets on this website. There are four types of trains – EIP, EIC, IC and TLK, with TLK being the cheapest and also the slowest among all. Sometimes, they do offer promotional tickets or highly discounted tickets, which are easier to get if you buy directly from the ticket office. So if you find them online, do head to the ticket office right away to get the cheapest tickets(if you are unable to book online).
You can check for buses as well. There are a few private operators running buses between cities.
You can also fly any major city to Gdansk Airport. The Lech Walesa Airport in Gdansk is located about 10 km. You can take the public bus to the city from there or the local train to Gdansk Glowny.
Getting around Gdansk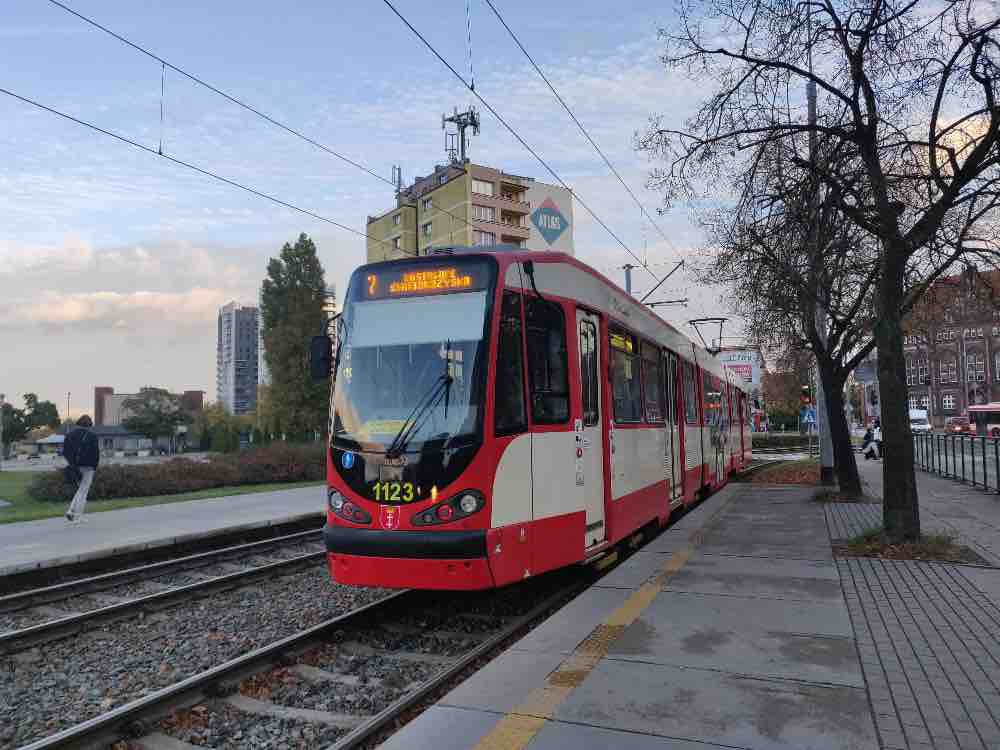 Public transport is very good in Gdansk and is a very convenient way to travel. Wishing the Tricity of Sopot, Gdynia and Gdansk, you can travel using the SKM trains. Trams connect the main areas in Gdansk including the old town and the railway station.
There is a 60-minute ticket at 3.20 PLN regular price, which can be used in trams and buses. A 24-hour ticket costs 13 PLN. Tickets can be bought in kiosks and ticket offices, and you need to validate them in a small yellow machine in trams, buses and before you board the train on platforms. Note that you can't buy a ticket from the driver in trams.
There is Uber and local cabs ply as well, within as well as around the city.
Gdansk Travel Card
If you plan to visit Gdansk for a longer duration intending to move around covering many attractions, it's ideal to buy Gdansk travel card by Gdansk tourism. You can get them in the central stations or sometimes in big kiosks. Gdansk tourist card offers free/discounted entry to many museums, attractions and shops. You can top it up with transportation ticket and travel freely all over Tricity using public transportation. The cards come with a validity of 24, 72 and 120 hours.
Where to stay in Gdansk?
Where to stay in Gdansk depends on how far or close you would like to stay from the centre and of course, the budget. The central area is near the old town, and there are many hotels in Gdansk Old town. There are some hostels and guesthouses around Gdansk Glowny Central, which is known as Centrum. Being a compact town, it shouldn't matter much where you stay as the connectivity is good as well.
I stayed at Old Town Hostel, which was actually not in the old town but close to it. It was cheap and clean, with a kitchen that I used to cook something basic for myself. So If you are looking for a budget hostel, I would recommend the Old Town Hostel.
Other good hostels in Gdansk old town are Midtown Hostel, Elewator Gdańsk Hostel,  La Guitarra Hostel, Hostel Universus i Apartament, Grand Hostel, World Hostel , 4-friend Hostel, 5 Point Hostel and High Five Hostel
Some good mid-range hotels in Gdansk are Vintage Apartment in the heart of Gdansk old town, Motlawa Premium Apartment, Stare Miasto Gdansk, Awiator Modern 83, Apartment Adalbert  Euro Apartment Piwna, and Seaside
And here are some hotels with excellent location and reviews that you can check if budget is of no constraint – Loft in Old Town Gdansk,  Alpaca Apartment Old Town with Hall, Apartament Chleb I Wino, Apartment Spirit of Gdansk and Apartment Zuraw.
So if you are still reading this, it means that you'll be planning your trip soon. Hope this guide helps you to enjoy Gdansk!
OTHER POSTS THAT YOU WOULD WANT TO CHECK OUT
Warsaw Travel Guide – Best Things to Do in Warsaw
Wroclaw Travel Guide – Best Things to do in Wroclaw
Malbork Castle – How to plan a day trip to Malbork Castle from Gdansk
Share the Love. Pin this post!
Note: This post contains affiliate links, and if you make any purchase, I would get a small sum without any extra cost to you.
Connect with me on Facebook, Twitter, and Instagram for travel stories.
Subscribe to My Blog Posts for Travel Inspiration, Tips, Travel Guides & Stories. No Spam!