Spending 10 days in Switzerland lets you experience the country's stunning landscapes, vibrant cities, and rich cultural heritage.
Switzerland is easily one of the most beautiful countries on earth. Here you will find vibrant cities, majestic mountains, and more.
Switzerland offers a myriad of experiences that will leave you in awe.
Immerse yourself in the charm of Zurich, explore the idyllic town of Lucerne, venture into the heart of the Swiss Alps, marvel at iconic peaks like the Matterhorn, and soak in the international ambience of Geneva.
Indulge in delicious Swiss cuisine, explore charming old towns, and witness some of the most stunning natural scenery in the world.
This 10-day itinerary is your passport to discovering the best that Switzerland has to offer.
So, get ready to create memories that will last a lifetime as you explore the wonders of Switzerland.
Recommended – 15 Most Beautiful Places To Visit In Switzerland For Your Bucket List
10 DAYS IN SWITZERLAND ITINERARY
Day 1-2: Zurich
Begin your 10 days in Switzerland in Zurich, Switzerland's largest city.
There's no shortage of things to do in Zurich to make your visit memorable.
Whether you spend 4 days in Switzerland or 10 days in Switzerland, Zurich is a must-visit.
Start by exploring the charming Old Town (Altstadt) with its winding streets and medieval buildings, including the iconic Grossmünster and Fraumünster churches.
Immerse yourself in art at the Kunsthaus Zurich, home to an impressive collection of works by renowned artists.
Take in the beauty of Lake Zurich by strolling along the promenade or indulging in a boat ride.
Shop till you drop on Bahnhofstrasse, one of the world's most exclusive shopping streets.
Dive into Swiss history and culture at the Swiss National Museum, and enjoy a boat trip along the Limmat River for breathtaking city views.
For nature lovers, climb the Uetliberg Mountain for panoramic vistas or visit the Zurich Zoo to see a diverse range of animals.
Remember to savour Swiss cuisine, from traditional dishes like fondue and raclette to delectable Swiss chocolates.
Experience Zurich's vibrant nightlife by exploring its bars, clubs, and live music venues.
With its blend of history, culture, nature, and culinary delights, Zurich offers many activities to suit every traveler's interests.
Day 3-4: Lucerne
Travel to Lucerne, a picturesque city nestled amidst mountains and lakes. Lucerne offers a plethora of activities to make your visit truly memorable.
Start by strolling across the iconic Chapel Bridge, one of Switzerland's most photographed landmarks.
Explore the charming Old Town with its cobblestone streets, historic buildings, and lively squares.
Visit the mesmerizing Lion Monument, a poignant tribute to the Swiss Guards who died during the French Revolution.
Beyond the iconic city centre, you can venture on a scenic boat trip on Lake Lucerne and marvel at the mountain vistas.
For panoramic views, go up to either Mount Pilatus or Mount Rigi, accessible by cogwheel train or cable car, and immerse yourself in the beauty of the Swiss Alps.
Discover Lucerne's history and cultural heritage at the Richard Wagner Museum or the Swiss Museum of Transport.
Lucerne is a destination that promises unforgettable experiences for all who visit.
Day 5-6: Interlaken and Jungfrau Region
Head to Interlaken, the gateway to the Jungfrau region.
The Interlaken and Jungfrau Region offers many activities and natural wonders that will be some of your favourites during your 10 days in Switzerland.
Start by exploring the charming town of Interlaken, nestled between two stunning lakes.
Take a stroll along Hohematte Park or dare to try adventure sports like paragliding or skydiving.
Embark on an unforgettable journey to the Jungfrau region, where you can visit the enchanting towns of Grindelwald and Lauterbrunnen.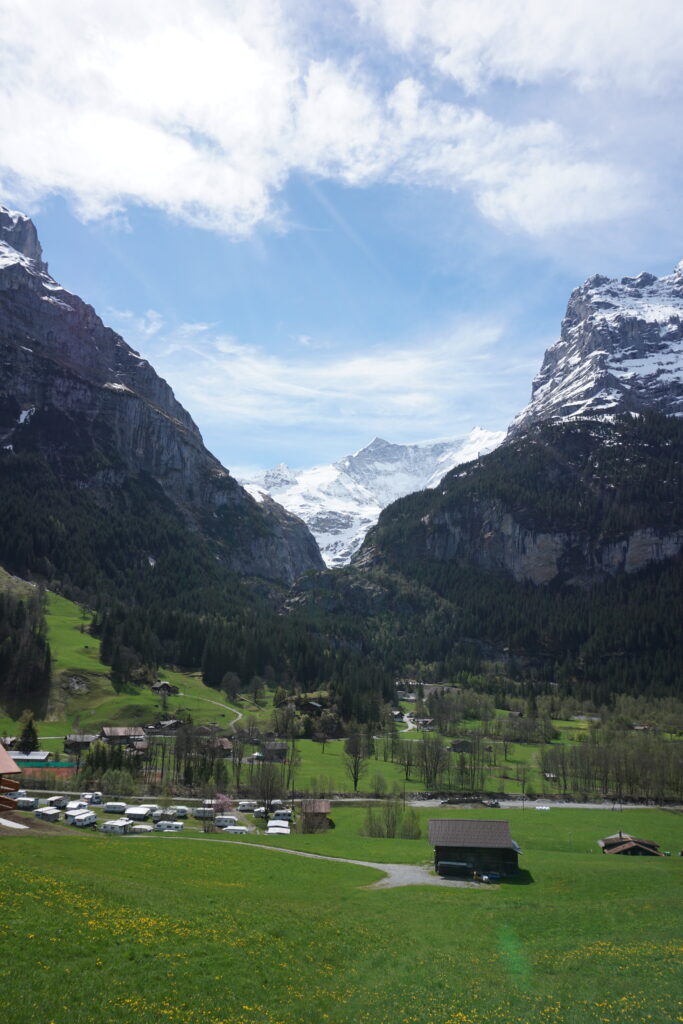 Marvel at the majestic peaks of Eiger, Mönch, and Jungfrau, and take a cable car or cogwheel train up to Jungfraujoch, the "Top of Europe," for breathtaking panoramic views. 
Immerse yourself in the region's natural beauty by hiking through picturesque valleys, exploring glistening waterfalls, or taking a thrilling mountain bike ride.
For the adrenaline junkies, engage in activities like canyoning or white-water rafting. 
RECOMMENDED – 65 BEAUTIFUL HIDDEN GEMS IN EUROPE YOU SHOULD VISIT
Discover the rich alpine flora and fauna at the Schynige Platte Botanical Alpine Garden, or enjoy a boat ride on Lake Thun or Lake Brienz.
The Interlaken and Jungfrau Region is a paradise for nature lovers and adventure enthusiasts with its stunning landscapes and exhilarating outdoor adventures.
Day 7-8: Zermatt and Matterhorn
Journey to Zermatt, a car-free Alpine village famous for the iconic Matterhorn peak.
Zermatt and the Matterhorn region offer an array of unforgettable experiences surrounded by majestic mountains and natural beauty.
This is perfect, with only 10 days in Switzerland to see some of the country's most iconic natural landmarks.
Begin by gazing in awe at the iconic Matterhorn, one of the world's most recognizable peaks.
Explore the car-free village of Zermatt, wandering through its charming streets lined with boutiques, restaurants, and traditional Swiss chalets.
Take a cable car up to the summit of Gornergrat for breathtaking panoramic views of the surrounding peaks and glaciers.
For adventure enthusiasts, engage in thrilling activities like skiing, snowboarding, or hiking along the stunning trails that crisscross the region.
Discover the rich alpine flora and fauna at the Sunnegga Paradise or enjoy a leisurely walk around the picturesque Lake Riffelsee, offering stunning reflections of the Matterhorn.
With its awe-inspiring landscapes, outdoor activities, and warm Swiss hospitality, Zermatt and the Matterhorn region provide an unforgettable experience for nature lovers, adventure seekers, and those seeking relaxation amidst stunning surroundings.
Day 9-10: Geneva
Wrap up your 10 days in Switzerland in Geneva, known for its international diplomacy and picturesque setting on Lake Geneva.
Start your exploration by visiting the iconic Jet d'Eau, a magnificent water fountain on Lake Geneva's shore.
Stroll along the charming Old Town (Vieille Ville) and discover historic landmarks like St. Pierre Cathedral and Maison Tavel, the oldest house in Geneva.
Explore the vibrant shopping district of Rue du Rhône, renowned for its luxury boutiques and watchmakers.
Immerse yourself in art and culture at institutions like the Museum of Art and History, the Patek Philippe Museum, and the Red Cross and Red Crescent Museum.
Take a leisurely boat cruise on Lake Geneva and enjoy the stunning views of the Alps.
Take advantage of the United Nations Office and other international organizations housed in Geneva, reflecting its global significance.
With its picturesque landscapes, cultural treasures, and international ambience, Geneva is a captivating destination that offers a wealth of experiences for every visitor.
How to Get Around Switzerland
Switzerland offers a well-developed and efficient transportation system, making it easy to get around the country.
Here are the main modes of transportation you can utilize:
Recommended – 25 Beautiful Warm Destinations In Europe You Can Visit
Trains: The Swiss train network is extensive, reliable, and known for its punctuality.
Swiss Federal Railways (SBB) operates a comprehensive network that connects major cities, towns, and even smaller villages.
Trains are comfortable and provide stunning scenic views as you travel through the Swiss countryside.
Buses: Buses complement the train network and provide connectivity to areas not covered by trains.
Regional and local bus services are available, and they often run on schedules that align with train departures and arrivals.
Trams: Many Swiss cities, including Zurich, Basel, and Geneva, have efficient tram systems that make it convenient to explore within the city limits.
Trams are a popular mode of transportation for both locals and tourists.
Rental Cars: If you prefer the flexibility and independence of driving, you can rent a car from various rental agencies.
Switzerland has a well-maintained road infrastructure, with clear and easy-to-follow road signs.
However, remember that parking can be limited and expensive in cities.
Boats: Switzerland's lakes and rivers offer scenic boat trips that allow you to enjoy beautiful landscapes from a different perspective.
Lake Geneva, Lake Lucerne, and Lake Zurich are popular destinations for boat excursions.
Cable Cars and Funiculars: Switzerland's mountainous regions are well-served by cable cars, gondolas, and funiculars, providing access to breathtaking alpine vistas and hiking trails.
These transport options are beneficial for reaching mountain peaks, ski resorts, and hiking destinations.
Bicycles: Switzerland is known for its bike-friendly infrastructure, with designated cycling paths in many areas.
You can rent bicycles in cities and towns, offering an eco-friendly and enjoyable way to explore the surroundings.
Swiss Travel Pass: If you plan to travel by public transportation extensively, consider purchasing a Swiss Travel Pass.
This pass provides unlimited access to trains, buses, boats, and mountain transport, offering convenience and cost savings.
Conclusion
Throughout your trip, indulge in Swiss culinary delights like fondue, raclette, and Swiss chocolate.
Take advantage of Switzerland's efficient public transportation system, including trains and boats, to easily navigate between destinations.
Remember, these 10 days in Switzerland can be customized based on your preferences and the time of year you visit.
Switzerland offers abundant natural beauty and cultural experiences, making it a destination you'll always remember.