Are you looking for the perfect Algarve itinerary? Well, you are in the right place then. Whether you have 24 hours to spend or looking for ideal 3 days in Algarve itinerary, you can find all the details here. Stop wondering what to do in Algarve because this Algarve travel guide will help you discover the best things to do, where to stay, and some useful travel tips.
I spent two weeks in the Algarve region on my Europe backpacking trip and fell in love with this stunning piece of Portugal.
Although a relatively small country, Portugal proves that it can be worthily compared to other Mediterranean countries highlighting its cultural heritage and hospitable attitude towards tourists.
It is quite different from its neighboring country Spain and has a unique energy that emanates from the atmosphere. Food, coffee, supermarkets, drinks are all at low prices.
Coffee and croissants in the closed markets or Mercados, cooked cod in 1000 different versions, wines in traditional Portuguese Tascas, the list go on.
And in the late hours, this is where the fun begins. The bars and the surrounding streets are full, cocktails on the terraces, and karaoke music does not let you sleep at night.
You can easily spend up to a week or more visiting Algarve itself as it has so many things to offer – spectacular coastline, gorgeous beaches, rocky cliffs offering dramatic views of the turquoise Atlantic and Mediterranean, excellent Portuguese cuisine, wine, post-card perfect whitewashed villages, secluded towns, and
THE PERFECT ALGARVE ITINERARY FOR 3 DAYS
In today's article, we will head south and the Algarve region, in impressive southern Portugal, presents a unique landscape full of hills and rich, endless valleys. It is one of the most popular summer resorts in southern Europe and not by chance.
The Algarve includes the cities of Lagos, Faro, and Portimao, with Faro as their administrative center.
The permanent residents in the specific prefecture do not reach even half a million of the population. In summer, however, the influx of tourists is such that the overall population doubles steadily.
DAY 1 OF ALGARVE ITINERARY
EXPLORE LAGOS
Lagos is a beautiful city that may remind many of the appearances of an identical Greek island. The historic center is worth a walk and stands out from the pebble floor and its walls.
White houses with small balconies, picturesque narrow, hospitable people create an idyllic holiday setting.
Spend the first day of your Algarve itinerary exploring the city and the surrounding area, and you will definitely be rewarded with its beauty.
In the old port, next to which the new marina was built, the Boa Esperança replica of an old caravel spearheaded the Portuguese Explorers' discoveries.
After all, Lagos was the home of Prince Henry the Navigator, and from where Vasco da Gama started to discover Brazil.
However, you will find the most fantastic landscape in the Ponta da Piedade, one of Portugal's famous tourist attractions.
These are various geological formations consisting of golden rocks up to 20 meters high, caves, and natural arches, which you can get to see in the following ways:
a) Rent a kayak or SUP from Praia da Batata
b) Walk on the paths from the old lighthouse and see the rocks from above
c) Take a speedboat tour from the marina Lagos. The choice is totally up to you.
DAY 2 OF 3 DAYS IN ALGARVE ITINERARY
VISIT PORTIMAO
On the second day, you will visit one of the most incredible sights of Portugal! The giant cave in Benagil. This is a miracle of nature that will definitely have caught your eye somewhere on your Instagram feed.
There are many ways to visit this magical place, such as a boat tour or a kayak tour, but it is ideal for driving to Benagil Beach by car.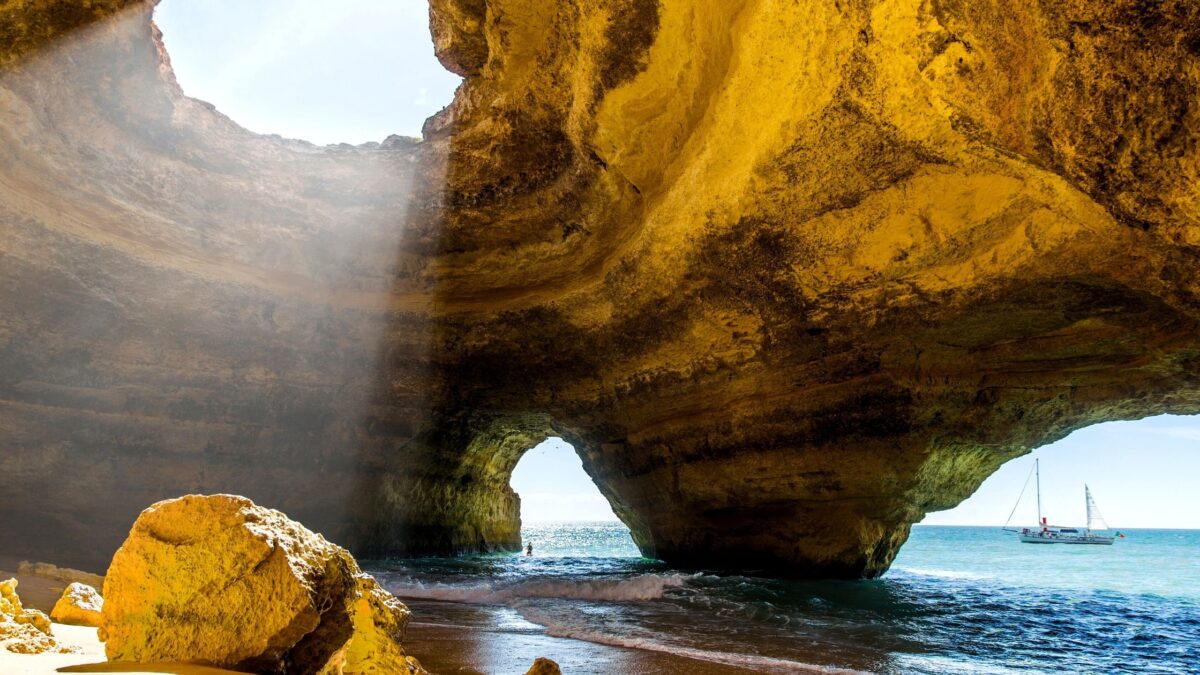 In case you have not taken your own car with you, there is no reason to worry. You can rent a car from the city of Portimao, which will really give you the ideal solution for your travels for the entire duration of your trip to southern Portugal.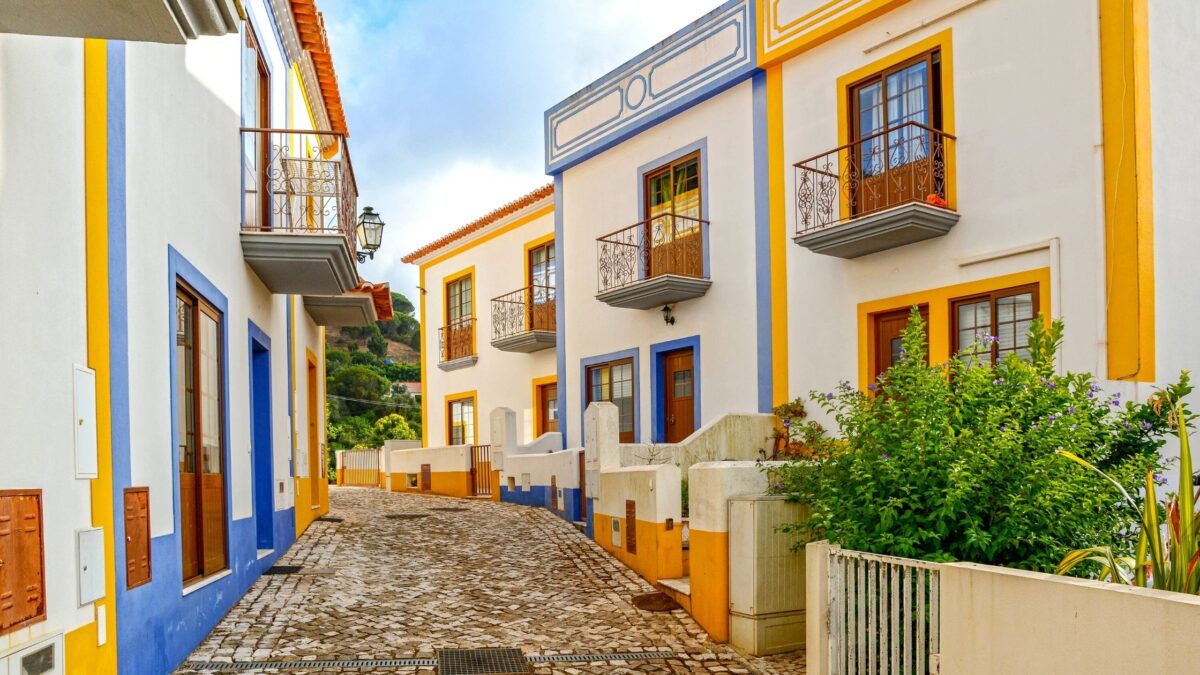 Searching for car hire in Portimao has become easier through Enjoy Travel, offering the cheapest rental packages in the area. So the best solution is to drive in your car's comfort to Benagil beach, and from there, you can rent a SUP or kayak to go to the Benagil cave located 200-300 meters away from the primary beach.
ALGARVE ITINERARY – DAY 3
CHECK OUT THE BEACHES IN ALGARVE
Within walking distance of Lagos is a series of beautiful beaches with all kinds of activities. If you are interested in kite surfing or windsurfing, Praia da Luz is an ideal sandy beach for this kind of sport. Sandy, charming and with stylish cafes and restaurants.
If your goal is to relax on an organized beach with beautiful views and the famous geological formations of the area, you will head to Praia dos Três Irmãos and the adjacent Praia da Prainha.
In case you are crazy about kayak tours and adventures and want more, Praia de São Rafael near Albufeira is full of caves and beautiful cliffs.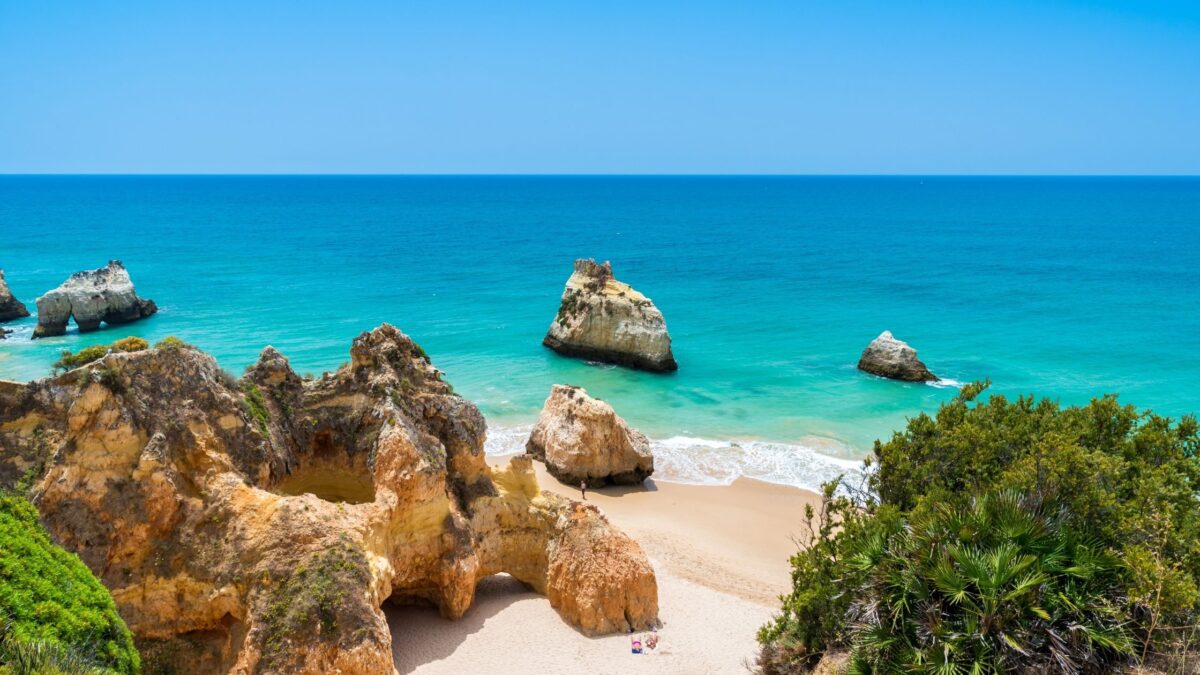 Tip: Do not forget that you are in the Ocean. The water is quite cold so do not expect to enjoy swimming.
If you still want to swim, surf shops rent summer neoprene suits that keep your body temperature constant. If there are no ripples, the water is crystal clear!
ALGARVE ITINERARY FOR A WEEK
If you have more than 3 days in Algarve, then you are in for a treat. You can explore tons of attractions for 4 or 5 days or stretch your Algarve trip to a week if you are in the mood for beaches, hiking, and seafood.
GO HIKING
If you feel like going away from beaches to mountains on your Algarve itinerary, then plan a day trip to Telheiro and another day hiking the trails in Carrapateira.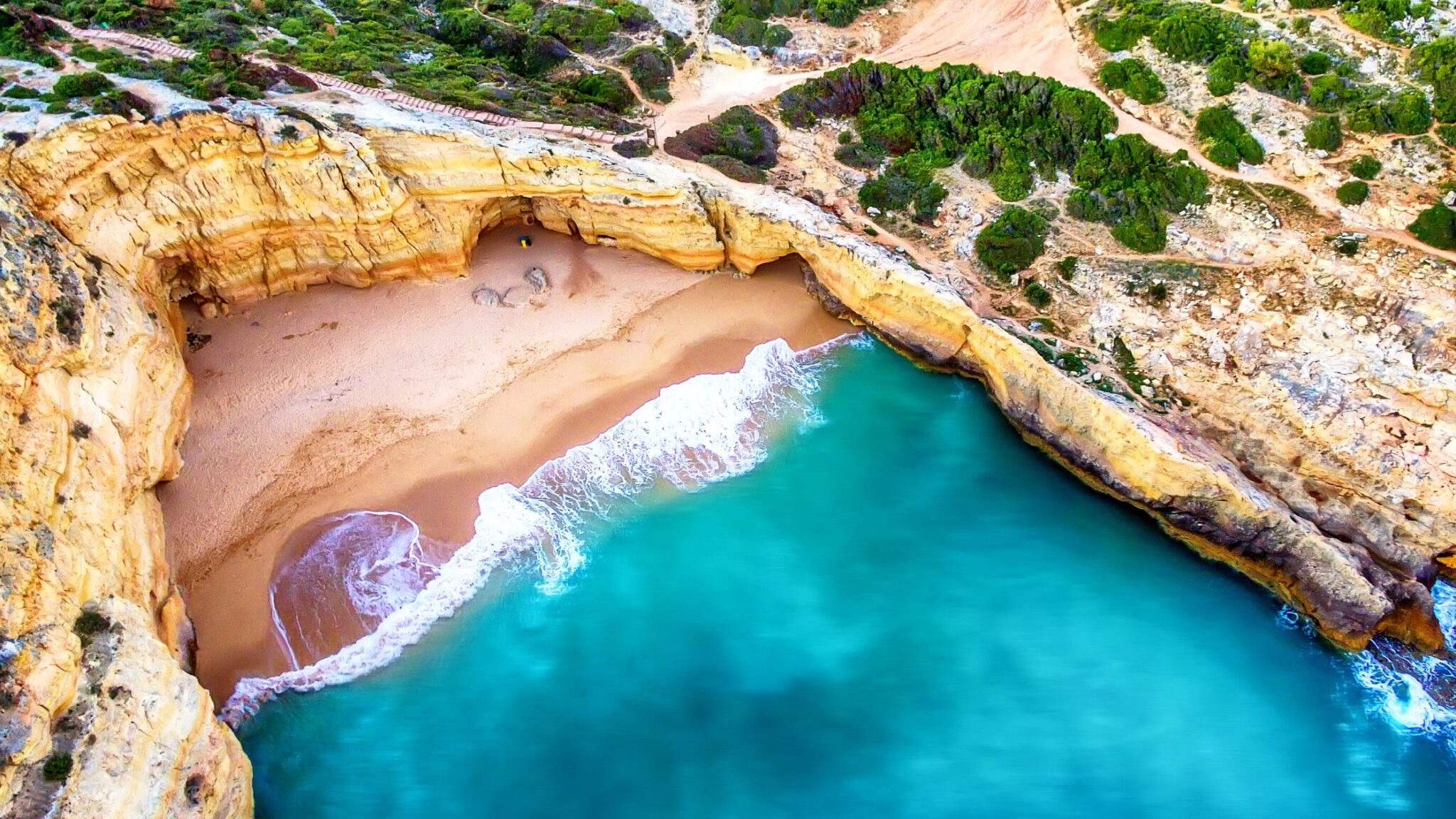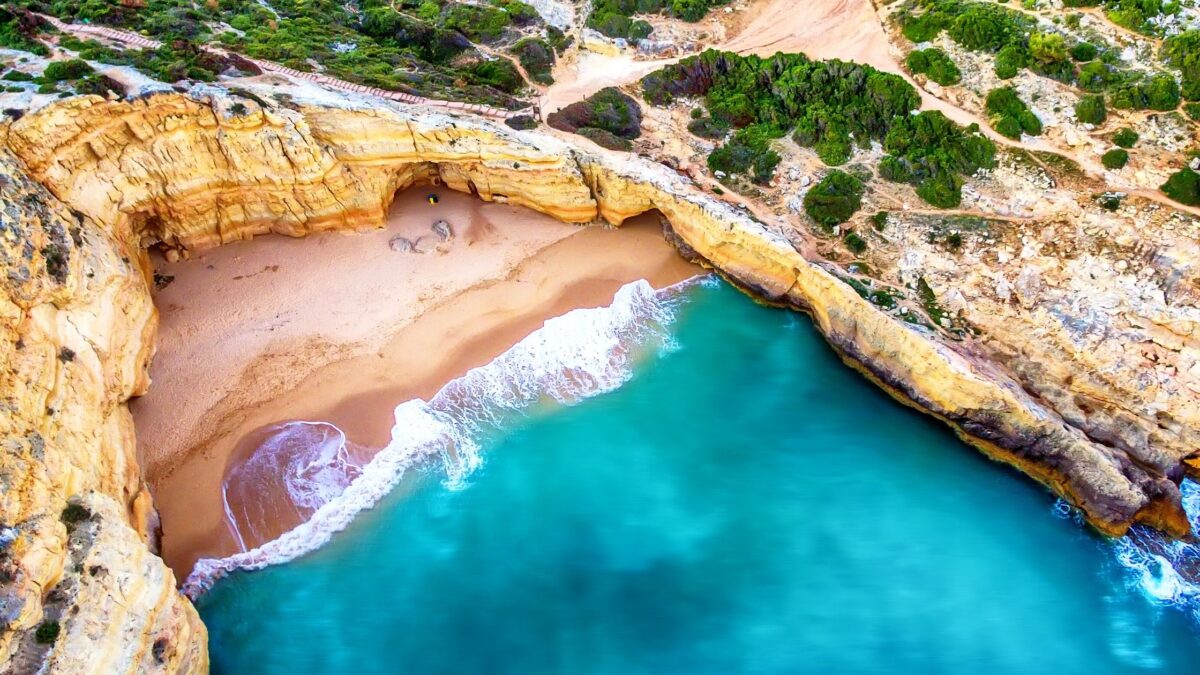 SPEND A DAY OR TWO IN FARO
If you are in the mood for more towns, add a day or two in Faro, home to whitewashed cobbled streets, gorgeous bay, and excellent food.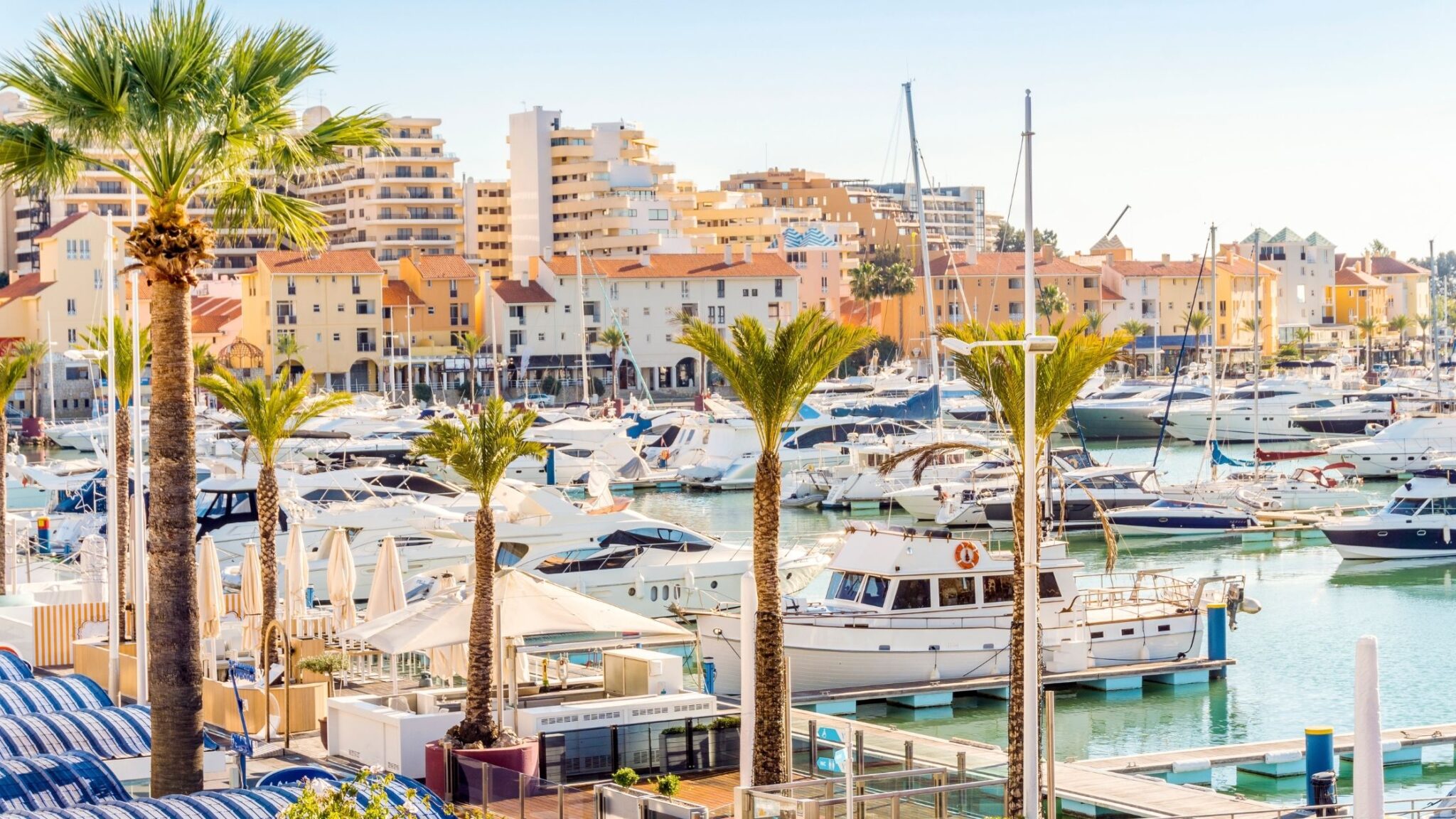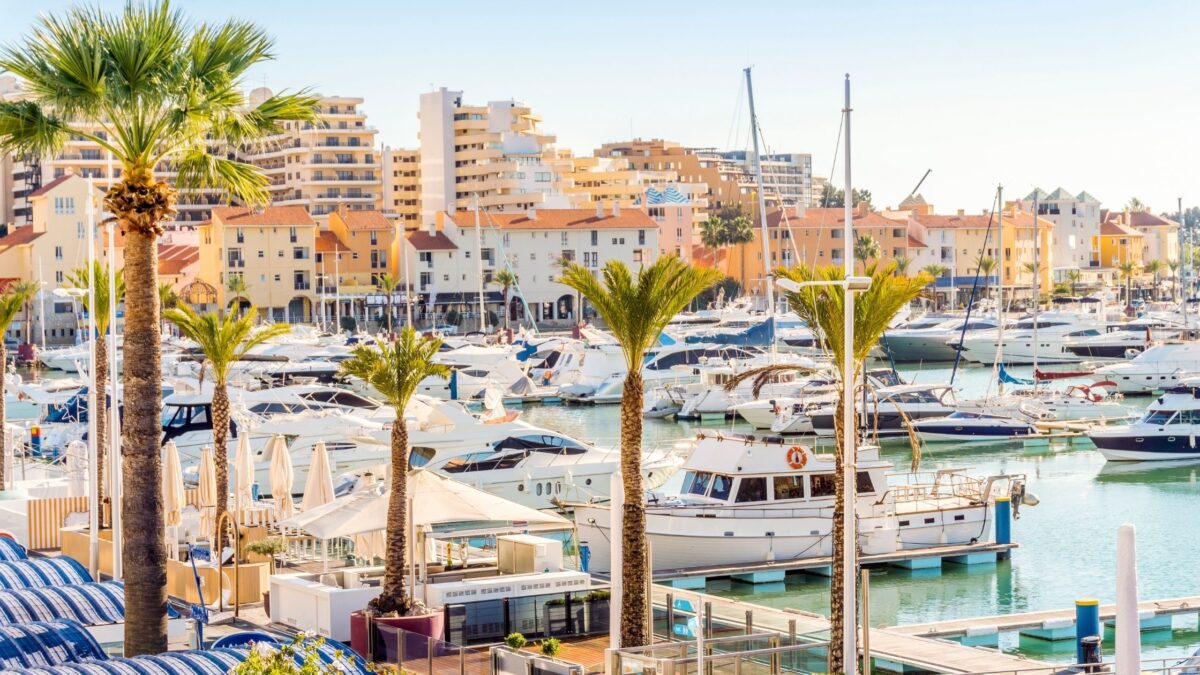 There are not many things to do in Faro per se, and it is another town where you can enjoy the ocean views, explore like a local in your car, and dine some of the best delicacies and wine.
PLAN A DAY TRIP TO SAGRES
Another town you can add to your list in the Algarve itinerary is Sagres, which is best for slowly idling away to experience the laid-back Portuguese town vibes.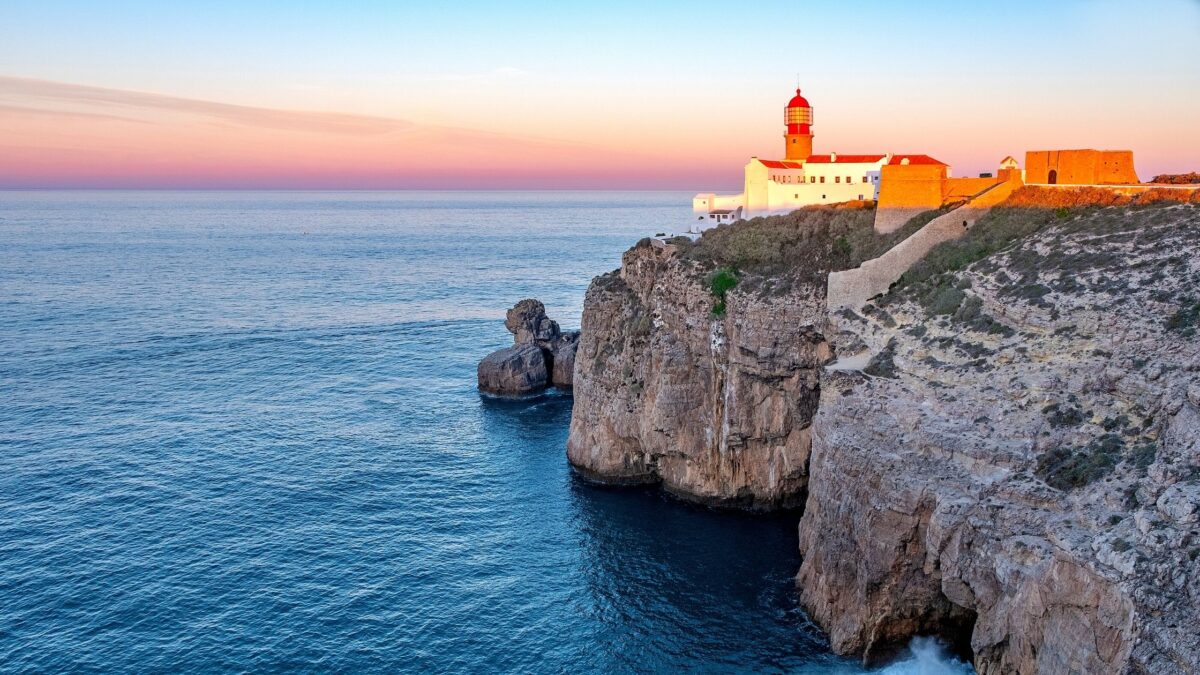 If you still want to feel the waves; power and learn to surf, Sagres is what you are looking for! The wild landscape will magnetize you.
ALGARVE ITINERARY FAQS
HOW TO GET AROUND ALGARVE
If you are traveling with friends or in a group, the best way to get around Algarve is by renting a car. Like in neighboring Spain, a perfect place for a Spanish road trip, Portugal is also a great destination for planning road trips.
Also, renting a car is cheaper than in other countries in Europe, especially if you intend to plan your Algarve itinerary during the low seasons like spring and autumn. You could get some amazing, cheap deals on car rental.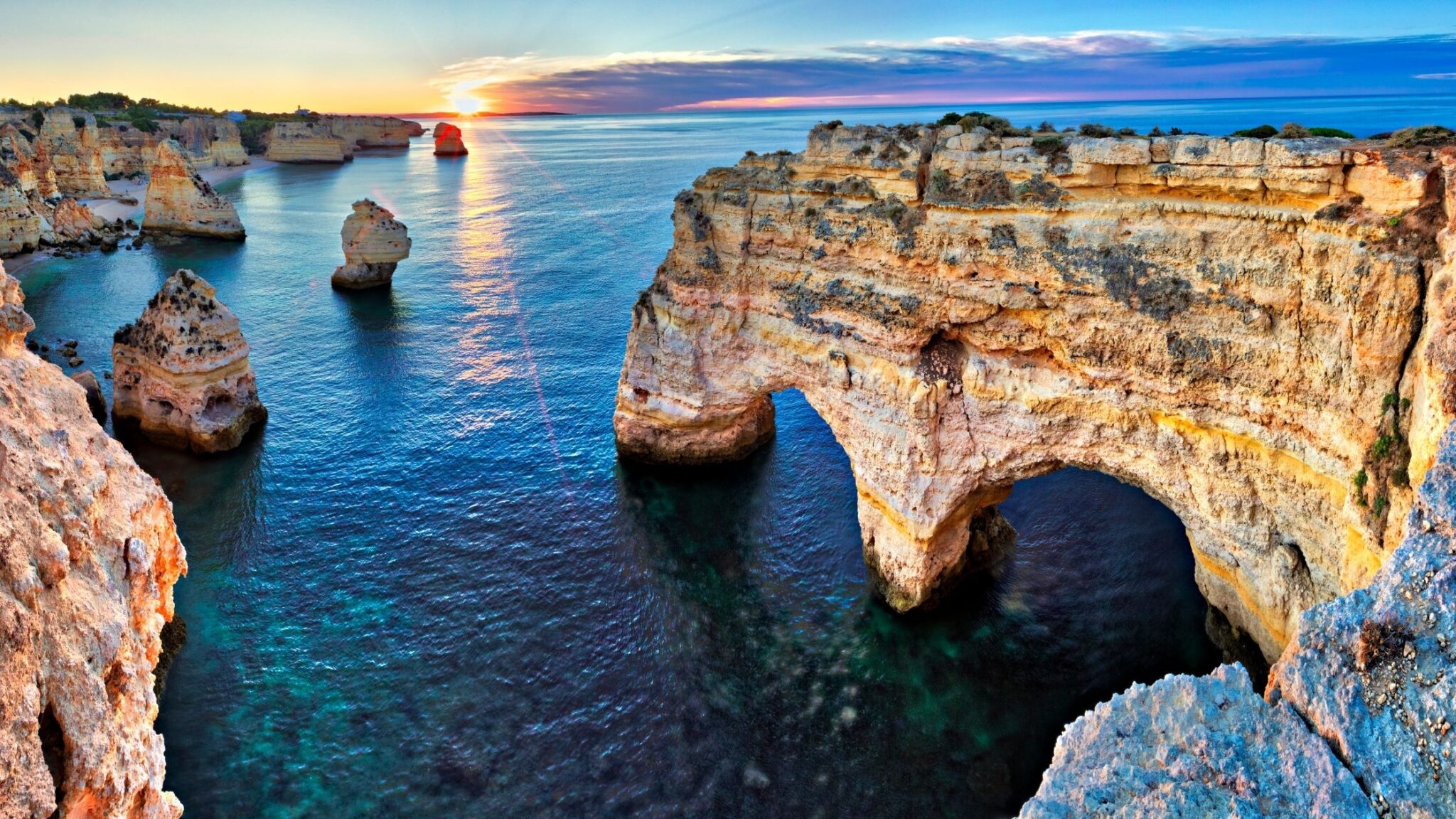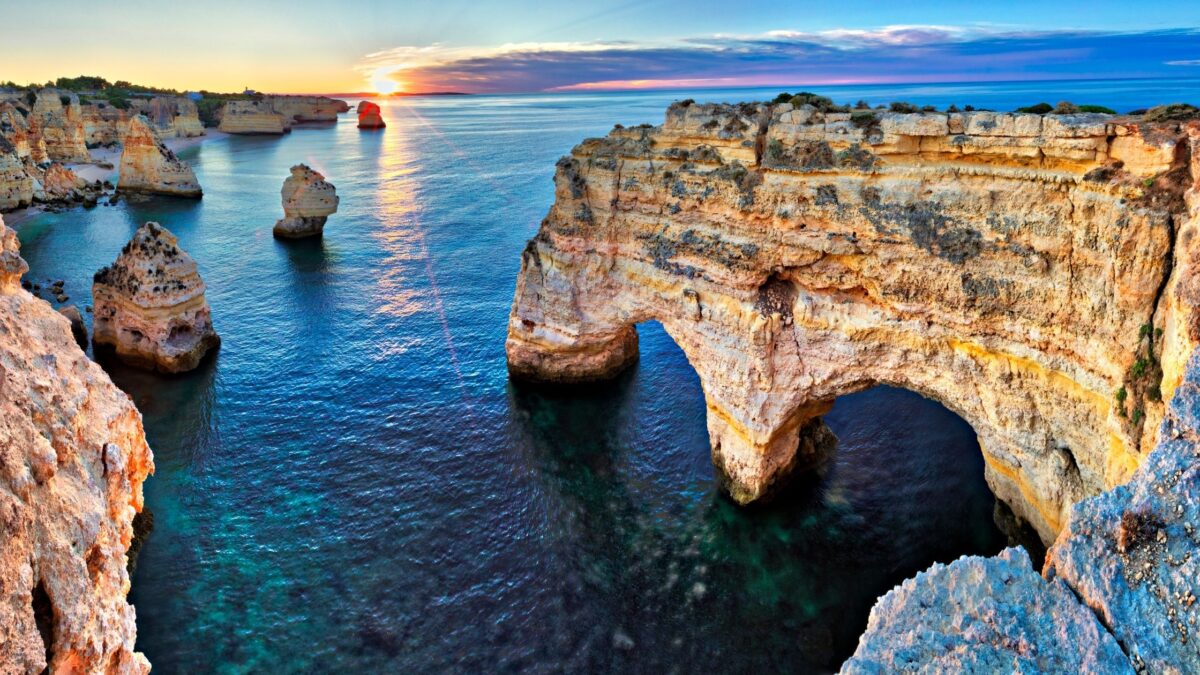 The next best option is to rely on public buses or rent a private taxi. Renting a taxi for every destination is very expensive, and buses are few and far between.
Going for a car rental will give you more flexibility and save a lot of time, enabling you to add more places to your Algarve itinerary.
You can stop if you find something attractive(which is pretty much the case when you are in this part of Portugal).
WHERE TO STAY DURING ALGARVE ITINERARY?
Depending on the length of your Algarve itinerary, you can choose between different towns.
For example, you can base in Lagos like I did, since it is a bigger city with plenty of accommodation options in all ranges, excellent connectivity to get around, and basing yourself to continue the rest of the things to do in Algarve.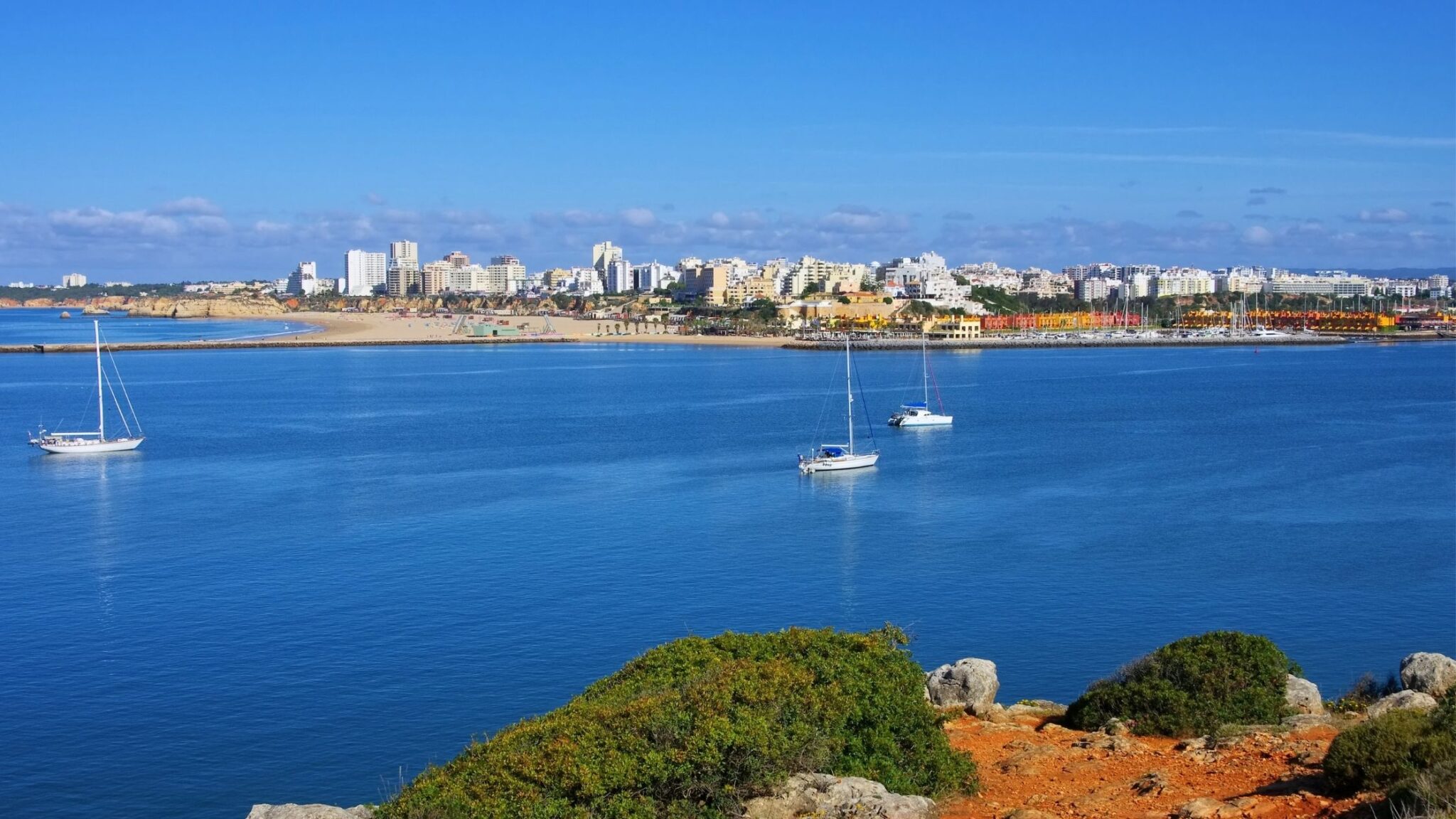 Portimao is the alternative to Lagos with a similar ambiance and options for finding the best Algarve hotels.
If you are spending more than a night, obviously you will have to stay in the same city, but if you are renting a car to get around, it is best if you base yourself in one town, and drive around to other places and attractions.
HOW TO REACH ALGARVE?
Depending on where you are arriving from, there are plenty of options to get to the Algarve. If you will be in Portugal to exclusively explore Algarve, you would probably arrive first in Lisbon, which has the best international flights connecting.
You could rent a car drive from Lisbon for about 3 hours, and you will be here. This is also the best way to save on your car rental if you plan to fly out of Lisbon itself, which means you can take a two-way rental.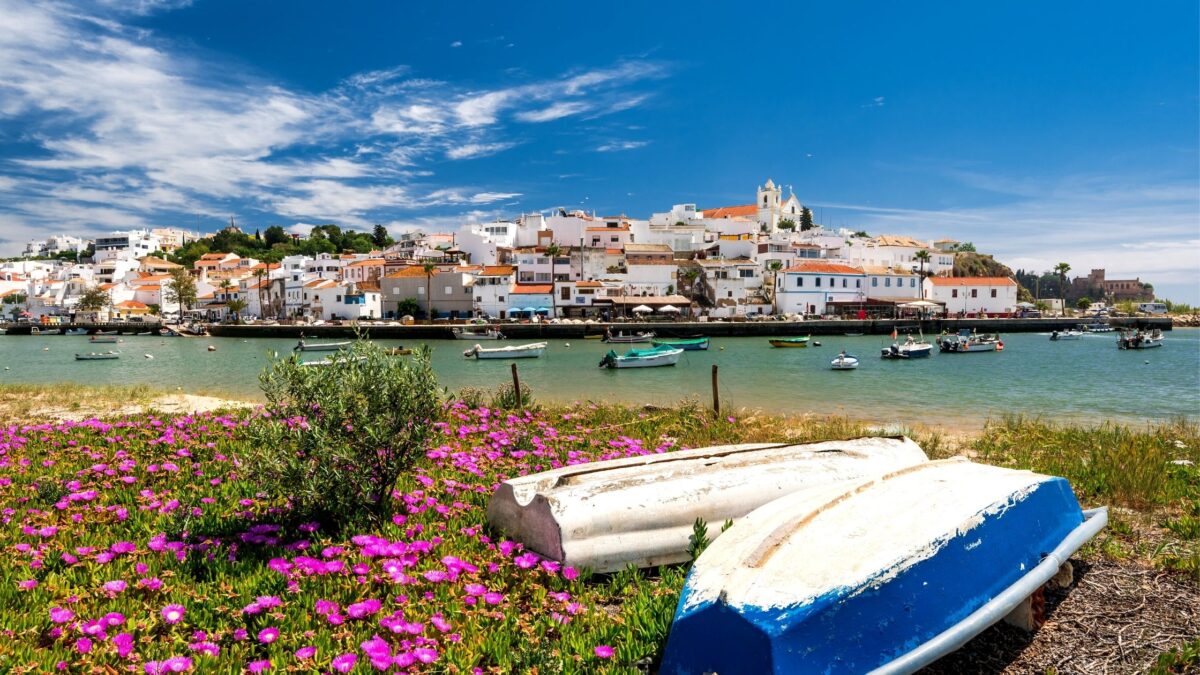 Alternatively, you can take a bus from Lisbon and then rent a car in one of the cities in Algarve, explore, and get a bus back to the capital too.
I traveled from Spain, and there are many buses from neighboring cities like Seville and Malaga to Faro or Lagos, which will take around 4 to 5 hours on average.
WHAT IS THE BEST TIME TO PLAN THIS ALGARVE ITINERARY?
The most popular time to visit Algarve is the summer when this quiet haven transforms into a bustling province of beach towns with people everywhere.
But the downsides of planning the Algarve itinerary in the peak months are large crowds, expensive accommodation, shopping, and food. And not to forget almost twice the price shelling on car rentals.
If you are like me that want to avoid all of the above, choose the should months. I was in Algarve during November, and all the places were almost deserted – empty, gorgeous beaches that I enjoyed all by myself.
HOW LONG DOES IT TAKE TO EXPLORE ALGARVE?
You can plan your Algarve itinerary as long or as short as you want it to be. I would recommend at least 3 days in Algarve, which is the bare minimum.
I'm sure you can't cover all of it, but three days in the Algarve itinerary will let you explore the best of highlights.
One week in Algarve is better, allowing you to leisurely include more attractions while enabling you to absorb this region's splendor better.
But whether you have 3 days or 7 days in Algarve, the good thing is that since the places are not far away from each other, it is possible to squeeze in more on your itinerary for Algarve if you don't want to miss more things, or you want to make the most of your time.
PIN ALGARVE ITINERARY TO READ LATER