Want to take your solo travel experience to the next level? Then consider visiting all the best places to travel alone in Europe.
Beautiful snow-capped mountains, national parks, fairytale castles, memorable train routes, plenty of beautiful historic cities with their rich medieval old towns, turquoise beaches along the coastline with prettiest towns, forever bustling metropolitan cities, and delicious cuisines – These are what awaits you in the heart of this continent. 
European cities have some of the best transport, excellent hostels, plenty of fabulous walking tours, a lot of day trips, and friendly travellers that will make you feel welcome as you backpack in Europe.
In this post, lovely globetrotters share the best destinations for solo travel in Europe – what makes these cities special, what to see and do and where to stay.
So grab your cuppa, sit back and start picking cities for your European bucket list from this comprehensive list!
Best Places to Travel Alone in Europe
1. Amsterdam, Netherlands
Amsterdam, the pretty capital of the Netherlands, is one of the best places to travel alone in Europe, hands-down.
You can walk along the canals getting lost, navigate your way through the museums, taste the tasty fries, plan pretty day trips, explore the lovely cafes or witness the glitzy nightlife – whatever you wish to do, you can do it all alone and have super fun.
I spent about a week in this beautiful town, strolling along the canals lined with pretty flowers. If you are looking for a lovely place for Instagram shots, you will find plenty of opportunities here.
Recommended for you: 25 Gorgeous Day Trips From Amsterdam You Should Plan
The best way to explore Amsterdam is to do it Dutch style, rent a bicycle or go on a guided bike tour. Trams are another way to get around the attractions in the city.
You can easily spend from a day to a week in Amsterdam visiting the famous coffee shops, historical museums, and old towns and enjoy the crowded nightlife of the city.
Be sure to follow the general solo travel safety tips and remember to be mindful of your belongings, and you will be all set to have fun in Amsterdam!
2. Prague, Czech Republic
Prague, the capital of the Czech, is one of the most visited cities in the world.
It is also one of the best places to travel alone in Europe not only because it is safe, but it is very comfortable to get around the city, and there are so many attractions and things to do here.
Expect to see a lot of travellers no matter when you visit this city. Especially at the iconic Charles Bridge, where it is hard to find a spot to stand and capture or admire the beauty of the town at any time of the day!
Don't forget to climb to the top of Prague Castle, Budapest where you can witness stunning panoramic views of the city.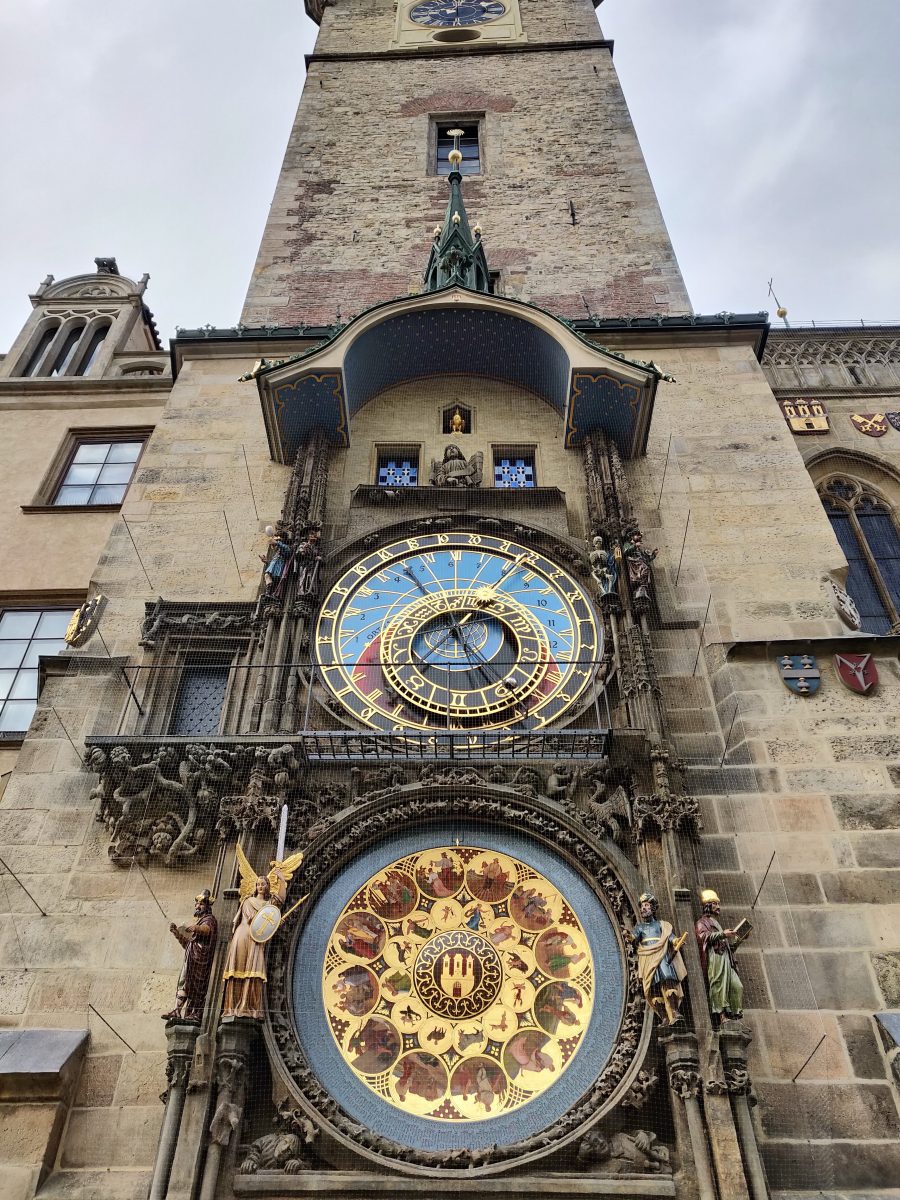 The charismatic old town is one of the most ancient in Europe, with the famous landmark being the Astronomical clock, which is at least 600 years old. Did you know? It is the largest and oldest functioning clock in the world.
Recommended: Prague: 3-Hour Walking Tour of Old Town & Prague Castle
3. Budapest, Hungary
With a rich history, stunning architecture, and fantastic cuisine, it is not surprising that Europe is one of the most-travelled destinations in the world.
With the perfect combination of affordability, history, and social atmosphere, Budapest is unquestionably one of the best solo travel destinations in Europe!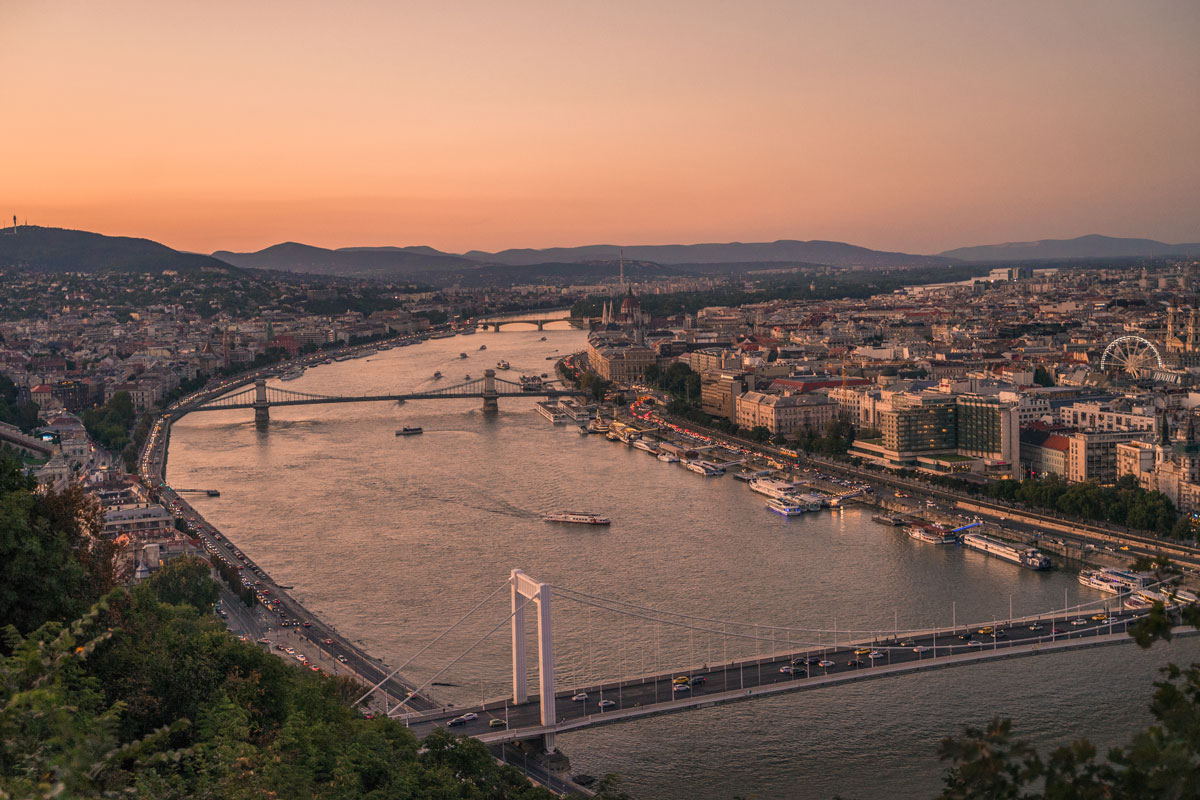 Most travelers believe that traveling to Europe will break the bank, but that is simply not true. One of my favourite European cities, Budapest, is the perfect example of that.
In 1873, the cities of Buda and Pest merged to form the current capital of Hungary, Budapest. The Buda side of the town is where most of the residential areas are.
Recommended For You – Budapest 3 Days Itinerary For a Perfect Weekend Getaway
On the other side of Pest, is where all the action happens, including many of the iconic ruin bars that Budapest is famous for.
These ruined bars are built on the old abandoned buildings left behind after World War II and have attracted tourists to visit from all over the world.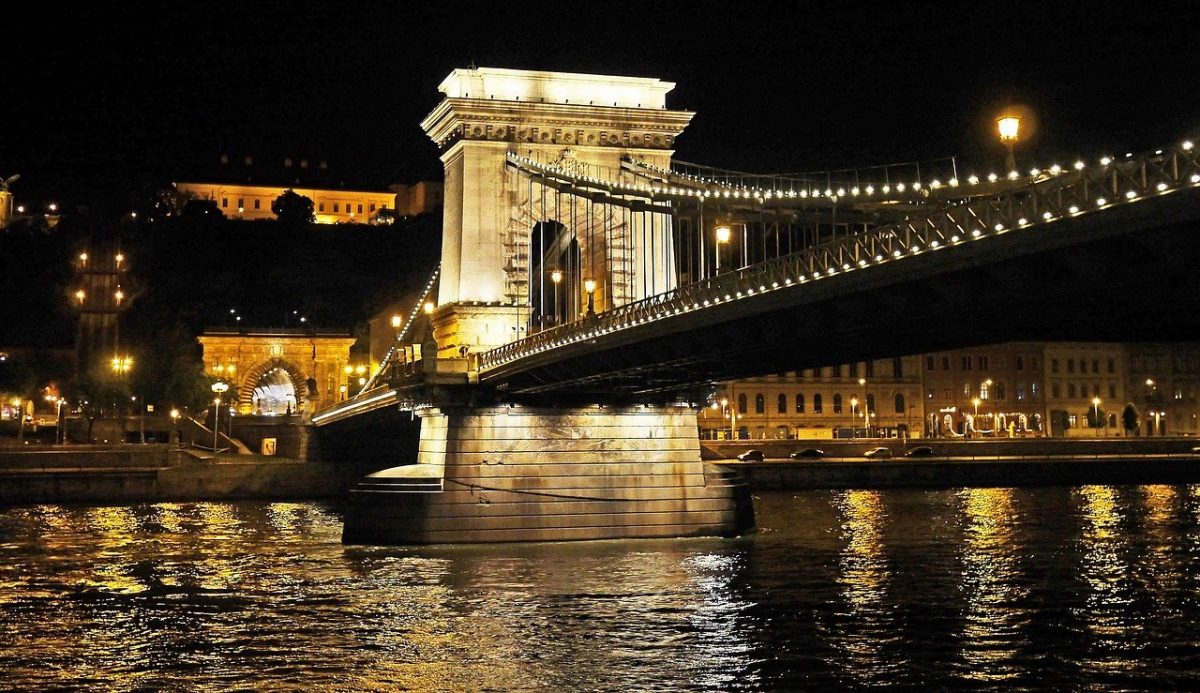 Besides the historic ruin bars, Budapest has many historic buildings scattered around the city. My favourites are the Turkish baths left behind by the Ottoman Empire in the 16th to late 17th century.
The Turkish baths (Don't miss Rudas Baths) are the best way to relax after a tiresome day of exploring Budapest.
Recommended: Budapest: 3-Hour Grand City Tour and Castle Walk
Where to stay in Budapest?
The downtown Pest is one of the popular neighbourhoods in the city, which has plenty of hostels and hotels.
If you are staying in one of Budapest's friendly and social Hostels(I recommend Hostel One Budapest), then it is inevitable that you will end up at the original ruin bar, Szimpla, for one night.
Contributor – Sean Lau, LivingOutLau
4. Munich, Germany
One of the most beautiful, laid back, and yet activity-filled cities a solo traveller can spend a city break in is Munich.
Known for its architectural prowess and museums one after the other, there is just so much one can do and see, making it one of the best places to travel alone in Europe.
If you are into history, there are 42 museums you can visit, including the world's largest science and technology museum (Deutsches museum).
Recommended for you: Best Munich Itinerary Ideas For 3 To 7 Days
For the artistic spirit in you, there are 14 art and design museums for you to enjoy. And then there's the BMW museum if you're a car enthusiast – a mix of old-world and modern displays of transportation.
And, of course, what's a german city without a beer museum? Visit the Beer and Oktoberfest Museum to learn about the art of brewing and the history of Oktoberfest.
When in Munich, biking around is a must. The city is Germany's bicycle capital, and people enjoy riding their bikes, not just because of the beautiful surroundings, but also because it is easy to go around.
Early mornings, when the sun has just risen and the bakeries have opened, and you can smell their freshest bread, that's an ideal time for you to enjoy the city around, yes, you can rent a bike. – Explore the old town by zigzagging through the many delightful passageways.
Then idle around the parks, more notably the English garden, to watch people and enjoy the greeneries. Then enjoy a pork knuckle and beer at the famous Hofbräuhaus in the evening.
Recommended: Munich: Old Town & Viktualienmarkt City Walk in German
Where to stay in Munich?
For a cosy stay in Munich, I recommend the Eurostars book hotel.
Conveniently a few minutes away from Munich's central train station, less the hustle and noise, and an excellent breakfast meal to keep you going for the day.
Contributor – Marie, Our City Travels
5. Vienna, Austria
Known as the 'capital of music' and located in the very heart of Europe, Vienna is one of the best places to travel alone in Europe.
It is one of the most exciting and culturally diverse cities to visit. And one of the safest as well. Austria is rated among the top five safest countries in Europe.
Vienna offers plenty of opportunities to meet people from all over the world, such as numerous social events, crazy nights out and more.
The city is full of non-Austrians – may it be ex-pats, exchange students and thousands of travellers. It is so culturally diverse that often in the streets, of London you might hear so many other languages but German.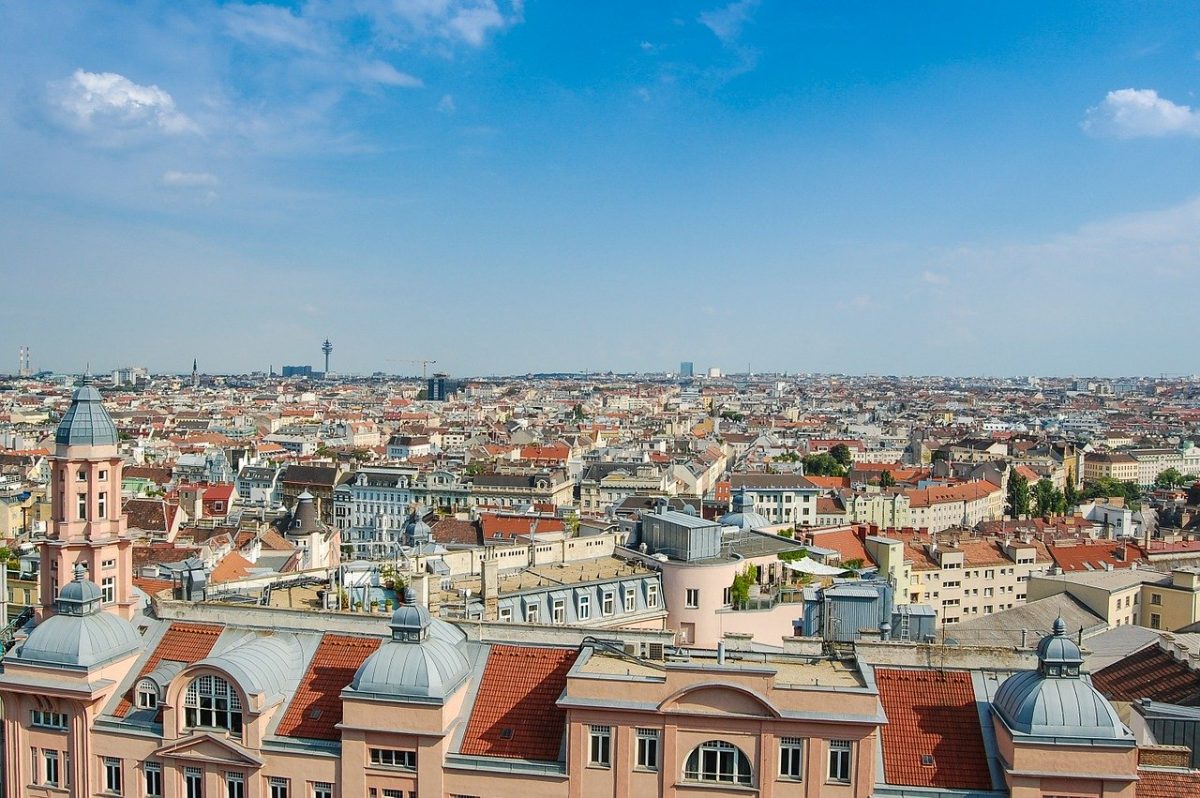 Some of the most famous sights include the historical city centre, the Schönbrunn and Belvedere palaces, and the local "Disneyland", a.k.a the Prater.
If you want to go out for a drink, I recommend Travel Shack – a bar where English is accepted as the 'official' language, and there's no way you wouldn't find people to talk to and share some crazy travel stories over a couple of shots.
If you want to know more about other places to explore, but you're also on a tight budget, Vienna offers many things to do for free.
Recommended: Classic Vienna: 3-Hour Guided Bike Tour
Where to stay in Vienna?
The Hostel I always recommend to people is the A&O Hostel at Hauptbahnhof – very reasonable prices, a wide variety of single/double and dorm rooms and a good location for exploring the city.
Contributor – Lyubomira, Bulgarian On The Go
6. London, England
London is a fabulous city to travel and explore solo in Europe. For one, as the capital of England, you'll get a sense of history like nowhere else.
There are 42 free museums to enjoy here, among the plenty of the best free things to do in London – you'll be able to lose yourself in the Natural History Museum, the Science Museum and the Victoria and Albert for days alone! 
London's transport system is simply excellent – the underground and the red double-decker buses are a trip to take in themselves, but the hop-on hop-off buses will also give you a grand tour of London. 
You can also try the guided walking tour of London.
You can't miss taking a trip in an iconic London Taxi, seeing the capital from the sky in the stunning London Eye – or perhaps head to the top of St Paul's Cathedral for a birds-eye view of the city.
The tours given by Beefeater Guards at the Tower of London are superb and when you're done you can head to Buckingham Palace to see the Changing of the Guard.
Even head into the public gallery at the House of Commons at the Mother of all Parliaments.
Find a pint of English bitter at a traditional London pub, where there's always someone who will start a conversation with you – and be sure to try London's original street food – the famous Pie, Mash and Liquor at London's oldest remaining pie shop, Manzes.
Where to stay in London?
There are plenty of hostels and hotels in London, so finding a place is easy.
Clink78 is a superb hostel for solo travellers – this old courthouse turned Hostel is located in Kings Cross – safe facilities, a bar of its own and a free walking tour of London.
Contributor – Sarah Carter, A Social Nomad
Solo Travel Destinations in Europe – Spanish Cities
Spain is a favourite for many solo travelers. It is not a surprise given the ease of travel, safety and fun ambience found in the cities, not to mention the gorgeous attractions and delectable food. Here are some of the Spanish cities that rank high among the best places to travel in Europe.
7. Seville, Spain
If you're looking for a safe, delicious, and culturally-rich solo travel experience, I highly recommend spending 3 days in Seville, Spain! Seville is the birthplace of tapas and flamenco and is also the sunniest city in Europe.
You can, therefore, picture your time here filled with relaxing strolls in colourful neighbourhoods and many exquisite meals.
Also, the architecture in this city is simply breathtaking. Famous landmarks such as Plaza de España and the Royal Alcázar showcase a beautiful mixture of Renaissance and Moorish architectural styles and are decorated with gorgeous Azulejos (ceramic tiles).
They also provide great insight into the history of Andalusia and the impact left by the Muslim rulers who reigned the city for over 500 years!
Some of the must-see attractions of Seville include Plaza de España, Alcázar, the Cathedral & its Giralda Tower, and Casa de Pilatos. Book a guided here.
I also highly recommend watching a flamenco show and enjoying traditional tapas at Espacio Eslava, one of the best restaurants in town!
To cool down from the scorching hot sun, you can also try some refreshing local drinks such as tinto de verano (which is similar to sangria) and rebujito (a sherry mixed with Sprite).
Where to stay in Seville?
If you fancy a pool with a view, then stay at EME Catedral Hotel — the view of the Giralda Tower from there is simply incredible!
Contributor – Jiayi Wang, The Diary of a Nomad
8. Madrid, Spain
A proper solo travel European bucket list would not be complete without Madrid, the lively Spanish capital.
Not only does it feel safe to wander around on your own, but the city is also incredibly easy to get around (thanks to the extensive Metro system), can be enjoyed at every budget, and offers something for every type of traveler.
I think that the real magic of this city is discovered when strolling through its streets freely, but there's no shortage of sights and attractions.
Amongst the top places to visit in Madrid are the magnificent Royal Palace, the beautiful Retiro Park, the internationally famous Prado art museum, and the main squares Plaza Mayor and Puerta del Sol.
But beyond the touristic must-sees, you'll find plenty of alternative things to do in Madrid.
From secret gardens to less-known museums to quirky walking tours, this city is just waiting for you to discover its hidden gems.
Last but not least, let's not forget about the food.
Madrid is home to a mix of fantastic tapas bars and Spanish restaurants, the cutest cafes, and even Michelin-starred restaurants. If you don't fall for tourist traps, you're in for a culinary feast in Madrid.
Recommended: Best of Madrid: 3-Hour Guided Bike Tour in Small Groups
Where to stay in Madrid?
Hostal Maria Cristina offers a perfect location near Gran Via street, comfortable and clean rooms, and 24/7 reception.
Contributor – Or Amir, My Path in the World
9. Toledo, Spain
One of the best places to travel alone in Europe is Toledo, among the top towns in Europe with the most historical sites per square meter.
No wonder it is popular to go on a day trip to Toledo from Spain's capital city, Madrid.
However, the quaint town deserves more than a day. The historic centre, a UNESCO World Heritage Site, sits on a hilltop along the longest river on the Iberian Peninsula, the Tagus River.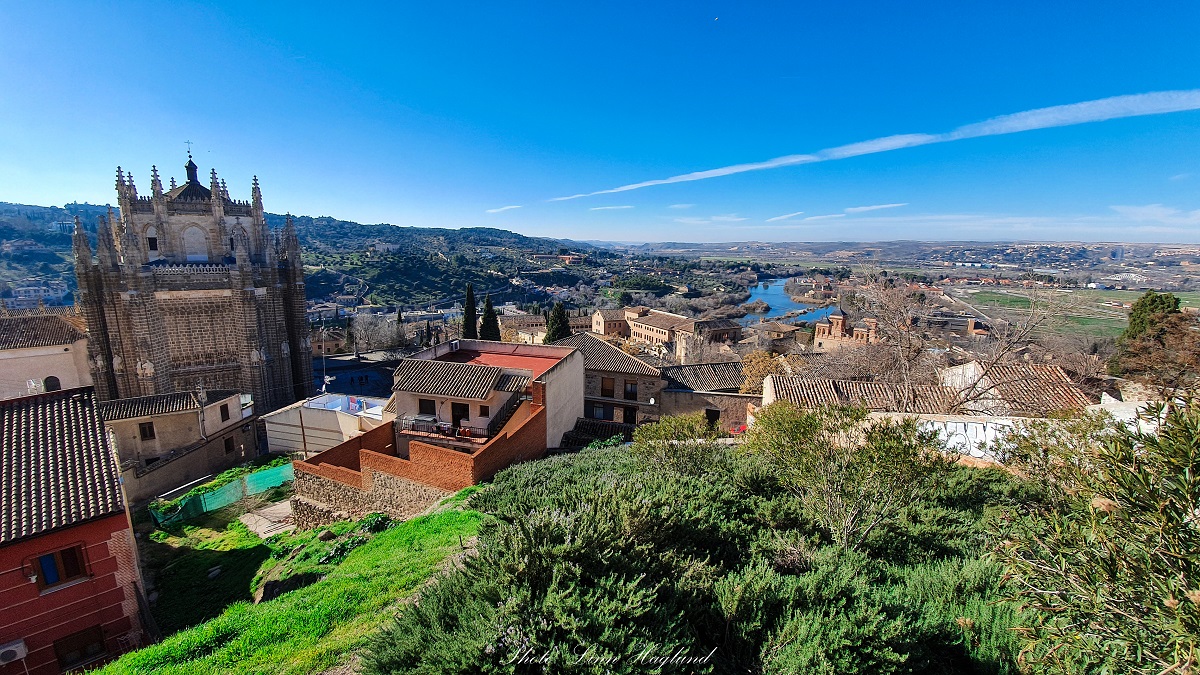 A few landmark bridges cross the river and connect to the old town, Puente Alcantara and Puente San Martin.
You should go on walking tours to get the most out of the medieval city.
Some top spots to see are Catedral Primada, El Alcazar, and Monasterio de San Juan de Los Reyes. There are also several museums to explore, the most valuable being El Greco Museum.
Toledo is a town that doesn't stop surprising, and the best way to get to know the city, after doing one of the free walking tours is to let yourself get lost in the narrow streets. Let yourself wander and enjoy every corner of the old town.
Where to stay in Toledo?
Agapo Home is a reasonably priced yet simple guest house sitting right by the main square, Plaza Zocodover, and the owner is amiable.
Contributor – Linn Haglund, Brainy Backpackers
10. Alicante, Spain
Alicante, the capital of Spain's Costa Blanca region, is one of the best places to travel alone in Europe. It is a tranquil coastal town that also boasts plenty of things to do.
This charming town with a rich history has become a popular getaway destination for many locals and foreigners.
The reason for being so popular is that Alicante gets 3,000 hours of sun per year while the temperature doesn't drop below 18C.
Being the region's main town, you can also visit gorgeous little neighbouring cities, such as Javea, Benidorm, Villajoyosa, and Altea, to name a few. Moreover, you can make a day trip to Torrevieja to see Spain's pink lake!
The major Alicante attraction is the Castle of Santa Barbara, nestled on top of the hill overlooking the town and the coast.
The fortification is believed to be one of the most massive medieval fortresses in the country, dating back to the 9th century when Muslims ruled the Iberian Peninsula.
The road towards the castle goes through a picturesque Santa Cruz neighbourhood featuring little white-coloured houses adorned with multicoloured windows, doors, balconies, and flowers.
Additionally, the city has several beautiful churches and cathedrals for you to check out.
The Basilica of St. Maria was built in the Valencian Gothic style, while the Co-Cathedral of St. Nicolas is a Roman Catholic cathedral. Both of them have been constructed over the old mosque.
Alicante also satisfies art lovers with its excellent selection of art and history museums and galleries.
Recommended: Alicante: Seven Secrets of Alicante Discovery Tour
Contributor – Baia Dzagnidze, Red Fedora Diary
11. Jerez de la Frontera, Spain
Jerez de la Frontera is one of the top places to travel solo in Europe.
It is a lovely Spanish city located in the south of the country, in Cadiz province, and a beautiful destination to be explored on your own because it is a very safe city, even at night.
Jerez de la Frontera is not a touristy city, being a bit outside of Andalucia's beaten path itineraries.
Recommended for you: 8 Top Spain Road Trip Ideas With Itineraries For Your Trip
Many people prefer to skip Jerez and head to Cadiz, which is a shame because this city has many things to offer its visitors.
However, the city maintains its authenticity because there are not many international tourists around.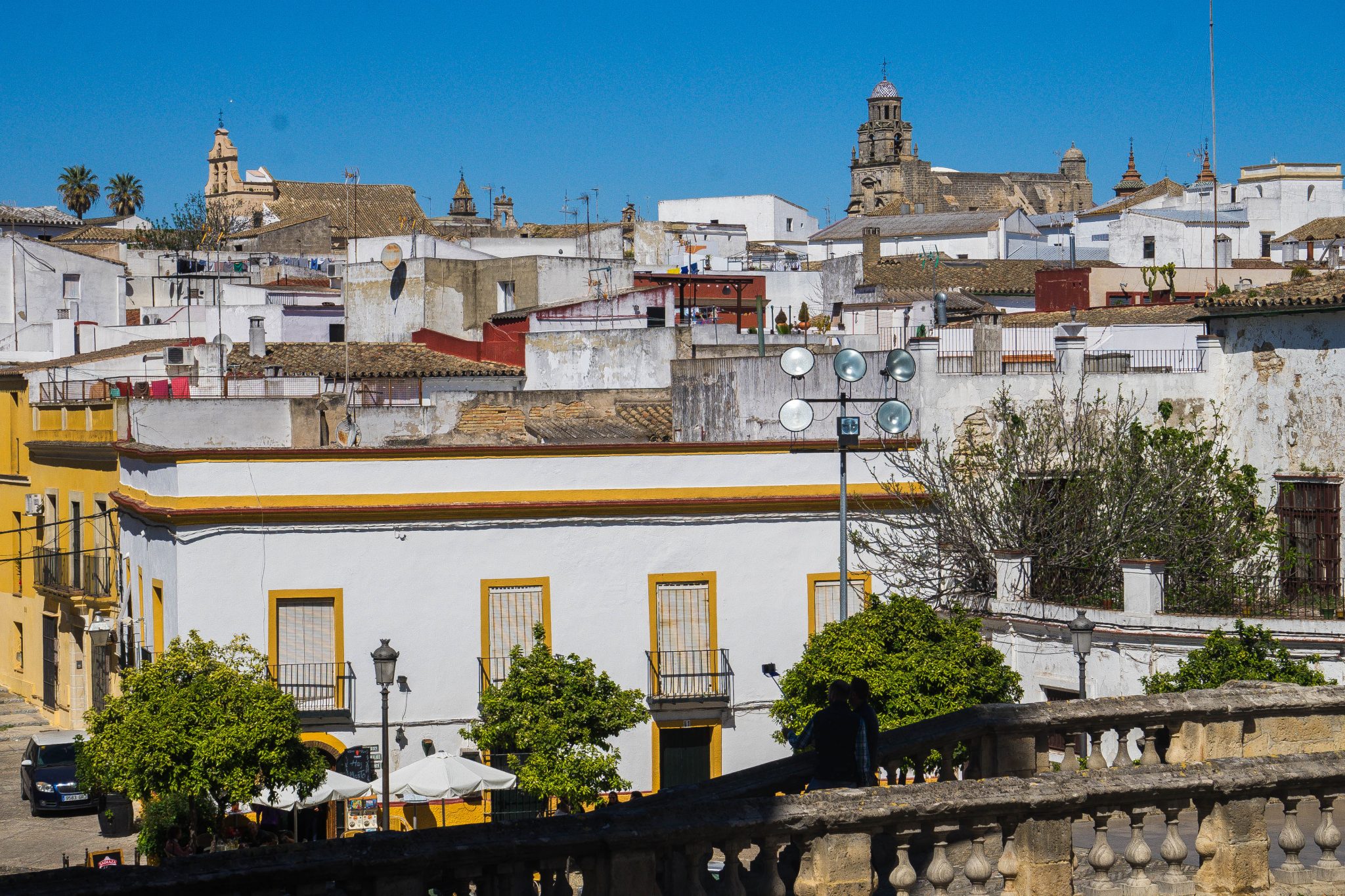 Jerez de la Frontera is known for three things: one of the best equestrian schools in the world, the production of sherry and the birthplace of flamenco.
Even if you spend one day in Jerez de la Frontera you will still get to know a little about its fantastic atmosphere.
Walking around the old town of Jerez is a beautiful way to experience the local way of life in the city. Often, locals will start conversations with you, especially if you are traveling by yourself.
Jerez de la Frontera is one of the budget-friendly destinations in Spain. If in Malaga you would pay 5-7 euros for a tapas, in Jerez, expect to spend around 2 euros for the same thing.
Some great ways to meet locals in Jerez are by going to cafes or attending flamenco shows in Penas. A Pena is a community hall where the locals gather at the end of the week to watch artistic performances.
Recommended: Jerez: Historic Center Guided Tour
Where to stay in Jerez de la Frontera?
Most of the hotels in Jerez are small and cheap. During my trip to Jerez, I stayed at Hotel Joma, close to the city's fish market.  
Contributor – Joanna, Andalucia in My Pocket
12. Murcia, Spain
One of my favourite cities for solo travel in Europe is Murcia. I ended up staying there for more than a month! It may not be the classical touristy town in Southern Spain.
However, it has a great atmosphere. It's thus perfect to get in touch with the local population and spend some unforgettable days and nights! Indeed, Murcia's nightlife is well worth diving into.
Some of the best things to do in Murcia are visit the impressive Catedral de Santa María, marvel at the luxurious interior of Real Casino de Murcia, have a café con Leche at Plaza de las Flores and visit the Museo Salzillo.
If you want to get a bit off the beaten track and enjoy some beach time, I recommend Murcia's best beaches at Costa Calida, such as Playa Honda.
Contributor – Paulina, Paulina on the road
13. Barcelona, Spain
Barcelona, a top destination, is also among the best places to travel alone in Europe.
And not without reason. Every day there are events and meet-ups all over the city, where you can not only get in touch with other travelers but also with the locals, drink and celebrate together.
But also don't miss the beach when you visit Barcelona. Again, you can either enjoy the time alone or join others.
Everyone can participate in the volleyball games on Barcelona beach all year round. So you can quickly and effortlessly meet new people.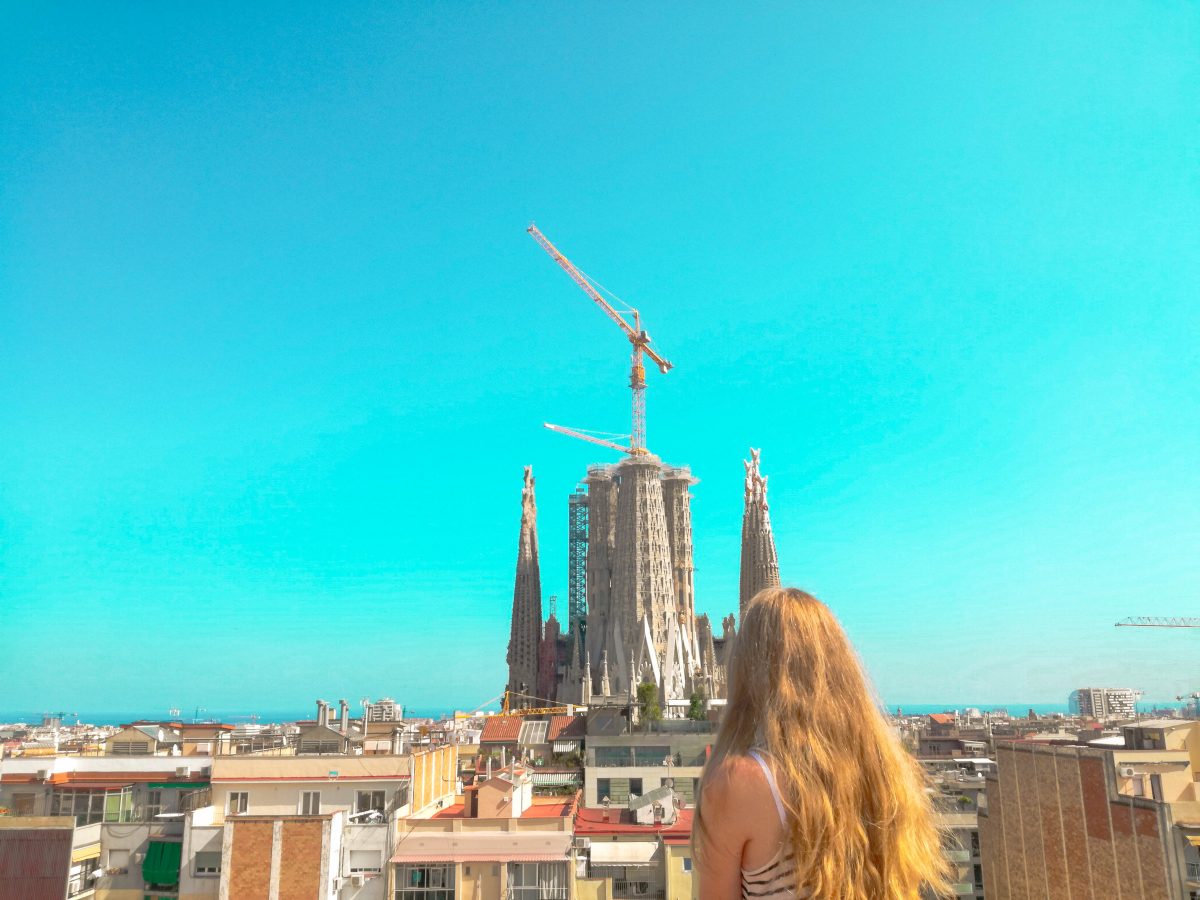 There are countless attractions in the whole city that you should discover. Among them, of course, Sagrada Família, known all over the world. The famous basilica is one of the most important and significant in Europe.
But every visitor to Barcelona should also have seen Park Güell.
Here you can not only discover great attractions by designer Gaudí but also experience one of the most beautiful parks in the city with incredible views of the city.
Moreover, you also have the opportunity to experience many of the attractions together with others on a guided tour.
Such a trip can also be a bike tour through Barcelona. As you can see, as a solo traveller in Barcelona, you will not feel lonely.
Recommended: Barcelona: Walking Tour with Local Tapas and Wine
Contributor – Vicki Viaja
14. Malaga, Spain
If you are looking for a great European destination for a solo trip, go to Malaga in Spain!
With excellent proximity to the airport, fantastic nightlife and stunning beaches, this beautiful city offers a real Spanish mix of action and relaxation!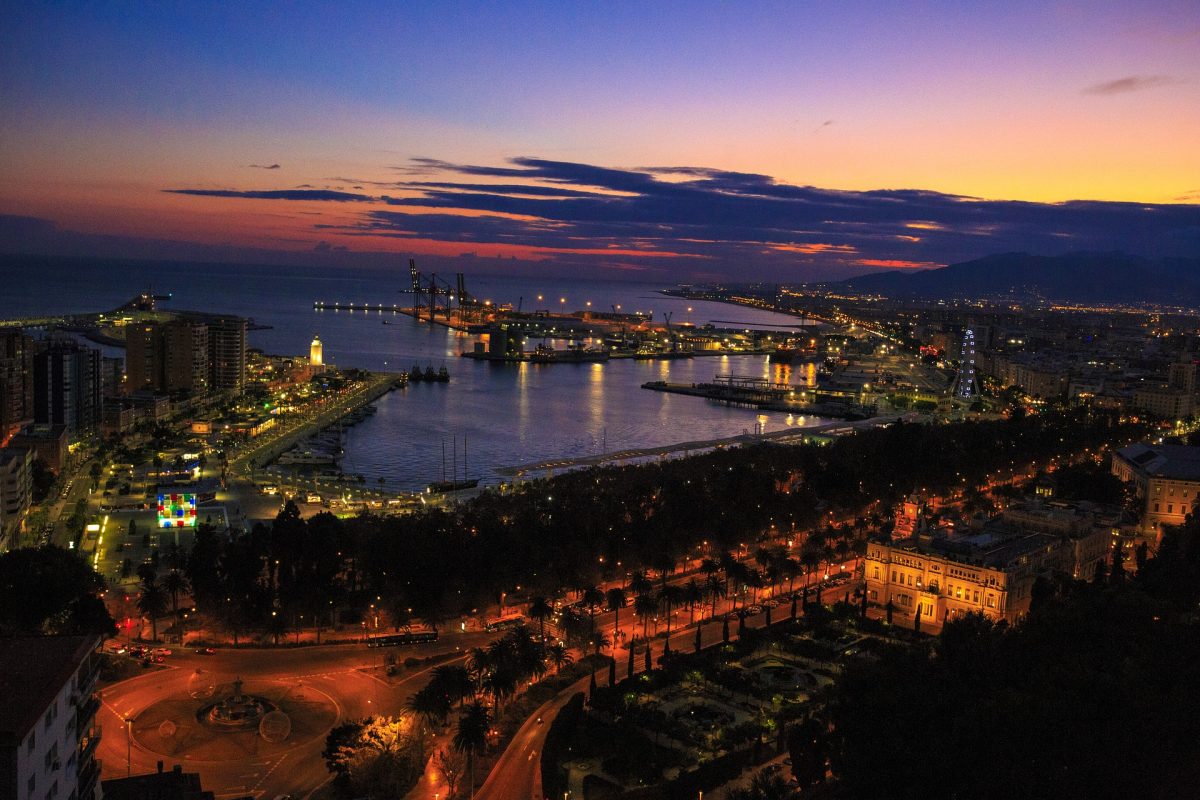 Spend a day at Playa la Malagueta, stroll along the promenade Palmeral de las Sorpresas or watch the sunset from Alcazaba.
There are many great things to do for a solo traveller in Malaga. This part of Costa del Sol has much to offer, including a number one excursion in this region – a day trip to Ronda.
Traveling alone is not a shame, but an excellent opportunity to explore amazing cities in Europe while having fun and meeting new people at your own pace.
Spending time only in your company does not have to be boring; on the contrary, a vacation alone can be one of the best we've had so far!
Recommended: Malaga: 3-Hour Complete Walking Tour with Tickets
Contributor – Darek, Darek and Gosia
Best Places to travel alone in Europe – Cities In Italy
Italy is home to some of the best places to travel alone in Europe. Whether it is the scenic Tuscany or Sardinia, the country beckons hundreds of thousands of travelers every year.
15. Cagliari, Italy
Cagliari, the capital of Sardinia, is one of the most beautiful cities in Italy and a great European destination for solo travelers. It is safe and packed with incredible sights.
Quickly reached via several budget flights from Italy and the rest of Europe, Cagliari is a mid-sized city with a lot to offer any time of the year.
With historical walks, archaeological sites, museums and art galleries, churches, hikes, nature reserves close to the centre of town and a variety of beaches for all tastes and a thriving nightlife, this is a city that you are bound to fall in love with.
Recommended for you – 30 Most Beautiful Cities In Italy For Your Ultimate Bucket List
One of the best things to do in Cagliari is to explore its historical centre, made up of 4 distinct and interconnected neighbourhoods – Castello, the former citadel;
Stampace, where the working class used to live in Medieval times; and Villanova, founded in the 13th century and also packed with lovely bars. 
If you want to enjoy a breathtaking sunset, head to the terrace of Via Santa Croce in time for the show. A popular bar – Libarium – prepares excellent cocktails and is a favourite local hangout spot.
If you need to catch your breath and get out of the city, take a bus to Calamosca and hike to Sella del Diavolo for splendid views of Poetto Beach and Molentargius Nature Reserve.
It is an easy short hike that you can easily reach from the centre of town and is safe to do on your own.
Recommended: Cagliari: Walking Tour of the Old City
Where to stay in Cagliari?
An excellent place to stay in La Dolce Cagliari, a lovely bed and breakfast located in Stampace, close to all the main attractions.
Contributor – Claudia Tavani, Strictly Sardinia
16. Brescia, Italy
Brescia is one of my favorite cities in Italy and way too underrated. 
First of all, it has a strategic location in the Lombardy region at the foot of the Italian Alps, close to many other exciting cities, such as Milan and Verona and in between the lakes of Iseo and Garda, which makes it one of the best places to travel alone in Europe.
Second and not less important, the city boasts a wealth of historic buildings and remains of the Roman empires, world-class museums and the famous castle towering over the vibrating cobblestoned historical centre.
The entire city is an open-air museum embraced by a spectacular mountain backdrop. 
There are many interesting walks that you can do without leaving the city, like Monte Magdalena or around the Castles.
Start from Piazza Della Loggia the beating heart of Brescia where you will see its impressive arched columns, marble statues, and domed roof.
Look up, on the opposite side, and you can admire the beautiful decorative clock, above an arched walkway leading to the next plaza, Piazza del Duomo, through a narrow cobblestone road.
Recommended for you: 25 Beautiful Hidden Gems In Italy You Should Explore
You will get to the Broletto, the old town hall, and the magnificent Duomo, the main Cathedral.
If you continue your walk via dei Musei, you will see the majestic Piazza del Foro and Santa Giulia Museum, where a permanent installation dedicated to the history of Brescia, is always paired with a new temporary exposition of modern art. 
Every time I go to Brescia, there is always something new to discover. Brescia is also very close to exciting ski resorts in the Alps.
My favourite is Ponte di Legno a cute little town at one hour's distance from Brescia, where you can ski in winter and take long hiking trips in the summer. 
Garda lake and Iseo Lake are also at 30 minutes distance and offer a great day trip, not to mention vineyards for wine and cheese tours and fantastic hiking in the nearby hills.
The tourist centre located in the Piazza del Duomo can offer great information on tours and local itineraries.
Contributor – Isabella, Boundless Roads
17. Perugia, Italy
Up in the hills of Umbria, Italy, you can find a city that combines history with the modern vibe of a cosmopolitan student city: Perugia.
Many people recall the town from the infamous Amanda Knox case, but, in recent years , it has become one of the best places to travel solo in Europe.
Why do I believe Perugia is a perfect city for a solo traveler?
It's easy to find always someone friendly to meet and to guide you around the city, being a small city with people from all over the world. Also, it is a safe place that you can get to explore on a budget. 
There are plenty of things that make Perugia a fantastic place to visit if you're traveling solo.
Perugia has a few festivals worth visiting during the year, and there is another treasure open all year long that you should visit at least once in your life: The Perugina Chocolate Factory.
The Perugina Chocolate factory is where the classic Baci Perugina chocolates are made. The factory offers a tour of their museum, and you can get to see how the process of making the chocolate.
In October, the city hosts the Eurochocolate festival, in which, as the name suggests, you can try many delicious types of chocolate during a week at a street festival.
Last but not least, in July, the city hosts Umbria Jazz, a Jazz festival where musicians worldwide meet to perform on one of the genre's most prominent stages.
Recommended: Perugia: Private Walking Tour
Where to stay in Perugia?
There are a few hostels that make the stay budget-friendly, but if you want to stay somewhere where you feel that chocolate energy the city has to offer, my suggestion is the Etruscan Chocohotel.
Contributor – Brenda Gisselle, Traveleira
18. Rome, Italy
Rome might seem like an obvious choice when it comes to finding the best places to travel alone in Europe, but with so many things to see and a history that pops out from every corner, it could intimidate and discourage those traveling alone.
Nothing could be further from the truth, Rome is a welcoming city with sunny and easygoing people, always willing to help.
Rome in general, but especially the historic centre is extremely safe, there are certainly pickpockets like in every big city, but going around alone late in the evening has never been a problem.
From the Colosseum to the Pantheon, from the Imperial Forums to the Circus Maximus, from Villa Borghese to Trevi Fountain, five days can be filled only with the most famous attractions.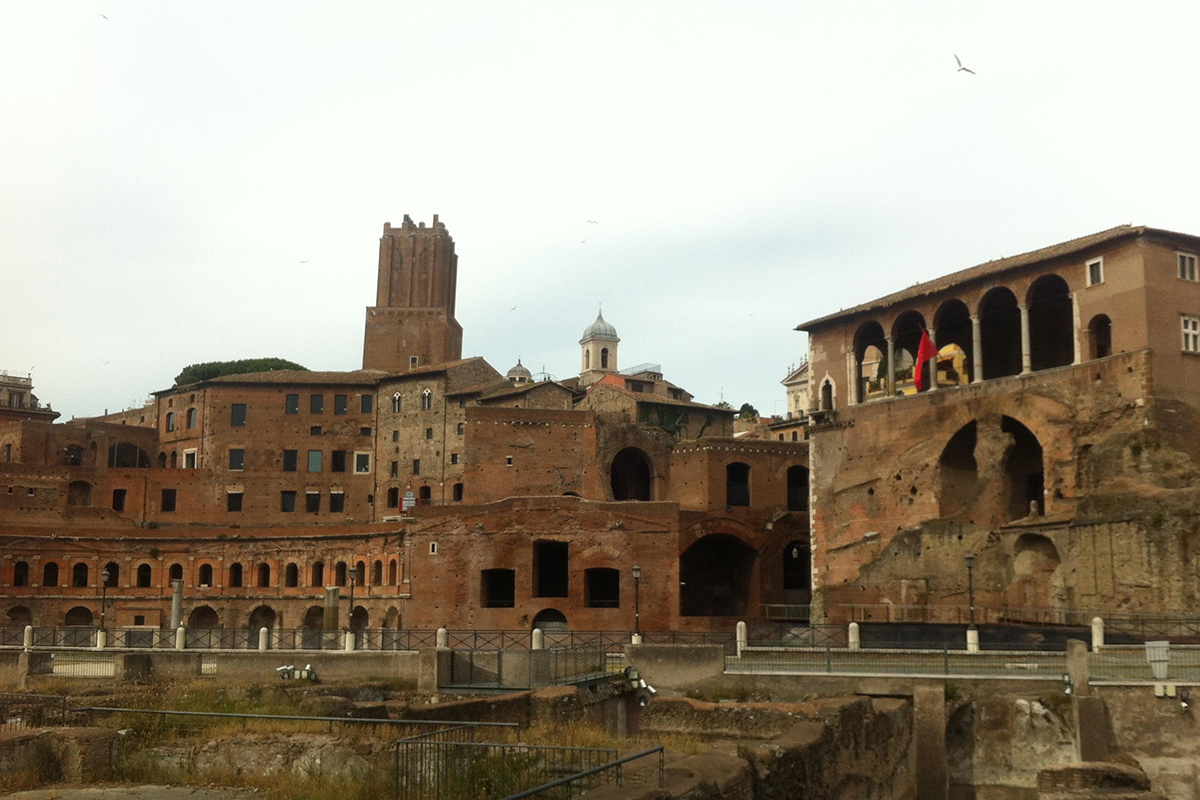 To get to know the city a little more deeply, however, you must not forget to visit the areas where the Romans live.
Rome is a city for walking in, do not miss spending an afternoon in the streets of Trastevere, a Saturday morning in Campo Dei Fiori during the food market, and a long night of dancing in Testaccio.
Aperitivo, a tradition imported from Milano, is now extremely common in Rome. In the city centre, you will not have difficulty spotting the trendy or traditional bars to join the locals.
Recommended: Vatican: Museums & Sistine Chapel Entrance Ticket
Where to stay in Rome?
The neighbourhood, Monti, is another unmissable spot at any time of the day: for shopping, dinner and drinks, and even a spot to find your hotel like the hotel Grifo, a little gem in the heart of Monti.
Being close to the train station makes it an even more strategic location.
Contributor – Clotilde, A Princess Travelling With Twins
19. Milan, Italy
Milan is often overlooked by visitors to Italy, often using it only as a transport hub before heading off to places like Venice, Florence, and Cinque Terre.
The city has a lot to offer – from artistic sights like the Milan Duomo, one of the most beautiful cathedrals in Italy, to Leonardo's Last Supper, the Brera Art Gallery, and more.
Recommended: Milan: Cathedral and Rooftop Ticket
However, few know that the city has a quirky, edgy personality.
It's one of the best destinations in Italy for street art, there are attractive bohemian neighbourhoods like Isola and Chinatown and a vibrant cultural scene with lots of art and design galleries.
Milan is one of the great destinations for solo travel in Europe as it's straightforward to get around, thanks to excellent public transport and bike-sharing networks.
And budget-conscious travellers will find there are many free things to do in Milan.
As far as Italian cities go, it's also not overrun with tourists – if you visit off-season, most people you'll see drinking and eating at outdoor restaurants and cafés are locals.
And a great variety of bars, restaurants, and clubs means you'll always be able to find the kind of scene for you.
Finally, Milan is also well located for many day trips – Lake Como and the Alps are less than an hour away, so if you want to escape the city for some nature, you can easily do so!
Recommended: Milan: Skip-the-Line Guided Walk and "The Last Supper"
Contributor – Margherita Ragg, The Crowded Planet
Best Places to travel alone in Europe – Portugal, Scotland, Ireland & Croatia
20. Porto, Portugal
Lisbon gets most of the attention as the top travel destination in Portugal, but Porto has just as much, if not more, to offer solo travelers.
You can taste the famous Porto wine, wander the narrow winding streets of the Ribeira district, and visit some of Porto's museums.
There's also lots of fabulous street art in the city, so keep an eye out for it during your explorations, or perhaps join a street art tour.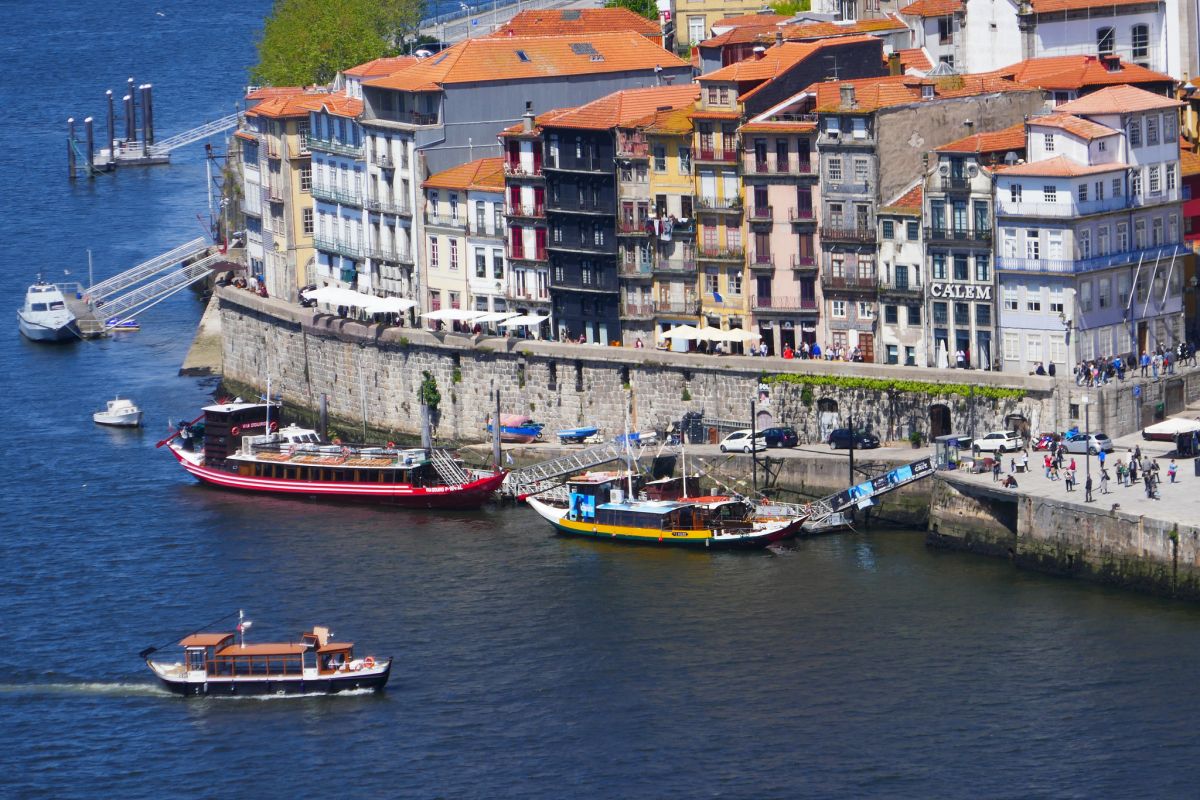 The Douro river dominates the city, and the vast, double-decker Dom Luís I bridge that crosses the river and connects Porto to the smaller town of Vila Nova de Gaia on the other side.
While cars use the bottom deck, the upper floor is reserved for trams and pedestrians, making a stroll across the bridge enjoyable.
For even more spectacular views, you can also take a short boat ride along the river, passing by more bridges and the beautiful terraced vineyards that the Douro valley is known for.
Statistically, Portugal is the third safest country in the world, and violent crime is scarce here.
Just take the usual precautions to protect your valuables from theft, and you won't have anything to worry about when exploring on your own. 
Recommended: Porto: Walking and Wine Tasting Tour with Snacks
Where to stay in Porto?
Gallery Hostel is a boutique hostel that offers a free walking tour as well as an evening meal — both of which are great opportunities for meeting other travelers.
Contributor – Wendy Werneth, The Nomadic Vegan
21. Lisbon, Portugal
Lisbon, the capital of Portugal (and its biggest city), is not only beautiful, but it's also one of the best places to travel alone in Europe. Lisbon is a very safe city to visit as a solo traveler.
It has a lot to offer, from historic yellow trams and colourful mosaics to delicious pastries that you won't get enough of.
Its neighbourhoods, Chiado, Bairro Alto and Alfama, are beautiful places to stroll around while enjoying Lisbon's fantastic architecture, stunning panoramas and the city's many historical attractions.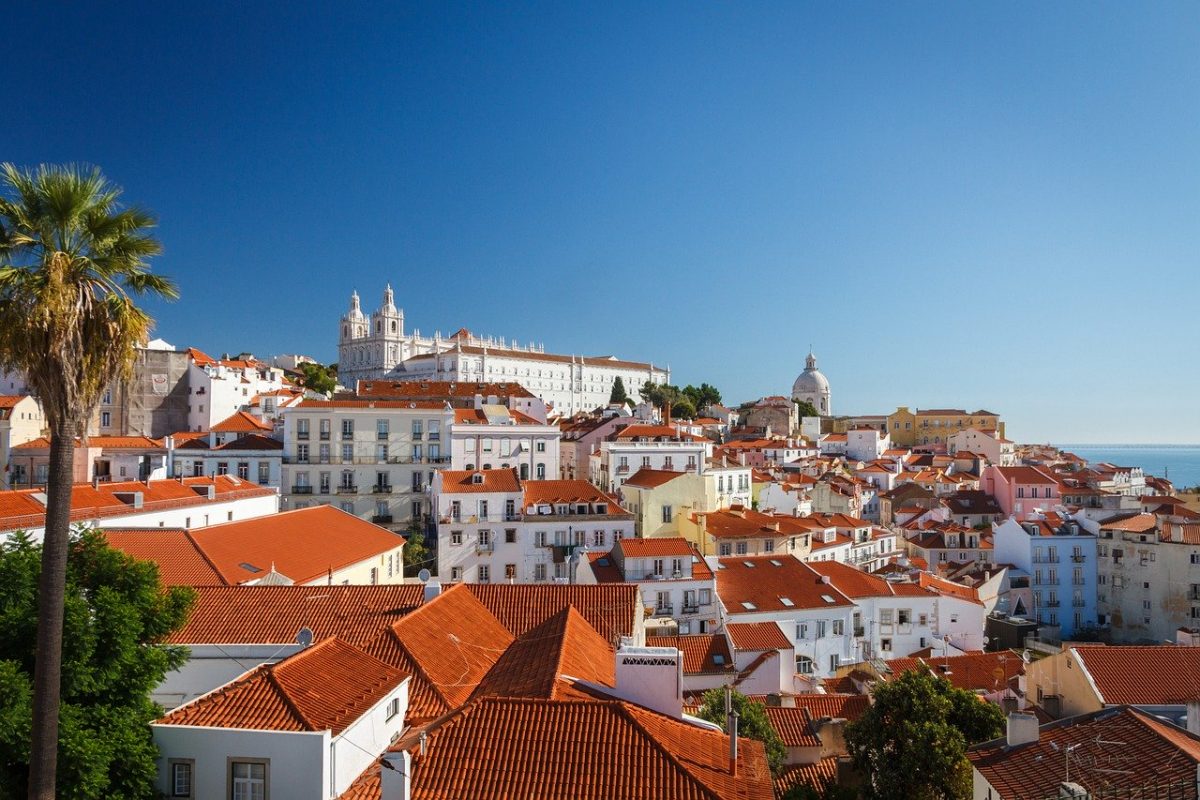 It's a great place to explore on your own, and the locals are amiable too. Don't forget to try Portugal's most beloved pastries at the Pastéis de Belém bakery, which is famous for having the best pastries in town.
There is so much to see and do in Lisbon that it can take several days to see everything this city has to offer, but if you have more time, another beautiful thing about Lisbon is its many day trips.
The most popular ones are Sintra, where you'll find palaces, the Cascais fishing village and the walled town of Obidos. But there are many, many more so make sure to check them out if you're planning a longer stay in Lisbon!
Recommended: Lisbon: History, Stories and Lifestyle Walking Tour
Contributor – Laura Meyers, Laure Wanders
22. Braga, Portugal
If you have been dreaming of a lovely countryside trip to the north part of Portugal, going to the city of Braga will for sure make your dreams come true.
Braga is the oldest city in Portugal and is known as Portugal's religious centre and the archbishop's seat.
Thus, it is no surprise that the city houses more than 30 churches, parishes and convents spread around the city.
Some of the most famous among them are the Cathedral of Braga, located in the old city of Braga.
The Cathedral of Braga is the oldest religious building in Portugal and will stun you with its interior covered in pure gold.
Another prominent religious building in Braga worth your visit is the Bom Jesus do Monte Sanctuary.
It holds the most beautiful Baroque stairways depicting biblical scenes among its 577 steps leading to the massive church on its top. 
Just 20 minutes of walking from Bom Jesus do Monte is the Sameiro Sanctuary, known for its incredible views over Braga and a serene place for prayers.
Right in the heart of the old city of Braga, you will find some of its most prominent landmarks. For example, Arco da Porta Nova is one of the oldest city gates of Braga, dating back to the 13th century.
Another landmark worth your visit is the Church of Santa Cruz, which as per the legend, might help you get married the same year. You have to find the 2 roosters on its façade!
Recommended: Half-Day Braga City Tour
Where to stay in Braga?
A hostel I would suggest is the Collector's Hostel, which is located 5 minutes away from the Cathedral of Braga. In addition to that, you receive great service and a nice place to stay.
Contributor – Alexandrina Nikolova, Earthosea
23. Inverness, Scotland
Inverness is the capital of the Scottish Highlands and is one of the best places to travel alone in Europe.
Often overshadowed by the bigger cities in Scotland, Glasgow and Edinburgh, Inverness is the perfect destination for solo travellers looking to get closer to nature.
The city itself has a lot on offer. Complete with an 18th-19th centenary old town, solo travellers can hire a bike, visit several local art galleries, see the local marina, and even go river rafting down the River Ness.
My favourite attraction is Fort George, the mightiest artillery fortification in Britain.
Fort George was built after the battle of Culloden in 1746, the last pitched battle within the British Isles, which effectively saw the end of the Jacobite uprising.
Within a short drive from Inverness is Wester Ross, Torridon, the famous Speyside Whiskey Region, Aberdeen and Banff, the Great Glen and the start of the North Coast 500, to name a few!
From here, solo travellers can enjoy hiking trips, day trips into the heart of the Scottish highlands and a base to plan adventures around the heart of the Scottish Highlands.
Recommended: Inverness: Guided Walking Tour
Where to stay in Inverness?
Guesthouses and BnBs are very popular in Scotland. Bazpackers is a very friendly Hostel, perfect for solo travellers.
You can also stay at Culloden House. Lyndon Guesthouse is my luxury hotel choice. This is my favourite in Scotland, with friendly hosts and a central yet quiet location.
Contributor – Graham Grieve, My Voyage Scotland
24. Edinburgh, Scotland
Edinburgh is an ideal city for solo travel in Europe because Scots are super social and lots of group activity options happen daily in Scotland's capital.
Enjoy a walking tour of the Old Town or the city's underground to learn about the history of the city and the scary tales of grave robbers, the plague and why locals used to shout gardyloo out their windows.
If you are a Potterhead, you will want to jump on a Harry Potter locations tour to see which street is said to have inspired Diagon Alley, the graveyard that influenced character names and The Elephant House toilets. Don't ask, just check.
If you want to learn a little while you enjoy a tipple, consider a group whisky experience class on the Royal Mile. Clear the head by walking up Arthur's Seat or Calton Hill for the best views over the city.
The most jumping pubs for backpackers are The Globe (cheap drinks, quizzes, live sports), Whistlebinkies (live music) and Stramash (food, live music).
Like any city, it's advised to be cautious about walking alone at night and to avoid walking through parks and back streets.
Recommended: Edinburgh: Old Town History and Tales Walking Tour
Where to stay in Edinburgh?
Since you're travelling alone, you'll probably want to book a room at a social hostel in the Old Town or near Princes Street in New Town.
Castle Rock is one of the top-rated in Edinburgh for its friendly staff, comfy beds, daily social activities and prime location.
Contributor – Gemma and Ronan, Everything Edinburgh
25. Dubrovnik, Croatia
Visually, Dubrovnik is a beautiful UNESCO-listed city with loads of things to do and see within the Old City Walls.
The city is known for its stunning old town, you can spend hours wandering around the streets. Also, the wall walk is trendy. To miss the crowds, be there early in the morning. 
I visited Dubrovnik as a solo traveller, and I loved it. Dubrovnik is one of the best places to travel alone in Europe with so much on offer.
For starters, it's incredibly safe, but it can get busy, so like with any tourist destination be aware of pickpockets, but crime is low, and the people are friendly.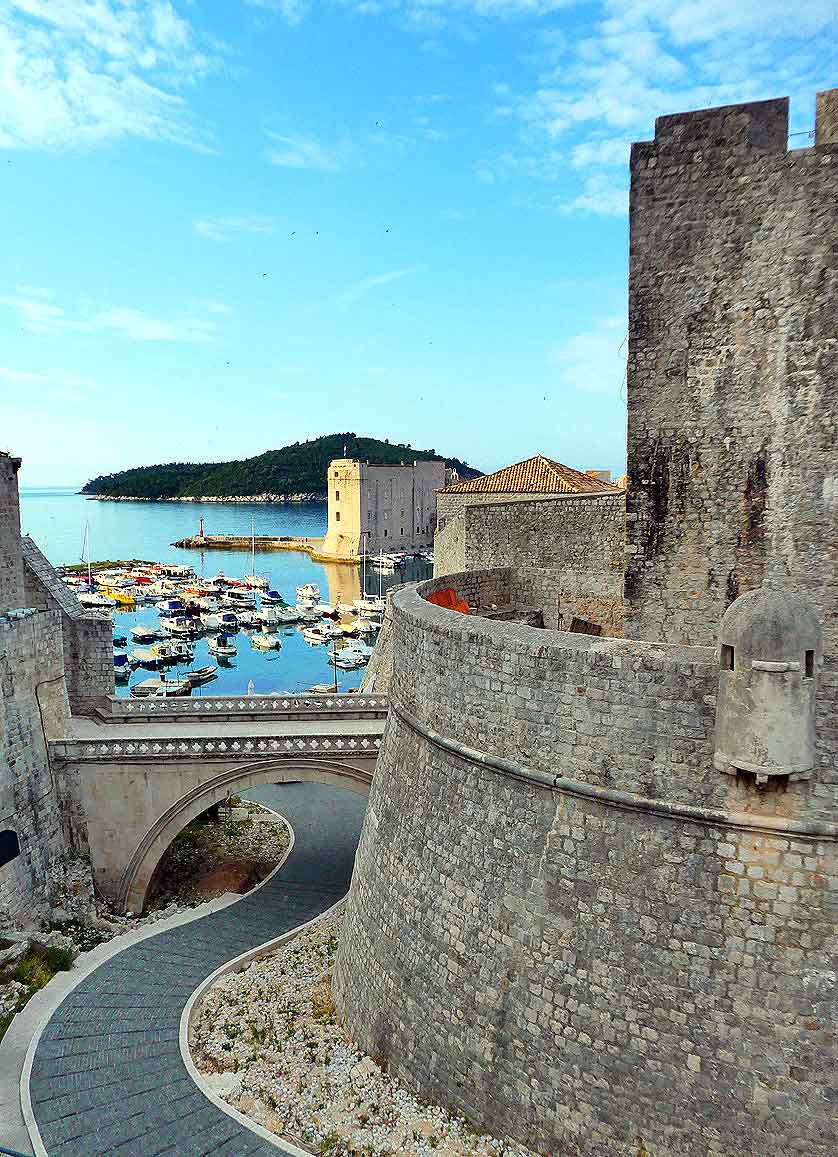 There's a wide range of tours available, including free walking tours, which is a great way to meet other solo travellers.
There are also more specific tours, including the Game of Thrones tour and kayak tours around the coves and nearby Lokrum Island.
You can take a whole day trip over to Lokrum Island, there are boats which you can get from the Old Harbour to get there.
On the island, there are some great hidden sunbathing spots, although, look out, you might stumble upon the nudist beach!
If you want to find solitude and get away from the crowds, Dubrovnik is surrounded by stunning beaches and parks and smaller fishing towns like Cavtat.
Recommended: Dubrovnik: Old Town Walking Tour
Where to stay in Dubrovnik?
The best place to stay is either inside the city walls (although this can be more pricey) or just outside (which is cheaper).
There are so many styles of accommodation suiting every budget ranging from hostels, boutique hotels and apartments.
Contributor – Becki Rendell, Meet me in Departures
26. Split, Croatia
In the south of Croatia, overlooking the clear blue waters of the Adriatic sea, the historical city of Split is one of the best places to travel alone in Europe.
The city is absolutely gorgeous and safe. It can easily be visited on foot, and if you feel like meeting new people, many day tours are on offer to the nearby islands of Hvar and Brac.
The pedestrian city centre, found in place of the 4th century Diocletian's Palace, is an incredible open-air museum recognized as a Unesco World Heritage site in 1979.
It's the best place to go out at night and enjoy the many restaurants and bars and get a taste of the famous Croatian nightlife!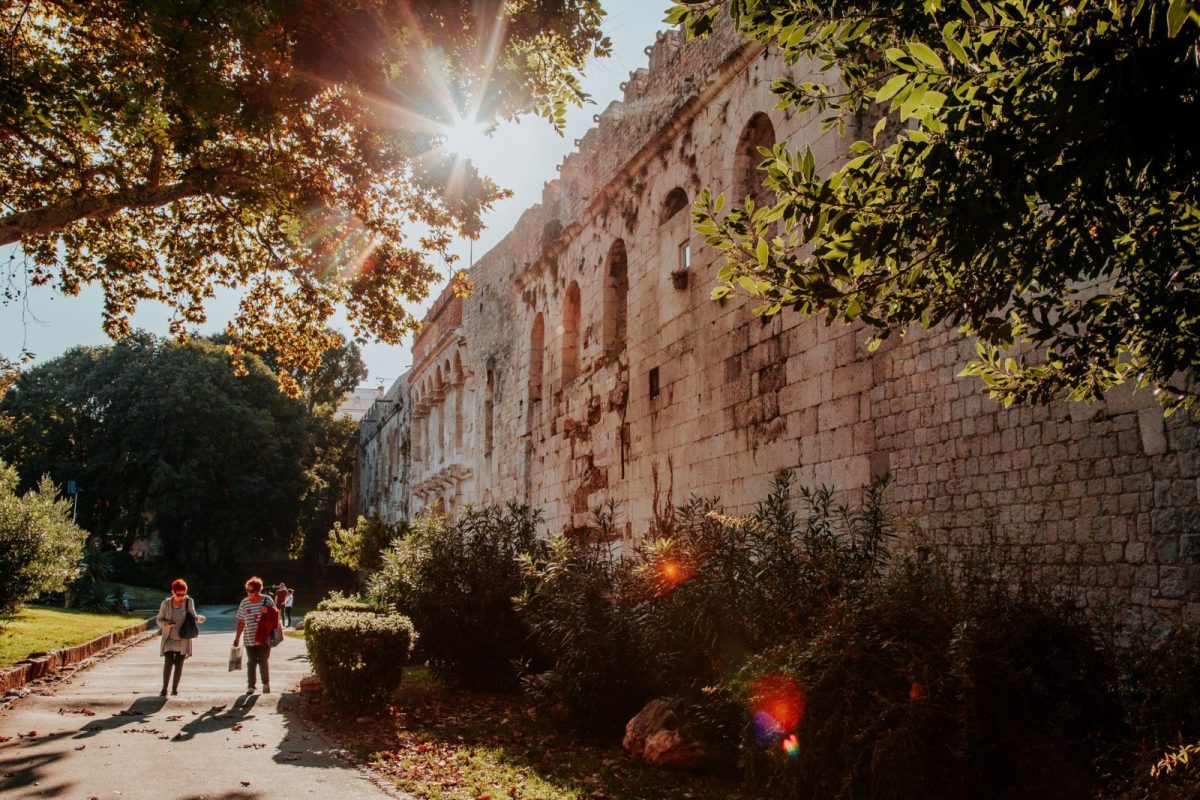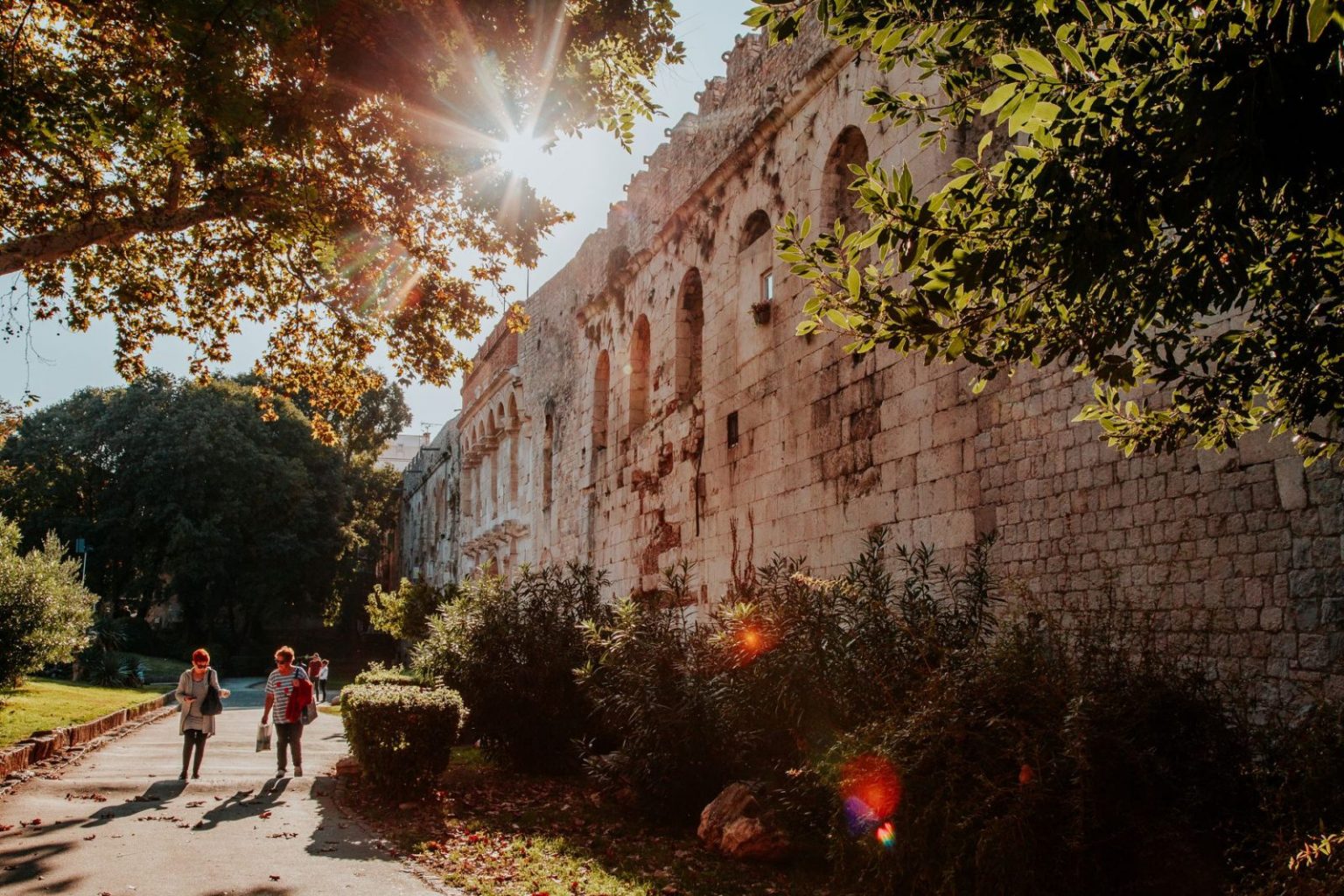 But Split isn't just about the party. It has also a lot to offer whether you are interested in architecture, history, sunbathing, or outdoor activities.
Solo travellers will find cheap or free things to do around, such as hiking the Marjan Park, sailing to the gorgeous nearby islands, visiting the Roman ruins of Salona, or simply taking it easy at the beach and getting a tan!
If you plan on spending more than a weekend away, you can easily base yourself in the town to then take day trips to the beautiful villages of Trogir and Omis, Mostar in Bosnia and Herzegovina or even get your Game of Thrones addiction to the next level by visiting all the places the series was filmed in the area such as the Kliss Fortress!
Recommended: Split: 1.5-Hour Diocletian's Palace & Old Town Walking Tour
Contributor – Jenny, Tales from the lens
27. Zagreb, Croatia
Formerly known as a stopover city for tourists rushing to Croatia's coast, Zagreb has truly transformed into a destination in its own right.
Over the past decade, Croatia's capital has seen an impressive visitor boom thanks to its thriving cafe culture and fun-loving vibe.
A destination bountiful in beautiful architecture, fascinating museums, and an explosion of seasonal events, Zagreb offers everything a Central European capital should, sans the crowds.
Zagreb's walkable centre is teeming with exciting things for solo travelers to explore. During the summertime, Zagreb comes alive with countless festivals and activities.
From free live music events held in the Upper Town's private courtyards to nightly concerts on the Strossmayer Promenade, the city is buzzing with things to do.
When visiting in the summer, grab a drink at Swanky Monkey Garden. This relaxed, terraced courtyard cafe is a favourite for travelers and locals alike!
For a taste of Zagreb's local life, head to the antique market held every Sunday at British Square. You can peruse the stalls for unique souvenirs there, or grab an espresso at a nearby cafe and watch the locals haggle over family heirlooms.
Recommended: Zagreb: 2.5-Hour Walking Tour with Funicular Ride
Where to stay in Zagreb?
For those looking to be in the heart of all the fun and to connect with other solo travelers, consider booking your stay at Swanky Mint Hostel, right next door to Swanky Monkey Garden.
Contributor – Olivia, The Travel Philosophy
28. Galway, Ireland
Galway, a lively city located on the West Coast of Ireland, is the perfect destination for solo travelers because there is no shortage of fun activities to keep you occupied, and you'll meet friendly people everywhere you go.
While the whole of Ireland is known for its pub culture, the pubs in Galway are on another level.
Whether you're in the mood for an afternoon tea with traditional Irish music and spirited conversation with locals at Tig Coili or a party 'til they close kind of night at Quays or something in between (O'Connors or Taaffes), there is a Galway pub for you.
But don't worry, the pubs aren't the only place to listen to phenomenal musicians, head to Quays Street to listen to the buskers dotting this cobblestone street.
Galway also boasts an amazing foodie scene where you can, of course, find your traditional Irish food but also delicious farm-to-table style meals from places like Kai Cafe or Ard Bia at Nimmo's.
While the beauty of Galway comes from its vibrant culture and the people who call it home, it also comes from the fact that Galway's doorstep is access to famous Irish landscapes.
You could take a day trip from Galway to the Aran Islands to seemingly step back in time or a tour to Connemara. 
But, you don't even need to leave the city, a simple walk down Salthill Prom along Galway Bay at sunset will provide you with sweeping views.
Recommended: Galway City: Guided 1.5-Hour Walking Tour
Where to stay in Galway?
Once you're done exploring all that there is to do in Galway, I highly recommend The Nest Boutique Hostel located in Salthill for a safe, quiet, and friendly place for a good night's sleep.
Contributor – Katie Minahan, Just Chasing Sunsets
29. Dublin, Ireland
One of the best places to travel alone in Europe is Dublin, Ireland. Not only is it an amiable city, but it is also safe and easy to navigate. With a host of things to do, and places to eat and stay in, Dublin has it all.
Getting from the airport to the city centre is easy on public transport as you can take Dublin Bus into the city or one of the dedicated airport hopper buses.
Once in the city centre, most things are walkable, and the two main shopping streets are wide and pedestrianised.
Getting your bearings should be easy enough, particularly if you jump on one of the city sightseeing buses.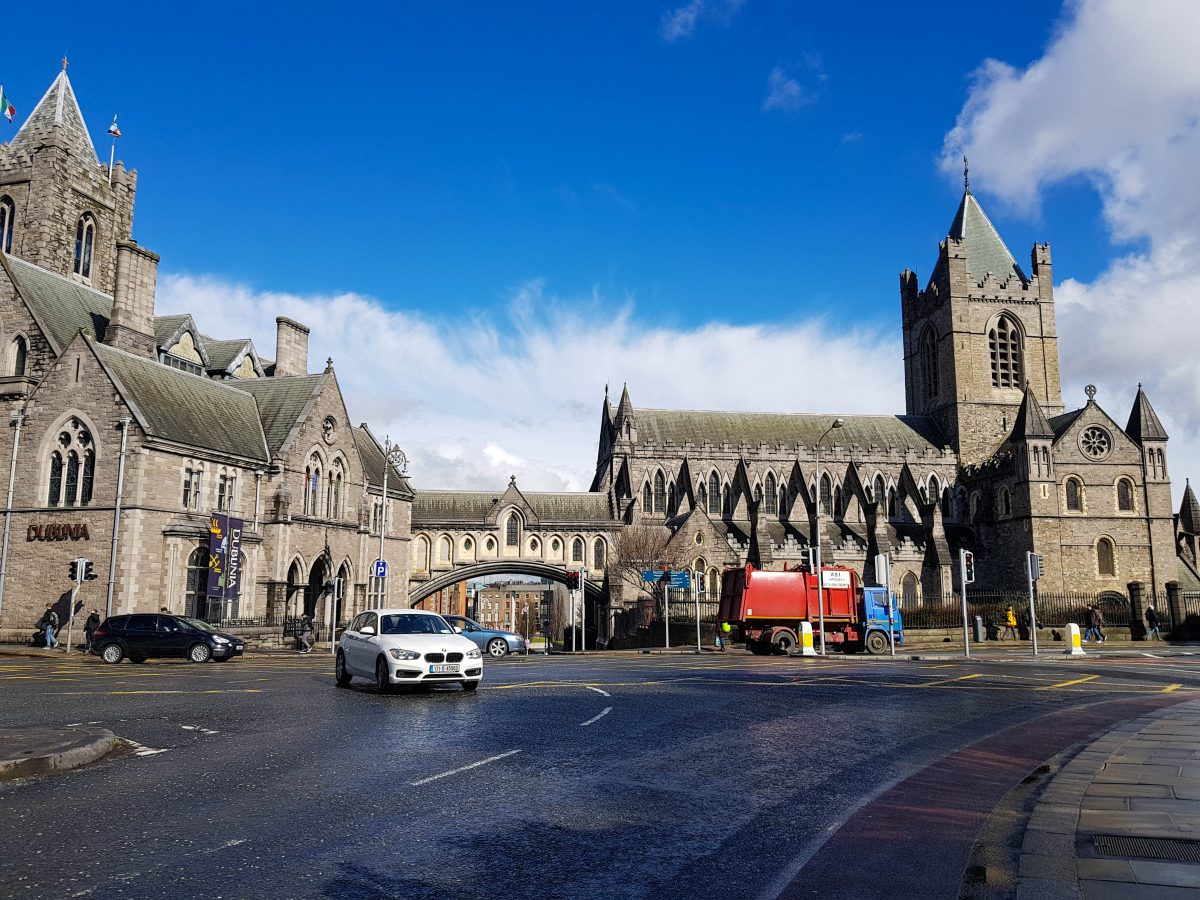 Like all cities, Dublin has a range of things to do to suit every solo traveller.
Guinness Storehouse is a must to discover the history of the famous black drink and to see 360-degree views across the city from the Gravity bar while sampling some Guinness. 
History buffs should visit Dublin Castle and the Chester Beatty Library, two of the best free things to do in Dublin, and visit Trinity College for the Book of Kells, Dublinia and Christchurch, EPIC Museum and Kilmainham Gaol.
If you like sports, visiting Croke Park and doing a stadium tour is recommended. If you like nature and the outdoors, then head to Phoenix Park, Europe's largest walled public park, where you can see the Wellington Monument, Papal cross, the People's Gardens, and, if you are lucky, you might see some of the residents herd of deer around the football pitches of the 15 acres near the Papal Cross.
Dublin is a great city for solo travellers. Your only problem will be narrowing down everything you want to see, visit, and do in the city.
Recommended: Walking Tour Dublin Highlights and Hidden Corners
Where to stay in Dublin?
If you want to be in the heart of Dublin, choose a hotel or Hostel around Merrion Square, near St Stephens Green or at the IFSC along the banks of the River Liffey.
For accommodation check out the Hilton Garden Inn or the Gibson in the IFSC on the north side of the city, or the Alex Hotel or Mespil Hotel on the south side.
Contributor – Catherine Jordan, Travel Around Ireland
Best Places to travel alone in Europe – Scandinavia
Scandinavian countries are not on many people's Bucket List because they are incredibly expensive. Although this is true, it is possible to travel on a budget in these countries.
These places are home to some of the world's most stunning landscapes, including the northern lights phenomenon, fjords and vibrant old towns.
30. Oslo, Norway
One of the best places to visit in Europe as a solo traveller is, without a doubt, Oslo, Norway.
Known for its ancient Viking history, cutting-edge architecture, and stunning setting on the Oslo Fjord, you'll fall head over heels for Oslo in just a few hours!
Oslo is one of the safest cities in Europe, so you won't need to worry about safety as a solo traveller.
What's more, public transport in Oslo is super easy to navigate, and surprisingly affordable. In fact, despite what you might have heard, with a bit of careful planning Oslo can easily be seen on a budget.
To get a flavour of the city, stay 2 days in Oslo.
This is plenty of time to check out the world-famous Viking Ship Museum, take a tour of some islands in the Oslo Fjord, marvel at the unusual Oslo Opera House and admire the bizarre sculptures at Vigeland Park. 
For a unique experience, head to the Oslo Fjord Sauna, which overlooks the Oslo Fjord.
Get there at sunset for the best views! Follow up your sauna trip to the beloved Kaffistova to try the best Norwegian meatballs of your life.
Recommended: Oslo: Best of Oslo Walking Tour
Where to stay in Oslo?
If you want accommodation in Oslo that won't break the budget, stay at the Smarthotel Oslo.
For just a few extra kronor than you'd pay to stay in a dorm at a hostel, you can get your own private room here! It's right in the city centre, with clean and basic facilities.
Contributor – Ella, Many More Maps
31. Copenhagen, Denmark
Copenhagen, Denmark, is a fantastic destination for solo travellers in Europe. Besides so many things to see and do in Copenhagen, it's a highly safe city with a compact and well-lit city centre.
In Copenhagen, public transportation is clean, efficient, on time and accessible 24 hours a day.
The transportation system in Copenhagen is easy to follow, with signage and announcements in English and Danish. Over 90% of Danish citizens speak English as a second language. 
Finding activities on your own is easy in Copenhagen, a city full of history and museums.
While in Copenhagen, pay a visit to Rosenborg Castle, built by King Christian IV and the location of the Danish crowned jewels.
Today it's a museum with each room displaying different artefacts from Danish history. 
Solo travellers also love the Danish History Museum, which walks you through the history of Denmark from prehistoric times to The Viking Age through the Danish Golden Age and Modern Denmark.
Another great activity in Copenhagen is taking a canal boat and gazing at the beautiful attractions and landmarks from the waterways that cut through the city centre.
Lastly, solo travellers should visit Tivoli Gardens, the amusement park in downtown Copenhagen.
It's located between City Hall and Central Station, and it's a gorgeous urban pleasure garden with over 30 amusement rides, including some thrilling roller coasters. It inspired Walt Disney to create his own park; you'll see why when you visit.
Recommended: Central Copenhagen: 2-Hour Small Group Walking Tour
Where to stay in Copenhagen?
In all Copenhagen hotels and restaurants, the staff will be fluent and conversational. This is especially true if you stay at one of Copenhagen's premier hostels like CPH Downtown Hostel.
Contributor – Derek Hartman, Everything Copenhagen
32. Stockholm, Sweden
The Swedish capital is one of the best cities in Europe to travel solo. Stockholm is famous for its picturesque old town – Gamla Stan, with colourful buildings, cobbled streets, and the iconic Abba Museum.
But there is so much more to do and see in Stockholm.
The city has a vast network of cycling lanes, which is perfect for a solo visitor. You can safely get around by bike and save money and the environment.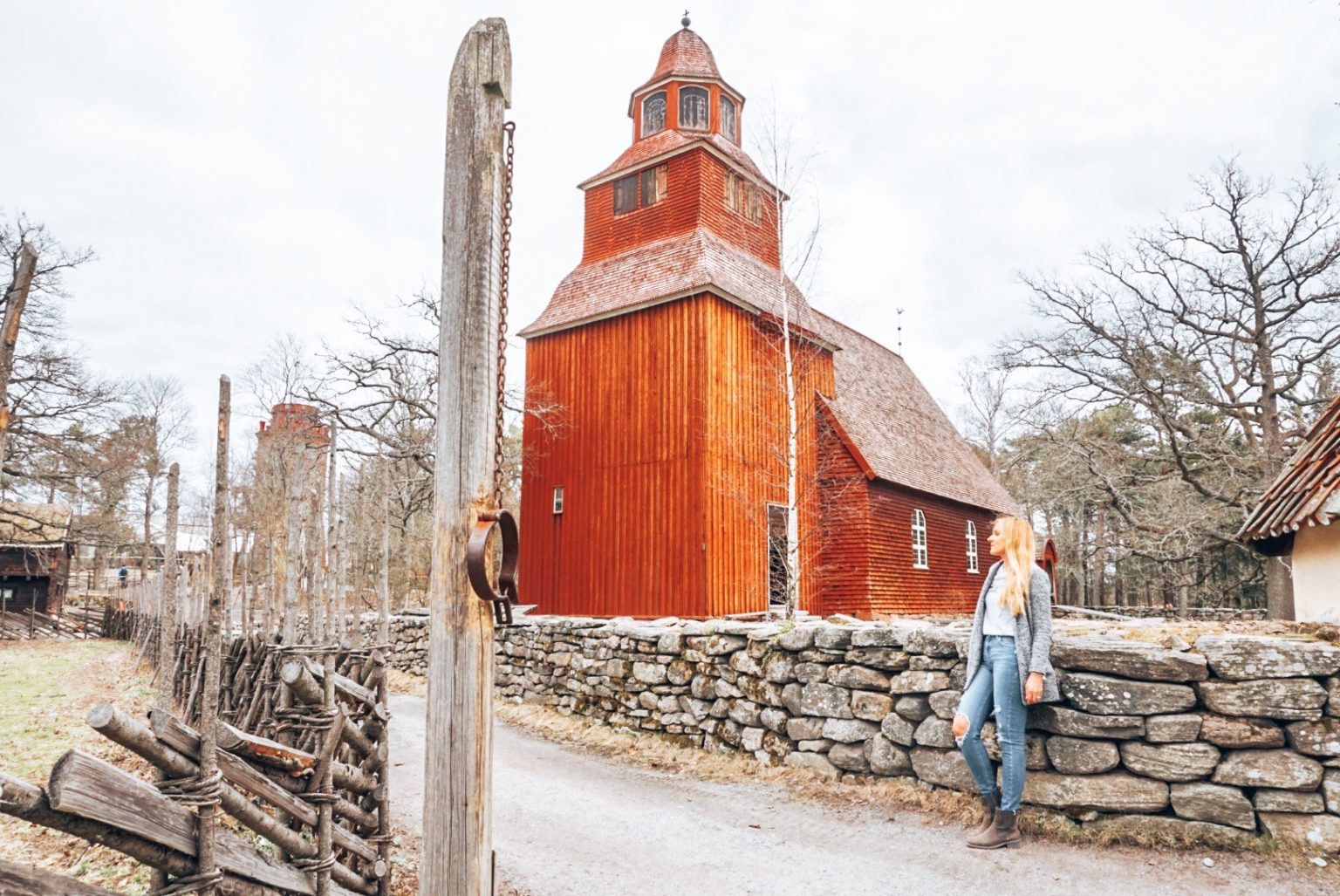 What I love the most about Stockholm are its museums.
The city has some of the most excellent and fun museums I have visited. Skansen is the largest outdoor museum of this kind.
It's like a medieval village built on one of the islands, with different houses, churches and windmills. 
Vasa Museum showcases a 17th-century ship that was salvaged from the sea! And finally, the Fotografiska museum displays 35 exhibitions a year, often gripping and thought-provoking.
Head to Fotografiska museum in the evening and grab a drink in the onsite bar; who knows you may make some new friends or at least have an interesting conversation.
Recommended: Stockholm: Old Town Walking Tour
Where to stay in Stockholm?
I recommend staying in Lady Hamilton Hotel, which has a quirky décor, cute rooms and serves amazing breakfast including organic, homemade jams, fresh eggs and bread.
Lady Hamilton Hotel is located in the heart of Stockholm's old town – Gamla Stan and features a lot of beautifully preserved antiques throughout its premises.
Contributor – Mal Hellyer, Raw Mal Roams
Offbeat Destinations for Solo Travel in Europe
Below are some of the best places to travel alone in Europe, a few of which are off the tourist radar yet, like the ones in the Balkans.
Some of these cities are becoming increasingly popular among backpackers, especially in Poland, which was unheard of a few years ago.
33. Jerusalem, Israel
Jerusalem is well known for its rich religious importance and history, but people don't know that it's an easy-to-navigate city and is one of the best places to travel alone in Europe.
Located just a short train ride from other great cities like Tel Aviv, Jerusalem is the ideal travel destination for solo travelers.
There is a direct train from the airport to Jerusalem, taking only half an hour and costing about 5 dollars.
All the main sites in Jerusalem run in a straight line and are primarily within walkable distance from each other!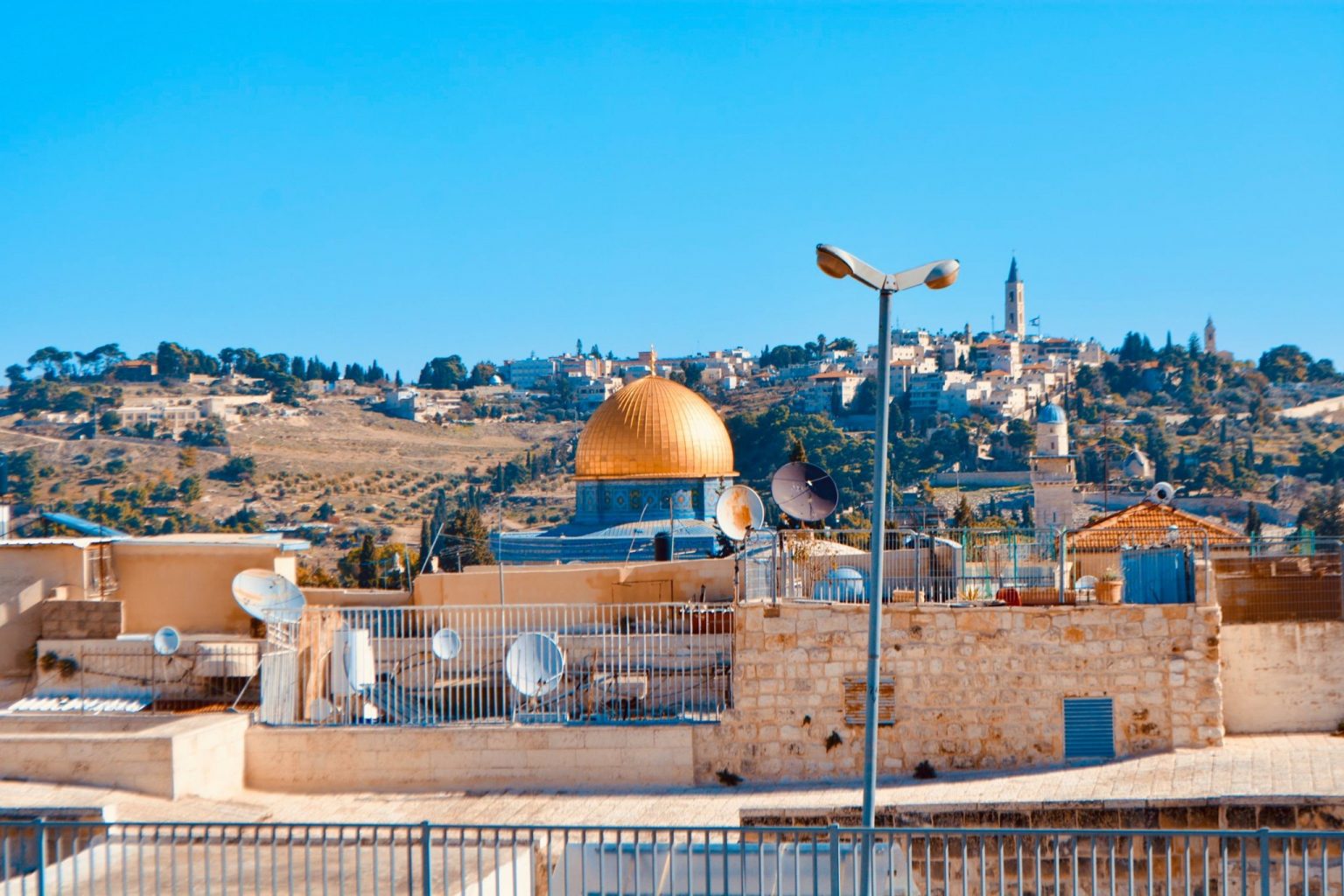 From the Old City to the iconic Jerusalem food market- you can find it all within 20 mins walk of each other! In the Old City, you can find holy sites for multiple religions, shop in the bazaar, see some of the most breathtaking panoramic views of the city and try some of the best Jerusalem's food.
Shuk Machne Yehudah market also becomes the hot spot for drinks at night, with market stalls turning into bars!
While you're in Jerusalem, be sure to find time to explore some lesser-known sites like the botanical gardens, and the biblical zoo, or take a stroll on the old train tracks.
Don't miss a meaningful tour of Yad LaKashish, it will inspire you! You can take a quick day trip to the beaches in TLV or to the lowest point on earth, the Dead Sea.
Recommended: Jerusalem Half-Day Sightseeing Tour
Where to stay in Jerusalem?
If you stay at the Abraham Hostel you will find tons of group excursions to join and an ideal location in the centre of Jerusalem, just minutes from all the main attractions.
Contributor – Jazzie Morgan, The Israel Bites
Recommended for you: Check out 25 Gorgeous Destinations To Travel Alone In South America
34. Tirana, Albania
When solo travel comes to mind, Albania is probably not the first thought for many people but it turns out that it isn't one to be missed at all!
The capital city of Tirana is a great introduction to the country as there are many things to do there by yourself.
There are many great things to do in Tirana, especially things that are off-beat since the country was a communist state for over 40 years there are a lot of interesting history museums to visit.
Bunk Art 1 & 2 are really not to be missed during your time there. You get a first-hand look into the bunkers that were built for the leader and the officials.
A great day trip out of the hustle and bustle is to catch the cable car to Mt Dajti to catch a beautiful glimpse of the city above. There's also a national park so there are lots of great hiking opportunities as well!
You will soon find that Albanians are some of the most friendly and helpful in the world which is why Tirana is one of the best places for solo travel in Europe.
Travelling alone is a new concept for many Albanians so they are always extremely welcoming, especially if you travel alone!
Recommended: Tirana Walking Tour
Contributor – Anita, Travellling Balkans
35. Pristina, Kosovo
Pristina is a great city to visit if you're looking for things to do in Kosovo or the wider Balkans region. Not only did I feel safe here as a solo female traveller, but I also found the locals incredibly friendly.
There are many quirky attractions to visit in Pristina, primarily within walking distance from one another. For example, there is a Bill Clinton statue and many Clinton posters around the city.
In fact, you'll feel particularly welcome if you're a solo traveller from America or England, due to the part Clinton and Tony Blair played in ending the conflict in Kosovo 20 years ago. So much so that 'Tonibler' and 'Klinton' are now male first names in Kosovo!
Elsewhere in Pristina, you can visit the Newborn Monument, unveiled in 2008 when Kosovo became Europe's newest country after claiming independence from Serbia.
The National Library of Kosovo is worth a visit due to its infamous title of 'ugliest building in the world', as is seeing the beautiful Cathedral of Saint Mother Teresa and enjoying a coffee in one of the city's trendy cafes.
Recommended: Pristina: Private 3-Hour City Tour
Where to stay in Pristina?
I stayed in Hostel Han, which was super chill and friendly when I visited in the off-season.
Accommodation and food in Kosovo are incredibly cheap, making it a perfect spot for solo travellers on a budget. 
Contributor – Cassie Bailey, Cassie the hag
36. Bucharest, Romania
Bucharest is one of the most beautiful cities in Romania and one of the best places for travelling alone in Europe. It is quite a safe city, and the weather is nice from April to October.
Bucharest is known for the Parliament palace, the second-biggest building in the world.
This is also the most visited attraction in town, but you can wander around in its many parks or visit the old town.
You will find a mixture of old and new and in such a small area you can discover hundreds of years of history! 
Among all these pieces of history, you will discover charming boutiques with hand-made clothes, so be ready for some shopping.
And after you get tired, choose one of the numerous coffees or pubs for a little break.
Here you will find the most modern coffees and pubs in the city.
And if you like books, Carturesti Carusel is a perfect choice for you: a library in an old building with coffee on the last floor.
Other attractions in the city that deserve your attention are the Romanian Athenaeum, a beautiful concert hall, and the Village Museum.
And if you are more of the "show me secret gems" type, take a tour of the Bellu cemetery.
The capital of Romania can be a great host, so don't let her wait for you!
Recommended: Bucharest: City Highlights Guided Walking Tour
Contributor – Corina Preda, Another Milestone
37. Brno, Czech Republic
Brno is the second-largest city in the Czech Republic and the capital of the Moravia region. It presents a perfect combination of a modern city with a long history.
Brno was voted as the 6th most popular student city in the world. It is surely one of the best places to travel alone in Europe because the Czech Republic ranks among the TOP 10 safest countries in the world.
You will find here remarkable places, as well as delicious food, cosy cafes and world-famous beer, which isn't just great but also very cheap!
Also, public transportation is cheap, easily accessible, and takes you anywhere you want.
Once you are in Brno, visit a city centre with Brno's famous dominants – the Špilberk Castle, a massive baroque citadel with extensive casemates, and another iconic building of Brno – Petrov Cathedral.
Another very impressive place, that should be on your list, is St. James Ossuary, which is the second-largest ossuary in Europe!
If you find yourself a fan of modern architecture, you shouldn't miss Villa Tugendhat, which was built in the functionalist style and is listed among UNESCO World Heritage Sites.
Check also more places and cool things to do in Brno.
Recommended: Brno: Historic Downtown Walking Tour
Where to stay in Brno?
If you want to experience a unique-style accommodation, pick Internesto Apartments Downtown. A nice hostel option in the city center is Hostel John Galt.
Contributor – Adriana, Czech the World
38. Gdansk, Poland
Gdańsk is an outstandingly beautiful city in the north of Poland by the sea. It is great for a solo trip and I recommend you to spend at least a weekend in Gdańsk.
In most cities in the world, Old Town is the most beautiful part with cobbled streets and lovely buildings. Well, Gdańsk is a little different. Here, the Old Town may be the oldest – but the prettiest part is called the Main City.
In the Main City, you will see some of the most famous landmarks, like Długa and Długi Targ Streets, Main City Hall, Neptune's Fountain and Saint Mary's Basilica. At the bank of river Motława, you will see the Crane – the biggest and the oldest port crane of Medieval Europe.
The mechanism of treadwheels powered by humans was able to lift up to two tons 27 meters up or 4 tons 11 meters up!
If you are interested in World War II, Gdańsk will also be fascinating for you – the first battle of the war took place on the Westerplatte peninsula in Gdańsk!
The city is important not only in the world's history but also in the history of Poland itself. The first independent trade union in a country under
Soviet Union's influence came into being here. "Solidarity" ("Solidarność") played a central role in ending communist rule in Poland. You can also see a great Solidarity museum here.
Recommended: Gdańsk: City Sights and History Guided Walking Tour
Where to stay in Gdansk?
While in Gdańsk, it is best to pick a hotel close to the Main City, for example, Stay Inn Hotel.
Contributor – Dorota Balcarczyk, Weekendowka
38. Cardiff, Wales
Cardiff, Wales is a beautiful safe capital city and is one of the best places to travel alone in Europe.
A compact alternative to London, it balances 2000 years of history with demand for 21st-century creature comforts:
British pubs, contemporary speciality stores nestled in an 1850s arcade of walkways, Victorian boutique hotels (such as the centrally-located Thistle Parc Hotel) and a Millennium waterfront stadium hosting soccer tournaments and concerts.
And the piece de résistance? A city-centre castle.
A towering stone wall separates busy city streets from Cardiff's most visited attraction – an actual castle restored to its last incarnation: a lavish Victorian gothic masterpiece of opulent murals, gilded architectural detail and stained glass windows. 
The 'newest part,' now opened to the public for tours, was once owned and renovated by the wealthy Bute family in the 1800s.
But save your Instagram efforts for what's beside the Victorian castle: the remains of a Roman Garrison thousands of years old and the remnants of a smaller central castle, standing since Norman times.
Cross the actual drawbridge (yes, over a mote) and climb the narrow stone staircase to what was once the king's living quarters.
Then imagine a Game of Thrones moment complete with fire-breathing dragons and damsels crying for help from towering castle spires.
A good place to learn about Wales is the National Museum Cardiff focusing mainly on natural history.
It's particularly proud of its humpback whale skeleton and the world's largest leatherback turtle specimen.
Also, pop culture fans will appreciate the three-hour Dr Who location tour or two-hour walking tour.
Recommended: Cardiff: Doctor Who Walking Tour
Contributor – Sherri Telenko, Dogtrotting
39. Interlaken, Switzerland
If you're a solo traveller visiting Europe, the lovely town of Interlaken, Switzerland is the perfect destination.
Nestled between two beautiful lakes, and at the foot of the Bernese Alps, Interlaken has much to offer no matter what your interests.
Most visitors head to Interlaken to enjoy an excursion to Jungfraujoch, one of the country's most-visited mountains, but there are many other natural wonders in the area that are well worth visiting, too.
Glaciers, gorges, rivers, lakes, alpine gardens and mountains – lots and lots of mountains – are what make the area around Interlaken so spectacular.
Cruise boats, cable cars, trains and hiking trails all give you the opportunity to immerse yourself in the stunning surroundings.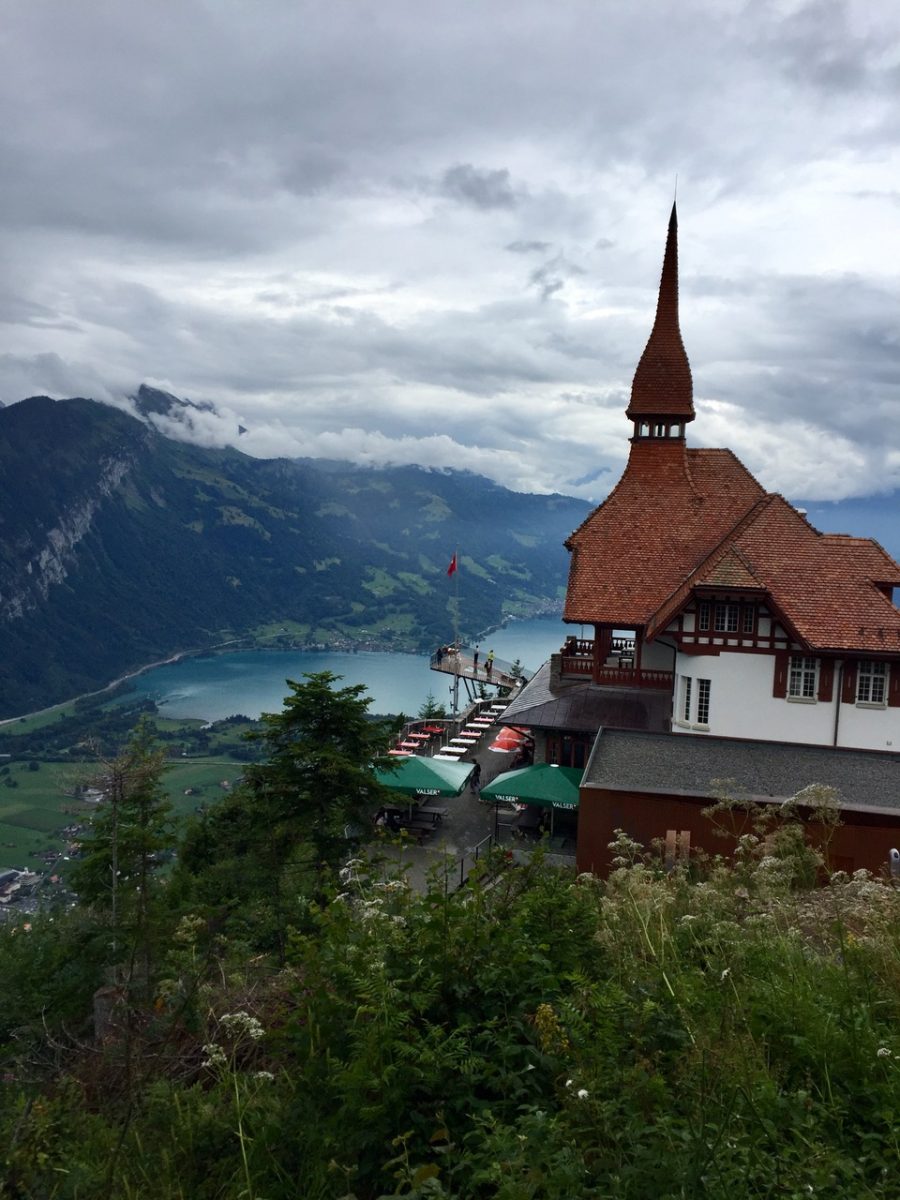 Adrenaline junkies love Interlaken for the wide range of adventure sports on offer.
With everything from paragliding and skydiving to bungee jumping and jet boating available, the 'adventure capital of Europe', as it's known, will really get your heart racing.
If you prefer a more relaxed style of trip, Interlaken has you covered, too.
A 10-minute funicular ride to Harder Kulm offers incredible views from the Two Lakes Bridge, there are plenty of shopping opportunities, a speciality chocolate shop that offers chocolate-making workshops, and wellness centres where you can unwind in the healing waters.
Recommended: Express Walk of Interlaken with a Local
Where to stay in Interlaken?
As one of Switzerland's most popular holiday resorts, there are plenty of choices when it comes to hotels.
I recommend the Lindner Grand Hotel Beau Rivage which is close to Interlaken Ost train station and the Harder Kulm funicular station.
Contributor – Carolyn, Holidays to Switzerland
40. Strasbourg, France
A holiday in France usually congers images of Paris's Eiffel Tour, the beaches of the Côte d'Azur, or the vineyards of Bordeaux.
But our favourite part of France is the Alsace, especially the canals and medieval half-timber homes of Strasbourg, which is one of the best places to travel alone in Europe.
Strasbourg offers a window into one of the world's great cultural fusions, as this is where French and German cultures meet (and often they also met on the battlefield).
This history has created a delicious cuisine that marries French techniques with hearty German ingredients in a rustic style. 
Famous dishes include tarte flambée – similar to pizza but without tomato sauce, Choucroute – wine-pickled cabbage stewed with sausage and vegetables, and Baeckeoffe – the best casserole filled with leftovers you will ever eat.
Traditional Alsacian restaurants are called Winstubs, and our favorite is S'Kaechele near Petite France.
But if you wonder what to do in Strasbourg besides eating, we recommend getting lost in the winding streets and medieval half-timber homes of Grande Île, the canal-ringed city centre.
The heart of this is Strasbourg Cathedral, perhaps the world's best example of late Gothic architecture. Tour the incredible interior, and then climb the tower to admire views of the Rhine valley and Vosges mountains.
You should also take two tours of the city – a walking tour to see it from the streets, and then a canal tour to see it from the water.
The highlight of both tours is the unique architecture, canals and locks of Petite France, the most iconic part of Strasbourg.  
But you will also see the city's evolution from the medieval city-state, to France, to Germany, to France, to now the European capital it is today.
Recommended: Alsace Half-Day Wine Tour from Strasbourg
Contributors – Mike and Derek, Robe Trotting
41. Krakow, Poland
Known as one of Poland's largest cities and a popular destination for a variety of historical reasons, Krakow is one of the best places to travel alone in Europe.
Krakow is home to the most significant main square in Europe. The square is surrounded by hundreds of cafes, restaurants, museums, boutique shops and much more.
The very centre of the square has a large building called Sukiennice which used to be an old cloth hall. Today, you can stroll the interior and find Polish gifts, treasures and garments for sale.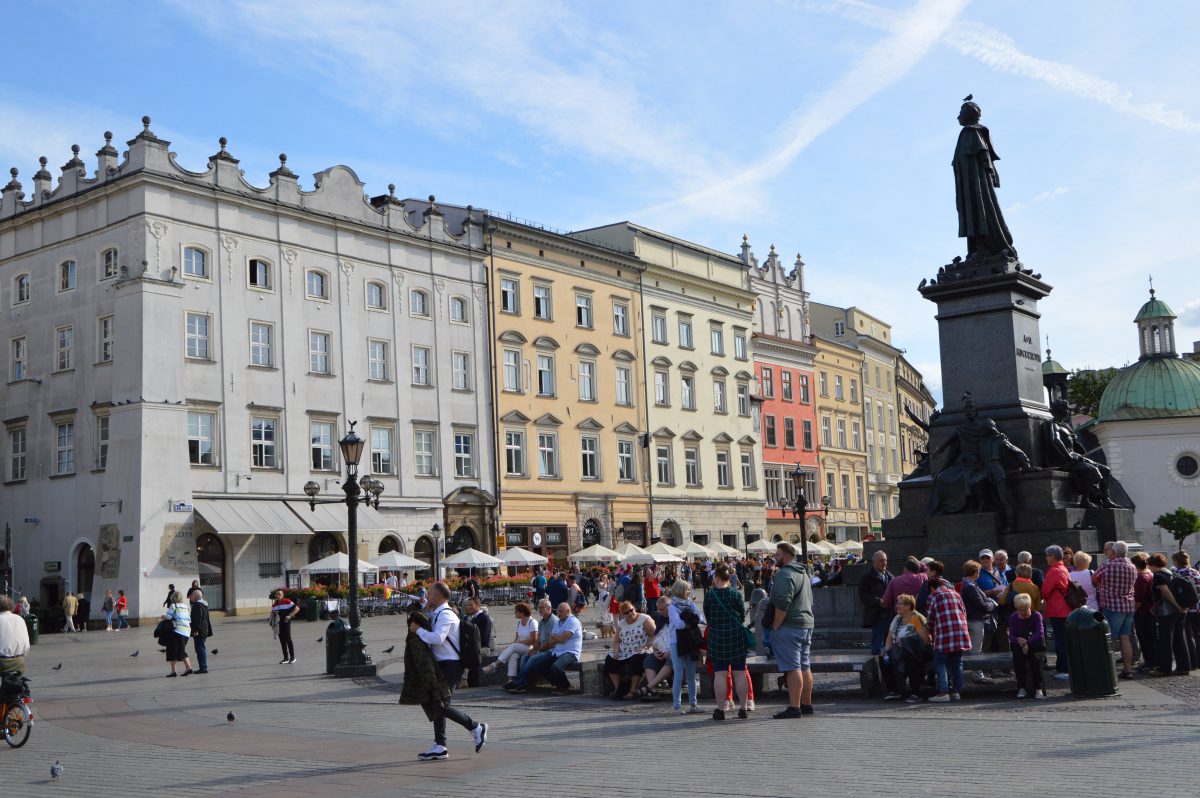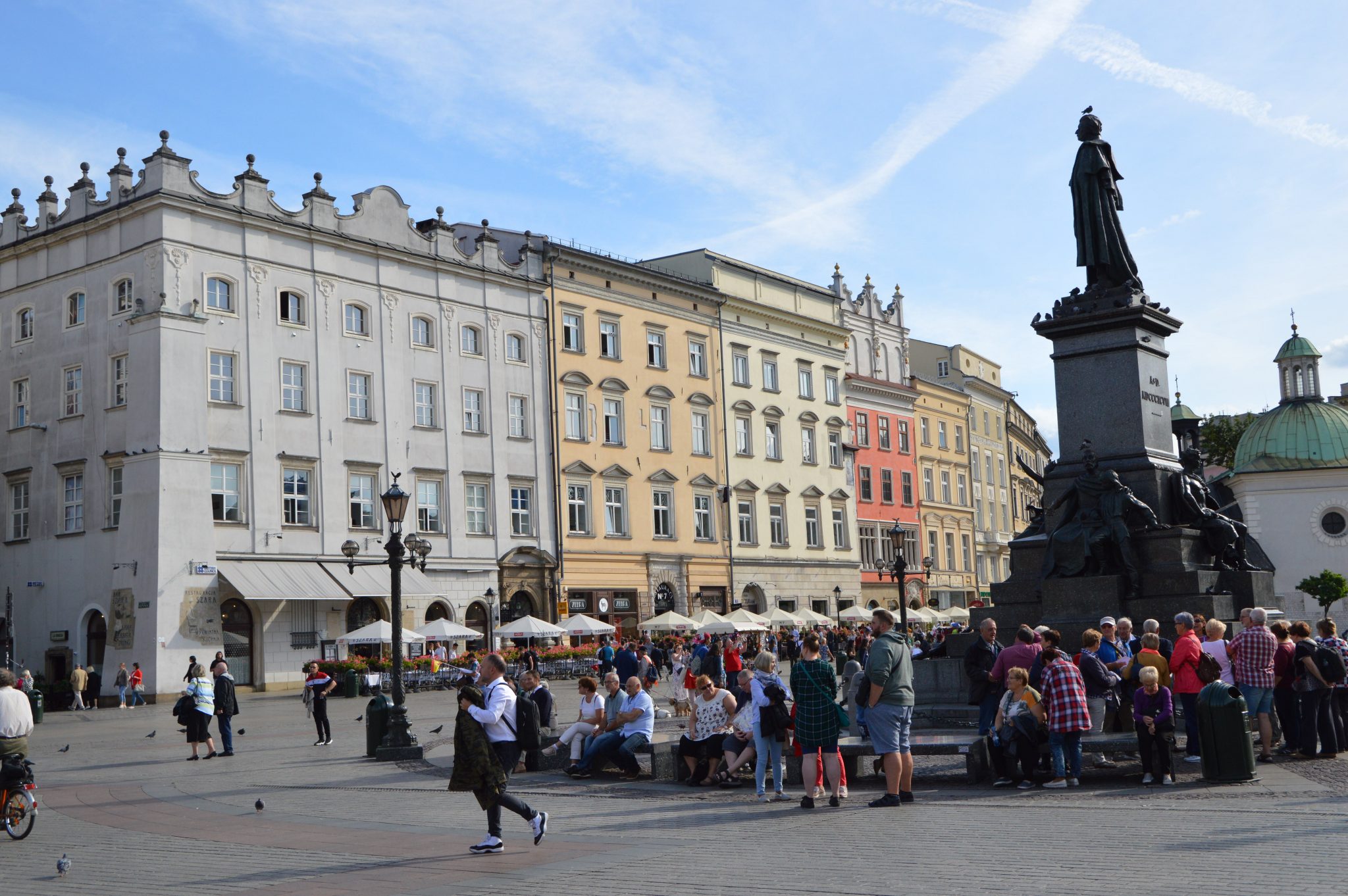 Krakow is a relatively budget-friendly city and includes plenty of free things to do, and the food is phenomenal and quite inexpensive.
There are dozens of hundreds of restaurants in the town, and many will have typical Polish cuisine, which must be tried.
In the city itself, there is the Wawel Royal Castle that is worth visiting.
There is also a dragon's dungeon nearby, which takes you down to the Wisla River, where visitors can catch a boat ride or stroll the riverside.   
Outside of the city, the Wieliczka Salt Mine is a popular destination.
Booking a tour is required and can be done on location if it isn't too busy. Auschwitz is also located close to the city and is worth a visit, though pre-booking is also recommended.  
Recommended: Krakow: 3-Hour Guided Old Town Tour
Where to stay in Krakow?
For accommodations, the Mosquito Hostel is a great one as it also helps organize tours outside of the city. For a more authentic feel, though much pricier, stay at Hotel Stary.
Contributor – Diana, Travels in Poland
42. Athens, Greece
Most people think of Greece as a romantic destination, but it's actually it has many of the best places to travel in Europe.
Athens, Greece's hip capital, is full of tons of great history to explore during the day. But it also has great nightlife, so solo travelers can socialize and have fun with locals and travelers alike.
Seeing the Acropolis is on most people's bucket lists, but there's a lot more to Athens than just the Parthenon.
You can check out the city's amazing museums, hike up Mount Lycabettus for amazing views, and visit some of the city's delicious tavernas.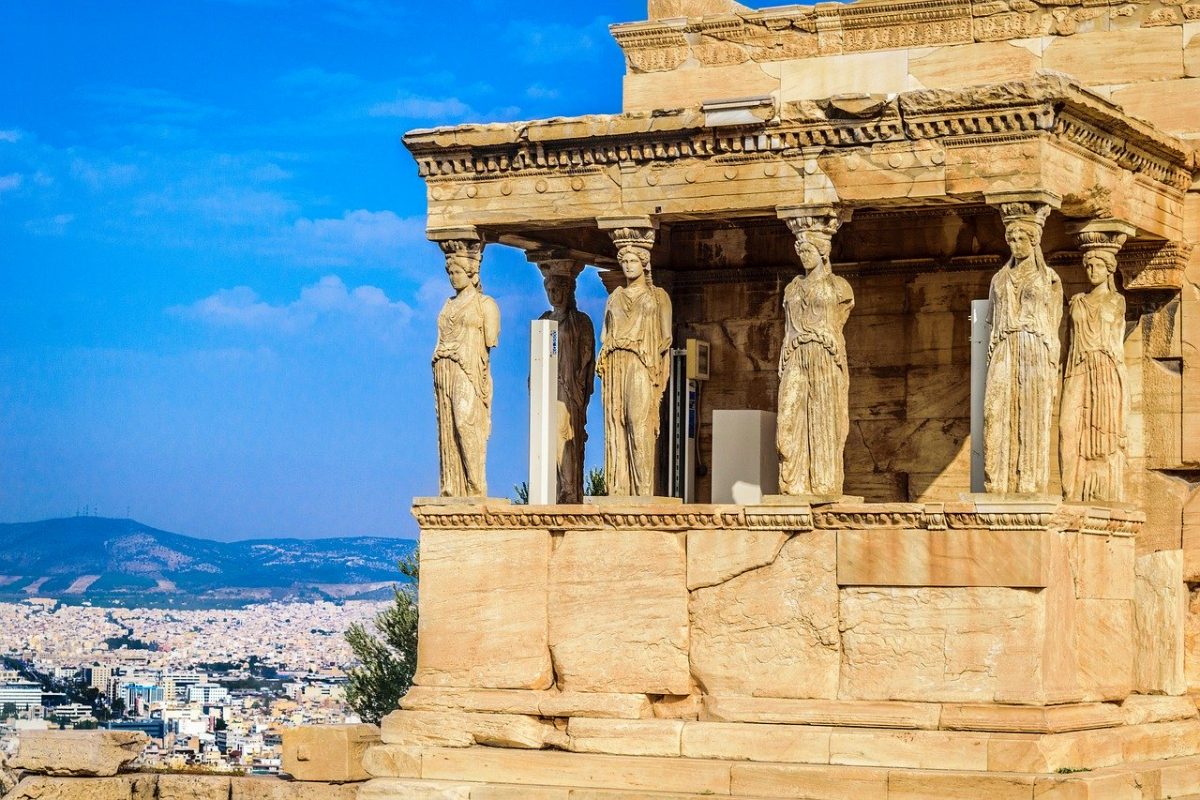 If you want to get out and explore a bit more of Greece, Athens is a great place to use as a base to see some of the nearby islands like Hydra and Aegina.
You can also take day trips from Athens to Delphi, Meteora, Cape Sounion, and Mycenae. 
Recommended for you: 35 Most Beautiful Places In Greece You Should Visit
There are also tons of great things to do in the city that are a little more off-beat, like exploring the great street art in Athens and visiting younger neighbourhoods like Exarchia.
Recommended: Historic Athens: Small Group Electric Bike Tour
Where to stay in Athens?
There are a lot of different neighborhoods to stay in, but I like Plaka if you want to be near the Acropolis for easy access to the city's main sites.
However, the Athens Gate Hotel is a little further out, but it is one of the best hotels with Acropolis views in the city. 
Contributor – Stephanie Craig, Sofia Adventures
43. Cologne, Germany
If you're a solo traveler who loves beer, history, and lively festivals that combine the two, Cologne, Germany might be the perfect city for you!
Even though the city is small, you won't run out of things to do and is definitely one of the best cities in Germany you should visit.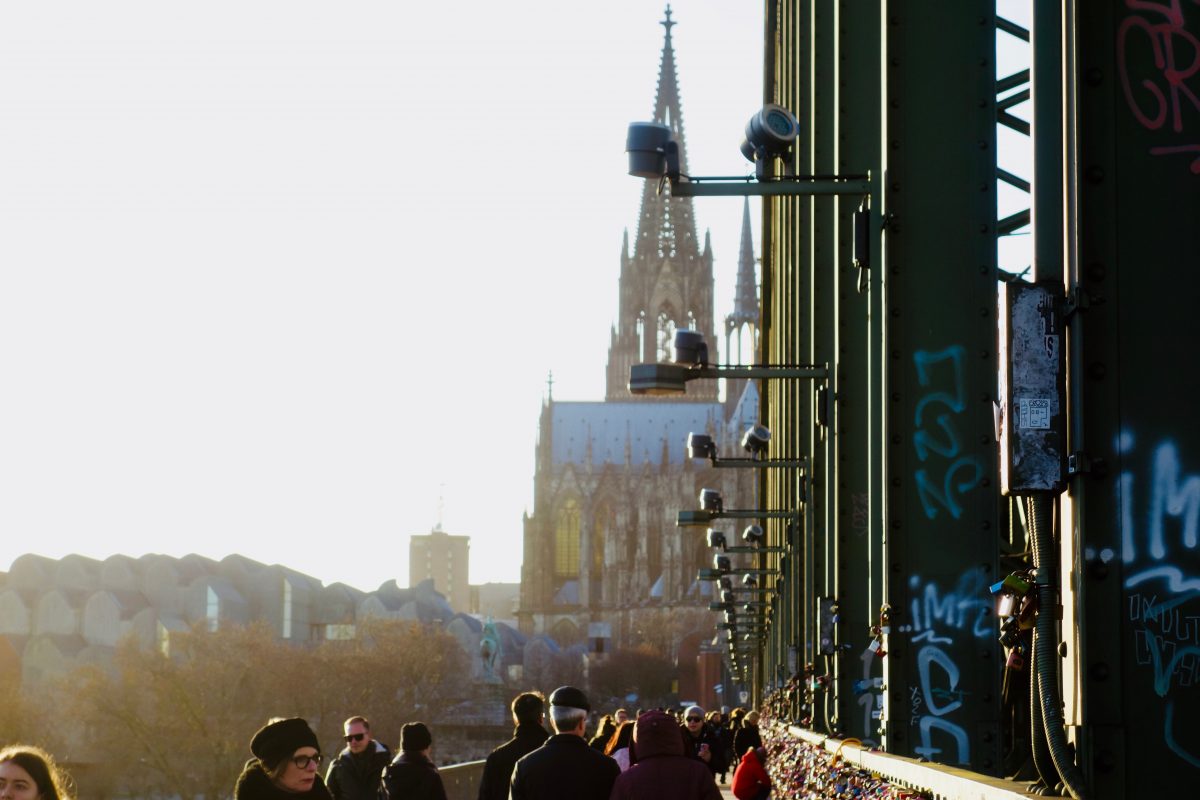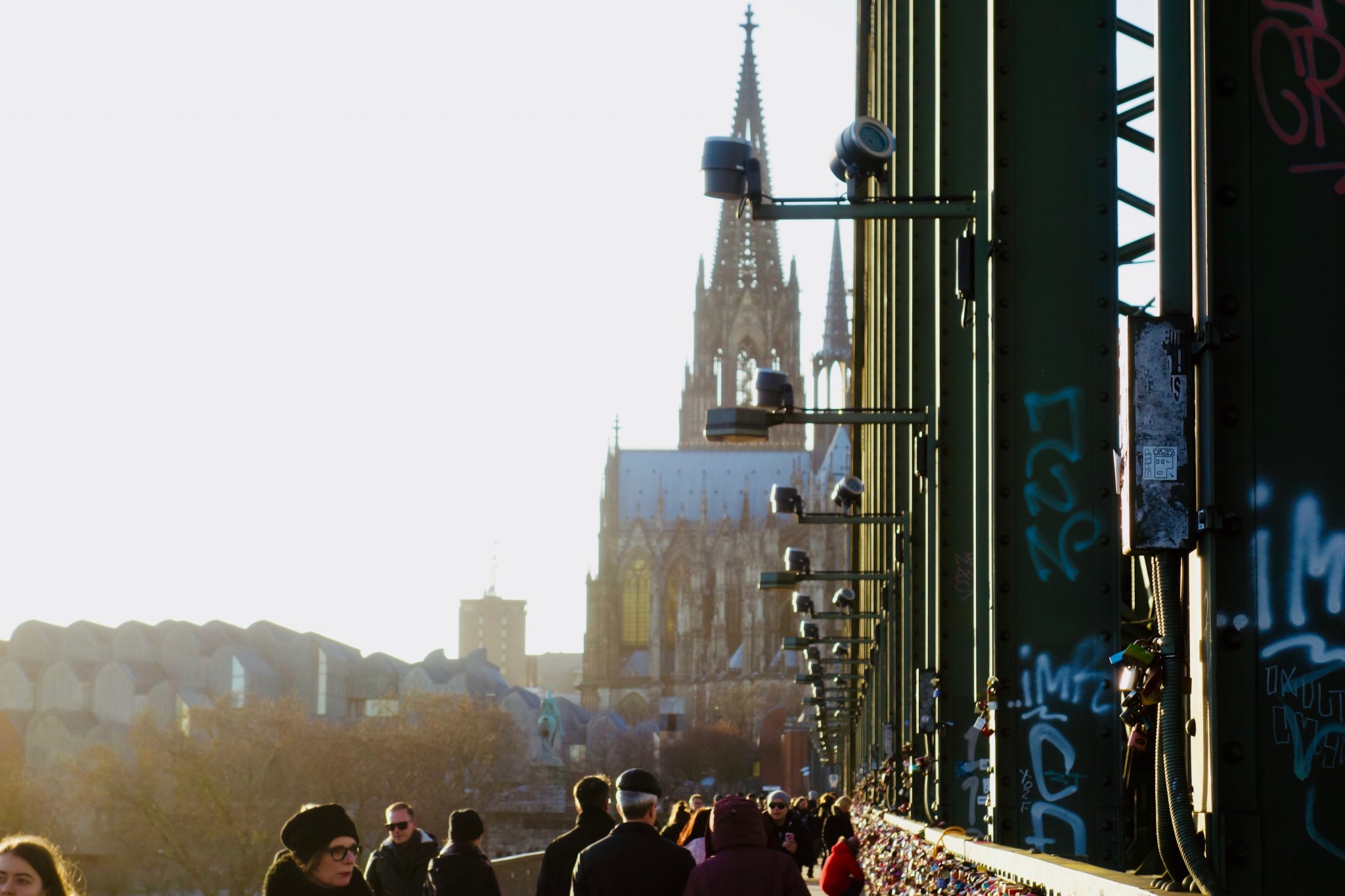 Take a tour of the looming gothic Cologne Cathedral or take a walk along the Hohenzollern Bridge for a unique view of the city.
If you're an art enthusiast, you won't want to miss the Ludwig museum to see classics like Picasso and rotating exhibitions of modern art.
During the parades, the people on the floats throw flowers and chocolate candies out into the crowd.
In the evenings, the streets turn into one big all-night dance party. Even as a solo traveler, I was able to make friends quickly during the joyful Cologne Carnival.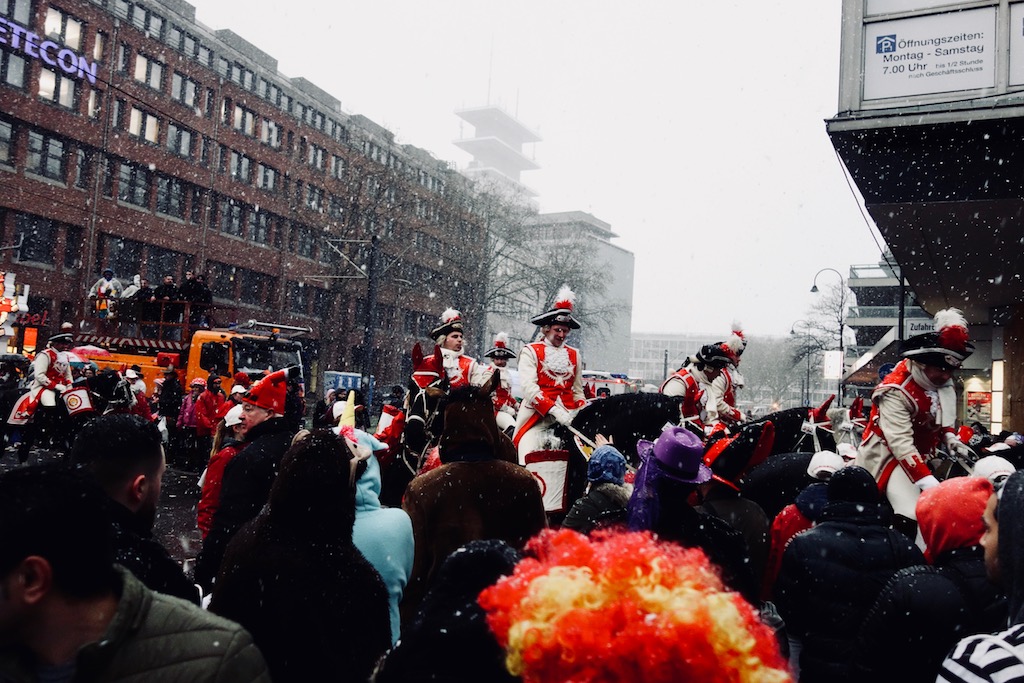 But the most memorable thing to do in Cologne is to participate in Carnival.
Each year in mid-February, the streets of downtown Cologne are closed off for a multi-day festival.
Beer tents are opened on every street corner selling famous Cologne Kolsch and everyone attends parades in full costume.
Recommended: Cologne: Old Town Highlights Walking Tour
Where to stay in Cologne?
Looking for a place to stay as a solo traveler? The Cologne Downtown Hostel is close to the city center and all the main attractions in Cologne.
The rooms are simple but you'll love being just a short walk from the Cologne Cathedral and the popular pub and restaurant areas. 
Contributor – Nicola Rae, See Nic Wander
44. Lucerne, Switzerland
If you are a nature lover and looking for one of the best places to travel alone in Europe, visit Lucerne, one of the most beautiful cities in Switzerland.
This small Swiss city is located at the north end of Lake Lucerne where the River Reuss flows out of the lake.
You can come to see this picturesque town all around the year.
However, if you want to see the stunning Swiss Alps in bright sunshine, pristine lakes, colourful flowers and medieval old town, April is the best month to travel to Lucerne. 
Lucerne is one of the safest European cities and extremely popular among solo travellers. Lucerne is a walkable city.
However, the best way to get around Lucerne is with the Tell Pass, which gives you access to travel on all modes of public transport.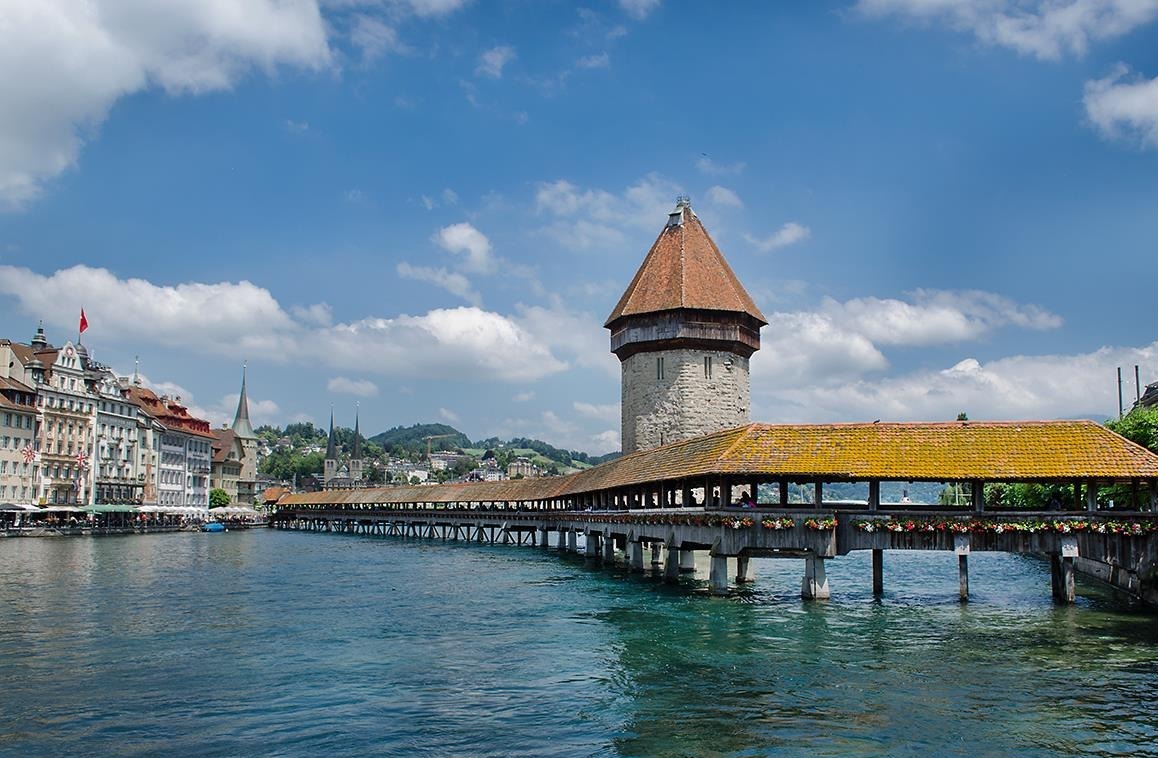 Lucerne has plenty of things to offer its visitors. The Chapel Bridge is one of the most famous landmarks in Lucerne.
This 14th-century wooden bridge was partly burnt down and later rebuilt and restored. You can take impressive pictures of the Chapel Bridge and the Water Tower.
If you plan to travel Lucerne in two days don't skip The Lion Monument, which is just a 10-minute walk from the Chapel Bridge.
This significant monument was created in dedication of Swiss guards who lost their lives during the French Revolution.
You can stroll along the promenade in Lucerne on a sunny day or go for a scenic boat tour in Lake Lucerne and enjoy a relaxing time with a beautiful view of the turquoise blue lake, and historical monuments, stunning landscapes along with the Panoramic view of Lucerne city.
Recommended: Lucerne: Walking Tour to Chapel Bridge and Old Town
Where to stay in Lucerne?
I will highly recommend you to stay in the Youth Hostel of Lucerne if you are a solo traveler or a budget backpacker.
Contributor – Trijit Mallick, Budget Travel Buff
45. Cork, Ireland
The lively city of Cork is an ideal choice for solo travel in Europe to get an authentic impression of Ireland.
Cork is Ireland's second-largest city and offers visitors a wide range of superb attractions in the city itself and in the nearby areas.
One of Ireland's best-known attractions, Blarney Castle, is located a short 25-minute bus ride from Cork. It's probably one of the most popular day trips from Cork.
Feel free to kiss the famous Blarney Stone if you want to brush up on your eloquence. Otherwise, you can happily spend a few hours wandering in the magnificent gardens that surround the castle.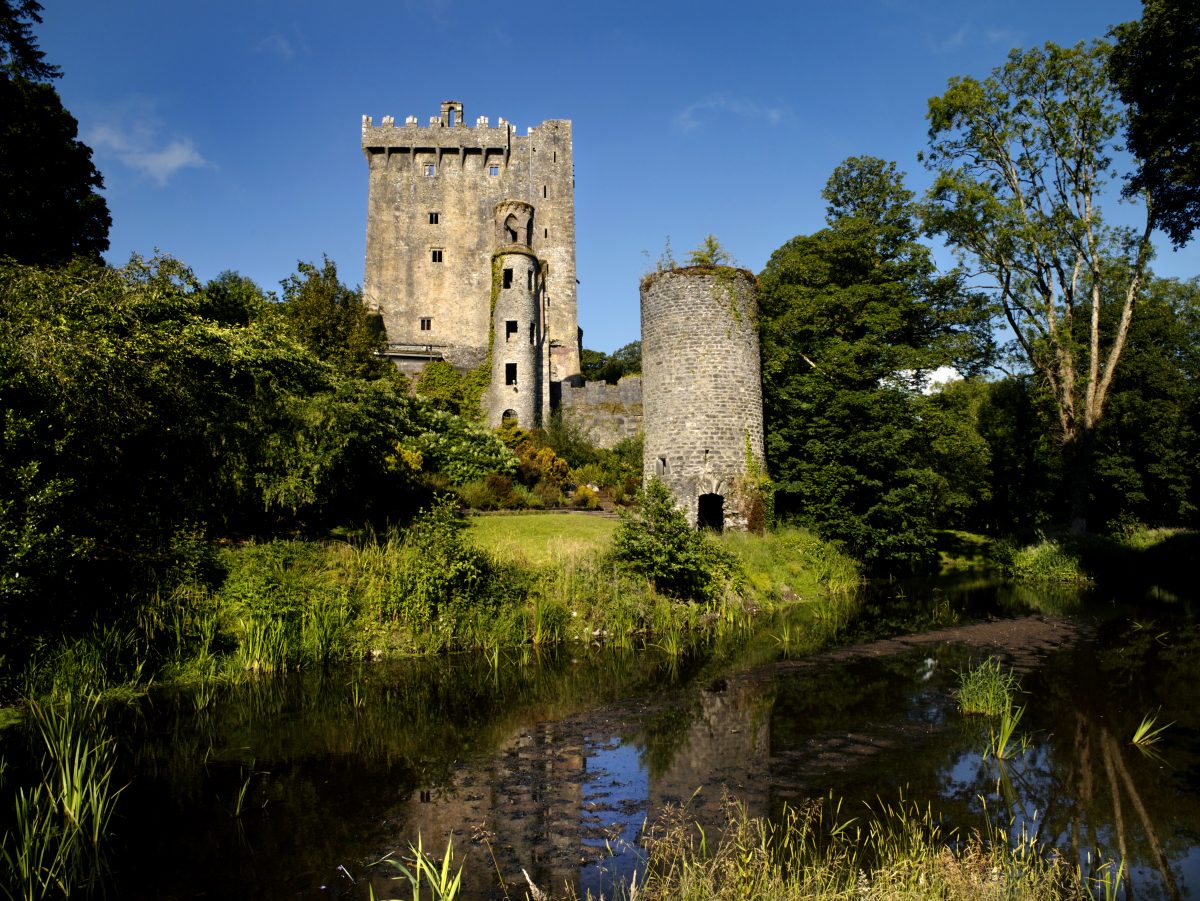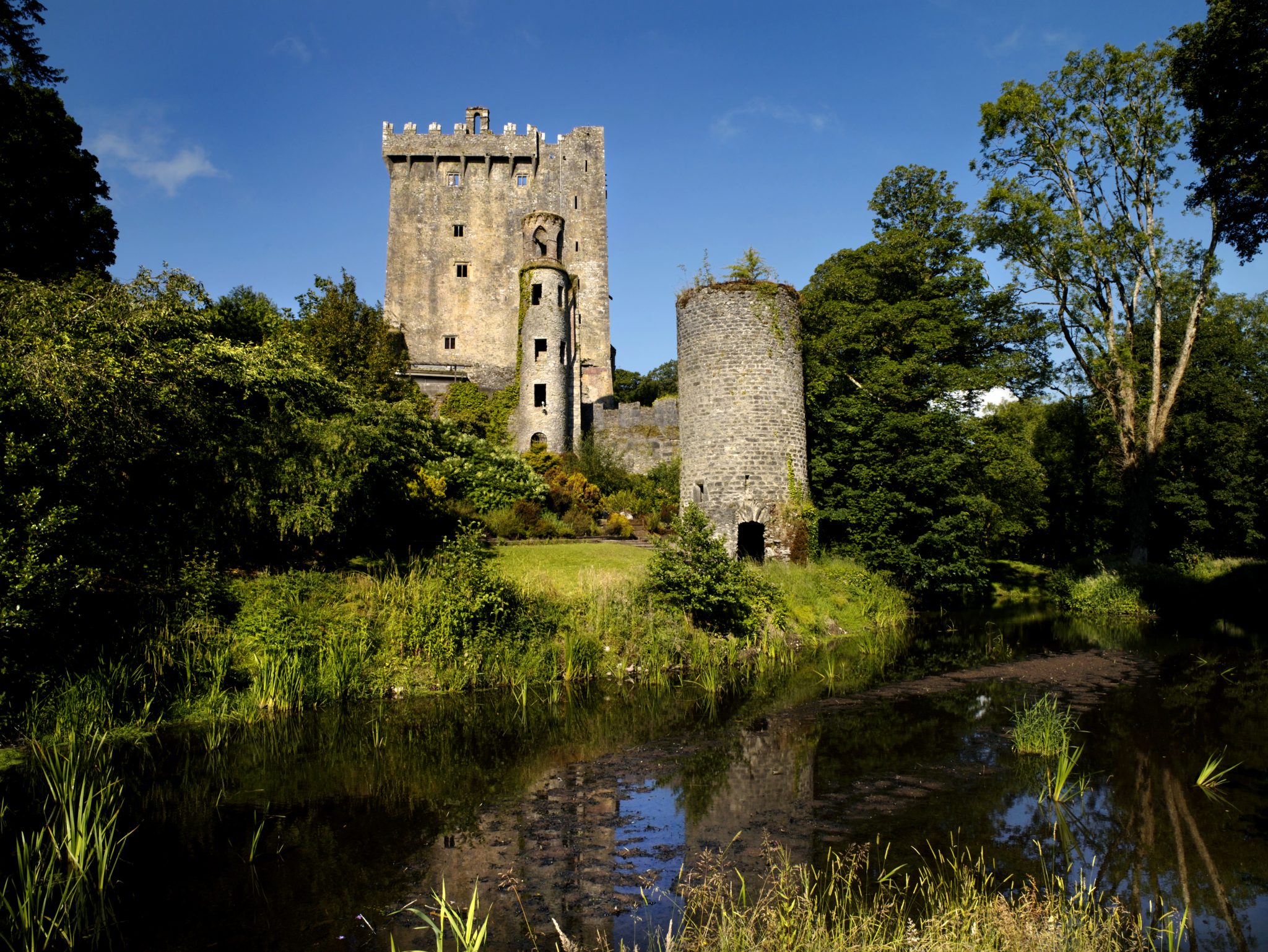 The Crawford Art Gallery and the Glucksman Art Gallery at University College Cork are definitely worth adding to your itinerary and as a nice bonus, both are free of charge.
You can also saunter around the grounds of the impressive college and visit the north wing of the Quadrangle to see carved stones featuring ogham (an early coded form of the Irish language).
Without a doubt, Cork is one of Ireland's best foodie destinations. Solo travellers can wander through the English Market in the city centre and sample many mouthwatering locally produced products.
Or if you fancy watching the world go by, visit the Farmgate restaurant for a bird's eye view of the market below.
Recommended: Cork: Guided Historical Walking Tour
Where to stay in Cork?
After a busy day of sightseeing, you can relax and unwind in The River Lee Hotel, situated on the banks of the River Lee and only a 5-minute walk from the heart of the city.
Contributor – Nils, Let's Go Ireland
46. Paris, France
No Bucket List is complete without mentioning Paris, which is one of the best places to travel alone in Europe.
It is renowned for its share of petty crimes like other big cities, along with being expensive and crowded, but these are the things that add character to the ever-glamorous city of France.
One of the best ways to see a lot of Paris in a short time is to hire a bike and ride along the canal and Arc De Triomphe.
Recommended: Paris: Louvre Museum Timed-Entrance Ticket
Hotel Arés is the cutest little boutique hotel a few minutes walk away from the Eiffel Tower, the best thing to do is watch it sparkle at night.
Recommended: Paris: Eiffel Tower Direct Access W/ Optional Summit Access
Because everything is so small and cosy you will fit right in wherever you go it's the perfect place to wander alone and get lost in the culture.
This area of Paris is quite safe, need to be aware of the usual pickpockets that are all over the world and obviously do not display valuables.
Contributor – Manpreet Kaur, Hello Manpreet
So which ones did you pick from this mammoth list of the best places to travel alone in Europe? If you have traveled to Europe before, which is your favorite place?
Let us know in the comments below. For more help to find out the best places to travel alone in Europe, check out the other posts
Pin Europe solo travel destinations
Please note: This post contains affiliate links, meaning I may earn a commission if you make a purchase by clicking a link (at no extra cost to you). Learn more.