A road trip through Spain is a dream, hands down. This post has over 20 Spain road trip ideas plus a detailed itinerary – I know you will be spoilt with choices to choose the perfect Spain road trip itinerary, but trust me, you will end up having a blast.
Whether you have one week in Spain or amazing 3 weeks in Spain, these Spain road trip ideas cover many regions – from the popular Barcelona to Seville route to the offbeat routes in the heart of the country.
In this post, you will get to know all about renting a car to self-drive in Spain.
Spain remains one of my favorite destinations in Europe, especially because it is perfect for road trips in Spain.
No matter how much time you have, you can hop in a car and end up having any of these epic trips covering some splendid Spanish villages amidst mountains, cities, and towns home to many UNESCO wonders to the spectacular coastal line home to turquoise beaches and fishing villages.
A road trip in Spain is the best way to explore the country's heart, to truly go beyond its famous cities and towns to get to know its fabulous villages and smaller towns.
Renting a car for a Spanish road trip is the best way to travel in this gorgeous country, especially if you travel for the first time.
This post has both kinds of Spain road trip ideas – action-packed Spain itinerary ideas for those wanting to see more in a short time as well as leisurely covering fewer places over time, traveling slowly.
WHY YOU SHOULD PLAIN A ROAD TRIP IN SPAIN
Apart from the amazing roads and gorgeous places, there are other reasons why Spain is one of the best places to have a self-drive holiday in Europe.
The rental cars and the fuel prices are cheaper, and it is easy to get them without much hassle(more details in next sections).
Also, unlike other countries, the parking costs are cheaper as well.
Plus, you can decide on a whim whether you want to add more places on a given day or slow down and cover as little as you want. 
In short, Spain road trip = complete flexibility. Plus, hiring a car in Spain is an excellent way to see most of the country in a short period.
What is the best time for planning these Spain road trip itineraries? Summer is the most popular time and is preferred by many – thanks to the weather and the holiday season.
But peak season also means expensive accommodation and food, crowded attractions, and more vehicles on the road.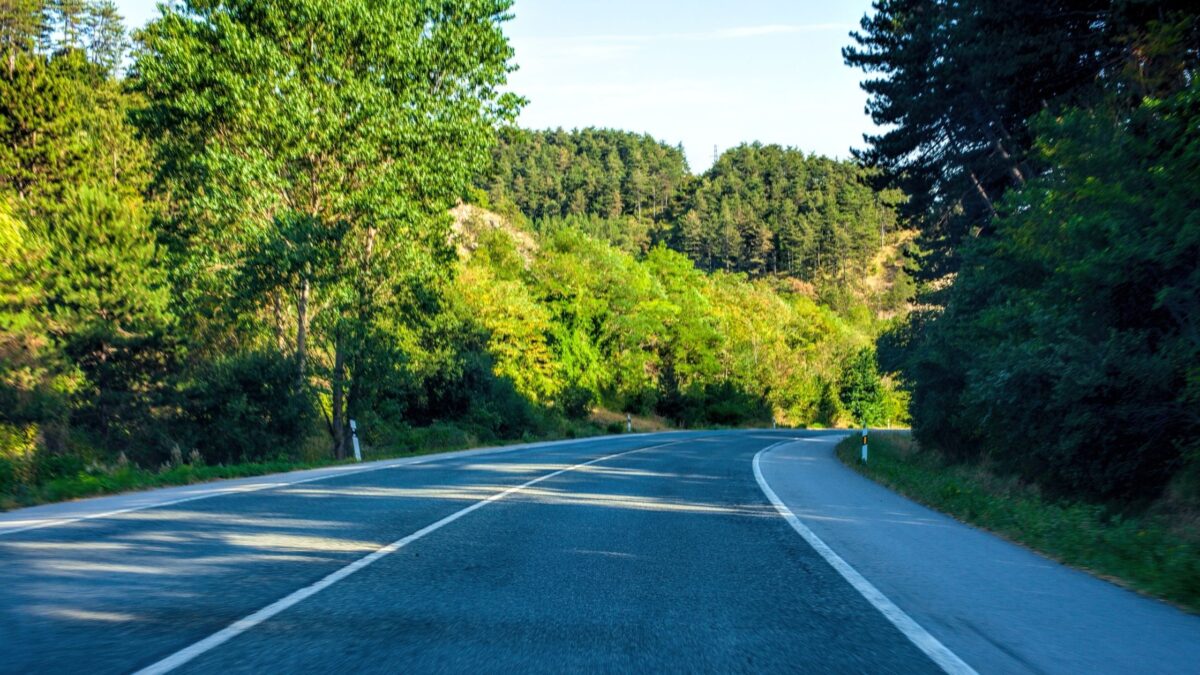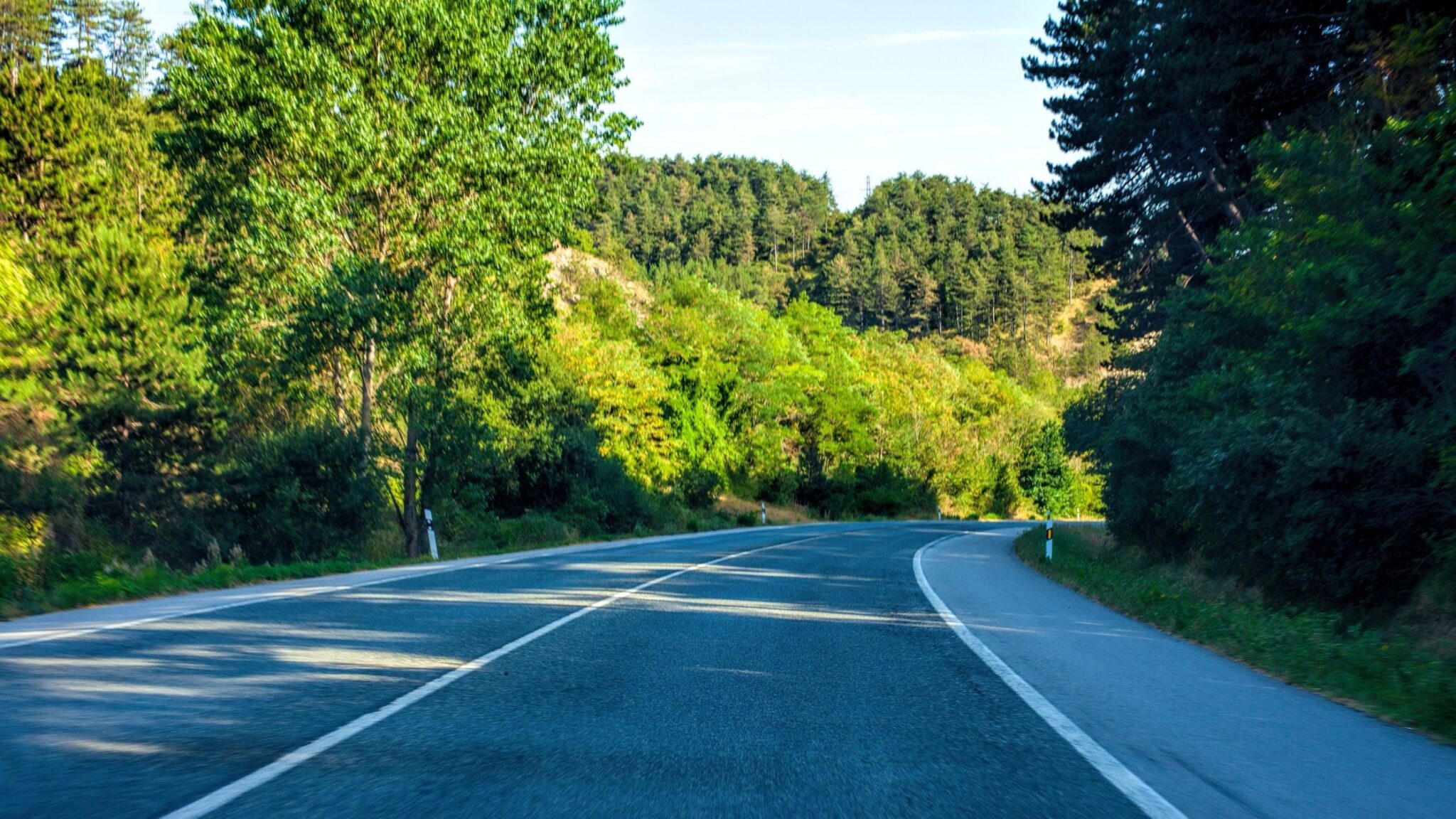 Hence, if you are like me that want to avoid all of the above, I'd recommend picking the shoulder seasons – Spring or Autumn months, or even winter as Spain is one of the best warm European destinations. 
These months are great to travel to Spain with your dog as well. if you prefer not overwhelming the pet.
During these times, you would hardly find other people on the road or in tourist spots.
If you don't mind crowds or prices, summer is, of course, the best time.
SPAIN ROAD TRIP IDEAS – HOW TO USE
I did a few of these itineraries for over three weeks spread apart, and I would say it was one of the most adventurous things I have done.
There are many itinerary combinations for seeing Spain by car. 
This self-drive road trip across Spain includes things to do at all stops, unmissable activities and recommendations, and also some useful Spain driving tips, and general things to help you plan a road trip in Spain.
Each Spain road trip itinerary in this post is categorized based on the regions and routes and the number of days you need.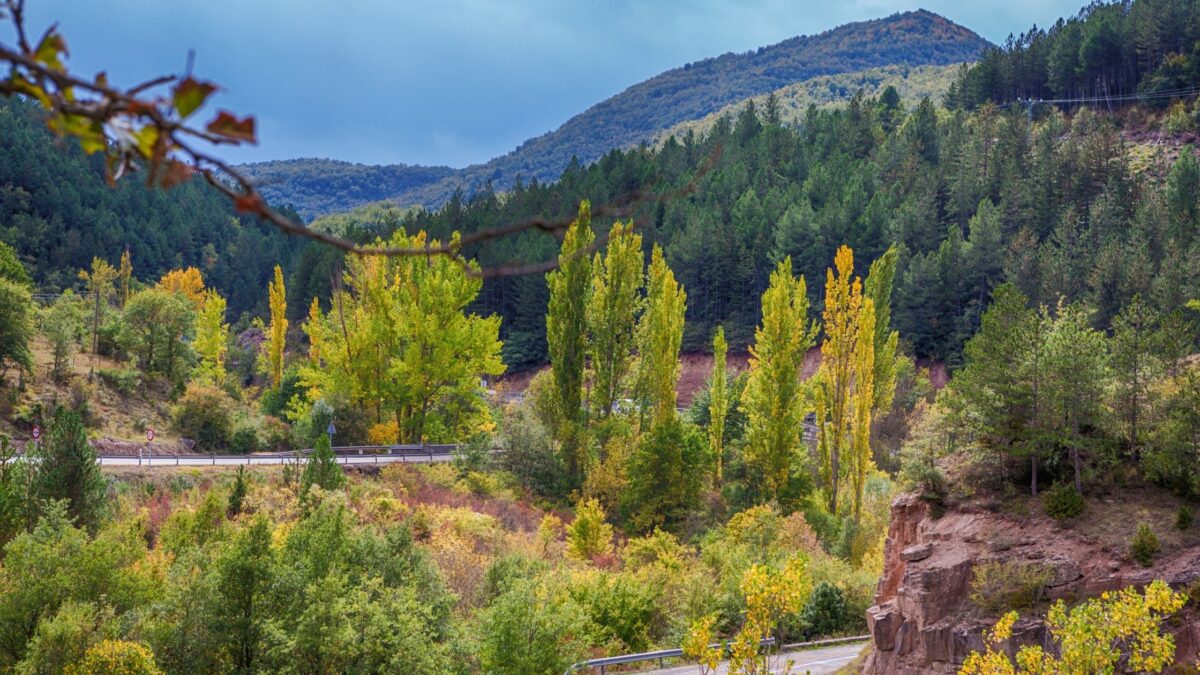 Depending on your time and the regions you wish to travel, choose a route and the itinerary accordingly from this Spain self-drive itinerary blog post.
If you are going to coming in and fly out from two different cities, I'd suggest taking the one-way rental option that allows you to drop at the same location from which you will fly out of Spain.
HOW LONG DOES A SPANISH ROAD TRIP TAKE?
The best road trip in Spain is the one that will make you feel amazing, the one where you can enjoy all the places you want to, without ending up exhausted or cramped.
You can go for a Spain road trip 2 weeks itinerary or plan a 3 weeks Spanish road trip, which you can also convert to a month-long road trip to Spain.
Ideally, you need to have at least 2 weeks if you intend to embark on a Spain road trip, which will let you cover the bare minimum destinations.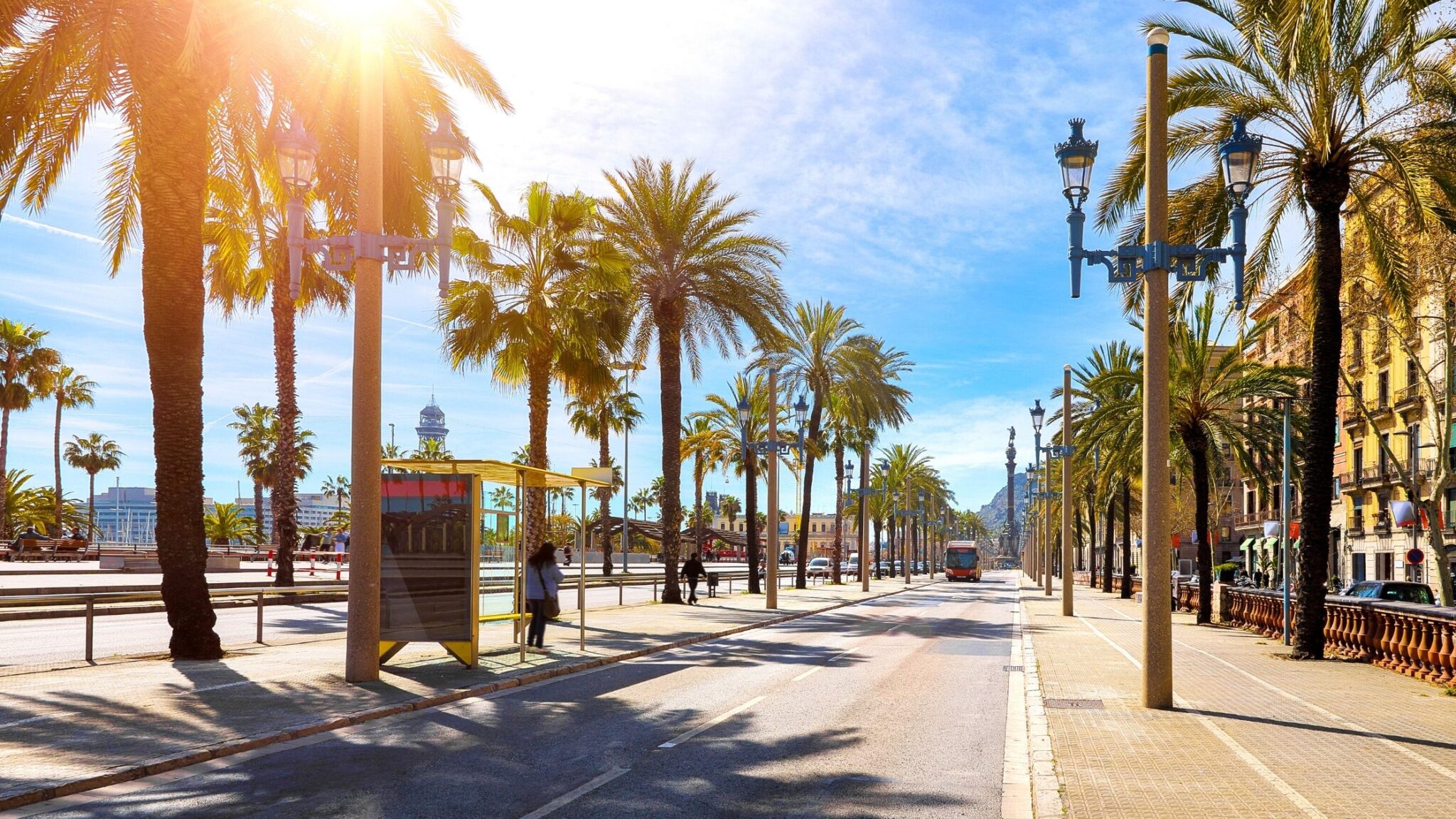 Although you can keep a Spain road trip can be as long or as short, a Three-week Spain road trip is the best period and a suggested ideal time frame.
It will allow you more time to squeeze in more attractions or take it slower if you prefer to do it without feeling rushed.
Anything less than this will make you driving across Spain most of the time, where it might be the case of more time behind the wheels rather than anywhere else.
To make the most of your time, go for all those suggested Spain day trips and guided tours in each itinerary. Add smaller towns instead of big ones if you want to go further off beaten Spain.
THINGS TO KNOW BEFORE HIRING A CAR
Here are some things to know before renting a car for a Spain road trip.
Car rental in Spain is simple, and it's one of the cheapest countries to rent in Europe. Since Spain is a popular road trip destination, you have plenty of companies' choices to choose from.
Also, renting for one way is available, which is best for different cities to get in and out of the country.
License requirement: For your driving holiday in Spain, you will need a driving license and an international driving permit(IDP) if you're visiting a non-EU country.
If you're an EU citizen, a driving license from your home country is sufficient.
Insurance: You need to have third-party insurance while renting a car in Spain. Find the best insurance quotes here.
Picking the right car: Picking the right car is essential for a hassle-free driving trip in Spain. Manual cars are in large numbers rather than automatic ones, so you will have limited book options if you are used to automatic cars.
Also, it is best to avoid bigger cars if that's not essential. Driving inland around villages and towns, particularly in mountain areas, is easier and faster with small-sized cars.
Touring Spain by car in these areas can take longer than usual, so smaller cars will minimize the effort and risks on non-motorway roads. Driving around Spain in a small car means no difficulties in finding parking spaces, and safer on all kinds of roads.
Ensure to book your car in advance: If you are going for automated cars, I recommend booking in advance, and also, if you are planning a trip in the peak months, it is best to book your car ahead.
Google Map over Car GPS: Most car rentals in Spain charge additionally for the GPS. It is best to use Google Maps if you plan to buy a Spain Sim card or offline Maps.Me to save cost.
SPAIN ROAD TRIP ITINERARIES IN DETAIL
NORTH SPAIN ROAD TRIP – SAN SEBASTIAN TO SANTIAGO DE COMPOSTELA
ROUTE: SAN SEBASTIAN > HONDARRIBIA > BILBAO > SANTANDER > CANGAS DE ONIS > OVIEDO > LUGO > SANTIAGO DE COMPOSTELA
When: Spring and Autumn
Duration: 12 to 14 days
Distance: 800+ KM
Northern Spain is known for its excellent culinary platter, UNESCO world heritage sites, wine, gorgeous mountainous landscapes, and spectacular coastal line.
This road trip in Spain offers a great way to discover Spain's north in about 2 weeks minimum, covering the best of its cities, towns, and fishing villages.
This self-driving route Spain is one of the best to experience a country that is not very touristy. For the best experience, choose spring, early summer, or autumn months.
Begin from Donostia-San Sebastian or San Sebastian, the gastronomical capital of the country. You can spend 2 days in San Sebastian easily.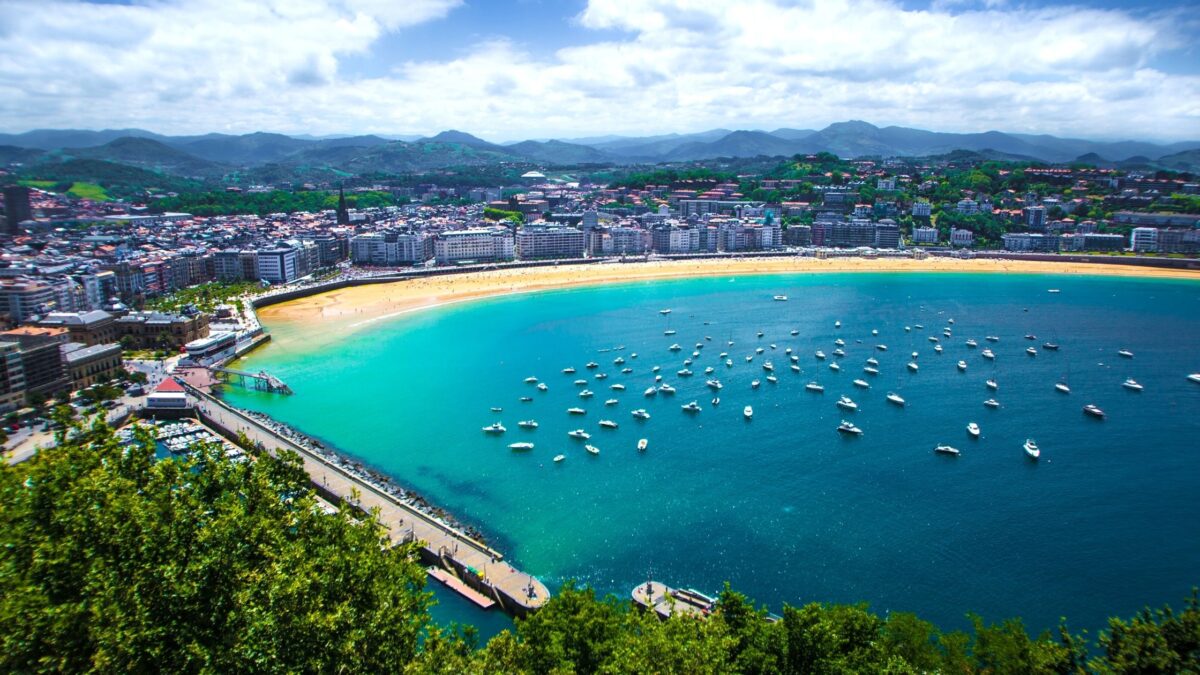 Check out the old town Parte Vieja filled with medieval monuments, the highest bars globally, and Michelin-starred restaurants, where you shouldn't miss the many types of signature pintxos or Basque tapas.
Stroll along the famous La Playa de la Concha beach. Explore the heart of the city La Concha. Visit the local market Mercado de la Brecha to taste the local delicacies.
Recommended San Sebastian tours:
Next, plan a half-day or a day trip to Hondaribba, a tiny fishing village bordering France – known for its stunning beach and rich old town in the Casco Viejo neighborhood. Explore the castle El Parador and the medieval square Plaza de Armas.
After dipping on the beach, leave to Bilbao, one of the best cities in northern Spain. Although it's possible to cover most of the city in a day, it would be a bit hurried.
Spend 2 days checking out the highlights, including the famed museum of Guggenheim, the old town area Ensanche, the Neo-Baroque styled oldest theatre in the town – Teatro Arriaga, La Ribera Market, and the art museum Museo de Bellas Artes.
Enjoy a funicular ride to the top of Mount Artxanda for sweeping views of the town and beyond.
Recommended Bilbao tours:
Head next to Santander, the capital of Cantabria from Bilbao, which is a 1-hour drive. You can spend one day in Santander or two if you want to relax a bit. The town is known for its national parks, castles, and coves.
If you are a nature lover or enjoy the outdoors, spend time exploring Cabarceno Natural Reserve and Reserva Natural de las Marismas in Santoña, home to many wild birds. You need a day to check out both.
Also, visit Castro Urdiales, home to a castle, church, lighthouse, and other medieval monuments.
Recommended tours in Santander:
From Santander, continue your Spain road trip to the Asturia region to arrive at Cangas de Onis, its capital. I suggest you spend one day in Santander and keep the next to explore the below attractions on the way.
I recommend you stop at Santillana village, home to the gorgeous prehistoric Altamira Caves, over 13000 years old.
Check out San Vicente de la Barquera, a gorgeous fishing village home to a castle, the stunning cave Cueva El Soplao, and Gulpilluri beach.
If these are too many to cover on a single day, keep the first part – Santillana and Altamira.
Cangas de Onis is mainly known for the beautiful lakes and nature, dominated by Picos de Europa Mountains. Many hikers make Cangas the base to check out the trails in the mountains.
Within the town, check out the landmarks like the Roman bridge and the cathedrals.
Climb the top of Covadonga Sanctuary for majestic views if the weather is clear. Then, head to the gorgeous Lakes of Covadonga, a 35-minute ride from the center.
You can keep an extra day here to check out many interesting spots on the way to the next stop, Oviedo.
Head to a unique observation deck Mirador del Fitu, for enjoying spectacular views of the Picos de Europa Mountain range. Stop at the beautiful fishing villages Lastres and Tazones.
If you have one or more days to spare, you can include a stop at Gijon, a stunning coastal city with hill cliffs, beaches, and medieval splendor.
Your next stop is Oviedo, which can be explored in a day. Check out the medieval landmarks in the old town comprising fountains, cathedrals, Campoamor Theater, and museum.
On the way to Lugo, you can stop at another UNESCO world heritage site, the 8th-century cathedral Santa Maria del Naranco.
Lugo is one of the oldest towns in Europe, dating back to Roman times. It is home to the walled old town, which is a UNESCO site.
There is not much to do in Lugo itself beyond a day but based in Lugo. You can visit some amazing places like the fishing villages of Cudillero, Luarca, and Navia. Beah bums should check out Ribadeo, Peñarronda, and Playa de las Catedrales beaches.
Next would be the last stop on this northern Spain road trip itinerary. You will be heading from Lugo to Santiago De Compostela, where you can spend 2 days and an extra day checking out day trips.
On the way to Santiago, you can plan a day trip to the gorgeous Castle of Pambre.
In Santiago De Compostela, spend a day or two checking out its highlights – The Obradorio Square, Cathedral of Santiago de Compostela, where you should head to the rooftop for amazing views and other smaller cathedrals in the old quarter.
Visit the local market Abastos, home to many bars, cafes, and excellent seafood.
Stroll in the famous Alameda Park to enjoy splendid views of the city in the evening.
Plan a day trip to Rías Baixas wine region of Galicia, a one hour drive away from Santiago de Compostela for an albariño wine tasting tour. If you have more time, you could plan another day trip to A Coruña.
Depending on whether you have planned for 12 days or 15+ days, you can add the recommendations as suggested.
If you have more time in hand, you can even cross over to Portugal and extend this itinerary further.
NORTH OF SPAIN – SAN SEBASTIAN TO A CORUNA
ROUTE: SAN SEBASTIAN > SAN JUAN DE GAZTELUGATXE > SANTANDER > GIJON > CUDILLERO > A CORUNA >
Distance: 828 KM
Duration: 14 days+
When to plant: Spring, Autumn.
Another Spain Road trip in the northern part of the country can cover this route in 2 weeks, perfect if you don't mind exploring just a portion but slowly.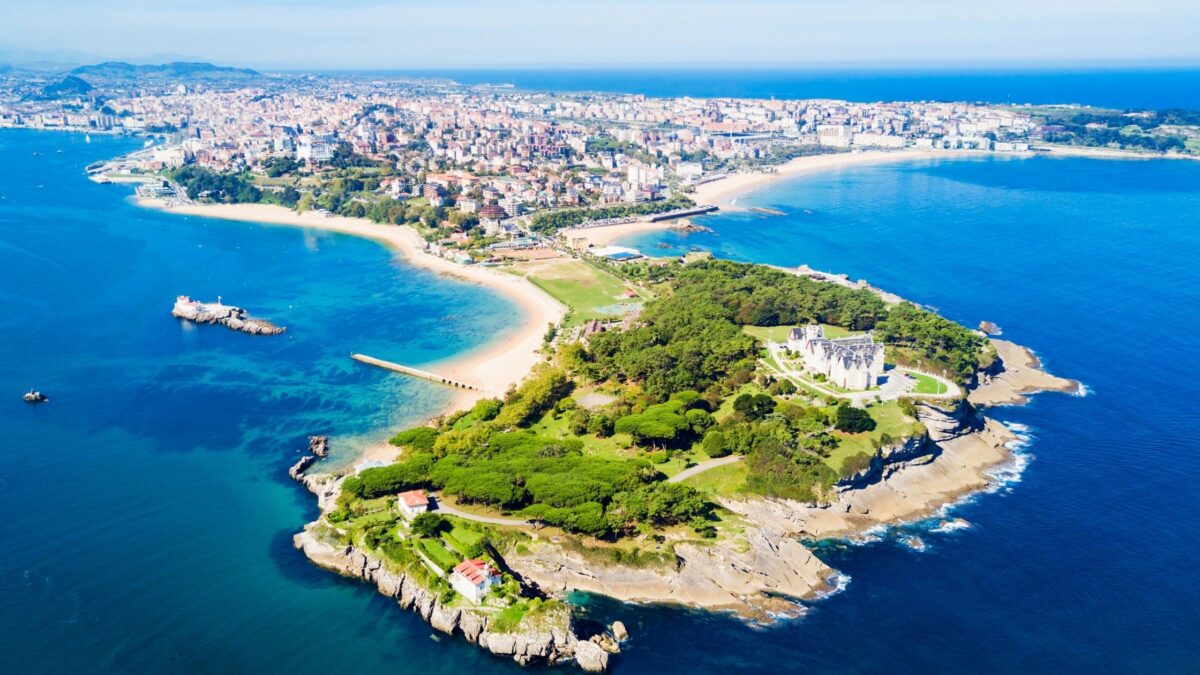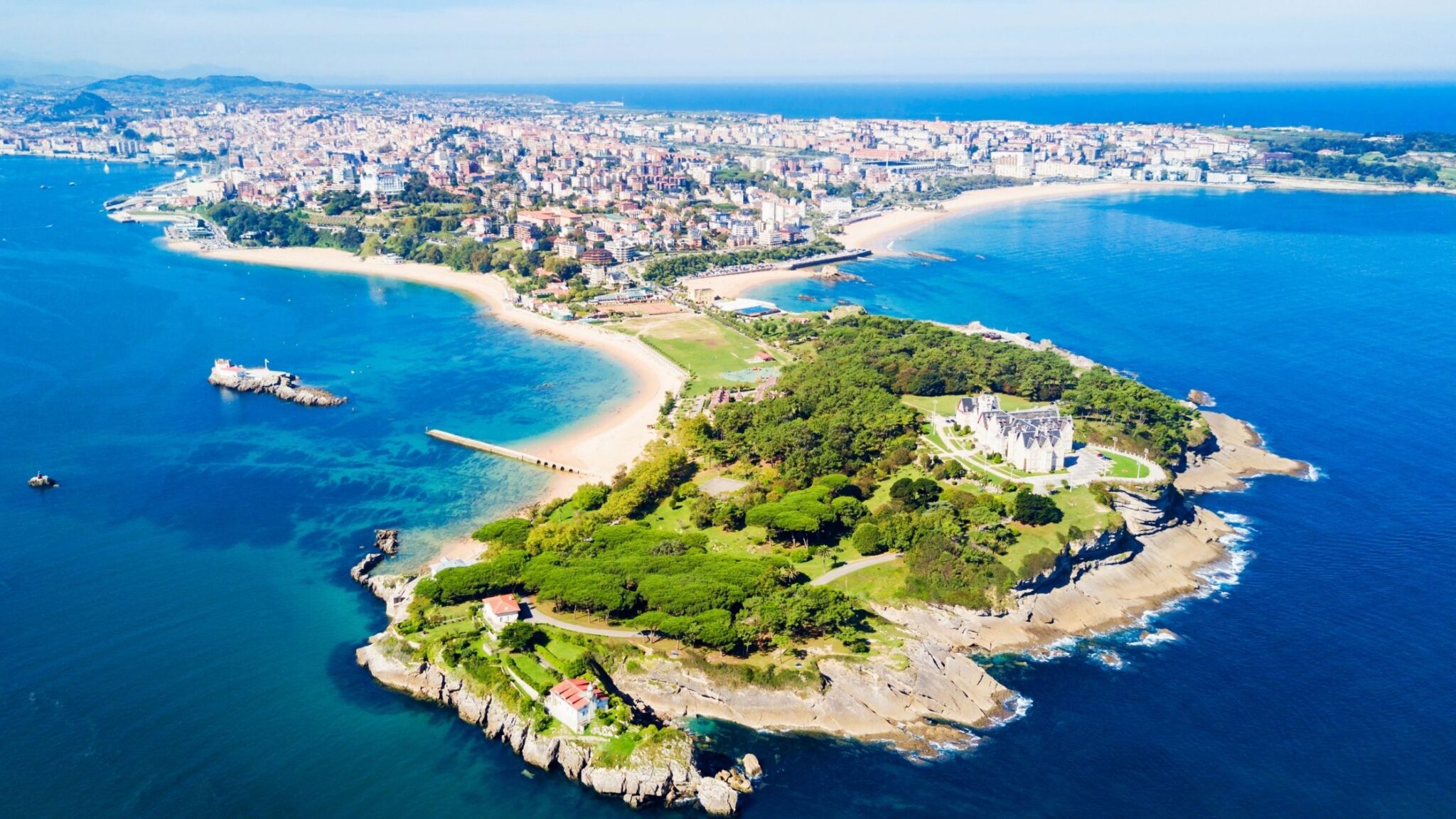 This is similar to the route above, with slight modifications. You can compare to combine these as per your preferences.
You can extend this trip by including more attractions on the way or reducing a few if you don't like them or have other preferences.
Start your north Spain road trip itinerary with a day or two in San Sebastian, exploring the highlights – from the old town to dining at one of the Michelin-starred restaurants to tasting the different Tapas.
Relax at the beaches and get ready to head next to San Juan de Gaztelugatxe off the Basque coast.
Game of Thrones fans will instantly recognize the enchanting hilltop stone fortress, Dragonstone, in the TV show. Capture the magnificent views before continuing your drive to Santander, the capital city of Cantabria.
Spend one or two days in Santander following the above itinerary for the city covering beaches, national parks, and caves(mentioned in the 1st road trip). If you have one more day, drive along the coast to visit a few amazing fishing villages.
On the way to Gijon from Santander, there are many places for you to check out, some of which you can cover if you have one or 2 days basing yourself in either city.
As in the previous itinerary, you can stop at Covadonga for fishing villages, lakes, and parks – Depending on your time and interest; you can easily spend up to 2 days in these.
Head next to Gijon, the beautiful port city, where you can spend at least two days or one if you are short on time. You can plan a few day trips to the surrounding villages, including Cudillero, explore the castles, apart from checking out all the attractions in the city.
Galicia is one of the best places as your last stop. In this region, you next have options to visit A Coruna, Santiago De Compostela, and neighboring villages similar to the first itinerary above. Adding these will extend your trip by at least 4 days.
GALICIA ROAD TRIP
ROUTE: A CORUNA > MALPICA > LAXE > CAMELLE > CAMARINAS > MUXIA > LIRES > FISTERRA > A LANZADA > SANTIAGO DE COMPOSTALA > VIGO > LUGO
Distance: 1000 KM
Duration: 13 – 15 days
When to plant: Spring, Autumn.
Another spectacular Spain road trip that will make you get away from the touristy destinations is the gorgeous Galician coastline in the northwest part of the country.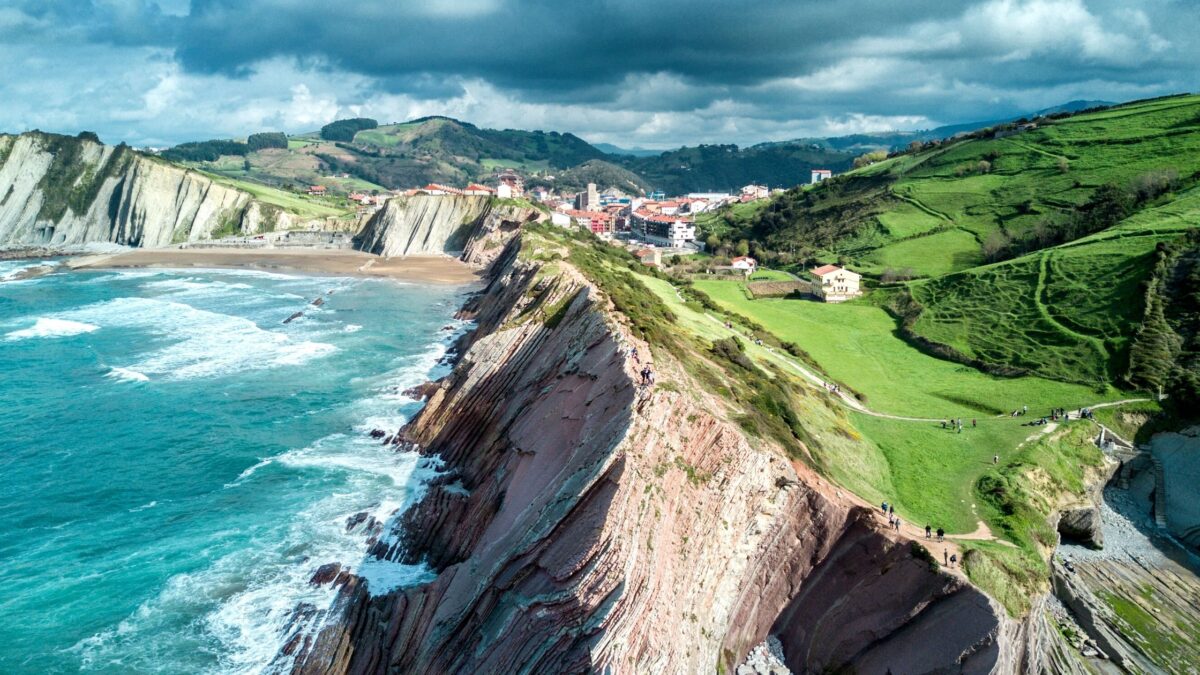 Including a few stops of the sacred Camino pilgrimage, this Galicia road trip itinerary can be kept as short as within 7 days to as long as over two weeks.
Lighthouses, rocky cliffs home to turquoise beaches leading to the North Atlantic ocean, seafood, sea breeze, dramatic views of the panorama – these are what you encounter in this route, which will make you fall in love with this slice of Spain.
This is one of the pretty Spanish road trips right along the coastline – Driving all the way watching the coast next to you is one of the surreal experiences.
Start this route from A Coruna, a pretty beach town where you can spend a day leisurely, admiring the beaches, lighthouse, and seafood. You can reach by flight from Madrid to A Coruna, or all the way by car from Madrid too.
The next day, stop at the gorgeous Vixia Herbeira cliffs and the village of Culleredo before continuing along the coast to your next stop Malpica.
Now, you have the option of basing yourself in Lires, which is the bigger town, to explore the others by short drives or cover the neighboring towns as stops first and then arriving at Lires.
Visit the towns of Muxia, Camariñas, Camelle, and Corme lying between Malpica and Lires. Depending on your time, you can include or skip some of these towns.
All of these amazing towns are home to stunning coastline filled with pretty beaches, lighthouses, rocky cliffs, and capes with viewpoints to offer 360-degree views of the horizon.
In these parts of Galicia in Northern Spain, you will realize how isolated it is from the country's most bustling tourist hubs. This route takes you deep into the country's heart – you will meet mostly locals and a few or no tourists at all, and all the attractions remain treasured away.
You can go sailing, try SUP boarding, and kayaking at the many fantastic Galicia beaches. Try the unique cuisines of Galicia, which you will absolutely love if you are into seafood.
After a few days, head next to Fisterra, one of the westernmost locations in Europe, for continued bliss and bounty. Fisterra is the ideal town to spend a couple of days for a bit of hiking, beach sports, and enjoying the Spanish villages.
After a day or two, continue around the coast to Santiago de Compostela, one of Spain's beautiful places.
I suggest sticking along the coast, although Google Maps may provide you with a few inland alternatives because half of the fun lies in enjoying the sweeping views comprising of amazing landscapes along the way on this road trip.
One of the country's sacred places and the Camino pilgrimage path's endpoint, explore Santiago for at least 2 days, checking out its historical attractions, including the old town, a UNESCO World Heritage Site.
Drive towards the coast again to reach the next town A Lanzada. You can spend a day in the town, and then take a day trip to Pontevedra to Vigo town.
From Vigo, plan a day trip to the beautiful Cies Islands, where you can hike and enjoy the secluded beaches.
This stretch is best for all watersports, splendid sunsets, and sunrise views. Add a visit to the amazing You can drive through within a day or spend a few days in each of these towns – the choice is yours.
On the way to Lugo, where you will drive away from the coast, you can stop at Sil Canyon, one of the magnificent gorges known for splendid views and underground wine ports.
Get to know traditional wine-making processes while you are here. You can also hike to some viewpoints before heading to Lugo.
Your last stop on this Spain road trip route in Galicia is Lugo city, known for its rich old town, gardens, and National Parks. You can spend at least 2 days checking out Lugo's attractions before ending this fabulous road trip itinerary in Spain.
ANDALUSIA (SOUTHERN SPAIN ROAD TRIP)
ROUTE: MALAGA > NERJA > GRANADA > CORDOBA > SEVILLE > CADIS > GIBRALTAR > MARBELLA > RONDA > OSUNA > SEVILLE
Distance: 1000 KM
Duration: 13 – 15 days
When to plan: any time of the year
One of the most famous regions in Spain is Andalucia, a dreamy province home to fantastic cities, beach towns, mountains, incredible historical ruins, amazing food, and nightlife.
If you are visiting Spain for the first time and looking at a trip of about 2 weeks or so, I'd highly suggest you pick this route.
Sure, this Spain road trip route includes many famous destinations, and you can expect crowds at any time of the year, but trust me, this is the route to immerse yourself in Spain for first-time visitors.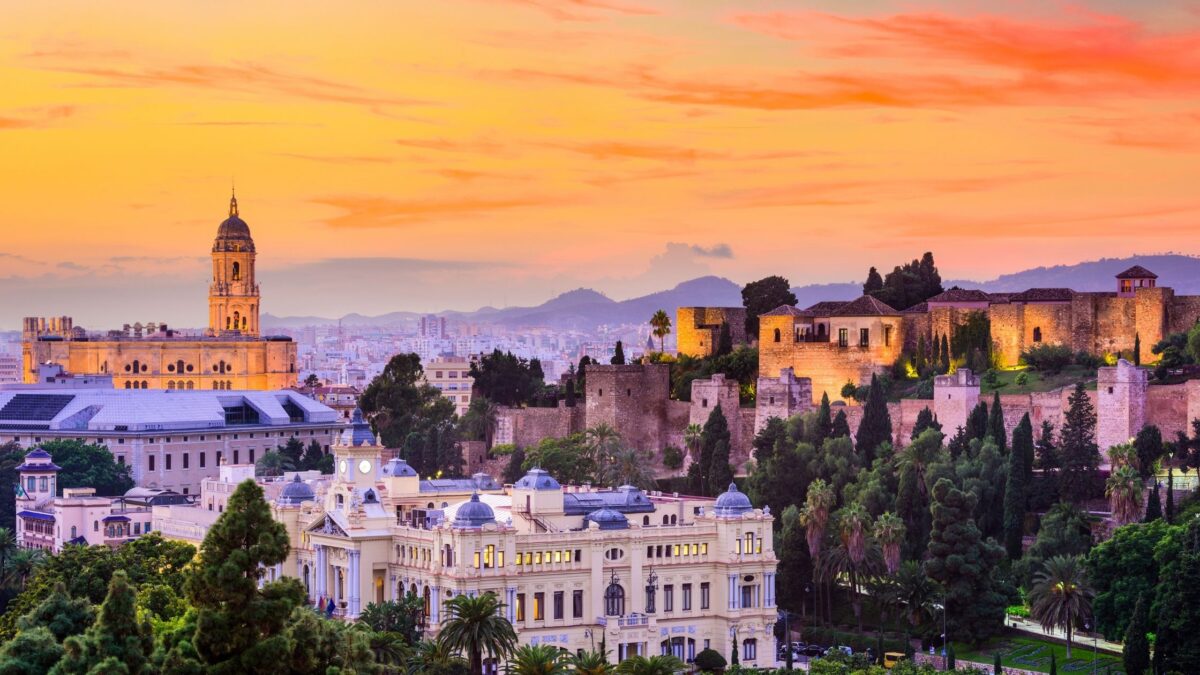 You can add more days and turn this itinerary into a full-fledged 3-week Andulacia road trip too, which is best. Or you can browse through places on a week-long road trip in Andulacia if you are short on time.
Majestic, mammoth fortresses atop hills, lavish architecture, castles, many fantastic historical sites, mountains, and beaches are the elements that makeup Andalucia astounding.
It's the region with the most UNESCO World Heritage Sites in the country, another reason for you to choose this itinerary.
Thanks to compact towns, it is possible to see and do more on this route, so it is one of the famous self-drive Spanish road trip itineraries.
This road trip loop can be started anywhere, depending on where you will be arriving. This itinerary begins at Malaga and ends in Seville, which you can reverse if Seville is where you will arrive.
Spend 2 days in Malaga, visiting its Alcazaba, the Moorish fortresses, the Roman Theatre, cathedral, and many museums, including Picasso's home. Relax at the beaches, try the cuisine and drinks.
Keep a day for exploring the whitewashed Andalucian villages or pueblos from Malaga, including Mijas.
Spend a day checking out the small yet pretty town of Nerja. On the way next, visit Torre Del Mar and Frigiliana, beautiful Moorish villages.
Head next to Granada, one of the beautiful towns in Spain. Admire the spectacle of the Alhambra complex, one of the iconic landmarks in the country. One of the most visited sites in Spain, explore its many palaces and gardens while enjoying the incredible views from the top.
Depending on your time, you can spend one or two days in Cordoba next, one of Spain's best cities for its enriching history, architecture, and religion. Check out its famous monuments, colorful cobbled alleys, and stunning views.
Continue your drive to arrive at one of the top 10 places to visit in Spain – the city of Seville.
Home to flamenco dance, a vibrant maze of cobbled streets, UNESCO world heritage sites like the splendid Alcazar and royal plazas, you can spend a week just exploring Seville and around itself.
After enjoying the Tapas bars, monuments, and colorful streets of Seville, head next to Cadiz, the oldest city in Europe, dating to prehistoric times, spend a day going around the neighboring villages around Cadiz before heading to Gibraltar.
Gibraltar is not a part of Spain but rather a British overseas territory, known for its stunning rocky landscapes, tunnels, caves, and hiking trails. You can spend one to two days here. You might have to check on the visa based on your nationality, though you intend to add it to your route.
On the way next, follow the coast to visit a few Andalucian white villages, including Benahavis and Casares, before reaching Marbella, the seaside resort town.
You can spend two days in Marbella before heading to Ronda, the wonderful hilltop town, where you can spend a day, before heading to Setenil de las Bodegas.
Before heading back to Seville, your last stop is the town of Osuna, one of the Game of Thrones filming locations, where the Roman Theater was the venue for a scene including the Mother of Dragons.
Wrap up this epic itinerary at Seville, having tried some more Tapas and Sangria.
CASTILLE LEON ROAD TRIP
| | | |
| --- | --- | --- |
| ROUTE: MADRID > TOLEDO > AVILA > SALAMANCA > ZAMORA > VALLADOLID > LEON > ARANDA DEL DUERO > PEDRAZA > SEGOVIA > EL ESCORIAL > MADRID | | |
| | | |
| DISTANCE: 1000 KM | | |
| | | |
| DURATION: 10 – 14 days | | |
| | | |
| WHEN TO PLAN: SPRING, AUTUMN | | |
One of the amazing road trip itineraries for Spain is this route that takes you through the Central region of Castille Leon. Spring and Autumn are the best months to embark on this drive in Spain as the summers are hot while the winter months are cold.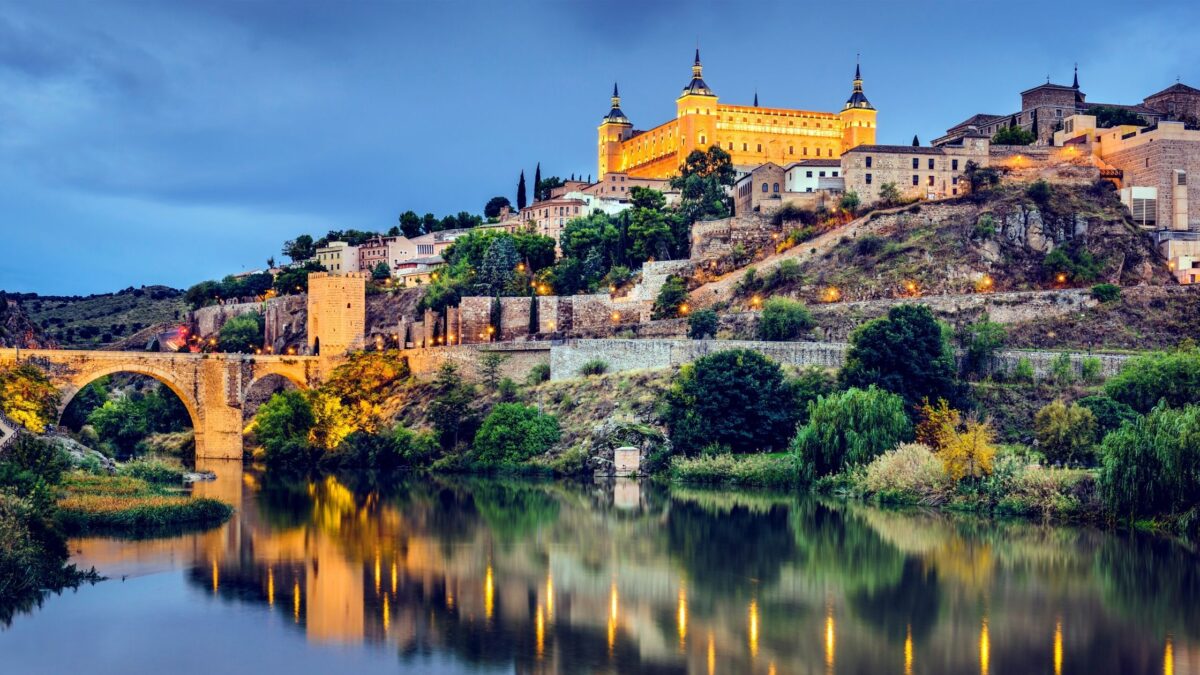 You can witness the beautiful rugged mountains carpeted with colorful wildflowers of spring. You will cover pretty towns along the winding roads, hilltop villages, and some amazing UNESCO sites on this Spain road trip itinerary. You can cover this route within a week or stretch it up to 2 weeks, the ideal being around 10 days.
After checking out the capital Madrid for a day or two, begin your trip on the road by taking the day trip to Toledo, one of the most well preserved old towns in Spain, to explore its UNESCO World Heritage Site filled with amazing ruins.
Drive next to Avila, a small town famous for being home to the well preserved, Romanesque style medieval walled old town. Get transported back in time as you wander through the old quarter's cobbled stone streets, the walls, and the square lined with cathedral and other medieval buildings.
You can spend overnight here or continue this self-drive Spain road trip itinerary to head next to Salamanca, one of Spain's most beautiful cities.
Sitting atop a hill, this gorgeous city is filled with pastel-colored stone buildings and the university, which is one of the oldest in Europe. A famous university city, Salamanca's old quarter is a UNESCO heritage site.
Spend at least 2 days in Salamanca checking out all the sights before heading to your next stop Zamora. Another beautiful town known for its richness in architecture in history, Zamora is the land of castles, churches, medieval walls, and other splendid medieval buildings – all of which you can check out spend overnight there.
Continue this Spain road trip from Madrid to arrive next to Valladolid, where you can cover the attractions within a day and explore any of the lovely vineyards, after which you can head to Leon.
You can spend one to two days checking out Leon, home to many beautiful medieval attractions, including cathedrals and museums.
Plan a day trip to Aranda del Duero before your next stop Pedraza, or head directly to spend a day or two in Segovia, one of the prettiest Spanish towns known for its UNESCO World Heritage Site – a walled city home to several stunning monuments.
Don't miss the gorgeous castle and the aqueduct here in Segovia, along with some interesting museums.
Before heading back to Madrid, you have one stop to make, at San Lorenzo de El Escorial. Housing the pretty royal monastery, palaces, and burial tombs are one of Madrid's famous day trips.
MALLORCA ROAD TRIP
ROUTE: PALMA > CALA D OR > CALA RATJADA> POLLENCA > LLUC > SOLLER > DEIA > VALLDEMOSSA > PALMA
Distance: 1000 KM
Duration: 7 – 10 days
When to plan: Throughout the year
One of the unique road trip itineraries in Spain to get off the mainland and explore one of its stunning islands – Mallorca.
You can complete this trail in less than a week or drive along the coast for up to 10 days on this self-drive Spain road trip itinerary.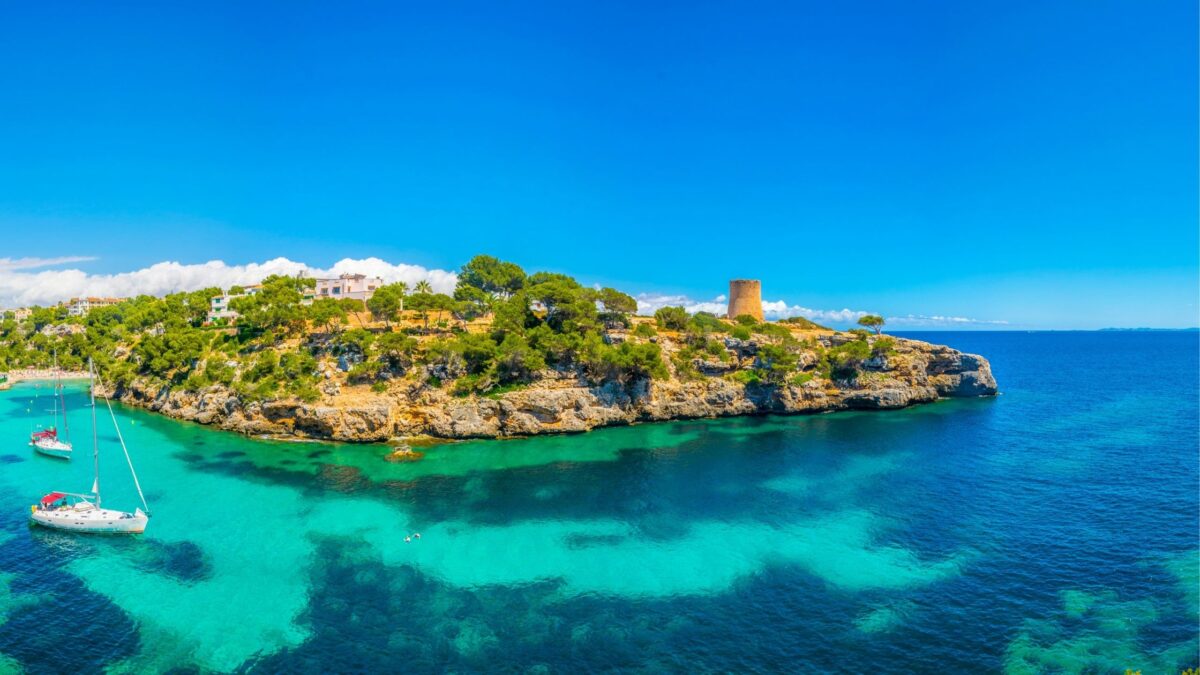 Home to the majestic Tramuntana mountain range, Mallorca is blessed with rich landscapes filled with rocky cliffs offering sweeping views of the ocean, fairytale villages, fortresses, and excellent food.
Start your trip from Palma, which would be your arrival point on the island. The capital city of Mallorca, Palma, is one of the underrated cities in Spain.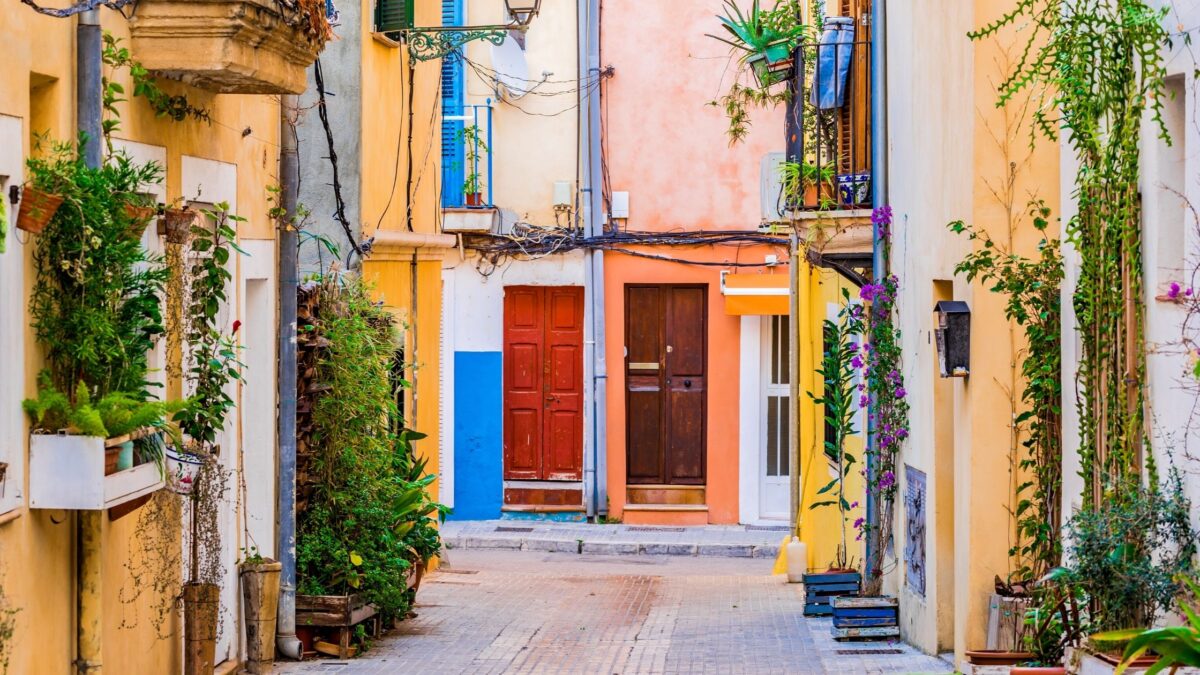 Spend a day to check out this beautiful city home to a huge medieval cathedral, a bustling morning market, and other Renaissance monuments.
From here, you have two options. If you want to keep this trip short, then continue next to Pollenca, and then afterward along the coast, circling Palma.
However, you can have a complete, bigger circle around the island if you have more than a week, which will mean you can visit the east coast of Mallorca.
Assuming the second one for this reference, drive from Palma to the east coast, all the way to Cala d'Or, a swanky resort town with some amazing viewpoints and beaches.
If you fancy a nice bungalow, spend overnight or more in one of the luxurious resorts. Or explore during the day, and drive along the coast to arrive at your next stop Cala Ratjada. You can spend a day or two exploring the nearby fishing villages and beaches.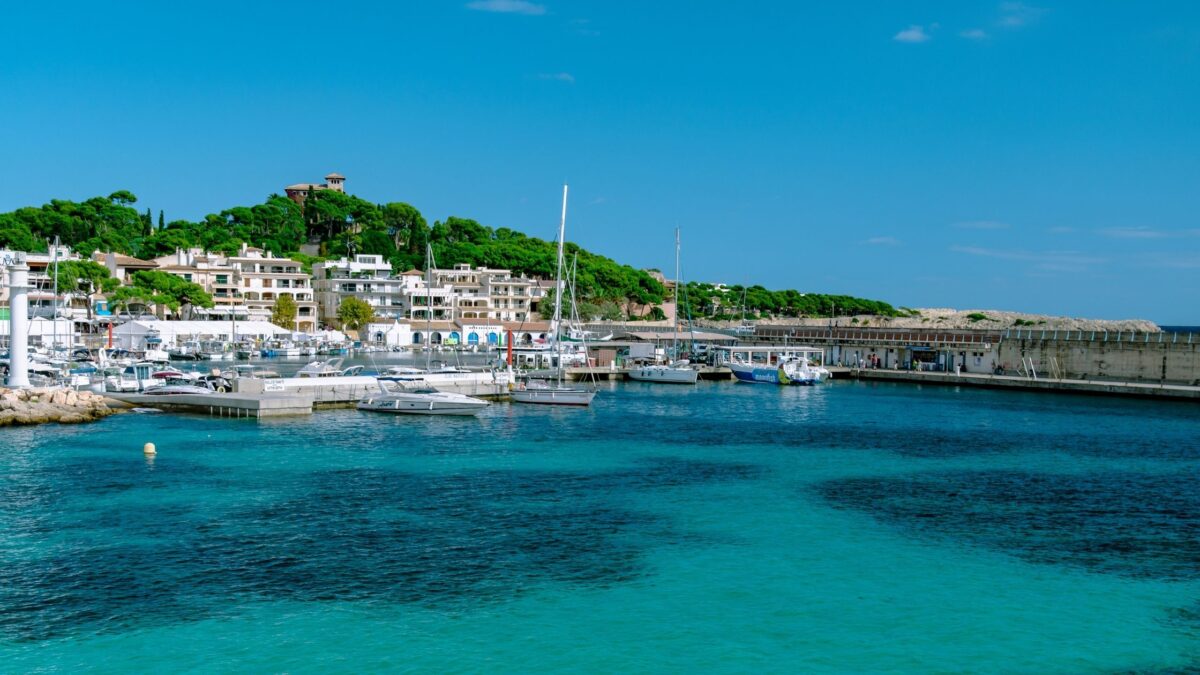 Continue to drive further to go to Pollença. It is one of the laidback towns perfect for a relaxing stop. One of the top attractions is the lovely Cap de Formentor, from where you can enjoy beautiful views of the sunrise.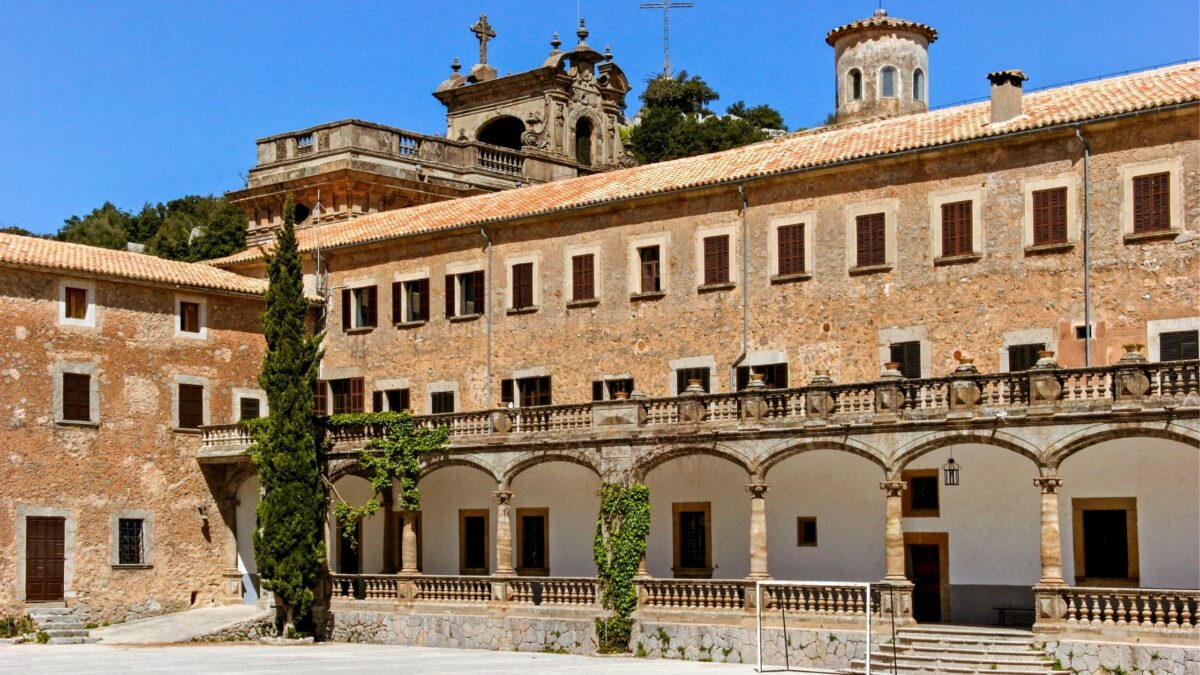 After a day in Pollenca, head next to Lluc, home to the sacred monastery, one of the country's pilgrim sites.
You can base here and spend the next few days checking out the enchanting villages of Fornalutx, Deia, Valldemossa, and Port Valdemossa.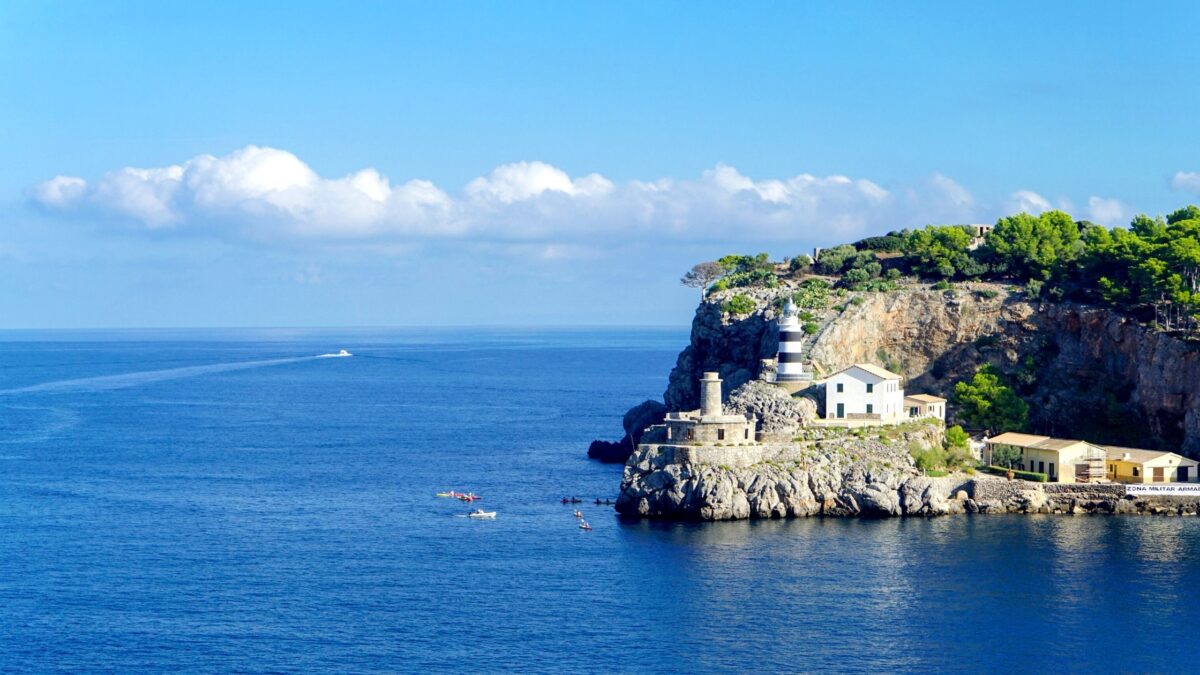 Also, spend a day or two in Soller, close to Deia, before winding up this trip in Palma.
OTHER TRAVEL TIPS
Here are a few more driving tips for Spain that you should check out.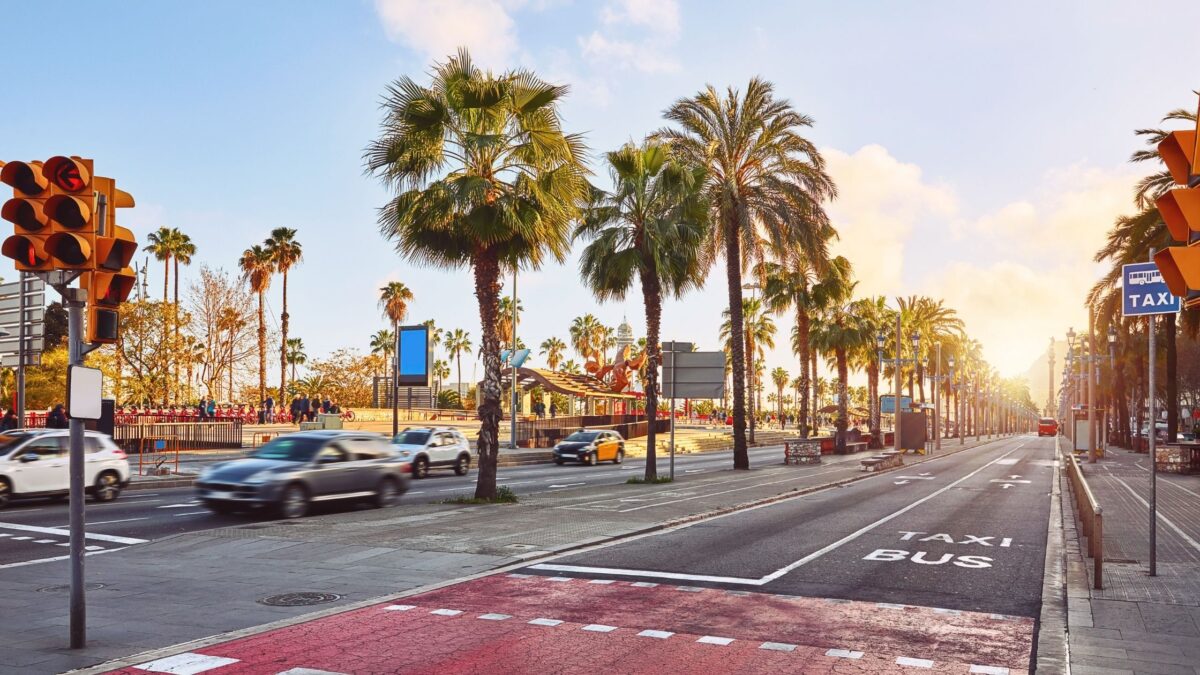 There are two kinds of roads in Spain, with main highways having a toll fee. In some regions, the fee is costly, so make sure to divert or go for alternatives.
Parking for travelers is usually marked in blue in the parking lots, close to which there would be ticket machines for parking. Buy the ticket and place it on the board.
Avoid combining drinking and driving – Although it goes without saying, sometimes on holiday, it's easy to get carried away, especially in Spain road tripping with one too many wine or Sangria. Watch what you drink if you have to keep driving.