There are many free things to do in Tenerife, the largest of the Canary Islands in Spain.
Known for its stunning landscapes, golden beaches, vibrant culture and moderate year-round climate, this Atlantic gem has many things to offer.
While it is true that the island offers plenty of luxurious experiences, you need not shell out a single dime to enjoy all that Tenerife has to offer.
In fact, there are multitudes of Tenerife free things to do which are waiting to be discovered.
From mesmerizing coastal walks and dramatic villages to awe-inspiring viewpoints and cultural hotspots, this post will guide you through an array of remarkable experiences that won't cost you a penny.
FREE THINGS TO DO IN TENERIFE
EXPLORE SANTA CRUZ DE TENERIFE
Immerse yourself in the vibrant ambience of Santa Cruz de Tenerife, the gorgeous capital city, one of the free things to do in Tenerife.
Stroll through its streets, adorned with stunning architecture, and be fascinated by the iconic Auditorio de Tenerife.
Indulge in the local experience as you wander through bustling markets, charming shops, and cosy cafes.
Make sure to visit Plaza de España, a beautiful square pulsating with energy and offering a glimpse into the city's lively spirit.
Discover the Tenerife Cultural Park, a treasure trove of the island's heritage. The entrance to this park is free.
Use this opportunity to learn about Tenerife's rich history and traditions, including insights into the indigenous Guanche culture.
Unwind at Parque Garcia Sanabria, a hidden oasis nestled in the heart of Santa Cruz de Tenerife.
Delight in the lush gardens, tranquil fountains, and panoramic views that provide a peaceful escape from the city's hustle and bustle.
The park offers free entrance and remains open throughout the year.
ATTEND THE TENERIFE CARNIVAL
One of the top free things to do in Tenerife is to experience the vibrant Tenerife Carnival festival.
This carnival is the island's largest and most exciting celebration, particularly in Puerto de la Cruz and Santa Cruz de Tenerife.
The festivities begin weeks in advance, but the official start is on the Friday before Carnival Tuesday, culminating with the 'piñata' the following weekend.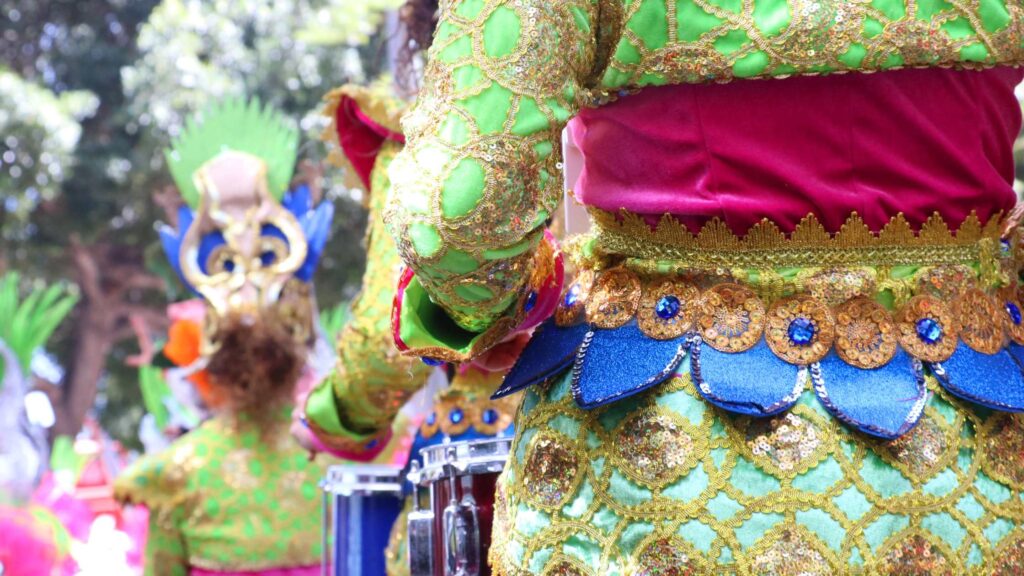 This exhilarating week is filled with processions, street musicians known as murgas, singing and dancing groups called comparsas, and lively costume contests that fill the streets with joy and celebration.
Check out the free Casa del Carnaval, which happens almost year-round in Tenerife. You will witness folks with dazzling, feather-bedecked costumes dancing to vibrant music on the streets.
You should not miss this to learn about the vibrant Spanish carnival culture. Whether you are staying in Spain for a week or more, I highly recommend planning your visit to the islands during this carnival.
SOAK UP THE SUN ON TENERIFE'S GORGEOUS BEACHES
If you are a beach bum looking to work on your tan lines, check out the gorgeous beaches, one of the free things to do in Tenerife.
Known for its untouched, sun-drenched beaches, from the golden sands of Playa de las Teresitas to the black volcanic beaches of Playa Jardín, each beach offers a unique atmosphere and stunning views.
Check out Duque Norte beach, also known as El Beril, which is South of the island, near Adeje.
This well-maintained beach is dotted with palm groves and is one of the beaches with access for people with limited mobility.
Visit Las Americas Beach, a popular tourist destination South of Tenerife. Its expansive, golden sandy shoreline is the perfect place to unwind and take in the dazzling ocean views.
If you want to have more golden sand beaches, check out Puerto de Santiago.
Visit Santa Cruz de Tenerife, known for its volcanic black sand beaches. While the black sand possesses a unique beauty, it can be uncomfortable on bare feet or any exposed body part that comes into contact with it.
If you have spare time, head to Playa de Las Americas, which features six unique beaches.
El Camison and Troya for calm waters with golden sand, Tierra Negra and El Bobo, apt for surfing and again for golden sand.
For a black sand beach, head to Los Cristianos or Las Vistas. Alternatively, you can stroll along the Los Cristianos seafront, which offers stunning ocean vistas.
Pack your beach towel, sunscreen, a pair of shades and a good book, and spend a blissful day under the warm Canarian sun. Some beaches also offer cabanas and umbrellas.
GO SURFING
Tenerife's volcanic formations create natural reefs and points, resulting in quality waves that draw surfers from around the globe.
The consistent Atlantic swells and favourable wind patterns ensure surfable waves throughout the year, making it one of the best free things to do in Tenerife.
The Northern coast of Tenerife, particularly around Santa Cruz de Tenerife and La Orotava, is known for its consistent swells and excellent surf breaks.
If you are a beginner, head to Playa de Las Teresitas, located near Santa Cruz, a popular spot for novice surfers with gentle waves and sandy bottoms.
For more experienced surfers, I recommend visiting El Socorro Beach near Los Realejos, which offers powerful waves that can reach impressive heights, providing an exhilarating challenge.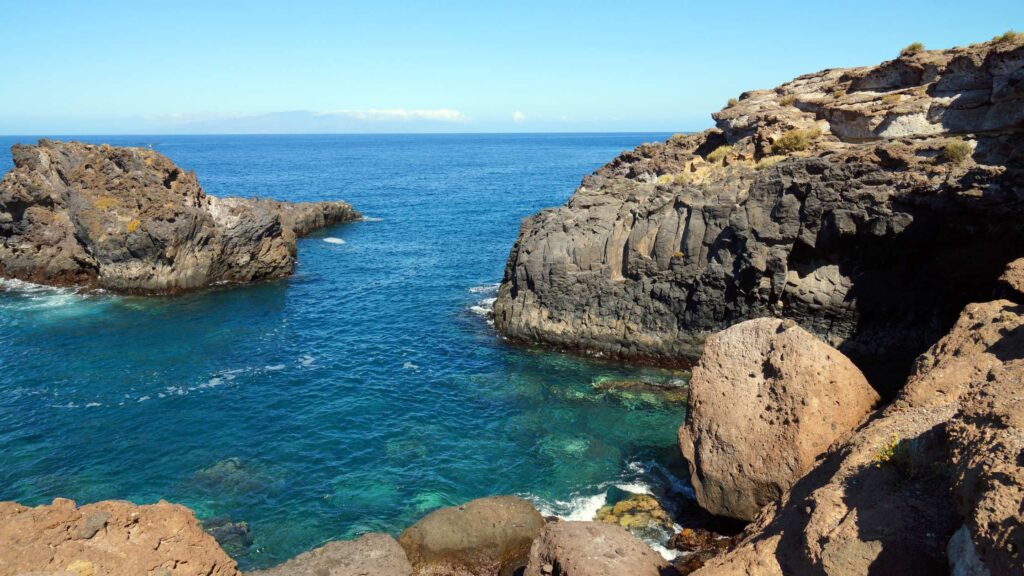 You will find popular surf spots on the Southwestern coast, such as Playa de las Américas and El Médano.
Playa de las Américas offers a vibrant surf scene with various breaks catering to different skill levels.
El Médano, on the other hand, is known as one of the best windsurfing and kitesurfing spots in the world, thanks to its constant winds and ideal wave conditions.
Also, you can surf or try bodyboarding at La Caleta, located in Adeje, near well-known beaches like Duque.
If you need a break from the sea, hit the seafront restaurants at La Caleta, which offer multi-cuisine seafood delicacies and beautiful sea views.
GO FOR A SWIM AT EL PUERTITO
Indulging in a swim at El Puertito, a semi-urban cove nestled near a quaint traditional fishing village, is one of the fun and free things to do in Tenerife.
El Puertito remains a well-kept secret cherished by those yearning for a distinctive experience.
What sets this hidden gem apart is its secluded nature, accessible only via a narrow and inconspicuous road, which keeps it relatively unknown to the masses flocking to more popular beaches.
The allure extends below the water's surface, where its fresh, crystal-clear waters unveil a captivating underwater world.
With its abundant marine life and vibrant seabed, the cove becomes an idyllic haven for scuba diving, snorkeling, and the chance to observe graceful green turtles in their natural habitat.
El Puertito invites you to immerse yourself in its dramatic coastal surroundings and the attractive realm beneath the waves.
If you want to stay at one of the beautiful villas in Tenerife, you can find many gorgeous ones in and around El Puertito.
MARVEL AT THE TEIDE NATIONAL PARK
Immerse yourself in the captivating beauty of Teide National Park, the most renowned park in Tenerife.
This UNESCO World Heritage Site and Natura 2000 Network member spawling 47,000 acres offer many activites for nature enthusiasts and adventure seekers alike.
At the park's centre, you will be greeted by an awe-inspiring volcano and Spain's highest peak, Mount Teide. The mountain is soaring to an impressive 12,190 feet.
Take in the astonishing views from afar and up close by embarking on a memorable climb.
Choose between hiking the trails or ascending via the cable car, which grants access to La Rambleta at 11,665 feet.
From there, continue your journey on foot, either to the summit along Trail 10 (Telesforo Bravo) with a required advance permit, or opt for scenic viewpoints like Mirador de la Fortaleza or the Pico Viejo lookout via Trails 11 and 12.
For a truly unforgettable experience, consider the exhilarating 5-mile route on Sendero 7 (Montaña Blanca).
Spend a night at the Altavista Mountain Refuge and rise early to reach the summit in time for a breathtaking sunrise.
Hiking is free, but you need to get a permit, which is also free, but you need to register online in advance since there are a limited number of tickets per day.
No permit is needed before 9:00 AM, allowing you to savour the majestic panorama.
Don't worry if hiking isn't your preferred activity. You can check out one of the Mount Teide tours, which provides expert guidance and includes the necessary permits and cable car tickets.
These tours offer a hassle-free way to explore the surrounding wonders, such as Cañadas del Teide, the Roques de García, and the iconic Roque Cinchado.
Recommended Tours:
Apart from the mountain peak, discover the joy of swimming alongside sea turtles or catching glimpses of playful sea lions at Teide National Park.
Optional activities such as ATV tours, sailing excursions, boat rides, or star gazing may incur additional costs.
Recommended Tours if you are looking :
Unleash your inner astronomer at the Observatorio del Teide, which attracts astronomers from all over the world.
From December to March, secure your spot on one of the free telescope tours and embark on a celestial adventure that will expand your horizons.
EXPLORE ANAGA RURAL PARK
While in the Canary Islands, why not take the opportunity to discover Anaga Rural Park, which is also one of the free things to do in Tenerife.
Covering over 35,000 acres of predominantly forested land, this area boasts charming tiny villages and settlements that will astonish you.
It is hard to believe that people still live in these unspoiled villages amidst such wild surroundings.
Anaga Rural Park has been designated as a Biosphere Reserve. It features three natural reserves (Pijaral, Ijuana, and Roques de Anaga), making it an iconic location in the island's northern part.
This natural paradise boasts spectacular hiking trails that wind through lush laurel forests, dramatic cliffs, and hidden valleys.
No wonder the park is known as the "Enchanted Forest" and is regarded as one of the most remarkable landmarks in Tenerife.
Check out the famous Trail of the Senses and the Afur to Tamadiste Beach trail culminating in Taganana.
This lovely 9-mile hike is relatively easy, allowing you to appreciate the gorgeous landscapes of cliffs and laurel forests fully.
Lace up your Hiking Boots, pack a picnic, and get ready to be mesmerized by the stunning vistas and abundant flora and fauna of this UNESCO Biosphere Reserve.
Recommended Tours
EXPLORE TENO NATIONAL PARK
Step into the past with a visit to Teno National Park, a fascinating open-air museum in Tenerife.
The park spans nearly 20,000 acres, boasting diverse landscapes from rocky cliffs to sandy beaches and is one of the free things to do in Tenerife.
Explore the historic village and uncover stories of pirates while marvelling at the ancient dragon trees.
These incredible trees, some over 1,000 years old, provide a glimpse into the island's rich heritage and are found in Icod de Los Vinos.
Visit the Los Pedregales Visitors Centre to dive deep into Tenerife's captivating history spanning millions of years.
Check out the Teno Rural Park, where you may witness the endangered laurel pigeon.
Don't miss the highlight of Teno Rural Park, Punta del Teno, a renowned lighthouse offering unparalleled views of the majestic Los Gigantes Cliffs.
Experience the thrill of standing at the island's westernmost point, where sheer cliffs meet the crashing waves of the brilliant blue ocean.
ADMIRE THE DRAGON TREE
If you find yourself in Icod de los Vinos in the northern part of the island, don't miss to catch a glimpse of the town's renowned dragon tree.
Resembling an umbrella, this tree is believed to be the oldest and largest of its kind worldwide and is one of the top free things to do in Tenerife.
While some claim it has stood here for 1000 years, it's likely a few centuries younger. Nevertheless, this twisted marvel is an ancient and extraordinary treasure.
Rather than visiting Drago Park, where there is an admission fee to see the tree, I recommend appreciating it for free from the delightful viewpoint of Plaza Andrés de Lorenzo Cáceres.
This elegant square dates back to the 16th century and offers an ideal vantage point to admire the tree's magnificence.
MORE FREE THINGS TO DO IN TENERIFE
DIVE INTO THE CANARIAN CHARM
Experience the resilient spirit of Garachico, a charming town nestled along Tenerife's rugged northern coast, one of the free things to do in Tenerife.
Head to El Caletón for an exciting and refreshing twist. Take a dip in the natural pools of Garachico formed by the lava flow from the 1706 volcanic eruption. 
Paddle or swim in this extraordinary location and appreciate how the pools are naturally and harmoniously shaped by nature.
If you have spare time, check out its historic centre, which exudes a captivating beauty, with Plaza Libertad stealing the spotlight.
Shaded by towering palms and Indian laurel trees, this vibrant square offers a glimpse into authentic Canarian life beyond the tourist crowds.
ADMIRE THE TOWERING CLIFFS OF LOS GIGANTES
Located on the West of Tenerife, this resort town is known for its towering rock formations caused by volcanic eruptions decades ago.
This is one of the free things to do in Tenerife and among the many places in Tenerife for insta-worthy pictures.
Gaze across the vast Atlantic Sea from the spectacular Acantilados de Los Gigantes, stretching your sight for miles.
EXPERIENCE FREE FOREST CAMPING IN TENERIFE'S NATURE RESERVE
Are you craving a camping adventure without breaking the bank?
Although spontaneous wild camping isn't permitted in Tenerife, the island offers a handful of secluded forest campsites nestled amidst majestic pine trees, far away from the hustle and bustle.
These hidden gems provide the perfect opportunity to reconnect with nature. While a permit is required (so plan and secure your spot in advance), the experience is extraordinary and is one of the free things to do in Tenerife.
WANDER THROUGH THE BOTANICAL GARDENS
Escape into nature at the Botanical Gardens, located in Puerto de la Cruz, one of the free things to do in Tenerife.
This peaceful oasis is home to a diverse collection of plants from the Canary Islands and various other global locations.
Stroll through the well-maintained Botanical Gardens of La Orotava and Iberoamericano Park.
Immerse yourself in the vibrant display of various plants, trees, and flowers, which creates a perfect opportunity to appreciate the island's exceptional beauty and learn about the unique floral ecosystem.
VISIT SANTA URSULA CHURCH
Visit Santa Ursula Church in Adeje, one of the other popular free things to do in Tenerife.
The church sits on an elevated plaza offering stunning views of the characteristic black ravines of the area.
It is a remarkable representation of religious architecture in the Canary Islands, constructed in the 17th century on the grounds of a previous hermitage.
Inside the church, you will find significant neo-baroque religious statues that are paraded through the streets during Easter week, as well as a baroque altarpiece in the El Rosario chapel and notable wooden carvings, including the Candelaria de Adeje icon.
Timings: Daily from 9.30 AM to 12.30 PM
BROWSE THE MUSEUM OF NATURE AND ARCHAEOLOGY
Experience the Museum of Nature and Archaeology, a highly recommended destination for history buffs and is also one of the exciting and free things to do in Tenerife.
The museum's main draw is its charming neoclassical building, which houses the world's most extensive collection dedicated to Guanche culture.
The museum has gained international acclaim for its expertise in mummy preservation and innovative exhibition techniques.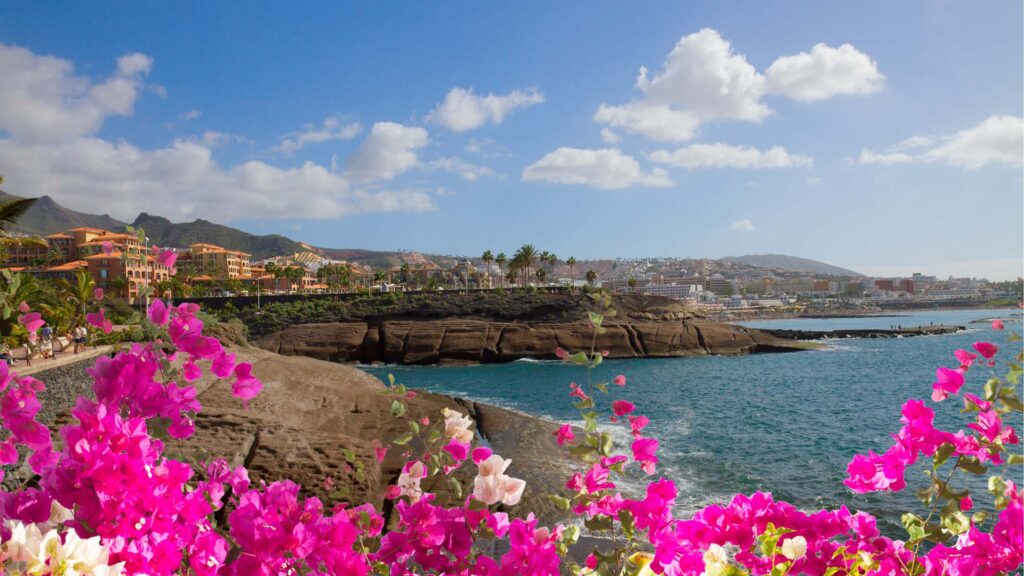 Delve into archaeological artefacts, ceramics, tools, and the captivating Guanche mummies.
The museum also features an exhibition on the geological origins of the Canary Islands.
This splendid venue also features a library, an archive, a conference room, a shop, and a restaurant, providing a comprehensive and enriching experience.
Admission to this museum is free on Friday and Saturday afternoons.
Timings: Tuesday–Saturday from 9 AM to 8 PM, Sunday–Monday from 10 AM to 5 PM
VISIT THE TENERIFE MUSEUM OF SCIENCE AND THE COSMOS
If you are inclined towards the outer world and want to learn and have the best cosmos experience, visit the Tenerife Museum of Science and the Cosmos, located in La Laguna, one of the free things to do in Tenerife.
This fascinating museum showcases interactive astronomy, physics, and natural sciences exhibits.
Engage with hands-on displays, explore the planetarium, and get fascinated by the universe's wonders.
Entrance to this museum is free after 4 PM.
Timings: Tue-Sat 9 AM – 8 PM; Sun-Mon 10 AM – 5 PM
INDULGE IN FINE ARTS AT MUSEO DE BELLAS
Immerse yourself in the inspiring Museo de Bellas Artes, housed within a magnificent neoclassical building painted in a charming cotton-candy-pink hue, one of the free things to do in Tenerife.
The main draw of this museum is the 14 exhibition rooms which showcase a stunning collection of paintings spanning the 16th to the 20th centuries.
You will be awe-struck and inspired by the prominence of Spanish, Canarian, and Flemish artworks, including masterpieces by renowned artists such as Ribera, Bruegel, Sorolla, and the compelling battle scenes painted by Manuel Villegas Brieva.
DISCOVER ARCHITECTURAL DELIGHTS AT TENERIFE ESPACIO DE LAS ARTES (TEA)
Unveiling the avant-garde touch of Herzog and de Meuron, the renowned Swiss architects and recipients of the prestigious Pritzker Architecture Prize, Tenerife Espacio de las Artes (TEA) boasts a striking presence.
Although you need to buy a ticket for the exhibitions within the galleries, it is worth taking a moment to step inside this architectural marvel, as entry to the building itself is free.
Crafted from dark concrete, its angular form is adorned with 1200 glass openings of various shapes, creating a visually captivating spectacle.
Don't forget to check out the fantastic downstairs library. It's an excellent spot to wander around, browse books, and get lost in a modern setting. Trust me; it's totally worth a visit!
DISCOVER THE ARTISTRY OF ADEJE
Immerse yourself in the captivating world of Adeje's murals, which grace the urban landscapes with over 600 square meters of artistic brilliance, one of the free things to do in Tenerife.
Created by the talented Tenerife artist Conrado Díaz Ruiz, these murals were commissioned by the town council.
The murals depict scenes from the town's agricultural heritage, showcasing its rich history and the prominence of banana and tomato farming in the 19th and 20th centuries.
TAKE FREE WALKING TOURS
Take in the vibrant culture of Santa Cruz de Tenerife through a series of captivating and free walking tours.
Led by passionate locals who take pride in showcasing their beloved island, these tours offer a unique opportunity to explore the city's fascinating history and remarkable landmarks. It is one of the free things to do in Tenerife.
On this two-hour Free Historical Tour of Tenerife, you will pass iconic sites such as the San Juan Castle, Guimera Theatre, and Tenerife Auditorium.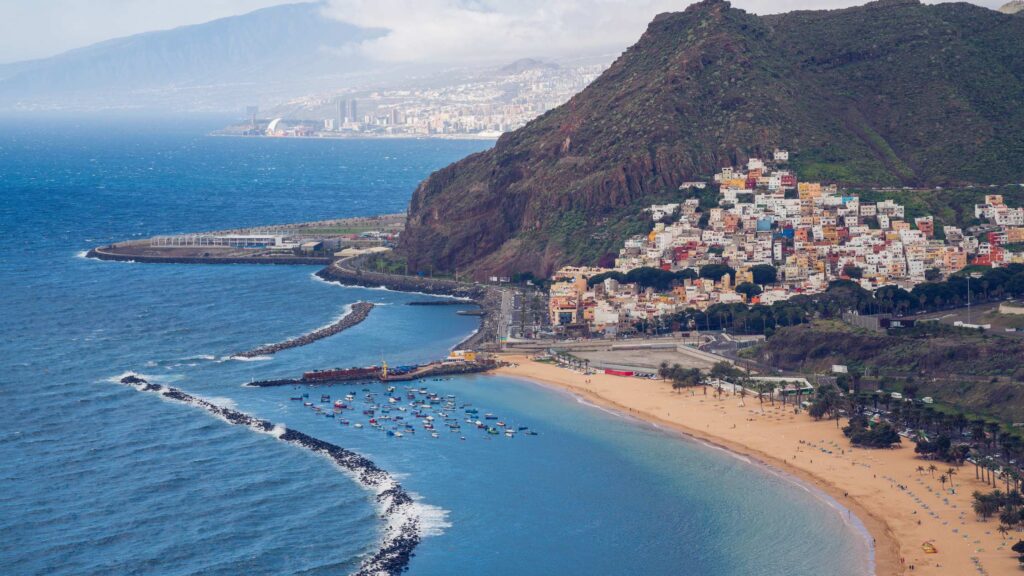 You will learn about the rich heritage of the city as your knowledgeable guide shares intriguing anecdotes and historical facts along the way.
For a deeper exploration, join the two-hour Tour of La Laguna, where you will discover architectural marvels like Casa Salazar, Santo Domingo Church, and La Laguna Cathedral.
These walking tours provide a glimpse into the city's fascinating past and offer a personal connection with the local community. 
FREE THINGS TO DO IN TENERIFE MAP