There are plenty of day trips from Munich that you can take if you have more than 2 or 3 days in Munich. From gorgeous lakes to fairytale castles to pretty towns rich in history and tradition – there are many destinations very easily accessible from Munich that give glimpses of Bavaria's beauty, culture, tradition and food.
Travel experts from around the world have shared the best day trips from Munich that you can plan. Whether you are travelling alone or planning a trip with friends or family with children – there are places for all kinds of travellers. Go ahead and give it a read to plan your next trip in Bavaria in Germany.
Beautiful Day trips from Munich – Fairytale Castles
Neuschwanstein Castle
Among the popular options for day trips from Munich is Neuschwanstein Castle, one of the most famous castles in the world. Its magnificent beauty serves as the inspiration behind Disneyland's Sleeping Beauty palace.
Neuschwanstein is a relatively 'young' castle, having been commissioned by King Ludwig II of Bavaria in the late 19th century. But it's a fascinating place to visit, and an air of mystery and intrigue surrounds its architecture, along with the man who dreamed it up.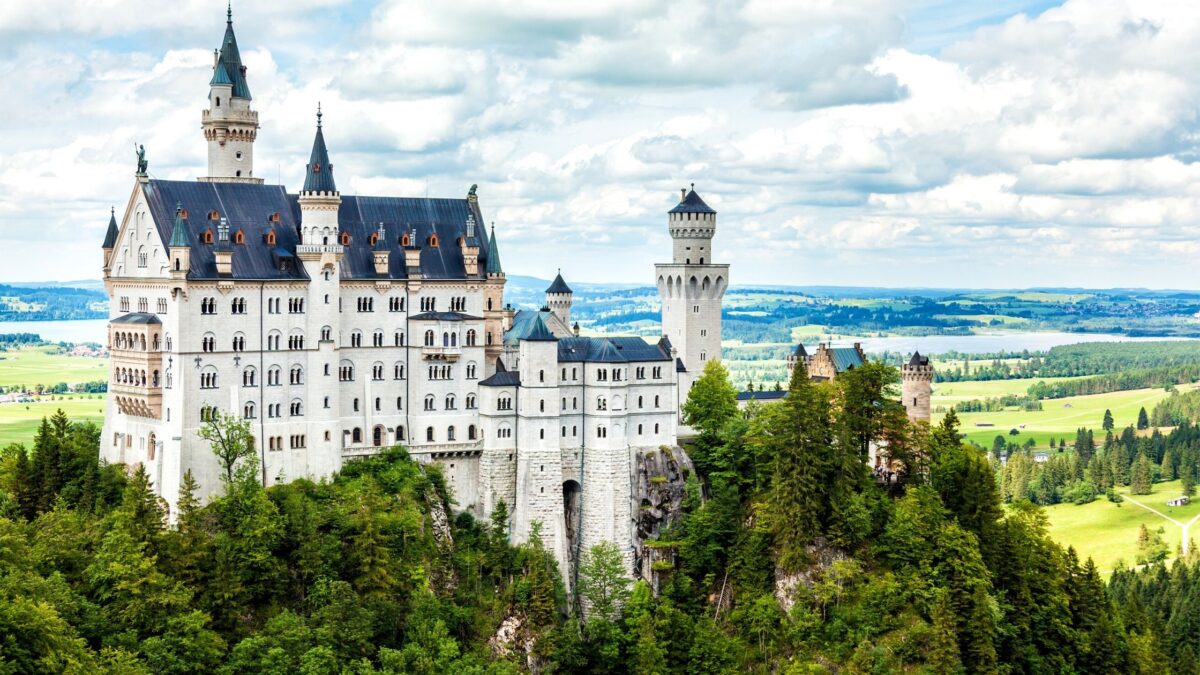 Once you arrive at the Castle you'll be enchanted by its appearance. Be sure to book a tour of the interior that is surprisingly quirky and interesting – you can buy tickets at an office below the Castle.
But leave time to also explore the walking tracks around the Castle, including to the Marienbrucke Bridge with its splendid view of the Castle from above (the surroundings look particularly flamboyant in Autumn – visit in October if you can).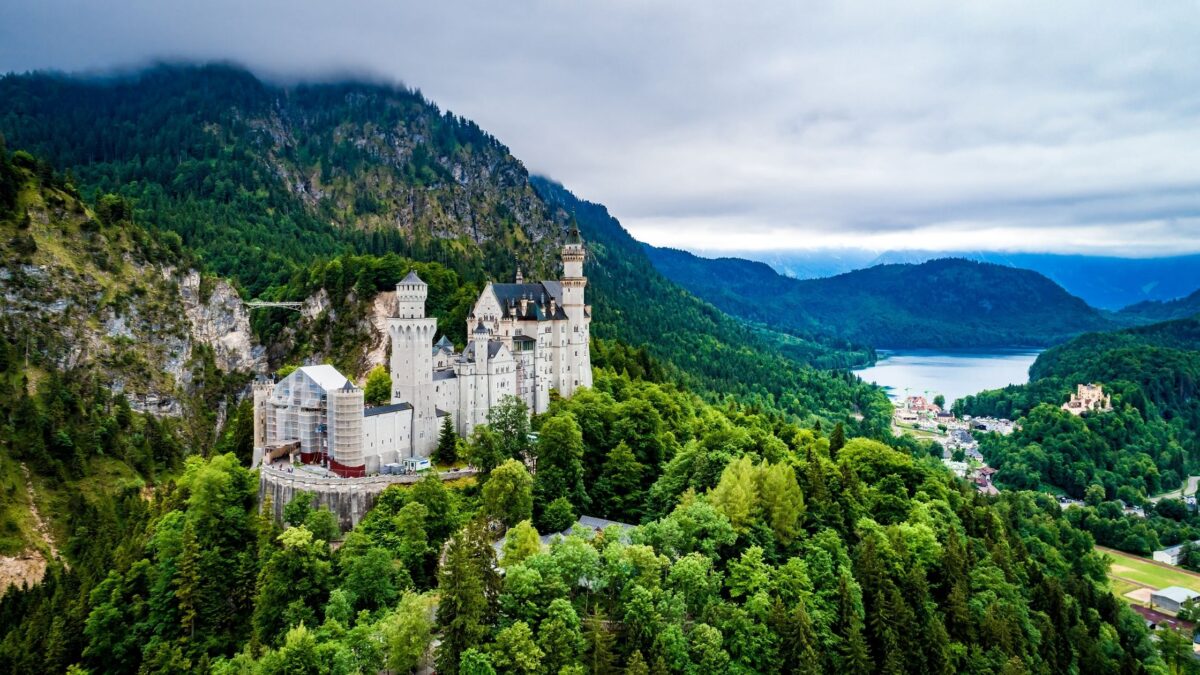 If you still have time to kill at the end of your visit, pop next door to the neighbouring Hohenschwangau castle where King Ludwig spent time as a child.
If you don't want the hassle of transport and standing in the queue to get tickets – the entry to the Castle gets closed quickly, due to massive influx of tourists, there are plenty of guided day tours that are available from Munich which will offer pick up and drop, skip-the-line tickets and more.
Here are some of them that I'd recommend you check out: A few combines Neuschwanstein with another castle Linderhof. You can also opt for a premium tour, or exclusive group tour if you are travelling in groups of 4 or more.
Check below for with fabulous reviews and booking:
How to get to Neuschwanstein?
The Castle makes an easy day trip from Munich if you have your own vehicle. In less than two hours, you'll be pulling up in one of the plentiful car parks ready to explore. But even if you don't have your transportation, you can take the long journey by train to Fussen and then a short bus ride to the Castle (buses 73 or 78 will take you there).
– Nadine Maffre, Le Long Weekend
Herrenchiemsee Castle
One of the excellent destinations for day trips from Munich is Herreninsel Island on the Chiemsee Lake. The small island in the middle of the lake is accessible by a regular ferry service. The island is home to a beautiful royal castle and gardens.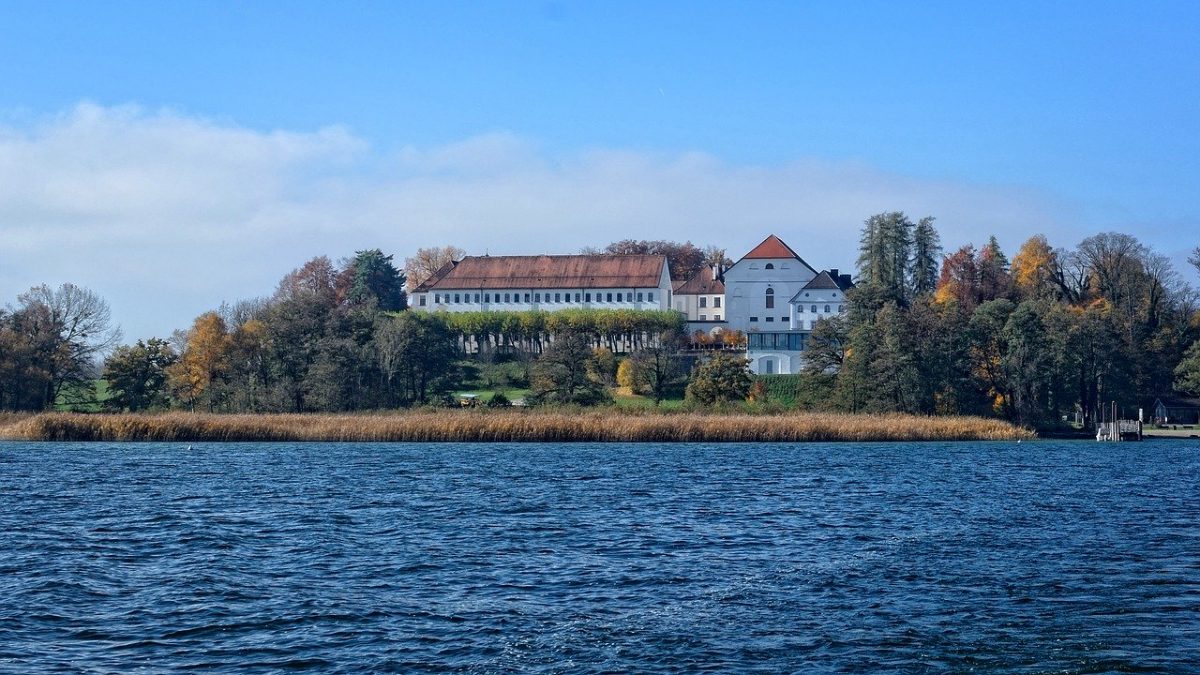 On Herreninsel island on the lake is Herrenchiemsee, a massive complex of royal buildings. The Herrenchiemsee Castle belongs to the set of Bavarian royal castles built by King Ludwig II of Bavaria. As soon as you see the palace, you'll recognize its model.
Herrenchiemsee Place was created as a mini version of the French Versailles Palace. You'll learn all about the Castle, its builder and the property during a guided tour which costs €9 for a regular and €8 for children.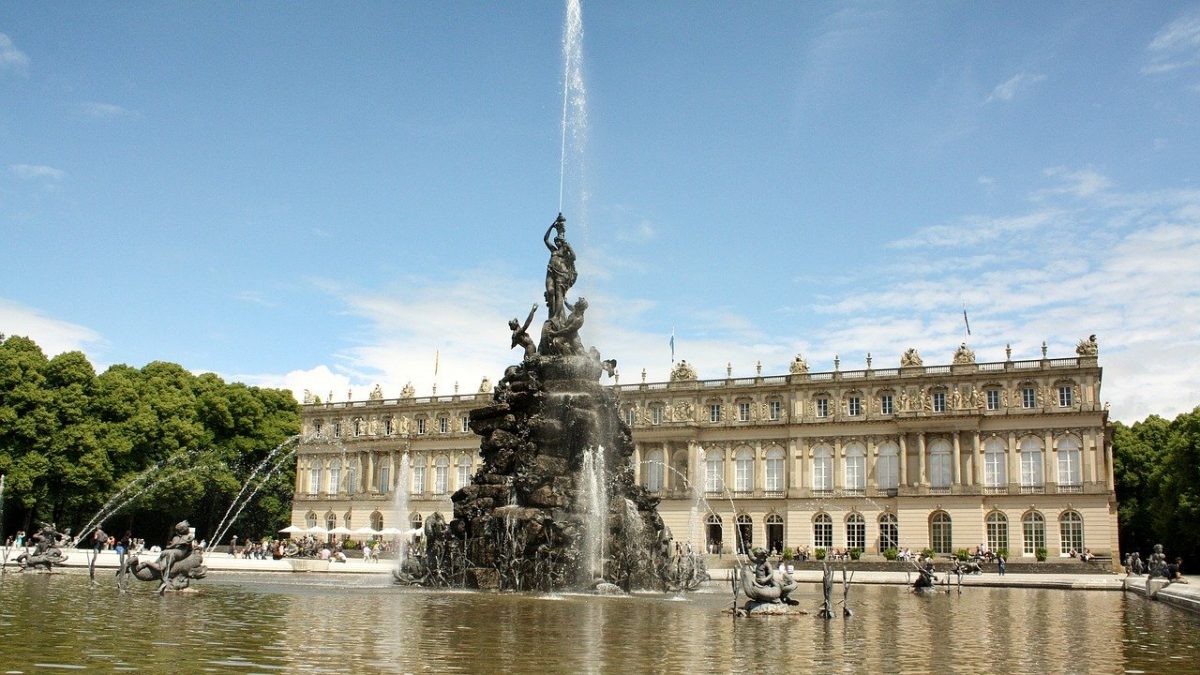 After the tour, take a stroll around the island and its gorgeous, meticulously manicured gardens. Besides the Castle, you can also visit the Augustinian Monastery, which is a gallery and museum, and have a nice lunch in the Schlosswirtschaft Herrenchiemsee Restaurant.
How to reach Herrenchiemsee?
It takes about one hour of driving from Munich to Prien am Chiemsee via highway A8. In Prien is Chiemsee, you can take the ferry which costs €9.90 for an adult return ticket and €4.90 for a return ticket for children. Family return tickets are €27.20. The boat ride is short and brings to the island dock where you can either take a trolley ride around the property or walk to the Castle.
Slavka, On2Continents
There are two awesome day tours which offer skip-the-line tickets and free cancellations up to 24 hours, check these for guided tours with great reviews. Pickup included too.
Munich Day trips – Mountains, Lakes & Hiking
Berchtesgaden, Germany
One of the best day trips from Munich is a trip to Berchtesgaden. One thing that Berchtesgaden is most famous for is Hilter's Eagle's Nest or Kehlsteinhaus. From the beautiful views, you can understand why he had a retreat here. It is now mainly a restaurant that overlooks the Königsee and town of Berchtesgaden below.
It is open mid-May until the beginning of November. You can't drive to the Kehlsteinhaus. You can either hike or take a bus from the Kehlsteinhaus/Hintereck bus station. Once up there, enjoy the views, go for a hike or have a meal.
Berchtesgaden has much more to do and explore. You can have a full-day trip from Munich to here.
How to get to Berchtesgaden?
Berchtesgaden is 155 km from Munich or about a two-hour drive by car along with the A8 and A95. If you plan on taking the train from the Munich Hbf, it will take you about 2h30m with a transfer in Freilassing.
Oliver Froese, Aciu
If you are looking for guided tours, I'd recommend these two tours from Munich, covering Eagle's Nest and Obersalzberg.
Königssee Lake
Königssee, the Lake of King, is one of the most precious jewels of Bavaria, and among the recommended day trips from Munich that you can plan close to Berchtesgaden.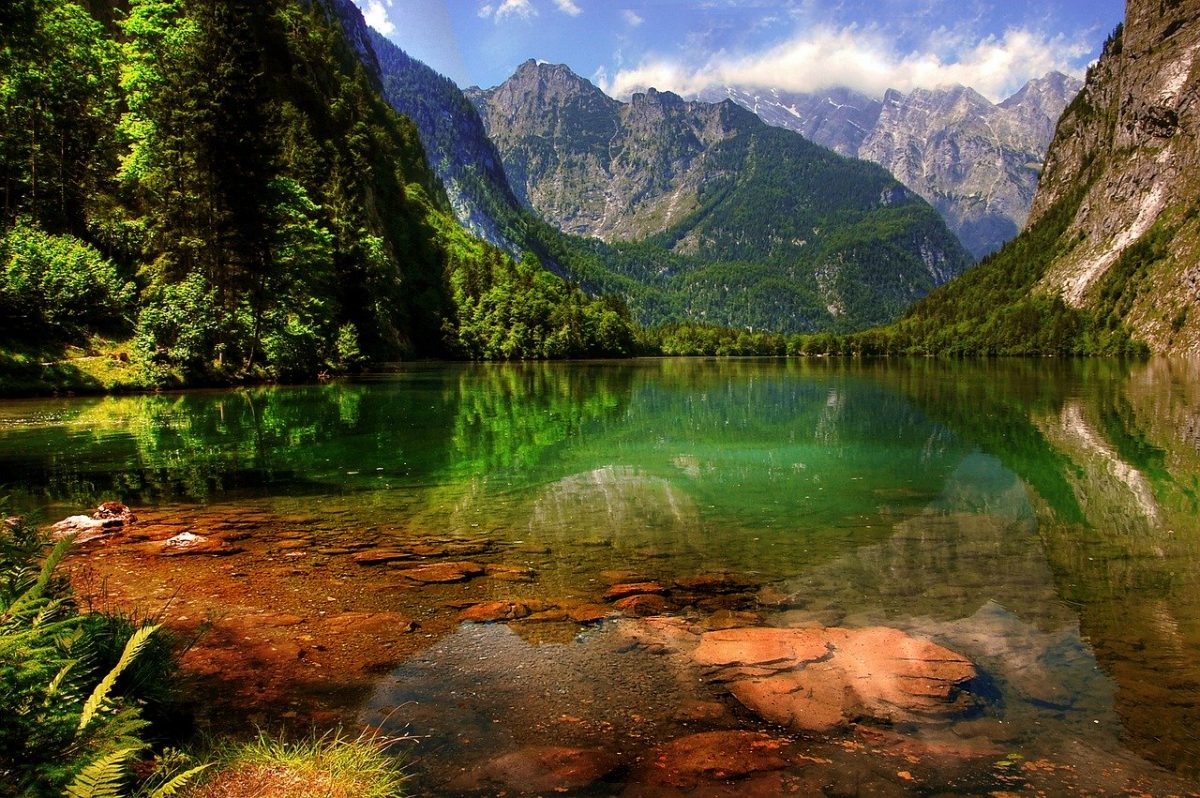 The most popular activity is taking the electric boat to the St. Bartholomä Church on the other side of the lake. On the boat, the guide wearing traditional Bavarian leather pants (Lederhose) demonstrates the echo effect of the Watzmann mountain with a trumpet.
Once you reach the St. Bartholomä Church, you can feast on traditional Bavarian meals such as white sausage (Weisswurst) in the restaurant next to the majestic Königssee, and walk along the lake and admire its emerald green water. You can also swim in the Königssee if you can manage with its super cold temperature.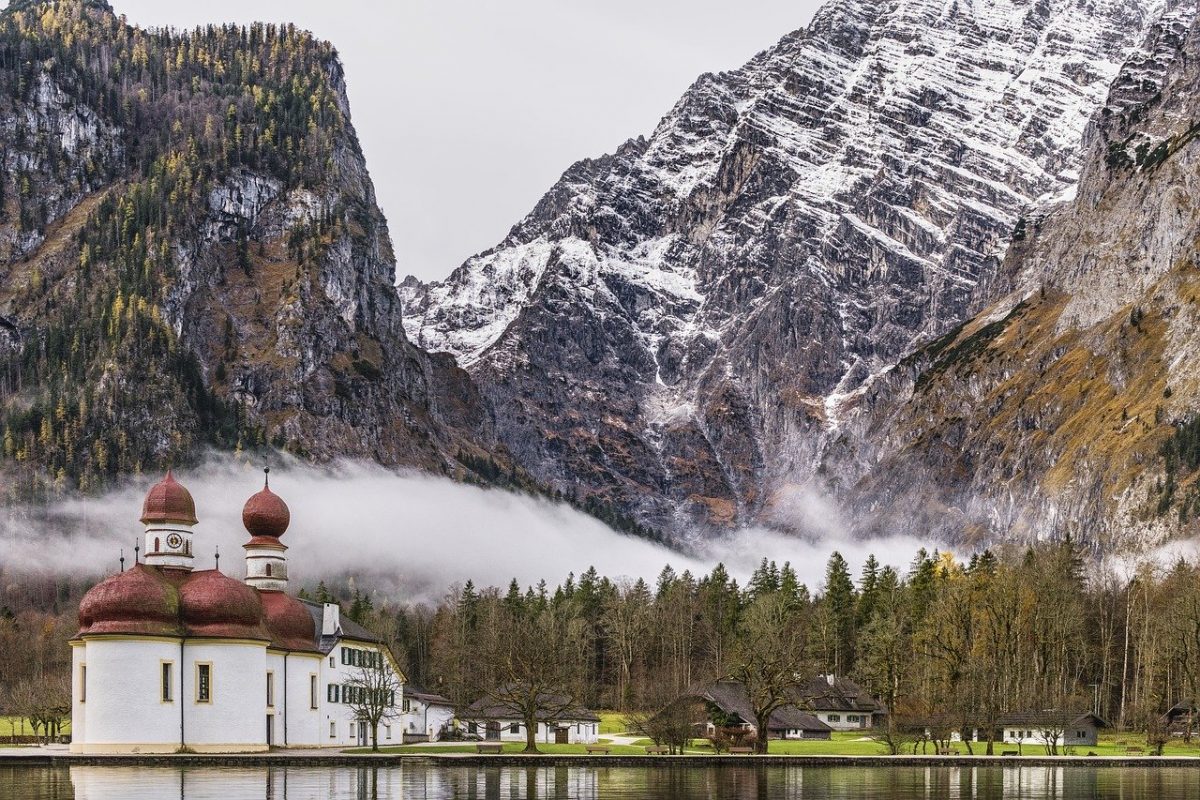 Moreover, there are several hiking trails around Königssee in case you are ready to start the day early. One of the most epic trails from Königssee is the hike to the Ice Chapel, which is one of the five highest peaks in Germany where even in the middle of summer you can find ice.
Last but not least, you have to know about the most breathtaking trail, which is the path between St. Bartholomä and Schönau am Königssee.
How to reach Königssee?
Königssee is situated 160 km away from Munich in the Berchtesgaden National Park. The best way to get there is by public transport or by car. You need to reach the lovely Bavarian town, Schönau am Königssee, where the bus stop closest to Königssee is located.
Diana Lesko, The Globetrotting Detective
Here are some guided tours from Munich to Salt Mine and Königssee, which includes pickup too:
Garmisch Partenkirchen
The picturesque town of Garmisch-Partenkirchen, not far from the border with Austria, makes a fantastic day trip from Munich for nature lovers or solely for those who want to enjoy a day far from the hustle and bustle of the big city.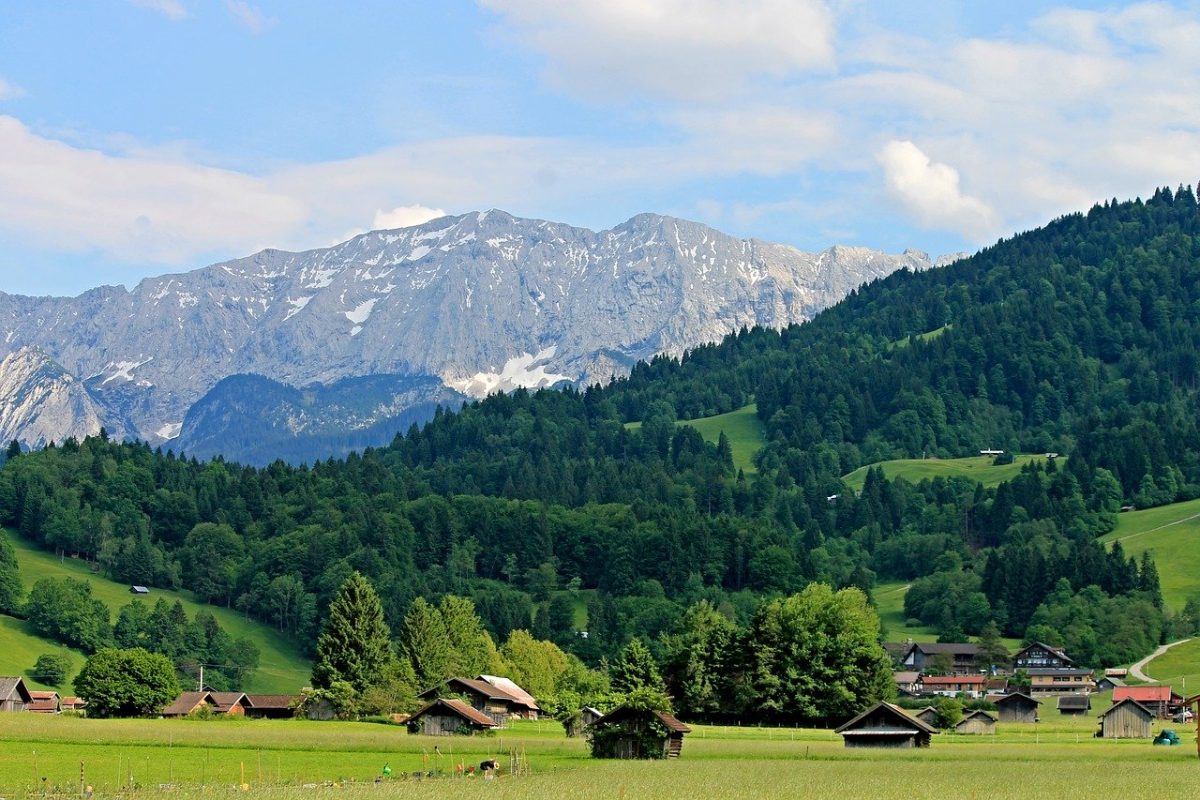 Garmisch-Partenkirchen was initially two small towns in the Bavarian Alps – Garmisch and Partenkirchen – which were united in 1935 for the Olympic Games following the wishes of Hitler. The result is two cute historical centres in one single town, each one with a different character.
Garmisch-Partenkirchen is one of the best places for skiing in Germany, and its fancy ski station, not far from the town centre, has ski slopes for all levels.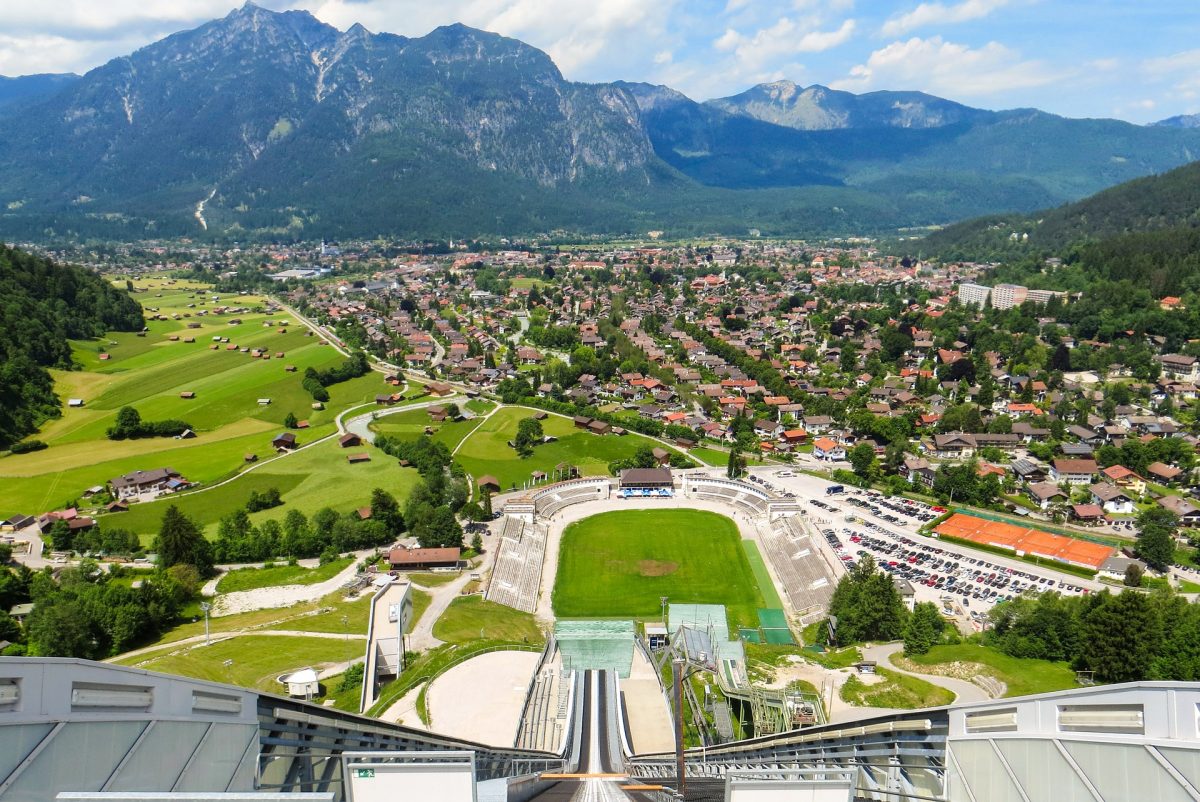 People visiting Garmisch-Partenkirchen for sightseeing will find a picturesque architecture, cobbled stones, and a couple of small churches. At sunset, it is a good idea to enjoy a couple of beers in the bars downtown or one of the town's Biergartens (depending on the season) before taking the train back to Munich.
How to reach Garmisch?
Located at 94 km from Munich, Garmisch-Partenkirchen is straightforward to reach by train (1.5 hours by train from Munich).
Elisa, World in Paris
Eibsee Lake
If you are looking for something unique to see in Germany, you will be pleased to know that there are many great day trips from Munich you can do at any time of the year. One of the most magical places you can visit is Eibsee lake. It is located close to the Austrian border; just a stone throw away from Garmisch-Partenkirchen, it is one of the most beautiful lakes in Germany.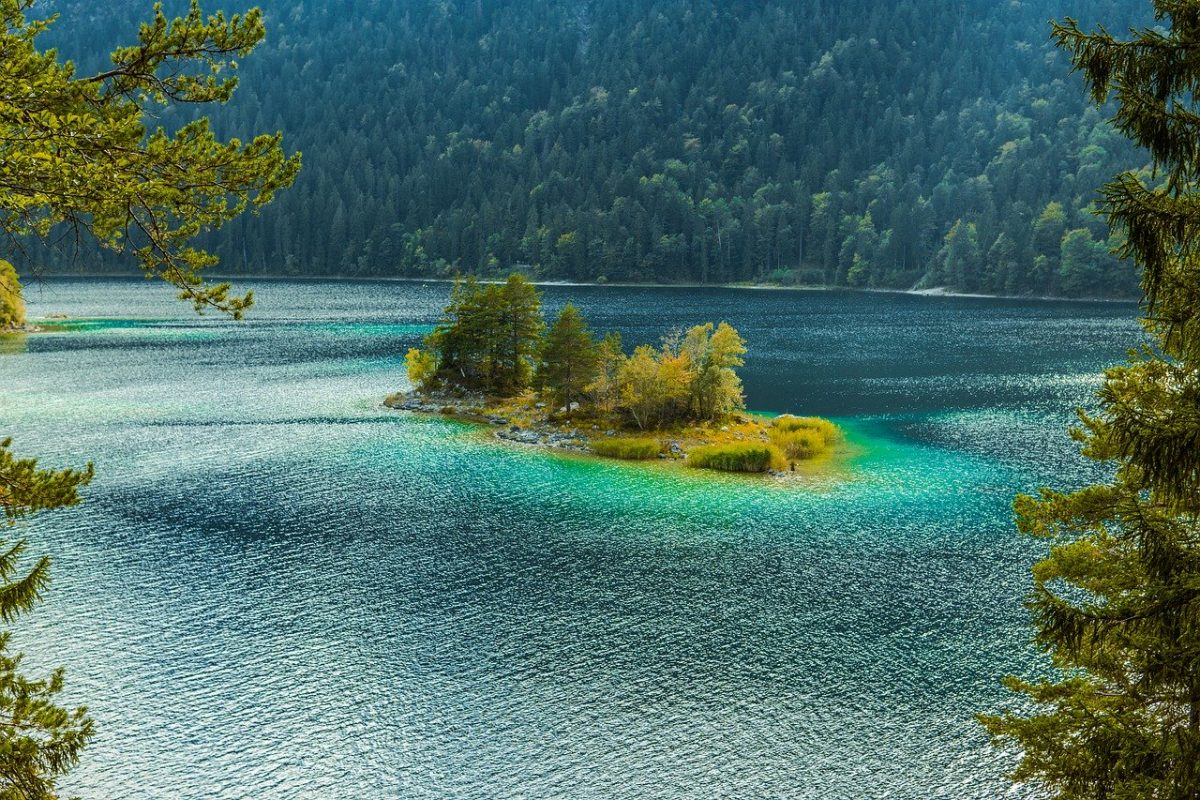 The hike around the lake will take you around 2 hours. It is a very easy trail, so it's perfect even for families with small children. You will be amazed by the spectacular views on the Alps and beautiful lake. It is a magical and peaceful place, perfect for a relaxing day out.
How to reach Eibsee Lake?
The best way to get there is a 100km journey by car. It will only take you around 1 hour and 20 minutes if you drive yourself.
Darek, Darek and Gosia
Zugspitze
One of the most beautiful day trips from Munich is Zugspitze, where you can reach the highest point in Germany. Located in the small town of Eibsee in Bavaria, from where you can take the cog train up the mountain.
If you have time, you can combine Eibsee lake in the city along with Zugspitze. On the ascent, the train stops just before entering the tunnel so that you can enjoy the beautiful views of Lake Eibsee below. The views then dissipate as the train is in a tunnel for the rest of the ascent, but not to worry, you'll see them again.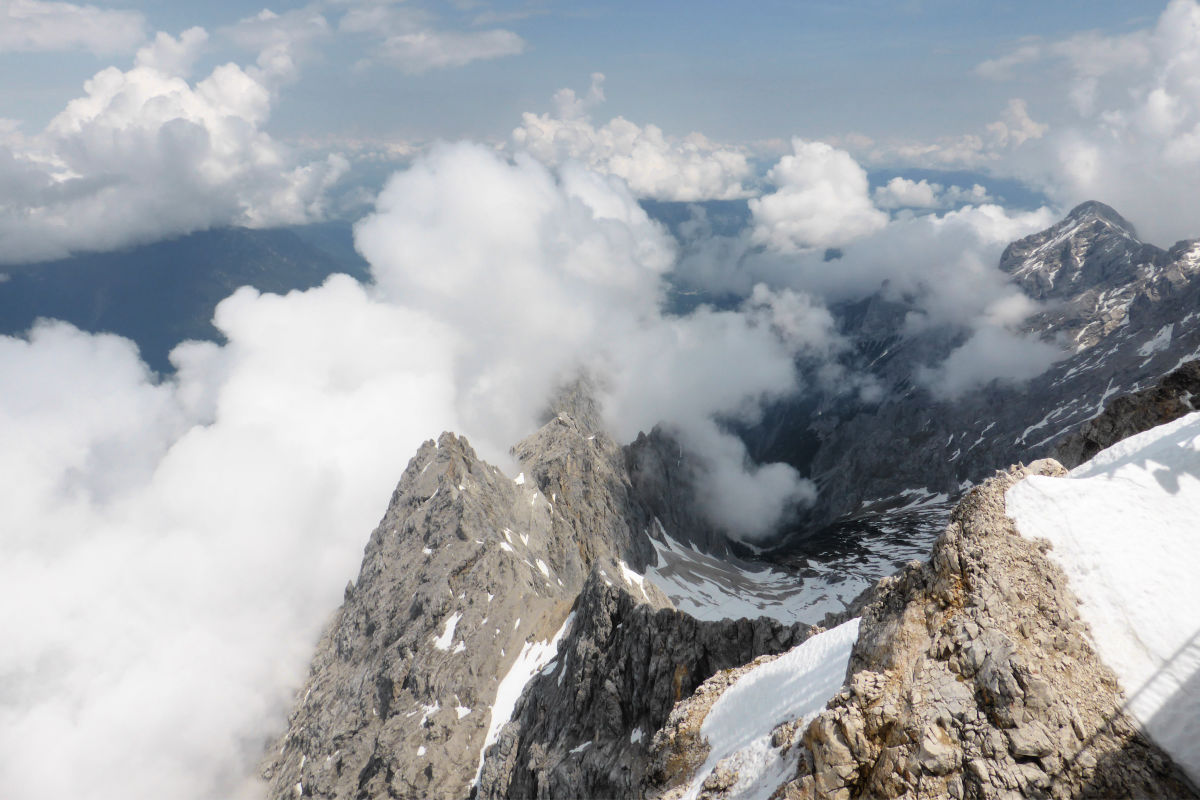 Once at the terminal, you can explore this "base camp" and visit the Schneeferner Glacier and Germany's highest church, Maria Heimsuchung Chapel, which is over 2.5km above sea level. You can take a short cable car ride from here takes you to the Zugspitze summit.
You are now almost 3km above sea level and can enjoy the clean, crisp air and spectacular views across the Alps. Have a bite to eat whilst you enjoy being at the very top of Germany.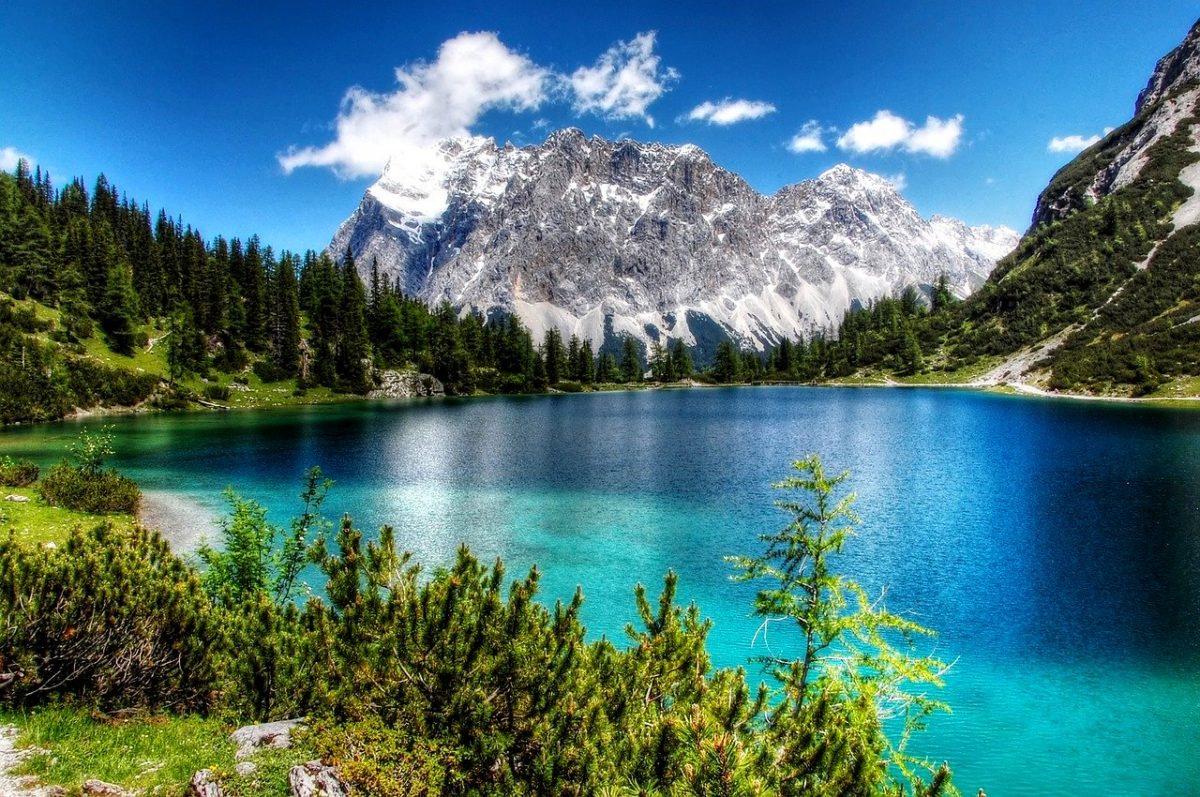 But be sure to take the short walk over into Austria while you are up there. It's not often you can cross an international border at the top of a mountain! To return to Eibsee, we suggest you use the cable car to enjoy a different set of views from the train. It will return you to the same place you caught the cog train so that you can return to your vehicle.
How to reach Zugspitze?
You can take the DB train from Munich to Garmisch-Partenkircehn Haufbahnhoff. From Garmisch, take the train to Zugspitzbahn, for which you can buy the ticket at Garmisch.
Stacey, One Trip at a Time
Here are two guided day trips from Munich to Zugspitze, which includes a cablecar ride:
Day trip from Munich to Schliersee
One of the recommended Munich day trips is to the lake town of Schliersee, which offers one the best ways to experience the real charm of Bavaria, by stepping away from the main cities and heading towards a small countryside town.
The small fairytale-like Schliersee train station will instantly appeal to you. Right outside the station is the large Schliersee lake. If you are visiting Schliersee during summer, you can spend your morning relaxing here or plunging into the waters for a quick swim. If you are here during winters, you could have fun ice-skating on the frozen lake.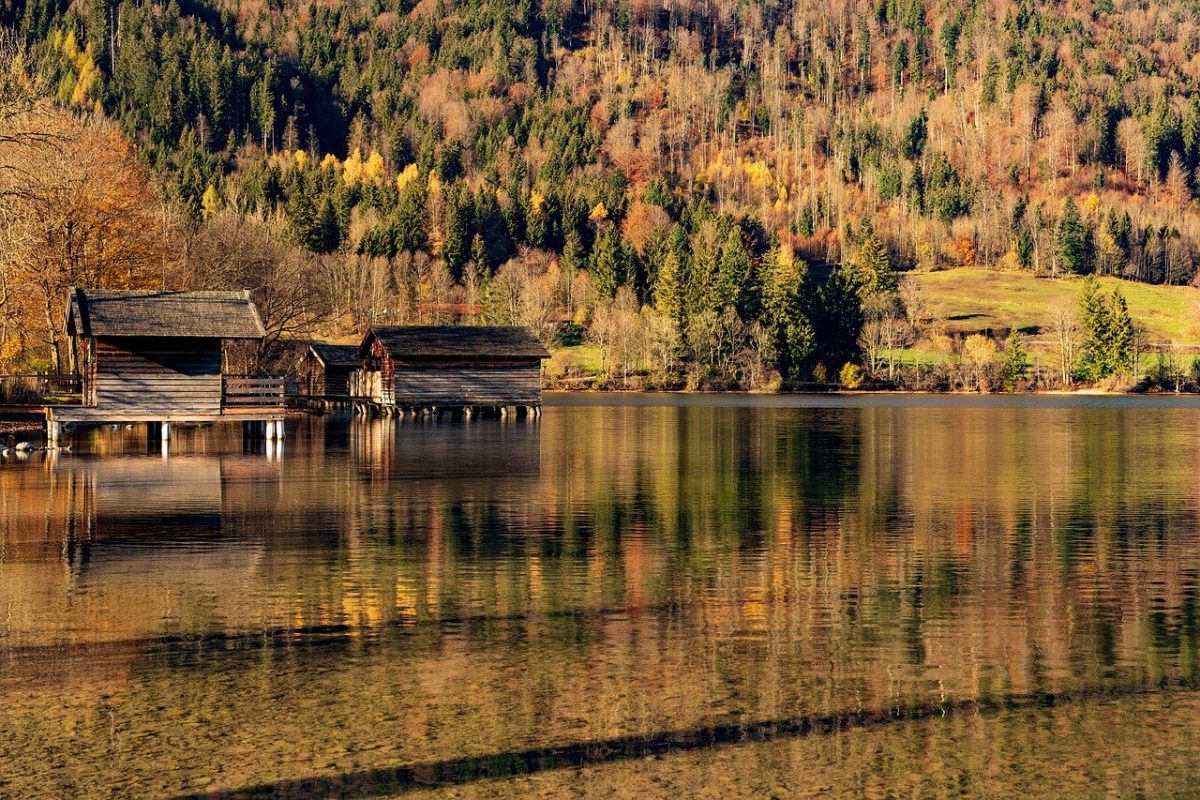 Those who love hiking should take a boat to Fischhausen and then follow the picturesque circular trail.
If you are in Schliersee with kids, you can also ride up a cable-car to Schliersbergalm. The area on top has a lovely play area and trampolines set up to keep your kids occupied. Instead of coming down again by the cable car, you can even ride on a toboggan for some added thrill.
In addition to all the fun activities mentioned above, some buses ply between Schliersee station to Spitzingsee. The sight of this hill-top lake perched between the magnificent Alps is mesmerizing. In winter, many locals head to Spitzingsee for snowboarding.
After experiencing a quiet sunset in this Bavarian town, you can take a train back to Munich and call it a day!
How to reach Schliersee?
Take a regional train from Munich Hbf to get to Schliersee. The distance between Munich and Schliersee by train is only about 55 minutes.
Vrushali, Couple of Journeys
Leutasch Geisterklamm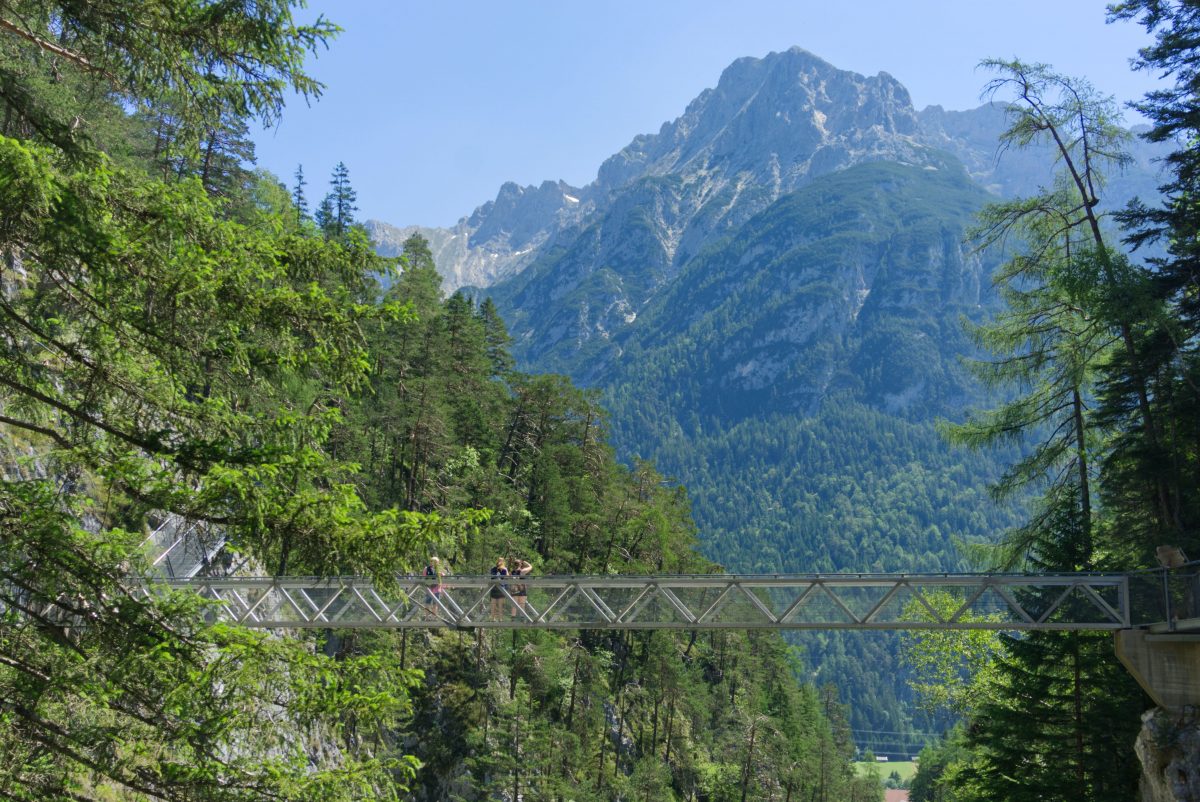 If you enjoy nature Geisterklamm, is one of the best day trips from Munich that you can plan. Also known as the Ghosts Gorge of Leutasch, it is a deep gorge with blue pools and waterfalls located between Austrian town Leutasch and German town Mittenwald.
The 3-kilometers long pathway alongside the gorge is made of steel and offers panoramic views over the canyon and the surrounding mountains. According to the local legend, the mountain ghosts have been living in this gorge for thousands of years.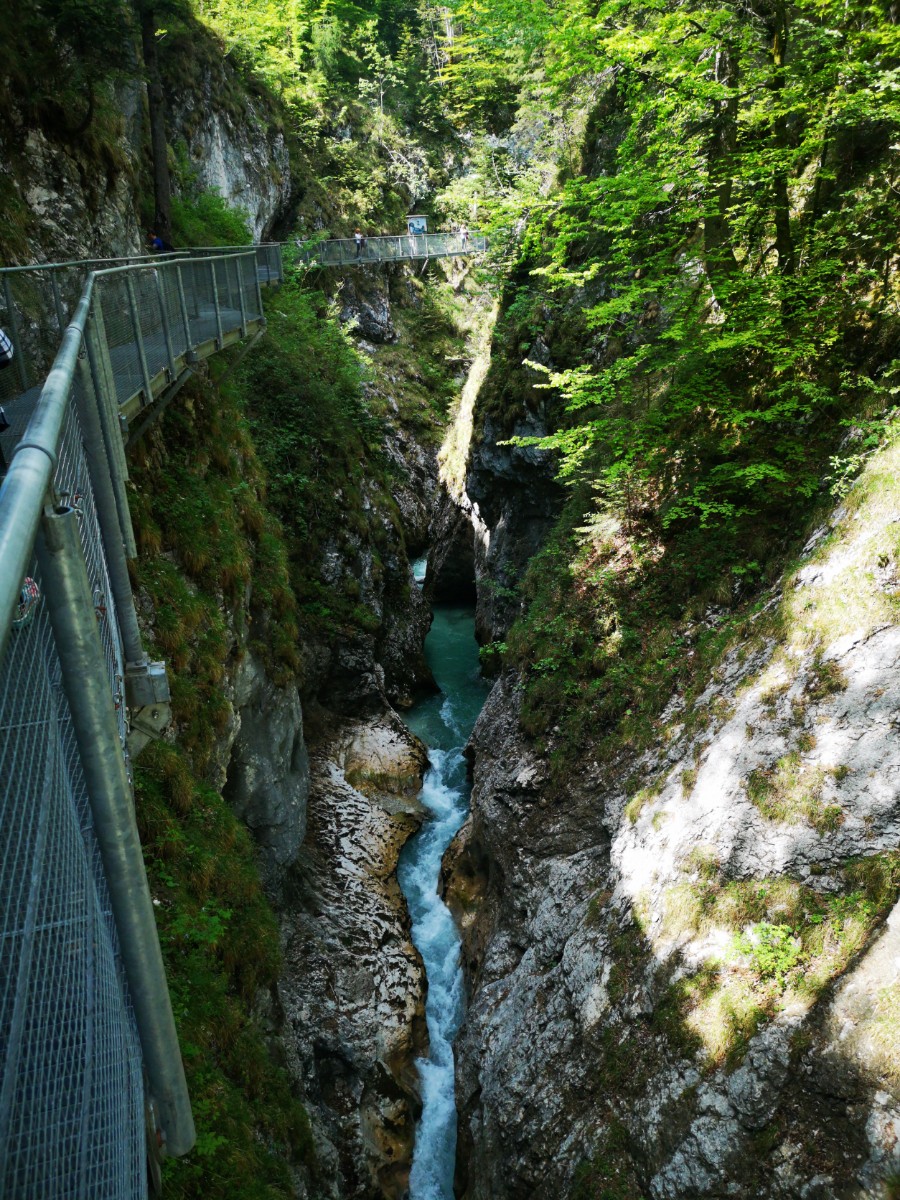 This place is trendy among families with small children because of the signs alongside the roads with riddles and games. But I do not recommend walking there with strollers due to very narrow iron steps.
The best time to visit the gorge is from mid-May to the end of September.
How to reach Geisterklamm?
You can start your tour either from the German side or Austrian.
From Munich, you can get to Mittenwald by train within approximately an hour. If you go by car, it's better to park in the parking slot in Leutasch (due to available parking space), but you will have to pay 5 euros for parking. The hike from Leutasch is a little bit easier than from Mittenwald.
Anna Andrias, Big World Short Stories
Dachau – Day trip from Munich
One of the most accessible day trips from Munich that you can make is visiting Dachau town, home to the Dachau Concentration Camp Memorial Site.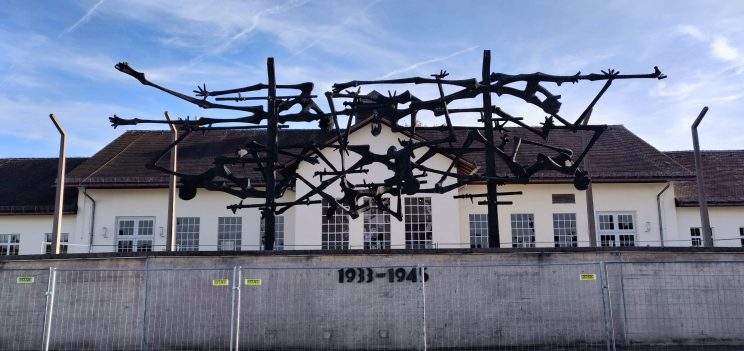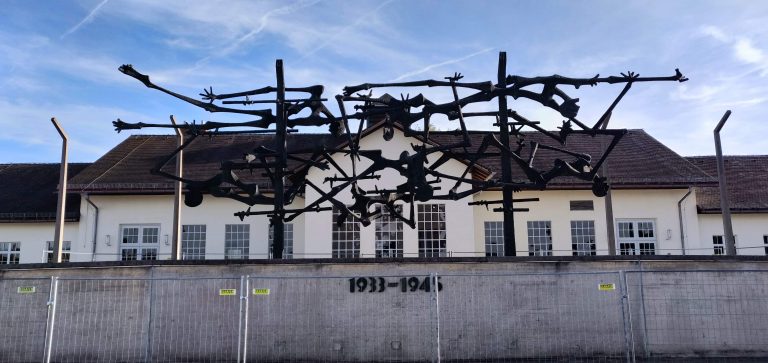 Dachau is one of the reminders of the Holocaust during WWII, one of the most tragic and significant events of the 20th century. The camp existed from 1933 to 1945. In total over 200,000 prisoners come through the gates that read, "Arbeit Macht Frei", or "Work Sets You Free". Forty-one thousand five hundred prisoners never left.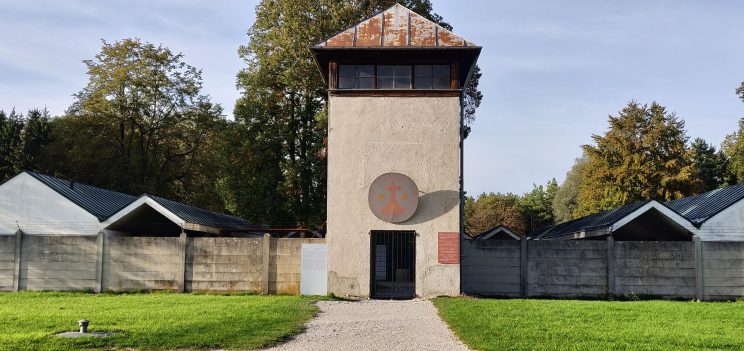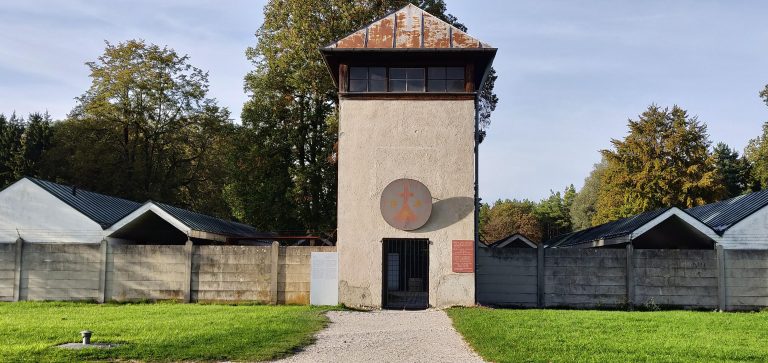 It was essential to visit this site to get some small idea of what the people there endured and what it meant to the world. Germany has dedicated many resources to making sure that it is never forgotten; it is up to all of us to honour the victims.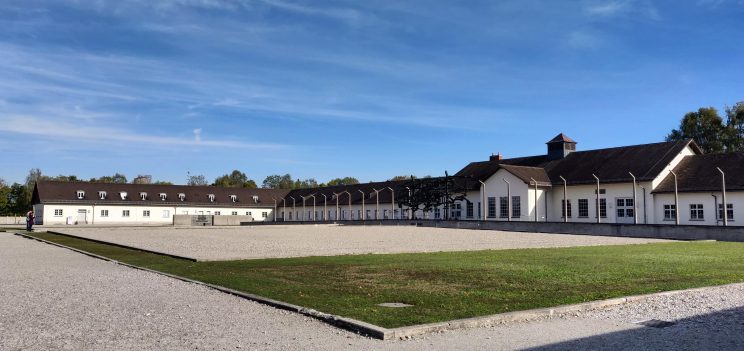 While there, the main exhibition is the "Path of the Prisoners" through the main building, a former prison. Visitors see how they arrived, their lives in confinement, and the suffering and dying in the camp through to liberation. There are two barracks left of the 34 that were standing. It is a very sombre but important visit.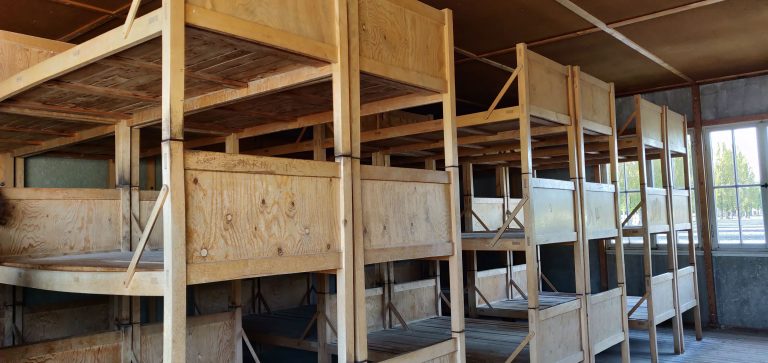 There are tours in English, German, Italian, and Spanish for €3.50. If you do not need a visit, entry is free.
How to reach Dachau?
You can reach Dachau by trains, that leaves from downtown Munich, which takes about 40 minutes or a thirty-minute drive will take you to Dachau.
Theresa Ladner, Adventures in Middle-Aged Travel
If you are looking for guided tours that include pickup I'd recommend you to choose one of the below trips. There is also a combo tour of Dachau and Munich Nazi tour, a half-day tour of Dachau and full-day tour – a lot of options to combine places according to your preferences and time.
Day trips from Munich – Pretty Bavarian Towns
Nuremberg
Another destination for a day trip from Munich is Nuremberg, one of the most adorable and traditional places in Bavaria. This mid-sized city north of Munich is known for its history, cuisine and traditional architecture.
One of the best things to do in Nuremberg is to wander the Altstadt (old city) picking up traditional food and crafts at the Handwerkerhof Market. Peep inside Lorenzkirche, a gothic church dating back to 1250, and admiring Weinstadel, a gorgeous old timber-framed wine warehouse overlooking the river. You can also catch a fantastic panoramic view from the top of Nuremberg Castle, considered one of Europe's most impressive medieval castles.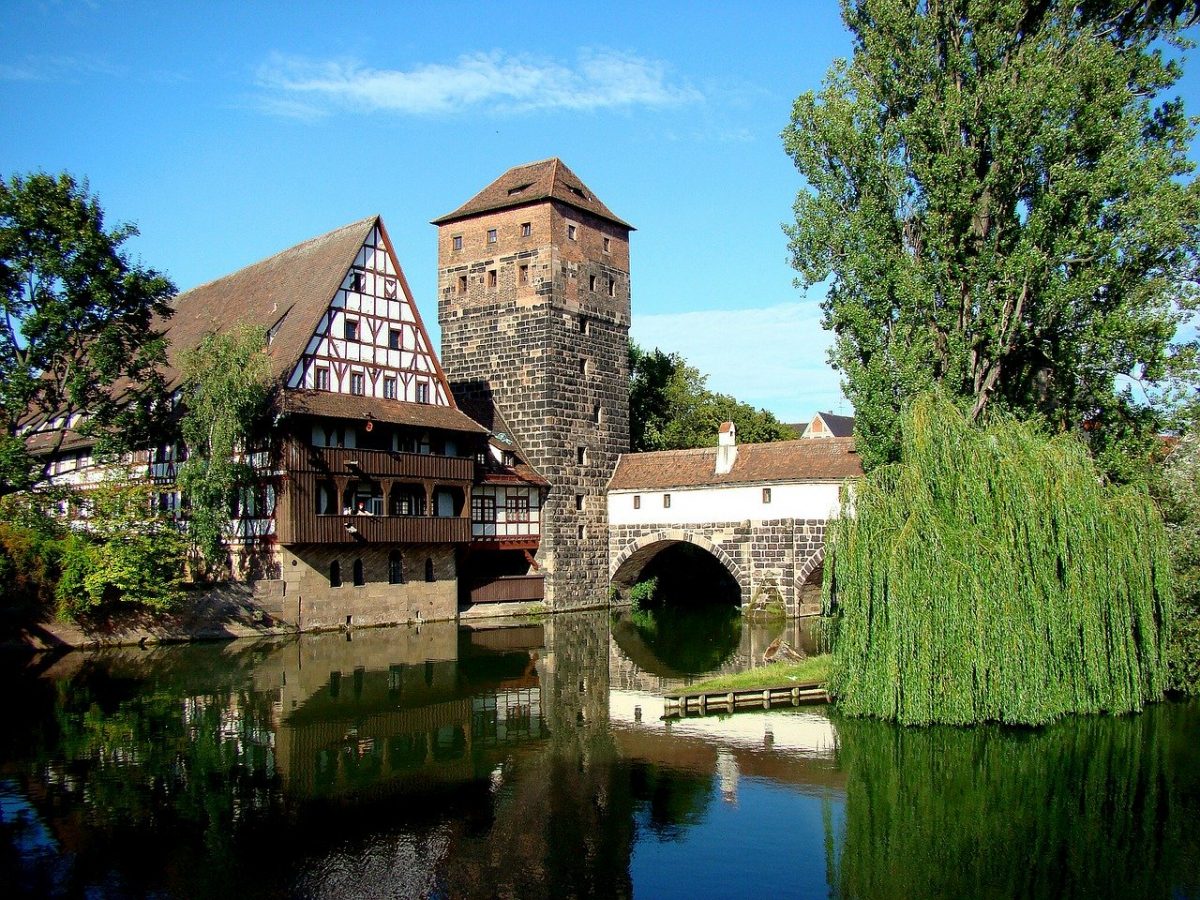 Nuremberg's Documentation Center is a tragic yet important place when it comes to understanding German history. It was the Nazi Party rally grounds during Hitler's rule, and today, you can visit a permanent exhibition 'Fascination and Terror' which explores the causes and consequences of Nazi rule.
For a lighter attraction, head afterwards to the nearby boating lake where you can hire a colourful pedalo boat and make your way around Großer Dutzendteich, spotting nature and wildlife on the way. In the evening, you can sample German beers and try Nürnberger bratwurst, a popular type of German sausage.
How to reach Nuremberg?
There are trains from Munich centre to Nuremberg, which takes about an hour to arrive.
–Rose Munday, Where Goes Rose
If you want to go for guided day tours from Munich, check out the below ones, one of which include a train journey.
Day trip from Munich to Regensburg
With its preserved Roman ruins and numerous historic buildings, Regensburg is considered the best-preserved medieval city in all of Germany. It is one of the easy-to-do day trips from Munich that you can enjoy.
Once you arrive in Regensburg, make your way to the Old Town – this is where the most famous sights are located. You can easily see Regensburg in one day, as the historic centre is quite compact and easily walkable.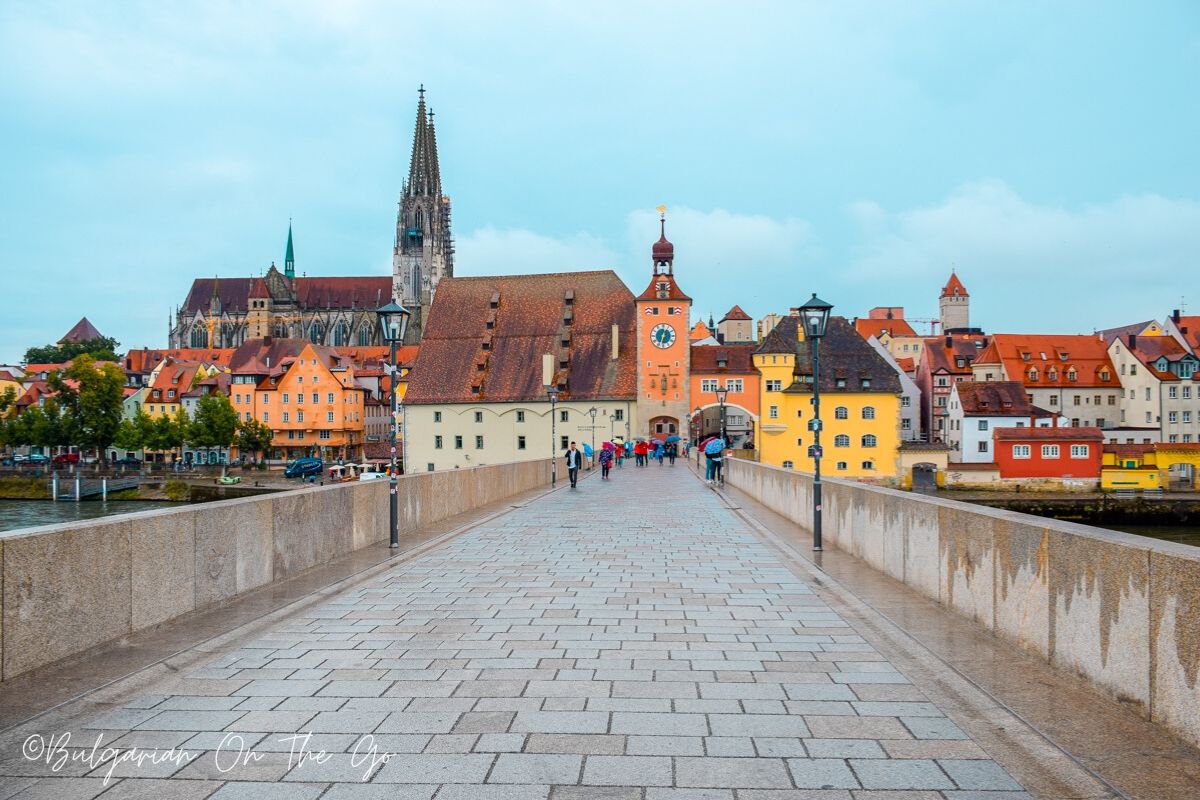 Make sure to check out the Old Stone Bridge – the emblem of the city, St. Peter's Cathedral, the Old Town Hall, as well as the medieval village of Stadtamhof, located just on the other side of the Bridge.
Even though the city is so old, it is also very modern and full of life. Here you will find an abundance of bars – the nightlife is buzzing, and it would be hard to get bored. Regensburg is full of students – local and foreign, which actively contributes to the youthful scene.
May it be a walk around the Roman ruins, a boat trip along the Danube or going for a drink in one of the many pubs – you certainly won't run out of things to do in Regensburg.
How to reach Regensberg?
It's located only about 1.5 hours away from Munich – by car or a direct train, which makes for a perfect day trip.
–Lyubomira, Bulgarian On The Go
Dinkelsbuhl
Dinkelsbuhl, one of the prettiest fairy tale villages of southern Germany is an amazing choice for one of the day trips from Munich. Dinkelsbuhl is an incredibly well preserved, walled medieval town located along the famous romantic road route of Bavaria. Its colourful, timber-framed houses and cobbled streets will immediately transport you back in time.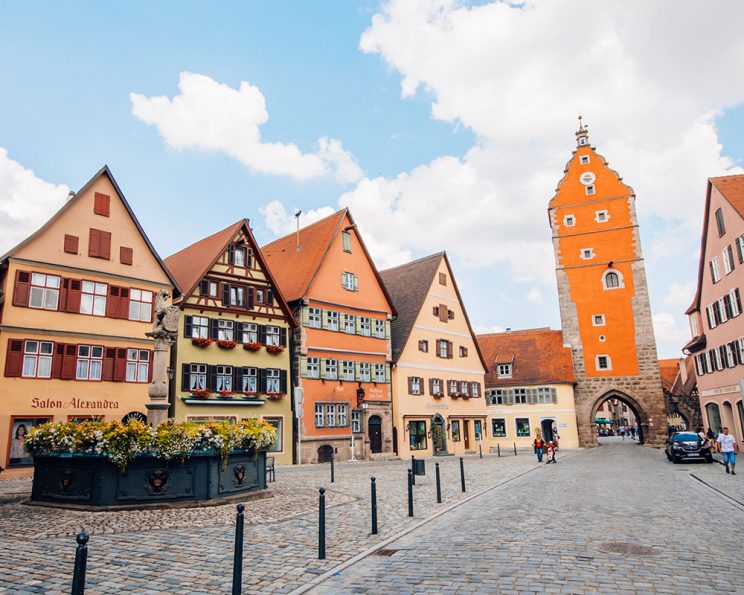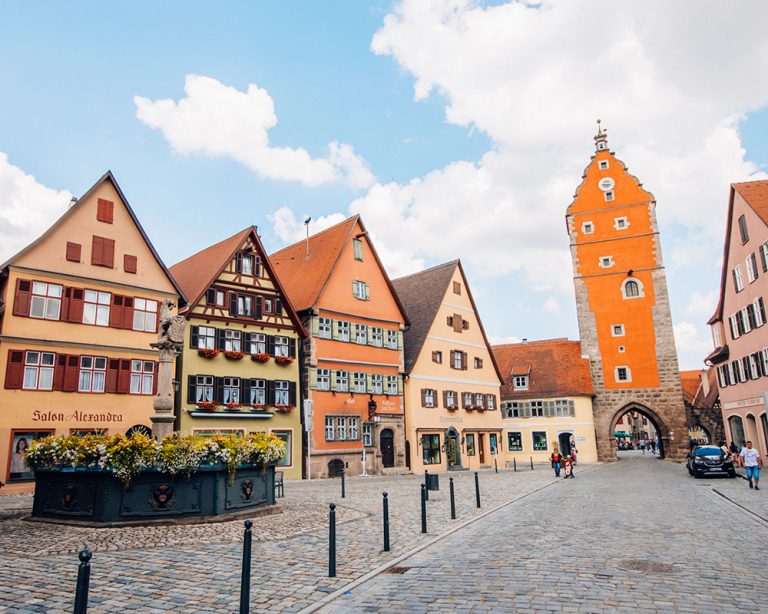 One of the best things to do when visiting Dinkelsbuhl is simply to explore the streets of the charming village, admiring the impressive architecture of the buildings as you go. As you walk along the main street, you'll immediately notice a very tall and beautifully decorated timber framed building.
It is the Deutsches Haus, one of the most famous buildings of the town dating back to the 15th century. Inside the Deutsches Haus, there is a lovely restaurant where you can find a menu full of traditional Bavarian dishes to choose from.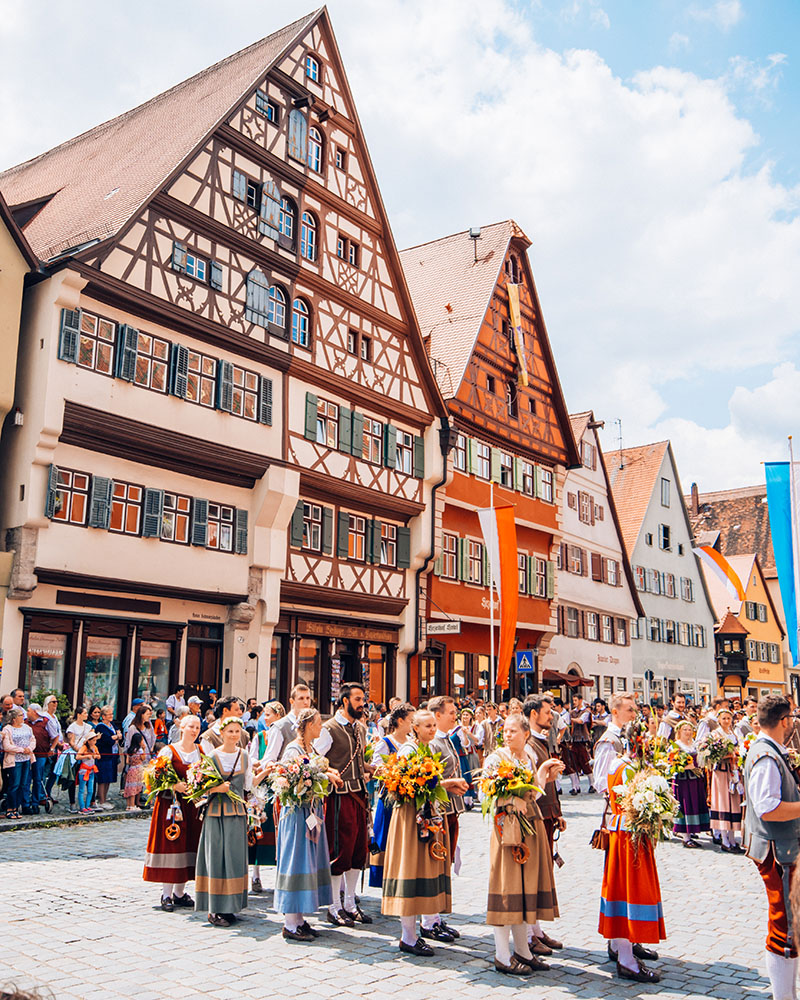 If you happen to arrive in Dinkelsbuhl in July, you'll be able to see the annual Kinderzeche festival which takes place in the village center. This colourful and lively festival brightens up the streets each year with parades, dancing performances, food and drink tents and much more.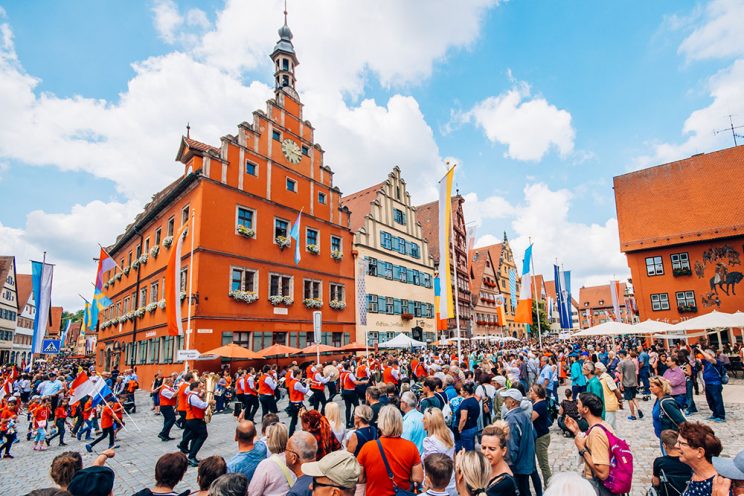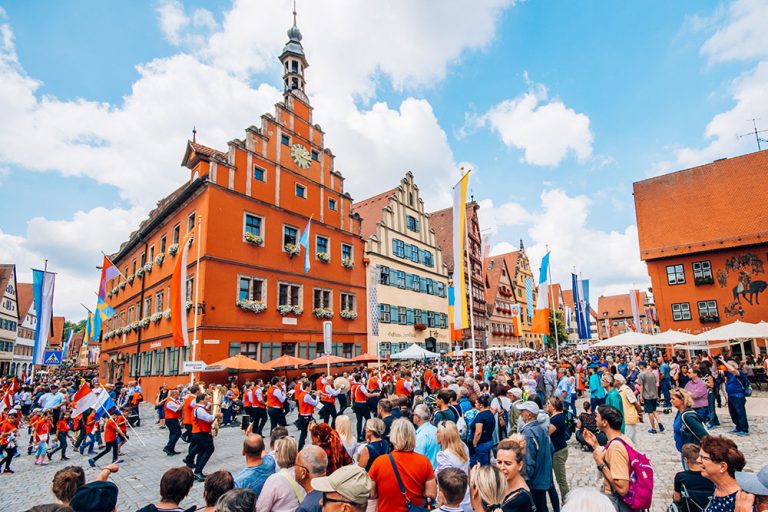 It's the perfect way to experience authentic Bavarian culture at its finest. Dinkelsbuhl is undoubtedly one of the highlights of southern Germany and an absolute must-see if you have any extra time during your visit to Munich!
How to reach Dinkelsbuhl?
To reach Dinkelsbuhl from Munich, you can either rent a car and drive or take the train. It takes about 2 hours by train.
Ann, The Road Is Life
If you are looking for a guided day trip from Munich to Romantic Road, check the tour below, in which you will also stop at Harburg Castle and Dinkelsbuhl.
Innsbruck
Another town in neighbouring Austria that's an awesome choice for one of Munich day trips is Innsbruck, the erstwhile capital of the Austro-Hungarian empire, completely surrounded by the beautiful alps and also the capital of the Tyrol region.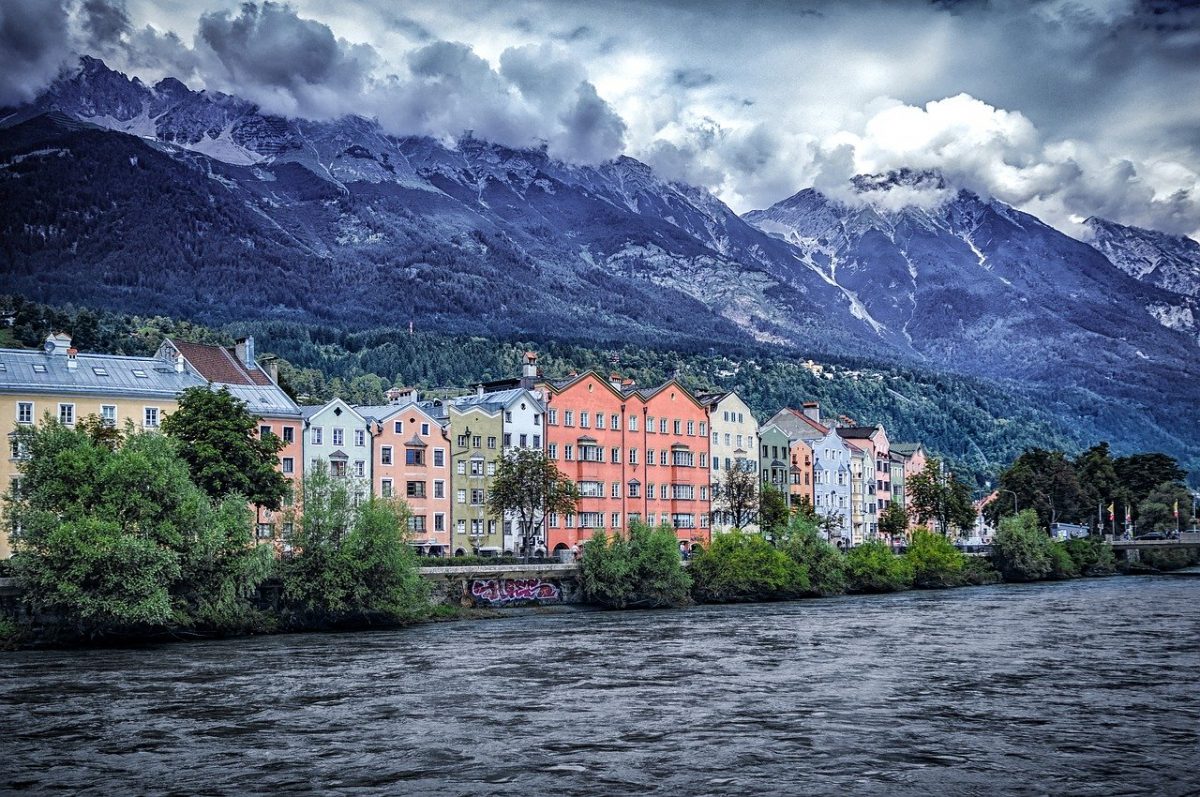 Innsbruck is a world-renowned winter sports destination and one of the must-see places is the Olympic sized Ski-Jump at Bergisel and climb to the top of the observation deck to marvel at the bird's eye view of the city. The Alps are so near and accessible that you can get to one of the peaks in less than an hour by taking a funicular.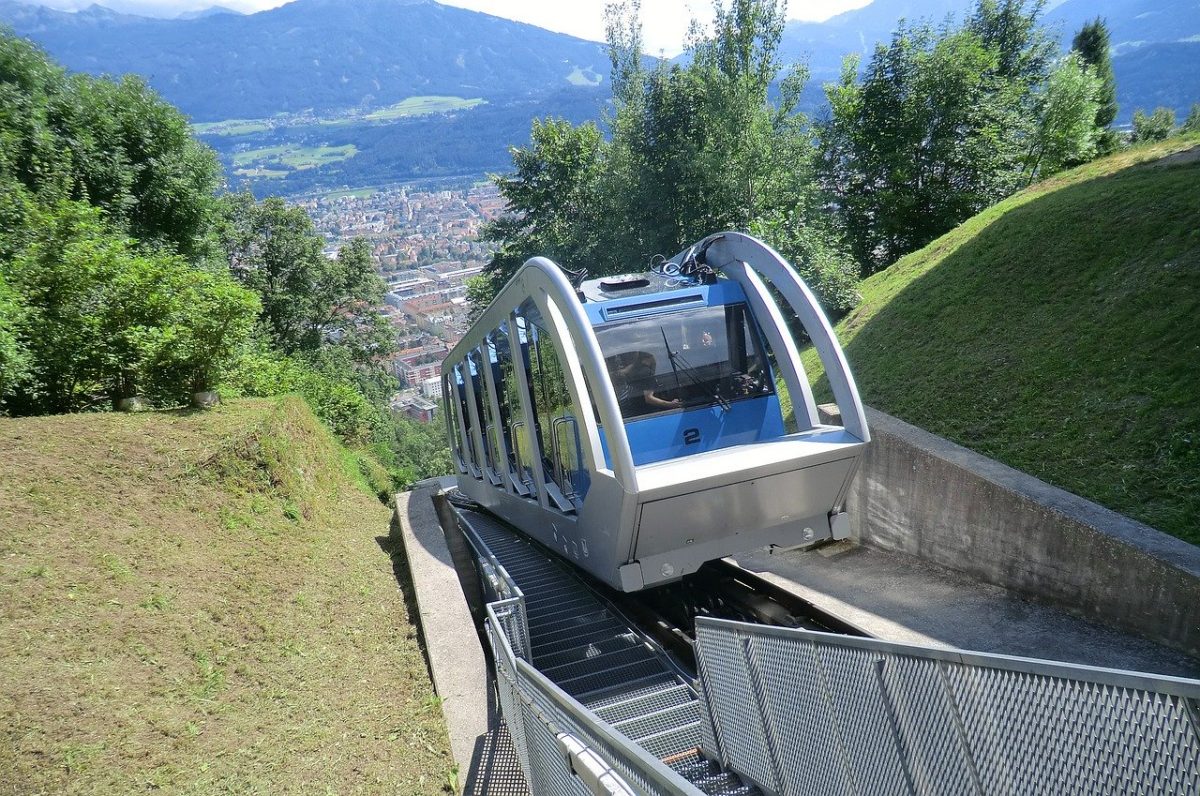 Most of the important sights are in and around the old town. So we suggest a self guided walking tour of Innsbruck to give you a feel of the place in the first half. In the second half of the day you may explore places around the city. The highlight of Innsbruck is, of course, the iconic Goldenes Dachl or the Golden Roof.
There is also a school for girls, one of the first in Europe, opened by the most flamboyant empress, Maria Theresa. If time permits a quick visit to Swarovski Crystal World is an option to be explored before taking an evening or night train back to Munich.
How to reach Innsbruck?
Innsbruck is just about 2 to 2.5 Hours by train or by road from Munich. There are trains which start early in the morning and reach Innsbruck before 10 AM. Just the right time for a day long visit to Innnsbruck.
-Nisha & Vasu, Lemonicks
If you are looking for a guided day trip from Munich to Innsbruck, the tour below is excellent, which also covers Swarovski Crystal World.
Fussen
One of the lovely day trips from Munich is the pretty Bavarian town of Fussen. Most people visiting Fussen do so on their way to Neuschwanstein Castle, but the city has plenty of appeal in its own right.
Located at one end of Germany's Romantic Road, a scenic driving route, Fussen dates back over 700 years and is home to a pastel-coloured Old Town with cobblestoned streets. As well as a good range of shops and restaurants that are now housed in the typically Bavarian buildings, there are many baroque churches, a former Benedictine Abbey and medieval city walls to be explored.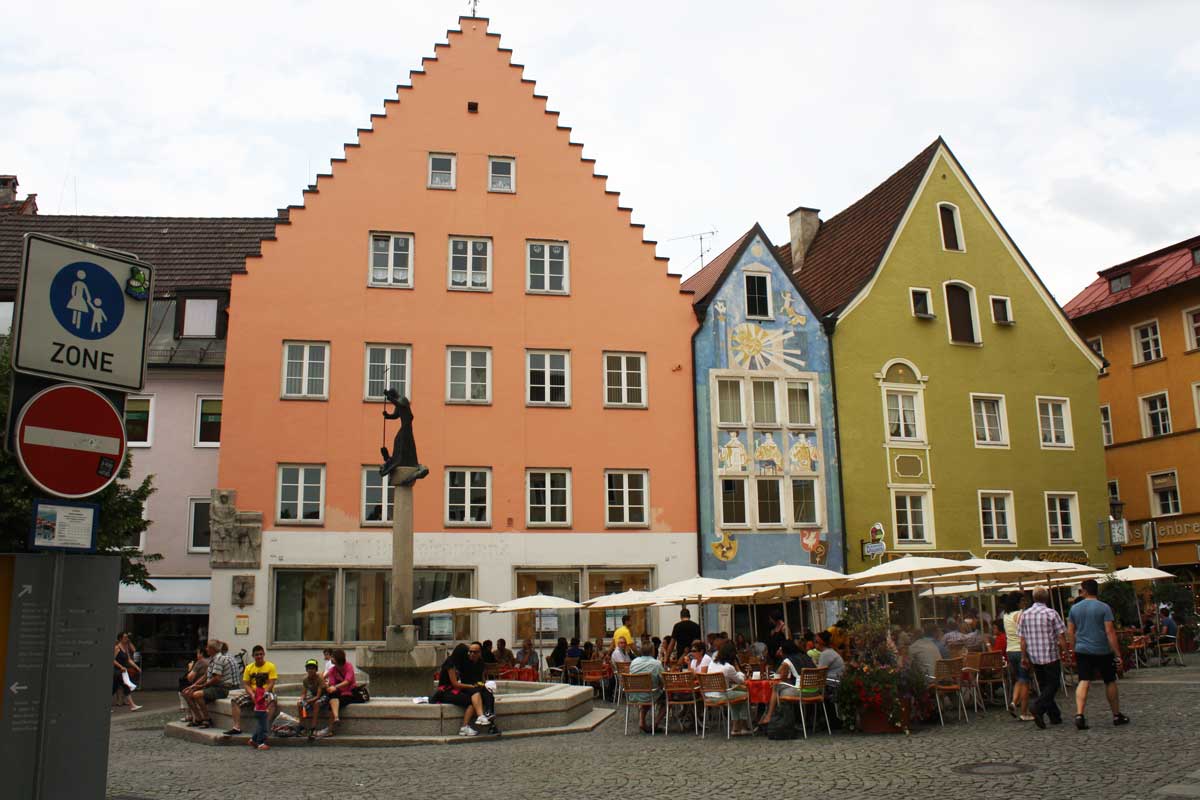 Next to the Old Town, you'll find the High Castle of Fussen, a late-Gothic style castle which was once the summer residence of the Bishops of Augsburg. The Castle's clock tower, with its brightly painted facade, is a town landmark, but be sure also to visit the Castle's courtyard where you'll find 500-year-old Trompe L'oiels on the walls.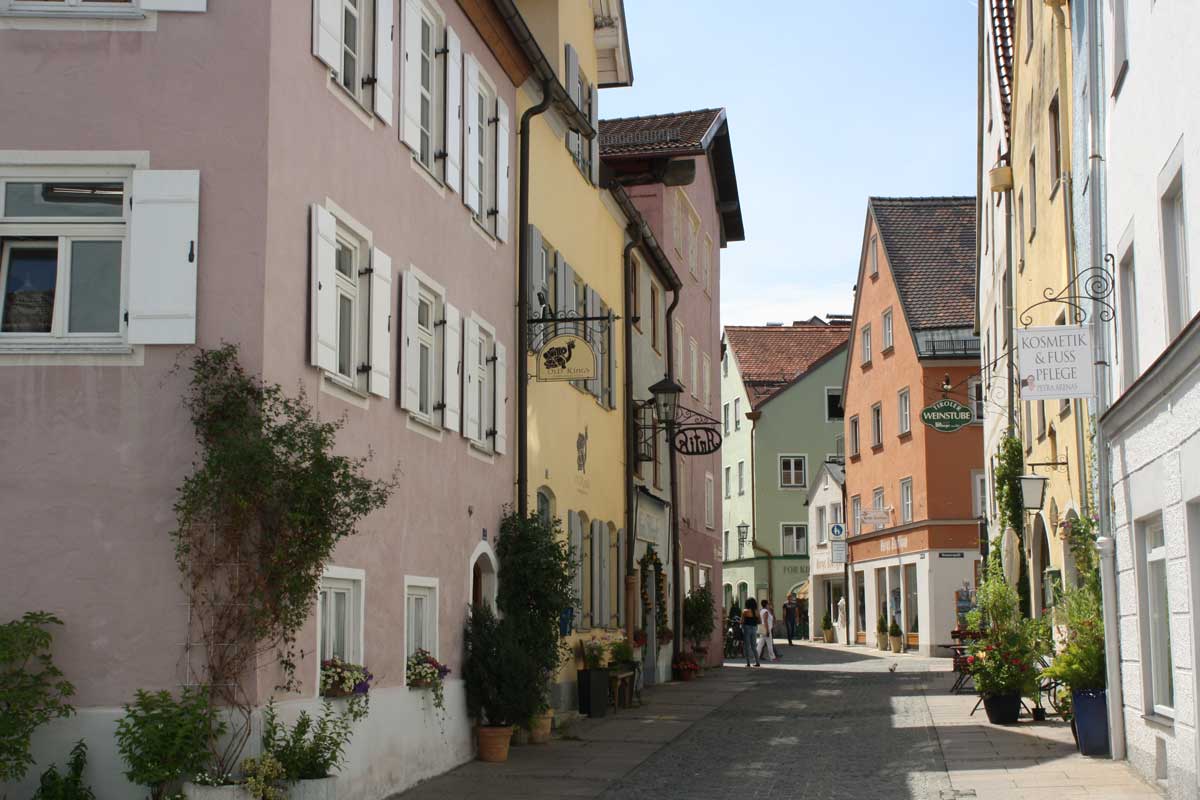 Fussen is well known as an excellent destination for outdoor activities, so if you enjoy hiking or cycling, there are plenty of opportunities to get out and active in the beautiful countryside around Fussen.
You can also enjoy a relaxing cruise on nearby Lake Forggensee or take a cable car ride to Mount Tegelberg where you'll be rewarded with panoramic vistas of the area.
How to reach Fussen?
Fussen is just 132 kilometres from Munich and can be reached by car in around an hour and a half. If you'd rather travel by public transport, regular trains travel to Fussen (journey time is two hours), while Flixbus offers a couple of services a week, with the trip taking 2 hours and 20 minutes.
Carolyn, Holidays to Europe
Reutte
Reutte is one of the pretty towns in Austria, which is famous for its Highline 179 Suspension Bridge, Ehrenburg Castle ruins, and Fort Claudia ruins, all of which can be visited as one of the day trips from Munich.
They are easy to reach after a short hike up the hill. Each ruin sits on opposite sides, Highline 179, making it easy to explore the whole area at your leisure. The Highline bridge is very reasonably priced at 10 Euros for a round trip and holds the Guinness World record for this bridge type.
After your hike around the Bridge and ruins, make a stop at Lake Plansee to cool off, play in the water, and relax for the rest of the day. It doesn't matter if you are traveling solo or with a family, Reutte Austria has plenty of land and water activities to keep you exploring all day long.
How to reach Reutte?
Reutte is about an hour and a half southwest of Munich, Germany. You can reach this cute market town via A95 to B179.
That's a wrap for some excellent day trips from Munich to that you can plan. Have you got more recommendations? Have you visited any of these?
Pin Day Trips from Munich to read later!