Given its enormous size alone, there are plenty of best hidden vacation spots in the US, scattered across the west, mid-west, and east coasts.
Apart from the size, thanks to the country's varied landscapes scattered throughout its length and breadth, you can easily spend weeks, if not months, if you set out to explore the hidden gems in the US.
Of course, there are tons of things to do across the country, with each state home to several popular tourist destinations, but once in a while, how about skipping the crowds to discover America's hidden gems? These best unknown places in the USA offer something for every kind of traveler.
From exotic coves to off-the-beaten reserve parks to gorgeous coastlines dotted with secluded beaches to beautiful lakes, small towns, and hiking trails, there are many secret vacation spots in the US you should check out to enjoy a holiday in the offbeat locations in the United States.
BEST HIDDEN VACATION SPOTS IN THE US – WEST COAST
FORT BRAGG, CALIFORNIA
If you are looking for a secluded getaway in California, head to the quaint city of Fort Bragg on the coast of Mendocino, one of the best-hidden vacation spots in the US, for many reasons.
Thanks to its popularity soaring in recent years, some of the attractions have drawn larger crowds, meaning Fort Bragg is almost out of the hidden places to visit in the USA.
But it is yet to match the mainstream tourist destinations, so make your way to this lovely city before it happens.
From beaches to gorgeous hiking trails and stunning viewpoints, there are many things for outdoor lovers to enjoy.
If you would love to hit a beach, head to the famous Glass Beach, named after the sea glass found on its shore.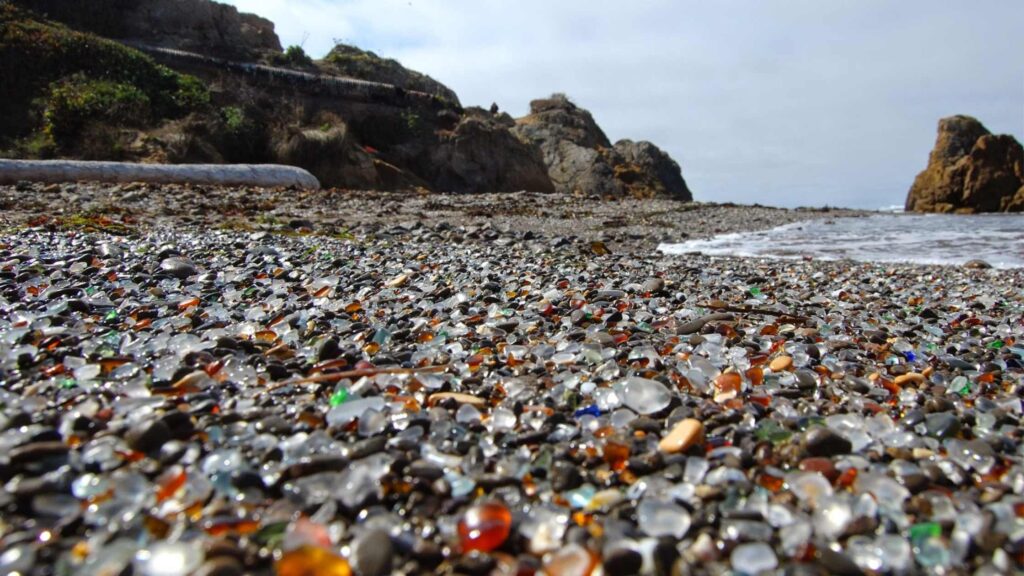 Explore hiking paths close by, which is a great option to spend some time there. Hop on the Skunk Train tour for a beautiful journey through the vistas, which can also be enjoyed by taking a bike ride.
The Botanical gardens is a colorful place if you are into lovely blossoms. Its clifftop location is one of the top reasons you should visit the park, though, more than the flowers.
Other amazing parks have well-marked trails and fewer tourists, like Otis R. Johnson Park, Noyo Headlands Park, and Coastal Trail Park.
Pomo Bluffs Park is incredible for coastal views, bike, and bike trails. You can also kayak on some of the beaches. There are a few small museums as well that you can stop by.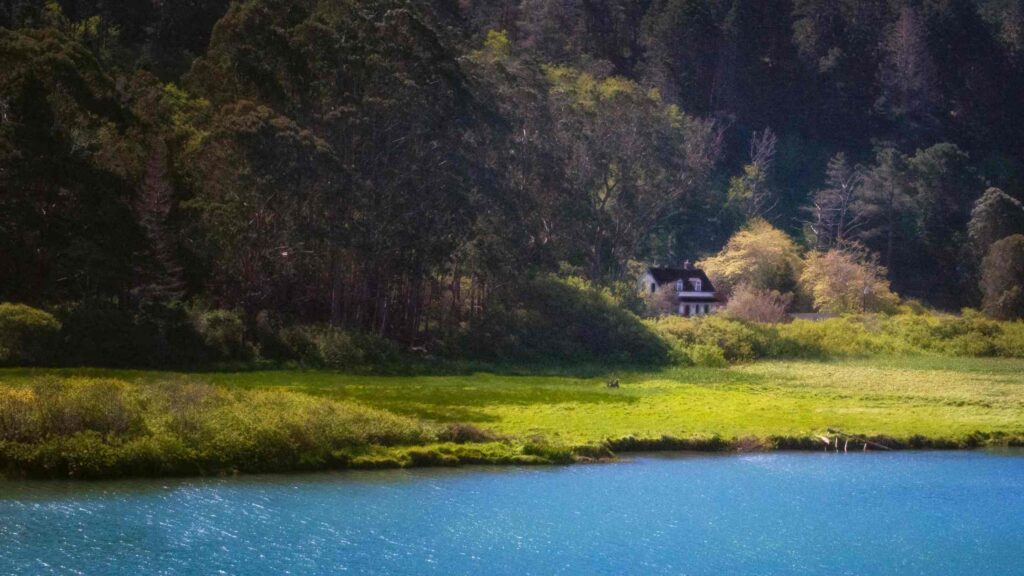 Overall, if you want a quiet weekend getaway on the northern coast of Pacific California, Fort Bragg is perfect for plenty of outdoor excursions, beaches, and excellent food. It is an ideal destination for a solo getaway and with your loved ones.
Where to stay in Fort Bragg?
Vacation rental, Apartment for families/couples – The Colonial Inn; Sea Foam Lodge; Mid-Range Apartment/Hotel – Ocean View Lodge; Best Budget Hotel/Hostel – Super 8 by Wyndham Fort Bragg;
WHITEFISH, MONTANA
How about a fantastic vacation with the backdrops of the spectacular Rockies sound?
Beautiful hiking trails, gorgeous landscapes, and rich wildlife await, among many other things, if you head to Whitefish in Montana, one of the best hidden vacation spots in the USA for all types of travelers.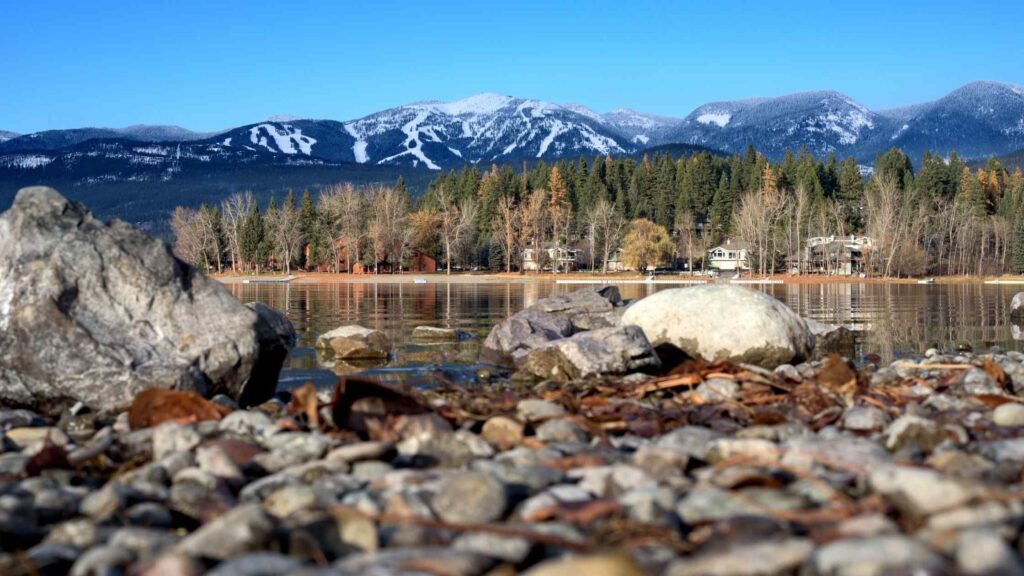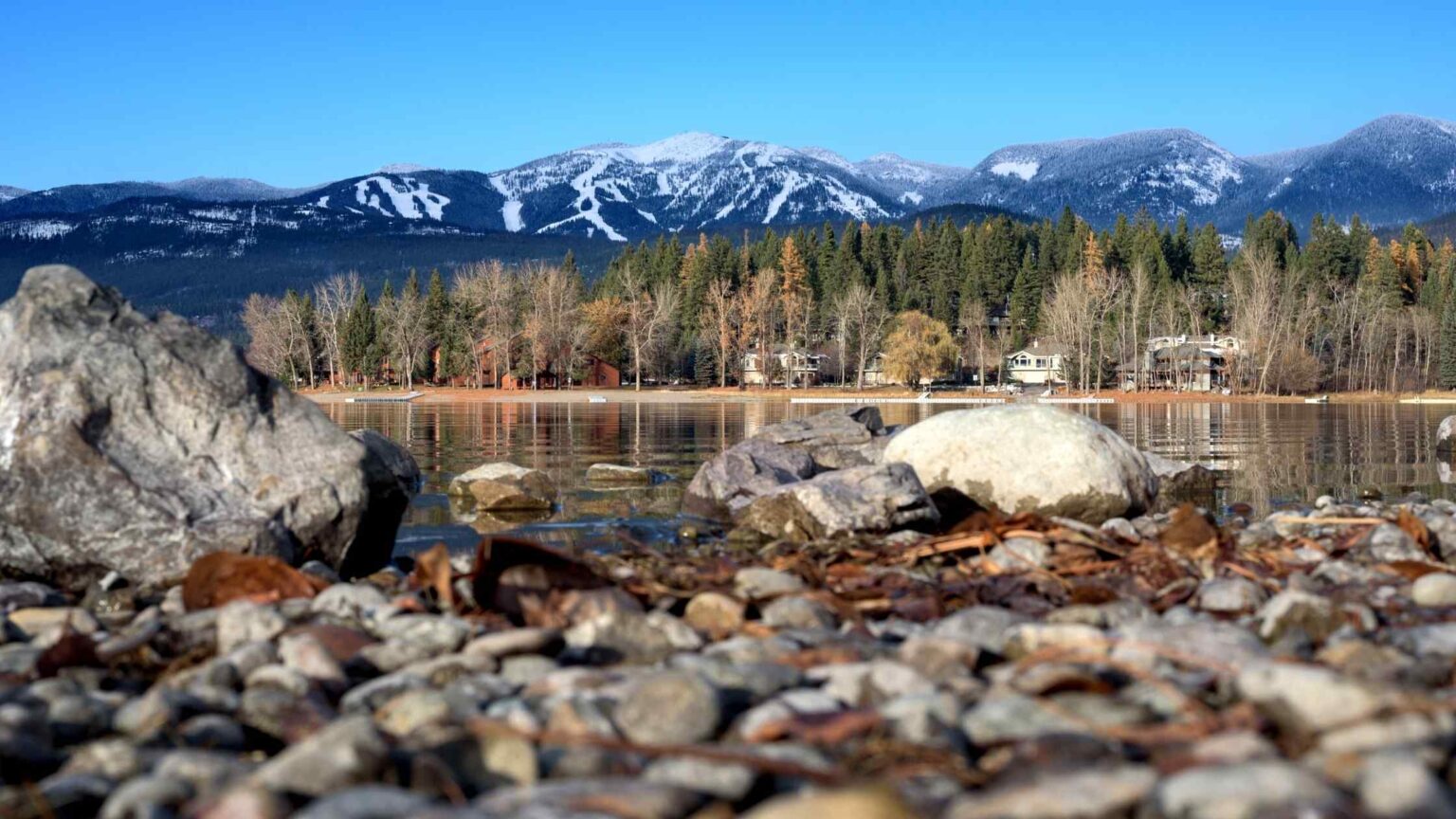 Located amidst the Rocky Mountains of northwest Montana, this resort town is the gateway to Glacier National Park, one of the beautiful parks home to gorgeous glacial lakes, views of the great peaks of the mountains, and luscious valleys.
Plenty of bike trails and bike trails will keep you occupied for a few days if you wish.
Come winter, and the landscape transformers into a snow paradise and the perfect abode for skiing and snowshoeing at Whitefish Ski resort.
Don't forget to admire the sweeping views on your ride to the summit to the top of the resort.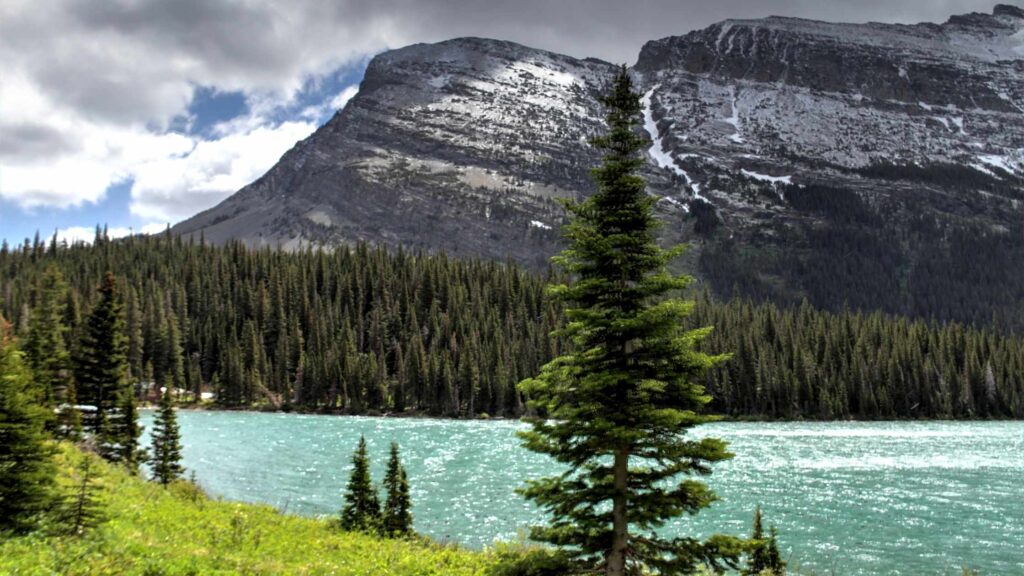 In summer, apart from the outdoor fun at Glacier National Park, you can enjoy boat trips and picnics around Whitefish Lake, enjoy camping, Kayak, swimming, or just idling away with your favorite drinks.
You can enjoy at least 3 to 4 days in Whitefish, although I recommend spending more time if possible.
The drive to Whitefish is an adventure, or you can fly directly to Glacier Park International Airport.
Where to stay in Whitefish?
Vacation rental & Hotel for families/couples – Sky Eco – Glacier General Store and Cabins; SpringHill Suites by Marriott Kalispell; My Place Hotel-Kalispell
HALF MOON BAY, CALIFORNIA
Half Moon Bay in southern California is a fantastic beach holiday in California, which is easily one of the best secret places to visit in the USA.
It is also one of the best road trips in California along the coast, which boasts of many gorgeous beaches sprinkled along the quiet coastline.
The pleasant-looking hills are dotted with these beaches overlooking the Pacific Ocean.
While the Golden Coast of California is famous, Half Moon Bay lies unexplored, surprisingly between the Santa Cruz mountains.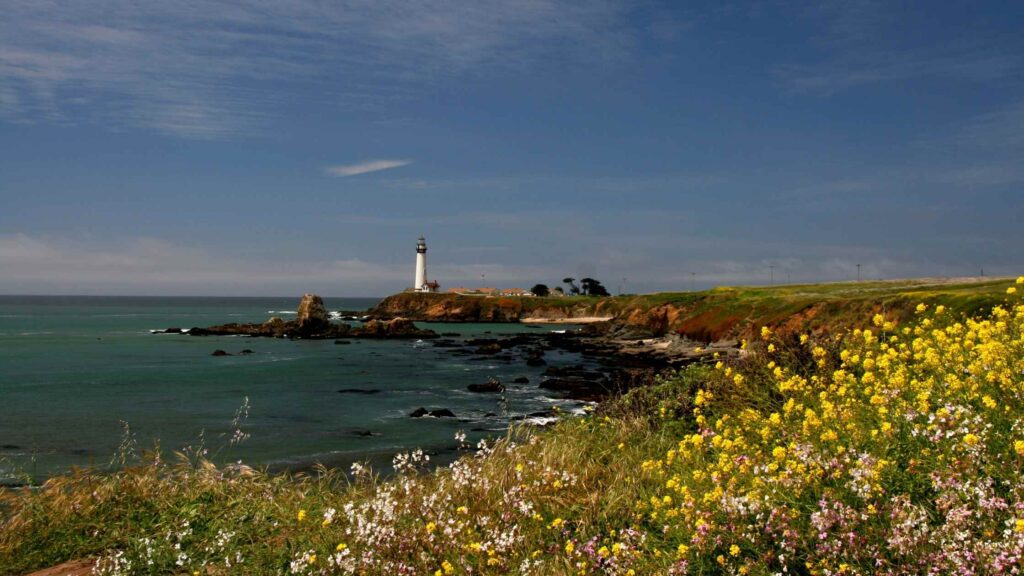 Half Moon Bay is an excellent vacation spot on the West Coast of the US, not just for the beaches. You can plan plenty of outdoor activities here – from camping to biking to fishing and horse riding.
RECOMMENDED: 25 Best Solo Travel Destinations in the USA
Water sports aficionados can enjoy Kayaking, paddle boarding, and surfing.
Given the many activities, some excellent accommodation, and delicious seafood, it is a surprise that it is one of the best-hidden gems in the US, especially as it is a fabulous destination throughout the year.
Where to stay in Half Moon Bay?
Vacation rental, Apartment for families/couples – Aristocrat Hotel, BW Signature Collection; Grand Hyatt at SFO; Mid-Range Apartment/Hotel – Residence Inn by Marriott Redwood; TownePlace Suites by Marriott
LA CONNER, WASHINGTON
Another destination perfect for a weekend getaway from Seattle is La Conner, a small fishing town on the Skagit River in northwestern Washington.
With a population of thousands only, it is one of the best unknown vacation spots in the US, a hub for artists and art lovers.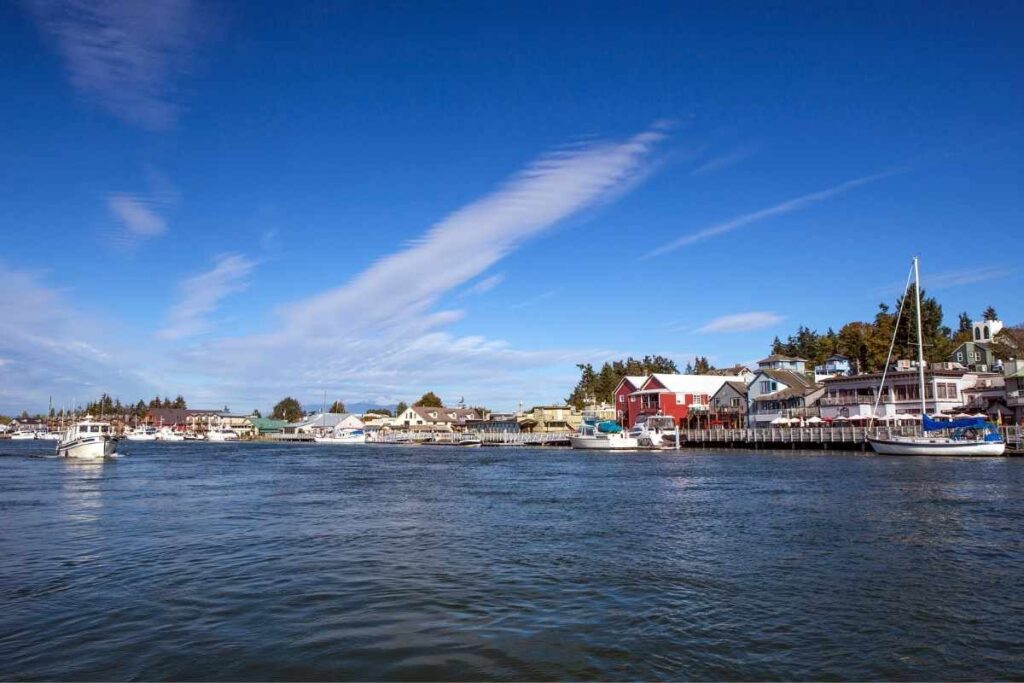 April is the only month when it attracts tourists in more numbers as it hosts the beautiful Skagit Valley Tulip Festival.
The fields in La Conner transform into a flower paradise as they get filled with vibrant Tulip blossoms, which is a lovely sight.
You can walk the fields and get your perfect Instagram shots or bring some of the Tulips home too. 
Summer sees a bit of crowd, but despite its proximity to Seattle and Canada's Vancouver, La Conner has managed to remain one of the lovely hidden gems in the US.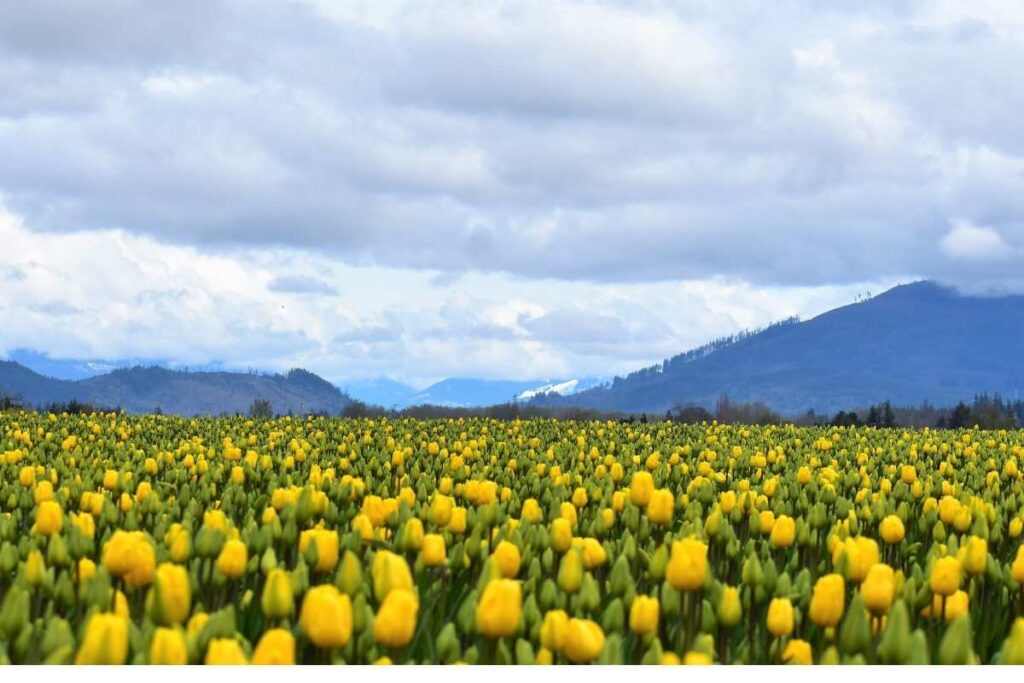 To learn a bit of history and art, check out the Museum of Northwest Art, The Skagit County Historical Museum, Pacific Northwest Quilt, and Fiber Arts Museums.
There are many vineyards offering wine tours around La Conner, recommended for tasting the local ones. Skagit Crest Vineyard is beautiful.
You will enjoy collecting antique souvenirs to bring back home if you love ancient arts and crafts, which you can find in plenty in the many boutique shops, one of the specialities of La Conner. La Conner has excellent options for seafood served in the restaurants lining the bay.
Where to stay in La Conner?
Vacation rental, Apartment for families/couples – The Heron Inn and Day Spa; La Conner Channel Lodge;
Mid-Range Apartment/Hotel – Swinomish Casino & Lodge; Candlewood Suites Oak Harbor; La Conner Country Inn;
SOLVANG, CALIFORNIA
Just 2-hours away from colorful Los Angeles lies one of the best hidden vacation spots in the US. This hidden gem of California lies in its southern region in Santa Ynez Valley, a quaint town modelled after Denmark.
Solvang is one of the best destinations in California for those looking for a quiet weekend getaway to a unique town.
The town has a mixture of Spanish and Danish influences, which is why you will find the Spanish cathedrals and monuments like the windmills, and the mermaid statues similar to the ones in Copenhagen, apart from the many medieval European-style(Danish themed to be precise) buildings.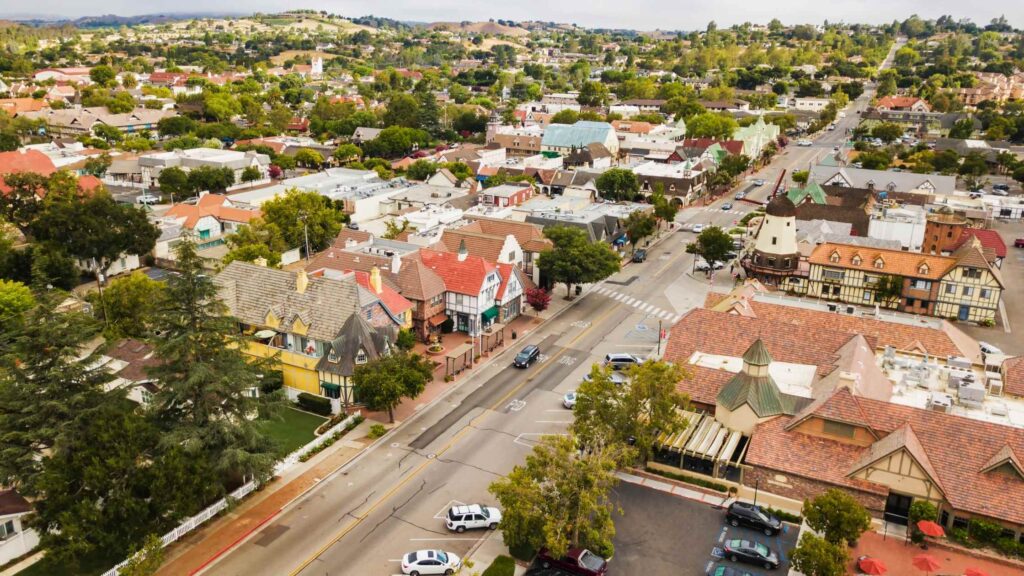 Among the many things to do in Solvang include visiting the Elverhøj Museum, which, again, as you guessed is all about Denmark's culture and heritage.
The Spanish Cathedral from the 17th-century, Santa Inés, is worth stopping by.
In Solvang, you can get a taste of Denmark through food, too, thanks to the many bakeries baking the delicious Danish cakes and cookies. Want to go one step further? Try buying traditional Danish attire and jewelry.
If you love motorcycles, check out the Solvang Vintage Motorcycle Museum, with many antique exhibits on motorbikes from around the world.
Where to stay in Solvang?
Vacation rental/Apartments/Cottages – Solvang Alisal Vacation Cottages; Hotel Corque; Hadsten House Inn; The Hamlet Inn
SAN LUIS OBISPO, CALIFORNIA
Despite being sandwiched between two famous destinations Santa Barbara and Big Sur, one of the best hidden vacation spots in the US that have managed to remain a hidden gem is San Luis Obispo, one of the beautiful cities in Central California.
You can reach San Luis Obispo within 2 hours from Santa Barbara, so it is a perfect destination for a weekend getaway.
If you want to get away from all the crowded places around the Golden State, San Luis Obispo is your best escape.
It exudes the typical charm of small towns, the quiet neighborhoods, and the originality that is hard to find in bigger cities.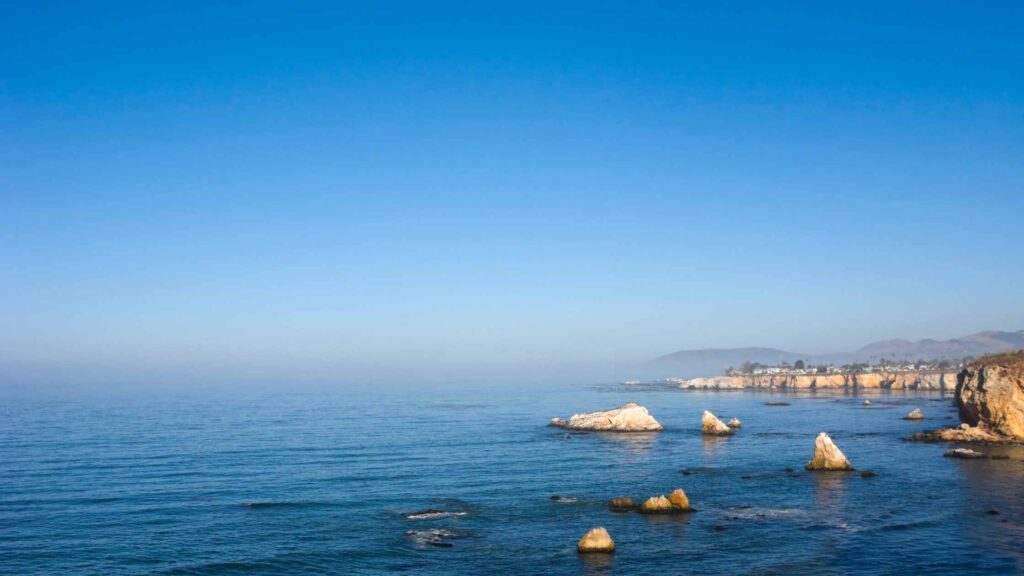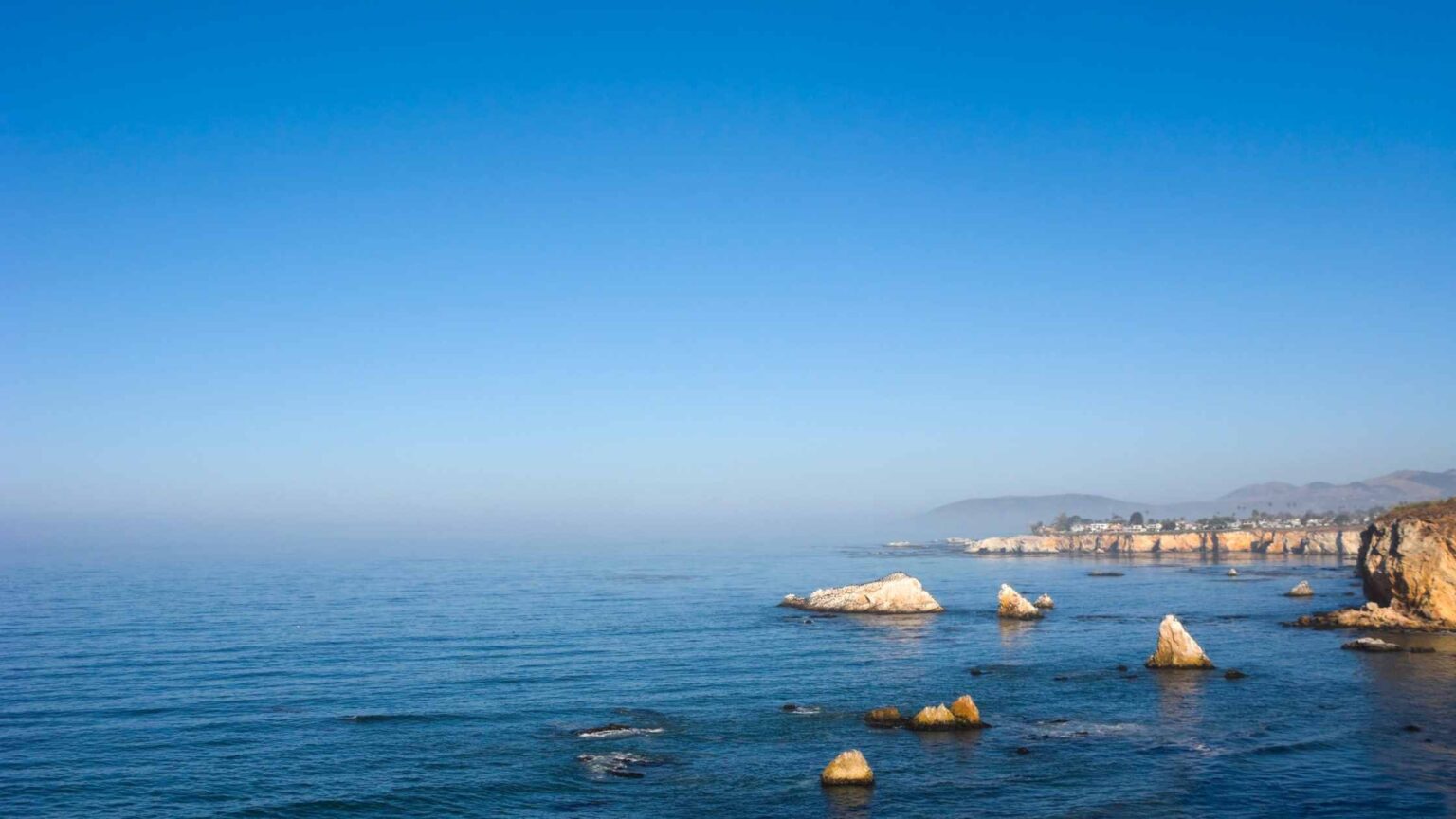 Among the top attractions, explore the 16th-century museum Mission San Luis Obispo de Tolosa, stroll along Bubblegum Alley, and check out Fremont Theater.
You will love the San Luis Obispo Museum of Art if you are into art galleries. There is not much within the town apart from these, but you have a lot to check out nearby.
RECOMMENDED: 35 Best Things to Do In San Luis Obispo On a Weekend Getaway
You can base yourself in San Luis Obispo and drive to the vineyards for a tour in neighboring Paso Robles. You can plan day trips to the close by beach towns if you are in a mood to relax.
Or, Montaña de Oro State Park, one of the beautiful nature reserves in California, is not far if you want to admire stunning landscapes replete with beach lines and viewpoints reachable by hikes.
Adventure seekers can get to the next level of fun by picking hikes to the volcanic hills near San Luis.
Where to stay in San Luis Obispo?
Vacation rental, Apartment/Cottages – Avila La Fonda Hotel; Hilton Garden Inn San Luis Obispo; The Agrarian Hotel; Inn At Rose's Landing; Garden Street Inn Downtown San Luis Obispo
PORT TOWNSEND, WASHINGTON
Among the many easy day trips from Seattle is Port Townsend, one of the most beautiful cities in Washington on the Quimper Peninsula in Jefferson County. It is one of the scarcely populated cities, with thousands of inhabitants calling it home.
This reason is enough to call it an offbeat destination, but why is it worth including one of the best hidden vacation spots in the US? The city has over 300 Victorian-era buildings that elegantly occupy the streets of this seaport town.
The food is excellent here, and you have some museums, breweries, and fantastic sunset views in the mix.
Plan a weekend getaway from Seattle to fall in love with this city, home to the city's busiest seaport.
The promenade lined with cafes, restaurants, and boutique shops exudes laid-back holiday vibes, making you settle in quickly into Port Townsend.
If you are hiking or want to go camping, you have plenty of options for an extended trip. Fort Worden Historical State Park is the top reserve area for outdoor activities.
There are many lovely hiking trails, biking lanes, and beaches to enjoy stunning views of the coast. You can camp or get your RV as there are exclusive campsites too.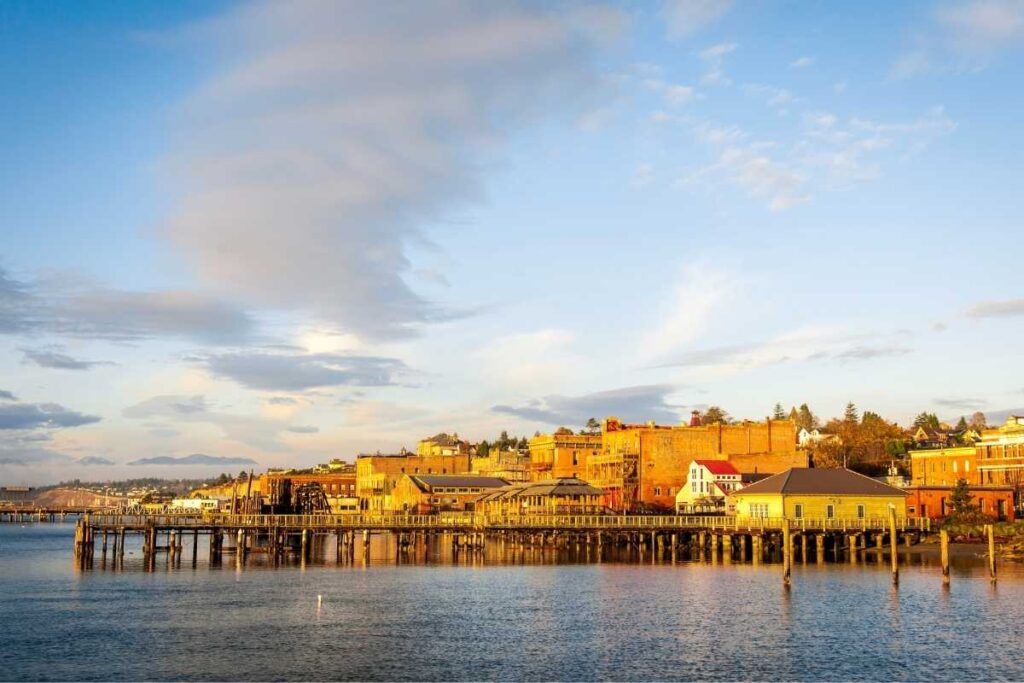 Fort Flagler Historical State Park and Fort Port Townsend are other parks for the best outdoor activities. Check out Jefferson Museum of Art & History and Port Townsend Marine Science Center, known for its tidal sea pool.
Take a Port Townsend Brewing Co tour for tasting local breweries, or visit one of the vineyards if you are more of a wine person.
Where to stay in Port Townsend?
Hotels for couples/Families – Ravenscroft Inn; The Bishop Hotel; The Swan Hotel; The Palace Hotel; The Waterstreet Hotel
REDDING, CALIFORNIA
Located in Northern California on the banks of the Sacramento River and to the south of Shasta Lake, Redding is one of the lovely hidden vacation spots in the US.
Despite being home to many magnificent natural wonders in California, Redding does not receive visitors in those numbers matching Yosemite, Napa, or Los Angeles.
It is perfect and a blessing for offbeat travelers. You can plan a serene long weekend trip to Redding from San Francisco, as it is a beautiful road trip that will take you there in under 4 hours.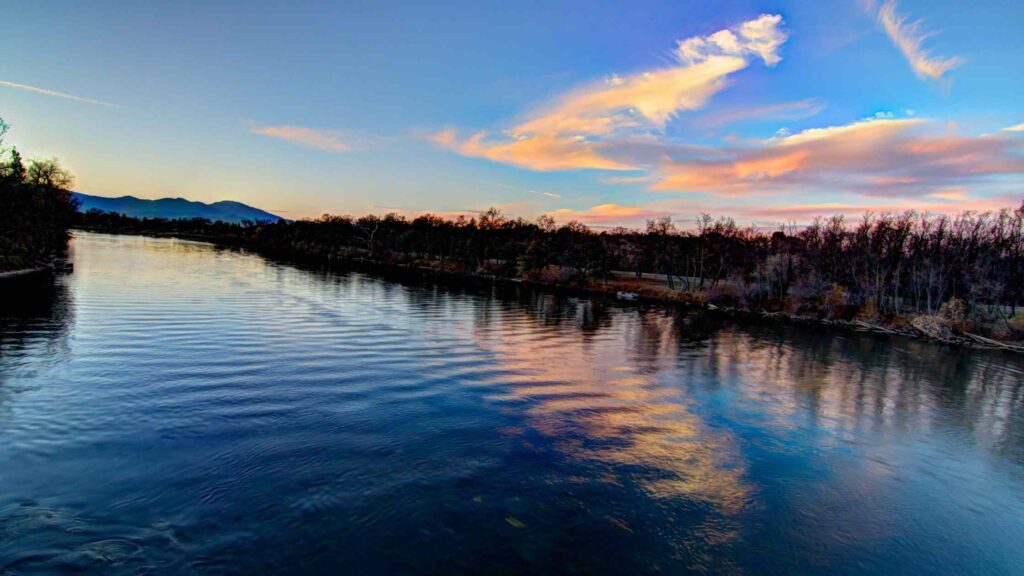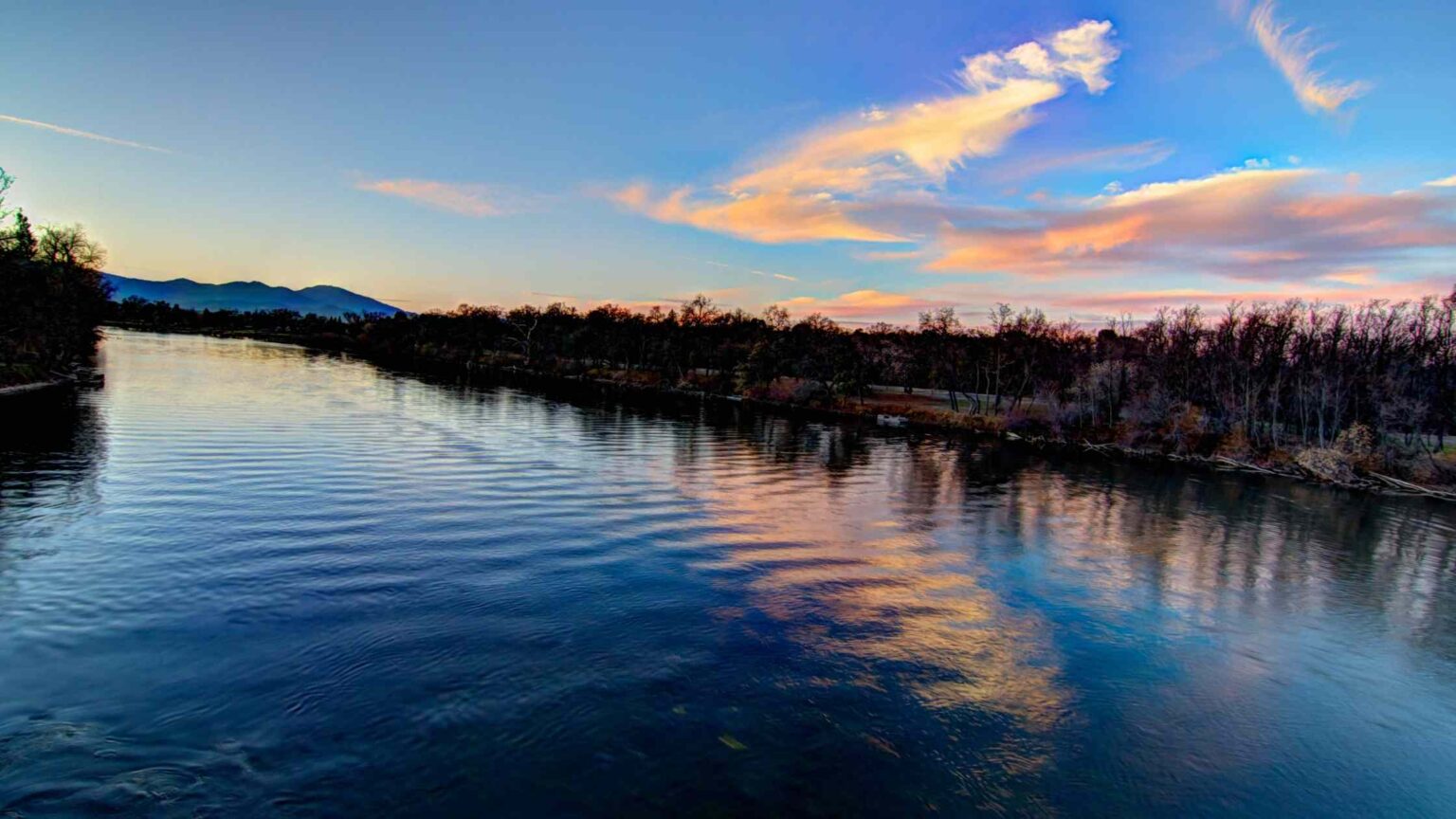 If you are traveling with kids, they will love Turtle Bay Exploration Park, where they can learn about turtles, a walk in the beautiful botanical garden. You can also check out the museum on the premises, housing historical artifacts.
Instagram photo spots enthusiasts should head to the suspension bridge across the Sacramento River, which also functions as a sundial, hence the name Sundial Bridge.
Hikers and Outdoor adventure-seeking souls have at least three national parks in and around Redding.
Plan a day trip to Lassen Volcanic National Park to witness the dormant volcanic mountain peaks, accessed via many beautiful trails, home to many splendid waterfalls gushing over rocky cliffs.
McArthur-Burney Falls Memorial State Park, not far from Redding, is home to the magnificent Burney Falls, roaring at 129 feet high, cascading with glorious flow over, forming impressive underground springs further below.
You must undertake a short hike through the lush jungle to witness this spectacle. Apart from the waterfalls, you can also camp there or go fishing and canoe.
Burney Falls is a part of the loop drive from Redding, which also covers many other waterfalls, and the best part is that you can all of them in a day.
Following this loop, you can next stop at Shasta State Historical Park, which houses another volcanic mountain. There is also a mining town that was once a treasure-house of gold.
Here, you can just do a quick stop and be done, or better keep a whole day to explore the Shasta area, as there is also the other Caverns park.
If you plan a trip to Lake Shasta Caverns National Natural Park, you can check out the lovely Lake Shasta, which also has cave formations.
Another reserve area worth visiting is Whiskeytown National Recreation Area, home to waterfalls and a lake. As you can see, there are many places to visit in and around Redding so that you can plan anywhere from three to five days road trip here.
Where to stay in Redding?
Hotels for families/couples – Sheraton Redding Hotel at the Sundial Bridge; Fairfield Inn & Suites Redding; Hope Inn Redding; Oxford Suites Redding
NORTH BEND, WASHINGTON
Located at the foothills of the Cascade Mountains in King County in Washington is one of the best hidden vacation spots in the US, North Bend.
Although it can be reached within an hour from Seattle, not many know about this stunning hamlet outside the state.
Seattle residents often come here for a quick picnic, hikes, or a weekend trip so that they might be your only companions on your journey to North Bend.
You need at least a weekend in North Bend to explore the highlights, but if you plan to do some hikes, adding a few more days to your itinerary is best.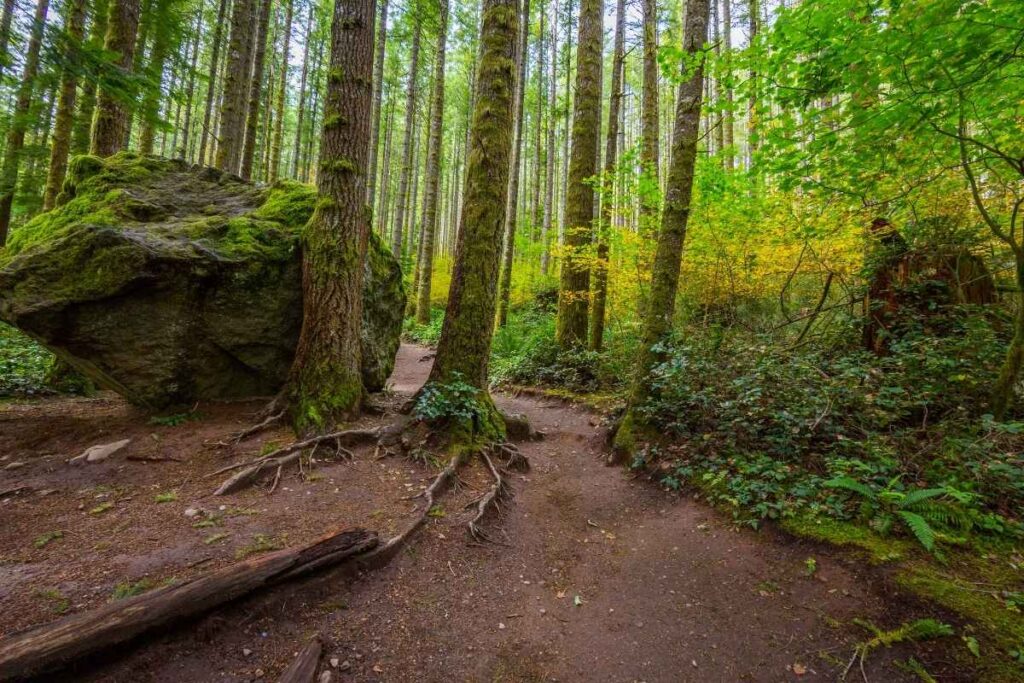 If you want to enjoy the lush valleys by yourself, sign up for any of the hikes in the beautiful Snoqualmie Valley, dotted with many rivers, waterfalls, and gorges.
After it began getting to be noticed as the filming location of the TV series Twin Peaks, North Bend became popular to some extent, after which the fans started arriving to explore the sites.
RECOMMENDED – 45 FUN THINGS TO DO IN WASHINGTON DC AT NIGHT
If you are a fan of the Twin Peaks show, you can join a tour to check out all the filming locations. Or you can explore them by yourself too as they are all located easily on a map.
Among the things to do in North bend are Snoqualmie Valley Museum, North Bend Depot Railway Museum, and a viewpoint Stan's Overlook, which an easy hike can reach.
Snoqualmie Falls Brewery is worth checking out for some beer.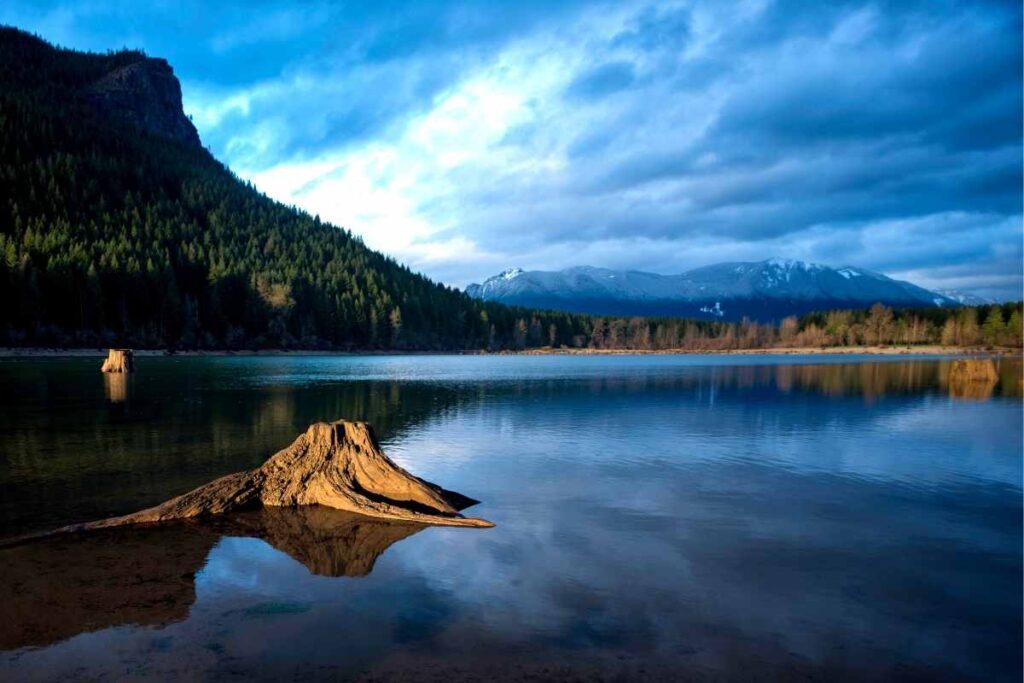 Explore RattleSnake ridge trail, located south of North Bend, which is one of the most beautiful hiking paths that lead you to a mountain top, from which you can admire stunning vistas.
Rattlesnake Lake is a fabulous place for a picnic, boat trip, or Kayaking if you are here in summer. Another similar trail is the John Wayne Pioneer path. The most adventurous of all the hikes is the one to the summit of Mount Si.
Where to stay in North Bend?
Salish Lodge & Spa, which sits on top of the stunning Snoqualmie Falls. This lodge is also one of the best places to stay in the area.
BEST HIDDEN VACATION SPOTS IN THE US – MIDWEST
FREDERICKSBURG, TEXAS
As the name indicates, Fredericksburg is a town that was founded by European immigrants, specifically Germans, in the late 17th-century.
Located in Texas Hill County, the small town of Fredericksburg is one of the best hidden vacation spots in the US if you want a flair of European charm in America.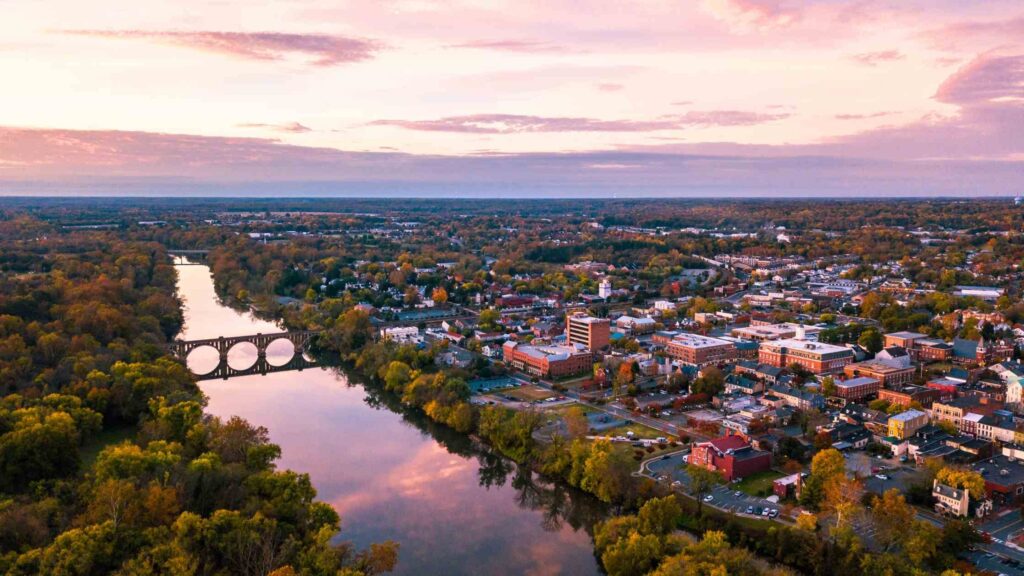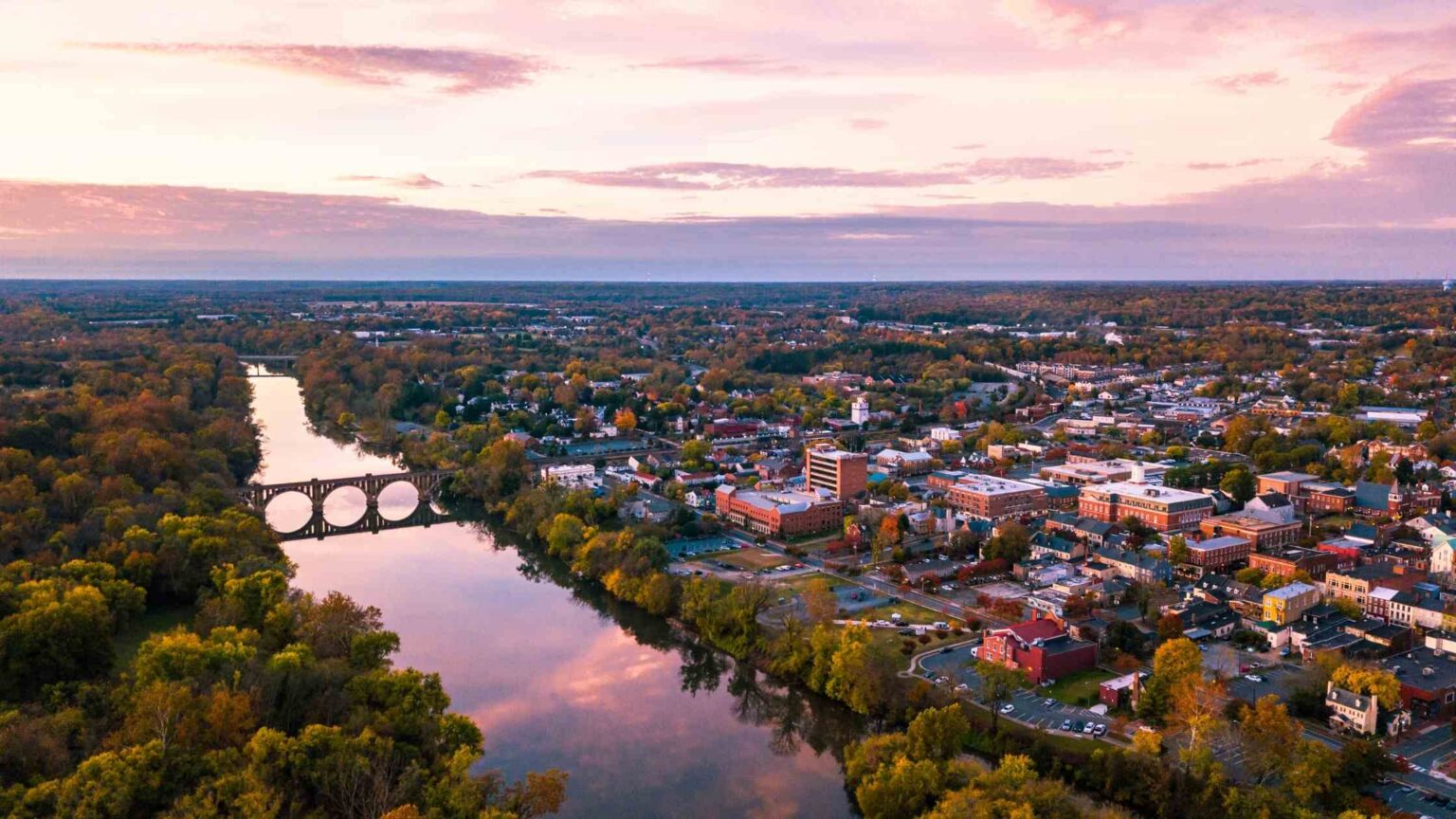 Although you can't miss the Texan influence that has only been growing in recent years, Fredericksburg is still a European-style town through and through.
It is a perfect day trip destination to plan out of Austin and San Antonio.
Apart from the German influence, Fredericksburg is worth adding to the list of best USA places to visit for its wine yards, gorgeous lavender fields, historically rich streets with imposing European architecture, beer, and excellent gastronomical scenes.
Like the German cities and towns, explore the central square or the Marketplatz lined with European-style buildings and churches.
You can find many cute cafes, excellent restaurants serving some famous delicious delicacies and beer.
If you want to know more about the town's past, you may find some exciting things in the National Museum of the Pacific War and the Pioneer Museum.
If you are here in summer, enjoy the seasonal fruits unique to this area in Texas.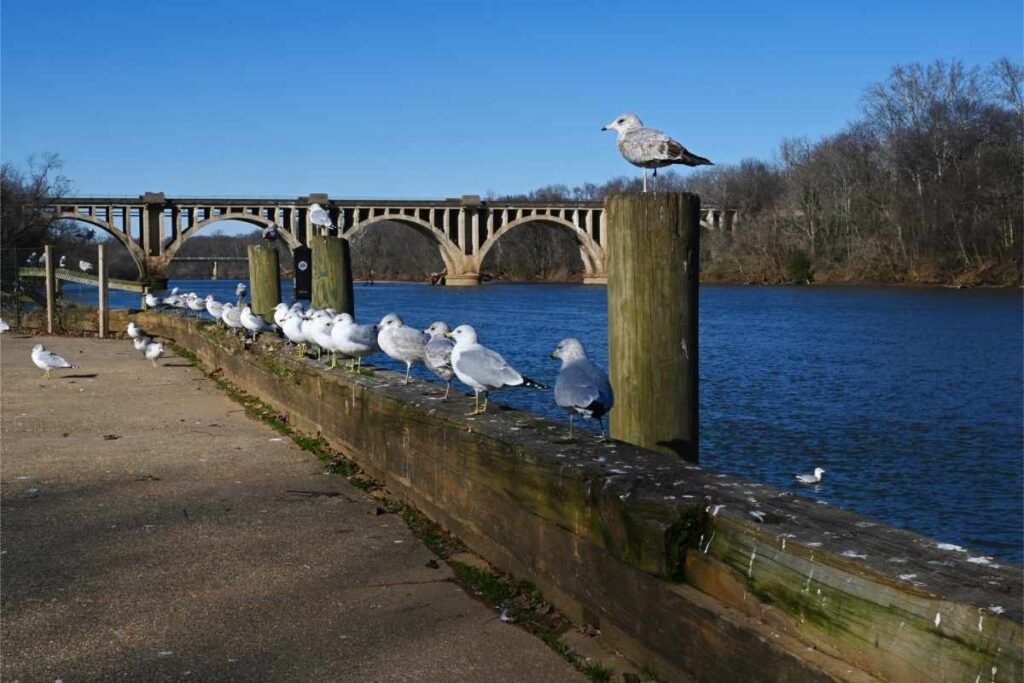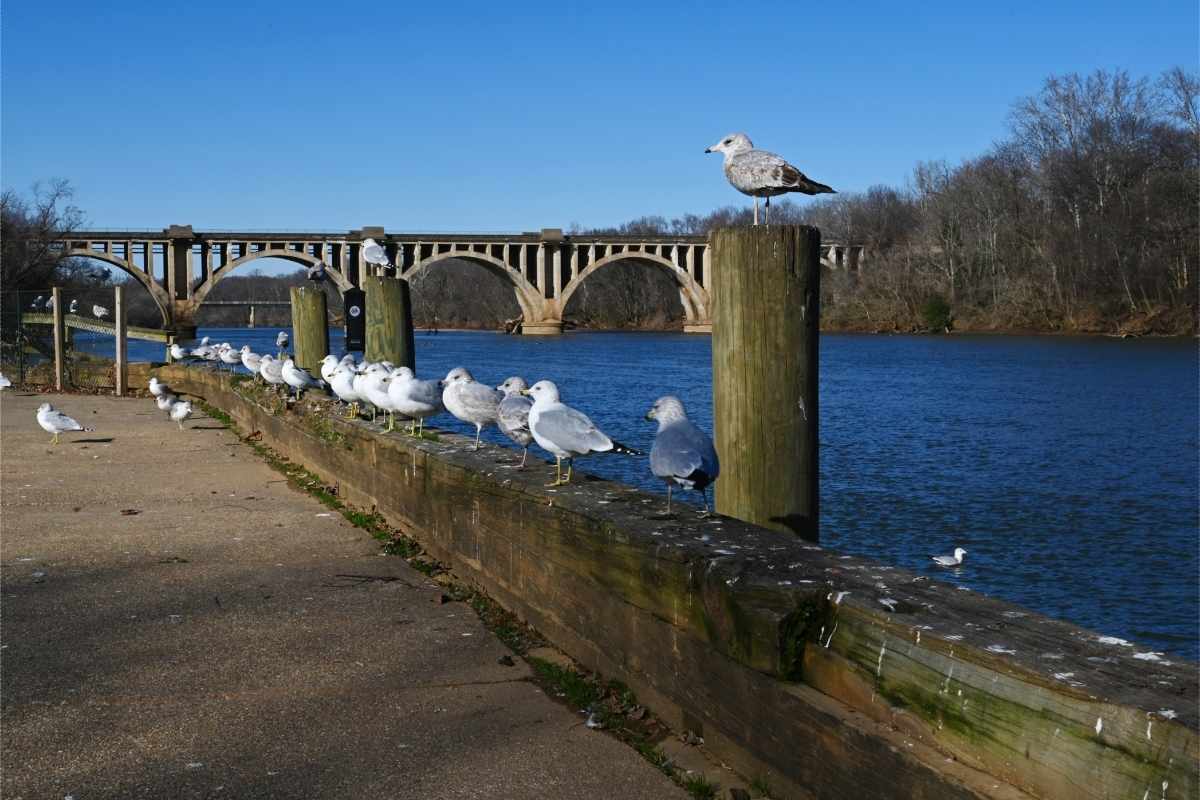 There are many short and longer wine tours, including tasting, and some include lunch as well, which you can check out here.
Wine tourism has gained a lot of traction, which might soon put Fredericksburg off the list of the off-the-beaten-path vacations in the USA.
Where to stay in Fredericksburg?
Best picks of Cabins, Cottages, and hotels – Town Creek Log Cabin; Barons CreekSide Resort; Walnut Canyon Cabins; Bakery Haus Red Velvet; Das Solheid Sunday House; Full Moon Inn
BURNET, TEXAS
Located in Burnet County in Texas is Burnet, a small, sparsely populated city situated between the Brazos and Colorado River watersheds.
A perfect destination for a weekend trip from Austin, from where Burnet can be reached in under 2 hours, is one of the unknown places in the USA ideal for a relaxed holiday.
Sure, there are many things to do in Burnet for outdoor enthusiasts and tourists, but you can perfectly enjoy being in Burnet without doing anything, unlike other cities or towns.
Some of the best lakes in Texas in Burnet provide a blissful escape from running around. You can pick one of them and have a picnic, grabbing your favorite beer to accompany you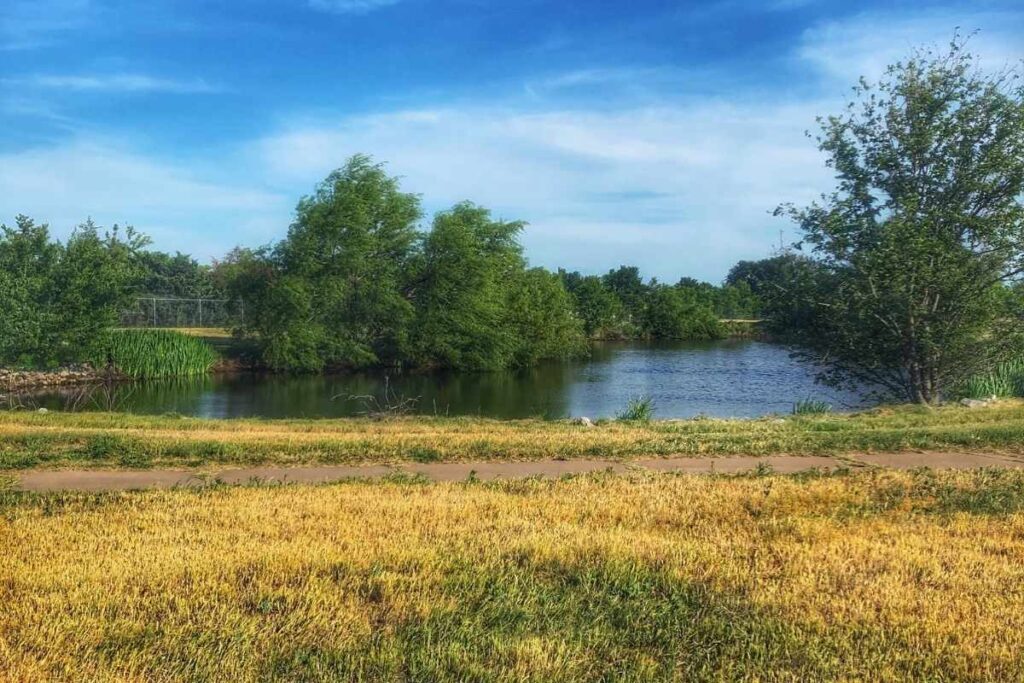 Lake Buchanan, Lake LBJ, and Inks Lake are the lovely lakes that become the center grounds for families and travelers during the peak season and holidays as you can enjoy swimming, fishing, boating, and even camping.
There is a Golf course if you love the game. You can stroll in Hamilton Creek Park or Galloway and Hammond City Park, both well-maintained green pastures.
Museum-lovers should not miss visiting Hill Country Motorheads Motorcycle Museum and Fort Croghan Museum.
Where to stay in Burnet?
Best picks of Cottages, and hotels – Best Western Post Oak Inn; McKenize Guest House; WorldMark Marble Falls
WIMBERLEY, TEXAS
Just an hour outside of Austin is a quiet village where the Cypress Creek and the Blanco River meet. Wimberley in the Texas Hill Country is one of the best hidden vacation spots in the US.
It is referred to as a little piece of heaven by the Texans, and rightly so, given all the things this hamlet is blessed with and the rich Texas culture.
Although regarded predominately for the ranching area that lies outside of town, this village is one of the best day trips for people of Austin and Texas. In addition, this village is one of the best day trips to immerse in a bit of culture, wine, nature, and relaxation.
There are many beautiful natural swimming holes that you can explore in summer, the most famous ones being in Blue Hole Regional Park and Jacob Well Natural Area.
Wine lovers should add a visit to Wimberley Valley Winery and Los Olivos for wine tours and tasting.
Hikers and biking enthusiasts will love the trails in Old Baldy and Cypress Creek Reserve, where Rum lovers also should check out their distillery.
Then, add a day or half to explore Wimberley Zipline Adventures, very popular for Ziplining surrounded by beautiful landscapes. There are also hiking trails if you wish to skip zipline.
Where to stay in Wimberley?
Best picks of Cottages, Cabins, and hotels – Mountain View Lodge; Cypress Fairway Village; Creekside Country Cabin; Collective Hill Country
BEST HIDDEN VACATION SPOTS IN THE US – EAST COAST
In this section, check out some of the best secret places and hidden gems in the USA on the east coast.
CAMDEN, MAINE
Located on the lovely Penobscot Bay in Maine's MidCoast region is one of the beautiful hidden vacation spots in the US, Camden.
Throughout the town, you will notice beautiful 19th-century buildings, many of them being homes, not just public buildings or shops.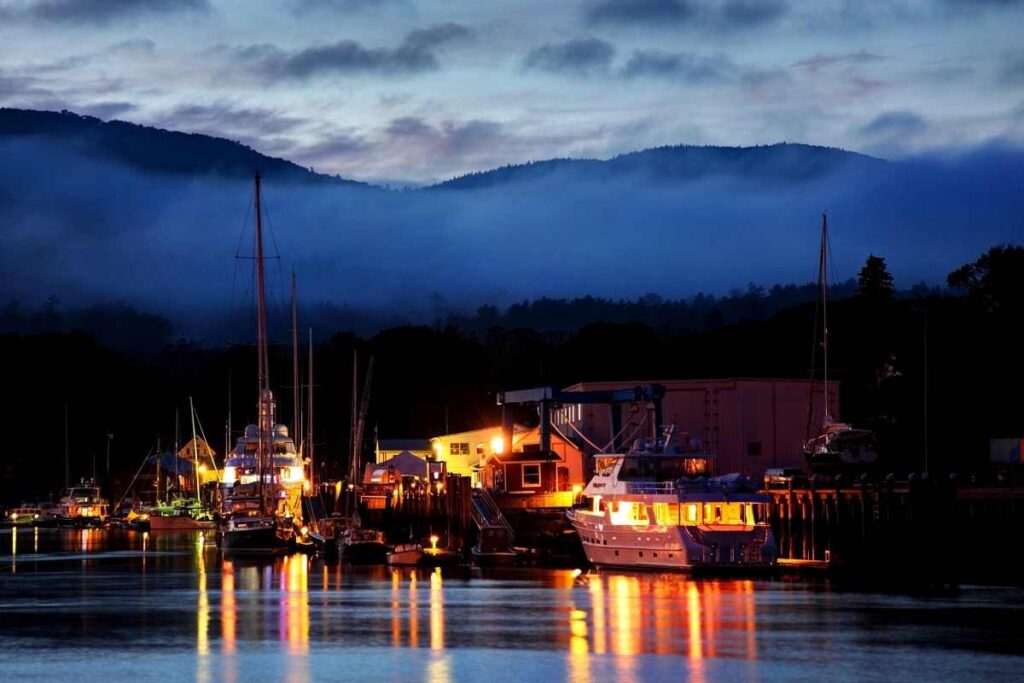 Camden is one of the best unknown places to visit in the U.S for those wanting to indulge in delicious seafood delicacies, enjoy quiet sunsets on the port and get a bit of history and architecture.
So head there if you are a foodie or love vibrant old buildings and a pretty waterfront.
Among the notable buildings you should check out is the Opera house or the amphitheater located within the premises of Camden Public library, the most significant structure in town, alongside which you will find many boutique shops, cute cafes, and shops.
If you are lucky or plan well, you can even watch concerts or movies and other performances in Camden Opera House.
Enjoy spending time exploring the bay area. It is a hub for all the best restaurants and bars in Camden. Enjoying a beautiful evening admiring the sunset followed by a delicious dinner is a must-do here.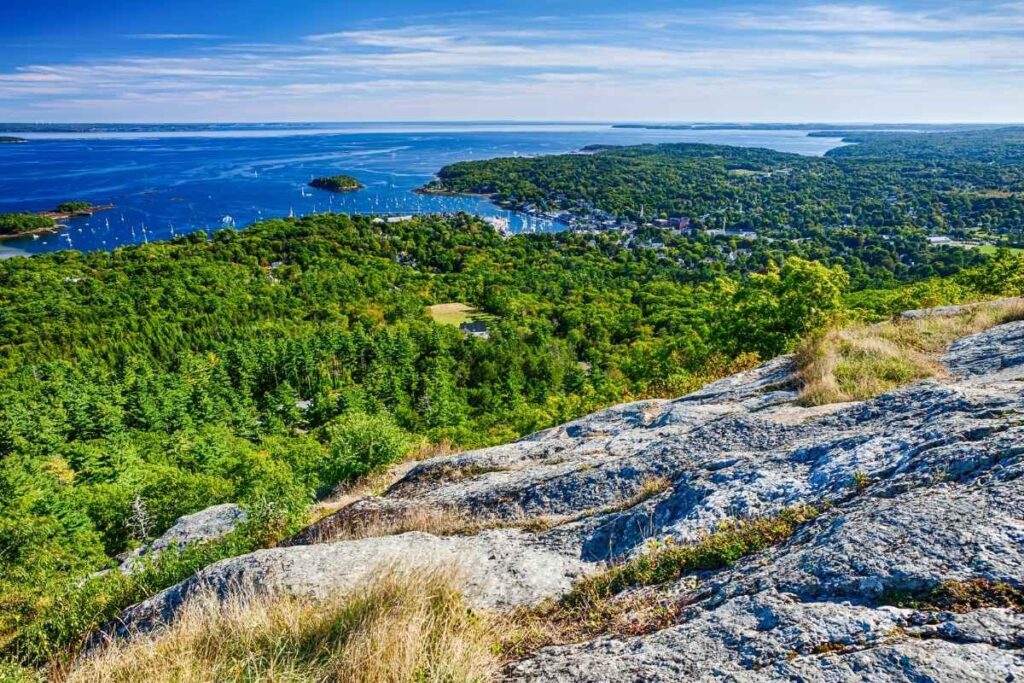 Visit Camden Hills State Park, where you can spend time hiking and admiring the lovely panoramic views of Camden Harbor and the bay from Mount Battie. Head to Curtis Island, which is home to the 1830s lighthouse.
Summer is a popular time as such you will notice a bit of the crowd(way lesser than the crowds at touristy places), but if you are here in winter, you will probably be the only tourists.
From Penobscot Bay, you can plan boating trips thanks to many sailboats or yachts. You can also enjoy fishing or Kayaking. In this seaside town, you can also plan cruises for whale watching too.
Where to stay in Camden?
Best picks of Cottages, Cabins, Rentals, and Hotels – Grand Harbor Inn; Relais Chateaux Camden Harbour Inn; 16 Bay View; Hartstone Inn & Hideaway; Camden Maine Stay Inn; The Belmont Inn; Timbercliffe Cottage Inn; Elms of Camden; Blackberry Inn; High Tide Inn Cottages
ROSENDALE, NEW YORK
Not many know about one of the hidden vacation spots in the US lies just 2 hours away from New York City.
Locals may know about Rosendale, a small town loaded with cute cafes, boutique shops, taverns, and colorful buildings that quickly disappear to open up to abundant natural beauty comprising forested mountains and valleys.
Rosendale boasts of the fantastic Catskill Mountains and Rondout Creek as its backdrop, with the town exhibiting the typical New York charm albeit the high levels of glitz or crowds.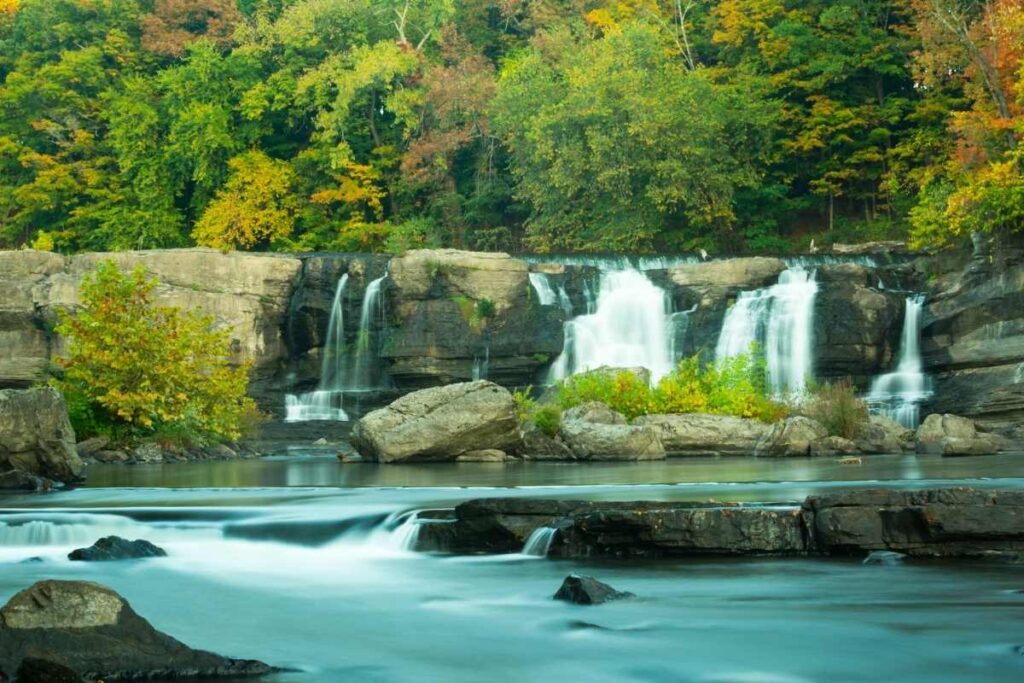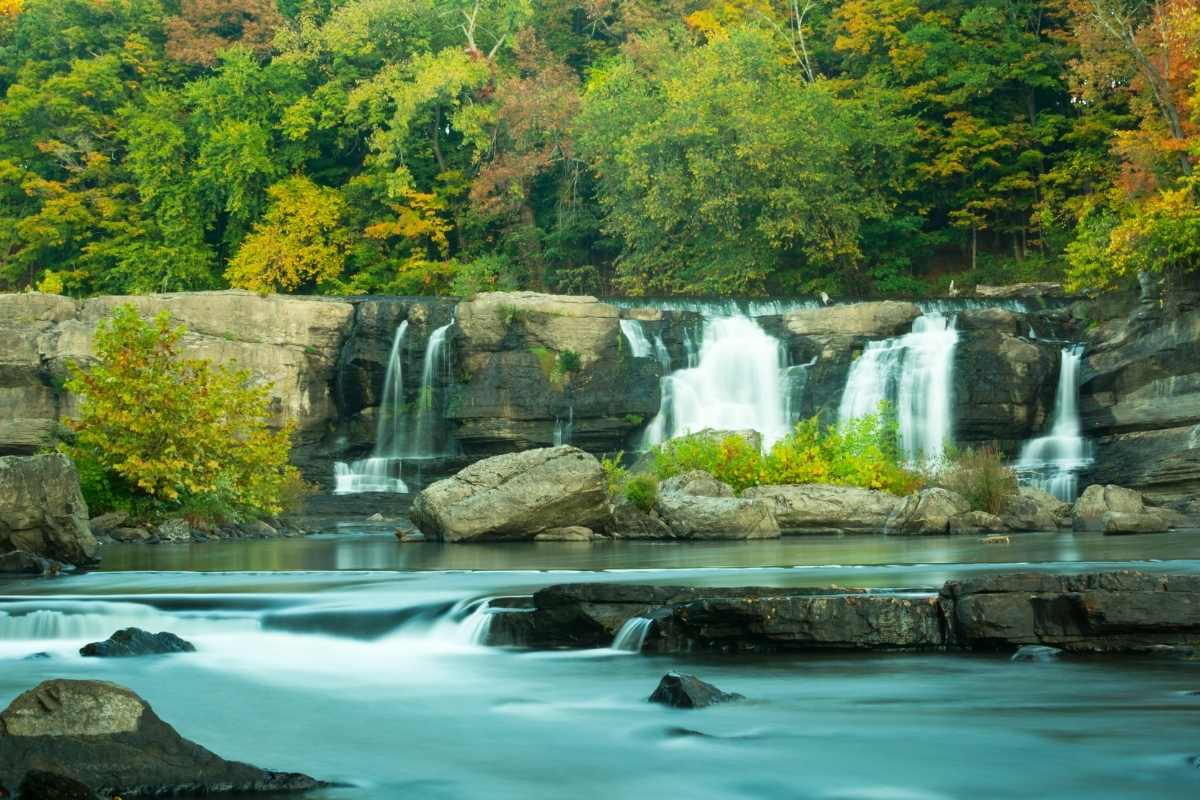 The city center is relatively new, with most of the buildings existing only for the last few decades or more. In recent years, the city has become a thriving place for artistic souls.
If you are here during peak seasons, you might even get to witness art performances and musical concerts as many street festivals are held regularly in Rosendale.
Although you can plan an easy day trip to Rosendale from New York City, I'd highly recommend you spend at least three days, if not more.
It is worth it because of the ample opportunities to explore the nearby valleys, complete with trails offering a splendid panorama. 
The top hiking trails include the Wallkill Valley Rail Trail, a 20+ mile trail running along a railway line spanning a park.
Portions of this trail connect to many other paths in different directions, connecting to the Empire State Trail. Depending on your preference, you can choose different versions of these paths.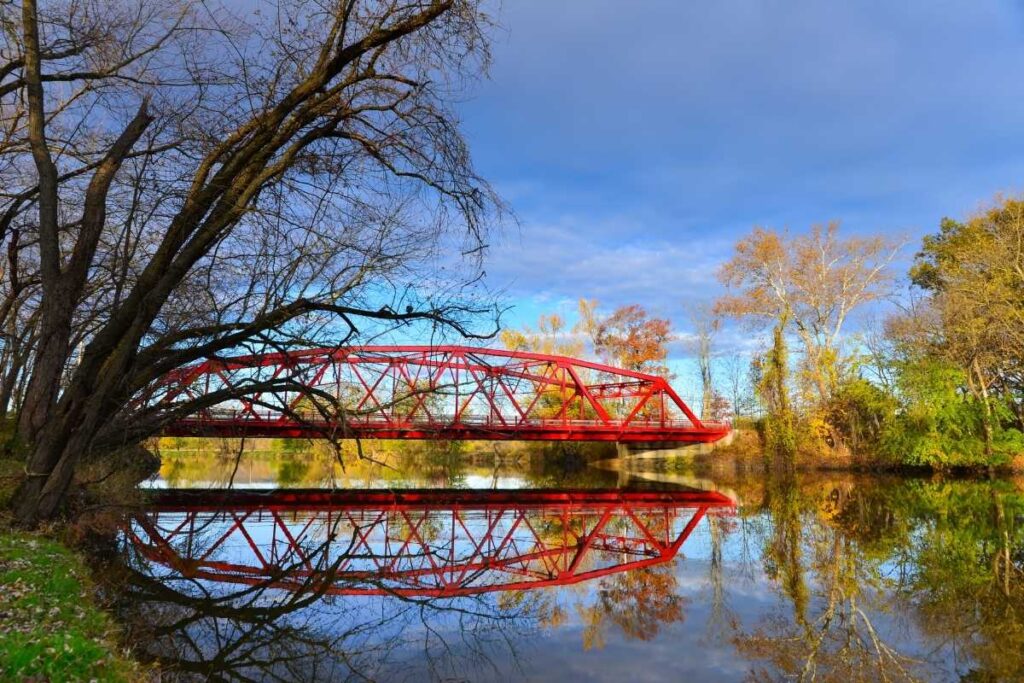 One notable landmark in this park is the gorgeous Rosendale Trestle, a 940-foot continuous truss bridge. Also, check out the beautiful Sturgeon Pool, a fabulous place for a picnic, camping, and admiring the sunset.
Don't forget to keep a few hours visiting Widow Jane Mine, a natural trail, a cave, which also houses a museum.
Plan a trip to the stunning viewpoint at Bonticou Crag, accessed by a short trek, ideal for taking up with families for a picnic.
Where to stay in Rosendale?
Best picks of Cottages, Cabins, and Hotels – Residence Inn by Marriott Kingston; The Gables of Rhinebeck; Tentrr – Grotto View at Stone Mountain; Black Creek Bed and Breakfast; Courtyard by Marriott Kingston
HAMMONDSPORT, NEW YORK
Located at the south end of Keuka Lake, one of the Finger Lakes of New York, United States, is the sleepy village Hammondsport.
It remains one of the beautiful secret getaways in New York for experiencing slices of European vintage charm, whether it is the pretty buildings or the laid-back vibes.
Add to that the lake beds perfect for summer picnics and tons of outdoor activities to enjoy; Hammondsport easily qualifies to be on this list of the best hidden vacation spots in the US.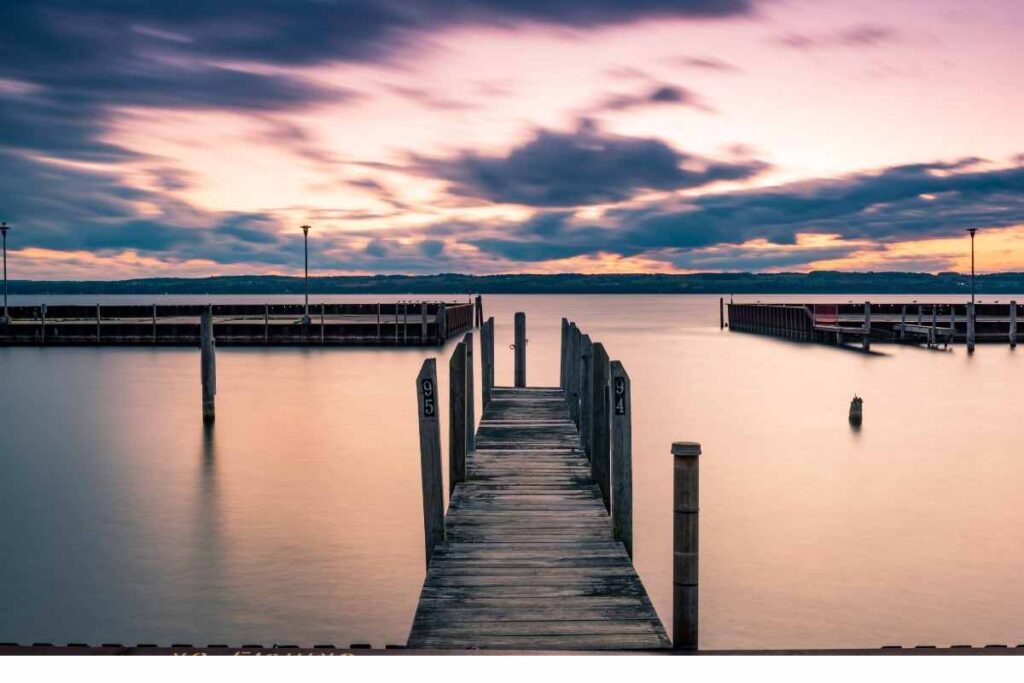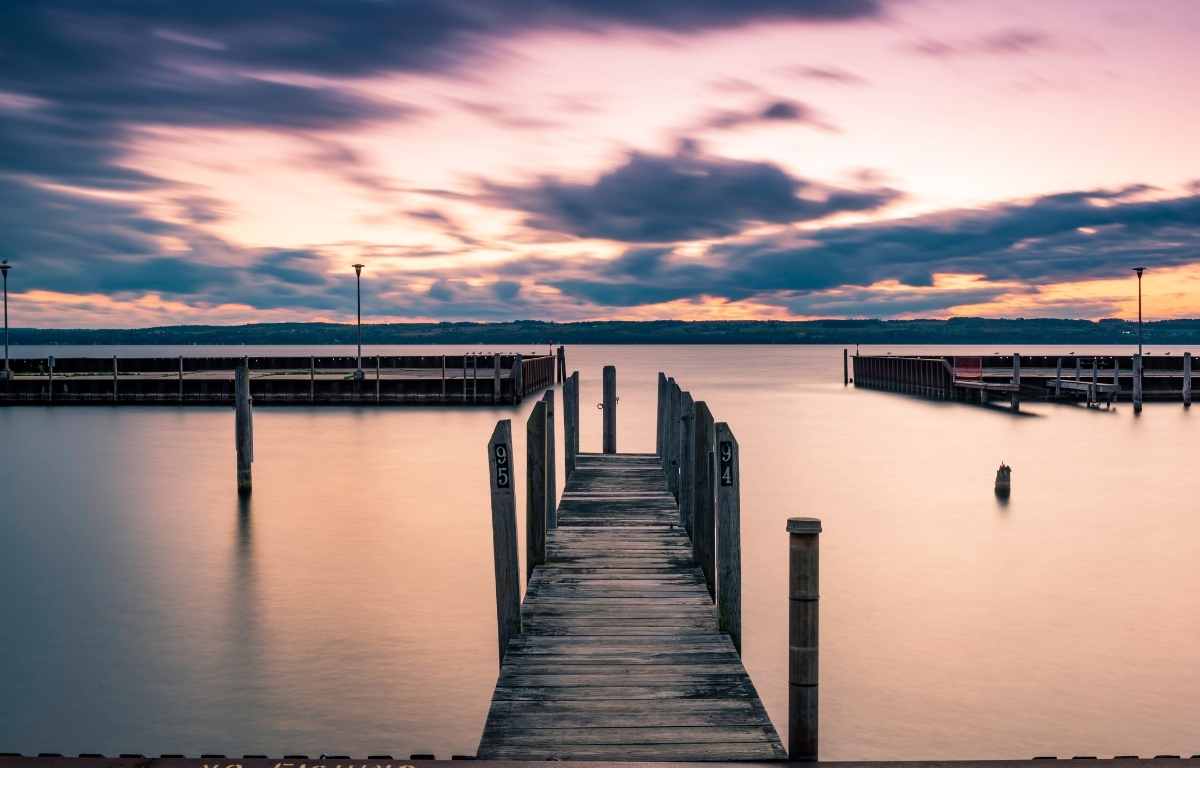 You can plan a weekend getaway to Hammondsport to also enjoy one or a few wine tasting tours in the many vineyards scattered around the village, the most popular one being Heron Hill Winery, Keuka Lakeside Vinery, Bully Hill Vineyard, and Pleasant Valley wine.
If you love checking out museums, you will love the collection of antique seaplanes at The Glenn H. Curtiss Museum.
A fantastic thing about this museum is you can even fly some of these vintage planes that will allow you to enjoy dramatic views of the lakes and valleys around Hammondsport from above.
Another impressive museum is Fingerlakes Boating Museum, worth stopping by.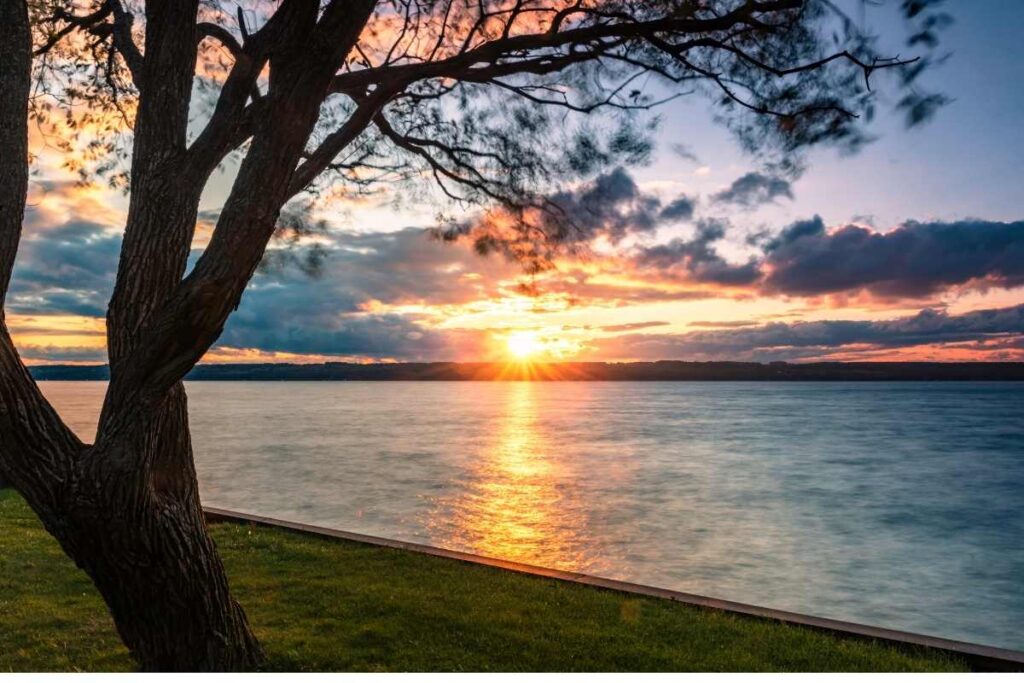 The unique Y-shaped Keuka Lake comes to life during the spring and summer seasons, with many New Yorkers flocking for quick camping, fishing trips around. The Lake is also a hotspot for sailing, swimming, and canoeing.
Where to stay in Hammondsport?
Best picks of Cottages, Cabins, and Hotels – Village Tavern Inn; 18 Vine Inn & Carriage House; Champagne House; Vinehurst Inn & Suites
PIKEVILLE, KENTUCKY
Pikeville's small town is located in Pike County, in Kentucky in the United States, with a few thousand inhabitants.
It is one of the best hidden vacation spots in the US if you want to experience a mix of splendid natural attractions, the typical charm of a US city minus the crowds, commercialization, or touristy attractions.
Pikeville city is surrounded by mountainous valleys all on the sides, home to lush forests brimming with waterfalls, rivers, lakes, and rich wildlife.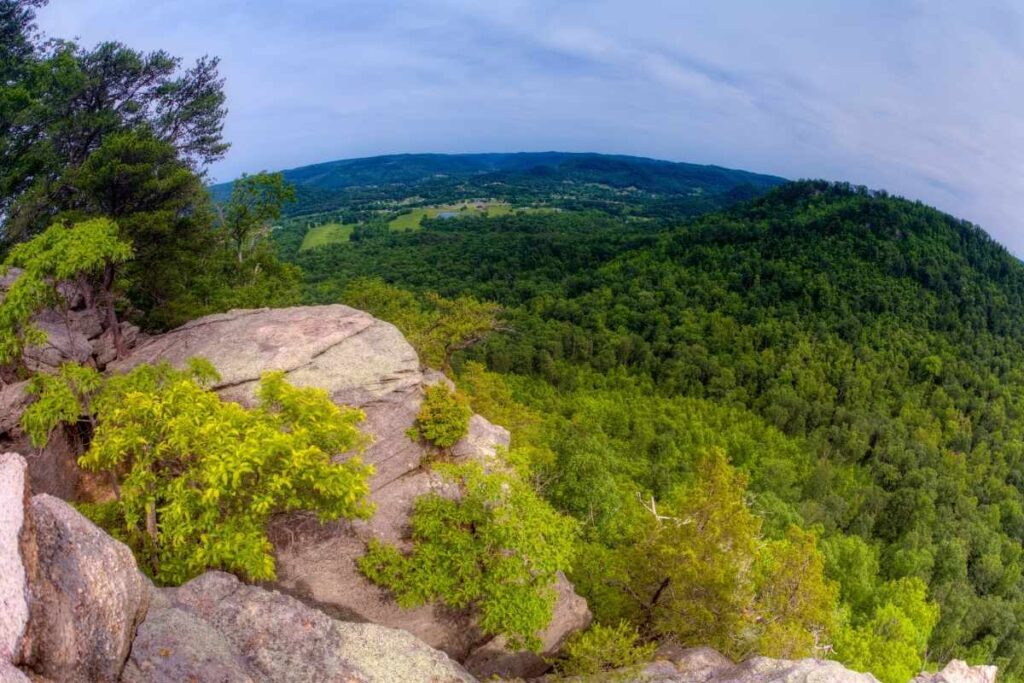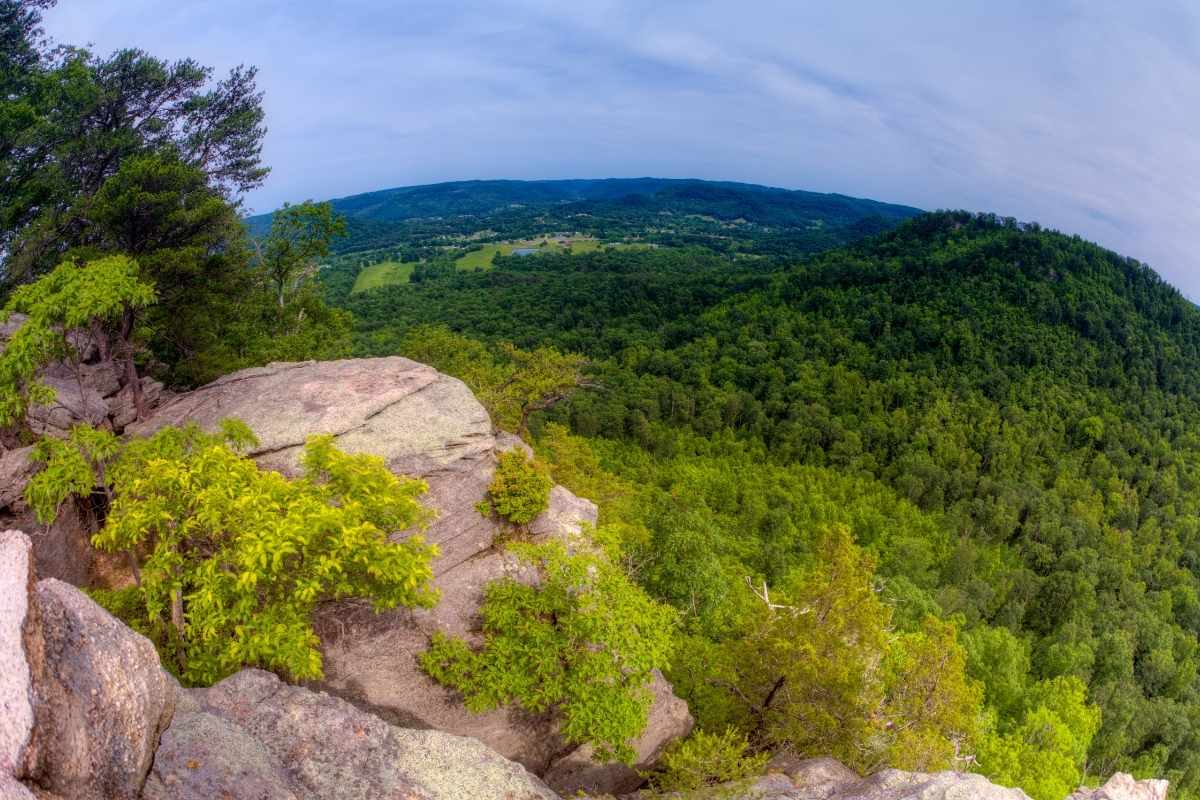 It is also the best place to get to know about the culture and history of Kentucky.
Among the top attractions in the city to immerse in history is the Big Sandy Heritage Center that portrays the history and culture of Eastern Kentucky.
You can pretty much plan many quick hikes depending on how far and wide you want to explore here. Bob Amos Park is a massive reserve ideal for camping, hiking, mountain biking, and staying amidst the mountains.
If you are here in summer, plan at least a weekend or more here. Check out Fishtrap Lake, another famous spot for camping and fishing.
For more than just hiking, check out the historically famous Hatfield-McCoy Trail, where you can place ride ATVs, dirtbikes, and UTVs.
Where to stay in Pikeville?
Best picks of Cottages, and Hotels – Hilton Garden Inn Pikeville; Hampton Inn Pikeville; Holiday Inn Express and Suites Pikeville; The Landmark Hotel
MORGANTOWN, WEST VIRGINIA
Morgantown is a city in West Virginia on the lovely Monongahela River. Since West Virginia may not be everyone's cup of tea, you will not encounter mainstream travelers here, making Morgan Town a perfect fit as one of the best hidden vacation spots in the US.
This university town, home to the famous West Virginia University, is young at heart, with students keeping the bustling vibes up throughout the city.
Youngsters make the city a fun holiday destination, with hip and artsy neighborhoods beckoning the curious travelers. It is a lovely USA hidden gem if you want to go on an offbeat weekend getaway alone or with friends.
Check out the historic Metropolitan Theatre, where if you time it right, you might even witness student performances.
Want to enjoy a football game? Then plan your visit to Morgantown during the matches scheduled at the massive Milan Puskar Stadium.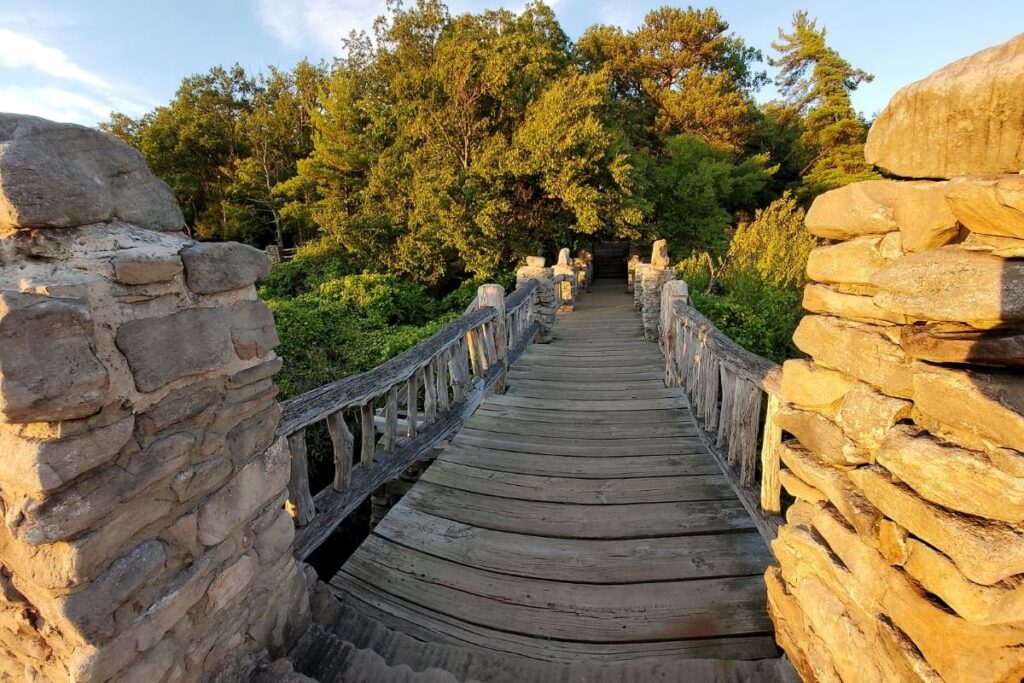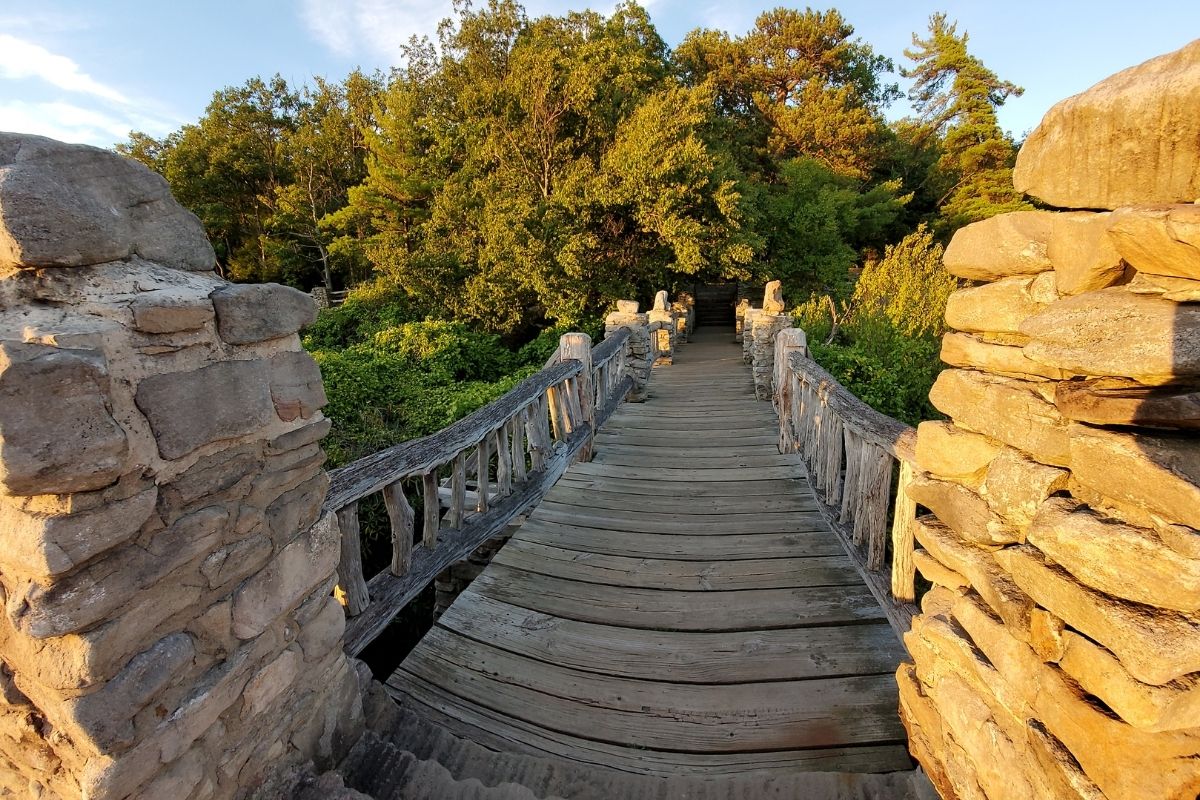 West Virginia University's massive Core Arboretum is one of the top attractions in Morgan town that you should not miss.
Whether it is summer, spring, or fall, you can picnic, enjoy strolls amidst the lush trees, watching the local student community getting together.
Visit the top art museum and White Park. To the east, you can plan a quick drive to the artificial Cheat Lake, which is an excellent spot for swimming, fishing, or even tubing during summer or sunny days.
Beer lovers should try out the local specials by checking out some breweries that offer tours.
Where to stay in Morgantown?
Best picks of Cottages and Hotels – Courtyard by Marriott Morgantown; Hampton Inn & Suites Morgantown; Fairfield Inn by Marriott Morgantown; Hotel Morgan a Wyndham Hotel; Euro-Suites Hotel; Scholar Hotel Morgantown
BEST OFFBEAT PLACES TO VISIT IN THE USA – ISLANDS
MOLOKAI, HAWAII
While many flock to Hawaii for a fantastic holiday, making it one of the most visited destinations in the US, Hawaii has still managed to keep a few secrets from the tourists so far.
Among them is Molokai, one of the top hidden US vacation places. 
Located in the central Pacific, Molokai, the fifth largest island in Hawaii, is blessed with gorgeous rocky cliffs opening to dramatic views, a national park treasuring some of the island's rarest wildlife, excellent delicacies, beautiful beaches, and tons of water activities, offering something for everyone visiting Molokai.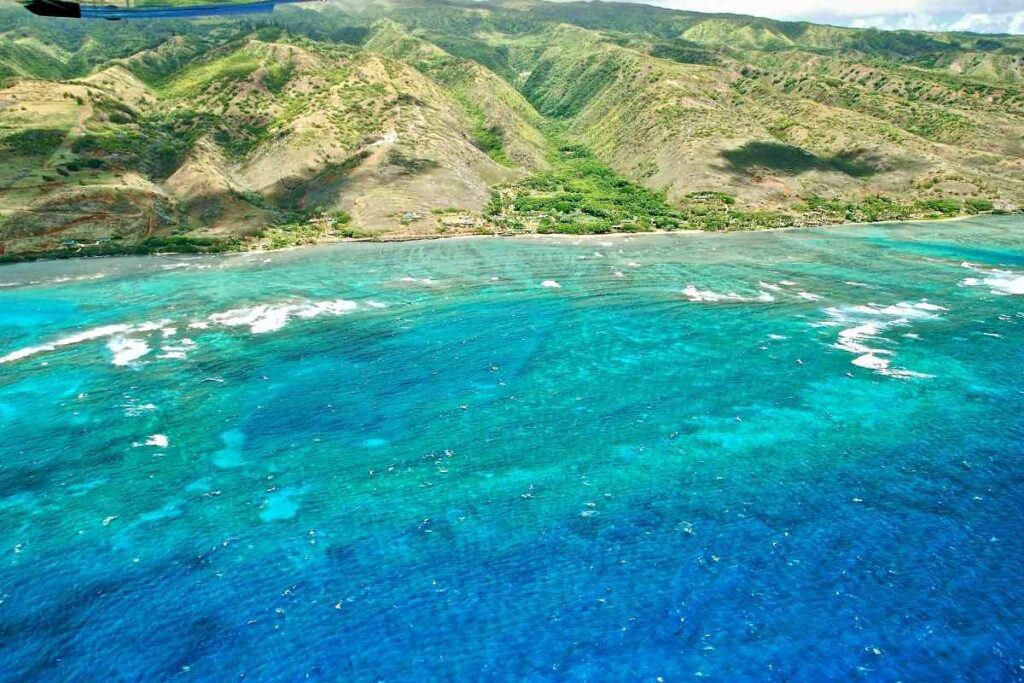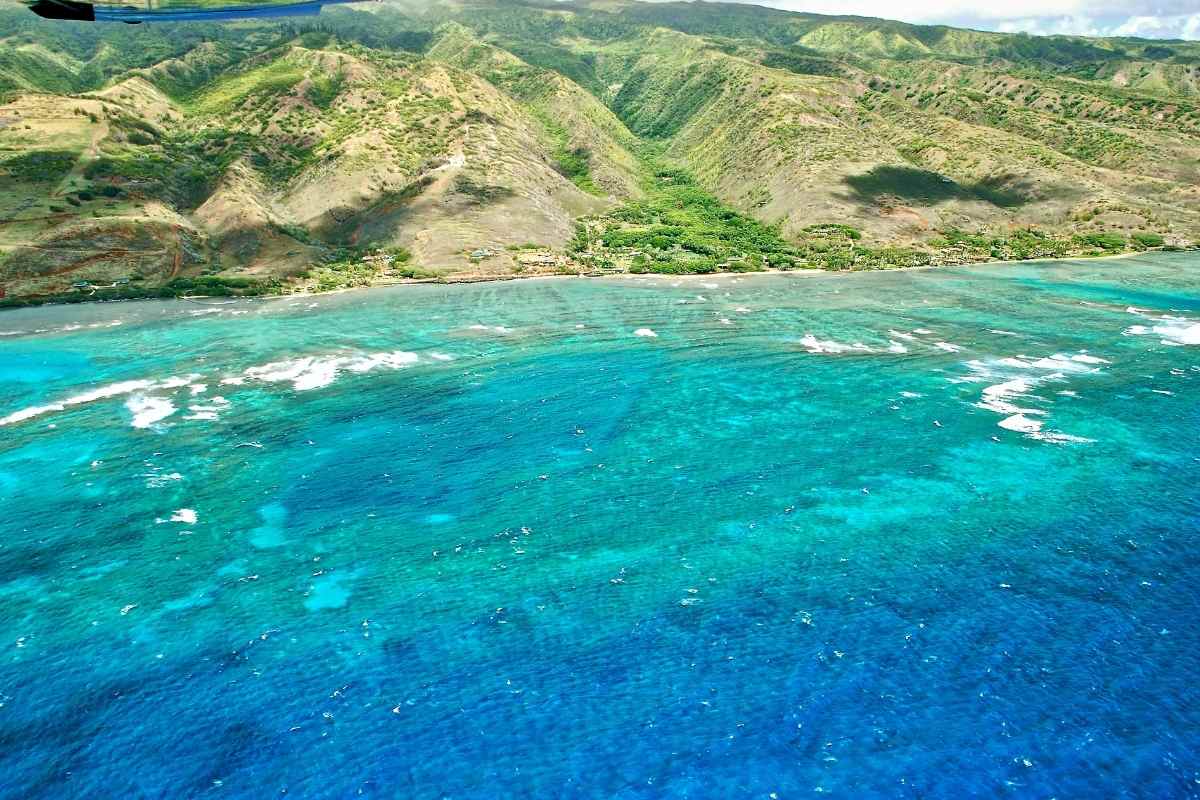 It is a hidden US gem in the true sense as there are no traffic lights or luxury resorts, something atypical of the United States. So it may not fit your bill if you are looking for a luxurious tropical getaway or material comforts.
Although things have been moving in that direction, you will not find many choices regarding resorts, pubs, or parties.
RECOMMENDED – BEST NUDE BEACHES IN HAWAII TO BE FREE AND FUN
Molokai is one of the best places to experience Hawaiian culture. Did you know? Molokai has dance traditions dating back over 1000 years.
It is one of the best unknown vacation spots in the US for people that are into traditional festivals and folklore.
Sign up for this Molokai cultural tour to spend a day or half experiencing the heritage with the locals. Visit Moloka'i Museum and Cultural Center to learn about local history and culture.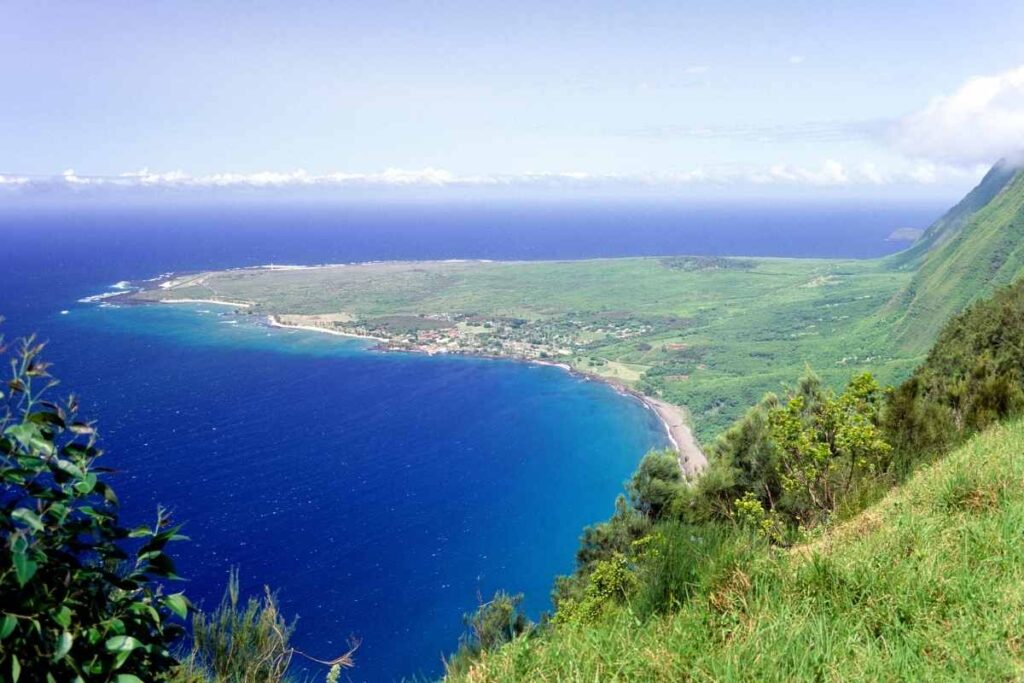 Plan a trip to Kalaupapa National Historical Park on the northern peninsula of Kalaupapa, secluded below towering cliffs.
You can plan boat excursions, sign up for surfing, fishing, kayaking, sailing, and diving tours. You can also drive around the island or stroll along the beaches.
Or hike to the waterfalls, viewpoints, or in the valleys as there are many tours available to choose from, depending on how you would like to explore.
Where to stay in Molokai?
Best hotels and resorts – Hotel Molokai; Castle Molokai Shores
HANALEI, HAWAII
Located on the north shore of Kauai, in Hawaii, is Hanalei, one of the beautiful hidden vacation places in the US.
Home to lovely landscapes flourishing with splendid waterfalls, lush forested valleys, enriching wildlife, and stunning beaches on the rugged coastline, Hawaii is secret heaven for outdoor ventures.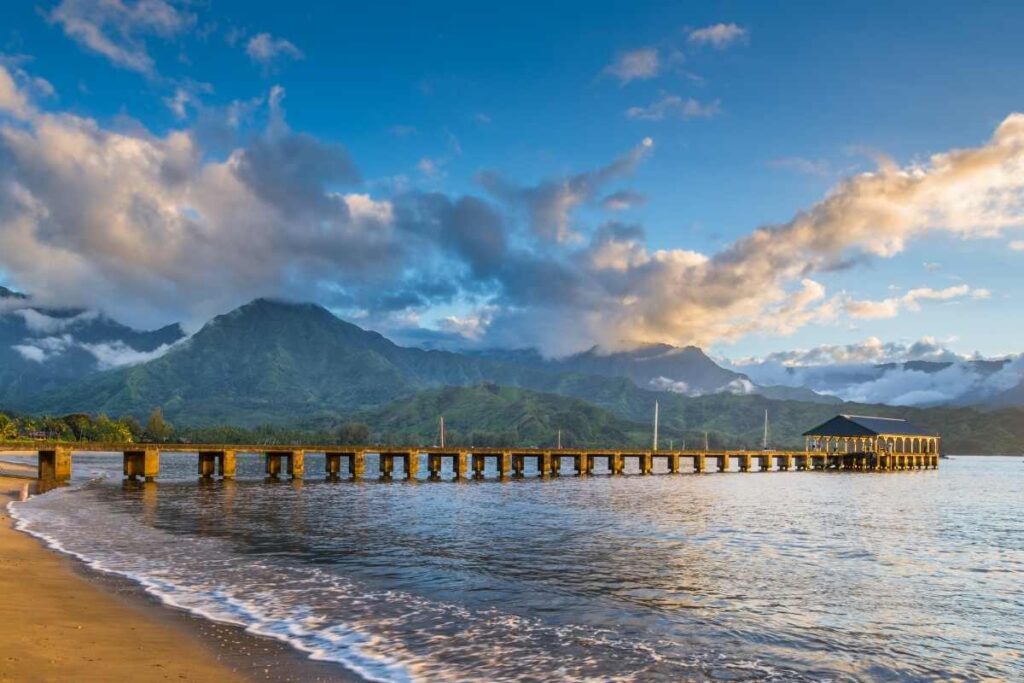 Despite all these incredible things to offer, Hanalei has been spared from becoming the luxurious resort paradise, making it a particular USA hidden gem.
One of the smallest towns in Hawaii, not many know that it is one of the best locations for enjoying surfing, among all the water adventures.
Hanalei boasts of being the home to many rare, beautiful bird species, making it a fantastic destination for birdwatching.
Beach lovers should not miss spending time in Hanalei Bay, home to the serene Hanalei beach, Lumahai beach, Black Pot, Hideaways, and Puu Poa beaches.
All these gorgeous beaches receive very few visitors even during the peak season, which means you will mostly enjoy the beaches by yourself.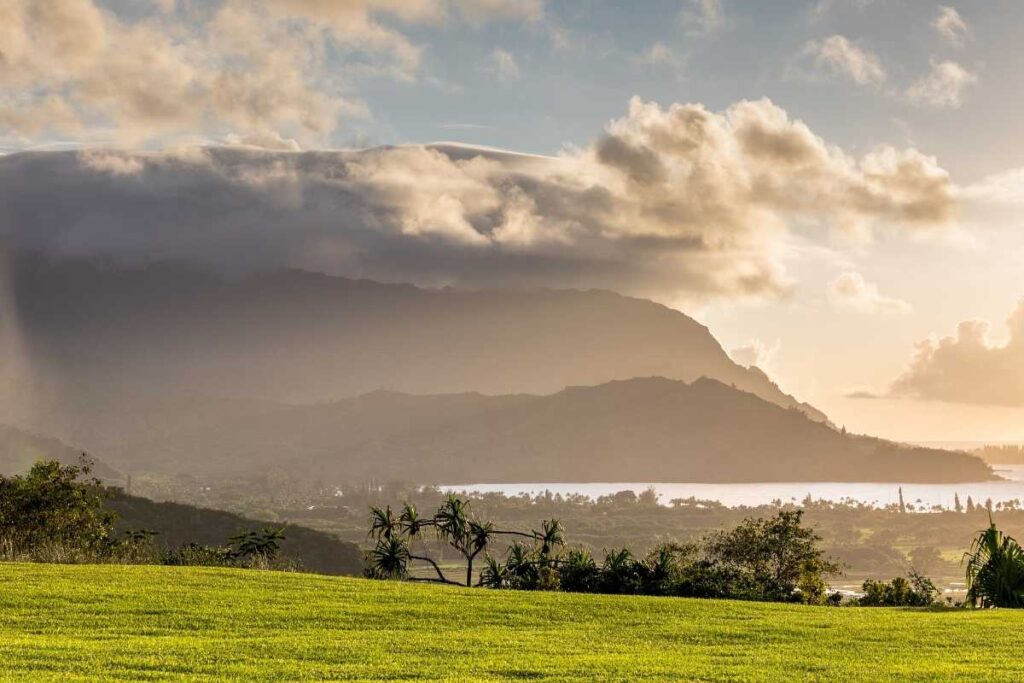 Plan a trip to Queen's Bath as well. Surfers should visit Waioli Beach Park, which is the center for all surfing activities.
Hikers can choose from many trails, including Kalalau Trail passing through beautiful viewpoints. Also, visit Hanalei National Wildlife Refuge to watch birds.
Where to stay in Hanalei?
KODIAK ISLAND, ALASKA
While Alaska is known already for rugged and mystic compared to other states, thanks to its remoteness, you can find plenty of the best hidden gem vacation spots in the US here.
One such destination is Kodiak Island off the south coast in the Gulf of Alaska, which happens to be the second-largest island in the country too.
Located not very far from Anchorage, it is a surprise that it remains one of the hidden paradises in the USA.
Home to the native bear and other wildlife unique to the island, not many know that it is a paradise for seafood lovers.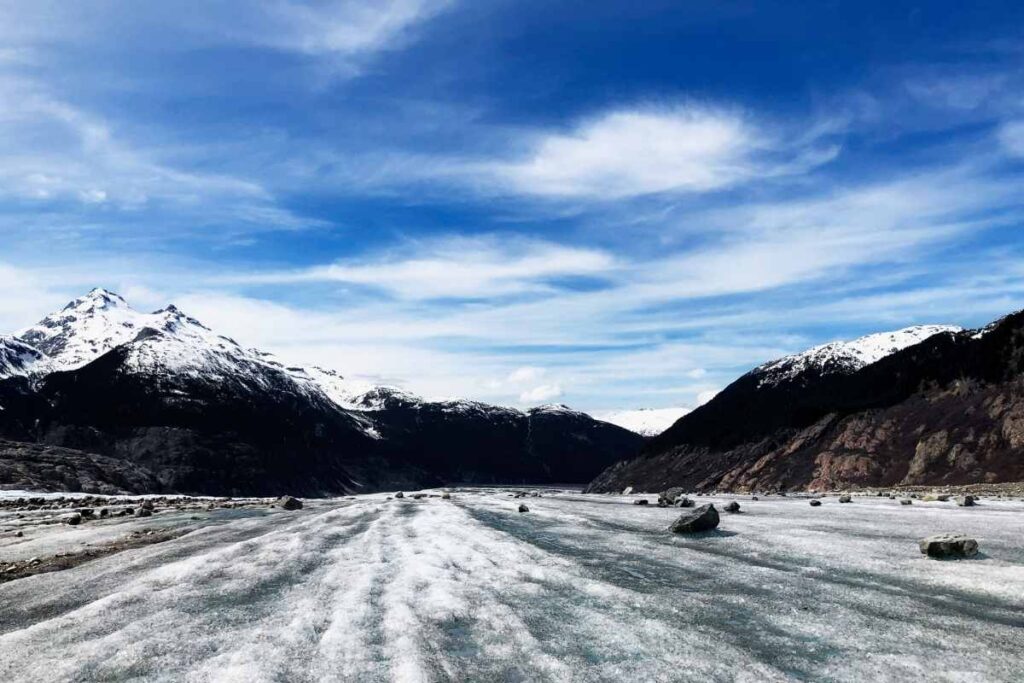 The typical rugged, fantastic Alaskan landscapes filled with mountainous forests will make you fall in love quickly, but there is a lot beyond the beauty.
Did you know? The island is home to seven indigenous communities living with a rich mix of culture, traditions, and habits, making it hard to believe that it is a part of the USA you may be aware.
Camping, hiking, biking, cultural and food tours, and even a slice of WWII history – all set amidst a splendid Alaska setting make Kodiak island one of the best offbeat vacation spots in the US. You can fly to the island quickly, thanks to the connectivity.
Where to stay on Kodiak Island?
Best Vacation rental – Aquamarine Suites
MACKINAC ISLAND, MICHIGAN
One of the vacation places in the US which have almost lost its offbeat destination title recently is the beautiful Mackinac Island.
I still want to include it in the list of top hidden vacation spots in the US because I am partial, so if a bit of a crowd is okay with you, continue reading more about this lovely island.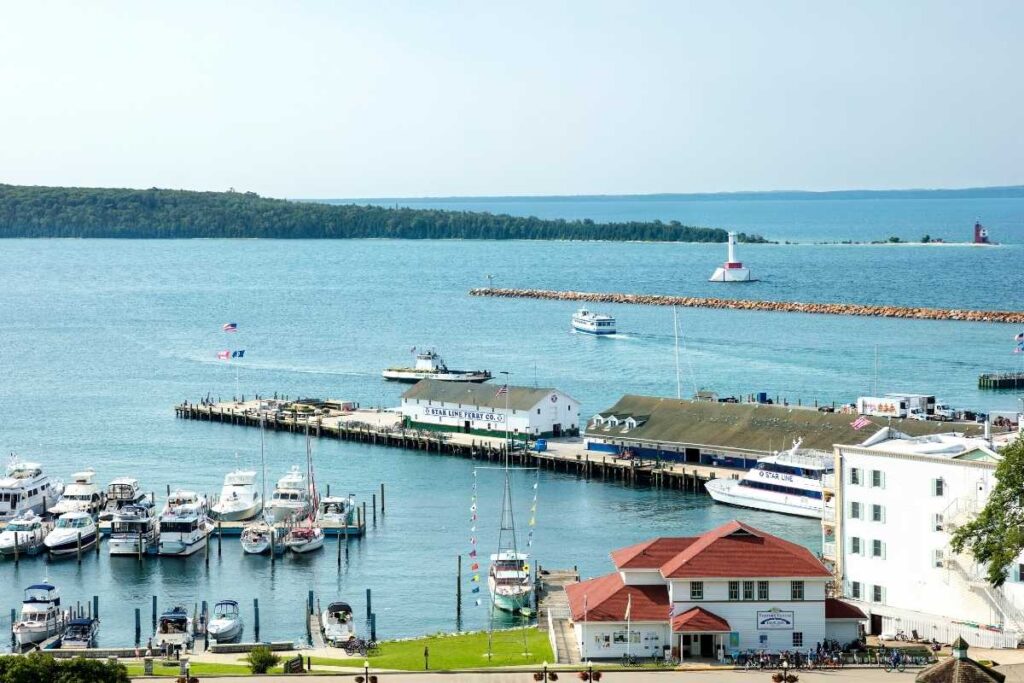 Located between Michigan's Upper and Lower Peninsula in Lake Huron, Mackinac Island is not another pretty island with a vibrant waterfront in the northern part of the state.
It has a rich history and a bit of preserved medieval architecture, which are its unique attractions, making it a perfect destination for a weekend trip.
These landmarks, along with the pedestrian-only, no-cars-allowed-streets, make you feel as if you have transported back in time to a few centuries in the past as you walk along the pretty streets. Visit Fort Mackinac, and witness the live re-enactments of the old war days
If history is not your cup of tea, why don't you head towards the bay for some water sports because it is a heaven for swimmers, bikers, and even those fond of boat excursions and Kayaks?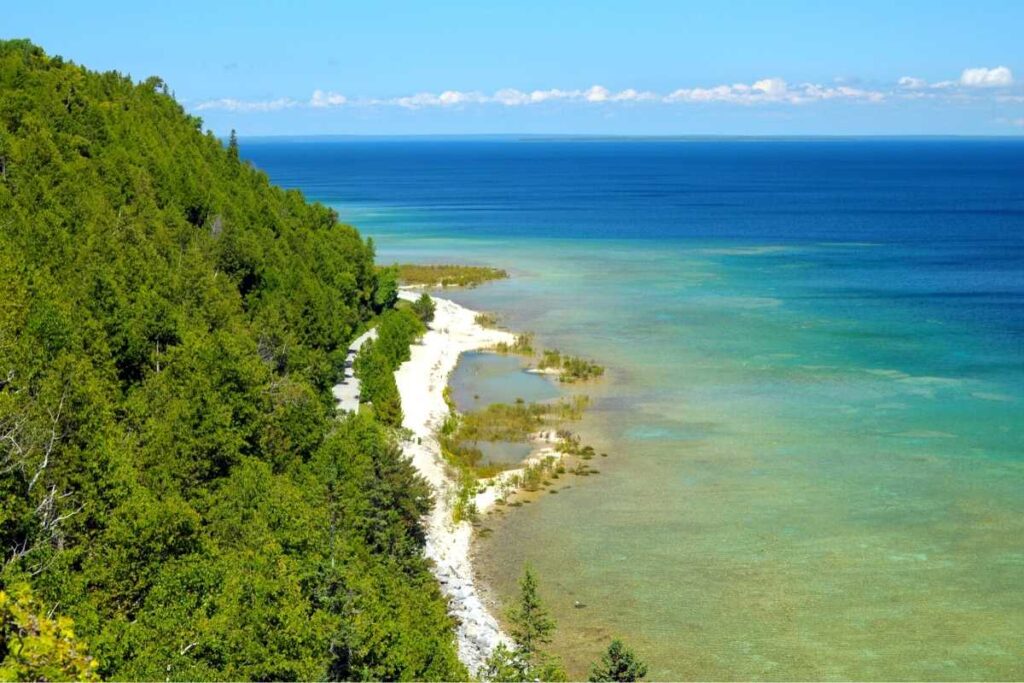 Outdoor and Nature lovers like me can keep a day or two to check out Mackinac Island State Park, home to spectacular geological formations, including the high limestone bluffs, clear blue lakes, and historical monuments. You can bike or hike in the park, covering one or many trails.
Where to stay on Mackinac Island?
Stay at the Island House Hotel, one of the Victorian-era styles and among the oldest hotels in the state. Or Brigadoon Cottages, another lovely medieval hotel.
AMELIA ISLAND, FLORIDA
Florida has many famous destinations catering to all types of travelers. Still, finding a secret holiday destination is not difficult if you wish to skip all the glitz and the chatter.
Located close to famous Orlando lies one of the best hidden places to visit in the USA – Amelia Island.
It is still crowded and receives more tourists than many listed here, but it qualifies to be on the list yet as it is not mainstream.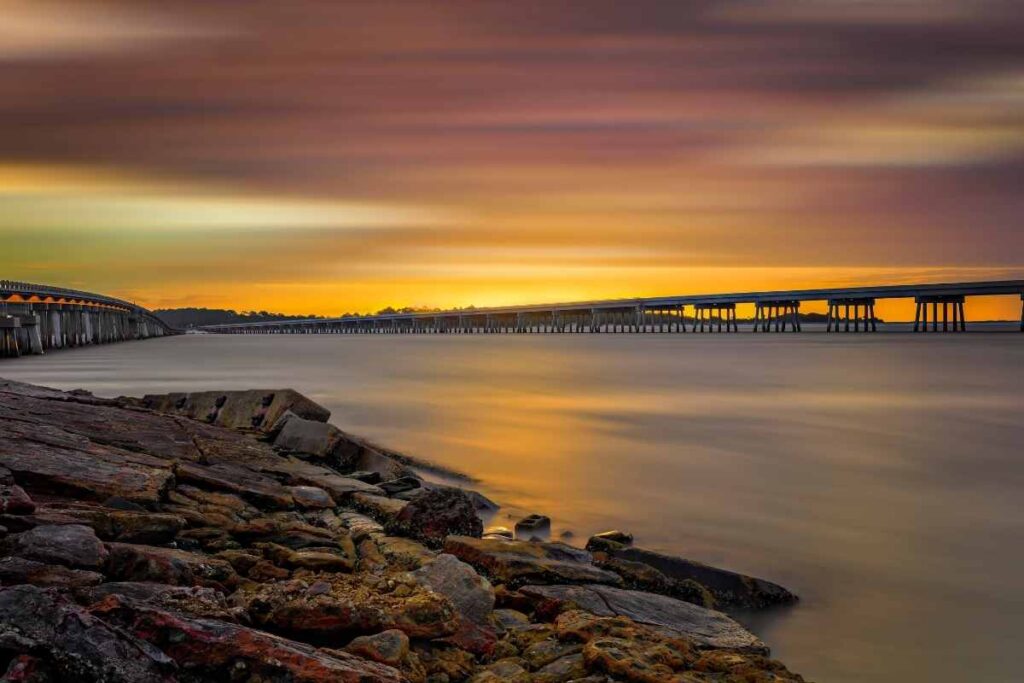 A part of the Sea Islands chain of barrier islands on the U.S. state of Florida's Atlantic coast, Amelia Island is named after the daughter of King George II.
It is known for outdoor recreational activities, luxury resorts, and gorgeous white sand beaches. 
The island is also famous for its unique history as it was ruled by many, from the French to the British, finally being passed on to the Americans.
Glimpses of this past can be found in the island's heart, the downtown filled with ancient buildings and a few landmarks.
Beach lovers will love this island as they will be welcomed to a sandy coastal line stretching for over 10 miles at least – all accessible for walks, relaxation, and enjoying the beautiful sunsets. The beaches are also excellent for Kayaks, surfing, and even snorkeling.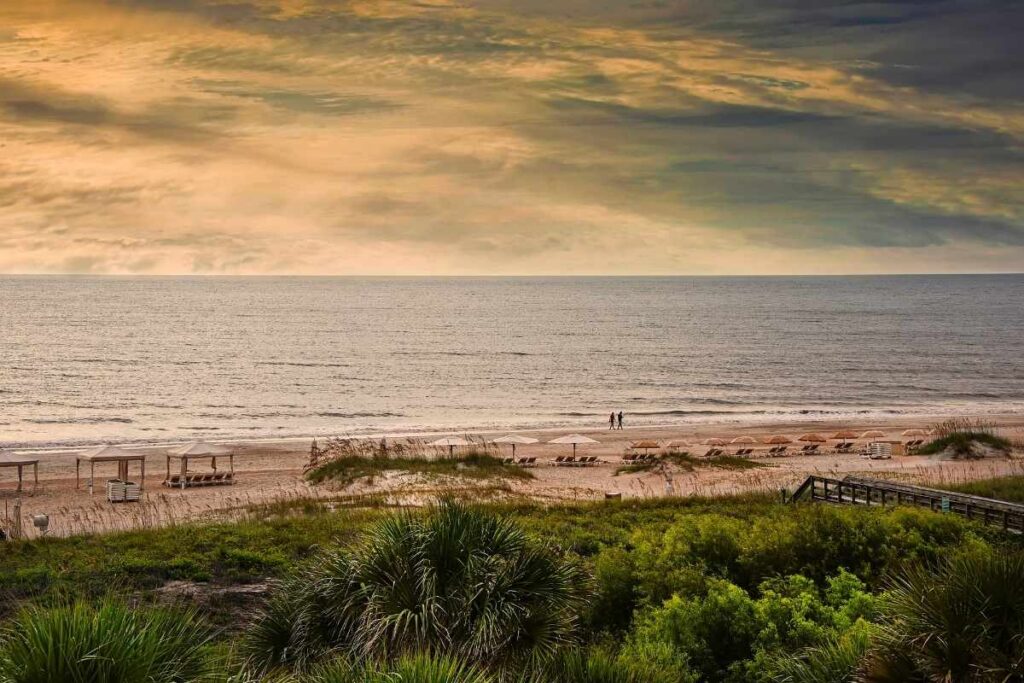 There is Fort Clinch State Park for national park seekers, perfect for short and long hikes, cycling, and admiring the beautiful landscapes.
One of the landmark attractions is the 17th-century lighthouse, an iconic lighthouse nestling amidst a beautiful setting, considered the oldest lighthouse of Florida.
One of the many good things about Amelia island is accommodation available in different budget ranges.
Where to stay on Amelia Island?
SpringHill Suites by Marriott Amelia Island, Courtyard Amelia Island, Beachside Motel – Amelia Island
CAPTIVA ISLAND, FLORIDA
Not many know about Captiva Island, an ideal destination for a secluded getaway from Miami. You have to get past the hustle and bustle of Florida to uncover its hidden gems.
While its sister island Sanibel is among the famous destinations in Florida for a beach holiday, Captiva Island remains one of the fantastic hidden vacation spots in the USA, which is a surprise considering its proximity.
Located near Fort Myers off Florida's Gulf Coast, it's just a three-hour drive from Miami, and the island is the place to witness magical sunrise and golden sunset colors, apart from many other things you can enjoy here.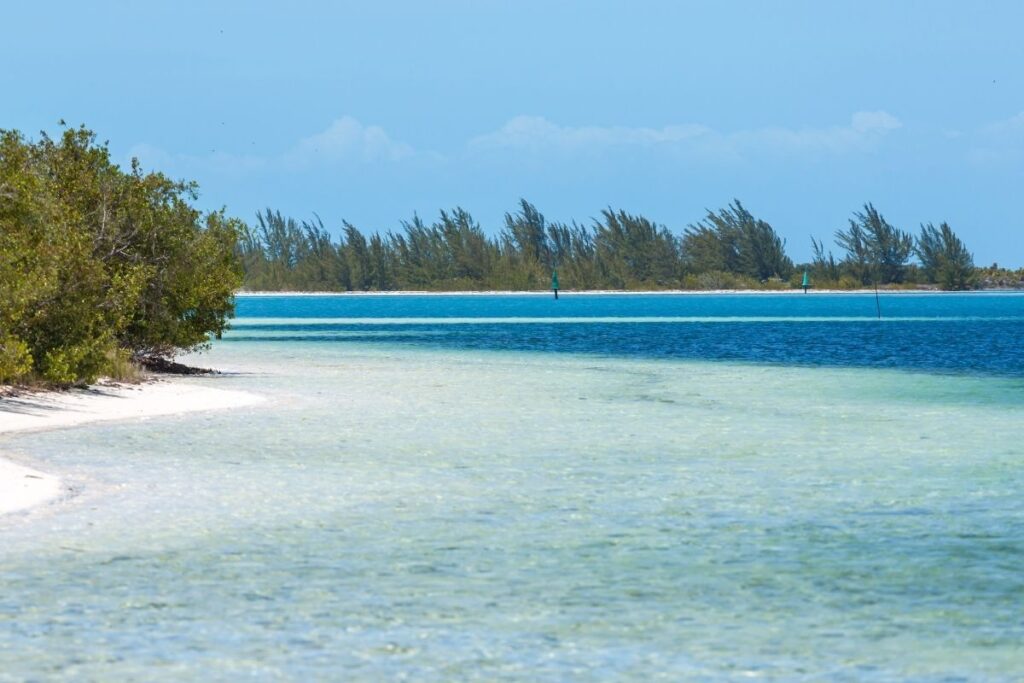 Stroll along the white-sand beaches, go shelling on their shores as you spot the many lovely shells in all shapes and sizes, making it earn the nickname – the seashell capital of the world!
Plan a Kayak trip to Ding Darling Nature Preserve or take a day trip to the neighboring islands like Cayo Costa.
You can also enjoy surfing, sailing or swimming on the beaches. Don't miss trying some things from the excellent myriads of seafood cuisines and cocktails.
Where to stay on Captiva Island?
ORCAS ISLAND, WASHINGTON
Rugged mountains blanketed by dense forests home to stunning waterfalls, crystal-clear lakes, and white sand beaches await you at Orcas Island, one of the best hidden vacation spots in the US.
Home to the beautiful Moran State Park and the largest of the San Juan Islands, Orcas is one of the best vacation places in the US for outdoor lovers and nature enthusiasts.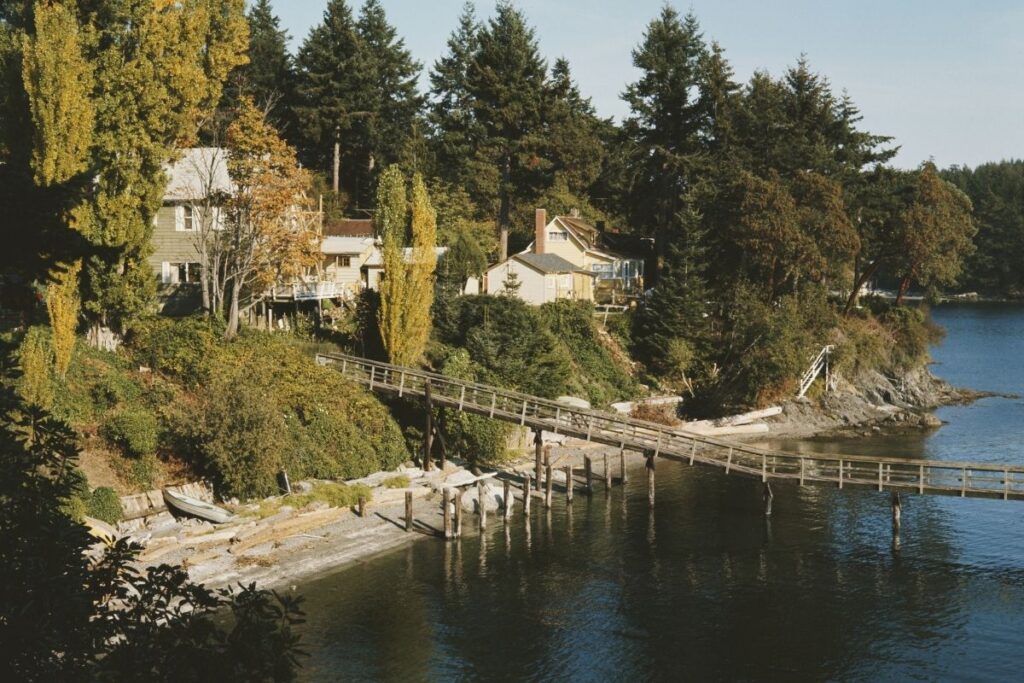 Explore its many islands, including the beautiful Matia island and Sucia.
Among the noteworthy attractions to check out is Turtleback Mountain Preserve, which offers impressive panoramic views and can be hiked, or you can take a bike. 
For extraordinary marine life, head to Jones Island Marine Park. You can also stop at the History Museum. If you have more time, include a trip to the Obstruction Pass State Park.
Where to Stay on Orcas Island?
Kangaroo House Bed & Breakfast, Kingfish at West Sound, Whispering Pines Retreat, West Beach Resort, The Landmark Orcas Island, Summer Hill
APOSTLE ISLANDS, WISCONSIN
Located in Lake Superior in Wisconsin, the Apostle Islands is a cluster of 22 islands blessed with coves, crystal-clear beaches, rocky cliffs offering stunning views, lush forests, and lighthouses. It is truly one of the best hidden gems in the US for nature lovers.
But thanks to the immense popularity which has been continuously growing, this mid-western secret may already be out of the list of the best hidden vacation spots in the US.
The best part is that the destination is ideal for a family trip as well, so apart from solo travel or traveling with friends, you can also head to the Apostle islands with your kids.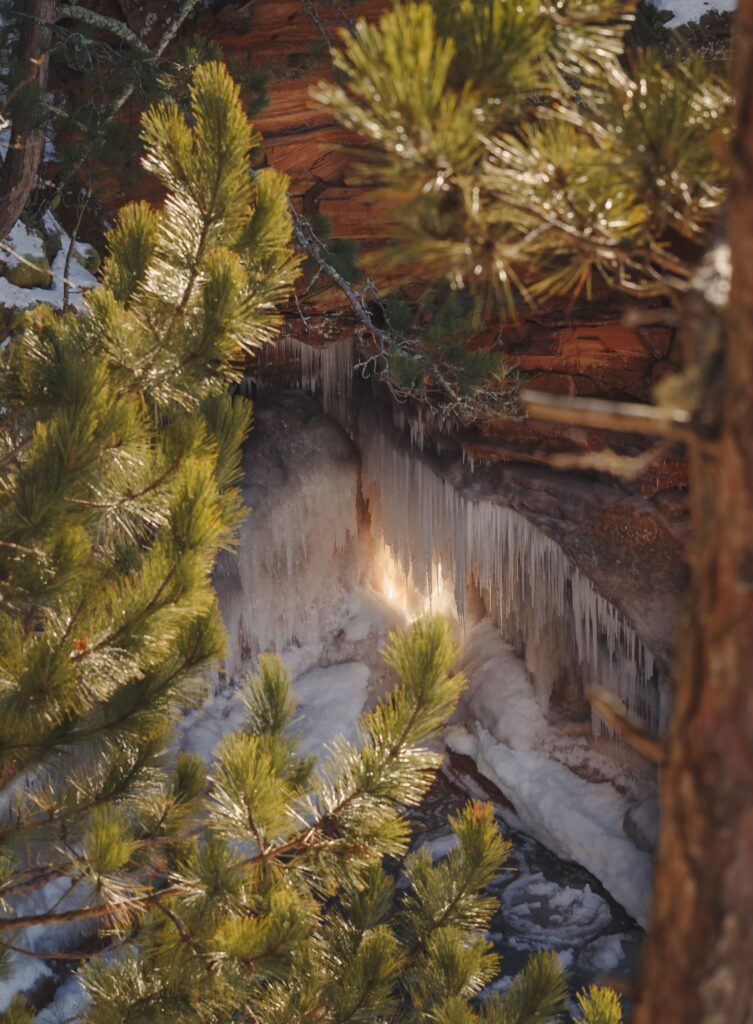 The islands are the perfect grounds for all outdoor fun in summer – from boating to island hopping to Canoeing, swimming, snorkeling, and surfing.
Or getting on the beautiful hike paths or exploring caves is equally rewarding if you are not a water baby. 
Hike to Devil Highlands Lighthouse in Devil Island, or spend time checking out the Apostle Islands National Lakeshore, where you can indulge in all the activities mentioned above.
But many prefer planning a winter trip to the Apostle Islands, thanks to the dramatic transformation of the landscapes created by the thick carpets of ice covering the rocky sandstone cliffs on the shores and caves becoming ice caves.
Where to stay on Apostle Islands?
Old Rittenhouse Inn, Woodland Lodging, Pinehurst Inn Bed & Breakfast
BLOCK ISLAND, RHODE ISLAND
Block Island boasts a red brick lighthouse erected on clay cliffs, overlooking rocky beaches along the Atlantic below.
Migratory birds seek refuge in the island's National Wildlife park, making for a picturesque fishing town.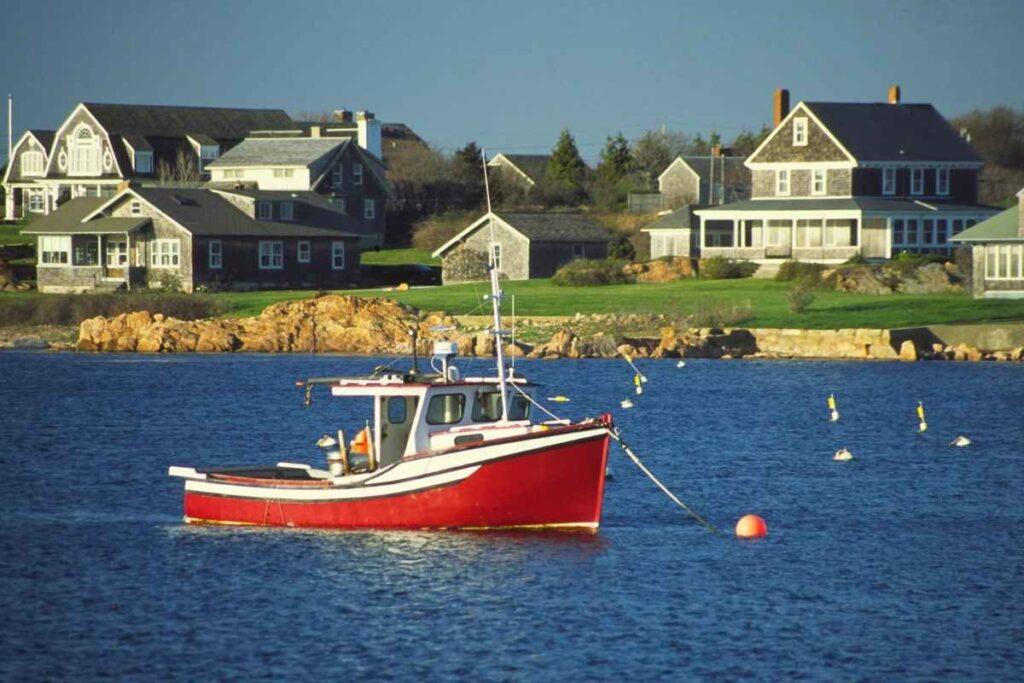 Block Island is one of the best hidden vacation spots in the US and perfect for a secluded holiday with family for doses of Victorian-era architecture, history, sweeping views overlooking rugged cliffs, mystic lighthouses, and beautiful beaches.
From witnessing its unique wildlife, including rare migratory birds, to relaxing white-sand beaches, there are many things to do in Block Island for everyone.
Although mainland Rhode Island is famous, Block Island has remained a hidden gem, surprisingly. Many people try planning a day trip from Newport. I'd highly recommend spending at least a weekend in Block Island.
Spend time enjoying the magnificence of sunrises and sunsets, hike to the beautiful 18th-century North Lighthouse, and sit atop the dramatic Mohegan Bluffs to witness sweeping views of the coast.
The island still has the elements of the 18th century that are well-preserved, including Sachem Pond, where you can see gulls and swallows.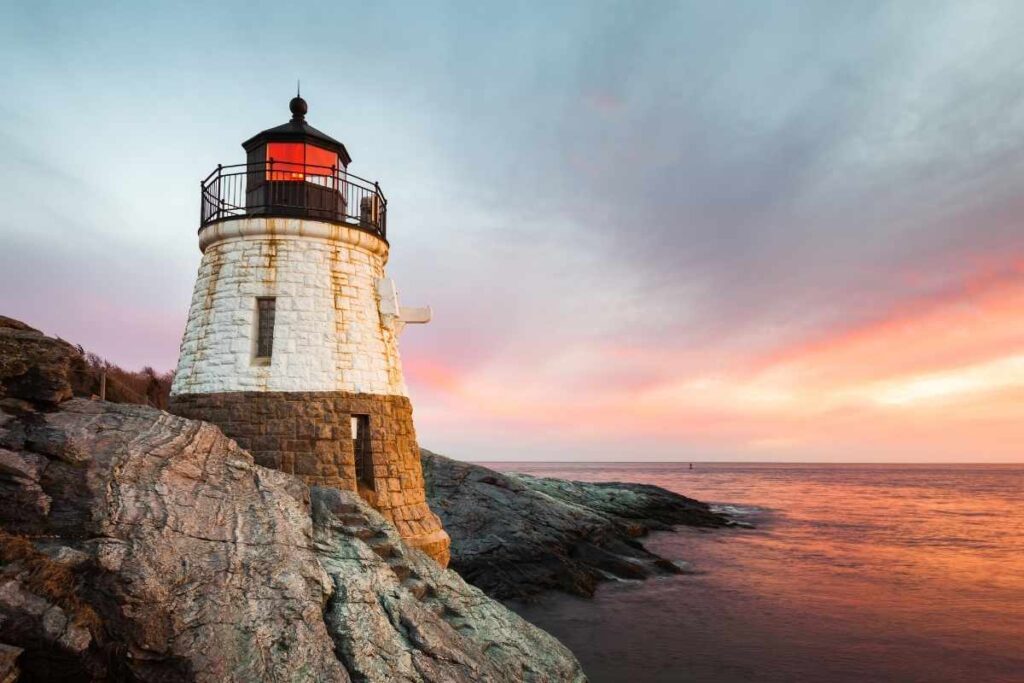 Explore Block Island National Wildlife Refuge. Choose from the many hiking trails scattered across the island.
Or drive across the island along the coast covered with beaches running for miles. Whatever you want to try, you will enjoy spending your holiday in this secluded paradise.
Where to stay on Block Island?
DEER ISLE, MAINE
In America's Northeast New England destinations lies one of the best hidden vacation spots in the US, Deer Isle in Hancock County.
You can combine a long trip, including Camden and Deer Isle, as both are located in Penobscot Bay, in Maine's Downeast region.
Deer isle is a perfect paradise for outdoor adventure seekers as you can enjoy fishing, hiking, kayaking, and boat trips if you are here during the summer months.
Although it is the peak season, you will not see many fellow travelers, making it one of the offbeat destinations in the USA.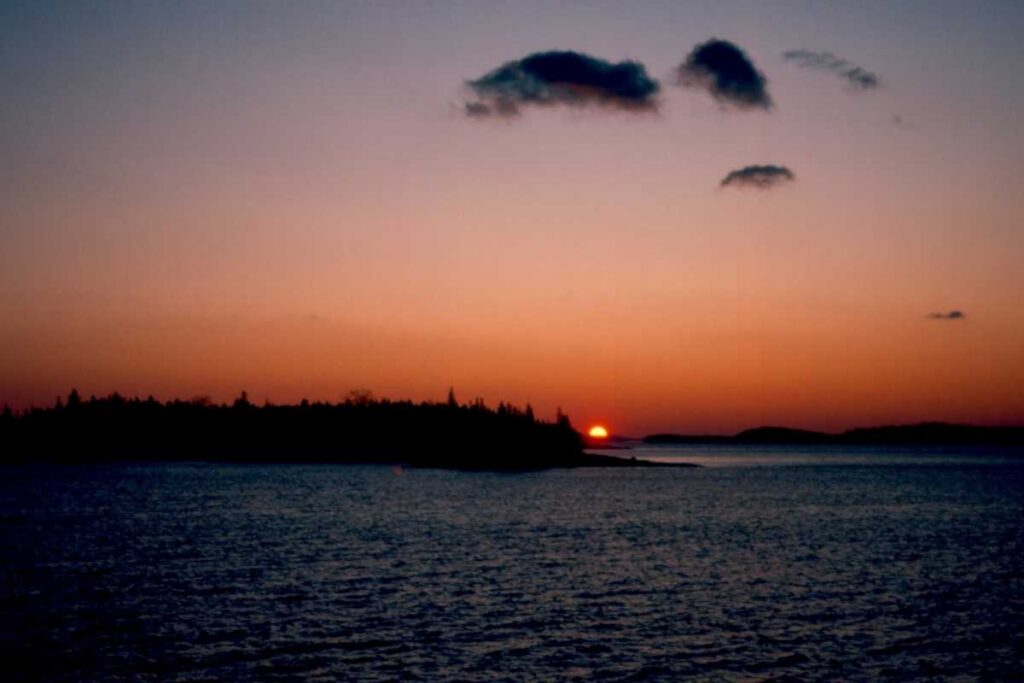 Thanks to the compact size of the island home to self-sufficient inhabitants, you will find plenty of good cafes serving delicious bakery stuff, which the foodies will love. Also, you should try the many local cuisines in the restaurants across the downtown area.
Check out Stonington Opera House Arts, a historic community theater with movie nights and concerts you can enjoy.
Spend time exploring the museums and art galleries, including the top one, the Haystack Mountain School of Crafts. For an experience of the local marine life, plan a tour of Discovery Wharf.
KELLEYS ISLAND, OHIO
If you want to spend a weekend on an island secluded and surrounded by natural beauty, head to Kelleys Island, located on the waters of Lake Erie.
It is one of the best unknown places in the USA to visit as it is a nice mix of many things combined to offer travelers, especially midwesterners wanting a nature getaway.
One-quarter of Kelley's Island is the reserve Kelley's Island State Park, where you can enjoy camping and hiking. The quiet white sand beaches are fantastic for swimming, sunbathing, and Kayaking.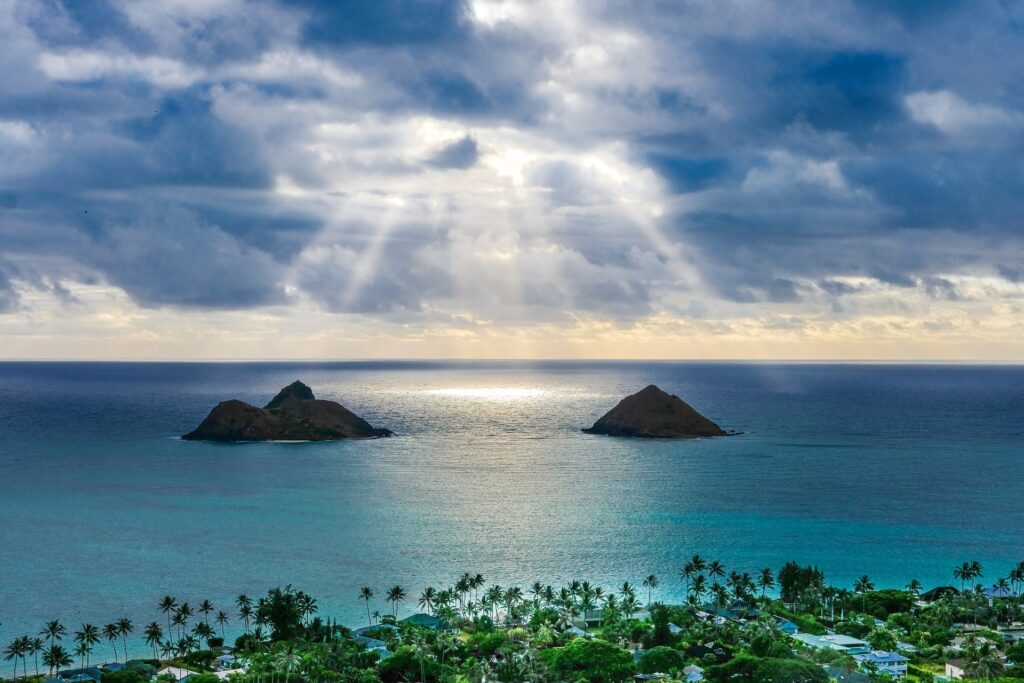 Other attractions include Glacial Grooves State Memorial, home to one of the world's most extensive Glacial scratches on rocks. Glacial Grooves, you can witness some of the oldest limestone rock formations.
In North Pond State Nature Reserve, you can also hike, but it is known for birdwatching mainly.
BALD HEAD ISLAND, NORTH CAROLINA
Bald Head Island, also called Smith Island, is a village located on the east side of the Cape Fear River in Brunswick County in North Carolina.
While the neighboring Wilmington remains a popular weekend trip destination, Bald Head Island has managed to be one of the best unknown places to visit in the US.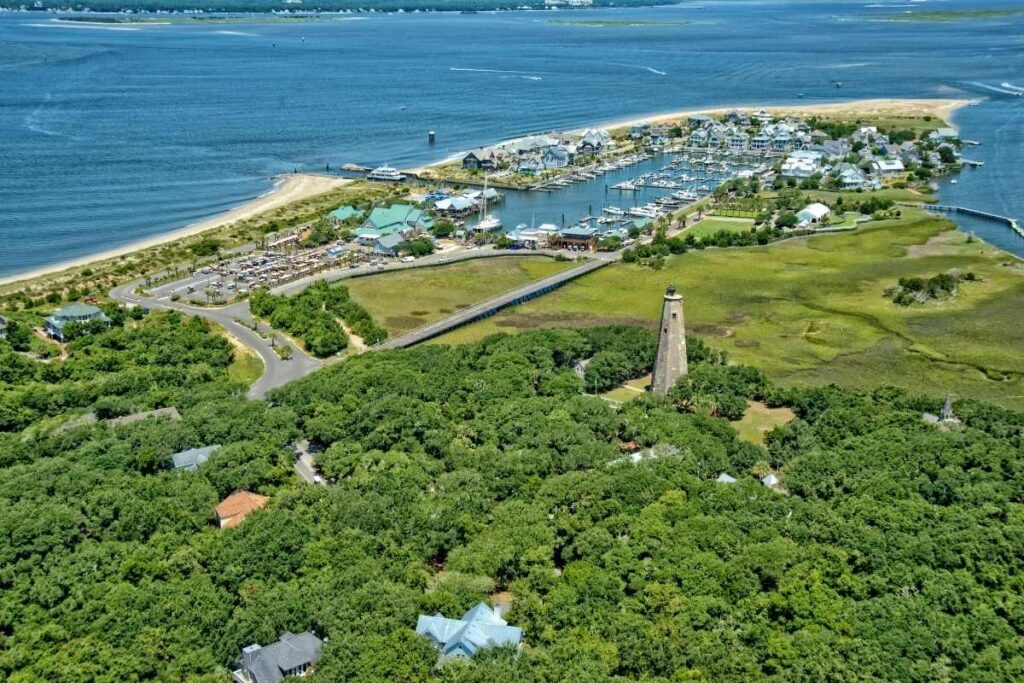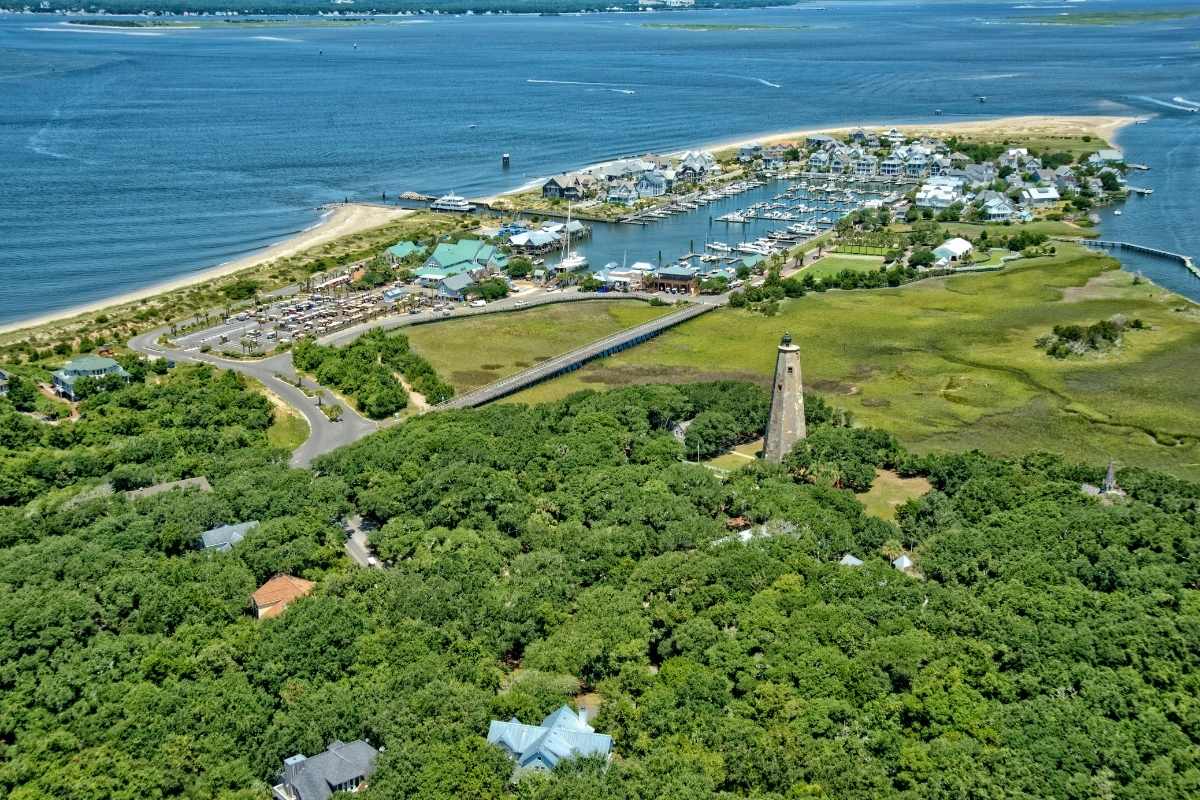 You can plan a road trip from Raleigh easily as a weekend holiday or hop on the ferry from Cape Fear for a quick boat trip to Bald Head Island.
But you cannot use cars once on the island, though, and you have to stick to bikes and carts. 
It is a fantastic place for a family beach vacation with a touch of hikes and outdoor fun.
Most of the island remains untouched as it is all under reserve areas, which means you get to experience the raw landscapes with only a few visitors to accompany you.
The seafood is delicious here, and several lovely accommodations are overlooking the beaches in all ranges.
The Bald Head Island Conservancy has many beautiful walks, and you can spot turtles here. If you want to enjoy fishing or take boat trips, head to Zeke's Island Reserve.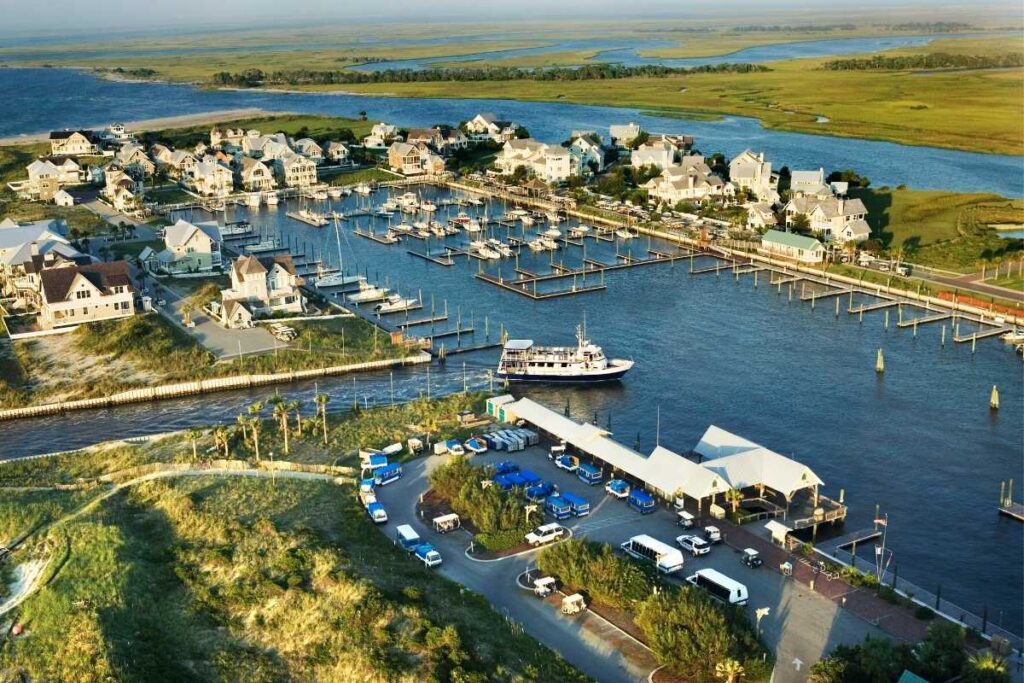 There are three lighthouses on the island, and all of them open to stunning vistas. The oldest, built in 1817, known as Old Baldy Lighthouse, is a top spot to visit.
The fantastic views from the top make the climb worth it. Oak Island Lighthouse is also worth your time. 
JEKYLL ISLAND, GEORGIA
Off the coast of Georgia lies the idyllic island Jekyll, in Glynn County. Known for its Nature, exciting history, and culture about Georgia to offer, among other things, Jekyll Island is one of the best hidden gems in the US.
Jekyll Island is among the top hidden vacation spots in the US thanks to its fewer crowds, even during the peak seasons.
This autonomous island was once the favorite getaway for the American elite, also being privately owned at one point in time.
Most of the area is under the State National Park Area, and planning a trip to this hidden vacation spot in the USA means you will enjoy both activities – on land and in water.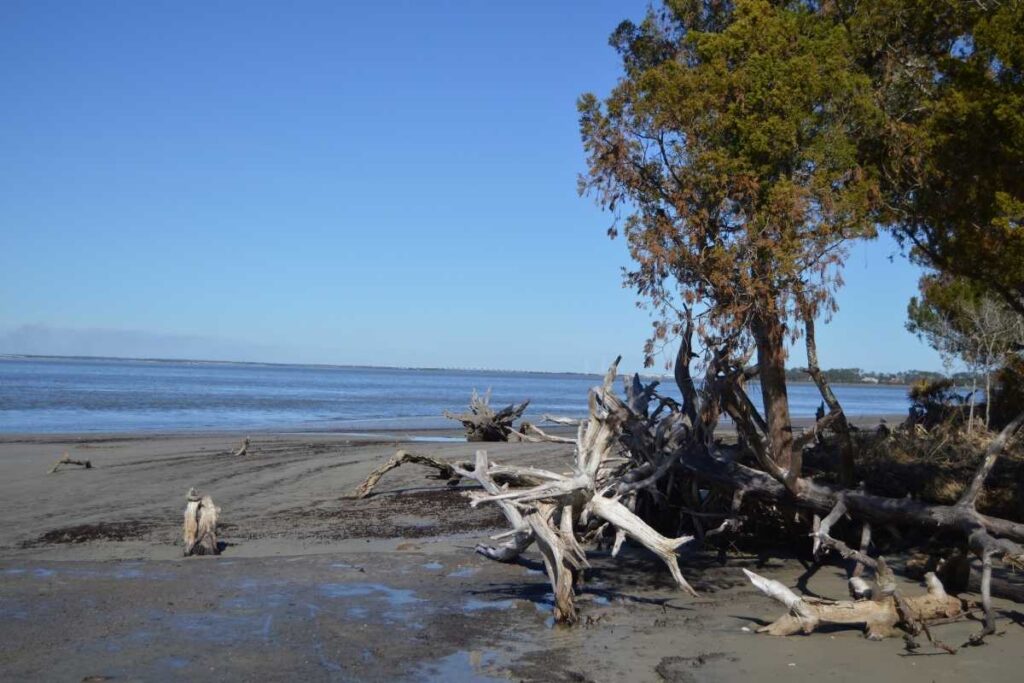 Hiking, camping, and surfing apart, you can stroll around the historic district, a national landmark. Witness some magical sunrises and sunsets on its beaches or relax with your favorite drink.
There is also Golf if you are into it, and during the peak months, there are carnivals held in Jekyll Island.
Only one-third of the island is inhabited, which means you have an abundance of wilderness. You can rent a bike and get lost among the streets as you will encounter the island's rugged beauty.
Where to stay on Jekyll Island?
Beachview Club Hotel, Home2 Suites By Hilton Jekyll Island, Courtyard by Marriott Jekyll Island
PINE ISLAND, FLORIDA
Surprisingly, the largest island in Florida does not receive visitors in many numbers. Hence, it is one of the best secret getaways in the US if you want to escape from touristy destinations in Florida.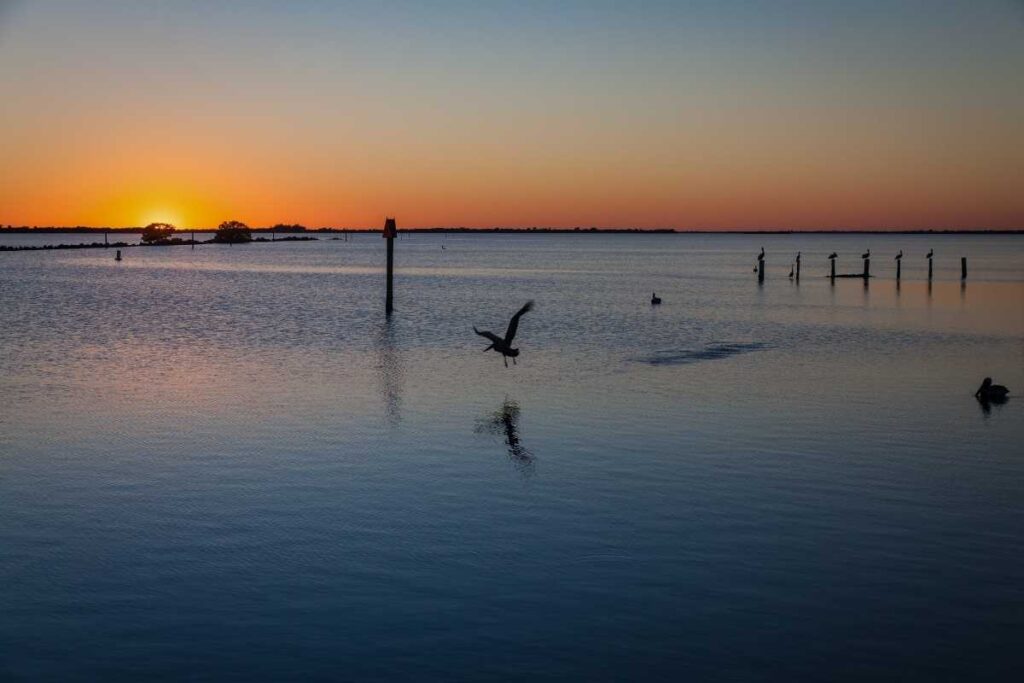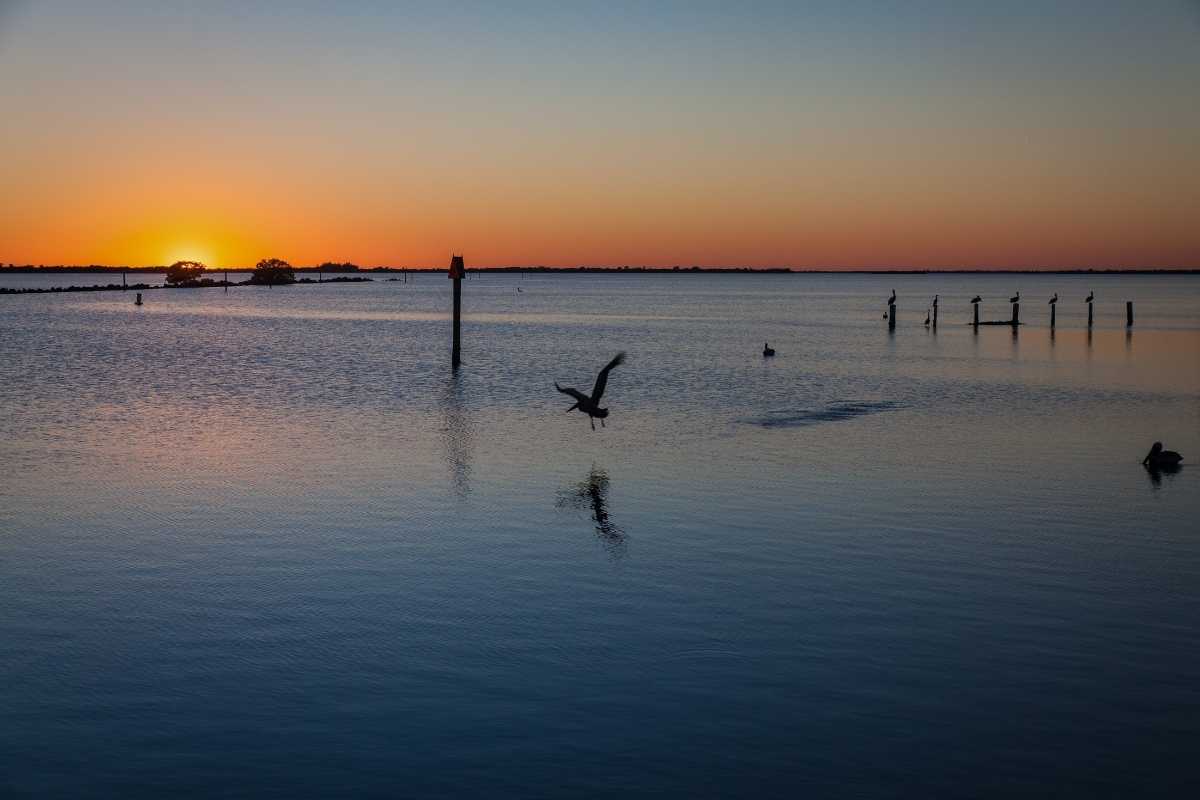 Located on the Gulf of Mexico coast of southwest Florida, you can quickly get there within a few hours, making it a convenient destination for a weekend beach holiday.
Combine Pine Island with the vibrant and equally stunning Matlacha Island, and you have a long weekend sorted for loads of seafood, sun, sand, beaches, parks, and outdoor fun.
Depending on how you want to explore, you can base either in Matlacha or Pine Island. No matter where you can hop in and out conveniently.
You get access to many other destinations from Pine Island, so you can extend your vacation if you feel like staying back or exploring nearby Naples or Everglades.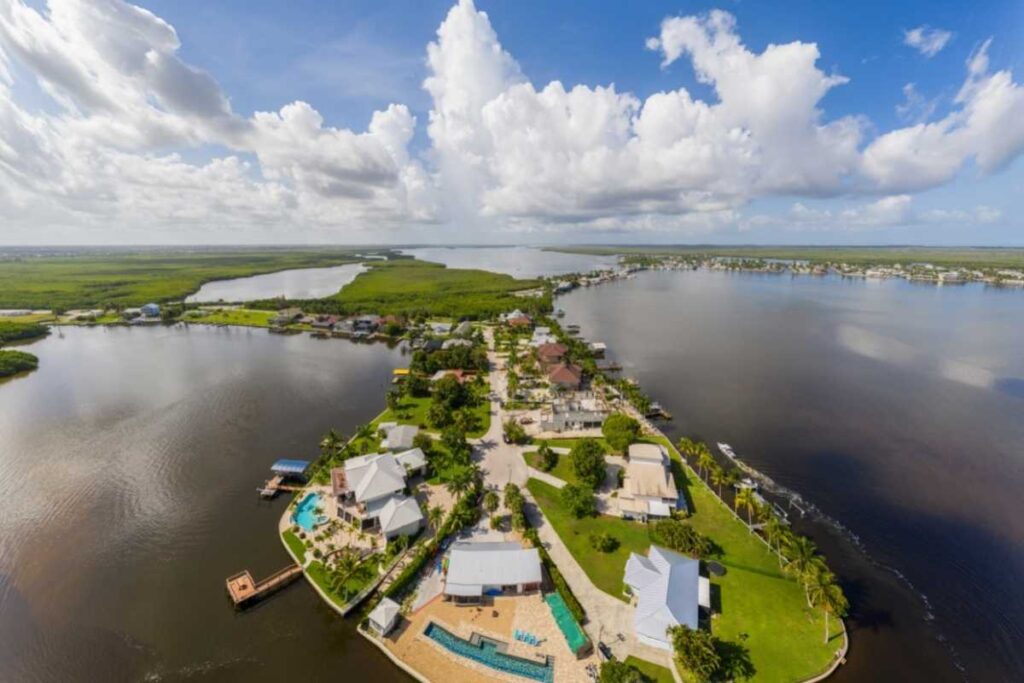 Outdoor adventurers should check out the many trails offering lovely views of the coast. Calusa Heritage Trail on Pine Island is beautiful and worth hiking for stunning views.
You can enjoy boat trips, fishing, surfing, and kayaking on the different beaches. Matlacha has a lot of streets serving excellent seafood, and many colorful photo spots. There are a few art galleries and cafes for art lovers.
BEST SECRET DESTINATIONS IN THE US – NATIONAL PARKS
WRANGELL-ST. ELIAS NATIONAL PARK & RESERVE, ALASKA
Wrangell—St. Elias National Park, located in south-central Alaska, is one of the beautiful secret vacation places in the US that you should visit at least once.
It can be conveniently added as a day trip or a weekend trip from the capital Anchorage or nearby Valdez.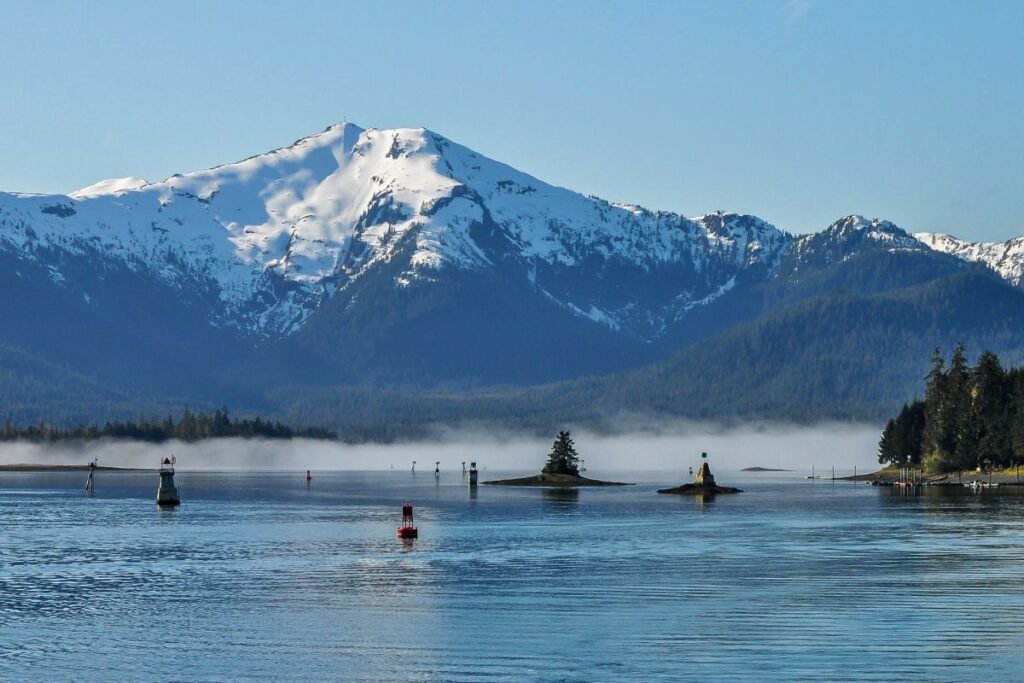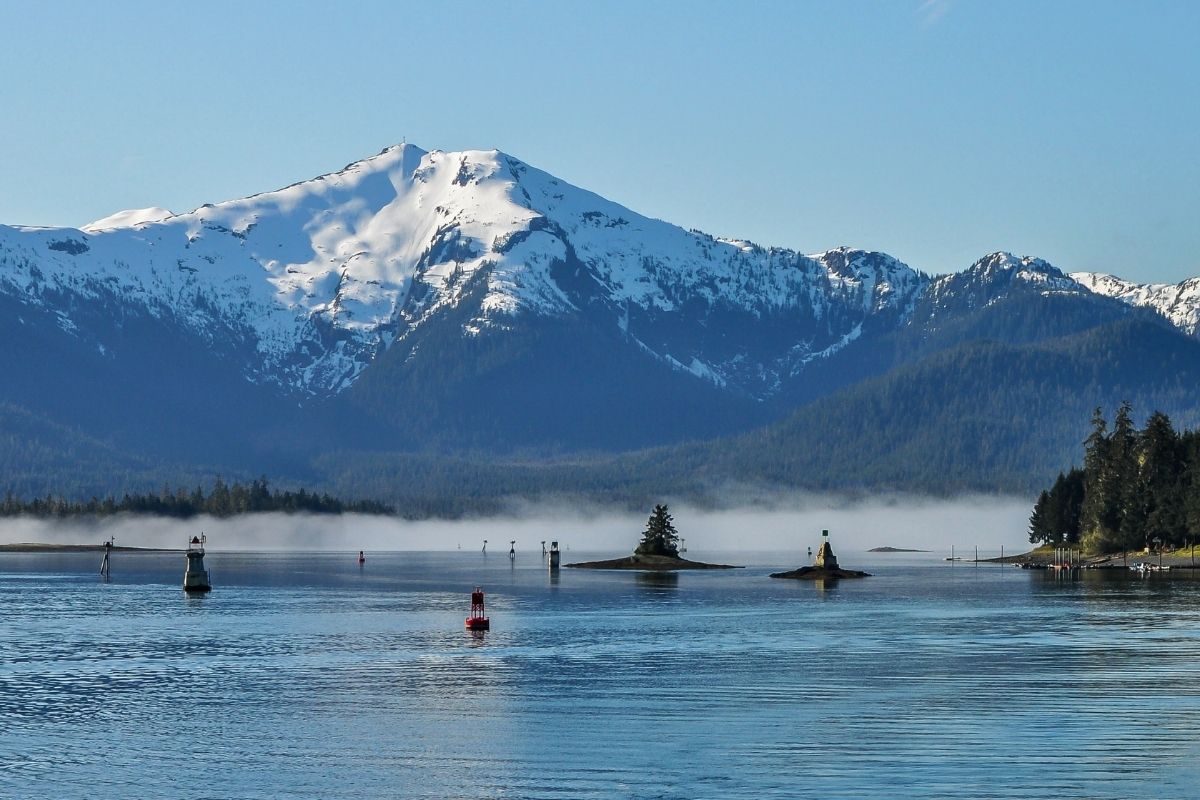 Although it is the largest National Park in the US, spreading over 13 million acres, it remains one of the best USA hidden gems mainly due to its remote location, cut off from modern civilization.
If you want to experience Alaska's spectacular wilderness in its rawness, you will end up loving this reserve.
Wrangell—St. Elias National Park is predominantly full of glaciers, with formations ranging in hundreds of years. Its glaciers are the largest in the USA at over 35% coverage.
The best season to visit the reserve in the summer months, which is the peak season, will not find many visitors.
If you don't mind spending a bit, the best experience you can get in Wrangell–St. Elias National Park is by taking an aerial tour of the reserve, where you will witness surreal bird-views of the many fantastic glaciers, including the longest glacial valley in the world, Nabasena, which runs for over 50 miles.
It will be one of the fascinating experiences you can have while in the park.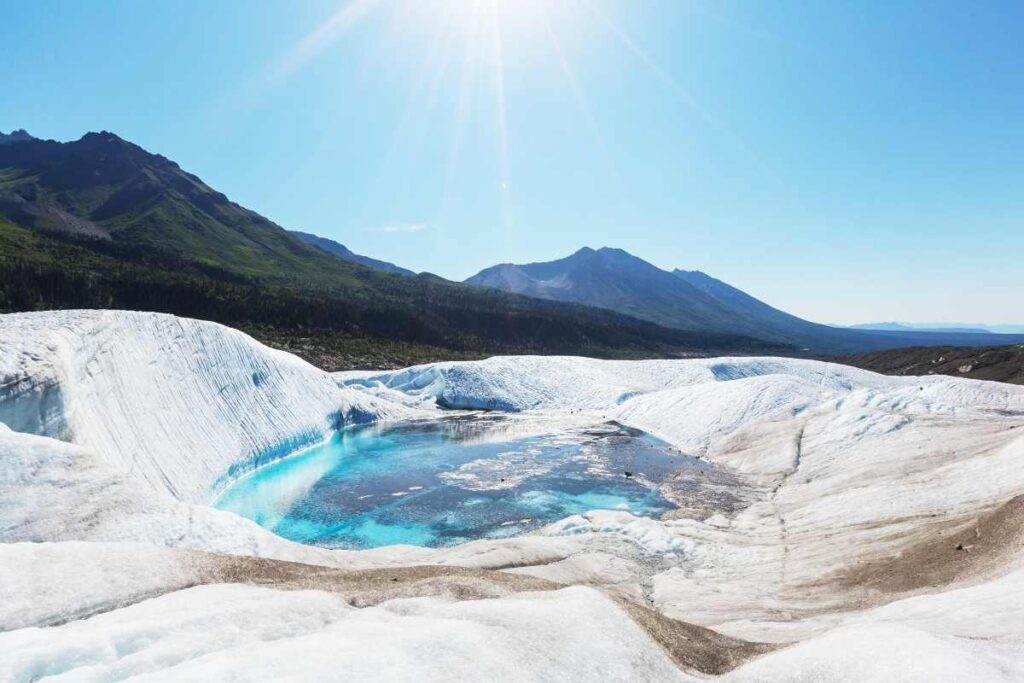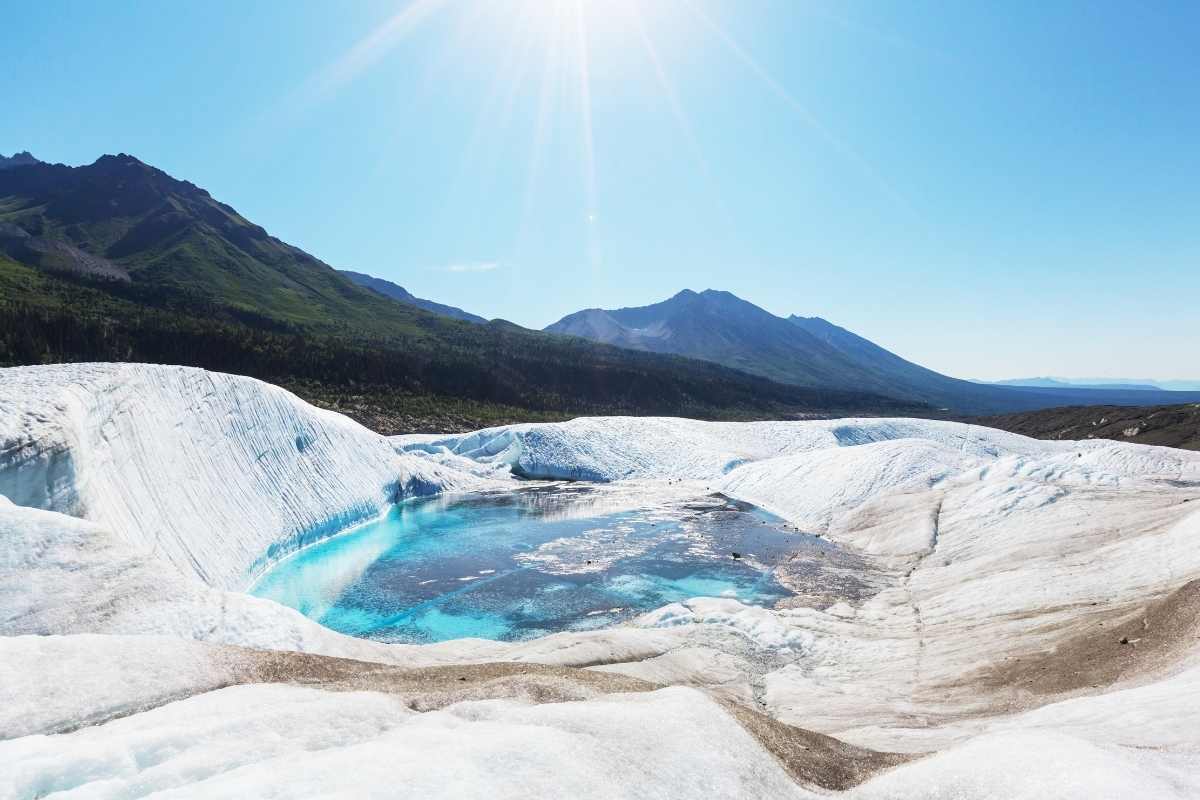 Stop by at Kennecott Mines, a former mine town and a national historic landmark known for being a treasure house of the most expensive copper reserves.
Hikers should not miss the Bonanza Mine Trail and Root Glacier & Stairway Icefall Trail among the many beautiful hiking trails. You have plenty to choose from, depending on your fitness and comfort levels.
Where to stay in Wrangell-St. Elias?
GREAT BASIN NATIONAL PARK, NEVADA
Located in eastern Nevada near the Utah border, Great Basin National Park is an incredible stretch of landscape home to many natural wonders, including the jagged South Snake Mountains in the south and the peaks of Wheeler Mountains in the North.
Despite its proximity to the famous Salt Lake City in Utah and Las Vegas, this enormous panorama remains one of the best hidden vacation spots in North America.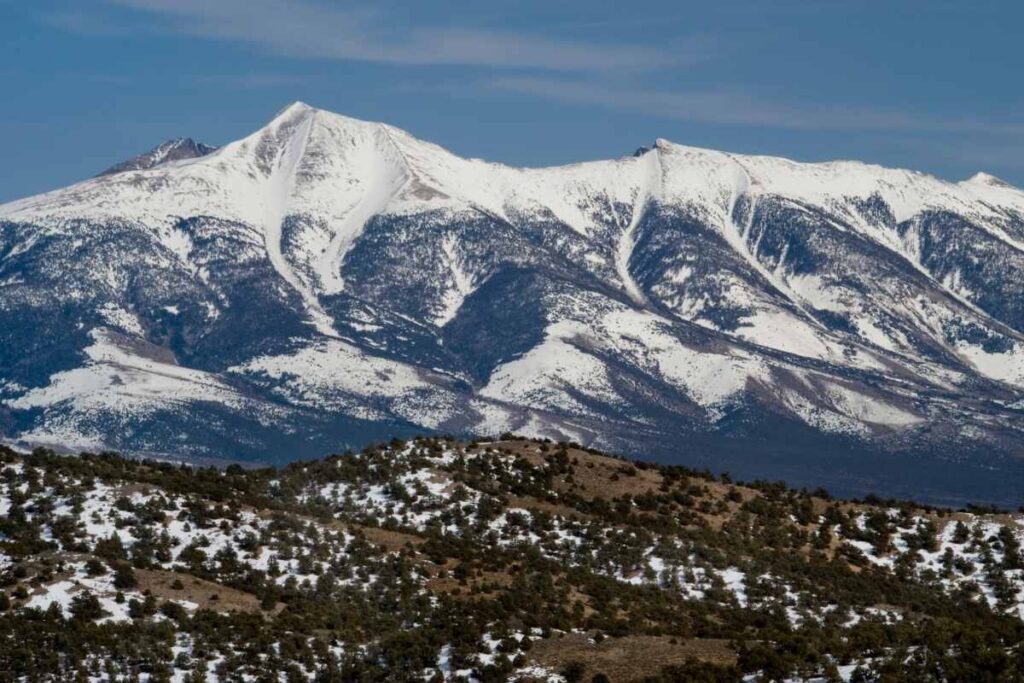 You can easily plan a weekend trip both from Las Vegas or Salt Lake City, the two nearest cities to the reserve. It is an ideal spot for outdoor travelers and a treasure trove of natural landmarks for nature admirers.
Depending upon your time and preferences, you can choose from various activities and tours. Hikers have many exciting trails in the Great Basin National Park, leading you to different beautiful formations.
Some beautiful trails are the ancient bristlecone pine groves, the treks to Alpine Lakes, and stunning glacial dispositions.
If you are daring to take your adventure to the next level, you can sign up in the park to attempt the hike to the summit of Wheeler Peak, the second-highest peak in Nevada.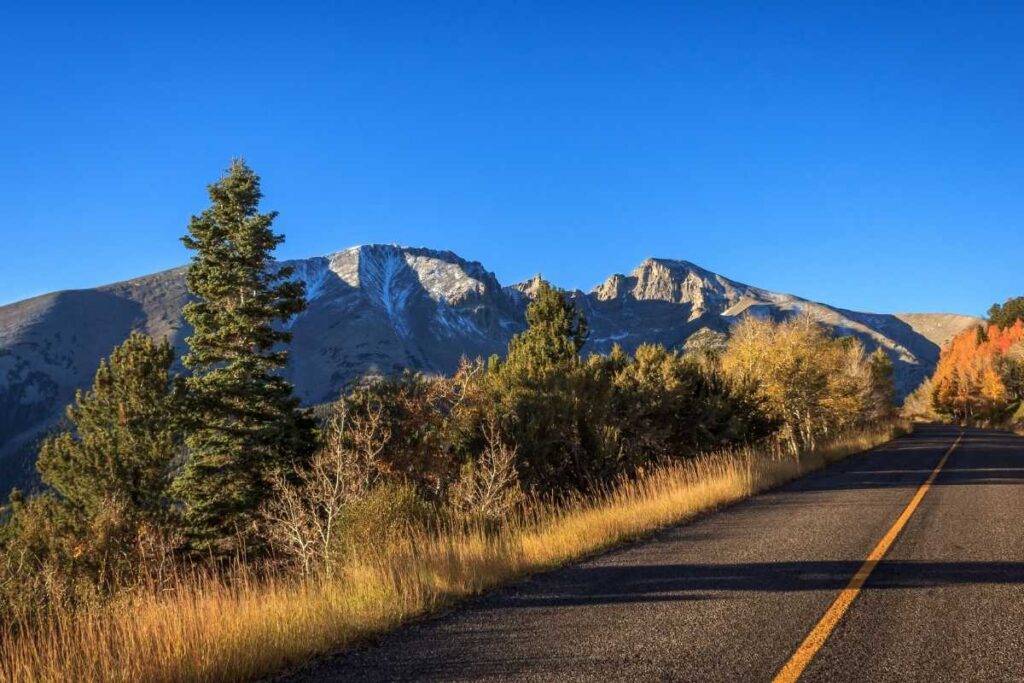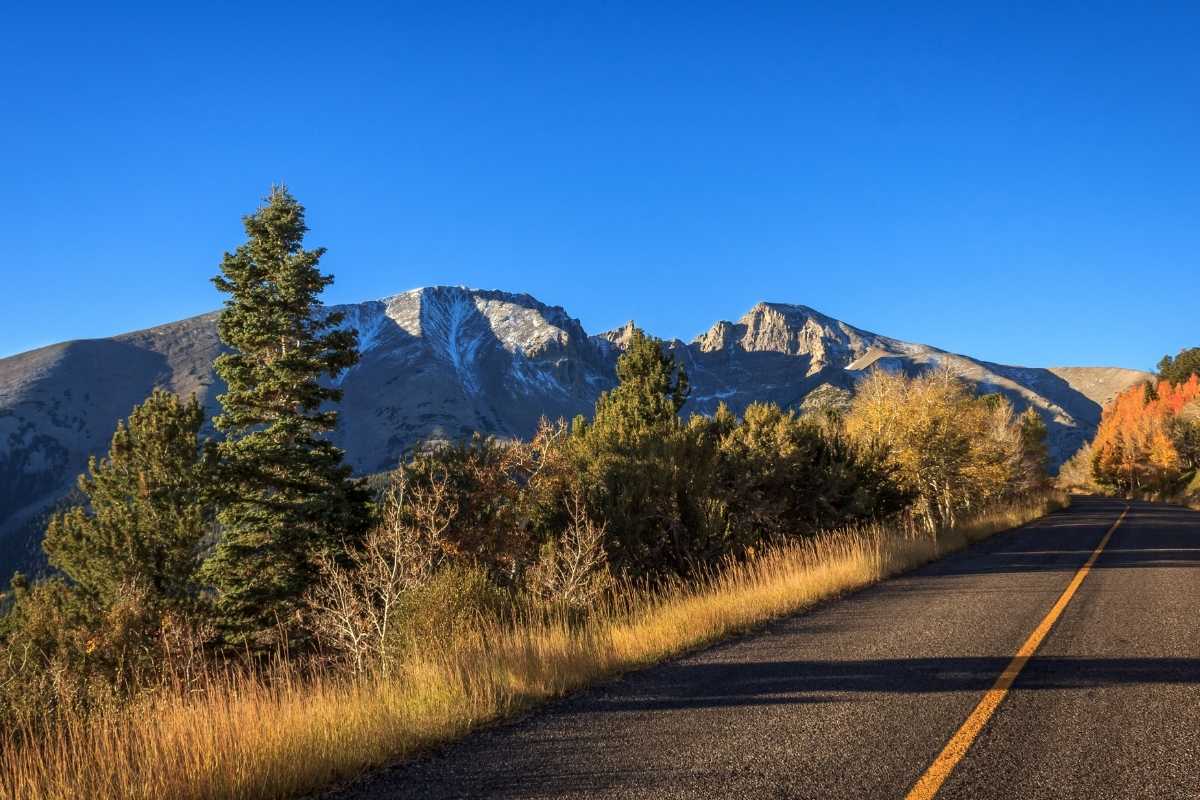 Check out the Lehman Caves, which has unique stalactites and stalagmites limestone formations. Park wildlife includes bighorn sheep.
The best way to explore Great Basin is by camping in the park and planning a few days to go on day trips or multiple-day hikes.
Although it is possible to take a weekend trip, you might not be able to cover many thanks to the massive size packed with many things to do. I'd recommend keeping a few days more to make the most of your time.
The good thing is that winter is also a fabulous time to visit Great Basin National Park, similar to summer when the landscapes are lively.
Where to stay in Great Basin?
DESCHUTES NATIONAL FOREST, OREGON
Another national park among the USA hidden gems is the Deschutes National Forest, located in central Oregon, spreading for over a million acres.
While the Bend is a famous destination for outdoor adventure seekers, not many check out the Deschutes Forest.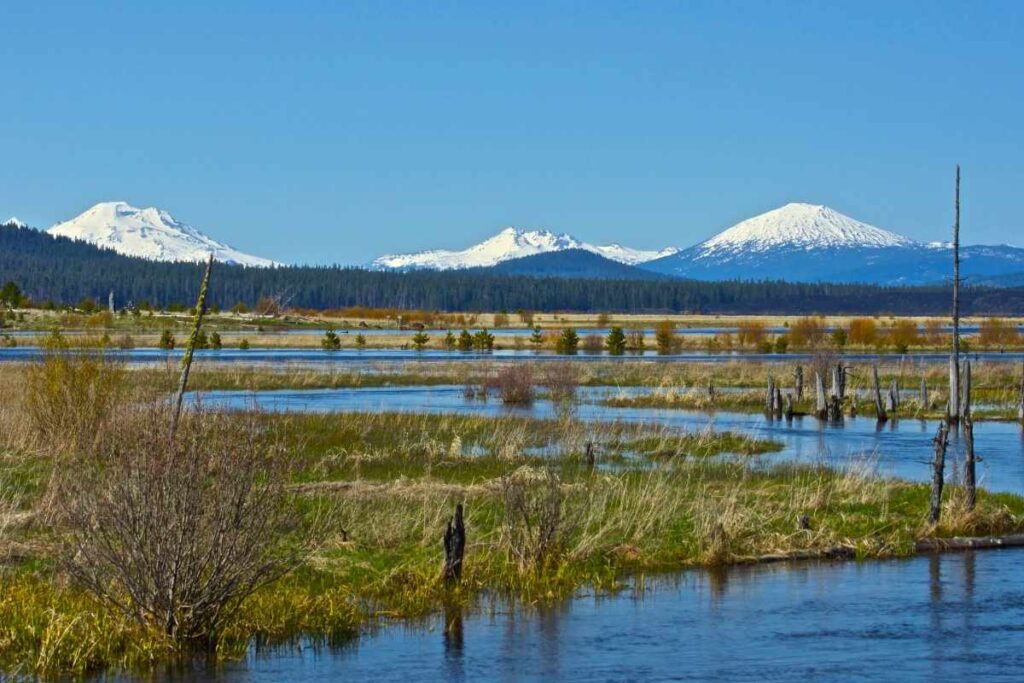 The most notable attraction in the Deschutes is Newberry National Volcanic Monument, which houses the largest volcano in the Cascades Mountain Range.
The volcanic remains from eruptions over 7000 years ago have formed conical deposits.
The tallest remains towers over 500 meters high and lava fields around two regions Lava Lands Area and Lava Cast Area.
You can plan several hikes around the trails nearby, home to beautiful waterfalls, lakes, and viewpoints. Paulina Peak in the Caldera region is home to two lakes and a waterfall, all of which can be explored on hikes.
Where to stay in Deschutes National Forest?
FivePine Lodge, Pine Ridge Inn, Wall Street Suites
ROAN MOUNTAIN NATIONAL PARK, TENNESSEE
While the Cherokee National Forest, located across North Carolina and Tennessee, is one of the favorite getaways for outdoor lovers, just a 10-minutes drive away lies another best hidden vacation spot in the US, which is often surprisingly overlooked by thousands.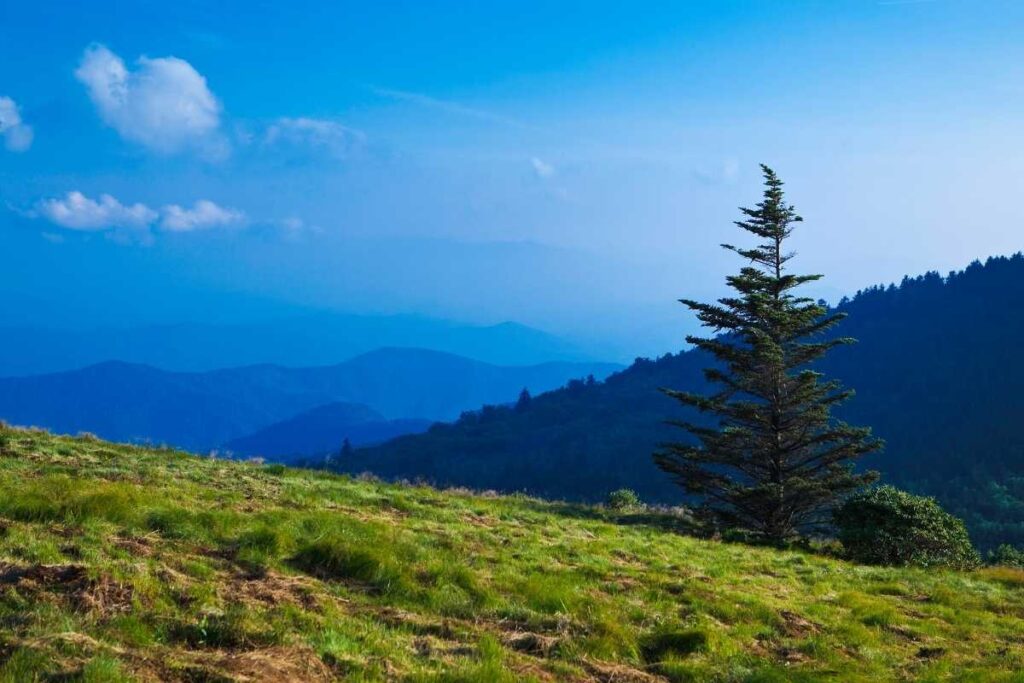 Roan Mountain State Park in Northeast Tennessee is undoubtedly one of the best vacation spots in the US because of its gorgeous location in the Blue Ridge of the Appalachian Mountains alone, but there are many other reasons why you will fall in love with this park.
Comprising over 2000 hectares of preserved hardwood forest next to the huge Roan Mountain, many pass by this park as they head to the famed Appalachian Trail as this mountain is also a part of the grand trail.
Fantastic camping spots, beautiful hiking trails offering splendid views of the dramatic valleys, and plenty of places to enjoy fishing, biking, and enjoying a stay amidst the luxurious lap of Nature are enough reasons to visit Roan Park.
You will encounter beautiful blooms of many wildflowers and also rhododendron.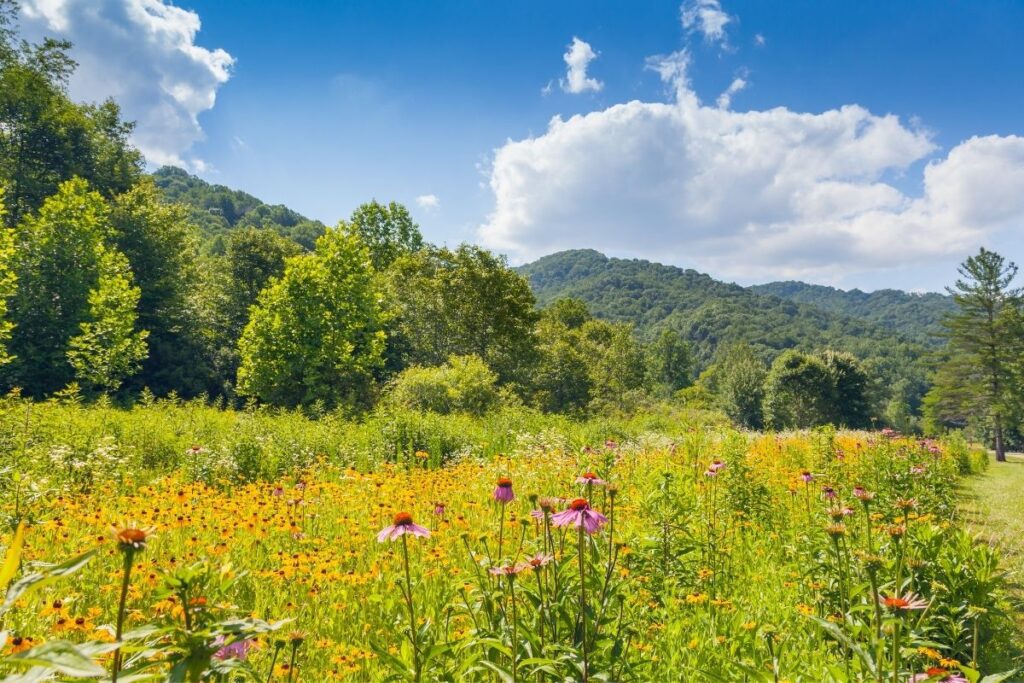 You can rent fully-equipped comfortable cabins and still feel away from the civilization, a perfect mix for those creature comfort-seeking souls that also long for doses of natural beauty.
Roan State Park is also popular among road-trippers, especially RV owners as they have many exclusive campsites with excellent amenities for them.
Where to stay in Roan State Park?
Creekside Roan Mountain Cabin Walk to Trails, Chalet Retreat Cozy Cabin with On-Site Creek!
MT. HOOD NATIONAL PARK, OREGON
One of the spectacular hidden vacation spots in the US lies in Oregon.
The imposing snow-capped Mount Hood at over 11000 feet, the highest mountain in the state, and an active stratovolcano beckons the adventure seekers, mountain lovers, hikers, and nature admirers. 
A perfect place to go off the beaten path in Oregon, this Pacific Northwest nature preserve, running for over 20 miles, is home to splendid forested valleys, flourishing wildlife, waterfalls, streams, and gorges – all of which can be explored by getting on the many hiking trails.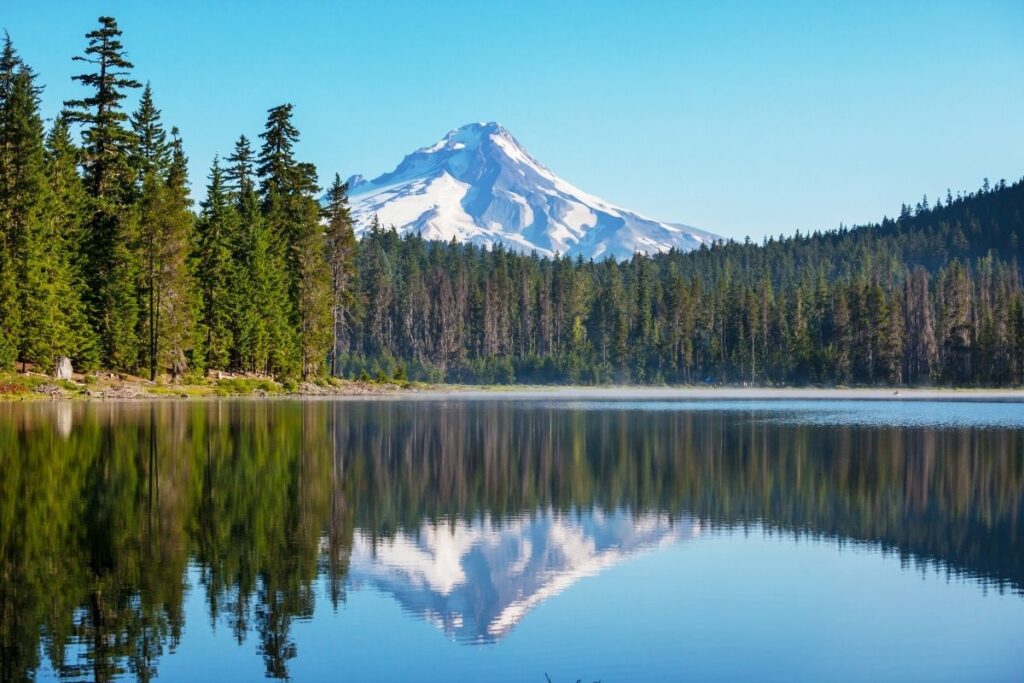 In winter, you can plan a trip to the ski resorts here. Among the must-do attractions in the reserve include the stunning Multnomah Falls at over 190 meters, Austin and Bagby hot springs, and Timothy Lake,
The best trails for hikers include some sections of the Oregon Trail, and Eagle Creek Trail, both passing through several waterfalls, rivers and beautiful viewpoints.
If you are adventurous enough to go the whole distance, the Pacific Crest National Scenic Trail, running from the north to the south, will keep your adrenaline up for sure.
If you plan a longer trip, you can also combine a few hikes in the Columbia River Gorge National Scenic Area along its northern border. There are many historic attractions for those wanting to know a bit of the local history.
Where to stay in Mount Hood?
Depending upon the time of the year, you can choose between hotels and ski resorts.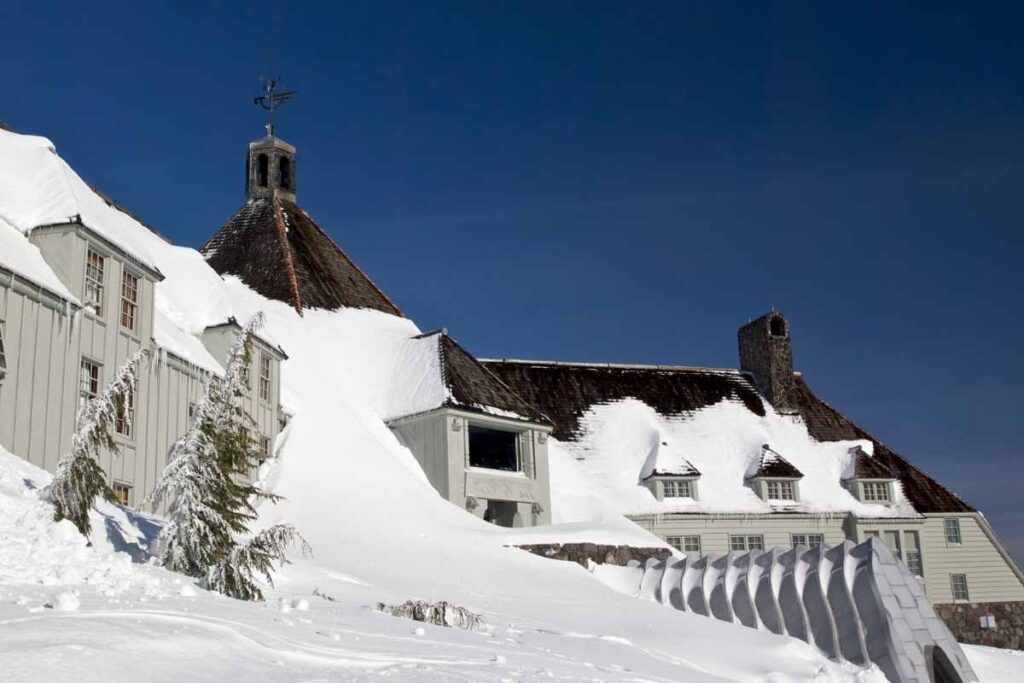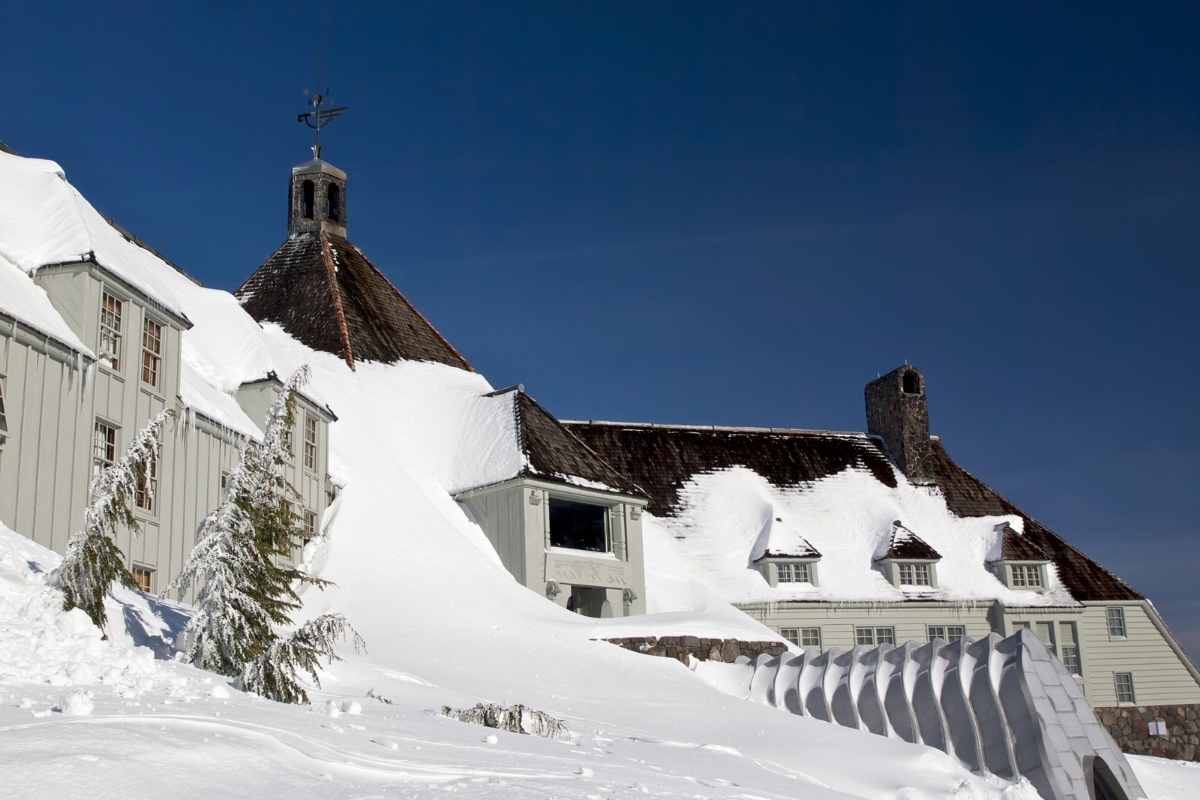 I'd highly recommend Timberline lodge, nestling at a high altitude in a gorgeous location. Apart from excellent accommodation, there are plenty of activities and leisure things that you can sign up for at Timberline.
DRY TORTUGAS NATIONAL PARK, FLORIDA
How about a 19th-century Fortress on an island surrounded by turquoise waters sound? Fort Jefferson, located in Dry Tortugas National Park, has been drawing curious travelers looking for offbeat getaways in the US in recent years.
Dry Tortugas National Park, located in the Gulf of Mexico, west of Key West in Florida, is a beautiful USA hidden gem.
It houses this unfinished island Fort, a mystic-looking lighthouse, and gorgeous beaches, apart from the abundant marine inhabitants all around across seven stunning islands.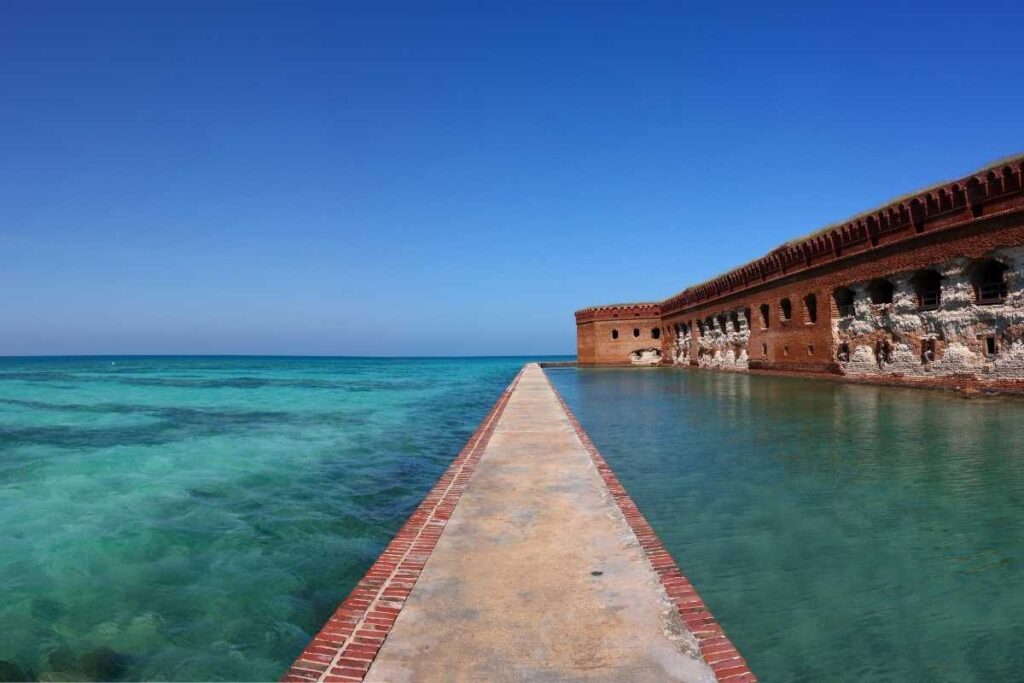 The protected coral reefs can be best explored through snorkeling, diving, boat trips, and Kayaking. Did you know the specialty of Fort Jefferson?
Comprising over 15 million bricks, it is the largest masonry structure in the United States. Watch the sea turtles and hike to the lighthouse in Loggerhead Key.
If you want to dive, get to Windjammer Wreck close to Loggerhead Key, which houses a shipwreck site worth checking out as well.
Where to stay?
The Capitana Key West, The Artist House, H2O Suites- Adults Only, The Grand Guesthouse
BLACK HILLS NATIONAL FOREST, SOUTH DAKOTA
Tucked away between Wyoming and the edge of South Dakota is Black Hills National Forest, one of the beautiful vacation spots for Nature in the US.
Easily reachable from Rapid City within an hour, you can spend a day or up to a week indulging in all sorts of outdoor activities taking in the alluring mountain spirit.
There are many other parks and historical sites close by, so you can also spend weeks here if you intend to visit bits of them.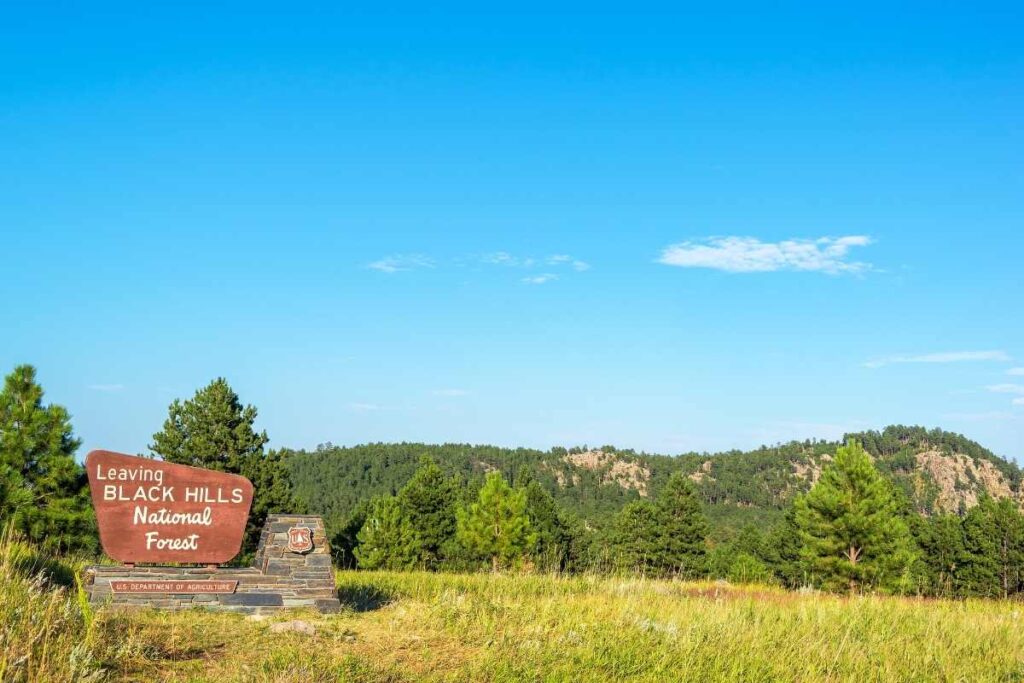 Among the top attractions that can be covered through hikes or biking is the beautiful Roughlock Falls plunging into the narrow gorge of Spearfish Canyon. Sheridan Lake is the best place to enjoy boating, fishing, and relaxing.
There are few great trails around the Lake, also best explored on mountain bikes. In winter, the areas around the Lake become hotspots for snowshoeing and skiing.
The Lake also has campsites for RV and those wanting to camp, so perfect for a summer getaway as well.
If the cold war history interests you, stop by at Minuteman Missile National Historic Site. If you are on a road trip around the Black Hills, you can go all the way to the south, passing by Peter Norbeck Scenic Byway, home to enriching wildlife.
Further in that direction leads you to the famous Mount Rushmore, home to the sculpted faces of the Former American leaders.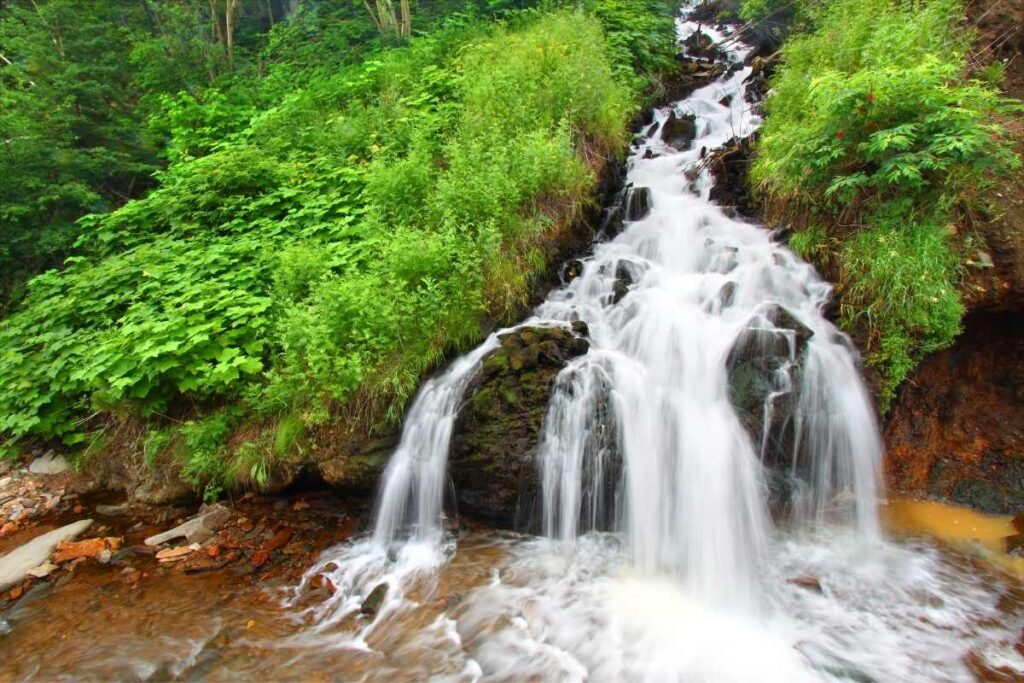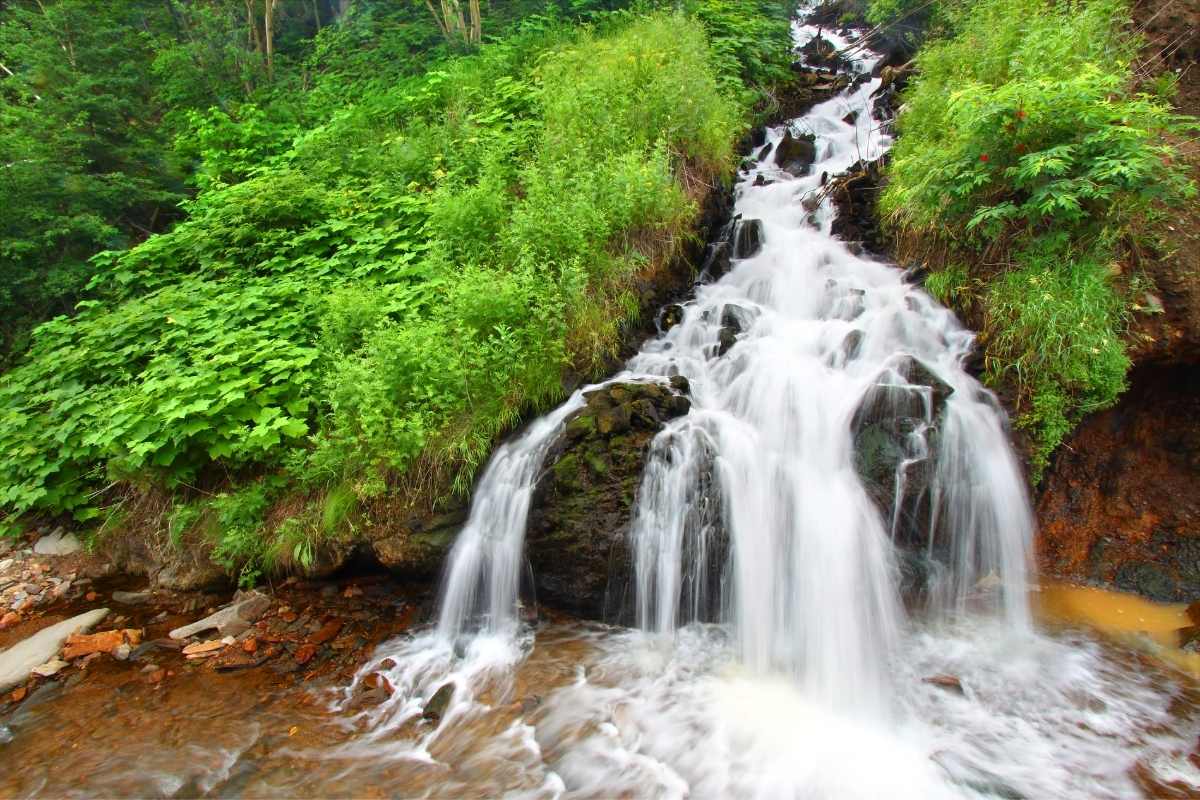 Enjoy the sweeping panoramic views along the Needles Highway. Other attractions worth checking out are Cathedral Spires rocks and Black Elk Peak.
Where to stay in Black Hills Forest?
BEST HIDDEN GEMS IN THE US – NATURAL ATTRACTIONS
I love getting beyond the cities and towns, and the more chances to be amidst the wilderness, the better.
If you are into natural attractions like me, we know that the USA is home to some of the most splendid national parks in the world. But how about some natural hidden vacation spots in the US?
Below is a list of some of them that I would recommend. Note that a few may have more visitors than expected, like some on this list, thanks to their increasing popularity. You can still plan a trip to these secret places in the USA for a quiet vacation.
HAMILTON POOL PRESERVE, TEXAS
Among the most beautiful natural hidden vacation spots in the USA is this crystal-clear Hamilton Pool reserve. This natural pool was formed by the collapse of the dome of an underground river thousands of years ago.
Although just an hour's drive away from Austin, it is a well-preserved US hidden gem till today.
This pool surrounded by limestone beds is open throughout the year and is a fantastic destination for swimming and a short picnic or a weekend drive.
The stunning views of the 50-foot high waterfall surrounded by jungle are captivating, dropping to form a turquoise pool, with the full view looking like a perfect postcard.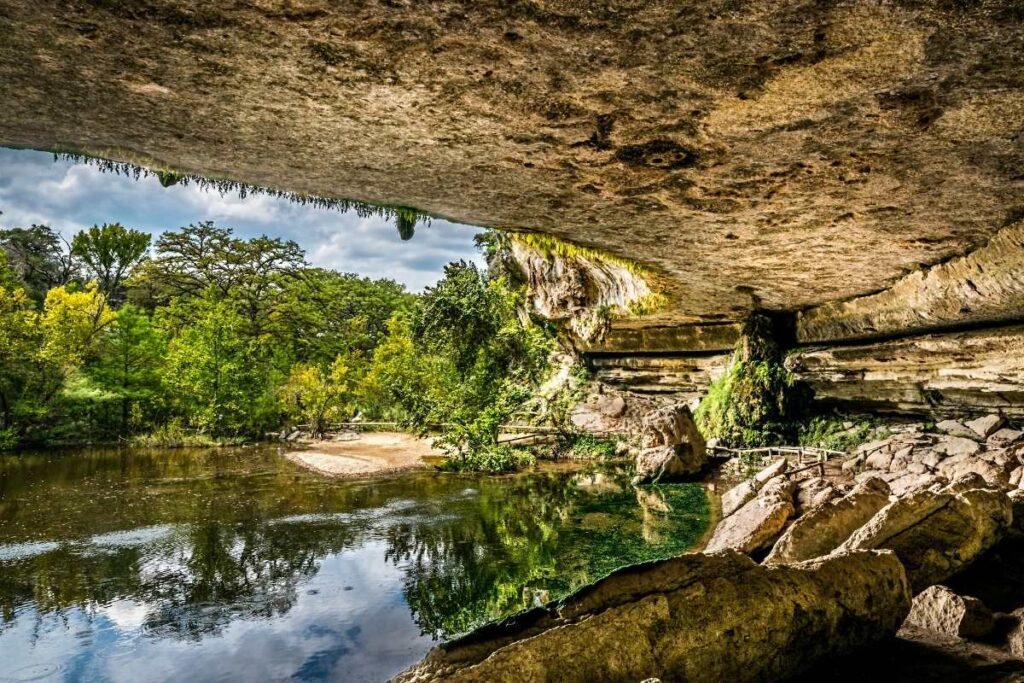 The best time to visit the pool is after the rain if you are keen on swimming. Thanks to the daily limit to the number of visitors, it can never get too crowded, despite its soaring popularity as one of the Insta-worthy locations.
So make the most of your visit while you can until it one of the best hidden vacation spots in the US.
MENDENHALL GLACIER, ALASKA
One of the best hidden gems in the USA lies in enchanting Alaska. Mendenhall Glacier is one of the beautiful secret vacation places in the US if you want more of a natural gem.
Located close to Juneau and running for over 13 miles in Mendenhall Valley, this is a spectacle to behold. You will instantly notice the unspoiled and the raw ruggedness adding more to its mystic charm.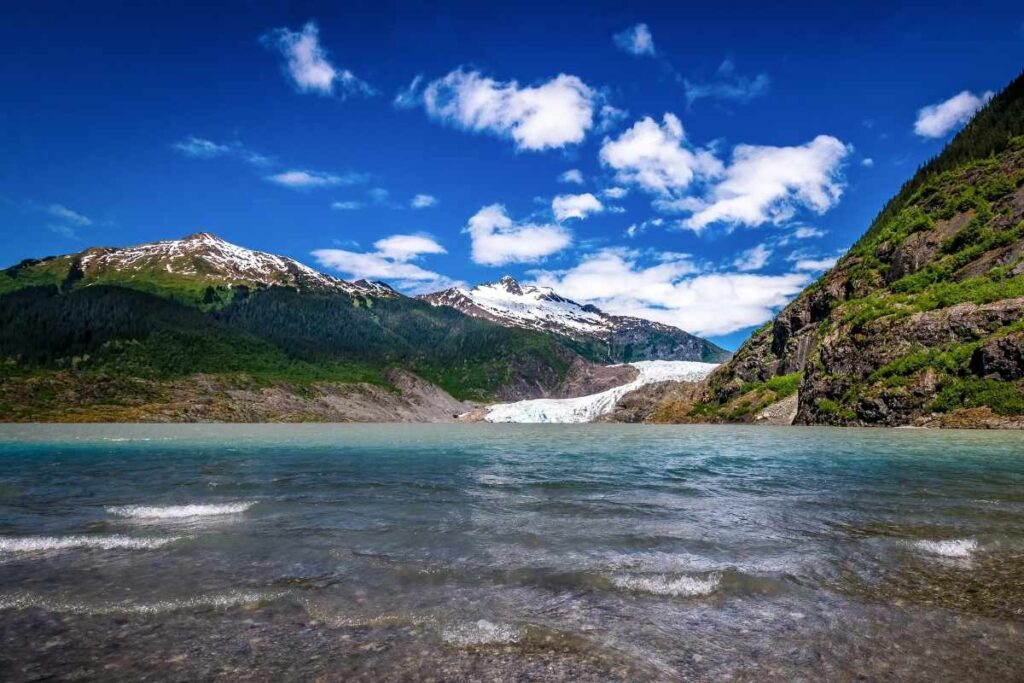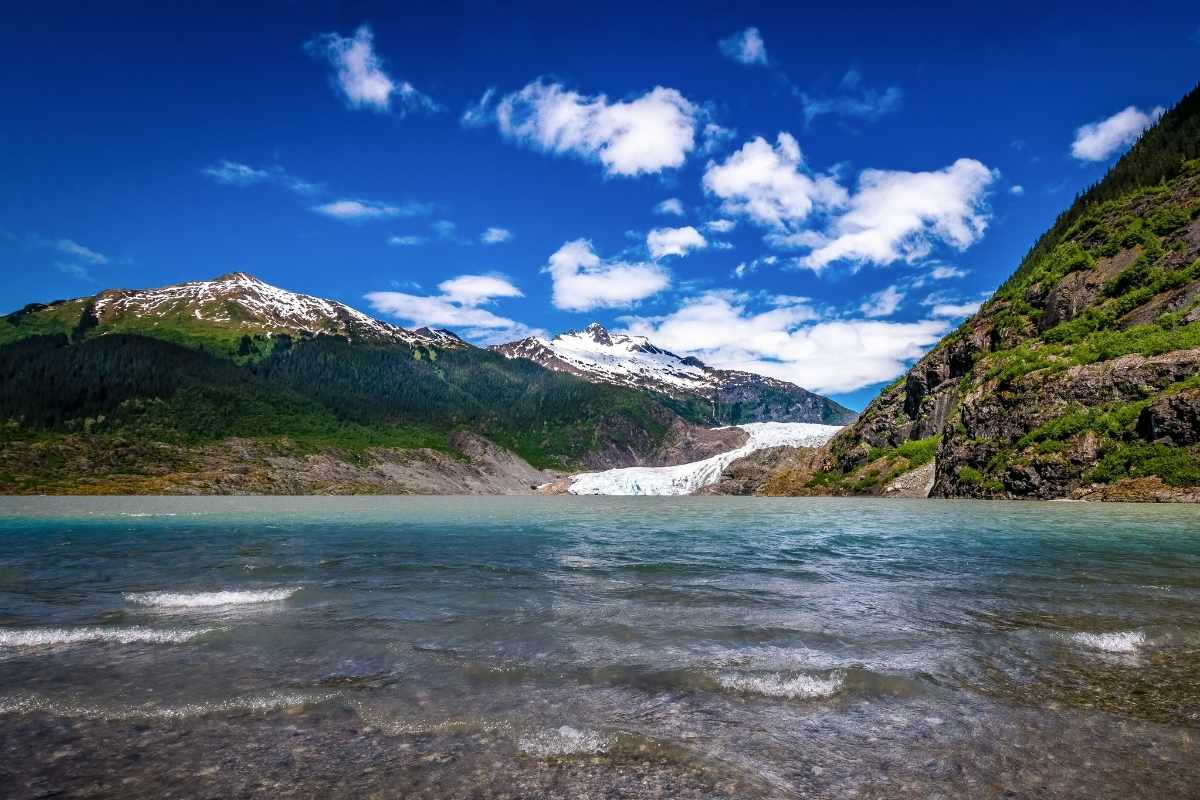 And as you explore further, cascading waterfalls, stunning lakes, and crystal ice caves lying amidst lush forests will make you fall in love with Alaska once again.
If you are lucky, you will meet and probably greet the residents, bears, especially if you go hiking to witness sweeping views of snow-capped peaks and icebergs on these fantastic trails.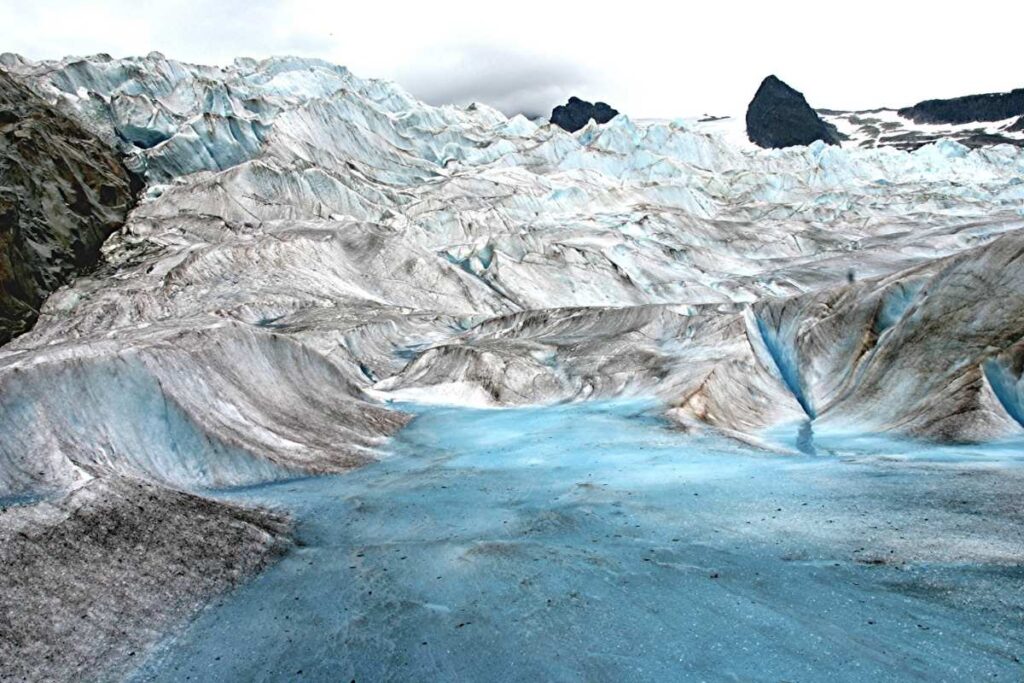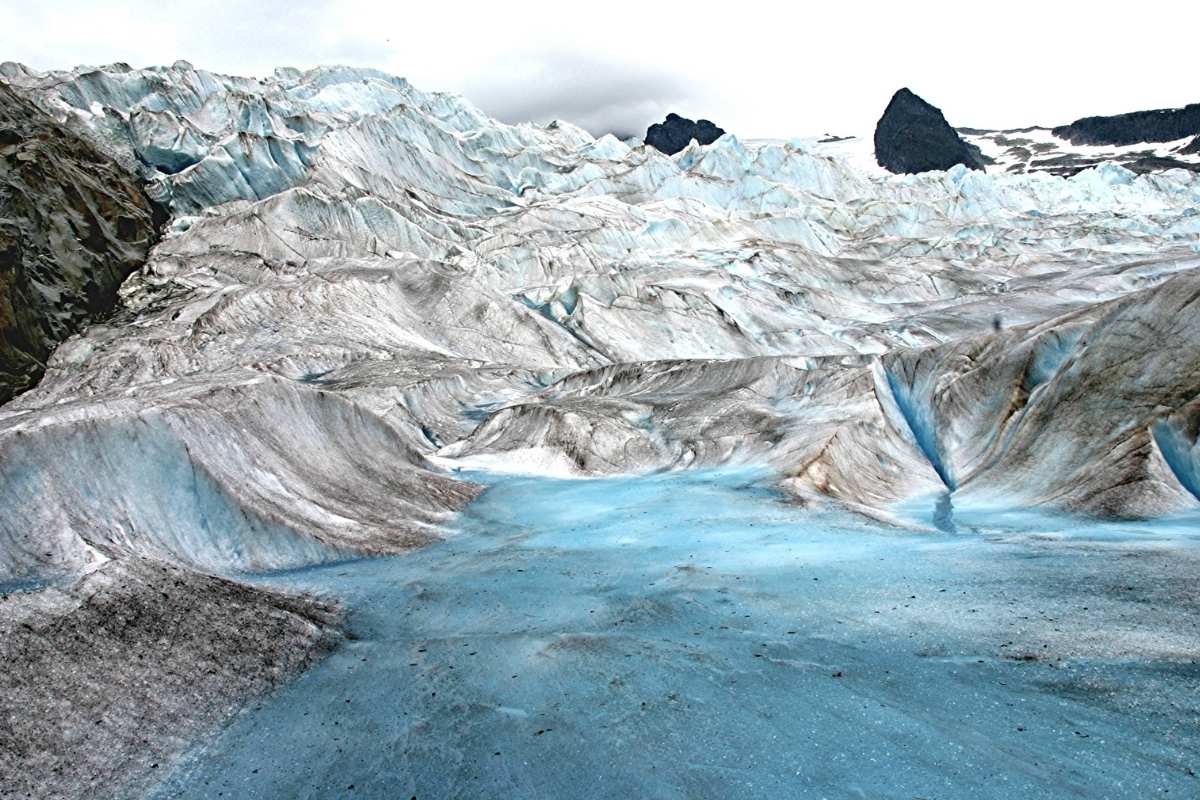 If the season and weather permits, you can go on a walk around the ice mass to witness the unique glacial formations up close.
Rent a kayak and be awe-inspired by the surreal turquoise crystal ice caves stretching for over 20 km.
These are the center attraction of Mendenhall Glacier. Don't miss admiring the waterfalls running through these caves.
Where to stay?
TENNESSEE VALLEY, CALIFORNIA
Although it is a part of the Golden Gate National Recreation Area, Tennessee Valley is one of its hidden gems in California.
If you are done exploring most of the Golden Gate ecological regions and want to go offbeat, you can add Tennessee Valley to the quick list of hidden vacation spots in the US.
Despite being just a 30-minutes drive away from San Francisco, not many visitors check out Tennessee Valley, which is a shame because there are tons of things to do and explore here, and you can spend even a whole day or more if you intend to.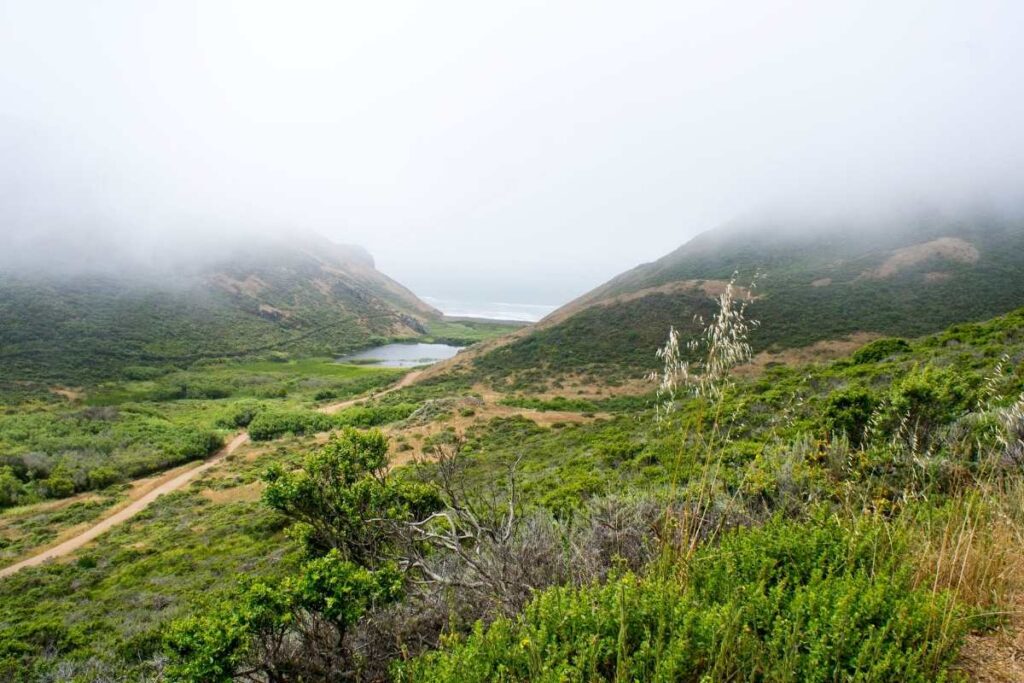 Discover the wilderness in the valley on hiking trails or motorbiking and witness wetlands, shrubs, and also a small lake, beginning from the north of the Golden Gate Bridge.
You can continue the hiking trail up to Tennessee Cove for a relaxing beach time, which is the endpoint. Garden lovers can visit the nursery or take a tour of the stables if you love horses.
Where to stay?
Mill Valley has a lot of options for accommodations if you wish to stay overnight near Tennessee Valley.
Best pick of vacation rentals and hotels – Acqua Hotel; Mountain Home Inn Mill Valley; Mill Valley Inn; Cavallo Point, Sausalito; Hotel Sausalito; Holiday Inn Express Mill Valley
FLY GEYSER, NEVADA
Are you keen to witness a vibrant natural spectacle? Head to the enigmatic Fly Geyser, one of the best US hidden gems located in Nevada's Black Rock desert.
Also known as Fly Ranch Geyser, a small geothermal geyser was created accidentally due to a grilling operation in the 1960s.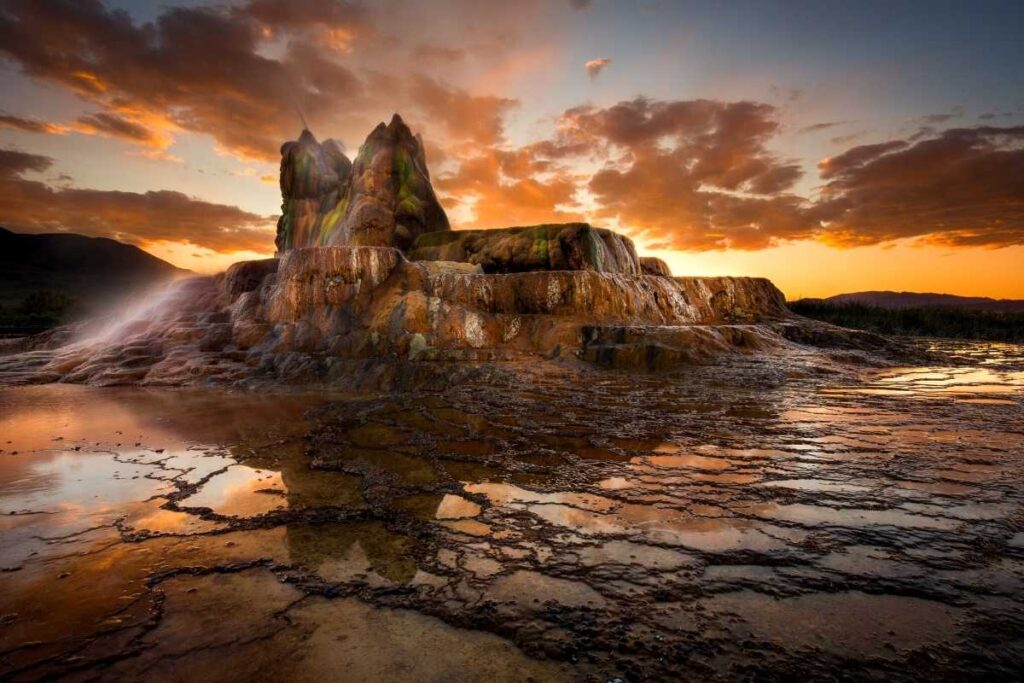 So it is technically not a natural formation. Still, there is a natural phenomenon behind the mystic multi-colored water that plumes from the geyser, giving it an out-of-the-world look combined with its bizarre shape.
The colors are due to many mineral deposits like algae, Iron, and sulfur. The deposit around the geyser is over 5 feet tall and continues to grow, ejecting water to a great height in the backdrop of colors, making it appear magical.
CACHE RIVER STATE NATURAL AREA, ILLINOIS
While everyone loves natural swap and moss, visit Everglades National Park in Florida, not many know about this hidden gem in the Midwest.
In Southern Illinois lies the beautiful Cache River State Natural Area, a 1000-year-old natural ecological formation spread across thousands of hectares surrounding the Cache River.
Due to the glacial floodwater of the Ohio River, the Cache River has unique formations of massive cypress trees whose flared bases spread over 40 feet each and house hundreds of rare endangered species of both plants and animals.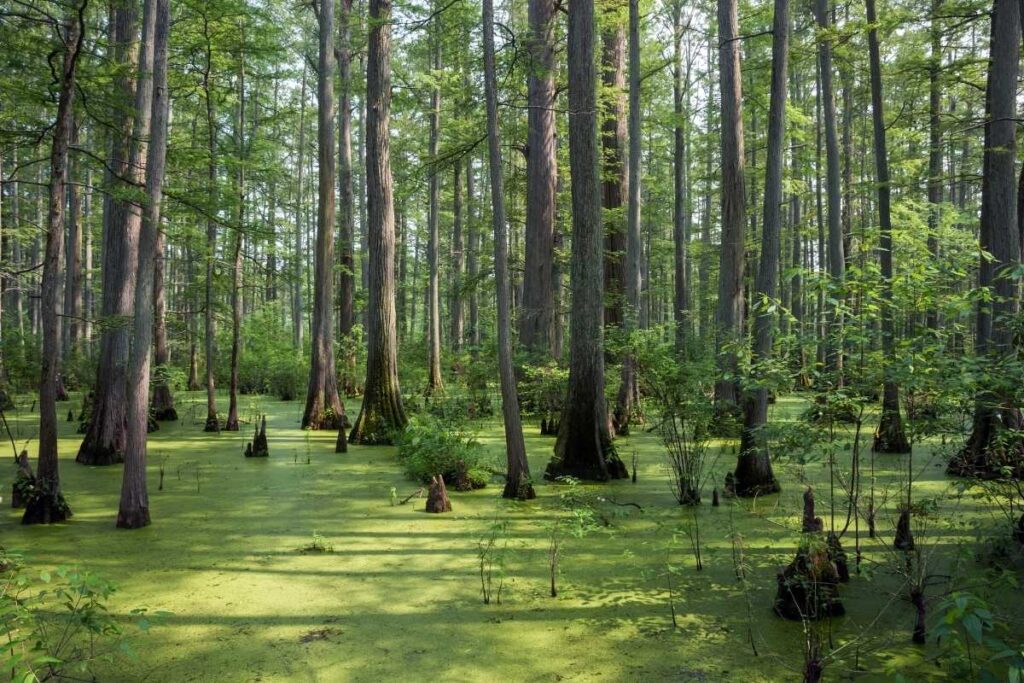 Cache River State Natural Area spans four distinct ecological regions, categorized based on the diverse ecology. You can enjoy plenty of activities here, whether as a day trip or spending overnight(which I recommend).
Hiking, biking, and Kayaking trails make up the areas available to explore. Depending on your time, fitness, and preferences, you can choose these trails. During summer, you can also go fishing or take boat excursions in the park.
Where to stay in Cache River State?
You have different locations to base yourself to explore Cache River. Metropolis, which is a 30-minutes drive away has some comfortable options.
Best hotels in Metropolis – Harrah's Metropolis Hotel & Casino; Holiday Inn Express Metropolis; Quality Inn & Suites
LAKE WINNIPESAUKEE, NEW HAMPSHIRE
Despite being the largest Lake in New Hampshire, Lake Winnipesaukee remains one of the hidden vacation spots in the US.
Located in the Lakes Region at the foothills of the White Mountains, the Lake spreads for over 20 miles long and over 10 miles wide.
Outside New England, very few travelers make it to the Lake, so if you want to get far and away into a secret place, you should add Lake Winnipesaukee to the list.
You can visit Lake Winnipesaukee throughout the year, but it will be a different experience each season, making it a multiple-visits destination.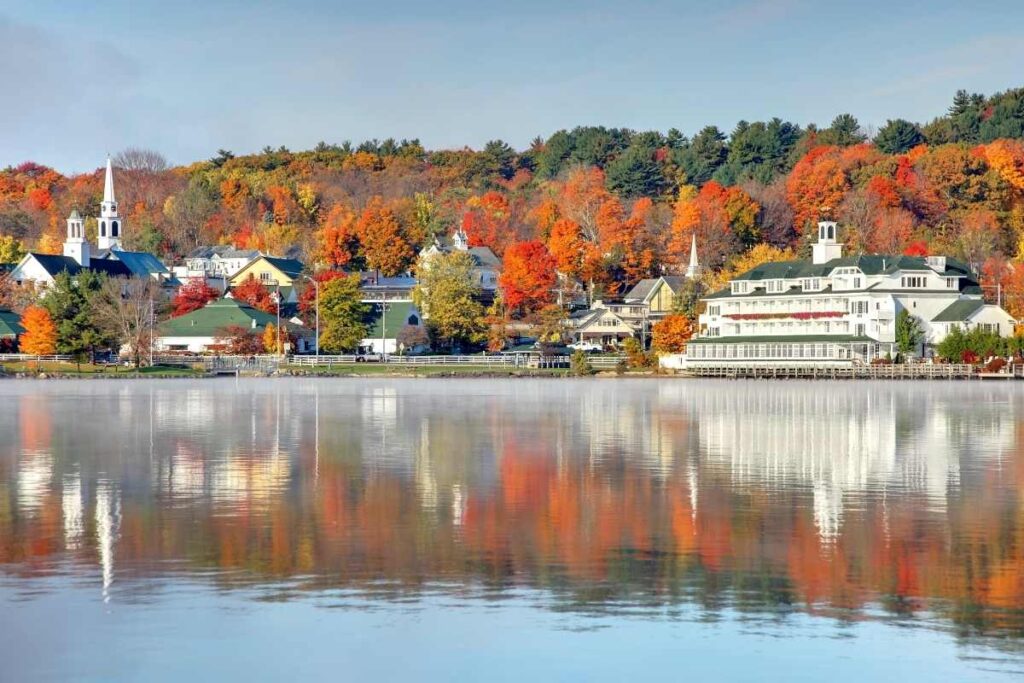 Biking, boating, fishing, swimming, and hikes are what you can enjoy in summer and autumn. In winter, you can indulge in skiing, snowshoeing, and snowmobiling.
You can plan a more extended trip by combining a visit to the nearby towns like Meredith or even Laconia, both worth overnight stays, which will give you more options and experiences.
Learn to know how maple syrup is made at one of the sugar houses. If you don't mind the crowds in summer, you can come here during the tournaments sports.
Where to stay on the Lake?
Best pick of vacation rentals, cabins, and cottages – Lake House at Ferry Point; Ballard House Inn, Meredith; Topsides Bed & Breakfast, Wolfeboro; Mill Falls at the Lake, Meredith
BEST HIDDEN VACATION SPOTS IN THE US – SMALL TOWNS
Some hidden gem towns in the USA have been covered above already, but I thought of sharing some more in this section of the best hidden vacation spots in the US.
So if you prefer exploring small towns to go off the beaten path in the United States, you might end up loving some of these below.
Who knows, you can even think of moving to one of these hidden vacation places to visit in the USA, it is quite possible!
STANLEY, IDAHO
How do hot springs, gorgeous lakes, hiking trails, and seemingly endless surreal bounty of nature sound? Oh, and did I mention that it is one of the best USA hidden vacation destinations?
Stanley, located in Custer County, has many awesome things on its platter to beckon the outdoor souls, nature lovers, and water babies for a tiny town of a small population.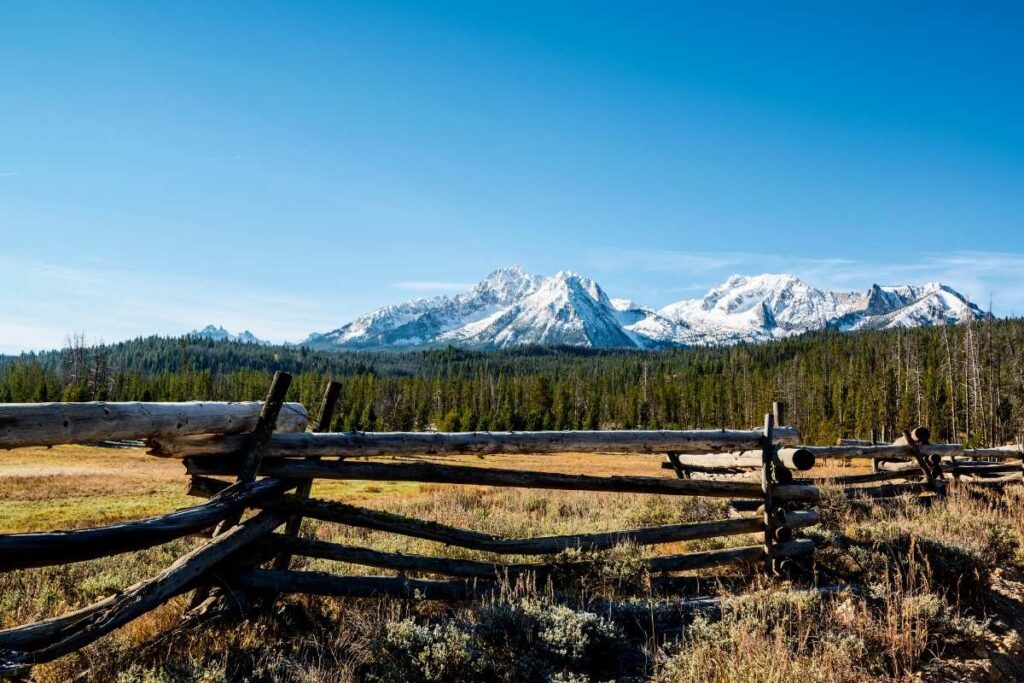 You can easily spend more than a weekend covering all the sights in Stanley itself, or consider it a base to explore the surrounding hot springs and the Sawtooth Mountains.
Enjoy boat trips, swimming, and Canoeing in Idaho Lake, and check out nearby Redfish and Alice Lakes.
Or plan hikes around the valleys. If you are serious about hiking, you can get on the beautiful Iron Creek Trail to lead you to Sawtooth Lake.
LEAVENWORTH, WASHINGTON
Another town in the US for experiencing German essence is Leavenworth, located on the hills in Washington, surrounded by the Alpine peaks close to Steven's Pass area in the heart of the Pacific Northwest.
To be precise, Leaven worth is a Bavarian town at heart, and you can expect the charm and culture you would find in any small town in Bavarian Germany here.
Whether it is the bustling beer halls or the pretzels, or the cultural things, you will find yourself feeling transported there. It is one of the best hidden getaways in the US for experiencing something non-American, along with all the natural beauty and outdoor activities in the store.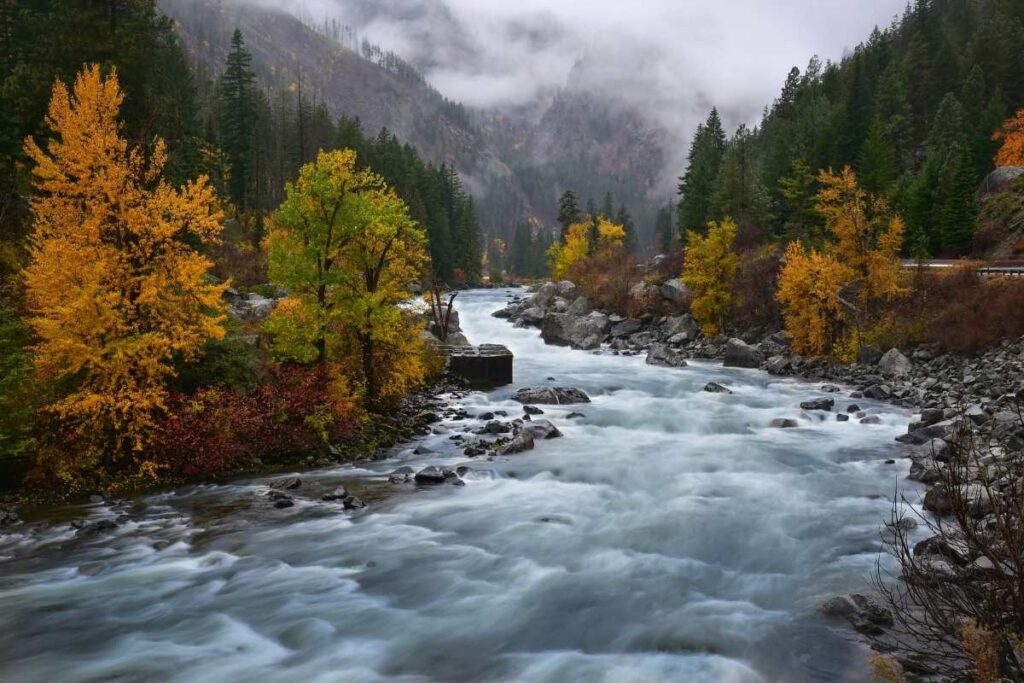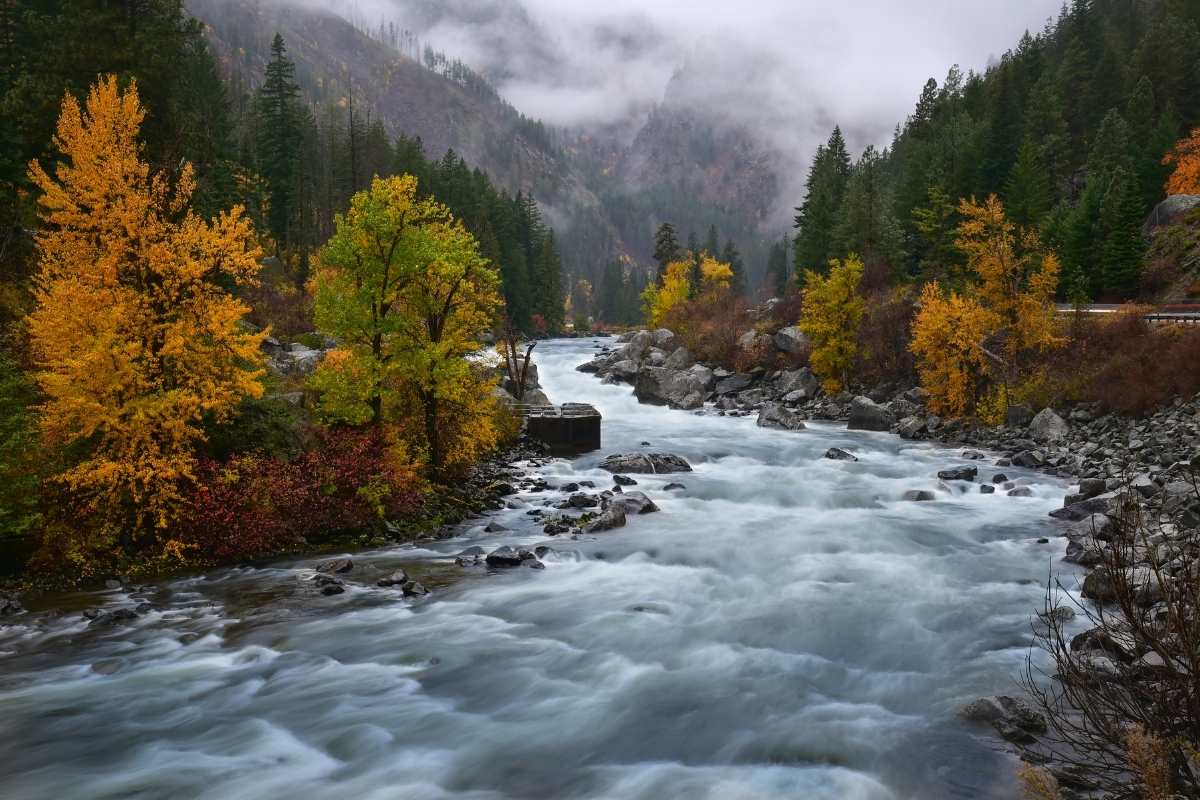 Leavenworth is one of the best unknown vacation spots in the United States for outdoor lovers seeking summer or winter adventure activities.
Explore Leavenworth's central square area filled with lovely pastel-colored buildings, cafes, and authentic beer halls. There are many German delicacies and wines that you should try here.
You can go camping, mountain biking, hiking to glacial lakes and viewpoints, climbing, rafting, take up boating trips, visit golf courses, and enjoy fishing in the summer months.
The Alpine peaks come to life in full vigor bearing a striking resemblance to the Bavarian Alps in the summer.
RECOMMENDED: Most Gorgeous Places in Germany
Come autumn, and the Bavarian spirit is evident again as the village hosts local festivals and beer fests.
Leavenworth draws snow-filled wonderland chasers that come for snowshoeing, skiing and relaxed winter holidays in the winter.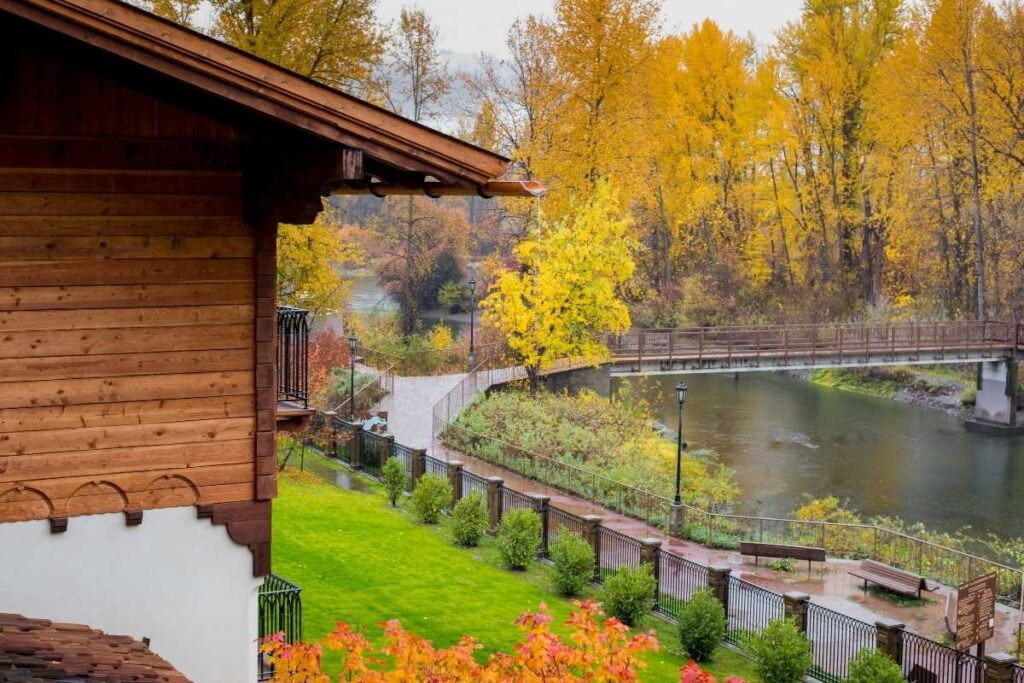 Also, you can experience the Christmas spirit in the town that is decorated with lights, and Christmas markets, rides, carols, and parades take the celebrations to a whole new level.
It is around 3-hours away from Seattle, and as you can see, any time throughout the year is the best time to visit Leavenworth.
Leavenworth is worth adding to your USA bucket list for many reasons, from German charm to excellent delicacies to heaven for outdoor lovers. Spend at least 3 days in the beautiful village on your holiday.
Where to stay in Leavenworth?
Best picks of Cottages, Cabins, and hotels – Bavarian Lodge; Icicle Village Resort; Granite Hills Inn; Blue Elk Inn; Alpen Dorf Pension; Obertal Inn; Hampton Inn & Suites Leavenworth
Best pick For couples – Sleeping Lady Mountain Resort; Linderhof Inn; Hotel Pension Anna; Leavenworth Village Inn
LONE PINE, CALIFORNIA
Another hidden gem in the Golden State is Lone Pine, a small town located in the heart of the Eastern Sierra Nevadas.
Despite its proximity to Los Angeles, Lone Pine has managed to be one of the best hidden vacation spots in the US.
A perfect destination for a quick long weekend trip or more, this small town has a beautiful blend of history, architecture, gorgeous landscapes, national parks, and close to many famous filming locations due to its rich film history and rugged Wild West panorama.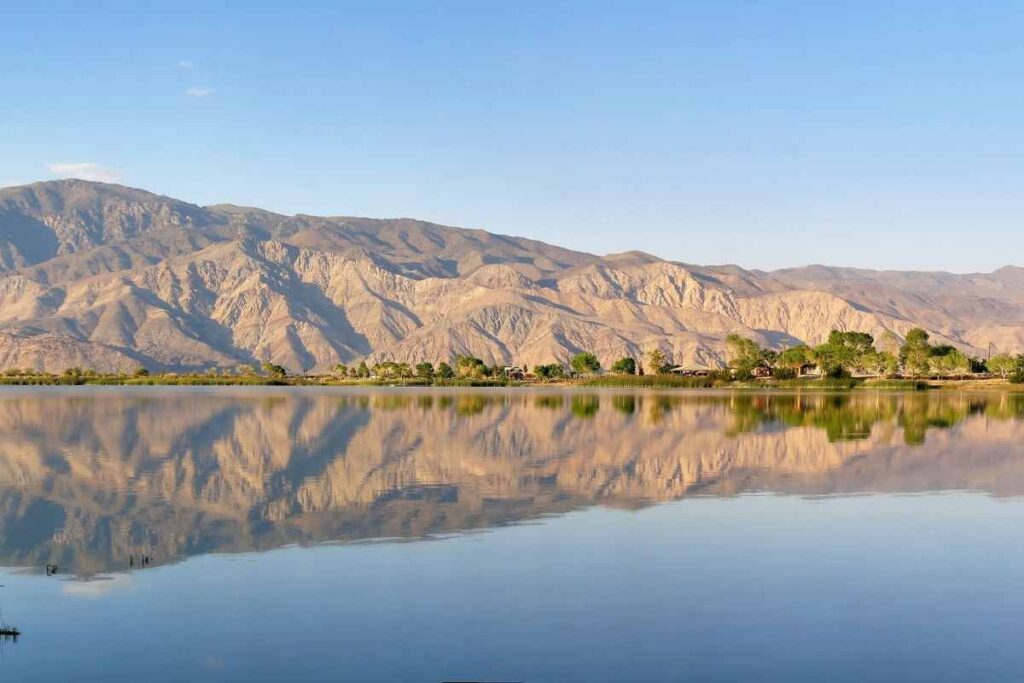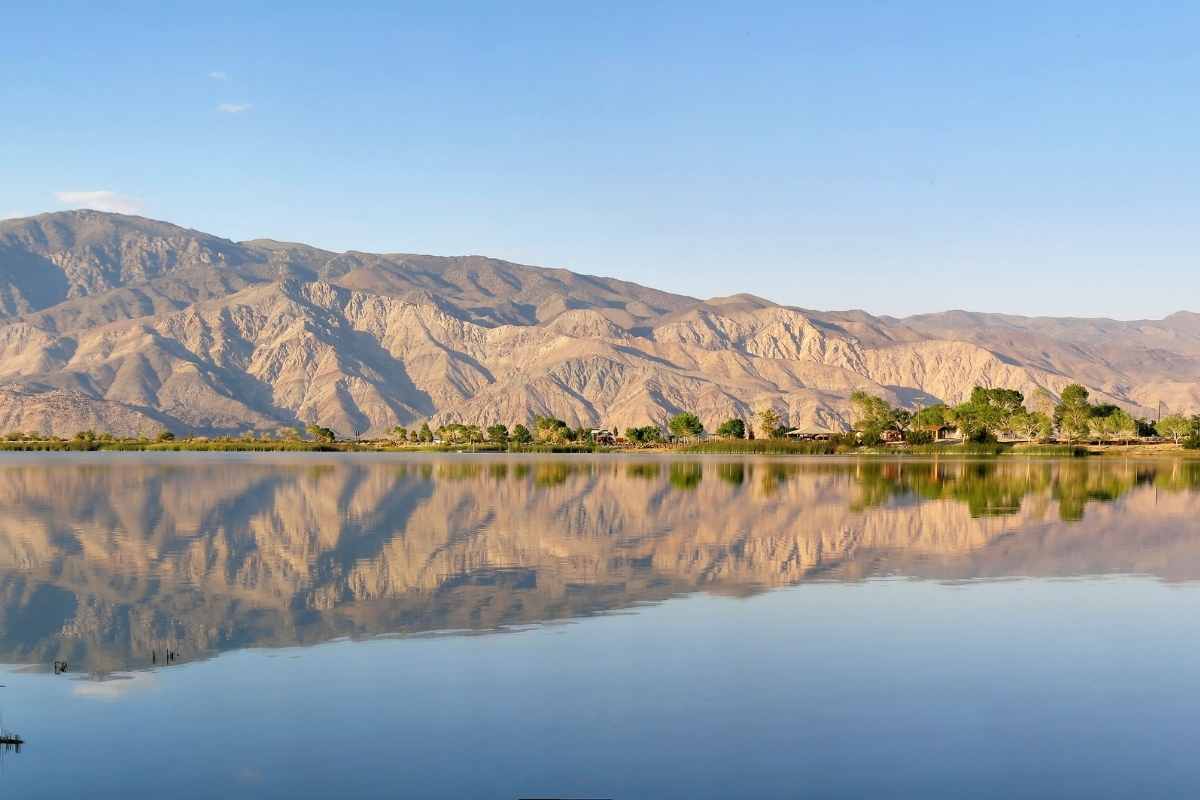 Home to just a few thousand people, you will likely meet very few fellow travelers when you are in Lone Pine, mainly people visiting the famous Death Valley, as Lone Pine is at the entrance of this valley.
History enthusiasts should visit the Museum of Western Film History and the Manzanar National Historic Site, where many Japanese POWs were detained during World War II.
If you have more time or love exploring more parks, Lone Pine is the perfect base to visit Death Valley National Park to witness the many fantastic formations of canyons and dunes.
Movie buffs can spend a day or go camping in the Alabama Hills, where many famous movies, including Django Unchained, have been filmed.
While you are here, check out the Museum of Western Film History, home to America's rich film history, which tells you why this is a popular filming location.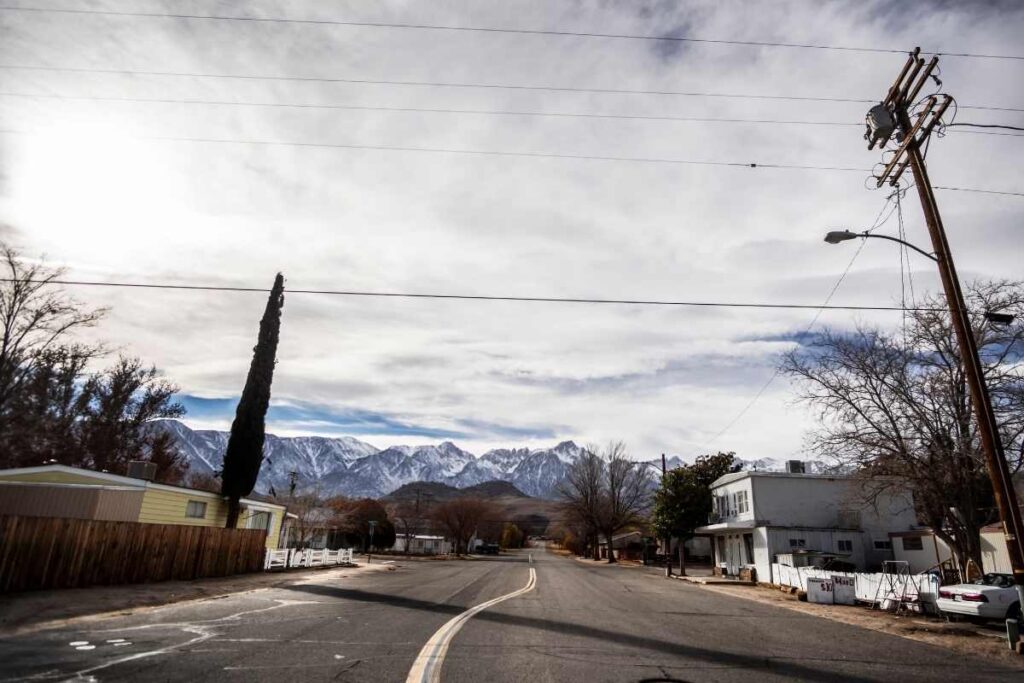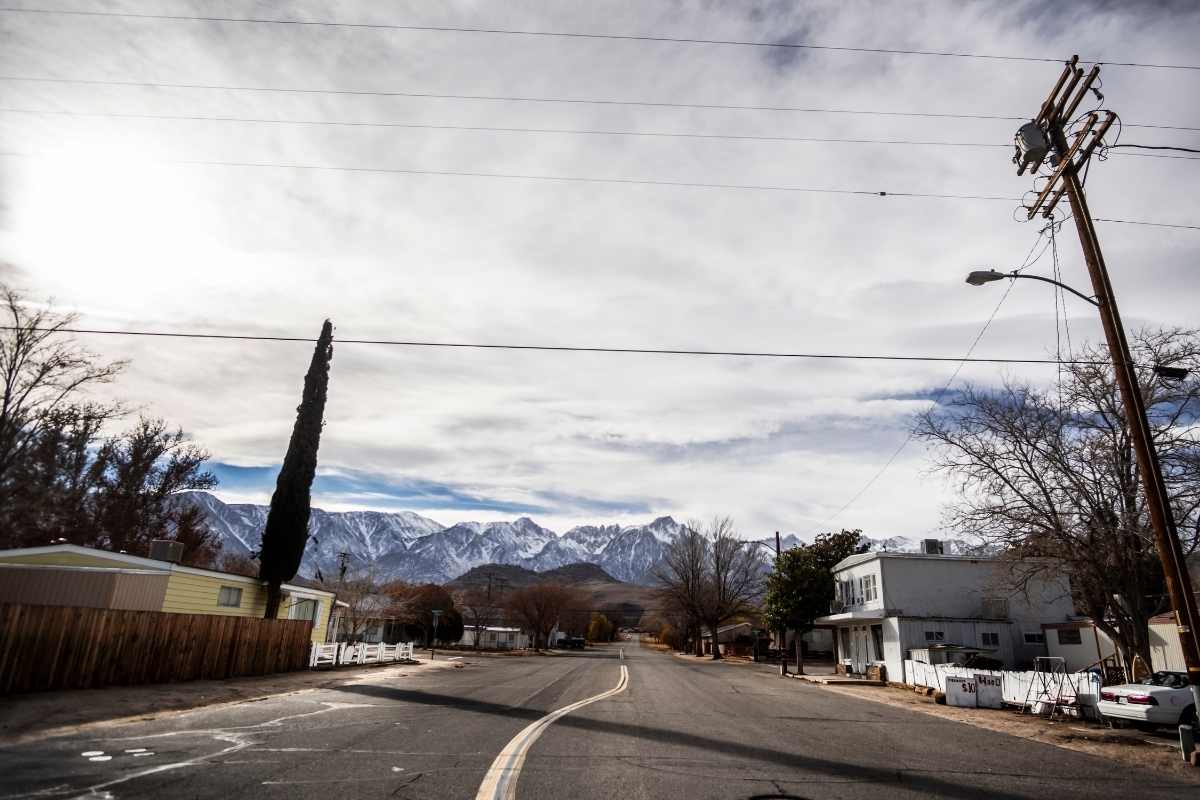 Apart from the movie stuff, hikers can plan short or longer hikes in and around Mount Whitney.
You can reach the summit of Mt. Whitney, the tallest mountain in the adjoining United States, if you are up for the challenging adventure, which takes a few days depending on the trail and how far you want to venture.
RECOMMENDED: A Complete Guide For Camping at Alabama Hills (With Camping Sites Info)
You will come across stunning geological formations, including many arches, canyons, and gorges. You can find some camping sites and many arriving in RVs as it is a famous spot for road trippers wanting to enjoy the bliss of the wilderness.
Where to stay in Lone Pine?
Best picks of Cottages, Cabins, and hotels – Quality Inn Lone Pine near Mount Whitney; Cozy Muir Cottage; Mt Williamson Motel and Basecamp
WALLACE, IDAHO
Located on the banks of South Fork of the Coeur d'Alene River is Wallace in Idaho, one of the USA's hidden gems.
Situated in the Silver Valley mining district, not many know that this idyllic city is the largest producer of silver in the world. Listed on the list of World Historic Places, the city is not old compared to many in the United States.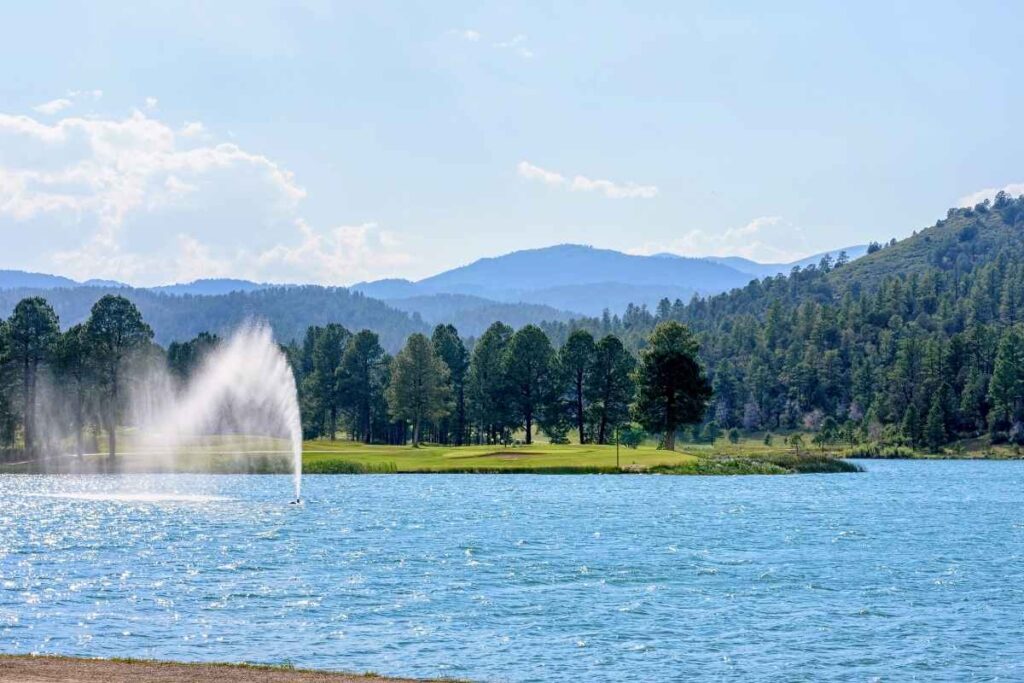 Soon after its inception, Wallace grew to become the wealthiest mining city globally, a title that it has retained for over a hundred years now. But it is not all about mining in Wallace.
It is a perfect destination for a short trip if you are looking for off-the-beat places in the US, as the crowd does not get bigger even during the peak seasons.
The population of Wallace is also significantly less, in few thousands, nestling amidst forested mountain peaks.
The city center has many places of interest that showcase its history. Among the top attractions worth checking out are Northern Pacific Railroad Depot Museum and Wallace District Mining Museum.
You can get to know all about mining by joining tours organized by Sierra Silver Mine Tour.
If you enjoy hiking, don't miss getting on Pulaski Tunnel Trail, a lovely path passing through different waterfalls amidst the jungles.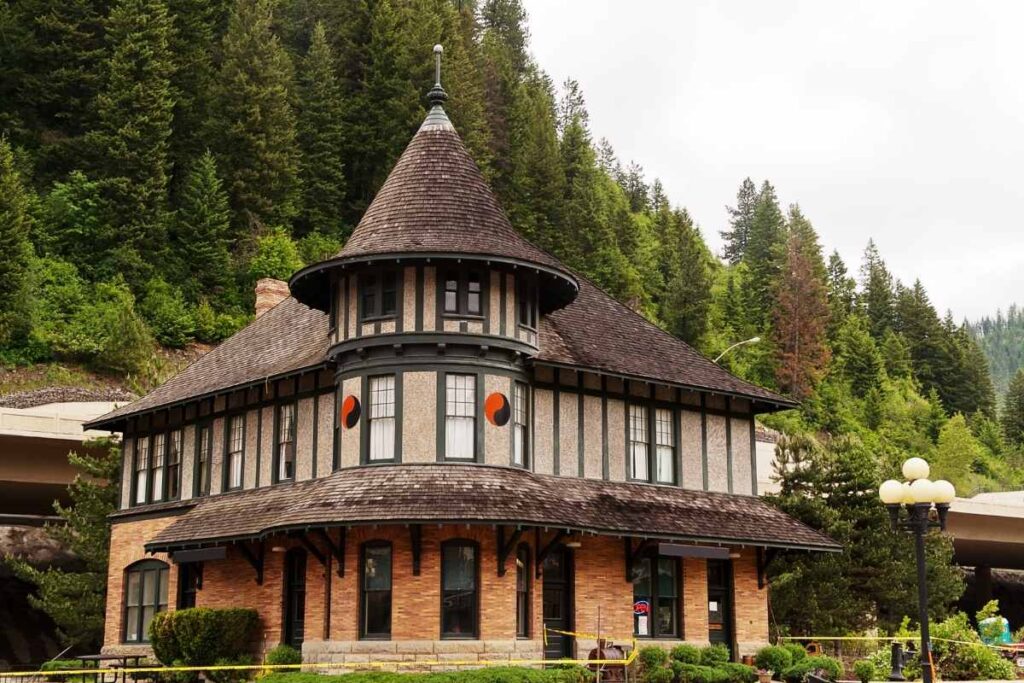 You can enjoy ATV and mountain biking journeying across the hundreds of miles of mining and logging trails, which is an adventurous encounter.
Although summer is a great time to be in Wallace, the snow-capped mountains are not ominous at all for Wallace's winter holiday. You can easily cover most of the sights on the weekend.
Where to stay in Wallace?
Best picks of hotels – Wallace Inn; Ryan Hotel; The Brooks Hotel Restaurant
RUIDOSO, NEW MEXICO
Located amidst the Sierra Blanca mountain range is a secret US destination in New Mexico, the village of Ruidoso.
If the cowboy charm and the mining lord's history have intrigued you – either through books or movies or a bit of history, you can uncover more of all these in this rustic village in Lincoln County in the American West.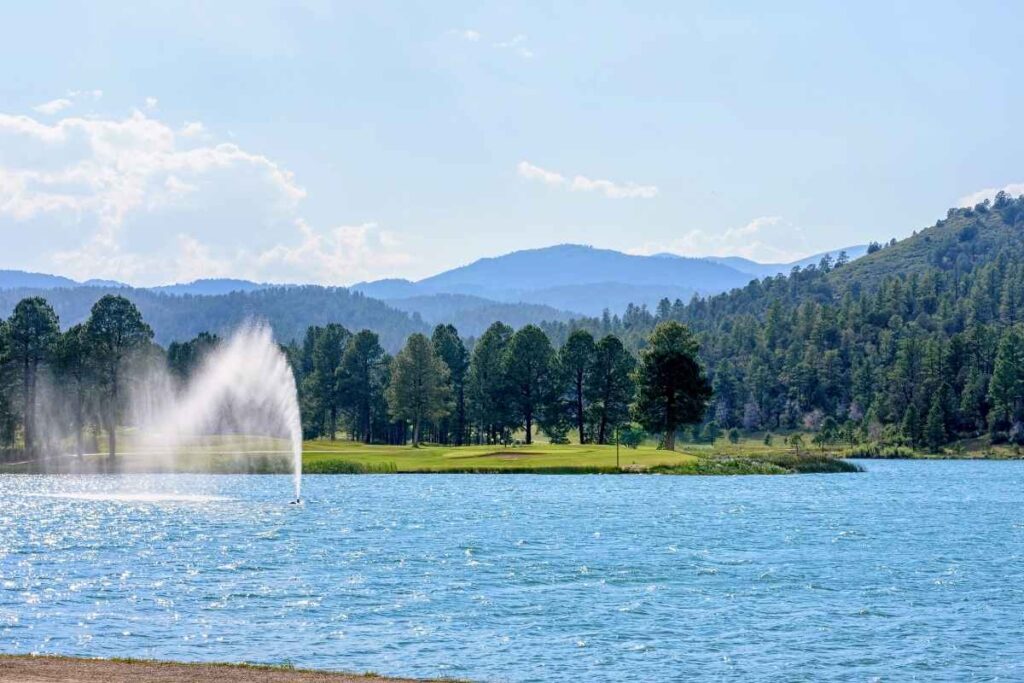 Once a treasure land of gold mines, Ruidoso has long since become a quiet spot for those wanting to get beyond the cities to explore more of the jagged peaks, lush trails lead to sweeping views, look at the charismatic horses, or taste unique southwestern delicacies in this part of New Mexico.
Head to the southwest to Lincoln National Forest to get on the many trails dotted with gorges, streams, and waterfalls. You can witness the enormous peaks of snow-blanketed Sierra Blanca on the horizon.
Get some slices of the past in the northeast of the village that houses the 19th-century Lincoln Historic Site. Nearby is the beautiful White Sands.
Ruidoso is one of the best places for a long winter weekend getaway for snowshoeing and skiing, thanks to the valley full of mountains that turn into many ski slopes.
The nearby Ski Apache resort is the best place to check out if you are here during winter.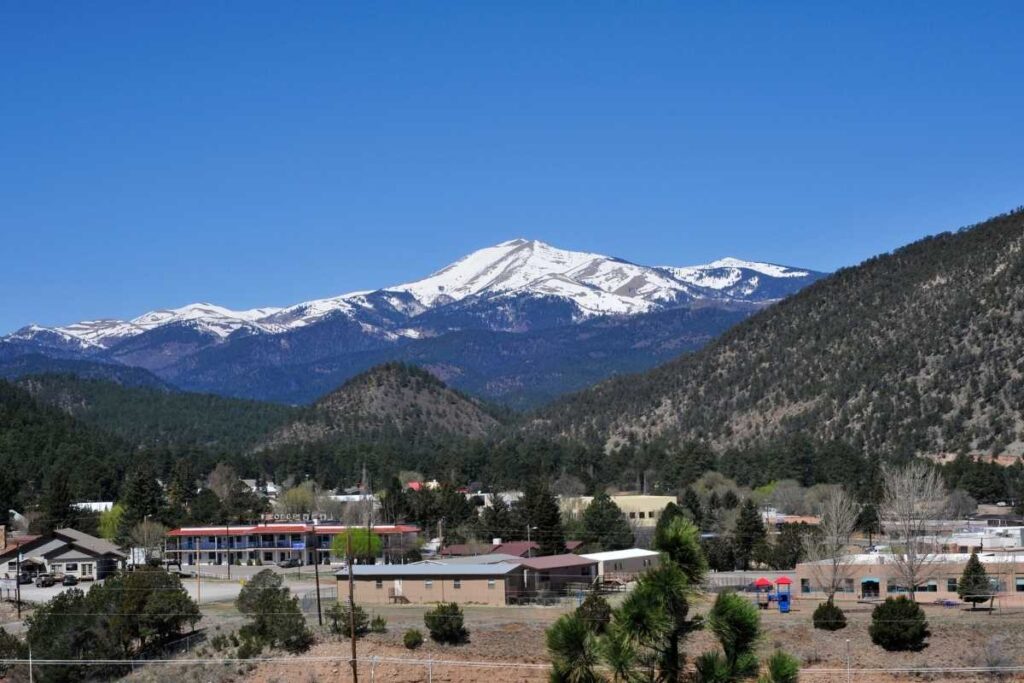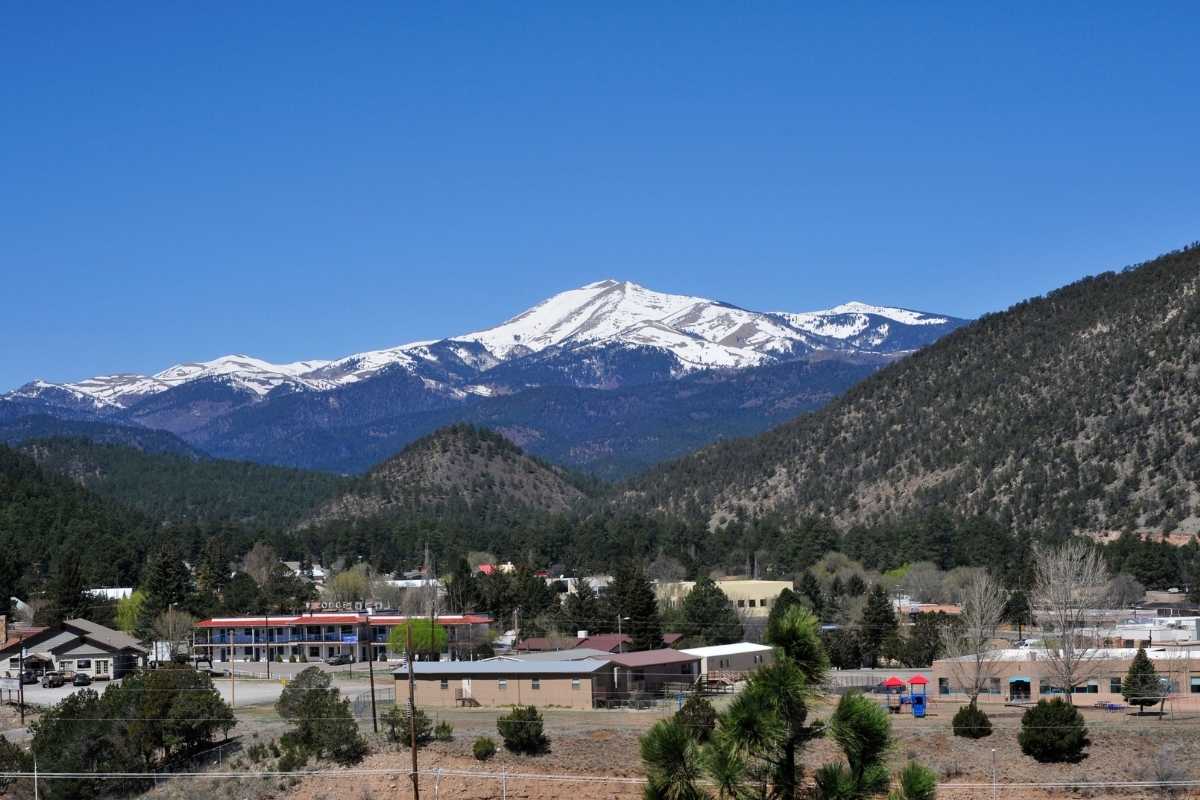 Horse lovers should visit Ruidoso Downs Race Track, and if you time your visit right, you can also witness one of those summer horse races.
Where to stay in Ruidoso?
Best picks of hotels and resorts – Ruidoso River Resort Condos; Hotel Ruidoso; MCM Elegante Lodge & Resorts; Tiara Del Sol
Best pick of vacation rentals, cabins, and cottages – Fifth Dimension; Shadow Mountain Lodge and Cabins; Sierra Blanca Cabins; Cowboy Cabin; Sitzmark Chalet Inn
TAOS, NEW MEXICO
Located in northern New Mexico's high desert, surrounded by the Sangre de Cristo Mountains, is Taos, one of the secret places in the US you can visit.
Despite being tucked away between the famous Santa Fe and Southwestern's charming Albuquerque, Taos is one of the hidden vacation places in New Mexico.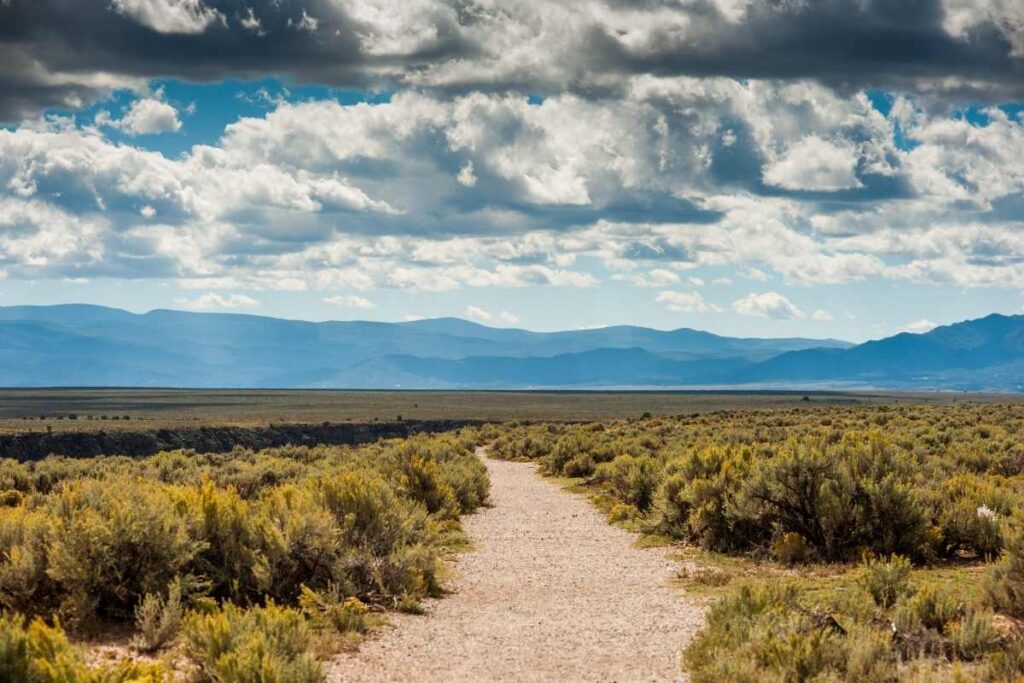 A rich history, architecture, abundant natural landscapes dotted with lakes, streams, waterfalls, and viewpoints – these are some of the things that await you in the sleepy town of Taos.
Start with the famous Taos Plaza in the town center, nearby which you can spot many historical buildings, including the famous Taos Pueblo, a multistory structure, a UNESCO World Heritage, and a former residence of Native Americans.
There are many Spanish structures, restaurants, and cafes around the site. Art lovers should stop at Taos Art Museum and Harwood Museum of Art, two of the many exciting galleries.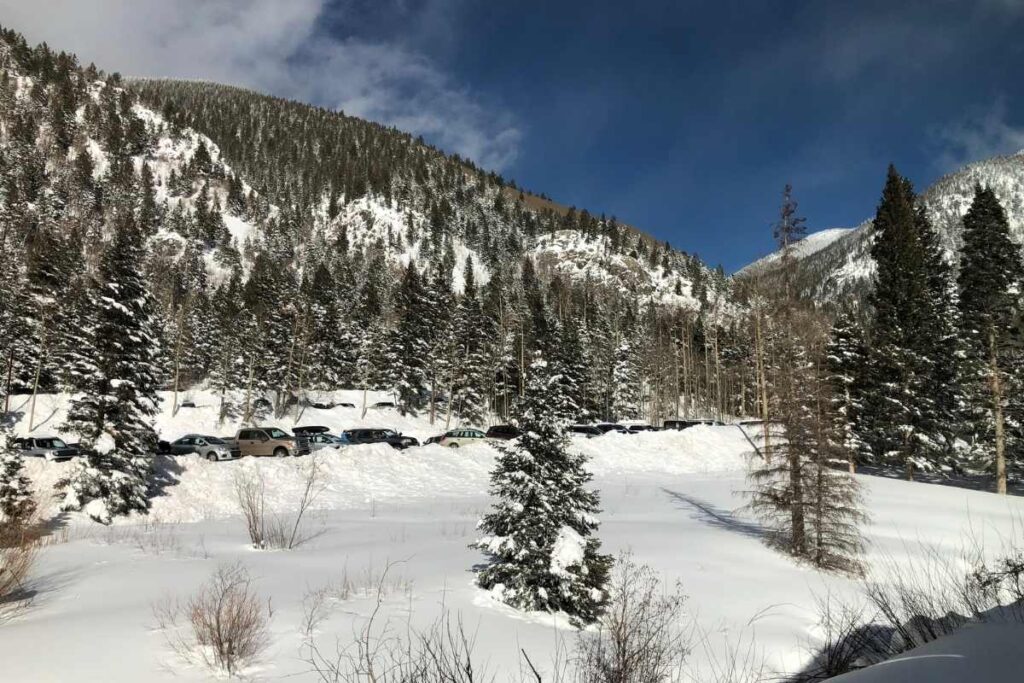 During the summer, outdoor lovers can go hiking, ride mountain bikes, rafting, and relax close by hot springs. You can also sign up for a hot air balloon ride or learn to make pots from the locals.
Don't forget to try the delicious local dishes and the drinks. If you are in winter, you can go skiing on the slopes. Taos is an excellent destination for a long weekend getaway from Santa Fe for cultural immersion and outdoor fun.
Where to stay in Taos?
Best pick of vacation rentals, cabins, and cottages – The Historic Taos Inn; Dreamcatcher B&B; Inn on La Loma Plaza; Casa Benavides Inn
Best Pick of Hotels and Resorts – El Pueblo Lodge; El Monte Sagrado Resort & Spa
So that's it for the best hidden vacation spots in the US. I am sure you have more suggestions to offer, and I love nothing more than that.
So please feel free to let us know in the comments about the best secret long weekend getaways in the US that you have undertaken.
I hope you will get off the beaten path to venture into some of these best unknown vacation spots in the United States. Happy and safe travels. Check out other travel resources for trip planning below.
PIN BEST HIDDEN VACATION SPOTS IN THE US TO READ LATER
Please note: This post contains affiliate links, meaning I may earn a commission if you make a purchase by clicking a link (at no extra cost to you). Learn more.