Whether you are looking for things to do in Lone Pine CA, for a weekend getaway, or a fantastic outdoor adventure, this little town in Inyo County, California, is one of the best undiscovered places to visit in the United States. It may be a small city, but if you are wondering what to do in Lone Pine, don't let its size or the population trick you.
Located in the Owens Valley in Eastern California with a few thousand inhabitants, the town is blessed with abounding natural beauty and wonders all around.
The prosperous homeland of the Paiute and Shoshone Native Americans have grown to become a favorite getaway for outdoor activities, nature, history and and landscape photography.
You will fall in love with the Sierra Nevada Mountains to the west, with Mount Whitney dominating the landscapes with its beautiful neighboring peaks, and the Inyo Mountains beckons you in the east.
You can't miss admiring the distinct out-worldly formations of the Alabama Hills close by or the riches of glimpses of the Great Basin Desert.
Did you know? Lone Pine town lies between the highest mountain in the mainland United States and the lowest elevation in North America.
What is Lone Pine known for?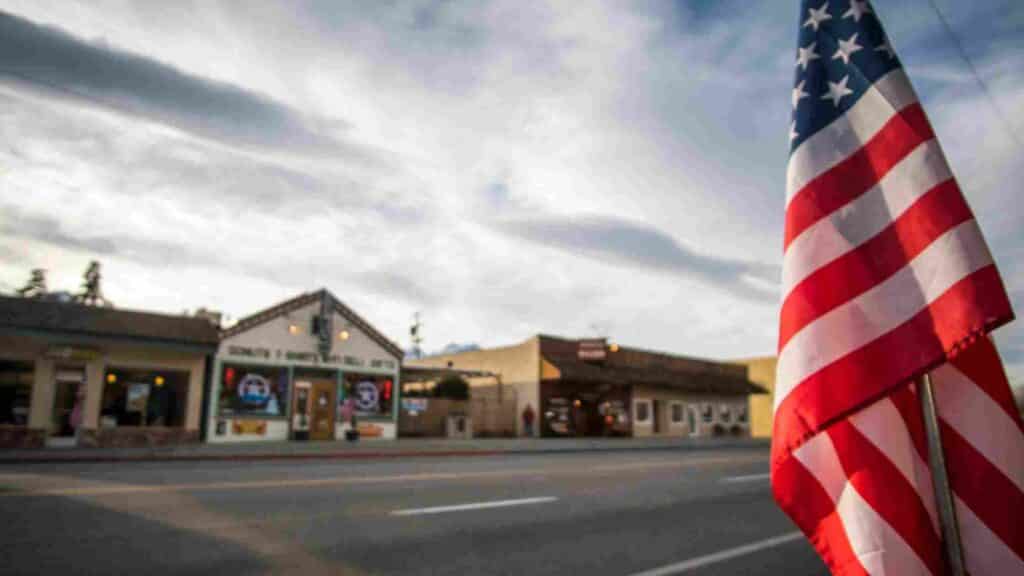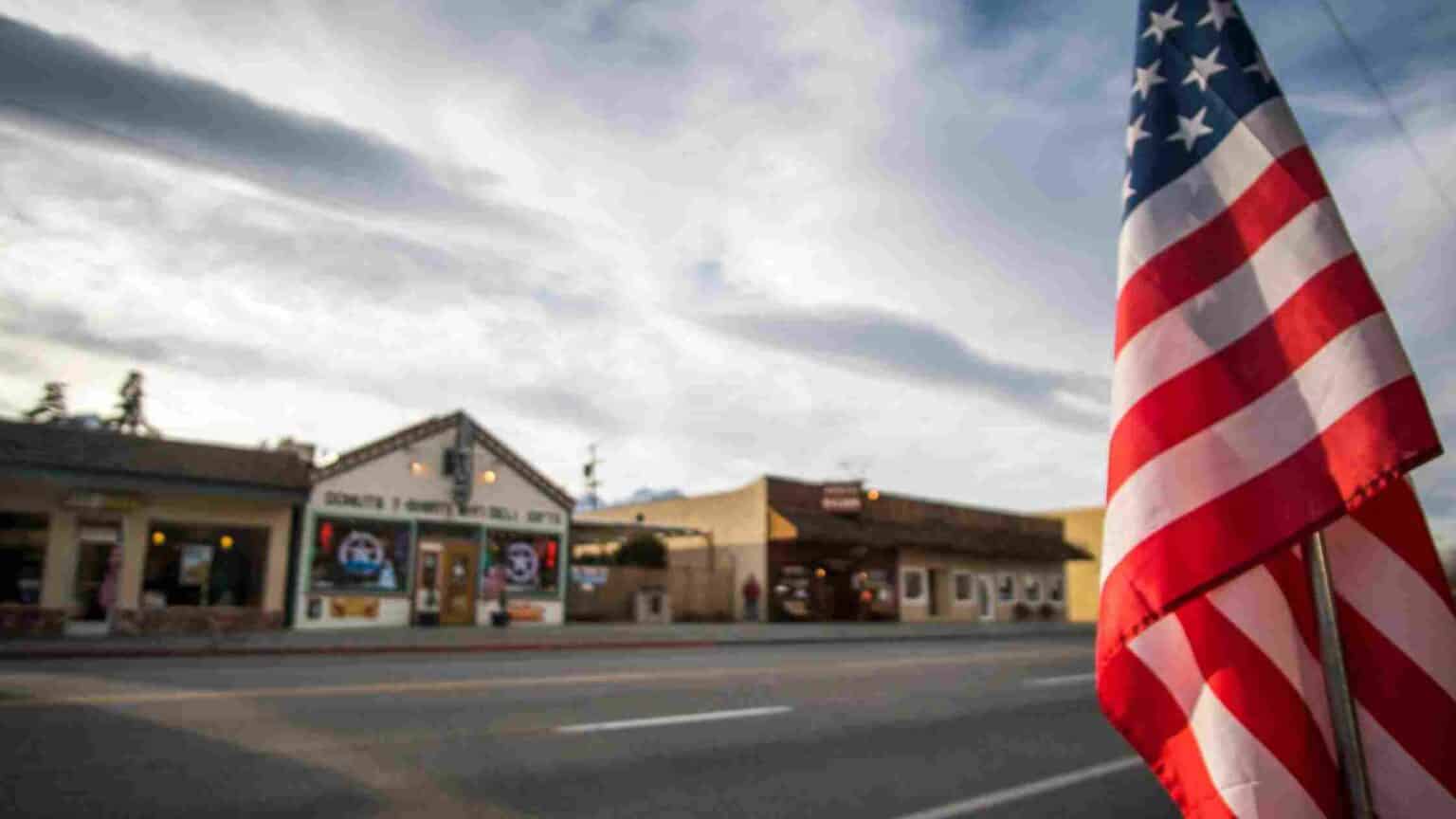 Thanks to its fantastic location, Lone Pine is a base point for thousands of adventurous travelers undertaking multiple days, different outdoor activities in the vast wilderness stretching from the Owens Valley to other regions in the Eastern Sierra, including Inyo National Reserve, Alabama Hills, and desert explorations.
But Lone Pine not just for the adventurous spirits. Fascinating Hollywood history, World War II memorials, and exquisite local cafés and bars also await you in this underrated city.
Lone Pine is also one of the safest cities to explore in California, making it a perfect destination for a solo trip. Having done a couple of hikes alone basing in Lone Pine, I have had some amazing experiences, without worrying about safety.
Discover your next outdoor California bucket list adventure or quiet romantic weekend getaway ideas or solo trip ideas with this list of the fantastic things to do in Lone Pine California.
TOP THINGS TO DO IN LONE PINE CA
Visit the Eastern Sierra Visitor Center
One of the first things to do in Lone Pine is stopping by The Eastern Sierra Interagency Visitor Center. Located on US Highway 395 south of the town, the Visitor Center is a must-stop before starting your adventures in the areas around.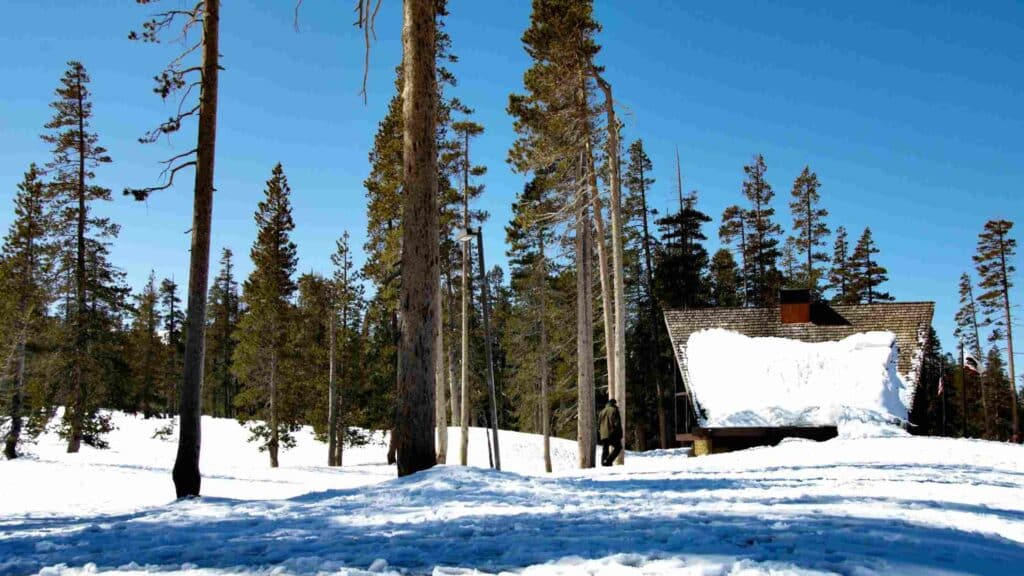 This is where you have to obtain permits in-person for outdoor activities like hiking to Mount Whitney and other trails as per the seasons.
You can also get the latest information, access, regulations, and announcements around lighting fire, trail details, browsing displays, collecting maps, and valuable resources for exploring the nearby Death Valley National Park, Alabama Hills, and other regions.
Apart from securing the permits and information, the Visitor Center is a great place to stop by and familiarize yourself. You will get your first glances of the towering Mount Whitney in the high desert horizon from here.
Explore Museum of Western Film History
If you are a Western Movies aficionado, one of the top attractions in Lone Pine you will enjoy is the Museum of Western Film History on the south side of town.
The areas around the town, including the Alabama hills and further, have been a hotspot for filming movies and TV shows.
Over 400 Hollywood movies have been shot in the region, which became the reason for creating this museum.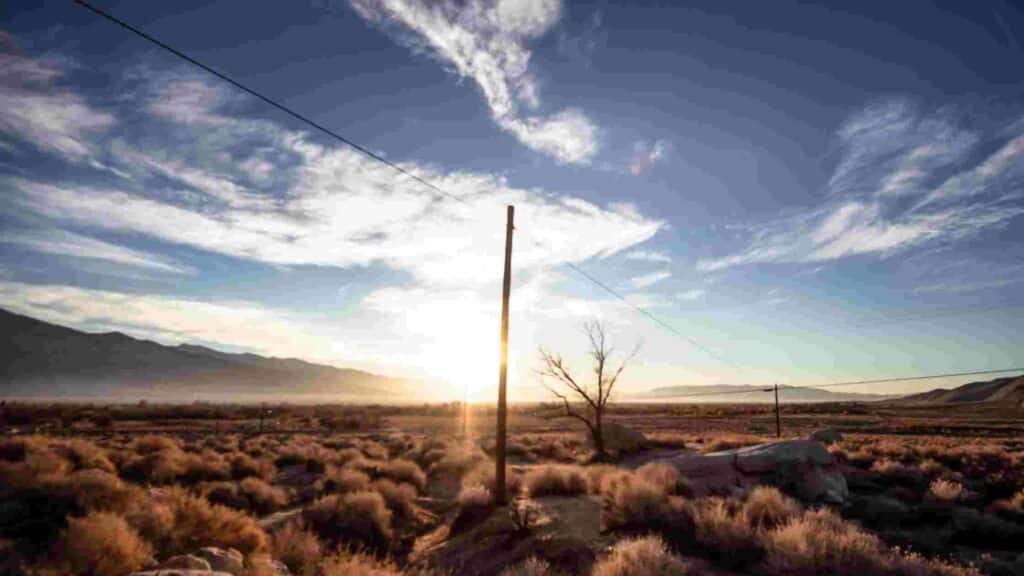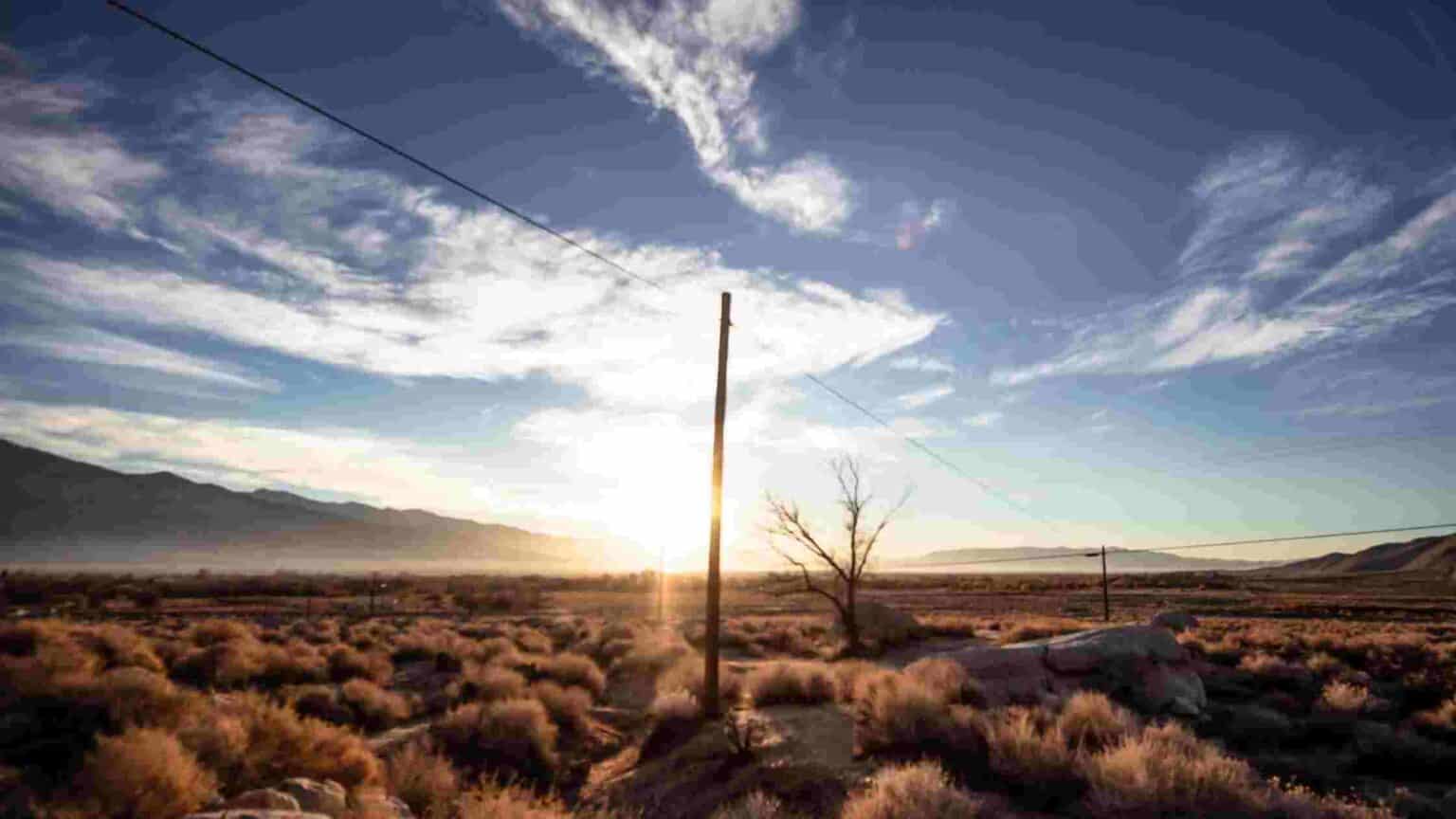 At Western Film History Museum, you can find a wide range of memorabilia, including photographs, cameras, movie posters, costumes, old cars, sci-fi figurines, and the history of all the movies shot in the area from the 1920s to some of the latest productions.
For a small entry fee, you can stop by for an hour or so to find respite from the heat and get a copy of the Movie Road Map that will come in handy to explore all the film locations in the Alabama Hills.
Take a Walk Around the Town
One of the top things to do in Lone Pine is exploring the town on foot. Thanks to its compact size and just a few fellow travelers and residents, it is pleasant to get on the streets lined with a few historic buildings.
You will find quirky neon signs and antique-looking boards, making you feel as if you have gone back in decades amidst some West Wild lanes.
On the main street, check out the Movie Star Signature Walls, where you can spot the signatures of many stars.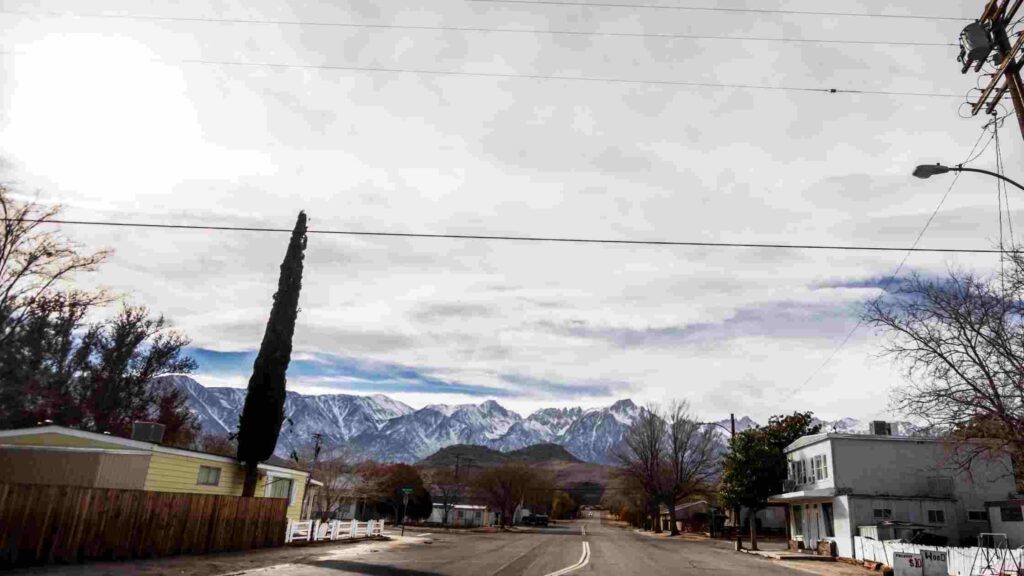 You will also notice one of the remaining walls from the 1872 earthquake close. In addition, a few cemeteries lie across the central area, some of them dating thousands of years, so worth making a stop at these historic sites.
Get to Know the History at Manzanar National Historic Site
Located on the US 395 highway, the Manzanar National Historic Site is one of the attractions worth checking out, which is a grim warning of the horrors of wars.
One of the reminders of WWII, the Manzanar War Internment Camp was one of ten camps across the West Coast where the US government incarcerated over a hundred thousand Japanese American citizens and resident Japanese aliens.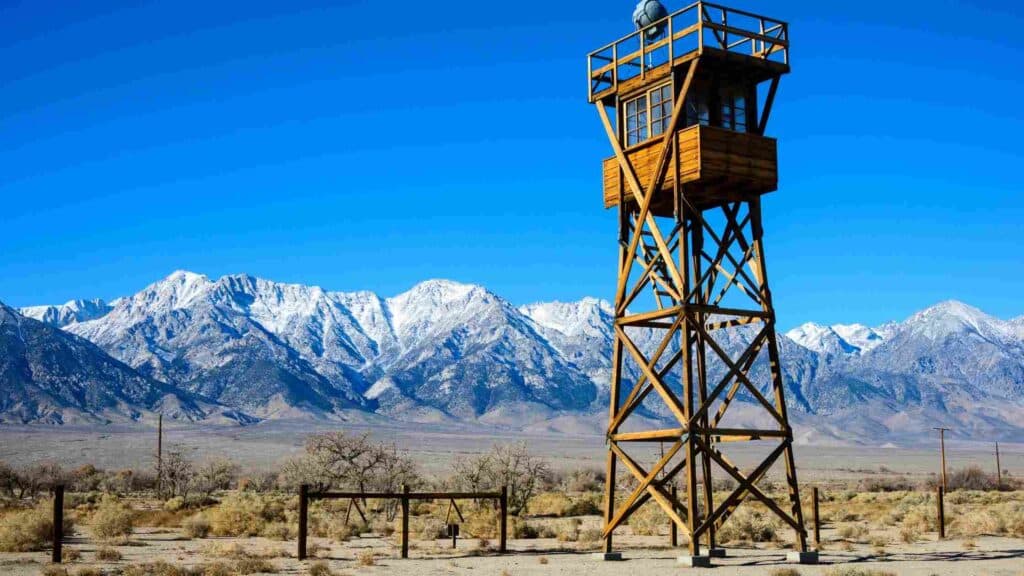 A 15-minutes drive and located halfway between Lone Pine and Independence, there is a museum with several exhibits, including photos, film footage, memorials, Japanese gardens, and a bookstore.
Walking through the camp comprising of reconstructed barracks sheds light on the lives of these prisoners.
In addition, there is a short movie, "Remembering Manzanar," played inside the Visitor Center that shows first-hand accounts of the events. The site is open daily, and there is no fee to visit Manzanar National Historic Site.
Check out the Lone Pine Chamber Of Commerce
Housed in the historic Lone Pine Hotel is the Lone Pine Chamber Of Commerce, an information center with details about the history and culture of the town.
It is worth visiting before you hit the Whitney Portal trail or enter the Alabama Hills, as you get a lot of information here.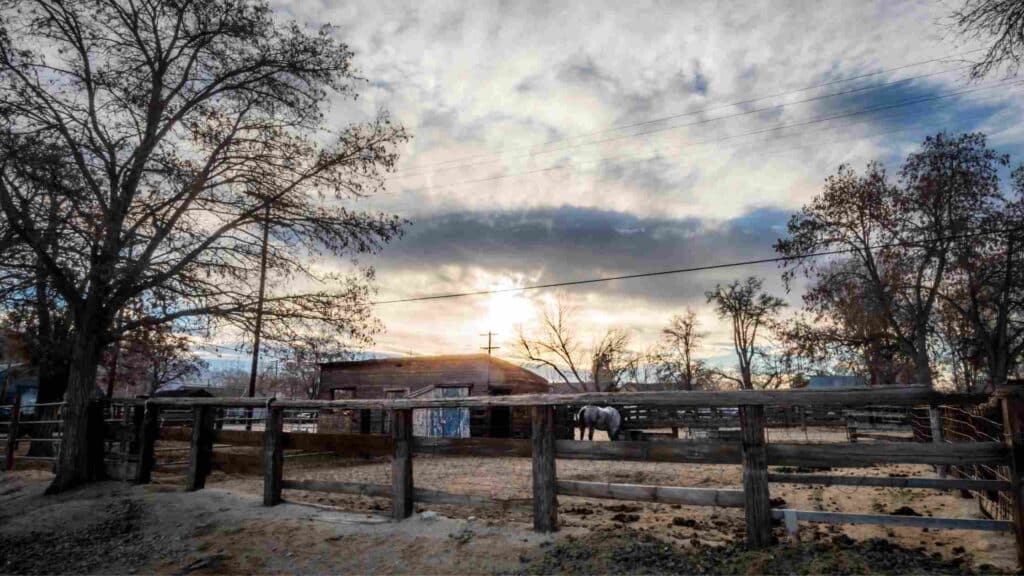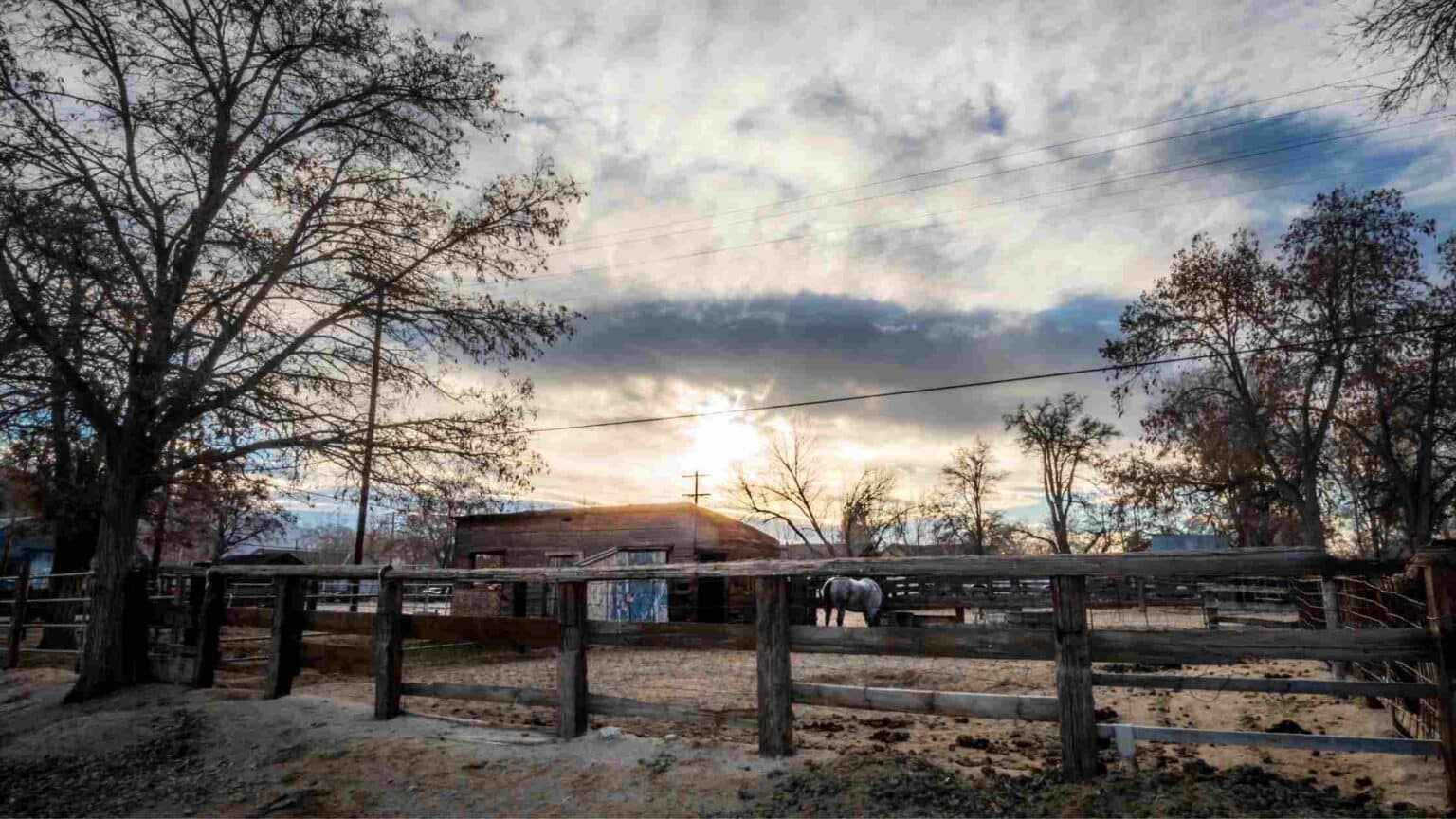 Check out the well-kept Movie Room in the courtyard of this building, which has a great collection of filming locations and local history.
Visit California Historical Landmark 507
One of the notable points of interest in Lone Pines is California Historical Landmark 507, the 1872 Lone Pine Earthquake gravesite.
This severe earthquake claimed over 10% lives of the residents at that time. Located between the hills, there is a memorial dedicated to the deceased in that area today.
Stop by Southern Inyo Museum
Located at the entrance of the Whitney trail is a small but well-maintained Southern Inyo Museum, which is worth browsing for its exquisite and rare collections of historical and zoological artifacts.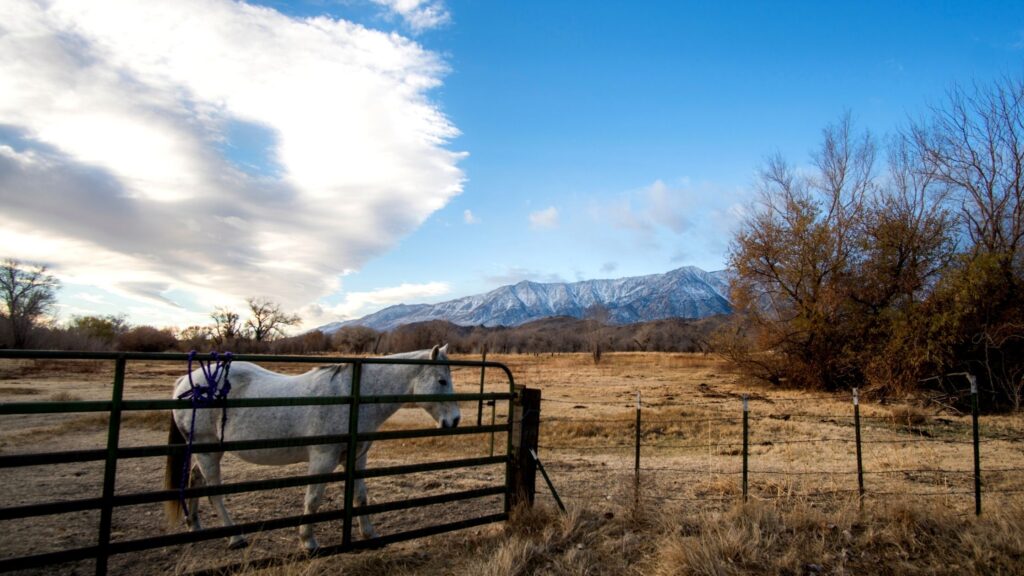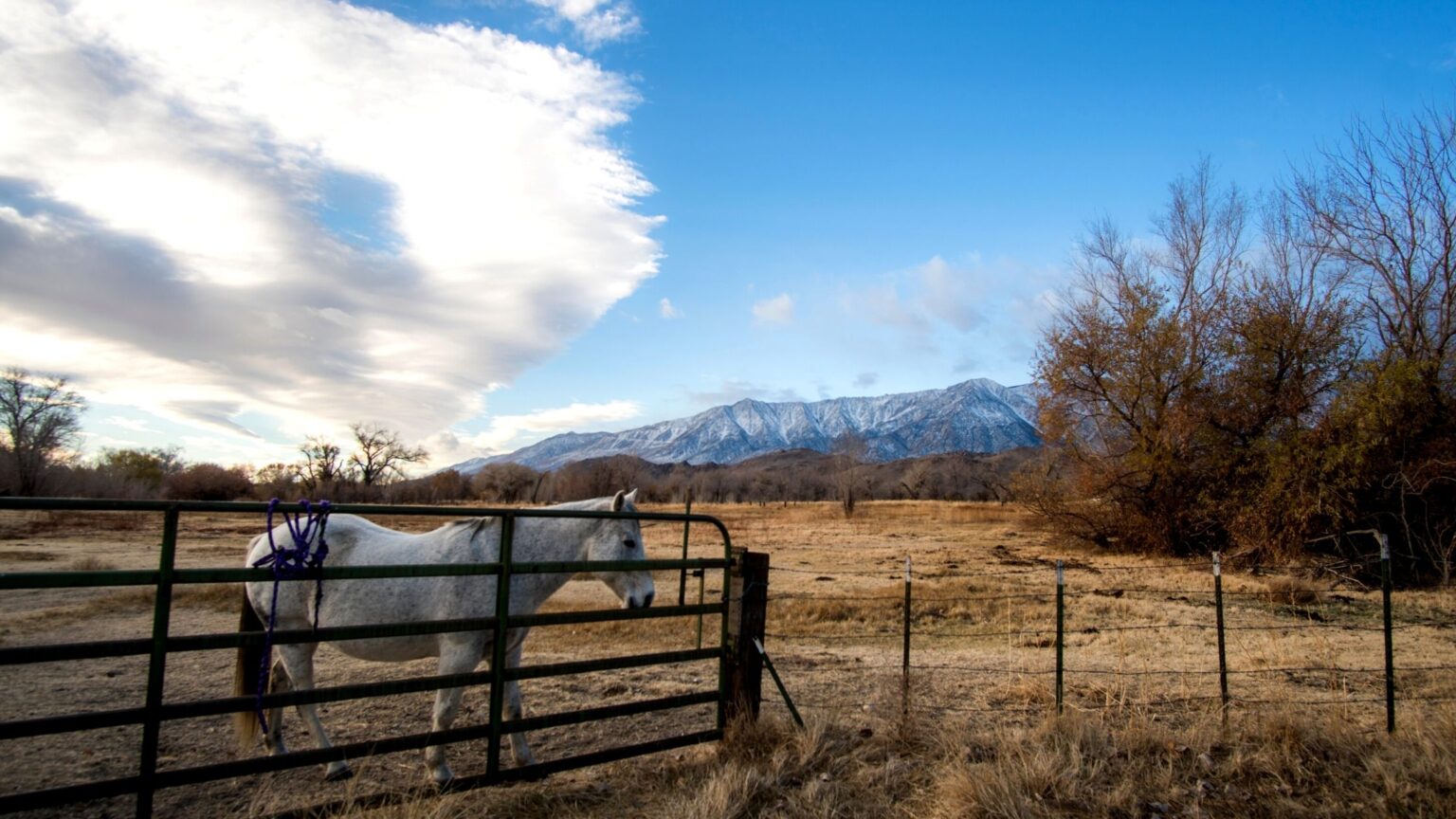 You will find unique exhibits on local mining, settlers, old maps, mining photos, and tools. Also, see remains of insects, reptiles, flora, and photographs, which are the collections of the inhabitants of the mountains and nearby high desert areas.
Enjoy Local Delicacies at Lone Pine restaurants and Bars
Lone Pine is home to many cute cafes, restaurants, and bars that exude the place's charm, speaking of its gastronomic scenes through its many delicacies.
These restaurants are almost always crowded during the peak seasons, thanks to the famished adventurous souls coming here to gorge and relax with comforts after being in the wilderness for long. 
You will find the famous restaurants and bars all lined up around the central street downtown. Alabama Hills Cafe is probably the most prominent among the visitors, thanks to the lavish and generous portions of breakfast spread, lots of delicious snacks, soups, and desserts, including homemade bread and cookies.
The ambiance is hipster and draws crowds early in the morning until the cafe is shut. It is a great place to meet and make new friends, especially if you are a solo traveler looking for some company.
The Mt. Whitney Restaurant is among the best restaurants in Lone Pine, known for its mouth-watering burgers. For exclusive two-handed burgers, head to the nearby Whitney Portal Store.
If you enjoy Mexican cuisine, head to Castro's Taco Stand. For some amazing sandwiches, steak, and seafood, Seasons Restaurant is the place to check out. If you are craving Chinese, Merry Go Around is the best choice.
If you want to experience a typical wild west setting with complete ancient decor, head to the famous Jake's Saloon Bar, which welcomes you with the old-style swing doors, shuffleboard, and pool tables. It is a good place for selfies and Mammoth beers.
Attend the Lone Pine Film Festival
The town and the Museum of Film History hold the Lone Pine Film Festival in October each year, which is one of the top Lone Pine things to do if you are into movies.
This event, which was started as a tribute to the locations and film history, promotes the importance of western films.
The festival, considered one of the important western film festivals in the United States, runs for four days and involves loads of events and fun activities.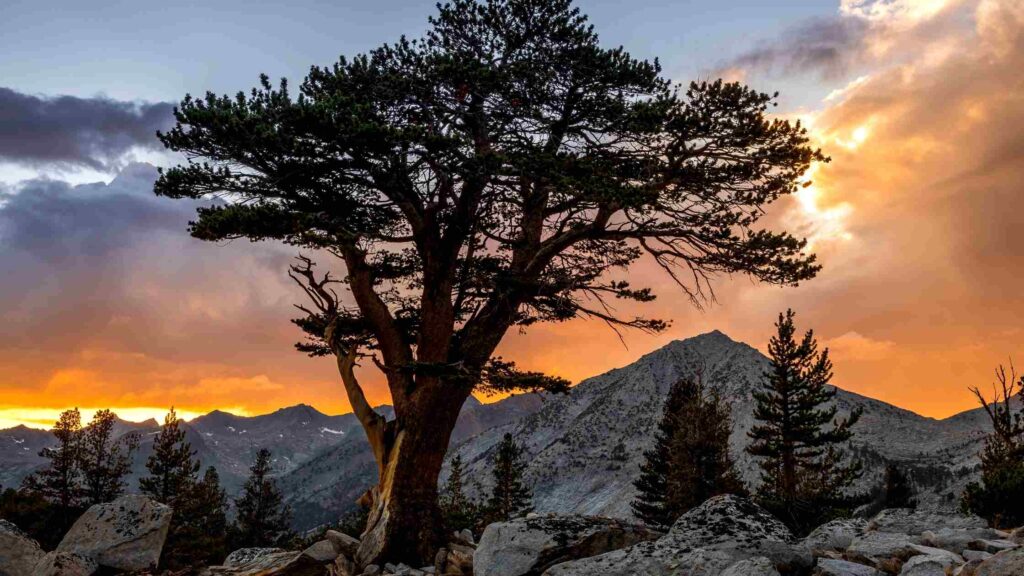 You can watch many film screenings, attend talks by authors of westerns and meet Hollywood celebrities.
In addition, you can join guided tours into the Alabama Hills, sunrise photo tours, attend cowboy poetry, watch wild west, rodeo shows, and tours of movie locations. 
You can buy the passes online ahead of the event, which costs USD 30 per person per day, providing access to all the screenings and panels for the day you buy the pass.
Relax in Russell Spainhower Park
Whether you want to relax in a well-maintained park or enjoy some time in a shaded area after being in the hot weather, Spainhower Park outside Lone Pine is a famous stop if you travel in the US 395 to Mammoth's Lake or Bishop or any of the National Reserve Areas.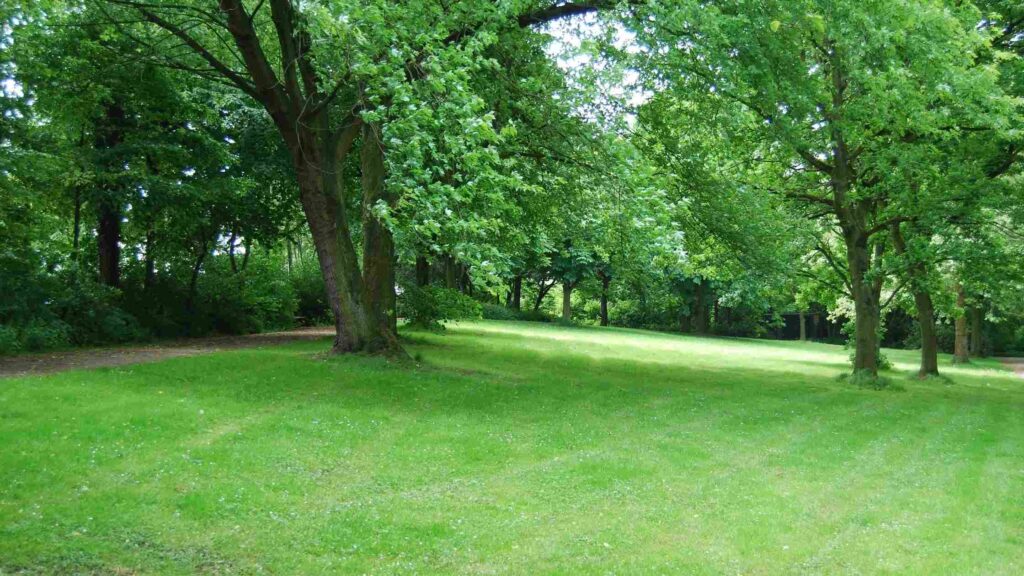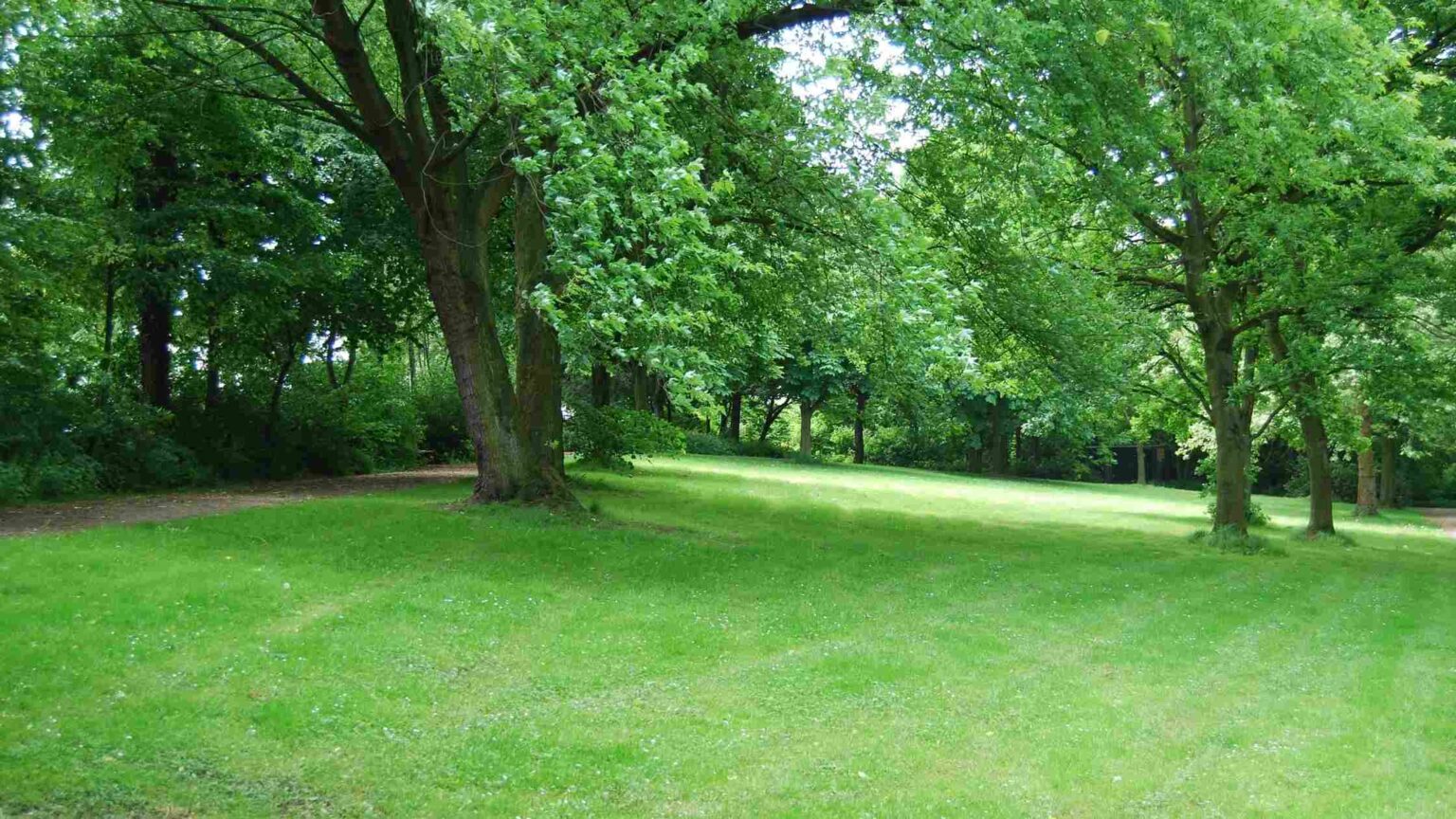 Plenty of shade, restrooms, a dog park, a recently added bridge over the creek, and an excellent playground for kids are all the reasons many stops here on their road trips.
Stretch your legs, get into the Park for a quick break, or visit the Park while exploring Lone Pine for some greenery. The views of the Sierras and further from the Park are soothing.
THE BEST THINGS TO DO IN LONE PINE FOR OUTDOOR ADVENTURE
If you love adventure, nature, outdoors, hiking, and biking, there are plenty of awesome things to do in Lone Pine for all these.
Hike Mount Whitney Trail
If you are a serious hiker, one of the best trips from Lone Pine you can plan is hiking the summit of the tallest peak in the continental US and the tallest mountain in California, towering over the Sierras valley at over 14000 feet height.
Apart from the high altitude, this 23-miles trail beginning at Whitney Portal is challenging for many reasons.
Note that if you are prone to altitude sickness in the mountains, it is best to hike in the lower trails for a few days and steadily go further only after you feel well acclimatized as there is an elevation gain of over 6000 feet.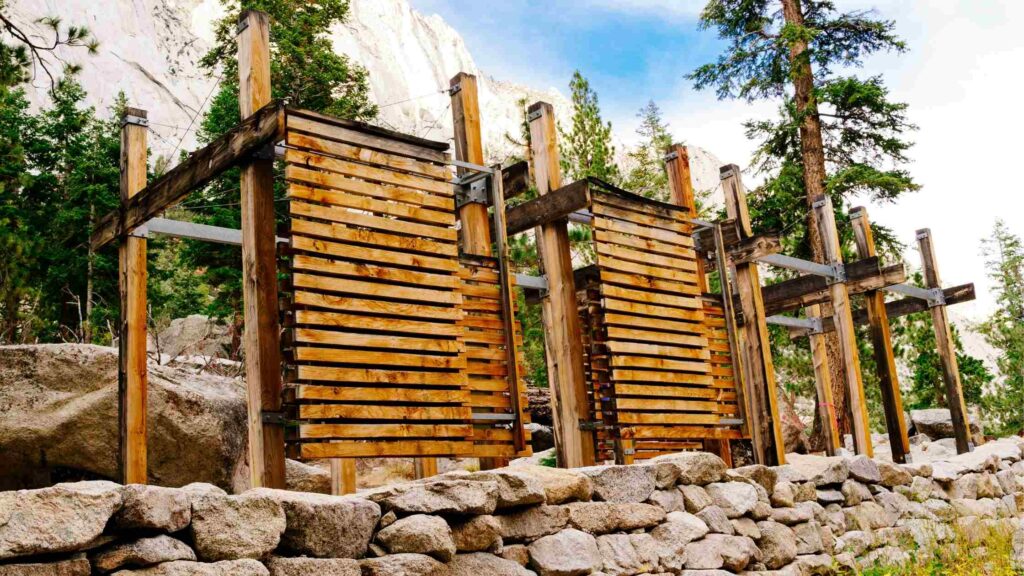 You have to obtain a permit at the Visitor center first. Carry a basic medical kit, take any medicines you may need to combat AMS if you want, and keep yourself hydrated if you dare to do this climb.
April to October is the peak season for hiking on the Mount Whitney Trail. If you go right after the spring, you will be rewarded with stunning 360-degree views of the wildflowers-filled valleys after a strenuous hike.
Drive Whitney Portal Road
If you are not up for hiking Mt. Whitney, you can still admire its magnificence driving through Whitney Portal Road.
Beginning in Lone Pine, this 13-miles road goes half the way up Mount Whitney, passing through the quirky Alabama Hills, from where you can enjoy spectacular views of the Eastern Sierra. The end of the road is the trailhead for the Mount Whitney Trail.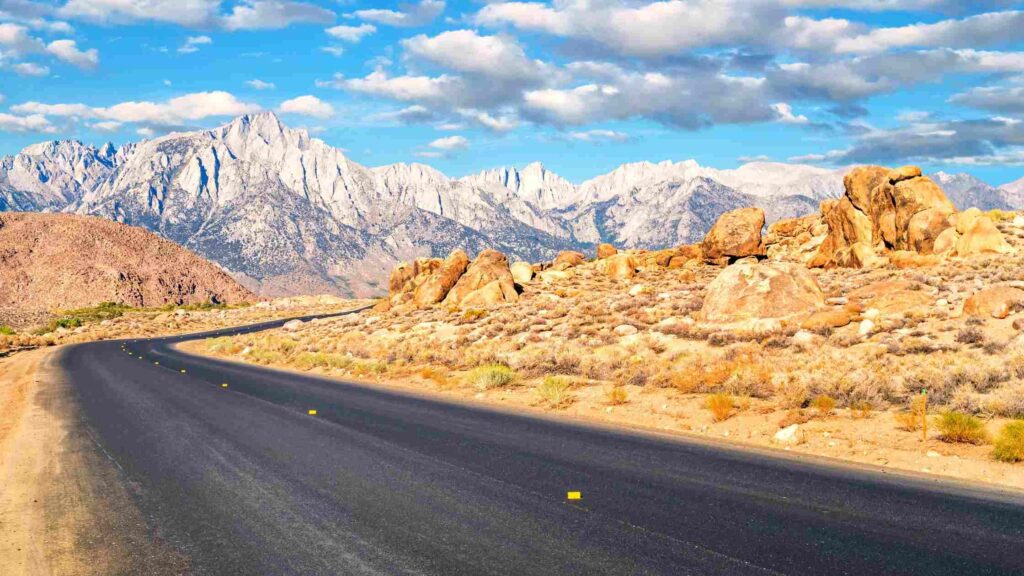 Near the trailhead, you will find a museum, souvenir shops, and small eateries amidst areas for picnic, surrounded by a lake and waterfalls. 
May through November is the best time to plan a fantastic drive on this windy road with switchbacks. Also, spot the filming locations on the way here.
Hike to Lone Pine Lake
You can get Sierra hiking when you are here if you are not up for Mount Whitney by planning Lone Pine Lake Hike.
Lone Pine Lake at the foot of the mountains is a splendid spot for a picnic and even some fishing. The trail passes through streams, wooden logs, and rewarding beautiful landscapes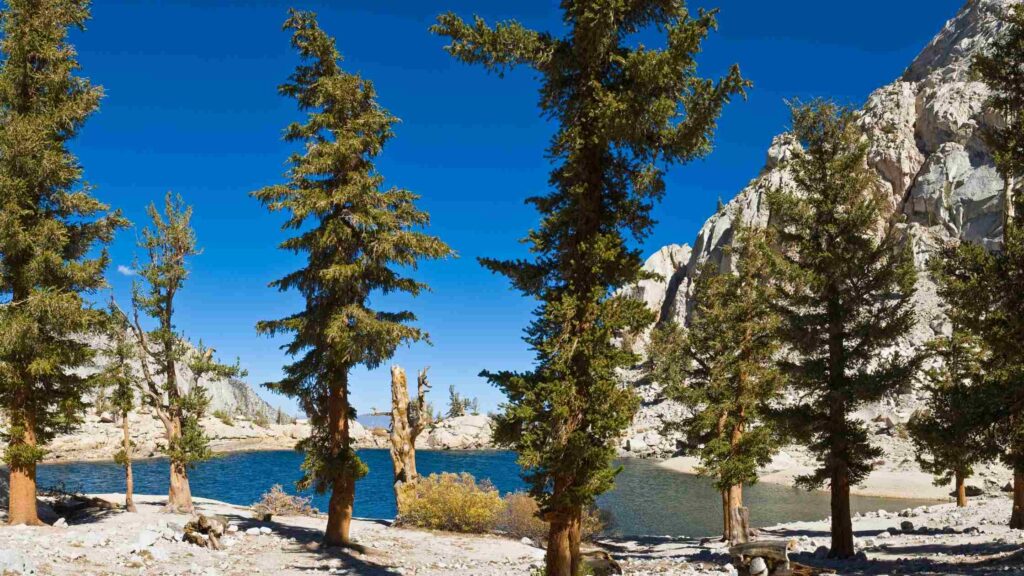 You can reach the lake on a 5-miles round trip hike, which follows the same trail as Mt Whitney, starting at the Whitney Portal trailhead.
There is a slight elevation gain, and it is a moderate hike, but if you plan to go all the way to the summit, doing this is the best way to check out and acclimatize. Also, you do not need any permit to hike Lone Pine Lake.
Camp at the Alabama Hills
Against the rugged peaks of the Sierra are the Alabama Hills – distinct, round, and intense geological formations scattered across the Alabama Hills National Recreation Area.
You can easily spend one or two days exploring the area as there are many things to do in the Alabama Hills.
Camping in the hills is also popular among outdoor lovers – thanks to opportunities for off-roading, hiking, stargazing, and landscape photography.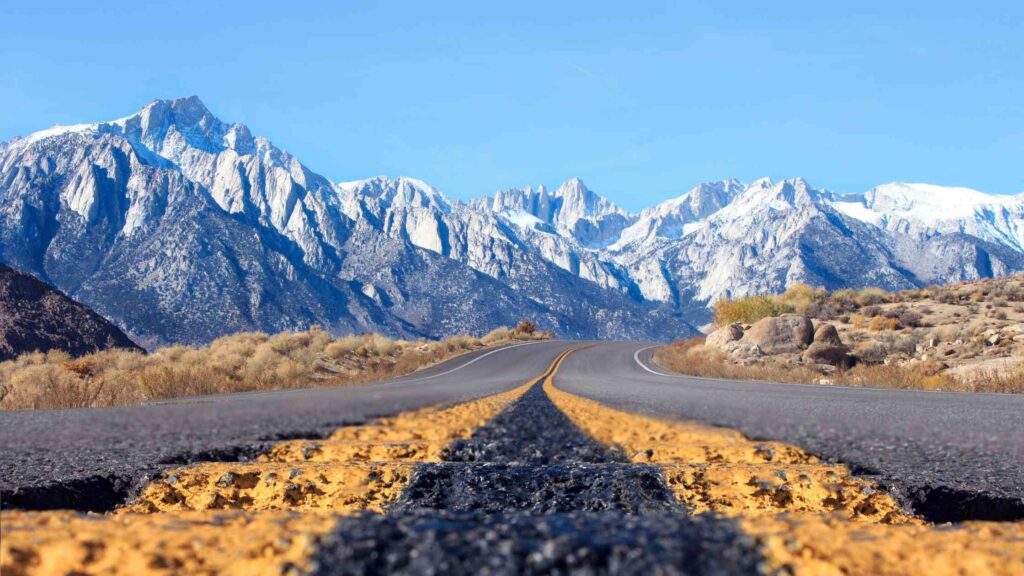 The Alabama Hills are also the location of hundreds of Western movies, TV shows, and commercials, the most famous spot is the gorgeous Movie Road. You can either go for one of the designated campsites or choose dispersed camping free of cost.
Check my post for details of the campgrounds and things to know while camping Alabama Hills.
Hike The Mobius Arch Loop Trailhead
If you don't plan to camp in the Alabama hills but instead want to drive around the area, make sure to check the Mobius Arch.
You will instantly love the beautiful views of the Sierra Mountains with Mt Whitney framed at the center and a yard of boulders and arches in the front, which makes the Mobius Arch the best-known attraction in the Alabama Hills.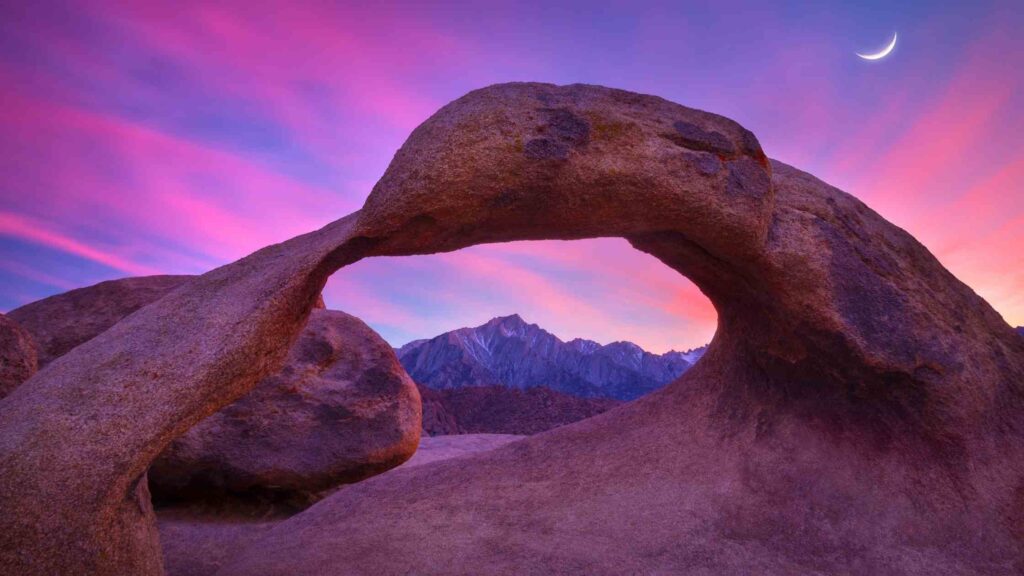 Take the Whitney Portal for three miles reaching Movie Flat Road to arrive at the trailhead from Lone Pine. It is a 0.6-mile loop on flat land, passing through stunning views of the boulders.
If you are an early riser, make sure to witness the sunrise for Alpenglow and the surreal views of the snow-peaked background glowing in yellows and oranges.
Go Arch Hunting in the Valley
Among the top attractions in the Alabama Hills, you can plan is finding all the fabulous, distinct rock formations, and arches that have become Instagram hot spots. Apart from the famous Mobius Arch, here are some of the other ones worth hunting.
Lathe Arch – A little further along the Mobius Arch Loop Trail, you will find the much smaller lathe arch connecting two more giant boulders. If you look around carefully, you'll find many other little arches and holes in the rocks.
Cyclops Rock – Among the hardest to find is the hidden Cyclops Rock, which has distinct formations. Take the help of maps to locate this.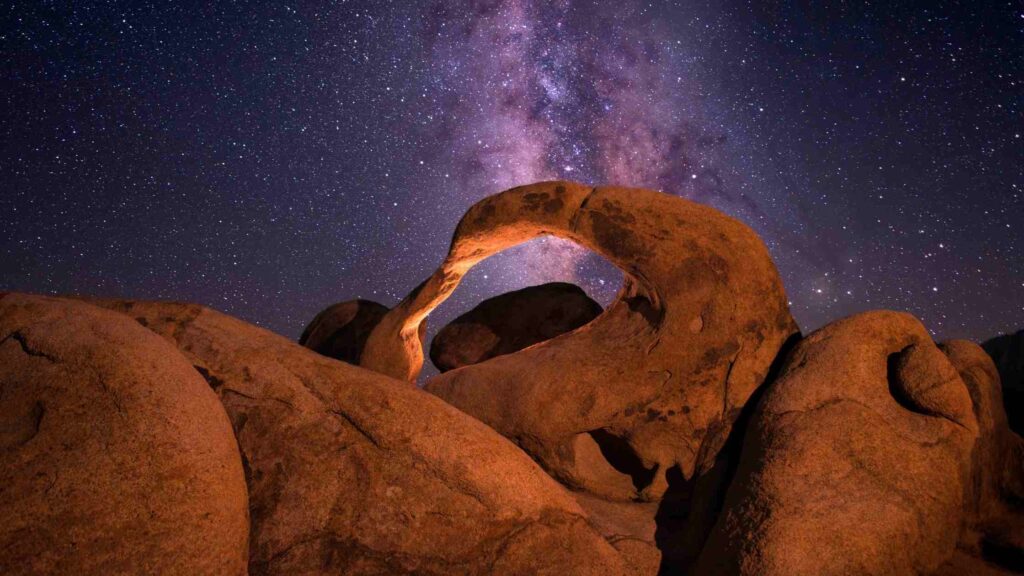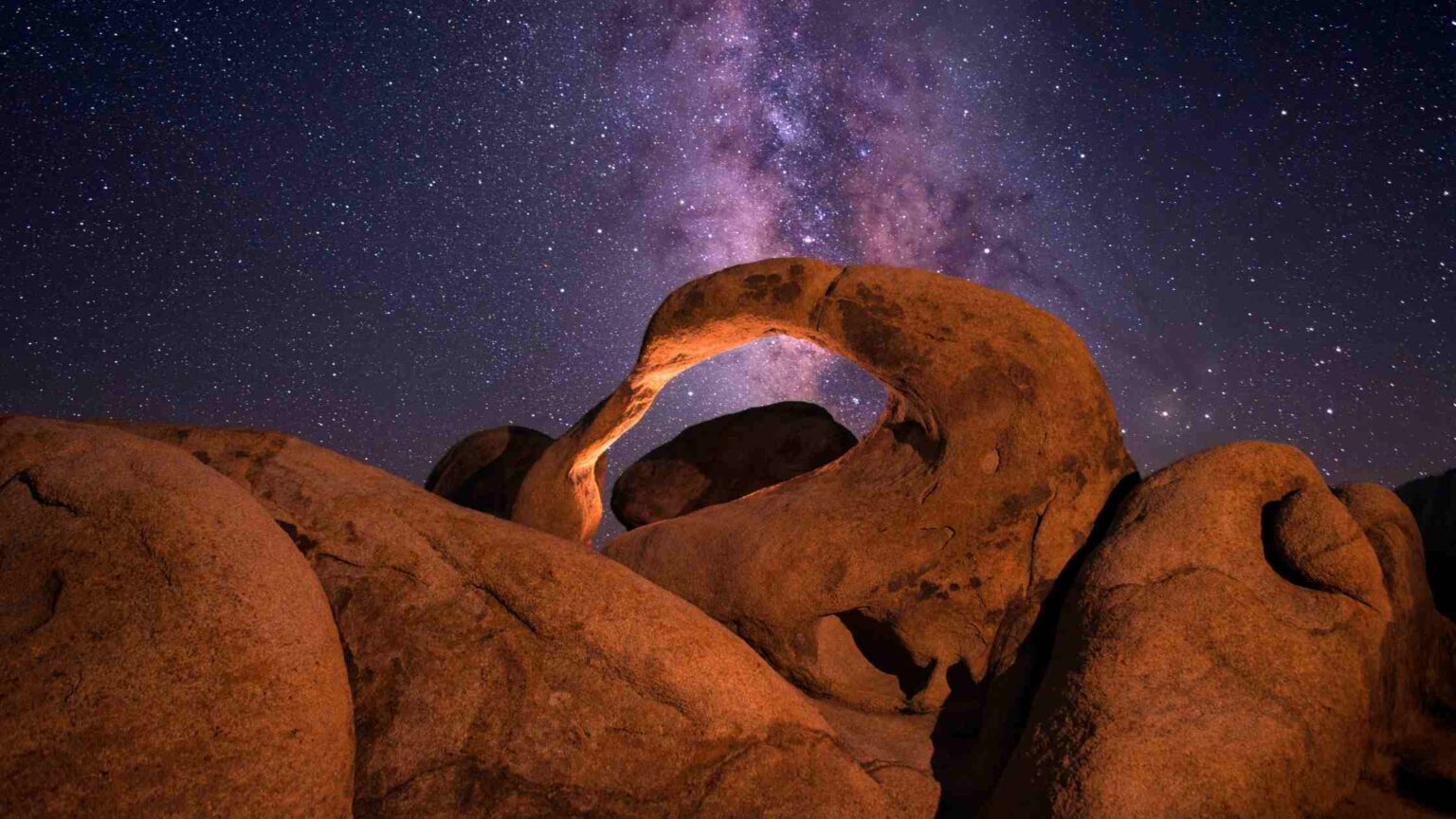 Eye of the Alabama Hills – A famous formation is this arch that perfectly frames the Alabama Hills and the Sierras beyond. You can reach it through a quick hike or drive from the Mobius Arch.
Nightmare Rock – Further on Mt Whitney Portal Road is Nightmare Rock, painted funny and bright, worth a quick stop and a photo.
Go Fishing in the Lakes
One of the best activities in Lone Pine for outdoor lovers is the plenty of options that you get to fish, thanks to Inyo County being blessed with Lakes like Diaz Lake, Independence Creek, Lone Pine Lakes, and others if you are willing to further towards the surrounding national forests.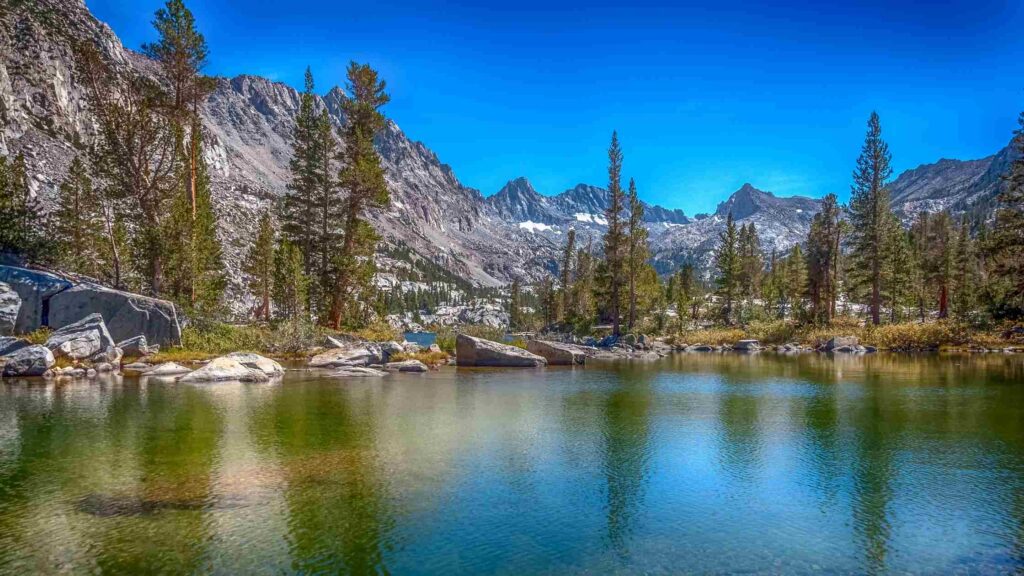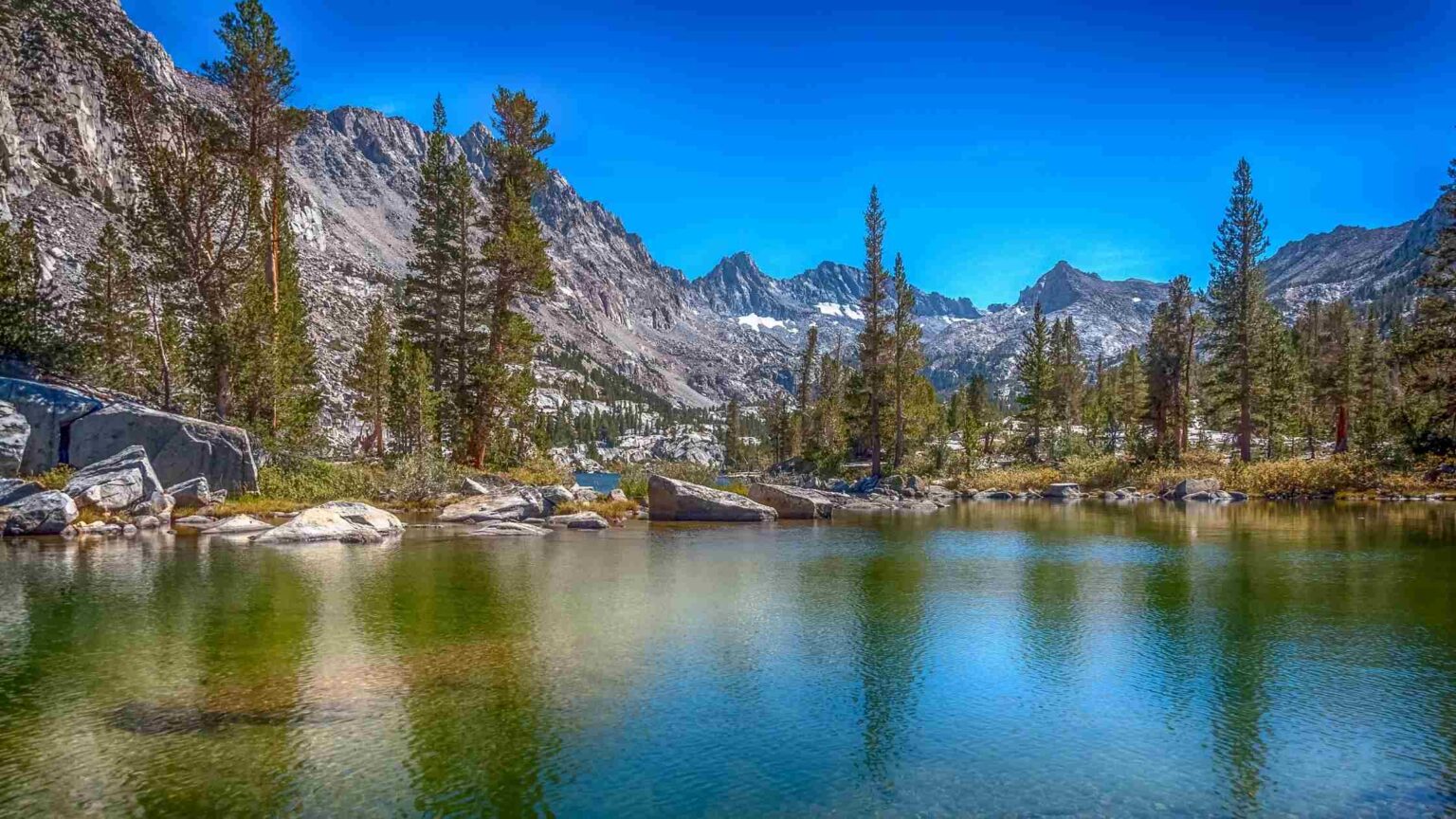 Also as Lone Pine's trout season begins about two months earlier than other places along the Eastern Sierra of California, it is a popular destination for anglers.
Note that you will need a California fishing license to fish in the Eastern Sierra.
Picnic or enjoy Birdwatching at Owens Lake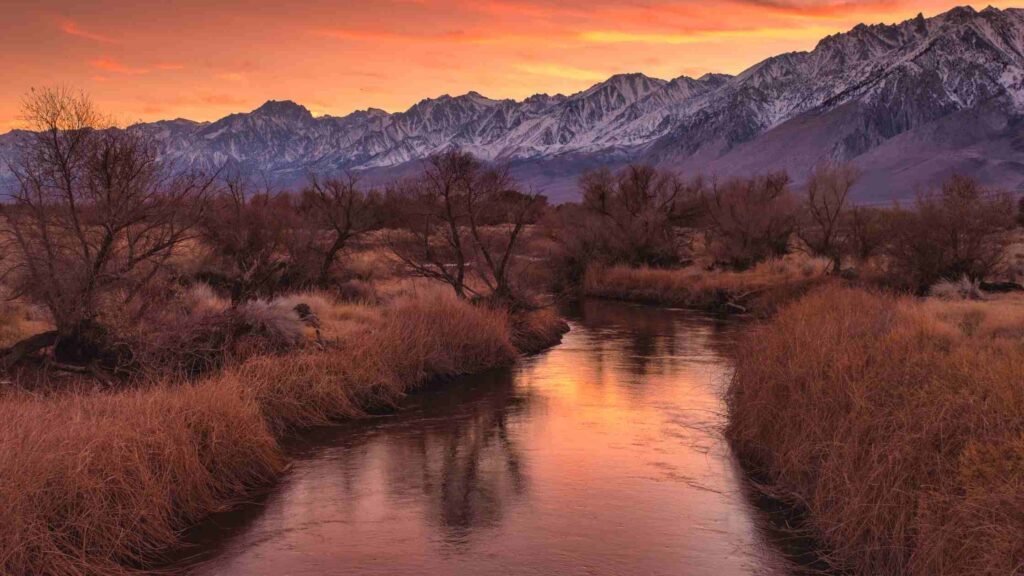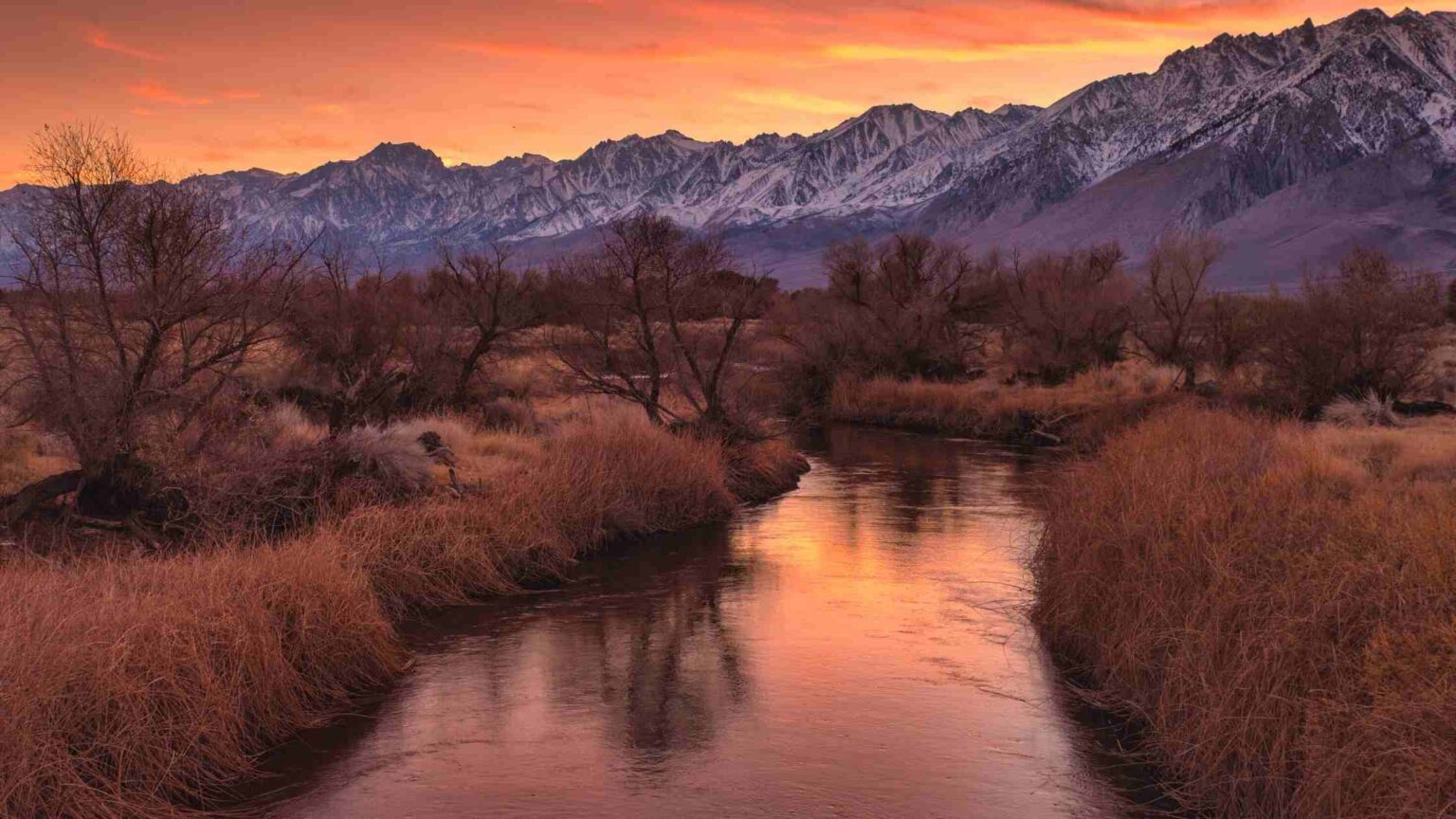 Located just a few minutes south of Lone Pine, visiting Owens Lake is one of the best things to do in Lone Pine for a relaxing picnic and birdwatching if you are here during the spring or late fall.
Due to its location, the lake becomes home to hundreds of migrating birds, including snow geese and avocets.
POPULAR THINGS TO DO NEAR LONE PINE
Check out Whitney Fish Hatchery
One of the things to do near Lone Pine is a short stop at Whitney Fish Hatchery, located north of Manzanar in Independence, It is one of the best fish hatcheries in the US established in 1916, and still bears elements of the past, including the thick granite walls and the equipment.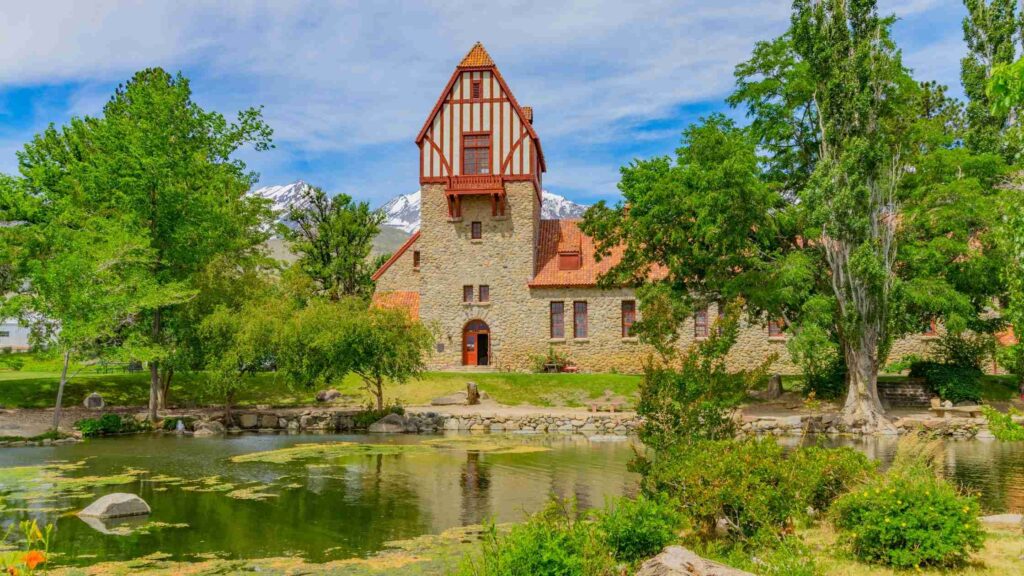 The factory rendered millions of fish every day for decades, making it the largest supplier in California. It is not functional today, but if fishing is your cup of tea, you will love checking out this facility.
Drive around Horseshoe Meadows Road
Horseshoe Meadow Road is a scenic drive that you will love if the idea of driving amidst mountains excites you. Located about 20 miles away from Lone Pine, going through this meadow is one of the best things to do in Lone Pine.
It is located 10,000 feet above sea level, with an elevation increase of about 6,000 feet via a series of steep switchbacks on the eastern side of the mountains of the Inyo National Forest. 
You will be passing through some splendid views of the panorama along the way, including the wilderness of Kings Canyon and Sequoia National Parks.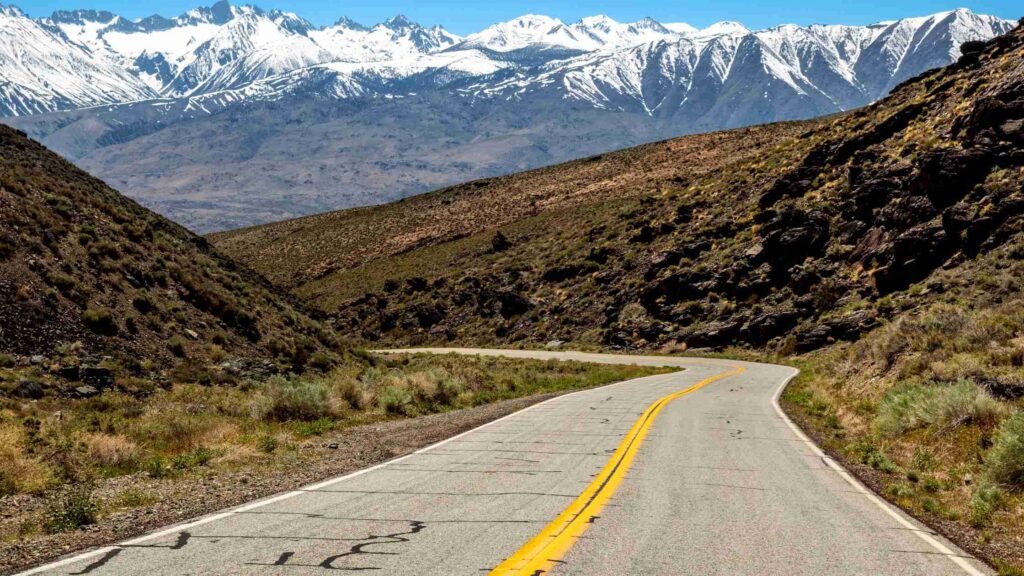 The steepness of this road can be scary if you have no prior experience, so check with rangers in Lone Pine if you plan to do this.
Like other drives through the mountainous roads in this region, there are little to no facilities, including Gas stations. So impromptu trips may not be a good idea. 
Also, there is a gradual increase in the elevation, which you may not begin to feel sitting in the vehicle.
So drink enough water and give enough time to acclimatize, and do not go exerting yourself instantly. Horseshoe Meadow Road is closed between November and May due to road closure.
Plan Day Trips to Nearby National Parks
Lone is located close to many beautiful national reserves like Inyo National Park, Death Valley, Sequoia National Park, home to the world's most giant trees, Kings Canyon National Park, and Mammoth Mountain – offering tons of things to explore from mountain biking to hiking to road trips to camping.
You can easily spend at least a week exploring the wilderness of the massive Death Valley Park Itself, covering attractions including Mesquite Flat Sand Dunes to Badwater Basin, Zabriskie Point, Darwin Falls, and sights around Furnace Creek.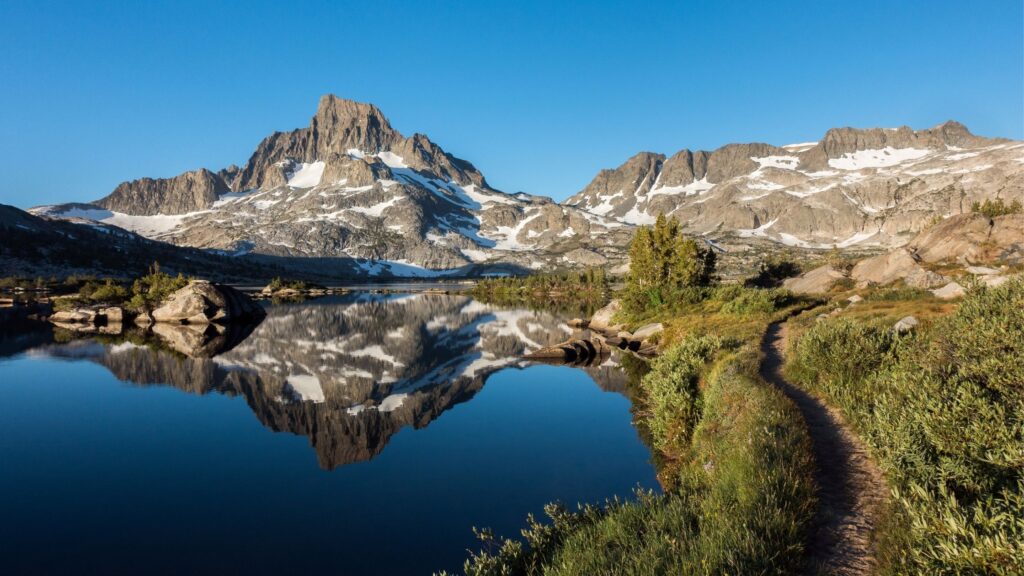 One of the stunning hiking trails lies between the King Canyons National Park and beyond, passing through the splendid John Muir's trail.
The hike to Kearsarge Pass leads you to fascinating alpine lakes and magnificent views of the Kearsarge Peaks.
Another is The Cottonwood Lakes Trail passing through the Golden Trout Wilderness and into the Cottonwood Lakes Basin.
THE BEST TIME TO VISIT LONE PINE CA
Lone Pine Weather is excellent during all seasons, making it an all-year-round destination. Depending upon the activities you plan, you can choose when to visit.
If you will mostly pick outdoor things to do in Lone Pine, CA, Spring and Fall are the most popular destinations. Weather-wise, the temperatures are manageable, both during the day and night time.
The weather is not scorching hot to go hiking, fishing, camping, mountain biking, or road-tripping across the lakes during these months.
Similarly, although you may have to encounter sudden temperature drops and cold winds at night, it is still bearable if you pack in layers.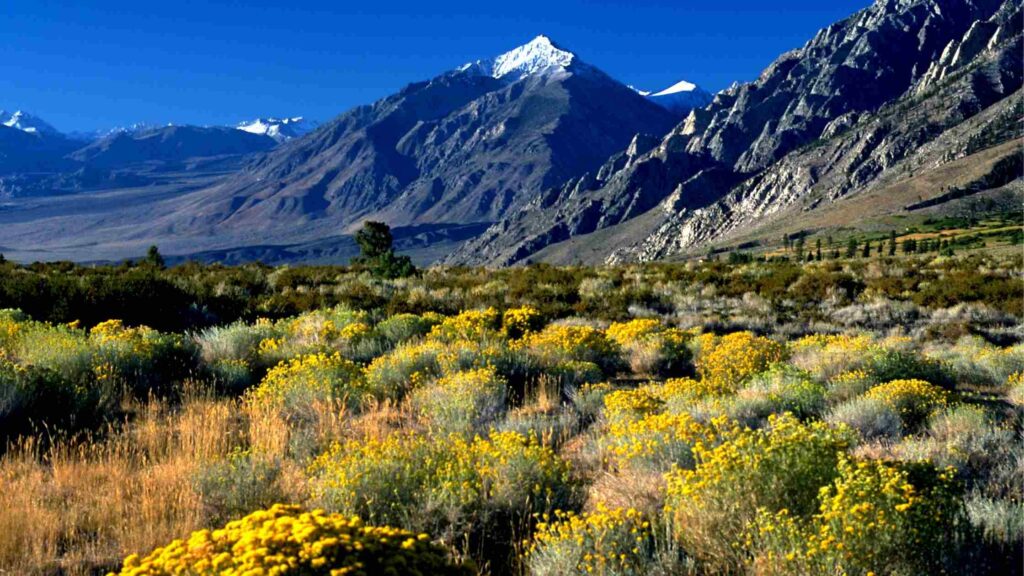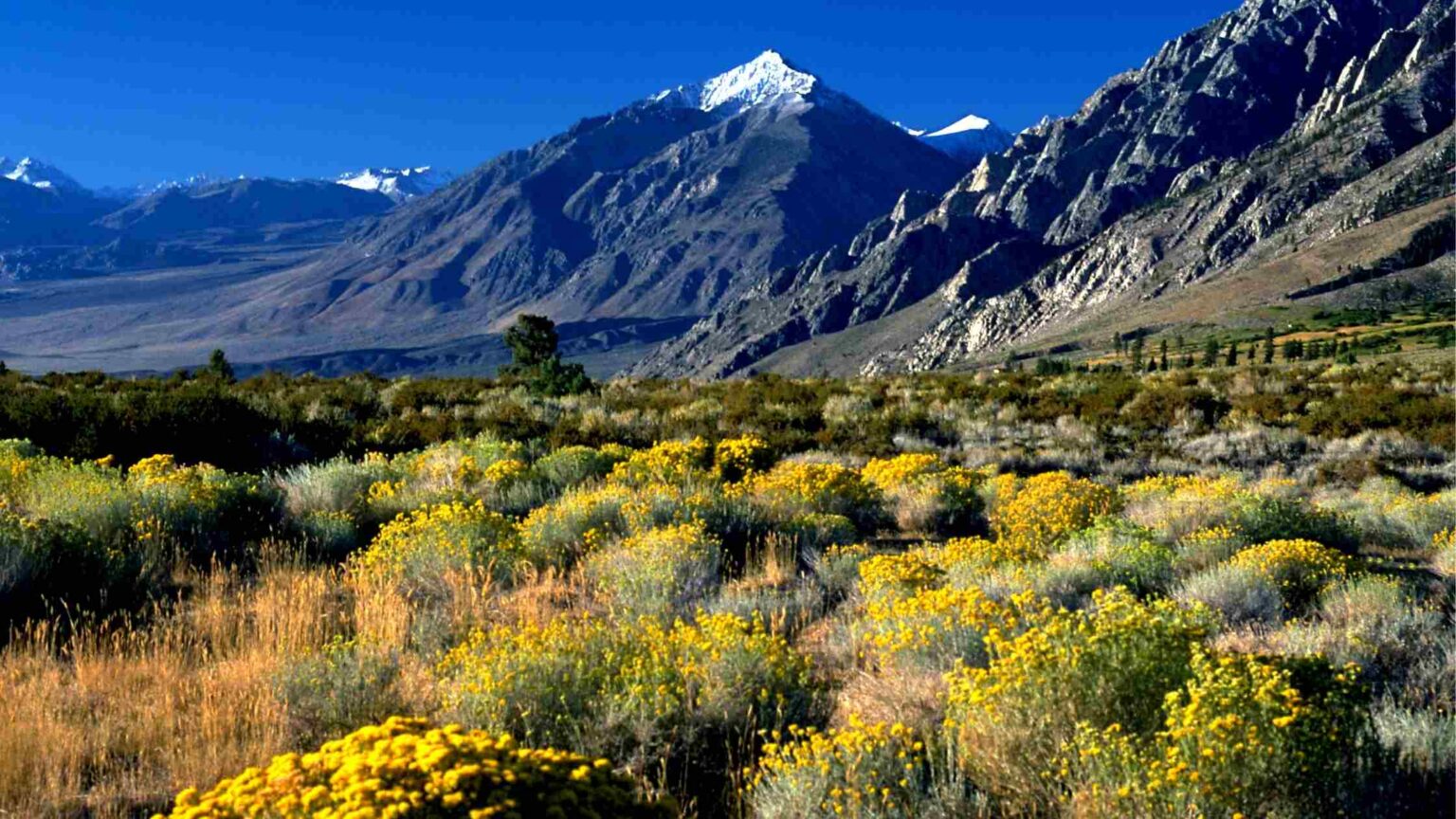 Landscapes-wise, these periods are stunning, with the seasonal foliage transforming the barren panorama into deep valleys nestling amidst the mountains.
The wildflowers begin their blooming in spring as the snow recedes slowly from the hills, continuing until summer and a few beyond as well, opening up the trails to go outdoors.
Fall is the golden season with autumn foliage everywhere, making it the best time to explore Lone Pine and other nearby regions in the Eastern Sierra and Inyo County.
Drive around the lakes, hills, and back roads to admire the spectacular oranges, reds, yellows, and golden hues created by Willows and Aspen.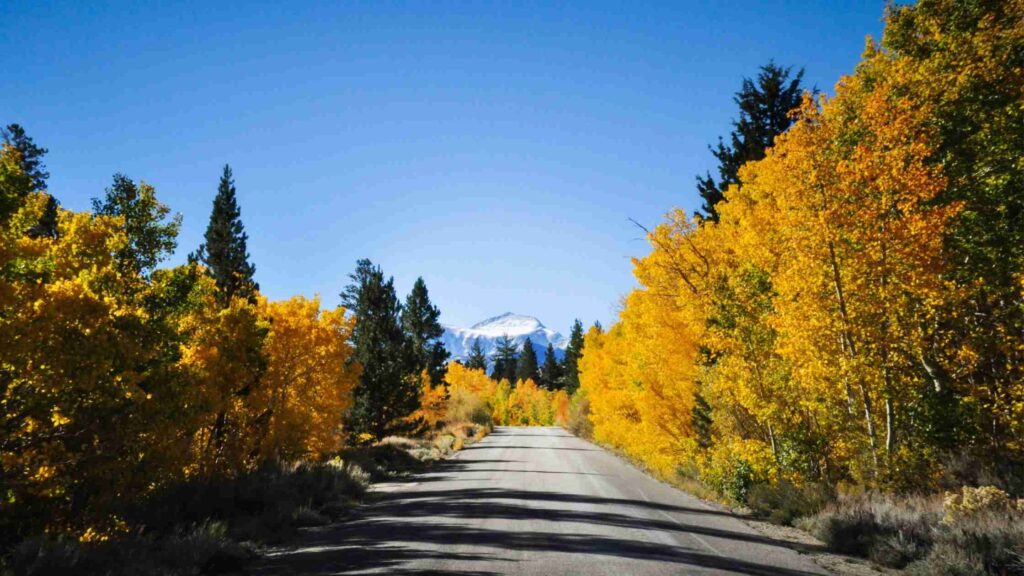 It is not snowy, heavy winter days in and around Lone Pine compared to other regions in the US. The cold gets harsher only during the nights, so you will need to get sufficient layers.
This low season is perfect for exploring Death Valley or try camping in the Alabama Hills, apart from the attractions in Lone Pine. Driving around is impossible in winter as most mountain roads are engulfed in snow and remain shut down.
HOW TO GET TO LONE PINE CA
Getting to Lone Pine CA depends on your origin city. Located along the US 395 highway, it is an on-the-way stop for many road trippers. So most travelers to Lone Pine arrive by road.
Many people plan a weekend trip to Lone Pine from Los Angeles, which takes around 3.5 hours if you take US 395. From other cities like Las Vegas, San Francisco, and San Diego, you can reach Lone Pine within 4.5 to 6 hours, depending on the route you choose.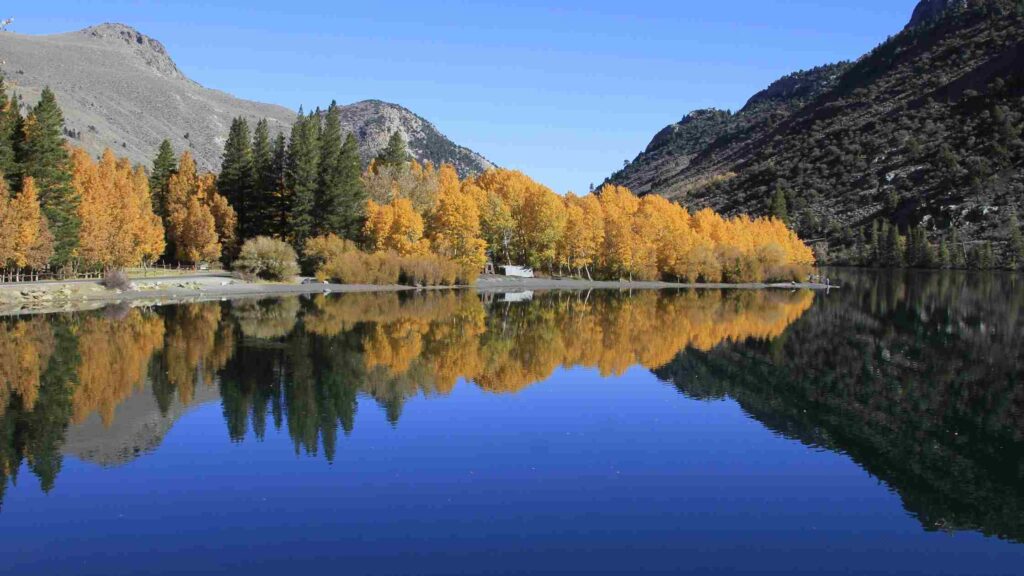 If you like to fly to Lone Pine, the closest airports are Mammoth Yosemite Airport, about 80 miles away, and Fresno, about 90 miles far. Note that the flights are not frequent and seasonal, so if you have impromptu trip plans to fly, it may cost you more than usual.
Getting Around Lone Pine CA
Depending on how you want to explore Lone Pine and the attractions, you have to choose the transport. Regular Cars are sufficient to drive highways and on flat roads, but if you want to get on the mountain roads or dirt roads in the recreational area and state parks like Death Valley or Inyo, or Alabama Hills, it is best to rent a 4WD SUV for your trip to Lone Pine.
Plus, Off-roading is an ultimate outdoor experience that will give exclusive access to vibrant remote lands you can witness during spring and fall.
WHERE TO STAY IN LONE PINE CA
There are some Lone Pine hotels in different budgets and a few motels as well. But cabins, cottages, and vacation rentals are more popular choices among travelers thanks to the fantastic location amidst mountainous valleys. Many offer accommodation overlooking the Sierra peaks.
Here are the best options in each category handpicked for you.
Vacation Rentals in Lone Pine CA
Cozy Muir Cottage, located near the center of Lone Pine, is a pretty pet-friendly vacation rental. The air-conditioned vacation home is composed of 1 separate bedroom, a living room, a fully equipped kitchen with a microwave and fridge, and 1 bathroom. Book a stay here.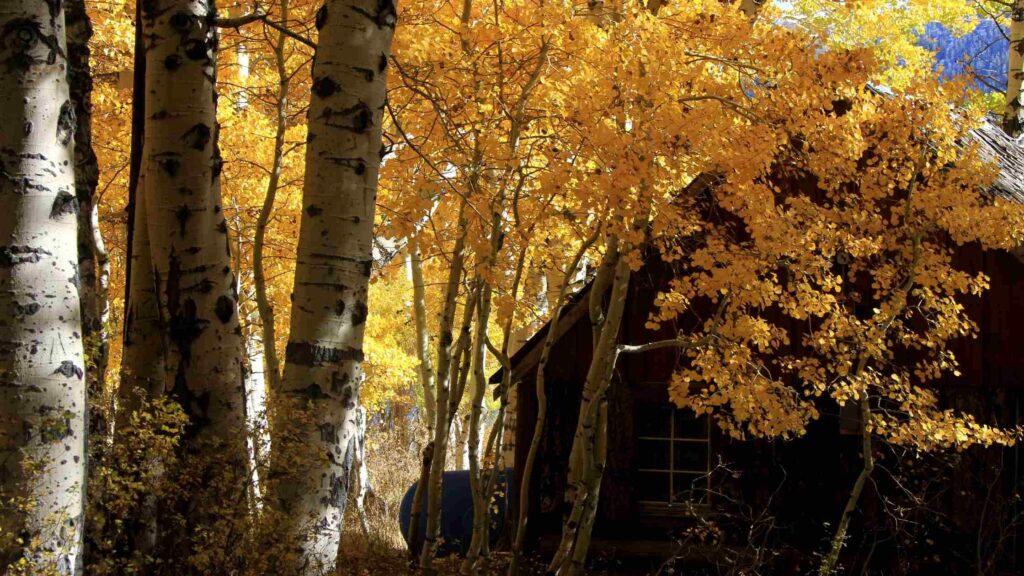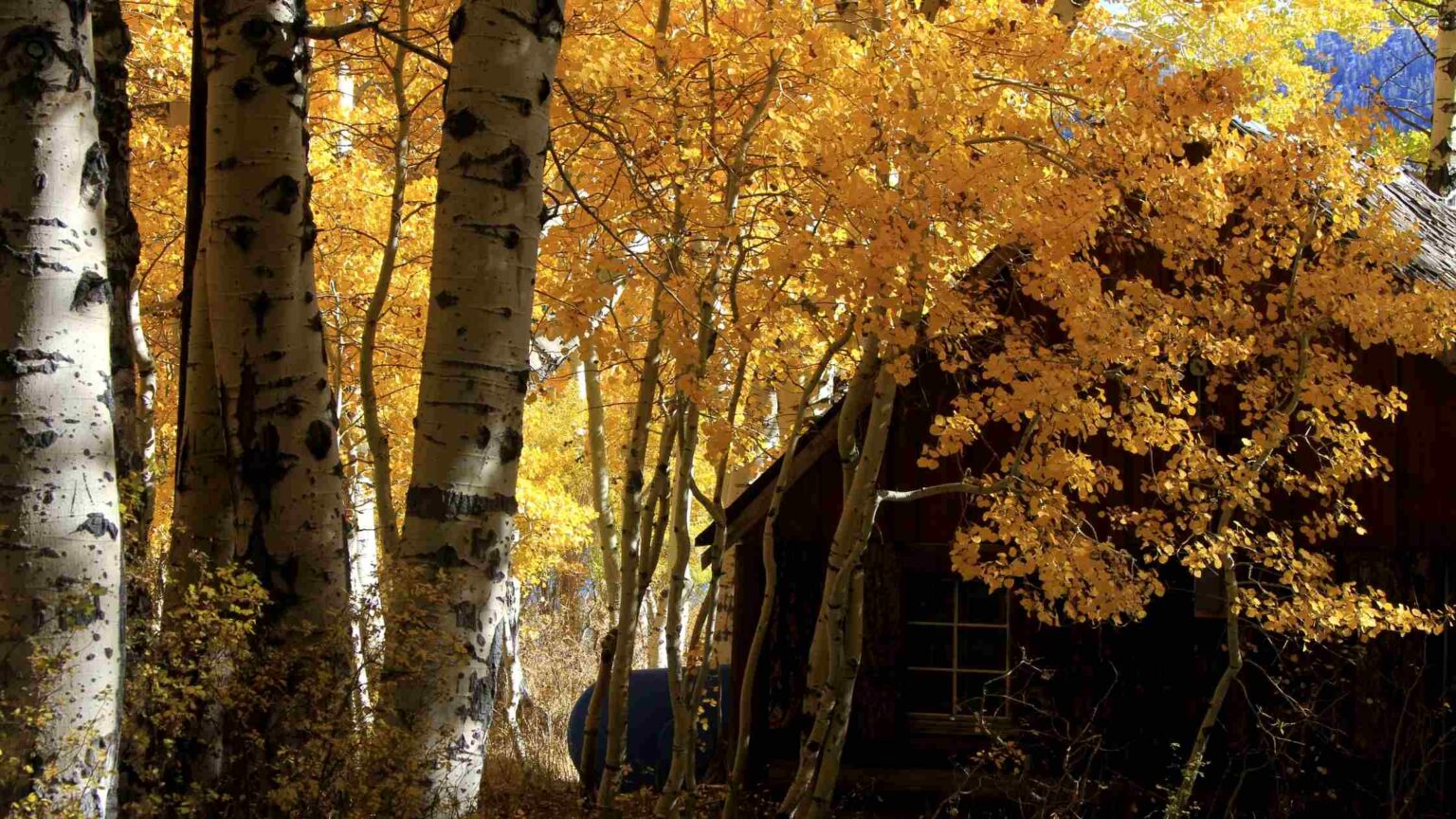 This beautiful home comprising 3 bedrooms is located at the heart of the town amidst a gorgeous setting offering stunning views of the Sierra Nevada.
This holiday home includes 3 bedrooms, a living room and a flat-screen TV, an equipped kitchen with a dining area, and 1 bathroom with a shower and a washing machine. Check the latest prices and deals here. 
Best Hotels in Lone Pine
There are not many to choose from for hotels, but these are excellent for families and couples.
If you want a fabulous location close to restaurants and shops, The Dow Villa Motel is a perfect choice, which offers high-speed WIFI, and has an outdoor pool. Book your room here.
A bit further from the city center, around 3 miles, Quality Inn is a popular hotel for families and road trippers, offering spacious rooms, a heated pool during colder months, and fantastic views of the Sierra Nevada mountains. Check prices to book your stay.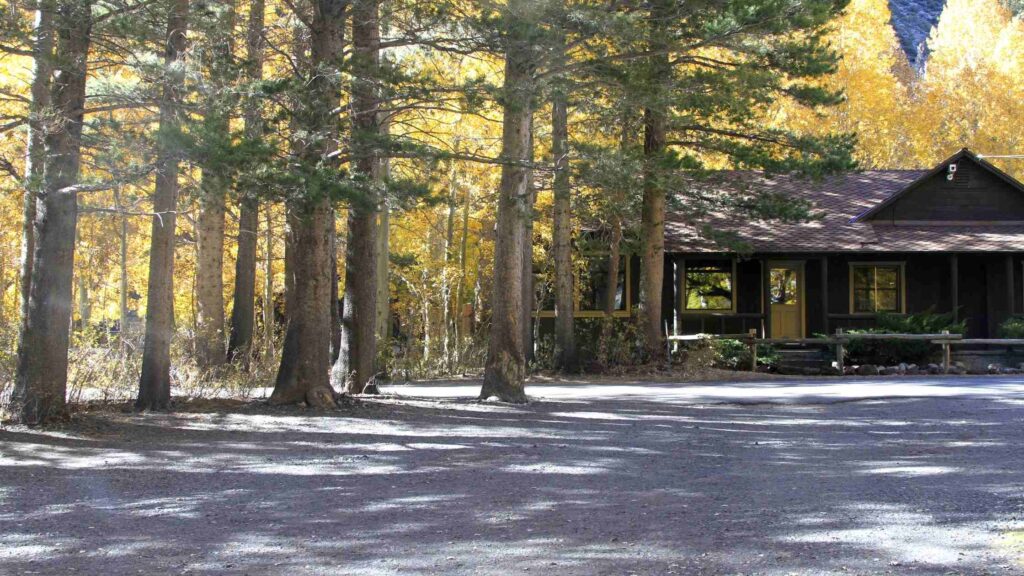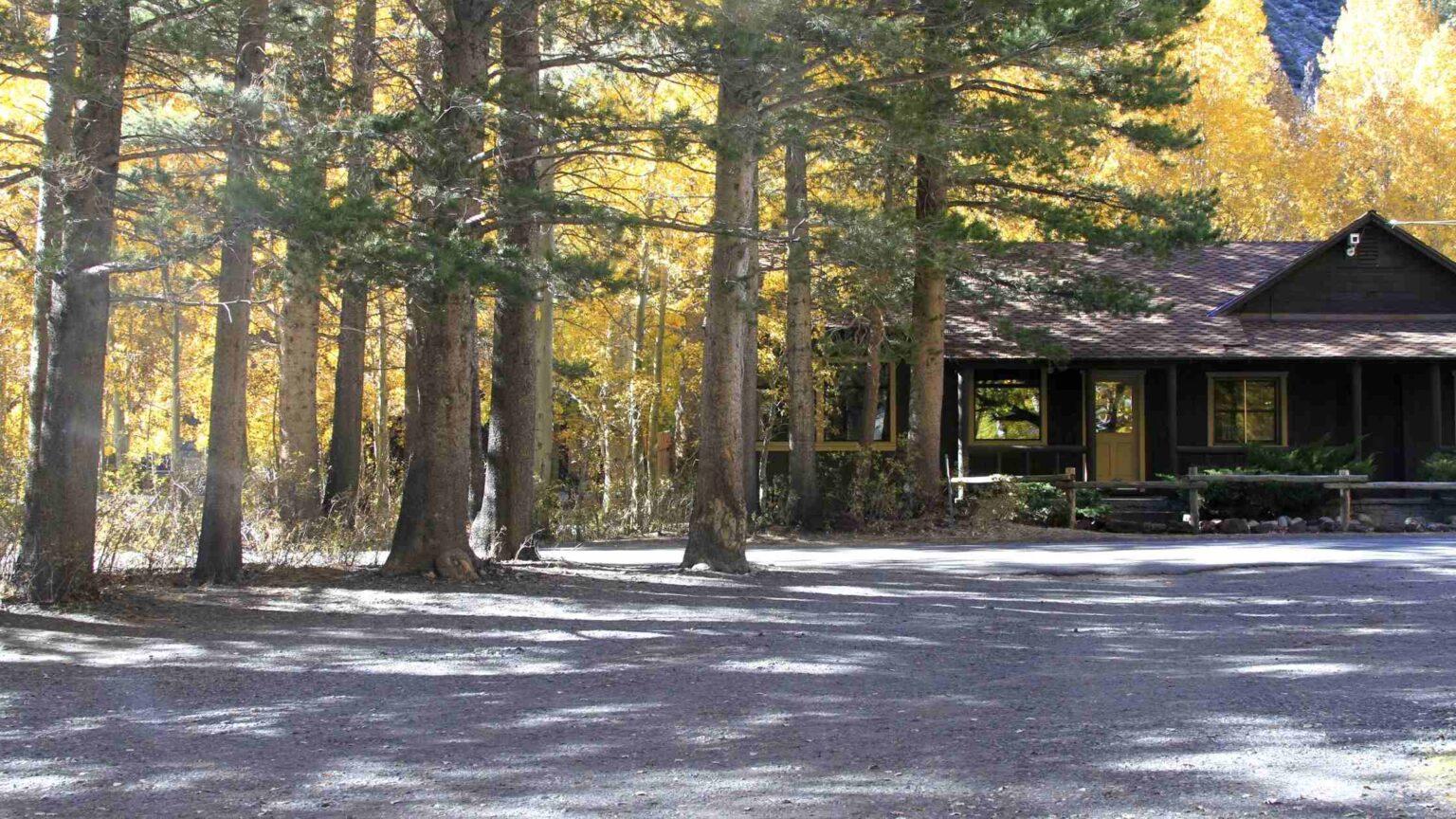 Campgrounds in Lone Pine CA
Depending on where you like to camp, you can choose from Lone Pine Campsite, Tuttle Creek, and Portuguese Joe – all of them in the Alabama Hills bordering Lone Pine. Check this camping guide for booking details.
So this is the list of the amazing things to do in Lone Pine which you can plan for a fabulous weekend getaway. If you have been here, do let us know your experiences in the comments below.
PIN THINGS TO DO IN LONE PINE TO READ LATER
Please note: This post contains affiliate links, meaning I may earn a commission if you make a purchase by clicking a link (at no extra cost to you). Learn more.