Among the many excellent options you have for a weekend getaway, Alabama hills camping is one of the most beautiful things to do. You can even go camping in the Alabama hills for free.
Yes, you read it right. You will love these hills if you are craving an easy weekend getaway in California for hiking, enjoying the stunning panoramic views of the mountains, mountain biking, photography, or going on a romantic trip amidst the mountains; this is where you should head.
In this post, you will find all the details for Alabama hills camping – Where to camp in the Alabama hills, some helpful travel tips, the best things to do in the Alabama hills on a camping trip, and a map of Alabama hills.
Read ahead to grab all you need to plan your camping Alabama hills trip.
WHERE ARE THE ALABAMA HILLS?
The Alabama Hills nestles at the foot of the eastern slopes of the rugged mountains of the Sierra Nevada mountains and the geologically complex Inyo Mountains near Lone Pine town, one of the USA's hidden gem towns in Southern California. 
Owned by the Bureau of Land Management, the hills are surrounded by many famous national parks, including Death Valley, Kings Canyon, and Yosemite.
Being owned by the BLM means the areas are accessible to the public, and you can camp for free.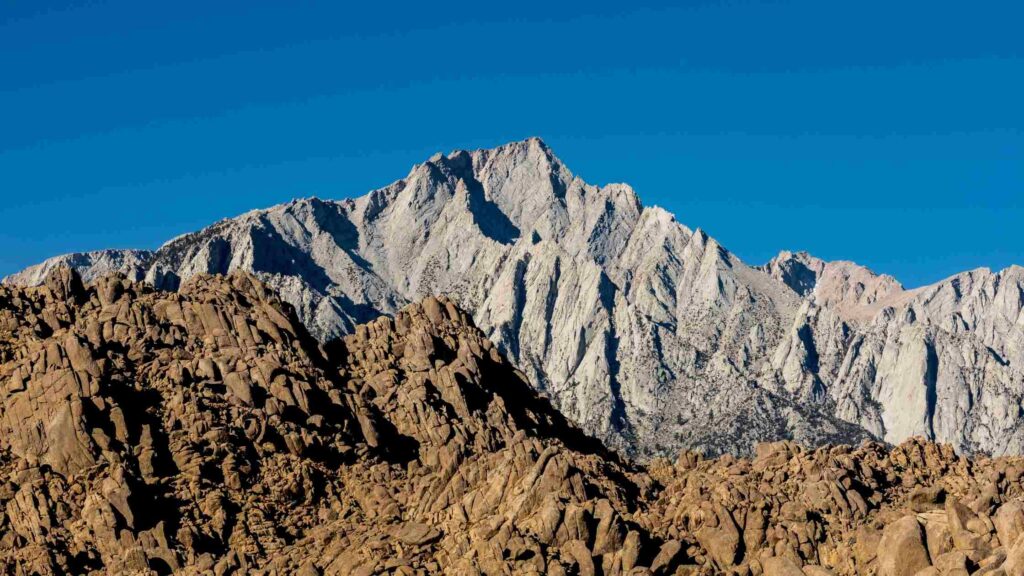 Three major cities lie close to the Alabama hills, making it a perfect weekend trip destination.
From Los Angeles, you can drive to the Alabama hills within 4 hours, while from Las Vegas or San Diego, you can reach within 5 hours.
5 REASONS WHY YOU SHOULD DO ALABAMA HILLS CAMPING
What captivates your instant awe when you gaze at The Alabama Hills is its distinct, otherworldly landscape of rock formations.
Although the Alabama Hills were formed around the same time as the Sierra Nevada mountains, the way their layers underwent different erosion over millions of years is why we see the charming contrast in the landscapes between the two.
Though you can easily plan a day trip from the nearby towns, camping in the Alabama Hills is the best way to experience all the awesome things to do and places to visit.
Thanks to the hills being loaded with tons of unique geological formations, including rounded rock formations and golden hills, all set against the notched snow-dusted peaks of the Sierra Nevada, the Alabama Hills have been a famous filming location for hundreds of Hollywood movies for many decades.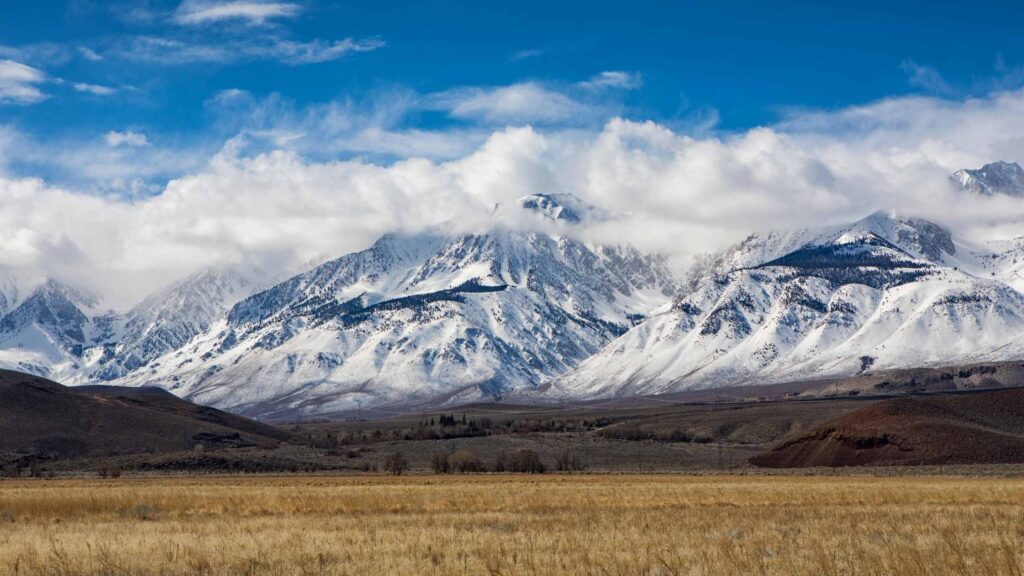 Here are some of the reasons why planning Alabama hills camping is a fabulous idea:
You can combine your visit to other notable landmarks by planning Alabama hills camping trip, making it your base for a few days (find the attractions below).
Unlike the other nearby national parks, you have options to do camping in the Alabama hills for free(find more details on how to do that below).
If you enjoy nature or landscape photography, a trip to the Alabama Hills will feel heavenly for you. The rugged wonderland of the Alabama Hills offers stunning landscapes, including Mount Whitney, the tallest mountain in California, numerous natural arches, beautiful rock formations, and the horizon filled with jagged peaks that look enchanting, especially when they are blanketed in snow or the magical fall colors.
Alabama Hills is an incredible destination for stargazing, romantic outdoor date nights, off-reading, rock-climbing, and mountain biking.
Unlike the other national parks where you have plenty of well-marked trails, Alabama Hills has a few structured trails, leaving most of the valleys unmarked. This means you can experience the untouched terrains and create your paths, go off the beaten attractions, fully feeling the wilderness.
ALABAMA HILLS CAMPING SITES LOCATIONS
There are a few Alabama Hills Camping site options for travelers, with some open throughout the year. They are all dry camping sites, and none of them has shower facilities, although some amenities are included.
Tuttle Creek Campground
If you want comfortable or a kind of organized camping in Alabama Hills, head to Tuttle Creek Campground, where you can witness splendid views of Mount Whitney and Lone Pine Peaks.
There are 83 campsites comprising tent and pull-through trailer spaces, and RVs here scattered around, open throughout the year.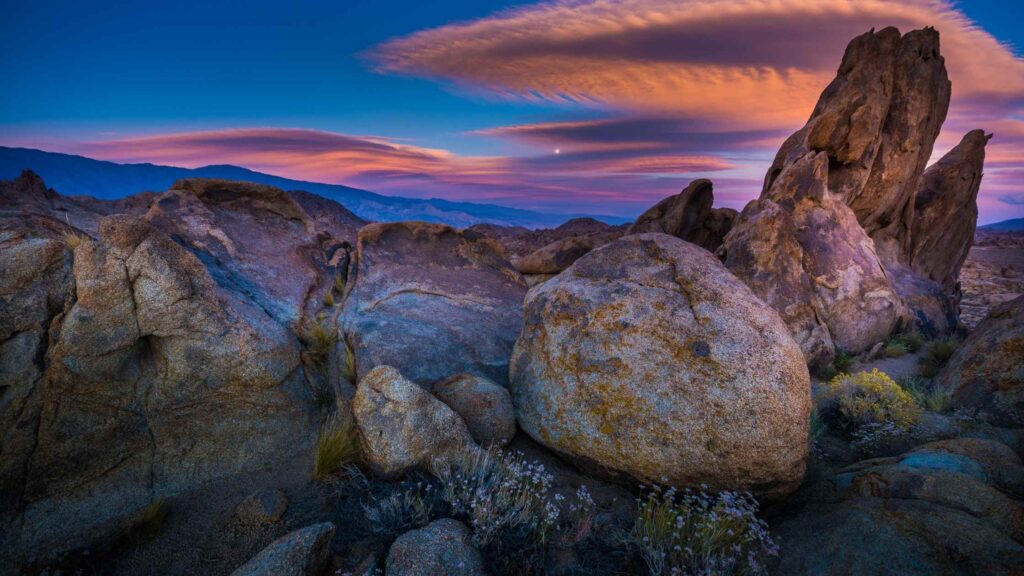 It costs 8 USD per site, and it is a first-come, first-served campsite without any reservation options. Each site has a fire ring, lantern holders, and a picnic table with potable water available from spring to fall.
Note that water is not available in the winter months from November through February. There are vault restrooms as well. You can find Cell Network here. The RV dump station costs USD 5 per night.
Lone Pine Campground
The other camping area in Alabama Hills is Lone Pine Campground, located at the foot of Mt. Whitney, which is more popular.
There are 42 camping sites available for RV camping and tent campers. RV and trailer sites mostly prefer it to take up the majority of the campground.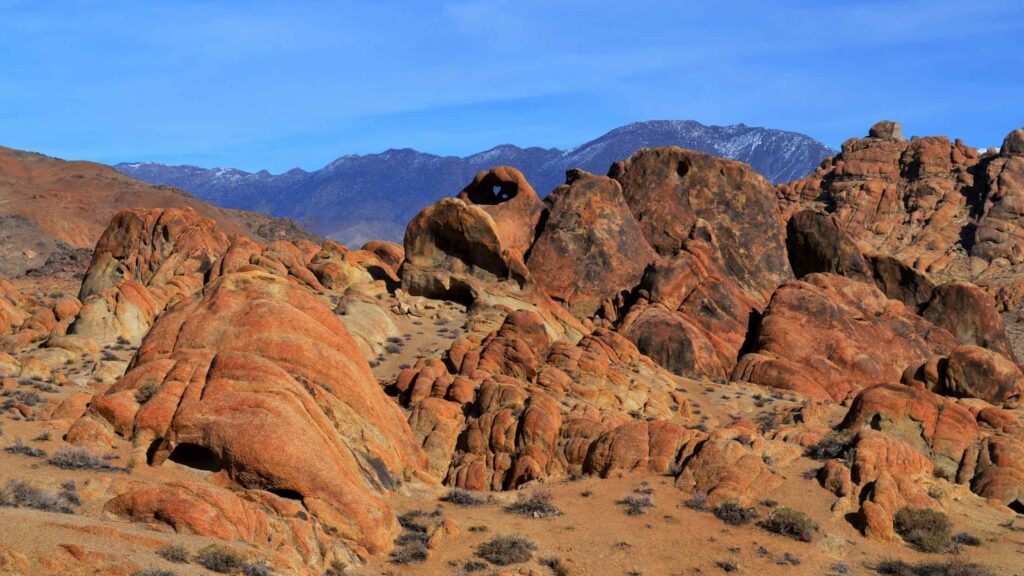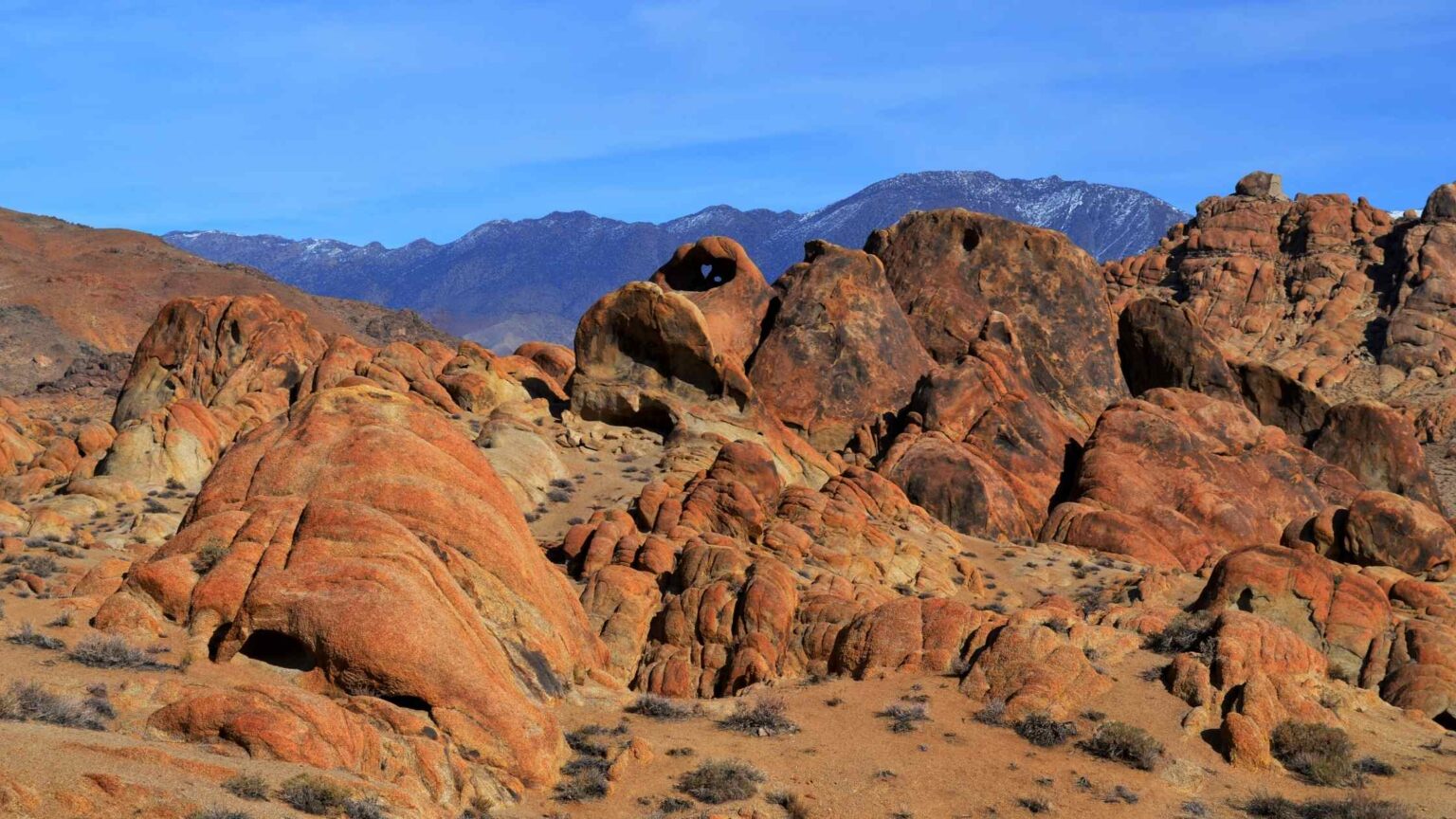 It costs 22 USD per site per night and comes with food storage lockers and vault toilets. There are camps with and without electricity. But note that there is no drinking water available here.
But unlike Tuttle Creek, you can reserve a spot ahead of time online. Lone Pine Campground is closed in the winter.
Portuguese Joe Campground
Portuguese Joe is the latest addition to the camping sites. It is not in the Alabama Hills but outside Lone Pine town. Located beside the Los Angeles Aqueduct, it is the smallest campground in the area.
There are 20 sites combining tent camps and RVs under 30 feet camping spots.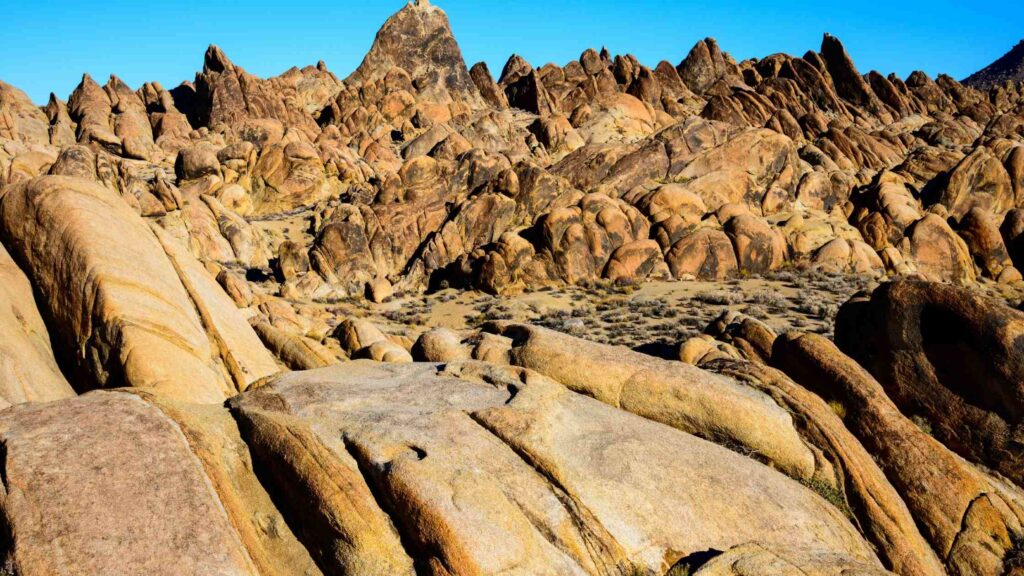 A small creek flows through the center of the campground, flanked by the trees. There are vault toilets, water spigots, fire rings, and picnic tables.
There is no electricity, though, and due to its limited area, expect minimum privacy.
They do accept reservations up to 9 months in advance through the Reserve America site. The cost is 14 USD per site per night.
Diaz Lake Campground
Located 4 miles south of Lone Pine on Diaz Lake is another campground, ideal for boating trips and camping. They have both electric and non-electric sites.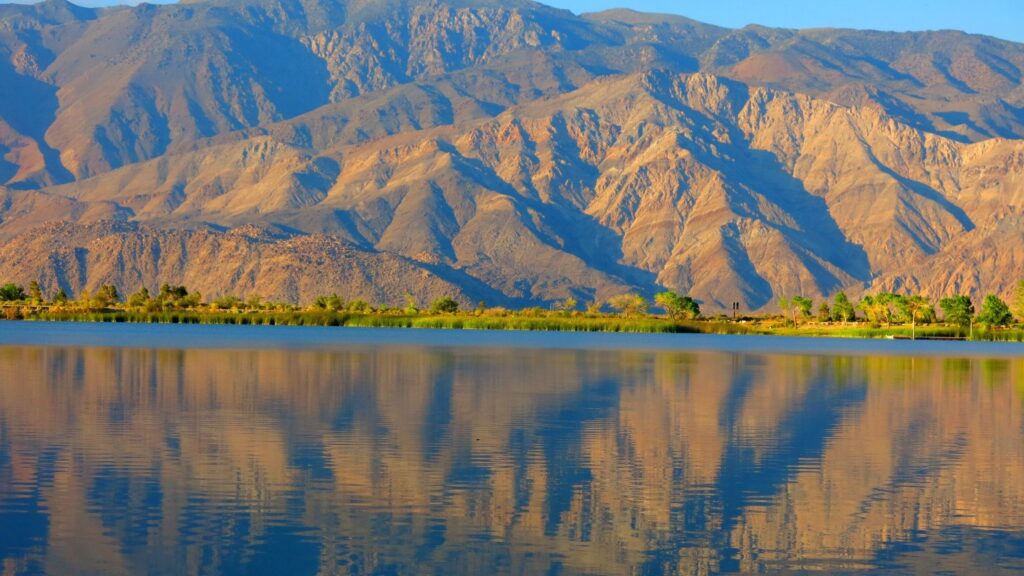 You can go swimming in the lake, as well as go on boat trips and fishing. It is also a dry camping site with no shower options.
This campground remains closed during the winter months. You can reserve your spot through Reserve America online.
Free Camping In the Alabama Hills
Since the hills are a part of BLM land, you can also go for free camping Alabama Hills.
This dispersed camping on BLM land means you can freely set up your camp anywhere and are allowed to stay camped for two weeks.
If you have packed well, including water, food, clothes, and other essentials along with camping gear, I'd highly recommend Alabama hills BLM camping.
As you can expect, there are no structured campsites, and hence no facilities, whether a toilet or water or electricity or pavements.
You need to have a California Campfire Permit for creating fire pits, using stoves and lanterns.
You have to look for a clear spot to avoid damaging nature and set up camp as you prefer.
If you are on an RV, feel free to park where you wish among the rounded boulders. But, if you want the raw camping Alabama hills minus the crowds, you will love free camping.
| | | | | |
| --- | --- | --- | --- | --- |
| AMENITIES | TUTTLE CREEK | LONE PINE | PORTUGUESE JOE | DISPERSED (FREE) |
| No of sites | 83 | 43 | 20 | Any number |
| Fire Rings | YES | YES | YES | NO |
| Vault Toilets | YES | YES | YES | NO |
| Potable Water | Mar-Oct | YES | YES | NO |
| Mobile Network | Ok | Good | Good | Ok |
| Opening Dates | All Year | Apr-Dec | Mar-Dec | All Year |
| Electric Sites | NO | YES | NO | NO |
| RV Allowed | Trailer | YES | Under 30 feet | YES |
| Dump Station | YES | NO | NO | NO |
| Reservations | Offline | Both | Both | Not needed |
| Dogs Allowed | YES | YES | YES | YES |
| Cost in USD | 8 | 25-65 | 14 | FREE |
USEFUL TIPS FOR CAMPING ALABAMA HILLS
Before you plan the Alabama Hills Camping trip, here are some of the things that you need to know, and a few tips that might come in handy.
Download, print, or collect maps, brochures, and contact details
Get a free map and guide of the Alabama Hills Recreation Area by stopping by the Eastern Sierra Visitor Center before entering the campsite.
Spend some time familiarizing the roads and also the areas where dispersed camping in Alabama Hills is allowed.
Have many copies of maps stocked
Maps are your central guides to having a fun time in the Alabama Hills. Having physical copies of the maps will be highly useful if your mobile doesn't work due to a feeble network or shutting down.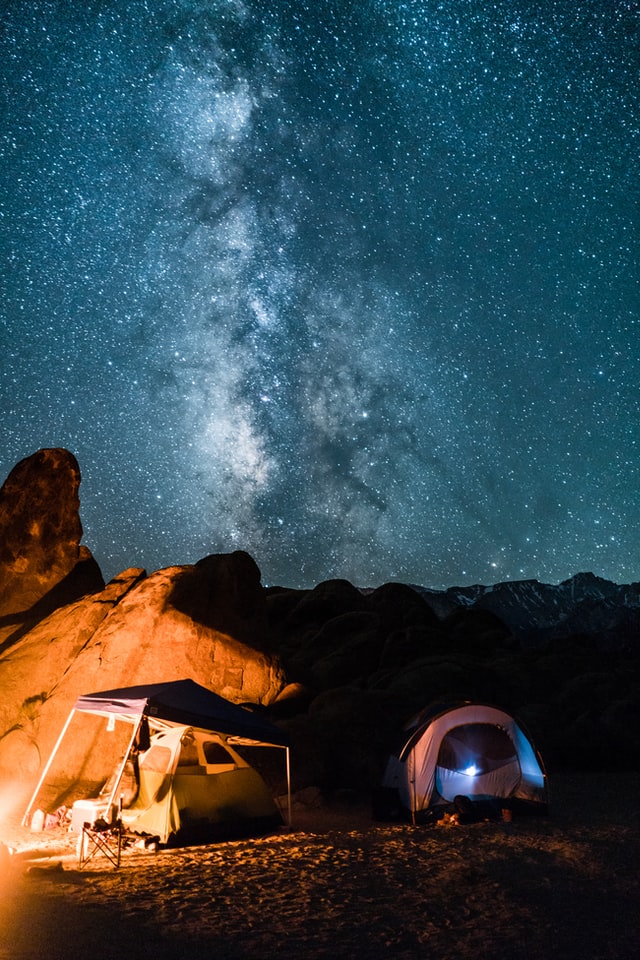 No matter what network you got, the cell reception is poor to non-existent in the Alabama Hills. Apart from the maps you collect, grab a copy of the fantastic book Arches of the Alabama Hills, an excellent guide.
Get the latest information before your enter
Speak with rangers in the Eastern Sierra Visitor Center to get the latest updates or any modifications in rules and regulations.
The opening hours, permits, and details about trails, campsites, and activities change periodically or dynamically. So make sure to visit the BLM website for the latest information and things on safety and current rules.
Get the right vehicle depending on your trip plan
The Movie Road or the main road through Alabama Hills that you will enter through is a groomed dirt road, which means it's suitable for passenger cars.
But if you want to go off-road, it is best to wear a high clearance 4WD vehicle.
Also, most of the more minor roads will require at least high clearance vehicles. Do a thorough check of the car before you camp.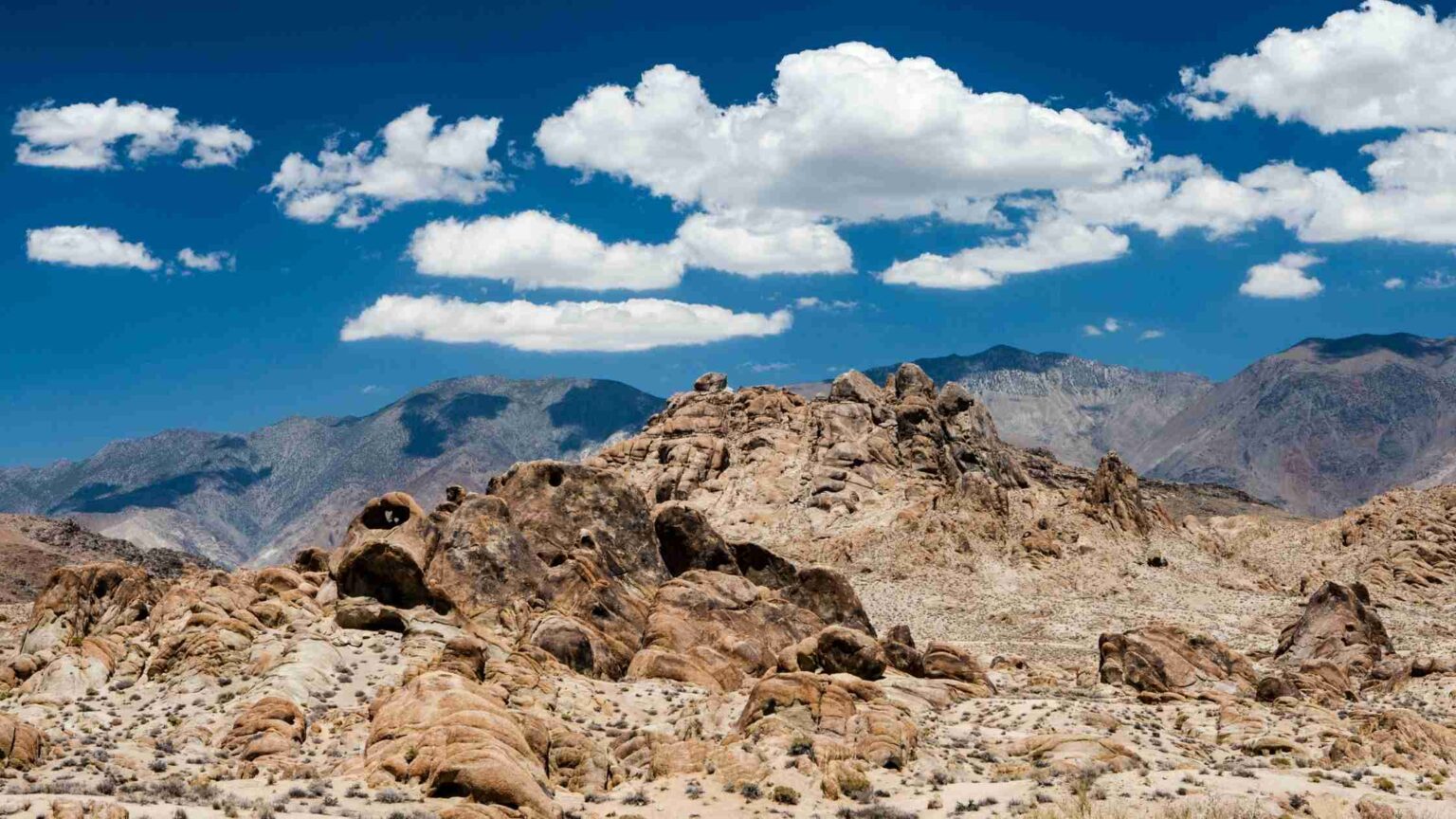 Keep the vehicle fueled
Although Alabama Hills is right next to Lone Pine, the desert state park is whopping 30,000 acres with no cell reception.
Though it goes without saying, double-check whether you have a full tank of gas before going in. You don't want to get stuck here.
Carry plenty of food and water
Although this is obvious while camping, note that this is a high deserted region, with little or access to food and water. So make sure you carry plenty of food which you need to explore around.
Have breakfast or snacks at Alabama Hills Bakery & Cafe
Alabama Hills Cafe in Lone Pine is a favorite stop for people camping at Alabama Hills and day-trippers. They open early and offer tons of excellent choices for breakfast and lunch.
Keep yourself hydrated
Thanks to the higher temperatures and lots of outdoor activities, you will need more water than usual, especially if you plan to go hiking, mountain biking, or rock climbing. Getting dehydrated can be dangerous soon.
Beware of high altitudes
Although the elevation is not very high, at around 5000 feet, this height is still considered a high altitude.
So if you are prone to altitude sickness, get your medicines. Once you get here, take things slow and acclimatize sufficiently to feel better. Drink lots of water to avoid illness.
Follow the basic camping etiquette
There are some said and unsaid rules when we go camping anywhere. One of them is leaving no trace if you go for dispersed camping in the Alabama hills.
How can you achieve these? Well, look for signs like tire tracks and fire rings to identify spots where camps were set up before. You will find many easy, especially during the peak season.
It's recommended that you use them not to touch unused reserve areas causing unknown damage to sites and preserve the terrain.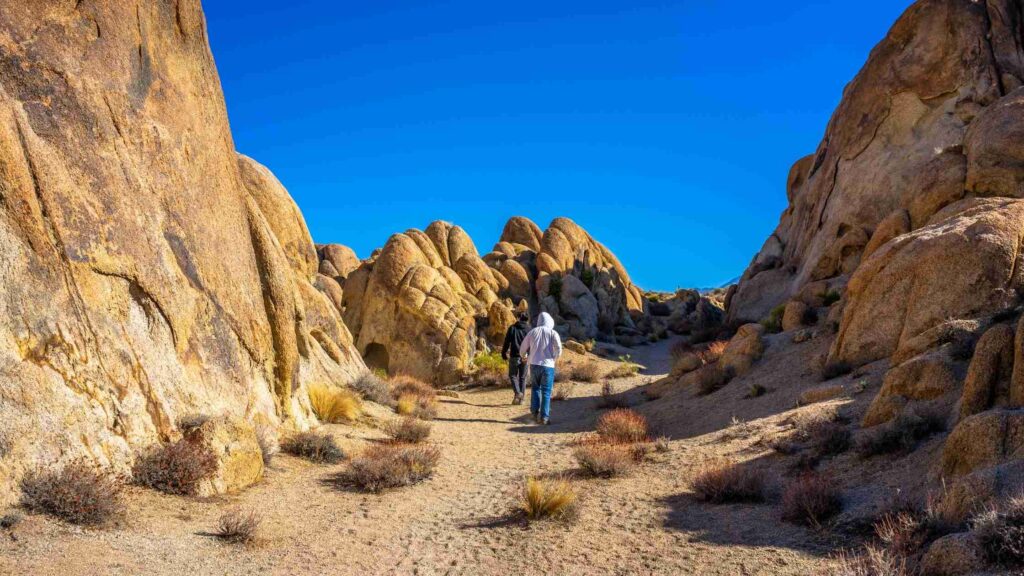 One way to promote Leave No Trace principles is to pack out all the waste and trash with you, from toilet rolls to tissues to food wraps and leftovers, leaving nothing behind.
Although it is possible to get off the beaten path while going to Alabama Hills Camping, please stick to the areas where there is at least some sort of footpaths to not interfere with the desert terrains and cause harm.
Alabama Hills Camping Experience is going to be fantastic no matter where you choose to do.
However, if you are into photography or want to do stargazing or astrogazing, pick areas on the rocks or hilltops for higher elevation and the splendid sky above.
Dress in Layers
No matter what time of the year you plan to go camping in the Alabama hills, the weather here is unpredictable.
It can get sweltering and humid despite being spring or rain during the fall. Plus, add to that the cold winds that set in as the evening progresses. Believe me. It can very rapidly begin to feel uncomfortable due to poor dressing alone.
Bring a waterproof jacket, sun-protected clothing, warm layers, and cool clothes.
Also, make sure to wear intense walking or hiking shoes, choosing them appropriately according to the outdoor activities you will try.
Get your camera
You don't have to be a professional photographer or an expert to capture all the beautiful things you will witness. Take them home by clicking some pictures, especially for the Gram.
ALABAMA HILLS CAMPING ACTIVITIES AND THINGS TO DO
During your Alabama hills camping, these are some of the popular things you can explore, something for everyone to enjoy.
Go on a drive on the Movie Road
You will enter the recreation area via Movie Flat Road in the Alabama Hills, one of the most popular spots for campers and hikers.
Thanks to Instagram, too, is a must-do activity here as one of the top photo locations.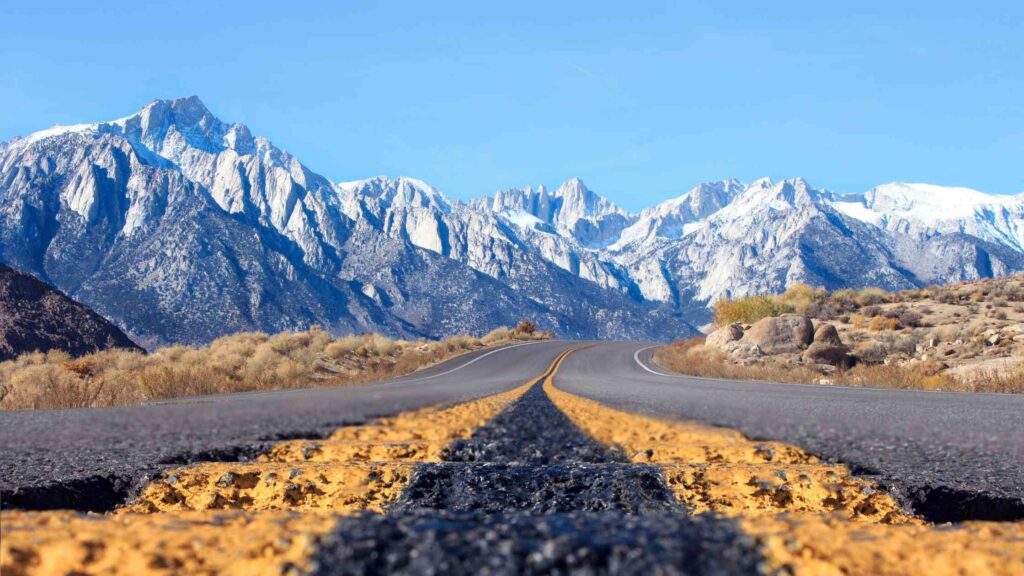 This road leads to many hiking trails, dirt roads, and bike trails as well. You can tackle some of the off-road tracks if you have a 4WD.
The post-perfect landscapes you will notice on the Movie Road boast of the splendid rugged peaks of the Alabama Hills and the Sierra Nevada.
You have to be very early to avoid other cars and have the road for photos for yourself as it is almost always with some traffic and fellow travelers.
Meet Miss Alabama
But before you get on the dirt road Movie Flat, you will be welcomed into the Alabama Hills recreation here by Miss Alabama on your right.
Miss Alabama is a face painted, and it is pretty hard to miss her because of her colors and her almost intimidating smile.
Capture the Stunning Mobius Arch
The most photographed arch in the Alabama Hills is Mobius Arch, a splendid rock formation with the gorgeous Mount Whitney and Lone Pine Peak that can be viewed under this 8 feet high arch, forming a fantastic frame.
No wonder Mobius Arch is one of the very top spots for photographers capturing the perfect shot.
On the Movie Road, head to the Mobius Arch Loop Trail, comprising a dirt parking lot and a trailhead, the Mobius Arch Loop Trail.
The trailhead is signposted, a 0.6-mile loop, with some steps and climbing, but it is a relatively easy one, and you can reach it within a few minutes.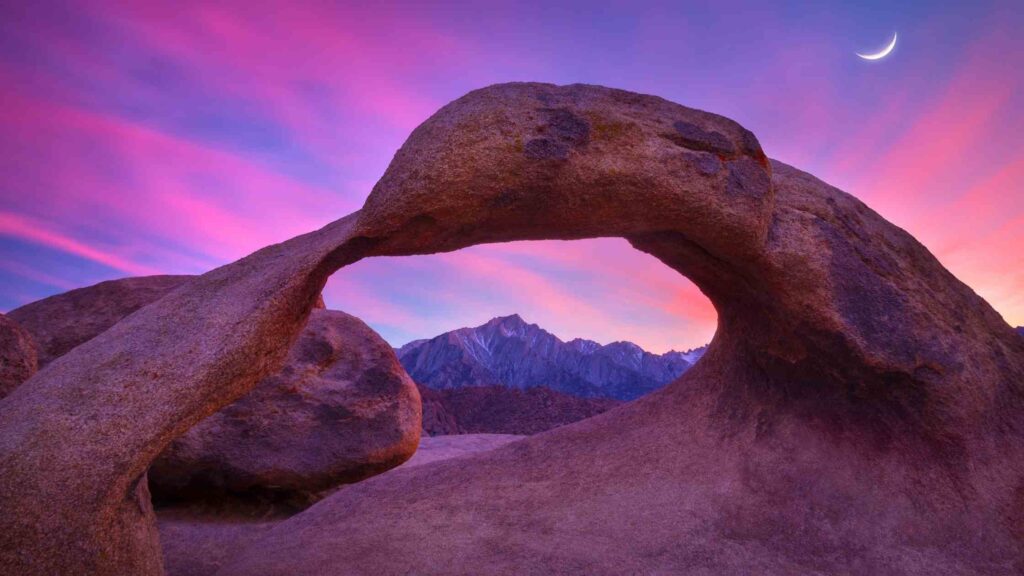 Although the views are fantastic at any time of the day, capturing the views during sunrise and sunset is surreal. Both times are very popular among serious photographers.
Even if you don't want to use the camera, arrive at these times to enjoy the golden and orange glows in the sky kissing the mountains.
Go Arch Hunting
While Mobius Arch is the most famous of the arches in the Alabama Hills, many other named arches, rocks, and other natural features you can explore while camping in the Alabama Hills.
These surreal rock formations have grown to become popular Instagram spots in the hills, so get your Insta-worthy shots as well.
Eye of the Alabama Hills Arch – From the Movie Flat Road, you can access the Eye of the Alabama Hills Arch if you hike for a while. Y
ou can drive to the arch as well, and there are places to park your vehicle to stop by. You can witness stunning views of the rocky landscape through this arch, because which it got its name.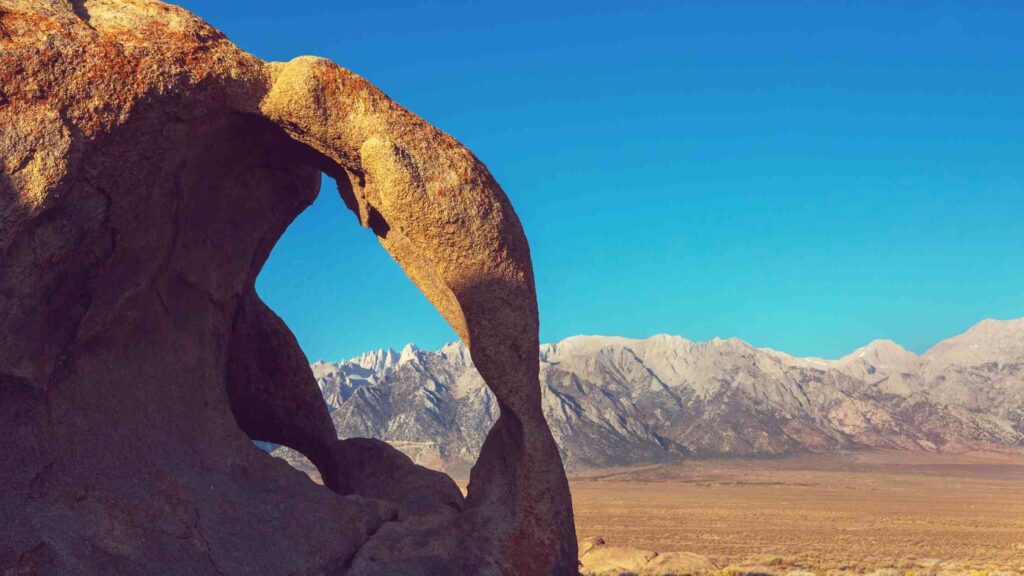 Boot Arch – After seeing the Eye of the Alabama Hills, if you keep driving on Movie Road, after a short bend to the left, you can spot another cool-looking Boot Arch on your right.
Also known as the High Heel Arch, it gets the name due to its resemblance to a lady's boot.
Lathe Arch – Located along the Mobius Arch Loop Trail and close to Mobius Arch is Lathe Arch, a small formation almost touching the ground, from where you can get views of the Sierra Nevada from other angles.
Heart Arch – Another easy-to-locate arch that's visible from the parking area of the Mobius Arch Loop Trail is Heart Arch. There is a trail for hiking to get views of the Heart Arch up close.
Explore all the movie locations in Alabama Hills
Another popular experience to enjoy while camping in the Alabama Hills is touring around to spot all the filming locations for TV shows and Hollywood movies.
With over 400 movies that were filmed here, you can easily occupy yourself for a few hours at least in quest of these locations, whether from the older classic film in the 1930s or the Sci-Fi era close to the 90s. For movie buffs, it is going back to feel the film more closely once again.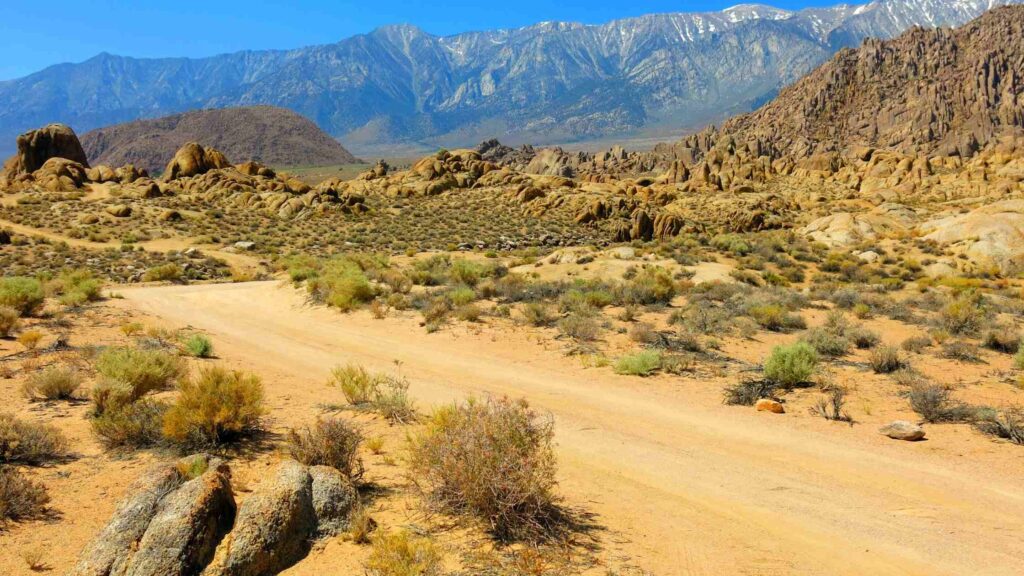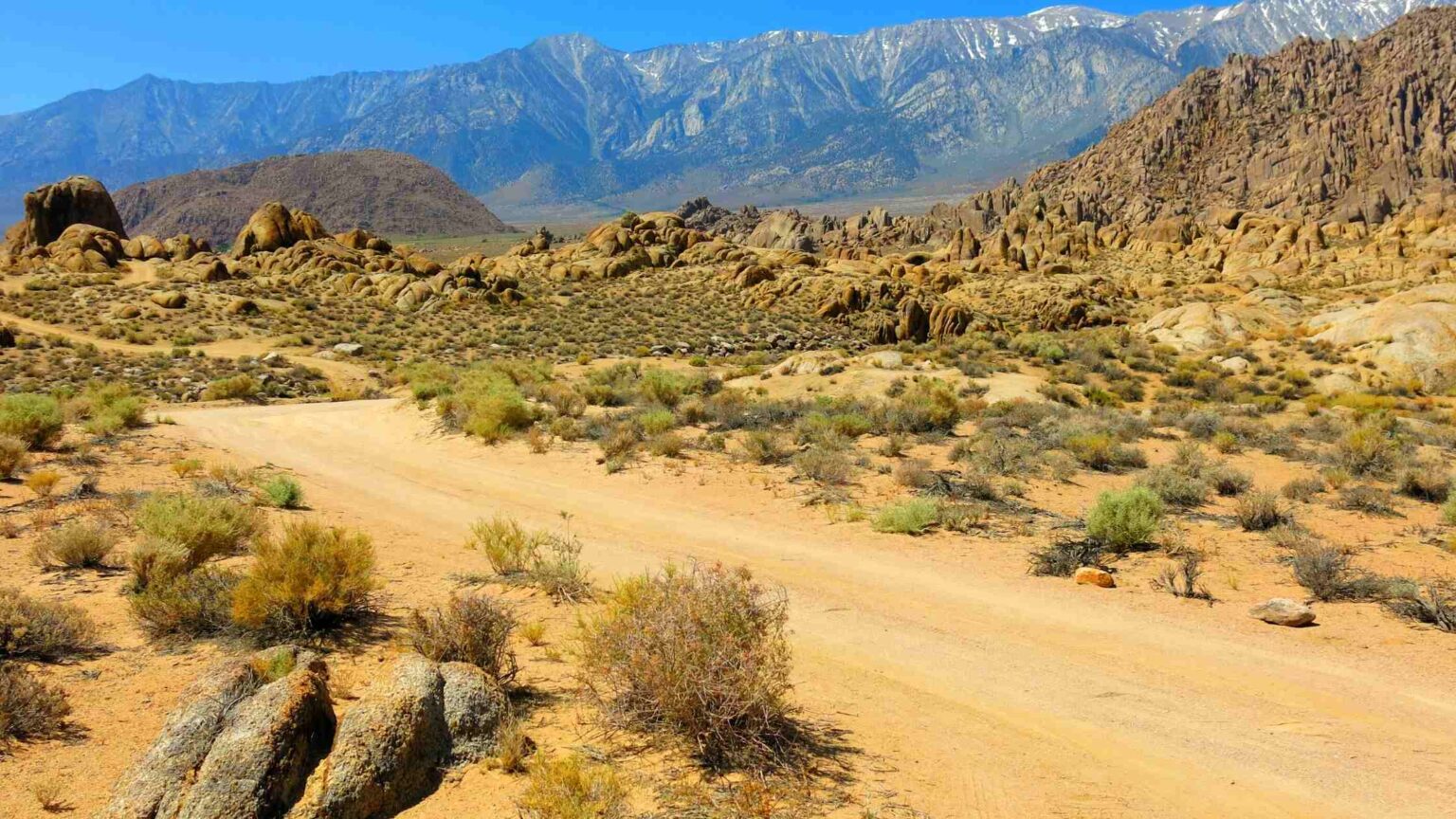 To know more about the local history and details of movies shot here, you can stop by the Museum of Western Film History in Lone Pine on your way into the Alabama Hills.
You can check out the well-maintained artefacts including cars, costumes, movie posters, and other memorabilia.
Here you can also get a map with details to locate some popular locations that will come in handy to identify the spots.
Do Rock Climbing in Alabama Hills
While hiking and camping at Alabama Hills are well-known, not many know that thousands of boulders are perfect for climbing.
If you want to take an adventure to the next level, you can sign up for rock climbing at Arizona Dome, Alabama Dome, Western Wall, Hoodgie Wall, and Gabriel Cliff, some of the famous rock formations for climbing.
Do Stargazing at Night
The Alabama Hills are one of the fascinating places in the Eastern Sierra for night sky observation. Thanks to zero pollution, the clear skies dazzle at night with millions of stars.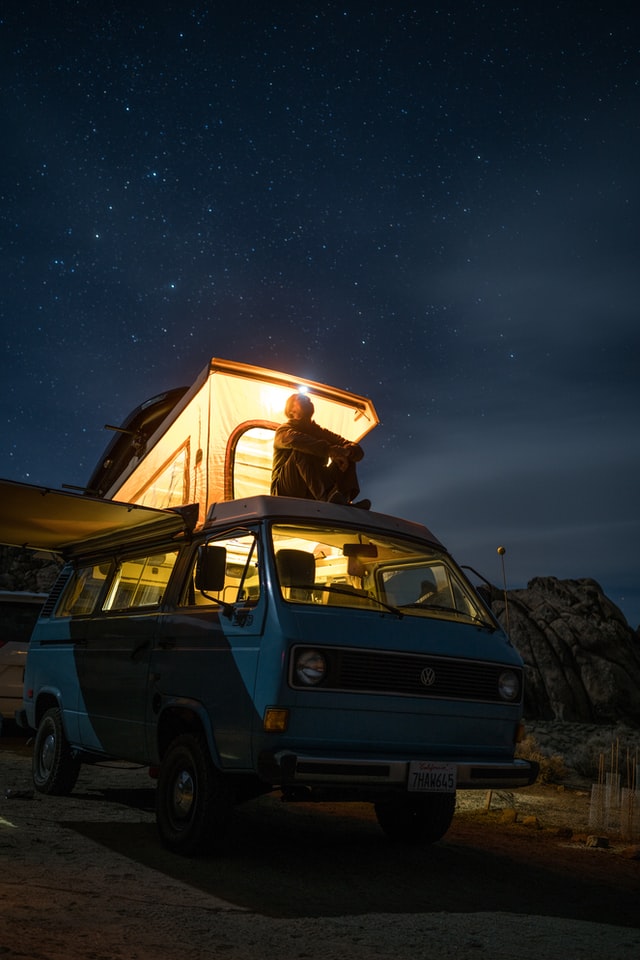 You can even watch the Milk Way galaxy and constellations if you are here during the shoulder seasons around fall.
Mountain Biking
Mountain Biking is another activity you can plan while camping in Alabama hills. There are many smaller trails that you can navigate around the mountains.
One of the main trails is the 17 miles Alabama Hills trail Loop. Do not stray off the established paths while biking, as the unknown territories can be dangerous.
Try the Different Hikes
Many hiking trails and loops are available if you want to explore the wilderness apart from the arches and top attraction points.
You can find the details of the paths in the maps as all the famous trails are well-established.
Carry a day pack and other essentials before you head out. Spring and fall are excellent periods for being amidst vibrant landscapes on hikes.
Go Off-Roading on the trails
Alabama Hills is a famous destination for ATVs, quad bikes, and other off-road vehicles.
Although many of these off-road trails are unmarked, it is easier to locate them. A 4WD would be ideal for this adventure.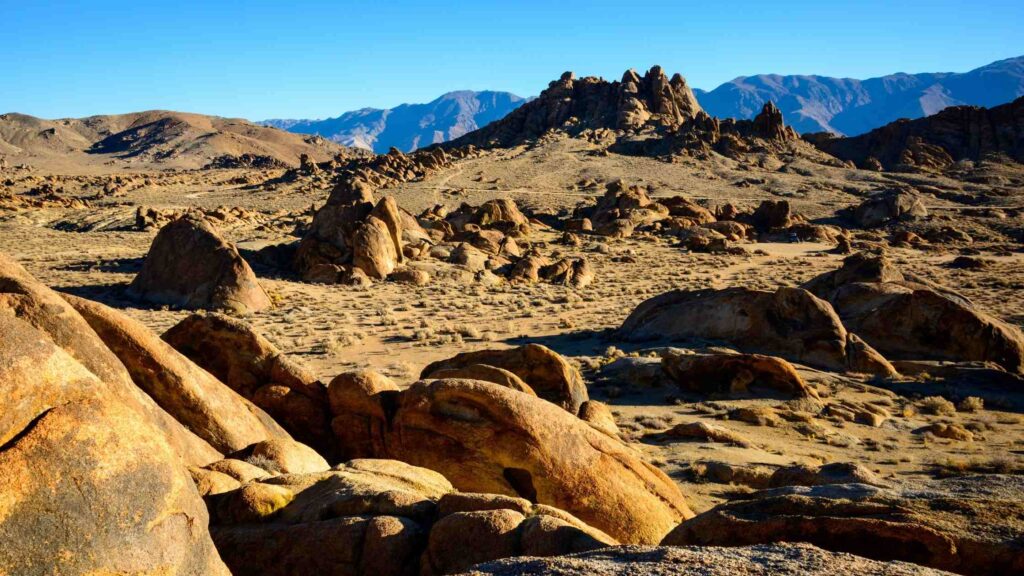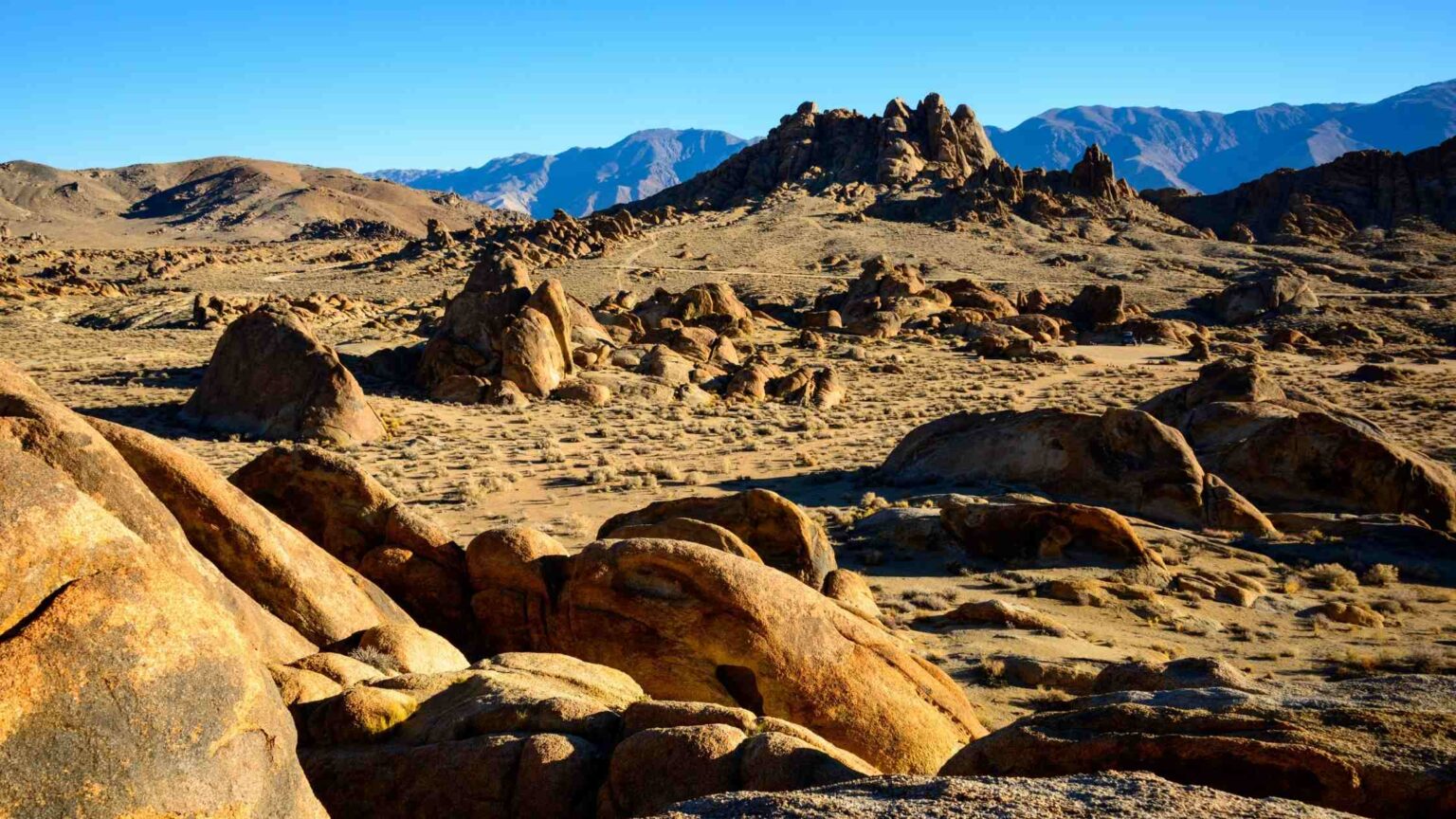 Several miles of these dirt roads take you through the boulders and across the horizon, offering incredible views of the valleys, geological formations, and mountain peaks that you may not otherwise get to witness.
But make sure that you do not damage the preserved areas by straying off into the deeper wild.
Capture the Beauty of the Valleys on Your Lens
If you are a landscape photographer, you can spend weeks capturing the magnificence of the valleys in the Alabama Hills Recreational Area.
It is one of the best places to try videography or drone photography.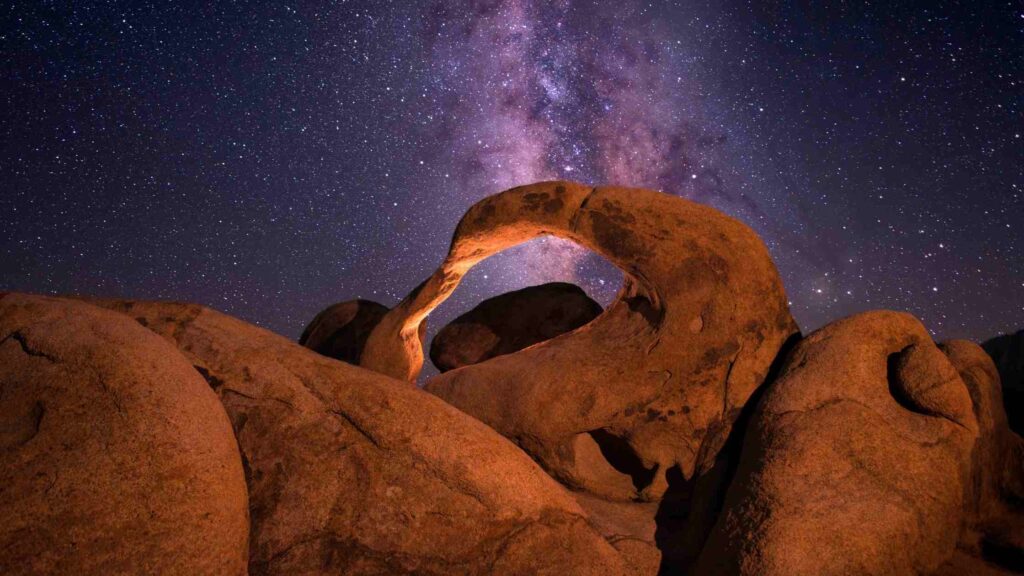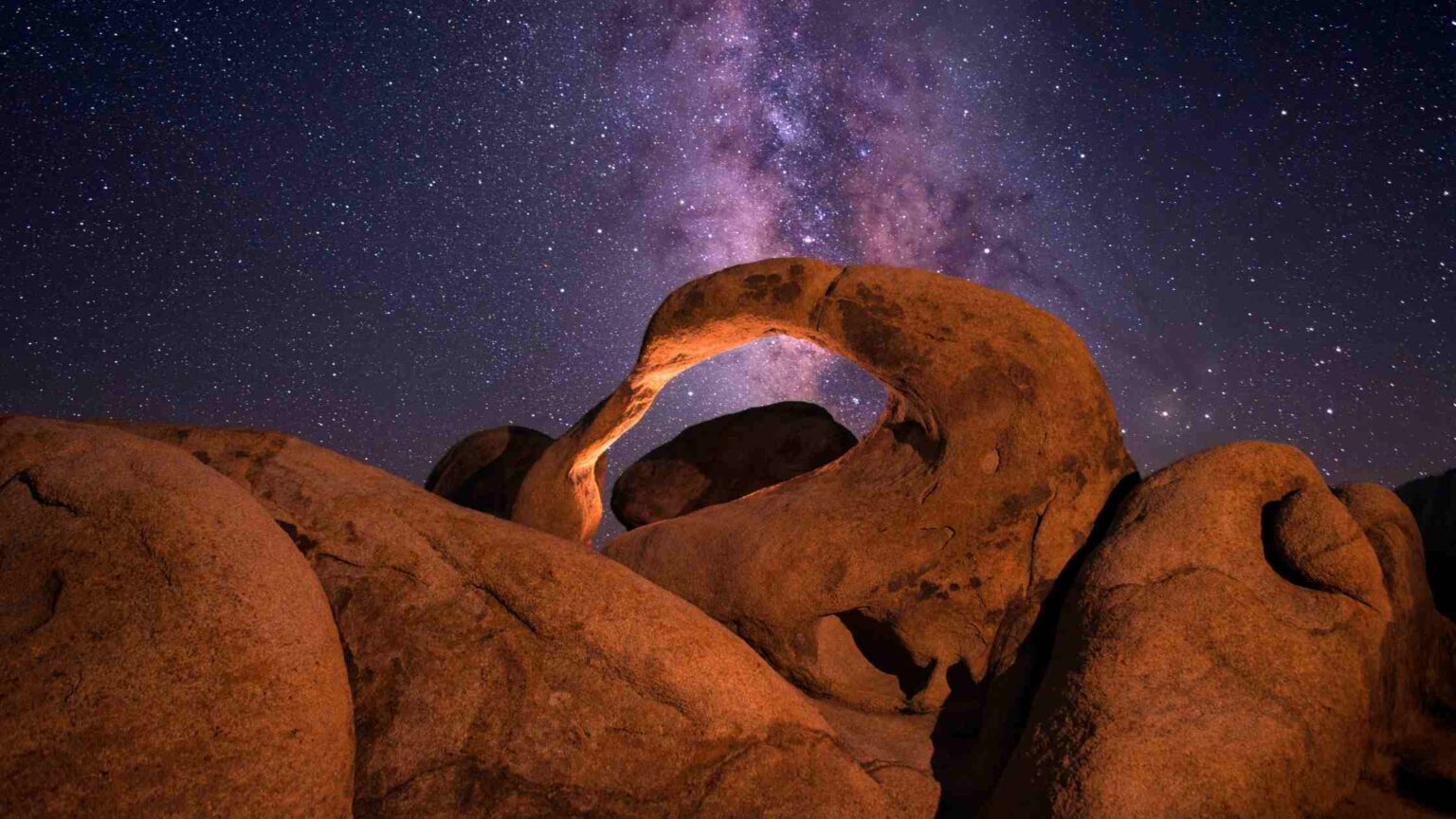 Capture the Alpenglow, a reddish tint on the mountains when the sun is still below the horizon just before sunrise, one of the unique spectacles and a treasure for photographers.
You have tons of photo opportunities at night, whether it is the stars or loads of angles from the arches. Even if you don't shoot landscape, you can also capture your portraits for Instagram.
BEST TIME FOR ALABAMA HILLS CAMPING
Since Alabama Hills is located in a dry, desert area, the summer is intolerably scorching, with temperatures spiking up to almost 100 degrees.
Also, since the landscape here is stripped of any vegetation, you have almost nothing to take shelter to escape the sun apart from running back to your camps or resting in the car for short periods.
Thanks to California summer heatwaves, it is best to skip Alabama Hills Camping in the summer.
The weather at Alabama Hills gets chilly in the winter, and the nights can get significantly very colder along with the increased winds.
If you can come prepared with layers, and blankets and don't mind the cold weather, it is possible to enjoy Alabama Hills camping in the winter.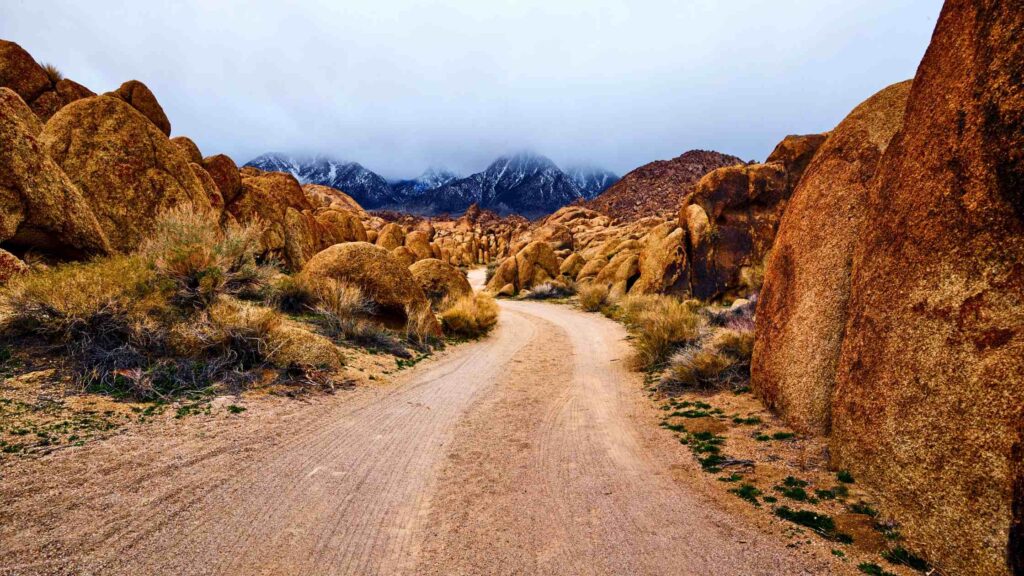 Weather-wise, the spring and the fall are the best times for camping in the Alabama hills, the two seasons where the temperature and the landscapes are bearable to be outdoors for more extended periods of hiking.
You will witness the spectacular blooms around the park as the wildflowers transform the arid panorama into a lively, vibrant vista for short periods.
IMO, no matter what time of the year you plan Alabama Hills Camping, you will be greeted with different kinds of beautiful things each season.
HOW TO REACH ALABAMA HILLS
The Alabama Hills are located west of the town of Lone Pine in the Owens Valley. If you arrive at Lone Pine, you can reach the Alabama hills within 20 minutes.
Alabama Hills from Los Angeles
From Los Angeles, most people plan to camp at Alabama Hills on the 395 highway road trip. You have to get on US 395 North to reach Lone Pine.
Once you reach the town, get on Whitney Portal Road, looking for the signboard Alabama Hills Recreation Area, which is the Movie Road. Follow the same route if you arrive from Palm Springs as well.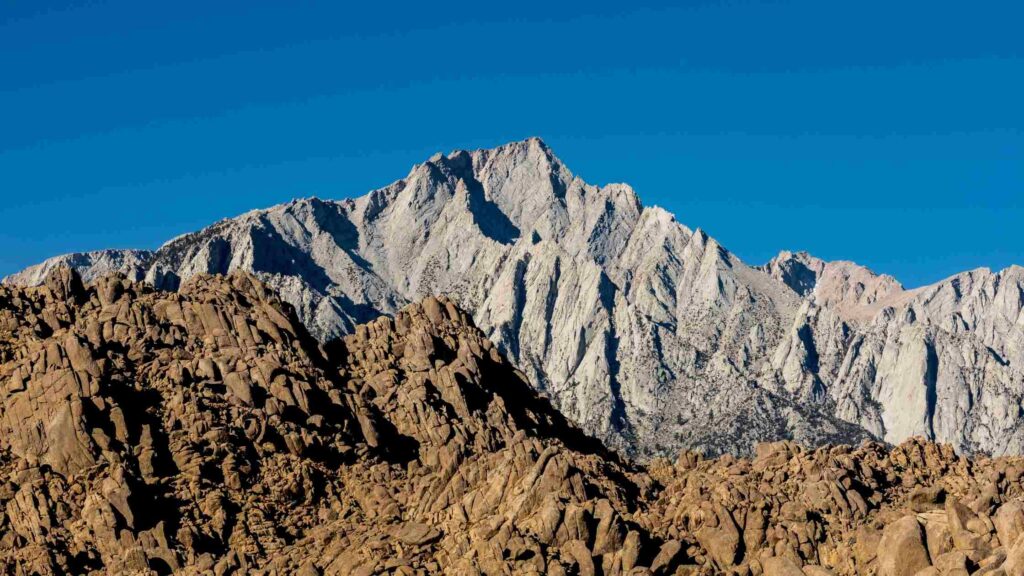 Alabama Hills From Mammoth Lakes
If you come from Mammoth Lakes, you have to get on the US 395 South to Lone Pine Town. From there, head on Whitney Portal Road to the Alabama Hills Recreation Area.
Alabama Hills from Las Vegas
For those arriving from Las Vegas, continue on US 95 North, and then take NV 374 South to CA 190 West. You arrive in Death Valley where you have to continue to arrive at CA 136 West.
Then, turn right onto US 395 North for Lone Pine, followed by getting on Whitney Portal Road from where you can look for the sign to the hills.
WHAT TO PACK FOR CAMPING ALABAMA HILLS
Here is your packing list for camping in the Alabama Hills:
CLOTHING
Although the temperatures can be really high making you feel hot and sweaty, they drop to great degrees at night.
As with camping anywhere, you need to be prepared for the unpredictability by going with many layers. Here's what you need:
CAMPING ESSENTIALS
Here are some of the camping essentials you need:
Camping essentials for preparing food:
The best one I'd recommend is this Outdoor Master Cook Portable Folding Camp Kitchen along with this Light Weight Cook Ware and Backpacking Gas Stove Burner.
OTHER ESSENTIALS
Even if you aren't into photography, you may want to bring a camera with a good lens. I own a Panasonic LUMIX DC-ZS70S that I carry while camping since I prefer lightweight gear instead of my Nikon D850 which I use regularly.
WHERE TO STAY WHILE CAMPING ALABAMA HILLS
Instead of camping, if you would rather stay in a hotel or Airbnb or you feel the need for comfort on your way back, Lone Pine is the nearest town for a comfortable stay, with many vacation rentals, cabins, and cottages available.
Here are the best picks of Cottages, Cabins, and hotels in Lone Pine CA – Quality Inn Lone Pine near Mount Whitney; Cozy Muir Cottage; Mt Williamson Motel and Basecamp
So that's a wrap for the complete Alabama Hills Camping Guide. Do let us know your experiences in the comments below.
Please note: This post contains affiliate links, meaning I may earn a commission if you make a purchase by clicking a link (at no extra cost to you). Learn more.
PIN CAMPING ALABAMA HILLS GUIDE FOR LATER