Are you planning for Italy solo travel? Whether you are looking for a cute beach town or visiting one of the prettiest coastal villages, you are in the right place.
From famous cities to quiet fishing villages and hiking in the mountains, I have covered the best places to travel alone in Italy in this post.
Fellow travel bloggers recommend their favourites in this series of the best destinations for Italy solo travel, whether you are just starting solo travel or a seasoned solo traveler.
Italy is one of the safe destinations for traveling alone, and if you are looking for some of the safest places for solo travel in Italy, you will find that almost all of them are perfect for exploring alone.
Check out this list of the best destinations for traveling solo in Italy immediately!
If you are in a hurry, check out these top tours for your Italy Solo Travel:
Mount Etna: Guided Volcano Summit Hiking Tour with Cable Car
From Rome: Pompeii, Amalfi Coast and Positano Day Trip
From Matera: Sassi di Matera Tour with Entry to Cave Houses
Rome: Entire Vatican Tour & St. Peter's Dome Climb
Rome: Vatican Museums, Sistine Chapel, and Basilica Tour
1-Hour Hot Air Balloon Flight Over Tuscany from Lucca
From Florence: Seaside Beauty Day Trip to Cinque Terre
LOOKING FOR MORE SOLO TRAVEL INSPIRATION? CHECK THESE SOLO TRAVEL GUIDES?
BEST DESTINATIONS FOR ITALY SOLO TRAVEL
CATANIA
Catania is a beautiful city located on the east coast of Sicily and is perfect for solo travelers looking for a mix of history, culture, and adventure.
The Piazza del Duomo is a must-see attraction, surrounded by stunning buildings, including the Cathedral of Saint Agatha, the Palazzo degli Elefanti, and the fountain with the same name.
The square also features a bustling market with local produce and crafts infiltrating one of the small lateral streets.
Castello Ursino, a medieval castle built in the 13th century, is now a museum showcasing the city's history and surrounding area.
For adventure seekers, Mount Etna, one of the most active volcanoes in the world, offers guided tours to the summit with breathtaking views.
Catania is a foodie's paradise, famous for its street food, including arancini, cannoli, and granita.
Recommended – 30 Most Beautiful Cities In Italy For Your Bucket List
You can find delicious food everywhere in the city, from small street vendors to upscale restaurants.
Traveling to Catania alone allows you to explore the city at your own pace, stroll through the city's narrow streets, discover hidden gems, and soak up the local culture.
For solo travelers in Catania, it is essential to be cautious when walking alone at night in secluded areas, while the city centre is pretty safe.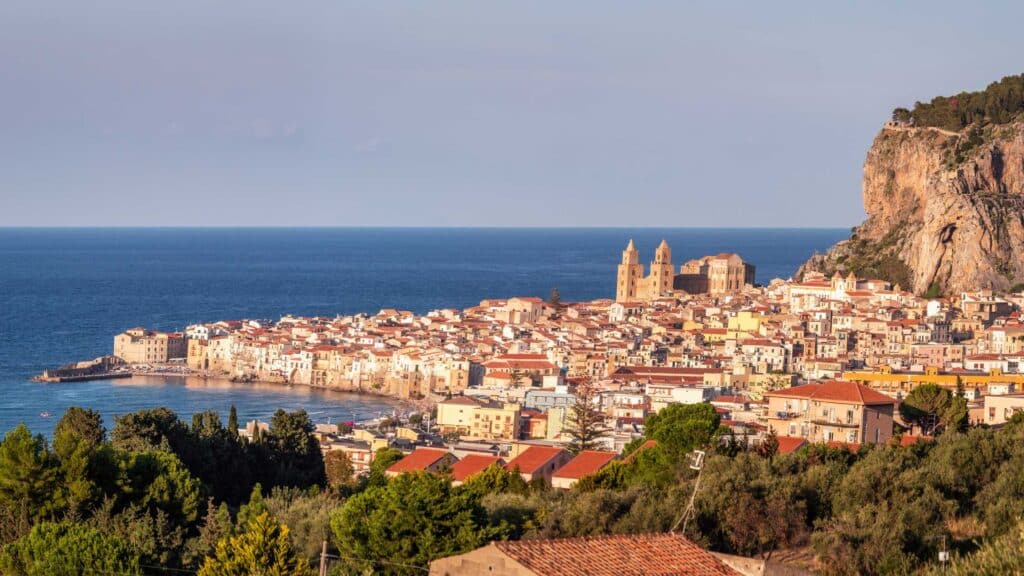 The public transportation system is efficient and affordable, the town is linked to the rest of the country by its airport, and learning basic Italian phrases can make communicating with locals easier.
Overall, Catania is an excellent destination for solo travelers offering stunning architecture, delicious food, and beautiful landscapes to explore alone.
By Odo, Caribe Vibes
NAPLES
Naples is an incredible city on Italy's beautiful Mediterranean coast. Naples has everything from mouthwatering cuisine to a wealth of historic sites which has earned it a UNESCO World Heritage Site designation.
Not only is Naples one of the most beautiful cities for Italy solo travel, it is also easy to explore alone since so many of its top attractions are in a compact area.
You can easily walk around its historic centre and admire the incredible architecture.
Visit the Piazza del Plebiscito and see the amazing buildings bordering the Piazza, the Royal Palace of Naples and the stunning San Francesco di Paola Basilica.
If you're a history buff, you'll want to visit the Naples National Archaeological Museum, filled with ancient Roman and Greek artefacts and a prominent Egyptian collection.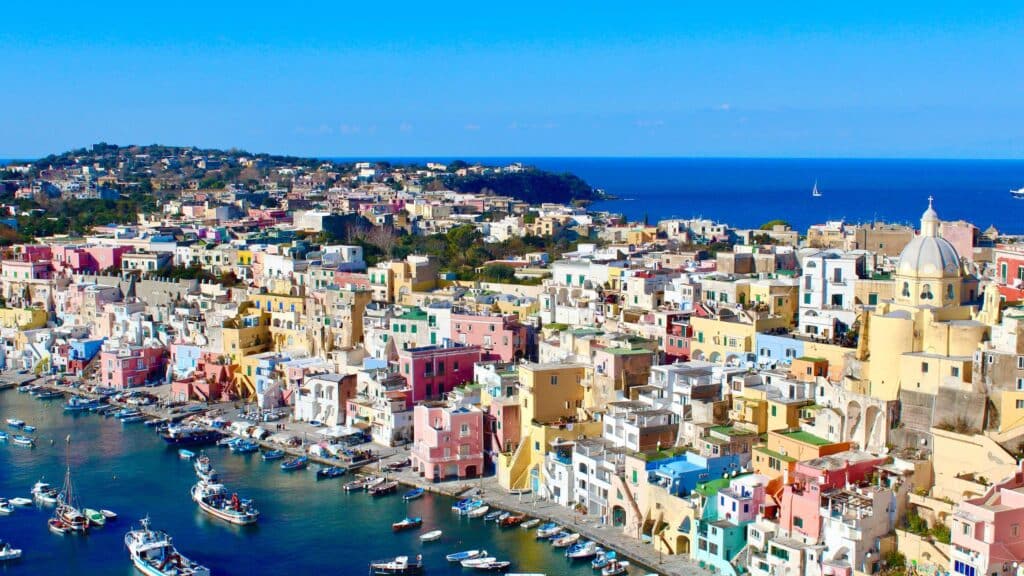 Be sure to explore some of Naples' historic fortresses. The seaside Castel dell'Ovo or the hilltop Castel Sant'Elmo has breathtaking panoramic views of Naples and the sea – and even Mount Vesuvius.
If you're traveling solo, one of the best things to do in Naples is to take a food tour.
Recommended – 35 Stunning Hidden Gems In Italy You Should Visit
This is a great way to combine sightseeing while sampling some of the most delicious local cuisines – and you have a built-in group to share in the fun!
Most visitors arrive via the Naples International Airport, which is just a few miles from the historic heart of the city.
Naples is also easy to reach by train, so you could even visit Naples on a day trip from Rome by train.
By Lisa Garrett, Waves and Cobblestones
MATERA
Incredible Matera is one of the most spectacular cities in Italy.
If you are traveling solo, Matera is among the best destinations for Italy solo travel. There are so many fun things to do in Matera for solo travelers.
The Old City of Matera is a top unique destination in Italy. There is no other place in Italy like Matera. For the same reason, filmmakers love Matera.
If you have watched Passion of Jesus Christ by Mel Gibson and James Bond's No Time to Die, you will recognize the sites and landscapes of Matera.
Both movies were filmed in Matera. Filmmakers love Matera. You will love it too! The entire Old City of Matera is carved into rocks and out of stones.
Matera has hundreds of cave churches, cave homes, and stone-cut buildings (stone monasteries, stone palaces, and stone houses).
If you are a solo traveler, you will enjoy sleeping in a cave hotel, strolling ancient stone streets, touring rock churches, and zipping Aperol spritz in a rock-cut cafe bar.
Breathtaking Matera is near the city of Bari in southern Italy. It takes one hour from Bari Airport to Matera by car.
Book your plane ticket to Bari, rent a car at the airport, and head to Matera on a Puglia road trip. Visit charming Alberobello and gorgeous Ostuni on your way to Matera.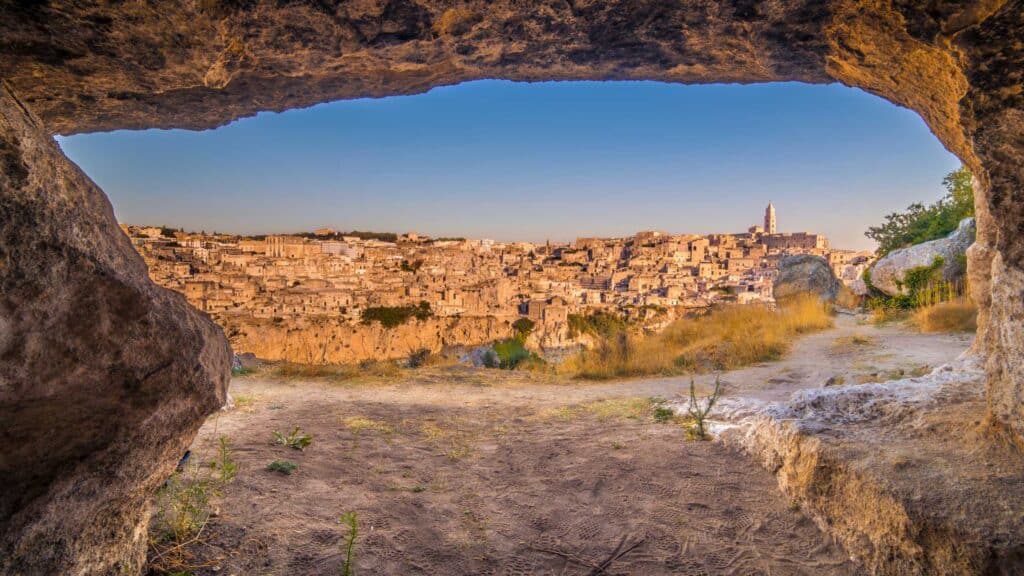 Book your stay in a cave hotel in Matera. Visit the iconic rock churches of Santa Maria de Idris church, Santa Lucia alle Malve church, and San Pietro Barisano church, and hike the trails of Parco della Murgia in Matera.
Trust me, your trip to Matera will be one of the most memorable trips in Italy!
By Milijana, World Travel Connector
VATICAN CITY
When visiting Italy alone, a day trip to Vatican City is an experience that should not be missed.
As the spiritual heart of the Catholic world and a treasure trove of art and history, the Vatican offers solo travellers the chance to immerse themselves in its rich cultural tapestry while making unforgettable memories.
Recommended – 75 Facts About Rome That Will Completely Surprise You
You can begin your journey at the awe-inspiring St. Peter's Basilica, standing tall as the largest church in the world, and admire the stunning architecture and intricate mosaics.
And if you're up for a challenge, you can climb the 551 steps to the top of the dome for a breathtaking view of Rome.
Quick Tip: Don't forget to get there early to avoid long queues, and consider hiring a guide to help uncover the basilica's fascinating history.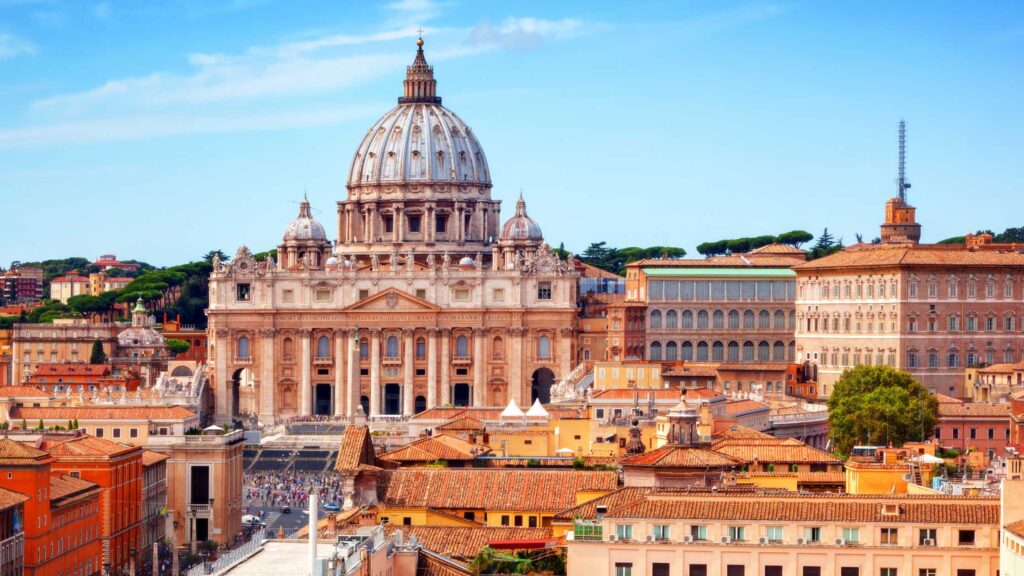 Next, you can explore the vast collections at the Vatican Museums showcasing over 70,000 works spanning millennia.
From ancient sculptures to contemporary paintings, there's something for every art lover here.
And of course, no visit to the Vatican would be complete without stepping into the iconic Sistine Chapel, where you can stand in awe beneath Michelangelo's magnificent frescoes, including the famed Creation of Adam and The Last Judgment, and let yourself be transported through time by these powerful images.
Quick Tip: Pre-booking your tickets to Vatican Museums is essential (especially in the summer months), and opting for a guided tour will enrich your understanding of the masterpieces on display.
After soaking in the wonders of the Vatican, you may want to refuel at a local restaurant or café.
For an authentic Italian experience, try Pizzarium Bonci or Il Sorpasso, both offering mouth-watering dishes made from fresh, local ingredients.
Don't forget to capture your culinary exploits and memories with photos in front of St. Peter's Square or the Vatican Gardens.
As your day trip ends, you can take a leisurely stroll through Rome's narrow lanes, where you can discover charming local shops and experience the true essence of Italian culture – ideally with a gelato in hand.
With its rich history, artistic treasures, and unique sights (such as Swiss guards), a day trip to the Vatican will surely provide you with an unforgettable solo adventure in the heart of Italy.
By Goya Galeotta
LUCCA
The medieval walled town of Lucca in Tuscany is one of the loveliest places to see in Italy.
While the world-famous cities and villages attract coachloads of day-trippers, Lucca remains relatively unknown, and one of the best places for Italy solo travel if you want to experience a slice of the country without much crowds.
A peaceful small town with a beautiful ambience encircled by perfectly conserved stone walls, it's a great place to explore on your own.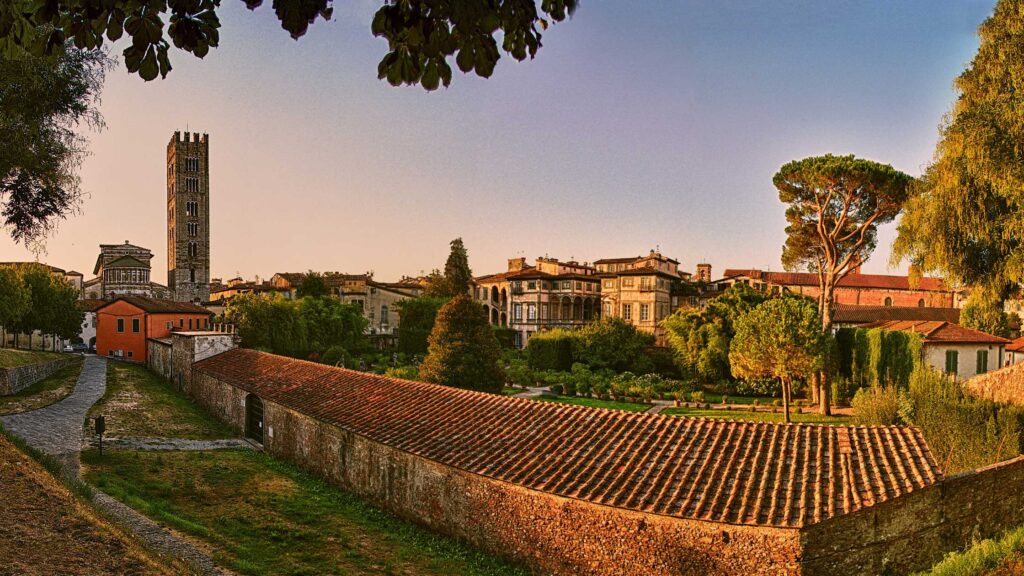 These medieval walls make Lucca entirely unique as a wide boulevard runs along the top, making it the perfect spot for a stroll or cycle ride.
From here, there are panoramic views of the countryside, as well as vistas over Lucca's remarkable historical heart.
Lucca is easy to walk around, the network of ancient alleyways opening onto historic town squares lined with street cafés and cute little restaurants.
Known as the 'city of 100 churches', St Martin's Cathedral, the Church of Saint Reparata and Saint Giovanni Baptistery, San Michele in Foro, and the Basilica of San Frediano are the must-see holy temples.
Other attractions include the Renaissance palaces and towers.
Climb up Guinigi Tower (with an oak garden on top), or Torre delle Ore clock tower, for more stunning views.
Besides this, it's fun to browse the quaint shops or just relax in one of the gardens.
While you can visit Lucca any time of year, it's beautiful when the spring flower festivals are on.
The holy Easter processions, and the candle-lit Luminaria di Santa Croce on September 13 are particularly atmospheric, although it will be crowded.
In summer, it's nice to rent a room in a villa (somewhere just outside town with a pool), and you can hire a bicycle to explore.
The seaside resort of Viareggio is only 20 minutes away by train. In winter, the weather will be more relaxed but you'll have Lucca to yourself with the locals!
Pisa or Florence are the nearest airports, and it's simple to get to Lucca by train from these cities.
By Kali Marco, Kali Travel
ROME
One of the best places to go in Italy alone is Rome! This city is accustomed to all types of travellers with every interest and budget imaginable.
Since it's such a well-worn destination with millions of visitors annually, Rome is the perfect place for solo travellers.
With endless things to see, do, and eat, the Eternal City is easy to navigate, safe to travel, and offers a bounty of cultural, historical, and downright awe-inspiring experiences.
Plus, there's never a chance of feeling isolated in such a vibrant, bustling city.
Solo visitors can walk around Rome and stop at historic sites, museums, and scenic lookout points.
Plus, solo travellers won't have to feel isolated when group tours are offered at every corner for famous places like the Colosseum, Vatican, and Roman Forum.
However, there are also many incredible free things to do in Rome if budget is a factor.
Whether it's seeking some peace and tranquillity at the Borghese Gardens, enjoying a morning coffee at any number of piazzas, or soaking in some amazing panoramic views of Rome, a solo traveller will relish the idea of exploring this ancient city on their own agenda.
While dining alone in Rome may seem intimidating in a culture that embraces large gatherings, solo travellers can join any number of food tours, meals (and drinks!) to go, or simply enjoy the solitude of sitting at a cosy restaurant enjoying some of the best food in the world.
By Sarah Camp, In Search of Sarah
LAKE COMO
Nestled in Italy's Lombardy region lies scenic Lake Como – a perfect blend of natural beauty, Italian hospitality and historic charm.
When most travelers picture Como, they think of 5-star hotels, luxurious boat cruises and George Clooney's world-famous Italian villa.
However, there's another side to Lake Como that caters to backpackers, budget travelers and adventure-seekers of all ages, also making it one of the best Italy solo travel destinations.
Getting to Lake Como could not be easier. Simply fly into one of Milan's three international airports and go to the Milano Centrale train station.
From there, grab a ticket and hop on a quick train to Como San Giovanni.
If you're visiting Lake Como as a solo traveler, I highly recommend staying in the region's best hostel – Hostel La Primula.
It's clean, affordable and flush with woodsy, lakeside charm. You might even meet a hiking buddy…or two!
When it comes to exploring, you'll want to cross Lake Como's three main towns off your list: Menaggio, Bellagio and Varenna.
Each town boasts delicious seafood, scrumptious Italian wine and gorgeous lake views.
Don't leave Bellagio without strolling down the famous "Aperitivi Wine Bar" street (pictured below) and visiting the historic Pescallo fishing village.
You won't want to miss the stunning views from Castello di Vezio in Varenna – and bonus points if you follow them up with an ice-cold Aperol Spritz and stuffed squid from Osteria Quatro Pass.
Strap on your hiking shoes for the San Martino hike in Menaggio and, if you have time, take the bus to Villa Balbianello – one of Lake Como's most stunning villas and a Star Wars filming location.
Be sure to pack your tripod! You won't resist taking hundreds of pictures in stunning Lake Como.
By Madison Krigbaum, Madisons Foot Steps
BOLOGNA
Bologna is a perfect destination for Italy solo travel, and there are plenty of unique things to do especially for foodies.
Long known as the "Culinary Capital of Italy", the world-famous food draws visitors to the city year-round.
Located equidistant between Venice and Florence, the train is just an hour from each city, and the shuttle will get you from the Bologna airport to the Centro Storico in just 7 minutes.
The historic district of Bologna has much to see and do.
With 25 miles of amazing porticoes (a UNESCO World Heritage site) throughout the historic area, strolling day or night at any time of year will keep you out of nasty weather.
They are also softly lit and lined with shops and cafes making them safe when walking alone
Piazza Maggiore is a great place to start. Surrounded by shops, cafes, and historic sites, the piazza is the central gathering place for locals and visitors.
Located here are the library with Roman ruins visible beneath the see-through floor, and the Asinelli Tower gives an incredible view of the city from its top floor.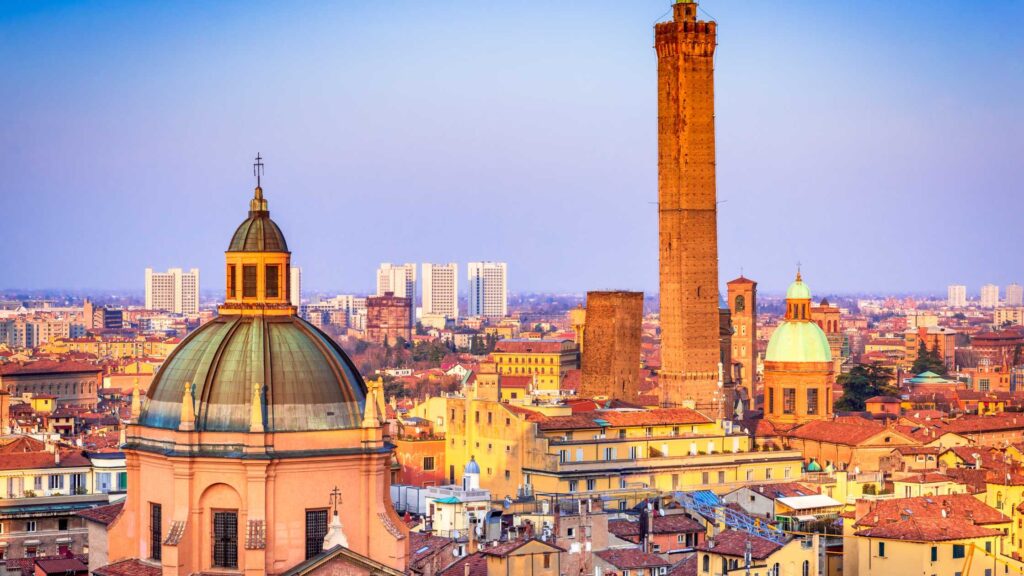 For anyone visiting Bologna, the medieval Quadrilatero is a must.
This is the oldest market in the city and retains a feeling of stepping back in time. Here you can enjoy any of the foods that Bologna is famous for.
On one of the narrow lanes in the market is the Osteria del Sole which dates to the 15th century and is a great place to chat with locals over lunch and a glass of wine.
By Lori from Italy Foodies
MILAN
An excellent place for Italy solo travel is the beautiful city of Milan.
Known as the fashion capital of the world, Milan has so much more to offer than just that.
Between the historical sites, good eats, and perfect placement to visit other nearby places, Milan is a must-visit destination in Italy.
A perk about traveling alone in Milan is that you can cater your plans to your personal interests. For example, if shopping is your thing, there's plenty of that to do.
If it's not, there are plenty of other things to do instead. Start by visiting the Duomo di Milano. The Duomo di Milano is arguably the most iconic building in Milan.
Construction began in 1386 and wasn't fully completed until 1965. Make sure to visit the rooftop as the views and photo ops from there are fabulous.
Whether you're a fan of shopping or not, a visit to Galleria Vittorio Emanuele II is a must.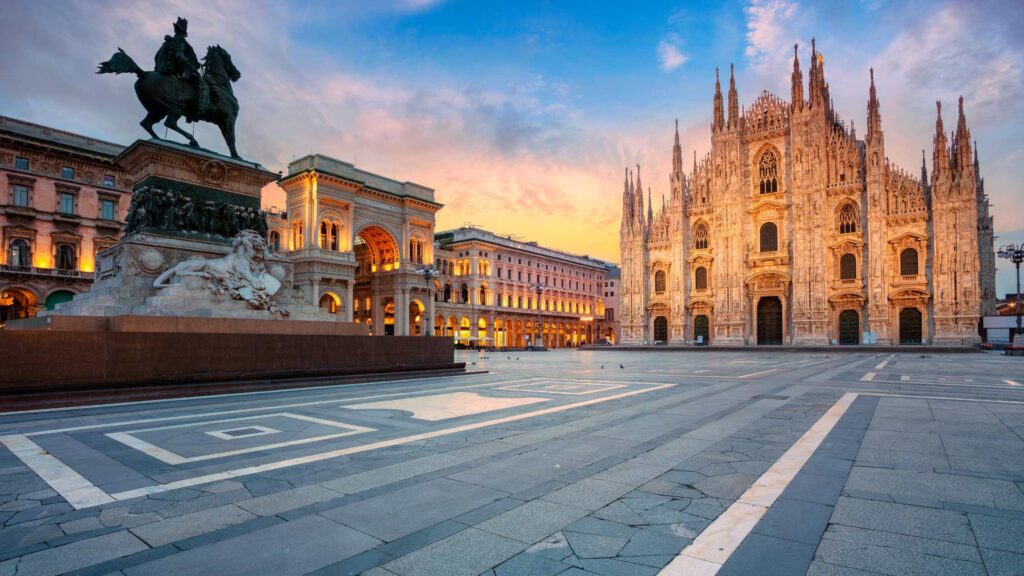 This is a mall with high-end stores, and the architecture of the mall itself is exquisite.
Milan is home to Leonardo da Vinci's painting, "The Last Supper." Be sure to get tickets in advance as they can sell out.
Swing by Sforzesco Castle to enjoy the public courtyard (free to enter) and see work by Leonardo da Vinci and Michelangelo (for admission).
Walk through the back exit of Sforzesco Castle and stroll through Sempione Park. Stop by Arco della Pace which you'll see is reminiscent of Paris's Arc de Triomphe.
Milan is a fabulous city to explore. Enjoy your solo adventure!
By Chelsea from Adventures of Chels.
VENICE
Traveling alone can be daunting, but one place where you won't feel strange but excited to explore is the beautiful and famous city of Venice, one of the most popular solo travel destinations in Italy.
As one of the best-known and most popular locations to visit in Italy, Venice is for everyone.
Located in northeast Italy, the city is built on over 100 small islands in a lagoon in the Adriatic Sea.
One of the charms of Venice is that it's entirely walkable and doesn't have any cars or roads, only canals, which makes it an ideal destination for solo travel.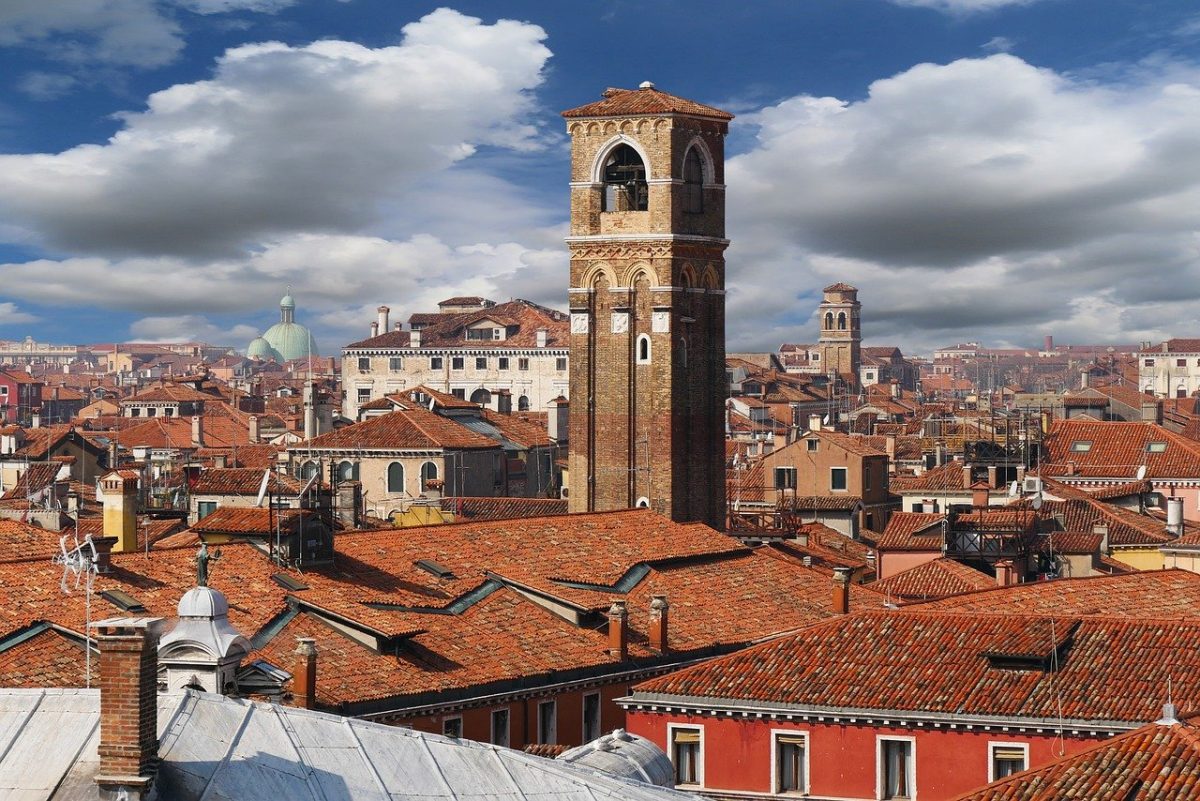 You can walk from one side to another, and hop into a water boat for trips to the small islands such as Murano, known for its glass.
Getting to Venice is convenient for many parts of Europe. The international airport, Marco Polo Airport, has direct flights from cities such as Warsaw, Berlin and Paris.
From there, you can take a water taxi or a Vaporetto (public ferry) to the main island.
Alternatively, trains from major Italian cities such as Rome and Milan conveniently terminate at Venezia Santa Lucia train station right in the city's heart.
Walking around Venice will surely help you get your steps in. The entire city is a labyrinth of narrow streets and bridges over wide and narrow canals.
Some of the best places to visit include Doge's Palace, St. Mark's Basilica and Venice's iconic Piazza San Marco.
It is best to visit these early in the morning before the crowds start, especially if you plan on visiting in the summer.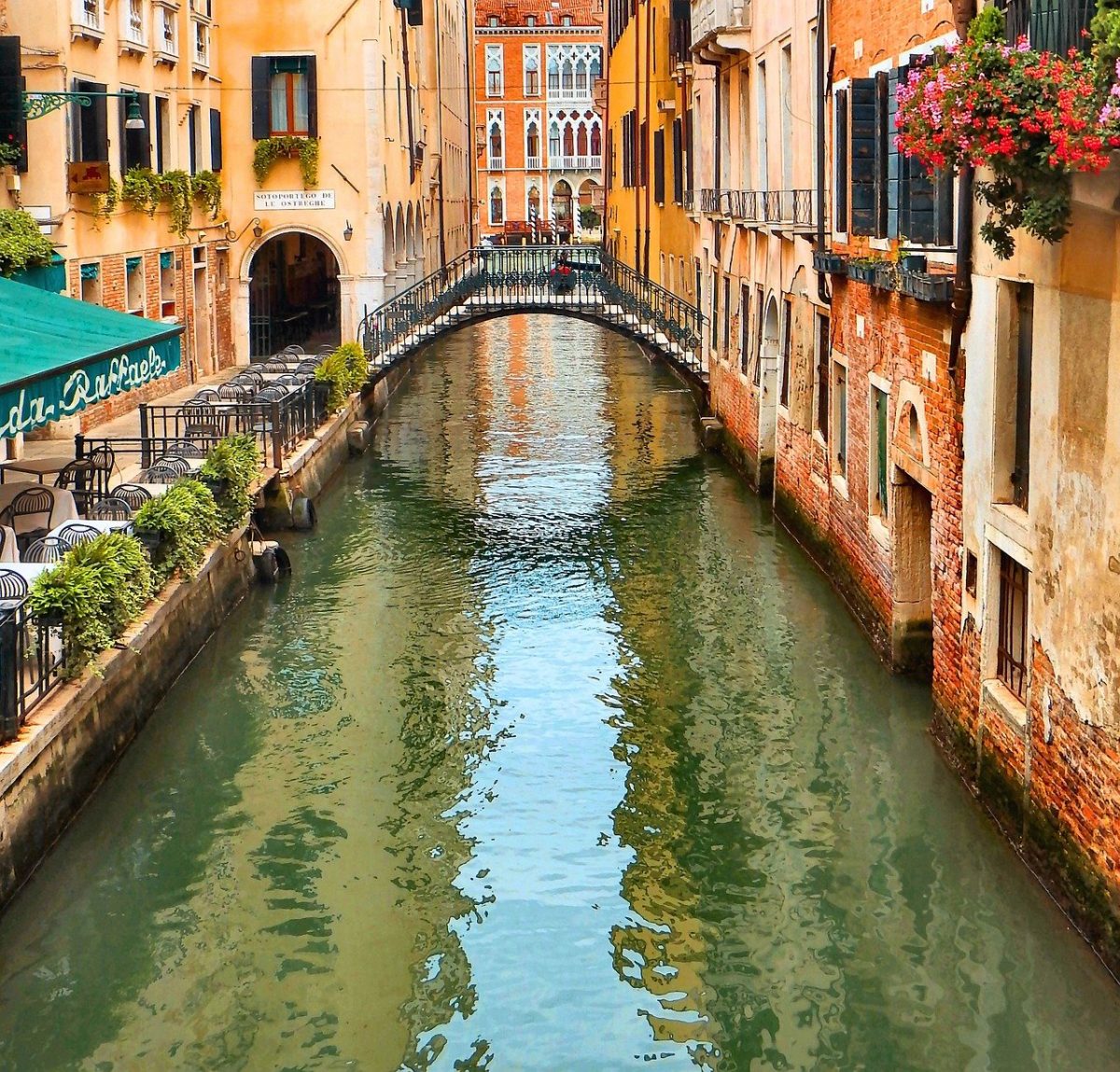 Piazza San Marco is a bustling hub filled with cafes and tourists but it is a beautiful spot in Venice and is one of the most popular areas for photography.
Taking a ride on a gondola, although it can be considered somewhat touristic, is an unforgettable experience. Venice has an array of restaurants and trattorias.
It is surprisingly friendly toward those with a gluten allergy as well, as many restaurants have allergen options.
Venice is a place full of beauty and caters to any traveler. With so many things to see and do in this small island city, it's no wonder it's one of the most popular and beautiful places to visit.
By Diana, Travels in Poland
VERONA
Verona, Italy may be known as the city of love because of its connection with the fictional star-crossed lovers of Romeo and Juliet. Still, it is actually an excellent city for Italy solo travel.
This city in northeastern Italy is a beautiful blend of Roman, Venetian, Gothic, and Renaissance influences, with the Old Town and newer city bisected by the Adige River.
Old Town offers tourist-friendly, safe, clean neighbourhoods that are easy to explore without getting lost and pedestrian-only marble-paved shopping thoroughfares.
Located approximately 1.25 hours west of Venice and 1.75 hours east of Milan, it is easy to visit Verona by train, and the centre of the historic district is just a short walk from the train station.
While many people visit Verona for the day or just one night, give yourself two nights to fully enjoy this charming city and the delicious food it offers (the Risotto Amarone is a must-try!)
You may want to book a guided walking tour, but Verona is also easy to explore independently.
I'd recommend getting an early start at Juliet's House (Casa di Giulietta), as this area gets extremely crowded mid-day.
Some of the other famous sights include the Arena di Verona (which is older than the Colosseum in Rome!), Piazza delle Erbe (look at the buildings surrounding the square to see the remains of ancient murals), Torre dei Lamberti (take the elevator to the top for fabulous views), Piazza dei Signori, and Palazzo della Ragione.
For those that enjoy the varied architecture of churches, take in the paintings inside the Chiesa di Santa Anastasia and the carved wood ceiling of the Chiesa di San Fermo.
Walk across the river on the Ponte Piedra stone arch bridge and climb to the Piazzale Castel San Pietro for a great sunset view to finish your day!
By Tamara Gruber, W3Travel
ITALY SOLO TRAVEL FOR OUTDOOR LOVERS
CORTINA D'AMPEZZO
One of the best destinations for Italy Solo travel for outdoor lovers and nature enthusiasts is Cortina d'Ampezzo.
Nestled in the picturesque Dolomites, the quaint town of Cortina d'Ampezzo offers so many things to do, making it an ideal destination for solo travellers.
It's a popular skiing destination in the winter months, and a great hiking destination during the summer months.
Head to the Cinque Torri, accessible by a chairlift ride from Cortina.
Cinque Torri offers breathtaking panoramic views of the surrounding mountains and is an excellent spot for photography, hiking and admiring the views of the Dolomites.
Alternatively, take a scenic cable car ride up to Mount Faloria from Cortina town centre.
Whether you're visiting in spring, summer, autumn or winter, the views from here are spectacular!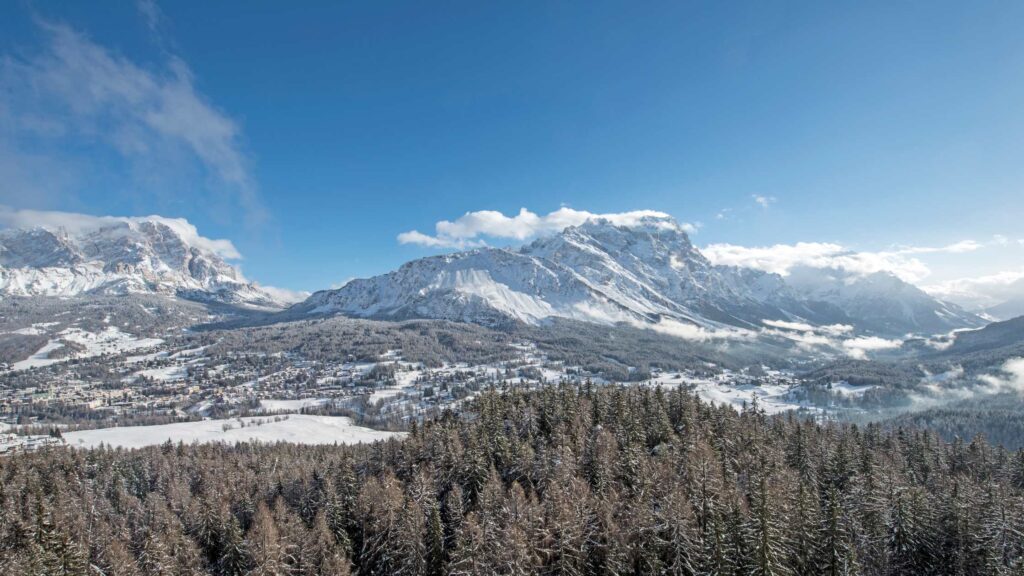 Cortina is known for its delicious Italian cuisine, so spend time in the local restaurants and cosy cafés and indulge in delicious regional dishes.
There's a friendly atmosphere here so it's easy to meet locals and other travellers.
Cortina d'Ampezzo is a great place to explore alone as it offers a great mix of natural beauty, outdoor activities, and a charming atmosphere.
The town centre is lovely to explore, especially around Christmas, plus the hiking trails offer stunning views and tranquillity.
Cortina town itself is safe and pedestrian-friendly, making it easy to navigate.
Make sure to plan your activities according to the weather and season. Also, be sure to book your accommodation in advance as it books out fast!
Cortina can be reached in 2 hours from Venice – either by car, train or bus.
By Catrina, 24 Hours Layover
MOUNT ETNA
Mount Etna is one of the most impressive places in Italy. Not only is it the highest volcano in Europe, but it's also the most active!
It is one of the most beautiful places for Italy Solo travel if you love hiking and outdoors.
Located on the western side of the island of Sicily, Mount Etna erupts several times yearly, spewing lava and ash kilometres away. And yet, you can visit it and hike up its slopes!
Getting to Mount Etna is relatively easy if you're already in Catania. Just get on the daily 8:15 bus from Catania that reaches the high-altitude Refugio Sapienza at 10:30.
From there you can either start hiking upwards or take the cable car to the upper station. It's pricy though! A ticket will set you back 30 euros.
If that seems like a lot, consider that it can get destroyed at any point during an eruption – and it has been 4 times since 1970.
Hiking up Mount Etna is demanding! The slopes are steep and covered in black lava basalt.
The stones are at times so small that your feet sink in the rubble. I advise you not to wear white shoes.
Still, there are a few trails after the upper cable car station that are suitable for everyone. You can reach some volcanic vents and look inside smaller craters in the region.
Unfortunately, hiking above 2700 m. is not allowed on Mount Etna. You need special permission and a guide to go above that.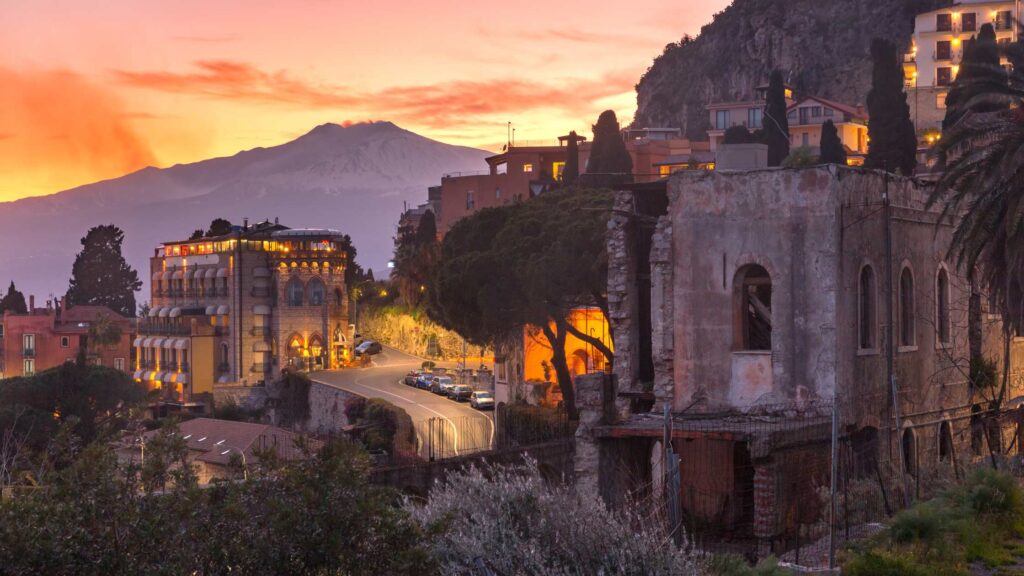 Mount Etna is an awesome destination to visit year-round (although you'd need a lot more clothes in the winter!) and is perfectly suitable for the solo traveler.
The impressive nature of the place and the bizarre scenery will fascinate you but also help you reconnect with yourself.
And the ultimate freedom to explore (below 2700 m. of course) is unparalleled by anything!
By Simon, Backpack Moments
HIKING IN THE DOLOMITES
Hiking in the Dolomites is an incredible experience for solo travelers seeking adventure and natural beauty.
Lago di Braies, also known as the "Pearl of the Dolomites," is my favorite spot to start hiking worldwide!
The turquoise lake is just out of this world and you can even buy a pastry and hot coffee at the trailhead.
While it can get crowded, proper planning can help avoid the crowds. Accessible by car from nearby towns like Cortina d'Ampezzo, Bolzano, and Innsbruck, Lago di Braies is located in the province of South Tyrol and is well connected to major roads and train stations.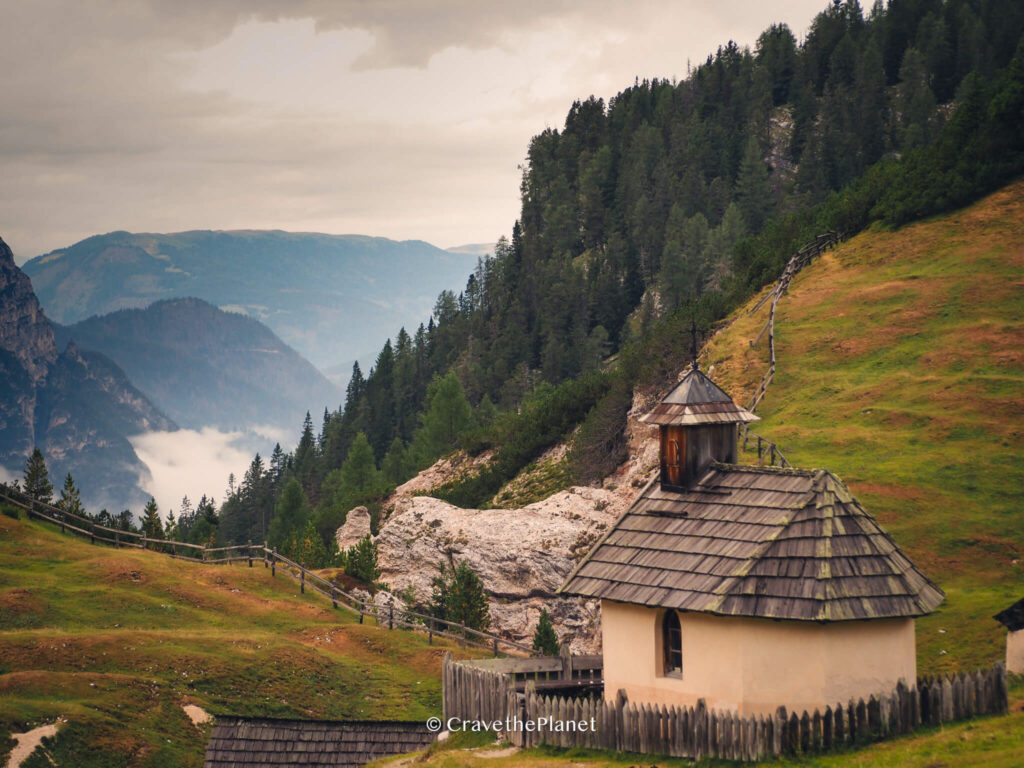 The Fanes-Sennes-Braies Nature Park area offers a variety of hiking trails suitable for all levels.
Whether you're looking for a hut-to-hut hike to explore the beautiful alpine scenery, the lakeside chapel, or easy hiking paths, there's something for everyone.
You can even take a handcrafted wooden boat ride on the crystal-clear waters of Lake Braies and enjoy the stunning views of the surrounding mountains before you start.
For a seriously challenging day hike, head to the high-elevation mountain hut called "Rifugio Biella" or "Seekofel hütte."
This hike offers breathtaking views of the Dolomites and is sure to be an unforgettable experience.
If you're looking for the perfect place to stay, the Hotel Lago di Braies directly on the lake is the ideal choice.
With comfortable rooms offering stunning views of the lake and surrounding mountains, it's the perfect place to relax and unwind after hiking.
The hotel's restaurant serves delicious local cuisine, and spa services are available for ultimate relaxation.
Hiking in the Dolomites is an adventure of a lifetime, and solo travelers will indeed find peace and solitude in this magnificent destination.
By Morgan Fielder, Crave the Planet
ITALY SOLO TRAVEL DESTINATIONS – PRETTY VILLAGES, CITIES AND TOWNS
CINQUE TERRE
Cinque Terre is a national park on the western coast of Italy a little north of Pisa. It is famous for its beautiful villages located one after the other along the coast. 
Cinque Terre is one of the most beautiful places for Italy Solo travel as you will be amidst stunning villages and turquoise beaches.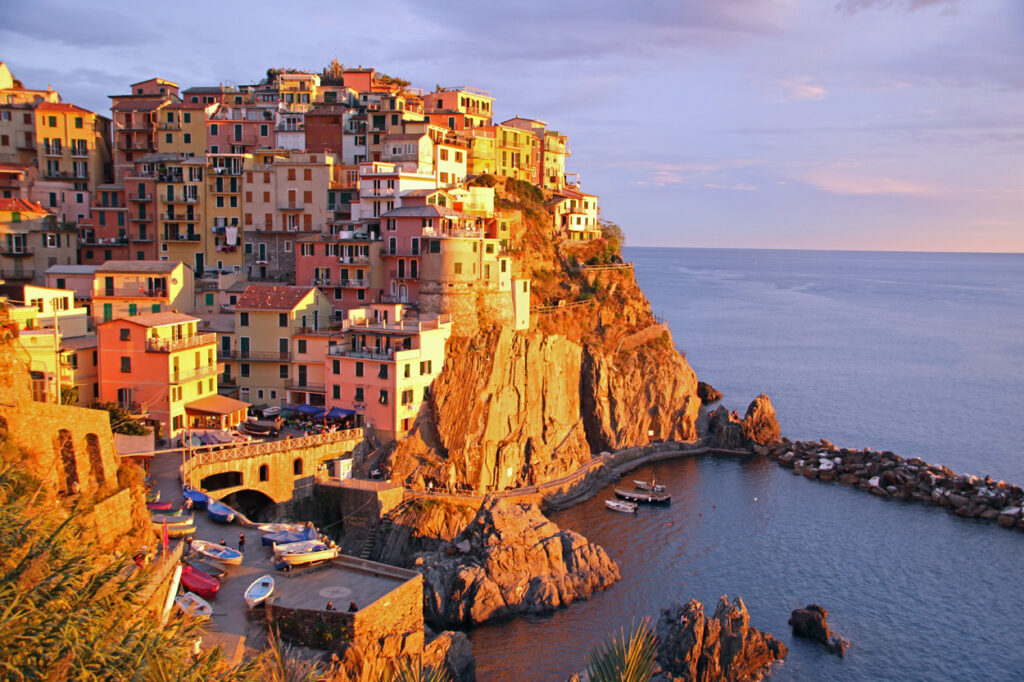 There are five villages total from Riomaggiore in the south to Monterosso in the north.
No cars are allowed in the area so the only way to get between the villages is by water taxi, train or on foot.
Walking trails link each village and have fantastic views out to sea and of the villages.
If you only do one stretch make it the one between Vernazza and Monterosso.
After a couple of hikes and exploring the villages it is time to relax on the beach.
There are several beaches in the area, the largest and prettiest is in Monterosso.
For staying overnight, Vernazza is a great place to base yourself. It is large enough to have several hotels, apartment rentals and restaurants.
Having said that, this is not the place to come if you are looking for nightlife.
Travelling solo in this area of Italy is safe. Cinque Terre is often considered a romantic destination but this is also a great place to travel on your own.
The area has a mix of activities and relaxation, coupled with some of the prettiest villages you can find in Italy.
By Kristin D, Scotland Less Expressed
GRADO
Grado is located on the picturesque Italian Adriatic coast and is a real treasure for traveling alone in Italy. With its charming atmosphere, stunning beaches and rich cultural heritage, Grado offers the perfect conditions for a seaside getaway.
Both couples looking for a romantic getaway or solo travelers will love this town and its beautiful surroundings.
From gorgeous beaches to fascinating landmarks, Grado really has a lot to offer.
The long sandy beach of Grado is an absolute highlight and the beach resorts still exude the historic charm of times gone by.
For more than 100 years ago, the resort was an imperial health resort, where even then the motto was: see and be seen.
The historic old town is also beautiful, with its winding alleys, quaint stores and cozy cafés that invite you to explore.
A special experience is a boat trip to the church island of Barbana, an essential place of pilgrimage in Grado.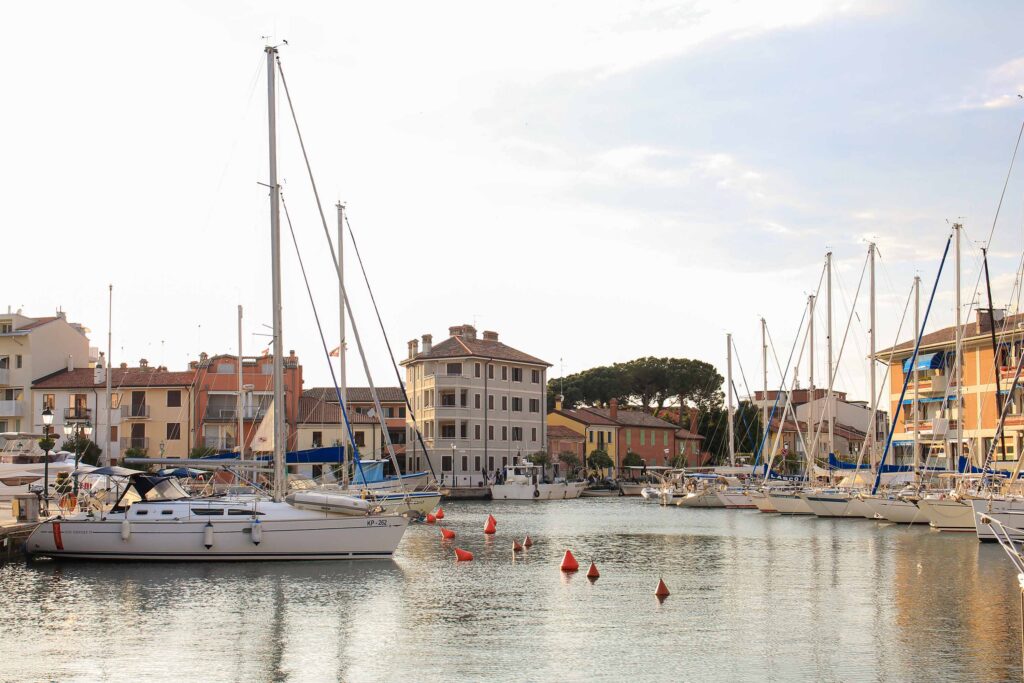 Even the trip from the picturesque harbour through the lagoon of Grado is an unforgettable experience.
Other recommended excursions include the UNESCO World Heritage Site of Aquileia and the Val Cavanata nature reserve, where you can see flamingos.
For a perfect stay, I recommend the Hotel & Apartments Eldorado as a small, charming retreat.
This modern and new hotel offers spacious rooms with stunning sea views, a delicious breakfast, and free bicycles to explore the surrounding area.
An absolute must for dinner is the Trattoria Alla Borsa. This cozy trattoria in the heart of the historic old town serves delicious Italian cuisine, including fresh fish dishes and homemade pasta.
The location, surrounded by charming stone houses, is also simply unbeatable.
By Martina, PlacesofJuma
BOSA
Bosa is regularly mentioned among the prettiest villages in Italy, and it's easy to see why. Bosa is one of the most beautiful places for Italy solo travel if you love going an off-the-beaten-path.
Located on the western coast of Sardinia, this small town is a feast of colors, and while it's become increasingly popular among tourists, the atmosphere is still very quaint.
It has remained a local place, where even – or shall I say especially! – solo travelers will feel welcome.
The main attraction in Bosa is the Malaspina Castle, beautifully perched atop a hill.
The castle is much in ruins, but there you can see the beautifully frescoed 14th-century chapel of Nostra Signora di Regnos Altos.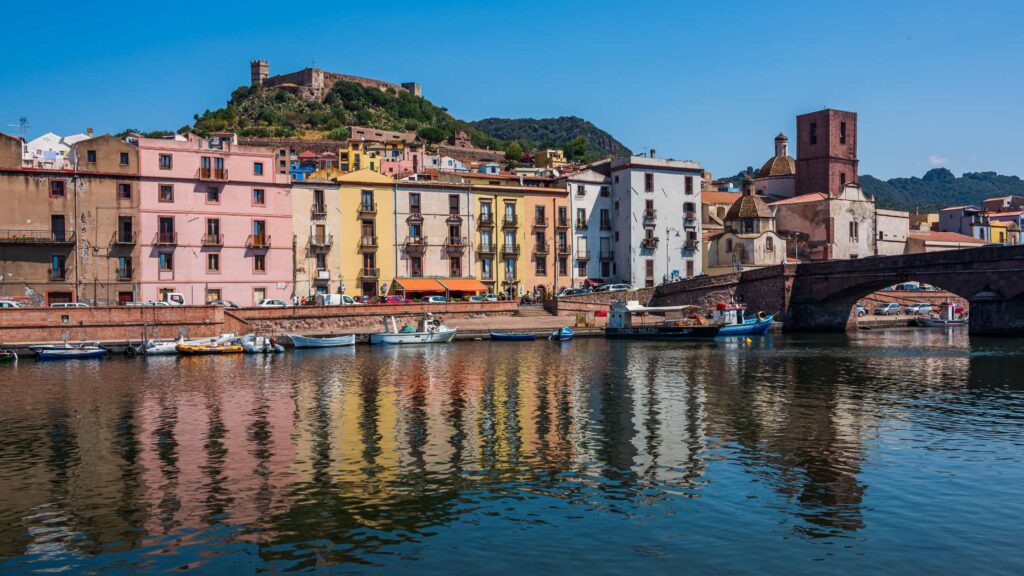 The highlight of visiting the castle is the magnificent views over the village. You will see the Temo River placidly flowing through the village.
If you visit in the summer, enjoy one of the many local beaches. Cala di Cumpultittu is a small rocky cove that requires a bit of a hike but it's a fantastic snorkelling spot.
For stunning, pristine waters head to Cani Malu, a natural pool just outside the village. However, avoid going on windy days as it can get slippery and dangerous.
The nearest airport to Bosa is Alghero Fertilia. From there, you can either drive or take the 9312 bus that goes along the incredibly scenic coastal road.
By Claudia Tavani, Strictly Sardinia
STROMBOLI
Who said that solo travel in Italy should only be to the big cities? Many incredible places are worth exploring! One of them is undoubtedly Stromboli, a small island part of the Aeolian Archipelago, off the coast of Sicily.
It's such a small place that in a matter of moments you will end up meeting lots of other travelers, especially if you plan to hike!
Indeed, the main reason to visit Stromboli is to hike its volcano, one of the most active in the world and erupting regularly.
Following an eruption that in 2019 caused the death of a tourist, hikes to the crater of Mount Stromboli are not allowed anymore.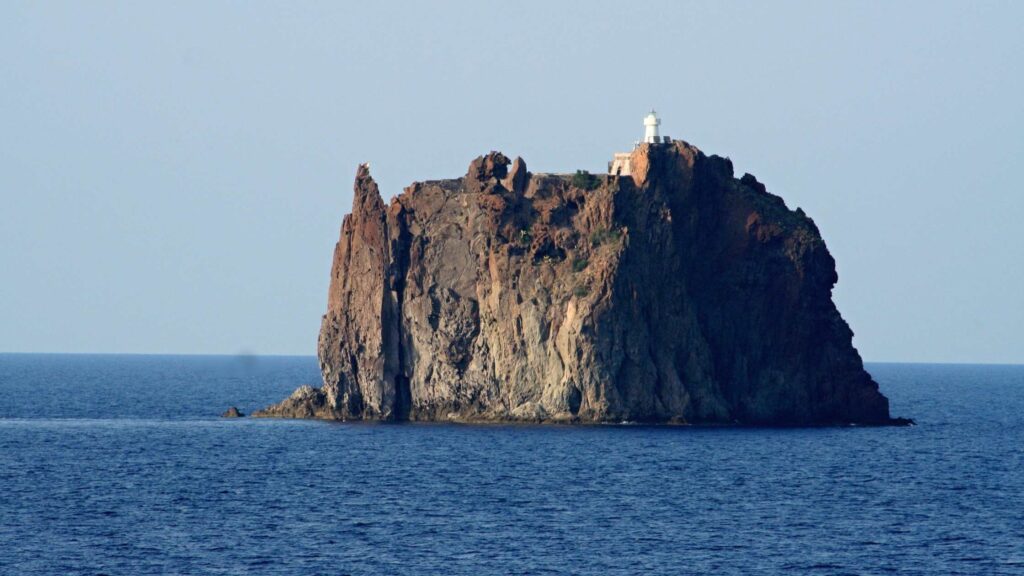 However, guided groups can still reach a viewpoint located 400 meters above sea level (around 1,312 feet), from where they get to enjoy the incredible show of the eruptions and a magnificent sunset view over the rest of the Aeolian islands.
If you don't fancy joining a guided tour, you can still hike alone to the Sciara del Fuoco viewpoint, which is easy to reach from the village – the trailhead is in Piscità, about 2 km (1.2 miles) west of the harbor.
The overall atmosphere of the island is incredibly relaxed and peaceful, though it can get busy in the summer months.
Stromboli can be reached by ferry from other Aeolian islands or directly from Milazzo, a small town near Messina.
By Claudia Tavani, My Adventures Across The World
CALCATA VECCHIA
One of the best ways to authentically connect with locals in Italy is to visit off-the-beaten-path destinations.
About 50 km north of Rome, in the Tuscia region famous for its lush forests and mysterious archaeological ruins, lies the village of Calcata Vecchia.
Calcata Vecchia sits on a flat spur of rock in the center of the Treja River Valley.
The village showcases medieval architecture, with stone houses, remnants of defensive walls, and a single large gateway adorned with ancient coats of arms.
Since the 1960s, Calcata Vecchia has attracted Italian and international artists and artisans who come here to practice their arts, either for a few months or on a long-term basis.
As a result, most of the approximately 80 villagers are artists.
Meeting them is easy; you can simply sit in the village's only piazza and stroll through the narrow, picturesque alleys in search of workshops and studios.
The residents of Calcata embrace the strong sense of community that this place offers.
They share common values that include respect for the environment, reuse, mutual aid, creativity, and exchanging ideas.
Like the artists of the past, today's artists have left the cities and industrial areas to reside amidst natural beauty.
Calcata offers a stimulating and rejuvenating experience.
The best times to visit are spring and autumn when you can explore the hiking trails starting from the town and venturing into the valley.
A walk will take you to Opera Bosco, an open-air museum featuring a 2.5-kilometre path with dozens of installations created solely from forest materials.
If you visit Calcata during the weekend, you'll find all the restaurants and workshops open.
It's worth trying the cuisine at the trattoria "Ai Tre Monti," which offers affordable dishes like fettuccine with wild boar ragout.
At La Piazzetta Restaurant, on the other hand, you'll find food made exclusively from organic ingredients sourced from local farms.
The gathering place for those who enjoy music and drinks is the Bard House Club.
To reach Calcata Vecchia by public transportation, you can take a Cotral bus from the Saxa Rubra station in northern Rome.
The journey usually takes about an hour.
If you are traveling by car, be aware that the parking lot is about 900 mt outside the village.
By Lisa, Travel Connect Experience
ORVIETO
Orvieto is a lovely town for Italy solo travel as it is not too big and there are plenty of sights within a short walking distance from each other.
It is a safe place to stroll around and dining alone, you will be treated well.
Besides, the locals of Orvieto are super friendly and if you are open to it, you might just find new friends there.
The town is located only an hour and a half north of Rome so it can quickly be done on a day trip by train.
Still, if you have more time to spare, Orvieto is worth a couple of days wandering through its narrow, cobblestoned streets, eating delicious food at the charming restaurants and drinking delightful wine.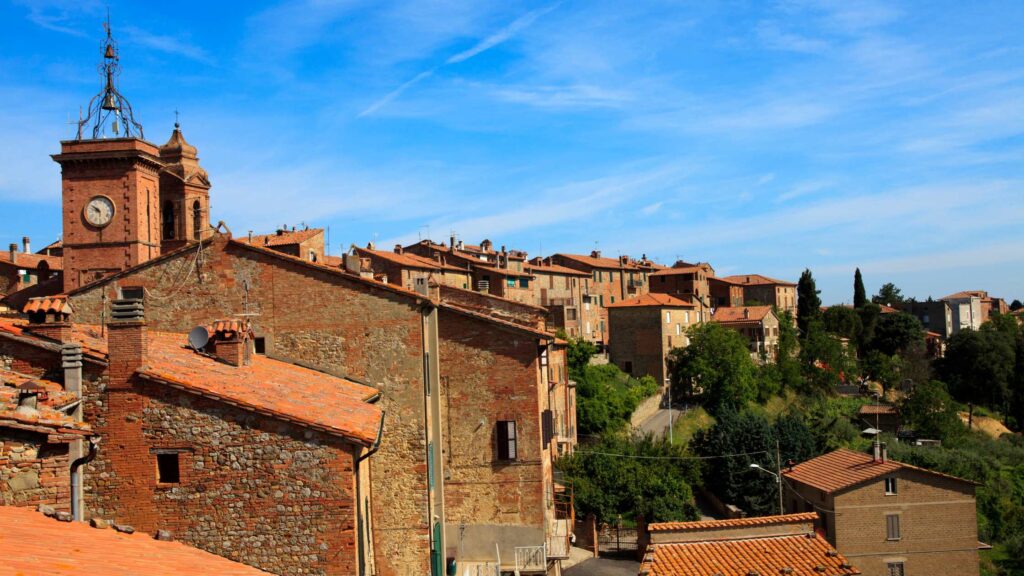 There are many things to do in Orvieto, and many of them happen underground. St. Patricks Well is 54 meters deep, so get ready to walk the 248 steps to the bottom to witness this impressive structure.
Another well worth visiting is the 36-meters deep Etruscan well, Pozzo della Cava.
Finally, go on a guided tour of Orvieto Underground taking you through parts of the 1200 underground chambers below your feet when walking the town.
Most of them are privately owned, so it is a privilege to see some of them.
The underground world has been carved out all the way back to Etruscan times and the history is intriguing.
Linn Haglund, Brainy Backpackers
FAVIGNANA ISLAND
One of the best things to do alone in Italy is visiting Favignana Island for a couple of days.
Located just a few kilometres north of the coast of Sicily, the island is a beautiful place known for its idyllic beaches and laid-back atmosphere.
With turquoise waters, hot summer days, castles and charming towns, Favignana Island is the perfect destination for Italy Solo travel if you are a snorkelling enthusiast or just want a relaxing vacation.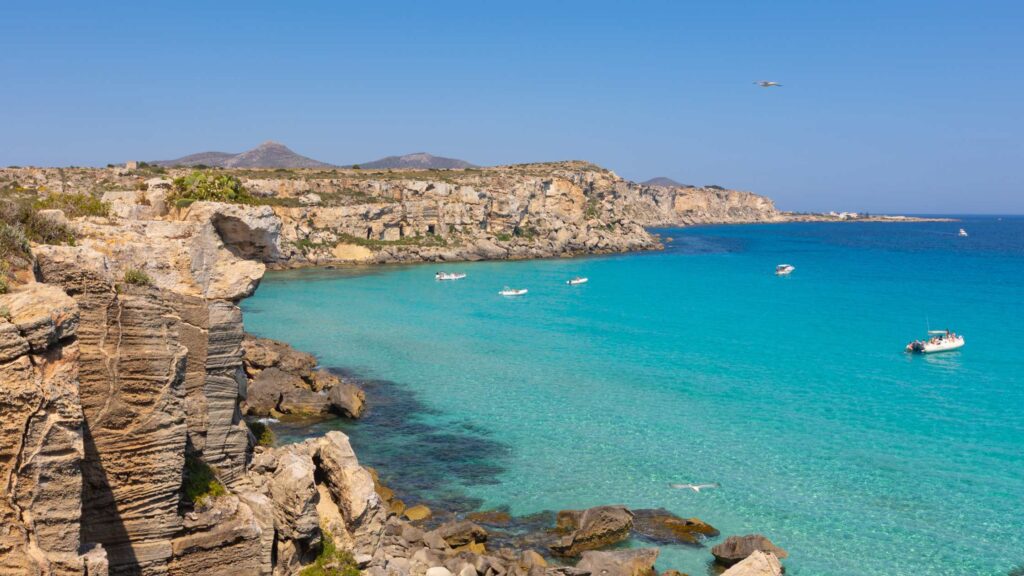 As a small island, Favignana doesn't feel overwhelming as a solo traveler.
So it's perfect for solo travelers whether you want to disconnect from others or make friends with locals.
Favignana Island is only accessible by shuttle boat from Sicily's mainland. You must fly or train into Sicily and then take the ferry at Trapani port.
There are usually no cars on the island as the municipality restricts them. For example, tourists cannot bring their car to the island during summer.
As the island isn't huge, visitors can get around by bicycle or by walking. Buses also run between the towns and beaches although they can be unreliable!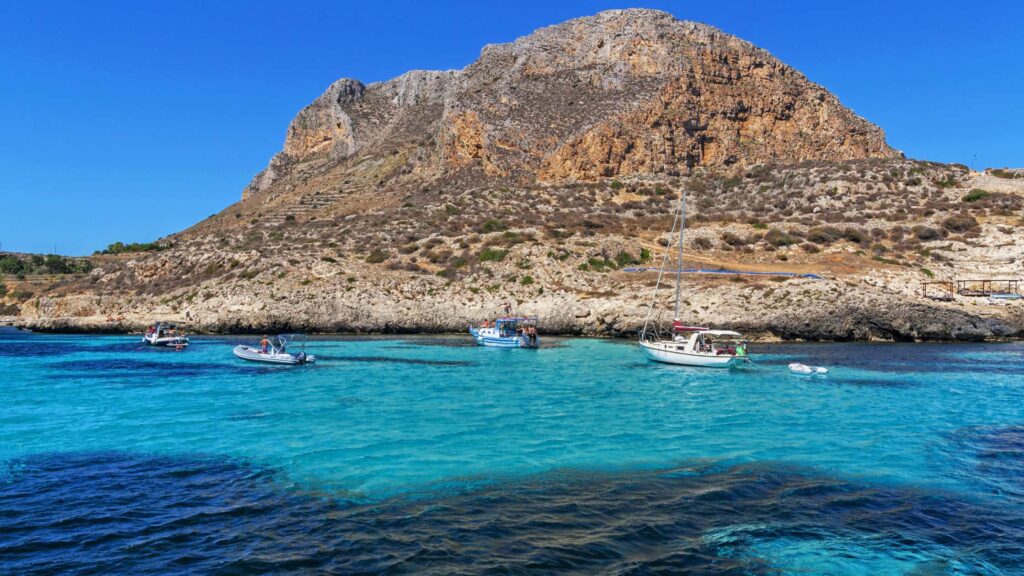 Cala Azzurra and Cala Rossa are the most famous beaches in Favignana and for good reasons! The rock formations are incredible and the water is crystal clear.
The fishing port, the market and the main square of the town are also points of interest.
If you feel lonely and want to explore beyond Favignana Island, day trips to Marettimo Island are regularly organised and easy to hop on.
You can also make a reservation for lunch on a cruise boat while checking out wild dolphins!
By Mary, Be Right Back Mary
TAORMINA
Taormina is one of the premier destinations in Sicily and also a safe place to visit.
If the idea of exploring a hillside town right on the coast, with breathtaking views and Mount Etna towering above, appeals to you, then you'll adore Taormina, one of the best places for solo travel in Italy.
The ancient amphitheatre, known as Teatro Greco, is the top landmark in Taormina, offering not only remarkably preserved artefacts but also stunning vistas of both the Ionian Sea and Etna.
Along the main Boulevard that encircles the city, Corso Umberto, you can discover exquisite churches, palaces, and many restaurants and shops.
If you're up for it, you can hike above Taormina to a fortress with an even more awe-inspiring view.
Alternatively, heading in the opposite direction is also an option. Take a ride on a cable car and descend to the beaches!
Isola Bella Beach is outstanding and features a small islet of the same name. You can even explore the island for a small fee.
Getting to Taormina is easy, particularly from the nearby major city of Catania. There are trains, buses, and driving is also a straightforward option.
Just remember that you must park your car at a large parking lot on either side of Taormina and then take a free shuttle to the actual town.
Taormina is simply lovely, and strolling around alone will never feel lonely. There's plenty to see and do in Taormina, ensuring a fantastic time, guaranteed
You can visit Taormina on a day trip or stay overnight to experience peace and tranquility once the daytrippers have departed.
By Veronika Primm, Travel Geekery
LAKE MAGGIORE AND THE BORROMEAN ISLANDS
On the western shore of Lake Maggiore in Italy's lake district is the small town of Stresa, a touristy destination with cafes, boutique shops, and lovely waterfront hotels, a perfect destination for Italy solo travel to step back in time and explore the Borromean Islands.
Getting to Stresa is easiest from Milan. We suggest renting a car and driving the scenic route, but you can also arrange private transport or take the train.
From Milan Airport, an inexpensive but convenient bus ride takes just one hour.
There is also a train service, which involves a change and takes longer.
There are three Borromean Islands to visit with hop-on hop-off passenger ferry service from Stresa throughout the day.
Isola Bella has a stunning Baroque Palace dating to the 17th century.
You can spend hours here strolling the many rooms, priceless artworks, and rare 16th-century Flemish tapestries.
There are six underground grottos with every surface from floor to ceiling unbelievably decorated with shells.
Isola Pescatori is the only island inhabited by a small population year-round with the Church of San Vittore as its leading historic site.
Primarily a fishing village for centuries, it is now a favourite stop for lunch with its many restaurants, cafes, and artisan shops making it a great place to make new friends.
Isola Madre is the largest of the three and is mainly covered by a garden of rare and exotic trees and flowers. It's best visited when all are green, and in bloom, and boat operators will pass it up when not in season.
By Lori from Travlinmad
SAN GIMIGNANO
San Gimignano, the stunning medieval tower town, is one of the most enchanting places in Italy. It is also one of the best places for Italy solo travel.
Once you pass the fortress entrance, you'll feel like you've entered a fairyland.
With its 14 magnificent towers that loom against the sky, San Gimignano has earned several monikers, including "Medieval Manhattan" and "The Town of Fine Towers."
Strolling around this UNESCO Heritage Site is the recommended way to discover the town's artistic and architectural treasures.
Leave your car parked outside the city walls (you really don't have a choice), and explore the cobbled streets and intimate alleyways on foot.
In addition touring the 12th-century church, Duomo di San Gimignano, and climbing the Torre Grossa (the highest tower in town) take in the picturesque countryside in the distance punctuated by vineyards and cypresses.
For foodies, this charming village offers plenty of traditional Tuscan dishes. Try the regional pasta known as pappardelle or indulge in a bowl of ribollita (bread and vegetable soup).
And for an authentic Tuscan snack or dessert, stop at an outdoor cafe in the Piazza Cisterna and pair an order of cantucci (a hard cookie) with the famous sweet wine, vin Santo.
As there's no train station in San Gimignano, driving is the best way to reach this magical place.
Located about an hour from Florence, it makes a great day trip. If you don't have a car, a bus will take double the time, but it's worth it!
By Denise, Chef Denise
UMBRIA
Umbria is known affectionately as the "Green Heart of Italy" thanks to its central location and rich, sweeping countryside.
It is one of the country's most rural provinces, with a storybook landscape characterised by rolling vineyards and quaint hilltop citadels.
The tranquility of Umbria makes it a fulfilling place for Italy solo travel destination, as you can make your way through this countryside setting at your own pace, and never feel rushed.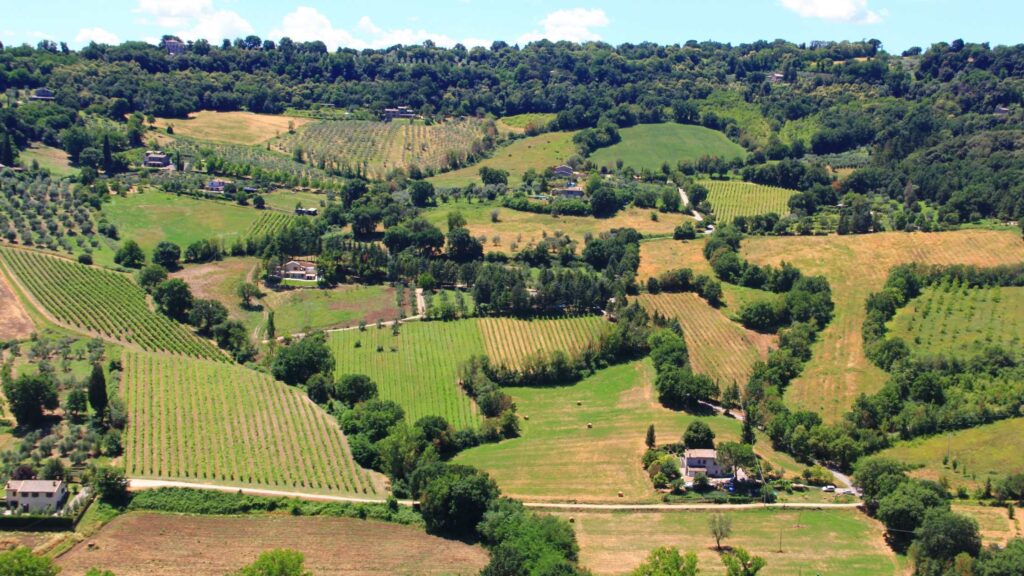 The laidback way of life here is infectious, and nowhere is it more apparent than in the wineries of Umbria.
Umbria has many qualities you might associate with Tuscany – incredible wine, delectable cuisine, idyllic scenery – but without so many tourists around.
Many of its wineries are small, family-run businesses that have passed through generations, more accustomed to quiet dinners under a veranda than welcoming coach-loads of visitors.
Recommended – 15 Magical Castles in Tuscany Italy You May Not Have Heard of
Take the village of Montefalco, for example, which is famed for producing Sagrantino, a full-bodied red wine.
At a local winery like Montioni Frantoio e Cantina you can be shown around the peaceful olive groves and vines, and taste some of the produce among family members who have put their hearts and souls into the place for decades.
Getting to Umbria is easy, as you can reach its capital city Perugia by flight, train or bus.
Once you arrive, it's best to hire a car to explore further. Book a night or two at Montefalco or Assisi, where a choice of wineries is reachable by foot.
By Alex Trembath, Career Gappers
RAVENNA
A visit to Ravenna is perfect for Italy solo travel if you are searching for art and culture. Ravenna is home to the world-famous Byzantine mosaics that are UNESCO protected.
An easy day trip by train from Bologna, or even possibly from Florence, Ravenna is easily accessible yet not overly touristy.
Ravenna's mosaics date back to the 5th century, when the area was part of the Byzantine Empire.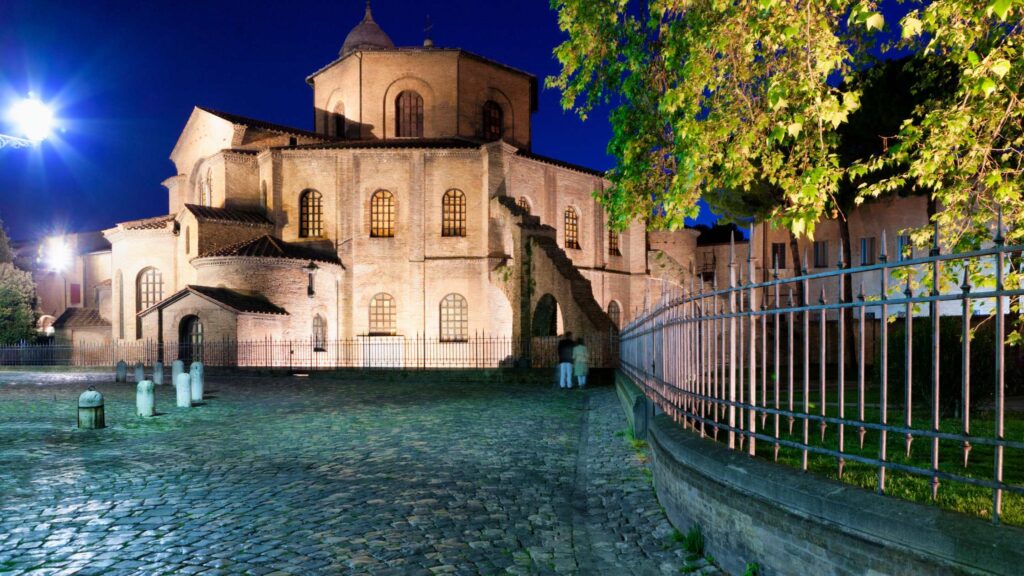 To expand their reach, the empire commissioned several stunning mosaic interiors within churches and baptisteries in Ravenna.
The glittering gold, turquoise and lapis blues of the mosaics create an otherworldly sphere and make these spaces in Ravenna some of the oldest and most impressive cultural destinations in Europe.
The mosaics are distributed across 7 sites in Ravenna, and it is easy to buy tickets to these from the tourist information office.
The tickets are affordable and easily accessible, and the staff are helpful and friendly to those who don't speak Italian.
The jewel of Ravenna is the Basilica di San Vitale, which houses an enormous mosaic series featuring Christ, as well as portraits of Justinian and Theodora, the rulers of the Byzantine Empire at the time of commission.
This is the only known image of Theodora, and her likeness is spectacular in gold mosaic.
Ravenna is easily walkable. It takes about ten minutes to walk from the train station to the town center, and from there the sites are all within a few minutes of each other.
The town center itself is very pedestrian friendly and includes many boutiques and charming restaurants, as well as a large indoor market.
A day trip to Ravenna is the perfect way to spend time in Italy as a solo traveller.
By Hannah Kroes, Art Distance
OTRANTO
If you want to explore the daily life in an Italian town off the radar for most tourists, head to the Puglia region, in the south of Italy.
There are lots of beautiful towns to visit in the region, but one place you shouldn't miss on your Puglia itinerary is Otranto.
Otranto, on the eastern coast of Italy, is a beach town with a calm and transparent turquoise sea, and a medieval old town of white-washed buildings.
It's an excellent place for Italy solo travel, as the town is relatively small, safe, easy to get by alone, and full of friendly locals.
You can enjoy your days by the sea, at the beach, or having a coffee or gelato at one of the beachfront cafés.
You can also explore the old town, where you can visit the castle used to protect the city.
Don't miss a visit to the cathedral, which is probably unlike any church you have visited: behind the altar, you will find the skulls of 800 martyrs that refused to convert to Islam when the Turks invaded.
And if you have a car, drive to La Grotta della Poesia, a pristine natural pool in a natural cavity that has formed over time due to water erosion.
To reach Otranto, you can fly to Bari airport and from there either rent a car and drive to Otranto, or take a train to Lecce and from there take a bus.
By Sharon, The Roads Beyond
SIENA
Despite not being as popular as Rome, Venice or Florence, Siena is worth adding to your Italian bucket list!
It's the perfect destination for Italy solo travel for a solo adventure, even if you visit on a day trip.
If you're heading to Siena from overseas, the city unfortunately doesn't have an airport.
This means you'll have to fly into Florence or Pisa and then catch the train.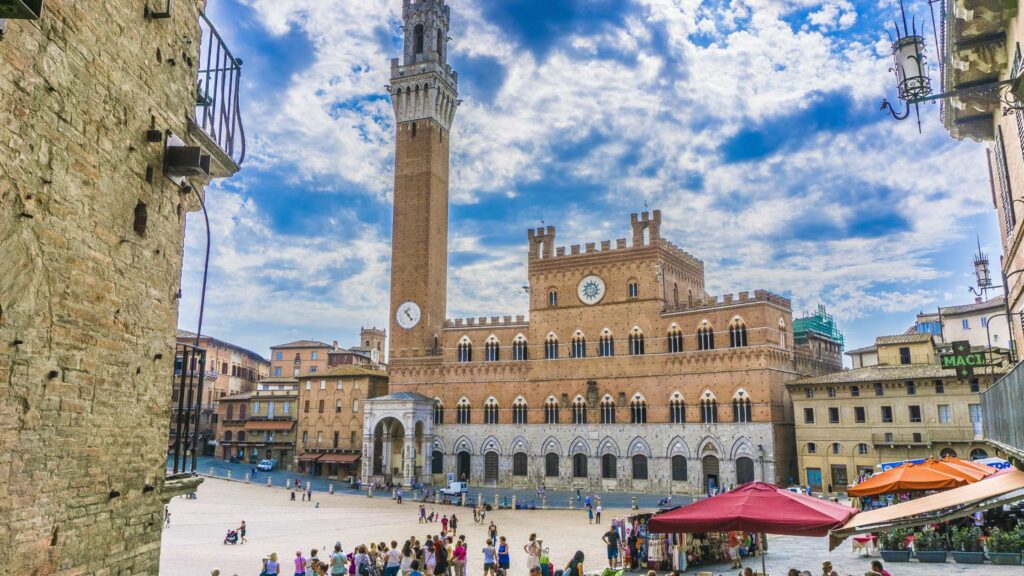 Many low-cost airlines such as Ryanair and EasyJet fly into these destinations from other European countries.
Luckily, Italy has a fantastic train network so it's easy to get from A to B as you explore this incredible country.
The historic city centre has breathtaking attractions, with the outstanding architecture around each corner.
One of the best things to do in Siena is to visit the Duomo.
Adorned with stunning mosaic floors and ornate details, both the exterior and interior of the cathedral are truly impressive.
During your visit, stop by the Piccolomini Library to admire historical frescos and one of the most remarkable ceilings you'll ever see!
Just make sure you book tickets in advance to avoid disappointment.
Another place you can't miss is Facciatone! After checking out the museum, wait your turn to admire the views from the viewing platform.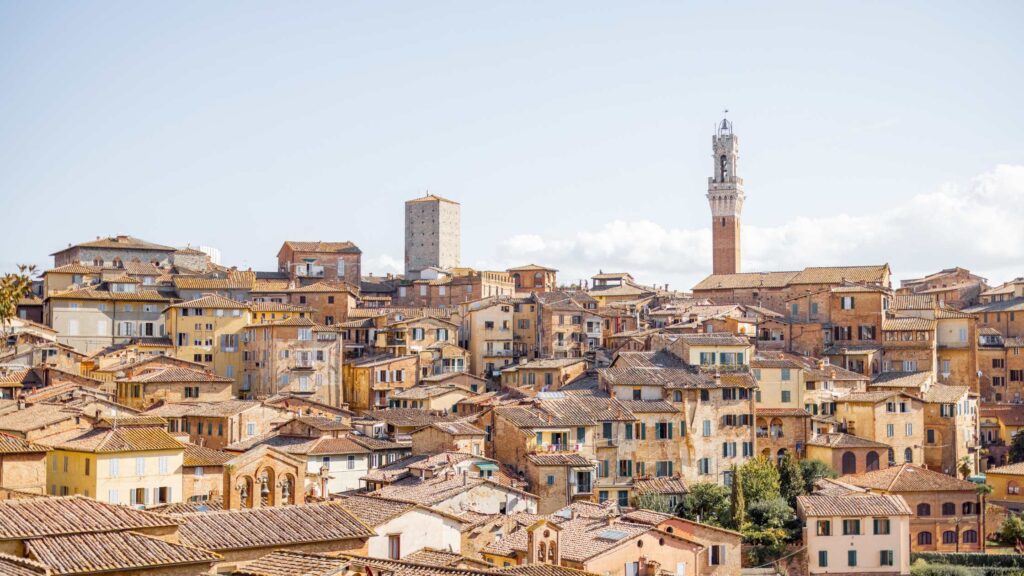 Although there are often long queues, it's worth the wait! As you get to the top, you'll be greeted by the best views of Siena!
With fewer tourists exploring this beautiful Italian gem, you can explore at a more relaxed pace.
Plus, Italy is an excellent destination for solo female travellers!
Siena itself is very safe and wandering the streets at your own pace is the perfect way to appreciate this captivating city!
By Lauren Allen, Pack & Paint
DOZZA
Nestled through the hills far from Bologna, Dozza is a fantastic village where locals love to stay quiet and spend a few days relaxing.
This is one of many reasons to visit Dozza; in fact, this village has something unusual. It is a proper open-air museum showcasing masterpiece murals on the facades of its townhouses.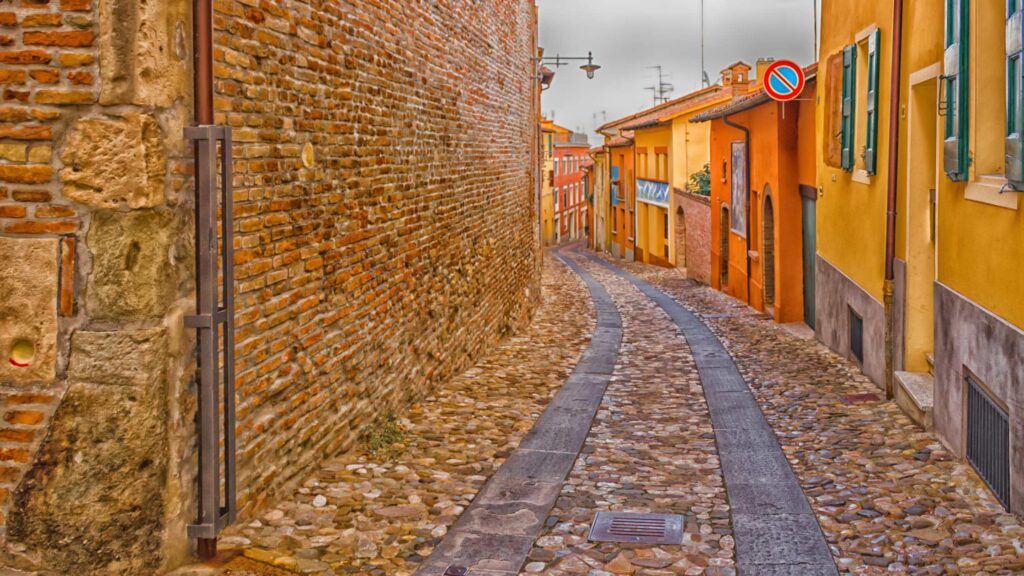 Walking through the narrow cobblestone streets of Dozza, you will encounter renowned artists attracted to the little village by the annual festival "Muro Dipinto", which aims to decorate an unknown village in Emilia Romagna, giving new life and boasting tourism.
It is one of the quietest places to visit in Italy, perfect for solo travellers and families and tourists alike.
You will be pleased by the traditional eateries, which are often called "taverna" or "osteria" in this part of the country.
About that, you must stay in the village for at least a night to enjoy the atmosphere, sip a glass of local wine and dive into the rich flavours.
Walk to the main square with the Sforza Fortress standing proudly guarding the town; on the ground floor, you can enjoy the "Enoteca Regionale dell'Emilia Romagna", a wonderland for wine and cheese lovers.
If you are looking for hiking paths that reconnect you with nature, Dozza is perfect, with a fantastic hike through vineyards and cellars on the "Sentieri del Vino".
It is not difficult to reach Dozza from Bologna. In fact, you must take the local train to Imola and get a taxi or a bus for about a 10 minutes ride to the village.
However, the best way to explore the Emilia Romagna countryside is, of course, by car, which is inexpensive and might allow you to have the freedom to stop at nearby enchanting places.
By Toti & Ale, Passport and Stamps
RAVELLO
Ravello is a picturesque and peaceful town located along the Amalfi Coast.
Not only is Ravello an amazing place that captures the beauty of the Mediterranean, but it is also an ideal location for those seeking solitude from the more popular towns such as Amalfi and Positano, making it one of the best secluded Italy solo travel destinations.
This small town is perfect for everyone, especially for solo travellers as the tourist infrastructure is excellent and the local hospitality is welcoming.
A trip to Ravello would not be complete without visiting the historic and beautiful Villa Cimbrone.
This villa was originally built in the 11th century and boasts some of the most beautiful gardens and fountains along the Amalfi Coast.
Restored in the 20th century, the villa is now private for guests only, but the surrounding gardens are open to the public.
One of its most famous features is the Terrace of Infinity, which provides breathtaking sights of its marble statues backed by the sea extending endlessly into the horizon.
The best ways to reach the Villa Cimbrone are public transit or walking from neighboring town Amalfi.
The bus stop is next to the main pedestrian tunnel in Ravello, which will lead to the main square Piazza Duomo.
From the square, follows the signs for the Villa. Ravello is a very walkable city, so it's best to ditch the car, especially since the streets along the Amalfi coast are very narrow, with limited parking.
By Deirdre Jenkins, Build & Board Travel
CITTA DELLA PIEVE
Città della Pieve is perfect for Italy solo travel. Perched on a hilltop 500m above sea level, this medieval village with Etruscan origins has breathtaking views of Lake Trasimeno and the countryside of Umbria, Lazio, and Tuscany.
A great way to explore Città della Pieve is by wandering through its Alleys Walk (Percorso dei Vicoli) and the Landscape Walk (Percorso del Paesaggio).
The Alleys Walk takes you through quaint alleyways, including the famous Vicolo Baciadonne, one of Italy's narrowest streets.
The Landscape Walk follows the ancient walls, and the ideal time to do it is during sunset.
If you are a foodie, you must try the saffron risotto, a local speciality and one of the many amazing things to do in Umbria.
Città della Pieve is also renowned for being the birthplace of the Renaissance painter Perugino.
Visitors can admire his works at the Cathedral of St Gervasius and Protasius, and the Oratory of Santa Maria dei Bianchi. Two true masterpieces.
I loved travelling solo in Città della Pieve. One of the things I enjoyed most was joining locals in the town square for an aperitivo around sunset.
Everyone was amiable and it was a great way to meet people.
The best way to get there is by car hire, but if you don't want to drive, you can take a train to Chiusi-Chianciano Terme station and then a bus or taxi to Città della Pieve.
By Teresa, Brogan Abroad
EXPLORE THE HOT SPRINGS IN TUSCANY
Many things lure you to Tuscany, it's not short of beautiful attractions and incredible landscapes, but one thing that piqued my interest was the geothermal springs dotted all over the countryside.
Tuscany is one of my favourite places; delicious food, excellent weather and incredible landscapes.
It's easy to rent a car and explore the nearby towns that most tourists miss!
There are plenty of signs with the word 'Terme' on it, which, as you might have guessed, translates to 'thermal'. The signs up and down the motorway direct you to local thermal springs.
It is the most bizarre and beautiful attraction; imagine yourself in the beautiful hills of Tuscany, surrounded by tall cypress trees, standing in a hot, gushing waterfall infused with healing minerals.
Although not widely known among tourists, Tuscany has plenty of hot springs, despite its serene and rural landscape that only brings volcanic and geothermal activity to mind.
Many of these hot springs are free to access, something that many travelers are unaware of; pull up and dip in. You'll often find locals and tourists having a midday dip or a relaxing soak at the end of the day.
The most famous thermal spring is Terme di Saturnia, in the region of Saturnia. It's the most Instagrammable, photogenic place, but as this one is the most famous, it gets very popular throughout the day!
There are plenty of other quiet spots to choose from, have a look at Bagnon Vignoni, Bagno San Filippo or Terme Chianchiano, bask in the warm waters and enjoy!
By Adriana, Wanderlicious
TRIESTE
Trieste is a captivating city nestled on the northeastern coast of Italy.
Trieste offers a perfect blend of history, culture, and coastal beauty, making it one of the best places for Italy Solo travel.
Some of the top things to visit in this charming city are:
Piazza Unità d'Italia: Easily accessible by foot from the city center, this bustling square provides stunning views of the Adriatic Sea.
Immerse yourself in the vibrant atmosphere, take leisurely walks along the promenade, and enjoy the lively street performers.
Miramare Castle: Just 7 km away from Trieste lies the enchanting Miramare Castle. Reachable by bus or taxi, this fairytale-like castle surrounded by lush gardens offers a serene retreat.
Explore the opulent interiors, stroll through the expansive park, and savor breathtaking vistas of the Adriatic Sea.
This was the beloved home of Archduke Ferdinand Maximilian of Habsburg, built-in 1856.
Roman Theatre: Step back in time at the Roman Theatre, an awe-inspiring archaeological site in the heart of Trieste.
Accessible on foot or by public transport, this ancient amphitheatre provides a glimpse into the city's past.
Marvel at the well-preserved ruins, ascend to the top for panoramic views, and let your imagination wander to the era of grand spectacles.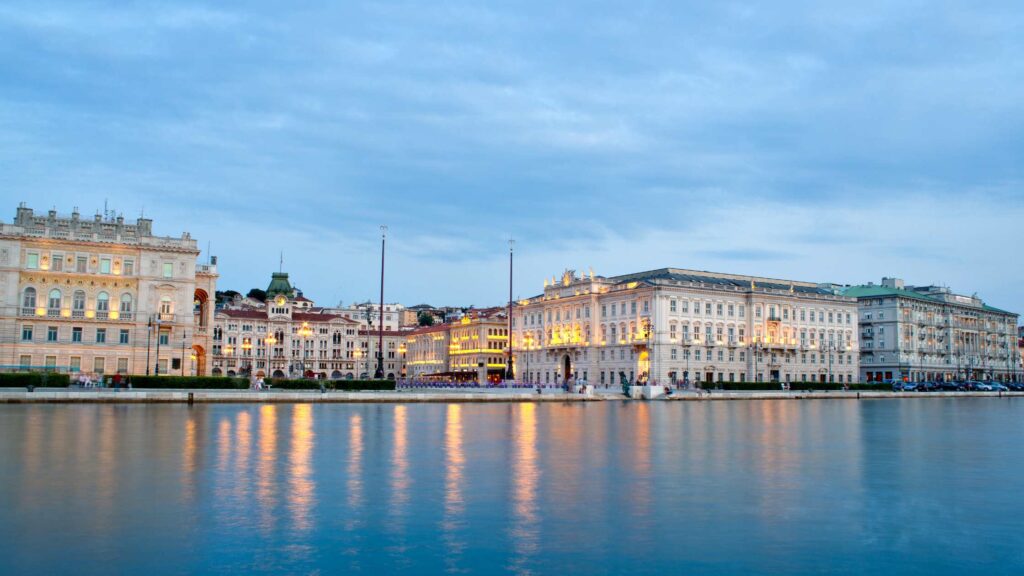 The theatre was built between the 1st and 2nd centuries AD by the emperor Quintus Petronius Modesto.
Slovenian Beaches: Extend your coastal adventure by visiting the picturesque Slovenian towns of Portorož and Koper.
A short journey from Trieste by bus or car, these beach destinations offer a tranquil escape. Portorož invites you with its pristine beaches, rejuvenating spa treatments, and exquisite seafood.
In Koper, wander through the charming old town, admire Venetian architecture, and immerse yourself in the town's rich history and cultural heritage.
By Leo Aguilar, Safari Nomad
CAPRI
Capri is a fantastic destination for solo travelers, offering many sights and activities. Here are some of the best places to see in Capri, along with practical tips to help you plan your visit.
One of the highlights of Capri is the Blue Grotto, a sea cave renowned for its vibrant blue waters. To get there, you can take a boat from Marina Grande.
Once outside the cave, you'll be transferred into a small rowboat.
Once inside, you'll be mesmerized by the ethereal glow from sunlight passing through the cave's underwater opening.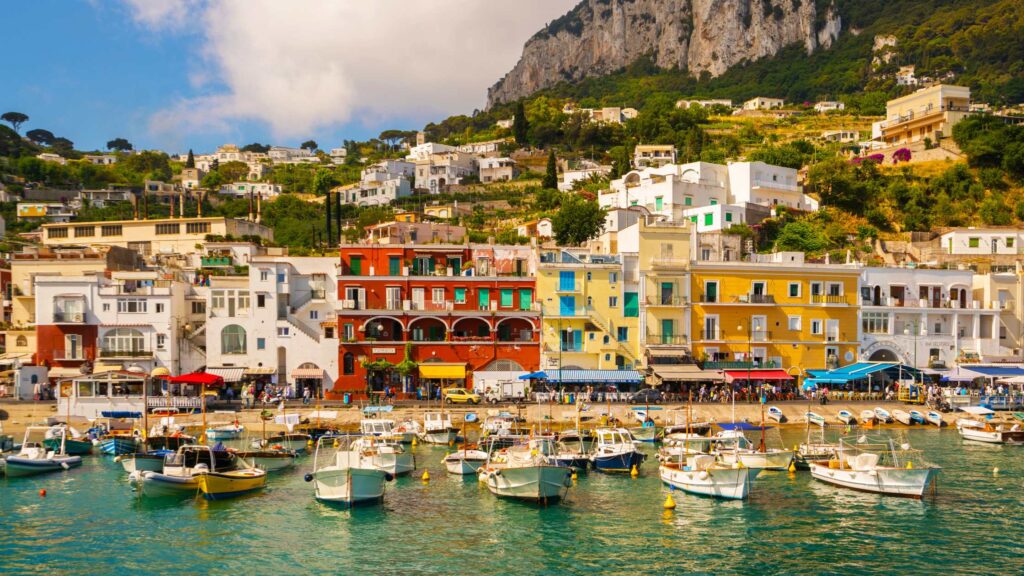 The Blue Grotto is best visited in the morning when the sunlight illuminates the cave most beautifully. Be prepared for a short wait, as it can get crowded during peak hours.
For breathtaking panoramic views of Capri, head to Monte Solaro. You can reach the summit by hiking or taking a chairlift from Anacapri.
Once there, you'll be rewarded with vistas of the Mediterranean Sea, the Faraglioni rock formations, and the town of Capri.
If you're into history, you shouldn't miss a visit to Villa Jovis, the ruins of Emperor Tiberius' former residence. Perched on a cliff, exploring the ruins will transport you back in time and provide stunning views of the island.
Capri Town is the vibrant heart of the island, bustling with boutique shops, charming cafés, and lively squares.
Stroll through the narrow streets, admire the stylish fashion boutiques, and indulge in delicious Italian gelato.
Don't miss the iconic Piazzetta, a small square where locals and visitors socialize and enjoy the vibrant atmosphere.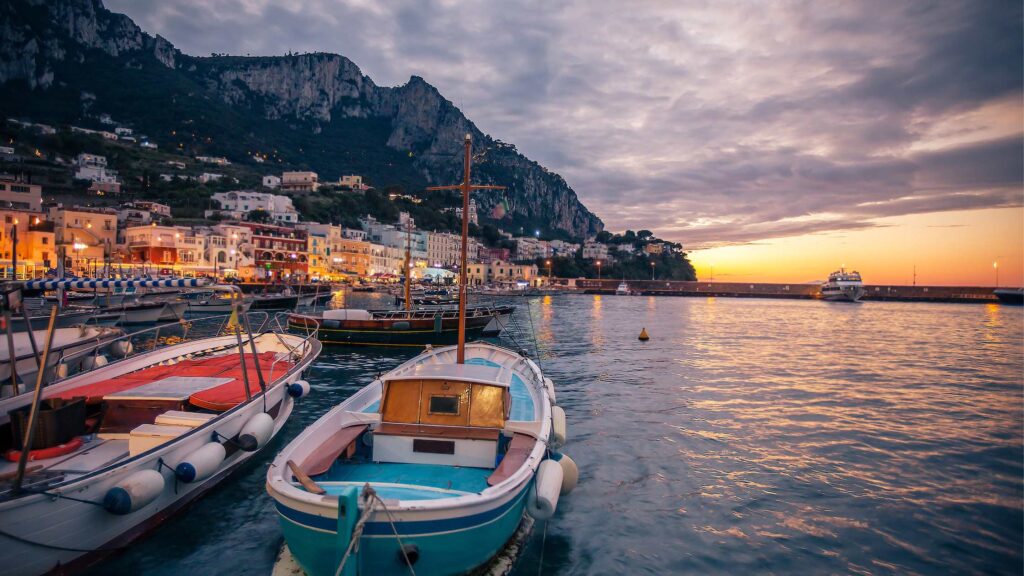 Exploring Capri Town is particularly enjoyable in the late afternoon or early evening. The day tourists leave and the streets are less crowded.
In conclusion, Capri is a paradise for solo travelers looking for history, nature, and relaxation.
From the Blue Grotto to the panoramic views from Monte Solaro, the island offers a wide range of experiences.
By Jo, World Wild Schooling
ITALY SOLO TRAVEL DESTINATIONS MAP