Are you planning Mexico solo travel? You are in the right place. From historic landmarks to delicious food and stunning beaches, there are many reasons to visit Mexico, one of the most visited countries in the world.
Whether you are planning your solo trip to Mexico to explore the Mayan Ruins or swim with whale sharks or come back learning a Mexican cuisine or two, fellow travel bloggers pick their favourite experiences during traveling solo in Mexico.
Find the best bucket list experiences to add to your Mexico solo travel itinerary.
Check out this insurance by Safety Wing, which offers a pretty good cover for you and your family! They even provide monthly insurance, much required for slow travelers like us! Book here!
LOOKING FOR MORE SOLO TRAVEL INSPIRATION? CHECK THESE SOLO TRAVEL GUIDES?
MEXICO SOLO TRAVEL BUCKET LIST THINGS TO DO
EXPLORE THE BEAUTIFUL IZAMAL
The Pueblo Magico of Izamal is a great place to visit on your Mexico solo travel.
Izamal is a small city in the middle of Yucatán, well located for a day trip from Mérida or Valladolid.
Izamal was one of my favourite day trips when I lived nearby Mérida.
It's easily explorable and the fact that there's a massive pyramid in the middle of town always makes me smile.
You can safely and efficiently explore the whole city in one day; it's big enough to keep you busy without feeling overwhelmed.
Izamal is also known as the Yellow City because its historic centre is painted yellow; there are many theories about why it's yellow but no one seems to give a definitive answer.
The city is also known as the City of Three Cultures because it's a modern Mexican city where you'll hear the Mayan language spoken while you stroll around Colonial, Pre-Hispanic and modern buildings.
While in Izamal be sure to visit the Convent de San Antonio de Padua and Kinich Kamko, the most critical remaining Maya site in Izamal.
The views of this vast, urban pyramid are pretty spectacular.
Once you've checked these two sites, take the time to stroll around and get to know this highly photogenic small town.
One of the best tours I recommend for handicraft lovers is this private tour that gives you glimpses of the local artwork.
If you're looking for a great lunch spot, everyone loves Kinich so be sure to get there early to grab a table.
If you prefer market snacks that's also possible but remember that the market will be closed by 2 pm.
By Cassie, Mexico Cassie
HIKE THE EL FARO LIGHTHOUSE
Located in Mazatlan, the trail to El Faro Lighthouse provides a city hike with easy accessibility, and is one of the best things to do during Mexico solo travel.
Since the trek attracts many residents and visitors, it's safe to hike alone.
The lighthouse sits at the southern tip of the city, on the peak of Cerro del Creston.
You can reach the trail on foot if you arrive by cruise ship. If you're staying in the Gold Zone, you must take a taxi to the trailhead.
Hiking the trail is free. However, you can walk a glass floor at the top, which costs USD 1 or 20 pesos.
Along the way, you'll encounter stray cats who call Cerro del Creston their home.
Starting the hike early is advisable since the trail does not protect from the hot sun. The path opens at 6:30 am and the glass floor an hour later.
Convenient restrooms at the bottom of the hill require a 10 pesos fee. Remember to use sunscreen, take lots of water, and wear a hat.
The trail starts with a paved, wide path but soon turns into a series of narrow stairs.
I appreciated the step counters, which indicated how far I'd hiked, and gave encouragement to keep going on the Stairmaster trail.
Expect to take 30 minutes or more to complete the climb.
This 1.5-mile roundtrip hike includes a 520-foot elevation gain, but you'll be rewarded with ocean breezes at the top.
At the peak, you'll savour magnificent views of the Pacific Ocean and Mazatlan city from the highest lighthouse in the Americas, making it a worthwhile stop on your Mexico solo trip.
Here, you can purchase bottled water and Gatorade for your walk down.
If you prefer to hike with a group, you can combine the El Faro Lighthouse with a city tour, which allows you to see some of Mazatlan's historic areas.
By Karen, Forever Karen
WATCH THE SEA TURTLES
Akumal Bay is a great place to see sea turtles and one of the best places to visit during Mexico solo travel.
Spending a couple of hours with these majestic sea turtles is a great solo activity, and one you won't soon forget!
Being alone (besides the other tour participants) is a great way to focus your attention on the turtles.
Akumal Bay is a nature preserve that is under the protection of the Mexican government so there are many regulations.
This is one of the BEST experiences I've had in Mexico. Who doesn't love a sea turtle?!
Therefore, the best way to see the turtles at Akumal is to join a tour group.
(If you choose to attempt this activity on your own you MAY be breaking the law, and you WILL be harassed by the tour providers who have the proper permits for this activity.)
There are a couple of dive shops on the bay that offer tours.
If you don't have transportation, you can simply take a taxi and then make your way to one of the dive shops.
To get the best experience (i.e., fewer crowds) you will want to show up for the first tour of the day.
If you are having trouble working out the details of getting to Akumal Bay, check out these guided tours – Akumal Bay Snorkeling with Turtles or "Turtles Encounter with 2 hours free time at the Akumal Beach" that will take care of the details for you.
By Angie Kunze, We're Not in Kansas Anymore
VISIT THE RUINS OF COBA
One of the best experiences you can have on your Mexico solo travel is venturing into the ancient Mayan ruins of Coba by bike.
Unlike more popular sites like Chichen Itza, Coba offers a unique opportunity to climb the Nohoch Mul pyramid.
Standing at 42 meters, this pyramid is the second tallest in the Yucatan peninsula. Ascending to the top is no easy feat, but the reward is breathtaking.
From the summit, you'll be treated to a mesmerizing view of the lush green jungle, with glimpses of other Coba pyramids piercing through the canopy.
What makes Coba an exceptional place to explore alone is the chance to have these awe-inspiring vistas all to yourself.
To achieve this, you'll need to arrive early at the complex's entrance as soon as it opens at 8 a.m.
While there may still be a few other early-bird travelers, you can increase your chances of solitude by renting a bicycle.
Within just half an hour of pedalling through the Mexican jungle, you can stand in solitude at the incredible archaeological wonder of the Nohoch Mul pyramid.
Renting a bicycle not only allows for a quicker journey to the pyramid but also grants you the opportunity to explore the entire Coba site effortlessly.
While the ruins of Coba may not be as vast as those in Tikal or Calakmul, the site is still substantial enough that walking every distance can be tiring.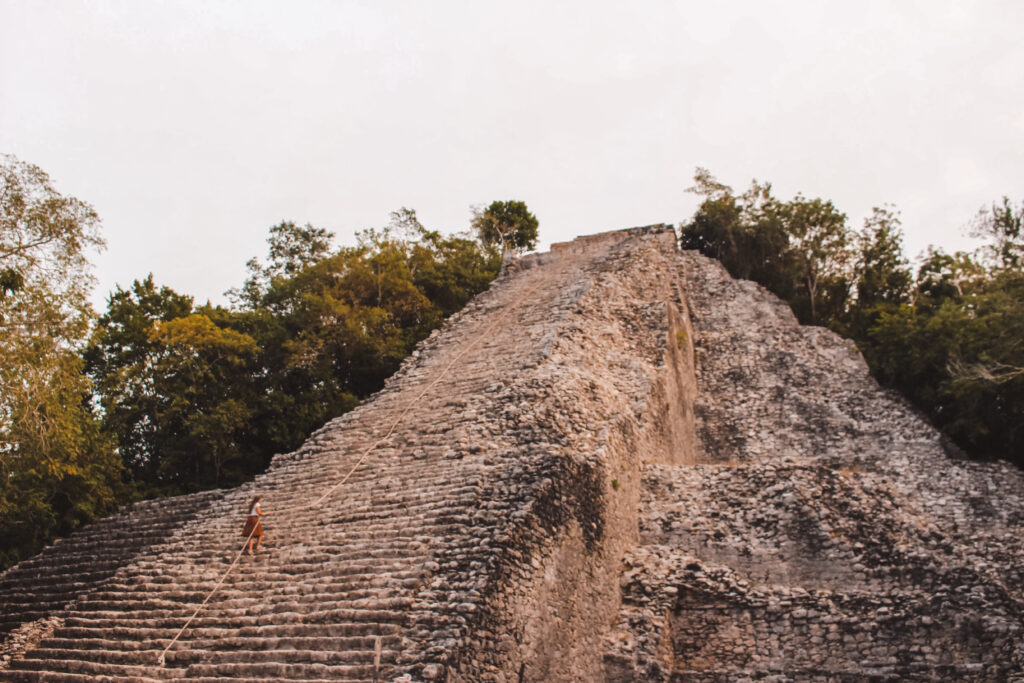 However, by cycling, you can effortlessly cover more ground, ensuring you don't miss any hidden gems scattered throughout the ancient city.
As you traverse the site on your bike, you'll discover one of the unique features of Coba: the elevated roads, known as 'sacbe,' that once connected various clusters of pyramids and residential buildings.
These roads were not only essential for internal transportation but also connected Coba to neighbouring cities.
Following these ancient Mayan paths on your bicycle will make you feel connected to the rich history of the region.
By Maartje, Sebastiaan and The Orange Backpack
JOIN A FOOD TOUR IN MERIDA
If you are a foodie, one of the best things to do on your Mexico solo travel is to join a food tour.
Merida is located on the Yucatan Peninsula and is filled to the brim with exciting history, beautiful architecture, bustling nightlife, and most importantly tons of incredible food.
One of our absolute favourite parts about traveling is tasting the food from all over the world.
It's such an easy way to learn more about the culture of a place, and it opens your palate up to new and exciting flavours.
A visit to Merida is fantastic, but trying out all of the local Yucatan cuisine is a crucial part of your visit.
The cuisine here is influenced by Mayan culture, and Spanish, Lebanese, North African, Dutch, and Caribbean cuisines. And this combination turns out absolutely delicious.
While you are in town you should book a food tour with a local, to learn the history of the food in the area, to taste some of the dishes and to find some of the best restaurants.
Or, book a cooking class to learn how to make some of the dishes yourself, knowing how to cook them is the best souvenir you can buy yourself! Or in our opinion, plan to do both!
Joining the tour makes it especially easy when traveling alone as you have people to enjoy this delicious food with!
However, in your free time be sure to try even more of the local dishes.
We have many favourite Yucatan food items to try, but some of our favourites include Salbutes, Panuchos, Polcanes and lechón al horno.
By Adam and Kathryn, Adventures of A+K
SWIM BELOW WATERFALLS
Nestled in a vibrant green valley in rural Oaxaca, Santiago Apoala is a charming farming village surrounded by cascading waterfalls and excellent hiking trails.
If you're looking for a safe and peaceful, yet off-the-beaten-track outdoorsy destination to explore on your Mexico solo travel, Santiago Apoala is the place to go.
Most Santiago Apoala journeys begin in Oaxaca's capital, Oaxaca de Juarez.
From there, you can either take a guided day trip with a local company or rent a car and drive to the village on your own. The drive takes about two hours, depending on traffic.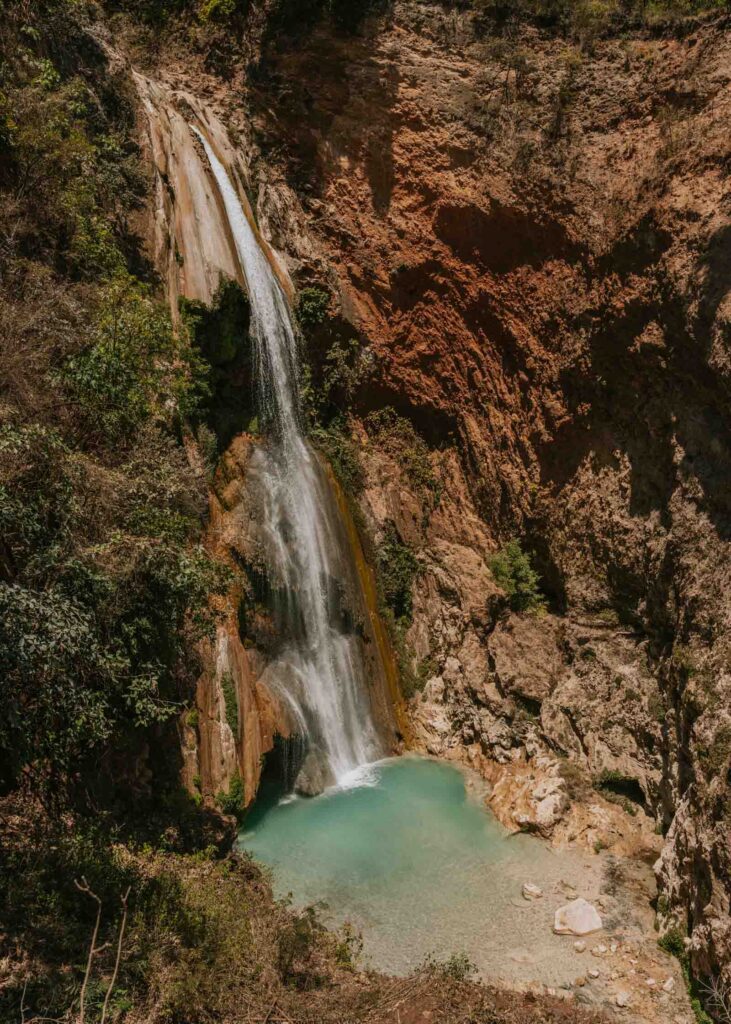 Before you arrive in the village, you'll have the chance to look down at the beautiful valley from above.
As soon as you arrive in the village, be sure to visit the ecotourism office (it's easy to find as it's a very small town), and pay a small visitor fee.
You can also hire a local guide to help you responsibly and safely explore the nearby hiking trails and waterfalls.
If you only have a day in Santiago Apoala, maximize your time with a hike along the river stream, a visit to the Cola de Serpiente Waterfall, and a few hours spent swimming in turquoise blue pools.
Read this complete Santiago Apoala travel guide to plan your visit.
By Annie, Your Friend the Nomad
SEE THE BIOLUMINESCENCE IN HOLBOX
If traveling the Yucatan Peninsula alone, you'll want to go to Holbox, for one of the beautiful experiences on your Mexico solo travel.
It's an attractive little destination that is growing in popularity. It's a nice place to escape the action of big cities like Cancun, Playa del Carmen, or Merida.
It's a laid-back island with a beachy, small-town vibe and some unique experiences, namely the opportunity to see the Bioluminescence in Holbox.
If you're not familiar with Bioluminescence, it's a natural phenomenon that occurs when certain species of plankton exist in an environment with the right conditions to see them.
The most important and notable of these conditions is darkness.
The beach has to be remote enough, far enough from city or town lights, and blocked from the moonlight for at least some portion of the night.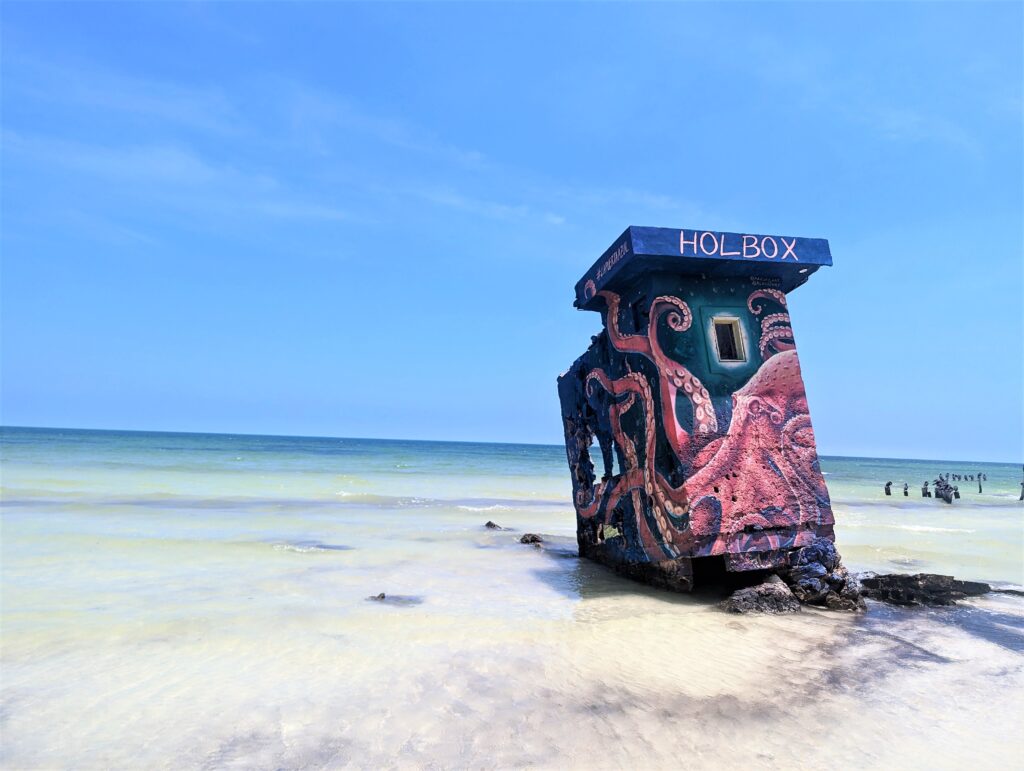 There are only a small number of accessible places in the world where you can see this phenomenon and Holbox is one of them!
There is a lagoon on the southwest side of the island that is unofficially called Laguna Bioluminescencia, near Punta Cocos, where the conditions are just right.
Once the darkness settles in, after 9 PM, you can make your way to the Bioluminescence lagoon by taxi or on a tour.
Wade out into the waters of the lagoon and watch the plankton respond by lighting up when they are disturbed or activated.
Don't worry about photos. It's too dark for photos to come out well unless you have specialized equipment.
This is a time to live in the moment and enjoy a totally unique experience.
By Andrew Uyal, Flights And Footsteps
EXPLORE THE COLOURFUL TOWN OF VALLADOLID
Valladolid in Mexico is a vibrantly, charming colonial city located in the Yucatan Peninsula and can be visited quite easily from Cancun or Tulum on a day trip.
Valladolid is an ideal destination to add to your Mexico solo travel if you want a blend of history, architecture and many fun things to do.
It was founded in 1543 and its rich architecture and colonial-era buildings are some of the most picturesque in all of Mexico.
It's the perfect halfway place to stop if you're visiting Chichen Itza; there are plenty of places to stay locally in the historic haciendas with incredible balconies and fresh mint tea.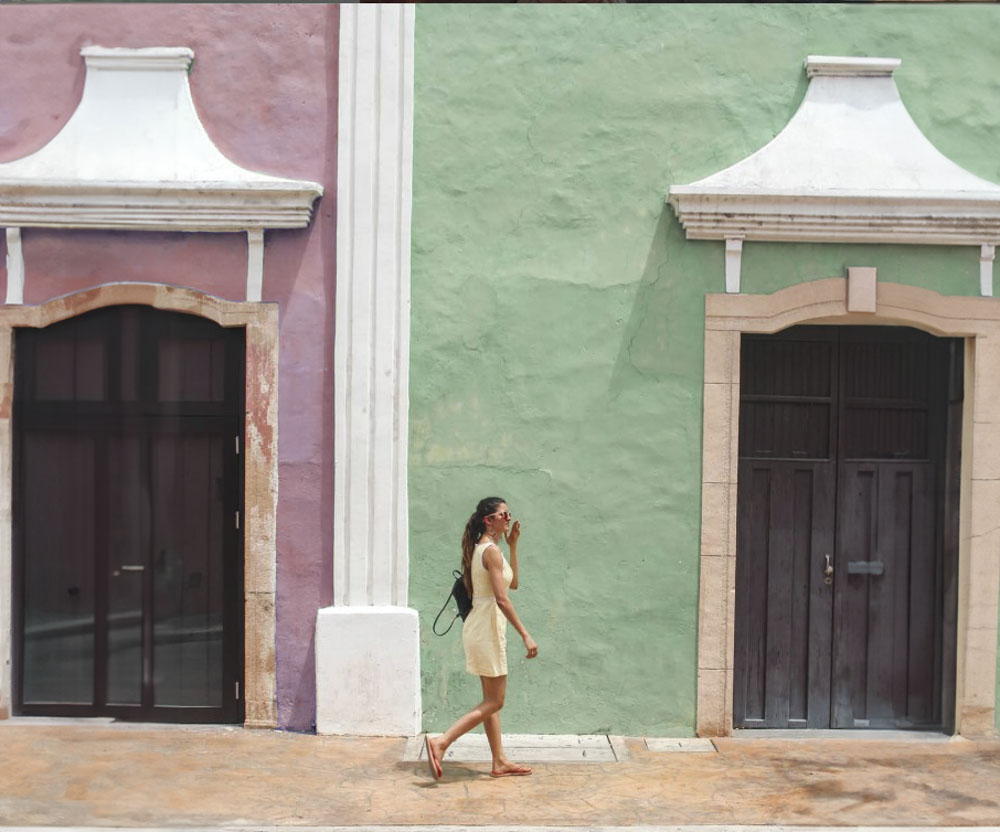 The locals in Valladolid are exceedingly friendly and welcoming, meaning it is the perfect place to visit if you are travelling solo; you'll get many recommendations for things to do in the area and the best restaurants in town.
Stroll around the streets and admire the incredibly colourful buildings, each in pastel ice cream colours.
There are also plenty of hostels in Valladolid if you're looking to meet other travellers and make friends; joining in tours to the local cenotes is a dream.
A cenote is a natural sinkhole with crystal-clear waters that is perfect for swimming and diving and generally, provide some of the best pictures you'll ever take!
By Adriana Neptuna, Wanderlicious
JOIN A COOKING CLASS IN TULUM
Taking a cooking class is an excellent experience on your Mexico solo travel.
Engaging in a cooking class allows you to learn about the country's culinary heritage and get immersed in the local cuisine.
It's also a way to interact with locals, meet other travellers, and create fun memories.
One highly recommended cooking class is Rivera Kitchen Tulum.
Located in Tulum, The Rivera Kitchen Tulum is easily accessible by a short taxi ride.
Your accommodation can organise your transport, or you can enquire with the cooking school about transport when booking your class.
The Rivera Kitchen Tulum cooking class offers a hands-on experience, allowing you to cook authentic Mexican dishes from scratch.
The staff share their family recipes with you in their classes – which take place in the comfort of their home, and they are incredibly friendly.
The class begins with an introduction to the traditional ingredients used in Mexican cuisine, then they'll guide you through the cooking process – often making dishes such as tortillas and guacamole – yum!
Once you've finished cooking you'll get to sit down altogether and enjoy eating the delicious meal along with a beer and mezcal!
Make sure to get some photos of the fun to post to social media, along with a great Mexico caption!
I found this a really lovely activity when I was travelling solo as I got to meet with like-minded food enthusiasts and make new friends in a fun and relaxed environment!
Book your tour here.
By Catrina, 24 Hours Layover
ADMIRE THE STUNNING WATERFALLS AT HIERVE EL AGUA
Oaxaca has one of the most stunning natural wonders of Mexico: Hierve El Agua.
These are two petrified waterfalls formed over thousands of years from carbonated water that leaks from the spring on the top of the cliff.
The entrance is near one of the waterfalls, and you can hike to see the second one.
If you don't feel like hiking, though, don't worry. Actually, the most excellent part of Hierve el Agua is the turquoise pools that are on top of the cliff.
Some are natural and some are artificial, but they are both impressively beautiful and offer amazing views of the valley.
It's the perfect place to be if you are in a meditative state of mind. You can just relax there by yourself while appreciating the natural surroundings.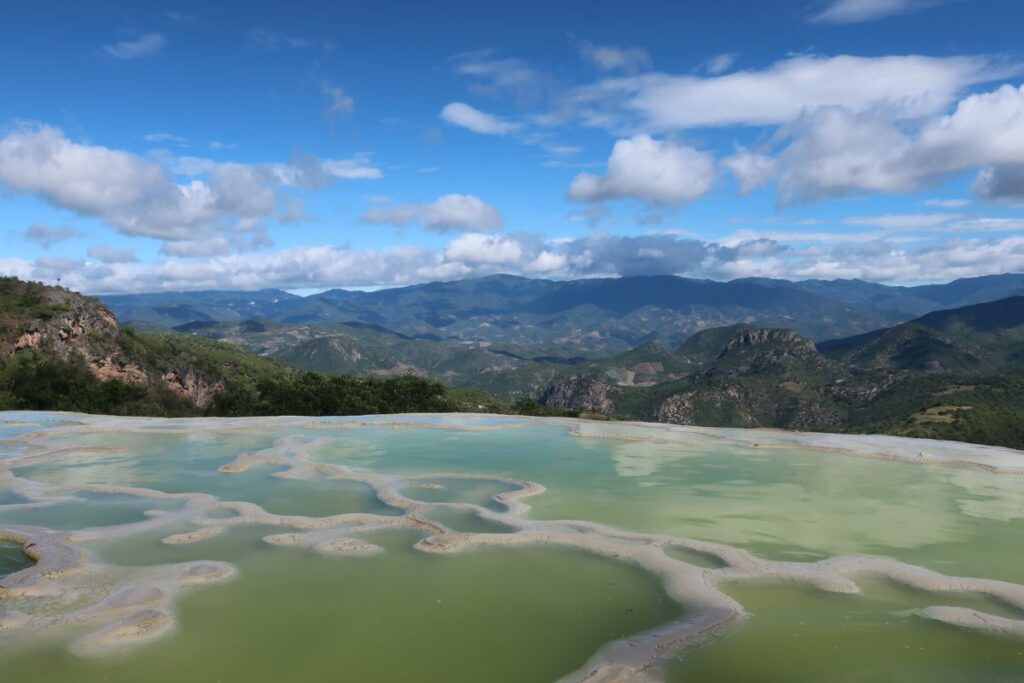 Even though Hierve el Agua is a popular destination among travelers, it's located in a remote area of Oaxaca.
But don't worry, getting there is easy. There are plenty of tours to Hierve el Agua that will take you there and even do some exciting stops along the way.
You will go with a group so you don't need to worry about safety.
Make sure to add a trip to Hierve el Agua to your itinerary if you spend 3 days in Oaxaca or more.
I loved my time there and even though I have traveled a lot in Mexico, I haven't visited any other natural attraction as beautiful as Hierve el Agua.
By Sharon, The Roads Beyond
CHECK OUT THE MUMMIES OF GUANAJUATO
There are tons of things you can do on your Mexico solo travel.
Mexico has it all; culture, music, art, beaches, world-class restaurants, mummies…wait…what? Mummies? Yes!
One of Mexico's most intriguing attractions is the mummies of Guanajuato.
Guanajuato is a picturesque town in central Mexico, northwest of Mexico City. The mummies are housed in a local museum in the centre of town.
The legend is that in the early 1800s, there was a cholera epidemic in town.
The residents died at such a rate that there was a rush to make sure they were all appropriately buried.
The area where the corpses were buried had particular soil that preserved the bodies due to their chemical composition.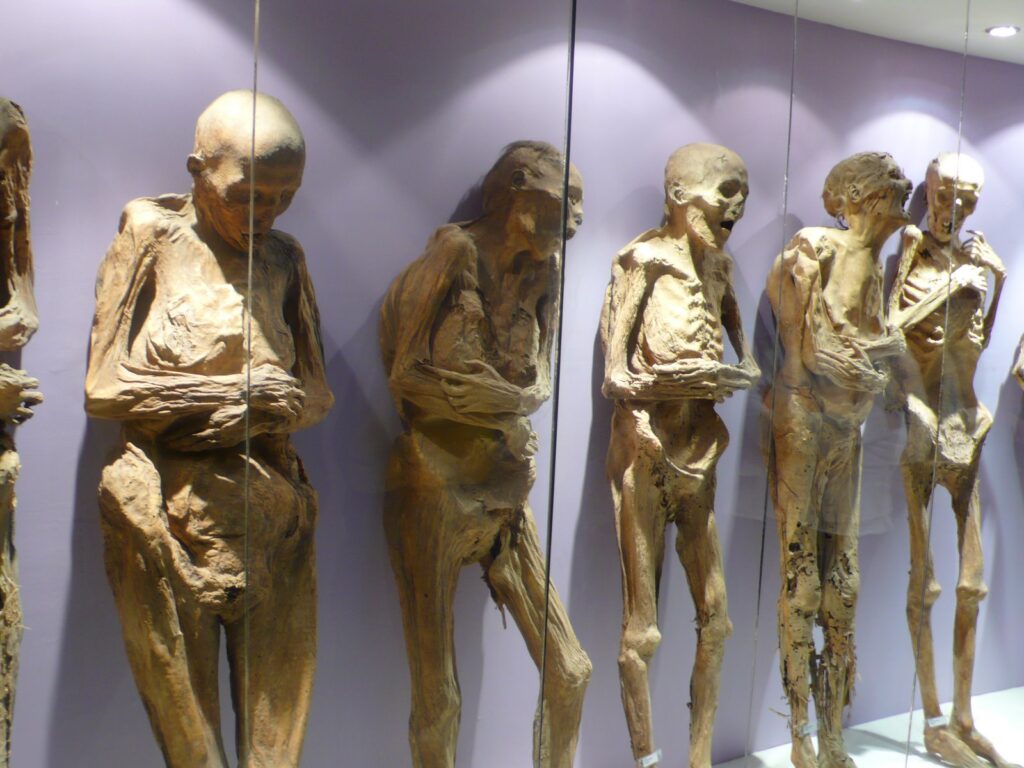 Years later, when some corpses were exhumed to make space for others, the corpses were found to be unusually well preserved.
This prompted a surge in tourism that has only been increasing over the years.
Today visitors can see the mummies encased in glass and learn about their identities and the circumstances of their deaths.
But Guanajuato is not just about mummies, it is also a town worth visiting on its own either solo or with others.
Book a Guanajuato city tour including the mummies.
I recommend, if you're in the area, stop by and visit the mummies of Guanajuato solo…if you dare.
By Talek Nantes, Travels With Talek
GO KAYAKING IN CANCUN
One of the activities you can do in Cancun even if you are traveling alone is kayaking in the Nichuptè lagoon.
The lagoon is a vast body of water that separates the Cancun Hotel Zone from Downtown and it's home to different types of mangrove forests that create islets and winding canals offering shelters to a wealth of wildlife including many birds and fish species.
Kayaking in the lagoon Nichupte' is the best and most eco-friendly way to enjoy this natural oasis in Cancun and escape from the noisy city, a great alternative to the beach and its mesmerizing turquoise waters.
There are several companies offering tours and you can join one of them either at sunrise or sunset.
Remember that the morning is best to see more wildlife since it's quieter and has less boat traffic.
The tours cost around 40 USD per person and they provide a lifejacket and sometimes even a snack and soft drinks.
They also offer to take pictures of you for free which is a nice perk.
They leave from Scuba Cancun right in front of Playa Langosta.
The tour lasts about 2 hours and it's a great way to enjoy Cancun off the beaten path and exercise.
By Isabella, Lets Travel To Cancun
GO ON A ROAD TRIP IN HIDALGO
Among all the things to do in Mexico as a solo traveler renting a car and exploring is one of the most exciting.
I recently did a fantastic trip around the Hidalgo state driving through colourful Pueblos Magicos and learning about the local culture, exploring the most popular natural wonders, and enjoying the delicious local food.
Hidalgo state is one of the most underrated places to visit in Mexico and yet full of impressive landmarks, including the famous Prismas Basalticos in Huasca de Ocampo, the first proclaimed Pueblo Magico in Mexico.
Make sure you try the famous pastes in Real de Minas and walk around the colourful town, hike to the Peña del Aire, an impressive lookout point considered an important energetic hub with spectacular views over the valley.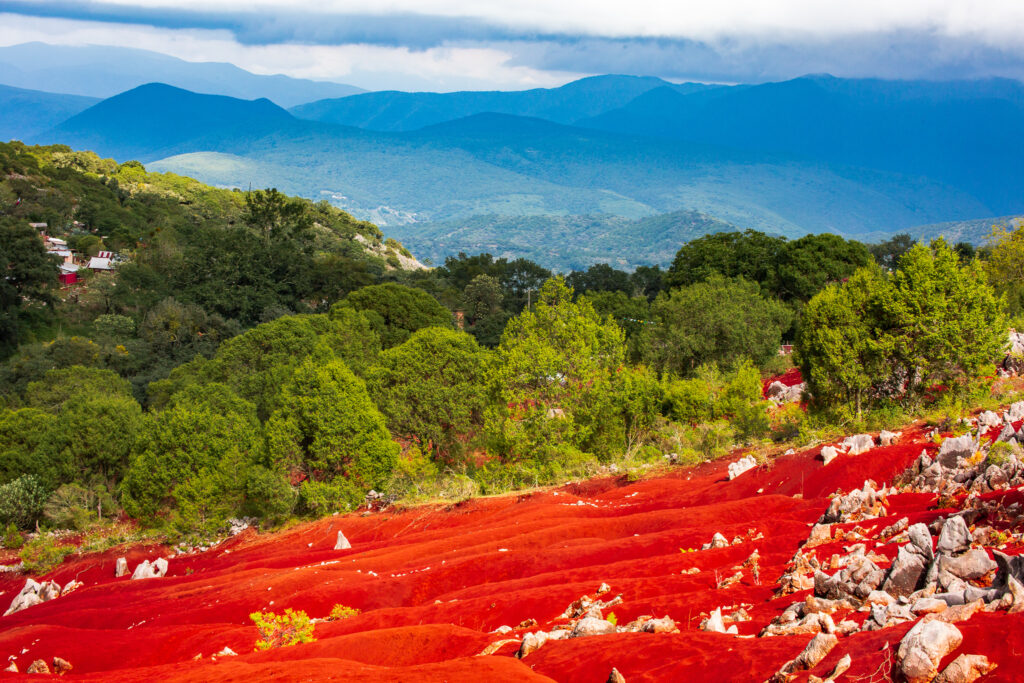 Visit the insta-famous Grutas de Tolantongo, and walk around the rock formation at El Contadero in Mineral del Monte.
Walk on the red soil of Las dunas rojas de san francisco and return to visit the archaeological sites of Pahñú and Tula.
Stop at the Dam of Zimapan, take a boat tour, and hike to the best lookout points.
10 days will be enough but if you have more you can enjoy more hikes and visit other sites.
I rented a car in Queretaro and started my trip there but you could also get to Mexico City and leave from there to Pachuca and continue the itinerary.
By Isabella Biava, Lets Travel To Mexico
EXPLORE THE WATERFALLS IN HUASTECA POTOSINA
The Huasteca Potosina region in San Luis Potosi is one of Mexico's most underrated destinations and one of the best places to visit on your Mexico solo travel if you love waterfalls.
This area is a waterfall wonderland, housing over 10 azure blue waterfalls nestled in lush green rainforest.
The easiest way to get to Huasteca Potosina is to fly or catch a long-distance bus to San Luis Potosi.
There are easy transport connections from several other destinations around the country, including Mexico City.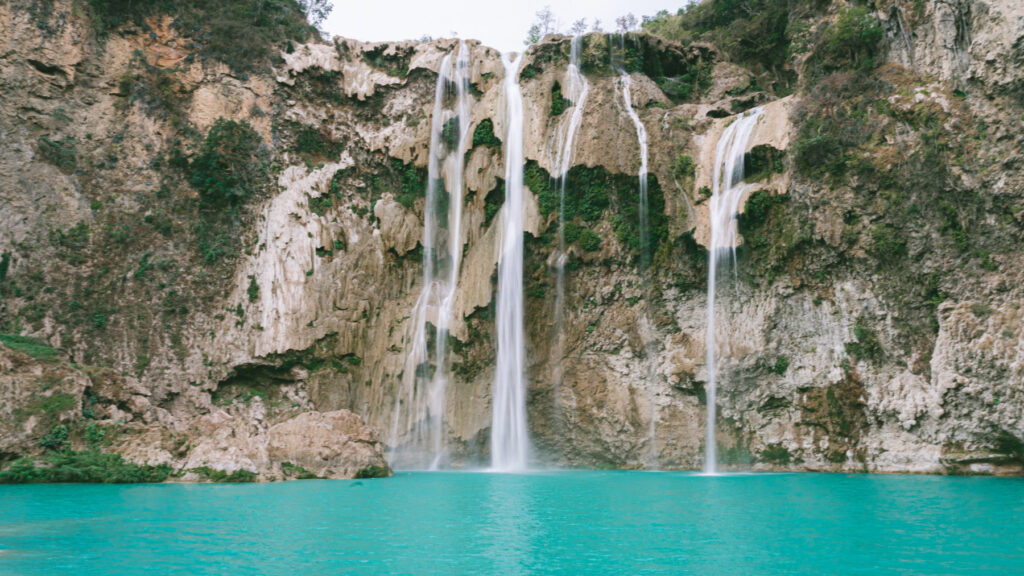 Once you arrive, pick up a rental car. Public transportation in the area is extremely limited, and the best way to see all the waterfalls and other natural attractions is by car.
As a solo traveller, you might like to enjoy this adventure on your own.
But if you're looking for some company, the Huasteca Potosina region is a very popular place for other adventure travellers.
Because public transport is so challenging, it's really common for travellers to meet in hostels or coordinate via Facebook groups to split the costs of a car rental and plan a road trip together.
How many waterfalls you can visit really depends on how much time you have, but I recommend a week's drive around the region.
It's hard to narrow it down, but some of my favourite, must-visit waterfalls are Cascadas de Minas Viejas, Cascada El Salto and Cascadas de Tamasopo.
Most waterfalls can be visited solo considering you have a car, and don't require any tour or guides.
But there are a couple that are best done with a tour. Cascada de Tamul is the largest and most spectacular waterfall in Huasteca Potosina, and you can only get close to it on a wooden canoe boat tour.
You can also take a fun waterfall jumping tour at Cascadas de Micos, where you will jump and swim through seven falls.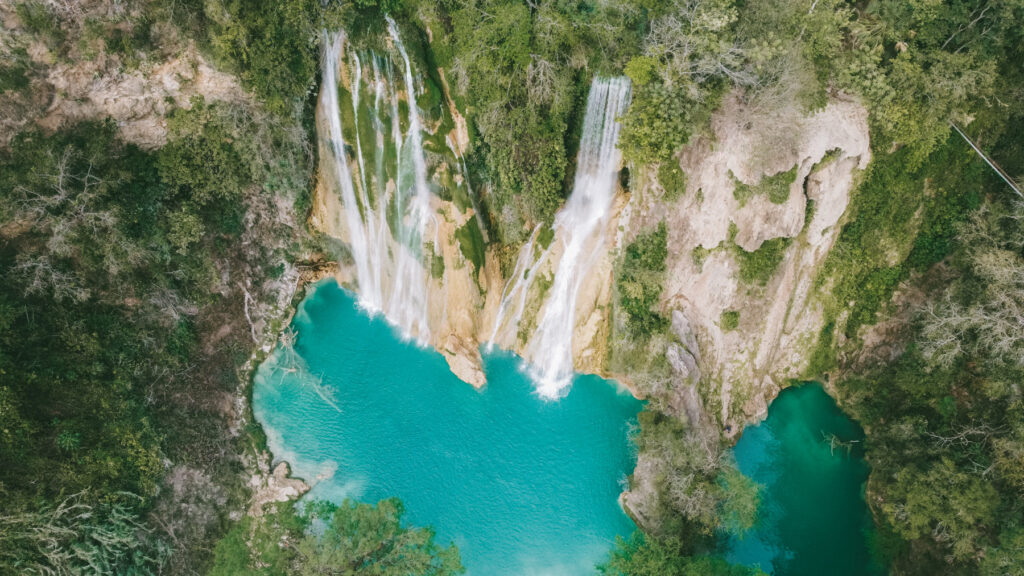 Huasteca Potosina is like nowhere else in Mexico.
If you're a nature lover like me, you will be in heaven seeing these insanely blue waterfalls with your own eyes!
By Sally, Sally Sees
ATTEND DAY OF THE DEAD
Día de los Muertos, or Day of the Dead, is one of the most culturally rich traditions in Mexico, and if you are into experiencing other cultures, it is one of the best fun things to do on your Mexico solo travel.
The way Mexicans celebrate life and death is something we can all learn from.
Walking through a cemetery lit by candles, decorated with fragrant flowers, and full of people honouring their loved ones is an incredible experience I will never forget.
And despite its focus on family, the Day of the Dead is a top thing to do in Mexico as a solo traveler.
To experience one of the most traditional celebrations, you'll want to travel to Oaxaca City.
It's best to arrive at least a few days before the festivities begin so that you can soak up all the Día de los Muertos vibes as the city begins to decorate.
During Day of the Dead in Oaxaca, you'll become enamoured by the elaborate altars, colorful flowers, and other festive decorations throughout the city.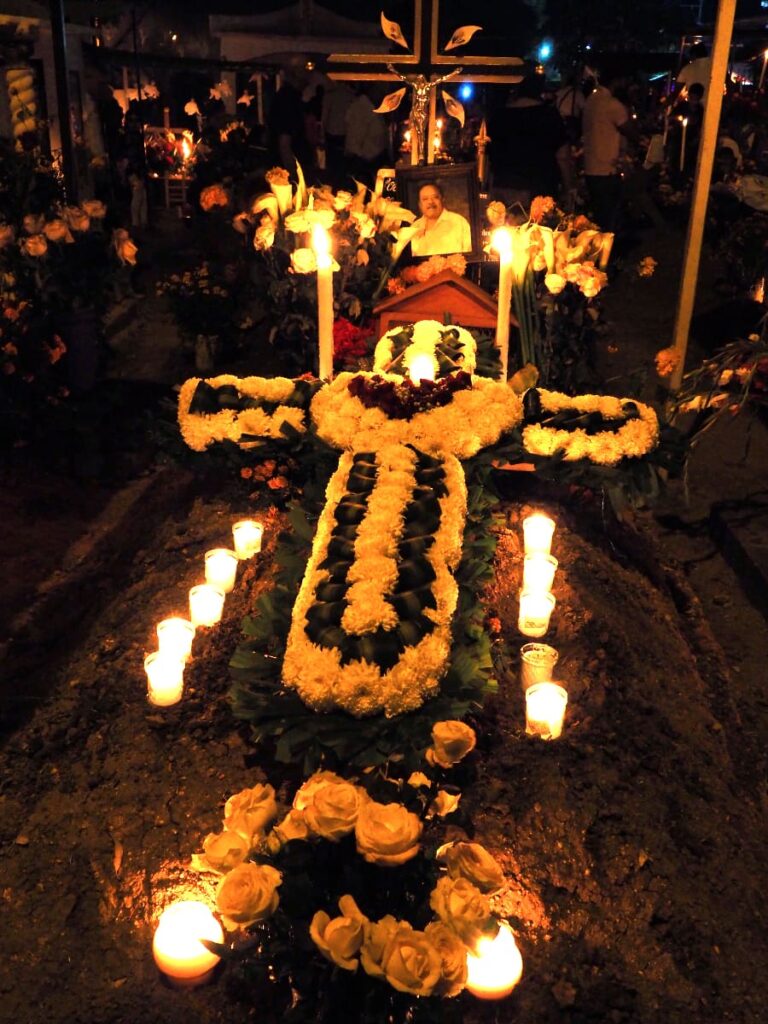 But the real magic comes in visiting a cemetery in Oaxaca.
In the days leading up to the celebration, families clean the gravesites of their loved ones and adorn them with fragrant flowers and candles which are believed to help guide the spirits on their way.
Then on the nights of October 31st and November 1st, Oaxacan families gather in the cemeteries to welcome the spirits of their loved ones to visit.
They spend the entire night singing, laughing, and telling stories of the deceased. And of course, sipping a mezcal.
Although this is a family celebration, Oaxacans are quick to welcome visitors for a taste of mezcal and perhaps a quick story of their loved ones.
It's a great way to integrate into the culture as a solo traveler in Mexico.
By Julien Casanova, Cultures Traveled
EXPERIENCE GUELAGUETZA FESTIVAL
With its roots in prehispanic times, the Guelaguetza Festival in Oaxaca has evolved into the largest celebration of indigenous culture in Latin America.
Guelaguetza translates to "offering," and implies an exchange of gifts and services.
It's a time when Oaxacans share their culture with each other and visitors, making it worth adding to your Mexico solo travel itinerary.
The Guelaguetza Festival is one of the most beautiful events I've experienced as a traveler.
With origins over 500 years old, it's an incredible celebration rooted in sharing traditions with others.
While the official Guelaguetza is celebrated on two Mondays in July, the reality is that the entire month of July is filled with parades, dancing, and traditional food and drink.
Guelaguetza in Oaxaca begins with the crowning of the Centéotl Corn Goddess, upon which the celebration revolves.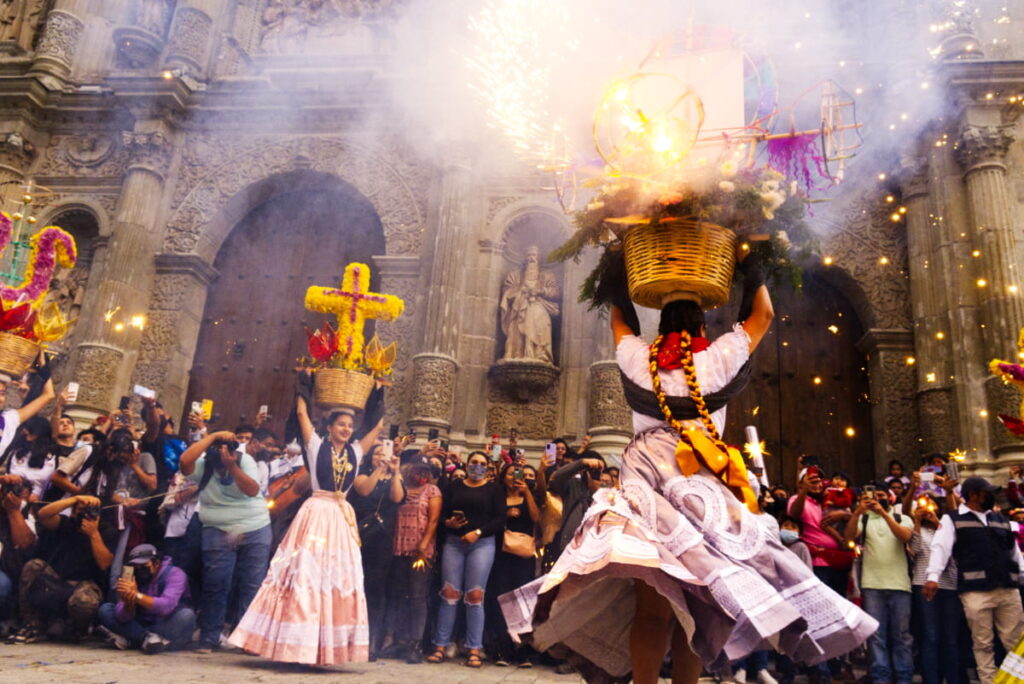 One woman is chosen based on how she embraces the indigenous culture within her community.
During the following weeks, the city comes alive with parades and traditional food fairs.
Another popular event during Guelaguetza is the mezcal festival where over 50 mezcal producers, craft beer brewers, and other traditional Oaxacan businesses showcase their products.
If you plan to visit Oaxaca during the Guelaguetza Festival, it's best to plan in advance.
As one of the most anticipated festivals in Mexico, accommodations, buses, and flights may be limited as the month of July approaches.
By Julien Casanova, Oaxaca Travel Tips
VISIT THE FAMOUS CENOTES
When in Tulum, including exploring the nearby cenotes on your list of must-do activities.
These natural sinkholes, crystal-clear turquoise waters and fascinating geological formations, offer a unique opportunity to swim and snorkel.
The choice of cenotes you can visit in this part of Yucatan is enormous!
Each cenote offers a unique experience, from crystal clear open waters surrounded by the lush vegetation of Grand Cenote or Cenote Car Wash to caverns filled with stalactites and stalagmites or rivers resembling cenotes such as Casa Cenote.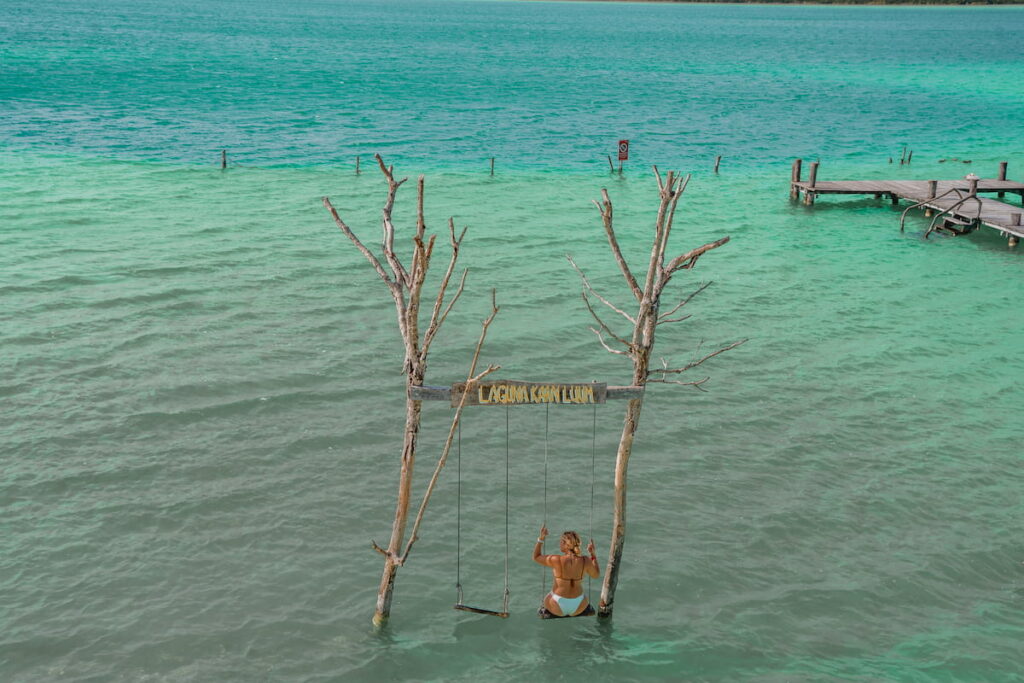 During my stay in Tulum, I visited many cenotes, but my two favourites were Gran Cenote home to tinny turtles and Laguna de Kaan Luum, the most epic lagoon-like cenote I have ever seen.
The best cenotes you can visit in Tulum alone, are Gran Cenote and Cenote Calavera, located only a short bicycle ride from downtown Tulum.
If you instead join a group, many fabulous cenote tours from Tulum are a great way to visit cenotes and make some friends. 
The Cenote Trail Jungle Bike Tour will take you to three fantastic cenotes and it includes lunch.
No matter which cenote you decide to visit, bring reef-friendly sun cream, plenty of water and cash for the entrance ticket.
By Mal, Raw Mal Roams
FUN THINGS TO DO ON YOUR MEXICO SOLO TRAVEL
HAVE FUN IN THE WATERPARK
Xel Ha is a beautiful natural water park that is a great place to visit when staying in Cancun, but it is not another accommodation,
With your ticket, you can expect a fun day filled with swimming, tubing, snorkelling and hammock lounging, making it a fun water adventure getaway to add to your Mexico solo travel.
I loved spending the day at Xel Ha. The breakfast and lunch buffets included in the ticket price were decent and since I was alone, I got to eat, swim and relax whenever I wanted.
Your ticket includes a breakfast and lunch buffet, snorkelling gear and life jackets, bike usage, and alcoholic drinks.
There are also more expensive tickets that allow you to experience other activities such as snuba (a scuba/snorkelling type activity), zip-biking, or swimming with stingrays.
Xel Ha is a great place to travel solo as you get to do what you want when you want to do it.
Whether you want to float down the river in a tube, cliff jump, zip-bike, relax in a hammock, snorkel, or visit one of the cenotes, visiting solo means it's up to you.
My main tip is not to drink too much, especially at the start of the day. Another good tip is to rest after eating.
Hop in a hammock or chair 15-30 minutes after eating to let your food settle before jumping back into the ocean.
My final tip would be to include a nice coverup and waterproof shoes in your Cancun packing list for this water park.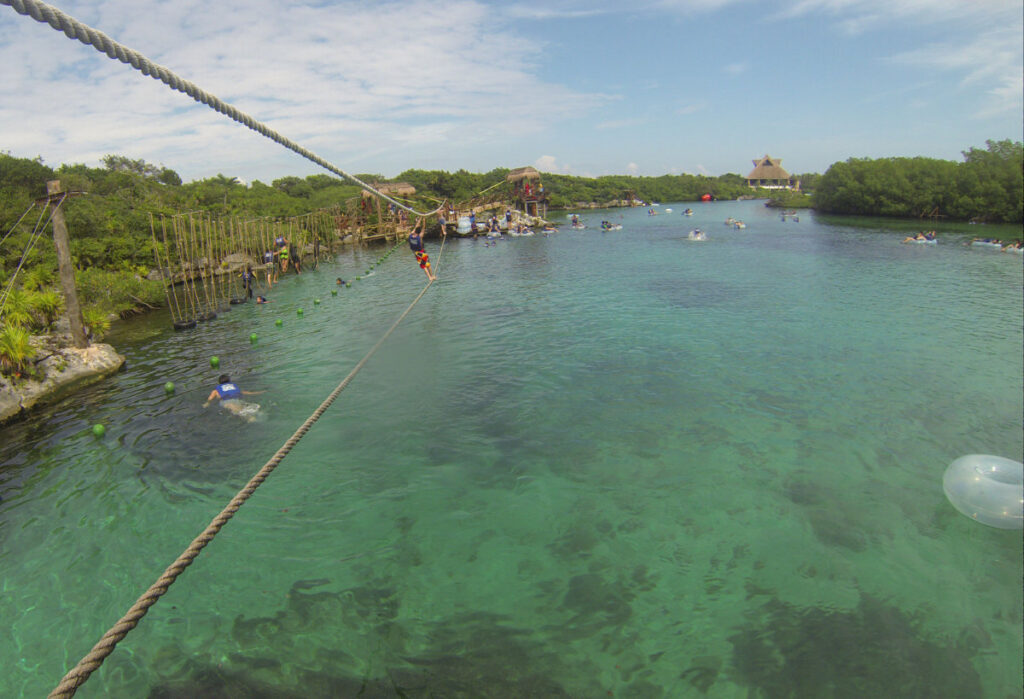 How to Get There
You can arrange van transport from your hotel when booking your ticket or take an ADO bus from the Cancun bus station.
Alternatively, take a collective (local shared taxi) or drive yourself.
If you want a more straightforward way to visit with transportation organised for you, you can also take this tour.
By Lexi, Stylish Packing Lists
SWIM WITH WHALE SHARKS
Swimming with whale sharks in Isla Mujeres is one of those once-in-a-lifetime activities, and shouldn't be missed when visiting the Yucatan. It is one of the best places to add to your Mexico solo travel itinerary.
June to August are the best months to visit, however, you'll likely still see them in September in smaller numbers.
While they have the word shark in their name, you don't have to be scared of them.
Whale sharks are filter-feeding fish, meaning their food sources are much smaller than you'd think, mostly krill and tiny jellyfish.
In knowing this, swimming with these peaceful giants is a must-do.
To do the whale shark swim you'll need to hop on a tour. Most trips begin in Cancun, although you can also join tours directly from Isla Mujeres, Tulum, Playa del Carmen or Holbox.
The tours typically combine time snorkelling with the sharks and a trip to the beach on Isla Mujeres.
You can often book these from your hotel in Cancun or Isla Mujeres, or if you're on a fixed schedule it's better to book ahead via a company like this hassle-free tour.
The whale shark swim is a great activity to do solo because it's easy to chat with other passengers on the boat because you're all excited.
Also, you'll be paired up with another traveler for your turn in the water, so it's perfectly okay to arrive solo.
My main tip for doing the whale shark swim is to know you must swim fast to keep up with them.
Be prepared to move quickly once you land in the water to maximise your time around the whale sharks.
The swim was one of the highlights of my trip. It went fast but was exhilarating each time I hopped in the ocean.
By Lexi, Wildlife Seeing
WATCH BEAUTIFUL BLUE WHALES
Situated on the Gulf of California, Loreto is a sleepy but colourful town on the coast of the Baja California Sur peninsula.
If you are looking for secluded, cute towns, add this town to your Mexico solo travel itinerary
The town is a popular vacation destination and one of the safest places in Mexico, making it an ideal destination for solo travellers.
The large bay in Loreto is known as Loreto Bay National Park.
It is not only home to a wealth of diverse marine life, but it's also one of the best places for water-based activities in Mexico.
Visitors can choose between diving and snorkelling, renting a kayak and even swimming with sea lions.
Hikers can explore the dramatic Tabor Canyon, while history buffs will enjoy the ancient La Pinguica cave paintings.
But it's blue whale watching that is the highlight of a visit to Loreto, where you can get up close with the largest animal in the world.
Blue whales were hunted to near extinction by the 20th century, but today, you can see these magnificent creatures in their natural habitat by taking a blue whale watching tour from Loreto.
Blue whales can be seen in Mexico between January-March each year and Loreto Sea and Land Tours offer a variety of day trips to see them from Loreto.
Organised tours can be an excellent way for a solo traveller to meet like-minded people, as well as learn from informative commentary from a professional guide.
Loreto is easily accessible via its international airport. Buses and shuttles can also be booked from La Paz and Los Cabos.
By Lucy and Dan, Thoroughly Travel
VISIT THE RUINS OF TEOTIHUACAN
Teotihuacan is an incredible archaeological site from a forgotten civilization, and if you are a history buff, it is a must-visit on your Mexico solo trip.
The balloon flight was the highlight of my trip to Mexico. The experience was fun, the views were sensational, and it was really cool to see the pyramids from the air
They left behind two enormous pyramids- the Pyramids of the Sun and Moon – and a line of temples along the Avenue of the Dead.
The site is an hour outside Mexico City, and you can easily spend an entire day exploring the ruins.
The best way to start your day there, however, is to take an early morning balloon ride over the pyramids and the surrounding countryside.
Several companies offer balloon rides, and they are all very similar. It's easy to arrange transfers from Mexico City with a pickup from many significant hotels when you book.
Of course, balloons are at the mercy of the winds, so exactly where you go is weather dependent.
You typically don't fly right over the pyramids, but as long as the balloon pilot can manoeuvre it using wind currents are different elevations, the balloons do fly very close.
Seeing an aerial perspective of the pyramids, plus the surrounding countryside, including fields of cactus farms, is very cool!
After you are picked up where your balloon lands, breakfast is usually provided, often accompanied by a mariachi band.
There are baskets for small groups and smaller baskets for a private tour, for a small additional fee.
There are usually two flight options.
Most flights are a time to coincide with the sunrise. If you have the second flight time, you will have breakfast and then the balloon ride.
Although you don't see the sunrise on the second flight of the day, the light is better and there are fewer balloons to share the sky with.
Typically, you are then taken back to Mexico City, but it is possible to arrange to be taken to the pyramids so you can spend a day exploring.
I recommend this tour or this one for an easy booking experience with excellent reviews.
By James Ian, Travel Collecting
HIKING IN LOS PUEBLOS
If you're into hiking, beautiful nature, and a unique local experience, hiking in Los Pueblos Mancomunados is the perfect thing to do on your Mexico solo travel.
Los Pueblos Mancomunados is a collaboration of 8 Zapotec communities and villages in the Sierra Norte Mountains near Oaxaca City.
They've built a network of hiking and biking) trails that connect the villages and pass by valleys, waterfalls, and gorgeous viewpoints.
Each village has a tourist information centre that can help you to find homestays within the village to spend the night and get a delicious homecooked Mexican meal.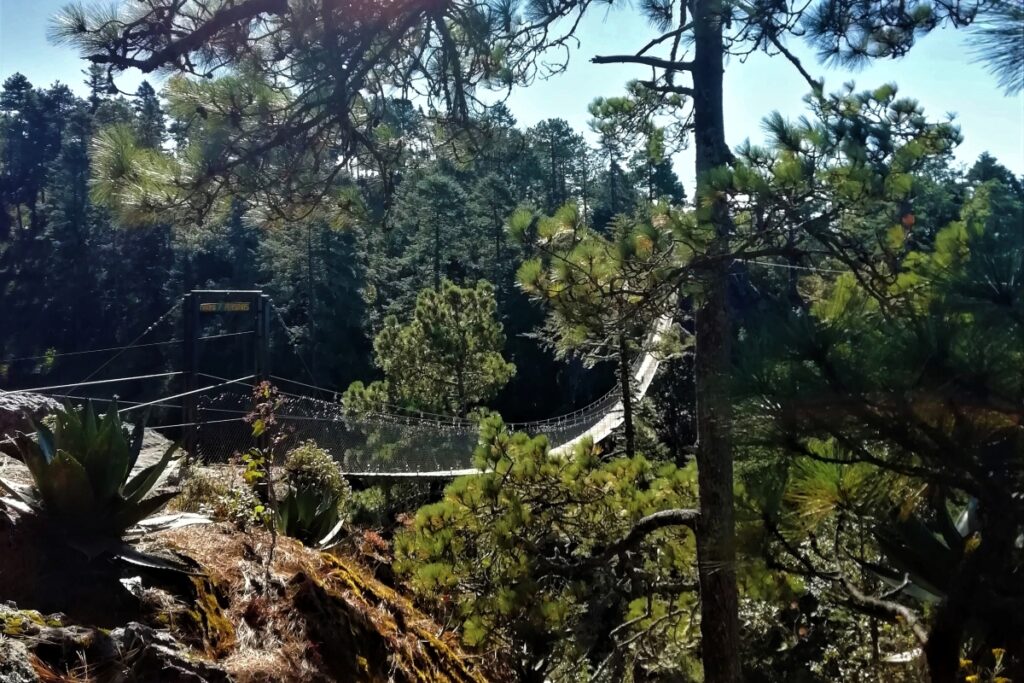 Because all villages work together and thrive on tourist visiting their region, the area is perfectly safe to explore by yourself.
I (a solo female traveler) actually did a three-day solo hike without a guide, and not once did I feel unsafe.
However, if you want to do the entire six-day hike through all villages, you must book a guide because some trails aren't clearly marked.
You can arrange a fully-guided tour from Oaxaca or simply ask the tourist information centre for a guide when you reach the villages.
For a fun one-day hike, take a bus to Tlacolula de Matamoros from Oaxada and then to Benito Juarez and hike around the hanging bridge.
If you don't want to determine the route and the bus ride, you can simply book this one-day trip.
By Lara Hartog, The Best Travel Gifts
PLAN A DAY TRIP TO LAS COLORADAS
Las Coloradas is a tiny village in Yucatan, Mexico that became famous for its stunning pink lakes.
It is one of the stunning landmarks you should add to your Mexico solo travel itinerary.
The lakes are actually inside a salt factory and they weren't really a tourist attraction until they became famous on Instagram a few years back.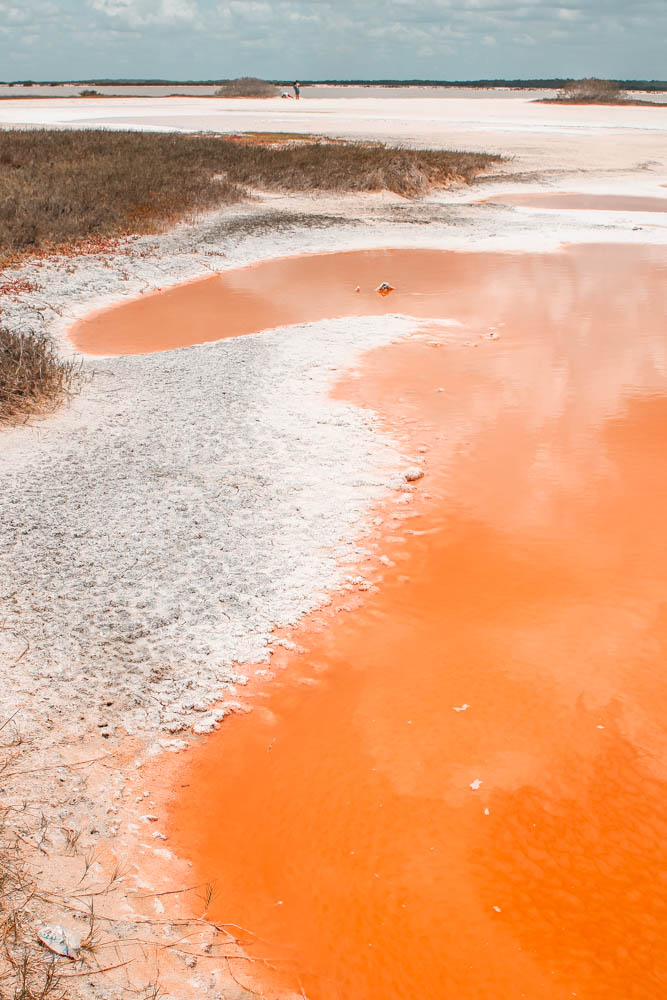 The lakes got that colour due to the concentration of salt and algae.
The colour of the water is due to the existence of a microorganism called Dunaliella salina that thrives in a salty environment.
These days, the factory allows visitors to check out the main lake independently or book a guided tour to go further in and see more lakes.
I highly recommend doing the tour, as this will give you a chance to visit quieter lakes as well as see an orange lake that looks straight from another planet, a yellow one and even a blue one where you can float just like on the Dead Sea!
I've visited Las Coloradas twice and the second time was with a tour and it made the experience so much better.
Another tip is to check when to visit. The lakes really do look very pink, but if you visit after a rainy day or during a cloudy day, the colour fades out a lot.
There's not a lot to do in Las Coloradas aside from visiting the pink lakes, but Ria Lagartos is close by and also makes for a beautiful place to visit in Mexico alone.
This is a super quiet village where you can see tons of wildlife, such as flamingos, crocodiles, and different species of birds.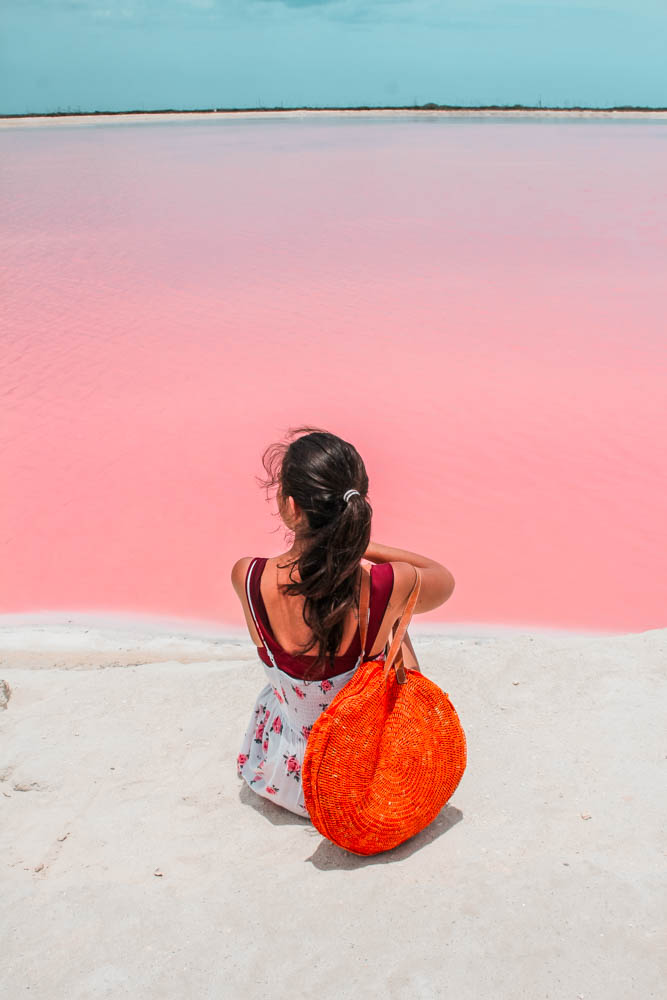 The best way to get to Las Coloradas is by booking a tour or driving directly (you can book a time at the entrance).
By bus, take one to Tizimin and once you get there, take another bus to Las Coloradas and it will drop you off at the entrance.
Check this best-recommended tour you can try:
From Playa del Carmen: Playa del Carmen/Cancún: Rio Lagartos & Las Coloradas Tour
By Dani Ramos, No Hurry To Get Home
VISIT THIS ANCIENT MAYAN CITY
Calakmul is an ancient Maya city in the east of Mexico, in Campeche.
The UNESCO World Heritage Site is still a hidden gem, undiscovered by mass tourism. If you want to go off-the-beaten path, Calakmul is a perfect stop on your Mexico solo travel.
As a solo traveler, you can either simply rent a car and drive to the entrance yourself, take the bus from Bacalar or Escarcega and take a taxi from the nearest town Xpujil, or join a group tour.
Once you get to the entrance, you can either hire a local guide to tell you more or walk around yourself.
From my 2 weeks Mexico trip, Calakmul was definitely my top favourite place to visit. It's gorgeous!
Walking around the Calakmul archaeological site, you feel the centuries-old history.
The drawings on the walls tell a lot about the way people used to live here thousands of years ago. There are also different kinds of exotic birds to spot in the trees.
In the bio reserve around the archaeological site of Calakmul, there are lots of other wild animals that roam around, such as jaguars and crocodiles.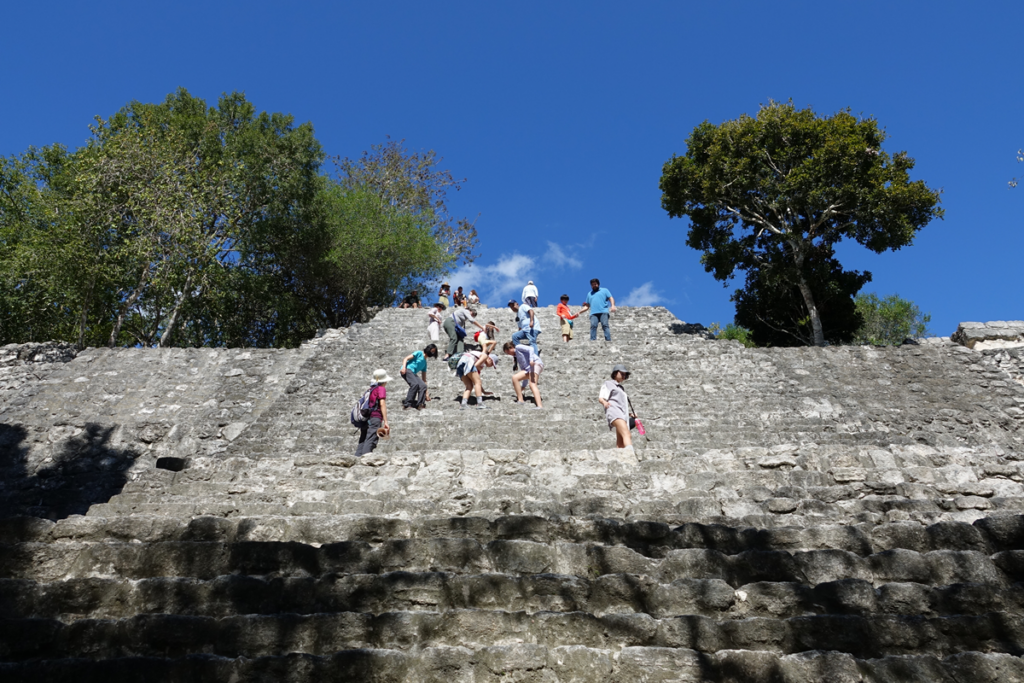 Calakmul is one of the few remaining Mayan places where visitors can climb on top of the ruins.
If you do not mind taking a few steps, walk all the way to the top of one of the Mayan temples for a great view of the trees.
As the crow flies, Calakmul in Mexico and neighbour Tikal in Guatemala are only 100 km (62 miles) apart.
By car, it's a 9-hour drive, though. These Mayan cities share the same massive jungle in the border area.
Here are some of the best tours to explore Calakmul:
By Elisa van Velzen, Flitter Fever
EXPLORE CUYUTLAN
Cuyutlán is a very small town in the state of Colima that sits on a sand bar between the Cuyutlán Lagoon and the Pacific Ocean.
It is one of the best destinations to include on your Mexico solo travel itinerary for nature lovers.
The Centro Ecológico de Cuyutlán "El Tortugario" is located on the far end of the lagoon where the estuary grows thick.
There is a lot of wildlife in the area and El Tortuguero de Cuyutlán wants to create awareness about conservation efforts along this coast.
El Tortugario collects sea turtle eggs, incubates them, hatches them, and has released more than 2 million baby sea turtles back into the wild.
There is a program to care for injured adult sea turtles to release them as well.
Sea turtles are just one of the many species that can be found in the region.
There are giant iguanas, crocodiles, and a wide variety of birds. El Tortugario has iguana and crocodile enclosures but the best way to see them is in the estuary.
On the backside of the educational centre, a dock leads into the estuary where lanchas await.
A boat tour is the best way to see animals in their natural habitat. The bird watching is marvellous, especially around sunset.
Cuyutlán is an off-the-beaten-path destination in Mexico known for surfing, sea salt, and sea turtles.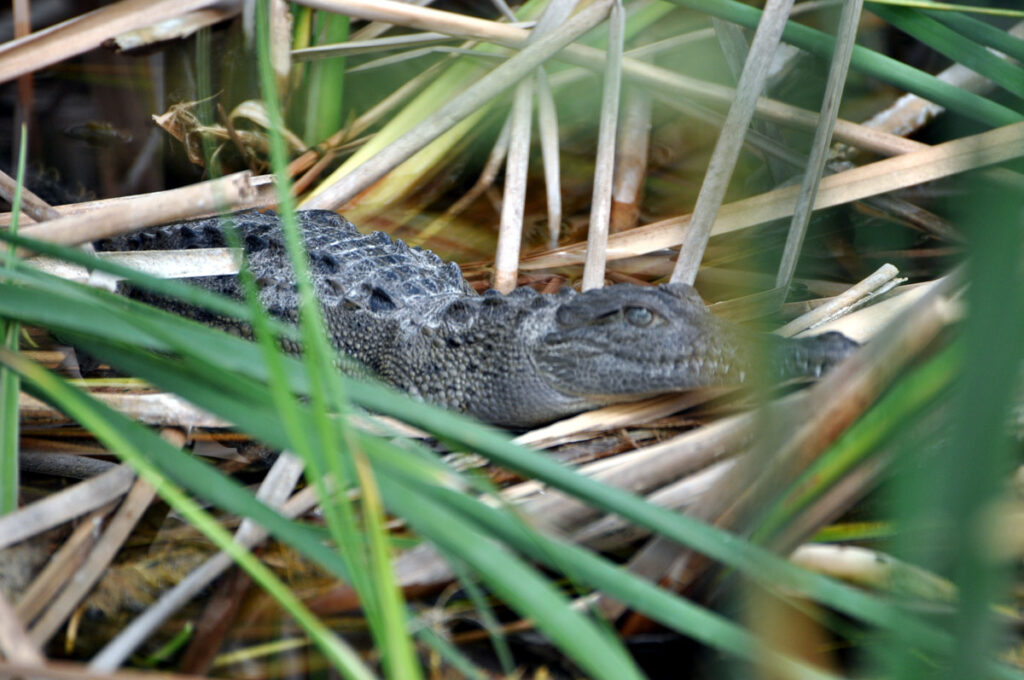 Public transportation is infrequent and the easiest way to visit is with private transportation.
A second-class bus called Sur de Jalisco stops in Cuyutlán on the Manzanillo to Guadalajara route.
I recommend stopping at Cuyutlán while driving from Guadalajara to Manzanillo.
The rustic food is excellent and the Centro Ecológico de Cuyutlán "El Tortugario" is a really enjoyable way to spend an afternoon.
By Soumya of Stories by Soumya
CHECK OUT HISTORIC UXMAL RUINS
There are many incredible archaeological sites in Mexico, each unique in its own way.
While most travelers in the Yucatan Peninsula opt to visit the popular Chichen Itza, there's another site that is definitely worth checking out: Uxmal.
Part of the Ruta Puuc (Puuc Route) – literally a Mayan road that connects a good number of landmarks in the region – Uxmal is a UNESCO World Heritage site and a wonderful place to explore, where you will be able to admire incredible examples of Mayan architecture.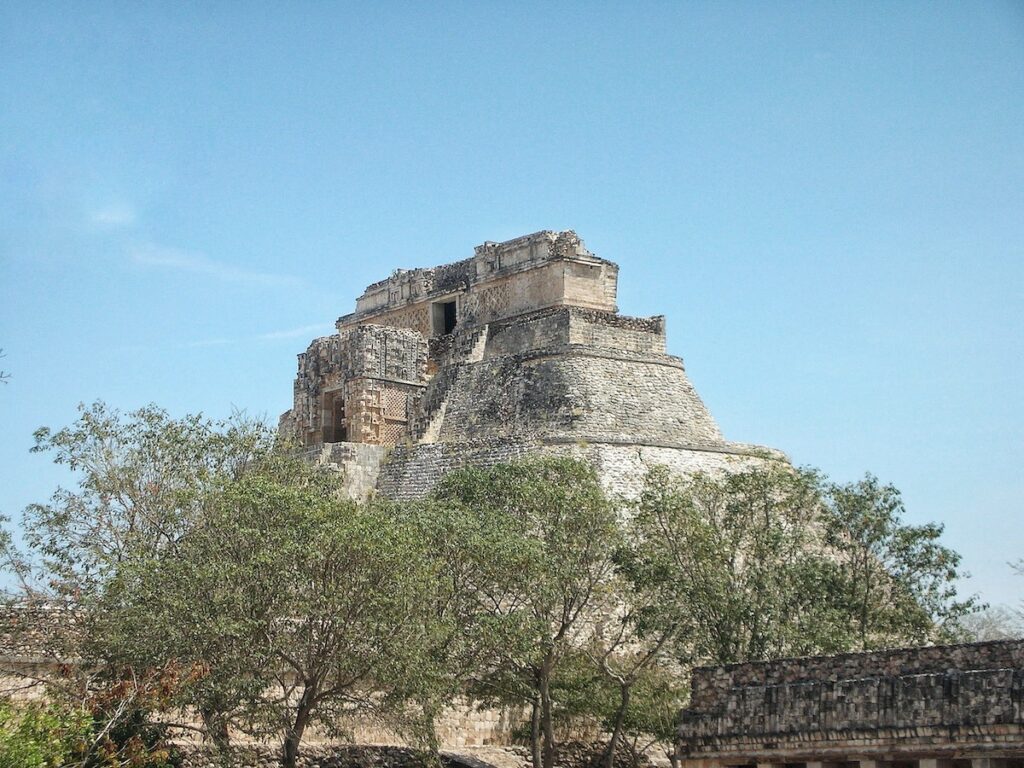 The best sight here is the Great Pyramid, but you should not miss the Governor's Palace, whose facade is nicely decorated with glyphs, and the stunning pyramid of the magician.
Exploring alone, you will have all the time you need to grasp the beauty of the site fully.
I highly recommend heading out nice and early for your visit, as the heat in Uxmal can be brutal.
When I visited at the end of March the temperatures skyrocketed to 40°C (that's 104°F).
Plan to be there by the opening time to avoid the hottest hours; wear a hat, sunblock and bring enough water for the time you intend to spend there.
The best starting point to visit Uxmal is Merida, the largest city in Yucatan.
If you prefer being completely independent, you can get there by car and the drive is easy and pleasant.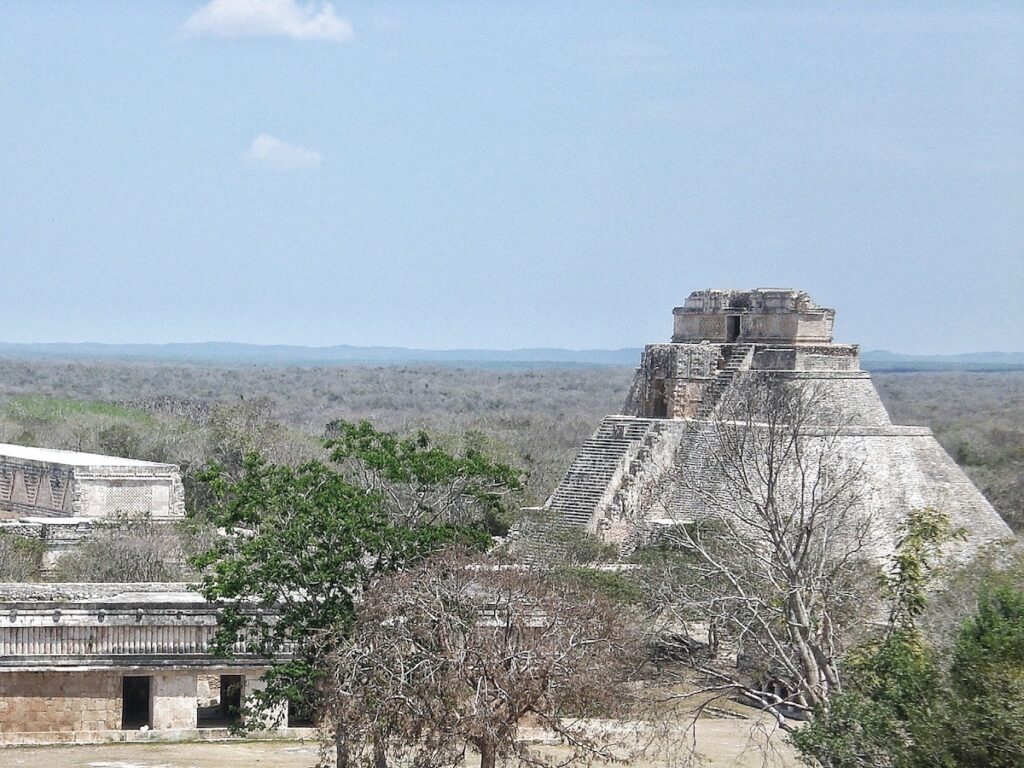 However, if you are traveling alone you will likely be better off getting there by bus.
The second-class TAME bus departs from the ADO bus station in Merida and takes around 1.5 hours to get to Uxmal.
Once there, you can get an official guide on the site if you prefer to have some guidance while exploring.
Alternatively, you can opt for a guided tour that visits the beautiful Sotuta de Peon hacienda.
By Claudia Tavani, My Adventures Across The World
TAKE A DAY TRIP TO PUEBLA
If you're traveling solo in Mexico and looking for the best place to visit, head to the colorful colonial city of Puebla.
The colours and architecture of Puebla fascinated me.
Seeing so much history in one place was like a dream come true for the history geek in me.
With a storied history, impressive architecture, and an enviable culinary scene, Puebla offers a lot to the discerning traveler.
The Historic Center of Puebla, a UNESCO world heritage site, is chock full of stunning baroque churches and colonial mansions dating to the Viceregal era.
You cannot miss the massive Puebla Cathedral right next to the zocalo and the magnificent Rosario Chapel whose interior is covered with intricate carvings in gold.
Puebla has several excellent museums with Museo Amparo, a gold mine of Mexican art, topping the list.
Be sure not to miss the Palafoxiana Library which has over 40,000 books and is believed to be the oldest in the Americas.
The Great Pyramid of Cholula is only 30 mins away.
When done with the historic landmarks, stroll through the colourful Alley of the Frogs and remember to pick some sweet souvenirs from Calle de los Dulces.
And do not forget to taste Mexico's national dish, mole poblano when in Puebla because this is where it was born.
Getting to Puebla from Mexico City is easy. Take an ADO bus from Mexico City TAPO bus station to the bus stop at Puebla CAPU.
Or sign up for this full-day guided tour of Puebla and Cholula from Mexico City.
By Soumya Gayatri, Stories by Soumya
GO DIVING IN COZUMEL
There are many great things to do in Mexico alone, but diving in Cozumel is one of the best if you are an adventure lover.
With its towering coral-covered walls and perfect visibility, Cozumel has a pristine underwater world that offers many dive sites.
While diving, you can see everything from turtles to parrot fish and sharks, which makes diving in Cozumel an absolute pleasure.
In Cozumel, you can book a day of diving and join a group without having to worry about the fact that you are traveling alone, as you are accompanied by a dive guide while diving aside from being allocated a dive buddy.
As a whole, the island of Cozumel is a safe destination that also has a lot to offer above the surface.
Many hotels directly cater to divers, which makes your stay very convenient.
Many hotels have jetties where the dive boats pick you up, so you do not have to worry about a thing.
To get to Cozumel, you can either fly there from a small selection of airports within Mexico or take the ferry from Playa del Carmen.
I, for one, loved diving in Cozumel and think it, combined with diving in the nearby cenotes, is one of the best things you can do in Mexico.
By Steph, A Nomad's Passport
CHECK OUT THIS ANCIENT WONDER OF THE WORLD
Mexico is home to North America's only Wonder of the World—Chichen Itza.
Built sometime between 400-600 AD, it was one of the largest in the Mayan civilization before its downfall, sometime between the 12th and 15th century, and still retains some of its most important structures, like the famous El Castillo pyramid or its astronomical observatory.
Chichen Itza is located in the centre of the Yucatan Peninsula, in southern Mexico, deep in the heart of the jungle.
The bucket list of Mexico solo travel is incomplete without Chichen Itza.
Although there aren't any large tourist hubs immediately next to the ancient city, it's easy to stay at one of the popular destinations around the Yucatan that are perfect for solo travelers and go on any of the incredible Chichen Itza tours that depart from where you're staying.
For example, many travelers decide to stay in the pueblo magico of Valladolid, 45 minutes east of the city, where you can enjoy the colorful colonial buildings and cobblestone streets, before catching a tour, like this one, to the Mayan site.
Alternatively, if you're staying in any of the prominent tourist hubs in the Yucatan, there are plenty of tours to choose from, like this tour from Tulum or this one from Playa del Carmen.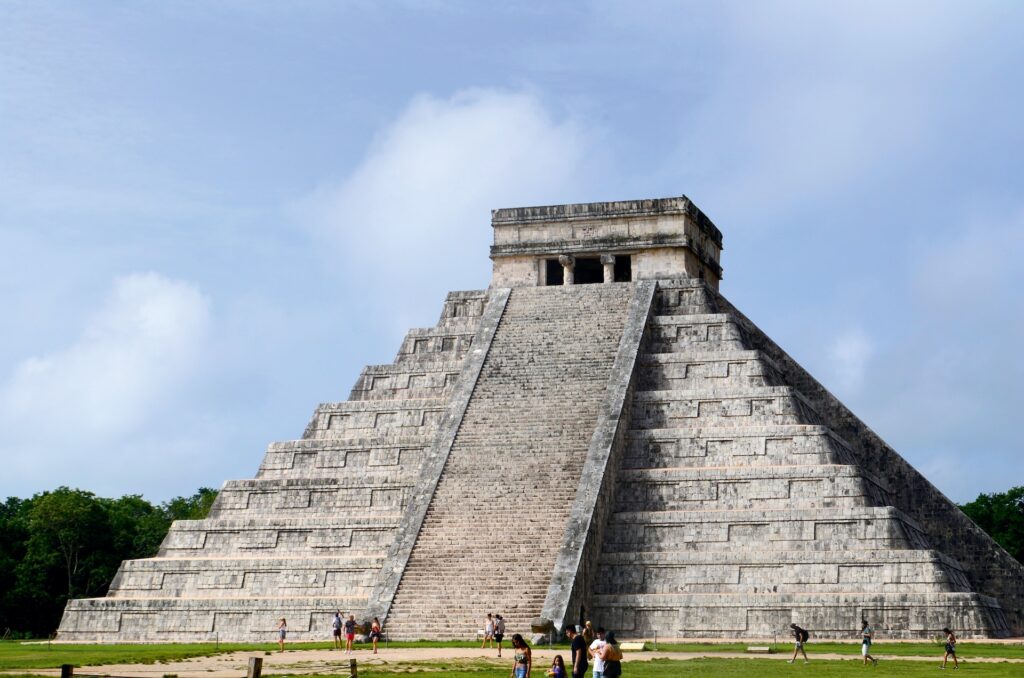 Not only is this an excellent opportunity to meet other travelers if you go on a group tour, but you'll also get much more context behind the stone structures you'll be exploring.
Going with a guide is so helpful to understand the fascinating history, culture, and religion of the Mayans—plus, it's an incredible way to meet a local and hear their perspective of living and working in the Yucatan!
Of course, you can alternatively explore the site on your own accord, but you will generally need your own rental car and some pretty hard research to truly appreciate the ancient city for what it is!
I absolutely loved exploring Chichen Itza—it was incredible to see how advanced of civilization the Mayans were thousands and thousands of years ago.
It also gives you a really interesting perspective on the foundation of Mexico, which is such a colourful and unique country.
By Jessica Schmit, Uprooted Traveler
SPEND A WEEKEND IN PLAYA DEL CARMEN
Playa del Carmen is located in Quintana Roo, in the Eastern part of Mexico's Yucatan Peninsula. And it is Mexico's popular tourist destination.
Exploring Playa del Carmen as a solo traveler can be a fantastic experience, as it offers a mix of relaxation, adventure, and social opportunities.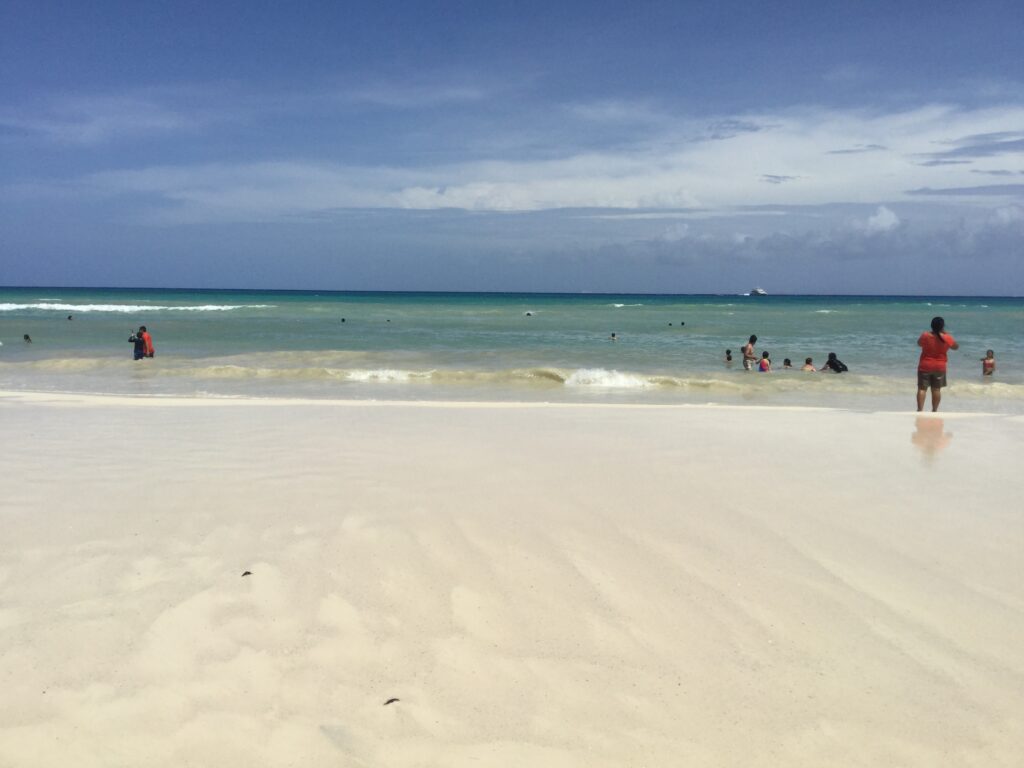 There are many must-do things and must-see places in Mexico to make the most of your solo trip.
Take a day trip and explore the famous Mayan Ruins sites like Tulum and Chichen Itza, one of the New Seven Wonders of The World.
Exploring Chichen Itza can be a fascinating and enriching experience!
It is a famous archaeological site in the Yucatan Peninsula of Mexico, also listed as a UNESCO World Heritage Site.
Playa del Carmen is also home to pristine beaches with stunning white sand and turquoise waters.
The most famous beach is Playa Mamitas, known for its lively atmosphere and beach clubs.
Take advantage of the beautiful white sand and crystal clear water beach and relax.
You mingle with other tourists and locals at night and enjoy a lively nightlife scene with various bars, nightclubs, and beach parties.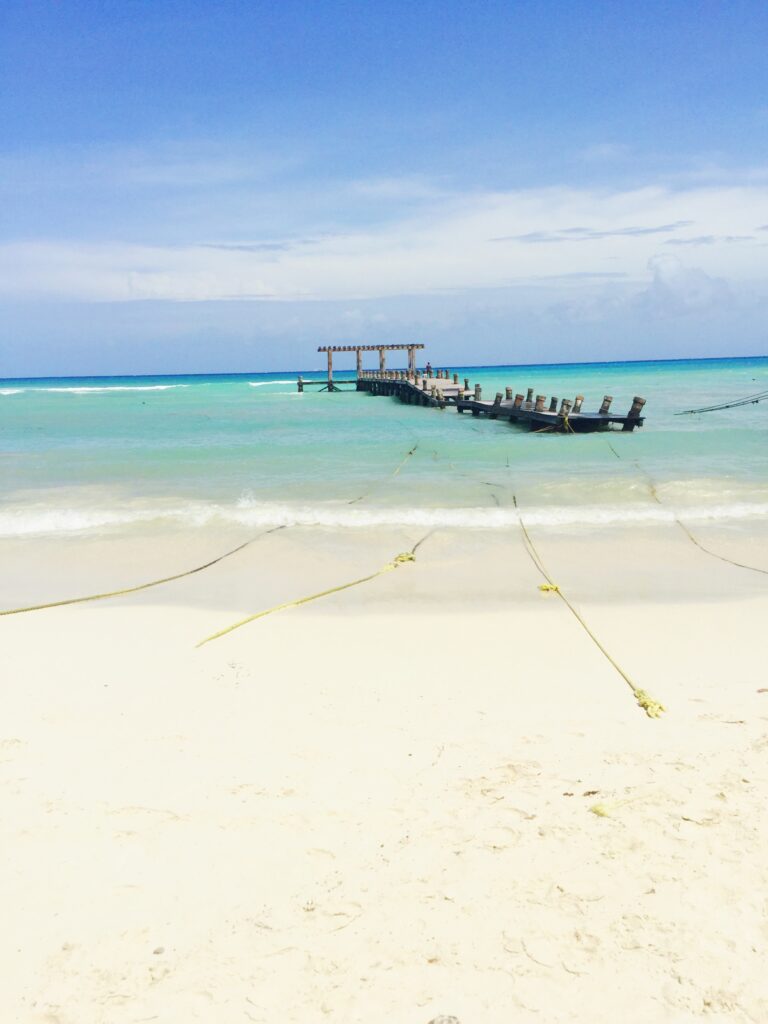 Try authentic Mexican dishes and regional specialities in Playa del Carmen's local restaurants and eateries.
Playa del Carmen is an excellent destination for solo travelers seeking adventure, relaxation, and social interactions.
With its welcoming atmosphere, diverse activities, and beautiful surroundings, solo travelers can have a memorable and fulfilling experience in Playa del Carmen.
By Imee Magbag, Journey to Mexico
EXPLORE SAN MIGUEL DE ALLENDE
San Miguel De Allende is a colonial city in central Mexico known for its colourful streets, interesting architecture and great culinary scene.
You can decide to spend a day here or you can even end up spending a week here since there are so many things to do.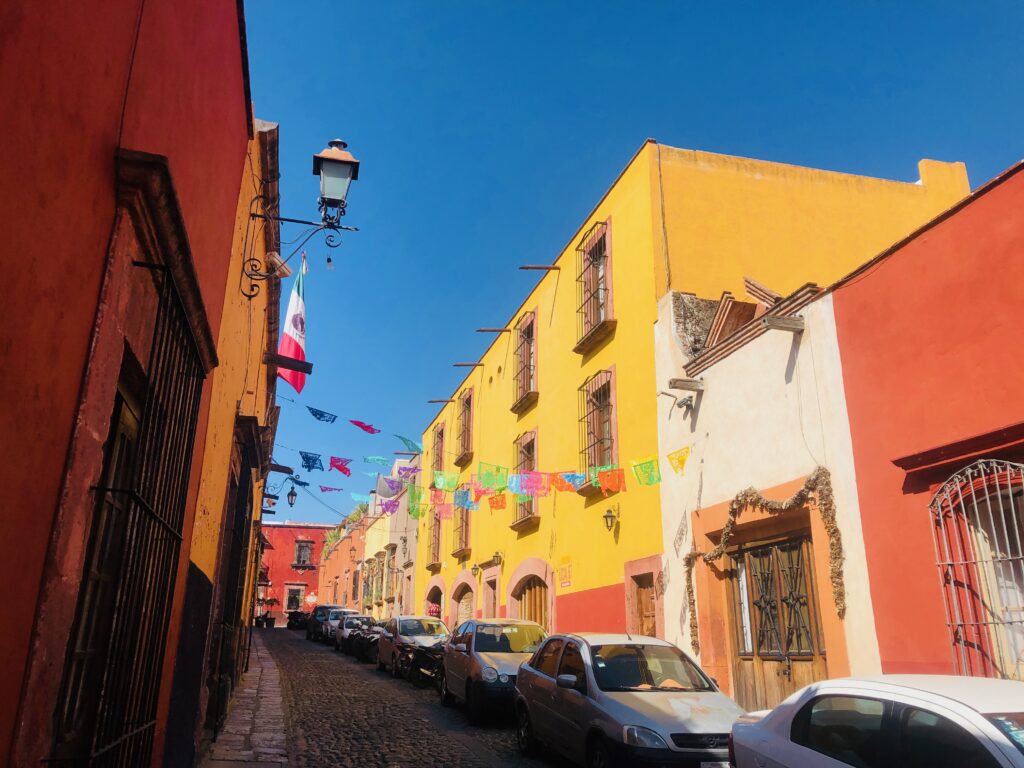 It is particularly famous with expats in Mexico and there is a huge expat population in San Miguel De Allende.
It is around 3-4 hours from Mexico City and If you are flying to Mexico City, then the easiest option is to take a day trip to San Miguel De Allende from Mexico City
Because of the huge expat population, it is comparatively safer than other parts of Mexico and hence very ideal to explore San Miguel De Allende on your own.
Some of the things to do in San Miguel De Allende are to spend some time in the main square in the old town, explore the many streets around the yard, Visit the Parroquia de San Miguel Arcángel church and visit the many art galleries around the city.
There is a famous viewpoint called El Mirador and you can take a 15-20 min walk to see the city from the top.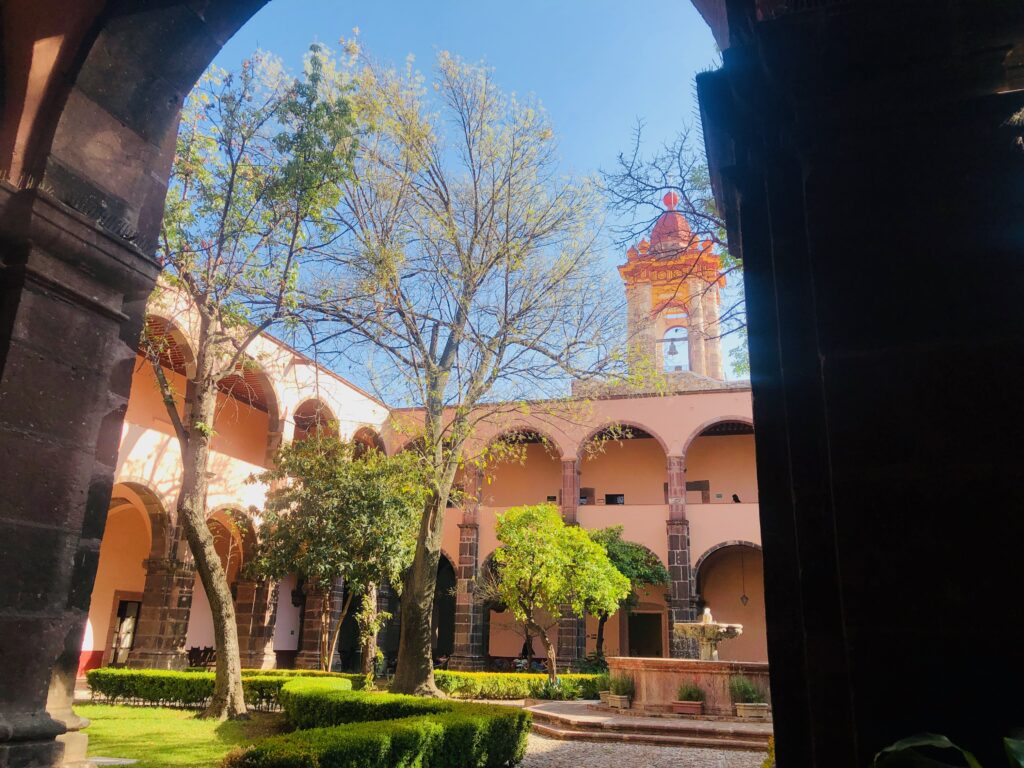 Also, don't forget to visit the local markets and the best way to do this is by taking a walking tour around the city.
The city is also famous for being a crucial part of the Mexico War of Independence and you also need to see the former home of Ignacio Allende who had a role in the war.
But one of my favourite things to do was to a vegan taco tour in San Miguel De Allende and they had it customised for a vegetarian like me.
By Soumya Nambiar, Travel Books Food
MEXICO SOLO TRAVEL BUCKET LIST MAP