If you are contemplating whether you need to spend 2 days in Wroclaw, this post should answer your dilemma. Wroclaw, pronounced as 'Vortz Wahf' is one of those cities in Poland that will grow on you very slowly.
Krakow captivates you instantly with its old-world charm, and the capital Warsaw is quick to allure the visitors with its neon lights, glitz and quirky neighbourhoods.
But Wroclaw casts its spell a little late, but given the plenty of things to see in Wroclaw, this city of dwarfs will blow you away with its laid-back, easy-going demeanour.
In this post, you can find out how to effectively spend 2 days in Wroclaw. If you have more than 48 hours, even better, because, in the later sections, you will get an idea of how to plan your Wroclaw trip.
How to spend 2 days in Wroclaw
Day 1 in Wroclaw
If you have 2 days in Wroclaw, it is best to start your first day in the city by getting to know the unique attractions.
If the magnificent Gothic Hall is for Krakow and the Royal Palace is for Warsaw, it is the Cathedral Island for Wroclaw that is the heart of the old town.
All the best things in a European city lies in its old town, and Wroclaw is no exception.
Start the day early with a quick local breakfast, and take an early morning walking tour to check the monumental sights in the old town beginning with the market square. Cross of the rugged bridges(preferably the Lover's bridge) over the Oder river to head to Cathedral Island or Ostrów Tumski in Polish.
It is the oldest neighbourhood of Wroclaw known for its gothic chapels, magnificent buildings and cobbled streets that take you back in time.
You'll find medieval gas street lamps, which are still functioning, and not just that, it is the job of a person to manually lit them every day. Don't forget to enjoy the views of wonderful Wroclaw as you walk along the river.
Lunch – Head back to the old town to have your lunch at one of the milk bars which are easy to find. Check out the streets around Wroclaw university for Bar Mleczny Miś, MishMash, Mewa, Krowka Bar and Bazylia – the Polish milk bars to get a taste of delicious but cheap Polish cuisines.
They get really crowded during peak hours thanks to the students, so walk in early to get seats.
After lunch, check out one of Poland's oldest universities – Wroclaw university, which is home to a beautiful garden as well. There are some sections of the university open to public visitors, which can be checked at the entrance.
Next, visit the iconic Hala Staga Market, the oldest market in Wroclaw where you can catch a glimpse of local life. You can shop for some souvenirs or buy fresh fruits.
In the evening, head to one of the parks in the city to relax. Szczytnicki Park is the oldest and one of the largest in the city, which is home to a beautiful Japanese garden as well. If you are traveling in summer, you will find a lot of locals hanging out in the evening.
Spend the night savouring the Polish cuisine in one of the local restaurants back in the old town area.
To get an idea for alternative Wroclaw itineraries, check out this post to find out all the things to see in Wroclaw
Day 2 in Wroclaw
On your 2nd day in Wroclaw, go dwarf hunting. Wroclaw is home to more than 200 statues of dwarfs spread across the old town area, which were symbols of protest during the communist regime.
These quirky dwarfs are special, and finding these is one of the fun activities in Wroclaw. You can find dwarfs working on laptops, being mischievous and even doing some serious stuff.
When the hot afternoon begins, you can take shelter by exploring the gorgeous Royal Palace.
Apart from touring the interiors of the palace don't forget to check out the Historical Museum of Wroclaw, which has thousands of artefacts that will walk you through the rich history of the city.
Around sunset, head to the Sky Tower, Poland's tallest building to catch the views of the sunset and the 360-degree bird views of Wroclaw from the 51st floor.
There are a few good restaurants at the top, so you can head to one of them for a nice dinner overlooking the skyline of the city.
Editor's note: 45 Things to know before visiting Poland
Other Wroclaw Itineraries
If you have more than 2 days in Wroclaw, check these sections on how to make the best.
3 Days in Wroclaw
An extra 3rd day in Wroclaw would give you ample options. You could choose to do one of the days trips or continue checking out the attractions in Wroclaw itself.  
Start your day by heading to Nadodrze, the hipster neighbourhood of Wroclaw known for street art, vibrant murals and cool shopping streets.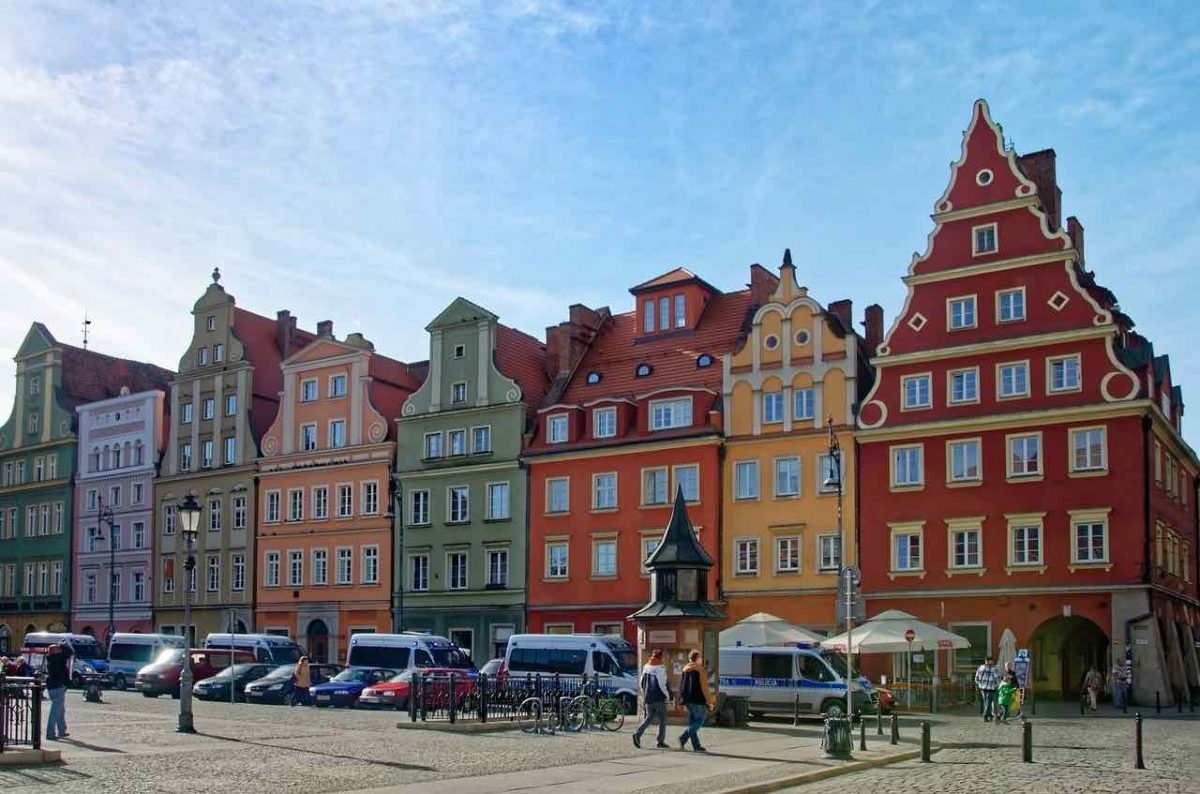 Next, head to Dominikanska Gallery for shopping to your heart's content. From souvenirs to apparells to quirky hand-made gifts, you will find plenty to shop.
Alternatively, you can go to Stadion Miejski, Wroclaw's popular football stadium if you are a sports enthusiast. Or you can head to Trampoline & Aquapark Wroclaw to spend half a day enjoying water sports.
On your last night in Wroclaw, explore the best pubs in the city. The nightlife might not be as glamorous as Warsaw or vibrant like in Krakow, but there are many great bars and pubs serving the best Vodka and beers.
RECOMMENDED GUIDED AND PRIVATE TOURS YOU SHOULD CHECK OUT IN WROCLAW
For Beer lovers – Check this Wroclaw: Guided Tour & Beer Tasting, a private city tour for 3.5 hours of the old town. With a local specialist, you will visit 2 regional breweries in the market square and taste the local beer.
Wroclaw: Hard Rock Cafe Skip-the-Line Entry, Burger and Beer for Hard Rock Cafe Fans is a must.
For Vodka Lovers wanting to try the best Polish Vodka
Wroclaw Vodka tasting and culture tour, guided tours by locals if you want to what's the best to drink in the city.
If you are interested in a private tour, I'd suggest this exclusive vodka tasting tour, Wroclaw: Private Vodka Tasting Tour
For Pub Hoppers
Check out this guided Wroclaw Pub Crawl with Free Drinks tour where you can enjoy 3 free beers or shots and free beer for drinking games. And end at one of the city's top clubs.
For foodies wanting to indulge in delicious local Polish Food
My favourite tour recommendation is Wroclaw: Guided Food, Drinks, and History Tour as it combines the best of Wroclaw in a single tour.
Among the private food tours in Wroclaw, I'd highly recommend Wroclaw: Private Traditional Polish Food Tour
Editor's note: 17 Wonderful Day Trips From Wroclaw That You Can Plan
Where to stay in Wroclaw?
Wroclaw accommodation comes in all budgets, and hence it's not easy to find cheap hotels in Wroclaw. Hostels are plenty as well. The central area in Wroclaw is near the old town. This is also where the best hotels in Wroclaw are located.
I stayed at ChilliHostel, which was not in the old town but close to it. I liked it as it had all the basic comforts, good Wifi, comfortable and clean beds and a kitchen. So If you are looking for a budget hostel, you could check out Chilli Hostel.
Other good hostels in Wroclaw old town area are Fly Fly hostel,  MoHo M Hostel,  Locomotive Hostel, Wodkowica and Hostel 55
Some good mid-range hotels in Wroclaw are CityBrejk Hubska Wroclaw, Apartament Piastowska, Apartament24 – Wierzbowa, Apartment City Centre  and Aparthotel Tectum.
And here are some best Wroclaw hotels with great reviews – The Granary – La Suite Hotel, Scandic Wroclaw, Centrum Dikul Hotel, Hotel Lothus, Hotel Piast Wroclaw Centrum. 
If you prefer apartments, check these – Prestige Apartments 79, Rest Apartments and 40th+ Floor Luxury Apartments in Sky.
2 Days in Wroclaw – Final Thoughts
I spent around 4 days in Wroclaw, and I could get a feel of this city without being overwhelmed. Ideally, I'd suggest spending at least 2 days in Wroclaw. If you have 3, it is much better.
To quickly summarize, plan your first day to check out the heart of the city in the old town, Cathedral Island, markets and milk bars. Use your second day to venture out further in the city, to check out the neighbourhoods or museums.
You can use this extra day to continue to check out the city's attractions or plan one of the day trips from Wroclaw.
Best time to visit Wroclaw – The best time to visit Wroclaw is during the summer when you have the sun out as well as the crowd.
I went in Autumn, which was the low season and loved traveling in the city very much. Very less crowd and lesser prices are what I prefer and hence it worked perfectly for me.
Hope this post will help you plan your best 2 days in Wroclaw. If you have any questions, don't hesitate to connect.
OTHER POSTS THAT YOU WOULD LIKE TO CHECK
21 Cool Things To Do In Wroclaw, Poland
17 Awesome Day Trips from Wroclaw That You can Plan
29 Amazing Free Things To Do In Krakow, Poland
20+ Day Trips From Warsaw That You Can Plan
3 Days In Warsaw – The Best Itineraries to explore the Capital city
35 Unusual things to do in Warsaw, the quirky capital
35 Best Things to do in Gdansk, Poland's Coastal Town
45 Things You Didn't Know About Poland
Exploring Malbork, the largest Castle in the World
Pin this post to read later!