Looking for day trips from Gdansk? There are plenty of options to choose when you visit Gdansk, whether you are looking for a beach retreat or nature. If you have a few extra days, I'd recommend you to plan at least a few of these day trips from Gdansk. Find out which are the best places to visit near the city.
Day trips from Gdansk
Have a beach day at Sopot
Does Gdansk have a beach? Of course! The Gdansk beach might not be known, but everyone heads to Sopot for a beach holiday in Gdansk. Sopot has Europe's longest wooden pier for starters. Taking a day trip to Sopot from Gdansk is one of the best things you can do. There are not many things to do in Sopot, and ideally, it's that kind of a place you head to when you are done with all things to do.
Start exploring Sopot from its Main Street Moniak. Check out the Crooked House (Krzywy Domek), and visit the Fishing harbour as the evening sets. If you want to hit the beach strips, head in any direction from the Sopot Pier.
How to reach Sopot from Gdansk?
The average time from Sopot to Gdansk is 20 minutes, the fastest way being through SKM trains. There are frequent trains in either direction. You can buy the tickets directly at the counter or from the machine, which cost 4 PLN. If you want to go to Gdynia from Sopot, it takes 15 minutes at 4 PLN.
Editor's note: 29 Free Things To Do In Krakow, Poland
Explore the chic city of Gdynia
Gdynia is probably one of the most popular day trips from Gdansk because of its proximity to Gdansk and its modern feel. Gdynia is a part of Tricity – the metropolitan area consisting of Gdansk, Sopot, and Gdynia as well as smaller towns in the area. Gdynia has grown to become a popular day trip from Gdansk, but you can easily spend a day or 2 exploring the regions of Gdynia.
Some of the attractions in Gdynia are Dar Pomorza – the waterfront, Kościuszko Square, Naval Museum, Kamienna Góra – the upscale neighbourhood of Gdynia, which also has a Funicular, Gdynia beach, Motor Museum, Museum of Gdynia and Orlowo Pier. I know, too many places for a day trip, right?
How to reach Gdynia from Gdansk? 
Trains depart from Gdańsk Główny Railway Station to Sopot Railway Station every 15 minutes. You can buy your tickets at train stations directly from a ticket window or ticket machine. But don't forget to punch your card in the yellow boxes before boarding your trains. 
If you want the fastest train, hop on to any of the SKM. The other trains that run between Gdynia, which also goes to Sopot are run by the national railway (PKP). The average distance between Gdansk and Gdynia is 35 minutes and costs about 6 PLN.
Editor's note: 20+ Amazing Day Trips From Warsaw That You Can Take
Admire the astounding beauty of 
Kashubian
Switzerland
The region of Kashubia, also known as Kashubian Switzerland, is home to the Kashubs, a unique ethnic community, who have their language, culture and traditions, which are different from Polish. They have been living amidst the pristine woods of Kashubia since the 7th century. Gdansk is the largest city of Eastern Pomerania in this region of Kashubia, which means you can get to know this side of Poland as one of the day trips from Gdansk.
Kashubia is also known as the Lake District as there are over 3000 lovely lakes hidden between the dense pine forests in the region. If you enjoy spending time in nature, head here. You can go hiking, sailing, canoeing, cycling and kayaking. You can rent the equipment in Wdzydze or Kociewie Lakes. You can picnic or relax at some of the most popular lakes of Kladno, Lebsko, and Biale Lake. In the town of Kartuzy, you can also try the attire of Kashubians, taste their local cuisine.
How to reach Kashubian Switzerland from Gdansk?
There are trains from Gdańsk Główny to Gdańsk Wrzeszcz, from where you need to transfer to take a train to Kartuzy. The total journey takes about an hour. You can also take a taxi, which is the best way to make stops at all the lakes and places you find interesting. 
Editor's note: 35 Best Things To Do In Gdansk, Poland
Check out Malbork, World's Largest Castle
Malbork Castle is the largest castle in the world in terms of area, and checking out this must be one of the top day trips from Gdansk. Built completely by bricks, it is also the most massive brick structure in the world. This 13th-century castle belonged to Teutonic knights and was majorly devastated in WW II bombing. 
It was reconstructed later to what it is the present day. There are three different levels, and it takes half a day to explore the castle and another 2 to 3 hours in traveling to and from Gdansk.
You can travel by yourself from Gdansk to Malbork Castle by trains. There are three types of trains at different prices. Go to the station a day before or just when you decide to get the tickets directly.
Read my post to find out more details of making a day trip to Malbork Castle from Gdansk here
Malbork Castle timings: 9 AM to 7 PM every day.
Malbork Castle entry fees: 39.50 PLN in summer and 21.50 PLN in winter. Tuesday free entry(to selected areas) after 2 PM.
You can also opt for different types of guided tours, some of which covers the transport as well. Check them below.
Take a Day trip from Gdansk to Kaliningrad in Russia
Located about 166km from Gdansk, Kaliningrad is a unique city with enriching history, making it one of the offbeat day trips from Gdansk. This Russian city is known by four names in different languages, and this city of over 5 million inhabitants has descendants from Germany, Poland and Lithuania along with the Russians. 
Start by taking the earliest bus from Gdansk to Kaliningrad, which leaves at 6 AM. You can book these buses on Flixbus site. Depending on your nationality, you will need a visa to enter Russia. You need to plan this trip if you have to visit embassies for securing a visa. 
Have a Russian breakfast at the city centre, and then begin exploring the city of Kaliningrad by checking out the cathedral of Königsberg, a 14th-century church built during the Prussian empire. Next head to the victory square, which is home to several medieval buildings that are worth checking out.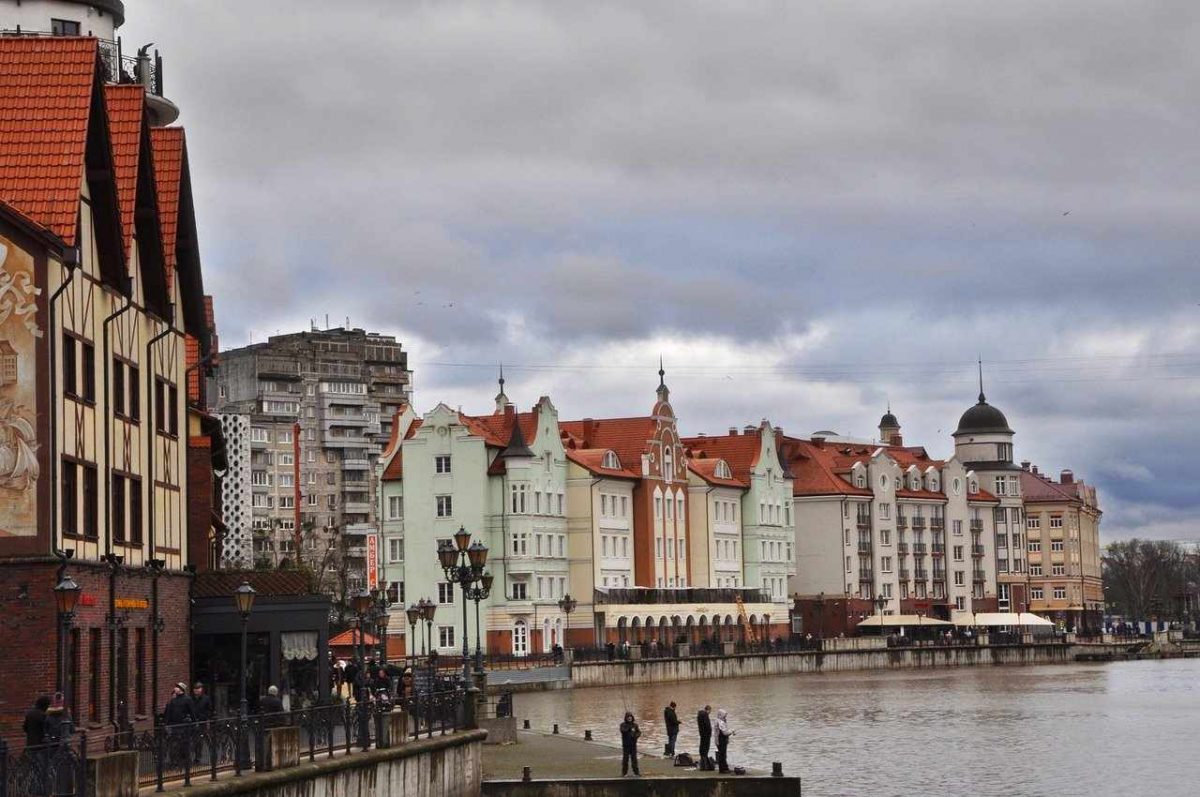 There are plenty of restaurants where you can stop by for lunch and Russian Vodka. Head to the ruins of Königsberg Castle next, where the incomplete the House of Soviets is present. It was supposed to be the central administrative centre but was never finished, which gives it an eerie feeling. 
Next visit the tomb of philosopher Immanuel Kant, the New Synagogue, the famous football stadium and the ruins of forts. Alternatively, if you are interested in museums, check out the Kaliningrad Regional Museum of History and Arts, which also houses the Bunker Museum.
As the evening sets, walk along the banks of the Pregel River and cross the seven bridges of Königsberg that connects a small island with the city. Enjoy the beautiful views of the sunset as you take a stroll.  
Walk into one of the restaurants to enjoy another excellent Russian meal and vodka for dinner in central Kaliningrad before boarding the night bus back to Gdańsk. If you have more than a day, it is recommended to explore further.
How to reach Kaliningrad from Gdansk?
As mentioned earlier, there are regular buses from Gdansk bus station to Kaliningrad, with the earliest bus starting at 6 AM. It takes about 2.5 to 3 hours to reach and costs about 30 PLN.
Explore the town of Łeba and Słowiński National Park
How about loads of nature time as well as beach time? If that sounds fun, then one of the day trips from Gdansk to consider is to head to the coastal town of Leba. The city is lined with miles of white-sand beaches, but it is also the entry point to the gorgeous Słowiński National Park. The park is known for its magnificent moving dunes, large areas of forests, lakes and abundant wildlife. 
Take a hike along the trails of the forests which begin at Rąbka, the entrance to the park. You can also visit the UNESCO biosphere reserve(6 PLN entry fees). If you enjoy cycling, go along the coast.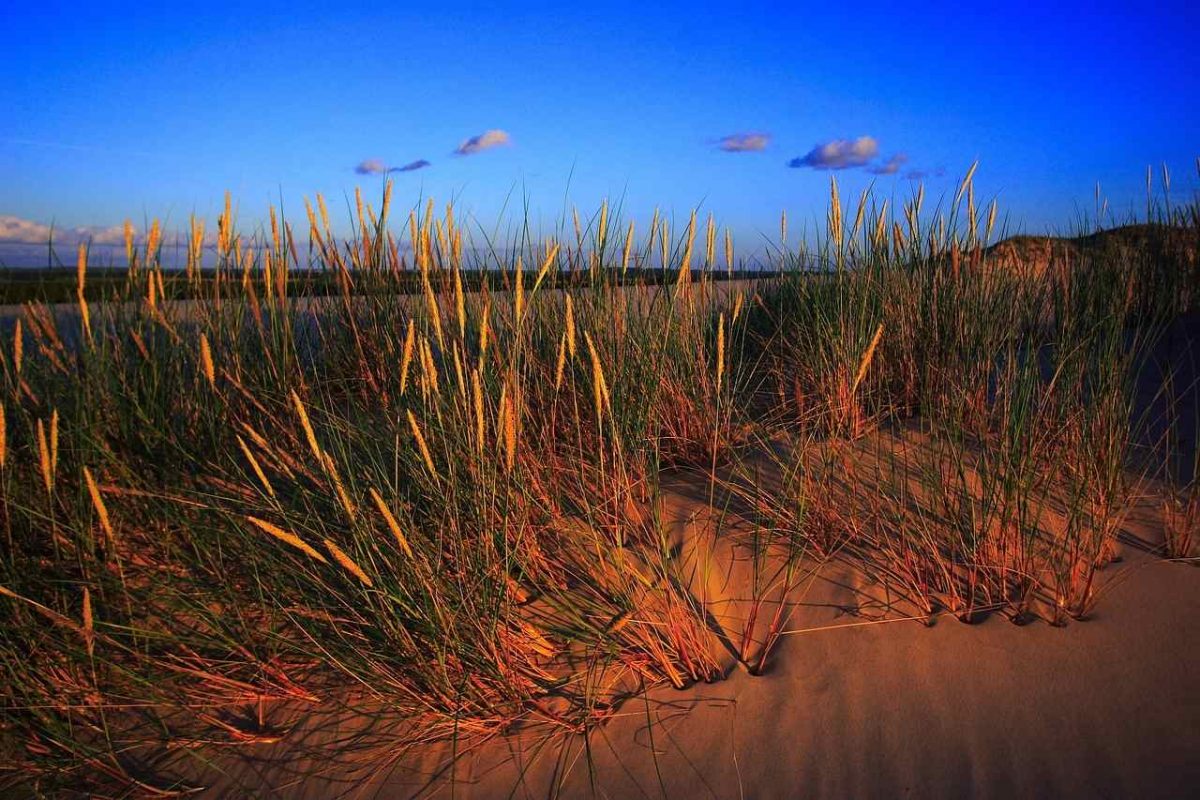 Around sunset, get to Łącka Dunes to watch some stunning colours overlooking the horizon of the Baltic coast. From the entrance, it takes about 3 hours by walk and about 30 minutes if you cycle to reach the dunes.
How to reach Leba from Gdansk?
If you are traveling during the summer, you can take direct trains from Gdansk to Leba, which takes 3 hours. Check the timings on the PKP website). During the rest of the year, you can take the train from Gdansk to Lębork, and from there to Leba, which takes 2 hours and costs about 25 PLN. You can buy tickets at the station.
More Day Trips From Gdansk That You Can Plan
Check out the suburbs of Oliwa
Oliwa is a place within a place that you would want to explore. This tiny suburb between Gdansk and Sopot is slowly catching the attention of tourists with its history, parks and nature. It is easy to travel, and has a lot to offer to make it one of the worth day trips from Gdansk.
Visit Pacholek Hill for some beautiful views, which also has a tower. Oliwa Park will be an excellent option to check out if you are with kids, especially as the open green spaces are beautiful.
How to reach Oliwa from Gdansk?
Again SKM trains are the best way to travel to Oliwa, and tickets could be bought at the station itself.
Visit the place where WWII first began, at Westerplatte
Westerplatte is the place where WW II started simultaneously along with the Gdansk post office attack. Today, the site consists of an outdoor museum, monument and ruins of the barracks. Located beside the seashore, you can spend half a day here.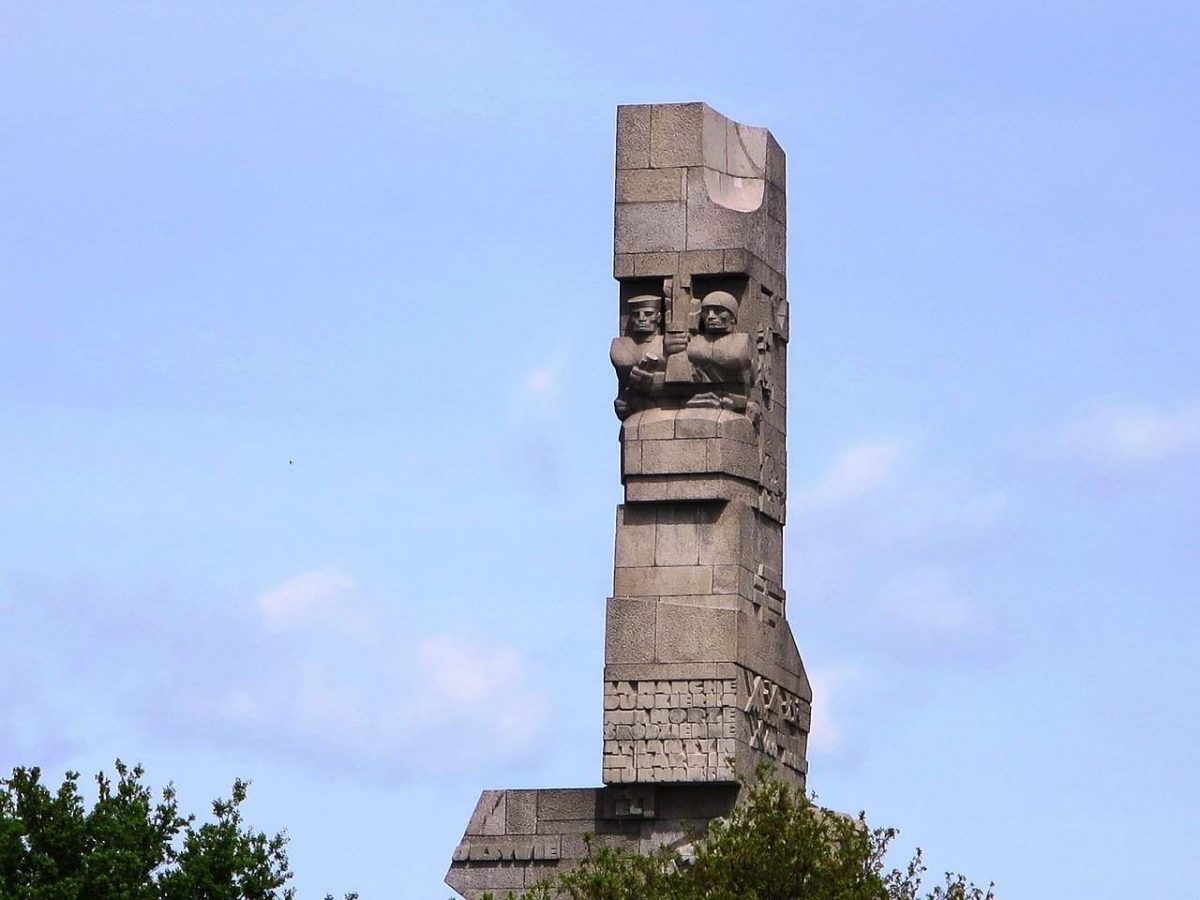 How to reach Westerplatte from Gdansk?
Water tram five and two buses 106 and 138 leave from the Gdansk central station to Westerplatte. Note that the buses aren't frequent(Like 1 per hour or so), and the travel time one way is around 45 minutes. Google real-time maps give you the bus timings accurately almost, although I had to wait for a longer time than expected for the bus.
Editor's note: 17 Amazing Day trips from Wroclaw That You Can Plan
Offbeat Day Trips From Gdansk
Take a trip to Hel Peninsula, the bird paradise
Hel Peninsula is the northernmost region in Poland. Known for fabulous beach strips, seafood and exquisite resorts, it is one of the famous summer day breaks for the Polish. The tropical forests of the peninsula are home to many rare bird species. 
There are plenty of watersports to enjoy including kitesurfing, which is the speciality in the peninsular. Hel has beautiful harbour alongside which there are many cute restaurants serving excellent seafood. You can also stay overnight in one of the luxurious resorts along the beach. Enjoy the views of the sunset, play in the water or indulge in luxury. whatever you choose, Hel is one of the amazing day trips from Gdansk worth planning for water -babies.
How to travel from Gdansk to the Hel Peninsula?
Trains – Take the train from the Gdansk Główny. There are both direct trains as well as those that need a transfer at Gdynia Główna station. Direct trains every day are available up to noon. Tickets cost about 20 to 55 PLN one way, depending on the connection. If you are getting down at Władysławowo, the first town on the peninsula, it takes about 1.5 hours, and takes about 2.5 hours to reach the Hel, which is the last stop.
Water trams – If you are traveling between May and October or summer, you can take water trams from the Motlawa river bank in Gdansk to Hel. are connecting Gdansk and Hel between May and October. The first one starts at 8 AM, and the last one leaves Gdansk at 6 PM. The tickets get sold out quickly during this peak season, and hence it is recommended to get them at the earliest. 
Stutthof Concentration Camp
Stutthof Concentration Camp was the first concentration camp built by the Nazis in Poland at the beginning of WWII. More than 1 million people were killed here during the war through gas chambers and torture. 
Located about 55 km from Gdansk, you can go on a day trip from Gdansk on your own. There is a museum showcasing the events and the life of the prisoners in the camp, which is moving and sad.
Getting to Stutthof Concentration Camp from Gdansk: You can travel to the camp from Gdansk by bus or by taking a cab. A bus is the cheapest means. Take the bus to Krynica Morska, which takes you to the camp.
If you want to take guided tours, these are the tours that are recommended.
Visit the Sacred Town of Pelplin
Pelplin is a renowned name among the religious Christians because it is home to the medieval Gothic Pelplin Cathedral, one of the largest gothic churches in Poland. It is one of the pilgrimage sites, but for travelers there are many things to do in Pelplin, which can be explored as a day trip from Gdansk.
Check out the stunning monastery consisting of Pelplin Abbey, copies of Bible of Gutenberg, and take a walk along the medieval streets of the old town. In the afternoon head to Diocesan Museum to get a glimpse of rare medieval Polish art after Polish lunch at one of the restaurants in the centre. Spend the evening along the banks of Vistula river overlooking the beautiful views of the sunset. 
How to get to Pelplin from Gdansk?
There are direct trains from Gdansk Glowny to Pelplin, which takes about 1 hour. You can buy the tickets directly at the train stations.
So this list gives you plenty of day trips from Gdansk to choose. Depending on your preferences and time, I'd recommend you visiting one or two of them for sure. For Kaliningrad, you need a bit of planning because of the Visa, but the rest of them can be planned once you reach Gdansk. Hope it helps.
OTHER POSTS THAT YOU SHOULD CHECK OUT
35 Unusual things to do in Warsaw, Poland – The Capital' Quirky Side
29 Absolutely Free Things to do in Krakow, Poland
3 days in Warsaw – An itinerary to explore the city
How to spend 2 days in Wroclaw – A total guide
21 Things to see in Wroclaw, Poland
7 Reasons why Wroclaw is worth Visiting