If you are wondering how winter in Poland sounds like, don't worry, because there are plenty of fantastic things to do in Poland in winter, places to visit and winter experiences to be had – all bringing you alive the sides of the country that you wouldn't get to see during the rest of the year.
Think of stunning panoramic views from the villages surrounded by snow-capped mountains in the southern part of the country. How about admiring the sweeping views of the Tatra mountains?
If you are spending winter in Poland, you can go skiing in some of the beautiful resort towns that are much cheaper than other winter resort towns in Europe.
Explore Poland's beautiful national parks immersed in winter snow, or bask in the Christmas spirits as you meander through the magical Polish Christmas markets.
Sit tight, and keep scrolling to find how incredible winter in Poland could be, what to expect and how is traveling to Poland in the winter.
WINTER IN POLAND – WHAT WEATHER TO EXPECT?
Winter in Poland lasts from November until February. In November there might be brief periods of rainy days that last for a few hours, along with the winds.
No matter which month you plan a visit, make sure to bring layers for winter in Poland.
The best month for visiting Poland in winter when the places are decorated and glowing is December. All the cities, towns, and even remote villages are beautifully decorated and lit, with open markets, events, music and entertainment making for Christmas celebrations.
If you want to enjoy snow in Poland, January and February are the best months to plan your trip.
Poland winter temperature varies greatly across the cities. In the mountains in southern Poland, the temperatures will be around 1°C or 2°C during the daytime, and it will drop too many degrees in the minus as the snow thickens at night.
Around the end of February and the beginning of March, you will see a bit of sunshine and the onset of pleasant weather with a gradual increase in daylight.
WINTER IN POLAND – THINGS TO DO
Here are the best things to do in winter in Poland in no particular order.
PLAN A CHRISTMAS HOLIDAY IN POLLAND
Poland is one of the most religious countries in Europe, with Christianity being a major religion. As the temperatures dip, it starts to snow and days get shorter and colder, the Polish people get themselves busy in preparing for Christmas celebrations throughout the country.
Whether you are visiting famous towns like Krakow or Warsaw or going off the beaten path, you will see Christmas spirits soaring as early as November.
During these months, you will witness a distinct, beautiful festive side of Poland that you will not get to see during the peak months.
The streets are decorated with Christmas lights, buildings in the modern and the old towns are illuminated.
You will find shopping deals and festivals everywhere, and you will notice people relaxing and gearing up for holidays, getting into baking, making gifts and planning local trips.
Make sure to soak in the joy of Christmas and participate in the Polish Christmas celebrations on your trip in winter in Poland
CHECK OUT POLAND CHRISTMAS MARKETS
Speaking of Christmas, the major attraction of Christmas celebrations are Poland Christmas markets. Poland is home to some of the best Christmas markets in Europe.
If you are visiting Poland from late November until Christmas eve, you will be enchanted by these fairytale Christmas markets.
Wooden chalets decorated with Santa, pine cones, Christmas bells, trinkets and lights will be set up in the medieval squares, with the imposing Renaissance architectural background and lightings everywhere.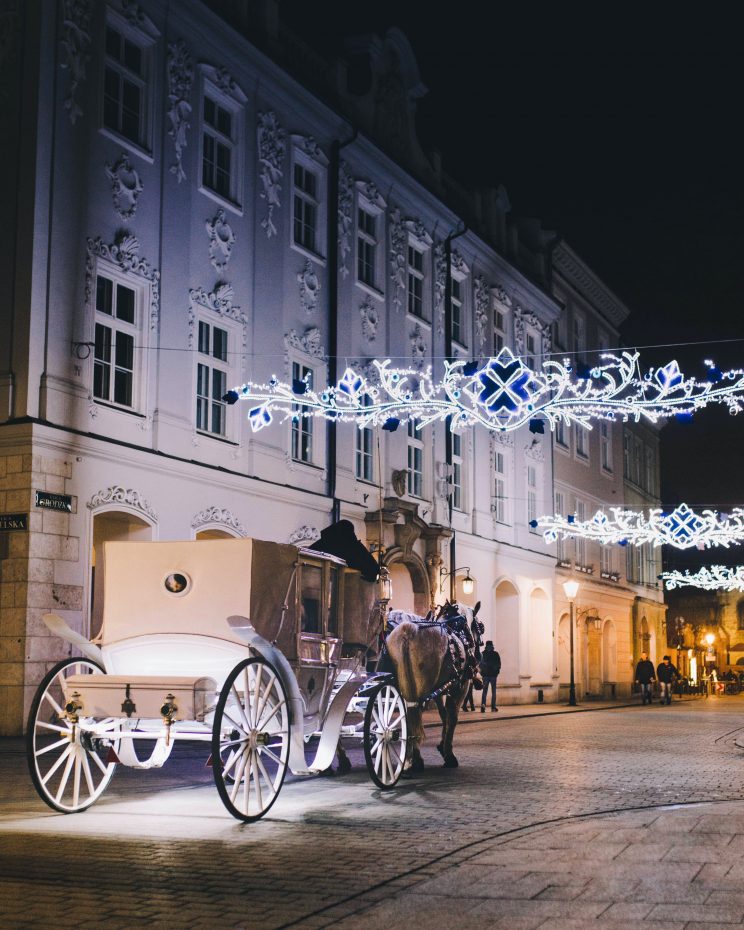 A huge Christmas tree and Christmas pyramids at the centre will be one of the best attractions. The markets are the places to eat, drink, shop and make merry!
Krakow Christmas market is the most famous in Poland, and one of the most visited markets in Europe. This largest market spans across the market square in front of the Cloth Hall, and the adjoining streets in the old town.
One of the best things to do in Krakow in winter is to visit these Christmas markets. Witness the nativity scene exhibition, which is also a contest, at the main market square in Kraków, where the most creative designs come alive.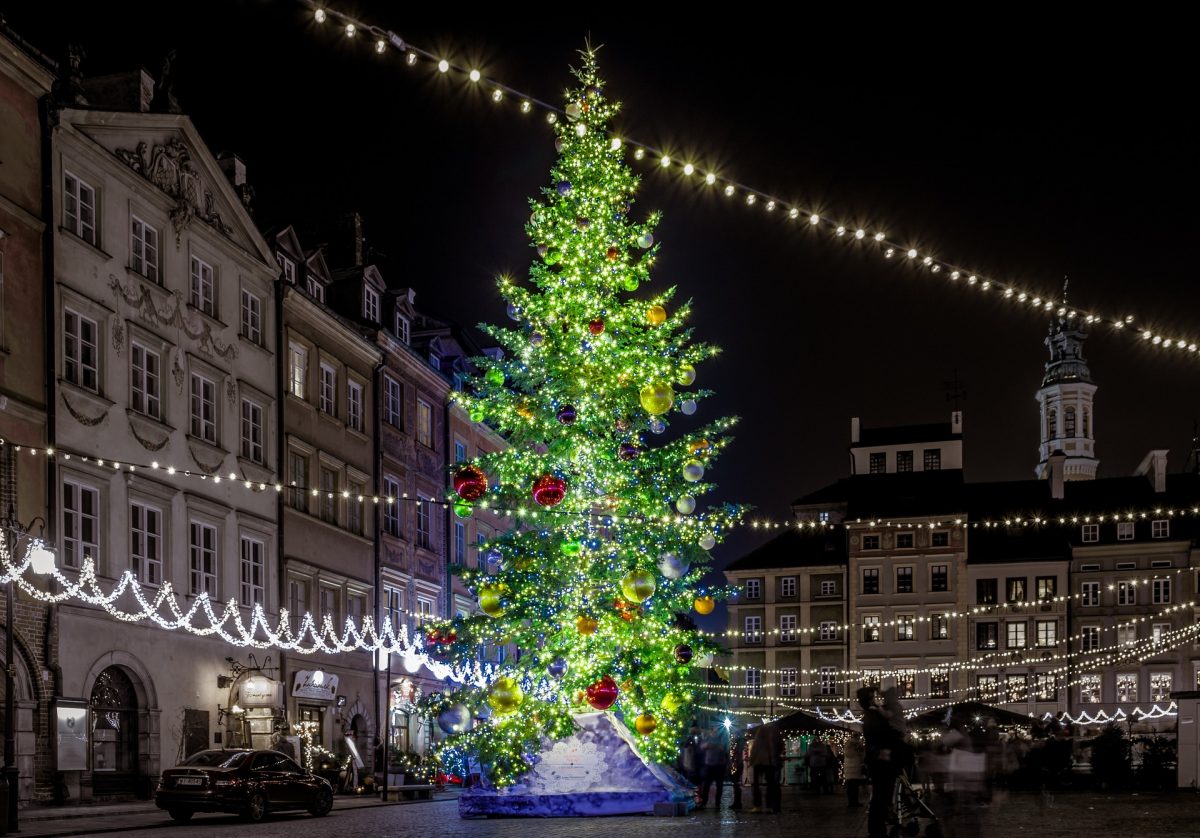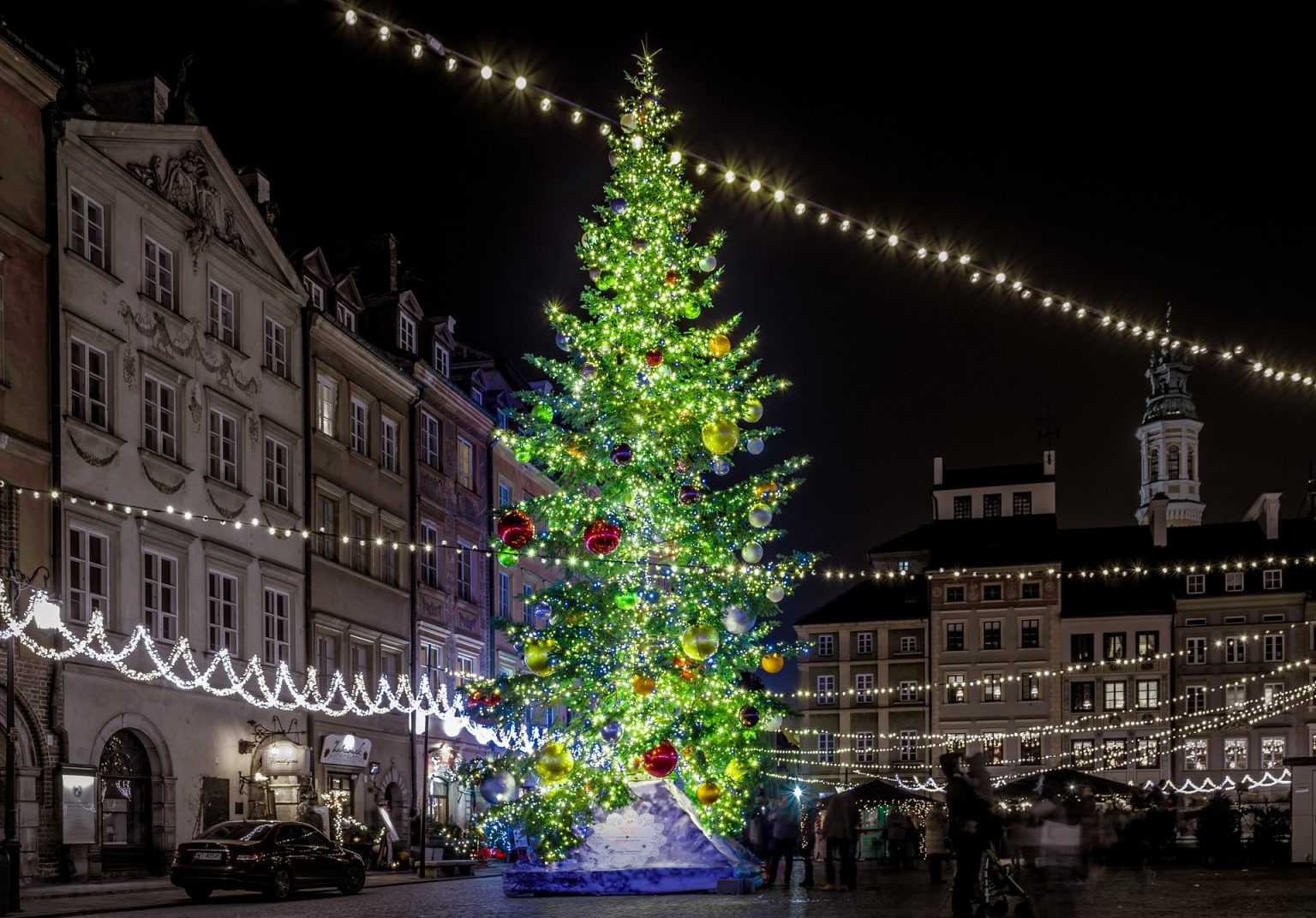 The Christmas markets are the best places to indulge yourself in tasty Polish cuisines, including the trademark Pierogis or Polish dumplings that come in tons of flavours and types, many delicious soups and also, cabbage rolls.
Other signature Polish dishes that you should try are Osypek – smoked sheep's cheese from Zakopane served with bacon, pork or cranberries, and the Polish sausage Kielbasa.
Drink to your heart's content trying different types of Christmas special drinks like Vodka based cocktails, beer or the classic Christmas drink – spiced hot mulled wine.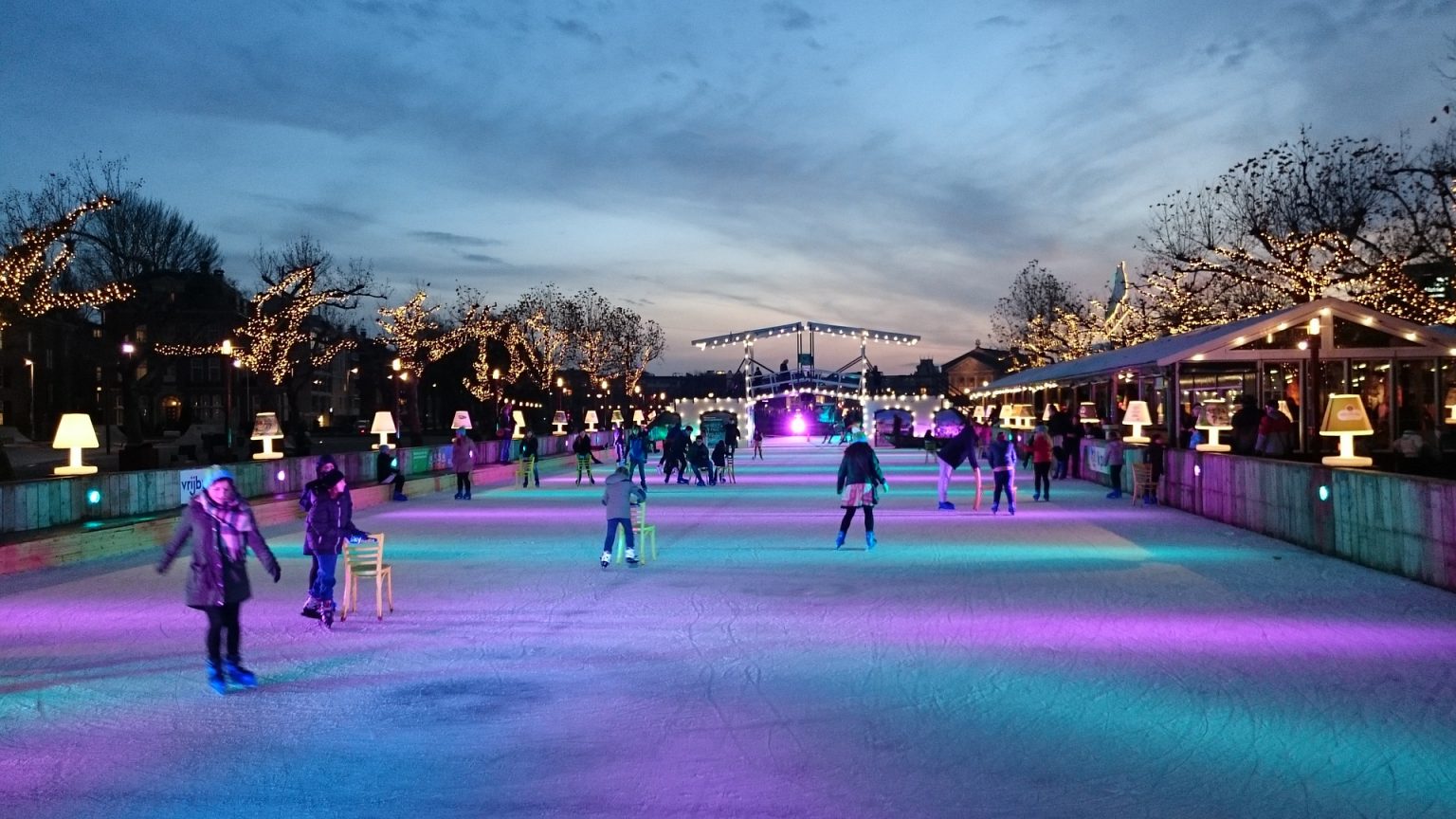 Go ice skating, hop on those themed rides, or enjoy a ride on the carousels.
You can shop for all the best Christmas souvenirs from handicrafts to wooden toys to mittens to glass ornaments and more.
Enjoy the musical performances, carol hymns in the church and or simply take a stroll in the markets soaking in the blissful Christmas atmosphere.
TRY ICE SURFING ON FROZEN LAKES
How does walking on two frozen lakes sound? Or even better, iceboating on these lakes? If you want to experience what frozen lakes look and feel like, you should plan a trip to spend a winter in Poland.
Head to Giżycko, a small town in northeastern Poland, which is considered the unofficial sailing capital. The town itself is sandwiched between Lake Mamry and Lake Niegocin in the region of Masuria that connects several other lakes.
Come winter, and these lakes turn into a vast expanse of a thick bed of ice, which transforms Giżycko into a winter wonderland. If you are wondering does it snow in Poland in December or does it snow in Poland in January, you will get to know that yes, you will get to see a lot of snow in Poland.
On these solid, frozen lakes, you can take a stroll or try learning iceboating and ice surfing activities. Even if you have never done these before, you can find groups to learn and enjoy these adventurous activities in the winter snow in Poland.
There are some local ice surfing races held every year too. Giżycko is a lovely town to explore on foot, going off the beaten path, and trying some authentic delicious Polish food and beer.
TRACE THE HEAVIEST MAMMALS IN EUROPE
If you don't already know, half the world's population of Wild Bison can be found in Europe. This Bison is the heaviest mammal in Europe, and about three fourth of these are found in Poland in Bialowieza Forest, the Bieszczady Mountains, in Masuria and in West Pomerania.
Białowieża is one of the largest and the only remaining primaeval forests in Europe today, which is home to about 800 specimens of these European Wild Bison. The forest is a Biosphere Reserve and a UNESCO world heritage site.
Amidst this dense forest is the tiny village of Białowieża, where you can spend a day or two experiencing the rich Polish countryside.
One of the memorable and quirky experiences of spending a winter in Poland is that you can trace these majestic Bisons on wild tours in the rugged Białowieża Forest in lowland Europe.
Wandering amidst the snow-covered wilderness, witnessing the snowfall and spotting these beasts going about in their habitat is indeed one of the truly cherishing things to do in Poland in winter.
EDITOR'S NOTE: 45 INCREDIBLE THINGS ABOUT POLAND NO ONE TELLS YOU
GET YOUR ADRENALINE FLOWING WITH THE WINTER SPORTS
One of the perks of visiting Poland in winter is you will be treated to a whole new set of winter sports and activities.
If you are an adventurous soul that loves daring to dive straight into the freezing snow for your adrenaline juices to get flowing, then you should plan a winter in Poland to spend in the town of Karpacz.
Karpacz, located in the Karkonosze Mountains in the southwestern part is one of the top destinations for winter sports in Poland.
It gives the French or the Swiss Alps a run for its money with its beautiful ski resort and a wide range of winter adventures at more affordable prices than these countries.
You can rent a snow scooter and set off on a mini-adventure on the trails in the magical countryside blanketed with snow.
You can sign up for cross-country skiing or join the ski tour groups. You can also try snowboarding if you want a less-intense snow sport.
Even if you are not into any of the adventurous snow sports, you can still enjoy many other things to do in Karpacz in winter.
Take a stroll in this beautiful town absorbing the views of the snow-covered groves flanking the Łomnica River.
Visit the iconic 12th-century Wang Church, a Scandinavian Romanesque architectural wonder that was transplanted from Norway.
You can also plan a winter hike in the beautiful Karkonosze National Park, which is home to stunning peaks and many enchanting glacial lakes, one of them being the splendid Mały Staw.
MORE AWESOME THINGS TO DO IN POLAND IN WINTER
TAKE A TRIP TO THE WINTER CAPITAL OF POLAND
You cannot travel in winter in Poland and not visit its winter capital, Zakopane. Zakopane is undoubtedly one of the best places to visit in Poland in winter, blessed with dramatic mountain ranges in the southern part of the country.
You can easily spend a few days in Zakopane enjoying the laidback atmosphere, wooden huts, soaking up the sweeping views, and of course, skiing.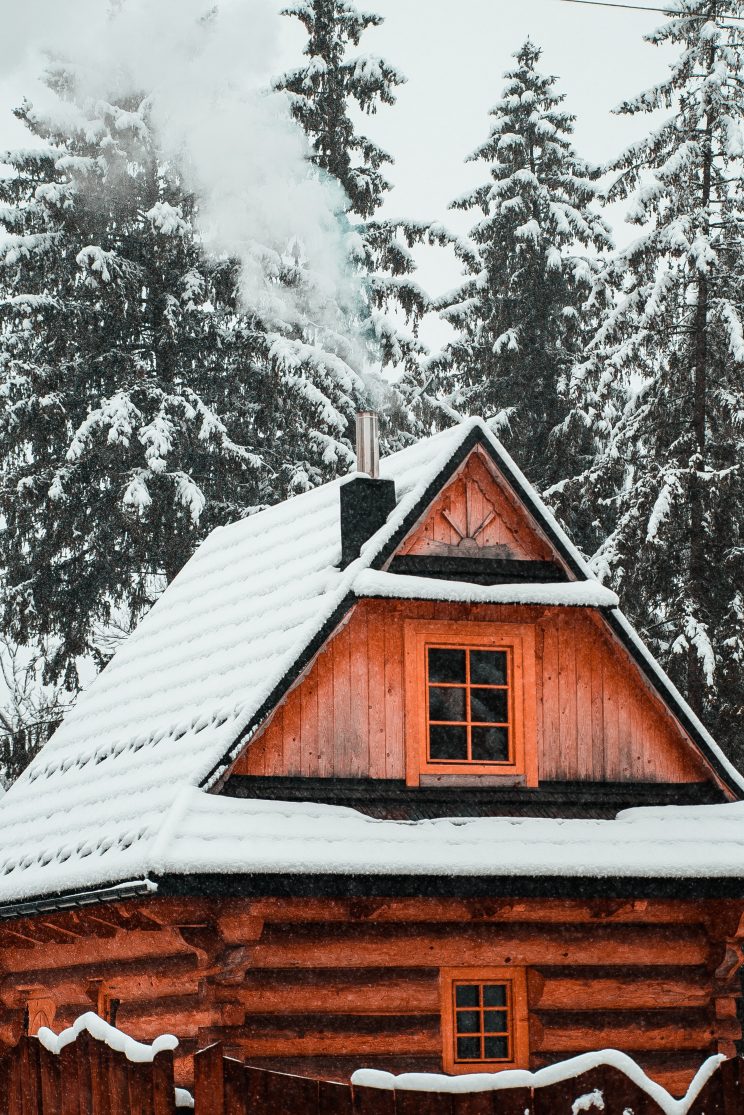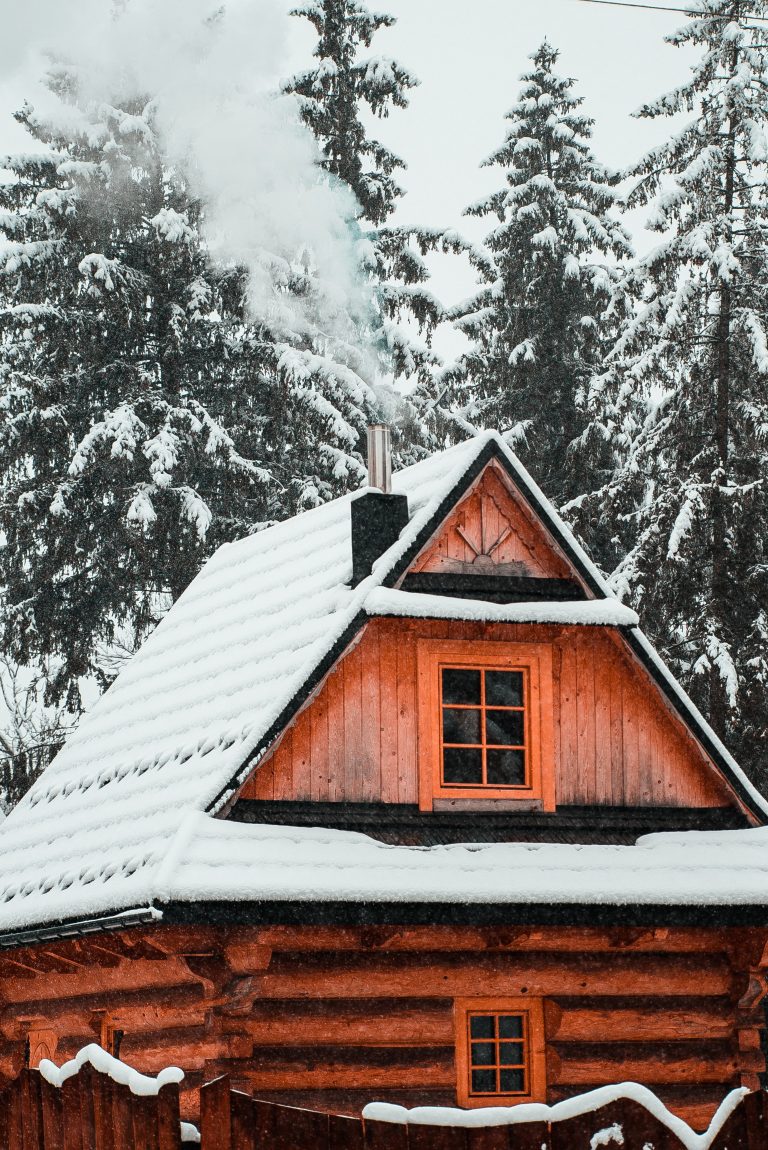 Zakopane is located in the valley at the intersection of Gubalówka Hill and the magnificent Tatras Mountains, the highest in the Carpathians passing through Slovakia and Poland.
The enchanting views of the Tatra mountains carpeted with snow will linger with you long after your holiday. This magical mountain beckons many hikers and mountaineers that attempt climbs by basing in Zakopane.
If you are here during Christmas, Zakopane feels like a magical paradise. The main pedestrian street of the town, Krupowki will house a Christmas market.
The entire street is lit with Christmas lights, decorations and shops selling everything from handmade Christmas gifts to the best Polish winter dishes and drinks.
Take a ride to the top of Gubałówka Hill to witness some spectacular views of Zakopane and Tatra in the backdrop.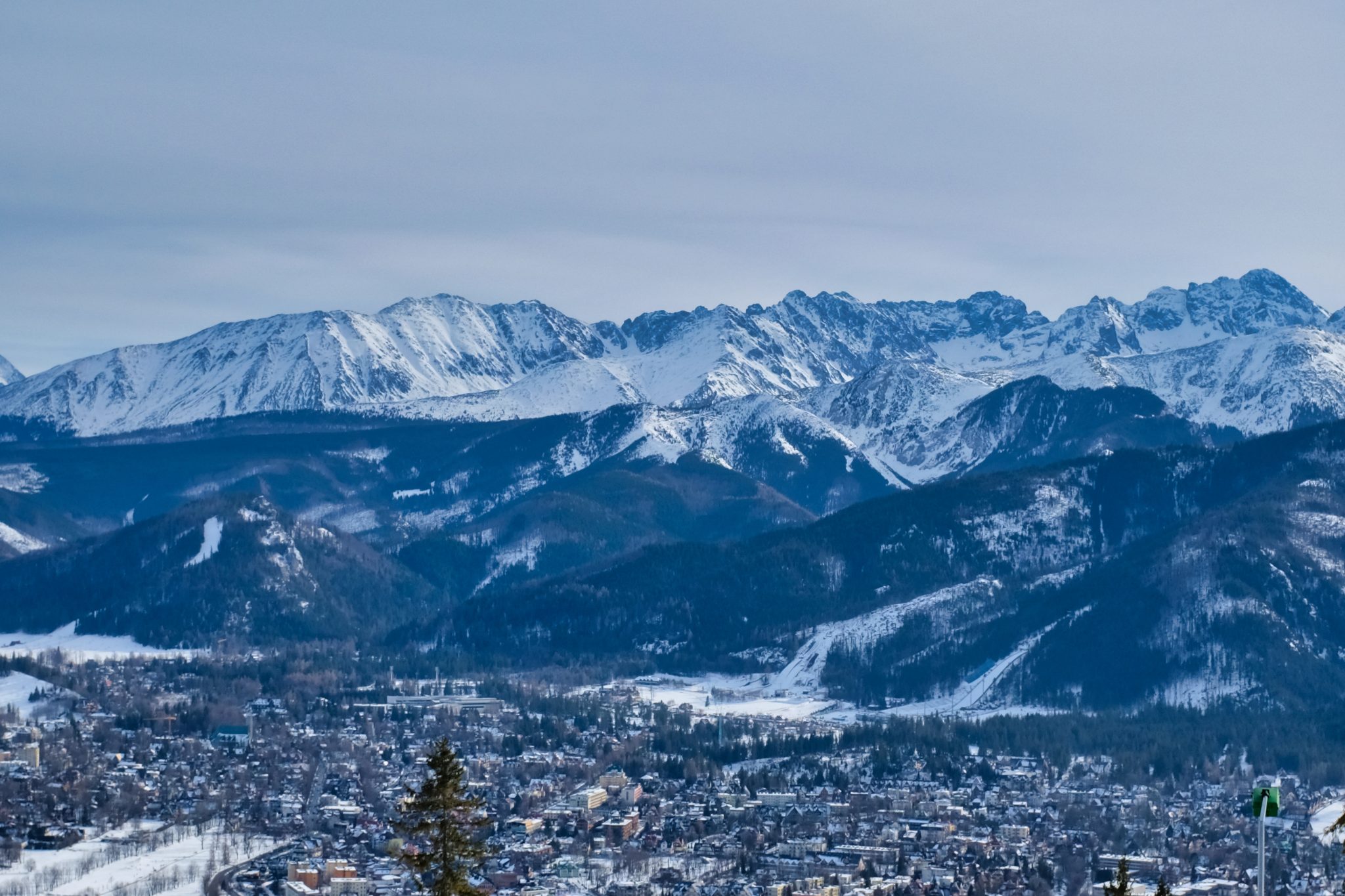 Indulge in Oscypek, delicious milk cheese made of sheep and cow milk, the signature food of Zakopane best tried with meat or berries. Keep yourself warm with the sauerkraut soup, or Polish spiced mulled beer with cinnamon and cloves.
There are plenty of skiing slopes and many snow activities in Zakopane. You can rent a snow scooter, or try skiing, snowboarding, sleigh rides, join ski tours and ice skating.
You can warm yourself in one of the thermal baths in the resorts, perfect for the freezing weather.
EDITOR'S NOTE: 15 FANTASTIC DAY TRIPS FROM WROCLAW YOU SHOULD CHECK
GO ON WINTER HIKES IN THE NATIONAL PARKS
Apart from Bialowieza Forest, many other national parks in Poland are perfect for hiking in winter.
Carpeted by the winter snow and the cold wind accompanying you, it is a unique experience to hike in these conserved sanctuaries where you can spot the best of wildlife and flora.
Bieszczady National Park bordering Slovakia and Ukraine offer stunning views of the Carpathian mountain ranges. It is one of the offbeat destinations in Poland, so it is the best place for spending winter in Poland to enjoy its magical weather and natural beauty by yourself.
You can also plan a trip to one of the most beautiful national parks in the country, Biebrza.
A large reserve area in northeastern Poland spanning along the Biebrza River Valley, it is renowned for scenic forests and marshes.
The park is home to hundreds of bird species, including eagle-owls, cranes, beavers and elk.
You can also visit the 19th-century Russian Osowiec Fortress famous for its underground passages, which is near the park's entrance.
Wolinski National Park in the far northeast part of the country is another beautiful park where you can enjoy hiking in snow in some of the well-maintained trails that open to splendid viewpoints.
EDITOR's NOTE: 10 BEAUTIFUL DAY TRIPS FROM GDANSK YOU CAN PLAN
WITNESS A WINTER HIGHLANDER CARNIVAL
How does participating in the highlander horse-drawn sleigh or Kumoterki race sound? Or competing with the locals and other fellow travelers in carol singing, folk dance and couples dance contests?
Suppose you find Zakopane to be too mainstream or touristy. In that case, just 14km from this famous city is a lesser-known village Bukowina Tatrzańska, which offers even better enchanting views of the magnificent Tatra Mountains.
Bukowina Tatrzańska transforms into the carnival capital of Poland in February every year as it hosts the Winter Highlander Carnival, which has many unique events that you can participate in as well.
If you are planning a winter in Poland, then I would recommend choosing February if you want to experience Polish folklore culture.
Not just these, you can even get dressed up as a Highlander and take part in shooting contests.
You can spend the evenings enjoying folk theatre performances or attend some of the largest folk exhibitions and fairs in Bukowina Tatrzańska during the Highlander Festival.
This stunning hill-top village boasts of two places for skiing and snowboarding – Bukowina Tatrzańska – Rusiń ski and many beautiful ski resorts nestling amidst the mountains.
The village also is home to many thermal pools, perfect for unwinding and warming up after a cold day out exploring in the snow.
Bukowina Tatrzańska is more beautiful with plenty of accommodations closer to the ski lift at affordable prices.
EDITOR's NOTE: 15 AMAZING DAY TRIPS FROM WARSAW YOU CAN PLAN
EXPLORE THE FAIRYTALE WINTER POLISH COUNTRYSIDE
You can plan one of the day trips from Krakow or Wroclaw to Wisla when you are holidaying in winter in Poland. But I would highly recommend spending a few days in this gorgeous ski town.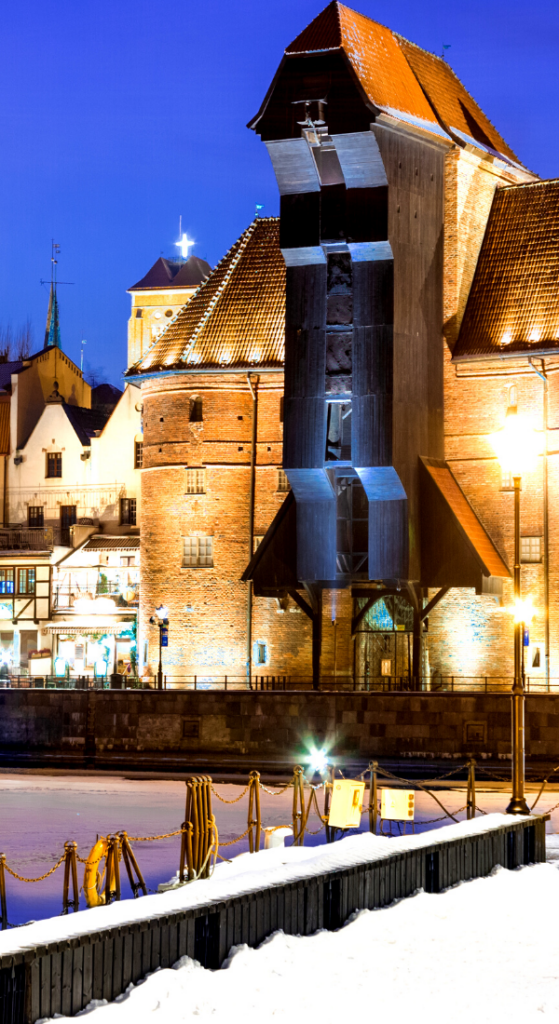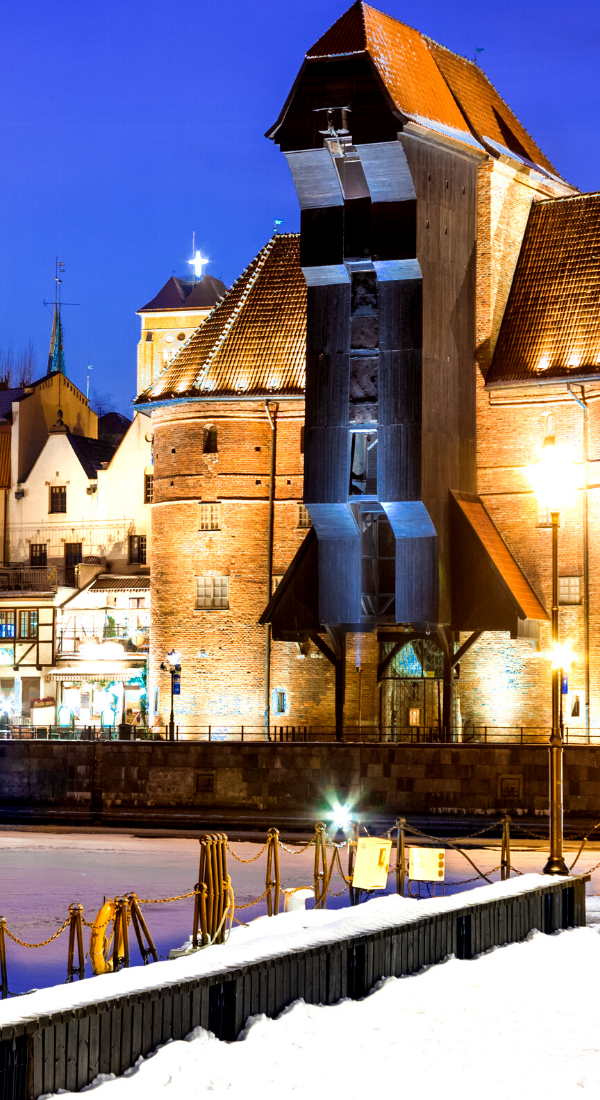 Wisla, located in the Silesian Beskids mountain range close to the Czech border in southern Poland, shares some of the abundant natural beauty with its neighbour, comprising of rolling hills, jagged peaks and stunning valleys, all of which are sprinkled with snow.
From hiking to skiing, there are many things to enjoy in Wisla on your Poland winter trip.
Wisla is home to many ski resorts, most of them in fantastic locations overlooking gorgeous valleys, all of which you can enjoy at far lower prices than anywhere in Europe.
From Wisla, you can plan many short day trips or overnight stays, including a trip to Ustron a ski resort, and the fairytale villages of Cieszyn county.
ENJOY A FEW DAYS IN A SKI DESTINATION
Among the best destinations in the country is the town of Szczyrk. One of the best ways of enjoying winter in Poland is to head to a resort town or a village.
If you want to look beyond Zakopane for winter sports, hiking trails or adventures in the snow, Szczyrk on the banks of Żylica river is a good alternative.
Located in the Beskid Śląski mountains of southern Poland, you can base yourself to take day trips to nearby resort towns or go the other way around as well.
You can plan a trip and a lot of activities in Skrzyczne Mountain, the highest mountain of the Silesian Beskids. You can take the chairlift from the outskirts of Szczyrk, which offers spectacular 360-degree views of the snow-blanketed valley and the surrounding mountains.
You can relax in Szczyrk Mountain Resort or go skiing, snowboarding and taking sleigh rides.
WHAT TO PACK FOR A WINTER IN POLAND
You will not feel the weather to be too harsh or cold if you manage to dress in layers and go for the warmest winter clothes while packing for winter in Poland.
Make sure to carry a wind jacket, lightweight backpack, mittens, scarves, thermal trousers and thermal T-shirts.
If you are hiking, it is best to have good hiking shoes, a headlamp and a water bottle to keep you hydrated.
Also, get your travel insurance when planning a holiday in winter in Poland, in case of unfortunate circumstances to keep you insured.
So that's how you can have a blast in winter in Poland, with so many incredible things to do, places to visit, and adventurous activities to participate in.
Make the most of your winter holiday in Poland in winter! Have you spent the winter in Poland? What all did you do? Let me know in the comments below.
PIN WINTER IN POLAND TO READ LATER