Christmas markets in Poland are unique, and unlike the elaborate traditional Christmas markets in Germany and other countries, the culture is relatively new. Come December, and the cities in Poland get transformed into magical lands with Christmas trees, trinkets, and bells adorning the streets. Above all, there is nothing better than Christmas markets to get into the festive spirit.
Poland Christmas markets are not huge or grand, but in recent years, things have changed, competing to be home to some of the best Christmas markets in Europe.
If you travel to Poland in winter, around Christmas or New Year Eve, be sure to experience a winter wonderland. Compared to countries like Austria or Germany, Poland is far cheaper, and the crowds are younger and upbeat, adding more joy to the festivities. These are markets will give you glimpses to see how does Poland celebrate Christmas.
In this post, I'll share all about the most beautiful Christmas markets in Poland, the events, festivals, Polish Christmas markets traditions and what to do during Christmas in Poland!
BEST CHRISTMAS MARKETS IN POLAND
KRAKOW CHRISTMAS MARKET
Krakow Christmas Market Dates: 29 November to 26 December 2020.
Krakow is the most popular and the most visited city in Poland – thanks to its rich history, architecture and museums. Whether you are visiting Poland for a few days or weeks, you should add Krakow to your list.
The Christmas market in Krakow is the largest in the country and attracts hundreds of thousands of visitors every year.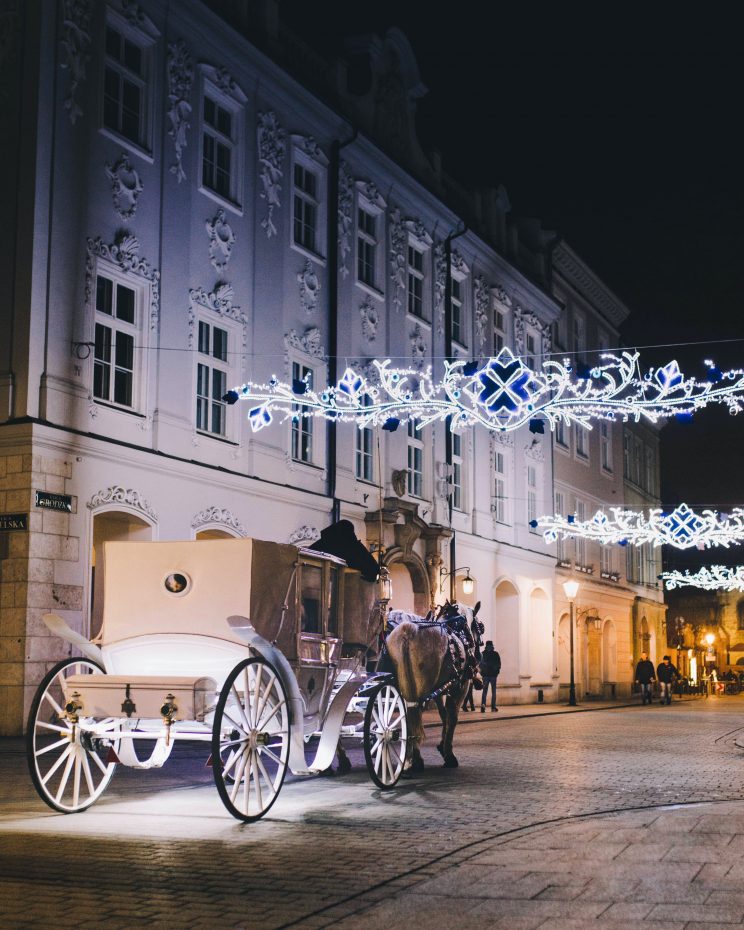 It is the oldest and the most popular of all the Christmas markets in Poland. Whether it is shopping for Christmas goodies or trying out the best Polish cuisines or attending events, you should add Krakow market to your list.
The Christmas market in Krakow is set at the heart of the city, Rynek Glowny, which is also the largest square in Europe. The magnificent Cloth Hall and the iconic St. Mary's Basilica forming the perfect medieval backdrops.
The melodious carols and the smell of baked food and wine will enchant your senses as you walk in, setting the perfect Christmas spirit.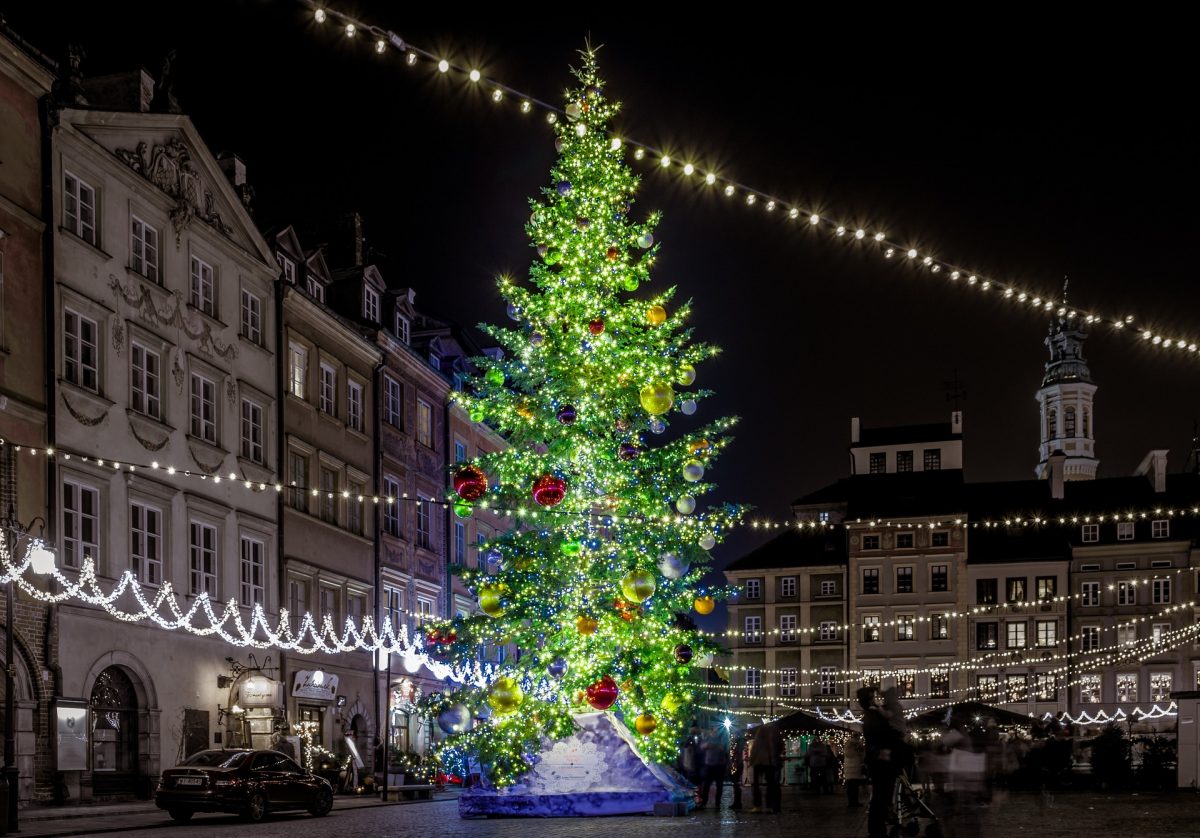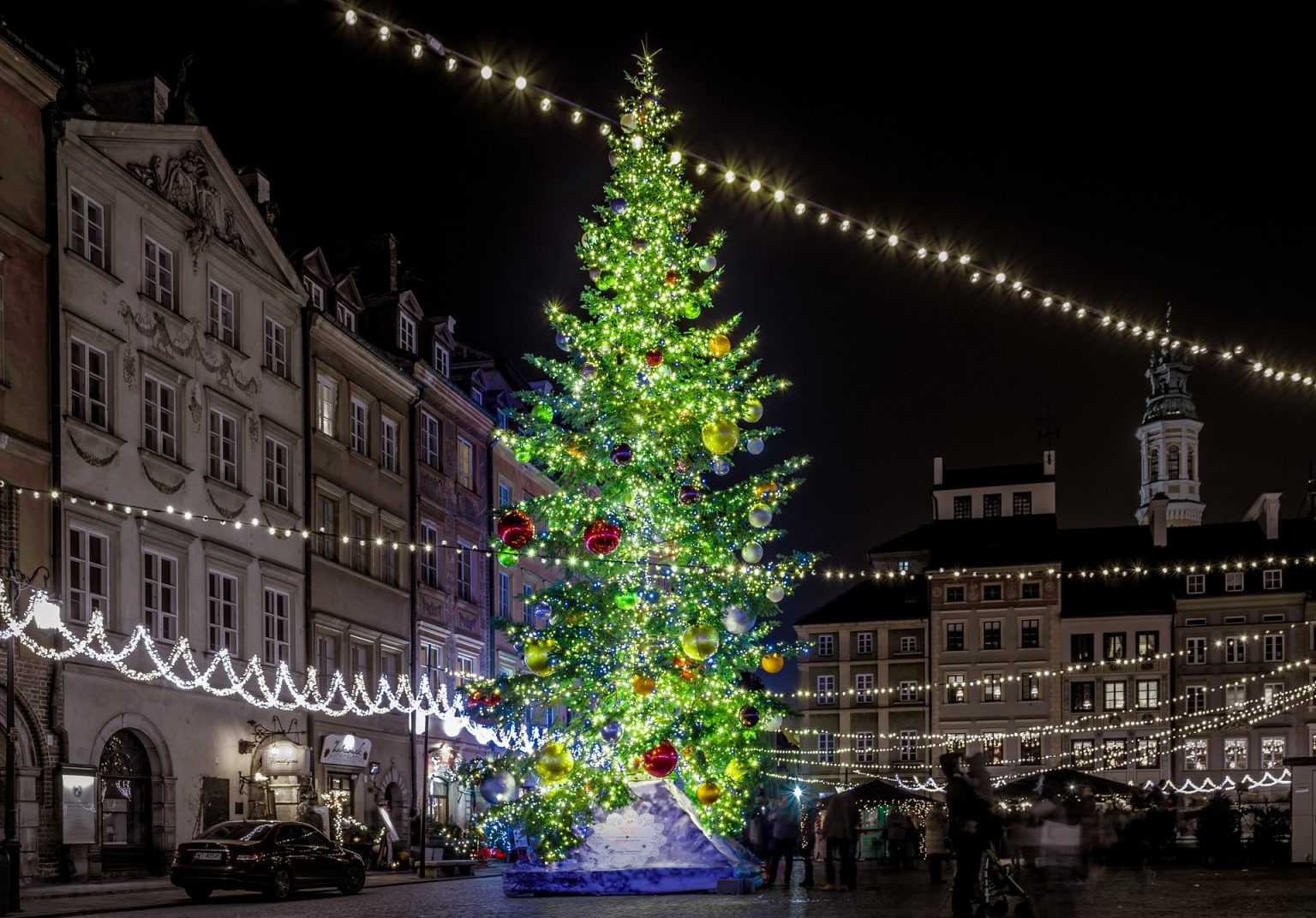 This compact market is lined with traditionally designed, heavily decorated shops that sell a wide variety of things. Some shops continue to remain open until the Epiphany festival in January.
When exploring Krakow Christmas market, don't forget to try the best Polish food and drinks. On the list of your must-tries should be Pierogis or dumplings that come in all forms of shapes, flavours and sizes in Poland!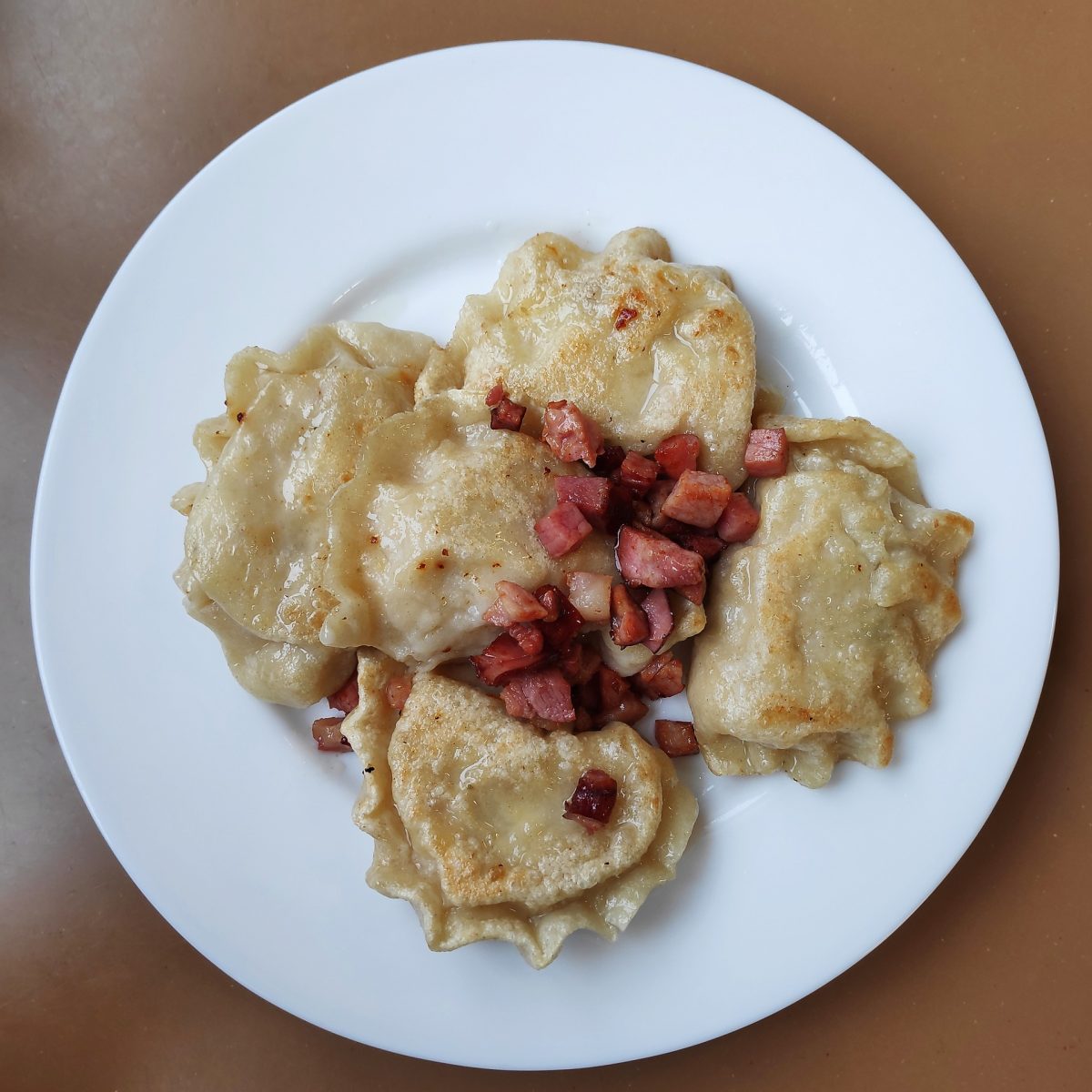 Try the pierogies with berries or chocolate if you have a sweet tooth. For classic lovers, try the cheese and potato dumplings.
You may also want to check out – 15 Free Things to Do in Krakow
Also try smoked cheese served with cranberry – a unique delicacy from Zakopane, different types of Polish soups, various kinds of sausages, and top them all off with the Galician spiced mulled wine or even better, Vodka based hot drinks to keep you warm.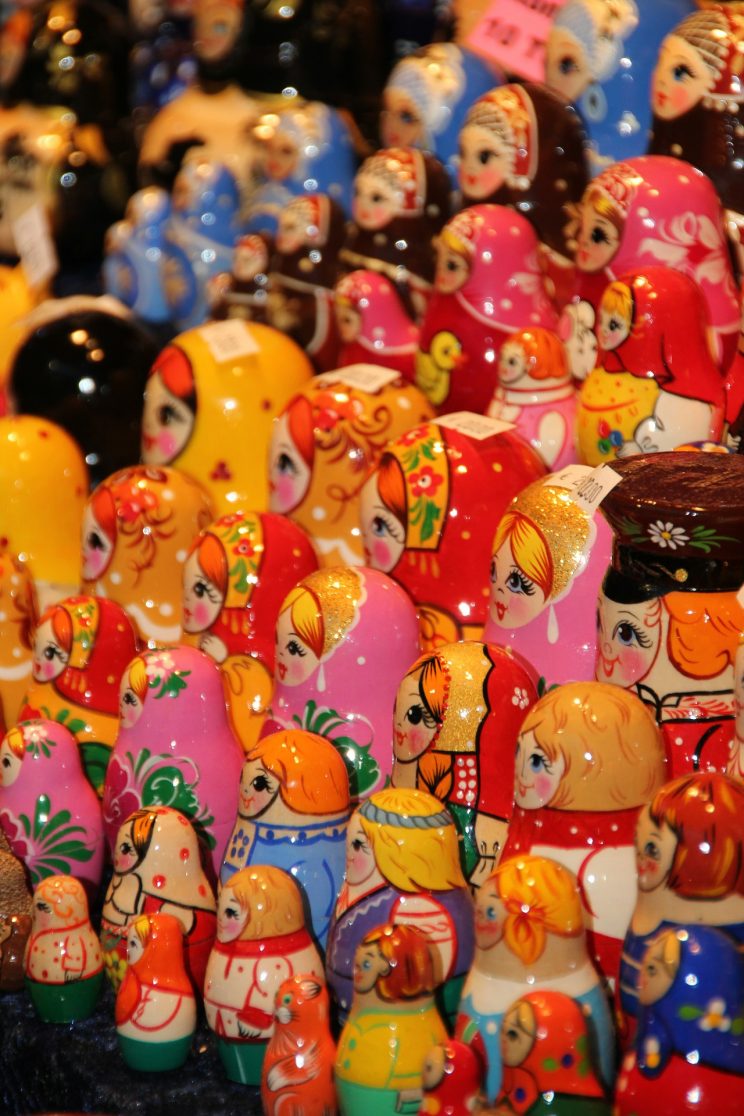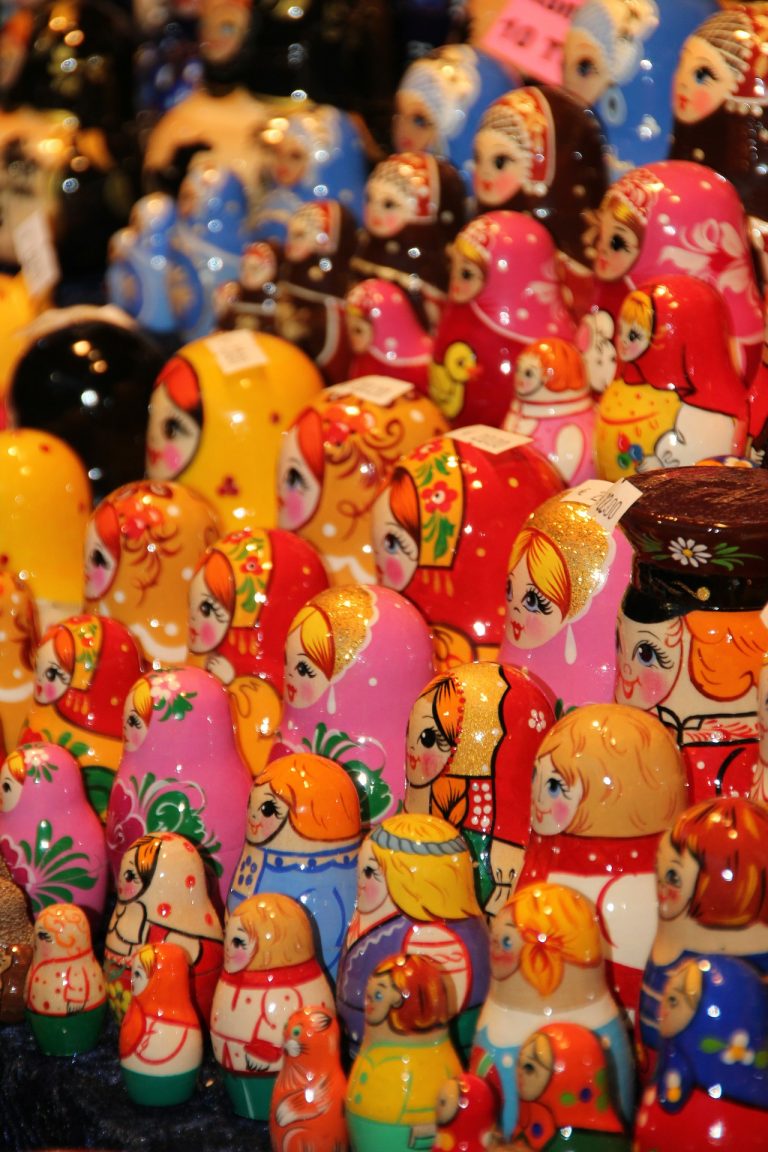 Shop for wooden toys, Russian dolls or Matryoshka, crystal trinkets, local handicrafts, hand-made jewellery, colourful ceramics and other cute Christmas items.
If you have more time in Krakow, do take a day trip to the Wieliczka Salt Mine, Auschwitz or the mountains at Zakopane.
Recommended tour: Krakow: Food Walking Tour
Where to Stay in Krakow?
The area near the old town is one of the best places to stay in Krakow. I recommend Hotel Polski Pod Białym Orłem for its excellent location and amenities. Book your stay here.
WROCLAW CHRISTMAS MARKET
Wroclaw Christmas Market Dates: 22 November to 31 December 2020
Wroclaw is one of the offbeat destinations in Poland that's not usually on the itinerary, but I'd highly recommend spending at least two days in Wroclaw because there are plenty of reasons to visit Wroclaw.
Especially if you are here in Poland, December might be the perfect time to visit Wroclaw. The Wroclaw Christmas market is one of the best Christmas markets in Poland. It is not as popular or crowded as Krakow market, but there is plenty to enjoy, get in the mood of advent and carols.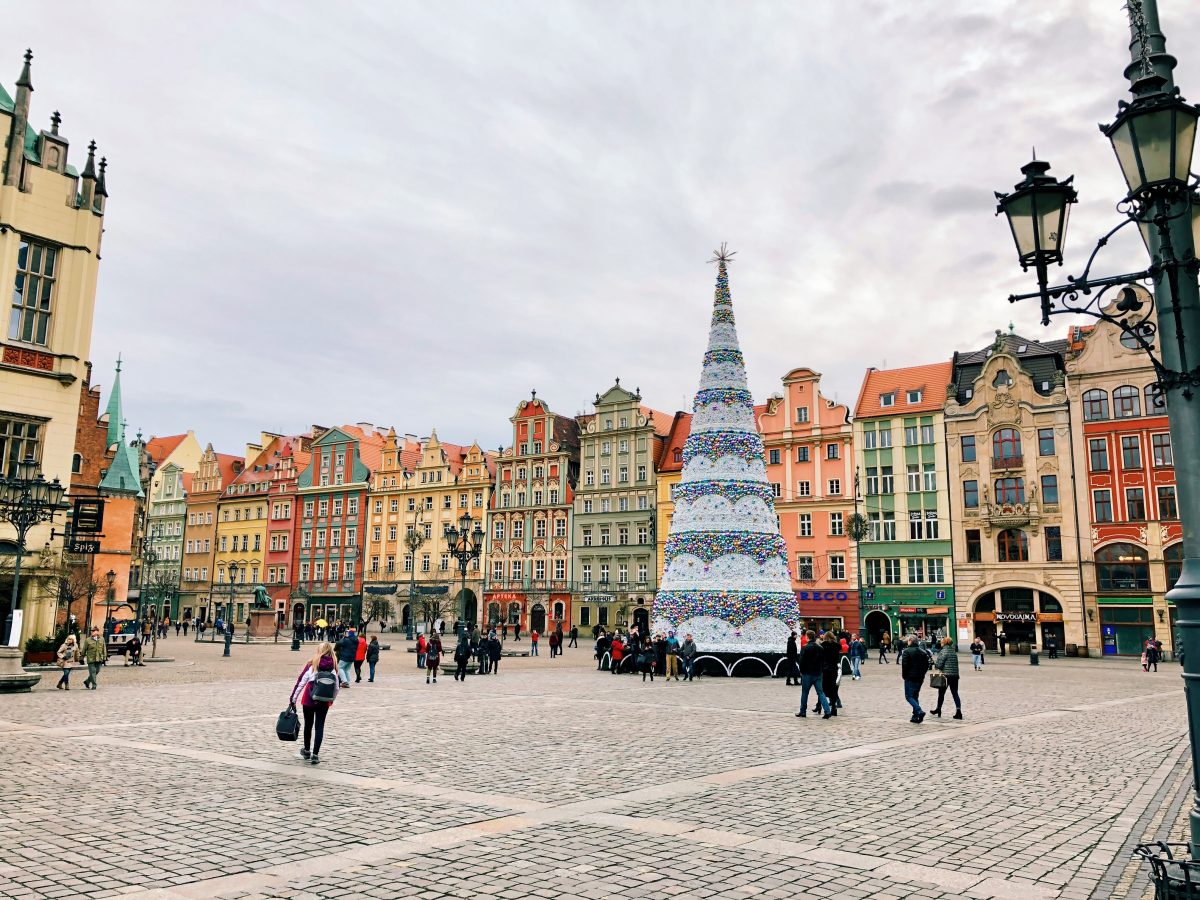 Wroclaw Christmas market is one of the fairytale European Christmas markets. I mean, the theme itself is a fairytale, so expect to feel like being in a magical paradise once you step in.
The centre stage of Wroclaw Christmas market is around the Market square in the old town. Wroclaw's Christmas traditions date back to the 16th-century, and if you want to witness a traditional Polish Christmas market, I'd highly recommend this one.
If you want to visit only one Poland Christmas market, it should be Wroclaw.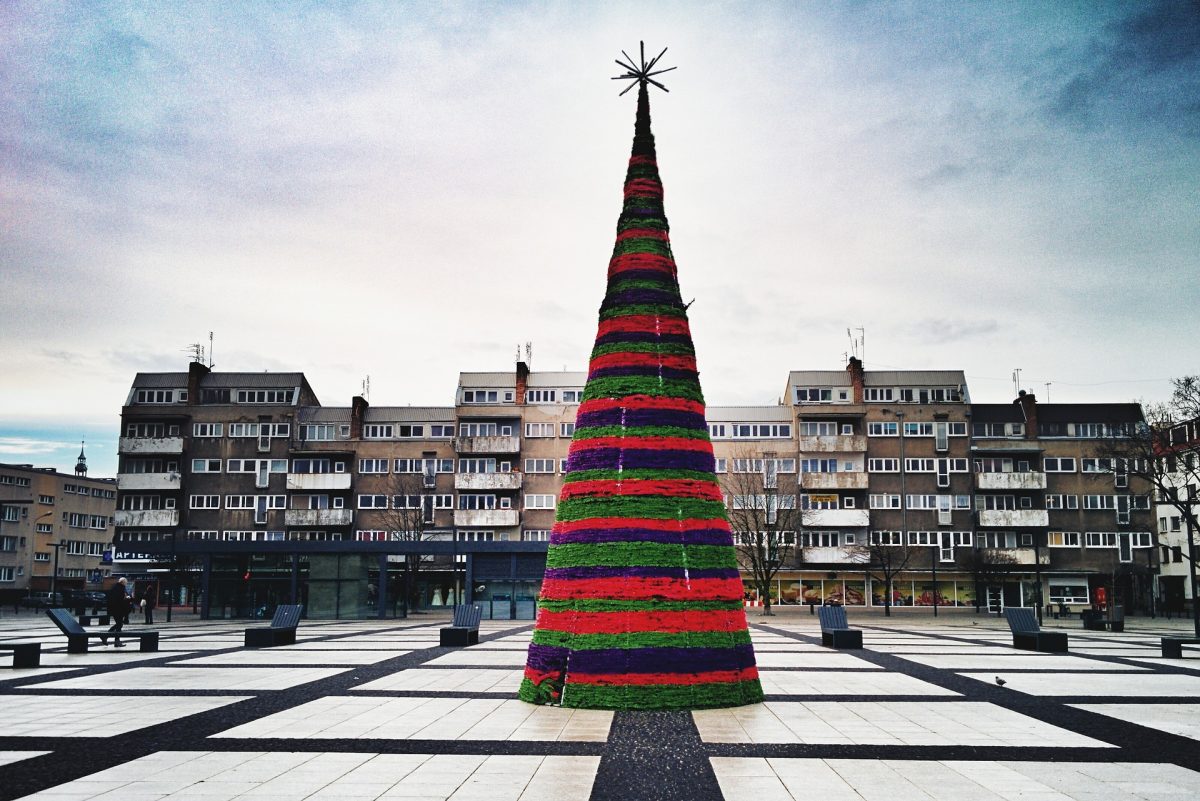 Christmas decorations are the best here -Traditional Christmas pyramid, advent and a Rudolf carousel welcome you at the old town of Wroclaw, which is surrounded by the historic medieval monuments adding to the fairytale atmosphere.
The market stretches beyond the old town square, with shops lining the streets surrounding the square.
Check out the fairytale forest, go hunting for gnomes and don't forget to check out musical events to watch the best Polish singers perform in some of the best concerts.
Enjoy many Christmas themed rides, participate in parades and shop until you drop.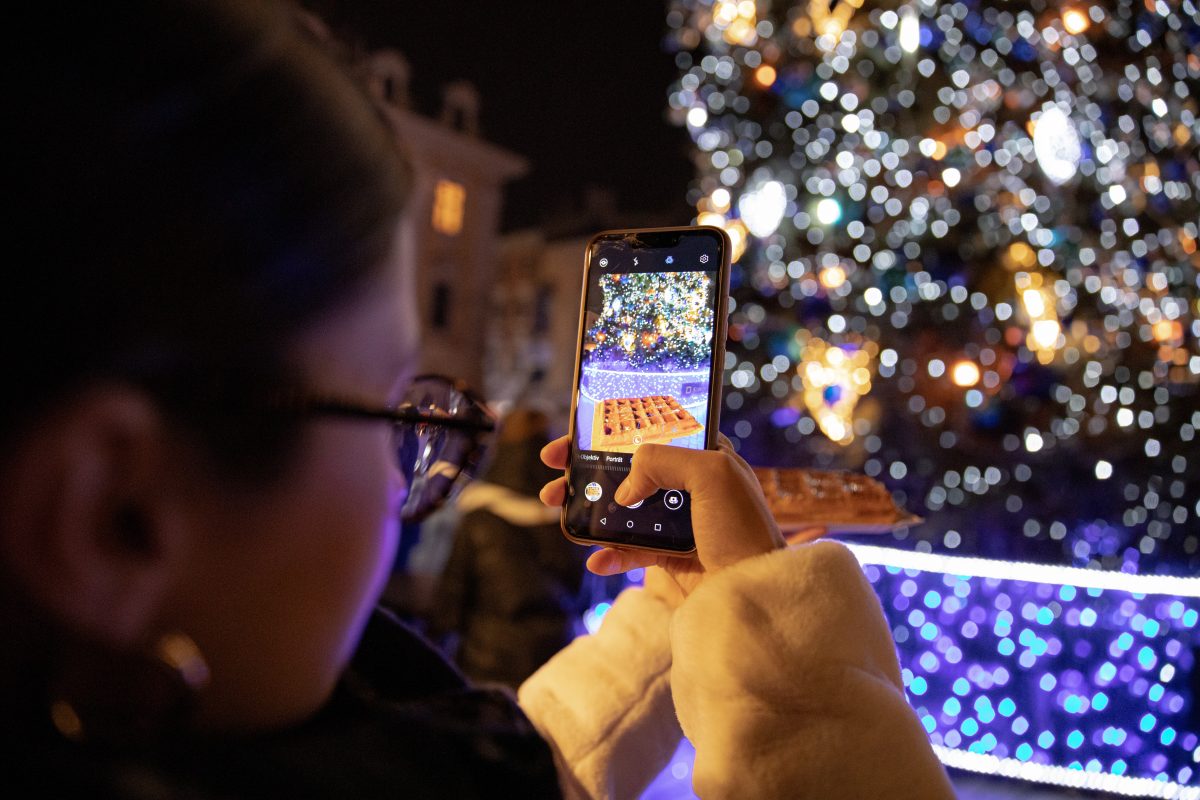 Try the smoked cheesecakes, different Pierogis, Vodka based drinks, hot chocolate, cider and spiced mulled wine.
Apart from the traditional Polish food, you will find a lot to choose and try from different international specialities, including sausages from Lithuania, Dutch waffles and pancakes, Spanish paella, Langos from Hungary, Chimney cake and more.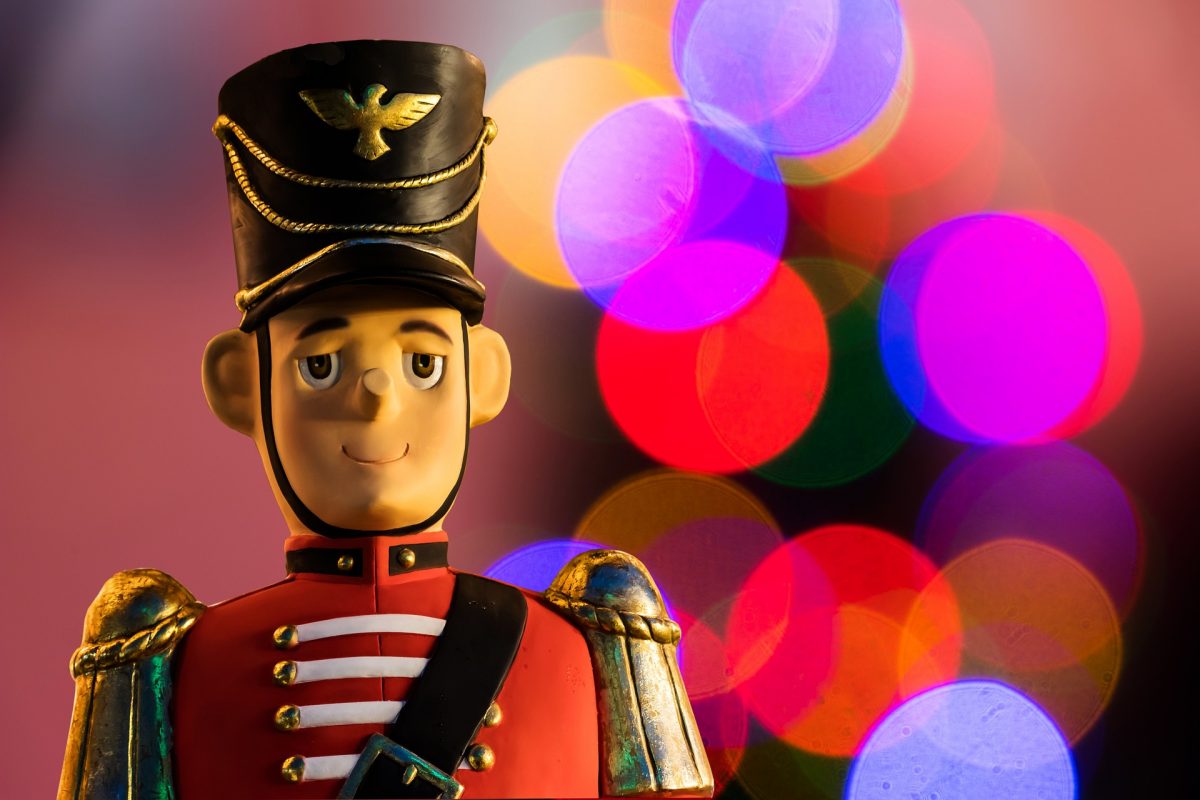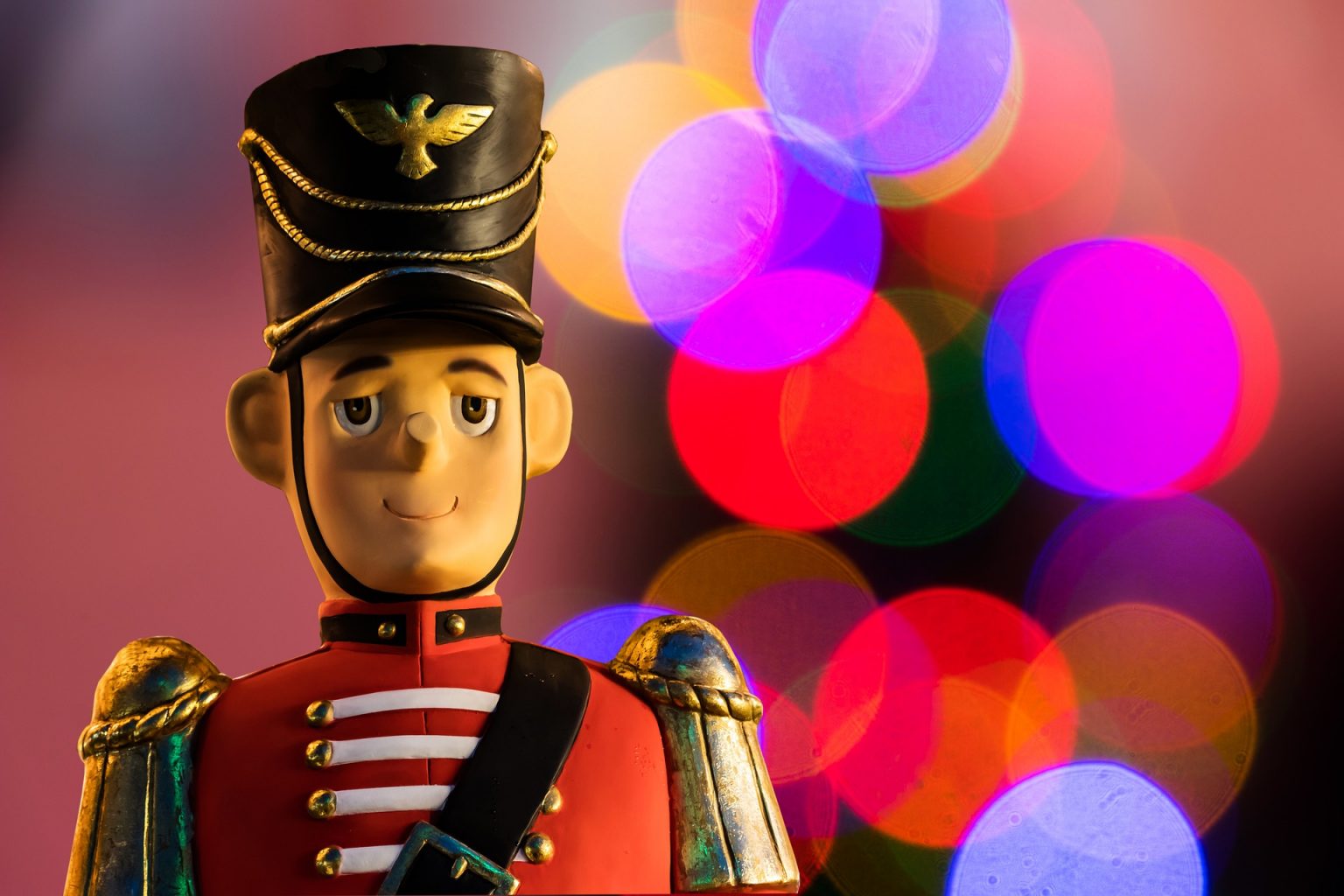 You can shop for many typical Christmas gifts, cute souvenirs and handicrafts made by locals.
Take a guided tour of the old town or even better, the gnomes tour, for which Wroclaw is famous. If you have more time, you can plan a few day trips from Wroclaw too.
Recommended tour: Wroclaw: Private Traditional Polish Food Tour
Where to stay in Wroclaw?
I would recommend PURO Wrocław Stare Miasto, which is close to the old town and has excellent reviews and amenities. Check prices here to book your stay.
WARSAW CHRISTMAS MARKET
Warsaw Christmas Market Dates: 1 December to 6 January 2021.
Warsaw, the capital city of Poland, is known for its bustling young crowds, fantastic nightlife, hipster neighborhoods, and many excellent museums – making it worth a stop for at least two or three days in Warsaw. 
There are plenty of unusual attractions in Warsaw too, if you want to go off the beaten path.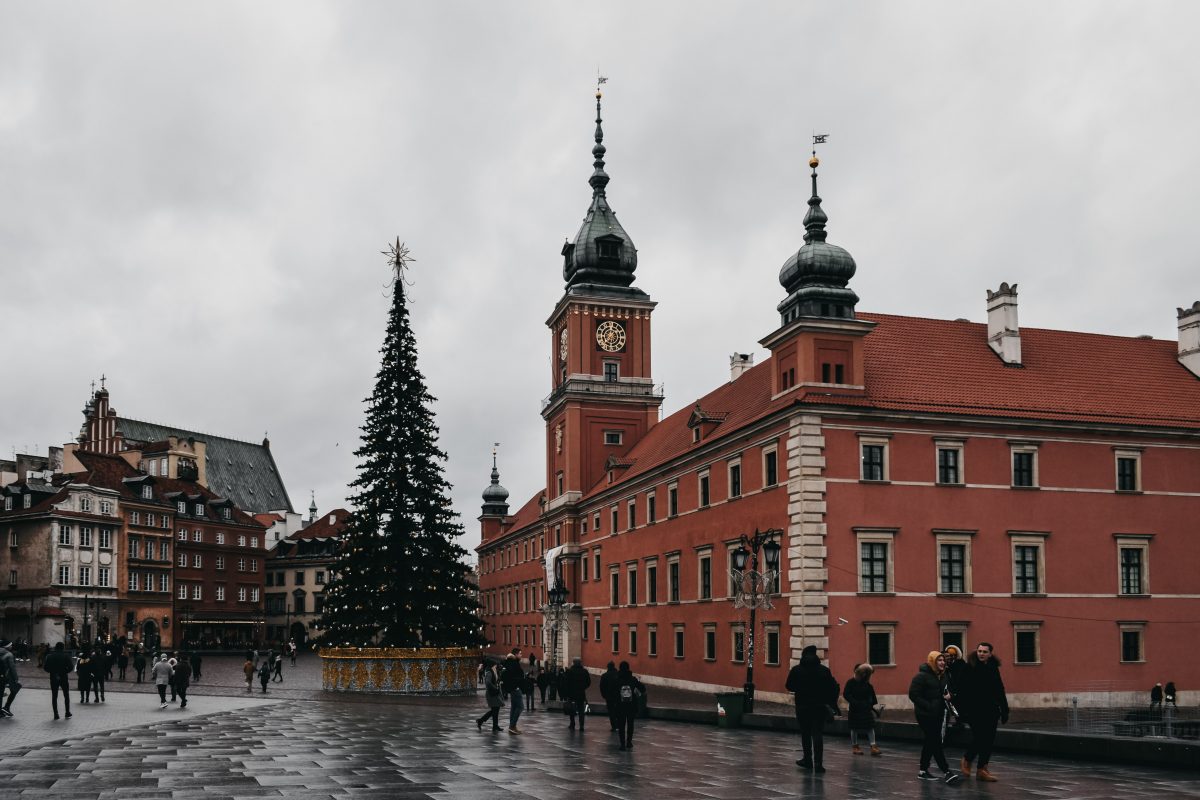 Whether you are here for a day or more, if you are here during winter, don't miss the markets, one of the best Christmas markets in Poland.
The markets begin a bit later than the others in the country, which gives you plenty of time to make a stop.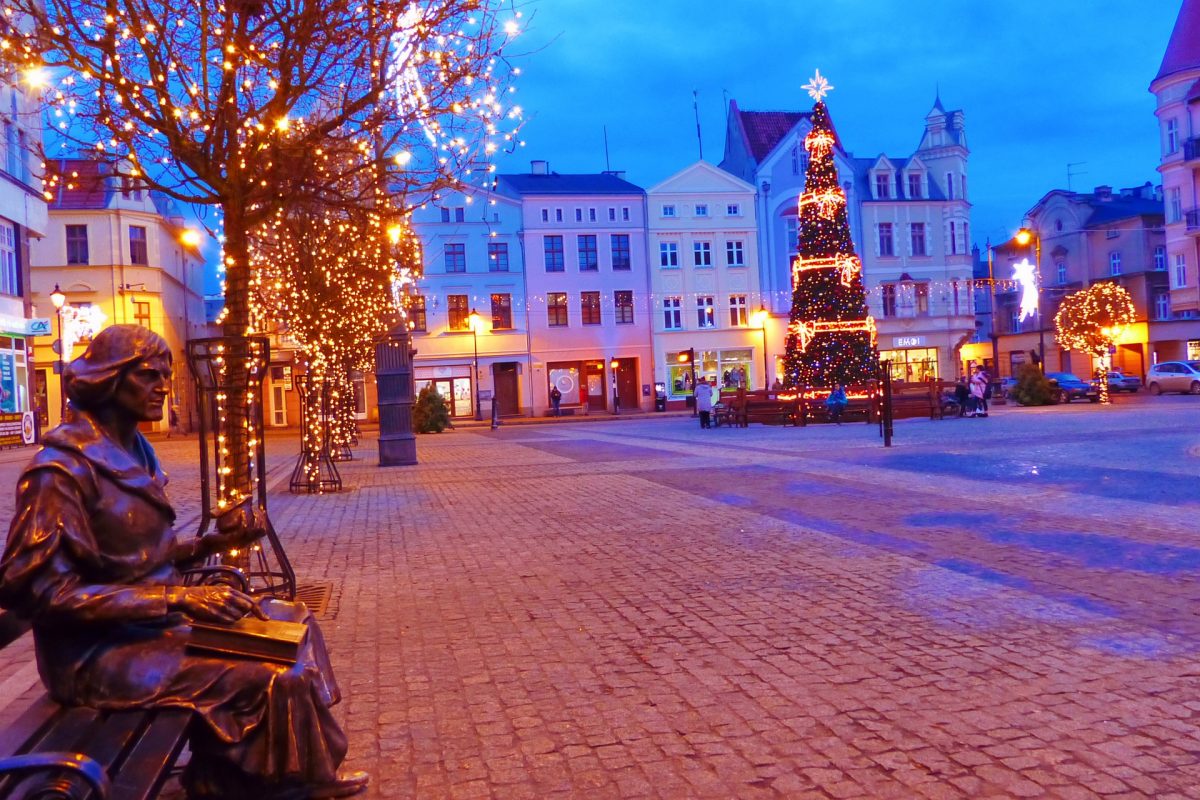 The primary Warsaw Christmas market is kicked off with a splendid Christmas light show in the old town Castle Square in front of the Royal Castle, the central Christmas market location. The entire old quarter, including Royal Route, is illuminated with trinkets, Christmas lights and bells that adorn the buildings and trees on the streets.
The market in the old town is smaller compared to other cities but feels more intimate. The compactness, the relaxed ambience and the cute decorations make it one of the beautiful Christmas markets in Poland.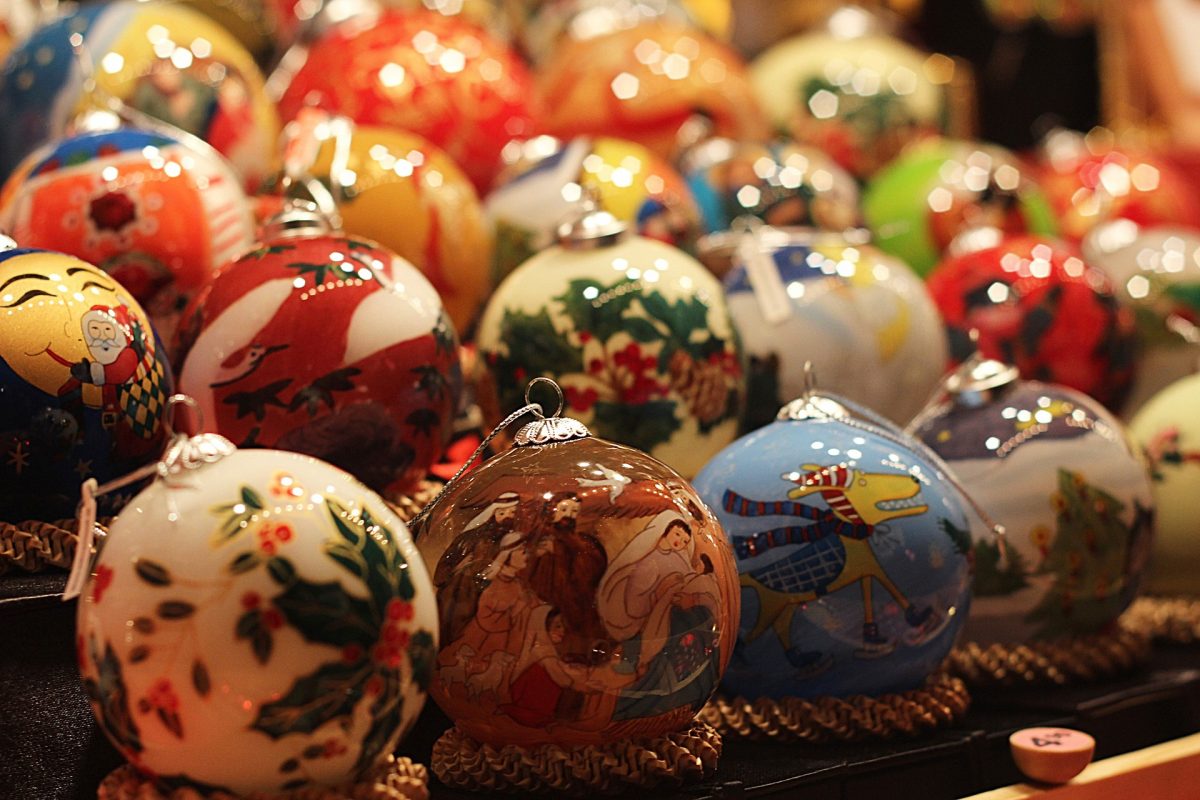 There are two smaller Christmas markets in Warsaw that you can check out as well – one at the square of the Palace of Culture and Science – which is a modern market that's catered to youth and travelers looking for an international Christmas festive spirit.
If you want to experience a Christmas market with a hipster twist, head to Praga district on the other side of Vistula river for another market. There is also another market close to Royal Castle.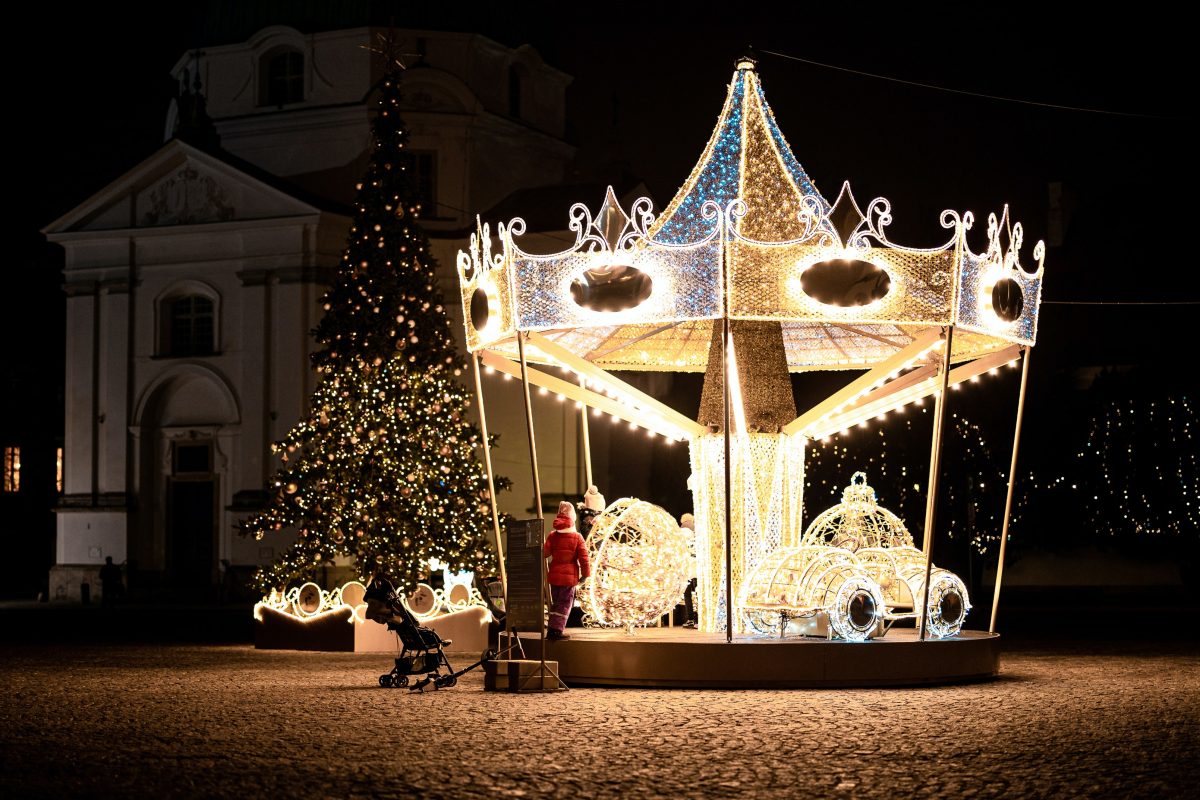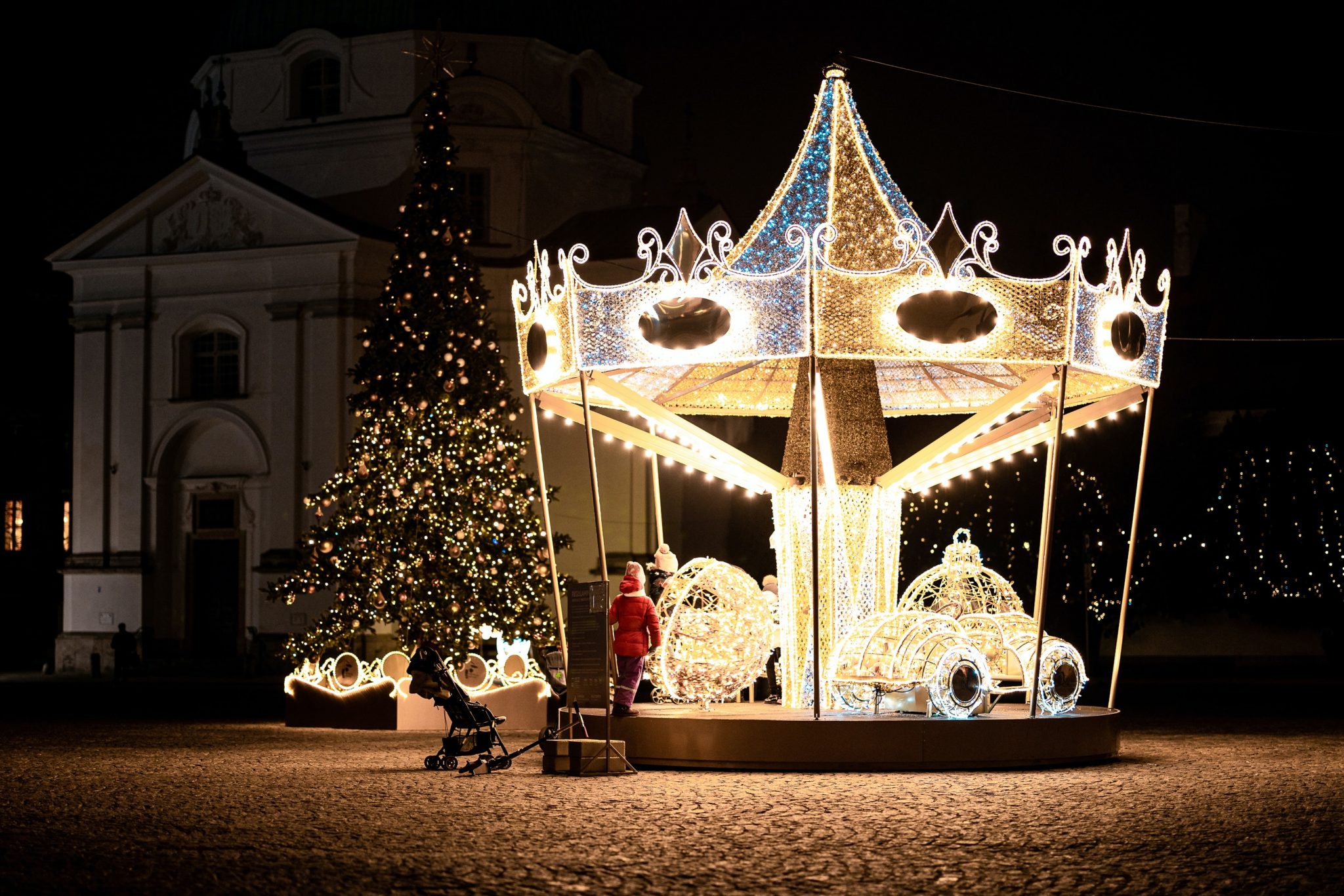 Walk amidst the stalls in the old town square to enjoy Pierogis, many types of Polish soups, sausages, grilled meat, hot chocolate and fruit Vodka. Shop for Christmas gifts or take part in one of the many rides.
There are plenty of things to do in Warsaw, including day trips that you can plan from Warsaw.
Recommended tour: Warsaw: Chopin Concert in the Old Town
Where to Stay in Warsaw?
I have a detailed post about the best neighbourhoods in Warsaw. Check out here.
GDANSK CHRISTMAS MARKET
Gdansk Christmas Market Dates: 3 December to 23 December 2020
Gdansk is one of my favourite cities in Poland that I thoroughly enjoyed. This gorgeous city on the shores of the Baltic is one of the unique cities that has plenty of things to do and attractions for everyone.
Gdansk is the place to go if you are looking for a snow Christmas. As the winter sets in, this port town turns into an enchanting Christmas destination with temperatures falling, snowflakes carpeting the streets and the old Hanseatic seaport, and most importantly, the Gdansk Christmas market, which is one of the top Christmas markets in Poland that's recommended.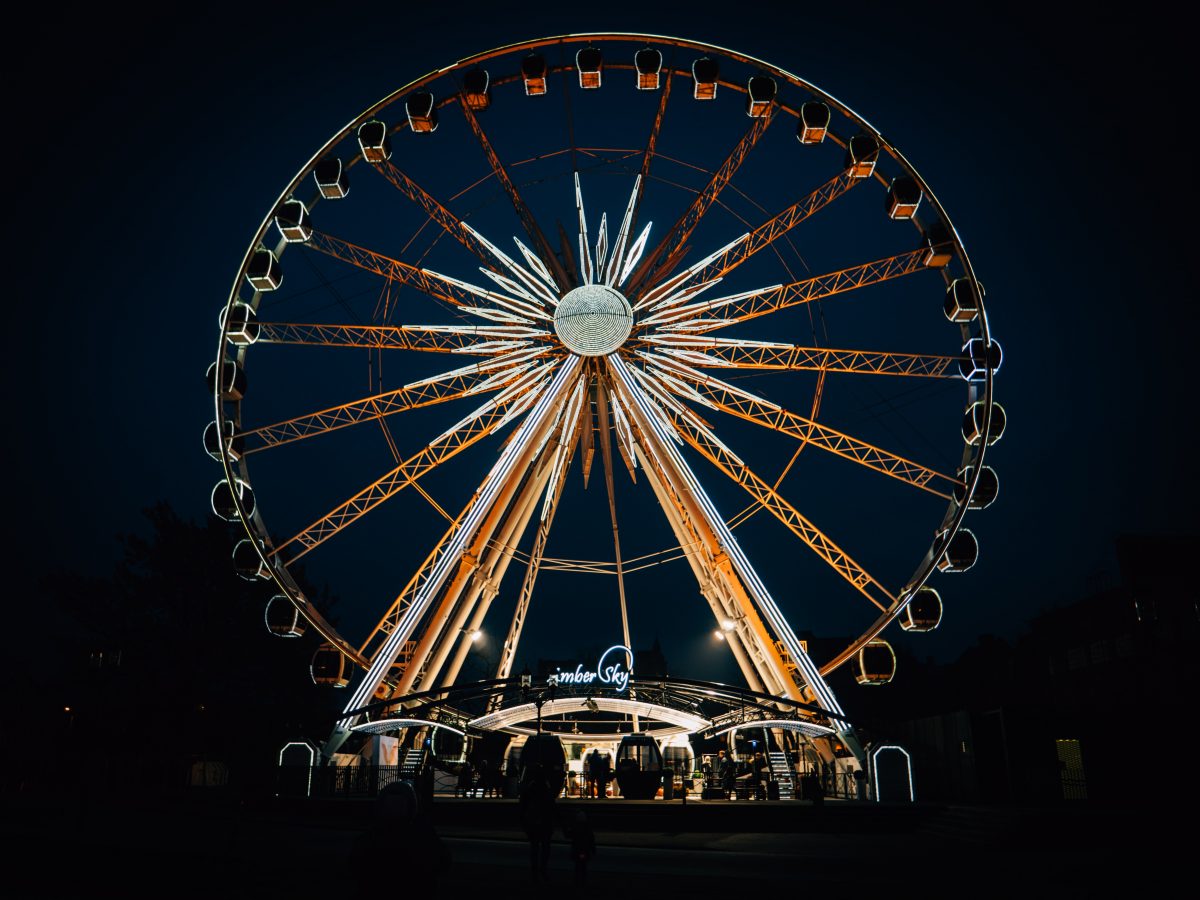 The Gdansk Christmas market on Targ Weglowy or the Coal Market is richly decorated with Christmas lights and bells, with the majestic medieval monuments at the back, and not just one, but many prettiest Christmas trees from around the world!
Don't miss the Venetian carousel – the signature of Gdansk Christmas market. Witness the new window of the Advent calendar every night next to the vast Christmas pyramid.
Meet the Polish Santa, shop for Christmas souvenirs and adorable gifts, and of course, eat, drink and make merry – because that's what is Christmas!
Watch the cute elves parade – one of the many lovely Christmas events in Gdansk, ride the Sleigh on the simulator, take a picture beside the snow globe or better, go for ice skating on the ice skating rink near the old town.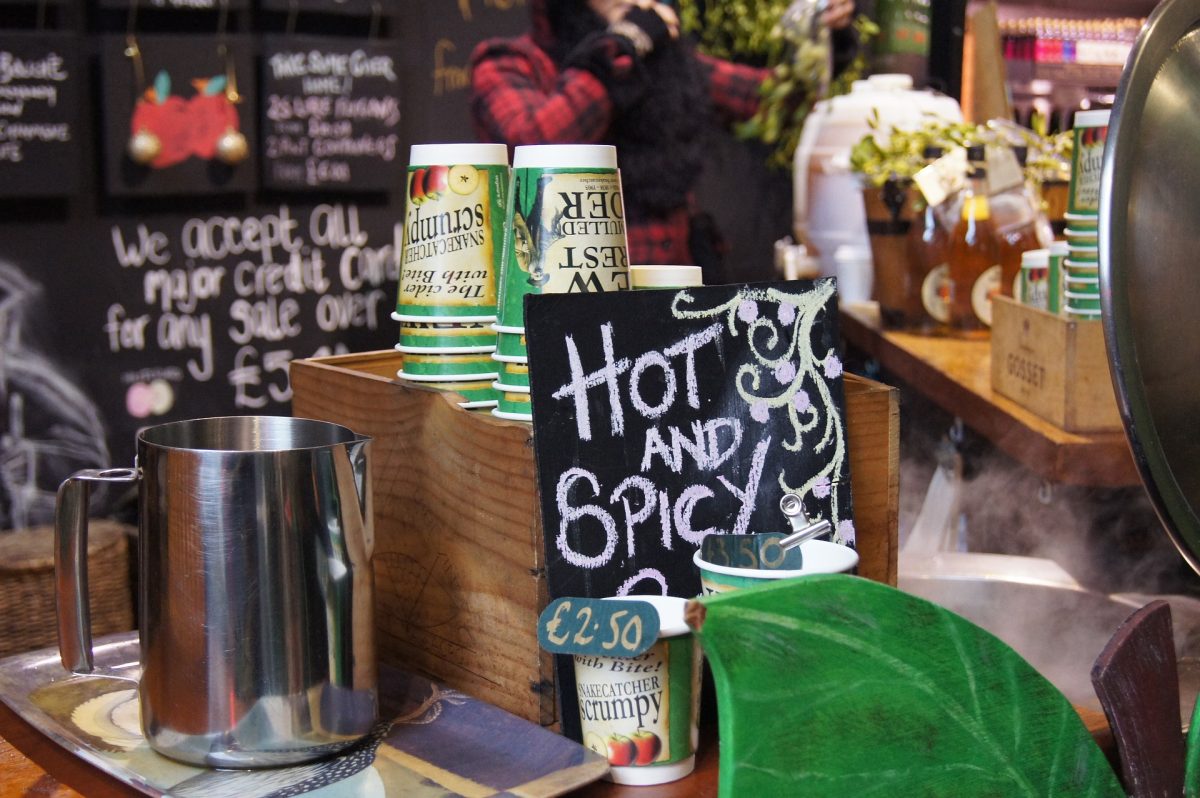 Buy unique Christmas gifts for your loved ones including scarves, mittens, scented candles, handicrafts and toys.
Try the Polish delicacies like the smoked cheese, chestnuts, grilled sausages, chocolate fruit, special Polish cakes and hot chocolate.
If you love beer, you should join this beer tasting tour with a local.
Recommended tour: Gdansk: Traditional Food Tour with Old Town Sightseeing
Where to stay in Gdansk?
The old town area is the best place to stay in Gdansk, where you have many options. Hotel Hanza is awesome, right near the centrum. Book your stay here.
POZNAN CHRISTMAS MARKET
Poznan Christmas Market Dates: 16 November to 22 December 2020
Poznan, capital of the Wielkopolska region, located close to Warsaw, is one of the destinations in Poland that houses one of the best Christmas fairs.
The city itself is worth checking out for a day or two, and one more reason to make it here in winter is Poznan Christmas market.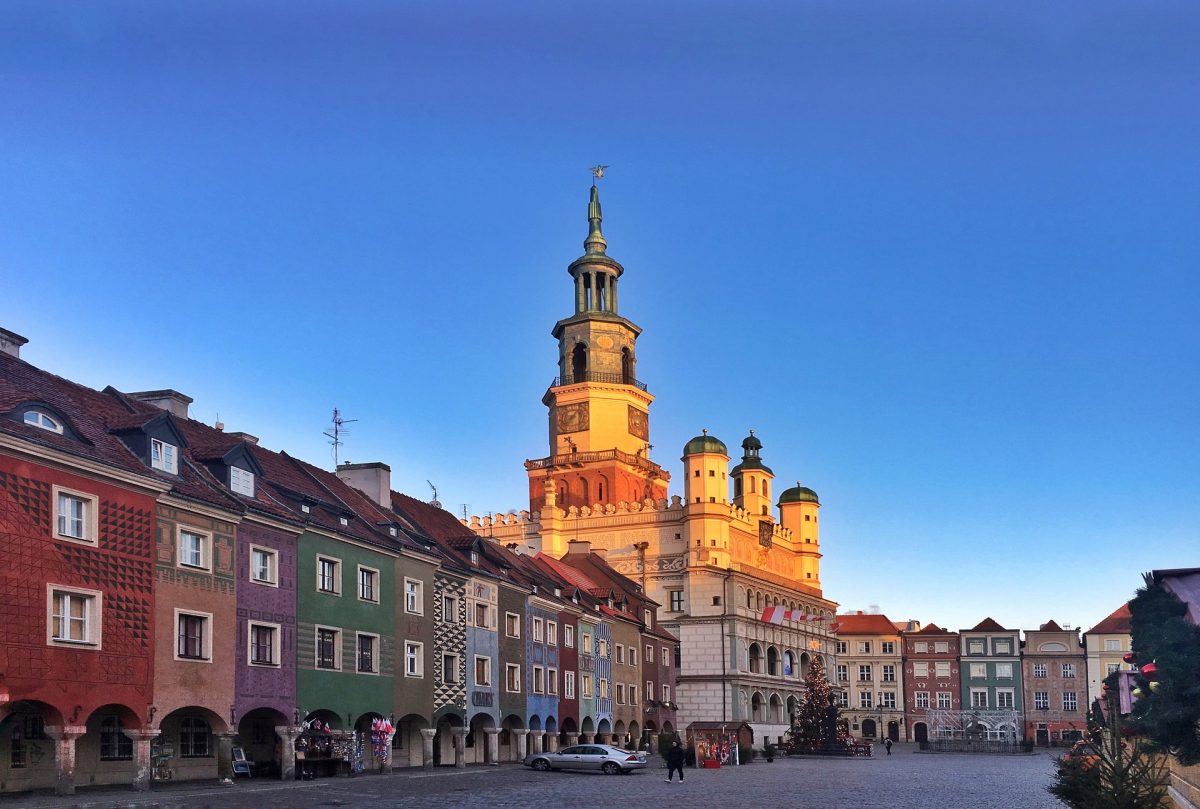 Poznan also hosts the international ice sculpting festival during the first week of December, where artists from all over the world will gather to create some of the fantastic ice sculptures competing for the best prize. The Christmas market in Poznan is set up at the main square.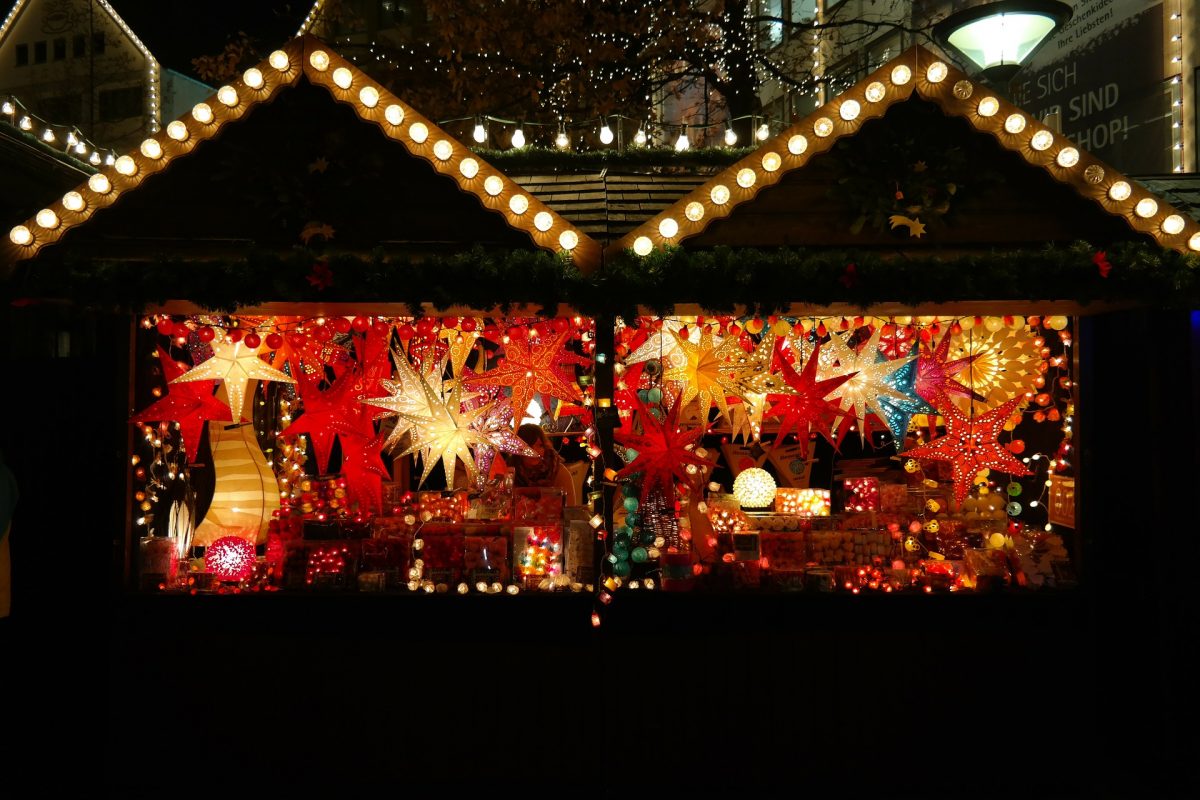 Poznan is known for its Bethlehem themed market with a nativity scene, Christmas tree, Santa and unique Christmas decorations and illuminations of old buildings at the square, beside which you will also find boutique cafes and bars.
The market stalls are known for the Christmas gifts, Polish delicacies, and hand-made wooden toys. Join a traditional Polish food tour that also covers sightseeing – best to make the most of your time.
If you love beer, go for this beer tasting tour, and vodka lovers should book this Polish Vodka tasting tour in Poznan.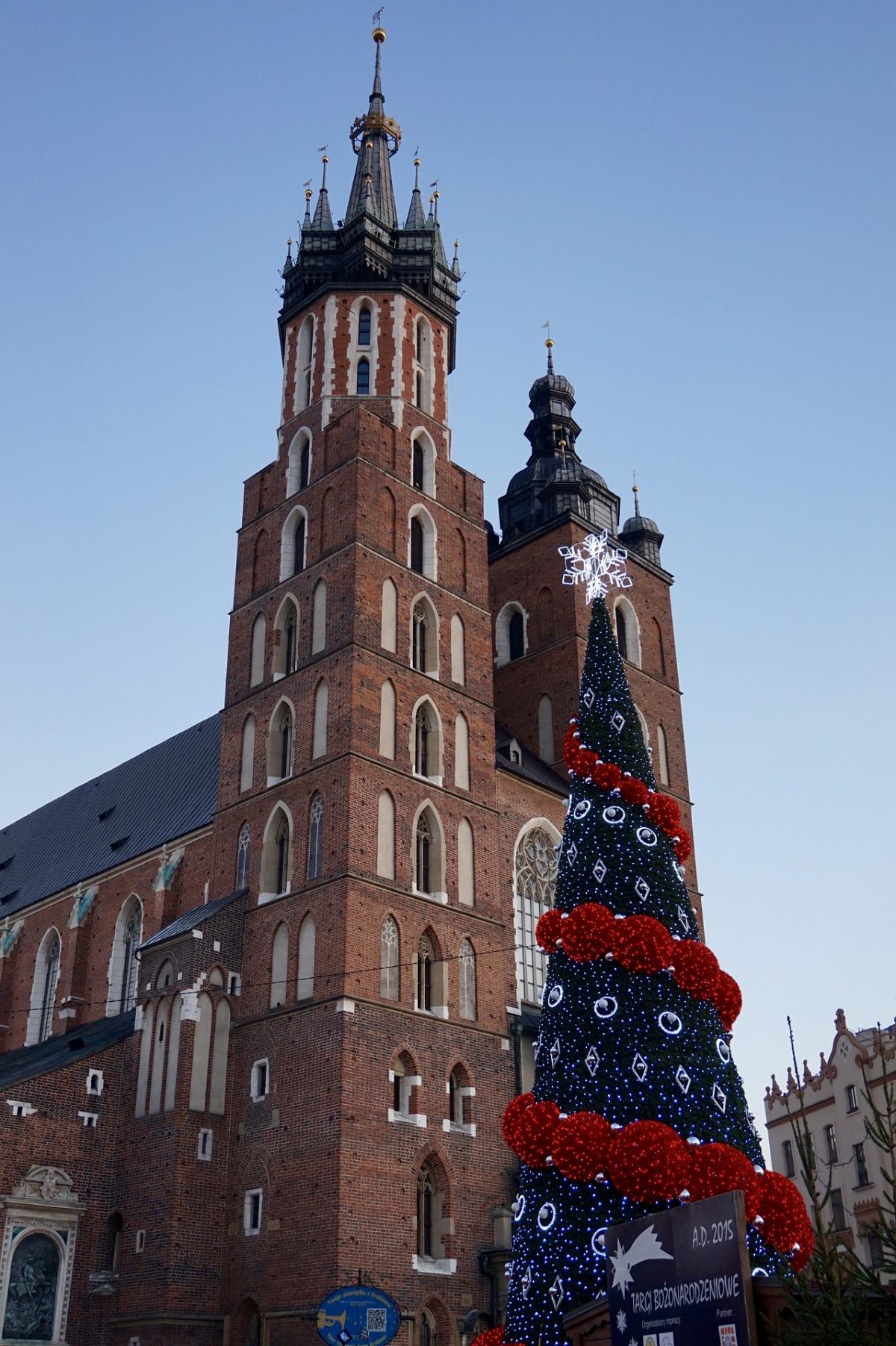 Hop on the huge rollercoaster or the Ferris wheel for a fun ride. There are many carnival games on Christmas as well as musical performances.
Don't forget to attend the special Christmas parade to meet Santa and his elves that happens on the Saturday before Christmas.
There is also another smaller Christmas market in Plac Wolności area.
Recommended tour: Good Evening Poznań – Craft Beer and Food Walking Tour
Where to stay in Poznan?
I would recommend Hotel Altus Poznań Old Town, right at the heart of the centre, which is one of the best neighbourhoods for finding awesome Poznan hotels.
MORE CHRISTMAS MARKETS IN POLAND
The above cities are the most popular destinations for Poland Christmas markets, but if you want to go off the beat for quieter or smaller ones, you should visit the below cities.
TORUN
Torun Christmas Market Dates: 29 November to 23 December 2020
Torun is a small student city known for its universities and the beautiful old town. Torun might not be home to one of the top Christmas markets in Poland, but if you are in Torun during winter around Christmas, it is worth checking out the compact Christmas market and the festivities.
The old town square transforms into a Christmas avenue with decorated stalls lined up against the backdrop of medieval architectural wonders.
The traditional Christmas market celebrations in Torun date back to the 14th century, but the market became popular much later. Christmas decorations include a nativity scene, a Christmas tree and pyramid adorned with trinkets and stars.
The compact market is not short on the activities or the things to offer. Don't miss the Gingerbread, a special delicacy of Torun as it is made in traditional moulds.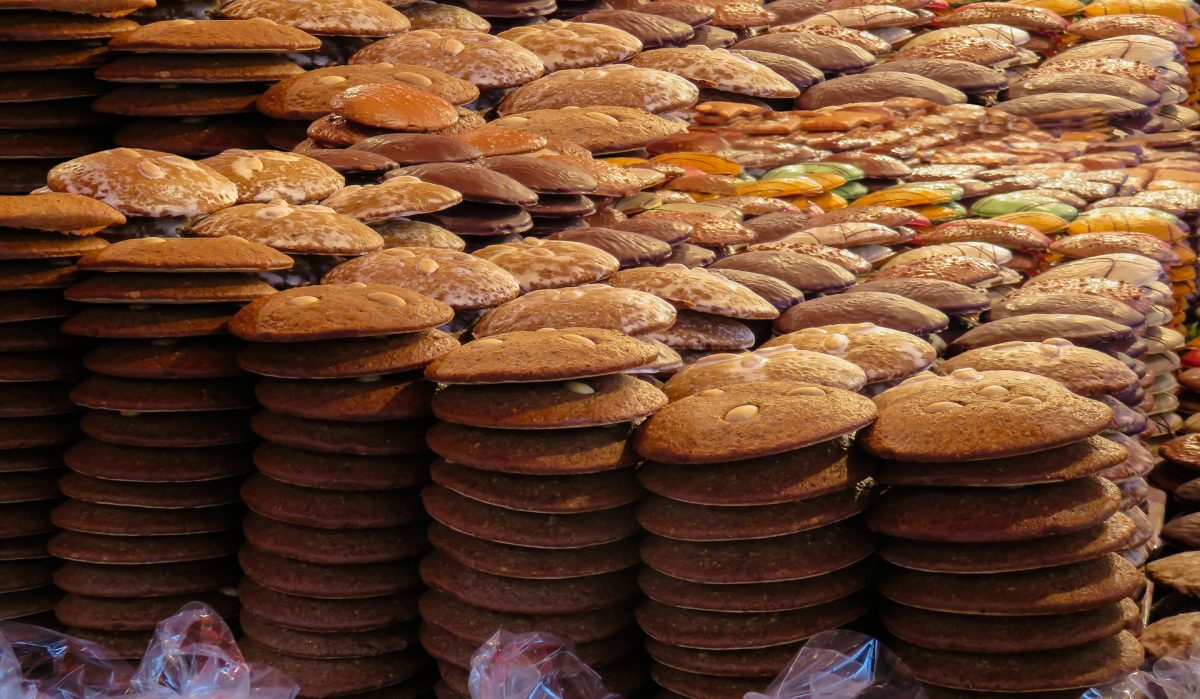 You can also attend gingerbread workshops to learn, making them in medieval style using traditional moulds.
Torun is also famous for its many types of Polish beer. You should join this Beer tasting tour to get to know the city's specialties.
Suppose you are here during the first week of December. In that case, you can also attend the Christmas Fair at the Ethnographic Museum where you can shop for wooden and ceramic toys, hand-painted glass items, embroidered scarves, mittens, Christmas decorations and more.
Recommended tour: Torun: Private Traditional Polish Food and Sightseeing Tour
Where to stay in Torun?
Torun has plenty of apartments and hotels close to the city centre.
Hotel Spichrz is an excellent option, within 500 meters to the centre, reasonable prices and amazing amenities.
SZCZECIN
Szczecin Christmas Market Dates: 4 December to 19 December 2020
Szczecin, a small city, bordering Germany near Berlin, is one of the places to visit in Poland if you are looking to go off the beaten path. It is one of the Christmas markets in Poland that you can see if you prefer fewer crowds to bask in the Christmas glory in the country.
The Christmas markets in Szczecin are set up at three neighbourhoods – Plac Lotników, Plac Adamowicza, and Aleja Kwiatowa.
All three streets are decked up with Christmas trees, lights, and stalls sell everything that speaks Christmas, from traditional Polish dishes to homemade pastries and cakes, not to forget the Vodka based fruit drinks and mulled wine.
I'd highly recommend booking this Vodka tasting tour by a local expert to experience the best Vodka specialities of Szczecin.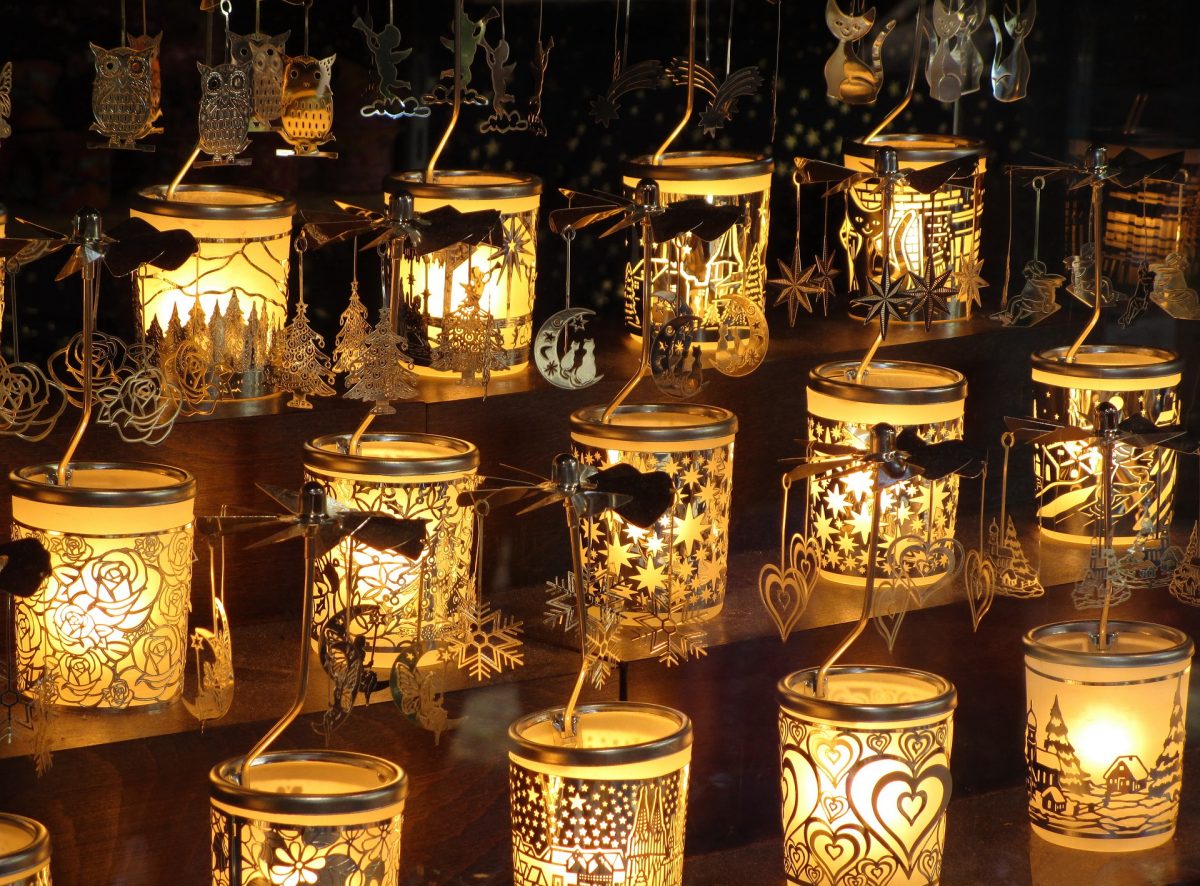 If you have time, also stop by the Castle of Pomeranian Dukes, which also hosts a small Christmas fair.
Recommended tour: Szczecin: Private Traditional Polish Food Tour
Where to stay in Szczecin?
If you want an excellent apartment, TS Boutique Apartment is a fantastic option – excellent amenities, easy access to the centre.
LODZ
Lodz Christmas Market Dates: 4 December to 23 December 2020
Lodz is one of the beautiful cities in Poland where Christmas is celebrated with pomp and glory. The Christmas market in Lodz is not a typical one that you can imagine as there is no old town as such; instead, it is held in one of the main streets in the city Piotrkwoska.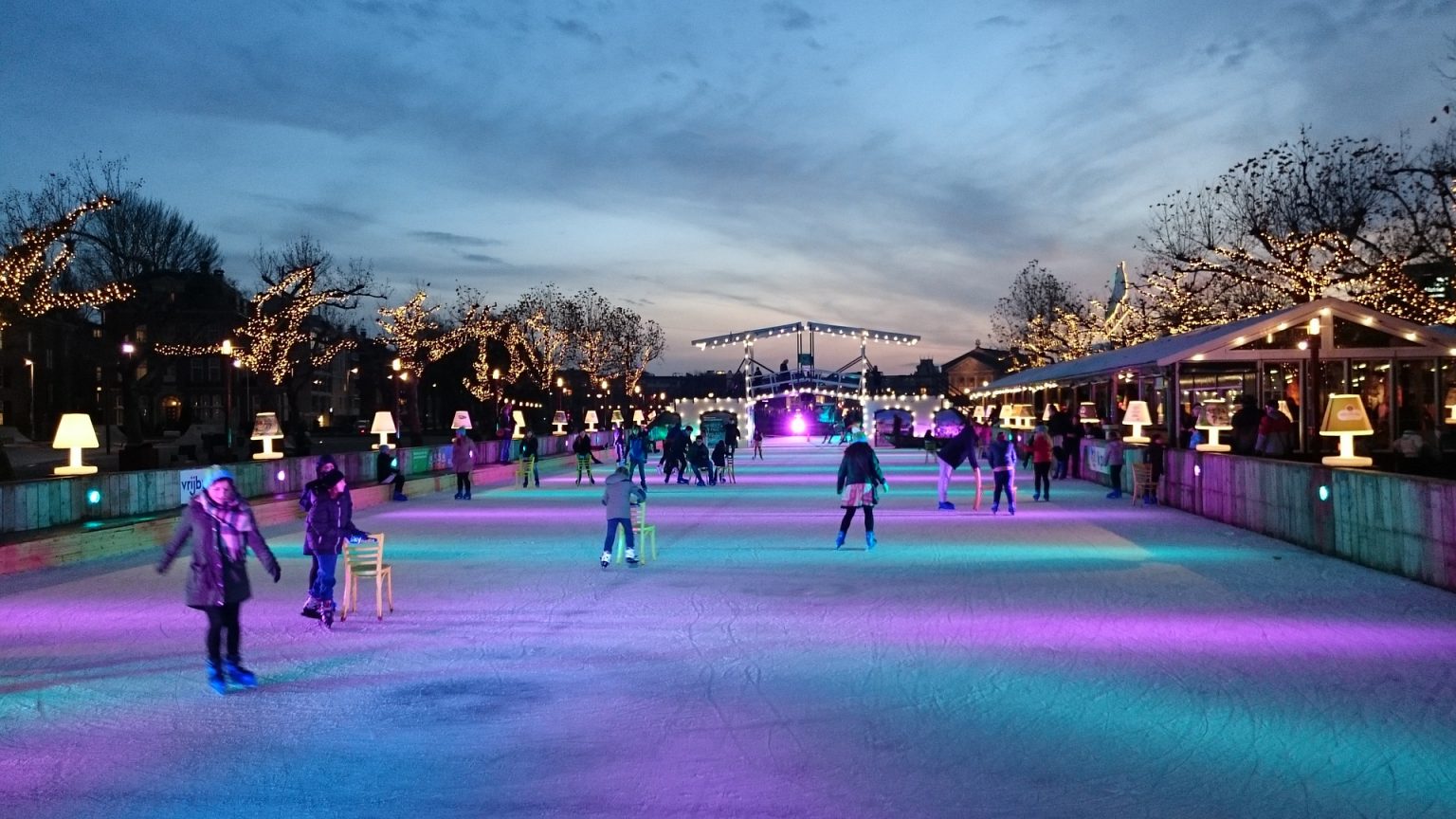 The entire street is decorated with thousands of Christmas lights, buildings and trees decorated with stars and trinkets. There are wooden stalls set up on either side of the streets that sell all Christmas items ranging from food to drinks to souvenirs to gifts.
On the weekends and in most nights, there are special music programs, carol performances, ice sculpting contests and workshops.
Recommended tour: Lodz: Private Vodka Tasting Tour with Guide
Where to stay in Lodz?
Since Lodz is a compact city, it is easier to find nice accommodation options within the city centre close to Main Street.
I'd recommend Qubus Hotel Łódź, which is very close to the centre and has excellent amenities and spacious rooms.
KATOWICE
Katowice Christmas Market Dates: 22 November to 23 December 2020
Katowice is one of the pretty cities in Poland, located in the southern part of the country in the Upper Silesian Industrial Region. It is a city known for many things – industry, culture, science and arts. You can easily plan a day trip from Krakow to Katowice if you are short on time.
Come winter, and Katowice attracts thousands of Poles and neighbouring people for Christmas celebrations. Katowice is the best city to go if you want to witness Poland Christmas celebrations.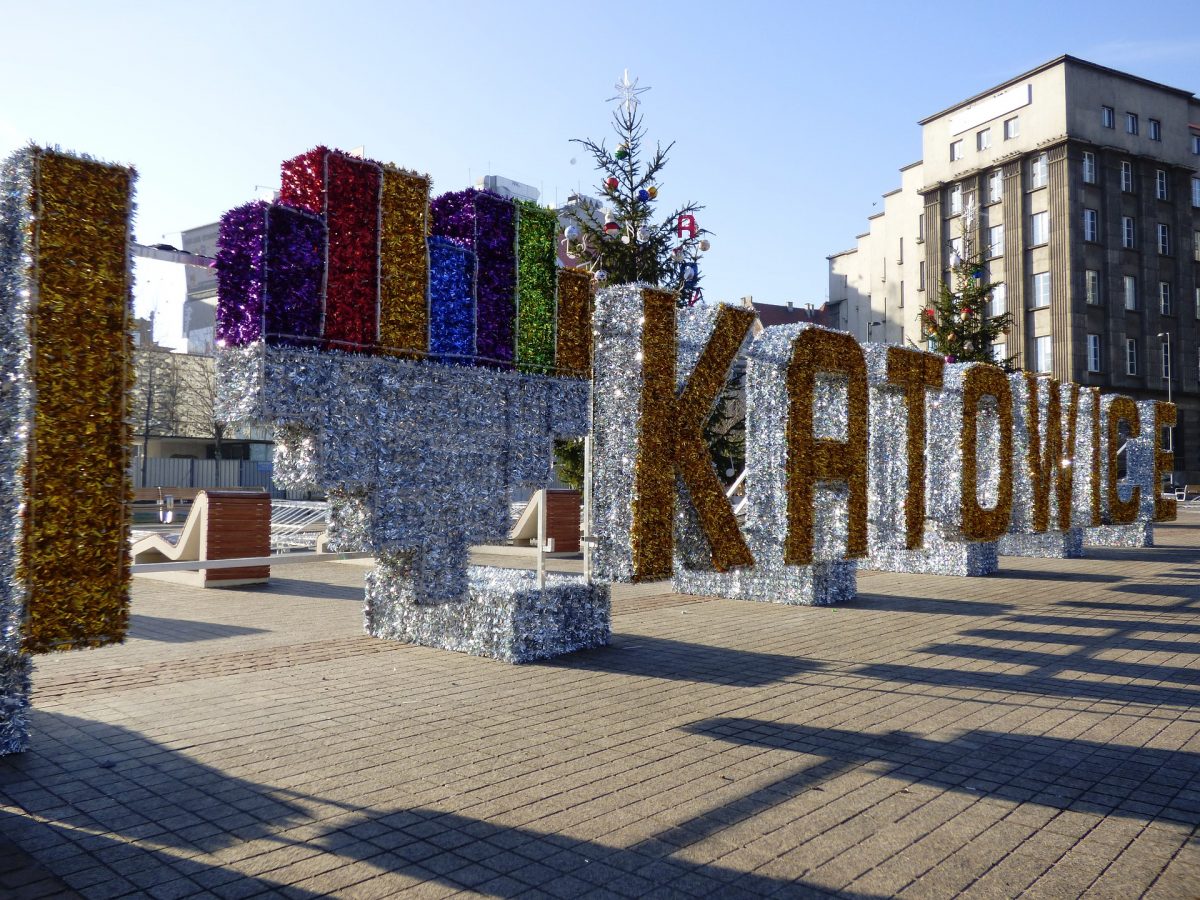 Katowice Christma market is held at the main city square Katowice Rynek. The court is beautifully decorated with Christmas lights, trinkets, trees and reindeer toys.
The wooden stalls in the market are perfect places for buying cute Christmas goods, and you can also find a lot of Polish delicacies specially prepared for Christmas.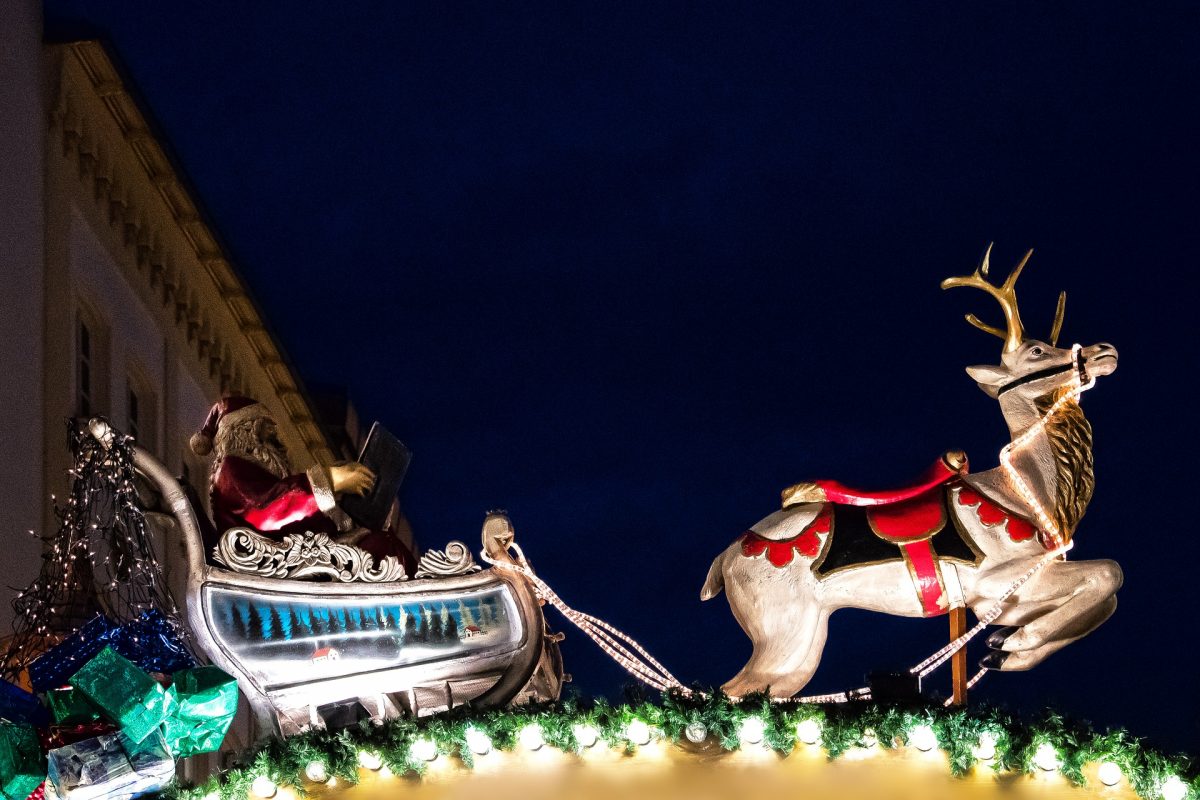 Go skate on the ice skating rink, watch the carousel and other musical performances, take part in Culinary shows and engaging workshops like making Gingerbread, mulled wine and learn how to sculpt ice.
There are plenty of games and joy rides for kids as well as adults. Kids can also enjoy a ride on the mini electric train. You can again watch Santa parade with his elves, which attracts thousands.
Recommended tour: Katowice: Old Town Highlights Walking Tour
Where to stay in Katowice?
The city centre is one of the best places to find great hotels in Katowice. There are many lovely apartments in all budget ranges too.
I'd recommend HARBOR Coffee & Stay, an excellent studio apartment close to the centre with all amenities. Book your stay here.
ZAKOPANE
If you are looking for one of the best white Christmas markets in Poland, then Zakopane is the place to be. Just an hour away from Krakow, most people visit Zakopane as one of the day trips from Krakow throughout the year.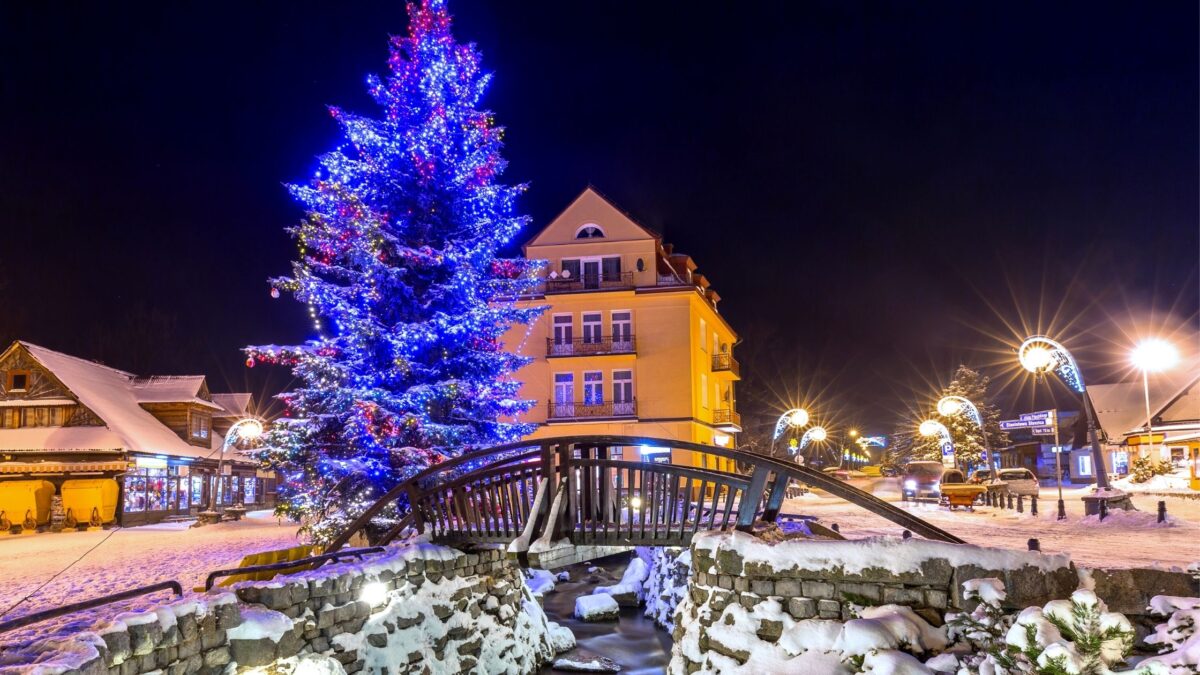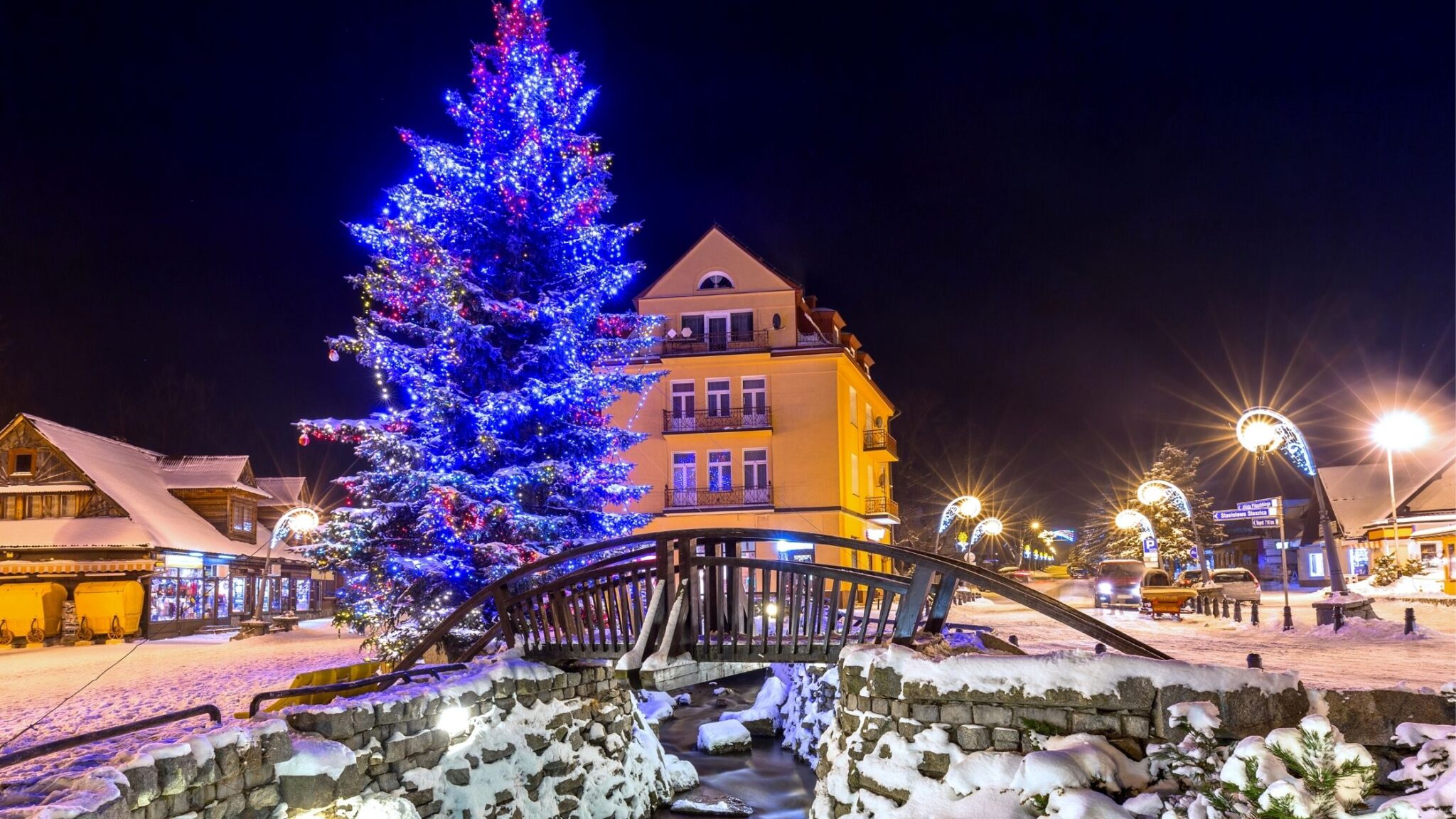 If you are in Krakow for Christmas, you can plan a trip to Zakopane and spend at least one day or more, if you have time, because there are plenty of things to do in Zakopane in winter.
Zakopane is the winter capital for the Polish, who visit this resort town for the holidays in thousands.
The snow blankets this city surrounded by the magnificent Tatra mountains, which has many hiking trails too. You can take part in all the winter snow activities in Zakopane, including skiing, snowboarding and tobogganing.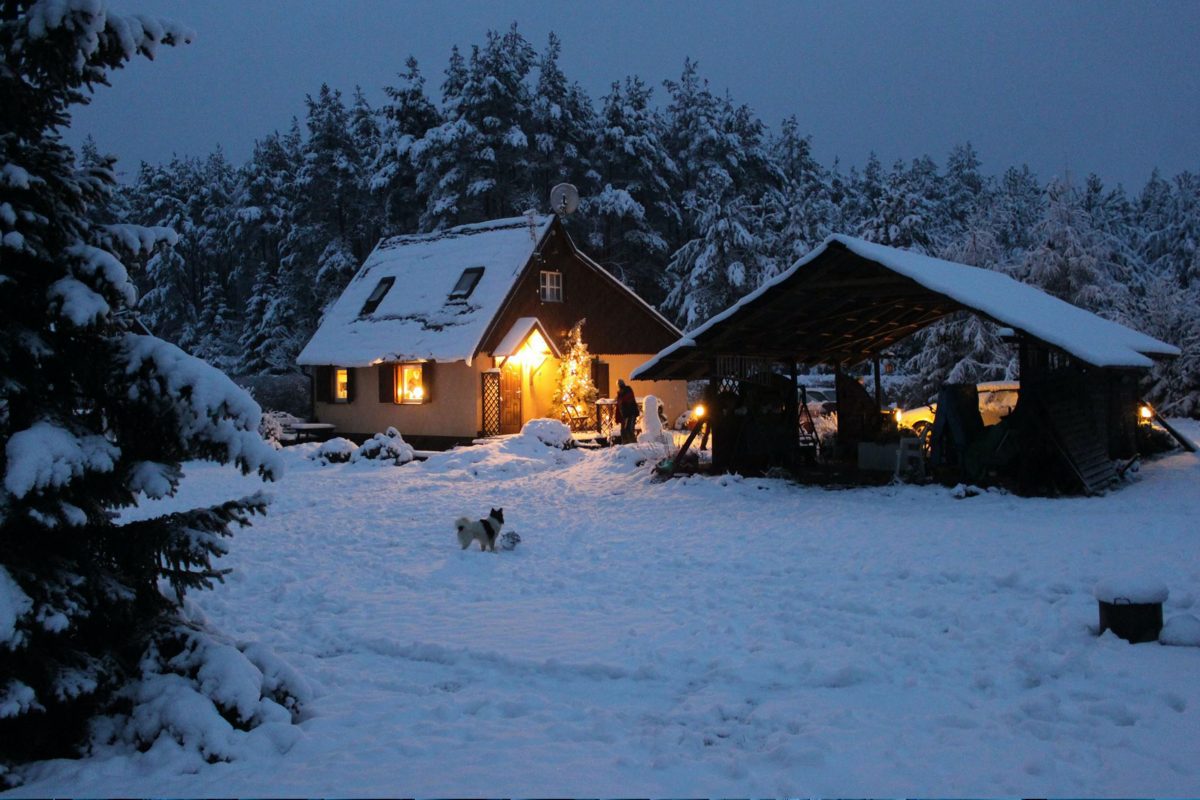 During Christmas, Zakopane transforms into the perfect magical winter wonderland. The streets and the buildings are decorated with Christmas lights.
There is a permanent market in Zakopane on the main street, right below the iconic Mount Gubalowka, one of the beautiful snow-capped Tatra mountains.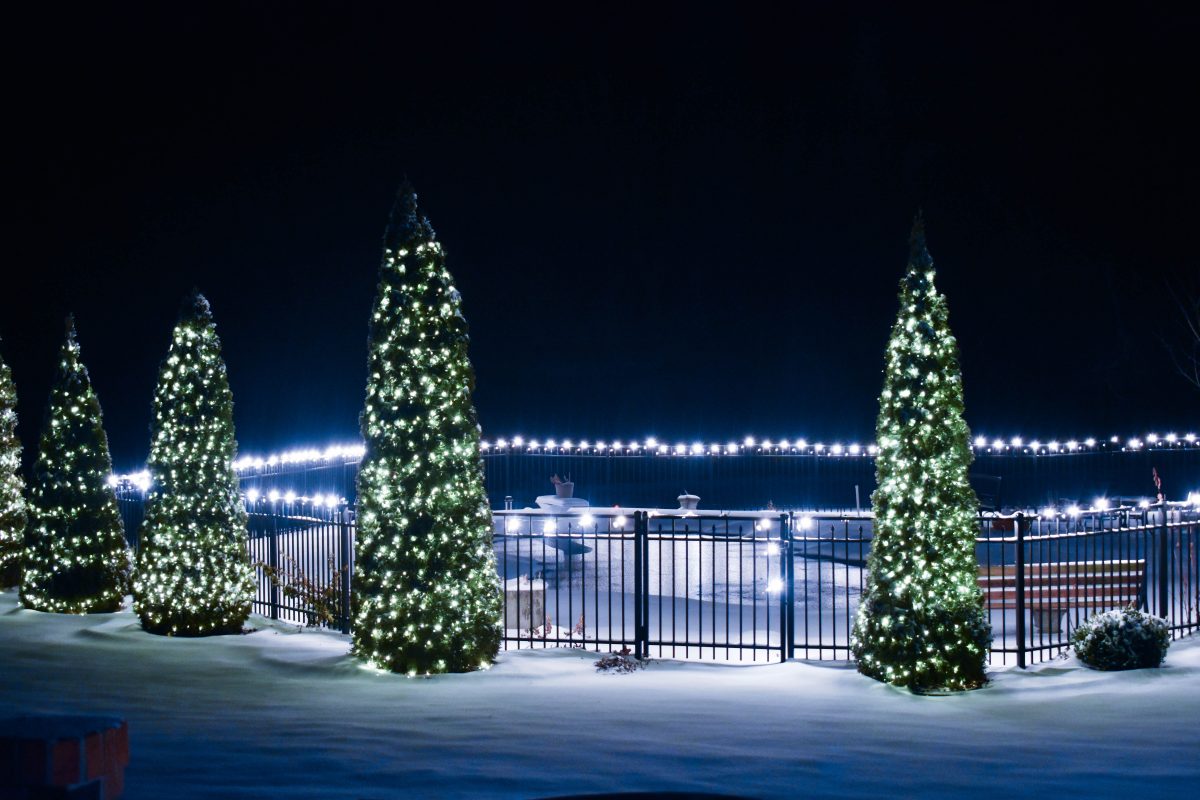 Around Christmas, other temporary wooden chalets are set up, which are beautifully decorated. You can shop for pretty Polish souvenirs, winter accessories like mittens, embroidered scarves, wooden toys, painted glasses and other ceramics.
Try all the delicious Polish delicacies, including the local special Oscypek, Polish Traditional Smoked Cheese, different soups and mulled wine.
Recommended tour: Zakopane: Traditional Polish Food Private Tour with Tastings
Where to stay in Zakopane?
Rezydencja Nosalowy Dwór is one of the fabulous resorts in Zakopane right next to the Skii lift. With excellent amenities, Christmas events, and luxurious rooms, this is best for your family. Book your stay here.
That's a wrap about the best Christmas markets in Poland. Have you been to Poland for Christmas?
Let us know in the comments about your experiences in Poland at Christmas, all the Poland markets that you visited, and other things!
Have a fabulous Christmas trip to Poland.
OTHER POLAND POSTS TO HELP YOUR TRIP PLANNING
PIN CHRISTMAS MARKETS IN POLAND TO READ LATER