When it comes to captivating day trips in Northern California, the region is a haven of breathtaking landscapes and hidden gems waiting to be explored.
Enveloped by the Pacific coastline, this dramatic area offers a myriad of natural wonders and enchanting landscapes that draws adventurers, nature enthusiasts, and curious travelers alike.
From majestic mountains to spotless beaches and dense forests to charming vineyards, Northern California offers a diverse tapestry of landscapes that sets the stage for unforgettable day trips.
Traverse the rugged trails of towering redwood forests, bask in the sun-kissed shores of idyllic coastal towns, immerse in the world-famous wine regions, and unravel the cultural and historical riches that grace Northern California's landscape.
In this post, I have covered the gorgeous places for perfect day trips in California, ideas for bay area day trips, California day trips for couples, one day trips in California and the best spots for one day getaways in California.
Whether you seek adrenaline-pumping adventures or serene escapes into nature's embrace, Northern California promises an array of day trips that will leave you in awe.
So, lace up your Hiking Boots, pack a picnic basket, and prepare to embark on a journey of discovery and wonder.
First things first! I recommend you get travel insurance ALWAYS whenever you are on international or domestic travel!
Check out this insurance by Safety Wing, which offers a pretty good cover for you and your family! They even provide monthly insurance, much required for slow travelers like us! Book here!
If you want to drive for your Northern California Day trip vacation and looking for a rental car, check out Discover Cars, one of my favourites in the US because of its ease of use, availability of vehicles and pricing!
BEST DESTINATIONS FOR DAY TRIPS IN NORTHERN CALIFORNIA
NAPA VALLEY
Napa Valley, located in the heart of the golden state's wine county, is one of the most popular spots for day trips in Northern California.
Recognized as the throbbing core of California's wine industry, Napa is a quaint place adorned with undulating vineyards, effluent castles and mountains.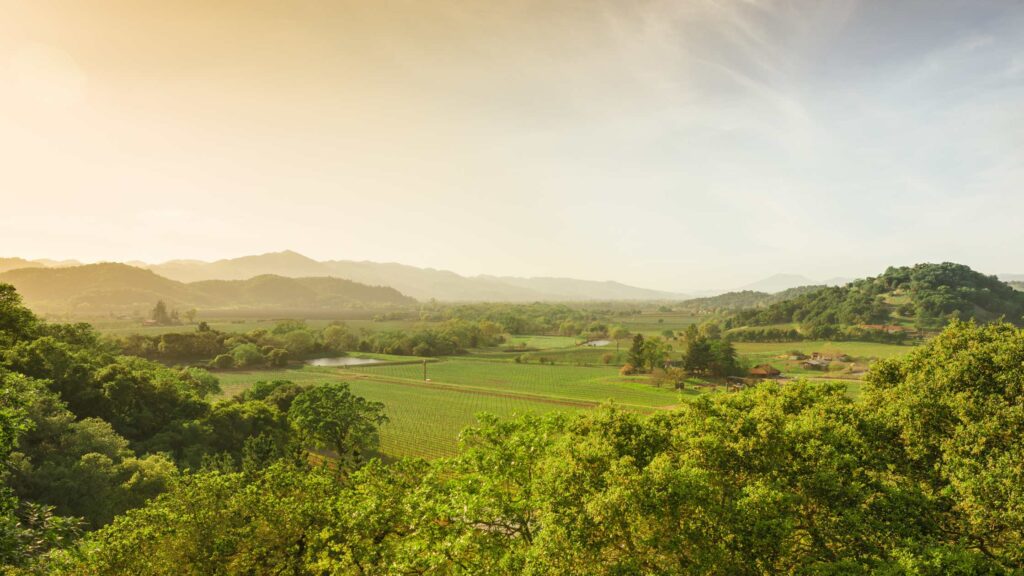 It is located one hour from San Francisco, making it one of the ideal getaways for weekend trips from San Francisco.
Although Napa Valley is only 30 miles, it is home to over 400 wineries serving the best wines in the World, from sparkling wines to chardonnays and zinfandels.
Napa Valley is home to one of the prominent wineries Chateau Montelena, which won the top honours in the white wine section at the "Judgment of Paris" wine competition in 1976.
By taking a guided wine tour from San Francisco, check out the other wineries in the area, including Stag's Leap Wine Cellars, the best winery in Napa.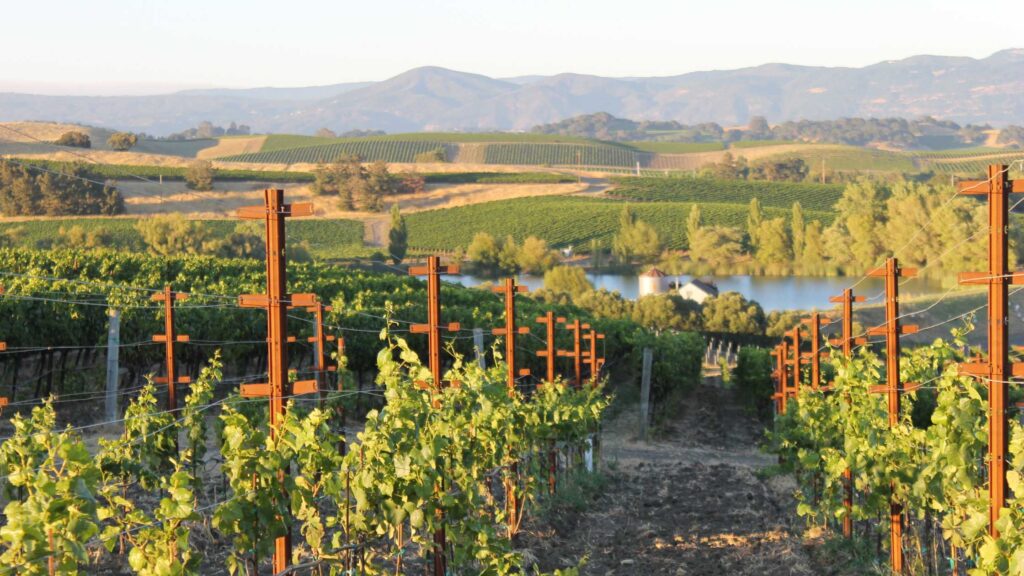 Take this excellent guided Tour with a picnic lunch for the best wine tour experience at Napa Valley.
Enjoy the views of rolling vineyards, sipping your favourite wine as you go on the three-hour vintage train ride from Napa to St. Helena.
Explore Napa downtown and visit Oxbow Public Market for its renowned gourmet food.
Apart from the wineries, Napa is known for its natural hot springs like the Vichy Springs.
Stay over the weekend at the Calistoga Hot Springs, a resort with a geothermal pool and cosy spa services. Check out my exclusive guide for things to do in Calistoga.
Explore Napa on a unique private sidecar or book a rental E-bike; quite a cool thing to do in Napa Valley. Check out these tours:
Go Kayaking. Try this Napa Valley – River History Kayak Tour – Single Kayaks. Experience Napa Valley's natural beauty and fascinating history on a fun and memorable kayak tour.
With an informative local guide leading the way, hop in a comfortable and beginner-friendly kayak, and paddle down the valley's waterways. Identify birds, and see rare animal species.
Learn about the first people to settle in the area and see historic buildings damaged in the 2014 earthquake. Book your Tour here
If you want Kayak alone, you can book this Tour.
Don't miss Napa's top attraction, a romantic hour-long journey in a hot air balloon over the valley's various wineries. You will discover the background of Napa's wineries on the trip from Yountville.
Recommended Wine tours:
ANDERSON VALLEY
Anderson Valley, nestled in the rolling hills of Mendocino County along the banks of Anderson Creek and the Navarro River, is one of the beautiful locations for day trips in Northern California.
It is located approximately a 90-minute driving distance from San Francisco, and this beautiful valley should be on your list if you are looking for the best Northern California beach towns.
Anderson Valley gets its name from one of its early pioneers, William Anderson. The valley has many stunning vineyards, lush forests and charming small towns.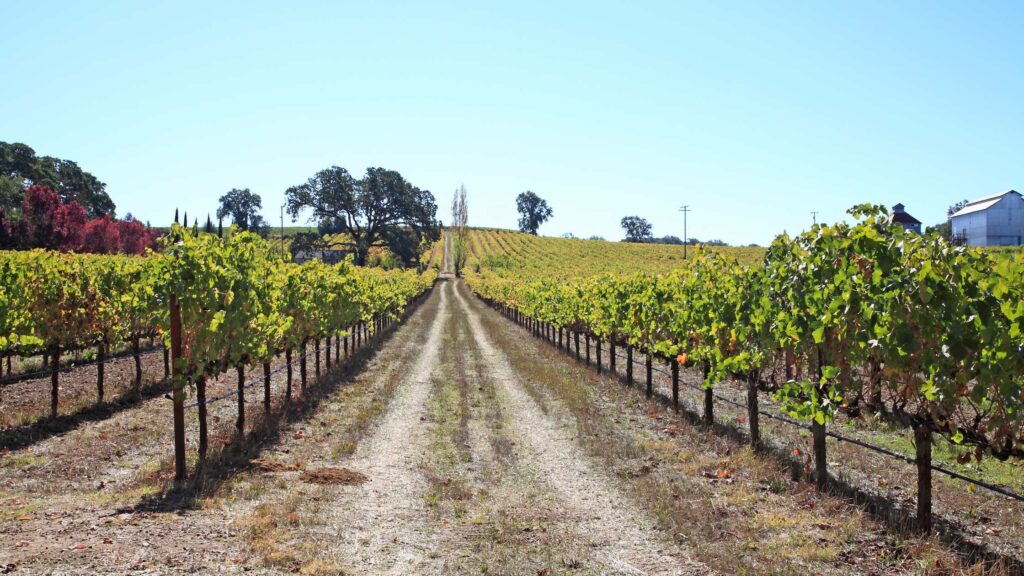 Thanks to the region's fantastic climate, which favours the production of one of the best world-class wines like Pinot Noir, Chardonnay, Gewurztraminer, Alsatian grape varietals and sparkling wines.
Take guided tours which will take you through the region's finest vineyards, like Roederer Estate and Lazy Creek Vineyards.
Don't miss the famous annual Pinot Noir Festival if you visit Anderson Valley in May. It is a 3-day festival filled with music, wine, educational events and plays.
Enjoy the delicious food pairings served by the county's best chefs. You can also acquire exclusive wine and other experiences during the popular silent auction.
Apart from wine, Anderson Valley is also known for many other activities. It is home to gorgeous state parks like the Hendy Woods State Park, which boasts some of the tallest redwoods in the region.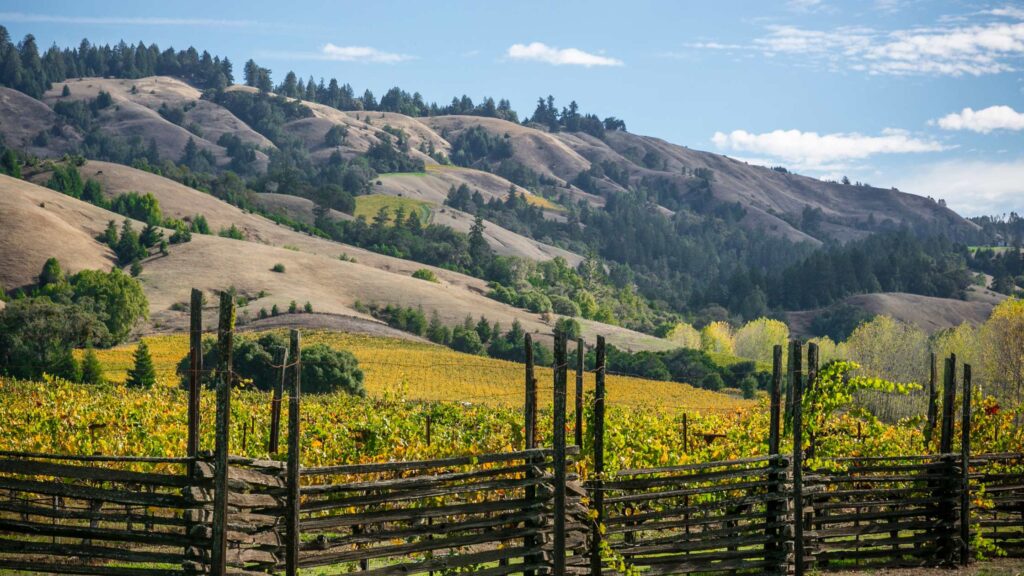 You can hike through the towering forests or go fishing in the nearby rivers.
Take a leisurely bike ride on Highway 128, which winds through the valley's panoramic countryside and the lovely Yorkville Highlands.
Anderson Valley is a hotspot for artists and artisans. Browse through the art galleries and studios that showcase the work of local painters, sculptors and potters.
Stop at the popular microbrewery Anderson Valley Brewing Company in Philo, which produces some of the region's most delicious craft beers.
ANO NUEVO STATE PARK
Visit the Ano Nuevo State Park, one of the largest elephant seal breeding colonies globally and a renowned destination for day trips in Northern California.
The park, located one hour from San Francisco, is home to Ano Nuevo Island and Point and features expansive dunes and marshlands.
The main draw of Ano Nuevo State Park is the elephant seal colony that inhibits the park's beaches.
The pleasant weather, coastal prairies and marshes and the ideal ocean bluffs make the park a comfortable breeding site for elephant seals, and the park hosts around 10,000 elephant seals annually.
Somewhere around November is the breeding season for seals, and as the months pass by, you will see little pups rolling on the shores. You can witness this beautiful scene until around early March, making this place one of the top things to do in Pescadero.
I recommend timing your visit right and taking a guided walking tour to learn about these seals since you cannot walk down towards the seal alone. Book the Tour ahead of your visit since this is popular.
Hike the 4-mile Ano Nuevo Point Trail to see the lovely seals and get a close-up view of the little ones. Obtain a permit if you visit the park between April and November.
Wearing sturdy Hiking Boots is a must since the trail passes through varied terrains like wetlands and muddy areas. Also, dress in layers. You might need one of these accessories, which I regularly use: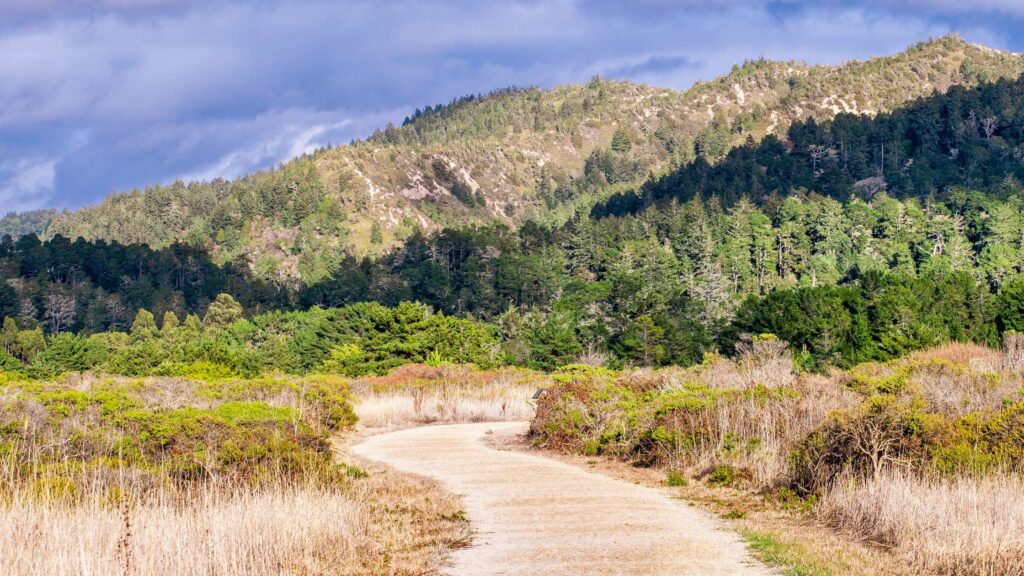 The park offers wheelchair accessible boardwalk that provides a unique perspective on the park's coastal dunes.
You might witness the endangered California red-legged frog and San Francisco garter snake on the trails or in the surrounding region.
Check out the 19th-century lighthouse and even the historic keeper's house, now a natural habitat for birds and sea lions.
Browse the natural history exhibits at the park's visitor centre and the remnants of prehistoric indigenous villages.
If you have spare time, add the nearby Cove Beach adjacent to the park.
The park is open between 8:30 AM and 3:30 PM. You will have to buy an admission ticket which costs $10.
BODEGA BAY
Bodega Bay, 30 minutes from the famed Marshall Store and approximately 45 minutes from San Francisco, is one of the great beach towns in Northern California.
The town, which now has just 100 residents was once home to the Miwok and Pomo Indians for centuries.
Bodega Bay is perfect for a quiet beach retreat or an ideal day trip in Northern California.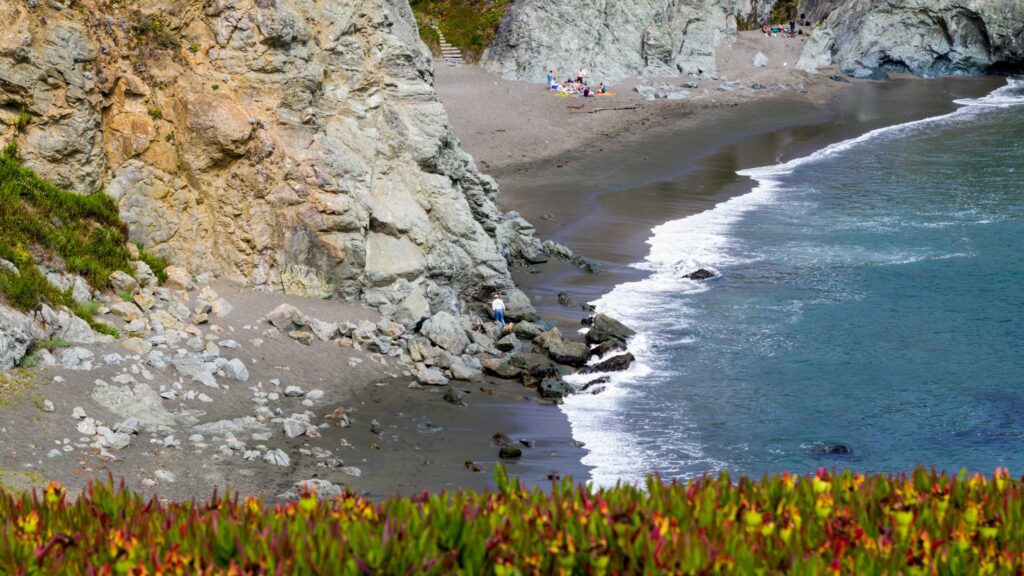 The coastline is naturally designed, making it apt for surfing and bodyboarding.
If you want to see whales and seals migrating with their families, head to Bodega Head, a rugged peninsula.
Hike the 1.7-mile Bodega Head Trail loop. Wheelchairs can also access the trail for the specially-abled, older people or kids with strollers.
Also, try hiking the smaller trails on the Northern side of the Bodega head that offer gorgeous views of the Pacific.
Alternatively, you can reach the top of the cliff via a road that ascends from Campbell Cove Beach.
You will be rewarded with gorgeous vistas a few miles up the ridge. There is also a paved parking area nearby.
Bodega Head is also a hot spot for migratory whale watching in the Bay area, one of the top things to do in Bodega Bay California.
You will see volunteers helping the visitors to spot Whales, especially from Jan to May, the peak whale migration period.
An exclusive flat boulder on the south of the parking lot serves as an auditorium place to watch whales.
Take the Private Sailing Tour of Bodega Bay; you can sail a 33′ boat with a licensed captain. Book here.
Head to the Bodega Marine Lab, run by the University of California, Davis, which researches coastal and shoreline biological communities and environmental challenges.
Include a stopover at the Cypress Tree Tunnel near the Point Reyes National Seashore on your way to Bodega Way.
The Cypress Trees have grown so that it creates a tunnel-like path.
You can plan for a day trip to the Potter School, which is 150 years old, and located behind St. Theresa's Church.
Visit Doran Beach for many activities like swimming, fishing, hiking, kayaking, surfing and horseback riding.
Rent bikes to roam around. If you are an avid surfer, ride the tide at Schoolhouse Beach.
Shell Beach and Wright Beach can also be added to your itinerary for a quieter beach trip.
Want to relax on the sandy beaches while flying a kite? Make your way to Candy and Kites. Kites of various shapes and sizes, as well as some delectable candies, will be on display.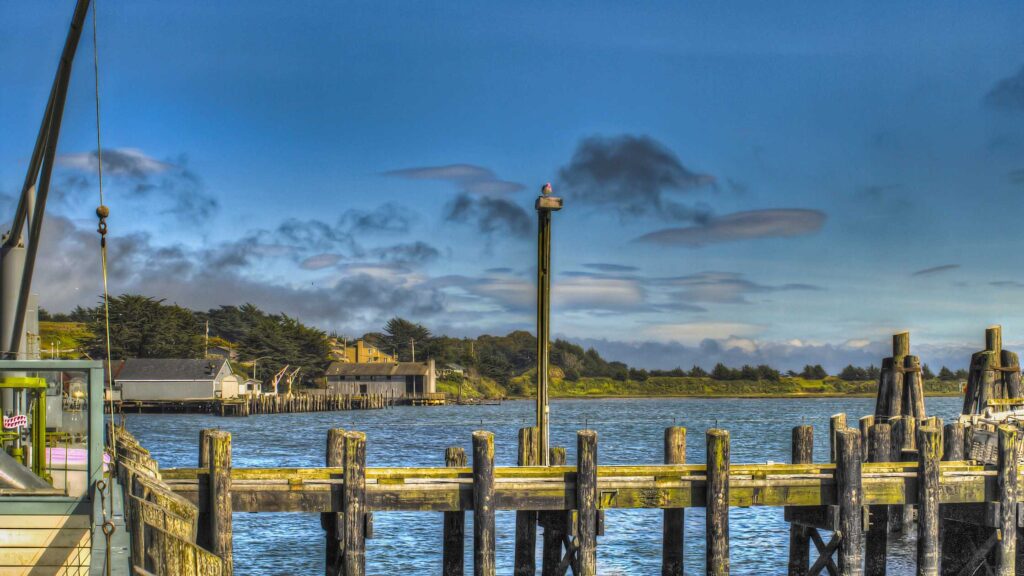 Don't miss a glimpse of the Bodega Harbour and the gorgeous sunsets while you are here at one of the best beach towns in California.
Plan to spend your nights at the Bodega Dunes, located adjacent to Bodega Harbour, admiring the fantastic night skies.
Check out the Westside Regional Park and Campground if you plan to camp or park your RV.
Visit this place during Spring, and a carpet of vibrant wildflowers on the shore will welcome you.
Note that this region is a part of the Red Red Triangle great white shark feeding ground. So follow the local rules when you are at the beach.
Access this place via the Westshore road, which parallels Bodega Harbour. There are cool rest spots for refreshments along the way.
Check out the Vineyards near Occidental, located along the Bodega highway.
If you have spare time, unwind on the Sonoma Coast State Beach, on the Southern end of the Bay.
CALAVERAS BIG TREES STATE PARK
Calaveras Big Trees State Park, located within the Sierra Nevada Mountains, about 2.5 hours from San Francisco, is one of the top spots for day trips in Northern California.
Established in 1932, this 6,000-acre massive park is home to some of the World's giant sequoias and is one of the most accessible all-season spots to see the best redwoods near San Francisco.
The park is a popular destination for hikers, nature lovers and campers, offering a unique opportunity to experience the awe-inspiring beauty of these towering giants up close.
Calaveras Big Trees State Park features North Grove and South Grove. The North Grove is easily accessible, primarily flat, with easy hiking trails that wind through the redwoods.
North Grove is also the park's longest-running visitor attraction in California, preserving two Giant Sequoias groves.
The North Grove of the park recalls the tale of the "Discovery Tree," a giant sequoia that fell in the 1850s.
According to legend, counting the rings on the trunk took five men 22 days, leading them to assume the tree was 1300 years old.
Augustus T. Dowd discovered the gigantic redwoods in this location, and by 1853, tourists were flocking to the Calaveras North Grove.
Check out Beaver Creek, ancient volcanic formations, natural meadows, and giant old-growth redwoods.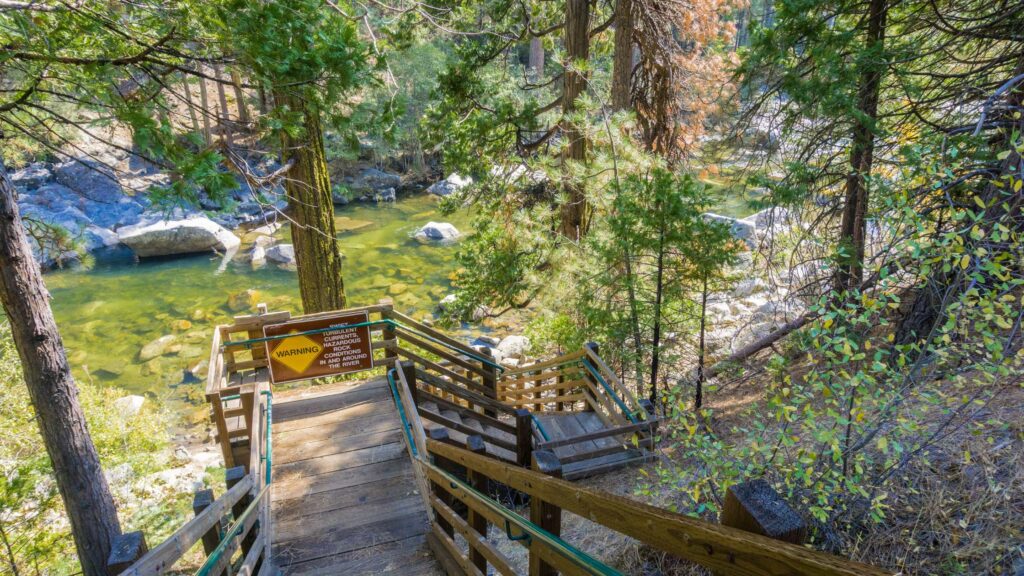 The South Grove is a bit more challenging, with steeper trails and around 5 miles of hiking trails. You will find the renowned Louis Agassiz Tree, which measures 25 feet in diameter.
If you have spare time, check out the other attractions, including the Bradley Trails, Lava Bluff and the dramatic Stanislaus River.
In addition to hiking, Calaveras Big Trees State Park offers a variety of other activites like camping, birdwatching, fishing and picnicking.
The park is home to around 129 well-maintained campsites open from Spring to fall and needs prior reservations. There are also six exclusive day-use picnic sites.
FOLSOM
Folsom, located in the Sierra Nevada foothills in Sacramento County on the banks of Folsom Lake, is one of the top destinations for day trips in Northern California.
Folsom has many historic sites that offer a glimpse of the city's rich history.
Check out the Folsom Powerhouse state historic park, home to one of the largest hydroelectric power plants in the World.
Visit the Folsom City Zoo sanctuary, home to many animals like bears, tigers and monkeys. The zoo also has picnic areas and playgrounds.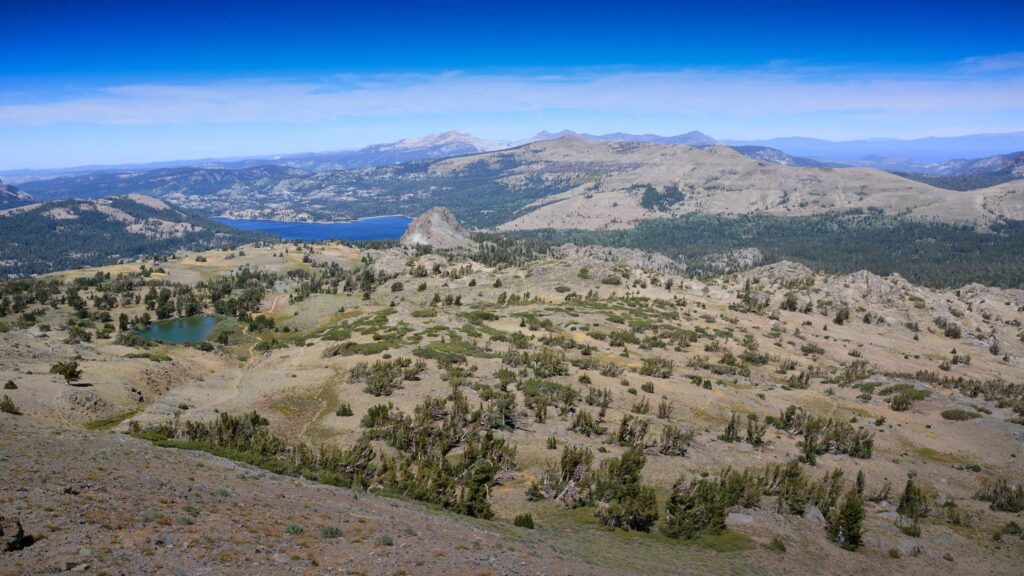 Take a guided tour of the Folsom Prison Museum, another iconic landmark in the city, which features artefacts related to the state's second-oldest prison and some rare collections depicting the history of Gold Rush towns in California.
Folsom is a haven for outdoor enthusiasts. The city is home to over 50 miles of hiking and biking trails, including the famous American River Bike Trail, which stretches 32 miles along the American River.
If you have spare time, head to the downtown district, which features beautiful art galleries, live music venues, theatres, nightclubs, and various international multi-cuisine options.
FORT BRAGG
Fort Bragg is a melting pot of cultures, traditions and experiences and is one of the top spots for Day trips in Northern California.
It offers a unique blend of history, nature and adventure and is one of the best hidden vacation spots in the US.
Thanks to its popularity soaring in recent years, some attractions have drawn larger crowds, meaning Fort Bragg is almost out of the hidden places to visit in the USA.
But it is yet to match the mainstream tourist destinations, so make your way to this lovely city before it happens.
Founded in 1857 as a military garrison, Fort Bragg has significantly shaped the country's military capabilities and is one of the unique things to do in Northern California.
This beautiful hamlet is located 10 miles North of Mendocino and 150 miles North of San Francisco. You can easily rent a car from Discover Cars and visit Fort Bragg for a perfect weekend holiday.
Explore the historic downtown home to vibrant murals and learn history related to the 1906 earthquake which destroyed San Francisco.
Visit Glass Beach, covered in little bits of colourful glass pebbles. The place was a former dump site for all the glass bottles. Over time the glass bottles eroded over and now look like coloured pebbles.
Check out the Point Cabrillo Lighthouse, one of the oldest working lighthouses in California.
Look for whales from the headlands or head to the Noyo Harbor for Kayaking. On the Kayak trip, you may even spot sea lions, otters, or sea birds.
If you are here between December and April, the whale watching months, head to MacKerricher State Park, which houses thousands of migrating whales.
The park is also known for its vibrant native coastal birds and harbour seals.
Visit Laguna Point for glimpses of the rich marine life and stunning views. You will spot rows of elephant seals and plenty of migrating birds.
Don't miss the renowned Skunk Train, a historic carriage ride that takes you through the heart of the forests along the giant redwoods on a 7-mile journey up Pudding Creek and along the Noyo River Canyon.
Recommended Tour: Skunk Train: Pudding Creek Express from Fort Bragg
Prebook your ride on the Skunk Train Pudding Creek Express from Fort Bragg and avoid the hassle of booking the day off. Book here!
Take a stroll or picnic at the 47-acre Mendocino botanical garden, home to various vibrant flowering plants, including rhododendrons, heathers and camellias.
For local brews, check out the North Coast Brewing Company. If you are a wine lover, plan tours of the nearby wineries that offer to taste and are set amidst gorgeous landscapes offering beautiful views.
Overall, if you want a quiet weekend getaway on the northern coast of Pacific California, Fort Bragg is perfect for plenty of outdoor excursions, beaches, and excellent food. It is an ideal destination for a solo getaway with your loved ones.
HUMBOLDT REDWOOD STATE PARK
If you want one of the best day trips in Northern California amidst the giant redwoods, visit Humboldt Redwoods State Park.
Home to Rockefeller Forest, the World's largest contiguous old-growth coastal redwood forest that covers 1/3 of the park's 55,000 acres, Humboldt Redwoods State Park is one of the best redwoods near San Francisco.
The forest, located approximately half an hour South of Eureka, is named in honour of 19th-century scientist Alexander von Humboldt.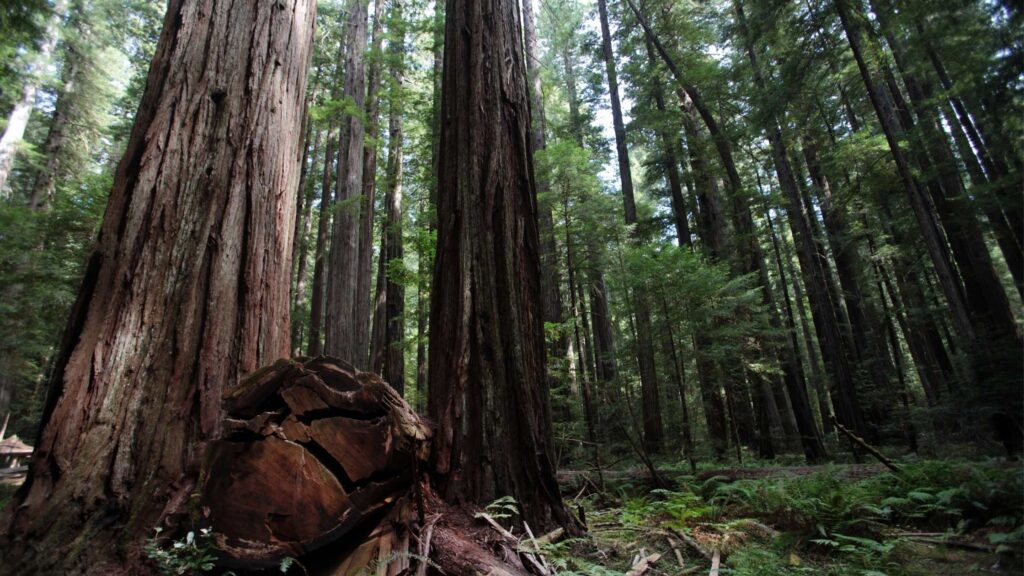 You'll discover some of the state's densest redwood forests and some of the most significant redwood-lined roadways, thanks to ongoing conservation efforts dating back to the early 1900s.
You will notice that more than 100 of the World's known trees over 350 feet are located in this park, including the World's fourth-tallest living redwood, Stratosphere Giant.
Since the park is massive, driving a car is the best way to explore.
Drive on the famous 32-mile stretch, Avenue of the Giants, also known for its renowned Shrine Drive Through Tree. Pay a $10 fee to drive through the tree.
Recommended Tour: Avenue of the giants redwoods private day tour from San Francisco
On this tour, discover the world-famous Avenue of the Giants Redwood – The Kingdom of the Giant Redwoods and some of the World's tallest and oldest Redwoods on Earth. Book here!
If you want to rent a car, book here!
Include Founder's Grove, the fallen Dyerville Giant, Williams Grove, Flatiron Tree, and Gould Grove on your drive to spot gigantic redwoods.
You can pick up a brochure from the visitor centre to learn about these old-growth redwoods, and other pit stops along this route.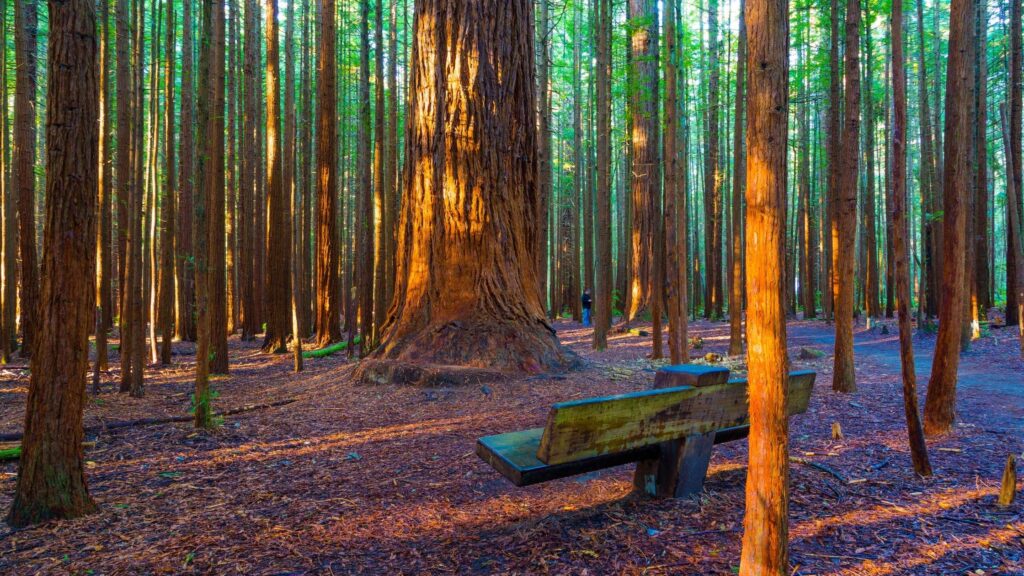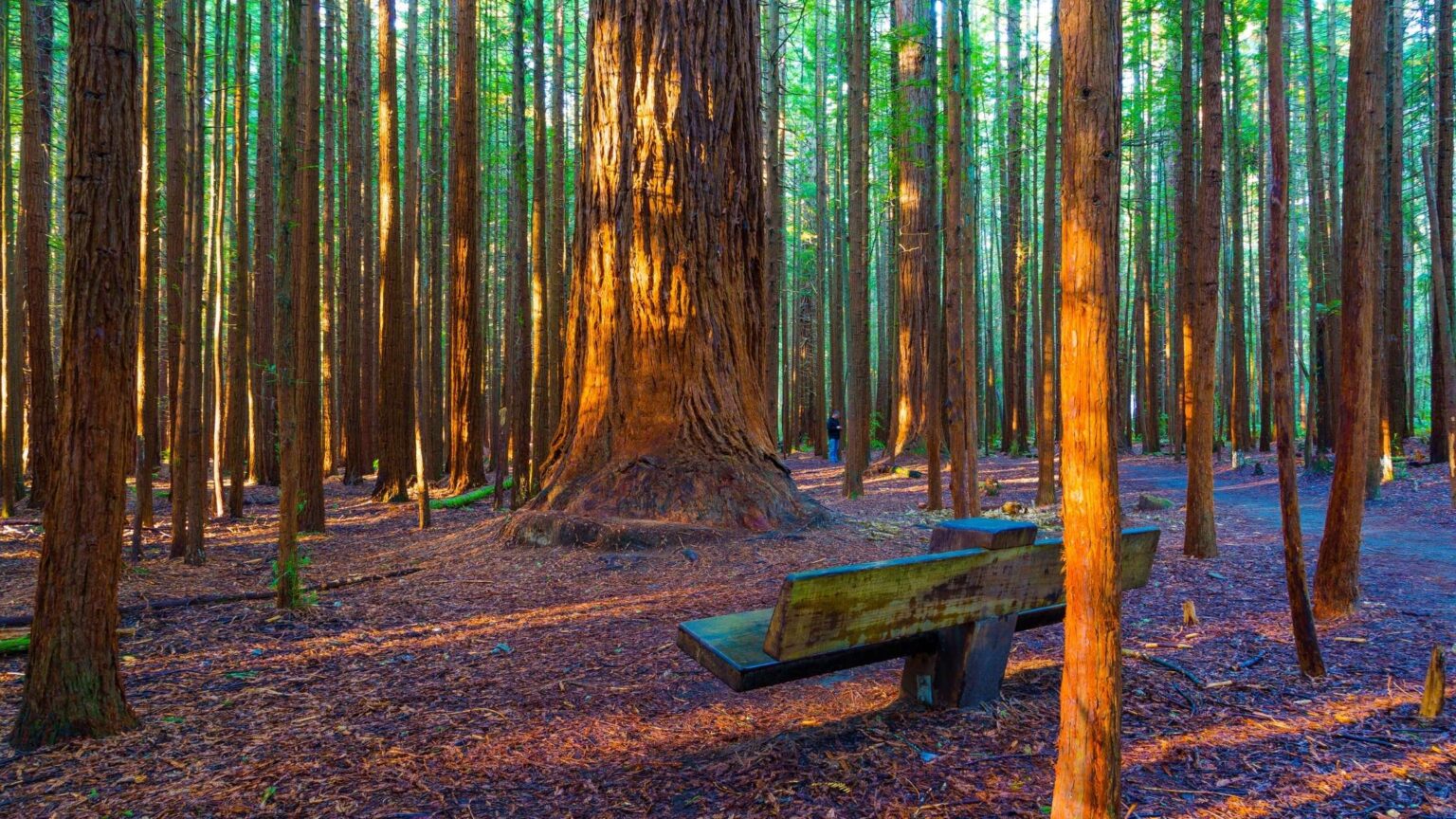 The park features around 100 miles of hiking trails that run through the redwoods. My favourites include Giant Tree & Flat Iron Tree Hike and Rockefeller Loop Trail, which are 0.6 miles.
You can also hike the 1.3-mile Founders Grove and Dyerville Giant Hike for stunning vistas of the redwoods. Bull Creek Loop is a challenging hike, about 15 miles.
Go fishing, boating or take a refreshing plunge in the beautiful South Fork Eel River, running beside the redwoods.
Unwind on the local beaches at the end of Lost Coast Drive. If you want to extend your trip and plan to camp, Humboldt Redwoods State Park features 250 family-friendly, well-equipped campsites.
If you have spare time, take a short detour to Ferndale to witness Victorian architecture.
DAY TRIPS IN NORTHERN CALIFORNIA
LAKE ALMANOR
Nestled in the beautiful Sierra Nevada mountain range in Plumas County, Lake Almanor is a hidden gem and a top spot for Northern California day trips.
Lake Almanor has become a popular destination for Norcal day trips with its clear waters and 28 square miles of stunning coastal line filled with endless recreational activities.
The main draw of Lake Almanor is its excellent fishing opportunities. The Lake is stocked with several fish species, including bass, trout, rainbow and catfish.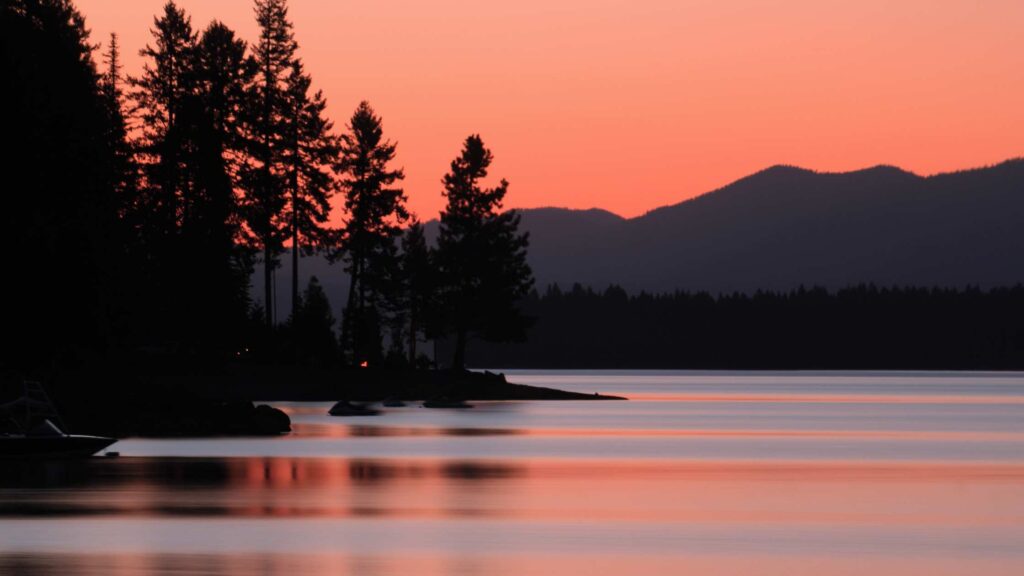 If you are an angler, you can cast your line from the shore or rent a boat and explore the bay's many coves.
Lake's calm waters make it ideal for swimming, water skiing, and paddle boarding. Launch your Kayak or boat from any boat launches available around the Lake and explore this beautiful Californian hidden gem.
Almanor Lake also has several gorgeous hiking trails. Hike the Bizz Johnson Trail for fantastic lake vistas.
JENNER
If you are looking for 1 day vacation ideas in California, visit Jenner, a gorgeous gem on the rugged coast of Northern California in Sonoma County.
The main draw of Jenner is its location, and it sits where the Russian River meets the Pacific, offering sweeping views of the river and the ocean.
Jenner is surrounded by rolling hills, forests and cliffs, creating a dramatic backdrop to the ocean.
The varied terrain of Jenner is apt for avid hikers and adventure seekers. Visit the Salt Point State Park, which offers a plethora of options for hiking and horseback riding.
Don't miss the Jenner Headlands Preserve, a 5,630-acre massive preserve known for its 14 miles of gorgeous hiking trails which wind through the towering redwoods and Douglas fir forests.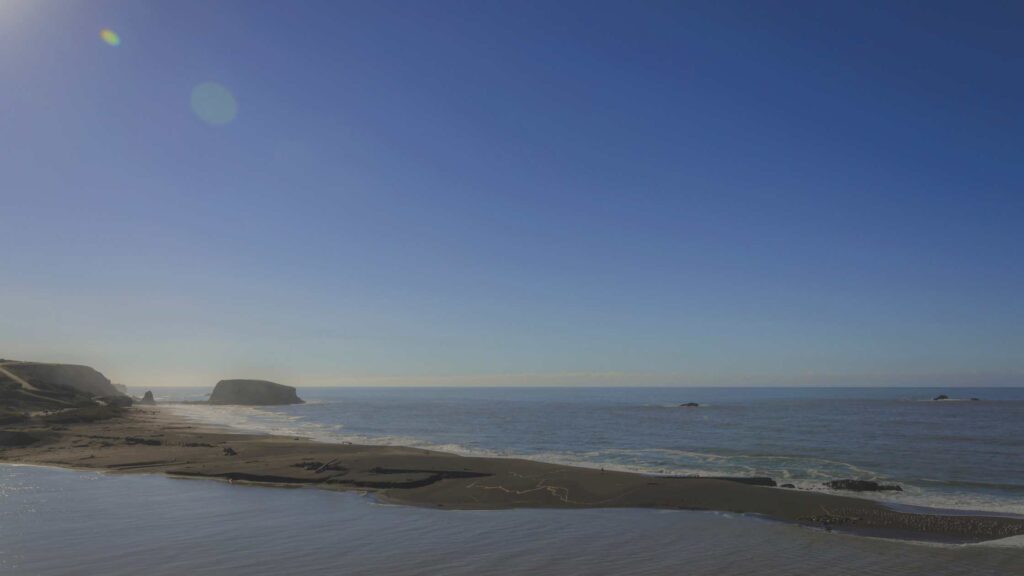 Check out these Hiking Boots which you might require. I use this regularly on my hiking excursions.
The calm waters of the Russian River are apt for Kayaking. If you want to try diving or fishing, visit the Stillwater Cove Regional Park.
Beach bums can head to beaches like Goat Rock Beach and Blind Beach, popular spots among the locals known for whale and harbour seal watching.
Wine enthusiasts should visit the Fort Ross Vineyard and Winery, known for their world-class wines.
Jenner's downtown is dotted with cosy gift shops and art galleries for your souvenir collection.
LAKE TAHOE
Lake Tahoe, the largest alpine Lake in North America, situated at the Nevada-California border, is a year-round and renowned destination for Day trips in Northern California.
It is a 2-hour drive from Sacramento, attracting crowds from across the globe to enjoy snow in California.
The Lake's North and South sides have unique attractions for California day trips.
Lake Tahoe averages 215 inches of snow annually. It can reach 500 inches at its highest cliffs, making it one of the best places to visit in California in December for families and outdoor adventures.
The abundance of snowfall makes this stunning freshwater lake a haven for thrill-seekers.
You will be rewarded with many activities like cross-country skiing, snowshoeing, snowboarding, ice climbing, tubing and sledging.
Lake Tahoe is best explored on a guided e-bike tour. Check out this tour:
Tahoe Coastal Self-Guided E-Bike Tour – Half-Day | World Famous East Shore Trail
Explore Lake Tahoe at your own pace with this self-guided electric bike tour on East Shore Trail, and make stops when you choose to. Your journey along the trail ends at Sand Harbor, a popular area for swimming and boating. Book here!
Another recommended bike tour in Lake Tahoe: Full-Day Self-Guided Bike Tour of Lake Tahoe
Thankfully, there are many well-equipped ski resorts, with Heavenly, Palisades Tahoe, and Northstar California being the most well-known.
If skiing isn't your thing, don't worry; you will get into the winter spirits by taking a gondola ride to the top of a cliff near the South of Lake Tahoe, partaking in other water sports, or going on a winter hike.
Recommended Tour: Scenic Snowshoe Adventure in South Lake Tahoe, CA
This exciting snowshoe tour offers many opportunities to stop and photograph breathtaking Lake Tahoe views while snowshoeing. Book here.
If you visit the lake area during summer, check out the high-altitude beaches for sunbathing.
Try the guided Tahoe Via Ferrata tour, an adventurous protected hiking experience with iron and steel rods attached to the rock face.
Alternatively, go hiking on the popular trails on the south side of the Lake. Beginner hikers can try the 2-mile Eagle Falls & Eagle Lake Trail or the 1.4-mile Cascade Falls Trail.
Lake Tahoe is adorned with many beautiful state parks nearby. Stroll around Emerald Bay or go swimming in the calm waters of the DL Bliss state parks.
Don't miss the Inspiration Point near Emerald Bay for fantastic lake views. Visit the Hellman-Ehrman Mansion at Sugar Pine Point State Park.
Recommended Tour: Emerald Bay Helicopter Tour of Lake Tahoe
Showcasing beautiful Fallen Leaf Lake, Cascade Lake, Taylor Creek, and Pope Beach, this tour heads to breathtaking Emerald Bay. Book here!
Other recommended Helicopter Tours of Lake Tahoe:
If you are looking for a secluded nudist beach, check out one of the best nude beaches in California and also Lake Tahoe's most popular location for photos, The Secret Cove Nude Beach, located about 2.6 miles south of Sand Harbor and a mile from the Nevada region.
Try Kayaking or Stand Up Paddleboarding at Sand Harbor Beach.
Recommended Kayaking Tours:
Lake Tahoe, known for its gorgeous blue lupines, has one of the best flower fields in California during Spring and can give you the impression that you have arrived in New Zealand or Iceland.
Hike these popular trails for the best super bloom experience; Mount Rose Wilderness, Meiss Meadows, Miracle Mile, Lake Winnemucca and Big Meadow trail.
Check out the nearby Crag Lake hike to explore the beautiful pine meadows and witness the spectacular scenery of granite cliffs.
Recommended Private Boat/Charter tours of Lake Tahoe:
Round Lake and Dardanelles Lake can be added for more adventure to your day trip schedule.
South Tahoe is also a hot spot for nightlife and casinos, including the Calneva, once owned by singer Frank Sinatra. Take the self-guided craft beer tour around the breweries south of Lake Tahoe.
Recommended Driving Tours in Lake Tahoe:
Do not forget to capture stunning shots of the Lake and the surrounding landscapes from the Emerald Bay lookout.
Recommended Tour: Sunset Hike and Photography Tour in South Lake Tahoe
Sunset is one of the best times to explore Lake Tahoe, but you can easily get lost if you're unfamiliar with the trails. Your guide can show you where to take the best photos and be on hand to take creative pictures of you. Book here
Recommended Tour: Lake Tahoe Small-Group Photography Scenic Half-Day Tour
Tahoe photographic tours offer a unique way to enjoy Lake Tahoe's natural wonders and receive photography tips as you are led by an experienced photo guide providing guidance and sharing information about the area. Book here!
LASSEN VOLCANIC NATIONAL PARK
Lassen Volcanic National Park, located near the Sacramento Valley in the Cascade Range and about 2.5 hours from Reno, Nevada, is one of California's frequently overlooked National Parks.
Despite its gorgeous beauty and many activities, it is one of the offbeat national parks apt for snowshoers and cross-country skiers.
It is popular among the locals and tourists for day trips in Northern California.
Lassen Volcanic National Park is known for its beautiful rock formations and hot springs and is one of the top places for weekend trips from San Francisco.
This is one of the best places to play with snow in California in December and enjoy adventurous activities like sledging, cross-country skiing and the free ranger-led snowshoe tour.
Go snowshoeing or hiking on one of these beautiful trails that runs through alpine lakes and meadows and are usually dotted with beautiful wildflowers in late Spring; 3.8 miles Mill Creek Falls Hike or the 4.2 miles Devil's Kitchen Trail. Hike up the Cider Cone for stunning vistas of the Park.
Burney Falls is a spectacular cascade you should not miss while visiting Lassen Volcanic National Park.
Take a dip in the Sulphur Works hydrothermal area or Little Hot Springs Valley while admiring the gorgeous Lassen peak in the backdrop.
Lassen Volcanic National Park is recognized for its beautiful Californian wildflowers during the post-snowmelt season.
Like Lake Tahoe, the peak blooms occur a bit later during the season, towards September, which varies for different wildflower species.
Plan to visit the park from May to July to witness one of the most beautiful California flower fields.
Explore the nearby Subway Cave Lava Tubes, one of the spooky caves in Northern California, located 15 min drive from Manzanita Lake. Get a flashlight for the best experience!
THE MENDOCINO COAST
Located a 3-hour drive from San Francisco, Mendocino, one of the best weekend getaways in Northern California, is known for its magnificent Victorian structures, saltbox cottages, stunning beaches, and incredible views.
Founded in the 1850s, with its rustic allure, Mendocino has a laid-back location that is excellent for glamping, camping, and trekking, making it an ideal place for one of the best day trips in Northern California.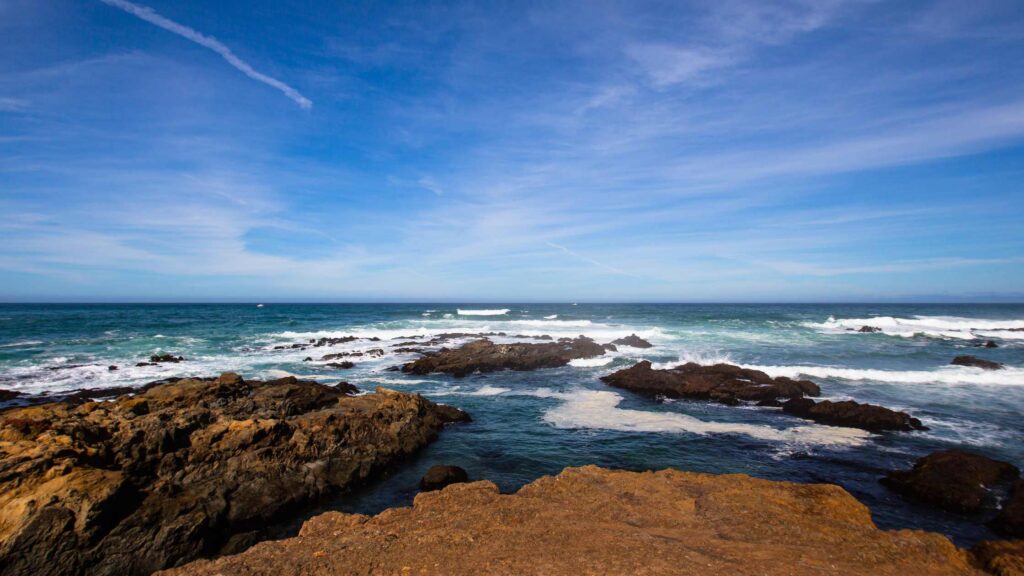 Mendocino has a beautiful blend of redwood forest and astonishing ocean vistas on Highway 128.
Mendocino is adorned with incredible natural sea caves, a series of above and underwater caves carved out of the sandstone cliff formed over millions of years by the compression of sand and mud.
Take a guided tour of this one of the most exciting and unique sea caves in Northern California, or go kayaking to take in the best views of the Pacific.
Hike the trails in Mendocino Headlands State Park to spot the migrating grey whales and see the iconic landmark Point Cabrillo Lighthouse, one of the gorgeous Californian Lighthouses.
Recommended Tour: Railbikes along Pudding Creek
You might spot blue herons, osprey, an occasional lounging turtle, a playful river otter, a deer munching on the foliage, and during peak berry season, maybe even a bear. Book here!
Relax in the MacKerricher State Park tide pools, one of the best tide pools in California.
Recommended Tour: Skunk Train: Wolf Tree Turn from Willits
Train enthusiasts, family travelers, and nature lovers will all enjoy this two-hour Skunk Train journey.
You will ride from the valley floor to the highest point of the rail line, admiring the views of the redwood forest and Noyo River Canyon.
Stop to check out the oldest tree along the track, the Wolf Tree. A scenic and relaxing tour of nature. Book here!
Mendocino's proximity to the Anderson Valley wine area, with more than 30 wineries, makes it one of California's best beach towns.
Don't miss out on visiting well-known vineyards like Navarro Vineyards, recognized for its Alsace varietal wines, and Roederer Estate, famed for its award-winning champagne.
Recommended Tour, especially if you are with your loved one: Professional Holiday Photoshoot in Mendocino
What's better than getting your picture clicked with your loved one at one of Mendocino's world-famous locations and photo-worthy beaches? Book here!
DAY TRIPS IN NORTHERN CALIFORNIA FOR OUTDOOR LOVERS
MONO LAKE
Mono Lake, located in Mono County near the edge of the Great Basin and the Sierra Nevada Mountains, is one of the beautiful locations for day trips in Northern California.
Mono Lakes is also one of the geologically rich lakes in Mammoth Lakes, with fossils indicating its age at least 900,000 years.
The lake is known for its strange and very high alkaline water, making it at least ten times saltier than ocean water.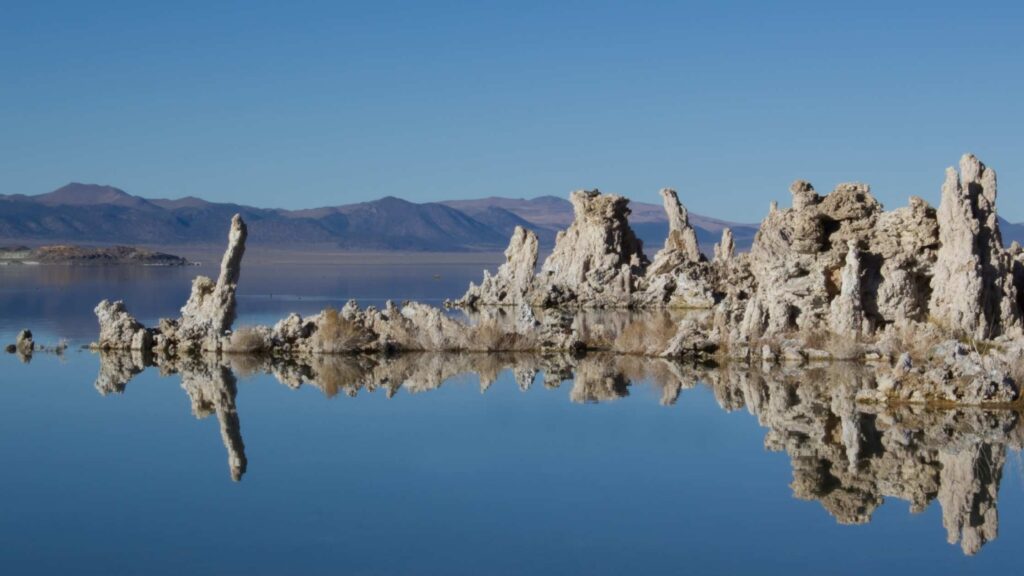 Though the lake's waters are unsuitable for ideal swimming conditions, some claim they have healing properties similar to hot springs.
Mono Lake is home to alkali flies, brine shrimp, and millions of beautiful migratory birds.
Stop by the visitor centre for an interactive birdwatching experience and browse various exhibits which narrate the importance of the coastal birding ecosystem.
The unique terrain around Mono Lake is carpeted with limestone formations that add a dramatic outlook to the panoramas, which are a part of South Tufa State Reserve.
These formations, nicknamed Tufa Towers, are one of the top attractions near Mono Lake.
Enjoy hiking, cross-country skiing at Mono Lake throughout the year, and camping nearby Lundy and Lee Vining Canyons.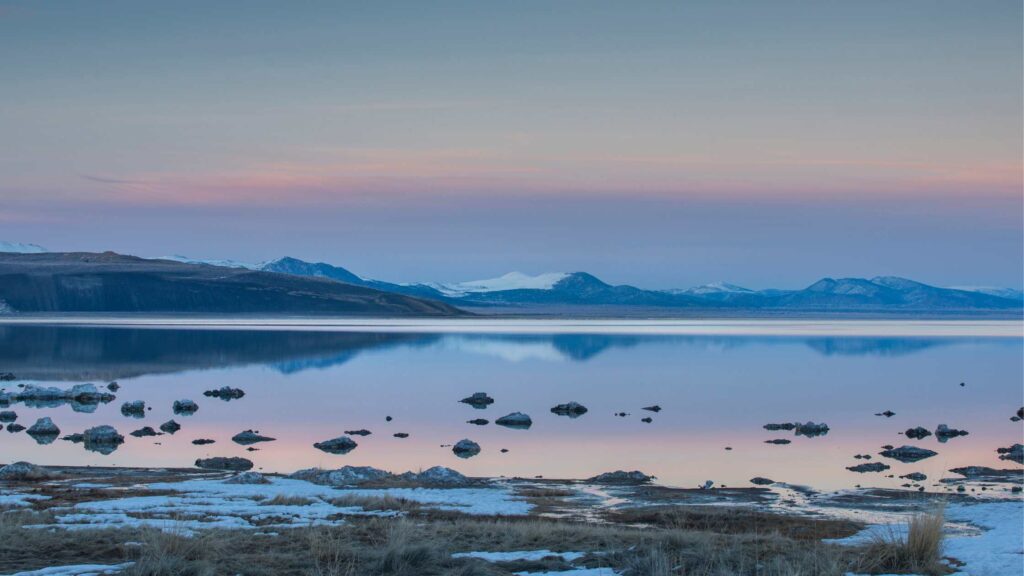 You can follow a self-guided tour from the parking lot that forms a loop back up to your car. This is also one of the best things to do in Mammoth Lakes Ca.
On your visit to Mono Lake, stop by Panum Crater, a 600-year-old volcanic cone, one of the many natural attractions in the area.
It is a 30-minute drive North of Mammoth Lakes off Highway 395 to reach Mono Lake.
The lake is open throughout the year all day, and the entry is $3 per adult. You can pay at the parking lot.
If you have spare time, explore the nearby June Lake, about 15 miles from Mono Lake. Check out my exclusive guide for things to do in June Lake Ca.
MUIR WOODS NATIONAL MONUMENT
One of the ideal places for fun day trips in Northern California amidst the redwoods is the Muir Woods National Monument, just a 35-minute drive from San Francisco.
Established in 1908, this state park is named after famous naturalist John Muir and is listed on the National Register of Historic Places.
Muir Woods is known for its 600 to 1,200 years old ancient-growth redwoods, towering 258 feet, making it one of the most popular places to see the best redwoods near San Francisco.
This is the best place for trampers as this offers many lovely trails, even for beginner hikers.
Recommended Tour: 4-Hour Muir Woods Hiking
Take a guided tour to see all the beautiful redwoods and learn about the history of the same. A professional photographer will also accompany you on this tour. Book here.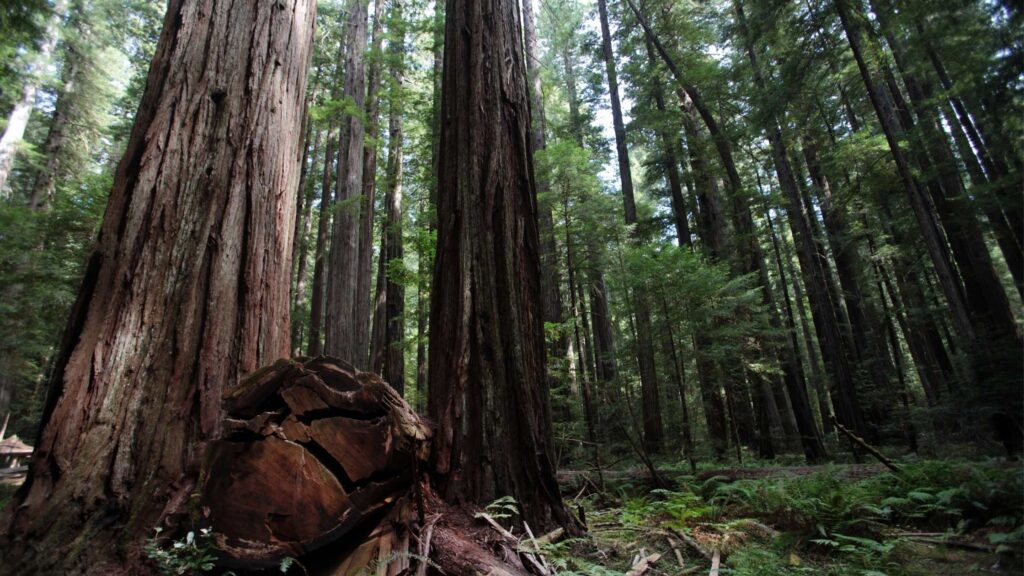 I recommend starting with the Muir Woods and Bohemian Grove trails, which are 1.3 miles and 2 miles long.
It takes about 30-45 minutes, and you will pass through the magnificent canopies dominated by the redwoods on these trails.
You may then branch out to more challenging pathways, my personal favourites, The Ben Johnson Trail, which is 3.4 miles long, and the Sun Trail, which is 4.7 miles long.
Dipsea Trail, which is 9.7 miles long, is for advanced hikers.
Pack your bags with enough snacks and drinks since it will be exhausting. However, the breathtaking redwoods and Stinson Beach vistas will make you feel better.
Check out the Muir Woods Shuttle, run by Marin Transit, available from May to October.
Recommended Tour: San Francisco to Muir Woods Shuttle
On this tour, enjoy the stunning scenery and gorgeous walking trails, spend over an hour walking around the majestic Muir Woods Redwood National Monument, and cross the world-famous Golden Gate Bridge. Book here.
The Shuttle requires reservations since it fills up quickly, especially on weekends and throughout the summer. It has multiple stops around the North Bay.
Recommended Tour: Big Bus Muir Woods Tour
On this tour, listen to the live commentary during the 45-minute drive to the national forest. Entrance to the park is included. You will also get 1.5 hours to explore on your own. Book here.
If you time your visit right, you may witness the annual Dipsea Race, which travels through the park on its way between Stinson Beach and Mill Valley.
Other Recommended Muir Woods Tours:
HALF MOON BAY
Half Moon Bay, about an hour's drive south of San Francisco in San Mateo County, has been known for surfing for ages and is a hotspot for day trips in Northern California.
The city derives its name from its crescent moon shape and attracts locals for its tranquil.
With its incredible coast lined with beaches, bluffs, and miles of hiking trails inland, Half Moon Bay is one of the best Northern California beach towns for nature lovers, hikers, and families.
Go swimming or relax on the two-mile sandy shores of the Half Moon Bay State Beach, one of the local's favourites and enjoy the fantastic sunset views.
Visit Mavericks, a famous Surfing spot in Half Moon Bay, located on the North end of the Bay at the Princeton-by-the-sea village. Sign-up for Surfing lessons if you are an avid surfer.
Visit JV Fitzgerald Marine Reserve to do tide pooling when there is a low tide.
Recommended: 30 Beautiful California Tide Pools You Should Visit
There are nine state parks in this county where you may go hiking.
One of the best ways to explore Half Moon Bay is to bike along the 4.7-mile Half Moon Bay Coastside Trail, which offers spectacular ocean bluffs between Pillar point harbour and poplar avenue.
Visit the Purisima Creek Redwoods Open Space Preserve if you are an experienced hiker. The preserve features many lovely trails that run through old-growth coastal redwoods and beautiful ocean vistas.
Suppose you're looking for wine and dining, head to Harbor Village and Downtown. You will find excellent beachside restaurants worth your time and money while offering quality cuisine.
Recommended Tour: Half Moon Bay Hustle Scavenger Hunt
Explore scenic Half Moon Bay by car during this fun and interactive scavenger hunt. Discover hidden landmarks as you interact with locals and uncover off-the-beaten-track locations. Book here!
DAVENPORT
Davenport, which dates back to 1867 and is known as California's slow coast, is located near Half Moon Bay along Highway 1 and is one of the offbeat locations for day trips in Northern California.
Visit the famed Davenport Cove Beach to enjoy the gorgeous views of Shark Fin Cove, a distinctive rock formation, and the iconic swing.
Also, be sure to check out the neighbouring hills to see the famous Davenport Crack and the sunset atop the hills for gorgeous ocean views.
If you want a beach with craggy cliffs and powdery sand, head to Bonny Doon Beach.
Wine lovers should not miss the local wineries like the Bonny Doon Vineyard Tasting Room, which offers some of the town's exotic wines.
You can also take a wine tour of the Santa Cruz Mountains.
Recommended Tour: Participate in a Fun Scavenger Hunt in Davenport by Zombie Scavengers
Survive an apocalypse in Davenport with Zombie Scavengers! An app will provide a list of items needed to survive the zombies. Find these items in any order and perform fun zombie-themed challenges for points. Book here!
Private Transfers To and From Davenport:
OCCIDENTAL
Occidental is a tiny, quaint community in western Sonoma County, known for its renowned cultural attractions in its lovely downtown district.
Though the city's Main Street only extends for two blocks, it is home to a wide variety of renowned attractions, including delicious dining experiences at acclaimed restaurants like the 1879 Union Hotel and Restaurant or the famed Negri's Italian Dinners and Joe's Bar, known for its Italian classics since the midcentury.
Art galleries, boutiques, cafes, and cultural organizations like the Occidental Center for the Arts also line the district.
At the Occidental Arts and Ecology Center, visitors can learn about gardening or explore a 70-acre wildlands preserve as part of guided tours.
The city also serves as the starting point for the famous 10-mile Bohemian Highway drive, attracting cycling and car clubs throughout the Northern California region.
POINT REYES NATIONAL SEASHORE
Point Reyes National Seashore is a prominent cape that stretches over 71,000 beautiful acres along Marin County's Point Reyes Peninsula and is a popular destination for Day trips in Northern California.
The reserve is located about an hour North of San Francisco and is a popular stop on a Pacific Coast Highway road trip since it's right along Highway 1.
It attracts over 2.5 million visitors annually and is one of the best spots for weekend trips in Northern California.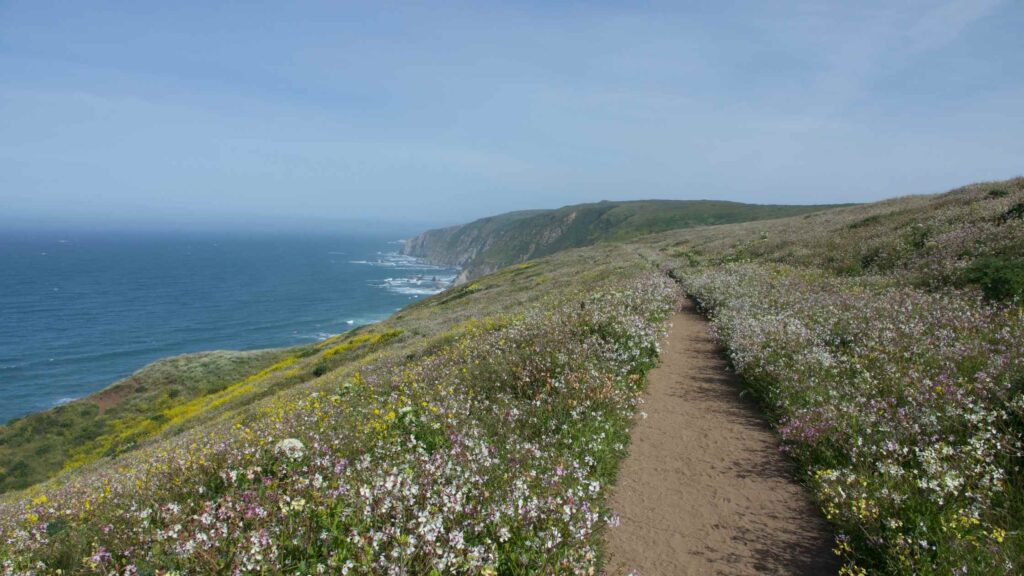 Point Reyes National Reserve, a wild, pick-axe-shaped peninsula maintained by the NPS, is packed with enriching beauty comprising over 100 square miles of coastal wilderness, 80 miles of undeveloped shoreline, and 150 miles of trails, making it one of the largest parks in California.
The rolling golden hills with long, never-ending beaches, a charming downtown, forested ridges, and rich history offer travellers many opportunities – from witnessing the rich wildlife to watching the abundant marine life.
Recommended Tours:
One of the first things to do in Point Reyes is to get all the information you need for your trip.
Stop by Bear Valley Visitor Centre, one of California's most informative visitor centres and the main visitor centre at Point Reyes National Seashore.
You can get an orientation of the park's trails, the history of Point Reyes through its exhibits, and the roads, including weather-related closures.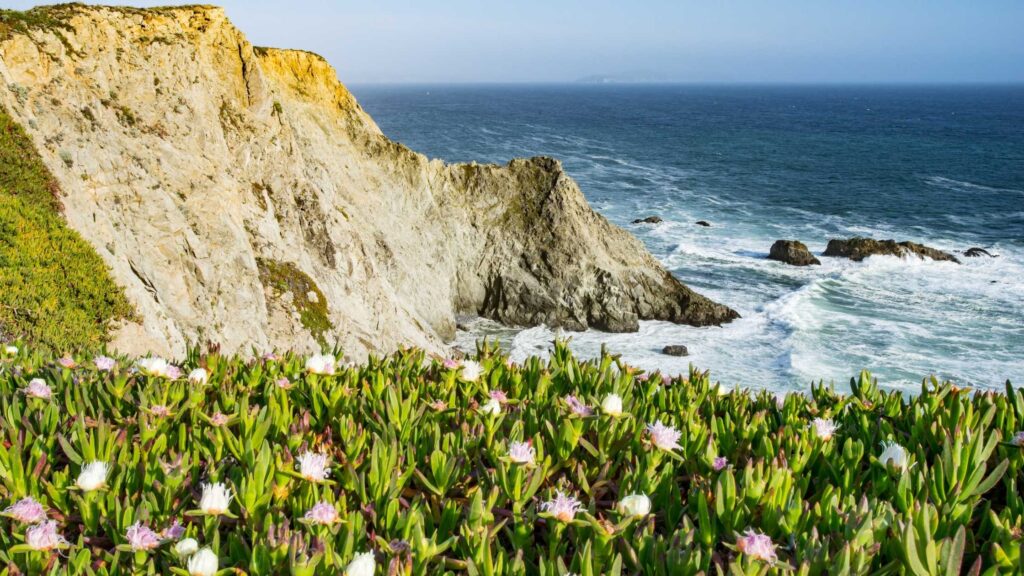 Head to Heart's Desire Beach, Marshall Beach, and Indian Beach on Tomales Bay if you want secluded beaches.
On the northern side of Great Beach, Kehoe Beach is also an offbeat beach.
Hike the 9.4-mile Tomales Point Trail, packed with splendid views that will lead you to a coastal bluff leading to Tomales Point, one of the most beautiful spots in Point Reyes.
Hike the Alamere Falls, located in the Phillip Burton Wilderness, one of the best hiking trails in northern California.
Check out my complete guide if you want the best hikes in Point Reyes California.
The Point Reyes Peninsula offers many pretty lighthouses on the west coast and magical sunset views, and whale watching.
Visit the 1870 Point Reyes Lighthouse, one of the most beautiful lighthouses in the California coast.
This famous lighthouse is only accessible when you walk down the 308 stairs opening up to the views of birds and marine life.
Check out the Point Reyes Lifeboat Station, the Pacific Coast's last remaining rail-launched lifeboat station.
Click insta-worthy pics of the 100-year-old, 380-foot cargo shipwreck, the Tomales Bay Shipwreck or the Inverness Shipwreck located near Inverness. It is one of the most photographed spots in Point Reyes.
Don't miss the Cypress Tree Tunnel, an iconic place with beautiful cypress trees alongside the arch.
Enjoy a stroll around the place and capture the best shots. The best time to visit the Cypress Tree Tunnel for the most dramatic pictures is at sunrise.
The entire area gets beautifully illuminated, creating the perfect lighting for beautiful photos.
Point Reyes is also a renowned fishing town known for its mouth-watering seafood cuisine.
REDWOODS NATIONAL AND STATE PARKS
If you're looking for one day getaways in California, head to Redwoods National and State Parks, which run 40 miles along the California coast just south of the Oregon border.
This gorgeous park system managed by NPS and the California State Parks Service is a collection of massive 139,000 acres, including Jedediah Smith Redwoods State Park, Del Norte Coast Redwoods State Park, and Prairie Creek Redwoods State Park.
Prairie Creek Redwoods State Park is blessed with old-growth forest and the Roosevelt elk in the prairies between the redwoods.
The largest (but not tallest) Coastal Redwood tree may be seen in Jedediah Smith Redwoods State Park.
The Del Norte Coast features a significant population of old-growth redwoods and a beautiful beach.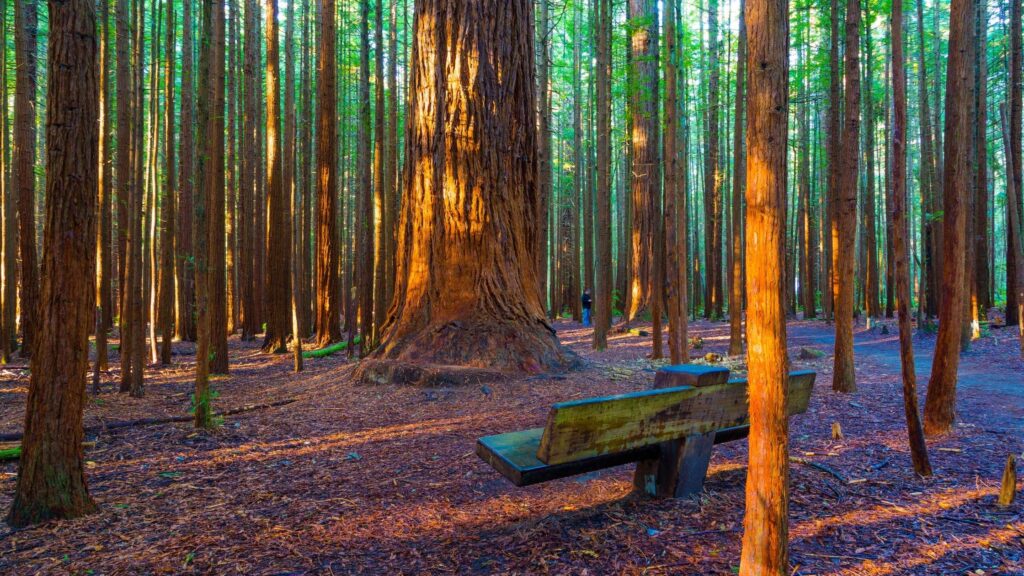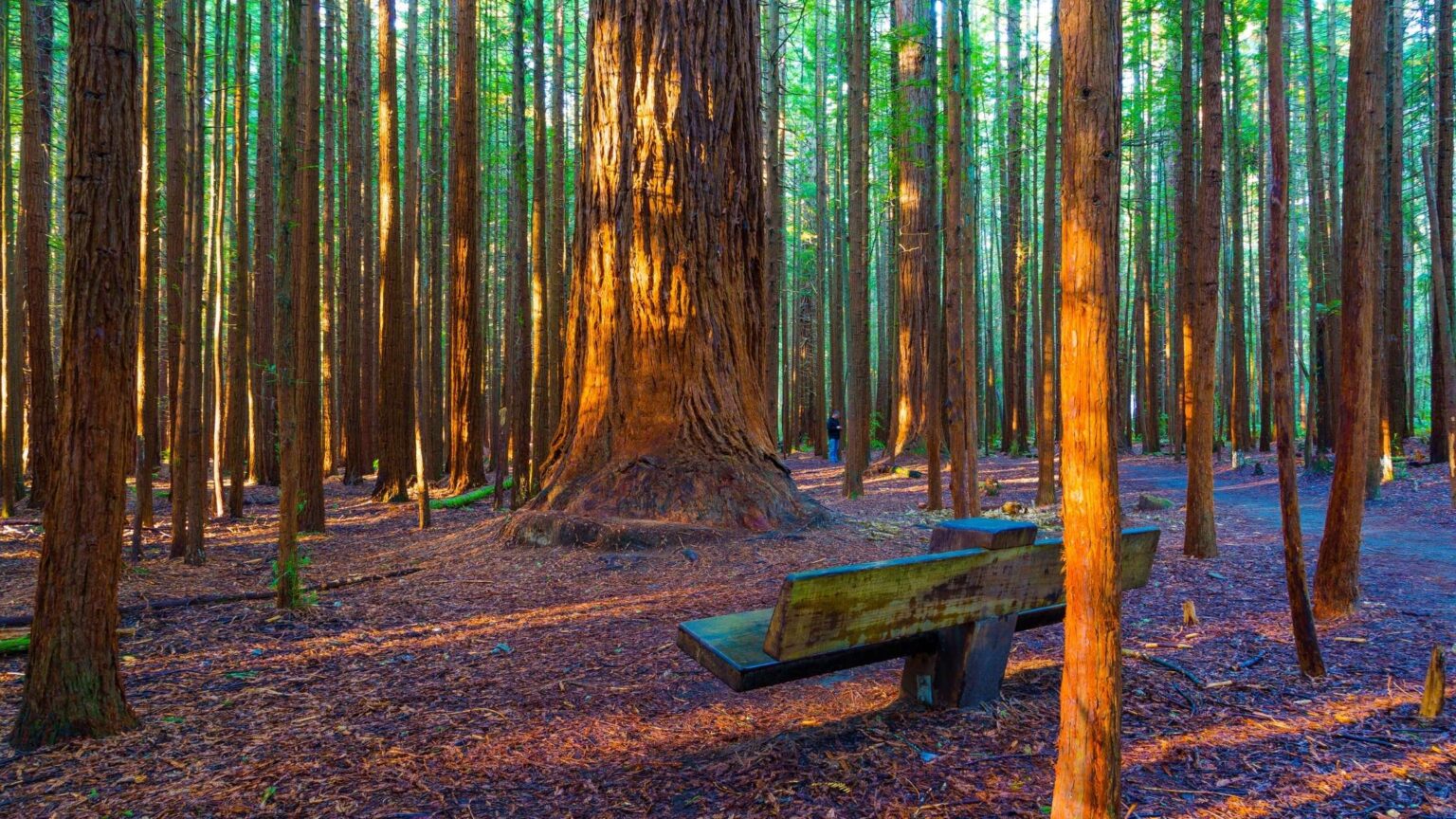 If you want to drive to see the redwoods, drive through Howland Hill Road, Newton B. Drury Scenic Parkway, Cal-Barrel Road, and Davison Road.
Avid hikers looking for more adventure can try the 0.5-mile Trillium Falls Trail, which is considerably easy.
Also, hike the Lady Bird Johnson Loop Trail, 1.5-mile and the Simpson-Reed Trail, 1 mile, which can be completed in a half-day.
The 2.5-mile Prairie Creek Foothill Trail Loop might take one full day since the trail offers a lovely mix of Roosevelt elk and the gorge redwoods.
Stroll through a river bottom grove at Stout Grove. For stunning panoramas, visit the Crescent Beach and Klamath River Overlooks, great vantage points for coastal whale watching.
SAN FRANCISCO
San Francisco, located on the tip of the San Francisco Peninsula, is a hot spot for Day trips in Northern California and one of the best Northern California Beach Towns.
It is home to many giant companies such as Wells Fargo, AirBnB, Levi Strauss, Twitter and many more on the list you come across daily.
The entire city of San Francisco can be best explored by a hop on hop off bus tour.
Recommended Tour: San Francisco Hop On Hop Off Bus Tour | 1 Day Pass, Unlimited Use
On this tour, you will get unlimited bus access from 10 AM to 5 PM on the city's Red Loop, which has 17 stops in total. Buses leave every half hour so you will never be waiting too long. Book here!
The Golden Gate Bridge is the major world-famous attraction in San Francisco, which you cannot afford to miss while here.
Recommended Golden Gate Bridge Tours:
You can hit the nearby Baker Beach to get a more panoramic view of the Bridge and relax on the beach.
Hikers can try the 1.7-mile Batteries to Bluffs loop hike. You will be rewarded with stunning vistas of the Pacific at the top of the trail.
Include Fort Funston and the 3.5-mile stretch of Ocean Beach, which are sandy beaches with calming waters.
Visit the Coit Tower in Pioneers Park atop telegraph hill, an idyllic vantage point for stunning photographs with views of the Bridge and ocean.
The tower's ground floor lobby has murals from the 1900s depicting the early stages of San Francisco.
Take a tour of the historic cable car, known for its ringing bells and is moved by an underground cable.
Recommended Tour: Big Bus San Francisco Night Tour
Get a unique perspective on San Francisco by taking a 1-hour nighttime bus tour. See neighbourhoods such as Fisherman's Wharf, Embarcadero, Chinatown and the Financial District while listening to commentary from a live guide. Multiple tour departure times are available to suit your schedule. Book here!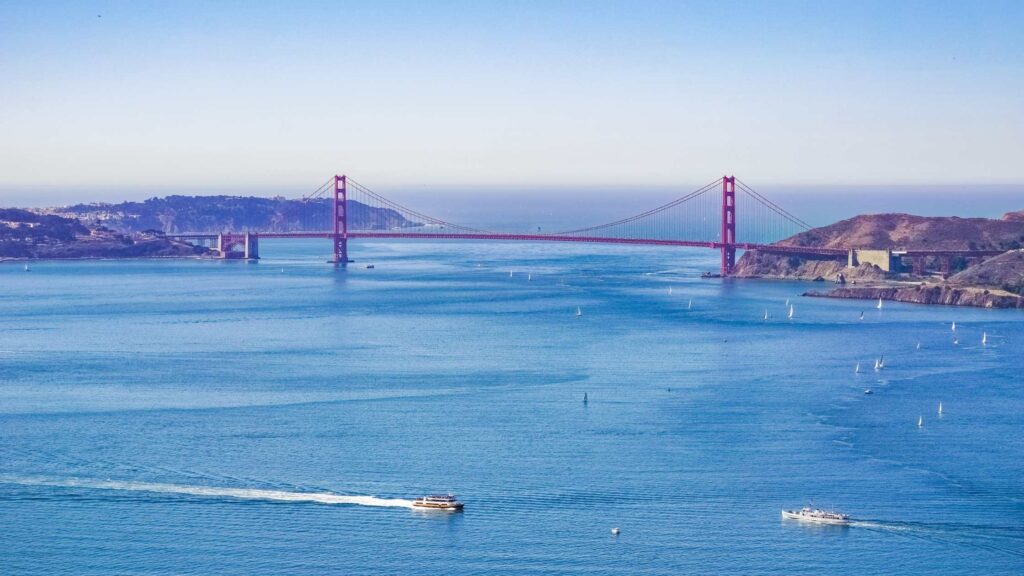 Don't miss the famous Alcatraz Island, a prison in the early 1900s. It is believed that no one could escape this prison because of its location.
You can take a ferry to the island, for which you must make advanced reservations.
Recommended Tour: Big Bus San Francisco Hop-On-Hop-Off Open Top Tour and Alcatraz Combo
This combo tour package lets you see San Francisco's top sights and attractions. Ride the open-top double-decker bus for one whole day, hopping on and off at over 15 stops around the city.
Cruise across the bay to the infamous prison known today as the Rock and explore the infamous Island. Book here!
Recommended Alcatraz Island Tours:
San Francisco is also known for its music festivals like the Stern Grove Festival and Hardly Strictly Bluegrass Festival. If you are looking for music events, San Francisco is one of the best spots for day trips in northern California.
If you are with your loved one, you should definitely not miss the guided Love tour!
On this 2-hour tour, you will hop on a '70s-era VW bus and get to know the hippie past and hipster vibe that makeup San Francisco today. Settle into a neon-blue seat and dig your shoes into a groovy shag carpet. Book here!
Explore the Railway Museum and the cable car museum to learn about the history of transit in San Francisco.
Recommended Tour: Cable Car City Tour in San Francisco
On this tour, explore the best sights of San Francisco at your leisure while riding the world-famous Cable Car! Book here!
If you are with kids, take them to the Walt Disney Family Museum to engage with Disney artefacts.
Recommended Tour: San Francisco Movie Sights City Tour
See filming locations from over 55 productions on this movie site tour from Fisherman's Wharf. Book here!
Many wineries and vineyards in the San Francisco region serve world-class wines and offer guided wine-tasting tours.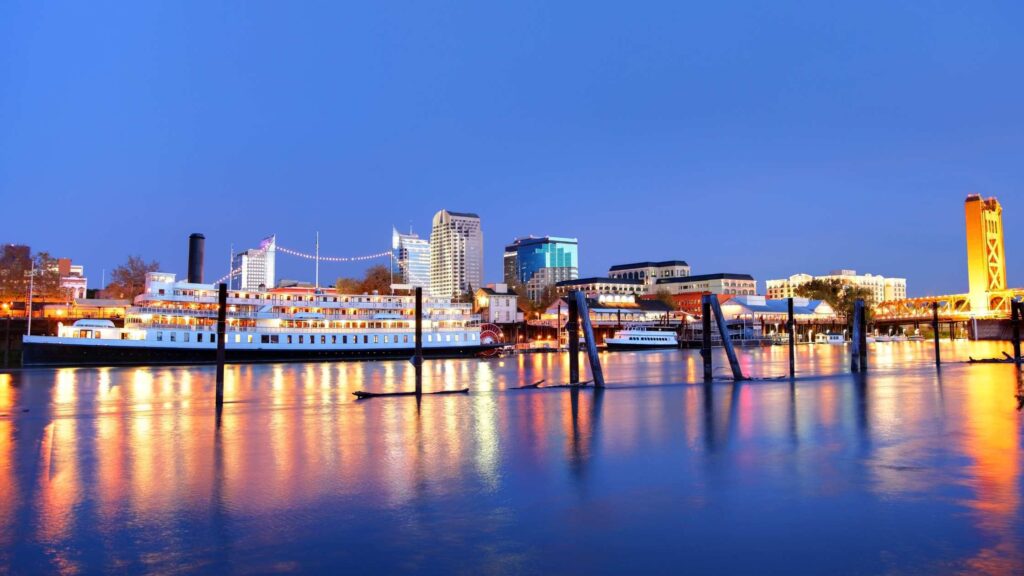 Recommended Tour: Wine Country Small-Group Tour from San Francisco with Tastings
Explore Sonoma Valley wine on a small-group tasting tour from San Francisco to boutique wineries, making sightseeing stops. Learn about Sonoma wine varietals and terroir as you sip. Book here!
Recommended Wine Tours:
San Francisco is known for its many state-of-the-art multi-cuisine restaurants. I am sure you will be spoilt by the numerous choice available in this beautiful city.
Check out these guided Food Tours, followed by which you can take the ghost hunting tours for more fun.
Check out my exclusive guide for weekend trips from San Francisco.
Recommended San Francisco Day Trip Tours:
THE SIERRA NEVADA MOUNTAINS
The Sierra Nevada Mountains stretch between the Central Valley and Great Basin regions and are among the most gorgeous locations for day trips in Northern California.
From towering granite peaks to lush alpine forests, the Sierra Nevada Mountains offer a myriad of opportunities for adventure and exploration.
The range is home to world-renowned locations like Yosemite National Park, a UNESCO World Heritage Site, and Lake Tahoe, attracting millions of visitors annually.
If you want to try your luck, spin the wheel in some world-class resorts and casinos in Lake Tahoe.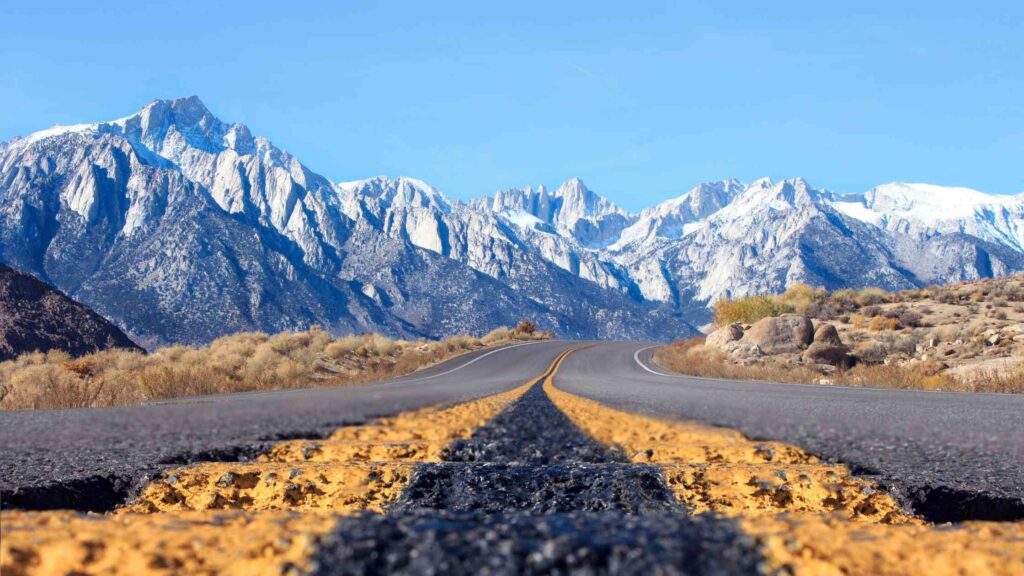 One of the most striking features of the Sierra Nevada Mountains is its towering peak, Mount Whitney, which climbs more than 14,500 feet above the region's skyline and is also the tallest in the US.
The Sierra Nevada mountains also have unique ecosystems, ranging from high-altitude alpines to low-lying deserts.
The mountains are home to diverse wildlife, including mountain lions, black bears and bighorn sheep.
If you are an avid hiker and seeking adrenaline-pumping activites, Sierra Nevada Mountains are a haven for you. Hike the incredible trails dotted with towering sequoias, which offer gorgeous mountain vistas.
Try rock climbing or skiing in the best ski resorts in the region. Many campsites in the Sierra Nevada Mountains offer the best star-gazing experience.
SONOMA COUNTY
For wine lovers, another county is waiting to be explored, which produces more wine than Napa Valley, which is Sonoma County, one of the hotspots for day trips in Northern California.
Sonoma County, located an hour from San Francisco, boasts a natural landscape that will leave you awe-inspired.
From the rugged Pacific coastline to the undulating vineyards, Sonoma County is a paradise for nature lovers.
Sonoma County is also one of the best places to visit in California in December for its pleasant weather, tasting different types of wines, attending festivals and enjoying fine dining with fewer crowds.
You can explore this gorgeous county on an e-bike. There are several bike rentals and guided bike tours available. Check out some of them mentioned below:
One of the unique ways to explore Sonoma is via a sidecar.
Recommended: Sonoma Valley Sidecar Wine tours
Experience the wine country of Sonoma Valley by riding in a sidecar in this small group guided tour.
You will visit three wineries in the Napa Valley region, where you can taste wines (at your own expense) and a unique French-style gourmet picnic. Book here.
Explore the 19th-century historic Sonoma Plaza, home to Mission San Francisco Solano, the northernmost Franciscan mission in California.
Browse the Sonoma Valley Museum of Art, which showcases intricate designs and contemporary works by local and international artists.
Sonoma is home to around 425 internationally-renowned wineries known for producing world-class wines.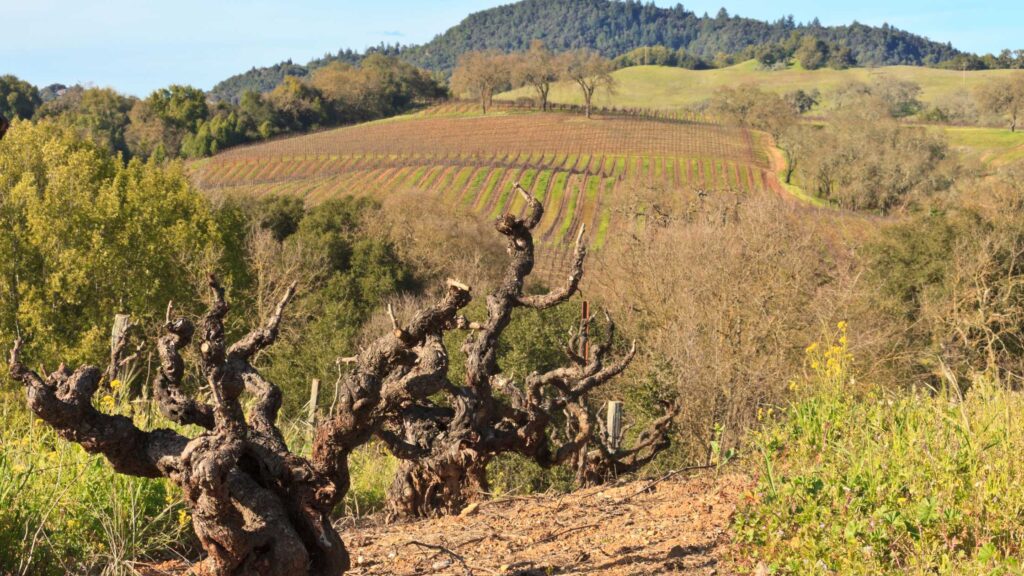 Take a guided wine tour through the Russian River Valley, known for its Chardonnay and Pinot Noir, or venture into the Dry Creek Valley, celebrated for its Zinfandel and Sauvignon Blanc.
Recommended Wine Tours:
On the wine tours, you can visit many family-owned wineries and learn about the wine-making process from passionate vintners.
Since most wineries have both outside and indoor tasting areas, you can taste wine on the terrace or indoors next to a cosy fire if it drizzles.
If you want to make sure to cover the most of your time, take this Sonoma Valley Guided Winery Tour with Picnic Lunch, where you can visit boutique wineries as you learn about the region's rich history and enjoy a picnic lunch.
If you love white wines, try out Sonoma Chardonnay, which is perfect for the weather in winter here that blends perfectly with the views.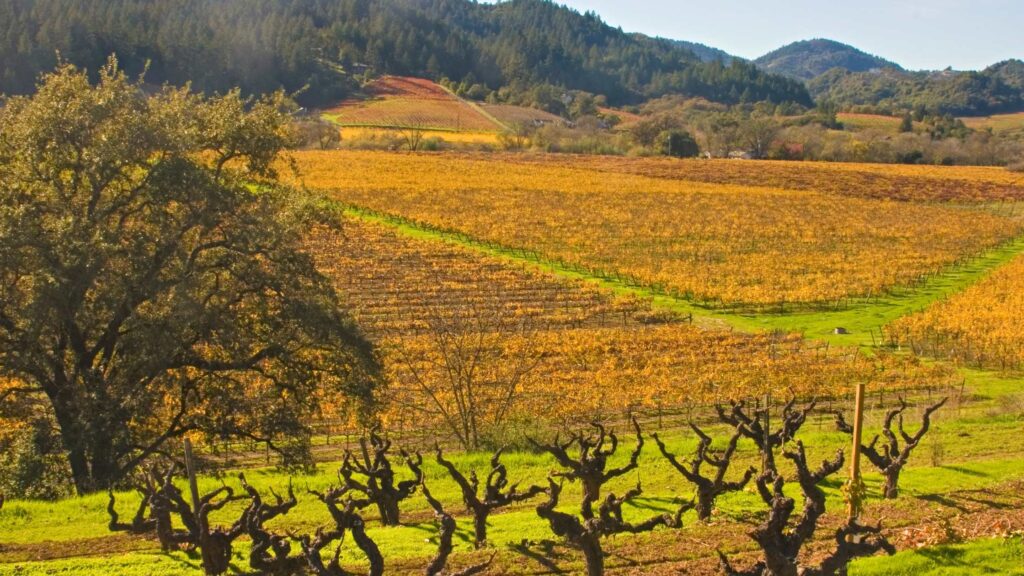 Check out the annual Sonoma County wine auction event to indulge in some of the best food and wine pairings.
I highly recommend this guided Healdsburg Boutique Wine and Food Pairing Walking Tour introducing you to Boutique Wine.
Go on a Kayaking tour on the Russian River. See the Pacific from a new perspective on this kayak tour on the Sonoma Coast. Paddle alongside a whale if you are lucky. Book here!
Recommended Tour: Sonoma Coast Hike and Kayaking Tour
Experience two quintessential Sonoma County activities on one convenient day trip from Santa Rosa.
Hike the picturesque Sonoma Coast and kayak the mouth of the Russian River near Jenner with a small group of fellow adventurers. Book here!
Explore Bartholomew Memorial Park, which showcases artefacts related to the region's history of winemaking and agriculture.
If you have spare time, explore Healdsburg, located at a 45-minute driving distance from Sonoma.
Check out my exclusive guide for things to do in Healdsburg Ca.
TOMALES BAY
Nestled along the rugged coast of Northern California in Marin County, Tomales Bay beckons visitors with its charm.
With its gorgeous landscapes, abundant wildlife and diverse recreational activities, this hidden gem is a haven for nature enthusiasts and a popular place for day trips in Northern California.
Explore the massive 2000-acre Tomales Bay State Park, home to stunning hiking trails and a natural habitat for various varieties of animals.
Tomales Bay is one of the premier oyster destinations. Indulge in freshly harvested Oysters from one of the Bay's renowned farms.
You must try the Oysters from Tomales Bay Oyster Company, especially their barbecued oysters. Also, try the Hog Island Oyster Company.
On your way to Tomales Bay Oyster Company, stop by Tomales Bay Foods in Point Reyes Station to pick up locally-made cheeses from Cowgirl Creamery.
Pair your culinary delight with a glass of local wine or craft beer for a truly authentic taste of Tomales Bay.
STINSON BEACH
Located in Marin County and at a 45-minute driving distance from San Francisco, Stinson Beach is one of the beautiful locations for fun day trips in Northern California.
This pretty town with only 700 residents is known for its red cliffs and white sandy beaches and is surrounded by Mount Tampa and Muir Woods National Monument landscapes.
Recommended Tour: Private Muir Woods Outdoor Adventure with Stinson Beach and Mount Tamalpais Park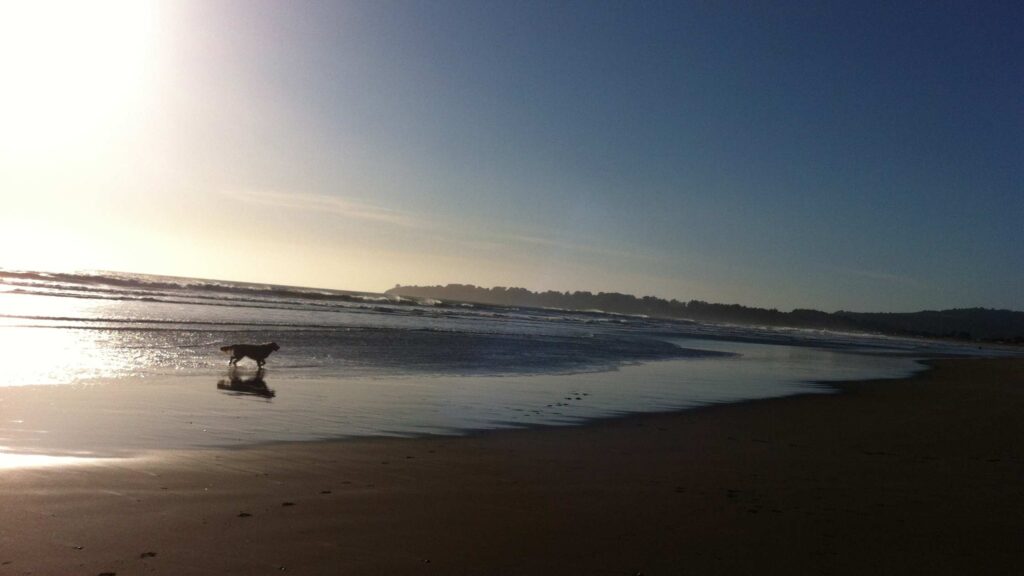 Experience Muir Woods Escapade Outdoor Adventure ( Visit Stinson Beach, Bolinas & Mount Tamalpais Park).
Explore the best-kept secrets and sights of the San Francisco Bay Area and Marin County's must-see wonders, hidden gems and off-the-beaten-path attractions. Book here!
Stinson Beach is an idyllic weekend destination for San Francisco residents looking to get away from the hustle and bustle of the city.
Stinson Beach is the only swimmable spot in the Golden Gate National Recreation Area. Though the water here is quite cold, ideally, summers will be jam-packed.
This pretty beach town offers many adventures like surfing, kayaking, and paddle boarding.
Avid surfers can also check out the nearby Bolinas Beach.
Recommended Tour: Private Surf Lessons At Stinson Beach In Marin
Catch some waves in the Pacific Ocean at Stinson Beach with this private surfing lesson. You'll get one-on-one attention from your professional instructor, which ensures the best possible chances of surfing success. Book here!
If you have spare time, you can include the 3-mile hike to the cataract falls, about 30 minutes from Stinson Beach.
Bird watchers can visit the Bolinas Lagoon. Don't miss Stinson Beach Books, a traditional house converted into a local bookstore.
The store has immense collections of authors and writers about the town's history, local flora and fauna and books about local art.
Take the 5-hour food and farm tour if you have spare time. The tour starts at Point Reyes Station, which will take you around the town's best bakeries, local farms and cheese-making outlets. The tour includes a super lunch as well.
Check out the Made Contemporary Craft Gallery, showcasing local handcrafted crafts, such as clay, wood, textile, and metal, created by local skilled artists. You can shop for souvenirs as well.
MORE DAY TRIPS IN NORTHERN CALIFORNIA
THE PACIFIC COAST HIGHWAY
With the shimmering Pacific Ocean on one side and rugged cliffs on the other, the Pacific Coast Highway is one of California's most iconic drives and a renowned destination for day trips in Northern California.
Take in the crisp ocean breeze as you drive along the gorgeous Pacific Coast Highway, also called Highway 1, which stretches 600 miles.
The highway was initially constructed in the 1930s and remains one of the World's most astounding architectural feats today, which winds through towering redwood forests, elevated peaks, and vast beachfront scenery.
Driving along Pacific Coast Highway is also one of the top things to do in Pescadero California.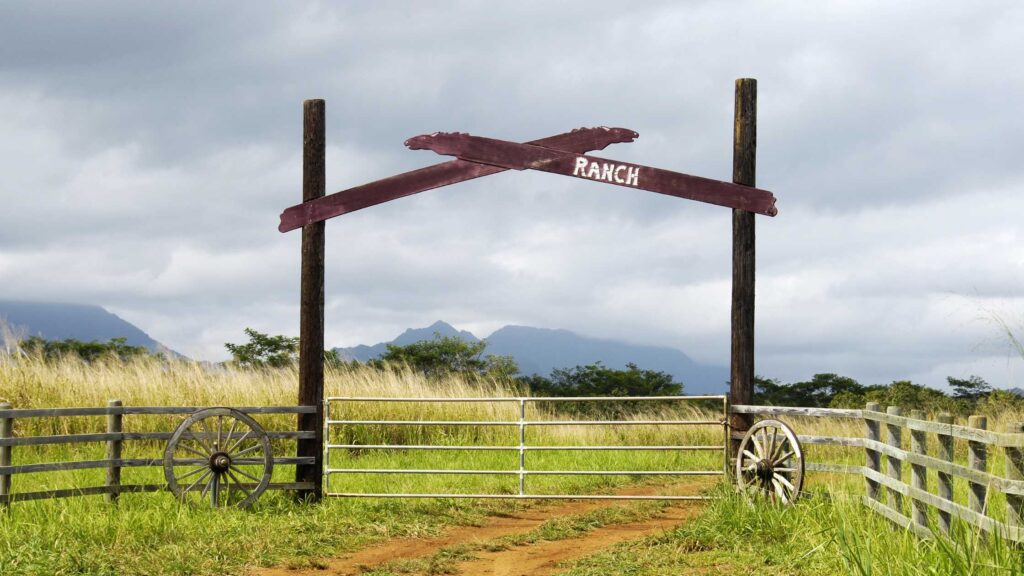 The famous coastal road trip destination, Big Sur, is also along Highway 1, one of the ideal locations for Northern California Day trips.
Check out my exclusive guide if you are planning for Big Sur road trip.
Along the PCH, a multitude of iconic destinations beckon to be explored.
Recommended Tour: Self-Guided Audio Driving Tour in Big Sur PCH Highway 1
Skip a crowded bus tour and book this Big Sur PCH Highway 1 Self-Guided Audio Driving Tour instead, allowing you to explore the area at your own pace in the comfort of your vehicle. Book here!
Go North towards Pacifica or South towards charming towns like Santa Cruz, Monterey and Santa Barbara; you will be amazed by the gorgeous ocean vistas. It is one of the best day trips in northern California you can plan since you can cover many places.
Check out my guide if you want to explore gorgeous beaches in Monterey.
You will pass by famous locations, including Big Sur, San Francisco and San Luis Obispo.
Along the route, take a pit stop by the famous attractions such as the Devil's Slide scenic walking path or the unique Bigfoot Discovery Museum, chronicling the legend of the infamous monster.
Recommended Tour: Highway 1 Self-Driving Audio Tour (Pacific Coast Highway)
Designed to accompany you from San Francisco to Los Angeles, the audio narration tour will share facts and stories about the cities and landmarks you pass. Book here!
Stop by San Simeon, home to the Elephant Seal Rookery, known for its spectacular ocean views along the rocky cliffs and plenty of outdoor activities.
Here is a complete guide to the awesome things to do in San Simeon Ca.
Explore the magical Julia Pfeiffer Burns State Park along the Pacific Coast Highway, where the McWay Falls cascades into a clear beach.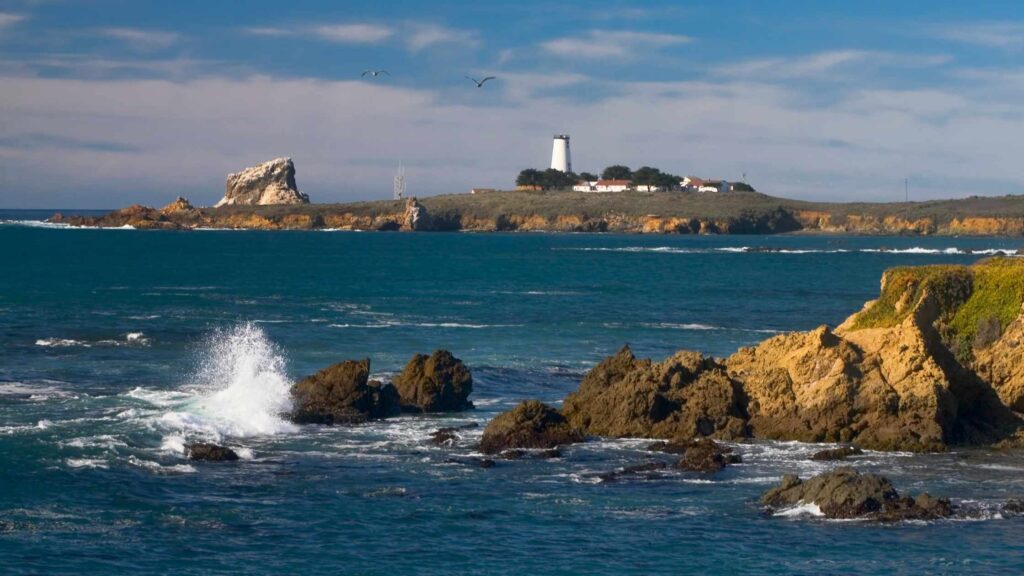 Of course, there are tons of culinary delights along the PCH for your gastronomical adventure. You let your taste buds guide you as you discover the flavours of the Pacific coast.
Recommended Tour: Big Sur Self-Driving Audio Tour in California (Highway 1, Pacific Coast Highway)
Explore so many beautiful spots in Big Sur with this self-drive audio tour that goes down the Pacific Coast Highway, California's Highway 1.
Download the app, get the map and password, and your route is marked for you. Book here!
TRUCKEE
Truckee, nestled in the Sierra Nevada much closer to Lake Tahoe, is one of the unique day trips in Northern California.
The city named after the Truckee River was known for its lumber and ice-harvesting. It is also one of the famous Gold Rush Towns in California.
Thanks to the favourable weather, you will find the river in full gush during the warmer seasons and enjoy the beautiful snow-capped mountain vistas in the backdrop.
Truckee is also incredibly charming and offers endless things to do, such as hiking, mountain biking, Kayaking and fishing.
Recommended Tour: Guided Fly Fishing on Truckee River, Lake Tahoe, Truckee and Reno
Fly Fishing the World famous Truckee River, which flows out of Lake Tahoe, is a great experience not only for beginners but experts alike. Book here!
Truckee was a hotspot for sledge runs and ice rinks in the 1890s, which made it a popular tourist destination.
If you want to hike in Truckee, head to Johnson Canyon. The trail is unpaved and will be dotted with vibrant wildflowers.
The hike is comparatively easy, and you will get incredible vistas of Donner Lake.
Head to Truckee River, a hotspot for white water rafting and tubing for more adventure.
Recommended Tour: Truckee River: Boca to Floriston Run (Class III Whitewater)
Paddle your way through California's flora and fauna on a 4.5-hour whitewater rafting tour down the Truckee River. Book here!
Recommended Tour: Truckee River Rafting Tour from Reno
Catch a glimpse of the Sierras as you go down the river on this Truckee river rafting tour. Book here!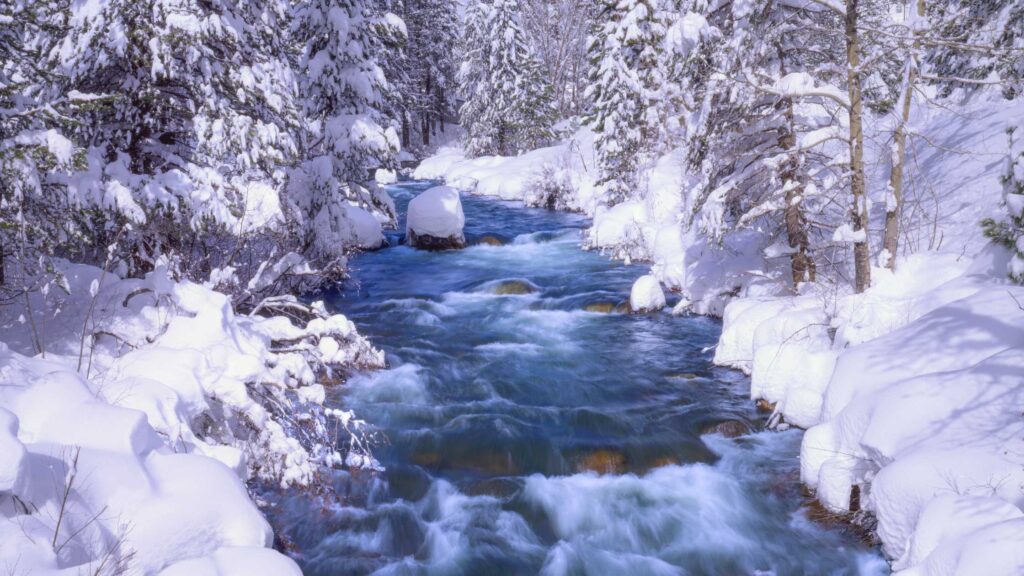 If you are into history, visit the Donner Memorial State Park, a National Historic Landmark located 5 minutes away from Truckee, to learn about the Donner Party exhibits.
The state park is home to cabin sites, and it also screens informative videos narrating the history of Truckee.
Designated as a California Cultural District in 2017, Truckee's downtown is dotted with stunning art galleries and studios, including Gallery 5830, Riverside Studios, and the Mountain Arts Collective.
Some quirky shops will take you through the history of this historic railroad town.
This will be a unique shopping and browsing experience since you might hear trains whistling while you shop.
In recent years, Truckee has become a major foodie destination, home to a blend of international cuisines and exclusive fixed-price dining experiences.
Grab your favourite drink from one of the many bars or craft microbreweries in the Old Town.
Other Recommended Tours near Truckee:
YOSEMITE NATIONAL PARK
Nestled in the heart of the Sierra Nevada Mountains, Yosemite National Park is a testament to mother nature's grandeur and power.
This 1,200-square-mile park is one of the most famous locations for day trips in Northern California.
Its massive granite cliffs, cascading waterfalls, and diverse ecosystem make it one of the most famous Californian things to do.
From the iconic Half Dome and EL Captain to the eternal mist of Yosemite Falls, every vista seems plucked from a postcard.
Recommended Tour: 4-Day Half Dome Backpacking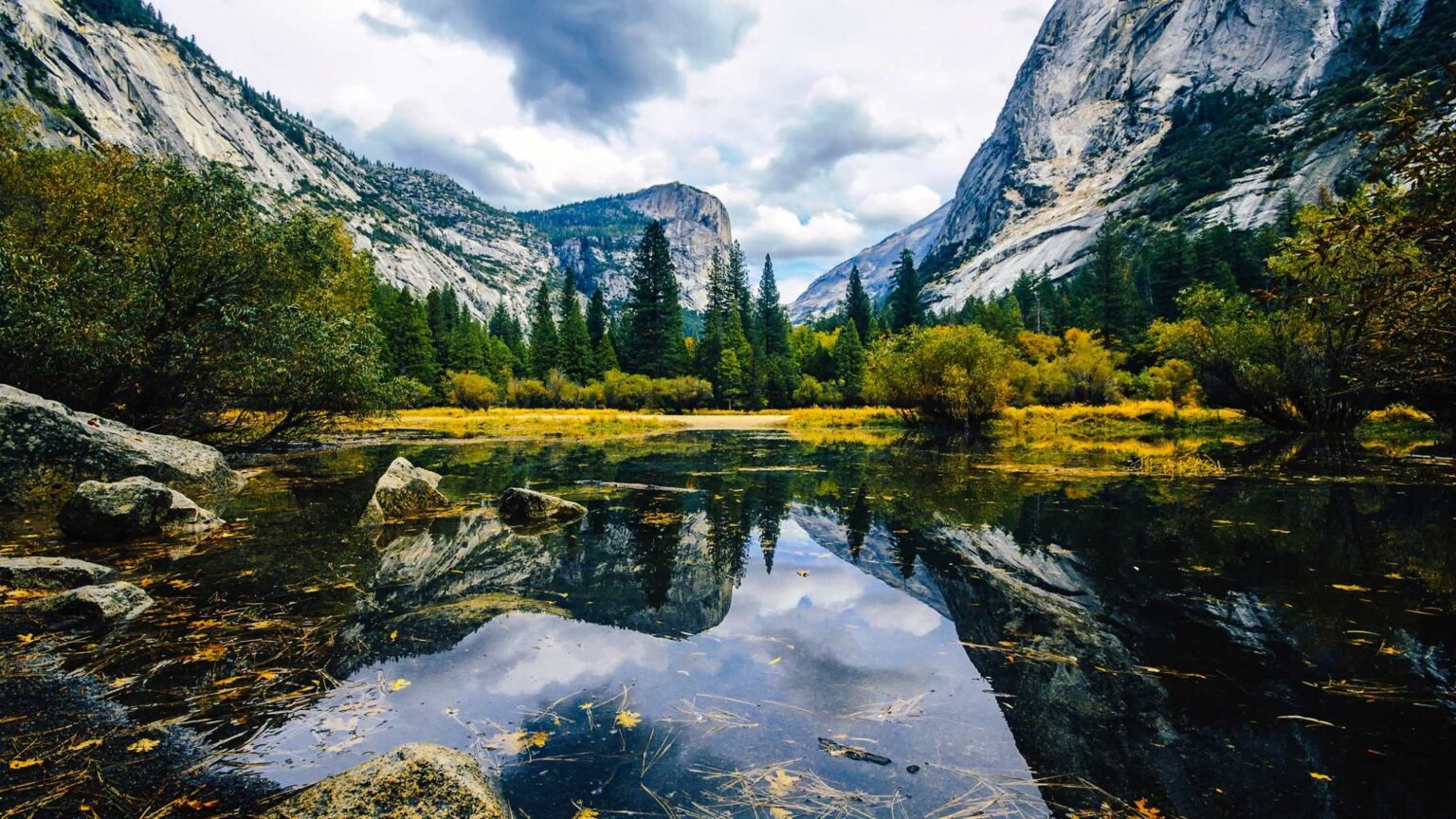 There's only one way to get away from the crowds in Yosemite: backcountry adventures. On this epic four-day tour, meet your expert guide in Half Dome Village, and set out to see the park in its true majesty. Book here!
Recommended Group Tours in Yosemite:
Yosemite's dramatic granite monoliths, such as the Cathedral Rocks and the Sentinel Dome, create a backdrop of sheer magnificence.
Recommended Tour: Sentinel Dome and Taft Point from Glacier Point
This trip meets and ends at Glacier Point (personal auto transport is necessary). After viewing the high country from Glacier Point, embark on a 6.8-mile trek to both the summit of Sentinel Dome (8,122′) and the Fissures and Taft Point. Book here!
Recommended: Discover Yosemite, Mammoth Lakes + Eastern Sierra's breathtaking natural wonders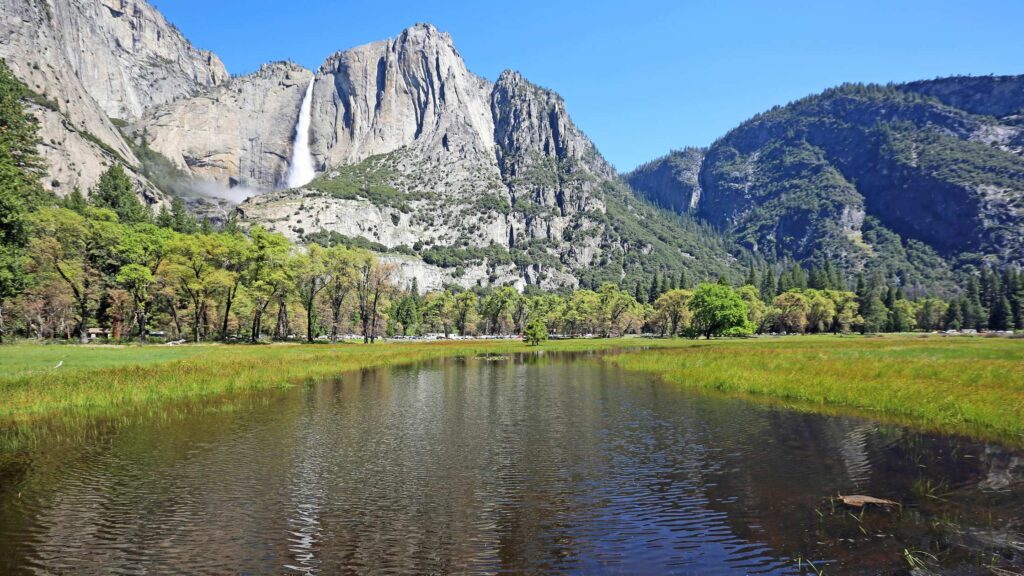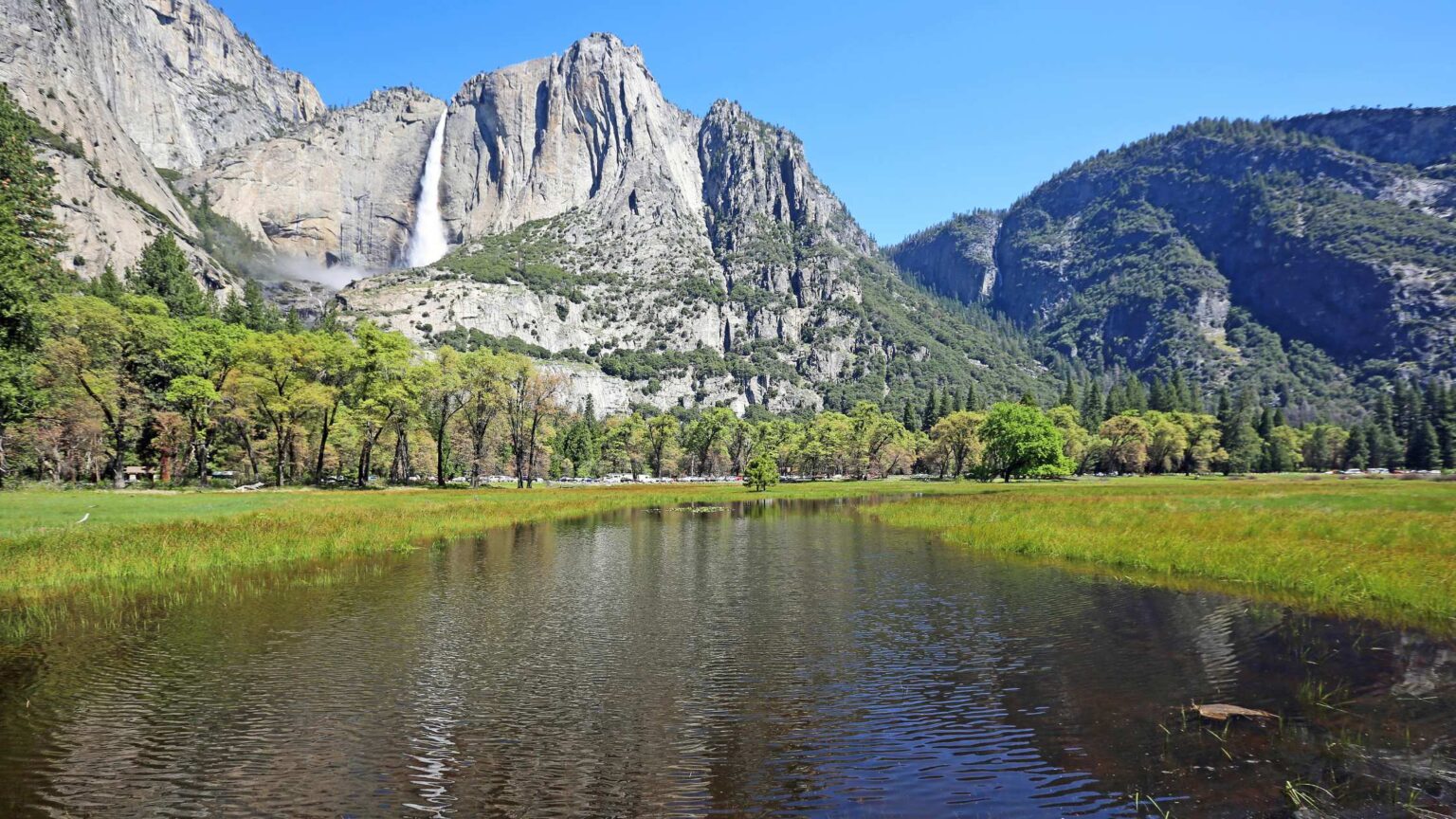 If you are wondering which is the best place to get a perfect glimpse of Yosemite, check out my guide on 30 top Yosemite photography spots that you can visit for some Insta-worthy pics.
Yosemite national park is a haven for early risers and evening strollers. If you are craving the perfect Sunrise in Yosemite or looking for Yosemite Sunset spots, I got you covered.
Recommended Photography Tours in Yosemite:
Yosemite is a wonderland for hikers; it features around 750 miles of hiking trails that run through old-growth redwoods like the Mariposa Grove and water streams, nothing less than a scene from the movie Narnia.
I recommend trying a few of my favourite hiking trails, including the 7.2 Miles Yosemite Falls Hike and 8.5 Miles Panorama trail.
Try the 16 miles Half Dome Hike if you are an experienced hiker. This trail requires a permit and is obtained by a lottery system online.
Check out my guide about easy Yosemite hikes to include in your Yosemite day trip itinerary.
Recommended Hiking Tours in Yosemite:
Stop by Glacier Point and Tunnel View for the unrivalled vantage points of the valley. Alternatively, explore the Tuolumne Meadows areas for the best Yosemite Park experience.
Recommended Tour: Private Tuolumne Meadows Hiking Tour
On this tour, explore Yosemite's High Sierra Meadow on a full-day adventure and Tuolumne Meadows with a knowledgeable guide. Book here!
Try Fly fishing in Yosemite National Park. Check out these recommended tours below for the best fly fishing experience.
Yosemite is also known for its many gorgeous hidden waterfalls. If you time your visit right, around May or June, you will witness the beautiful Sentinel Falls, Horsetail Falls, Yosemite Falls and Bridalveil Falls.
Recommended Waterfall Tours in Yosemite:
Enjoy ice skating, snowshoeing, tubing, snowboarding and skiing, overlooking the majestic Half Dome views during winter.
Recommended Winter Tours in Yosemite:
Visit the nearby Yosemite Valley Museum and Indian Village and enjoy a multi-cuisine meal at one of the many best restaurants in the park.
Check out the beautiful art gallery for souvenir collections. Book the campsites and hotels before your trip since the place is usually crowded.
Driving Tours in Yosemite:
There are free shuttle buses that take you through the significant sights of the park. Buy a $30 ticket to enter the park, valid for seven days with multiple entries.
Check out this classic Yosemite Camping Trips if you want to stay in Yosemite for a couple of nights.
Recommended long tours in Yosemite:
MOUNT WHITNEY ELEVATION
Located on the border between Inyo and Tulare, Mt. Whitney stands in the Golden State's heart, the highest point in the Sierra Nevada mountain range.
Mount Whitney is a beautiful location for day trips in Northern California.
Hike the Mount Whitney Trail at Whitney Portal, which leads you through the awe-inspiring Sierra Nevada mountains, with their majestic granite peaks and serene alpine lakes.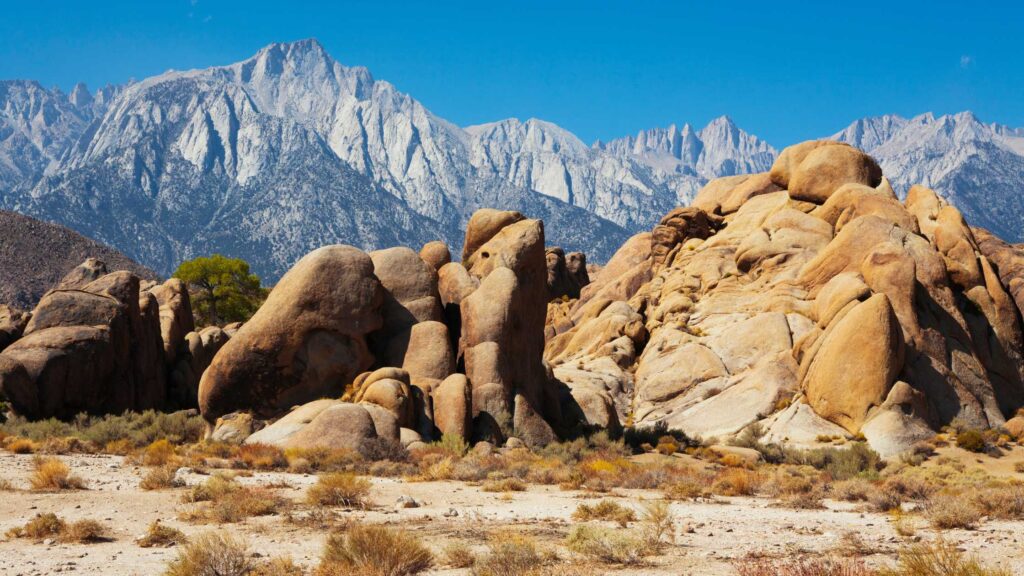 With an elevation of 14,505 feet, Mt. Whitney is the tallest mountain in California and the highest peak in the contiguous United States.
Its prominence of 10,075 feet makes it a true landmark that can be seen from miles away.
Hiking the 22-mile Mount Whitney Trail with 6,100 feet of elevation gain is a challenge in itself.
But the hike is worth it since you will be greeted with dazzling vistas of the mountains. Take a pitstop at the outpost camp, which you will encounter at around 10,365 feet and take the rugged wilderness of the forest.
As you hike further, you will pass by Trail Camp, perched at 12,000 feet which offers breathtaking views that energize you for the onward journey.
And as you reach Trail Crest, standing tall at 13,645 feet, you know you are at the highest trail pass in the United States.
As you stand on the rooftop of California, you can't help but feel a profound connection to nature and a deep appreciation for the journey you have undertaken.
If you have altitude sickness, please carry the necessary meds and other utilities. Due to the thin air, you may face nausea, headaches, and shortness of breath.
Layered clothing is essential to combat the freezing temperatures that accompany the lofty heights.
Fun Fact: The first successful ascent of Mt. Whitney occurred on August 18, 1873, by a team of local climbers: Charles Begole, John Lucas, and A.H. Johnson.
They overcame previous failed attempts and etched their names in history as the pioneering conquerors of this majestic peak.
MONTEREY
Monterey County officially comprises four beach towns, and it is hard to pick one since they are among the best Northern California beach towns, with a multitude of fantastic spots to explore with friends and family.
Most people include a visit to Monterey as a part of the Big Sur road trip itinerary. It is one of the popular weekend getaways for day trips in Northern California from nearby cities.
Monterey, about an hour's drive from Santa Cruz, is famed for its rocky coastline, rich sea life, and, as a result, exceptionally fresh seafood.
Recommended Tour: Monterey 1-Day Tour
On this tour, ride along the scenic route of the 17-mile drive, explore the city of Monterey and discover Pebble Beach and Lone Cypress. Visit Fisherman's Wharf and Carmel-by-the-Sea. Book here!
Drive to the iconic Monterey's Bixby Creek Bridge, one of the most photographed bridges in California.
Take the Monterey Bay Whale Watch tour to see the wild side of the Sea, where you may observe whales and dolphin pods.
On Cannery Row, visit the Monterey Bay Aquarium, which houses over 1000 marine animals, including sharks, rays, and sea otters, waiting to be found.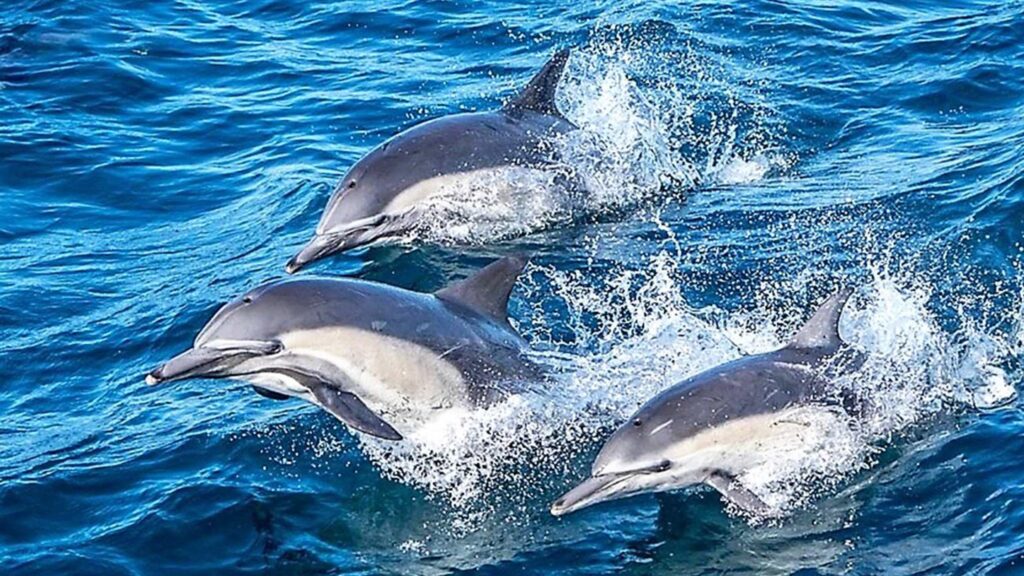 Recommended Tour: Historic Cannery Row: A Self-Guided Audio Tour of John Steinbeck's Monterey
On this tour, learn about the rise and fall of the local fishing industry, Steinbeck's work, the neighbourhood's revival, and more. Book here!
Check out Adventures By The Sea, where you can canoe, Kayak, paddleboard, or rent an E-bike to pedal around this gorgeous seaside town.
Recommended Monterey Tours:
SACRAMENTO
If you want to learn more about California's history, head to Sacramento, California's state capital.
It is one of the popular locations for the best day trips in northern California since it is home to many historical attractions.
Sacramento has become famous for its farm-to-fork model of agriculture in the recent past.
Stroll around the charming Old Town Sacramento that will take you back to the city's Gold Rush era of the 1850s.
Take a free tour of the State Capitol Building, an administrative building and a museum listed on the National Register of Historic Places.
Check out the California State Railroad Museum, which is often considered the most popular railroad museum in the USA.
Go biking along the American River Bike Trail or Stroll around midtown and downtown to admire the colourful murals.
Recommended Tour: Sacramento Street Art Walking Tour – See the Murals Sacramento is Famous For
This private tour takes you along the neighbourhood's tree-lined streets in search of the best street art while also checking out restaurants, nightlife spots, and shops. Book here!
Head to Tower Bridge or go on a Historic River Cruise with Hornblower for fantastic sunset views.
Recommended Tour: Sacramento Alive After Five Cruise 21 +
Make the most of your night in Sacramento with this 1.5-hour cruise along the peaceful Sacramento River. Book here!
Take a guided tour of the Leland Stanford Mansion or explore Sutter's Fort to learn about the history of this beautiful town.
The riverside area is a top tourist spot to enjoy beautiful riverside dining and shopping.
Recommended Tour: Sacramento Historic River Cruise
Take in the sights of Sacramento from the river on this 1-hour cruise. Snap photos of Old Sacramento's landmarks and highlights while listening to live onboard narration. Book here!
Visit the two zoos if you enjoy watching animals, and don't miss the nearby Scandia Family Fun Center rides.
Recommended Tour: 2-Hour Climbing and Ziplining in West Sacramento
Enjoy a different perspective of Sacramento while challenging yourself on a ropes course through the canopy of California Valley Heritage Oak trees. Book here!
In summer, beat the heat by dipping in the two incredible water parks, and in colder months, go ice skating in the rinks nearby.
One of the fun activites in Sacramento is to go on a scavenger hunt or ghost tour. Check out these recommended tours:
Recently, Sacramento is getting popular for its craft beers and multi cuisines. So don't miss exploring the local food scene whilst you are here.
Recommended Sacramento Food and Wine Tours:
CARMEL-BY-THE-SEA
One of the pretty beach towns for planning one of the best day trips in Northern California is Carmel-by-the-Sea, located in the Monterey Peninsula.
This little coastal town is adorned with 1920s and 30s fairytale cottages, tucked-away alleyways, calm beaches, art galleries, and restaurants.
Carmel-by-the-sea, about one square mile in size, is truly an artist's inspiration, filled with fashionable boutiques, art galleries, and tiny beachside eateries, surrounded by lovely architecture.
Recommended Tour: Guided 2-Hour Walking Tour in Carmel by the Sea
On this tour, see highlights of Carmel, such as the First Murphy House, Church of the Wayfarer, Tuck Box, Hog's Breath Inn, and more, while you hear the city's history and stories from your guide. Book here!
In contrast to the gorgeous buildings, the shoreline features rocky cliffs and pleasant, sandy beaches.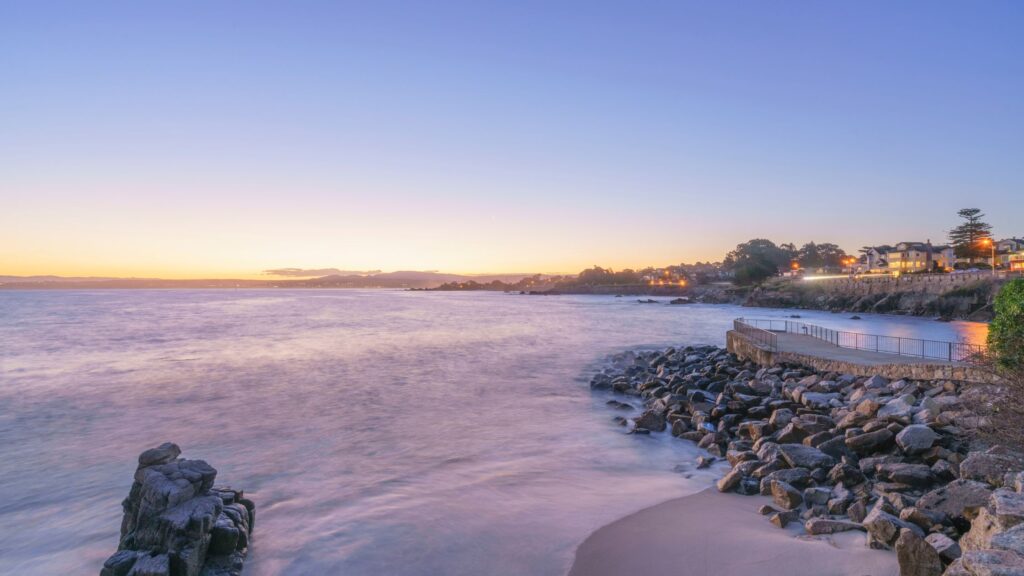 Recommended Tour: Carmel-by-the-Sea's Fairytale Houses: A Self-Guided Walking Tour
On this self-guided audio tour, you will escape the crowds and explore the houses at your pace, led by a knowledgeable guide right in your pocket. Book here!
Carmel-by-the-sea can be best explored by renting an e-bike or taking an e-bike guided tour, one of the unique things to do.
Recommended E-bike tours in Carmel-by-the-sea:
Visit Carmel River State Beach for various adrenaline-pumping activities such as swimming, kayaking, surfing, or lazing under the sun on the white sandy beach.
Visit Mission Trail Nature Reserve and Point Lobos State Reserve if you enjoy photography, hiking, or birding.
These are the most well-known in California, attracting visitors from all over the World.
On Ocean Avenue, look for the charming fairytale cottages for which this best beach town in California is famous.
Recommended Audio guided tours in Carmel-by-the-sea:
Drive through the Seventeen Mile Drive that runs through Pebble Beach Resort and Pacific Grove with spectacular vistas if you have some spare time.
If you are a fan of wine, head to the wine-tasting places, such as Wrath Wines and Scheid Vineyards, where you can even take a wine tour, one of my favourites.
Recommended Tour: Macaron making with a Master Chef – Carmel-by-the-Sea
If you want a new recipe to add to your go-tos, check out this fun Carmel-by-the-Sea Macaron Baking Class with a Master Chef. Book here!
That's it about the best day trips in northern California. Have a great weekend.
MAP OF DAY TRIPS IN NORTHERN CALIFORNIA