There are many incredible things to do in northern California, with something available for everyone, making it a perfect destination, whether you are looking for a quick weekend getaway with your kids or romantic trips or want to spend your holiday exploring the abundant outdoors Northern California has to offer.
From national parks to pretty small towns to offbeat gems to plenty of places known for their gastronomic delights, there are plenty of things to do in northern California, offering perfect stops to plan a packed road trip in the Golden State.
Depending on your preferences, you have many fantastic stops to make, soak in the blissful views, and explore the architecture and history.
Whatever you have in mind, this post helps you with all places to visit in northern California, top attractions and offbeat activities, information on how to get there, the best time to visit and helpful tips to plan your fabulous trip!
If you are specifically looking for beach towns, check out this guide for the best coastal towns in Northern California.
TOP THINGS TO DO IN NORTHERN CALIFORNIA
GOLDEN GATE BRIDGE
One of the top things to do in northern California is the fantastic Golden Gate Bridge, the iconic picture-perfect landmark in San Francisco and one of the top attractions in the United States.
There are plenty of unique places to enjoy fabulous views of the Golden Gate Bridge when you are in San Francisco. It is one of the most visited landmarks visited by millions of tourists every year. You can walk or bike, or drive on the bridge.
Admire the views of the fog-kissed Golden Gate Bridge, the tallest and one of the longest suspension bridges in the world. Enjoy gorgeous views of the San Francisco Bay Area and the city skyline that gleams during sunset and at night when the whole area is illuminated.
One of the easiest ways to access the bridge and the views is by walking across the bridge from the Welcome Center, where you can experience the magnificent towering structure up close.
If you love hiking, take the short hike along the Lands End Trail route that offers some beautiful views of the Golden Gate Bridge.
ALCATRAZ ISLAND
Among the top attractions in San Francisco, Alcatraz island is one of the best things to do in northern California. This famous prison in San Francisco Bay Area is known for maximum federal security.
Also known as the Rock, this former military fort near Twin Peaks and the Golden Gate Bridge was turned into a military prison from 1934 until 1963 and are one of the few prisons with no history of breaks.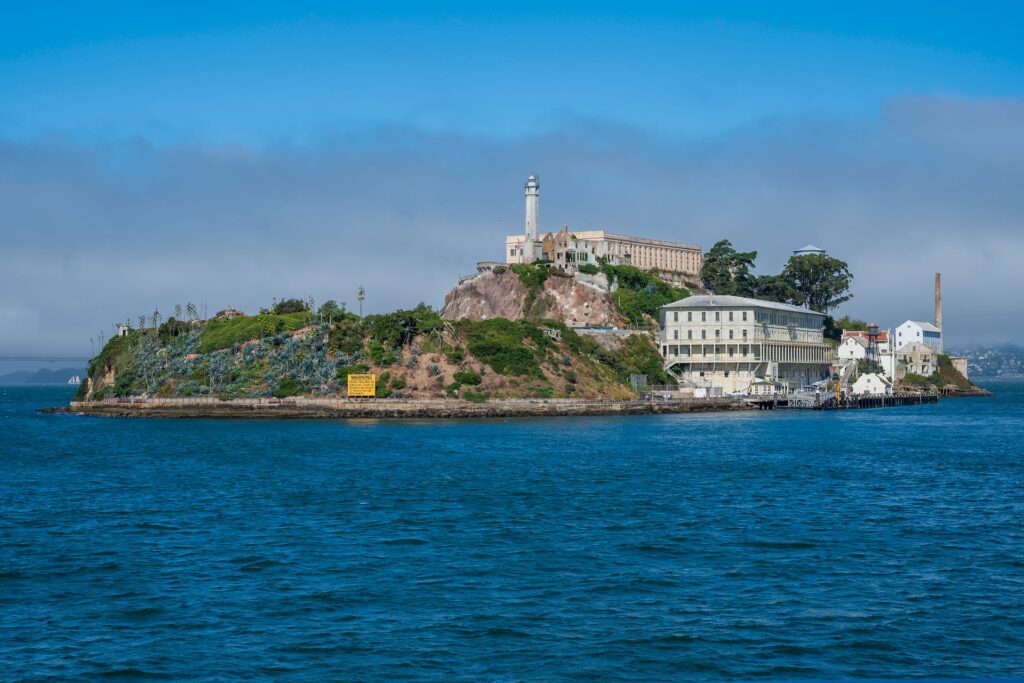 It housed some of the most notorious prisoners, including Al Capone, Robert Franklin Stroud, Machine Gun Kelly, and Bumpy Johnson among others.
Today, Alcatraz island is a national park assigned a National History Landmark status. Explore the cold chilling air on this island, and the intriguing past of this old water-locked penitentiary, including visiting the old inmate cells, the interactive museum, and the historic lighthouse that is older than the prison.
There are plenty of boats and guided tours that will take you around this mysterious island. If you want to feel eerie, join this guided ghost-hunting night tour.
YOSEMITE NATIONAL PARK
Although technically located in east central California, many consider adding Yosemite National Park to be one of the top things to do in northern California, thanks to its incredible landscapes and its excellent location offering plenty of activities, with something available for every type of traveler.
The park is a haven for nature lovers and attracts around four million visitors per year, one of the most famous vacation places in California.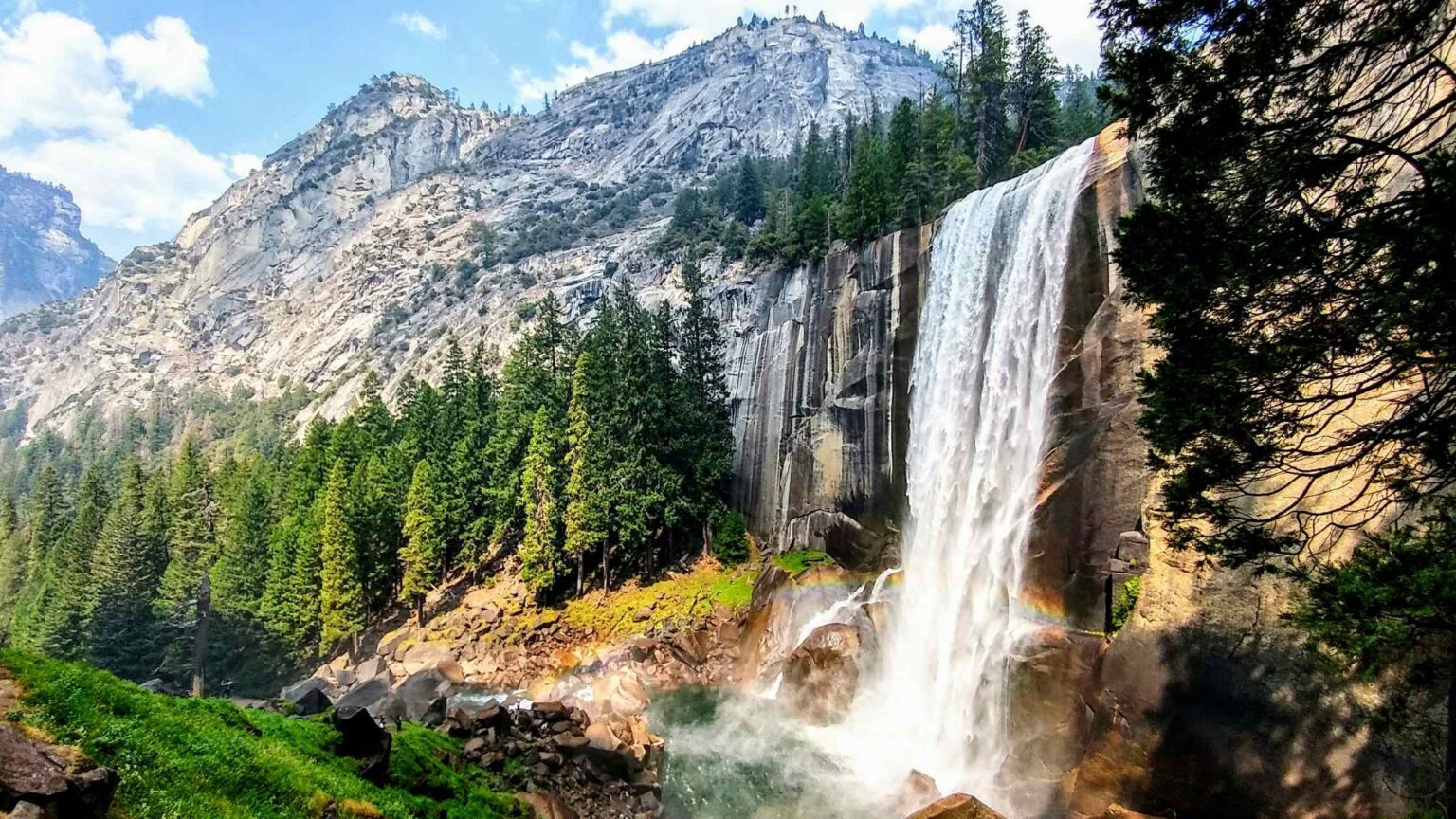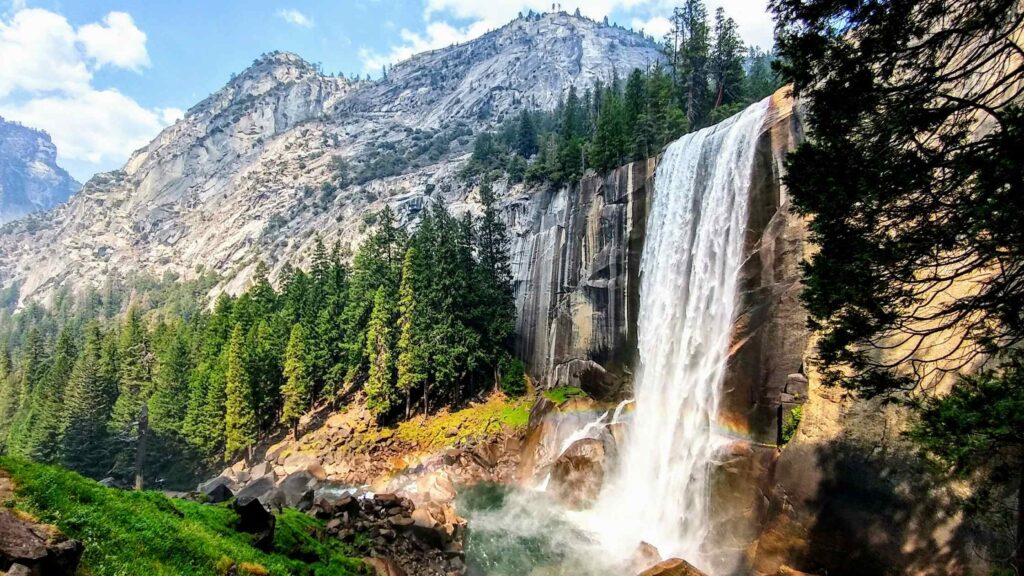 The majestic Yosemite National Park, especially during winter, is a snow-covered wonderland.
PLACES TO VISIT
Drive around the valley through Tioga pass to enjoy the views of Yosemite's renowned Rock cut faces, El Captain Rock sights, usually found on many wallpapers and the incredible Half Dome.
Yosemite is a wonderland for hikers; it features around 750 miles of hiking trails that run through old-growth redwoods like the Mariposa Grove and water streams, nothing less than a scene from the movie Narnia.
I recommend trying a few of my favourite hiking trails, including the 7.2 miles Yosemite Falls Hike and 8.5 miles Panorama trail.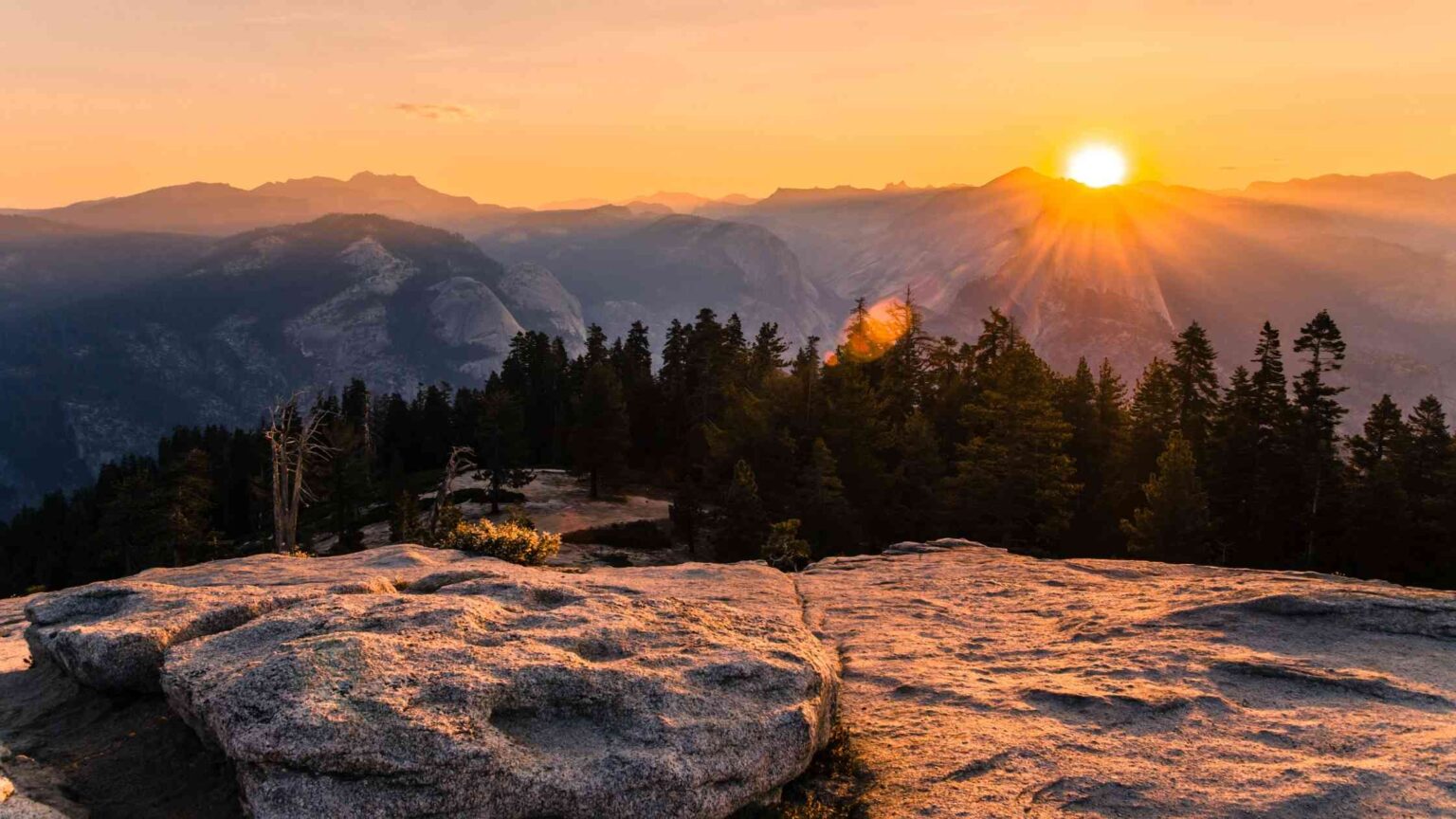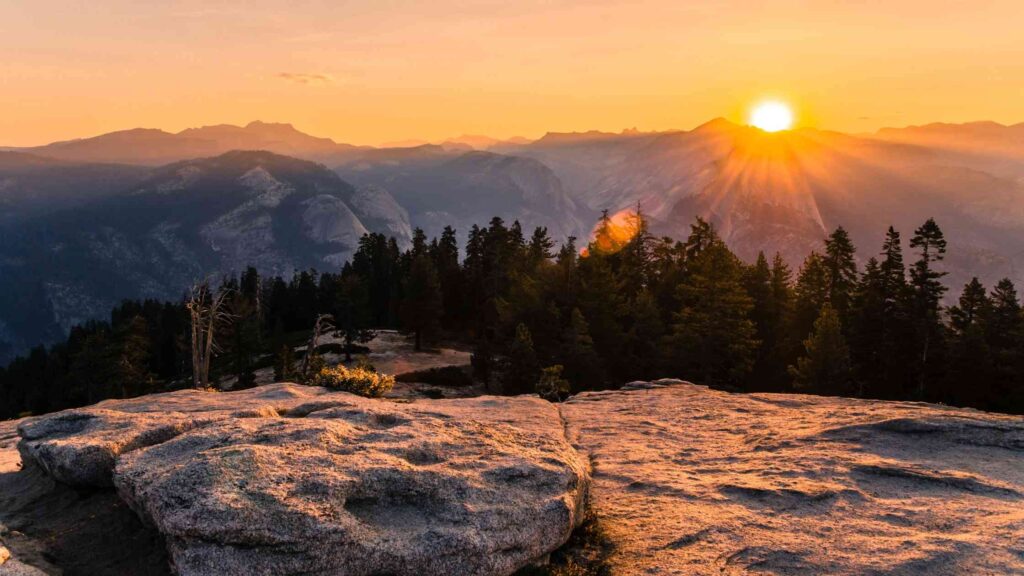 Try the 16 miles Half Dome Hike if you are an experienced hiker. This trail requires a permit and is obtained by a lottery system online.
Stop by Glacier Point and Tunnel View for the unrivalled vantage points of the valley. Alternatively, explore the Tuolumne Meadows areas for the best Yosemite park experience.
Yosemite is also known for its many gorgeous hidden waterfalls. If you time your visit right, somewhere around May or June, you will witness the beautiful Sentinel Falls, Horsetail falls, Yosemite falls and Bridalveil Falls.
Enjoy ice skating, snowshoeing, tubing, snowboarding and skiing, overlooking the majestic Half Dome views during winter.
Visit the nearby Yosemite Valley museum and Indian Village and enjoy a multi-cuisine meal at one of the many best restaurants in the park.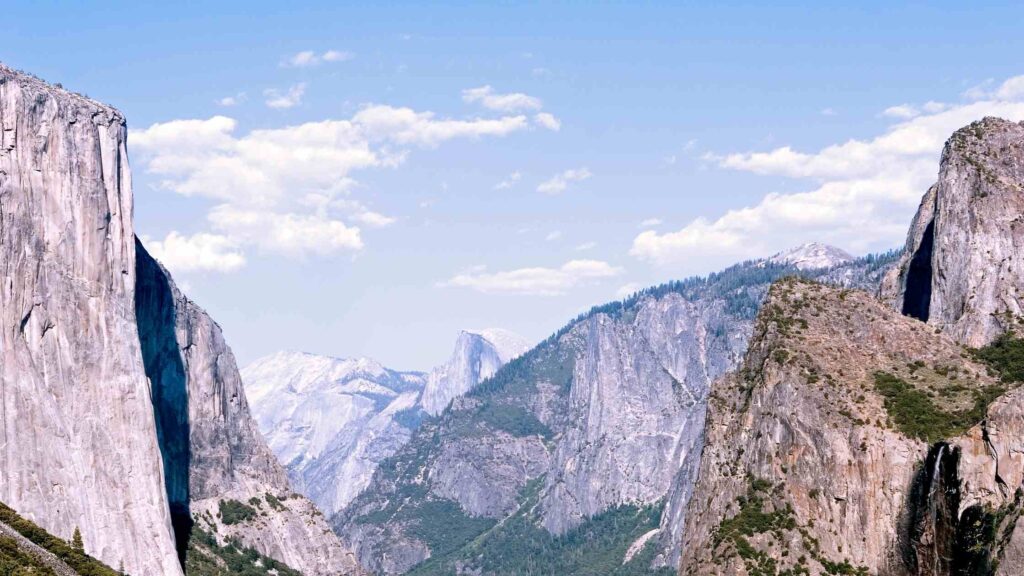 Check out the beautiful art gallery for souvenir collections. Book the campsites and hotels before your trip since the place is usually crowded.
There are free shuttle buses that take you through the significant sights of the park. Buy a $30 ticket to enter the park, valid for seven days with multiple entries.
CHECK OUT THE REDWOODS AT MUIR WOODS NATIONAL MONUMENT
Entrance fee: $10 per person
Parking fee: $8.50, Shuttle: $5 per person
Camping Options: There are no campsites in Muir Woods, but the adjacent Kirby Cove Campground and Bicentennial Campground are both popular options.
One of the most popular places to see the best redwoods near San Francisco is Muir Woods National Monument, just a 35-minute drive from San Francisco. It is one of the easiest things to do in northern California and is the ideal spot if you want a quick-to-reach, easy weekend trip.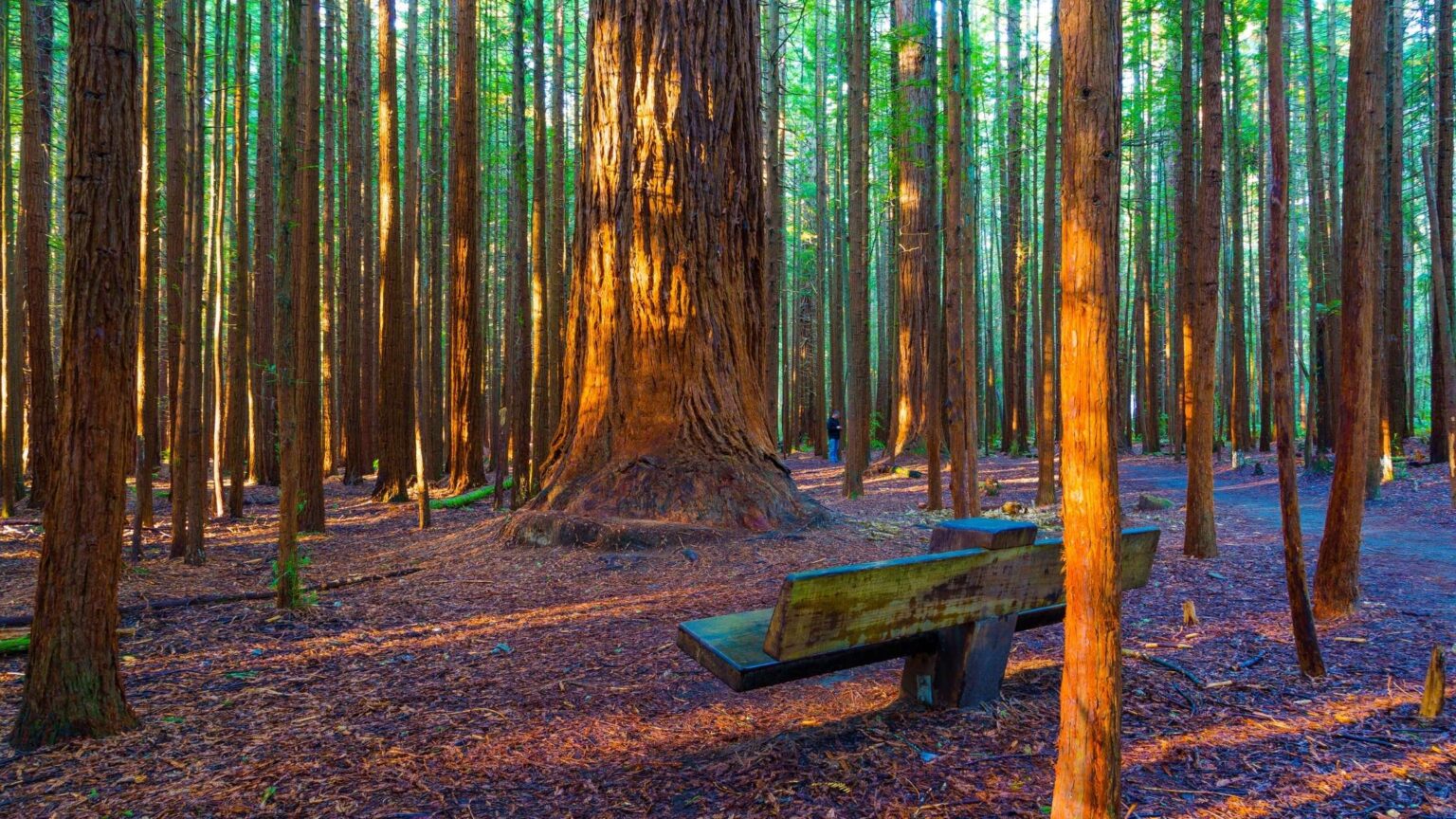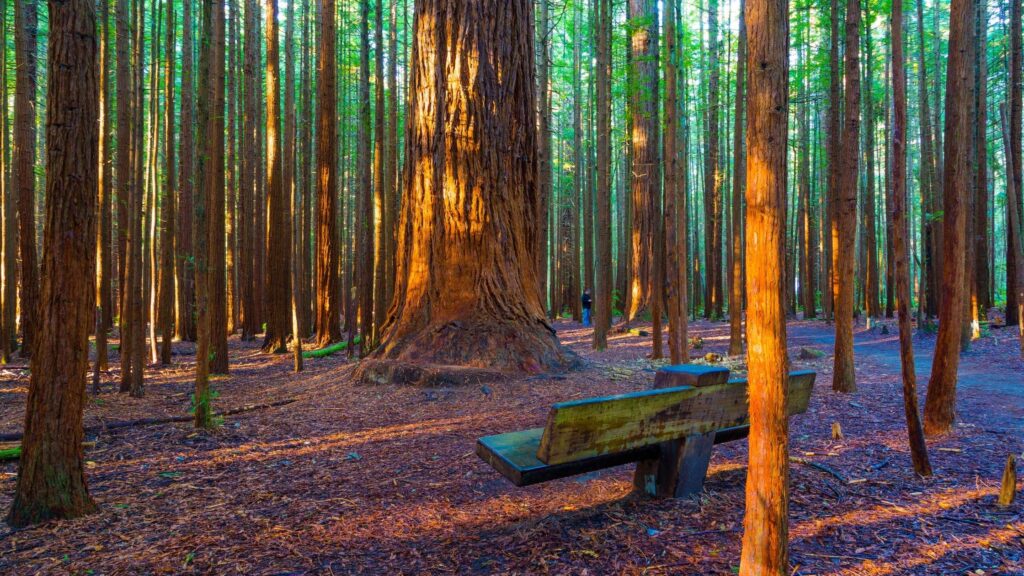 Established in 1908 and named after famous naturalist John Muir, this state park is known for its ancient redwoods, anywhere from 600 to 1,200 years old, reaching 258 feet.
People across the Bay area can plan a quick day trip to Muir Woods, especially when traffic is light.
Muir woods is the best place for trampers as this offers many lovely trails, even for beginner hikers.
BEST REDWOODS HIKING TRAILS
I recommend starting with the Muir Woods trail and the Bohemian Grove trail, which are 1.3 miles and 2 miles long.
It takes about 30-45 minutes, and you will pass through the magnificent canopies dominated by the redwoods on these trails.
You may then branch out to more challenging pathways, my personal favourites, The Ben Johnson Trail, which is 3.4 miles long, and the Sun Trail, which is 4.7 miles long.
Dipsea Trail, which is 9.7 miles long, is for advanced hikers. Pack your bags with enough snacks and drinks since it will be exhausting. However, the breathtaking vistas of the redwoods and Stinson Beach will make you feel better.
VISIT SANTA CRUZ
Santa Cruz is a laid-back place recognized as Surfer's paradise and is one of the best things to do in Northern California if you want to hit the beaches.
There are many things to do in Santa Cruz, including beaches, redwoods, museums, wineries, and food outlets. This will be one of the best weekend trips from San Francisco if you stay in the bay area.
RECOMMENDED – 25 BEST HIKES FROM SANTA CRUZ FOR OUTDOOR LOVERS
PLACES TO VISIT
Well-maintained beaches are the main draw in Santa Cruz. Visit the Santa Cruz main beach, or head to Cowell's beach for tranquil. You can go swimming, sunbathing or surfing on both these beaches.
Spend your noon strolling around Capitola village and the beach. Gaze at the night skies or enjoy a bonfire night at Sunny Cove, Twin Lakes Beach or Seabright Beach, which has ready-made fire pits.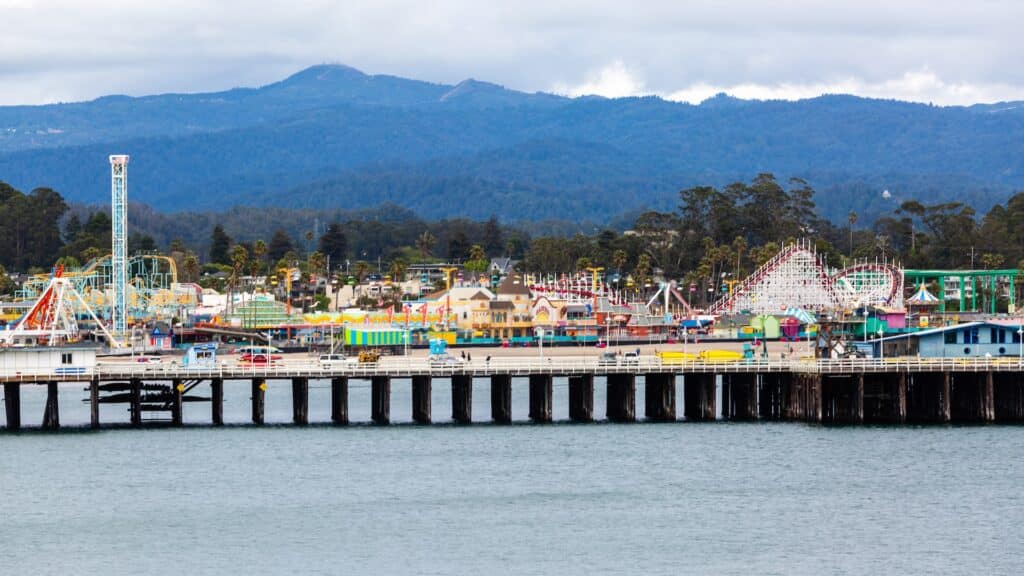 Spring is a popular season in Santa Cruz for avid surfers. You will witness many surfing competitions and vibrant festivals like Santa Cruz County Fair. During winter, you might get a chance to spot migratory whales.
Stroll along the Roaring Camp Railroad, which runs through redwoods and leads to the Santa Cruz boardwalk, another attraction, especially if you are with family, to enjoy various rides at the amusement park.
Admire the rocky coves and local flora at the Natural Bridges State Park, known for its tide pools and monarch butterfly colonies.
Hiking and Bird watching enthusiasts, visit the Big Basin Redwoods State Park to hike lovely trails which run through giant redwoods. Watch out for banana slugs. Stay in the redwood tree house, one of the Santa Cruz attractions.
Check out the Mystery spot, a peculiar Santa Cruz attraction. Drive along West Cliff Drive for gorgeous Pacific views. Museum and Art buffs can visit the Santa Cruz Museum of Art and history.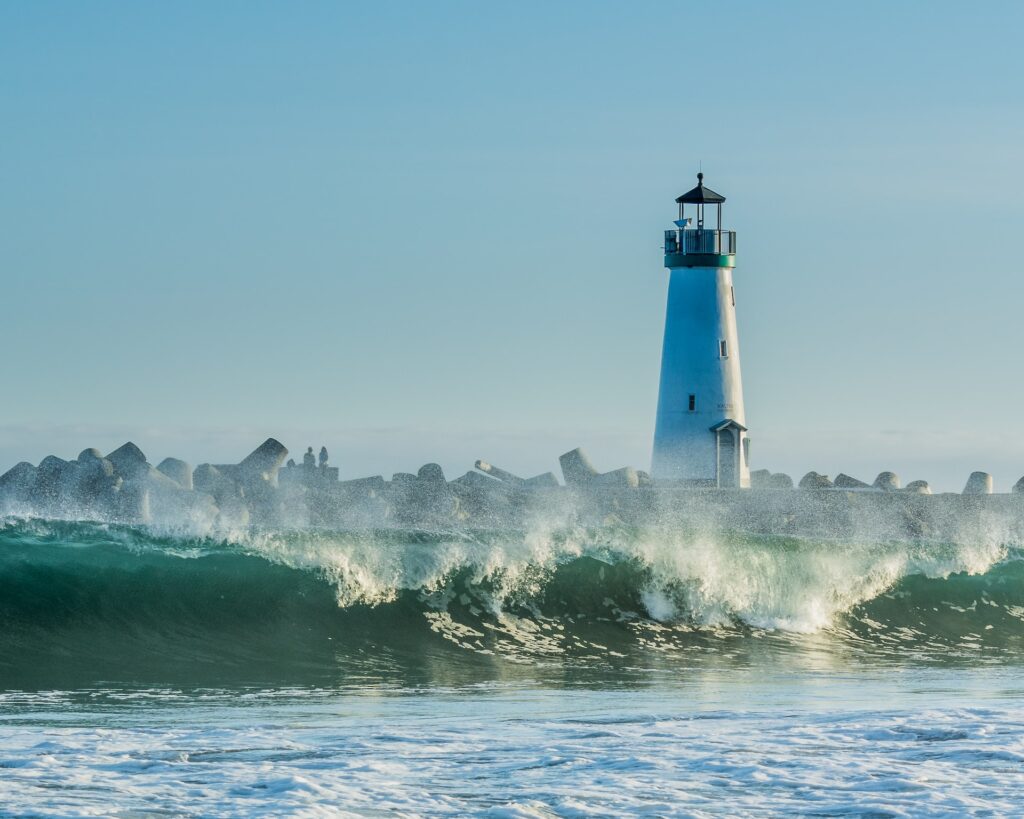 Many seafront restaurants in Santa Cruz are known for their seafood cuisines, lovely ambience and live music concerts.
Visit Santa Cruz Wharf for their taquerias or wineries like Mindego Ridge for the best-handcrafted wines in Santa Cruz.
Shop for souvenirs in the Pacific Garden mall.
DRIVE ALONG BIG SUR
If you are looking for a coastal road trip destination, visit Big Sur, along Highway 1, one of the fun things to do in northern California.
The Big Sur Coastline, running for over 95 miles between Carmel and San Simeon, is one of the highways that offer dramatic terrains dotted with craggy cliffs overlooking exquisite views of the Pacific throughout your Big Sur Road Trip.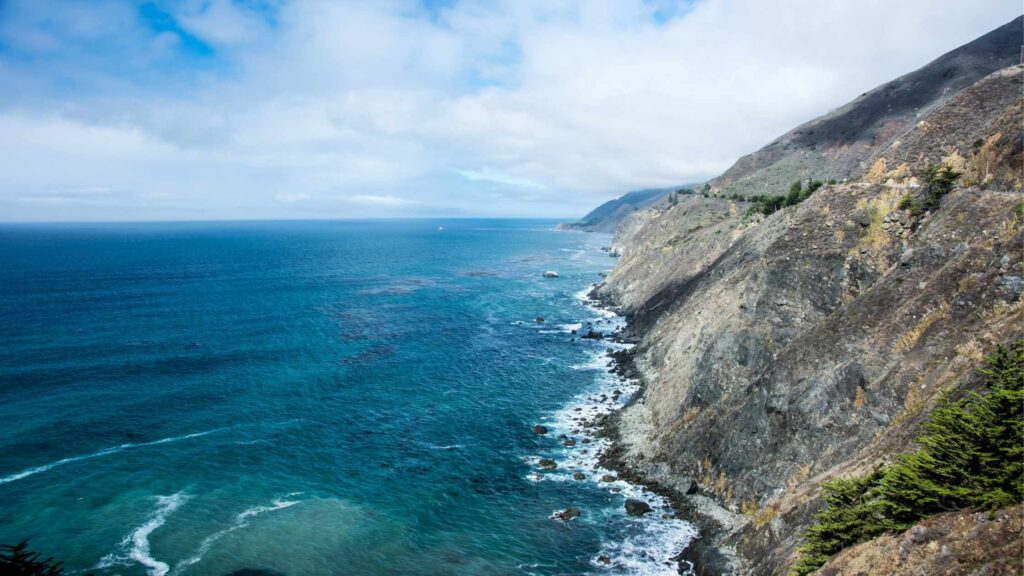 PLACES TO VISIT
Unwind on well-maintained beaches like Sand Dollar Beach, Gibson Beach at Point Lobos and Garrapata State Beach on your way, a popular hub for avid surfers. Visit Pfeiffer beach, famous for its purple sandy shoreline and rock arch, for fantastic sunset views.
Check out the McWay Falls at Julia Pfeiffer State Park, one of the best Californian tides falls that plummets off the cliff directly into the ocean. The park features many hiking trails amidst redwoods which lead to local beaches.
Avid hikers can hike the nearby trails like the 1.5 miles of Limekiln Falls Hike, 6.4 miles of Tan Bark Trail, 5 miles of Ewoldsen Trail and the Point Lobos State Natural Reserve.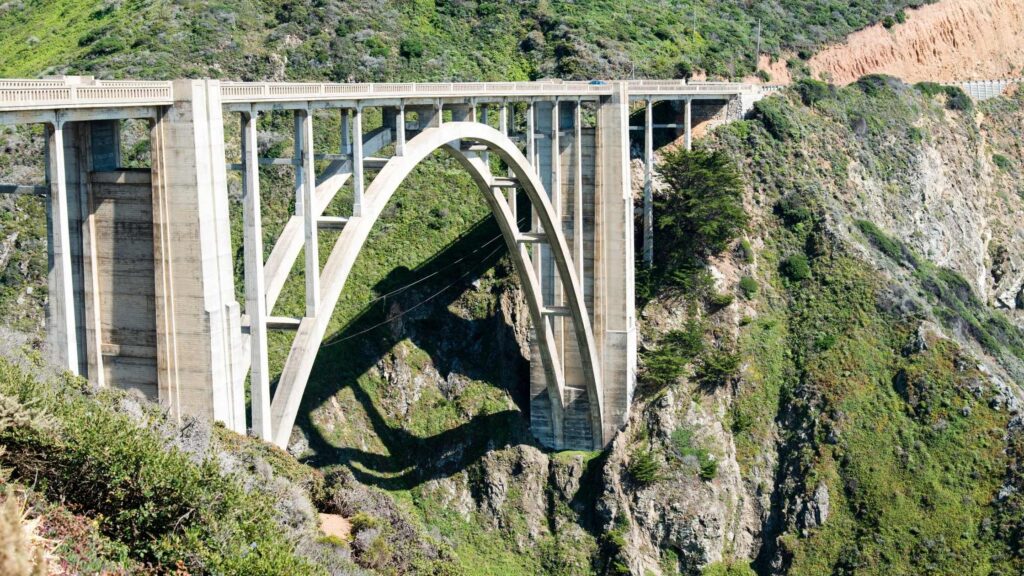 Don't miss the iconic Bixby Creek Bridge, one of the most photographed bridges in California. This open-spandrel single-arch bridge hanging over the canyon at the edge of the Pacific offers stunning views.
Check out the Henry Miller Library, which hosts several events and concerts annually.
Enjoy the sights of seals lazing around on the shores from the elephant seal vista point located in the seaside village of San Simeon.
To have the best sunset experience in Big Sur, grab your favourite drink from Nepenthe, a cosy seafront restaurant which offers mouth-watering delicacies.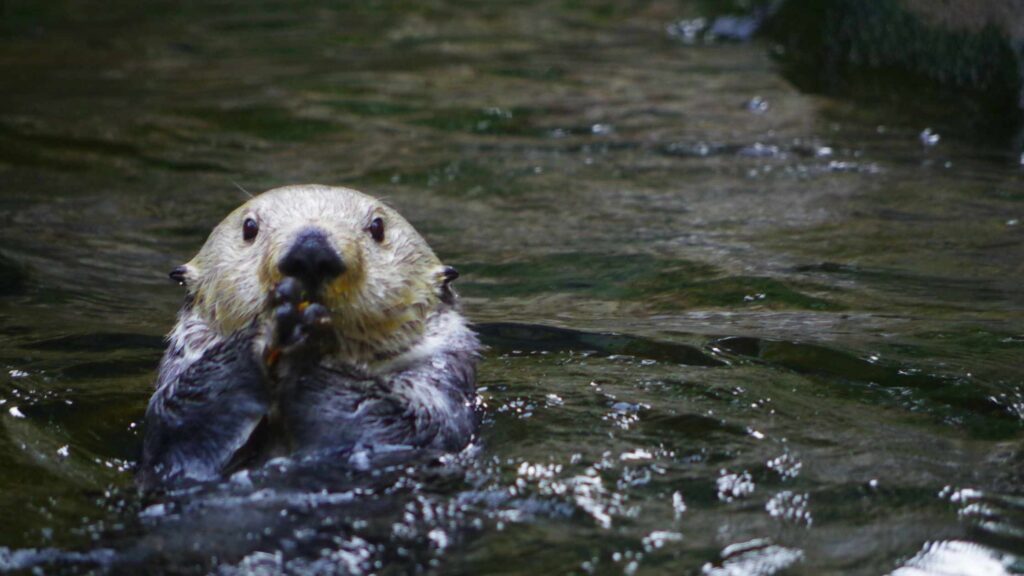 If you are in Big Sur between late February and May, stop by Calla Lily Valley for its beautiful white flower blooms.
Many campsites are nearby if you plan to camp for a day or two. Check the road conditions ahead of your trip since the road might be closed after heavy rainfall and landslides causing road closures.
CHECK OUT THE GIANT TREES AT REDWOOD NATIONAL PARK
The Northernmost national park in California, Redwood National Park is a paradise. And one of the top things to do in northern California is check out the tallest trees in the world, one of the bucket list items.
It is not just the tallest trees that the forests of Redwoods National Park house, but the forests boast thousands of species of plants, birds, and wildlife unique to this place, making it the best weekend getaway with your kids to go into the heart of the wilderness.
Nestling along the rugged Pacific Ocean coastline, you can access the many trails that will take you through vast prairies, wild rivers, and oak woodlands, where you can spot California black bears, mountain lions, bobcats, coyotes, and grey whales apart from see rows of old-growth redwoods.
BEST THINGS TO DO IN NORTHERN CALIFORNIA FOR OUTDOOR LOVERS
POINT REYES NATIONAL SEASHORE
Known for its magnificent coastline dotted with cliff tops and beaches and home to many hiking trails offering stunning views, one of the top things to do in northern California for families and nature enthusiasts is Point Reyes National Seashore.
Point Reyes National Seashore, located in Marin County, adjacent to Tomales Bay, is an underdeveloped yet alluring city known for its peaceful surrounding nature. It is one of the cool places for weekend trips from San Francisco.
PLACES TO VISIT AND EXPLORE
As the first stop in this lovely town, check out the Bear Valley visitor centre to get a fair idea about the city and learn about Point Reyes's history.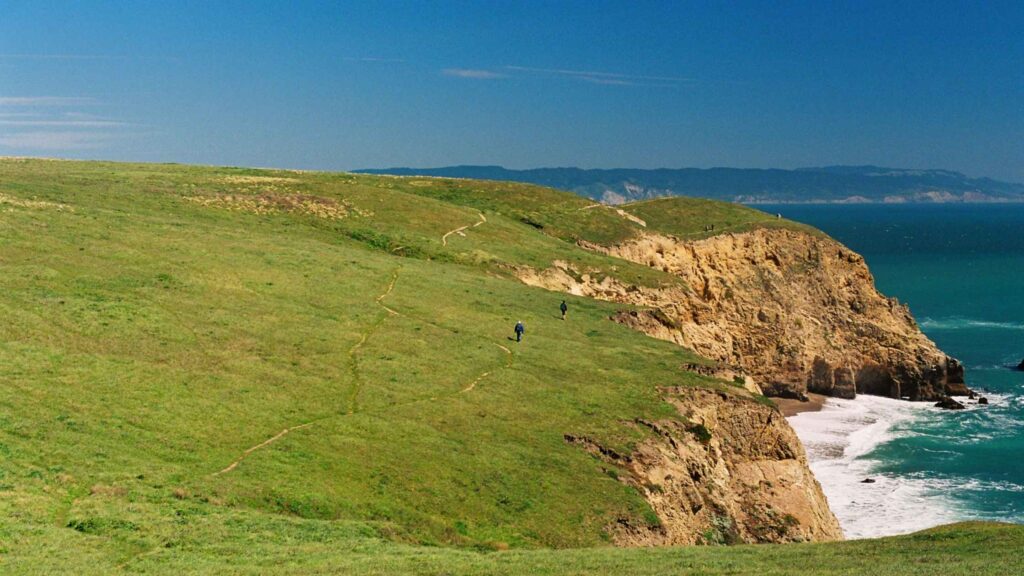 Visit Drake's beach, a famous Point Reyes attraction known for its clean sandy beaches. Go Kayaking around Tomales Bay.
There are many hiking trails in Point Reyes, surrounded by stunning local wildflowers, and you might spot colourful birds on your way. Try Tomales Point Trailhead if you are a beginner hiker. Take the Alamere Falls trail to reach Alamere Falls
Recommended – 25 Best Hikes In Point Reyes For Outdoor Lovers
Another famous attraction of Point Reyes National Seashore is the historic Point Reyes Lighthouse, established in 1870. Descend around 300 steps, and you will be rewarded with panoramic ocean vistas.
Don't miss the Cypress Tree Tunnel stop, an easy stop on the drive down to the Point Reyes Lighthouse. The place is lined by Monterey cypress trees planted in the 1930s, and this is one of the few locations where you can observe Morse communication stations.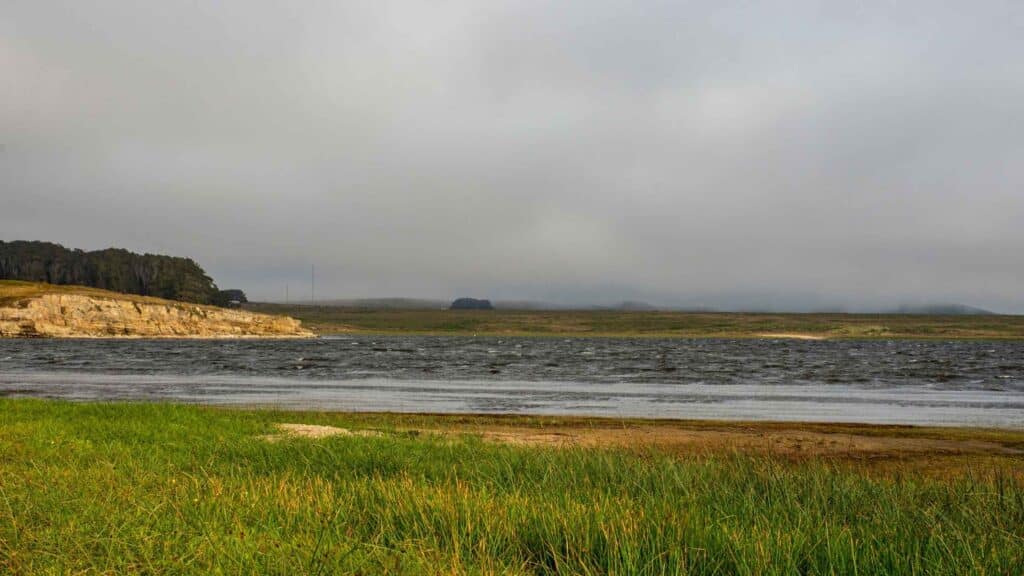 Recommended – 35 Amazing Things To Do In Point Reyes, CA
Point Reyes is also a renowned fishing town known for its mouth-watering seafood cuisine. Try various varieties of crabs, prawns, oysters and shrimp, along with a combination of locally produced Red and White wines.
Explore Point Reyes Station for local food and dessert choices.
MOUNT SHASTA
Mount Shasta, a winter wonderland, is four hours north of San Francisco and rises 14,000 feet above Northern California's pine forests.
Mount Shasta is a hot spot for mountaineers and is one of the best things to do in northern California for outdoor lovers.
You should add Mount Shasta to your itinerary if you are planning a day trip from Redding or Sacramento to enjoy the snow in California, especially if you are going between November and April.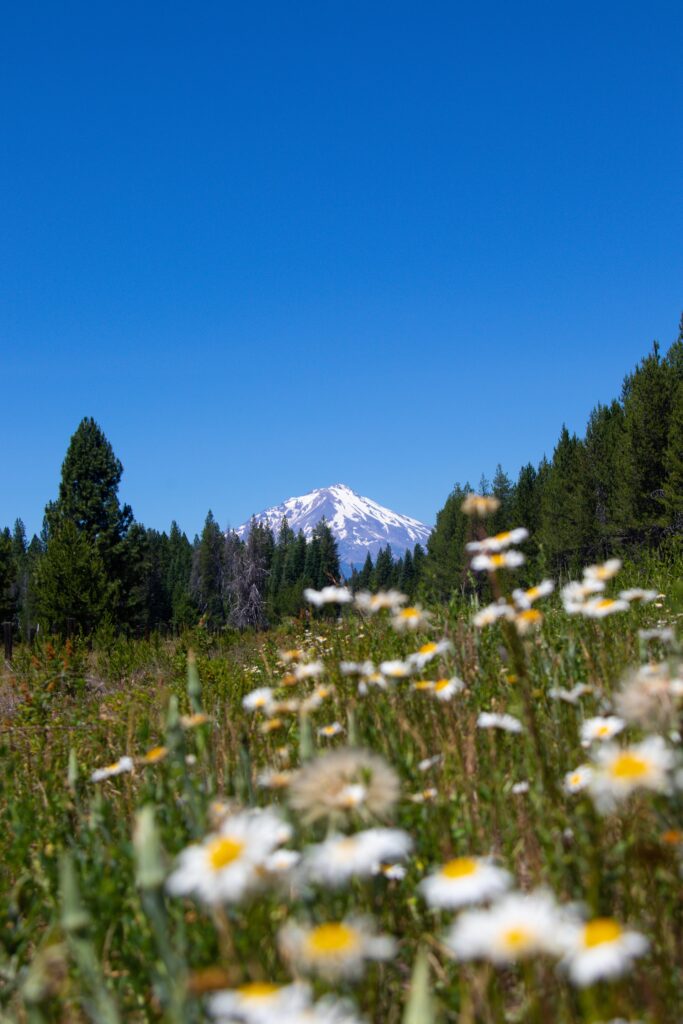 PLACES TO VISIT
Like the Humboldt Redwoods State Park, Mount Shasta is best explored by car. So take a panoramic drive along Everitt Memorial Highway from Mt Shasta to Panther Meadows.
Don't miss the popular California skiing location Mount Shasta Ski Park, situated in the Cascade Mountain Range about 6 miles south of Mount Shasta.
If you visit Mount Shasta during summer or late spring, hike the South Gate Meadow Trail overlooking a dazzling carpet of wildflowers, which source moisture from the five glaciers around this region.
The Park has 425 acres of skiable terrain and is 5,500 feet above sea level with a maximum elevation of 6,900 feet.
The terrains here receive about 300 inches of snow per year, a significant amount compared to other snow places in California. If you are planning a trip to California in December, Mount Shasta is a great choice.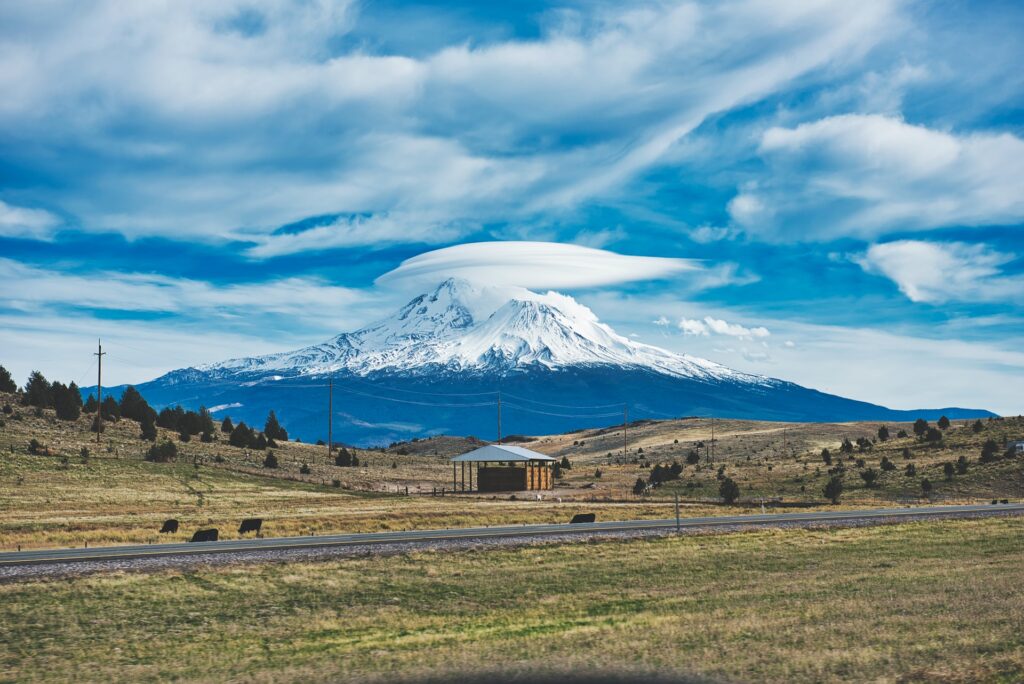 Mount Shasta also has 14 stunning snow trails accessible via two locally operated ski lifts and is one of the best snow places in California for adventures like skiing, snowshoeing and ice climbing.
Several trails in Mount Shasta are suitable for all types of skiers and snowshoers, making it one of the popular places to see snow in California.
Check out the 2.8 miles of Castle Dome snowshoeing trail nearby Castle Crags State Park, a considerably easy course.
For more experienced snowshoers, I recommend the Bunny Flat trail, a 6.5-miles less-travelled trail with plenty of adventure.
You can go ice fishing and enjoy the stunning mountain views in Castle lake, a mile from the parking lot.
Take up dog sledge rides and snowboarding if you want more adventures in the snow.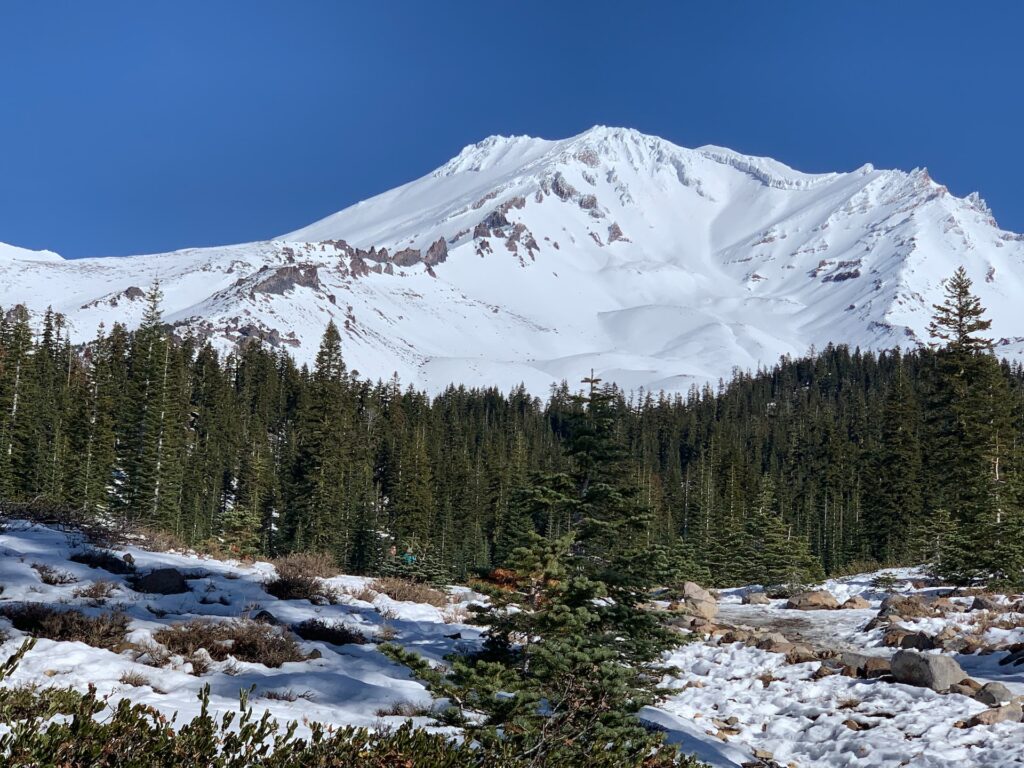 Make sure the access roads to Mount Shasta are open before you make travel plans because they may be closed some days after a significant snowfall.
WHERE TO STAY?
This historic bed and breakfast, in the shadow of 14,162-foot Mount Shasta, Mount Shasta Ranch Bed and Breakfast, is the most famous hotel offering spacious rooms, excellent ambience and amenities, perfect for couples and families. Check out more here.
Strawberry Valley Inn offers large bedrooms and fantastic mountain views. It has excellent reviews as well. Find more here.
Mount Shasta Resort is perfect for families looking for a fabulous resort surrounded by beautiful views. Check here.
Mount Shasta, a winter wonderland and a potentially active volcano, is a five-hour drive north of San Francisco and rises 14,000 feet above Northern California's pine forests.
CHECK OUT THE VOLCANIC MOUNTAINS AT LASSEN VOLCANIC NATIONAL PARK
Opening hours – Open 24 hours
Entrance fee – $30 per vehicle, $25 per motorcycle
Lassen Volcanic National Park is a beautiful park close to Mount Shasta and the Sacramento Valley and is a prime spot for snowshoers and cross-country skiers.
Despite its gorgeous beauty and tons of activities to do, it is one of the offbeat national parks. It is one of the best things to do in northern California if you want to get away from the famous national parks to explore outdoor activities around the year.
Home to the largest dome volcano in the world, Lassen Volcanic National Park is known for its beautiful rock formations and hot springs.
PLACES TO VISIT
Early Fall and Late Spring months are the best times to visit this park, although you can enjoy a white winter holiday if you want to go there in the winter, in December.
In spring and summer, get on the many hiking trails and soak in the hot springs.
Lassen Volcanic National Park is also one of the best places to play with snow in California in the winter. So have your best snow experience overlooking the largest plug dome Volcano in the world, Lassen Peak.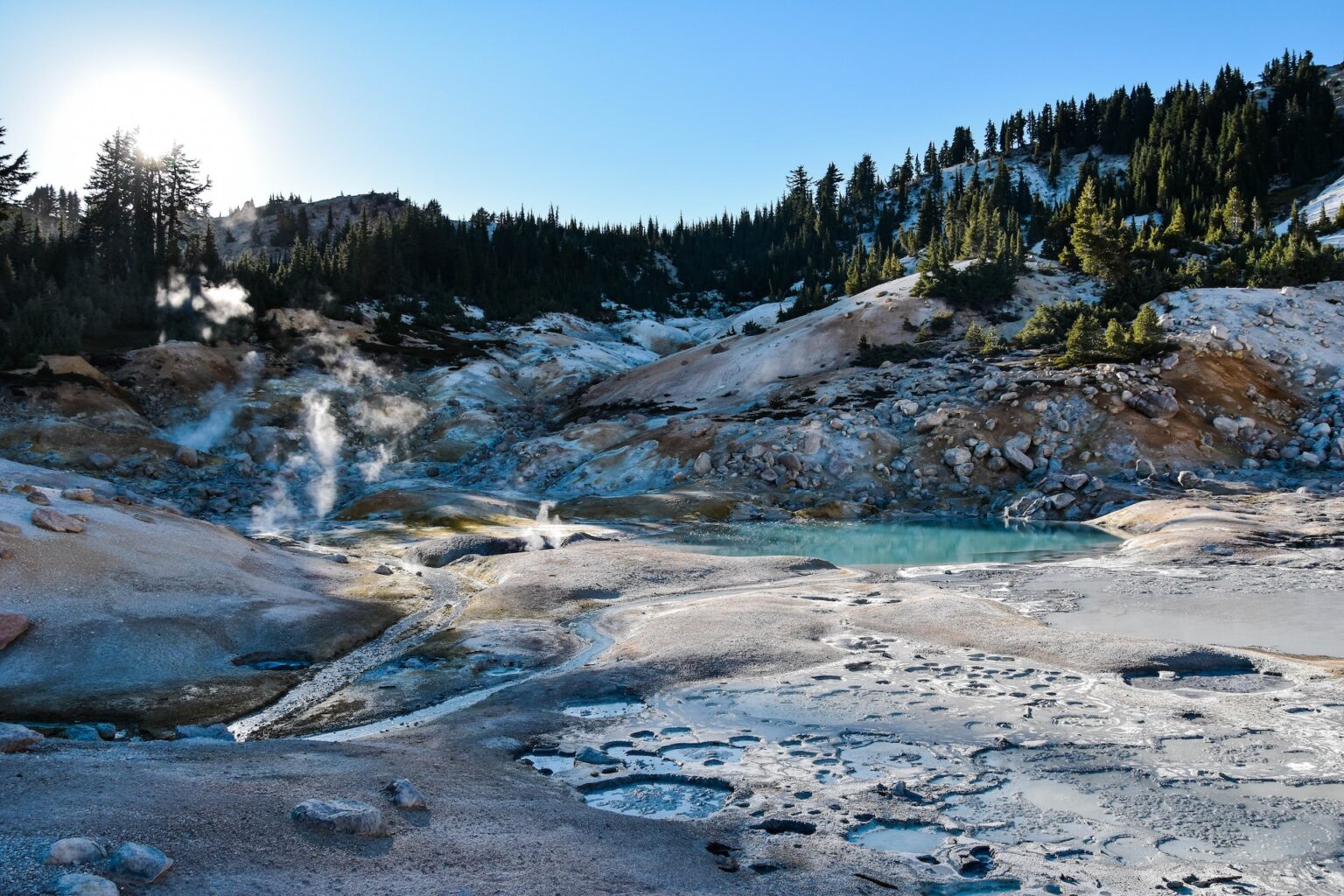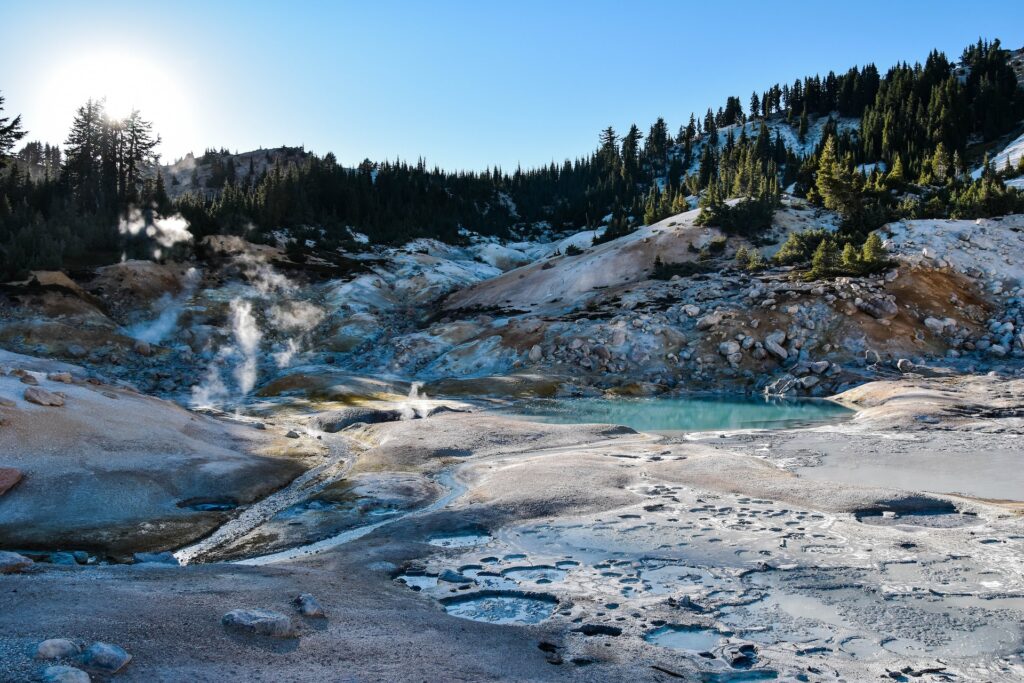 Go snowshoeing or hiking on one of these beautiful trails that runs through alpine lakes and meadows and are usually dotted with beautiful wildflowers in late Spring; 3.8 miles Mill Creek Falls Hike or the 4.2 miles Devil's Kitchen Trail. Hike up the Cider Cone for stunning vistas of the Park.
Enjoy adventurous activities like sledging, cross-country skiing and the free ranger-led snowshoe tour on the South-West area of the park.
Take a dip in the Little Hot Springs Valley and enjoy the views of Lassen Peak in the backdrop. See the geological wonders at Sulphur Works and Bumpass Hell. Enjoy the amazing sunset views at Manzanita Lake.
Explore the nearby Subway Cave Lava Tubes, 15 min drive from Manzanita Lake. Get a flashlight for the best experience!
BIKE IN JUNE LAKE
One of the best things to do in Northern California for nature lovers is June Lake, located in the gorgeous Eastern Sierra wilderness.
Home to a beautiful lake and a small mountain village by the same name, it is a year-round destination featuring picnic areas, plenty of pretty hiking trails, water activities, and one of the best places to enjoy biking in summer and spring, while winter transforms June Lake into a snow playground.
Hike the 3.8-mile Parker Lake trail to witness beautiful fall foliage with the backdrop of Mono Lake and the other nearby mountain summits.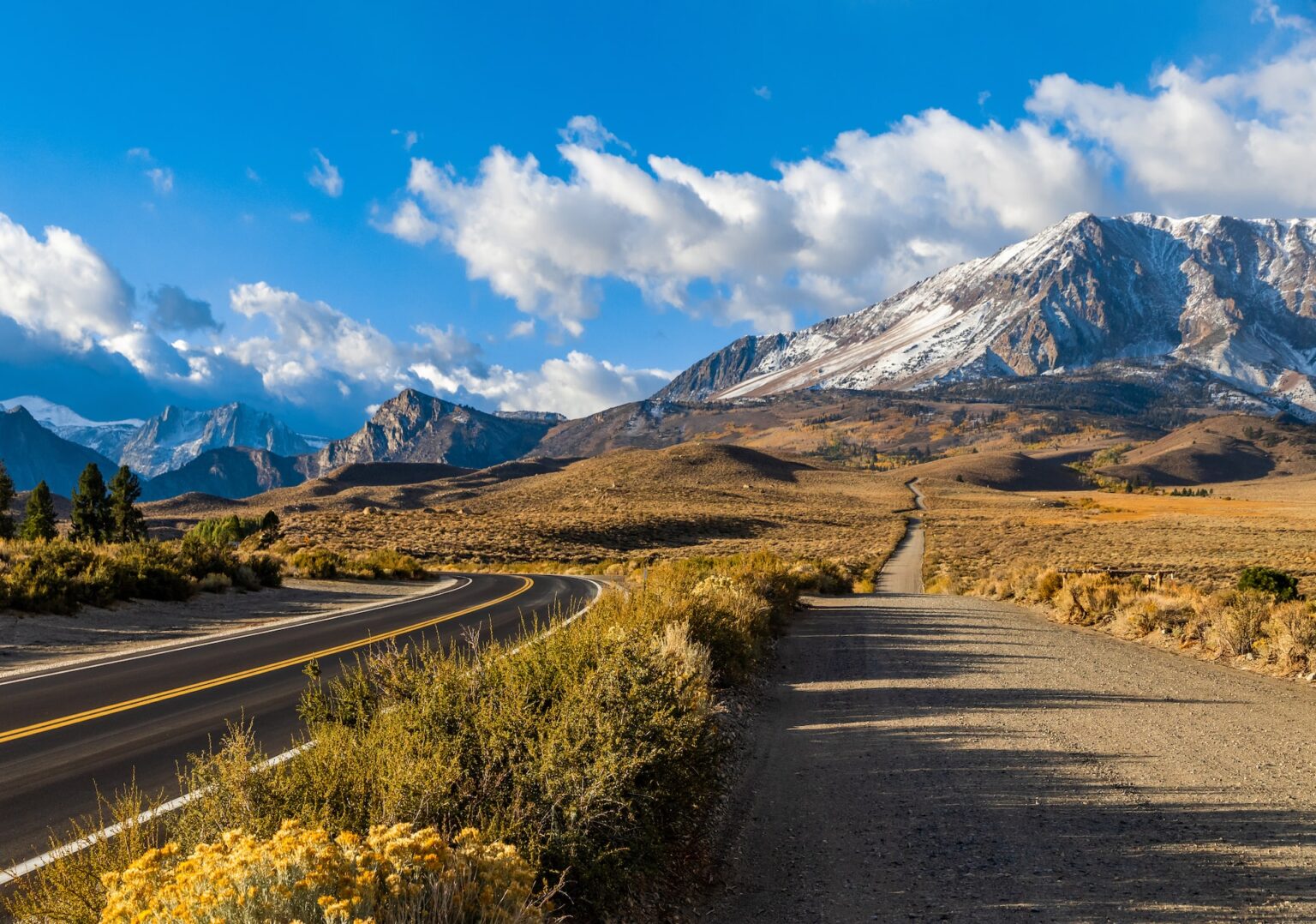 The other best way to explore the June Look area is by biking through the 16-mile June Lake loop that runs through craggy mountains, towering aspens and frozen lakes. It is one of the best activities if you love mountain biking.
Try Kayaking on Silver Lake, bordered by beautiful mountains and enjoy the stunning views. You can rent the Kayaks and Paddleboards from the Silver Lake Resort.
If you enjoy Hot Springs, plunge into the Travertine Hot Springs, a renowned mineral hot spring near Bridgeport that offers the Sierras' best views.
The best time to visit June lake is from October until the first snow of the season to witness the best fall foliage. Check out the Mono County Foliage Tracker to time your visit right.
It is one of the best places to visit in California in winter if you want a relatively inexpensive resort town for snow and winter sports with your families when large crowds come here for skiing slopes.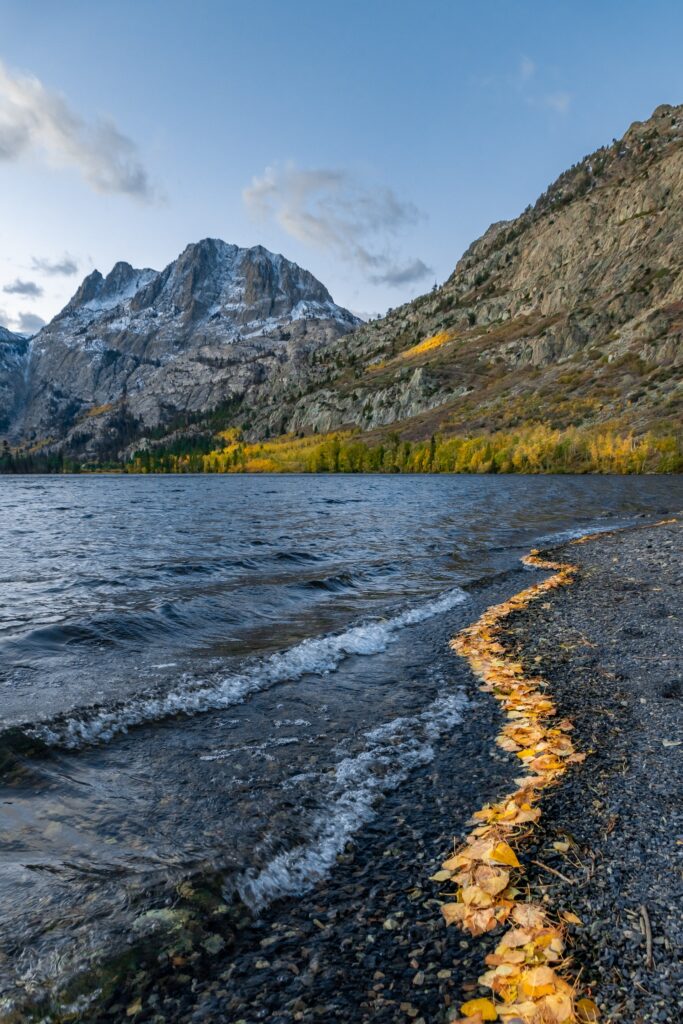 If you are a beginner skier, the flat Highway 158 is an easy route for snowshoeing. If you are an advanced skier, you can join guided tours with mountain experts to try backcountry skiing.
Ride the ski lift to the top to enjoy fabulous views of four lakes set amidst the magnificent snow-blanketed mountains of the Eastern Sierra.
You can also enjoy other winter sports, including snowboarding, ice climbing, snowmobiling, sledging, cross-country skiing, and snowshoeing.
Admire the mountains forming a majestic backdrop for the spectacular alpine lakes from many viewpoints
Stroll through the main streets decked up with lights, at the centre of which is the pretty lit Christmas tree.
Pack winter clothing with layers, good water-proof hiking shoes, and snow boots
WHERE TO STAY?
Interlaken #29 – Deluxe Studio, a studio apartment, is perfect for a family of four, surrounded by beautiful mountain views. Check here.
If you prefer a resort, Double Eagle Resort and Spa is an excellent choice. Find out more here.
HIKE AMIDST GIANT TREES AT HUMBOLDT REDWOODS STATE PARK
There are many places to admire the giant redwoods, one of the best things to do in northern California, and Humboldt is one of them.
If you plan to spend your weekend amidst the giant redwoods, visit Humboldt Redwoods State Park, home to old-growth coastal redwoods that cover 1/3 of the park's 55,000 acres and are one of the best redwoods near San Francisco.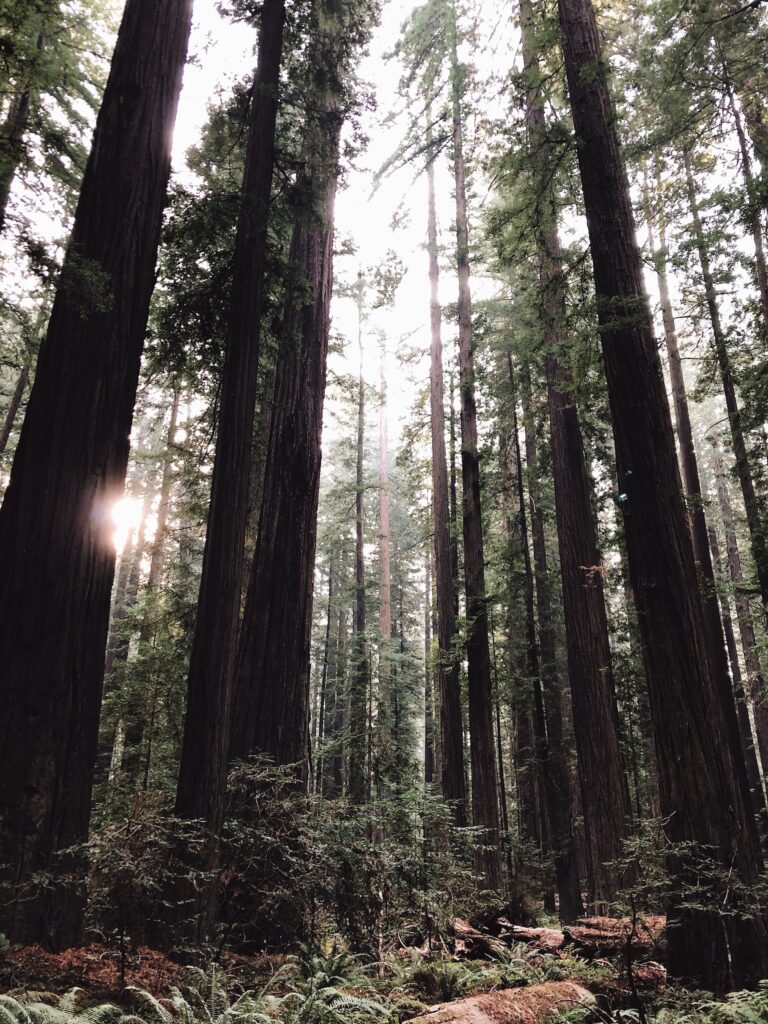 PLACES TO VISIT AND THINGS TO DO
Since the park is massive, driving a car is the best way to explore. Drive on the famous 32-mile stretch, Avenue of the Giants, also known for its renowned Shrine Drive Through Tree. Pay a $10 fee to drive through the tree.
Include Founder's Grove, the fallen Dyerville Giant, Williams Grove, Flatiron Tree, and Gould Grove on your drive to spot gigantic redwoods.
You can pick up a brochure from the visitor centre to learn about these old-growth redwoods and other pit stops along this route.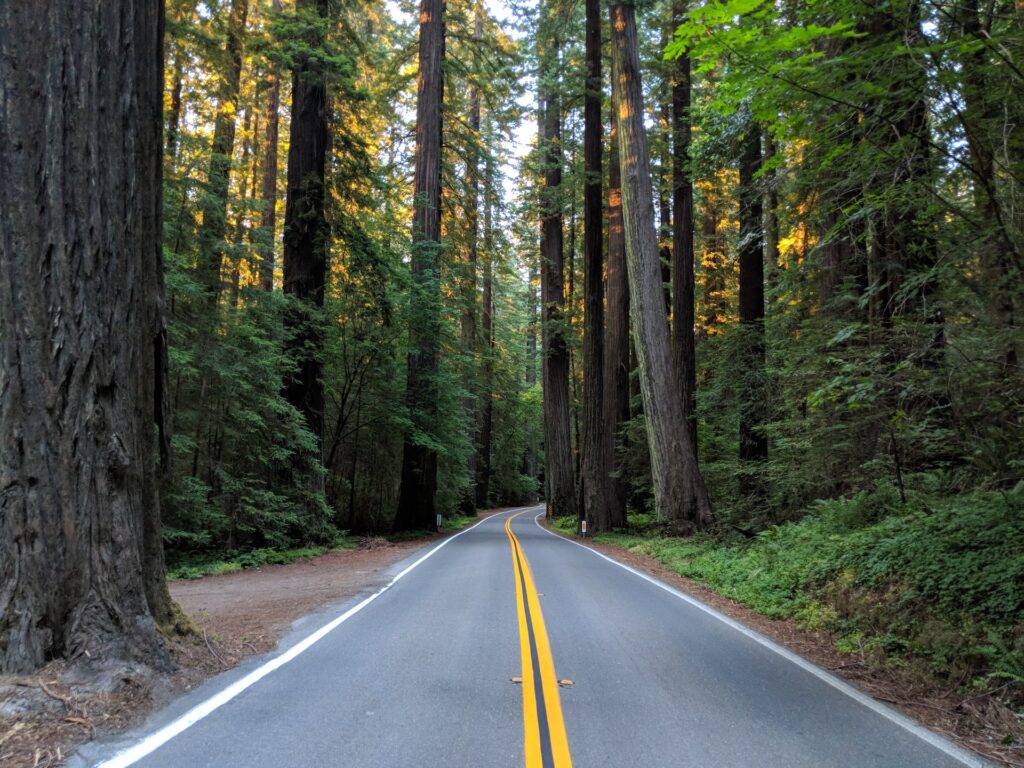 The park features around 100 miles of hiking trails that run through the redwoods. My favourites include Giant Tree & Flat Iron Tree Hike and Rockefeller Loop Trail, which are 0.6 miles.
You can also hike the 1.3-mile Founders Grove and Dyerville Giant Hike for stunning vistas of the redwoods. Bull Creek Loop is a challenging hike, about 15 miles.
Go fishing, boating or take a refreshing plunge in the beautiful South Fork Eel River, running beside the redwoods. Unwind on the local beaches at the end of Lost Coast Drive.
If you have spare time, take a short detour to Ferndale to witness Victorian architecture.
HALF MOON BAY
Half Moon Bay, about an hour's drive south of San Francisco in San Mateo County, has been known for surfing for ages. The city derives its name from its crescent moon shape and attracts locals for its tranquil.
With its incredible coast lined with beaches and bluffs and miles of hiking trails inland, Half Moon Bay is one of the best things to do in Northern California for nature lovers, hikers, and families.
PLACES TO VISIT
Go swimming or relax on the two-mile sandy shores of the Half Moon Bay State Beach, one of the local's favourites and enjoy the fantastic sunset views.
Visit Mavericks, a famous Surfing spot in Half Moon Bay, located on the North end of the Bay at the Princeton-by-the-sea village. Sign-up for Surfing lessons if you are an avid surfer.
Every winter, the world's top big-wave riders gather at Half Moon Bay to conquer the mighty waves.
Visit JV Fitzgerald Marine Reserve to do tide pooling when there is a low tide.
There are nine state parks in this county where you may go hiking.
One of the best ways to explore Half Moon Bay is to bike along the 4.7-mile Half Moon Bay Coastside Trail, which offers spectacular ocean bluffs between Pillar point harbour and poplar avenue.
Visit the Purisima Creek Redwoods Open Space Preserve if you are an experienced hiker. The preserve features many lovely trails that run through old-growth coastal redwoods and beautiful ocean vistas.
There are many state parks nearby Half moon bay, the popular one being the Ano Nuevo State Park, known for its elephant seals.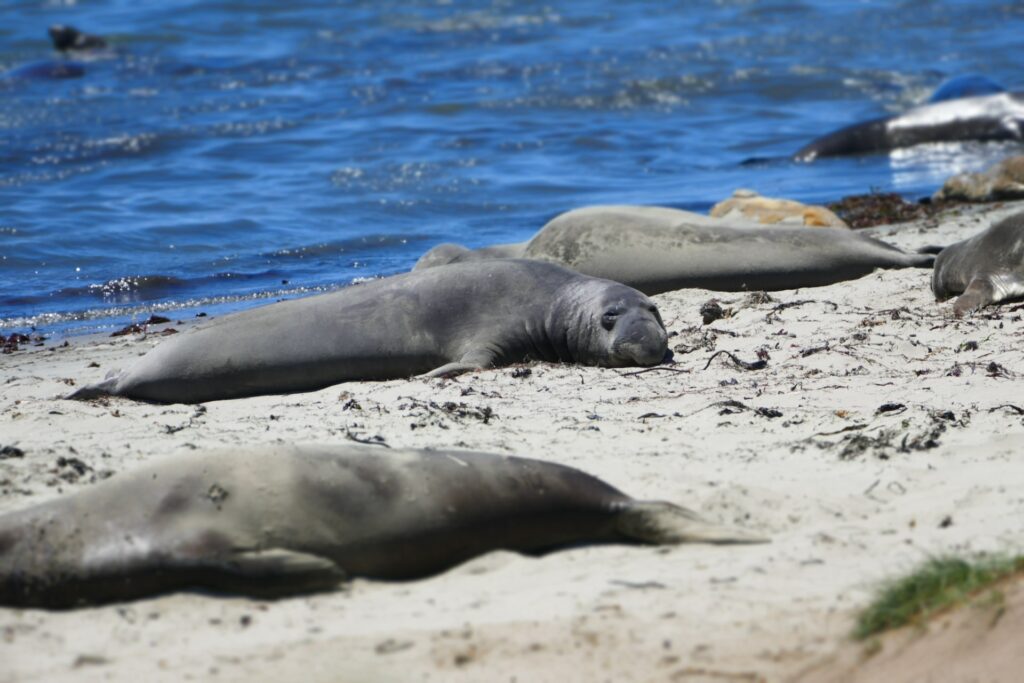 If you time your visit right, you can witness the Half Moon Bay Art & Pumpkin Festival. The two-day vibrant celebration held every October features giant pumpkins. Enjoy live music concerts and tasty delicacies, and shop for souvenirs at the arts and crafts boutiques.
The bay has undulating slopes and moderate temperatures, making it ideal for wine production. You will pass several vineyards and wineries in this beautiful beach town.
Suppose you're looking for some wine and dining, head to Harbor Village and Downtown. You will find excellent beachside restaurants worth your time and money while offering quality cuisine.
SACRAMENTO
If you are interested in getting to know more about the history of California, head to Sacramento, California's state capital. It is one of the best things to do in northern California, known for its many historical attractions, and has become famous for its farm-to-fork model of agriculture in the recent past.
Sacramento is the best place to base yourself if you want to explore other parts of Central Valley and the Sierras.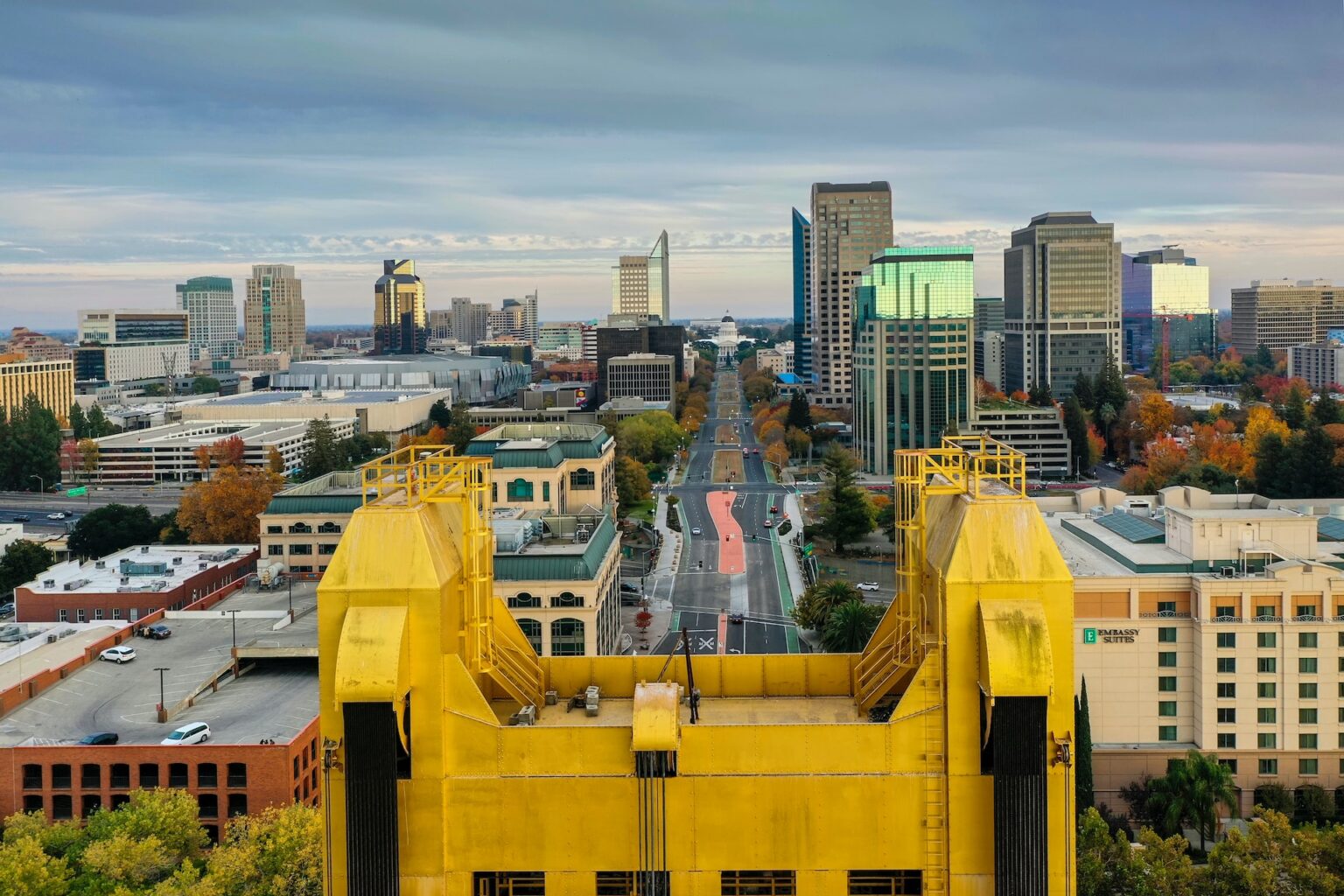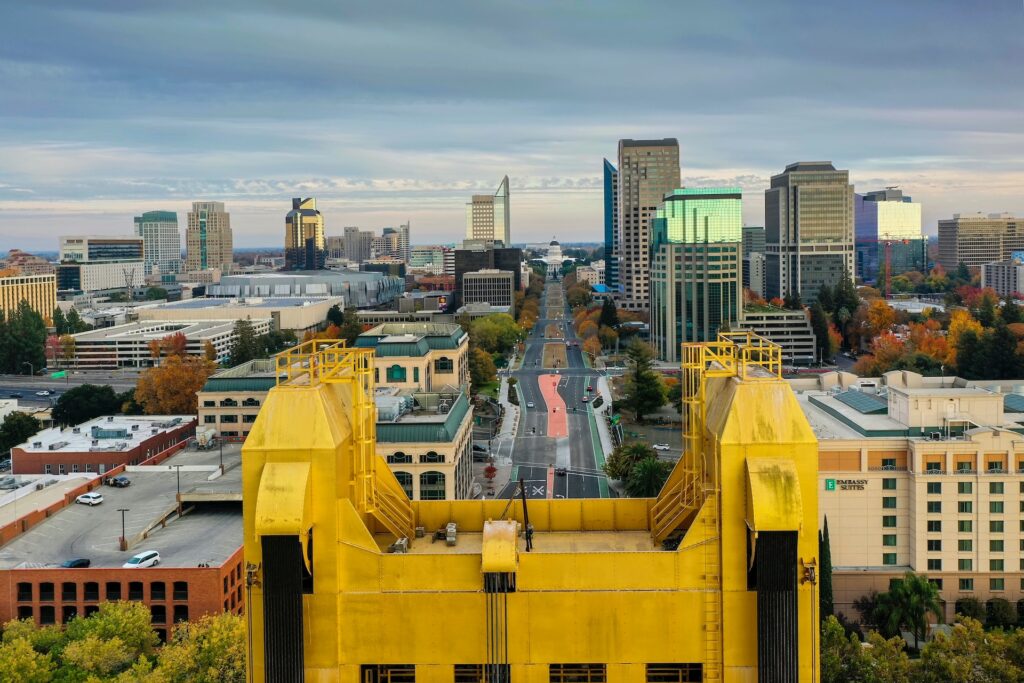 PLACES TO VISIT
Stroll around the charming Old Town Sacramento that will take you back to the city's Gold Rush era of the 1850s.
Take a free tour of the State Capitol Building, an administrative building and a museum listed on the National Register of Historic places.
Check out the California State Railroad Museum, which is often considered the most popular railroad museum in the USA.
Go biking along the American River Bike Trail or Stroll around midtown and downtown to admire the colourful murals.
For fantastic sunset views, head to Tower Bridge or go on a Historic River Cruise with Hornblower.
Take a guided tour of the Leland Stanford Mansion or explore Sutter's Fort to learn about the history of this beautiful town.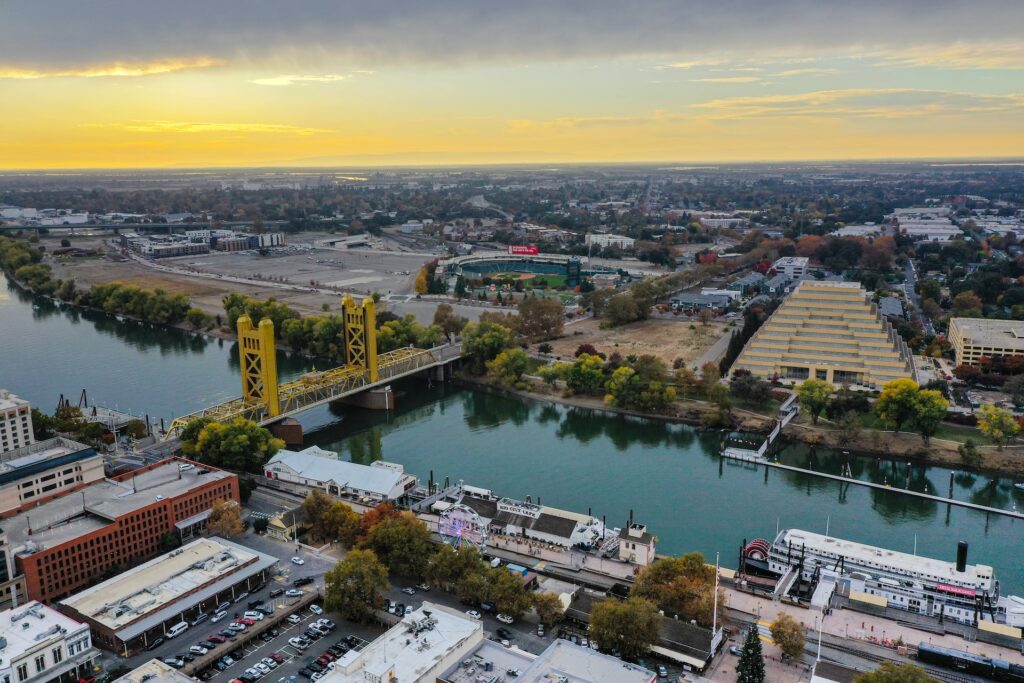 The riverside area is a top tourist spot to enjoy beautiful riverside dining and shopping.
Visit the two zoos if you enjoy watching animals, and don't miss the nearby Scandia Family Fun Center rides. In summer, beat the heat by dipping in the two incredible water parks, and in colder months, go ice skating in the rinks nearby.
Recently, Sacramento is getting popular for its craft beers and multi cuisines. So don't miss exploring the local food scene whilst you are here.
MONTEREY BAY AQUARIUM
One of the top attractions in Monterey, the Monterey Bay Aquarium is one of the fun things to do in northern California with kids. This beautiful and massive museum is home to hundreds of marine animals of all sizes and shapes, including sea otters, sharks, jellyfish, sea horses, rays, starfish and octopuses.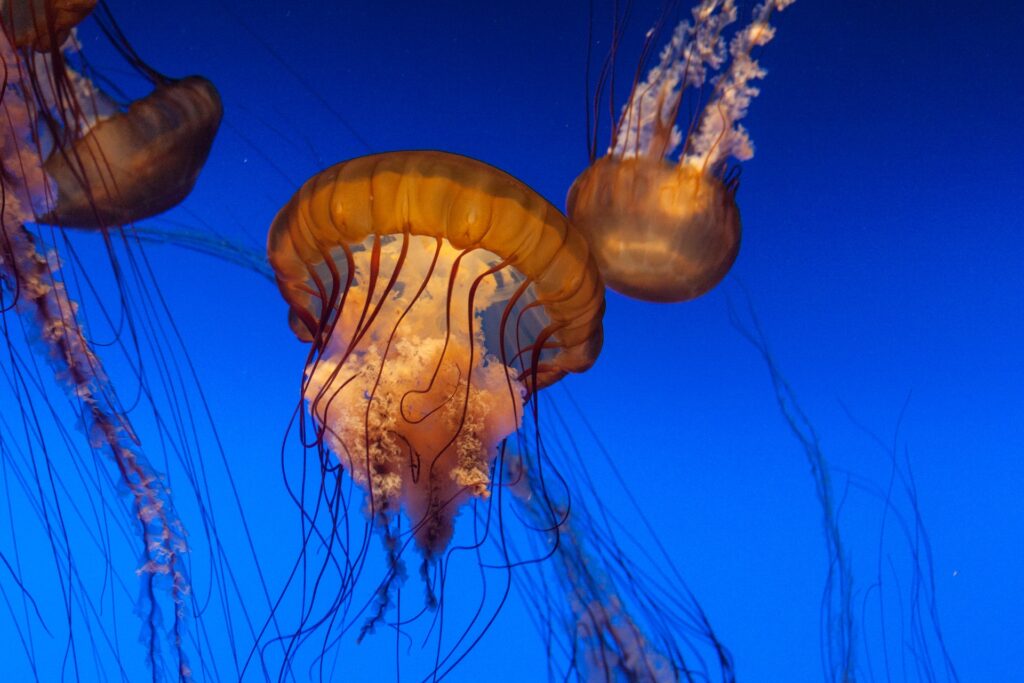 Check out the otters and sea lions in the kelp forest-filled waves near Monterey. You can easily spend a weekend in Monterey since there are plenty of awesome things to do in Monterey apart from this gorgeous Aquarium.
ROMANTIC THINGS TO DO IN NORTHERN CALIFORNIA
TWIN PEAKS
One of the offbeat attractions in San Francisco, The Twin peaks are two mountains near the city offering fantastic views of many landmark attractions, including gorgeous views of the Golden Gate, Alcatraz prison, Angel Island, and the Bay Area.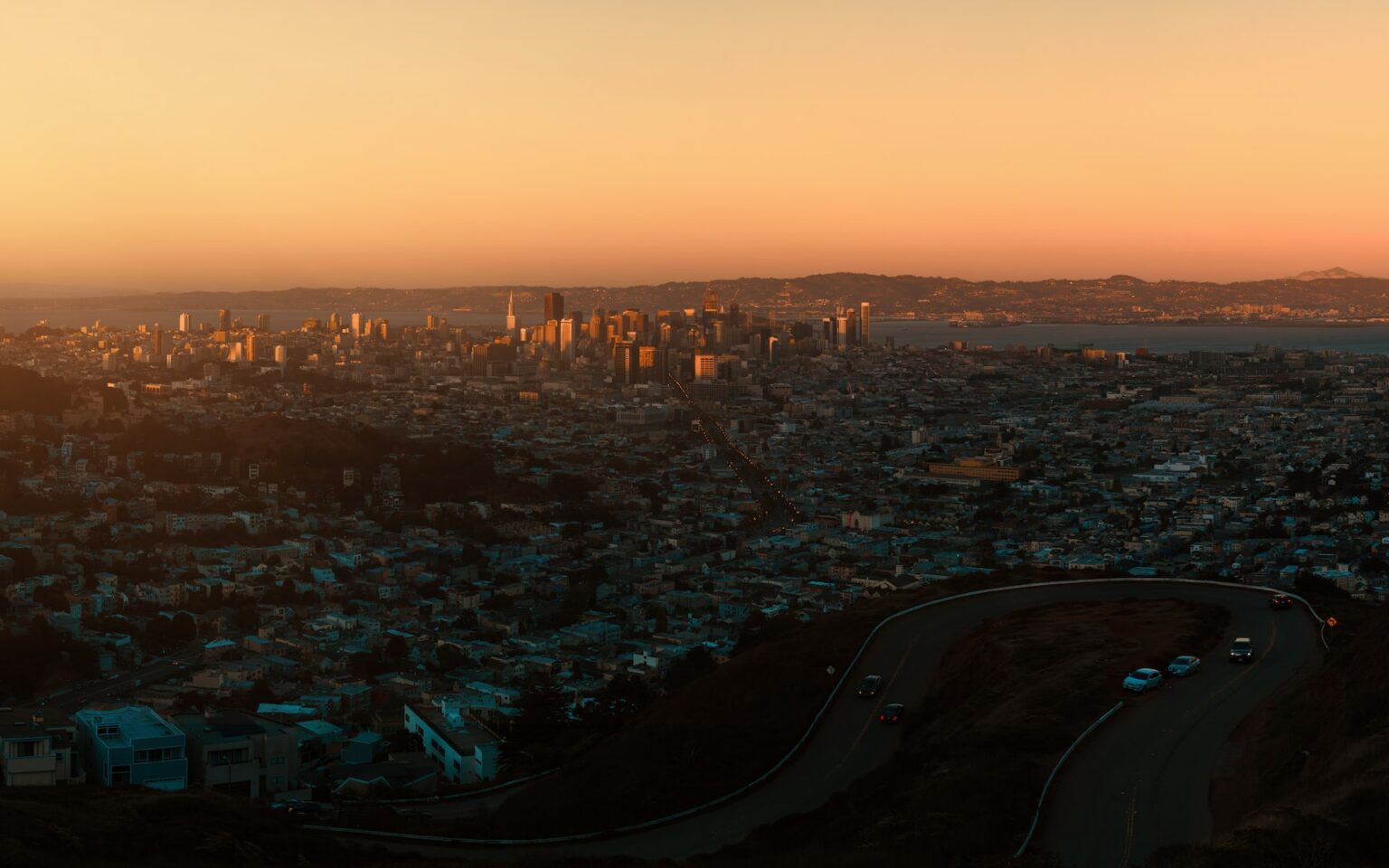 Spend a romantic evening on these peaks cosying up in picnic blankets and enjoying incredible sunset views from Twin Peaks, one of the offbeat and romantic things to do in northern California for couples.
HEAD TO BEAUTIFUL LAKE TAHOE
Lake Tahoe, considered one of the most beautiful lakes in California, is one of the best places to visit in northern California for families and outdoor adventures.
Lake Tahoe, the largest alpine lake in North America, located high in the basin of the Sierra Nevada Mountains, is a year-round destination.
Spring and summer attract thousands of families, couples, and solo travelers seeking a weekend amidst stunning landscapes.
But winter is also one of the popular months as about 100 inches of snow transforms the mountain landscapes into a winter paradise.
If you visit the lake area during summer, check out the high-altitude beaches for sunbathing. Try the guided Tahoe Via Ferrata tour, an adventurous protected hiking experience with iron and steel rods attached to the rock face.
Alternatively, go hiking on the popular trails on the south side of the lake. Beginner hikers can try the 2-mile Eagle Falls & Eagle Lake Trail or the 1.4-mile Cascade Falls Trail.
Hike the 9-mile Rubicon trail and the 10-mile Mount Rose Trail for stunning views of Emerald Bay. Check out the nearby Crag lake hike to explore the beautiful pine meadows and witness the spectacular scenery of granite cliffs.
South Tahoe side is also a hot spot for nightlife and casinos. Take the self-guided craft beer tour around the breweries south of Lake Tahoe.
Try Kayaking or Stand Up Paddleboarding at Sand Harbor Beach.
Lake Tahoe is adorned with many beautiful state parks nearby. Stroll around Emerald Bay or go swimming in the calm waters of the DL Bliss state parks.
Don't miss the Inspiration Point near Emerald Bay for fantastic lake views. Visit the Hellman-Ehrman Mansion at Sugar Pine Point State Park.
The south of Lake Tahoe is a magical place to visit in California during winter, whether you want to hit the slopes for snow adventures or simply soak in the blissful views of the crystal blue water and the fresh mountain air.
South Lake Tahoe is ideal for downhill skiing, cross-country skiing, sledging, snowshoeing, and sleigh rides.
You can also enjoy outdoor ice skating at Northstar or the Heavenly Village ice rink in South Lake Tahoe.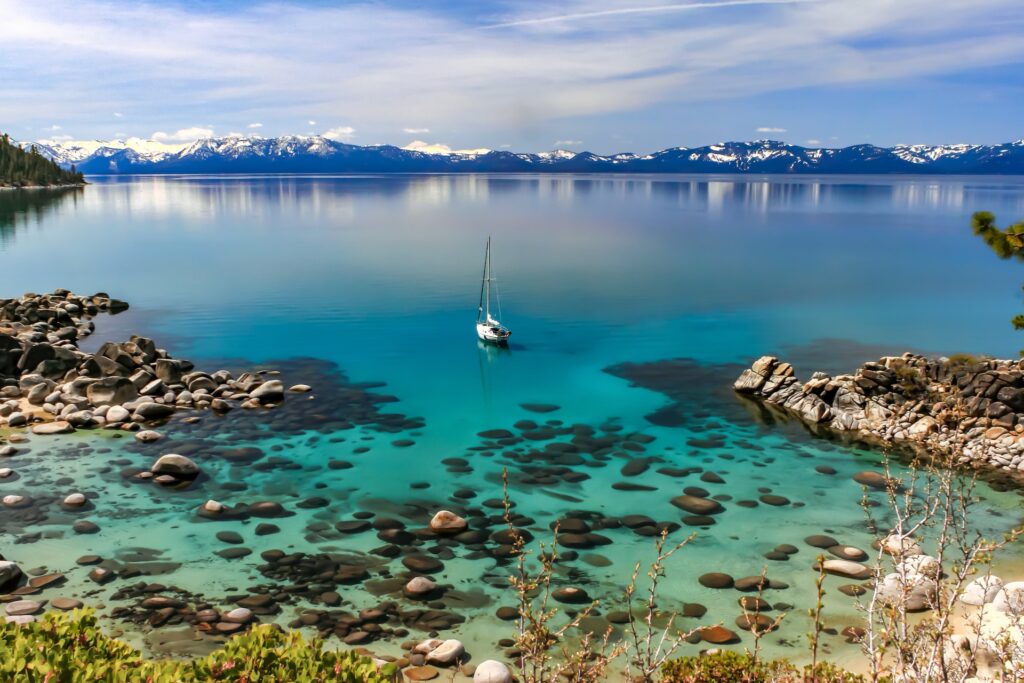 Check out the ice sculptures at Heavenly Mountain Resort, or hop on the gondola ride to the mountain top for fabulous views.
Do not forget to capture stunning shots of the lake and the surrounding landscapes from the Emerald Bay lookout.
WHERE TO STAY?
The Lake Tahoe area has many top ski resorts. Among the most famous and fabulous ones are Charming Mountain Cabin about 7 Mi to Heavenly Resort, which gets booked quickly, thanks to the excellent facilities and location.
For a private beach and great amenities, check out Tahoe Lakeshore Lodge & Spa.
EXPLORE THE WINERIES AT SONOMA
For wine lovers, another county is waiting to be explored, which produces more wine than Napa Valley.
Sonoma County is one of the best places to visit in northern California for its pleasant weather, tasting different types of wines, attending festivals and enjoying fine dining with fewer crowds.
Depending on your preference, there are many coastal towns and quaint villages in Northern California's rural Sonoma County.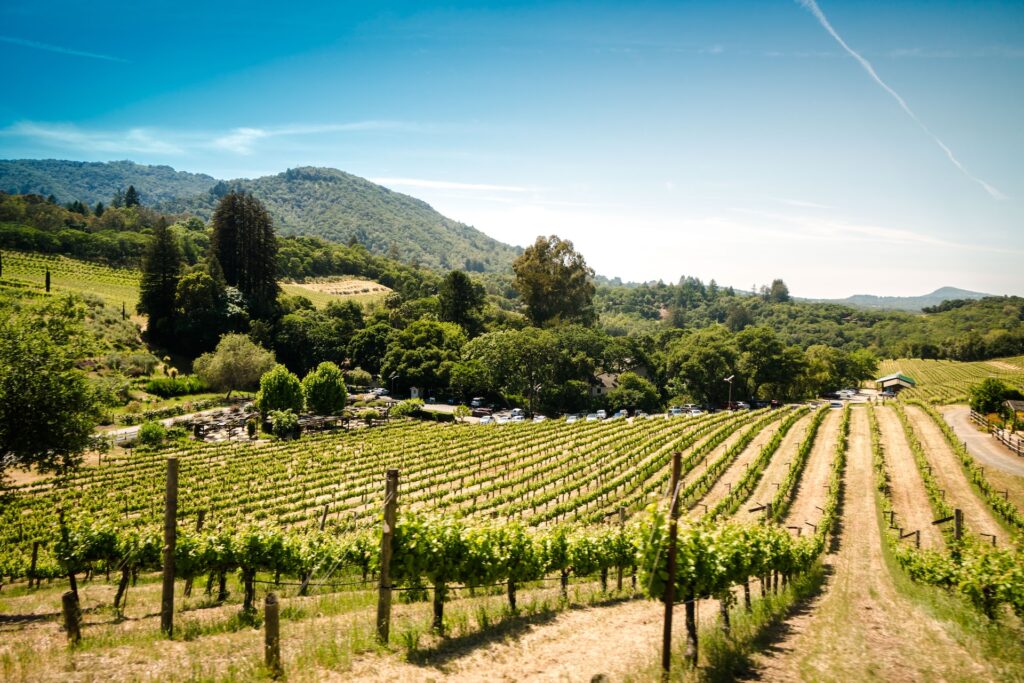 Unlike the other coastal towns in California, you can expect some rain if you are here during the winter months in Sonoma County, but be assured that you can still be out and check out all the activities.
For couples looking for a secluded retreat and families wanting a quiet coastal time, the idyllic fishing village of Bodega Bay is a pretty place to visit during December.
It is home to the most stunning beaches in California you can imagine. There are different kinds of red wines you can try in Sonoma County.
Since most wineries have both outside tasting areas and indoor ones, you can wine taste on the terrace or indoors next to a cosy fire if it drizzles.
If you want to cover the most of your time, take this Sonoma Valley Guided Winery Tour with Picnic Lunch, where you can visit boutique wineries as you learn about the region's rich history and enjoy a picnic lunch.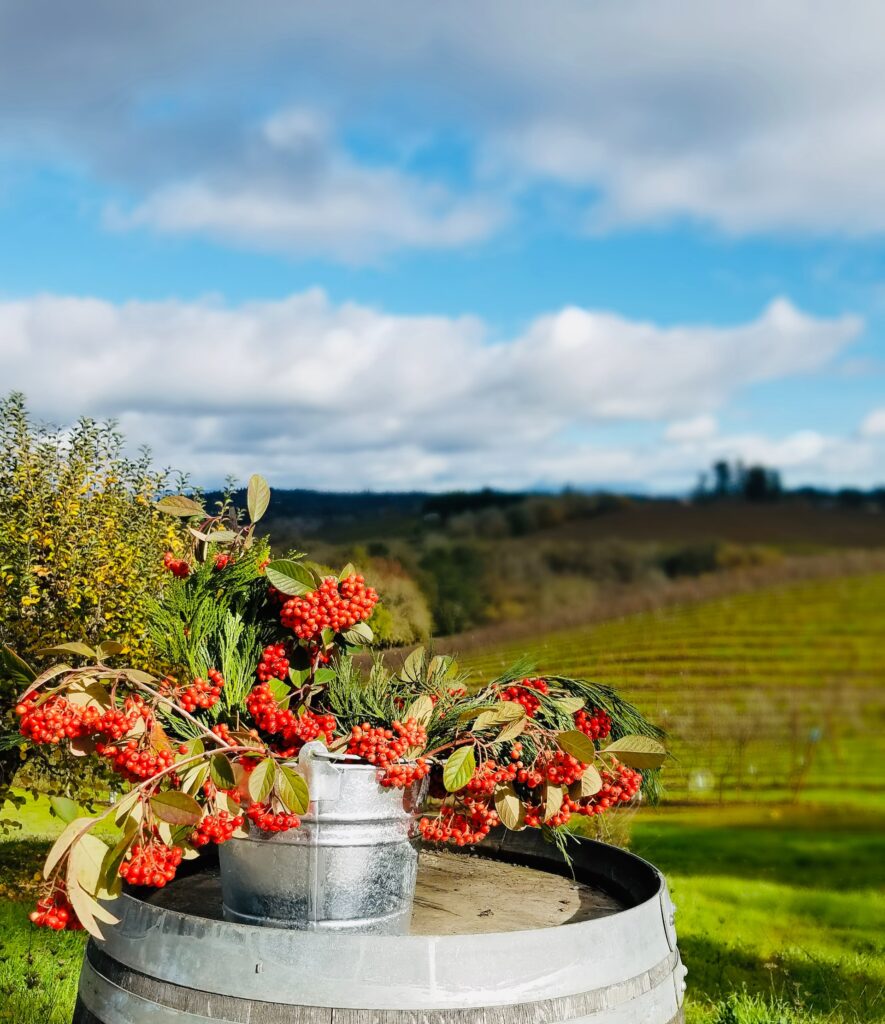 If you love white wines, try out Sonoma Chardonnay, which is perfect for the weather in winter here that blends perfectly with the views.
Healdsburg has many boutique wineries and epic restaurants serving the best Zinfandels, Pinot Noirs and Cabernets.
If not a wine lover, you can enjoy a delicious dinner at the many outdoor restaurants amidst stunning rolling hills and lush panoramas.
I highly recommend this guided Healdsburg Boutique Wine and Food Pairing Walking Tour introducing you to Boutique wine.
If you are looking for something budget-friendly or an offbeat wine town, Sebastopol is a pretty town with many amazing things to do.
HIKE OR CAMP IN THE SIERRA NEVADA MOUNTAINS
The majestic Sierra Nevada Mountain range from the eastern end of California to neighbouring Nevada is one of the most incredible landscapes in the area. It is a paradise featuring hundreds of miles of trails, excellent driving routes, and plenty of stunningly located campsites, making it one of the top things to do in northern California.
You can hike for multiple days or drive around or camp amidst surreal snow-capped mountains. Soak yourself in the many hot springs or enjoy star gazing at night.
If you are up for the challenge hike the highest mountain in the contiguous United States, Mount Whitney, the crown jewel of the Sierra Nevada Mountain range.
No matter what time of the year, the beauty of these beautiful mountains never ceases to amaze its visitors, from vibrant spring wildflowers to turquoise alpine lakes and stunning fall colours.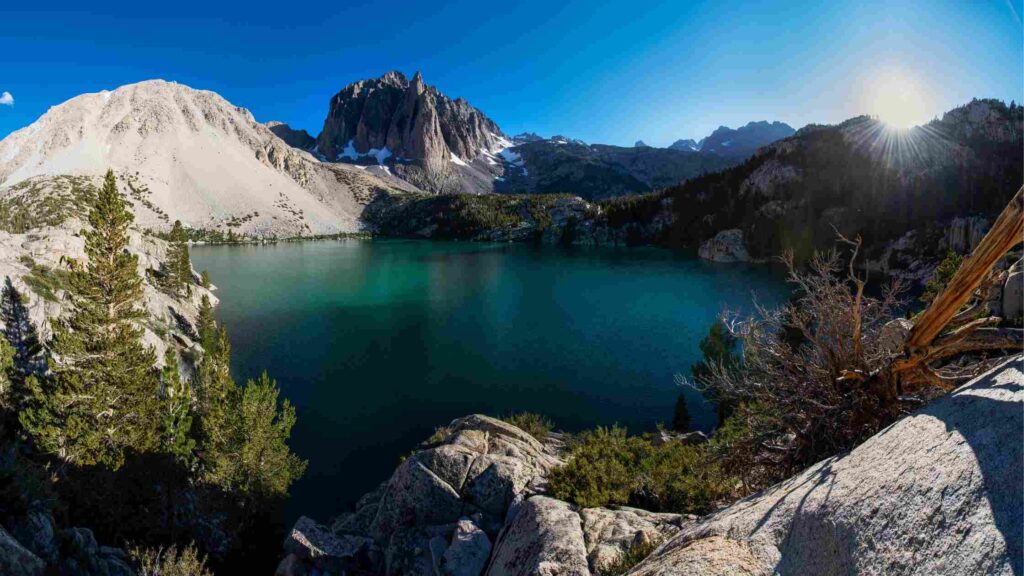 If you are looking for multiple-day hikes, check out the ones near Alabama Hills near the pretty Lone Pine town. Or head to the best alpine lakes of the Big Pine Lakes, one of the top camping locations.
Whatever you pick, be guaranteed a once-in-a-lifetime experience in these fantastic Sierra Nevada Mountains.
MAMMOTH LAKES AND MAMMOTH MOUNTAIN AREA
Home to one of the biggest ski resorts in California, Mammoth Mountain is one of the most popular activities in Northern California.
Mammoth Lakes, tucked in the eastern Sierra Nevada mountains, is a perfect location for one of the long weekend trip ideas making it the perfect among northern California things to do.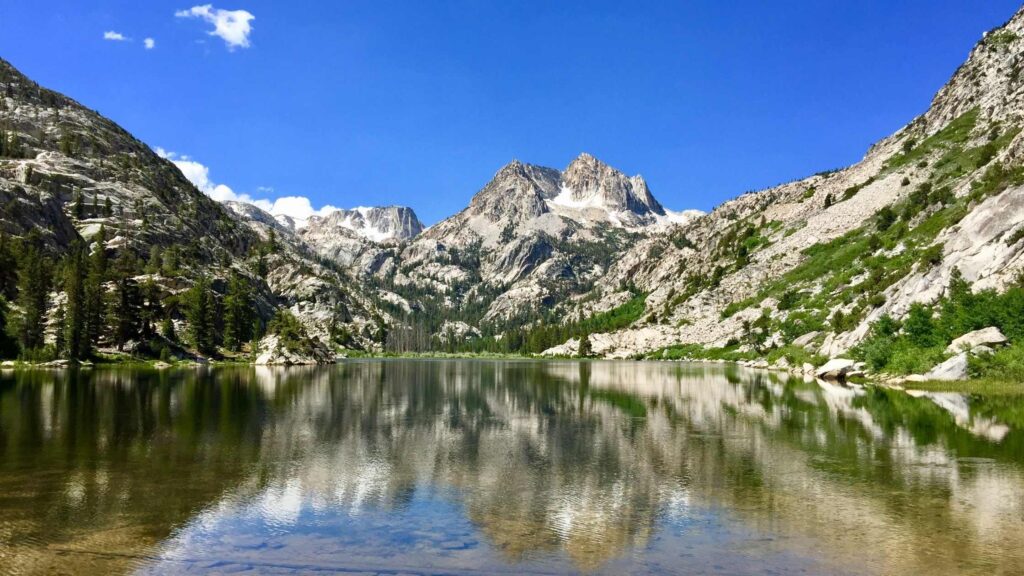 The region around Mammoth Lakes has many gorgeous natural hot springs known for their rich minerals.
RECOMMENDED – 35 AMAZING THINGS TO DO IN MAMMOTH LAKES
PLACES TO VISIT
I recommend visiting the Mammoth Welcome Center as a first stop to learn the conditions of the trails and to grab maps. Also, if you need tire chains, you can get information here or head to the Mammoth gas station.
Go Hiking around the Mammoth Lakes area for some of the best vistas of the Sierra Nevada region. Beginner hikers can try the 1.8 miles of Crystal Lake Trail.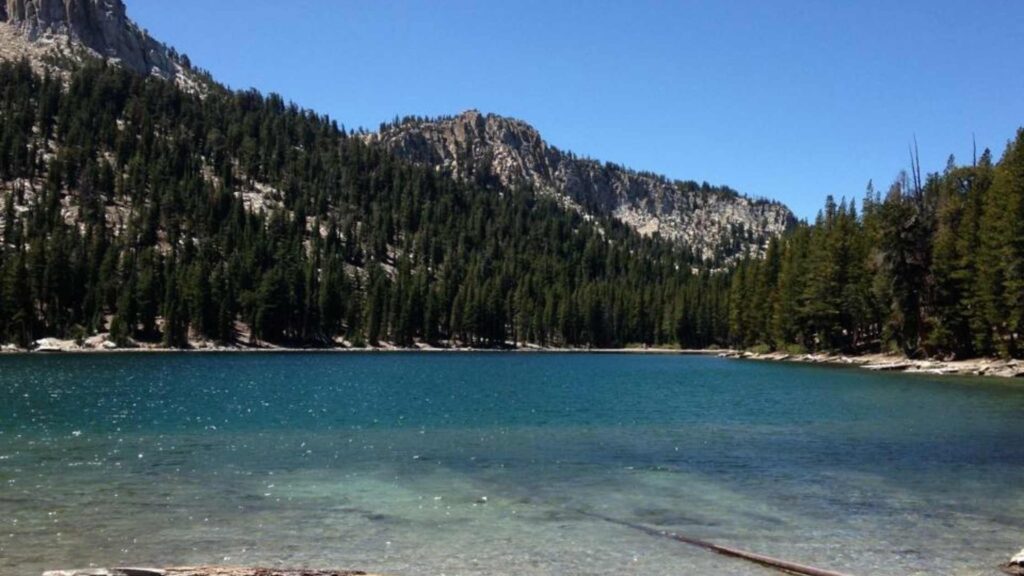 My other favourite trails include Devil's Postpile and the Rainbow Falls hike, both around 4.9 miles. Also, try the 3 miles of Skelton Lake Trail, Mammoth Lakes Basin and Little Lakes Valley for panoramic views of the alpine meadows.
The incredible Gondola ride is the best way to explore the Mammoth Lakes. You can get the best views from the Minaret Vista. Also, try the free local transit.
Take a tour of the local hot springs in Mammoth Lakes. Some famous sites include Wild Willy's Hot Spring, Hilltop Hot Spring and Hot Creek Geological Site.
If you visit lakes during winter, try snowshoeing, tubing, skiing or snowboarding at Mammoth Mountain.
Check out the Mammoth Museum at the Hayden Cabin Tamarack Cross Country Ski Center.
Grab a local craft beer at the Mammoth Brew Festival and enjoy the blues music festival, which usually happens in August.
HOT AIR BALLOON RIDE AT NAPA VALLEY
If you love wine, you already know that Napa Valley is among the USA's top wine destinations.
Napa Valley, located in the Californian wine county, is among the best romantic things to do in northern California.
Recognized as the throbbing core of California's wine industry, Napa is a quaint place adorned with undulating vineyards, effluent castles and mountains, making it an ideal weekend getaway from San Francisco.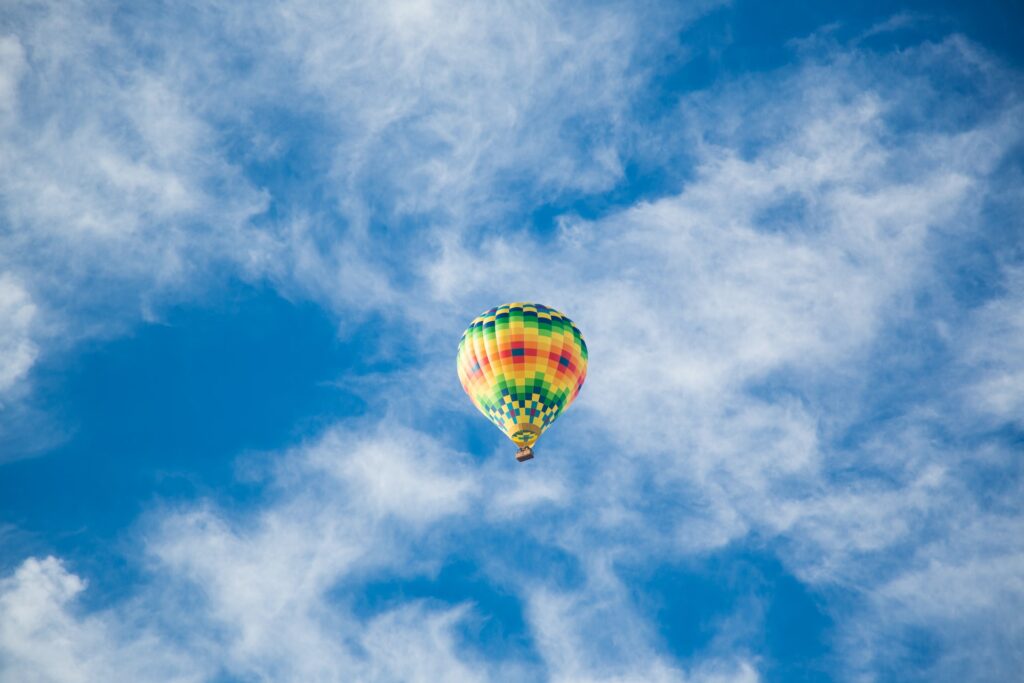 You can easily plan a day trip, but Napa Valley is one of the best weekend getaways from San Francisco.
Although Napa Valley is only 30 miles, it is home to over 400 wineries serving the best wines in the world, from sparkling wines to chardonnays and zinfandels.
Take this excellent guided tour with a picnic lunch for the best wine tour experience at Napa Valley.
WHAT TO DO
There are 400 wineries in Napa Valley, renowned for its top-notch Chardonnay and Cabernet Sauvignon.
Check out the other wineries in the area, including Stag's Leap Wine Cellars, the best winery in Napa, by taking a guided wine tour from San Francisco.
Enjoy the views of rolling vineyards, sipping your favourite wine as you go on the three-hour vintage train ride from Napa to St. Helena.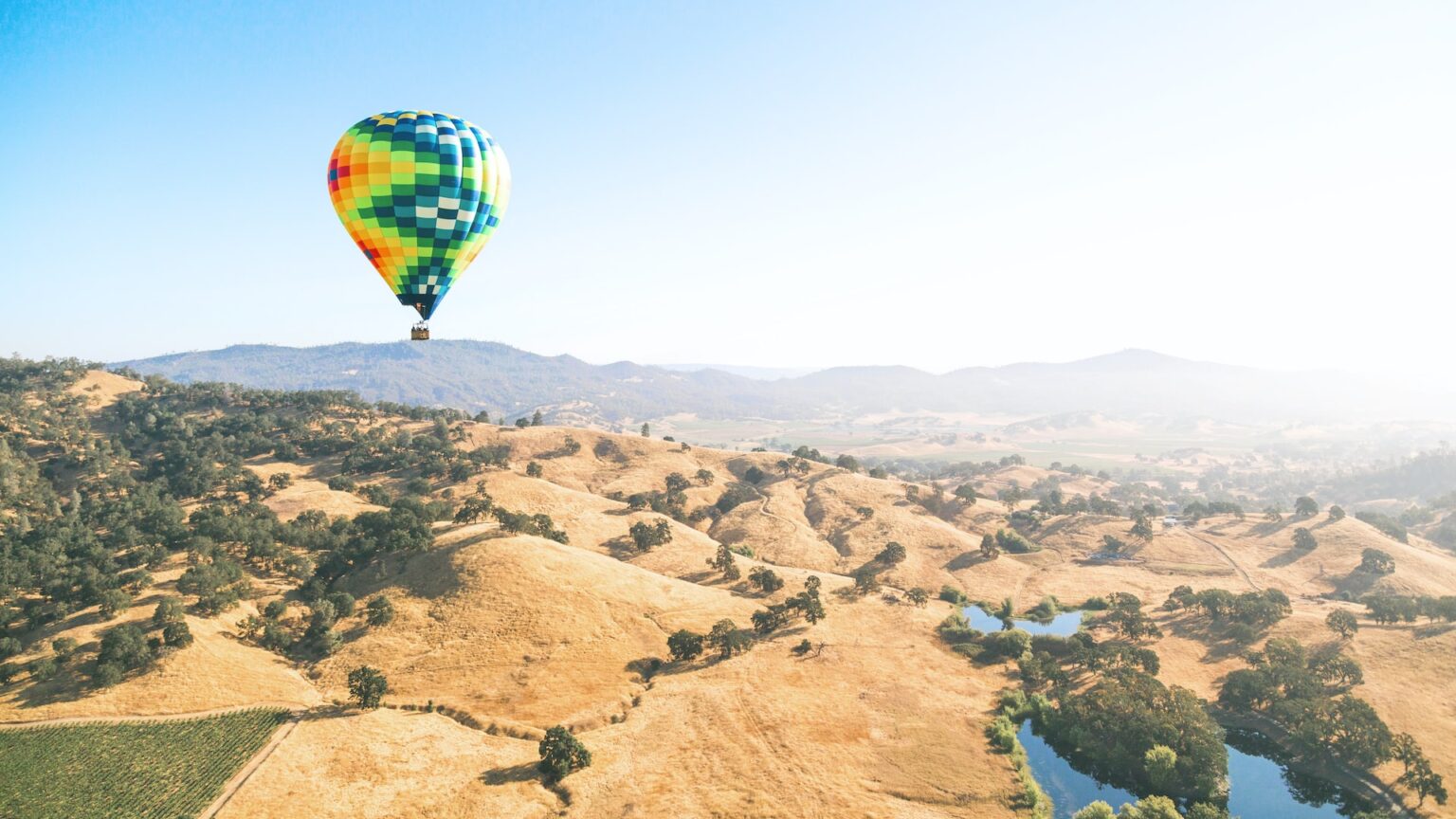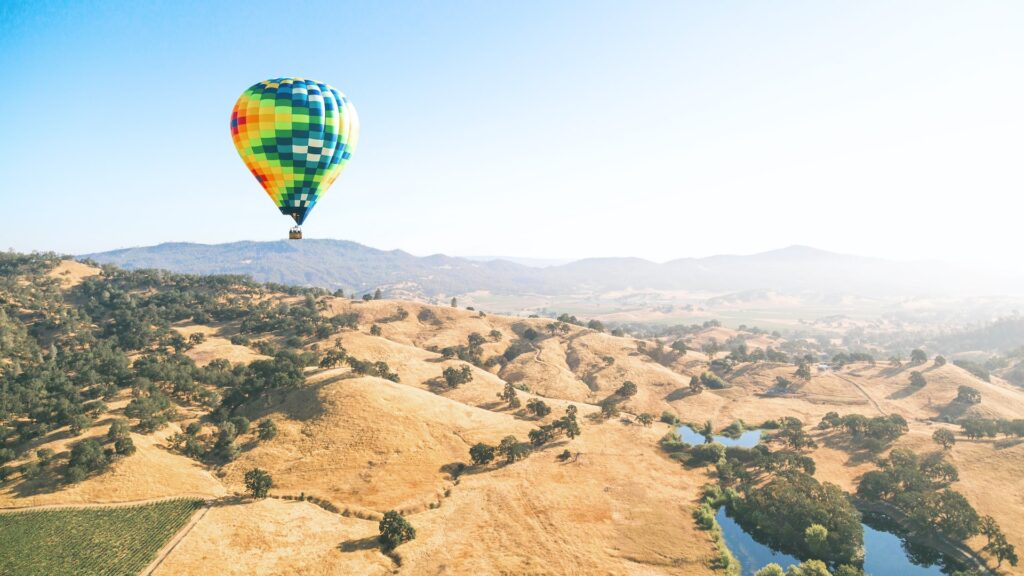 Explore Napa downtown and visit Oxbow Public Market for its renowned gourmet food.
Apart from the wineries, Napa is known for its natural hot springs like the Vichy Springs. Stay over the weekend at the Calistoga Hot Springs, a resort with a geothermal pool and cosy spa services.
Don't miss Napa's top attraction, a romantic hour-long journey in a hot air balloon over the valley's various wineries. You will discover the background of Napa's wineries on the trip, which departs from Yountville.
VISIT THE CHARMING HEARST CASTLE
One of the romantic things to do in northern California with your special someone is to stop at Hearst Castle, located near Morro Bay, the pretty coastal town.
Located on Enchanted hill, thirty miles away from the coast, it is one of the beautiful landmarks known for its rich history, grand architecture and stunningly decorated interiors.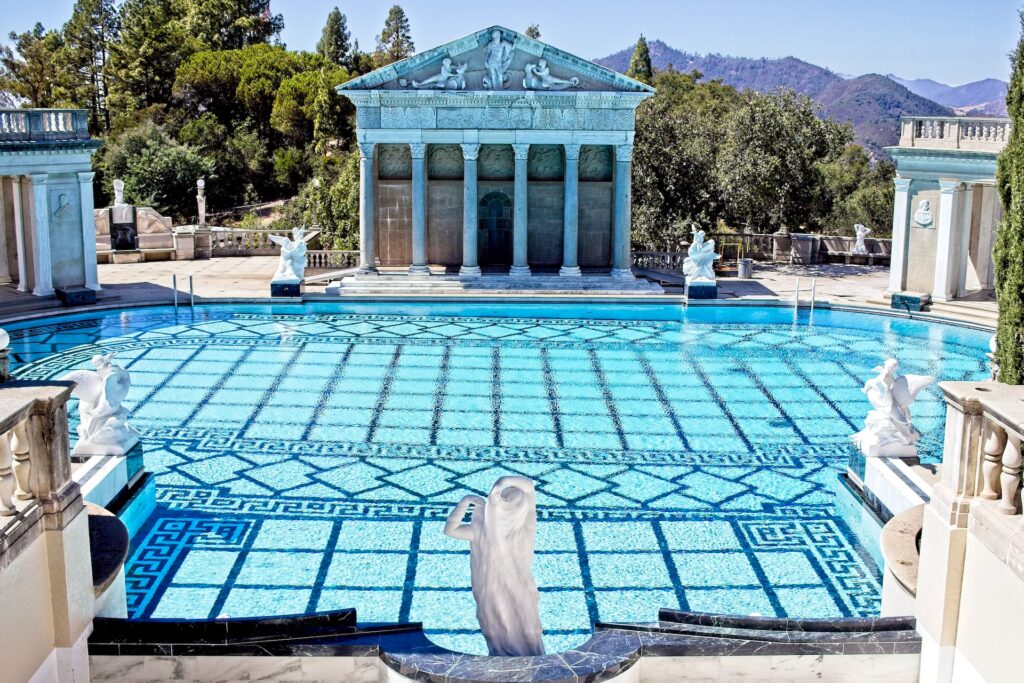 The National Park Service maintains the castle and is home to a well-maintained library, a state-of-the-art museum, and lovely gardens overlooking the beautiful Pacific.
Take a guided tour to explore the lavish interiors of the castle and witness the main draw of the castle, the swimming pool, which was once the location for the world's largest private zoo.
Visit the Hearst Castle Visitors Center downhill to learn about the various guided excursions and the introductory video narrating the castle's construction.
MCARTHUR BURNEY FALLS
If you are visiting Lassen Volcanic National Park, add the gorgeous McArthur Burney Falls to your itinerary, located only an hour away.
McArthur Burney Falls is one of the best places to visit in northern California and certainly one of the best North California waterfalls plummeting down the rocky cliffs carrying more than 100 million gallons of water daily.
The waterfall and the surrounding forested acres are a part of Memorial State Park, the second oldest state park in California.
The easiest way to admire the beauty of these stunning waterfalls amidst beautiful forests is by taking one of the trails leading to many viewpoints.
If you have time, I highly recommend getting up close to the waterfalls as it is the best way to enjoy this. The easy 1.3-mile loop trail to the foot of the waterfall allows you to truly experience its 129-ft elevation.
If you are here in summer, cool off by swimming in the pool here at the base of the falls.
You can also camp at the nearby McArthur-Burney Falls Campground if you want to spend overnight accessing many hiking trails and also enjoy the local wildlife, and stunning landscapes.
OFFBEAT THINGS TO DO IN NORTHERN CALIFORNIA
LAVA BEDS NATIONAL MONUMENT
Another attraction near Lassen Volcanic National Park worth visiting is the Lava Beds National Monument, one of the unique things to do in northern California.
Lava Beds National Monument is known for its splendid rugged landscapes comprising hundreds of caves, rock formations, lava beds, and mountainous landscapes formed due to the volcanic eruptions in the region for over half a million years.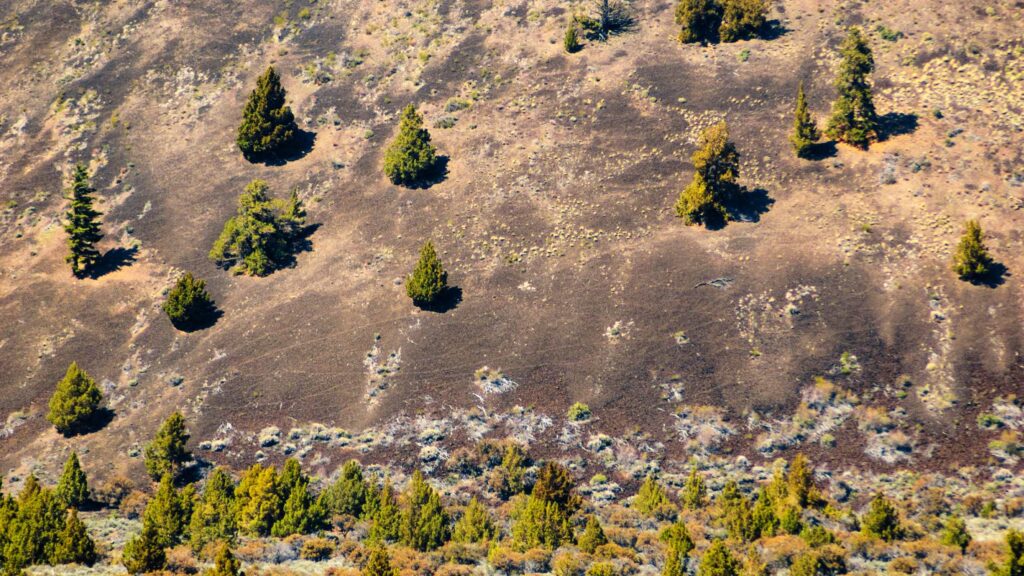 Explore the gorgeous volcanic cinder cones, shield cones, lave tubes, tunnels and the many caves on guided tours or hiking along the trails in the reserve area.
It is one of the top north California attractions if you are looking for some unique experiences on your holiday. Check out some prehistoric petroglyphs and pictograms by many Native American tribes, including Modoc, that inhabited the lands thousands of years ago.
Check out my exclusive guide if you want to explore the other gorgeous Caves in Northern California.
WINCHESTER MYSTERY HOUSE
One of the quirky northern California attractions if you want a spooky trip is Winchester Mystery House, the residence of Sarah Winchester, widow of William Wirt Winchester, in San Jose.
This Victorian mansion holds the world record for the most prolonged continuous house construction, for 38 years, beginning from 1866.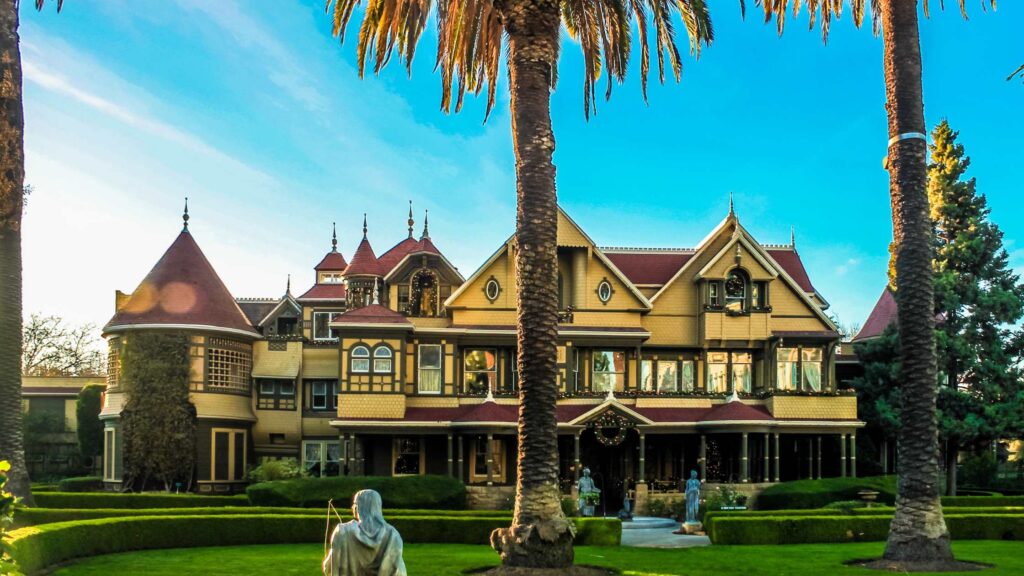 This massive house earlier spanned across 150+ acres, and although it only contains less than 10 acres now, the mansion is still huge and supposedly has 160 rooms, 2000 doors, 10,000 windows, 17 chimneys, two basements and three elevators.
Since its construction, it is said to be haunted by the ghosts of people killed with Winchester rifles. To pacify these haunting spirits, Sarah Winchester had to build the house and kept reconstruct it till her death.
The house has many secret passages and resident ghosts. It is fun to tour the house on a guided ghost tour that will take you through the maze-like mansion.
STROLL ALONG THE GLASS BEACH
The coast of Northern California is home to many stunning beaches, but the one that's more dazzling than the rest is Glass Beach, located in Fort Bragg on Pacific Coast Highway, for which this town is mainly known for.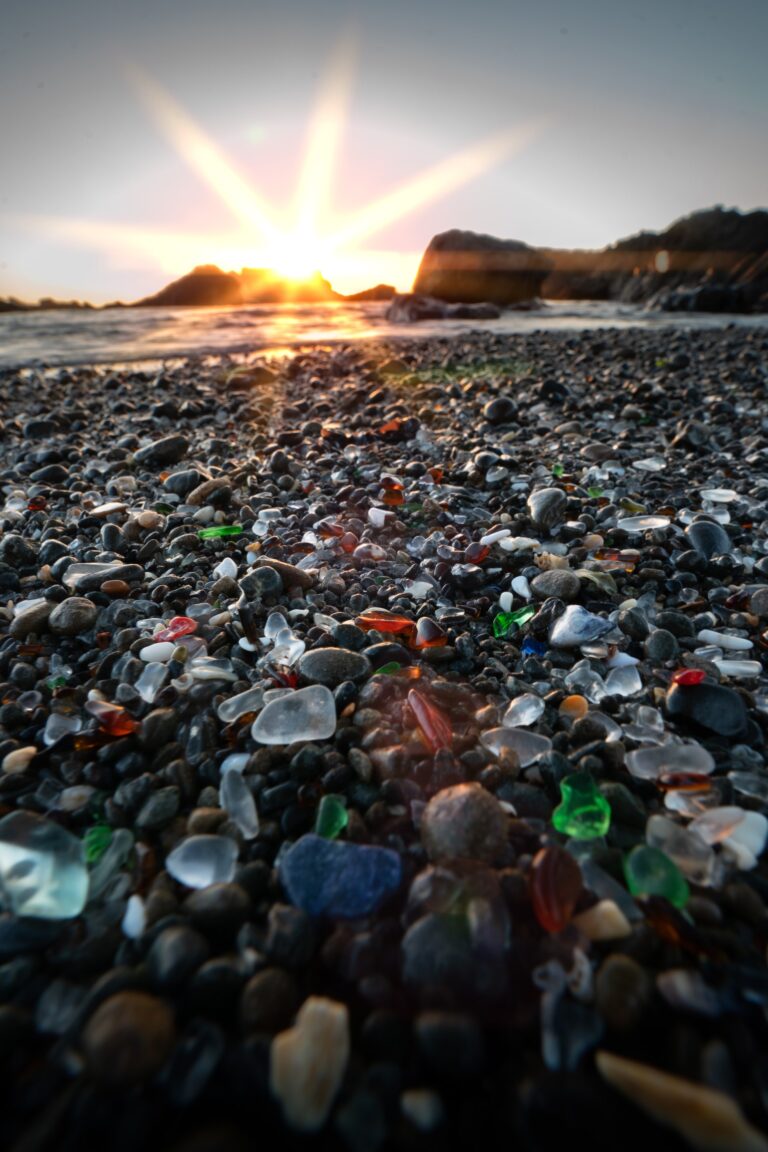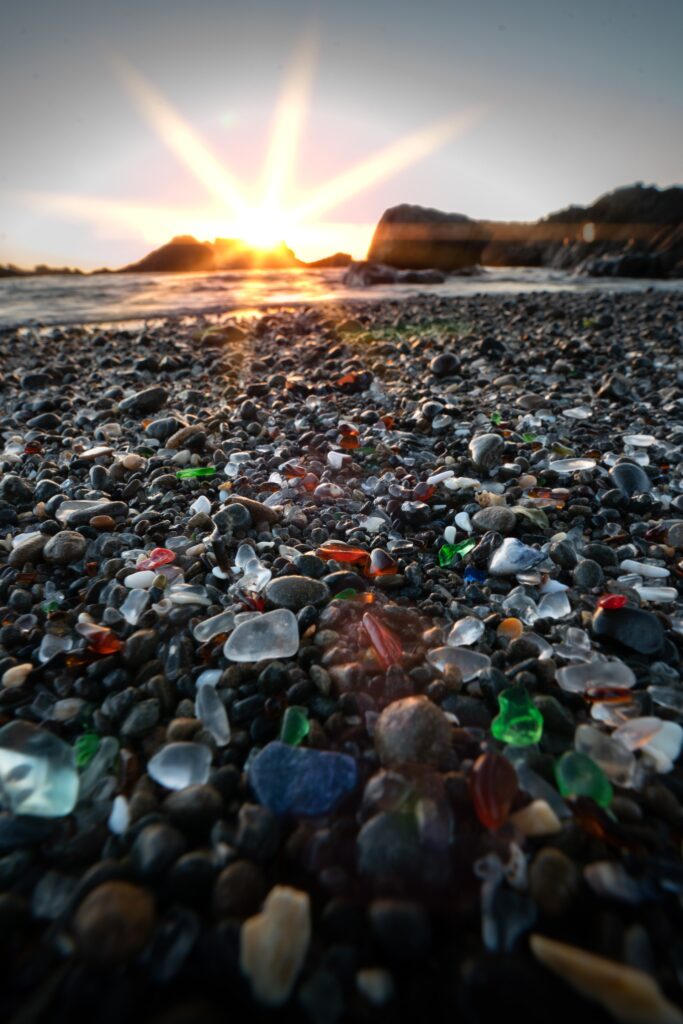 Glass beach is coved in little bits of colourful glass pebbles that are the remains of a former dump site here, where all the glass bottles eroded over and now look like coloured pebbles.
Now a state park, it is illegal to collect glass at Glass Beach to preserve the remaining shards. It is one of the perfect spots for a quick stop along the Pacific Coast Highway on your road trip to get down and take a stroll along the shore.
RUSSIAN RIVER
Surrounded by some of the prettiest small towns in California like Cloverdale, Geyserville, and Healdsburg, the Russian River is one of the best things to do in northern California for nature lovers, which meanders alongside the lush wine country famous for producing excellent Pinot Noir wines.
PLACES TO VISIT
You can explore the small towns along the Russian River on a road trip, including stopping at the many wineries. Or enjoy a relaxing cruise down the Russian River.
It is one of the popular picnic spots in summer as it offers the best conditions for swimming and paddling. If you want some adventure, try kayaking, canoeing, fishing or rafting.
You can go to the hearts of the forests nearby on a quest to explore the giant redwood forests. There are also many other beautiful hiking trails and bike routes offering beautiful views along the Russian River.
You can receive the generous hospitality of the locals by staying at one of the Bnbs and homestays where you can taste local food.
EXPLORE RUSSIAN GULCH STATE PARK
Opening hours – 7 AM TO 9 PM Every day
Entrance fee – Free
One of the offbeat things to do in northern California is hiking in Russian Gulch State Park, located in coastal Mendocino County.
Home to the famous landmark Devil's Punchbowl, Russian Gulch State Park also boasts gorgeous waterfalls and a beautiful bridge overlook.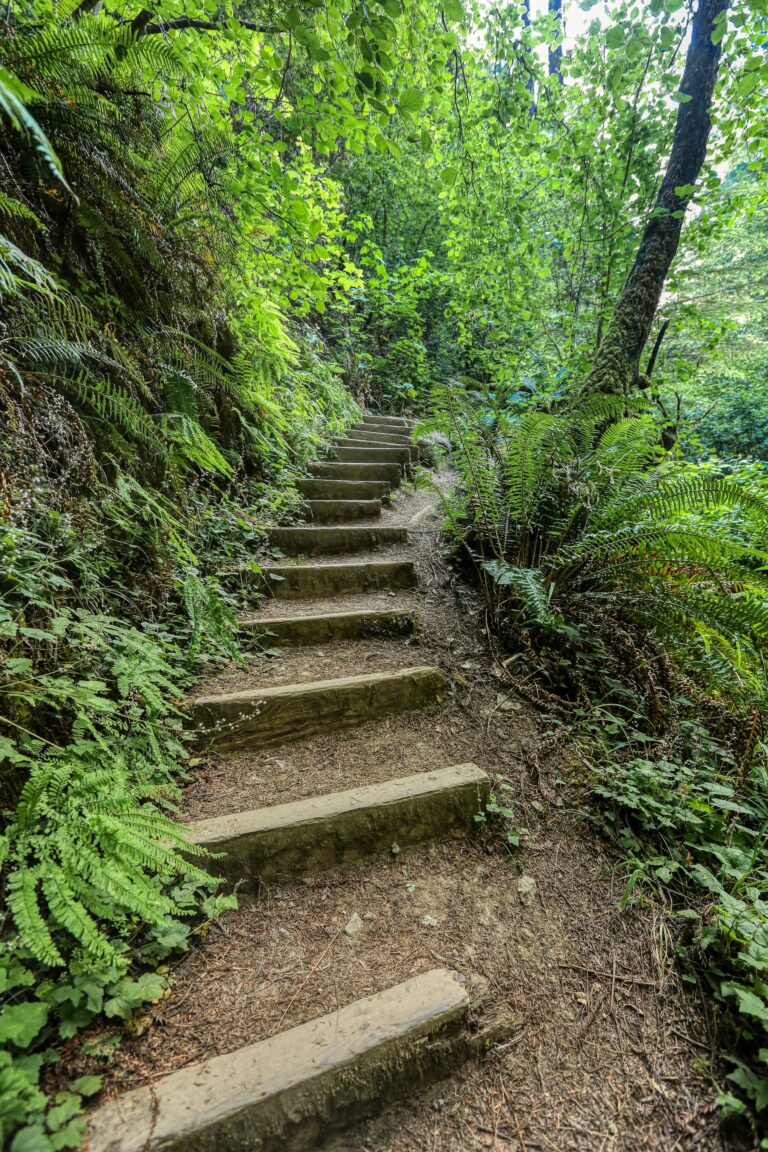 Since it is conveniently located near Fort Bragg, you can make a stop on your road trip in northern California.
Enjoy the stunning views of the sea cove, and hike in one of the many trails covering over 10 miles.
You can also enjoy horseback riding overlooking the beautiful ocean and beach views.
ENJOY HIKING IN MENDOCINO
If you are looking for a peaceful hamlet away from the hustle and bustle, hit the Pacific coast highway leading you to Mendocino and Fort Bragg, one of the best things to do in northern California.
Mendocino, one of the most beautiful beach towns in northern California, located a 3-hour drive from San Francisco, is known for its magnificent Victorian structures, saltbox cottages, stunning beaches, and incredible views.
You will be rewarded with the pleasant ocean breeze, incredible blue skies, fewer tourists crowd, sweeping sea views along the rocky cliffs and a laid-back local community.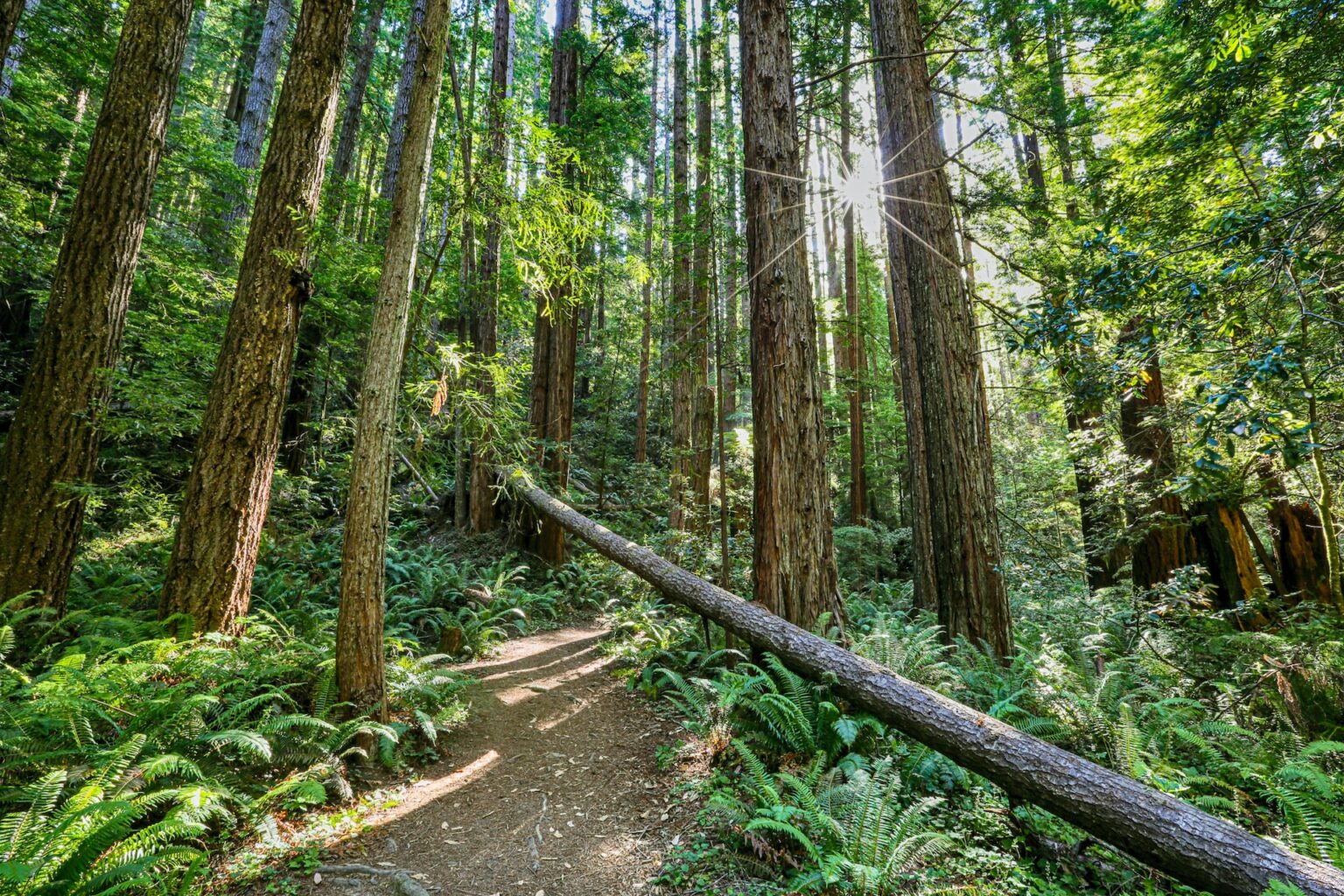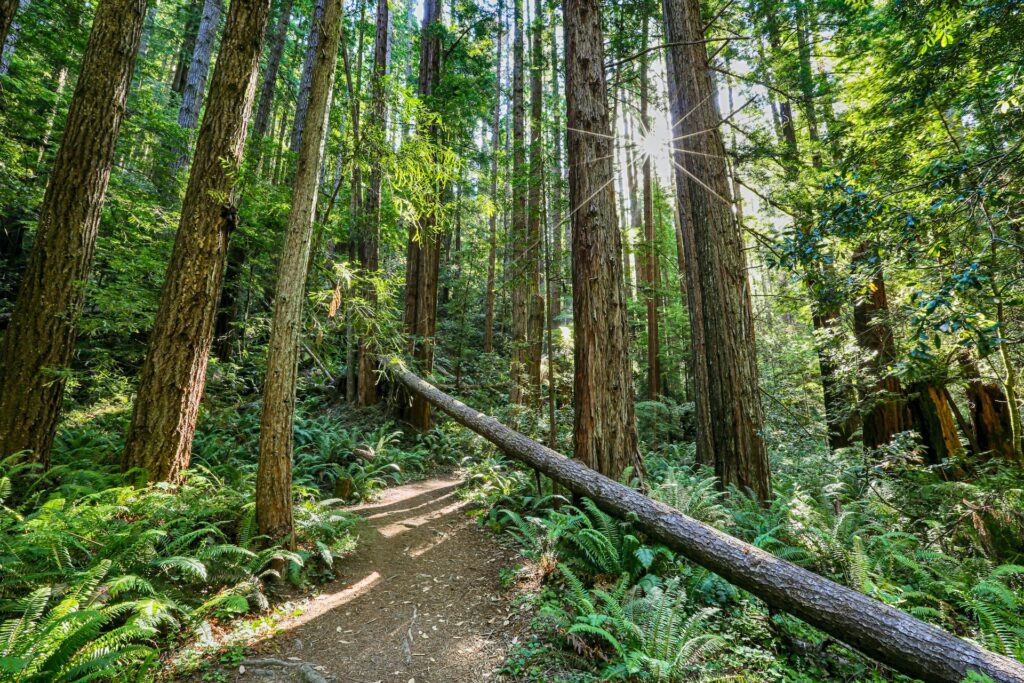 PLACES TO VISIT
Mendocino is adorned with incredible natural sea caves along the coast. Take a guided sea cave tour or kayak to take in the best views of the Pacific.
If hiking is your thing, check out the Van Damme State Park, which features miles of trails passing through a forested canyon with luxuriant ferns during winter.
Hike the trails in Mendocino Headlands State Park to spot the migrating grey whales and see the iconic landmark Point Cabrillo Lighthouse.
Relax in the MacKerricher State Park tidepools or explore the cascading waterfalls in the Russian Gulch State Park.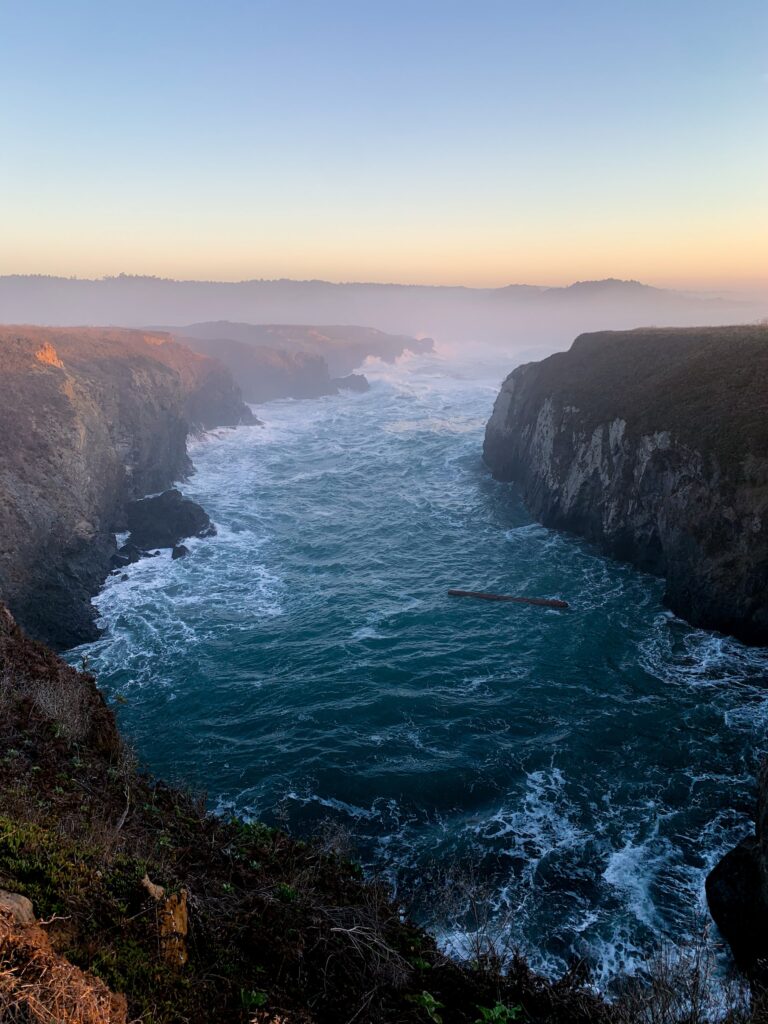 Visit the beautiful Mendocino Coast Botanical Gardens, decorated with dazzling holiday lights during the Festival of Lights, as you enjoy live music and Christmas delicacies.
Mendocino's downtown will set you on time travel. Stroll along the beautiful victorian architecture, and browse through the art galleries which promote local arts.
The downtown also features many cosy restaurants and wine-tasting rooms, a must-try in Mendocino. Explore the uncharted wine regions around Philo and Navarro.
The nearby Fort Bragg area has historical significance and houses a military installation.
Check out the Skunk Train, Fort Bragg's top attraction that runs through Pudding Creek Estuary, home to various coastal birds.
Suppose you enjoy hiking; try 4.5 miles of Fort Bragg Coastal Trail in the Noyo Headlands Park. Enjoy the ocean views at Pomo Bluffs Park.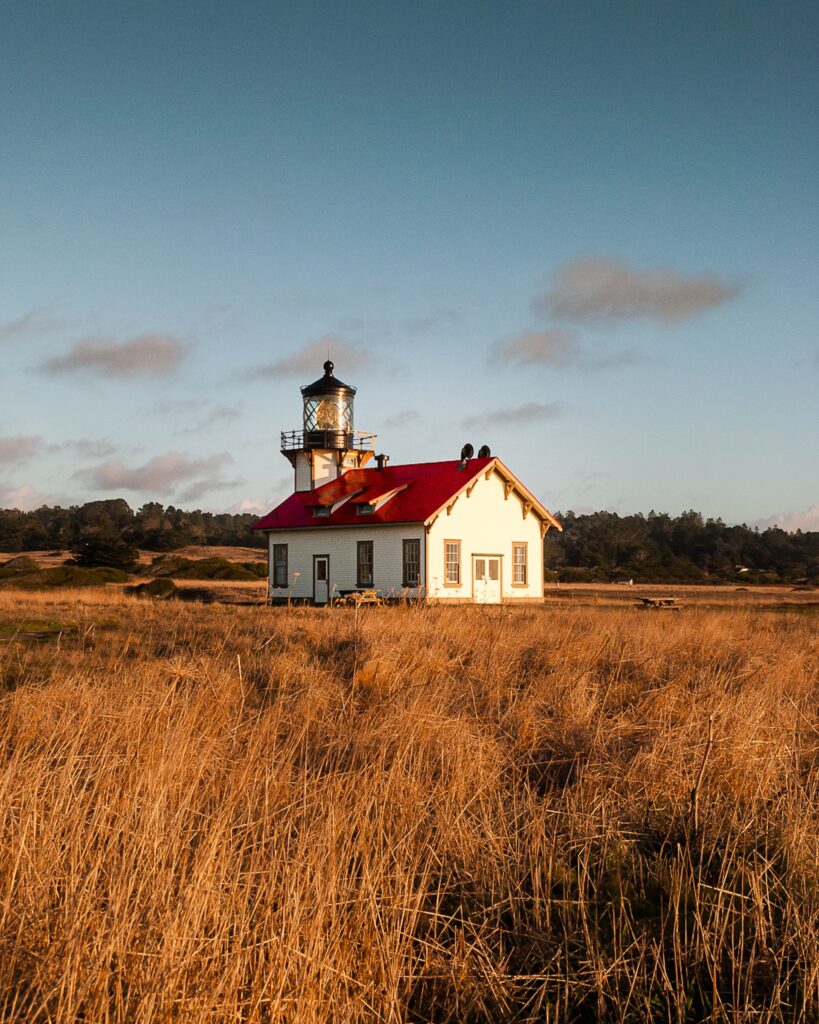 WHERE TO STAY
Agate Cove Inn is a popular choice, thanks to its excellent location and spacious suites, ideal for couples and families. Check here.
Headlands Inn Bed and Breakfast, located a 5-minute walk from the Mendocino Bay beach, is a fabulous option to stay for couples and families. Check here.
Seagull Inn Bed & Breakfast is an excellent place if you want something simple, centrally located, and best for couples. Check here.
ADMIRE THE COAST VIEWS AT PINNACLES NATIONAL PARK
If you wonder what to do in northern California, one of the best getaways for offbeat places is Pinnacle National Park.
Located inland from the Big Sur coastline near the San Andreas fault, Pinnacles National Park, known for its giant rocky towers, is one of the best places to visit in northern California.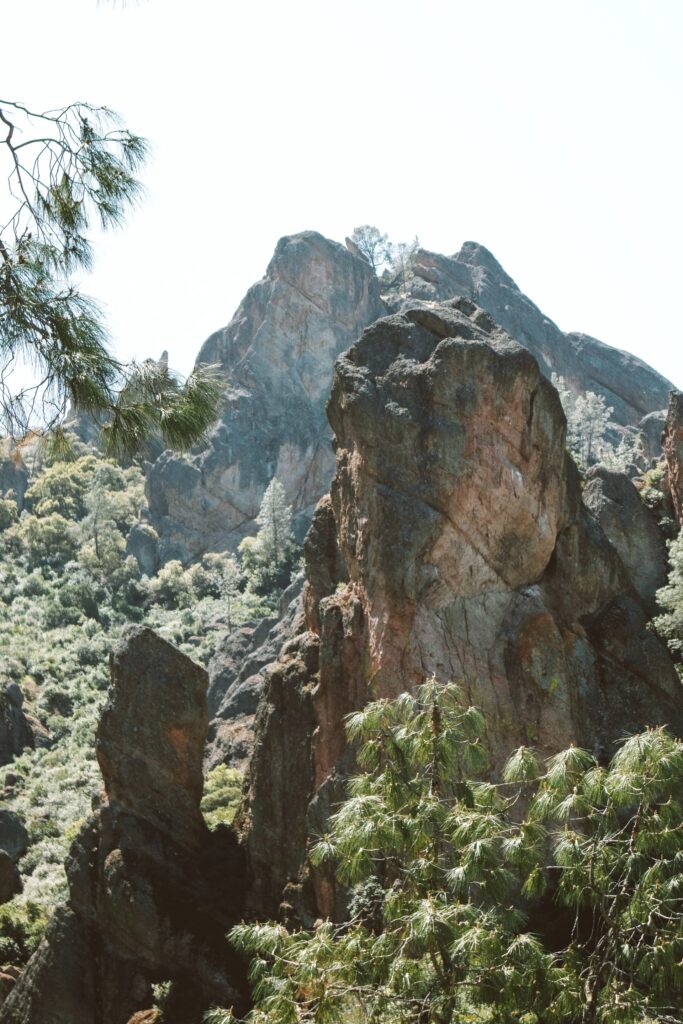 The craggy landscapes of the park have been formed by a volcanic eruption that happened 20 million years ago, which divides the park into East and West areas. Various unpaved trails connect both areas.
The park was also recognised as Pinnacles National Monument before it was declared a national park in 2013.
PLACES TO VISIT
Pinnacles National Park is known for its adventurous hiking trails, some leading to the two famous Talus caves. Try 6.7 miles loop hike from High Peaks Trail to Bear Gulch or the 2.2 miles Moses Spring Trail or the 9.4 miles Balconies Cave Hike for fantastic park vistas.
Check the status of the caves before you visit, or stop by the visitor centre since the area is generally closed after heavy rainfall to protect the local bat colonies.
If birdwatching interests you, this place will amaze you with its beautiful California Condors, known for its massive nine-and-a-half-foot wingspan.
The park features campgrounds with basic amenities if you plan to stay overnight.
Explore the nearby Mission Soledad, one of the 21 Spanish Missions in California, if you have spare time.
Wear layered clothes since the weather can get colder in the park. A shuttle bus facility runs on the weekends to the Bear Gulch Day use area from the visitor parking centre.
KAYAK AT MONO LAKE
Mono Lakes is one of the geologically rich lakes in Mammoth Lakes. It is one of the oldest lakes in the US and North America, with fossils indicating its age of at least 900,000 years.
Mono Lake is known for its strange and very high alkaline water, making it at least ten times saltier than ocean water.
WHAT TO DO AT MONO LAKE?
The unique terrain around Mono Lake is carpeted with limestone formations that add a dramatic outlook to the panoramas, which are a part of South Tufa State Reserve.
These formations, nicknamed Tufa Towers, are one of the top attractions near Mono Lake. You can even try to swim in Mono Lake, making you float.
You can enjoy hikes around the lake and go Kayaking, a popular activity in Mono Lakes due to its massive size.
The hours leading to the sunset is the popular time when most people arrive as the golden rays add magical touches to the lake waters.
You can follow a self-guided tour from the parking lot that forms a loop back up to your car. Some signs tell you about the history, make-up, and ecology of what you see.
MAP OF THINGS TO DO IN NORTHERN CALIFORNIA