Are you looking for the best natural hot springs in Mammoth? If so, you are in the right place. The great US 395 highway is one of the famous road trips in California, and it is no surprise, given the surreal mountain views of the Eastern Sierra Nevada.
Many people add Mammoth Lakes to their itinerary, with many fantastic attractions. One of the best things to do in Mammoth Lakes is going hot springs hopping.
The region around Mammoth Lakes is home to many gorgeous natural hot springs known for their rich minerals.
Some of these Mammoth Lakes Hot Springs was formed due to constant volcanic eruptions thousands of years ago.
While some are very popular and easy to access, there are a few secluded hot springs for those looking to enjoy soaking in the pools for a private experience overlooking the magnificent valleys dotted with the jagged snow-capped Sierra peaks wildflower blooms, and forests.
In this post, you will find the best hot springs, how to get there, where to stay, and some valuable tips that you need to explore the beautiful hot springs near Mammoth Lakes.
HOT SPRINGS IN MAMMOTH LAKES CA
WILD WILLY'S HOTSPRINGS(CROWLEY'S HOT SPRINGS)
Wild Willy's Hot Springs is among the most famous and top hot springs in Mammoth Lakes. Also known as Crowley's Hot Springs, it is one of the largest too, accommodating about 50 people.
Located off of Benton Crossing Road, it is one of the best natural hot springs in Mammoth Lakes, with no water being pumped in via pipes.
At the entrance, walk down the gravel and get on the wooden boardwalk through stunning meadows for about 0.2 miles to reach two pools, one smaller and a large one, which comprise the pretty Wild Willy's hot springs.
The larger pool appears first, surrounded by surreal landscapes of the Eastern Sierra comprising jagged peaks and stunning valleys, making for a must-stop when exploring all the fantastic things to do in Mammoth Lakes.
Recommended: How to Plan a Trip To Wild Willy's Hot Springs
You can find several tiers for bathers to sit in the large pool. The hot creek water is warm and is about 10ft wide and 3ft deep, which is shallow. This pool is muddy, but you will not get any stains.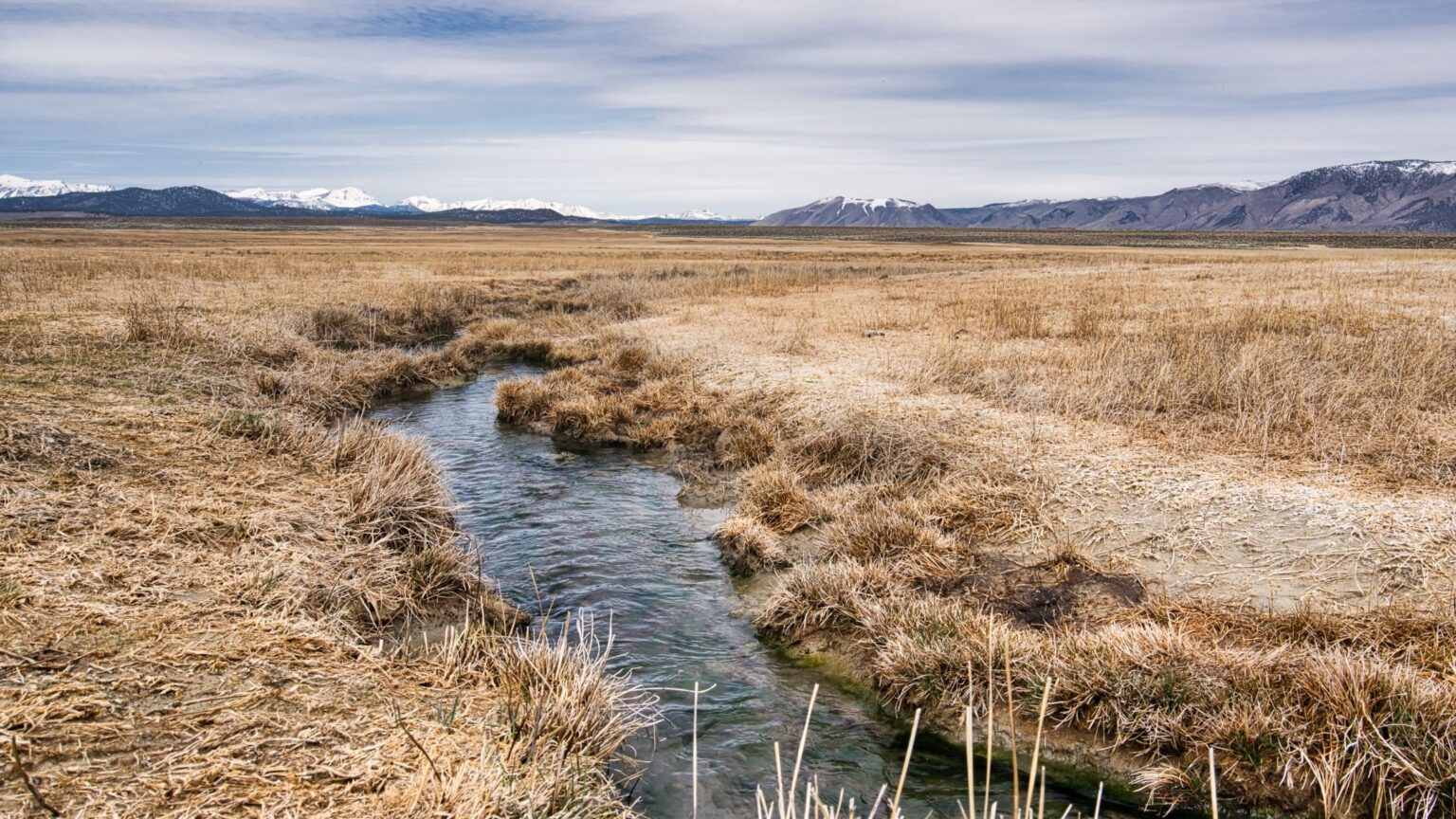 It is best enjoyed by soaking yourself in the pool, taking in the blissful panoramas all around you.
The second smaller pool is a separate heart-shaped pool, about 50 feet away from the main pool, which is a perfect romantic spot to enjoy relaxing baths.
Because Wild Willy's can accommodate so many people at once, it becomes a hot spring party destination during the weekends, especially on Friday and Saturday nights when it gets crowded.
Also, one of the most fantastic things about Wild Willy's is that there's a BLM land area nearby where you can camp for free overnight right next to this gorgeous spring.
WHAT IS THE TEMPERATURE?
The temperature in the main pool is 95°F (35°c) which feels warm while the temperature in the smaller pool is 105°F (40.5°c) which can be pretty hot if you are not used to hotter saunas.
If you are not used to hot water, it is best to warm yourself in the larger one for a while before trying the second one.
Recommended: 33 Awesome Things To Do In Mammoth Lakes California Apart From Skiing
WHAT IS THE BEST TIME TO VISIT?
The best time to visit Wild Willy's is spring, summer, and fall months, although it can get pretty cold during the late fall weeks.
HOW TO REACH?
From Mammoth Lakes, turn left onto Benton Crossing Road off Highway 395. Continue driving about 3 miles on Benton Crossing Road, and after crossing the cattle guard, turn left.
If you continue on this dirt road for a few minutes, you will see a small parking lot of Pulkey's. You have to take a walk for about 5 minutes that climbs up to arrive at Hilltop Hot Spring.
HILLTOP HOT SPRING (PULKEY'S POOL)
Close to Wild Willy's is one of the fantastic natural hot springs in Mammoth Lakes, Hilltop Hot Spring. It is also known as Pulkey's Pool, and since it is easily accessible from Mammoth and offers 360-degree views of the stunning landscapes, it is popular among tourists.
Pulkey's gets its name Hilltop for the gorgeous views of the surrounding meadows and High Sierra Mountains above the hill.
But as the name suggests, you do not have to climb any hill but take a leisurely walk through marshland that leads uphill to the hot pool.
Sunset is the best time to enjoy a soak in the pool. But Hilltop is a smaller pool that can fit up to 5 people without feeling squished, so it gets pretty crowded on weekends, evenings, and holidays.
If you want to have the springs to yourself, I'd recommend you to visit this hot spring on a weekday for a blissful soak admiring the beautiful views of the mountain.
Recommended – A Visit to Hilltop Hot Springs In Mammoth Lakes
Hot water with regulated temperatures is piped in from the geothermally heated creek nearby into the pool, which allows you to control the temperature of the water with valves.
There is a stone base in the pool to sit comfortably and relax, taking in the views.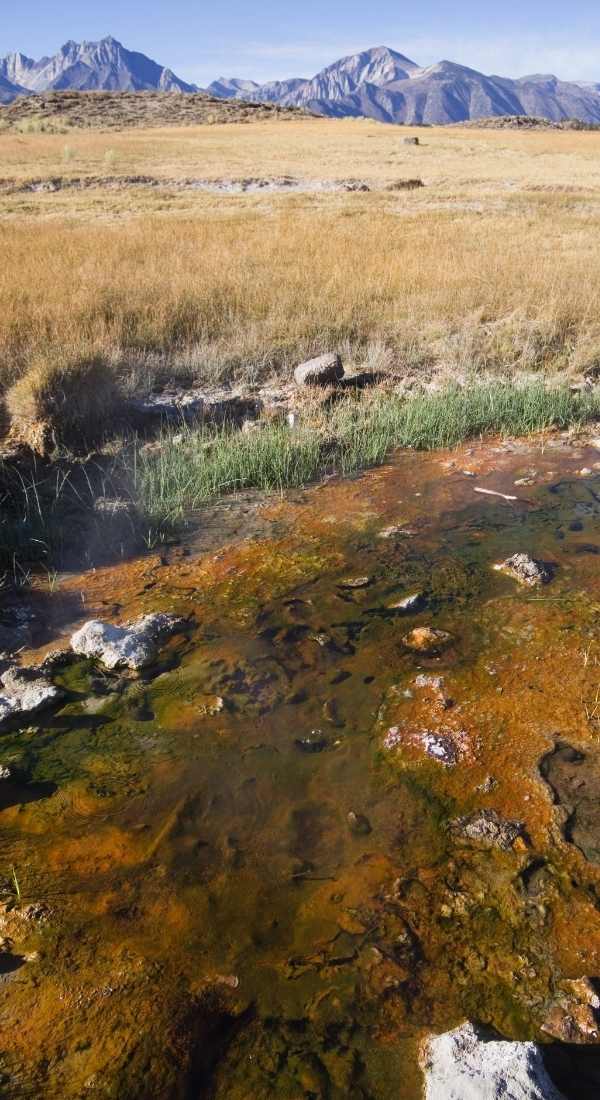 WHAT IS THE BEST TIME TO VISIT?
Spring and summer are the best months to visit Hilltop hot springs for a relaxing getaway.
WHAT IS THE TEMPERATURE?
The controlled temperature in the pool varies between 100-110°F or 38-43°C.
THE CRAB COOKER HOT SPRINGS
Considered one of the most beautiful hot springs in Mammoth Lakes, the Crab Cooker is for you if you want to soak in the blissful mountain views in the Mammoth Lakes hot springs with the hottest water temperature.
The Crab Cooker Hot Spring sits at a higher elevation than most of the other hot springs, so the panoramic views are surreal from the tub.
It is an artificial rock tub with hot water piped in from a nearby mineral spring approximately 30 feet away. If you leave the valve on, the water gets too hot, giving it the name Crab Cooker, which is hot enough to cook crabs.
Getting to the Crab Cooker Hot Springs involves getting on a very bumpy dirt road, best done with a high clearance vehicle.
It is not for you if you are traveling in a large group or want a spacious bath as it is small-sized and can comfortably occupy not more than four to six people without feeling packed.
As of August 2021, unfortunately, the Crab Cooker Hot Springs was closed as the water ran dry, and it is not sure when the bath would be up and running. Get to know about it at the information centre before if you want to head here.
Recommended – Plan a Trip To the Crab Cooker Hot Springs In Mammoth Lakes
WHAT IS THE BEST TIME TO VISIT?
Since the water is so hot, you can enjoy a rejuvenating bath best in the early morning and around sunset.
Also, it is one of the best Mammoth Lakes hot springs to enjoy if you are here during the winter months, as the super hot water will keep you warm.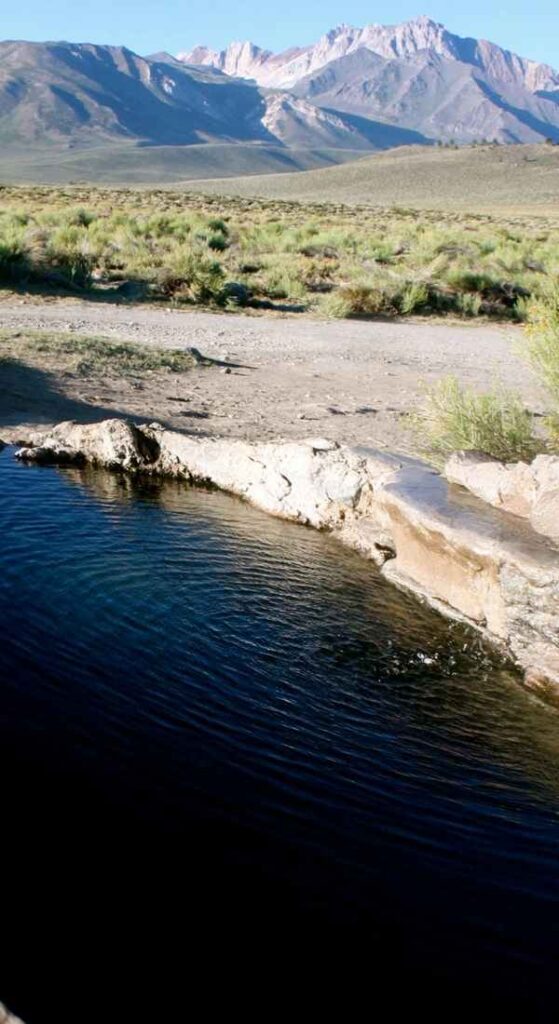 WHAT IS THE TEMPERATURE?
The minimum temperature is approximately around 105°F or 40.5°C, but you can increase it many degrees more if you feel like it.
HOW TO REACH?
To get to the Crab Cooker Hot Springs, drive down Benton Crossing and take the first left onto Whitmore Tubs Road. You will have to go past the turn for Rock Tub Hot Spring and from there, take the 4th dirt road on the right.
Continue on this road until you see a split and then take left of the two to drive for about 0.5 miles to arrive at the parking lot at the road end.
Close to the parking lot is a short trail that will lead you to the hot springs.
THE ROCK TUB HOT SPRINGS/WHITMORE HOT SPRINGS
One of the best hot springs in Mammoth Lakes you should visit if you are not looking for very high temperatures is Rock Tub Hot Springs.
Many people confuse Rock Tub Hot Springs and Whitmore Hot Springs as two different ones, but they are the same hot springs with other names.
Nestled into the rocks, Rock Tub Hot Springs is a small pool that can comfortably occupy four people.
The water is supplied from a small pipe a little far away, but, unlike most of the springs in the area, there are no valves to control the temperature.
It is a very popular spot for a soak in spring and summer because of pleasant water temperatures, easy access, and excellent views of the Eastern Sierra.
If you try and visit on a weekday, you'll be more likely to have the spring to yourself, but otherwise, it is mainly occupied due to its small size.
The water is shallow, and it can sometimes get muddy and damp, so take care while moving in and out of the tub.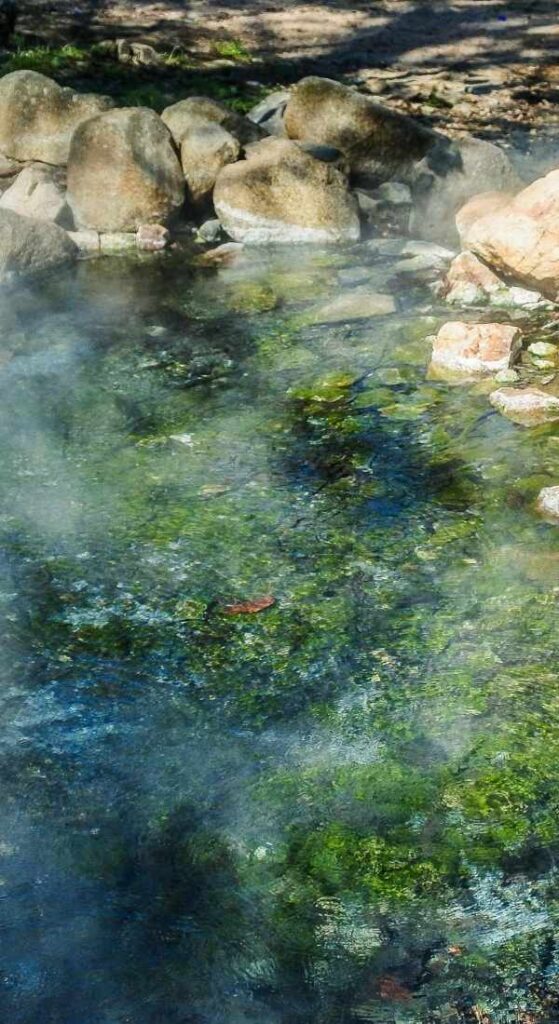 The Whitmore tub is also located in BLM land, which means you can always camp right next to it.
You will be camping with many RVs, trailers, and other camping tents in the peak seasons.
HOW TO REACH?
Rock Tub Hot Springs is also on the Hot Creek Geological Site. From Mammoth Lakes, drive down on Benton Crossing and take the first left on Whitmore Tubs Road.
After driving on this road for over a mile, turn right onto the second dirt road.
Drive for a few minutes on this dirt road to reach the parking lot, next to which is the hot spring, a brief walk away.
If you are using Google Maps, pick Rock Tub Hot Springs instead of Whitmore Hot Springs, although they are the same as the exact route.
BEST HOT SPRINGS IN MAMMOTH LAKES
BUCKEYE HOT SPRINGS
One of the hot springs in Mammoth Lakes that's located a bit further is Buckeye Hot Springs, situated atop a hill near Bridgeport. It is located in the Toiyabe National Forest just north of the town of Bridgeport, surrounded by stunning views of the Sierra Nevada mountains.
If you are okay with the long drive away from Mammoth, you will love your time at Buckeye Hot Springs, which comprises three large soaking pools next to a pretty Buckeye Creek running from the mountain.
These pools can accommodate around 30 people, so if you are here during the peak months, expect a lot of crowds despite being relatively lesser-known.
The hot water flows downwards from these creekside pools giving away the steam you can enjoy sitting in the pools admiring the views.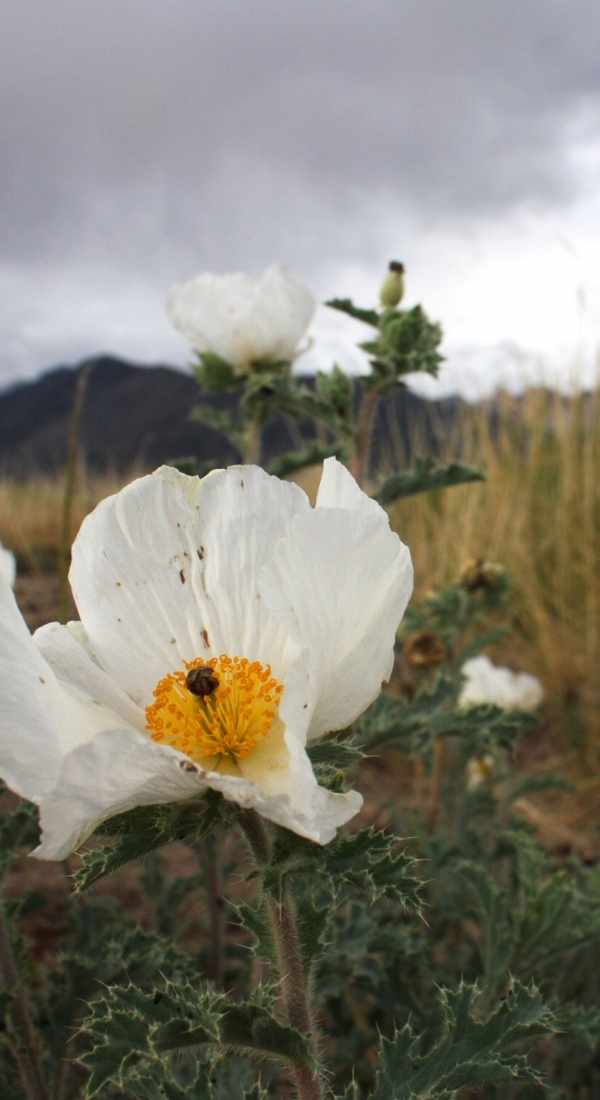 The larger pools are at the bottom, and these furthest pools are hotter than the first one, so if you want a hotter temperature, get to any of these two ahead. You can also dip in the Buckeye stream if you want a cold bath.
The hike to the springs is downwards and steep, and then the walk back up can feel tricky without proper shoes.
There are no options or permits to camp right around the pools, but if you wish to camp, check the campground of the Primitive Forest Service located about a mile away from Buckeye Hot Springs.
It is one of the pools where clothing is optional, so you may find people in their birthday suits which is typical.
WHAT IS THE TEMPERATURE?
The temperature in the pools can be regulated and varies between 100°F or 38° C to 140°F or 60°C.
HOW TO REACH?
From Mammoth Lakes, you have to drive about an hour north on Highway 395 for about 50 miles to reach Bridgeport. Continue on Highway 395 until you reach Twin Lakes Road.
Drive for about 7 miles to lead you to Doc and Al's Resort. From here, turn right on a dirt road to reach Buckeye Road.
Continue on Buckeye Road for about 2.5 miles, and you will reach a large parking area of Buckeye Hot Springs.
You need to follow a trail downstream to arrive at the hot spring on the right.
TRAVERTINE HOT SPRINGS
The Travertine Hot Springs is one of the famous hot springs near Mammoth Lakes. It is located further away from Mammoth, and you can add a visit to the Travertine if you are looking to plan any of the fantastic day trips from Mammoth.
The Travertine Hot Springs is a group of mineral springs located in Bridgeport.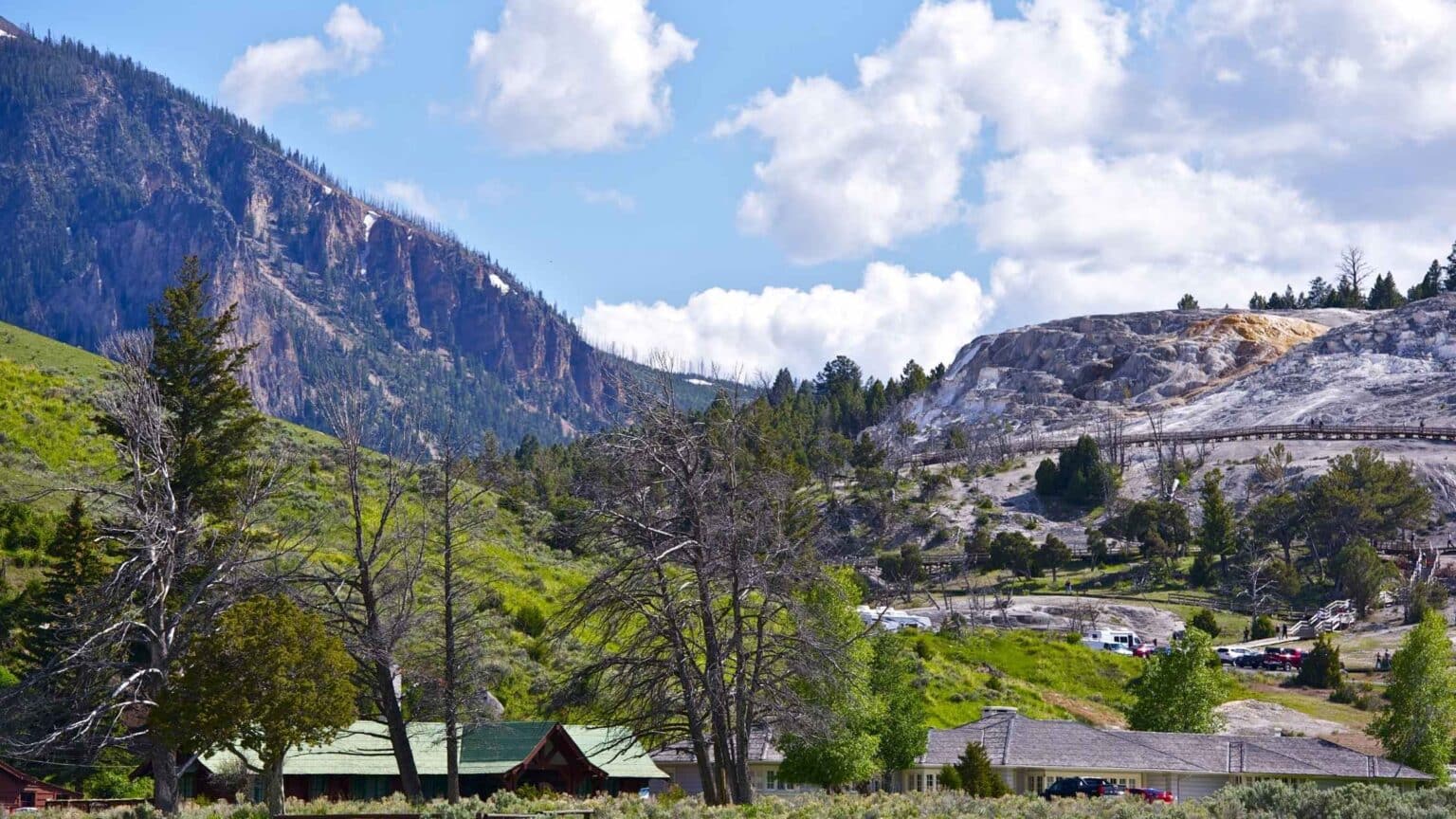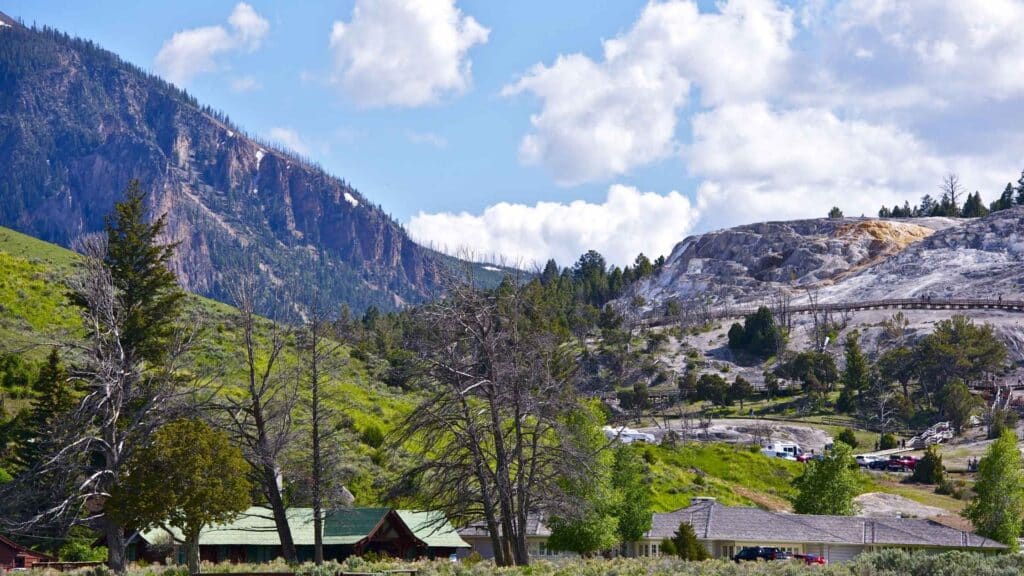 If you do not mind an hour's drive from Mammoth Lakes, the Travertine Hot Springs is a perfect day trip idea to admire the gorgeous mountain views while feeling rejuvenated in the natural pool.
The Travertine Hot Springs is one of the oldest thermal baths in the Eastern Sierra known for its minerals accumulated as the water runs through the travertine rock before collecting in the rock pools below.
Recommended – A Guide To Visiting Travertine Hot Springs
You can combine your visit to Travertine Hot Springs with a stop at Bodie Ghost Town, another Mammoth Lakes day trips destination.
Because of additional smaller tubs beside the main pool that can accommodate many people coming at various degrees of temperature and its excellent location, the Travertine Hot Springs is one of the top Mammoth Lakes hot springs.
There is also an ADA accessible cement tub next to the parking lot, before the mainsprings.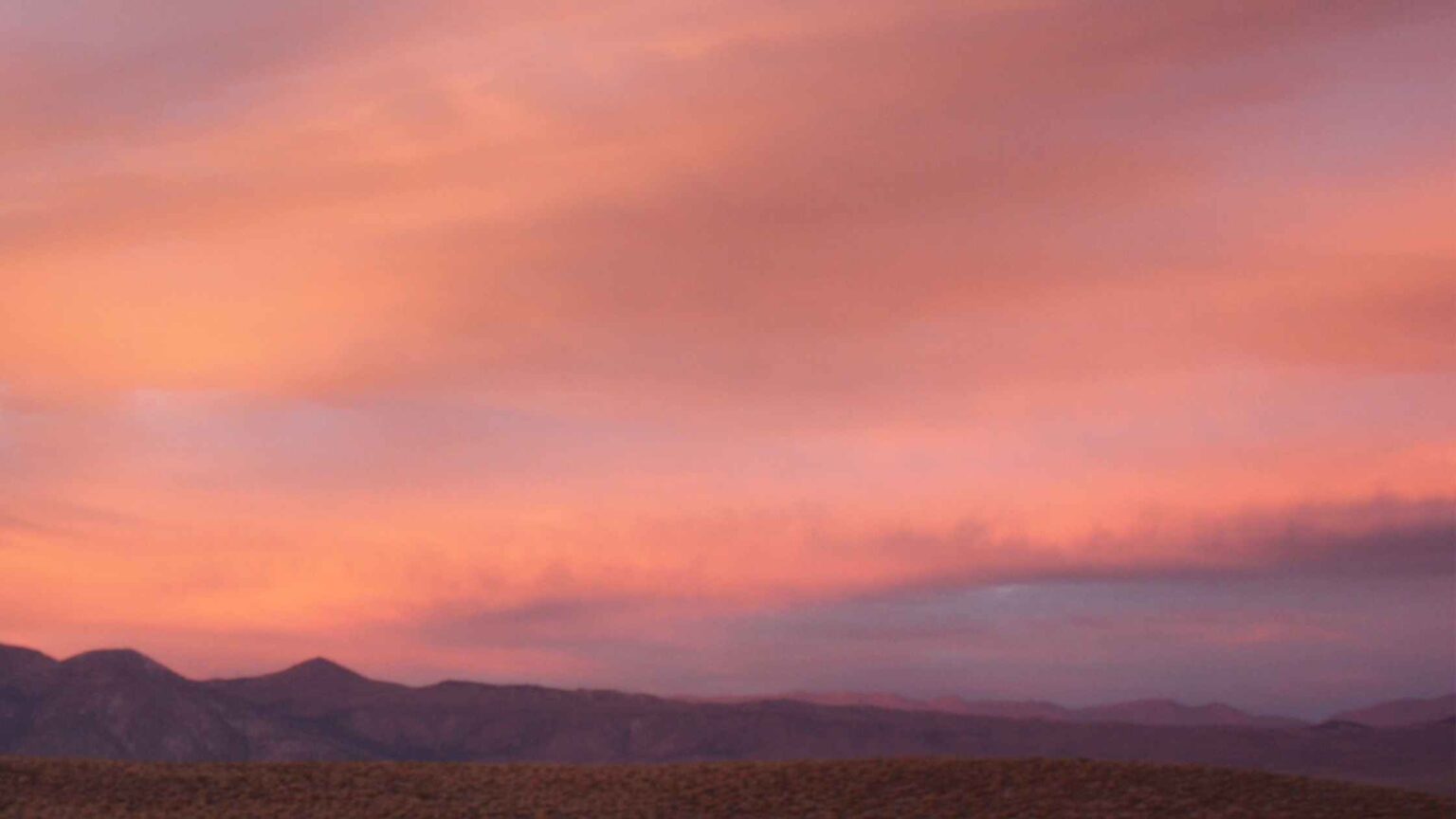 It is also one of the best choices for looking for clothing-optional hot springs in Mammoth Lakes.
You can access the nearby pools from the parking lot via short hikes, but you need to venture further to find more unique and secluded pools overlooking the Eastern Sierra mountains.
WHAT IS THE TEMPERATURE?
The minimum temperature that you can expect in the Travertine Hot Springs is about 100°F or 38°C.
HOW TO REACH?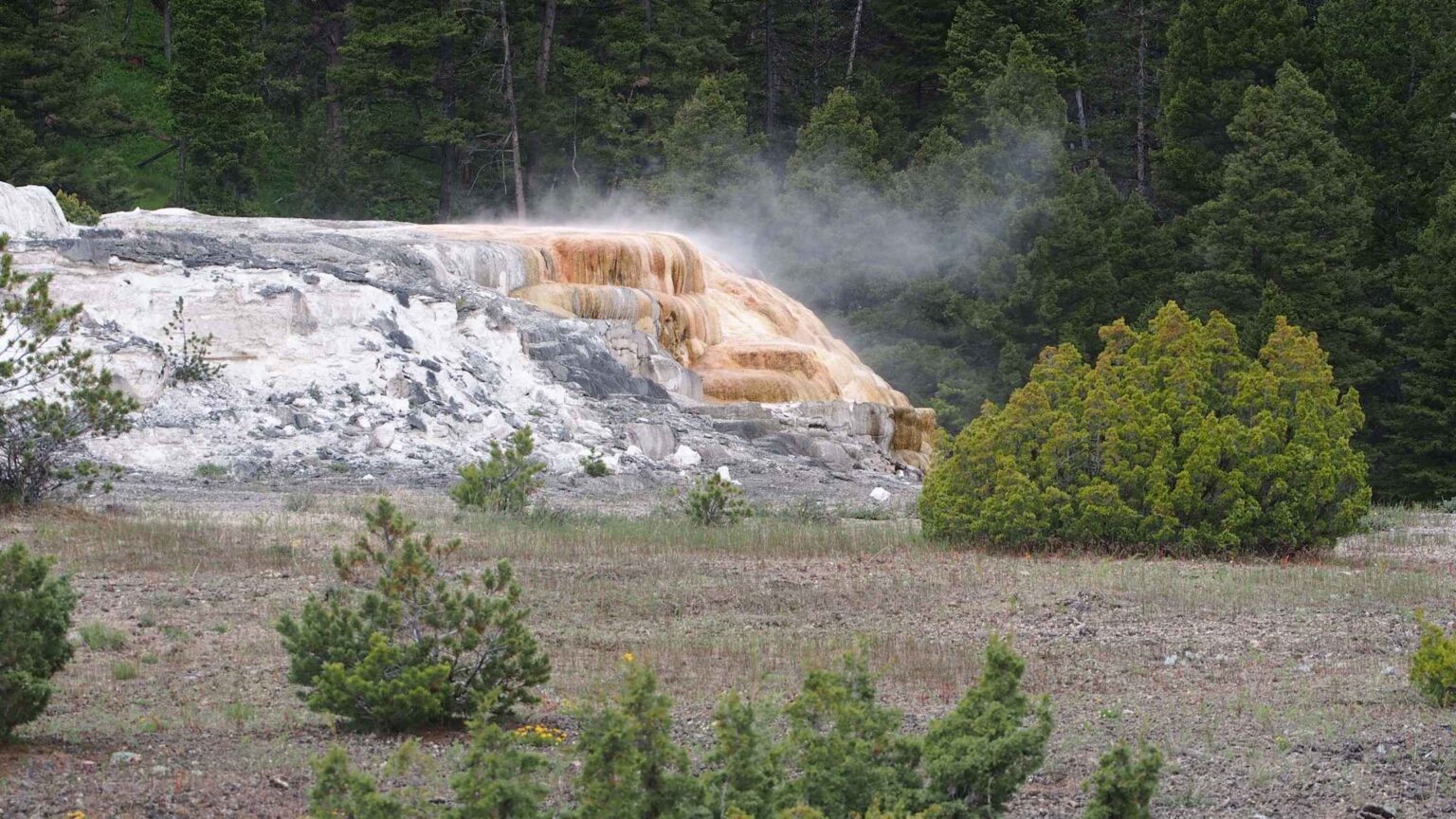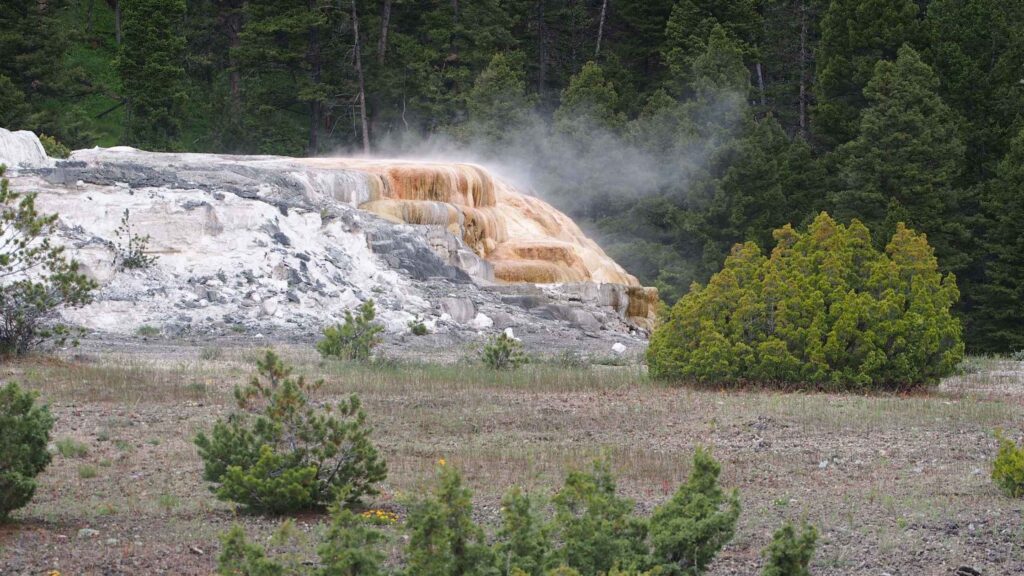 From Mammoth Lakes, you have to drive about an hour north on Highway 395 for about 50 miles to reach Bridgeport.
Depending on where you are arriving from, take a right (from Mammoth) or left(from Bridgeport) to get to Jack Sawyer Road for about 0.3 miles.
You will find a signboard and a dirt road ahead on your left. Take this road and keep driving for just over a mile to arrive at the hot springs parking lot.
To reach the main pool of the Travertine, go beyond the first cement pool that you will find near the parking lot.
SHEPHERD HOT SPRINGS
One of the lesser-known hot springs in Mammoth Lakes is Sheperd Hot Springs, which is an ideal choice if you want the spring for yourself.
Although the surrounding landscapes may not be as beautiful as the Crab Cooker Hot Springs, you will enjoy the stunning panoramas without almost no tourists, making it a more private and secluded experience.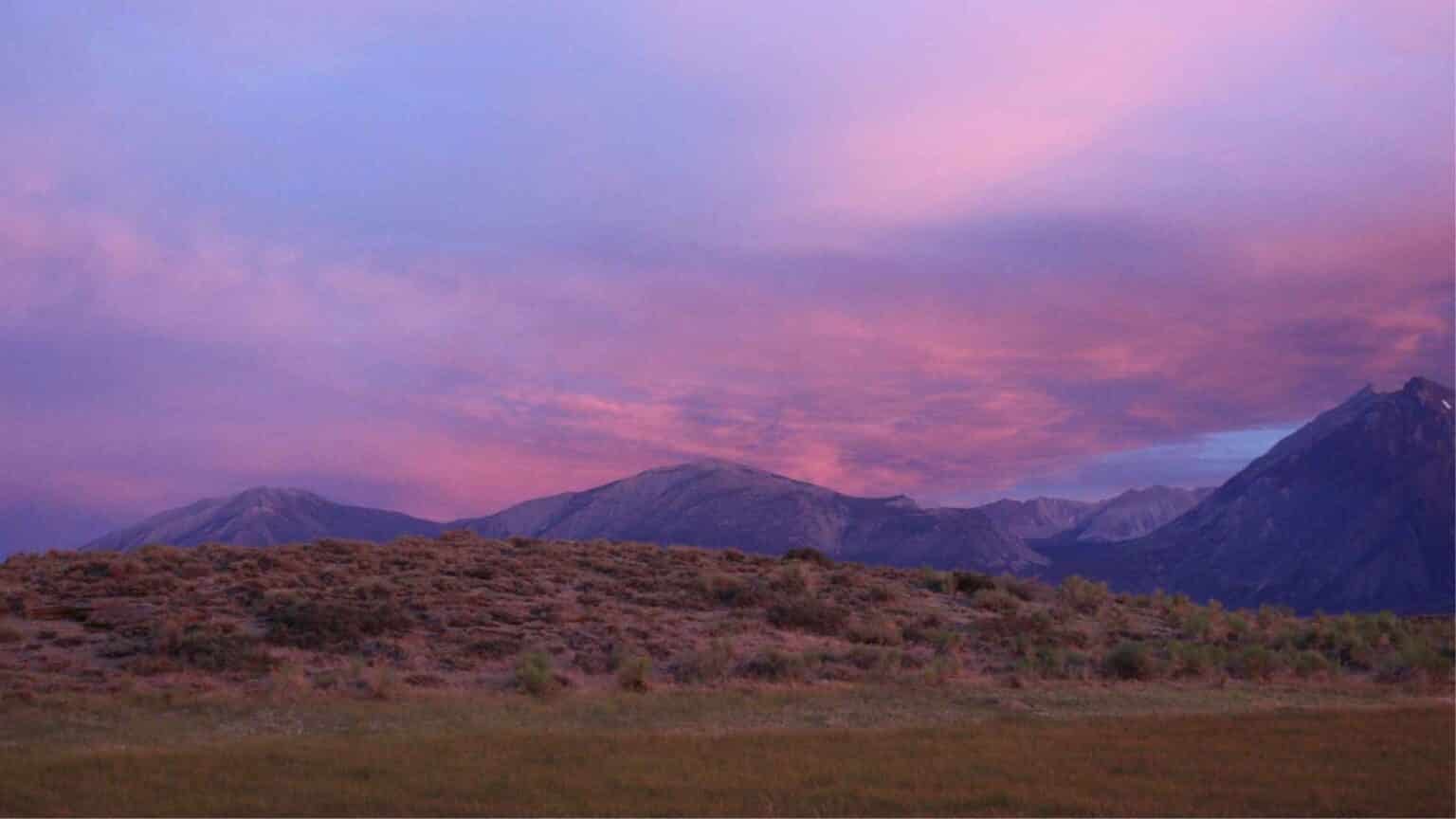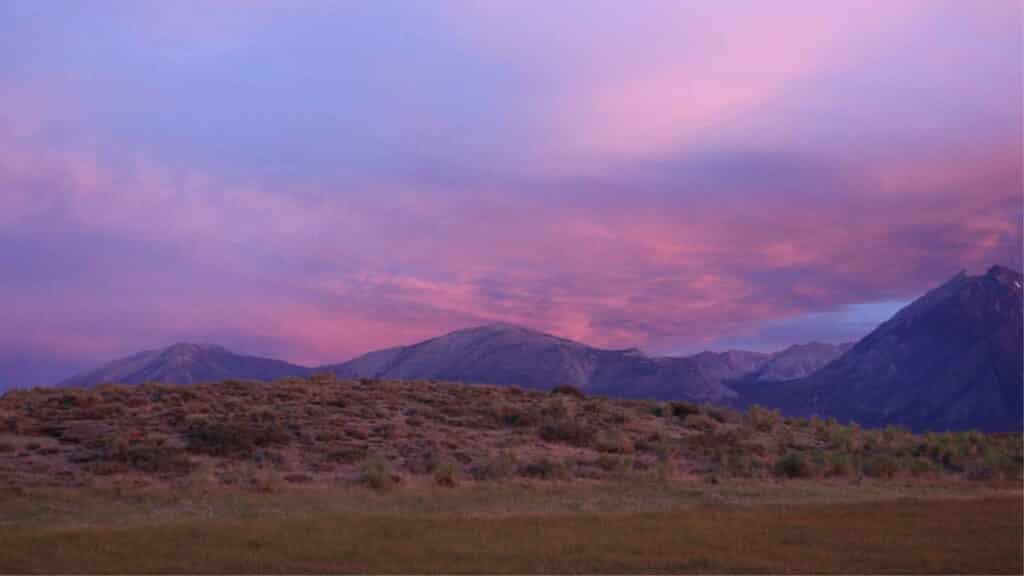 Shepherd Hot Springs is tinier than most on the list here, as it can accommodate not more than four people comfortably.
There is a stone bench within the hot spring that is a bit deep at that end that allows you to sit back and enjoy the spring and the surrounding blissful views of the meadow and the Sierra Nevada mountains.
It is best to go here during the shoulder months and during the odd hours of the day when you can get the whole hot spring for yourself.
Recommended – Shepherd Hot Springs, A Relaxing Getaway amidst the Sierra Nevada
You can adjust the hot spring temperature with a valve on a pipe about 20 feet away from the bathing pool.
From the Crab Cooker Hot Spring, a little trail connects you to Sheperd Hot Springs. So you can combine your visit to these springs.
HOW TO REACH?
From Mammoth Lakes, drive south on Highway 395 and turn left onto Benton Crossing Road. Keep going until you have to turn left onto Whitmore Tubs Rd. On this road, take the 6th dirt road on the right to arrive at Sheperd Hot Springs.
Although it is a drive on the dirt road, unlike the road to other hot springs in this area, this one can be reached without a high clearance vehicle.
WHAT IS THE TEMPERATURE?
The temperature is usually around 100°F or 38°C.
BENTON HOT SPRINGS
One of the best hot springs in Mammoth Lakes you should add to your itinerary, especially if you plan to camp, is Benton Hot Springs, located in the historic town of Benton, forty miles northeast of Mammoth Lakes.
A former silver mining town between 1865 and 1890 that was home to thousands of people, Benton is one of the destinations that draws tourists for its fascinating history and hot springs.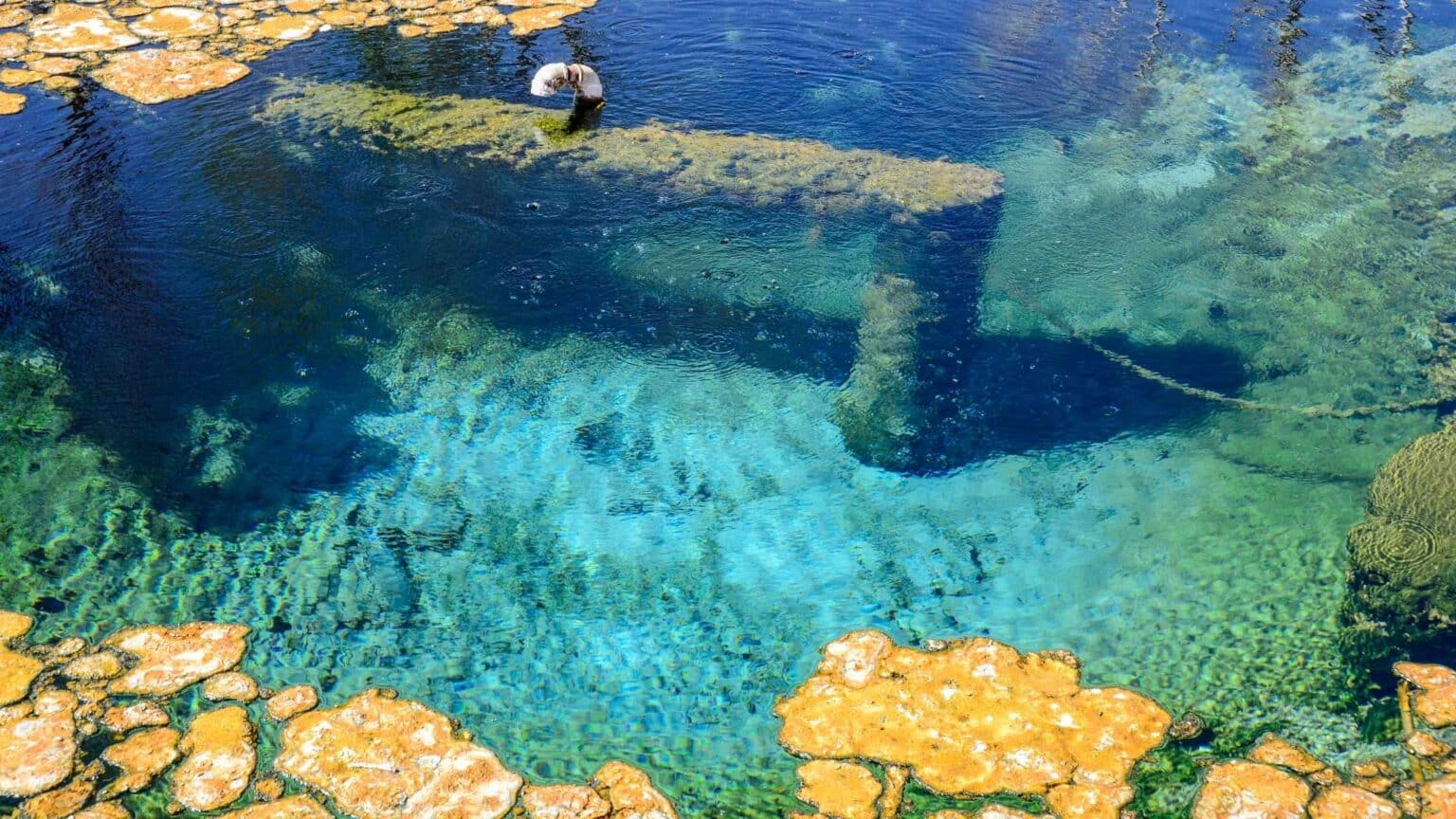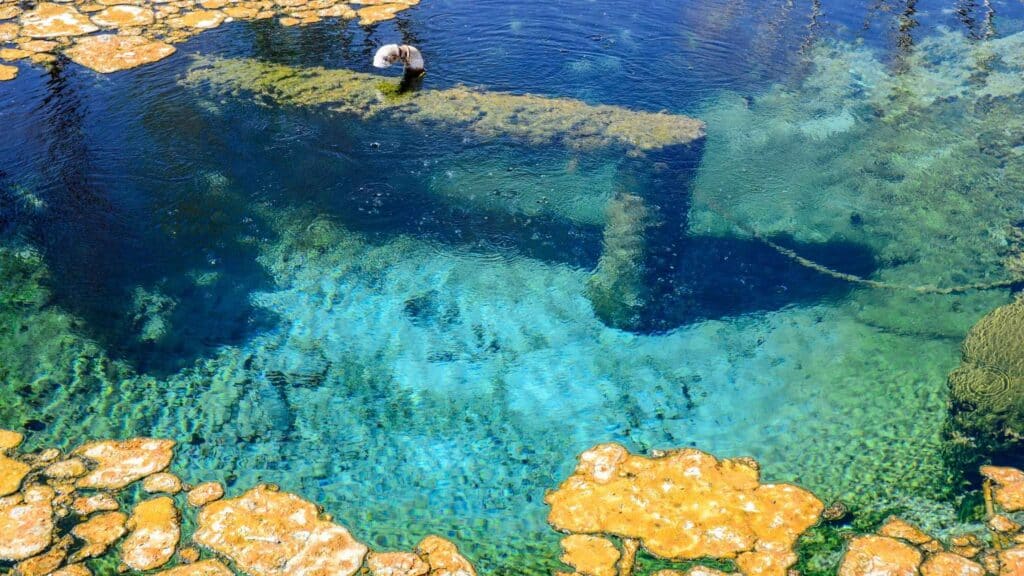 There are twelve pools close to the campground locations, all artificially made.
You can get to enjoy the pool by yourself if you choose to camp in the sites around, as each pool has cottonwood trees and partial fencing for privacy, along with a picnic table.
There is also an inn in the campground if you want something more comfortable with different accommodation options.
There is a historic miner's cabin and seven rooms, including breakfast, out of which five houses come with private hot tubs and camping sites.
If you don't want to share your hot spring with anyone, book one of the houses with a private pool.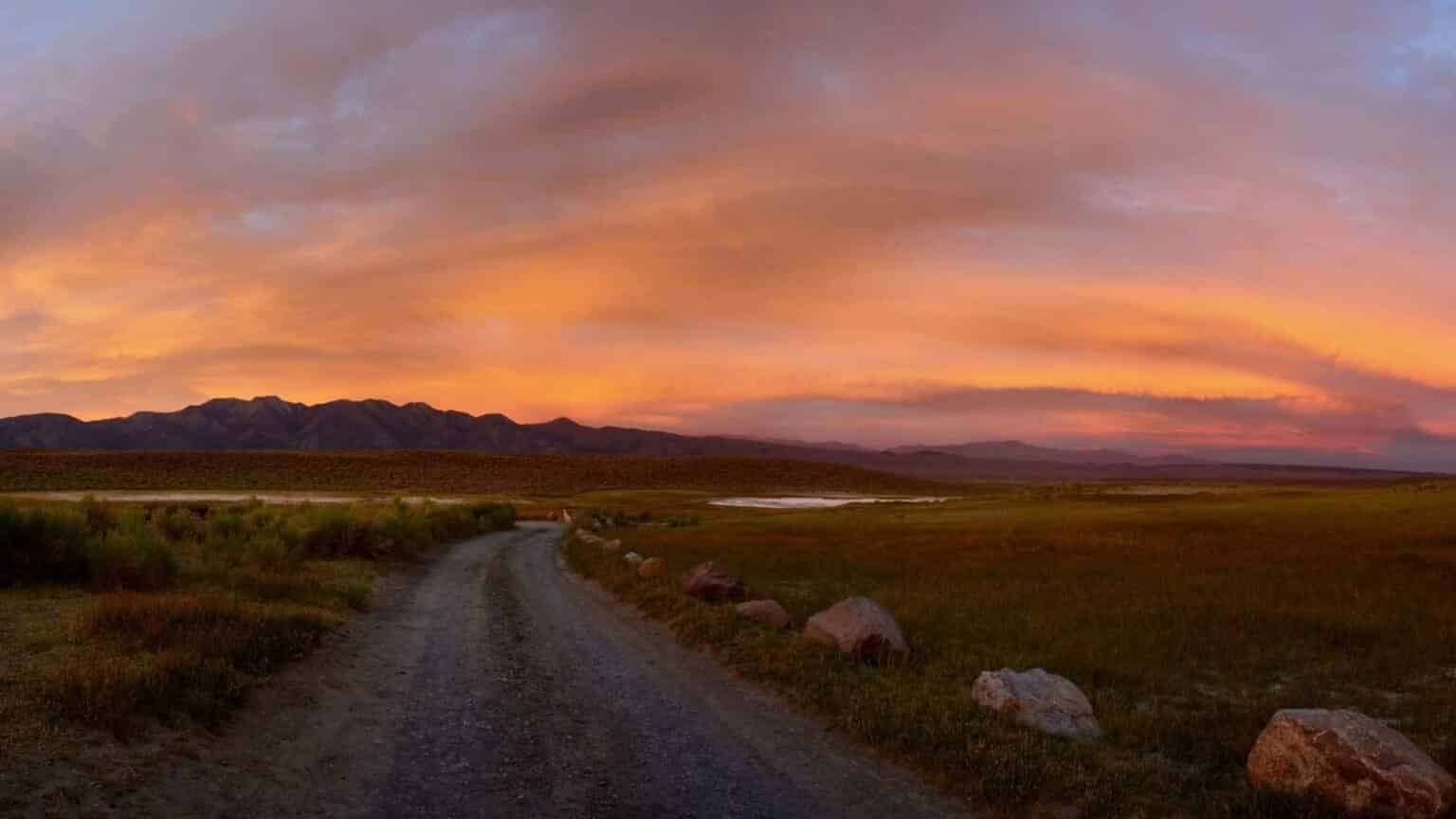 A room with semi-private hot tubs starts at $149, while the campsite is priced at $70 per night with no hook-ups available.
WHAT IS THE TEMPERATURE?
The temperature near the source is scorching, around 140°F or 60°C, but it can be regulated using temperature control.
HOW TO REACH?
From the Mammoth Lakes, drive on Highway US 395 to reach Benton Crossing Road. From there, you need to take Highway 120 to Benton.
KEOUGH HOT SPRINGS
It may be located in Bishop, but with its vast size and fabulous location amidst the surreal vistas of the Eastern Sierra's snow-capped peaks, Keough Hot Springs is worth mentioning on the list of the best hot springs near Mammoth Lakes.
The pools at Keough's Hot Springs were built in 1919, and it looks more like swimming pools than hot springs.
There are two pools, a larger one with slightly warmer temperatures and a smaller pool with hotter water for those looking for an extra-hot pool for soaking.
The bigger of the two is the largest pool filled with natural spring water in the Eastern Sierra. Both pools get water from actual hot springs flowing from the ground fed into a spray system that plunges down the pools.
Keough Hot Springs is one of the great options for day trips from Mammoth. You can extend your visit by staying overnight at the lodging onsite, where you can choose from camping in the tents and campsites with hook-ups.
If you want to enjoy a water aerobics session, the fee is an additional $8 per person. You can sunbathe in the lounge chairs, enjoy a picnic lunch, or even avail of massage services available on the premises of Keough Hot Springs.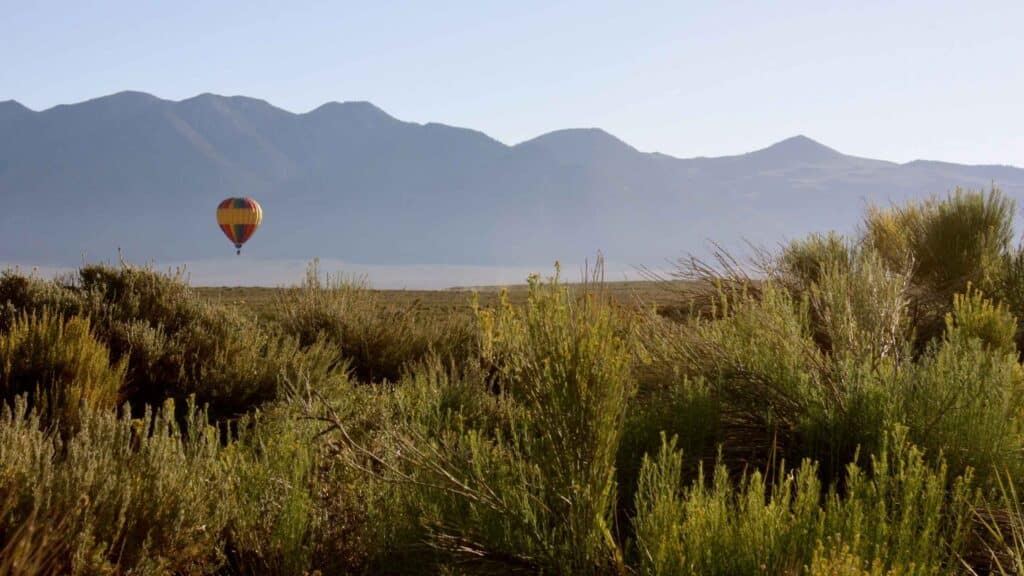 There is an entrance fee of $12 per adult, $7 per child from 3 to 12 years old, and $4 per child under 2 years old to access Keough Hot Springs.
Keough's Hot Springs is closed on Tuesday.
WHAT IS THE TEMPERATURE?
The large pool has the water temperature maintained between 86-89°F to 30-31.5°C in the summer, and it goes up between 90-92°F or 32-33°C in the winter months.
The smaller pool has a water temperature of around
104°F or 40°C year-round, ideal if you want a hot pool.
HOW TO REACH?
You need to drive from Mammoth Lakes to Bishop, about 45 minutes on the scenic US Highway 395.
From Bishop, continue on the US 395 for over 7 miles south until you find a diversion to the hot spring that you can spot from the sign on the right that points to the dirt road leading you to Keough's Hot Springs.
HOT CREEK GEOLOGICAL SITE
Located outside the town is the Hot Creek Geological Site in the Long Valley Caldera, one of the best natural hot springs in Mammoth Lakes.
You cannot go near the springs or soak, but it is one of the top attractions for its magnificent geological formations.
Boiling waters or geothermal waters from fumaroles and geysers around the creek bed because of the natural activities underground, creating beautiful vibrant spectacles that you can watch from a safe distance.
HOW TO REACH?
From Mammoth Lakes, take the State Route 203 and turn right on to the US 395 Highway to Bishop. Continue on this road for over 3 miles and turn left onto Hot Creek Hatchery Road.
Keep driving on Hot Creek Hatchery Road for over 3 miles to turn left for the parking lot.
You can take the trail for a short walk to get to the site.
MAP OF THE BEST HOT SPRINGS IN MAMMOTH LAKES CA
You may find it a hassle to locate all the Mammoth Lakes hot springs, especially if you visit for the first time.
You will access most of the listed hot springs in Mammoth Lakes from Brenton Crossing Road and then take deviations to inroads which are all dirt roads.
Although a few are accessible with regular cars, it is better to get a high clearance vehicle to navigate comfortably, particularly if you plan to visit the Crab Cooker Hot Springs. Below is the custom map that I have created for your reference.
Mammoth Lakes Hot Springs Map
USEFUL TIPS FOR ENJOYING HOT SPRINGS IN MAMMOTH LAKES
The hot springs in Mammoth are popular among tourists, but locals cherish them.
Before you plan your trip, read the below things that you need to know to have unique experiences and be a responsible traveler.
NUDITY/CLOTHING OPTIONAL
The hot springs in Mammoth allow nudity or are clothing-optional pools. Hence it is common to find people enjoying the baths with their birthday suits.
People going nude are respectful and give you privacy, but if you plan to visit with kids or feel uncomfortable, it is better to know this before your trip.
You can enjoy with your swimsuit on if you are not into going clothing optional, which is completely fine.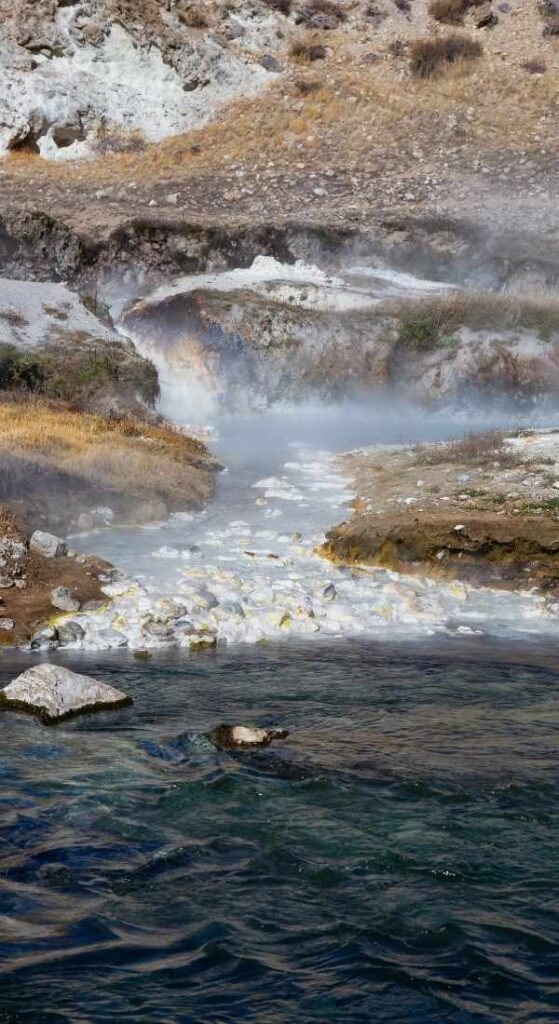 PRACTICE LEAVE NO TRACE
Please follow all leave no trace principles. If you are going to camp or picnic, make sure you dispose of waste properly.
There is no trash collection at any public hot springs, so ensure you take all trash with you.
STICK TO THE TRAILS
Although you can venture around the hot springs to some distances, it is not suggested to wander off too further as there are no trails and the ecosystem is fragile and sensitive.
Keep to the trails and look for markers when you go around the springs, especially if you are here during the night.
THE HIGH ALTITUDE AND ITS EFFECTS ON YOU
If you've recently arrived in the area and plan to explore quickly, you may experience the Altitude Mountain Sickness, although it may be mild until you are above 2500 meters or 8000 feet.
Some of the symptoms include dizziness, shortness of breath, fatigue, and headache.
Most of these subside in a few days, but it may worsen for some. No matter how fit you are or irrespective of your age or gender, altitude sickness can happen to anyone, including people who have traveled to high altitudes before.
But if you are feeling any of these symptoms or you think you have not acclimatized enough, it is best to give some time before trying the pool.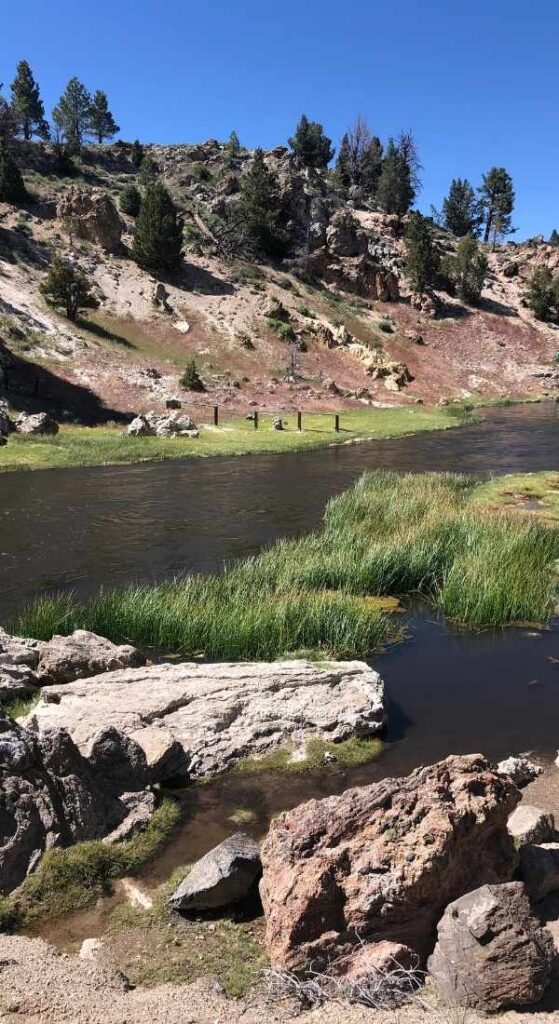 The heat of the pool may cause the symptoms or worsen things, so access before you explore.
Arrive a day or two before, and keep them relaxed without many activities to acclimatize to the altitude. Drinks loads of water and avoid beer if you have been prone to altitude sickness before or you think you may fall sick.
Staying hydrated is also needed as you will spend a lot of time in the hot pools which can make you feel a bit tired if you are dehydrated.
DO NOT TAKE A BATH IN THE SPRINGS
Although it goes with saying, the natural hot springs are not where you take a bath. They are for soaking and hence please do not use soaps or any chemicals while in the pool.
The minerals in the water are wonderful for our bodies, and they are located in a sensitive terrain, and it is best left that way.
LIMITED CELL SERVICE
The mobile network coverage is limited in the region so make sure to download offline maps or let people know that you may be out of reach.
Some spots near the hot springs may pick up signals depending on your network provider but it is still not reliable.
Make your bookings and keep physical copies or offline, especially your permits if needed for camping and other things.
PLAN AHEAD IF YOU WANT TO HAVE A PRIVATE EXPERIENCE
If you want to have some time alone in a hot spring, I'd recommend getting there very early, an hour or so before the sunrise.
Not only will you be able to witness the dramatic sunrise, but you will also get to enjoy the hot springs all by yourself.
It may not be the case exactly though if you are here during the weekends or the peak weeks of holidays as you will probably encounter a few fellow early morning birds but soaking in peace is possible on weekday mornings.
REGULATING AND TESTING WATER TEMPERATURE
Before immersing yourself wholly into the pools, it is best to test the waters for the temperature.
If previous visitors have not turned off the valve for higher temperatures, it is highly possible that the water may be burning hot.
Most of the pools have valves to regulate temperatures so you can control it as per your comfort level, but make sure you do not leave it too hot for the next visitors.
BEWARE OF MOSQUITOES
If you plan to spend a few summer evenings soaking in the hot springs in Mammoth Lakes, beware of the aggressive mosquitoes that can be a nuisance.
Use natural repellants over chemical ones as you will be polluting the water of hot springs.
BEWARE OF UNPREDICTABLE WEATHER
The weather gets unpredictable irrespective of the seasons being a high altitude mountainous region. Expect sudden winds, hot sun, or even cold breeze when exploring Mammoth Lakes hot springs.
Be prepared by packing layers ideal for all unexpected weather changes to comfortably enjoy your hot springs trip.
NO PUBLIC BATHROOMS
Almost all of these hot springs do not have bathrooms, so you will have to go before you visit or go out in nature, especially if you have had too many beers or water.
There are also no changing rooms, so keep that in mind if you plan to wear swimsuits.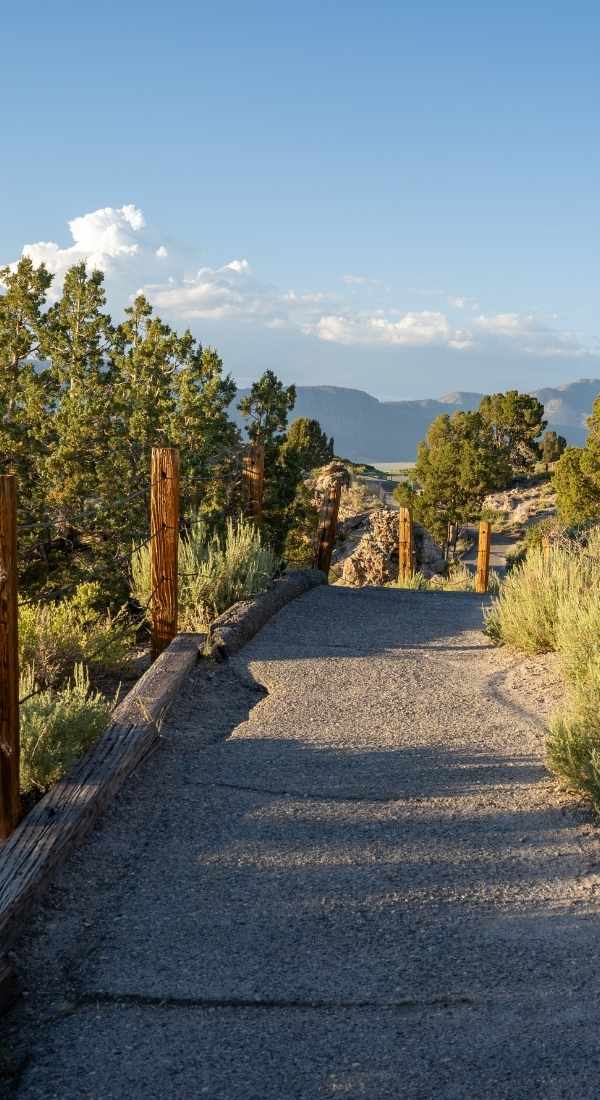 BE REASONABLE
Since most of the Mammoth Lakes Hot Springs is compact, you may share your soak with other travelers.
It may not be to your liking, but instead of being hostile, you have the option of waiting out until you are by yourself, or you can join them and make new friends.
If you are particular about enjoying the hot springs privately, aim to visit before and around sunrise when there is a high possibility.
WHAT TO PACK FOR MAMMOTH LAKES HOT SPRINGS?
Most of the hot springs near Mammoth Lakes are remote without the standard facilities, shops, or eateries. Below are some of the items you should consider packing.
A swimsuit – Although many hot springs in the area are clothing optional, carry a swimsuit with you if you are not comfortable being nude when there are other people around.
Thigh High Socks – If you are like me, you will love these Thigh High Socks that are stylish and perfect if you are traveling in the winter.
You can pair it with flip-flops or shoes or wear them for the best Instagram shots amidst the stunning mountains.
They come in different cute colours, which you can find under color Thigh High Socks to select from the many listed. One of the best is the many designs available, from classic shades to animal prints that you can pair with whatever you need.
A reusable water bottle – Bring plenty of water to avoid dehydration in a reusable water bottle. You will be sweating a lot, and also, high altitude sickness is best avoided by drinking lots of water.
Travel Towel – Bring a quick-drying, easy-to-pack travel towel. An additional oversized towel will come in handy to sit on in the car en route to the next hot spring as there are no changing rooms.
Extra clothes – Bring a set of spare clothes that you can change into once done with soaking in the pools.
Travel Cooler – If you are here during the summer, carry a compact cooler to keep your water, beer, juices, and snacks cool.
Dry bag – Bring a dry bag to pack all of your electronics, including our camera, tripod, cell phones, towels, food, drinks, and other essentials that you can carry around without having to go back to your vehicle.
Jacket – One of the essential layers is a light, packable jacket, better suited for a slight breeze and windy weather.
Flip flops – You need to walk on gravel paths or hike along steep trails to access some hot springs from parking lots. I'd recommend carrying good walking shoes/hiking shoes for this purpose.
But along with this, also carry a pair of flip flops to change into before and after stepping out of the pools. You can also alternatively bring water shoes.
Sunscreen may not be too sunny except for the summer months, but it is best to apply sunscreen in high elevations.
Snacks – Bring enough snacks for the way and picnic near the hot springs as there are no shops nearby.
HOW TO REACH MAMMOTH LAKES?
BY ROAD
Mammoth Lakes is located along the beautiful Highway 395. This highway connects Death Valley to the stunning Alabama Hills and the lovely Sierra Nevada mountains, home to the highest peak in the contiguous United States.
You can easily choose from tons of routes for fantastic road trips in this region, and no matter what you choose, do plan to include Mammoth Lakes and at least a few of its gorgeous hot springs.
From Los Angeles in the south, it takes about 5 hours to reach Mammoth Lakes. From San Francisco, located in the west, it takes about 6 to 7 hours to get Mammoth Lakes via Highway 120 or Tioga Road.
It takes about 3 hours to arrive from Lake Tahoe to Mammoth Lakes. From Las Vegas, take the US 95 and the US 395 roads to reach Mammoth Lakes, which takes about 5 to 6 hours.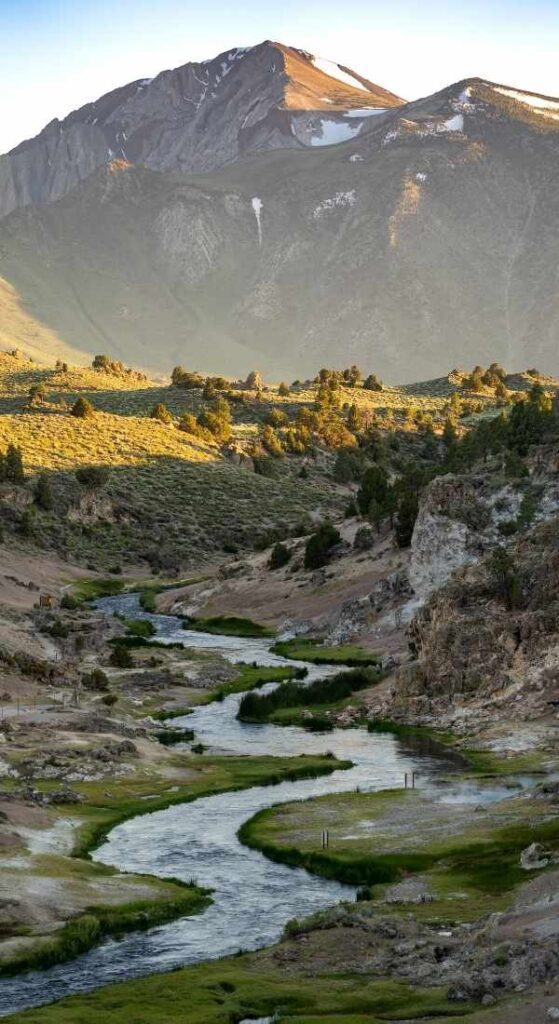 BY AIR
The closest airport to the city is Mammoth Yosemite Airport, located south of Mammoth Lakes.
Note that there are limited flights to this airport, and most of them operate only during peak seasons.
Flights to this airport tend to be limited, and some of them seasonal, occurring only in the winter.
Alternatively, you can fly to the nearest major city to Mammoth Lakes, Reno Airport in Nevada, which is 3 hours away from Mammoth Lakes. After reaching here, rent a car to arrive at Mammoth.
If you want better options and great prices, it is best to fly into more prominent cities like Los Angeles, Las Vegas or San Francisco, all-around 5 hours plus fly time.
RENTING A CAR
If you fly into Mammoth Lakes or need to rent a car to make your road trip, I would highly recommend doing it online on Discover Cars.
You can compare availability and prices across many companies. They also provide fantastic deals if you book in advance or take cars for more extended hire. Compare the prices and check the availability here.
You will also need a rental car to get to and around Mammoth from any of these cities. 
When doing this, I recommend renting a high clearance vehicle as most hot springs near Mammoth are only reached via bumpy dirt roads that can be troublesome or impossible to get in a low-clearance car.
WHERE TO STAY IN MAMMOTH LAKES?
Depending on your preferences and your style of traveling(backpacking, camping, or road-tripping), you have tons of options to choose from for accommodation.
If you want to base yourself close to the centre, Mammoth Village is the best area as it has many amazing resorts and hotels.
The Village Lodge is the most popular choice as it is ideal for couples and people with kids looking for spacious rooms. You can choose from a studio to two-bedroom units some of which also come equipped with a kitchen.
There is also a heated outdoor pool and several hot tubs. And the views from the hotels are splendid.  Check prices here to book.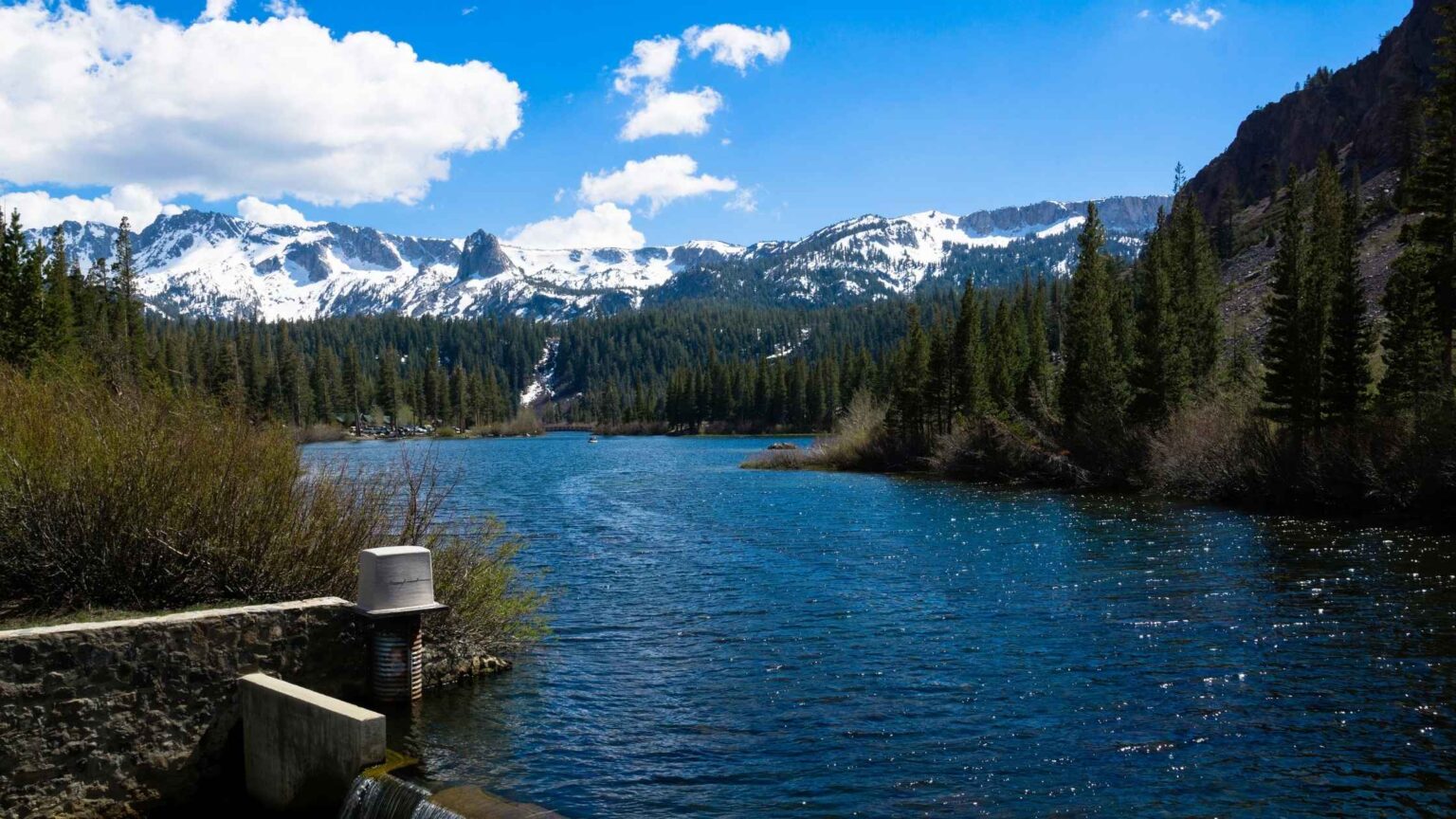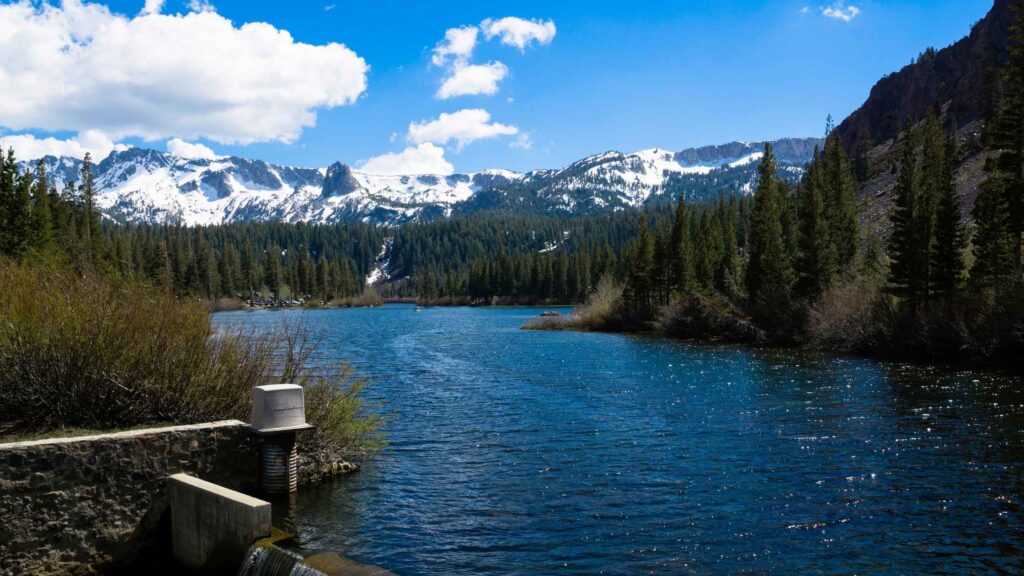 If you love heritage properties as I do, I would highly recommend Tamarack Lodge, a historic lodge located on the shore of Twin Lakes and surrounded by mountains and skiing.
About 10 minute drive away from downtown, this lodge has maintained its old heritage with a neat blend of modern times.
Along with cosy rooms coming with a kitchen and fireplace, you can also enjoy dining at their Lakefront restaurant. You can also sign up for their mountain bike lessons, guided hikes and fly fishing classes. Book here.
Innsbruck Lodge is another place located near the Village Gondola that I prefer for its secluded and stunning location. This pretty lodge offers apartments with kitchens to simple rooms, and they have an on-site hot tub and spa. It is worth staying here if you love quieter stays.
The Westin Monache Resort is next to the Village Lodge and beside Mountain Center in the Village, another excellent choice that comes with condos comprising spacious rooms and balconies offering beautiful views. The property features a heated outdoor pool and hot tubs. Book a stay here.
If the popular ones do not appeal to you, check out Sierra Lodge, centrally located, which offers spacious rooms with kitchenettes. The hotel features a hot tub, free parking and a barbecue.
Juniper Springs Resort, located in Mammoth Lakes, is ideal for a winter trip as it is close to the ski lifts and winter activities.
CAMPSITES IN MAMMOTH
Between the spring and fall months, camping in Mammoth Lakes is an excellent option if you want an authentic outdoor experience that allows you to enjoy fishing and hiking.
There are dozens of campgrounds in Mammoth Lakes, all of which you can find here in this detailed camping guide if you are seriously considering camping in Mammoth Lakes.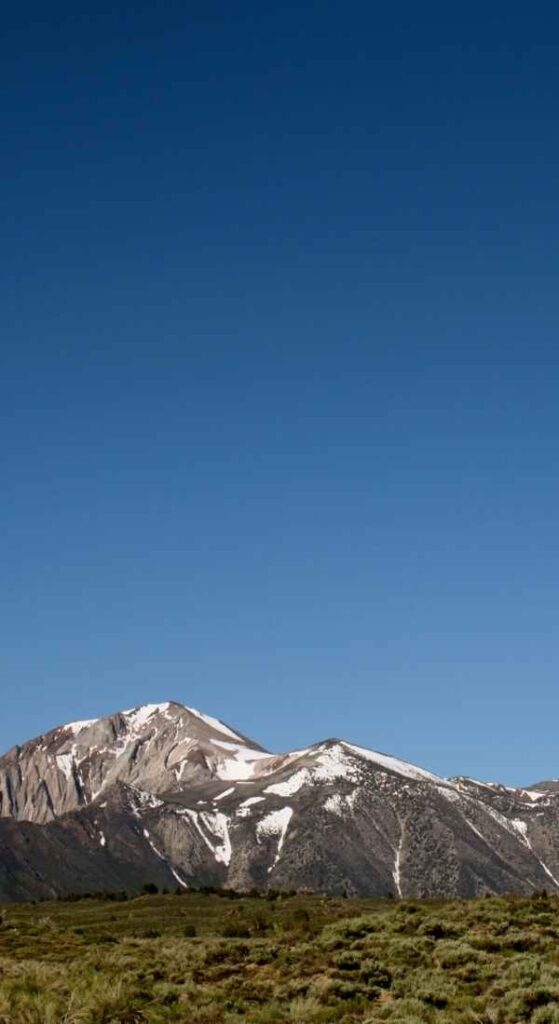 Here I mention the top picks that you could look at.
Campgrounds are scattered around the town area and in the Reds Meadow.
Mammoth Lakes Basin has seven bigger campgrounds that give you access to hiking trails and the lakes.
Lake Mary is the most popular for its convenient location next to Lake George and Lake Maimie, while the prettiest is near Convict Lake if you want to get more of nature's vibes and lesser crowds.
June Lake and Twin Lakes Campgrounds are also great options providing easy access to town and the Lakes Basin area.
If you plan your Mammoth Lakes trip by RV, Mammoth Mountain RV Park allows hook-ups and has better amenities than the regular campgrounds.
Book a campsite at any of these lakes here.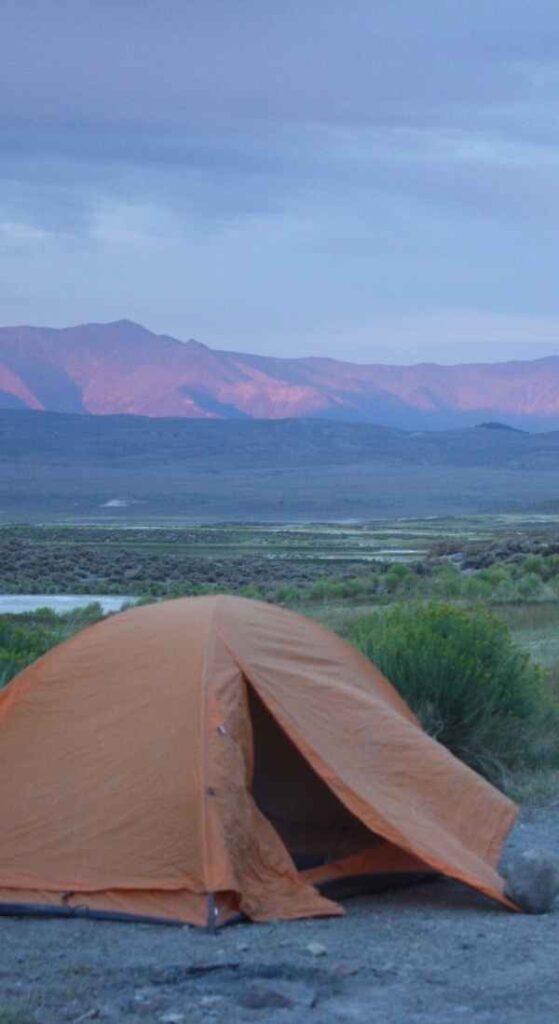 CAMPING NEAR MAMMOTH LAKES HOT SPRINGS
The hot springs in Mammoth Lakes are located on BLM land. For those unaware, BLM refers to the Bureau of Land Management, public land.
It means that camping on BLM land is not only possible but also free.
You can't camp right at the hot springs, though, but there are options near the road or in parking lots nearby.
You will have to bring every camping essential if you plan to camp near hot springs in Mammoth Lakes, as there is no drinking water, bathroom, or any other basic amenities.
HOT SPRINGS IN MAMMOTH LAKES FAQS
WHAT IS THE BEST TIME TO VISIT MAMMOTH LAKES HOT SPRINGS?
Along with enjoying the surreal views of the snow-capped peaks of the rugged Eastern Sierra Nevadas, you can also experience relaxing soaks in the pools if you visit the best hot springs in Mammoth Lakes in the spring months.
The temperatures are pleasant to be outdoors, and the landscapes are fantastic, with the wildflower blooms everywhere along with the snow melting to form streams with fresh water.
In general, summer is a popular time to visit the Eastern Sierras as it is the best season for hiking, camping, and enjoying the water activities.
But when it comes to planning a trip to Mammoth Lakes Hot Springs.
It's often too hot to enjoy the springs during the day, and in the evening, the mosquitoes can be pretty bad.
Since Mammoth is a popular winter destination, if you are used to soaking in the chilly weather, you can have a fantastic time in these tubs admiring the snow-filled landscapes of the region.
But note that some roads to hot springs may be closed during the winter months, so accessing them may not be straightforward.
BEST TIME OF THE DAY FOR MAMMOTH LAKES HOT SPRINGS
Coming to the best time of day to enjoy a visit to the Mammoth Lakes hot springs depends on whether you love crowds or not. If you want the hot springs for a private experience, avoid visiting during the daytime.
Sunrise is a fabulous time to enjoy the surreal views, but whether you can be without fellow tourists is not guaranteed. The cooler air and the early colours of the sunrise is a perfect combination to start your day.
Many people enjoy soaking at night, especially during spring and summer, which is fantastic as you get to admire the moonlit night. The days are too hot to enjoy the hot springs, making an evening soak appealing.
The other best time of day to visit is during the evening golden hour into the sunset. But since this is a very popular time, you can expect many people to arrive.
CAN YOU SWIM AT MAMMOTH LAKE HOT SPRINGS?
Yes, You can take a dip in most hot springs in the Mammoth Lakes area, except for the Hot Creek Geological Site.
WHAT ARE THE OPENING HOURS OF MAMMOTH LAKES HOT SPRINGS?
All the Mammoth Lakes hot springs are open 24 hours and have no entrance fee, except for two private hot springs.
ARE MAMMOTH LAKES HOT SPRINGS WORTH IT?
Yes! You will love visiting the hot springs in Mammoth Lakes, surrounded by the stunning Eastern Sierra Nevada mountains.
These mineral-rich thermal springs are one of the region's best attractions and fantastic camping and road trips locations.
ARE MAMMOTH HOT SPRINGS LOCATED IN MAMMOTH LAKES?
Many people confuse Mammoth Hot Springs with the hot springs in Mammoth Lakes. Note that these are different, and you may find these confusing while doing a Google search.
Mammoth Hot Springs is not located in Mammoth Lakes town, but it is a large thermal spring and a major attraction in the famous Yellow Stone Park in Wyoming.
On the other hand, Mammoth Lakes is located in California and is home to many hot springs in the area nestling amidst the Eastern Sierra Nevada Mountains.
TOP TRAVEL TIPS & RESOURCES
Below is the list of the travel resources you can use to organize your travel – from flights to insurance and everything. These are the resources I use myself, which is why I recommend you for a hassle-free travel planning experience and fantastic trips.
Booking Flights
: To score flight deals, search on
Jet Radar
, Kiwi,
or
12go.Asia
(for Asia planning). Book and fly mid-week, taking red-eyes flights or those in the early mornings for better deals and lower prices. Avoid check-in bags on a budget airline.
Booking Trains:
The best websites for booking trains anywhere in Europe are
Rail Europe
and
TrainLine
. Both are easy to manage online and track your journeys.
Booking Cars:
For the best prices and easy handling of renting a car for road trips and day trips, I'd recommend
Discover Cars
or
Rental Cars,
available throughout the world.
Accommodations:
I typically use
HotelsCombined
or
Booking.com
to book hotels. There are special getaway deals with amazing discounts(over 50%!) for this year on Booking.com, and you can find them
here
.
I use
Hostelworld
and
Agoda
to book hostels as the deposit is low, easy change/cancellation is available and reviews are excellent on both. Depending on the destination, I love staying in
VRBOs/homestays
.
Travel Insurance:
No matter whether it is a short trip or longer trips abroad, I strongly recommend buying travel insurance for international trips. I recommend either
World Nomads
or
SafetyWing
for international travel insurance.
Tours:
Being a solo traveler, one of the best ways to optimize my time, budget, and super importantly, meet amazing people from all over the world is by joining tours, especially food tours, walking tours, day trips, culture, and history tours.
You will get a local's perspective, the best opportunities to experience places and people closely. I book using
GetYourGuide
,
Klook
,
Viator,
and
Voyagin.