There are incredible things to do in June Lake. Sitting at 7000 feet and nestled amidst the Eastern Sierra Nevada, June Lake is known for its alpine lakes, towering mountains and gorgeous natural scenery.
June Lake, also popularly called the "Switzerland of California", sits at the base of Carson's peak and offers a plethora of activities for adventure lovers and those looking for a relaxing vacation spot in Mono County.
The history of this horse-shaped Lake Canyon is fascinating.
It is believed to be formed by glacial activity during the last stages of the ice age, as you can still witness massive boulders like Perched Boulder near the Fire station.
Whether you want a romantic getaway with your special one or planning a fun weekend with kids, this guide covers all about the best June Lake attractions and June Lake things to do, including free items, the best time to visit, what to pack, where to stay, and valuable tips for a fantastic trip.
THE BEST TIME TO VISIT JUNE LAKE CALIFORNIA
With its ease of accessibility, stunning scenery and a myriad of activities, June Lake has become a renowned vacation destination open all through the year.
If you are wondering about the best time to visit June Lake, the answer largely depends on the activities you want to do there.
Summer and Spring are good if you want to relax by the Lake and witness the colourful wildflower carpets and aspens or explore the other surrounding regions.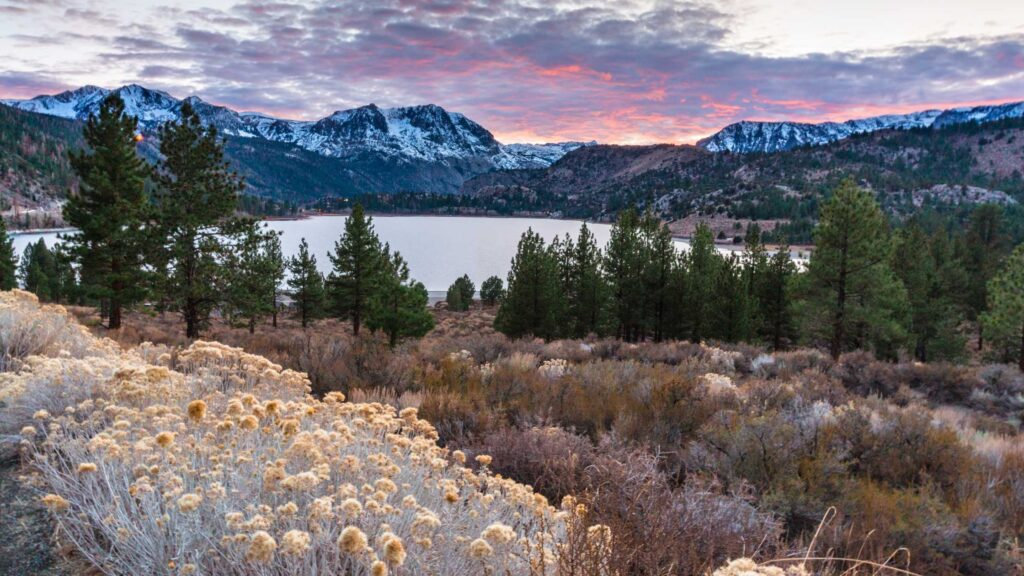 Anglers can visit between April and October for the best fishing experience.
For camping, I recommend during the FallFall, between September and October. Milder Days, Cooler Nights, and stunning fall colours make it an ideal combination for a perfect vacation.
If you want to make the most of the views of the Sierra Nevada Mountains, the best time to visit June Lake would be in the Winter, between December and January.
The snow-capped mountain peaks are most visible during this time, and you can also try some winter June Lake activities.
But the roads might be get partially closed during Winter. Ensure to check the road status before you visit.
Pack yourself in layers, as the weather might change abruptly during various seasons.
FUN FACT ABOUT JUNE LAKE
Before hitting off with the things to do in June Lake, let me introduce you to an intriguing fable about June Lake.
It is believed that the Lake is haunted! Well, let me not scare you, but it is said that people around the Lake have spotted yellow figures walking on water while humming some local folk songs.
But there is a catch to this story! In the early 1930s, the local bars and other businesses had installed slot machines by the dozen at June Lake.
With time, the workers left the vicinity, and the slot machines were straightaway dumped into the Lake during a raid by the State Revenue agents.
So, this keeps me guessing if someone is frequently trying to test their fortune in the Lake. Though spooky, it's fun, right?
TOP THINGS TO DO IN JUNE LAKE
DRIVE THE SCENIC JUNE LAKE LOOP
One of the top things to do in June Lake is to drive along the June Lake Loop, a gorgeous drive in the Eastern Sierra Nevada Mountains of California in Mono County.
This entire trail of 16 miles is just a 30-minute drive if you avoid taking pitstops.
I recommend keeping at least half a day aside to click insta-worthy pics on this gorgeous route, which meanders through stands of majestic pines and aspens.
This route is known for its four main lakes; June Lake, Silver Lake, Gull Lake and Grant Lake.
You can start the drive from Mono Lake on the North or Mammoth Lakes on the South; both are on Highway 395.
The views are stunning, with snow-capped Sierra Nevada mountain peaks in the backdrop. You will get several beautiful trailheads and rustic cabins.
Drive through this stunning loop that bends along the horseshoe-shaped canyon offering incredible Lake and Sierra Valley views.
This loop is also popular among cyclists. For the best experience, I recommend taking a sunrise or sunset ride.
The ride towards the North is moderate, with a 900-foot elevation gain. While driving South, you can ride a freewheel without much effort.
There are several June Lake camping grounds along the route with basic amenities.
Whether you are looking for a place to drive, hike, camp, fish or swim, June Lake Loop has something for everyone.
Before your visit, check the path's status since it may get partially closed during Winter and early Spring.
SWIM, FLOAT, OR SUNBATHE AT JUNE LAKE BEACH
One of the best things to do in June Lake for a perfect weekend is to go swimming or work on your tanlines by sunbathing on the June Lake beach located on the North side of the June Lake near the Pine Cliff resort.
June Lake Beach is the perfect spot if you want to enter the Lake since the place is shallow and safe.
Get your floaties and beach towels to relax on the sandy shores of the beach overlooking the Carson Peak and the Sierra Nevada Mountains.
The beach is also a popular spot for kayaking, fishing and camping.
For renting a SUP, Kayak or canoe, visit the kiosks at the June Lake Marina on the South side of the Lake.
Check out the nearby Oh Ridge campground with picnic tables and fire pits. For showers and RV hookups, you can access the adjacent RV park.
CRUISE THROUGH THE CRYSTAL CLEAR WATERS
Boating is among the popular options to explore June Lake and its surroundings and is also one of the exciting things to do in June Lake.
There are several choices to rent a boat or Kayak. But the two marinas on June lake on the southwest side and each on Gull Lake, Grant Lake and Silver Lake are local's favourites because of the wide range of available boat types and their prices.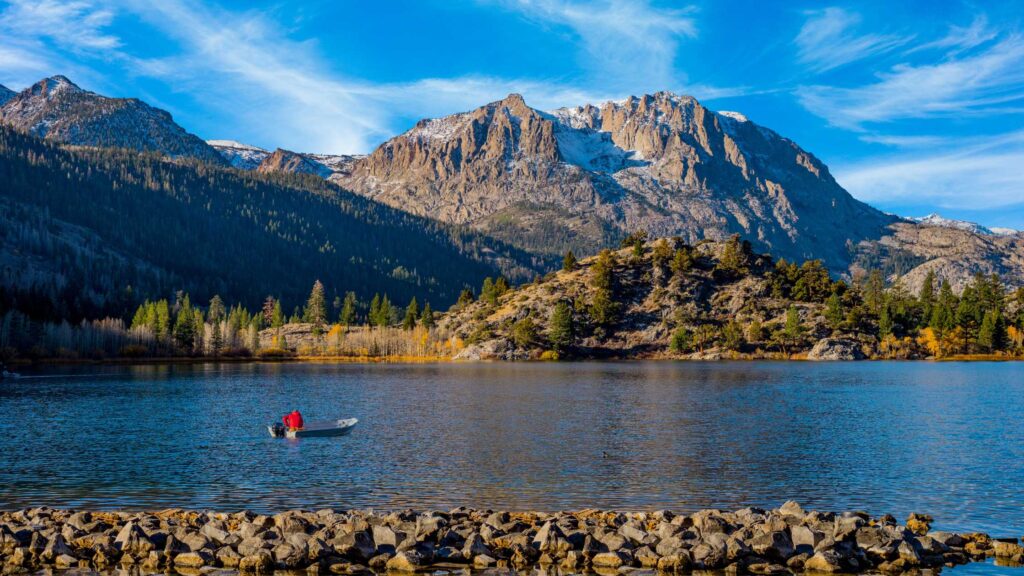 They offer boats with no frills, large boats, flat-bottomed motorized boats, canoes, pontoon boats and fishing boats.
Check out the Big Rock resort marina for a wider choice of boats.
You can also bring your boat and launch it at these marinas. The boat rentals are typically for a day or a half, and I recommend you book them in advance.
ENJOY WATER SPORTS
Are you looking for things to do in June Lake California this weekend? Indulge in various kinds of water sports at Grant Lake, one of the largest lakes on the June Lake Loop.
Though you will see many rental boats with boating as the primary attraction, you can try different fun-based activities such as wakeboarding, flyboarding and waterskiing to cater for your adrenaline.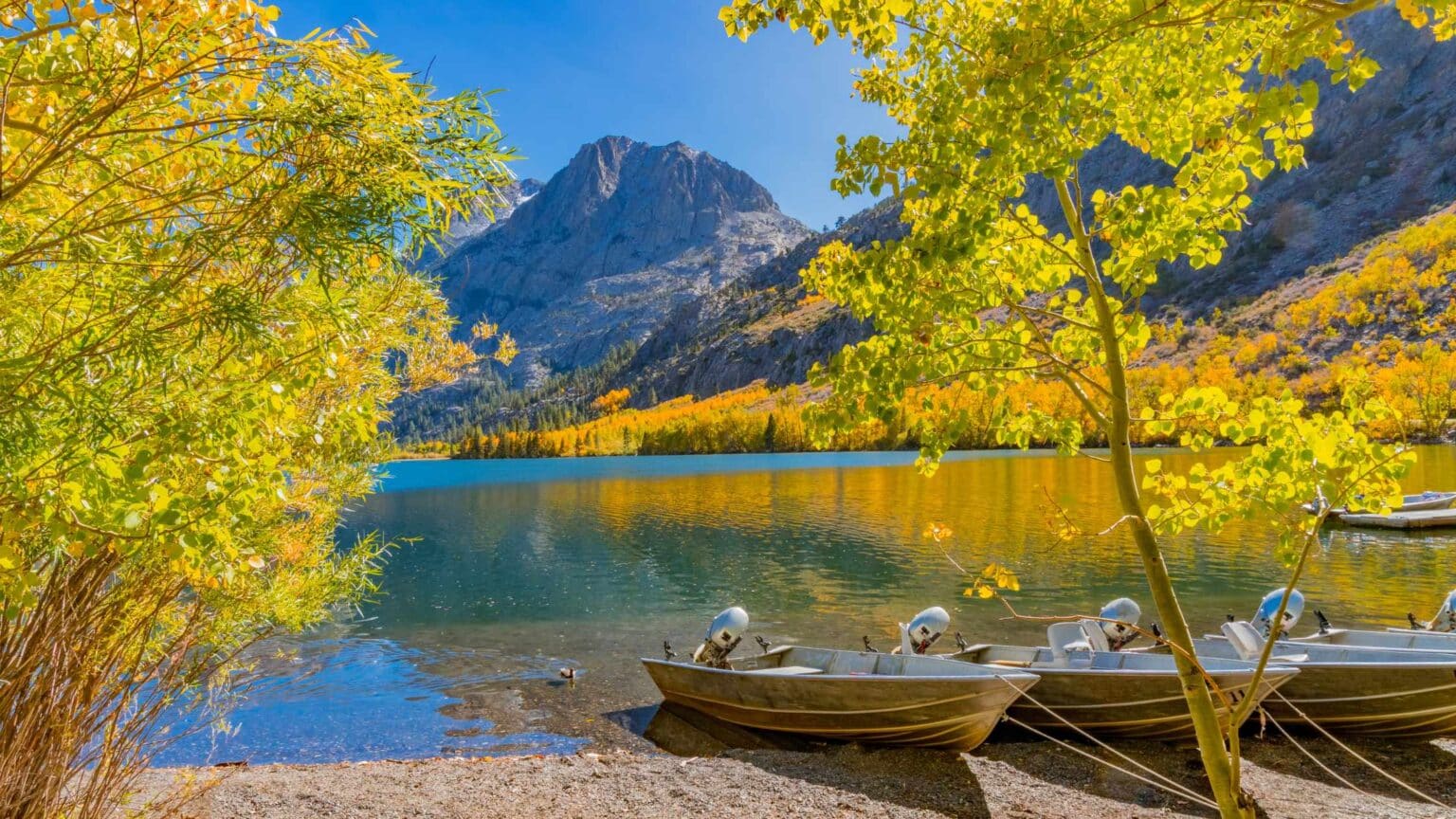 Grant Lake has a speed limit timing which will be lifted daily after 10 AM.
So if you reach the Lake before 10 AM, you can visit the nearby lakes on the June Lake Loop or go boating in Grant Lake with boats with less than ten mph speed.
GO ALPINE SKIING
Backcountry skiing is one of the cool things to do in June Lake. With a massive 1,500 acres, the terrain around the Eastern Sierra is apt for hitting the slopes, especially during Winter.
Visit the stunning June Mountain Ski Resort, a typical winter resort nestled between two gorgeous mountains, the Rainbow and June mountain, connected by Rainbow ridge.
The resort is home to varied terrains, including wide-open bowls and narrow chutes, suitable for experienced and novice skiers.
It features six chairlifts, lovely kid-friendly terrain parks and around 35 runs which are pretty long.
Take in the beautiful lake vistas surrounded by snow-capped mountains and lush forests while drifting on the powdery snow slopes yet firm enough for a good grip.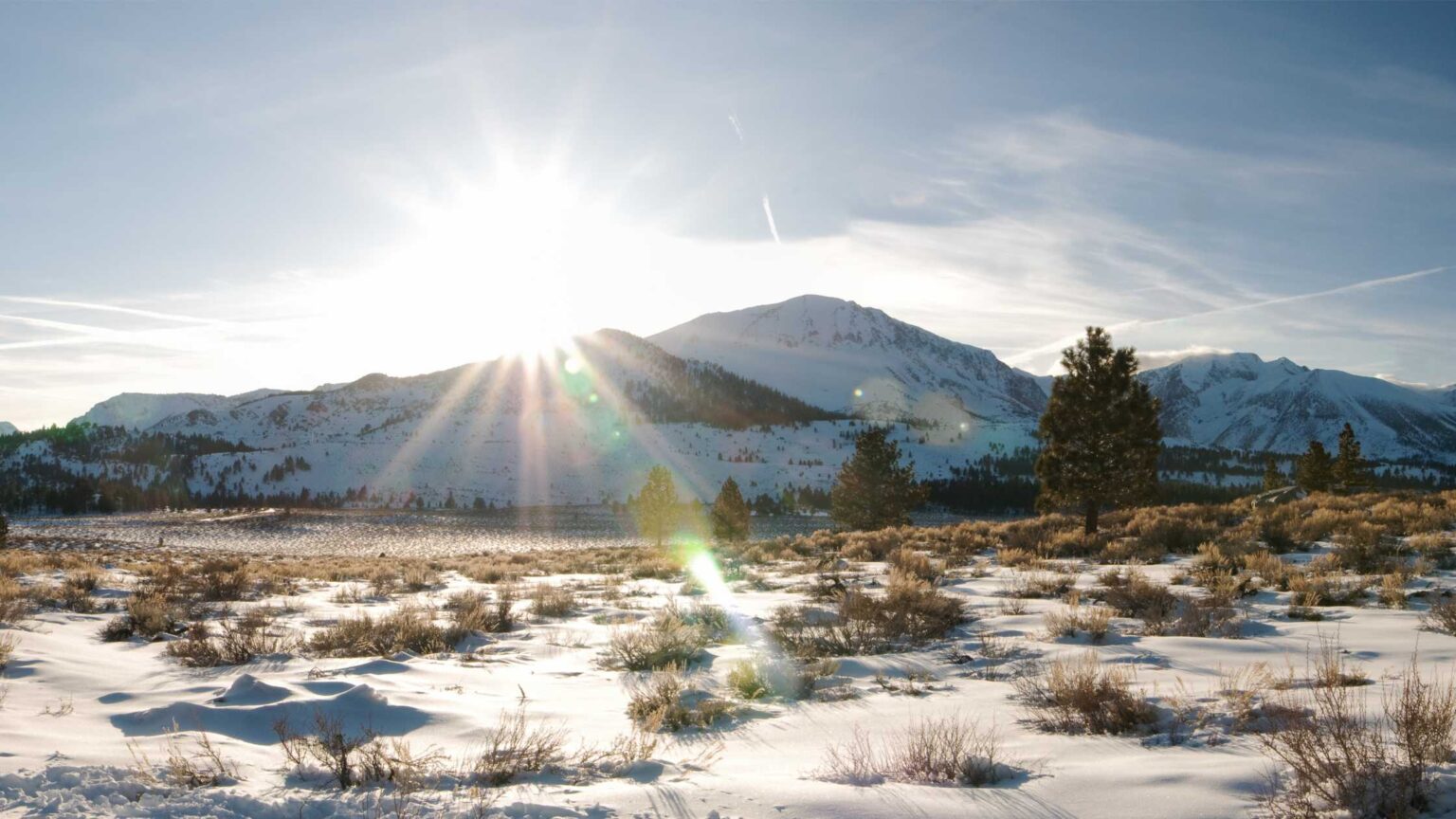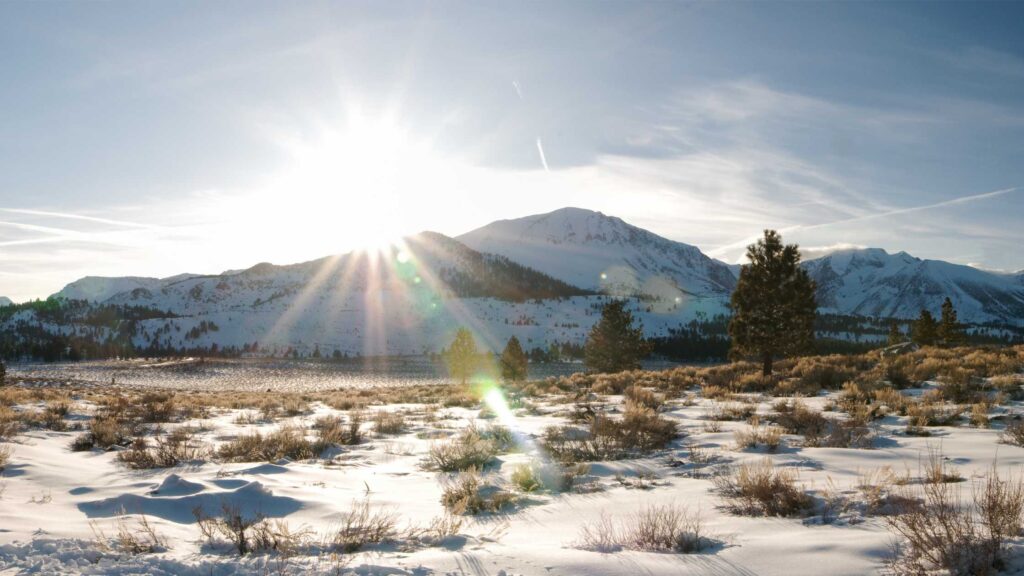 Ride the J7, which takes you up to the June Meadows Chalet on the peak of June Mountain, one of Winter's famous June Lake attractions.
Enjoy a snack at the cafe or sip your favourite drink at the Antlers Bar in their outdoor seating and enjoy the spectacular mountain views.
Try out the other June Lake activities like snowmobiling and snowshoeing to the Silver meadow trails for a countryside experience.
The resort also offers private skiing and snowboarding lessons equipped with rental and demo skis.
If you have spare time, check out the nearby Mammoth Mountains for their guided ski tours.
Visit Lee Vining Canyon for more rugged terrains and skiing adventures, or go ice climbing on the frozen Horsetail Falls.
The best time to visit the place is between December and early April. Honestly, this was one of the most enjoyable skiing experiences I have ever had, and I will put this on the top of the best June Lake things to do.
GO SNOWSHOEING
June Lake is one of the perfect places to be in the wintertime. The tranquillity can only be experienced by looking at the snow-covered mountains and frozen lakes and breathing in the crisp air.
Wintertime is ideal for Snowshoeing, one of the fun things to do in June Lake. It is also the best activity to keep yourself in shape in Winter.
You can burn plenty of calories while getting rewarded with incredible mountain views and snow to play with. Isn't it an excellent deal?
Strap on your sturdy Eskimo boots and enjoy a lovely weekend at June Lake, hiking up the gorgeous mountains.
Check out the 4.25 mile out and back Bridgeport Winter Trail. You will find the trailhead on Buckeye Road close to the hot Spring, and the parking is at Doc & Al's Resort off Twin Lakes Road.
Alternatively, visit Obsidian Dome on Bald Mountain Road for a comparatively more accessible snowshoe trail.
If you have spare time, explore the nearby short trails that run through the Jeffrey Pines and are perfect for beginners.
Most of these trails are suitable for a picnic lunch as well. I recommend you dress warm, bring snacks and beverages and a camera to click candids.
REEL IN SOME TROUT
Grab your Fishing pole and get ready to cast your line, one of the fun things to do in June Lake.
Fishing is a kind of passionate quest amongst the locals in this region, evident by the fact that the first day of the trout fishing season is celebrated as "Fishmas".
The Lake is stocked with various varieties of trouts and other fishes, including bass, golden, sunfish, brook and crappie.
If you are an experienced angler, test your fishing skills in the deeper waters for some big catch. Beginners can walk towards the west side of the Lake for shallow water fishing.
You can hire a boat from one of the marinas on the Lake if you prefer to fish from within the Lake. Check with the local outfitters for a guided fishing tour.
Alternatively, settle on the shore and reel in the various varieties of fish from the crystal clear waters reflecting the sky, overlooking the beautiful Sierra Nevada mountain ranges.
If you are with kids, take them to the tiny coves near the June Lake Marina or fish at Rush Creek or Reversed Creek. Several gorgeous creeks around the June Lake Loop are hidden gems to fish in tranquillity.
HIKE AROUND THE LAKE
Hiking is one of the exciting things to do in June Lake. There is something special about hiking in the crisp, thin air of the Sierra Nevada Mountain ranges.
The first thing you notice while hiking, especially during Spring and Autumn, is the beautiful Lake filled with turquoise blue waters surrounded by coniferous forest and towering granite cliffs.
There are many trails of various lengths suitable for all types of hikers. The trails are well-maintained, and you will be greeted with hues of golden, yellow and red aspens dotting them.
You will be lost in the sheer grandeur of it all. The occasional bird chirps and the expansive views make it a perfect relaxing place.
I recommend hiking during the early hours of the day to get the most out of the hiking experience in the Sierras. Check out some of the locals' favourite trails in this area.
Parker Lake Trail: This 3.6 miles out and back trail with a 652 feet elevation gain starts by Grant Lake; the trailhead is about 15 minutes from the Marina, off the Parker Lake road.
The initial part of the trail is steep but gets flattened out and shaded from the Jeffrey Pines and Aspen as you hike further.
At halfway, Parker Creek river welcomes you. Notice how the flowing sound of the river amidst the forest brings the utmost serenity to the place.
The trail can be best experienced during FallFall since it will be adorned with foliage and vibrant wildflowers, and you can witness aspens turn yellow.
Enjoy the distant views of Mono Lake as you hike up. The road to the trail is tricky; be cautious, as it is a slightly bumpy ride.
Fern Lake Trail: This 3.4 miles out and back trail is steep with a 1,570 feet elevation gain and is a bit strenuous, and is for experienced hikers.
The trailhead is located by the Double Eagle Resort. Take in the gorgeous views of the lakes around June Lake Loop, the fall foliage, and colourful wildflowers during Spring.
You will stumble upon a waterfall along the path, a perfect spot to take a break to unwind and recharge.
Reversed Peak Trail: One of the moderate trails in the region, with 1970 feet elevation gain that runs 6.9 miles out and back.
The trail will take you to the highest point of the June Lake Loop. You will be rewarded with majestic views of the lakes and the stunning Sierra Valley.
You will encounter local florae and fauna like rabbits and squirrels along the trail.
The end part of the trail is tricky. Follow the path till you see an arrow, turn right at that point and then hike up through the rock tunnel.
It might be approximately 30 feet of rock scrambling to the top, but the views are fantastic.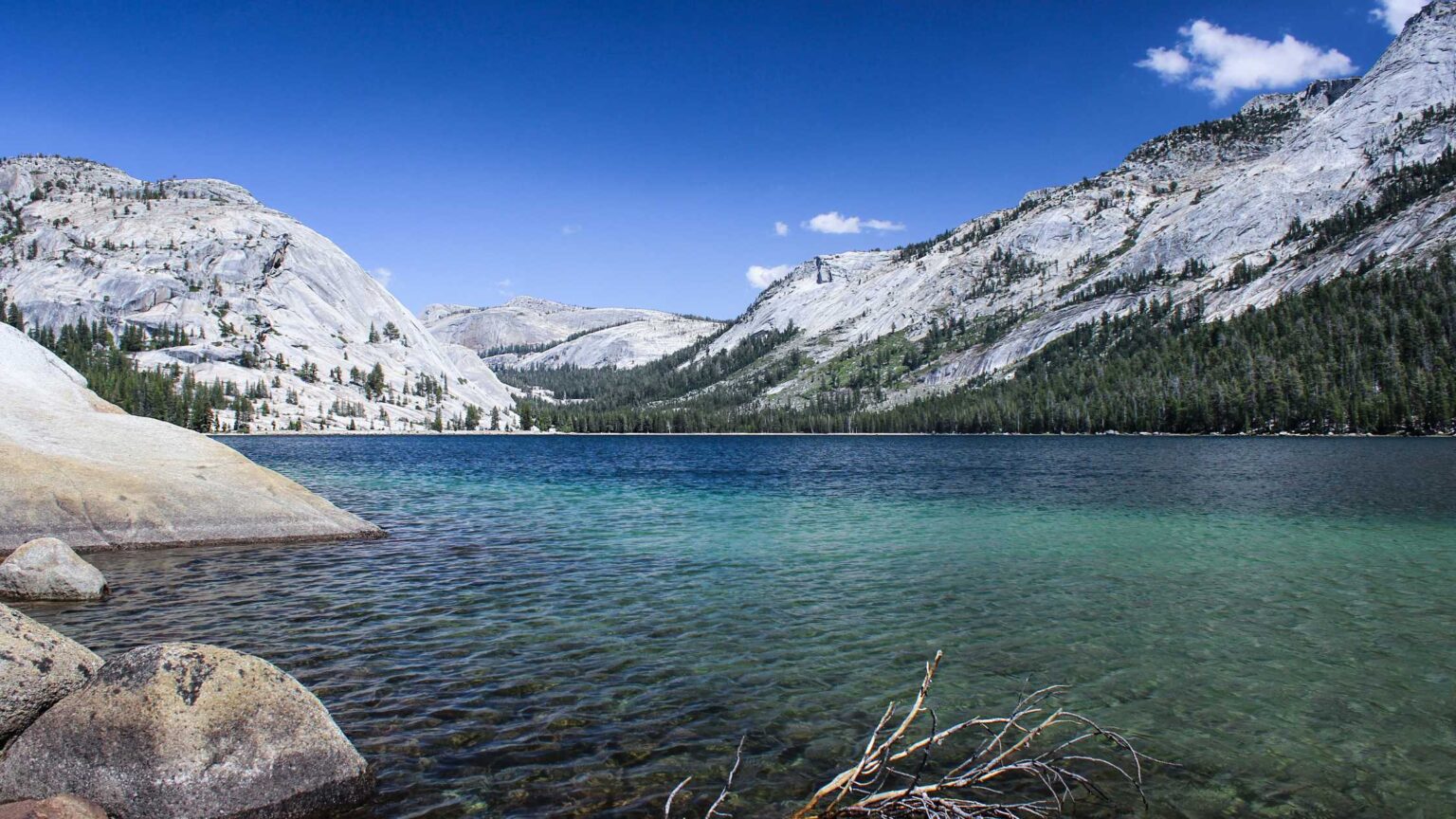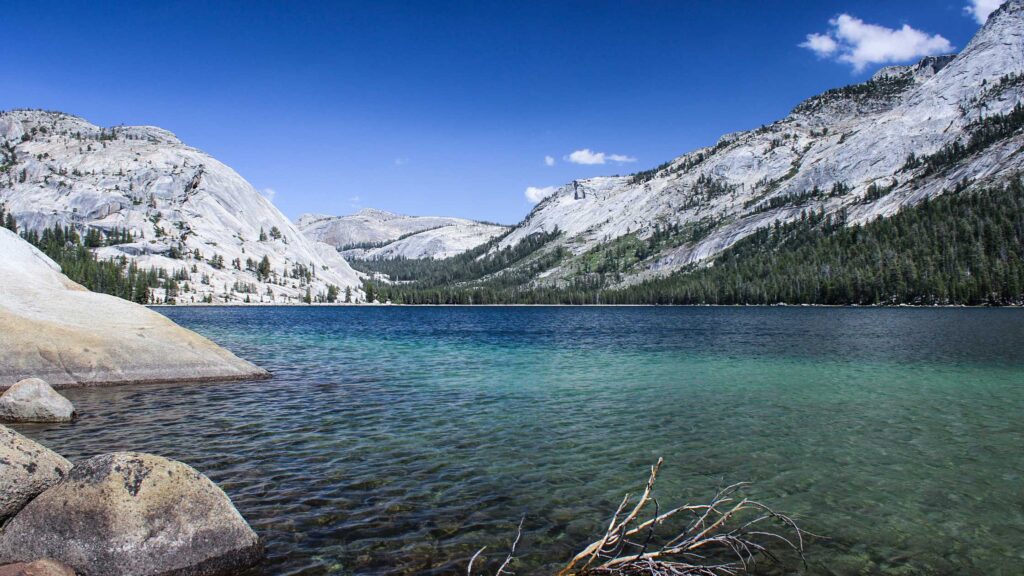 Rush Creek Trail: This 7.2 miles out and back trail is a bit strenuous with a 2,000 feet elevation gain. The trailhead starts near the Silver Lake Campground.
As you reach almost half the trail, you will hear cascading Horsetail waterfalls. The trail runs adjacent to the Rush Creek river, which flows into Agnew Lake.
You can either stop at this point which will be 4 miles from the trailhead, and take in the views of Agnew Lake and the man-made structures around it or continue a bit further for about 3 miles to reach Gem Lake.
The trail is sometimes used for horseback riding. You might stamp on the droppings along the path.
GO BIRDWATCHING
Birdwatching enthusiast? Pack your binoculars and head to June Lake, as June Lake is a natural habitat to spot a variety of birds, from woodpeckers to waterfowls, and this is one of the fantastic things to do in June Lake.
The Lake is home to various bird species, including migrant and resident birds.
In the Spring, you can witness migratory birds flocking to this Lake for food and shelter, and you might spot warbles, thrushers and many other vibrant birds.
You can spot resident birds nesting on the Lake's shore during the summer.
Ospreys, eagles, herons, gulls, mallards and blackbirds are common sightings around the Lake. Go on a hiking trail to spot rare bird species.
Birdwatching at June Lake Ca is an activity that the whole family can enjoy. Spend a few hours strolling around the Lake; you never know what you might spot!
WATCH WILDLIFE
With its stunning scenery and abundance of wildlife, June Lake is a perfect hotspot for wildlife viewing activity in the country, and this is one of the exciting things to do in June Lake.
The warm summer months are prime time for wildlife viewing in June Lake. Early mornings, you might spot birds like hawks and ospreys soaring above the Lake.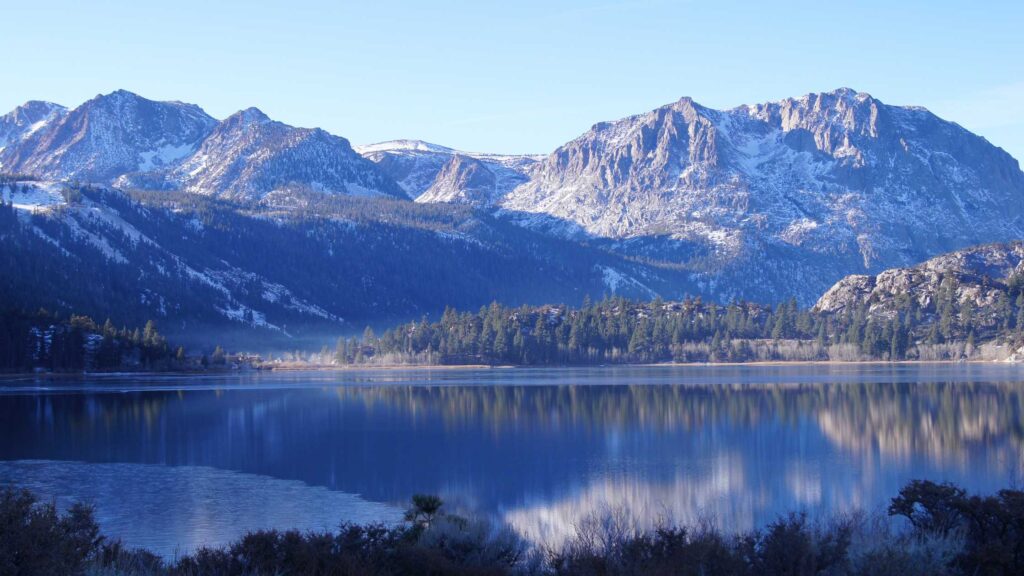 During mid-day, keep an eye out for deer and giant animals like Black bears, coyotes and mountain lions. Rabbits and squirrels are common throughout the trail.
Ample guided wildlife tours are available, especially during Summer, including hikes and boat tours, to get a close-up view of the local wildlife.
Ensure you follow wildlife viewing etiquette and never approach or feed them.
GO ON A HORSEBACK RIDE
Riding a horse is one of the unique things to do in June Lake in Summer, and it is just the icing on the cake if the weather is sunny and warm with a light breeze.
Just you, the horse, the rustling sound of leaves and gushing waters amidst the forest, what else can you ask to spend a perfect summer in June Lake?
There are plenty of outlets that offer guided horseback tours. But I recommend you go with the Frontier Pack Station.
The horses are well-trained, the guides are knowledgeable, and they offer various customized tour packages throughout the day, including one-hour, half-day and full-day trail rides.
They operate only in Summer between June to September.
The ride begins at the June Lake Pack station and goes through some of the rugged places of the area through Rush Creek Trail.
You can stop by Agnew Lake and Gem Lake to enjoy the surroundings.
If you opt for a longer full-day ride, you can explore the Ansel Adams Wilderness, a massive 232,000 acres home to 349 miles of trail, including the famous John Muir trail.
Reserve the tours in advance as this is one of the sought-for June Lake things to do in Summer.
WALK AROUND GULL LAKE
Visit Gull Lake and stroll on the beautiful 2-mile Gull Lake Loop, one of the free things to do in June Lake. I would say this is one of the underrated June Lake activities.
Though Gull Lake is the smallest among the four lakes in the June Lake Loop, the stroll is worth it. The trailhead is on Granite Avenue by the June Lake Mono County Library.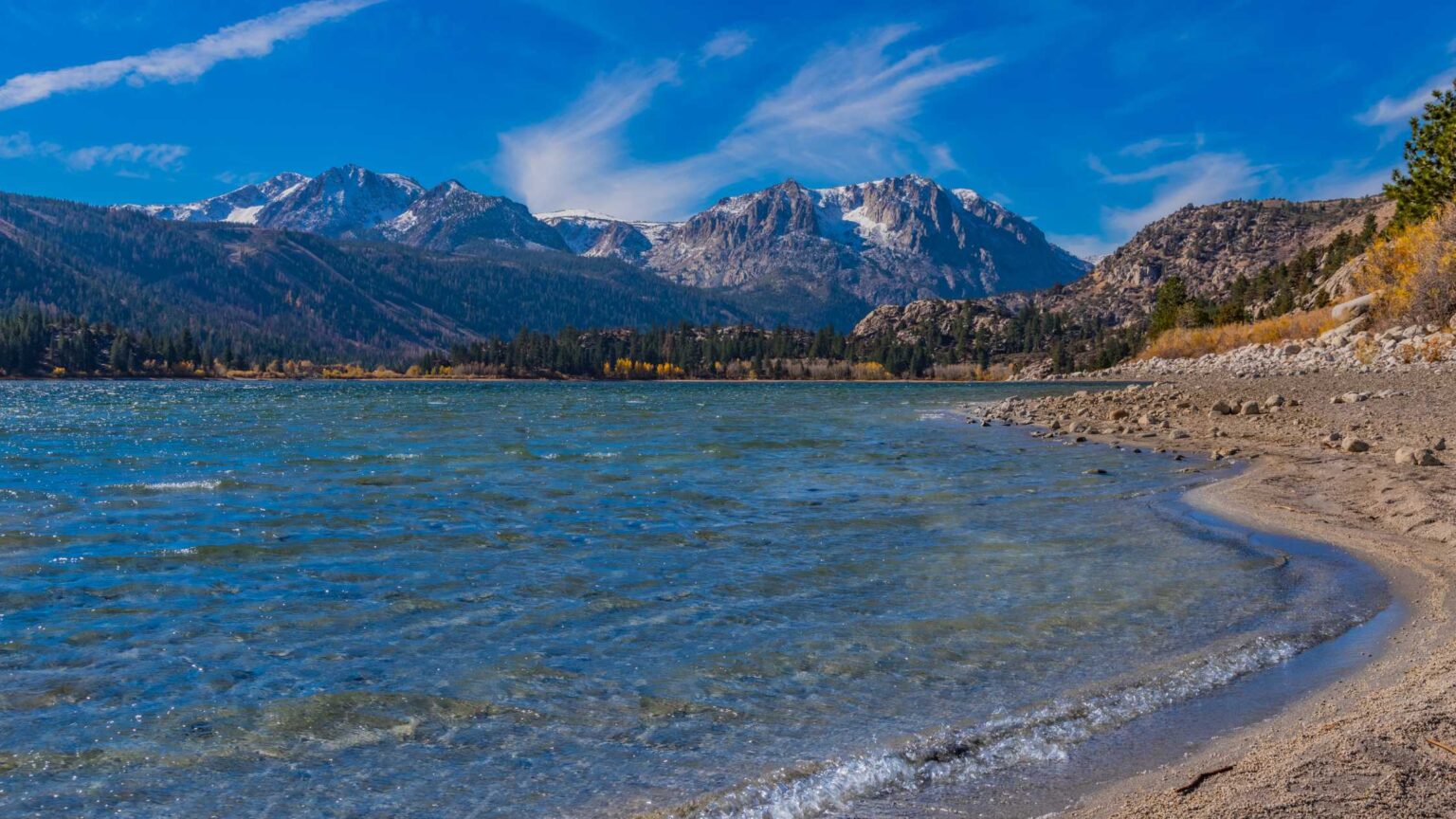 The Lake is surrounded by giant trees, rolling hills, and lush green grass, and Carson's Peak in the backdrop adds extra glamour to the whole scene.
The trail is flat and passes through cabins, private docks, beautiful wildflower meadows and features aspens on the Southern end.
Jump off the famous rope swing into the Lake and click insta-worthy pics at this location. Rent a boat at the Gull Lake Marina for some great trolling of the area.
The boat launch ramp allows kayaks, canoes, rowboats and individual floaters. The drive to the ramp is patchy, so be wary.
Many picnic benches face the Lake, making it an ideal location for a picnic lunch.
Get your pooch on a leash. Parking areas and restrooms are available near the entrance of the Lake.
SOAK IN NATURAL HOTSPRINGS
Are you looking for places to relax this summer in June Lake? Take a dip in one of the many hot springs overlooking the best sides of the Sierra Nevada mountain ranges, one of the relaxing things to do in June Lake.
There are many natural hot springs dotting the June Lake area. But not all of them are apt for swimming.
Visit the Travertine Hot Springs near Jack Sawyer Road off Highway 395. It has several hot springs pools of varying temperatures and a large hot tub.
If you want more secluded and private waters, check out the Gull Lake Hotsprings on the Southern side of June Lake.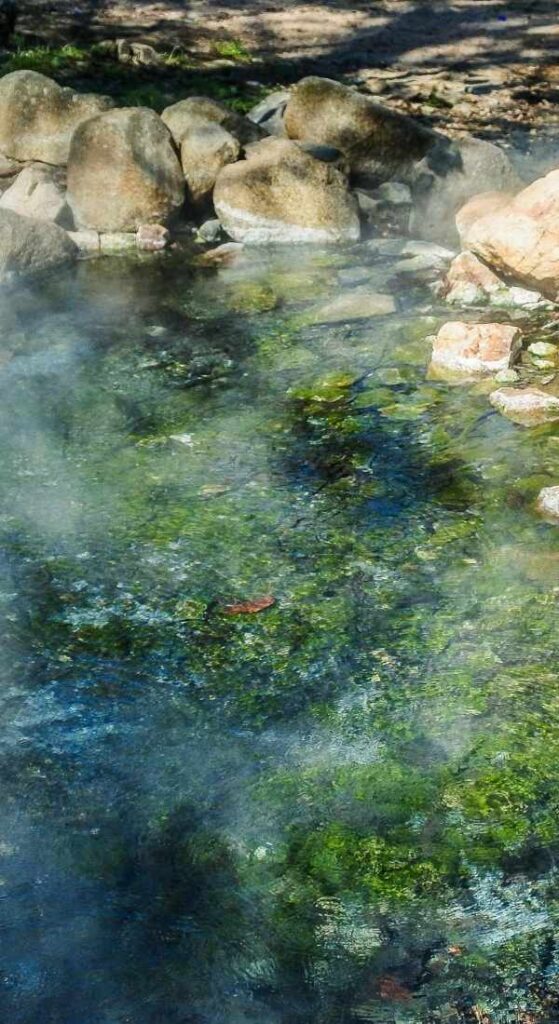 Visit Wild Willy's Hot Spring near Mammoth Airport, located 3 miles up Benton Crossing Road, one of the local's favourites. It can fit around 20 people at a time.
For a cozy and private hot spring option, I recommend you check out Hilltop Hot Springs, which can fit six people and offers incredible mountain views.
Visit the Hot Creek Hot Springs, East of June Lake, for a unique geothermal hot spring experience. It features a fantastic series of pools fed by a hot spring that flows directly from the earth.
No matter which Hot Springs you choose, you will indeed have a relaxing and cherishable experience in June Lake.
GIVE YOURSELF A SPA TREAT
Spending a day at June Lake is the perfect opportunity to relax, rejuvenate and restore your body and mind. Several spas and wellness centres are nestled amidst the mountains, making it one of the other cosy things to do in June Lake.
Visit the spa at the Double Eagle Resort. From deep tissue massage to hot stone treatment, you will find various spa services at this beautiful resort.
Try their other services like facial scrubs, aromatherapy, manicures and pedicures; the experienced staff at this spa will ensure you will have the best treatment.
For a memorable experience and optimal value for money, book the packages along with your stay at these resorts. They usually include access to private beaches as well.
CAMP AROUND THE LAKES
June Lake and the area around the Lake are a paradise for campers and outdoor enthusiasts.
Wake up to the sound of chirping birds and take in the views of gorgeous pine and aspen forests, which makes it a perfect place for overnight camping and star gazing along with some campfires. It is also one of the cool things to do in June Lake.
Several camping grounds around the Lake are equipped with essential RV hookups, picnic tables and fire pits.
Ensure to check the rules of the camping grounds before lighting up a campfire. California is prone to wildfires in Summer. So be cautious of your actions, and do not leave your fire unattended.
ADMIRE FALL COLOURS AND SPRING WILDFLOWERS
Fall colours and Spring wildflowers are a stunning sight to behold in June Lake, a main draw for tourists to flock from across the globe.
The area around the Lake gets more life with a Kaleidoscope of colours, especially during mid-October of the fall season.
Witness the beautiful fall foliage and lush trees turn from green to hues of orange, and bright yellow aspen-lined cliffs, a visual treat.
Hike up the nearby trails around Gull Lake, an ideal location to take in gorgeous vistas of fall colours.
If you visit the area around late May to June, you will be welcomed by a vibrant carpet of wildflowers dotting the lakes.
From Lupines to Indian paintbrush and Mariposa lilies to scarlet gilia, the meadows come alive with colours.
Visit Parker Lake Trail, near Parker Creek, for some panoramic vistas of wildflowers.
Relax by the Lake and observe how beautifully it fits in as a perfect backdrop with its turquoise blue waters for the fall foliage and the different hues of wildflowers.
CLICK INSTA-WORTHY PICS
Whether you are looking for a romantic sunrise or a peaceful spot for sunset, there are plenty of photo hotspots in June Lake to capture some fantastic moments with your lens. This is also one of the cool things to do in June Lake.
Head east of the shore for epic photos to flaunt on your gram. You will get unobstructed views of the Lake with the majestic Sierra Nevada Mountains in the backdrop.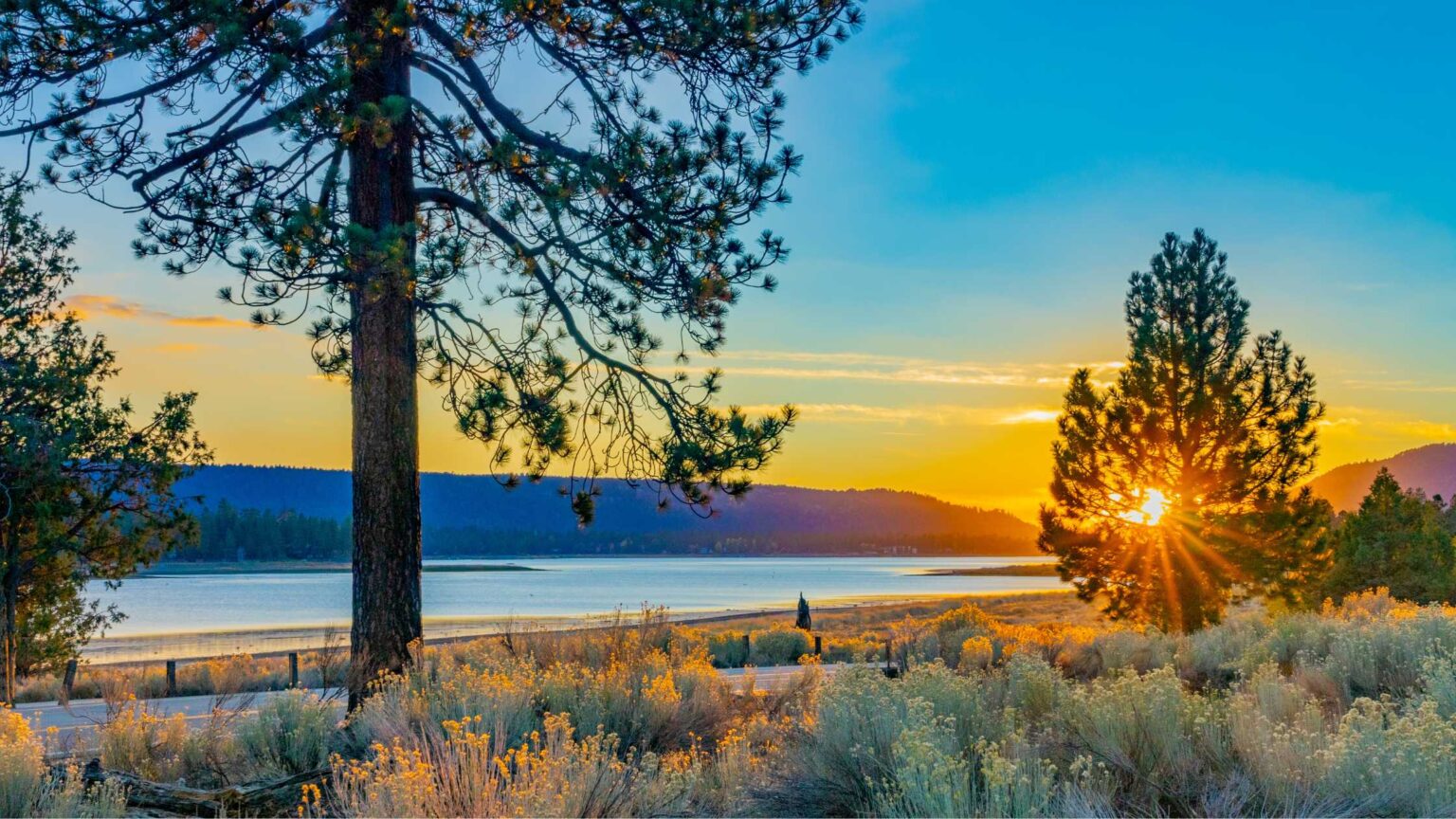 For an aerial view, hike up the June Lake Loop trail to capture the entire Lake. Or head to the Silver Lake trailhead located West of the Lake.
Click some fantastic candids soon after the June Lake Loop sign on Highway 158, a perfect spot to capture the entire shot in one frame.
If you wait until evening on the banks of the Lake, you can capture incredible sunset views; the sun sets precisely behind the mountains, like how we used to draw as kids. The mesmerizing reflection on the Lake is a visual treat.
THINGS TO DO NEAR JUNE LAKE
If you are looking for things to do near June Lake, set base at the Lake and explore the other fantastic areas surrounding the Lake. You might need a self-drive car.
Check out Discover Cars, one of my favourite car rentals in the United States, for their wide range of car availability and affordable pricing. Find more details to book here.
EXPLORE NORTH OF JUNE LAKE
Drive North on Highway 395, and you will witness the unique Saltwater Mono Lake, a natural habitat for shrimps that act as a food supply for migratory and resident birds.
A few miles further South from the Lake will lead you to one of the most outlandish places in the region, the Mono Lake Tufa area.
For a moment, you might feel like you are in a scene from Interstellar! Looking at the interesting Tufas, you might wonder if you might have landed on another planet.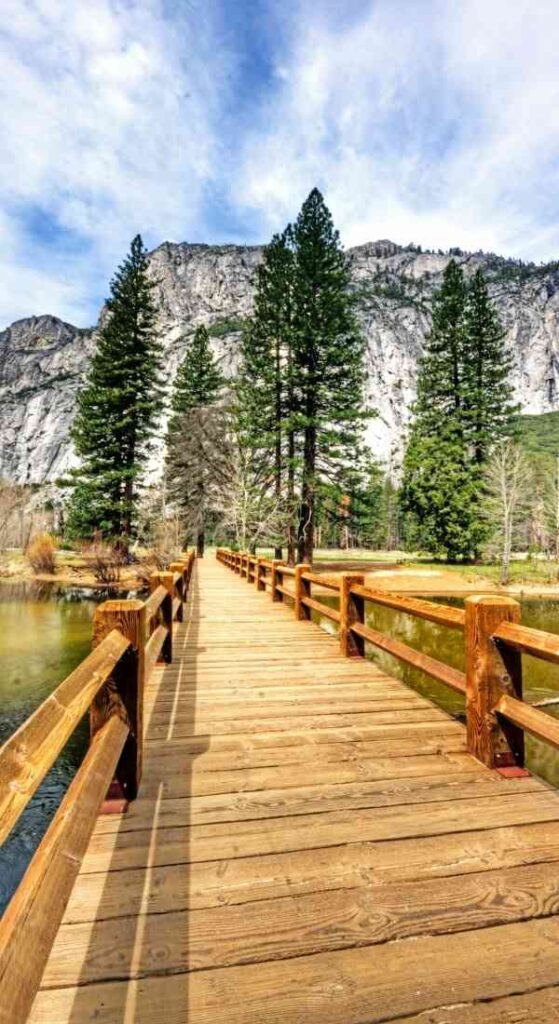 Nonetheless, the place offers spectacular sunrise and sunsets. Ensure you wear proper boots or hiking shoes. It gets a bit spooky after dark, though!
Drive along Tioga Road, for which you must take a sharp left soon after the Mono Lake vista point. The road runs along Lee Vining Creek and is among the best drives you can experience in this region.
On the right, you will pass by the Mono Domo. There are ample camping options on this route, and you will get many pitstops to capture the fantastic scenery all the way to Yosemite National Park and beyond.
Stop by Tioga Pass road valley view to take in some incredible granite cliff views and the aerial views of the meadows.
Stop by the Conway Summit, the highest point along US Route 395, located a little North. Follow the curves from the Summit along the Virginia Lakes Road, which will welcome you with a plethora of hikes to alpine lakes and several rustic camping options.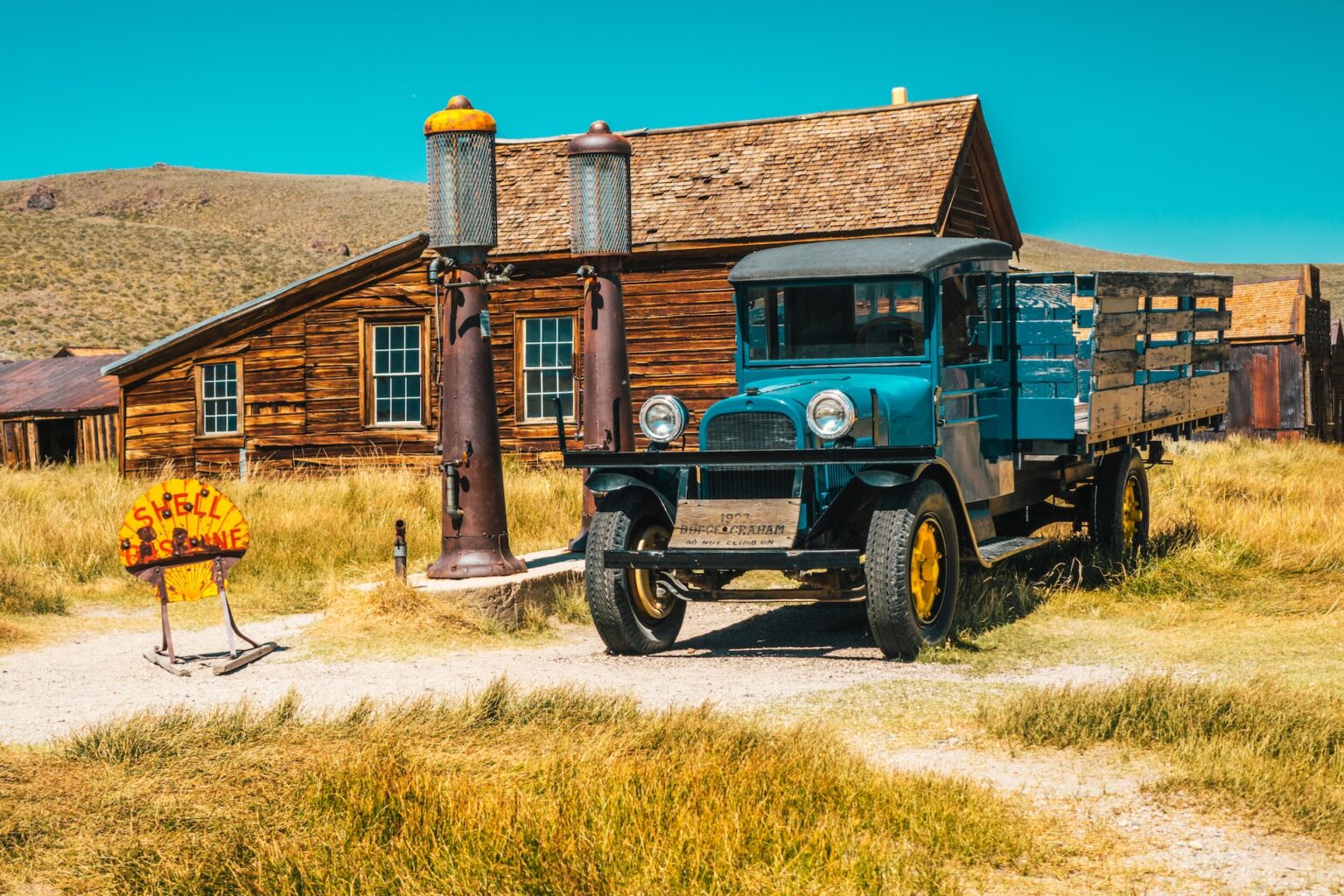 Check out Bodie State Historical Park, a few miles away from Mono City, located on Highway 270 at an elevation of around 8000 feet. 
Three miles drive on the bumpy road, and you will be transported back to the Gold Rush era. This is so well preserved that you might feel like you are in a movie set.
Walk around between old buildings, and peep into the windows to see what living spaces were like back then. There is a jail, a barber shop, a fire station and much more.
The entrance fee is $8 per person, and you must pay approximately $3-$4 for a guided tour.
EXPLORE SOUTH OF JUNE LAKE
Drive 35 minutes South of June Lake, and you will reach the renowned Mammoth Lakes town, known for the lakes that make up the Mammoth Lakes Basin and the gorgeous mountain valleys for skiing.
Hike the nearby Rainbow Falls and the Devil's Postpile National Monument, a beautiful geological formation of crystallized basalt lava which resembles a tile floor. You need to take a shuttle service to reach this point.
Check out the Hot Creek Geological Site before the Mammoth Yosemite airport on Hot Creek Hatchery road. The place is known for its gorgeous turquoise pools and fumaroles.
The gain is gradual and suitable for experienced hikers. Ensure to read the warning sign boards near the pools.
On the opposite side of Hot Creek Geological Siteside off Highway 395 is the beautiful Convict Lake. Spend some time on the camping grounds or hiking the Fisherman's trail for a nice lake view.
Drive 60 miles South which might take approximately 60 odd minutes, and you will reach the city of Bishop.
Head to the pretty Bishop Creek Canyon, 12 miles West of Bishop on Highway 168. The creek is a fantastic location for trout fishing.
Check out the giant groves at the Ancient Bristlecone Pine Forest. This area is home to the world's oldest tree, Methuselah.
If you have spare time, drive another hour South to explore the charming little town of Lone Pine to drive along the Whitney Portal Road.
GETTING TO JUNE LAKE CA
Driving from the West, you can take the US 395 highway, the easiest way to reach the Lake.
If you are going from the East, you can take the June Lake Loop road or Highway 158, which is quite a bit longer journey but offers a beautiful drive amidst the Sierra Nevada Mountains.
It might stand tough competition for the Pacific Coast Highway or the Big Sur Road trip.
If you are coming from the Bay area or any North Californian Beach town, take the Tiago road, which meanders through the Sierra ranges. This road will generally be open between May to November.
June Lake sits 157 miles from Reno in the North and 387 miles from the Mojave Desert in the South.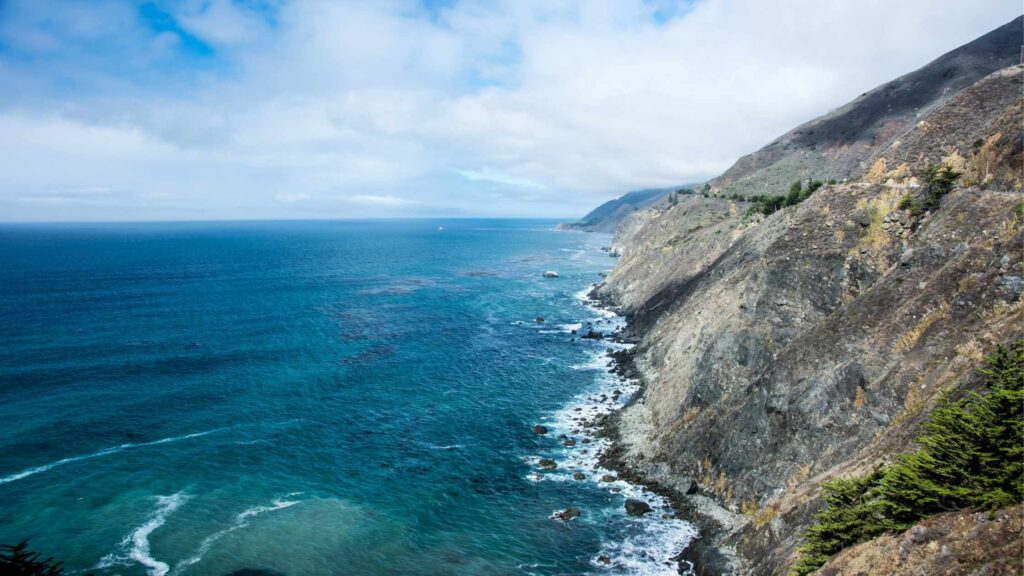 If you are driving through Fresno, it might take 4 hours to reach June Lake, though the distance is only 171 miles since you will be going through the Yosemite region. Check the road status before your trip.
And from the major cities; 5.5 hours from LA, 7 hours from San Francisco and 7.5 hours from San Diego.
People tend to prefer driving to June Lake to enjoy the natural scenery. But alternatively, you can fly down to the Mammoth Yosemite airport and hire a car from there.
Fresno and Reno also have larger airports, and you can check Discover Cars for car rentals.
I recommend you get travel insurance ALWAYS whenever you are on international or domestic travel!
Check out this insurance by Safety Wing, which offers a pretty good cover for you and your family. They even provide monthly insurance, much required for slow travellers like me.
WHERE TO STAY IN JUNE LAKE
If you are looking for where to stay in June Lake Ca, my recommendations include vacation rentals, luxury accommodations, and stays with rustic experience.
Double Eagle Resort and Spa: Located 19.3 km from the eastern entrance of Yosemite National Park. Features free WiFi, an indoor swimming pool, an on-site bar, a restaurant and a spa.
The two-bedroom cottages have a full kitchen and terrace. Cross-country ski trails are within walking distance of the Double Eagle Resort and Spa.
The June Mountain Ski Area is less than half a kilometre from the Double Eagle Resort. The Mammoth Mountain ski area and Mammoth Lakes are within 40.2 km of Double Eagle Resort and Spa.
Rainbow Ridge B – 1BR/1BA: 20.9 km from Yosemite Tioga Pass, Rooms with mountain views and balcony, equipped with a satellite flat-screen TV, and a kitchen with a fridge and an oven.
Mammoth Village Properties by 101 Great Escapes: Located a 33-minute drive from June Lake. Free WiFi, fully equipped kitchen,flat-screen cable TV, a DVD player, a fireplace, hot tub and parking for two vehicles.
Ski passes are available on-site. Mammoth Mountain is 8 km from this apartment, and devil's Postpile National Monument is 20.9 km away.
Juniper Springs Resort: Located at a 40-minute drive from June Lake. Features a golf course, a heated outdoor pool, a hot tub, a kitchen, a balcony, a fireplace and a DVD player. Mammoth Mountain Ski Area is 1.5 mi from the property.
Cinnamon Bear Inn: Located in the heart of downtown Mammoth Lakes and at a 35-minute driving distance from June Lake.
A complimentary hot breakfast buffet and a bar lounge are available. The Inn is a 5-minute car or free trolley ride to the Village Gondola Station.
Murphey's Motel LLC: Located at a 22-minute driving distance from June Lake and a 16-minute walk from Yosemite Tioga Pass.
Features accommodations with a terrace, free WiFi, and free private parking. Enjoy activities in and around Lee Vining, like hiking, skiing and fishing.
WHERE TO EAT IN JUNE LAKE
Eagle's Landing Restaurant: An American rustic cabin-styled restaurant 7 minutes from June Lake. Try their pasta sauce, fish tacos, salmons, salads, burgers, grilled hangar steak and hot chocolate from the beverages.
Balanced Rock Grill & Cantina: Located 2 minutes from the June Lake Marina. Go here for Mexcian cuisines. Try carnitas, burritos, margaritas and Pollo & Asada tacos with homemade tortillas.
Ohanas 395: A cosy bar & grill located 2 minutes from the June Lake Marina known for its tunas. Try their Hawaiian plate lunch, burritos, noodles and tacos with homemade sauces and salsa.
Tiger Bar & Cafe: Located one minute from the June Lake Marina. Try their famous Tiger Burger and sandwiches.
MAP OF THINGS TO DO IN JUNE LAKE CA
TOP TRAVEL TIPS & RESOURCES
Below is the list of the travel resources you can use to organize your travel – from flights to insurance and everything. These are the resources I use myself, which is why I recommend you for a hassle-free travel planning experience and fantastic trips.
Booking Flights
: To score flight deals, search on
Jet Radar
, Kiwi,
or
12go.Asia
(for Asia planning). Book and fly mid-week, taking red-eyes flights or those in the early mornings for better deals and lower prices. Avoid check-in bags on a budget airline.
Booking Trains:
The best websites for booking trains anywhere in Europe are
Rail Europe
and
TrainLine
. Both are easy to manage online and track your journeys.
Booking Cars:
For the best prices and easy handling of renting a car for road trips and day trips, I'd recommend
Discover Cars
or
Rental Cars,
available throughout the world.
Accommodations:
I typically use
HotelsCombined
or
Booking.com
to book hotels. There are special getaway deals with amazing discounts(over 50%!) for this year on Booking.com, and you can find them
here
.
I use
Hostelworld
and
Agoda
to book hostels as the deposit is low, easy change/cancellation is available and reviews are excellent on both. Depending on the destination, I love staying in
VRBOs/homestays
.
Travel Insurance:
No matter whether it is a short trip or longer trips abroad, I strongly recommend buying travel insurance for international trips. I recommend either
World Nomads
or
SafetyWing
for international travel insurance.
Tours:
Being a solo traveler, one of the best ways to optimize my time, budget, and super importantly, meet amazing people from all over the world is by joining tours, especially food tours, walking tours, day trips, culture, and history tours.
You will get a local's perspective, the best opportunities to experience places and people closely. I book using
GetYourGuide
,
Klook
,
Viator,
and
Voyagin.
Please note: This post contains affiliate links, meaning I may earn a commission if you make a purchase by clicking a link (at no extra cost to you). Learn more.