A trip to Big Pine Lakes is one of the most adventurous weekend getaways in California for outdoor lovers you can experience. Whether you are thinking of Big Pine Lakes Camping or explore the Big Pine Lakes trail on a day hike, you will end up falling for the surreal landscapes of the Eastern Sierras, apart from the mystic, fascinating turquoise-colored Alpine Lakes themselves.
If you have been dreaming of experiencing the magical charm of the John Muir Wilderness in Inyo county, Big Pine Lakes is one of the gateways to this slice of heaven. You can explore the lakes over a weekend easily, despite the strenuous nature of the hike.
It is one of my favorite hikes in California to date after exploring the Eastern Sierra bits. In this post, you will find details about how to plan a trip to Big Pine Lakes for day hikes or camping or overnight; all you need to know about permits, campsites, backpacking tips, and more.
BIG PINE LAKES OVERVIEW
Big Pine Lakes is a group of seven large and many other unnumbered smaller glacial lakes in the John Muir Wilderness nestling in the deep mountains of the Eastern Sierra Mountains in Inyo County, 10 miles west of Big Pine town in California.
You can access these gorgeous Alpine lakes named First Lake through Seventh Lake following The Big Pine Creek North Fork Hiking Trail, which rises into California's High Sierra toward the southernmost glaciers in the United States.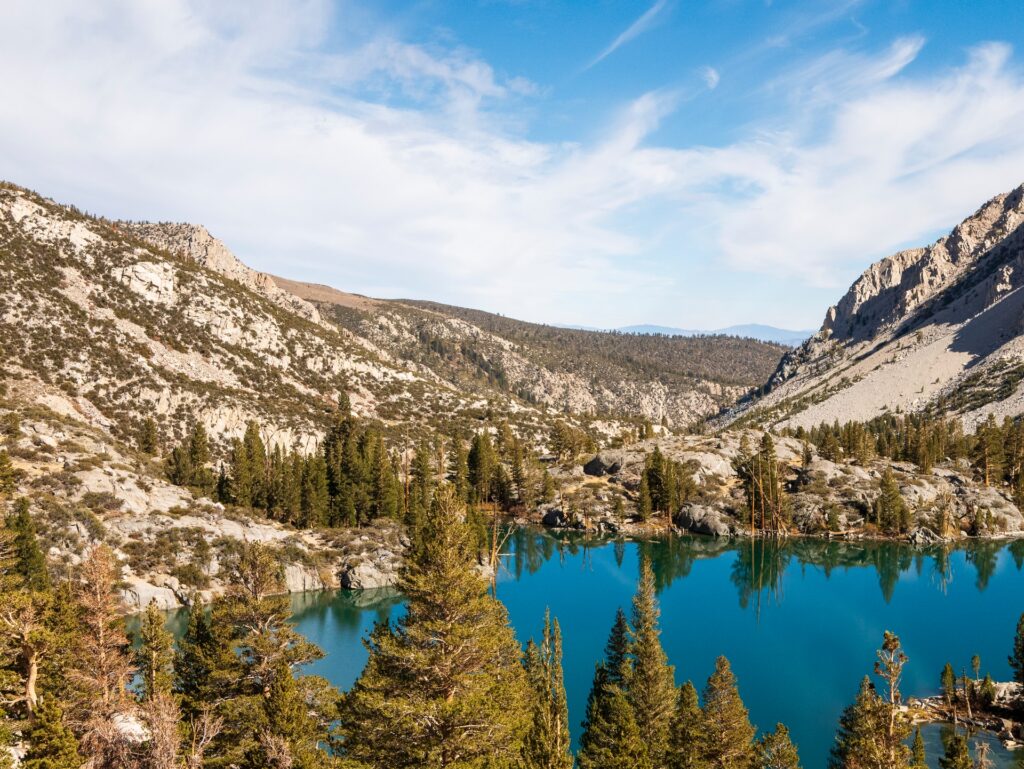 There is an elevation change of over 3500 feet between the First through the Seventh Lakes, surrounded by the rugged peaks of the Eastern Sierra. You will pass through many gorgeous cascades, ridges, cliffs, and granite outcrops on your hike.
Above this group of lakes is the Palisade glacier, which is further 4500 feet higher atop the lakes. Palisade Glacier is the southernmost in the US and the largest glacier in Sierra Nevada. The total length of this loop varies between 15 to 20 miles of moderate to challenging levels hiking, depending on what you want to cover.
In this portion of the John Muir landscapes, day hikes to the Big Pine Lakes, backpacking, overnight camping, off-trail hiking, running, and rock climbing are the most popular activities among outdoor adventure seekers and weekend travelers.
Most people planning day hikes intend to cover one to four lakes, while some up for even more daring adventure and fun attempt the next leg of the hike further up to the Palisade Crest, home to many rocky peaks exceeding 14,000-feet along the Palisade Crest. If you plan for Big Pine Lakes camping, you will have to plan in advance though. Read further
Along with the glaciers, this stretch of the trail is home to other beautiful landmarks like the 14,153-foot Mount Sill, and Temple Crag, home to some of the tallest rock climbs in the Sierra Nevada Range.
BIG PINE LAKES HIKING GUIDE
Below is a brief overview of all you need to know about the Big Pine Lakes trail. Check out the next part for detailed tips about some of these.
| | |
| --- | --- |
| | BIG PINE LAKES HIKE OVERVIEW |
| Hiking Distances | From Trailhead to Second/Third Lakes – 13 miles loop |
| | Until Sixth/Seventh Lakes – 18 to 20 miles loop |
| | Palisade Glacier –23 to 25 miles loop |
| Name of the Trail | The Big Pine Creek North Fork Trail/Big Pine Lakes Trail |
| Starting Point | Big Pine Creek Campground |
| Best Time To Visit | March – October |
| Altitude Range | 7800 – 11500 Feet |
| Permit | No permit for a day hike. Permit required for camping |
| Trail Nature | No shade during the first half. Steep and rocky trail with a few creek crossings |
| Difficulty Level | Moderate – Difficult |
| Dog Friendly | Yes |
| Camping Available | Yes |
| Parking | Yes |
| Mobile Network | Not available |
How To Hike Big Pine Lakes?
The hike to Big Pine lakes begins at the Big Pine Creek Trailhead, near Big Pine Creek Campground and Glacier Lodge. There is also another trail from here to the Baker Summit Trail. The course starts upward in switchbacks alongside North of Big Pine Creek before molding the hillside as the elevation steadily increases.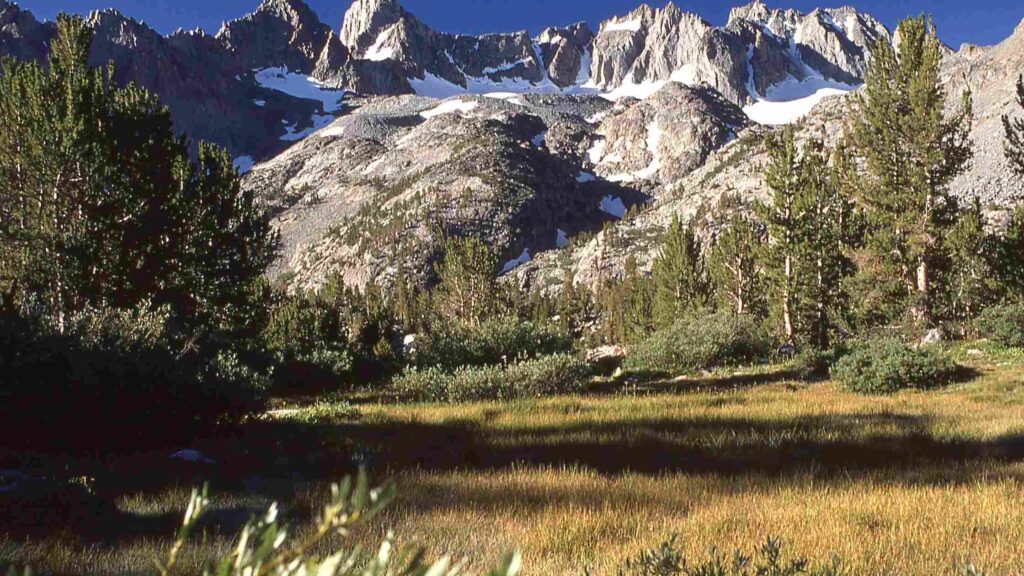 Most people find the first few miles the hardest for its steepness and the uphill path out in the open, which can soon start to feel very unless you begin the hike early. But the splendid views of the mountainous valley adorned with shades of Aspen and Pine trees will keep you enthralled and your spirits high, as you sometimes keep going lost in the magnificence of the John Muir Wilderness.
As you make your way up through the well-marked trail, you pass by creeks, cascades, gorgeous wildflowers, and plenty of places to stop off the path and rest in the shade.
After about four miles through the trail, an important landmark you will come across is the beautiful cabin of one of Hollywood's most famous character actors, Lon Chaney, Sr. The beautiful rustic place that is now a Forest Service cabin was once his summer home for a brief time. The building is preserved as a historic site within Inyo National Forest.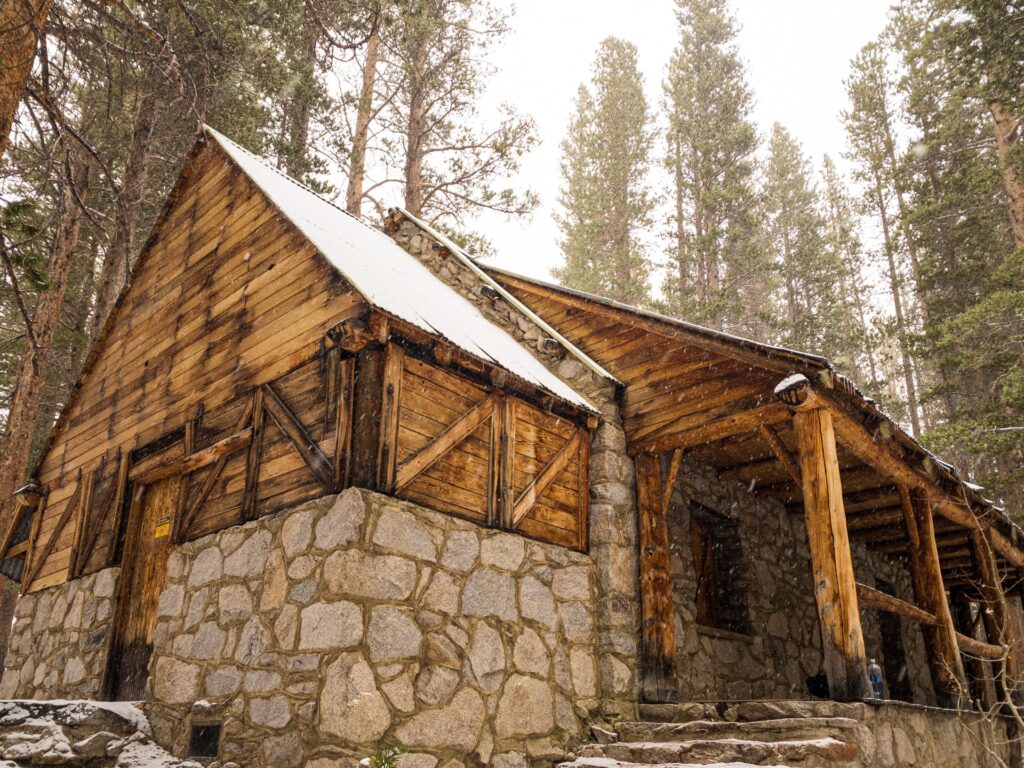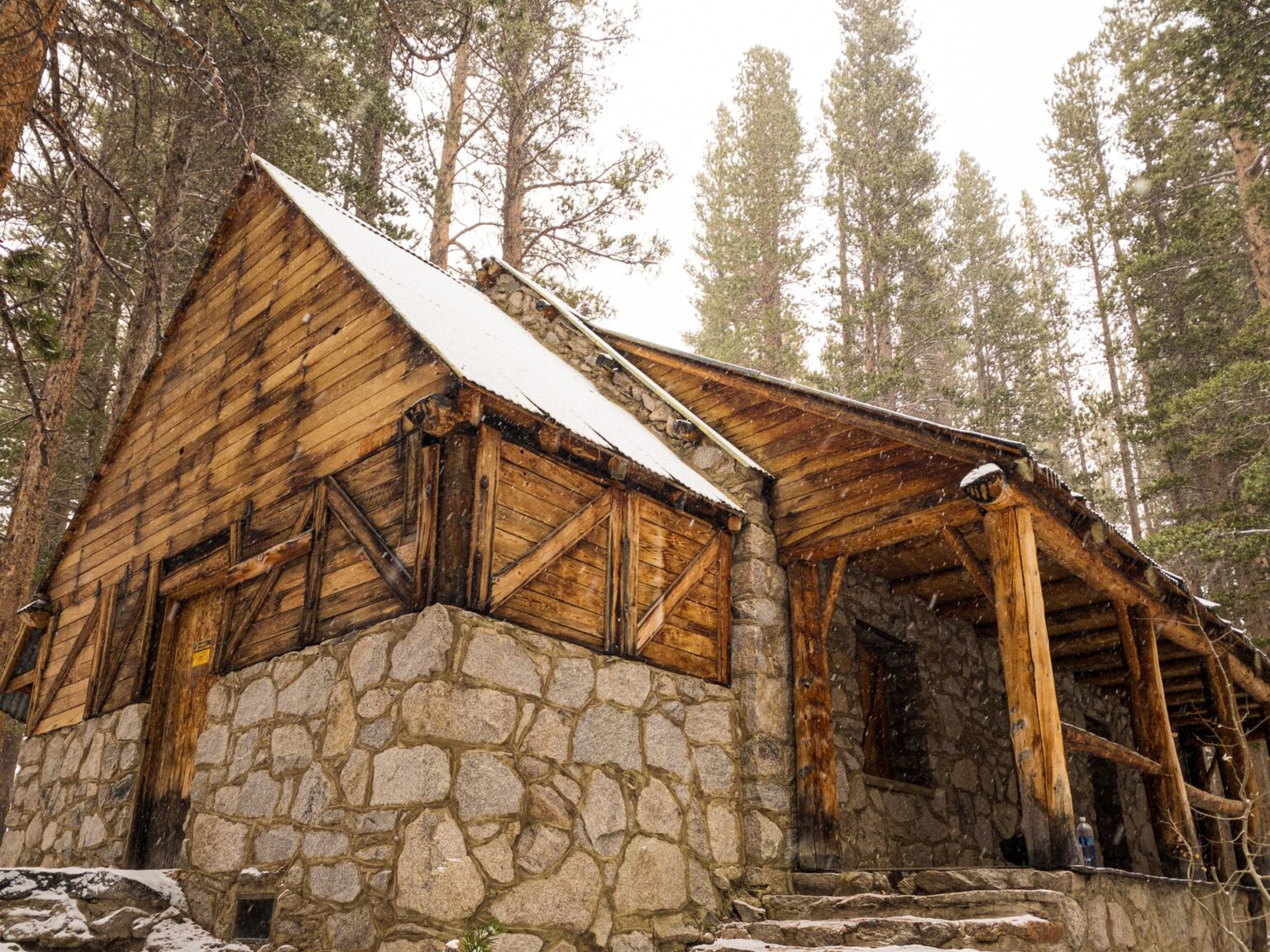 The turquoise color of the lakes, caused by the glacial silt washed down from surrounding peaks, makes them look like precious jewels scattered amidst ridges.
Beyond the cabin, you will begin to feel the heights as the switchback trail leads out of the forests into the alpine mountains, with glimpses of grey granite peaks rising above the valley amidst Aspen and Willow groves. You will reach the First Lake, as the name says, the first of the seven lakes after some time, and I must say that you will be swept off by the first spectacular views of the blue-green lake set against the rugged peaks.
A few minutes later, the second lake will appear. The second lake is the largest and the most popular for many for its dazzling beauty, and this is where you will see the peaks of the Temple Crag and Mount Alice forming the perfect post-card backdrop.
Further along, the trail will lead you to the Third lake, which pales in comparison. Continue additionally to the fourth lake, and from there, you can also make a loop to Black Lake and rejoin the trail near First Lake to go back.
Recommended: 50 Gorgeous Secret Places In the USA For Offbeat Lovers
Although most day hikers go back after the fourth due to the time and difficulty, it is best to get to Lakes five and six, as the views get dazzling once you reach these upper lakes. Many hikers that camp opines the best views of the hike on the high ridge along these higher lakes.
Hike To Palisade Glacier Lake
Palisade Glacier is one of the few remaining glaciers in California and the largest glacier in the Sierra Nevada range at .81 miles in length. You will witness staggering panoramas of some of the highest peaks of the Sierra Nevada from the glacier.
Hiking Palisade Glacier is the next-level adventure when exploring this part of the Big Pine Lakes trail. You will have to camp near one of the upper lakes if you want to attempt a hike to the glacier as it is very ambitious, if not impossible, to do it along with the lakes on a single day.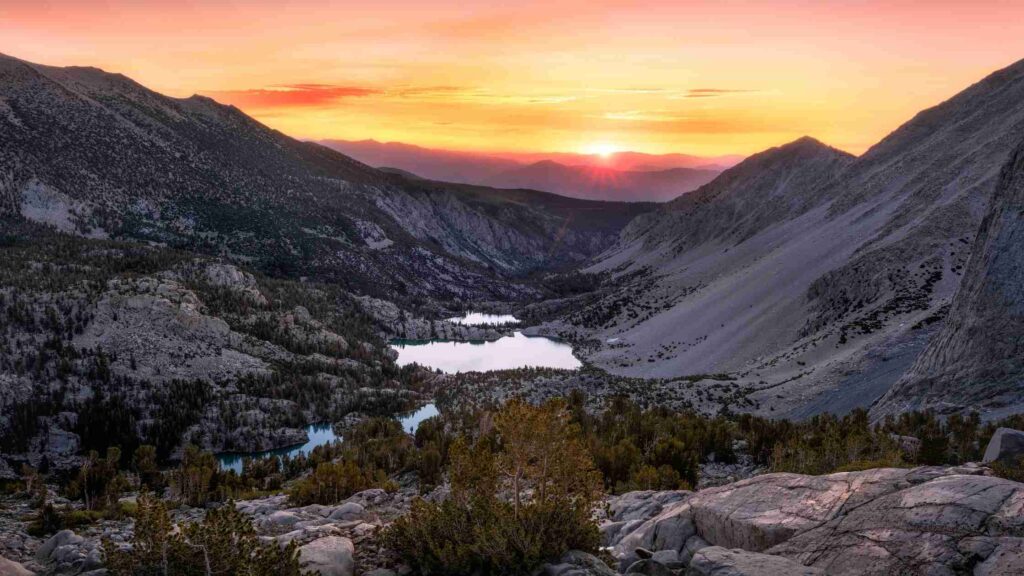 The hike up to Palisade glacier is steep, mountainous, and involves some off-trail hiking. The path to the glacier is also less used than the main loop, so if you are here early, around the time of snowmelt, it is best to bring your snowshoes as it is pretty steep, plus a rapid altitude gaining over 1,000 feet in under 2 miles.
The trail passes through a valley filled with boulders and creeks, and the last 2.5 miles are the trickiest as the track is not well-marked, rarely used, and uphill. You have to make your way climbing up the rocks. Continuing along this strenuous path for some time, you will come across the full view of the Palisade Glacier, and a bit further, you can spot the first three lakes.
Unlike the forested path all along, during the last stretch and at the summit, you will notice the absence of any trees, and boulders and heaps of hard snow replace them if you are here during shoulder seasons.
BIG PINE LAKES CAMPING GUIDE
While day hikes in Big Pine Lakes do not need upfront planning, backpacking in the Big Pine Lakes requires some earlier arrangements. If you are planning Big Pine Lakes camping, here are the things that you need to sort out – obtaining permits, choosing the location to pick up your permits, picking a campsite, and selecting the hike trails.
Arranging Big Pine Lakes Camping and Backpacking Permit
There are two ways to get permits for Big Pine Lakes: booking online and walkup.
15 permits for hikers are available online, beginning 6 months before the permit date, while 10 are set aside as walkup permits, issued at 11 AM the day before you plan your trip.
To book permits in advance, visit Recreation.gov six months in advance of your camping trip. On a rolling basis, permits are up for grabs at 7 AM Pacific time 6 months in advance.
On the site, under the Inyo Forest, choose JM23 – Big Pine Creek North Fork. Selecting the correct number is essential here as a mistake would take you to different trails. Summer weekends are the most popular, selling out quickly, sometimes even in the first few minutes, so you have to act quickly if you are eying the weekends.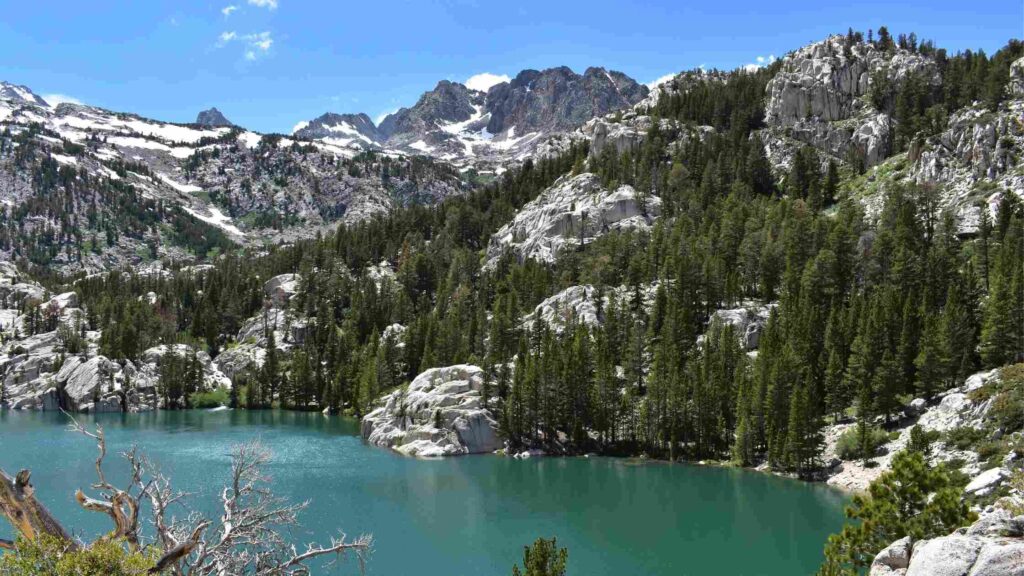 If you can't secure a permit in advance for whatever reasons, you have many locations from where you can collect from the offices. These are 10 first-come, first-served permits, though, released at 11 AM the day before your hike.
Decide your permit pickup location
Below is the list of locations where you pick up the walkup permits. Arrange to pick your permit at one of these locations no later than 10 AM the day of your departure. Try earlier if possible.
If you come from the South, visit the center in Lone Pine – Eastern Sierra Visitor Center, Hwy. 395, Lone Pine, CA
If you are arriving from the North, choose any of these locations.
Selecting from Big Pine Lakes Camping Sites
If you are going to set up a camp, it is best to do it higher up in the mountains, unless you are planning a day hike to Big Pine Lakes, in which case you choose from the campgrounds near the trailhead.
Lakes 2 and 3 – Most people visiting Lakes one to three are day hikers. Although the spots around Lakes 2 and 3 are fantastic, dominated by the jagged Temple Crag peaks, these two lakes are often crowded with hikers and backpackers, leaving no isolated place for camping.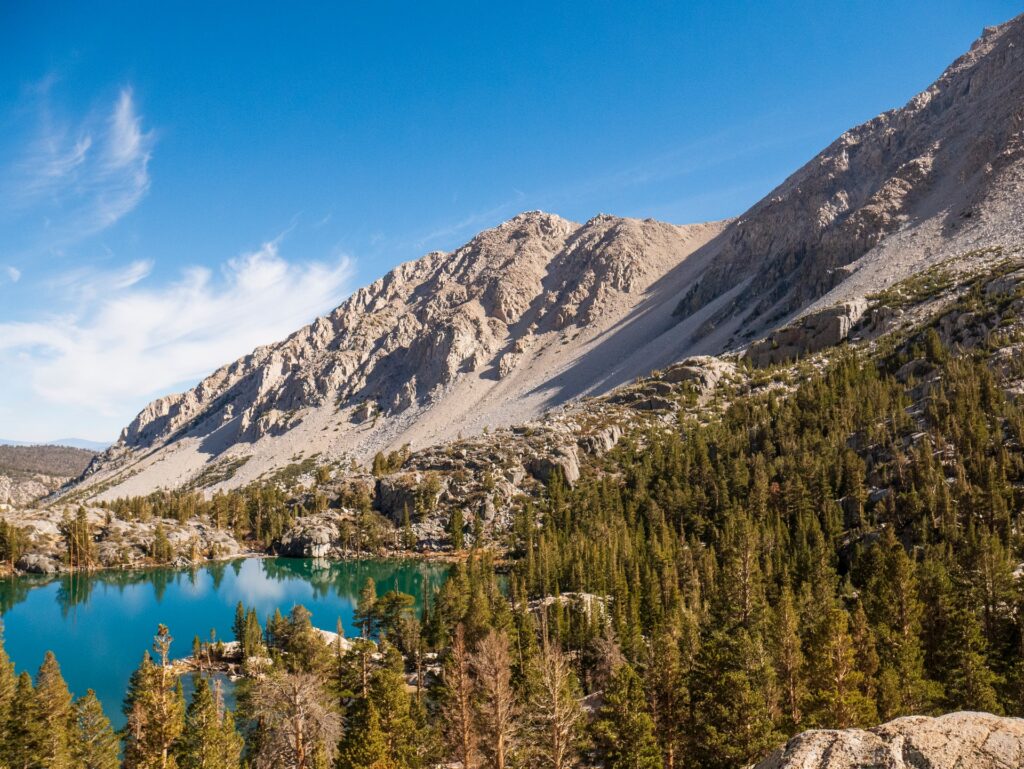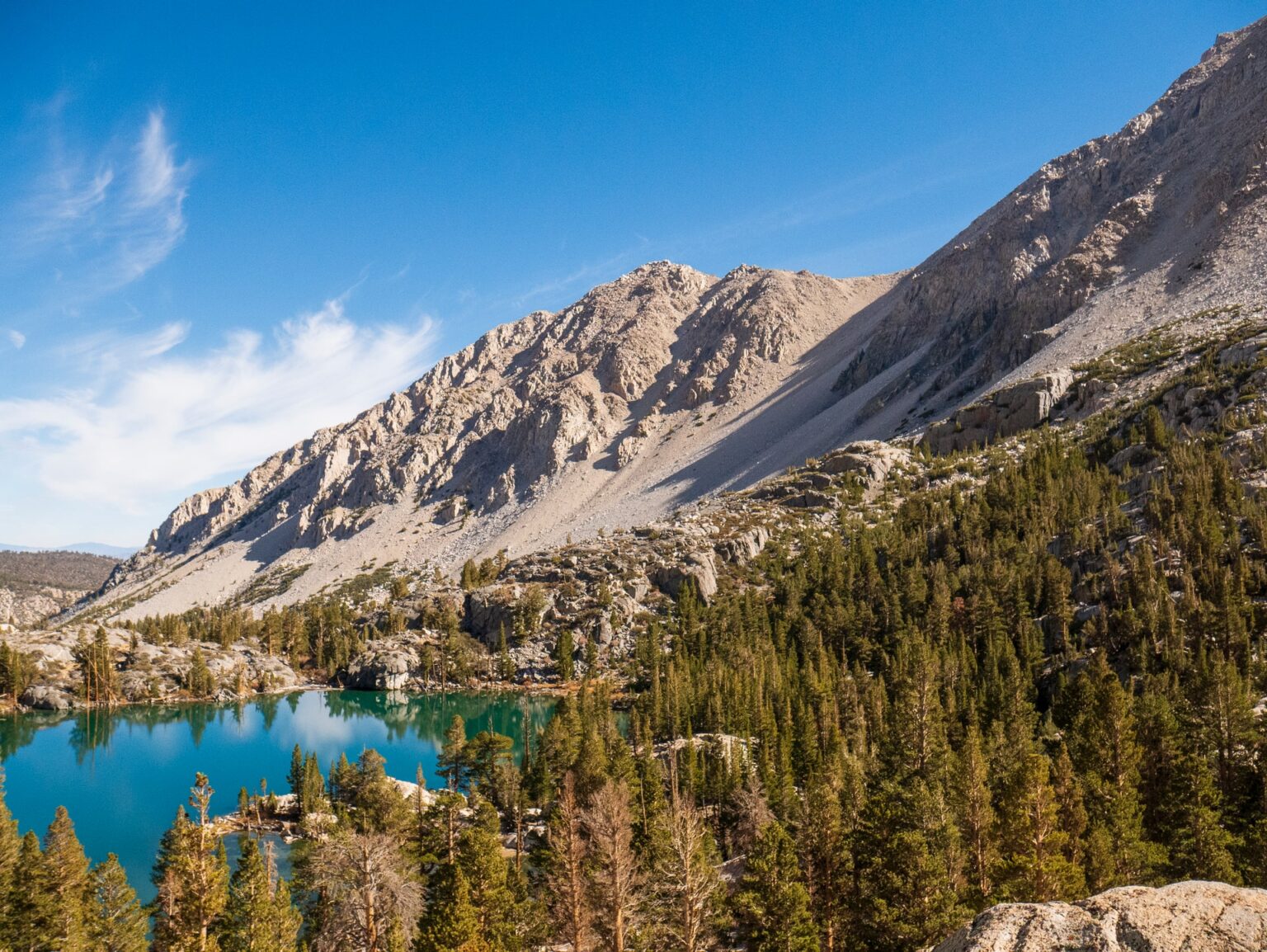 Plus, another downside of choosing to camp close to Lakes two or three is that if you plan to hike further up, you will have to cover a longer distance, which will add to the delay if you are aiming to go all the way until the seventh Lake or Palisade glacier. If you don't mind the crowds or don't intend to go further, camping close to either of these lakes makes sense.
Lake 5 – Like Lake 3, Lake 4 is also shallow and also offers no exceptional views, which will leave you next with the fifth Lake. Most backpackers love camping here, which is not surprising considering the dazzling views of the rugged mountains – The stunning Mt. Robinson, Agassiz, and Cloud Ripper mountains are a sight to behold. Since it is further away from a distance covered by day hikers, you will have fewer companions.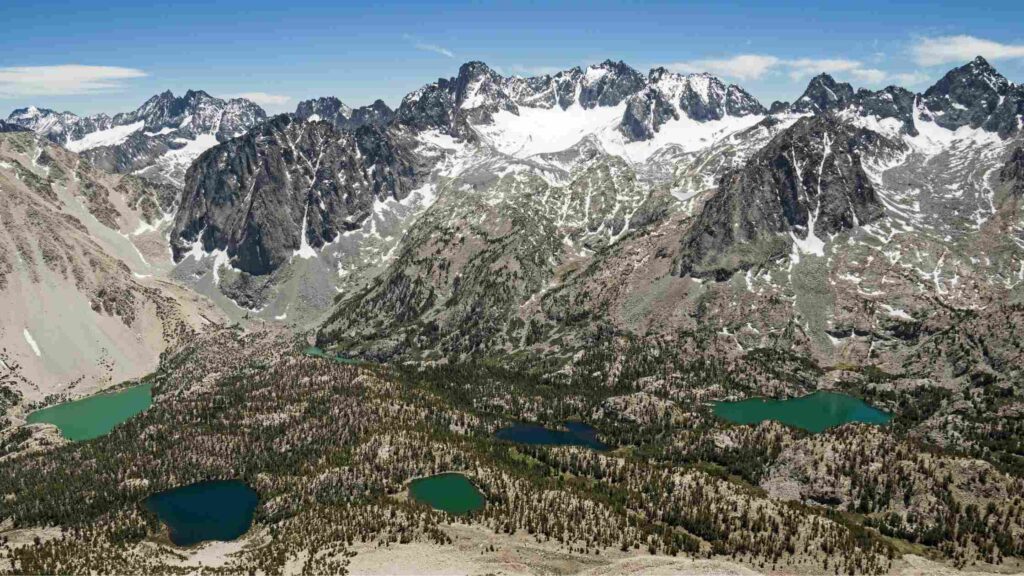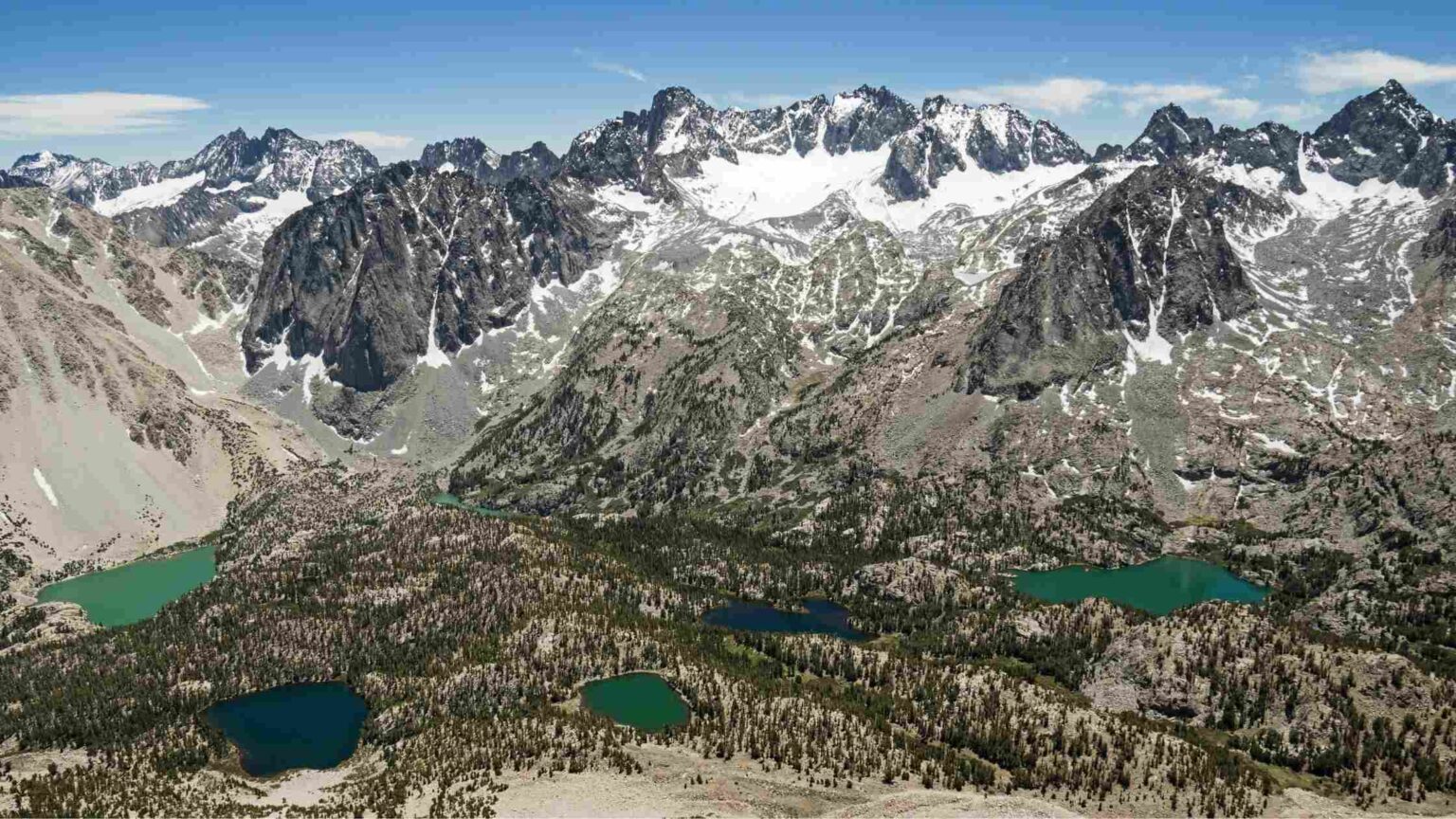 Lakes 6 and 7 – The most rewarding views of the whole hike await you if you can hike the furthest and the longest, around lakes 6 and 7. The hike's highest point is close to Lake 6, which is the best spot for enjoying incredible views. This place is also freezing and more isolated than any other lakes – two things to weigh.
Camping Options Near the Trailhead
There are some public campgrounds at the base of Big Pine Lakes, the areas around Big Pine Creek, which you can choose to stay the night before your Big Pine Lakes camping trip.
The main campground at the base of the trail is the Big Pine Creek Campground. The other option to spend overnight is Glacier Lodge.
Glacier Lodge is near the trailhead. Besides cabins in Glacier Lodge, they offer breakfast, lunch, and dinner. There is also a small trout pond, a campground for RVs, a store, and showers available for a fee at Glacier Lodge.
There are three more campgrounds on the way to Big Pine Lakes trailhead but are further away – Clyde Glacier Group Campground, Palisade Glacier Group Campground, and Upper Sage Flat Campground, all located close to Big Pine Creek.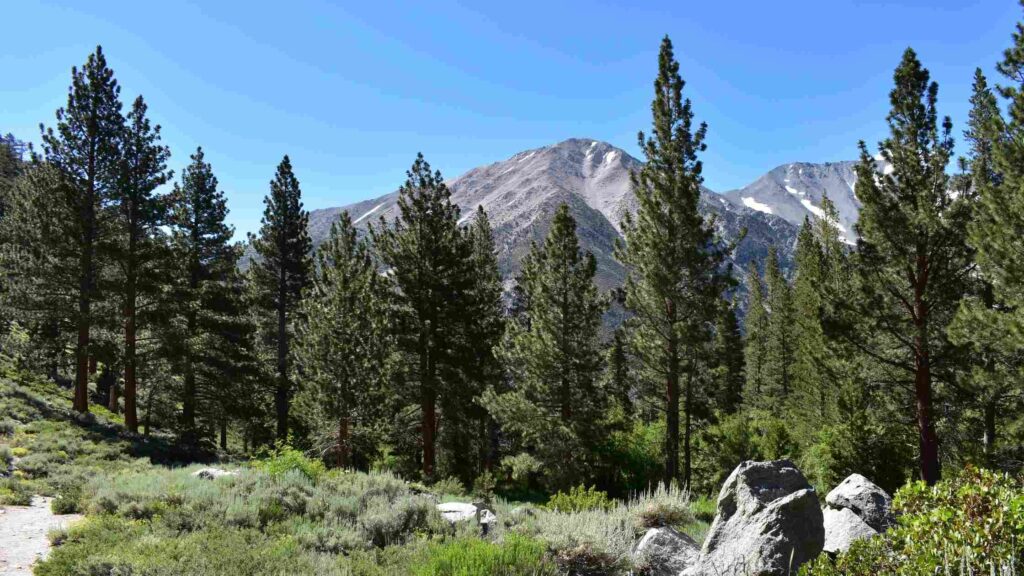 These campgrounds are tucked under the trees and well-covered, surrounded by pine forests overlooking the mountains. They are perfect for relaxed Big Pine Lakes camping with your family, ideally to come back after day hikes to the Lake or to make a base to explore the nearby regions, go trout fishing, and relax amidst the Eastern Sierra views.
However, if you are looking to spend time in the wilderness, adventure, and solitude, go camping around the lakes.
Note that to go camping in any of these sites, you need to obtain a camping permit different from the one to camp overnight near the lakes above. You can take a permit for Big Pine Creek Campground here.
Here is the summary of the amenities of these campsites:
| | | | | | |
| --- | --- | --- | --- | --- | --- |
| NAME OF CAMPSITES | BIG PINE LAKES CREEK | CLYDE GLACIER GROUP | PALISADE GLACIER GROUP | UPPER SAGE FLATE | |
| Number of Campsites | 30 | 1 | 1 | 21 | |
| RV allowed? | <22 | <35 | No | No | |
| Dump station | No | No | No | No | |
| Showers | No | No | No | No | |
| Maximum Length of Stay | 14 days | 14 days | 14 days | 14 days | |
| Best Time To Visit | April – October | April – October | April – October | April – October | |
| Elevation(Feet) | 7600 | 7,490 | 7,490 | 7,480 | |
| Permit | Big Pine Creek Campground Reservations | Clyde Glacier Group Campground Reservations | Palisade Glacier Group Campground Reservations | Upper Sage Flat Campground Reservations | |
| Max people per site inclu. kids | 6 | 20 | 20 | 6 | |
| Vehicles per Site | One RV or two vehicles, 2nd vehicle $7 per night | 5 | 5 | 2 vehicles, 2nd vehicle $7 per night | |
| Dog Friendly | Yes | Yes | Yes | Yes | |
| Fees ($) per site per night | 23 | 85 | 80 | 27 | |
| Vault Toilet | Yes | Yes | Yes | Yes | |
| Amenities | Picnic table, fire ring, bear-proof food storage locker; no hook-ups | Picnic table, fire ring, bear-proof food storage locker; no hook-ups | Picnic table, fire ring, bear-proof food storage locker; no hook-ups | Picnic table, fire ring, bear-proof food storage locker; no hook-ups | |
TIPS FOR BIG PINE LAKES CAMPING AND HIKING
Below are some things to keep in mind before planning your Big Pine Lakes camping and hike trips.
Plan a longer trip – Although Big Pine Lakes makes a perfect weekend getaway in California, there are tons of attractions around, from lakes to more hikes and waterfalls. You can add many side trips, treks or plan to explore places like Lone Pine or Mammoth Lakes. So it is best to schedule the Big Pine Lakes camping trip for the weekend and another 4 or 5 days to cover some nearby destinations.
Big Pine Lakes in Winter – In winter, although hiking may not be a good option, the same route is fantastic for snowshoeing. Also, you can plan skiing tours at Mount Alice, Slide, and Kid mountains if you are here during this time.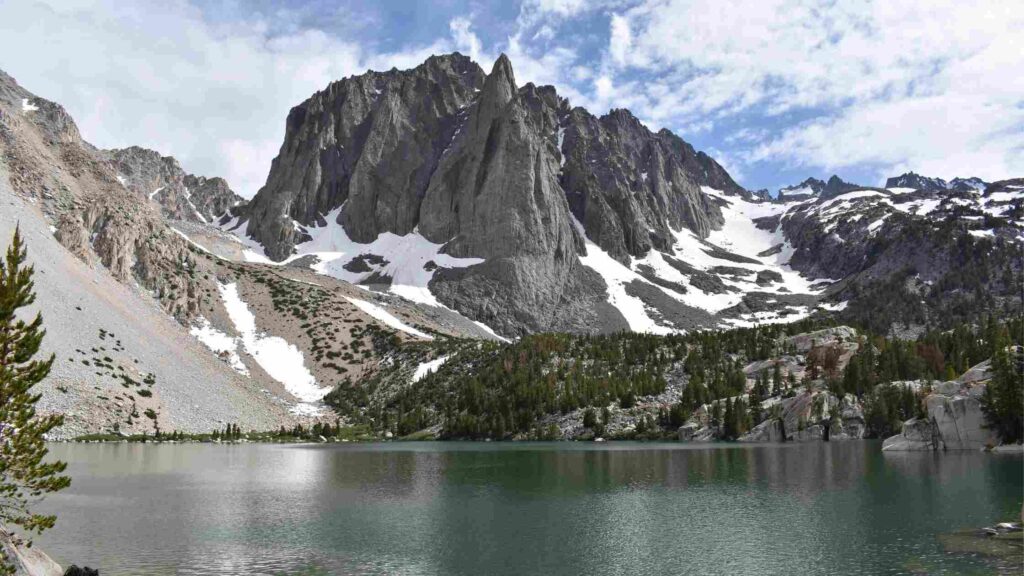 Sort your permits well in advance – You can plan an impromptu weekend trip to the Lakes for sure, but if you want to go camping in the Big Pine Lakes, you need a permit. As I mentioned earlier since it is difficult to obtain a spot, sort your permits a few months before.
Note that apart from the permit to camp overnight, you need various other permits like a campfire, fishing, and another permit if you plan to use any other campgrounds near Big Pine Creek. Check here to make sure you have all of these in order before you embark.
Water – There is no water at the trailhead. Although water from streams along the way is available, carry a travel water filter to treat it before drinking.
Hiking Big Pine Lakes is popular among the Californians and others too, so summer receives plenty of people. I'd suggest going on the weekdays if possible if you want to enjoy the blissful views with fewer crowds.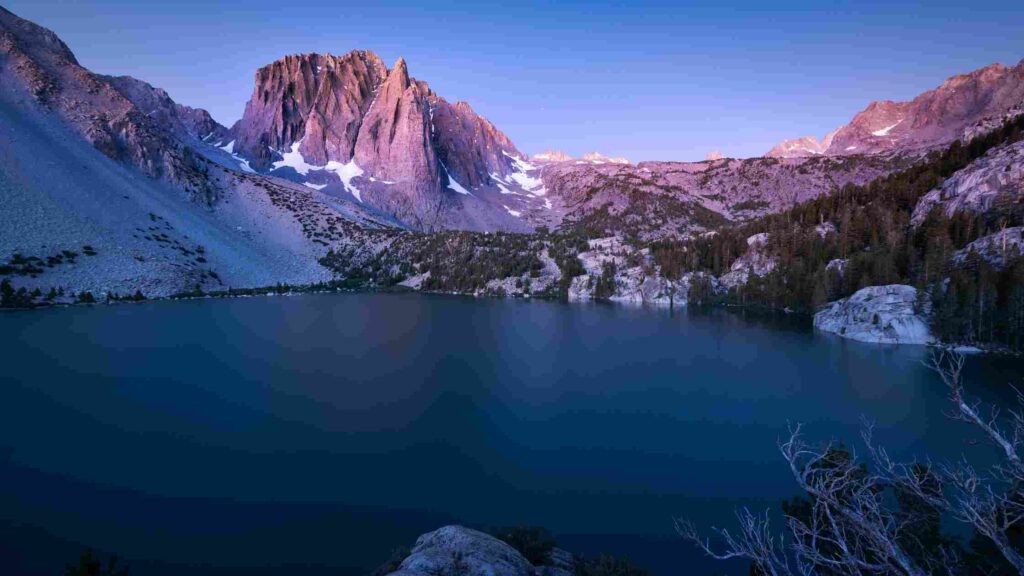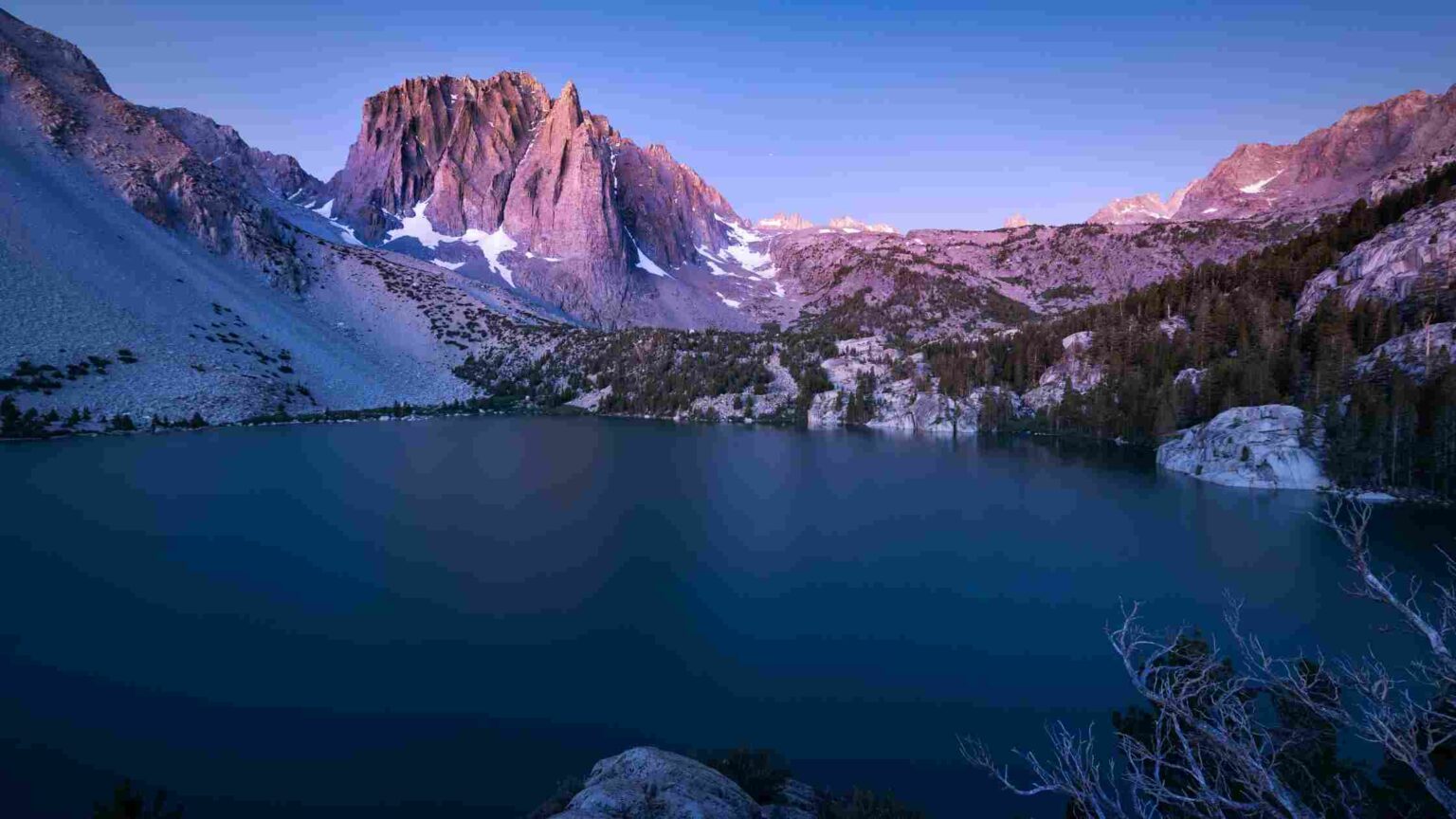 Handling Altitude Sickness – AMS can manifest as a slight inconvenience, or for some, it can be stressful. If you have not done similar hikes, prepare a bit before the trip. Drink plenty of water and stay hydrated, which helps in sickness. If you are prone to mountain sickness, either carry your prescribed medicines or take them before. Take it slow to prevent resulting exhaustion.
Leave no trace – As always, when venturing into the mountains, bring plenty of snacks, use sunscreen, dress in layers, and follow leave-no-trace principles while backpacking and camping Big Pine Lakes.
Check RV requirements – Note that if you are planning a RV trip, not all campgrounds allow the parking. Check the website for latest requirement while booking the permit.
WHERE TO STAY?
If you are not planning Big Pine Lakes camping, you have to take care of stay arrangements. If you wonder which is the best place to stay to hike Big Pine Lakes, it depends on your trip plans. You have different options to choose your destination and accommodation from Lone Pine, Big Pine, Mammoth, and Bishop.
If you want to stay very close to the trailhead, try getting a spot in the campground, or book a stay in Glacier Lodge, located close to the entry. If you are planning a day hike to Big Pine Lakes and you don't have plans to explore beyond the walk for whatever reasons, going for any of these is perfect.
If you are not bound by time and plan to cover more attractions on a long trip in this region, Mammoth and Lone Pine are bigger towns with plenty of activities, excellent options of hotels, cabins, and vacation rentals. You will find many vacation rentals around Mammoth Lakes.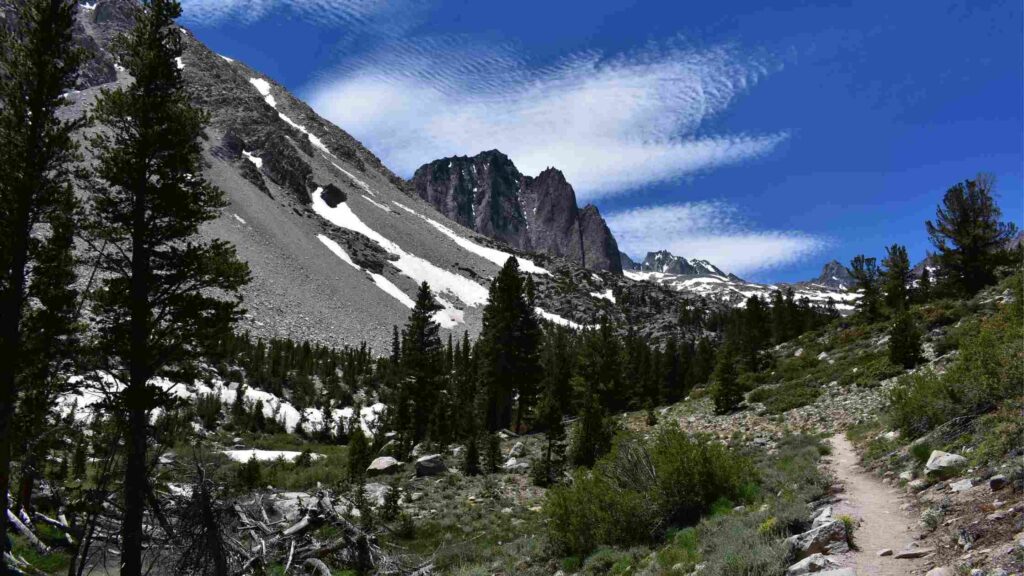 Lone Pine is around 45 miles farther from the Big Pine Lakes campground, and Mammoth is about 58 miles, so you will have to include the drive time.
Bishop and Big Pine Town are both closer to the trail, but there is not much to do, and also, the accommodation options are limited. You can choose from the best pick of hotels in each location below.
BEST HOTELS AND VACATION RENTALS NEAR BIG PINE LAKES
This is the best pick of hotels and resorts in Mammoth Lakes. All of them have excellent locations, amenities, and amazing views. The Village Lodge; Tamarack Lodge; The Westin Monache Resort, Mammoth.
If you are basing yourself in Bishop, Eastside Guesthouse and Bivy is an excellent choice.
If you are staying in Lone Pine, these are the best accommodation options in the town, Cozy Muir Cottage located centrally, and Quality Inn Lone Pine near Mount Whitney
WHAT TO PACK FOR BIG PINE LAKES HIKING AND CAMPING
Below is the list of items that I pack on all my hiking and camping trips. Here is your quick Big Pine Lakes Camping Packing List:
FREQUENTLY ASKED QUESTIONS ABOUT BIG PINE LAKES TRAIL
Where is Big Pine Lakes located?
Big Pine Lakes is located in the heart of the higher Eastern Sierra Mountains in John Muir Wilderness in Inyo National Forest in California. The Big Pine Creek North Fork Trail, through which you can access the lakes, is 10 miles west of Big Pine and 15 miles south of Bishop.
How do I get to Big Pine Lakes?
To reach Big Pine Lakes trailhead, take the US 395 highway from Big Pine and take west at Crocker Street that leads you out of the town. That road is Glacier Lodge Road, and following this road passing through campgrounds and Hiker's Parking area will lead you to the trailhead for the North Fork Big Pine Creek Trail.
Since the trailhead is without any amenities, it is best to base yourself in the nearby towns. Big Pine, Lone Pine, and Bishop are the nearest small towns where you have accommodation and restaurants.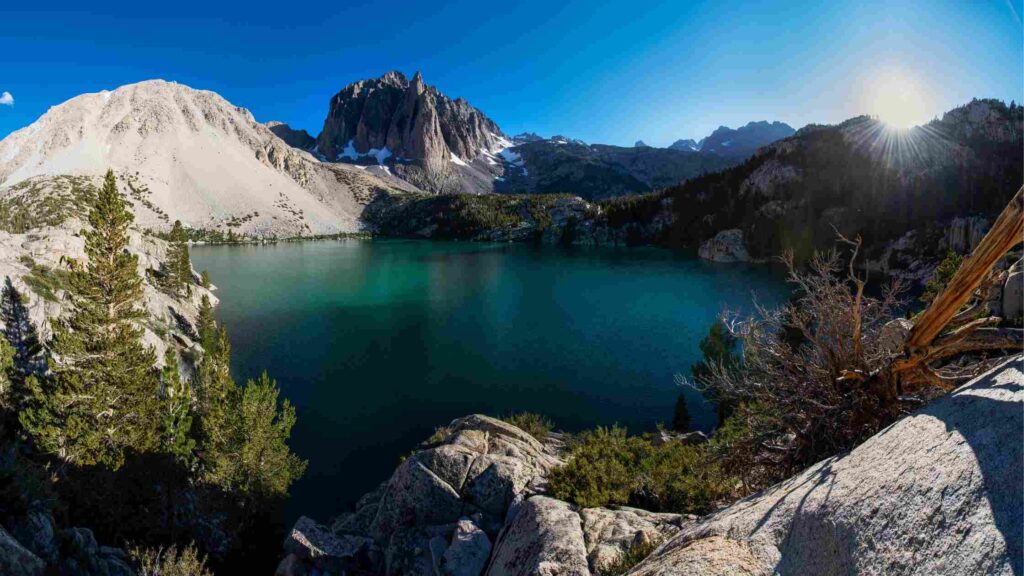 If you want to get a pass on the spot without any prior reservation, I'd recommend you base in the town of Lone Pine, because you will have to secure a permit for Big Pine Lakes camping in this town at the Eastern Sierra Visitor Center. You can also spend a day in Lone Pine exploring its attractions.
From Lone Pine, it takes about 4 hours to reach Big Pine and a few more minutes to reach the trailhead.
If you have the permit already, you can choose to spend overnight in Big Pine town or nearby Bishop, which has better accommodation options. From Bishop, the drive to the trailhead is around 50 minutes.
How far is Big Pine Lakes from Los Angeles?
From Los Angeles, it takes about 4 hours to reach Big Pine Town, which is over 270 miles away from LA.
How many Big Pine Lakes are there?
There are seven Big Line Lakes numbered on the Big Pine Creek North Fork Trail, but apart from these, there are many smaller lakes, cascades, and creeks along the way, including a few waterfalls.
Do You Need A Permit To Hike Big Pine Lakes?
If you are planning a day hike, you do not need a permit. However, if you plan to go backpacking or plan Big Pine Lakes camping, you will need a permit. Note that they allow only two or three dozens of travelers to spend overnight in the wilderness.
So you will have to book your permit well in advance due to this cap to reserve a spot for camping or backpacking Big Pine Lakes. Book the wilderness permit here.
What is Big Pine Lakes Altitude?
Big Pine Lakes altitudes vary as you go further and deeper. There is an altitude change of about 2700 feet when you arrive at the First Lake. North Fork of Big Pine Creek trailhead is located at an elevation of 7814 feet. From the trailhead, there is an altitude difference of approximately 5500 feet if you get to the Seventh Lake or Palisade Glacier.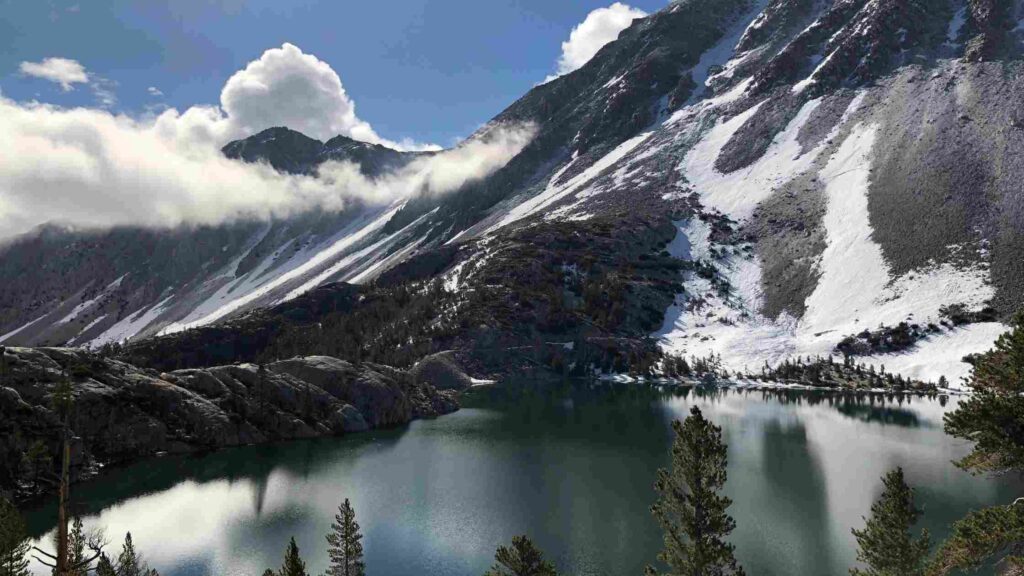 So you can expect the altitudes to range between a minimum of 7700 feet to 12500 feet maximum approximately.
What Is The Best Time For Hiking Or Big Pine Lakes Camping?
Spring to early fall from March through October is the peak seasons for Big Pine Lakes hiking or camping. For fewer crowds and witnessing the wildflowers bloom, planning Big Pine Lakes camping trip right after the snowmelt during the late spring months is the best period. There is minimal shade, so you don't have to endure hot temperatures, which will be the case if you choose to do hiking Big Pine Lakes in summer.
If you are hiking or camping Big Pine Lakes in summer, start early to avoid heat for the uphill, and consider visiting during the weekdays if you'd like more seclusion.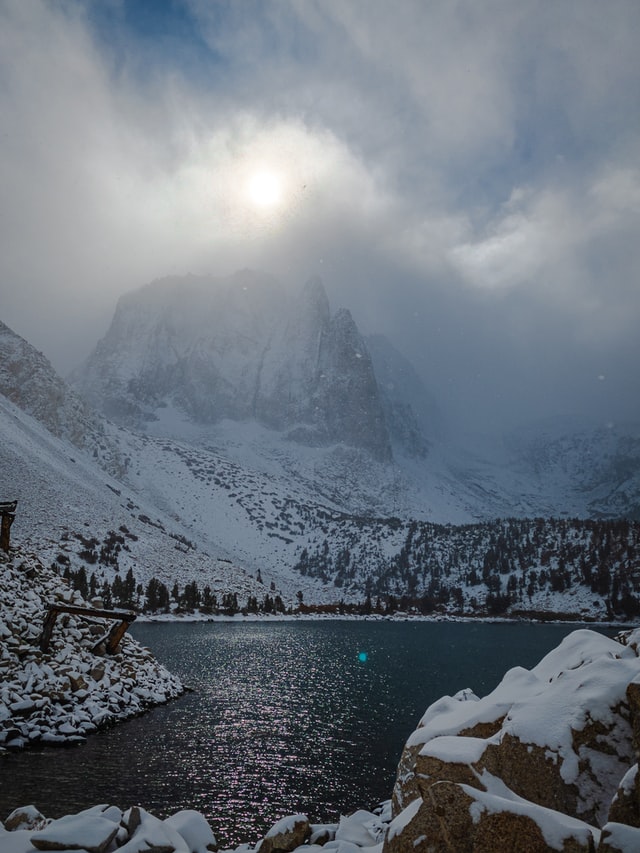 Early fall before the first snow is also a fabulous time as the weather will become colder, and the foliage of fall will begin to decorate the landscapes, turning them vibrant in shades of red, orange, and yellow. Late fall means the snow is back, and some of the trails to further lakes will be blocked.
Is parking available in Big Pine Lakes?
The nearest parking lot that you can find is located at the base of the trail near Big Pine Creek Campground, called the Hikers' Parking area, off the main road. This lot is the best place for overnight parking. But the areas at the end of this road, the parking lot is limited for day parking only, so aim for an early start if you plan a day hike as it gets harder to find a place to park as the day progresses, especially during the peak seasons.
There is a vault toilet as well in the parking lot. You can see the trail of North Fork of Big Pine Creek along the hill from the parking area.
How long does it take to hike to Big Pine Lakes?
The Big Pine Creek North Fork Trail, famously called the Big Pine Lakes trail, is a 16 miles long loop, covering the Fourth lake and a bit further. The trail begins at Big Pine Creek Campground and gets into the Sierra Nevada in the Inyo National Forest area.
You can also choose to do some parts of the trail, which will be much shorter in length, which is ideal if you plan a day hike to Big Pine Lakes. Depending on trail you choose, Big Pine Lakes hike can take between six to ten hours.
Can you day hike Big Pine Lakes?
Yes, you can plan day hikes to Big Pine Lakes. If you plan to cover one to the fourth lake, you can arrive on a Friday evening and stay overnight in nearby Big Pine, Lone Pine, or Mammoth towns.
Start the hike as early as possible the next day to cover the maximum distance, and you can complete a few lakes and be back the same day. If you want to explore more, you can opt for Big Pine Lakes camping.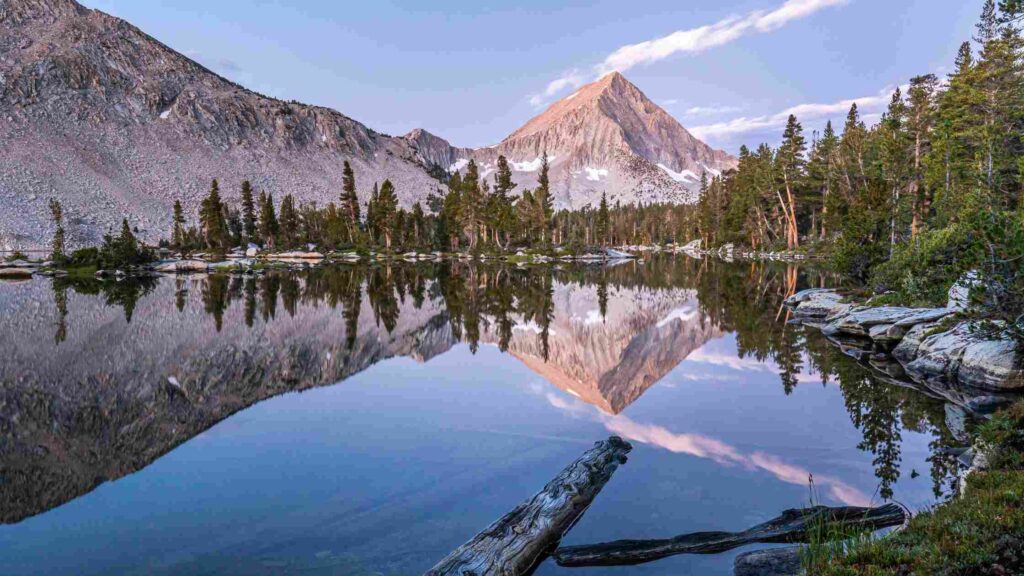 How hard is Big Pine Lakes Trail?
Considering the elevation gain, the distance, and the terrain of the trail, the hike to Big Pine Lakes is rated as difficult for regular travelers. If you are a serious mountaineer or have a lot of mountain climbing/hiking experience prior, it may be a moderate hike for you.
Are dogs allowed at Big Pine Lakes?
Yes, you can take your dogs for hiking or Big Pine Lake Camping, But ensure you follow the leave no trail policy and clean up after your pets.
Can you swim in Big Pine Lakes?
If you carry your swimsuit and are here in summer, the water in the Big Pine Lakes is ideal for a swim. It may not be a good idea to try swimming if you are here at the arrival of spring or late fall as the waters may be chilly.
So that's a wrap for a guide to Big Pine Lakes camping and hiking. Happy Camping!
Please note: This post contains affiliate links, meaning I may earn a commission if you make a purchase by clicking a link (at no extra cost to you). Learn more.
PIN BIG PINE LAKES CAMPING TO READ LATER