Going on hikes in Point Reyes National Seashore is one of the top activities. It is no surprise, given the vast expanse of wilderness packed with many excellent trails passing through the stunning coastline, abundant greenery comprising meadows, mountains, beaches, and a well-preserved seashore bustling with marine life, hiking in Point Reyes is among the best things to do.
Located just 30 miles or about 1.5 hours away from San Francisco, this stunning cape is a treasure house of natural beauty and wildlife on the Northern California Coast.
You do not need to be a seasoned hiker to go on a hike in Point Reyes, as many gorgeous trails are ideal for all fitness levels. While driving through the park gives you the highlights of the natural beauty, hiking in Point Reyes is the best way to explore the depths of its rugged wilderness up close.
Depending on your fitness level, time, and preferences, you can choose from the challenging, multiple-days treks to easy Point Reyes hiking trails.
Since I love hiking in general, I have gone to this beautiful seashore for many hikes, and it never stops surprising me. In this post, I share some of the best hiking trails in Point Reyes National Seashore that you should add to your itinerary.
No matter how long you are here, do not miss adding at least a few of these hikes to your list of the best things to do in Point Reyes.
HOW TO REACH POINT REYES NATIONAL SEASHORE?
Point Reyes National Seashore is located in West Marin, off Highway 1.
Most people usually plan a day trip or a weekend trip to Point Reyes from nearby Sacramento and San Francisco.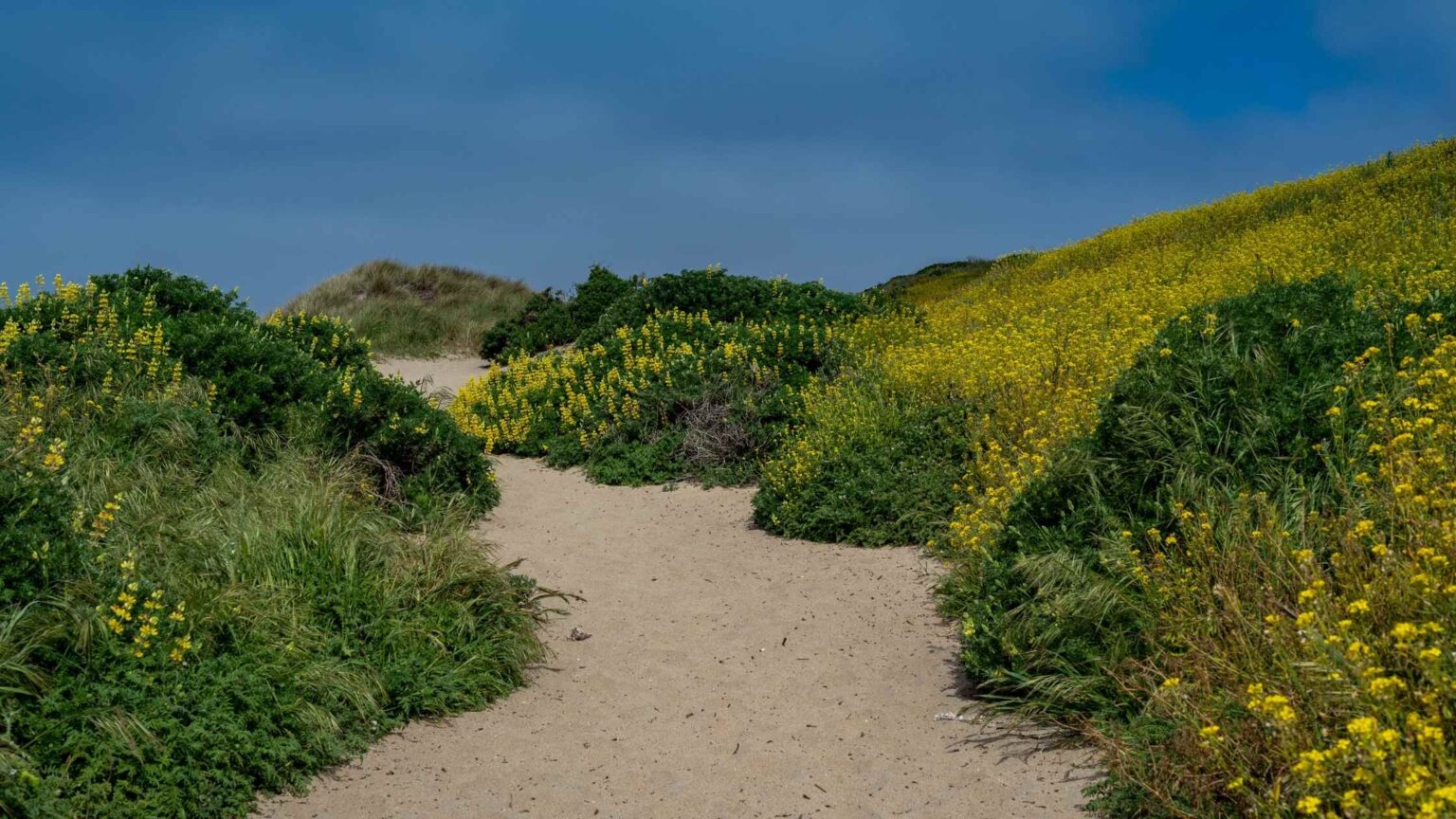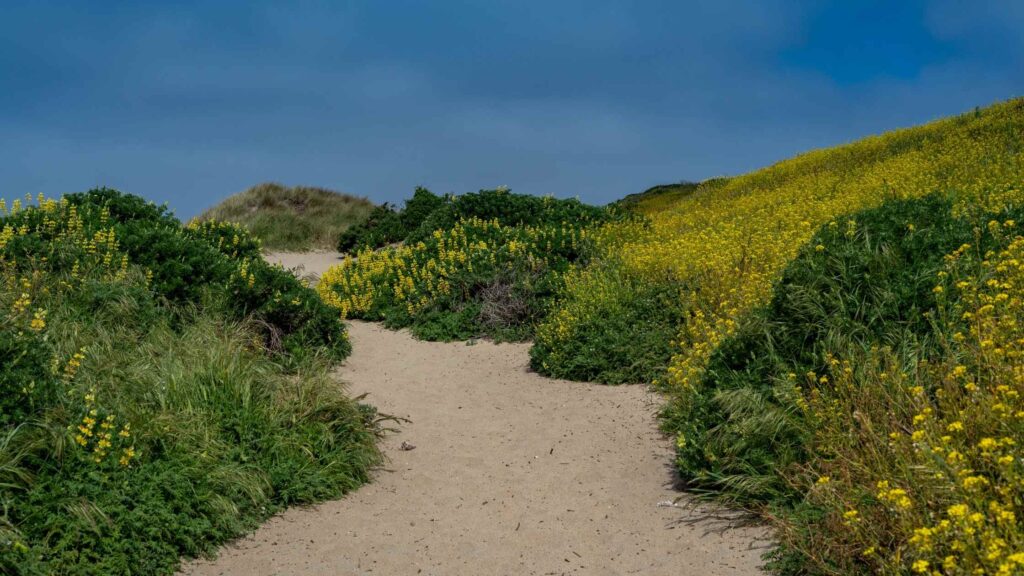 From San Francisco – Point Reyes can be reached by driving north of San Francisco by taking I-580 West to US-101 North across the Golden Gate Bridge and Muir Beach.
From there, if you take Sir Francis Drake Boulevard, it will take you to the entrance of Point Reyes Park. It takes about a little more to reach depending on the traffic conditions.
If you have time, I recommend stopping at pretty small towns like San Anselmo and Fairfax or watching the splendid California Redwoods at Samuel Taylor State Park.
Most hikes in Point Reyes are about another 30 minutes' drive away from Point Reyes Station.
BEST HIKES IN POINT REYES CALIFORNIA
ALAMERE FALLS HIKE
Distance – 13 miles out and back
Among the beautiful waterfalls in Point Reyes is Alamere Falls. One of the most popular hikes in Point Reyes National Seashore is hiking to this gorgeous waterfall for all waterfall-lovers and nature admirers.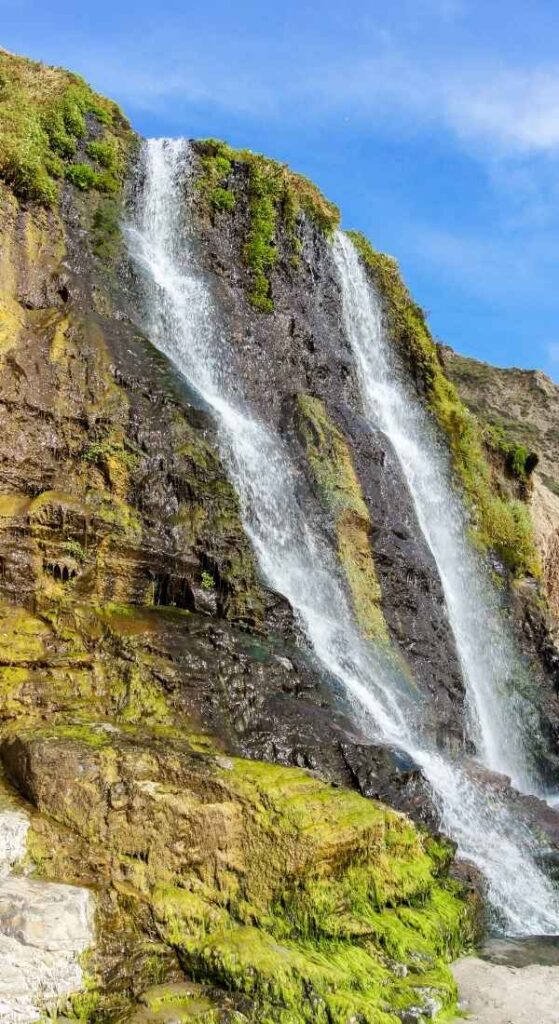 What's unique about Alamere Falls is that it is one of only two waterfalls along the California coast that are also tidefalls. Alamere Falls, located in the Phillip Burton Wilderness, is one of the best hiking trails in northern California.
If you wish to do the hike, arrive prepared as it is challenging and lengthy, taking many hours depending on your pace and fitness levels.
If you are here during low tides, you can see Alamere Falls tumbling 40 feet, joining Wildcat Beach. At moderate to high tide, it falls right into the Pacific Ocean. When you plan your hike, Alamere Falls makes for dramatic sights.
Reaching Alamere Falls requires a round-trip hike of 13 miles or more with an elevation gain of 1600 feet and can be done in many ways. You will find trailheads for Alamere Falls at Bear Valley, Palomarin, and Five Brooks.
The Palomarin Trailhead – The most popular starting point is the Palomarin Trailhead, which offers the shortest route.
On this trail, you will pass through the pretty Eucalyptus groves, the stunning Bass Lake, where you can swim on a hot day. Continue your hike along the beautiful beach to reach the base of Alamere Falls.
Note that if you are taking the Palomarin Trailhead, parking is limited, and also, the final stretch of the access road to the trailhead is moderately challenging.
For this trail route, ensure to time your hike for low tide, as you will have to walk along the beach before being rewarded with spectacular views of Alamere Falls flowing directly into the Pacific Ocean.
Hiking to Wildcat Campground – Hiking to Wildcat Campground is the best and safest way to reach Alamere Falls. You can walk south along Wildcat Beach to the falls at low tide from here.
There are a few picnic tables at Wildcat Campground. You can stop by for a quick picnic on the way or rest here for some time.
If you want to start your trek early to gain time, avoid crowds, and enjoy the views, staying at the campground will allow you to reach Alamere Falls earlier in the day.
If you plan the Alamere Falls hike in the winter and the spring, check the tide conditions before starting. Note that permits are required to camp at Wildcat Campground, which you can make here.
The water levels of the falls can vary depending on when you plan to visit. No matter what route you choose, the length of the trail and the last mile where you will have to hike on a rocky and sandy stretch.
Since the Alamere Falls hike is very popular, it is best to start early in the morning to secure space in the parking lot and avoid the hot weather that follows. Bring enough water and snacks as there are amenities.
Recommended: Best Sunset Spots In San Diego California
CHIMNEY ROCK TRAIL
Distance – 4 miles out and back
If you are looking to do short and easy hikes in Point Reyes, on your trip, you can do the Chimney Rock Hike, one of the fun things to do in Point Reyes.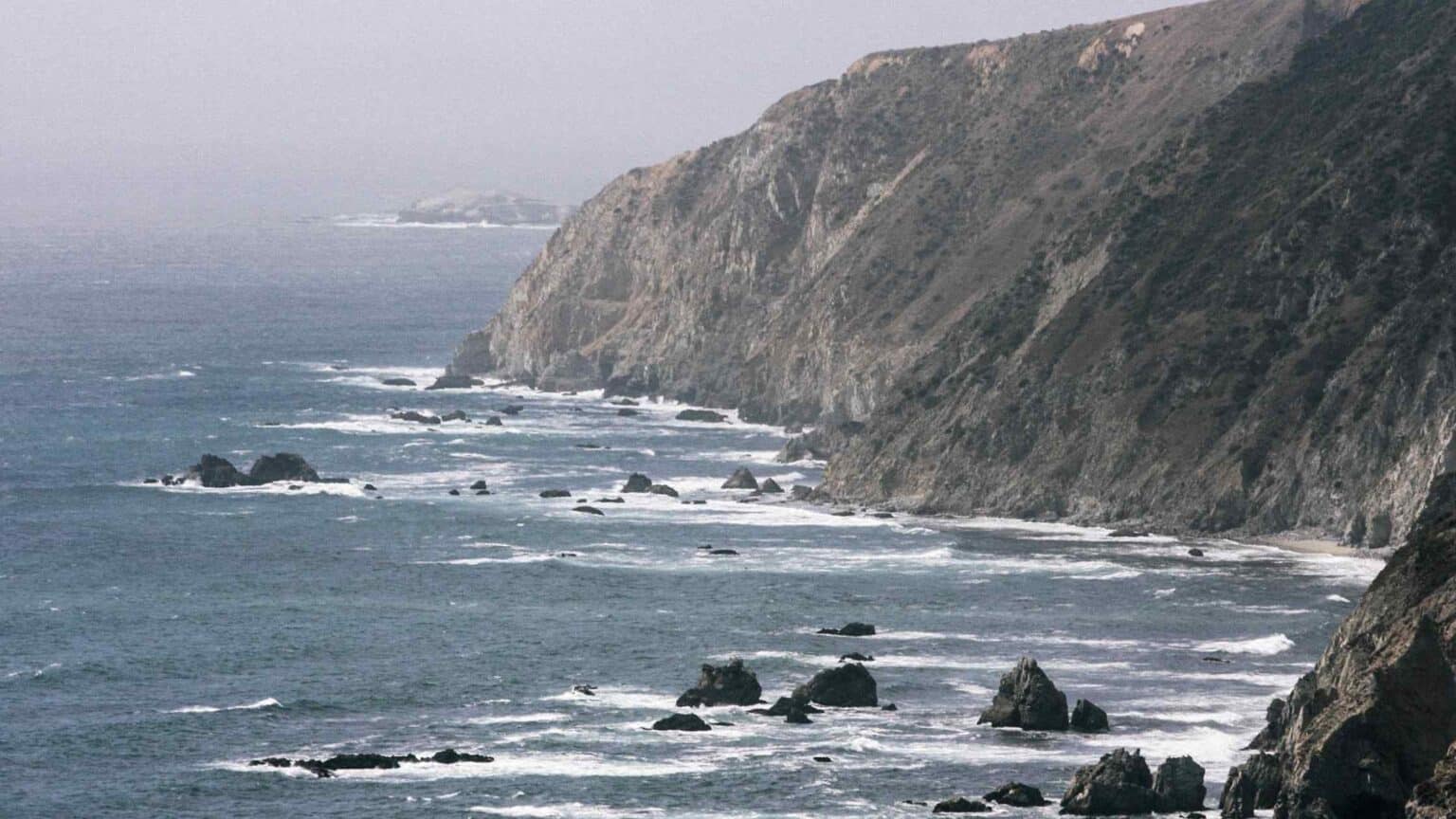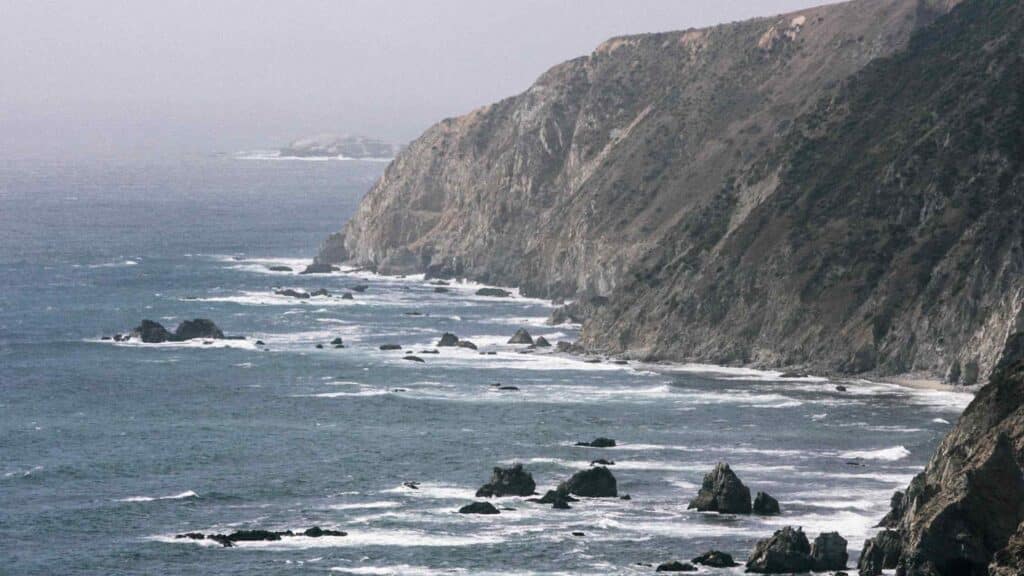 Chimney Rock Trail is a short trail spanning 4 miles east of Point Reyes, known chiefly for watching whales. Although this short hike around the Point Reyes Headlands has some steep steps, it is a beautiful hike where you will witness the beautiful wildflowers in the spring.
Chimney Rock trail is the most accessible hiking trail in Point Reyes, ideal for hiking with the kids, with the best time before sunset. The hike passes through shrubs overlooking the ocean, near the lighthouse.
Also, look for migrating whales in the winter and spring, the stunning views of Drakes Bay, elephant seals, birds, the historic Chimney Rock Lifeboat Station and great Pacific Ocean views.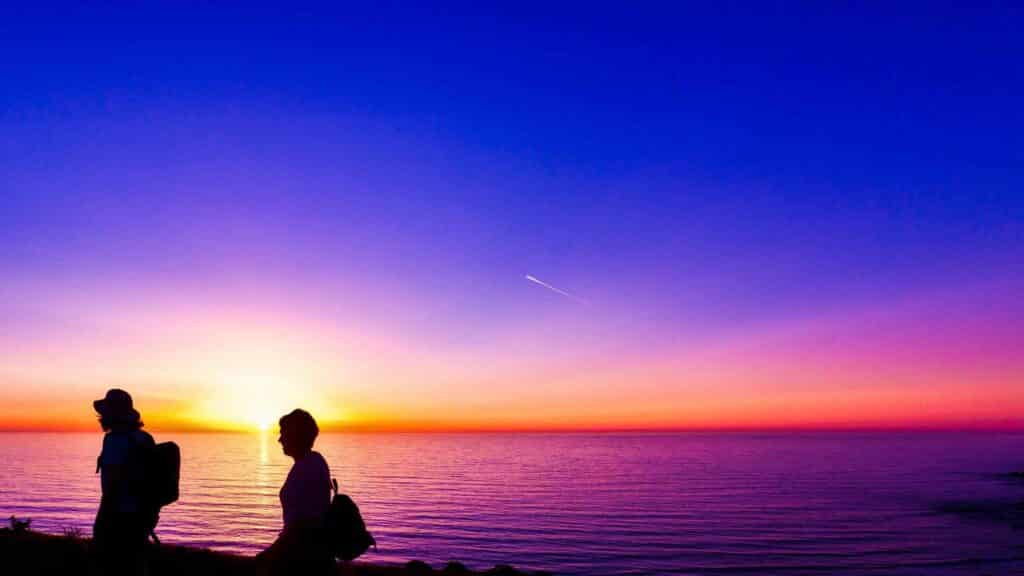 Before you embark on this Chimney Rock hike, stop at the elephant seal overlook. If you arrive by car, you will park at the lot next to the elephant seal overlook, so make sure to watch the gentle giants in their natural habitat.
You can have a quick picnic at the many benches once you reach the end of the trail, from where you can enjoy rewarding views of the rugged cliff tops and the Pacific Ocean.
TOMALES POINT TRAIL
Distance – 10 miles out and back
Among the many trails, the Tomales Point Trails is one of the most popular hikes in Point Reyes National Seashore. Tomales Point area is also a hotspot for horseback riding and trail running.
Tomales Point Trail is packed with splendid views that will lead you to a coastal bluff leading to Tomales Point, one of the most beautiful spots in Point Reyes.
Tomales Point Trail is about 10 miles round trip and is a popular hike among locals and tourists.
Although the entire Tomales Point hike is a 10-mile round trip hike, you could hike as far as you want, make picnic stops in between and turn back.
Whether you will hike to the end or some distance, the journey throughout is fabulous, offering you miles of unobstructed, gorgeous views of the Pacific Ocean, Tomales Bay and Bodega Bay.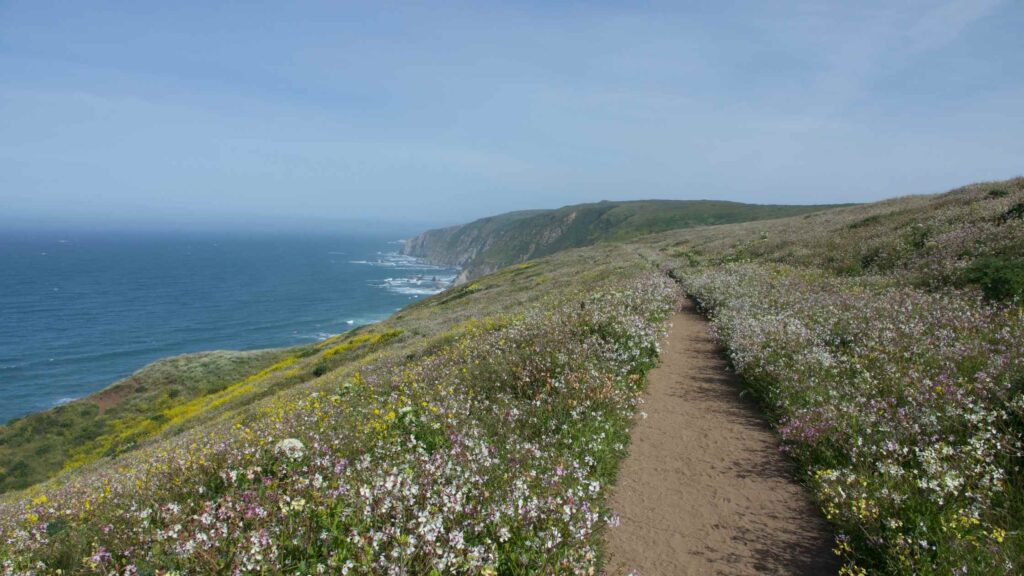 Also, enjoy the glimpses of beautiful sandy beaches below and pretty wildflowers, including purple iris, poppies, and goldfields on the flower fields in spring and summer.
If you are in the afternoon, time your hike to witness the fantastic views of the sunset against the Pacific Ocean. You may also see rare local habitats like birds and whales on your walk.
Since this area of Point Reyes is home to a Tule Elk reserve, watch out for the majestic tule elks grazing on the grasslands.
The Tomales Point trailhead is located at the historic Pierce Point Ranch. The trail begins next to the gorgeous coast for about 3 miles. Since the cliff's edges can be fragile and crumble, staying away from the edges while hiking is best.
The parking lot at Pierce Point Ranch gets filled up quickly during the weekends and holiday seasons. So I would recommend you arrive early in the morning for parking and get ahead of the crowds on the trail.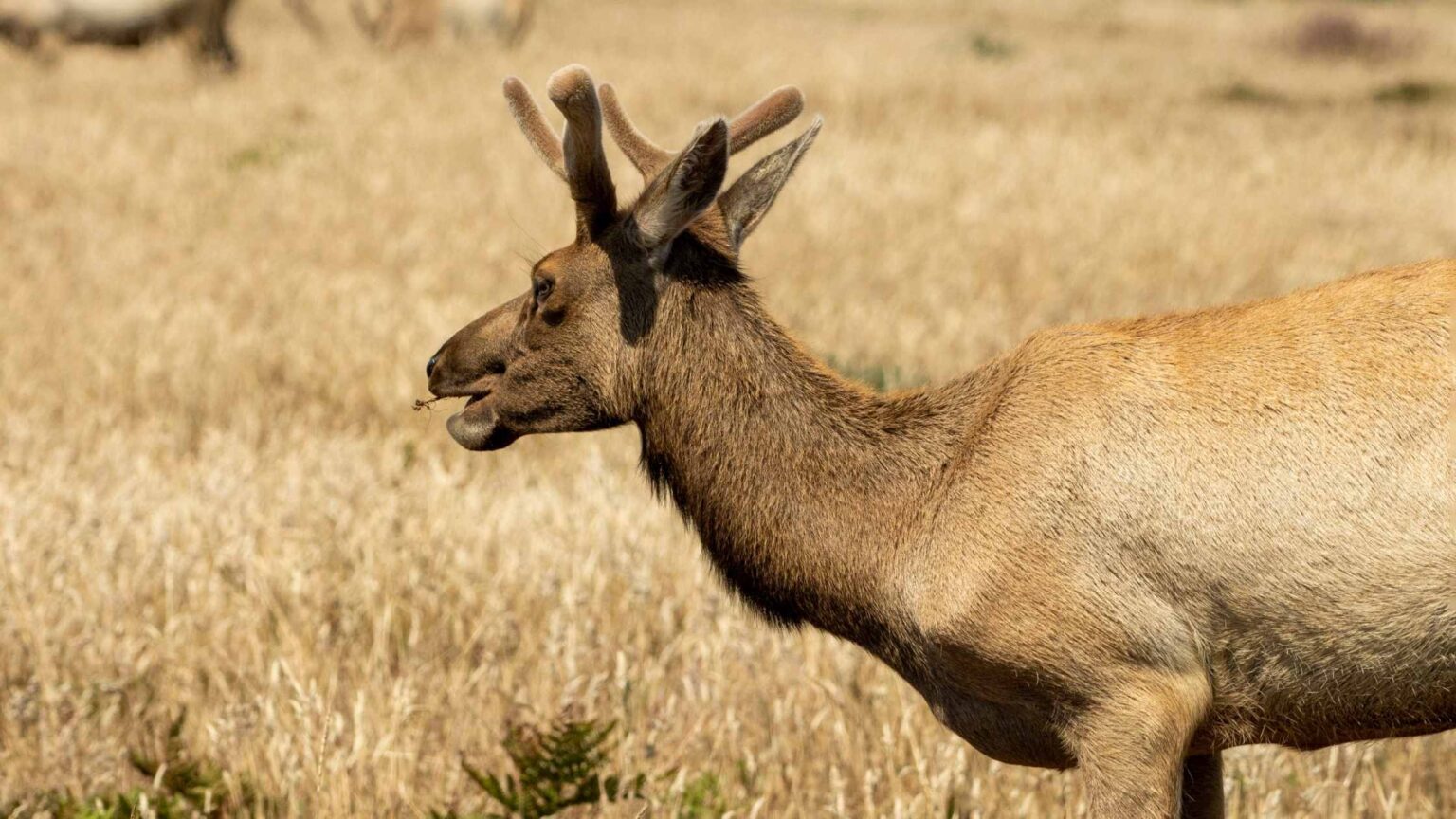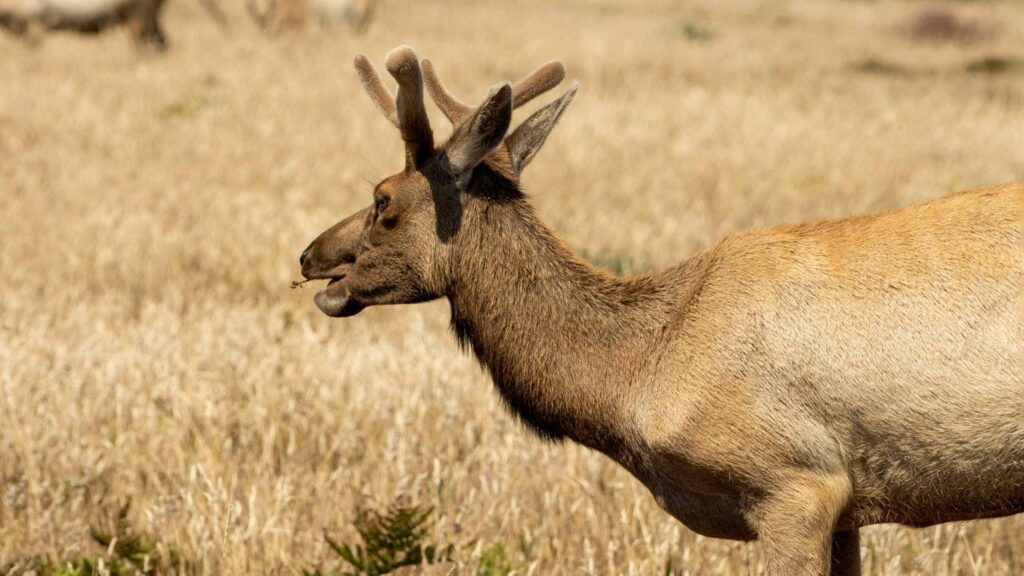 Ensure enough water, snacks, and other items as there are no amenities anywhere. Since you will be hiking out in the open sun, use sunscreen and a cap.
It is best to wear good hiking trousers as you will pass through plants and other vegetation on the parts of the trail that are not maintained.
Recommended: The Best Big Sur Road Trip Itinerary You Need To Check
BEST EASY AND SHORT HIKES IN POINT REYES
EARTHQUAKE TRAIL
Regarded one of the easiest hikes in Point Reyes is the Earthquake trail, which can be done within 30 minutes, making it ideal if you are with young kids.
This is a beautiful wooded shady trail located close to the Olema house ideal for a morning hike to enjoy some gorgeous sunrise views. You can also relax and enjoy a picnic, and the parking is also possible conveniently at the Bear Valley parking area.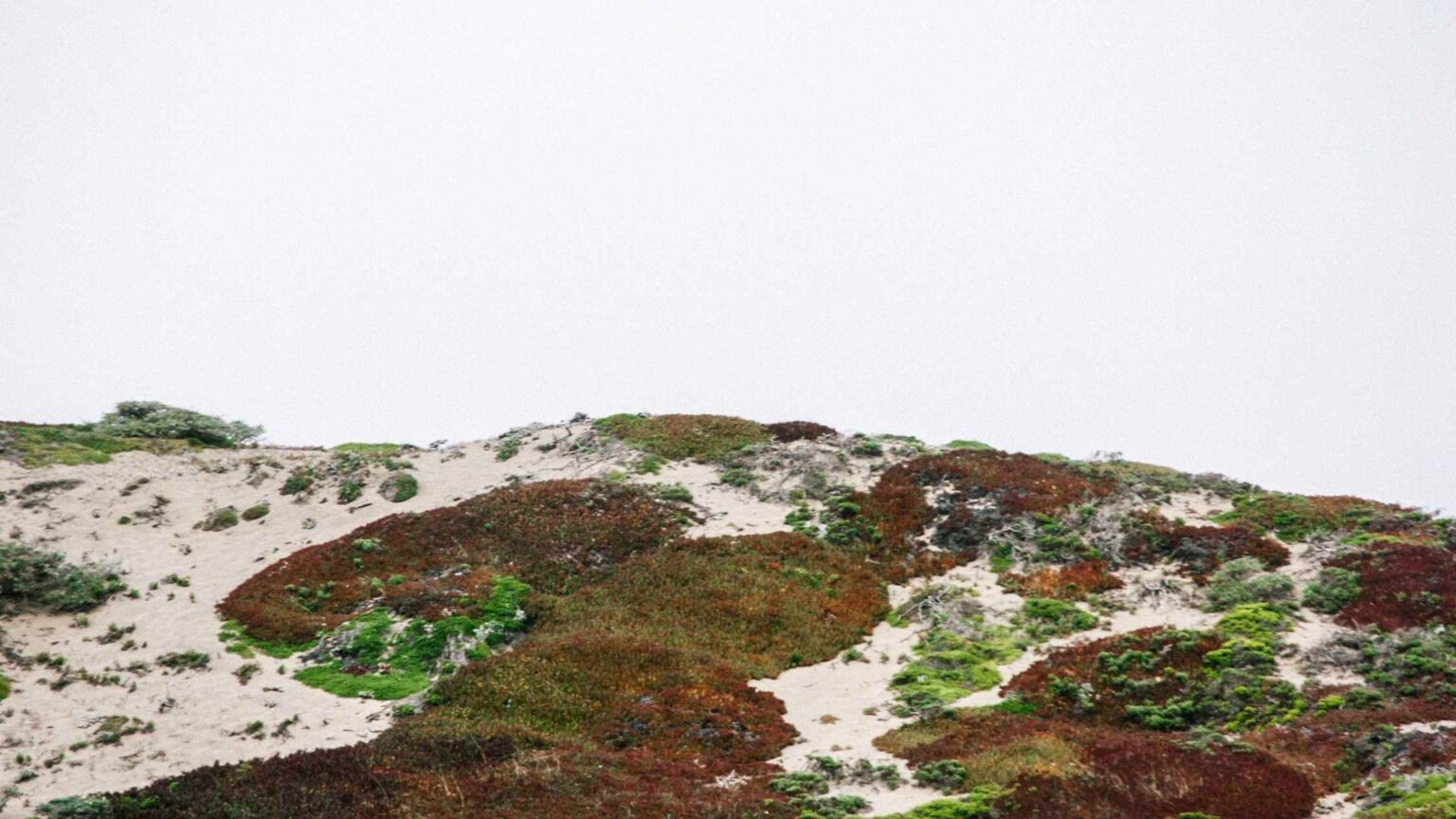 The trail gets the name due to its location in the dangerous San Andreas Fault zone that created a shattering earthquake in 1906, which was so strong that the Point Reyes Peninsula leapt 20 feet northwestward instead of the two inches movement which is the normal pace.
You can find the impacts of the earthquake in the fence that was moved 20 feet along the fault line, popular as the earthquake fence. Also, enjoy the beautiful flora and the forest path carpeted with bay trees and oak.
KULE LOKLO TRAIL
Elevation gain – 226 feet
One of the shortest hikes in Point Reyes is the Kule Loklo Interactive trail, which is a perfect way to start your trip in the national seashore reserve. You will start this walk from the Bear Valley Visitor Center.
This short trail on a flat land gives you glimpses of the long history of the land, passing through grassy meadows and trees to Kule Loklo, a replica of a Coast Miwok village.
WOOD PECKER TRAIL
Elevation gain – 144 feet
One of the pretty hikes in Point Reyes popular among families and non-hikers is the Wood Pecker trail, which passes through a grassy meadow filled with beautiful wildflowers and deciduous trees.
This loop trail comprises only a 25-minute walk, perfect for including a quick but worthy hike, starting from the Bear Valley parking lot.
It is one of the best hikes in Bear Valley that gives glimpses of the wildlife in Point Reyes. You can watch the stunning canopies of Douglas fir, California Live Oak, and California Bay Laurel.
As the name suggests, you will spot many colourful woodpeckers at work and other birds. If you are keen on some wild vegetation, look at the many different types of wild mushrooms that you can find nestling in the dead tree logs scattered on the grounds.
MCCLURES BEACH TRAIL
Elevation gain – 226 feet
One of the easy and fun hikes in Point Reyes for beach lovers is McClure's beach trail.
A steep descent followed by a quick walk to the beach cove, it is one of the offbeat hiking trails in Point Reyes for exploring the seashore and tide pooling.
When the tides are low, it is the perfect time to head to Elephant Cave and Elephant Rock on this trail and then to a rocky cove.
Although you'll have to hike down a rugged trail through a steep ravine, it is an easy hike to enjoy on your trip.
Since the opening of this trail is very dependent on the tide levels and the weather, make sure to check before your visit as bad weather means it is dangerous to be on the shore.
ABBOTTS LAGOON TRAIL
One of the easy hikes in Point Reyes that you can plan is the Abbotts Lagoon Trail.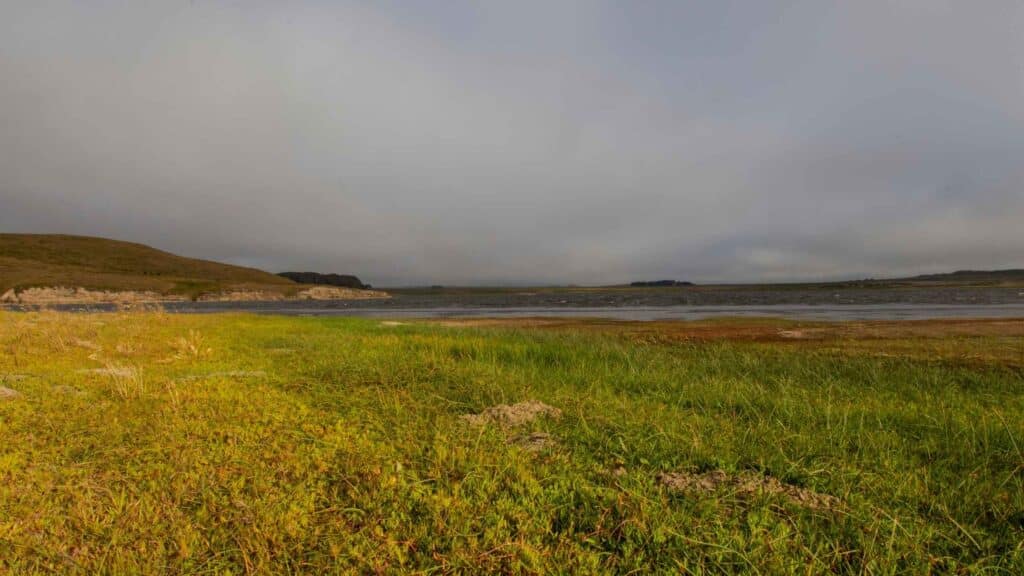 It is an easy trek through open grasslands and coastal scrub, where you will hike on wooden walkways with various lookout points over two pretty lagoons, dirt trails, and wooden bridges.
On this trail, you will pass through stunning wildflowers including poppies and lupine. Also, spot migrating birds continuing over the dunes and down to Point Reyes Beach for about 0.5 miles.
Since the Abbotts Lagoon Trail route is perfect for trail running, footwalks, and relaxed strolls, it is one of the best Point Reyes hikes for kids.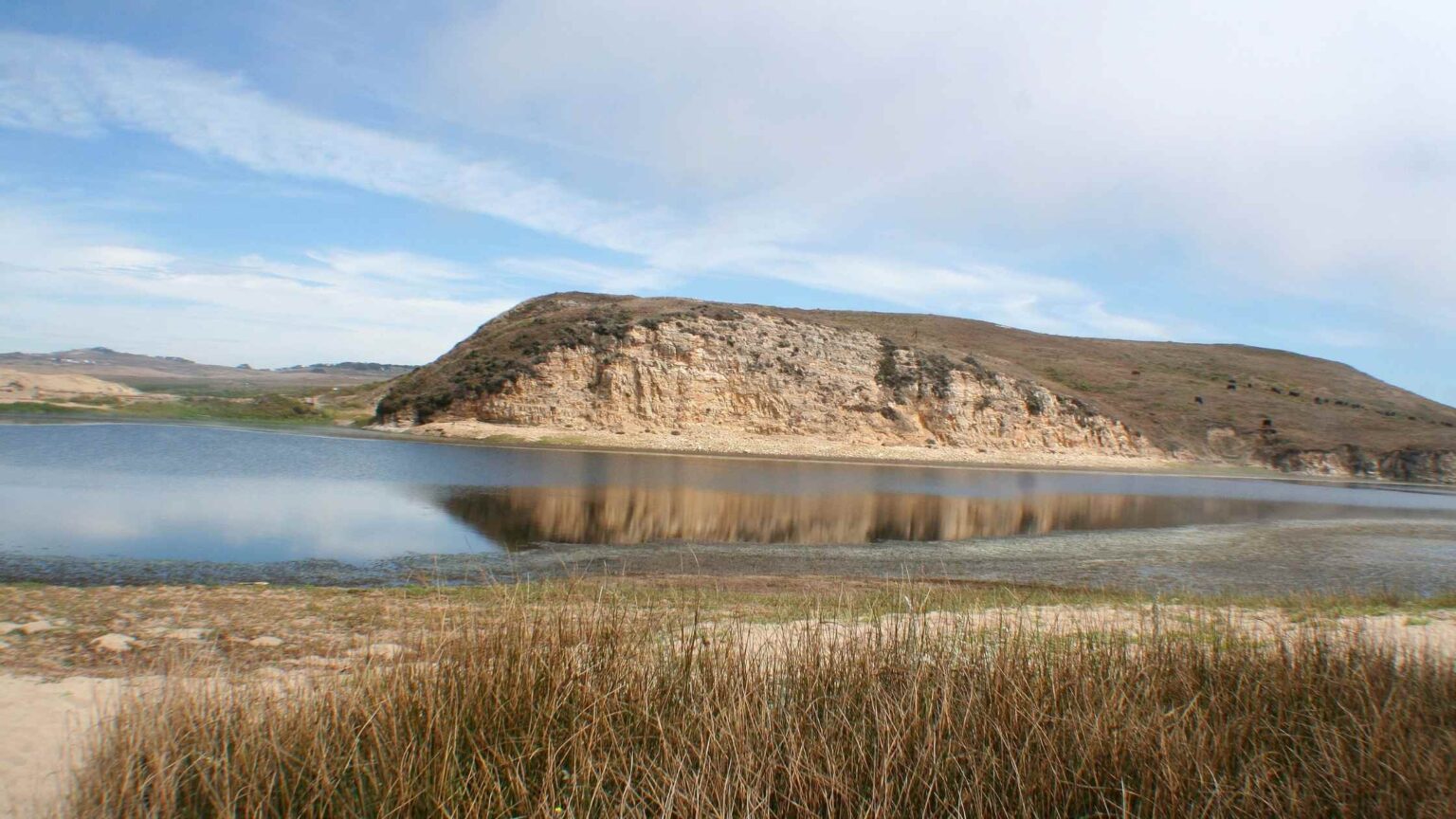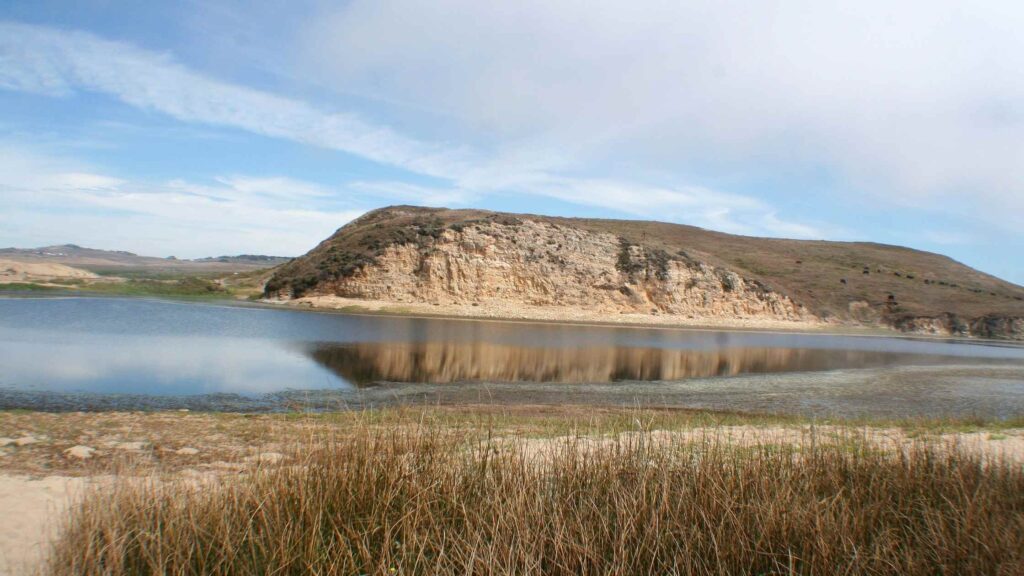 Point Reyes Beach is the longest of all the beaches, stretching for over 11 miles, ideal for a picnic or relaxation. Since there are dangerous rip tides and an incredibly strong current, you are not advised to swim at this beach.
You can park at the lot available at Pierce Point Road near the trailhead. There are vault toilets here but do carry water and snacks for the hike.
MUDDY HOLLOW TRAIL
Elevation gain – 203 feet
An alternative to the lengthier and more challenging trek to Tomales Point is the Muddy Hollow Trail, one of the most beautiful and easy hikes in Point Reyes National Seashore that you can plan.
Like at Tomales Point, you can observe the majestic tule elk grazing and the grassy meadows carpeting the rocky hills overlooking the ocean.
Unlike the other trails that are out in the open sun, you will mostly do this hike under the shady trees, so even during the peak of summer, you can expect to avoid the sun and lots of fellow visitors.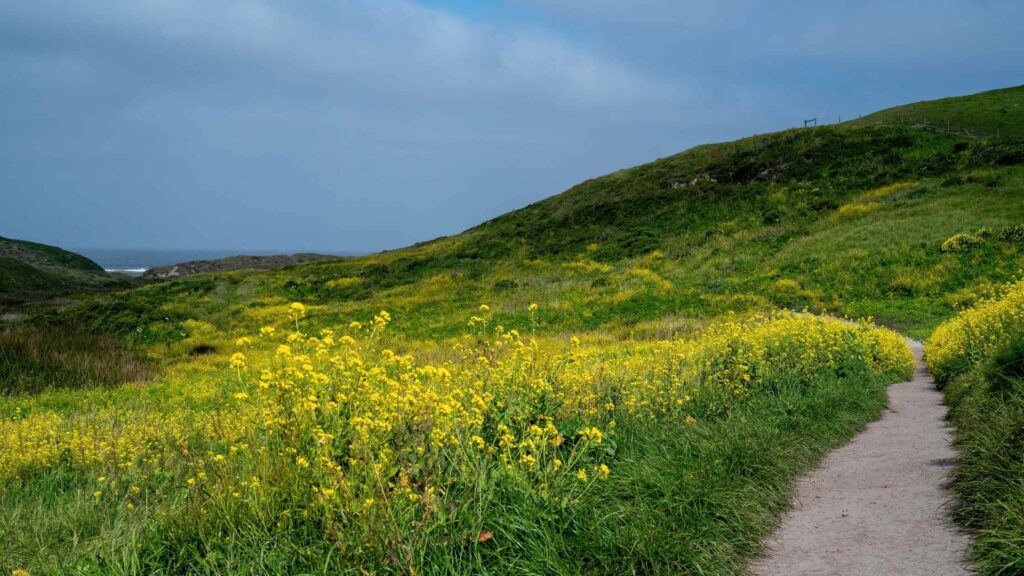 Park at the Muddy Hollow Trailhead off of Limantour Road. Start the trek at Muddy Hollow Trailhead, comprising some footbridges along a riparian zone that will lead you to coastal shrubs.
You will pass through a beautiful estuary next to Limantour Beach, a fantastic spot for birdwatching. Be careful to avoid poison oak which is found here.
After spending some time on the beach, you can make your way on the same trail or continue on the coastal trail further up the beach.
MOUNT WITTENBERG LOOP TRAIL
Elevation Gain – 1,299 feet
One of the fascinating hikes in Point Reyes is climbing to the highest point in the park, the majestic peak of Mount Wittenberg at 1,407 feet, which can be accessed in a few ways.
The summit offers incredible views of the Olema Valley dotted with fir and oak forests and beyond, including the gorgeous views of the seashore and the ocean.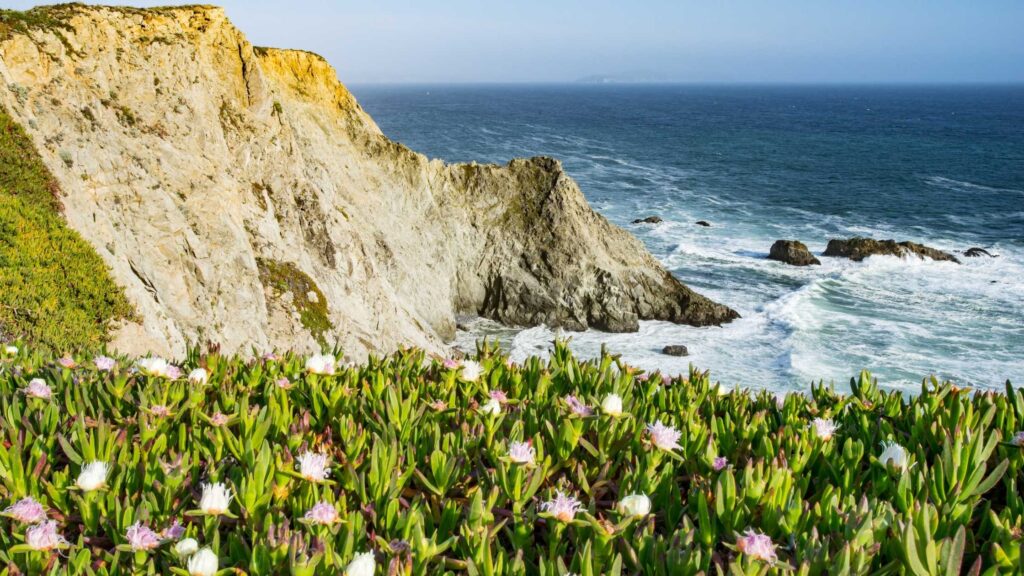 The famous route is the one beginning at the Bear Valley Center. Known as the Mt. Wittenberg Loop, it begins 0.2 miles up the Bear Valley Trail from the end of the Bear Valley Parking Lot.
It is a challenging trek of about 5 miles with some steep climbs, beginning through a grassy meadow leading to an ascent through a dense forest canopy.
The other less strenuous but slightly longer route is through Meadow trail. From Limantour road, take the sky trail that passes through beautiful meadows leading to the splendid views of the Pacific Ocean.
Following this further leads you to Horse Trail. Follow Horse Trail to Z Ranch Trail, from where you will head towards the trail to the summit of Mt. Wittenberg.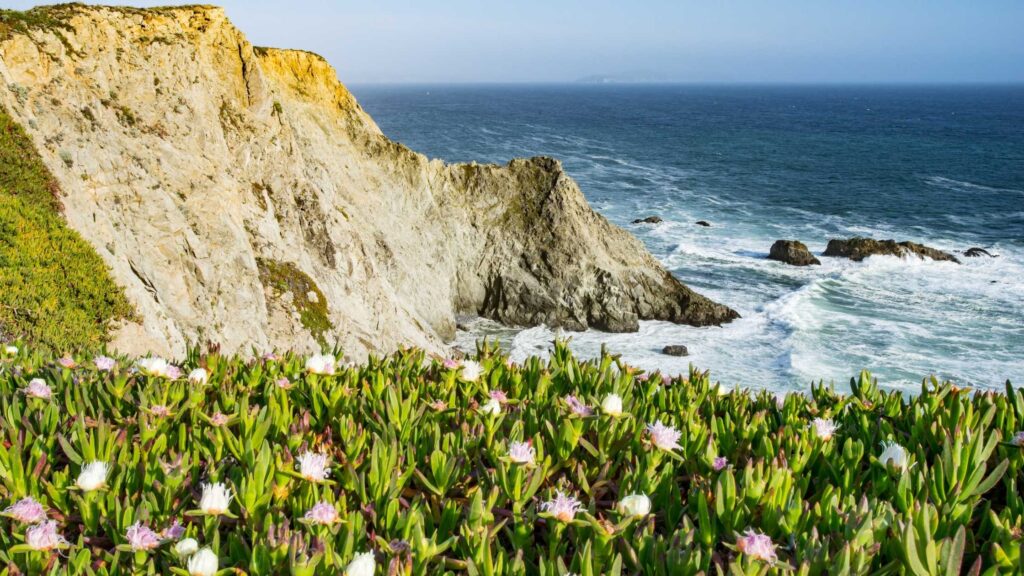 You can return via the same Meadow trail, which will take longer, or head to Bear Valley via Z Ranch and Horse Trails.
LIGHTHOUSE VISITOR CENTRE TRAIL
One of the top attractions in Point Reyes is the spectacular lighthouse atop a rocky hill perched along the ocean.
Although you can drive to the Lighthouse visitor centre located next to it, an adventurous way is to hike there, offering splendid views and introducing you to the reserve area's rich vegetation, birds, and flora.
This out and back path can be done quickly in under an hour since it is only about a mile long. You can also tour this trail throughout the year.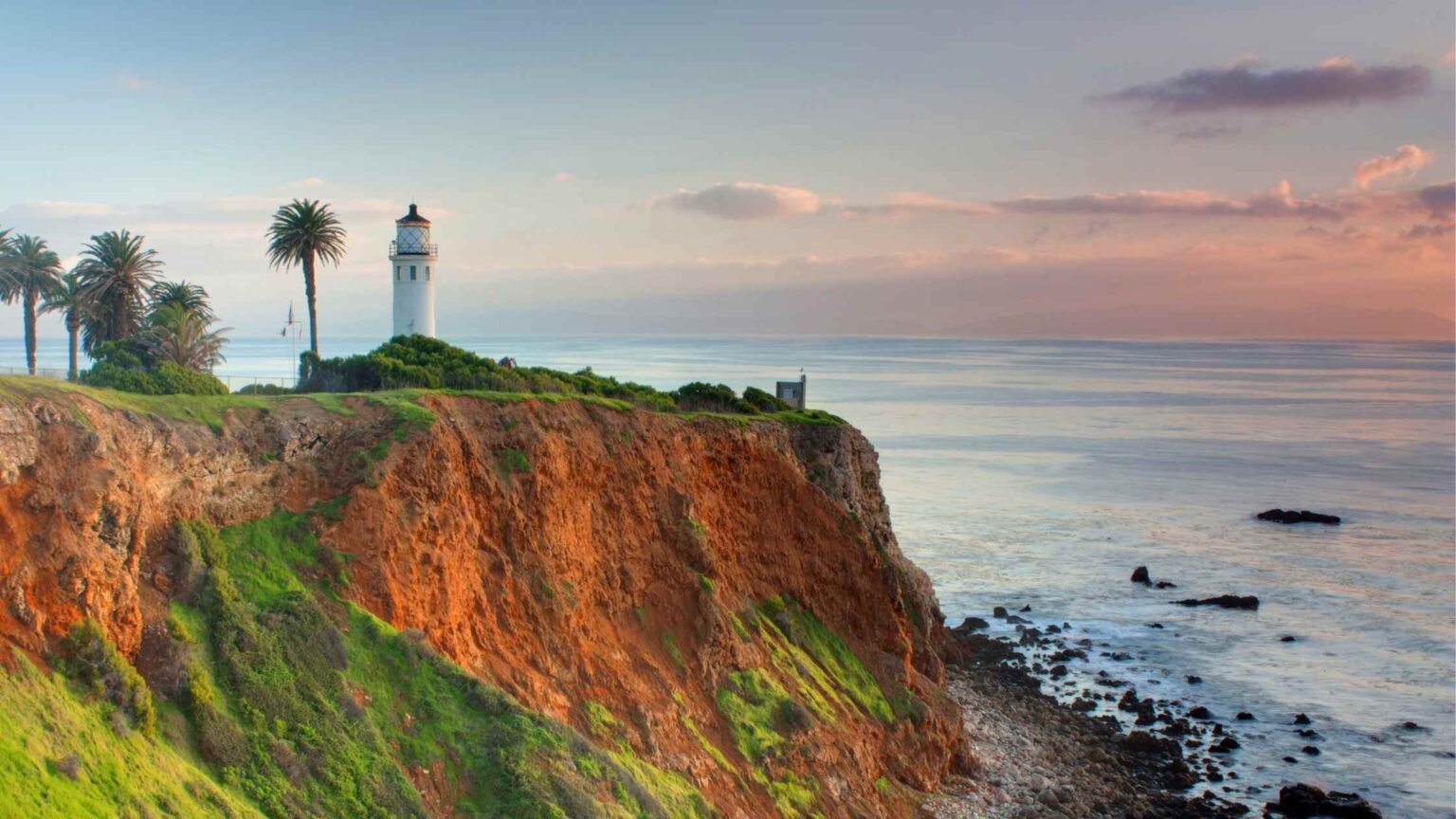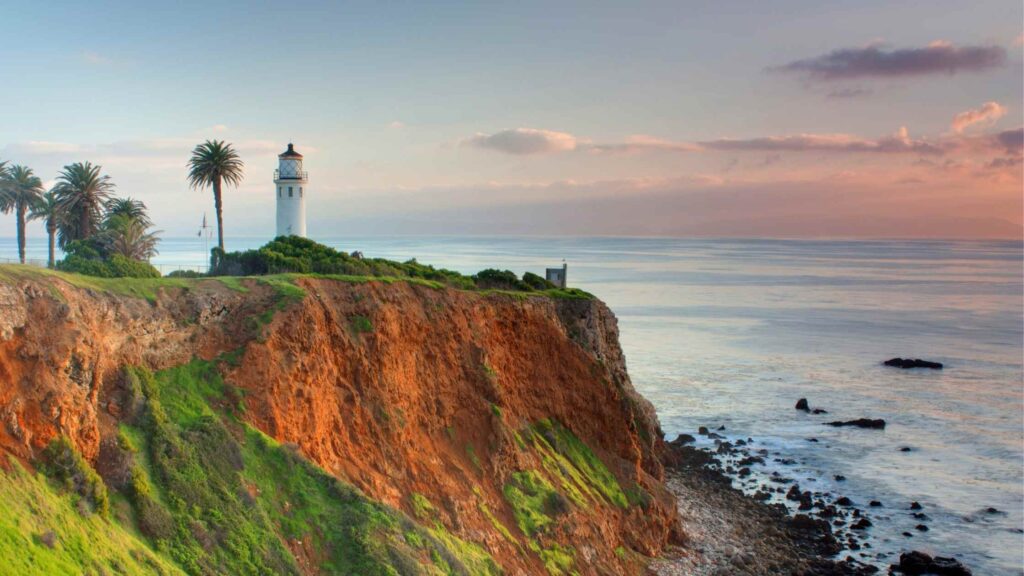 Park at the lot and begin your hike that will take you downstairs for 300+ steps leading you down to the historic lighthouse. You will witness gorgeous views of the beach and coastline on the way.
Head to the visitor centre for an excellent collection of artefacts showing the rich history of the lighthouse and the region, including its wildlife and beaches.
After snapping plenty of photos of this historic lighthouse atop the dramatic coastal bluff, climb the steps uphill to go back.
MODERATE HIKES IN POINT REYES
WOODWARD TRAIL
Elevation Gain – 1,587 feet
Considered one of the lengthiest hikes in Point Reyes, the Woodward Valley trail is the one for the avid hikers wanting to go deep into the wilderness.
It is a beautiful trail that passes through high douglas fir forests, and wildflower meadows, leading onto a stunning grassy cliff overlooking the Pacific Ocean.
The Woodward trail is one of the best trails for whale spotting and tide pooling at Sculptured Beach, two fun activities with this pretty hike.
It would be best if you headed to the Bear Valley Trailhead, from where you can take either the Mt. Wittenberg or Meadow Trail, both leading to the Sky Trail after about 2.5 miles of hiking. If you get on this path and continue for about half a mile, it will lead you to the Woodward Valley Trail.
This Point Reyes hiking loop, passing through many gorgeous beaches, ends by following the Coast Trail back to the Bear Valley Trail.
ARCH ROCK HIKE
One of the popular trails in Point Reyes National Seashore is the hike to the Arch Rock, one of the landmark viewpoints offering stunning panoramic views of the lush forests and the rugged cliffs along the ocean.
It is an easy route in the shaded path to the ocean side beginning from the Bear Valley Visitor Center and is a fantastic trail for beginners and people with kids.
The arch rock, which was the iconic structure overlooking the ocean, collapsed some time ago, and hence you will see different views.
On the way, enjoy the views and the fresh air of Douglas fir forest and Bear Valley Creek.
LIMANTOUR BEACH TRAIL
Distance – 8 miles out and back
One of the ways to enjoy tide pooling at Sculptured Beach is to trek there, taking one of the best hikes in Point Reyes, starting from Limantour Beach.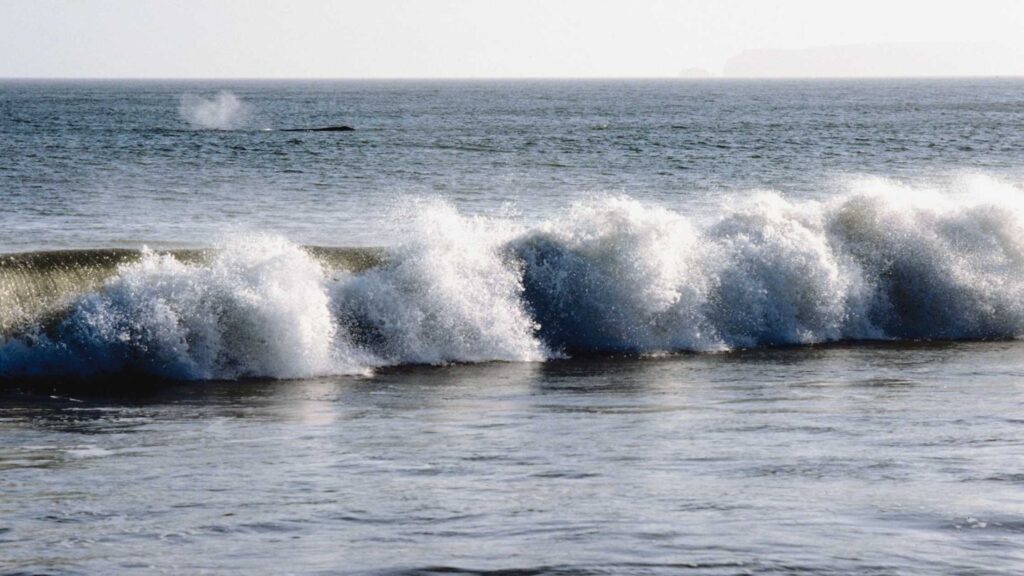 Although not as popular as the other Point Reyes hiking trails mentioned here, the coastal route from Limantour Beach to Sculptured Beach is one of the stunning trails to enjoy a fantastic beach day at the best Point Reyes beaches without many tourists.
This Point Reyes hike begins on the sand at Limantour Beach, which you can reach from the parking lot. Walk along the beach for about a mile keeping an eye on the waves to spot dolphins, seals, or whales which frequent the shores during the migration season.
You will approach a dirt trail after some time that goes inland toward the Coast Campground at about 3 miles, where there are amenities for a quick stop, including the vault toilets.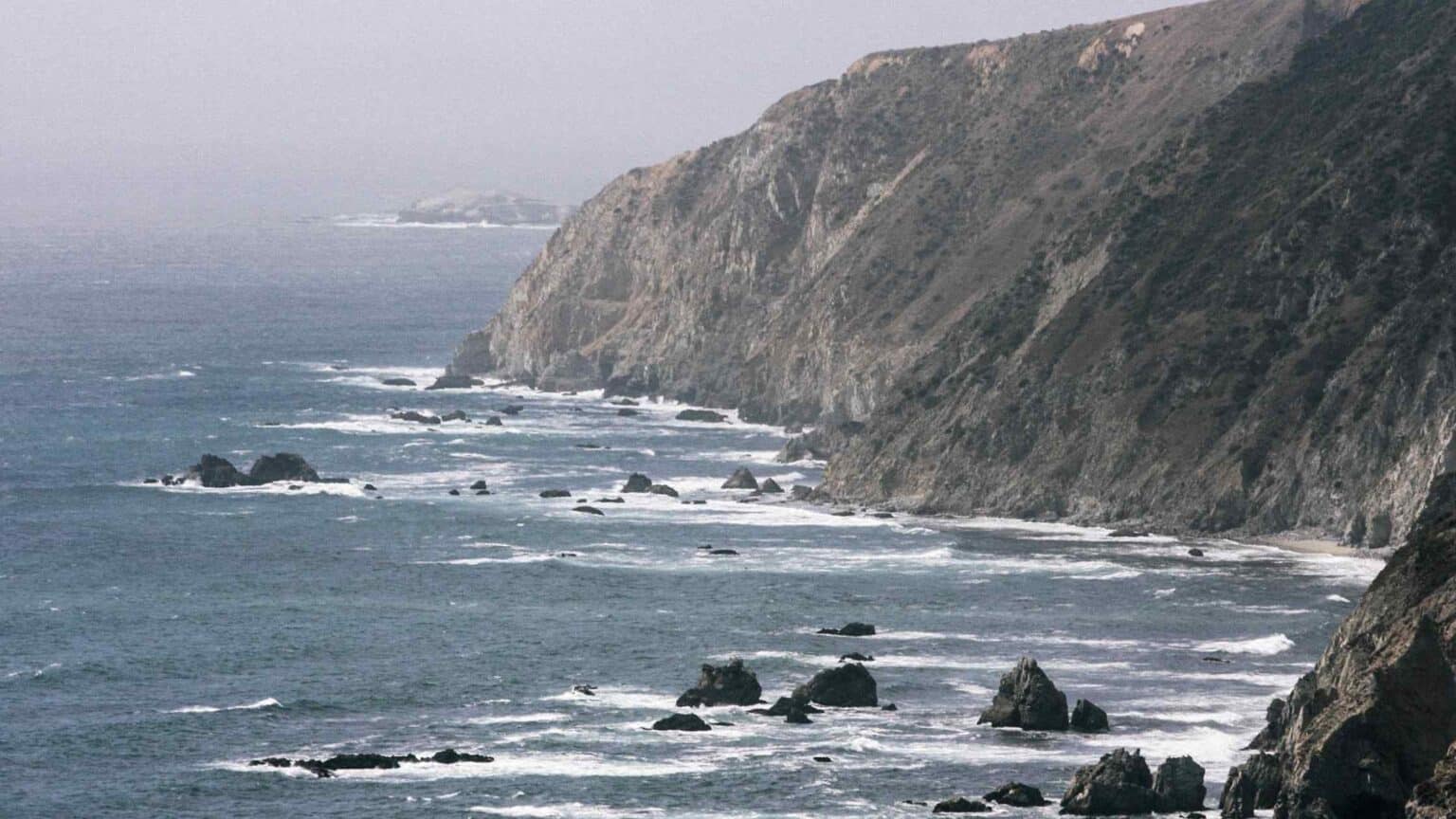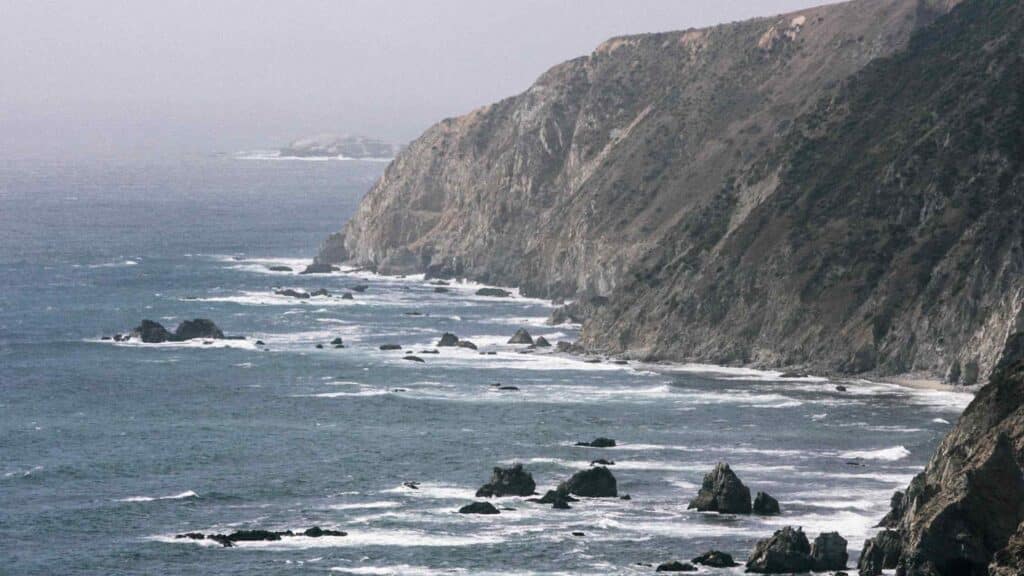 From the campground, hike for about a mile to Sculptured Beach. You can take the narrow trail downhill to a staircase leading to the beach located beneath large rocky cliffs.
At low tide, you'll be able to explore tide pools here you can explore.
Sculptured Beach is a fantastic spot for strolling around, having a picnic lunch and relaxing before heading back to Limantour Beach.
OLEMA VALLEY TRAIL
Among the challenging hikes in Point Reyes recommended for avid hikers and nature lovers is the Olema Valley trail, a muddy and challenging loop trail passing through the bay and oak forests and grassy meadows.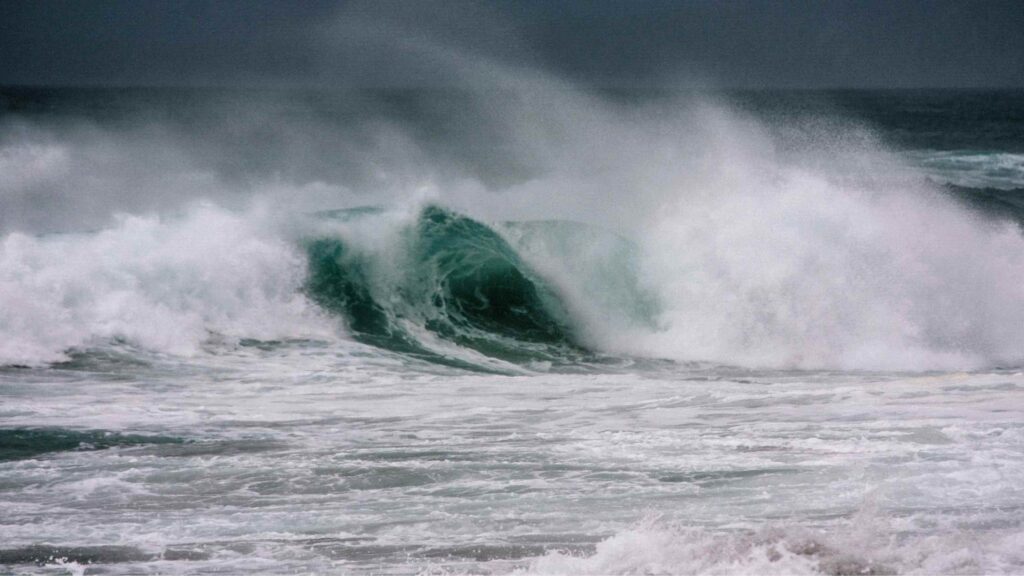 It takes around 4 to 6 hours to cover the hike, with the challenge mostly being the muddy and sometimes slippery terrain.
But the trail is rewarding for those patiently arriving, as you will spot the rugged wilderness in the seashore, including wild mushrooms, butterflies, birds, and green beds everywhere.
GREEN PICKER LOOP
One of the most challenging hikes around Point Reyes is Green Picker Loop, which is a fascinating hike for witnessing the rich wilderness encompassing maple forests, fine oaks, and ivy trees.
It is one of the best hikes in Point Reyes for trekking under the shades of forests, which although long and challenging, can be fun if you love hiking.
LAGUNA COAST LOOP
Elevation gain – 362 feet
If you want to do two hikes instead of one, how about trying the Laguna Coast loop, which includes two trailheads meeting to form a spectacular five-mile loop?
Dotted with rugged bluffs, beaches, and lush vegetation, it is one of the beautiful hikes in Point Reyes that you should not miss adding to your itinerary.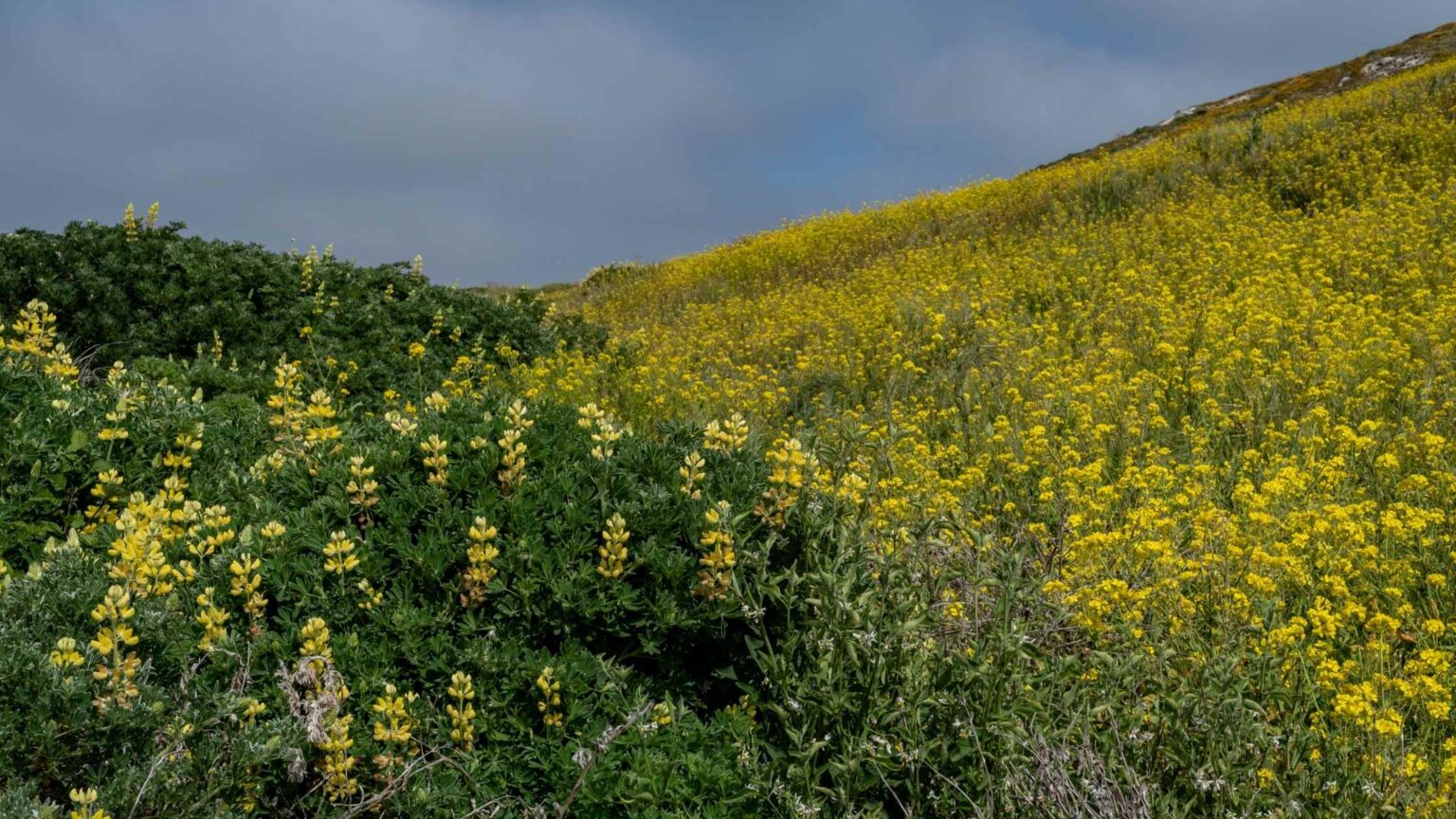 You will get glimpses of the rich wildlife and marine life on this trail, as you pass through open grassland, vegetated dunes, and a riparian zone.
Limantour Beach is one of the notable stops on your trek, and once you reach the Coast Campground, you'll also have access to Santa Maria Beach as well.
Drive down to Limantour Spit Road to reach the Laguna Trailhead, from where you will begin the hike. The loop ends on the other end at the Coast Trail Trailhead.
DIVIDE MEADOW LOOP
Among the hikes in Point Reyes that you can enjoy with your family is the Divide Meadow Loop, which is home to stunning hills carpeted with meadows, some grassy and some adorned with wildflowers, making it a perfect ground for birdwatching.
It is one of the moderate hikes if you are not used to hiking, but you will enjoy the gorgeous landscapes dotted with trees as well. The trail follows an uphill route initially and then continues on a flat path, from where you can enjoy the views of the ocean beyond the forested trees.
ESTERO TRAIL
If you are looking for a challenging and a lengthier trek in Point Reyes, pick the Estero trail, which takes almost a day to complete.
One of the most extended hikes near Point Reyes, the Estero trail is an out and back path passing through grassy meadows, coastal shrubs, creeks and forests lined with pine and oak.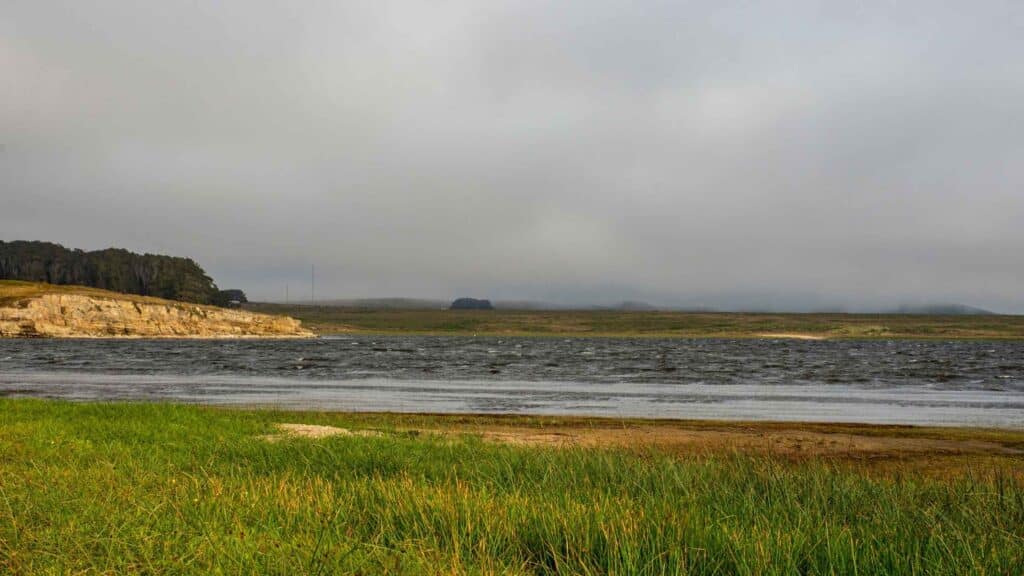 You can park either at the Estero trailhead or Muddy hollow trailhead. The trek starts at the Estero trailhead. Start the hike as early in the morning as possible to have time at the beaches and make your way to watch the stunning sunset at Drams Estero.
WHAT TO PACK FOR HIKES IN POINT REYES?
Depending on the time of year, you will need to modify the list of the below items according to the temperatures. If you're visiting in the winter, rain is very common, and so is fog during the California mist season. Here's a list of things you will need.
GENERAL ITEMS
CLOTHING
The temperatures can be foggy during the day and they drop at night as the breeze increases.
As with camping anywhere, you need to be prepared for the unpredictability by going with many layers. Here's what you need:
CAMPING ESSENTIALS
Here are some of the camping essentials you need:
Camping essentials for preparing food:
The best one I'd recommend is this Outdoor Master Cook Portable Folding Camp Kitchen along with this Light Weight Cook Ware and Backpacking Gas Stove Burner.
OTHER ESSENTIALS
Even if you aren't into photography, you may want to bring a camera with a good lens. I own a Panasonic LUMIX DC-ZS70S that I carry while camping since I prefer lightweight gear instead of my Nikon D850 which I use regularly.
WHERE TO STAY IN POINT REYES?
There are only a few hotels around Point Rayes National Seashore itself.
On the west side of Tomales Bay, the Inverness area has a few accommodation options. Apart from that, you can choose to stay in Olema, Point Reyes Station, or Marshall.
HI Point Reyes Hostel is the only accommodation option within Point Rayes National Seashore. They offer dorms and a few private rooms.
In Point Reyes Station, Point Reyes Country Inn comes with amazing amenities.
Olema House at Point Reyes is a fantastic option in Olema.
Nick's Cove located in Marshall is another great option.
SOME USEFUL TIPS FOR HIKES IN POINT REYES
Here are some of the things to better enjoy all the awesome things to do in Point Reyes:
Point Reyes National Seashore is one of the largest parks in California with many narrow and winding roads and reduced speed limits. You'll probably need at least 2 to 3 days to explore all corners of the park. So ensure what you intend to cover each day in advance.
To get the latest updates about everything related to Point Reyes, including the maps of trails, hiking guides, alerts, and other information, download the app NPS, where you can get content from entire parks offline too.
No matter which one, beaches in Point Reyes are known for their unpredictable high and strong waves and rip currents. So avoid walking close along the ocean's edge and watch out for sneaker waves.
The seawater can be as cold as 50°F or 10°C, so wear a proper wetsuit.
If you camp at any sites in or near the seashore, make sure to follow the Leave No Trace principles and maintain the fragile ecosystem.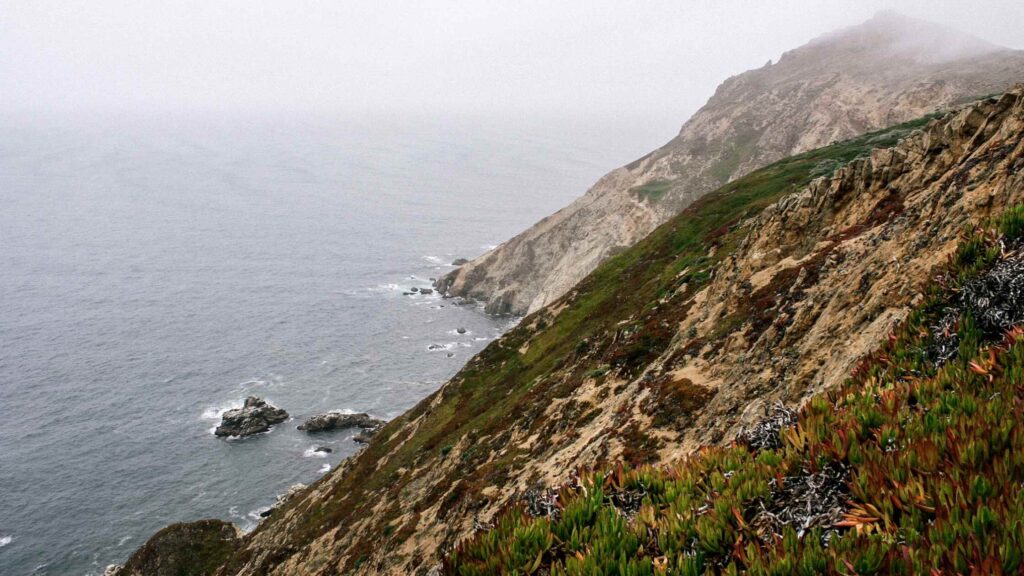 Check the current conditions and closures before going out to see Point Reyes National Seashore. Some areas may be closed due to weather or other factors like the Woodward fire.
Beaches may also be closed at various times of the year to better protect northern elephant seals and harbour seals during pupping season, or western snowy plovers during nesting season. Ensure to check before you go.
Point Reyes is one of the foggiest places in North America. So no matter at what time of the year you are planning a trip, it's a good idea to bring layers, especially a warm jacket. Also, be prepared for wind and rain. The weather can change quickly in the park, so come prepared.
The cell service is intermittent or non-existent in the reserve, so make sure you download all the maps for offline use. You can also stop by Bear Valley Visitor Center for a map of Point Reyes.
The nearest gas station is in Point Reyes station. It is best to fill up as there is a lot of driving to be done.
The nearest places to get food and snacks are Point Reyes Station, Olema, and Inverness and there is nothing in Point Reyes Park.
Although drinking water is accessible at certain locations throughout Point Reyes, not all hiking trails have potable water. Double-check before you start any hike, fill your reusable water bottles wherever you find water.
There are several areas in the park that are only accessible by foot, hiking or bike. So check the mode of arrival before you add the stop to your trip.
Never get too close to wild animals, or you could be injured by them. When driving up to see the wildlife, always park your car far away from the road.
TOP TRAVEL TIPS & RESOURCES
Below is the list of the travel resources you can use to organize your travel – from flights to insurance and everything. These are the resources I use myself, which is why I recommend you for a hassle-free travel planning experience and fantastic trips.
Booking Flights
: To score flight deals, search on
Jet Radar
, Kiwi,
or
12go.Asia
(for Asia planning). Book and fly mid-week, taking red-eyes flights or those in the early mornings for better deals and lower prices. Avoid check-in bags on a budget airline.
Booking Trains:
The best websites for booking trains anywhere in Europe are
Rail Europe
and
TrainLine
. Both are easy to manage online and track your journeys.
Booking Cars:
For the best prices and easy handling of renting a car for road trips and day trips, I'd recommend
Discover Cars
or
Rental Cars,
available throughout the world.
Accommodations:
I typically use
HotelsCombined
or
Booking.com
to book hotels. There are special getaway deals with amazing discounts(over 50%!) for this year on Booking.com, and you can find them
here
.
I use
Hostelworld
and
Agoda
to book hostels as the deposit is low, easy change/cancellation is available and reviews are excellent on both. Depending on the destination, I love staying in
VRBOs/homestays
.
Travel Insurance:
No matter whether it is a short trip or longer trips abroad, I strongly recommend buying travel insurance for international trips. I recommend either
World Nomads
or
SafetyWing
for international travel insurance.
Tours:
Being a solo traveler, one of the best ways to optimize my time, budget, and super importantly, meet amazing people from all over the world is by joining tours, especially food tours, walking tours, day trips, culture, and history tours.
You will get a local's perspective, the best opportunities to experience places and people closely. I book using
GetYourGuide
,
Klook
,
Viator,
and
Voyagin.

Latest posts by Reshma Narasing
(see all)