There are many best places to visit in California in December. Yes, you may be surprised to know that December in California offers you different kinds of experiences, thanks to its non-icy temperatures in most parts of the state.
If you want to get away from the snow, freezing temperatures or rain, the golden state is your perfect destination as there are many fabulous things to do and places to visit in the USA in December.
California in December is primarily sunny and provides the best month for being outdoors.
Whether it is for spotting the rich and distinct wildlife in the national parks, hiking in the lush mountains, relaxing at its many beautiful beaches, or enjoying road trips along its winding roads opening to gorgeous views, there are many things to do in California in winter.
The cities gear up for the holidays and are fantastic for California winter vacation ideas.
You will find streets with lights everywhere. Christmas decorations, parades, music festivals, concerts, and markets are the major attractions in California in December.
You can also experience snowfall in California if that's on your bucket list. There are many places for a ski holiday, snowboarding and admiring the magical white winter in the golden state.
Another cool thing is that you can plan your trip for lower prices than usual and avoid the summer crowds this month!
Hard to believe? Well, read on to discover why you should plan your trip to California in December and all the fantastic places to visit in California in December.
If you are specifically looking for beaches, Check out these 25 Best California Beach Towns For a Family Getaway. Or you can plan a trip to any of these 30 Top Northern California Beach Towns if you want to go off the beaten bath.
CALIFORNIA IN DECEMBER – WHAT WEATHER TO EXPECT?
Depending on the activities you plan to enjoy and the type of holiday you prefer, you can make your pick from the best places to visit in California in December.
Because the weather in December in California slightly varies from place to place, but overall, the days are mostly sunny, ideal for being outdoors, and delightful weather to explore national parks, go hiking, camping and spot wildlife.
You can expect daytime temperatures in Southern California in the mid to high 60s to 70s as well, with the temperatures dropping to about 50 degrees at night, which means sunnier during the day and slightly windy and cold during the nights.
You may also experience slight showers and snow at higher elevations, but it should not interfere with your travel plans.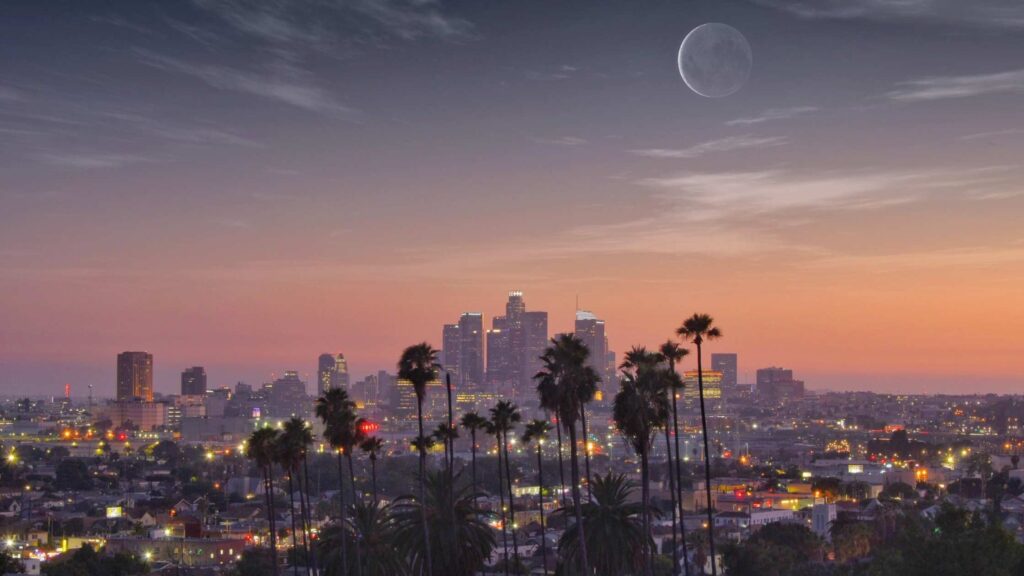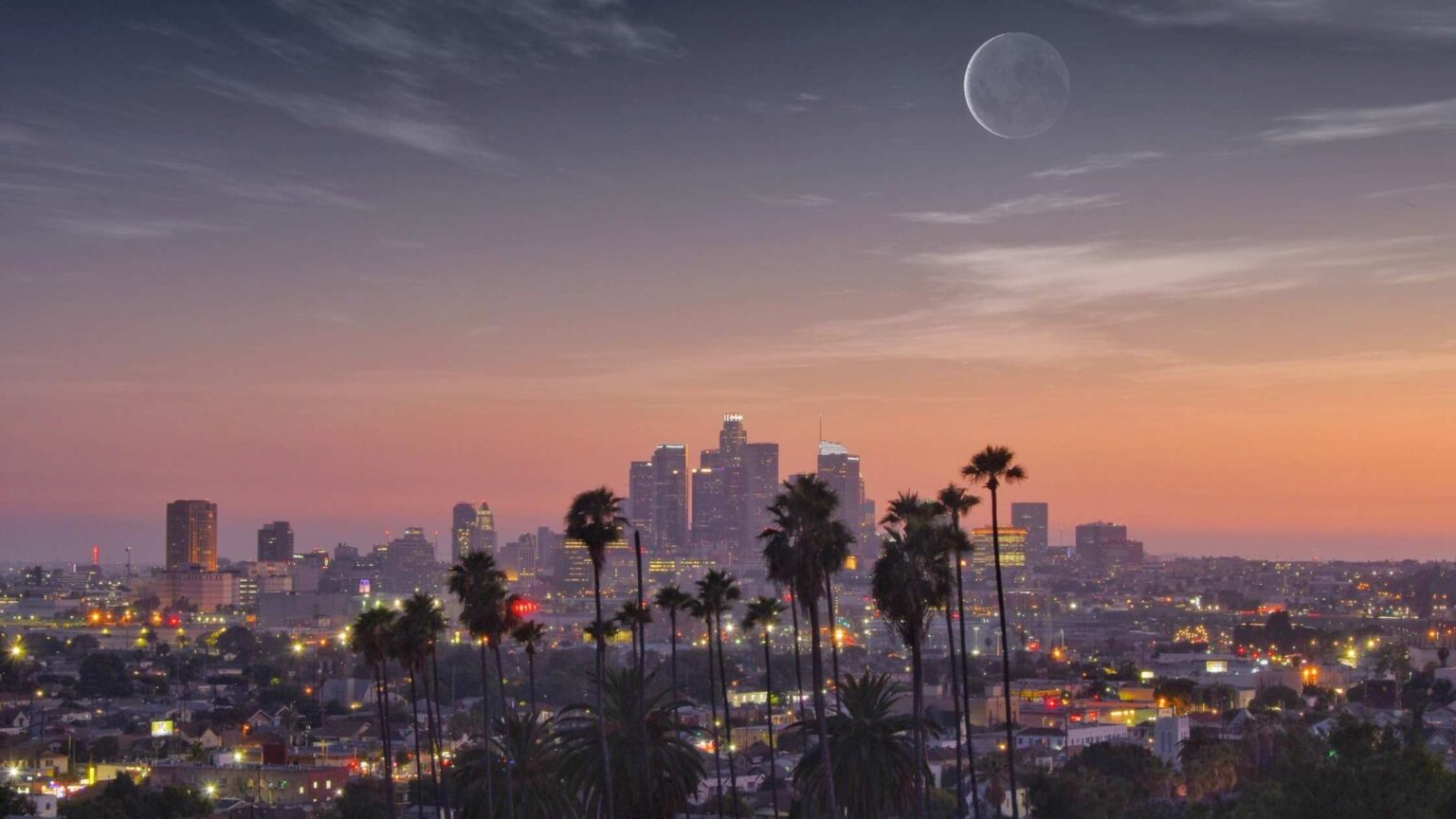 In Northern California, it's just a bit cooler. As you head towards the mountains, you can expect winter snow in California at Lake Tahoe or Mammoth and the Sierra Nevadas region.
These are the gorgeous places to visit for Christmas in California in December as a snowy wonderland to go skiing and snowboarding.
California's coastal towns are also much less foggy in December.
So although the water will be cold for a swim, you can relax on the beaches, watch migrating whales and indulge in water adventures if you plan a trip to the beach towns in California in December.
Some places can see the foliage of late fall, while deserts are best visited during December if you are in California.
If you want to pick warm destinations for the California December trip, I recommend deserts and cities around them. Death Valley and Palm Springs make an ideal California vacation in December.
TIPS FOR VISITING CALIFORNIA IN DECEMBER
Now you know what to expect from a December trip to California, here are a few more things to know before you go.
December is off-season for California, so you can expect fewer crowds.
It is slightly affordable to travel to California in December, including California hotel prices that are lower as well.
Like the rest of the world, the peak holiday season is from Christmas to New Year. So if you wish to be here during this time, book in advance.
For California travel in December, try to have everything booked by the end of fall, or at least about 3 months before.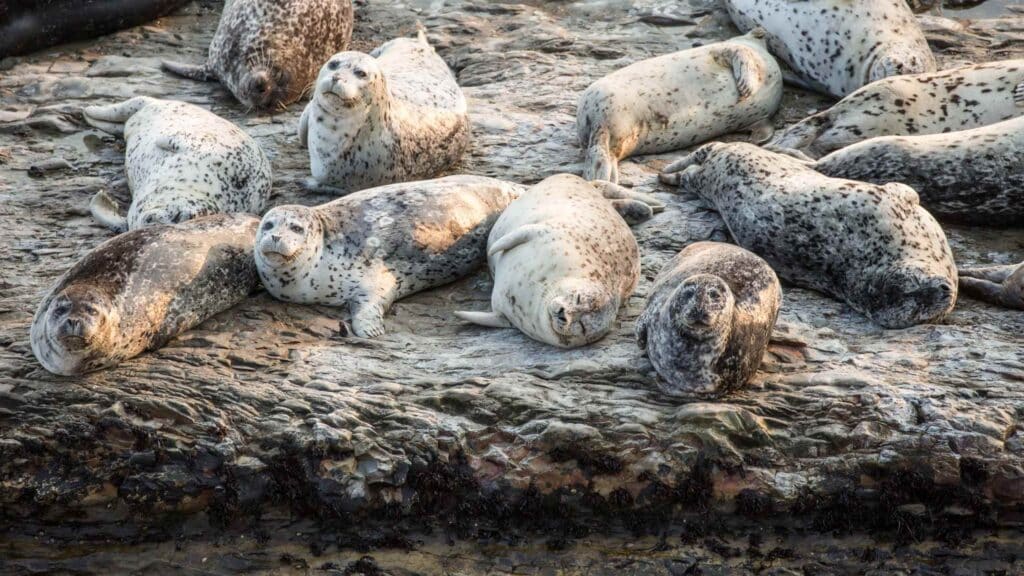 December is the best time to spot unique California wildlife, so take tours to spot the baby elephant seals, whale watching tours at Monterey, dolphins, and migrating white whales.
But note that California winter vacations can be expensive if you wait till the last minute to book your trip.
The perfect way to explore the best places to visit in California in December is by renting a car.
The queues for cabs can be longer, including at the airport and bus stations and cars can run out quickly around Christmas and New Year's Eve, so it's best to book your rental car before you arrive. You'll need an international driving permit to hire a car.
BEST PLACES TO VISIT IN CALIFORNIA IN DECEMBER – FOR SNOW
MAMMOTH LAKES
Suppose you are looking for snow in California to admire the fantastic powdery slopes dotting mountain valleys or to indulge in winter sports.
In that case, Mammoth Lakes is one of my favourites and the best places to visit in California in December.
The Mammoth Lakes area is known for its spectacular mountain landscapes dominated by the dramatic High Sierra Nevada.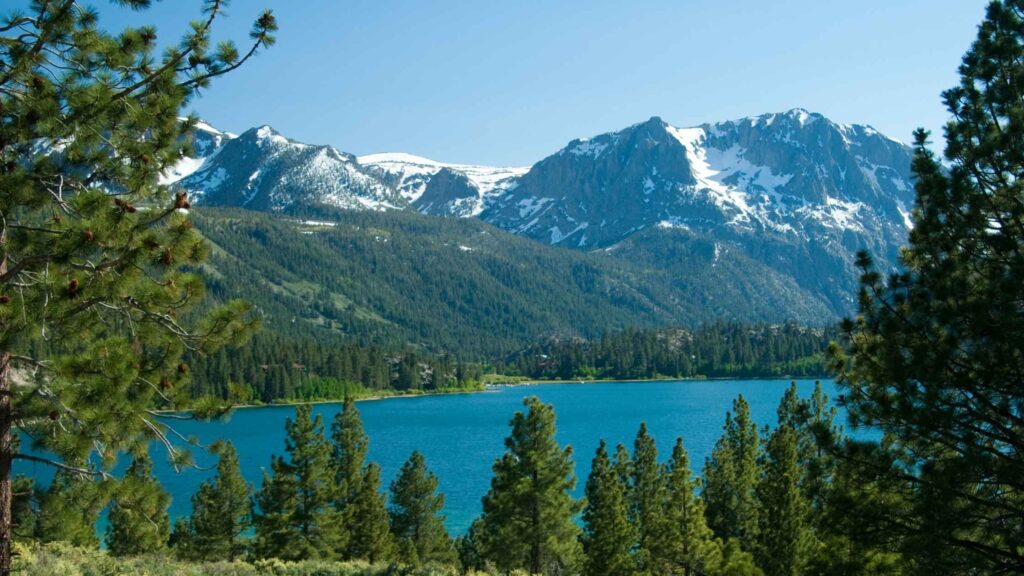 There are loads of awesome things to do in Mammoth Lakes, with something for everyone – from skiing to snowboarding to hot springs and hiking. You can easily spend a weekend in Mammoth Lakes for a fabulous holiday in December.
Because of the high elevation, snow arrives early at Mammoth Lakes. Did you know? Mammoth Mountain Area gets around 300 inches of snowfall a year at least.
December is the peak ski season at Mammoth Mountain, as you get access to over 3,500 areas of mountain slopes carpeted with snow.
It is home to some of the best ski resorts in California, attracting many families and adventure seekers to the California Eastern Sierras.
You have over 150 gorgeous trails for alpine downhill skiing, cross country skiing, snowshoeing, tubing, and snowboarding.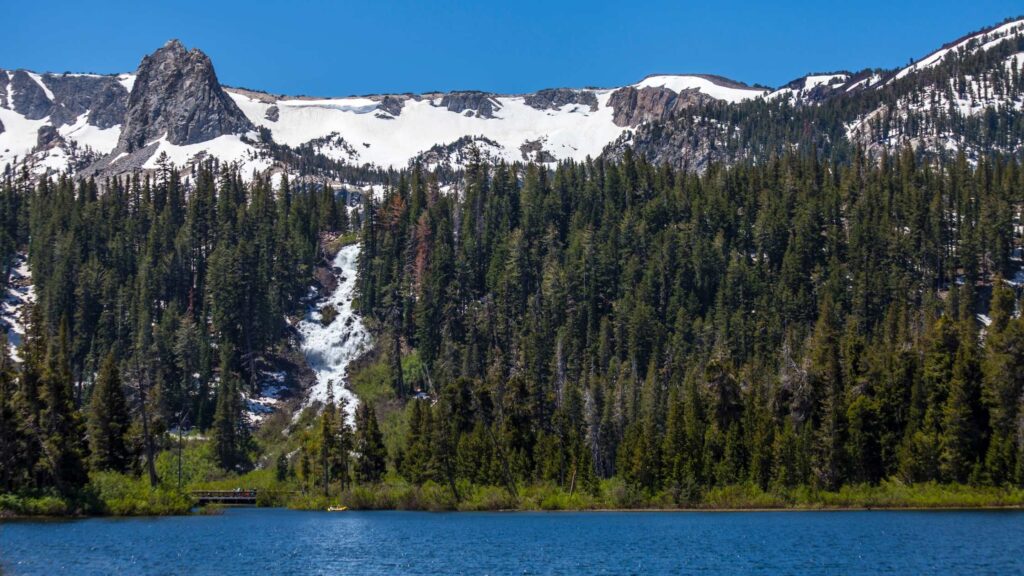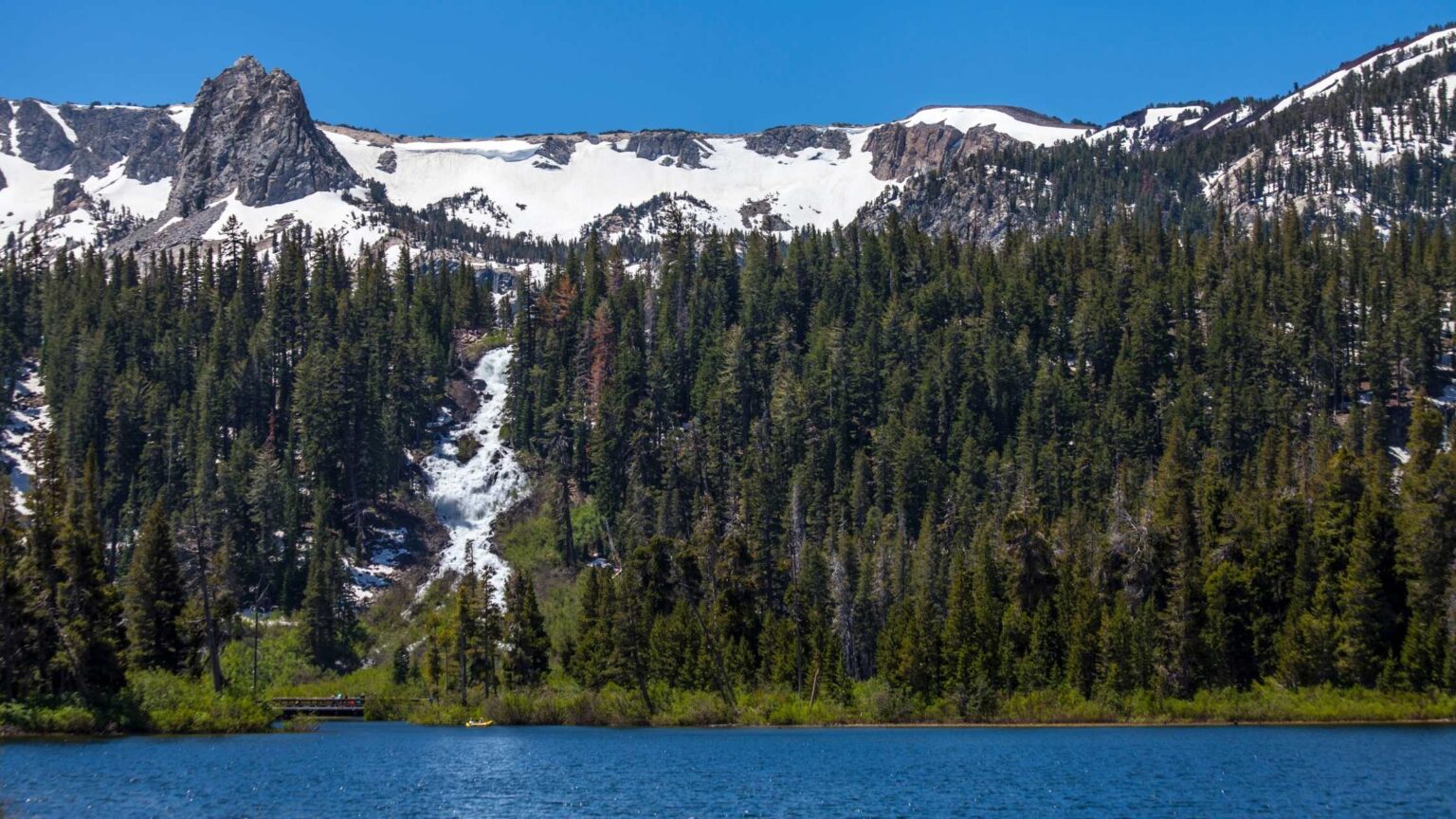 You can take the fantastic Gondola ride to the peak, enjoying the splendid views of the mountainous landscapes on your ride.
There are also plenty of beautiful natural hot springs in Mammoth Lakes, including or near camping sites. After outdoor adventures, there is nothing more relaxing than soaking in these mineral-rich hot springs and enjoying the beautiful views.
You can enjoy fishing, boat trips, hiking, or picnic lunches in any of the stunning glacial lakes around Mammoth Lakes, surrounded by dramatic mountains offering beautiful sunrise and sunset views.
WHERE TO STAY?
I recommend Innsbruck Lodge, located near the Village Gondola, for its secluded and stunning location. This lovely lodge offers apartments with kitchens to simple rooms, and they have an on-site hot tub and spa.
The Westin Monache Resort is next to the Village Lodge and beside Mountain Center in the Village comes with condos comprising spacious rooms and balconies offering beautiful views. Book a stay here.
If the popular ones do not appeal to you, check out Sierra Lodge, centrally located, which offers spacious rooms with kitchenettes.
JUNE LAKE
Another gorgeous destination deep in the heart of the Eastern Sierra known for its stunning location is June Lake, a tiny mountain village.
It is one of the best places to visit in California in December if you are looking for a relatively inexpensive resort town for snow and winter sports with your families.
The daytime highs at June Lake in December are in the high 30s going up to the low 40s.
The June Mountain ski area is one of the hotspots for families heading here for winter fun when the ski slopes start welcoming tourists in mid-December. Here skiing is free for kids.
If you are a beginner skier, the flat Highway 158 is an easy route and suitable for snowshoeing. If you are an advanced skier, you can join guided tours with mountain experts to try backcountry skiing.
Ride the ski lift to the top to enjoy fabulous views of four lakes set amidst the magnificent snow-blanketed mountains of the Eastern Sierra.
Recommended – 10 Top Lakes In Mammoth Lakes Area For a Perfect Winter Holiday
You can also enjoy other winter sports, including snowboarding, ice climbing, snowmobiling, sledging, cross-country skiing, and snowshoeing.
Admire the mountains forming a majestic backdrop for the spectacular alpine lakes from many viewpoints
Stroll through the main streets decked up with lights, at the centre of which is the pretty lit Christmas tree.
Pack winter clothing with layers, good water-proof hiking shoes, and snow boots.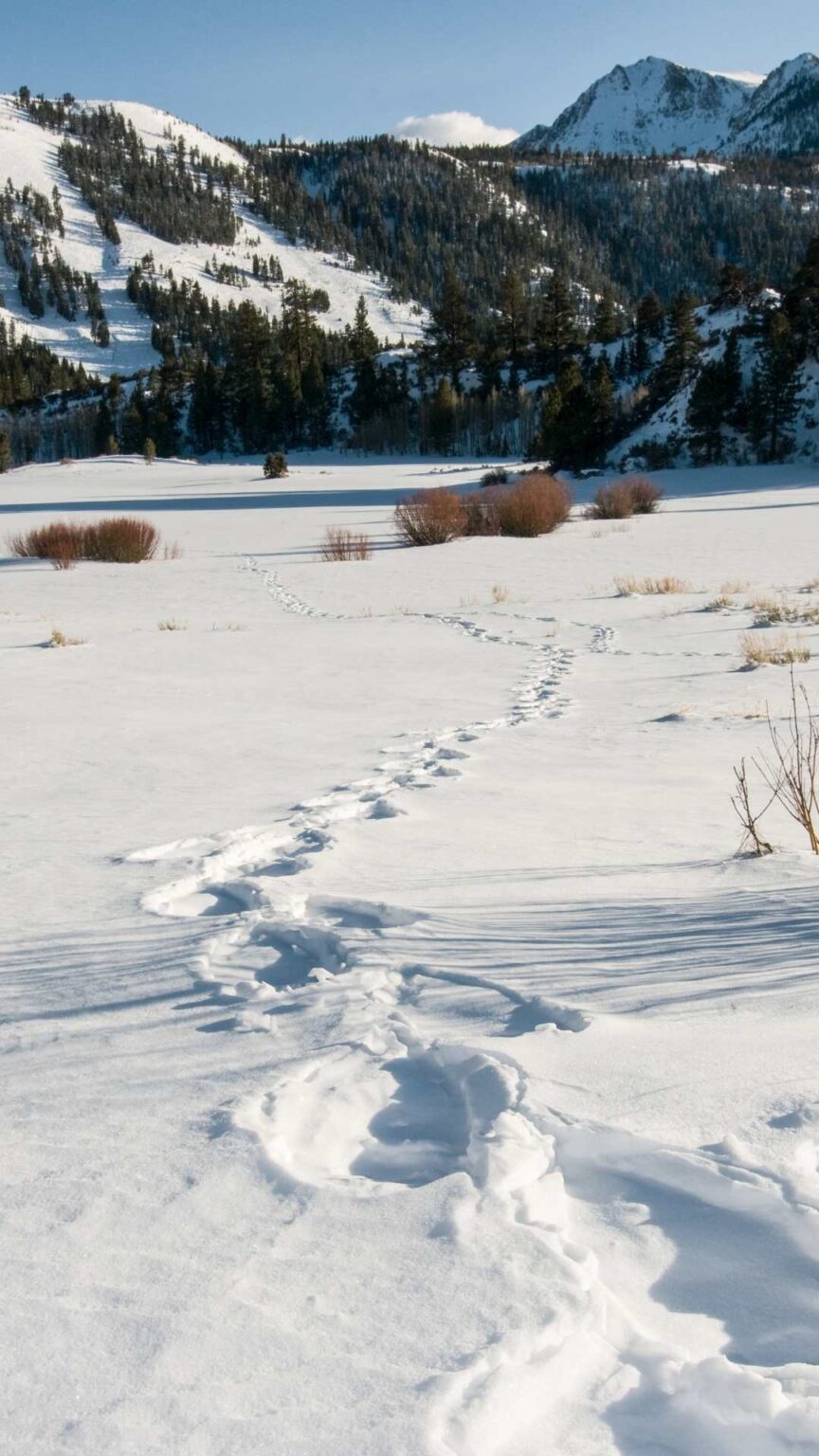 WHERE TO STAY?
Interlaken #29 – Deluxe Studio, a studio apartment, is perfect for a family of four, surrounded by beautiful mountain views. Check here.
If you prefer a resort, Double Eagle Resort and Spa is an excellent choice. Find out more here.
ALABAMA HILLS
There are some places that can only be enjoyed in winter in the United States, and Alabama Hills is one of them.
Located at the foothills of the dramatic Sierra Nevada Mountain range, Alabama Hills is one of the best places to visit in California in December.
You will be treated to splendid views of the snow-capped mountain vistas everywhere, and it's a jackpot for adventure seekers and outdoor lovers.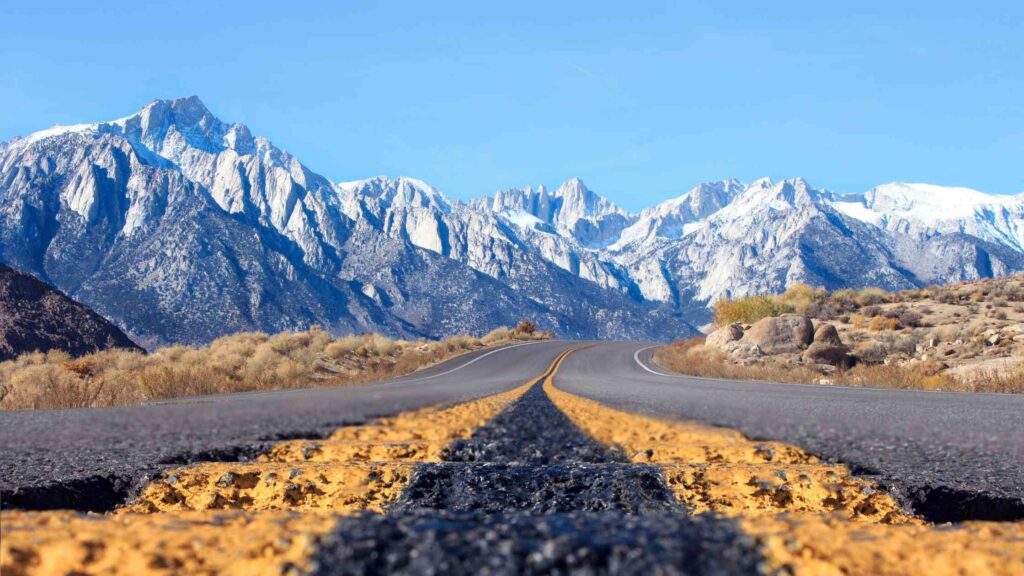 You can hike or mountain bike on the many trails leading to beautiful views, ideal for all experience levels.
Alabama Hills is one of the most photographed destinations thanks to its distinct landscapes. If you want to capture some gorgeous shots, you will love visiting the Alabama hills in California in December.
Camping in the Alabama Hills is very popular, especially during winter. Star gazing, watching epic sunrise and sunsets, and driving around to see the iconic landmarks are some other activities you can enjoy apart from hiking.
One must-stop is the famous Alabama Hills Movie Road, famous for Instagram-worthy photography.
Check out the famous tourist attractions in Alabama Hills, including the easily accessible geological wonders like Mobius Arch, Lone Ranger Canyon, Nightmare Rock and Boot Arch.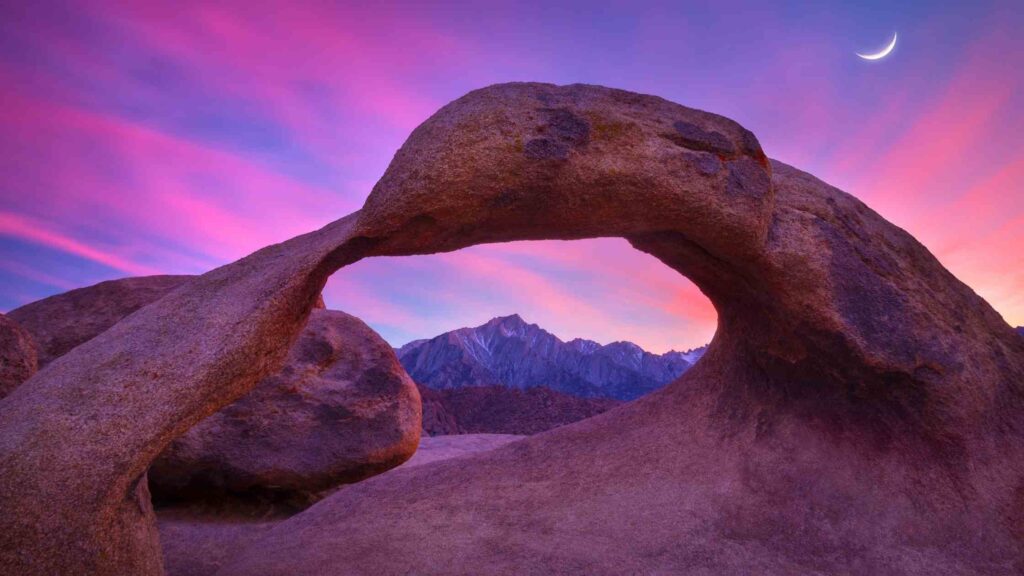 Make sure to bring lots of layers, especially jackets, warm sleeping bags, and many blankets if you plan to go Alabama Hills camping.
WHERE TO STAY?
Instead of camping, if you would rather stay in a hotel or Airbnb or you feel the need for comfort, Lone Pine is the nearest town with many vacation rentals, cabins, and cottages available.
Here are the best picks of Cottages, Cabins, and hotels in Lone Pine, CA – Quality Inn Lone Pine near Mount Whitney; Cozy Muir Cottage; Mt Williamson Motel and Basecamp
YOSEMITE NATIONAL PARK
Although it is a beautiful park no matter what time of the year, Yosemite National Park is one of the best places to visit in California in December.
It will not be as crowded as in the spring and summer, and the gorgeous landscapes sprinkled with snow gives a surreal ambience to the park. Plus, there are no entrance reservation requirements during winter in Yosemite.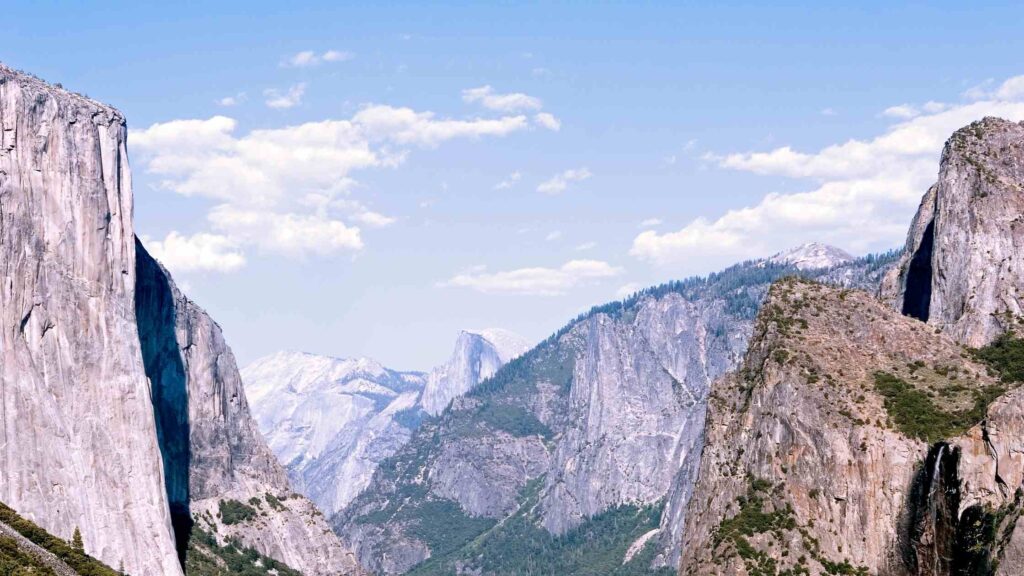 The glacier-carved Yosemite Valley in December is magical after a brief but beautiful week of snowfall that will transform the panoramas into a paradise.
It's the perfect place to capture the most beautiful pictures of the many iconic landmarks in Yosemite, including Tunnel View, El Capitan, Half Dome, Mirror Lake and Bridalveil Falls from many points.
Do not miss witnessing the unique wildlife here, including spotting some deer and sheep.
You can enjoy some stunning snow-capped views of Yosemite National Park at the popular points with only a few visitors, whether from Sentinel Dome or Taft Point.
Unlike the other places, Yosemite only gets a week of snow in December, which means the pleasant daytime weather will allow you to enjoy hiking, mountain biking, and driving.
Recommended – 10 Top Spots For Watching The Best Sunset in Yosemite
You can also indulge in cross-country skiing, snowshoeing, ice skating, and tubing at Badger Pass Ski Area, the first ski area, established in California.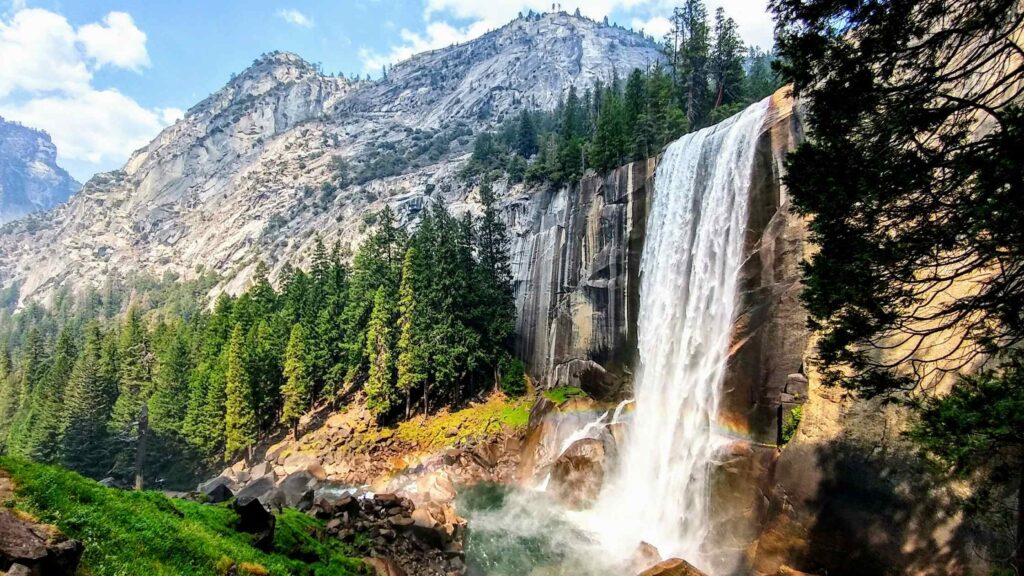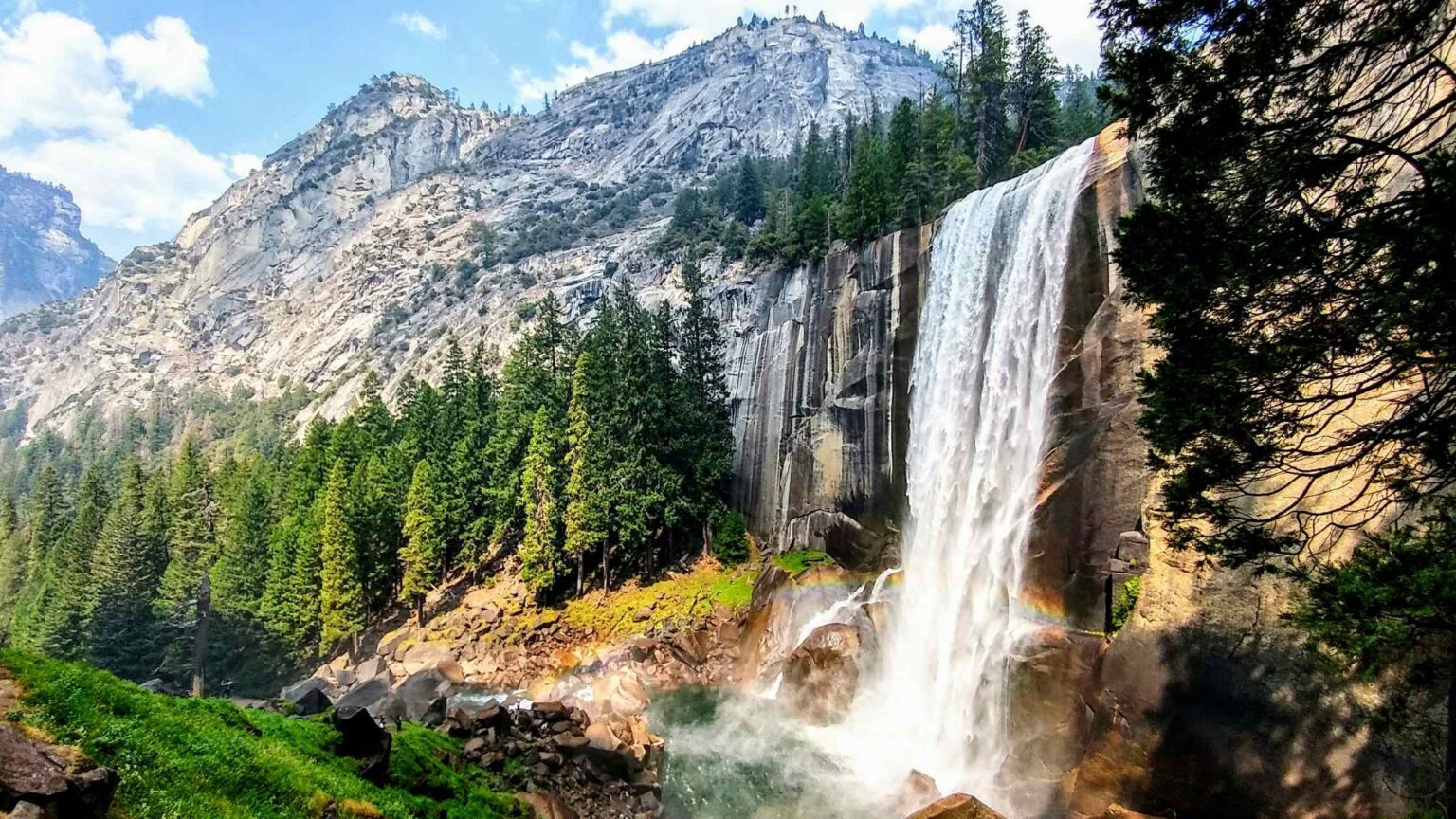 Temps are usually in the 40s during the daytime and 20s at night, but the weather generally feels cold due to its elevation, so pack layers.
Reaching Yosemite during winter may be tricky, and it is best to take four by four over a regular car. Note that Tioga Pass Road and the road to Glacier Point typically close in November.
Many of the trails and facilities in Yosemite also close during the winter. So check road conditions and closures before you go.
WHERE TO STAY
If you want a uniquely traditional Christmas experience, I recommend staying in the famous heritage and historic Ahwahnee Hotel, which organizes conventional holiday decorations.
Wawona Hotel is another famous historic hotel inside the park.
Another option includes Yosemite Valley Lodge, which provides comfortable accommodation close to Yosemite Falls.
LAKE TAHOE
Lake Tahoe, considered one of the most beautiful lakes in California, is one of the best places to visit in California in December for families and outdoor adventures.
Lake Tahoe, the largest alpine lake in North America, located high in the basin of the Sierra Nevada Mountains, is a year-round destination.
December is one of the popular months as about 100 inches of snow transforms the mountain landscapes into a winter paradise.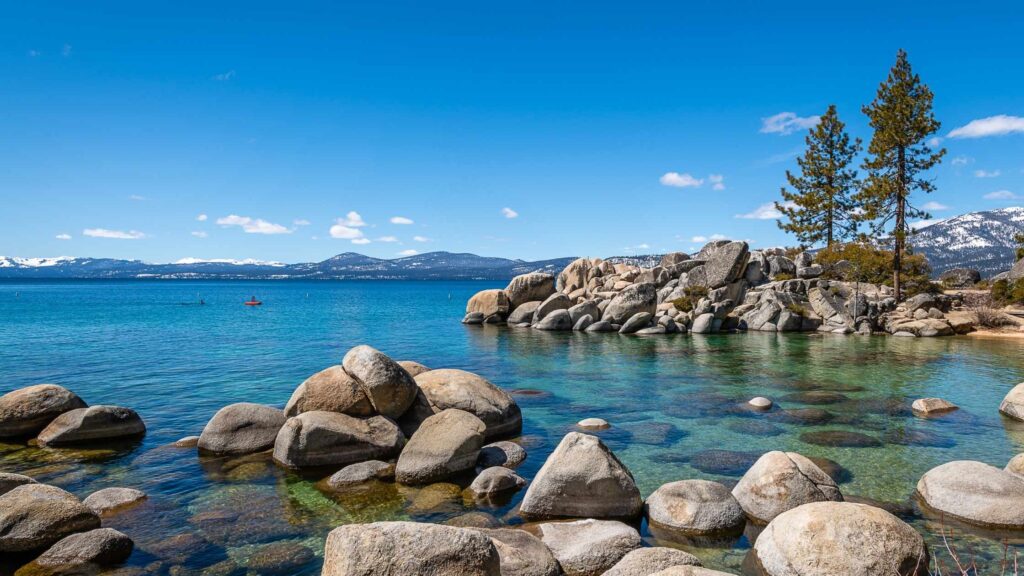 The south of Lake Tahoe is a magical place to visit in California during winter, whether you want to hit the slopes for snow adventures or simply soak in the blissful views of the crystal blue water and the fresh mountain air.
The daytime temperatures hover in the 30s and low 40s, keeping you wrapped in warm clothes as you set out to enjoy various fun activities in the snow.
South Lake Tahoe is ideal for downhill skiing, cross-country skiing, sledging, snowshoeing, and sleigh rides.
Apart from these, you can also enjoy outdoor ice skating at Northstar or the Heavenly Village ice rink in South Lake Tahoe.
Check out the ice sculptures at Heavenly Mountain Resort or hop on the gondola ride to the mountain top for fabulous views.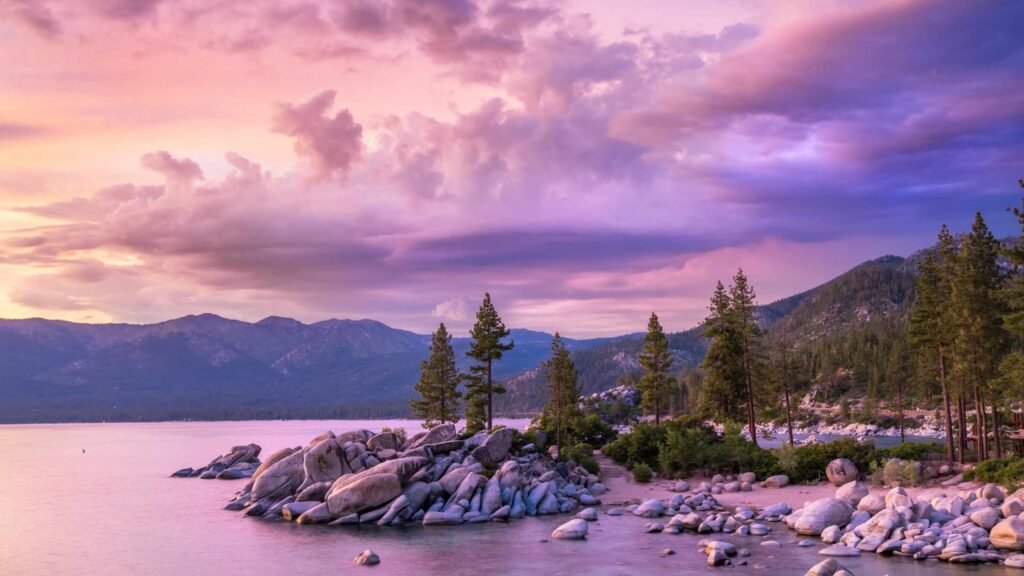 Do not forget to capture the stunning shots of the lake and the surrounding landscapes from the Emerald Bay lookout.
WHERE TO STAY?
The Lake Tahoe area has many top ski resorts. Among the most famous and fabulous ones are Charming Mountain Cabin about 7 Mi to Heavenly Resort, which gets booked quickly, thanks to the excellent facilities and location.
For a private beach and great amenities, check out Tahoe Lakeshore Lodge & Spa.
MOUNT SHASTA
Another destination if you are looking for snow is Mount Shasta, located in Northern California.
It is one of the best places to visit in California in December, with pleasant weather to be outdoors and enjoy powdered snow transforming the landscapes into magical panoramas.
You can easily plan a day trip from Redding or Sacramento to Mount Shasta, connected via Interstate 5.
I recommend spending a weekend in December for a fabulous winter getaway in California with your family.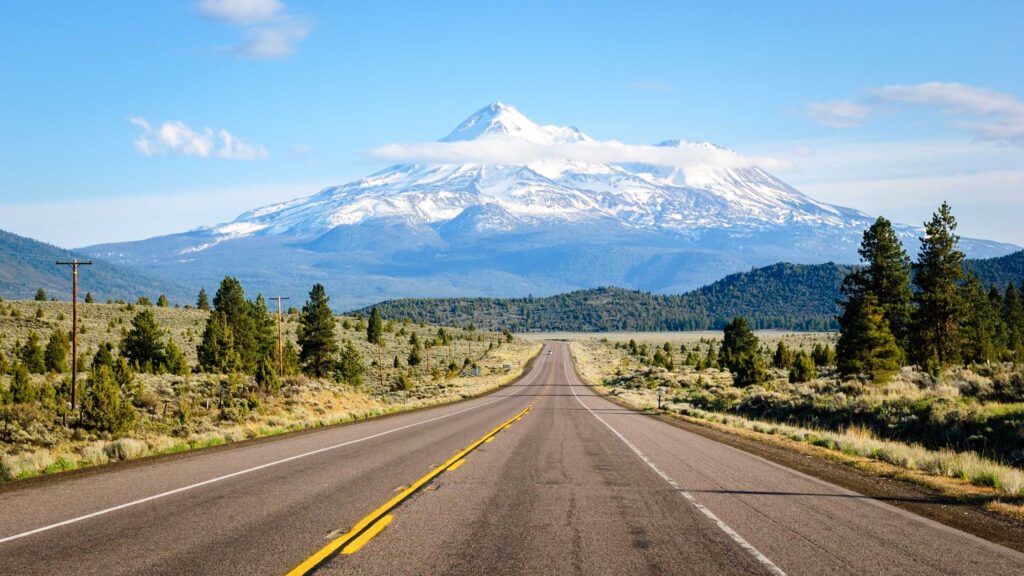 Compared to other destinations in California that need a bit of a hassle, getting to Mount Shasta is relatively more straightforward as there are fewer or no road closures in winter.
Lassen Volcanic National Park is a beautiful park located close to Mount Shasta. It is a prime spot for enjoying epic snowshoe hikes and cross-country skiing near the stunning Manzanita Lake.
At Lassen Volcanic National Park in December, you will be amazed by the stunning landscapes and the different wildlife. Do not miss the hydrothermal features at Sulphur Works if you are up for a 2-mile round-trip hike over the snow.
The average daytime temperatures in December in Mount Shasta and Lassen Volcanic National Park are in the 40s.
Thanks to the snowfall on Mount Shasta, you can enjoy all the snow sports in the mountains.
Mount Shasta Ski Park offers downhill skiing, ice climbing, snowmobiling, snow tubing, snowshoeing, sledging and snowboarding.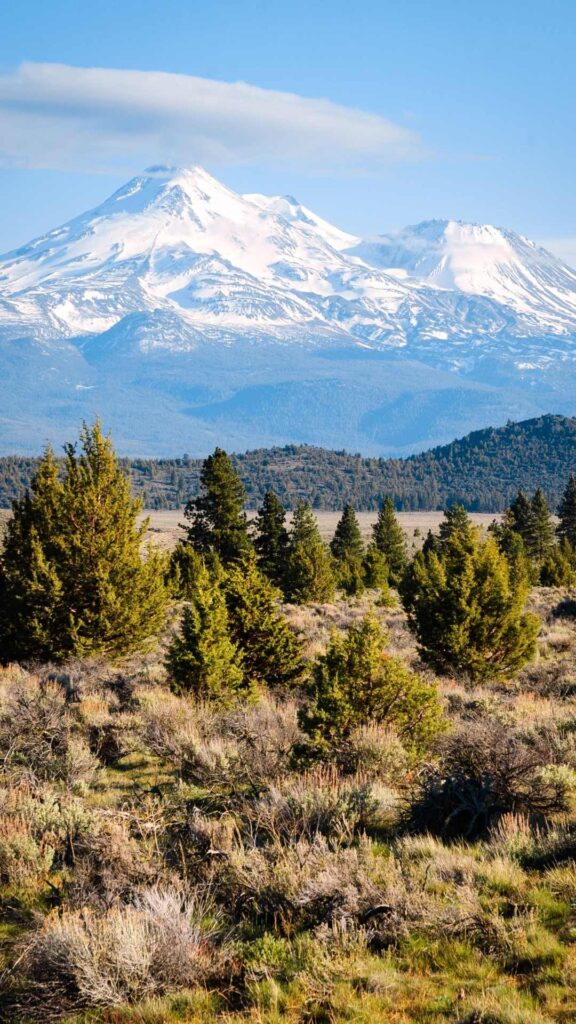 If you want to try ice skating, do not miss visiting the Siskiyou Ice Rink, the only National Hockey League-sized outdoor rink in California outside Mt. Shasta City Park.
If you do not want to get into these adventures, you can quickly get on the many trails offering fascinating views of the area.
If you are up for an adventurous journey, do the popular one-mile snowshoe trek to Castle Lake, located in Castle Crags State Park, one of the best ice fishing spots in California and offers spectacular views of Mount Shasta.
Another hike that offers beautiful views and is not complicated is the trek to the pretty Heart Lake.
Plan a trip to the neighbouring McCloud town located only a 15-minute drive away. During winter, it turns into a magical wonderland as many games, rides, and events are held downtown.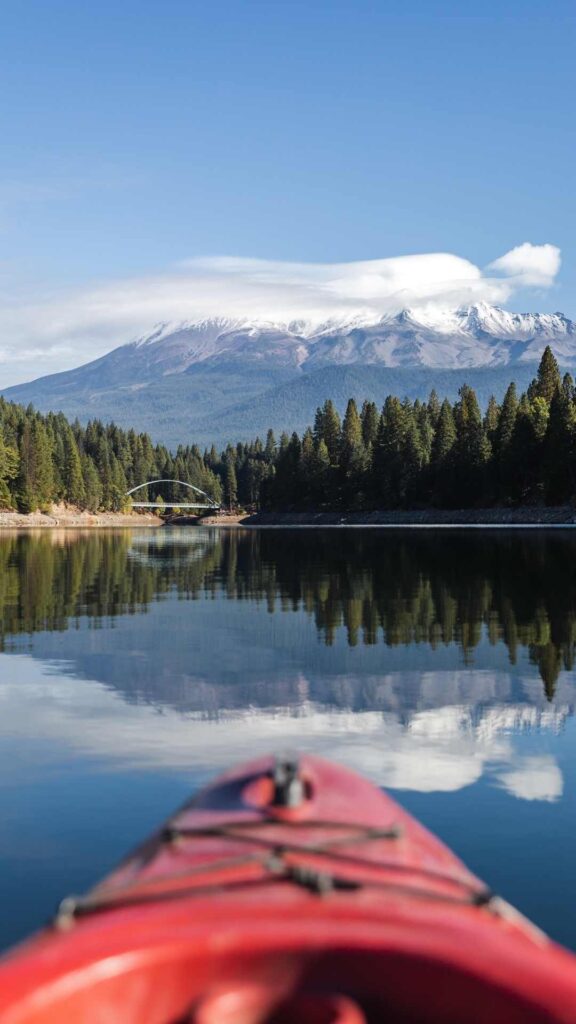 WHERE TO STAY
This historic bed and breakfast, in the shadow of 14,162-foot Mount Shasta, Mount Shasta Ranch Bed and Breakfast, is the most famous hotel offering spacious rooms, excellent ambience and amenities, perfect for couples and families. Check out more here.
Strawberry Valley Inn offers large bedrooms and fantastic mountain views. It has excellent reviews as well. Find more here.
Mount Shasta Resort is perfect for families if you are looking for a fabulous resort surrounded by beautiful views. Check here.
BIG BEAR LAKE
Big Bear Lake, located in southern California, is known for being a wonderland, attracting thousands of visitors every winter, especially families that come for an adventurous getaway.
Big Bear Lake is one of the best places to visit in California in December to witness snowfall, the gorgeous San Bernardino mountains encapsulated by snow offer plenty of activities to enjoy.
There are plenty of awesome things to do in the winter, whether you want to be adventurous activities like skiing to tasting the delicious Christmas bakes and hot chocolate cosying up to a fireplace.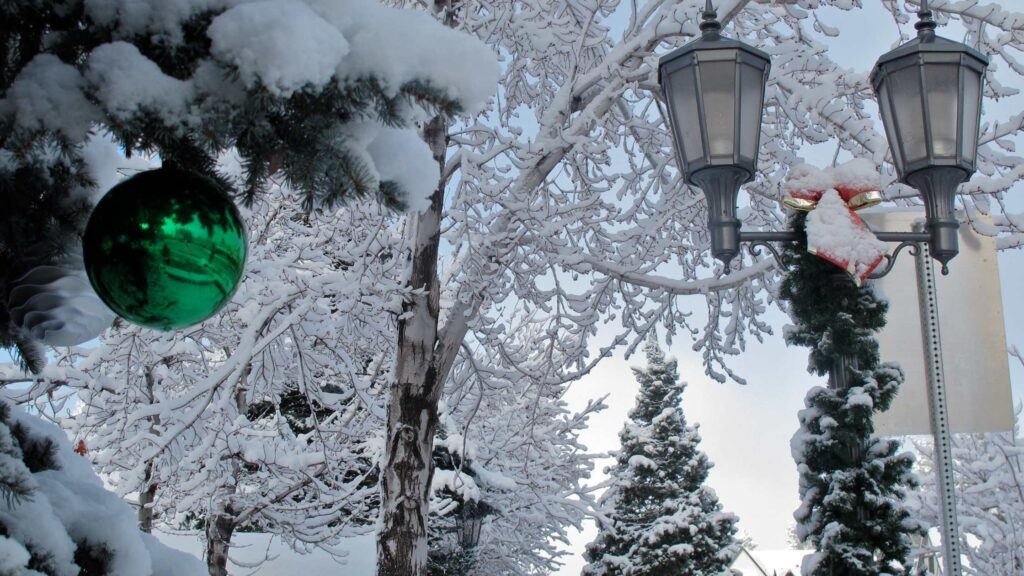 Stroll through the streets of the small downtown area, home to many excellent restaurants serving delicious cuisines, and shop for unique souvenirs at the boutique shops.
Since Big Bear Lake freezes by the end of November, it becomes the hot spot for ice skating, ice fishing, snowmobiling, and sleigh ride around the lake.
You can enjoy cross-country skiing and snowboarding at the two famous mountain slopes, Snow Summit and Big Bear Mountain Resort.
If you want to do something at a slower pace, enjoy horseback riding through the snowy trails or hike along the many trails that pass through beautiful landscapes and stunning views.
You can also enjoy snowshoeing, sledging and high-speed adrenaline-kicking tubing at the famous Grizzly Ridge Tube Park.
You can also learn skiing at Snow Summit resort, although you'll have to book your spot quite early during the peak days.
Plan a day trip to neighbouring Lake Arrowhead, a 45-minute drive away, which is also a fabulous destination for a weekend getaway.
In December, visit Santa's Village on your way to Lake Arrowhead.
WHERE TO STAY?
I recommend Big Bear Retreat, the fantastic holiday home perfect for families that can enjoy a comfortable stay with views. Find more here.
Another beautiful holiday home with excellent reviews and location is Moosehead Lodge, known for its beautiful settings. Book here.
This gorgeous chalet Summit Happy Cabin comes with a patio and a hot tub as well as good views, a romantic stay for couples. Check out this here.
Dream Getaway with Secluded Spa is a stunning holiday home featuring a balcony with mountain views, a garden and barbecue facilities, located close to Alpine Slide at Magic Mountain. Find out more here.
SEQUOIA & KINGS CANYON NATIONAL PARKS
What better than seeing the most giant tree in the world blanketed in snow, which will take you straight into the fairytales during Christmas?
Sequoia & Kings Canyon National Park in the southern Sierra Nevada mountain ranges is known for being home to some of the largest living things on earth.
The two parks, located adjacent to each other, can be explored together.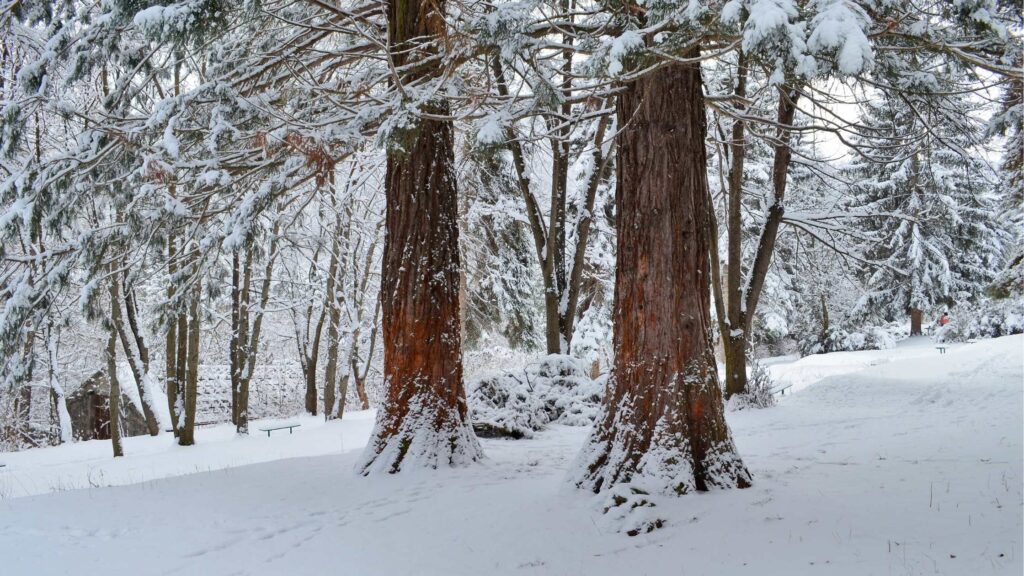 The majestic red trees dominating the panoramas against the powdery snow everywhere make for beautiful photography.
Sequoia and Kings Canyon National Parks are both excellent places to visit in California in December for hiking, photography, cabin stays, and snow activities with flat and easy trails to some of the park's best-known sites.
There are fewer crowds, and hiking through magical winter wonderland landscapes is a wonderful experience.
You can do all these over a long weekend, thanks to Sequoia National Park, located only a few hours from Los Angeles, making it a fantastic outdoor escape especially in the winter.
You can drive around or hike to witness distinct old-growth forests, gorgeous meadows, hidden streams, lakes, and spectacular granite cliffs.
Wolverton Meadow is 2 miles north of General Sherman, the largest tree in the world, located in Sequoia National Park, one of the best places to visit in California in December.
Enjoy sledging, cross-country skiing, and snowshoeing at Wolverton Meadow.
Other trails worth adding to your list of hikes are the Big Trees Trail, Moro Rock, and the Alta trail.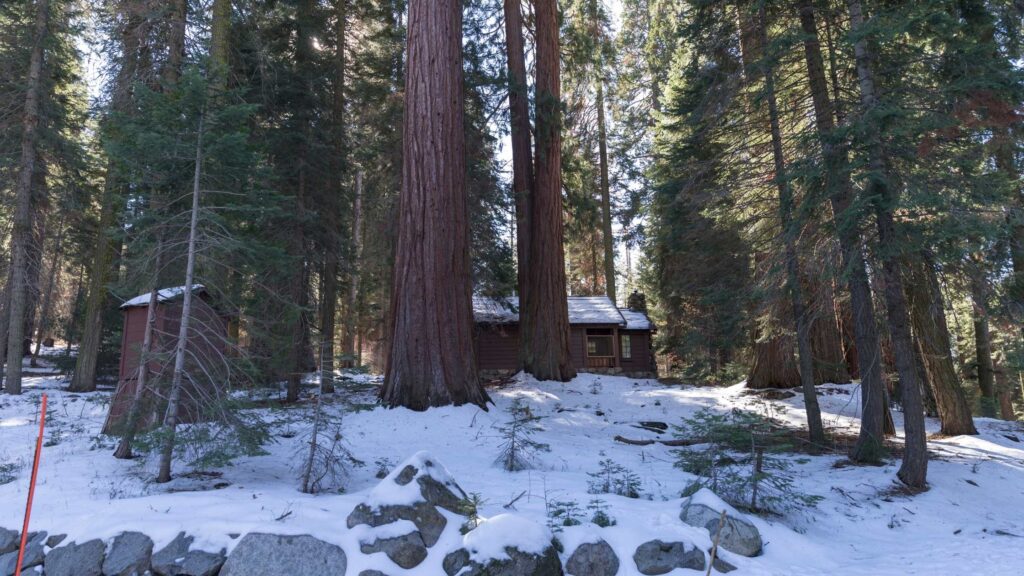 The Kings Canyon National Park is home to the second largest tree in the world, the General Grant Tree, which was also declared the nation's Christmas Tree in 1926
On the second Sunday of December, witness a small and unique celebration, a trek to the tree.
The other main attraction in the Kings Canyon National Park is the Big Stump snow play area, where you can enjoy sledging and go on guided snowshoe walks in Grant Grove led by Park rangers.
The only downside would be that the road connecting the two parks may be closed due to heavy snow. You might have to drive back down to the foothills if you plan to visit both parks.
Check ahead for road closures and chain requirements before heading out there.
WHERE TO STAY?
Blue Jay Paradise, a holiday home located in Three Rivers, is 10 minutes away from Sequoia and is a perfect choice for families with spacious houses and mountain views. Check here.
The Quail's Nest located in Three Rivers in the California region, features a patio and garden views. Check more here.
For families, another recommended holiday home is In The Oaks, a spacious three bedroom house. Find more here.
BEST PLACES TO VISIT IN CALIFORNIA IN DECEMBER – NATIONAL PARKS AND OUTDOORS
DEATH VALLEY NATIONAL PARK
Considered the hottest place on earth, Death Valley National Park is one of the best places to visit in California in December as it is the perfect month weather-wise.
Death Valley National Park, the driest and the largest national park in the United States, is located in Southern California along the Eastern border with Nevada.
This 3 million acre of wilderness is renowned for stunning desert landscapes, unique vistas encompassing rugged mountains, golden canyons, orange dunes, colourful canyons, valleys, dry lake beds and salt flats.
The park is about a 5-hour drive from Los Angeles, and you can plan a long weekend at Death Valley Park in December to check out all the attractions.
The daytime temperatures in December are in the 60s to 70s, with mostly clear skies. Hence it is the perfect time to explore this massive park, which can be done in two to three days.
If you enjoy hiking, you will find trails of all lengths and difficulty levels at Death Valley National Park.
From the official parking lot, you can do an easy walk right up onto the multi-coloured mineral deposits that are beautifully vibrant, comprising red, rust, gold, pink, lavender, and blue.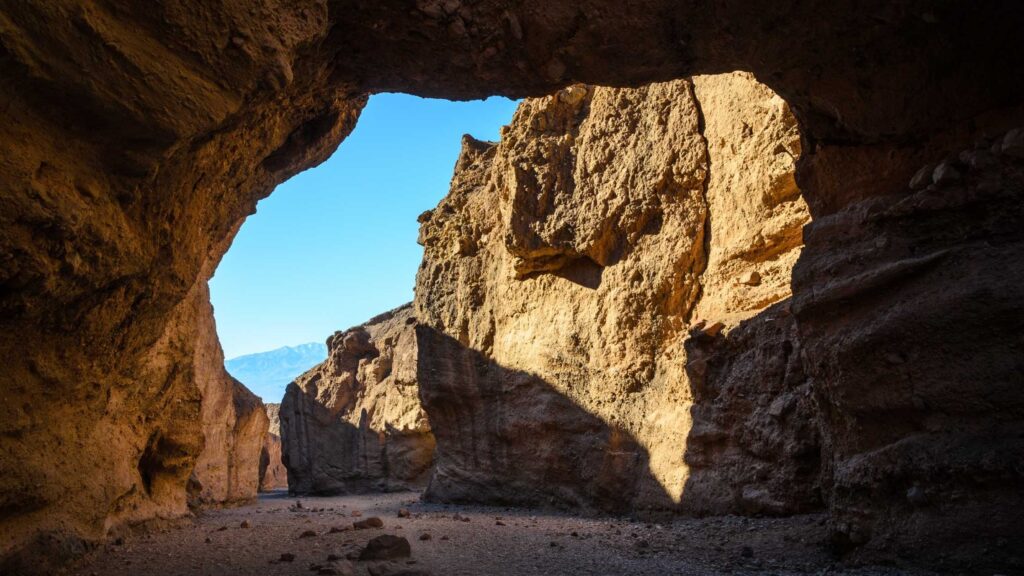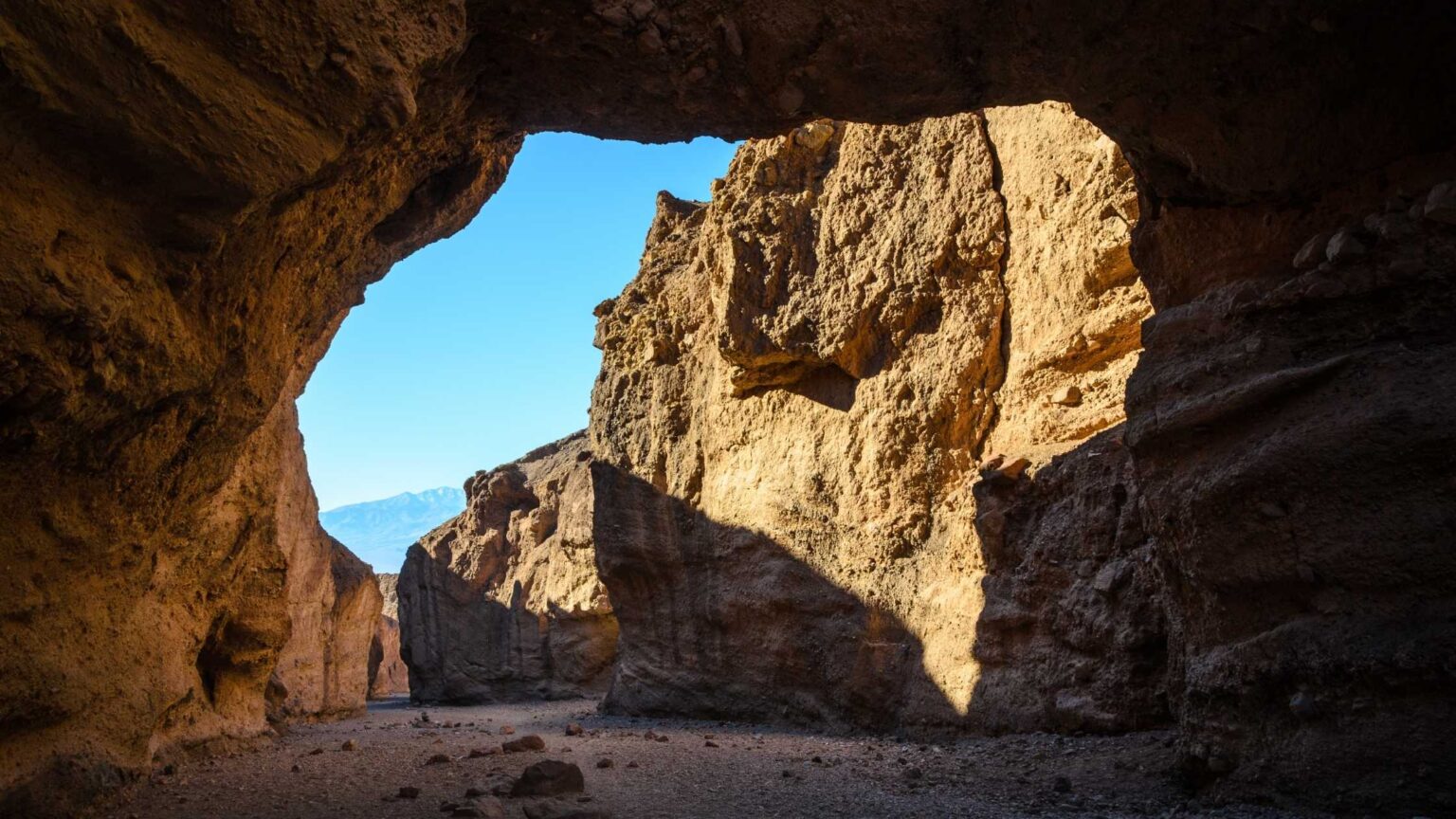 Walk out onto the Badwater Basin salt flats, one of the top landmarks, the lowest point in America.
Zabriskie Point is another must-visit attraction where you can enjoy the gorgeous views of the fantastic badlands on all sides. It is better to start your day by witnessing a spectacular sunrise at Zabriskie Point.
You can also hike the badlands near Zabriskie Point via the Golden Canyon trail.
Another viewpoint easily accessible by a drive is the gorgeous Ubehebe Crater. Or drive up to Dante's View for magnificent panoramas over the valley.
Check out the stunning 100-foot sand dunes, the Mesquite Flat Sand Dunes, which is one of the few sand areas in the park. It is fun to walk on the dunes, but you will be doing a workout for sure.
For a fund adventure, climb to the top of Telescope Peak, the tallest point in the park.
You should drive the Artist's Drive, the 9-mile splendid loop featuring Artist's Palette, one of the most photographed places in the park.
At night, it gets very cold in this desert, hence it is best to pack layers, especially if you plan to go camping.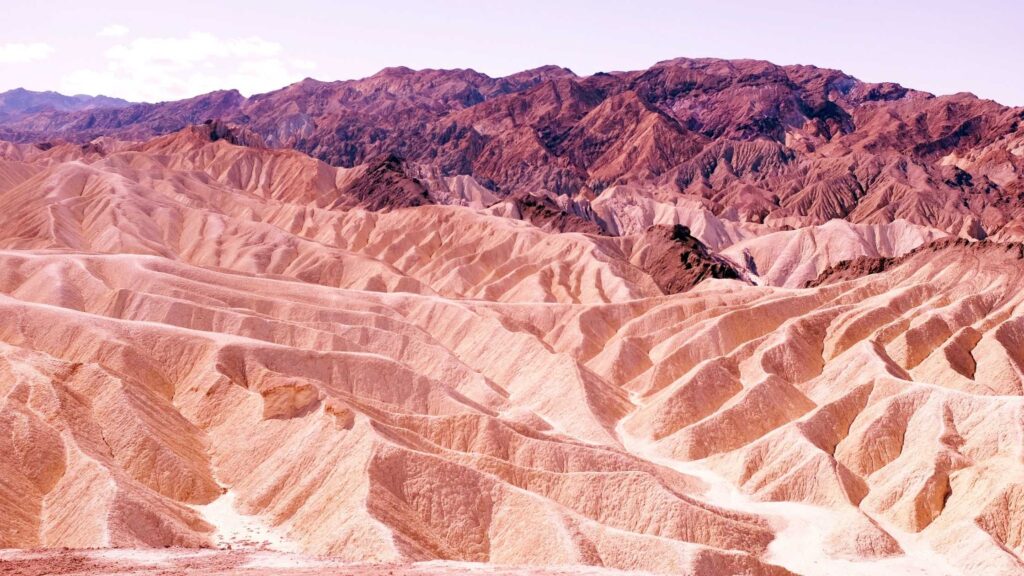 Death Valley National Park is a fantastic time to be in December to watch beautiful stargazing and capture the incredible night skies on your camera.
WHERE TO STAY?
Despite being the largest park in the country, there are limited accommodation options in Death Vallet National Park.
The Inn at Death Valley is recommended if you want to stay in Death Valley National Park. Check more here.
Amargosa Opera House & Hotel is a 15-minute drive away and a great option for families. Find more.
JOSHUA TREE NATIONAL PARK
Joshua Tree National Park needs no introduction, drawing over four million visitors annually.
It is one of the best places to visit in California in December if you want to have a holiday that involves hiking, camping, driving around, or relaxing outdoors.
Located just about 2 hours away from Los Angeles over the Colorado and Mojave desert, you can plan a day trip to Joshua Tree National Park. However, I'd recommend spending a long weekend here as there are many things to do and see here.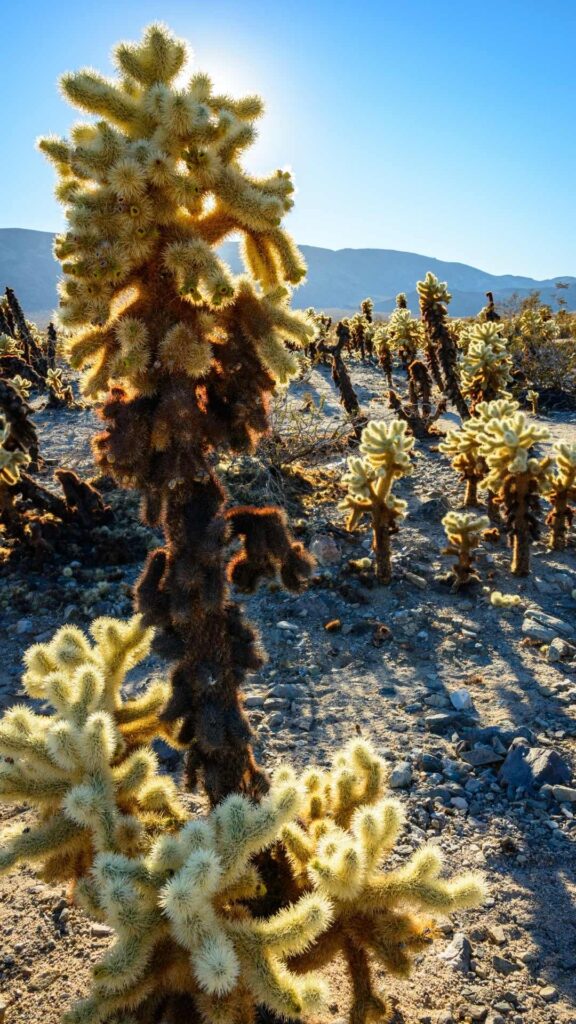 It is one of the best times to visit Joshua Tree National Park since the weather is cooler. December and January are the coldest months in Joshua Tree when temperatures stay between 50-60°F during the day.
Make sure to bring layers as it gets pretty cold overnight in December, and the temperatures tend to drop to the 30s.
It is surreal to watch stunning sunrises and sunsets across the diverse desert landscapes, including palms, cacti, ocotillos, and the iconic Joshua Trees, which are yucca palms.
You can drive through the park to stop at the top attractions, including Native American heritage, petroglyphs, and the San Andreas Faultline, and tour the historic mining sites.
The park is famous for its hiking and rock climbing, thanks to the masses of huge boulders scattered for miles, which are perfect activities that can comfortably be done in December.
There are quick, family-friendly hikes and challenging trails for all types of travelers.
Hidden Valley Trail, a 1-mile round trip and a relatively easy hike are among the more popular hikes where you will pass through boulders and distinct desert vegetation.
On the Fortynine Palms Oasis trail, also known as the Lost Palms Oasis trail, you will come across a pretty oasis. It is about 7 miles round trip, though, so it may not be suitable for everyone.
Another short walk is exploring the Cholla Cactus Garden, where you can get to know the desert's unique vegetation.
Skull Rock Nature Trail is another very popular hike in the park, where you will reach a rock formation that looks like a skull. This famous photo spot is an easy hike, less than two miles in and out.
The highest point in the park, offering beautiful panoramic views, can be accessed via Ryan Mountain Trail.
Did you know that the park was once one of the gold-producing regions during the Gold Rush era? You can see the ruins of a gold mine by getting on the Lost Horse Mine Trail.
Some of these trails have little to no shade, and it can get quite hot, so dress appropriately and wear sunscreen and good walking shoes.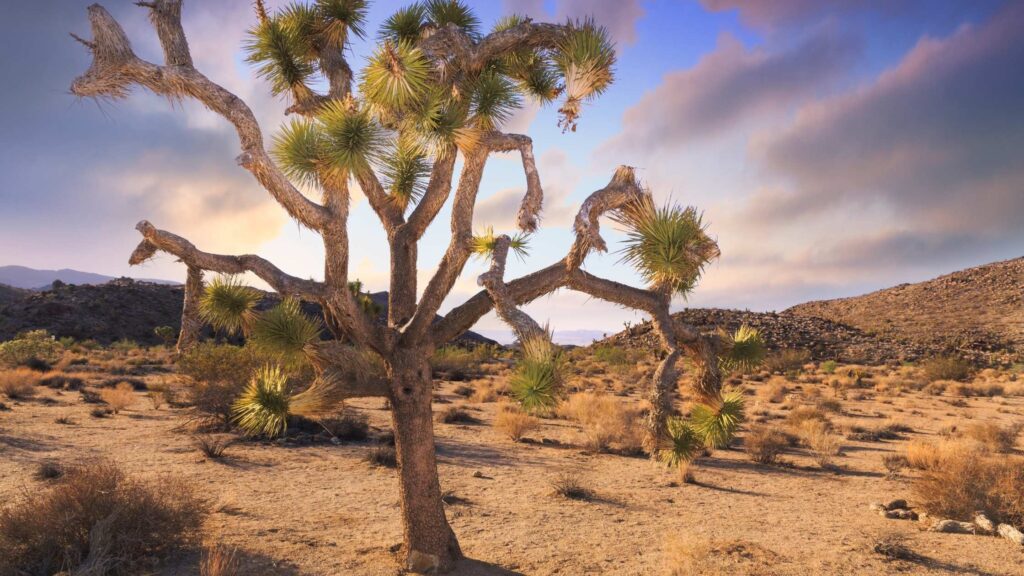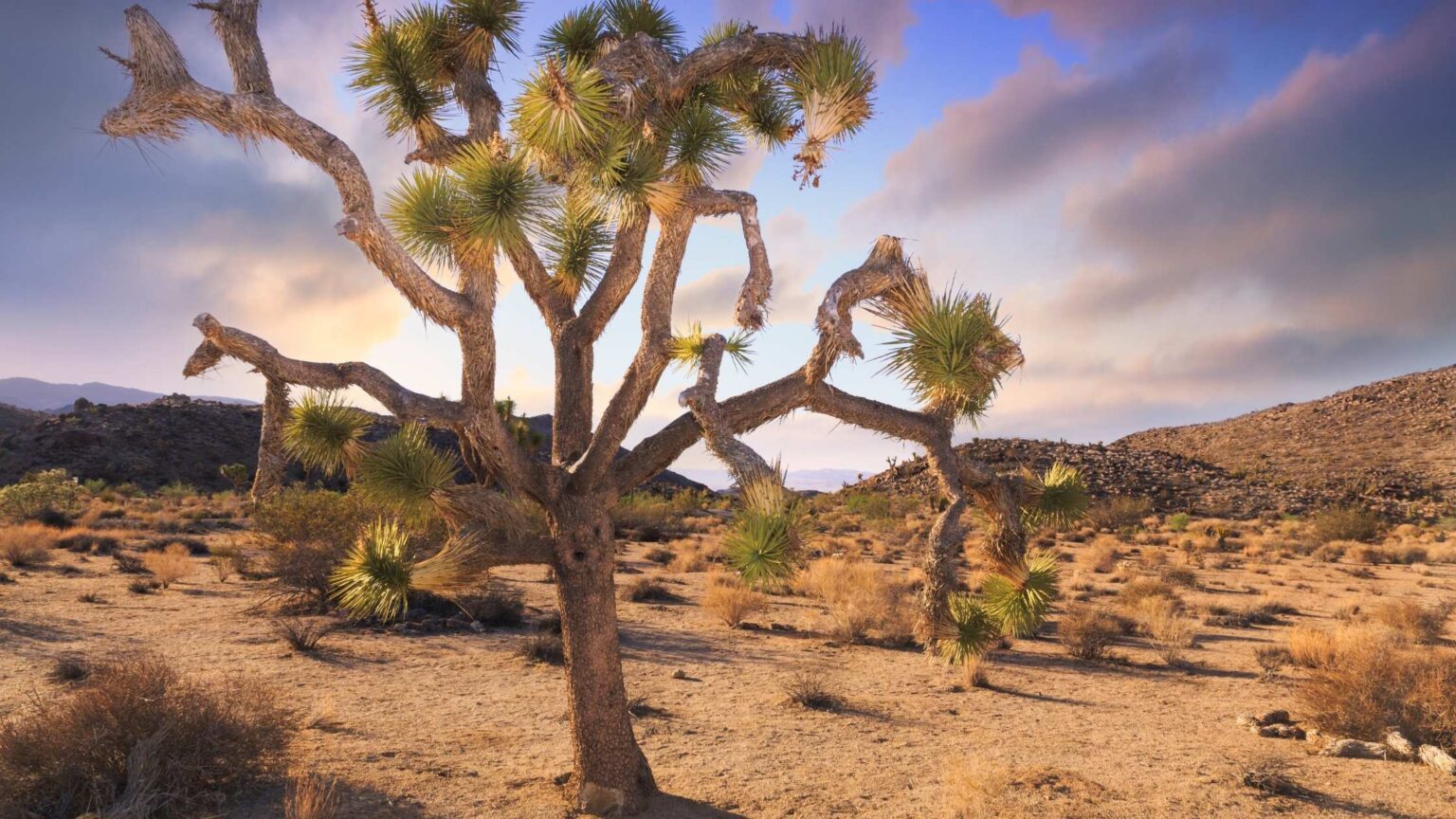 Queen Valley Road and Park Boulevard are two famous roads for driving around that you should check out.
Camping is popular in Joshua Tree Park in December, so the spots get booked early. It is best to make reservations well in advance if you plan to camp. The same goes for cabins and glamping, which are very popular during winter.
Do not miss capturing the beautiful starry skies above the stunning and mystic Joshua Trees, as the landscapes are perfect for stargazing on clear moonless nights.
You can also head next to Palm Springs, just a 30-minute drive away.
WHERE TO STAY?
@Marbella Lane – The Wine Mine Desert Escape is one of the fantastic accommodations in Joshua Tree, ideal for families as they have luxurious multiple-bedroom apartments and a hot tub. Check details here.
AutoCamp Joshua Tree, set in Joshua Tree, offers accommodation with a seasonal outdoor swimming pool and is an excellent choice preferred by couples. Check here.
@Marbella Lane – 10 Acres Oasis Desert Retreat is another family option for beautiful apartments. Check here.
NAPA VALLEY
If you love wine, you already know that Napa Valley is among the USA's top wine destinations.
You can easily plan a day trip, but Napa Valley is one of the best weekend getaways from San Francisco.
Although Napa Valley is only 30 miles, it is home to over 400 wineries serving the best wines in the world, from sparkling wines to chardonnays and zinfandels.
Take this excellent guided tour with a picnic lunch for the best wine tour experience at Napa Valley.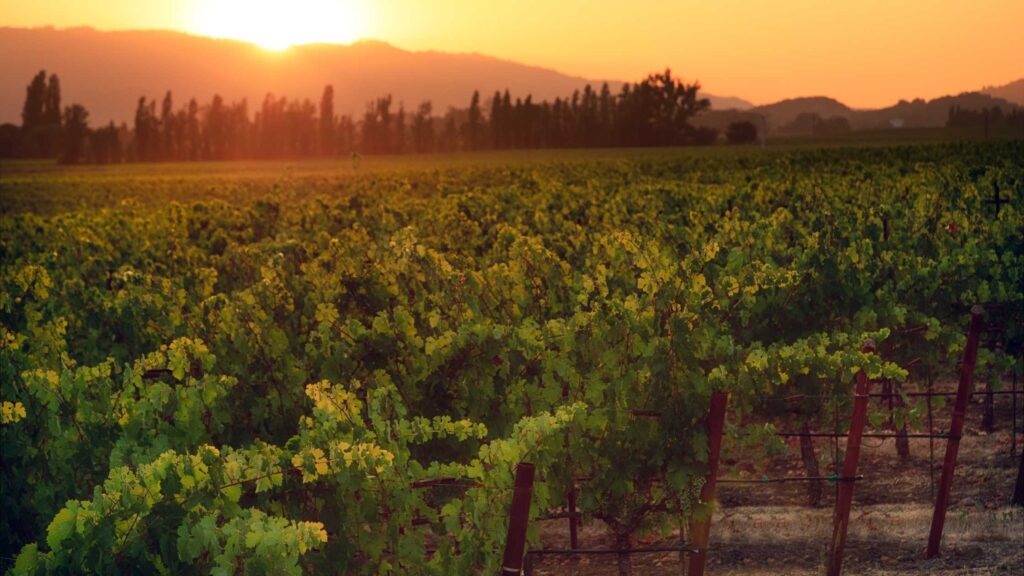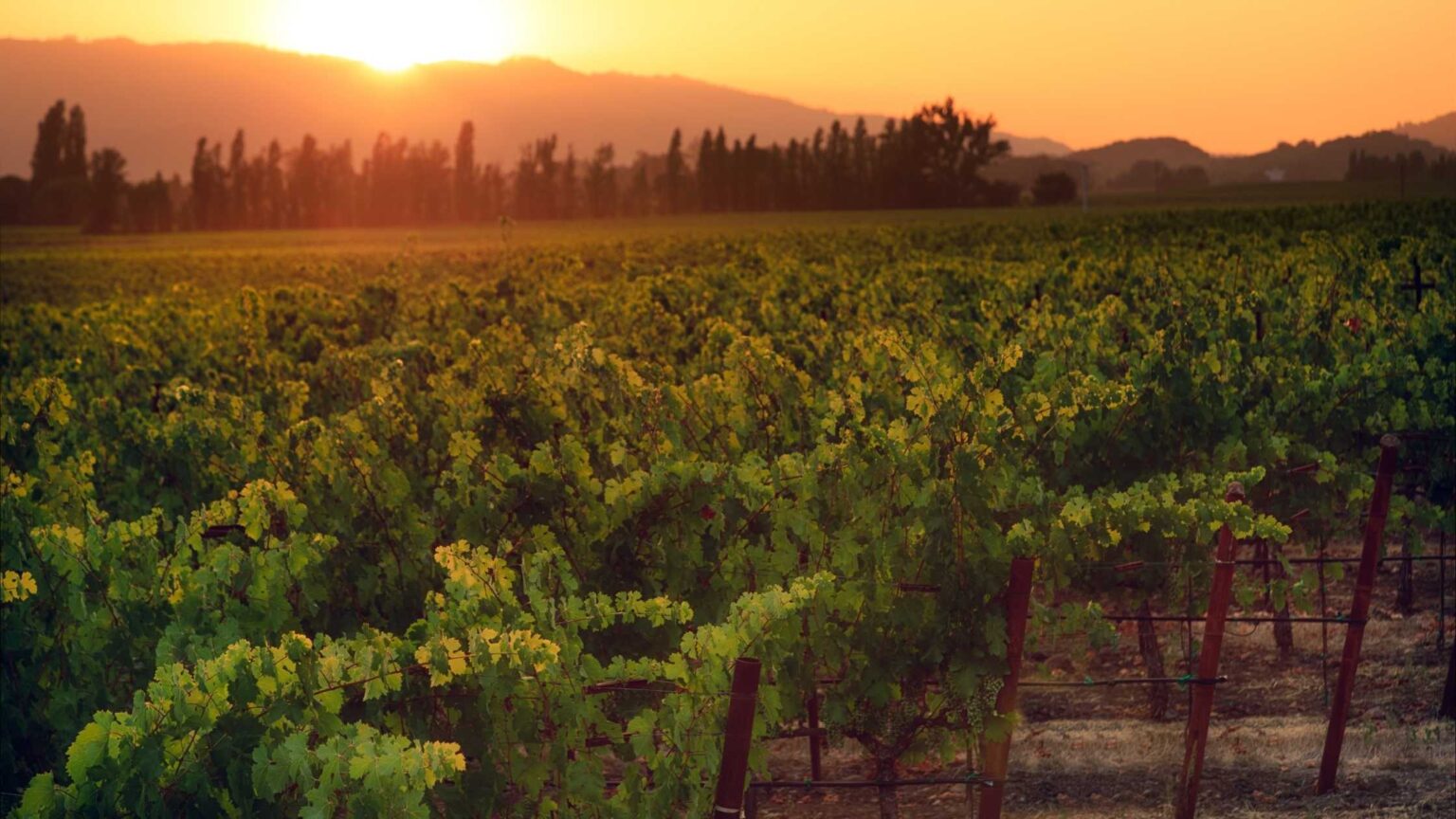 Although the temperate weather makes it an ideal time to visit any time of the year, Napa Valley is one of the best places to visit in California in December for many reasons.
Since it's off-season, you can catch reasonable prices on accommodations. You can even book a fabulous stay at any of the top resorts that otherwise can be too pricy in the busy season.
There are fewer crowds at Napa Valley towns in December and plenty of holiday festivals to attend.
You will witness unique landscapes dotted with bare vineyards and the famous Napa Valley wild mustard.
The month of December offers an average high in the upper 50s that can go up to the 60s too, but early mornings and nights can be cold, so carry a warm jacket with you.
The weather is ideal for sampling the area's fine dining, from classic French to modern. You can quickly get tables in delectable Michelin-star restaurants, including romantic and rooftop dining overlooking a vineyard.
Most restaurants feature special holiday menus, including seasonal delights that use locally sourced ingredients. Do not miss trying out puddings and cuisines made of chestnut apple.
Note that you must make reservations for Christmas and New Year's Eve ahead of time.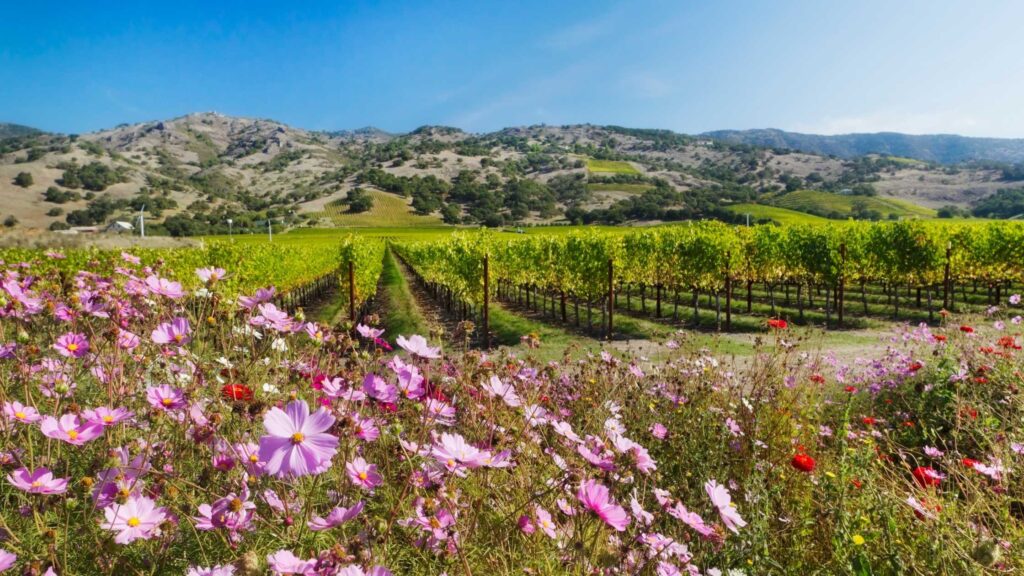 Witness the holiday lights across the rolling hills and towns. Downtown Yountville is decked up in Christmas lights, and the markets come into life with many bakeries serving special holiday chocolate drinks and baked items.
In downtown Napa, you can watch the carols and enjoy the rides. If you visit Calistoga, make sure not to miss their special parades.
The Napa Valley Wine Train, or the Napa wine train as it is famously known, runs a Santa Train during the holidays, which is a must-do if you are travelling to California in December with kids.
The interactive train offers a luxurious journey with gourmet food, local wine, games, characters in costume, and sing-alongs, which you can enjoy with your kids for fun family time.
Check here to book your tickets on the Napa wine train with options to choose between Gourmet dinner or lunch.
Pamper yourself at the many spas in the cute town of Yountville, known for its many wellness treatments.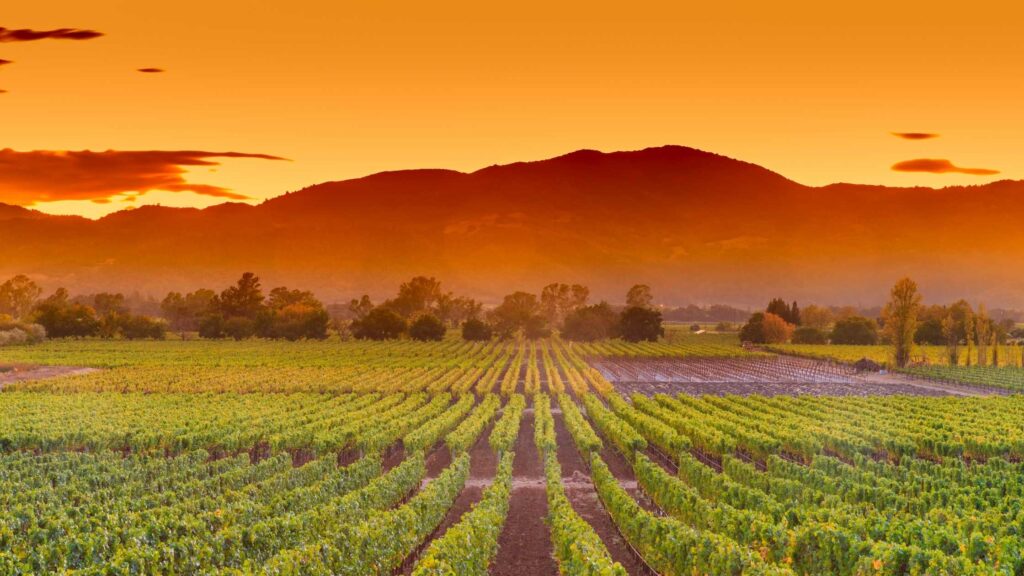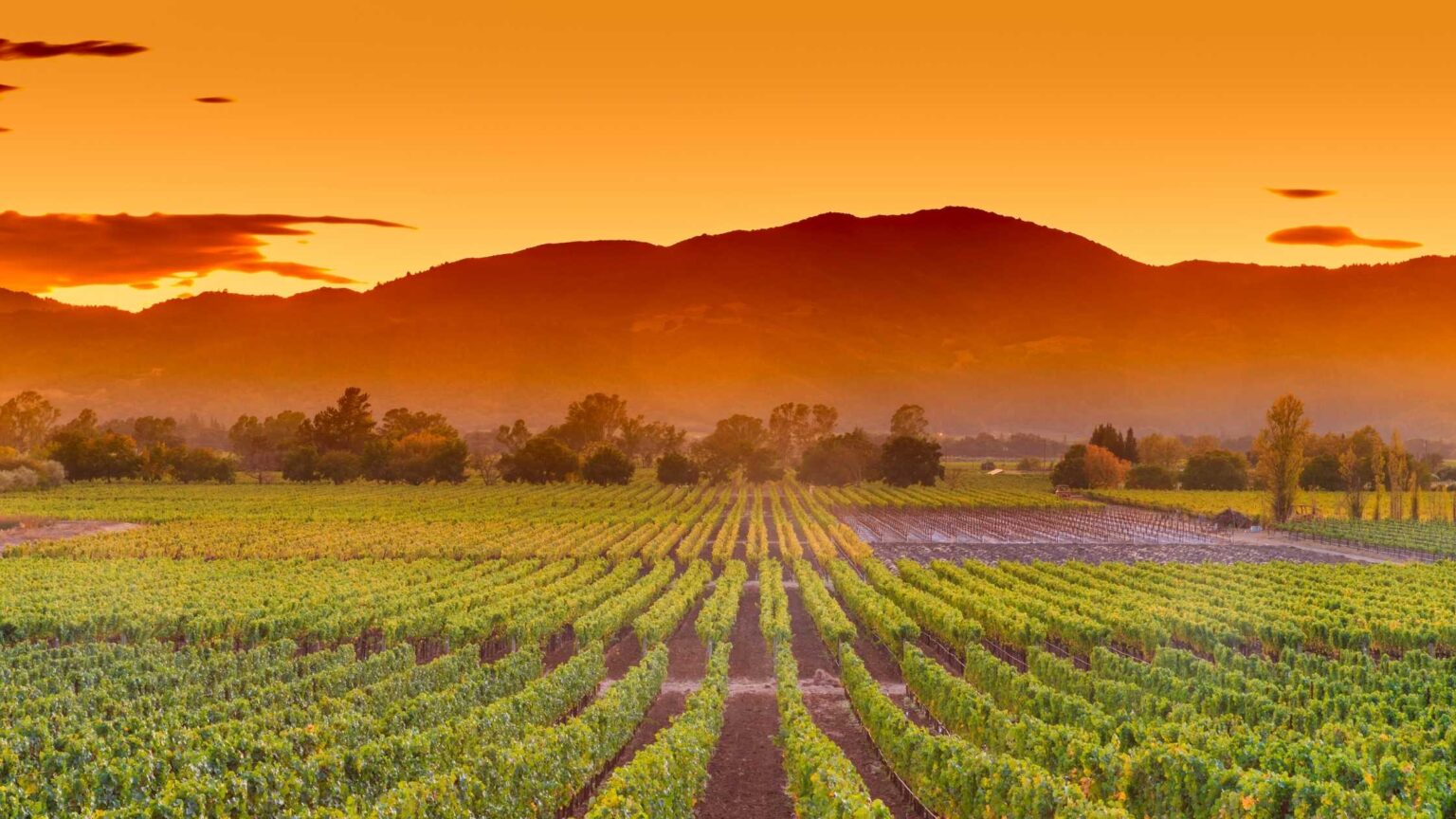 WHERE TO STAY?
The most luxurious resort and the famous choice among couples and families visiting Napa Valley is Auberge du Soleil, An Auberge Resort known for its vast olive groves, outdoor pool with cabanas, relaxing health and wellness spa and a fine dining restaurant. Check here.
Another resort in Yountville is North Block Hotel which has excellent reviews for its spacious rooms. Find more here.
If you want to go to a hotel in Yountville, check out Hotel Yountville, just a 10-minute walk from the Napa Valley Museum and Napa Valley Symphony, featuring an outdoor pool and a 4000-square-foot spa. Find here.
If you want to stay in Napa, this Bed and Breakfast, The George, is not only gorgeous but just about 300 m from Uptown Theater and 400 m from Morimoto Restaurant. Check out here.
Rancho Caymus Inn in Rutherford is a popular choice among families for its extra large room and ambience. Find out more details here.
If you want to base yourself in Calistoga, Embrace Calistoga, a beautiful villa popular among couples. Check more here.
SONOMA COUNTY
For wine lovers, another county is waiting to be explored, which produces more wine than Napa Valley.
Sonoma County is one of the best places to visit in California in December for its pleasant weather, tasting different types of wines, attending festivals and enjoying fine dining with fewer crowds.
Depending on your preference, there are many coastal towns and quaint villages in Northern California's rural Sonoma County.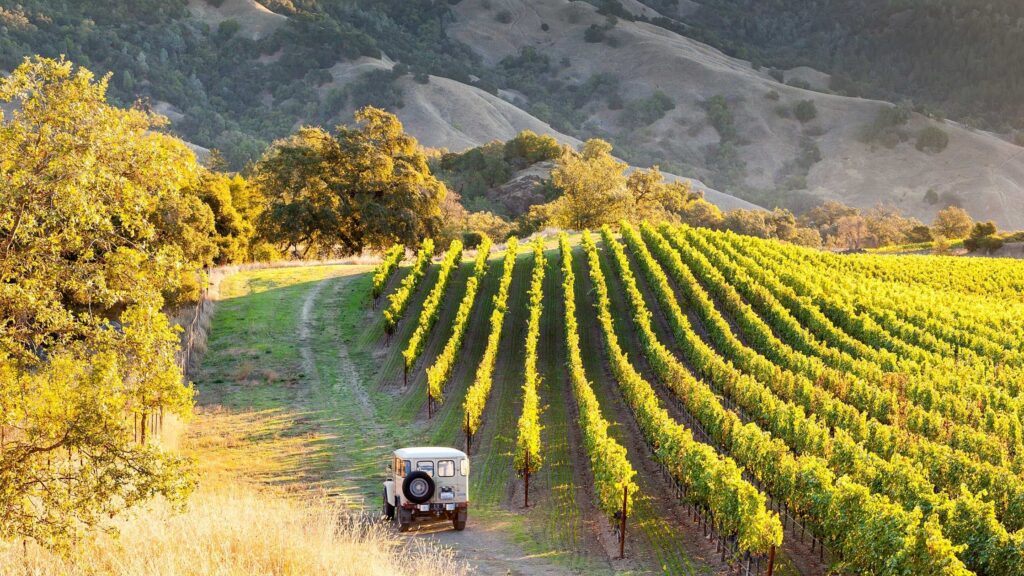 Unlike the other coastal towns in California, you can expect some rain during the winter months in Sonoma County, but be assured that you can still be out and check out all the activities.
For couples looking for a secluded retreat and families wanting a quiet coastal time, the idyllic fishing village of Bodega Bay is a pretty place to visit during December. It is home to the most stunning beaches in California you can imagine.
There are different kinds of red wines you can try in Sonoma County.
Since most wineries have both outside tasting areas and indoor ones, you can wine taste on the terrace or indoors next to a cosy fire if it drizzles.
If you want to make sure to cover the most of your time, take this Sonoma Valley Guided Winery Tour with Picnic Lunch, where you can visit boutique wineries as you learn about the region's rich history and enjoy a picnic lunch.
If you love white wines, try out Sonoma Chardonnay, which is perfect for the weather in winter here that blends perfectly with the views.
Healdsburg is home to many boutique wineries and epic restaurants serving the best Zinfandels, Pinot Noirs and Cabernets.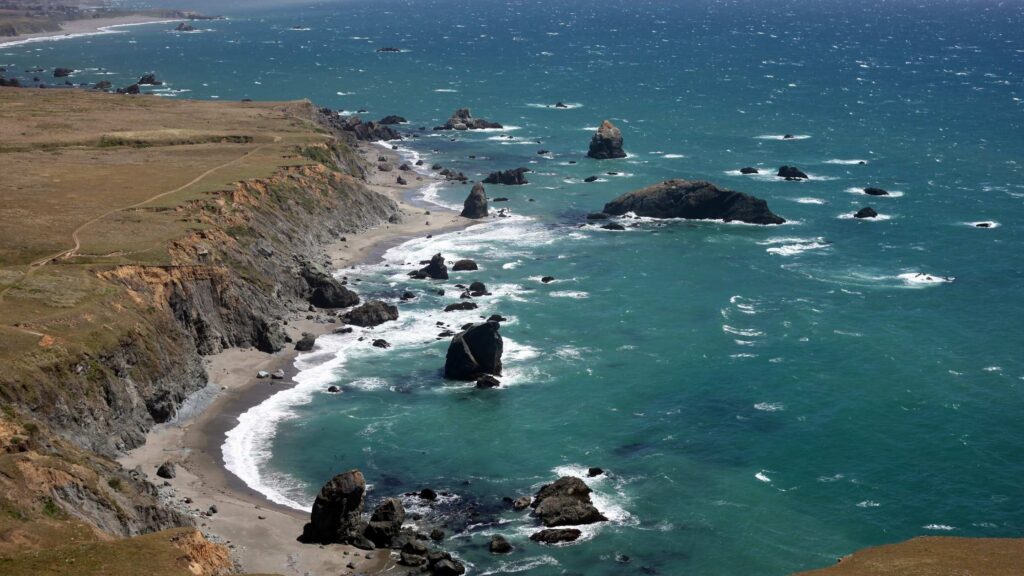 If you are not a wine lover, you can enjoy a delicious dinner at the many outdoor restaurants amidst stunning rolling hills and lush panoramas.
I highly recommend this guided Healdsburg Boutique Wine and Food Pairing Walking Tour that will introduce you to Boutique wine.
If you are looking for something budget-friendly or an offbeat wine town, Sebastopol is a pretty town with many amazing things to do.
WHERE TO STAY?
SONOMA
For families and couples, if you want to base yourself in Sonoma, I highly recommend Sonoma Wine Country Bungalow, a fabulous bungalow offering stunning villas perfect for a getaway. Find out more here.
If you want to stay in a historic place or are fond of heritage buildings, you will love staying at El Dorado Hotel directly across the street from Sonoma Plaza in Sonoma. Check out more here.
HEALDSBURG
I highly recommend Hotel Les Mars Located in Healdsburg in the heart of Northern California's Wine Country, which is quite popular among couples. Check more here.
If you want to stay closer to the beach, I recommend H2hotel located in downtown Healdsburg, just a block from the Healdsburg Town Plaza featuring a solar-heated creekside pool. Find out more here.
Harmon Guest House is an excellent choice for families and couples. Check here.
BODEGA
Sonoma Coast Villa is a famous villa preferred by people with kids if you want to visit Bodega Bay. Check more about the spacious villas here.
BEST PLACES TO VISIT IN CALIFORNIA IN DECEMBER – CITIES
SOLVANG
If you want to experience a typical European Christmas, one of the best Christmas towns in California is Solvang. This cute Danish town has grown popular recently, founded over 100 years ago by a group of Danes.
It is one of the best places to visit in California in December if you want to indulge in traditional Christmas festivities, including the famous annual Julefest.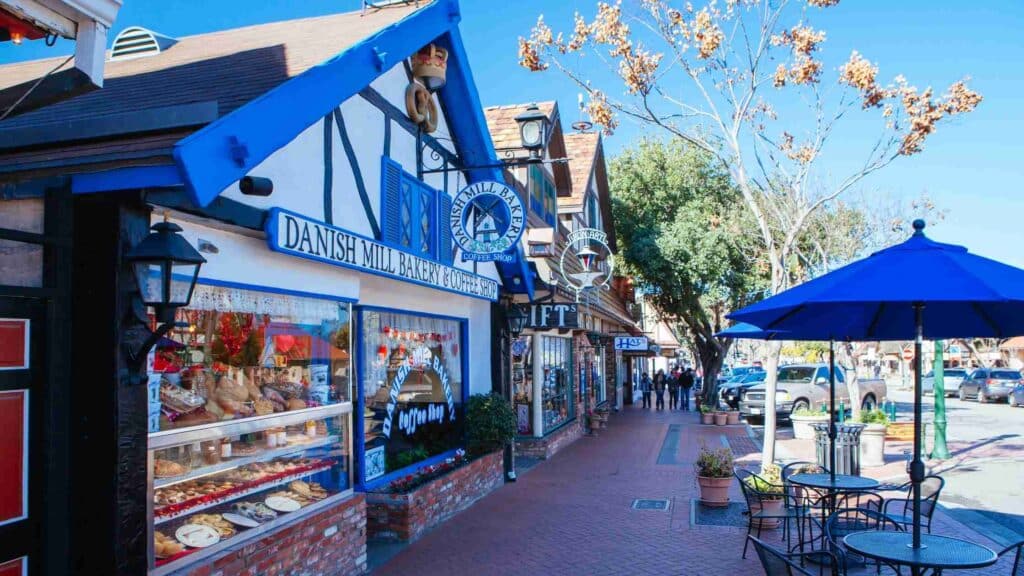 The entire town basks in lights as the locals welcome you with delicious Christmas bakes at the many cute and famous bakeries downtown.
Experience the Christmas Market Light Show, and visit the Santa Village & Winter Lade, which the kids and adults love. Take part in Christmas carols or attend candlelight tours.
Do not forget to shop for Christmas souvenirs at Jule Hus, a famous family-owned shop known for its unique souvenirs.
Whether you plan to extend your trip to Solvang along with a visit to Santa Barbara or a day trip, do not miss checking out the lush wine region of Santa Ynez Valley.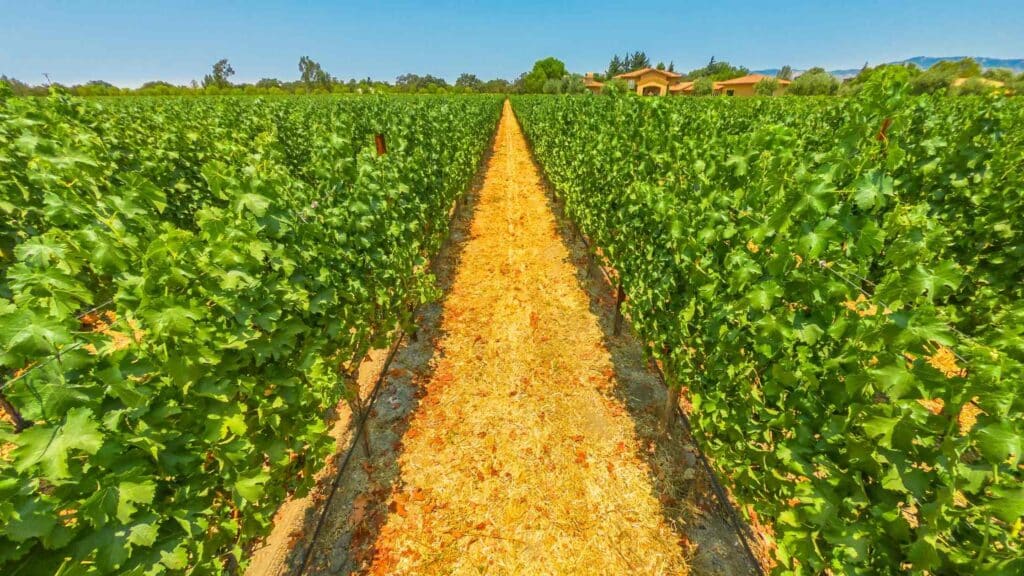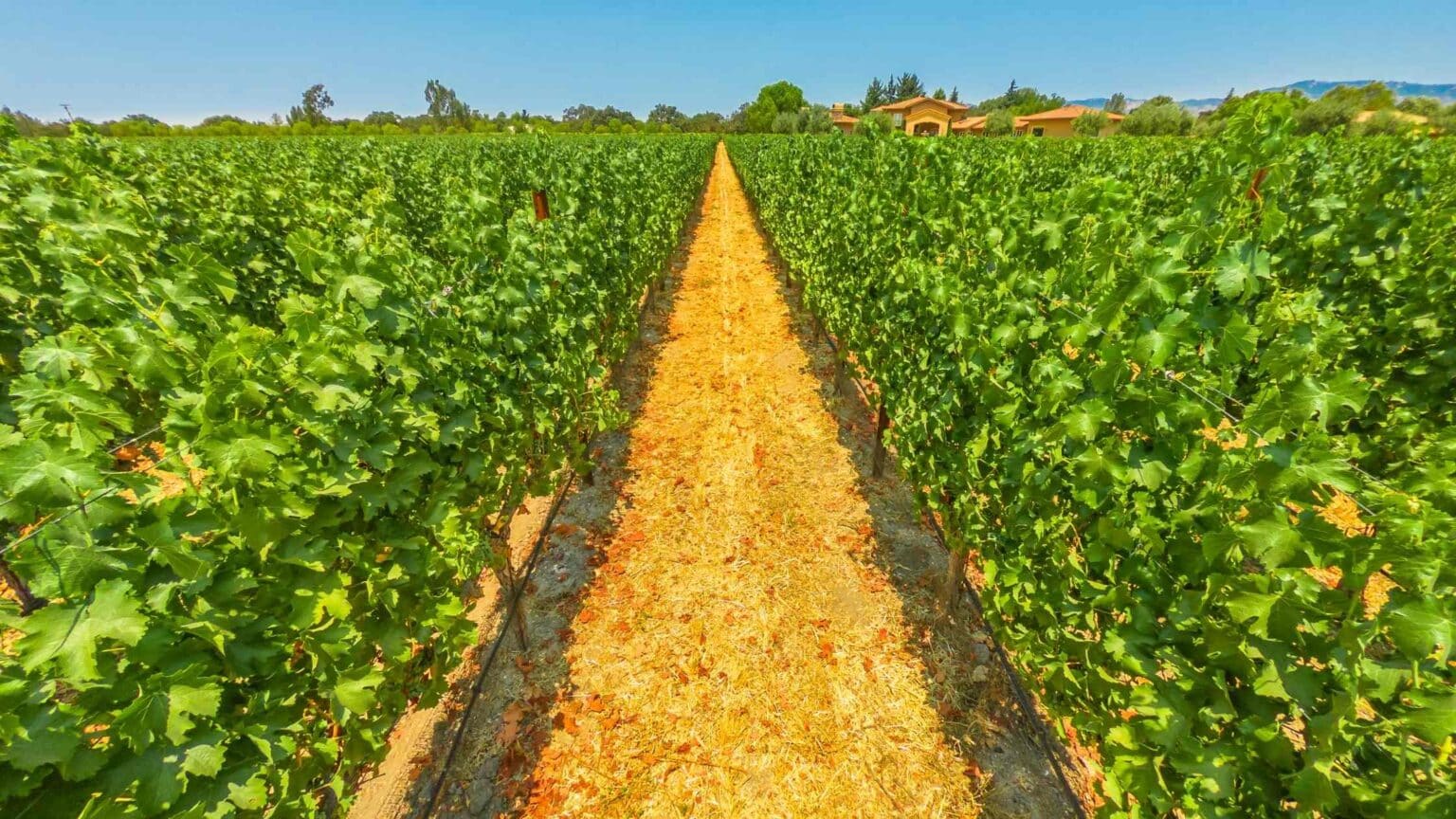 There are more than 120 wineries and tasting rooms, most being family-friendly, known for their excellent location and stunning views apart from their wine varieties.
WHERE TO STAY
Victorian Mansion At Los Alamos is an excellent romantic stay option, located off Highway 101 in the heart of the Santa Ynez wine country. This 19th-century Victorian Mansion has lavish rooms equipped with many amenities, along with a complimentary breakfast.
King Frederik Inn, located in downtown Solvang is a beautiful hotel and one of the top accommodation spots among tourists. This gorgeous Danish-style building is known for its spacious rooms, fantastic amenities, and heritage value.
Ballard Inn & The Gathering Table is one of the famous B&B in Santa Barbara Wine Country, perfect for making a base if you plan on exploring the nearby vineyards, along with places to visit in Solvang.
PALM SPRINGS
Whether you want to experience the modern architecture, enjoy shopping, or indulge in thermal baths and adventure activities, there is something for everyone in Palm Springs, making it a popular holiday destination among families.
It is one of the best places to visit in California in December as the weather is pleasant to be outdoors, offering a temporary relief from the hot desert temperatures.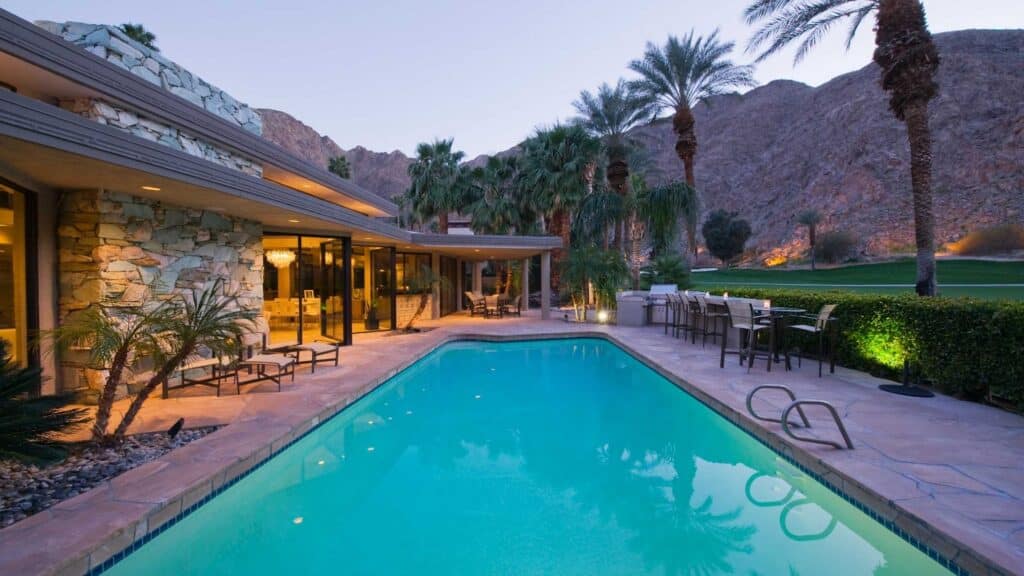 If you are here on the first Saturday of December, you will be welcomed by the colourful and crowded Palm Springs Festival of Lights Parade, where you will see the giant floating balloons as the city is in a festive mood.
There are many incredible things to do in and around Palm Springs. Begin your city tour by checking out the modern architecture in downtown Palm Springs, which is also an excellent spot for shopping.
Stroll through the Moorten desert botanical garden and Palm Canyon Drive, the main shopping street that will be decorated with Christmas lights in December.
Drive around the many neighbourhoods in Palm Springs to admire the holiday lighting and decorations.
There are also plenty of hiking trails and other recreational opportunities such as fishing, ATV riding, or horseback riding.
Hop on the Palm Springs Aerial Tramway to take in soaring views of the desert and find snow on Mt. San Jacinto, which gets about 25 inches of snow in December.
December is also a great time to explore the desert as the daytime temperature is around 70 degrees. So you can go hiking or take jeep tours.
The trails to Indian Canyons, a sacred nature preserve and true desert oasis, or Tahquitz Canyon are popular. You can also join a tour of the San Andreas fault.
There are many day trips from Palm to choose from. You can drive to the famous Joshua Tree National Park, where you can see stunning rock formations and the namesake Joshua trees.
Also, plan a trip to Anza-Borrego State Park for hiking and camping, or extend your trip by spending a weekend in Julian, a charming mountain town, tucked away in the pretty Laguna Mountains, known to all for its juicy apples, ciders, and pies.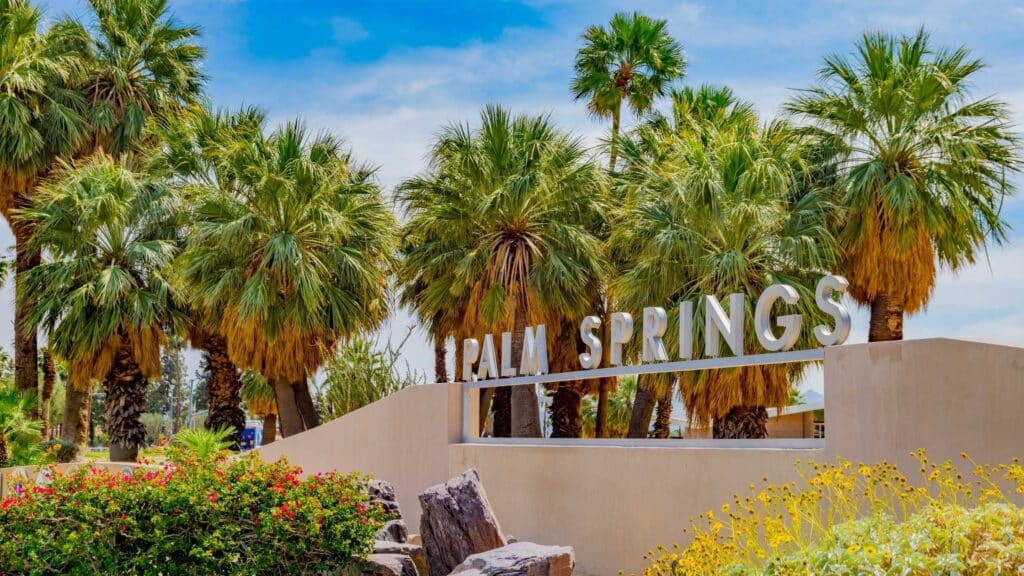 WHERE TO STAY?
the Weekend Palm Springs is an excellent hotel offering Delux suites and is loved by couples and families for a relaxing stay. Check more here.
Andalusian Court is a fabulous stay option, popular among couples for its romantic settings, views, and spacious villas. Check out here.
Another place loved by couples is Korakia Pensione, known for its boutique rooms, chic ambience and pretty pool. Find out more here.
If you are traveling with kids, I recommend Vista Mirage Resort, which offers spacious studios and a large swimming pool on the premises. Check out here.
Desert Riviera Hotel is a great pick if you are looking for a hotel with options to choose from suites, rooms and studios. Check here.
LOS ANGELES
No list of best places to visit in California in December is complete without Los Angeles, the City of Angels known for its glitz, Hollywood, and Disneyland, among the many other fabulous things and activities.
From shopping to being lucky to meet celebrities on Sunset Boulevard, Los Angeles remains an eternally favourite destination for travelers worldwide, and it does not seem to change anytime soon.
If you are fleeing cold and looking for a warmer city, Los Angeles is a great California destination in December, with daytime highs in the upper 60s.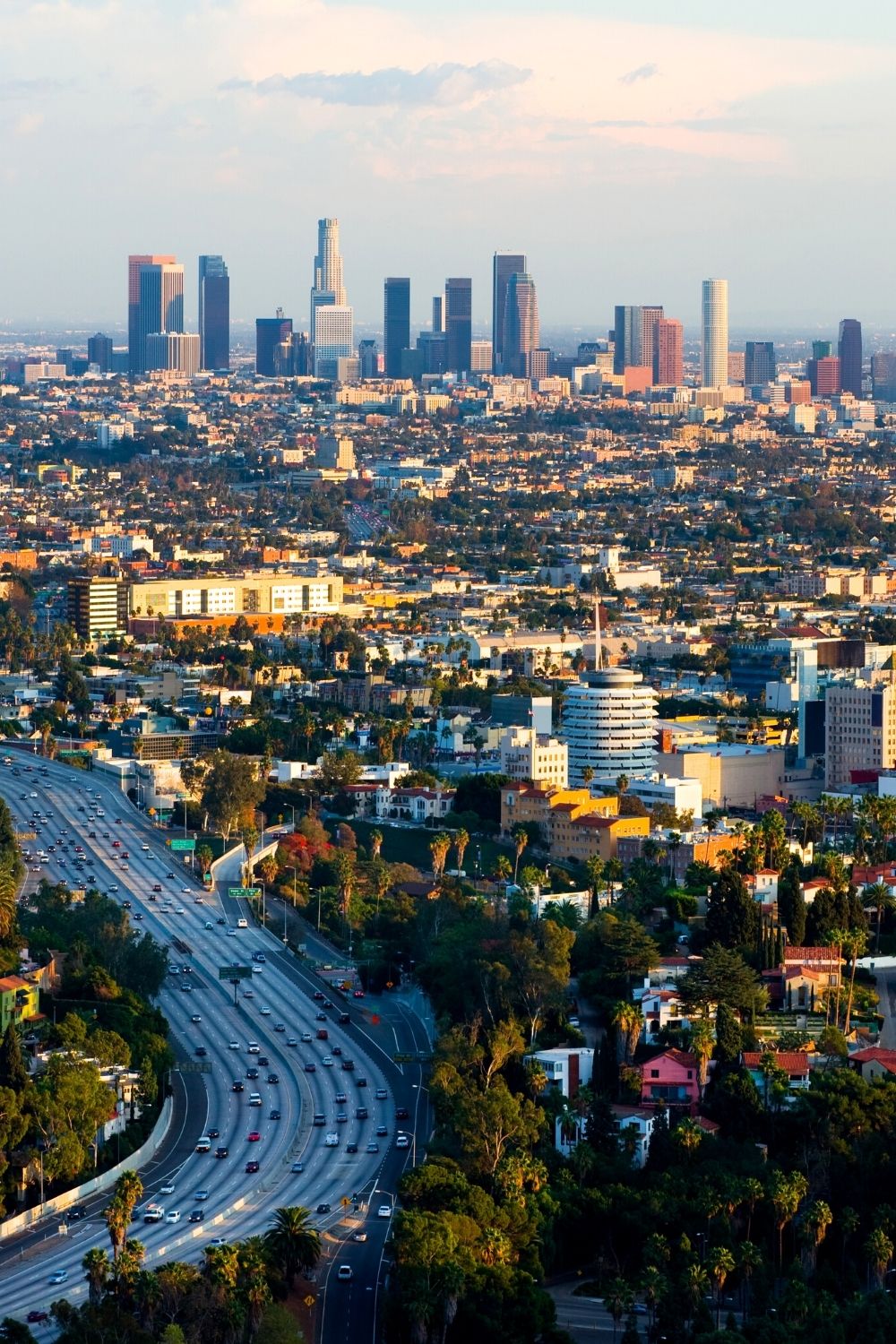 Despite the winter months being the rainiest of the year in Los Angeles, it usually only rains for six or seven days a month, allowing you to travel around.
Apart from the fewer crowds and lower prices, you can attend many colourful events and holiday festivities in L.A. in December.
Although gardens are fantastic any time of the year, do not miss visiting them in L.A. in December, especially L.A. County Arboretum and Descanso Gardens, which have beautiful illuminations explored best by tours.
If you want to witness boat parades, a cherished holiday tradition along the Southern California coast, head to Los Angeles Harbour.
If you're in L.A. the Sunday after Thanksgiving, witness the Hollywood Christmas Parade, packed with floats, bands, and giant balloons.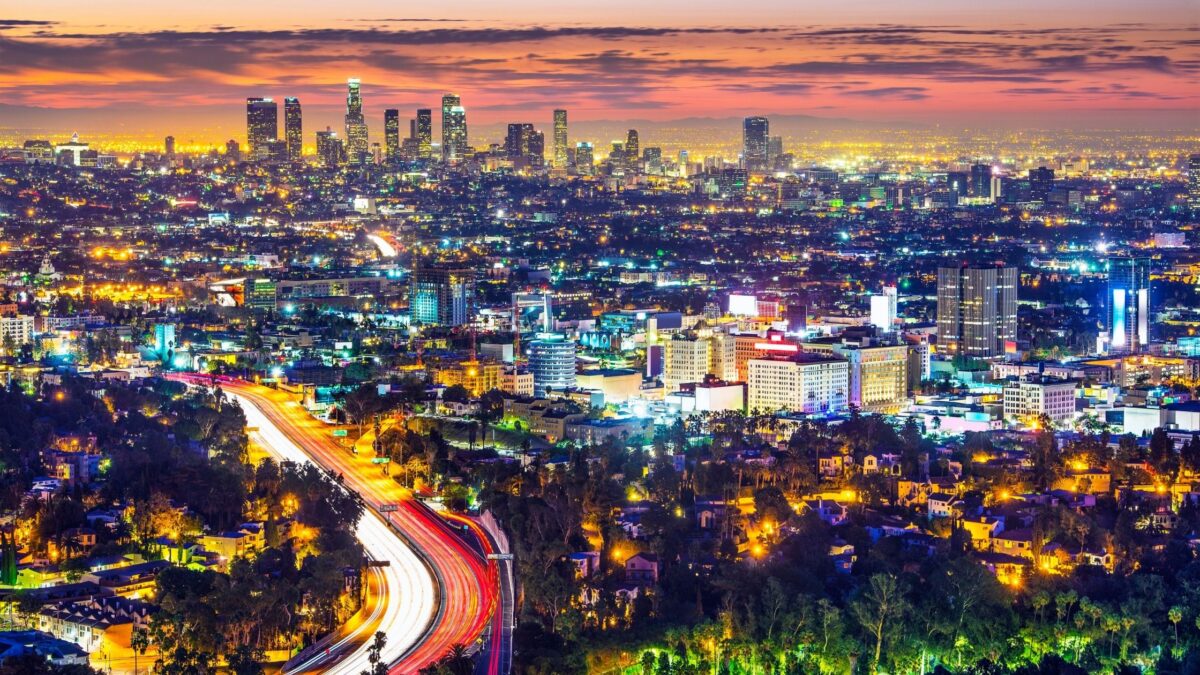 One thing you should not miss if traveling with kids is heading to Universal Studios, dressed up in holiday decor.
You can enjoy Christmas in the Wizarding World of Harry Potter or Who-Ville to celebrate with the Grinch.
Although it may be strange to head to the beach in December, one of the best things to do in L.A. is explore the seaside suburbs and the beaches.
You can plan day trips to towns like Long Beach or Huntington Beach nearby.
Enjoy the view from Griffith Observatory, and capture your Insta-worthy pictures at the Hollywood sign.
For a pinch of adventure, head to Santa Monica pier for thrilling rides and games.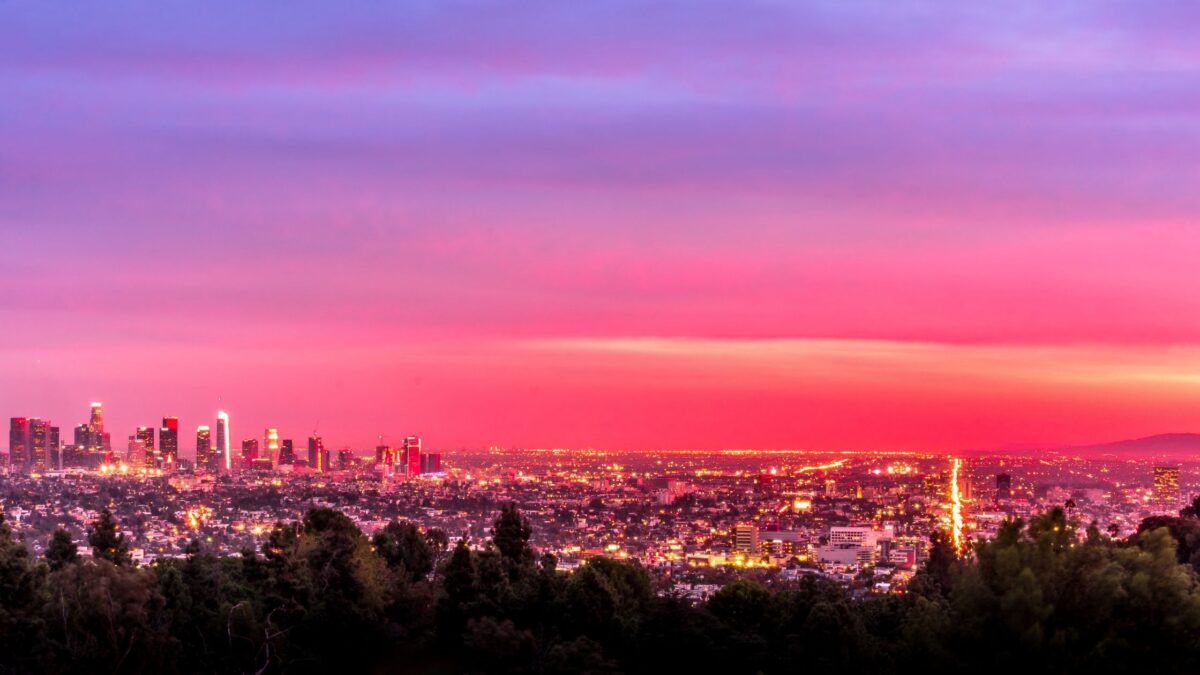 Many excellent L.A. museums need to be visited, but if you have time for only one, then head to LACMA (Los Angeles County Museum of Art), where you will witness Urban Light, a special edition of lights and display held during this season.
WHERE TO STAY?
If you wish to stay close to the heart of L.A., I highly recommend Hyatt Regency San Francisco Downtown SOMA, which has excellent reviews, great location, and amenities. Check out more here.
Another excellent choice for the city centre is Stanford Court San Francisco, which also offers room upgrades if you book in advance. Find here.
For couples looking for a cosy and romantic stay, head to The Clancy, Autograph Collection, known for its excellent decor, central location, and spacious rooms. Find details here.
Omni San Francisco, centrally located at the intersection of California Street and Montgomery Street, is a popular pick among couples and families. Check out more here.
For a budget option, I recommend Orchard Garden Hotel in Chinatown. Book here.
SAN FRANCISCO
San Francisco, among the top cities in the USA year-round, is one of the best places in California to visit in December.
It makes for one of the best winter vacations in California if you do not mind getting drenched in the drizzles in between your trip.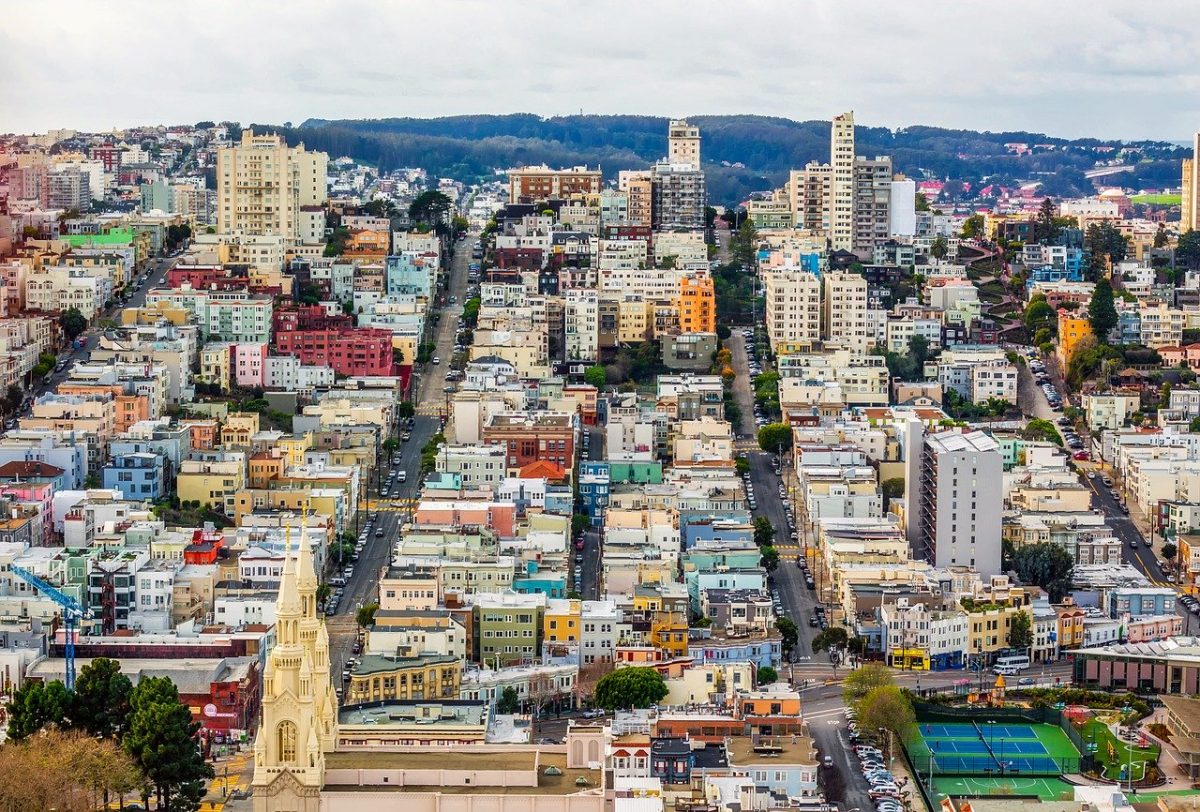 You can slightly avoid the peak touristy crowds, temperatures will usually be in the mid to high 50s, you will get surprisingly fantastic hotel deals, and you can dine at world-class restaurants without waiting for your tables.
There is no shortage of light displays in San Franciso in December. You can enjoy the lights through guided walking tours of San Francisco or driving around the city.
During the holiday season, it's fun to go to Union Square, which is brimming with festive ambience. The square is decorated with a giant Christmas tree, stores showcasing their holiday lights across the window and unique displays.
Here you can enjoy a ride on the ice-skating rink surrounded by skyscrapers and lights, an activity loved by kids and adults both.
Take part in the month-long celebration, the Festival of Lights, where massive light sculptures are installed everywhere.
The California Academy of Sciences in Golden Gate Park hosts the annual exhibit, "Tis the Season for Science: Life on Ice," where you can enjoy indoor snow, live reindeer, and holiday performances.
Head to the San Francisco Ballet to witness the exceptional performance of The Nutcracker.
Enjoy the fascinating views of the Golden Gate Bridge from different angles.
Also, walk or bike the Golden Gate Bridge in the afternoon, or drive up to Mount Tamalpais for spectacular 360-degree views.
Plan a trip to Alcatraz Island, stroll along the Fisherman's Wharf for street eats, explore Lombard Street, and taste the unique delicacies at Chinatown and Ferry building.
Check out the exhibitions at MOMO, San Francisco's famous Museum of Modern Art, or the de Young Museum in Golden Gate Park, where you can spot the bloom of magnolias and camellias during wintertime.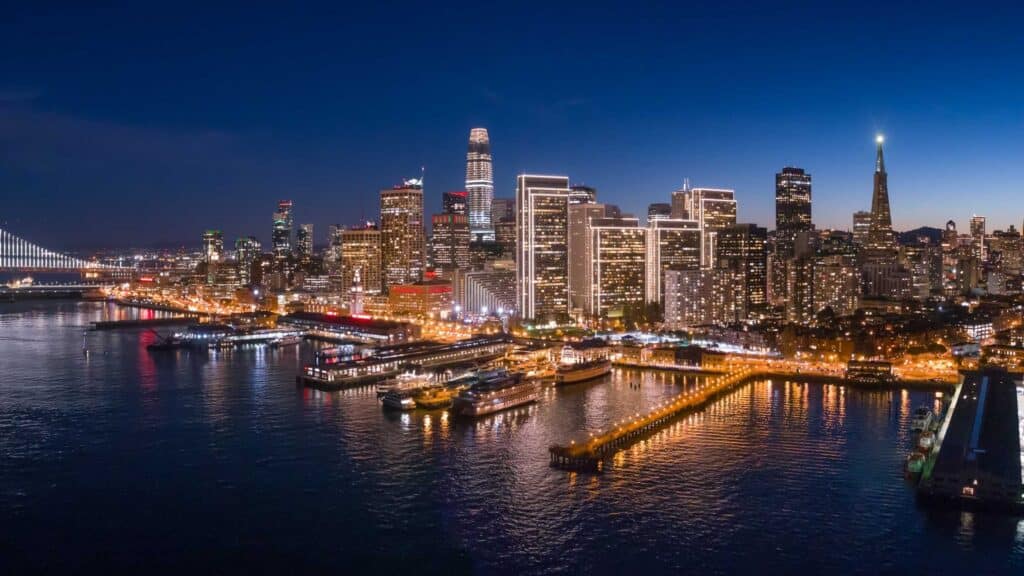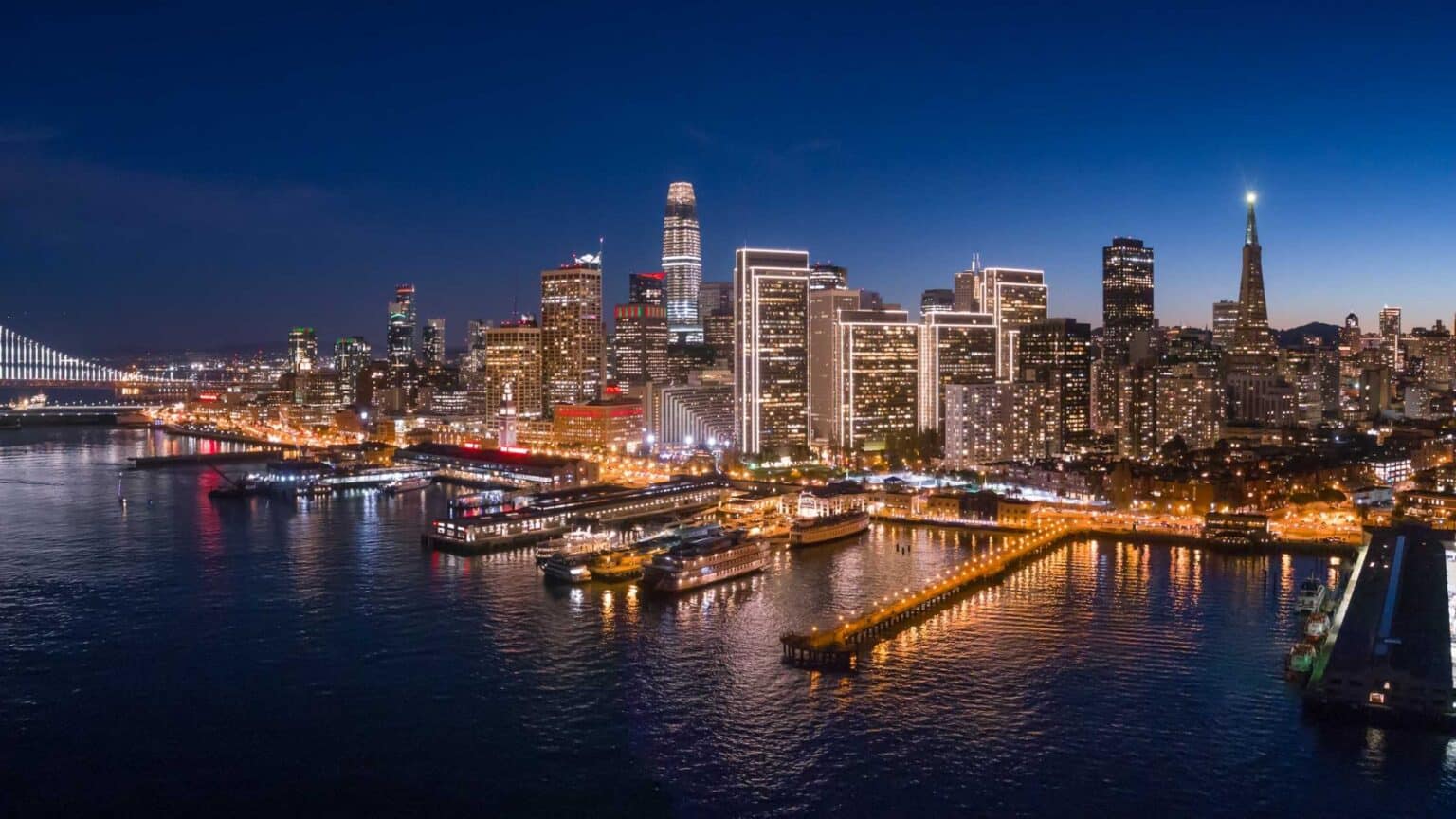 From the Municipal Pier at the Aquatic Cove, you can enjoy the views of the beautifully lit city, including Coit Tower, and do not miss trying out the hot chocolate at Ghirardelli Square.
Take a night tour in a Big Bus to see all the iconic San Francisco landmarks lit up. You can also join an evening romantic Bay cruise to admire the beautiful views of the skyline of SFC.
If you are traveling with kids, head to the Aquarium of the Bay at Pier 39 to spot the sea lions and the Exploratorium. Pier 39 in December is pretty with holiday decorations and live performances.
WHERE TO STAY?
PASADENA
If you are looking to explore a city during the winter, one of the best places to visit in California in December is Pasadena.
From excellent architecture to rich history to beautiful museums, this city close to the northeast of downtown Los Angeles has so many things to offer for everyone.
The average daytime highs are in the high 60s or low 70s during December, making it pleasant to check out the attractions.
Explore Old Pasadena, a shopping and dining district known for its Victorian and art deco buildings and boutique stores.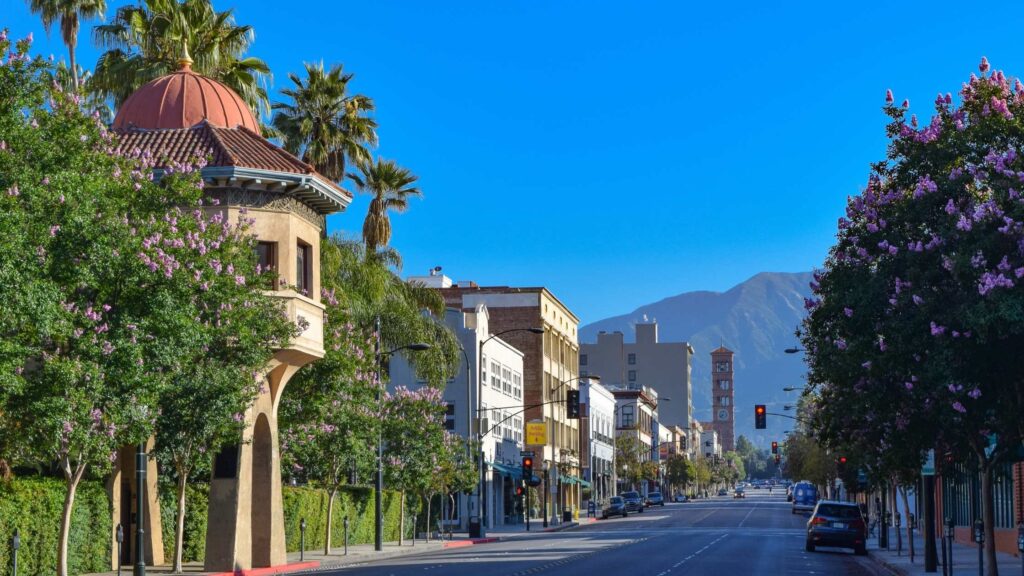 The streets in Old Pasadena are decorated with holiday lights with unique stores selling hot drinks and Christmas special delicacies.
You can enjoy street music performances and events in the city in the evenings.
If you love museums like I do, you will love the fantastic modern Norton Simon Museum, which houses excellent collections of European and Asian art and a sculpture garden.
Visit the USC Pacific Asia Museum, housed in a beautiful building with collections of Asia and the Pacific Islands art.
History lovers should check out the Pasadena Museum of History, while your kids will love the Kidspace Children's Museum.
Spend a day visiting the gorgeous Huntington Gardens, regarded as one of the best gardens in the golden state, home to a pretty library and a museum.
Some landmark attractions include the moon bridge, the Japanese garden, Desert Garden, the lake, and the Chinese park.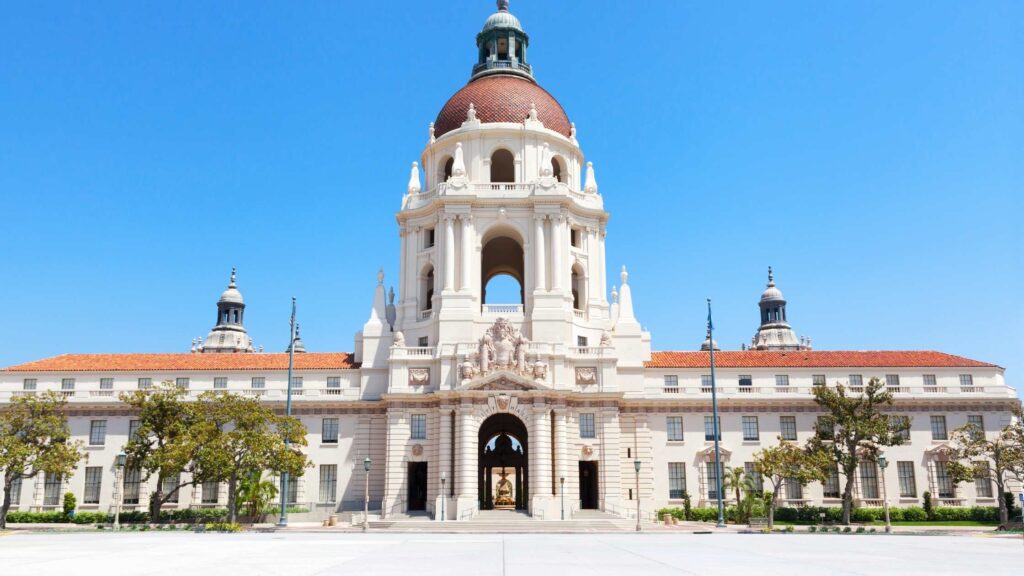 Thetington hosts special holiday events during December, including music performances and light displays.
Drive to Altadena, which attracts many visitors during Christmas for its famous and historic holiday lights display called Christmas Tree Lane, a mile of road encompassing deodar trees strung with thousands of lights.
There are parades, marching bands, and choirs held on this street creating a beautiful display.
WHERE TO STAY
If you prefer a nice, comfortable resort for a weekend with family, I recommend The Langham Huntington, surrounded by 23 acres of lush gardens. Check details here.
Hyatt Place Pasadena is a popular choice for its excellent location and amenities, which are suitable for all travelers. Find more here.
Residence Inn by Marriott Los Angeles Pasadena/Old Town is another excellent choice in Pasadena. Book here.
BEST PLACES TO VISIT IN CALIFORNIA IN DECEMBER – ALONG THE COAST
SAN DIEGO
San Diego is one of California's best places to visit in December.
As California's southernmost city, you will be treated to most perfect days with temperatures ranging in the 50s-60s in San Diego in December.
It is one of the ideal months to be in San Diego with family as many fun activities are open during the winter season.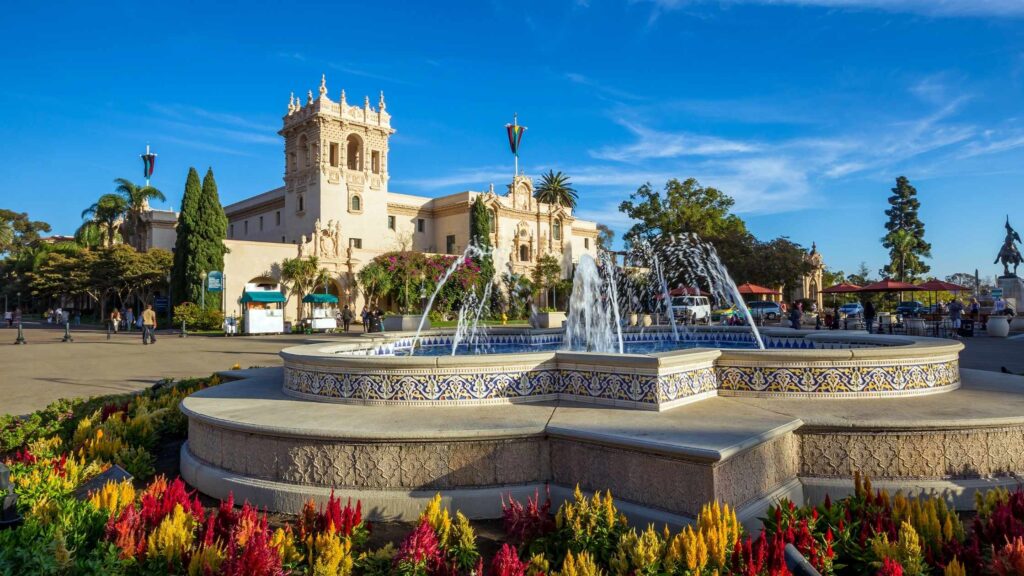 You can check out Lego land California or Sea World if your kids love theme parks. You will also witness pretty holiday decorations and special events in December along with all the adventure.
The winter months from December through April are also peak whale watching season in San Diego. So book a cruise to watch migrating grey whales from southern Alaska.
You can also enjoy a little beach time on nearby Coronado Island.
You can enjoy surfing on the pretty beaches, hiking, and admiring the best San Diego sunrises.
For exploring the rich history, head to Old Town, where you should also try some delicious Mexican food.
Visit the Mission San Diego de Alcalá, an 18th-century National Historic Landmark and one of the city's main attractions.
Your trip to San Diego is incomplete without exploring the chic neighbourhood of La Jolla, famous for food, beachfront and shopping.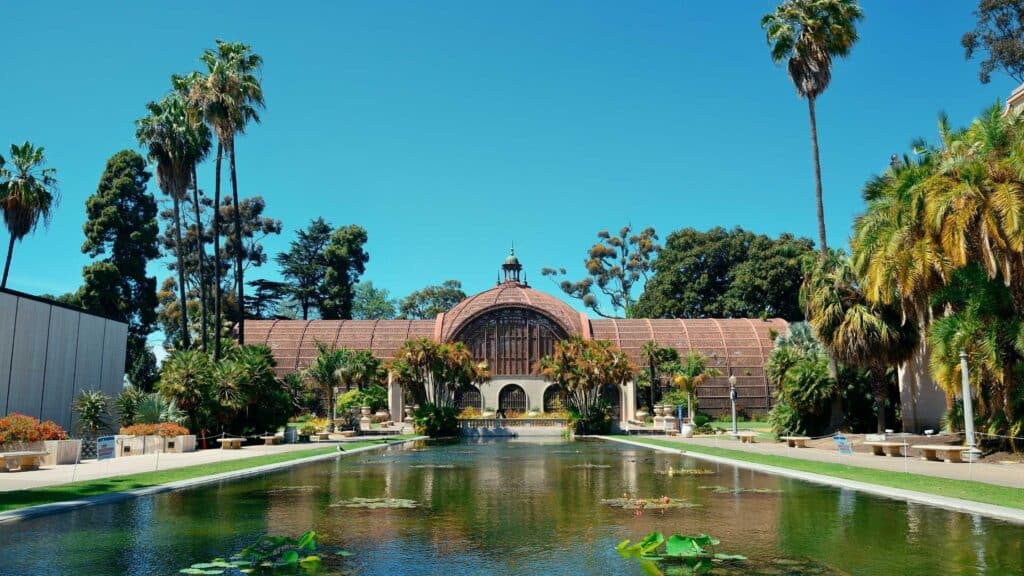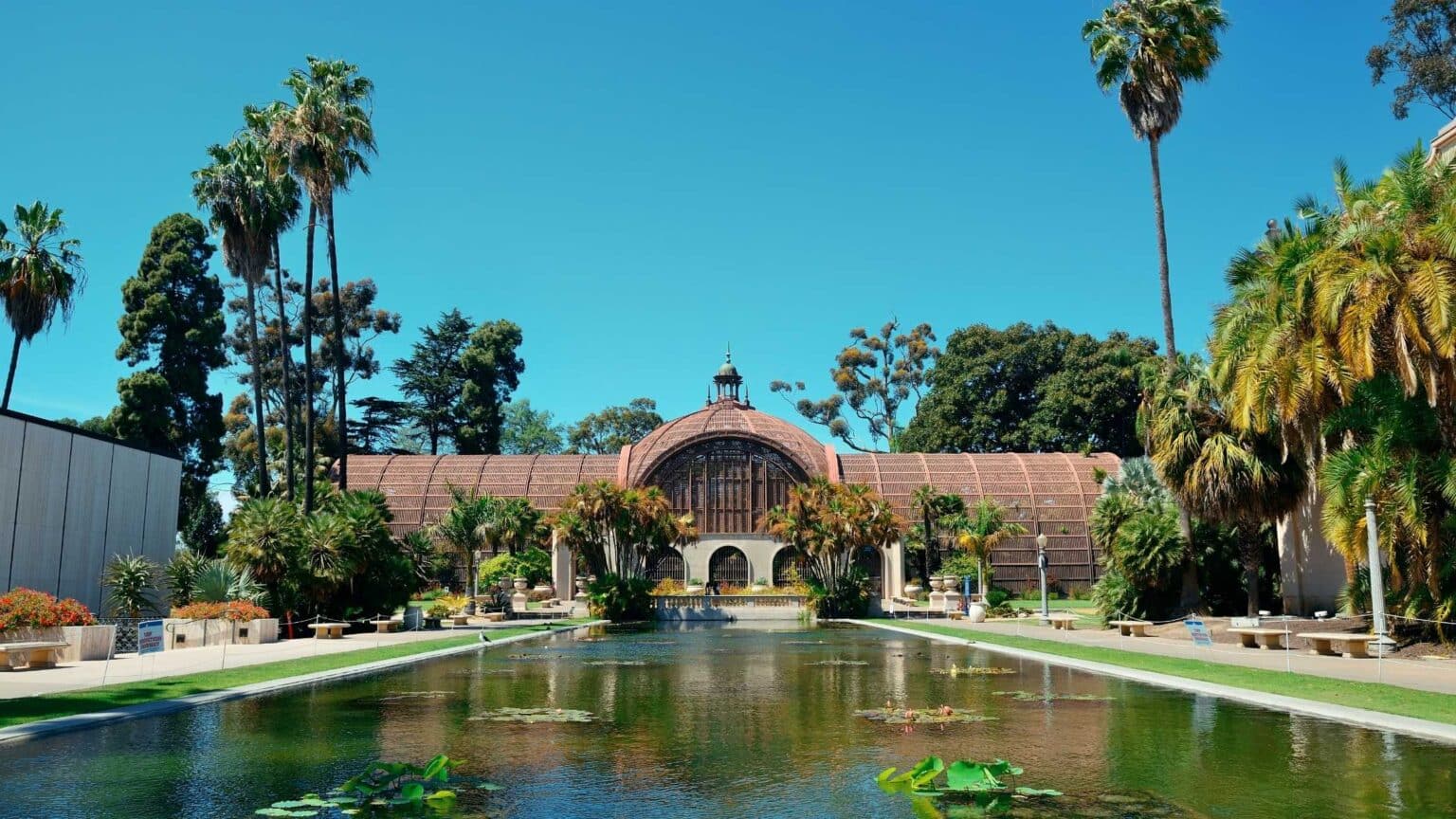 Balboa park, the massive 1200-acre park, is one of the best places to visit in San Diego in December as you can take part in many Christmas activities and events, including the annual San Diego Bay Parade of Lights boat parade, when over 80 boats are colourfully decorated ushering in the festive spirits.
Plus, during this festival, there is free admission to all of the museums.
You can go hiking and attend the theatre screening movies at this park.
Also, Balboa Park's December Nights is San Diego's premier holiday festival that you should not miss for the delicious food, drinks, and holiday lighting.
RECOMMENDED – 15 Top Waterfalls In San Diego You Should Not Miss
WHERE TO STAY?
MENDOCINO
One of the beautiful beach towns in North California, Mendocino is known for its magnificent Victorian structures, saltbox cottages, stunning beaches, and incredible views.
Closer to redwoods and the ocean, this easily accessible town is one of the best places to visit in California in December.
Thanks to the temperate Mediterranean climate, the weather in Mendocino can be as pleasant in winter as it is in the summertime, but minus the fog, which is why it is a perfect pick for a beach city to travel in December in California.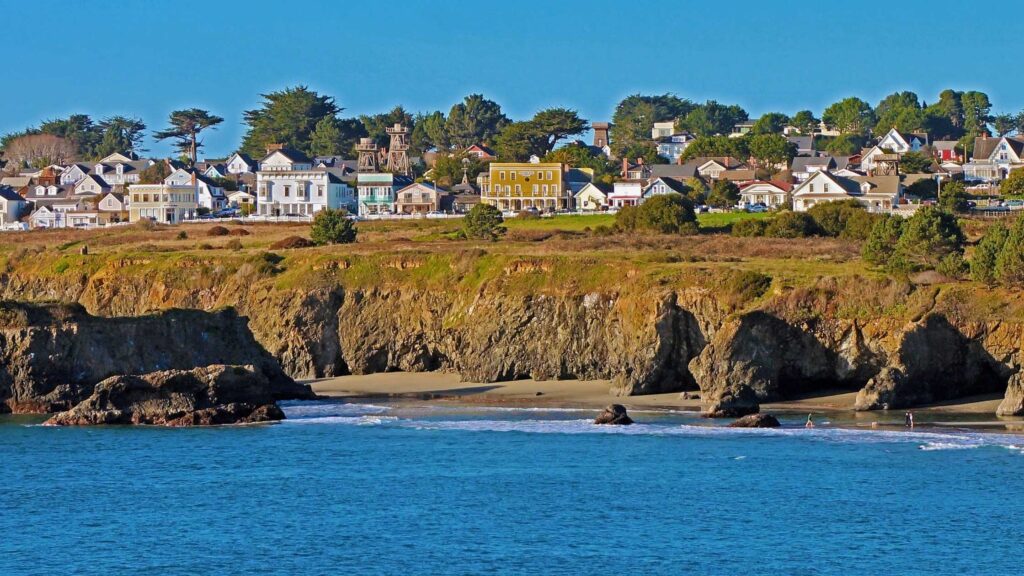 You will be rewarded with the pleasant ocean breeze, spectacular blue skies, fewer tourists crowd, and sweeping sea views along the rocky cliffs.
The average daily high temperatures are in the low 50s and can dip down into the high 40s.
You can enjoy the Magical Christmas Train with stories and Santa in December.
Visit the beautiful Mendocino Coast Botanical Gardens, decorated with dazzling holiday lights during the Festival of Lights, as you enjoy live music, Christmas sweets and bakes.
Start by exploring downtown Mendocino, packed with Victorian architecture, historic buildings, brick paved sidewalks, and traditional boutique shops.
The Mendocino coast, stretching from neighbouring Fort Bragg to Point Arena, is the best place if you want to spend time on the seafront.
The rugged cliffs, bluffs, and magnificent views of the Pacific Ocean can be enjoyed via many hikes or short drives.
Mendocino is one of the top towns to enjoy whale watching. Gray whales migrate along the Mendocino Coast from November through April, arriving from Alaska.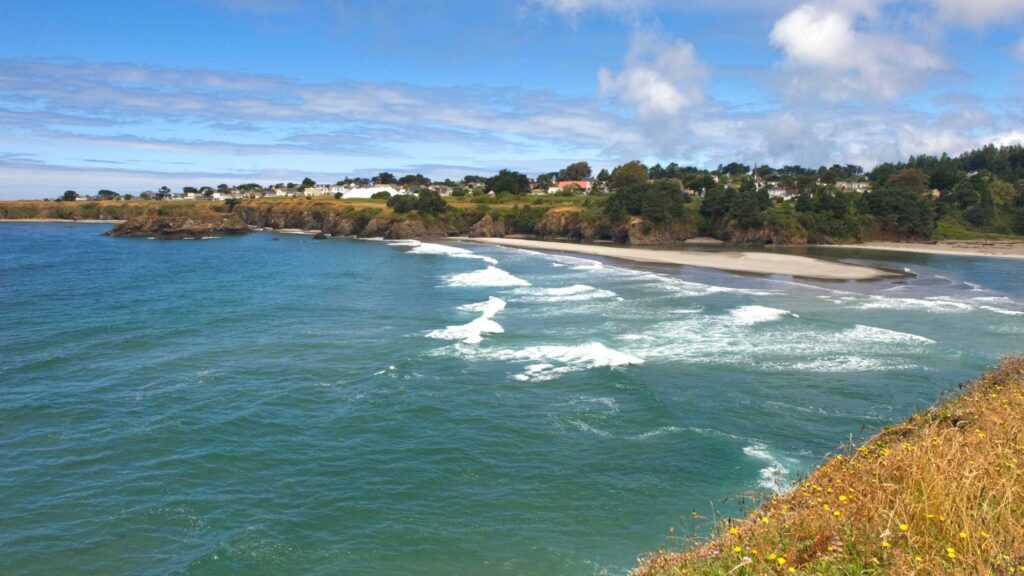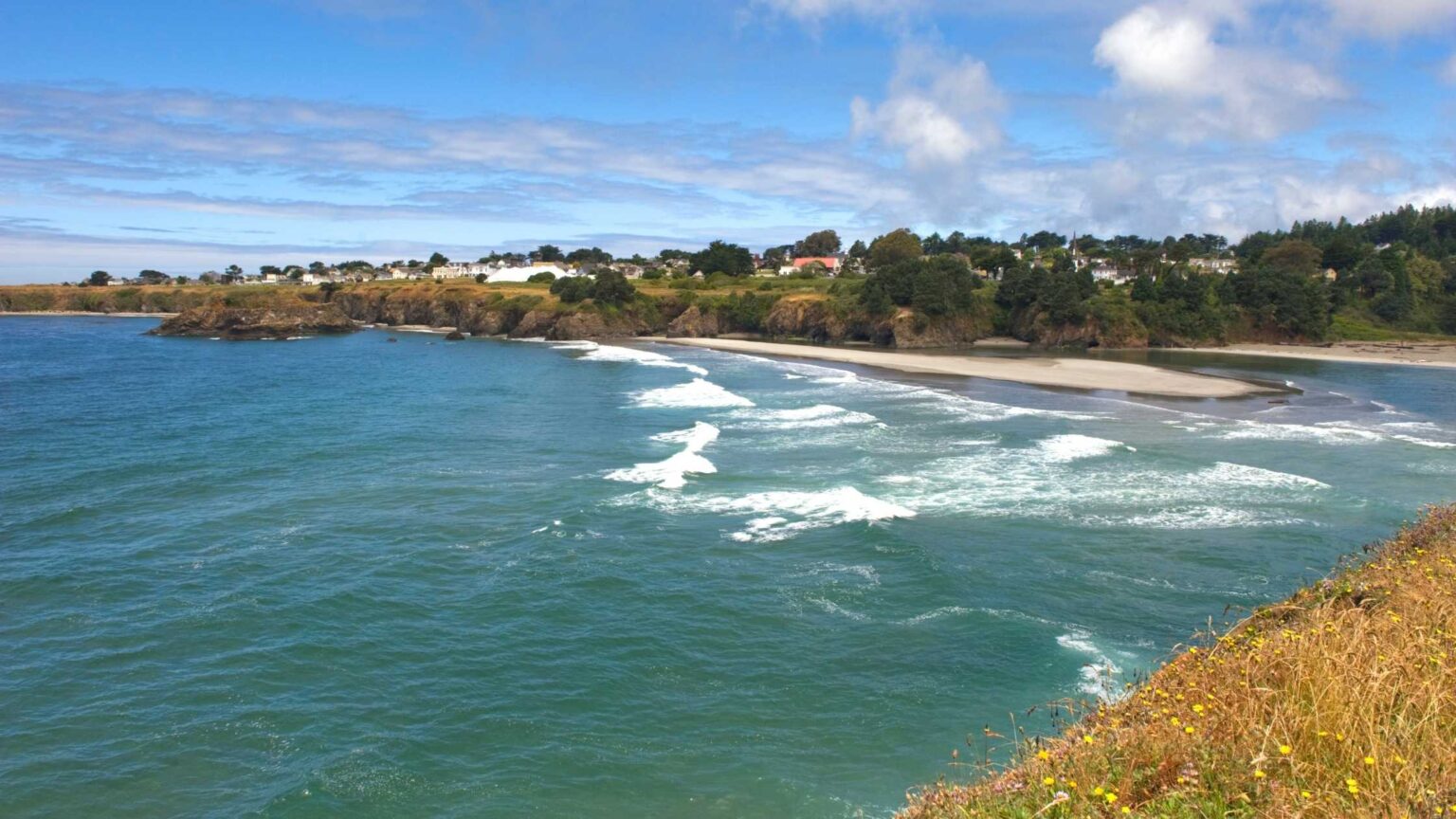 There are many ways and places to do that. You can spot the pretty migrating grey whales by going on the hiking trails in Mendocino Headlands State Park or hiking to the iconic landmark Point Cabrillo Lighthouse.
The best way to spot the whales is by getting on the water. Take a guided whale-watching boat trip in Fort Bragg. The whaleboat trips are available from mid-December through April.
You can plan a day trip to the town of Fort Bragg, which has many attractions and beaches.
The top thing to do with kids in the area is to take a spin on the famous Skunk Train, which will take you through the best California Redwoods.
Mendocino has many popular hiking trails that offer splendid views and take you through the lush forests.
Van Damme State Park features miles of trails passing through a forested canyon with luxuriant ferns during winter.
Wear good hiking shoes that will help you get a grip as you navigate through the lush forests or slippery, rocky cliffs close to the coast.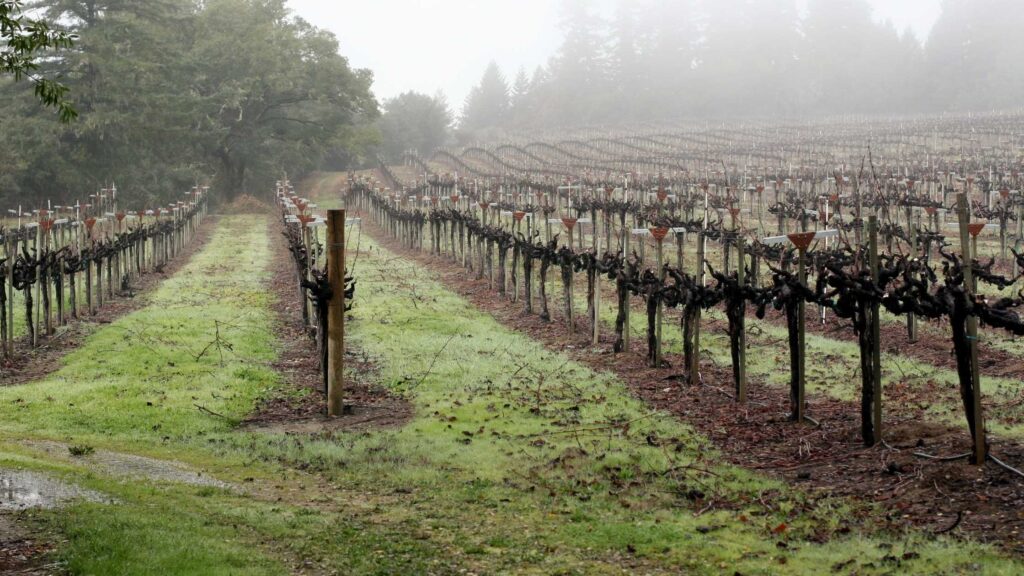 WHERE TO STAY
Agate Cove Inn is a popular choice, thanks to its excellent location and spacious suites, ideal for couples and families. Check here.
Headlands Inn Bed and Breakfast, located a 5-minute walk to the Mendocino Bay beach, is a fabulous option to stay for couples and families. Check here.
Seagull Inn Bed & Breakfast is an excellent place if you want something simple, centrally located, and best for couples. Check here.
SANTA CRUZ
One of my favourite coastal locations during the winter is Santa Cruz, packed with so many incredible things to do, something available for every type of traveler.
Santa Cruz is undoubtedly one of the best places to visit in California in December, with the pleasant weather only one reason.
Winter is a much more relaxed time to explore as you can experience the laid-back atmosphere and beachy festivities with fewer tourists.
Surf City Santa Cruz, located at a 6-hour driving distance from Los Angeles, dwells in Christmas celebrations early, and you should not miss being at the famous Santa Cruz Beach Boardwalk, one of the landmarks on the National Register of Historic Places.
A giant Christmas tree decorated with beach balls towers over the park.
There are stunning holiday lights displays at the seaside amusement park, and you can even enjoy a ride on the skating rink.
You can find rides for all ages here, whether in arcade games or the thrilling roller coasters and Ferris wheels.
This pretty town holds its place in the hearts of the US people for bringing surfing to light in the US from the then Hawaiian Kingdom and today the surfing capital of California.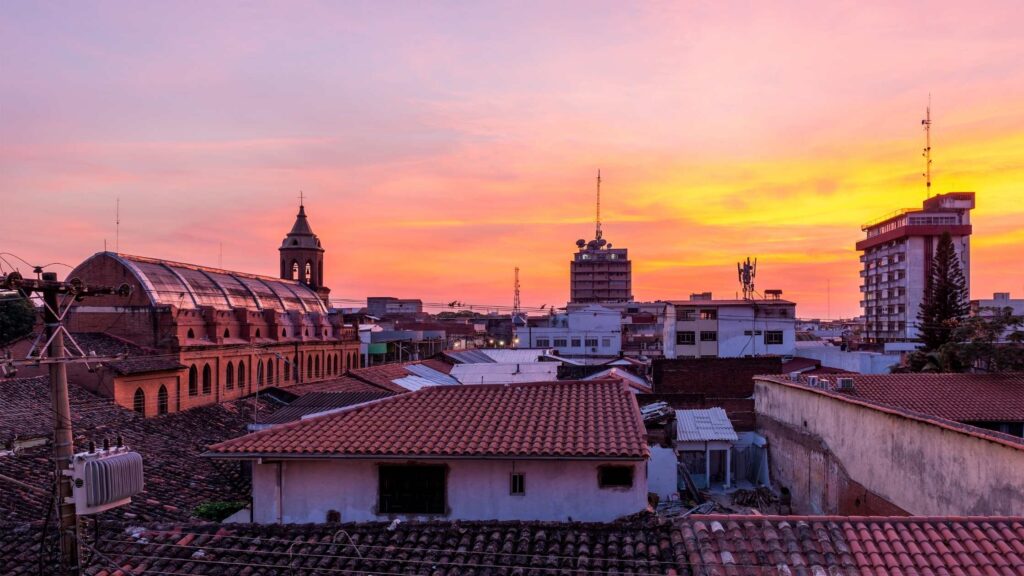 December is the time for the big winter waves coming to Mavericks, just up the coast in Half Moon Bay.
If you prefer to get away from the crowds at the boardwalk, you can pick from more than a dozen excellent Santa Cruz hiking trails, which will take you through diverse landscapes, from the majestic coastal Redwoods to spotless beaches and miles of coastal bluffs.
Late December is the best time to watch elephant seals returning to Año Nuevo State Park to mate.
Walk through the coastal groves of Natural Bridges Park. You will come across this overwintering site here for monarch butterflies, majestic butterflies that begin arriving in mid-October.
One of the must-do things in Santa Cruz in December is booking a ride on the famous Roaring Camp's Holiday Lights Train and Chanukah Train, run by the Roaring Springs Railroad.
This Holiday Light Train leaves from the boardwalk and passes through the coastline inland to the giant redwoods as you drink hot cocoa and listen to the carols.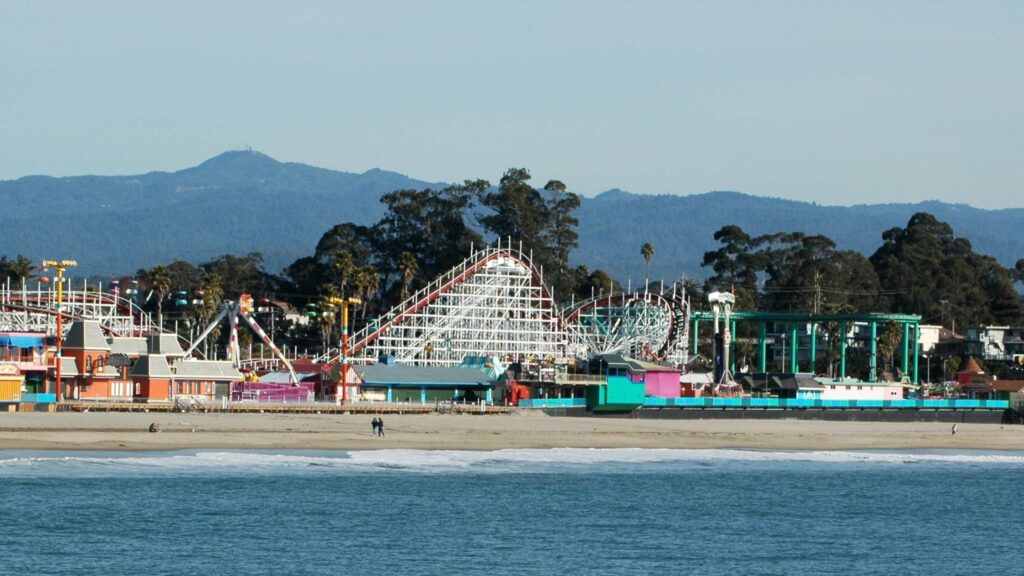 For a more traditional train ride, I recommend booking your ticket to start from Felton, which will take you through the redwoods to Bear Mountain, where you can do the Holiday Tree Walk.
WHERE TO STAY?
If you are looking to be right across the beach, my favourite recommendations would be Beach Street Inn and Suites, across from Main Beach.
If you prefer something elegant, go for West Cliff Inn, A Four Sisters Inn, a stunning 3-story Victorian home steps from the Santa Cruz Beach and Boardwalk.
I recommend La Quinta Inn & Suites by Wyndham Santa Cruz in the city centre for couples and people travelling with kids.
ANAHEIM
If you are traveling with kids to California in December, there is nothing more glamorous and glitzy as the magical world of Disney, which is a bit more fantastic during winter.
Anaheim is one of the best places to visit in California in December for the young at heart and kids.
Even if you are not into Disney, you should visit during this month for all the beautiful holiday lighting and celebrations and the unmissable holiday spirit that will bowl you over.
But unlike other destinations on this list, heading to Disneyland is one of the most fun things to do in California in December, and hence lots of families head to Disneyland to enjoy Christmas, so expect crowds.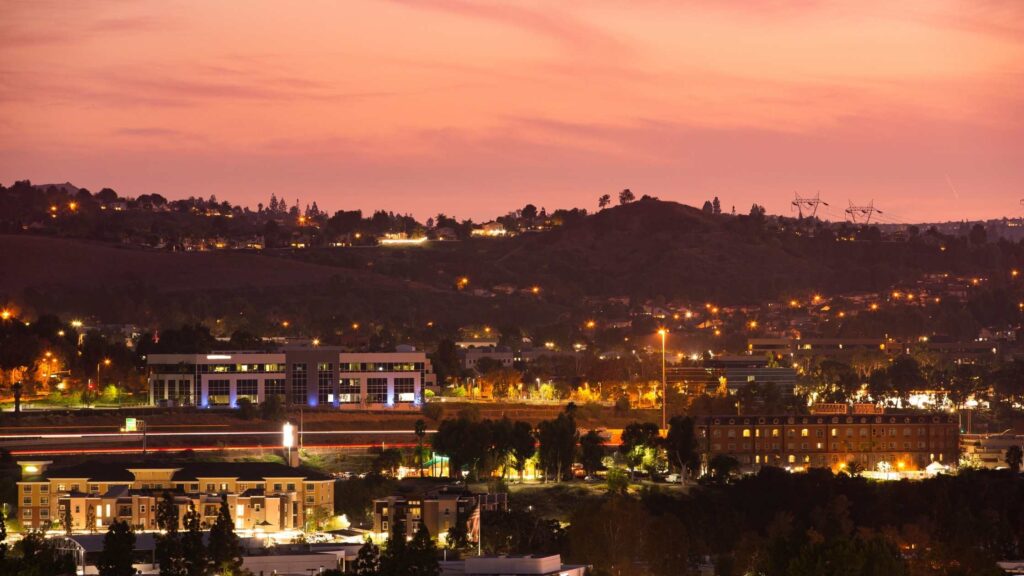 All the attractions are themed around Christmas, as the Sleeping Beauty Castle is adorned with icicles and the Haunted Mission is decorated with Nightmare Before Christmas.
If you love rides, one that you should not miss is It's A Small World against a background of the Jingle Bells. It looks magical with thousands of lights.
Watch the holiday-themed parade, starting at Its A Small World and proceeding down Main Street, with the backdrop of lights along the main street. It is a dazzling show with many musicals, dances, Disney tunes, holiday songs, and special fireworks.
Gingerbread men and reindeer enjoy themselves alongside familiar Disney characters in the parade.
There are loads of delicious Christmas special delicacies waiting for you, whether it is the special bakes or the hot chocolate varieties.
Anaheim is also a hub for dining and shopping and has more to offer beyond Disney.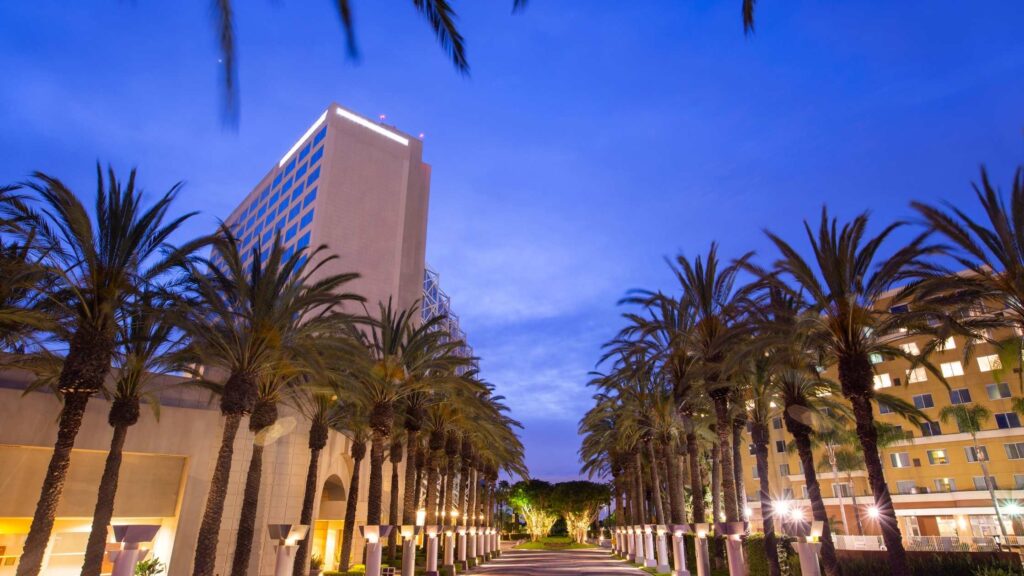 Check out the enormous Christmas tree in Town Square of Anaheim, decorated with exquisite ornaments.
You can enjoy musical performances and theatre at concert halls and check out downtown attractions.
If you want more theme parks, head to Knott's Berry Farm and Legoland, also themed and decked up for Christmas.
To escape the largest crowds at Disneyland in December, planning your visit for the first two weeks of the month is best.
WHERE TO STAY?
For Families
Hampton Inn & Suites Anaheim Resort is a popular choice among families for its spacious suites perfect for a holiday. Find more details here.
Another excellent choice for people with kids is Residence Inn by Marriott at Anaheim Resort, which offers luxurious studios. Check more here.
Hotels & Resorts
Best Western Plus Anaheim Inn, located 5 minutes walk to Disneyland Park's main gate, is loved by families and couples. Check out more about this lovely hotel here.
If you want relaxing resorts for your stay, I recommend Hyatt House at Anaheim Resort, offering spacious rooms and excellent amenities. Check more here.
Another hotel worth checking out is The Westin Anaheim Resort, which has excellent reviews. Book here.
LONG BEACH
Long Beach has plenty of fantastic things as it is a year-round destination loved by families and couples for many awesome things.
Long Beach remains one of California's most underrated destinations yet the more giant neighbours, Los Angeles and Santa Monica get most of the attention.
It is one of the best places to visit in California in December with kids for a relaxing weekend getaway, thanks to plenty of green open spaces, pretty beaches, museums, a gorgeous waterfront lined with excellent restaurants and a vast string of bars and cafes.
There are many amazing free things to do in Long Beach as well, a bonus in addition to the lower hotel prices and fewer crowds in December.
When the central attraction of a city is over 6 miles of sandy beaches, you are in for a fantastic beach holiday.
You can enjoy all the beach sports and head downtown to watch the display lights or the parade at the harbour.
If you are with kids, do not miss visiting the Aquarium of the Pacific to view sea life up close.
There are many fantastic restaurants along the waterfront offering special delicacies in December, and nearby Shoreline Village is a perfect addition for shopping at quaint shops.
WHERE TO STAY?
If you want to stay close to the beach, Hyatt Regency Long Beach is right across, offering king-sized rooms and family condos. Find more here.
Residence Inn Long Beach Downtown, located downtown has excellent reviews and offers studios perfect for families. Check more details here.
Residence by Marriott Inn Long Beach features spacious studios and is a popular pick among couples. Book here.
BIG SUR
Another popular spot along the fantastic coast is Big Sur, a famous stop in the summer for families and adventure seekers for hiking, camping, biking, and gorgeous views.
Big Sur is one of the best places to visit in California in December if you want to skip the crowds, get amazing discounts on hotels and tours, and enjoy the splendid views without the infamous California fog.
Many people prefer a road trip along Big Sur, which I highly recommend for an extended holiday and exploring loads of attractions easily accessible on the coast.
Despite its popularity, Big Sur is one of the country's most extended stretches of untouched coastline against the gorgeous backdrops of the Pacific Ocean and the Saint Lucia Mountains.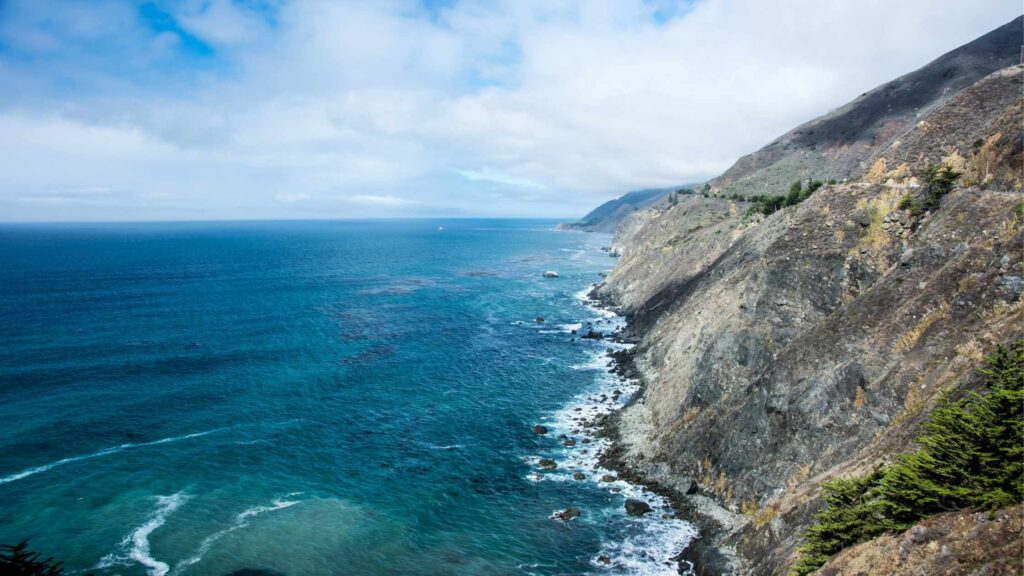 You can choose from several hiking trails – whether to go beside the rocky cliffs along the ocean dotted with rustic beaches or walk through some of the densest forests home to gigantic towering redwood trees and hidden waterfalls.
I recommend doing a bit of both as you will be awed by the stark contrast of the beautiful landscapes located so close to each other.
Drive on Highway 1 or the Pacific Coast Highway winding along the coast to admire spectacular views of both land and sea. Stop at the iconic landmarks, including the gravity-defying Bixby Creek Bridge and Keyhole Rock.
December in Big Sur is also the prime time for spotting migrating marine life, including grey whales, dolphins, and elephant seals.
The hike to the pretty McWay Falls in Julia Pfeiffer Burns State Park is a popular trail among outdoor lovers. Some trails here will open to coves and beach stretches, ideal for evening strolls.
WHERE TO STAY?
If you want to splurge on a lavish stay, you will love the grand Alila Ventana Big Sur, a favourite among couples. Apart from the magnificent property spanning hundreds of acres, you are treated with amenities from a spacious patio, spa, pools, and more.
The Big Sur Lodge, located in Pfeiffer Big Sur State Park, is a great choice.
Big Sur River Inn, known for its famous restaurant, also has fabulous rooms with great ambience and views.
MONTEREY
If you want to enjoy one of the most beautiful coastal stretches in California minus the crowds, one of the best places to visit in California in December is Monterey.
This city, which draws thousands of beachgoers during the summer, looks a bit foggy and even cold during December, but it only creates a mystic ambience across these rugged cliffs, best enjoyed via a drive.
This famous beachside town is a perfect stop for those making the trip on the Pacific Highway 1 drive.
Although it feels slightly colder, the average temperature hovers around the mid-40s on the Peninsula, ideal for being outdoors.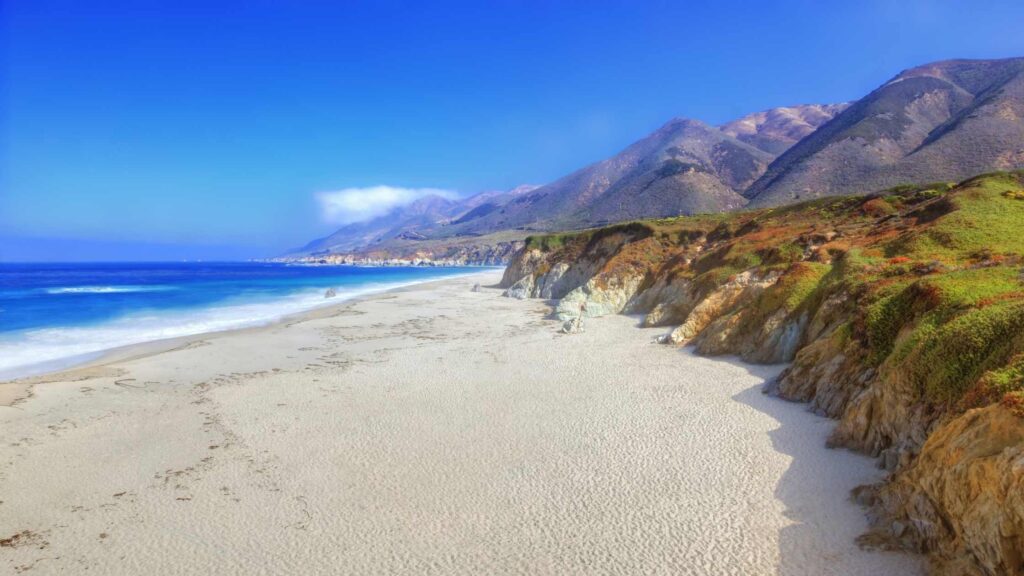 You will get to spot migrating whales while driving or hitting the beaches, as it is one of the best months for watching these gentle giants.
You can enjoy biking, kayaking, or spotting the migrant seals coming down to Mexico from Alaska.
Many hiking trails along the cliff open to fantastic views, including at the California State Parks south of Carmel or Point Lobos. Or you can drive to the many boutique wineries.
At night, do not miss to stroll through the streets of the historic Old town of Monterey to see the holiday lights at Christmas.
A must-stop is the Monterey Bay Aquarium, which is a delight to both the adults and the kids. You will learn about the kelp forests and tide pools and watch jellyfish and penguins swimming.
Check out the Christmas on the Wharf decorations at the Aquarium, where you will see a pretty 30-foot Christmas tree decorated with vibrant sea creatures.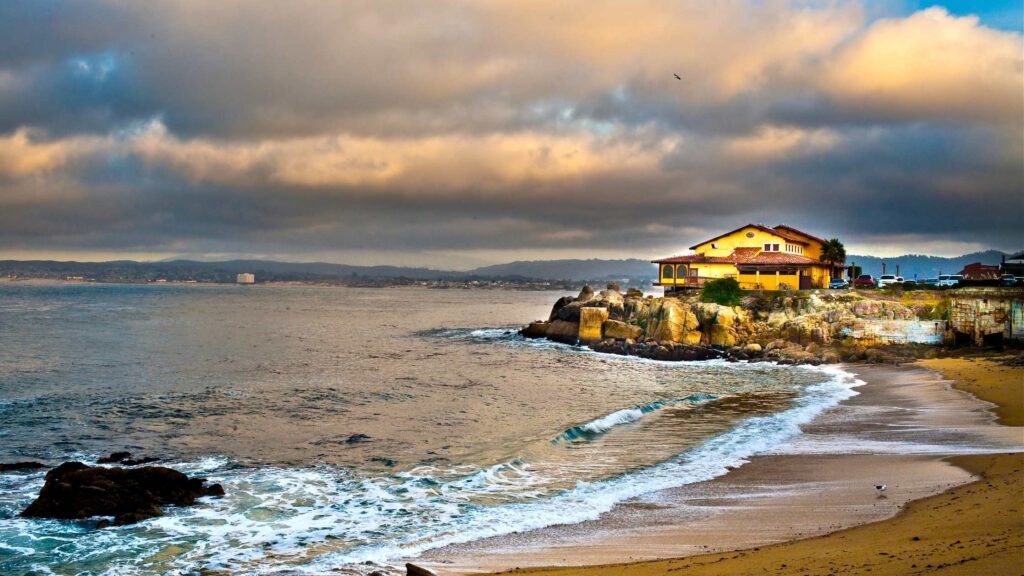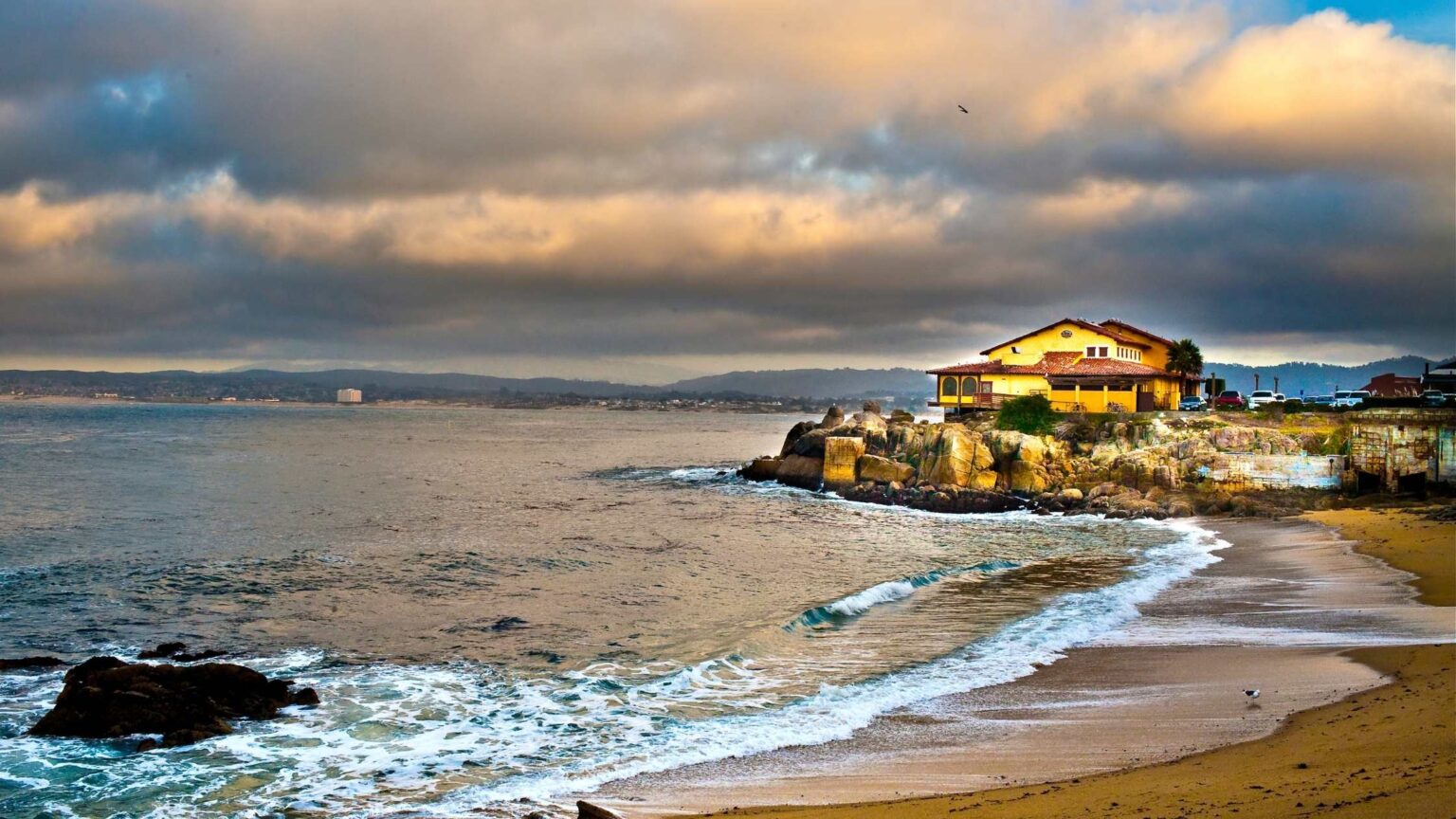 If you are in Monterey in mid-December, the Aquarium is the venue for the annual Christmas in the Adobes event, where you can check out more than 20 historic adobes dressed up for the holiday season.
Other popular things to do in Monterey include visiting Fisherman's Wharf and Cannery Row.
WHERE TO STAY?
One of my favourite recommendations in Monterey is Merritt House Hotel for its cute and stylish interiors and its excellent location close to many attractions and famous restaurants.
Victorian Inn on Foam street is worth your money as it is a lovely hotel located a stone's throw away from the beach. The architecture and the interiors are a great and elegant combination of Victorian charm with modern conveniences, something to try out on your holiday.
Monterey Bay Inn is the best choice to enjoy the stunning views of the beach and the coast from right across the room. Located on the coast of Monterey Bay, Monterey Bay Inn also houses a rooftop whirlpool and direct access to San Carlos Beach.
SANTA BARBARA
The American Riviera, Santa Barbara, is one of the famous beach towns throughout the year.
The Central California coastal city has everything; whether it is a fun downtown, beautiful historical sights, unique Spanish architecture, farm-fresh food, and beautiful wineries or its many pretty beaches, you will find them all here.
Since Santa Barbara enjoys a Mediterranean climate, winters are very mild here.
The average temperatures are in the 60s, pleasant for outdoor activities. Some rainy days may be in December, and the evenings can be colder, so carry a warm jacket with you.
So it is one of the best winter vacations in California if you are craving some sun without the fog.
You will be surprised how laid-back Santa Barbara is all year long, despite its many things for everyone.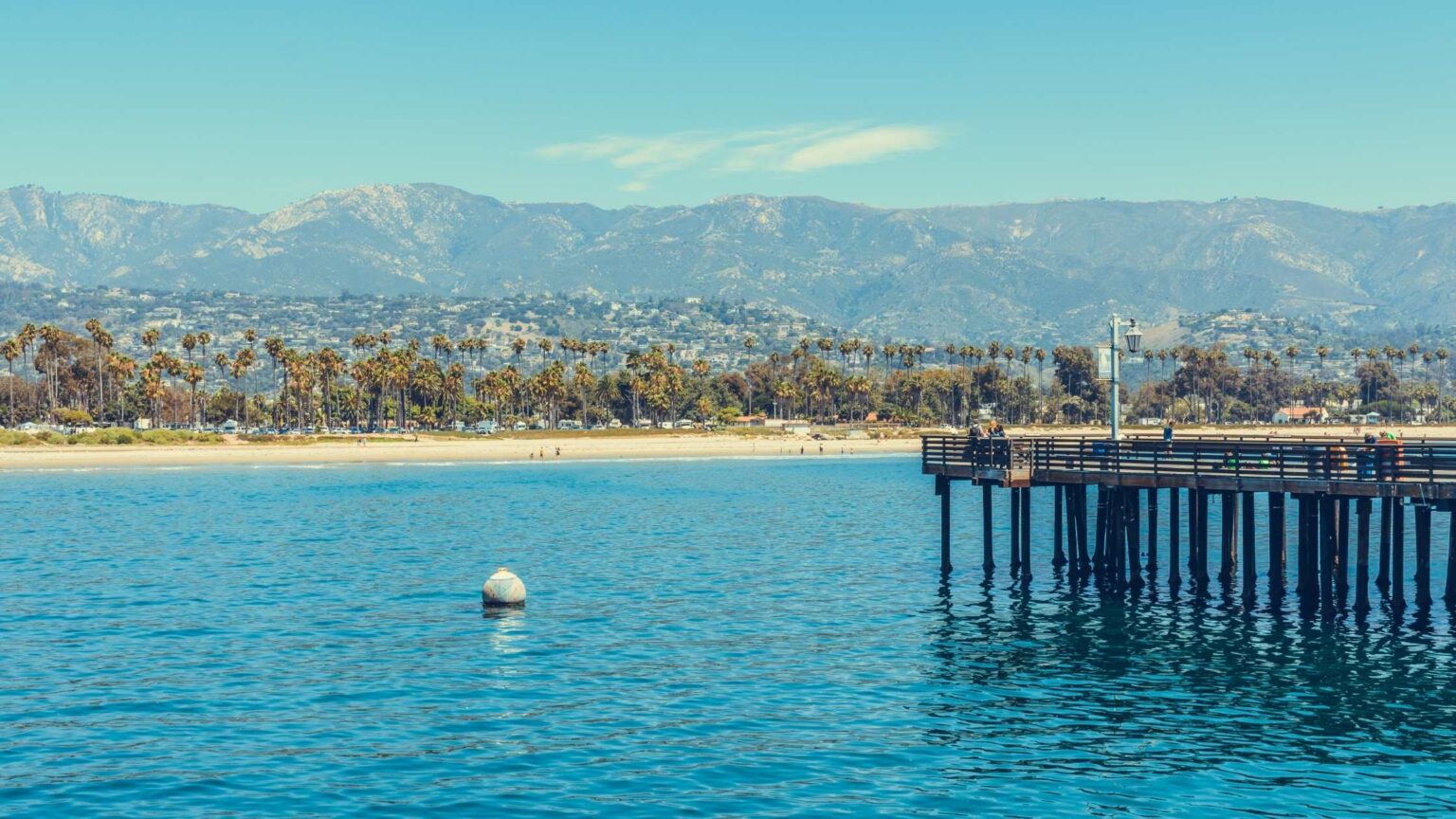 Apart from these relaxing vibes, Santa Barbara is one of the best places to visit in California in December because the city gets prettier, and the Christmas spirits will enchant you with many fun activities, parades, and events.
The shopping areas are decorated with holiday lights, carol performances, and parades, with additional holiday markets selling wares and other unique souvenir items made by the local artisans.
If you are in Santa Barbara in early December, watch the colourful Holiday Parade on State Street.
At Santa Barbara harbour, enjoy the Parade of Lights, where decorated boats cruise around against special fireworks in the sky.
You can enjoy holiday-themed concerts across many theatres in Santa Barbara, usually held throughout the month.
Did you know? Santa Barbara County, surrounded by the Santa Ynez Mountains, has more than 200 wineries and 150+ tasting rooms.
Pinot Noir, Chardonnay, Cabernet, and Merlot are famous wines here.
The best part is that the most famous tasting rooms are located in Funk Zone, within walking distance of the Presidio Neighborhood downtown.
You can find renowned names here, like Margerum Wine Company, Grassini Family Vineyards and Jamie Slone from boutique tasting rooms and breweries.
Book a wine tasting tour to sample the best of Santa Barbara wines, where you will tour many vineyards.
The best way to taste the local specialities is by going on a guided food tour in the city.
Other top things in Santa Barbara include surfing, whale watching, hiking, and exploring the historic architecture downtown.
One of the great landmarks is Stearns Wharf at the Santa Barbara Harbor, the West Coast's oldest operating wharf.
Drive on the wooden wharf for stunning views of the Santa Barbara coastline and the Santa Ynez Mountains.
Stroll along the beach boardwalk, or watch a gorgeous sunset by taking a cruise tour. Go tide pooling with your kids at Carpinteria State Park. Admire the skyline of the city from the courthouse tower.
For the best coverage of your time, I recommend taking a narrated trolley tour, which covers many attractions, including Old Mission Santa Barbara, the Santa Barbara County Courthouse, and Butterfly Beach.
WHERE TO STAY?
Santa Barbara Inn is a popular choice with excellent reviews, thanks to its location right across the beach and all the modern amenities. Find more details here.
If you are looking for a luxurious stay, check out El Encanto, A Belmond Hotel, offering sweeping Pacific Ocean views, located 5 minutes drive from Central Santa Barbara. Find out more here.
If you want to experience a comfortable stay at a Victorian-era heritage building, quite popular among families, check out Simpson House Inn, with excellent reviews. Check more details here.
Cheshire Cat Inn & Cottages is another recommended stay option. Book here.
MAP OF THE BEST PLACES TO VISIT IN CALIFORNIA IN DECEMBER
Please note: This post contains affiliate links, meaning I may earn a commission if you make a purchase by clicking a link (at no extra cost to you). Learn more.
Please note: This post contains affiliate links, meaning I may earn a commission if you make a purchase by clicking a link (at no extra cost to you). Learn more.