There are plenty of surreal crystalline alpine lakes in Mammoth lakes, hidden by the dense Inyo National Forest, high in California's Eastern Sierra Nevada Mountains.
Whether you are visiting Mammoth Lakes as a part of the US 395 Highway road trip, or you are planning a weekend trip to Mammoth, or a summer getaway loaded with outdoor activities, you cannot complete the journey without stumbling upon at least a few of these gorgeous lakes in Mammoth.
Bookmark this post to know all about the stunning lakes and make your pick to have the best holiday.
WHERE IS MAMMOTH LAKES?
For those who do not know, Mammoth Lakes is a famous mountain-resort town blessed with larger-than-life scenery comprising towering alpine mountains of the Eastern Sierra Nevada.
Home to some of the highest peaks in the west USA, Mammoth Lakes is a paradise for outdoor lovers. Travelers worldwide arrive at the signature Mammoth Mountain for action-packed trips in summer and spring.
From fishing and kayaking in clear streams, camping in the meadows, hiking and mountain biking through wildflowers in high alpine fields, and soaking into beautiful natural hot springs, you are in for an authentic mountain holiday experience basking in the splendid panoramas all around you.
Thanks to tons of activities throughout the year, Mammoth is also Eastern Sierra's commercial hub.
The powdered peaks of the Mammoth Mountain Ski Area and its enchanting wilderness draw snowmobilers, skiers, snowboarders, and ice skaters in the winter months.
All the lakes in Mammoth lakes together form the Lakes Basin. Although only some of the lakes of Mammoth are well-known, this lake basin, categorized into lower and upper lake basins, is home to more than a hundred lakes that were carved out by glacial movement and rocks for thousands of years.
TOP LAKES IN MAMMOTH LAKES LOWER BASIN
TWIN LAKES
One of the first lakes in Mammoth Lakes that you will encounter in your trip is the Twin Lakes, and it is located in the lower Lake Basin, three miles from the Mammoth Village.
It is one of Mammoth's most beautiful and famous lakes due to its close location to Mammoth downtown, beautiful backdrops of jagged peak tops, and convenient location of the campgrounds close by.
The lake water comes from the magnificent Twin Falls, plunging at over 300 feet from the upper lakes at the far end of the lake, which is a fascinating sight.
The Twin Falls waterfall connects two lakes, and they are also the lowest lakes in the Mammoth Lakes Basin. The upper Twin is the bigger one covering over 400 acres, while the lower twin lake spans over 250 acres.
WHAT TO DO AT TWIN LAKES?
You can easily rent a canoe or kayak in the summer, enjoy a picnic, or go hiking around the lake on the many trails that reward you with splendid views of the valleys.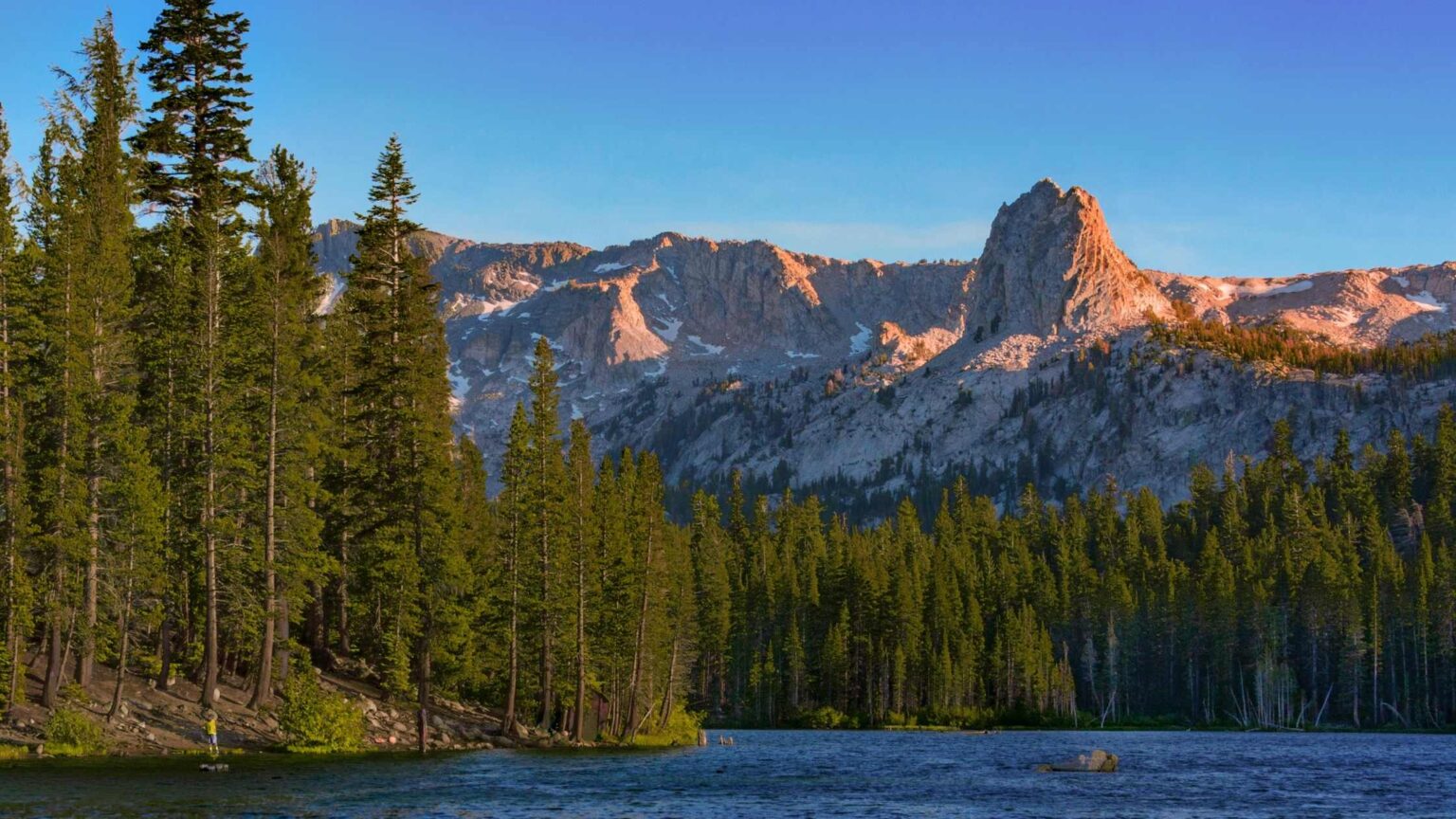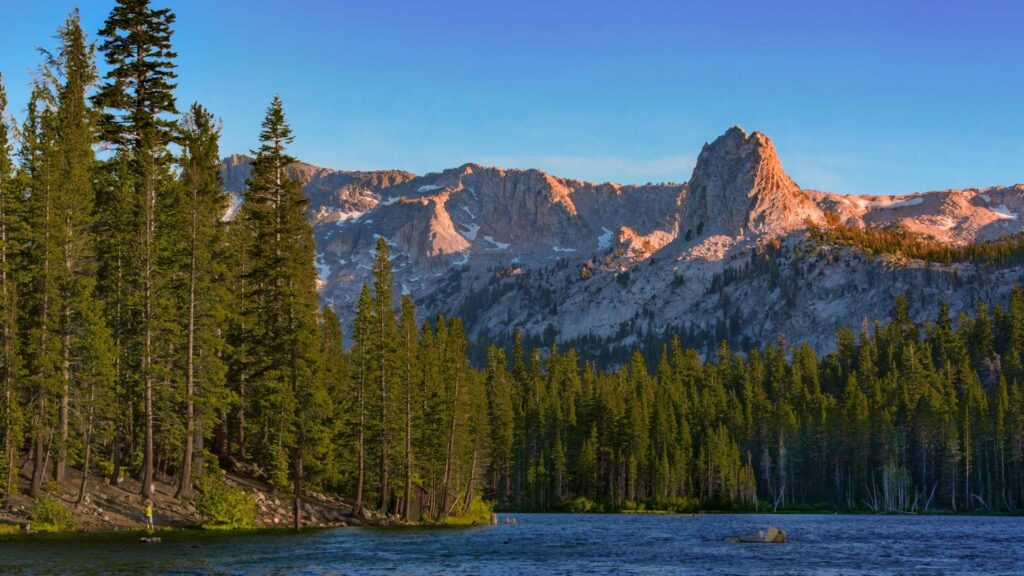 WHERE TO STAY?
You can camp at the Twin Lakes Pine Forest Campgrounds next to the lake and fish in the Twin Lakes as it has many types of trout.
Twin Lakes also has other fantastic lodging options just across the street. You can stay at the famous Tamarack Lodge & Resort and The Lakefront Restaurant. 
LAKE MARY MAMMOTH
Among the famous lakes in Mammoth Lakes is Lake Mary, at 8920 feet, one of the hot spots for outdoor lovers during the spring and summer months. It is nearly a mile long and the largest lake in the Mammoth Lakes Basin.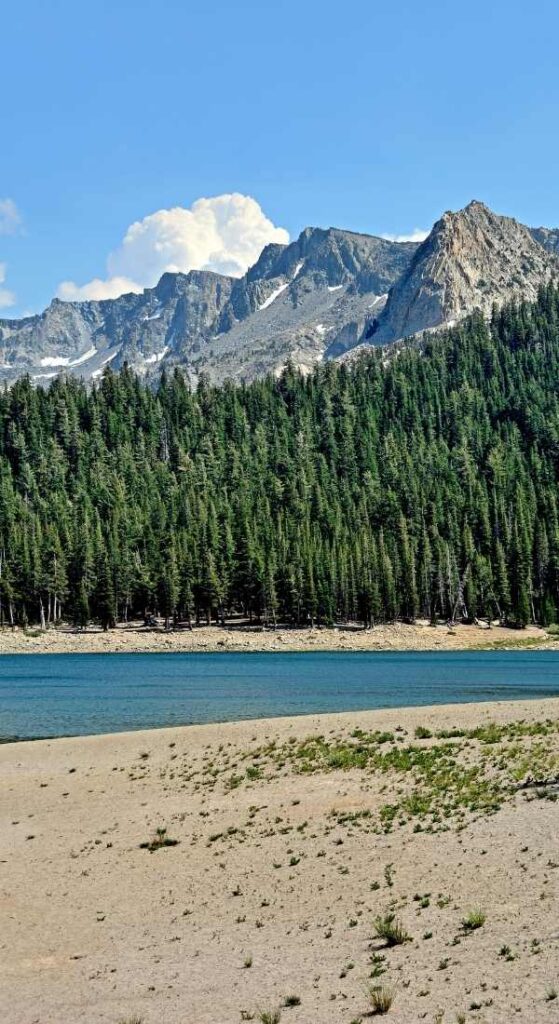 The serene and gorgeous landscapes around the lake transform dramatically, offering magnificent views of the mountains, pines and rocky meadows.
There is a sterile red dome formed due to the volcanic eruptions in the lake.
WHAT TO DO AT LAKE MARY?
Due to its massive size, Lake Mary is the best among the lakes in Mammoth Lakes for trout and angular fishing and attracts boaters.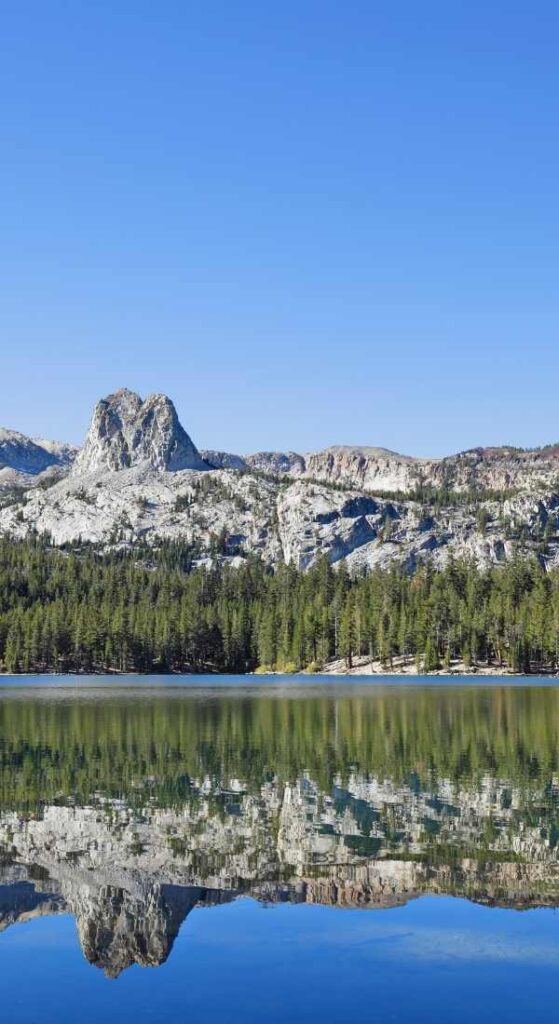 It is the best lake to enjoy a picnic, swim in the lake, camp, or sit and watch the beautiful views.
To rent a boat, kayak or fish equipment, head to Lake Mary Marina or Pokonobe Marina at Lake Marina.
Note that Lake Mary is a very popular spot in Mammoth, and hence unless you plan, you may find it hard to find rentals, especially during the peak months.
If you head to the upper end of the lake, there is Coldwater Creek, which is the location of John Muir Duck Lake Pass trailhead.
Here you can find many camping options and lodges if you plan to spend overnight. You can hike the trail for a while to admire the gorgeous views of the Sierra Nevada.
WHERE TO STAY?
If you do not mind going a bit further around the lake, there are plenty of campgrounds to choose from for camping with different amenities.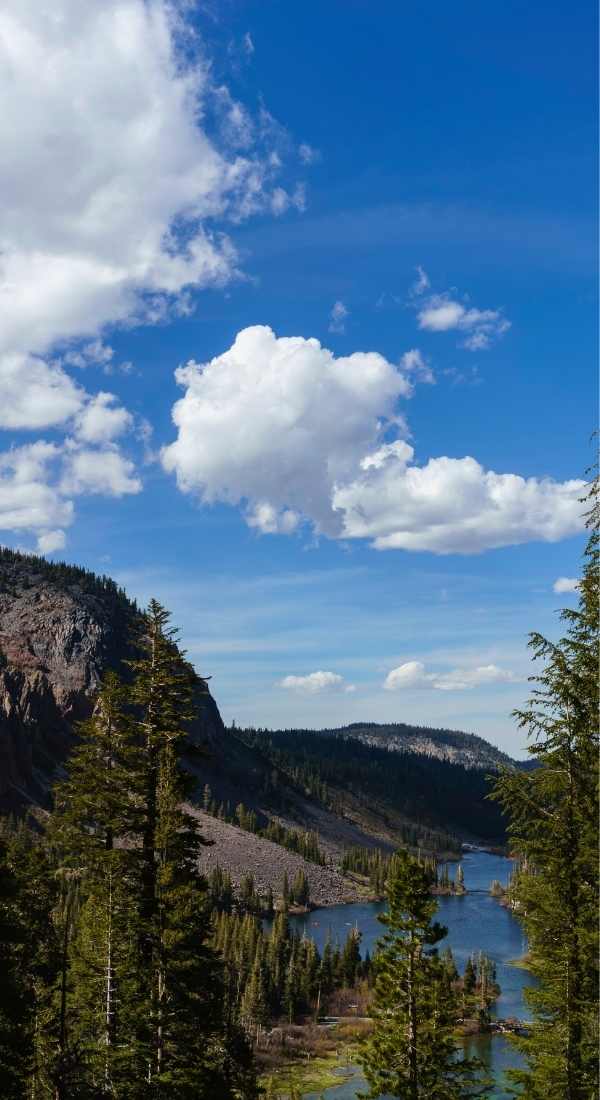 Cold Water and Pine City Campgrounds are more popular and get booked in advance.
If you want better accommodation, check out Crystal Crag Lodge, which has rooms offering beautiful views.
LAKE MAMIE
While the nearby massive Lake Mary gets all the popularity, very close by lies Lake Mamie, one of the underrated lakes in Mammoth Lakes in California.
Lake Mamie is the smallest of the lakes and is located at the height of 8,898 Feet offering splendid mountain views and the Twin Falls plunging into Twin Lakes.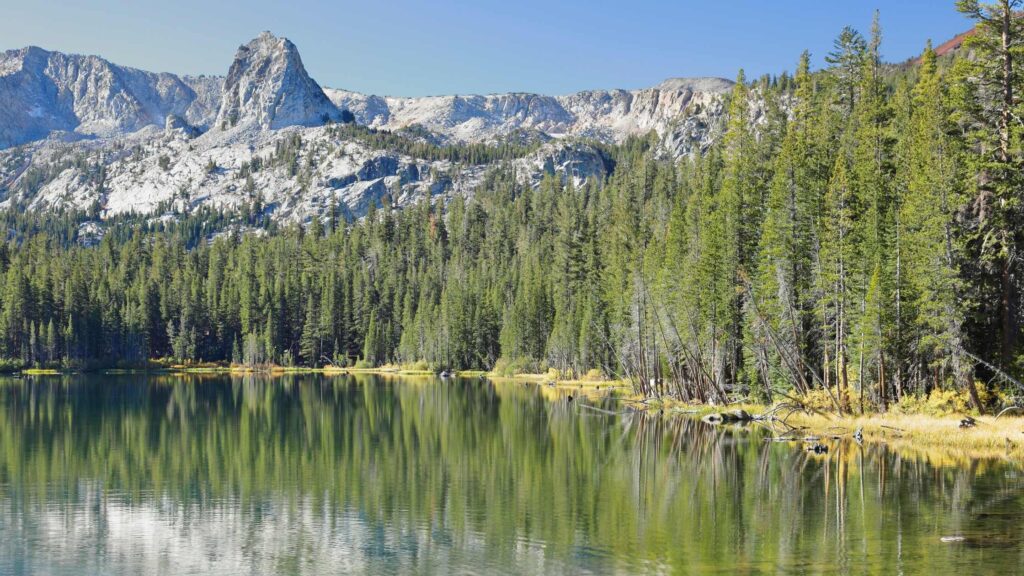 WHAT TO DO AT LAKE MAMIE?
Lake Mamie is one of the best spots for picnicking, fishing, and birdwatching.
There are well-maintained picnic areas overlooking the splendid views of the valleys below and the surrounding snow-capped jagged peaks.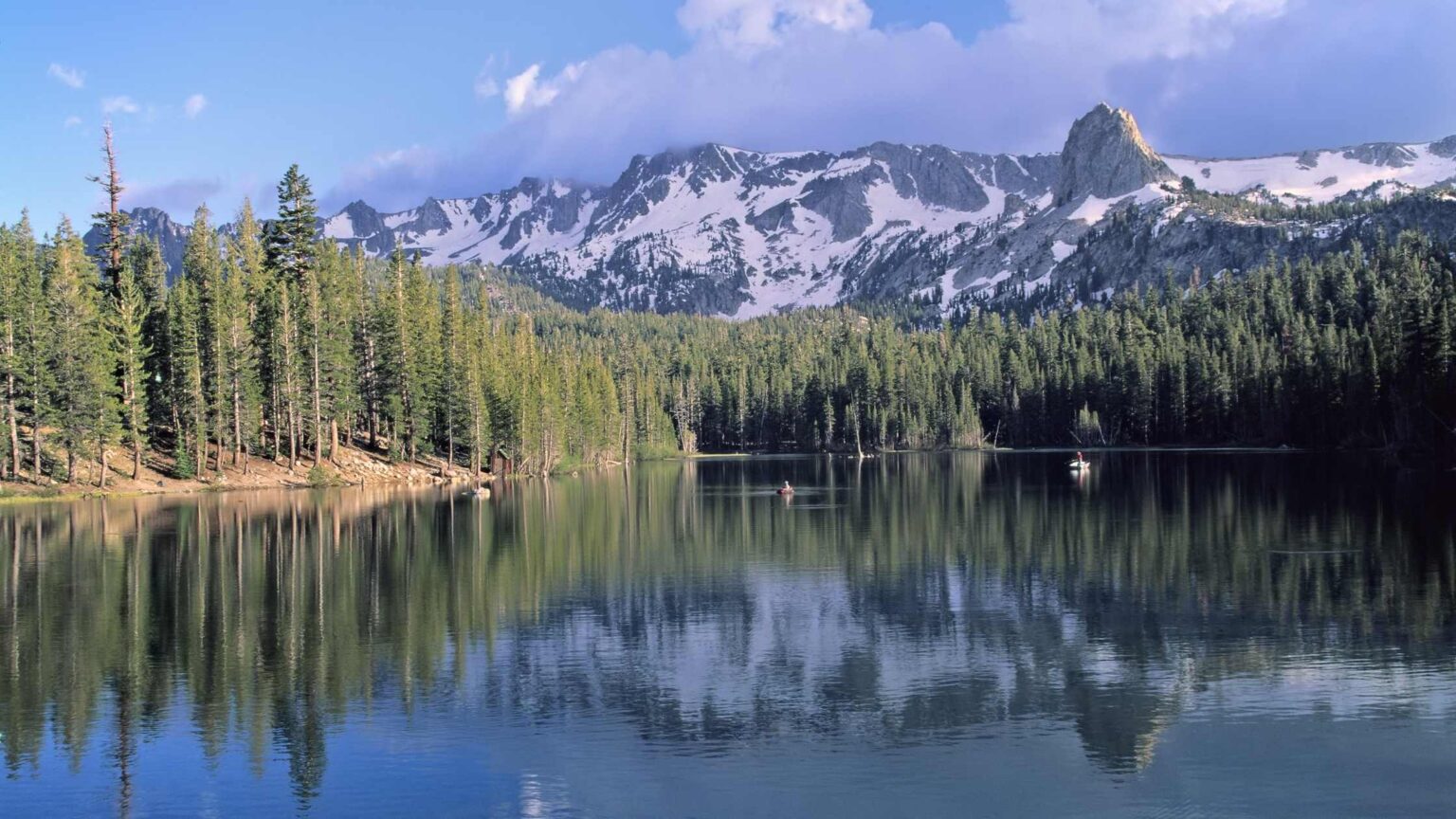 You can rent a boat from the nearby rentals during the summer months.
WHERE TO STAY?
Wildyrie Lodge is the closest option to spend overnight in cosy cabins. Just a short walk away.
Although there are no nearby campgrounds, if you have a car, you can venture near Lake Mamie to choose from many campsites, all of which can also be accessed via short hikes.
LAKE GEORGE MAMMOTH
As it is the highest road-accessible lake in the Mammoth Lakes Basin, Lake George is one of the most popular lakes for people visiting Mammoth Mountain.
The elevation of Lake George at 9250-feet overs beautiful 360-degree views of the magical landscapes that can be enjoyed by driving to the lake quickly.
The beautiful Lake George sits below the iconic Crystal Crag, a unique rocky formation of Mammoth towering at 10, 364 ft height.
This is the second largest lake and can be accessed during the summer and the late spring between May and October by car or hiking along Crystal Lake Trail.
WHAT TO DO AT LAKE GEORGE?
Many small streams and lush meadows peppered with wildflowers surround Lake George, which can be accessed up close if you go hiking.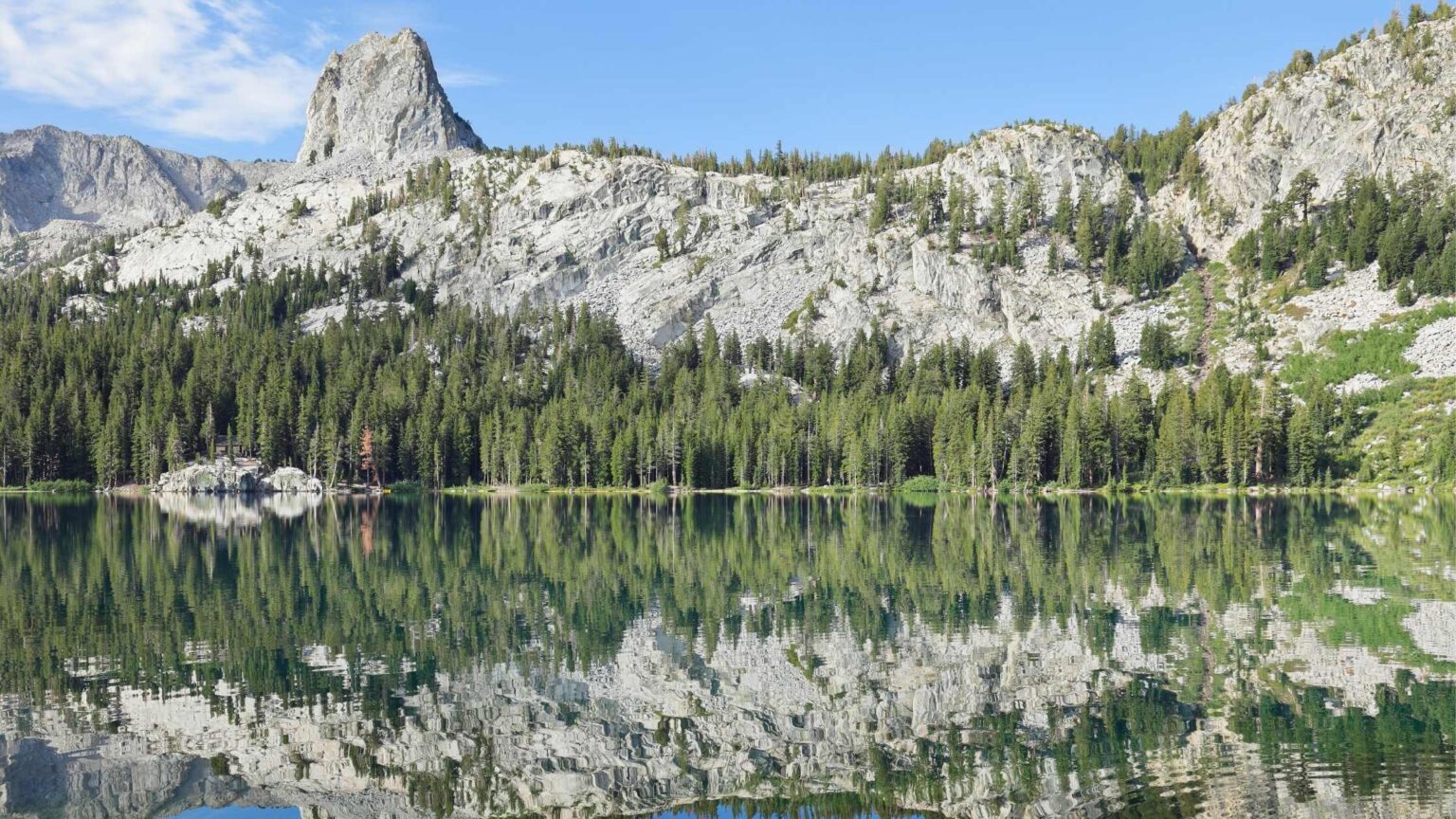 The Crystal Lake Trail, located at Lake George, is the most popular of all the hikes because of the unparalleled views that beckon travelers all the way, leading you up to see the incredible views from atop the lake.
You can spot plenty of turquoise alpine lakes surrounded by lush meadows as the tall peaks dominate the entire background.
If you are game for a moderate hike, check out Lake George Trail, which is not as challenging but involves walking over boulders and some level of climbing.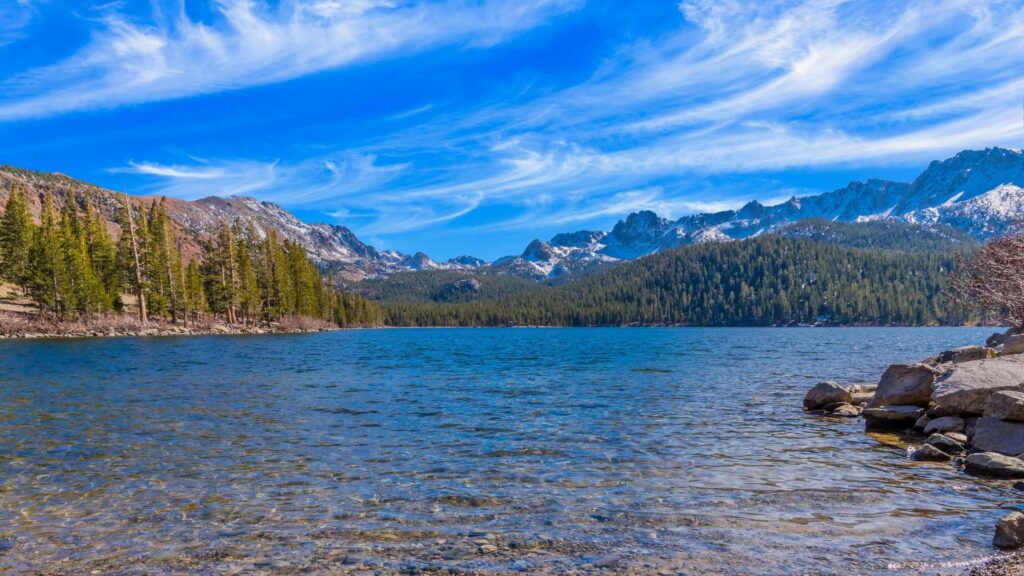 This trail begins near the parking lot of Lake George, and it is a 1.5-mile loop trail from there. The course is open from June to November.
Other trails include Mammoth Crest and T.J. Lake trails that lie in bowl-shaped depressions called glacial cirques, which lead you to surreal birdviews of the valleys around Mammoth below.
Lake George is a popular spot for rainbow trout fishing, and you can get the equipment nearby.
Unlike other ones, Lake George is one of the swimming lakes in Mammoth Lakes, especially during summer when you can cool off by taking dips while soaking in the splendid views.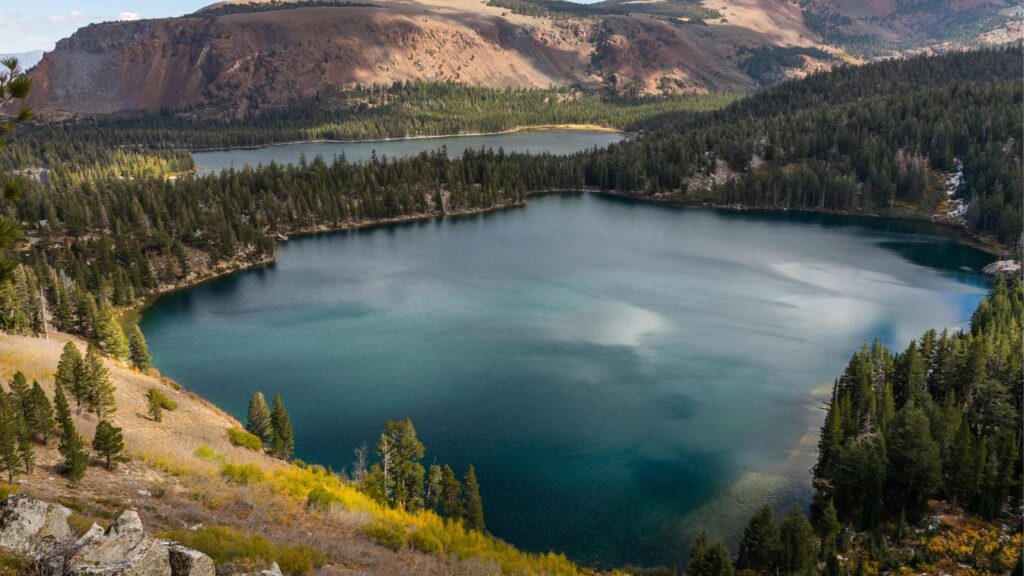 Canoeing or Kayaking is also a popular activity in Lake George.
Good to know – The parking lot at Lake George is familiar for hikers and visitors, and hence it tends to fill up, especially on the weekends and holidays.
If you are going to do either the Crystal Lake Trail or the Lake George Trail, make sure to start early to get your parking spot.
WHERE TO STAY?
There are many campsites spread around Lake George where you can spend a few days and combine your visits to other lakes in Mammoth Lakes.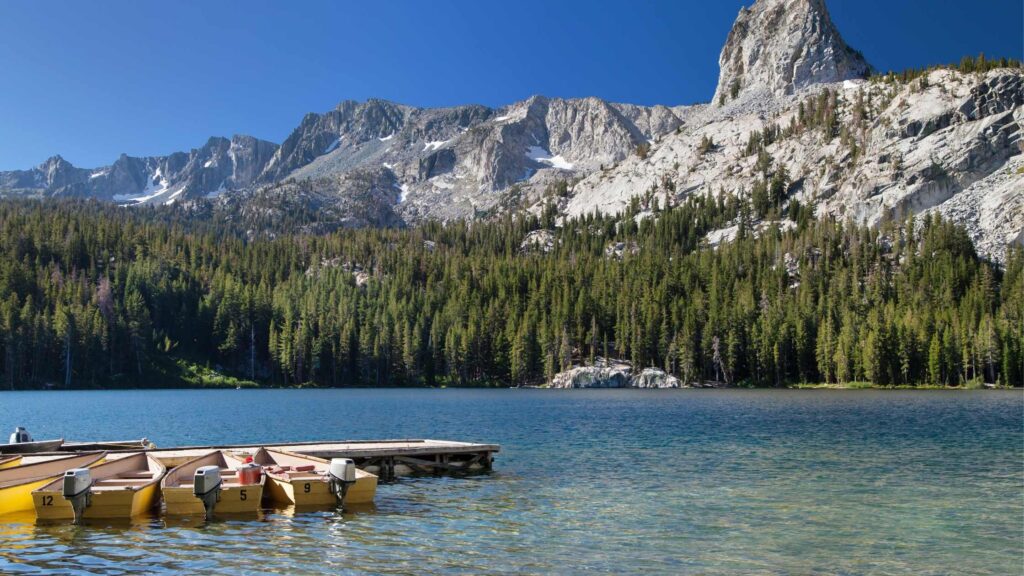 If you are looking for a unique stay, I'd recommend Woods Lodge Boat Rental offering beautiful views.
HORSESHOE LAKE MAMMOTH
One of the pretty lakes in Mammoth Lakes known for its inaccessibility and incredible beauty is Horseshoe Lake.
Unlike the other lakes ideal for summer and spring visits, Horseshoe Lake is worth enjoying in winter.
Horseshoe Lake is blessed with the Mammoth Crest ridge and the southern flank of Mammoth Mountain, forming splendid backdrops. It is a popular recreation area and starting point for the Mammoth Pass and McLeod Lake trails.
Horseshoe Lake is located deeper in the mountains at the end of Lake Mary Road and the Lakes Basin Path, and in winter, it can only be accessed by skiing and snowshoeing.
Horseshoe Lake is known for its fascinating geological phenomenon of the dead and dying trees spanning over a hundred acres.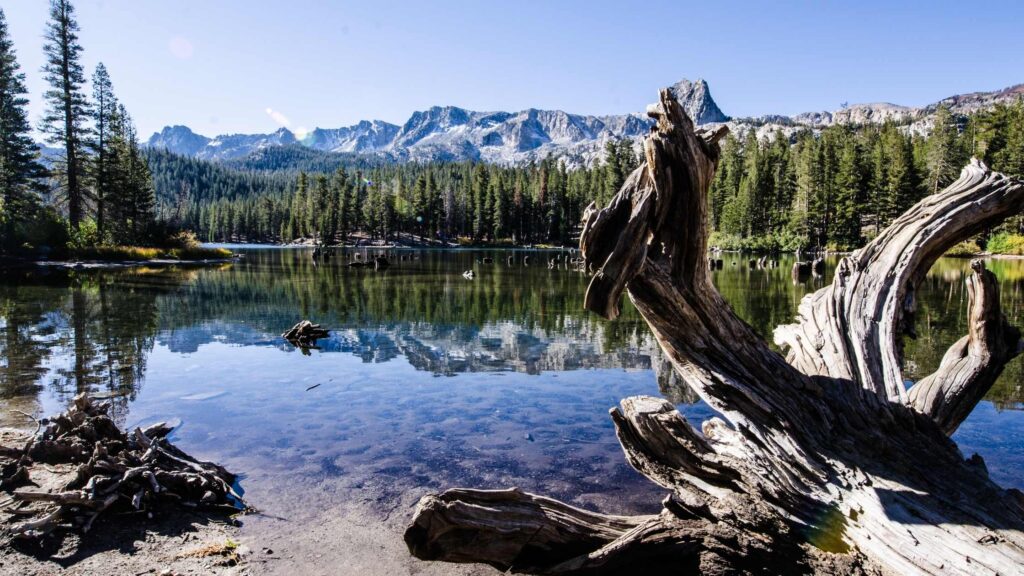 This process, which began first in 1990, is due to excessive carbon dioxide formation from cooling magma that seeped through the surface after earthquakes and resulting volcanic eruptions.
WHAT TO DO AT HORSESHOE LAKE?
Horseshoe is a famous winter destination for skiing, snowboarding, and other winter sports.
In summer, Horseshoe Lake is one of the best on this list of lakes for swimming. But note that the water can be cold even during the summer months, and pack a proper swimsuit.
If you are game for skiing, ski to this lake to be rewarded with fantastic views of powdered snow everywhere.
You can go hiking in the nearby trails that will take you through beautiful meadows, and if you want more challenges, you can walk further to Red's Meadow and Devils Postpile National Monument from Horseshoe Lake.
In summer, you can also enjoy kayaking or go camp on the nearby grounds.
MCLEOD LAKE
Lake MacCleod is one of the underrated lakes in Mammoth Lakes that you can combine on your visit to Horseshoe Lake. It can easily be accessed by a short, 15-minute walk from the trail close to Horseshoe Lake.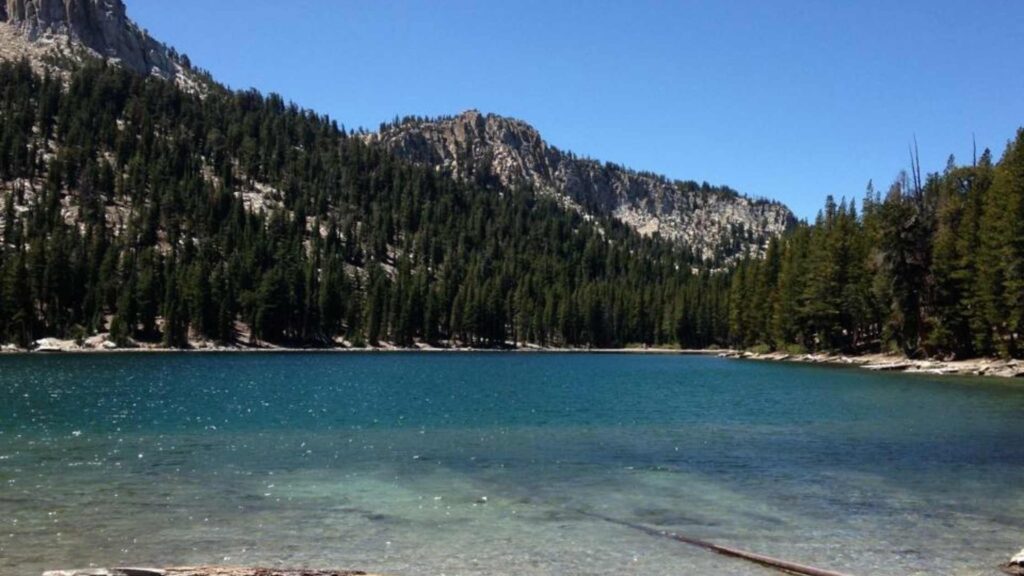 The setting around Mcleod Lake, with Mammoth Crest rising above the southern shore and dramatic views of both the backside of Mammoth Mountain, is beautiful.
WHAT TO DO AT MCLEOD LAKE?
McLeod Lake is one of the best lakes to enjoy open-water swimming in subalpine lakes, thanks to its crystal clear, shallow waters near the shore.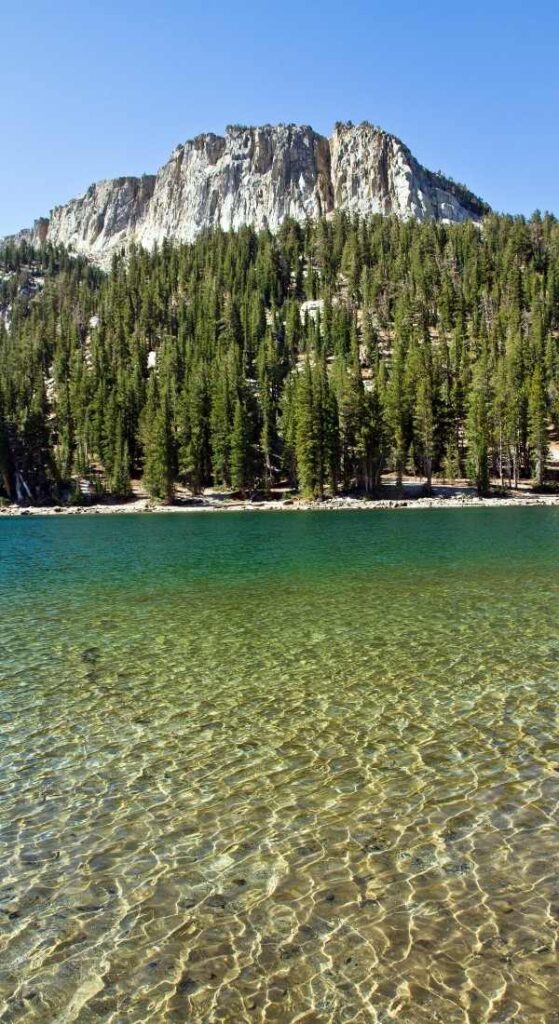 The lake is also a popular fishing spot for float-tube fly fishers, so come ready if you plan to enjoy fishing in summer here.
McLeod Lake is a popular summertime destination for families looking to picnic because of its long sandy beaches and splendid views.
CONVICT LAKE
About 15 minutes drive away from the city centre is Convict Lake, one of the most beautiful lakes in Mammoth Lakes.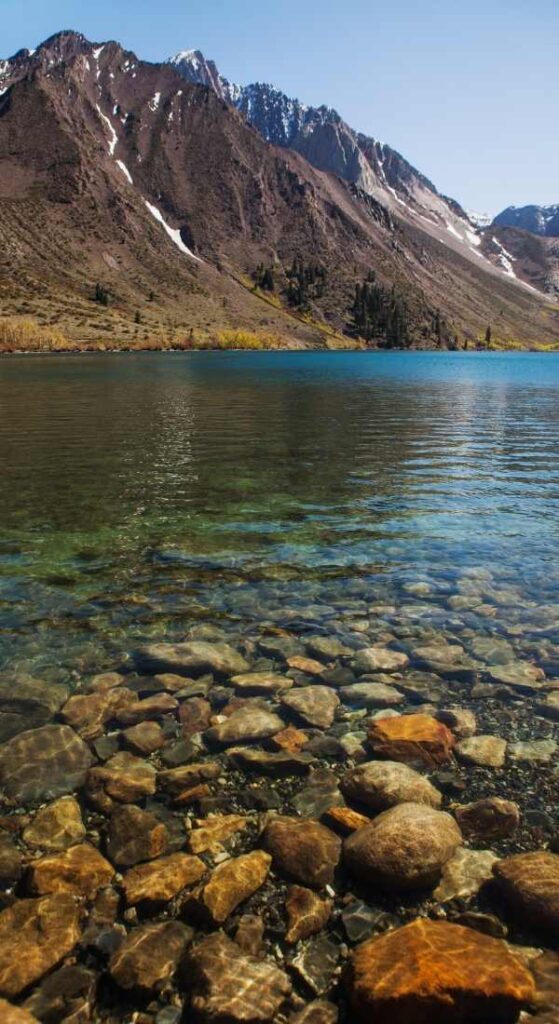 Located in the Sherwin Range of the Sierra Nevada mountains, it is known for its splendid turquoise-blue water, rich trout fishing, infamous history, and the majestic mountains in the backdrop.
Convict Lake also has some of the oldest rocks located in the Sierra Nevada area that add to the mystic charm it eludes. It is worth adding to your itinerary for its stunning landscapes around alone.
On a clear summer day, you can see the lake's depths as the turquoise water of the glacial lake is so clear.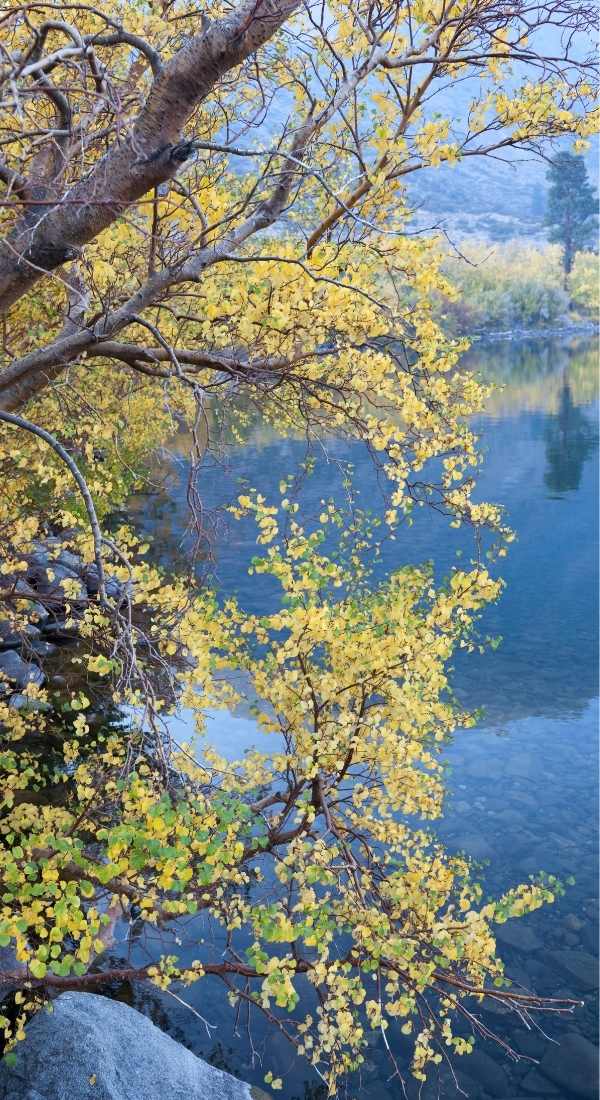 It is no wonder one of the best Instagram locations and the best photo spots as the vibrant sunrise and sunset colours beautifully reflect on the lake.
There is an interesting but sad history behind the name of Convict Lake. In 1871, a group of convicts escaped from a prison in Carson City in Nevada to areas near Convict Lake.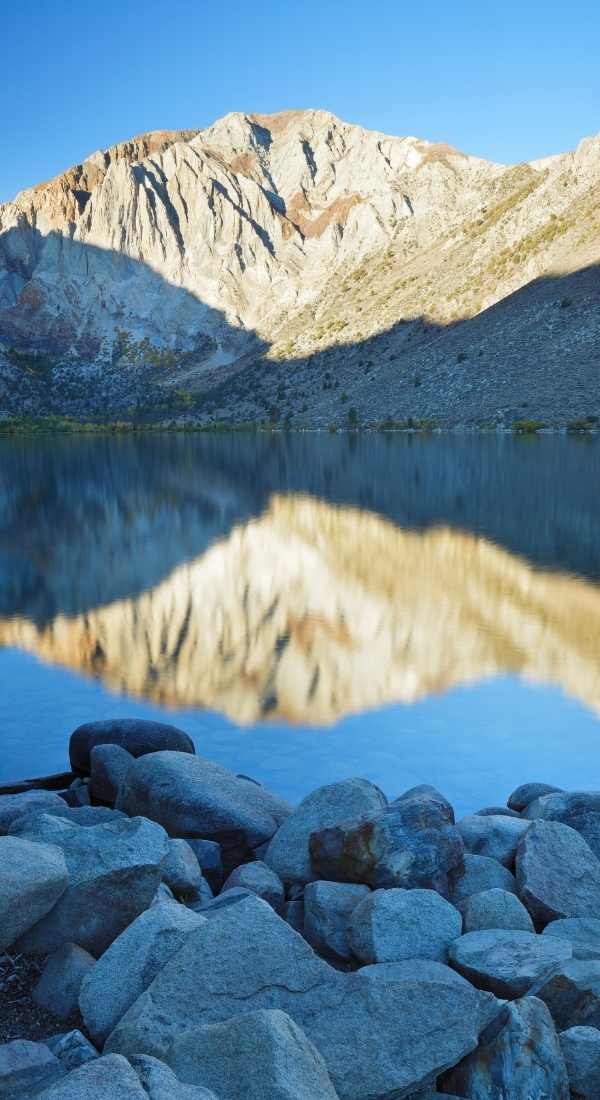 The sheriff and the team engaged in a long drawn fire exchange, after which most of them were captured but sadly resulted in the death of the sheriff. Mount Morrison, the mountain peak above the lake, is named after the sheriff.
WHAT TO DO AT CONVICT LAKE?
Fishing is the most popular activity inConvict Lakes. In summer, do head here for fishing as it has an abundance of trout provided by nearby hatcheries.
There's a nice picnic area with tables in the shade overlooking the beautiful mountain views and the lake's crystal clear waters that you can admire while relaxing.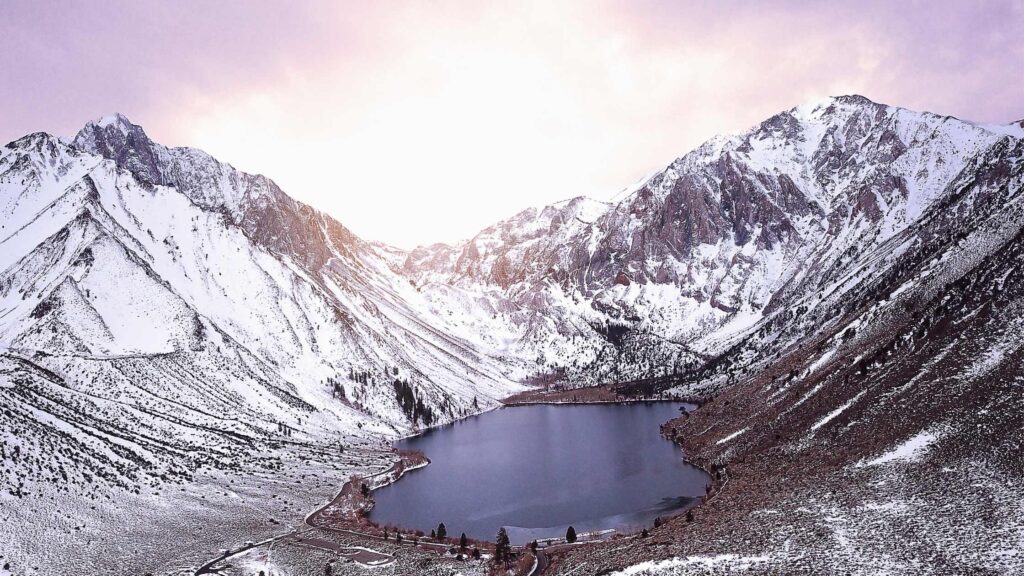 If you want to hike, you can reach Convict Lake on the trail of about 2 miles that begins about 2 miles south of Mammoth on Highway 395.
Around the lake, a few moderate and straightforward trails lead to viewpoints offering fantastic views from the top.
You can also rent boats, swim in the lake, or kayak, popular things to do in Convict Lake if you are here in summer.
But it may be crowded due to its easy access and popularity for being a fishing lake, so plan to be here during the early morning hours if you prefer a secluded time.
CROWLEY LAKE
Unlike the other natural glacial lakes, Crowley is an artificial lake located 10 miles south of Mammoth Junction and famous for water skiers and anglers.
Crowley Lake is a reservoir on the upper Owens River in southern Mono County, and it was formed in 1940 as part of the Los Angeles Aqueduct system.
WHAT TO DO AT CROWLEY LAKE?
Located less than 15 miles south of Mammoth, this is one of the state's most popular trout fishing spots.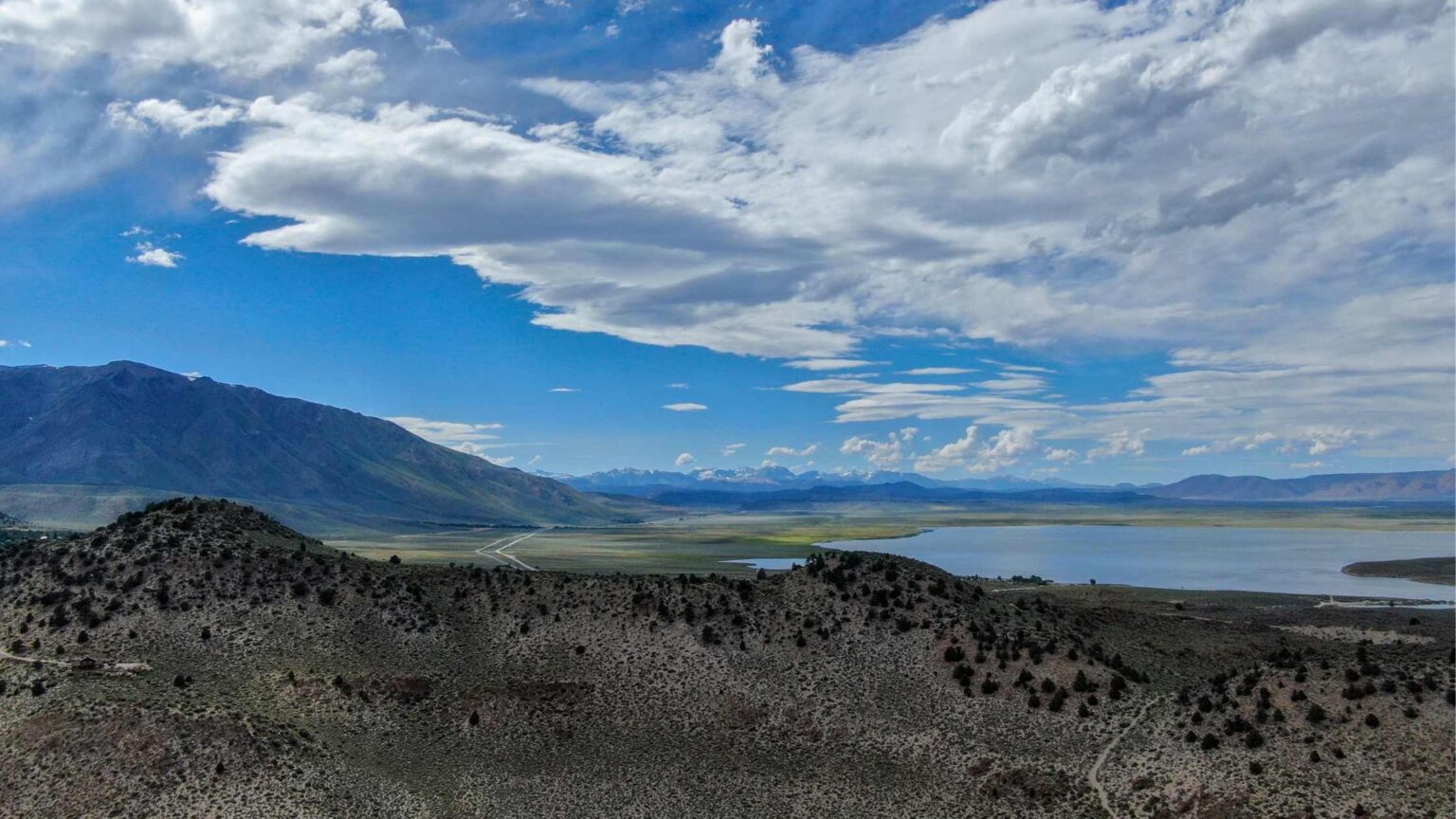 One of the largest fishing lakes has a dedicated fishing park featuring the Crowley Lake Fishing Camp.
Crowley Lake runs for over 12 miles long and 5 miles wide, attracting thousands of anglers that flock from different parts of the USA every year on an opening day for trout fishing.
On the lake's eastern shore, witness the unique Crowley Columns, a natural geological wonder carved by the volcanic eruptions that stand amidst thick jungles.
You can also check out the caves, but note that there may be water below, so it may not be possible to go all the way down.
It would be best if you had a high-clearance 4X4 for the adventurous drive to the lake's far shore via rough dirt roads from the south on US 395 to view the Crowley Lake Columns.
The lake is also a popular spot for water skiers, and you can rent the boats at the launch.
You can also enjoy Kayaking, booking campsites, or going hiking to the areas around the lake.
MONO LAKE
Mono Lakes is one of the geologically rich lakes in Mammoth Lakes. It is one of the oldest lakes in the US and North America, with fossils from the lake indicating its age to be at least 900,000 years.
Mono Lake is known for its strange and very high alkaline water, making it at least ten times saltier than the ocean water.
WHAT TO DO AT MONO LAKE?
The unique terrain around Mono Lake is carpeted with limestone formations that add a dramatic outlook to the panoramas, which are a part of South Tufa State Reserve.
These formations, nicknamed Tufa Towers, are one of the top attractions near Mono Lake. You can even try to swim in Mono Lake, making you float.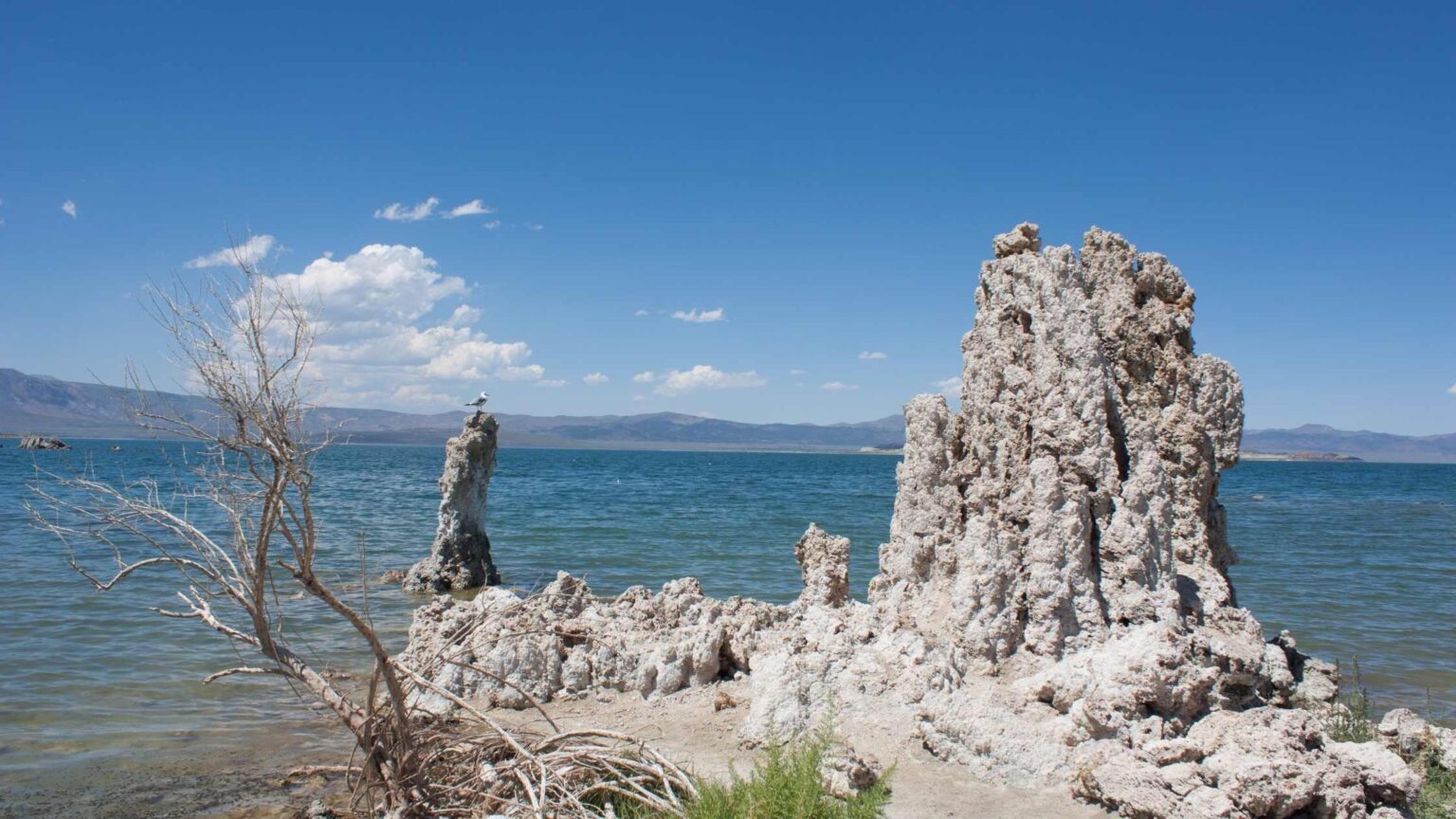 You can enjoy hikes around the lake and go Kayaking, a very popular activity in Mono Lakes due to its massive size.
The hours leading to the sunset is the popular time when most people arrive as the golden rays add magical touches to the lake waters.
You can follow a self-guided tour from the parking lot that forms a loop back up to your car. Some signs tell you about the history, make-up, and ecology of what you see.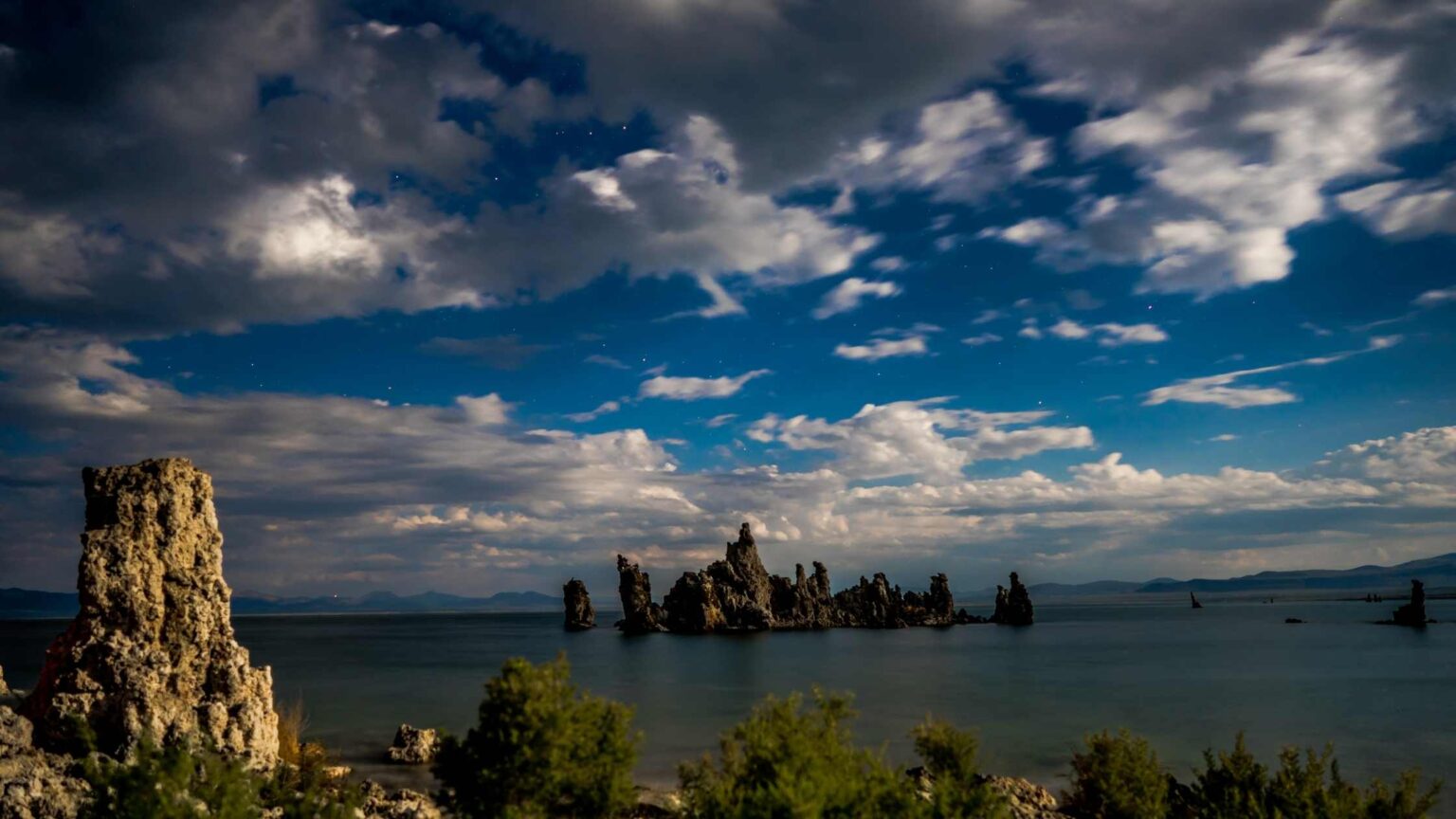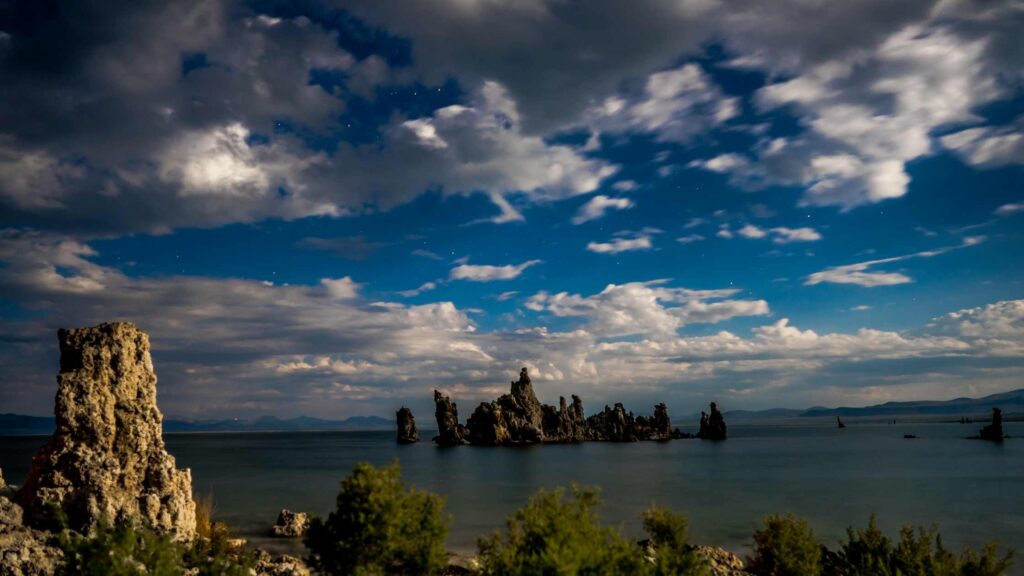 On your visit to Mono Lake, also stop by Panum Crater, a 600-year-old volcanic cone, one of the many natural attractions in the area.
It is a 30-minute drive north of Mammoth Lakes off Highway 395 to reach Mono Lake. The lake is open throughout the year all day long, and the entry is $3 per adult that you can pay at the parking lot.
CRYSTAL LAKE
If you want to visit just one lake in the Mammoth Lakes Basin, I recommend you visit Crystal Lake.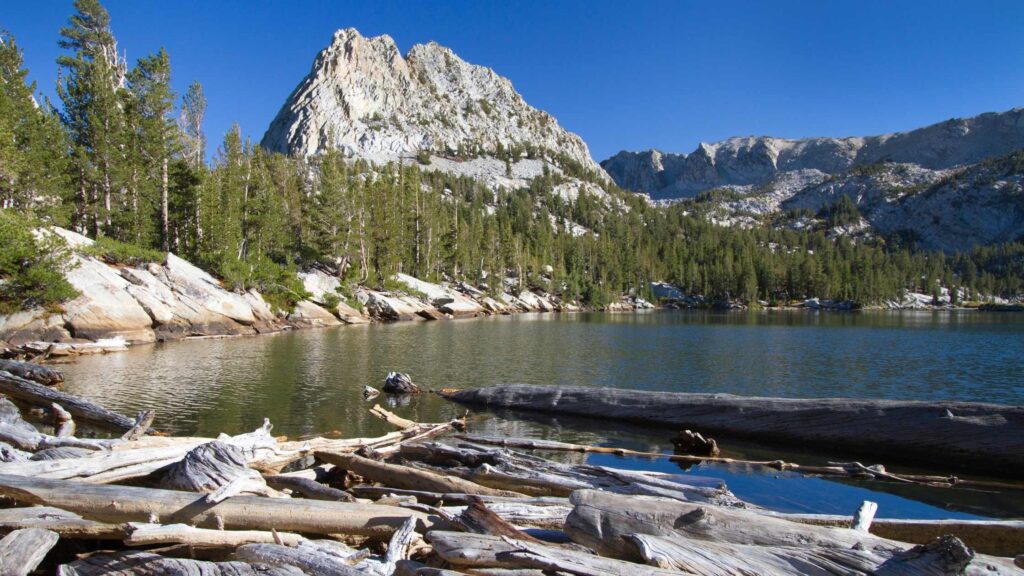 If your time is short, but you want to hike, hike the Crystal Lake Trail. This peaceful lake sits below the towering Mammoth Crest that divides the Lakes Basin from the San Joaquin River.
WHAT TO DO AT CRYSTAL LAKE?
At the parking lot of Lake George Campground, enter the trailhead on the right end to get on the Crystal Lake Trail, which is 3 miles out and back.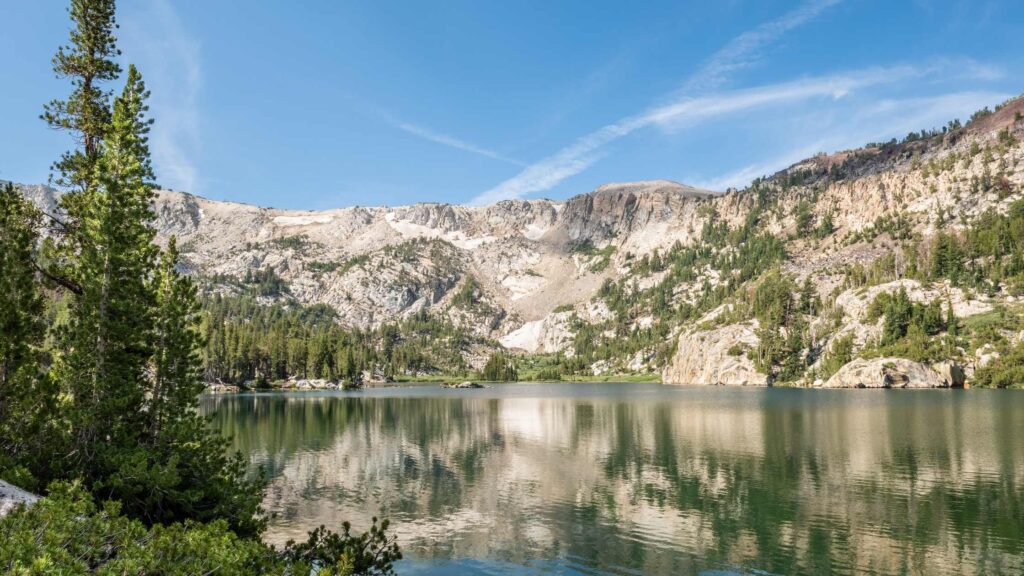 This moderate trail has steep and strenuous stretches in between via a series of switchbacks and an elevation gain of around 800 feet, reaching an altitude of 9,600 feet, but it is worth your time.
You will witness the best of Mammoth on this trail laden with pine, fir, and other unique flora.
On the way, you will come across the stunning views of Lake George and Lake Mary, comprising the spectacular Mammoth Lakes Basin area. Above, you will find the famous Crystal Crag, a rugged granite rock dominating the vistas.
You will be rewarded with the water of the gorgeous turquoise lake that reflects the Crystal Peaks that form its backdrop, surrounded by lush forests that make the panoramas surreal.
You can relax on the rocks around Crystal Lake and quickly spend an hour here enjoying a picnic lunch.
You have many viewpoints atop boulders from where you can enjoy splendid views enjoying a picnic.
Although the trail is open from June through November, check for snow conditions before heading out.
WHERE TO STAY?
There are many campsites near and around the trailhead, with the nearest option being the Lake George Campground, from where you can also access other lakes.
BEST LAKES IN MAMMOTH LAKES UPPER BASIN
The lakes in the upper basin can only be accessed via hikes, which is why it remains without many mainstream tourists. If you love hiking, I would recommend you hike to all these lakes with camping in between them.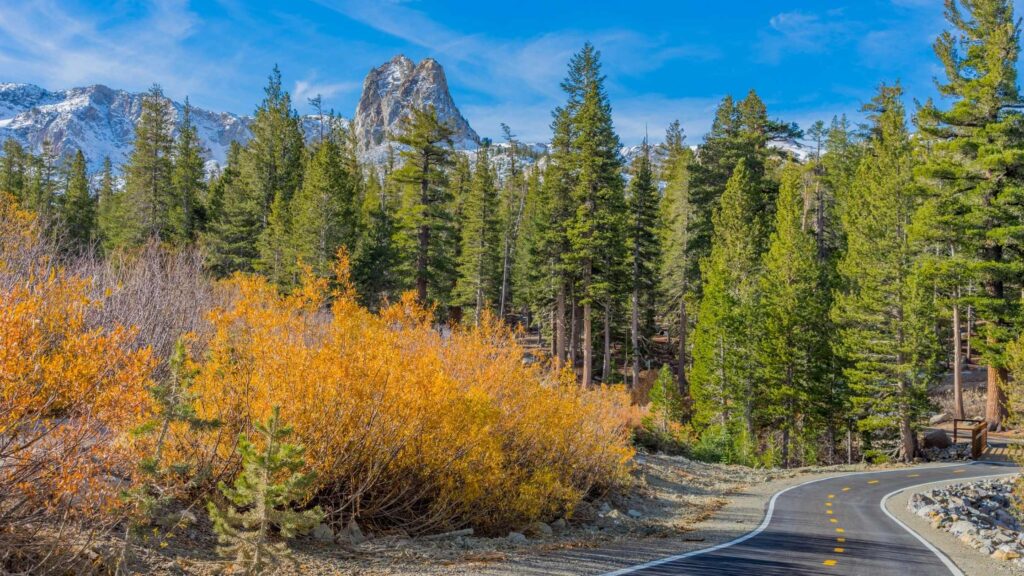 Below are the lakes in the upper basin, all of which could be only accessed by on Duck Lake Pass. You can continue on this trail to find many lakes, some of them isolated but offering fantastic experiences of the wilderness and splendid views.
These stunning high altitude alpine lakes were formed from glaciers formed from metamorphosed sedimentary rocks.
SKELTON LAKE
You'll be starting your hike from the Duck Lake Pass Trailhead to reach Skelton Lake, which is the first of the many beautiful lakes in the upper basin.
Skelton Lake is known for its incredible location surrounded by beautiful rugged Eastern Sierra mountains with crystal clear turquoise water. Not only this but there is also a small sandy beach a bit further.
You will get the first glimpses of Skelton Lake after hiking 1.5 miles on Duck Lake Pass, where you will see the trail splitting to the left, following which you will reach the footsteps.
It is a gorgeous place to swim if you visit during summer. You can picnic for a while, head further, or camp overnight.
BARNEY LAKE
If you decide to continue onward from Skelton Lake, the next lake on your stop would be Barney Lake, accessible on this Duck Lake Pass. From the trailhead, the distance to Barney Lakes is 5.4 miles roundtrip.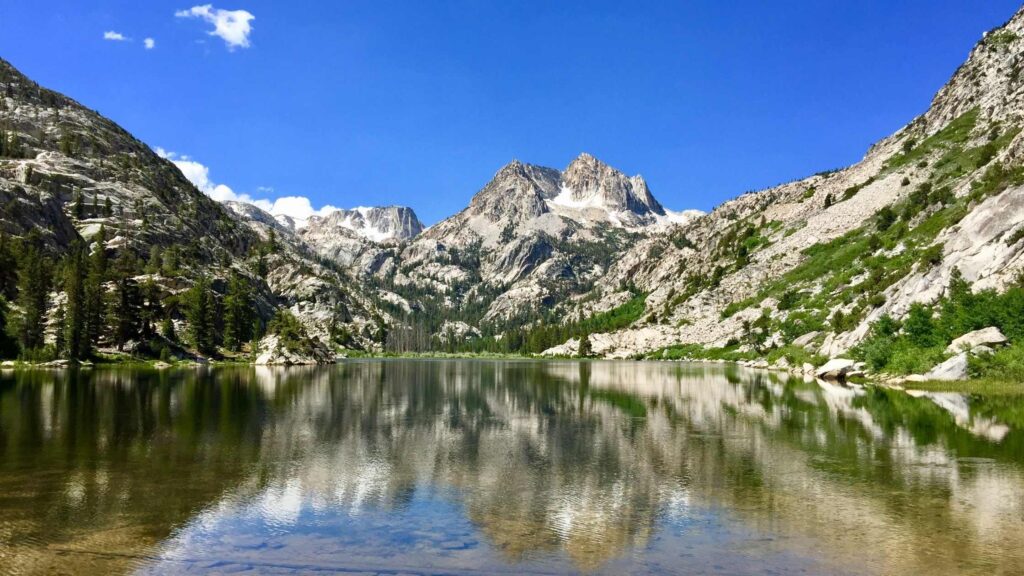 Continue on the Duck Pass Trail for another mile and a half to witness the beautiful Barney Lake, which has more shades of green, stunning backdrops of the valleys, and very less visitors.
You can sit near the lake's edge, picnic and admire the rocky cliffs and the lake.
Or if you do not mind going higher, you have options of going atop hillsides to get 360-degree views of the magnificent lakes and the mountains amidst the forests.
DUCK LAKE
If you are looking for a more challenging trail, you can head further from Barney Lake to arrive at Duck Lake.
The total distance from the trailhead to Duck Lake would be 9.5 miles roundtrip, which would be a lot to pack in a single day.
If you plan to cover three or more lakes on this route, it is best to split your trip to two days with overnight camping by one of the lakes.
Although it is possible to hike on the same day to reach Duck Lake, I would recommend not doing so given the high altitude that may cause sickness, the stretches in between, and the fact that you will not get to spend more time in each of these lakes.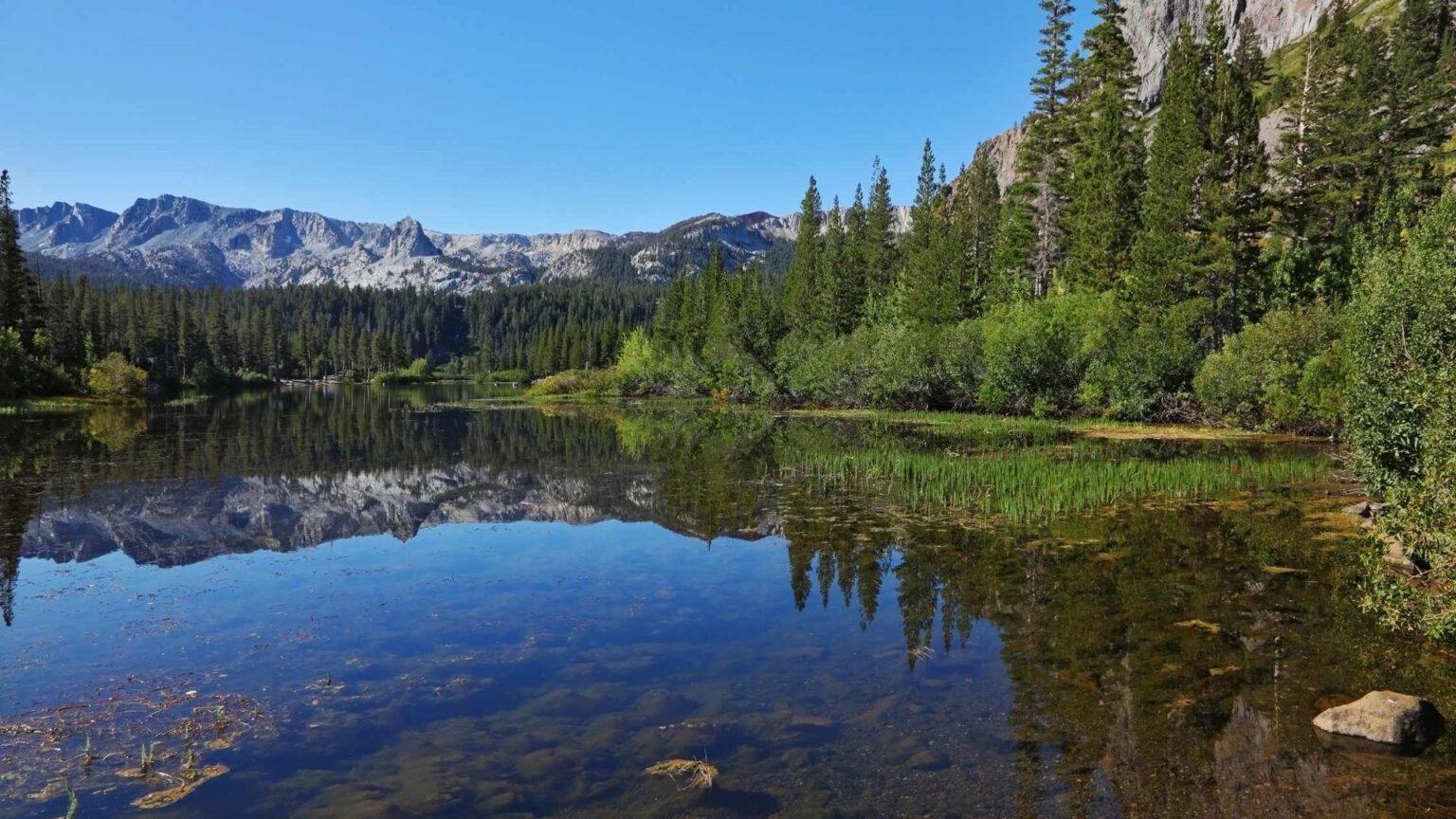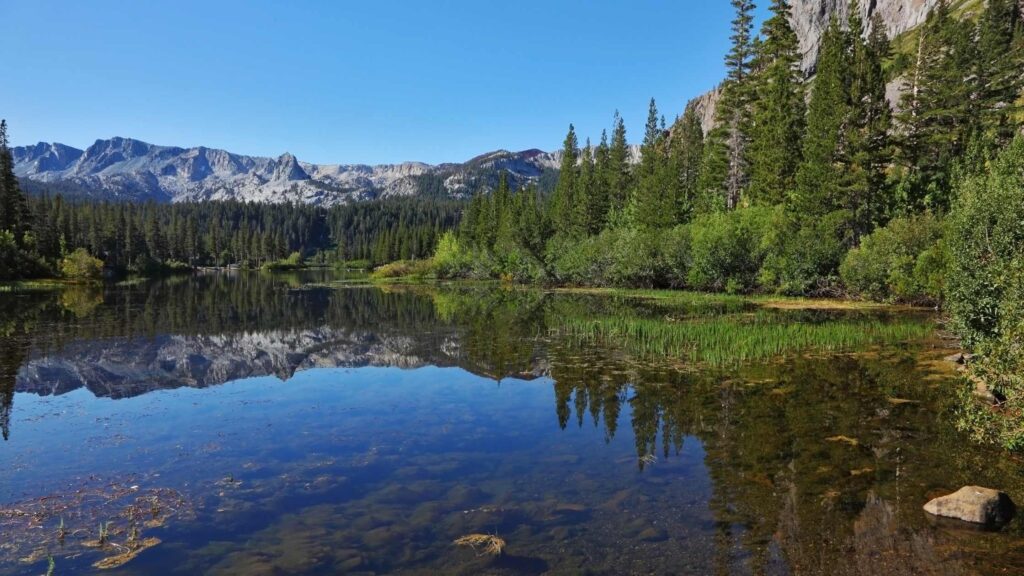 Duck Lake is one of the biggest lakes in Mammoth Lakes Basin, located amidst the rugged mountains. Following a steep climb up, you can also enjoy fantastic views of Barney Lake from below.
You will go through an uphill pass at the end, of which you will get glances of Duck Lake.
PIKA LAKE
You will spot Duck Lake once over the pass uphill, and you have the option of continuing further on the same path to see the complete lake or heading back.
If you take a left at the junction, you will see the trail to Pika Lake, another hidden gem in the Mammoth Lakes.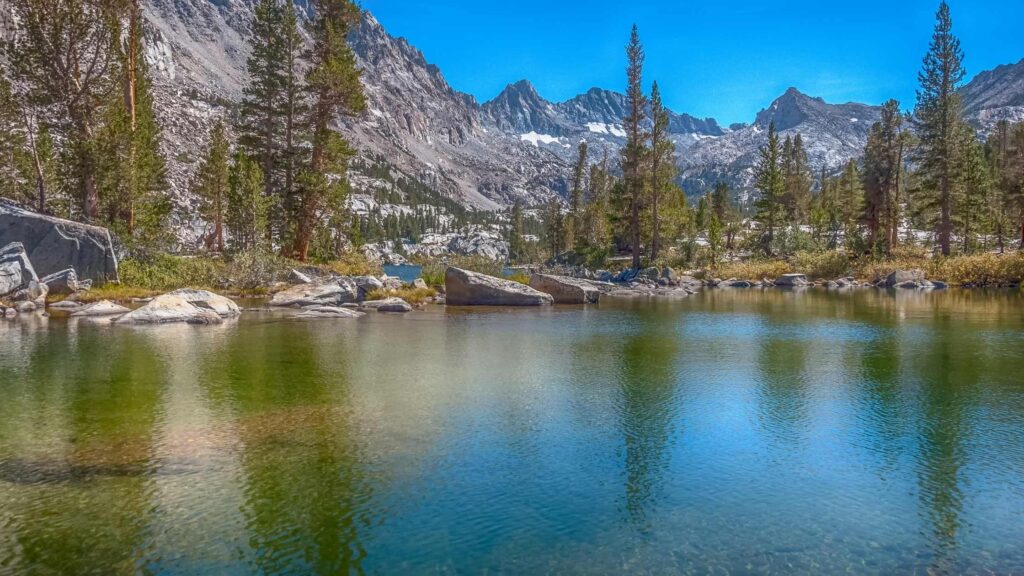 You cannot camp close to Duck Lake because of its rocky terrain and prohibition of camping near the lake. So most people looking to do the Duck Lake trail or head further base near Pika Lake, which has beautiful shades of blue.
From Pika Lake, enjoy the gorgeous views of Bloody Mountain and the surrounding jagged peaks of the Sierra Nevada. You can take the other trail leading back to the parking lot from here or plan hikes to other lakes.
Below are the two lakes in the upper lakes Basin that you can access via the common T J Lake Loop Trail or Lake George Loop Trail.
T J LAKE
At 9,290 feet in the upper Lakes Basin, T J Lake is a spectacular lake to enjoy if you seek to be amidst the wilderness without the tourist crowds.
This beautiful lake is set in a lodgepole pine forest, offering incredible, close-up views of Crystal Crag and the Mammoth Crest.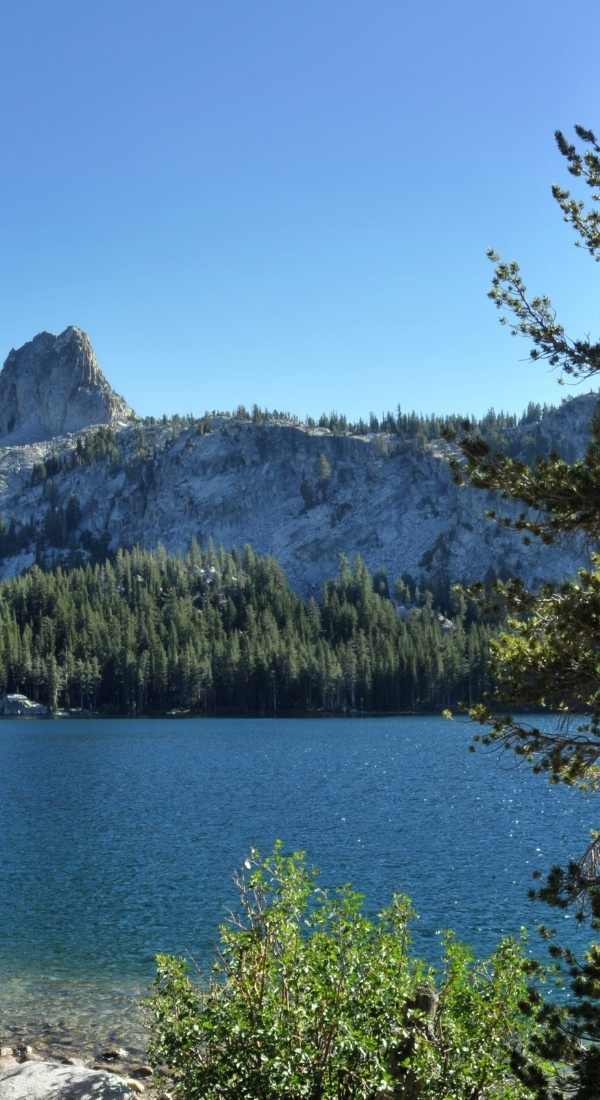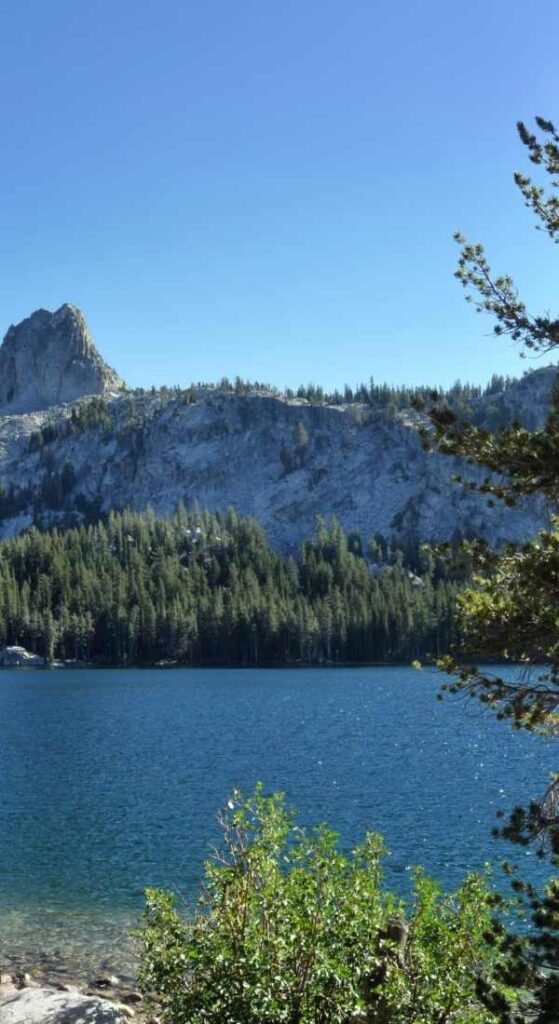 Since it is not one of the several lakes you can reach by car in the Lakes Basin that gets busy in the summer, go hiking just a bit out of the way to enjoy this beautiful lake.
TJ Lake is a short hike away from the beautiful Lake George in the Lakes Basin of Mammoth Lakes.
If you plan to reach from Barrett Lake on the Coldwater-Lake George Trail, you will arrive at the northern shore of T J Lake after a short climb up.
You can venture into the furthest ends of the lake if you do not mind going on the not so well paved fishers' trails.
WHAT TO DO AT T J LAKE?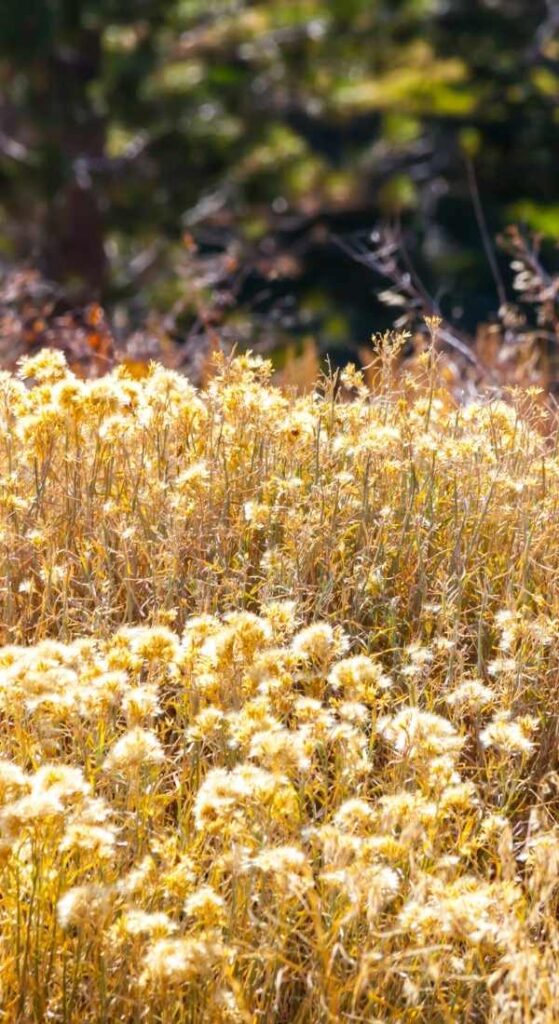 T J Lake is an excellent lake for enjoying picnics in the picnic area during summer afternoons.
Along with the seclusion, you get to enjoy some fantastic views that you can enjoy from the shore, or better go swimming.
If you are here in winter, skiing is something you should not miss, as the lake is a popular backcountry ski destination at the base of the TJ Bowl.
There are many spots for fishing and camping near the lake as well.
BARRETT LAKE
One of the lakes popular among families and people looking for short hikes and stunning views is Barrett Lake.
Barrett Lake, sitting at over 9300 feet, may be small in size compared to other lakes in the Mammoth Lakes Basin, but it's big on panoramic landscapes and loads of things to do, with many visitors to Lake George adding this to their list.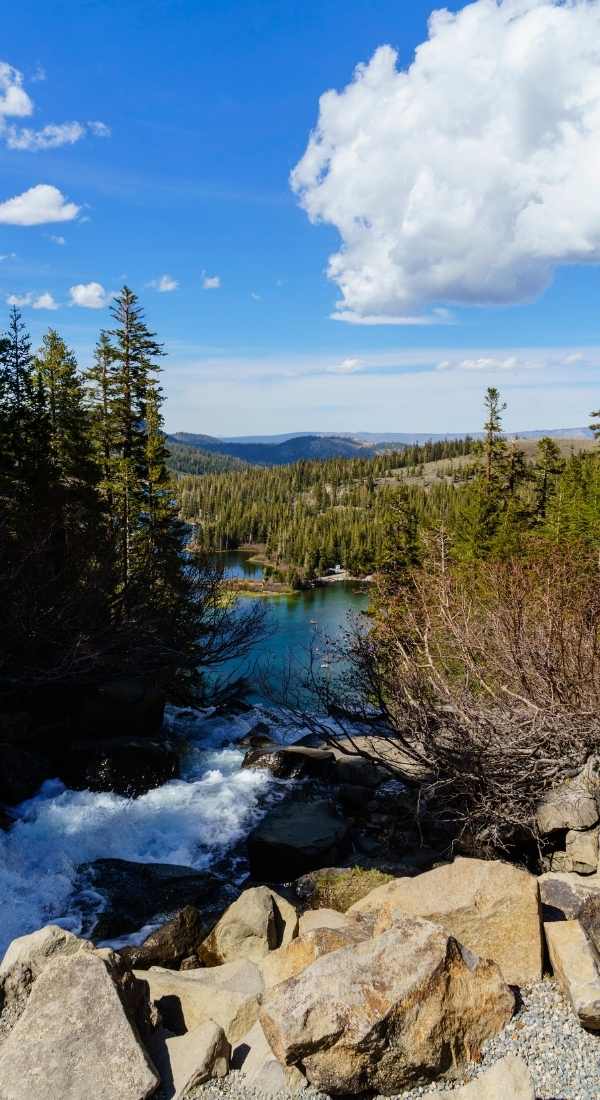 Barrett Lake can be accessed from an easy yet scenic one-mile hike from the Lake George day-use area, following the Lake George shoreline before heading up its inlet creek.
Stop by to admire the surreal views of the Mammoth Crest, Red Cone and Crystal Crag on your hike through the trees along the way, while wildflowers abundantly carpet the floor of the forests.
WHAT TO DO AT LAKE BARRETT?
Most people camping at Lake George Campground also add a stop at Barrett Lakes and vice versa due to its convenient stay options and proximity.
There are excellent spots to enjoy a relaxing picnic across the lake in the surrounding pine forest shades on the lakeshore.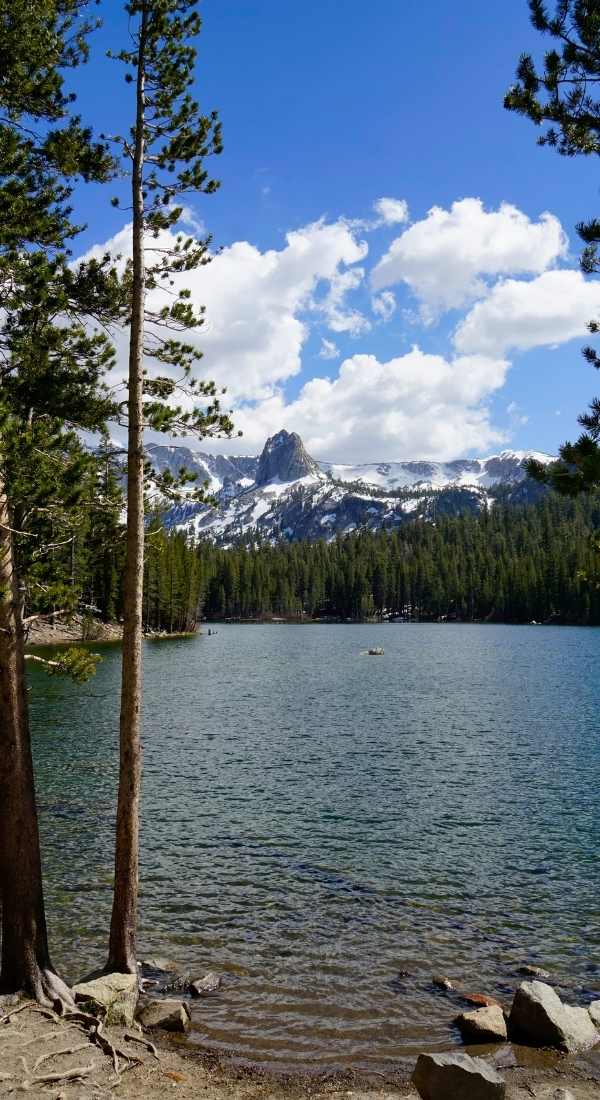 You can walk your dog as permitted or go on many short and accessible hikes to be rewarded by stunning vistas.
Combine your visit with a hike to neighbouring T J Lake. From the main Coldwater-Lake George Trail, you go above the southeast shore of Lake Barrett, following a short trail climbing a ridge.
You can reach the stunning TJ Lake and its clear waters reflecting the granite outcropping and the sheer rise of Crystal Crag on the far shore beautifully.
You will reach down to the shore of the lake if you continue on this trail. Spend some time in T J Lake and make your way back in the loop to Lake Barrett if you are short on time but want to cover both.
I would highly recommend giving each at least a day individually, given all the things you can enjoy surrounded by blissful wilderness.
MAP OF THE LAKES IN MAMMOTH
TOP TRAVEL TIPS & RESOURCES
Below is the list of the travel resources you can use to organize your travel – from flights to insurance and everything. These are the resources I use myself, which is why I recommend you for a hassle-free travel planning experience and fantastic trips.
Booking Flights
: To score flight deals, search on
Jet Radar
, Kiwi,
or
12go.Asia
(for Asia planning). Book and fly mid-week, taking red-eyes flights or those in the early mornings for better deals and lower prices. Avoid check-in bags on a budget airline.
Booking Trains:
The best websites for booking trains anywhere in Europe are
Rail Europe
and
TrainLine
. Both are easy to manage online and track your journeys.
Booking Cars:
For the best prices and easy handling of renting a car for road trips and day trips, I'd recommend
Discover Cars
or
Rental Cars,
available throughout the world.
Accommodations:
I typically use
HotelsCombined
or
Booking.com
to book hotels. There are special getaway deals with amazing discounts(over 50%!) for this year on Booking.com, and you can find them
here
.
I use
Hostelworld
and
Agoda
to book hostels as the deposit is low, easy change/cancellation is available and reviews are excellent on both. Depending on the destination, I love staying in
VRBOs/homestays
.
Travel Insurance:
No matter whether it is a short trip or longer trips abroad, I strongly recommend buying travel insurance for international trips. I recommend either
World Nomads
or
SafetyWing
for international travel insurance.
Tours:
Being a solo traveler, one of the best ways to optimize my time, budget, and super importantly, meet amazing people from all over the world is by joining tours, especially food tours, walking tours, day trips, culture, and history tours.
You will get a local's perspective, the best opportunities to experience places and people closely. I book using
GetYourGuide
,
Klook
,
Viator,
and
Voyagin.