There are many fantastic things to do in Lake Arrowhead if you want a weekend trip from San Bernardino. Located amidst the San Bernardino National Forest, Lake Arrowhead is one of the best hidden gems in southern California that has recently become popular.
Lake Arrowhead, also rightly known as the "Alps of Southern California", is in a prime location sitting 6,000 feet above sea level and is suitable for all types of weather. Lake Arrowhead has something to offer for all age groups, whether summer or winter.
The lake is dotted by beautiful mansions, home to many Hollywood celebrities until quite a few years. But now, Lake Arrowhead is a preserved resort community, and the Lake can be accessed only by the local Lake Arrowhead residents.
You can still access and enjoy many other Lake arrowhead activities, stay in vacation homes, and get almost the same privileges as the residents.
Whether you want a quiet weekend surrounded by abundant natural beauty or enjoy water activities on your holiday, continue reading this post to learn about the best things to do in Lake Arrowhead, California.
WHAT IS THE BEST TIME TO VISIT LAKE ARROWHEAD?
Lake Arrowhead is one of the year-round destinations in California, both summer and winter, offering varied and fantastic experiences. It is best to plan a trip to Lake Arrowhead during both seasons as there are many different things to do in Lake Arrowhead in summer and winter.
Summer is the best time if you want to spend more time in the lake and enjoy water activities, go hiking along the many trails, mountain biking or camping.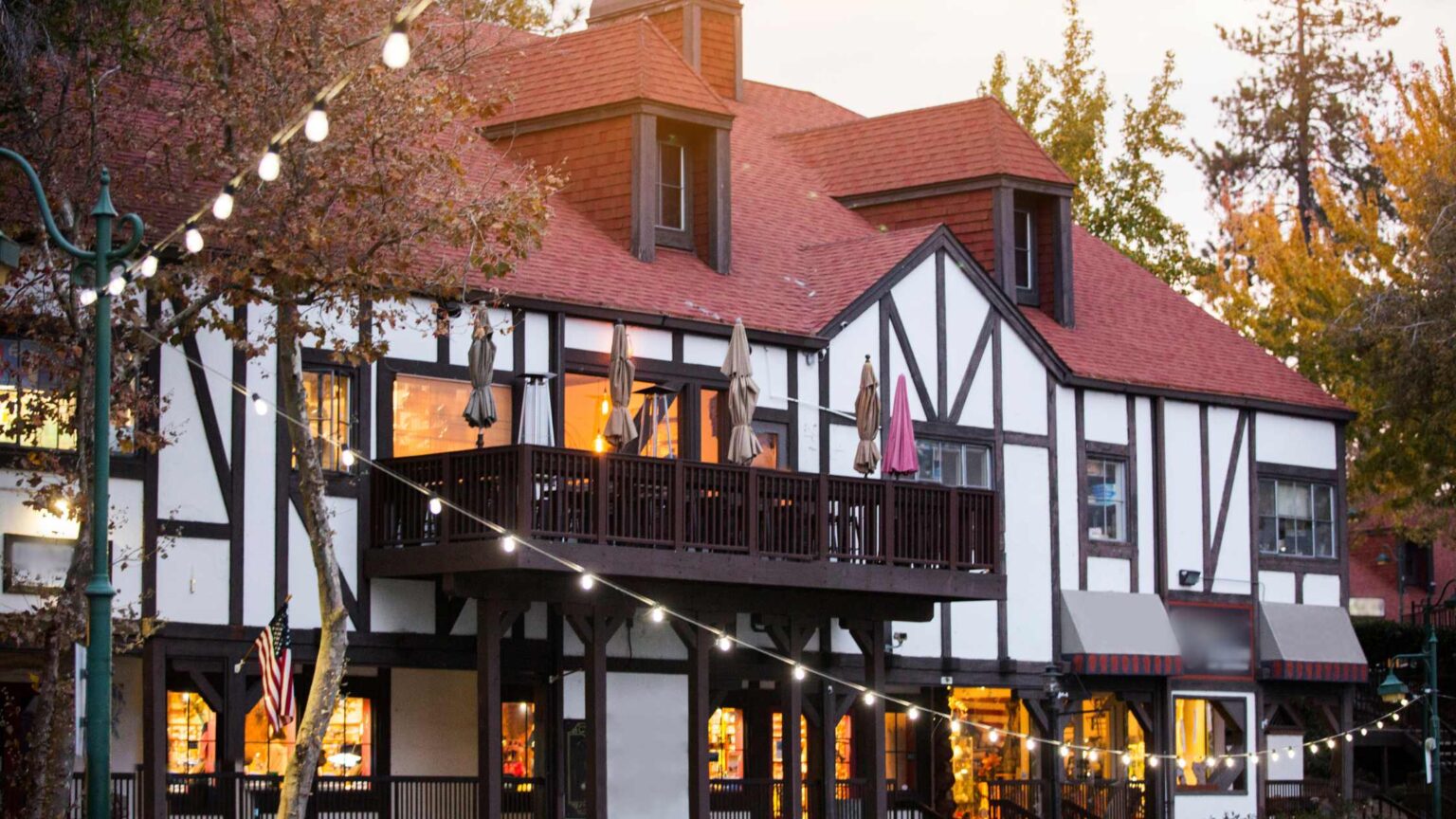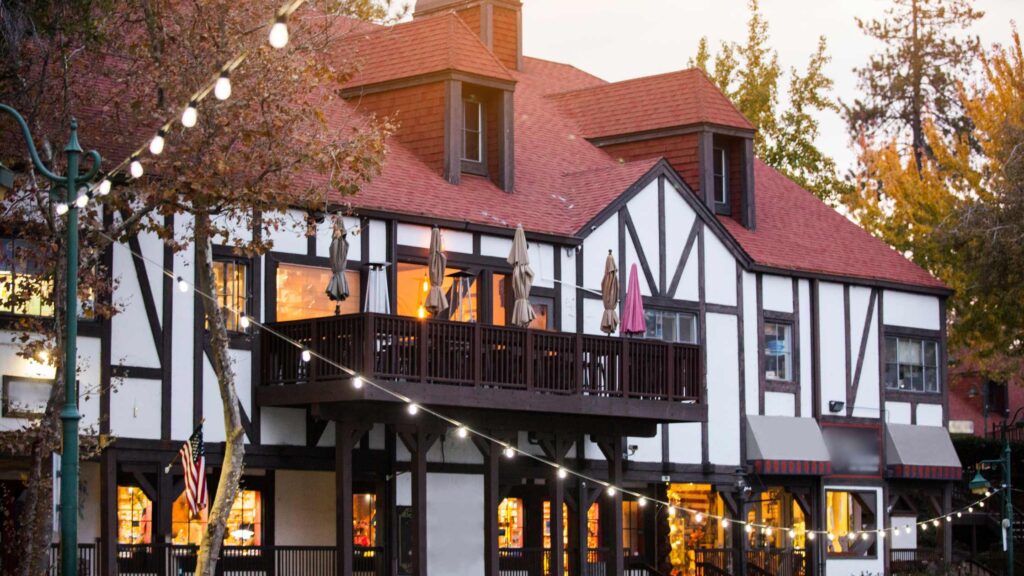 Spring and summer is the ideal time as you can enjoy stunning panoramic views in perfect weather. But since these are popular seasons, there will be large crowds, and accommodations tend to get booked quickly.
If you want a chilly winter or possibly experience California snow, Lake Arrowhead offers the best to do so as the lands transform into a magical winter wonderland.
TOP THINGS TO DO IN LAKE ARROWHEAD
VISIT THE LAKE ARROWHEAD VILLAGE
One of the top things to do in Lake Arrowhead is to visit Lake Arrowhead village, the city's main draw.
Located on the Southern shore and adorned with 1920s architecture with White and Burgandy lakefront buildings, Lake Arrowhead village can be seen from a distance. The town is easily accessible from the Rim of the World Scenic Byway.
As soon as you reach the parking lot, you will get distant views of the lake dotted by the beautiful San Bernardino National Forest.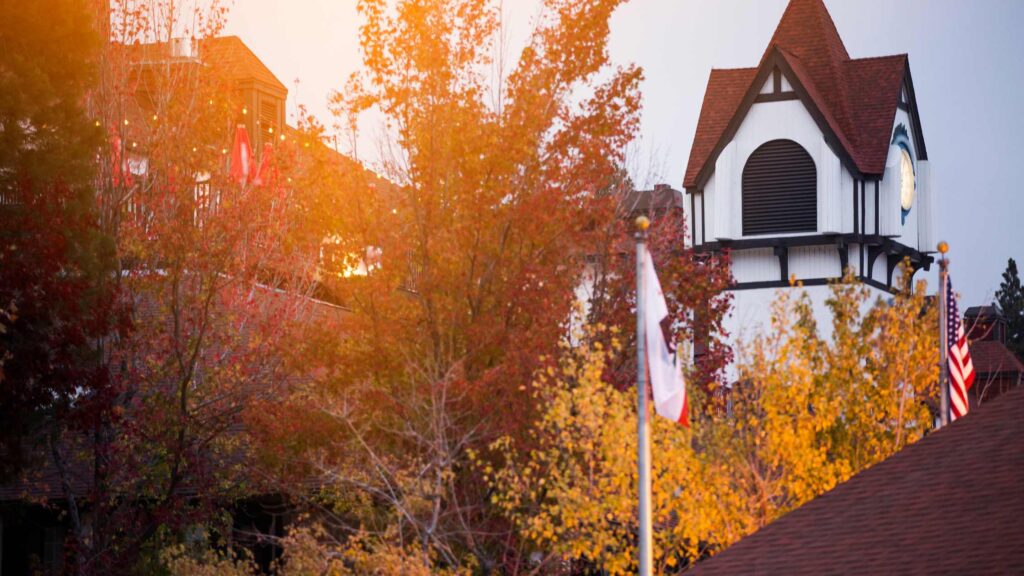 There are around 50 shops offering something for everyone. Restaurants with mouth-watering seafood cuisines, cafes with varieties of desserts and delicacies overlooking the beautiful lake views or fancy clothing stores for avid shoppers are some of the typical lake arrowhead things to do.
Grab a coffee or a bite from the Rocky Mountain Chocolate Factory and stroll on the wide concrete path navigating amidst the waterside and restaurant patios, admiring the stunning views of the lake and cruise boats.
Visit the Arrowhead Center Stage Concert Hall, renowned for its Summer Concert Series.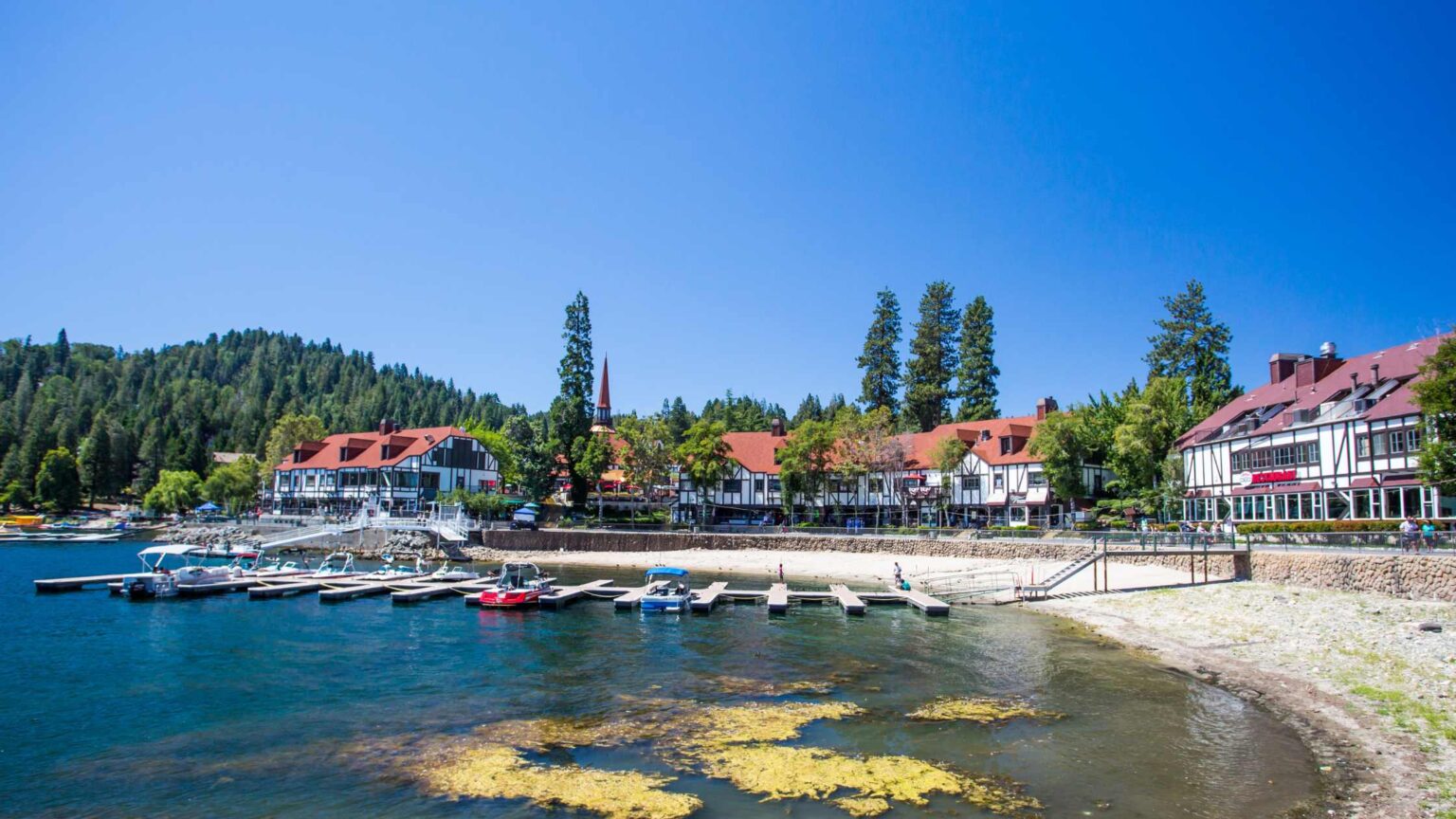 Check out Lollipop Park Lane while heading back to the parking lot. This attractive pedestrian corridor has a lot of cute shops for your souvenir collection.
Support the local artists by buying their customized handmade artworks. You will come across the Jurassic Fossils Shop on this lane, worth stopping by if you are into history.
The village is dog-friendly. So get your furry friends on a walk with a leash. Watch out for Dog-competitions in the lake arrowhead village area, which happens frequently.
VISIT THE LOLLIPOP PARK
While heading back from Lake Arrowhead village, stop by the Lollipop Park, especially if you are with kids, one of the top things to do in Lake Arrowhead.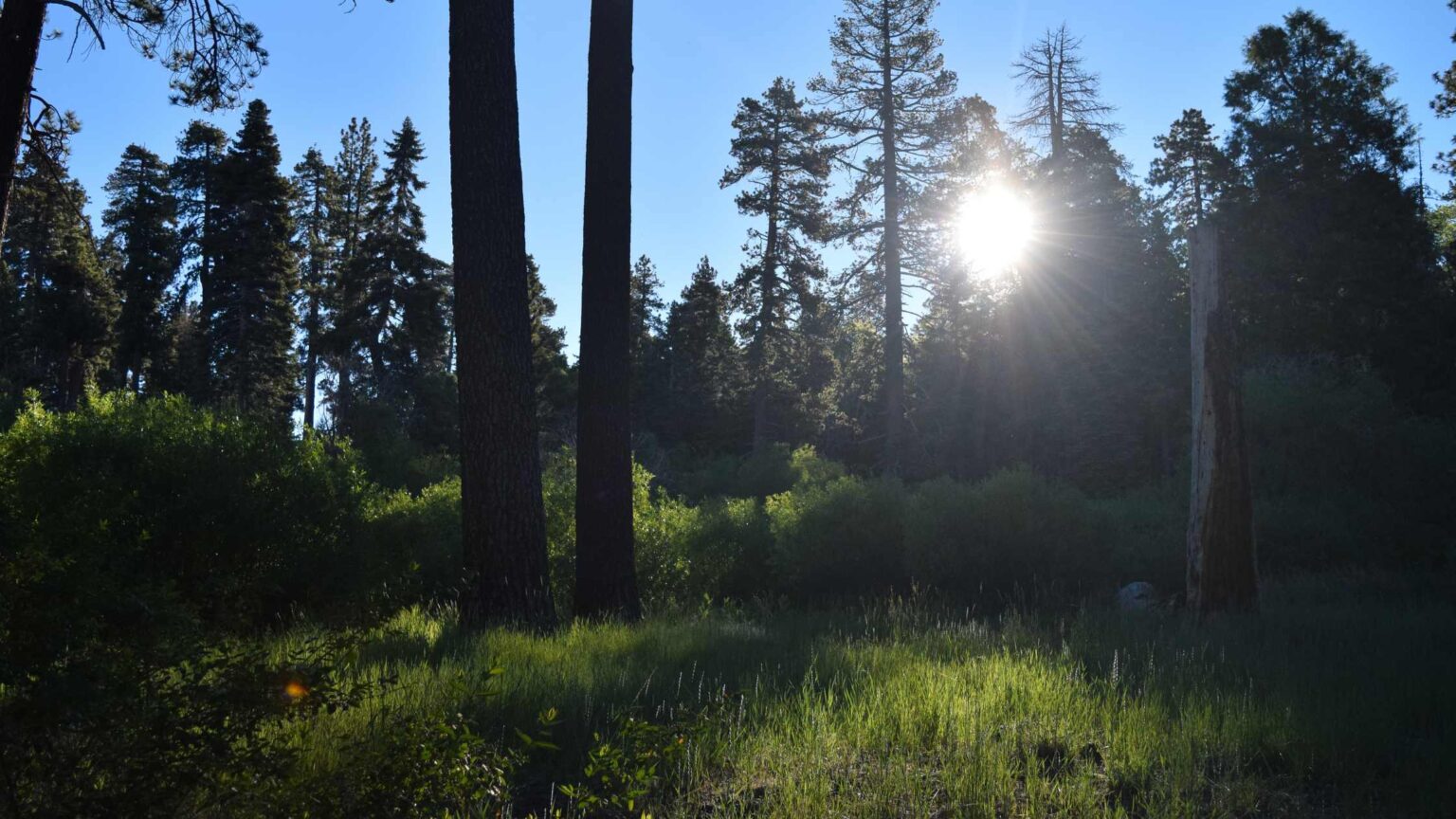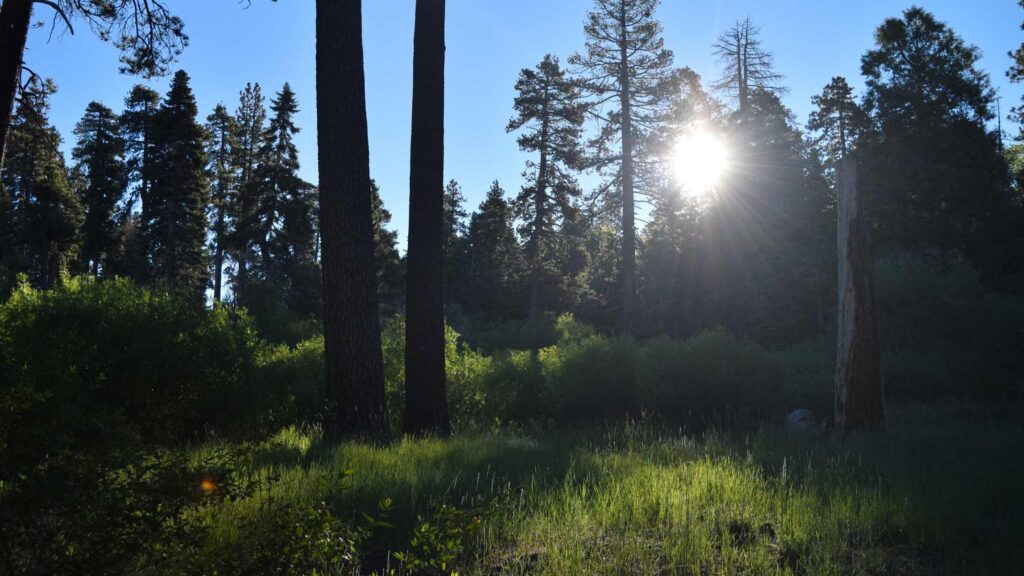 Follow the Lollipop Park Lane after your shopping spree to watch kids enjoying various activities in the park. The park is fitted with bumper cars and many other adventure games. Try a shot on the miniature golf course.
A cosy ice cream parlour is in the park to keep your tummy happy.
ENJOY WATER ACTIVITIES IN LAKE ARROWHEAD
One of the main Lake Arrowhead attractions is its various water activities like swimming, fishing, kayaking or boat tours.
The lake's calm waters are favourable for Kayaking and Swimming, especially from late June to October, making it one of the top things to do in Lake Arrowhead.
Every April, you can witness the fishing competition in the Lake area. The lake is known for its trouts, carp and bass. Note that only five pieces of fish per person is allowed, and also you will need a fishing permit if you are above 16 years.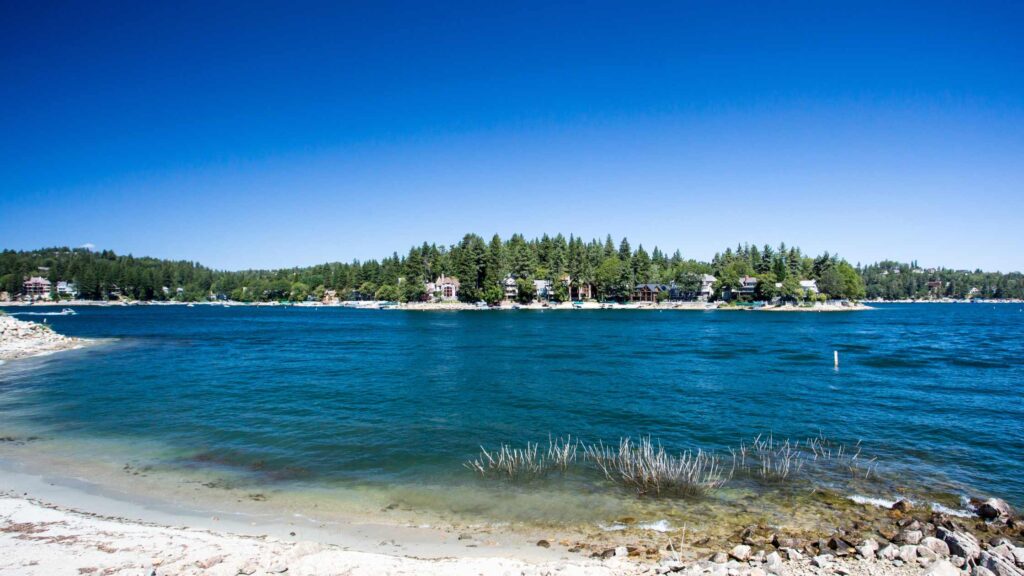 All these activities need an additional valid membership and registration with the ALA – Arrowhead Lake Association, or you need to be accompanied by one of the members of the ALA.
You will need the ALA permit even to dock your personal watercraft or Kayak. The lake is private and is bordered by a mile of beautiful houses – the arrowhead woods. You are allowed to use the water activities if you are a guest of one of the house owners.
Kayaking must be done close to the shoreline, and you might not be allowed to Kayak in far open waters of the lake.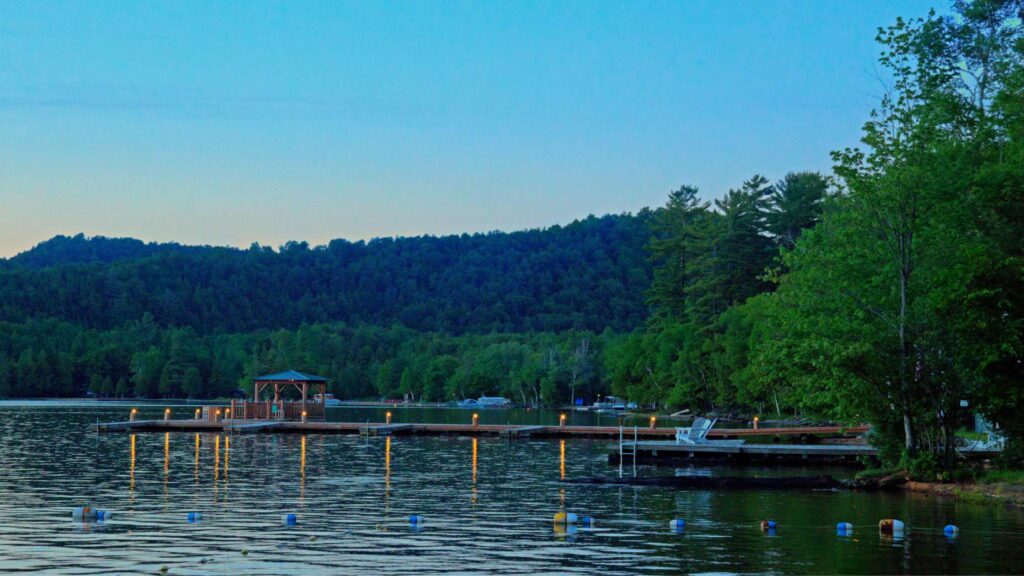 Take the renowned Lake Arrowhead Queen Boat Tour or approach Lake Arrowhead resort and Spa for boat rentals. You can access the lake via their small private beach if you stay there.
If you cannot take the ALA registration, don't worry; head to Lake Gregory or Bear Lake to enjoy Kayaking and Swimming.
Check out the McKenzie Water Ski School for waterskiing lessons.
They are open from Memorial Day through September. They also offer private outings.
TAKE THE LAKE ARROWHEAD QUEEN BOAT TOUR
One of the best things to do in Lake Arrowhead is to take the incredible Queen Boat Tour, which will let you explore and have a closer look at the mansions dotted along the shoreline of this private lake.
The Queen is a majestic vintage White boat with large panoramic windows, which lets you admire the stunning Lake views from your seat. Learn about the Lake's geological history, dams and culture on this magical ride.
The stunning mansions were once homes to many Hollywood actors, and some of them were filming locations too. The guided tour lasts about an hour and departs from Lake Arrowhead Village. The tickets are sold at LeRoy's Boardshop, across the dock from the boat landing point.
The tour departs once an hour throughout the day. But I recommend going in the early mornings or during sunset to get the best glimpse of the lake with the perfect colour combination in the backdrop. You can also enquire about a private group tour.
DRIVE THE RIM OF THE WORLD SCENIC BYWAY
California is renowned for Highway 1, which offers incredible Pacific vistas. But during winter SoCal draws people to the California State Route 18, the 110-mile Rim of the World Scenic Byway, one of the best things to do in Lake Arrowhead.
The highway starts from Cajon Pass and traverses through San Gorgonio Pass, dotting the San Bernardino Mountains.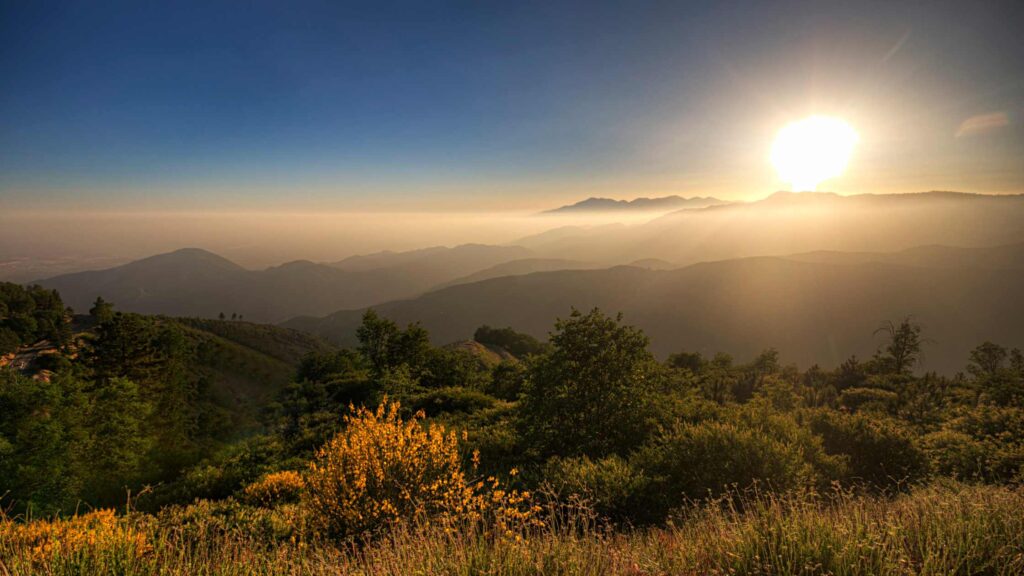 You might only cover part of the route, but you will get various pitstops and vantage points to admire the beauty of the mighty valleys and the fantastic sunset views. You will pass through small hamlets, including Twin Peaks, Blue Jay, Running Srpind and Crest line.
Enjoy the distant views of the snow-covered Onyx summit, rising 8000 feet above sea level and the beautiful lake vistas like Big Bear Lake to the East and Silverwood Lake to the West.
Ensure to carry winter tire chains since you will drive through high-elevation areas.
LAKE GREGORY REGIONAL PARK
Visit the Lake Gregory Regional Park in Crestline, approximately a 15-minute driving distance from Lake Arrowhead.
Unlike Lake Arrowhead, Lake Gregory is not a private lake, making it one of the popular things to do in Lake Arrowhead. Hike the 2.5-mile easy flat trail to admire the 84-acre park and the gorgeous lake views from an elevation.
Go Swimming or Kayaking or spread out your beach towels to enjoy the views of Cedar and Pine trees slopping around the Lake. Visit Lake Gregory Aqua Park or the inflatable playground and waterslides area to slide into the Lake, especially with kids.
Lake Gregory is also a popular fishing hotspot. So test your fishing skills here if you can't reach Lake Arrowhead through ALA registration.
VISIT THE BIG BEAR LAKE
One of the other popular Lake Arrowhead attractions is Big Bear Lake, one of the top snow destinations in California. Like Lake Gregory, Big Bear Lake is also open to the Public and is a 30-minute driving distance from Lake Arrowhead.
Big Bear Lake is renowned for its skiing trails, but apart from that, many other attractions are making it one of the fun things to do in Lake Arrowhead.
Get your inflatable Kayak or rent one and go Kayaking, one of the best ways to explore Big Bear Lake. Check out the Big Bear Alpine Zoo, a rescue and rehabilitation centre for animals that have been injured or orphaned.
You can stay in the Big Bear Luxury Cabins or take a day trip to explore the area.
THINGS TO DO IN LAKE ARROWHEAD IN THE SUMMER
If you want to visit Lake Arrowhead from June to September and look for things to do in Lake Arrowhead in Summer, check out the below list of outdoor activities for the best summer experience.
BIRDWATCHING AT WILD HAVEN RANCH WILDLIFE SANCTUARY
If you are a wildlife enthusiast, Visit the Wild Haven Ranch Wildlife Sanctuary, run by a group of volunteers and maintained by the San Bernardino Mountains Wildlife Society; one of the top things to do in Lake Arrowhead.
The primary intent of the place is to protect endangered, rescued and adopted animals in the San Bernardino Mountain region.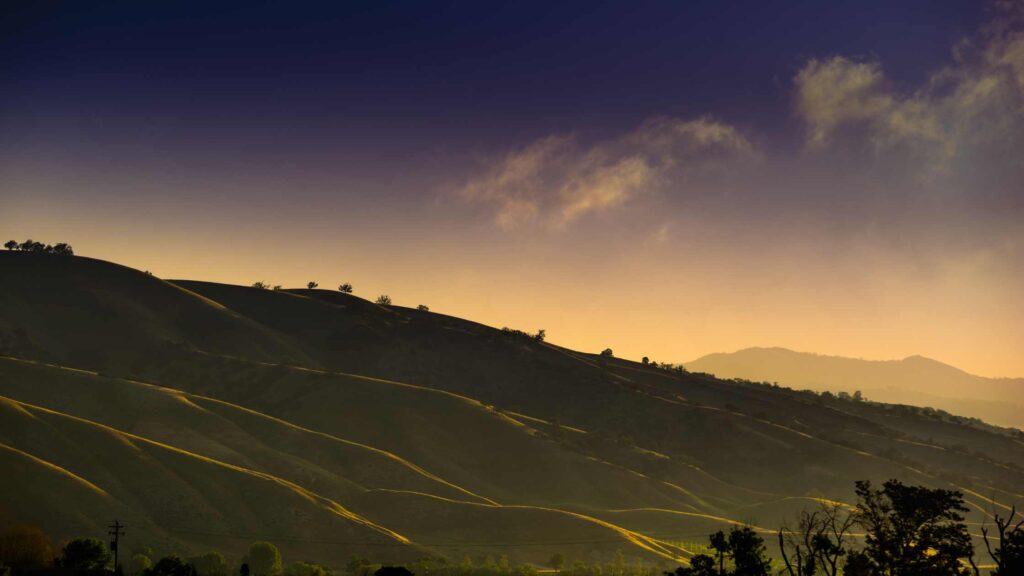 There are many guided group tours available in the sanctuary. You will be astonished by the close-up look of the massive wingspan of hawks and eagles. You might witness black bears amidst the lush forests.
You must reserve and buy a day pass to visit this sanctuary. I recommend visiting in the ealry hours since the place can get crowded during the day.
ENJOY HIKING THE MANY BEAUTIFUL TRAILS
One of the best ways to explore the Lake Arrowhead region is by hiking on the beautiful trails amidst San Bernardino Mountain ranges.
There are several trails suitable for all types of hikers in this region, and most of the tracks are open throughout the year, making this one of the popular things to do in Lake Arrowhead.
You will be greeted with gorgeous lake vistas, sightings of unique rock formations and other local wildlife along these trails dotted with vibrant wildflowers and shrubs.
Check out some of the popular trails in Lake Arrowhead and also a few of my favourites below: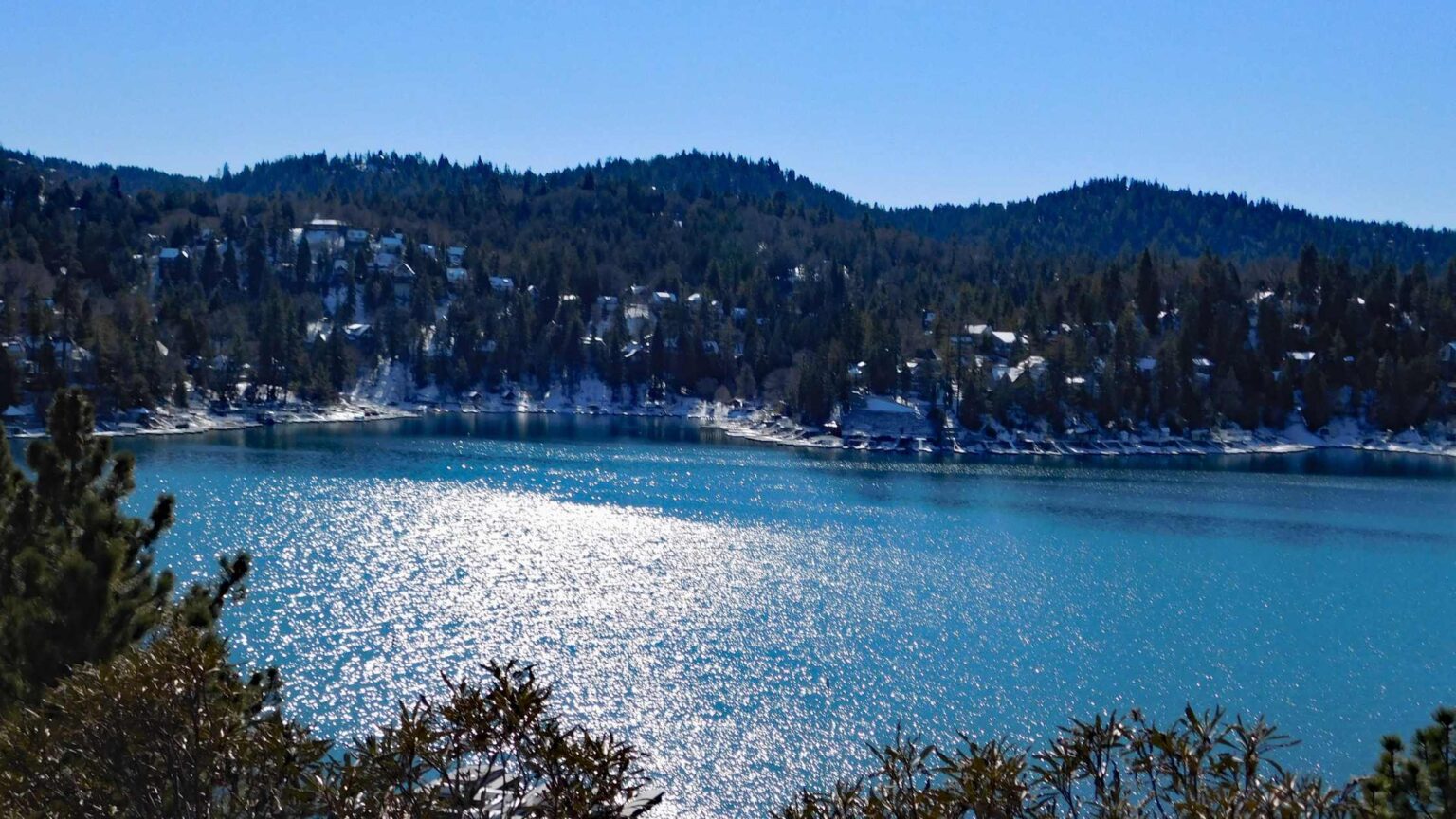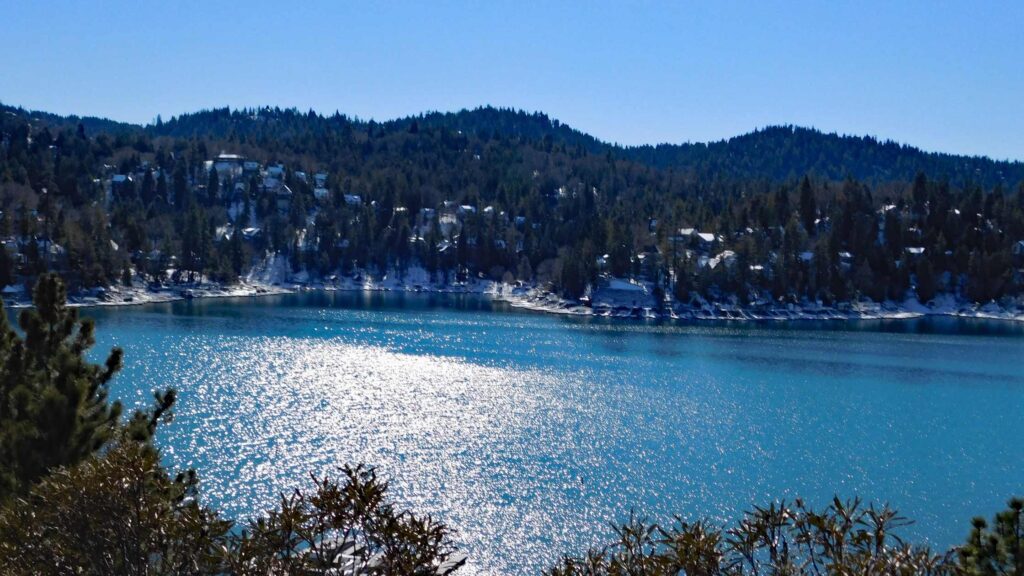 HEART ROCK TRAIL
Heart Rock, a 1.3-mile loop trail, is just a 10-mile drive on the Rim of the World Scenic Byway and is one of the famous Lake Arrowhead attractions.
The trail is moderate and suitable for beginner hikers. It is also known as Seeley Creek Trail, but more often, it is referred to as Heart Rock because of the large boulder standing at the end of the trail in the shape of a heart.
A 25-foot cascading waterfall will welcome you if you hike the trail during spring. You will witness snow-capped pine trees and snow foliage around during the winter season. Carry sunscreen ad shades if you want to hike during summer.
Recommended – 15 Top Hikes In Southern California For Adventure Seekers
HEAPS PEAK ARBORETUM – SEQUOIA TRAIL
Another popular Lake Arrowhead attraction is the Heaps Peak Arboretum, a 30-acre land in San Bernardino National Forest located less than a 10-minute distance from Lake Arrowhead Village.
Heaps Peak Arboretum, sitting on top of a 6000-foot elevation gain, is a preserved landscape born from ashes after a massive wildfire in the region that happened ages ago. You can witness native flowers and learn about the local flora.
The Arboretum is open throughout the year and is also one of the popular free things to do in Lake Arrowhead. You will see snow foliage, falling leaves, and varieties of colourful wildflowers in this region during different times of the year.
Take the 1-mile Sequoia Trail along the massive Sequoias, Quaking aspen and Dogwood trees. There are QR codes pasted on these trees if you are keen to learn more about these trees through educational videos and bogs.
There is an information booth at the entrance of Heaps Peak Arboretum if you want to take part in the various educational programs available to learn more about its flora or to know more about the places surrounding San Bernardino Forest.
OTHER POPULAR TRAILS IN LAKE ARROWHEAD
Hike the Castle Rock Trail in Big Bear Lake, or rent a bike and hit the Alpine Pedal Path, a 3.2-mile paved pathway which offers gorgeous lake views and the surrounding valleys.
Check out the Lake Arrowhead Reservoir Trail if you have a valid ALA membership. The 9-mile trail circles the Lake and offers beautiful Lake and mansion views.
Hike the Deep Creek Hot Springs Trail, which runs along the Pacific Crest Trail. Check out the North Shore National Recreation trail, which starts from the North Shore Campground.
You can also hike the nearby Will Abell Memorial Trail, a 1.9-mile easy hike suitable if you are with kids and family. The walk takes about an hour, and you can even ride a sledge if there is ample snow in the region during winter.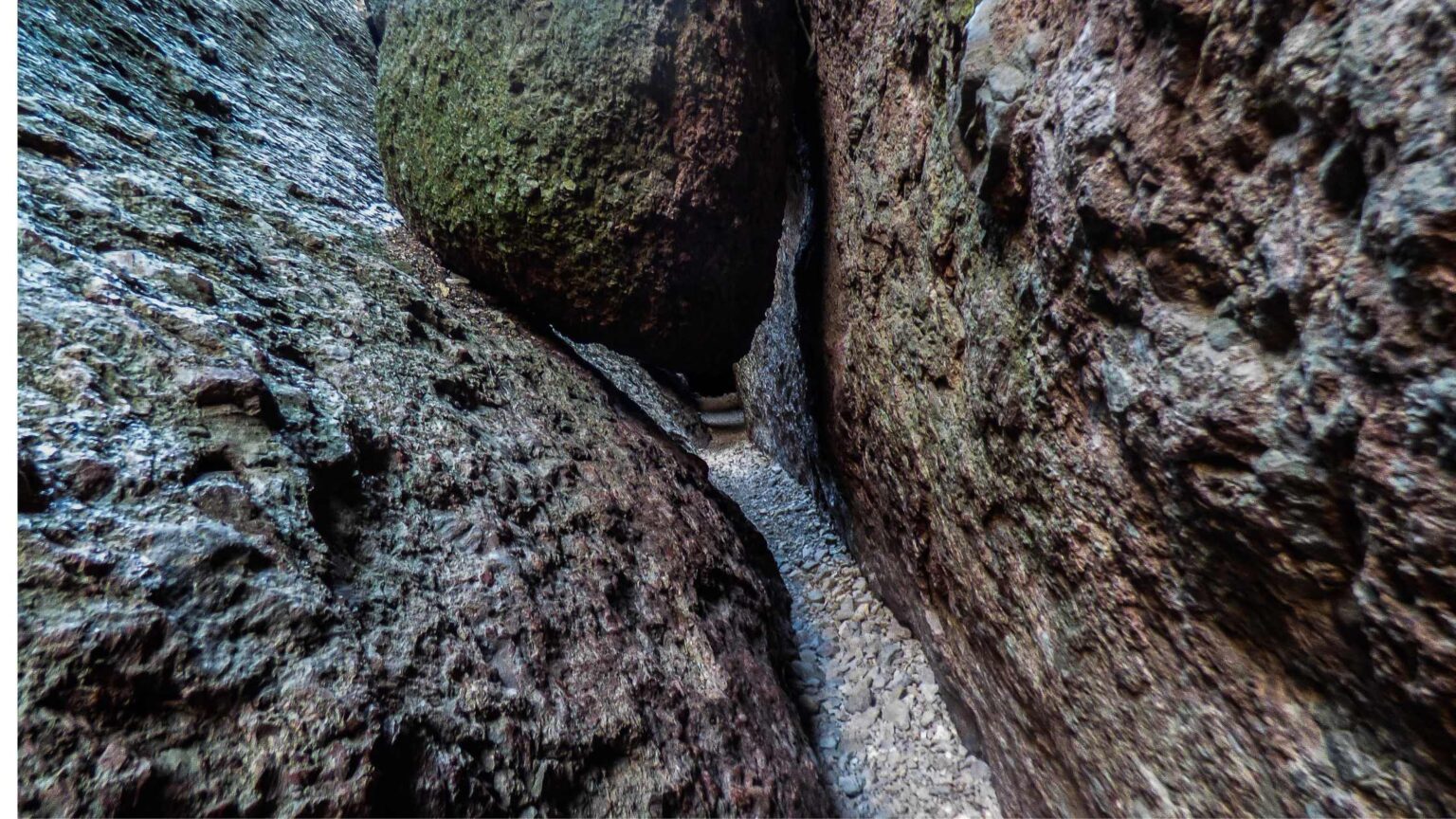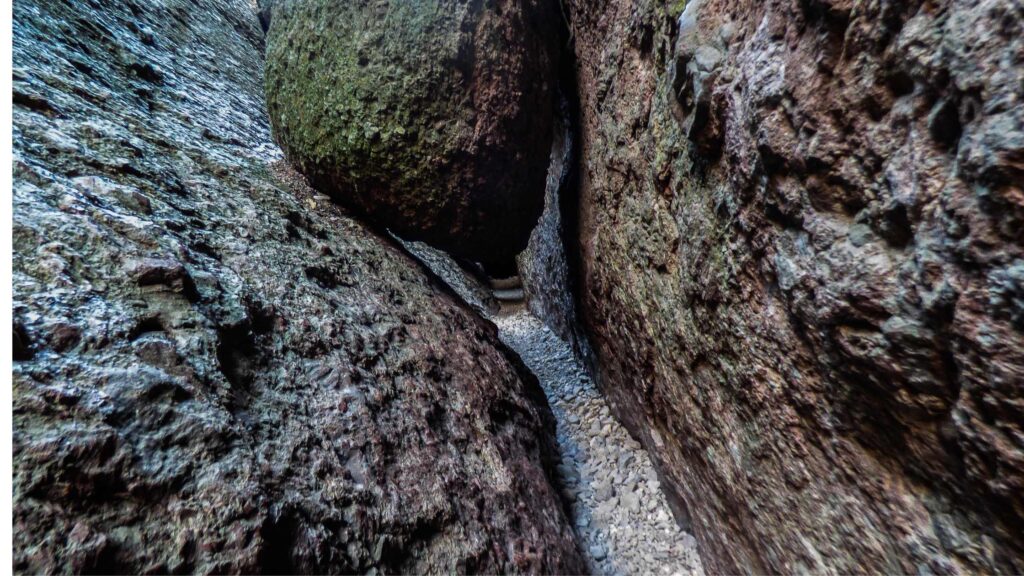 If you are into extra adventure, try Arrowhead Pinnacles Trail, a 4.6-mile loop trail with an 1100-foot elevation gain. It needs some navigating the rugged rocks, but the view at the trail's end is worth the hike.
Another challenging hike in the region is the 6-mile-long Devil's Hole to Hot Springs Hike, a part of the Pacific Crest Trail. The course navigates through the beautiful hot springs and cascading Aztec falls that plummet into the Devil's hole, where you can take a refreshing plunge.
Note: Learning about the trails and weather conditions before hiking in the Lake Arrowhead region is always recommended. Ensure to carry enough water supply since these trails have no store kiosks.
GO MOUNTAIN BIKING
If you want to have the thrill of riding bikes amidst the mountains or are an avid mountain biker, visit Skypark, which has dedicated biking trails for all age groups. You can even go for bike rentals in this area.
Another popular spot for mountain biking in the Lake Arrowhead region is the 230-acre Rim Nordic Ski Area. The trails will usually be open between Memorial Day and Labor Day.
There are all kinds of well-maintained trails catering to all age groups, such as the skills trail, pump trail and the balanced trail, which all run through a lush forested area. Bike rentals are also available.
Rim Nordic Ski Area hosts fun events like bike festivals and race events. Also, there are occasional bike lessons available for which you need to register a day in advance.
THINGS TO DO IN LAKE ARROWHEAD IN WINTER
Winter in Lake Arrowhead typically starts in December and goes on until March. There are many Lake Arrowhead Winter attractions. Check out a few of the highlights:
SKIING AND SNOWBOARDING
One of the fun things to do in Lake Arrowhead in Winter is to go Skiing and Snowboarding. There are a few places to enjoy these activities, but I recommend checking out the Snow Valley Mountain Resort.
Spanning 240 acres amidst the San Bernardino Mountain range and 6,000 feet above sea level, Snow Valley Mountain Resort is the closest ski resort to Lake Arrowhead.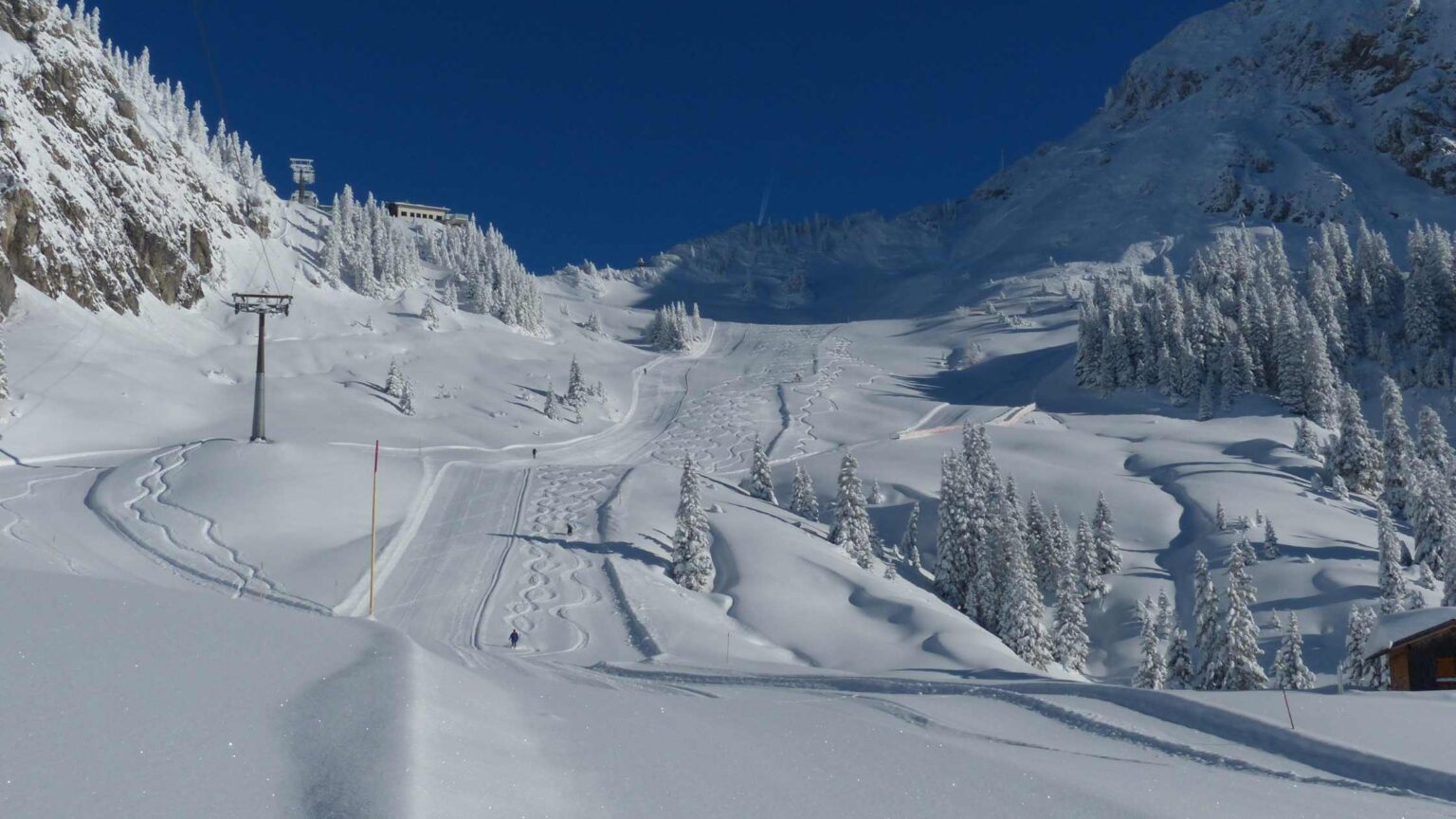 The terrain caters to all levels of Skiiers and has an exclusive large beginner area. A steep black-diamond skiing area runs from the top of the mountain.
If in case if there is no ample snowfall, Snow Valley Mountain Resort has well-maintained equipment to generate snow for skiing competitions, making it one of the oldest skiing resorts in the region since 1942.
Hop on to the Snow Valley Express, a chairlift ride that can accommodate six persons and enjoy the incredible views of the snow-capped mountains and the Lake.
If you want to try night skiing, especially during Winter, Snow Valley Mountain Resort is the best place in the Lake Arrowhead region.
Visit the Big Bear Mountain Resort, another popular ski resort and a hotspot for Skiing, located at a one-hour driving distance from Lake Arrowhead.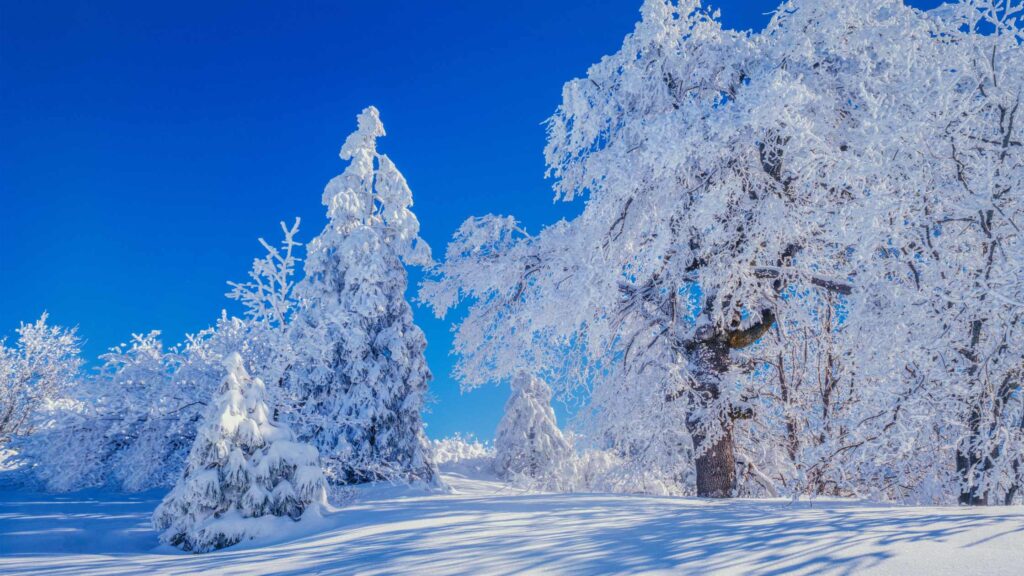 Head West on the Rim of the World Scenic Byway, and you will reach this snow paradise. The place is home to two mountains, Bear Mountain and Snow Summit and is known for its distinctive park features.
If you are into cross-country skiing and want a slower pace and a peaceful skiing experience, check out the Rim Nordic Ski Area. The area has a perfectly groomed trail system for beginners and advanced skiers.
You can go for Skiing lessons and equipment rentals as well.
SLEDDING AT SNOWDRIFT SNOW TUBING PARK
Head to the Snowdrift Snow Tubing Park if you want to try Sledding. There are fit-for-purpose inner tubes that are suitable for both kids and adults. You can rent a sledge and test your skills if you don't prefer skiing or snowboarding.
VISIT SKYPARK AT SANTA'S VILLAGE
To spend a day in Lake Arrowhead, visit the Skypark at Santa's Village, a massive 230-acre park filled with lush forest and many fun-filled adventure games. It is located approximately 3 miles away from Lake Arrowhead Village.
The park dates back to 1955 but has been closed several times for various reasons. It was renovated and was back in action in 2016 and is one of the top things to do in Lake Arrowhead.
The adventure-themed Skypark offers many things for all age groups, like ziplining, trekking, rock climbing, mountain biking, roller skating at the Silver Bells Arena, Cycling, the Northwoods Express train ride, fly fishing on Lady Bug Pond, and many hiking trails.
Skypark also features many winter attractions from November to January, like an ice skating rink, gingerbread cookie decorating, and a visit to Santa's workshop.
You will witness tons of lights, snow-covered streets and excellent Christmas decorations if you visit during these winter months, and this is also best experienced through ziplining.
Enjoy a picnic lunch in one of the multi-cuisine restaurants in the park. You need to buy a day pass to enjoy all these activities. The park is open throughout the year.
FUN THINGS TO DO IN LAKE ARROWHEAD
GLAMPING OR CAMPING AT SKYPARK
Located off Highway 18, on the Rim of the World Scenic Byway, Skypark Camp and RV resort is one of the hotspots for camping in the Lake Arrowhead region.
The campground is ideally placed atop the mountains offering incredible views of the San Bernardino mountain ranges and the valleys below, making it one of the cool things to do in Lake Arrowhead.
The place is well-maintained, and recently retro-themed air stream trailers were installed for the best glamping experience. The trailers are equipped with a fire pit and a picnic table.
There are ample space and facilities for RV hookups. Additionally, the campground hosts various Friday night events and games, which makes the place much more exciting.
WINE TASTING AT SYCAMORE RANCH WINERY
One of the fun things to do in Lake Arrowhead for wine lovers is wine tasting at Sycamore Ranch Winery.
It is a family-owned and operated vineyard that primarily promotes locally curated wines in the region.
You can go on a Vineyard tour or take the Wine flight experience to enjoy five wines overlooking the stunning Vineyard vistas. A store is at the entrance if you want to purchase a couple of bottles.
The wine tasting happens on Weekends. Ensure you book the wine tours before your visit.
MOUNTAIN ARTS NETWORK AND GALLERY
One of the cool things to do in Lake Arrowhead is to check out the Mountain Arts Network and Gallery.
Located in the heart of the town in the Lake Arrowhead village area, the gallery is a non-profit organization that mainly promotes local artists and creates awareness about Art Education.
You will see various exhibits weekly, so expect something new and unique. Browse through the gallery and check out the Art Shop at the entrance if you want to buy innovative custom-made gifts or collect souvenirs.
MOUNTAIN HISTORY MUSEUM
If you are a history buff, check out the Mountain History Museum, one of the free things to do in Lake Arrowhead.
Maintained and operated by the Rim of the World Historical Society, the museum primarily focuses on creating awareness about the history and culture of the quaint Lake Arrowhead town.
The museum, with sloping roofs similar to the slopes of the San Bernardino Mountains, is a restored firehouse on the Lake's West shore.
You can find all kinds of exhibits depicting cultures, a pinch of Hollywood and a section on Crestline showcasing artefacts related to alternative lifestyles followed by the Native Americans in the 1950s.
There are paintings in this museum featuring how this Lake was built and was turned into a resort-based community. There are some donated objects which reveal the Lake's movie history.
The museum is seasonal, open from June to October, and only on weekends.
MOUNTAIN SKIES ASTRONOMICAL SOCIETY – ASTRONOMY VILLAGE
One of the free things to do in Lake Arrowhead is to visit the Mountain Skies Astronomical Society, referred to as MSAS.
MSAS, located a few miles from the lake, has many high-powered telescopes and other facilities to provide the best star gazing experience.
Learn about the different constellations and planets through their various astronomical lectures every week on their premises.
TUDOR HOUSE
Check out the Tudor House, one of the prime Lake Arrowhead attractions adjacent to the Arrowhead Villa Road.
Established in the 1920s, the Tudor house was once a place for gambling, alcohol and mobsters during the prohibition era. This was the place for elites, and the influential folks used this as a hub to manage illegal activities.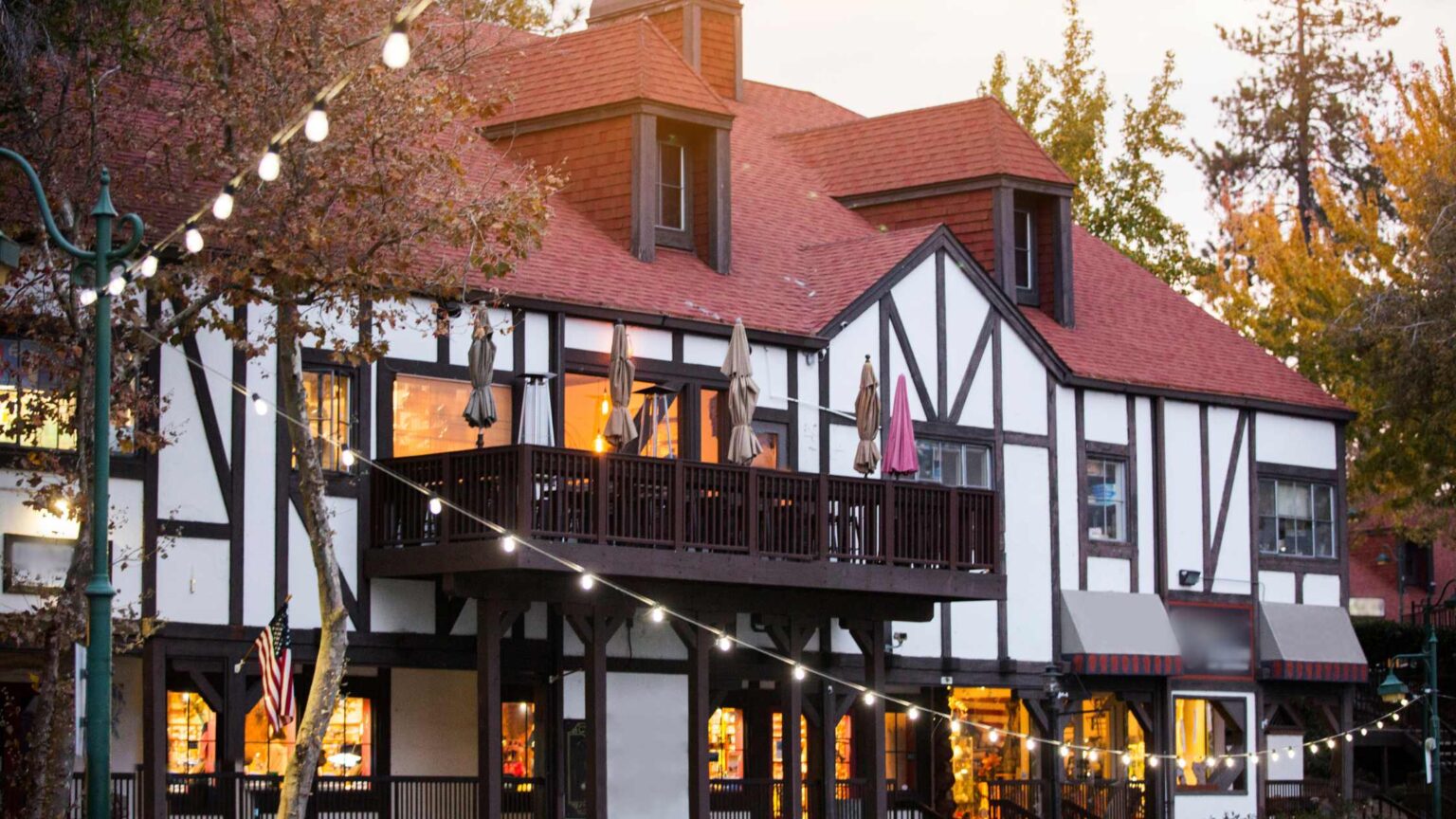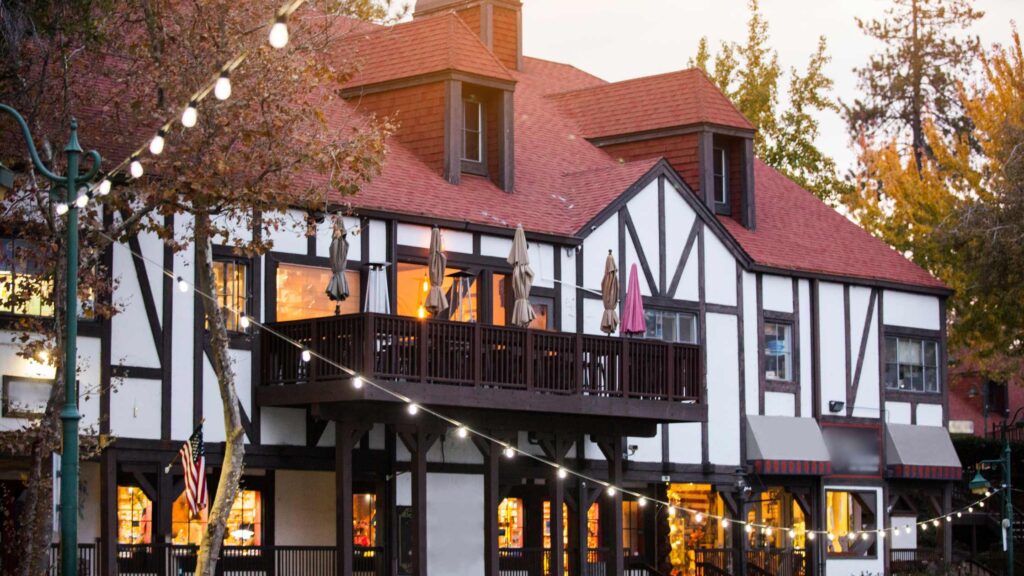 Although you won't find any mobsters in the area, you can get a glimpse of how this place used to be in the golden era of the 20s. There is always one or other unique event happening in Tudor house, making this one of the fun things to do in Lake Arrowhead.
Tudor House is renowned for its Champagne Brunch Buffet every Sunday from 10 AM to 1 PM. Check out the Mystery Dinner Theatre, for which you need to reserve spots in advance.
The house also organizes private parties, corporate events, comedy shows, live music concerts and bands in the 350-seat lavish amphitheatre.
VISIT A FIRE LOOKOUT TOWER
If you are into adventure and looking for quirky things to do in Lake Arrowhead, check out the various lookout towers in the San Bernardino Mountains, used to spot fire in the initial days of the season.
One of my favourites is Strawberry Peak, located off Highway 18 between Twin Peaks and Rim Forest, with an elevation of 6164 feet. The peak can be reached via a 2.5-mile loop trail, and the trailhead is at the Red Box Station.
When you reach the top, you will be greeted with stunning views of Lake Arrowhead, panoramic vistas of the San Bernardino Mountain Ranges, and distant views of Los Angeles and the Pacific Ocean.
VISIT MCKAY PARK
If you want fun things to do in Lake Arrowhead, especially with kids and pets, visit McKay Park.
The park has many play structures, a zipline, swings, volleyball courts and picnic benches for viewing perfect sunsets.
You can bring your furry friends for a run in a dedicated dog area. Check out the exclusive small-dog park area if you have small dogs.
RUNNING SPRINGS AREA FARMER'S MARKET AND ARTISAN FAIRE
If you are keen to explore local markets in Lake Arrowhead and visit the place between May and November, you will see Running Springs Area Farmer's Market and Artisan Faire.
The typical farmers market is usually into fruits and vegetables. Still, here you can see local artworks, customized jewellery and handicrafts from local artisans, making this one of the cool things to do in Lake Arrowhead.
UCLA CONFERENCE CENTER – BRUINWOODS
One of the cool things to do in Lake Arrowhead is to stay in Bruinwoods, an all-inclusive family camp equipped with tons of fun-filled activities like ziplining, tennis, waterskiing and much more.
Bruinwoods is known for its cosy cabin stays overlooking the beautiful lake vistas and mouth-watering multi-cuisine buffet.
Usually, there is a lottery system to get a spot in Bruinwoods. Once you are allotted a lottery, you will get the same slot each year for your lifetime.
LAKE ARROWHEAD RESORT AND SPA
If you want to relax and have an excellent staying experience amidst the mountains, visit the Lake Arrowhead Resort and Spa, one of the fun things to do in Lake Arrowhead.
The resort offers all-inclusive packages and has several attractions within walking distance, and you will also get access to their private beach. The cosy accommodation overlooking the San Bernardino mountain ranges and the lake is truly a blissful experience.
Check out the Spa of the Pines, located within the resort. They have various classical spa packages, including massages, facials, and classes like Sound and Healing Meditation, group fitness centres, and Yoga classes.
BELGIAN WAFFLE WORKS
While you enjoy the lake views, you might be drawn by the aroma of the Belgian Waffle Works, one of the famous places for Waffles on the Lakefront.
Belgian Waffle Works is a family-owned business that has operated for 40 years and is known for its 17 varieties of Waffles.
The place is occupied on weekends and is one of the fun things to do in Lake Arrowhead.
OTHER THINGS TO DO IN LAKE ARROWHEAD
SILVERWOOD LAKE STATE RECREATION AREA
If you have spare time, wondering what to do in Lake Arrowhead Drive Northwest, you will reach Silverwood Lake State Recreation Area.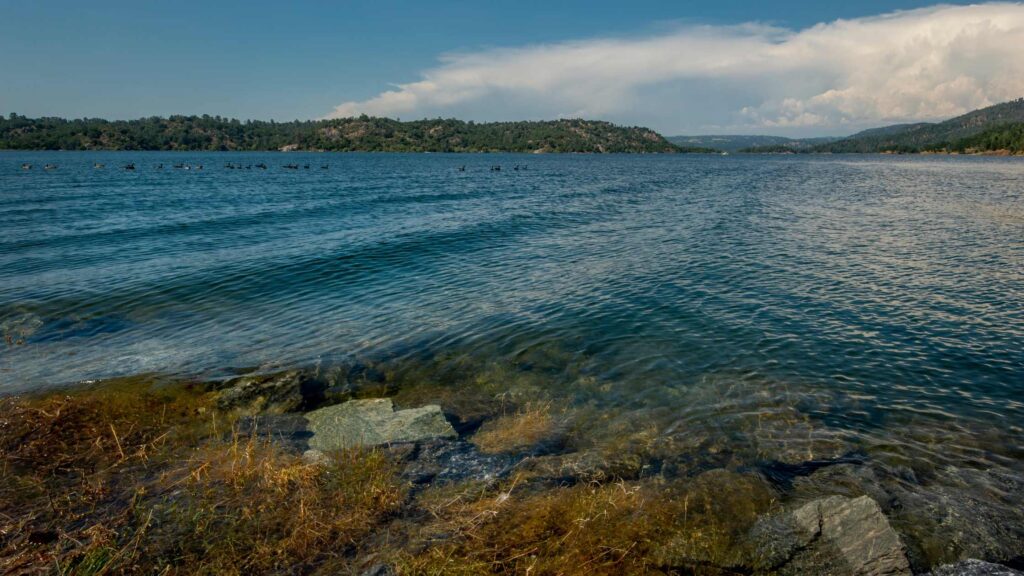 Unlike Lake Gregory or Lake Arrowhead, the place is open and commercialized.
You can go swimming, boating, fishing, and camping; there are many beautiful trails around for hiking. The renowned PCT – Pacific Coast Trail passes through this recreational area, making this one of the exciting things to do in Lake Arrowhead.
VISIT THE INLAND EMPIRE
The region around San Bernardino and Riverside, at the Southern base of the San Bernardino Mountains, known as the Inland Empire, is yet another Lake Arrowhead attraction.
You need to go on a 30-mile drive from Lake Arrowhead to reach this place, but this is still one of the fun things to do in Lake Arrowhead.
The Inland Empire is at a much lower elevation and has different temperatures when compared to typical Lake Arrowhead places.
Check out the National Orange Show Fair and Glen Helen Regional Park, or hike to the top of Mount Rubidoux for an outstanding view. Catch a movie at the Van Buren Drive-In Theater.
ATTEND SPECIAL EVENTS IN LAKE ARROWHEAD
Besides popular tourist attractions, Lake Arrowhead is known for its annual special events. Check out a few of them;
SUMMER CONCERT SERIES
One of the fun things to do in Lake Arrowhead is to see the Summer Concert Series, a fun-filled event in the prime area of the village on the weekends on Friday and Saturday from 7 PM to 9 PM.
The concerts majorly promote local artists, and you will get to hear the originals of those bands. Music will be in the air, and you can feel the distant vibes from various parts of the lake.
Grab a drink from the beer garden to keep you cool, which opens one hour before the concert. The summer concert series runs from May to the first week of September.
OKTOBERFEST
One of the popular free things to do in Lake Arrowhead is to check out Oktoberfest, which begins during Mid September and goes on until the end of October.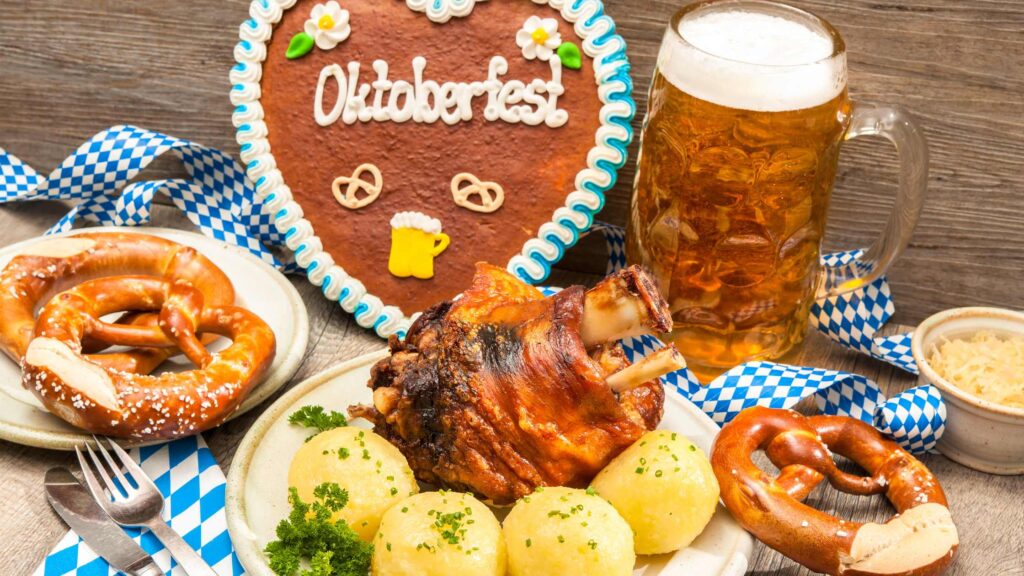 The event is celebrated to mark the beginning of Autumn and celebrate the beauty of fall foliage. Different kinds of beer are served throughout these periods, along with live music concerts. Soak in the party vibes throughout the town if you are here during this period.
WATCH THE 4TH OF JULY FIREWORKS
You can witness the renowned Chinese-inspired tradition of Dragon Boat Races and the gorgeous fireworks on the 4th of July every year over the Lake.
Various Boats slowly start to gather around on the Lake, and as the sunsets, you will see that the entire Lake will be filled with boats so close to each other.
You will hear all kinds of cheers and music in the air, with festive vibes filled with happiness and colours of various fireworks; it is a visual treat to be there near the lake on that day.
MAP OF THINGS TO DO IN LAKE ARROWHEAD CA
TOP TRAVEL TIPS & RESOURCES
Below is the list of the travel resources you can use to organize your travel – from flights to insurance and everything. These are the resources I use myself, which is why I recommend you for a hassle-free travel planning experience and fantastic trips.
Booking Flights
: To score flight deals, search on
Jet Radar
, Kiwi,
or
12go.Asia
(for Asia planning). Book and fly mid-week, taking red-eyes flights or those in the early mornings for better deals and lower prices. Avoid check-in bags on a budget airline.
Booking Trains:
The best websites for booking trains anywhere in Europe are
Rail Europe
and
TrainLine
. Both are easy to manage online and track your journeys.
Booking Cars:
For the best prices and easy handling of renting a car for road trips and day trips, I'd recommend
Discover Cars
or
Rental Cars,
available throughout the world.
Accommodations:
I typically use
HotelsCombined
or
Booking.com
to book hotels. There are special getaway deals with amazing discounts(over 50%!) for this year on Booking.com, and you can find them
here
.
I use
Hostelworld
and
Agoda
to book hostels as the deposit is low, easy change/cancellation is available and reviews are excellent on both. Depending on the destination, I love staying in
VRBOs/homestays
.
Travel Insurance:
No matter whether it is a short trip or longer trips abroad, I strongly recommend buying travel insurance for international trips. I recommend either
World Nomads
or
SafetyWing
for international travel insurance.
Tours:
Being a solo traveler, one of the best ways to optimize my time, budget, and super importantly, meet amazing people from all over the world is by joining tours, especially food tours, walking tours, day trips, culture, and history tours.
You will get a local's perspective, the best opportunities to experience places and people closely. I book using
GetYourGuide
,
Klook
,
Viator,
and
Voyagin.