Despite its popularity, there are many beautiful hidden gems in Southern California if you want to go off the beaten path. Some of them may soon be off the list of the secret places to visit in Southern California, so make sure you visit these hidden California gems as soon as possible.
While destinations like Los Angeles, San Francisco and San Diego may get millions of visitors, there are plenty of unique places to visit in Southern California, thanks to the year-round sunny climate.
Whether you are visiting Southern California for a relaxing weekend getaway or on a road trip, you have plenty of places to choose from, ranging from beaches and mountains to colourful cities and charming small towns, with something for everyone in the Golden State.
Check out this list for the best offbeat and hidden gems in the Bay Area and other parts of Southern California.
TOP HIDDEN GEMS IN SOUTHERN CALIFORNIA
SOLVANG
Solvang is one of the best hidden gems in southern California if you are looking for a small town. It is located in the Santa Ynez Valley and is a part of Santa Barbara County.
Solvang is known for its splendid Danish architecture, thatched roofs, old-world craftsmanship, and windmills, thanks to a group of Danish Americans that built the town in 1911.
It is within a 3-hour drive from Los Angeles and 4.5 hours from San Diego.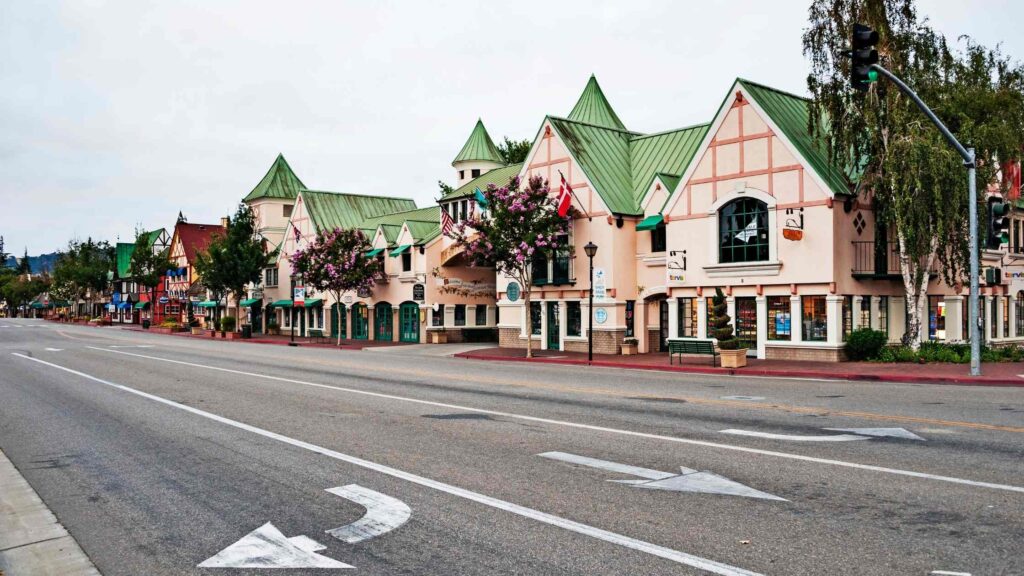 PLACES TO VISIT AND THINGS TO DO
Visit downtown Solvang, filled with Danish architecture, chic boutiques, bakeries and windmills. You can also experience a ride in horse-driven carriages.
As you travel downtown, you'll notice Solvang's four distinctive windmills, pure Danish culture.
Check out the central cathedral, Mission Santa Ines. Established in 1804, it is one of the 21 historic cathedrals in California, home to a museum with ancient scripts and artefacts.
Visit the Bethania Lutheran Church, with a Danish architectural style established in the early 20th century by the Danish-American community with wooden interiors.
Include Hans Christian Andersen Park and Sunny Fields Park on your itinerary for a picnic with family to do rock climbing, biking and skating.
If you are a history buff, you will be rewarded with several museums in this one of the best beautiful beach towns in California.
Visit the Elverhoj Museum, established in a marvellous 18th-century Danish-style farmhouse the museum houses various exhibits depicting Danish history.
Check out the Solvang Amber Museum if you are interested in rare jewellery and antiques.
Discover Danish and American culture at Elverhoj Museum of History and Art and Wildling Museum of Art & Nature, or take a guided horseback ride to explore Santa Ynez Valley for one-of-a-kind quaint vibes.
To mark your Solvang trip as a complete one, enjoy tasting the finest local wines from over 120 vineyards and enjoy a play under the starry sky at Solvang Festival Theater.
WHERE TO STAY?
Solvang is home to two fantastic cottages. These Danish-themed Inns are perfect for a cosy holiday home.
Mirabelle Inn & Restaurant in downtown Solvang offers Spa, pool, and other comfortable amenities apart from spacious rooms and its fantastic location. Perfect for couples and families to spend a weekend.
Solvang Inn & Cottages is another Danish farm-style inn featuring a heated outdoor pool and a hot tub. You can enjoy a daily continental breakfast as well. Downtown is an 8-minute walk from the property.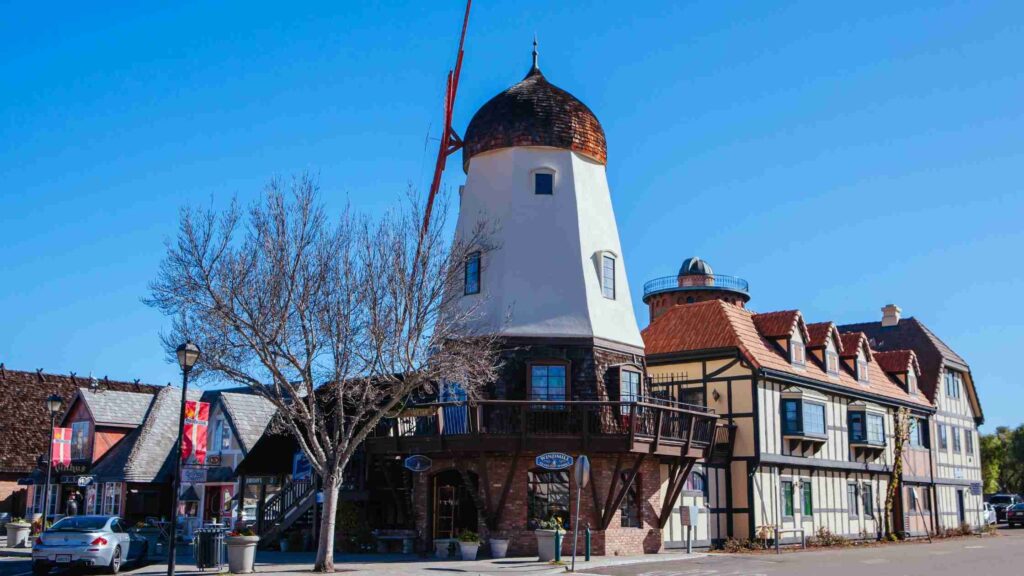 HOTELS
You will love Wine Valley Inn, a stunning Danish-style hotel located close to the centre of downtown Solvang.
King Frederik Inn, located in downtown Solvang is a beautiful hotel and one of the top accommodation spots among tourists. This gorgeous Danish-style building is known for its spacious rooms, fantastic amenities, and heritage value.
BNBs
Ballard Inn & The Gathering Table is one of the famous B&B in Santa Barbara Wine Country, perfect for making a base if you plan on exploring the nearby vineyards, along with places to visit in Solvang.
For Friends Inn Wine Country Bed and Breakfast is located in downtown Santa Ynez. This cosy place is a popular spot for families with kids and couples, thanks to the lovely garden suites and rooftop.
LAGUNA BEACH
With abundant verdant woodlands to the east, an ocean playground to the west, and eight miles of coastline, Laguna Beach in Orange County is one of the most popular beaches in southern California due to its close location to Los Angeles and Disney, both less than an hour away.
But despite its popularity, it is still one of the best hidden gems in southern California, as you can have your space and idle away along the shores.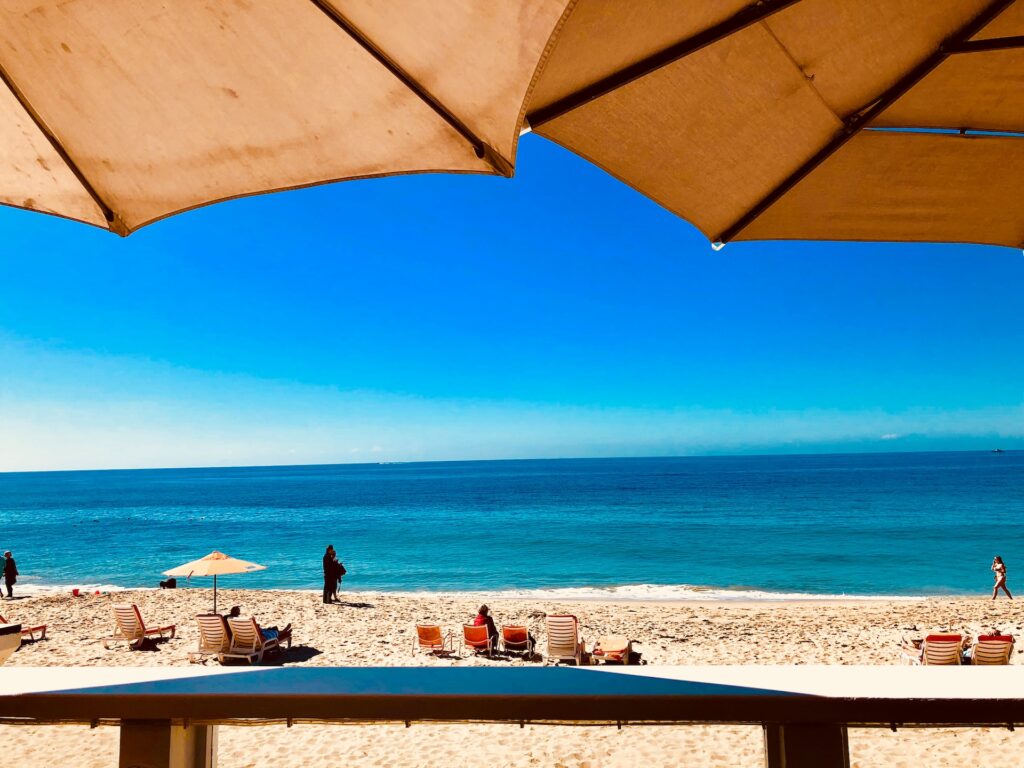 With stunning ocean-view hilltops, turquoise oceans, and white-sand beaches that have inspired artists from all over the globe for over 200 years, it is one of the best beach towns in California.
It's no surprise that many of Hollywood's top stars have made their homes up here.
If you want to stay adjacent to the neighbourhoods of superstars, you can look out for places like Portafina, Arch Beach Heights and Laguna Canyon.
PLACES TO VISIT AND THINGS TO DO
Laguna Beach brags over 30 beaches with white sand and well-kept facilities, allowing visitors to make the most of the Southern California coastline.
Head to the Main Beach, featuring tide pools and a boardwalk. You can relax on the beach or walk down the alley to Heisler Park, which has hiking and bike trails.
Check out Crescent Bay Beach to explore the mysterious enclave. There are other beaches nearby where you may have to go a few hundred steps down to reach the lovely beach.
Visit Crystal Cove State Park, which has a designated underwater park. You can also go on whale-watching tours.
Aliso Beach Park is the place for Surfers to catch some waves.
Don't miss the 22,000- acre natural stretch of Laguna Canyon Wilderness Park, Southern California's last remaining undamaged coastal canyons, which has been fiercely fended against since the 1980s by the locals against development.
Hikers and bikers may put their skills and stamina to the test on the park's 100 miles of trails.
The Laguna Art Museum, one of California's oldest, is a must-see for art aficionados, with vibrant murals painted.
The Laguna Beach Trolley offers free transportation along the South Coast Highway.
If you're planning a trip to this vibrant coastal town, keep an eye out for yearly festivals like the Sawdust Art Festival, featuring live music, food booths, artist exhibitions and the Festival of Whales.
WHERE TO STAY?
MAMMOTH LAKES
One of the best destinations for snow in California, Mammoth Lakes is the perfect winter spot to admire the fantastic powdery slopes dotting mountain valleys or to indulge in winter sports.
But the best part is despite its popularity, the Mammoth Lakes area, known for its spectacular mountain landscapes dominated by the dramatic High Sierra Nevada, is one of the beautiful hidden gems in southern California visited by fewer crowds.
Although skiing season is between November to June, Mammoth lakes can be visited during any time of the year as there are loads of awesome things to do in Mammoth Lakes, with something for everyone – from skiing to snowboarding to hot springs and hiking.
December is the peak ski season at Mammoth Mountain, as you get access to over 3,500 areas of mountain slopes carpeted with snow.
It is home to some of the best ski resorts in California, attracting many families and adventure seekers to the California Eastern Sierras.
You have over 150 gorgeous trails for alpine downhill skiing, cross-country skiing, snowshoeing, tubing, and snowboarding.
You can take the fantastic Gondola ride to the peak, enjoying the splendid views of the mountainous landscapes on your ride.
If you are here in summer, take the cable car from the village to enjoy the magnificent panoramic views of the famous landmark, the 65 feet vertical rock face, The Devil's Postpile and the surrounding mountains.
There are also plenty of beautiful natural hot springs in Mammoth Lakes, including or near camping sites. After outdoor adventures, there is nothing more relaxing than soaking in these mineral-rich hot springs and enjoying the beautiful views.
You can enjoy fishing, boat trips, hiking, or picnic lunches in any of the stunning glacial lakes around Mammoth Lakes, surrounded by dramatic mountains offering beautiful sunrise and sunset views.
WHERE TO STAY?
I recommend Innsbruck Lodge, located near the Village Gondola, for its secluded and stunning location. This lovely lodge offers apartments with kitchens to simple rooms, and they have an on-site hot tub and spa.
The Westin Monache Resort is next to the Village Lodge and beside Mountain Center in the Village comes with condos comprising spacious rooms and balconies offering beautiful views. Book a stay here.
If the popular ones do not appeal to you, check out Sierra Lodge, which is centrally located and offers spacious rooms with kitchenettes.
ALABAMA HILLS
Some places that can only be enjoyed in winter in the United States, and Alabama Hills is one of them.
Located at the foothills of the dramatic Sierra Nevada Mountain range, Alabama Hills is one of the best southern California hidden gems, perfect for winter and a spring holiday destination.
You will be treated to splendid views of the snow-capped mountain vistas everywhere, and it's a jackpot for adventure seekers and outdoor lovers.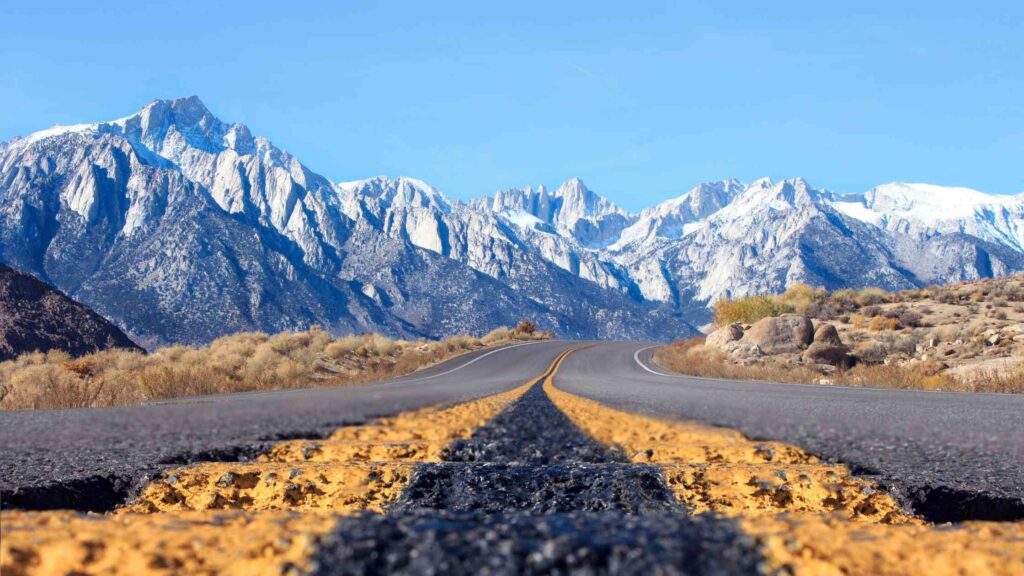 You can hike or mountain bike on the many trails leading to beautiful views, ideal for all experience levels.
Alabama Hills is one of the most photographed destinations thanks to its distinct landscapes. If you want to capture some gorgeous shots, you will love visiting the Alabama hills in California in December.
Camping in the Alabama Hills is very popular, especially during winter. Star gazing, watching epic sunrise and sunsets, and driving around to see iconic landmarks are some other activities you can enjoy apart from hiking.
One must-stop is the famous Alabama Hills Movie Road, famous for Instagram-worthy photography.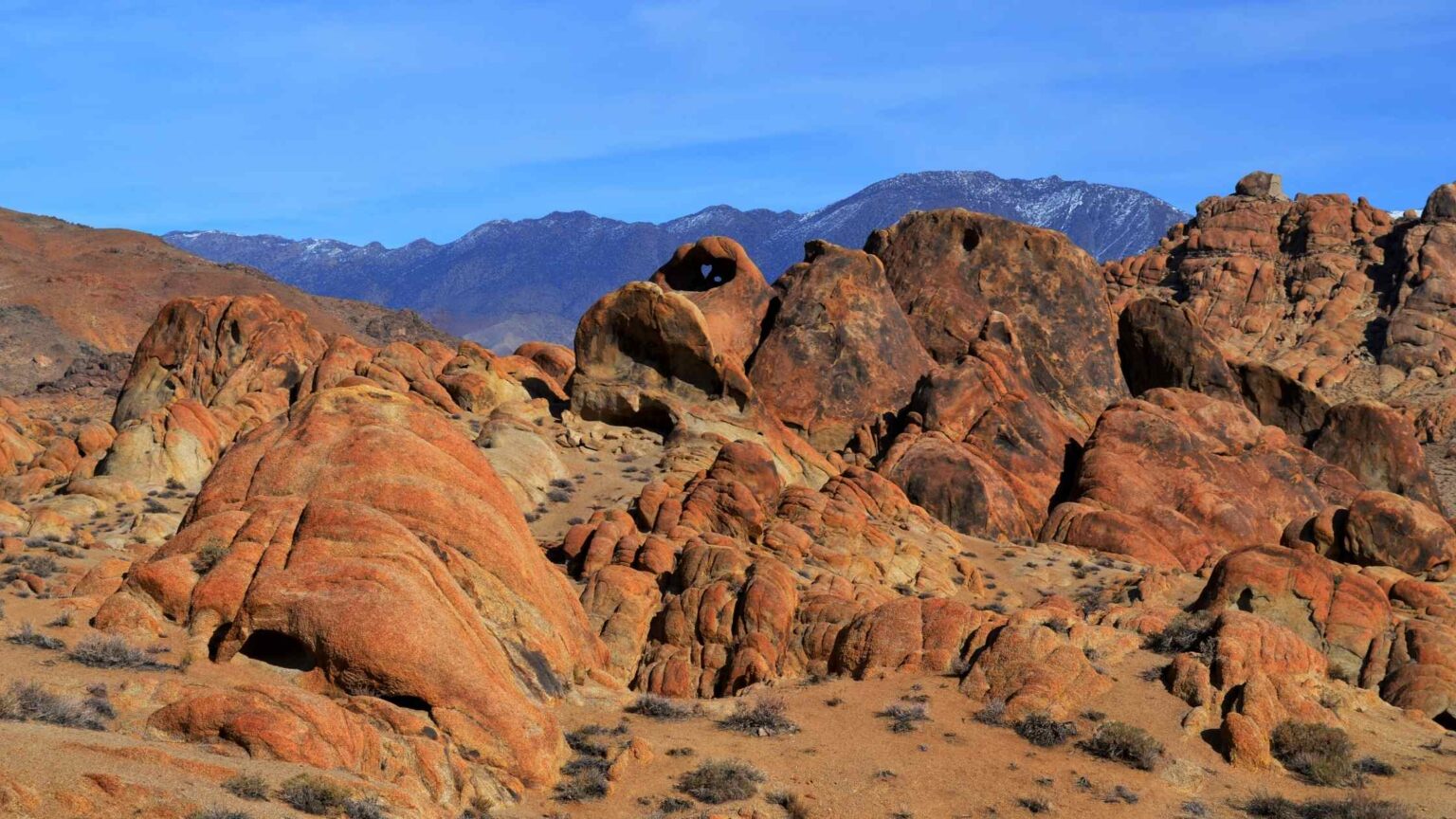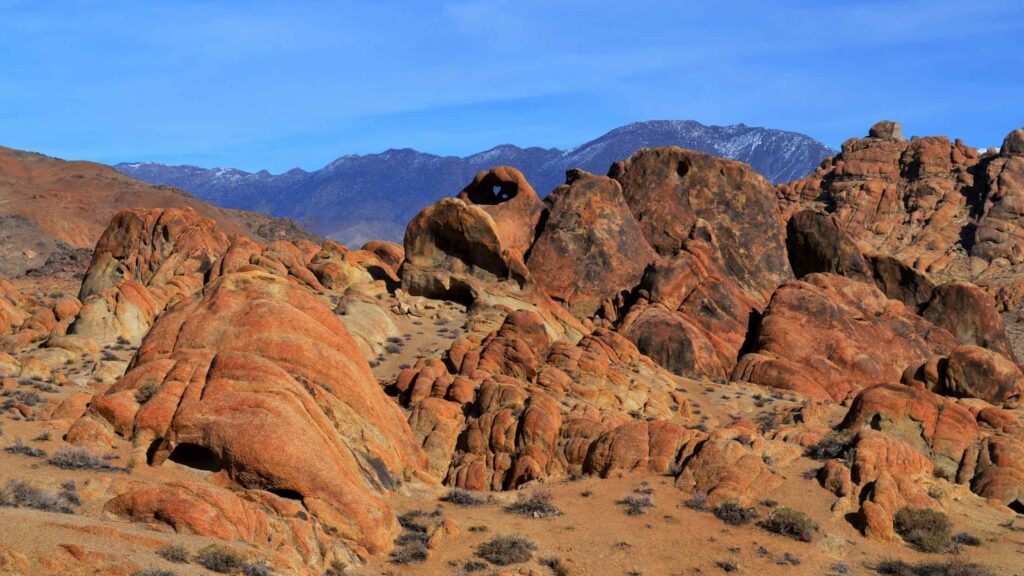 Check out the famous tourist attractions in Alabama Hills, including the easily accessible geological wonders like Mobius Arch, Lone Ranger Canyon, Nightmare Rock and Boot Arch.
Bring many layers, especially jackets, warm sleeping bags, and many blankets, if you plan to go to Alabama Hills camping.
WHERE TO STAY?
Instead of camping, if you would rather stay in a hotel or Airbnb or you feel the need for comfort, Lone Pine is the nearest town with many vacation rentals, cabins, and cottages available.
Here are the best picks of Cottages, Cabins, and hotels in Lone Pine, CA –Quality Inn Lone Pine near Mount Whitney; Cozy Muir Cottage; Mt Williamson Motel and Basecamp
LA JOLLA
The luxurious beachfront town of La Jolla, translating to the jewel in Spanish, is located near San Diego and is considered one of California's best beach towns. It is one of the most beautiful hidden gems in southern California if you want an indulging seaside getaway.
This lovely beach town is endowed with dramatic craggy cliffs along the shoreline and charming bays with sandy beaches.
PLACES TO VISIT AND THINGS TO DO
The opulent seaside hamlet of La Jolla offers a plethora of outdoor recreation.
You can swim in La Jolla Cove, a lovely stretch of beach popular with swimmers. You may even spot some sea lions and seals basking in the sun.
If you wish to sunbathe and relax on the seaside, look for long sandy beaches around Black Beach.
Head to the Shell Beach tidal pools to ride the tide and see crabs and sea anemones.
Visit Torrey Pines State Beach to witness the 300-foot escarpments and the rare iconic Torrey pines, which are only a few on the strip of coastal California.
This beach town is also a hot spot for diving. Check out La Jolla Dive for diving lessons, tours, and rental gear. If you're not sure about deep-sea diving, you may try snorkelling.
La Jolla Cove has access to coastal coves and is an excellent place to do sea kayaking.
Head to Torrey Pines State Natural Reserve, known for its hiking trails, blessed with pine trees and sandstone canyons all along the path.
Want to play golf along with breathtaking sea views? Check out Torrey Pines Golf Course, which has two golf courses.
You can also visit the San Diego zoo and the Safari Park when you are here in one of the best beach towns in California.
The Museum of Contemporary Art, which displays American and European art, sculptures, photography, paintings, and more, is a must-see for art connoisseurs.
Grab a cup of coffee from one of downtown La Jolla's historical coffee shops on Girard Avenue and Prospect Street, or shop at high-end designer stores in this California's best beach town.
On Prospect Street, you'll also find the Grande Colonial palatial hotel, which has existed since 1913.
WHERE TO STAY
TEMECULA
One of the most beautiful hidden gems in Southern California is Temecula, which should be added to your itinerary, especially if you love all things wine.
Unlike the other popular wine destinations like Napa or Sonoma wine county, Temecula is surprisingly off the beaten path and is a perfect pick if you want to enjoy a weekend getaway in one of the secret getaways in California.
Home to over 50 wineries, Temecula Valley Wine Country is a charming city exuding the charm of a small town, packed with stunning rolling hills dotting vineyards, boutique wineries and restaurants, all accessible by a few minutes' drive out of downtown.
Surrounded by arid landscapes, the sunny wine county of Temecula may appear far from being a wine destination. Still, for many decades now, Temecula has been home to many award-winning wineries, with the first historic vineyard opened in 1974.
Thanks to the ideal wind conditions keeping the region cooler, Temecula offers the perfect conditions for growing different varieties of wine.
If you are short on time, the best way to make the most of your time and money is to join one of the guided wine-tasting tours that take you through the highlights of the many best wineries in Temecula and often includes lunch or dinner amidst gorgeous patios and gardens overlooking beautiful views.
Lumiere is one of the oldest vineyards in Temecula, offering many tasty wine varieties. They also pair wine-tasting sessions with cheese and bread.
There are many incredible things to do in Temecula apart from hopping wineries. The city offers a taste of old-world southern California charm. Many hiking and biking trails to explore the outdoors nearby during spring.
Check out unique shops, cute cafes and restaurants in the Old Town. Go hot-air ballooning over the vineyards to enjoy fantastic bird views of the valley.
OJAI
If you are into Bohemian vibes and art, one of the best hidden places in southern California you should visit is Ojai.
Located northwest of Los Angeles in Ventura County in a valley in the Topatopa Mountains, Ojai, however, also has many things to offer for families and nature lovers that blend well with the beaches that are a few minutes' drive away.
PLACES TO VISIT AND THINGS TO DO
If you love art, you will enjoy visiting Beatrice Wood Center for the Arts or Dan Schultz Fine Art Gallery and Studio.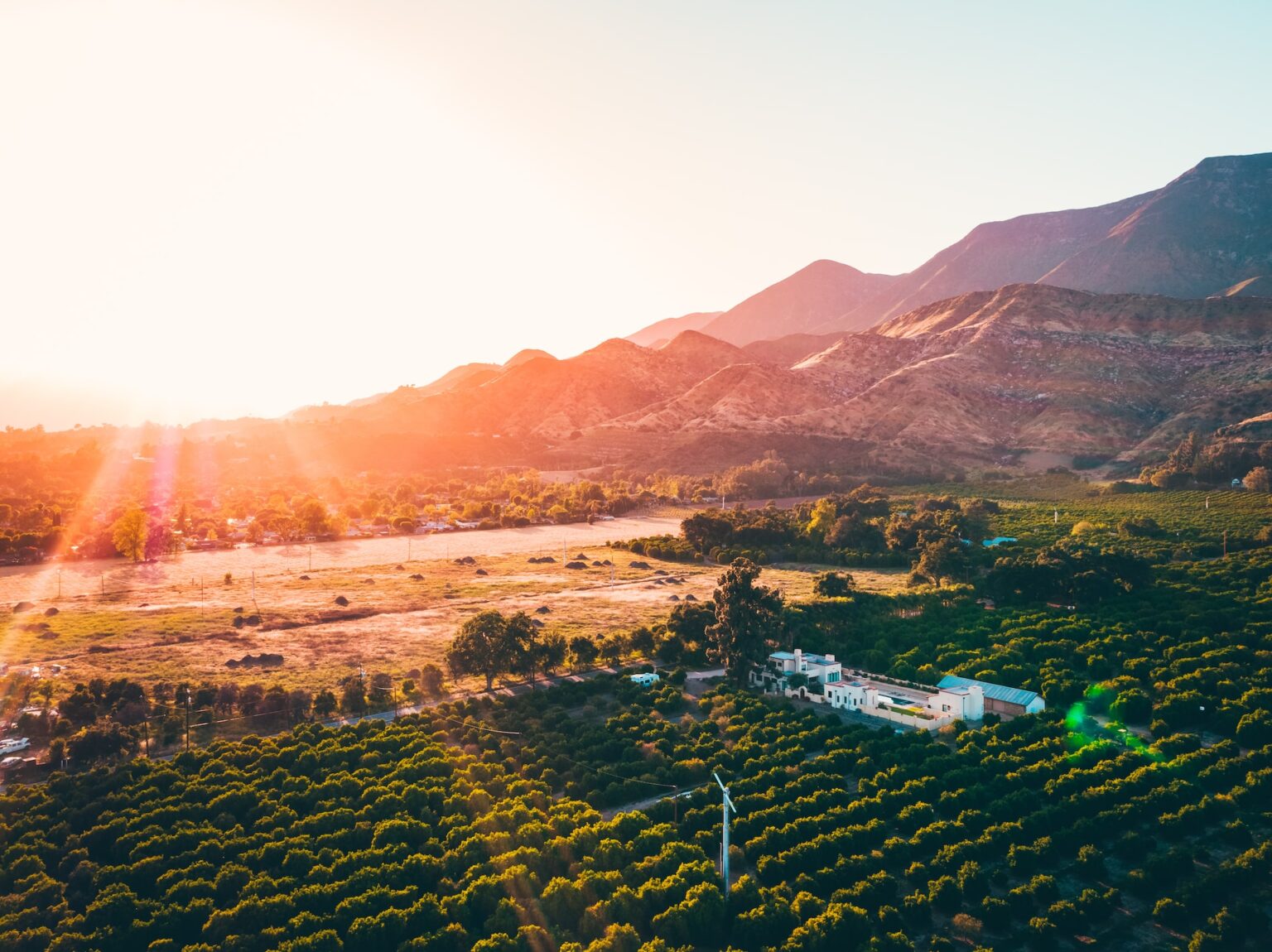 For outdoor lovers, there are hiking, biking, and birdwatching trails that you can explore in Los Padres National Forest, Ojai Meadows Preserve, and Ventura River Preserve.
Lake Casitas is another popular recreation area that gets crowded during the summer for picnics and boat trips.
Spring and fall are the best times to visit these parks to watch wildlife, birds, and beautiful wildflowers that carpet the landscapes.
There are many chic shops for gifts and collecting art in Ojai that you should check out, including Cercana and Poppies Arts & Gift.
WHERE TO STAY
CALICO
If you love exploring ghost towns, you will love Calico, one of the historical landmarks and best hidden gems in Southern California located 15 miles northeast of Barstow in the San Bernardino County regional park.
The historic ghost town of Calico is one of the only intact original silver rush towns of the old west that still remains.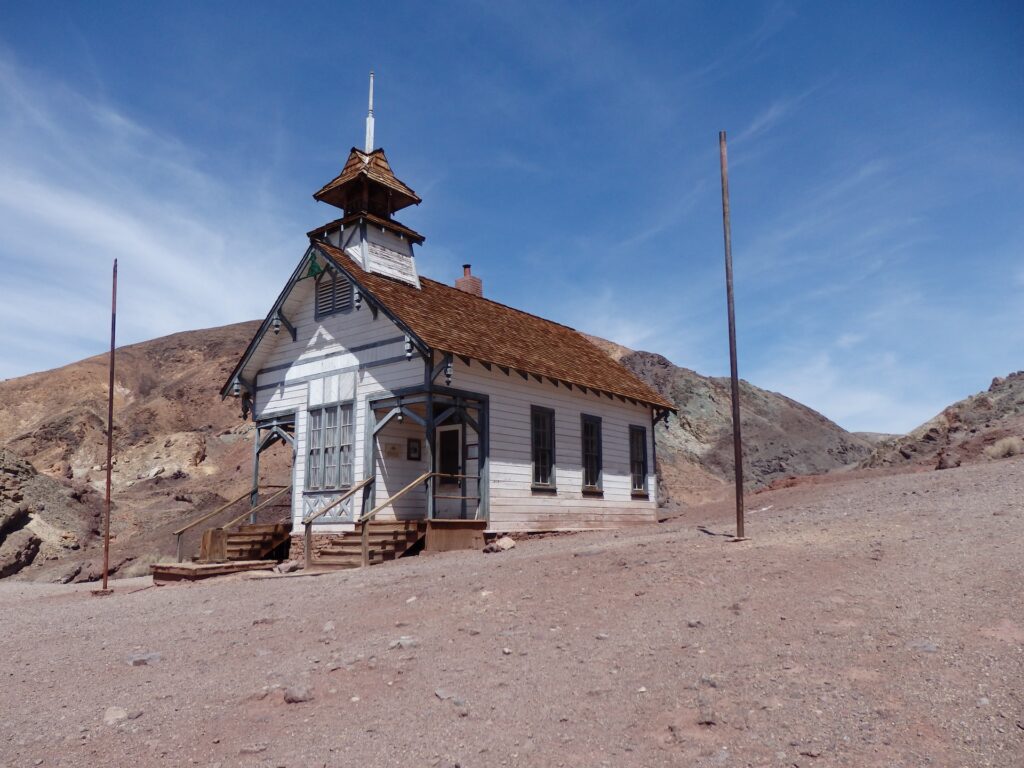 This small town was home to thousands of residents, mostly mining families, and was abandoned in the 1880s. You can still see the remains of dozens of saloons, bordellos, restaurants, and boarding houses.
Stroll the streets, home to many restaurants, cafes, and shops. Take a historic walking tour of the mines that transport you back in time. Visit the historical museum or take a ride on the heritage railroad.
I recommend staying overnight in one of the cabins or camping sites nearby. There are also fun Halloween tours and festivals if you are here during the fall.
JULIAN
Julian, the small mountain town tucked away in the pretty Laguna Mountains in the San Diego Mountains northeast of Los Angeles, is a beautiful weekend getaway known for its juicy apples, ciders, and pies. There are plenty of amazing things to do in Julian, a historic gold-mining town
Whether you are looking to experience a small mountain town charm or country friendliness in Southern California, want to feel like you have traveled back in time to the 19th century, or you are looking for a holiday filled with lots of eating and drinking, it is possible to do all these in Julian.
Located 60 miles northeast of San Diego and about a 3-hour drive southeast of Los Angeles, Julian is one of the popular day trips from both cities.
There are many pretty farms where you can pick apples, strawberries, blackberries, peaches, or nectarines from the fields amidst cute farm animals.
Check out the cider mill and wineries in the historic downtown area. There's also an old gold mine you can check out if you're interested in California's Wild West past.
It is also one of the few places to see beautiful snow in California in San Diego County.
At over 4,000 feet, the small town of Julian is blanketed in snow during winter. For the best chances of experiencing snowfall, January and February are the best months to be in Julian to see snow in California in this region.
Although you can't expect to do skiing, snowshoeing or ice skating at about 30 feet of snow that Julian receives, this town offers you the nor-rush, slowed-down vibes, allowing you to have a relaxing holiday surrounded by snow-blanketed panoramas.
If you are looking for more activities in Julian, check our detailed guide to the best things to do in Julian.
WHERE TO STAY?
BEST HOTELS IN JULIAN
Julian Gold Rush Hotel – This is a top place many tourists favour. This lavish hotel comes with a terrace and a beautiful garden. Check prices to book here.
Wikiup Hummingbird Hotel – Wikiup Hummingbird Hotel is an excellent pick if you are traveling with kids, as they have spacious suites and incredible views. Check prices here.
APARTMENTS, RESORT AND SPA
Oakzanita Springs Camping Resort Cottage 4 – If you are looking for a rustic stay with your family, I recommend Oakzanita Springs Camping Resort Cottage, located in Descanso in the California region, known for its well-made suites and located in an excellent place. Check details and availability here.
Quiet Mind Mountain Lodge, Retreat & Spa – This 4-star hotel has luxurious amenities, including a pool and playrooms. All lavishly decorated suites come with a patio. Check details and availability here.
Riviera Oaks Resort By Diamond Resorts – Nestled in the San Vicente Valley, Riviera has beautiful one to two-bedroom villas. Check more here.
San Vicente Golf Resort – If you want to indulge in Golf during your trip, San Vicente Golf Resort is a fantastic place, especially with your family. Check further details here.
Kokopelli's Hideaway – If you plan to stay close to Anza Borrego Desert State Park. This is an excellent place, but note that it is further away from Julian. Check prices here.
LAKE ARROWHEAD
Located amidst the San Bernardino Mountains in the San Bernardino National Forest, one of the fascinating destinations for enjoying a winter getaway in California is Lake Arrowhead, only about 2 hours away from Los Angeles.
It is one of the best southern California hidden gems known for its towering pines and rocky cliffs. It is located in the stunning San Bernardino National Forest, making it a haven for outdoor enthusiasts and nature lovers.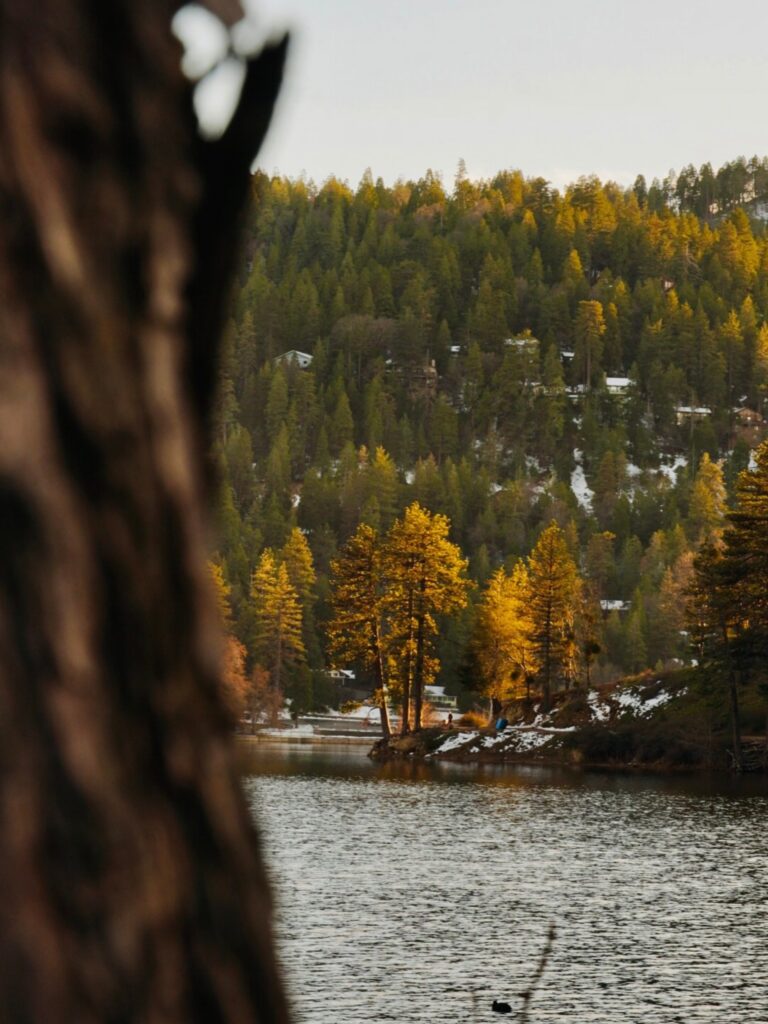 It is one of the popular destinations among families visiting the lake throughout the year.
There are many beautiful hiking and biking trails in the area, with the most popular trail being the Arrowhead Pinnacles Trail, a pretty trail that takes you through pines and meadows and windflowers in spring, offering splendid views of the lake.
Recommended – 27 Awesome Things To Do In Lake Arrowhead, California
It is an excellent lake to enjoy a relaxing swim in the summer. You can enjoy fishing, kayaking and boating on the lake.
If you love exploring California in winter, December until February is the best time to hit the slopes at Lake Arrowhead and enjoy fun outdoor activities, including snowshoeing, snowboarding, cross-country skiing, or ice fishing on your trip.
Make sure to visit California's oldest and biggest snow tubing park, Snowdrift Snow Tubing Park, where sledging is a popular snow activity.
One of the top attractions in Lake Arrowhead loved by the kids, and the adults are the pretty SkyPark at Santa's Village, a charming Christmas-themed outdoor activity park at Sky forest, where your kids can meet Santa Claus.
Skypark is also home to mountain bike and hiking trails. You can also enjoy archery, ice skating, ziplines and rock climbing.
If you want to try cross-country skiing, the Rim Nordic Ski area is nearby.
BIG BEAR LAKE
Big Bear Lake, about 100 miles northeast of Los Angeles, is one of the offbeat places to visit in southern California in the San Bernardino Mountains, featuring hundreds of miles of trails, 22 miles of lakeshore, and over 1,000 acres of skiable terrain in the winter.
Thanks to many activities throughout the year, Big Bear Lake is one of the all-year-round destinations in California. In spring and summer, you can enjoy hiking on beautiful trails and mountain biking amidst splendid panoramas.
Rent a kayak or canoe, go on fishing trips, swim, take a paddleboard lesson or wakeboard training. Enjoy a relaxing picnic in the many shaded areas. You can even rent a jet ski for adventure on the lake or try zip lining or rock climbing.
Big Bear Lake is a wonderland, attracting thousands of visitors every winter, especially families that come for an adventurous getaway.
There are plenty of awesome things to do in the winter, whether you want to be adventurous activities like skiing or tasting the delicious Christmas bake and hot chocolate cosying up to a fireplace.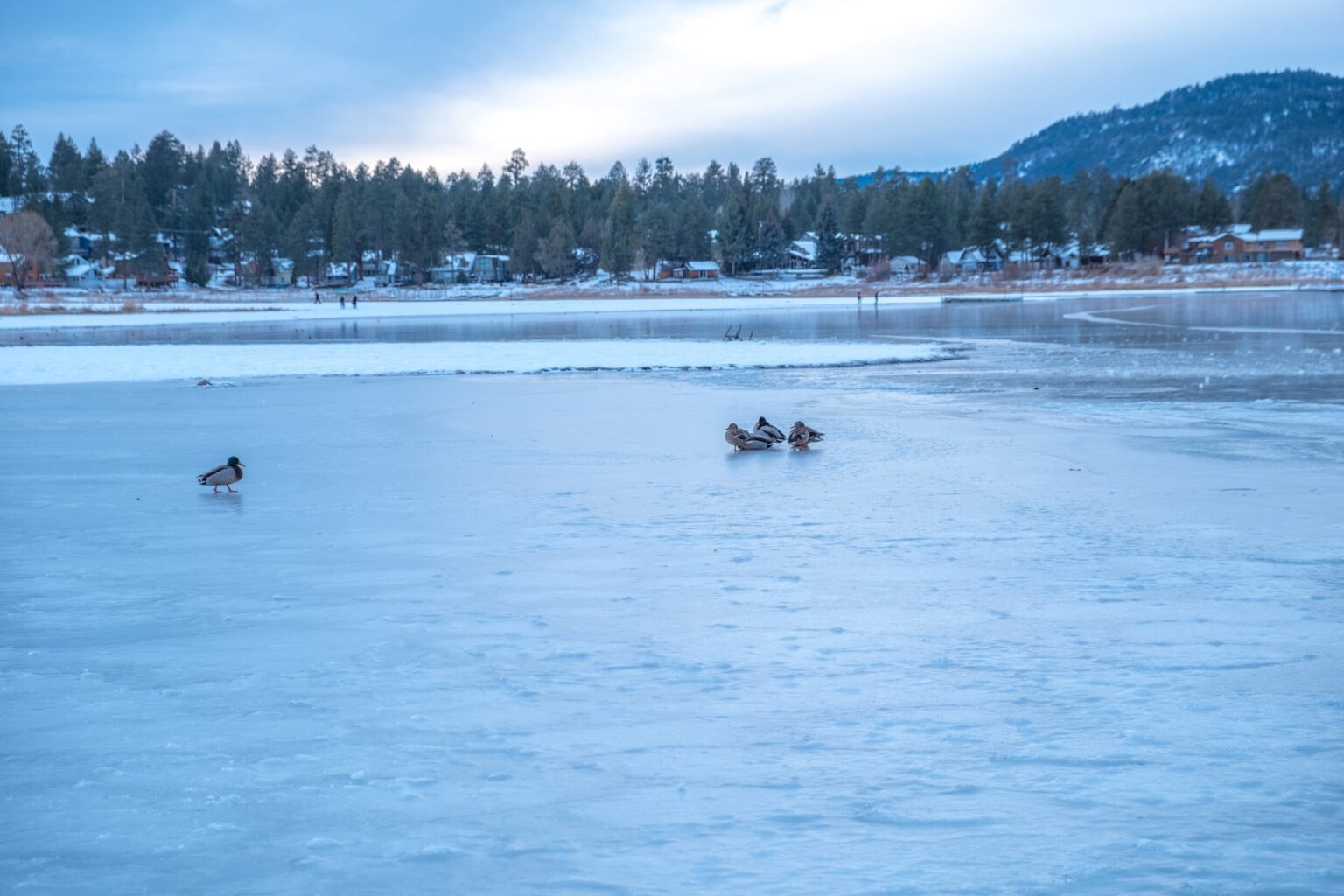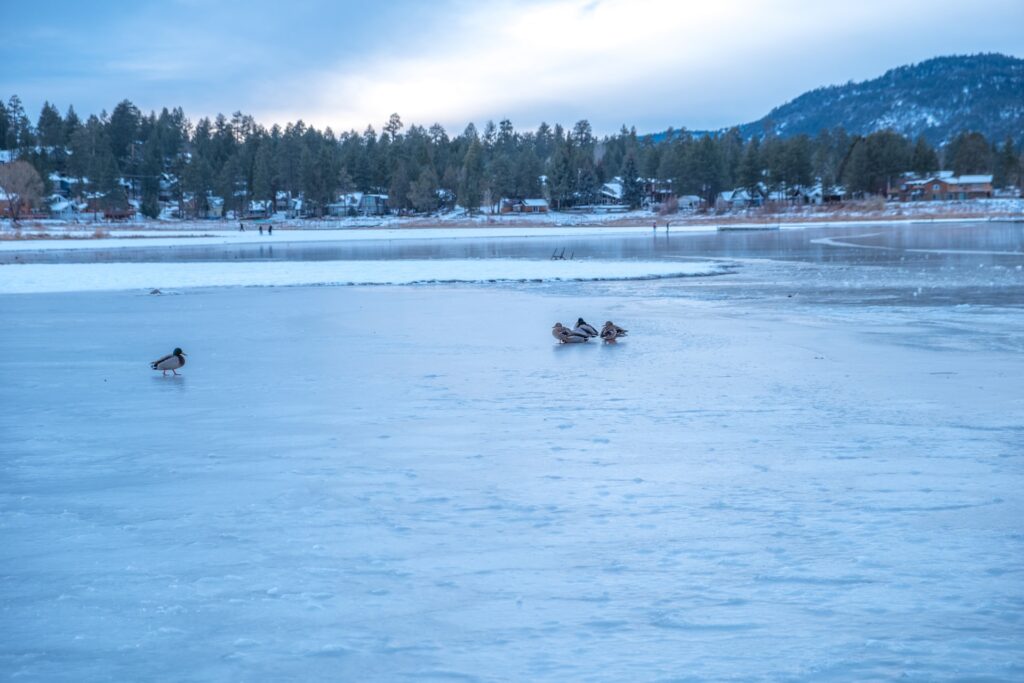 Since Big Bear Lake freezes by the end of November, it becomes the hot spot for ice skating, ice fishing, snowmobiling, and sleigh ride around the lake.
You can enjoy cross-country skiing and snowboard at the two famous mountain slopes, Snow Summit and Big Bear Mountain Resort.
If you want to do something slower, enjoy horseback riding through the snowy trails or hike along the many trails that pass through beautiful landscapes and stunning views.
You can also enjoy snowshoeing, sledging and high-speed adrenaline-kicking tubing at Grizzly Ridge Tube Park.
You can also learn skiing at Snow Summit resort, although you'll have to book your spot quite early during the peak days.
Plan a day trip to neighbouring Lake Arrowhead, a 45-minute drive away, which is also a fabulous destination for a weekend getaway.
In December, visit Santa's Village on your way to Lake Arrowhead.
WHERE TO STAY?
I recommend Big Bear Retreat, the fantastic holiday home perfect for families enjoying a comfortable stay with views. Find more here.
Another beautiful holiday home with excellent reviews and location is Moosehead Lodge, known for its beautiful settings. Book here.
This gorgeous chalet Summit Happy Cabin comes with a patio and a hot tub as well as good views, a romantic stay for couples. Check out this here.
Dream Getaway with Secluded Spa is a stunning holiday home featuring a balcony with mountain views, a garden and barbecue facilities, located close to Alpine Slide at Magic Mountain. Find out more here.
PESCADERO
Located in San Mateo County, Pescadero is a small community just south of Half Moon Bay.
Surrounded by the Pescadero Marsh, a wildlife refuge, and Pescadero Creek, the town is a local tourist destination during the warm summer months.
Campgrounds are nearby, such as Memorial Park, rural roads are perfect for biking, and trails are ideal for hiking through the Santa Cruz Mountains.
Pescadero is one of the best hidden gems in southern California if you are looking for a small town near the coast.
PLACES TO VISIT AND THINGS TO DO
There are many awesome things to do in Pescadero. Visit the 115-foot-tall Pigeon Point Lighthouse, one of California's tallest lighthouses and a historical landmark of Pescadero.
It was built in 1872 and contains an oil lamp and a 2000-pound Fresnel lens. Ships sailing along San Mateo County's rugged shoreline used the lighthouse as a guidepost.
Pescadero is also known for its fantastic beaches. Unwind on the Bean Hollow State beach, collect unique Pebbles on the Pebble beach or drop off your swimsuits on the Southern end of Bean Hollow State beach.
Admire the honeycomb rocks and massive dunes on the Pescadero State Beach.
Birdwatching enthusiasts can visit the 500-acre Pescadero Marsh Natural Preserve to enjoy the views of colourful migratory birds.
Visit Butano State Park if you are an avid hiker. The park is known for its 40 miles of fantastic hiking trails that run through the giant old-growth redwoods.
Enjoy camping in the well-maintained campgrounds in the park.
Recommended – 19 Best Things To Do in Pescadero, California
One of the other top things to do in Pescadero is to visit the Harley Farms, a 102-year-old farm known for its alpine goats, cheese and other home-made products like Jams, Jellies and chocolates.
If you are interested in organic and sustainable farming, visit the Pie Ranch, shaped like a slice of pie, known for its fresh produce and seasonal pies.
DANA POINT
Consider adding it to your list of the best hidden gems in Southern California, as it has so many amazing things and fun activities to offer apart from sailing, for which it is well-known.
PLACES TO VISIT AND THINGS TO DO
Not many know that the beaches in Dana Point are excellent for watching migrating whales, which you can enjoy year-round, unlike in some places where it is a seasonal event.
If you are traveling with young kids, Baby Beach, as the name suggests, is the best place to enjoy a beach day with them where the waves are gentle, and the water is shallower.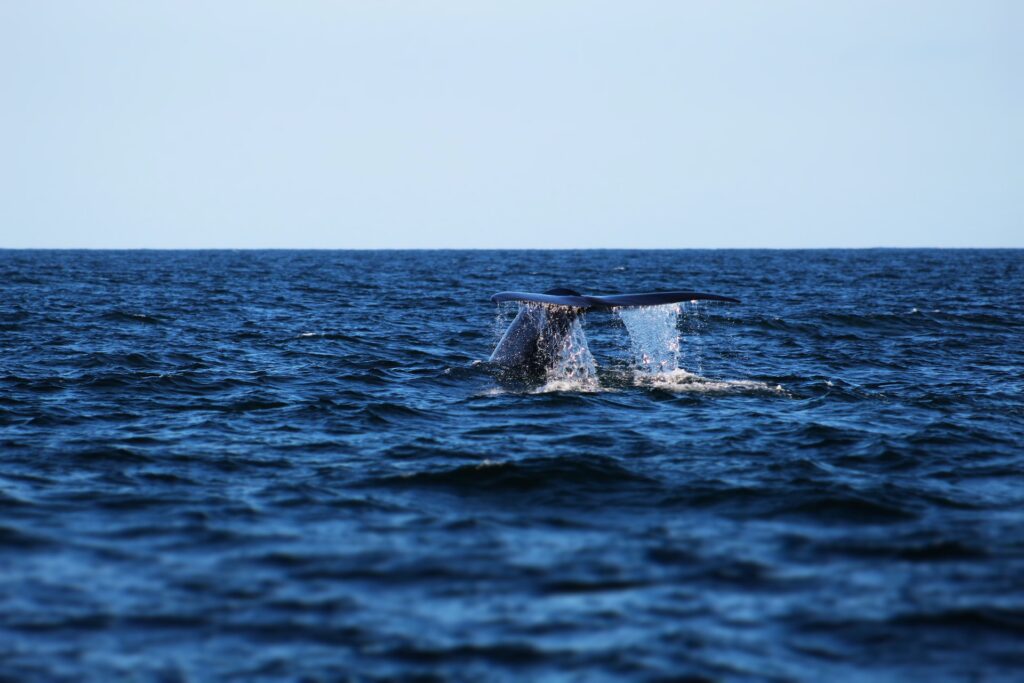 Doheny State Beach is a fantastic beach for long walks, stunning sunsets, some surfing, parasailing, paddleboarding and swimming.
For the classic Dana Point experience, head to the pier to rent a boat for a day of sailing, which will take you past many gorgeous panoramas, and give you a chance to witness the sunset from the sea.
Check out the Dana Point Sea Caves, also known as Pirate's Cove, a series of sea caves located along the coast in Dana Point, which are accessible by a short hike from the parking lot.
CATALINA ISLAND
Located southwest of Los Angeles, Catalina is a part of the group of 8 islands, the Channel Islands, off the California coast, which make up the Channel Islands National Park.
Catalina Island, the most famous in this group, located 22 miles off the coast, is home to one of the best hidden gems in Southern California with turquoise blue waters.
Enjoy the 60-minute boat trip to the island, where you can easily spend a day hopping the best beaches in southern California, including the popular ones, Moonstone beach and Lover's cove.
You can take this boat trip from Long Beach, San Pedro, Newport Beach, or Dana Point from mainland California.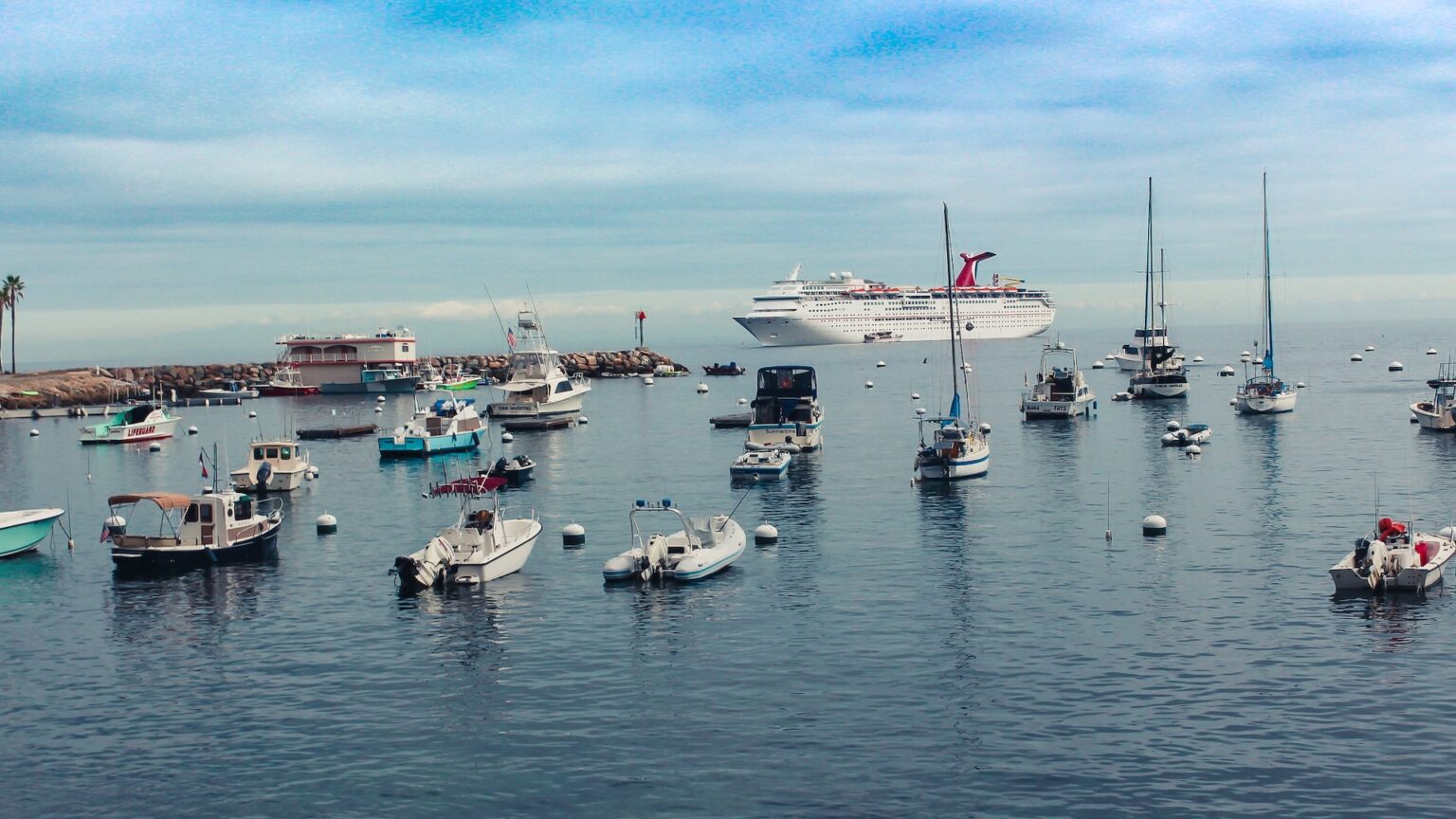 You can relax at the beaches or indulge in popular outdoor activities like kayaking, snorkelling, hiking, fishing, and scuba diving.
If you want to go hiking, the most popular and moderately challenging trail is the Trans-Catalina trail, a 38.5 miles trail that requires many days and permits for camping.
You will reach the summit, the peak of Mount Orizaba, the tallest point on the island at over 2000 feet.
Zipline 600 feet above the sea, or camp overnight in the boat for sea night adventure.
IDYLLWILD
Just one hour from San Diego and Palm Springs tucked away in the San Jacinto mountains, are Idyllwild, an idyllic mountain town known for its splendid hiking trails, and beautiful panoramas.
It is one of the best hidden gems in Southern California, thanks to its higher elevation of over 6000 feet and its laid-back vibes, it is also one of the best winter getaways in California for families, where you can enjoy staying in rustic cabins surrounded by gorgeous views of the white wonderland.
A winter hike is a great way to explore the region, and there are many trailheads close by that can allow you to explore this mountain getaway. Bring some snow boots!
Although you cannot indulge in snow sports like skiing or snowshoeing, Idyllwild is a perfect choice if you only want to be surrounded by magical-looking white landscapes.
The best way to enjoy the snow in Idyllwild is by going on hikes into the forested mountains around the town. You can try rock climbing and mountain biking as well.
One of the top spots is the Idyllwild Nature Center to discover more about the local wildlife.
SEQUOIA & KINGS CANYON NATIONAL PARKS
Sequoia & Kings Canyon National Park in the southern Sierra Nevada mountain ranges are known for being home to some of the largest living things on earth.
The two parks, located adjacent to each other, can be explored together.
In winter, the majestic California redwood trees dominate the panoramas against the powdery snow everywhere making for beautiful photography.
Sequoia and Kings Canyon National Parks are both excellent places to visit in California in December for hiking, photography, cabin stays, and snow activities with flat and easy trails to some of the park's best-known sites.
There are fewer crowds, and hiking through magical winter wonderland landscapes is a wonderful experience.
You can drive around or hike to witness distinct old-growth forests, gorgeous meadows, hidden streams, lakes, and spectacular granite cliffs.
Wolverton Meadow is 2 miles north of General Sherman, the largest tree in the world, located in Sequoia National Park.
Enjoy sledging, cross-country skiing, and snowshoeing at Wolverton Meadow.
Other trails worth adding to your list of hikes are the Big Trees Trail, Moro Rock, and the Alta trail.
WHERE TO STAY?
Blue Jay Paradise, a holiday home located in Three Rivers, is 10 minutes away from Sequoia and is a perfect choice for families with spacious houses and mountain views. Check here.
The Quail's Nest located in Three Rivers in the California region features a patio and garden views. Check more here.
For families, another recommended holiday home is In The Oaks, a spacious three-bedroom house. Find more here.
REDONDO BEACH
Redondo Beach is one of the finest beaches on the West Coast and one of the offbeat places in southern California despite its popularity.
The most popular of the three piers is the Redondo Beach Pier, which makes it one of the top things to do in South Bay, as it is also the liveliest.
It is touristy and crowded as expected, but the stunning oceanfront, the lively boardwalk packed with seafood restaurants serving delicious seafood cuisines, cute bars, and a shopping arcade.
The pier also becomes a whale-watching site between December and April.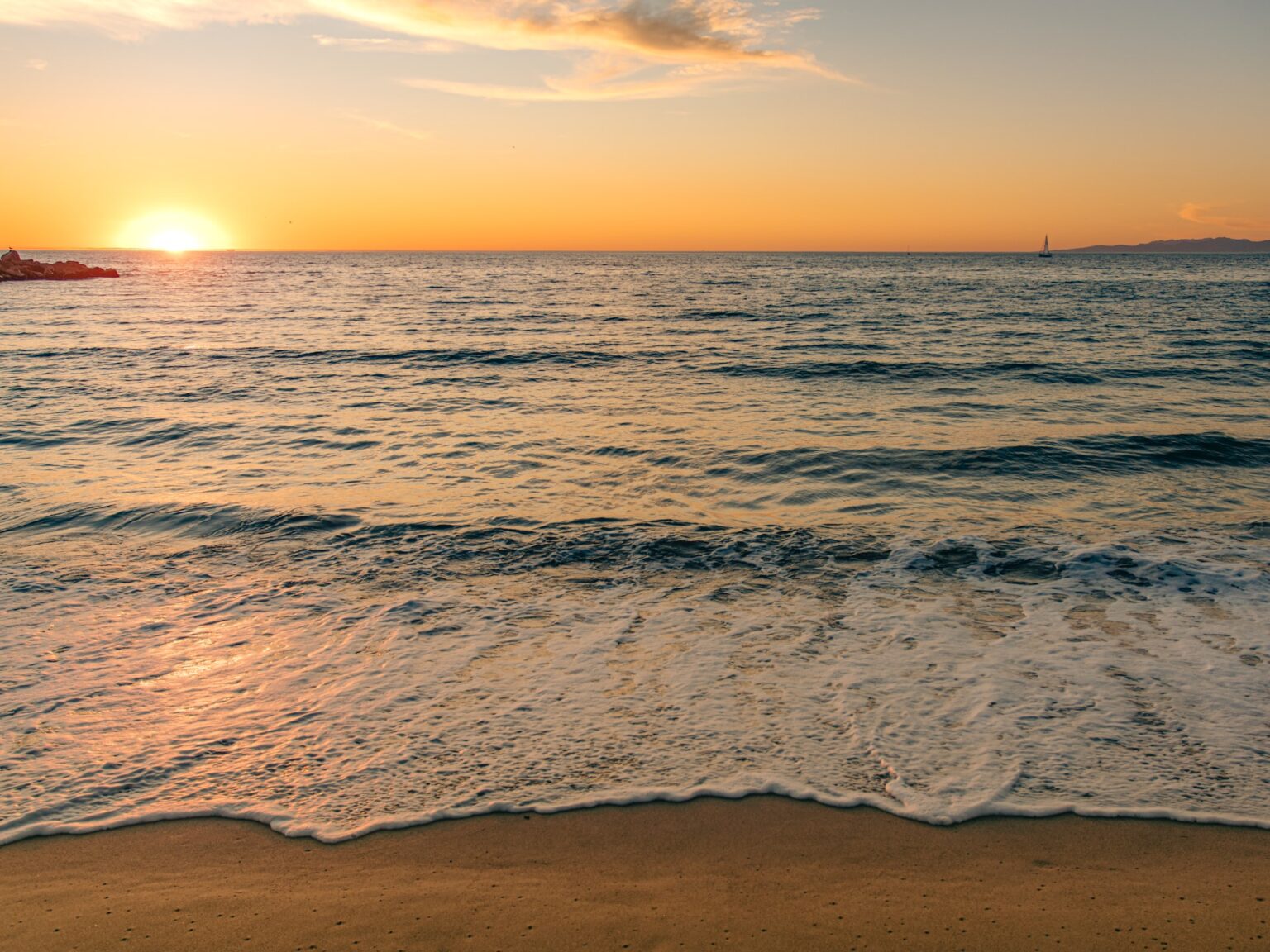 The beach in Redonda Beach, the southernmost point of Los Angeles County's South Bay Area, is excellent for swimming, sunbathing, and surfing, thanks to its broad sandy beaches.
If you are traveling with kids, I would highly recommend renting the paddleboards and get going out to Redondo Marina, which is the most famous beach for paddleboarding. The waves are not fierce, so it is ideal for beginners and kids.
After surfing, riding a standup paddleboard has become the next popular water activity in the area. King Harbour is also an awesome place for paddleboarding if want high-intensity waves. There are many rental shops close to Redondo Beach.
WHERE TO STAY?
The best hotels near Redondo Beach:
Shade Hotel Redondo Beach is the most popular hotel thanks to its excellent location overlooking the marina, a waterfront restaurant and a great rooftop pool. Book your stay here.
If you are looking for a cosy and comfortable stay, I would highly recommend Redondo Beach Hotel, Tapestry Collection by Hilton, which is less than 15 minutes drive from Los Angeles International Airport and a 2-minute drive to Redondo Beach. Check prices here.
Best Western Plus Redondo Beach Inn offers a year-round outdoor pool, hot tub and sauna. And this Redondo Beach hotel is a 5-minute drive away from Redondo Beach Pier.
If you want a mid-budget, clean motel, Seaside Motel is a great choice. Check here.
BODIE GHOST TOWN
If you are curious about exploring ghost towns full of mysteries, you probably know about Bodie Ghost town. Located about 20 miles southeast of Bridgeport, Bodie is one of the best secret getaways in California for a quick holiday that takes you back in time.
Bodie town, located in the Bodie hills of the Sierra Nevada mountains at an altitude of over 8300 feet, was once home to at least ten thousand miners looking for gold from 1877 to 1882 during the California gold rush, as it was one of the hot spots that generated millions.
After the rush died, this lively town declined through the 1800s and, by the 1940s, was considered a ghost town.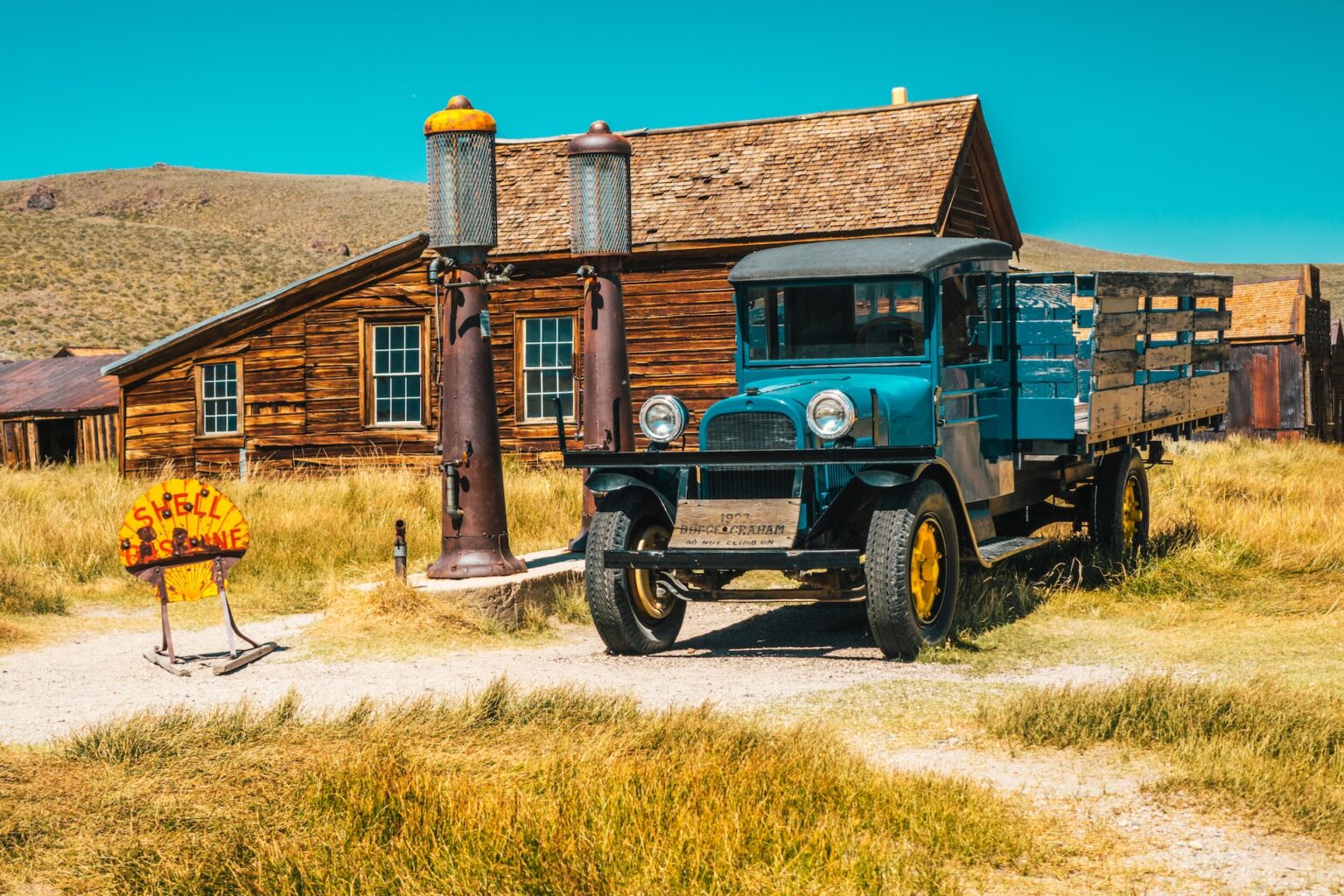 It was added to the list of State Historic Parks in 1962 when the remaining houses were restored and have been conserved ever since.
Travel back in time by visiting this national landmark, where you can find a bank, ancient gold mills, old stores, a jail and lots of saloons along the main street
If you are visiting this town in winter, you have to either ski or go snowshoeing or use snowmobiles as the roads become inaccessible.
CAYUCOS
Cayucos is one of the best beach towns in northern California, located on Estero Bay in San Luis Obispo County, between Los Angeles and San Francisco.
With 5 square miles in size, this beach town is 9 minutes North of Morro Bay and 30 minutes away from Hearst Castle, with a population of only 2,600.
PLACES TO VISIT AND THINGS TO DO
Visit the Cayucos State Beach, one of the main attractions known for its soothing waters and sandy beaches, making it idyllic for many adventures. You can go swimming, paddle boarding, surfing and diving.
Shop for the collectables as Cayucos will take you back in time with a wide range of antique shopping options. There are also two antique fairs a year.
You will be in for a treat, especially if you love picking up large murals, as you will find loads of notable collections of large mural walls throughout the town.
Check out the Cass Wharf, a pier known for fishing, if you want to reel in some baby fish.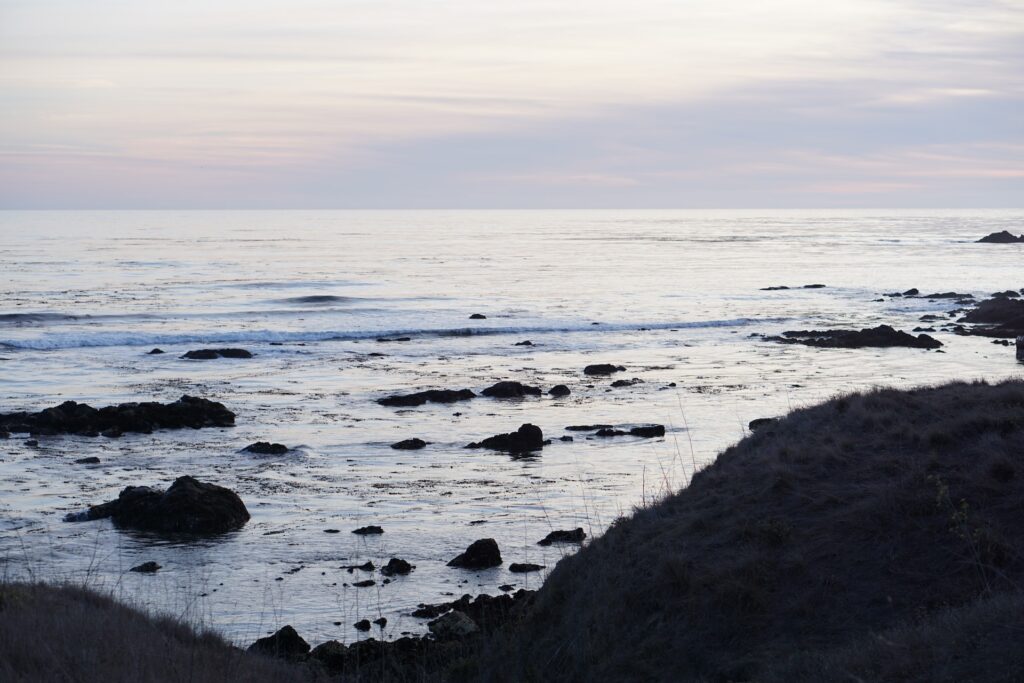 Don't miss the Cayucos pier when you are here in one of the best beach towns in California.
The 950-foot wooden pier dates back to 1872 and has historical significance as a commercial port for ships from Los Angeles to San Francisco.
You will see hundreds of fishers with their daily hustles at the pier. You will be rewarded with splendid views of the Pacific at the end of this pier.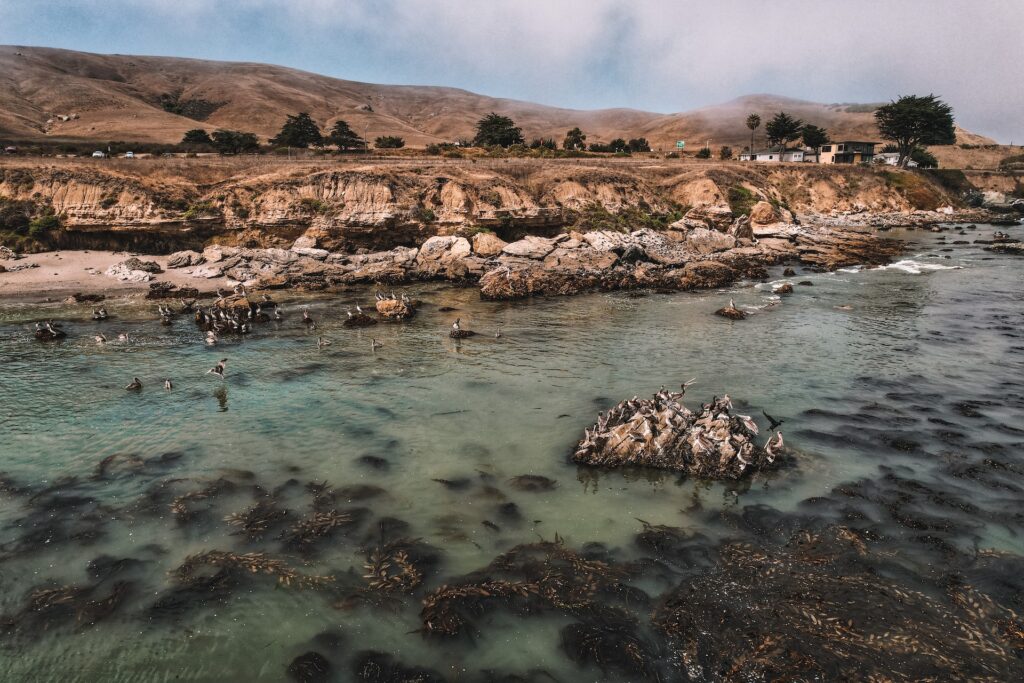 Fishing enthusiasts can try license-free fishing at the pier. If you have spare time, take a day trip to Hearst Castle, located in San Simeon, North of Cayucos.
William Randolph Hearst established the castle in the early 20th century. Try including Estero Bluffs State Park in your itinerary.
POINT LOBOS STATE NATURAL RESERVE
A 15-minute drive from the Carmel-by-the-Sea will lead you to Point Lobos State Natural Reserve, known for its fantastic hiking trails that offer splendid views of Big Sur, especially the sweeping views of the Pacific.
The natural reserve is home to rich marine life, and you can spot seals, sea otters, pelicans, sea lions and Whales. It is an excellent spot for surfing, swimming, scuba diving, kayaking, SUP, or enjoying the panoramic views of the Pacific.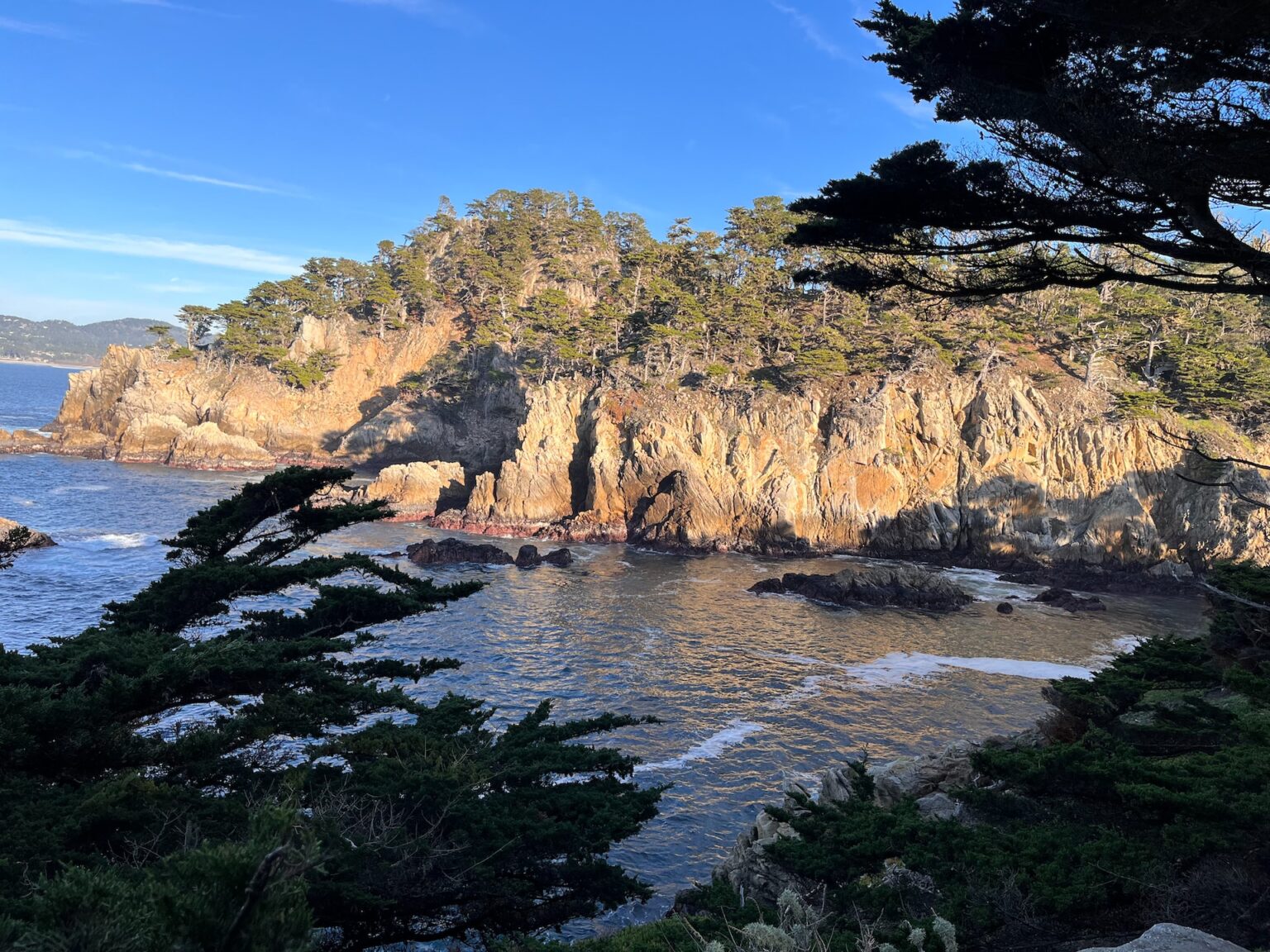 There are many stunning coves accessible by hiking or roads, with the famous ones Lobos'shaler's Cove, Sea LDevil'se, and China Cove, known for unique colour rocks.
If you are up for hiking, check out the 6-mile trail that will take you through the ancient Monterey Cypress groves, one of Point Lobos's main attractions. Devil's Cauldron is also worth stopping by.
For the best bird-watching experience, check out Bird Island. If you are here in winter, you may also spot the migrating grey whales.
The other famous hiking trails leading to magnificent views are the Point Lobos Loop Trail, South Plateau Trail, South Shore Trail for watching the sea lions, and Lace Lichen Trail.
All these trails are straightforward, and you can cover several of these within 4 to 5 hours, which will take you through most of the park attractions, including tons of photo spots.
For the parking fee, getting the park pass for $10 will allow you to park in all the state parks for up to 24 hours. The reserve is open from 8 AM to 7 PM. There are also picnic tables at Point Lobos for relaxing and eating.
Note that dogs are not allowed anywhere in the park. You are not allowed to leave them in your vehicle too, so if you are planning a Big Sur road trip with your dog, you will have to skip Point Lobos Reserve.
COACHELLA VALLEY PRESERVE
If you are planning a trip to Palm Springs, you can extend your holiday by planning a day trip to the nearby Coachella Valley Preserve, one of the beautiful hidden gems of southern California known for its music festival and stunning natural landscapes that make a perfect oasis of palm trees amidst the desert sun, home to unique desert animals and flora, water holes, ponds and sand dunes.
The Coachella Valley Preserve, spanning over 17000 acres and located 15 miles east of Palm Springs in the Indio Hills, offers spectacular views of bluffs and mesas.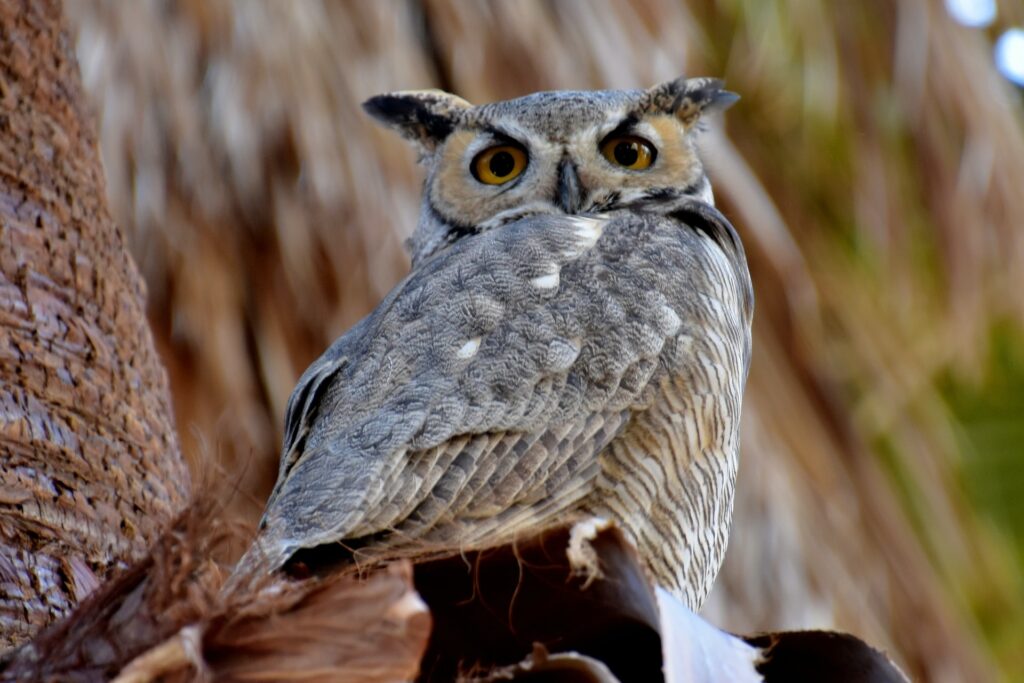 Do not miss spotting Coachella Valley fringe-toed lizard, a unique specie found only here. You have plenty of hiking trails to choose from, depending on how far or long you wish to venture into the heart of the desert wilderness.
You will pass through dozens of types of wild palm trees, and oases, with the popular hike being the easy and short trail to McCallum pond, less than a mile and easily accessible even if you are kids.
ANZA BORREGO DESERT STATE PARK
If you love exploring national parks in the US, you will love visiting Anza-Borrego Desert State Park, one of the beautiful and underrated hidden gems of southern California.
This massive expanse of desert wilderness lies unbelievably close to San Diego's best beaches, accessible by only a 2-hours drive but still remains secluded and frequented by fewer tourists, which makes it special.
Anza-Borrego Desert State Park spanning 600,000 acres in San Diego County, is California's largest state park encompassing fantastic rugged desert terrain on the east of the Peninsular Ranges, including stunning badlands, cool palm oases, winding slot canyons, and cactus-studded slopes.
Winter is the best time to visit this park as the temperatures become pleasant to explore its many hiking and biking trails and a pretty palm tree oasis.
Check out metal sculptures, visit the art gallery, and stop at the nearby Borrego springs where you can enjoy a relaxing picnic.
Exploring the many creeks and canyons, enjoying sightings of unique wildlife, driving around the park and admiring the fantastic panoramas along the many dirt roads.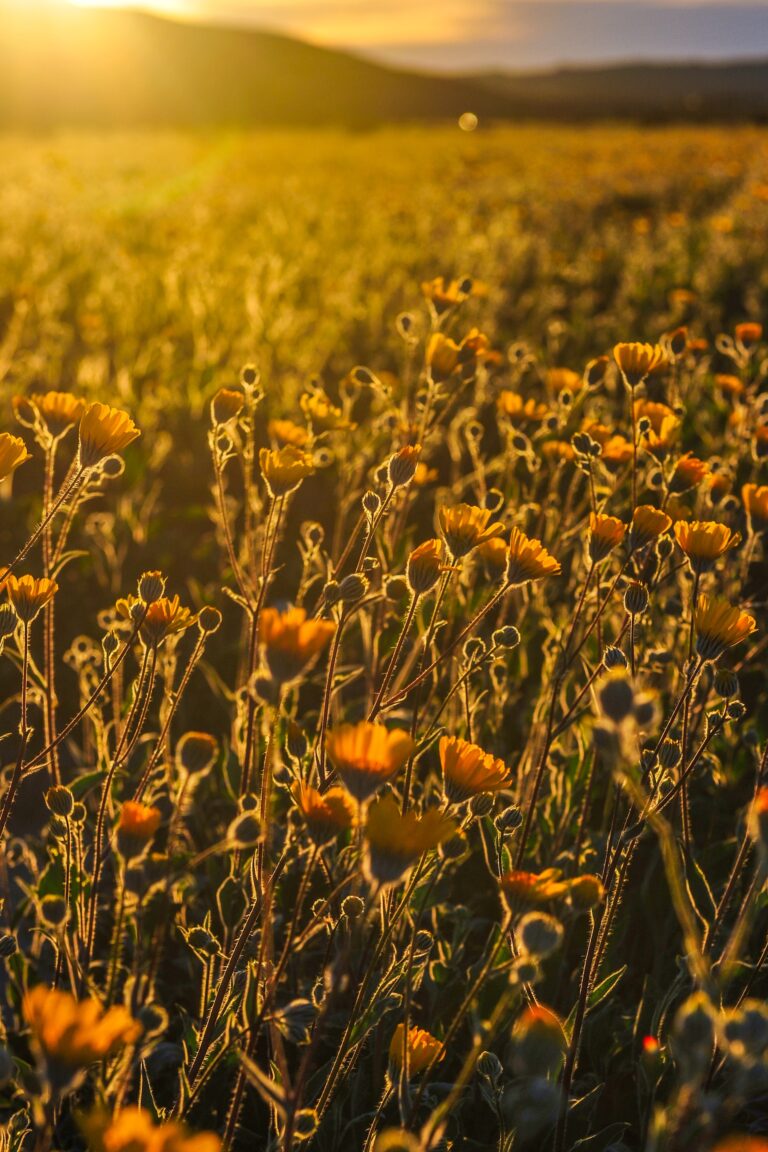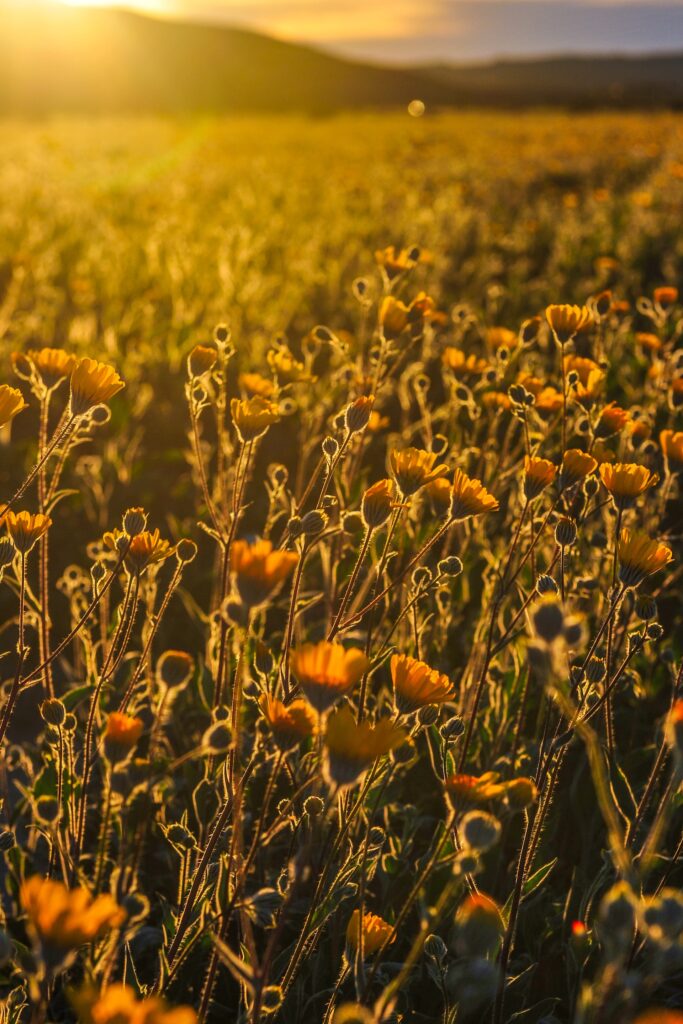 Due to its secluded and spacious excellent location, Anza-Borrego Desert State Park is a designated Dark Sky Community, making it one of the best places for stargazing.
With no street lights or glaring lights of the buildings, one of the best things to do in Anza-Borrego Desert State Park is to spend overnight watching the star-studded spectacle of the night sky.
AVILA BEACH
Located in San Luis Obispo County, Avila Beach is one of the best Northern California beach towns.
It is known for its serene beaches, farmer's markets and cosy beachfront restaurants.
PLACES TO VISIT AND THINGS TO DO
This pretty town has several secret beaches, some of which you can access with the help of a rope.
If you want to relax on the sandy beaches along with your pets, check out Fisherman's Beach and Olde Port Beach, located west of central Avila Beach and San Luis Pier.
You can include a visit to the Central Coast Aquarium when you are around the main beach. You might be rewarded with the sights of Shark eggs.
If you go towards the east of this pretty town, you will come across Pirates Cove Beach and Cave Landing Beach; quite tricky to get to the latter.
If you visit the San Luis Pier, you can watch anglers reeling in some baby fish.
You can rent a kayak or paddleboard or swim on these beaches when the tides are low. Some beaches also host sand-castle building contests.
Some local rental agencies nearby are available for renting necessary gear for all the water sports. You can even try rafting if you are in a group or find one.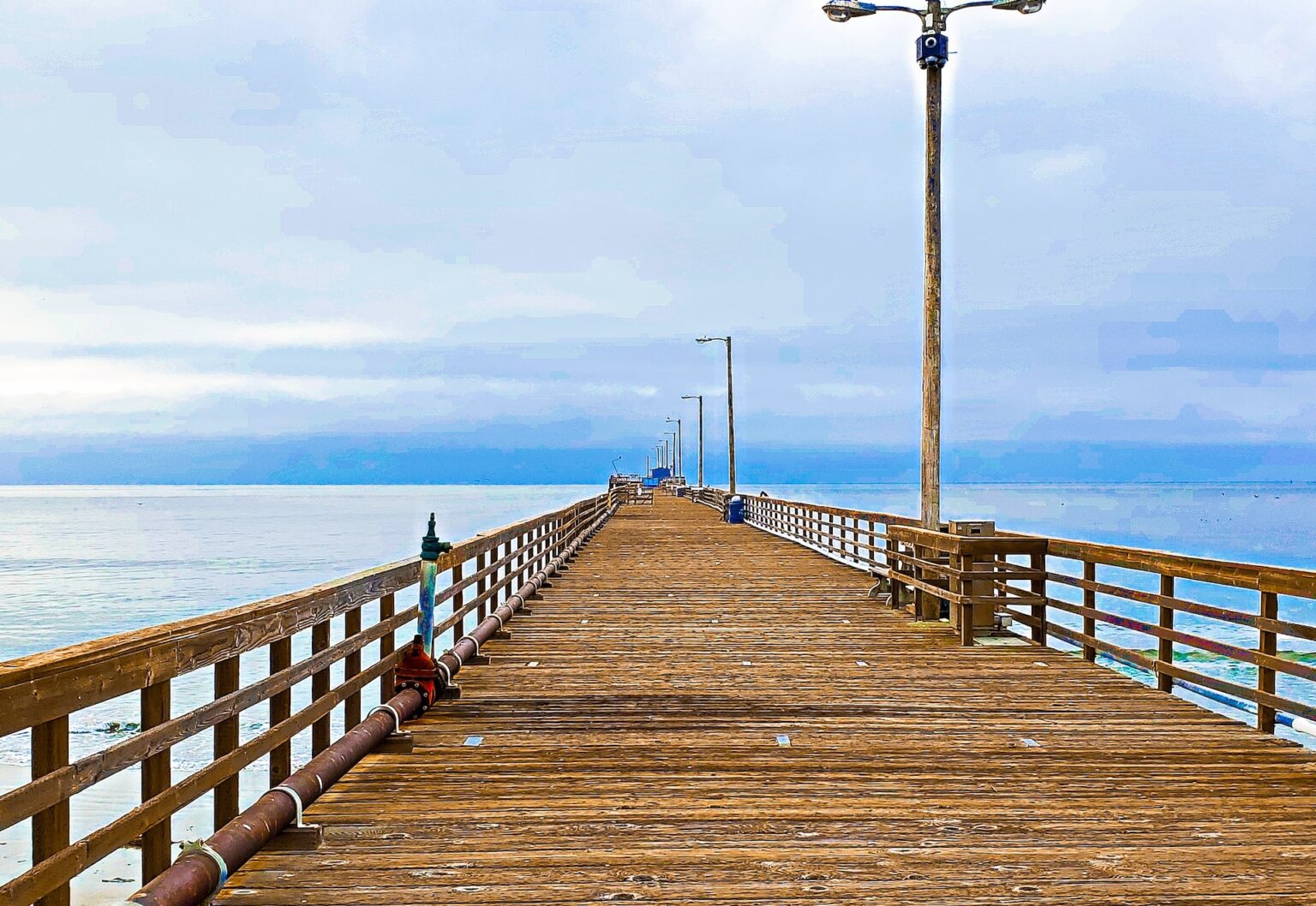 If you get a Kayak and have a penchant for adventure, try kayaking to the Point San Luis Lighthouse. You will be astonished by the stunning views of the ocean and Port San Luis Harbor.
Check out the Avila Valley Barn to spot local fauna and grab a snack.
If you plan to visit this one of the best Northern California Beach towns around winter, you may be lucky to spot whales on the beaches.
Though they appear all year round, they are seen in plumps during winter.
Not to disappoint wine lovers, this beautiful town has many wineries where you can sample some local flavours.
Don't miss visiting the Avila Wine and Roasting Company and the Alipay Cellar Tasting room for some exclusive collections.
WHERE TO STAY
OCEANSIDE
One of the most beautiful secret spots in California for beach lovers is Oceanside located near Carlsbad. Known for its splendid pier Ruby's Diner, excellent restaurants and waterfront bars and cafes, it is one of the best getaways to enjoy with your family as there are plenty of activities for everyone.
Stroll around or bike along the famous boardwalk enjoying the stunning views of the ocean. Sunsets are spectacular. You can surf, swim or relax on the shores.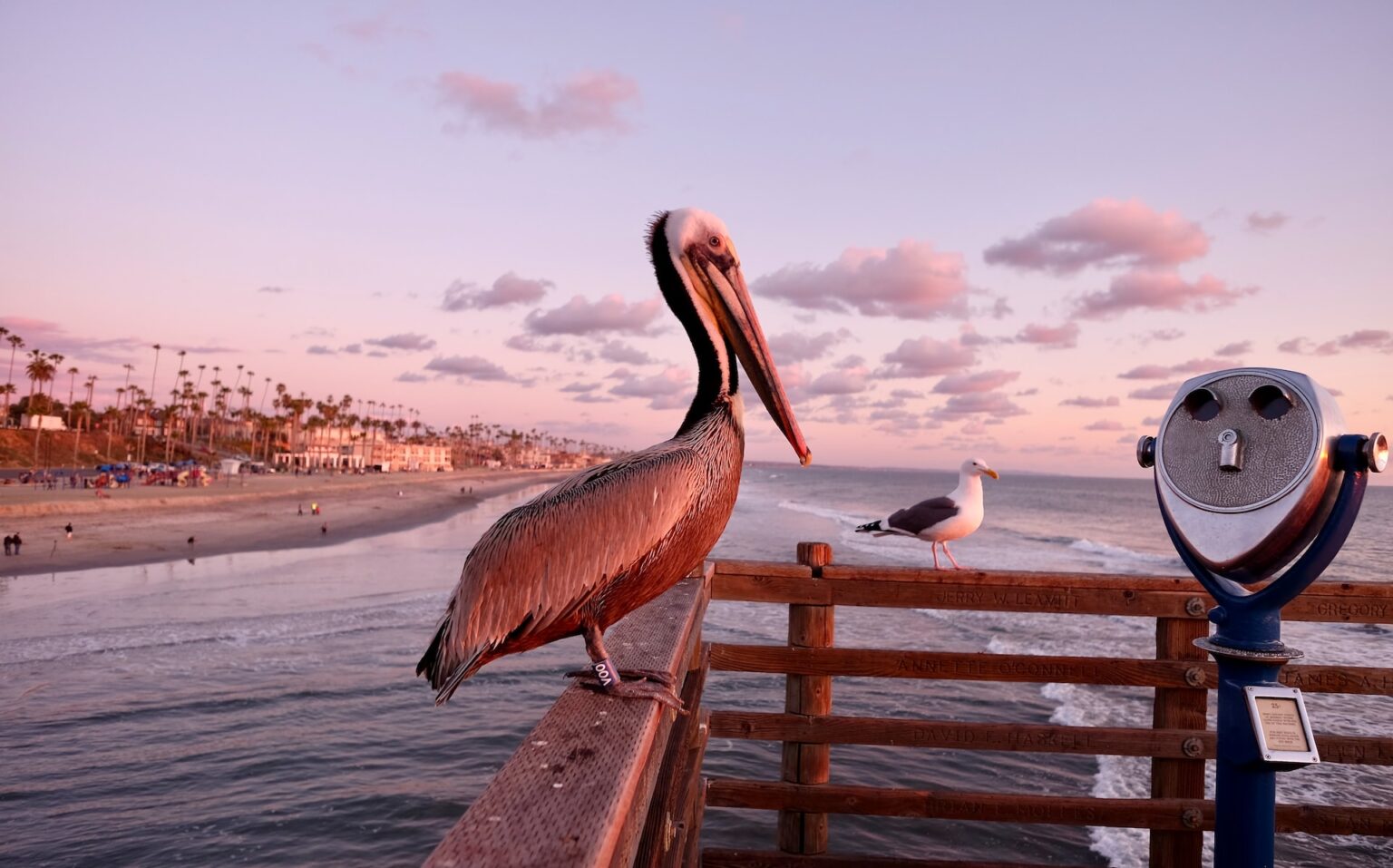 There are many areas for a picnic. Sail or fish during summer. There are many museums that you can add to your itinerary, including the Oceanside Museum of Art and the California Surf Museum.
MAP OF HIDDEN GEMS IN SOUTHERN CALIFORNIA