With so many excellent free things to do in Long Beach, California, you can add this to your weekend getaway if you plan to do a holiday on a budget.
Long Beach has plenty of fantastic things to offer, so free attractions mean you can have a fabulous time without shelling your bucks.
While the more giant neighbours, Los Angeles and Santa Monica, get most of the attention, Long Beach remains one of California's most underrated destinations.
It is one of the best beach cities in California, ideal for a relaxing weekend getaway with the kids, thanks to plenty of green open spaces, pretty beaches, museums, a gorgeous waterfront lined with excellent restaurants and a vast string of bars and cafes.
Surprisingly, many of the unique Long Beach attractions can be done for free, which is a bonus on top of all the fantastic things this southern California beach city offers for its visitors.
When the central attraction of a city is over 6 miles of sandy beaches, you are in for a fantastic beach holiday.
Home to one of the largest and busiest ports globally, there are many exciting free Long Beach activities you can try, whether you are traveling solo or with kids.
Keep reading to plan a trip to Long Beach with this list of the free things to do and more.
First things first! I recommend you get travel insurance ALWAYS whenever you are on international or domestic travel!
Check out this insurance by Safety Wing, which offers a pretty good cover for you and your family! They even provide monthly insurance, much required for slow travelers like us! Book here!
FREE THINGS TO DO IN LONG BEACH CALIFORNIA
CHECK OUT DOWNTOWN LONGBEACH
Downtown Long Beach is one of the city's most vibrant and lively neighbourhoods.
One of the awesome free things to do in Long Beach is exploring its downtown, the central place for local shopping, dining, and nighttime entertainment.
Walk through Pine Avenue, a historic thoroughfare extending from the downtown Waterfront district, which is packed with bars, restaurants, and cafes.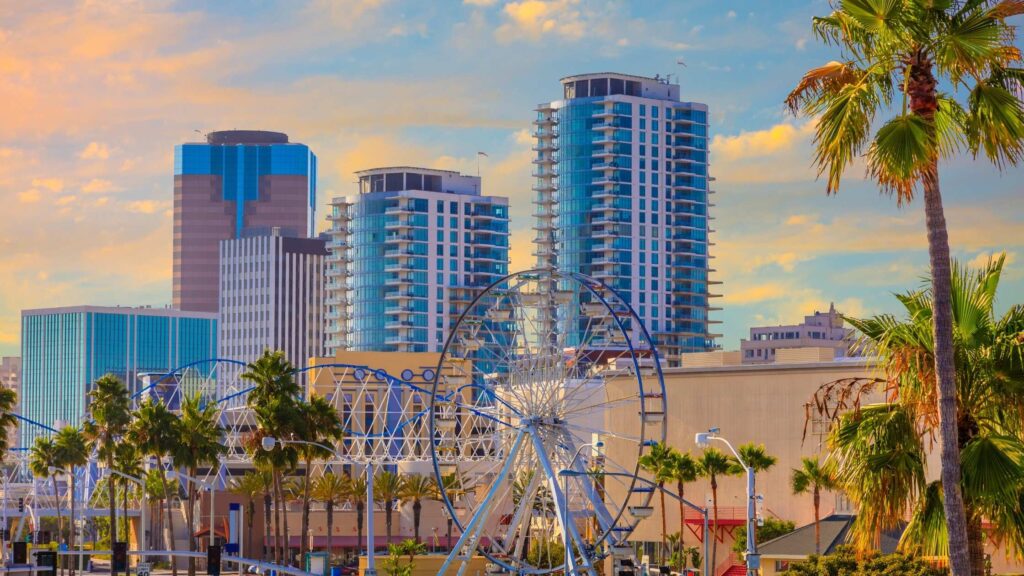 You can start inland passing through many famous local eateries and making your way to the colourful waterfront.
STROLL ON THE WATERFRONT IN LONG BEACH
One of the first places you will visit in the city centre, and what is better than being one of the best free things to do in Long Beach and it involves a waterfront?
The Downtown Waterfront in Long Beach, located in the south of the city overlooking Queensway Bay, is packed with attractions for everyone.
You can easily spend at least a few days covering all the things to explore here, including the Aquarium of the Pacific(with an entry fee), the Long Beach Convention Center, and visiting Shoreline Aquatic Park. It is also located close to Sunshine village.
Check this out for Aquarium: Skip the Ticketing Line: Aquarium of the Pacific General Admission Ticket. Book Here!
There are many fantastic restaurants, bars, and cafes along the waterfront, perfect for enjoying the beautiful skyline and people watching and savouring the best delicacies and drinks in the city.
Recommended – 35 Amazing Things To Do In South Bay Los Angeles
SPEND A DAY AT EARL BURNS MILLER JAPANESE GARDEN
One of my favourite free things to do in Long Beach is this vast and beautiful Japanese garden.
Earl Burns Miller Japanese Garden, a 1.3-acre intricately landscaped park located on the California State University Long Beach campus, is a top relaxing green space favoured by the campus students, locals, and tourists alike.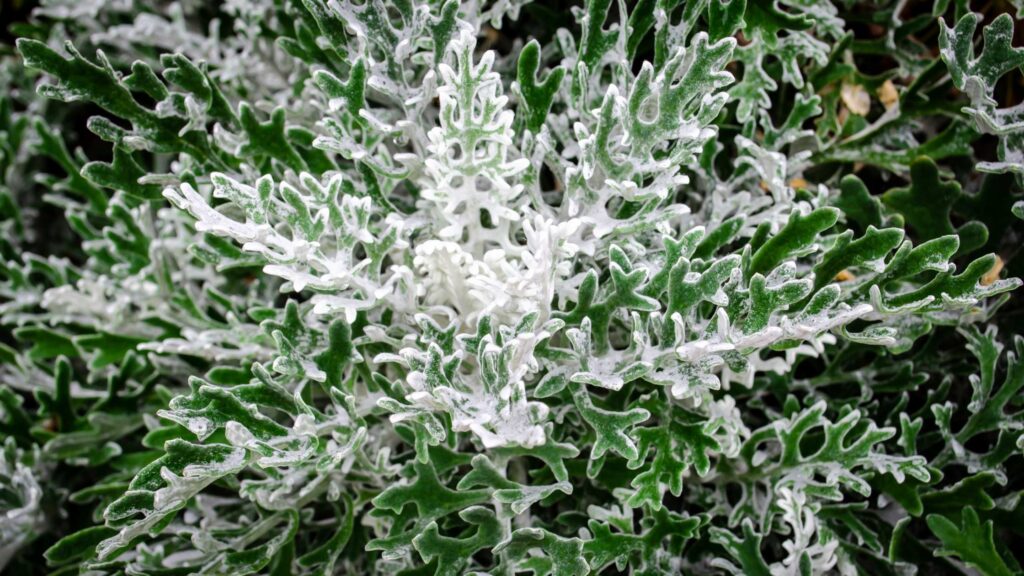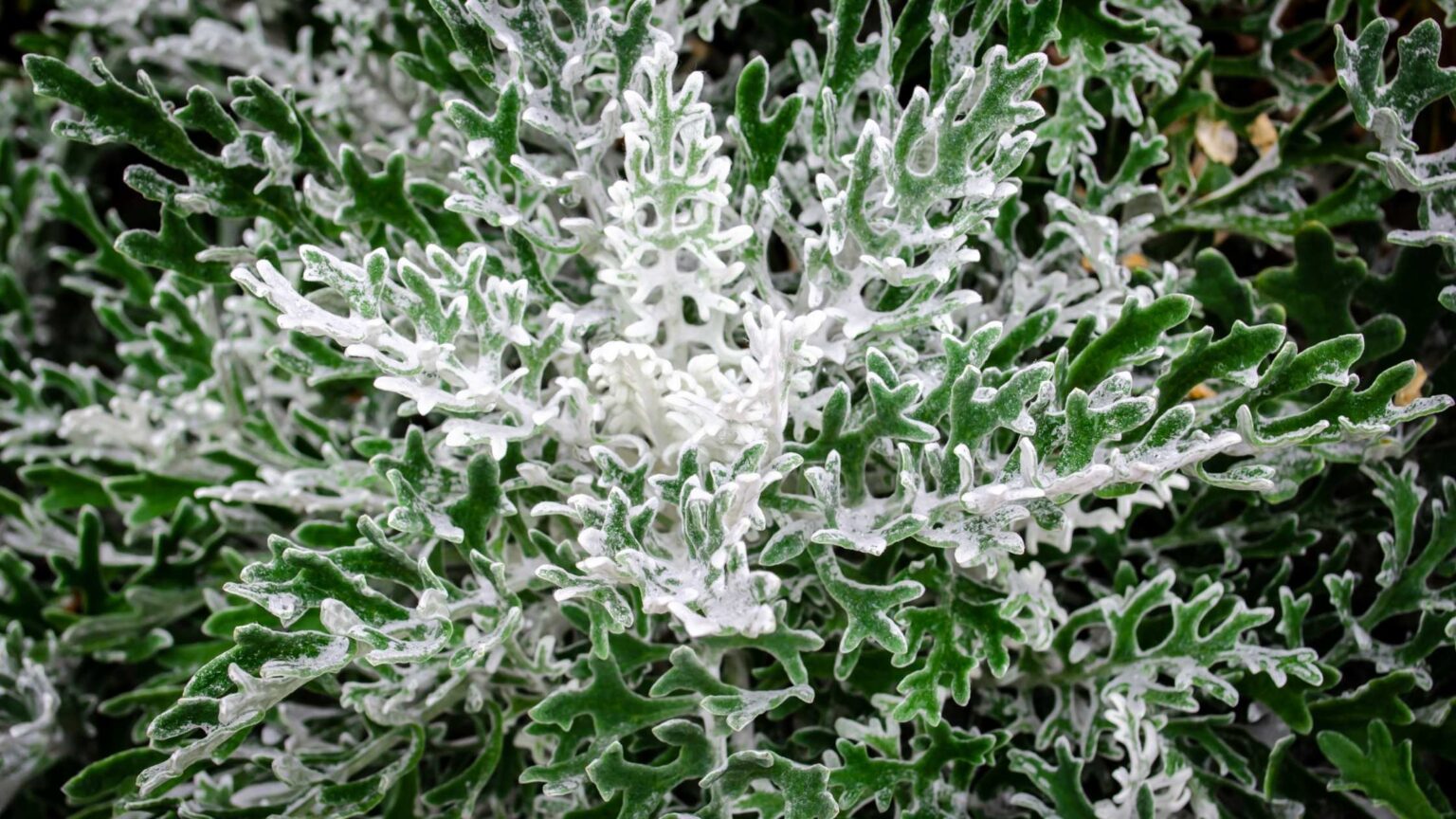 The Earl Burns Miller Japanese Garden features a hybrid of Southern California horticulture and traditional Japanese landscaping.
Mrs Loraine Miller Collins built the garden in honour of her late husband, Earl Burns Miller in 1981.
It is a treat to walk around this park, inspired by the Imperial Gardens in Tokyo. You will come across lovely pagodas, stone lanterns, cute decorative wooden bridges, a traditional tea house, a Koi pond, and a Zen garden.
Visitors no longer need to pay an entrance fee, but you need to make an online reservation(up to 6 people), which you can do through their apps or here.
You can also attend any event held in the gardens as it is a popular venue for outdoor events, including flower shows, musical evenings and workshops.
EXPLORE EL DORADO EAST REGIONAL PARK
One of the best free things to do in Long Beach for nature lovers is the El Dorado Nature Center, the largest park in Long Beach and a secluded retreat from the bustling city vibes, just 15-minutes away from downtown Long Beach.
Located between the San Gabriel River and the 605 Freeway, the natural landscapes of El Dorado, spanning 105 acres, are bliss to breathe fresh air amidst the green pastures, admire flora and fauna, or enjoy a picnic lunch.
You have 4 miles of trails winding through the forested areas, passing through streams, woodlands, and lakes for those who want to hike.
Other things you can enjoy are:
The archery area.
Playgrounds.
Fitness courses.
Disc golf courses.
Duck ponds.
A skate park.
Basketball and volleyball courts.
BBQ options close to the picnic areas.
You can also camp here overnight, which requires prior booking. Dog owners can walk their pets at the Eld Dorado Dog Park.
Recommended – 35 Awesome Things To Do In Point Reyes California
Visit the El Dorado Nature Center, on a tiny island at the entrance to the park, for educational displays showcasing the park's habitats and local artwork on the walls.
Sometimes, the centre also hosts birdwatching tours and workshops.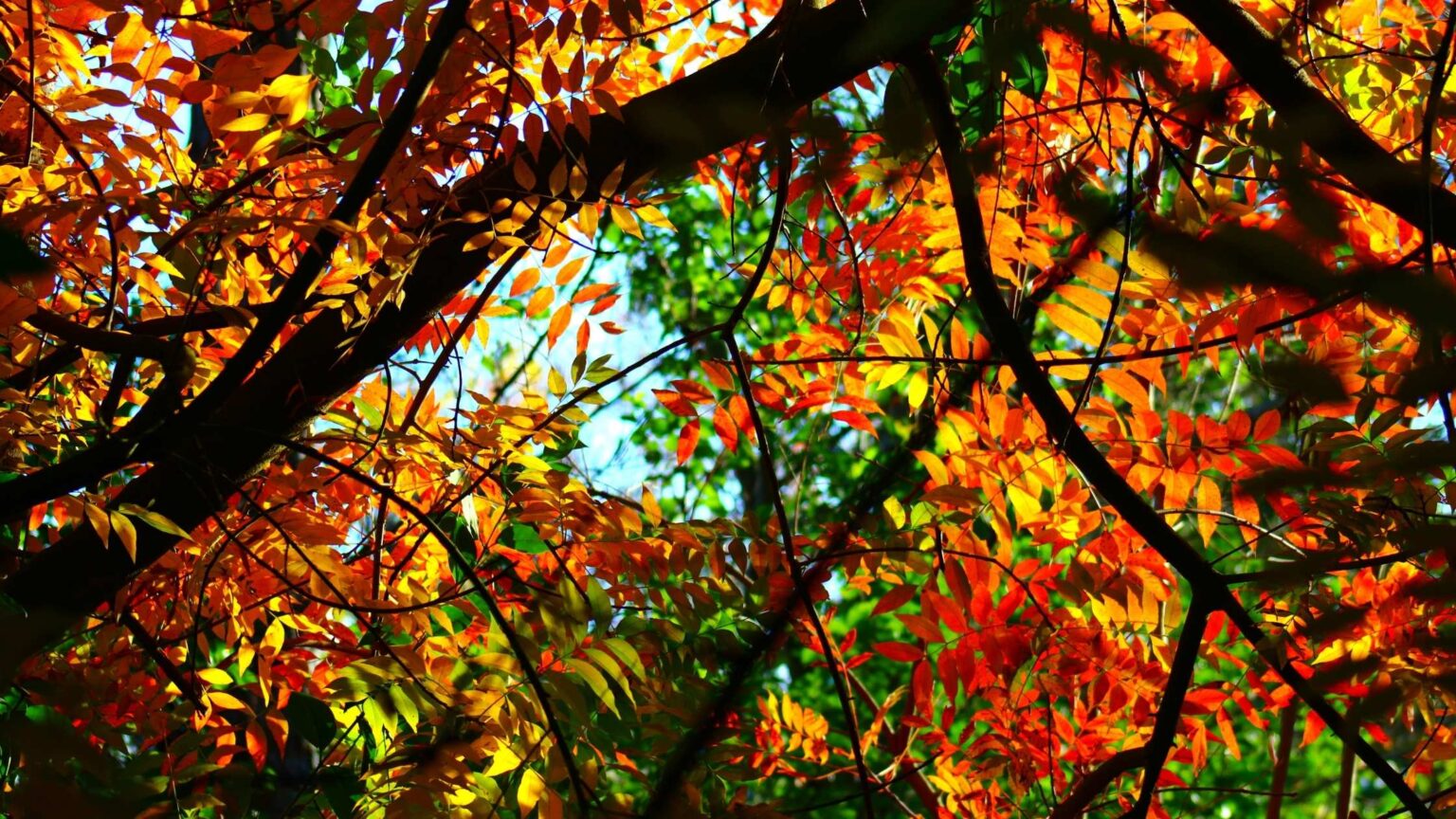 If you enter on foot or a bike, you can access the park for free. There is a fee for car parking, with the costs depending on the vehicle type and the day.
Opening hours – Closed on Sundays and Mondays; Open from 8 AM to 5 PM Tuesday through Saturday.
WALK YOUR PET AT ROSIE'S DOG BEACH
Whether you are traveling with your pet or not, one of the pretty free things to do in Long Beach is strolling along Rosie's Dog Beach, the lovely long stretch of sand on the city's southern border.
Unlike the other beaches closer to the main area, this one is the furthest, which means you will find fewer crowds on the beach shore and is a popular spot among pet owners and dog lovers.
Other than metered parking, access to Rosie's Dog Beach is completely free and open to all.
If you are bringing pets, note that you can only do so from 6 AM to 8 PM every day. Your dog can enjoy playing on the sand and swimming in the calm waters.
Recommended Tour: Long Beach Self-Guided Audio Tour
This fascinating audio tour of the beautiful sunny and vibrant Long Beach in California will take you on a fun journey where you will see sights such as the magnificent RMS Queen Mary and the famous Long Beach Grand Prix.
Perfectly suited for discovery on foot, this self-guided audio tour allows you to set the pace and explore at your leisure as you uncover the stories of this exciting city. Book Here!
CHECK OUT THE LONG BEACH MUSEUM OF ART
If you are in the city on a Friday, one of the best free things to do in Long Beach is to visit the beautiful Long Beach Museum of Art, which offers free entry every Friday for its visitors.
The museum was established in 1950 and is located within a century-old summer home of the wealthy philanthropist Elizabeth Milibank Anderson.
Overlooking the ocean on the north end of Bluff Park, this museum is a must-visit if you are into arts, especially contemporary European and American collections of the early 20th-century.
Its fascinating permanent collections of over 3000 artworks also look for exquisite furniture, paintings, drawings, and sculptures. Take a walk in the pretty sculpture garden on the premises.
If you are with kids, attend one of the many free family art-making workshops and check out children's exhibitions of artwork.
Enjoy a lunch admiring the ocean views at the lovely outdoor cafe and restaurant, Claire's at the Museum, open for brunch and lunch.
CHECK OUT THE MUSEUM OF LATIN ART(MOLAA)
For Museum lovers, there is a large museum waiting to be explored, and what better if you can add this to your list of the free things to do in Long Beach as you can visit this museum for free on Sundays.
The Museum of Latin American Art (MOLAA), located in the East Village Arts District in downtown Long Beach is one of the only museums in the country solely dedicated to contemporary Latin American art.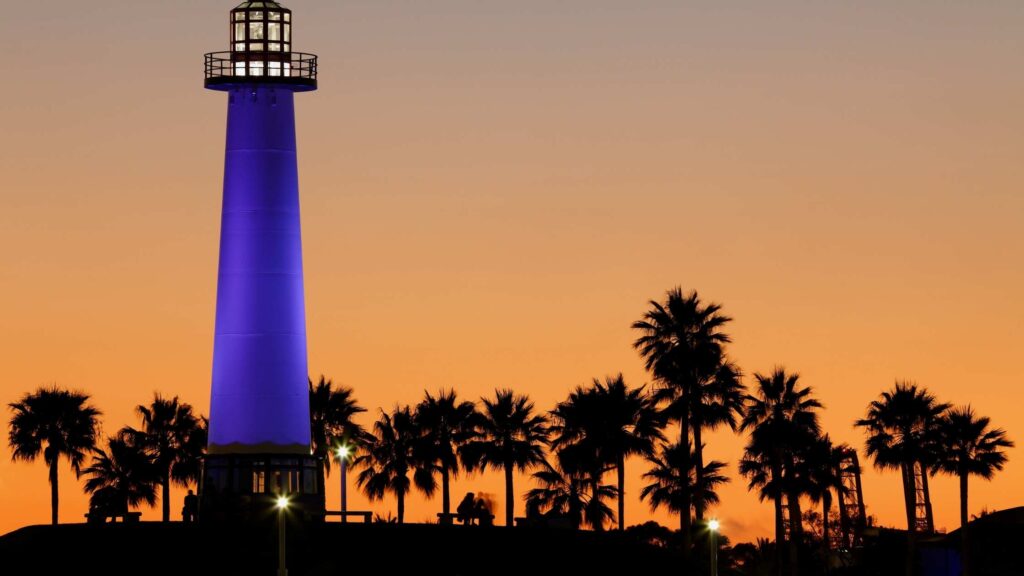 The building itself has brilliant architecture, which catches your attention from afar, and the impressive collections make it a heaven for art lovers.
The museum, established in 1996, features a wide range of rotating artworks, including over 1,500 artworks that range from paintings and photos to drawings and sculptures and a 15,000-square-foot outdoor Sculpture Garden.
There is also a film screening room, a research library, an art studio and a museum store.
WATCH A BEAUTIFUL SUNSET FROM THE HILLTOP PARK
One of the romantic and free things to do in Long Beach with your special one is watching the sunset from Hilltop Park, where you can also enjoy 360-degree panoramic views of Long Beach, Downtown LA, Orange County, the mountains, and the ocean.
Also known as Signal Hill, it is a popular hangout area for hikers and locals that come to enjoy relaxing picnics surrounded by gorgeous views.
You can get to the top from either the north or south entry, with the latter being a longer trail.
You will be rewarded with splendid views of the city skyline and the ocean at this top Long Beach Instagram spot.
Get there early if you are arriving by car as it gets difficult to find a parking spot around sunset.
BIKE THE RAINBOW HARBOUR ESPLANADE
One of the best free things to do in Long Beach is walking or biking the Rainbow Harbor Esplanade if you enjoy biking.
Located next to Rainbow Lagoon Park, the esplanade runs next to the waterfront and offers stunning pier views.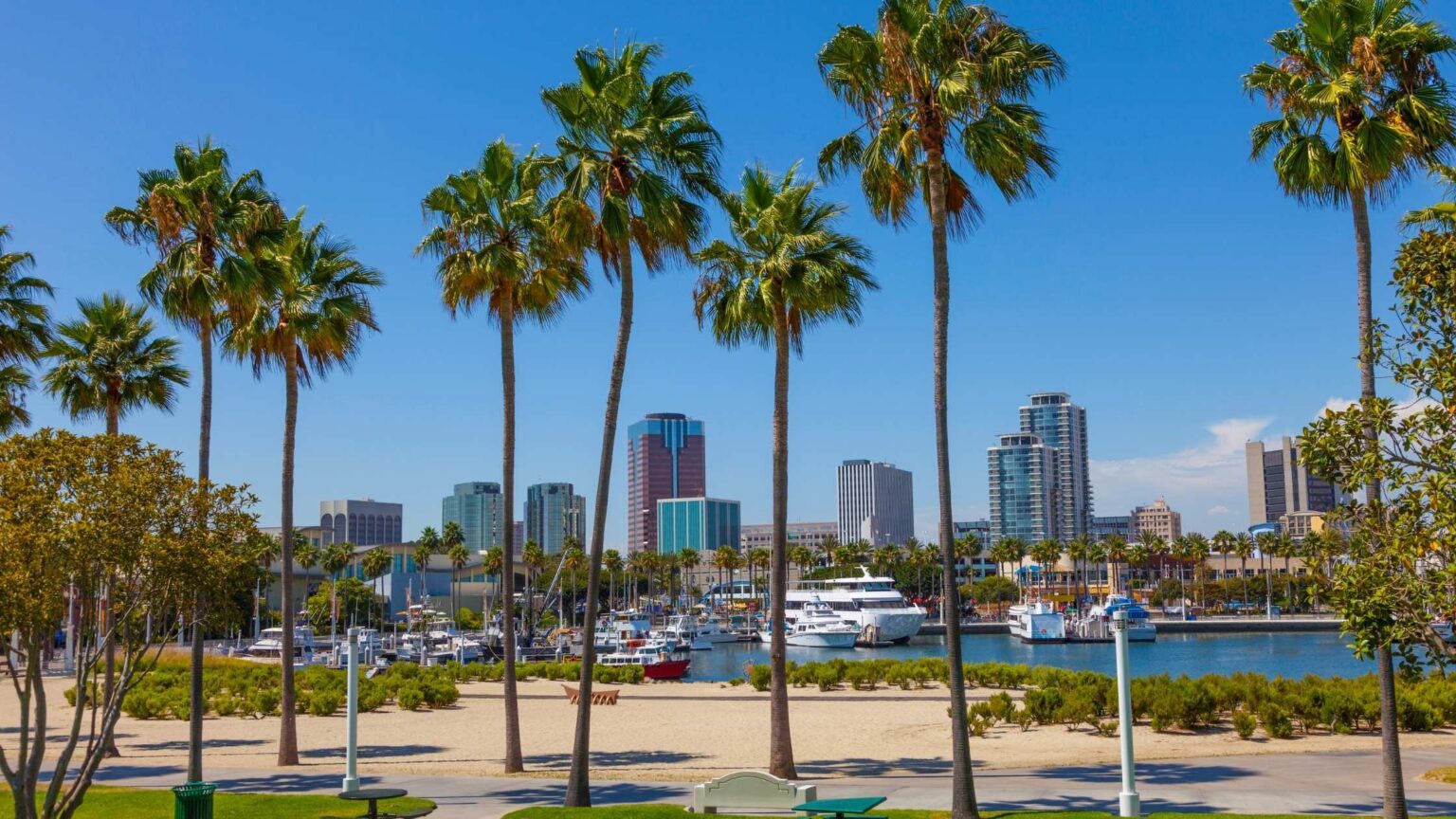 You can rent any type of bike or pedal-cruisers near Shoreline Village.
You can watch the views of the boats and yachts, and you will pass through top attractions like Shoreline Village and the Aquarium of the Pacific.
Plan the walk or the bike ride in the late afternoon or early in the morning so that you can combine admiring the gorgeous sunset or sunrise views.
EXPLORE THE LONG BEACH ANTIQUE MARKET
If you are like me that are into flea markets, local or antique markets, one of the fun free things to do in Long Beach is heading to the local antique market.
If you are here around the third Sunday of the month, head to the Long Beach Veterans Stadium for this traditional flea market.
Stroll around this large open-air market, and you will be spoilt for choice when it comes to antique items, some of which could be excellent souvenirs as well.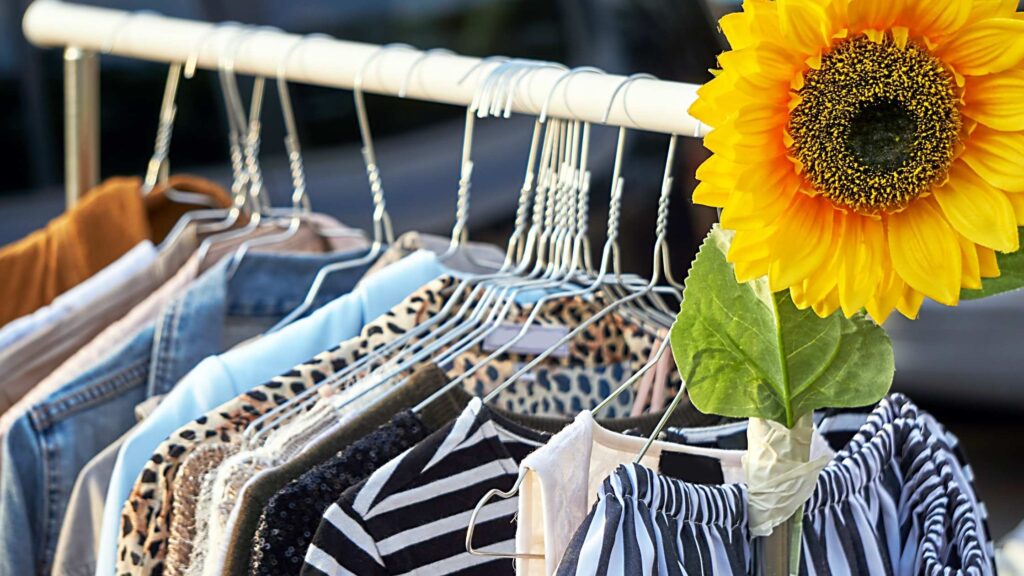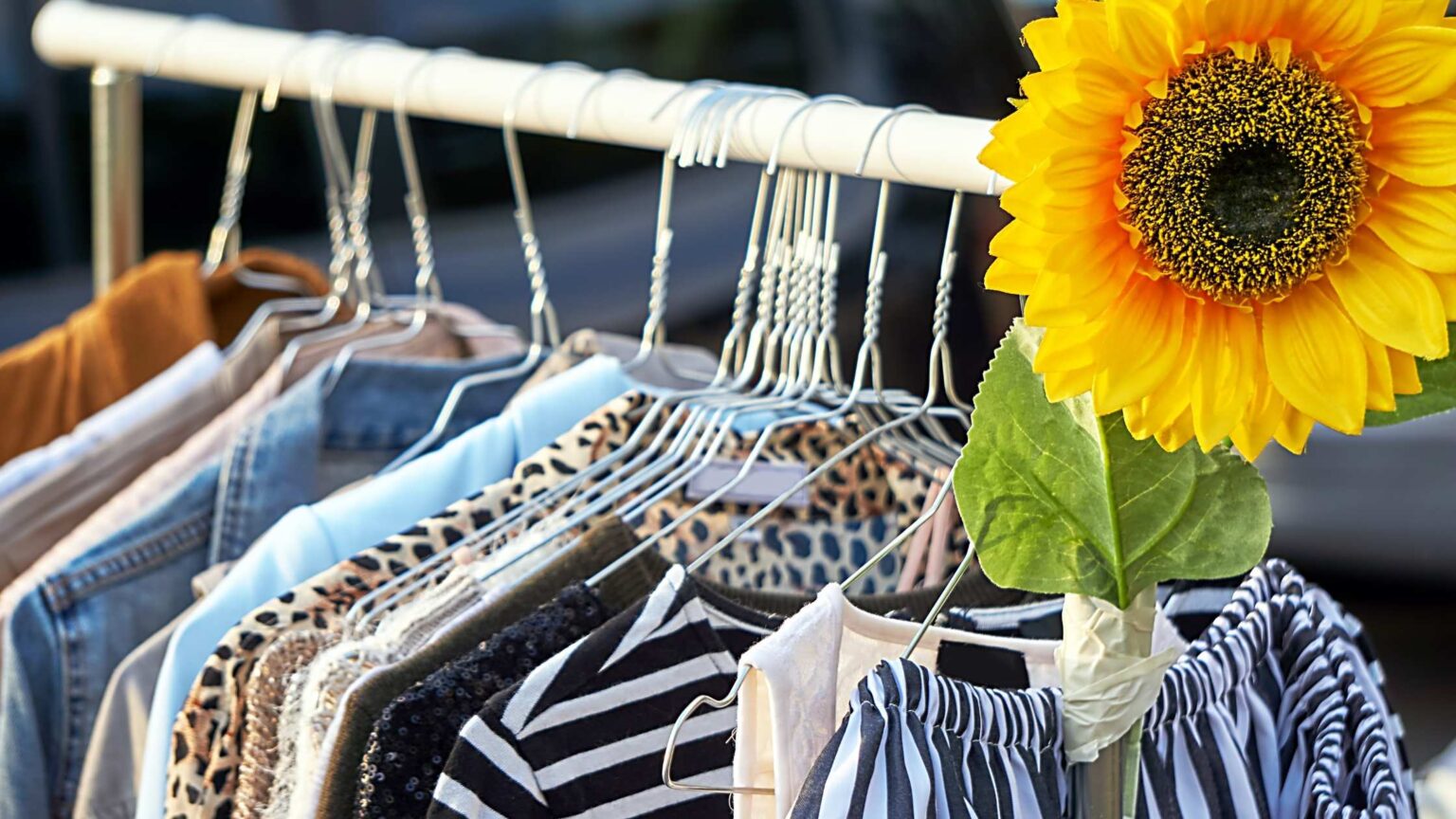 There are at least 700 shops scattered around the 20-acres large stadium. You can easily spend a few hours exploring this wonderful market.
From huge furniture to decor items to cute jewellery to unique clothing and collectables, there are so many unique things you will find in this market.
CHECK OUT THE PIKE OUTLETS
Although shopping and dining cost you, one of the free things to do in Long Beach for entertainment is heading to the Pike Outlets, an amazing waterfront shopping centre.
Located across from the Long Beach Convention and Entertainment Center, you can go window-shopping, admire the modern architecture, take pictures of the iconic Ferris wheel, and check out the options for dining.
If you are looking for some excellent restaurants, you have plenty to choose from, ranging from fast food to casual and sit-down dining. There is also a comedy club and a movie theatre here.
GET THE ITALIAN VIBES AT NAPLES
Inspired by Italy's vibrant Venetian canals and the city of Naples, a neighbourhood in Long Beach has become a major tourist attraction.
Exploring Naples is one of the fun free things to do in Long Beach. It's almost an island, with many bridges connecting it to the mainland.
The Little Italy area spans the distance between Belmont Shore and Long Beach Marina, and this neighbourhood is famous for its water-centric design.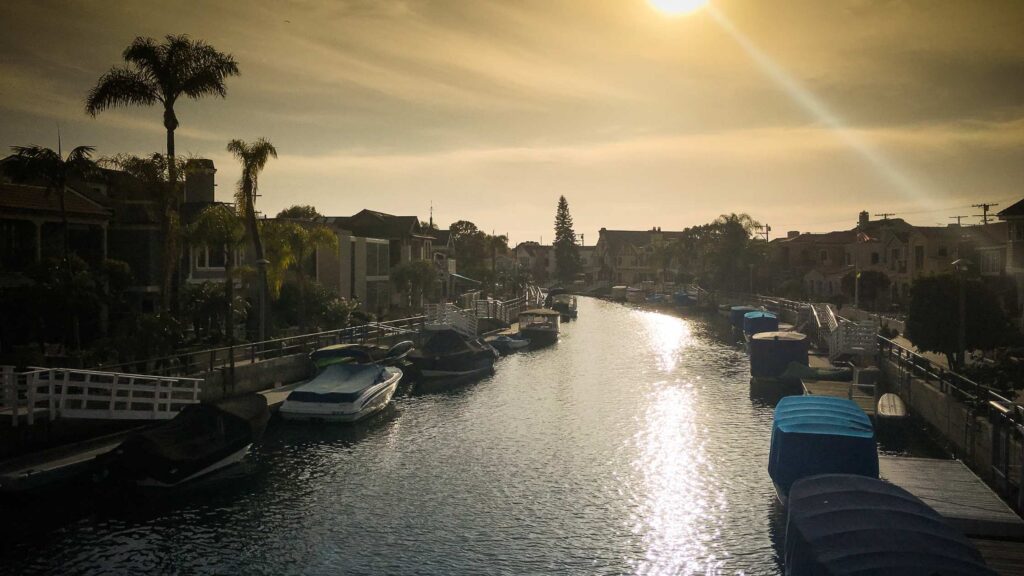 You can take a gondola ride that will take you through pretty canals, beautiful houses, and post-card perfect colourful streets.
Recommended – 30 Magical Cities In Italy For Your Bucket List
I also recommend exploring Naples on foot, to get glimpses into the affluent streets lined with boutique shops, cafes, bars, and excellent restaurants.
Stop at the heart of the district lies La Bella Fontana Park, home to the iconic three-tiered fountain surrounded by shops and restaurants, a good spot for shopping if you want to grab something for the home.
Another popular way to explore Naples is renting a kayak to navigate through the narrow streets and colourful homes.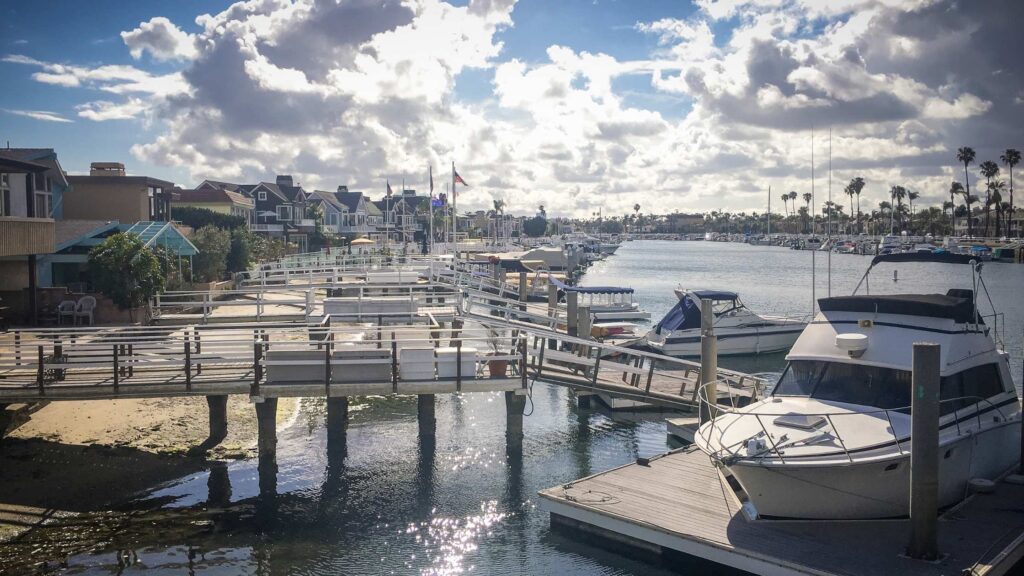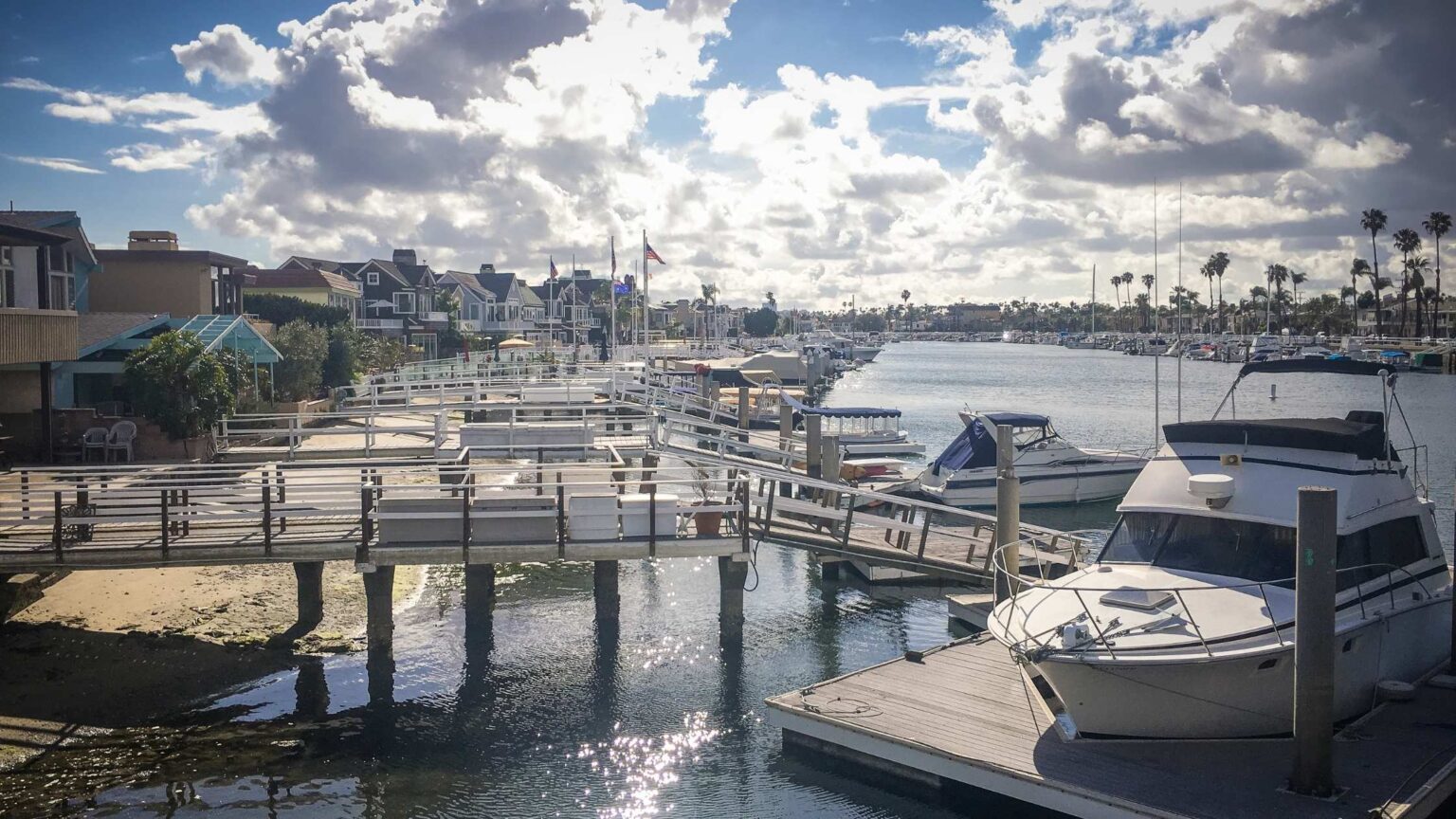 If you're visiting Naples Island in the winter, you will be welcomed by the streets lit up with Christmas decorations, and decorated boats parading about the canals.
From downtown Long Beach, you have to drive along East 2nd Street to get to Naples. Since there is limited parking on the island, it is better to walk or bike along if you can.
HANG OUT AT MOTHER'S BEACH
If you are visiting Naples, add one more stop to the list of the free things to do in Long Beach. Stop at Mother's Beach located on Naples Island, which is small but a popular beach for families, as the water is soft and the sand is warm.
The beach offers a playground and a protected water area, which means the waves come from various canals and waterways stemming from Alamitos Bay and not the ocean, and hence safe for children.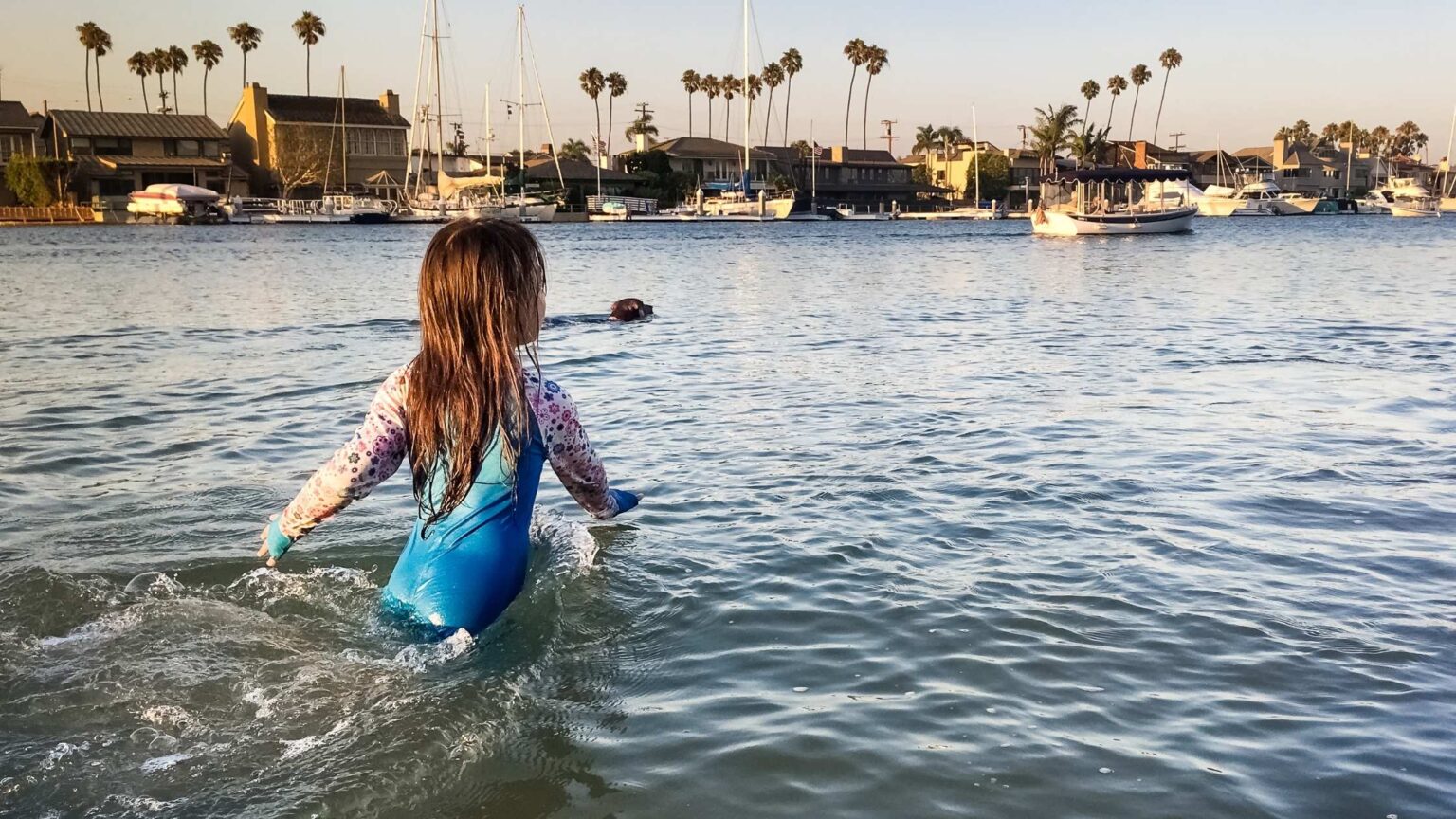 You can enjoy paddle boarding, and Kayaking as well. There are also grassy areas for picnics and playing, sand volleyball courts, and a playground at Mother's Beach.
You can also watch free movie screenings that play family-favourite flicks if you are here during summer nights.
MORE FUN AND FREE THINGS TO DO IN LONG BEACH
HEAD TO DOMINGUEZ GAP WETLANDS
One of the amazing free things to do in Long Beach is exploring the massive Dominguez Gap Wetlands, which offers many trails for biking, and hiking. You can spot birds or wildlife too.
One of the top trails for getting the most out of the wetlands is the 2.5 miles loop trail, Dominguez Gap Trail, which takes about 45 minutes to complete. This is an easy walk on the wooden trail, a popular one among runners and hikers.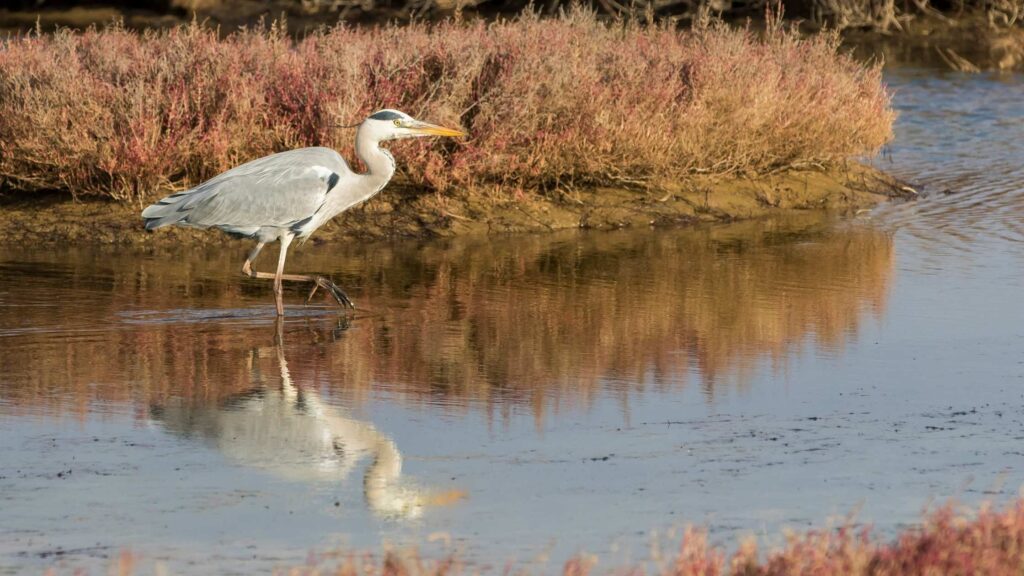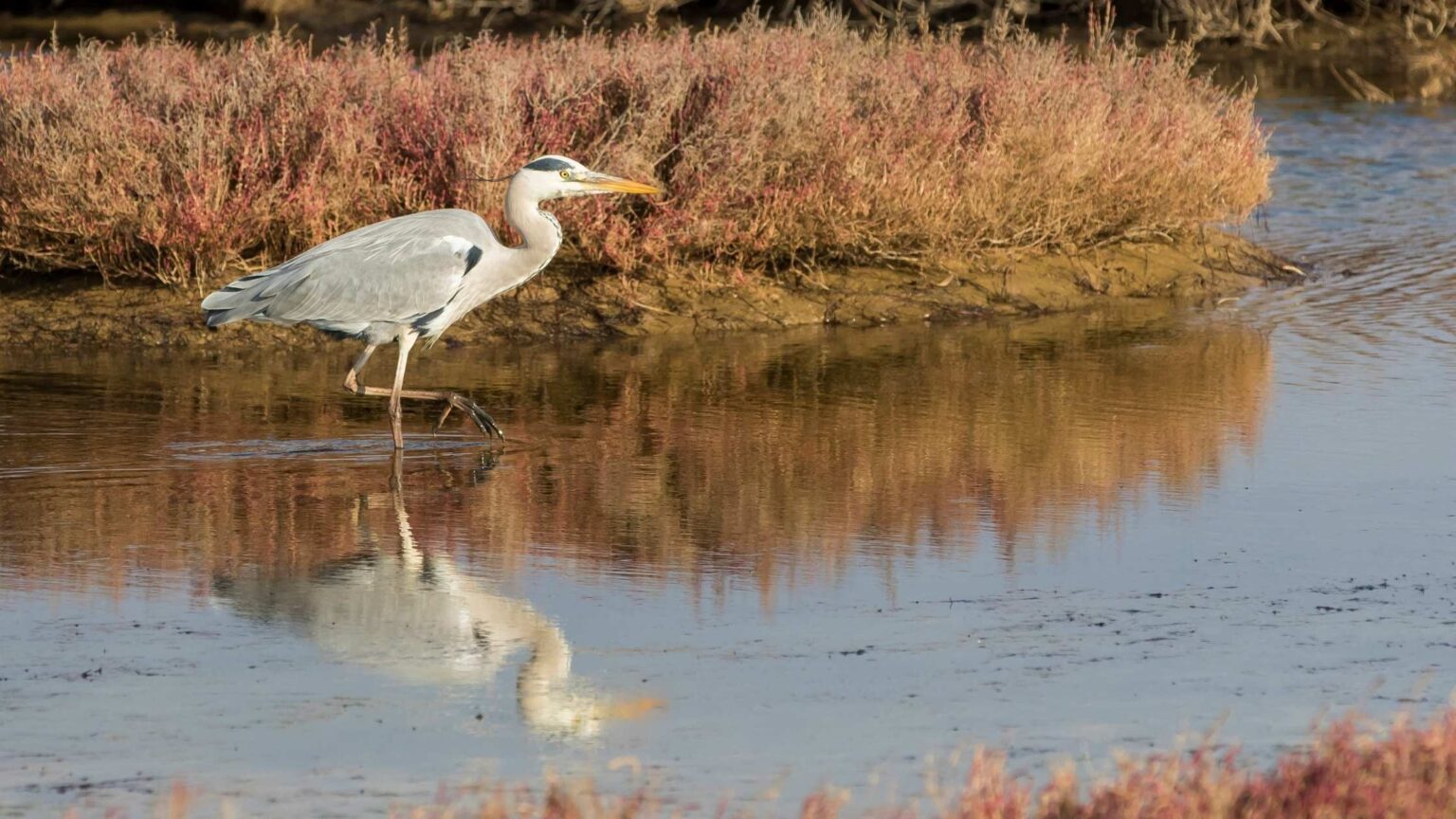 You may spot turtles, herons, rabbits, ducks and some wildflowers. The best time to visit is early in the morning or around evening as it can get hot during the rest of the time. Dogs are welcome but must be on a leash.
PAY TRIBUTE TO THE QUEEN MARY
One of the iconic attractions in the city is the RMS Queen Mary, known as one of the greatest luxury liners to have sailed the Pacific Ocean. One of the free things to do in Long Beach is visit this historic ship.
The Queen Mary first set sail in 1936 from Southampton, England, and was an instant hit. It was one of the grandest ships in the world for many decades, with thousands of tourists sailing on it.
Between 1936 and 1967, the ship also saw the royals and dignitaries aboard, such as the Duke and Duchess of Windsor and Winston Churchill.
This luxury cruise liner actively participated in the Second World War.
After retiring in 1967, the Queen Mary has been on the shores of Southern California, permanently docked in Long Beach in Queensway Bay.
You can see the eye-catching vessel on the downtown waterfront in Long Beach for free.
A fascinating ship to explore, the RMS Queen Mary acts as a museum, hotel, and tourist attraction and has various restaurants and bars to visit.
The enormous historic ocean liner is a museum, hotel, and tourist attraction and is home to a beautiful Art Deco interior with lavish furnishings.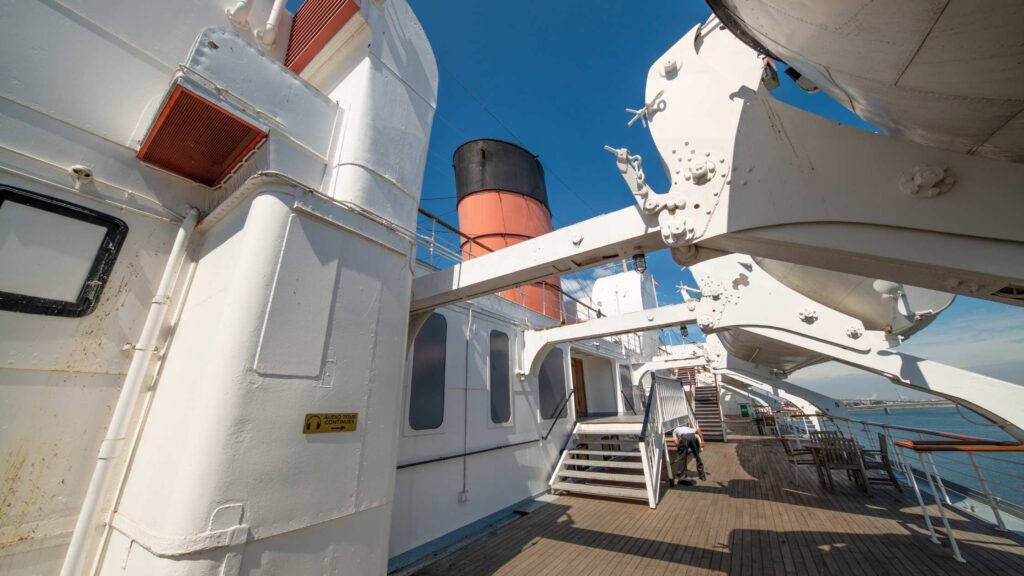 There are also three elegant restaurants, bars and a spa that you can visit, take a guided tour around the ship to learn the rich history of this famous ship, or stay overnight in its luxury hotel, which are some of the non-free things to explore.
GHOST TOUR ON THE SHIP
But if you want to take your fun to a whole new level, take one of the night tours of Queen Mary.
What's special about this tour? Well, with so much history, it's no wonder that the Queen Mary has been named the most haunted hotel in the United States of America. Many visitors and staff claim to have experienced paranormal activities.
On this nocturnal tour, the guides will take you to the most haunted places on the deck which is fun for sure.
CHECK OUT THE EAST VILLAGE ARTS DISTRICT
Not many know that Long Beach is not just about beaches, parks, and piers, but it has some serious artists and art fans that add to the city's diverse culture.
The East Village Arts District is one of the recommended free things to do in Long Beach for art and non-art enthusiasts.
This district is located in the eastern downtown area, southwest of the Museum of Latin American Art.
Walking around the district is the best way to make the most. You will stroll past the area packed with various eye-catching murals, home designs, eclectic eateries, cute cafes, local funky record shops, and vintage clothing stores and art galleries focusing on local artists.
If you want to go graffiti hunting, stroll through the streets to find all 21 murals painted around the neighbourhood, which is fun if you are into murals as I am.
Some of the most popular galleries include Hellada Gallery, The Liberty and C Gallery Fine Art.
Recommended Tour: Long Beach Scavenger Hunt: Long Beach Art & Architecture
Explore Long Beach with your friends, family, or colleagues by taking this app-led scavenger hunt highlighting the architecture of the city.
It's around a 2-hour experience, but you can go at your own pace, start when you like, because you have no live guide.
It is up to you and your team to solve clues and solve riddles while learning about this town. Book Here!
If you are here on a second Saturday, you can participate in the Long Beach Art Walk, where the village celebrates art. Stroll through the streets to enjoy performances, painting, live music, and sculptures.
PICNIC AT THE BLUFF PARK
Among the relaxing things on a trip is having a picnic. And the city has many places for that, but enjoying a picnic at Bluff Park is one of the recommended free things to do in Long Beach.
Located on the outskirts of an affluent neighbourhood, this 12-acres of green space comprising palm trees and the grass is known for its excellent location.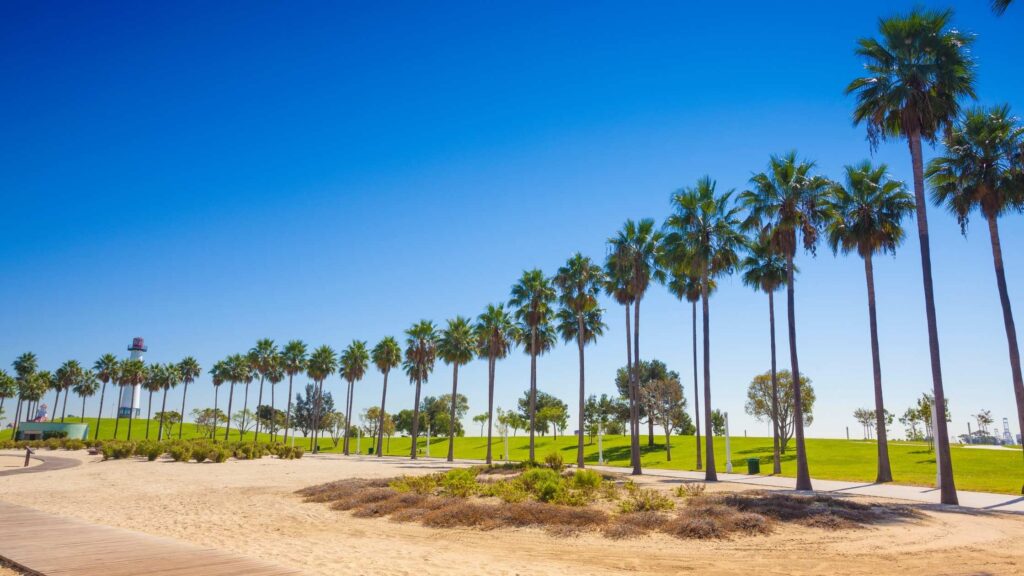 You will be enjoying the picnic admiring the gorgeous views of the nearby Junipero Beach and the distant Pacific ocean, and the brilliant mansions on Ocean Boulevard.
It is a favourite spot among locals for running, walking, and jogging, and you will find out many practising Yoga. For the best views, use the telescopes at various locations in Bluff Park.
Bluff Park also has a historical past that you can get to know through the interpretive information stands. It was once an active military space in World War II.
You can find the Lone Sailor, a bronze statue tribute to the US Navy commemorating the city's naval history.
And for those interested in exploring the beach, several stairways and graded ramps lead down to the sand.
CHECK OUT SHORELINE VILLAGE
One of the popular free things to do in Long Beach is Shoreline Village. Located on the waterfront in beautiful downtown Long Beach alongside the waters of Rainbow Harbor, this area is home to many fantastic restaurants, bars, cafes, and shops.
It is a bustling central area where you can rent bikes, book cruises, or spend time at the grassy open park and do people watching.
Admire the views of the waterfront and enjoy a picnic lunch at one of the many tables on a busy afternoon on your holiday.
Shoreline Village is the starting point for exploring the attractions, the beaches and the water activities in Long Beach, so you will likely stop here many times.
Also, among both the locals and the tourists, Shoreline Village is the hotspot for dining and drinks as there are loads of places serving various cuisines to choose from, along with the fantastic waterfront views.
Visit the landmark Parkers' Lighthouse restaurant for their fresh fish and beautiful harbour views if you love seafood.
You can also skate along the boardwalk, listen to live music or play the fun arcade games.
Recommended Tour: Shared 8 hours Los Angeles City Sightseeing Tour from Long Beach
Spend the day sightseeing in Los Angeles during this guided tour from Long Beach. With an expert local guide and a small group of 14 people or less, see LA landmarks like the Hollywood Sign, Santa Monica, Venice Beach and the Hollywood Walk of Fame.
Follow your guide to filming locations of famous movies, explore Hollywood Boulevard and see one of the biggest ports in the US.
This tour includes a balanced mix of guided tours and free time and includes round-trip transportation from Long Beach hotels. Book Here!
WATCH MOVIES UNDER THE STARS
If you are in the city between June and August, one of the top free things to do in Long Beach is watching movies under the stars with your loved ones.
Long Beach Parks, Recreation, and Marine organize movies in the park from June 23rd to August 27th, an annual outdoor film screening series, where family-friendly movies will be premiered on inflatable screens at parks throughout Long Beach on Belmont Shore on Granada Beach.
Bring your blankets, lawn chairs, your favourite snacks and drinks as you cosy up with your family for a fun time.
EXPLORE THE HISTORIC RANCHO LOS ALAMITOS
One of the best free things to do in Long Beach I highly recommend adding to your itinerary is visiting the historic Rancho Los Alamitos, located about 20 minutes from Central Long Beach.
Rancho Los Alamitos is an early 19th-century traditional heritage ranch house and museum that showcases the area's history, the Spanish, Mexican and American California and their influences on the ranch life between the 1860s and 1880s.
Rancho Los Alamitos was once the sacred Tongva Village of Povuu'ngna, the traditional birthplace of the native people of the Los Angeles Basin.
Listed on the National Register of Historic Places and constructed in 1844, the Monterey-style adobe ranch includes traces of the ancestral village that can be seen through collections of more than a thousand clothing and textiles items from the 1830s-1930s, historic photographic views, and many furniture, artefacts, and documents.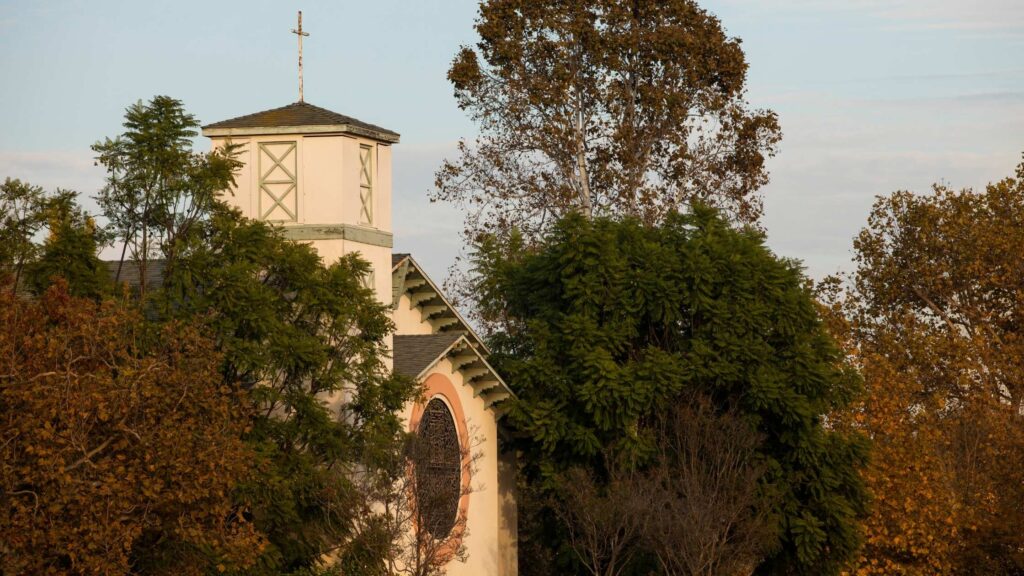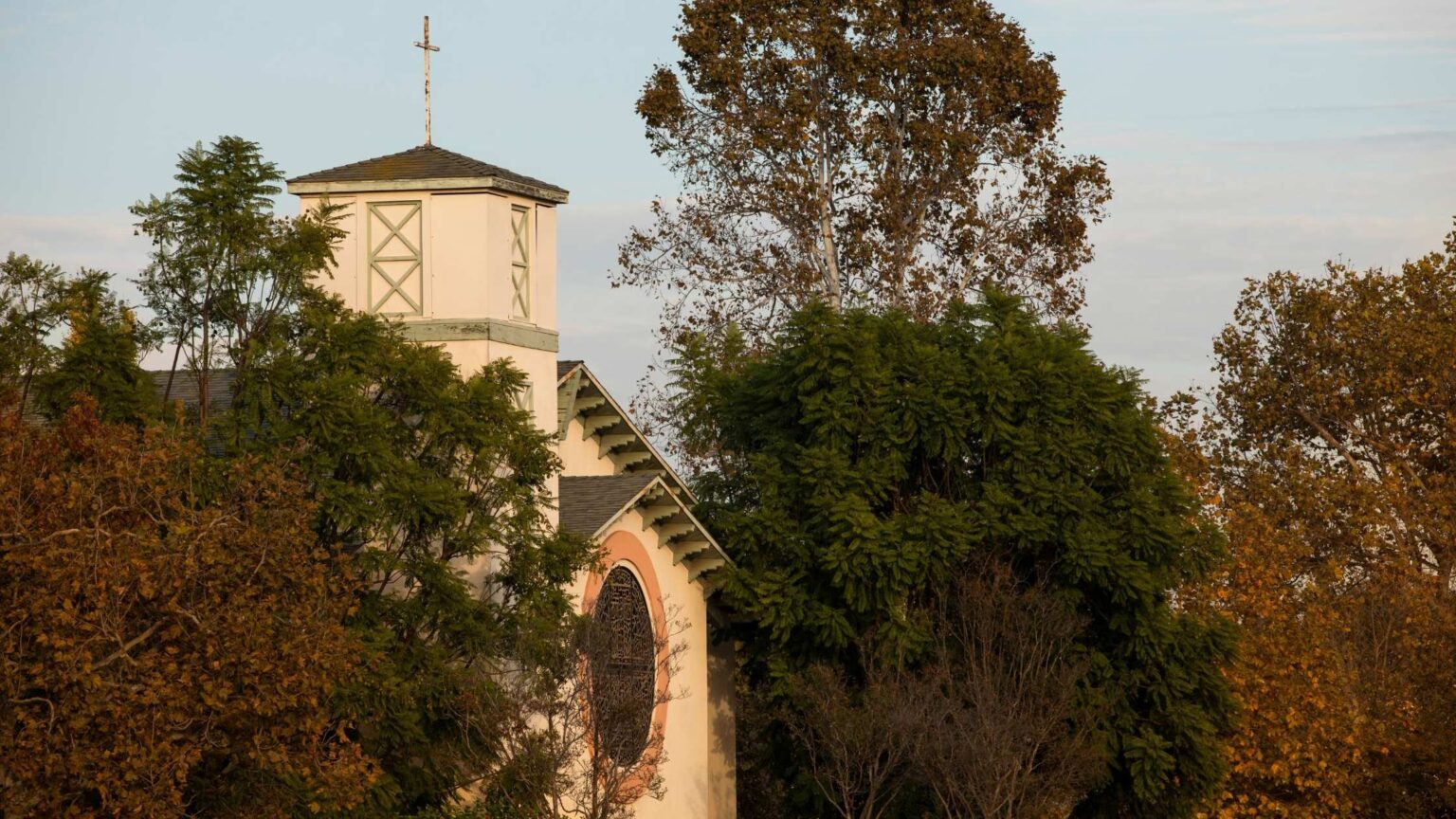 There is also a restored working farm barnyard surrounded by four acres of historic gardens developed in the 1920s and 30s.
You can take the free self and guided tours of the ranch house and barn areas. After a tour of the ranch building, you can wander around the gardens.
Although you can walk in directly, reserving a tour spot is not required, it is highly recommended to book your place.
You can do so through an easy online reservation on the Rancho Los Alamitos website, especially if you are visiting during peak holiday weekends.
Opening hours – Wednesday through Sunday from 1 PM to 5 PM
RELAX AT BIXBY PARK
Long Beach is a green city packed with gardens and large parks. One of the free things to do in Long Beach with kids and families is spend time at these parks.
Bixby Park, located near Junipero beach, is an excellent pick if you are with kids as it comes with a large playground, a mobile skate park and a sports field, making it a popular spot among the locals and the student community as well.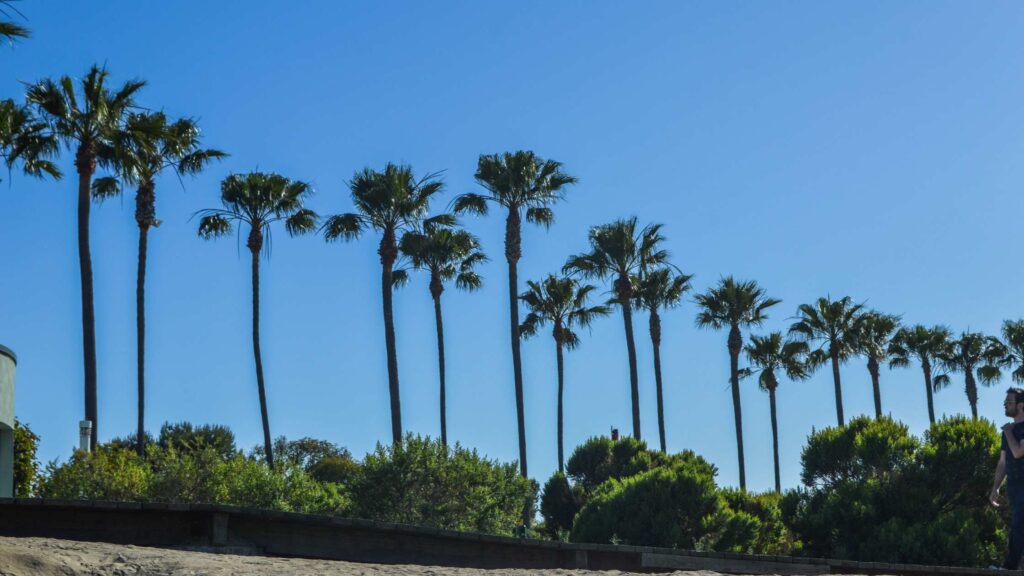 There are also fire pits and picnic areas and many incredible viewpoints to sit and enjoy the stunning views of the beach and the ocean.
If you are here on a Saturday morning, you can also participate in the Saturday morning farmers market to grab fresh produce, including many fruits.
VISIT COLORADO LAGOON
I know I have already said this, but you will love Long Beach if you love open green spaces and plenty of ocean views. Located near California State University next to Recreation Park is Colorado Lagoon.
Going to Colorado Lagoon is another of the things to do for free in Long Beach.
The park is a great place to relax in the fresh air, whether you choose to follow the trails around the lagoon or enjoy just sitting and taking in the views.
There is a park for dog owners, a golf course, and a playground for kids too, making it a relaxing place worth stopping by.
HEAD TO JUNIPERO CHERRY BEACH
One of the most visited beaches in the city and a hotspot among the locals and tourists is Junipero Cherry Beach, also known as Junipero Beach.
This long and wide stretch of sand sits below the Bluff Park and Ocean Boulevard, located centrally, as you can easily combine visiting more free attractions in Long Beach from here.
To the west, Alamitos Beach extends almost to Shoreline Village. You will find the Belmont Pier at the beginning of Belmont Shore Beach and Rosie's Dog Beach to the south.
One of the fun things to do in Junipero Beach is walking or biking the entirety of the beach on the Shoreline Pedestrian Bike Path, from where you can admire stunning panoramas of the pier, beaches, and the skyline.
The sand at Junipero beach is soft, and the waves are calm, making it an ideal beach for families with young kids. Although you can swim on the beach, check the temperature and the tides before jumping in.
The beach has many convenient amenities, including showers, lifeguards, restrooms, bike paths, picnic areas, and accessible spaces.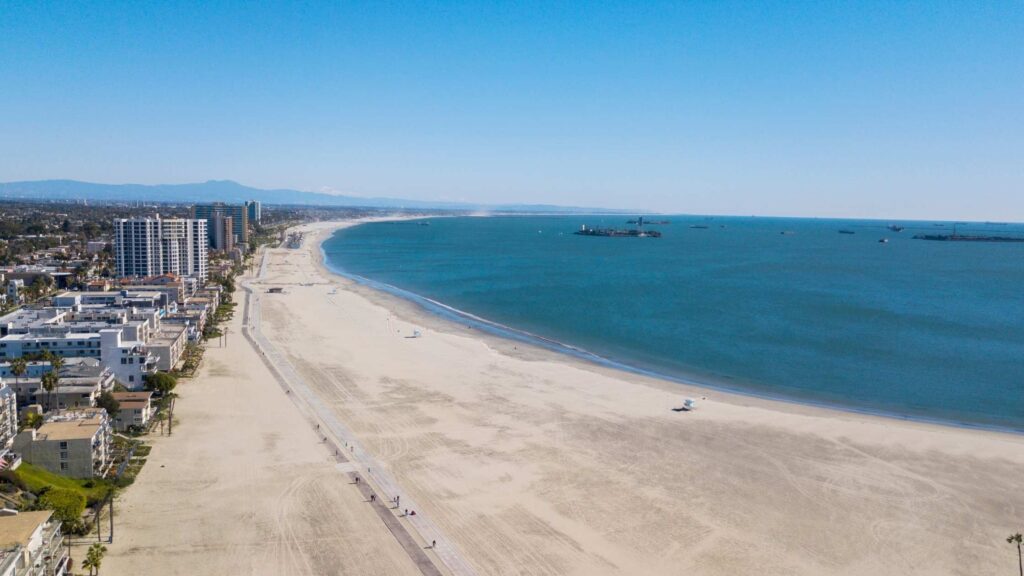 Although no dogs are permitted, you can walk your pet on the street behind the beach.
Parking for Junipero beach is available along Ocean Boulevard, where there are many metered parking spots, street parking and parking lots.
You can also access the beach via different stairways and graded ramps throughout Bluff Park if you arrive here on foot.
JOIN FREE YOGA CLASSES ON THE BEACH
One of the fun free things to do in Long Beach can be found at Junipero Beach.
Against the warm and soft sand and the beautiful views, you can rejuvenate your body and mind by signing up for free Yoga classes held in the morning and sometimes in the evening.
STROLL AROUND RAINBOW LAGOON PARK
One of the free activities in Long Beach, CA, is strolling around Rainbow Lagoon Park, located right in the heart of the city centre.
One of the best outdoor things to do is explore Rainbow Lagoon, which is a beautiful Japanese-style park with a lagoon, where you can rent pedal boats too to take out on the water.
EXPLORE THE THURSDAY NIGHT MARKET
Apart from the Antique market, one of the fun free things to do in Long Beach for market lovers is the Thursday Night market, held between 3rd and 4th street on the Promenade.
This family and pet-friendly market run for four hours between 5 PM and 9 PM, where you can scour for clothing, jewellery, unique souvenir items, craft products, pottery and art, and baked goods.
CHECK OUT THE SKINNY HOUSE
One of the top free things to do in Long Beach is checking out a house that is only 10 feet wide. Nicknamed Skinny House, this short house on Gladys Avenue is the skinniest house in America according to the Guinness Book of World Records.
And it has been inhabited ever since it was built. It's three storeys tall and has two bedrooms and a deck, and it's now a registered city landmark and can be visited by the public.
GO WHALE WATCHING
Depending on what time of year you visit Long Beach, you can spot many types of whales on the beaches.
It is one of the free things to do in Long Beach, and all you need is a pair of binoculars to watch the largest mammals on Earth from the beach for free.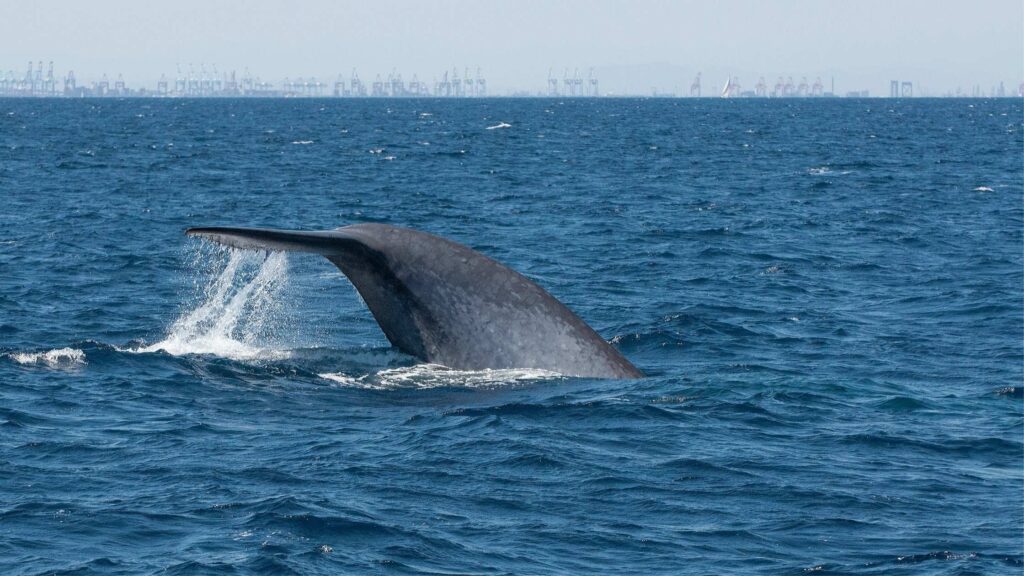 I recommend signing up for one of the whale watching cruises that leave Long Beach though to spot more of them and also the bottlenose dolphins, along with being able to witness splendid views of Long Beach, the piers, parks, and the skyline from the water.
HAVE A PICNIC DAY AT HEARTWELL PARK
If you are looking for more awesome parks in Long Beach, Heartwell Park should be on your list as it offers some of the amazing free things to do in Long Beach.
This park is located south of Carson Street, from Clark Avenue to the San Gabriel River. Spanning over 120 acres of landscaped grounds, you can easily spend a few hours or a whole day as you can choose from plenty of activities and amenities.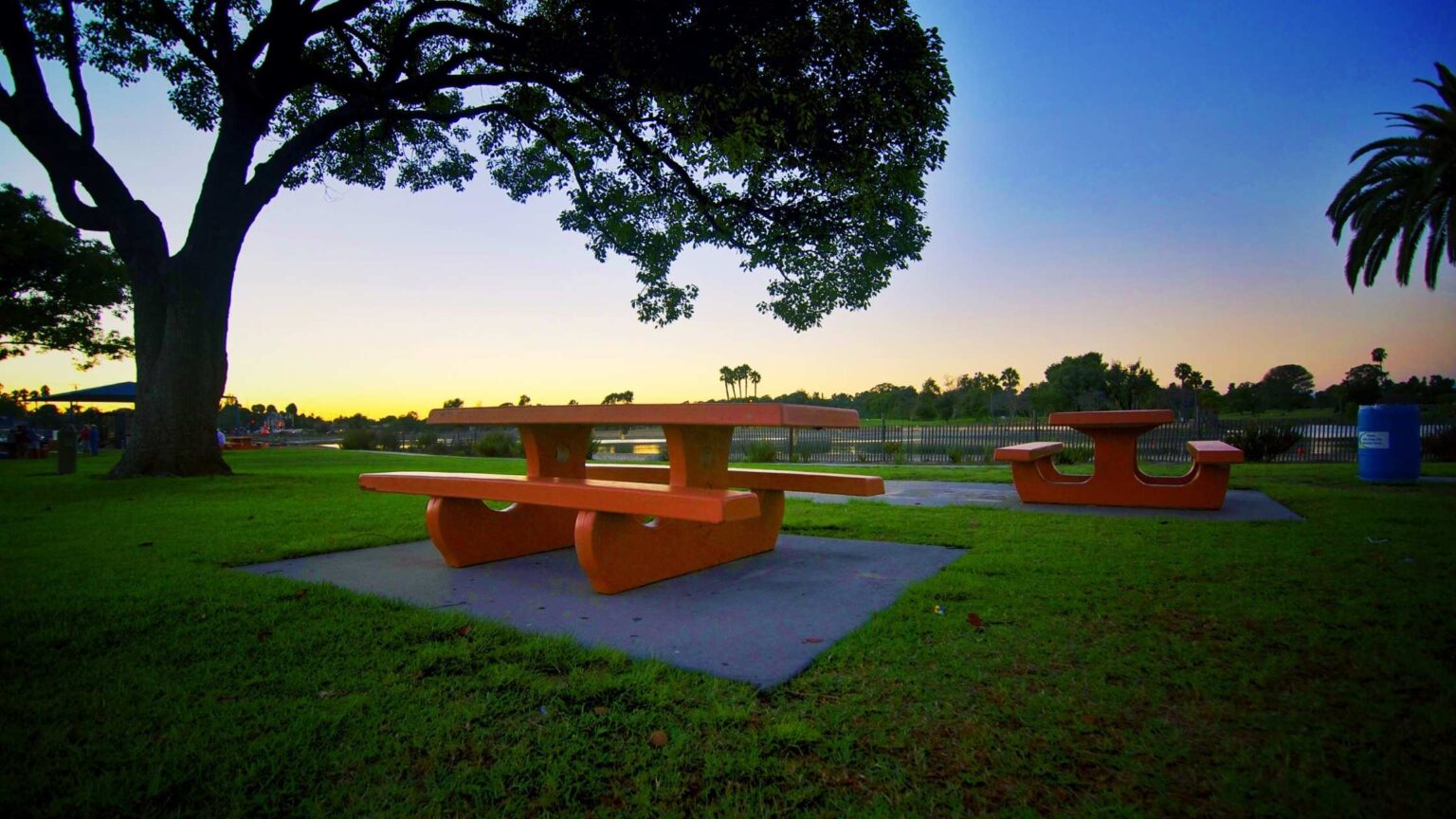 There are shaded picnic areas, a fishing pond, biking and skating paths, and a fitness course.
There are playgrounds for kids, indoor games courts, night-lit outdoor game courts, athletic fields, and ball diamonds.
You can choose to play any of the many play courts – from Baseball to Basketball courts to Soccer fields, and Volleyball Courts. Note that the park is closed on Sundays.
RELAX AT ALAMITOS BEACH AND PARK
On your visit to Naples, stop by the neighbouring Alamitos Bay, which is known for its calm waters and the pretty park.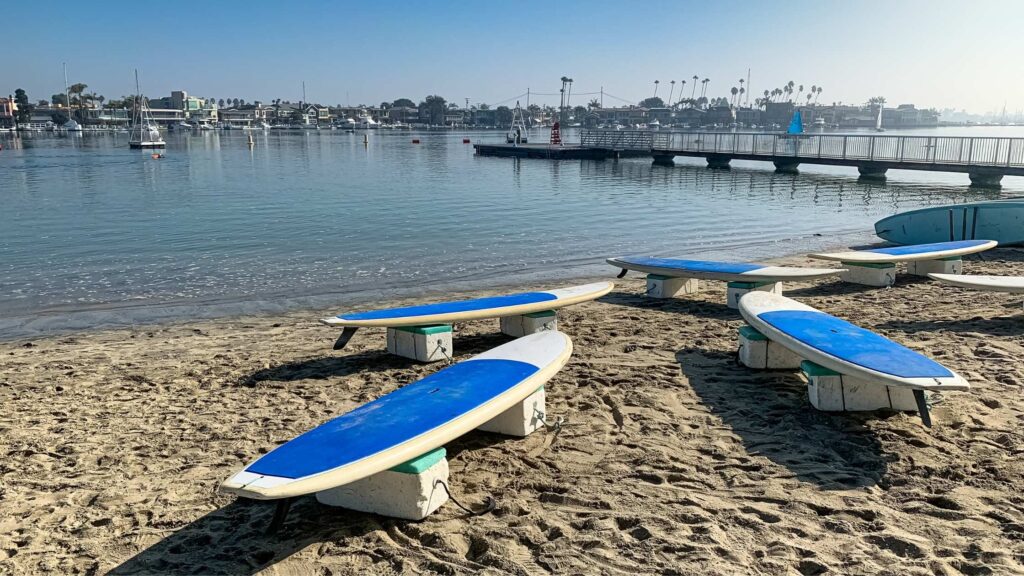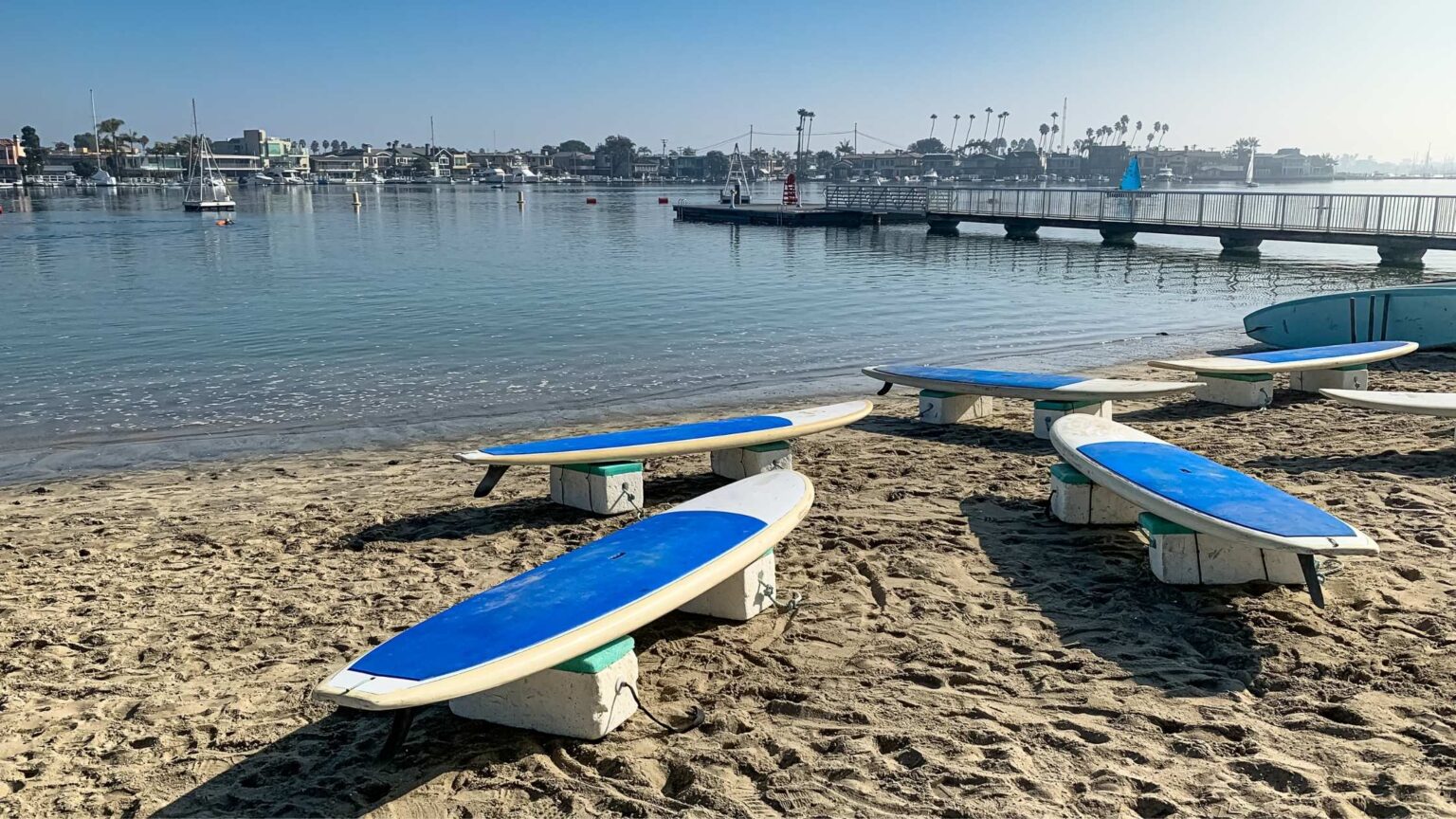 There is a grassy area with picnic tables, or you can paddle board on the waters that you can rent nearby. There are also dolphin tours starting from Alamitos Beach if you are looking for paid activities.
HEAD TO BELMONT SHORE AND PIER
One of the most popular neighbourhoods to explore in Long Beach is Belmont Shore. A ten-minute drive from downtown will take you through this bustling district is lined with elegant Spanish-styled homes, trendy bars, boutique shops, and excellent restaurants.
But among the free things to do in Long Beach at Belmont Shore is its beautiful sandy beach. You can take a stroll and enjoy paddle boarding or surfing here.
From the Belmont Veterans Memorial Pier, or Belmont Pier, witness the splendid panoramas of the crescent, or better, enjoy a stunning sunset or a sunrise.
MAP OF THE FREE THINGS TO DO IN LONG BEACH
WHERE TO STAY IN LONG BEACH?
Long Beach has plenty of affordable accommodation options as well as mid-range apartments and studios. Check out some of the best places to stay in Long Beach here.
FREE THINGS TO DO IN LONG BEACH FAQS
WHAT IS THE BEST TIME TO VISIT LONG BEACH?
Thanks to the typical California weather, Long Beach is a great destination throughout the year, with no 'bad time' as such.
But if you want to avoid the hottest months, skip planning a Long Beach trip in July and August, which are also the peak months.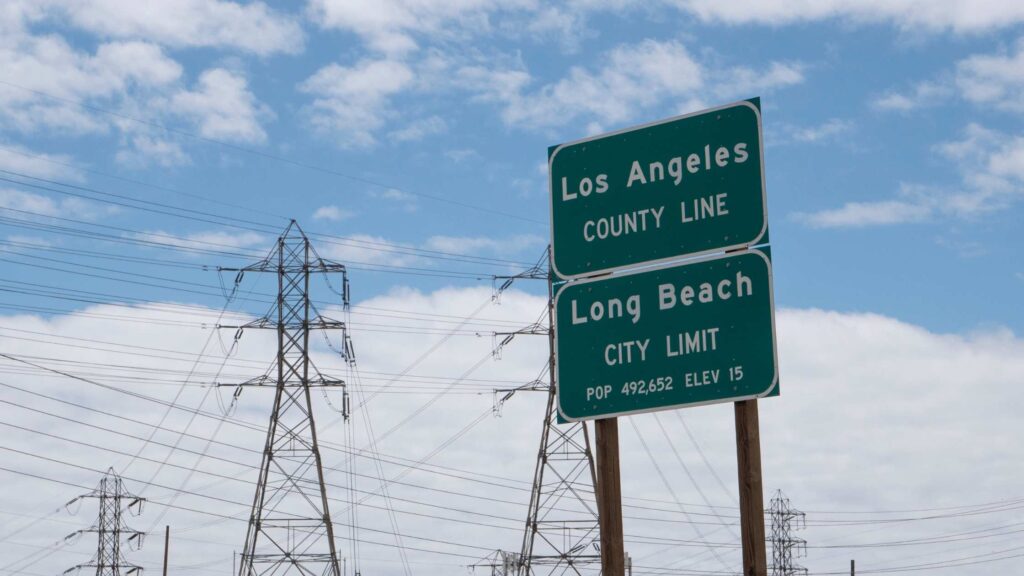 Unlike the other towns in California, the winter months are a fantastic time to visit Long Beach, especially as the neighbours like Naples deck up completely with Christmas lights.
But if you are planning to visit in December around Christmas or New Year's Eve, make sure to book your accommodation and flights in advance to save some bucks.
For all water sports, hiking, biking and beach hopping, May, June and September are excellent months.
HOW TO REACH LONG BEACH?
By Air – If you are coming from another US city, there are flights to the local Long Beach Airport from many cities, which may cost cheaper than flying to neighbouring Los Angeles or Santa Monica.
By Road – Long Beach is easily accessible by road from most US cities.
GETTING AROUND LONG BEACH
Although driving around may be comfortable, navigating through taxing traffic consumes time, and I would not recommend it unless you have to.
Passport Bus
Not only are there plenty of free things to do in Long Beach, but there is also a free mode of transport to get around the city. The Passport buses operate between downtown Long Beach and its major attractions.
Aqua Bus
The next best cheapest and most fun option is the Aqua Bus, which costs $1 and moves around the harbour.
Bikes
You can directly go to one of the many dozen bike rental places scattered across Long Beach to rent your bike.