It is not easy to look for the best beach towns in California because there are loads of them.
California is one of the few states in the USA that is blessed with the likes of the awe-inspiring Yosemite Valley and Joshua Tree's wonderful rockscapes alongside stunning shores spanning 850 miles, which gets even better thanks to the gorgeous beach towns.
Did you know? There are at least 500 sea beaches in California. They are gorgeous, overlooking miles and miles of splendid coastal lines dotted with bluffs, sandy shores, and rich marine life.
It is no surprise that people worldwide come to the golden state for its sun-soaked wide beaches and natural beauty.
The Golden State's beach towns stand out for their relaxed, alluring spirit, gorgeous beauty, and abundant life.
Incredible surf spots, fine dining at world-class seafood restaurants, shopping at quirky markets for unique souvenirs, watching sea lions, admiring stunning scenery, watching some magnificent sunsets, and people-watching – the list of things you will be doing in these incredible beach towns in California only gets longer from here.
After a series of many short and long trips along the coast, I have put together a list of the best beach towns in California.
Note that you may need several trips as well since there are too many you may end up adding to your bucket list, and also that you may revisit some of these beautiful California beach towns as they can be captivating.
This is your go-to itinerary for where to explore beaches, surf, sleep, shop, and adventure along California's Pacific coast.
If you looking for the best beach towns in northern California specifically, head here.
BEST BEACH TOWNS IN CALIFORNIA
Whether you are looking for a quick, relaxing beach getaway or you are looking to slow travel with your kids hopping beaches and indulging in fun water sports, these beach towns in California have lots to offer for everyone. Let's start with the top ones.
LA JOLLA
The luxurious beachfront town of La Jolla, translating to the jewel in Spanish, is located near San Diego and is considered one of California's best beach towns.
This lovely beach town is endowed with dramatic craggy cliffs along the shoreline and charming bays with sandy beaches.
PLACES TO VISIT AND THINGS TO DO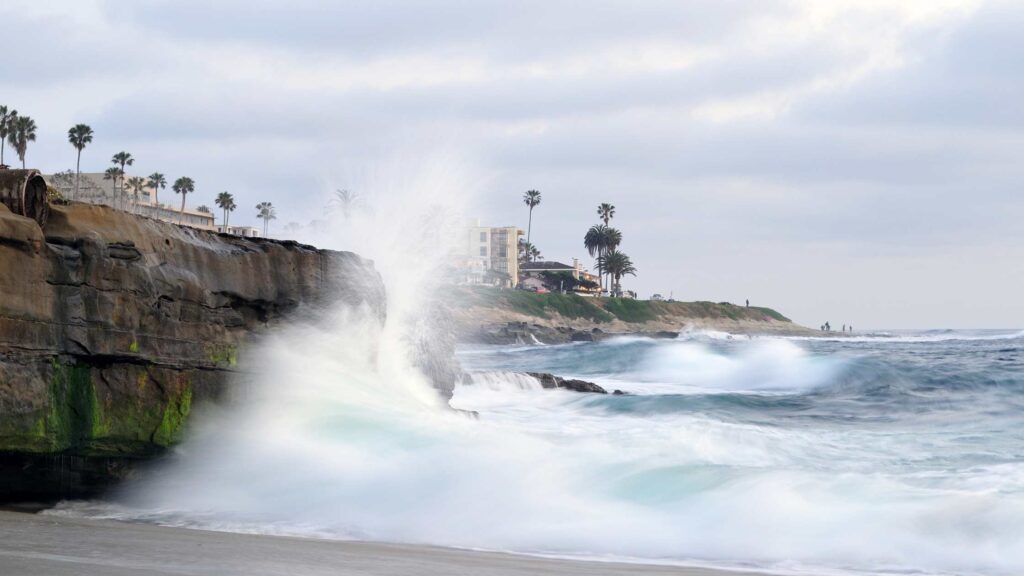 The opulent seaside hamlet of La Jolla offers a plethora of outdoor recreation and is one of the best beach towns in California.
You can swim in La Jolla Cove, a lovely stretch of beach popular with swimmers. You may even spot some sea lions and seals basking in the sun.
If you wish to sunbathe and relax on the seaside, look for long sandy beaches around Black Beach.
Head to the Shell Beach tidal pools to ride the tide and see crabs and sea anemones.
Visit Torrey Pines State Beach to witness the 300-foot escarpments and the rare iconic Torrey pines, which are only a few on the strip of coastal California.
This best beach town in California is also a hot spot for diving. Check out La Jolla Dive for diving lessons, tours, and rental gear. If you're not sure about deep-sea diving, you may try snorkelling.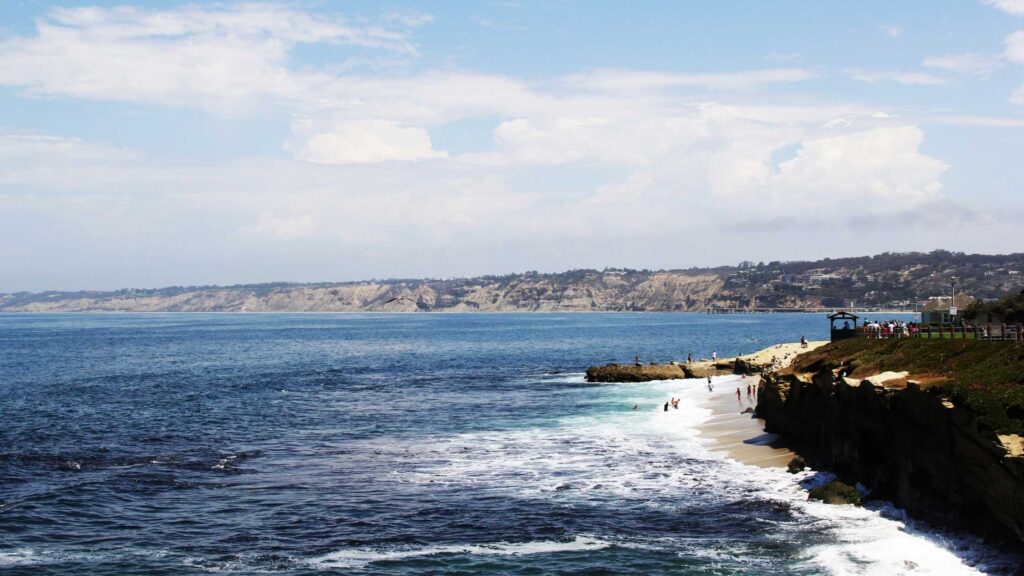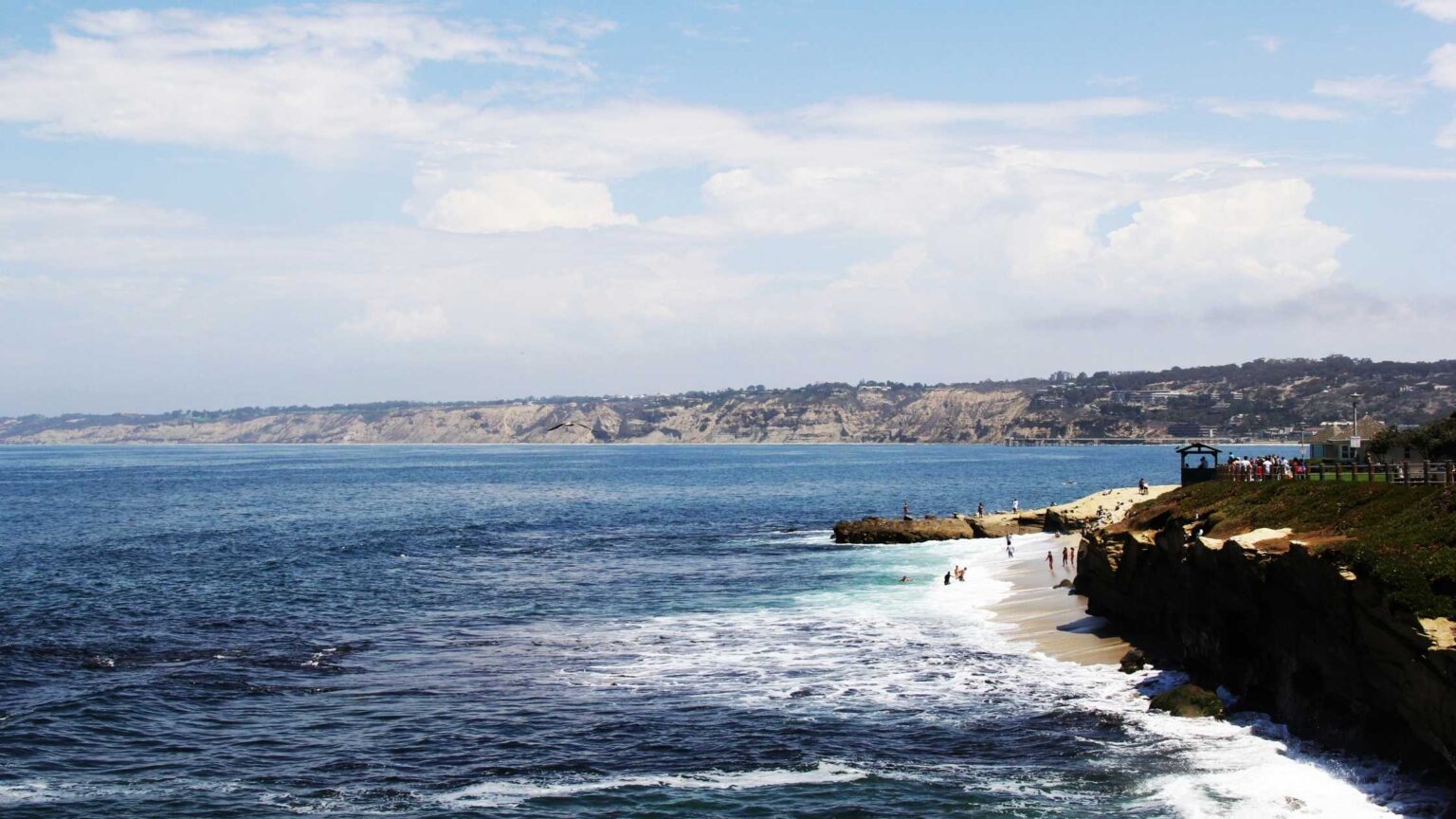 La Jolla Cove has access to coastal coves and is an excellent place to do sea kayaking.
Head to Torrey Pines State Natural Reserve, known for its hiking trails, blessed with pine trees and sandstone canyons all along the path.
Want to play golf along with breathtaking sea views? Check out Torrey Pines Golf Course, which has two golf courses.
You can also visit the San Diego zoo and the Safari Park when you are here in one of the best beach towns in California.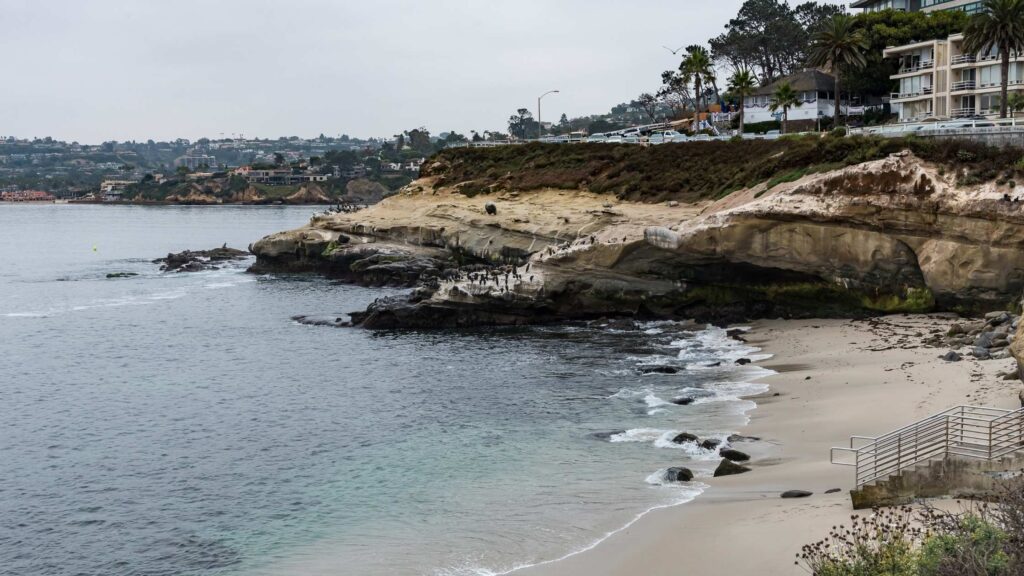 The Museum of Contemporary Art, which displays American and European art, sculptures, photography, paintings, and more, is a must-see for art connoisseurs.
Grab a cup of coffee from one of the downtown La Jolla's historical coffee shops on Girard Avenue and Prospect Street, or shop at high-end designer stores in this California's best beach town.
On Prospect Street, you'll also find the Grande Colonial palatial hotel, which has been in existence since 1913.
WHERE TO STAY
ENCINITAS
Encinitas, recently designated one of the 20 best surf towns globally by National Geographic and known as the Flower Capital of the World owing to its extensive gardens, is one of the best beach towns in California.
It is the only spot where you may see more poinsettias, the Christmas flower.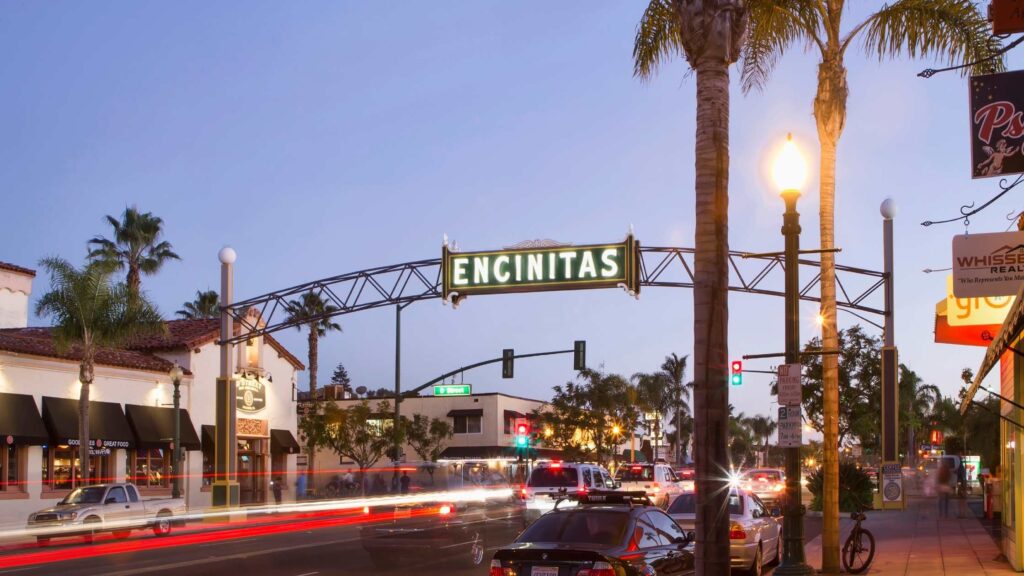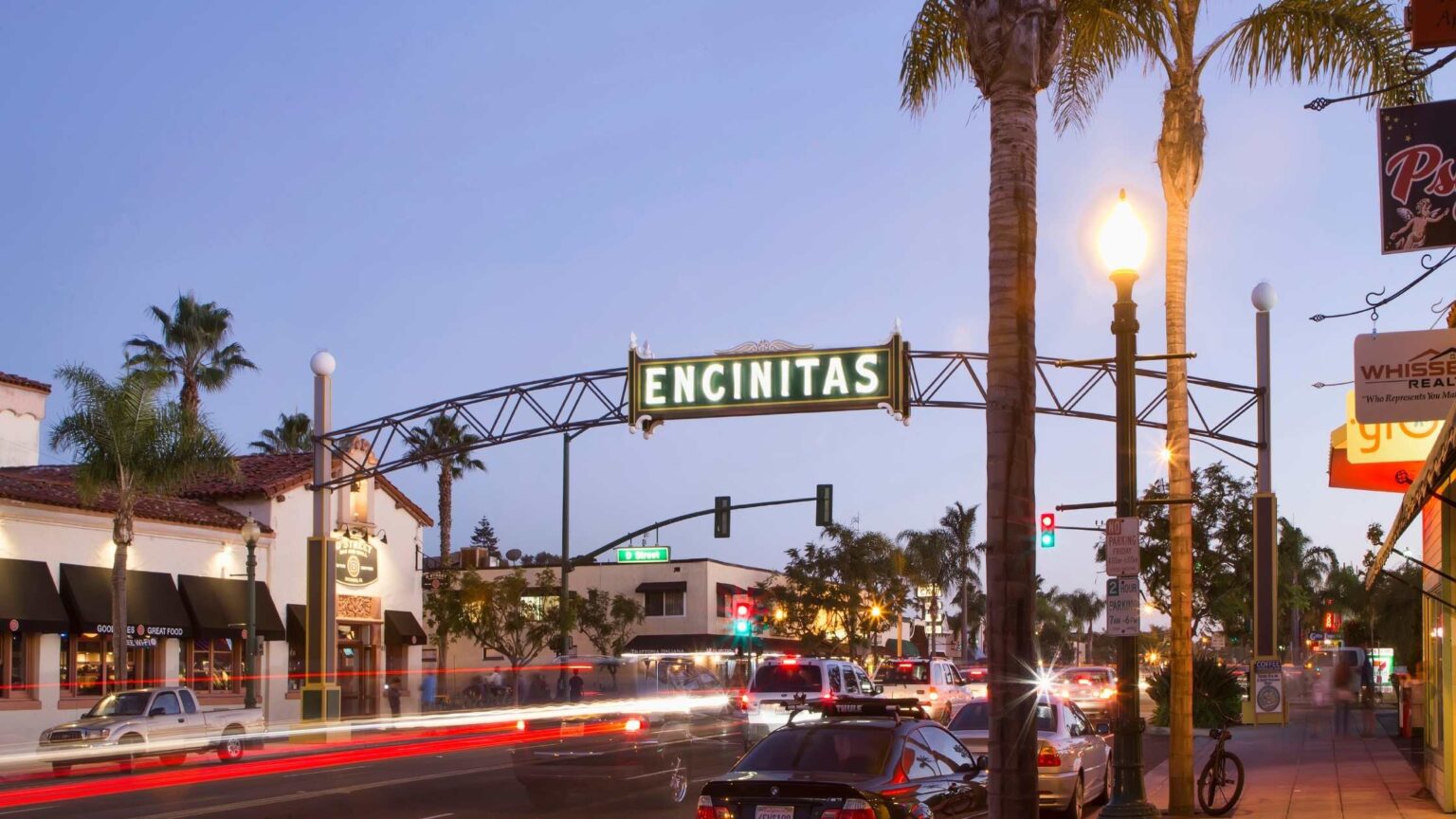 The immaculate waves, warm water beaches, and weather are perfect for surfers, making this a hotspot for surf-related activities and a perfect hangout destination for youths.
This best beach town in California offers a six-mile stretch of shoreline, a surfer's nirvana for beginners and intermediates.
PLACES TO VISIT AND THINGS TO DO
Head to the most popular Moonlight Beach, which has a tennis court, children's play arena and a snack bar.
If you want to spend an entire day at the beach, swimming, and Surfing, visit San Elijo Beach. You may enjoy a wide range of activities, restaurants, and boutiques in addition to Surfing.
Check out Swami's beach, which is less crowded and suitable for beginner surfers.
Don't miss the San Elijo Lagoon Ecological Reserve and Nature Center when you are here in this one of California's best beach towns.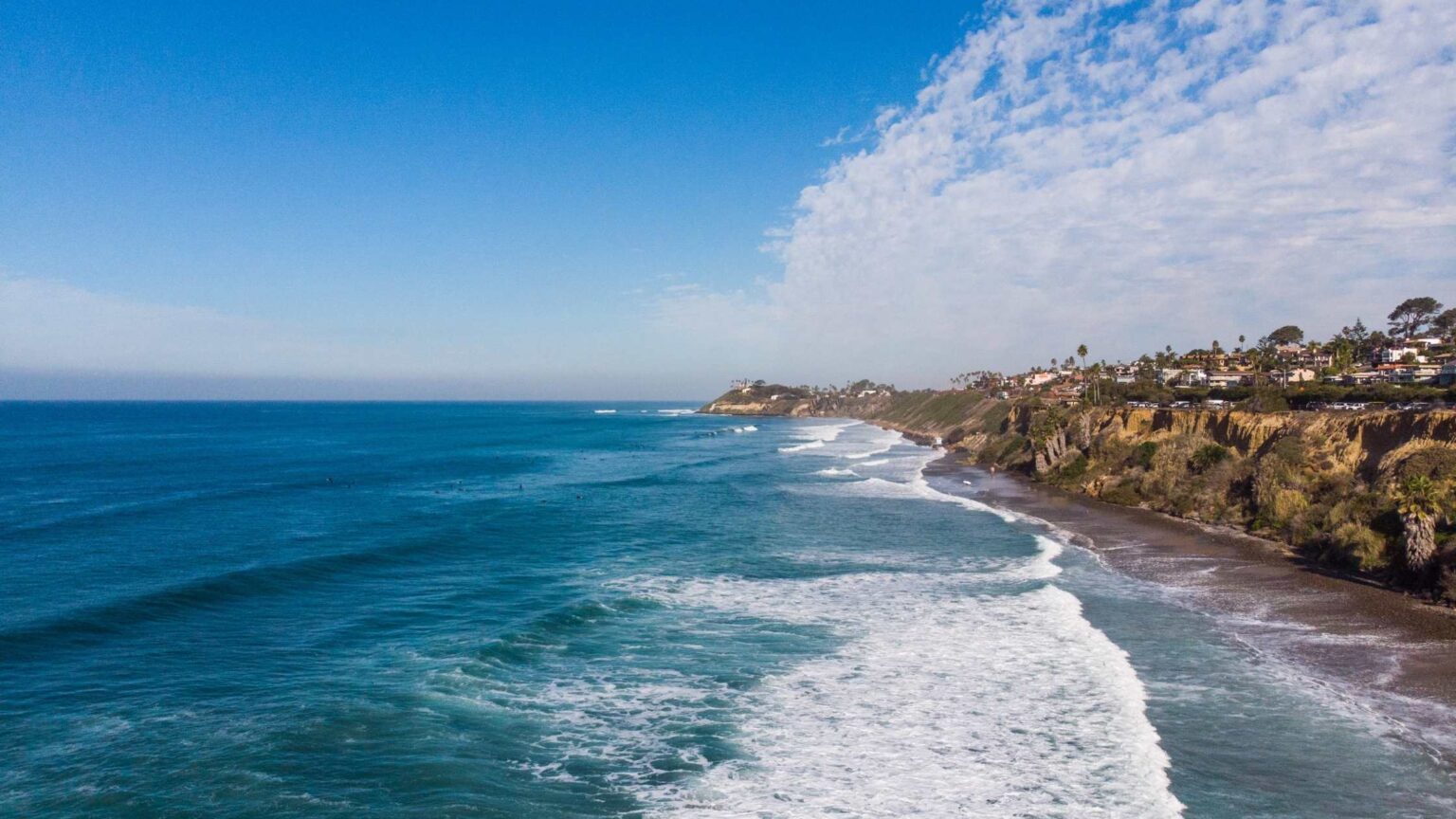 This gorgeous site has seven miles of easy-to-moderate hiking paths and is well-maintained. If you wish to camp here, make a reservation ahead of time.
The San Diego Botanic Garden features 4,000 different plant species worldwide, where you can witness more of Encinitas flora.
Because of Encinitas' closeness to the Mexican border, you could get a Mexican ambience and see Mexican cafes in this beach town.
WHERE TO STAY
AVALON, CATALINA ISLAND
On the South-East corner of Catalina Island is the cosy little Avalon, one of the best beach towns in California.
This cute town can be reached by a one-hour ferry ride from Dana Point or Long Beach and is known for its turquoise waters, verdant forest, and charming hilltop cottages.
You can roam around this charming town either on foot or take a Jeep tour.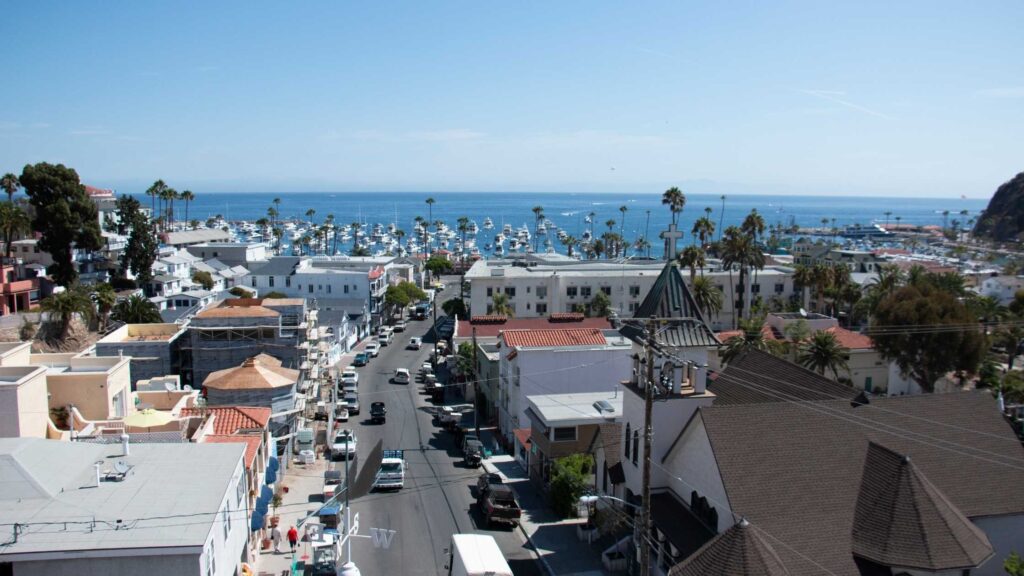 PLACES TO VISIT AND THINGS TO DO
Most of the lovely beaches of Avalon are on Crescent Avenue.
This best Californian beach town is a must-see for everyone who likes deep-sea diving or wants to experience snorkelling.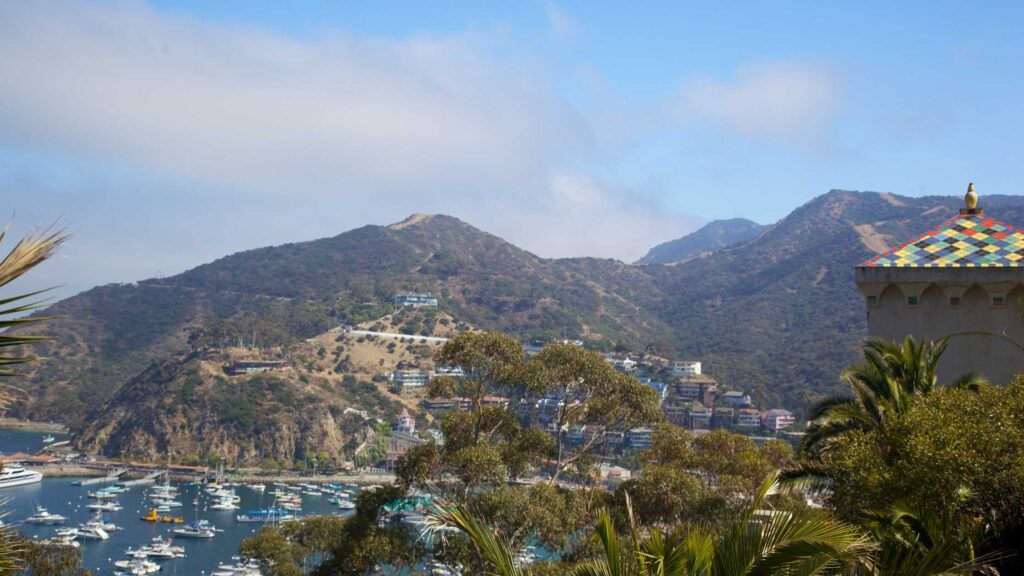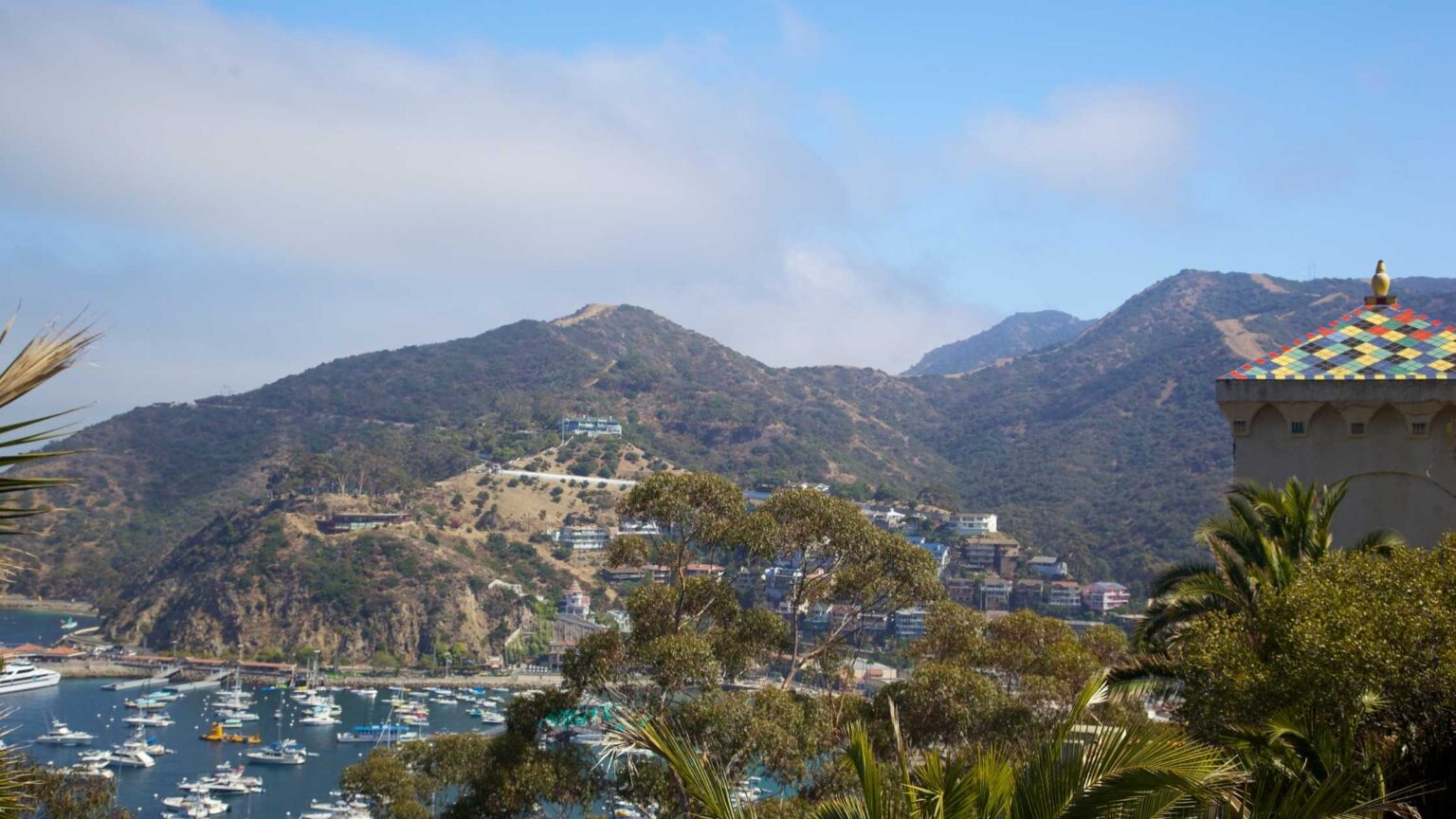 Go on a Jeep tour to spot wild bison, or take a submarine to witness the amazing marine life, tucked away around the island.
Art lovers can check out colourful art galleries to purchase some souvenir collections.
Visit the Serpentine Wall, where you may enjoy a relaxed picnic with friends and family.
WHERE TO STAY
SAN CLEMENTE
San Clemente, located halfway between Los Angeles and San Diego, is one of the best beach towns in California for families.
This Southern California's absolute gem is bestowed with beautiful beaches, ocean and mountain panoramas, and world-class surfing chances.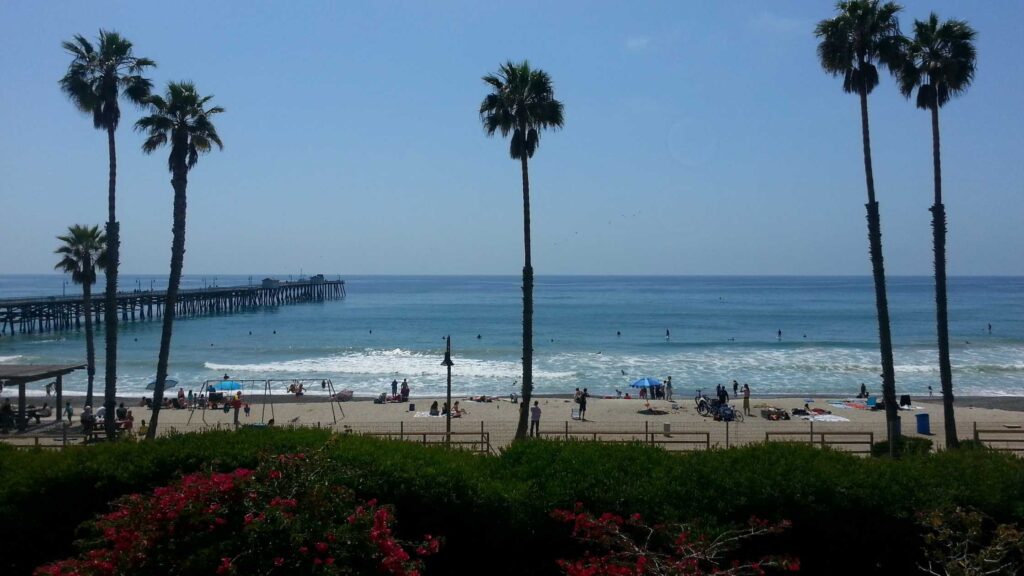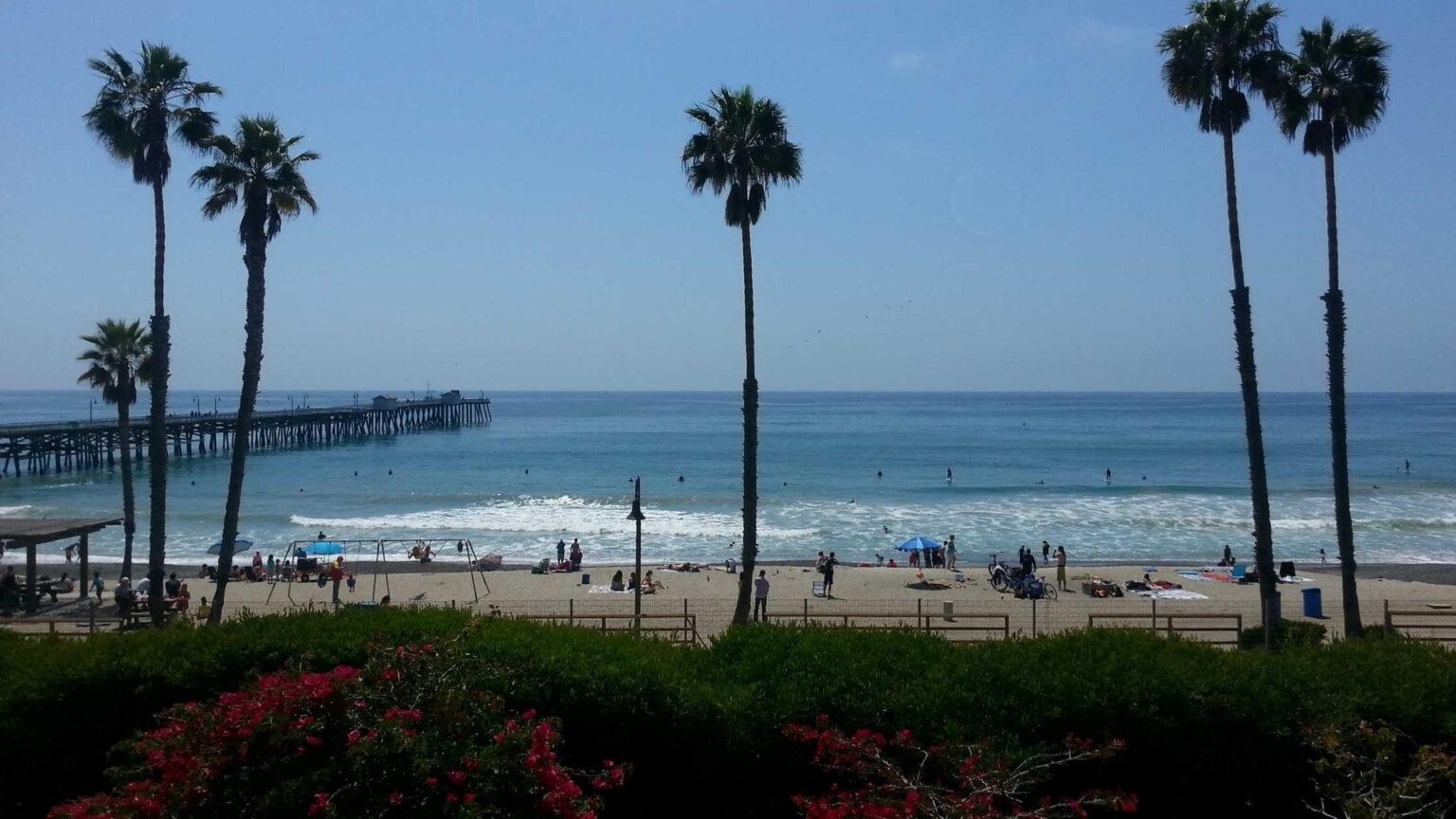 Almost everywhere in this lovely town, you will witness Spanish Colonial-style structures with red-tile canopies and white plaster walls.
It's no surprise that this California coastal hamlet is known as The Spanish Village by the Sea.
PLACES TO VISIT AND THINGS TO DO
This Orange County beach town is home to adrenaline lovers for swimming, Surfing, fishing, whale watching, bodyboarding, and diving.
Take a stroll or bike on the San Clemente Coastal Trail to get the splendid sights of the shore.
Avid surfers worldwide reach this beautiful beach town to witness and participate in the Surfing World Tour Finals each fall on the Lower Trestles Beach.
Surfing enthusiasts, head to the Surfing Heritage and Culture Centre Museum to learn about San Clemente's rich surfing history.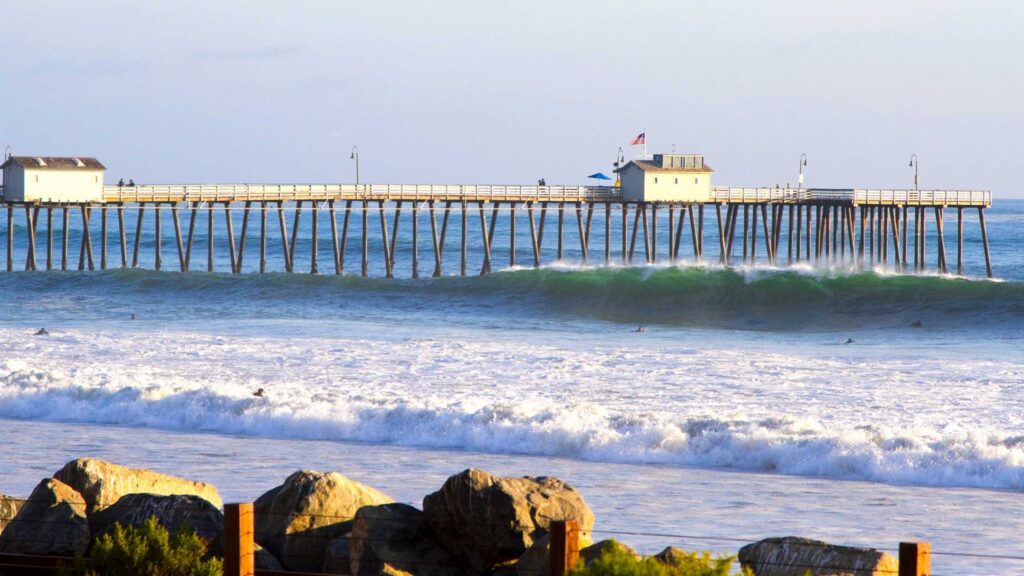 You'll pass many skate and surfboard shops and a surfing school on the San Clemente pier on your walk out of the Museum.
Visit Casa Romantica Cultural Centre and Garden if you are interested in history and architecture and want to learn more about San Clemente's Spanish architecture.
The cultural centre also hosts several workshops, lectures and festivals as well. Do check their website beforehand if you plan to visit here.
If you want to buy some souvenirs, check out Avenida Del Mar Street, the heart of this beach town. You will come across various art galleries, chic boutiques, and designer outlets.
Check out some world-class restaurants, coffee shops and wine bars offering dazzling sights of the pacific.
WHERE TO STAY?
SAN JUAN CAPISTRANO
Located in Orange County, and also known as the birthplace of Orange County, San Juan Capistrano is one of the best beach towns in California.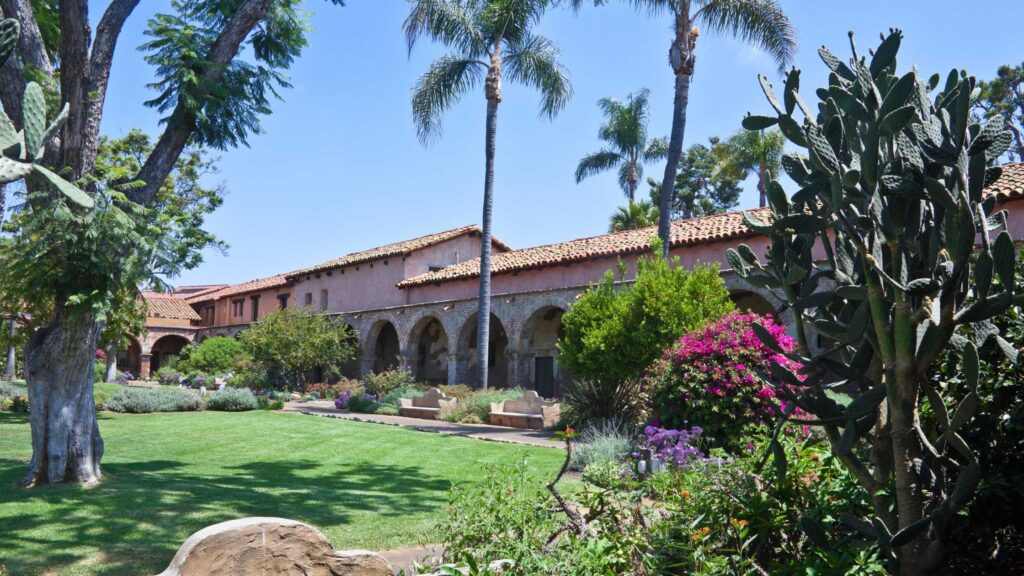 This beautiful hamlet was destroyed by an earthquake in the early 1800s, it was then restored during the early 1900s to make it one of the best Californian beach towns.
PLACES TO VISIT AND THINGS TO DO
Visit the Los Rios District for its histroical significance.
Come appreciate the historic architecture of Mission San Juan Capistrano and Mission Basilica San Juan Capistrano
Ronald W. Caspers Wilderness Park is a must-visit spot if you're keen to discover the California town's stunning flora and fauna.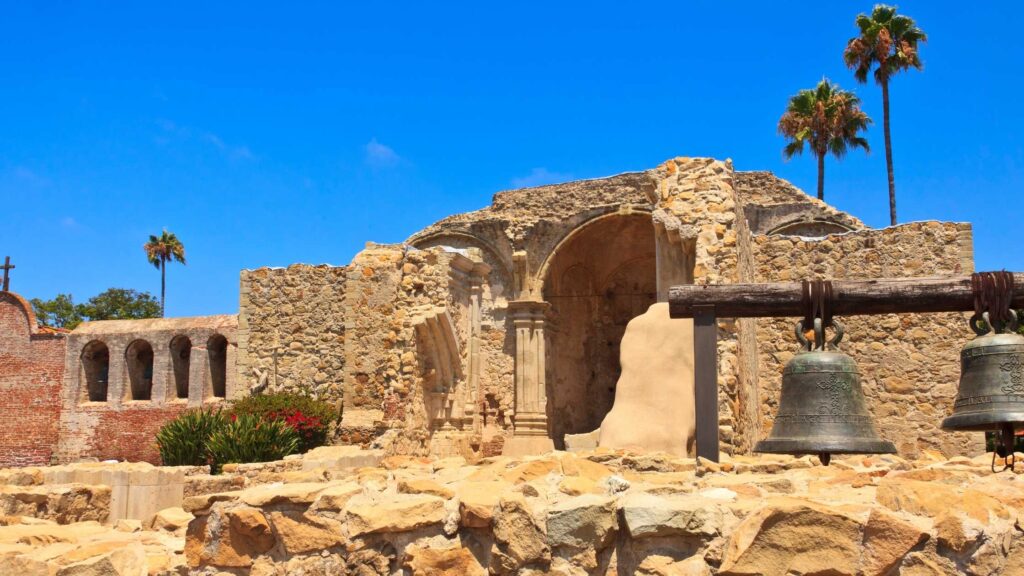 Let the kids play in Los Rios Park and head to learn more about the area's rich heritage at O'Neill Museum.
Don't miss seeing Montanez Adobe and Capistrano Train Depot before leaving.
DANA POINT
If you love sailing, you probably already know about Dana Point. If not, consider adding it to your list of the best beach towns in California as it has so many amazing things to offer apart from sailing.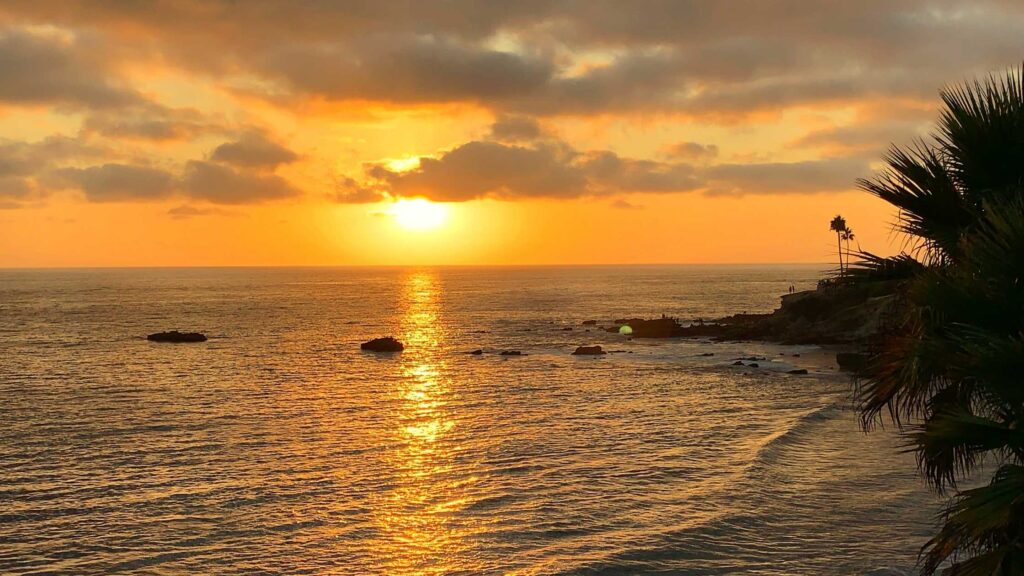 PLACES TO VISIT AND THINGS TO DO
Not many know that the beaches in Dana Point are excellent for watching migrating whales, which you can enjoy year-round, unlike in some places where it is a seasonal event.
If you are traveling with young kids, Baby Beach, as the name suggests, is the best place to enjoy a beach day with them where the waves are gentle and the water is shallower.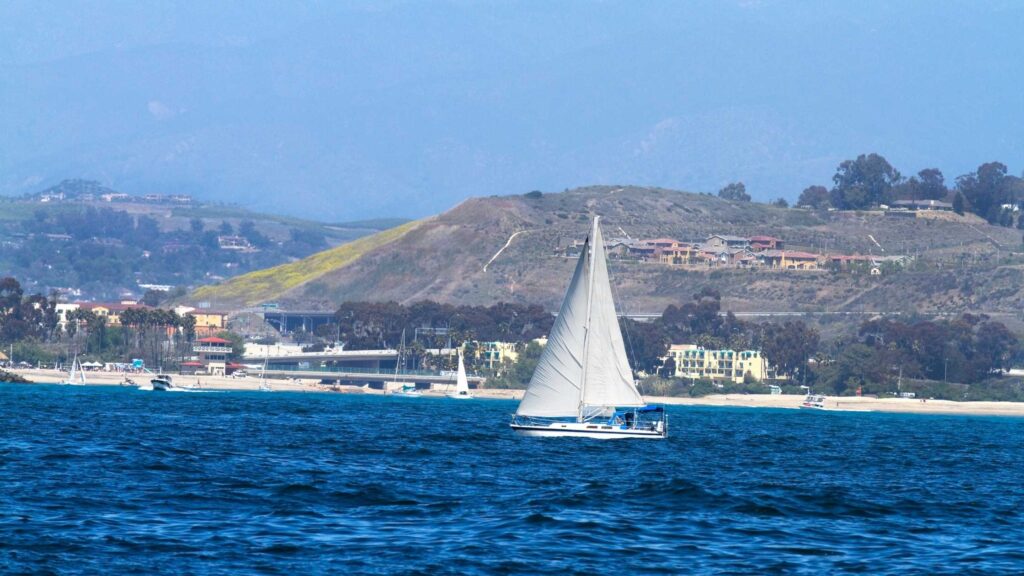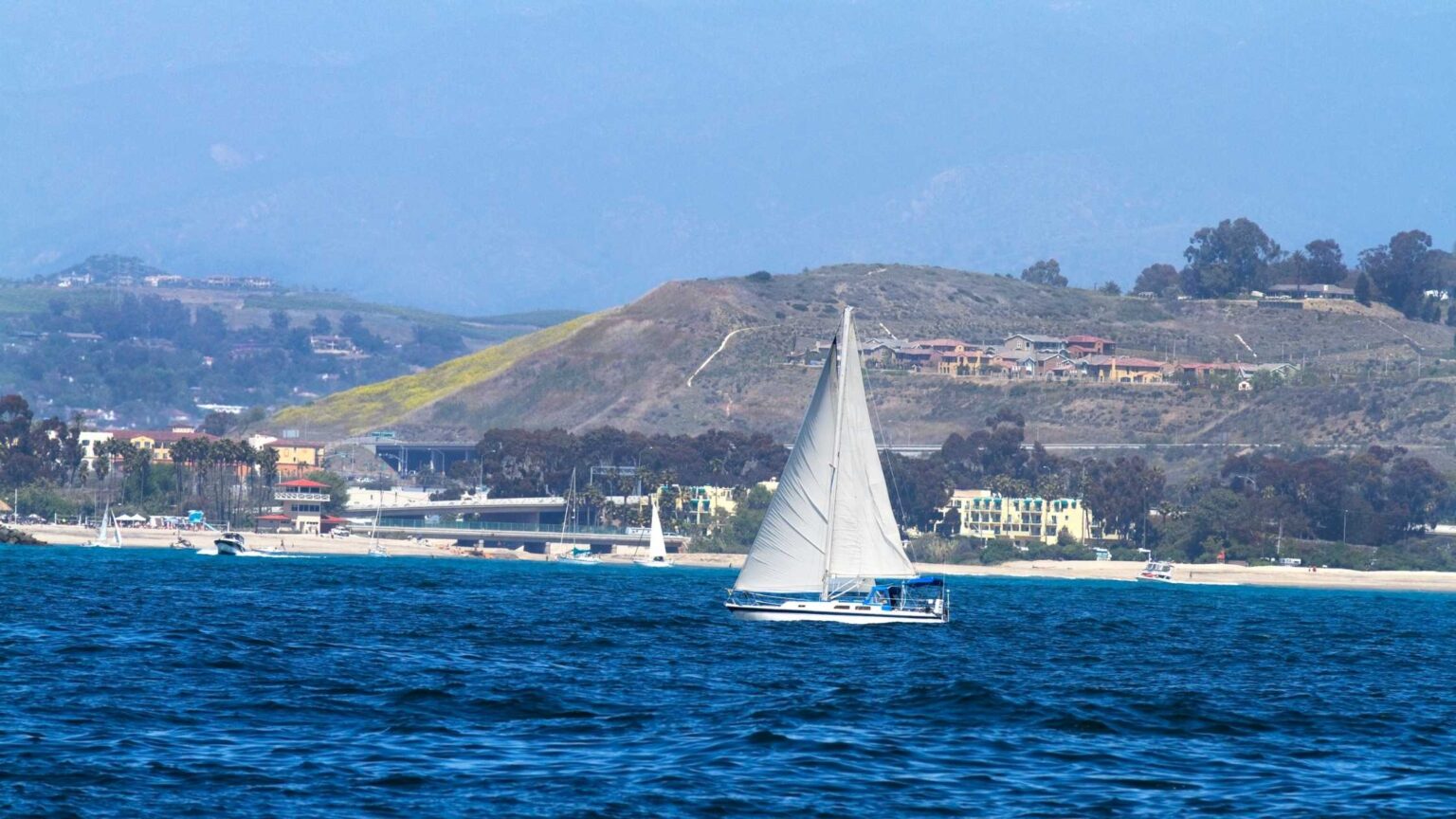 Doheny State Beach is a fantastic beach for long walks, stunning sunsets, some surfing, parasailing, paddleboarding and swimming.
For the classic Dana Point experience, head to the pier to rent a boat for a day of sailing, which will take you to pass many gorgeous panoramas, and a chance to witness the sunset from the sea.
LAGUNA BEACH
With abundant verdant woodlands to the east, an ocean playground to the west, and eight miles of coastline, Laguna Beach is one of the most famous beaches in Southern California.
With stunning ocean-view hilltops, turquoise oceans, and white-sand beaches that have inspired artists from all over the globe for over 200 years, it is one of the best beach towns in California.
It's no surprise that many of Hollywood's top stars have made their homes up here.
If you want to stay adjacent to the neighbourhoods of superstars, you can look out for places like Portafina, Arch Beach Heights and Laguna Canyon.
PLACES TO VISIT AND THINGS TO DO
Laguna Beach brags over 30 beaches with white sand and well-kept facilities, allowing visitors to make the most of the Southern California coastline.
Head to the Main Beach, featuring tide pools and a boardwalk. You can relax on the beach or walk down the alley to Heisler Park, which has hiking and bike trails.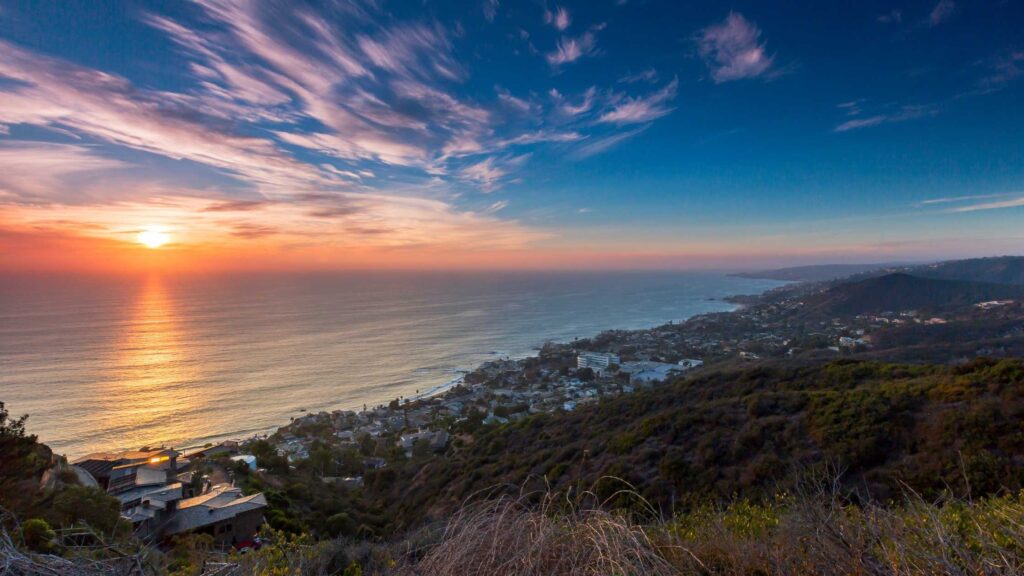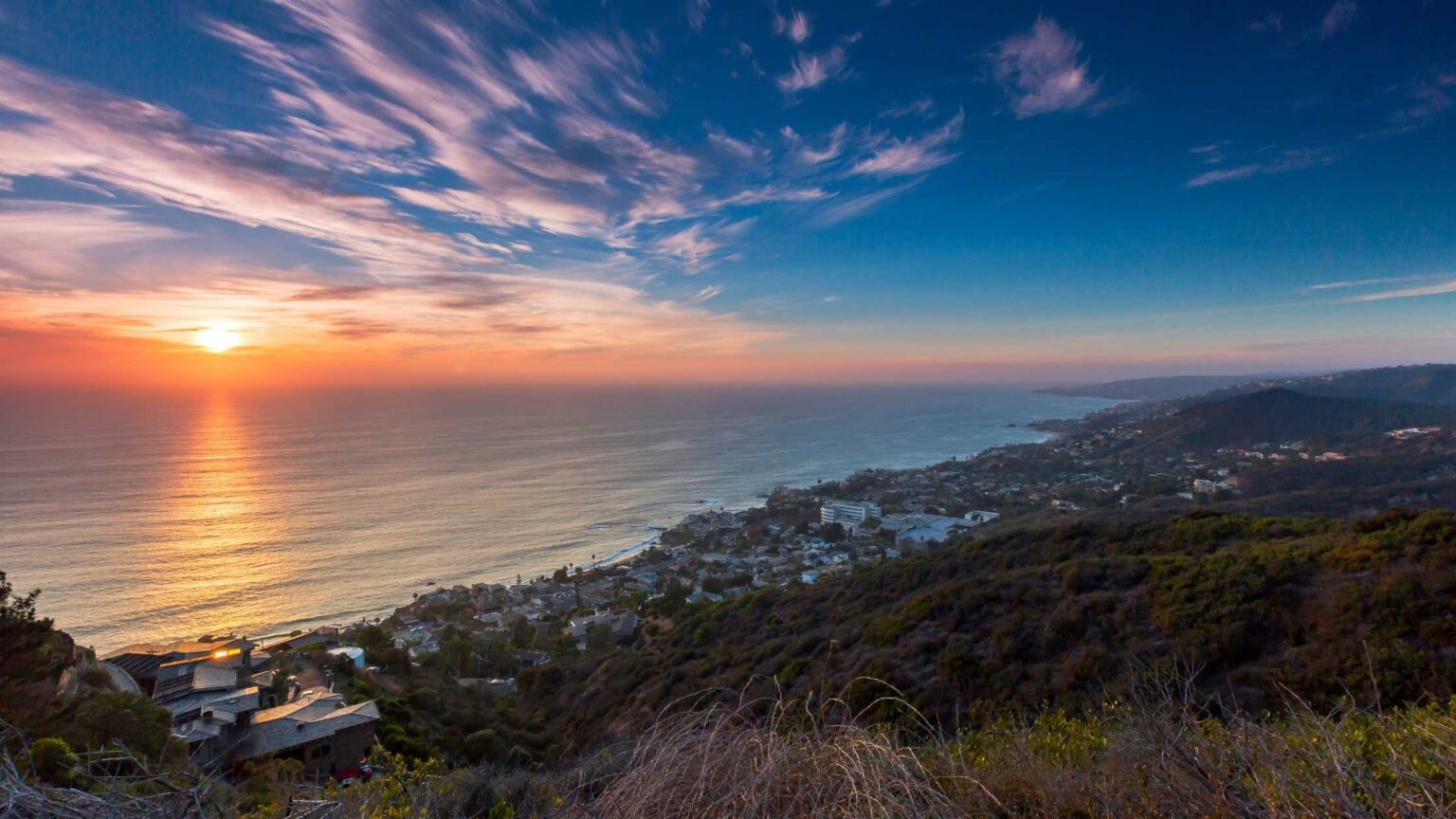 Check out Crescent Bay Beach to explore the mysterious enclave. There are other beaches nearby where you may have to go a few hundred steps down to reach the lovely beach.
Visit Crystal Cove State Park, which has a designated underwater park. You can also go on whale-watching tours.
Aliso Beach Park is the place for Surfers to catch some waves.
Don't miss the 22,000- acre natural stretch of Laguna Canyon Wilderness Park, Southern California's last remaining undamaged coastal canyons and has been fiercely fended since the 1980s by the locals against development.
Hikers and bikers may put their skills and stamina to the test on the park's 100 miles of trails.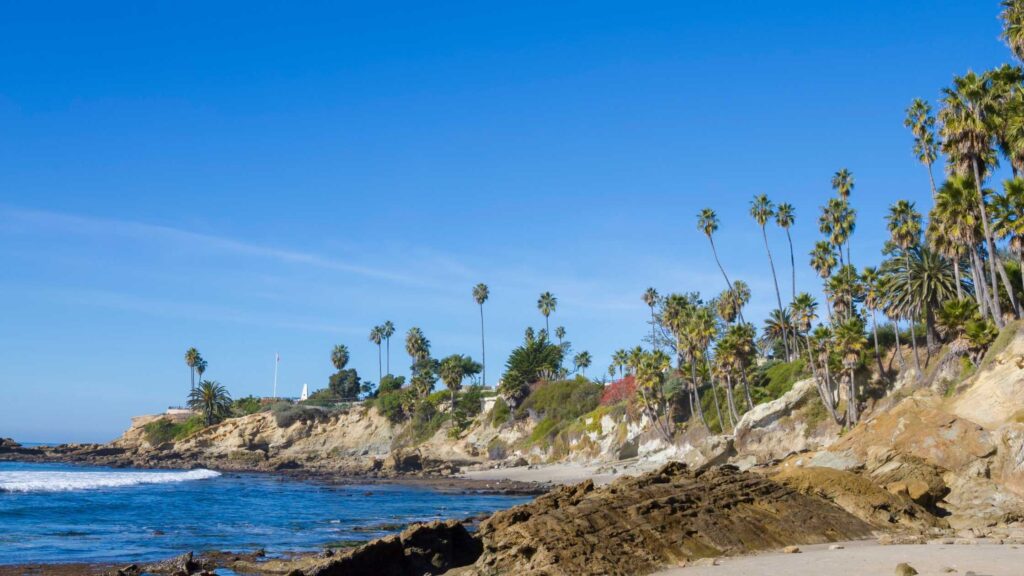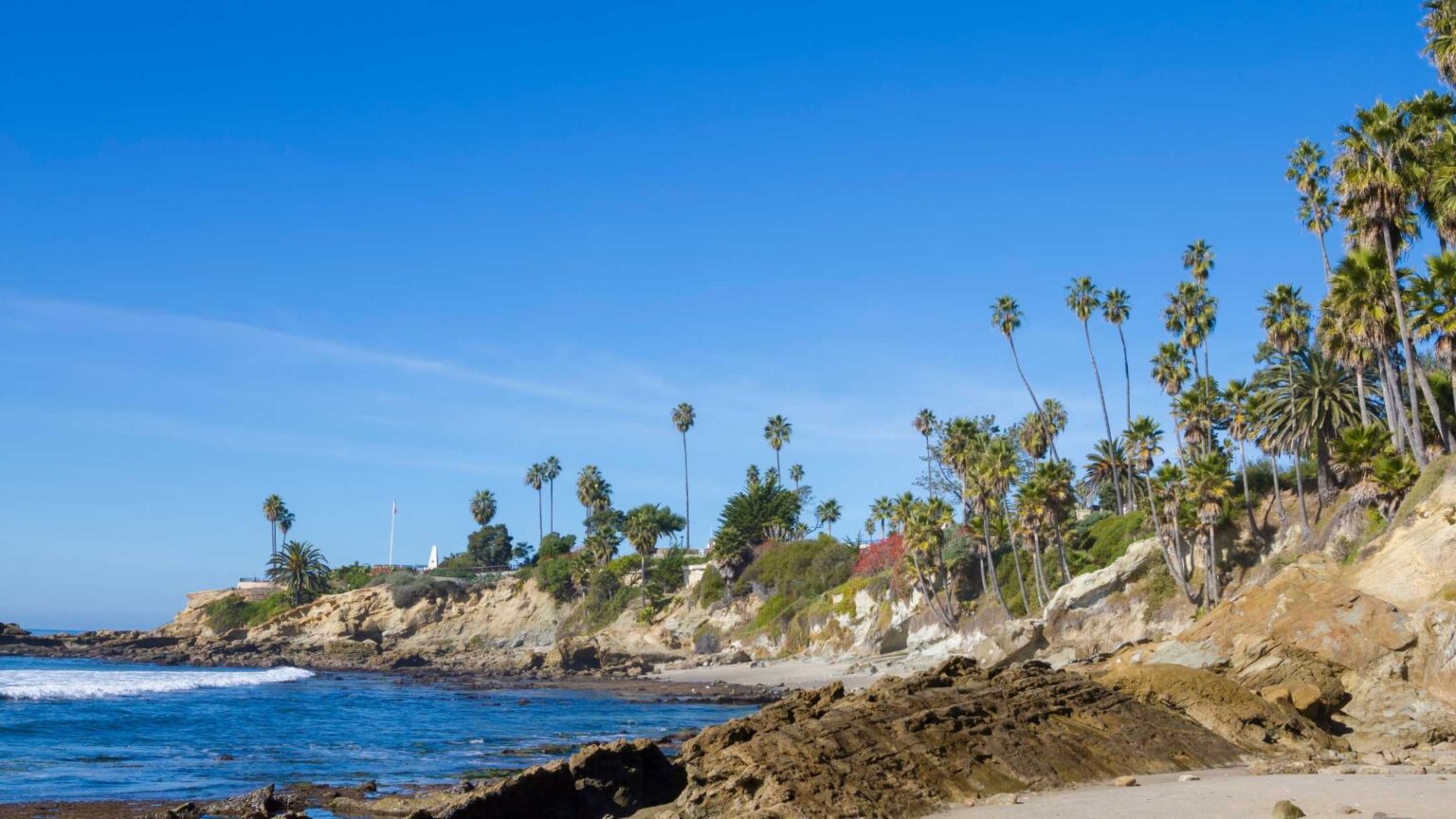 The Laguna Art Museum, one of California's oldest, is a must-see for art aficionados, with vibrant murals painted.
The Laguna Beach Trolley offers free transportation along the South Coast Highway.
If you're planning a trip to this vibrant coastal town, keep an eye out for yearly festivals like the Sawdust Art Festival and the Festival of Whales.
WHERE TO STAY?
NEWPORT BEACH
Newport Beach, recognised for its vast harbour, craggy cliffside views and famous surfing spots, is one of the best beach towns in California.
Newport Beach is known to be home to some of the wealthiest and boasts many lavish high-end hotels.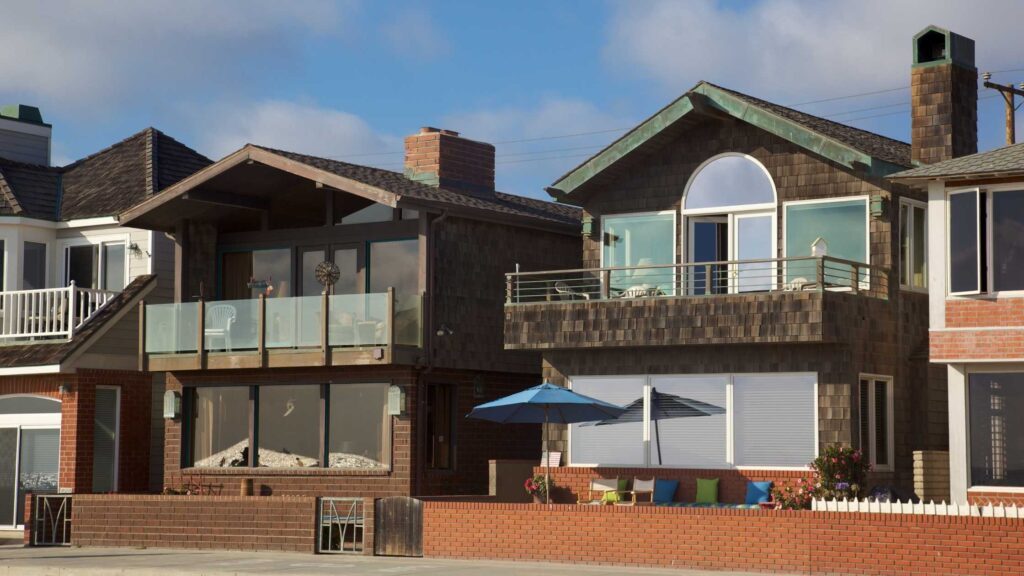 PLACES TO VISIT AND THINGS TO DO
You will see two piers, Newport Beach Pier and Balboa Pier.
Take a ferry to the Balboa Island and check out the Balboa Fun Zone, an amusement park with many arcade games and a Ferris wheel. You can also relax on the island with dazzling ocean vistas.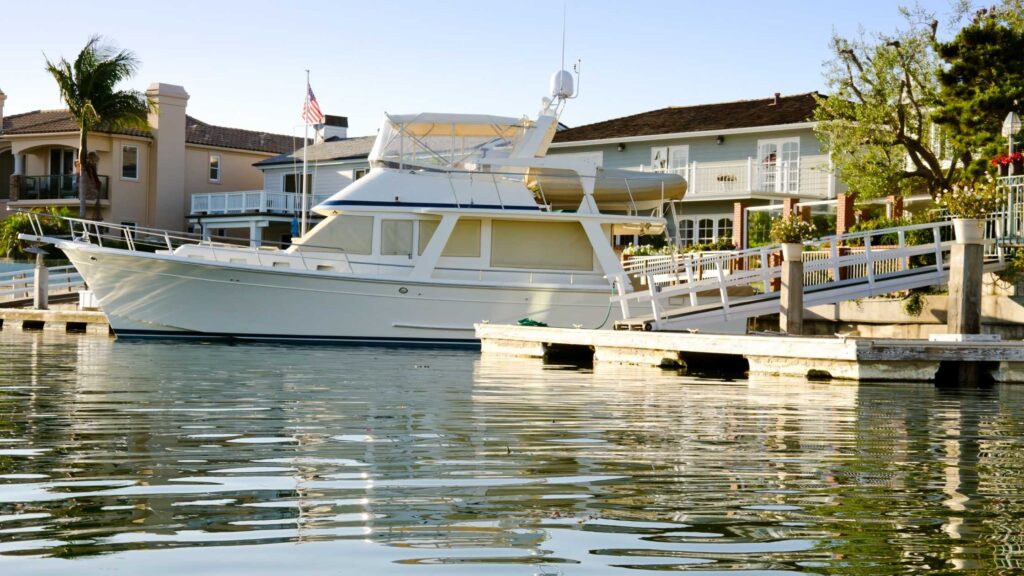 Visit the Wedge beach to witness surfers riding the high tide waves. Head to Fashion Island for shopping and dining.
You can play a day trip to the beautiful Crystal Cove State Park, the massive 3,936-acre park home to a total of 3 miles of beaches and tide pools. You will be rewarded with stunning views of the coastal bluffs and the ocean if you go on one of the many pretty hiking trails.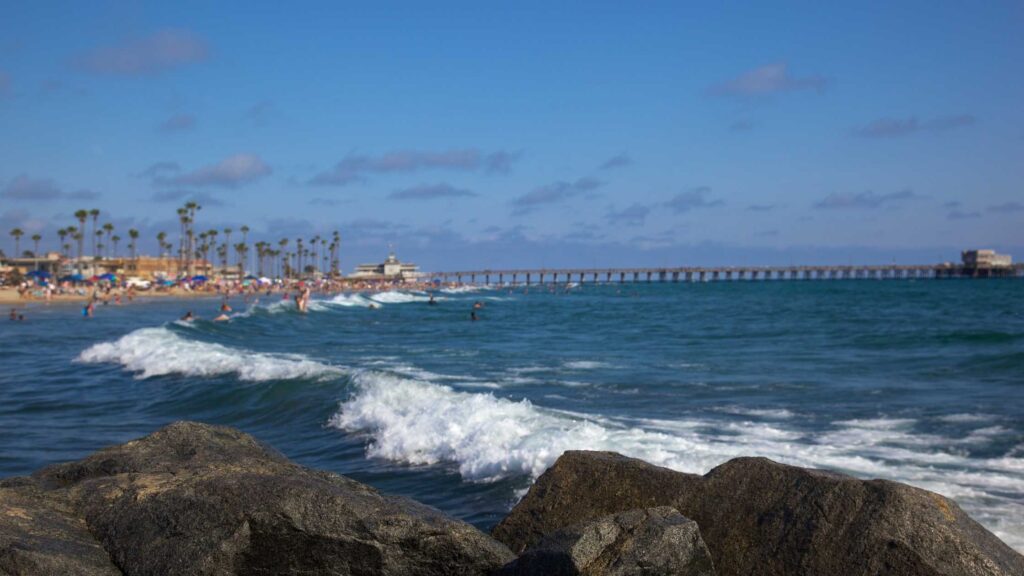 If you are into arts, do not miss visiting the Orange County Museum of Art, a modern and contemporary art museum housing over 4,500 collectables, including traditional paintings, sculptures, and photos, depicting the art of California and the Pacific Rim from the early 20th century.
Another spot in Newport perfect for a day trip getaway is Corona del Mar State Beach. On this 30-acre protected beach, you can enjoy a wide variety of water sports and outdoor activities.
WHERE TO STAY
HUNTINGTON BEACH
Huntington Beach is the oldest surf spot in California, making it one of the best beach towns in California.
Huntington Beach was first surfed by George Freeth, a Hawaiian waterman and surfing pioneer, in 1907, making it the birthplace of American Surfing.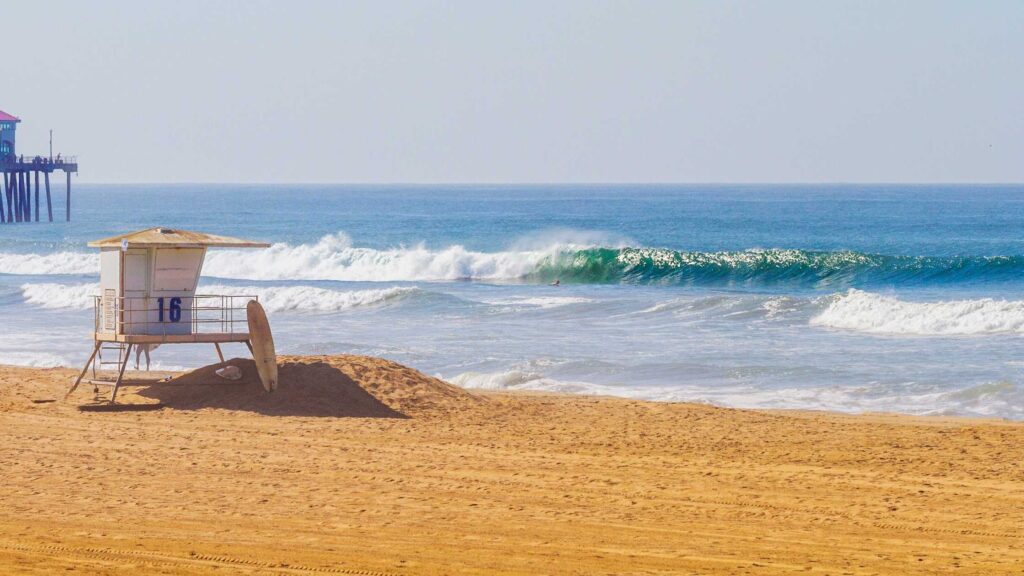 This best beach town in California has hosted the U.S Open Of Surfing since 1959.
The massive tournament takes place every summer and is merriment throughout the town for about two weeks.
PLACES TO VISIT AND THINGS TO DO
If you are interested in Surfing, visit the International Surfing Museum, Surfers' Hall of Fame, and Surfing Walk of Fame to learn more about the history of Surfing.
Visit Huntington Central Park, a verdant 350-acre paradise popular with weekend picnickers, exercise enthusiasts, and pet parents.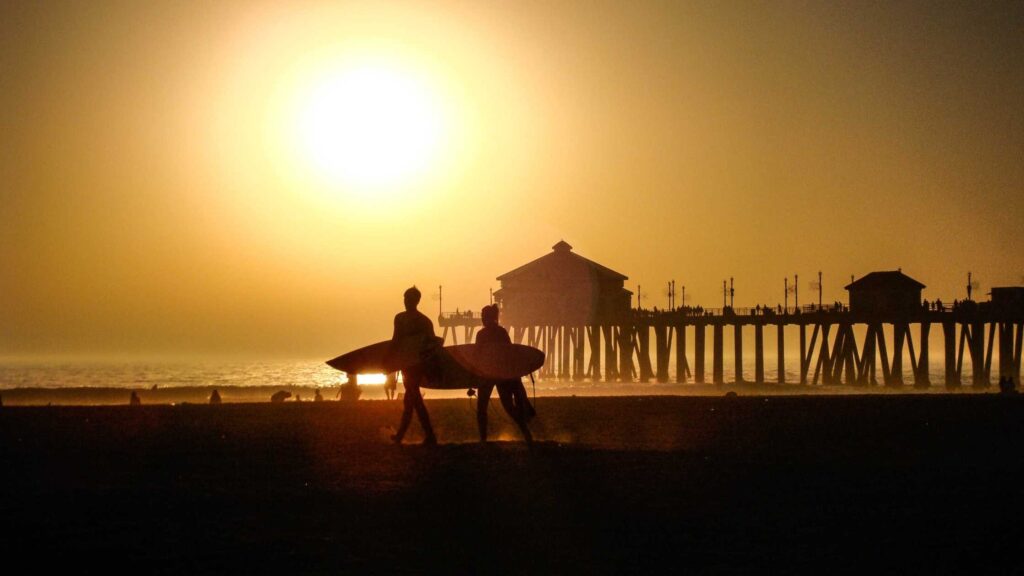 The park is also home to the largest children's library west of Mississippi.
Check out the Huntington Pier on Huntington Beach, which will be filled with youthful vibes.
WHERE TO STAY
SEAL BEACH
Seal beach, located in Orange County and about 28 miles east of Los Angeles is one of the best beach towns in California.
With its alluring small-town vibes, you will get to see Long Beach on one side and Huntington Beach on the other side.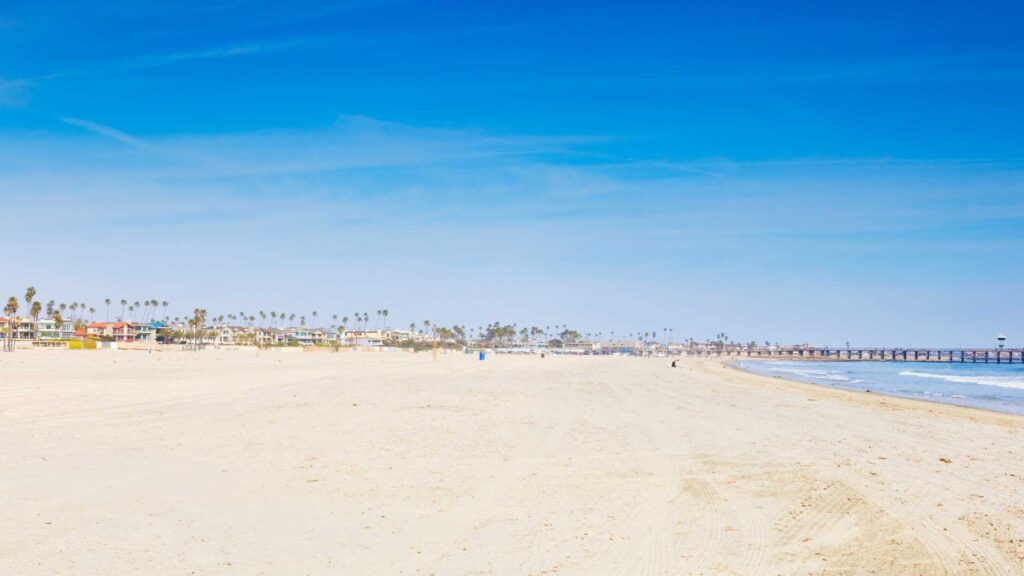 PLACES TO VISIT AND THINGS TO DO
Seal Beach is an idyllic location for many adventures like kitesurfing, windsurfing and surfboarding due to its perfect weather.
You can also take up surfing lessons from institutes nearby which have well-trained instructors.
Don't miss the Seal Beach Pier, the second-largest wooden pier in California to witness fishermen dealing with their daily hustle. You will be rewarded with the best sunsets and spectacular ocean vistas.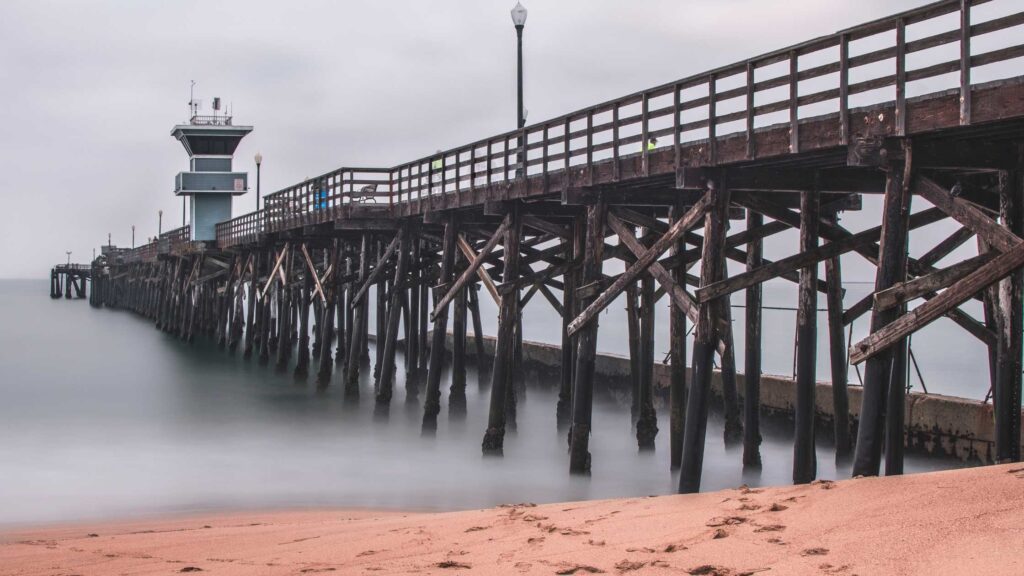 Bird lovers should not miss the Seal Beach National Wildlife Refuge, spread across 965 acres.
Book a nature tour of the salt marsh habitat to witness some of the exotic and endangered bird species.
Check out the Main Street Area, known for its chic boutiques and antique shops if you are looking to shop for souvenirs around the area.
WHERE TO STAY
HERMOSA BEACH
Located along scenic Highway 1, just south of Los Angeles, Hermosa should easily qualify as one of the best beach towns in California, for it is nearly perfect.
Whether you are looking for fabulous street art or adventure water sports, this Southern California town has it. If you want a kid-friendly beach town, I recommend Hermosa Beach.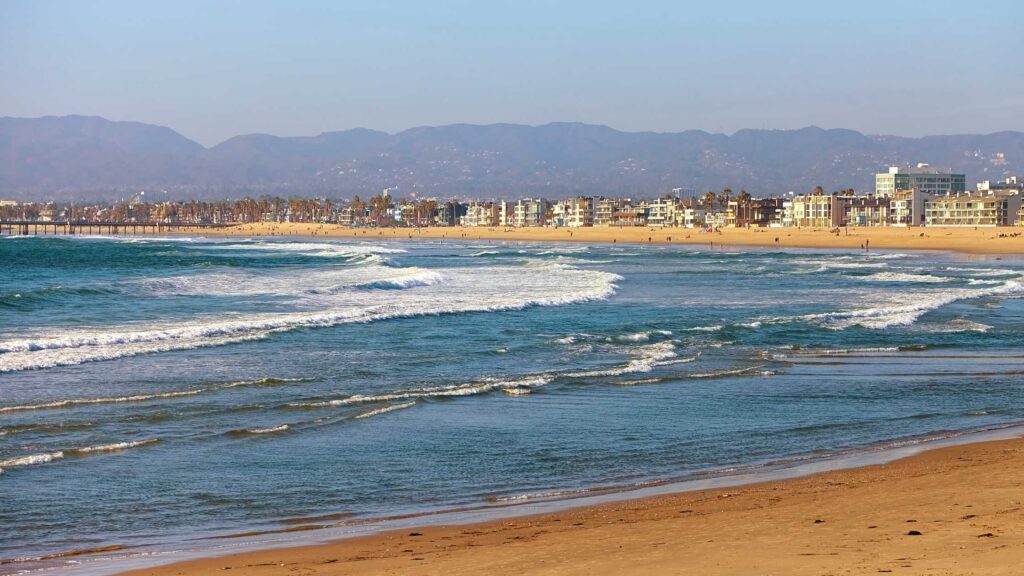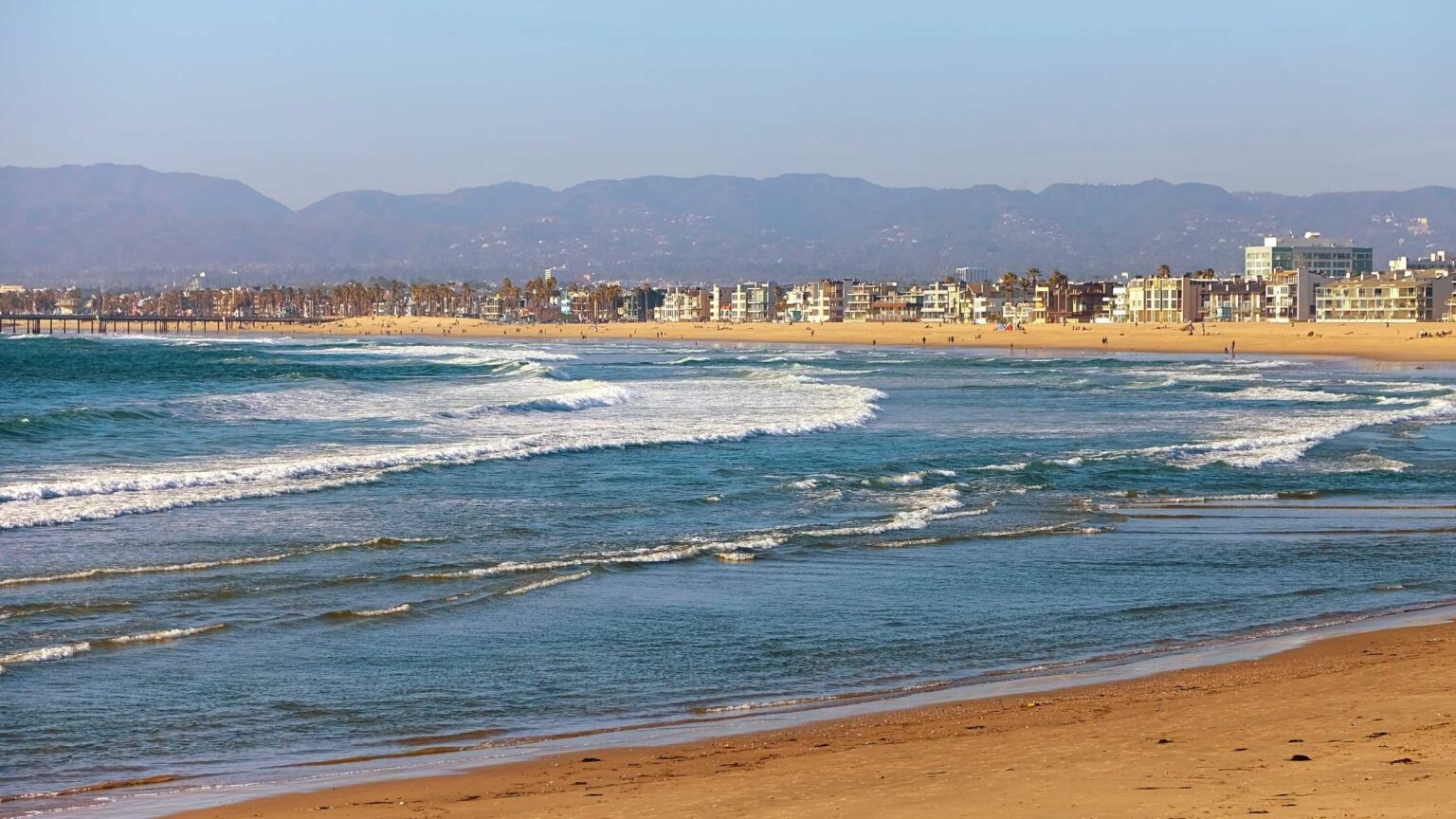 Since the city is located in the South Bay region of the Greater Los Angeles area, there is another advantage.
Although it may not appear so, Hermosa Beach is a great place to base yourself to explore Los Angeles as well, to stay away from the expensive costs as well as the traffic.
Recommended – 35 Fantastic Things to do In South Bay, California
PLACES TO VISIT AND THINGS TO DO
Head to the stunning sandy beach, which is in the heart of the city, perfect for swimming and surfing, or unwinding with your favourite drink.
Stroll along the vibrant plaza, Pier Avenue, which is packed with cute cafes and boutique restaurants.
Attend the weekly farmer market, a top event for the locals as well as visitors where you can pick up a wide variety of things, from fresh fruits and nuts to unique souvenirs.
Explore downtown for tracking down some of the unusual and exquisite wall murals that you will come across in the city, which may surprise you given the general vibes of the city.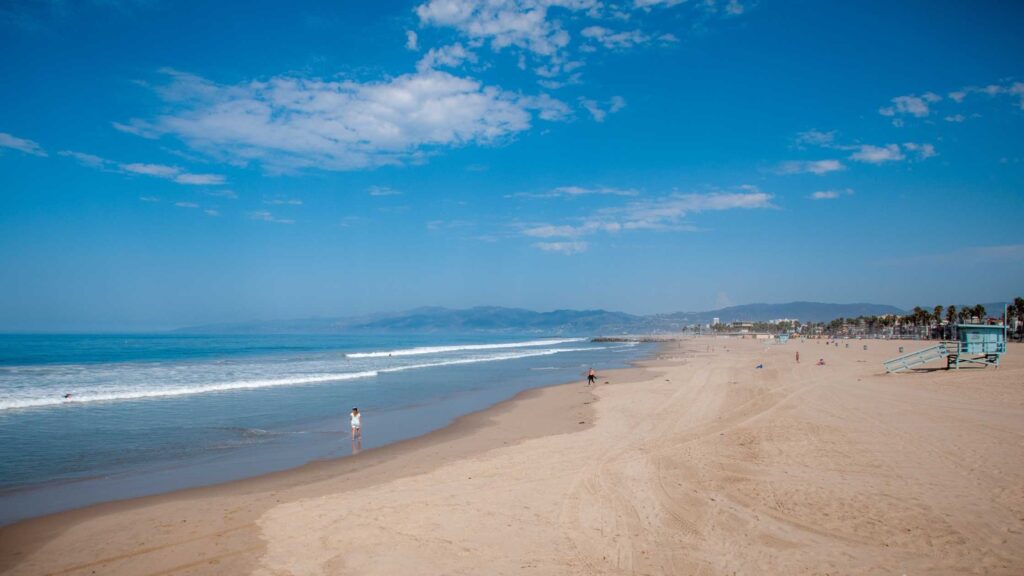 If you want to take your kids somewhere away from the bustling centre, Hermosa Beach has plenty of spacious green spaces, perfect for an evening stroll or even a picnic.
You can practice Yoga or join the runners in these parks.
Here is also where you can get a first taste of the murals of Hermosa Beach: the town is proud of its street art and you can see many examples of it taking a short stroll around the compact town centre.
WHERE TO STAY
VENICE BEACH
Venice Beach Town, located near Los Angeles, is one of the best beach towns in California and is quite popular among the crowds.
Venice is the next town down from the world-famous Santa Monica on the south side.
You will see a beautiful confluence of various street vendors, artists, performers, fortune-tellers and muscle men.
PLACES TO VISIT AND THINGS TO DO
This California's best beach town is a visual treat, as taking a stroll over the city's mile-long boardwalk is something that you should never miss when here.
If you are a fitness freak or seeking motivation for Bodybuilding, you should visit the town's famous Muscle Beach, where you will find bulky and fit people around.
Visit the canals in the Venice Canal Historic District to witness an uncanny resemblance to Italy's Venice.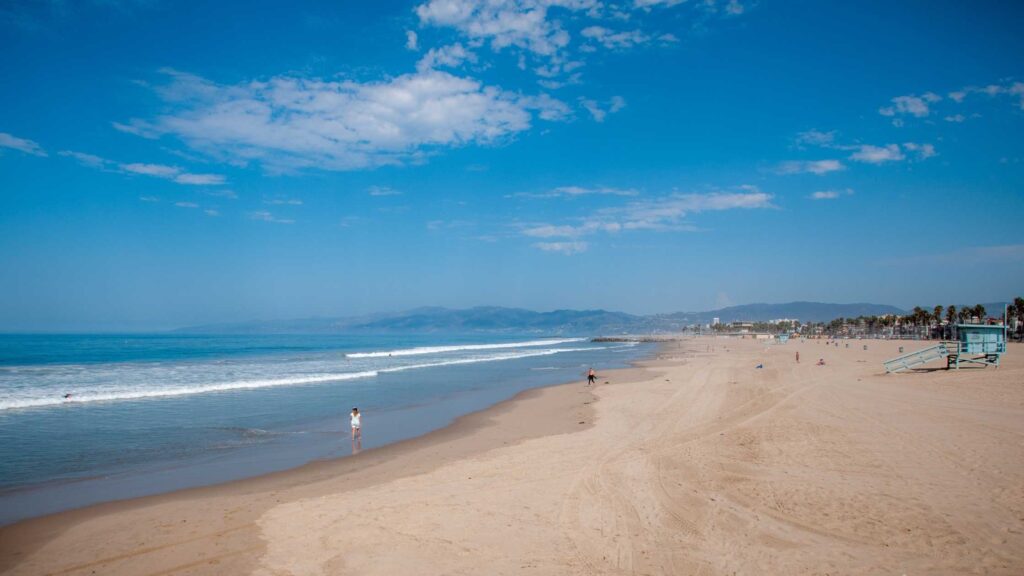 Check out Venice Beach Skatepark, the heartbeat of this lovely beach town, established in the mid-1970s.
Skaters from all over America thrive here to take part in the challenging succession of bowls and ramps.
Visit Abbot Kinney Boulevard for the best chic boutiques and galleries in this best beach town in California.
Stroll across the vibrant street to see artist studios, colourful clothing outlets, tarot card readers and wacky street performers.
Be wary of various street con games that may persuade you to participate.
WHERE TO STAY
SANTA MONICA
Santa Monica, located 20 minutes away from the Beverly Hills, is one of the secluded and best beach towns in California.
You can roam around the entire city on foot or maybe even rent a bike.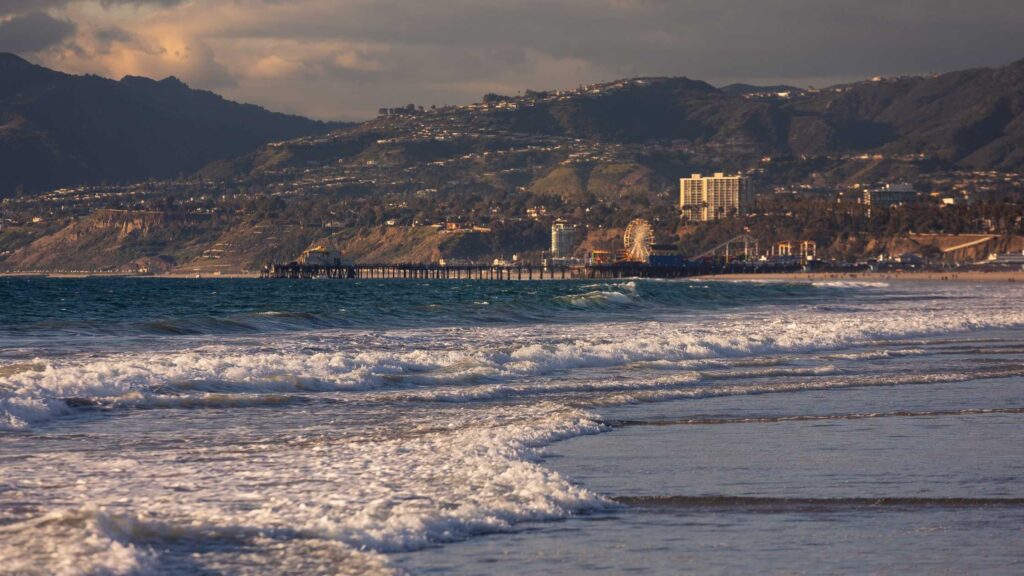 PLACES TO VISIT AND THINGS TO DO
Interested in watching acrobatics? Head to Original Muscle Beach, where you can see some stunts in the open-air gym.
You will be rewarded with pleasant weather and soft sandy beaches to relax while watching stunning sunsets.
This cosy little know is known for Santa Monica Pier, which offers a plethora of activities and attractions making this one of the best beach towns in California.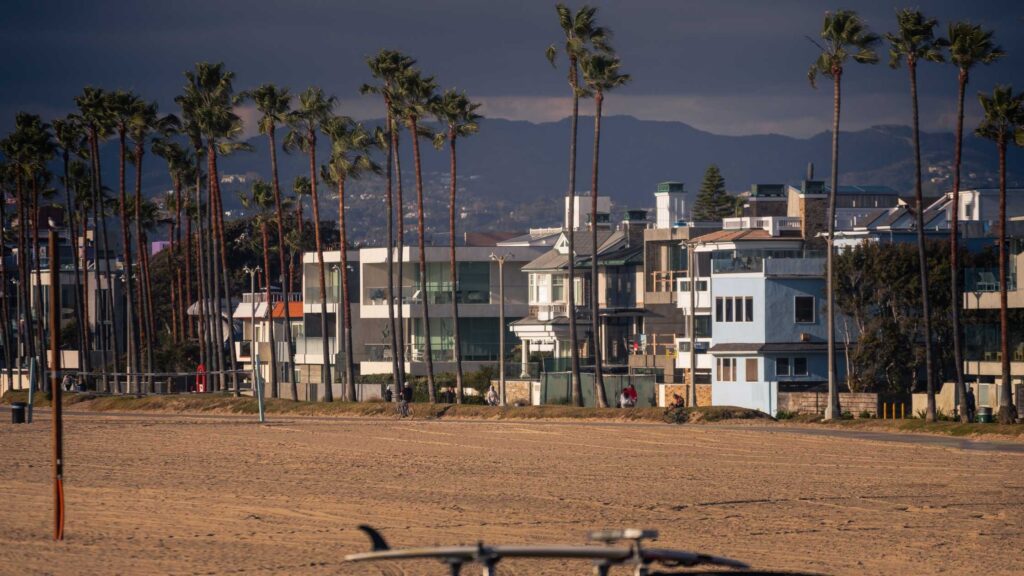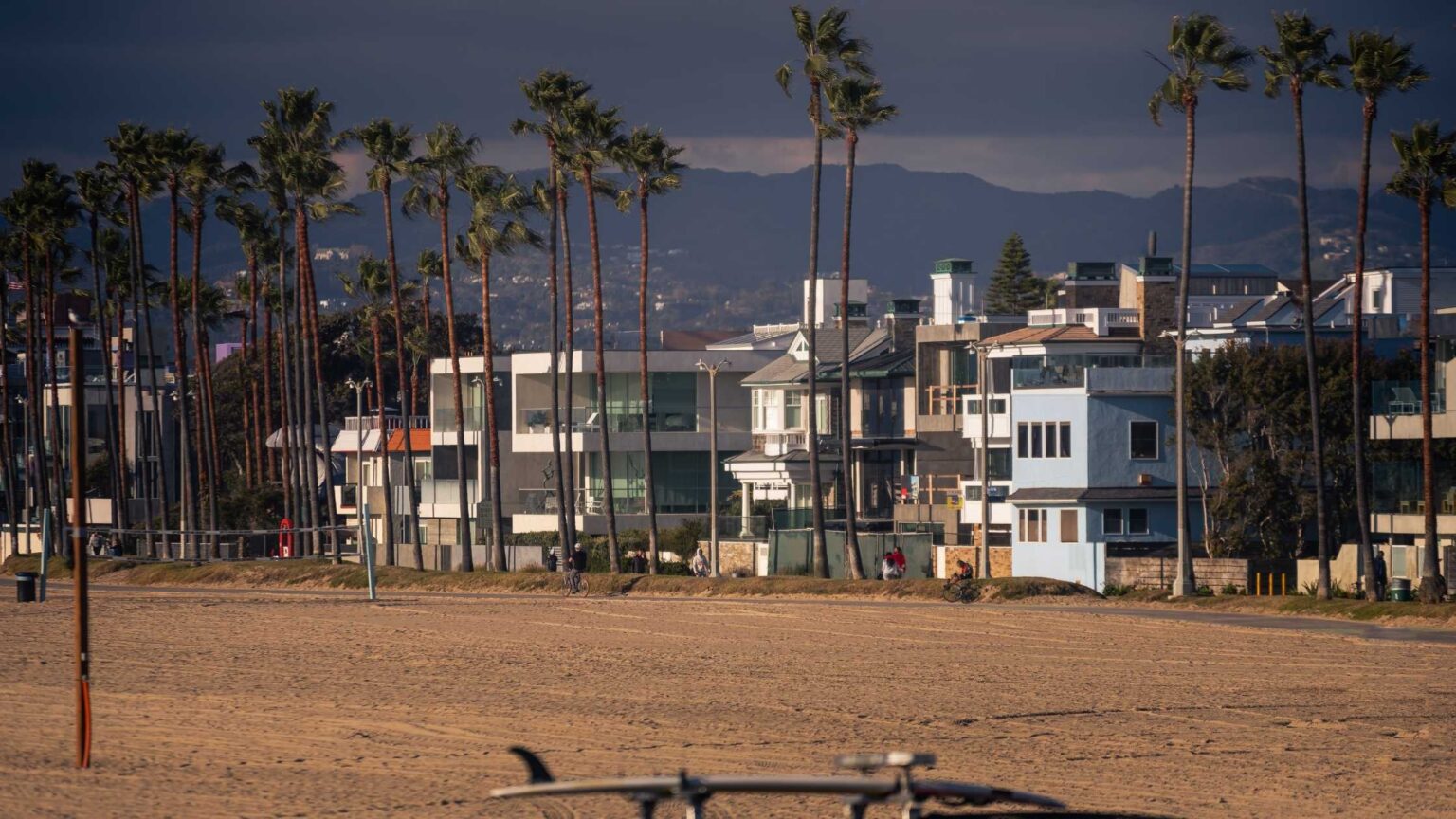 The Pier is also home to Pacific Park, an amusement park with amazing arcade games.
Check out the daily hustle and bustle of the farmer's market, which has won the best farmer's market award in the county.
Shop souvenirs from the cute gift shops at Santa Monica Place located behind the Pier.
WHERE TO STAY
MALIBU
Malibu is one of the best beach towns in California that attracts the world's affluential people and top list celebrities.
It is popularly known as the first World Surfing Reserve and formally known as Surfrider Beach.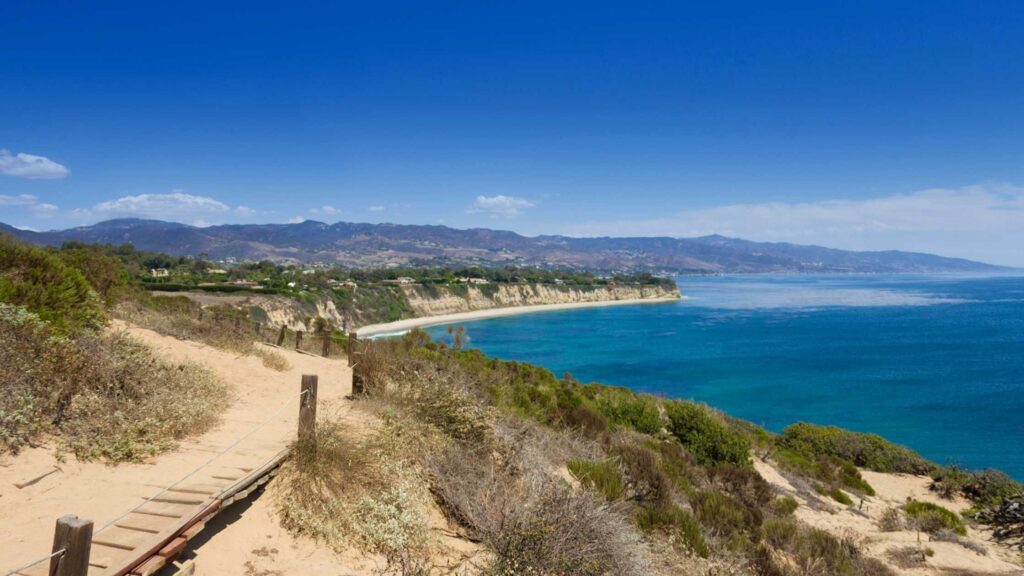 PLACES TO VISIT AND THINGS TO DO
Check out the Leo Carrillo and Zuma Beach to experience a blend of filthy rich and passionate surfers.
Do visit the Getty Villa Museum to explore the elegant artefacts of Greece and Rome.
Visit the Malibu Lagoon Museum to learn about the history of this California's best beach town.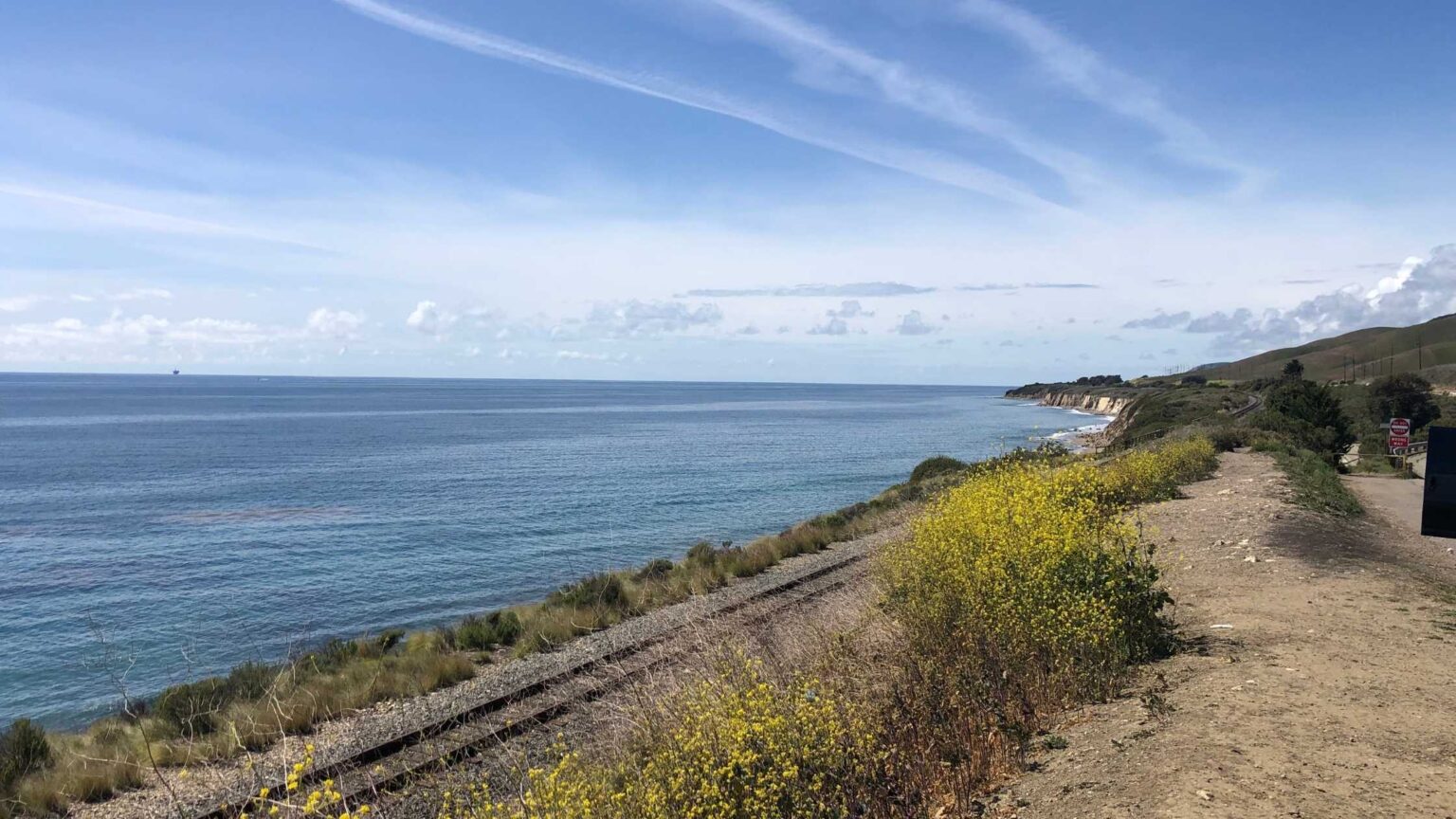 Malibu is one of the best beach towns in California and a must-visit place for hiking enthusiasts since it is closer to the magnificent canyons, waterfalls, and grasslands of the Santa Monica Mountains National Recreation Area.
If you love fishing, head towards Malibu Pier to reel in some sea-tunas and trouts and witness incredible views over Surfrider beach.
WHERE TO STAY?
VENTURA
Ventura is an hour's drive away from the coast of Los Angeles and is located near Carpinteria and Oxnard.
This pretty town is not on the oh-so-popular list making it one of the best beach towns in California.
With its artistic allure and grand history, this beautiful town stands as a symbol of richness as well as a laid-back city.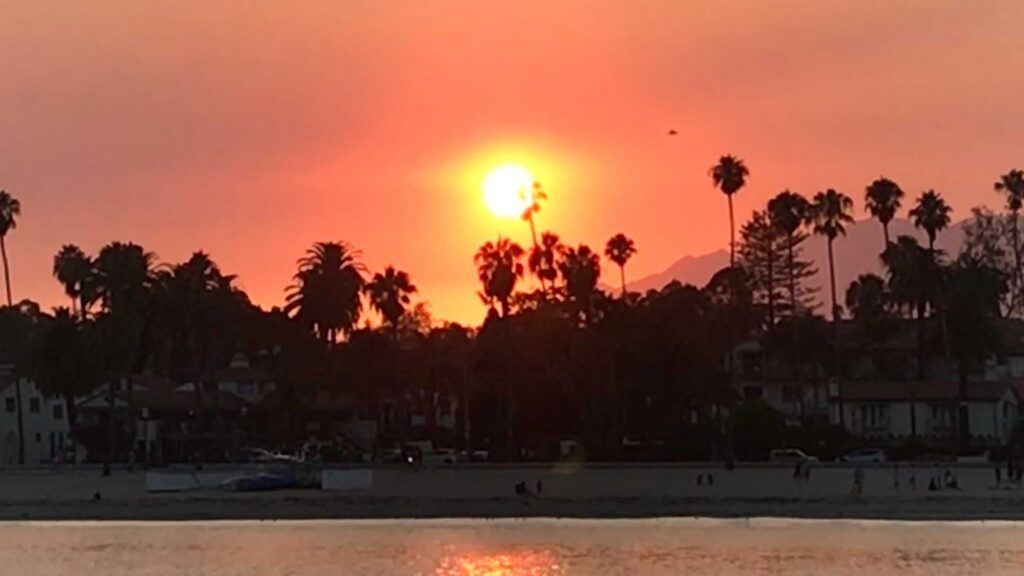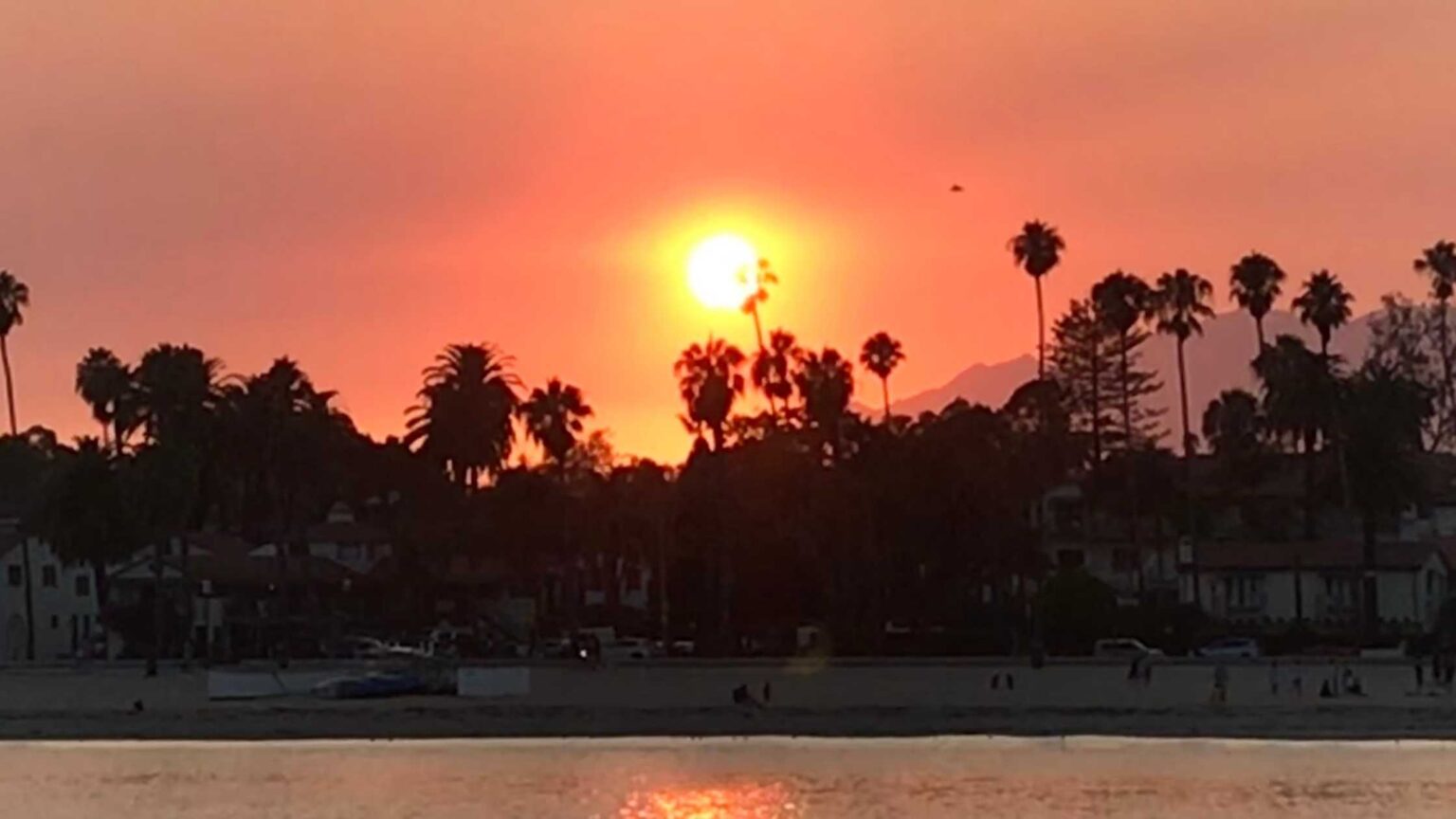 PLACES TO VISIT AND THINGS TO DO
This one of the best Californian beach towns is located adjacent to a fishing Marina and a harbour, with miles of shorelines making it an exquisite coastal town.
Relax on the tranquil beaches, play with the powdery sand or get some tan under the sun.
Check out the famed Ventura Pier where you will be rewarded with stunning views of the ocean along with amazing sunsets.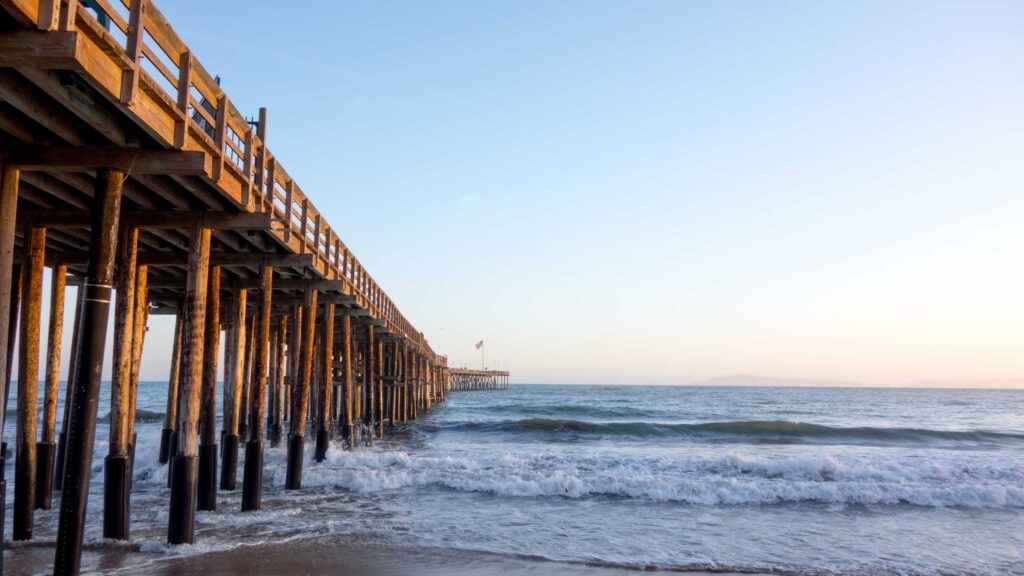 Adventure lovers can go Jet skiing, Paddleboarding or take a cruise tour.
Ventura is also known for its pleasant weather all year round making it an idyllic location for Surfing. So you might bump into some avid surfers on some beaches.
If you are lucky, you may spot grey whales along the shoreline.
Don't miss the historic downtown, bestowed with laid-back vibes and several cute cafes.
WHERE TO STAY
OJAI
If you are into Bohemian vibes and art, one of the best beach towns in California you should visit is Ojai.
Located northwest of Los Angeles in Ventura County in a valley in the Topatopa Mountains, Ojai, however, has also many things to offer for families and nature lovers that blend well with the beaches that are a few minute's drives away.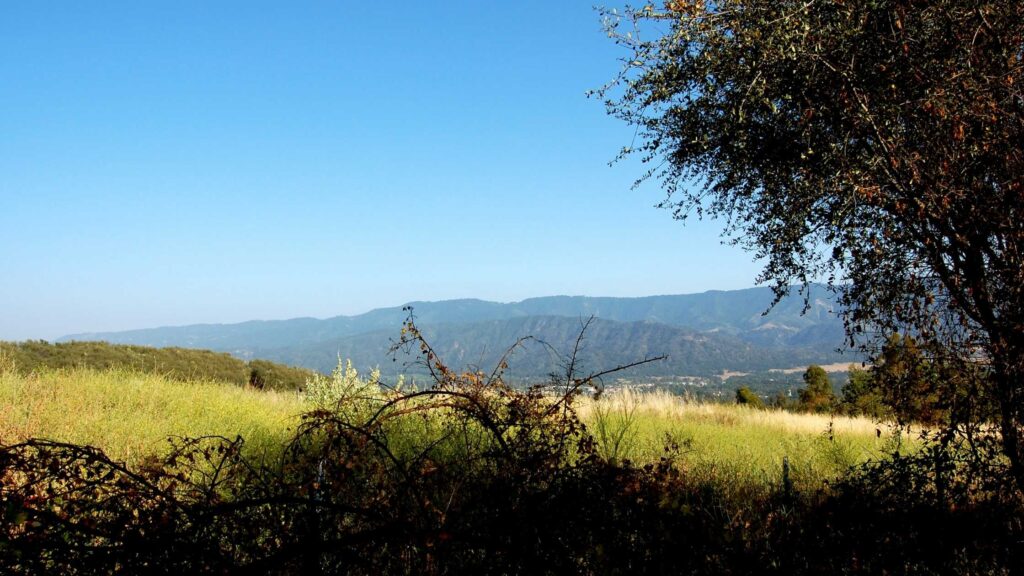 PLACES TO VISIT AND THINGS TO DO
If you love art, you will enjoy visiting Beatrice Wood Center for the Arts or Dan Schultz Fine Art Gallery and Studio.
For outdoor lovers, there are hiking, biking, and birdwatching trails that you can explore in Los Padres National Forest, Ojai Meadows Preserve, and Ventura River Preserve.
Lake Casitas is another popular recreation area that gets crowded during the summer for picnics and boat trips.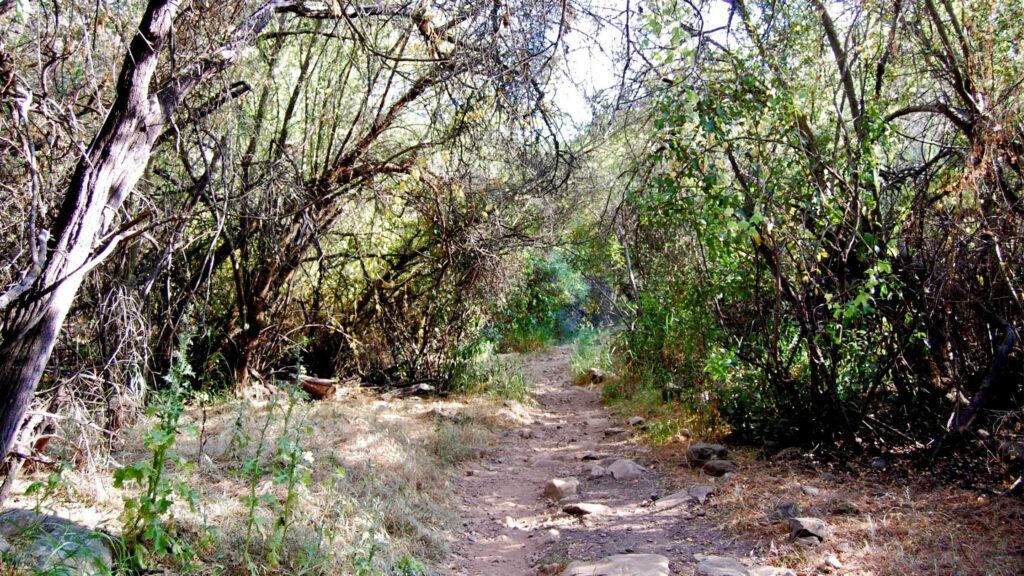 Spring and fall are the best times to visit these parks to watch wildlife, birds, and beautiful wildflowers that carpet the landscapes.
There are many chic shops for gifts and collecting art in Ojai that you should check out, including Cercana, and Poppies Arts & Gift.
WHERE TO STAY
CARPINTERIA
The laid-back hamlet of Carpinteria, located East of Santa Barbara, is one of the best beach towns in California and home to the World's Safest Beach, Carpinteria City Beach.
The Channel Islands shield Carpinteria State Beach from the south.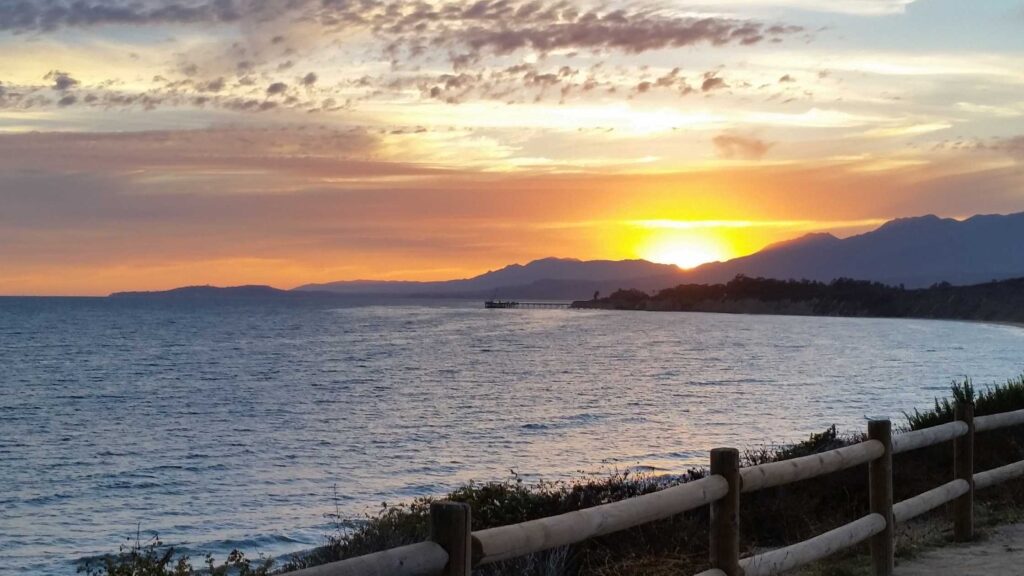 Carpinteria is known for its pleasant weather all year and broad sandy beaches with gentle waves that are great for learning to bodyboard.
PLACES TO VISIT AND THINGS TO DO
If you bike or hike the Coastal Vista Trail to the Carpinteria Harbor Seal Preserve, you will be awestruck to witness the seal pups born on the beach.
Hit the Linden Avenue in the foggy mornings of this best beach town in California for a morning jog under the shaded palm trees.
Grab a coffee on your return from cute cafes on the street and check out the art galleries and various shopping outlets.
This charming town also holds the California Avocado Festival, which attracts 100,000 tourists every year for cuisine and music.v
WHERE TO STAY
SUMMERLAND
As this town's name says it all, Summerland is one of the classic and best beach towns in California. Located only five miles south of Santa Barbara, you must swing off Highway 101 to arrive at this cute little town.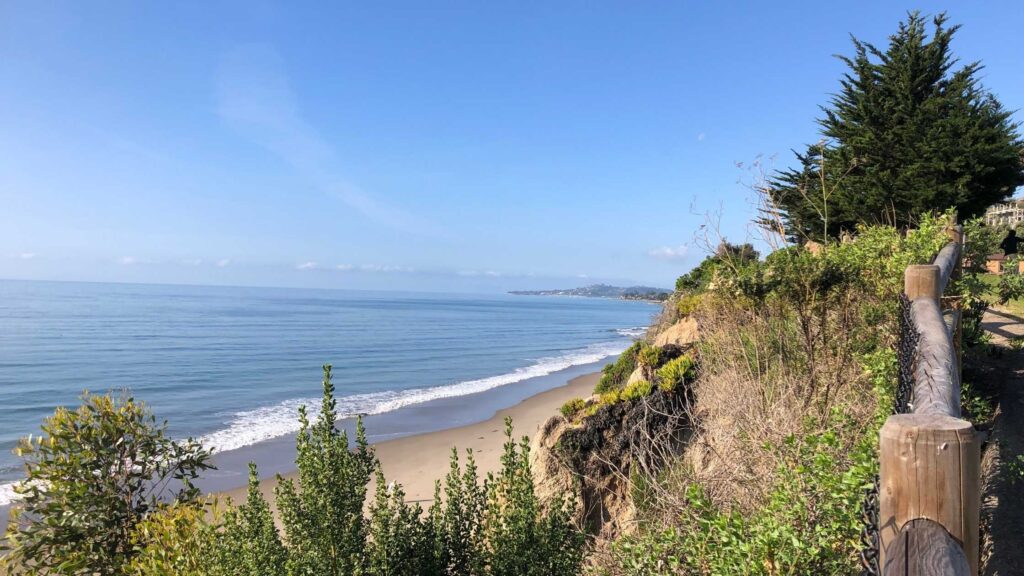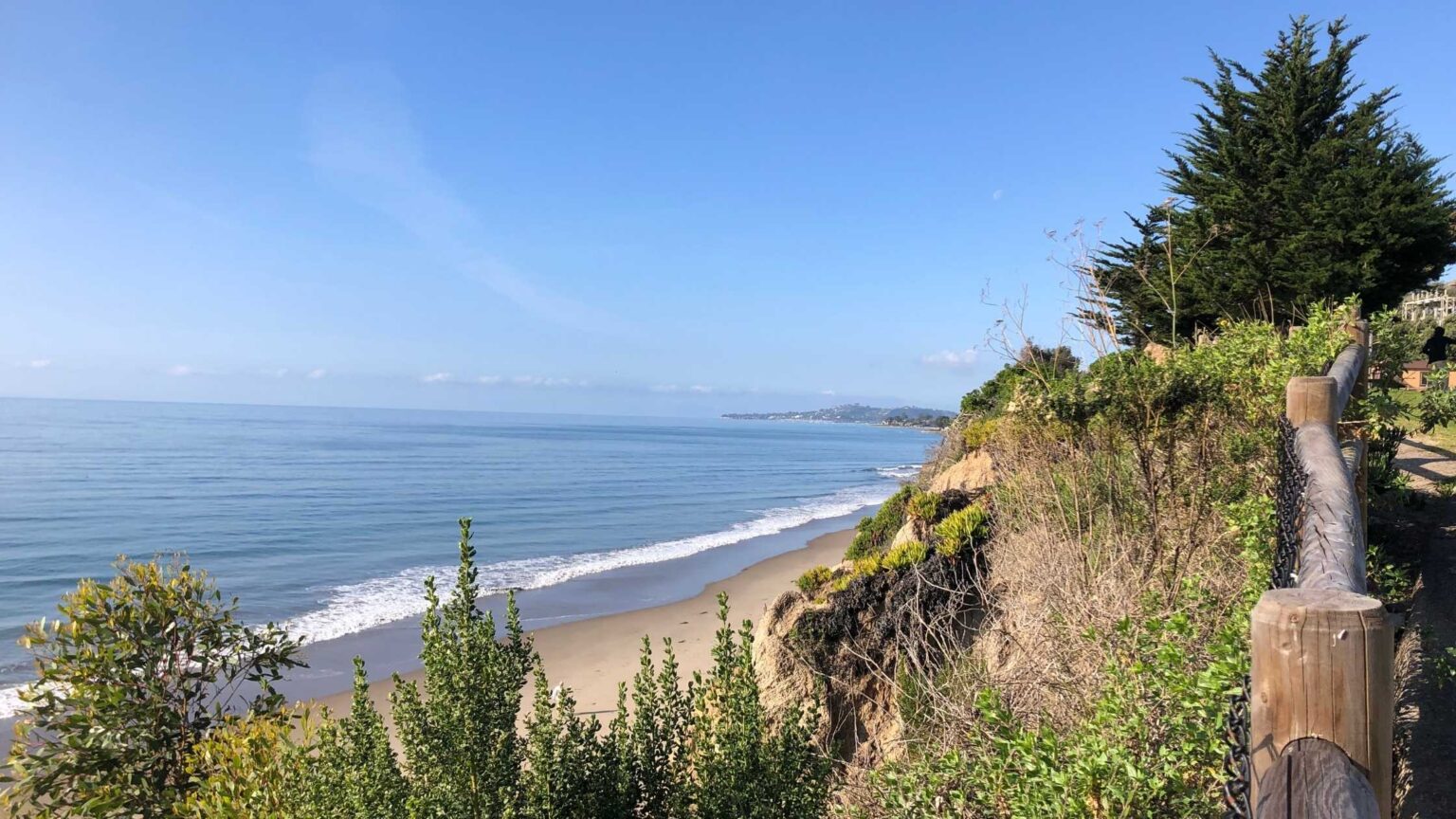 Although the town is compact, you have enough things to do and activities to enjoy over a weekend for a fabulous beach vacation with your family.
PLACES TO VISIT AND THINGS TO DO
Explore its bustling downtown area, especially Lillie Avenue, packed with antique stores, cute cafes, boutique shops, and excellent restaurants.
Here, you can also shop for home decor items, clothes, or souvenirs to take back home.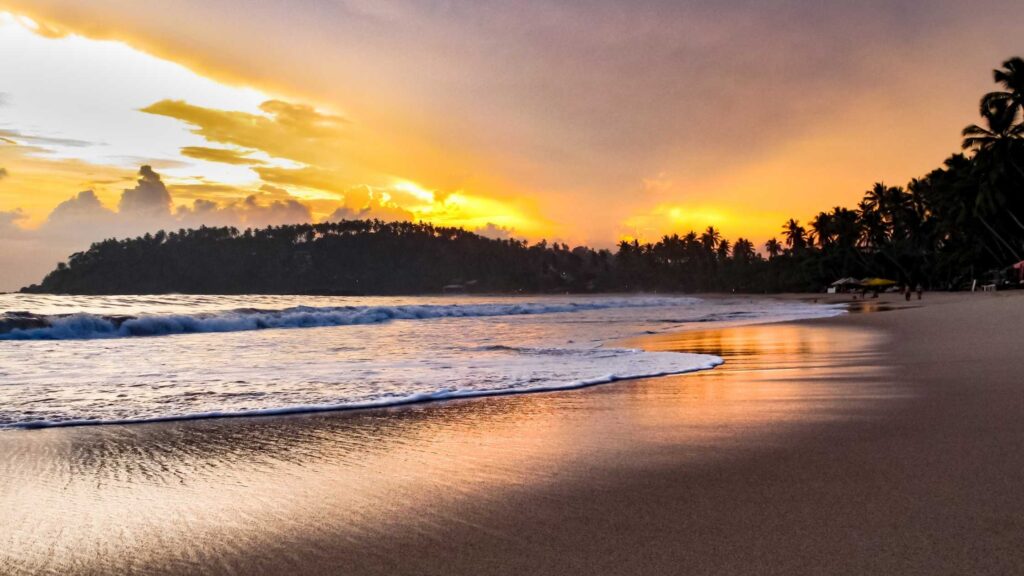 Summerland Beach is the perfect beach for watching stunning sunsets. Also, plan a picnic lunch at the park overlooking the ocean here.
Take a stroll in Lookout Park, a well-maintained pretty green space, a popular hangout spot among locals and tourists alike.
If you love hiking, there are hiking trails in Toro Canyon Park. You can take the Romero Canyon trailhead and plan a hike to San Ysidro Waterfalls.
You can also plan a day trip to the glitzy neighbouring Montecito.
WHERE TO STAY
BEST BEACH TOWNS IN CALIFORNIA
MONTECITO
Montecito, one of the best beach towns in California is located between the Santa Ynez Mountains and the Pacific Ocean on the Central Coast of California in Santa Barbara County.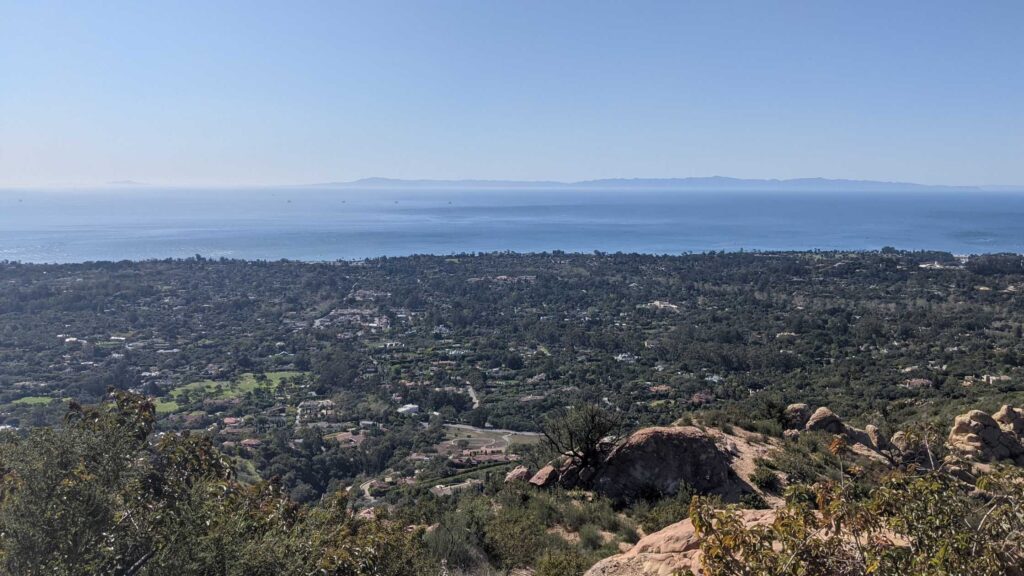 This pretty town recently gained more popularity when royal celebrities like Megan Markle, and Prince Harry made their presence in this charming town. Montecito has been home to celebs like Oprah as well.
PLACES TO VISIT AND THINGS TO DO
Visit Butterfly beach where you can enjoy biking on the paved paths on the beach.
Check out the famed East Beach known for its Volleyball tournaments, witnessed by many tourists and the locals.
Explore the Summerland Beach if you want to just laze around on the powdery sand or go biking on the marked trails.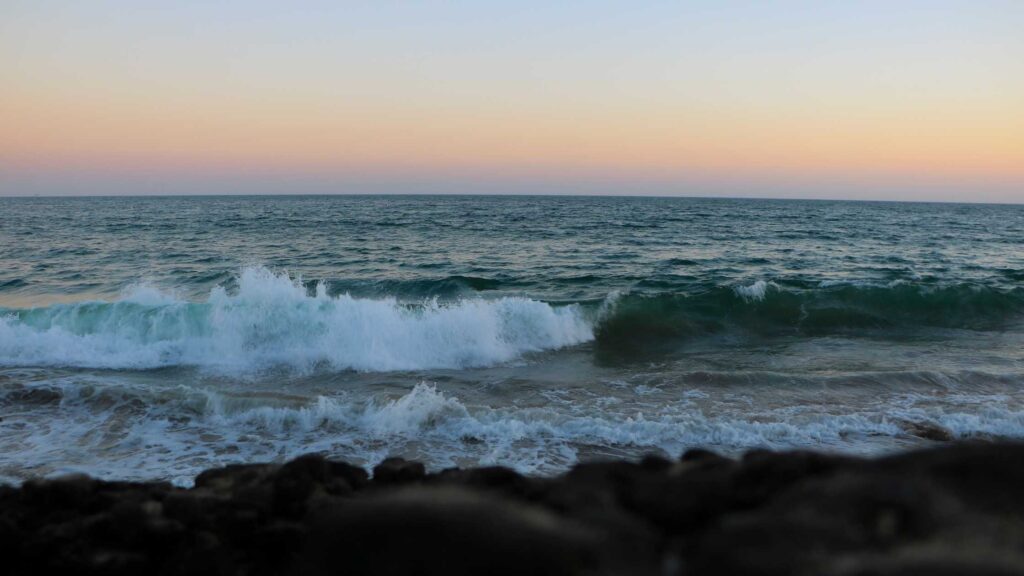 Take a 2-hour walking tour in the Ganna Walska Lotusland, a non-profit botanical garden. You will need an advanced reservation to see exotic flora in this historic estate.
If you love architecture, do not miss the 11-acre National Historic Landmark, Casa del Herrero, a Spanish Colonial Revival architectural museum and botanical garden.
You can plan two day hikes to explore the Tangerine Falls and the Hot Springs Canyon Trail Head.
WHERE TO STAY
SOLVANG
Solvang is one of the best beach towns in California, located in the Santa Ynez Valley and is a part of Santa Barbara County.
It is within a 3-hour driving distance from Los Angeles and 4.5 hours from San Diego.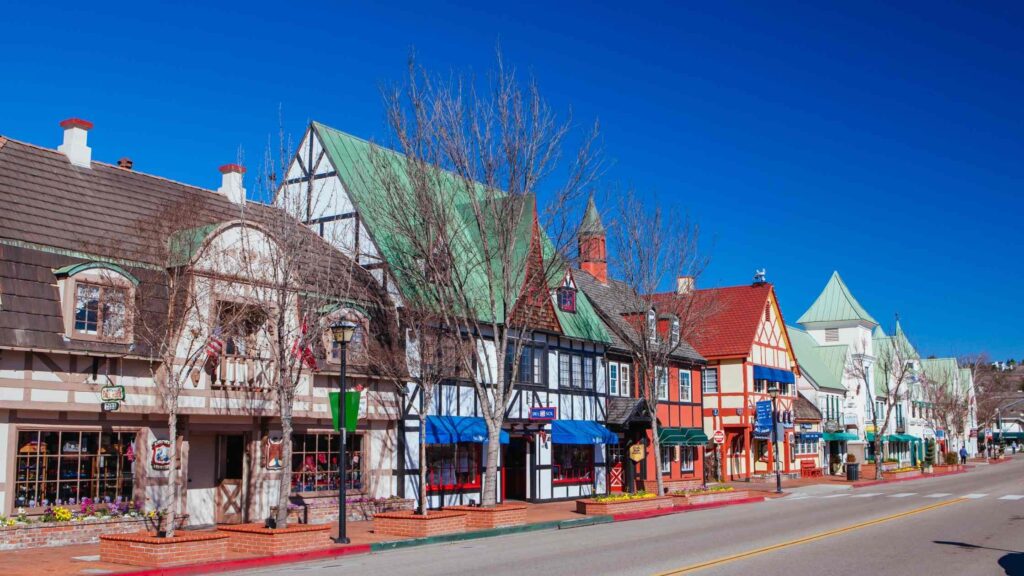 The lovely town was founded by a group of Danish Americans in 1911, and its Danish architectural beauty can still be seen throughout the area.
It is no surprise, that it is called the Danish capital of America.
PLACES TO VISIT AND THINGS TO DO
Visit downtown Solvang, filled with Danish architecture, chic boutiques, bakeries and windmills. You can also experience a ride in horse-driven carriages.
As you travel downtown, you'll notice Solvang's four distinctive windmills, which are pure Danish culture.
Check out the central cathedral, Mission Santa Ines. Established in 1804, it is one of the 21 historic cathedrals in California, home to a museum which has ancient scripts and artefacts.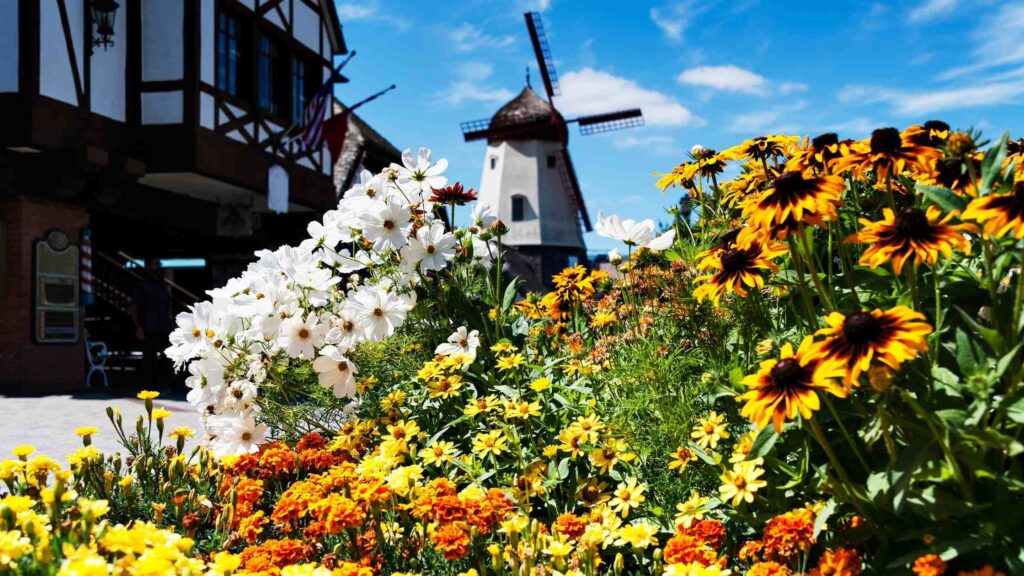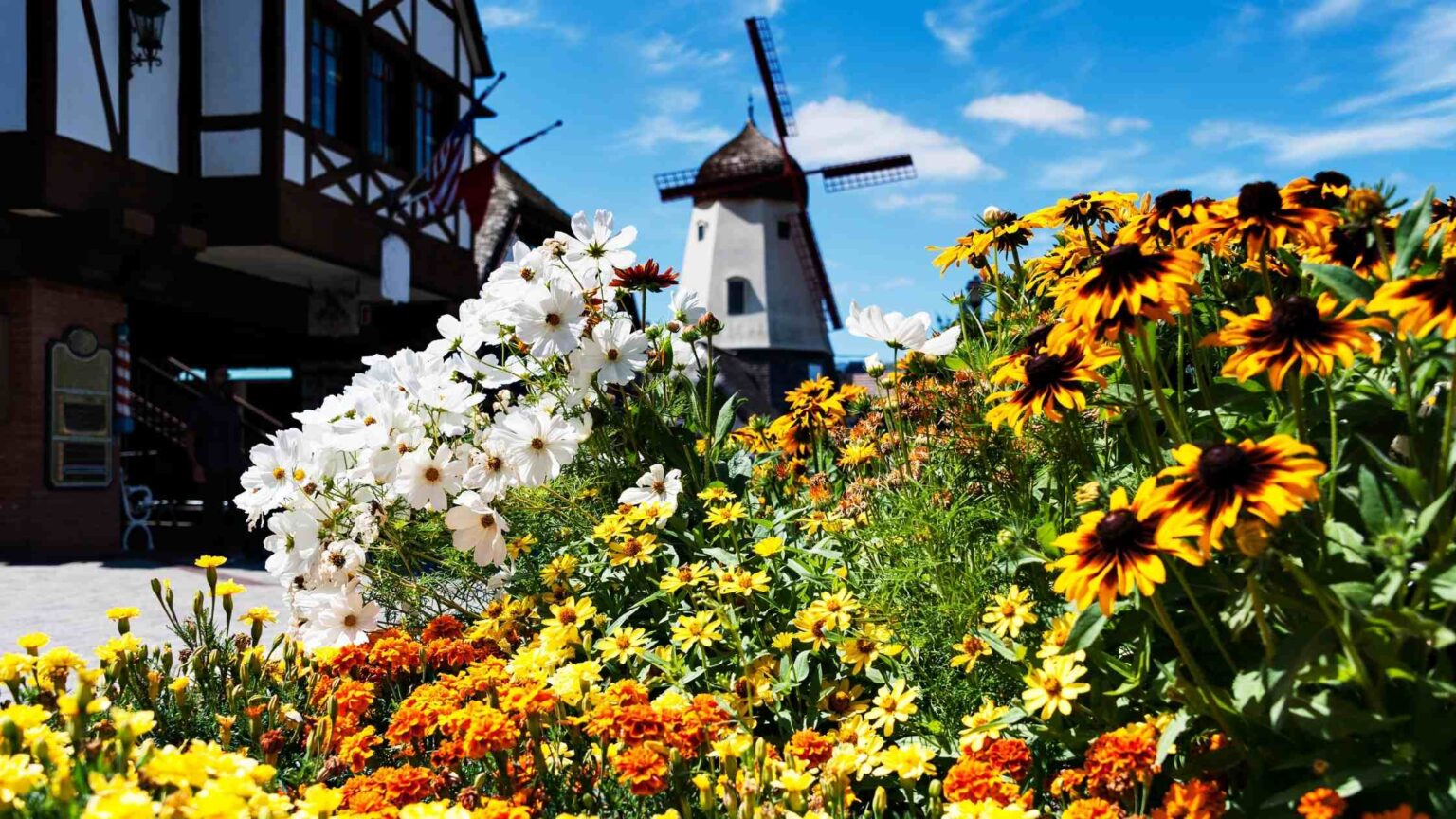 Visit the Bethania Lutheran Church, with a Danish architectural style established in the early 20th century by the Danish-American community with wooden interiors.
Include the Hans Christian Andersen Park and Sunny Fields Park on your itinerary for a picnic with family to do rock climbing, biking and skating.
If you are a history buff you will be rewarded with several museums in this one of the best beautiful beach towns in California.
Visit the Elverhoj Museum, established in a marvellous 18th-century Danish-style farmhouse the museum houses various exhibits depicting Danish history.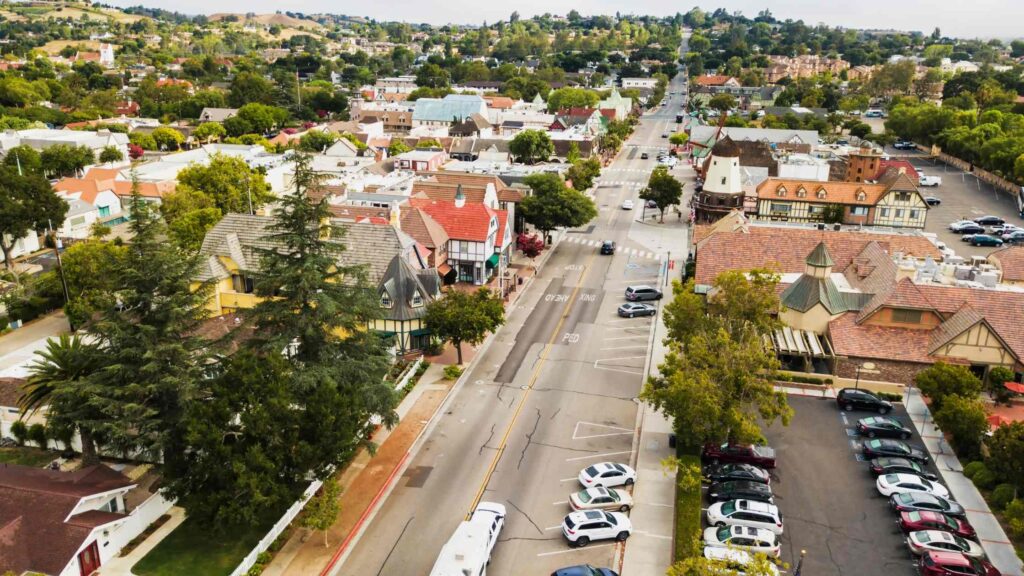 Check out the Solvang Amber Museum if you are interested in rare jewellery and antiques.
Discover Danish and American culture in Elverhoj Museum of History and Art, and Wildling Museum of Art & Nature, or take a guided horseback ride to explore Santa Ynez Valley for one-of-a-kind quaint vibes.
To mark your Solvang trip as a complete one, enjoy tasting the finest local wines from over 120 vineyards and enjoy a play under the starry sky at Solvang Festival Theater.
WHERE TO STAY?
Solvang is home to two fantastic cottages. These Danish-themed Inns are perfect for a cozy holiday home.
Mirabelle Inn & Restaurant in downtown Solvang offers Spa, pool, and other comfortable amenities apart from spacious rooms and its fantastic location. Perfect for couples and families to spend a weekend.
Solvang Inn & Cottages is another Danish farm-style inn featuring a heated outdoor pool and a hot tub. You can enjoy a daily continental breakfast as well. Downtown is an 8-minute walk from the property.
HOTELS
You will love Wine Valley Inn, a stunning Danish-style hotel located close to the centre of downtown Solvang.
King Frederik Inn, located in downtown Solvang is a beautiful hotel and one of the top accommodation spots among the tourists. This gorgeous Danish-style building is known for its spacious rooms, fantastic amenities, and heritage value.
BNBs
Ballard Inn & The Gathering Table is one of the famous B&B in Santa Barbara Wine Country, perfect for making a base if you plan on exploring the nearby vineyards, along with places to visit in Solvang.
For Friends Inn Wine Country Bed and Breakfast is located in downtown Santa Ynez. This cosy place is a popular spot for families with kids and couples, thanks to the lovely garden suites and rooftop.
LOS ALAMOS
One of the underrated towns is Los Alamos, a small charming destination, located only two hours north of Los Angeles on the north end of the Santa Ynez Valley.
It is one of the best beach destinations in California if you are looking for a relaxing getaway for excellent wine, food, and the laid-back vibes of the old times.
PLACES TO VISIT AND THINGS TO DO
Start by exploring the main street of Los Alamos, which is compact and beautiful taking you back in time to the Old West during the late 19th century.
Check out the historic and the last standing Pacific Coast Railroad station.
Wine and food are the two things for which people come here. So get ready to explore the finest wineries in the Santa Ynez Valley where you must taste the best locally made wine.
For unique treasures, stroll around Bell Street and browse through the antique shops in Los Alamos Depot Mall.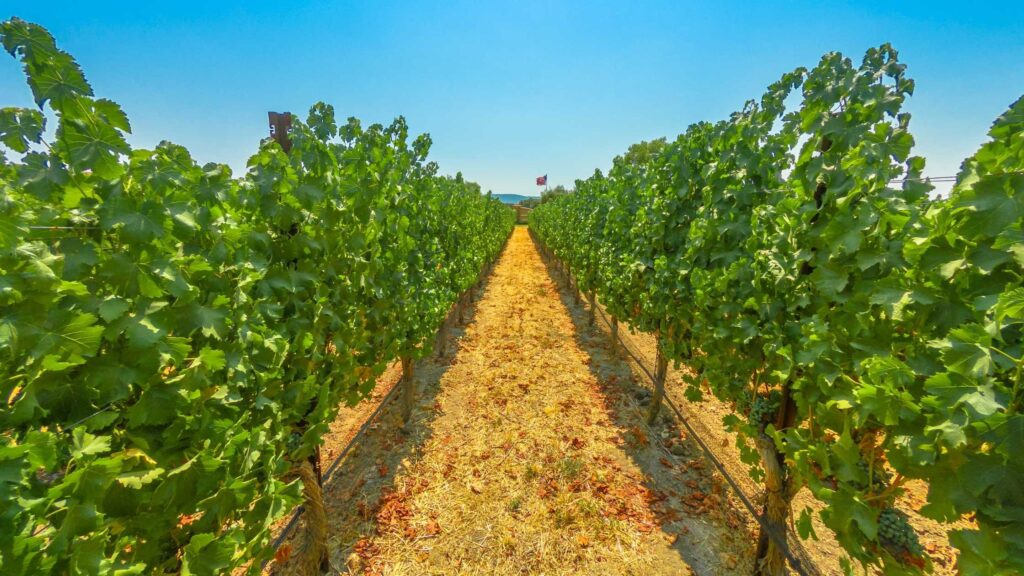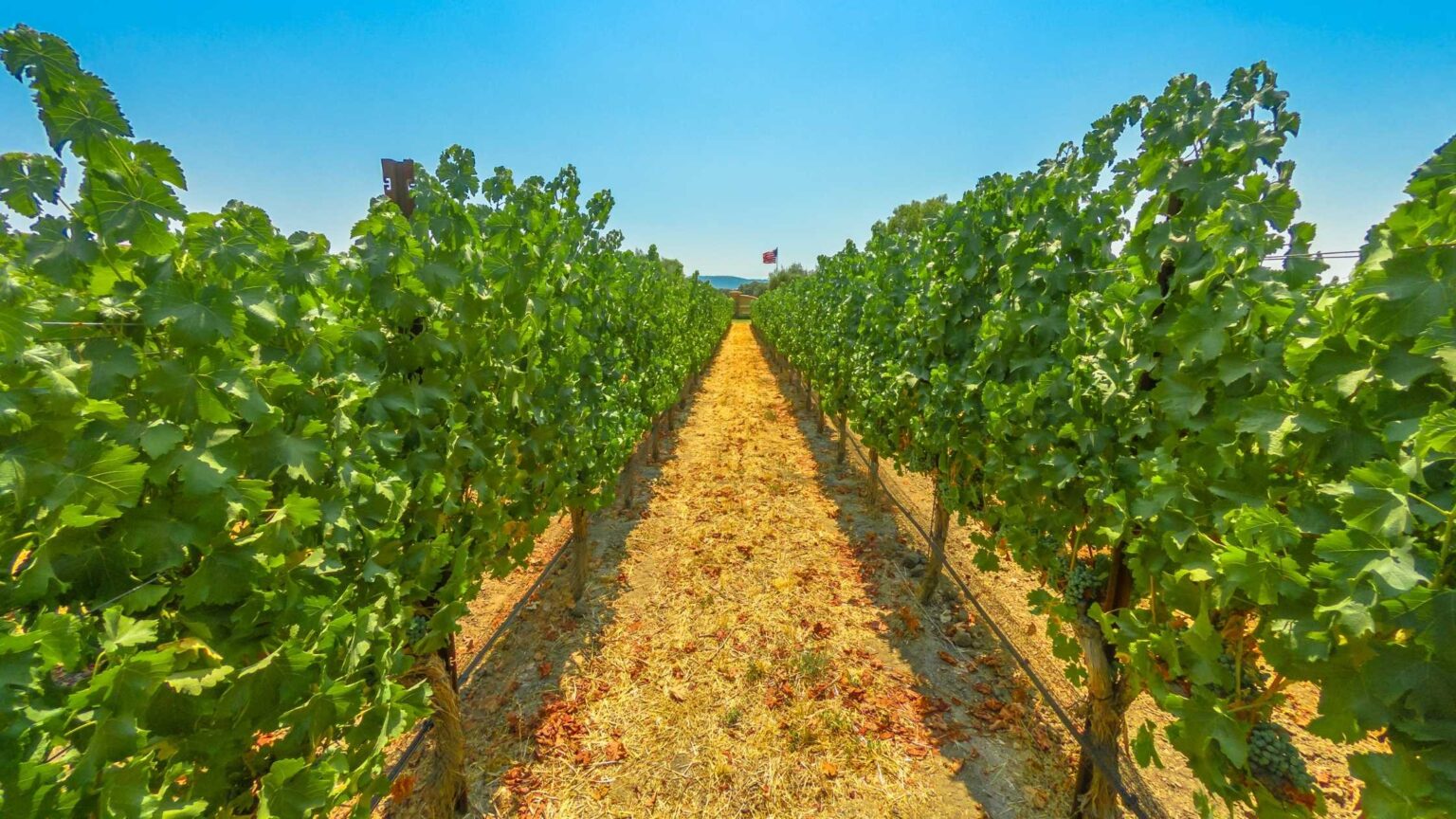 If you love hiking, you can hike to Grass Mountain, the trailhead located about 30 minutes away from Los Alamos.
The 5.2-mile out-and-back trail, although easy to begin with, gets challenging a bit later, so come prepared with water, snacks, and sunscreen.
The views are certainly worth the hike and very beautiful, especially the landscapes carpeted with an array of wildflowers that you can witness during early spring and summer.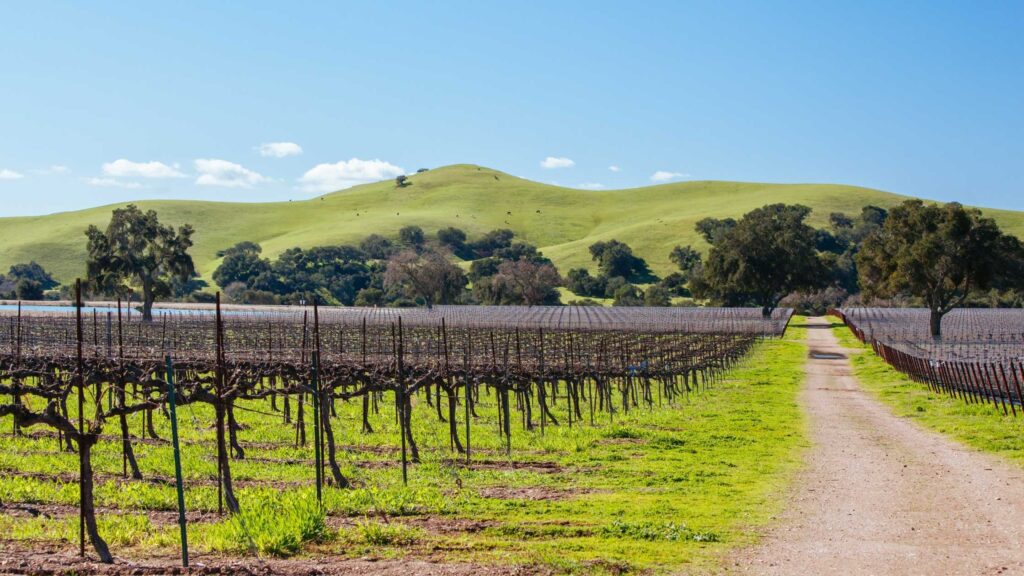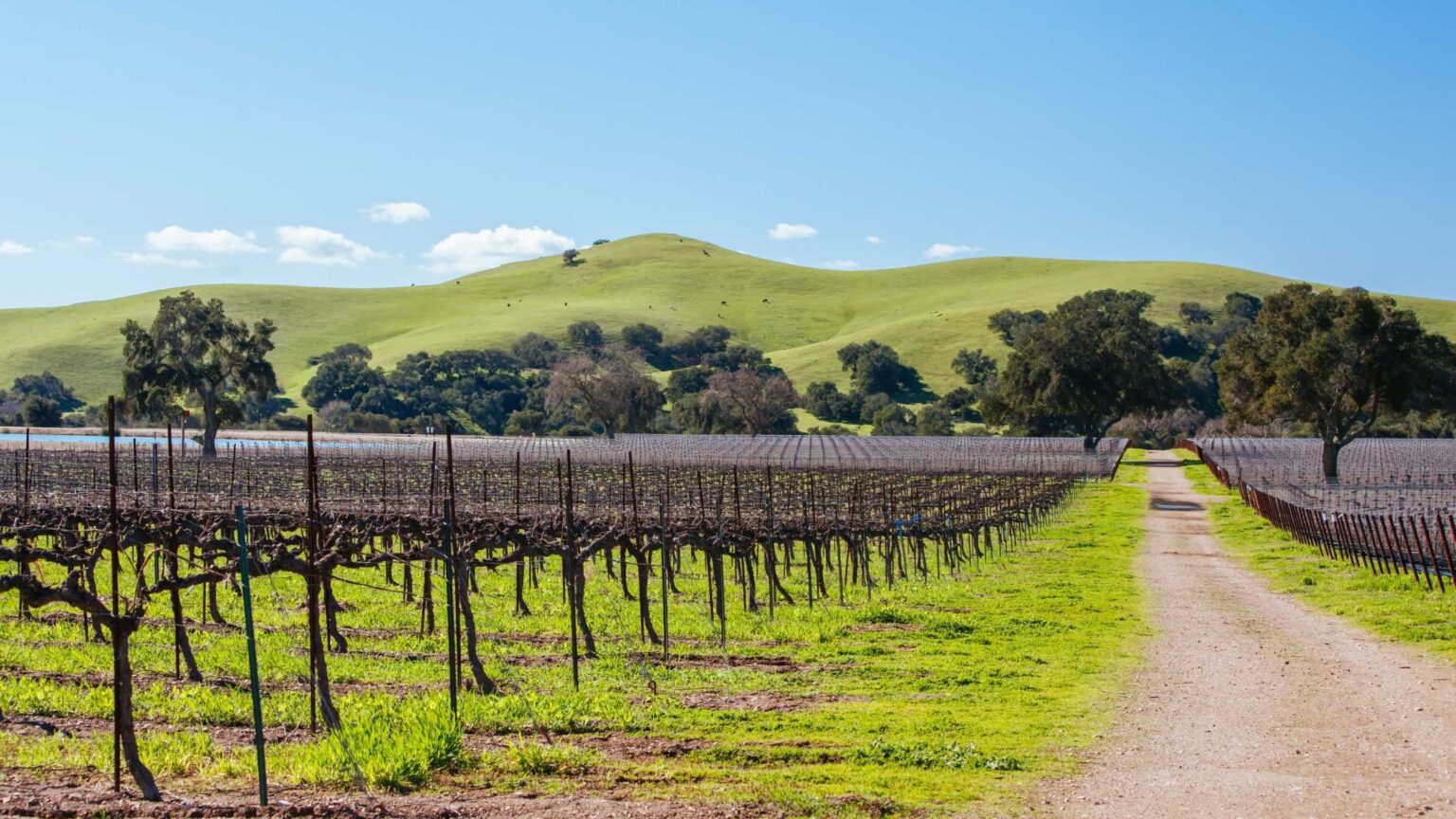 Gaviota State Park offers many trails opening to gorgeous coastal views.
Hike to the Gaviota Wind Caves is one of the popular trails in the park, but there are many easier ones if you are looking for a quick hike.
Did you know? The Santa Ynez Valley is also a popular cycling spot, so if you want to explore this region by bike, book a tour with Santa Barbara Wine Country Cycling, where you can choose from many one-day or multi-day experiences.
There are also combo tours that include cycling with wine tasting if you can pull that one off.
SAN LUIS OBISPO
Planning a road trip to Los Angeles from San Franciso? You must stop over at one of the best beach towns in California, San Luis Obispo, located at the centre of San Franciso and Los Angeles.
This idyllic beach town has moderate weather all year round and is filled with activities attracting youths across the state.
PLACES TO VISIT AND THINGS TO DO
Explore downtown SLO, which must be the place to begin getting to know the city. Visit the historic chapel, and stroll by the river in the evenings.
Do Kayaking on Morro Bay, or relax on the sandy beaches in Pismo Beach or Avila Beach.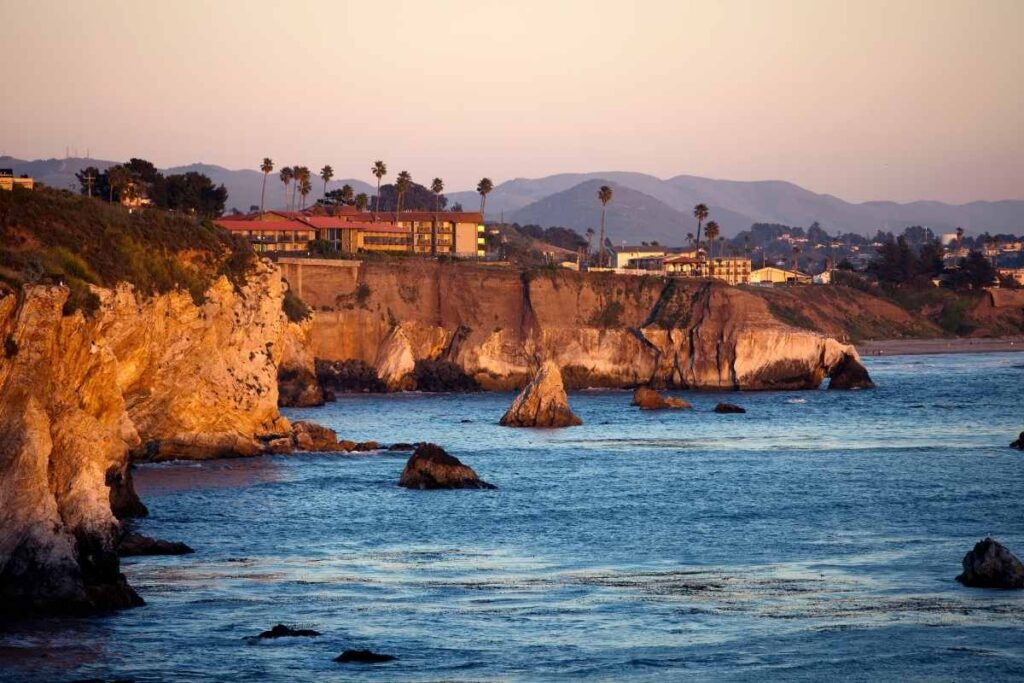 This pretty town is also known for its farmer's market, which you must try to include if you have spare time.
San Luis Obispo is one of the many green cities, and the best way to get some fresh air and unwind is to visit its many parks, including the famous San Luis Obispo Botanical Garden.
Check this complete guide for all the awesome things to do in San Luis Obispo that I have compiled.
WHERE TO STAY
San Luis Obispo has hotels, motels, and vacation rentals for all price ranges, covering several amenities apart from accommodation.
I'd highly recommend staying at the iconic Madonna Inn, which is the best place to stay in San Luis Obispo for antique charm, excellent facilities, and art. Book your stay here.
The best resorts and hotels for families and couples are Garden Street Inn, right in the city centre, Hotel Cerro, Courtyard by Marriott San Luis Obispo, and University Inn.
STINSON BEACH
Located in Marin County and at a 45minutes driving distance from San Francisco, Stinson Beach is one of the best beach towns in California.
Stinson Beach is located within Point Reyes National Seashore and the Golden Gate Natural Area, amidst spectacular sights in Marin County.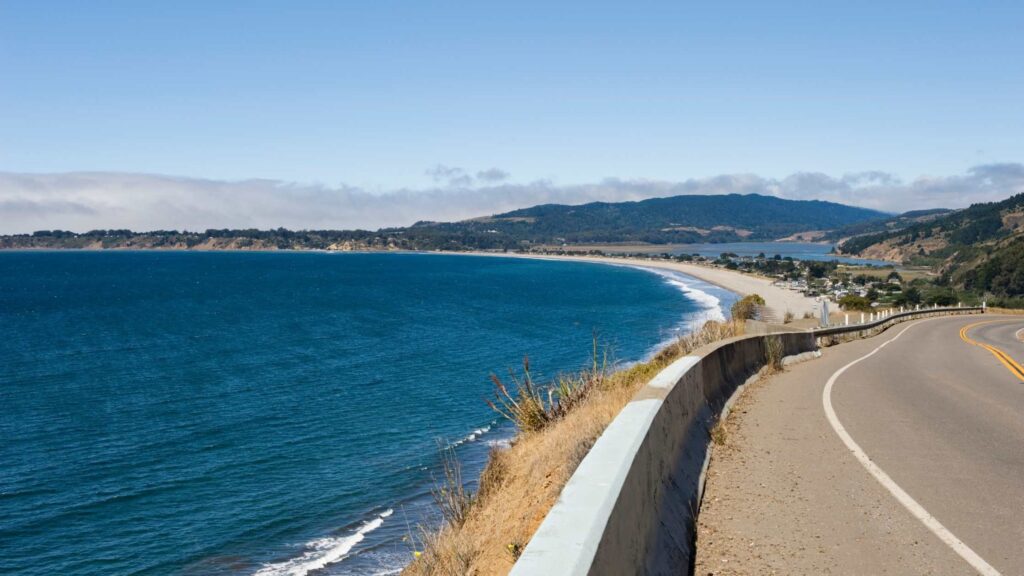 This pretty, free-spirited town with only 700 residents is known for its red cliffs and white sandy beaches and is surrounded by Mount Tampa.
Stinson Beach is an idyllic weekend destination for San Francisco residents looking to get away from the hustle and bustle of the city.
PLACES TO VISIT AND THINGS TO DO
Stinson beach is the only swimmable spot in the Golden Gate National Recreation Area. Though the water here is quite cold, ideally, summers will be jam-packed.
This pretty beach town offers many adventures such as surfing, kayaking, and paddle boarding.
Avid surfers can also check out the nearby Bolinas Beach.
Hiking lovers can get soaked in the sun along the serene trail in the Point Reyes National Seashore.
Or better, trek the Dipsea Trail, and visit Mount Tamalpais State Park.
If you have spare time, you can include the 3-mile hike to the cataract falls, located about 30 minutes from Stinson beach.
Bird watchers can visit the Bolinas Lagoon.
Don't miss the Stinson Beach Books, a traditional house converted into a local book store.
Take the 5-hour food and farm tour if you have spare time. The tour starts at Point Reyes Station, which will take you around the town's best bakeries, local farms and cheese-making outlets. The tour includes a super lunch as well.
Check out the Made Contemporary Craft Gallery, showcasing local handcrafted crafts, such as clay, wood, textile, and metal, created by local skilled artists. You can shop for souvenirs as well.
WHERE TO STAY
VALLEJO
If you are looking for the most affordable beach town in California, then you should visit Vallejo.
Located only 30 miles away from San Francisco in the Bay Area, this waterfront town is the perfect destination for a secluded getaway with the family.
PLACES TO VISIT AND THINGS TO DO
One of the top things to do in Vallejo with kids is to explore its famous amusement park. Vallejo is home to Six Flags Discovery Kingdom, a huge amusement park with high-speed roller coasters.
From high-powered octane thrill rides to slower-paced options, you can choose your doses of adrenaline and thrill with their rides at this amusement park. To avoid waiting in the lines and secure discounts, it is best to buy tickets online.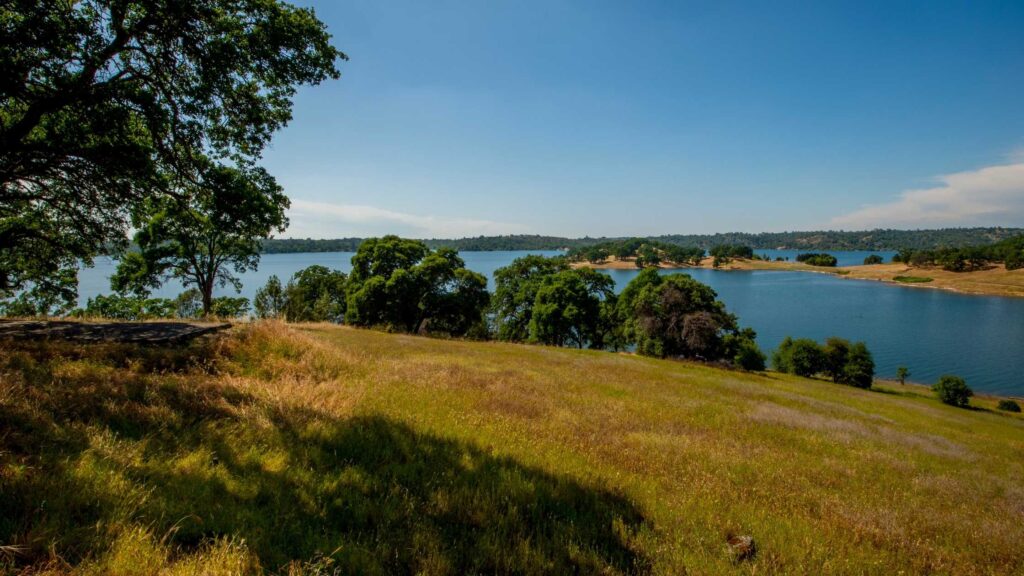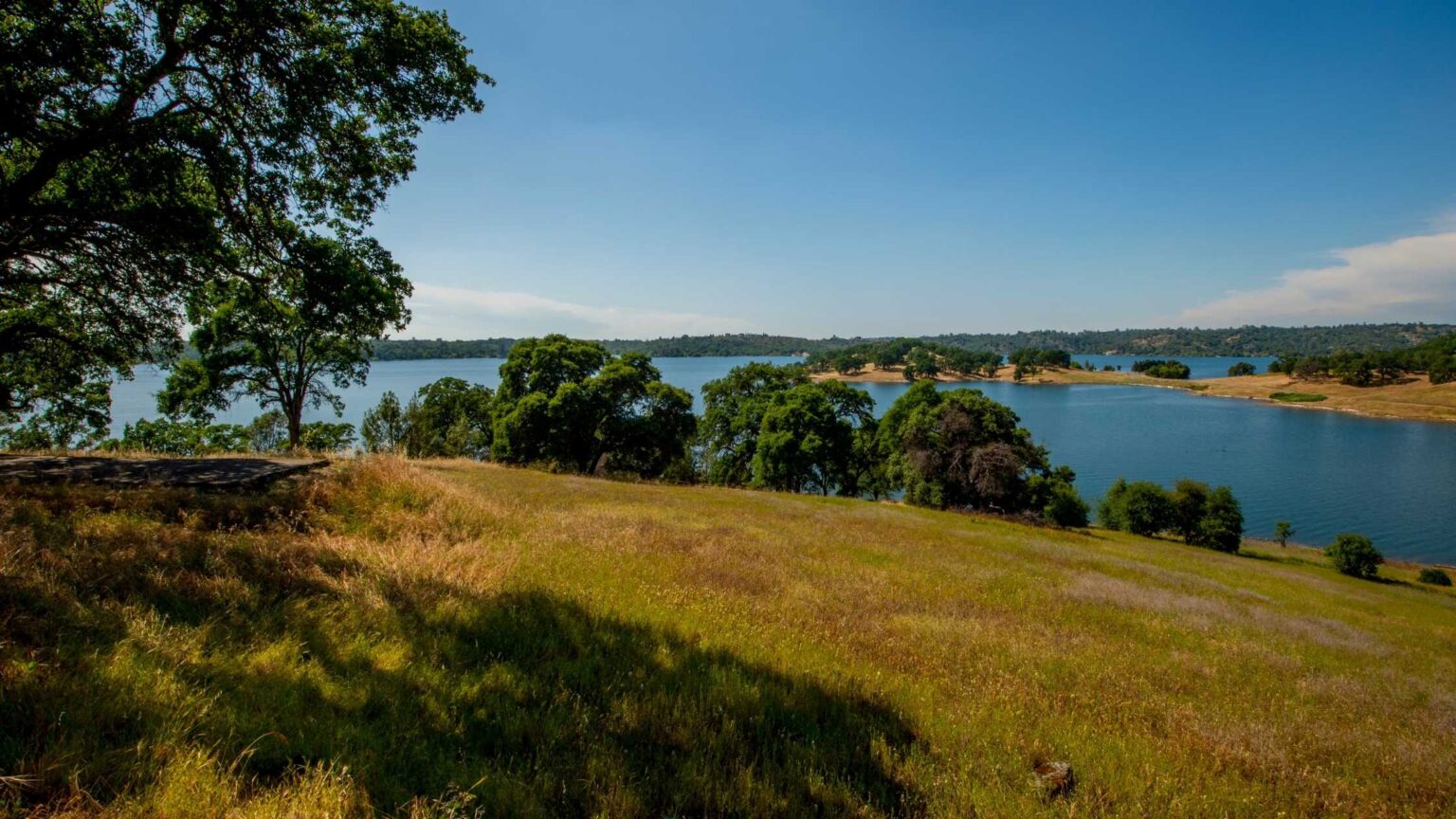 Hikers and nature lovers should add a stop at Benicia State Recreation Area, which offers many trails overlooking gorgeous views and rugged beaches.
Head next to the historic theatre established in 1911, where you can enjoy screenings and watch musical performances.
History lovers like me will love Alden Park, a unique park housing naval artefacts dating to at least 200 years.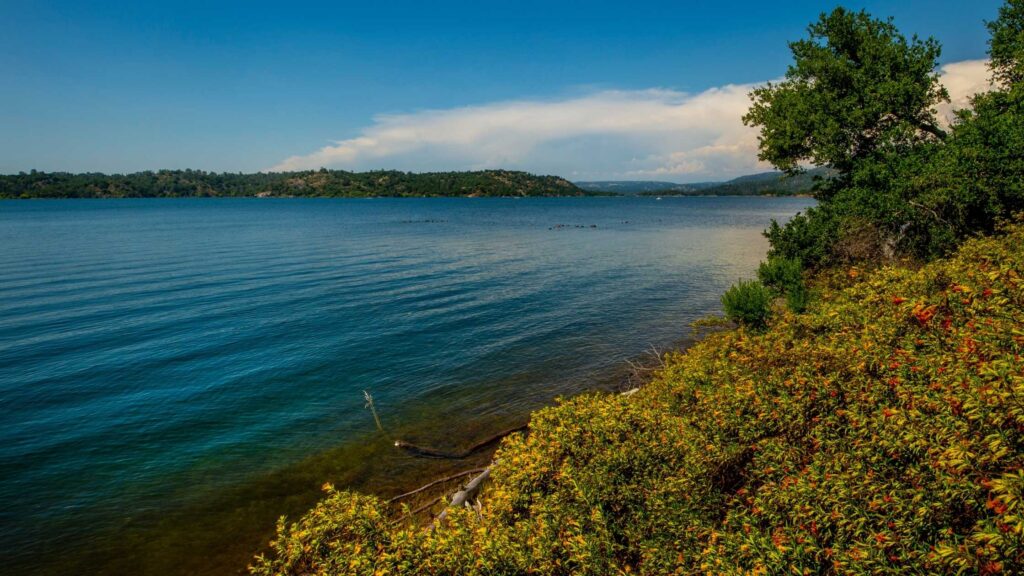 You can even have a picnic right next to a 28-foot ballistic missile from the Cold War era at this park which you can access for free.
If you are into museums, you should not miss visiting Mare Island. At the U.S. naval base is The Vallejo Naval and Historical Museum, which gives glimpses of the past of the city.
Here, you can explore bird-filled wetlands, and historic buildings, including the oldest naval chapel in the country.
WHERE TO STAY
ST.HELENA
The list of the best beach towns in California is incomplete without mentioning Napa County, which is mostly synonymous with wine.
St. Helena, located in the North Bay region of the San Francisco Bay Area, is a popular tourist destination, thanks to its vineyards and culinary scene, but since the beautiful beaches are only a few minutes away, the town is all the more appealing.
PLACES TO VISIT AND THINGS TO DO
Do the popular thing first and go explore at least a few of its many fantastic vineyards located amidst gorgeous landscapes.
After tasting the best wine that town has to offer(which is more than one), explore St. Helena's culinary scene at Market.
For outdoor lovers, there is the beautiful Moore Creek Park, which offers over 15 miles of trails popular among hikers and runners. It is also a great spot for birdwatching, along with the fabulous views that you will encounter on your hikes.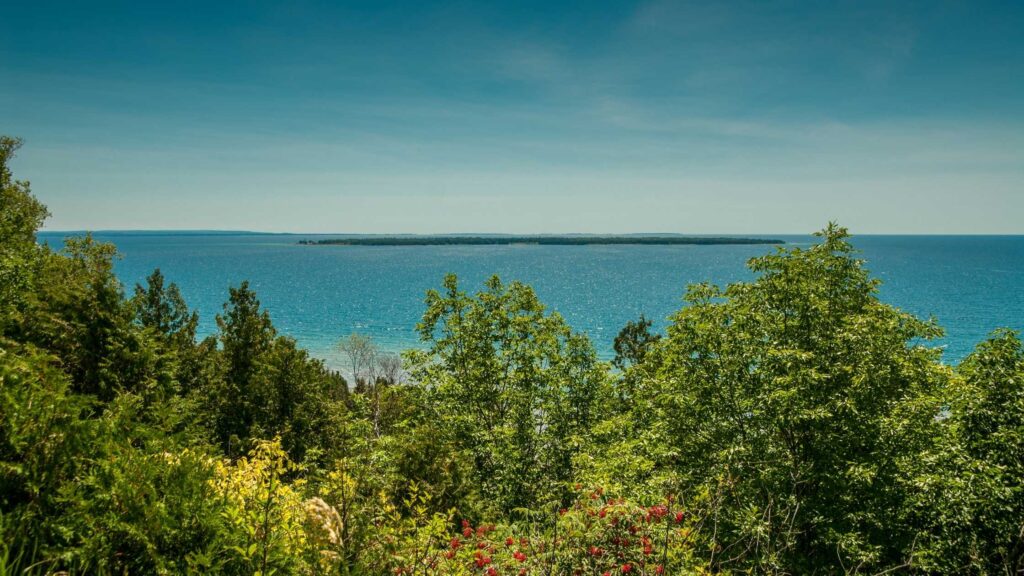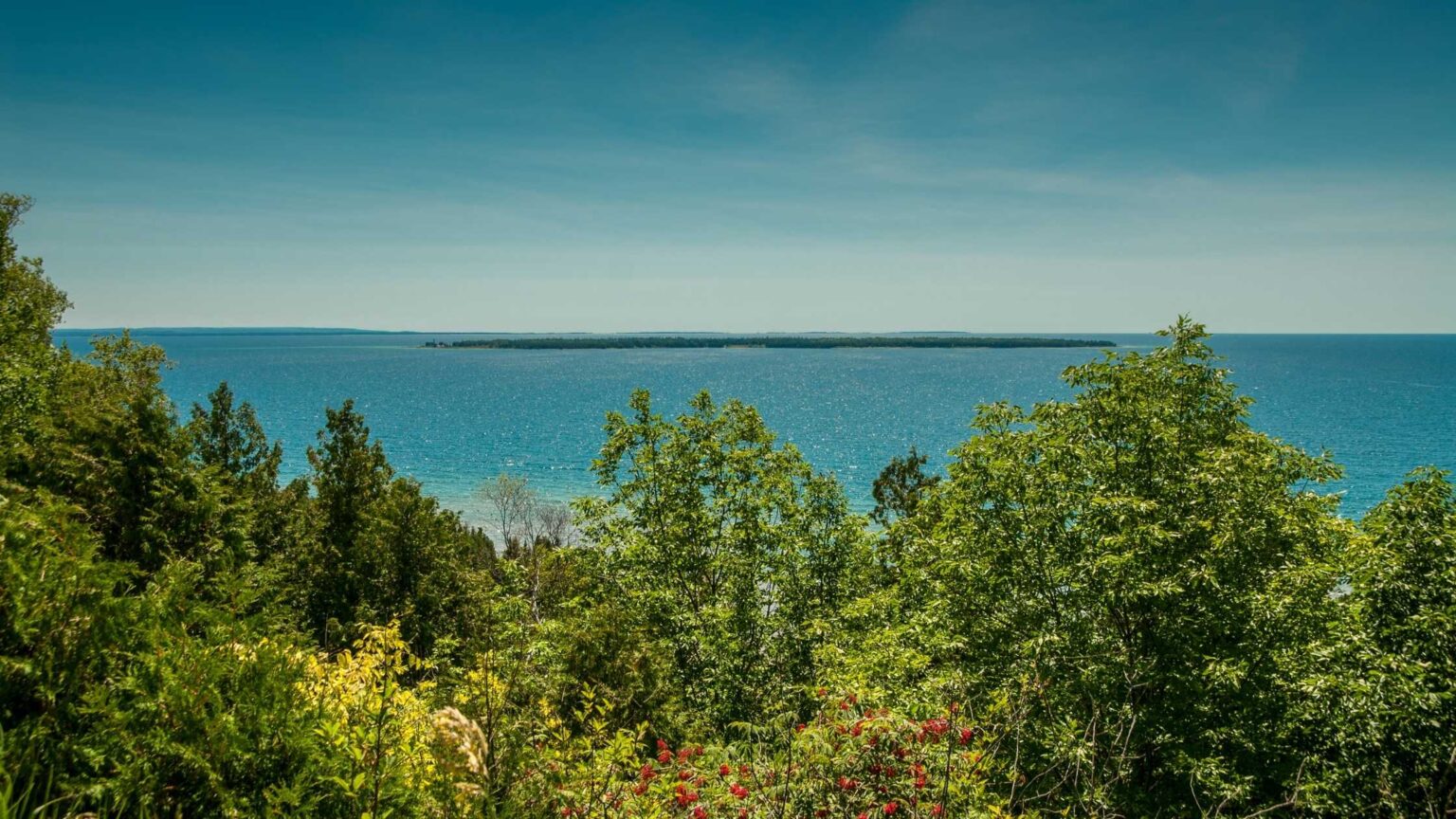 Art lovers will certainly appreciate the urban art of local and national artists of the 20th and 21st centuries at the
If you love arts, do not forget to stop at Christopher Hill Gallery, which has some nice collections of contemporary art, including the works of local artists.
WHERE TO STAY
MAP OF THE BEST BEACH TOWNS IN CALIFORNIA
Please note: This post contains affiliate links, meaning I may earn a commission if you make a purchase by clicking a link (at no extra cost to you). Learn more.