There are many fantastic things to do in San Simeon, the little hamlet along the California Coast. This pretty village on the Pacific coast of San Luis Obispo County, located just north of Cambria and south of Big Sur, is known for its spectacular ocean views along the rocky cliffs and plenty of outdoor activities, including hiking, camping, wineries, and attractions with something in store for everyone.
Located conveniently along State Route 1 is about halfway between Los Angeles and San Francisco, San Simeon is one of the best weekend destinations from San Francisco or LA.
Many people also stop here overnight on a Central California road trip, especially along the Big Sur Coast Drive, for camping, hiking, or enjoying the blissful views.
I have visited San Simeon many times as it is the perfect stop to skip the crowds of bigger cities, on a summer weekend getaway, and on plenty of hikes, and I cannot get enough of this adorable village.
IS SAN SIMEON WORTH VISITING?
Yes, and yes, many times over. San Simeon Bay has been a continued favourite among many celebrities, including business magnates, actors, artists and entrepreneurs, and it is no surprise.
Earlier, people came to San Simeon Bay during the California gold rush. San Simeon Bay was one of the prominent shipping points for barrels of whale oil, cheese, butter and other commodities on the Central California Coast.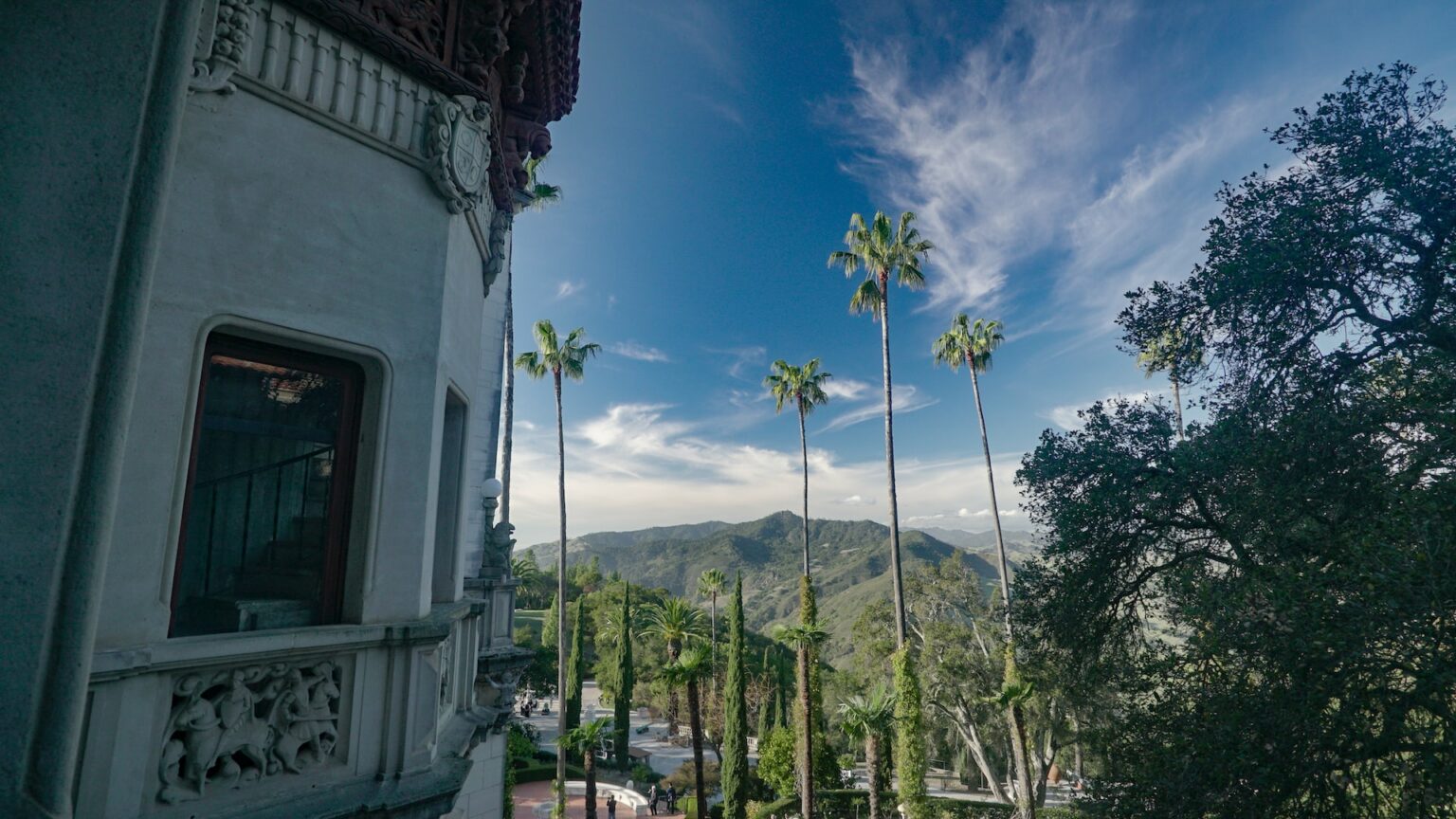 In the early 18th and 19th centuries, San Simeon became famous for its stunning Bay View In or Hearst Castle, a first-class accommodation that hosted dignitaries and leaders, including Thomas Edison and Winston Churchill.
Today, it is one of the popular stops offering splendid views, hidden gems, beaches, cosy stays, and more.
Whether you want to plan a romantic weekend getaway to San Simeon or know about the fun things to do in San Simeon with kids, in this post, I cover all the excellent San Simeon attractions, the best time to visit, cute hotels, and anything else you need to plan a fab trip.
More guides to other nearby towns and cities along the coast and in California:
25 Best Things To Do In Cambria
Check out this list of the best things to do in San Simeon, CA.
TOP THINGS TO DO IN SAN SIMEON
VISIT SAN SIMEON BEACH
Stroll along San Simeon Beach, one of the top things to do in San Simeon and the best way to begin your relaxing trip.
The beach features a beautiful cove, and the area was used as the staging grounds and storage for Hearst's art collections as the Hearst Castle was being built.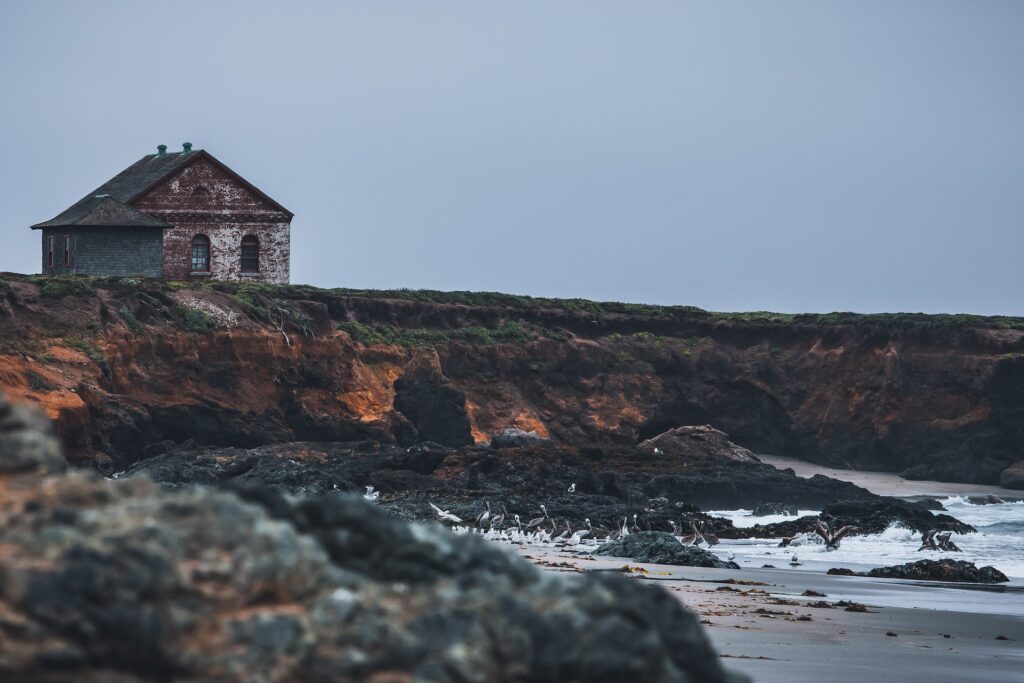 Walk along the pier and take in the beautiful ocean views.
If you are along with kids, check out the nearby coastal discovery centre located at the WRH state beach. The centre has exhibits of various land and sea animals.
Recommended – 23 Best Beaches In Southern California You Should Visit
TOUR HEARST CASTLE
Almost everything in San Simeon has some connection to the billionaire William Randolph Hearst, from a beach to a ranch.
Still, the most famous landmark is the gorgeous Hearst Castle, one of the top things to do in San Simeon and among the famous attractions that put this little village on the map.
It is not a castle per se but an opulent mansion nestling amidst a vast ranch, surrounded further by more lush greenery.
Home of William Hearst, the famous newspaper tycoon, you have to visit this castle many types at different times on exciting tours to appreciate and admire fully all the many things this mansion has to offer.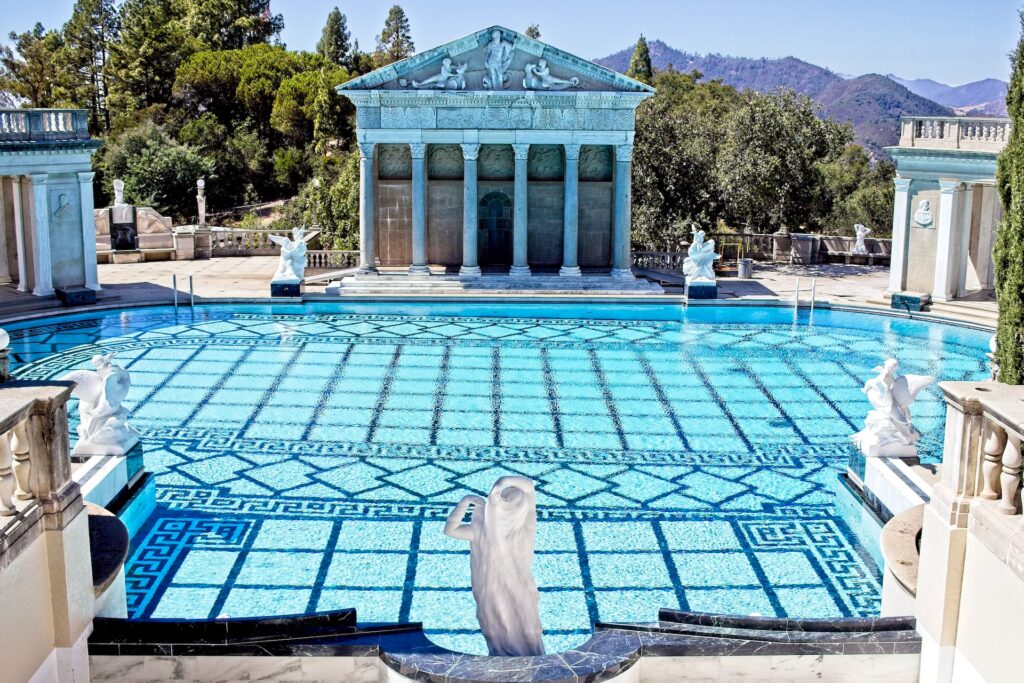 Located atop the Enchanted Hill in San Simeon, it's a magnificent structure comprising elaborate rooms decorated with grand ceilings, paintings, and sculptures, and it took around three decades to build.
It was called La Cuesta Encantada or The Enchanted Hill by Willian Randolph Hearst, and it stays true to its name even today, offering incredible views of the Pacific.
This massive palatial building was a popular weekend getaway destination for California's elite and Hollywood celebrities after his death.
The National Park Service maintains the castle and is home to a well-maintained library, a state-of-the-art museum, and lovely gardens overlooking the beautiful Pacific.
There are many tours that you can choose to explore the interiors, including rare art collections. Don't miss strolling around the beautiful gardens around Hearst Castle.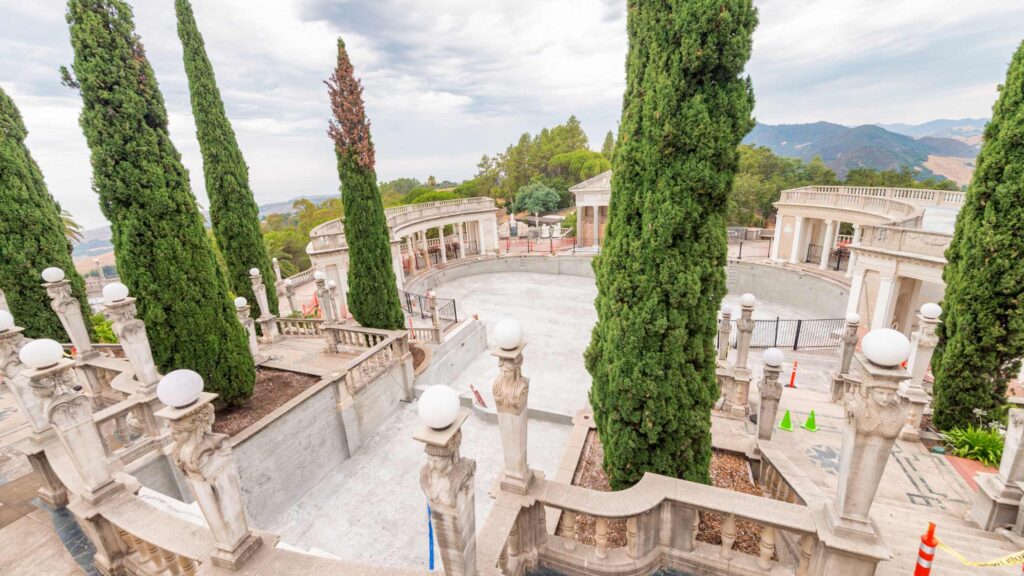 For a hassle-free, time-saving experience, you can combine a visit to Paso Robles Wine Country Tour and Hearst Castle by booking this fabulous tour, which includes tickets to the castle's grand rooms and entry to two vineyards for tasting and exploration. Book the tour here.
Set aside a day as you will have to take a guided tour to explore the castle's lavish interiors and witness the castle's main draw, the swimming pool, which was once the location for the world's largest private zoo.
There are timed tickets to explore the different parts of the castle.
VISIT THE ICONIC LIGHTHOUSE
The Piedras Blancas Light Station, a California Coastal National Monument, overlooks the edge of the Pacific Ocean between Ragged Point and San Simeon.
One of the top things to do in San Simeon is this historic light station installed in 1875 in the southernmost region of the Monterey Bay National Marine Sanctuary, built to warn and guide the seafarers of the rocky and dangerous shoreline.
The lighthouse was named "Piedras Blancas," which means "white rocks" in Spanish because of the distinct white boulders at the bluffs that sailors used to find the shores.
Today the Piedras Blancas Light Station, listed on the National Register of Historic Places, is part of the Piedras Blancas Light Station Outstanding Natural Area, comprising a natural park and wildlife sanctuary.
Due to an earthquake in 1948, the top portions of the lighthouse were damaged, including the watch room. The lantern and the lens were removed the following year. The lighthouse's original lens is displayed in a glass enclosure in the Veterans Memorial Building.
Take a guided tour of the lighthouse and the surrounding grounds. You will be greeted with excellent views of the lighthouse against the backdrop of the Pacific Ocean, surrounded by ragged cliffs.
You may spot Elephant Seals, Sea Otters, Dolphins, Whales and endangered bird species like the Peregrine Falcon along the shoreline from the lighthouse. So get a pair of binoculars. The tours are usually crowded, so it is recommended to book them in advance.
EXPLORE HEARST SAN SIMEON STATE PARK
If you are a birding enthusiast looking for fun things to do in San Simeon with your family, head to Hearst San Simeon State Park, about two miles from Cambria and 35 miles from San Luis Obispo.
The park has many rocky peninsulae, coastal bluffs, and preserves that pass through gorgeous landscapes with vast ocean views.
Check out the 3.3-mile trail that meanders through the Washburn Campground and the San Simeon Natural Preserve.
It is home to vibrant coastal birds and land birds, and you might witness endangered bird species like Western Snowy Plovers or warblers and thrushes in the lush vegetation.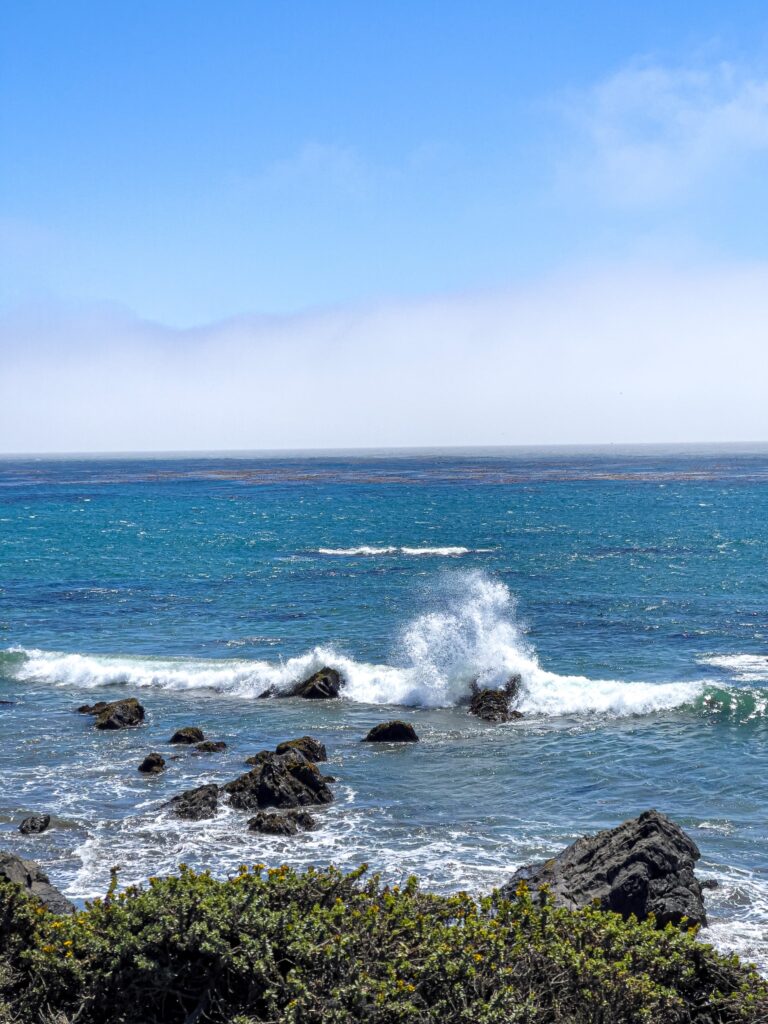 The best spot to observe adult elephant seals is the elephant seal vista point at Hearst-San Simeon State Park.
For the best chances, plan a trip between late November and mid-January. I loved watching thousands of these cute animals in December around Christmas and usually go around that time if I am not traveling to other places at this time.
The park is also home to famous preserves like the Santa Rosa Creek Natural Preserve and the Pa-nu Cultural Preserve. They also have well-equipped camping grounds if you are looking to camp.
Visit the nearby Morro Bay if you have extra time to spot rare and migratory birds.
Recommended – 34 Best Things To Do In Morro Bay In California
PICNIC AT POINT PIEDRAS BLANCAS BEACH
Head to Point Piedras Blancas Beach, located at a distance of 15 miles towards the North of Cambria.
Point Piedras Blancas Beach is a part of Hearst San Simeon State Park and is a preserve for the Elephant seals. The beach is fenced, and you can enter it through a wooden gate.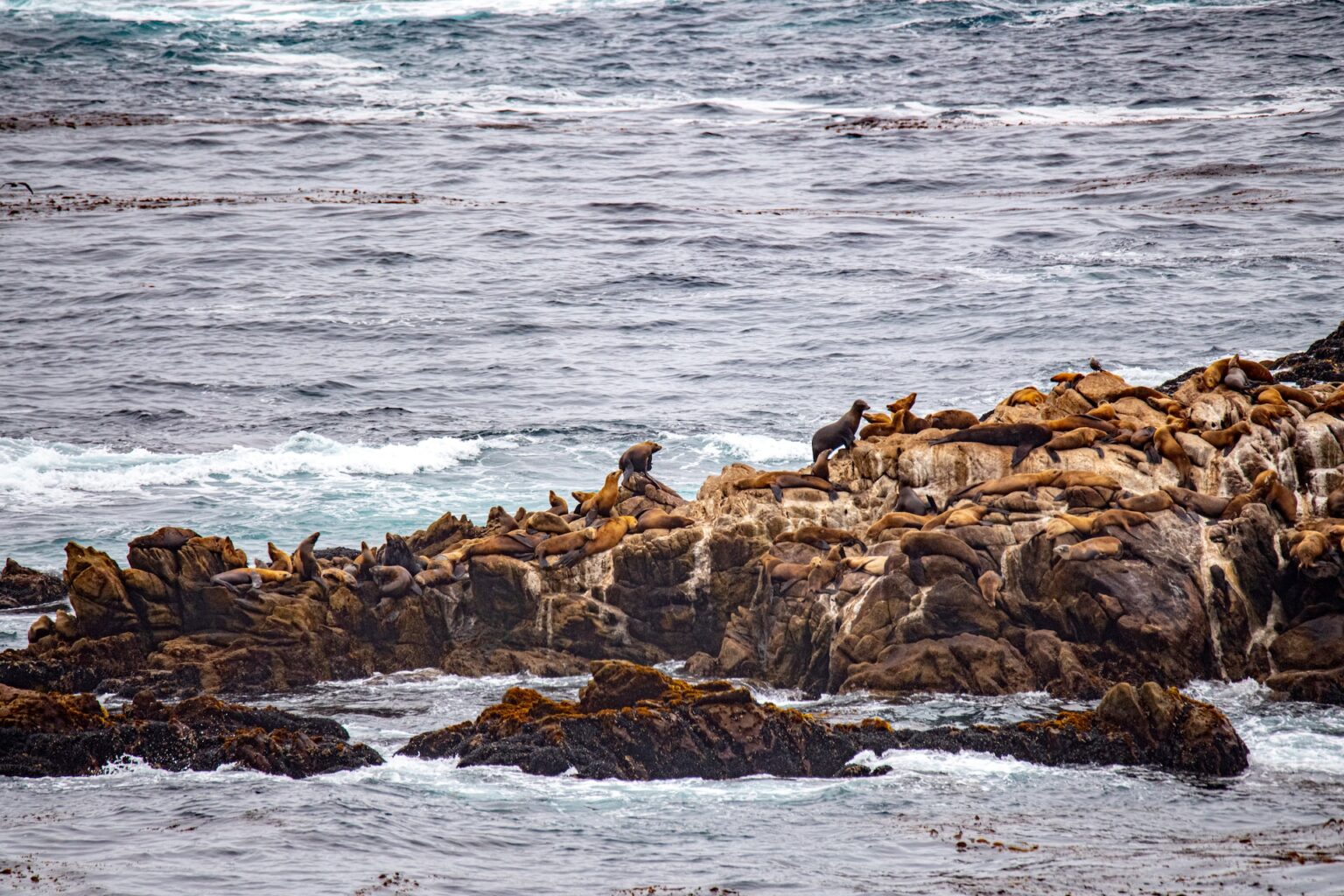 Stroll along the sandy footpath that parallels the beach and leads to a vantage point for incredible sunset views on the North side of the beach.
This is also the starting point of the Boucher Trail, which passes in front of the Lighthouse and the Elephant Seal Rookery.
Usually, you will notice kiteboarders and windsurfers hosting daily shows on this beach.
WILLIAM RANDOLPH HEARST MEMORIAL BEACH
William Randolph Hearst Memorial Beach is one of the popular attractions in San Simeon to spend a lovely evening or do a range of activities like fishing, beachcombing, swimming and Hiking.
The beach features a cove and a pier from which you can fish. The dock is also the departure point for Kayaking and Deep-sea fishing. You can see charted boats floating around.
Have lunch in one of the 24 picnic sites equipped with picnic tables and barbecues.
VISIT THE COASTAL DISCOVER CENTER
Located right in the parking lot at WRH State Beach, make a quick stop at the Coastal Discovery Center, especially if you are with kids, as they will love it.
It is one of the free things to do in San Simeon and has plenty of excellent exhibits about the marine life in the region, including the History of San Simeon Bay, the Wildlife of San Simeon, the Delta Submarine Ocean Exploration, Plankton Ocean Exploration, and Delta Submarine Ocean Exploration.
STROLL ALONG SIMEON PIER
On your way to Hearst Castle, stop at Simeon Pier across the way from the Hearst Castle entrance off Highway 1.
Located in the William R. Hearst Memorial State Beach, San Simeon Pier is in a small secluded cove behind San Simeon Point.
At 850 feet, it is one of the longest piers in California. The area around the pier is a fab place for enjoying a picnic overlooking the beautiful views.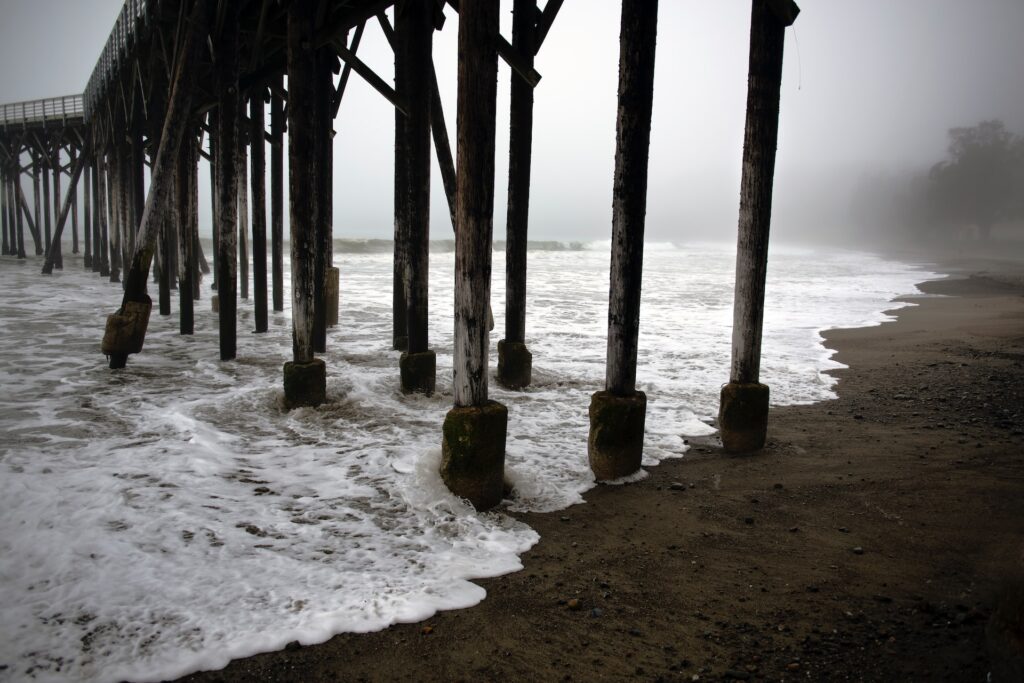 Enjoy a picnic lunch in the shaded area with barbecue stations, water faucets, restrooms, plenty of parking spaces, and access to the beach.
You can also enjoy fishing from the pier, or get on the sport fishing boats. You do not need a license to fish off the pier.
Also, the pier has one of the two whale trail sites. Follow the whale trail sign to see these gentle giants if you are here between November to January.
TASTE THE BEST WINES AT HEARST RANCH WINERY
Sebastian's General Store, located across from the Hearst Castle Visitor's Center, is one of the iconic landmarks in San Simeon.
It is one of the historical attractions in San Simeon, built-in 1852 as a general store where the Sebastian Brothers provided goods and services to whalers, fishermen, miners and neighbouring ranches.
The general store caters to tourists, sports fishermen and campers. But mostly, Sebastian's General Store is known for being home to Hearst Ranch Winery and The Truck.
If you love wine, visit the Hearst Ranch Winery to your list of the best things to do in San Simeon, and you will be in for a treat.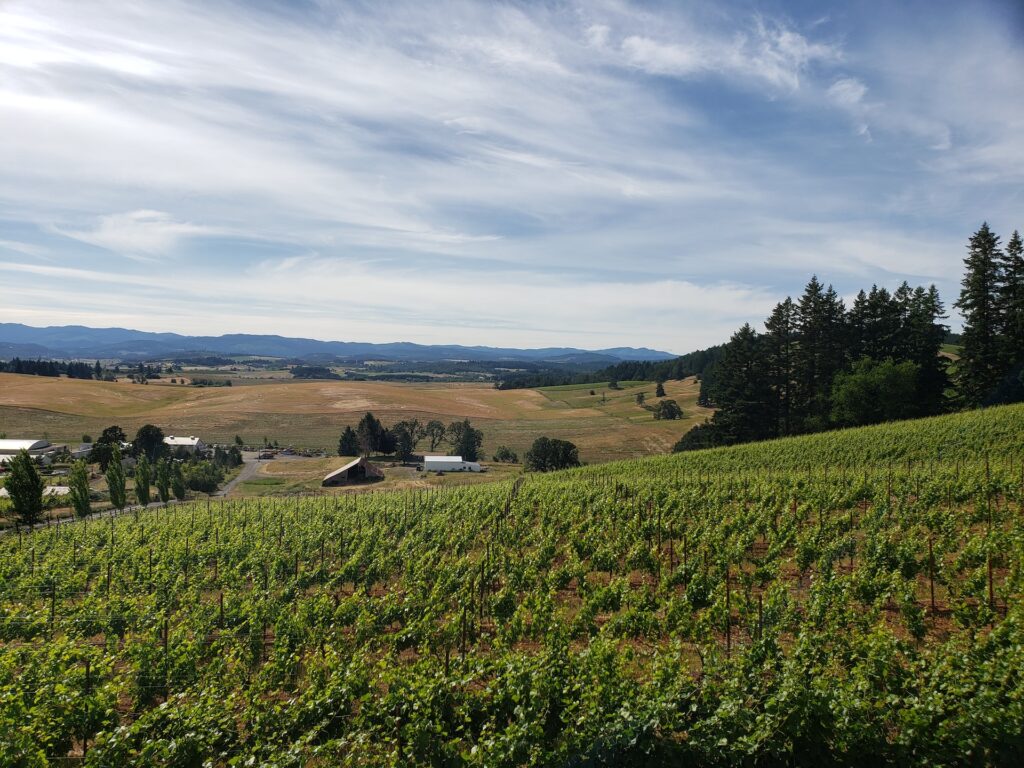 This gorgeous 350-acre vineyard, located a few miles from the foggy hills of San Simeon, is known for producing award-winning wines from the Saunders Vineyard.
Known for their excellent Chardonnay, Tempranillo, Rose, Cabernet Franc, Merlot, Malbec, Cabernet Sauvignon and others, Hearst Ranch Winery is home to the beautifully-located tasting room.
Set in the heart of historic space at Sebastian's on the edge of a beautiful bay, this tasting room exudes brilliance through its high ceilings, a cute cafe, a copper bar top, authentic rustic barn wood siding, hundred-year-old memorabilia on the walls, lots of seating, and an adjoining food truck.
Join their vineyard tours to learn more about their wines and the winemaking process best with their delicious charcuterie in the tasting room.
Bring your picnic lunch to enjoy soaking in the views with the wine.
SPOT ZEBRAS IN SAN SIMEON
One of the fun things to do in San Simeon is watch Zebras as you pass Highway 1.
Scan the grassy hillside of the Hearst Family Ranch opposite the ocean beneath Hearst Castle for zebras. These Zebras were a part of Hearst Zoo in the 1920s. Although other animals were moved, you can still see them next to cows and other birds in the grass fields.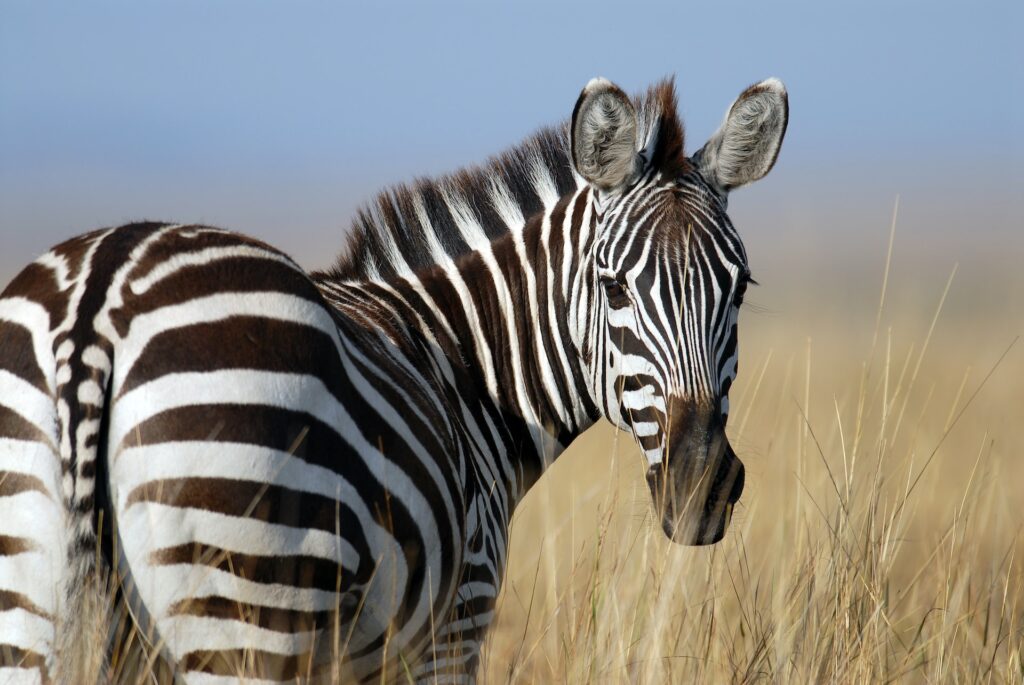 Make sure to maintain a safe distance from the road. You have the best chances of spotting Zebras grazing the grass in Hearst Ranch that you can watch from the road.
You may even spot some elk near the Piedras Blancas Lighthouse.
BEST THINGS TO DO IN SAN SIMEON FOR OUTDOOR LOVERS
VISIT THE PIEDRAS BLANCAS ELEPHANT SEAL ROOKERY
One of the fun things to do in San Simeon with kids is the Piedras Blancas Elephant Seal Rookery, the world's only elephant seal rookery with free entry every day of the year.
It is popularly recognized as the "White Rock" by the locals, not for its geological significance but thanks to the bird droppings over the years on this monument.
The northern elephant seal, Miroungaangustirostris, migrates twice a year thousands of miles to one of their land-based rookeries, and Piedras Blancas Elephant Seal Rookery is one of them.
Stretching for about six miles along the shore, there are many paved walkways in the rookery to observe these rare animals without disturbing them.
Depending on their breeding lifecycle, including mating, birthing, moulting and resting, you will see a few seals to a herd thanks to the excellent vantage points due to the low bluffs.
If you visit the place during December, you will notice thousands of male elephant seals trying their best to impress the female elephant seals.
If you visit during late January or February, you will see a pack of Elephant seals or the whole family of seals, including the cute pups (looks big though, around 50-60 pounds) waddling along the coast.
Walk the one-mile boardwalk from the parking lot to find some interesting marine life in one of northern California's best beach towns.
ADMIRE THE GENTLE WHALES
San Simeon is one of the best places in California for whale watching.
The Whale Trail is located at Cavalier Resort and is one of the fun things to do in San Simeon with kids. The Whale Trail sign is on the boardwalk next to the Cavalier Resort on Hearst Drive.
The whale trail is one of the very well-conserved marine areas in the United States, home to not only grey whales, humpback, Minke whales and blue whales but more than 30 species of marine animals, including tall dorsal fins of orcas, seagulls, otters, sea lions and dolphins.
Keep your distance and please do not touch, feed or chase wildlife.
SPEND A FEW HOURS AT MOONSTONE BEACH
Moonstone beach, a drifter's paradise known for its powdery sand and calm waters, is one of the fun things to do in San Simeon with kids.
Also, if you are looking for one of the romantic things to do in San Simeon, there is nothing better than enjoying the cool sea breeze through your hair as you stroll the boardwalk along the Moonstone beach.
Moonstone Beach Boardwalk is a beautifully maintained one-mile coastal walk that takes you to the best vista points along Moonstone Beach.
From Leffingwell Landing, you can start walking along the Moonstone Beach bluffs, winding along the coastline between Cambria's north end.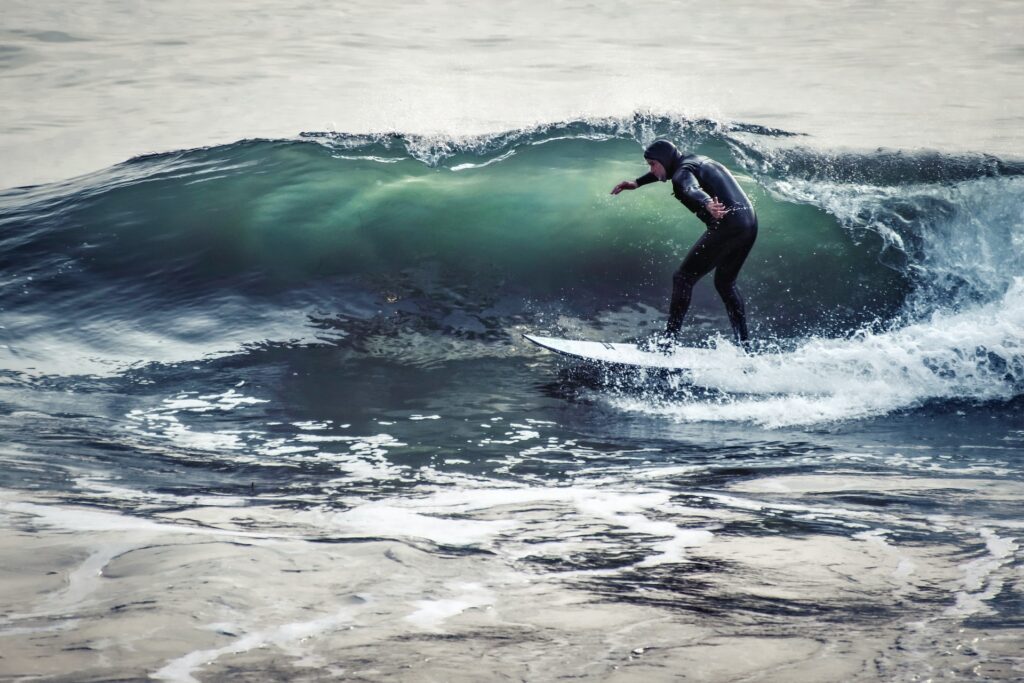 It is one of my favourite ways to enjoy the evenings, as it is a visual fest of colours and fantastic of the California Coast
There are many wooden benches to sit on and soak up the magnificent ocean views.
Depending on the season, you can enjoy exploring the marine life as the sandy beach is full of vibrant little moonstones, including the tidal pools. If you are lucky, you may see one or many whales, dolphins, and birds.
HIKE THE BOUCHER TRAIL
If you plan to do only one hike when in San Simeon, it has to be the four-mile round trip along Boucher Trail at Piedras Blancas.
The trail, one of the best things to do in San Simeon for splendid views, begins from the Piedras Blancas Elephant Seal Rookery on Highway 1, and you can hike all the way to reach the historic Piedras Blancas Light Station.
Throughout the hike, you will be treated to the spectacular ocean along the rocky cliffs, views of the bluffs and turquoise blue waters.
You can spot seals all along, and if you are lucky, you may even spot dolphins. Note that pets are not allowed on this trail.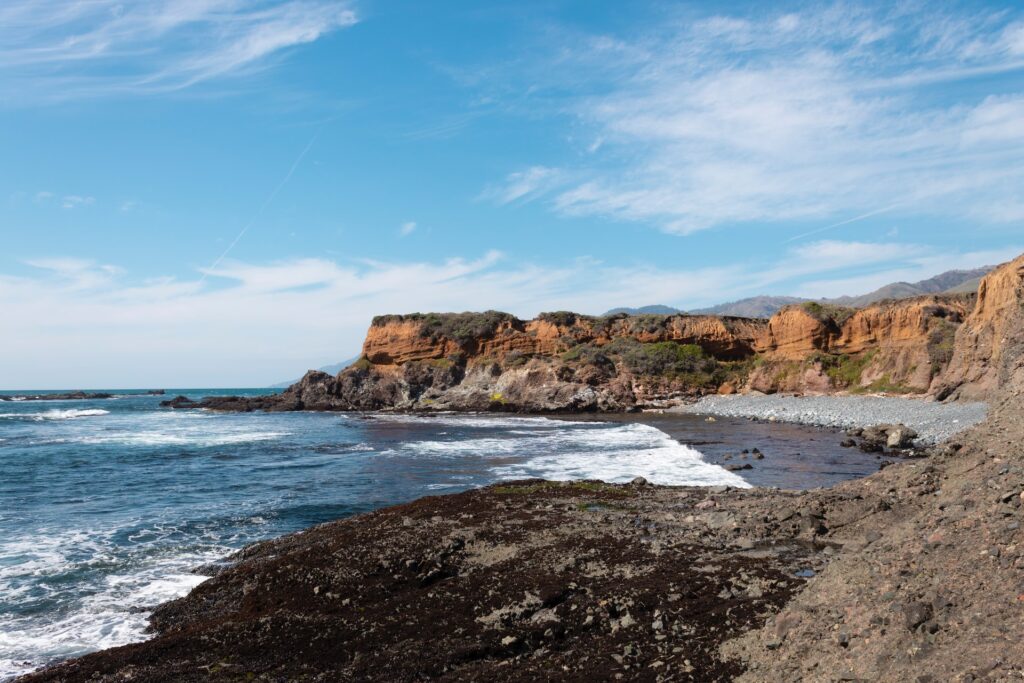 Another trail worth hiking is the San Simeon Point Trail, an excellent 2.5-mile round trail passing through stunning woodlands comprising cedars, eucalyptus, and pines on the hillsides above the beach, to arrive at San Simeon Point, ahead of the crescent-shaped San Simeon Cove.
Recommended – 15 Best Hikes In Southern California For Every Type Of Hiker
The trailhead is located at the William R. Hearst Memorial Beach, which climbs towards the canopy of the trees as you leave the shores.
Unwind, breathe in the fresh air, and enjoy the spectacular views of the rocky formations and the beautiful coastline of sandy beaches.
CAMP AT SIMEON CREEK
If you are looking for more San Simeon activities outdoors, set up camp in either of the two camping grounds near the village, the San Simeon Creek Campground and the Washburn Primitive Campground.
The San Simeon Creek Campground, surrounded by towering pine forests and stunning ocean views, is a popular campsite which fills very quickly during the peak seasons.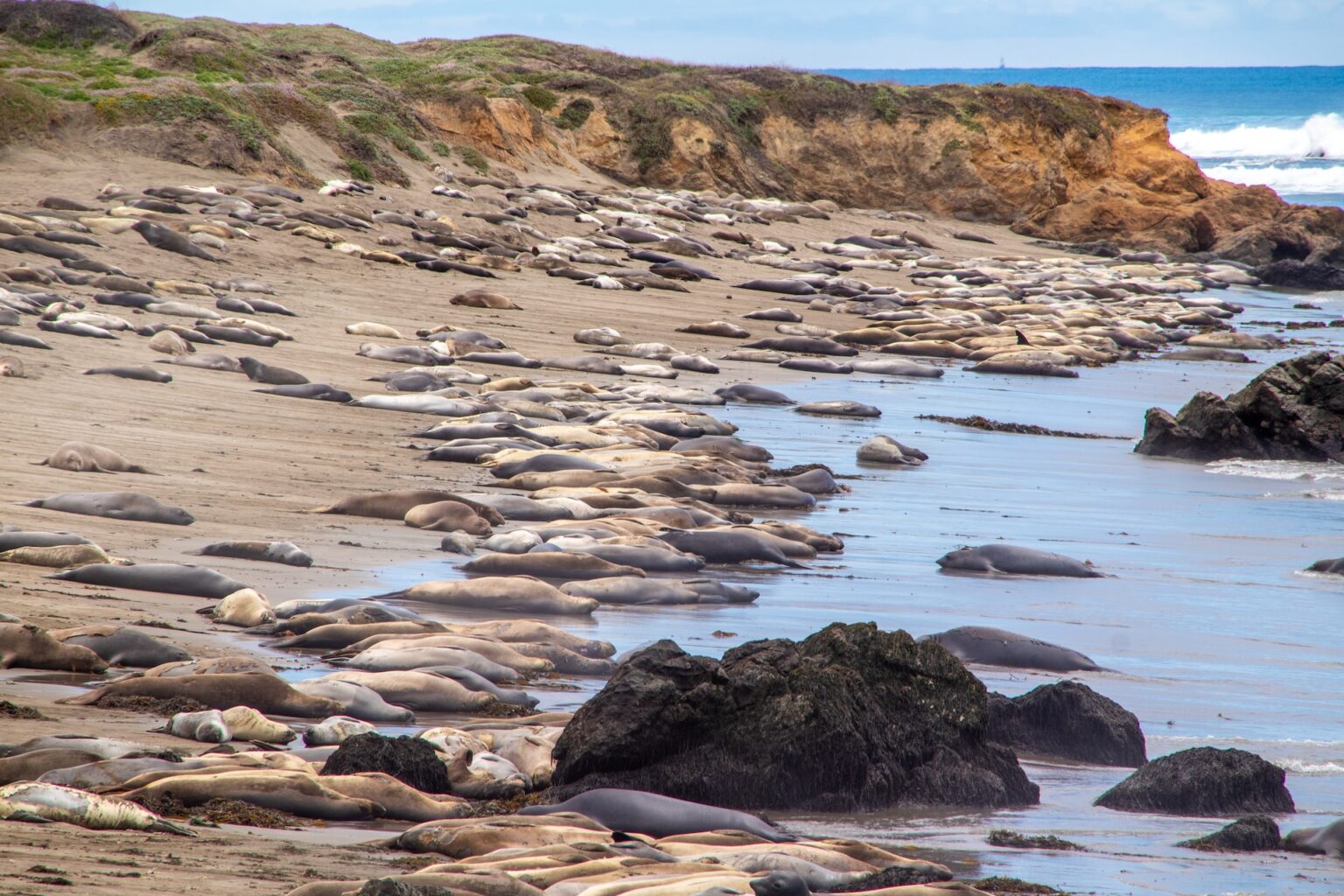 There are 115 camping areas for tents and RVs, each offering a picnic table, a fire ring, and water spigots, although there are no hookups.
You can enjoy hiking along the San Simeon Trail, surfing, and bird and whale watching.
The Washburn Primitive Campground is near Cambria, a mile from the beach overlooking the stunning Santa Lucia Mountains and the gorgeous views of the Pacific Ocean.
SET SAIL IN SAN SIMEON
One of the unique things to do in San Simeon is set sail to explore an entirely different side of the town. Unlike boating and kayaking, which are popular among locals and tourists, you can enjoy sailing with fewer crowds.
The smooth tides make it perfect for sailing in the morning or around sunset for fantastic views.
Leffingwell Landing Day-use Area and William Randolph Hearst Memorial State Beach are the best spots to launch your watercraft, boat or kayak.
ENJOY KITESURFING AT ARROYO LAGUNA BEACH
One of the fun outdoor things to do in San Simeon is heading to Arroyo Laguna Beach for a day of windsurfing and kiteboarding as it is a hotspot along the northern San Luis Obispo Coast, attracting beginners and experts alike.
Located about two miles from San Simeon Cove, at the estuary of Oak Knoll Creek, it is a fantastic spot for people watching and admiring the colourful kites in the sky across the ocean.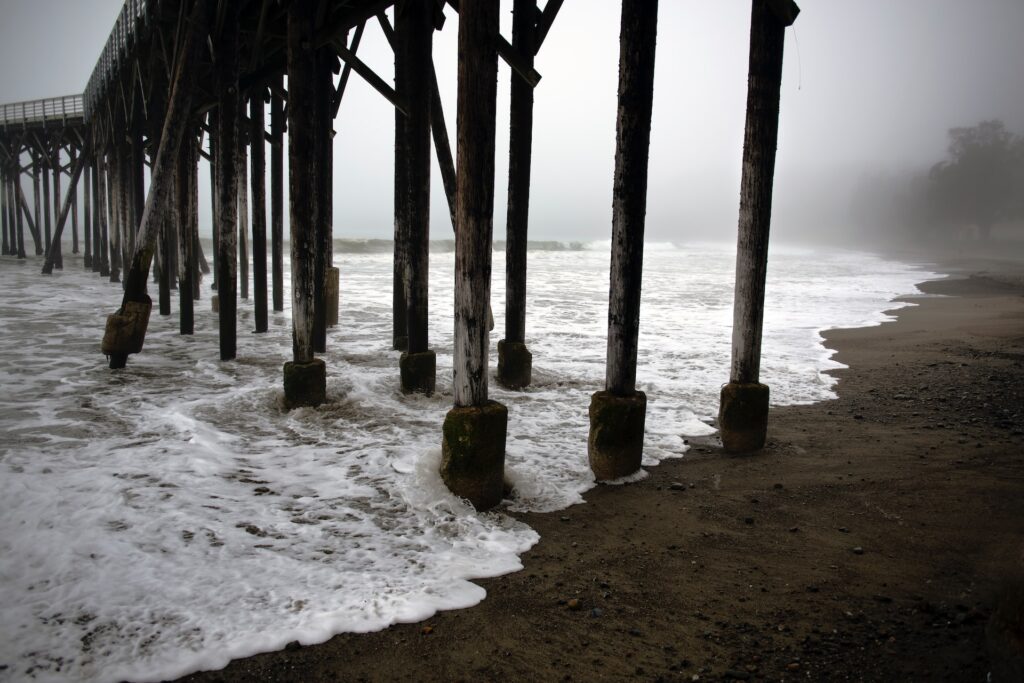 There is a parking lot for Arroyo Laguna Beach along Highway 1 about two miles north of the entrance to Hearst Castle.
You can stroll until the mouth of the creek and relax on the shores.
The trailhead remains closed during the elephant seal breeding season from December 15 through April 30, although you can still enjoy the water activities away from the seals.
OTHER THINGS TO DO IN SAN SIMEON
TOUR VINEYARDS AND CELLARS
After you have had your fill of magnificent oceanviews, hiking, and meeting the sea otters and elephant seals, plan half-day trips to one or many vineyards, one of the best things to do in San Simeon.
Although there are not as many as you can find in Paso Robles(worth visiting over a weekend), you can still taste some of the best varieties produced in San Luis Obispo county, among the top wine-producing regions in California.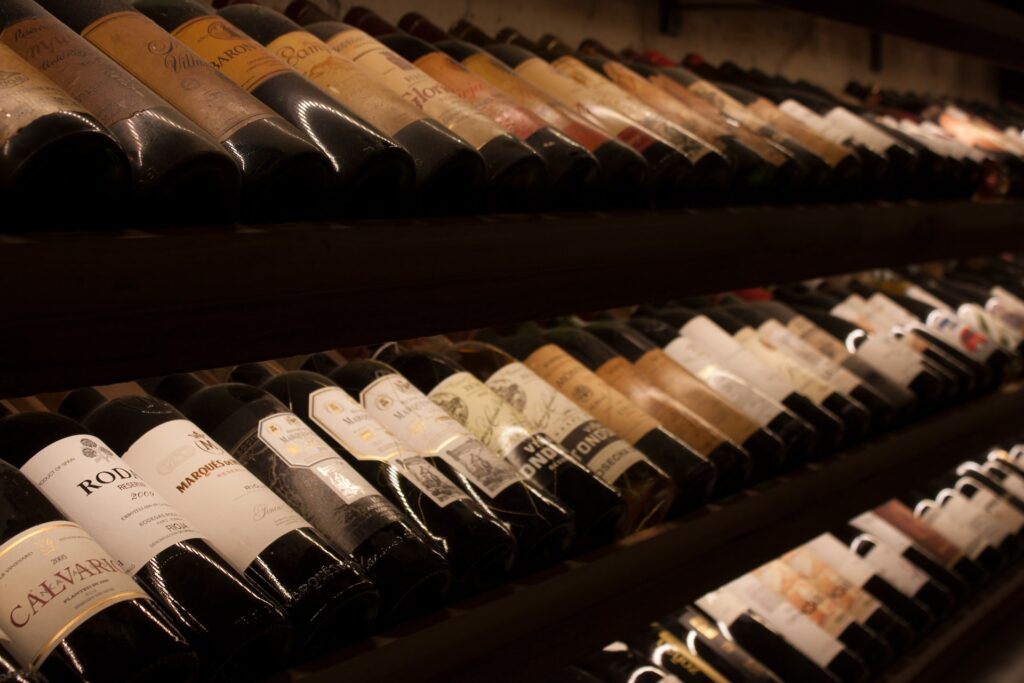 Check out Black Hand Cellars, a local wine label on the West Side of San Miguel, a family-owned Torie Ranch known for particular types of red Syrah wines produced from the vineyards of Paso Robles.
Moonstone Cellars, overlooking the beautiful Moonstone Beach, is closer to San Simeon and is known for wines from Central Coast grapes, ranging from lighter Grenaches and crisp Sauvignon Blancs to dry Rieslings and full-bodied Zinfandels and Cabernet Sauvignons.
PLAN A DAY TRIP TO CAMBRIA
Nestled between the towering pines and the splendid Pacific Ocean of California's Central Coast, Cambria is one of the best day trips near San Simeon.
This lovely coastal hamlet is recognized for its diverse wildlife, stunning scenery, and wild beaches.
Visit the Nitt Witt Ridge, popularly known as a poor man's Hearst Castle by the locals.
Visit Cambria's downtown, adorned with art galleries, antique shops and gardens. Rent a bike and go wine sampling around the town.
DRIVE ALONG BIG SUR SCENIC BYWAY
The Big Sur Coastline, running for over 95 miles between Carmel and San Simeon, is one of the highways that offer dramatic terrains dotted with craggy cliffs overlooking exquisite views of the Pacific throughout your Big Sur Road Trip.
Driving through this scenic byway is one of the fun things to do near San Simeon CA, where you can stop at many places to admire and enjoy other activities.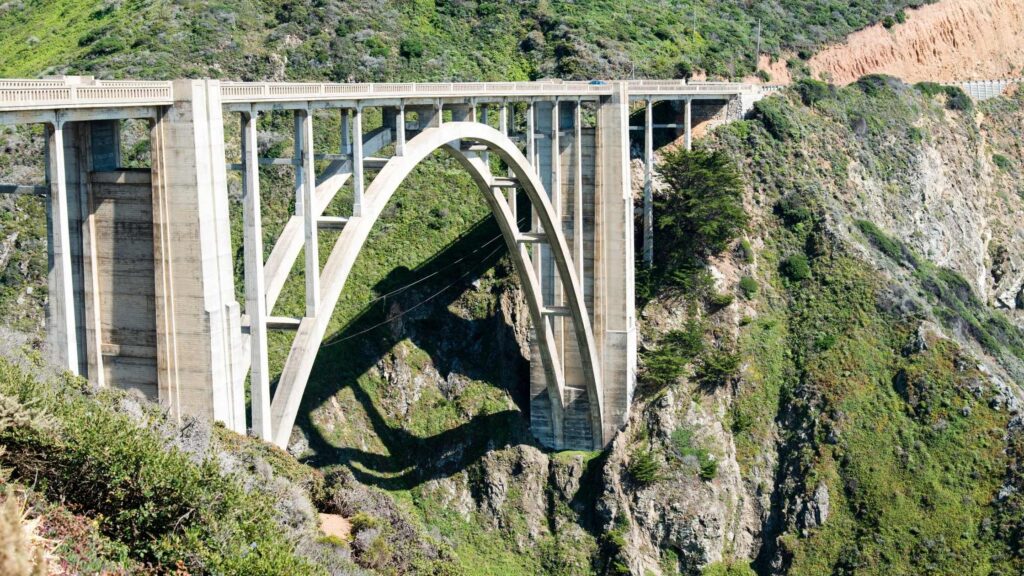 Unwind on well-maintained beaches like Sand Dollar Beach, Gibson Beach at Point Lobos and Garrapata State Beach on your way, a popular hub for avid surfers.
Visit Pfeiffer beach, famous for its purple sandy shoreline and rock arch, for fantastic sunset views.
Check out the McWay Falls at Julia Pfeiffer State Park, one of the best Californian tides falls that plummets off the cliff directly into the ocean. The park features many hiking trails amidst redwoods which lead to local beaches.
Don't miss the iconic Bixby Creek Bridge, one of the most photographed bridges in California. This open-spandrel single-arch bridge hanging over the canyon at the edge of the Pacific offers stunning views.
Check out the Henry Miller Library, which hosts several events and concerts annually.
If you are in Big Sur between late February and May, stop by Calla Lily Valley for its beautiful white flower blooms.
Recommended – 21 Best Flower Fields In California You Should Visit This Spring
Many campsites are nearby if you plan to camp for a day or two. Check the road conditions ahead of your trip since the road might be closed after heavy rainfall and landslides causing road closures.
DRIVE OR BIKE ALONG THE RAGGED POINT
If Big Sur is too far, drive for about 15 miles in the north to enjoy one of the fun drives along the coast.
This drive to the Ragged Point is one of the fun things to do in San Simeon, and you can also bike on Highway 1 up the California Coast.
You can stop at the pretty Ragged Point Beach, one of the fun places to visit in San Simeon, about 15 miles north of the village.
It is one of the West Coast's most famous coastal routes.
You can extend this to cover a 37-miles journey to pass through spectacular cliff views, ocean vistas, rolling hills and plenty of marine life.
If you want to add a quick hike, do the steep 0.6-mile Black Swift Falls Trail winding down a 300-foot cliff, the trailhead located behind the Ragged Point Inn.
This short trail descends to a pretty waterfall and the shores of a black sand Ragged Point beach.
VISIT THE TINY HAMLET OF HARMONY
Harmony is one of the best pitstops on your road trip along the Pacific coast. If you are wondering what to do in Cambria this weekend, head to this quiet town located 6 miles South of Cambria.
Stroll along the streets lined up with colourful chapel buildings. If you are with kids, you must try the Harmony Valley Creamery for its various varieties of delicious icecreams.
Visit the Harmony Pottery Shop and Harmony Glass Works to browse their unique art collections and other artefacts created by local artists. They also have a studio and a school if you want to learn this intricate art.
Wine lovers can head to the famed Harmony Cellars, another stunning winery atop the hill, recognized for their best wines at lower prices. Harmony Cellars source varieties of grapes for their different wine flavours from the Central Coast.
Enjoy their wine-making tour and savour their notable wine flights, including the famous Tannat, Zinfandel and Petit Sirah overlooking the lush pasturelands from the patio.
If you have spare time and want to explore more of Harmony, visit the Harmony Headlands State Park and go hiking along the beautiful 1.5-mile trail that runs through the lush grasslands, dotted with coastal wildflowers and with a lovely ocean backdrop.
You may spot squirrels, rabbits, deer and other exotic birds along the trail. Hike during the early hours of the day as the trail runs in the open with no shade.
GO ON VINEYARD TOURS AND WINE TASTING ALONG HIGHWAY 46
Highway 46 is a beautiful stretch apt for driving to witness beautiful wineries on both sides of the Highway. You can take a pitstop at California's renowned wine location Paso Robles.
The road ascends to approximately 1700 feet before descending to the coast. There are several turnouts along the way, and you will be greeted with dazzling ocean and sunset views.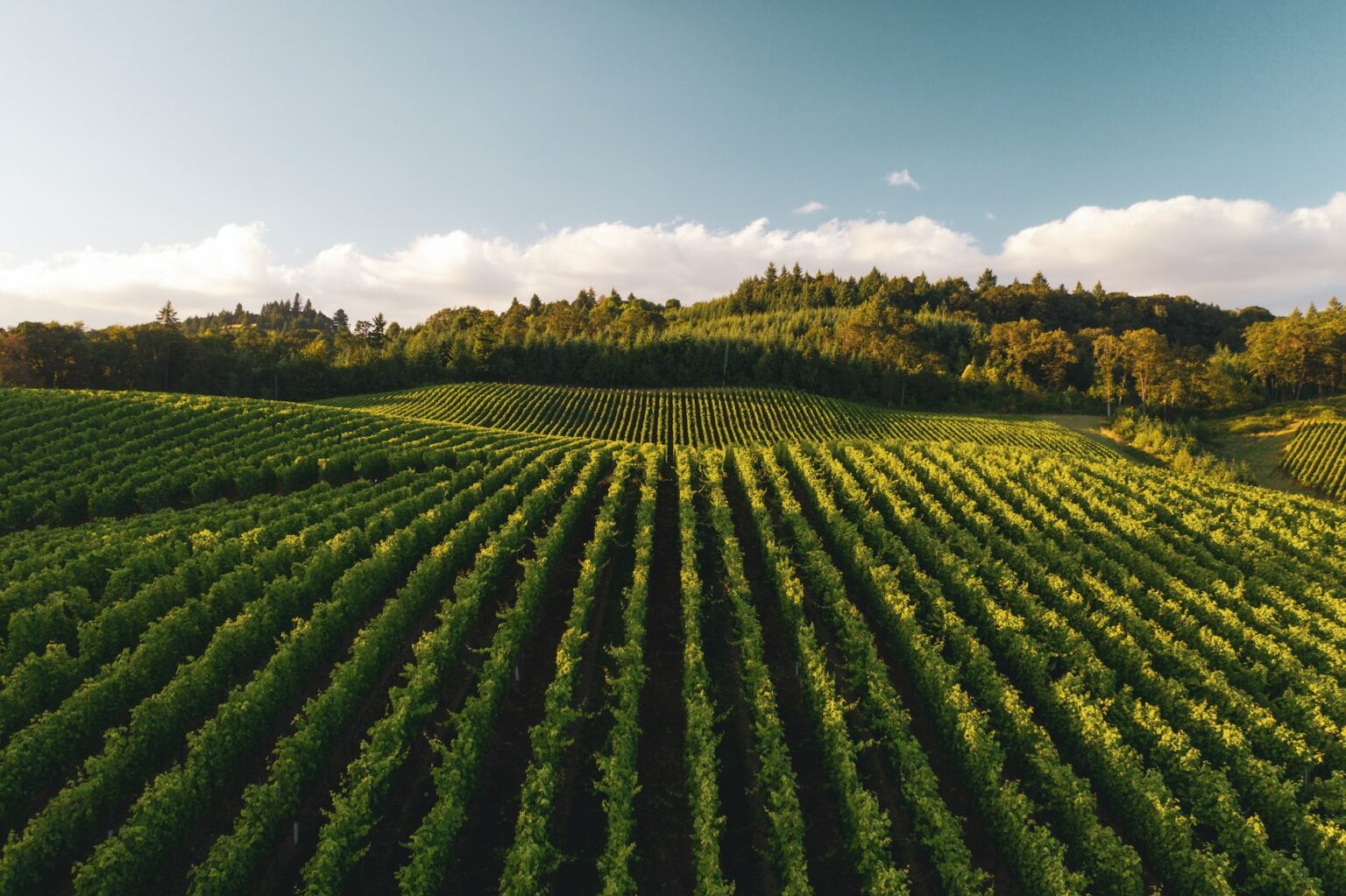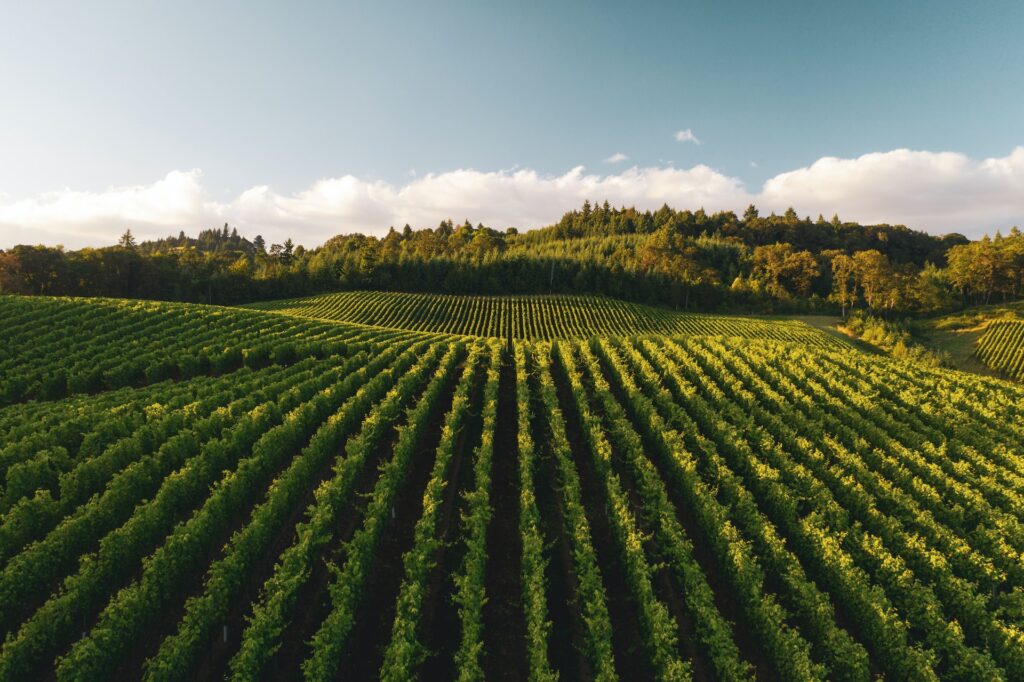 Driving during Spring on this Highway is yet another attraction in itself, as you will see miles of colourful coastal wildflowers dotting the Highway on both sides.
If the weather is favourable, you might even get distant views of the iconic Morro Rock.
Have a picnic lunch in one of the many vineyards along this route; the vineyards have spacious patios overlooking their beautiful orchards. Most vineyards offer wine-tasting tours, which are to be booked in advance.
WHERE TO STAY IN SAN SIMEON?
Best recommended – Cavalier Oceanfront Resort – For Couples & Families
Cavalier Oceanfront Resort – Located 4.8 km away from Hearst Castle Information Center, Cavalier Oceanfront Resort boasts 2 heated outdoor pool and hot tub. It features a restaurant and all guest rooms offer free WiFi. It is one of the most popular accommodation options in San Simeon, and it is no surprise. Check more details and prices here.
Quality Inn near Hearst Castle – The Quality Inn hotel is located just two miles from Hearst Castle, a Moorish castle with 127 acres of gardens, terraces, pools and walkways, furnished with Spanish and Italian antiques and art.
This hotel is walking distance from the Pacific Ocean. In addition, San Simeon State Park , William Randolph Hearst Memorial State Beach , the Charles Paddock Zoo and Morro Rock are only minutes from the hotel. Check prices and more details here.
Coast Riders Inn – Set in San Simeon, 500 m from Arroyo del padre juan, Coast Riders Inn offers accommodation with a garden, free private parking and a shared lounge. The hotel provides an indoor pool, hot tub and a business centre. Find more about prices here.
The Morgan Hotel San Simeon – Situated along California's majestic coastline in the charming town of San Simeon, this hotel offers comfortable accommodations in a spectacular location, perfect for a relaxing weekend or holiday. Find more details here.
MAP OF THE THINGS TO DO IN SAN SIMEON CA
TOP TRAVEL TIPS & RESOURCES
Below is the list of the travel resources you can use to organize your travel – from flights to insurance and everything. These are the resources I use myself, which is why I recommend you for a hassle-free travel planning experience and fantastic trips.
Booking Flights
: To score flight deals, search on
Jet Radar
, Kiwi,
or
12go.Asia
(for Asia planning). Book and fly mid-week, taking red-eyes flights or those in the early mornings for better deals and lower prices. Avoid check-in bags on a budget airline.
Booking Trains:
The best websites for booking trains anywhere in Europe are
Rail Europe
and
TrainLine
. Both are easy to manage online and track your journeys.
Booking Cars:
For the best prices and easy handling of renting a car for road trips and day trips, I'd recommend
Discover Cars
or
Rental Cars,
available throughout the world.
Accommodations:
I typically use
HotelsCombined
or
Booking.com
to book hotels. There are special getaway deals with amazing discounts(over 50%!) for this year on Booking.com, and you can find them
here
.
I use
Hostelworld
and
Agoda
to book hostels as the deposit is low, easy change/cancellation is available and reviews are excellent on both. Depending on the destination, I love staying in
VRBOs/homestays
.
Travel Insurance:
No matter whether it is a short trip or longer trips abroad, I strongly recommend buying travel insurance for international trips. I recommend either
World Nomads
or
SafetyWing
for international travel insurance.
Tours:
Being a solo traveler, one of the best ways to optimize my time, budget, and super importantly, meet amazing people from all over the world is by joining tours, especially food tours, walking tours, day trips, culture, and history tours.
You will get a local's perspective, the best opportunities to experience places and people closely. I book using
GetYourGuide
,
Klook
,
Viator,
and
Voyagin.
More guides to other nearby towns and cities along the coast and in California:
25 Best Things To Do In Cambria