The best beaches in southern California have everything you need for a perfect summer or a weekend getaway, whether you are looking for romantic evenings or fun holidays with your kids.
The Golden State and sunny days are synonymous, but so are the gorgeous sandy beaches and stunning views.
Add to this delicious food, wine, and plenty of outdoor activities to enjoy, and southern California beaches make a complete holiday package.
Southern California's coast stretches for about 150 miles, from San Diego in the south through Malibu in the north, including San Diego County, Orange County, and Los Angeles County, encompassing a mix of sandy beaches, surfing spots, beachfront towns, marine reserves, rugged cliffs, calm bays, and wave-tossed shores.
You can also relax on the secluded beaches or enjoy the oceanfront, lined with shops, luxury homes, hotels, and restaurants.
Plan your next Southern California getaway with these best beaches in Southern California.
BEST BEACHES IN SOUTHERN CALIFORNIA
SANTA MONICA BEACH
Santa Monica State Beach is one of the most popular beaches in Southern California, receiving thousands of visitors regularly, partly due to its proximity to downtown Los Angeles only 15 miles.
The Santa Monica Pier bisects Santa Monica State Beach, separating the beach into a north and south unit.
One of the biggest draws is that all the top attractions of Santa Monica are lined up at the oceanfront, stretching for over 3 miles, including the amusement park.
Stroll through the historic pier, enjoy amusement park rides, hop on the Ferris wheel, play in an arcade, watch street performances, check out the aquarium, or enjoy swimming. Check out Palisades Park and the Annenberg Community Beach House.
Rent a bike on a 22-mile-long journey from Santa Monica Beach to Torrance County Beach. You can also enjoy surfing, dining, shopping and volleyball.
DOHENY STATE BEACH
Among the best beaches in southern California in Orange county is Doheny State Beach, which is close to Capistrano Beach, and Salt Creek Beach.
The beautiful one-mile sandy beach of Doheny's, located between San Clemente and Laguna Beach, receives over a million annual visitors. It offers milder temperatures and some of the best swimming, suntanning, surfing, and tide pooling.
A coastal campground also features over a hundred sites, options for RV, and a picnic area.
The campground is quite popular as some sites sit on the beach. So no matter when you visit, reservations are required throughout the year.
Doheny State Beach is the perfect place to start if you are planning to learn surfing, as there are many schools here at Salt Creek. If you visit during low tide, watch the many tide pools.
HERMOSA BEACH
Santa Monica Bay is packed with some of the best beaches in southern California, including Hermosa Beach next to Redondo Beach.
True to its Spanish name, "beautiful", Hermosa beach is packed with visitors enjoying sunbathing, surfing, biking, running, playing volleyball on the shore, and enjoying picnics throughout the year.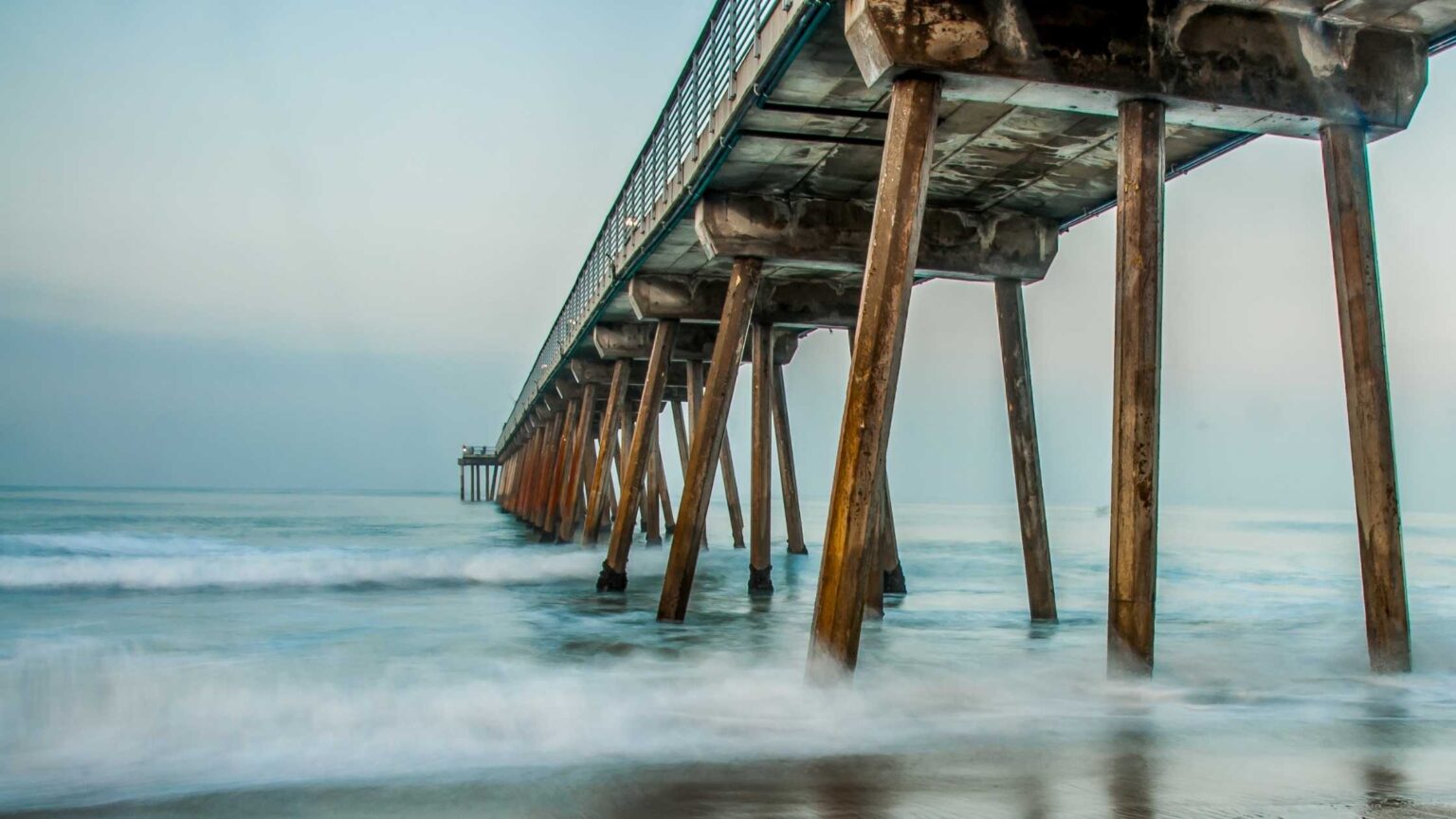 Located in the South Bay area, check out the famous concrete pier for the best Hermosa's dining, with an excellent selection of local restaurants, shopping, and entertainment.
Sometimes, you can also attend beach surf festivals and volleyball tournaments.
CORONADO BEACH
If you are visiting San Diego, do not miss idling in one of the best beaches in southern California, Coronado beach, located southwest of the city.
The beautiful Golden Coronado Beach running for 2 miles, is popular with families with kids and couples and is known for its calm ocean waters and the famous Hotel Del Coronado, which is known for its luxurious suites, beach villa accommodations, and spacious rooms in its iconic Victorian main building.
It is one of the best spots to watch stunning San Diego sunsets near Sunset Park and tide pools.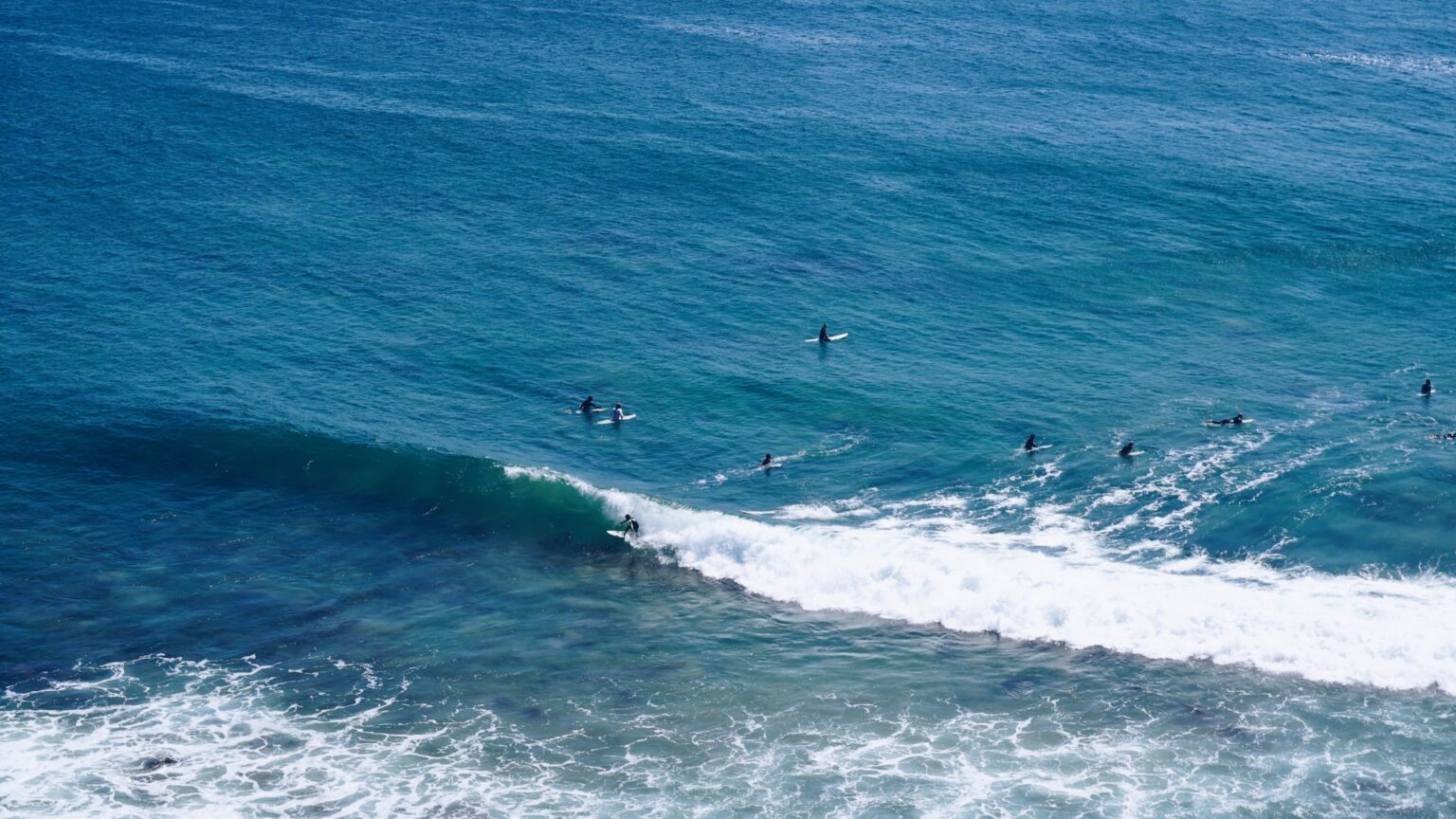 There are plenty of facilities, bathrooms, outdoor showers, and seasonal lifeguards everywhere on the beach, and you can enjoy surfing, paddle boarding, or boogie boarding. If you are with kids, enjoy Seaside kite flying.
After relaxing or adventuring on the beach, head to nearby Orange Avenue, Coronado Island's main attraction, where you'll find plenty of excellent restaurants and shops.
LAGUNA BEACH(1000 STEPS BEACH)
Do not let the name discourage you, for Laguna beach is undoubtedly one of the best beaches in southern California, and it takes only 200+ steps to reach the beach from the Pacific Coast Highway.
Once you finally reach the bottom descending these steep stairs, you will be rewarded with spectacular ocean views, soft sand, and the views of cliffs lining the seven miles shore.
When tides are low, tide pools and caves emerge, so plan to visit when the beach waves are lower.
If you head to the south end, you will find a cave, while going north end means you will come across a secret rock tunnel that leads to Totuava Beach, also accessible only during low tides.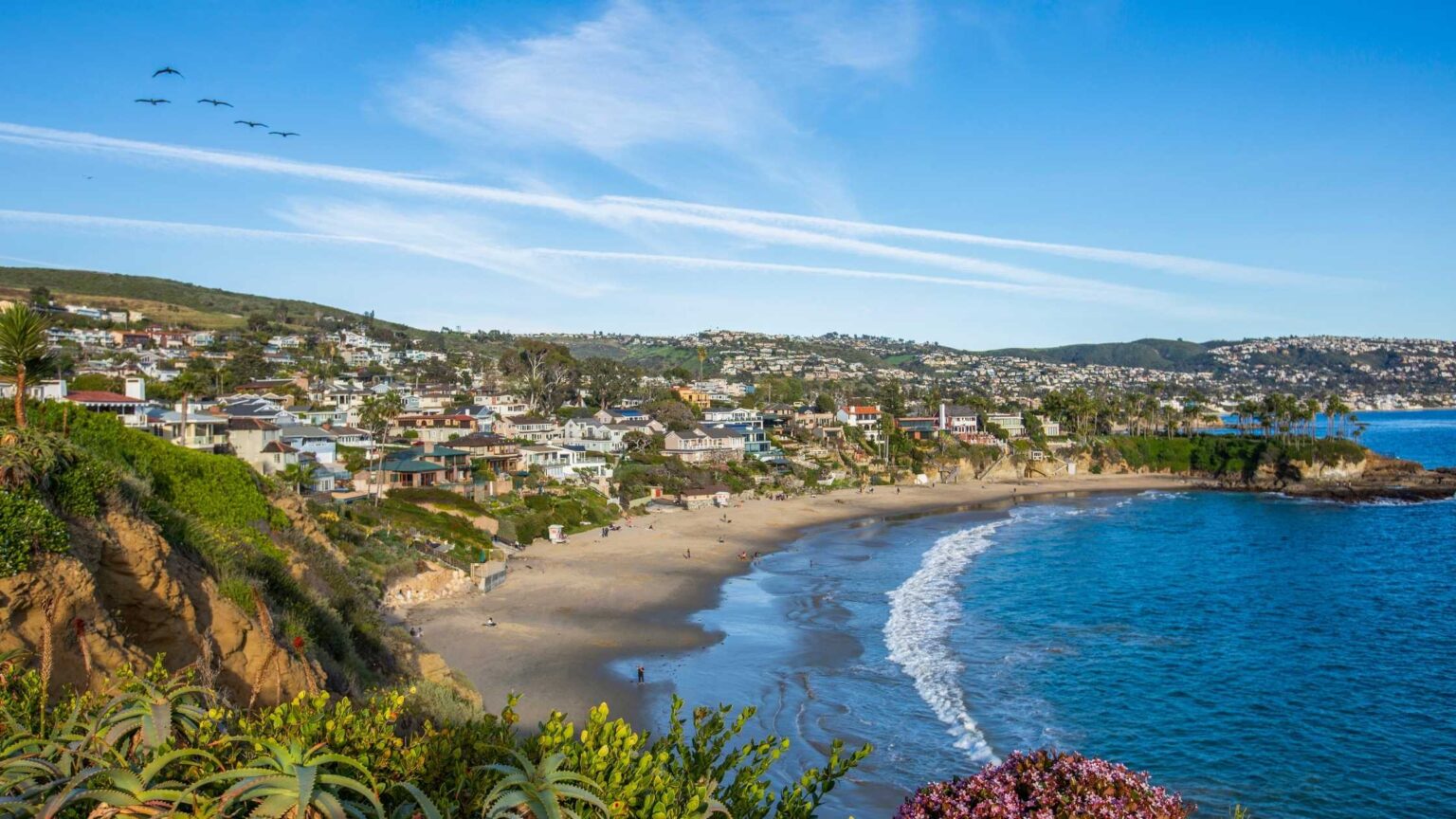 Take a walk along beautiful Main Beach, where Laguna Canyon meets the Pacific Coast Highway.
Go surfing, paddleboarding, kayaking, swimming, sunbathing, diving, volleyball courts, beachfront basketball courts, and snorkelling in this marine-protected area.
When in the north, stroll through Heisler Park, perched atop the bluff north of Main Beach, to admire gorgeous ocean views.
The Pacific Edge Hotel at the cliff edge is one of the excellent stays to enjoy while visiting Laguna Beach.
Laguna Beach hosts its annual Pageant of the Masters and Festival of the Arts each July.
TORREY PINES STATE NATURAL PRESERVE
One of the top attractions near San Diego is Torrey Pines State Natural Preserve, located north of La Jolla along Highway 101, known for its abundant landscapes, rich wildlife, rare migrating birds, and other attractions.
The natural reserve is home to one of the best beaches in southern California, Torrey Pines State Beach, stretching for about five miles of fine sand shores and distinct geographical formations, offering stunning views.
Unlike other beaches close to shopping districts and restaurants, you will not find any amenities or restaurants in this reserved area. So carry snacks and water for your picnic on the beach.
ZUMA BEACH
One of the best beaches in southern California is Zuma Beach, next to Point Dume, another beach you should add to your list when you visit Malibu.
It is known for its long sandy shore and pretty turquoise waters; it is one of the top surfing spots in California and also draws many tourists as it is excellent for swimming.
Lifeguards are on duty during summer all day as the currents can sometimes be intense.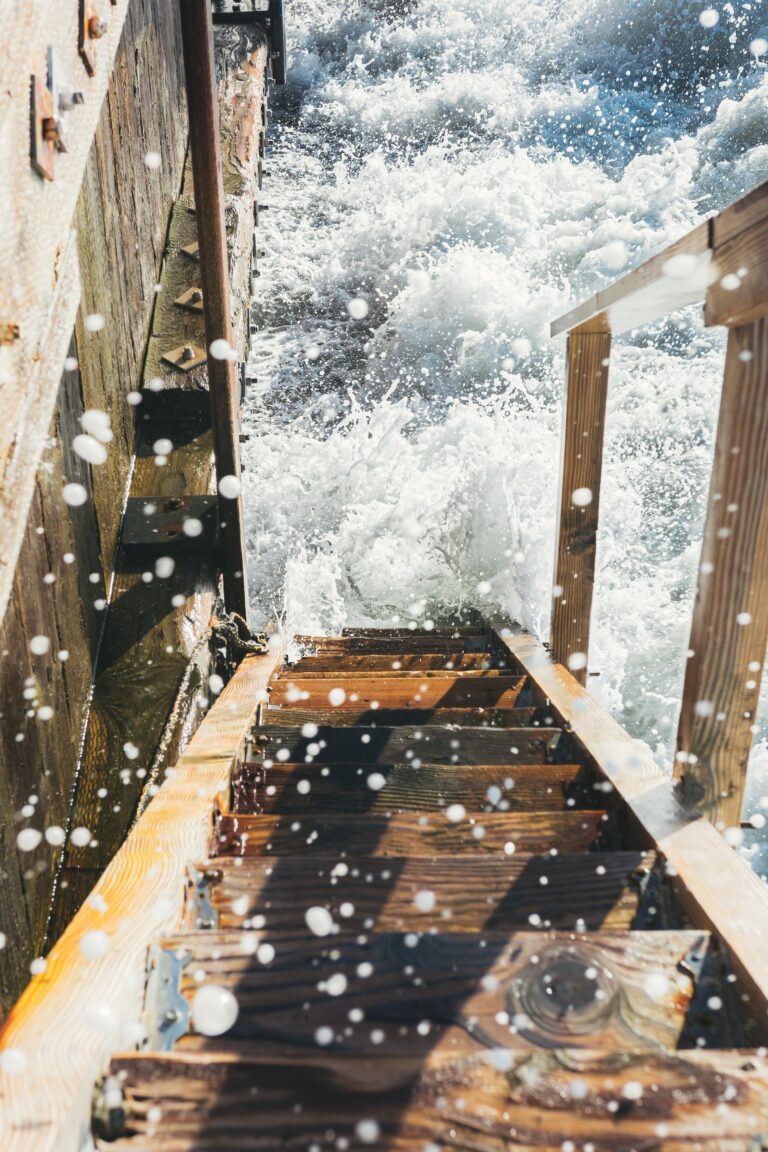 It is also one of the cleanest and most well-maintained Southern California beaches, with plenty of parking space.
If you are with kids, hike to the ridge on the southern end to watch dolphins and seals from the top. The northern part is worth exploring for a stroll, playing volleyball and enjoying kite surfing.
MOONLIGHT BEACH
One of the most underrated beaches in San Diego is Moonlight Beach; despite its clear sand, excellent waves and location, only a few visitors head here.
So if you are looking for one of the best beaches in southern California where you can have most of the seashore, Moonlight Beach is your best pick, especially if you are traveling with your family.
The beach is ideal for swimming, and during summer months, there are lifeguards until the evening. There are clean public restrooms with freshwater showers.
The waves are also excellent for surfing, especially near D street towards the south.
You can enjoy a picnic, play volleyball, followed by gorgeous golden sunsets, and end your day with a bonfire in the evening.
NEWPORT BEACH
Add Newport Beach when hopping the best Southern California beaches, known for their glitz and glam with beautiful beach houses and yachts.
Located between the Balboa Peninsula and the city centre in Newport, Newport Beach features a five-mile-long stretch of coastline.
There are two piers, the Newport Beach Pier and Balboa Pier, perfect for enjoying walks and watching stunning sunsets and the colourful beach houses alongside.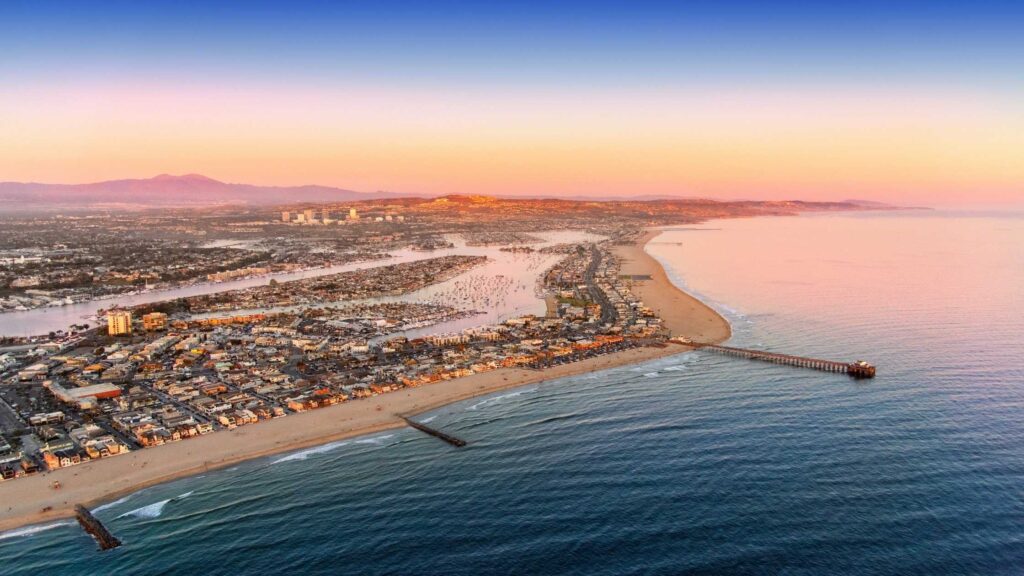 There are plenty of options for shopping, relaxation, and indulging in outdoor activities like swimming, fishing, and going on boat trips or luxurious sunset cruises.
In summer and fall, you can spot blue whales, while if you are here during winter, you can watch the migrating grey whales.
If you are with kids, take advantage of the beachside amusement park, the Balboa Fun Zone, where you should hop on the giant Ferris wheel and play old-school arcade games.
CATALINA ISLAND
Located southwest of Los Angeles, Catalina is a part of the group of 8 islands, the Channel Islands, off the California coast, which make up the Channel Islands National Park.
Catalina Island, the most famous in this group, located 22 miles off the coast, is home to one of the best beaches in Southern California with turquoise blue waters.
Enjoy the 60-minute boat trip to the island, where you can easily spend a day hopping the best beaches, including the popular ones, Moonstone beach and Lover's cove.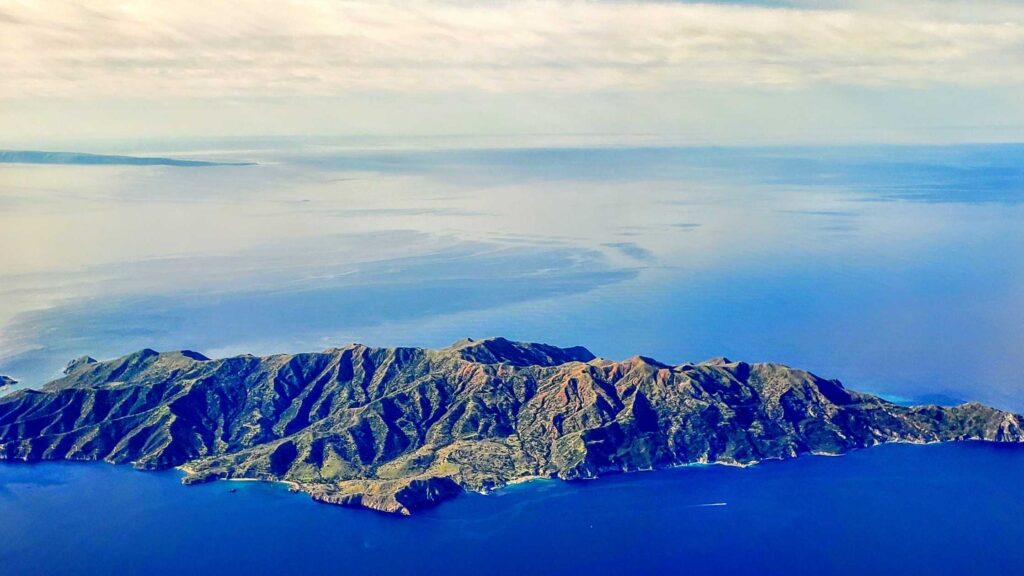 You can take this boat trip from Long Beach, San Pedro, Newport Beach, or Dana Point from mainland California.
You can either relax at the beaches or indulge in popular outdoor activities like kayaking, snorkelling, hiking, and scuba diving.
If you want to go hiking, the most popular and moderately challenging trail is the Trans-Catalina trail, a 38.5 miles trail that requires many days and permits for camping.
You will reach the summit, the peak of Mount Orizaba, the tallest point on the island at over 2000 feet.
Zipline 600 feet above the sea, or camp overnight in the boat for sea night adventure.
MANHATTAN BEACH
Located between Los Angeles International Airport and Hermosa Beach, Manhattan State Beach is one of the most popular beaches in Southern California. Over 4 million visitors visit this two-mile-long beach every year.
From surfing to beach volleyball to plenty of nearby attractions, you can have packed beach days or adventurous ones, depending on your mood.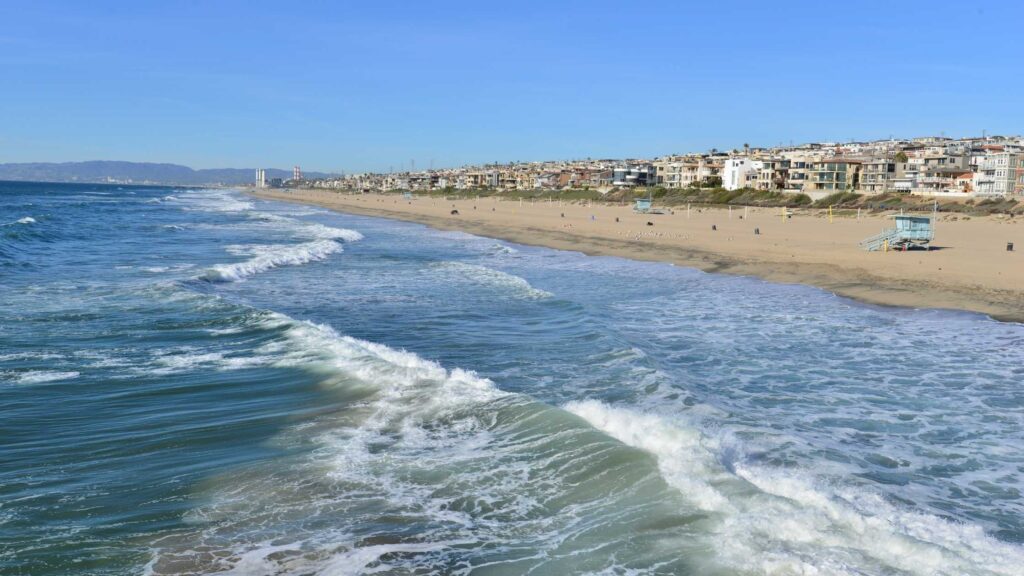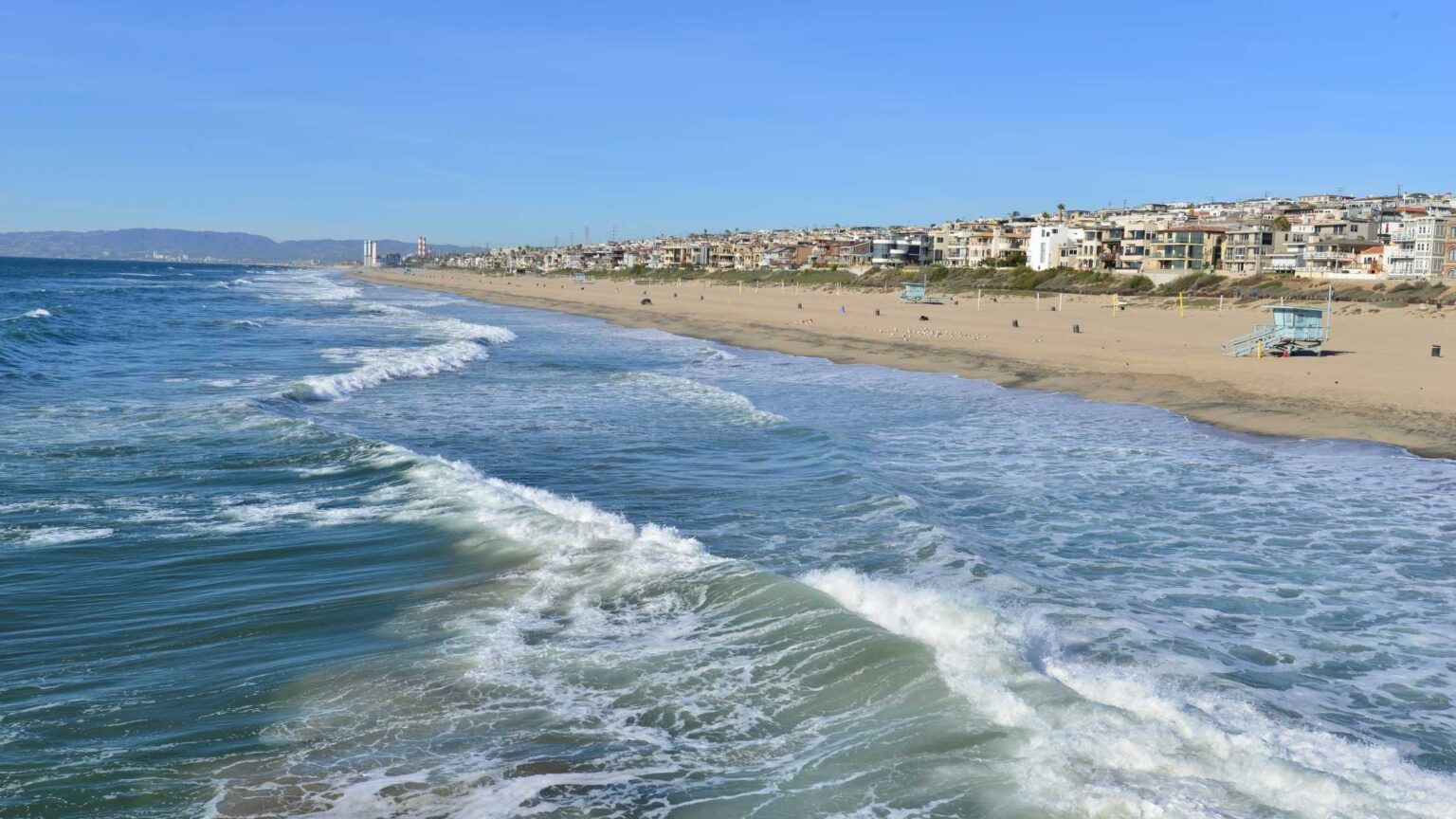 There are more than 40 volleyball courts where tournaments are regularly held every year. You can enjoy swimming, sunbathing, surfing, taking surfing lessons, fishing or strolling along for people-watching and soaking in sunset views.
Check out one of the main attractions, the Roundhouse Marine Studies Lab andAquarium, located at the end of the pier, perfect for exploring with kids, with more than 100 marine species and educational exhibits.
Biking on the Strand from South Bay to Pacific Palisades is a popular activity loved by locals and tourists alike.
BEST BEACHES IN SOUTHERN CALIFORNIA FOR OUTDOORS AND MARINE LIFE
HUNTINGTON BEACH
Another gem in Orange County, Huntington State Beach, is one of the most popular and best beaches in southern California and is among the first beach resort cities in the Golden State.
Huntington Beach, running for about 3.5 miles, is known for its wide, clean beaches, expensive luxury homes, and many shopping and dining options since The Huntington Beach Pier and the downtown district are connected on either side of the Pacific Coast Highway.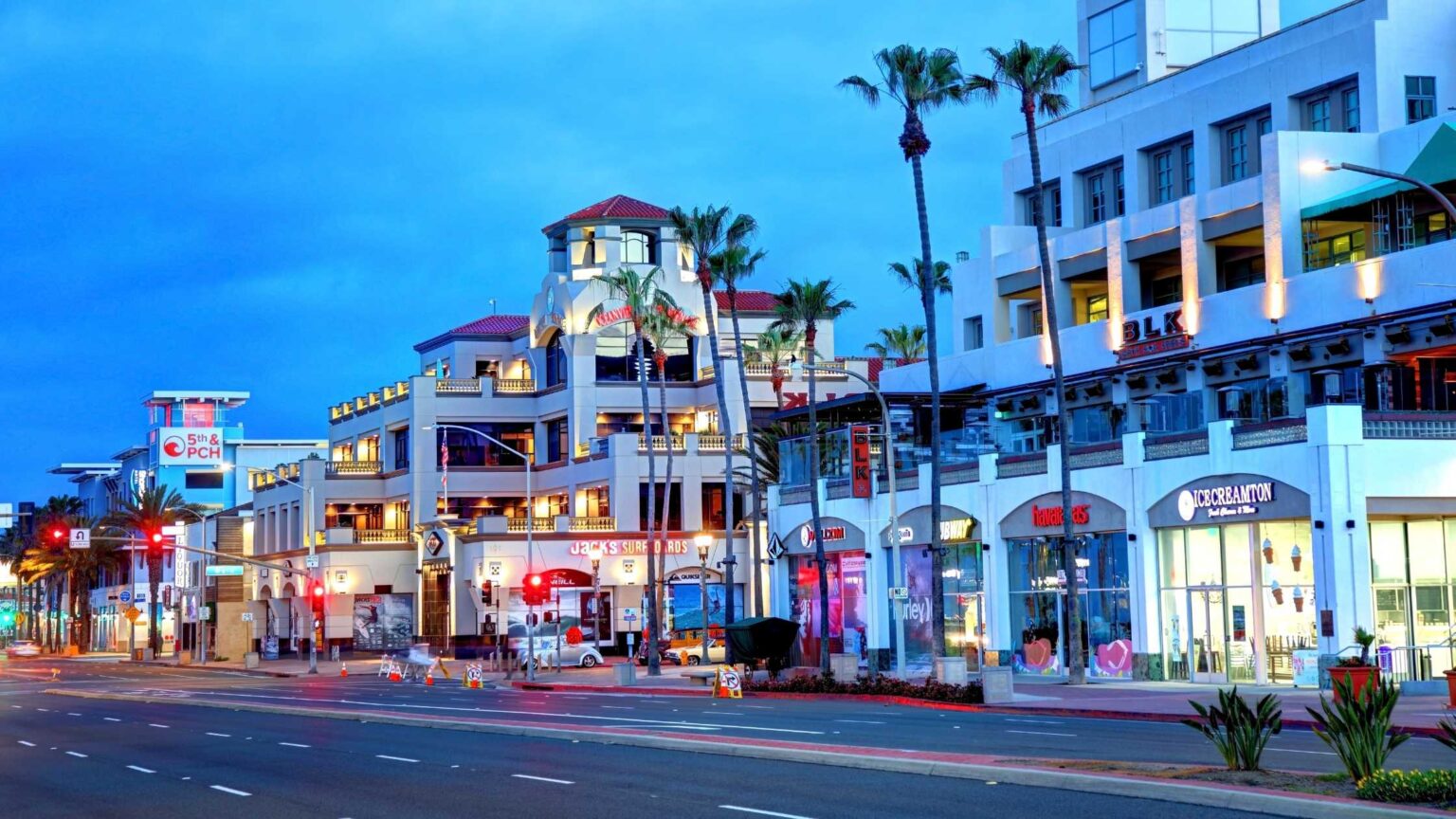 Huntington State Beach also has one of the longest piers in the state of California. Enjoy swimming, surfing, paddle boarding, kitesurfing, beach volley, long walks, gorgeous sunsets, bonfires, picnics, and fishing with kids.
Huntington State Beach has all the basic facilities and lifeguards on duty all summer.
If you are okay with the crowds, attend the annual US Open of Surfing during the first week of August.
CRYSTAL COVE STATE PARK
As the name suggests, Crystal Cove State Park is home to one of the best beaches in southern California, known for its crystal clear waters stretching for over 3.2 miles and a stunning beachfront cove.
Located in Newport Beach between the Pacific Ocean and the Pacific Coast Highway, this golden sand shore offers outdoor lovers all types of activities and adventures.
Visiting Crystal Cove State Park is not only for its coastline, but you can easily spend a day or two here exploring its underwater park, splendid tide pools, reefs, 20 miles of hiking trails, diving, mountain biking, or horseback riding.
MOTHER'S BEACH
One of the best beaches in southern California is Mother's Beach, a small crescent at the largest artificial harbour in the Marina del Rey area.
Thanks to its gentle waves, Mother's Beach is a popular getaway for families as you can take kids in the shallow waters clearly marked, with a lifeguard on duty.
You can take a boat trip, and enjoy kayaking or SUPs. There's also a playground and picnic area next to the beach.
SAN ONOFRE STATE BEACH
Located just an hour's drive north of San Diego on I-5 and an hour and a half south of Los Angeles, one of the reasons why San Onofre State Beach attracts thousands of visitors throughout the year.
Apart from its easy access, San Onofre State Beach is one of the best beaches in southern California, as it features miles of sandy shoreline, gorgeous sandstone cliffs, and stunning views.
The state beach, divided into the beach and the San Onofre Bluffs, offers ideal waves for fishing, kayaking, swimming, and surfing.
There are picnic areas, showers, and well-maintained restrooms as well.
Unlike the other beaches, San Onofre is known for its red rocks on the shore, offering a beautiful contrast to the gorgeous Pacific blue waters. If you time your visit right, you may even be lucky to spot dolphins and whales.
Head south to find one of the best nude beaches in California. Spend overnight at the San Onofre Bluffs, one of the best campgrounds in Southern California, a short walk from the beach.
VENICE BEACH
Venice is one of the most visited beach towns in California, so the list is incomplete without a mention of one of the best beaches in southern California.
Modelled after one of the most beautiful Italian cities, Venice, the city boasts a web of canals and bridges.
Located in the Venice District of Los Angeles, Venice Beach is known for thousands of visitors exploring Ocean Front Walk, two miles of concrete sidewalk packed with vendors, street performers, flea markets, plenty of local eateries, and souvenir shops.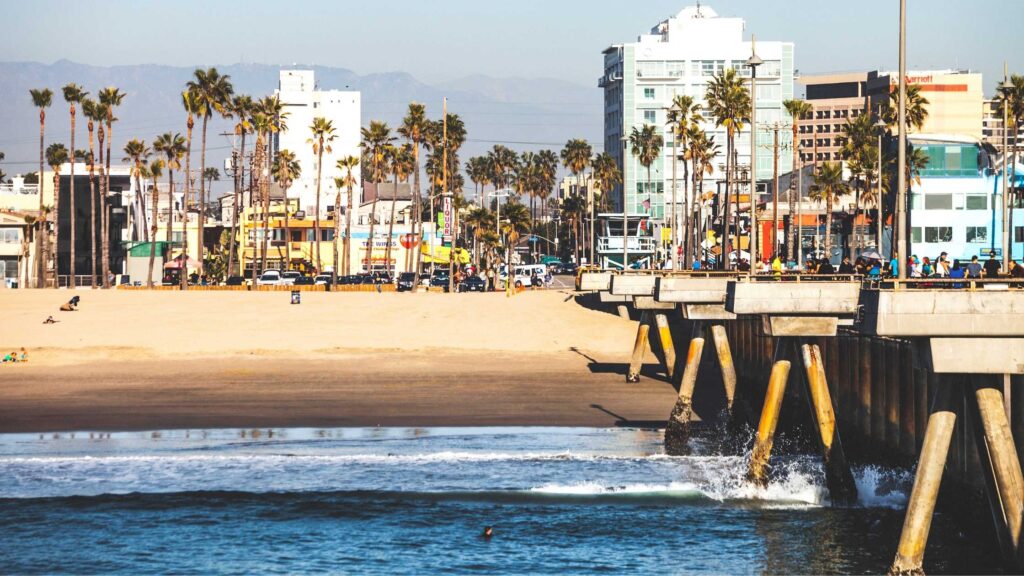 You can enjoy a wide variety of activities on the beach too, including skateboarding, biking, surfing, windsurfing, kiteboarding, swimming, sunbathing, parasailing, playing basketball, beach volleyball and more.
Not just these, but there is more. There is an outdoor gym, Muscle Beach, accessible via daily passes, and lots of wall art to be explored.
SAN CLEMENTE STATE BEACH
Located in the sunny coastal town of San Clemente in Orange County, San Clemente State Beach is one of the best beaches in southern California encompassing four miles of gorgeous shoreline and is a major surfing destination, attracting many experts and novices alike.
Apart from surfing, you can enjoy suntanning, and walking the shoreline. Thanks to its location facing west, it is one of the best places to enjoy splendid sunsets in California.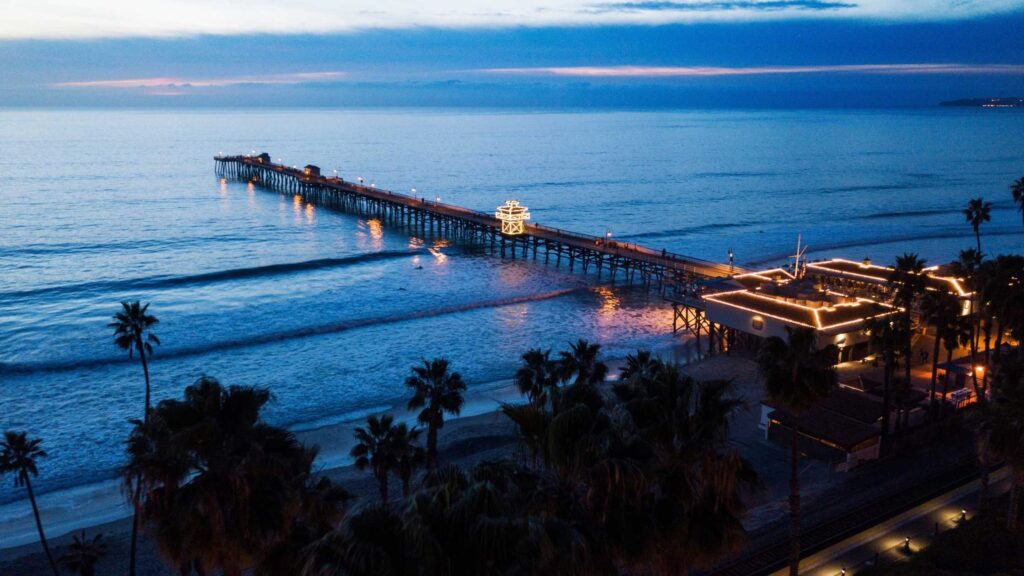 After parking, there are two ways descending towards the beach, both offering beautiful views of the rugged cliffs, and the oceanfront.
Above the bluffs at San Clemente State Beach is a campground, a popular spot for camping at the beach.
MISSION BEACH
Among the kids-friendly beaches in San Diego is Mission Beach, famous for its water adventures at the Historic Beachside Amusement Park, Belmont park offering roller-coasters rides as well as plenty of arcade games.
But there is plenty to do at the beach itself. You can enjoy kayaking, paddle boarding, kitesurfing, fishing, swimming, surfing, waterskiing, wave running, jet skiing, and sailing.
There are paved trails for biking and walking, offering you stunning views. On land, paths around the bay are ideal for skating, bicycling, and walking.
LA JOLLA
If you want a private small beach experience, head to La Jolla Cove in La Jolla, one of the best beaches in southern California, known for its abundant marine life, thanks to the well-maintained marine reserve.
Admire the stunning sandstone cliff bluffs surrounding you and look for seals and sea lions chilling on the beach, the top attractions. As the water remains calm, you can also find dolphins, sea kelp, and turtles.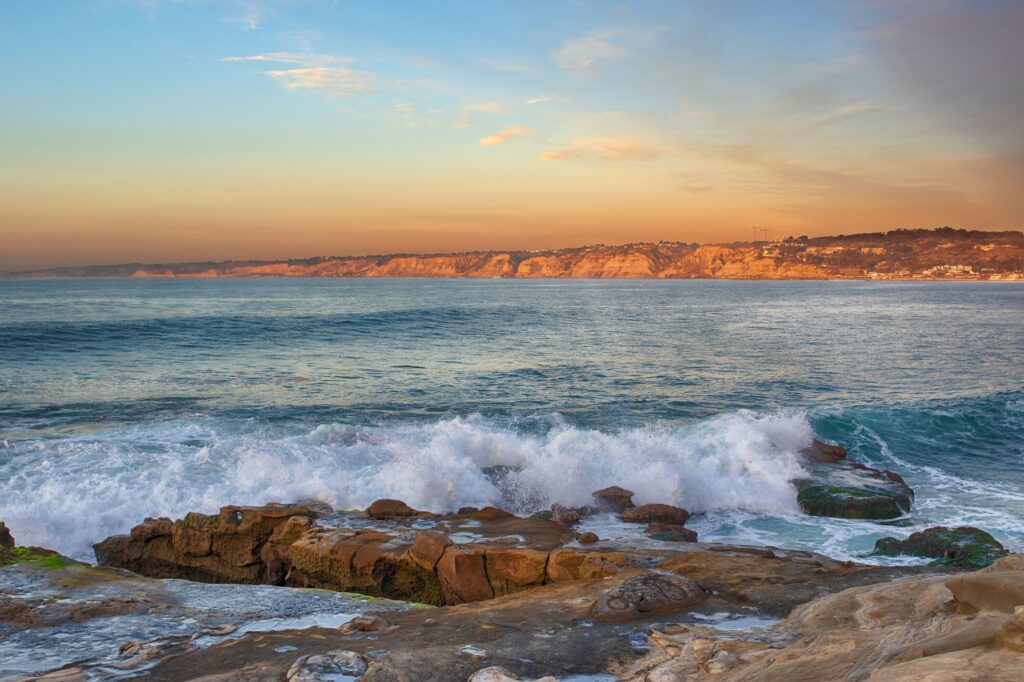 The Underwater Park Ecological Reserve is one of the largest marine parks in California; the clear blue waters offer many places to swim, snorkel, watch stunning sunsets, and enjoy scuba diving, although the water may feel cold for swimming.
If you visit when the tides are low, you can see more glimpses of the rich marine life in the tide pools.
VICTORIA BEACH
If you plan a trip to Laguna Beach, visit Victoria Beach, one of the best beaches in southern California, located halfway between San Diego and Los Angeles.
Victoria beach is known for its Pirate Tower, a 60-feet high tower perched atop a hill close to the rocky cliffs.
This fairytale tower offers gorgeous sunset views, perfect for romantic evenings. You can see the tide pools and enjoy a quiet evening at the artificial pool.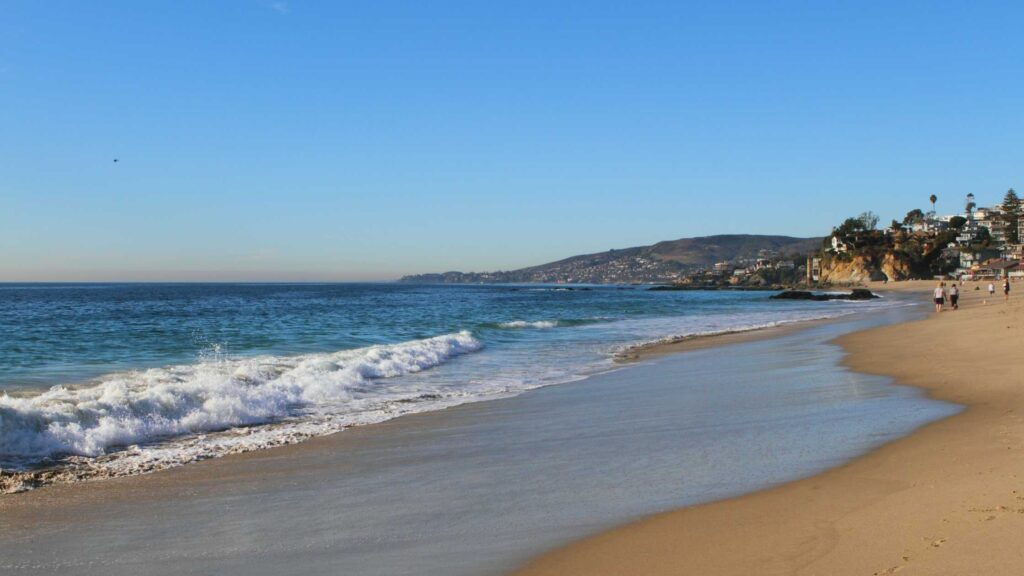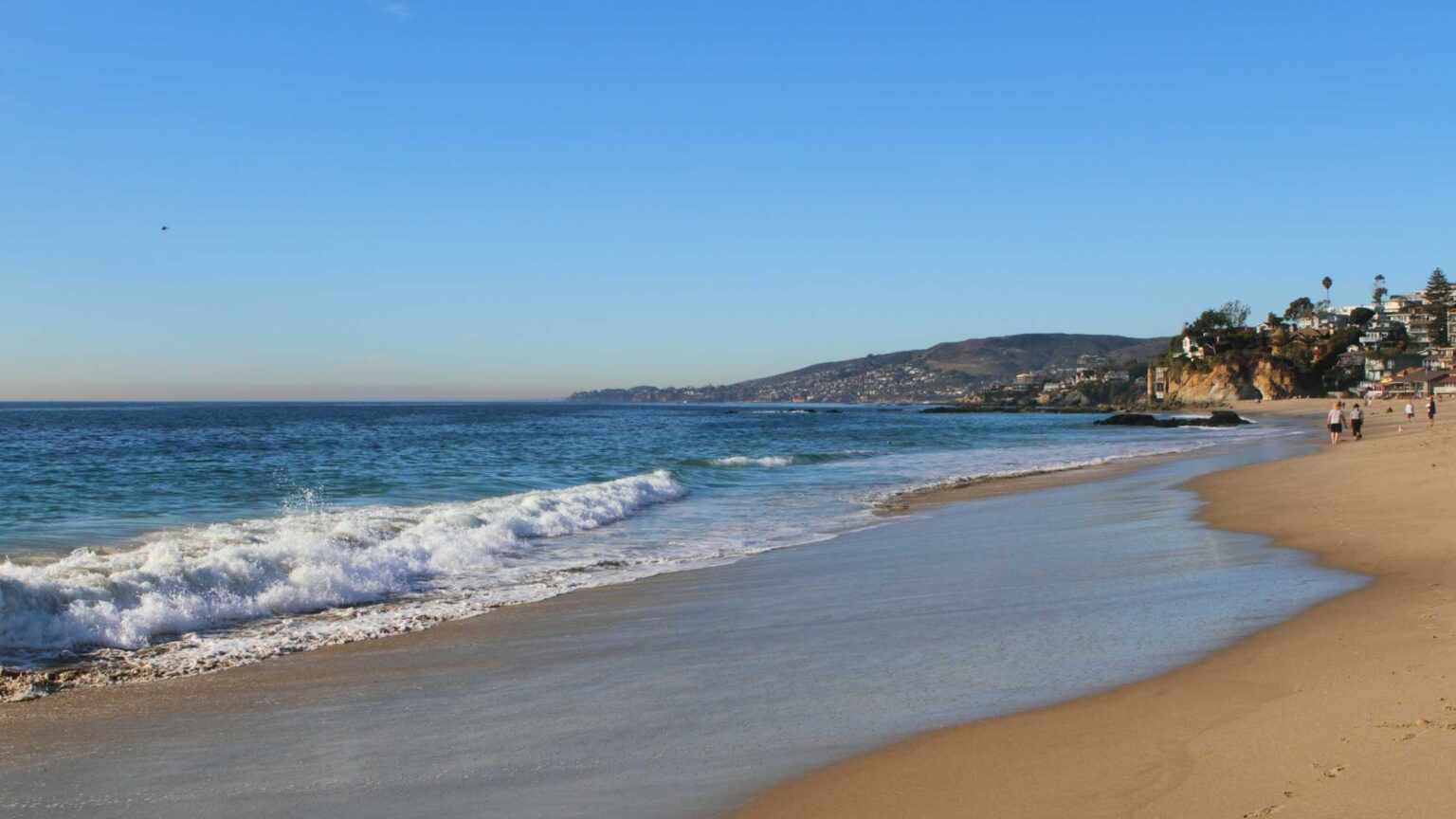 Unlike most Southern California beaches that are crowded most of the year, you will love the serene shores with only a fewer tourists. The beach is known for its abundant natural beauty, creating perfect combinations for a peaceful beach vacation.
After reaching the sandy shore, walk north, passing a pool, to hike to the Pirate Tower. Weekends, evenings and holidays can get a bit crowded, but the southern part of the beach is most secluded and is also wider.
CARLSBAD BEACH
Also called Tamarack Beach, Carlsbad State Beach is one of the many beaches in Carlsbad north of San Diego.
Surrounded by coastal bluffs, beautiful views of green hills and rugged cliffs, it is among the best beaches in southern California for kids, thanks to the gentle waves, which allow for surfing, swimming, and even scuba diving, and fishing.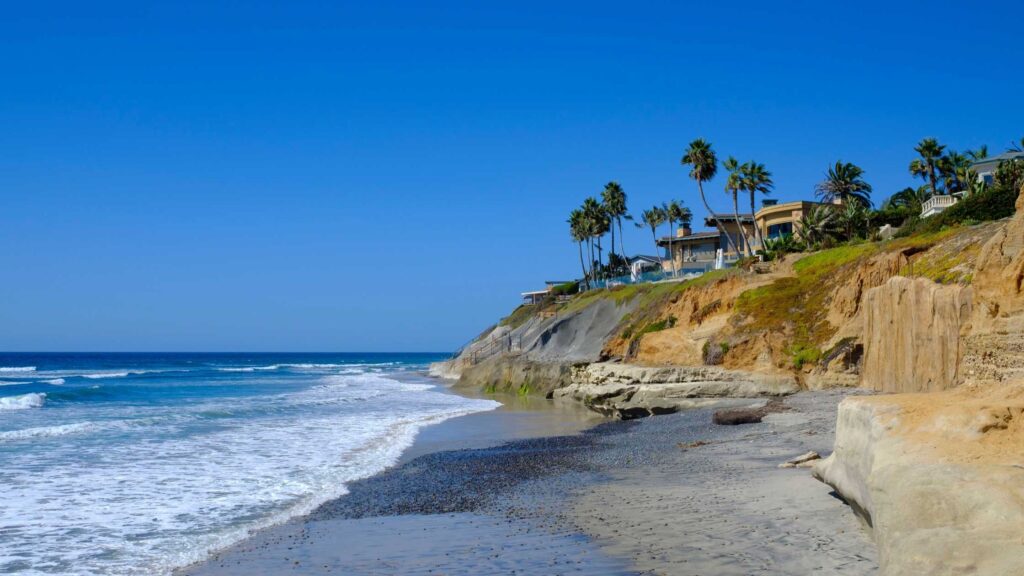 The shore is sandy and wide, making it ideal for relaxing and picnics. Check out the nearby Agua Hedionda Lagoon if you are with kids.
Carlsbad State Beach has clean restrooms and shower facilities. You can opt for overnight camping at South Carlsbad State Beach.
ARROYO BURRO CREEK ENDS
One of the famous beach day trips from Santa Barbara is Arroyo Burro Beach County Park, a famous sandy beach frequented by locals and tourists.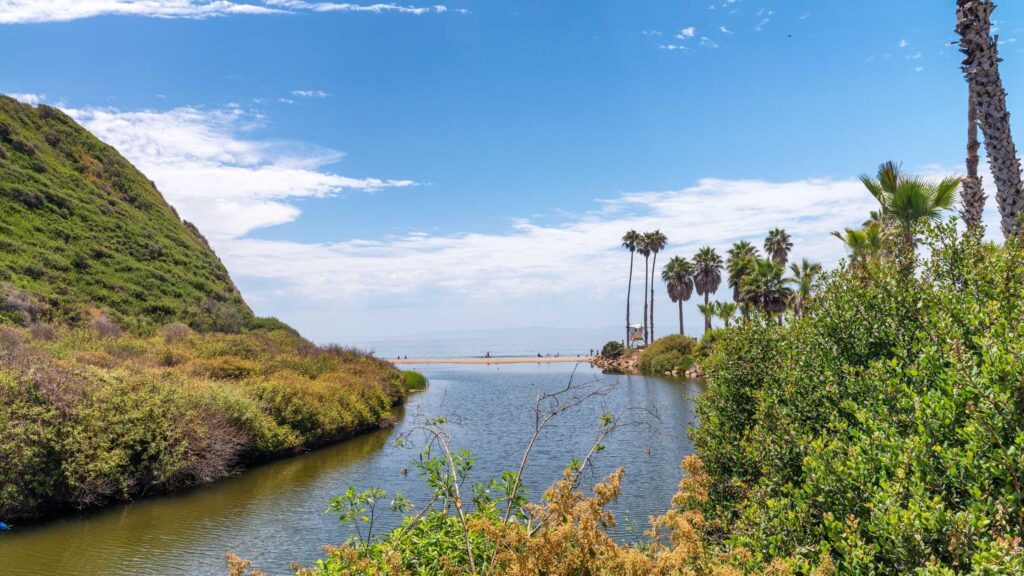 It is a popular picnic spot because of its relaxing location and the picnic facilities, including benches and tables in shaded, green grass areas as well as barbecue facilities. There are also walking trails and horseback riding locations.
Arroyo Burro Beach begins at the end of the Arroyo Burro Creek. If you are here during the winter, it is one of the best places to spot migrating whales. You can enjoy swimming in the shallow waters as there are lifeguards during the summer months.
EL MATADOR BEACH
Located in Malibu, El Matador Beach is one of the most stunning beaches in southern California. Malibu features more than 20 miles of coastline and many pretty beaches.
And El Matador, on the western Malibu coastline, is one of the prettiest, with coves, rugged cliffs, bluffs, and distinct rock formations.
The state beach is one of three that makeup Robert H. Meyer Memorial State Beach.
There are picnic tables up the parking area on the bluff overlooking the beautiful views of the Pacific Ocean and the Santa Monica Mountains. It is one of the best beaches in southern California for enjoying a relaxing beach day with picnics and sunsets.
You can even plan a trip to nearby Leo Carrillo State Park, ideal for swimming, fishing, surfing, and exploring tide pools and coastal caves.
BEST BEACHES IN SOUTHERN CALIFORNIA MAP