Are the best nude beaches in California on your radar? Your search for them ends here as you read about the perfect nudist destinations in ca further below in this post.
Nudist lovers, also known as Naturism fans, flock to the Golden Gate State from across the globe to enjoy the tranquil these clothing-optional beaches offer.
Don't worry if you are a newbie nudist since these nude beaches in ca are safe to visit, and the locals are kind and accommodating. Many of them are family-friendly, where you may involve in all the beach fun activities.
Most beaches are amidst nature and have clean white sand with turquoise waters, making them ideal for a perfect beach vacation.
Whilst you get ready to be comfortable in your birth suit on these lovely beaches, read the below post on the beach etiquette on these California nudist beaches.
Heading to Florida? Check this for 15 Top Nude Beaches In Florida You Should Visit.
THINGS TO KEEP IN MIND WHILE VISITING NUDE BEACHES IN CALIFORNIA
If you are nudist-curious and are considering trying it out, there are some unwritten rules you should know about. Following this basic etiquette avoids making yourself or others feel uncomfortable.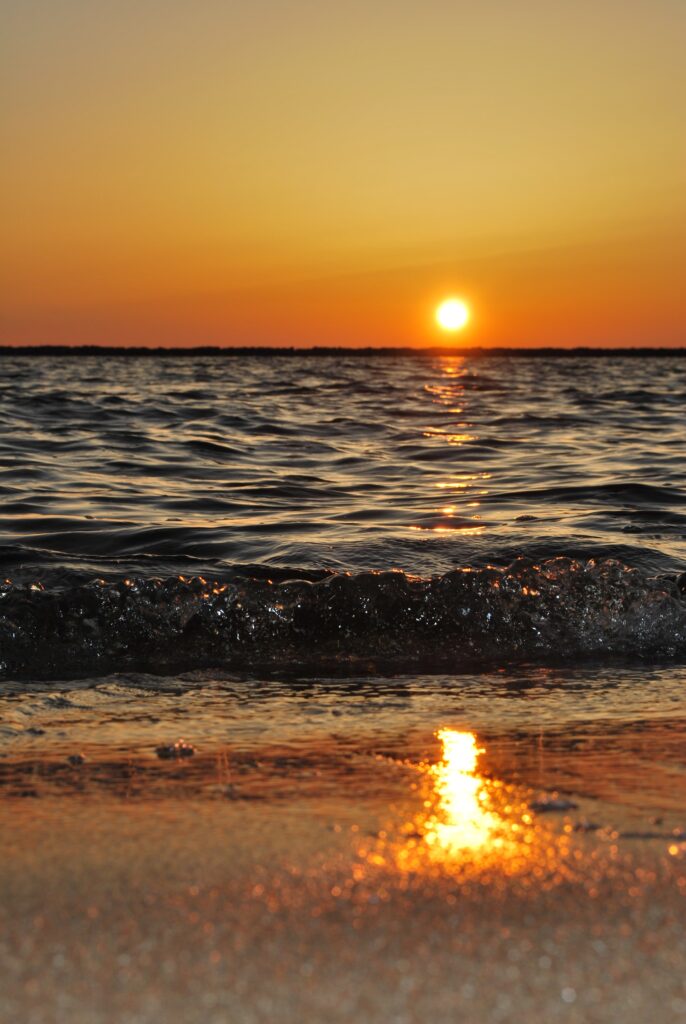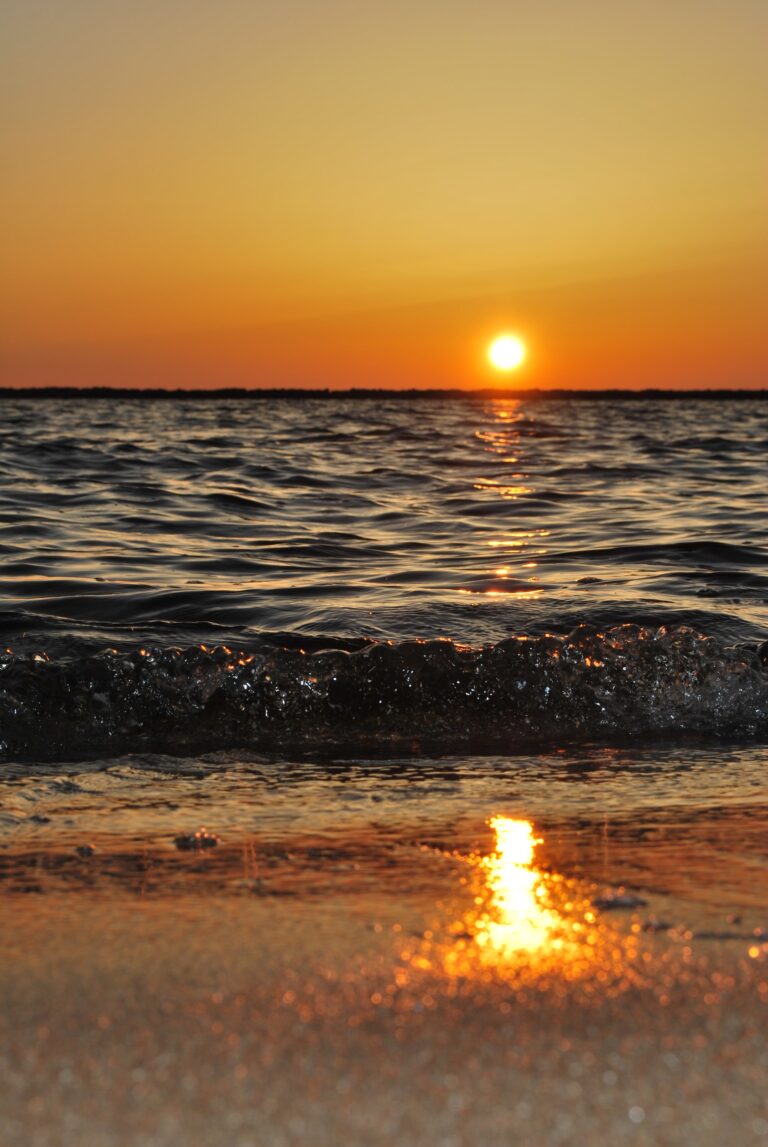 Before taking off your clothes, make sure you can do so and have reached the clothing-optional sections. Keep your clothes on in the parking lot, washrooms, common areas, and hiking trails and pathways on the premises. You can only be naked in the areas marked near the beach.
Respect fellow nudists and travelers. You may see fellow nudists on the beach as you walk. But do not stare, make fun or point at strangers. There is no judgment at nude beaches.
Enjoy the freedom without inhibitions, but do not take this as a chance or place to pick up dates or hit on people. Naturists strip off clothes in a free-spirited way, and there is nothing sexual about it.
Refrain from making sexual advances or making out or other intimate physical and sexual activities on nude beaches.
Do not take pictures or videos of naked people, whether you see a signboard or not, as it is common sense to respect everyone's privacy. Do not fly your drone up close to beachgoers, nude or not.
If you are a newbie or not very comfortable being naked, carry some things with you, like a book or listen to music or enjoy sunbathing, which will keep you occupied and make you feel less awkward, giving you time to blend in.
Remember to keep your distance – Since everyone is naked, it is courteous to keep a little distance between you and others on the beach.
Carry a towel – You will have to sit on the sand, and need it after bathing.
Apply sunscreen – Despite the temperatures, going nude for long hours is not good for the skin. So apply sufficient sunscreen.
Respect the local culture and customs. Occasionally, there may be people who are shy or clothed partially. Be respectful, and don't do anything that can make things inconvenient.
Check out these guides to the Florida Nude Beaches, Texas Nudist beaches, and the top nudist beaches in New York for some of the best nude beaches in the country.
TOP NUDE BEACHES IN CALIFORNIA
BLACK'S BEACH, SAN DIEGO
Black's beach, near La Jolla, one of the best California beach towns, is undoubtedly one of the most popular nude beaches in California.
Bordered by craggy rocks with an inclination of 300 feet, Black's beach flows south to the end at Scripps beach.
The beach, recognised for its nudist beachcombing and activities like volleyball, can be accessed by a lovely, meandering trail from Torrey Pines Gliderport.
Some people could find the trail challenging, especially when dragging all the beach gear up the incline. Thanks to the more convenient detour at South Blacks Beach, close to the intersection of La Jolla Farms Road and Blackgold.
The nude section of the beach starts at the beginning of Mussel Rocks, where you can comfortably drop off your swimsuits.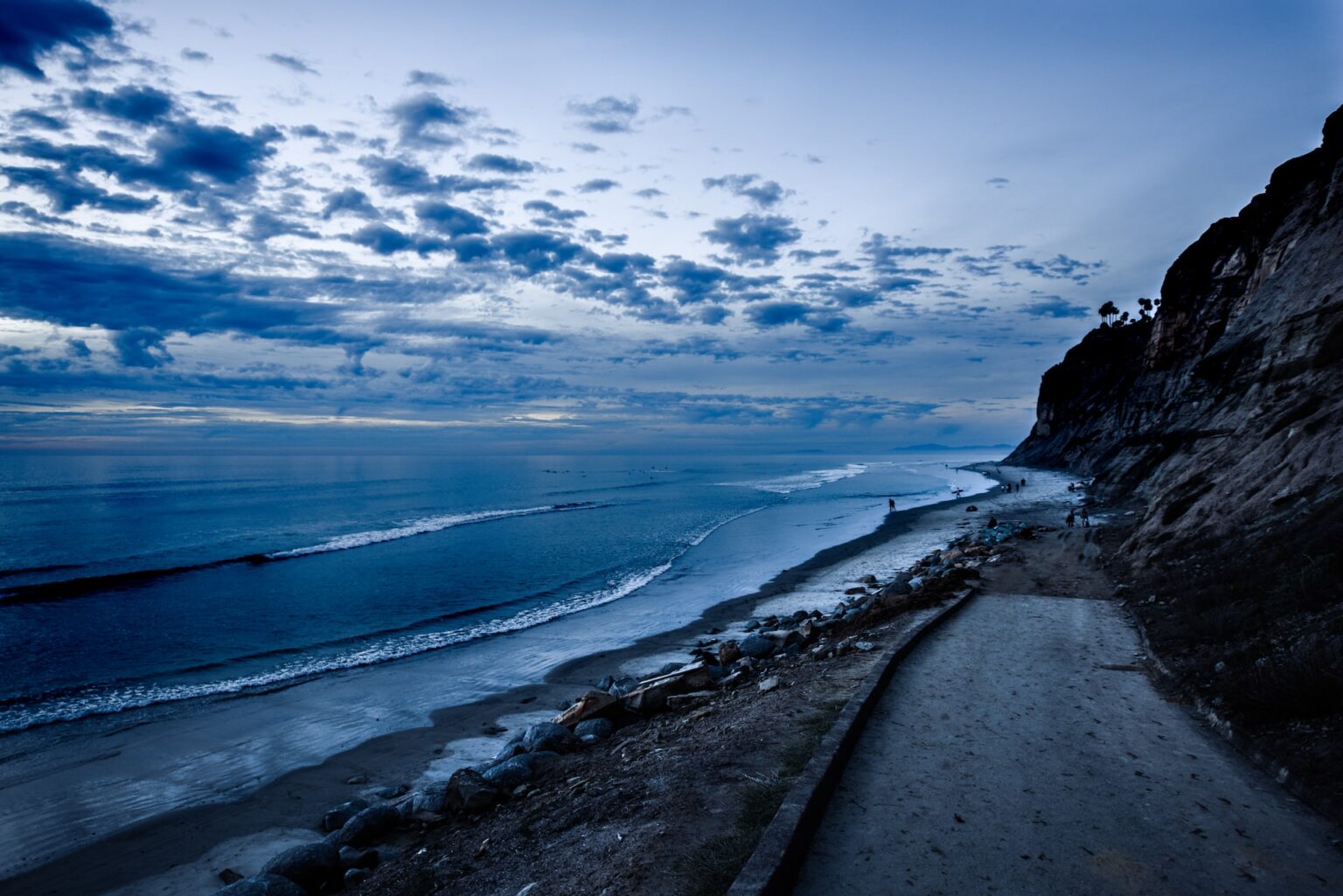 The North zone is usually crowded and is maintained by the California Department of Parks and Recreation. The South zone is owned by San Diego town, and you are not allowed to go nude in this section of the beach.
Plan for a Sunbathing-Sunday on this nudist beach in California, go surfing if you are an avid surfer, try skimboarding, snorkelling or unwind by the water and take in the soft sand and calming waves.
The beach will usually be occupied on all weekends, mainly with all nudist sports and nude sunbathing.
Recommended – 15 Best Beaches In Florida You Should Check Out
This place is mainly for the usual nude beachgoers, but if you feel shy, you can still choose to be on this beach in a swimsuit or in an isolated area.
Caution! There are no lifeguards on this beach, so it is advised that you take care of yourself while you are here.
As there are no restaurants on the beach, make sure to bring enough food, drink, and other necessities. There are no restrooms either.
PIRATE'S COVE, AVILA BEACH
Pirate's Cove beach, also known as Cave Landing or Mallagh Landing, is one of the secluded nude beaches in California close to San Luis Obispo.
The beach got its name as it was one of the locations for Liquor smuggling in the region.
Situated between Shell beach and Avila beach, Pirate Cove beach is protected by towering boulders and often draws more casual crowds.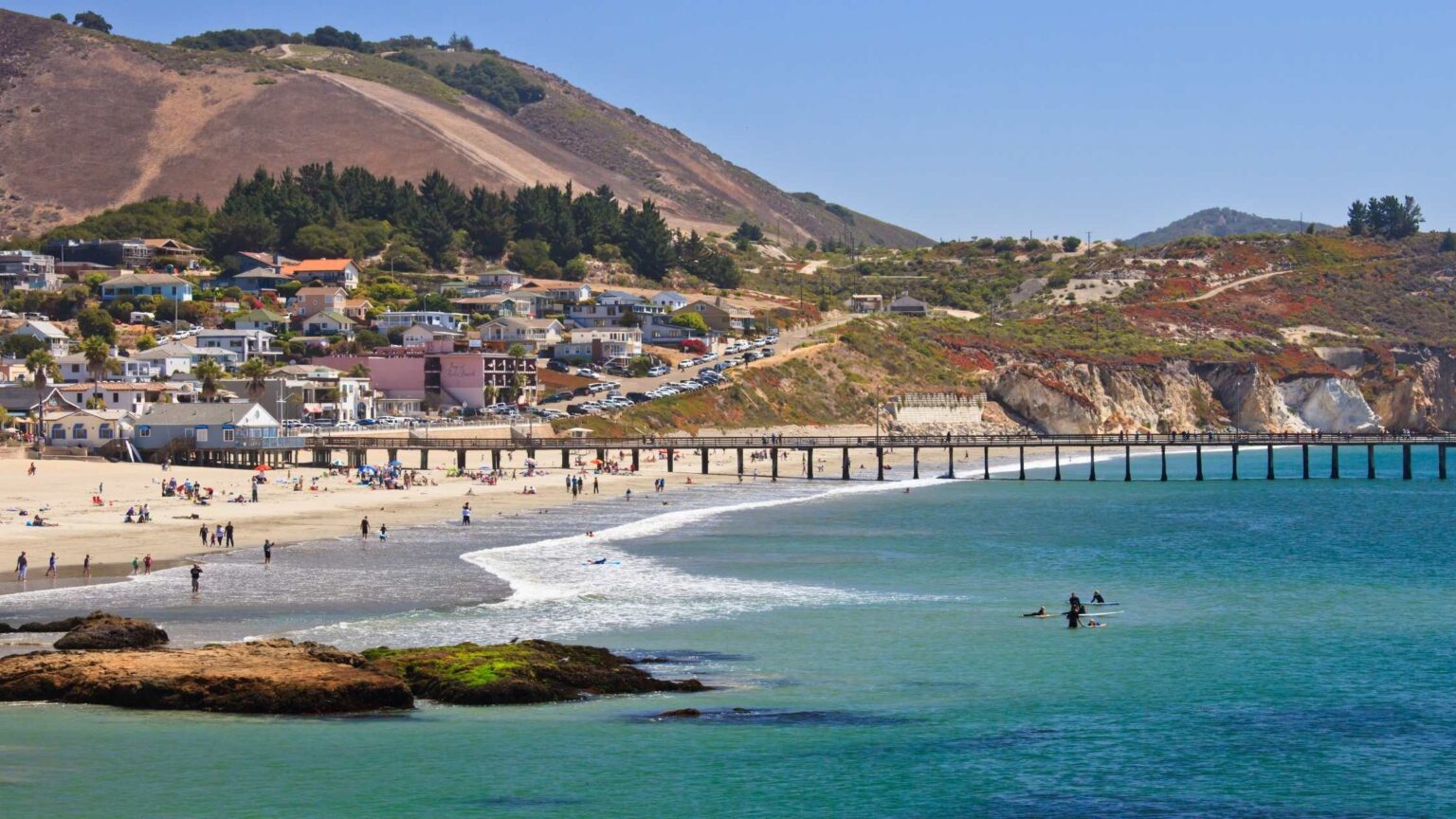 Drive to Cave Landing Road and look for the signboards in the main parking area near Avila beach drive that will lead you to the main cave.
Alternatively, you may ascend the steep hike maintained by San Luis Obispo County to reach this beautiful clothing-optional California beach and be rewarded with incredible views of the cave and San Luis Bay.
RECOMMENDED – 35 Best Things to Do in San Luis Obispo California
The nudist area of the beach is situated between the sea cave and the natural arch.
This lovely Californian coastal trail has much more to offer for avid hikers. Check out the Shell Beach Bluff trail, located North of Indio drive and is one of the popular trails for hiking in the area.
Ontario Ridge trail begins at Shell Beach Road and is another popular trail you should not miss, offering spectacular ocean vistas.
This is one of the best nude beaches in Ca for starter nudists who generally tend to be timid among the crowds to go naked.
On the beach, you will also see people who are not entirely naked, which may make you feel at ease dipping your toe in the clear waters and being wholly yourself.
Like Black's beach, there are no restrooms or eateries available on the beach, so ensure to get enough food and other necessities if you are planning to visit this beach.
RED ROCK BEACH, STINSON
Towards the South of Stinson Beach, Nestled in the Mount Tamalpais State Park in San Francisco and the Marin County mountains, Red Rock Beach is one of the most popular nude beaches in California.
This beach is a thrill-seekers paradise since craggy cliffs surround it, it is hard to access, and often has fewer visitors. Red Rock beach should be on your radar if you want to party on the sand and have the utmost nudist beach experiences in Ca.
Recommended – 6 Best Texas Nude Beaches For Relaxing In Your Birth Suits
The Boho vibes, the nude volleyball sports, and blaring music make it the perfect California nude beach for all naturism lovers.
Red Rock Beach is at its most beautiful when the tides are low. During low tides, you may relax in a hot spring close to the trailhead's south. Check the tidal charts online before planning to take the hard access path to this beach.
Get ready to make loads of new friends on this Bay area's favourite nudist beach and indulge in fun games like frisbee and beach volleyball.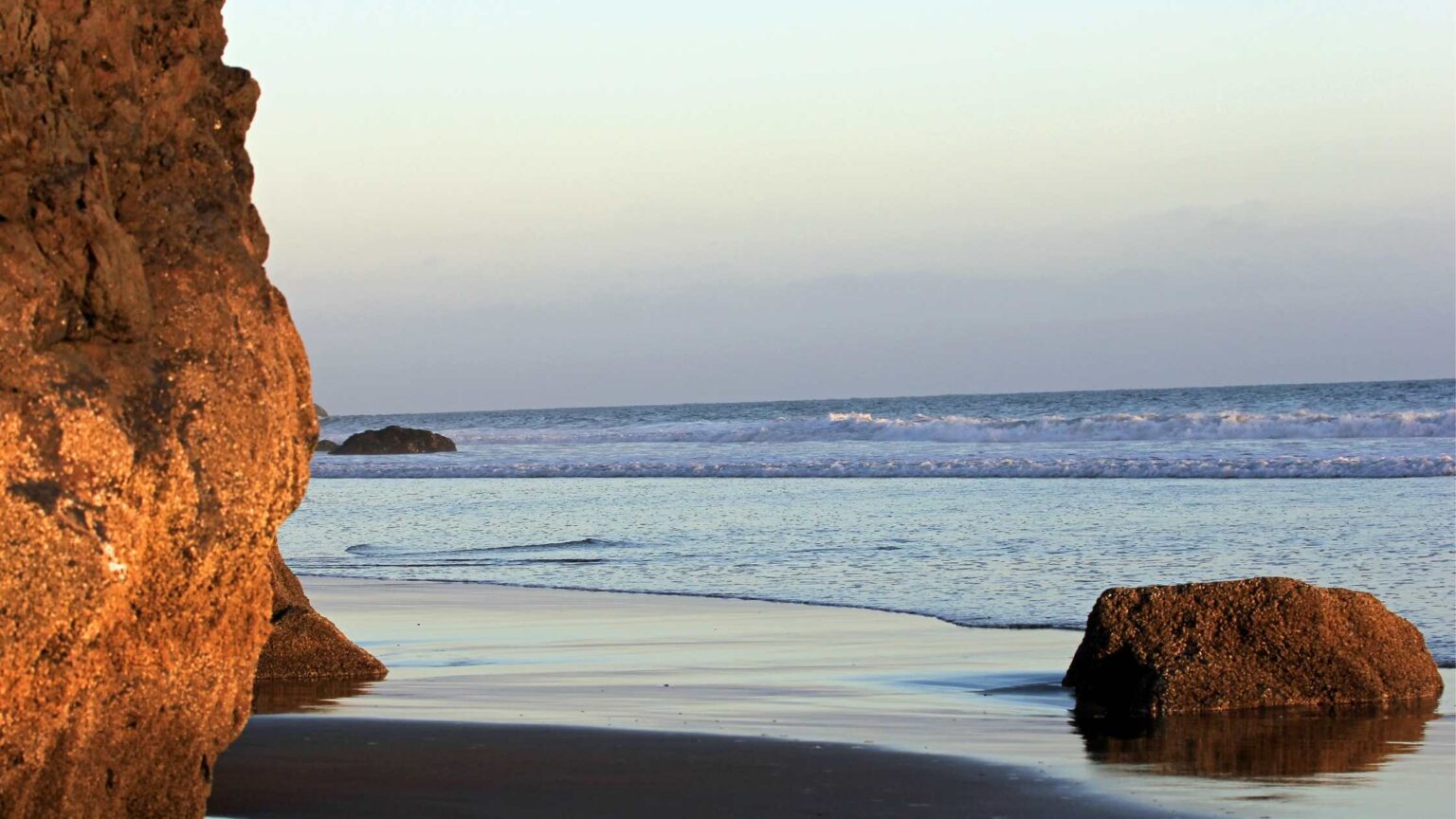 If you are not an expert swimmer, I would advise against swimming at this beach since the waves are choppy and there are no lifeguards.
Additionally, there are other family-friendly beaches close by, so be careful to land on the correct beach before removing your clothing to avoid facing implications.
Red Rock Beach has parking on both sides of Highway 1 and is located a quarter mile north of the Steep Ravine Beach entrance.
Go on a weekend road trip with your friends to this beautiful nudist beach in California.
SECRET COVE NUDE BEACH, LAKE TAHOE
One of North Lake Tahoe's most popular locations for photos is The Secret Cove Nude Beach, located about 2.6 miles south of Sand Harbor and a mile from the Nevada region.
The beach is distinguished by its enormous granite cliffs, mild waves, and fine sand making it one of the well-liked nude beaches in California.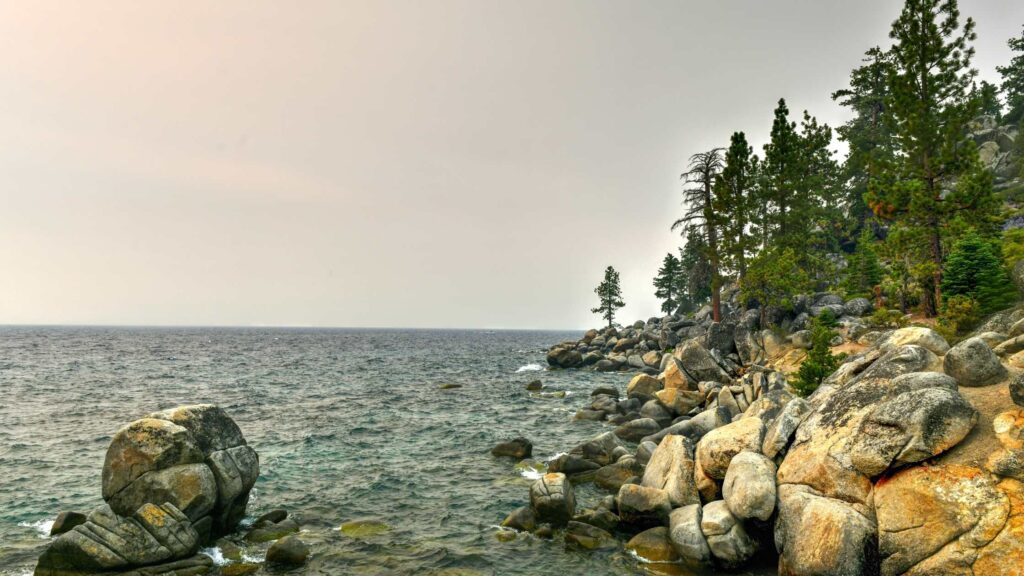 Go swimming during the low tides or walk on the clean sand with your dog on this dog-friendly beach in California.
Especially during the peak summer times, the beach gets crowded, so I recommend visiting the beach in the early hours.
Plan for a short and steep hike near the lake region if you want to add an extra adventure to your California nudist beach trip itinerary.
SAN GREGORIO BEACH, SAN MATEO
Have you ever thought of what it feels like to own a nude beach? One of the best gay nude beaches in California is the privately owned San Gregorio beach in San Mateo County.
The expansive nudist beach is home to several naturally formed caves. It is a visual treat to explore these adventurous caves if you are looking for a perfect weekend getaway from Silicon Valley.
Make sure you arrive at the privately owned San Gregorio beach rather than the state-owned beach, where being nude could get you in legal hot water.
Pay a nominal parking fee when you arrive here and head towards the North end of the beach for the best clothing-optional California nude beach experience.
If you head to the extreme North end of the beach, popularly known as gay paradise, you will witness many cosy driftwood structures used as love shacks.
The beach caters primarily to guys, but if you are a woman who wants to go nude among the crowd, there won't be any issues because the beach has an inclusive, accepting, and safe culture.
Towards the South End of the beach is the State Park beach, where nudity is not allowed.
BONNY DOON BEACH – DAVENPORT
Bonny Doon Beach, near the southern end of Davenport, is a tiny paradise separated into gorgeous coves amidst high cliffs and is reachable by a reasonably short hike.
Bonny Doon Beach is one of the top nude beaches in California, surrounded by lush green forests and uneven boulders.
The beach is not entirely in favour of naturists since you might get to see families amongst the crowds.
However, people are generally aware that this is a clothing optional California beach, especially at the far end of the beach. They are friendly and accommodating if you decide to do so.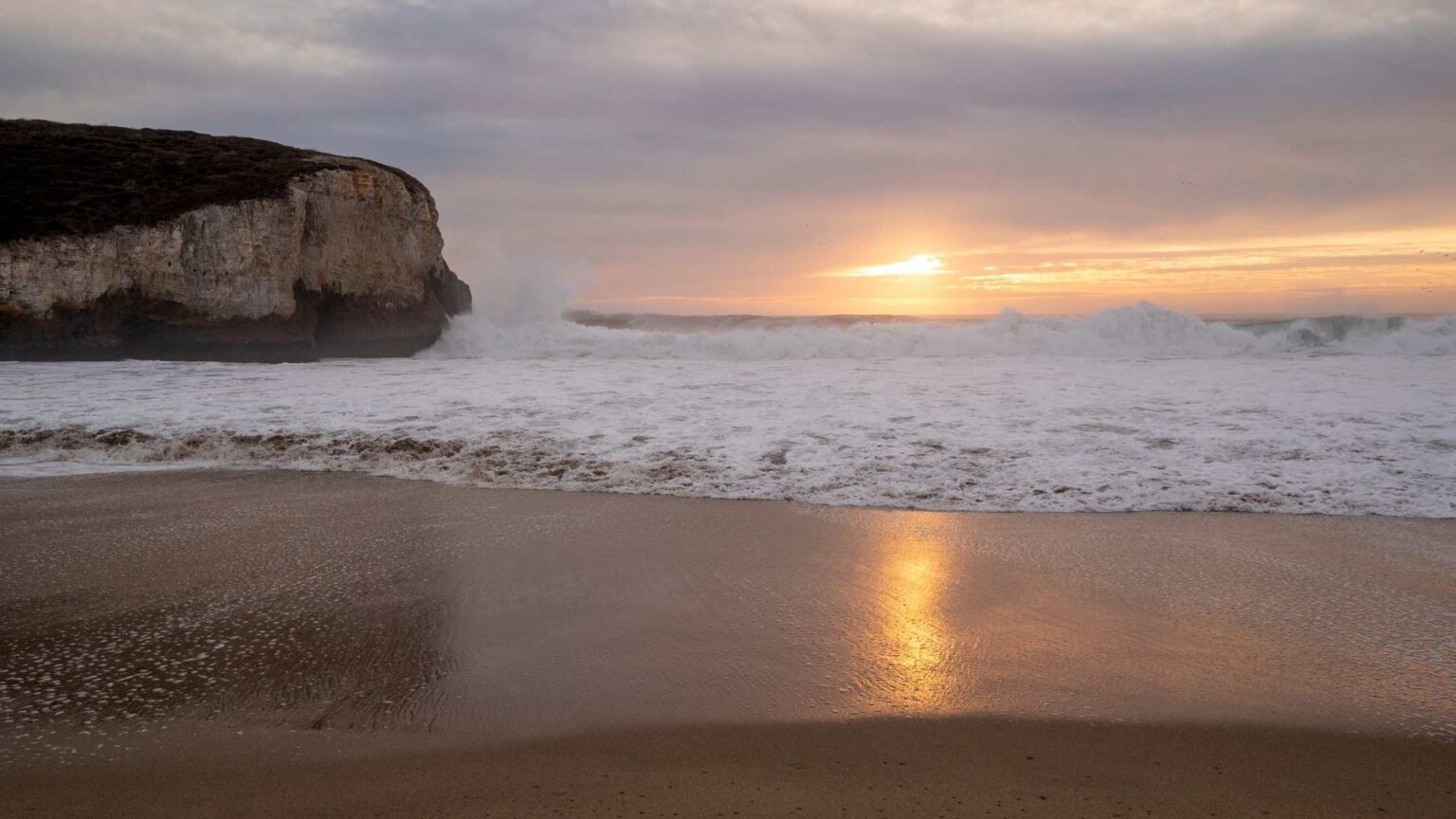 Along the coast of Santa Cruz, hike a steep trail to stop at the Shark's Tooth Cove for a cosy sunbathing experience and to explore natural rock formations.
Try to include Davenport Cove, also known as the Shark Fin Cove, which is 0.7 miles south of Davenport if you park close to Davenport Beach. The Shark Fin formations off the coast are connected to the name.
Check out this beach on New Year's Eve. It is no less than a party filled with music, dance, food and beverages.
MORE MESA BEACH, SANTA BARBARA
Are you looking for a nice suntan at a fun-filled nudist beach? Go to More Mesa Beach, between Hope Beach and the UCSB campus north of Santa Barbara's heart.
It is one of California's most happening nude beaches, filled with younger crowds and a party vibe since it is closer to college.
Starting from Hollister Avenue, follow Puente Drive, which will eventually turn into Vieja Drive. From there, walk the remaining distance to the beach.
Pass by the private guarded property, and you will get the pedestrian entry amidst the Eucalyptus grove at the end of Mockingbird Lane.
Alternatively, steps down this path are uneven, and it might be hard if you are a beginner hiker.
At the trail's end, head north to the designated clothing-optional beach area.
Towards the South is the Hope Ranch beach, which will be crowded with families, and dropping off your swimsuits in the area is prohibited.
RECOMMENDED – 15 Best Day Trips From Santa Barbara You Should Check Out
Grab your surfboard and head out to the choppy waves in this hidden treasure, or kick back on the fine sand and enjoy your favourite beverage to get the perfect tan.
Enjoy live music in the nearby cosy beachside cafes. Shop for souvenirs in the art galleries and chic boutiques closer to the beach.
If you want a roomier parking area, I advise approaching the beach from Patterson Avenue.
LAND'S END BEACH, SAN FRANCISCO
Are you wondering if there are any quiet nude beaches in California? Visit Land's End Beach, a hidden treasure close to San Francisco near Pyramid rock.
Head to El Camino del Mar car park area and look for the signboards leading to the walking trail to the beach.
The rocky trail might be slippery and a little more difficult for beginner hikers, but you will be rewarded with spectacular beach vistas as you descend the rugged cliff path.
As you reach the bottom of the path, make sure you head towards the right for the nudist section of the beach.
Find a better spot, unwind yourself on this rocky beach and get ready to sun your buns since the weather is so pleasant here most days.
I wouldn't recommend swimming on this beach since the tides are rough, and it might be riskier due to the absence of lifeguards on this remote beach.
Try to include the nearby Baker beach if you want to explore some more clothing optional California beaches.
Wondering what to do in San Francisco at night? Check this guide here!
HEARST BEACH, SAN SIMEON
Located near the Hearst Castle in San Simeon city in San Luis Obispo County is Hearst Beach, also known as William R Hearst Memorial State beach, one of the secluded nude beaches in California.
Hearst Beach is a little cove maintained by the California State Parks and is a great place to spend a relaxing weekend with spectacular beach views and hilltop castle views.
DEVIL'S SLIDE BEACH, HALF MOON BAY
If you are looking for a well-kept nude beach with all basic amenities, head to Devil's Slide beach, located along the coast of central California.
The landslides that have previously happened in the region due to erosion give the beach its name.
Because of the significant whale sightings on this beach, it is also known as Gray Whale Beach.
Devil's beach is one of the most excellent nude beaches in California that one may choose for a lovely weekend since it is bordered by enormous craggy cliffs and lush green woods, and the beach is home to various animals.
Head to the North end of the beach if you want to spend time in the designated nude section.
I wouldn't advise going into the sea since there are white sharks and other hazardous predators, and the water is frigid.
Plan a trip to this beach during spring if you love watching Whales, Sharks and other gorgeous sea mammals.
The beach features well-kept parking and restroom facilities.
MORE UNDERRATED NUDE BEACHES IN CALIFORNIA
BAKER BEACH, SAN FRANCISCO
If you are wondering if there are any nude beaches in California near the Bay Area, visit Baker Beach, close to San Francisco, famous for its stunning views of the Golden Gate Bridge.
Early in the 1990s, the Burning Man Festival attracted large numbers to the beach, but due to a clash with the local governance, the event was moved to the Black Rock Desert, close to the Nevada area.
The beach draws touristy crowds, so ensure you land on the Northern side of the beach before you pop off your clothes.
You can lounge or sunbathe on this beach even though swimming is not advised owing to the strong currents and cold waters.
SAN ONOFRE BEACH, GAVIOTA STATE PARK
Located in San Diego County, San Onofre Beach is a 3000-acre state park with expansive landscapes and is known for its lovely trails, which lead to the other nearby beaches.
There are six trails in the area, and trail number six will lead you to one of California's most lovely nude beaches, San Onofre Beach.
Walk towards the South away from the lifeguard tower when you reach the bottom of the trail and unwind on the sandy clothing-optional beach.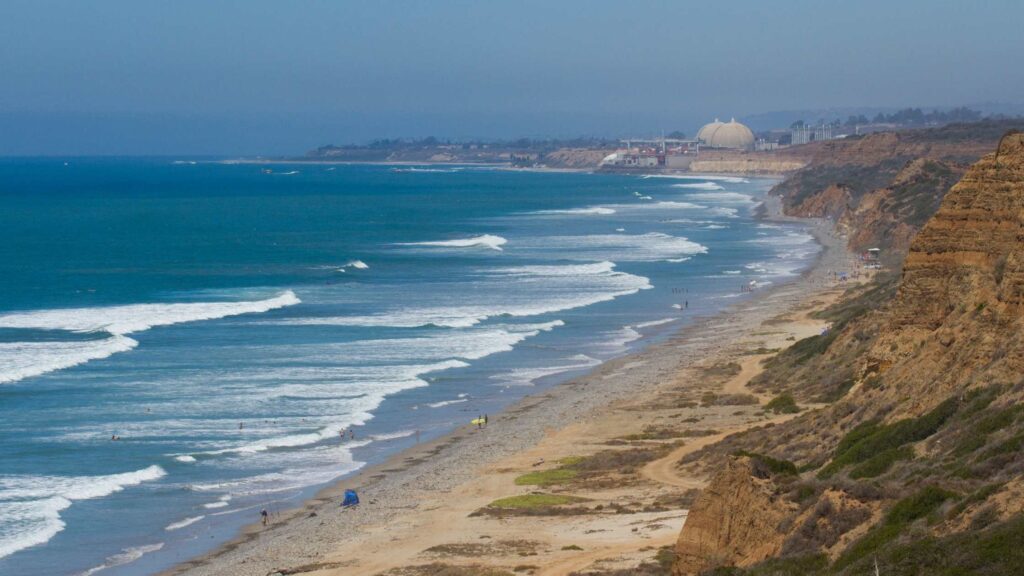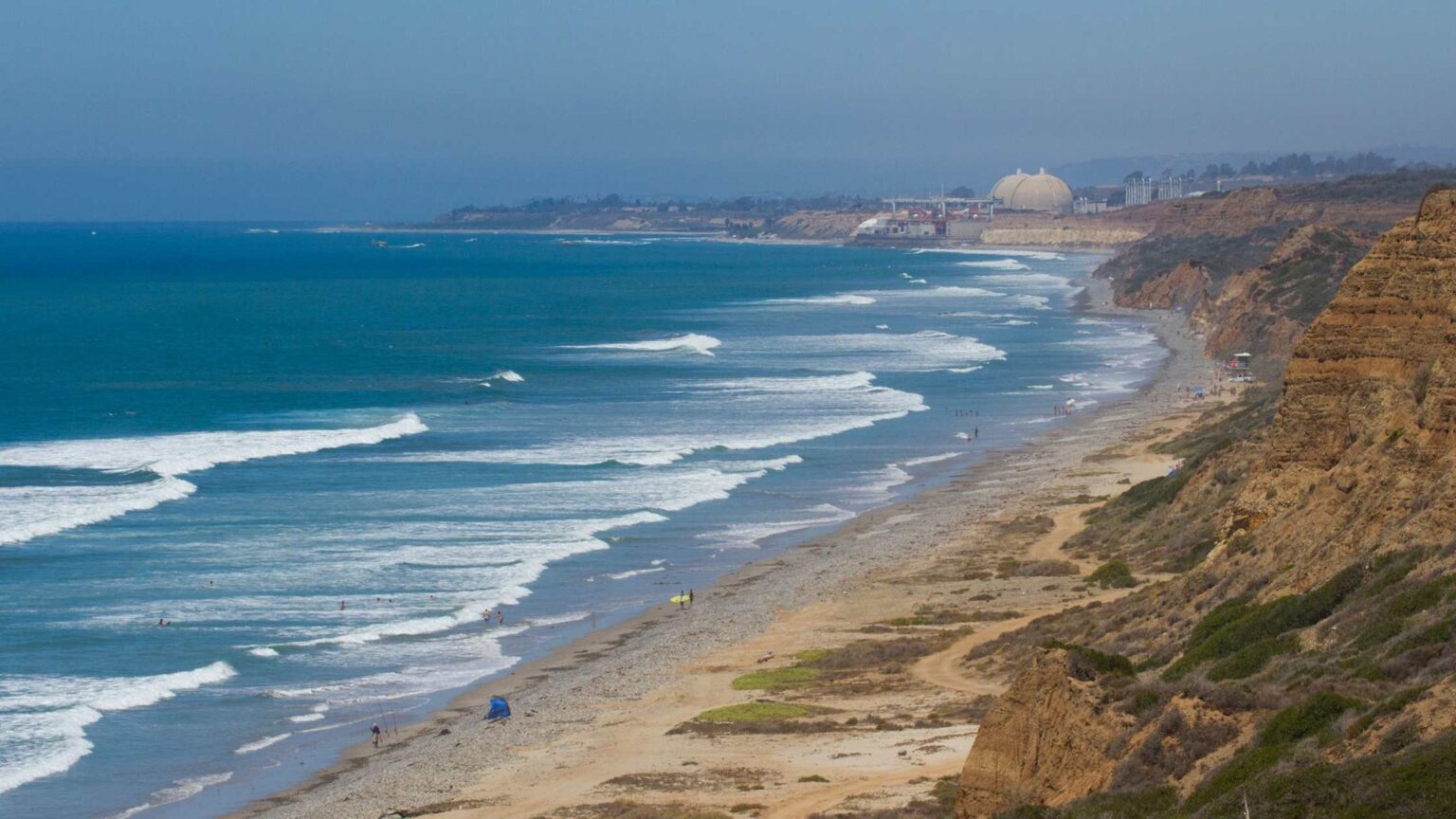 You may notice a barrier dividing the park into two portions since the beach is federal property owned and maintained by the Camp Pendleton Marine Corps Base. The locals claim that there is a gay nudist beach on the opposite side of the barrier.
Visit this one of the perfect ca nude beaches during summer. Go hiking around the nearby trails for the best nudist beach experience.
Check out the tidal charts online before you wish to swim in the cold waters. I suggest avoiding the sea at high tides as the tides could be a little scary.
HOLE IN THE WALL BEACH, SANTA CRUZ
Close to Santa Cruz in the town of Davenport is one of the immaculate nude beaches in California, Hole in the Wall beach.
Head south toward the Panther beach and pass through "the hole in the wall" to access this beach. You will see a sizable rocky wall separating the Panther beach from the Hole in the wall beach.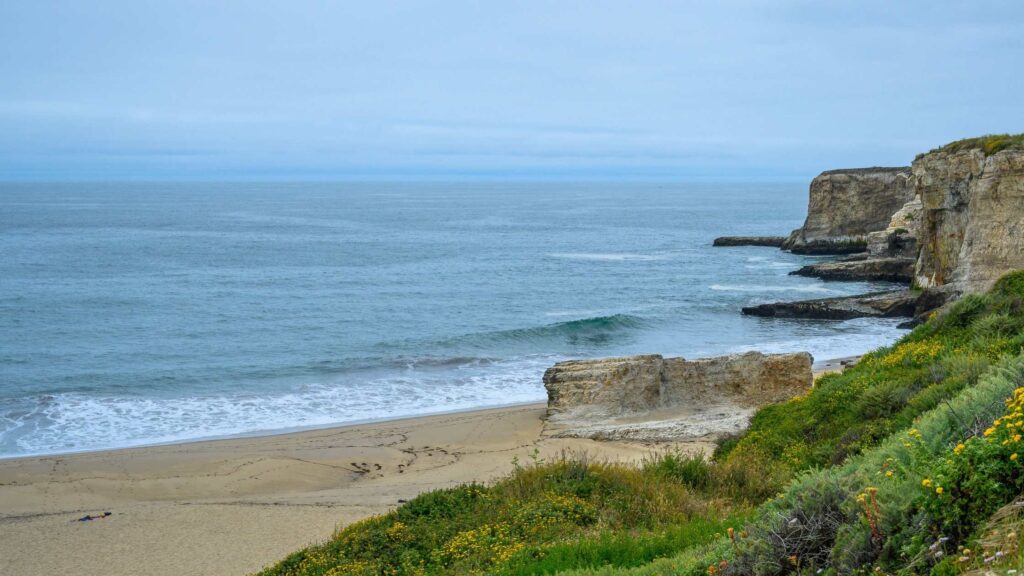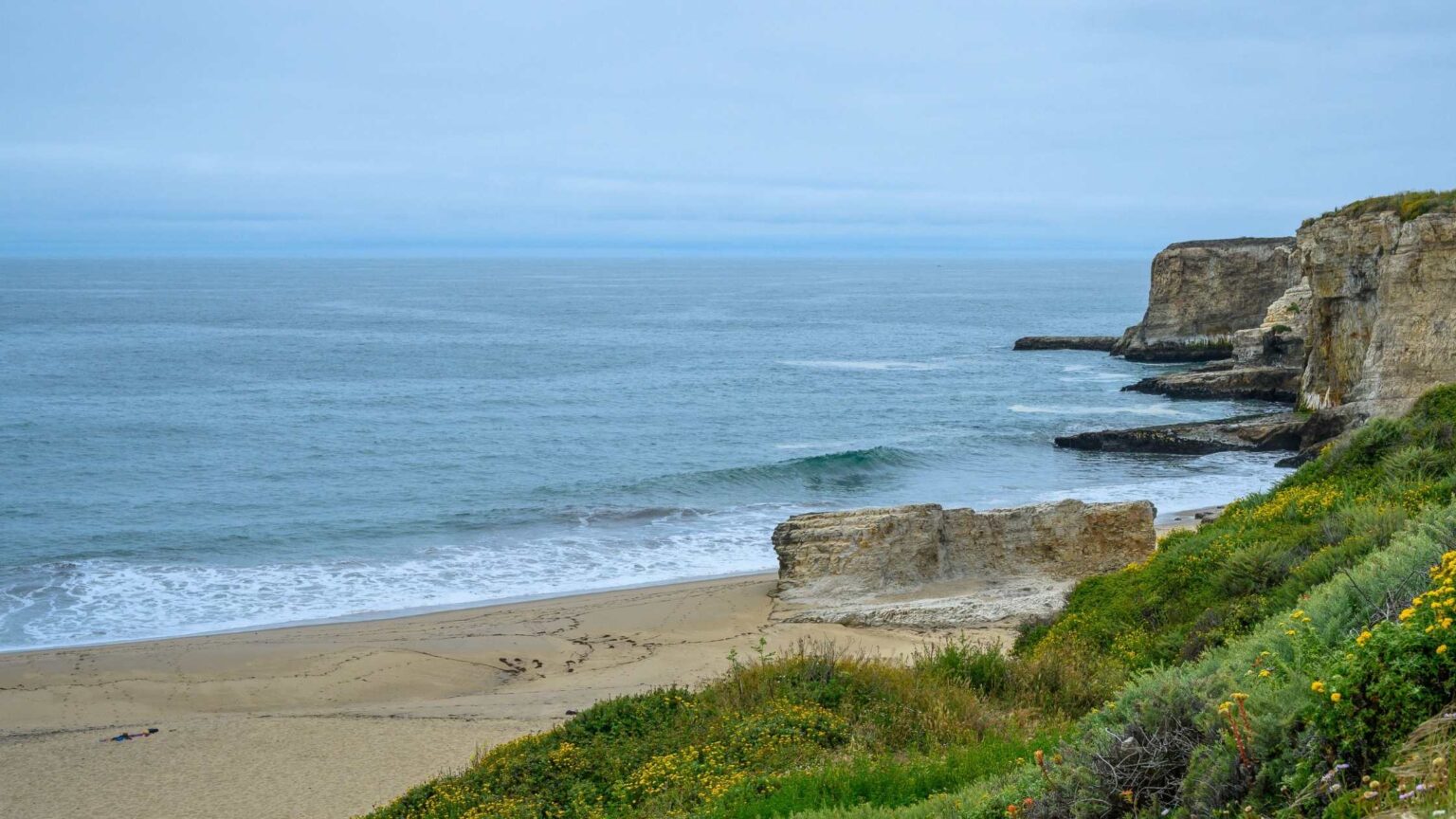 Expect fewer crowds since the beach is oh-so-not-popular. The area is also a distinctive beachside location for photography.
Recommended – 25 Best Hikes In Santa Cruz For Your Itinerary
Ensure you look online tidal charts before heading to this beach since the tides are strong and dangerous. Although you can swim at both of these beaches, it is to your best advantage to avoid them when the tide is high.
BONEYARD BEACH, ENCINITAS
Wondering are there any secluded private nude beaches in Southern California? Check out Boneyard Beach, situated beneath a very high cliff.
Access to this beach is complex, making it one of the most remote nude beaches in California.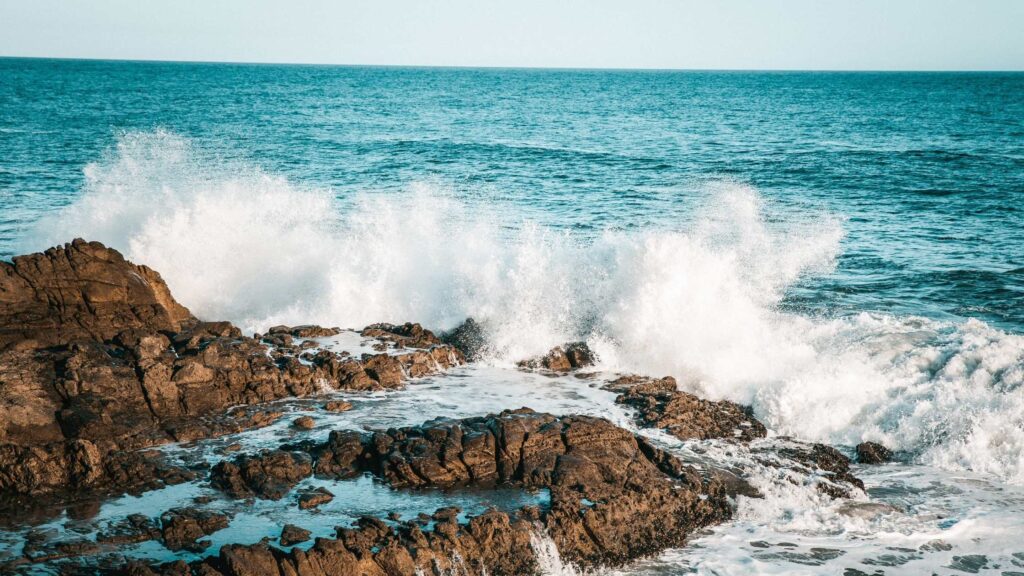 You must go to Swami's Beach or D Street Beach and walk around to reach Boneyard Beach.
Avoid entering the waters during high tides. If you visit this beach during low tide, you may sunbathe while soaking in the fantastic panoramic views, crystal clear seas, and fluffy clean sand.
CRATER BEACH, SAND CITY
Crater beach, one of the best nude beaches in California, is a mile-long secluded stretch of sand near Sand City famed for its massive dunes and for offering a variety of exciting activities.
Go swimming, beachcombing, hike the Monterey Peninsula Recreational Trail nearby the beach or relax on the soft sand on this unique beach.
Suppose you travel by car to this beach, park close to the San City shopping centre and take California Avenue to the trail. The Sand City beach is also about a 10-minute stroll from the Crater beach.
Enjoy the natural slides in the sandy playground the dunes offer on this clothing-optional ca beach while admiring the beautiful craters.
If you want to take a day trip to the beach to explore the neighbourhood, there are a few museums nearby within a 30-minute drive.
PYRAMID BEACH, SANTA CRUZ
Pyramid Beach, located 2.5 miles North of Santa Cruz boardwalk, is one of the smallest nude beaches in California.
The beach is also called 2222 beach since it is located across the 2222 West Cliff.
You could get the sense of having a beach in your backyard; that's how little the beach is! Though it is pretty tucked in the residential area, nudity is tolerated on this beach, and the locals are inclusive about the culture.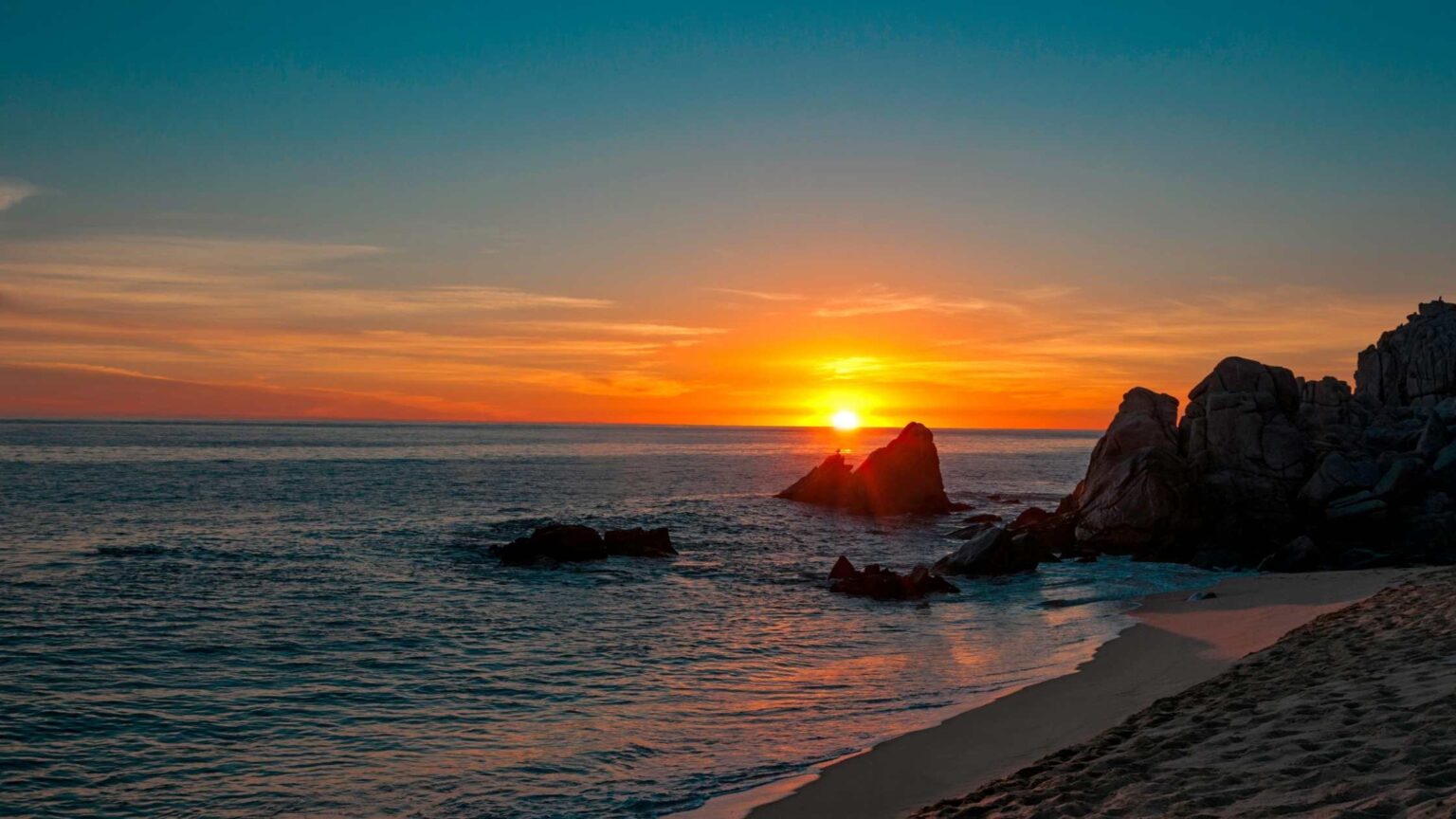 The access to the beach is a bit steep and dangerous, but it is safe. On a perfect sunny day, you will see fellow nudists and collegegoers on the beach.
Check out the nearby Natural Bridges State Park beach if you have spare time in your itinerary.
LAGUNA CREEK
A popular gay beach area near the South of Davenport in Santa Cruz is the Laguna Creek beach, a half-mile sandy stretch and a part of the Coast Dairies State Park.
The beach is known for its stunning lagoon and the variety of birds in the region, making it one of the best nude beaches in California.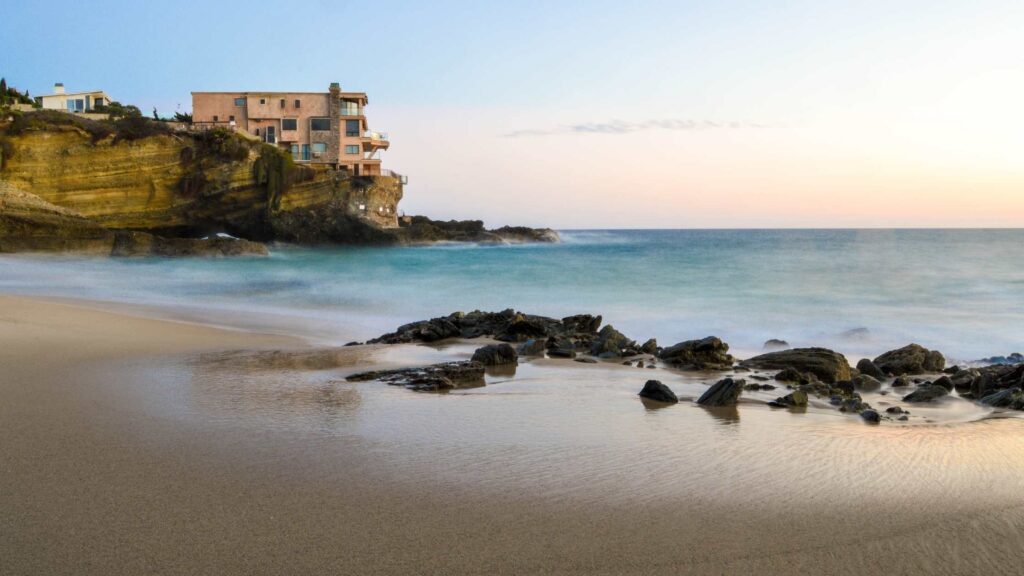 Head to the North end of the beach for skinny-dipping, or hit the South end if you are timid to be in your birth suit.
The middle section of the beach is mainly for gay beachgoers, but you are free to explore the coast.
HOW TO REACH?
If you are driving from Santa Cruz, Head north of the junction of highways 1 and 17.
You may park on the inland side of Highway 1 or the unmarked Laguna Road next to the parking lot.
PANTHER BEACH, DAVENPORT
If you are into Whale watching, surfing, swimming and additionally, if you are a nude beachgoer, visit Panther Beach in Davenport, 10 miles North of Santa Cruz.
Access to this one of the famous nude beaches in California is hard, featuring rocky paths and steep slopes. So ensure you have the necessary supplies and required gear.
From the north end of the parking lot, cross the tracks and follow the steep slopes, which will lead you to the main beach.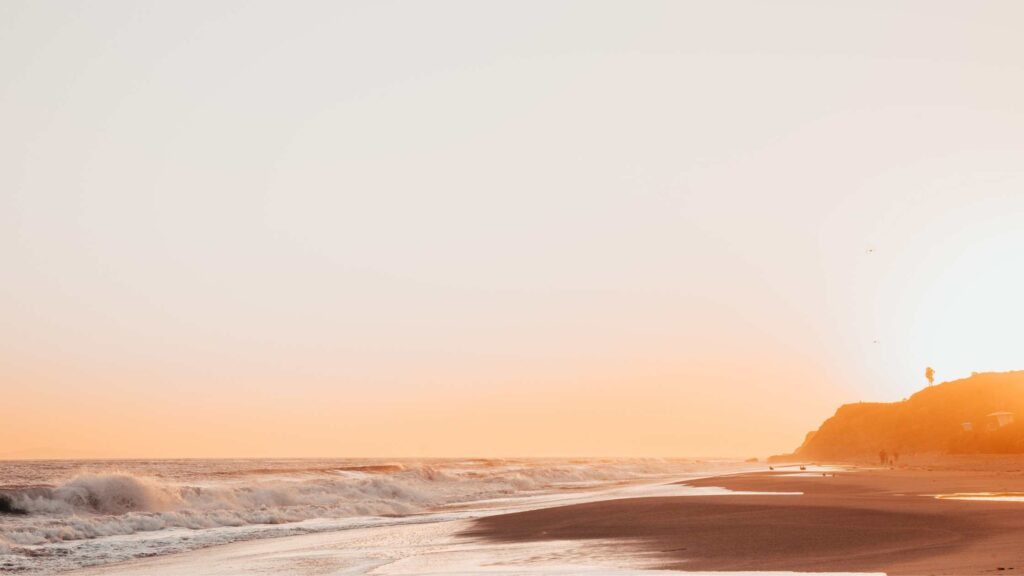 HOW TO REACH?
If you are driving from Santa Cruz, head 10.6 miles north of the junction of highways 1 and 17. You will find Panther beach between mileposts 95 and 96 on Highway 1.
The parking area is on a ridge between the highway and the railroad tracks on the west side of the highway. It is a narrow dirt road.
FOUR MILE BEACH
The Four Mile Beach, a section of Wilder Ranch State Park, is one of the nude beaches in California recognised for Surfing.
The beach is accessible by driving approximately four miles north of Santa Cruz to the parking lot along Highway 1.
It is also called the 44-mile beach by the people of San Francisco since the distance from the junction of highways 1, and 92 in Half Moon Bay is 44 miles.
You may bump into avid surfers if you head towards the South end of the beach.
This beach doesn't often have a lot of visitors, but you could see a ranger there who might ask you to put on your gear.
RIO DEL MAR BEACH
If you are looking for a nudist beach filled with fun activities, check out Rio Del Mar beach, located between Seacliff Beach State Park and the expansive La Selva Beach.
Play beach volleyball, go surfing or grab your favourite drink from the nearby cafe while you sunbathe on this one of the dune-covered nude beaches in California.
Spots between the dunes and hills offer more privacy if you want to stay away from the rangers on this beach.
HOW TO REACH?
From Santa Cruz, follow Highway 1 South to Aptos and take the Rio Del Mar exit. Follow sign boards for Rio Del Mar.
CARMEL MEADOWS BEACH
Another popular destination for nudist beachgoers is Carmel Meadows Beach, a small section of Carmel River State Beach located a few miles from downtown Monterey.
I recommend taking the guided e-bike tour on this one of the gorgeous nude beaches in California to explore the naturally formed rocks and the rugged coastline.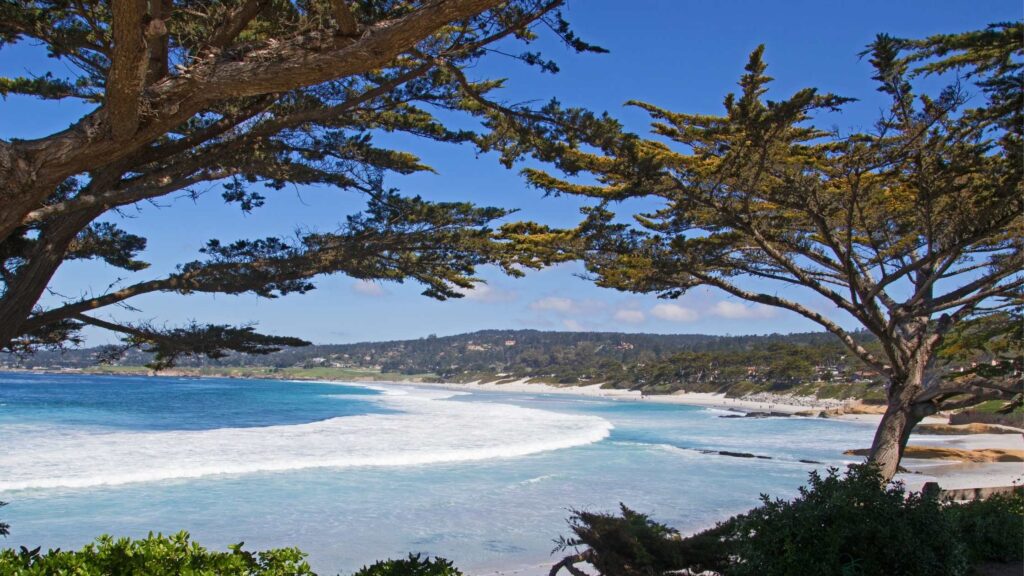 Most parts of the beach are clothing-optional, allowing you to unwind on the fine white sand while taking in the stunning surroundings.
Since the tides here are dangerous, I would advise against going into the water.
That's it about the best nude beaches in California. Have a fun holiday!
MAP OF THE BEST NUDE BEACHES IN CALIFORNIA
Please note: This post contains affiliate links, meaning I may earn a commission if you make a purchase by clicking a link (at no extra cost to you). Learn more.
MORE CALIFORNIA CONTENT FOR YOU