Are you looking for the best Venice quotes? Well, you will find all the beautiful quotes about Venice here, the post-card city in Italy that has enchanted explorers, writers, thinkers, artists and philosophers throughout its History that goes back to hundreds of years.
The enigmatic city of canals and boats is one of the most beautiful places in Italy that attracts millions of travelers every year. Venice is an exotic city that you should visit at least once in your lifetime.
If you are looking for some inspirational Venice quotes or you are back from a trip to this beautiful city and need some epic Venice Instagram captions to go perfectly well with your pictures.
Or if you just enjoy quotes like me, whatever the reason why you may be here, go on to check out this ultimate list of the best Venice quotes, Venice captions about its History, architecture and culture, Venice puns and more.
If you love quotes as I do, also check out beautiful quotes about Switzerland, captions about Japan, Prague quotes, and Instagram captions about Amsterdam, the sin city.
THE BEST VENICE QUOTES
Without much ado, let's start with the best Venice quotes that will inspire and introduce you to this beautiful city of dreams.
If you are screaming in your mind that 'I want to go to Venice!', then these beautiful Venice sayings and Venice quotes are the easiest way to travel there right away!
'When I seek another word for 'music', I never find any other word than 'Venice.' – Friedrich Nietzsche.
'There is something so different in, Venice from any other place in, the world, that you leave at, once all accustomed habits and, everyday sights to enter an enchanted garden.' – Mary Shelley.
'Venice has always fascinated me. Every country in Europe then was run by kings and the Vatican except Venice, which was run by councils. I've always wondered why.' – Alan Furst.
'No one forgets the first glimpse of Venice. Whether arriving by plane, boat, train, or car, there is that startling moment when one looks across the waves and finds what should not be there – stone towers, rich churches, and packed buildings rising out of the sea. The extraordinary beauty of Venice only adds to its improbability. How does such a city exist?' – Thomas F. Madden.
'Venice appeared to me as in a recurring dream, a place once visited and now fixed in memory like images on a photographer's plates so that my return was akin to turning the leaves of a portfolio: a scene of the gondolas moored by the railway station; the Grand Canal in the twilight; the Rialto bridge; the Piazza San Marco; the shimmering, rippling wonderland; the bustling water traffic; the fish market; the Lido beach and boardwalk; Teeny in the launch; the singing, gesturing gondoliers; the bourgeois tourists drinking coffee at Florian's; the importunate beggars; the drowned girl's ghost haunting the Bridge of Sighs; the pigeons, mosquitoes, and fetor of decay. – Gary Inbinder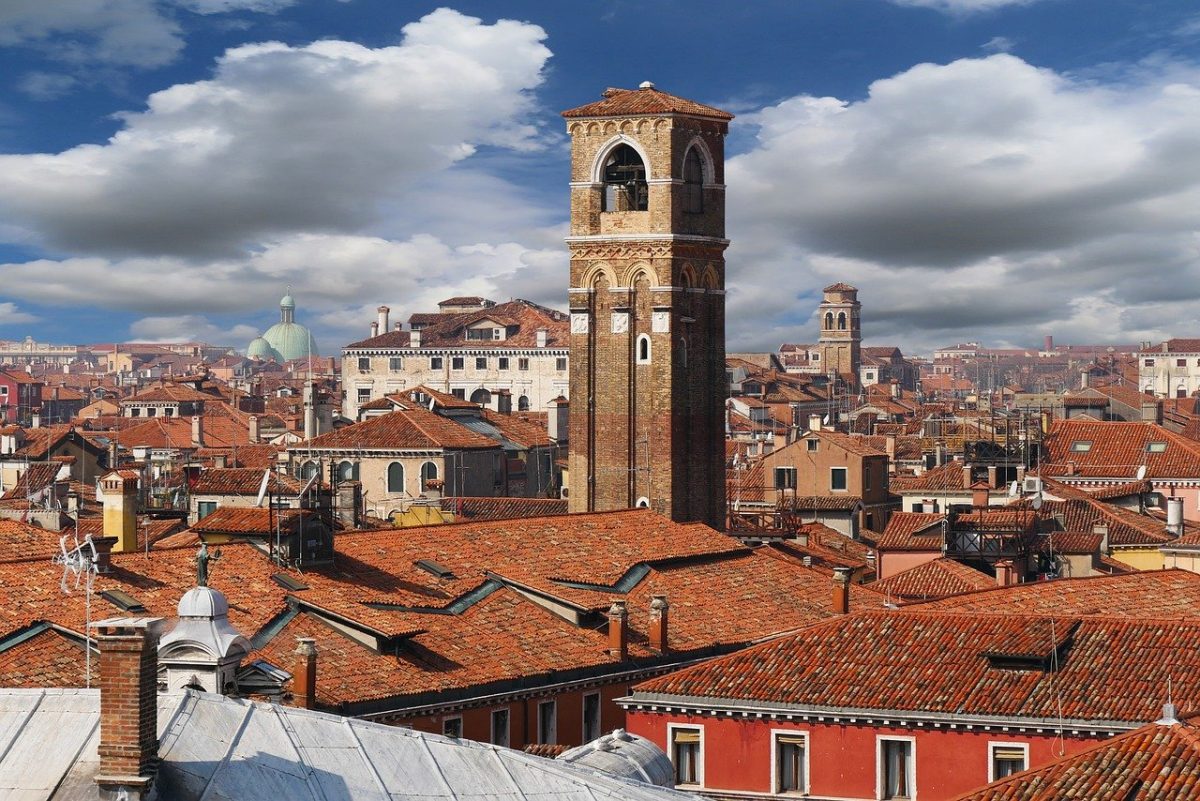 'And off in the far distance, the gold on the wings of the angel atop the bell tower of San Marco flashed in the sun, bathing the entire city in its glistening benediction.' – Donna Leon.
'If you read a lot, nothing is as great as you've imagined. Venice is — Venice is better.' – Fran Lebowitz.
'Venice, it's temples and palaces did seem like fabrics of enchantment piled to heaven.' – Percy Bysshe Shelley.
'By day, Venice is a city of museums and churches, packed with great art. Linger over lunch, trying to crack a crustacean with weird legs and antennae. At night, when the hordes of day-trippers have gone, another Venice appears. Dance across a floodlit square. Glide in a gondola through quiet canals while music echoes across the water. Pretend it's Carnevale time, don a mask — or just a fresh shirt — and become someone else for a night.' – Rick Steves
RECOMMENDED: 180 BEAUTIFUL QUOTES ABOUT ITALY, THE ENCHANTING DESTINATION
'If I could live in one city and do every single thing I do there, I would choose Venice. You can't turn your head without seeing something amazing.' – Nile Rodgers.
'An orange gem resting on a blue glass plate: it's Venice seen from above.' – Henry James
'Venice never quite seems real, but rather an ornate film set suspended on the water.' – Frida Giannini.
'The sylphs and undines And the sea-kings and queens Long ago, long ago, on the waves built a city, As lovely as seems To some bard in his dreams, The soul of his latest love-ditty.' – Lord Lytton.
'Venice is a place that is high on reinvention. The kind of place that you can go and be whoever it is you want to be and do whatever it is you want to do, and nobody's going to ask you a lot of questions about it.' – Will Arnett
'Amsterdam was a great surprise to me. I had always thought of Venice as the city of canals; it had never entered my mind that I should find similar conditions in a Dutch town.' – James Weldon Johnson.
FAMOUS VENICE TRAVEL QUOTES
There has been plenty that has been said about magical Venice. Below are the most famous quotes about Venice that comes to one's mind when you think of describing Venice's beauty, charm, culture and food.
These Venice Italy quotes are perfect for your Instagram captions too.
'When I went to Venice, I discovered that my dream had become- incredibly, but quite simply- my address.' – Marcel Proust.
'If I were not King of France, I would choose to be a citizen of Venice.' – Henry III.
It's so easy for me to get caught up in the feeling of a city like Venice, where Everything is just beautiful colour and gorgeous buildings that are so peaceful. You can roam around and get lost in the labyrinth.' – Nanette Lepore.
'Everything in Venice is just a little bit creepy, as much as it's beautiful.' – Christopher Moore
'Every time I describe a city I am saying something about Venice.' – Italo Calvino
Frances Mayes, the author of the famous book Under the Tuscan Sun: At Home in Italy, describes the magic of the city in this perfect Venice quote.
'Venice, the most touristy place in the world, is still just completely magic to me.' – Frances Mayes.
'I'm often in Venice in November and December when it's foggy and wintry, and the decorations in the shops and the lights in the churches make the place feel both Christmassy and melancholic.' – Juergen Teller.
'To go out in a gondola at night is to reconstruct in one's imagination the true Venice, the Venice of the past alive with romance, elopements, abductions, revenged passions, intrigues, adulteries, denouncements, unaccountable deaths, gambling, lute-playing and singing.' – Peggy Guggenheim.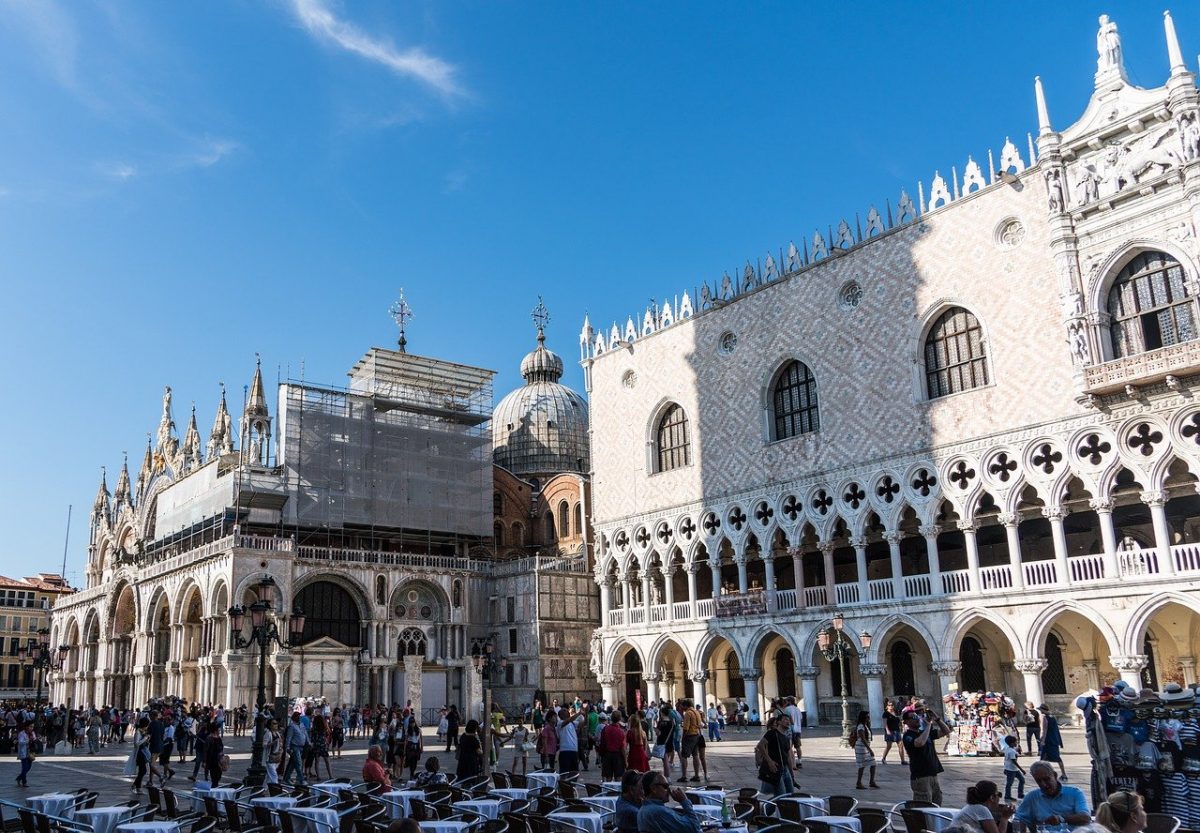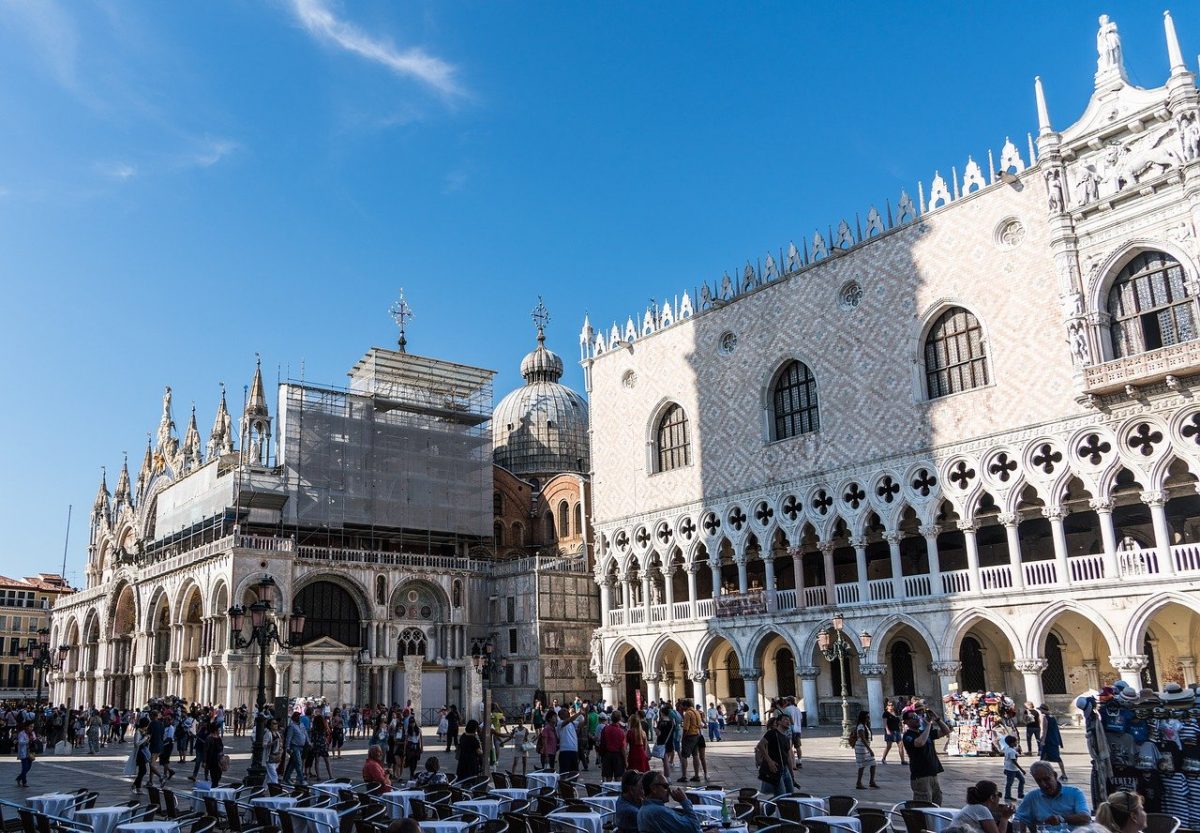 'Venice was and is full of lost places where people put up for sale the last worn bits of their souls, hoping no one will buy.' – Ray Bradbury.
'The building I most admire is the Doges Palace in Venice, both by day and by night. Looking at it from the lagoon, it resembles a floating kilim carpet. I love all the bridges which connect houses, people, gardens and palaces. I also love moats to isolate yourself. A ha-ha for secrecy, as in every English country garden.' – Anouska Hempel
'Venice bewitches. Like many before me, I have been seduced by its art, architecture, poetry and beauty.' – Russell Norman.
'In Venice, things not always as they first appear. I contemplate this observation from my post on the aft deck of one of Master Fumagalli's gondolas, taking in the panorama of bridges, domes, bell towers, and quaysides of my native city. I row into the neck of the Grand Canal, and, one by one, the reflection of each colourful façade appears, only to dissipate into wavering, shimmering shards under my oar.' – Laura Morelli.
'To build a city where it is impossible to build a city is madness in itself, but to build there one of the most elegant and grandest of cities is the madness of genius.' – Alexander Herzen.
'I became fascinated by marionettes, which I first saw in Venice. They were so haunted and so alive. You walked by them, and you could feel their presence, with their beady eyes just fixed on you.' – Laura Amy Schlitz.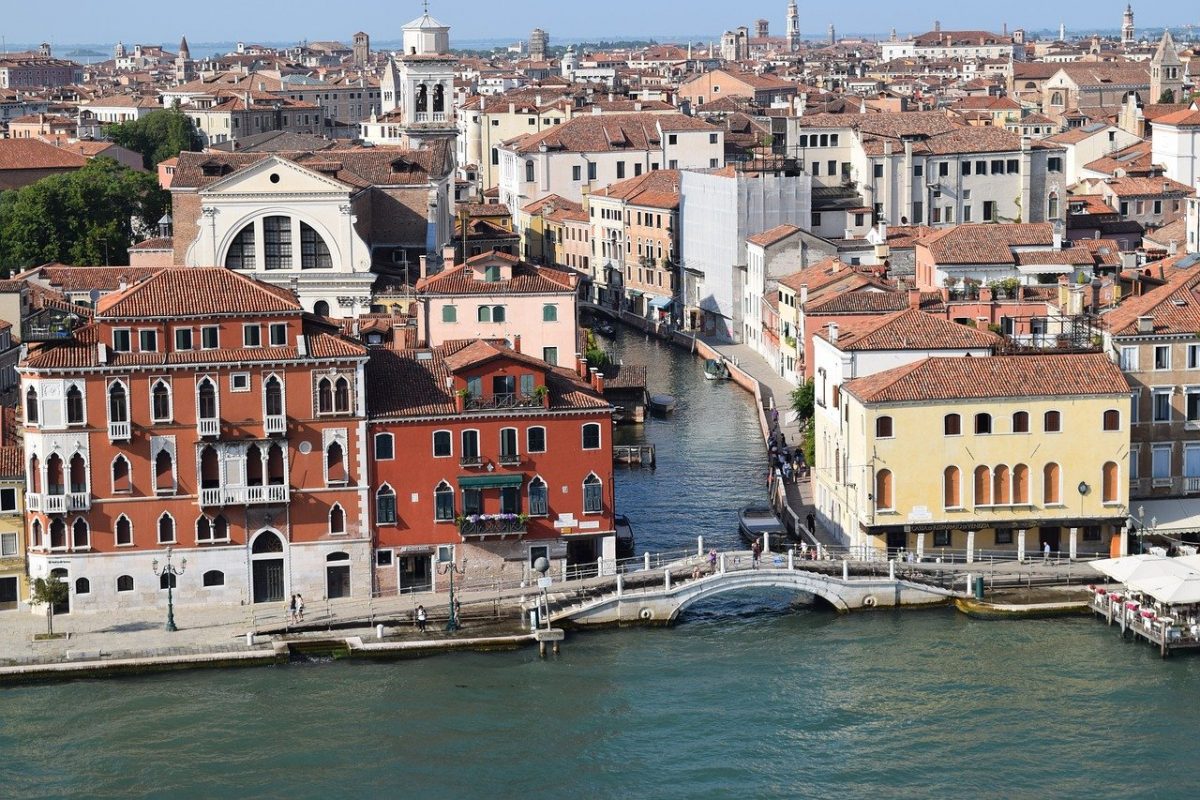 'You fling the window open, and the room is instantly flooded with this outer, pearl-laden haze, which is part of damp oxygen, part coffee and prayers.' – Joseph Brodsky.
The experts are right, he thought. Venice is sinking. The whole city is slowly dying. One day the tourists will travel here by boat to peer down into the waters, and they will see pillars and columns and marble far, far beneath them, slime and mud uncovering for brief moments a lost underworld of stone.' – Daphne du Maurier.
'In the winter, Venice is like an abandoned theatre. The play is finished, but the echoes remain.' – Arbit Blatas.
ALSO CHECK: 25 HIDDEN GEMS IN ITALY NO ONE KNOWS!
'Though there are some disagreeable things in Venice, there is nothing so disagreeable as the visitors.' – Henry James.
'Spring is the season when Venice leaps out of the dark, cold months of January and February and seems to say, 'Life is here, let's rejoice.' That sense of celebration and rebirth is nowhere more evident than in the markets, in the ingredients, in recipes and the city's home cooking.' – Russell Norman
'Venice is incredible. Although you may have seen it in pictures, you can't grasp how beautiful it is until you visit.' – Gino D'Acampo.
'A wondrous city of fairest carving, reflected in gleaming waters swirled to new patterning by every passing gondola.' – Sylvia Pankhurst
BEAUTIFUL VENICE INSTAGRAM CAPTIONS
Adding more to the above beautiful Venice quotes are the below Venezia lines (another name for Venice is Venezia, which is the Italian name of Venice, or it is also called Venetia).
You can use these Venice captions for Instagram to go with Venice hashtags. Enjoy!
'In the glare of the day, there is little poetry about Venice, but under the charitable moon, her stained palaces are white again.' – Mark Twain.
This was Venice, the flattering and suspect beauty this city, half fairy tale and half tourist trap, in whose insalubrious air the arts once rankly and voluptuously blossomed, where composers have been inspired to lulling tones of somniferous eroticism.' – Thomas Mann.
'Venice is a city built on water. It is preposterous. If you couldn't see it with your own eyes and touch it with your fingers, you would think it was some poetic fancy. It really shouldn't be there at all. But it is. And it is beautiful beyond words.' – Russell Norman.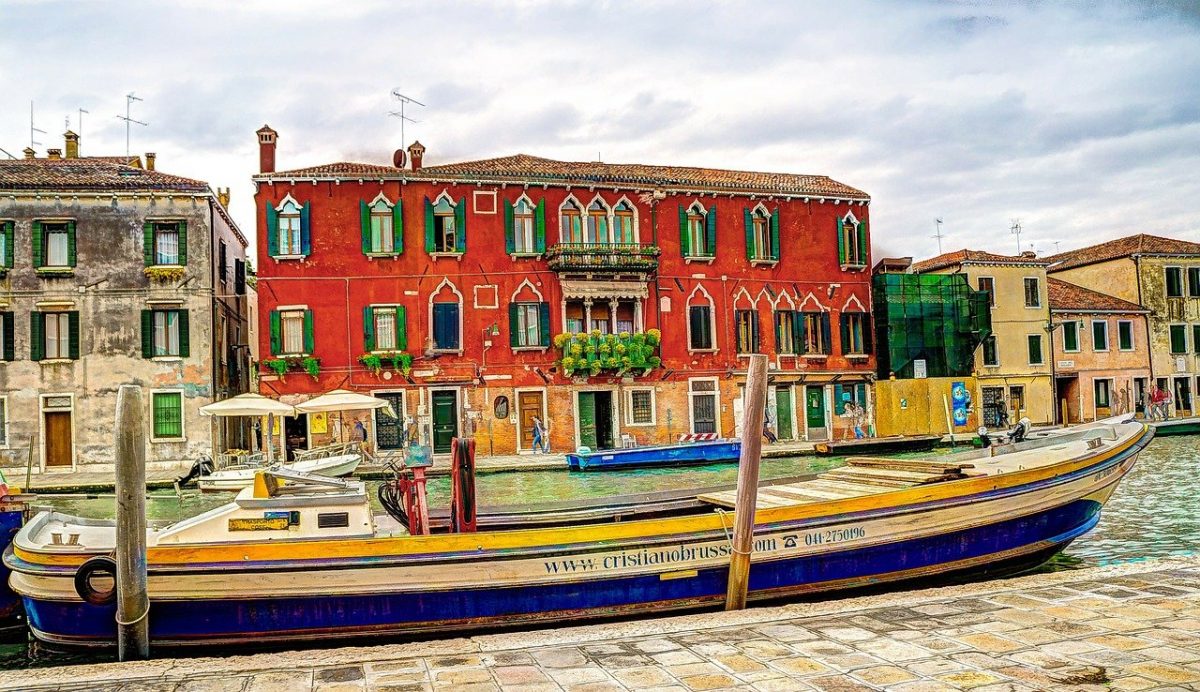 'In winter you wake up in this city, especially on Sundays, to the chiming of its innumerable bells, as though behind your gauze curtains a gigantic china tea set were vibrating on a silver tray in the pearl-grey sky.' -Joseph Brodsky.
'By day it is filled with boat traffic – water buses, delivery boats, gondolas – if something floats and it's in Venice, it moves along the Grand Canal. And by daylight, it is one of the glories of the Earth.
But at night, especially when the Moon is full, and the soft illumination reflects off the water and onto the palaces – I don't know how to describe it so I won't, but if you died and in your will, you asked for your ashes to be spread gently on the Grand Canal at midnight with a full moon, everyone would know this about you – you loved and understood beauty.' – William Goldman.
'Beauty of surface, of tone, of detail, of things near enough to touch and kneel upon and lean against.' – Henry James
'The perennial wonder of Venice is to peer at herself in her canals and find that she exists – incredible as it seems. It is the same reassurance that a looking glass offers us: the guarantee that we are real.' -Mary McCarthy.
It seemed like a magical city, floating on the lagoon as if conjured by an enchanter's wand.' – Kate Forsyth.
'A city for beavers.' – Ralph Waldo Emerson
I had my dreams of Venice, but nothing that I had dreamed was as impossible as what I found.' – Arthur Symons.
'Local fog in Venice has a name: Nebbia. It obliterates all reflections and Everything that has a shape: buildings, people, colonnades, bridges, statues. Boat services are cancelled, aeroplanes neither arrive nor take off for weeks, stores are closed, and mail ceases to litter one's threshold.' -Joseph Brodsky.
'Paris is an ideal place to become informed, while Venice is a place to think and write.' -Pontus Hulten.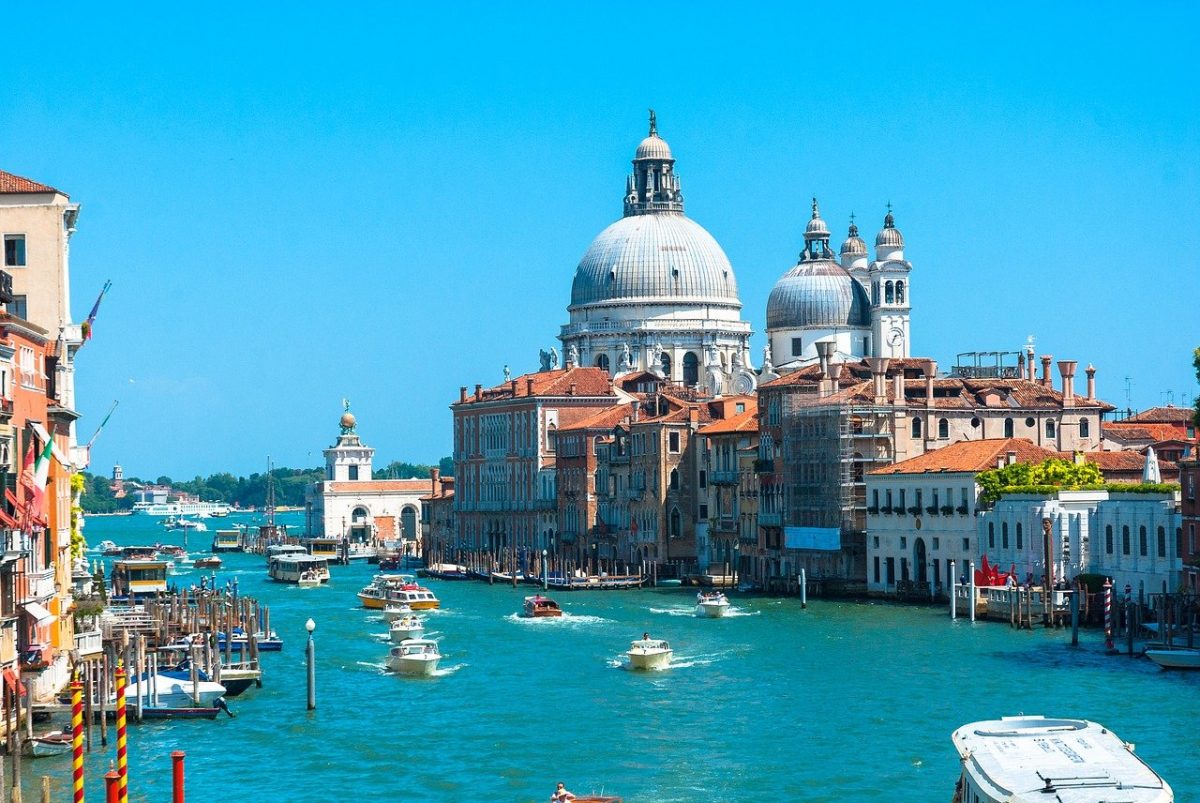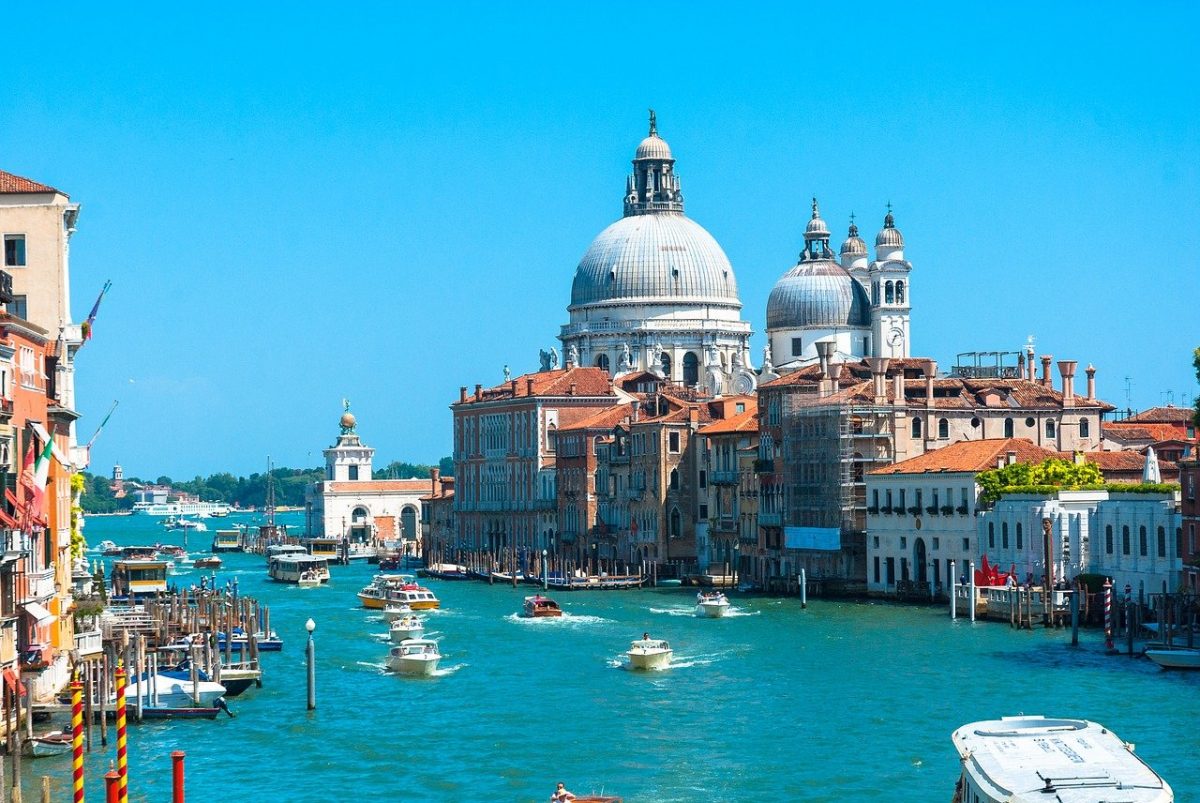 'In Venice, if you didn't know where you were going, you usually ended up in the Piazza, and since that was always true, maybe it was always where you were going.' – Scott Stavrou.
'My mother took me to Venice one time and showed me all the houses where famous composers used to live. It gave me a fascination for music and the city, but also architecture. It was a valuable lesson.' -Ben van Berkel.
'She leaned against the bridge's warm marble balustrade and looked as far down the darkening canal as the setting sun would allow. She wondered if others appreciated Venice's beauty and fragility as deeply as she had come to or if, like a raging fever, the city infected some while avoiding others. She sighed at the grandeur and at the resilience that surrounded her, and she promised herself she'd try to be more like Venice.' – Marie Ohanesian Nardin.
'Perhaps I am afraid of losing Venice all at once if I speak of it, or perhaps, speaking of other cities; I have already lost it, little by little.' -Italo Calvino.
'Venice seemed incredibly lovely, elvishly lovely–to me like a dream of Old Gondor, or Pelargir of the Numenorean Ships, before the return of the Shadow.' – J. R. R. Tolkien.
'I cannot write about Venice; I can only write about me, and the sleeping parts of myself that Venice has shocked into wakefulness.' –Jessica Zafra.
'Venice and its History have always fascinated people from all walks of life. It is a place of contradictions – a city without land, an empire without borders. Everyone knows what Venice is, but fewer know why it is or how it came to be. It is not simply a work of art, but a birthplace of modern capitalism. The medieval market stalls of Rialto were the nerve centre for a complex commercial network that stretches thousands of miles, in which bond markets, liability insurance, and banking (among other things) developed. While the rest of medieval Europe groaned under kings and landed magnates, the Venetians formed a free republic – one that would last for a thousand years.' – Thomas F. Madden.
'You've got to see Venice," he began. "You've got to see a city of slender towers and white domes, sleeping in the water like a mass of water lilies. You've got to see dark waterways, mysterious threads of shadow, binding all these flowers of stone together.' ― E. Temple Thurston.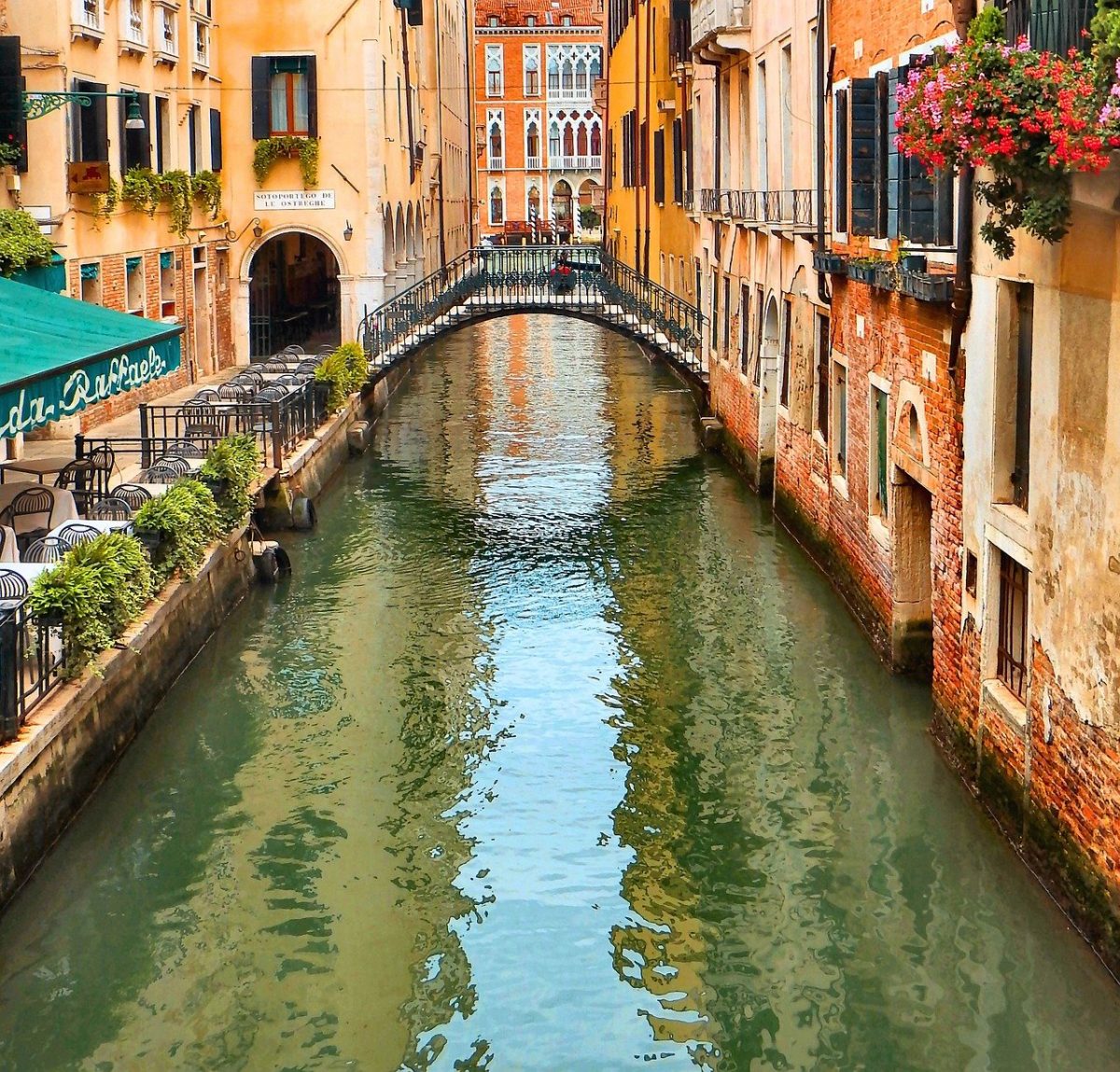 'The Lido, with its acres of sun-pinked or pyjamaed bodies, was like a strand with an endless heap of seals come up for mating. Too many people in the piazza, too many limbs and trunks of humanity on the Lido, too many gondolas, too many motor-launches, too many steamers, too many pigeons, too many ices, too many cocktails, too many menservants wanting tips, too many languages rattling, too much, too much sun, too much smell of Venice, too many cargoes of strawberries, too many silk shawls, too many huge, raw-beef slices of watermelon on stalls: too much enjoyment, altogether far too much enjoyment!' ― David Herbert Lawrence
FAMOUS QUOTES ABOUT VENICE CULTURE AND HISTORY
The beauty of Venice has been captured through pictures, been the exotic muse of many greatest minds and artists all that have surrendered to the mystic charm of this city that holds many secrets, pasts and the future embellished with the bridges, cathedrals, canals and the gondola adorning the river.
Below are some of the most beautiful Venice quotes by renowned authors and thinkers that showcases the city's ethereal charm and elegance.
'Italy will never be a normal country because Italy is Italy. If we were a normal country, we wouldn't have Rome. We wouldn't have Florence. We wouldn't have the marvel that is Venice.' – Matteo Renzi.
'Venice is a complicated place, physically and spiritually, and it is extraordinarily difficult to establish Venetian facts. Nothing is ever quite certain.' – Jan Morris
'Venice is the city of mirrors, the city of mirages, at once solid and liquid, at once air and stone.' – Erica Jong.
'In Venice, Tass's echoes are no more, And silent rows the songless gondolier; Her palaces are crumbling to the shore, And music meets not always now the ear.' – Lord Byron.
'Venice once was dear, The pleasant place of all festivity, The revel of the earth, the masque of Italy.' – Lord Byron.
'My first impression of Venice was that it might be hard to make anything happen there. Everything seemed to have already happened. Venice seemed like a kind of exalted remembering.' – Glenn Haybittle.
'Once did She hold the gorgeous East in fee, And was the safeguard of the West: the worth Of Venice did not fall below her birth, Venice, the eldest child of Liberty.' – William Wordsworth.
'The commonwealth of Venice in their armoury has this inscription: "Happy is that city which in time of peace thinks of war."' – Robert Burton
'The quality of Venice that accomplishes what religion so often cannot is that Venice has made peace with the waters.' – Mark Helprin.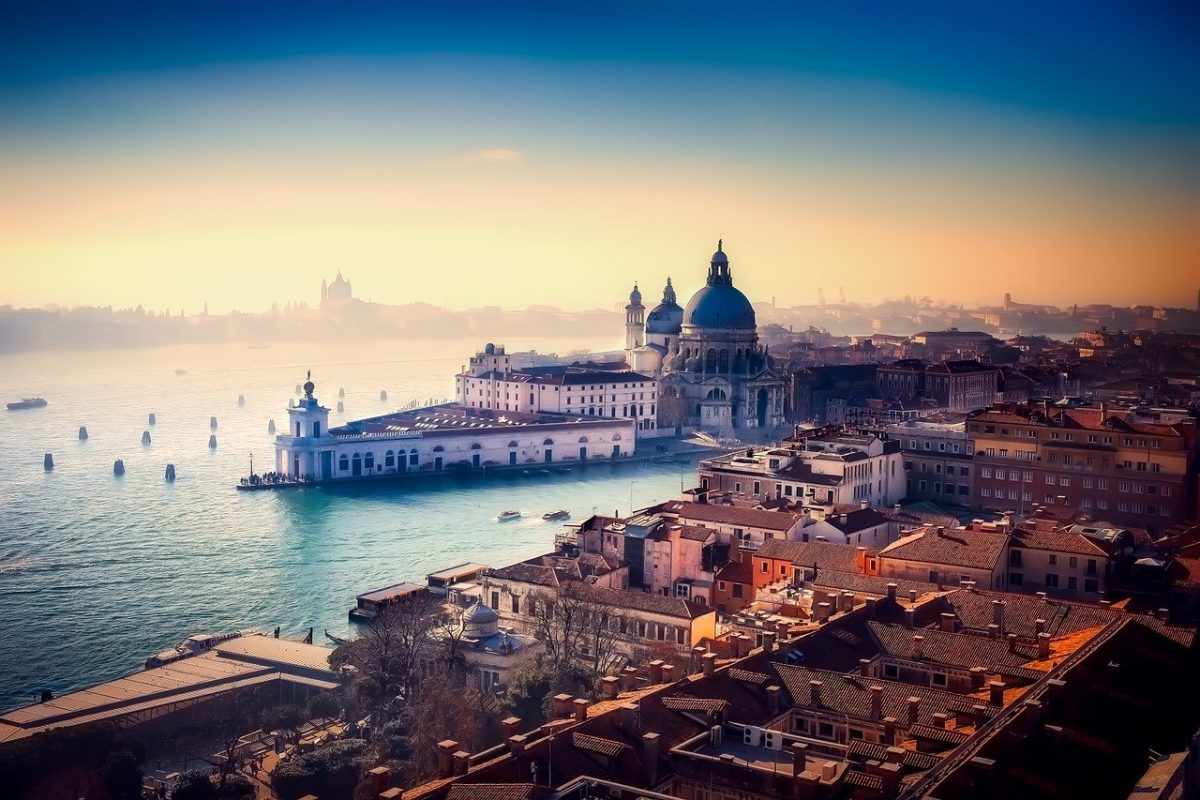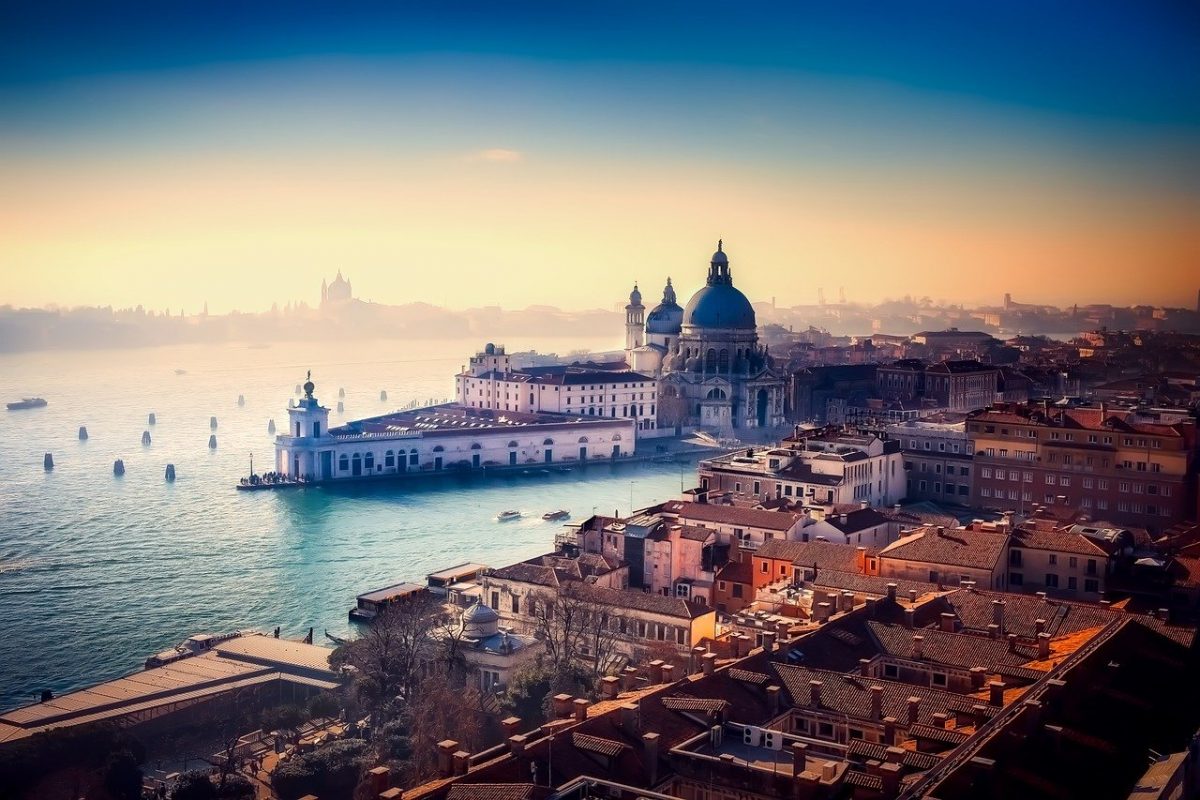 'The sight of these decrepit Romeos and their rickety Juliets is invariably sad and embarrassing, not to say ghastly. For the young, i.e., for those who this sort of thing would be appropriate, a gondola is as far out of reach as a five-star hotel. Economy, of course, reflects demography; yet that is doubly sad, because beauty, instead of promising the world, gets reduced to being its reward.' – Joseph Brodsky.
Venice is a Dorian Gray city. Somewhere up there in the world's attic, there's another place with the haggard, poxed and ravaged face of an unspeakable evil. And I suspect it's Cardiff.' –A.A. Gill
'His clothing marked him as Italian. The cadence of his speech announced that he was Venetian.' – Donna Leon.
'Venice was a hallucinatory incubus, the most artificial environment in the world: Disneyland for grown-ups. It reeked of s** and its putrescent partner, death. Thomas Mann had caught its rouged, feverish aura perfectly.' –Jonathan Galassi.
'The glassmakers had brought a new source of wealth to Venice, but they had also brought the less appealing habit of burning down the neighbourhood.' – Steven Johnson.
'When writers for adults contemplate Venice, they behold decay, dereliction, and death. Thomas Mann, Daphne du Maurier, L. P. Hartley, and Salley Vickers have all dispatched hapless protagonists to Italy, where they see Venice – and die.' – Jan Mark.
'Underneath day's azure eyes, Ocean's nursling, Venice, lies,— A peopled labyrinth of walls, Amphitrite's destined halls, Which her hoary sire now paves With his blue and beaming waves. Lo! the sun upsprings behind, Broad, red, radiant, half reclined On the level quivering line Of the waters crystalline; And before that chasm of light, As within a furnace bright, Column, tower, and dome, and spire Shine like obelisks of fire, Pointing with inconstant motion From the altar of dark ocean To the sapphire-tinted skies;
As the flames of sacrifice From the marble shrines did rise, As to pierce the dome of gold Where Apollo spoke of old. Sun-girt city! thou hast been Ocean's child, and then his queen.' – Percy Bysshe Shelley.
'Venice, Italy, survives 365 days out of every year in water; New Orleans can survive a few days of water if it has to.' – Billy Tauzin.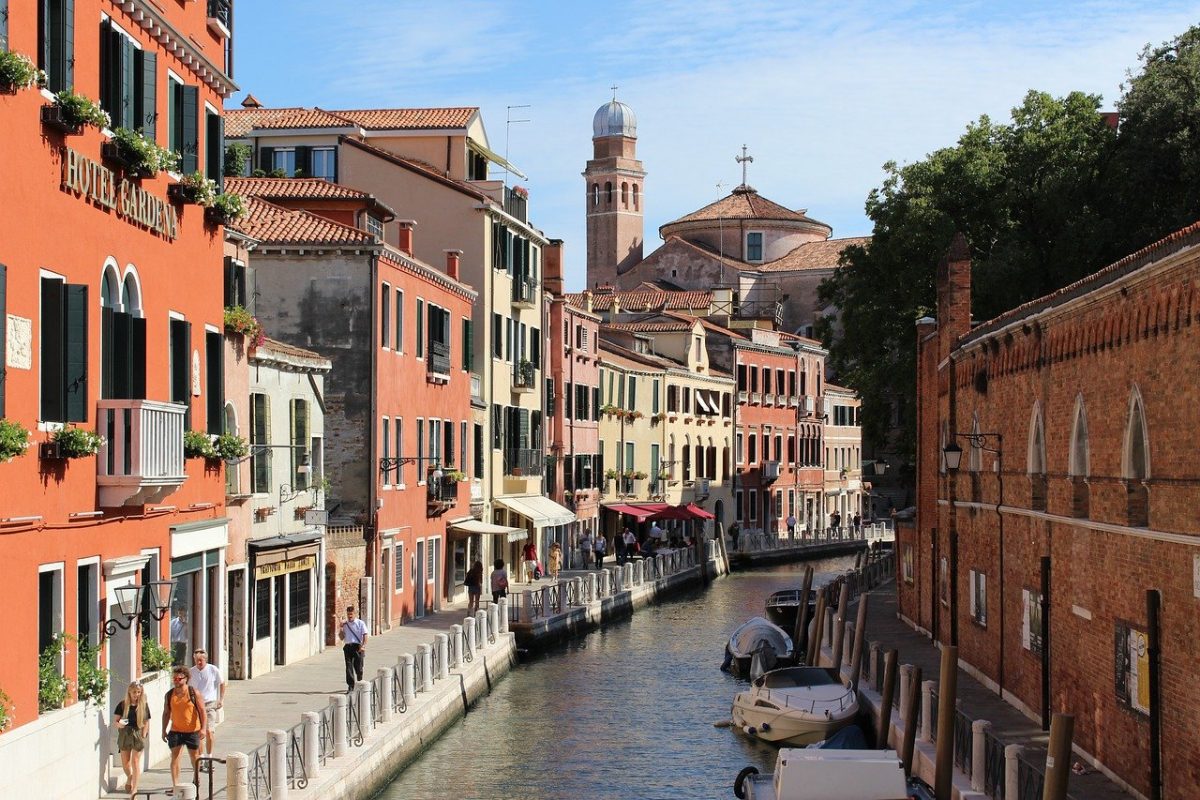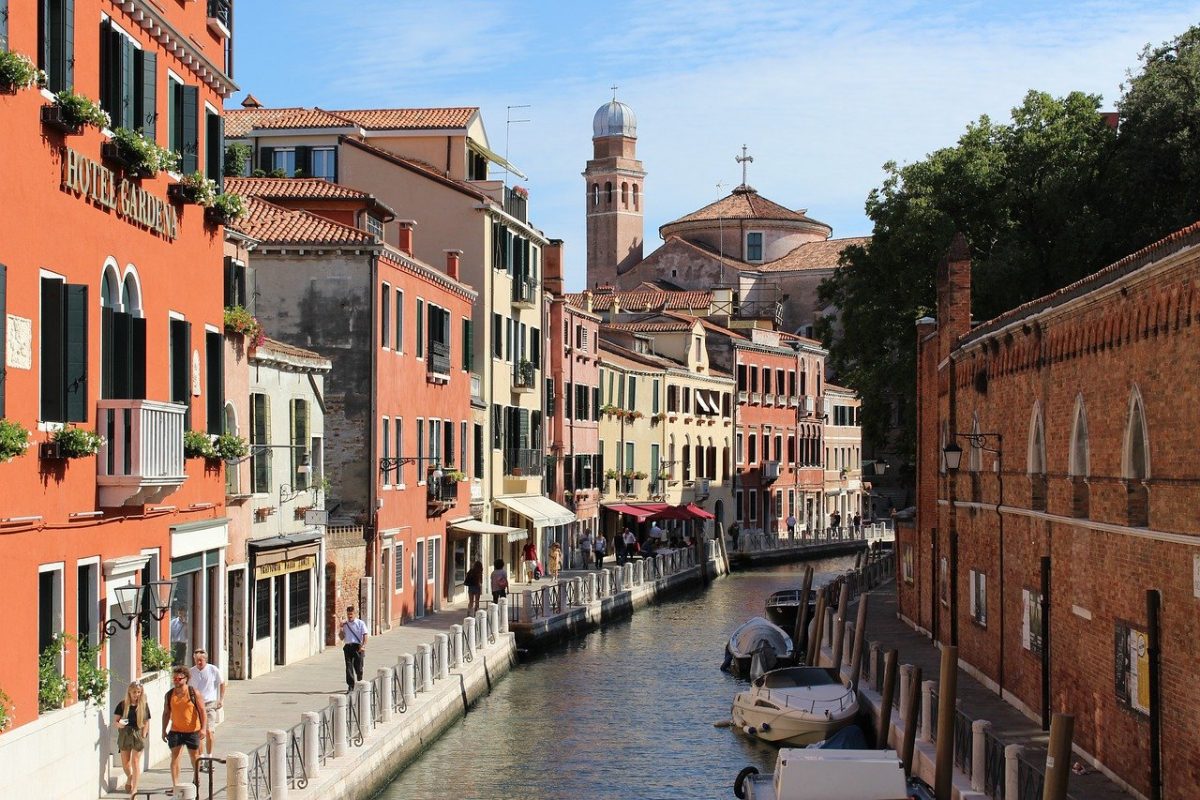 'Venice, Italy, survives 365 days out of every year in water; New Orleans can survive a few days of water if it has to.' – Billy Tauzin.
'Everything you write is not simply a collection of words, but a means of influence not to be taken lightly. Let your recipient's emotions be the gondola, and your words, its gondolier.' ― A.J. Darkholme.
VENICE PUNS
What fun without puns? Here are some funny Venice captions and puns about Venice that you can use if you are looking for Venice one-liners or funny Venice quotes.
'Venice is a city that has the sea for its floors, the sky for its roof and the flow of water for its walls.' – Unknown.
'Having a Venice time.'
'Life is a combination of magic and pasta.' – Federico Fellini.
'Venice is eternity itself.' – Joseph Brodsky.
'It's Venice to see you.'
'Nothing to wine about in Venice'.
'Elsewhere in Italy is the lovely city of Venice, which each year attracts millions of visitors despite the fact that it is an enormous open sewer.' – Dave Barry.
'Venice is like eating an entire box of chocolate liqueurs in one go." – Truman Capote.
'Eat the spaghetti with no regretti.'
'You may have the universe if I may have Italy.' – Giuseppe Verdi.
'Venice – A splendour of miscellaneous spirits.' – John Ruskin
MORE INSPIRING VENICE QUOTES
If you are still looking for more awesome Venice quotes and Venice Italy captions, don't be disheartened, just keep scrolling for more amazing sayings here.
'I stood in Venice, on the Bridge of Sighs; A palace and a prison on each hand; I saw from out the wave of her structure's rise, As from the stroke of the enchanter's wand: A thousand years their cloudy wings expand, Around me, and a dying Glory smiles O'er the far times when many a subject land Look'd to the winged Lion's marble pines, Where Venice sate in the state, throned on her hundred isles.' – Lord Byron.
Is it worthwhile to observe that there are no Venetian blinds in Venice? -William Dean Howells
'General Grant seriously remarked to a particularly bright young woman that Venice would be a fine city if it were drained.' – Henry Adams.
'If anything can rival Venice in its beauty, it must be its reflection at sunset in the Grand Canal.' – Peggy Guggenheim.
'Though in Venice you may sit in courtyards of stone, and your heels may click up marble stairs, you cannot move without riding upon or crossing the waters that someday will carry you in dissolution to the sea.' – Mark Helprin.
'The surface of Venice is constantly metamorphosing [and] painting Venice is almost like being a restorer, peeling off the layers to find the picture after picture underneath.' – Arbit Blatas
'The one thing the locals never do is ride gondolas. To begin with, a gondola ride is pricey. Only foreign tourists, and well-off ones at that, can afford it. That's what explains the median age of gondola passengers: a septuagenarian can shell out one-tenth of a schoolteacher's salary without wincing.' -Joseph Brodsky.
'Venice was a woman, la Belladonna, elegant in her age, sensual in her light curves, mysterious in her shadows. The first sight of her, rising over the Grand Canal with her colours tattered and faded like old ballgowns, called to the blood. The light, a white, washing sun, would sweep over her and lose itself like a wanderer in her sinuous veins, her secret turns. Here.' – Nora Roberts
'Venice is the perfect place for a phase of art to die. No other city on Earth embraces entropy quite like this magical floating mall.' – Jerry Saltz.
'I have spoken to you of Pompeii, said the Moon, "that corpse of a city, exposed in the view of living towns. I know another sight still more strange, and this is not the corpse but the spectre of a city.
'Whenever the jetty fountains splash into the marble basins, they seem to me to be telling the story of the floating city.' –Hans Christian Andersen.
'The winter light in this city! It has the extraordinary property of enhancing your eye's power of resolution to the point of microscopic precision—the pupil humbles any Hasselblad lens and develops your subsequent memories to National Geographicsharpness.
The sky is brisk blue, the sun, escaping its golden likeness beneath the foot of San Giorgio, sashays over the countless fish scales of the lagoon's lapping ripples; behind you, under the colonnades of the Palazzo Ducale, a bunch of stocky fellows in fur coats are revving up Eine Kleine Nachtmusik, just for you, slumped in your white chair and squinting at the pigeons' maddening gambits on the chessboard of a vast piazza. The espresso at your cup's bottom is the only small black dot in, you feel, a miles-long radius.' – Joseph Brodsky.
ROMANTIC VENICE QUOTES
Venice is one of the best destinations in the world for couples in love. Did you know? It is one of the most visited cities and among the top destinations for couples on honeymoon.
If you are looking for those epic romantic quotes on Venice, below are the beautiful Venice love quotes that are perfect to use and enjoy the city with your beloved.
'A realist, in Venice, would become a romantic by mere faithfulness to what he saw before him.' – Arthur Symons.
'Nothing ever seems straightforward in Venice, least of all its romances.'- Roger Ebert.
'If I could re-name love, I'd call it Venezia.' – Conny Cernik.
'I always wanted to go to Venice. It's supposed to be the romance capital of the world.' – Gordon Korman.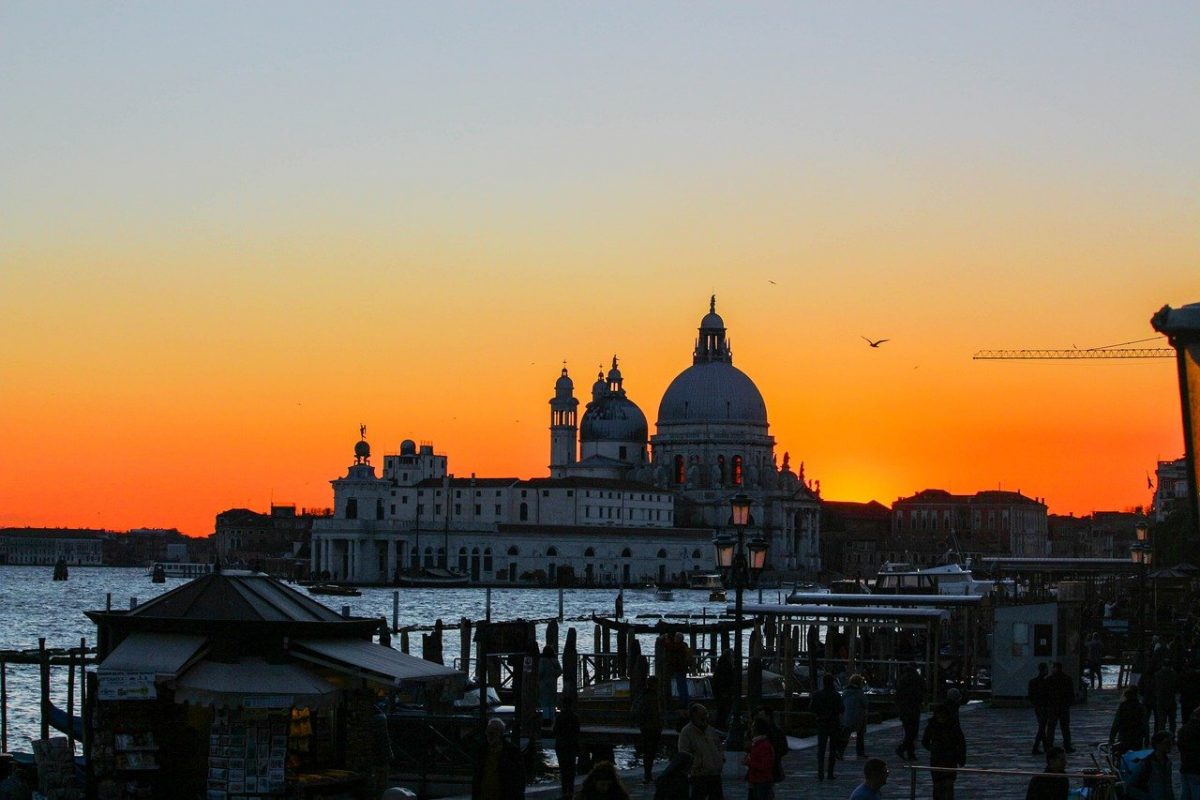 'In the end, there's always this city. As long as it exists, I don't believe that I, or for that matter, anyone, can be mesmerized or blinded by romantic tragedy.' –Joseph Brodsky.
'I will never forget experiencing Venice for the first time. It feels like you are transported to another time – the art, music, food and pure romance in the air are like no other place.' – Elizabeth Berkley
'Venice is the most romantic place in the world, but it's even better when there is no one around.' – Woody Allen.
'If a couple in a gondola kiss as they pass under each bridge, they will remain in love forever.' – Venetian Folklore
'She dreamed of Venice. However, it wasn't a city alive with stars dripping like liquid gold into canals, or Bougainvillea spilling from flowerpots like overfilled glasses of wine. In this dream, Venice was without colour. Where pastel palazzi once lined emerald lagoons, now, grey, shadowy mounds of rubble paralleled murky canals.
Lovers could no longer share a kiss under the Bridge of Sighs; it had been the target of an obsessive Allied bomb in search of German troops. The only sign of life was in Piazza San Marco, where the infamous pigeons continued to feed. However, these pigeons fed not on seeds handed out by children, but on corpses rotting under the elongated shadow of the Campanile.' –Pamela Allegretto.
'History and legend and art and romance meet and mingle to create that indefinable sorcery of Venice. It is like nothing on Earth except a poet's dream.' – Lilian Whiting.
'If you want to go for a romantic break or a quick break in Italy, it has to be Venice.' – Gino D'Acampo.
'Sleep: the Moon still hasn't moved the width of a constellation since you were a girl. Since you have become a woman, the stars that stand above the halls of Palladios have not yet disappeared behind the domes of San Marco. But only since then has the world become the world.' –Alexander Lernet-Holenia
'The smile of lovers is gondola of their desire. ― Charles de Leusse
'It is always assumed that Venice is the ideal place for a honeymoon. This is a grave error. To live in Venice or even to visit it means that you fall in love with the city itself. There is nothing left over in your heart for anyone else.' – Peggy Guggenheim.
POEMS ABOUT VENICE
Bonus poems about Venice Italy after you have had your fill of the splendid Venezia quotes and Venetian sayings that will make sure you will fall in love with Venice if you haven't already!
'At the bridge, I stood

lately in the brown night.

From afar came a song:

as a golden drop, it welled

over the quivering surface.

Gondolas, lights, and music —

drunken, it swam out into the twilight.

My soul, a stringed instrument,

sang to itself, invisibly touched,

a secret gondola song,

quivering with iridescent happiness.

— Did anyone listen to it?' – Friedrich Nietzsch
'I loved her from my boyhood,—she to me.

Was as a fairy city of the heart,

Rising like water-columns from the sea,

Of joy the sojourn and of wealth the mart;

And Otway, Radcliffe, Schiller, Shakespeare's art,

Had stamped her image in me, and even so,

Although I found her thus, we did not part,

Perchance even dearer in her day of woe

Then when she was a boast, a marvel, and a show.'

– Lord Byron
Oh yes, it was my Venice! Beautiful,

With melancholy, ghostly beauty—old,

And sorrowful, and weary—yet so fair,

So like a queen still, with her royal robes,

Full of harmonious colour, rent and worn!

– Ada Cambridge
'White swan of cities slumbering in thy nest.

White phantom city, whose untrodden streets

Are rivers, and whose pavements are the shifting

Shadows of the palaces and strips of the sky.'

-Henry Wadsworth Longfellow
That's about the most beautiful quotes about Venice that are perfect descriptions of Venice, the romantic city of canals, bridges and gondolas. Have you got more Venice quotes that you would like to share? Let me know in the comments below.
If you love quotes, check out these fantastic collections of quotes and sayings:
Pin this Venice quotes collection to read later