There are many fantastic things Paso Robles, with something in store for everyone. Also known as El Paso de Robles, meaning The Pass of the Oaks, is nestled between Los Angeles and San Francisco along Central Californian Coast. Salinan Native Americans are the original inhabitants of Paso Robles.
Paso Robles is a renowned wine location across the globe. Thanks to its massive 40,000 acres of vineyards which grow over 400 varieties of grapes. But there are many other things to do in Paso Robles besides wineries.
Located in proximity to the beautiful cities of San Luis Obispo County, you can set base at Paso Robles to explore the surrounding areas.
Get along with the locals, witness the deep-rooted wine culture and history, or spend a relaxing day in Paso Robles's luxury resorts.
If you are looking for what to do in Paso Robles besides wineries, read this to plan your Paso Robles Itinerary.
WHAT IS THE BEST TIME TO VISIT PASO ROBLES?
Although Paso Robles can be visited throughout the year, I recommend visiting this place during Spring and Fall for the best experience.
As you drive into Paso Robles, you will witness verdant hills, wildflower blooms and fresh fruit orchards.
Summers are hotter in Paso, and the temperatures can hit around the 80s.
You can still prefer to take an early morning walk across downtown Paso to admire its beautiful architecture.
Falls are better since it is the Harvest season. Enjoy the festive season in Paso Robles and learn about the culture and festivals by making new acquaintances with the locals.
Winters are not too Harsh, so you can still visit Paso in winter from November to March.
You might witness beautiful snow-capped oak trees dotting the lovely town. You might experience mild showers in between during the day.
GETTING TO PASO ROBLES CA
You can fly from major US cities to the South Luis Obispo County Regional Airport, approximately 27 miles from Paso Robles.
But my personal choice and most visitors try to reach Paso Robles via road. Thanks to Highway 46 and Highway US 101 for their stunning landscapes.
Paso Robles is also a prominent location if you are looking for weekend trips from San Francisco. It is a 4-hour drive from SF and a 3-hour drive from LA.
It will take around 2 hours to reach Paso from Santa Barbara, making Paso Robles one of the ideal day trips from Santa Barbara.
People who desire to drive to this lovely town are pumped up by the fact that Paso Robles is one of California's premier wine regions.
TOP THINGS TO DO IN PASO ROBLES
VISIT PASO ROBLES PIONEER MUSEUM
One of the top things to do in Paso Robles for history buffs is to visit the Paso Robles Pioneer Museum, located in the downtown area.
Paso Robles has a rich history. It was initially a backwater province of the Viceroyalty of Mexico. It then became a part of the Alta California province of the First Mexican Empire and was eventually added to the United States.
Go back in time to witness the early lifestyles of the people of this region, the various equipment used and several kinds of literature and photographs depicting the developments.
Many artefacts, literature and displays depict the history and culture of Paso Robles dating back to the 19th and 20th centuries, which throws light on ealry settlers of the area and their contributions to its development.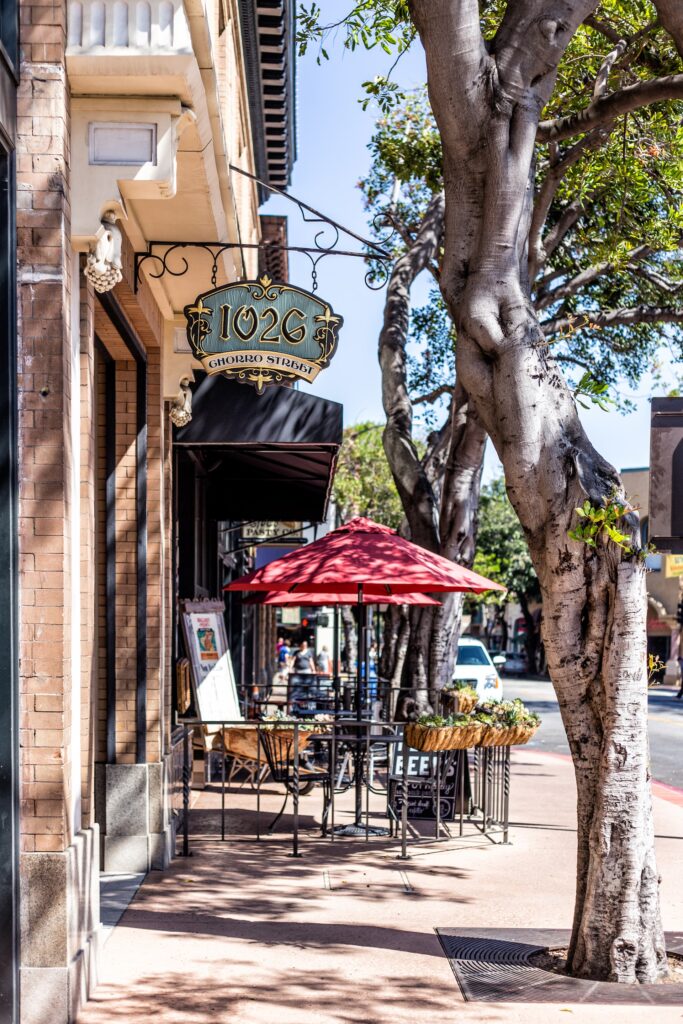 Check out the replicas of the initial first houses built in this region, memorabilia of the old one-room schoolhouse and a two-cell jail replica with the original door dating back to the late 19th century.
The other main draw of Paso Robles Museum is the Al Camino Real Bell and the 85-ton, 76-year-old oil pump accommodated in a separate building near the main museum.
Make sure to click pictures of the old mill placed outside the museum, which was mainly used as a source of water for cattle and the land during those days.
Other prime attractions of this museum are overhead displays of various models of experimental flying machines, chuck wagons, handcrafted saddles, farming equipment, wine cellars and exhibits depicting the mining culture of olden California.
Visit the gift shop on site to add Paso Robles's history to your souvenir collections or to buy cute gifts.
WATCH SENSORIO FIELD OF LIGHTS
One of the best things to do in Paso Robles is to experience the Sensorio field of lights East of Highway 46.
Sensorio field of lights is one of the unique art installations created by the world-acclaimed artist Bruce Munro on a 15-acre plot using an array of approximately 58,000 solar-powered stemmed spheres.
Watching these spheres is a visual treat when they illuminate and radiate different hues of gradually changing colours in waves from red to pink to teal to orange.
Enjoy live music and delicious food while watching this mesmerizing display of light art adorning Paso Robles in colour.
It can be best experienced under complete darkness, and you can buy a VIP ticket for privacy and a better viewing experience from the terrace.
There is a recent addition to this beautiful scene, the Light towers. These are 7-foot tall towers created using approximately 17,000 wine bottles.
These towers look like alien installations when all gets illuminated in the dark, but this is one of the romantic Paso Robles things to do.
SHOP AT THE FARMER'S MARKET
Visit Farmer's Market to witness the rich agricultural history of Paso Robles, one of the cool things to do in Paso Robles.
Paso Robles is known for its fresh produce, which gets sold within a few hours in the Farmer's Market, which takes place on the North side of the downtown square.
Apart from the wineries and fruit orchards, Paso Robles has much more to offer, and you can see the same in the Farmer's Market.
Whether handmade goods or various food items, you may need help deciding what to buy or cook for the night!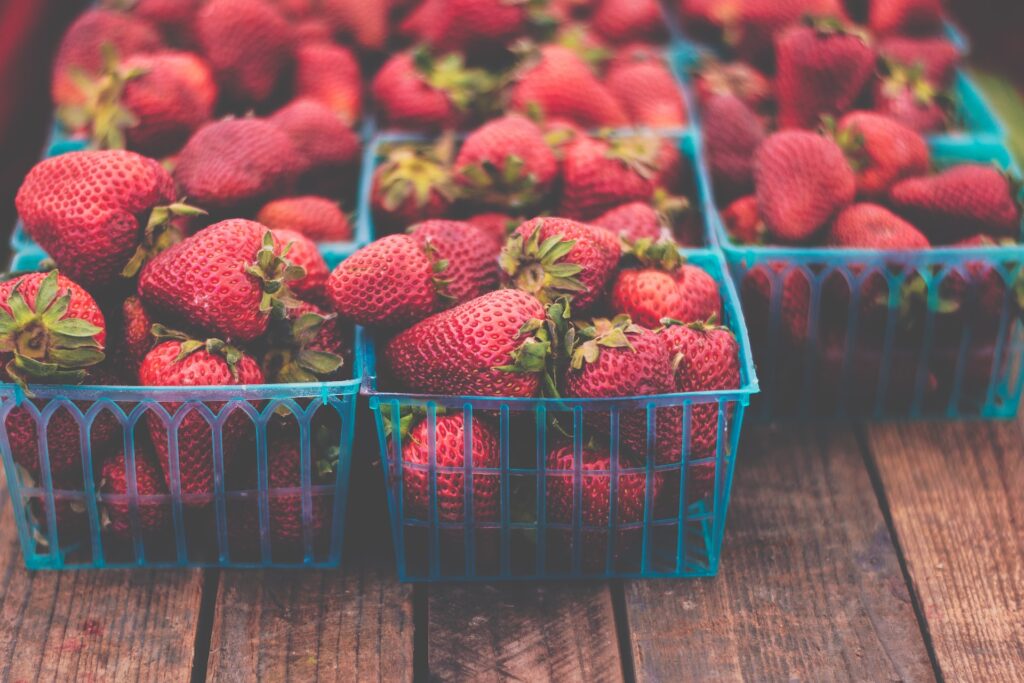 Get soaked in the fresh aroma of baked goods, herbs, cheese, olive oils and artichokes as soon as you land at the Farmer's Market.
The market also features food stalls and kiosks to savour delicious desserts or to grab a burrito or taco.
Timings: Every Tuesday and Saturday Mornings
CHECK OUT PASO MARKET WALK
One of the cool things to do in Paso Robles is to check out the Paso Market Walk, a recently developed family-oriented area on a massive 16,000-square-foot plot.
This European-inspired all-in-one place features many restaurants and market place to experience the flavours of the central coast under one roof.
Stroll along the paths that pass through this place to reach the market area, where you bump into chefs, ranchers and vintners who focus more on sustainable foods and agile supply systems.
Check out some cosy restaurants and cafes to grab a bite or your favourite drink.
There are also shops at the Market walk which sell fresh flowers and plants if you want to surprise your loved one!
HEAD TO MISSION SAN MIGUEL
If you are a fan of history and architecture, check out the Mission San Miguel, named after Archangel, a Californian mission located at a 10-minute driving distance from downtown Paso Robles.
The mission was founded in 1797 but was established between 1816 and 1821 when a local church was burned down.
San Miguel obtained the status of State and National Historic Landmark in 2006.
This is one of California's 7 out of 21 missions that have earned the National Historic Landmark status, making this one of the interesting things to do in Paso Robles.
Mission San Miguel was built to cater for the Salinan Indians, who were predominantly present in that area.
They couldn't access Mission San Antonio to the North or Mission San Luis Obispo to the South since they were far apart. The mission now is a cathedral church.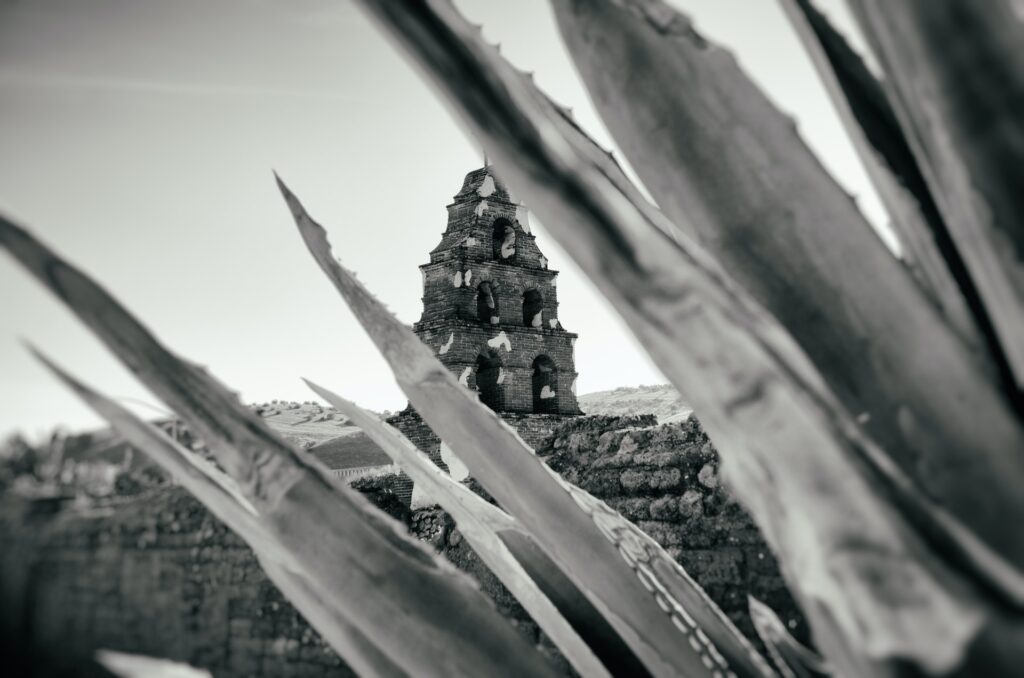 The museum's interiors are the main attraction, transporting you back in time since the walls have never been repainted.
You can still witness the original frescos designed by Esteban Munras and painted by Salinan artists.
Take the self-guided museum tour, or the docent-led tours, which can be booked three weeks ahead. Don't miss browsing the beautiful gift shop in the museum.
TOUR PASO ROBLES VINEYARDS
Paso Robles is known for its beautiful vineyards and is home to around 200 wineries.
If you are a wine enthusiast, you should not miss this one of the top things to do in Paso Robles.
Renowned for its Bordeaux and Rhone-style wines, Paso Robles has world-class and homegrown wineries, which grow more than 40 varieties over 33,000 acres of vast land.
Mission San Miguel Missionaries were the winemaking pioneers in this region, dating back to the early 1880s. Now ample wineries offer wine tastings paired with cheese and food platters.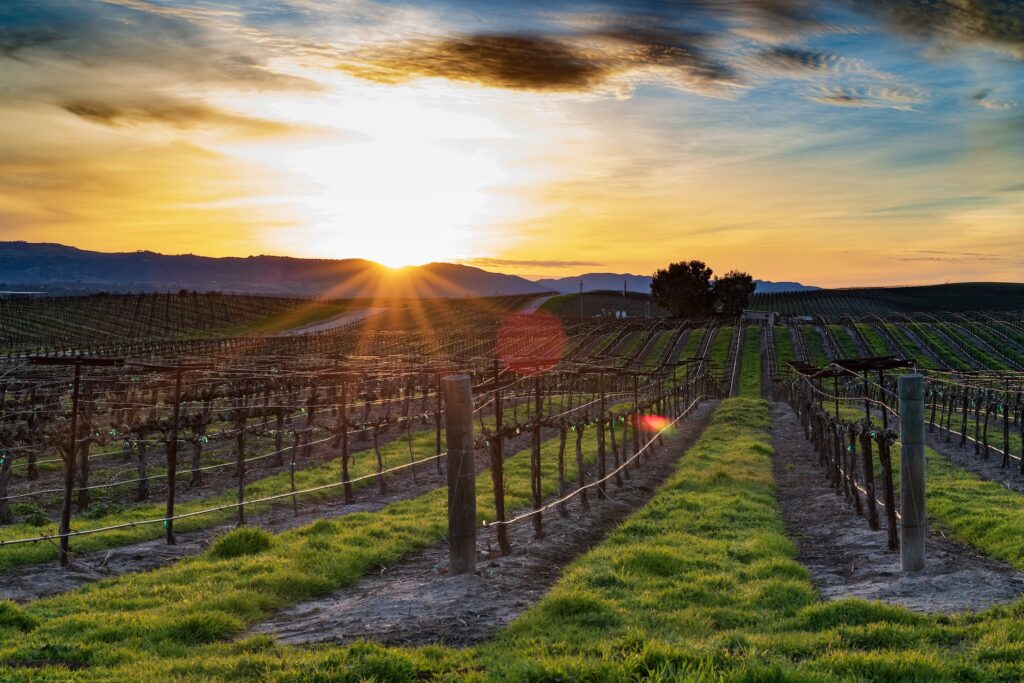 Highway 46, a beautiful stretch featuring vineyards on both sides, is one of the best Paso Robles attractions. You can either head East or West.
Taste some of the world-renowned wines and learn the art of winemaking in some of the best wineries recommended below:
Eberle Winery: Established in 1979, Eberle Winery offers one of the best wine tours in Paso Robles. You will see underground caves dotted with oak barrels for ageing the wines.
Enjoy their limited annual production of some of the best wines like Cotes-du-robles, Cabernet Sauvignon and Chardonnay.
Daou Vineyards: Head to the family-run Daou Vineyards atop the Daou mountains, which offer wine tours and stunning views of the vineyards from the patio.
The owners are super friendly, and you will get to taste the hand-crafted wines, homemade cheese, and culinary pairings.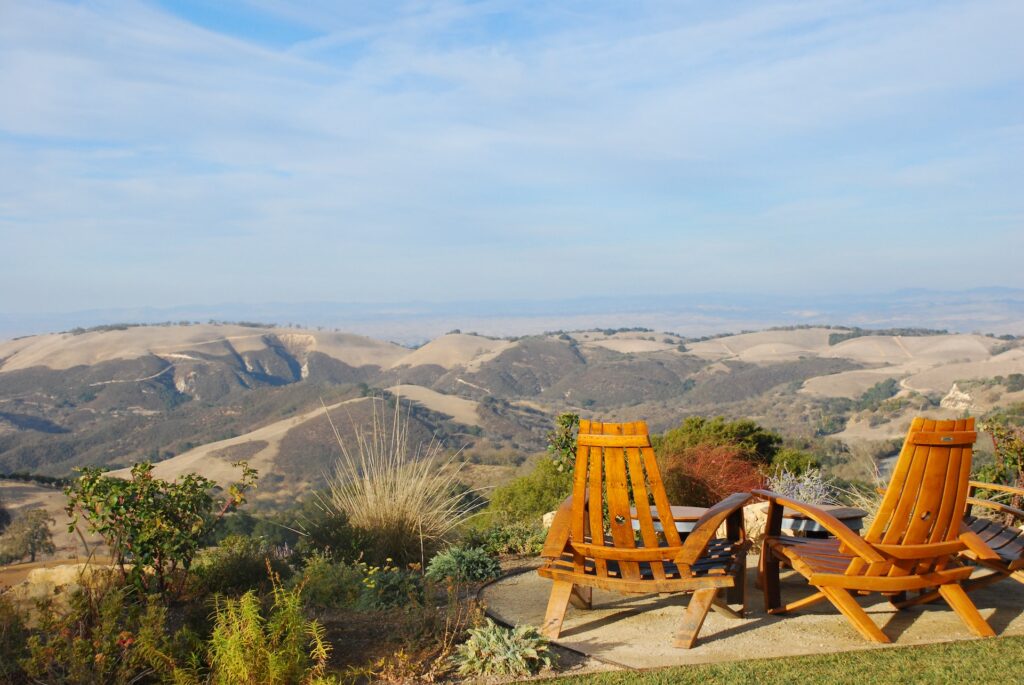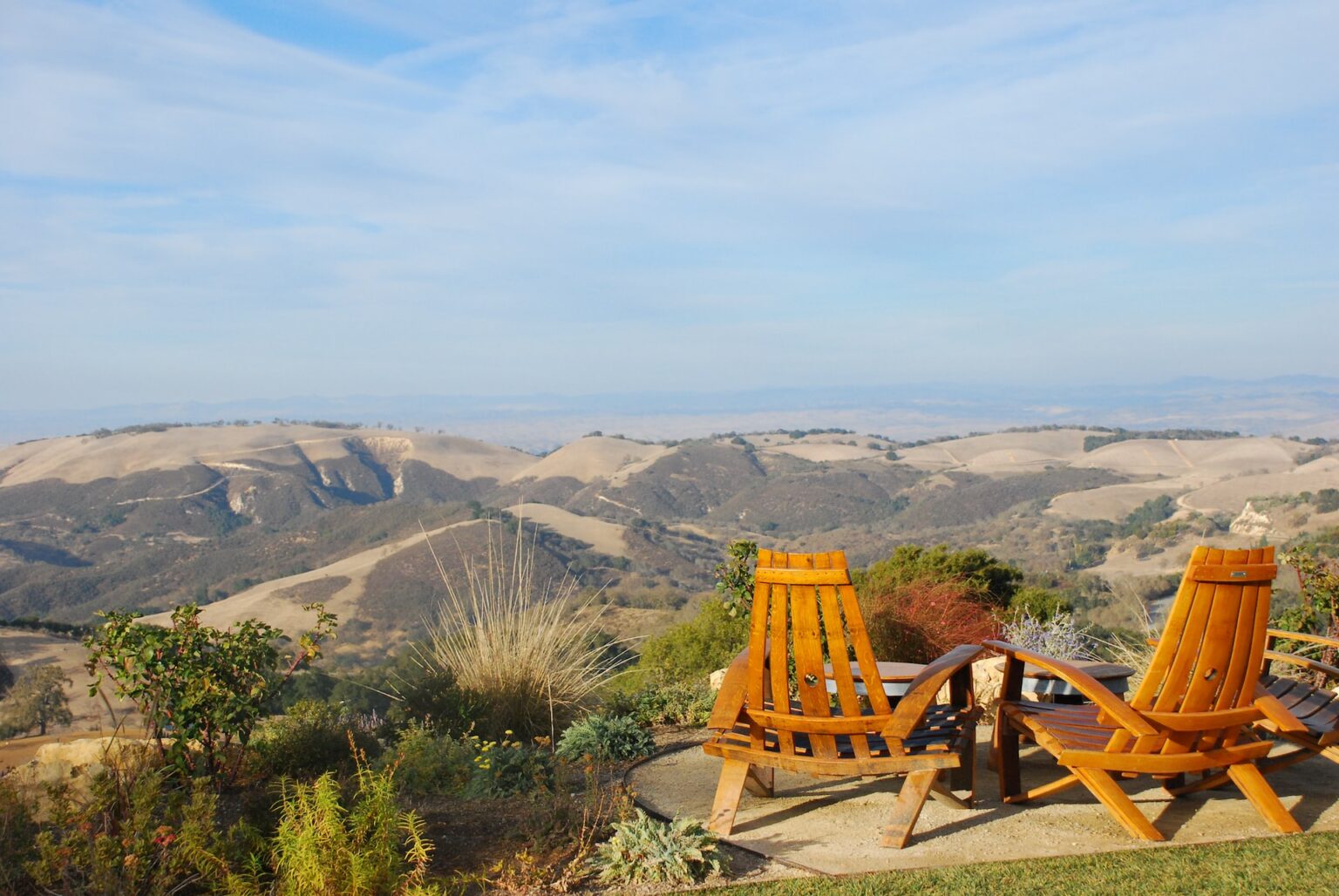 Cass Winery: Check out Cass Winery, located on the East side of the town. Known for its French and Rhone-style wines, Cass Winery offers wine tours guided by knowledgeable staff.
You can also have lunch or dinner at their multicuisine onsite restaurant.
Summerwood Wine: Located West of Paso Robles, Summerwood Wine is known for its Rhone and Bordeaux-style wines.
Admire the undulating vineyards while savouring their wine flights, including a Japanese-inspired sparkling Grenache Blanc called Awa.
Calcareous Vineyard: Named after the calcareous soil in the region, this vineyard produces the signature Cabernet Sauvignon and other local flavours.
Take a guided wine tour to learn how the calcium-rich calcareous soil helps to make distinctive wine flavours.
Enjoy the live music concert and your favourite wine overlooking the beautiful Salinas Valley.
Tobin James Cellars: Established in 1987, this winery is known for its award-winning Merlot and Chardonnay wine flavours.
The main draw of this cellar is the wine-tasting room, designed like a saloon and has a Lavish Antique bar set up.
Indigené Cellars: This cosy little place off the square is apt for a romantic date night. You must try their Tuscan and Cab wine blends along with their guided wine tastings.
Niner Wine Estates: This place is known for its heart-shaped chaparral of trees. You can book the area for a picnic lunch or go wine tasting and click pictures with the backdrop of the lovely trees.
LXV Wines: Located downtown, LXV Wines is a hidden gem that offers a unique wine-tasting experience.
You will be given different spices like cumin, ginger, garlic and salt to take in their aromas and then served with the wines to take in their flavours and taste.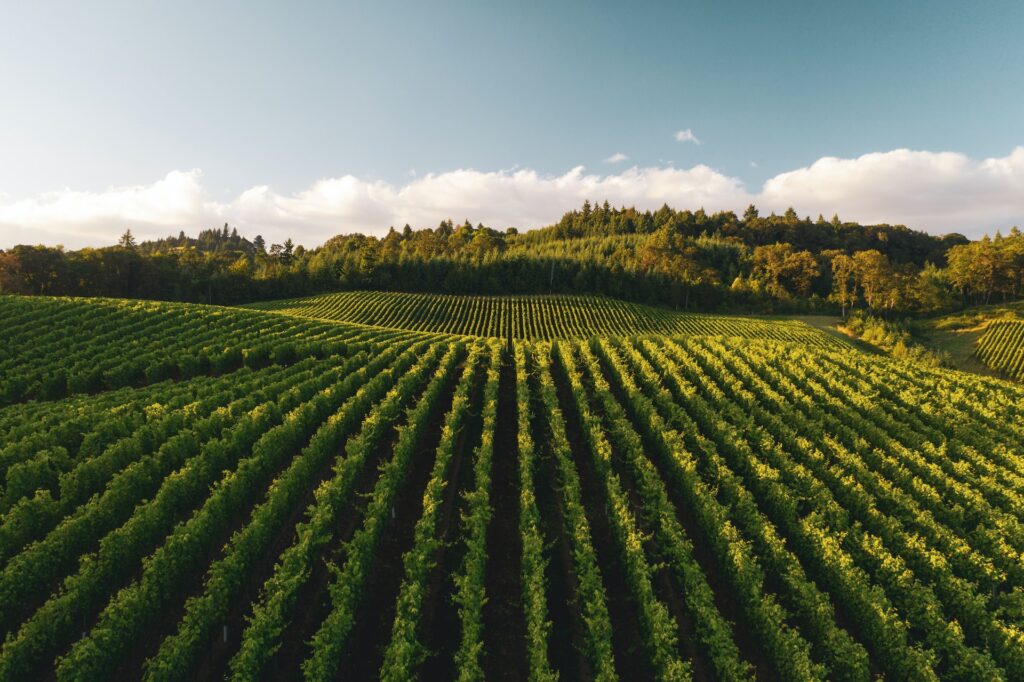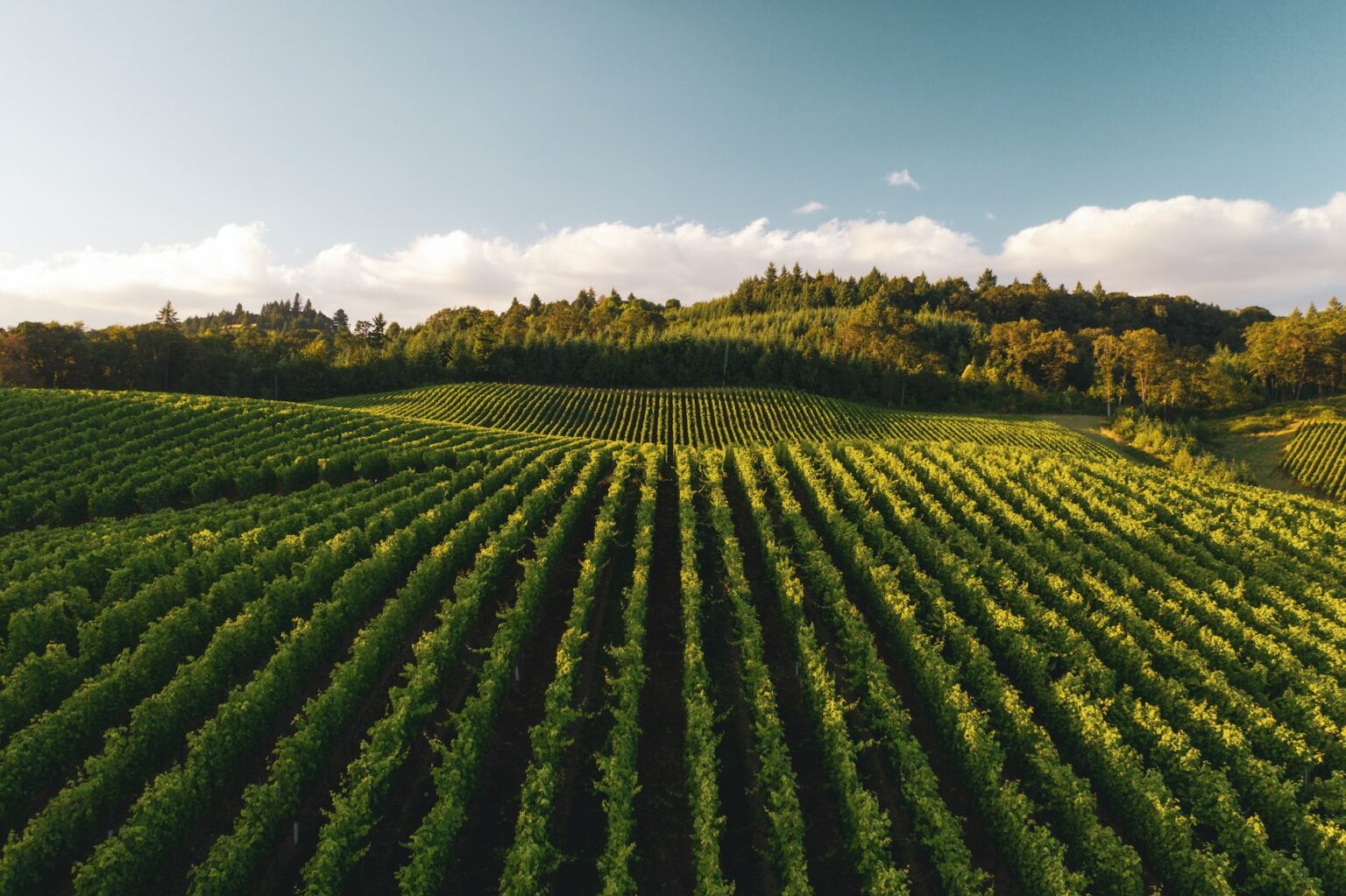 Iron Oaks Winery and Broken Earth Winery: Both these wineries are located a few blocks off the Square. Known for their excellent vibes and best wines, you can easily spend an evening here enjoying their live music.
Justin Tasting Room: Try going to Justin Winery for wine-tasting tours, and they also have a stay amidst the vineyards at their Inn.
But if you cannot make it to the winery, you can still visit the Justin tasting room downtown for some locally produced wines.
SPEND A NIGHT OR TWO AT THE BEST VINEYARDS
What is better than the touring the vineyards? Spending a night or two in the best vineyards around and waking up to fantastic views of rolling hills, delicious breakfast, and many types of wine to indulge.
There are plenty of awesome vineyards to stay overnight and it is one of my favourite things to do in Paso Robles and I make sure I add a visit to one each time I plan a trip in this area.
Here are the 5 best ones I recommend.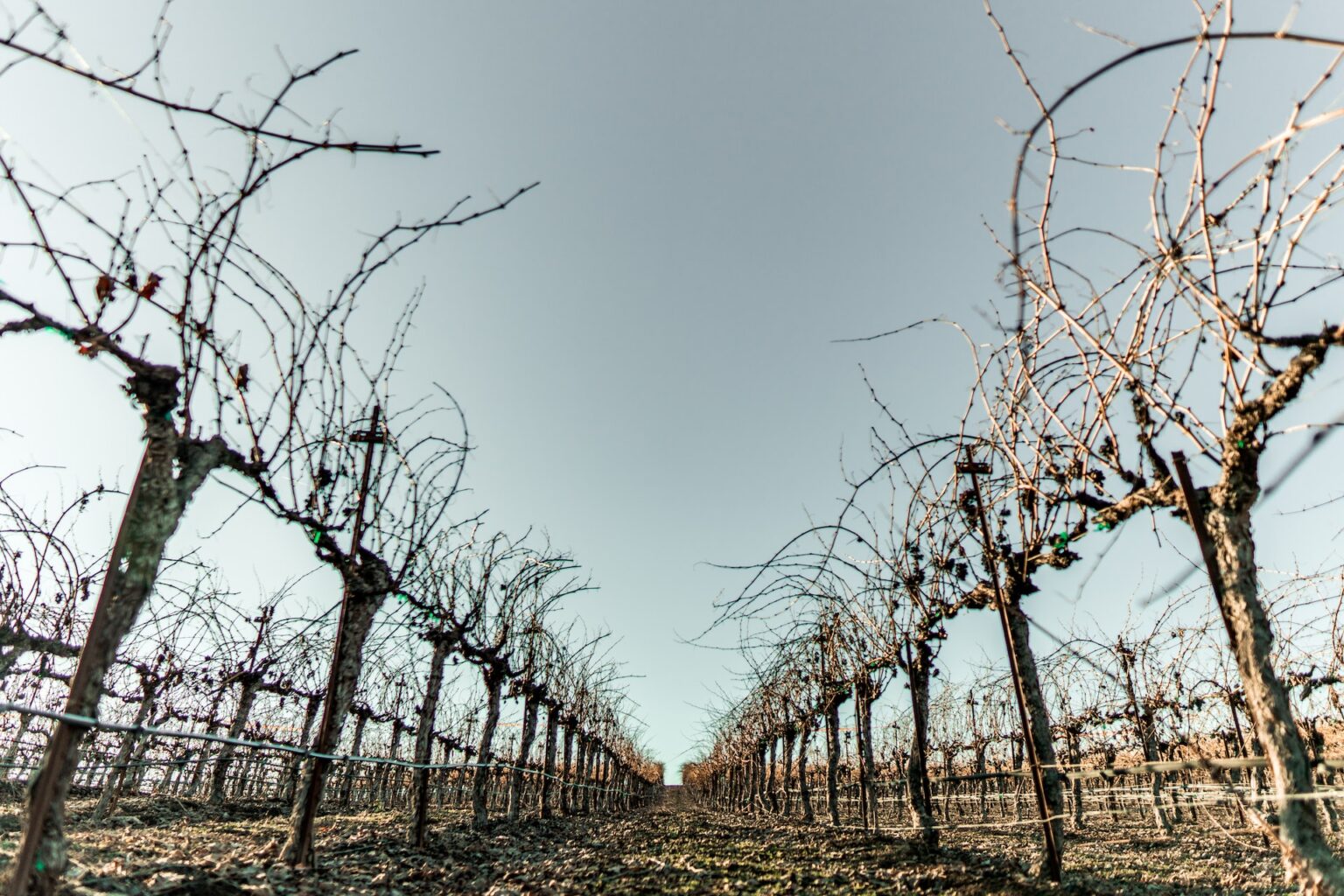 Sirena Vineyard Resort – Located at an elevation of 1,800 feet, this bed and breakfast is nestled in the Santa Lucia Mountains, 8 km from Paso Robles. It features an on-site vineyard and winery. Find more here.
Peaceful 4 Bedroom Farm Stay at Whispering Vines – One of the favourite among families and large groups, Peaceful 4 Bedroom Farm Stay at Whispering Vines boasts of mountain views, accommodation with a garden, a bar and barbecue facilities. Check out more here.
Allegretto Vineyard Resort Paso Robles – One of the most popular heritage stays near Paso Robles, Allegretto Vineyard Resort Paso Robles is a favourite among couples and families thanks to the sprawling land, high ceilings and Mediterranean style decor in the rooms and a outdoor pool and a garden. Click here to check out more.
The Vineyard Farmhouse Villa – One of the new additions to vineyards, The Vineyard Farmhouse Villa also has a wellness area which includes a hot tub. If you would like to discover the area, hiking is possible in the surroundings. Check more details here.
Croad Vineyards – The Inn – Offering stunning hilltop views of surrounding vineyards and wineries this Paso Robles country house is located next to the winery and a tasting room. It is preferred by couples for its romantic settings where you can sign up for private winery tours and admire winery views from rooms. Find more details here.
ESTRELLA WARBIRD AIR MUSEUM
If you are interested in aviation and history, check out the Estrella Warbird Air Museum, located on a 13-acre land at the Paso Robles Municipal Airport, one of the cool things to do in Paso Robles.
The museum was started as a restoration hangar back in the mid-1900s. Still, eventually, it grew big into a museum with the addition of military aircraft used during the war and other aviation artefacts.
Check out the remnants of the original Estrella Army Airfield, like the air tower on the museum site.
You will get a close-up view of F14 and F16 fighter aircraft, a thrilling experience.
The museum also features an in-house military aircraft simulator, where you can sit in the cockpit of a naval fighter jet, a goosebump experience.
There are around 40 marco artefacts, including battle tanks, missiles and anti-aircraft guns.
Visit the museum's Woodland Auto Display exhibit section to see Nascar race cars and vintage automobiles.
The museum hosts annual car shoes, warbird wings, wheel events, and other educational events.
TASTE THE FRESH BREWS AT THE MANY DISTILLERIES
Paso Robles is also slowly developing an edge over brewing, and many breweries are silently popping up.
Many people flock to Paso Robles as it is one of the top wine producers in the country.
At the same time, beer lovers won't be disappointed since you have ample options around the town to savour your favourite beer.
Whether stouts, ales or pilsners, Paso Robles welcomes you with its top-notch breweries.
Most of the distilleries and brewing companies are located quite next to each other in Downtown Park.
So go distillery hoping, one of the fun things to do in Paso Robles. I have recommended my favourites below: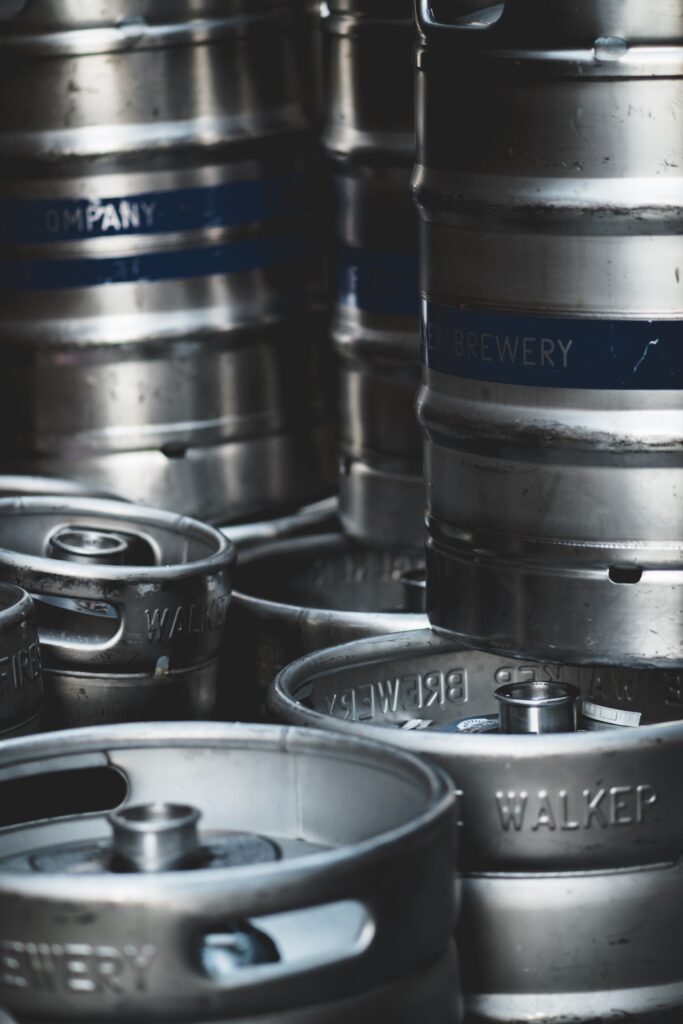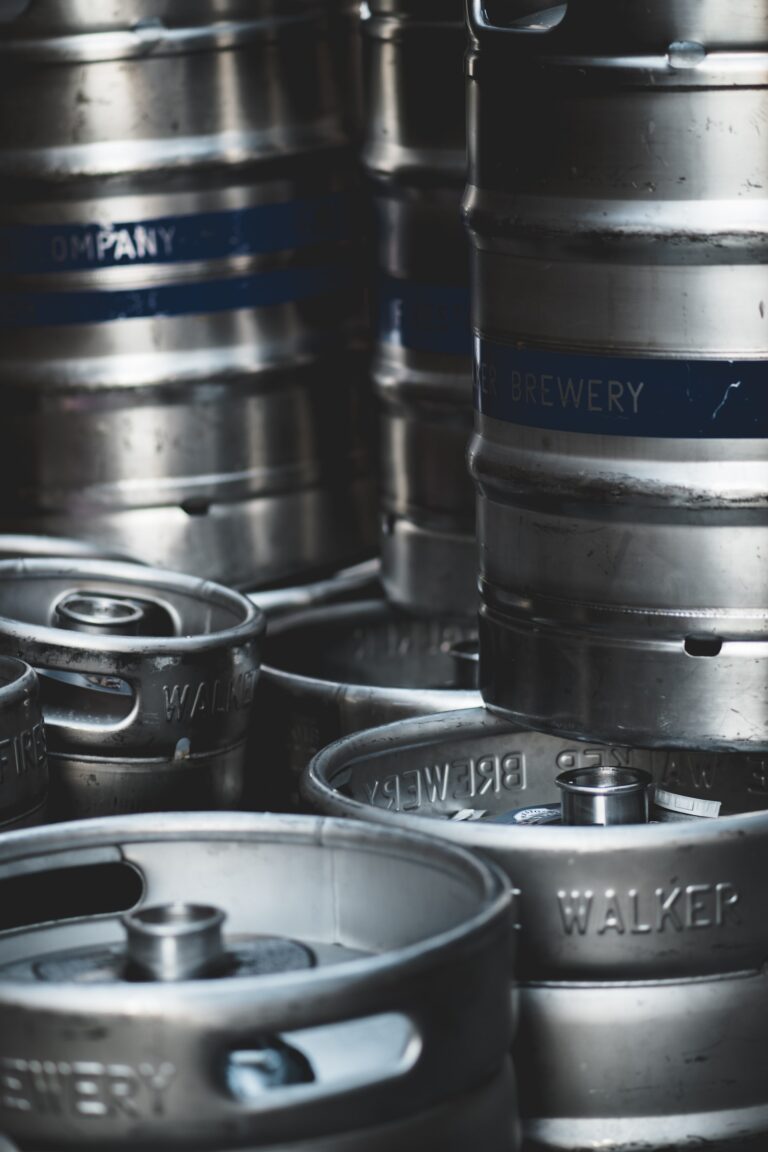 The Paso Robles Distillery Trail: Don't miss this beautiful place which features Find Distillery, Krobar Distillery and Pendray's Distillery quite next to each other.
They have tasting rooms and offer tours to sample their fantastic homemade whiskey, brandy, gin, vodka, and specialized beers.
Firestone Walker Brewing Company: Established in 1996 as one of the first craft breweries in Paso Robles. Now you can see young brew masters trying to brew unique flavours.
This place has been serving the popular Double Barrel Ale for almost 25 years in the area, making this place one of the top Paso Robles attractions for beer lovers.
Enjoy some of the best burgers, PizzaPizza and tacos in town at Firestone Walker Brewing Company.
Silva Brewing Company: Trying to join the microbrewery trend in Paso Robles, Silva Brewing Company is on the North end of the Brew Paso Trail. It also has a branch in San Diego.
Silva specializes in IPAs, unique farmhouse ales, and barrel-aged brews sourced from locally grown ingredients.
They have an excellent outdoor tasting room. Check out their special Nut Farm beer, a milk-sweet stout, to experience the walnut flavour in the brew.
Earth and Fire: A few meters to the North East of Silva, Earth and Fire is a nano brewery specializing in community-focused beers.
Sample some of their well-known Blond Ales, Stouts and IPAs in a perfect outside ambience.
Check out The Pour House and The Backyard for more flavours of locally crafted wines and beers if you still need to get tipsy.
PASO ROBLES CHILDREN'S MUSEUM
If you want to know what to do in Paso Robles with kids, check out the Paso Robles Children's Museum in the old restored firehouse.
The museum was established in 2007. It primarily focuses on creating awareness about history and culture through its interactive and innovative exhibits like the Physical Science Center, the Firehouse Pizza Kitchen, New Renewable Resources, the Market Area and El Mercado, which makes this place one of the fun things to do in Paso Robles.
The museum also features an in-house theatre; children can act in their plays. Check out the various educational outreach programs and field trips organized by the museum.
Learn about Jack's helping hand, a toy lending library for specially-abled children.
The Paso Robles Children's Museum also collaborates with Central Coast Autism Spectrum Center, which helps autistic children have exclusive playtime at the museum.
SHOP AT BOUTIQUE STORES
One of the exciting things to do in Paso Robles is to shop at various boutique stores. Stroll downtown to browse antique shops, art galleries, clothing, gourmet and cosy chic boutiques.
Check out the concerts on Thursday evenings at the square when you finish your shopping spree!
I have listed a few of my favourite Boutiques below:
Brown Butter Cookie Company: If you are a fan of cookies, you should stop by this place for their mouth-watering delicacies. The aroma of freshly baked cookies will definitely draw you into this place.
General Store Paso Robles: If you want unique gift items, hit the Paso General Stores. You will see a collection of creative gifts like kitchen tools, cookbooks, games and puzzles, most of which are usually locally sourced.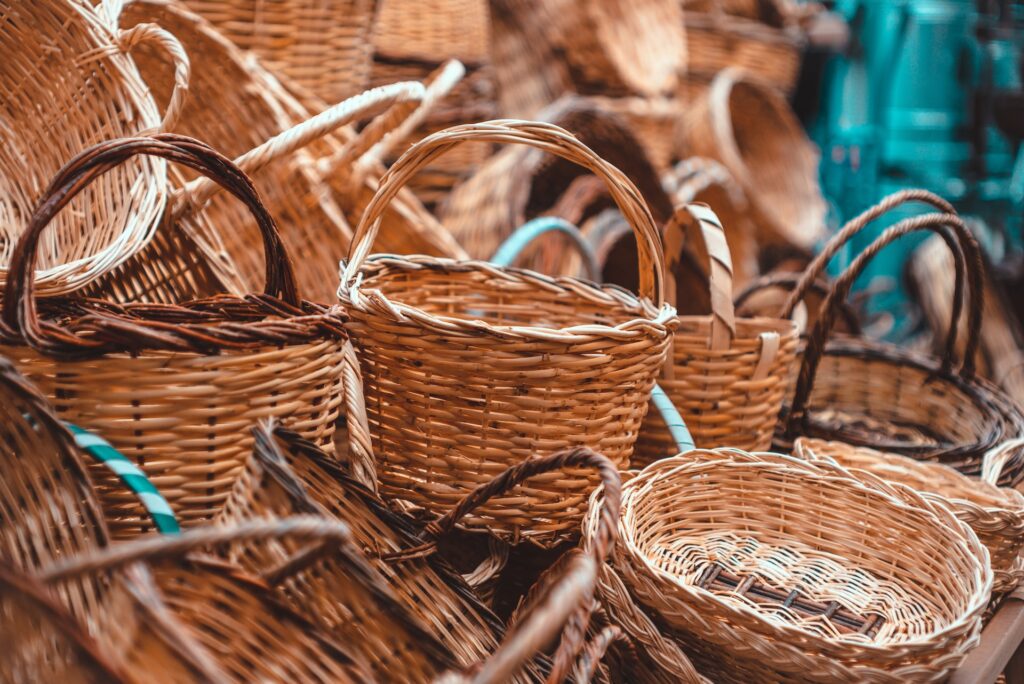 Pasolivo: Check out this place if you regularly use Olive oil in cooking. You will witness various flavours of olive oils which are locally grown. They also have a tasting bar where you can sample a few.
We Olive: Another famous place for buying Olive oil in Paso Robles, and it is known for its Halter Ranch Vineyard Olive Oil and other homemade products.
Spice of Life: Who likes bland foods? Right? To add the right amount and supreme quality of spices to your dish, visit the Spice of life stores to try their unique spice blends of different flavours, which are very aromatic.
Dale Evers Studio: Visit this place if you are looking for creative items for interior decor for your home or want to buy cute gifts.
Dale Evers Studio features innovative clocks, tables and other artefacts in vibrant colours suitable for all ambiences.
EXPLORE TIN CITY
If you are looking for Food, Wine and Beer, explore Tin City, one of the famous Paso Robles attractions, especially for foodies and those looking to get a taste of Paso Robles via its excellent wines and beers.
Tin city is located along the Juan Bautista de Anza National Historic Trail, a few miles South of downtown.
You might have to set aside a day and start with your empty tummy to savour mouth-watering dishes alongside famous local wines and beers, one of the exciting things to do in Paso Robles.
Tin city has many farm-to-table cuisines and also features around 20 family-owned wineries.
If ciders, ales, pilsners and wine are your thing, then you should try these wineries and their wine-tasting tours.
Wine Shine Distillery, Barrel House Brewery, and Tin City Cider were established in Tin City.
Spend a romantic evening at Tin canteen by enjoying their delicious PizzaPizza overlooking a water feature from their patio with live music concerts in the background.
Don't miss the nearby McPhee's Canteen and Negranti Creamery for their fantastic ice cream scoops made from Sheep's milk. You can also order ice cream made from Cow's Milk.
Check out the Barrel House Brewing Company and Tin City Cider Co, and Levo wines to sample their wines and ciders from their unique 15 tasting rooms.
FUN THINGS TO DO IN PASO ROBLES
ADMIRE THE LAVENDER BLOOMS
Visit the Central Coast Lavender Farm if you want fun things to do in Paso Robles. It is an organic lavender farm; you can take guided tours or self-guided strolls.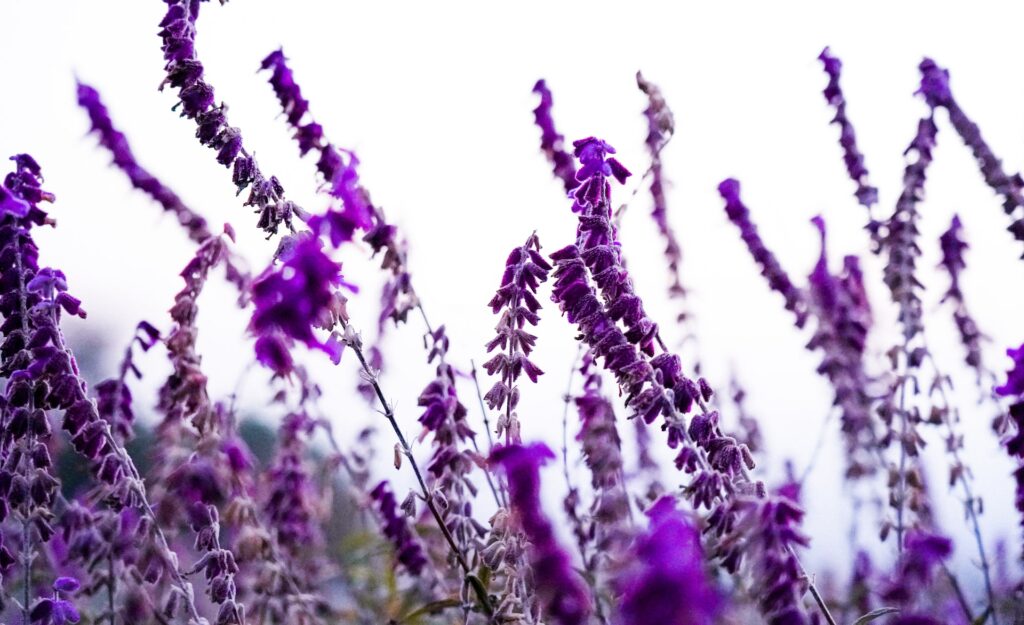 Click Instagram-able pics with hues of purple in the backdrop and take in the stunning vistas of beautiful lavender carpets spanning acres.
Locals can help you understand the importance of lavender and how it is grown if you are keen to learn.
TAKE A HOT AIR BALLOON RIDE
By now, you know Paso Robles is a treasure for wine aficionados.
Have you ever imagined viewing these vineyards from a bird's eye perspective while reading about all the things to do in Paso Robles?
If yes, then you will be super happy to know about the Hot Air Balloon Ride, a small business run by Phoebe Brown, who was inspired by her flight in Australia.
She got herself trained with a pilot licence and started this business on a small scale in 2018.
This is one of the fun things to do in Paso Robles, and I recommend you try it.
You will be awestruck admiring the beautiful vineyards from atop the Balloon, and watching this quaint town from the sky is a delight.
The flight usually lasts for about sixty minutes. Take the early morning or sunset ride for the best hot air balloon ride experience.
You can book a couple or a group ride, and you will be served champagne and toast once you are on the landing site.
The best time to take this ride is between May and November when the weather is favourable. This can also be one of your top summer Paso Robles activities.
EXPERIENCE THE AMPHITHEATRE
One of the fun things to do in Paso Robles is to visit the Amphitheatre to enjoy plays and live music concerts.
Located amidst the oak-adorned hillside in Paso Robles, Vina Robles Amphitheatre is operated by the Vina Robles Vineyards and Winery, who used this space to host the annual summer concert series.
Eventually, the theatre started drawing more crowds, and this place was officially launched in 2013.
Experience the best California music and plays in one of the largest outdoor venues for arts and entertainment in San Luis Obispo County.
The theatre has a 3,300 seating capacity with modern amenities, and you will experience the best hospitality. VIP boxes and exclusive seats are also available if you book the shows in advance.
Don't miss the shows by local artists and famous comedians, musicians and celebrities. The Amphitheatre also hosts a series of events every summer, which should not be missed.
JOIN SCAVENGER HUNTING
If you want to learn about the history of Paso Robles uniquely and like problem-solving and puzzles, check out Scavenger hunting, one of the fun things to do in Paso Robles.
The scavenger hunt begins at the corner of pie, and most tasks can be completed using your smartphone.
The whole activity takes about two to three hours, but you can finish it at your own pace.
You will pass through Paso Roble's prominent areas like City park, the Paso Robles Clock tower, Paderewski Piano, Carnegie Library and the Paso Robles Inn.
Learn about this beautiful town's culture and history while navigating historical buildings, art galleries and museums.
OLIVE OIL TASTING
Although Paso Robles is known for wine tasting, one of the other exciting things to do in Paso Robles is to go Olive Oil Tasting.
Don't worry if you have never tried this activity; you will have the best experience in Paso Robles in a perfect ambience overlooking the beautiful olive orchards.
Thanks to the favourable weather at Paso and the Central Coast. You will find ample options to go for Olive oil tasting.
Go for a guided walking tour amidst the orchards or hit the downtown to try unique flavours in the local's favourite outlets.
Tasting fresh Olive oil is an incredible experience in itself. You will surely know the difference between freshly produced olive oil and the oils you buy in the supermarket post this activity.
While on the tasting tour, you will learn about the various characteristics that give an overall essence, aroma, flavour and pungent taste to Olive oils.
Check out some of my recommendations to enjoy olive oil tasting in Paso Robles:
Kiler Ridge Olive Farm: Try the Italian Olives here. They also produce infused olive oils and pure extra virgin Olive oil, a must-try. Take their tasting and farm tours. Reservations are required ahead of the visit.
Alta Cresta Olive Orchard: Located on the outskirts of Paso, Alta Cresta is a lovely orchard adorned with various varieties of Olives. You can take a guided tour to try their unique Olive oil flavours.
We Olive: One of the famous Olive Oil tastings on the Central coast, and is a chain with many outlets across California.
They have a tasting room in downtown Paso and offer a variety of vinegars, mustards and other homemade products.
Jada Vineyard and Winery: To sample wine and Olive oil under one roof, check out this place. Set aside a day if you visit this place since you can take guided tours for wine and Olive oil tastings at your own pace.
Pasolivo Ranch: If you want to taste Olive oils in an outdoor setting overlooking the orchards visit Pasolivo, a ranch located on the outskirts of Paso.
They offer unique flavours of Olive oils in their tasting room, and You can also sample their local vinegar and other products.
DRIVE ALONG HIGHWAY 46 EAST
If you are looking for what to do in Paso Robles, take a car, and hit Highway 46, which runs both East and West and eventually connects to Highway 1.
There are tons of vineyards and wineries in Paso Robles, and Highway 46 is one among them to view beautiful orchards and vineyards on both sides of the highway, making this one of the fantastic things to do in Paso Robles.
On the western stretch, watch out for the rolling hills, which are incredibly beautiful. Click some candids for your Instagram or Snapchat!
If you plan to drive on this highway during Spring, on the Eastern Stretch, you will be welcomed by vibrant wildflower carpets on both sides, along with the lush vineyards and fruit orchards.
You will see the Paso Robles countryside, its cowboy culture, and its beautiful lifestyle. There are ample pitstops to admire the lush green orchards and scenery.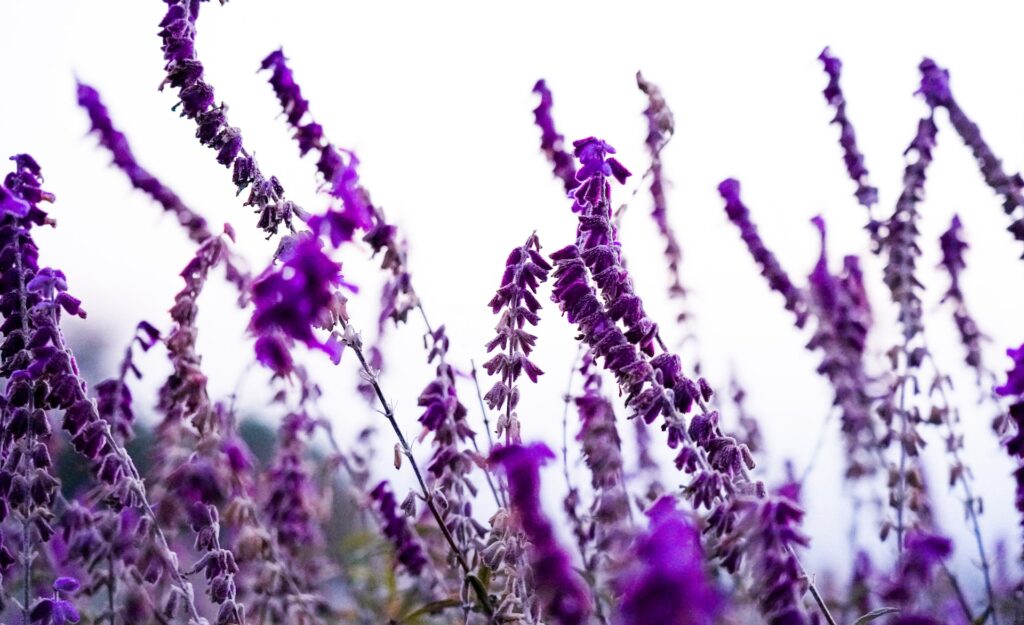 Please stop by the Tobin James or the Robert Hall winery to savour their unique wine flavours.
Stop by the J. Lohr Vineyards and Wines and the Le Vigne Winery for cheese pairings and wine flights.
Check out the Vina Robles for their lovely ambience and live music concerts. Drive further along to stop by Jessie James's hillside area if you have spare time.
ENJOY HORSEBACK RIDING
Since Paso Robles is one of the famous wine destinations along the central coast, you can already imagine the cowboy culture deeply rooted in this town.
One of the fun things to do in Paso Robles is to explore this beautiful wine terrain via horseback riding. There are plenty of trails and guided tours available.
But the famous one is the Central Coast Trail, which covers most of the Robles wine region.
Central Coast Trail navigates along the river and traverses through Cass Vineyards and Winery, known for its varied terrain and sandy riverbeds.
The ride goes on for about an hour. Central Coast Trailrides have collaborated with local ranches, wineries and vacation rentals.
So you will witness beautiful scenes of the Central Coast, undulating hills, lush vineyards and vibrant spring wildflowers.
Book their Hilltop Vista Sunset Ride for an incredible sunset view from atop the hills with the backdrop of beautiful vineyards and fruit orchards.
If you want more adventure, ride through the terrain above Santa Margarita Lake, which passes via Fableist Wine Co., known for its giant oaks surrounding the region.
Check out the Work Family Guest Ranch and Paso Robles Pastures if you want more Horseback riding experience in this lovely wine region.
If you have never saddled up, you need to worry. The rides are suitable for all types of skill levels.
Horseback riding is available throughout the year, and you need to book ahead of your visit.
SOAK IN THE HOT SPRINGS
Besides producing world-class wines, Paso Robles is known for its natural hot springs.
In fact, the region was called "The Springs" by the native Salinan Indians in the early 1700s due to the abundance of hot springs in this region.
The heated undergrounds help maintain the spring temperature around 96ºF, ideal for dipping.
Although most hot springs are now capped, Paso Robles is still a hotspot for those keen towards natural nature therapy, making it one of the fun things to do in Paso Robles.
Spend a day in the Roble's famous River Oaks Hot Springs, previously known as Paso Robles Hot Springs.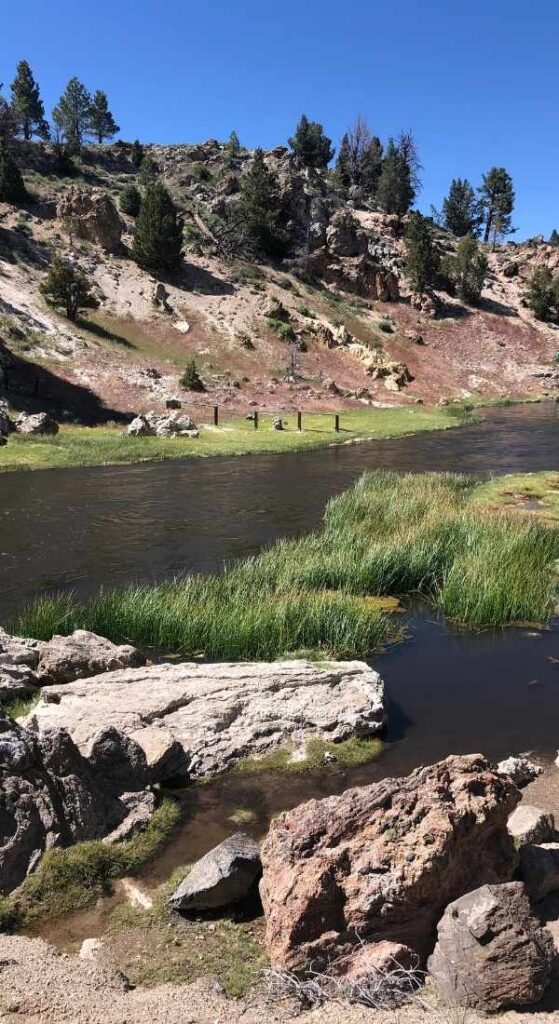 River Oaks Hot Springs is a well-maintained luxurious spa with lavish rooms with panoramic windows to enjoy the beautiful scenery.
The Spa offers various treatments, skin care therapies and therapeutic remedies. The main draw of the Spa is the open-air tub rooms; enjoy the views of the open sky while allowing your body to relax in the hot tub.
Another interesting fact is that the waters to these tubs are directly pumped from the nearby Hotsprings, which are super rich in minerals and have therapeutic properties which will help soothe your body.
River Oaks Hot Springs also offers various massages and other self-care services.
OTHER PASO ROBLES HOT SPRINGS
There are many other Hotsprings rich in Sulphur and other minerals that pose many health benefits.
Visit the Franklin Hot Springs for another natural Hot Spring in the Paso Robles region.
It is said that the waters in the Franklin Hot Springs have healing properties and is suitable for skin care.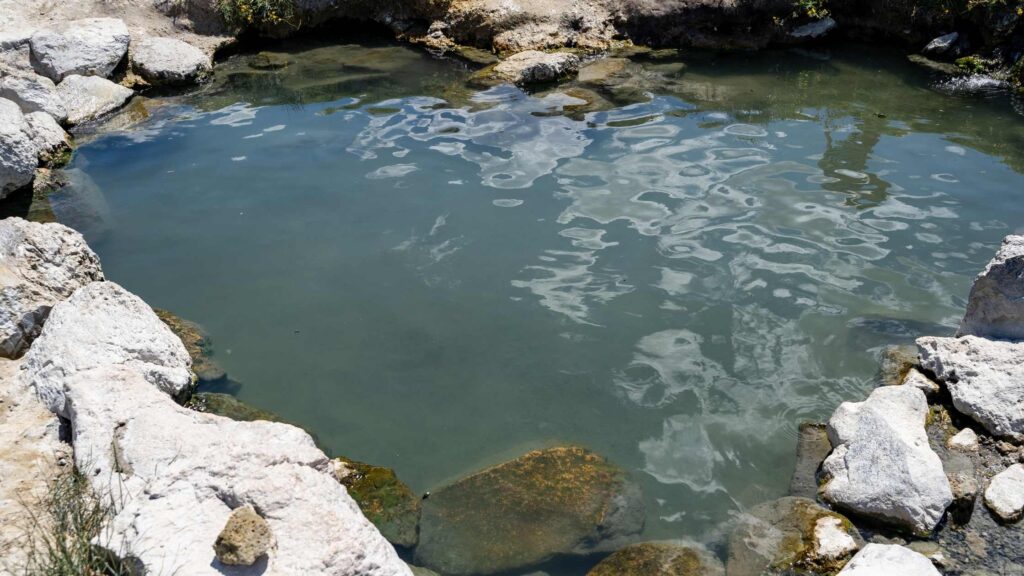 It is also evident that many birds and local wildlife can be spotted around this fresh hot Spring most of the time. You need to pay $7 to dip in Franklin Hot Springs.
Franklin Hot Springs is also famous among birdwatching enthusiasts since many vibrant birds are spotted around the Spring.
Check out the Paso Robles Inn, a retreat where you can dip in one of the five onsite hot springs and natural sinkholes.
CHECK OUT THE ART AT SCULPTERRA
One of the exciting things to do in Paso Robles is to visit the Sculpterra Winery and Vineyard for its fantastic art collections and world-class wines.
The Sculpterra Winery and Vineyard, maintained by the Frankel family, acts as an incubator and a platform to present various art forms. It focuses on promoting both local and international artists.
Stroll along the paved paths around the massive bronze sculptures, including the "Dancing Horse", "Mermaid", and "Puma" by world-renowned sculptors John Jagger and Aleah Koury.
Sculpterra also features art from budding artists, and efforts are made persistently to bring out the best artists from Paso Robles and the surrounding area to light.
So you will see a mix of permanent and changing exhibits occasionally.
Check out the recent additions, the "Flying Fish" made of Stainless Steel and the "Dragonfly on Cattail" made of glass by the current well-known sculptor of the region Dale Evers.
Head to the wine tasting room, open throughout the week from 10 AM to 5 PM, to sample the local wines while you admire the sculptures made of granite, steel, and glass positioned around the vineyards.
Visit the winery on Sunday to enjoy the live music concerts sipping your favourite wine. Other events, like wine clubs and summer concerts, keepSculpterra busy throughout the year.
ATTEND THE MIDSTATE FAIR
If you visit Paso Robles during Summer, between July and August, check out the famous Midstate Fair, which has been in Paso Robles since 1946.
Located on 2198 Riverside Ave, Midstate Fair features several local businesses, musicals and other community-based events, making this one of the fun things to do in Paso Robles.
Get along with the locals while you sip your favourite drink and grove into the live music concerts.
EXPLORE PASO ROBLES IN A HELICOPTER
Do you want to fly over vineyards and enjoy the fantastic scenery from a bird's eye view? Take the privately charted helicopter, one of the best ways to explore Paso Robles.
Hop on to the Wines and Waves helicopter tour to take in the panoramic views of lush vineyards, fruit orchards, wildflower carpets and stunning views of the Central Coast, one of the exciting things to do in Paso Robles.
Witness the stunning Pacific Coast and its major attractions like the Hearst Castle, Morro Bay and the iconic Morro Rock, along with the undulating hills and the incredible Pacific ocean vistas.
The tour is usually designed for a group of four or five, and the ride lasts about 30 minutes.
You can book customized tour packages with the option of hovering above your selected wineries for sampling.
VISIT THE GALLERIES
If you are an art buff, check out the Studios on the Park, an artsy district and a unique art gallery that promotes arts from the local art community, one of the cool things to do in Paso Robles.
Get inspired by the mind-boggling graffitis and learn new art techniques as you stumble upon various arts created by multiple age groups.
Check out their unique gift stores, which have a wide range of art collections, including custom-made jewellery, paintings, and handmade sculptures made of glass, wood and ceramics.
Visit the nearby Deprise Brescia Art Gallery, an exclusive collection of artworks by the famous local artist Deprise Brescia.
Her artwork is mainly Transformational Energy related art, a blend of spirituality, science and colour.
If you want to see more of her work, you can head to 10th Street to her gallery and art studio.
OFFBEAT THINGS TO DO IN PASO ROBLES
STOP IN AT THE RIOS-CALEDONIA ADOBE
One of the offbeat things to do in Paso Robles is to visit the Rios- Caledonia Adobe.
Located in San Miguel at a 15-minute driving distance from Paso Robles, Rios- Caledonia Adobe was built in 1835 and is on the list of the National Register of Historic Places.
The Native Americans built the two-storey building under the guidance of Petronilo Rios, part of the Mission San Miguel guard.
Later Rios bought the Adobe when the mission property was sold, and he used the place as his residence.
Adobe has taken various roles over the past few years, from an Inn to a school, to a business place, to a home.
The place is restored under San Luis Obispo County Park and is open for a tour. Check out the in-house museum and the gift shop to shop for souvenirs.
GO APPLE PICKING
If you visit Paso Robles during the fall, you should not miss one of the famous Paso Roble activities, apple picking from apple orchards, which is also one of the offbeat things to do in Paso Robles.
There are plenty of places for picking apples and pumpkins, but the famous ones are Avila Valley Barn and Jack Creek Farms. They have massive orchards which grow large varieties of apples.
You can also buy their homemade honey, apple jams and other local products like walnuts since Paso Robles is one of California's hotspots for growing walnuts.
LAKE NACIMIENTO
Located at an hour's driving distance from Paso Robles, Lake Nacimiento is an 18-mile stretch of a blue lake dotted with oaks and other local flora and is considered one of the offbeat things to do in Paso Robles.
Enjoy various water activities in Lake Nacimiento, like kayaking, fishing, waterskiing, paddleboarding and wakeboarding. There is also a slide that slides onto the lake's surface.
Rent a boat or hike the beautiful trails to explore the different areas of Lake Nacimiento. There are campsites and RV hookups available if you plan to camp.
Alternatively, visit this place with friends and family to stay at one of the lakefront resorts for a relaxing weekend.
WATCH THE WILDFLOWER SUPER BLOOM AT CARRIZO PLAINS
If you are a fan of super blooms and looking for offbeat things to do in Paso Robles, head to the Carrizo Plain National Monument, located at an 80-minute driving distance from Paso Robles.
Carrizo Plain National Monument is the largest single native grassland, and is one of the beautiful California flower fields you should visit with your family during spring.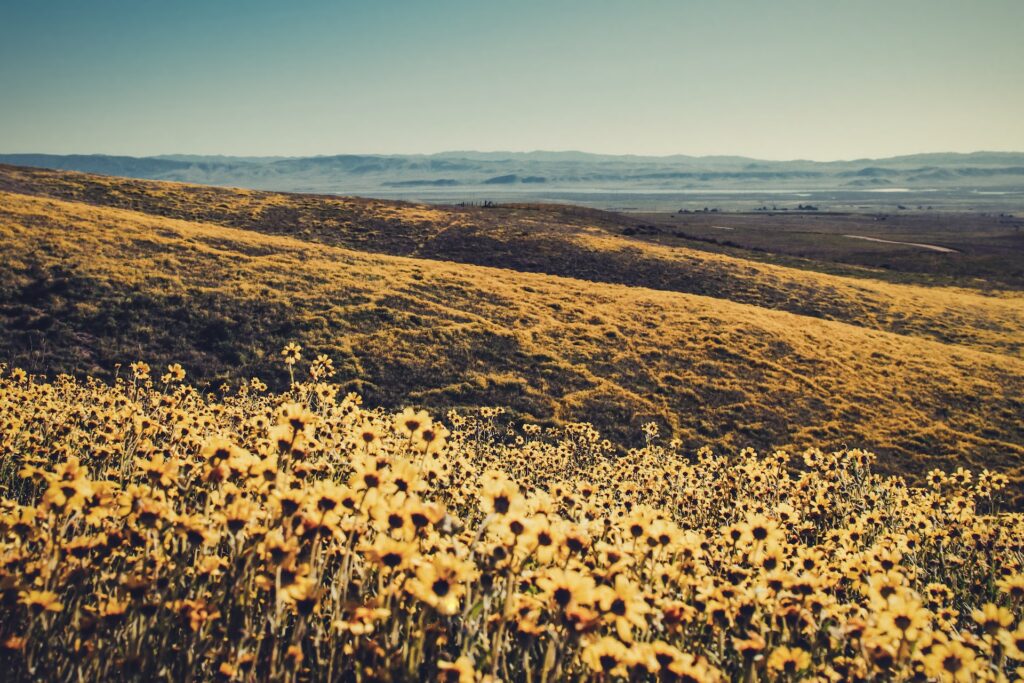 You will be welcomed with vibrant carpets of Californian poppies, especially if you visit the place between March and May.
Take as many candids as you want to flaunt on your social media but ensure not to step on the poppies.
The place usually gets crowded during the peak season with photographers and videographers. So visiting the place during the early hours or on weekdays is better.
PLAN DAY TRIPS
Set base at Paso Robles and plan day trips to the nearby hamlets of San Luis Obispo County, one of the cool things to do in Paso Robles.
There are many hotspots around Paso Robles; be it beaches, Lakes, Hotsprings, hiking trails or museums. Thanks to the proximity of the towns on the Central Californian Coast.
Hit the famous Highway 46 and head North to reach the charming town of Cambria, known for its beautiful black Moonstone Beach.
HEARST CASTLE
One of the romantic things to do near Paso Robles is to stop at Hearst Castle, located near Morro Bay, the pretty coastal town.
Located on a charming hill, thirty miles from the coast, it is one of the beautiful landmarks known for its rich history, grand architecture built by legendary Julia Morgan and stunningly decorated interiors.
The castle was initially named La Cuesta Encantada and was built for the King.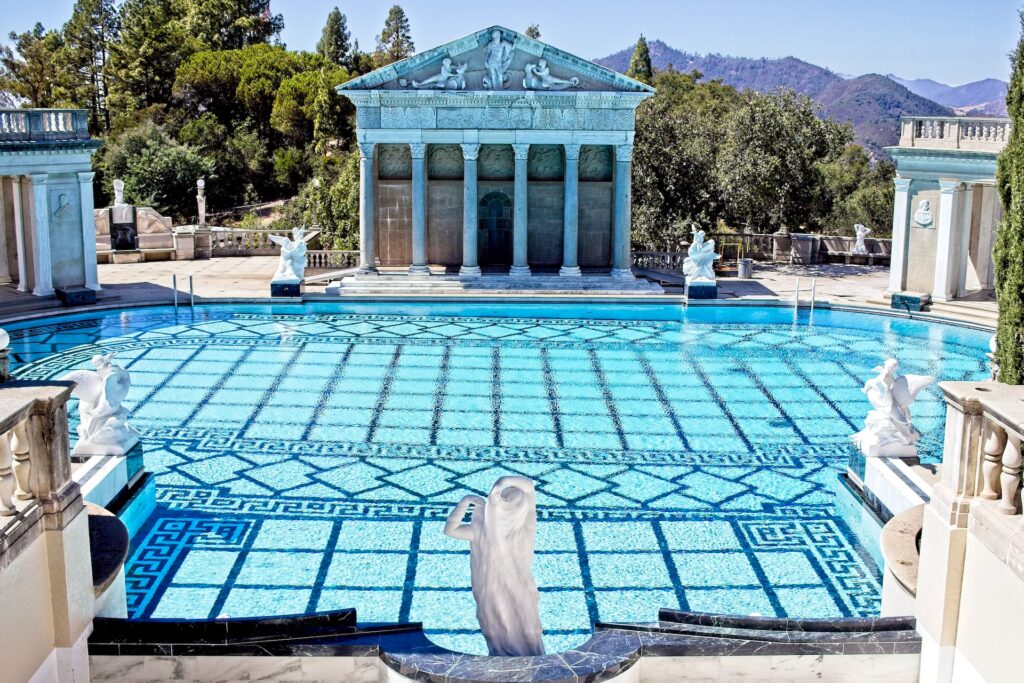 But William William Randolph Hearst became so wealthy through his newspaper empire that he could afford the castle.
The National Park Service maintains the castle and is home to a well-maintained library, a state-of-the-art museum, and lovely gardens overlooking the beautiful Pacific.
You will be presented with a video in an IMAX experience featuring the castle's interiors and history.
Take a guided tour to explore the castle's lavish interiors and witness the castle's main draw, the swimming pool, which was once the location for the world's largest private zoo, dotted with giant cypress trees.
MORRO BAY
Located at 45 minutes' driving distance from Paso Robles, Morro Bay is one of the best northern California beach towns, stretching beaches from North to South.
Morro Bay is blessed with six miles of tranquil beaches, providing dramatic views of the ocean and a spectacular sunset over the iconic Morro Rock.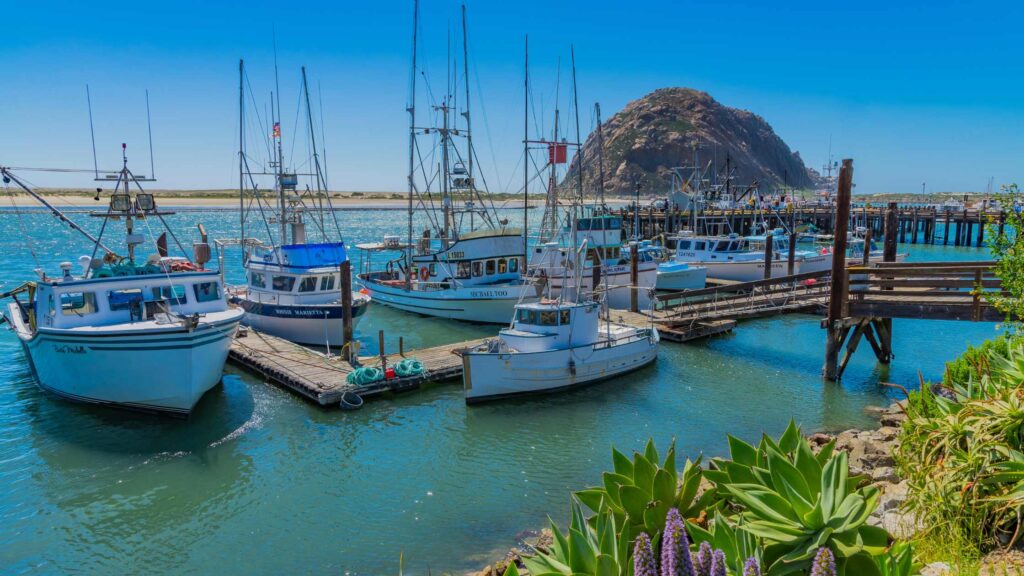 Stroll on the Embarcadero, or go for water activities like Kayaking, Swimming, and Fishing.
Check out the other activities in Morro Bay, like birdwatching and whale watching or explore the Morro Bay State Park.
Browse the Morro Bay Museum of Natural history. Check out the Morro Bay Winter Bird Festival and the annual Kite festival if you visit the place during Spring.
Recommended – 35 Best Things To Do In Morro Bay On a Weekend Trip
BIG SUR
Located at a 150-mile driving distance from Paso Robles, Big Sur is one of the popular locations for day trips in California.
You can set base at Paso Robles and drive to Big Sur along Highway 101, considered one of the incredible things to do in Paso Robles.
The Big Sur Coastline is one of the highways that offer dramatic terrains dotted with craggy cliffs overlooking exquisite views of the Pacific throughout your Big Sur Road Trip.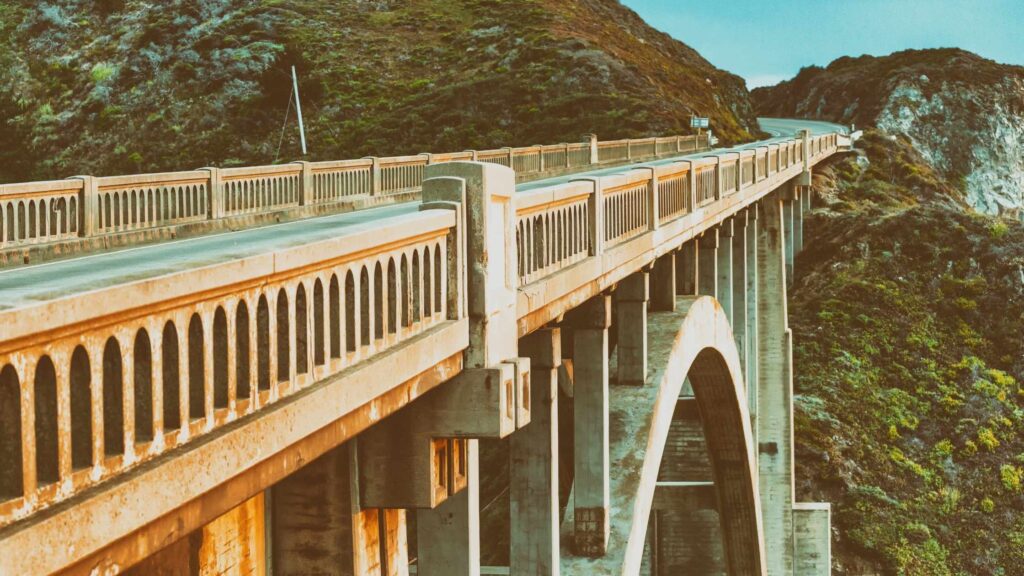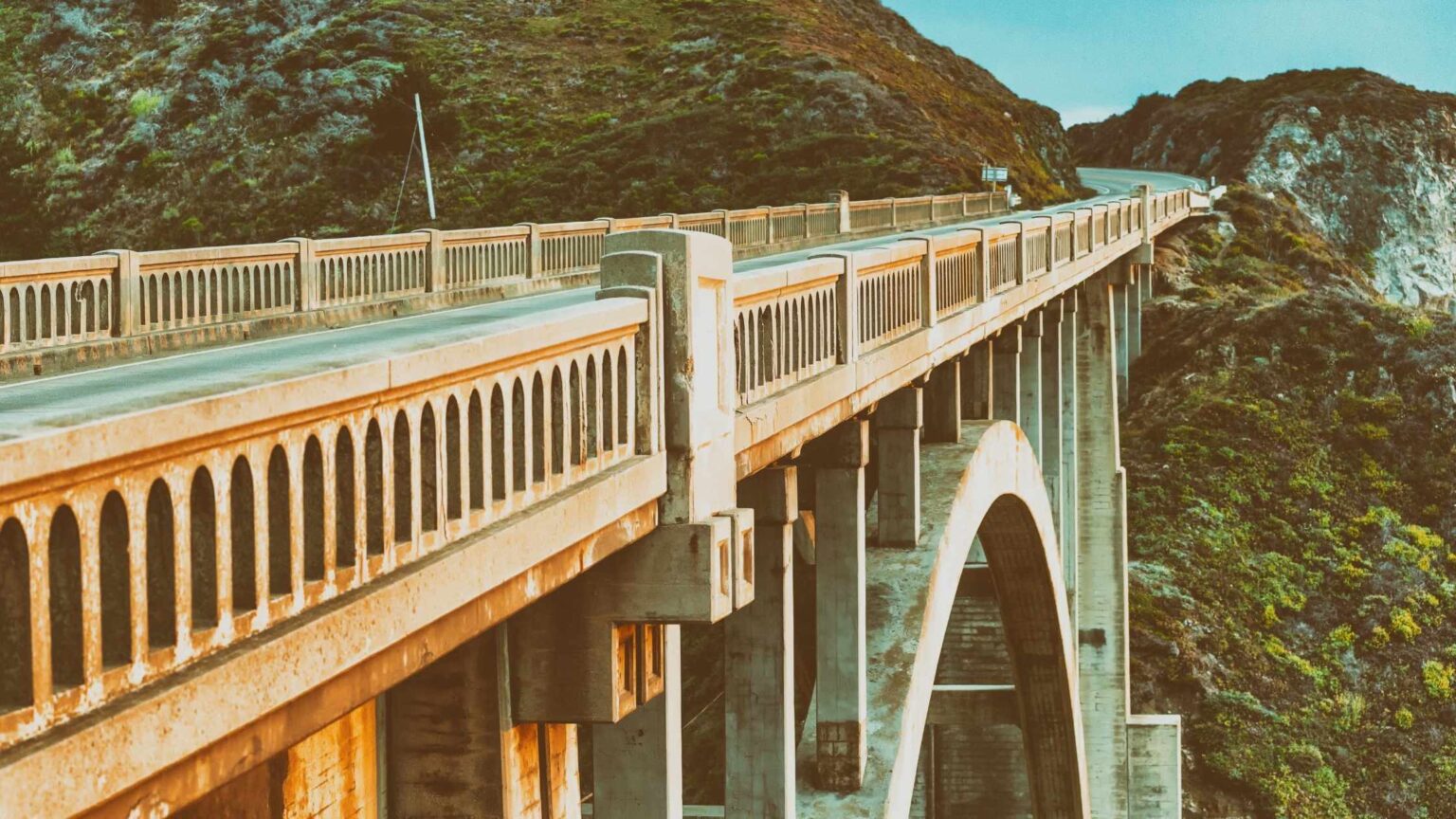 One of the must-visit places in Big Sur is the iconic Bixby Creek Bridge. There are tons of other outdoor activities as well.
Recommended – The Perfect Big Sur Road Trip Itinerary Ideas For A Fantastic Trip
Go beach hopping, including Sand Dollar Beach, Gibson Beach, Garrapata State Beach and Pfeiffer beach.
If you are an avid hiker, many beautiful trails run amidst redwoods and offer stunning views of the Pacific.
Check out the Calla Lily Valley for its beautiful white flower blooms if you visit the place between late February and May.
If you plan to camp, many campsites with RV hookups are available in Big Sur.
PISMO BEACH
Located at a 45-minute driving distance from Paso Robles, Pismo Beach is one of the little-known Northern California Beach towns, with a 13-mile sand strip known for its untouched dunes, gardens and beautiful beaches.
Pismo beach has many attractions and is considered one of the lists of offbeat things to do in Paso Robles.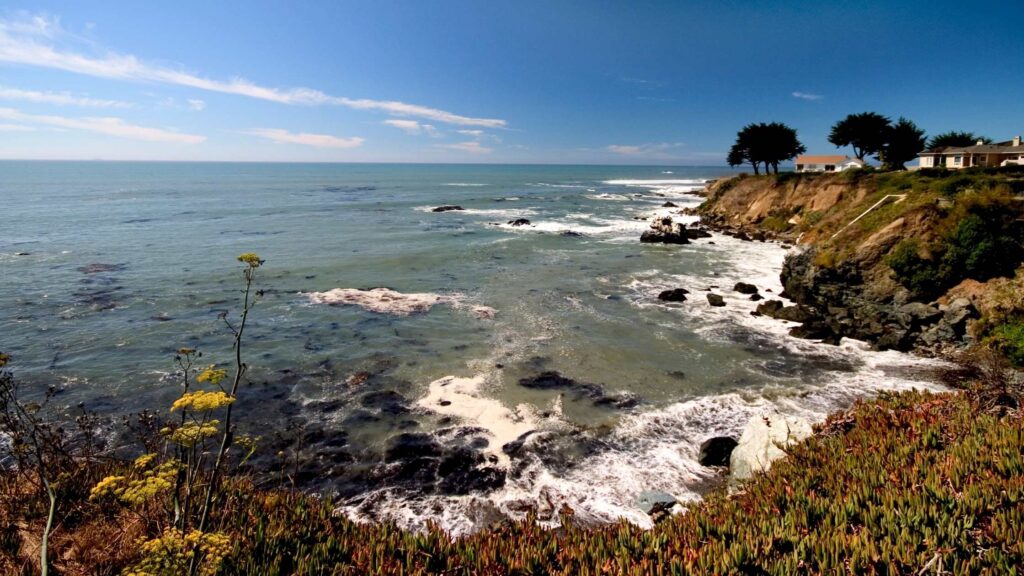 Stroll on the Pismo Beach pier admiring the views of the white sandy beach, or head to the Oceano dunes to experience an ATV ride. The beach is also a natural habitat for migrating monarchs.
Go swimming or kite surfing during low tides. Try local wine samples at the Santa Rita Hills wineries.
SAN LUIS OBISPO
If you are looking for things to do near Paso Robles, head to San Luis Obispo, located at a 30-minute driving distance from Paso Robles.
San Luis Obispo is another hotspot for wineries in California. If you are already "high" by the wineries in Paso Robles, you can check out other SLO attractions.
Explore the streets of downtown SLO, filled with greens and cafes bustling with people. Browse through the art galleries, chic boutiques and antique shops.
Check out the Farmers Market or hike the 90-minute Bishop Peak or Cerro San Luis Obispo for fantastic town vistas.
Browse the museums and art galleries or stroll on the paved paths in the Botanical gardens taking in the views of the local flora blooms.
Grab your favourite drink from the cosy cafes of downtown SLO or sign up for a food tour to experience the food and drinking culture of the county.
MAP OF THINGS TO DO IN PASO ROBLES
WHERE TO STAY IN PASO ROBLES?
BEST HOTELS AND RESORTS
Best for families and couples
Courtyard by Marriott Paso Robles, Geneseo Inn, Hampton Inn & Suites Paso Robles and Holiday Inn Express Hotel & Suites – Paso Robles
La Quinta by Wyndham Paso Robles, and High Ridge Manor