If you are looking for easy Yosemite hikes, you are in the right place. Yosemite National Park, nestled in the high Sierras, is one of the crown jewels of California and among the most iconic natural landmarks in the United States.
A paradise for outdoor and nature lovers, adventure seekers, and families alike, this gorgeous national park is packed with roaring waterfalls and splendid viewpoints offering magnificent views of the sunset and sunrise amidst towering granite peaks, beautiful flowering meadows and giant Sequoias.
And you can only fully experience some landmarks via hikes ranging from easy to challenging. While the strenuous hikes may not be for everyone, there are plenty of beautiful and easy Yosemite hikes, luckily, which allow beginners or non-hikers to completely soak in the beauty of this national park throughout the year.
Although I have done a few moderate trails myself, I want to share all about the easy hikes in Yosemite National Park, as many families with young children and pets want to experience the outdoors on trails in the park without hassle.
Most of these easy hikes in Yosemite are under 5 miles roundtrip, so you can quickly complete the hikes in half a day and still have time to check out more landmarks or drive back home.
Plus, you will be treated to some of the most beautiful rugged landscapes that make Yosemite National Park special. So read about the best easy hikes in Yosemite National Park in California.
HOW TO REACH YOSEMITE NATIONAL PARK?
Yosemite National Park is located in the Sierra Mountains range in the eastern part of California. The nearest city to Yosemite is Sacramento, about 3 hours away.
By flight – Depending on your departure destination, you can fly to the closest airports, although you will need a rental car to get to Yosemite from any of these.
You can fly into San Jose, Oakland and San Franciso airports, and from any of these, it takes about 4 hours to arrive at Yosemite.
By road – Many people include a trip to Yosemite National Park as a weekend getaway or a part of many possible road trips in this part of California.
Yosemite National Park can be entered through Highways 120, 140, or 41.
Recommended for you: The Best Big Sur Road Trip Itinerary Ideas You Should Check
Alternatively, you can plan a day trip to Yosemite, which is the best option to cover the top attractions, including witnessing a Yosemite sunset.
NOTE – As of 2022, there is a reservation system for park entry. If you are visiting between late May and the end of September and planning on driving into or through the park between 6 am and 4 pm you will need to have a reservation. Find out more and make your reservations online here.
WHERE TO STAY IN YOSEMITE NATIONAL PARK?
With about five entrances and a distance of over 2.5 hours between a few of them, you can imagine the massive size of Yosemite National Park, which has many places to stay.
You can choose between lodges, campgrounds, and glamping sites if you plan to stay in the park.
If you are visiting Yosemite for the first time and plan to do one of these easy Yosemite hikes, I recommend staying in Yosemite valley as it is centrally located, giving access to many spots for sunsets in Yosemite.
PLACES TO STAY IN THE YOSEMITE VALLEY
Since Yosemite Valley is the most popular area, you have plenty of options to choose to stay.
My favourite pick is The Ahwahnee, a stunning luxury hotel with fine dining, gorgeous views and many amenities for a relaxing stay.
Another comfortable place to stay in the valley is Yosemite Valley Lodge in Yosemite village.
PLACES TO STAY OUTSIDE THE YOSEMITE VALLEY
El Portal is the nearest town to the park boundaries and is only a 20-minute drive from Yosemite Valley. There are plenty of accommodation options in this town, which you can check out here.
Click here to check the current availability and prices of places near Yosemite National Park.
Rush Creek Lodge is a beautiful luxury lodge outside the Big Oak Flat entrance, about 1 hour from Yosemite Valley.
Tenaya Lodge – If you want a fantastic stay and do not mind spending a few extra bucks, I highly recommend Tenaya Lodge, located in Fish Camp, south of Wawona.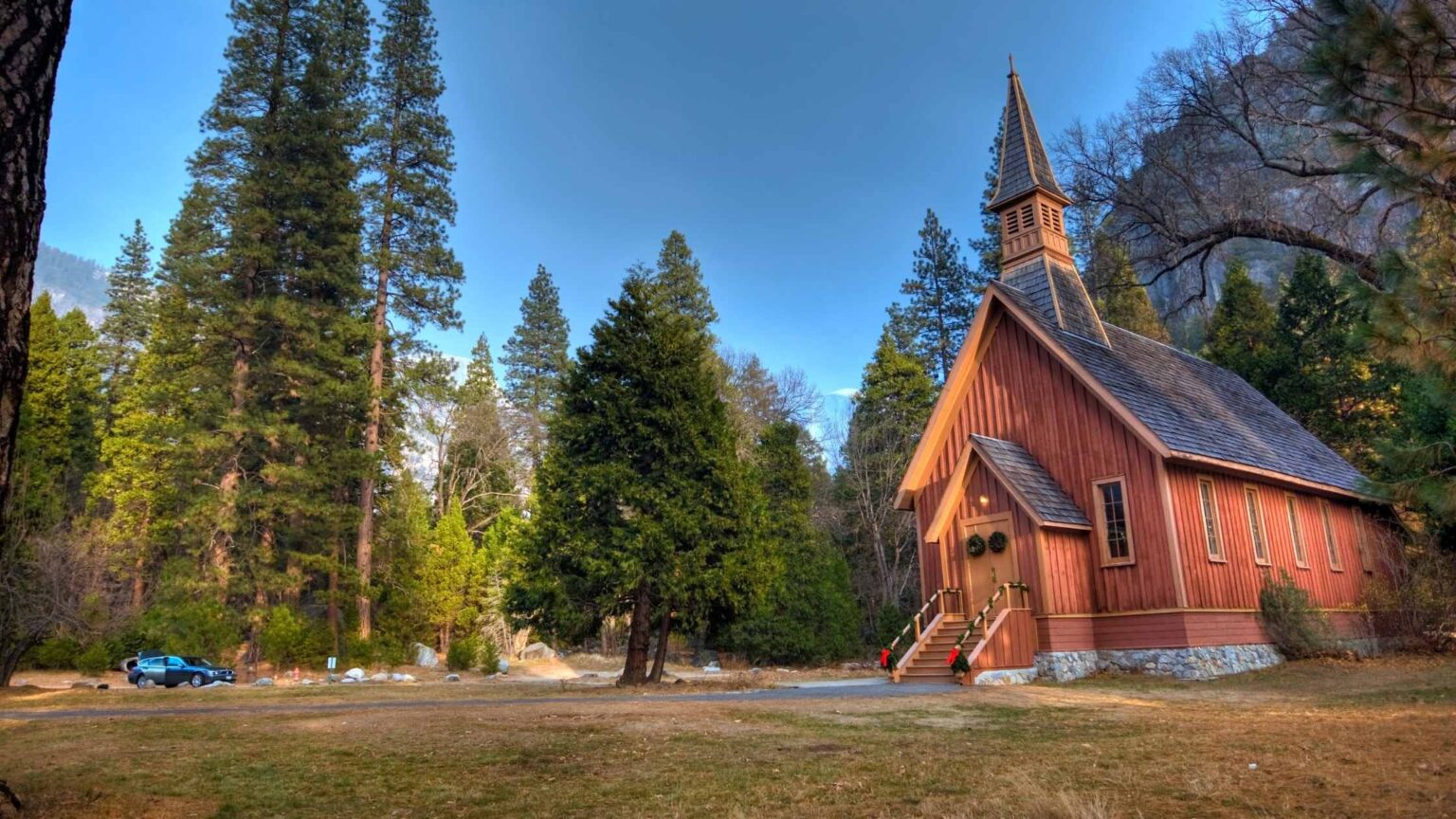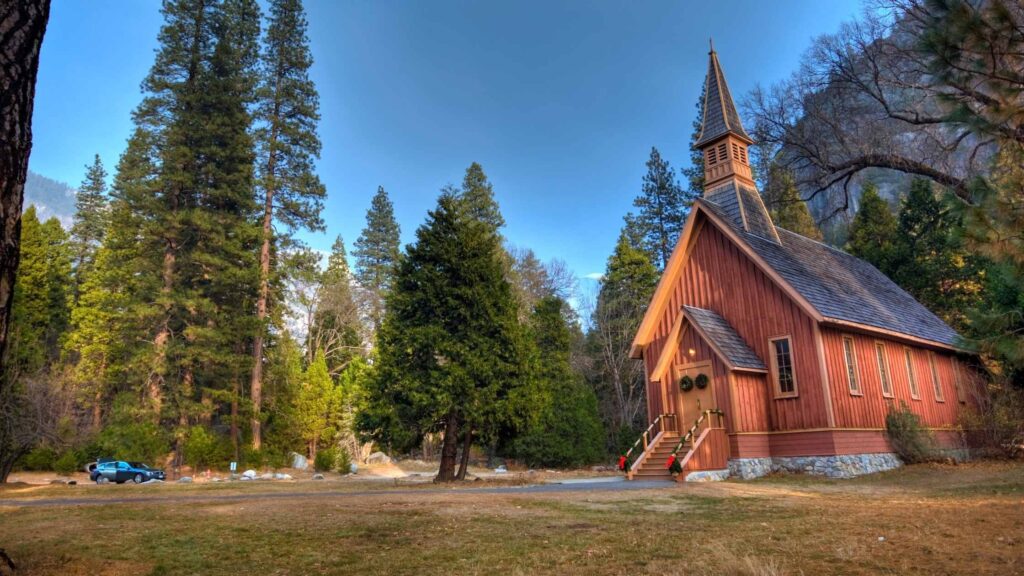 It takes about 1 hour and 20 minutes from here to reach Yosemite Valley, but this is one of my favourite stops for all the place offers, which is worth the money. Check prices to book here.
Depending on the time of year, you must modify the list of the items below according to the temperatures.
If you visit in the winter, rain and fog are widespread during the California mist season. Here's a list of things you will need.
WHAT TO PACK FOR EASY YOSEMITE HIKES?
GENERAL ITEMS
CLOTHING
The temperatures can be foggy during the day and drop at night as the breeze increases.
As with camping anywhere, you must be prepared for unpredictability by going with many layers. Here's what you need:
CAMPING ESSENTIALS
Here are some of the camping essentials you need:
Camping essentials for preparing food:
The best one I'd recommend is this Outdoor Master Cook Portable Folding Camp Kitchen along with this Light Weight Cook Ware and Backpacking Gas Stove Burner.
OTHER ESSENTIALS
Even if you aren't into photography, you may want to bring a camera with a good lens. I carry a Panasonic LUMIX DC-ZS70S while camping since I prefer lightweight gear to my Nikon D850, which I use regularly.
I recommend you get travel insurance ALWAYS whenever you are on international or domestic travel!
Check out this insurance by Safety Wing, which offers a pretty good cover for you and your family!
They even provide monthly insurance, much required for slow travellers like me!
TIPS FOR EASY YOSEMITE HIKES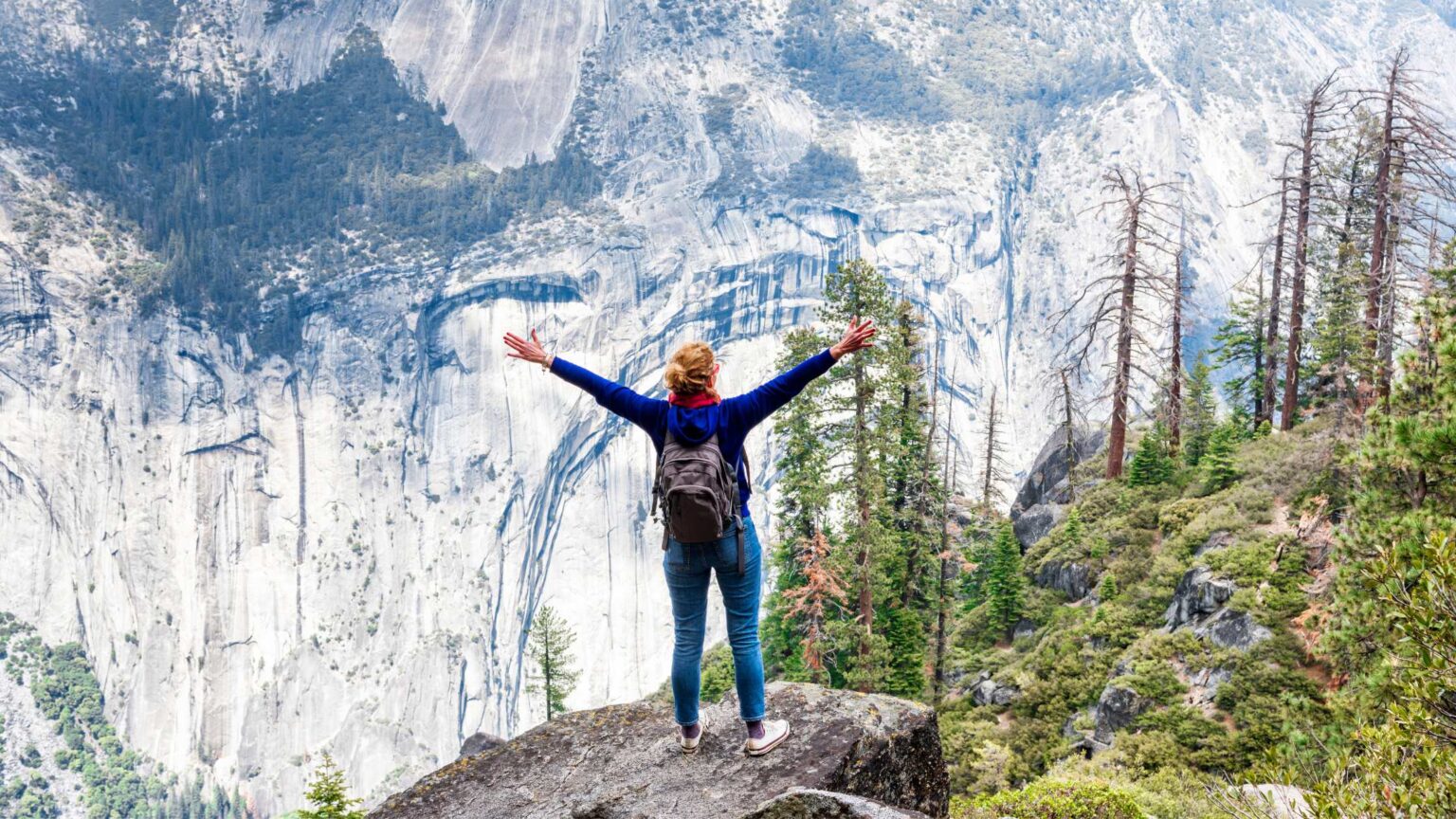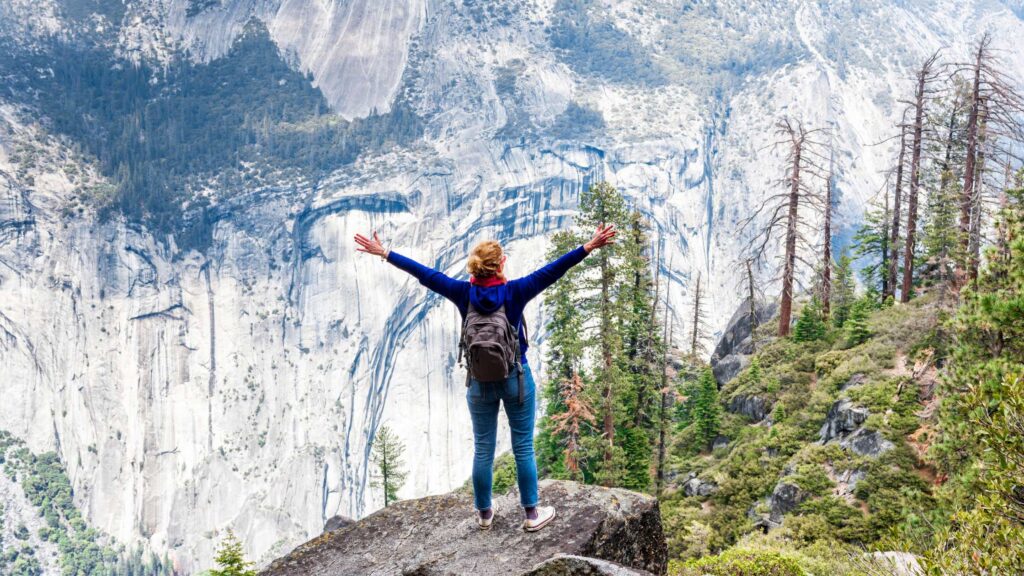 Check if the trails are open when you visit – Although the Park may be open to visitors, many sections and roads are closed as seasonal.
Some routes to sunset spots in Yosemite, like the Sentinel Dome trail located on Glacier Road, are closed when the road closes due to snow or repairs.
So check the park website for road closure details and the latest updates.
Best time to visit – The best time to hike in Yosemite are the spring and fall months, and since both are popular seasons, you can expect lots of crowds.
Check the weather – Before planning your trip and arriving, keep tracking for any weather changes to watch the Yosemite sunset.
Haze, fog, and winds mean it is not worth waiting for the evening. Do not hike if the weather is terrible, like storms or high winds.
Look up sunset times before you go – To time for the best photos and shots, look up the sunset timings at the specific location you plan to be.
Although these spots are in the same Park, the sunset times are different, so look up before going to any of them.
Intermittent or no cell service – Many parts of the National Park have limited or no cell service, so plan your trip accordingly.
Download all maps – Before you enter the Park, download all the details you need, including all the attractions, maps to all the spots, parking lots and other things, to your phone as there is limited cell service.
You can download Google maps for Yosemite, the surrounding areas, and AllTrails.
Carry a Headlamp – Bring a headlamp or flashlight as you will hike back after sunset, and it will be dark. You will need it for places like Taft Point, where the trail can be rocky apart from the dark.
Check Yosemite's website – The required permits, entry timings, and the opening and closing of many hiking trails, roads, and activities often change due to events like wildfires.
So keep checking the official website to see no last-minute changes and surprises.
Arrive Early for Sunsets – Although I have stressed this one for each sunset spot in Yosemite, I need to state again that being late means you will look for parking and make your way through the crowds, which will take away many minutes of the golden hours.
You must be there at least 2 hours before, especially in popular locations like Glacier Point, Taft Point, and Tunnel View.
Plan to book well in advance, even on off-seasons – Whether you go camping or stay in lodges, hotels or apartments, you must book in advance while planning your Yosemite trip.
Lodge reservations are released a year before, and within a few weeks, they tend to get filled for the peak months. You need to check the timings and book at least more than six months before.
The same goes for campgrounds, for which the reservations are released six months before. You need to book your accommodation for a summer trip at the start of the year, and you can make all reservations via Recreation.Gov.
Beware of wildlife – Although most of the time it is not dangerous, sometimes encountering bears, snakes, and other wild animals can prove dangerous. So do not wander off the designated trails.
BEST EASY YOSEMITE HIKES
GLACIER POINT
Distance: 1.2 miles roundtrip
Duration of the Hike: 1 hour
Elevation Gain: 167 feet
Best season: Spring
Best time: Late afternoon or Early Morning
Hike difficulty: Easy
If you're looking for an easier way to check out Half Dome, one of the iconic landmarks and challenging hikes in the national park, Glacier Point is the best pick.
If you love panoramic views from high up, you will love the gorgeous views that you can see from Glacier Point, one of the easy Yosemite hikes very popular among visitors.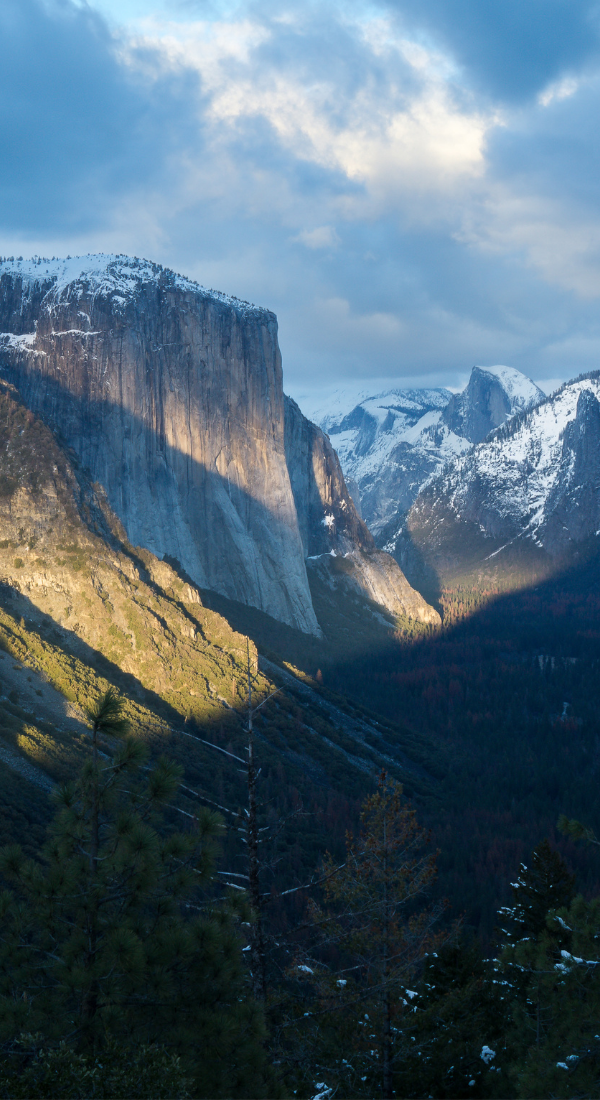 One of the reasons Glacier Point is so famous is that you can enjoy the incredible 270-degree panorama overlooking Yosemite Valley, Half Dome, Vernal Falls, Nevada Falls, Bridalveil Falls, El Capitan, Clouds Rest, and the magnificent High Sierras.
Also, one of the top places for watching the sunset and sunrise in Yosemite is Glacier Point, known for its incredible views and excellent location overlooking some fantastic geological wonders.
Carry a light wind jacket when you are visiting Glacier Point, as it gets chilly during sunrise and around and after sunset, no matter what time of the year.
HOW TO REACH GLACIER POINT?
It is possible to hike to Glacier Point from Yosemite Valley amidst thick snow blankets, which is about 4 miles round trip.
If you are up for a strenuous hike in the snow in Yosemite, you can sign up for this adventure.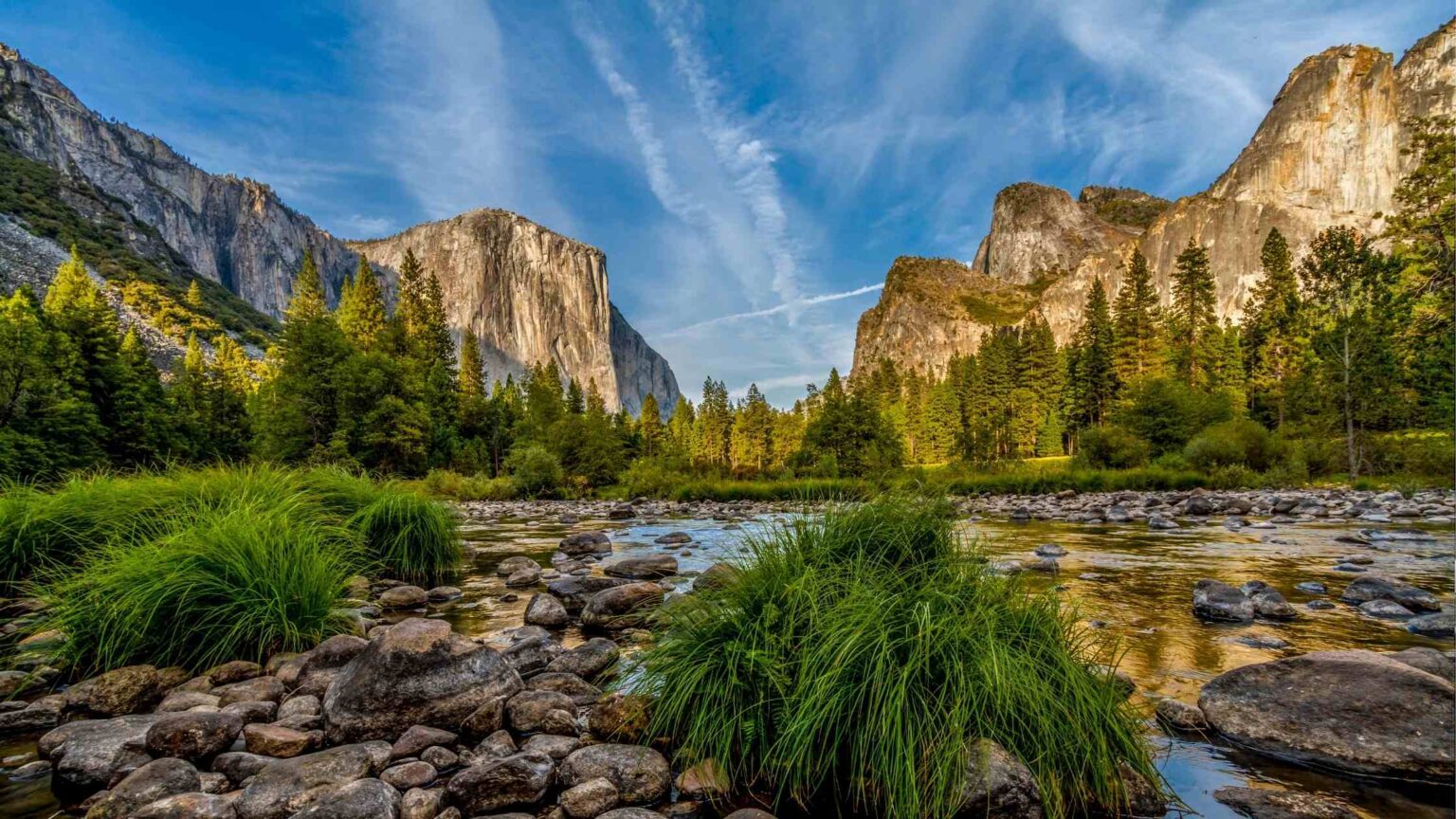 The parking lot gets filled up most of the day during the peak months, so if you plan to watch the fabulous sunset from here, prepare to be here at least a few hours before.
If you do not want to use or get your car, you can avail of the shuttle from the Yosemite Ski and Snowboard Area that runs every 20 minutes from 10 AM and 5:30 PM.
SENTINEL DOME
Distance: 2.2 miles roundtrip
Duration of the Hike: 20 minutes
Elevation Gain: 450 feet
Best season: Spring
Best time: Late afternoon
Hike difficulty: Easy
Sentinel Dome is one of Yosemite's beautiful and unique geological wonders that comprise granite formations eroded into an amphitheatre shape. It is one of the easy Yosemite hikes and is very popular, hence crowded.
Many travelers consider the Sentinel Dome among the top spots for the best views in Yosemite National Park, especially during the sunset, which draws hundreds of thousands of visitors annually.
What makes the sunset at Sentinel Dome the best place for sunset in Yosemite is that you can witness the spectacle in a dome, taking in surreal 360° views of the magic of Yosemite, comprising Yosemite Falls, El Capitan, Vernal Falls, Nevada Falls, the Merced River canyon and Half Dome.
You can also observe Nevada Falls, Clouds Rest, and some of the High Sierra peaks to the East.
Unlike the other viewpoints for watching Yosemite sunsets, at the Sentinel Dome, you are rewarded with miles of unobstructed views in every direction.
You see Half Dome and the splendid panoramas adjoining with the high country lurking close by on one side of the dome.
Most people combine Sentinel Dome into a loop with Taft Point for over a 2.2-mile round-trip hike. If you start a few hours before sunset, you can maximise your hikes.
HOW TO REACH?
It's an easy 1-mile hike to get to the best place for sunset in Yosemite.
The hike to Sentinel Dome, which begins at the same point as the trail to Taft Point, is also easy to follow except for the last stretch, where it gets slightly strenuous when you arrive at the dome's base and climb to the top.
SENTINEL AND COOK'S MEADOW
Distance: 2.3 miles roundtrip
Duration of the Hike: 1 to 1.5 hours
Elevation Gain: 80 feet
Best season: Between spring and fall
Best time: Late afternoon and sunset
Hike difficulty: Easy
Sentinel Meadow & Cook's Meadow is one of the easy hikes in Yosemite National Park.
If you have witnessed the panoramas from all the famous spots and want some best views in Yosemite Park, head to Cook's Meadows in Yosemite Valley.
Cook's Meadow, located near the Sentinel Bridge parking lot, is the place to see the Upper and Lower Yosemite Falls together.
Easily accessible by a short walk, you can witness different and beautiful views of Half Dome, Sentinel Rock, and Glacier Point from Cook's Meadows.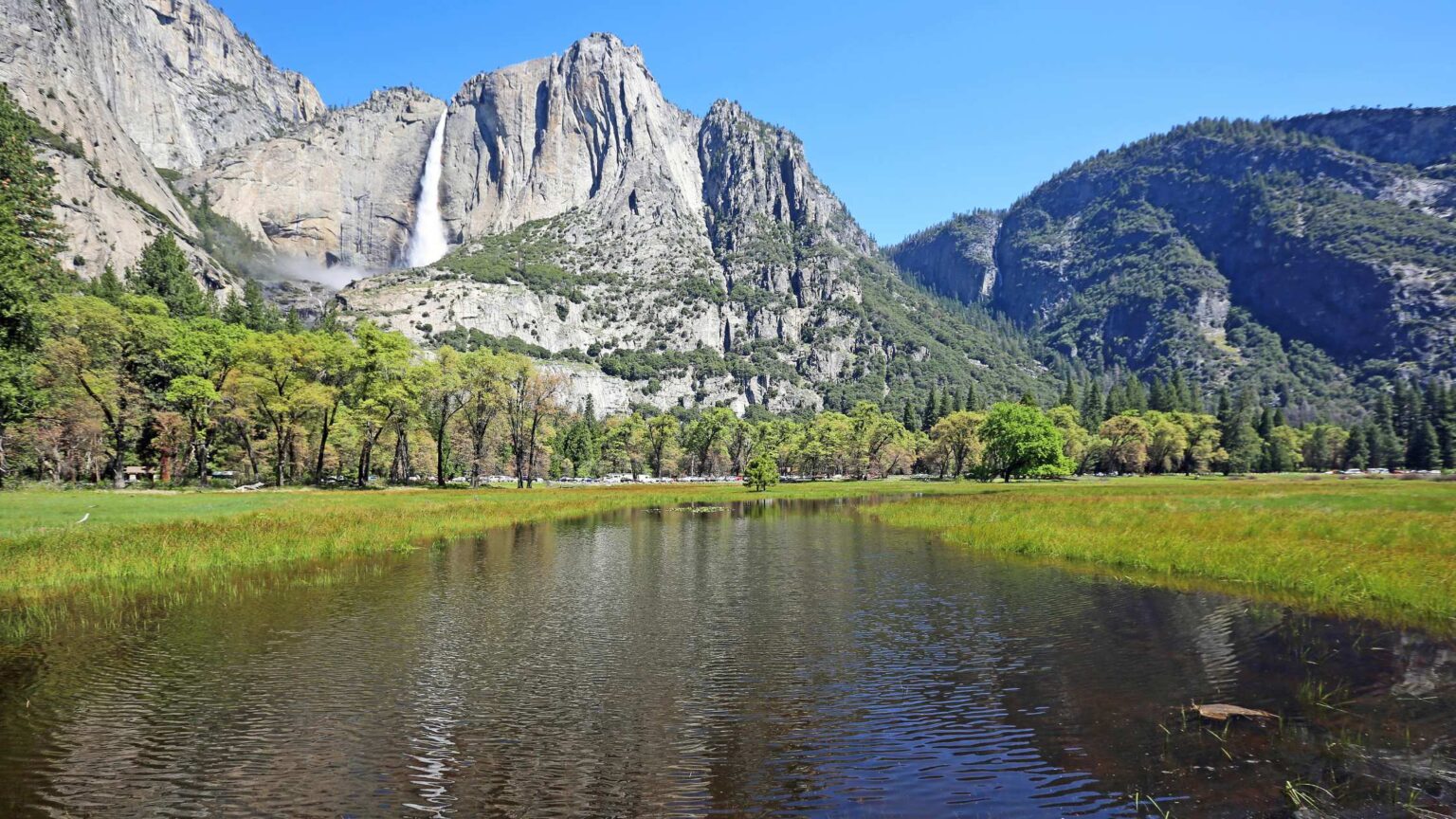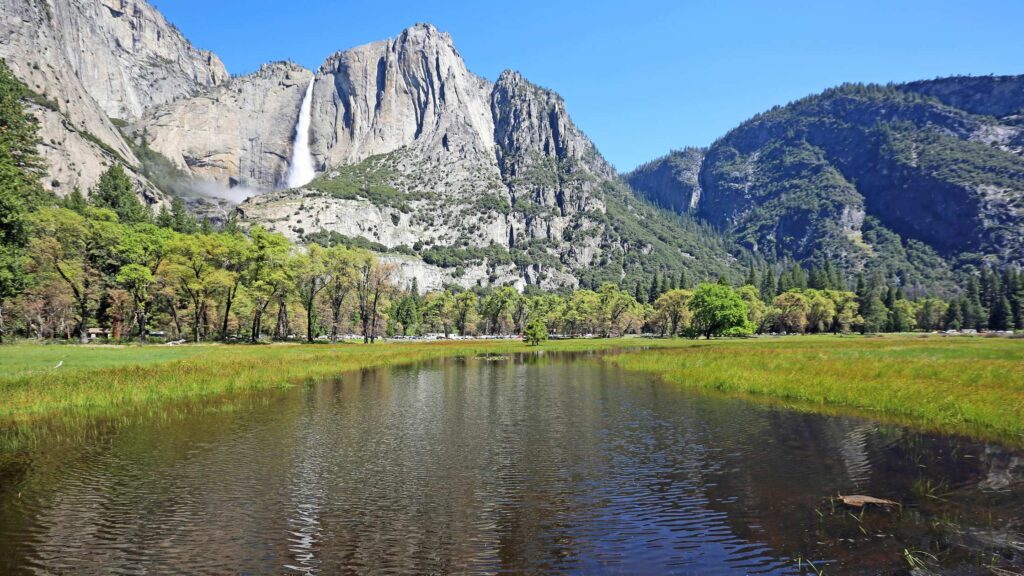 Since the trail in the meadow also crosses the trailhead to Lower Yosemite Falls, you may combine them.
You can enjoy the sweeping views of the waterfalls surrounded by lush green meadows in the spring and summer or its golden and bright yellow versions during the fall.
Unlike the other spots offering birdviews, you can watch the spectacles of the setting sun from the valley floor, surrounded by lush forests, without any crowds.
HOW TO REACH?
You can drive or walk to head to the start of the trail for the Lower Yosemite Falls Trail or get to the parking lot for Sentinel Bridge, both places from where it is a quick walk to Cook's Meadow in Yosemite Valley.
LOWER FALLS TRAIL
Distance: 1.2-mile paved loop
Time to Hike: 30 minutes
Elevation Gain: 60 feet
Best season: Spring
Best time: Late afternoon or Early Morning
Hike difficulty: Easy
What is better than one of the easy Yosemite hikes leading you to magnificent views of its tallest waterfall at 2,425 feet?
Witnessing the splendour of the plunging Yosemite Falls is one of the top bucket list things to do on your trip.
The falls cascade down through Upper Yosemite Falls and then Lower Yosemite Falls, two other falls you can access differently.
It is a prominent tourist spot due to its sheer size and beauty, making it a popular location for photographers.
The trail to Lower Yosemite Falls is only a 1.2-mile, family-friendly paved trail, which makes for an easy Yosemite hike. Dogs are allowed on this trail as well on a leash.
Spring to early Summer is the best time to witness the gorgeous beauty as the falls crash in full force, fueled by snowmelt.
So it gushes in spring and starts to dry up in early summer. So if you want to capture the full vigour of Yosemite Falls, plan your trip between April and June when the water flow is the highest.
You can watch Yosemite Falls throughout Yosemite Valley from viewpoints near Yosemite Village and Yosemite Valley Lodge.
Most visitors choose to view Yosemite Falls from the Lower Yosemite Falls Viewpoint.
HOW TO REACH?
Look for signs at the parking lot to follow them to arrive at two trails, both leading to a viewpoint bridge from where you can admire stunning views, especially from the west.
To capture the shots of the Lower Falls, head along the walkway surrounded by trees that will lead you to the stunning Falls in the middle of the frame beautifully.
Walking through, you will hear the thunderous sound of Lower Yosemite Falls and the sight of Yosemite Creek beside you. The trail will lead you to Vista Point, where you can see the falls.
If you park at Yosemite Village and walk to the falls instead of starting from the parking area, it will add about a 1-mile round trip.
COLUMBIA ROCK
Distance: 3 miles roundtrip
Duration of the Hike: 20 minutes
Elevation Gain: 1050 feet
Best season: Spring
Best time: Late afternoon
Hike difficulty: Moderate
If you are hiking Lower Yosemite Falls, you can add the Columbia Rock trail, the intermediate trail before Upper Yosemite Falls.
It is relatively one of the easy Yosemite hikes if you do not want to tackle the more strenuous Upper Yosemite Falls trail.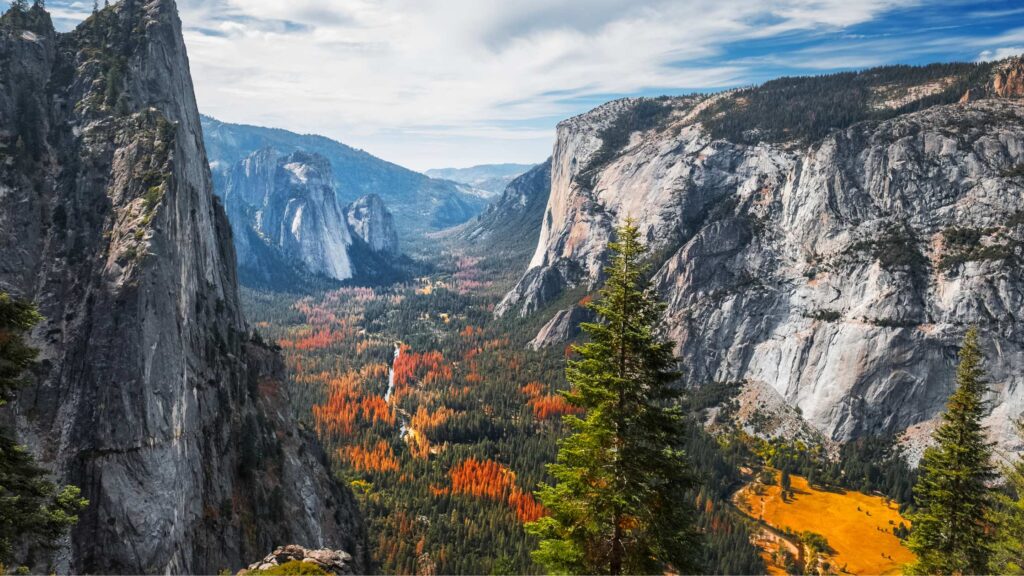 It's a 1-mile moderate-level uphill hike (one way) that you can access from the Upper Yosemite trail.
The trail, although short, is very steep, which makes it a moderate trail, it also includes some switchbacks leading you to fantastic views of Half Dome and Yosemite Valley.
BRIDALVEIL FALLS
Distance: 0.5 miles roundtrip
Duration of the Hike: 20 minutes
Elevation Gain: 80 feet
Best season: Spring
Best time: Late afternoon
Hike difficulty: Easy
One of the most popular easy hikes in Yosemite, located close to the entrance, is Bridalveil Falls.
Only half a mile long, you should add this trail even if you are not into hiking, as you will be treated to one of the beautiful waterfalls in Yosemite.
One of the best views in Yosemite National Park that you can enjoy is that of Bridalveil Falls, one of the most stunning waterfalls in the national park.
Not only is it one of the beautiful easy hikes in Yosemite National Park, but Bridalveil Falls is one of the most popular landmarks.
It is one of the top Yosemite Photography spots you can witness from different areas on your trip, including Tunnel View.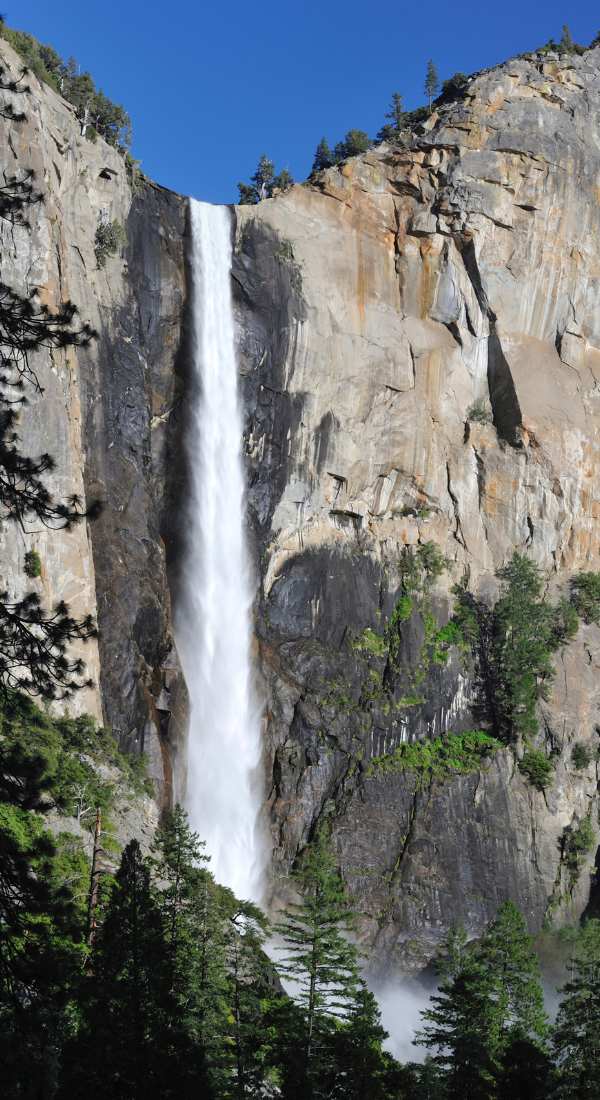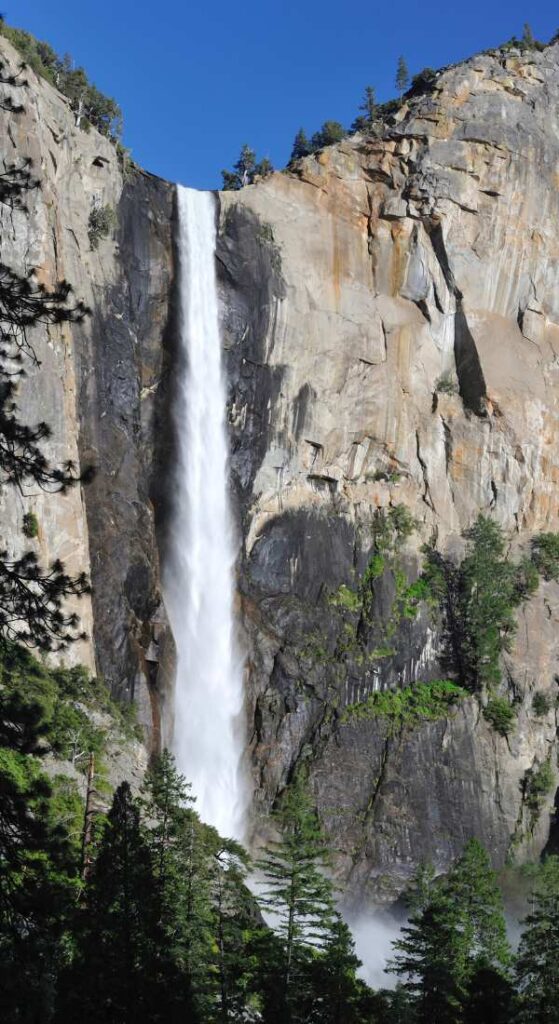 This stunning 620-foot high waterfall is the first waterfall that you'll see when arriving in the valley and gets its name because of the way the winds swing and sways water as it falls to the valley floor.
You can get up close to the waterfalls and enjoy the full splendour during the spring and early summer when it plunges with vigour, although the water flows throughout the year and rarely dries up.
Note that the waterfall is always crowded as it's one of the first significant landmarks once you enter the valley.
HOW TO REACH?
Bridalveil Falls can be accessed via the Bridalveil Falls path, which is an easy 5-minute hike from the parking lot.
TAFT POINT
Distance: 0.5 miles roundtrip
Duration of the Hike: 20 minutes
Elevation Gain: 80 feet
Best season: Spring
Best season: Late spring and mid-fall
Best time: Late afternoon and sunset
Hike difficulty: Moderate
If you are looking for one of the easy Yosemite hikes for stunning views, head to Taft Point to watch a beautiful sunset
I would highly recommend adding Taft Point as one of the best spots to witness the best views in Yosemite around the golden hours on Glacier Point Road.
One of the best things about Taft point is that the observation point extends out over Yosemite Valley, over a 2,000-foot drop to the valley floor that gives you splendid views of the panorama.
Even if you are not here for a sunset, it is worth heading to Taft point for these fantastic bird views. The evening is a dance of colours in the sky as the horizon is painted orange, golden, yellow, and purple.
Do not miss the beautiful views of the Merced River running along the valley floor and the fantastic views of El Capitan, Yosemite Valley, and Yosemite Falls.
Taft Point is an out-and-back trail 2.3 miles-long trail, relatively flat trail. Note that the only thing you need to know about this trail is there are no railings when you reach Taft Point.
So once you reach the granite rock, watch your steps while admiring the stunning views of Yosemite Valley and El Capitan.
WAWONA MEADOW LOOP
Distance: 3.5 miles roundtrip
Duration of the Hike: 20 minutes
Elevation Gain: 80 feet
Best season: Spring
Best time: Late afternoon
Hike difficulty: Easy
The Wawona Meadow Loop makes one of the top easy hikes in Yosemite as it is one of the few easy Yosemite hikes you can enjoy without crowds.
Like many other easy hiking trails in Yosemite, spring is the best time for this trail that takes you through spectacular spring-wildflowers-carpeted landscapes in the Wawona Meadow. The other popular time is the fall months.
One of the distinct things you can find on this trail is a golf course, an unusual thing to find in the national park.
VERNAL FALLS AND NEVADA FALLS
Distance: 2 miles roundtrip
Duration of the Hike: 1.5 hours
Elevation Gain: 300 feet
Best season: Spring
Best time: Late afternoon or Early morning
Hike difficulty: Easy
To enjoy the best views in Yosemite, how about checking out two stunning waterfalls, Nevada and Vernal Falls? It involves one of the easy Yosemite hikes to Vernal Falls and a more challenging trail to the second Falls.
Both waterfalls are among the national park's top landmarks and favourites of photographers and waterfall lovers.
Both waterfalls can be accessed via a single trail. Vernal Falls is the first on the way, and if you are up for a further trek, you will be rewarded with stunning views of Nevada Falls.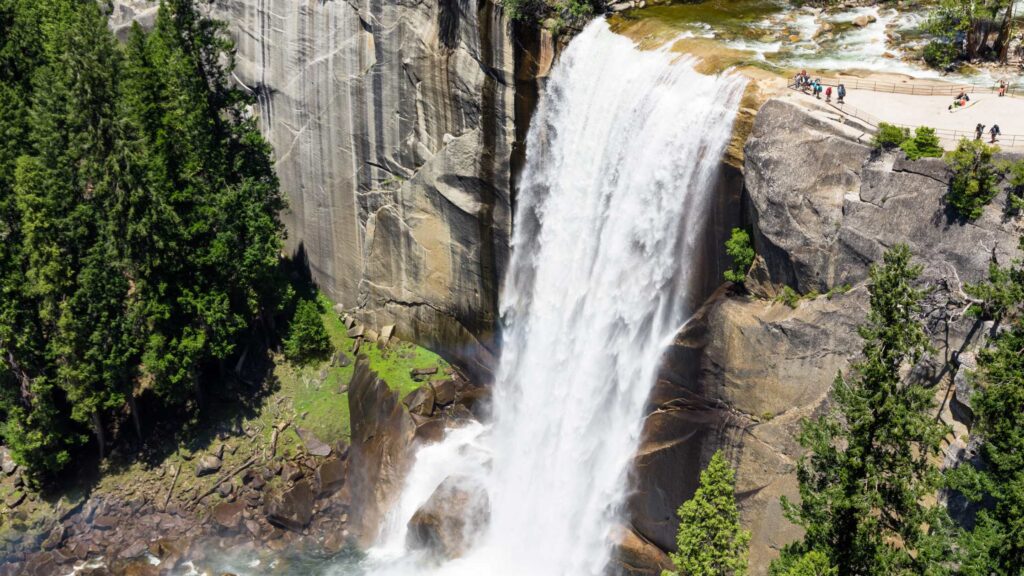 Note that although the trail is easy, it gets steep at many points, and also, if you get past Vernal Fall Footbridge, it will be a challenging and longer trail leading to Nevada Falls.
Although the hike to the waterfalls is strenuous, with an elevation gain of up to 2000 feet, I would recommend you go to both waterfalls if you are an experienced hiker.
Thanks to its splendid beauty, the trail gets busy during the peak months, but it is worth your time.
The first part of the trail leading to Vernal Falls is known as Mist Trail due to the mist formations from the waterfall and the winds.
It creates beautiful rainbow formations that you can enjoy if you are here around noon.
At the top of Vernal Falls is a giant lake Emerald Pool offering dramatic views and photography opportunities.
If you continue further past Vernal Falls for more than two miles, you will come across the gorgeous views of Nevada Falls.
The trails can be slippery due to the proximity of the waterfalls, so it is best to wear good hiking shoes.
Also, as you approach Nevada Falls, take care of some steep switchbacks. Although it takes at least 4 to 6 hours to complete this over 11 miles, you can carry food and water and make it a leisurely day trip.
HOW TO REACH
The trail starts and ends at Happy Isles Trailhead. May and June are the best months to visit after the snow melts, leading to flourishing waterfalls.
The trail is closed from December to March in the winter due to ice and snow.
TUOLUMNE MEADOWS
Distance: 4 miles roundtrip
Duration of the Hike: 1 hour
Elevation Gain: 80 feet
Best season: Spring
Best time: Late spring and mid-fall
Hike difficulty: Easy
One of the underrated places to witness a beautiful sunset in Yosemite is Tuolumne Meadows, located along Tioga Pass Road, north of Yosemite valley.
If you are looking for the best views in Yosemite Park for sunsets minus the crowds or a challenging hike,
Tuolumne Meadows, a vast high-elevation meadow 8,600 feet high near the Tuolumne River, should be a must-visit on your Yosemite weekend trip.
It is of the best Yosemite photography spots and easy Yosemite hikes. Clear alpine lakes, grassy fields home to wildlife and easy options for camping make it worth checking out.
You can do several day hikes, including a quick but steep hike up the Lembert Dome, a stunning granite dome 800 feet high above Tuolumne Meadows and the Tuolumne River.
Tuolumne Meadows trail is a 2-mile hike with little to no elevation gain. Enjoy the gorgeous views of Lembert Dome and Cathedral Peak on this trail. It mostly has flat dirt, gravel, and grass terrain.
MARIPOSA GROVE
Distance: 7 miles roundtrip
Duration of the Hike: 2 to 3 hours
Elevation Gain: 1200 feet
Best season: Spring to Fall
Best time: Early Morning
Difficulty type: Moderate
If you want different views of Yosemite National Park that do not involve granite mountains, rich valleys and waterfalls, head to Mariposa Grove, accessed via one of the easy Yosemite hiking trails, comprising some giant redwood sequoia trees.
Did you know? Yosemite is home to some of the world's oldest and largest trees located at the southern Wawona entrance to the park.
There are over 500 giant trees here, some as old as 2,400 years. The best way to explore the grove is on the Big Trees Trail, a short quarter-mile loop.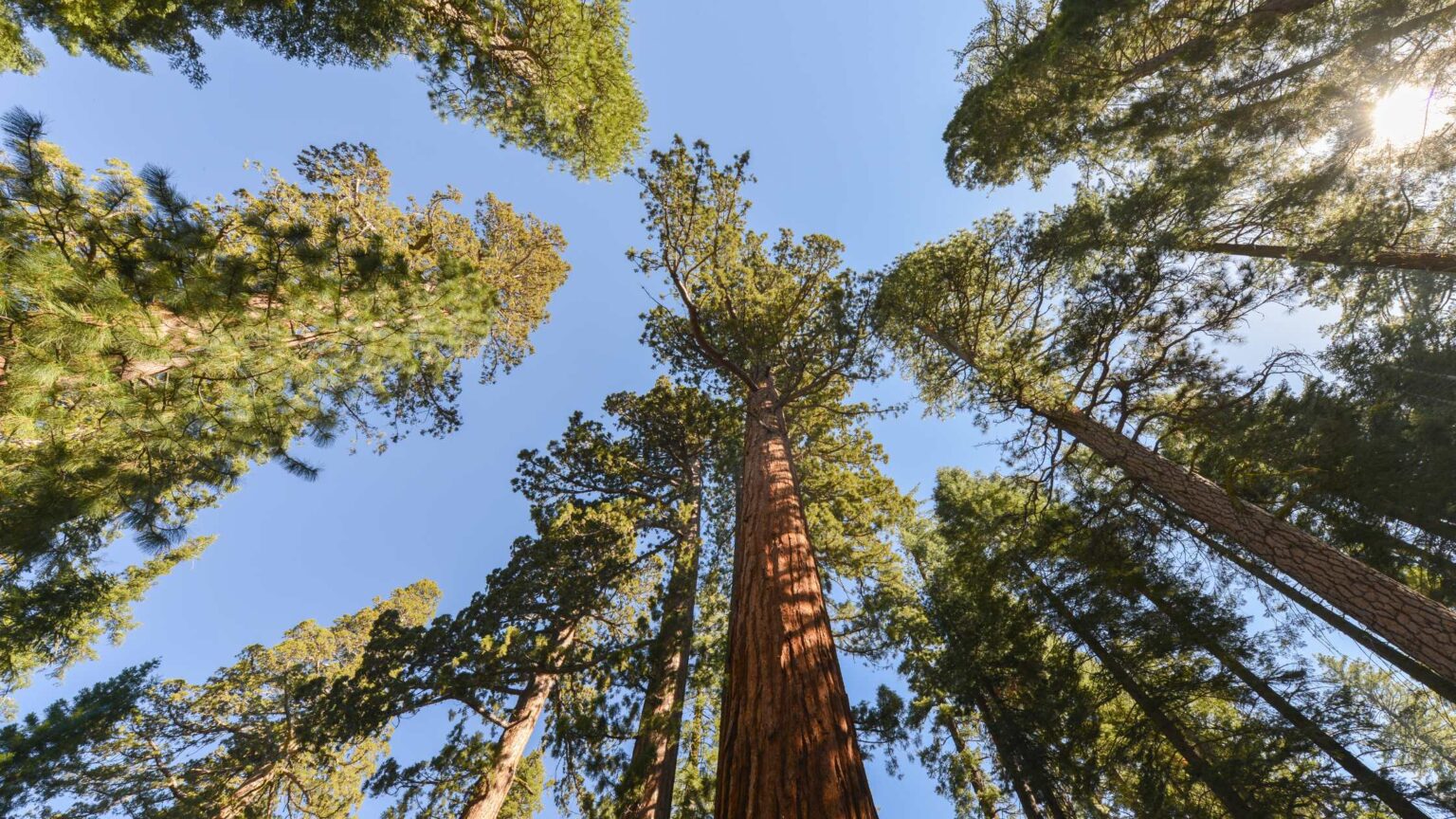 Grizzly Giant is nearly 3000 years old and the second largest tree in Yosemite National Park standing at 209 feet tall and 25.4 feet wide, and you can reach this photo spot on this trail.
The entire loop is 2 miles, but if you want to keep it even shorter hike out and back to the Grizzly Giant, past the Fallen Giant and California Tunnel Tree.
Plan your hike during the first half of the day, especially when the light conditions are perfect in the early morning.
You can easily spend half a day enjoying the views of these giants in the forests.
MIRROR LAKE
Distance: 2 miles roundtrip; 5 miles if you loop around the lake
Time: 1 hour; 2-3 hours
Elevation gain: 100 feet
Best season: Spring and summer
Best time: Early morning
Hike difficulty: Easy
Mirror Lake is one of the prettiest and easy Yosemite hikes known for its easy trail and spectacular views, making it a top choice for people with young children.
Among the popular lakes offering the best views in Yosemite is Mirror Lake, easily accessed by a hike on the Mirror Lake Trail in Yosemite Valley.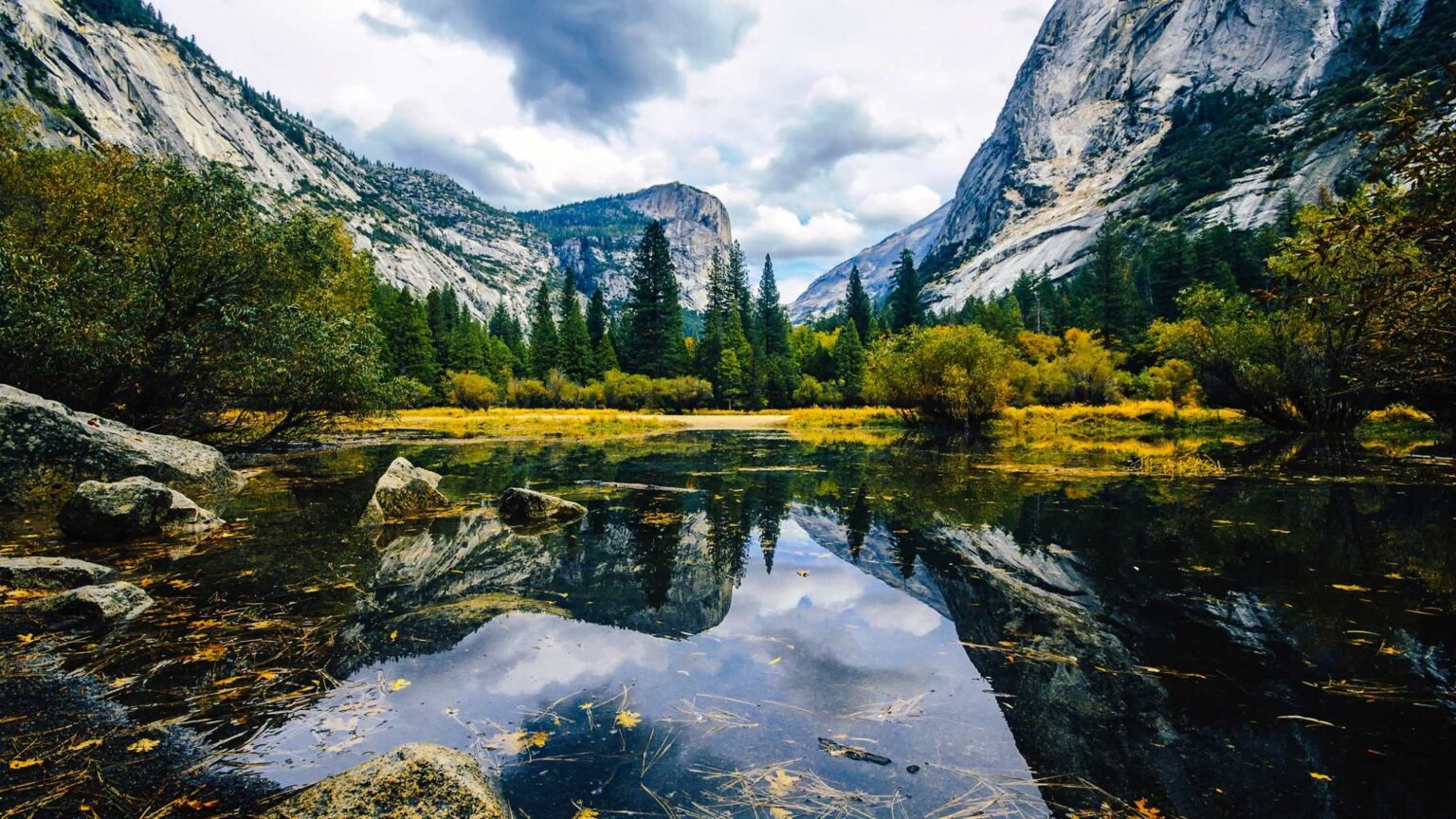 Mirror Lake is a shallow, seasonal pool that fills with water in the spring and early summer, and it is popular because of its proximity to the base of Half Dome, offering its spectacular views amidst stunning massive rocks and lovely meadows.
It is one of the most beautiful photo spots in Yosemite, as when the lake is full and clear, it reflects beautifully on the surface, creating a magical shot for photographers.
Right after the snow melting weeks, the start of the spring is the best time to plan your trip to Mirror Lake as freshwater flowing from the High Sierras plunges as waterfalls before collecting in Mirror Lake.
You can either hike to the entry point of the lake, which is a flat-trail hike of about a mile one way, or circle Mirror Lake entirely.
The trail is paved most of the way, but it can be snowy or icy in winter.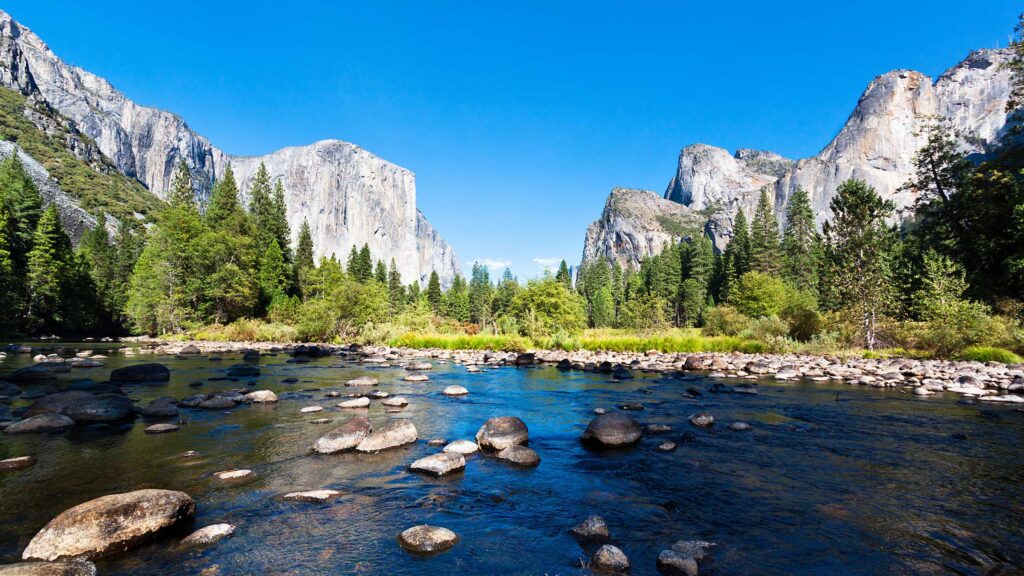 If you walk to the trailhead from Yosemite Village instead of taking the shuttle bus, it adds 1.5 miles each way.
In the summer and fall months, the lake dries up, transforming into a meadow.
The best time to enjoy beautiful views in Yosemite from Mirror Lake is right after sunrise when the rising sun forms stunning colours creating fantastic reflections of the forests surrounding the lake.
HOW TO REACH?
Unlike the popular Glacier point, which can be driven up to, Mirror lake is not accessible by car.
You need to hike the Mirror Lake Trail, an easy and beautiful hike offering stunning views of Tenaya Creek, Washington Column, and Half Dome on the way.
Walk the paved trail for views of the Half Dome reflections on Mirror Lake, especially in the winter.
For views of North Dome and Washington Column, walk the unpaved trail. Leashed pets are allowed on the paved trail.
TENAYA LAKE
Distance: 2.5 miles roundtrip
Duration of the Hike: 20 minutes
Elevation Gain: 80 feet
Best season: Late spring and mid-fall
Best time: Late afternoon
Hike difficulty: Easy
One of the easy Yosemite hikes, if you are looking to go away from the crowded trails, is Tenaya Lake.
Tenaya Lake is one of the most accessible lakes in Yosemite National Park. Still, surprisingly, it is one of the relatively less-visited lakes, although it is also located near the Tioga Pass entrance.
Tenaya Lake basin, formed by glaciers, is the largest high-country alpine lake in Yosemite.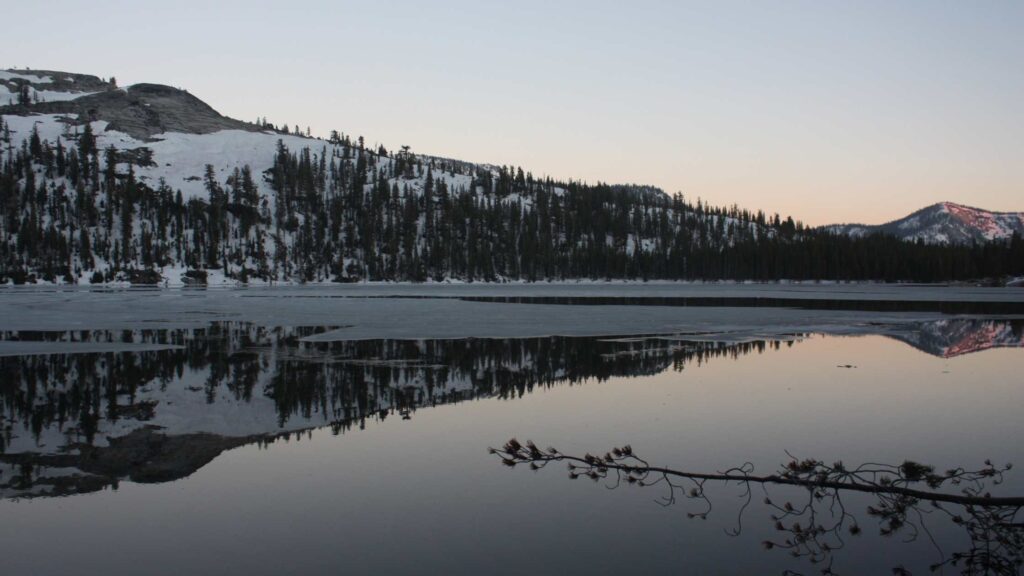 Not only is it gorgeous with its turquoise colours, but it is also located in a beautiful spot surrounded by dense forests and granite rocky cliffs offering stunning backdrops.
Tenaya Lake, at an elevation of 8,150 feet, also offers a large surface area with long beaches and spacious shores ideal for summer activities like swimming, picnicking, and canoeing.
You can also hike around Tenaya Lake with the trailheads leading to Half Dome, Clouds Rest, Cathedral Lakes, and Yosemite Valley.
HOW TO REACH?
Drive to Tioga Pass Road and look for parking. You need to take a short walk to reach the lake. Note that, Like Glacier Point Road, this road is also closed during the winter due to colossal snowfall.
EASY YOSEMITE HIKES MAP
TOP TRAVEL TIPS & RESOURCES
Below is the list of the travel resources you can use to organize your travel – from flights to insurance and everything. These are the resources I use myself, which is why I recommend you for a hassle-free travel planning experience and fantastic trips.
Booking Flights
: To score flight deals, search on
Jet Radar
, Kiwi,
or
12go.Asia
(for Asia planning). Book and fly mid-week, taking red-eyes flights or those in the early mornings for better deals and lower prices. Avoid check-in bags on a budget airline.
Booking Trains:
The best websites for booking trains anywhere in Europe are
Rail Europe
and
TrainLine
. Both are easy to manage online and track your journeys.
Booking Cars:
For the best prices and easy handling of renting a car for road trips and day trips, I'd recommend
Discover Cars
or
Rental Cars,
available throughout the world.
Accommodations:
I typically use
HotelsCombined
or
Booking.com
to book hotels. There are special getaway deals with amazing discounts(over 50%!) for this year on Booking.com, and you can find them
here
.
I use
Hostelworld
and
Agoda
to book hostels as the deposit is low, easy change/cancellation is available and reviews are excellent on both. Depending on the destination, I love staying in
VRBOs/homestays
.
Travel Insurance:
No matter whether it is a short trip or longer trips abroad, I strongly recommend buying travel insurance for international trips. I recommend either
World Nomads
or
SafetyWing
for international travel insurance.
Tours:
Being a solo traveler, one of the best ways to optimize my time, budget, and super importantly, meet amazing people from all over the world is by joining tours, especially food tours, walking tours, day trips, culture, and history tours.
You will get a local's perspective, the best opportunities to experience places and people closely. I book using
GetYourGuide
,
Klook
,
Viator,
and
Voyagin.