If you are looking for awesome things to do in Calistoga, you have arrived at the right place. Calistoga is a quaint town in the Northern part of Napa Valley and sits at a 90-minute driving distance from North of San Francisco.
Calistoga, was originally under Mexican influence. Later during the early 1800s, the native Americans slowly started settling in.
The name Calistoga has a funny story associated with it. Sam Brannan, the founder of the first newspaper in San Francisco, the California star, was on an expedition.
He was the then millionaire and wanted to transform the city like the Saratoga of California. He was drunk and spelt it out as the "Calistoga of Sarafornia", which became quite quirky and catchy, and the people also accepted the name.
The Wappo Native Americans were the original inhabitants of Calistoga, and they believed in the healing powers of the hot springs and geysers in this area.
Whether you are looking for a romantic escape or a relaxing retreat, Calistoga has something for everyone. With its Spas, wineries and beautiful vistas, Calistoga is one of California's best places to visit.
On this blog, you will get a scoop on the best places to stay in Calistoga, the top and free things to do in Calistoga, and the best places to eat and drink in Calistoga.
You will also get insider tips and tricks to maximize your time in this wine county region.
So, grab a glass of Napa Valley Wine, sit back and prepare to explore Calistoga's wonders. I can't wait to share all the great things this beautiful town has to offer!
TOP THINGS TO DO IN CALISTOGA CA
EXPLORE THE CHARMING MURALS OF DOWNTOWN CALISTOGA
One of the top things to do in Calistoga is to explore the murals downtown, especially along the narrow alley next to 1429 Avenue.
The downtown is filled with art galleries, wine-tasting rooms, coffee shops and cute gift shops.
Most buildings here are painted with murals on their sidewalls depicting various scenes of Calistoga.
Grab a coffee from the Calistoga Roastery and stroll along the alley to notice a mural of the former Grauss Mercantile.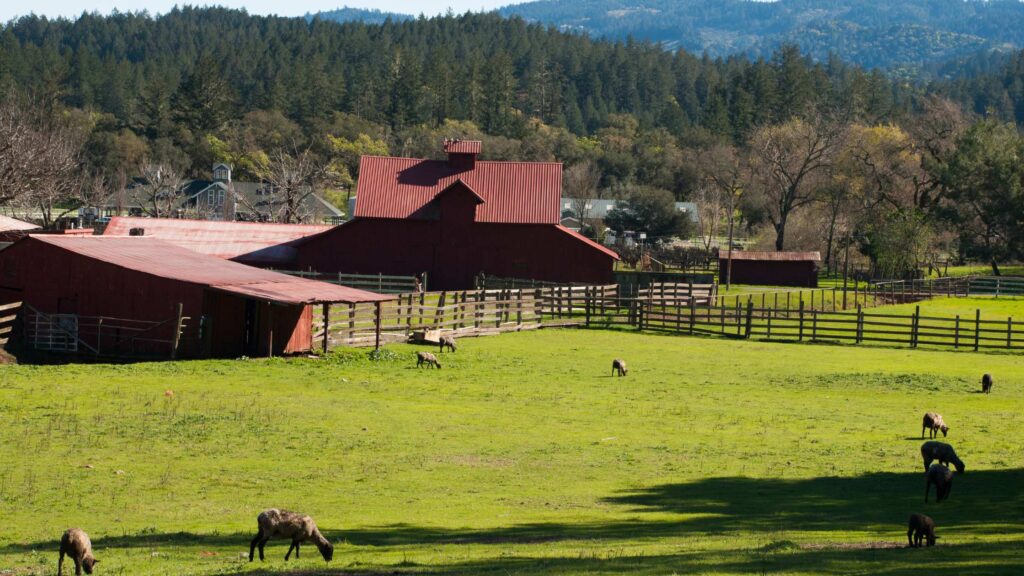 Recommended – 30 Amazing Things To Do In Northern California
Check out the stable horse mural in the wine-tasting room next to the Napa River.
You will witness unique murals painted by the famed Italian artist Carlo Marchiori along the streets of downtown, showing various scenes from small-town California.
Carlo Marchiori lives and owns a gallery downtown. Browse the gallery to get inspired by his unique designs.
GO SHOPPING
One of the fun things to do in Calistoga is to go on a shopping spree to pick up souvenirs, wines or a gift for yourself.
So if you are wondering what is there to do in Calistoga, you can easily spend a day strolling along these cute boutique shops and trying out the various locals' favourite wines in the unique tasting rooms.
Visit the second oldest railroad depot in California, the Calistoga Depot, also a popular shopping hub in the region.
For home decor items, check out the Blackbird gift shop and the Napa Valley Art on the Vine store for fine art and hand-crafted gifts.
Visit the Roam antiques for unique antique collections, including clocks, furniture and customized jewellery.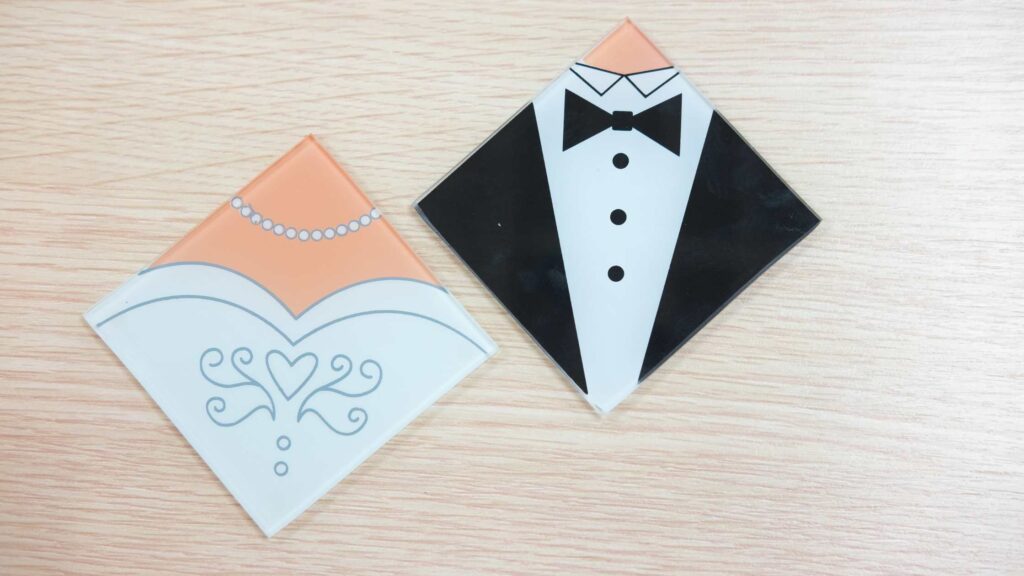 If you are interested in pottery, check out Calistoga Pottery which features innovative handmade designs.
For bookworms like me, there are stores like Copperfield's Books downtown and the Monastery Books and Gifts (located inside a Christian Monastery for women), which has a collection of books of various genres, including history, politics, cooking and spiritual texts, featuring both local and international authors.
If you have a sweet tooth or are with kids, don't miss Flourish Chocolate, offering unique flavours of chocolate creations in Calistoga.
Check out the other shops downtown for olive oils, homemade goodies, and varieties of tea and honey.
VISIT SHARPSTEEN MUSEUM
One of the cool things to do in Calistoga is to visit the Sharpsteen Museum, created by one of the Oscar-winning film producers and a 3D Disney animator, Ben Sharpsteen.
You will find a lot of 3D exhibits and other interactive art and miniatures inside the museum depicting the town's history, art and culture.
Sharpsteen Museum is one of the best Calistoga attractions for kids to learn about the Napa valley culture and the history of California.
If you want a close-up look at the Oscar, this place is a must-see in Calistoga. The museum's main draw is the 30-foot diorama, an innovative 3D exhibit that lights the 1860s lifestyle of Calistoga's Hot Springs and around the upper Napa valley region. Some displays are in the name of Sam Brannan, founder of Calistoga.
Admission is free. You can donate if you like to, as the proceeds go towards the development of the museum.
OLD FAITHFUL GEYSER OF CALIFORNIA
Visit one of the popular Calistoga attractions, the Old Faithful Geyser, on Tubbs lane, located 6 miles from downtown.
The Geyser is called "Old Faithful" because it is one of the only three geysers in the world that naturally erupts water that shoots up to 60 feet in the air.
This magic precisely occurs every 30-40 minutes, more predictable than other geysers, making it one of the top things to do in Calistoga.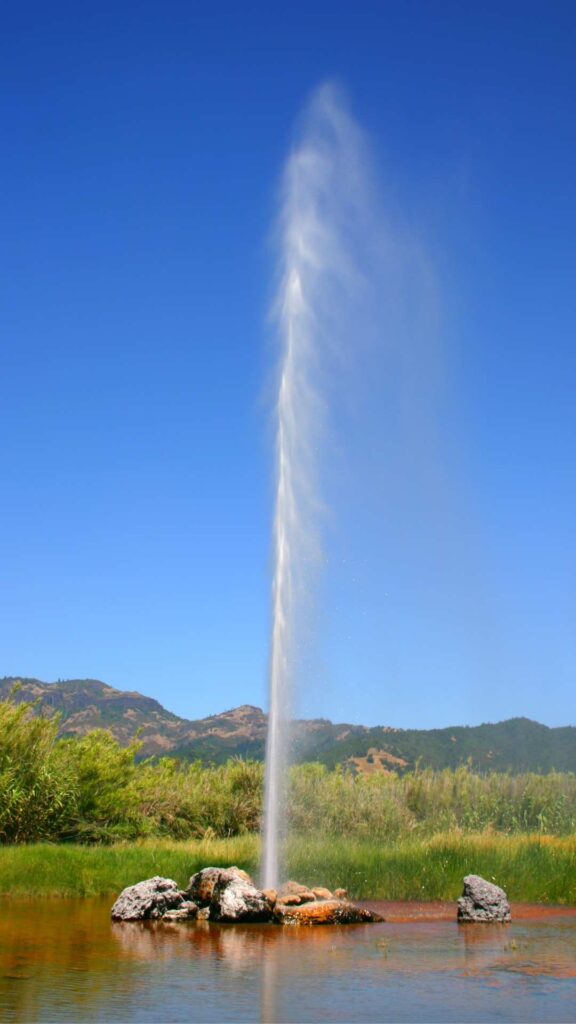 Apart from the Geyser, the place also features an animal farm inhabited by Llamas and pygmy goats, a geology museum to learn about the science behind these geysers, lovely gardens adorned with local florae, a picnic area with bocce courts and cabanas.
Fact: If you don't see eruptions for a few days, it is believed there will be a likely earthquake nearby.
Timings: 8:30 AM to 6 PM, daily
Admission Fee: $15 for adults, $9 for kids between the age of 4 to 12.
VISIT PIONEER PARK
Stroll on the paved paths in Pioneer Park or have a picnic lunch with your loved ones, one of the free things to do in Calistoga.
The park features a cute gazebo dotted with lush shrubs and local flora. The pavilion is used for events like musical concerts, other community-based activities, and theme-based weddings.
Check out the exclusive kid's play area if you are with kids. The play area has many fun structures that the kids will like.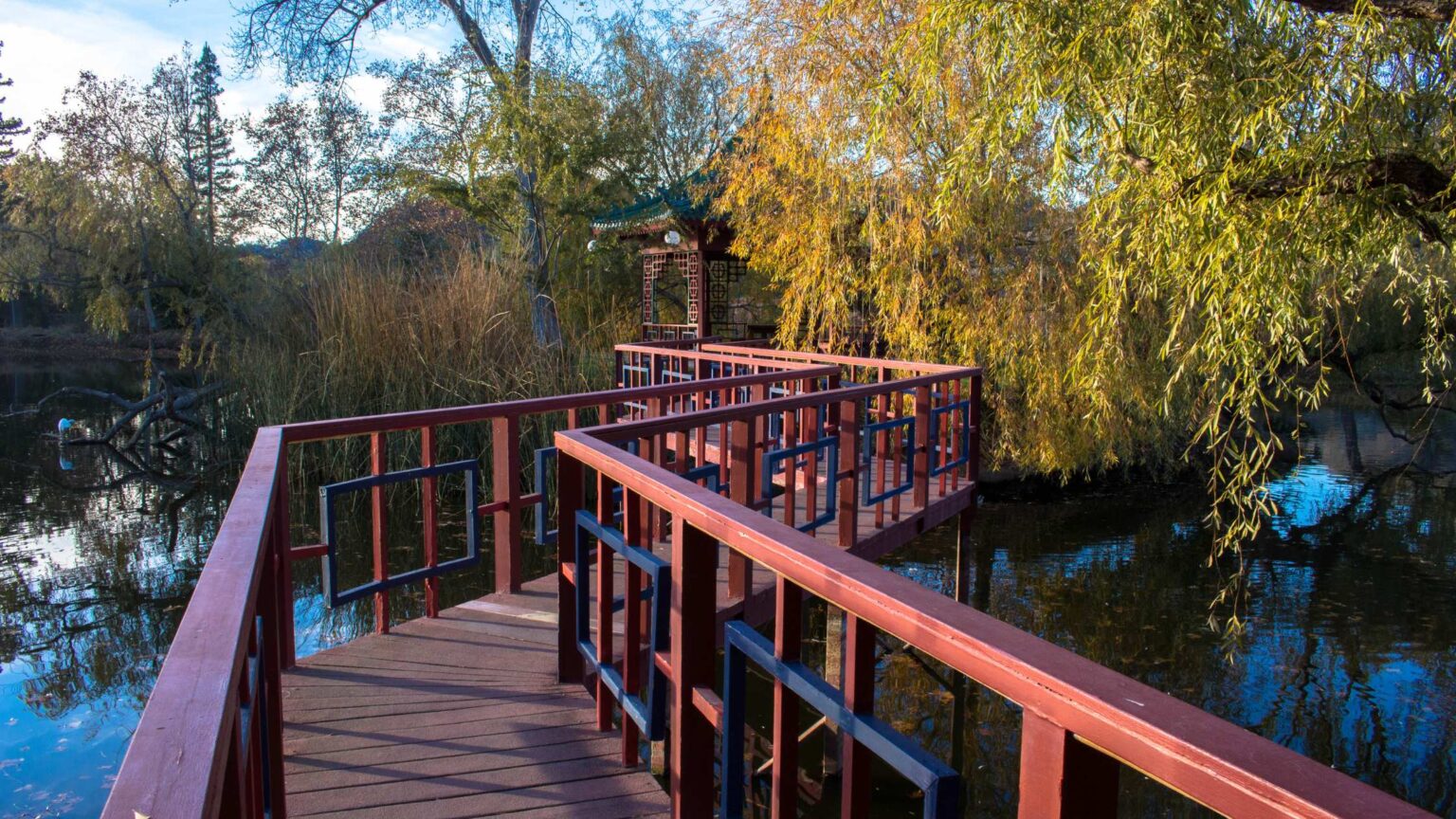 There is also a barbeque area in the park equipped with fire pits. If you like to spend a lovely evening grilling burgers or chicken with your friends and family, you should head to this excellent Calistoga attraction.
Don't forget to click candids with the backdrop of the gorgeous white Georgian-style house and many other lovely houses near Pioneer Park.
SOAK IN CALISTOGA HOT SPRINGS
If you are looking for things to do in Calistoga this weekend, soak in one of the Hot Springs.
Known for its bunch of geothermal mineral pools, Calistoga is one of the popular locations in California to have a relaxing day away from the hustle and bustle of the town.
Nothing is better than relaxing in these hot springs filled with healing minerals.
Used by the Native Indians for thousands of years, these hot springs are known for their therapeutic benefits, including relieving arthritis pain, promoting healthy circulation, easing sore muscles and calming skin conditions.
If you stay in any hotel, you can access hot springs and a day pass. If not, buy them when to enjoy these hot springs.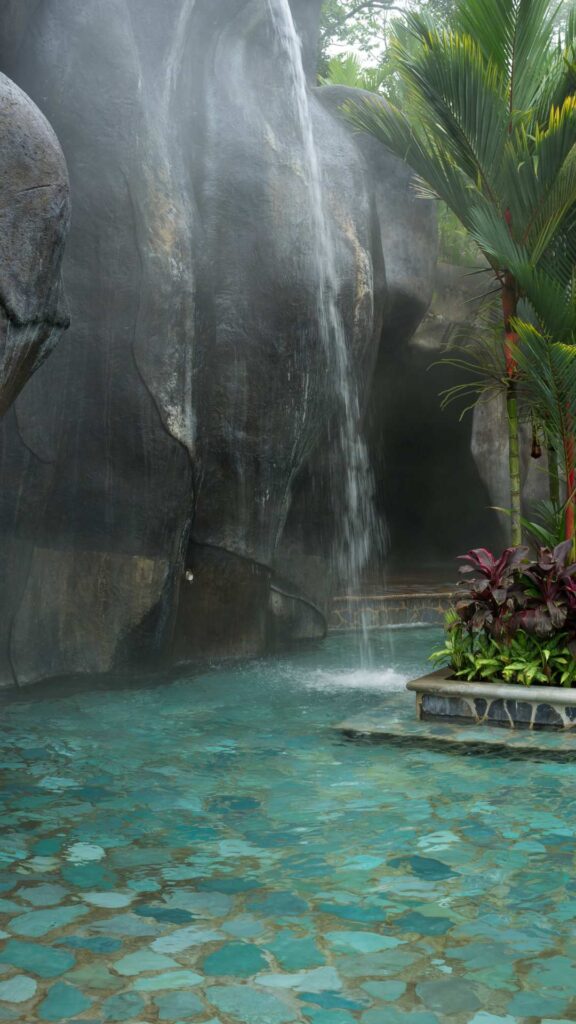 Here are my recommendations:
Check out the Calistoga Spa Hot Springs on Washington Street downtown, one of Napa Valley Wine County's best boutique hotels.
Book a stay in the cosy rooms equipped with in-room kitchenettes and relax in one of the four covered outdoor heated pools or cold pools filled with geothermal mineral waters.
The spa offers various services, including mud baths and volcanic ash mud massage, one of the top things to do in Calistoga hot springs.
Many other Inns and Hotels around Calistoga feature onsite geothermal pools. Visit Dr Wilkinson's Backyard Resort and Golden Haven Hot Springs Spa & Resort to enjoy Calistoga's best hot springs at your own pace.
If you are with family, book a stay at the Calistoga Motor Lodge.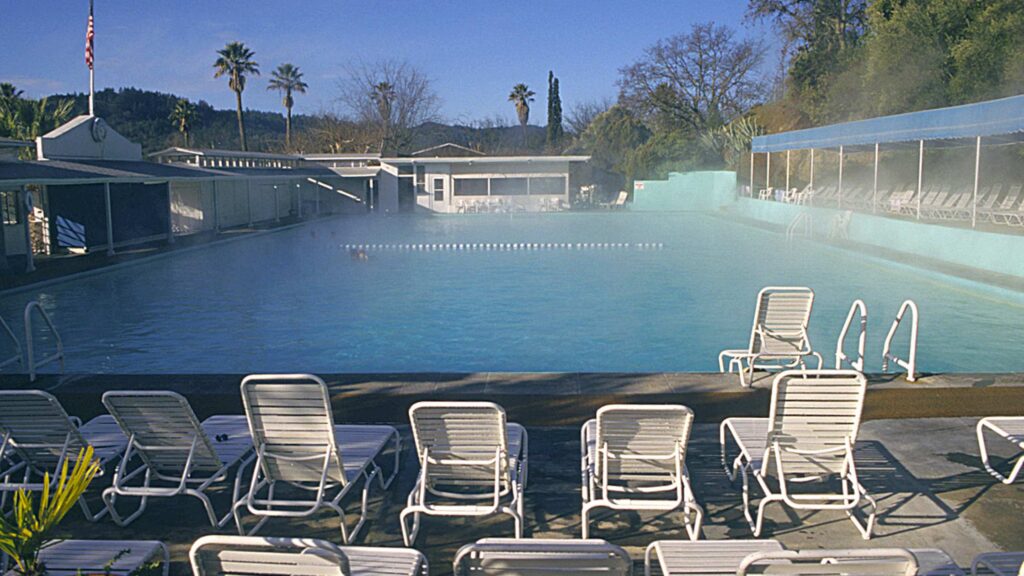 If you want a wellness centre, spa, and stay, visit Solage. This lavish Auberge property features a 20,000-square-foot spa with an onsite geothermal pool and 130-foot swimming pool apt for post-spa swims.
The spa also offers mud therapies, skin treatments, and other mineral bath rituals.
RELAX AT INDIAN SPRINGS
Another great place to relax in Calistoga is the Indian Springs on a massive 17-acre plot. The place is home to antique cottages and Mission Revival-style buildings.
Enjoy their indoor areas with a well-equipped spa which offers many services and other outdoor areas adorned with gardens.
Don't miss taking a dip in their Olympic-sized mineral pool, one of the biggest pools in California.
The pool is free for the staying guests. Buy a day pass to access the pool with a nominal fee if you are there only for the spa services.
Check out their other services, like facials, massages, and scrubs, which include relaxing downtime by the Buddha Pond. Try the unique halotherapy in their well-designed Himalayan salt rooms.
ENJOY WINE TASTING IN CALISTOGA
Are you a wine buff looking to experience the various flavours of wine from the famous Napa valley wine region in Calistoga?
There are many wine-tasting rooms in Calistoga, and you can hop from one to the other since they are near each other.
Check out a few of my favourite tasting rooms and wineries, one of the top things to do in Calistoga:
Tank Garage Winery: Started in the 1930s, this is one of the unique wine-tasting rooms in Calistoga, with its age-old rustic garage aesthetics with legitimate gas stations around.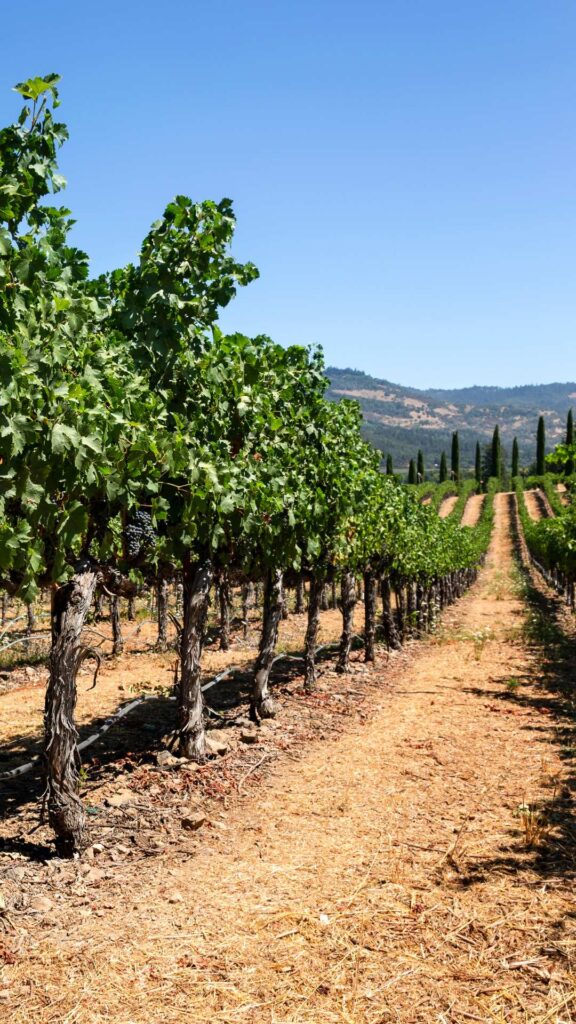 You might get fooled at the first glimpse, thinking that this might be a gas station.
The winery is known for its exclusive handcrafted wines of four different flavours, which can be sampled in their 45-minute wine-tasting tour.
Savour, their limited edition blends while you learn about the winemaking process.
Tank Garage Winery hosts private parties and wine-tasting tours for other local Sonoma and Napa Valley employees. You can buy their wines online or join their classic wine club.
Brian Arden: On the Silverado trail, Brian Arden is a family-run boutique winery offering specially crafted wines and a vineyard tour.
For the best wine-tasting experience, book their five-course farm-to-table wine and food experience to savour their seasonally inspired wines.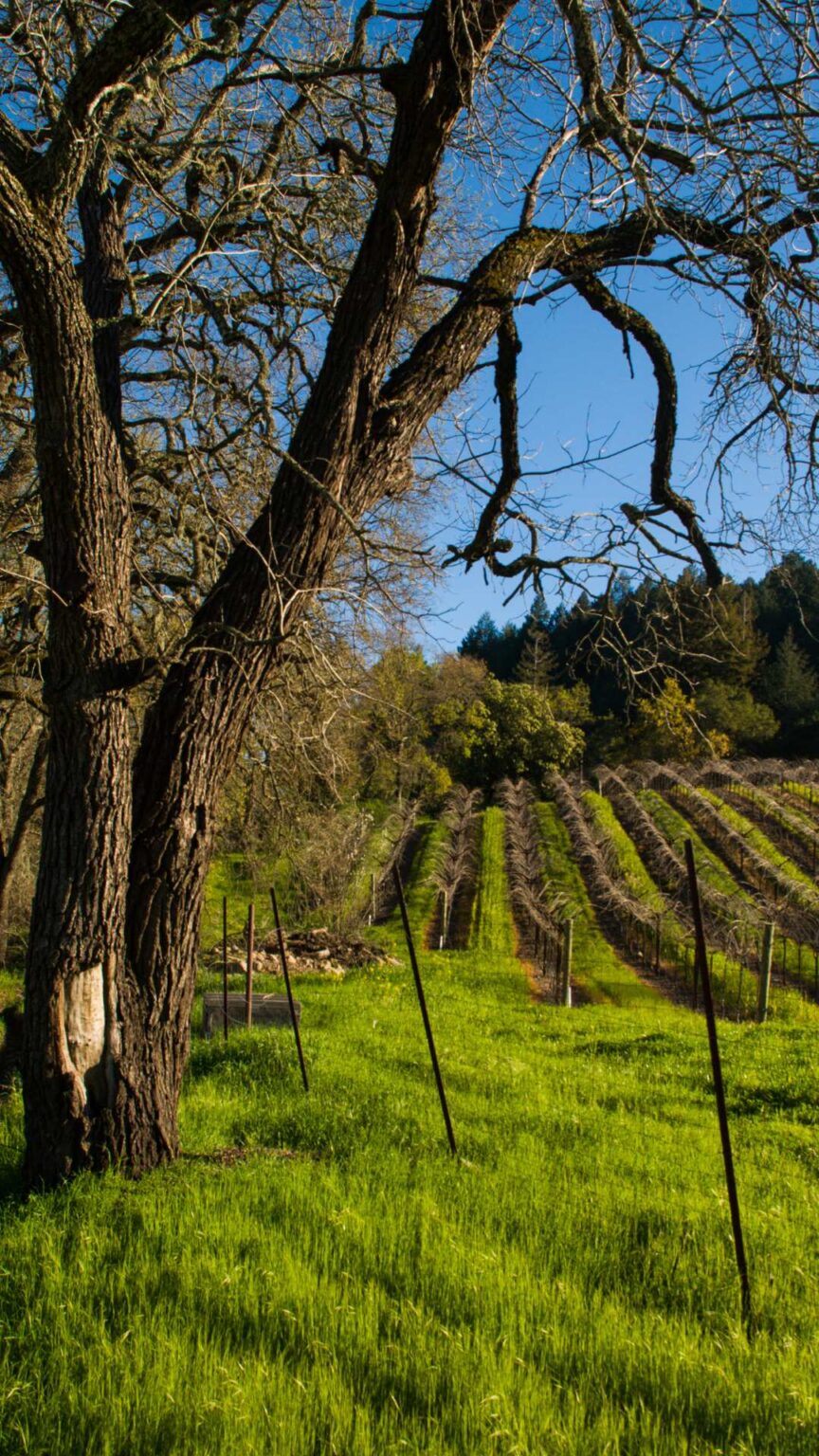 Larkmead Vineyards: This 110-acre vineyard, established in 1885, is one of the oldest family-owned wineries in Napa Valley.
The diversity of soil here is favourable for producing their famous cabernet sauvignon, a must-try in Calistoga. They also offer personalized wine-tasting tours tailored to each group's preferences.
Canard: Established in 1984, this 25-acre beautiful plot is one of the recent wineries in Calistoga known for their hand-crafted and nine single vineyard wines.
Sample their Cabernet Franc, Petit Verdot, Merlot, and Cabernet Sauvignon during their wine-tasting tours.
Tamber Bey Winery: This unique winery is located on Tubbs Lane, five minutes from Downtown, inside a world-class equestrian facility called Sundance Ranch.
This 15,000-acre plot was a covered horse riding area in the past. Later the clubhouse inside the barn was converted into a tasting room.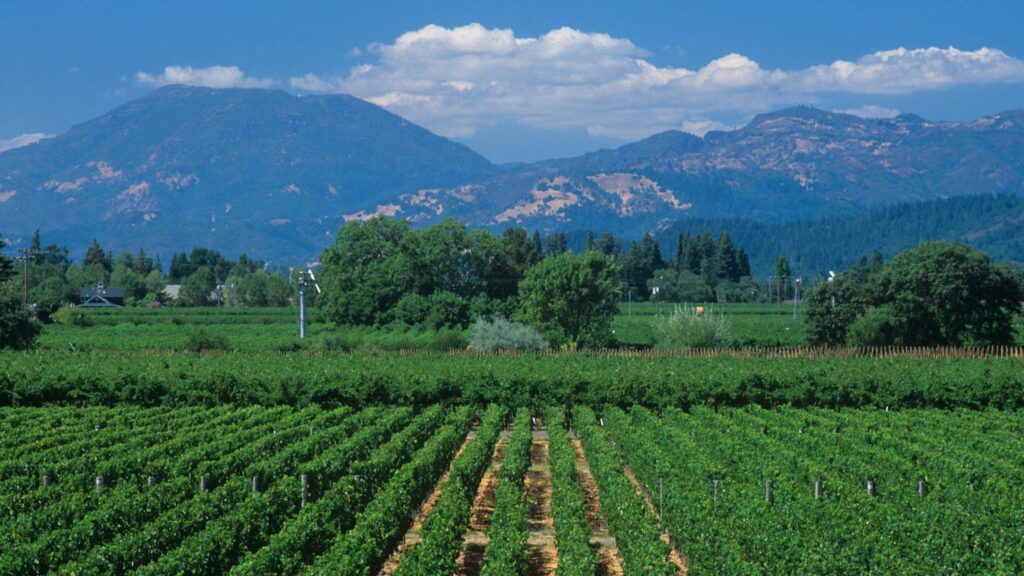 The facility has 36 winery tanks and 16 barn stalls around the courtyard.
Tamber Bey Winery also trains horses for competitions across the US, evidenced by looking at the sturdy horses while savouring their world-class wines.
CAMi Vineyards ART + WINE: Located on Lincoln Avenue, this place is known for its Cane-pruned and green-farmed wines.
Their tasting rooms are decorated with unique art. Enjoy tasting indoors, surrounded by the contemporary art walls or at an outdoor sidewalk bistro table, breathing in the beauty of Napa Valley.
Picayune Cellars and Mercantile: known for their unique Champagne and Napa Red Blend, a must-try. Relax in their indoor lounge or outdoor patios overlooking the colourful downtown buildings and sample their ten different varieties of wines.
They also have a wide range of shopping collectables, including artefacts made by Native American ledger artists, French Master Knifemakers and local silk scarf makers.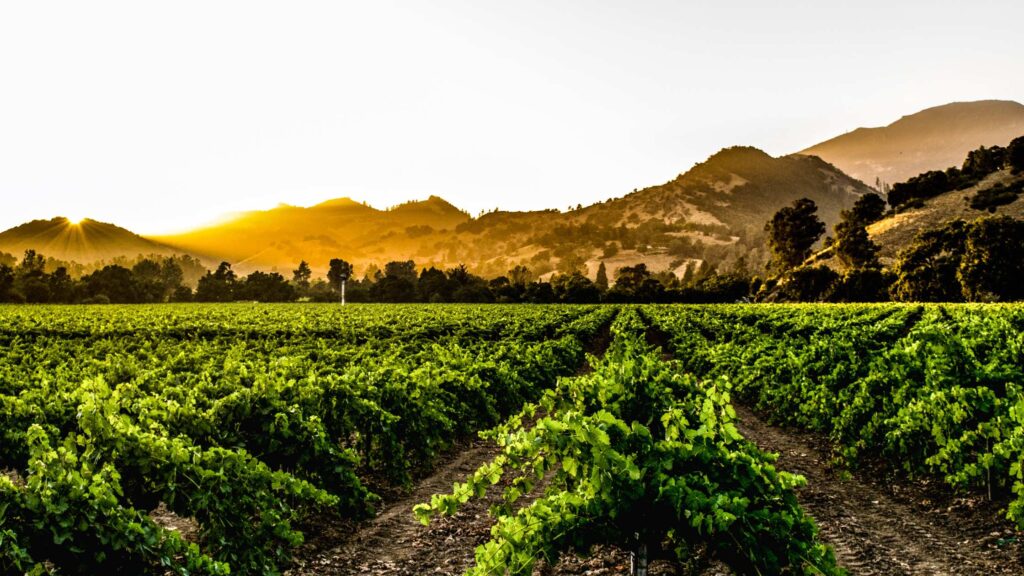 Visit this one of the dog-friendly tasting rooms downtown on a Friday night to get the local vibes, as the cellars will be filled with fun and live music concerts.
Olabisi: Located on Washington street, Olabisi is a minuscule winemaker that features limited-production wines from a husband-and-wife-duo.
Most tasting rooms run from 10 AM to 5 PM. Set base at Calistoga and explore them or drive around the town to see more wineries.
BEST THINGS TO DO IN CALISTOGA FOR OUTDOOR LOVERS
GO ON HIKES TO ADMIRE STUNNING VIEWS
If you are looking for outdoor things to do in Calistoga, hiking is one of the popular activities in the region.
Hike the Oat hill mine trail, a combination of two tracks; The Oat Hill Mine portion, managed by Napa County Regional Parks, and the Palisades Trail in Robert Lewis Stevenson Park.
This trail was used to connect the mercury mines and Calistoga back in the early 1800s. Now you might see some old wagon wheels carved into volcanic faces.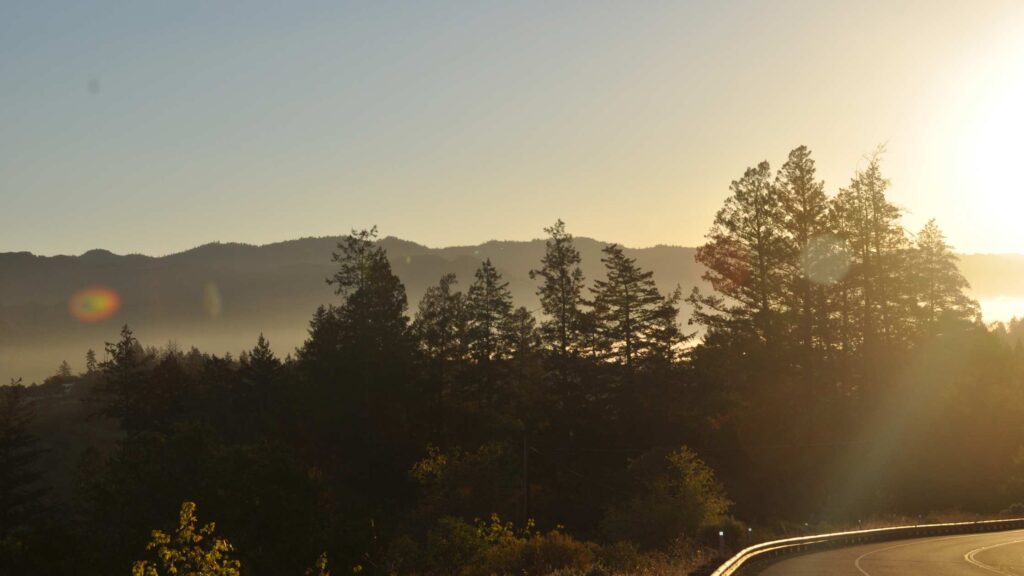 Take either the 10-mile Palisades Trailhead or the 8-mile Aetna Springs Trailhead. With an elevation change of 1,500 feet, both offer stunning views of vineyards dotted with craggy volcanic rock formations and distant views of gray pine and cypress forests.
You can access the trailhead off Highway 29 at 2082, the intersection of Lincoln Avenue and Silverado Trail.
Alternatively, you can go mountain biking or horseback riding to hike up this trail.
Explore the nearby Napa Valley State Park for hiking if you have spare time.
They feature seven trails, each with a unique stance; you can hike the trails running amidst redwoods, vineyards or the ones that greet you with their vast views of the valley. Most of them are from less than a mile to almost 8 miles.
EXPLORE PETRIFIED FOREST
One of the unique things to do in Calistoga is to visit the Petrified Forest to witness the marvel of unearthed petrified redwoods that dates back almost 3.4 million years.
The trees here were petrified due to a massive volcanic eruption by the now-extinct Mt. St. Helena, located North East of this Forest.
The place is now a preserved forest maintained by the Bockee family for over 100 years and is a playground for experimentation and research for thousands of scientists.
The Forest features two trails, which are approximately half a mile long. Take the Main Trail that runs through various petrified tree exhibits and information kiosks, or the Meadow Trail that gives a distant view of Mt. St. Helena and an ash fall.
Take the 1.5-hour docent-led or self-guided tours to get a detailed overview of how this incredible Forest was formed.
There is also a gift store at the entrance to pick up souvenirs.
TIMINGS: Open on all days except Tuesdays and Wednesdays. Free entry for Children under six years; adults must buy a day pass.
VISIT CALISTOGA FARM MARKET
One of the outdoor things to do in Calistoga is to visit the Farmers' Market, located on Washington Street.
Get along with the locals, and whet your appetite by savouring various breakfast delicacies and fresh seafood cuisines.
If you want fresh farm-produced veggies and fruits or are looking for plants and vibrant flowers for your home decor, this is the best place to visit in Calistoga.
You will also find various varieties of wines produced from locally sourced grapes. Visit the cute gift shops stacked with innovative gift items and souvenir collections.
EXPLORE BALE GRIST MILL STATE PARK
Located between Calistoga and St. Helena, Bale Grist Mill State Park is one of the offbeat things to do in Calistoga.
Take the 2-mile loop hike that connects to the Bothe-Napa valley state park to see the 19th-century historic water-powered Grist mill with a 36-foot wheel established in 1846 by Edward Turner Bale.
It was a place for social gatherings where the early inhabitants of Napa Valley used to get their wheat or corn converted into flour suitable for baking delicious cornbread, shortening bread, spoon bread, and yellow bread.
Recommended – 25 Best Places To Visit In California In December For a Getaway
The mill is restored and declared a State Historic Landmark. Take the milling demonstration tours during weekends to get a feel of the local Napa valley residents.
You can bring home some Bale Mill organic products in exchange for a small donation.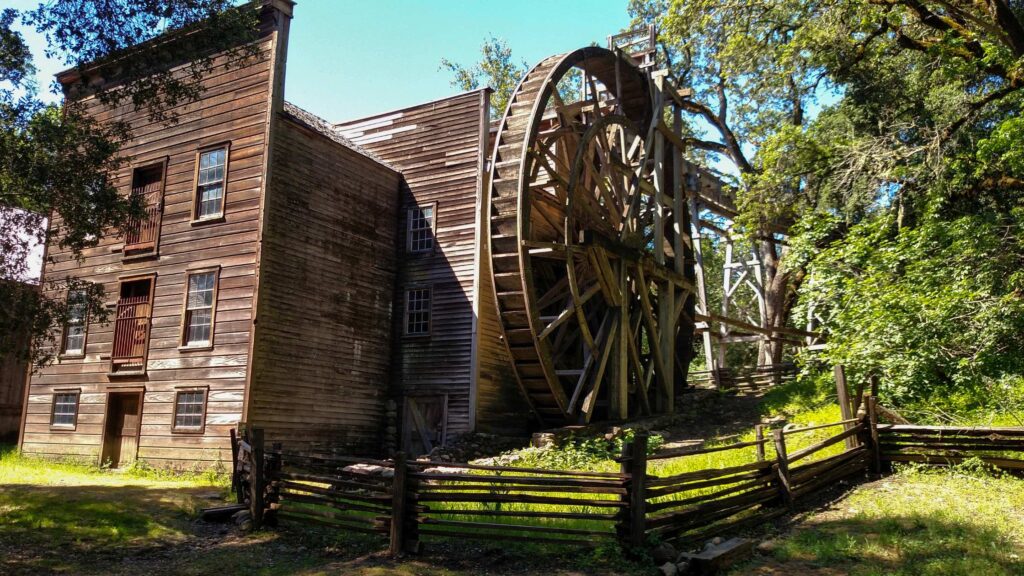 Explore the park to see the Pioneer Cemetery, the first church of Napa Valley. The cemetery treasures the veterans' bodies of the Civil War and the Donner Party.
Check out the cute gift shop at the park entrance for souvenirs.
BOTHE-NAPA STATE PARK
Bothe-Napa Valley State Park, the 1,900-acre state park, is located midway between Calistoga and St. Helena and is one of the exciting things to do in Calistoga if you are a hiking enthusiast.
The park features around 10 miles of trails dotted with towering Douglas firs, tan oak and madrone forests.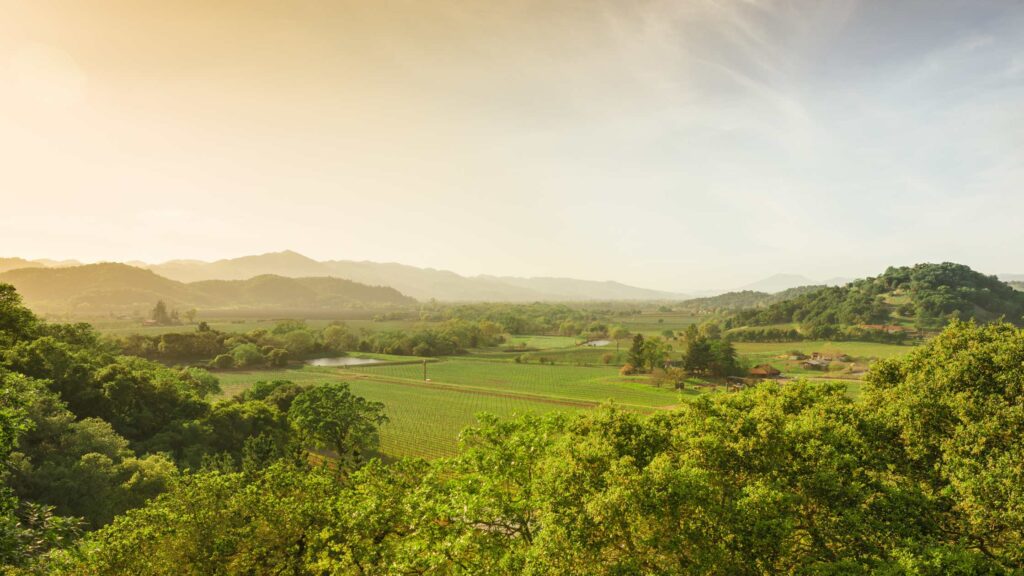 Hike the Redwood trail in Ritchey canyon under the shades of giant coastal redwoods.
The track is moderate and suitable for all hikers. Take pit stops to enjoy the views and hear the water dribbling down the craggy creek bed.
Have a picnic lunch or dip in the well-maintained swimming pool in the park. Enjoy camping in the cosy cabins equipped with basic amenities, and ensure to book camps in advance.
CHECK OUT THE ART GALLERIES
One of the cool things to do in Calistoga is to visit the Art Galleries.
There are many art galleries, but the most popular one is Ca'toga Galleria d'Arte, established by Carlo Marchiori, a world-renowned Italian artist and top muralist, in 1978.
The art gallery features Marchiori's most famous artwork at 1206 Cedar Street. Marchiori intended to display his exclusive paintings, sculptures, drawings and other ceramic works in this gallery. Many artefacts depict baroque, neoclassical, and renaissance artworks by other artists.
Browse the gallery for various hand-curated gift and design items.
Don't miss to see the main draw of this gallery, the stunning mural on the ceiling with a beautiful blue background filled with golden dots.
The other Calistoga attraction for art buffs is Villa Ca'Toga, home of Carlo Marchiori. He has tried to recreate the elements of Venice and Verona based on Palladian architecture.
Check out the cave and Roman theatre, a roman pool, a hot tub, and intricate designs on the columns and gates. You will find a lavish salon and six themed rooms inside the villa.
Ensure that you book the villa tours in advance. The artist keeps the villa open to the public from May to October every Saturday.
SOFIE CONTEMPORARY ARTS GALLERY
If you admire contemporary arts, check out the Sofie Arts Gallery, another interesting Calistoga thing to do.
You will find the brilliant artworks of many local Californian artists. Most artists are in different stages of their careers.
But one thing that is notably common between them is their attempt at perfection and their display of mastery through their intricate work.
Their passion towards art and eye for design can be clearly noticed in their work.
The gallery usually hosts solo shows or group displays, one of the exciting Calistoga attractions.
INDIAN SPRINGS ART GALLERY
One of the free things to do in Calistoga for art lovers is to visit the Indian Springs Art Gallery, located in the Indian Springs Resort.
The gallery primarily intends to display contemporary and modern art pieces of various local and international artists on a rotational basis. So usually you will notice new art forms every week.
You can talk to the artists directly in this gallery or find them fine-tuning their work.
Check out the various artworks, including sculptures made of wire and glass, abstract paintings, semi-nude and nude photographs of the female forms and unique pottery designs.
CALISTOGA ART CENTER
Visiting Calistoga Art Center is one of the cool things to do in Calistoga. It was established in 2002 by passionate art enthusiasts intending to create awareness about arts in the Napa Valley region.
Calistoga Art Center is located in the Napa County Fair Grounds Cropp Building. It features a vast open space for various art-related activities, seminars and other community-based events.
The art centre offers Ceramics, painting, and stained glass, as part of its programs.
PLAN DAY TRIPS TO VINEYARDS
There are many beautiful vineyards and wineries in Calistoga. Plan a day trip and enjoy the stunning views of vineyards and wine tastings with culinary pairings, one of the exciting things to do in Calistoga. Here are my favourites:
Brian Arden Wines: Located along the Silverado Trail, Brian Arden Wines was established in 2014 and is known for its Cabernet Franc.
Take the 45-minute wine-tasting tour to experience their latest wine flavours in their state-of-the-art building with a hospitality centre and knowledgeable staff overlooking the lovely vistas of the Palisade mountains.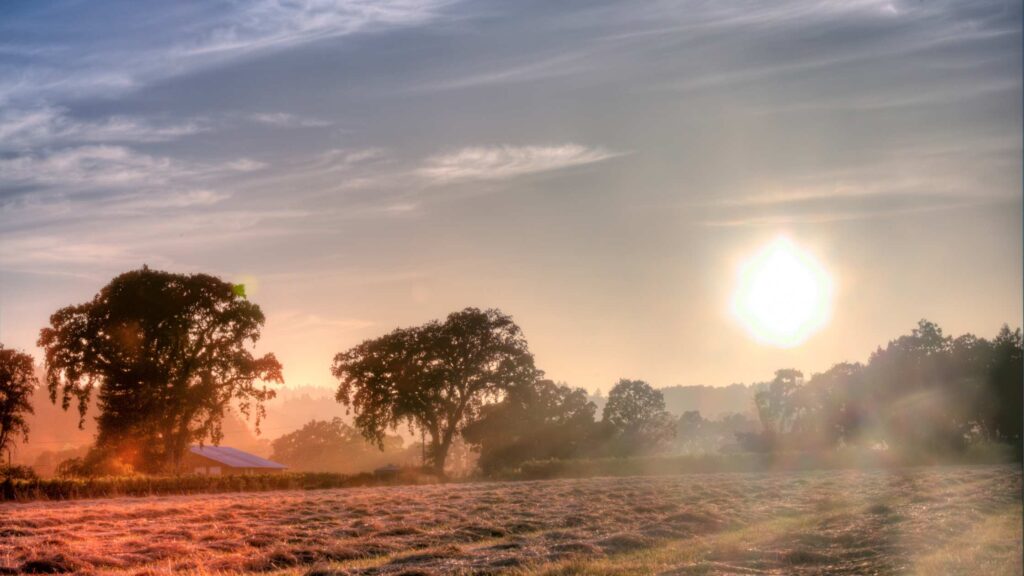 Chateau Montelena: One of the oldest Wineries of the Calistoga, Chateau Montelena, located on Tubbbs lane, was established in the late 1800s.
It is also one of the prominent wineries from the Napa Valley region, which won the top honours in the white wine section at the "Judgment of Paris" wine competition in 1976.
Book their seated and stand-up tastings and explore their lovely estates after sipping their world-class wines.
Davis Estates: Another family-run winery in this region known for its various kinds of wine-tasting tours and its sustainable approach to producing wines.
Savour their premier quality wines in one of these wine-tasting tours and enjoy the stunning vistas of the vineyards; Terrace Tasting, Terrace Wine & Food Pairing, Historic Tour & Tasting, and Library Tasting. The library tasting happens in an old library-themed tasting room.
If you are a hardcore wine fan, take the VIP Experience. You will be greeted with a platter of seasonal gourmet bites and private tasting in their VIP Crush Room overlooking the incredible valley views.
Also, you will have distant views of the medieval Castle Sterling and Castello di Aromosa from the balcony.
Heibel Ranch Vineyards: Established in 2001, this family-owned Winery and Vineyard are known for their premier quality wines like Petite Sirah, Cabernet Sauvignon, and Zinfandel, produced using sustainable wine production methodologies.
Their unique wine-tasting experience, which happens aboard an actual railcar, should not be missed, with exciting wine collections like the 2013 Captain Bubba Napa Valley red.
Explore their vast 185-acre ranch with knowledgeable guides and learn about the winemaking process, savouring their unique wines paired with salami cheese and olive assortment.
Huge Bear: An old bank turned into a beautiful wine-tasting room, Huge bear at the Bank Tasting Saloon was established to keep up the history of Sonoma County and Knights Valley through their scrumptious wines.
All their wines are in small batches and hand-crafted with an intense seductive fruit concentration.
Check out their reputed wines, including Sauvignon Blanc, Chardonnay, Pinot Noir, and Cabernet Sauvignon.
Sterling Vineyards: One of the Napa Valley region's unique wineries, known for its many wines from its ten single vineyard estates.
When you visit this winery, you will notice the stucco architectural towers adorned with bells from St. Dunstan's Church in East London. They are programmed to ring once every quarter hour.
Sterling vineyards offer three kinds of wine-tasting tours; take the regular admission with a self-guided winery tour and current-release tastings, or the sit-down tasting tour of limited edition wines paired with artisan cheese and charcuterie, or one-hour food and Wine pairing tour with educational sessions about the winemaking process.
The main draw of this winery is the aerial tram ride which starts from the parking area and traverses to the winery.
Vincent Arroyo Winery: Known for its superior wines, Vincent Arroyo usually stocks out due to peak demand and the quality of their wines.
They produce around 8,000 cases yearly and are known for their signature wine Petite Sirah and its various variations, like Napa Valley Petite Sirah, a blend of several Petite Sirah vineyards. Try their reputed Chardonnay, Cabernet, Merlot, and Sangiovese.
DRIVE THE SILVERADO TRAIL
If you are looking for things to do in Calistoga this weekend, drive along the Silverado trail that connects downtown Napa to Calistoga.
This trail is around 30 miles and was built in 1852. The trail is dotted with beautiful wineries and vineyards on both sides. Driving along this trail with stunning views of undulating hills is one of the exciting Calistoga attractions.
If you want a relaxing drive, you can avoid the CA-29 and 128, which are usually busier and take the Silverado trail. It is popular among cyclists too.
Stop by the renowned wineries along the trail, like the Robert Sinskey Vineyards, Miner Family Winery and Joseph Phelps and click pictures for your 'gram!
NAPA VALLEY WINERY BIKE TOUR
What's more exciting than exploring the Napa Valley Wine region on a bike? Isnt it?
Take the self-guided bike tour on the free Napa Valley vine trail. If you are in a team, opt for private group tours.
The Napa Valley Winery Bike Tour company also provides corporate team-building biking opportunities, one of the fun things to do in Calistoga.
Take the guided tours, accompanied by knowledgeable guides who will help you learn about the history of winemaking and the varieties of wine flavours.
Take the unique E-bike ride, which costs around $200 per person. The E-bike tour starts around 9.30 AM and goes till 3 PM.
CALISTOGA SPEEDWAY
Opened in 1937, Calistoga Speedway is a car racing venue and is one of the cool things to do in Calistoga.
It was started with an idea to conglomerate all the horse racing tracks of local Calistoga residents to build a state-of-the-art speedway. Also, this idea got in more power when the Model A started dominating America's roadways.
The speedway has helped many legends like Normi, Figone and Pacheteau during their initial days. It is used as a practice ground for sprint cars that hit 120mph and takes part in international annual events like the Annual Louie Vermeil Classic.
FUN THINGS TO DO IN CALISTOGA
TAKE A MUD BATH
One of the exciting indulgence and fun things to do in Calistoga is to dip in the mud bath, especially if you are looking for wellness and healing therapy.
Calistoga has many natural hot springs and mud baths. The native Wappo tribe, who were the inhabitants of Calistoga for about 8,000 years, believed in the medicinal and healing properties of the mud baths and the geysers.
The waters here in the hot springs and mud baths are naturally mixed with volcanic ash and other minerals buried in the ground for millions of years. They help detoxify the skin and even act as an enabler in curing skin-related issues like eczema.
Get your skin an extra glow before you leave Calistoga. There are many resorts which offer both hot springs and mud bath facilities, and most of them can be accessed with a day pass. If you are a guest staying there, you will have free access.
Here are my top recommendations:
Dr Wilkinson's, relatively affordable and the mud baths here were started as a tourist attraction.
Check out Indian Springs Resort and Spa, a famous spa for mud baths and hot springs. They are also renowned for their other spa services like facials, massages, manicures and pedicures.
Visit Spa Solage, another upscale spa experience located inside the Solage Resort.
If you have more time, visit Golden Haven Hot Springs Spa and Resort, Moonacre Spa in Calistoga Motor Lodge and Auberge du Soleil.
Book your spots ahead since this is one of the top Calistoga activities.
VISIT A SLICE OF TUSCANY
If you want to have a wine-tasting experience in a lavish castle, check out Castello Di Amorosa, a replica of the 13-century Italian Tuscan castle, one of the fun things to do in Calistoga.
Set a day aside to explore this 171-acre medieval winery located a few miles South of Calistoga. It took around 15 years to build the Castle, and you will see the Italian and French influence in the architecture and many French paintings inside the Castle.
There are 107 rooms inside the Castle, a lavish hall with two-storey replicas of Tuscan paintings, a 500-year-old fireplace, a drawbridge, a dungeon, an Armory, a Grand Barrel Room and even a torture chamber.
You can visit the outside premises of the Castle for free, but you need to buy tickets to explore the interiors.
Take the guided tours, which will be followed by wine tasting. You can take kids along, who will be served a glass of grape juice.
Enjoy their five-flight premium wine tasting. If you are a wine buff and interested to know more about the history of the place and winemaking in the Napa Valley region, check out Napa Valley Wine Train & Tour, Cheese & Wine Pairing Tour and Royal Food & Wine Pairing Tour.
Book the tours in advance since it will usually be crowded.
ENJOY THE BIRD VIEWS FROM A HOT AIR BALLOON RIDE
How about getting a bird's eye view of Calistoga? If you are in for more adventure, check out the Calistoga Balloons for a hot air balloon ride, one of the exciting things to do in Calistoga.
The ride usually costs $275 per guest for a standard balloon, and they have a wide range of balloons that can accommodate 6-16 people. Calistoga Balloons also offer expensive private flights, around $2,200 per couple.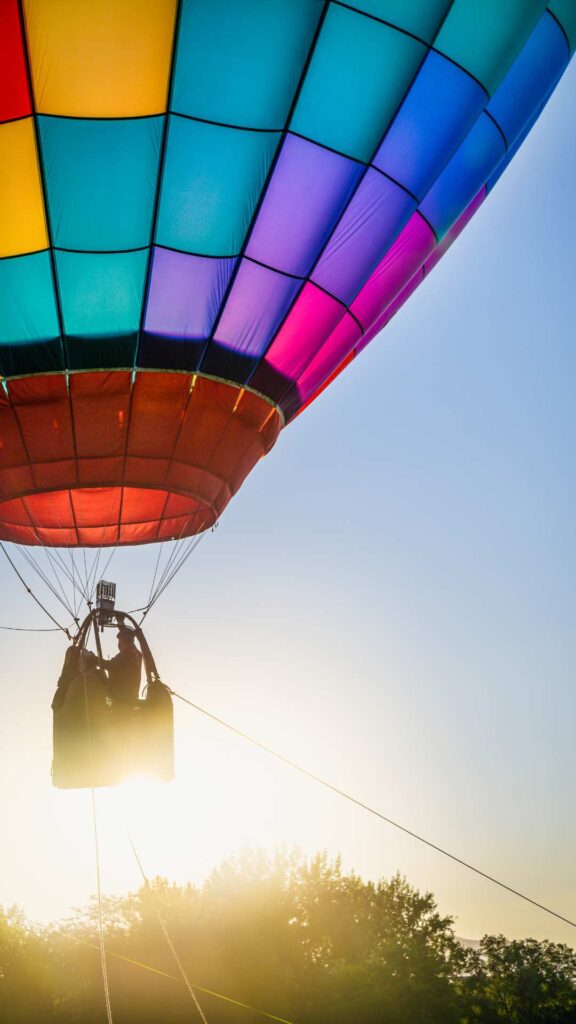 But you will get almost the same viewing experience from hot air balloons, and they even offer pick-up and drop service from your hotel to the landing site. The ride usually takes place in the early morning hours.
Witnessing the sunrise and flying over the rolling vineyards is a magical experience. Get a glimpse of the top view of Mt.Selena, and enjoy watching geysers and hot springs from above the clouds.
The rides depend on the weather. So check the weather conditions before booking the ride.
COOL OFF AT CALISTOGA COMMUNITY POOLS
One of the fun things to do in Calistoga is to take a plunge into the Community Pools.
The pools are kid friendly with a zero-depth entry. Check out their other facilities, like a 6-lane lap pool, aquatic playground equipment, picnic tables, and lounge chairs.
The pool is seasonal and is typically open from April to October. Admission is FREE for Calistoga residents, with a nominal charge for non-residents.
CALISTOGA BIKE SHOP
If you want to explore the Calistoga wineries on your own, visit the Calistoga Bike Shop, which offers self-guided wine tours and various customizable guided tours throughout Calistoga. They also rent bikes to explore the other nearby areas.
Take their excellent wine tours, a self-guided tour which allows you to check in and return the bike at your own pace.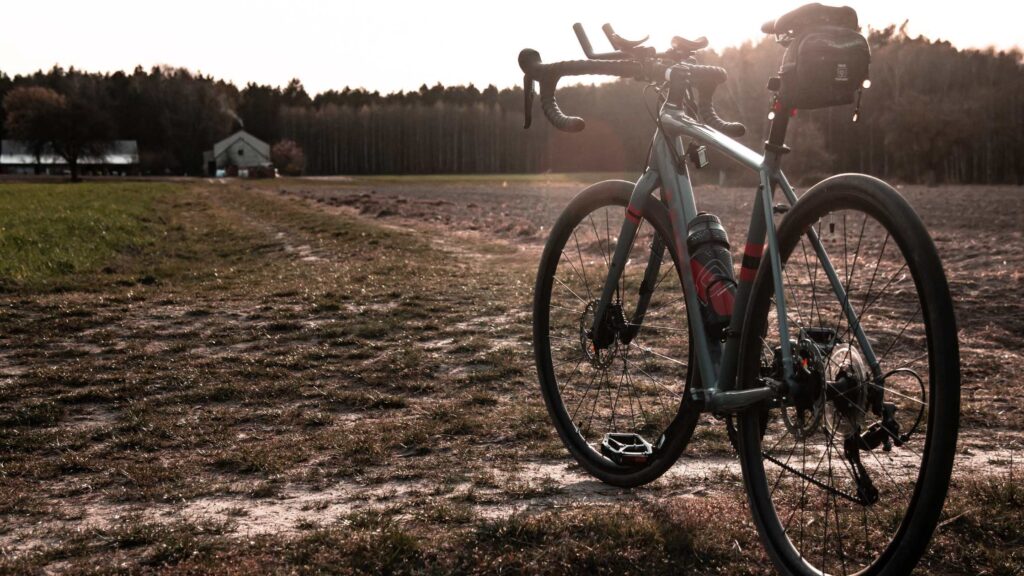 When you rent the bike here, you will be given all the safety gear and wristbands from the list of wineries you select. You can also borrow a map to explore other nearby places.
Besides the self-guided wine tours, they also arrange mountain biking and other road trips. Try if you have spare time and want more fun.
TASTE THE LOCAL BREWS
Beer lovers won't be disappointed, as Calistoga has a few breweries with unique brewed beers that are apt for you to get tipsy.
Visit the Napa Valley Brewing Company, located inside the Calistoga Inn. Sit in the vast outdoor area for a lovely dinner, enjoy their live music concerts, or book a table indoors for quiet and privacy.
They are renowned for Palisades Pilsner, West Coast I.P.A., American Wheat Ale, Calistoga Red Ale & Blue Collar Porter. Try some of their seasonal and unique beers, brewed throughout the year.
Visit The Calistoga Inn Brewery, established in 1987 after the prohibition era. The brewery has won many awards, including an award at the Great American Beer Fest in Denver, Colorado.
They offer brewery tours on Weekdays. Calistoga Inn Brewery produces 450 barrels yearly and sells 22-ounce hand-filled bottles made in their seven-barrel, gas-fired brewhouse.
Calistoga Inn Brewery is known for its four signature beers, Red Ale, Porter, Calistoga Pilsner, and Wheat Ale. Sample their other seasonal beers, including German Kolsch and Dugan Oatmeal Stout.
If you want more of a lunch and dinner option along with beer and music, check out the Lincoln Avenue Brewery.
They have a beer garden with 20 brewed beers and a multi-cuisine kitchen offering mouth-watering delicacies.
WHERE TO STAY IN CALISTOGA
Whether you are looking for a luxurious stay or a more laid-back vacation rental in Calistoga, here are my recommendations.
Each offers unique amenities, well-equipped rooms and excellent customer service that will make your stay memorable!
The Inn on Pine, Mount View Hotel & Spa,
Best Western Plus Stevenson Manor
MAP OF THINGS TO DO IN CALISTOGA
TOP TRAVEL TIPS & RESOURCES
Below is the list of the travel resources you can use to organize your travel – from flights to insurance and everything. These are the resources I use myself, which is why I recommend you for a hassle-free travel planning experience and fantastic trips.
Booking Flights
: To score flight deals, search on
Jet Radar
, Kiwi,
or
12go.Asia
(for Asia planning). Book and fly mid-week, taking red-eyes flights or those in the early mornings for better deals and lower prices. Avoid check-in bags on a budget airline.
Booking Trains:
The best websites for booking trains anywhere in Europe are
Rail Europe
and
TrainLine
. Both are easy to manage online and track your journeys.
Booking Cars:
For the best prices and easy handling of renting a car for road trips and day trips, I'd recommend
Discover Cars
or
Rental Cars,
available throughout the world.
Accommodations:
I typically use
HotelsCombined
or
Booking.com
to book hotels. There are special getaway deals with amazing discounts(over 50%!) for this year on Booking.com, and you can find them
here
.
I use
Hostelworld
and
Agoda
to book hostels as the deposit is low, easy change/cancellation is available and reviews are excellent on both. Depending on the destination, I love staying in
VRBOs/homestays
.
Travel Insurance:
No matter whether it is a short trip or longer trips abroad, I strongly recommend buying travel insurance for international trips. I recommend either
World Nomads
or
SafetyWing
for international travel insurance.
Tours:
Being a solo traveler, one of the best ways to optimize my time, budget, and super importantly, meet amazing people from all over the world is by joining tours, especially food tours, walking tours, day trips, culture, and history tours.
You will get a local's perspective, the best opportunities to experience places and people closely. I book using
GetYourGuide
,
Klook
,
Viator,
and
Voyagin.