There is a myriad of incredible things to do in Healdsburg, a wine and culinary epicentre in Sonoma County, nestled between the three gorgeous wine valleys; Dry Creek, Russian and Alexander.
Located 45 miles North of San Francisco, Healdsburg combines stunningly beautiful scenery, vibrant culture, and a thriving food and wine scene.
From visiting world-class wineries and exploring natural trails to getting soaked amidst nature and soaring high above in the air, many Healdsburg activities feed your adrenaline!
Whether you want a romantic getaway with your special one or planning a fun weekend with kids, this guide covers all about the best Healdsburg attractions and Healdsburg things to do, including free items, the best time to visit, what to pack, where to stay, what to eat and valuable tips for a fantastic trip.
So come down to explore Healdsburg to see what this charming town has in store for you!
THE BEST TIME TO VISIT HEALDSBURG
If you are wondering what the best time to visit Healdsburg is, you are in luck! This amusing hamlet is a year-round vacation destination, no matter the season!
In the Spring, between March and May, you will be welcomed by pleasant weather topped with colourful hues of wildflowers around you. Sample the fresh Spring produce in Farmer's market.
In the Summer, between June to August, the weather will be mild with sunny skies and an ideal time to lounge around wineries or dip in the gorgeous rivers.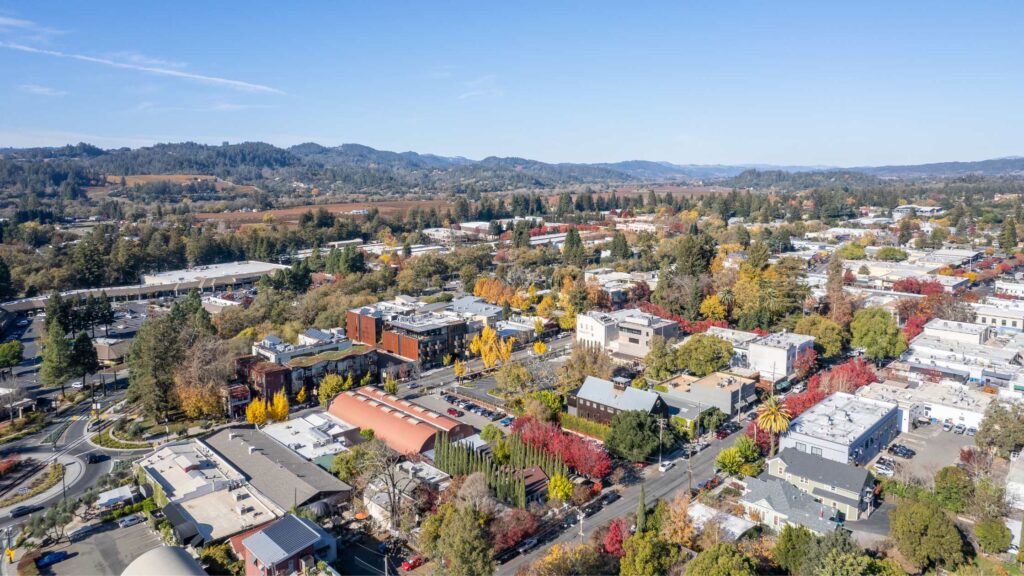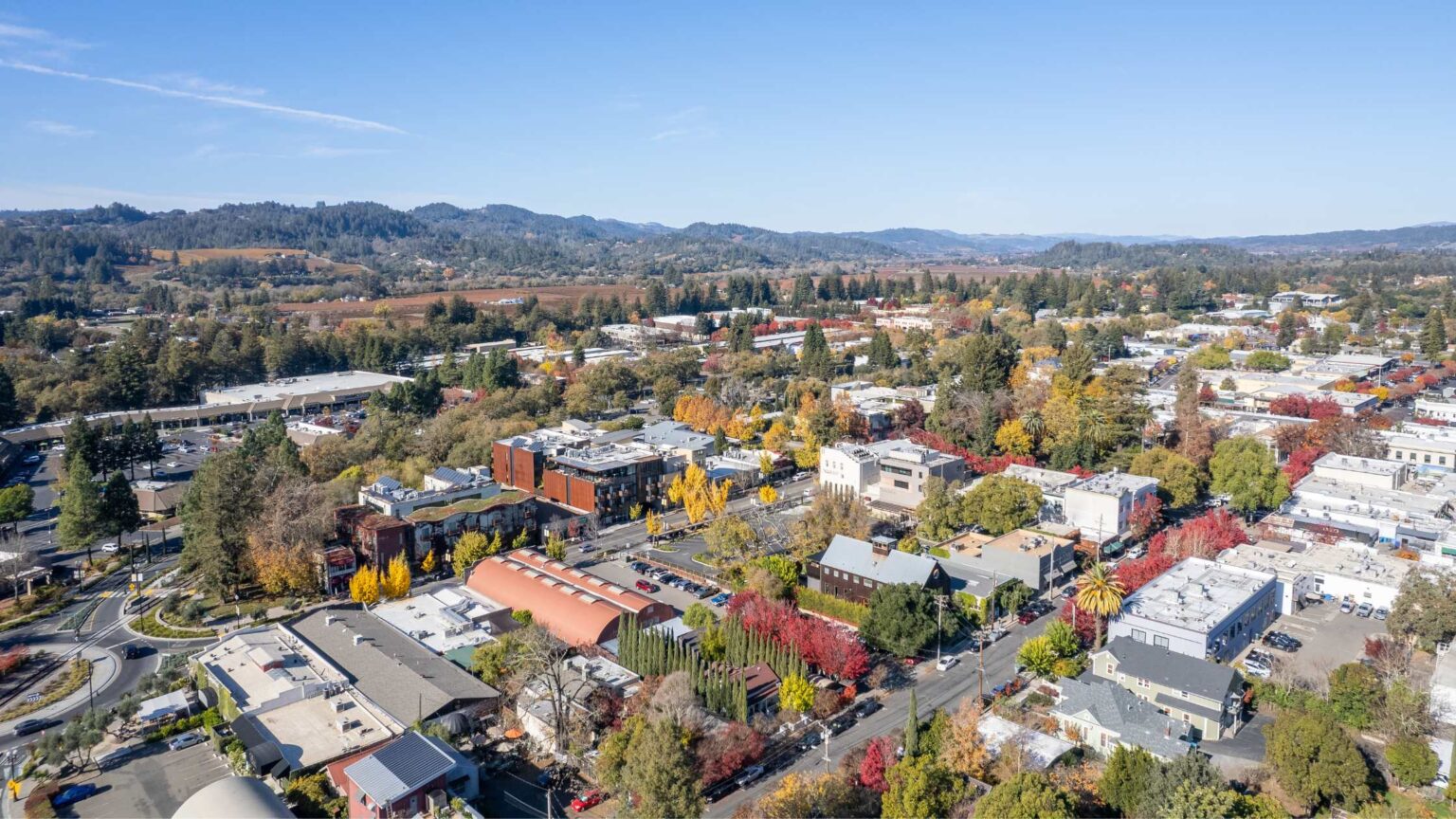 In the Fall, between September to November, Healdsburg is a paradise adorned with an array of fall foliage and changing leaf colours.
The crisp autumn air makes it an ideal setting for activities like apple and grape picking or exploring various festivals.
In the Winter, after November, though the weather gets a bit chillier, you will still have many things to do in Healdsburg besides wine.
The city gets soaked up in Christmas celebrations, and you might even get accommodations amidst snow-capped mountains at discounted prices due to the festive season.
TOP THINGS TO DO IN HEALDSBURG
STROLL HEALDSBURG PLAZA
If you are new to Healdsburg, start your trip with a visit to Healdsburg Plaza, located in downtown Healdsburg at the intersection of North and Center Streets.
Healdsburg Plaza was established in 1857 by Harmon Heald, and a visit to this place is considered one of the top things to do in Healdsburg.
The Plaza is an incredible destination for residents and tourists and a great place to spend the day exploring the many attractions in Healdsburg.
Healdsburg Plaza is dotted with Canary Island Date Palms and has several shops for your shopping spree. Stroll along the sidewalk while sipping your favourite drink from one of the cafes or browse the various art galleries showcasing local artists' work.
Check out the famous attraction of this charming square, the fountain located at the centre, which local businessman Alexander McLean donated in 1891.
Another main draw of Healdsburg Plaza is the bandstand, used mainly for live music concerts, especially during the Summer. You might see other community-based events happening in this area at different times.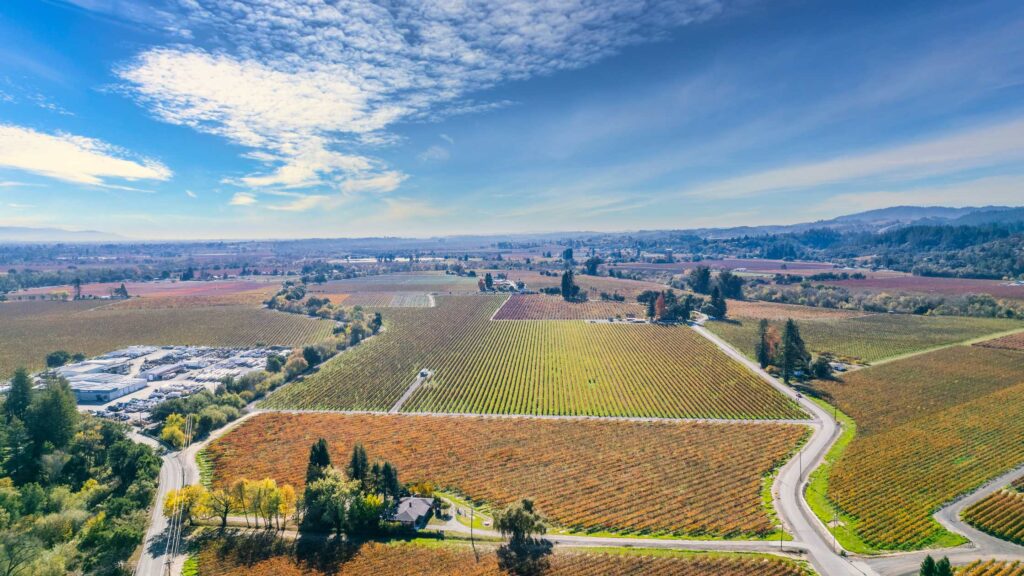 You might stumble upon beautiful antique shops with a wide range of collections. Check out the boutique shops for souvenirs, or upgrade your wardrobe with Healdsburg's collection of vintage clothing. The Plaza is also home to many unique wine-tasting rooms and breweries.
Rest on the well-maintained benches, take in the lovely vistas of the colourful buildings, or unwind on the grassy green patch to enjoy a lovely evening with your loved one.
When you are done shopping and strolling along the Plaza, try various fine dining and artisanal food at one of the multi-cuisine restaurants by looking at their menus displayed on the large panoramic windows.
Healdsburg Plaza hosts seasonal events like the Healdsburg Jazz Festival and weekly events like the Farmer'sFarmer's market. So check out the events calendar of the town before your visit.
VISIT FARMER'S MARKET
One of the best things to do in Healdsburg is to visit the Farmer's market. It was started in 1978 on the West side of the Healdsburg Plaza, and to date, this is among the local's favourite tasks in Healdsburg.
Rain or Shine, the Farmer'sFarmer's market usually gets into its hustle and bustle mode every Saturday and Tuesday from 8:30 AM and goes on until 12:30 PM.
You will witness tons of fresh veggies, fruits and flowers stacked up. It would be best if you were quick since most of the products get stocked out due to the premium quality of the products and high demand.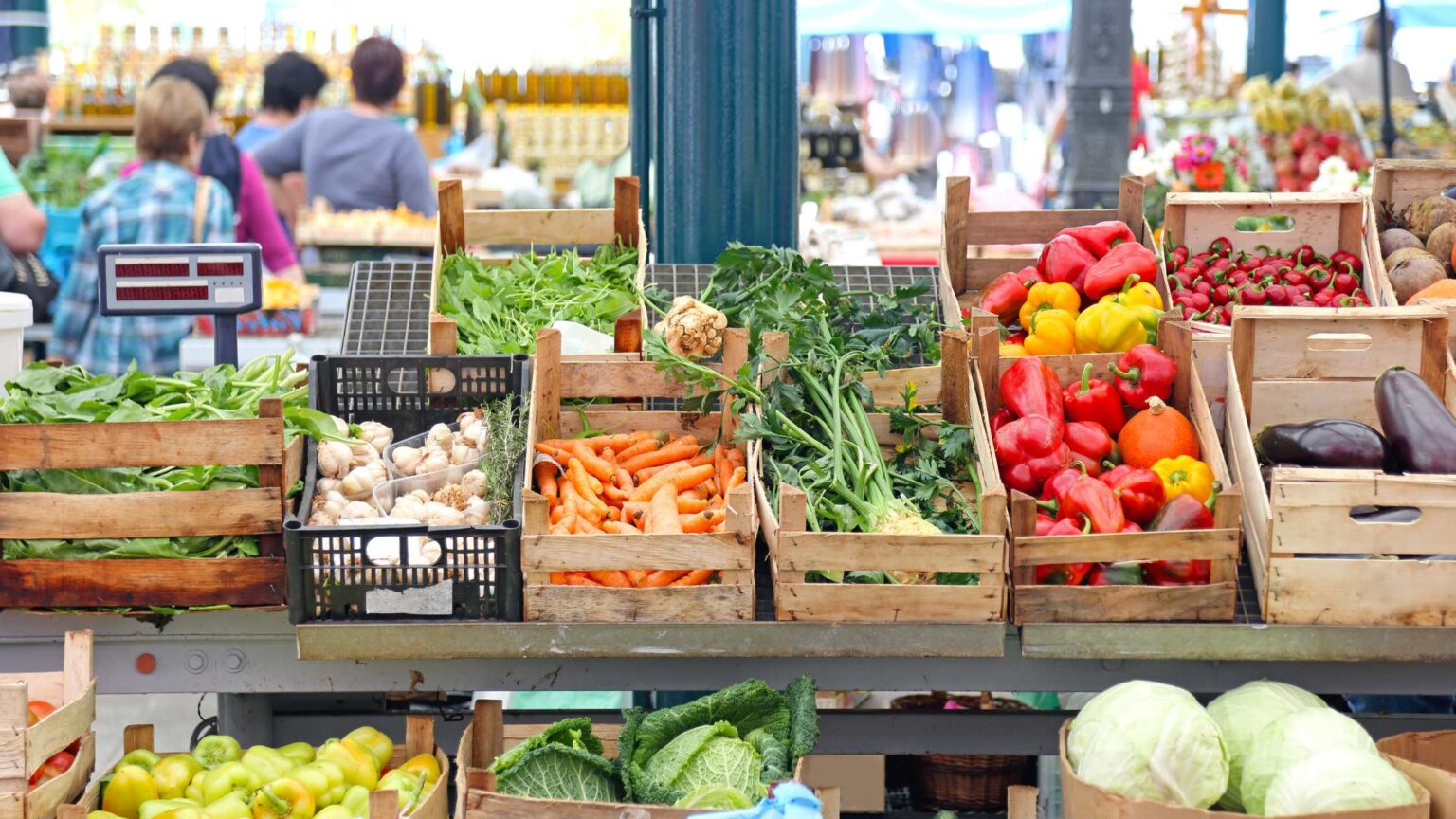 Each week the farmers get one of their new seasonal produce. Besides veggies, check out their homemade products like cheese, olive oils, vinegar, jams, jellies, and other freshly baked goods.
Savour mouth-watering delicacies like tacos, sandwiches, salads, burritos, pizza, and other delicious treats on the food trucks, while enjoying live music in the background.
Make acquaintance with friendly vendors to learn more about the local culture and the farm-to-table process.
If you visit the market from October to December, you will notice an entire aisle with various arts and crafts made by local artisans.
HEALDSBURG CENTER FOR THE ARTS
One of the free things to do in Healdsburg is to visit the Healdsburg Center for the Arts, formerly recognized as Plaza arts, located on the center street at a minute's walking distance from the Plaza.
This non-profit arts center was established in 1993 with the intent to enhance awareness about arts and inspire people by showcasing the best in visual, performing, and literary arts of established and budding artists.
Browse the center to draw inspiration from various abstract paintings and photographs. The artwork keeps changing rotationally, and you will likely see new work every week.
The center hosts educational programs, workshops, lectures, community events and other exhibitions. It also collaborates with nearby schools to conduct summer camps to foster art among the kids from their early school days.
Check out other events on their website, like the Summer Youth Theatre program and the popular Friday Night Live music series.
Timings: Closed on Tuesday and Wednesday, Open from 11 AM to 5 PM on other days
GO SHOPPING AROUND HEALDSBURG SQUARE
Healdsburg Square is an ideal place to explore, and if you want to go on a shopping spree, this place is a must-visit in Healdsburg.
The square is lined up with upscale outlets like Gap and Apple to small quirky boutique shops with unique collections, making this one of the exciting things to do in Healdsburg. You will be tempted to shell out some extra bucks!
Explore the art galleries and antique shops with a wide range of collectables if you want home decor ideas. Check out the vintage clothing collections and customized handmade jewellery.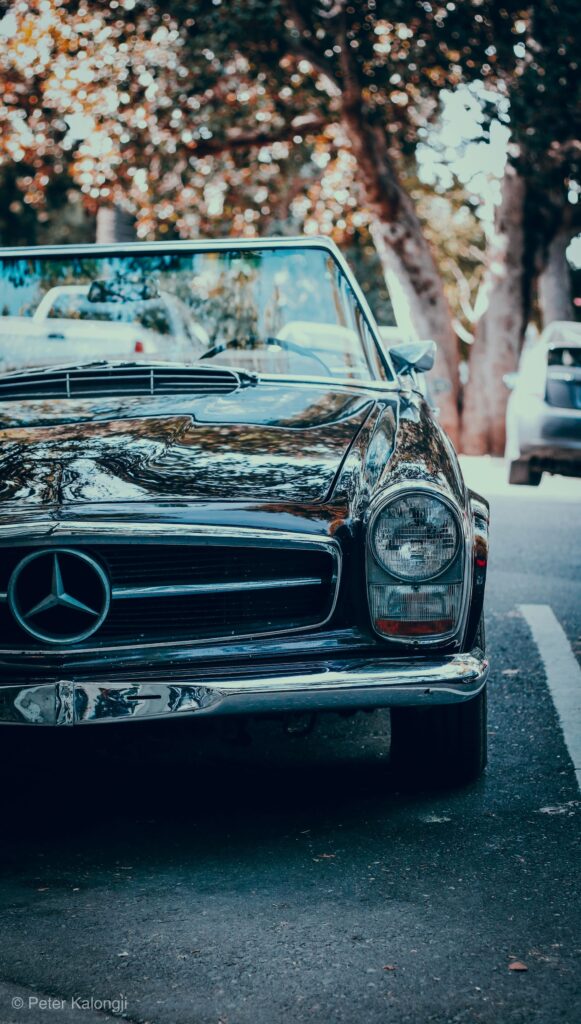 A few of my recommendations are:
Gallery Lulo: Located on the North Eastern side of the Plaza, this place is known for its exclusive handmade jewellery collections. Check out their other home decor items like flower vases, bowls, candles, and wooden and ceramic artworks.
Mr Moon's: Located on Center Street, this place is known for kids' toys, trinkets and other cute gifts like gorgeous greeting cards and hysterical mugs. Check out their adult section for bath and body products at comparatively lower prices.
Tamarind and Susan Graf Limited: Small curated shops on Healdsburg avenue and Matheson Street. Known for its beautiful and well-made timeless clothing collections for women. Check out the place Ereloom on Matheson Street for Men's collection.
Recommended Tour: Check out this 90-minute History Walking Tour to learn about history, get recommendations for shopping, art galleries, wine tasting, and restaurants and spend the day outside in the fresh air.
ENJOY WINE TASTING AT HEALDSBURG PLAZA
To quench your thirst during your shopping spree, take breaks at the nearby wine-tasting rooms at the Healdsburg Plaza.
The square is home to a variety of wine-tasting rooms. Whether you are a novice or an experienced wine connoisseur, the tasting rooms will surely provide a unique experience.
Most of these tasting rooms are pretty next to each other. So get ready to hop on from one to another to get tipsy.
Here are my recommendations:
Thumbprint Cellars: Located on Matheson Street, they are known for exceptional red and white blends and single varietals. Check out their onsite art gallery while savouring one of the best wines in Healdsburg.
Portalupi Wine: Located on North Street, they are known for their Italian-inspired wines, educational tasting tours, and culinary pairings. Check out their infused oil and vinegar tasting for a unique tasting experience.
Williamson tasting room: The Williamson Ranch and winery is located at a 15-minute driving distance from the Plaza on Creek road.
But their tasting room is on Matheson street, which offers an Icon Wine & Food Pairing Experience with a small batch of curated wines and various culinary pairings. Join their wine club for more fun.
Hawley tasting room: The winery is next to the Williamson Ranch Winery on Creek Road. But their tasting room and the gallery are on North Street.
Enjoy their signature wines like Viognier, Zinfandel, Pinot Noir and Chardonnay while admiring the vibrant artworks on the wall made by Dana Hawley. The tasting room is closed Tuesdays.
TAKE THE DOWNTOWN HEALDSBURG FOOD AND WINE TOUR
One of the best ways to explore Healdsburg, especially if you are a foodie and a wine lover, is to take Downtown food and wine tour.
This tour will let you experience the town's incredible culinary and wine offerings. The tour will be led by a knowledgeable guide with stops at the town's unique wineries and restaurants, making this one of the most exciting things to do in Healdsburg.
You can try seasonal wines and food at some of these places. The tour typically begins at the Plaza, so you will have ample opportunities to stop by bakeries, cafes and other homegrown wine shops.
You might also get some cute souvenirs as a part of the tour. Learn about the town's history and wine culture, a perfect way to experience the charm and beauty of the area while sampling some of the best cuisine and wines in the region.
Recommended Tour: Sprinter Wine Tour for up to 14 people: Start your day with a glass of sparkling wine in this 6-hour guided tour in a sprinter van. Check more details here.
Visit various vineyards of your choice, or let your driver select a few for a well-rounded experience of Napa and Sonoma.
VISIT THE HEALDSBURG MUSEUM
One of the free things to do in Healdsburg is to visit the Healdsburg museum, located on Matheson street, especially if you want to know more about the history of Healdsburg.
Housed in Carnegie Library, a beautiful neo-classical revival structure, this museum was established between 1910-1911.
The primary intent of the museum is to protect, collect, preserve and interpret the history of the town, its people, and the surrounding area.
As you browse the museum, you will be awed by the collection of artefacts on display used by the Pomo and Wappo tribes, the Native Americans, who were well-versed in basket making. You can see some of the hand-woven baskets in the museum.
Check out the various intricate designs, photos and paintings depicting the grand history of Healdsburg and its evolution.
If you incline toward architecture, there are many architectural remnants and household items to draw inspiration from.
The museum also has an online digital library with roughly 19,000+ exhibits as of date.
Healdsburg museum is listed on the National register of historic places. It hosts several theme-based exhibitions and offers various educational programs and activities, including lectures, workshops, and field trips.
Check out their official events calendar to update yourself on the latest events and see a list of current temporary and permanent exhibits on display.
Timings: 11 AM to 4 PM, Wednesday to Sunday, closed on other days
TOUR HEALDSBURG WINERIES
Healdsburg, located in Sonoma County at the intersection of the Dry Creek Valley, Alexander Valley, and Russian River Valley, makes it an ideal destination for Wine lovers.
There are around 125 wineries in Healdsburg, from small family-run wineries to large ones with an international reputations.
Most wineries offer barrel tastings and educational tours, and some feature cosy accommodations overlooking the lush vineyards and fruit orchards.
Hop on a car and discover some of the best wineries around Healdsburg if you want to sample some of the local's favourites and other rare finds from across the globe.
Truett Hurst Winery: Located on the Dry Creek Valley at 15 minutes' driving distance from the Plaza. Established in 2007, this winery is known for small batches of estate-grown wines.
Spanning 26 acres, you will see several varieties of vineyards, including Petite Sirah and Zinfandel. They also produce Pinot Noir, Cabernet, Gewurtz, Sauvignon Blanc, and more.
Visit their exclusive five acres of Dry Creek section and beautiful garden. Check out their tasting room, which is always jazzed up with music and events, especially on Saturdays.
VML Winery: Located right next to the Truett Hurst Winery, this 20-acre vineyard is renowned for wines which go well with a set of marshmallows. Sit on the patio or take a bottle or two down to the nearby Dry Creek river, home to endangered fish species, to spend a lovely afternoon.
Chalk Hill Estate Vineyards & Winery: Located on Jacobson road on the eastern edge of Russian River Valley and at 17 minutes driving distance from the Plaza.
The estate vineyards are spread over 1,400 acres of land, planted with various grape varietals, including Cabernet Sauvignon, Chardonnay, Pinot Noir, and Syrah. The winery also produces red and white blended, sparkling, and exceptional reserve wines.
Check out their native oak woodlands, culinary garden, and stables. The winery is open for tastings and tours throughout the year.
Dry Creek Vineyard: Located on Lambert Bridge Road, a 10-minute drive from the Plaza, this family-owned and run winery in the Dry Creek Valley was established in 1972.
Dry Creek Vineyards was one of the first wineries opened after the prohibition era. The owner David S. Stare wanted to begin producing Sauvignon Blanc wine.
Now they grow different varieties of grapes, including the ones for Chardonnay, Merlot, Cabernet Sauvignon, Zinfandel, Chenin Blanc, and more.
Try the delicious salami, crackers and cheese, an ideal combination for their perfect wines. Join their wine clubs to have fun at their events.
Silver Oak Winery: Located on Alexander Valley road at 15 minutes' driving distance from the Plaza. The drive along Highway 128 is spectacular. You will drive through gorgeous mountains, expansive farmland, charming cottages, and old barns.
The first thing you notice when you reach this place is the architecture; buildings inspired by the old barns with a contemporary touch and the water feature at the entrance.
The tasting rooms have minimalistic designs and are a perfect place to spend a day overlooking the lovely valley vistas.
Try their Vertical Cabernet Sauvignon flight along with succotash. They even offer various tours and other tastings to be booked in advance.
Porter Creek Vineyards: Located on Westside Road along the Porter Creek river, which feeds into the Russian River and at a 17-minute drive from the Plaza, this family-owned and run winery was established in 1977.
The winery is into sustainability and organic farming processes. They specialize in producing Syrah Carignane, Viognier, Chardonnay, Zinfandel and Pinot, handcrafted in French oak barrels and made using the French Burgundian technique.
Christopher Creek Winery: You can travel to this winery via the old redwood highway on Limerick Lane.
Established in 1974, Christopher Creek Winery is a small, family-owned, run winery known for its handcrafted award-winning wines.
Tour their beautiful 11-acre estate in the Russian River Valley and the 27-acre plot on Dry Creek's Bradford Mountain, filled with various varieties such as Chocolate Bliss, Cabernet Sauvignon, Chardonnay, Zinfandel, Pinot Noir, Port and Viognier.
Have a picnic lunch on their patio or sample their signature wines, Reserve Petite Syrah and Reserve Syrah, relaxing on the cabana seats near the lovely onsite pool and watching the sun go down over the rolling, misted vineyards of California.
Seghesio Family Vineyards: Located only at a 3-minute driving distance from the Plaza, this family-run vineyard has been in operation since 1895.
They produce some of the best Zinfandel and Italian Varietals, grapes sourced from the surrounding Dry Creek Valley.
Enjoy their beautiful tasting area under large, shady trees; also an ideal place to have brunch with your loved ones! Reserve their wine-tasting tour in advance.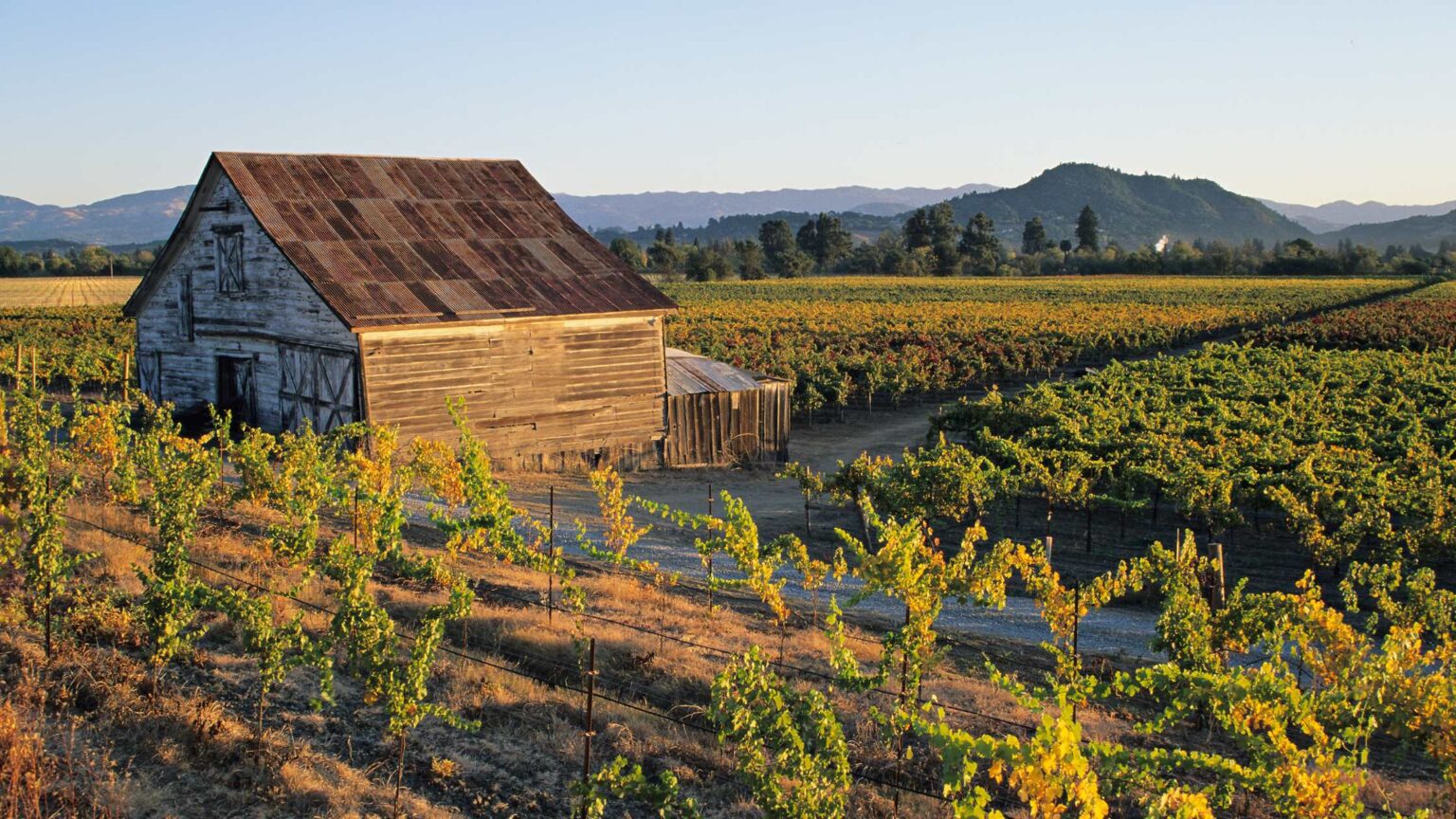 Jordan Vineyard & Winery: Located on Alexander Valley Road at a 10-minute driving distance from the Plaza, this family-owned winery has been in operation since the 1970s.
Spanning a massive 1,000 acres with a chateau, Jordan Vineyard and Winery has known for its signature wine Chardonnay, one of the best Cabernet Sauvignon in the region, that they bring in from the Russian River Valley.
Check out their 3-hour Estate Tour & Tasting, which includes a Champagne breakfast at the chateau, a drive through the vineyards and wineries with multiple stops, stunning views of flower orchards, and a stop at the hilltop tasting room. You will be delighted with their classic wines and various food pairings.
They also offer an exclusive 90-minute outdoor wine tasting atop the hill. Enjoy their balanced wines in the style of Bordeaux and Burgundy with nuanced use of oak overlooking the gorgeous vineyard views and the surrounding countryside.
If you have spare time, combine the visit to the Silver Oak Winery with this tour since Silver Oak is just a 10-minute drive further up Alexander Valley Road.
Ferrari-Carano Winery: Located in the heart of Sonoma County's Dry Creek Valley on Dry Creek road, this family-owned winery was established in 1981 by Don and Rhonda Carona. It is located only at a 15-minute driving distance from the Plaza.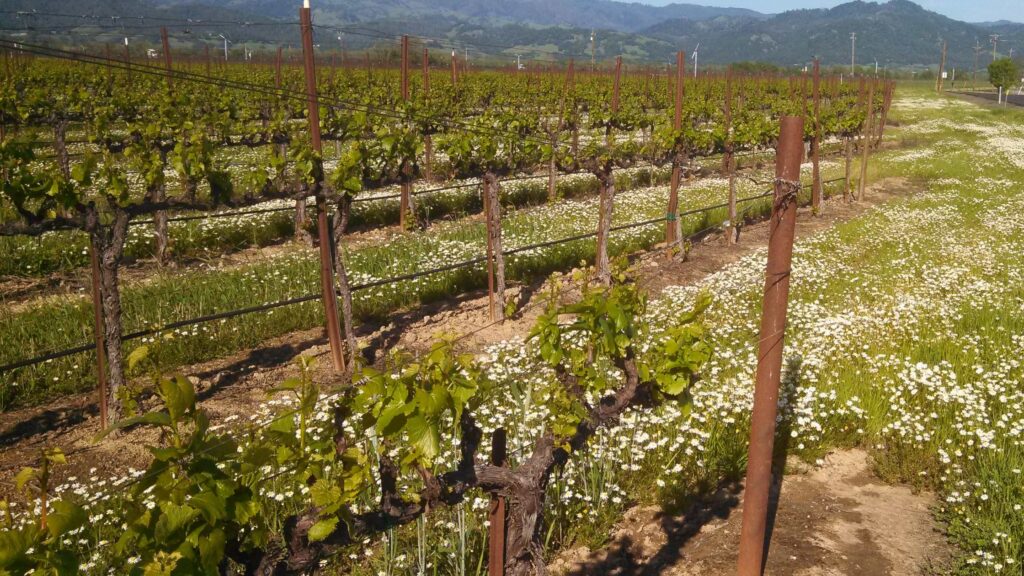 The drive to this place might remind you of Tuscany, with Cypress trees along the way. You will be awestruck if you visit Ferrari-Carano Winery during Spring. Vibrant swathes of Tulips and Daffodils dot the vineyard regions.
Don't miss this colourful sight when you are in Healdsburg during Spring. There is also an exclusive Tulip Hotline to check the bloom season.
Their vast lush vineyards are planted with some of the best-known varietals, including Chardonnay, Riesling, Pinot Noir, Syrah, and Cabernet Sauvignon.
The winery is in Villa Fiore, a gorgeous building wrapped by greens and fountains. Notice that the five acres of gardens adorned with Portuguese cork trees are cut in Italian/ French inspiration style.
Take the self-guided tour to explore the vineyards at your own pace, including mature plantings, waterfalls and arching footbridges over passing streams and learn more about the local fauna with the help of the identification tags on them.
Check out their unique wine-tasting experiences, including the Il Terrazzo Outdoor Tasting Terrace, Villa Fiore Tasting Room and Wine Shop, and the Enoteca Reserve Wine Tasting Bar.
Please book the tours before your visit since the place is popular in the Sonoma wine county region.
Recommended Tours:
DINE AT FAMOUS HEALDSBURG RESTAURANTS
Healdsburg has a widespread reputation for fine dining. With tons of wine and dine options, like Michelin-starred restaurants to cosy bistros, this charming town has become a favourite destination for foodies and wine lovers and is also one of the fun things to do in Healdsburg.
If you are looking for where to eat in Healdsburg, I got you covered. Check out a few of my favourites here:
Dry Creek Kitchen: Located on Healdsburg Avenue, it is known for its refined Californian Fare and vine-covered Terrace.
They strive to create flavorful dishes with locally sourced ingredients like the Sonoma County, Charcuterie board and the mushroom risotto.
Try their Hamachi Crudo and Seared Spanish Octopus starters. For deserts, I recommend you to try their delicious Warm Butter Cake.
Bravas Bar de Tapas: Located on the center street, this place is for you if you want a unique and a memorable dining experience in Healdsburg, something in Spanish style.
They are known for their unique small and large plate servings. So you can grab a snack for shopping downtown or crash at this place for a full-course meal.
Their oysters, beets, lamb sliders, and scallops are a must-try. The other popular servings are croquettes, calamari, and ham and cheese sandwiches.
They also have an extensive wine list showcasing regional wines and other cocktails.
Barndiva: Another popular destination on Center street, especially if you are looking for brunch options. They have an extensive brunch menu with salads, sandwiches, pizzas and a wine menu featuring varietal wines from across the region.
Most of these fine dining experiences require a reservation ahead of your visit. So ensure to book your table in advance.
SAVOUR DIFFERENT TYPES OF TEA
Whether you are looking for romantic things to do in Healdsburg or a fun night out with friends, The Taste of Tea is the perfect spot on North Street in Healdsburg.
This charming Japanese restaurant has a vibrant atmosphere adorned with hanging paper lanterns, wooden flooring, and cute tables.
The TasteTaste of tea is known for its diverse varieties. You can find various tea collections from across the globe, including green, black, oolong, herbal teas, bubble teas, and matcha lattes. The owner here is friendly and will explain the various health benefits of tea when used as a face mask.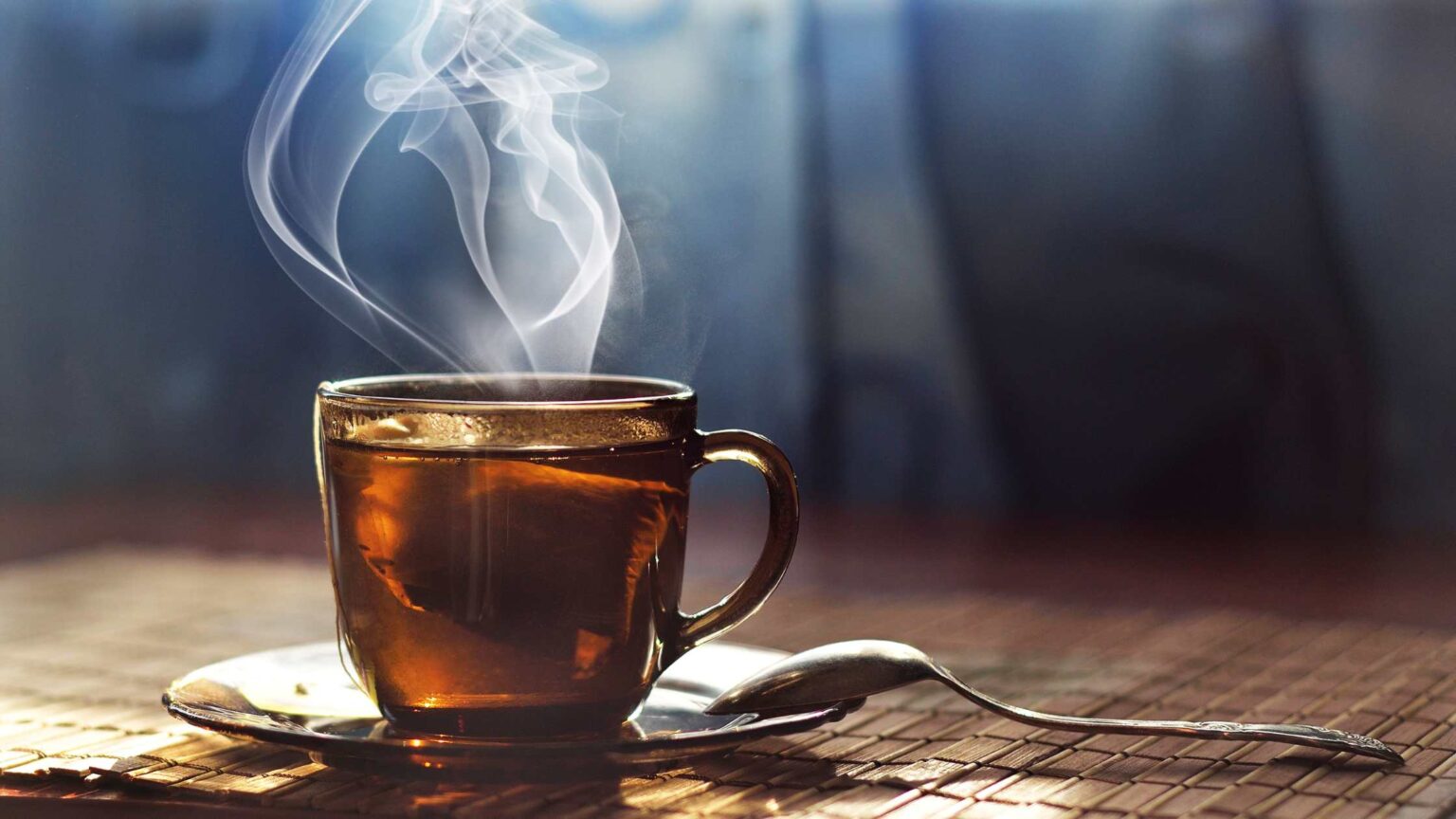 Besides tea, this restaurant offers an array of Japanese dishes to tantalize your TasteTaste buds. There's something for everyone, from ramen and sushi to tempura and donburi.
Ingredients are fresh and locally sourced, and you will be delighted to see that each dish is cooked to perfection at this place.
If you like seafood, try their Grilled Salmon and Grille Halibut. Try Chocolate Mousse Cake and unique creations like the Matcha Green Tea Ice Cream for desserts.
BEST THINGS TO DO IN HEALDSBURG FOR OUTDOOR LOVERS
HEALDSBURG WINE COUNTRY BIKE TOUR
The most spectacular way to explore and experience Healdsburg is to take the wine-country bike and wine-tasting tour, which gives you a close-up view of the region's stunning scenery and award-winning wineries. This is also one of the best things to do in Healdsburg.
Hope on a hybrid cycle and ride through the meandering route, which passes through the Dry Creek Valley and the Russian River Valley.
Explore some offbeat homegrown wineries to savour local wines' fresh and unique flavours and understand the nuances of winemaking.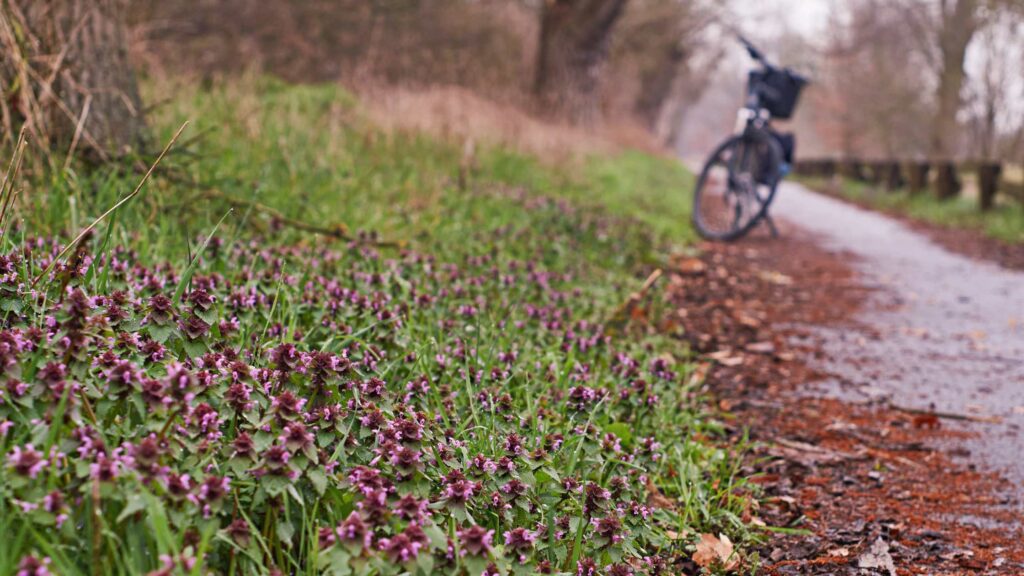 The tour lasts almost half a day and covers 10-16 miles. A knowledgeable guide will accompany you, and all the necessary safety gear will be provided.
Fuel yourself with a picnic lunch (included in the tour) amidst the rolling hills while enjoying the incredible valley views.
Recommended Tour: Healdsburg Cycling Wine Tour
TRY HIKING AND BOATING IN THE LAKE SONOMA RECREATION AREA
Lake Sonoma Recreation area, located on Dry Creek road, is for outdoor enthusiasts looking for adrenaline activities like hiking, biking, swimming, fishing and boating. This is also one of the fun things to do in Healdsburg.
Although the 2,700-acre Lake is man-made, formed by building the Warm Springs Dam, it is an ideal destination for an afternoon picnic lunch with friends and family or to hike along the 50 miles of shoreline for a perfect weekend.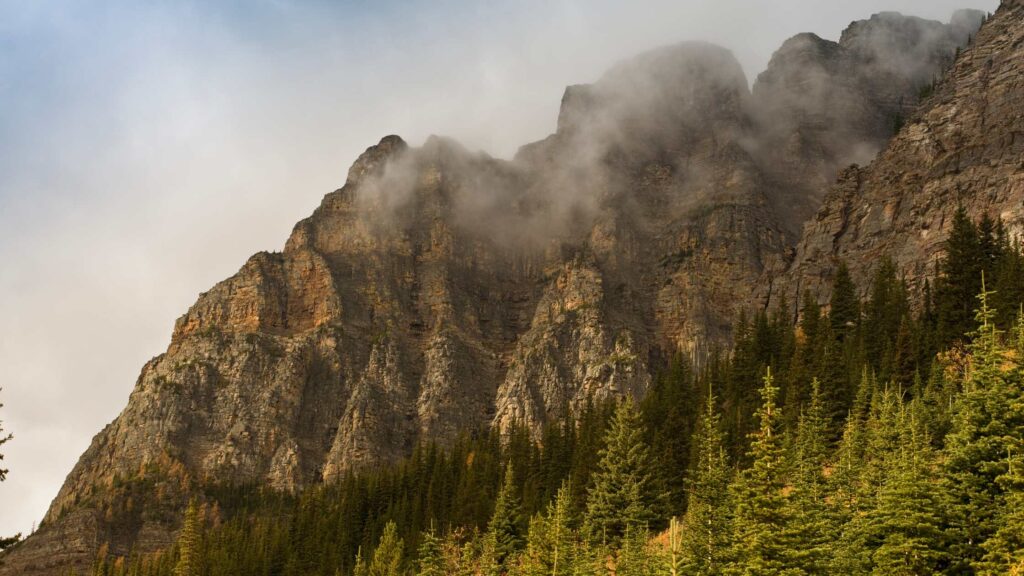 Many beautiful trails have stunning views of the Lake and the surrounding vineyards. If you are an experienced mountain biker, try the South Lake Trail; with 4700+ feet of elevation gain and running amidst redwoods, oaks and open preserve, this is an ideal workout recipe for the weekend in Healdsburg.
Boat, Canoe and Kayak rentals are also available near the Lake. Try fishing since the Lake is known for bass, catfish and sunfish.
You can camp at the sites close to the Lake. Get your pooch by paying a nominal fee for them. Restrooms can be found close to the visitor's centre.
HIKE AT AMSTRONG REDWOODS STATE NATURE RESERVE
If you are looking for things to do near Healdsburg, drive 30 minutes on the Westside road from Downtown Healdsburg Ca to witness ancient old-growth and coastal redwoods in the Armstrong Redwoods State Nature Reserve. This is also one of the best redwoods near San Francisco.
Whether you want to go hiking, birdwatching or relax by the Fife creek, Amstrong Redwoods State Nature Reserve is a perfect weekend getaway from Healdsburg.
Make sure to click insta-worthy pictures with Colonel Armstrong, the largest and oldest tree in the park, aged 1,400. It was named after a lumberman who contributed to the park's preservation in the 1870s.
Check out, The Parson Jones Tree, another tallest redwood tree, which stands 310 feet tall. The park entrance is only 0.1 miles away from this tree.
Go hiking on incredible trails like the 2-mile Pioneer Nature Trail or the East Ridge and Pool Ridge trails if you want a vantage point to witness the beauty of redwoods from an elevation.
Most of the trails here are ADA-accessible and are suitable for all age groups.
Recommended Tour: Explore the Redwoods Tour
DRIVE ALONG THE BOHEMIAN HIGHWAY
One of the things to do around Healdsburg is to drive along the Bohemian Highway. This 10-mile gorgeous route passes through redwood forests of the Russian river valley, undulating hills, lush vineyards and wineries, beautiful old barns and ranches.
The route gets even more beautiful during the various seasons of the year. During Fall, you will be greeted with the California foilage; during Spring, you will see the route dotted with wildflower carpets.
Take a pitstop at Occidental, a small quirky town, home to one of the oldest bars in California and also features a gorgeous two-block downtown area. Check out Monte Rio, along the way, known for its old-fashioned small-town charm.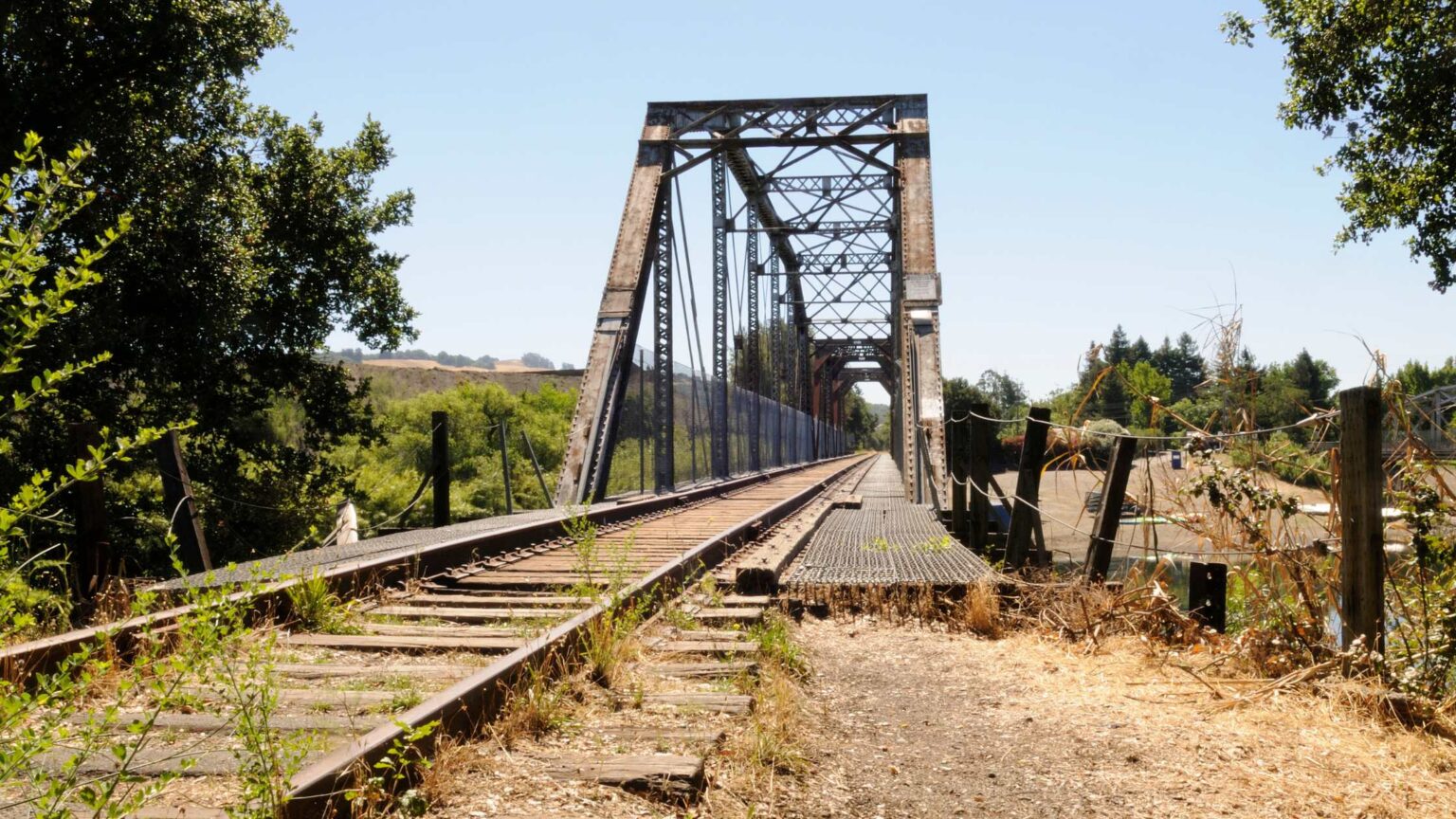 For adventure junkies, there are many thrill spots for hiking, fishing and kayaking. Visit the Sonoma Canopy Tours for a zipline tree-top tour through the forest.
Since Healdsburg is home to many wineries, you will find plenty of restaurants and tasting rooms to enjoy along the drive. So hop on a car and drive through this wine county region's beautiful landscapes and fascinating culture.
If you are looking for rental cars for this fantastic drive, book your vehicle at Discover Cars, one of my all-time favourite car rentals in the United States.
VISIT THUNDERBIRD RANCH
One of the unique things to do in Healdsburg is to visit Thunderbird Ranch, located on Alexander Valley road at a 15-minute driving distance from downtown Healdsburg.
Thunderbird Ranch is a family-owned 500 acres of land, surrounded by gorgeous views of the Alexander Valley, known for its unique combination of rustic charm and modern amenities.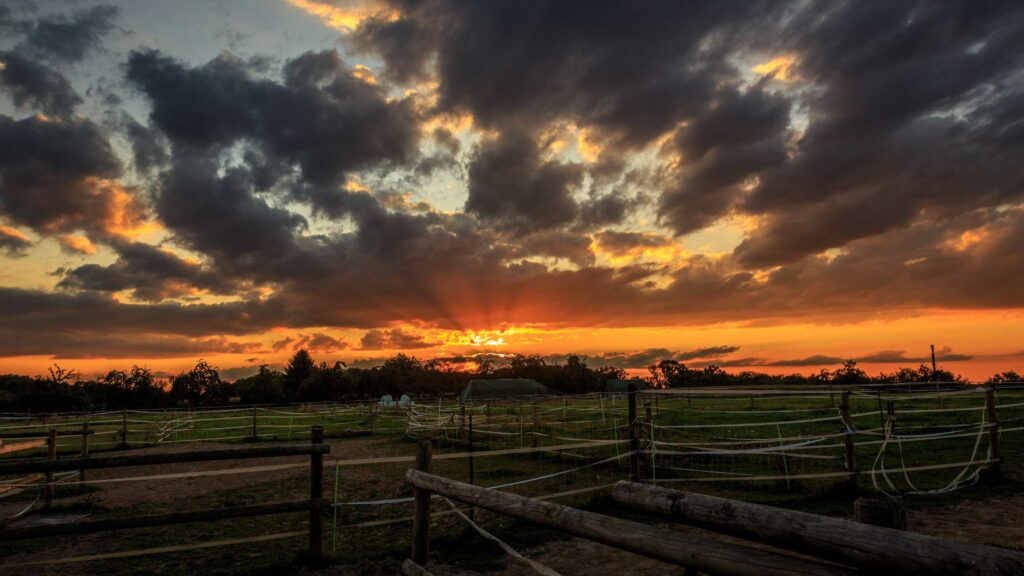 The Ranch is a recognized wedding venue in Sonoma County. They offer guided horseback trail rides, a must-try for a different kind of experience.
The ride lasts about an hour and costs around $105 per person. You will be provided with safety gear. Get your cameras as you will be taken to a vantage point for incredible valley views.
Thunderbird ranch even offers horseback riding lessons which can be taken as a private or a group lesson and cost $85 for private and $70 for a group of four. The Ranch will be open from May to October.
Recommended Tour: Sonoma Horseback-Riding Tour
HAVE A PICNIC AT BADGER PARK
If you want places to picnic in Healdsburg, check out Badger Park, one of the local's favourites, less than a mile from the Plaza via Matheson street.
The park is named after the wildlife Badger and other animals like rabbits, deer and foxes, often seen around this area.
Badger park features an exclusive kids' play area with well-maintained slides and other structures. This is one of the dog-friendly parks in Healdsburg with a separate off-leash area, making this one of the fun things to do in Healdsburg with your pup.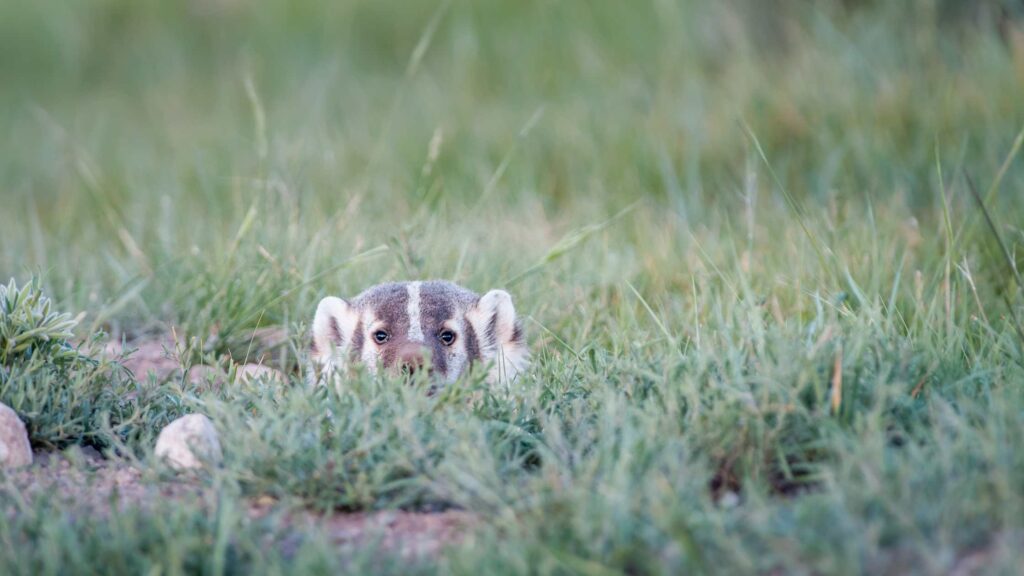 Stroll amidst the gardens to see the vibrant local flora and other veggies in the orchard. Relax on the benches or the soft grassy patch, or have a picnic lunch near the Russian River.
You can even go fishing and swimming in the river for more fun.
If you are planning a group vacation with family, the park can arrange for you to reserve parking for up to 40 people.
VISIT DEL RIO WOODS REGIONAL PARK
One of the offbeat things to do in Healdsburg is to visit the Del Rio Woods Regional Park, located on S Fitch Mountain Road at a 10-minute driving distance from the Plaza.
Sitting on the Russian river valley bed with rugged charm, this is one of the hidden gems in Healdsburg if you are looking for an escape from the hustle and bustle of the town.
The local volunteers maintained Del Rio Woods Regional Parks for several decades. Recently the place was taken over by the Sonoma County Regional Parks.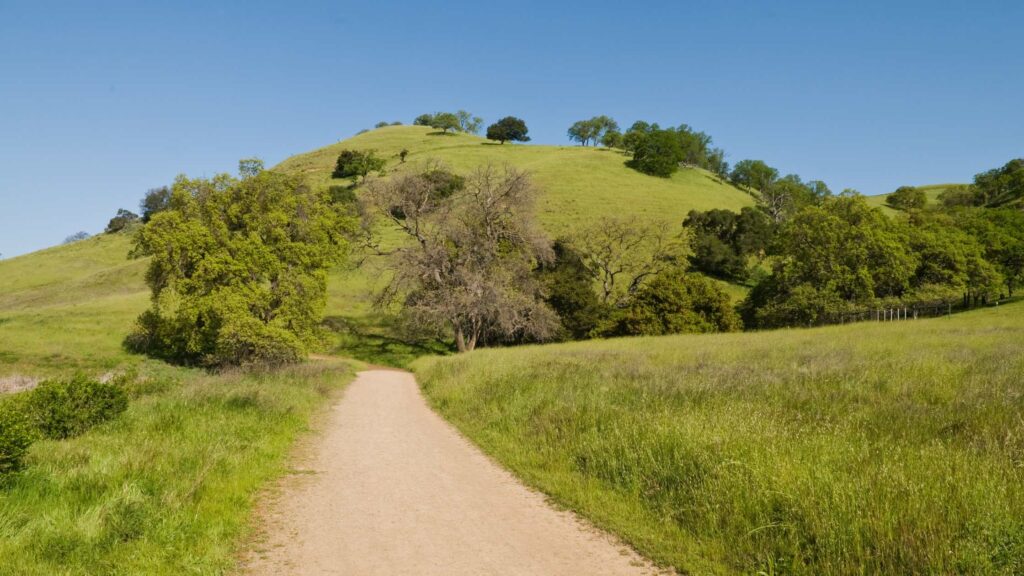 If you are an avid bird watcher or love spending time in nature with your loved ones and your pup, this is a must-visit place in Healdsburg.
Try fishing or unwind on the shoreline with various gravel stones and enjoy the stunning sunset views.
Though large gatherings are restricted in this park, the place is ideal for couples and small families or if you want to spend some time alone tranquil amidst nature.
The park is ADA-accessible and has a well-maintained porta-potty. Buy a day-use pass for a nominal fee to park your car.
EXPLORE THE CASTELLO DO AMAROSA
If you want a unique and a memorable day trip experience from Healdsburg, head to Castello Do Amarosa, located approximately 30 miles and is one of the offbeat things to do in Healdsburg.
A replica of the 13-century Italian Tuscan castle, Castello Di Amorosa is known for its 171-acre medieval winery. Enjoy their signature Cabernet Sauvignon wine and a five-flight premium wine tasting.
Take one of these tours; Napa Valley Wine Train & Tour, Cheese & Wine Pairing Tour and Royal Food & Wine Pairing Tour.
It took around 15 years to build the Castle, and you will see the Italian and French influence in the architecture and many French paintings inside the Castle.
There are 107 rooms inside the Castle, a lavish hall with two-storey replicas of Tuscan paintings, a 500-year-old fireplace, a drawbridge, a dungeon, an Armory, a Grand Barrel Room and even a torture chamber filled with representations of torture items like the guillotine and the Iron Maiden.
You can visit the outside premises of the Castle for free, but you need to buy tickets to explore the interiors.
Take one of these guided wine tours, which will be followed by wine tasting. You can take kids along, who will be served a glass of grape juice.
Recommended Tour: Small Group Napa Valley Tour for Wine Lovers
If you have spare time, take a slight detour and stop by Calistoga, another charming wine town in California. Check out my exclusive guide for fantastic things to do in Calistoga.
VISIT FOOTHILL REGIONAL PARK
Foothill Regional Park, located on Arata Lane and 6 miles from the Plaza, is another local's favourite spot in Healdsburg.
If you want to experience the town's countryside, I recommend you visit this place for sweeping views of Northern Sonoma County.
This is also one of the unique things to do in Healdsburg, especially if you are looking for adventures like fishing, hiking, picnicking and birdwatching.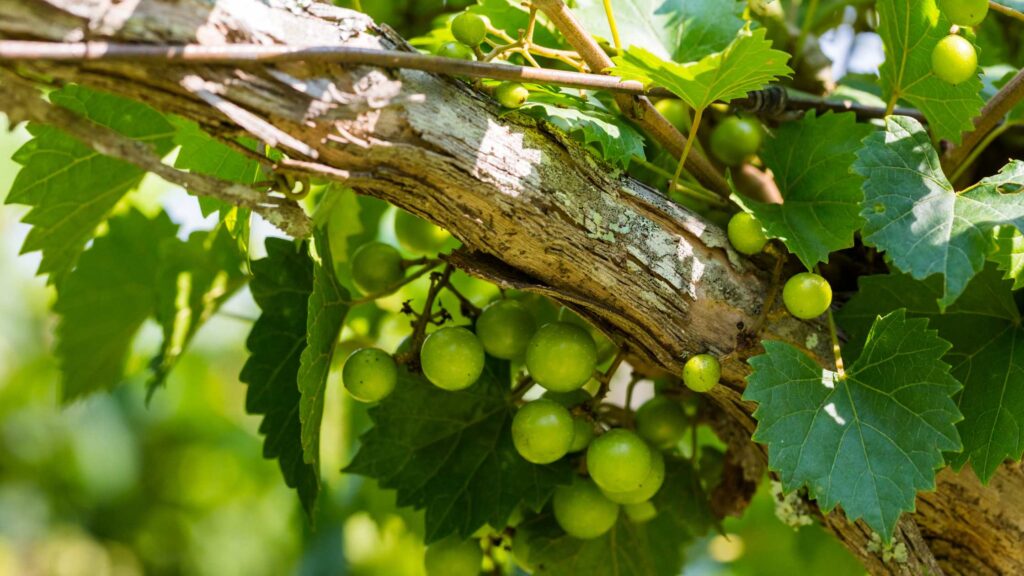 Check out The Three Lakes Trail, one of the most accessible trails in the park, with a renovated trail system filled with compacted gravel making it easier for the ones with mobility issues.
If you want more adventure, hike the Alta Vista Trail, which gains elevation, but the hike is worth it since you will be greeted with stunning views of the vineyards and flower fields around you. Foot Hill Regional Park also has trails which are wheelchair accessible.
Relax on the benches if you want to rest in between, or pack a lunch to have it on the picnic tables overlooking the beautiful views. Dogs on leashes are allowed.
FUN THINGS TO DO IN HEALDSBURG
ATTEND HEALDSBURG JAZZ FESTIVAL
If you are inclined to music and looking for things to do in Healdsburg Ca not wine, you should check out the Healdsburg Jazz festival around mid-summer.
You will see an exciting lineup of talented jazz musicians from across the United States and different parts of the globe performing in Healdsburg Plaza around Fountain Square and various other venues.
With a perfect summer evening vibe, the Healdsburg Jazz festival has created a sensation among Jazz music lovers; this only gets better each year!
Grab your favourite wine or a beer from the nearby tasting room downtown and soak in the festive vibes. Check out the different eateries for you to munch on something while you groove to the tunes of Jazz.
TAKE A HELICOPTER TOUR
If you are wondering what to do in Healdsburg this weekend, check out the much-renowned Helicopter tour, one of the best ways to take in the beauty of this gorgeous wine town.
The tour, guided by Butterfly Aviation, will scoop you over the region's best wineries, rolling vineyards, and stunning mountain peaks. You will also witness the gorgeous redwoods from several thousand feet above.
As you soar over the region, you will spot the Russian river meandering through the landscape and get a bird's eye view of the charming downtown area.
The tours are available all year round and can be customized per your specifications. Whether you are looking for a romantic adventure with your loved one or an exciting trip for yourself, I recommend you should not miss this magical experience while in Healdsburg.
CHECK OUT HAND FAN MUSEUM
One of the unique things to do in Healdsburg is to visit the Hand Fan Museum. This is the only hand fan museum in the United States, making this one of the niche Healdsburg activities.
Established in 2002, Healdsburg Hand Fan Museum is home to around 2,500 varieties of hand fans depicting various cultures, design styles and other intricate things from across the globe.
You might be wondering what is so great about Hand fans. But when you deeply look into the designs, you will learn about the significant history of the place, religion, social culture, fashion and the evolution of art, which might give you a whole new perspective.
Victorian-era fans to intricate masterpieces created by several artists are well preserved through centuries in this museum. You can take a guided tour to learn more about this unique art, and people of all age groups are welcome here.
TOUR THE MOVIE MUSEUM AT THE FRANCIS FORD COPPOLA WINERY
Located along the beautiful US101 highway and a 10-minute drive from the Plaza, The Francis Ford Coppola Winery is an amusing destination if you are a wine and movie buff. It is one of the fun things to do in Healdsburg.
The place is known for its exclusive well-built museum, which houses unique exhibits from different movies showcased in a two-storey gallery.
Check out the quirky costume collections from the movie Dracula, Chair and Desk from The Godfather. Don't miss to click pictures along the famous Red car from the movie Tucker: The Man and His Dream.
If you have never seen an Oscar in person, you can see it up close, which was won by Coppola.
The place also features two state-of-the-art pools, private cabanas, showers and a multicuisine restaurant featuring mouth-watering delicacies and world-class wines.
ENJOY OLIVE OIL TASTING
One of the offbeat things to do in Healdsburg is to try Olive oil tasting, an exciting experience like no other. Interact with the local Olive oil producers, understand the nuances of oil production and sample various varieties of oil from across the region.
During the tasting tour, a knowledgeable guide will help you understand the true sense of the oils' flavour, aroma and texture and explain its science.
You might even sample extra-virgin oils and infused varietals. During the tour, you will understand how oils are used in cooking and how to select the correct type of oil for a particular dish.
My recommendation of places for Olive oil tasting includes The Olive Press At Jacuzzi Family Vineyard, TrattoreFarms ( try their deep green Spanish harvest olive oil ), Figone's Olive Oil Company, Jordan Vineyard and Winery and DaVero Farms and Winery ( try their Meyer lemon oil, made by crushing olives with Meyer lemons in a stone mill ).
ADMIRE THE GARDENS AT THE RUSSIAN RIVER ROSE COMPANY
One of the unique things to do in Healdsburg is to visit the Russian River Rose Company, located on the Magnolia Dr road. They are known for growing stunningly beautiful roses and producing rose water.
Tour this hidden gem in Healdsburg to witness the production process. The lovely gardens with around 600 varieties of roses and the gorgeous Italian villa backdrop highlight the place.
You might find some rare varieties of roses from the Sonoma County region for sale. The best time to visit would be during the Spring when Roses will be in full bloom.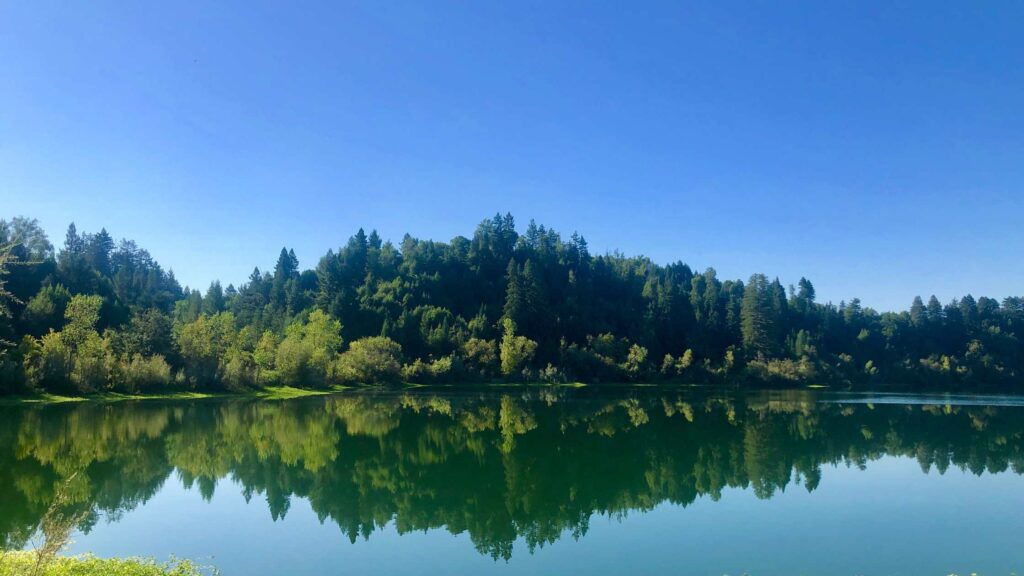 Besides varieties of roses, take a lovely evening stroll amidst the butterfly garden and check out the vibrant irises in bloom.
The nursery operates all year round, and you can book your tour in advance. Infants under the age of three years are free to enter. Check out the nearby Russian River Kayak Tour if you have spare time.
Visit their cute gift shop for rose water bottles with beautiful fragrances.
RELAX AT MEMORIAL BEACH
One of the relaxing things to do in Healdsburg is to visit Memorial Beach, located on the Old Redwood Highway in the Russian River Valley.
The beach features a vast sandy shoreline, ideal for kayaking, swimming and other water activities. Get your inflatables and paddles and enjoy the clean waters of the beach. The water levels on this beach might vary. So check ahead of your visit.
The beach is an ideal location for a perfect picnic lunch, overlooking the old Healdsburg memorial bridge and is one of the local's favourites, especially during a perfect sunny day.
Try swimming or sunbathing for a beautiful weekend in Healdsburg by the beach. Lifeguards will be available only during limited times of the year.
The Memorial beach is wheelchair accessible, and you can get your dogs on a leash. Parking is available, but you need to visit during the early hour as it gets filled fast.
KAYAK (OR CANOE) THE RUSSIAN RIVER
One of the fun things to do in Healdsburg is to go Kayaking or Canoeing in the Russian River. The river flows through beautiful parts of Sonoma County and offers excellent swimming and paddling options.
Kayak and Canoe rentals are available in the nearby kiosks and also on the Healdsburg Veterans Memorial Beach.
You can even opt for a guided Kayaking tour if you are a novice. The best time for Kayaking, Canoeing and Paddling is between May and September.
Get your binoculars to spot colourful bird species like blue herons, kingfishers, bald eagles and ospreys as you navigate the clean water of the Russian River.
HIKE AT HEALDSBURG'S RIDGE OPEN SPACE PRESERVE
One of the offbeat things to do in Healdsburg is hiking along the ridge open space preserve, located on the Bridle Path and Arabian Way, at a 10-minute driving distance from the Plaza.
The 155-acre ridge was developed in 1996 with the intent to preserve the lands and local wildlife. As you hike through this area, you will encounter diverse florae, including woodlands, chaparral and wetlands.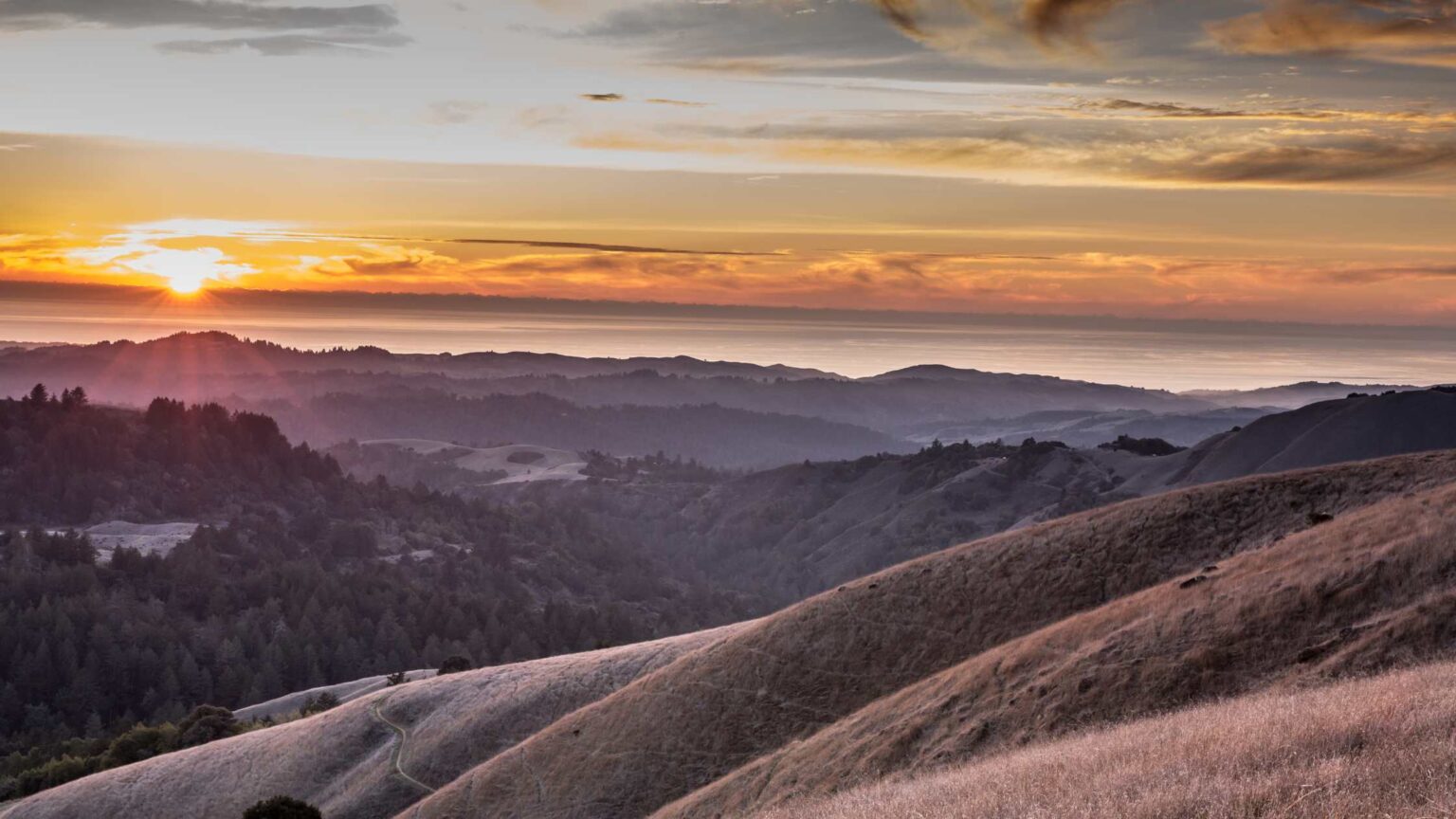 You might spot deer and rabbits playing around or feeding on the grasslands. If you are lucky, you might spot predators like bobcats and mountain lions.
Spring is one of the best times to visit this preserve. You will be welcomed by wildflower carpets dotting the network of trails, a visual treat to hike amidst them.
Check out the vantage points like The Nancy's Hill Overlook, The Russian River Overlook and The Fox Pond Overlook, which offer stunning views of the Mayacama Mountains to the East and the surrounding lush vineyards. These spots are also apt for Insta-worthy pictures.
GETTING TO HEALDSBURG CA
The quickest route to Healdsburg via flight is to fly down to Santa Rosa Airport, a short drive less than 10 miles away.
Several bigger airports are nearby, like Oakland, San Francisco or Sacramento. It would be best if you drove to reach Healdsburg for a couple of hours from there. From LA, Healdsburg is about 7 hour's drive.
Suppose you want self-drive cars from any of these airports to enjoy driving on the lovely US 101 highway or travel within Healdsburg.
In that case, you can check out Discover Cars, one of my favourites in the US because of its ease of use, availability of cars and, of course, pricing! Check out more details here to book.
I recommend you get travel insurance ALWAYS whenever you are on international or domestic travel!
Check out this insurance by Safety Wing, which offers a pretty good cover for you and your family! They even provide monthly insurance, much required for slow travellers like me! Find more here.
WHERE TO STAY IN HEALDSBURG CA
If you are looking for where to stay in Healdsburg Ca, my recommendations include vacation rentals, luxury accommodations, and stays with rustic experience.
Hotel Les Mars: With a perfect location at the city's heart, the hotel features spacious rooms equipped with French antiques,4-poster king beds and a marble shower.
The luxurious rooms boast Italian linens, a flat-screen cable TV and bath amenities. Check out more details here.
The River Belle Inn: A BnB with well-equipped accommodations, free WiFi, air conditioning, a terrace and a bar. There's a private bathroom with a shower, complimentary toiletries, a hairdryer and bathrobes in some units.
Breakfast options include à la carte, continental or Full English/Irish options. Check out more here to book.
Hotel Trio Healdsburg: This hotel has free bikes, an outdoor swimming pool, a fitness centre and a shared lounge.
With free WiFi, this 3-star hotel offers a 24-hour front desk and a business centre. Some rooms feature a kitchen equipped with a fridge, a dishwasher and a microwave. Check out more here.
Duchamp Hotel – Downtown Healdsburg: This hotel is in Central Healdsburg and features six exclusive private suites with an outdoor pool and hot tub.
Each air-conditioned accommodation includes free WiFi, an HDTV, a mini-fridge, European-styled towels and guest robes.
These private suites offer a large bathroom with complimentary Aveda toiletries and a relaxing private terrace. Find details to book here.
Healdsburg Inn on the Plaza, A Four Sisters Inn: A motel and BnB located directly on the historic Healdsburg Plaza, which offers a complimentary buffet breakfast.
Free WiFi, Coffee, Tea, Water and bathrobes are included. Find more details here.
MAP OF THINGS TO DO IN HEALDSBURG