Myanmar is the land of Buddhism, home to thousands of Buddhist temples, pagodas and monasteries scattered across the length and breadth. The temples in Myanmar are the core of the country, keeping the faith, culture and people of Burma together.
Backpacking Myanmar for a month, I explored plenty of incredible Pagodas. In this post, I have shared a list of the fascinating temples in Myanmar. Get to know about these fabulous Myanmar Pagodas, and don't forget to add them to your trip plan!
Most Beautiful Temples in Myanmar
Shwedagon Pagoda, Yangon
Shwedagon Pagoda is the oldest and is among the most famous temples in Myanmar. It is the icon of Myanmar and one of Yangon's must-visit tourist attractions. Known as the Golden Temple, this massive temple complex is home to scores of smaller pagodas, monasteries, prayer halls, a museum and hundreds of golden and white stupas.
Its sizeable golden stupa can be seen from many points in the city, which glitters at night when the lights are turned on. Shwedagon receives hundreds of thousands of Burmese every year who come for a pilgrimage. Tall statues of golden Buddhas in a quiet seated position are soothing and relaxing, alongside four relics of the Buddha.
Shwedagon Pagoda Timings – The temple is open daily from 4 AM to 10 PM. It is best to visit at sunrise or sunset and later when the entire complex is lit.
Entry fees – MMK 10,000 for foreigners. The ticket is valid for the whole day. So you can plan a visit more than once(which I'd recommend, for the views of the temple at night)
Things to know – You must take off your slippers/shoes and socks. So carry a bag with you to keep them as there are no dedicated places to store them. Dress respectively, covering your shoulders and knees(which applies to both men and women).
Resources for Yangon
Best Temples In Myanmar – Bagan
Bagan is one of the most visited destinations in Myanmar. It is the land of ancient temples, with over 1000 presently scattered, which is the largest congregation of temples in a town. It is home to astounding Buddhist Pagodas from as early as the 10th century, all listed as UNESCO heritage sites. Visiting Bagan is a lifetime experience, similar to visiting Angkor Wat or Bayon in Cambodia.
RECOMMENDED – Check the timings and book your buses here.
Dhammayangyi Pagoda
Dhammayangyi is the largest Pagoda in Bagan and one of the most fabulous temples in Myanmar. The temple's mammoth size will behold your sight, and its pyramid shape will remind you of the Mexican Pyramids. The architecture of the temple is brilliant, with six layered terraces.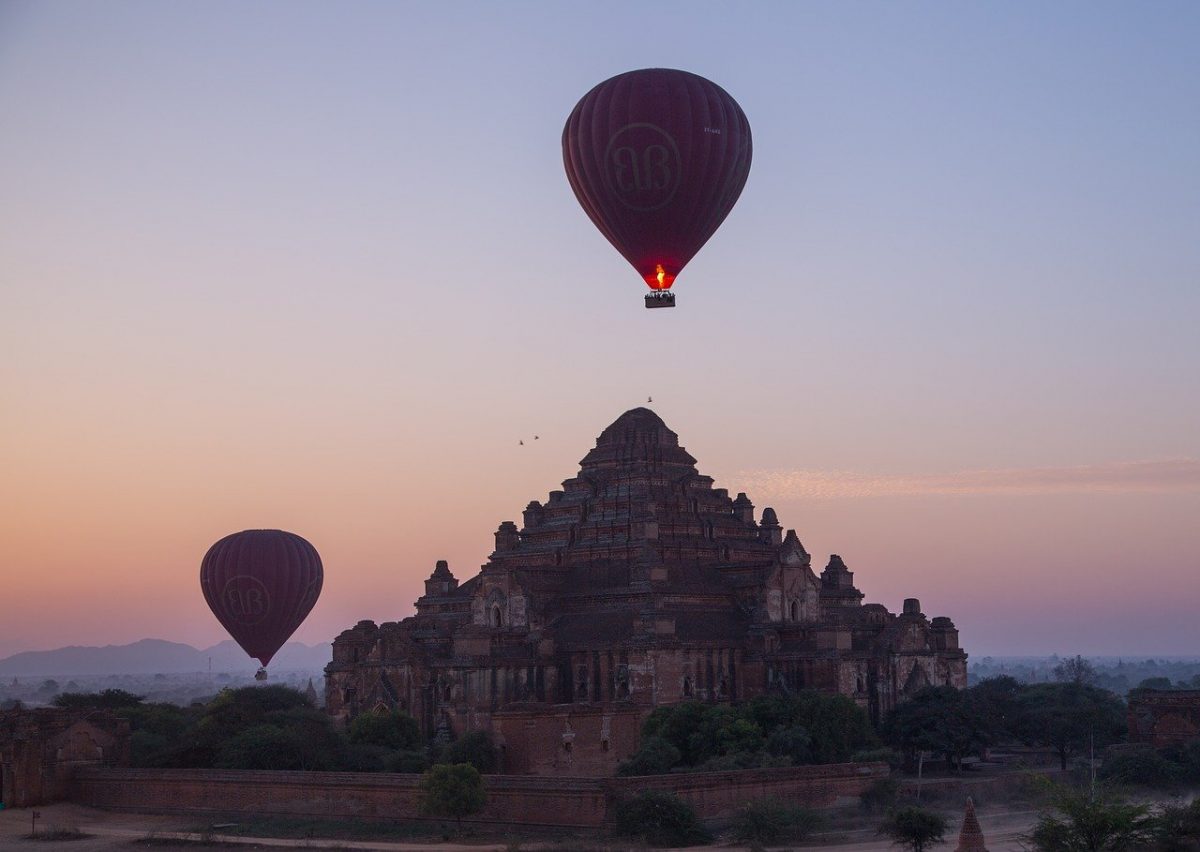 But what makes this unique is its dark history, which is chilling. King Narathu built the temple to atone for his sins of killing his father and brother to claim the throne. However, he was assassinated before the temple was completed.
One of the exciting facts about Bagan is that it has so many of these pagodas because of the tradition followed by Kings and royalty, where a way to cleanse from one's sins was to erect a temple.
Ananda Temple
Ananda Pagoda is the most visited Buddhist temple in Bagan. The white temple has beautiful terraced architecture, coupled with Indian style, which was inspirational for King Kyansittha, who built this temple in the 12th century. Four long corridors lead to the entrances beautifully decorated with carvings on the interior.
Tall statues of standing Golden Buddha on all four sides of the temple glowing amidst the candlelights cast a calming influence on the visitors. Check out the ancient paintings of the Buddha on the walls.
Shwesandaw Pagoda
Among the marvellous temples in Bagan is Shwesandaw, a large white pyramid-style temple with five rounds of terraces leading to a tapering stupa. Surrounded by a well-maintained little green garden, the Pagoda magnificently towers against a lovely backdrop. This Pagoda is walled, meaning there are no entry doors or statues installed, which is typical for temples in Myanmar.
Shwesandaw Pagoda used to be one of the top spots for watching sunrise and sunset in Bagan, thanks to its height. Climbing upon temples was banned in 2019, which means you can't access the stairs anymore.
But there are quite a few spots to witness the spectacle of sunrise and sunset in Bagan. Check out these sunrise spots here.
Practical facts about visiting temples in Bagan
The entry fee for all these temples in Bagan is covered with a Bagan Archaeological Zone visitor's ticket, which costs MMK 25,000 and is valid for five days.
The best way to explore Bagan is by renting e-bikes, which can be booked here. There are also several e-bike tours, which you can check out, which is especially significant if you are a solo traveler like me.
Resources for Your Bagan Trip
Most Beautiful Temples in Myanmar – Mandalay
Mandalay, the former royal capital, looks like another passable city in Myanmar, but let me tell you, it is one of the underrated cities in Myanmar, probably next to Yangon. There are many things to do in Mandalay, even if you have just a day or two. Nestled on the banks of the Ayeyarwaddy River, Mandalay boasts some of the most beautiful pagodas in Myanmar.
Mahamuni Pagoda
The second most sacred Buddhist Pagoda for the Burmese after Shwedagon in Yangon is Mahamuni, a 10th-century temple housing a large image of a seated Buddha.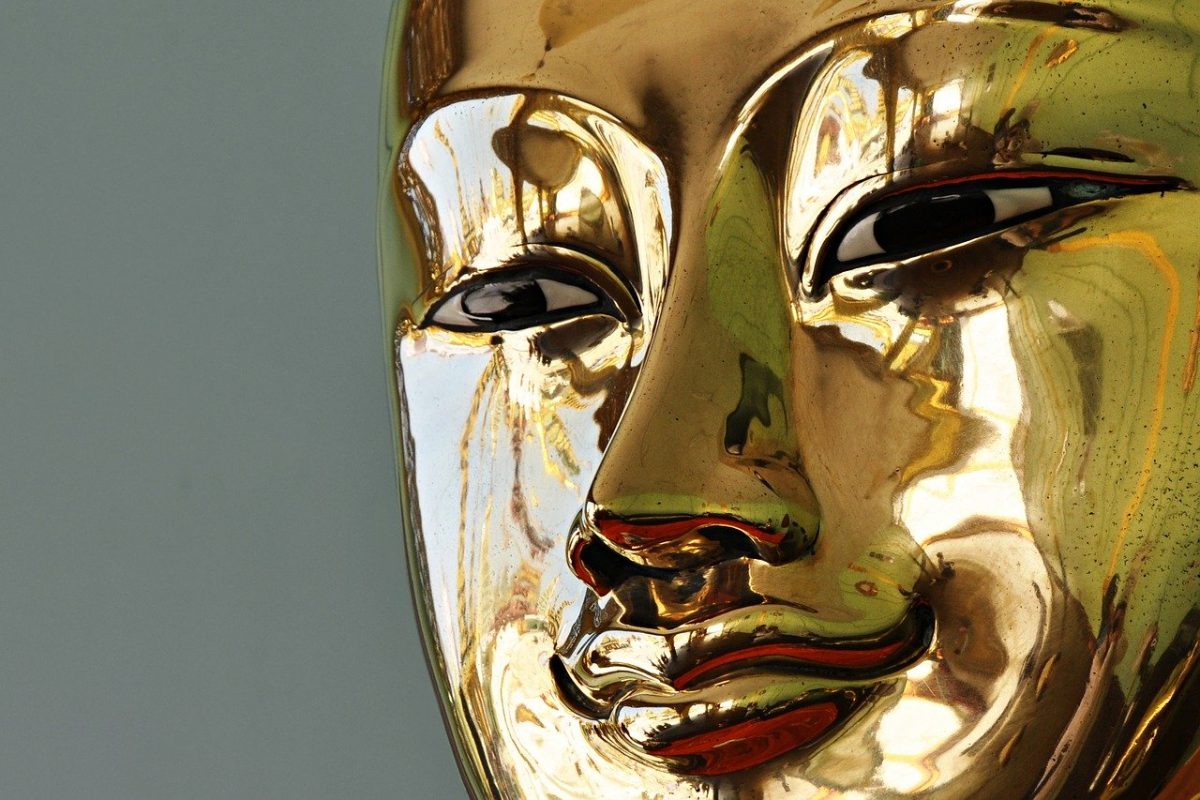 What makes this image unique is the belief that this was one of the five statues of the Buddha made when he was alive. This belief draws thousands of visitors to Mahamuni Pagoda, who have wrapped the image with over 6 tons of gold leaves and precious Yes, you read that right. Devoted Buddhist men(women aren't allowed near the statue) have been offering gold leaves daily to the Buddha as a token of gratitude for their prayers being heard. If you want to visit just one temple in Mandalay, this should be the one.
There is an entry fee of MMK 5000.
Hsinbyume Pagoda
If you are looking for Instagrammable places in Myanmar, then Hsinbyume, located on the banks of the Irrawaddy River in Mandalay, should be your first stop. It is one of the most beautiful Myanmar temples, hands down. This bright white round temple surrounded by intricately decorated white terraces that look like waves makes it one of the most fantastic temples in Myanmar. Its design is unlike any other pagoda in the country.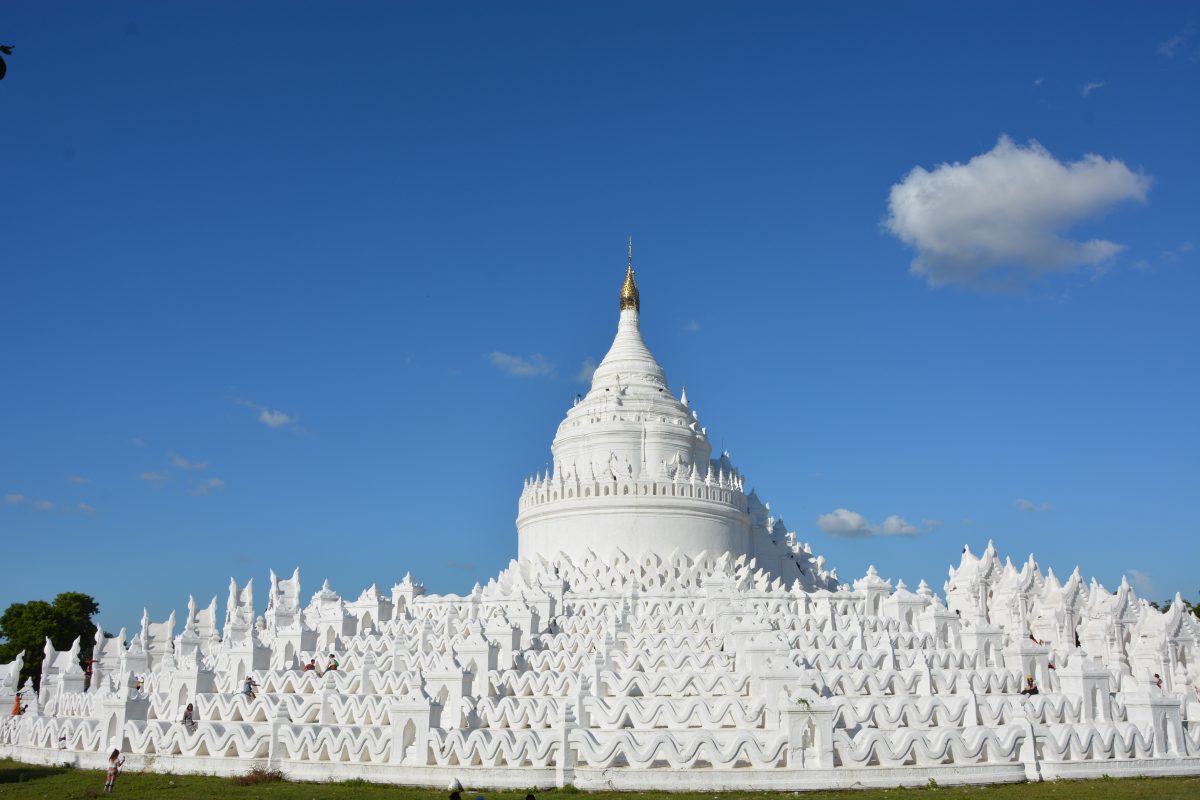 Surrounded by green paddy and rice fields with hills in the background and the blue sky above, Hsinbyume Pagoda is where you should be getting your perfect pictures clicked! The best part is that you can climb the terraces for fabulous panoramic town views.
How to reach Hsinbyume Pagoda
You can rent a bike, cab or a tuk-tuk to get to the Pagoda. But I recommend you take a boat trip from Mandalay, which passes through some lovely fishing villages.
The entry fee is MMK 5000 for foreigners, which gives you a ticket to the Sagaing Archaeological Zone. You can also visit Sagaing hill with this ticket. You can also visit Hsinbyume on a day trip from Mandalay.
Kuthodaw Pagoda
Did you know Myanmar is home to the world's most massive book? Or is located at Kuthodaw Pagoda? Located at the foot of Mandalay hill, one of Myanmar's tourist attractions, Kuthodaw is another unique pagoda in Myanmar that should be visited. The temple was built when the British annexed Burma. The monks wanted to prevent the scripts from being destroyed, so they constructed this book carving all the dhamma.
The architecture of the Pagoda is beautiful, complete with detailed carvings on the walls, rows of stupas and murals adorning the interiors. But the show stopper is the book, which is not an actual book, but over 700 marble tablets arranged like pages in a book, consisting of Buddhist teachings.
Resources for Mandalay
Shwe Indein Pagoda, Inle Lake
Inle Lake is known for its ethereal natural beauty comprising mountains, green fields, and surrounding villages. But there is also a beautiful ancient temple ruin that is worth adding to your plan. Indein is in ruins, which makes it unique, as it speaks of the bygone era through its remains of once-magnificent architecture. A small but remarkable temple in Myanmar, very easily accessible from Inle Lake.
How to reach – You can rent a bike, tuk-tuk or a bicycle to reach Indein from Inle Lake.
Kyaiktiyo Pagoda (Golden Rock)
The lovely temples in Myanmar are not restricted to famous tourist cities alone. The Golden Rock, or Kyaiktiyo, located in the southern part of the country, is one of those Myanmar Pagodas you check out. It is the third crucial religious site for the Burmese, who gather in thousands during a festival celebrated on the Full moon in March.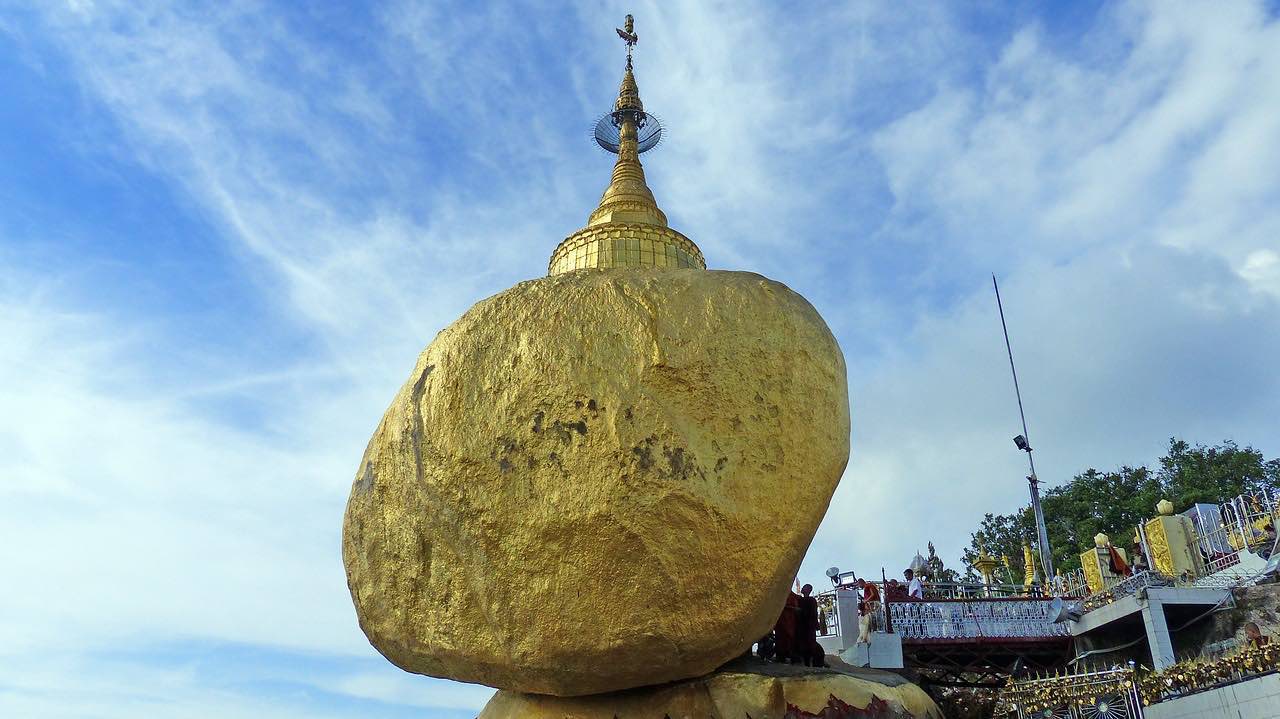 The Golden Rock, or a gilded stupa, is atop a cliff, hanging precariously at the edge, and the legend says that it is held so by a strand of Buddha's hair. Whether it is believed or not, this gravity-defying Pagoda deserves a visit. If you have time, you can wait until sunset to get complete views of the surrounding.
How to get to Kyaiktiyo
There are direct buses from Yangon to Kyaiktiyo. You can plan a day trip from Yangon and Hpa An if you are traveling from the south. You can also rent a cab, but it would be expensive if you are alone. There is an entry fee of MMK 10000 for foreigners. Women aren't allowed in the inner sanctuary.
Mt. Popa
A temple sitting on an extinct volcano is an enticing thought for sure. In Myanmar, it is a reality. On the top of Mount Popa at 1500 meters is a Pagoda and a Golden monastery dedicated to Popa, the Goddess of Nat spirits. It is one of the unique temples in Myanmar that you will come across, surrounded by plains of paddy fields and sprinkled houses.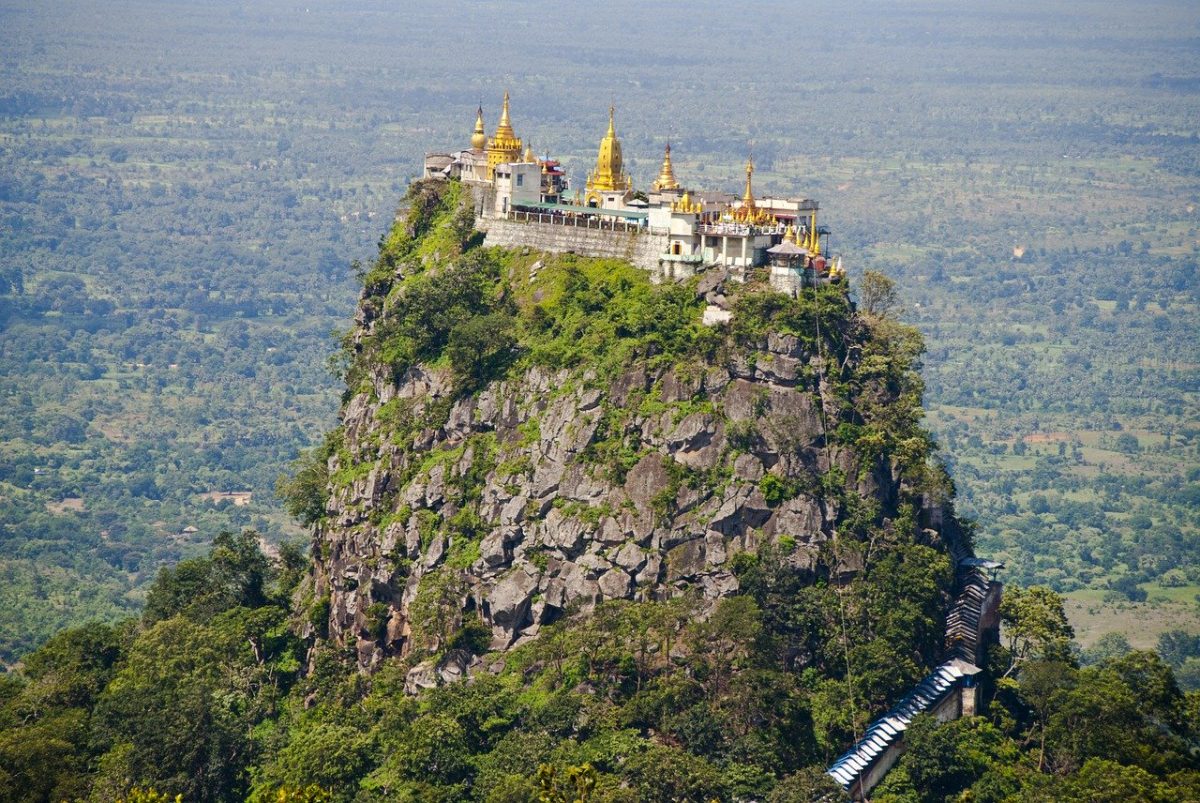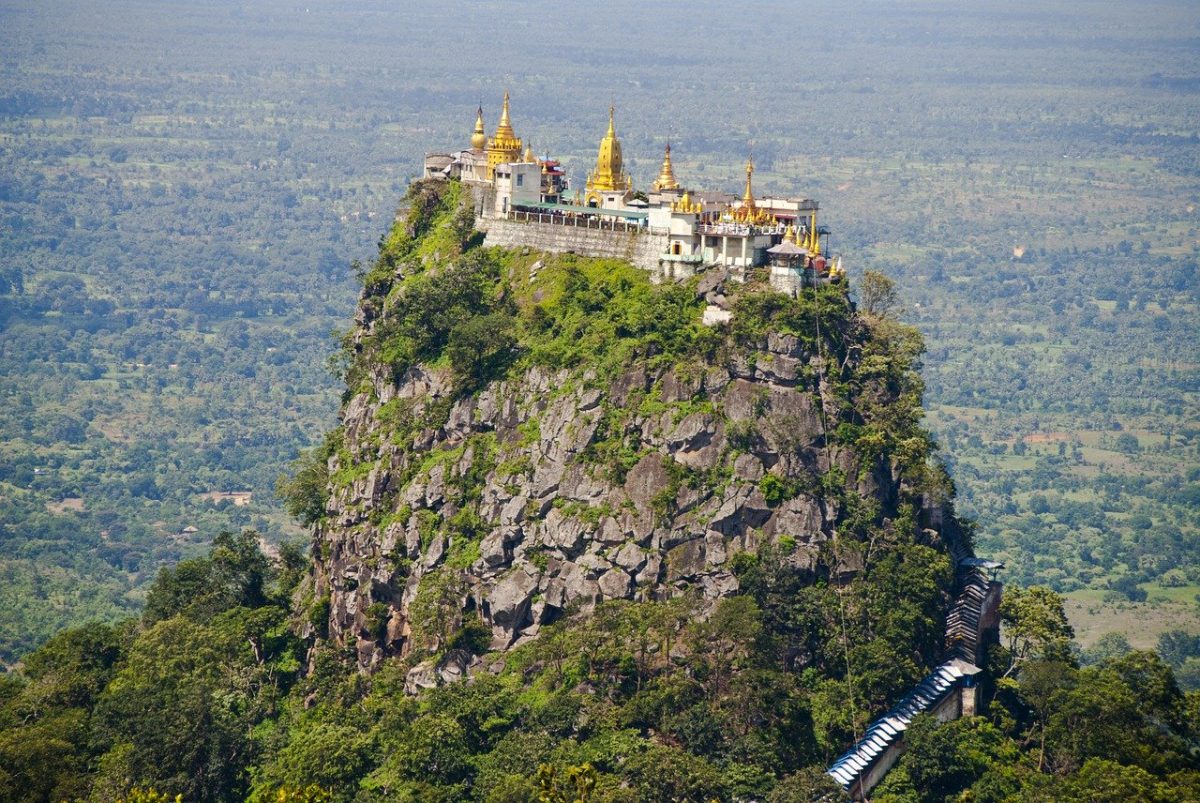 After climbing 777 steps and tackling aggressive monkeys, you will be rewarded with a gilded golden stupa housing several images of the spirits. But what will catch your attention are the splendid views of the valley from above. Make sure to be there early before the hot afternoon sun or later in the evening around sunset for amazing views of the vista.
How to reach Mount Popa
You can plan a day trip to Popa from Bagan, the nearest central city. It is also possible to plan a day trip from Mandalay too. There are buses from Bagan to Mount Popa if you want to travel independently. A better option(also economical) would be to book guided tours to Mt.Popa.
Maha Sadan Caves, Hpa An
Hpa An turned out to be one of my favourite towns in Myanmar – plenty of greenery, Karst mountains, villages and waking up to view the hills and rivers. If you plan a trip to this gorgeous town, you will also come across many caves. Of them, Sadan Cave is one of the recommended temples to visit in Myanmar. It's a top-rated attraction, renowned for thousands of statues of Buddha within the cave, whose walls are decorated with paintings of the 11th century, all well-preserved and maintained.
How to get to Sadan Cave – You can book a guided group tour, which works best if you are a solo traveler as it is far away from Hpa An. If you are okay with driving, the next best option is to rent a motorbike.
Kyauk Kalat Pagoda, Hpa An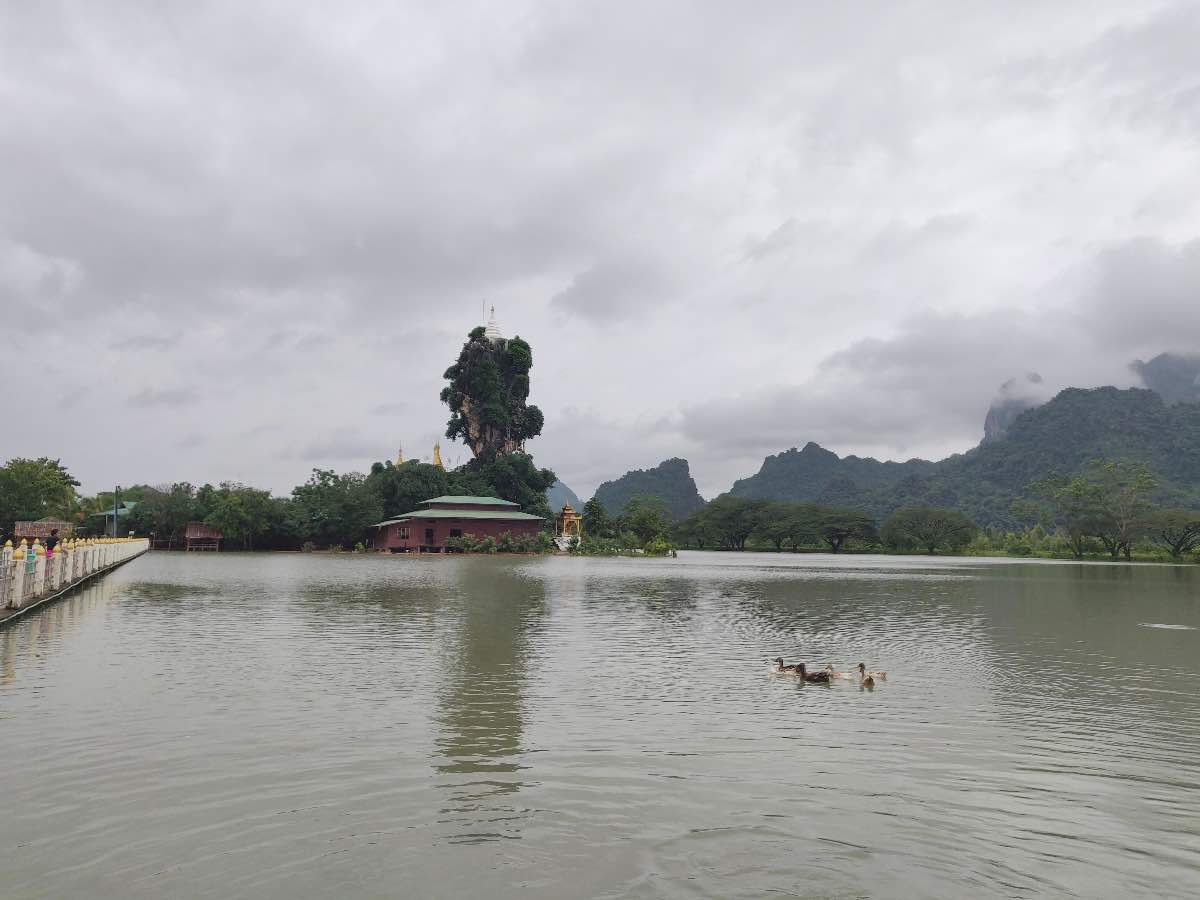 Another post-card-like attraction in Hpa An is the Kyauk Kalat Pagoda, one of the most impressive temples in Myanmar. It is surrounded by a lake and sits pretty on the top of a limestone cliff. The temple is small, but the views from the top are gorgeous – panoramic views of rows of hills are brushed by the passing clouds in front of the landscape carpeted in green.
How to reach – the best way is to rent a motorbike as it is not very far from the city centre of Hpa An. You can also take guided group tours.
Resources for Hpa An
Win Sein Taw Ya, Mawlamyine
Myanmar is home to the giant reclining Buddha in the world, which is located at Win Sein Taw Ya Pagoda in Mawlamyine town. So why miss a chance to glance at the most significant statue? Win Sein Taw Ya is an offbeat but one of serene temple in Myanmar that is worth your time. At 180 meters high, you will feel like a minuscule in front of the beautiful smiling Buddha. The complex is lovely, home to hundreds of stupas in white, gold and red, surrounded by monasteries and statues of Buddha.
How to reach – It is located close to the downtown of Mawlamyine and is reachable by renting a tuk-tuk or a bike. You can also plan guided day trips.
Things to know before visiting temples in Myanmar
As I mentioned earlier, it is mandatory to maintain the dress code – men and women covering their knees and shoulders. In some famous temples, the traditional Burmese lyongi are available for rent. Carry a sarong if you are wearing shorts, which comes in handy while exploring temples in Myanmar
Use sunscreen generously because Burma is hot and the humidity is terrible, especially in the afternoon most of the year, irrespective of the season. 
Also, carry water and drink enough of it to avoid exhaustion and dehydration.
Myanmar is an excellent place for capturing unique, candid shots on your camera(or phone). However, follow the etiquette of taking consent while clicking the locals and respecting their wishes if they don't want to be photographed, especially the monks.
OTHER POSTS FROM MYANMAR TO PLAN YOUR TRIP